Quotes & Sayings About The Value Of Teachers
Enjoy reading and share 27 famous quotes about The Value Of Teachers with everyone.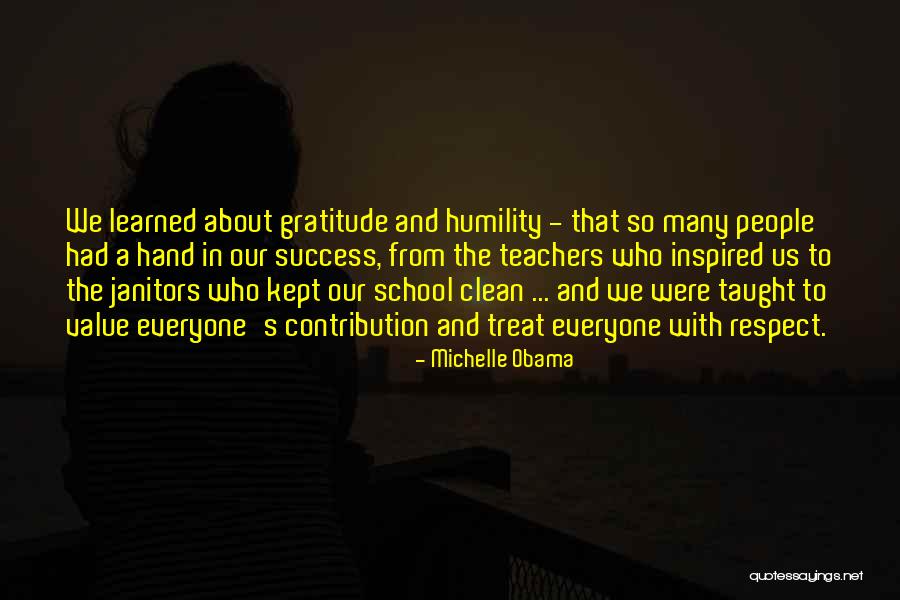 We learned about gratitude and humility - that so many people had a hand in our success, from the teachers who inspired us to the janitors who kept our school clean ... and we were taught to value everyone's contribution and treat everyone with respect. — Michelle Obama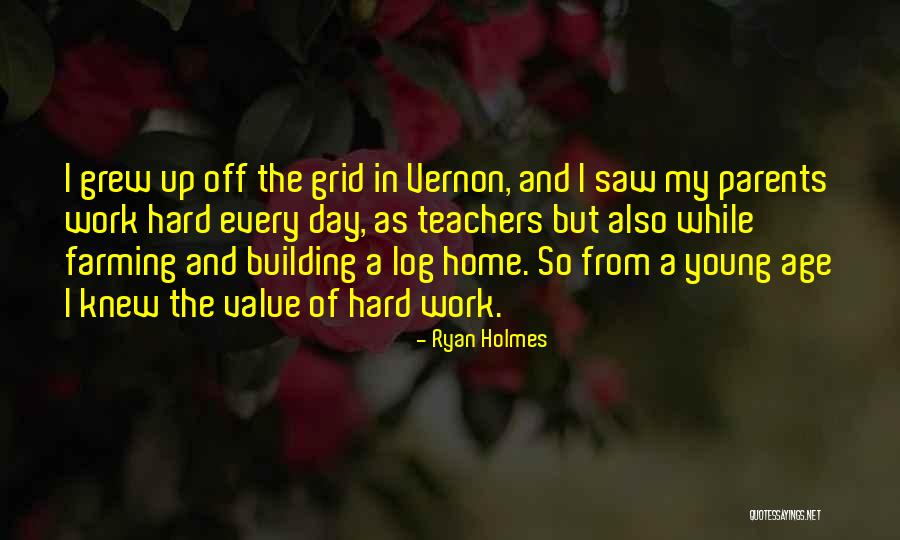 I grew up off the grid in Vernon, and I saw my parents work hard every day, as teachers but also while farming and building a log home. So from a young age I knew the value of hard work. — Ryan Holmes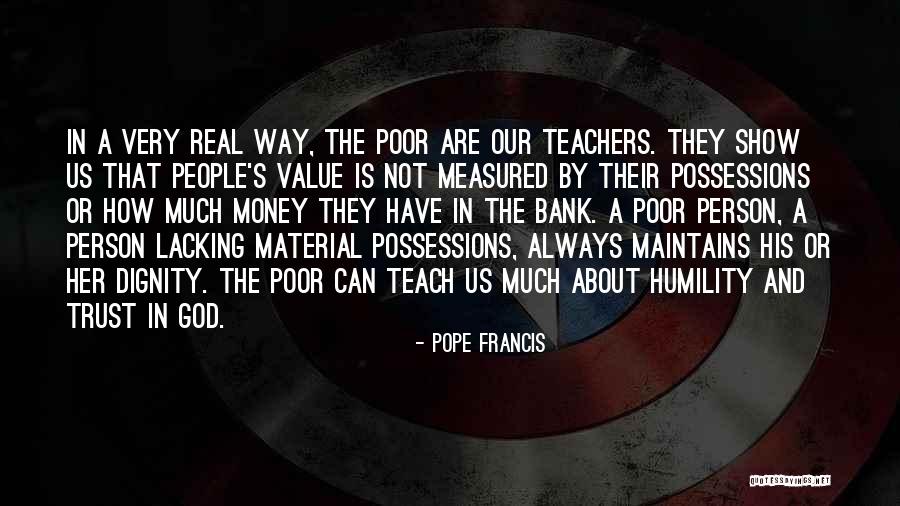 In a very real way, the poor are our teachers. They show us that people's value is not measured by their possessions or how much money they have in the bank. A poor person, a person lacking material possessions, always maintains his or her dignity. The poor can teach us much about humility and trust in God. — Pope Francis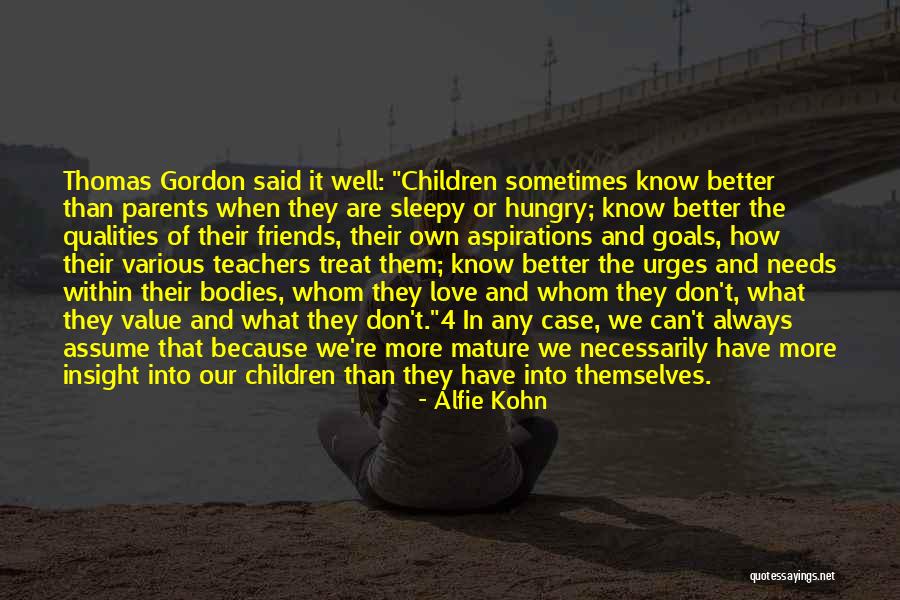 Thomas Gordon said it well: "Children sometimes know better than parents when they are sleepy or hungry; know better the qualities of their friends, their own aspirations and goals, how their various teachers treat them; know better the urges and needs within their bodies, whom they love and whom they don't, what they value and what they don't."4 In any case, we can't always assume that because we're more mature we necessarily have more insight into our children than they have into themselves. — Alfie Kohn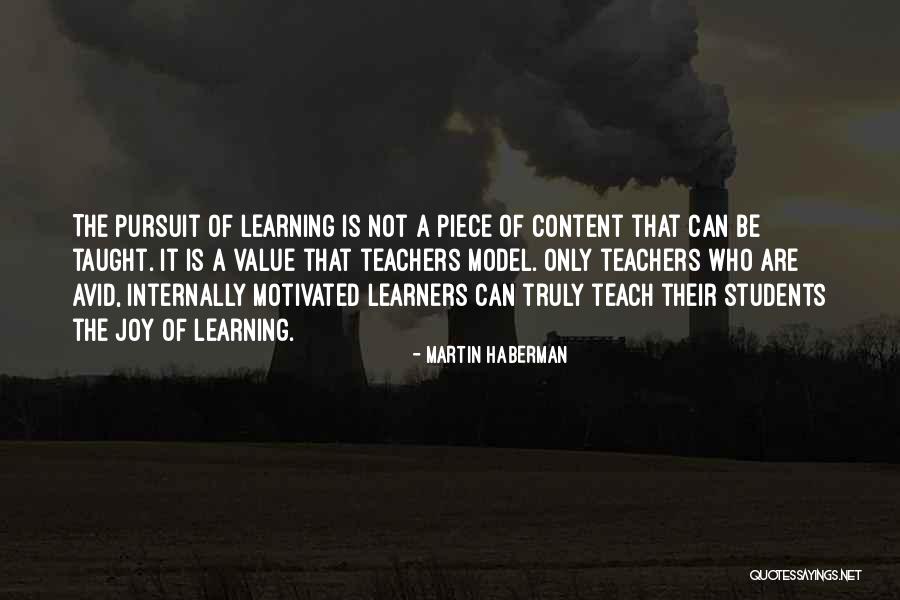 The pursuit of learning is not a piece of content that can be taught. It is a value that teachers model. Only teachers who are avid, internally motivated learners can truly teach their students the joy of learning. — Martin Haberman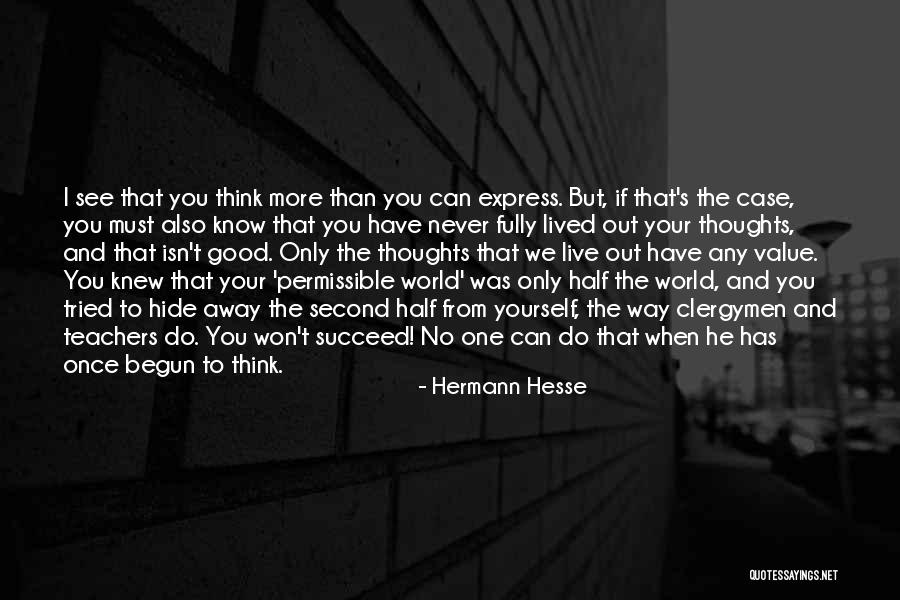 I see that you think more than you can express. But, if that's the case, you must also know that you have never fully lived out your thoughts, and that isn't good. Only the thoughts that we live out have any value. You knew that your 'permissible world' was only half the world, and you tried to hide away the second half from yourself, the way clergymen and teachers do. You won't succeed! No one can do that when he has once begun to think. — Hermann Hesse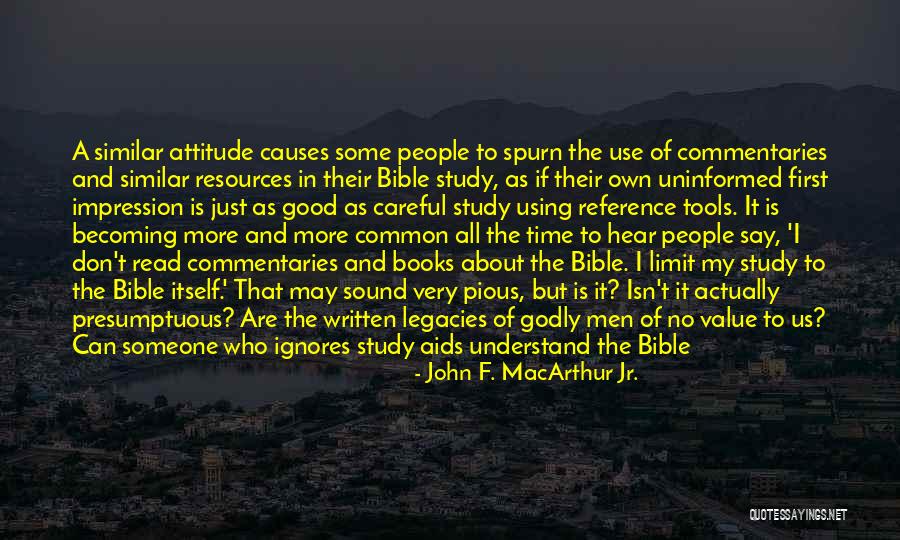 A similar attitude causes some people to spurn the use of commentaries and similar resources in their Bible study, as if their own uninformed first impression is just as good as careful study using reference tools. It is becoming more and more common all the time to hear people say, 'I don't read commentaries and books about the Bible. I limit my study to the Bible itself.' That may sound very pious, but is it? Isn't it actually presumptuous? Are the written legacies of godly men of no value to us? Can someone who ignores study aids understand the Bible just as well as someone who is familiar with the scholarship of other godly teachers and pastors? — John F. MacArthur Jr.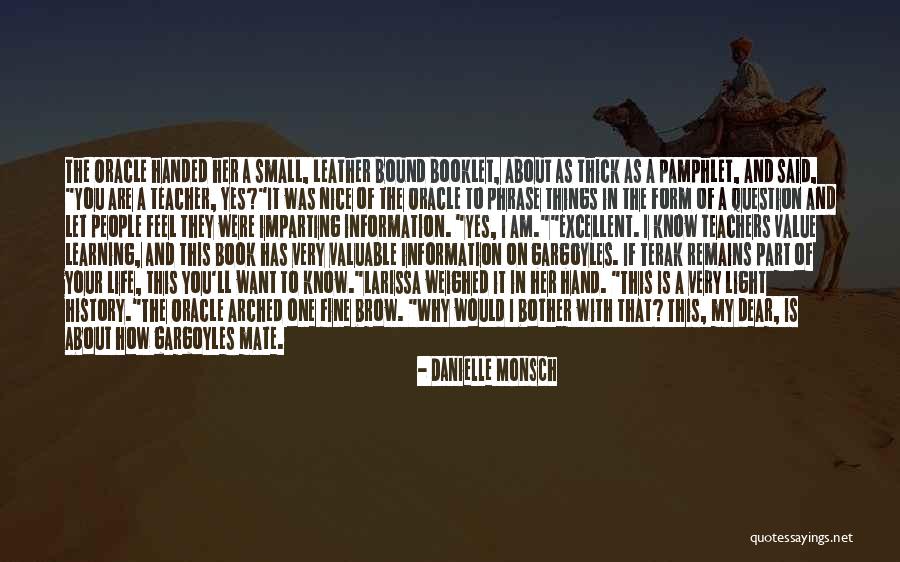 The Oracle handed her a small, leather bound booklet, about as thick as a pamphlet, and said, "You are a teacher, yes?"
It was nice of the Oracle to phrase things in the form of a question and let people feel they were imparting information. "Yes, I am."
"Excellent. I know teachers value learning, and this book has very valuable information on gargoyles. If Terak remains part of your life, this you'll want to know."
Larissa weighed it in her hand. "This is a very light history."
The Oracle arched one fine brow. "Why would I bother with that? This, my dear, is about how gargoyles mate. — Danielle Monsch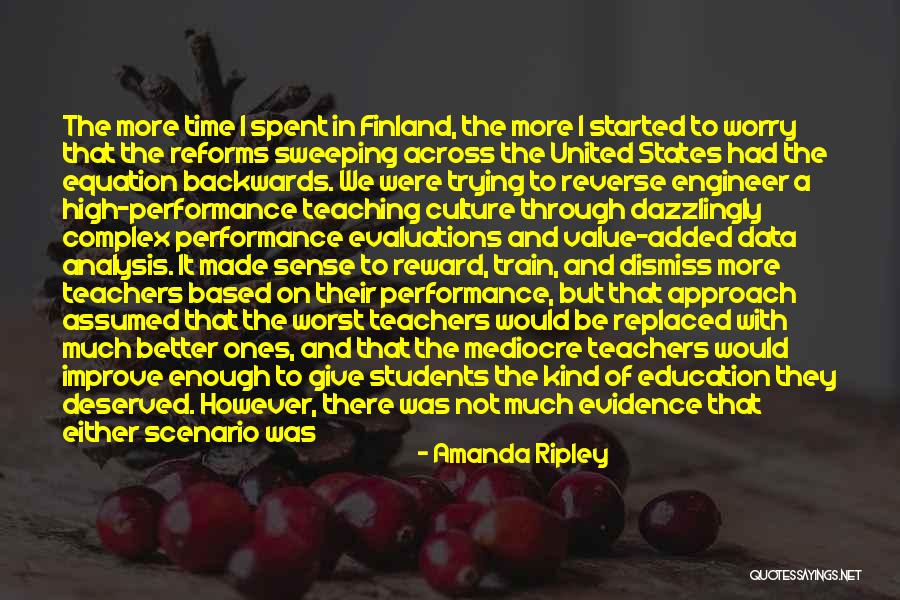 The more time I spent in Finland, the more I started to worry that the reforms sweeping across the United States had the equation backwards. We were trying to reverse engineer a high-performance teaching culture through dazzlingly complex performance evaluations and value-added data analysis. It made sense to reward, train, and dismiss more teachers based on their performance, but that approach assumed that the worst teachers would be replaced with much better ones, and that the mediocre teachers would improve enough to give students the kind of education they deserved. However, there was not much evidence that either scenario was happening in reality. — Amanda Ripley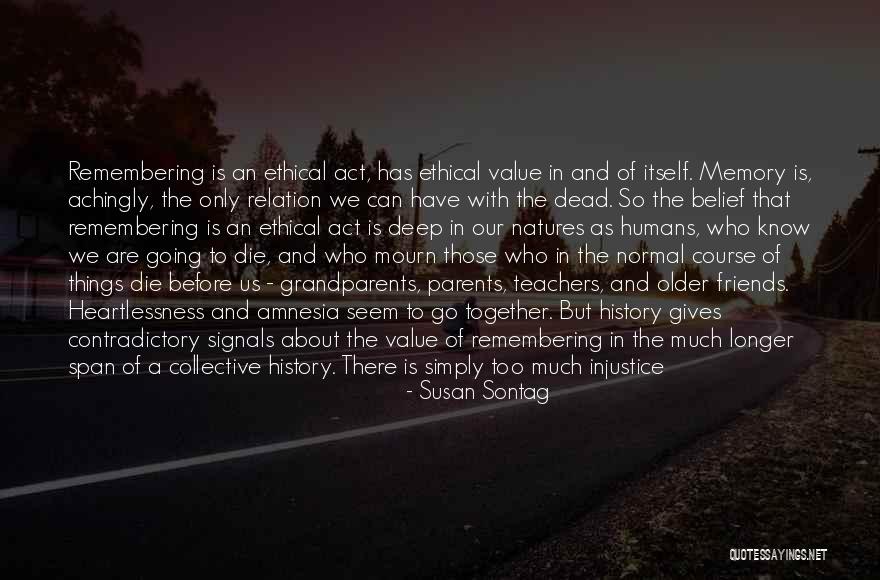 Remembering is an ethical act, has ethical value in and of itself. Memory is, achingly, the only relation we can have with the dead. So the belief that remembering is an ethical act is deep in our natures as humans, who know we are going to die, and who mourn those who in the normal course of things die before us - grandparents, parents, teachers, and older friends. Heartlessness and amnesia seem to go together. But history gives contradictory signals about the value of remembering in the much longer span of a collective history. There is simply too much injustice in the world. And too much remembering (of ancient grievances: Serbs, Irish) embitters. To make peace is to forget. To reconcile, it is necessary that memory be faulty and limited. If the goal is having some space in which to live one's own life, then it is desirable that the account of specific injustices dissolve into a more general understanding that human beings everywhere do terrible things to one another. * * * P — Susan Sontag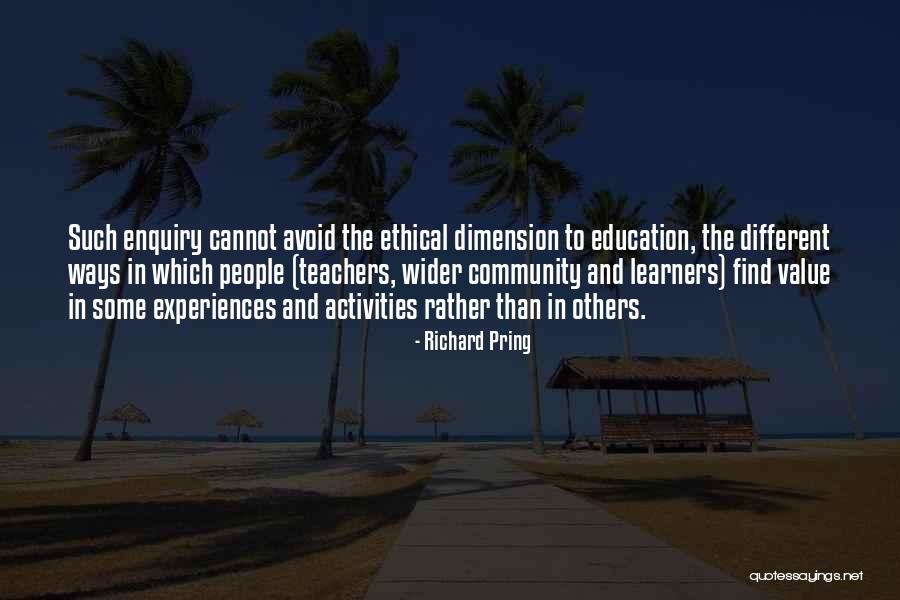 Such enquiry cannot avoid the ethical dimension to education, the different ways in which people (teachers, wider community and learners) find value in some experiences and activities rather than in others. — Richard Pring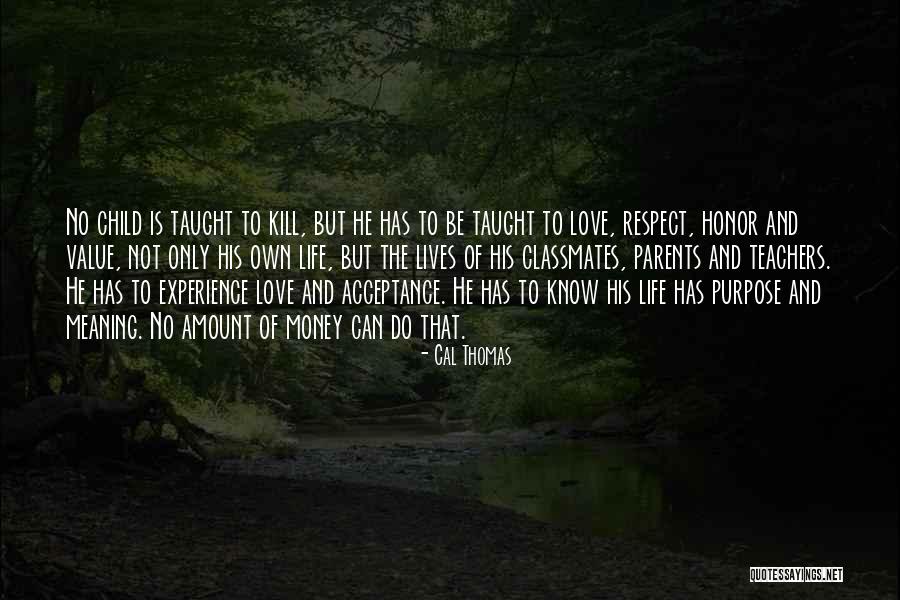 No child is taught to kill, but he has to be taught to love, respect, honor and value, not only his own life, but the lives of his classmates, parents and teachers. He has to experience love and acceptance. He has to know his life has purpose and meaning. No amount of money can do that. — Cal Thomas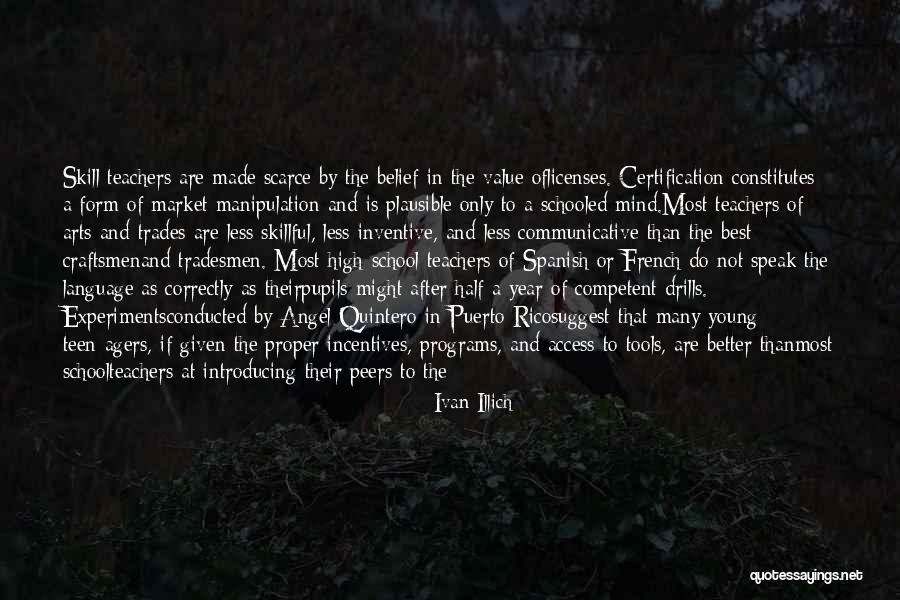 Skill teachers are made scarce by the belief in the value of
licenses. Certification constitutes a form of market manipulation and is plausible only to a schooled mind.
Most teachers of arts and trades are less skillful, less inventive, and less communicative than the best craftsmen
and tradesmen. Most high-school teachers of Spanish or French do not speak the language as correctly as their
pupils might after half a year of competent drills. Experimentsconducted by Angel Quintero in Puerto Rico
suggest that many young teen-agers, if given the proper incentives, programs, and access to tools, are better than
most schoolteachers at introducing their peers to the scientific exploration of plants, stars, and matter, and to the
discovery of how and why a motor or a radio functions. — Ivan Illich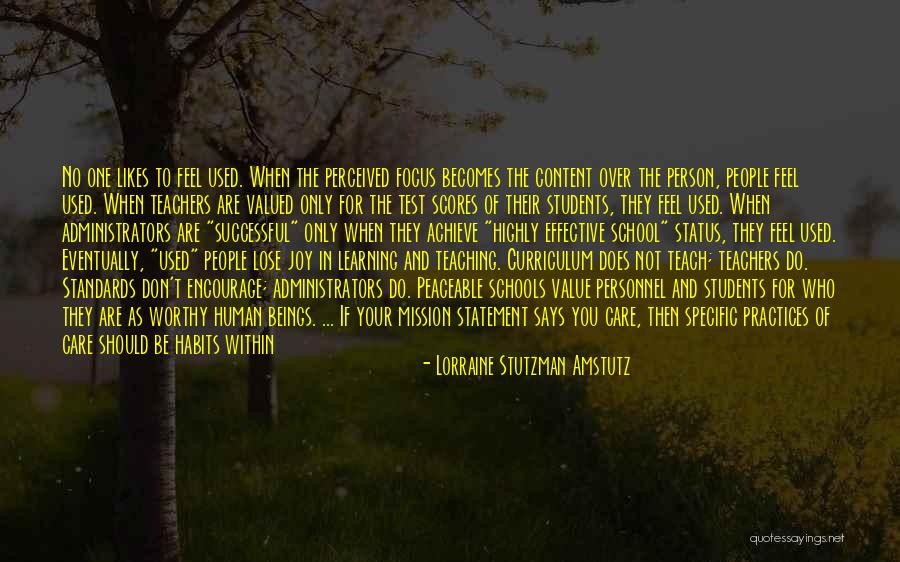 No one likes to feel used. When the perceived focus becomes the content over the person, people feel used. When teachers are valued only for the test scores of their students, they feel used. When administrators are "successful" only when they achieve "highly effective school" status, they feel used. Eventually, "used" people lose joy in learning and teaching. Curriculum does not teach; teachers do. Standards don't encourage; administrators do. Peaceable schools value personnel and students for who they are as worthy human beings. ... If your mission statement says you care, then specific practices of care should be habits within your school. — Lorraine Stutzman Amstutz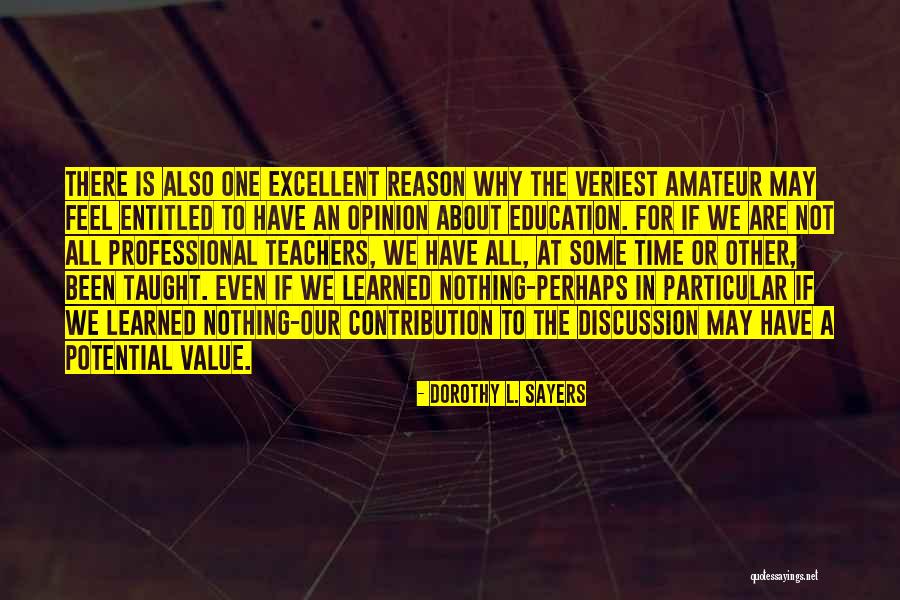 There is also one excellent reason why the veriest amateur may feel entitled to have an opinion about education. For if we are not all professional teachers, we have all, at some time or other, been taught. Even if we learned nothing-perhaps in particular if we learned nothing-our contribution to the discussion may have a potential value. — Dorothy L. Sayers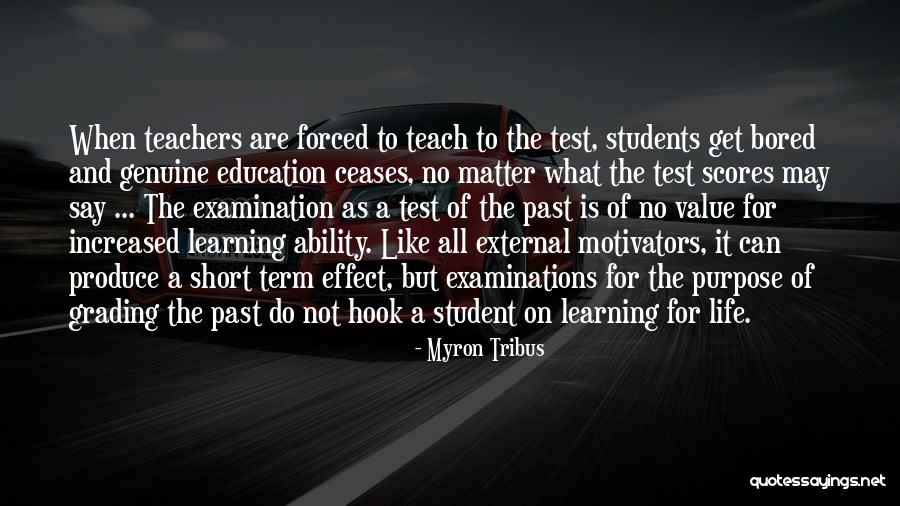 When teachers are forced to teach to the test, students get bored and genuine education ceases, no matter what the test scores may say ... The examination as a test of the past is of no value for increased learning ability. Like all external motivators, it can produce a short term effect, but examinations for the purpose of grading the past do not hook a student on learning for life. — Myron Tribus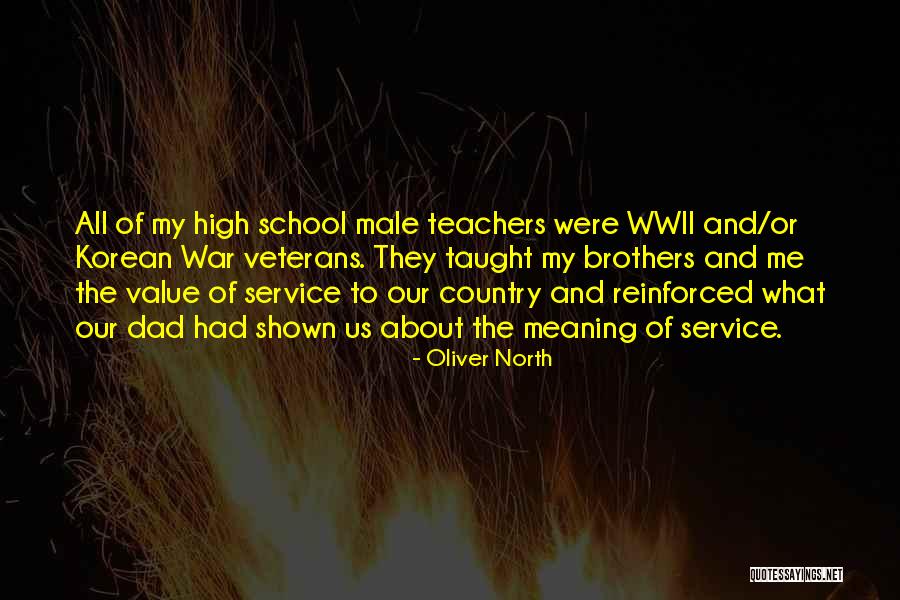 All of my high school male teachers were WWII and/or Korean War veterans. They taught my brothers and me the value of service to our country and reinforced what our dad had shown us about the meaning of service. — Oliver North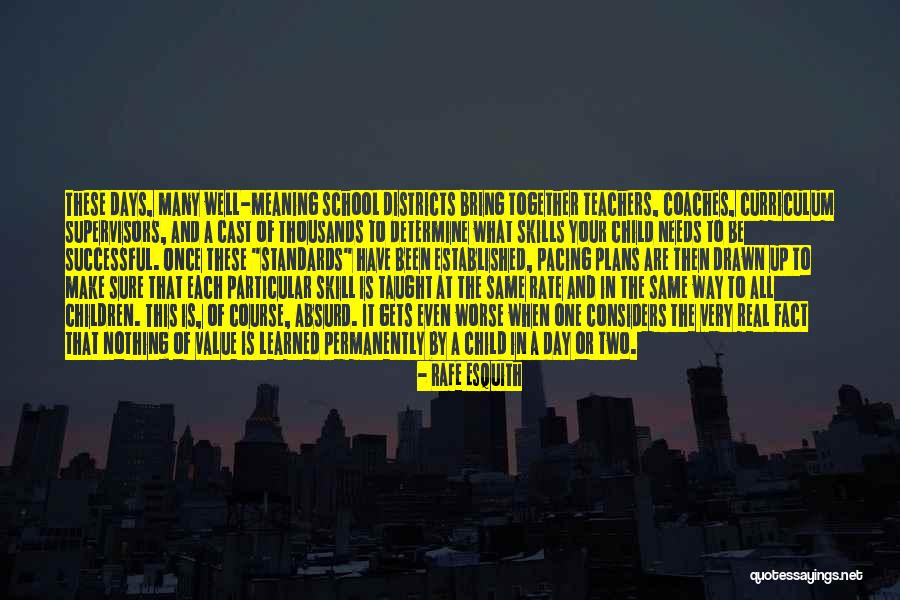 These days, many well-meaning school districts bring together teachers, coaches, curriculum supervisors, and a cast of thousands to determine what skills your child needs to be successful. Once these "standards" have been established, pacing plans are then drawn up to make sure that each particular skill is taught at the same rate and in the same way to all children. This is, of course, absurd. It gets even worse when one considers the very real fact that nothing of value is learned permanently by a child in a day or two. — Rafe Esquith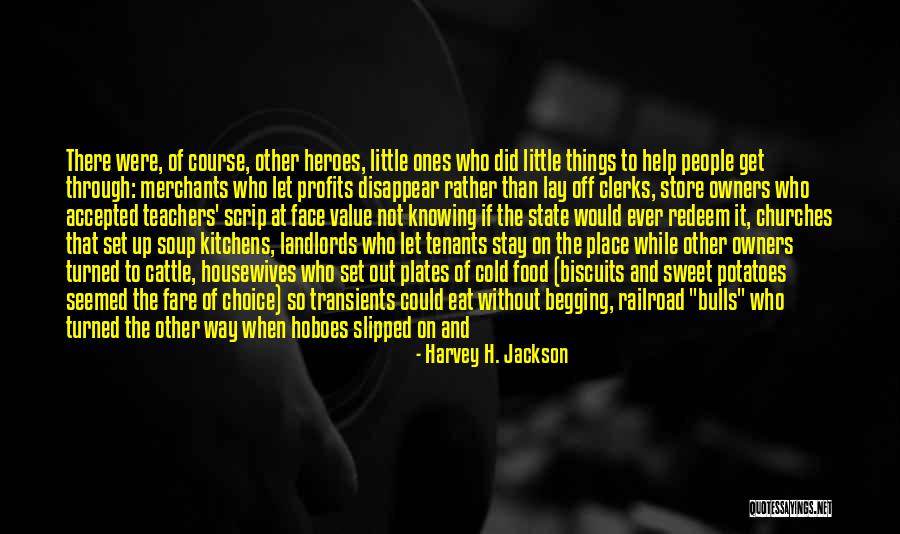 There were, of course, other heroes, little ones who did little things to help people get through: merchants who let profits disappear rather than lay off clerks, store owners who accepted teachers' scrip at face value not knowing if the state would ever redeem it, churches that set up soup kitchens, landlords who let tenants stay on the place while other owners turned to cattle, housewives who set out plates of cold food (biscuits and sweet potatoes seemed the fare of choice) so transients could eat without begging, railroad "bulls" who turned the other way when hoboes slipped on and off the trains, affluent families that carefully wrapped leftover food because they knew that residents of "Hooverville" down by the dump would be scavenging their garbage for their next meal, and more, an more. But they were not enough, could not have been enough, so when the government stepped in to help, those needing help we're thankful. — Harvey H. Jackson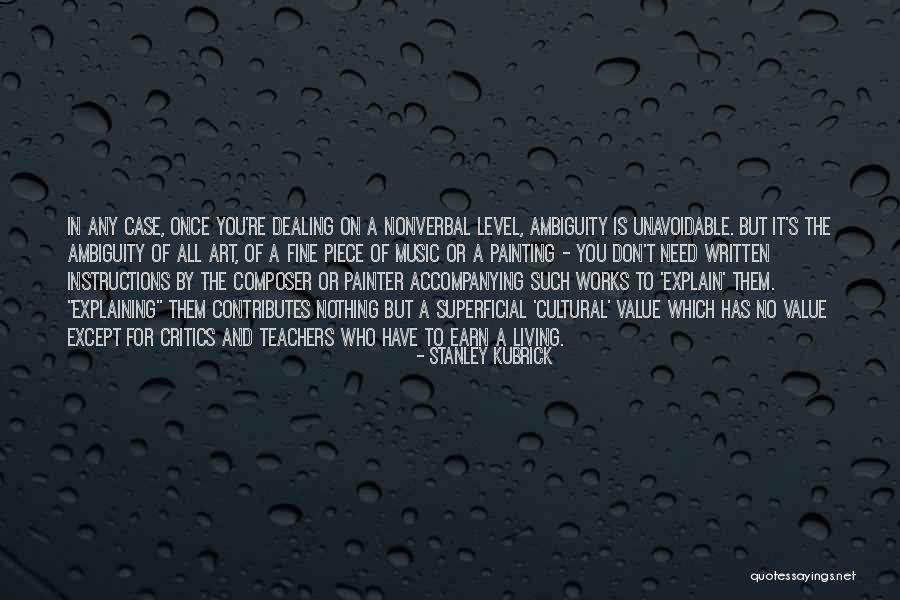 In any case, once you're dealing on a nonverbal level, ambiguity is unavoidable. But it's the ambiguity of all art, of a fine piece of music or a painting - you don't need written instructions by the composer or painter accompanying such works to 'explain' them. "Explaining" them contributes nothing but a superficial 'cultural' value which has no value except for critics and teachers who have to earn a living. — Stanley Kubrick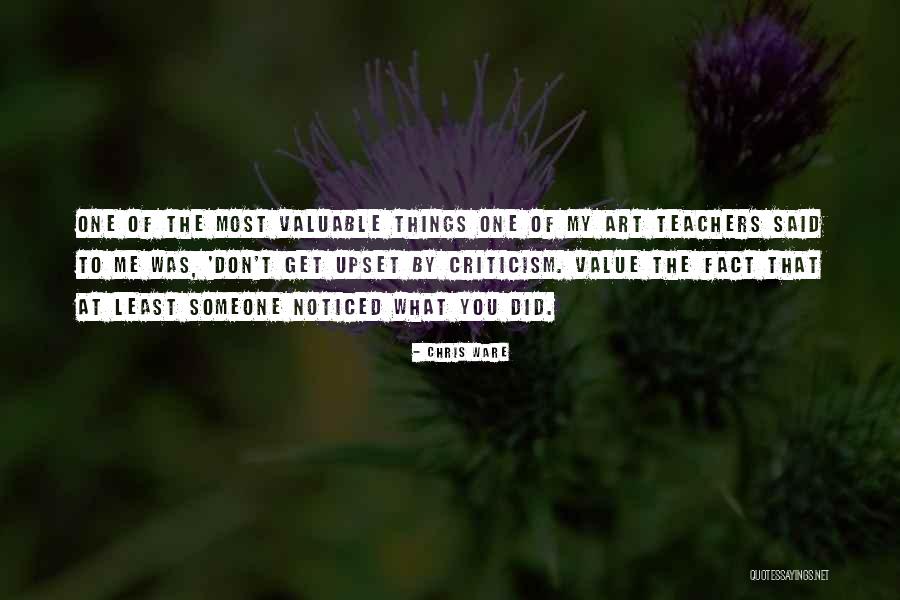 One of the most valuable things one of my art teachers said to me was, 'Don't get upset by criticism. Value the fact that at least someone noticed what you did. — Chris Ware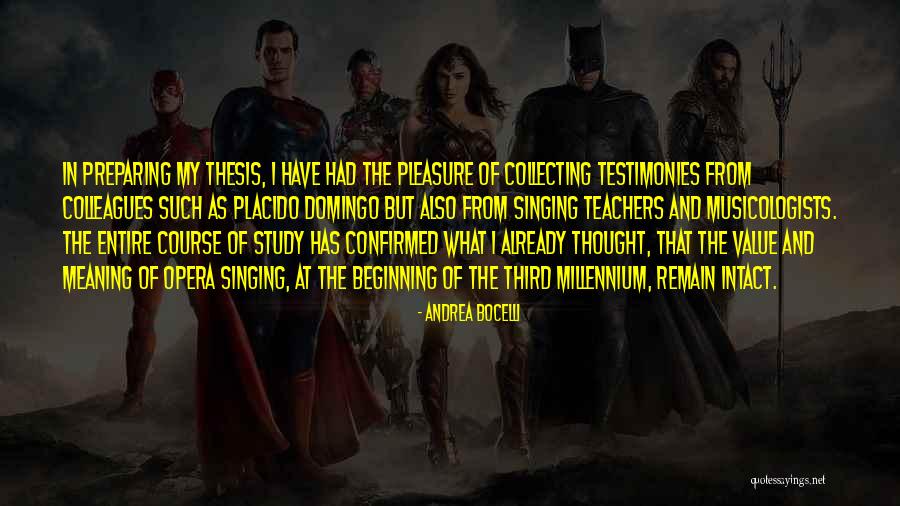 In preparing my thesis, I have had the pleasure of collecting testimonies from colleagues such as Placido Domingo but also from singing teachers and musicologists. The entire course of study has confirmed what I already thought, that the value and meaning of opera singing, at the beginning of the third millennium, remain intact. — Andrea Bocelli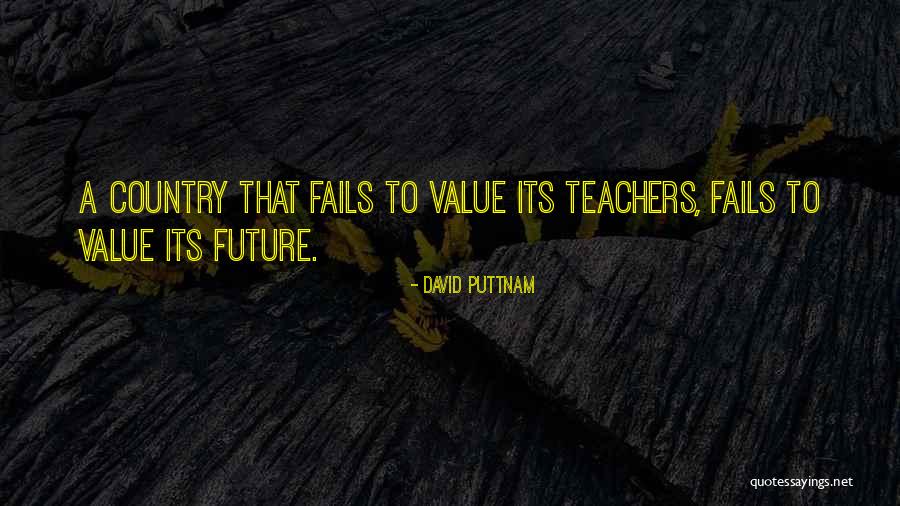 A country that fails to value its teachers, fails to value its future. — David Puttnam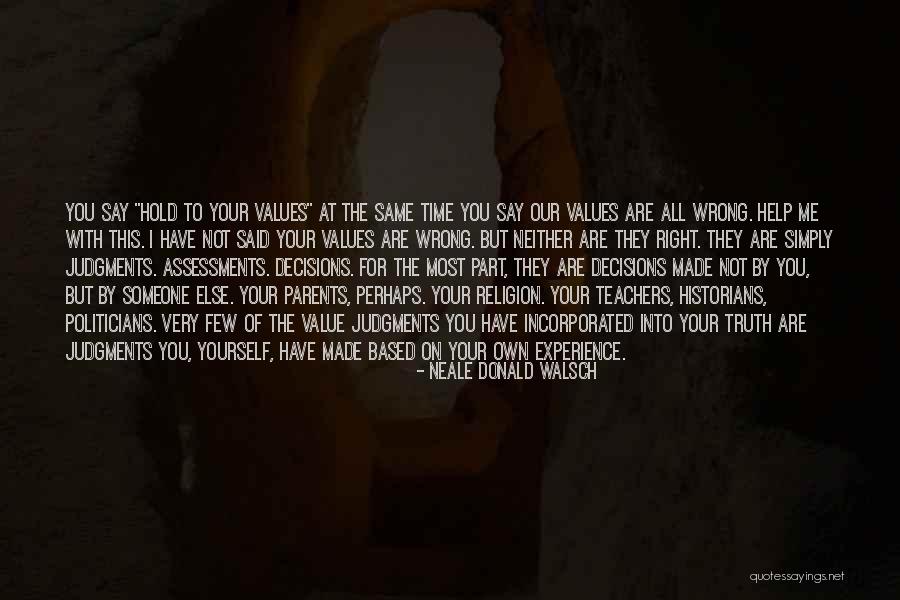 You say "hold to your values" at the same time you say our values are all wrong. Help me with this. I have not said your values are wrong. But neither are they right. They are simply judgments. Assessments. Decisions. For the most part, they are decisions made not by you, but by someone else. Your parents, perhaps. Your religion. Your teachers, historians, politicians. Very few of the value judgments you have incorporated into your truth are judgments you, yourself, have made based on your own experience. — Neale Donald Walsch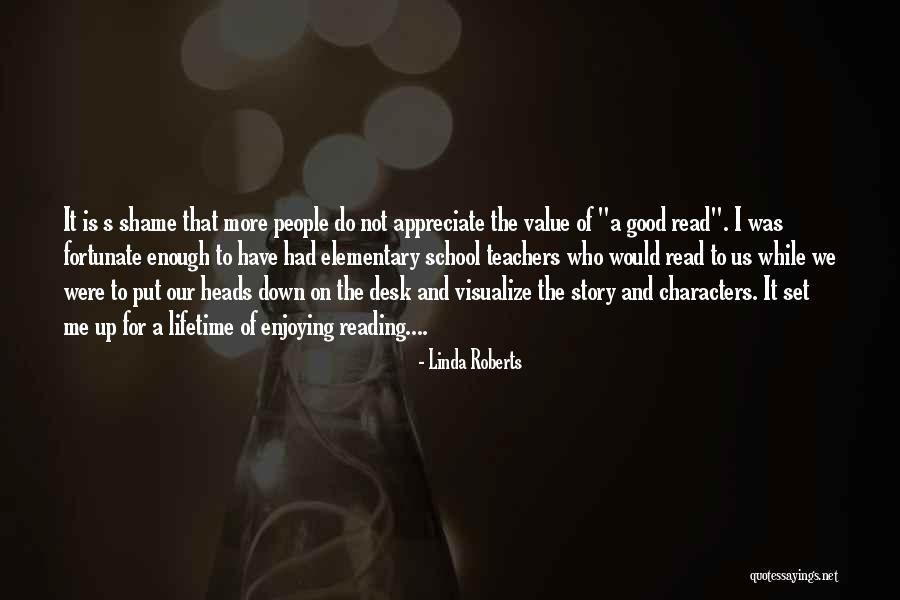 It is s shame that more people do not appreciate the value of "a good read". I was fortunate enough to have had elementary school teachers who would read to us while we were to put our heads down on the desk and visualize the story and characters. It set me up for a lifetime of enjoying reading.... — Linda Roberts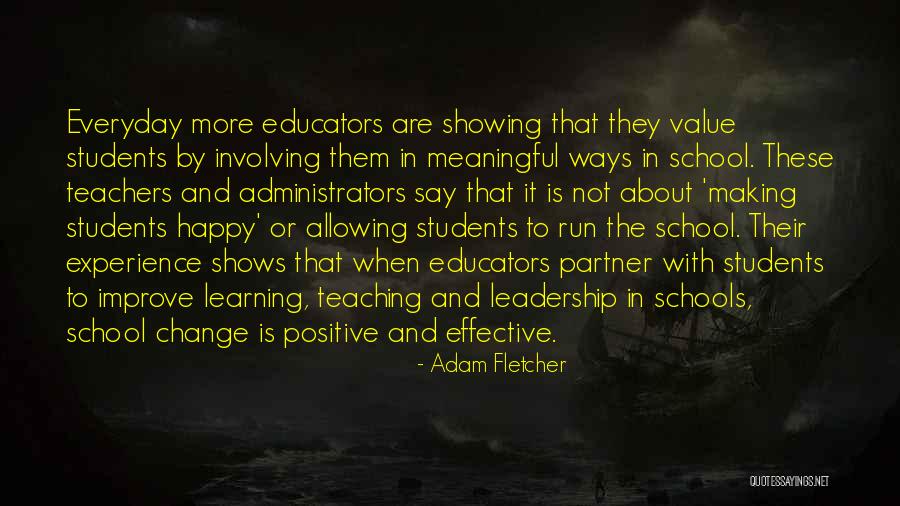 Everyday more educators are showing that they value students by involving them in meaningful ways in school. These teachers and administrators say that it is not about 'making students happy' or allowing students to run the school. Their experience shows that when educators partner with students to improve learning, teaching and leadership in schools, school change is positive and effective. — Adam Fletcher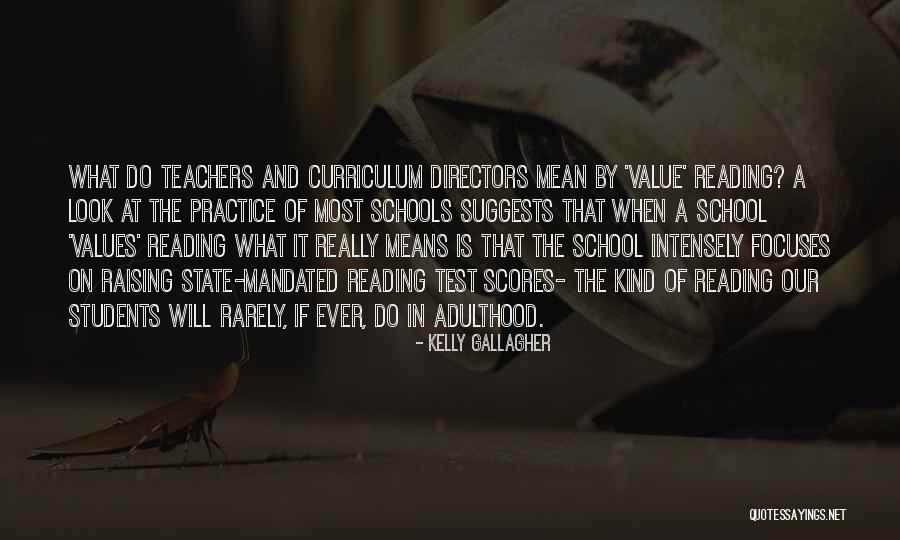 What do teachers and curriculum directors mean by 'value' reading? A look at the practice of most schools suggests that when a school 'values' reading what it really means is that the school intensely focuses on raising state-mandated reading test scores- the kind of reading our students will rarely, if ever, do in adulthood. — Kelly Gallagher