Quotes & Sayings About The Ocean And Shells
Enjoy reading and share 24 famous quotes about The Ocean And Shells with everyone.
Top The Ocean And Shells Quotes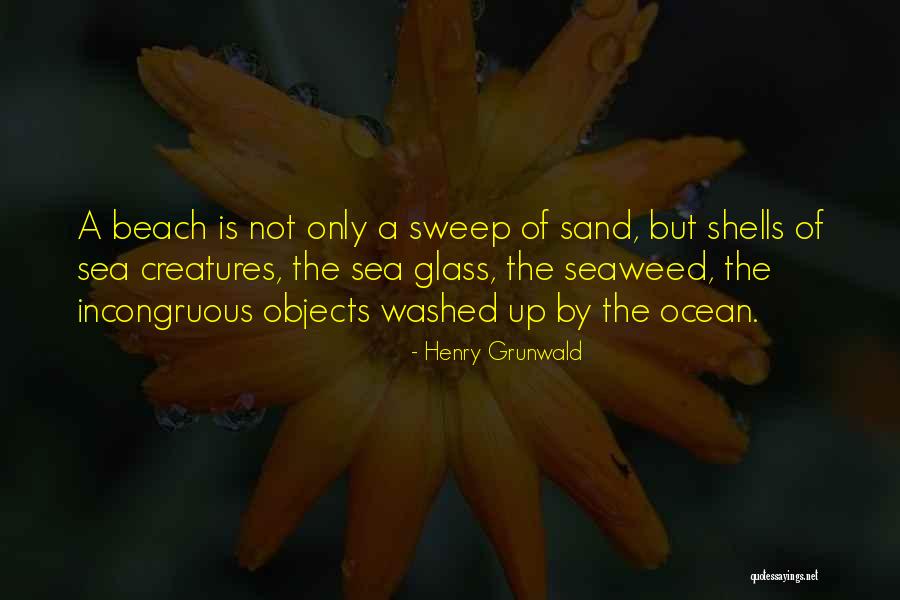 A beach is not only a sweep of sand, but shells of sea creatures, the sea glass, the seaweed, the incongruous objects washed up by the ocean. — Henry Grunwald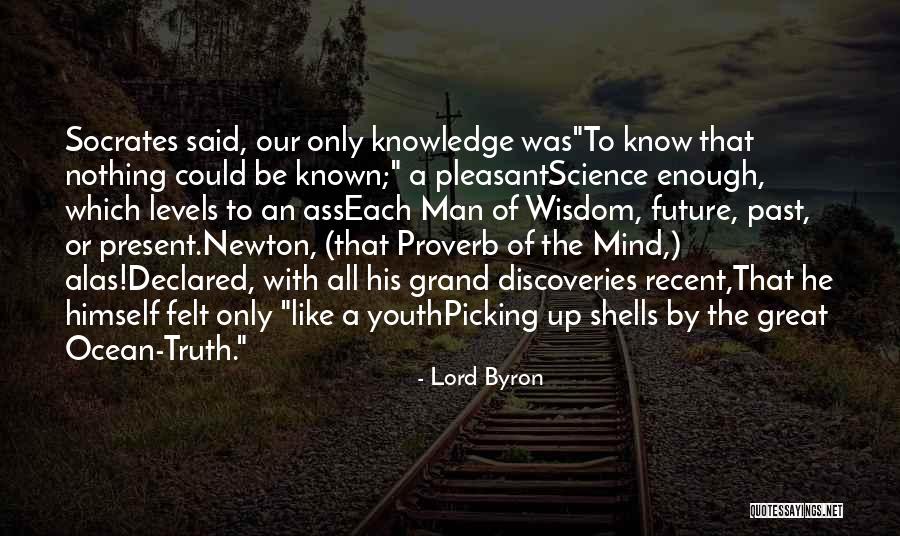 Socrates said, our only knowledge was
"To know that nothing could be known;" a pleasant
Science enough, which levels to an ass
Each Man of Wisdom, future, past, or present.
Newton, (that Proverb of the Mind,) alas!
Declared, with all his grand discoveries recent,
That he himself felt only "like a youth
Picking up shells by the great Ocean-Truth." — Lord Byron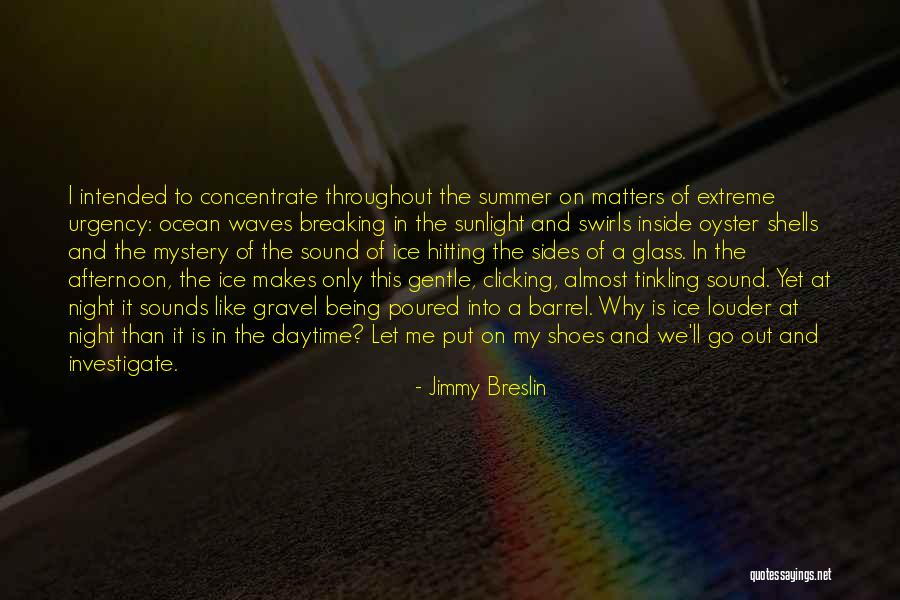 I intended to concentrate throughout the summer on matters of extreme urgency: ocean waves breaking in the sunlight and swirls inside oyster shells and the mystery of the sound of ice hitting the sides of a glass. In the afternoon, the ice makes only this gentle, clicking, almost tinkling sound. Yet at night it sounds like gravel being poured into a barrel. Why is ice louder at night than it is in the daytime? Let me put on my shoes and we'll go out and investigate. — Jimmy Breslin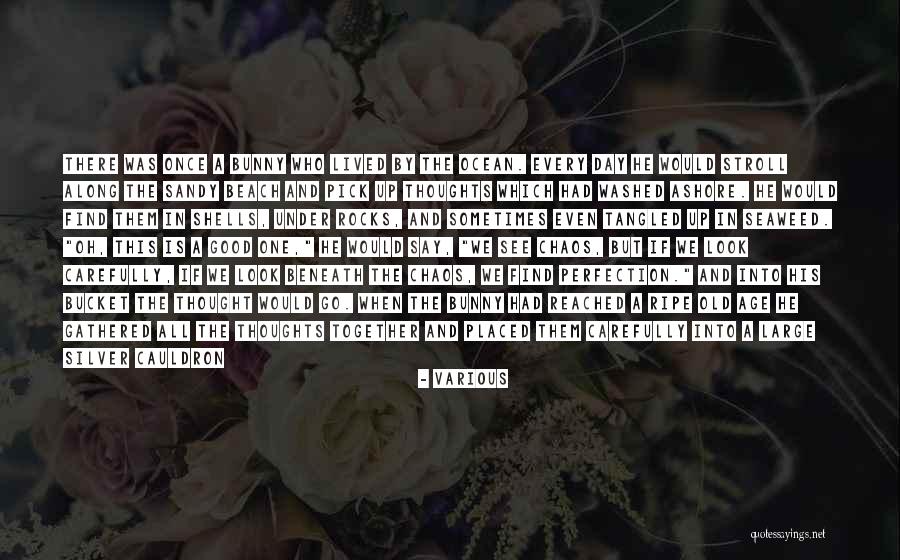 There was once a bunny who lived by the ocean. Every day he would stroll along the sandy beach and pick up thoughts which had washed ashore. He would find them in shells, under rocks, and sometimes even tangled up in seaweed. "Oh, this is a good one," he would say, "We see chaos, but if we look carefully, if we look beneath the chaos, we find perfection." And into his bucket the thought would go. When the bunny had reached a ripe old age he gathered all the thoughts together and placed them carefully into a large silver cauldron heated by the fires of life. Using a straw broom, he stirred them thoroughly, and as he was stirring he listened carefully. Much to his surprise he heard the ocean singing a wordless song of incomparable beauty. The bunny closed his eyes and said, "Ah, it was all worth it."

--The Blue Monk of Niim — Various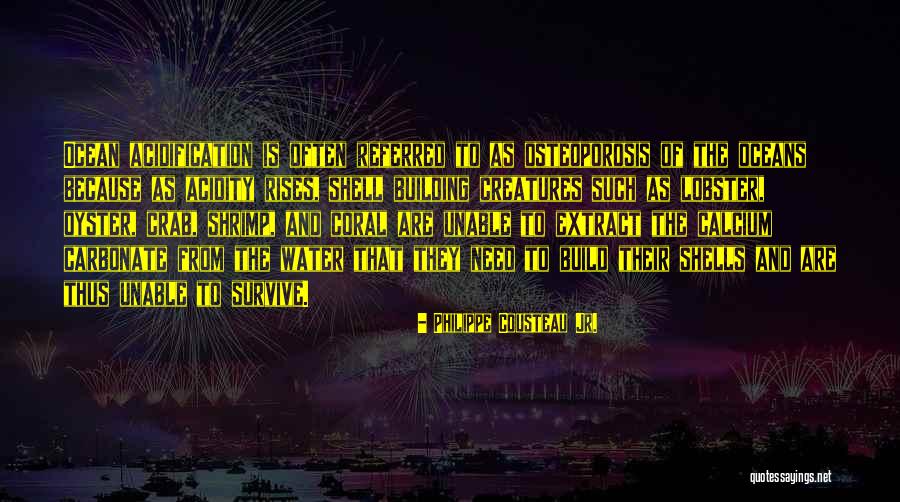 Ocean acidification is often referred to as osteoporosis of the oceans because as acidity rises, shell building creatures such as lobster, oyster, crab, shrimp, and coral are unable to extract the calcium carbonate from the water that they need to build their shells and are thus unable to survive. — Philippe Cousteau Jr.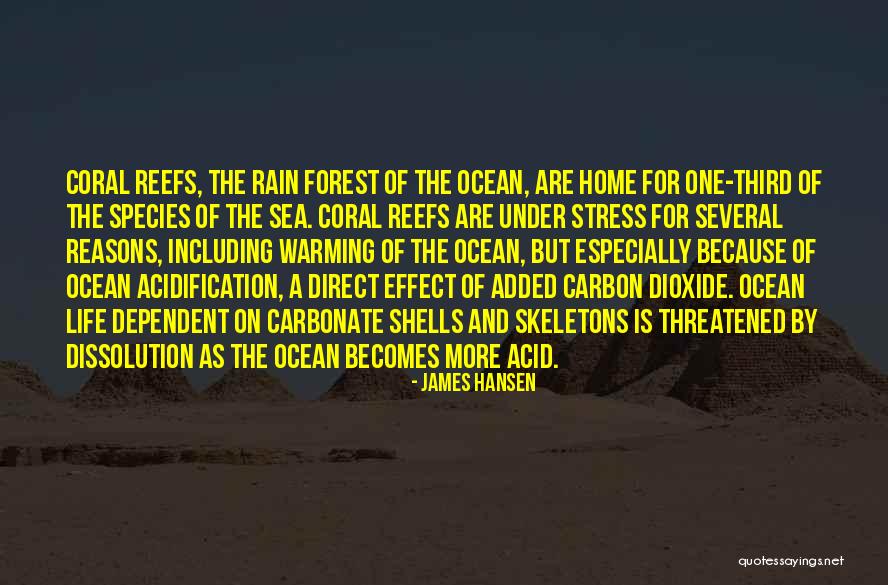 Coral reefs, the rain forest of the ocean, are home for one-third of the species of the sea. Coral reefs are under stress for several reasons, including warming of the ocean, but especially because of ocean acidification, a direct effect of added carbon dioxide. Ocean life dependent on carbonate shells and skeletons is threatened by dissolution as the ocean becomes more acid. — James Hansen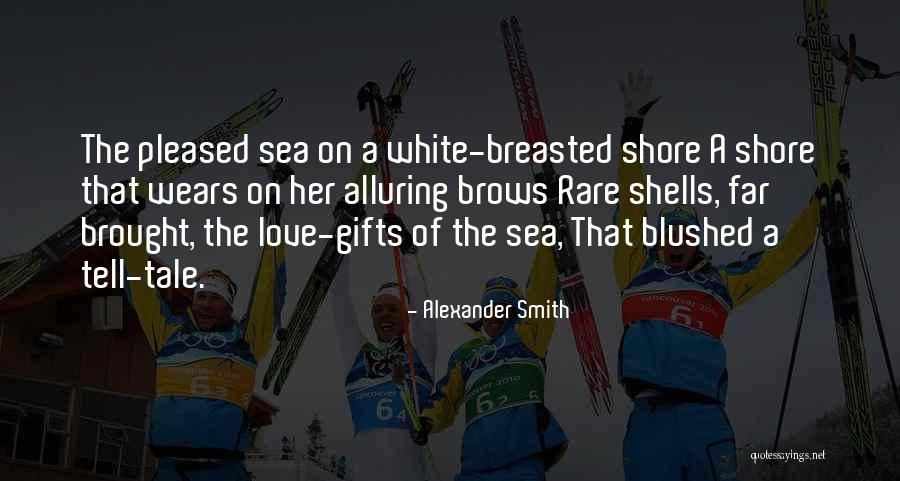 The pleased sea on a white-breasted shore
A shore that wears on her alluring brows Rare shells, far brought, the love-gifts of the sea, That blushed a tell-tale. — Alexander Smith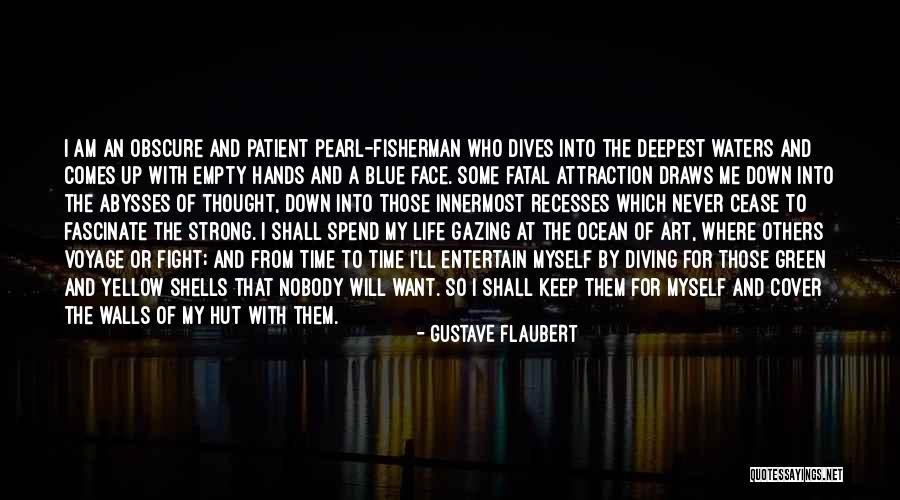 I am an obscure and patient pearl-fisherman who dives into the deepest waters and comes up with empty hands and a blue face. Some fatal attraction draws me down into the abysses of thought, down into those innermost recesses which never cease to fascinate the strong. I shall spend my life gazing at the ocean of art, where others voyage or fight; and from time to time I'll entertain myself by diving for those green and yellow shells that nobody will want. So I shall keep them for myself and cover the walls of my hut with them. — Gustave Flaubert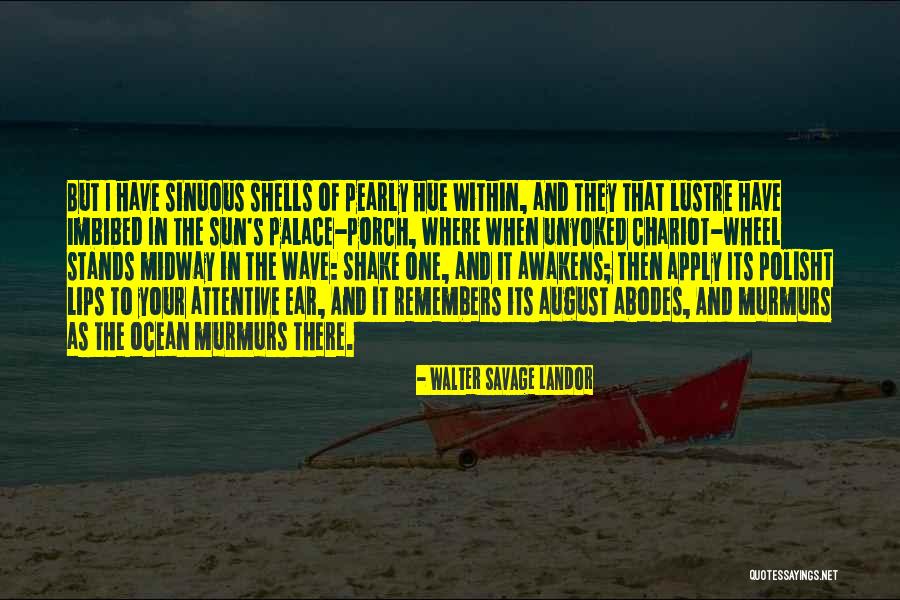 But I have sinuous shells of pearly hue Within, and they that lustre have imbibed In the sun's palace-porch, where when unyoked chariot-wheel stands midway in the wave: Shake one, and it awakens; then apply Its polisht lips to your attentive ear, And it remembers its august abodes, And murmurs as the ocean murmurs there. — Walter Savage Landor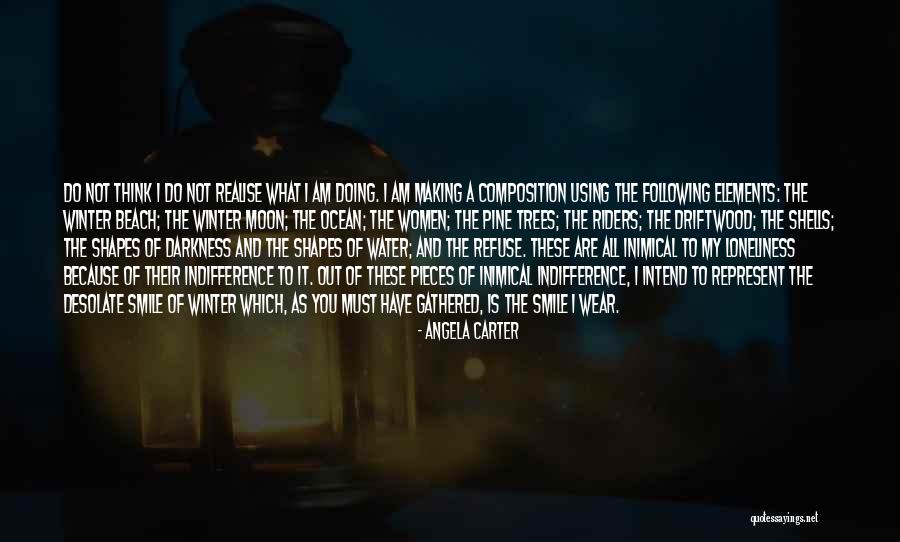 Do not think I do not realise what I am doing. I am making a composition using the following elements: the winter beach; the winter moon; the ocean; the women; the pine trees; the riders; the driftwood; the shells; the shapes of darkness and the shapes of water; and the refuse. These are all inimical to my loneliness because of their indifference to it. Out of these pieces of inimical indifference, I intend to represent the desolate smile of winter which, as you must have gathered, is the smile I wear. — Angela Carter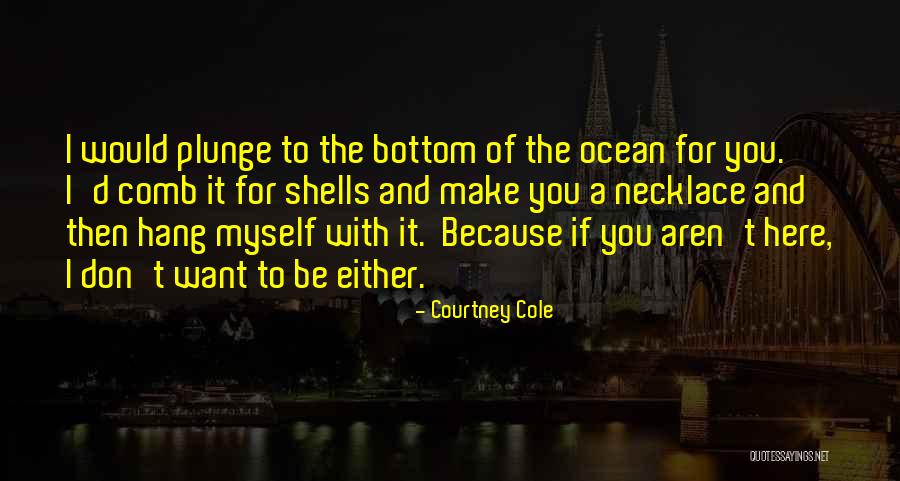 I would plunge to the bottom of the ocean for you. I'd comb it for shells and make you a necklace and then hang myself with it. Because if you aren't here, I don't want to be either. — Courtney Cole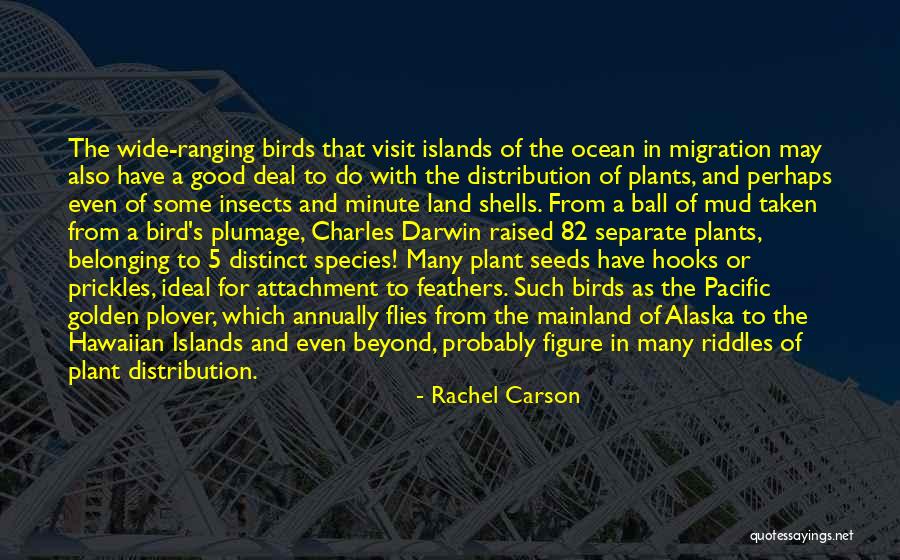 The wide-ranging birds that visit islands of the ocean in migration may also have a good deal to do with the distribution of plants, and perhaps even of some insects and minute land shells. From a ball of mud taken from a bird's plumage, Charles Darwin raised 82 separate plants, belonging to 5 distinct species! Many plant seeds have hooks or prickles, ideal for attachment to feathers. Such birds as the Pacific golden plover, which annually flies from the mainland of Alaska to the Hawaiian Islands and even beyond, probably figure in many riddles of plant distribution. — Rachel Carson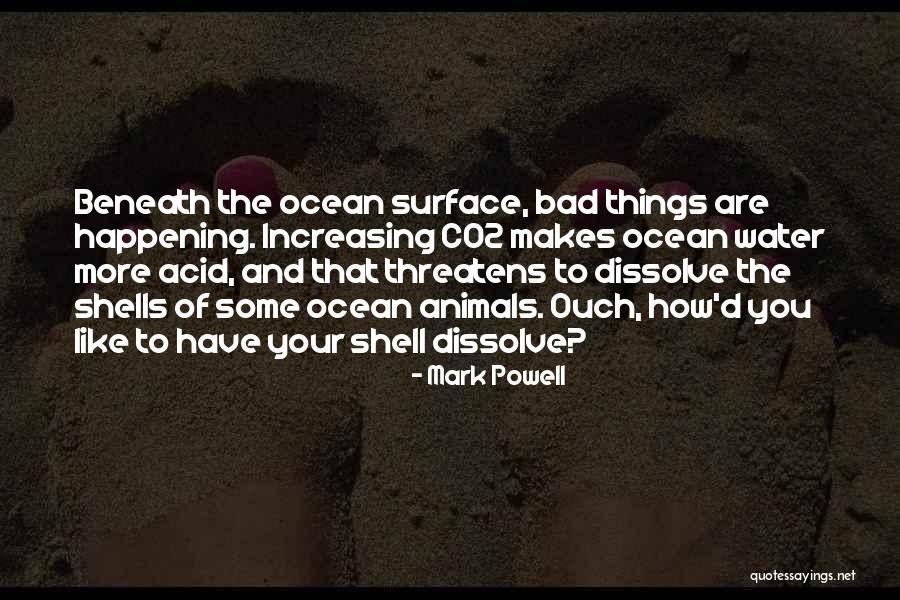 Beneath the ocean surface, bad things are happening. Increasing CO2 makes ocean water more acid, and that threatens to dissolve the shells of some ocean animals. Ouch, how'd you like to have your shell dissolve? — Mark Powell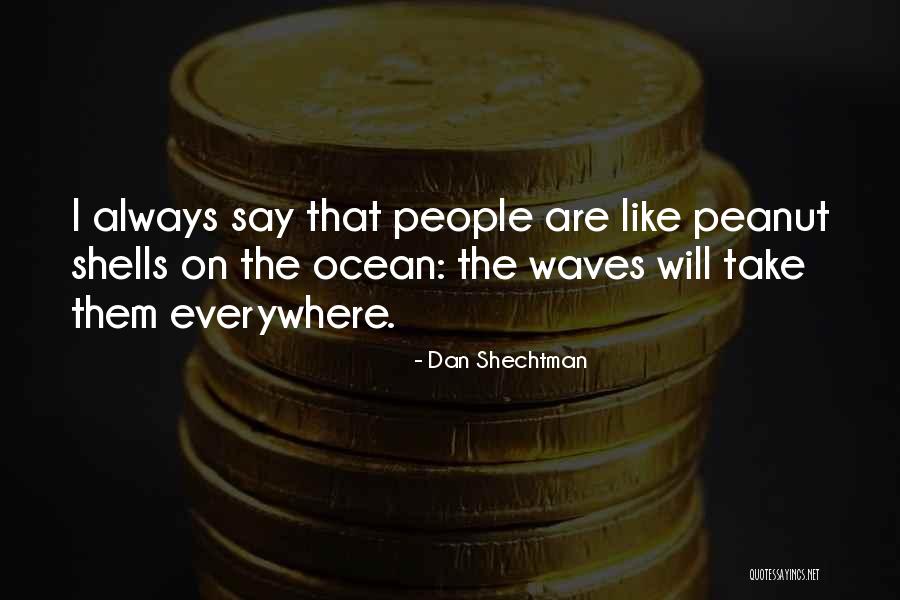 I always say that people are like peanut shells on the ocean: the waves will take them everywhere. — Dan Shechtman
The sea, like a crinkled chart, spread to the horizon, and lapped the sharp outline of the coast, while the houses were white shells in a rounded grotto, pricked here and there by a great orange sun. — Daphne Du Maurier
All knowledge and understanding of the Universe was no more than playing with stones and shells on the seashore of the vast imponderable ocean of truth. — Isaac Newton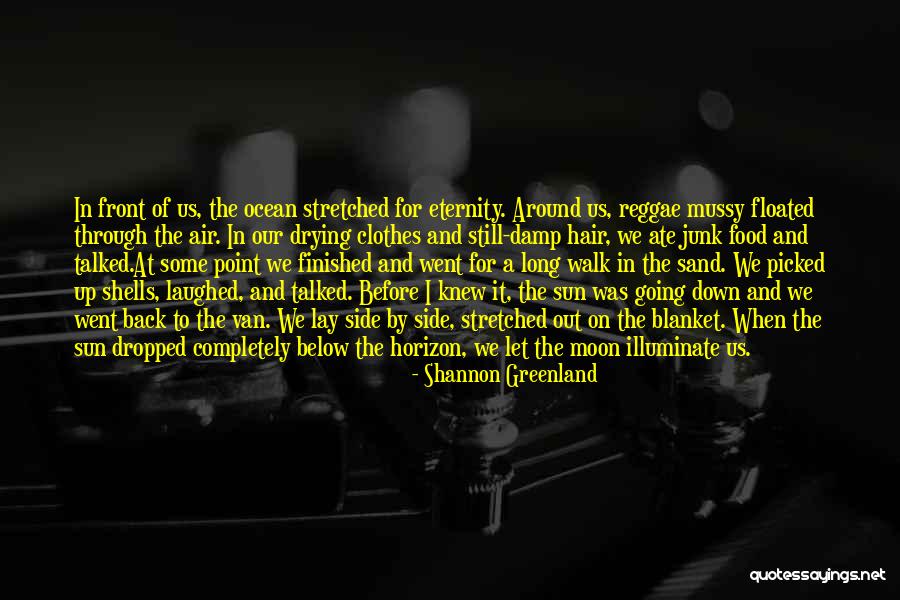 In front of us, the ocean stretched for eternity. Around us, reggae mussy floated through the air. In our drying clothes and still-damp hair, we ate junk food and talked.
At some point we finished and went for a long walk in the sand. We picked up shells, laughed, and talked. Before I knew it, the sun was going down and we went back to the van. We lay side by side, stretched out on the blanket. When the sun dropped completely below the horizon, we let the moon illuminate us. — Shannon Greenland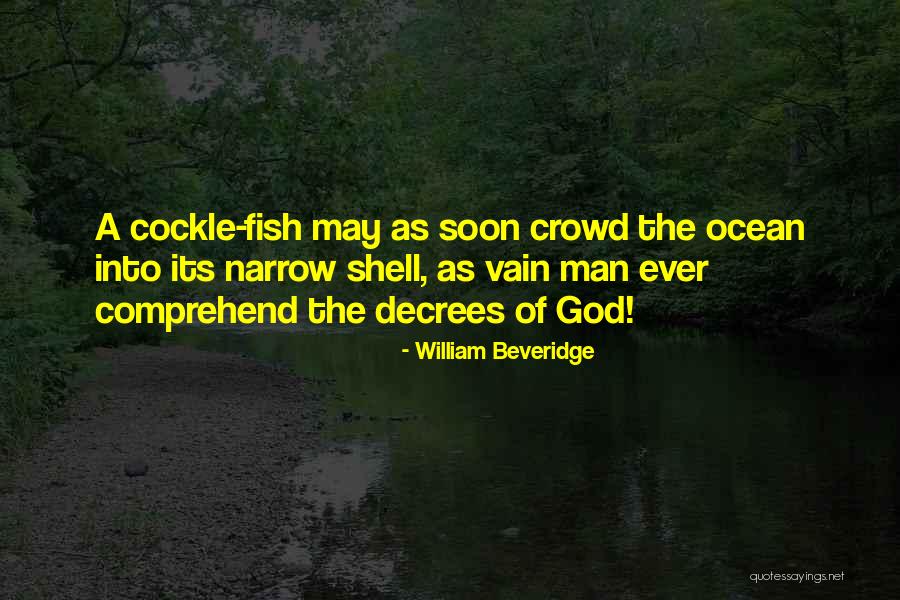 A cockle-fish may as soon crowd the ocean into its narrow shell, as vain man ever comprehend the decrees of God! — William Beveridge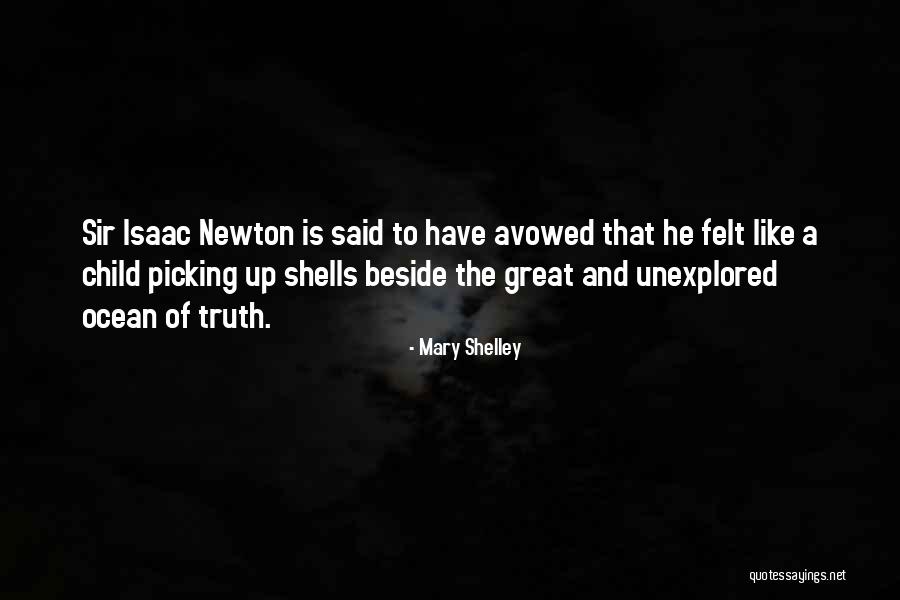 Sir Isaac Newton is said to have avowed that he felt like a child picking up shells beside the great and unexplored ocean of truth. — Mary Shelley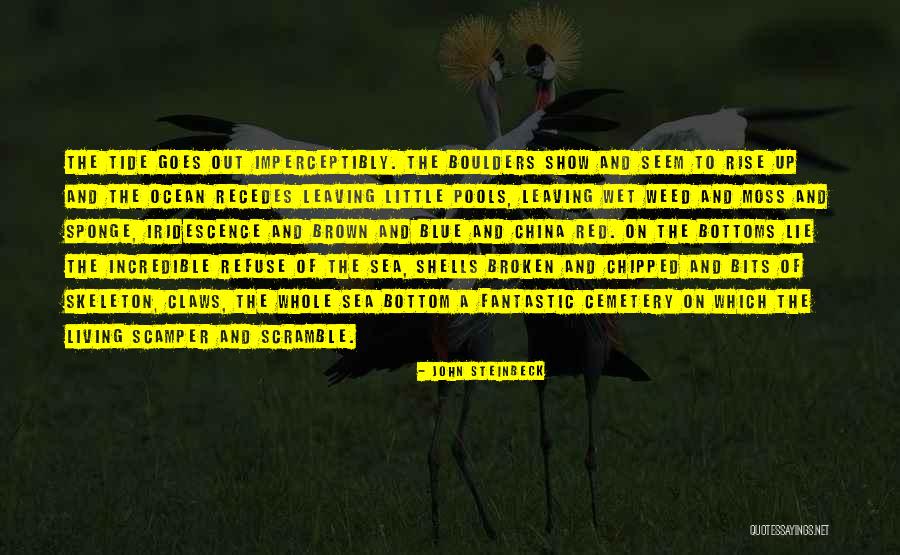 The tide goes out imperceptibly. The boulders show and seem to rise up and the ocean recedes leaving little pools, leaving wet weed and moss and sponge, iridescence and brown and blue and China red. On the bottoms lie the incredible refuse of the sea, shells broken and chipped and bits of skeleton, claws, the whole sea bottom a fantastic cemetery on which the living scamper and scramble. — John Steinbeck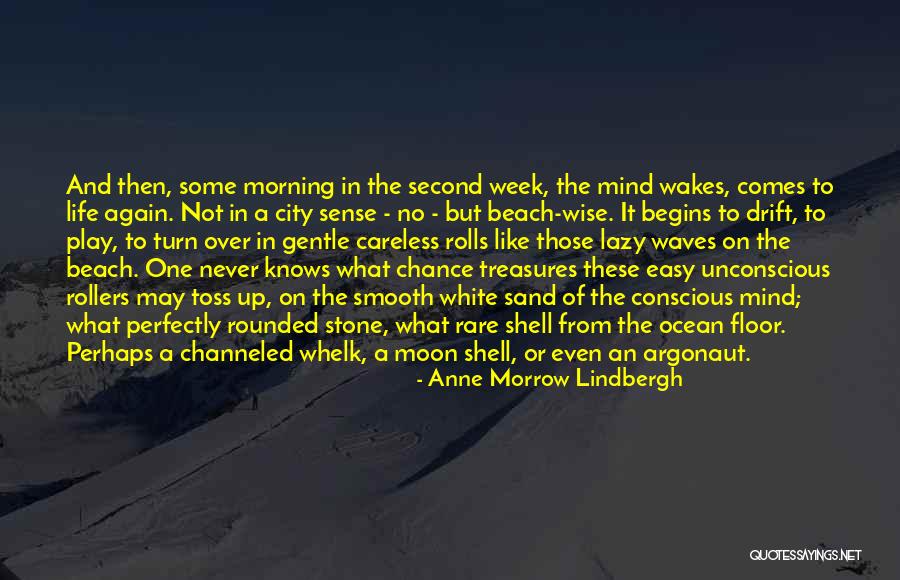 And then, some morning in the second week, the mind wakes, comes to life again. Not in a city sense - no - but beach-wise. It begins to drift, to play, to turn over in gentle careless rolls like those lazy waves on the beach. One never knows what chance treasures these easy unconscious rollers may toss up, on the smooth white sand of the conscious mind; what perfectly rounded stone, what rare shell from the ocean floor. Perhaps a channeled whelk, a moon shell, or even an argonaut. — Anne Morrow Lindbergh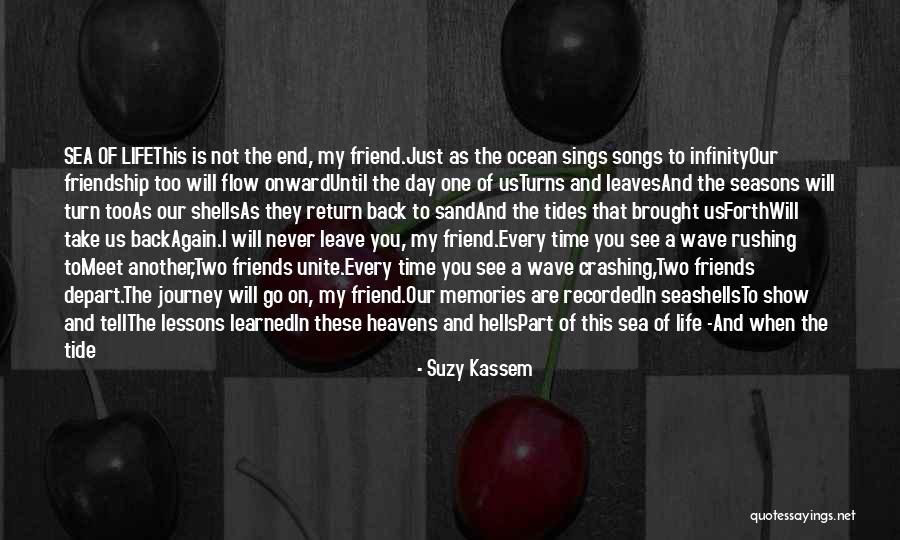 SEA OF LIFE

This is not the end, my friend.
Just as the ocean sings songs to infinity
Our friendship too will flow onward
Until the day one of us
Turns and leaves
And the seasons will turn too
As our shells
As they return back to sand
And the tides that brought us
Forth
Will take us back
Again.

I will never leave you, my friend.
Every time you see a wave rushing to
Meet another,
Two friends unite.
Every time you see a wave crashing,
Two friends depart.
The journey will go on, my friend.
Our memories are recorded
In seashells
To show and tell
The lessons learned
In these heavens and hells
Part of this sea of life -
And when the tide is right,
We shall cross paths again
When the ocean sings our song.

Poetry by Suzy Kassem — Suzy Kassem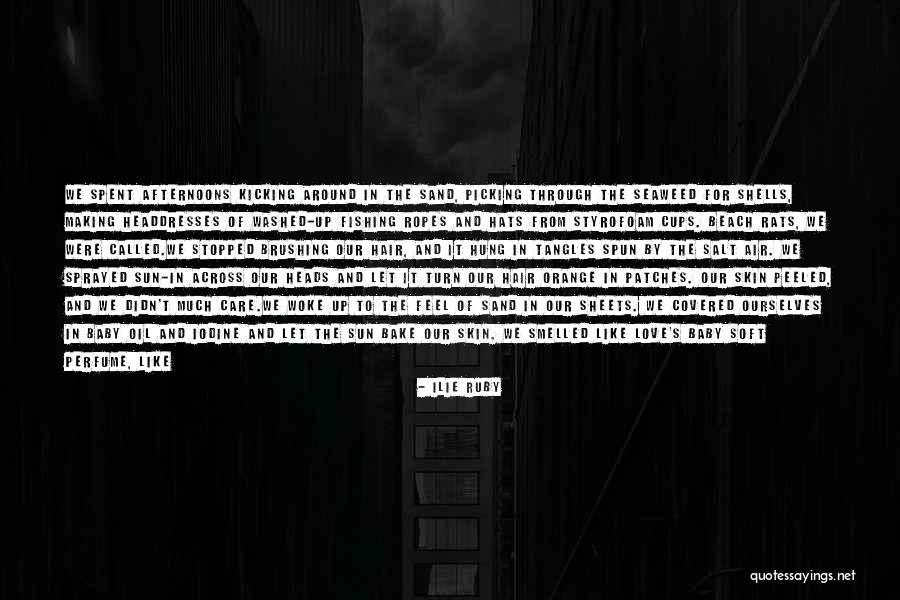 We spent afternoons kicking around in the sand, picking through the seaweed for shells, making headdresses of washed-up fishing ropes and hats from Styrofoam cups. Beach rats, we were called.

We stopped brushing our hair, and it hung in tangles spun by the salt air. We sprayed Sun-In across our heads and let it turn our hair orange in patches. Our skin peeled, and we didn't much care.

We woke up to the feel of sand in our sheets. We covered ourselves in baby oil and iodine and let the sun bake our skin. We smelled like Love's Baby Soft perfume, like summer all year long. We were tanned, with freckles across our noses. — Ilie Ruby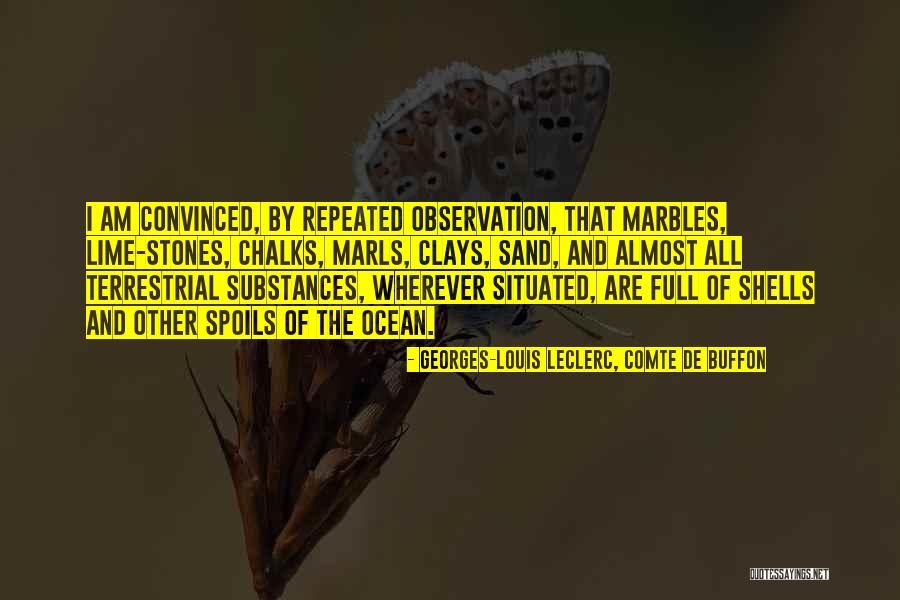 I am convinced, by repeated observation, that marbles, lime-stones, chalks, marls, clays, sand, and almost all terrestrial substances, wherever situated, are full of shells and other spoils of the ocean. — Georges-Louis Leclerc, Comte De Buffon