The Future's So Bright Quotes & Sayings
Enjoy reading and share 31 famous quotes about The Future's So Bright with everyone.
Top The Future's So Bright Quotes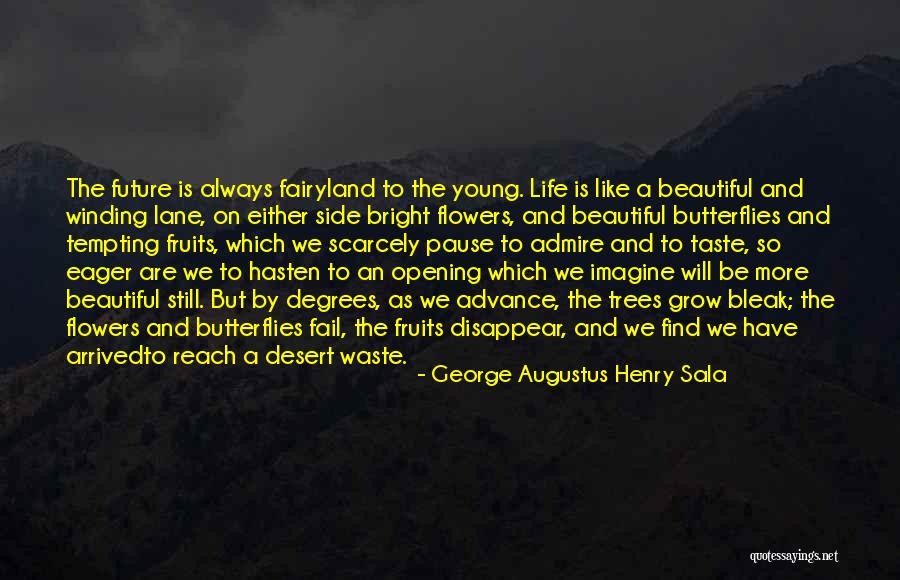 The future is always fairyland to the young. Life is like a beautiful and winding lane, on either side bright flowers, and beautiful butterflies and tempting fruits, which we scarcely pause to admire and to taste, so eager are we to hasten to an opening which we imagine will be more beautiful still. But by degrees, as we advance, the trees grow bleak; the flowers and butterflies fail, the fruits disappear, and we find we have arrived
to reach a desert waste. — George Augustus Henry Sala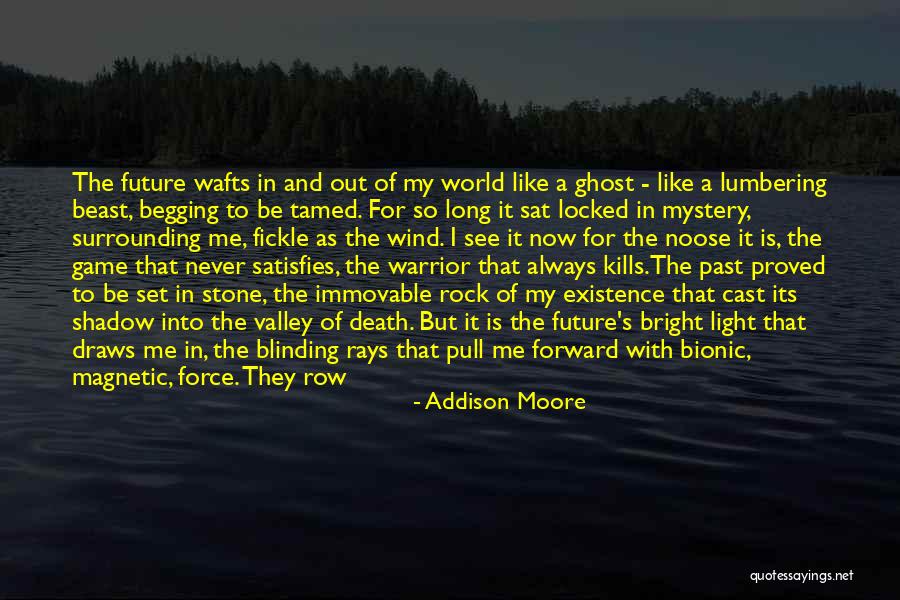 The future wafts in and out of my world like a ghost - like a lumbering beast, begging to be tamed. For so long it sat locked in mystery, surrounding me, fickle as the wind. I see it now for the noose it is, the game that never satisfies, the warrior that always kills.
The past proved to be set in stone, the immovable rock of my existence that cast its shadow into the valley of death. But it is the future's bright light that draws me in, the blinding rays that pull me forward with bionic, magnetic, force. They row me towards my destiny with indescribable power, to a fate questionably determined - washed in the patina of hope. — Addison Moore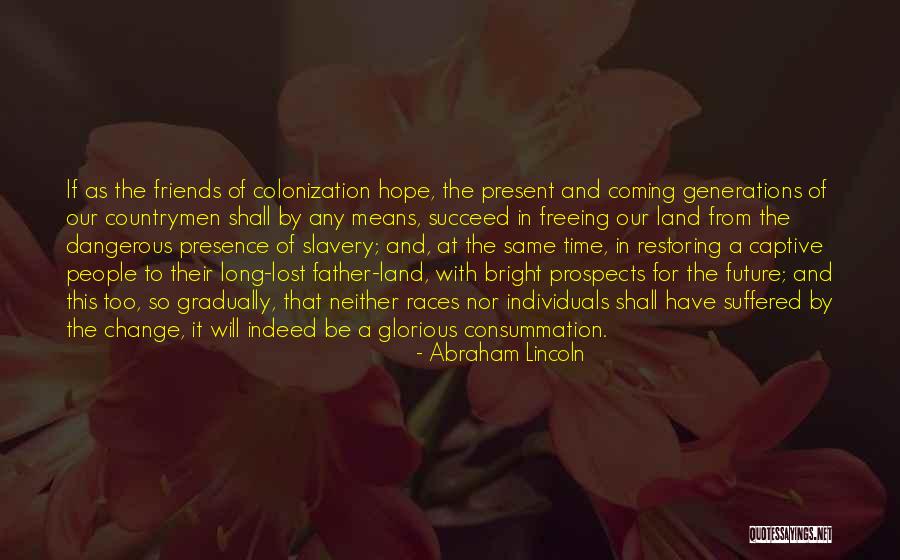 If as the friends of colonization hope, the present and coming generations of our countrymen shall by any means, succeed in freeing our land from the dangerous presence of slavery; and, at the same time, in restoring a captive people to their long-lost father-land, with bright prospects for the future; and this too, so gradually, that neither races nor individuals shall have suffered by the change, it will indeed be a glorious consummation. — Abraham Lincoln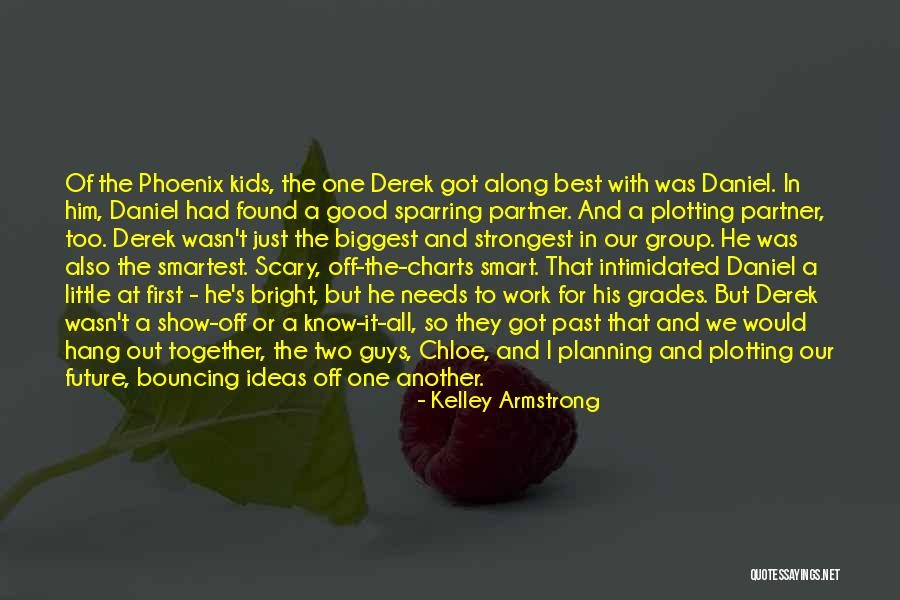 Of the Phoenix kids, the one Derek got along best with was Daniel. In him, Daniel had found a good sparring partner. And a plotting partner, too. Derek wasn't just the biggest and strongest in our group. He was also the smartest. Scary, off-the-charts smart. That intimidated Daniel a little at first - he's bright, but he needs to work for his grades. But Derek wasn't a show-off or a know-it-all, so they got past that and we would hang out together, the two guys, Chloe, and I planning and plotting our future, bouncing ideas off one another. — Kelley Armstrong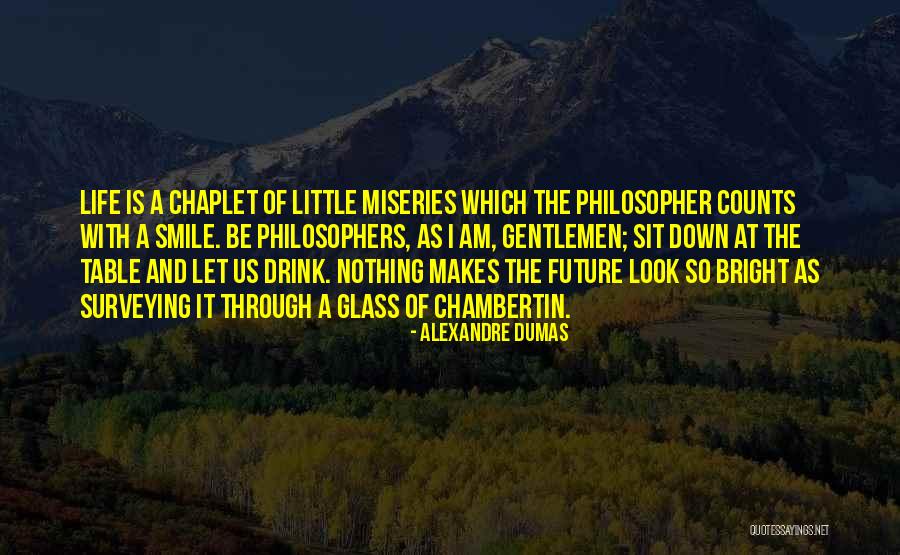 Life is a chaplet of little miseries which the philosopher counts with a smile. Be philosophers, as I am, gentlemen; sit down at the table and let us drink. Nothing makes the future look so bright as surveying it through a glass of chambertin. — Alexandre Dumas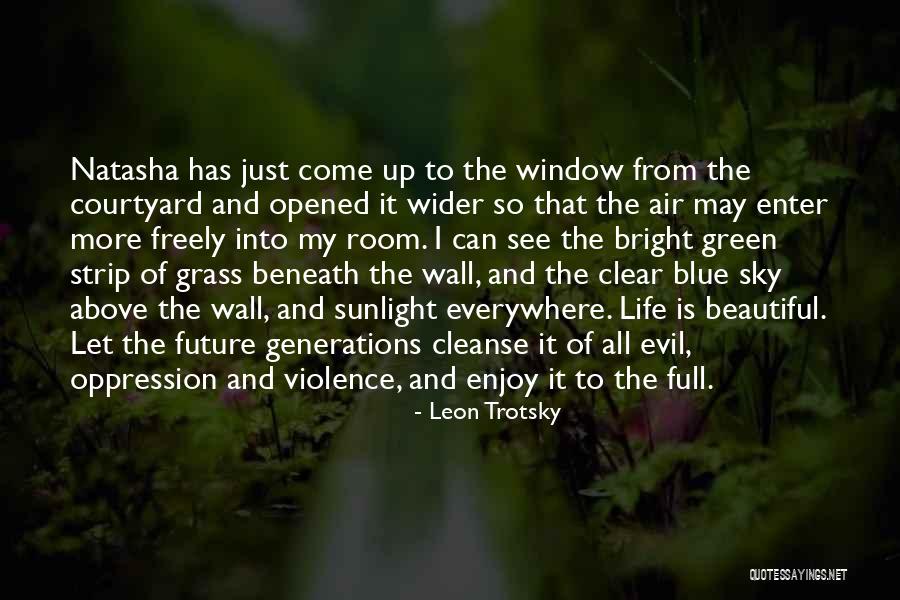 Natasha has just come up to the window from the courtyard and opened it wider so that the air may enter more freely into my room. I can see the bright green strip of grass beneath the wall, and the clear blue sky above the wall, and sunlight everywhere. Life is beautiful. Let the future generations cleanse it of all evil, oppression and violence, and enjoy it to the full. — Leon Trotsky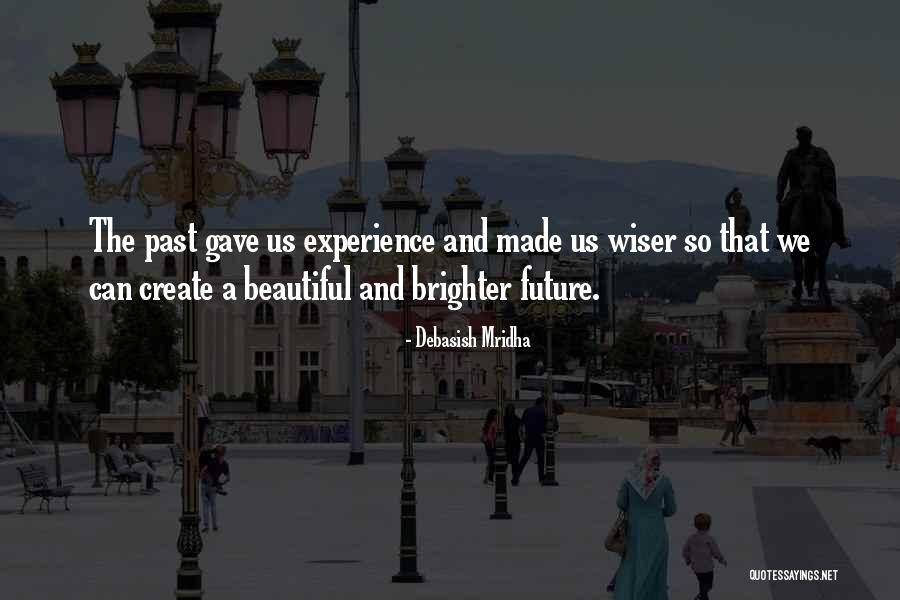 The past gave us experience and made us wiser so that we can create a beautiful and brighter future. — Debasish Mridha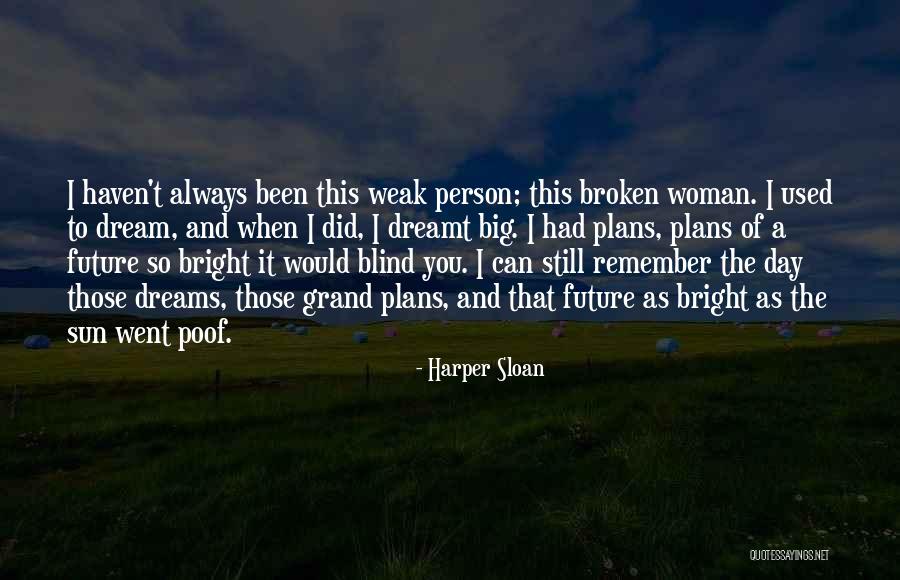 I haven't always been this weak person; this broken woman. I used to dream, and when I did, I dreamt big. I had plans, plans of a future so bright it would blind you. I can still remember the day those dreams, those grand plans, and that future as bright as the sun went poof. — Harper Sloan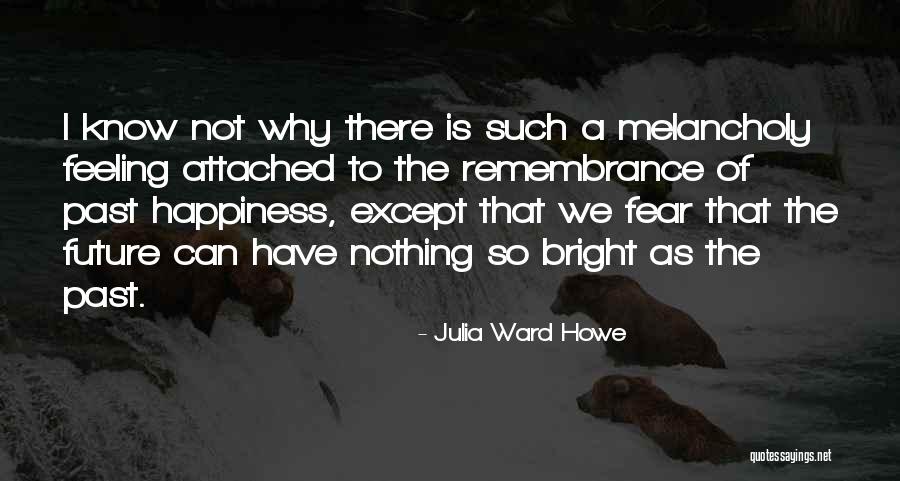 I know not why there is such a melancholy feeling attached to the remembrance of past happiness, except that we fear that the future can have nothing so bright as the past. — Julia Ward Howe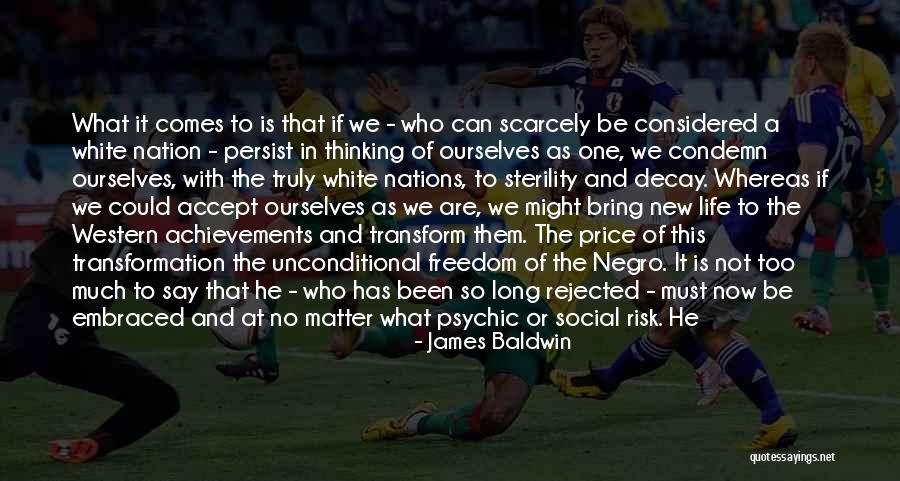 What it comes to is that if we - who can scarcely be considered a white nation - persist in thinking of ourselves as one, we condemn ourselves, with the truly white nations, to sterility and decay. Whereas if we could accept ourselves as we are, we might bring new life to the Western achievements and transform them. The price of this transformation the unconditional freedom of the Negro. It is not too much to say that he - who has been so long rejected - must now be embraced and at no matter what psychic or social risk. He is the key figure in his country, and the American future is precisely as bright or as dark as his. — James Baldwin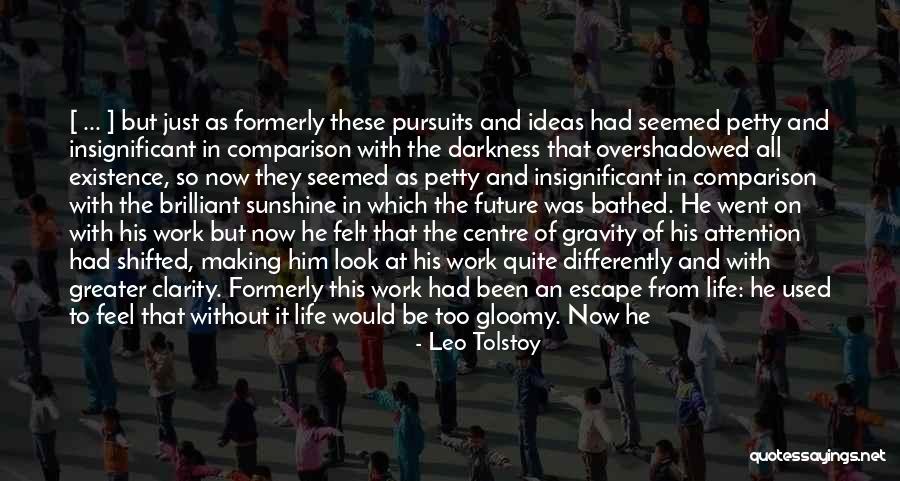 [ ... ] but just as formerly these pursuits and ideas had seemed petty and insignificant in comparison with the darkness that overshadowed all existence, so now they seemed as petty and insignificant in comparison with the brilliant sunshine in which the future was bathed. He went on with his work but now he felt that the centre of gravity of his attention had shifted, making him look at his work quite differently and with greater clarity. Formerly this work had been an escape from life: he used to feel that without it life would be too gloomy. Now he needed it so that life might not be too uniformly bright. — Leo Tolstoy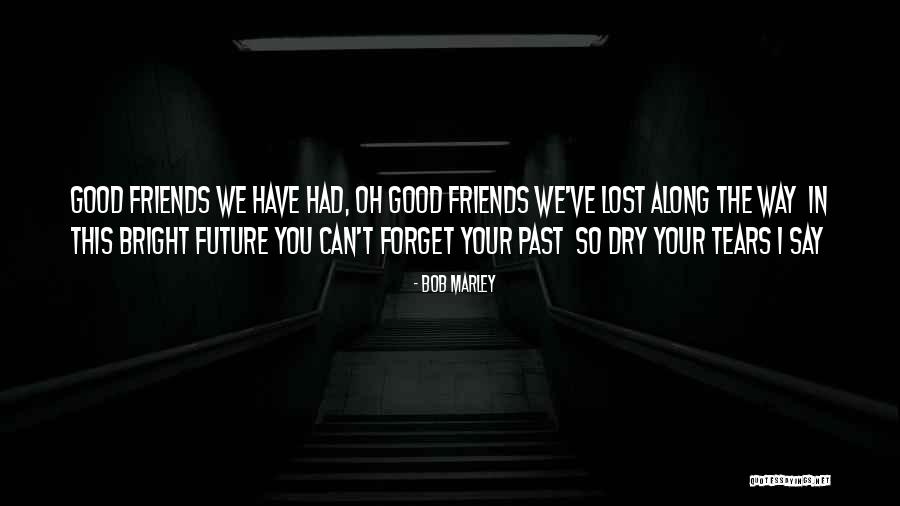 Good friends we have had, oh good friends we've lost along the way
In this bright future you can't forget your past
So dry your tears I say — Bob Marley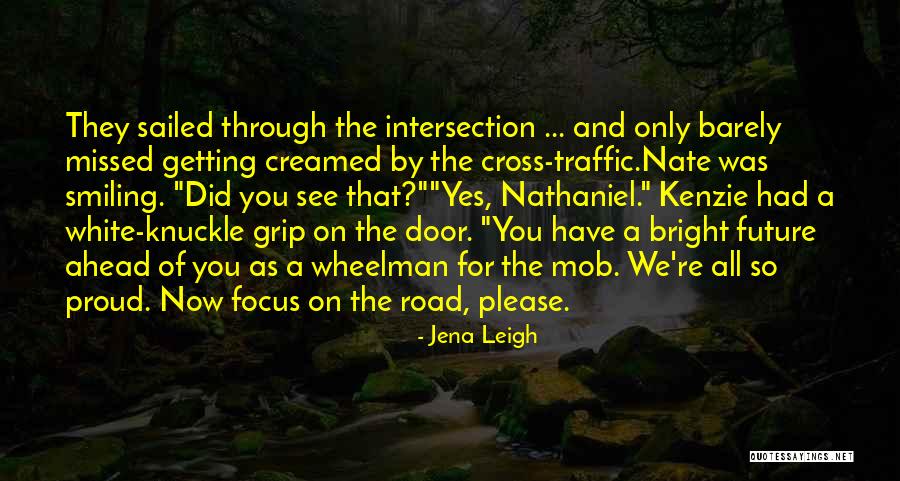 They sailed through the intersection ... and only barely missed getting creamed by the cross-traffic.
Nate was smiling. "Did you see that?"
"Yes, Nathaniel." Kenzie had a white-knuckle grip on the door. "You have a bright future ahead of you as a wheelman for the mob. We're all so proud. Now focus on the road, please. — Jena Leigh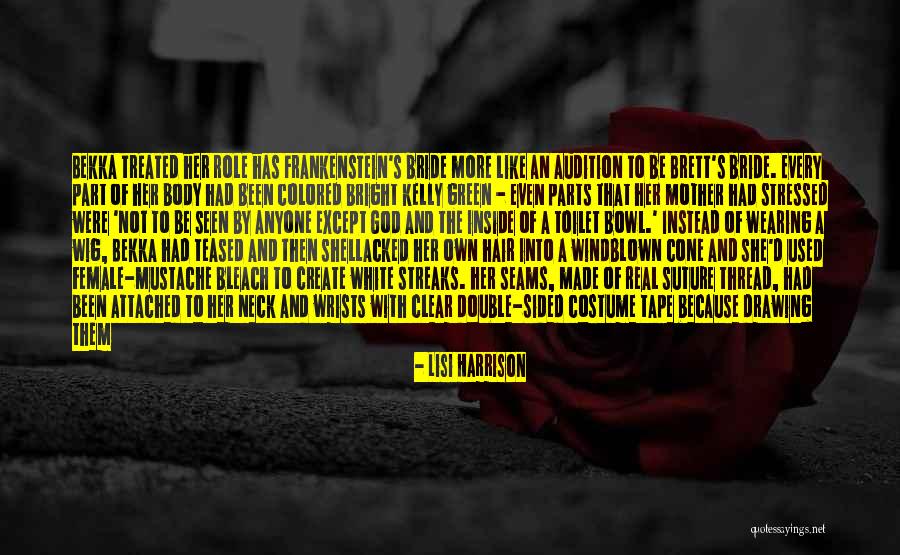 Bekka treated her role has Frankenstein's bride more like an audition to be Brett's bride. Every part of her body had been colored bright kelly green - even parts that her mother had stressed were 'not to be seen by anyone except God and the inside of a toilet bowl.' Instead of wearing a wig, Bekka had teased and then shellacked her own hair into a windblown cone and she'd used female-mustache bleach to create white streaks. Her seams, made of real suture thread, had been attached to her neck and wrists with clear double-sided costume tape because drawing them on with kohl would not have been 'honoring the character.' Her Costume Castle dress had been exchanged for something 'more authentic' from the Bridal Barn. If Brett didn't see his future in her heavily black-shadowed eyes tonight, he never would. Or so she believed. — Lisi Harrison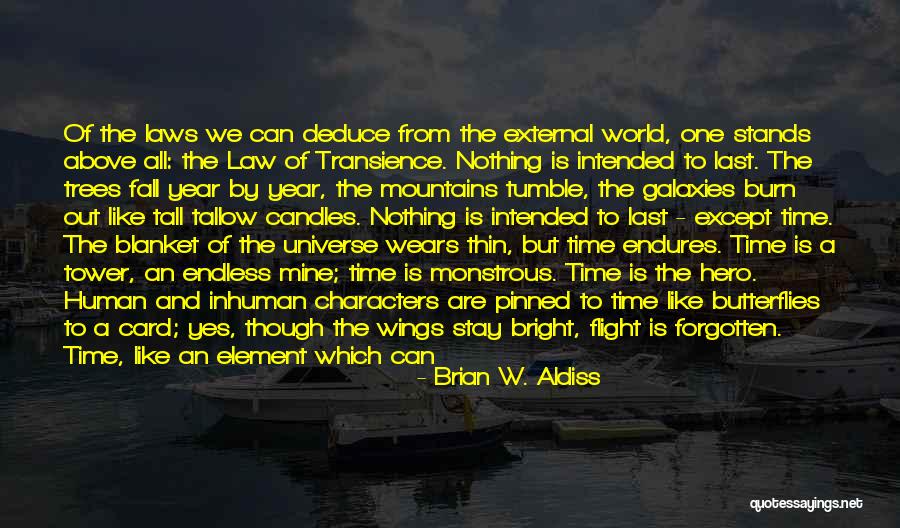 Of the laws we can deduce from the external world, one stands above all: the Law of Transience. Nothing is intended to last. The trees fall year by year, the mountains tumble, the galaxies burn out like tall tallow candles. Nothing is intended to last - except time. The blanket of the universe wears thin, but time endures. Time is a tower, an endless mine; time is monstrous. Time is the hero. Human and inhuman characters are pinned to time like butterflies to a card; yes, though the wings stay bright, flight is forgotten. Time, like an element which can be solid, liquid or gas, has three states. In the present, it is a flux we cannot seize. In the future, it is a veiling mist. In the past, it has solidified and become glazed; then we call it history. Then it can show us nothing but our own solemn faces; it is a treacherous mirror, reflecting only our limited truths. So much is it a part of man that objectivity is impossible; so neutral is it that it appears hostile. — Brian W. Aldiss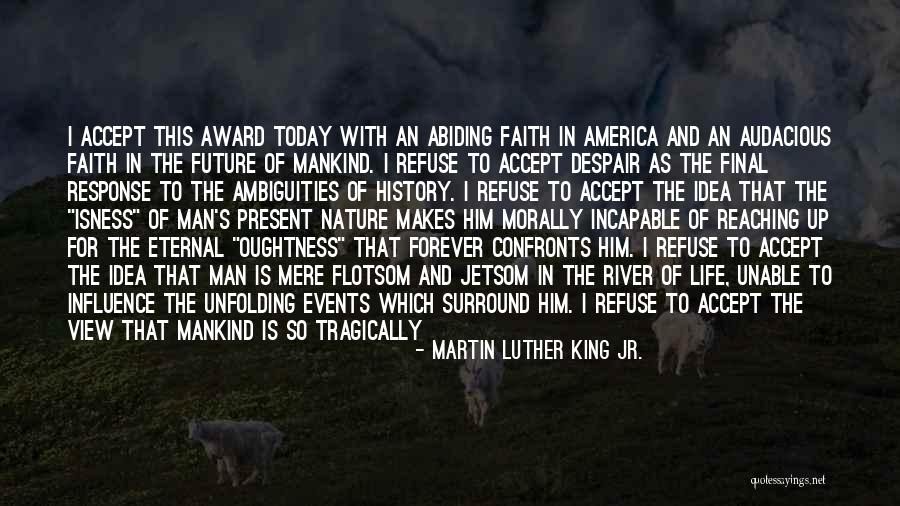 I accept this award today with an abiding faith in America and an audacious faith in the future of mankind. I refuse to accept despair as the final response to the ambiguities of history. I refuse to accept the idea that the "isness" of man's present nature makes him morally incapable of reaching up for the eternal "oughtness" that forever confronts him. I refuse to accept the idea that man is mere flotsom and jetsom in the river of life, unable to influence the unfolding events which surround him. I refuse to accept the view that mankind is so tragically bound to the starless midnight of racism and war that the bright daybreak of peace and brotherhood can never become a reality. — Martin Luther King Jr.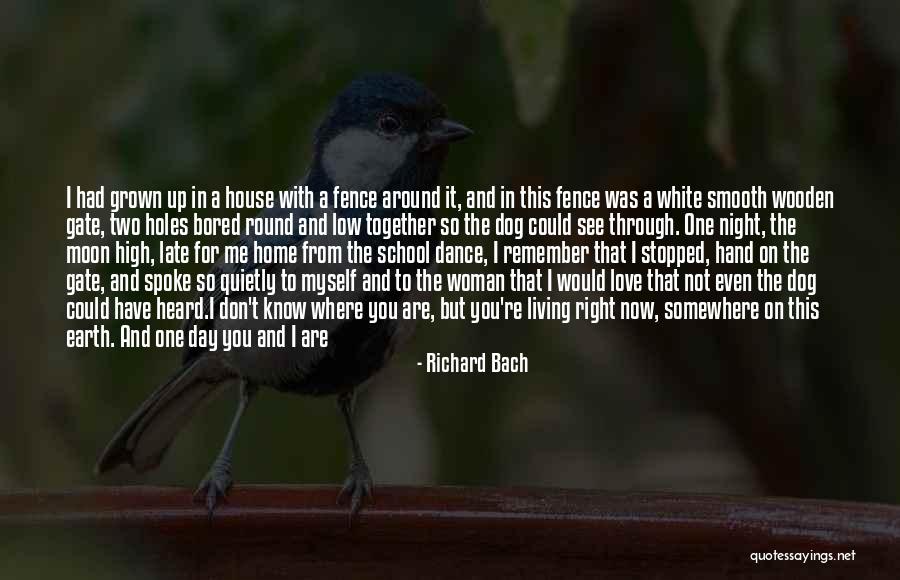 I had grown up in a house with a fence around it, and in this fence was a white smooth wooden gate, two holes bored round and low together so the dog could see through. One night, the moon high, late for me home from the school dance, I remember that I stopped, hand on the gate, and spoke so quietly to myself and to the woman that I would love that not even the dog could have heard.
I don't know where you are, but you're living right now, somewhere on this earth. And one day you and I are going to touch this gate where I'm touching it now. Your hand will touch this very wood, here! Then we'll walk through and we'll be full of a future and of a past and we'll be to each other like no one else has ever been. We can't meet now, I don't know why. But some day our questions will be answers and we'll be caught in something so bright ... and every step I take is one step closer on a bridge we must cross to meet. — Richard Bach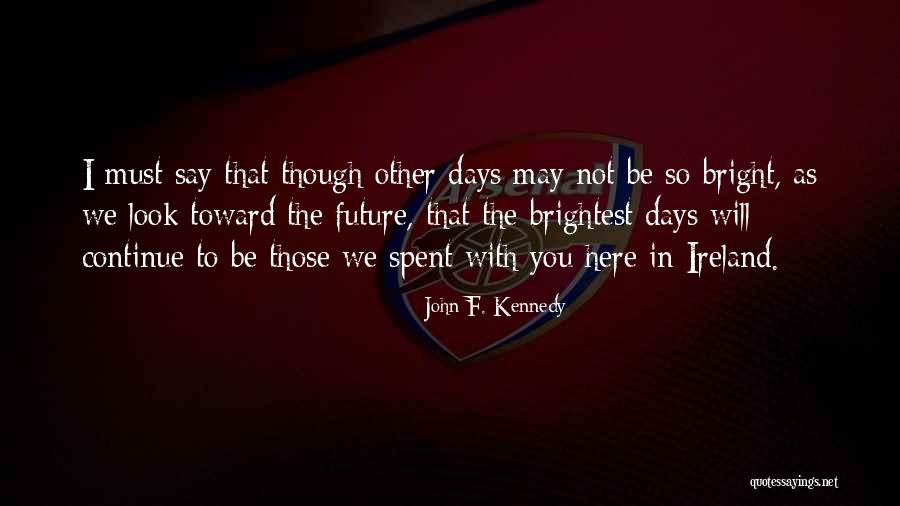 I must say that though other days may not be so bright, as we look toward the future, that the brightest days will continue to be those we spent with you here in Ireland. — John F. Kennedy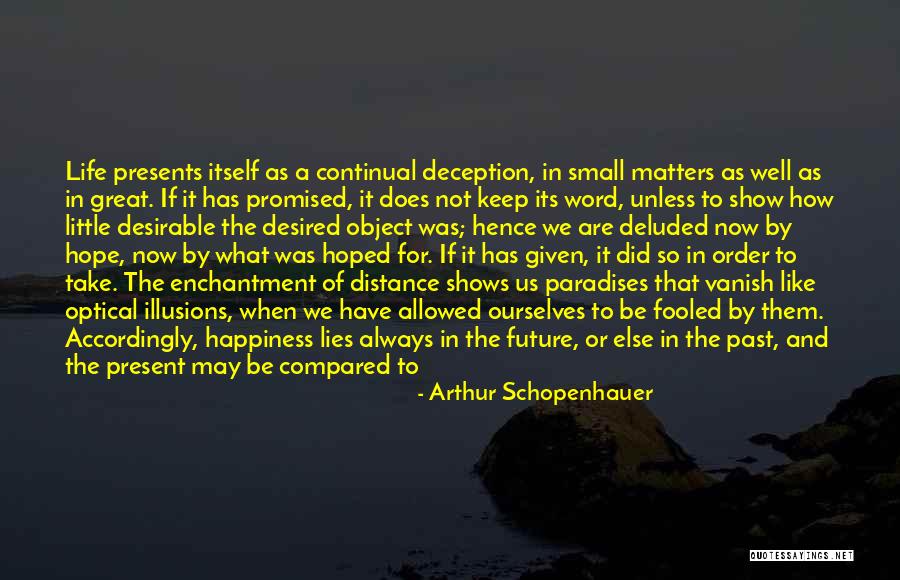 Life presents itself as a continual deception, in small matters as well as in great. If it has promised, it does not keep its word, unless to show how little desirable the desired object was; hence we are deluded now by hope, now by what was hoped for. If it has given, it did so in order to take. The enchantment of distance shows us paradises that vanish like optical illusions, when we have allowed ourselves to be fooled by them. Accordingly, happiness lies always in the future, or else in the past, and the present may be compared to a small dark cloud driven by the wind over the sunny plain; in front of and behind the cloud everything is bright, only it itself always casts a shadow. Consequently, the present is always inadequate, but the future is uncertain, and the past irrecoverable. — Arthur Schopenhauer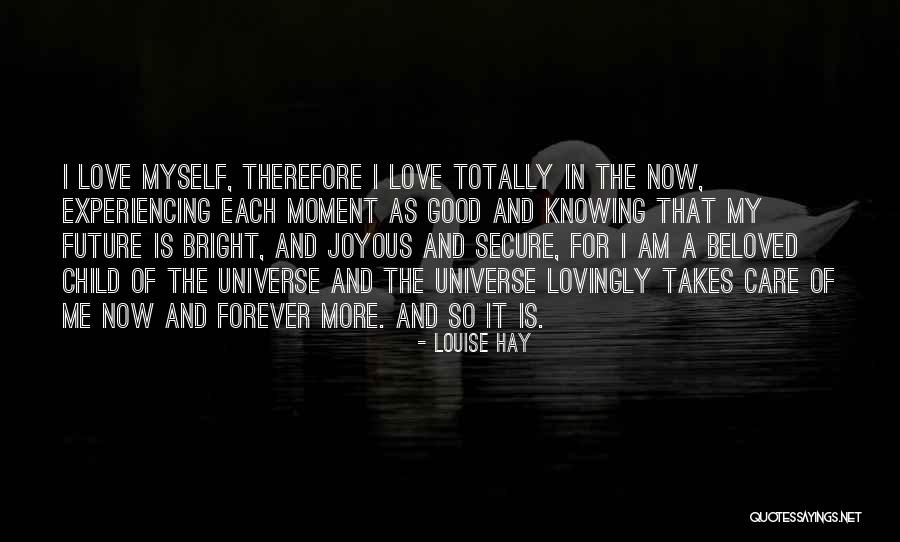 I love myself, therefore I love totally in the now, experiencing each moment as good and knowing that my future is bright, and joyous and secure, for I am a beloved child of the universe and the universe lovingly takes care of me now and forever more. And so it is. — Louise Hay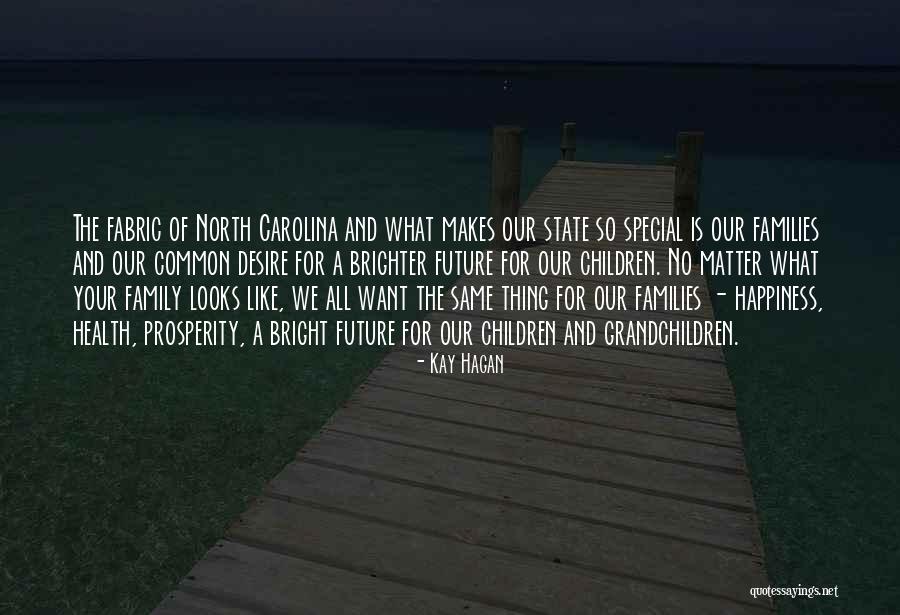 The fabric of North Carolina and what makes our state so special is our families and our common desire for a brighter future for our children. No matter what your family looks like, we all want the same thing for our families - happiness, health, prosperity, a bright future for our children and grandchildren. — Kay Hagan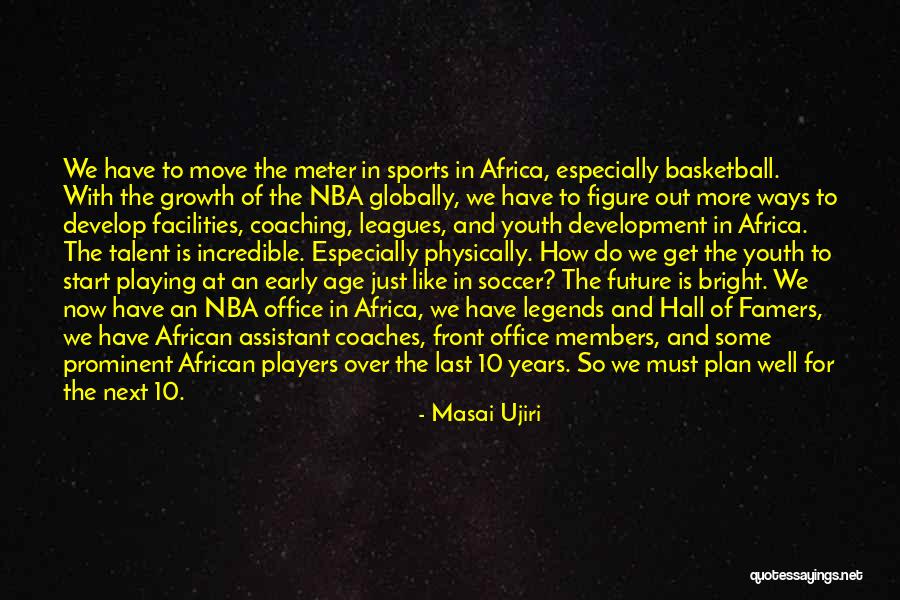 We have to move the meter in sports in Africa, especially basketball. With the growth of the NBA globally, we have to figure out more ways to develop facilities, coaching, leagues, and youth development in Africa. The talent is incredible. Especially physically. How do we get the youth to start playing at an early age just like in soccer? The future is bright. We now have an NBA office in Africa, we have legends and Hall of Famers, we have African assistant coaches, front office members, and some prominent African players over the last 10 years. So we must plan well for the next 10. — Masai Ujiri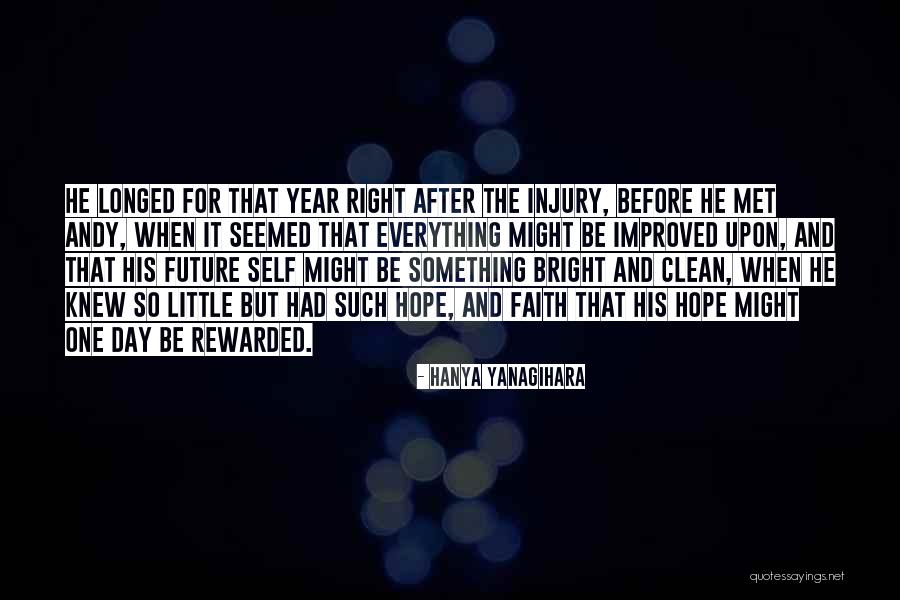 He longed for that year right after the injury, before he met Andy, when it seemed that everything might be improved upon, and that his future self might be something bright and clean, when he knew so little but had such hope, and faith that his hope might one day be rewarded. — Hanya Yanagihara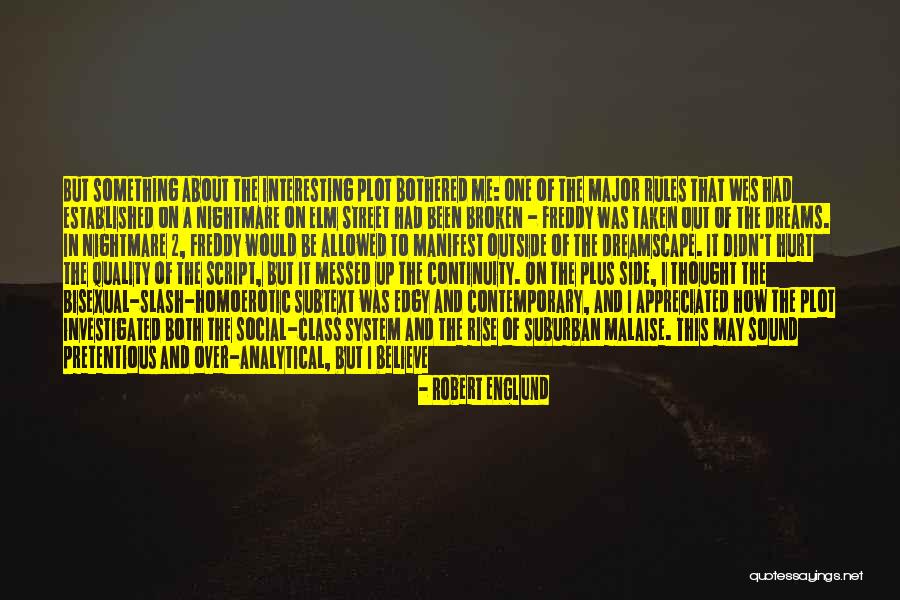 But something about the interesting plot bothered me: one of the major rules that Wes had established on A Nightmare on Elm Street had been broken - Freddy was taken out of the dreams. In Nightmare 2, Freddy would be allowed to manifest outside of the dreamscape. It didn't hurt the quality of the script, but it messed up the continuity. On the plus side, I thought the bisexual-slash-homoerotic subtext was edgy and contemporary, and I appreciated how the plot investigated both the social-class system and the rise of suburban malaise. This may sound pretentious and over-analytical, but I believe that Freddy represented what looked to be a bad future for the post-boomer generation. It's possible that Wes believed the youth of America were about to fall into a pile of shit - virtually all the parents in the Nightmare movies were flawed, so how could these kids turn out safe and sane? - and he might have created Freddy to represent a less-than-bright future. — Robert Englund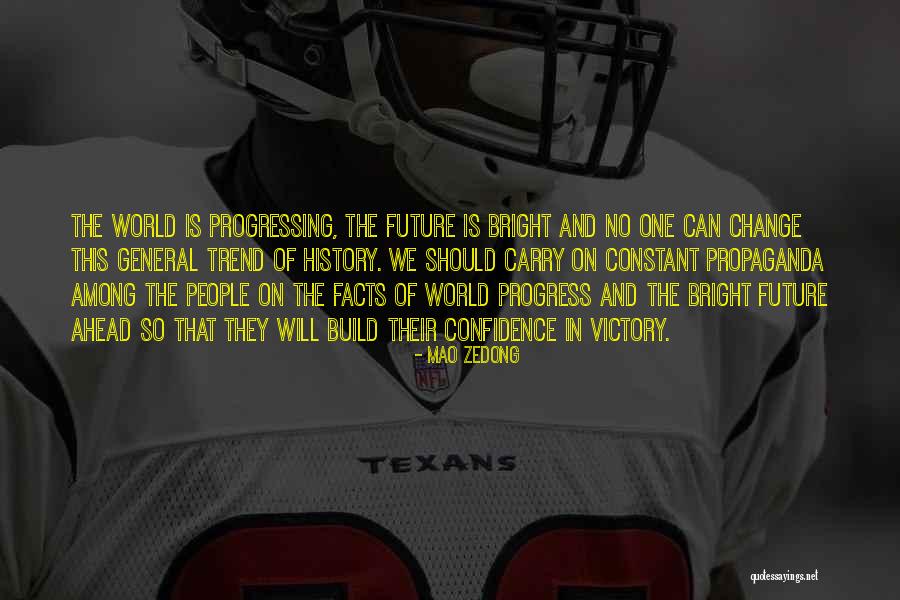 The world is progressing, the future is bright and no one can change this general trend of history. We should carry on constant propaganda among the people on the facts of world progress and the bright future ahead so that they will build their confidence in victory. — Mao Zedong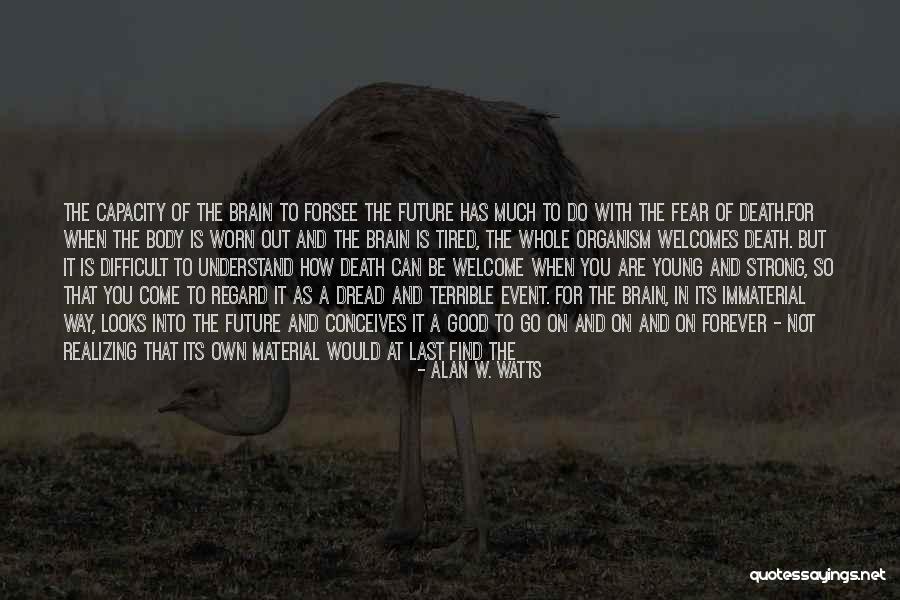 The capacity of the brain to forsee the future has much to do with the fear of death.
For when the body is worn out and the brain is tired, the whole organism welcomes death. But it is difficult to understand how death can be welcome when you are young and strong, so that you come to regard it as a dread and terrible event. For the brain, in its immaterial way, looks into the future and conceives it a good to go on and on and on forever - not realizing that its own material would at last find the process intolerably tiresome. Not taking this into account, the brain fails to see that, being itself material and subject to change, its desires will change, and a time will come when death will be good. On a bright morning, after a good night's rest, you do not want to go to sleep. But after a hard day's work the sensation of dropping into unconsciousness is extraordinarily pleasant. — Alan W. Watts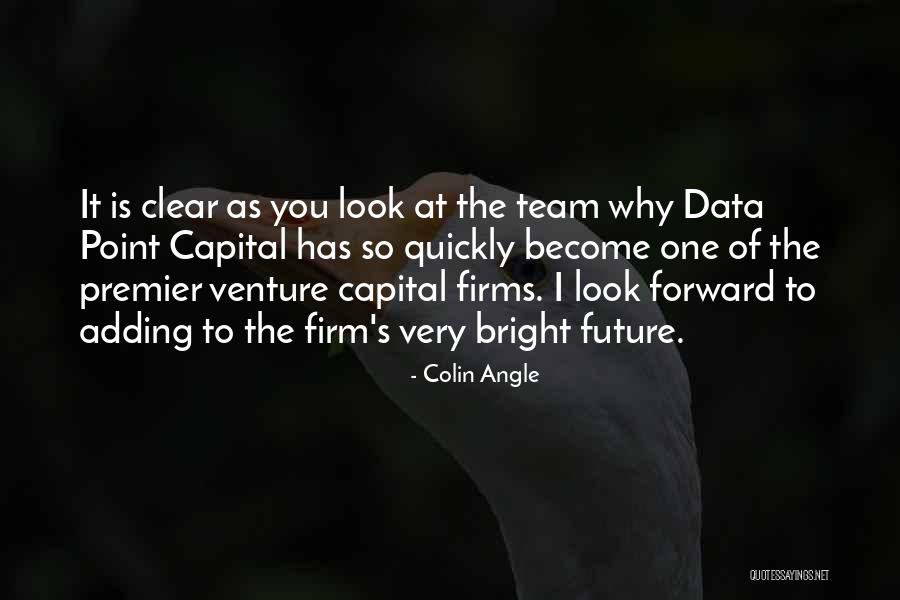 It is clear as you look at the team why Data Point Capital has so quickly become one of the premier venture capital firms. I look forward to adding to the firm's very bright future. — Colin Angle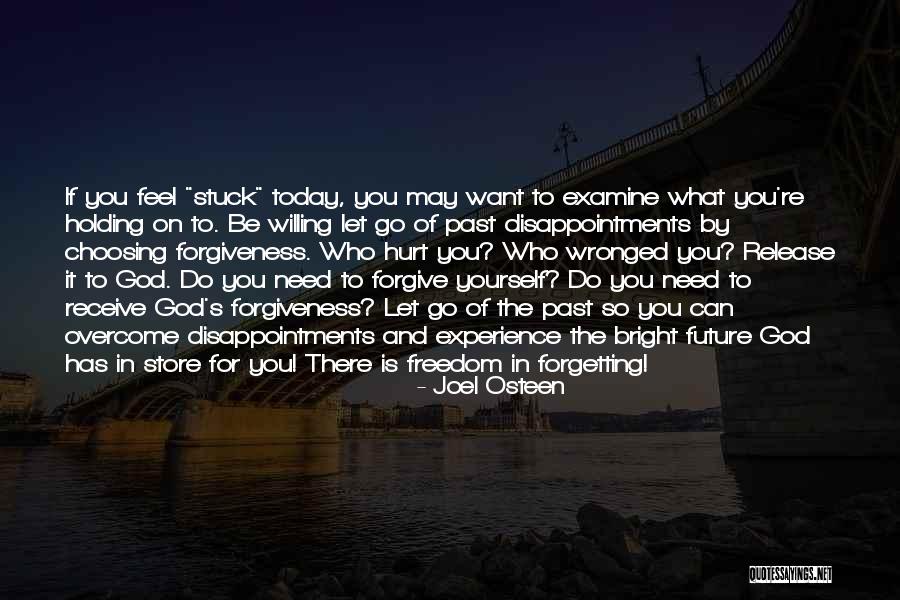 If you feel "stuck" today, you may want to examine what you're holding on to. Be willing let go of past disappointments by choosing forgiveness. Who hurt you? Who wronged you? Release it to God. Do you need to forgive yourself? Do you need to receive God's forgiveness? Let go of the past so you can overcome disappointments and experience the bright future God has in store for you! There is freedom in forgetting! — Joel Osteen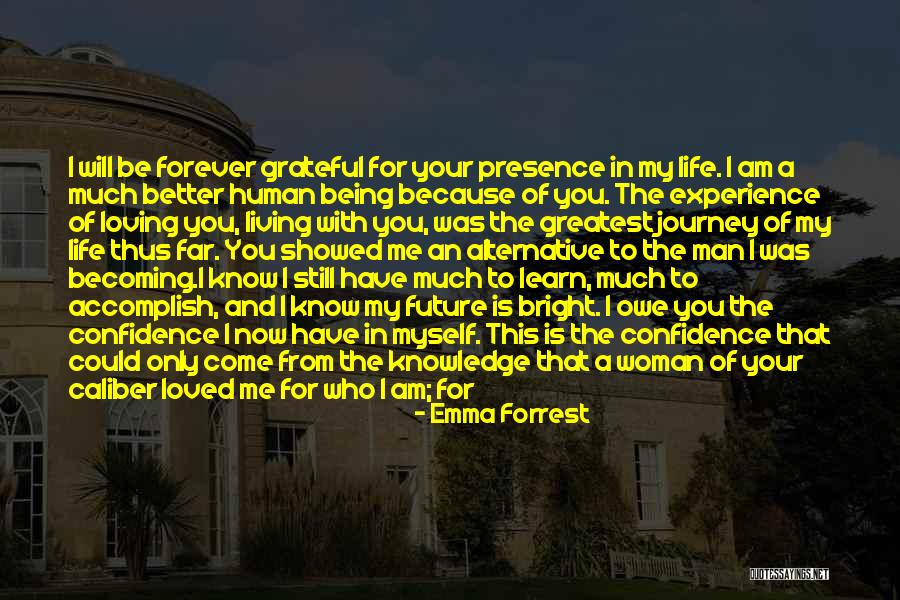 I will be forever grateful for your presence in my life. I am a much better human being because of you. The experience of loving you, living with you, was the greatest journey of my life thus far. You showed me an alternative to the man I was becoming.
I know I still have much to learn, much to accomplish, and I know my future is bright. I owe you the confidence I now have in myself. This is the confidence that could only come from the knowledge that a woman of your caliber loved me for who I am; for what you saw in me.
You are a great woman and I mean that in the strongest sense of the phrase. You feel deeply, think deeply, and live deeply. I admire so much about you. Regardless of whether our paths cross again, know that I am actively wishing you success and happiness. I pray that you will once again be part of my life. But if left with just the experience we've shared, I know my life was better because of it. — Emma Forrest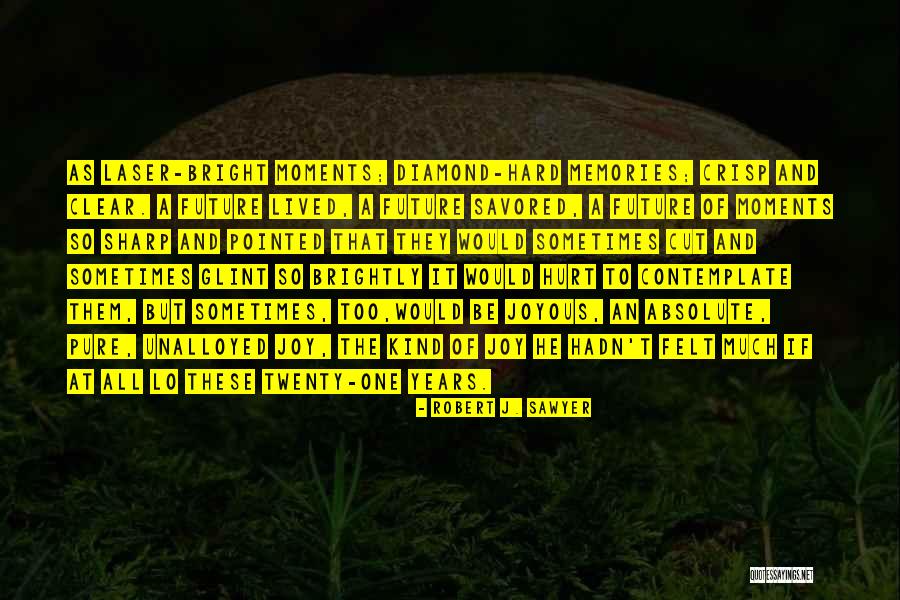 As laser-bright moments; diamond-hard memories; crisp and clear. A future lived, a future savored, a future of moments so sharp and pointed that they would sometimes cut and sometimes glint so brightly it would hurt to contemplate them, but sometimes, too,
would be joyous, an absolute, pure, unalloyed joy, the kind of joy he hadn't felt much if at all lo these twenty-one years. — Robert J. Sawyer