Quotes & Sayings About The Delicacy Of Life
Enjoy reading and share 22 famous quotes about The Delicacy Of Life with everyone.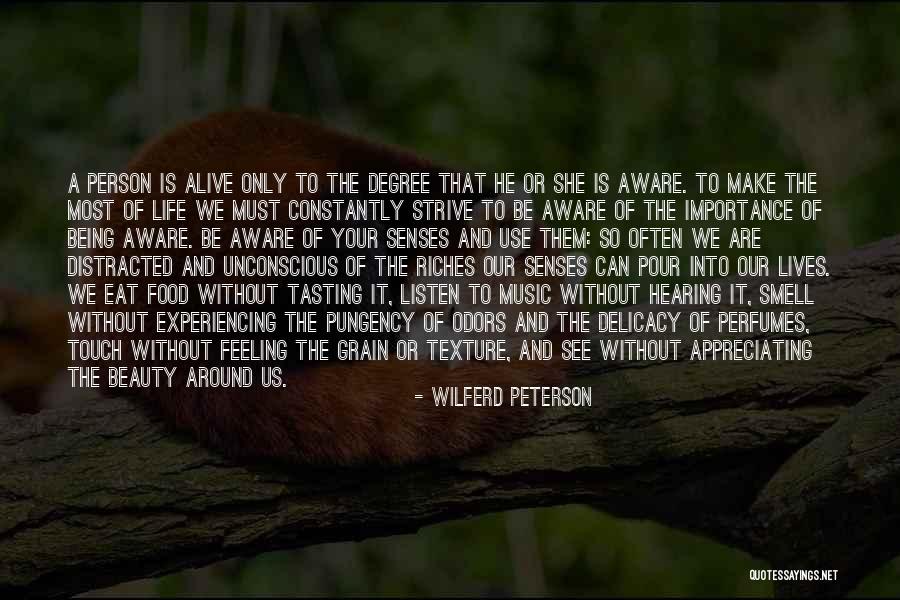 A person is alive only to the degree that he or she is aware. To make the most of life we must constantly strive to be aware of the importance of being aware. Be aware of your senses and use them: So often we are distracted and unconscious of the riches our senses can pour into our lives. We eat food without tasting it, listen to music without hearing it, smell without experiencing the pungency of odors and the delicacy of perfumes, touch without feeling the grain or texture, and see without appreciating the beauty around us. — Wilferd Peterson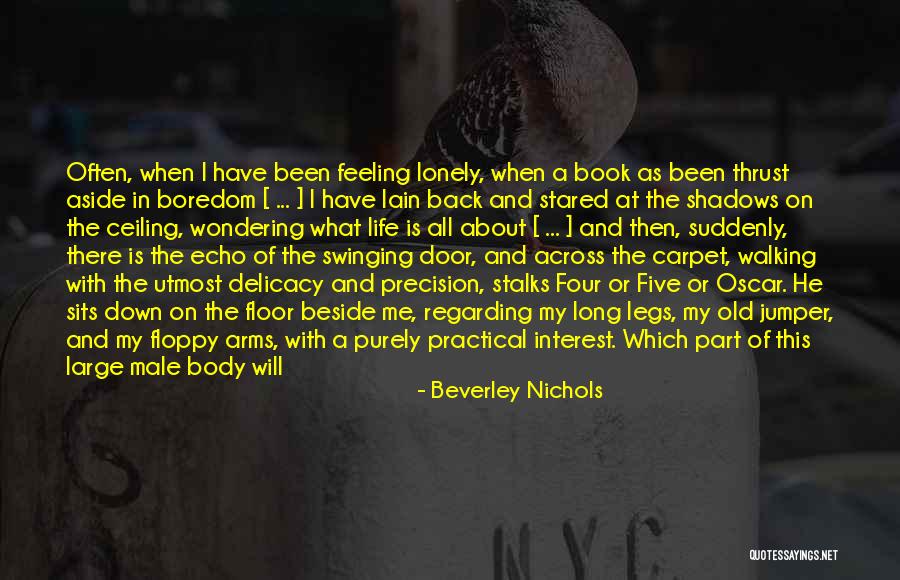 Often, when I have been feeling lonely, when a book as been thrust aside in boredom [ ... ] I have lain back and stared at the shadows on the ceiling, wondering what life is all about [ ... ] and then, suddenly, there is the echo of the swinging door, and across the carpet, walking with the utmost delicacy and precision, stalks Four or Five or Oscar. He sits down on the floor beside me, regarding my long legs, my old jumper, and my floppy arms, with a purely practical interest. Which part of this large male body will form the most appropriate lap? Usually he settles for the chest. Whereupon he springs up and there is a feeling of cold fur [ ... ] and the tip of an icy nose, thrust against my wrist and a positive tattoo of purrs. And I no longer wonder what life is all about. — Beverley Nichols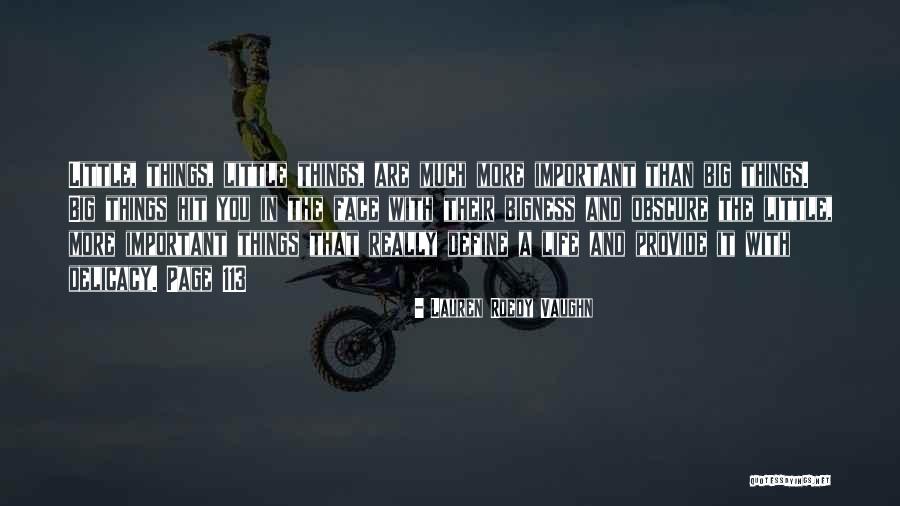 Little, things, little things, are much more important than big things. Big things hit you in the face with their bigness and obscure the little, more important things that really define a life and provide it with delicacy. Page 113 — Lauren Roedy Vaughn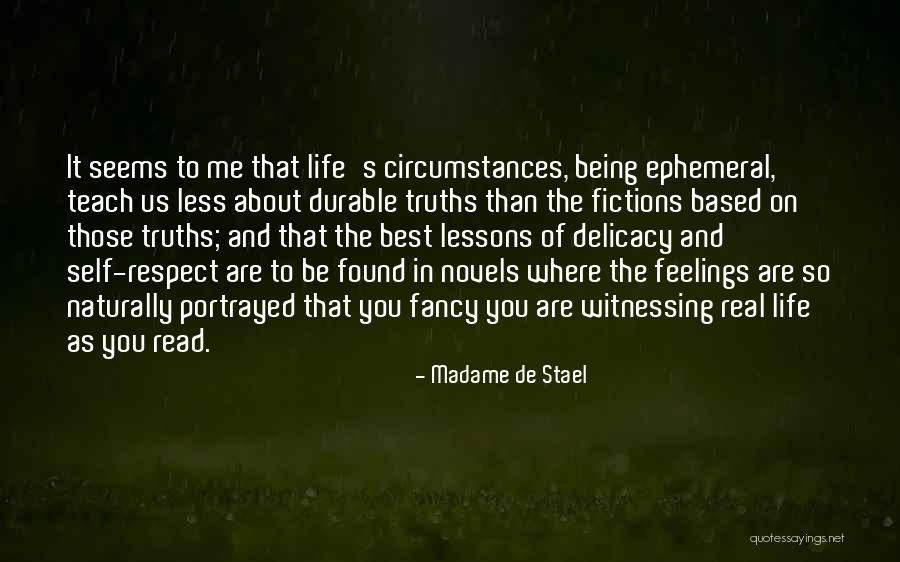 It seems to me that life's circumstances, being ephemeral, teach us less about durable truths than the fictions based on those truths; and that the best lessons of delicacy and self-respect are to be found in novels where the feelings are so naturally portrayed that you fancy you are witnessing real life as you read. — Madame De Stael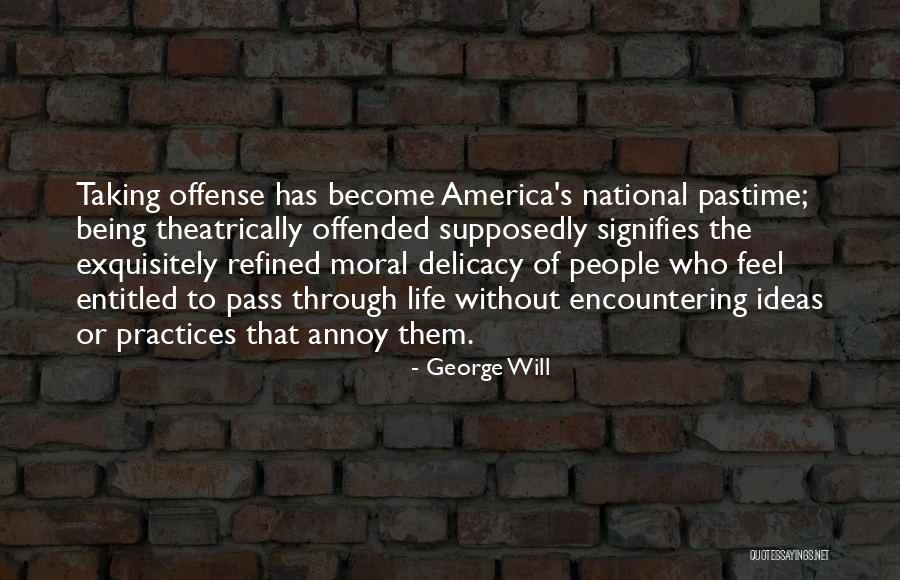 Taking offense has become America's national pastime; being theatrically offended supposedly signifies the exquisitely refined moral delicacy of people who feel entitled to pass through life without encountering ideas or practices that annoy them. — George Will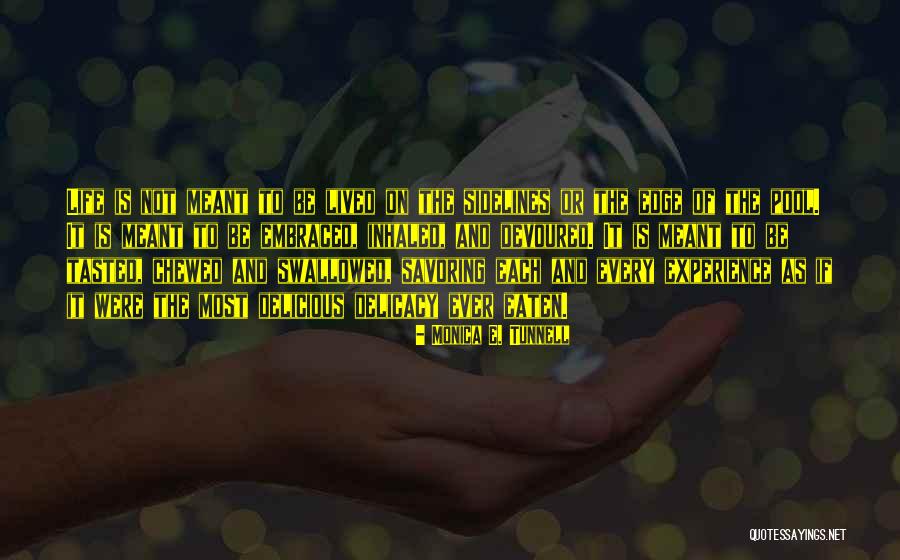 Life is not meant to be lived on the sidelines or the edge of the pool. It is meant to be embraced, inhaled, and devoured. It is meant to be tasted, chewed and swallowed, savoring each and every experience as if it were the most delicious delicacy ever eaten. — Monica E. Tunnell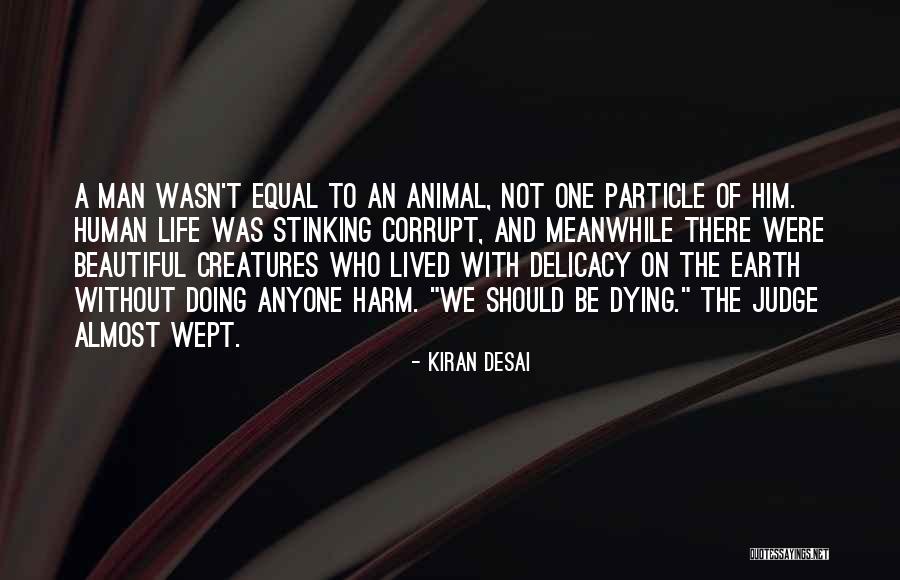 A man wasn't equal to an animal, not one particle of him. Human life was stinking corrupt, and meanwhile there were beautiful creatures who lived with delicacy on the earth without doing anyone harm. "We should be dying." the judge almost wept. — Kiran Desai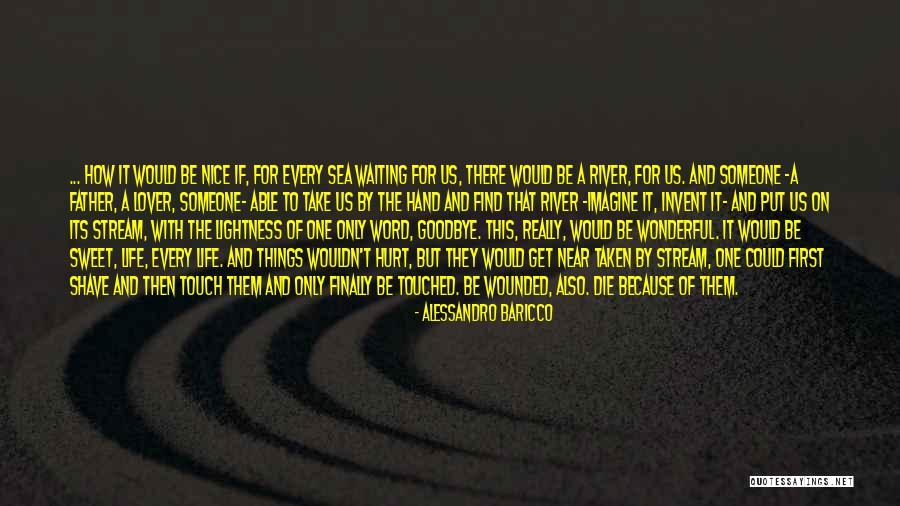 ... how it would be nice if, for every sea waiting for us, there would be a river, for us.
And someone -a father, a lover, someone- able to take us by the hand and find that river -imagine it, invent it- and put us on its stream, with the lightness of one only word, goodbye. This, really, would be wonderful. It would be sweet, life, every life. And things wouldn't hurt, but they would get near taken by stream, one could first shave and then touch them and only finally be touched. Be wounded, also. Die because of them. Doesn't matter. But everything would be, finally, human. It would be enough someone's fancy -a father, a lover, someone- could invent a way, here in the middle of the silence, in this land which don't wanna talk. Clement way, and beautiful.
A way from here to the sea. — Alessandro Baricco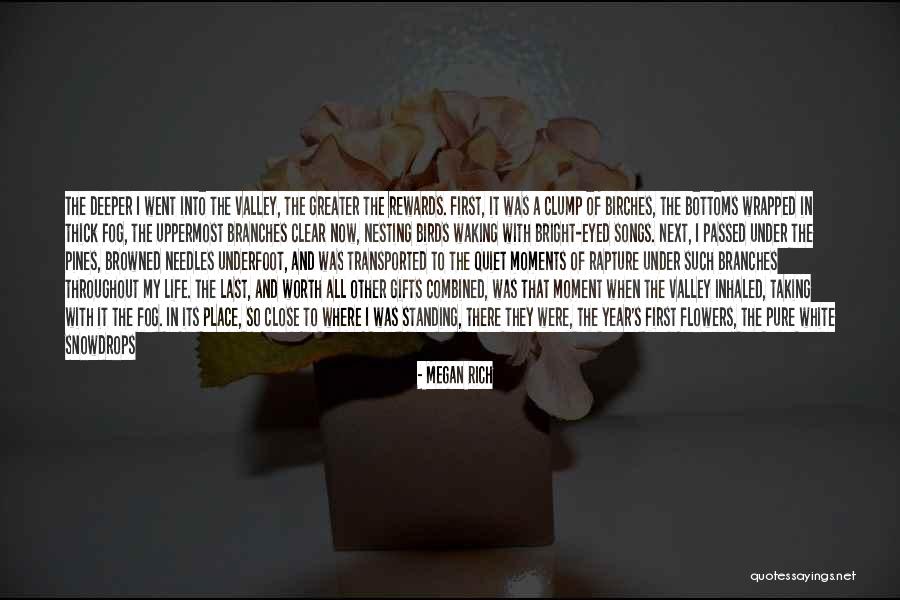 The deeper I went into the valley, the greater the rewards. First, it was a clump of birches, the bottoms wrapped in thick fog, the uppermost branches clear now, nesting birds waking with bright-eyed songs. Next, I passed under the pines, browned needles underfoot, and was transported to the quiet moments of rapture under such branches throughout my life. The last, and worth all other gifts combined, was that moment when the valley inhaled, taking with it the fog. In its place, so close to where I was standing, there they were, the year's first flowers, the pure white snowdrops springing from the dark-green foliage under the elms. It was as if the clouds were swept in an instant from the sky leaving only the quiet delicacy of the stars. — Megan Rich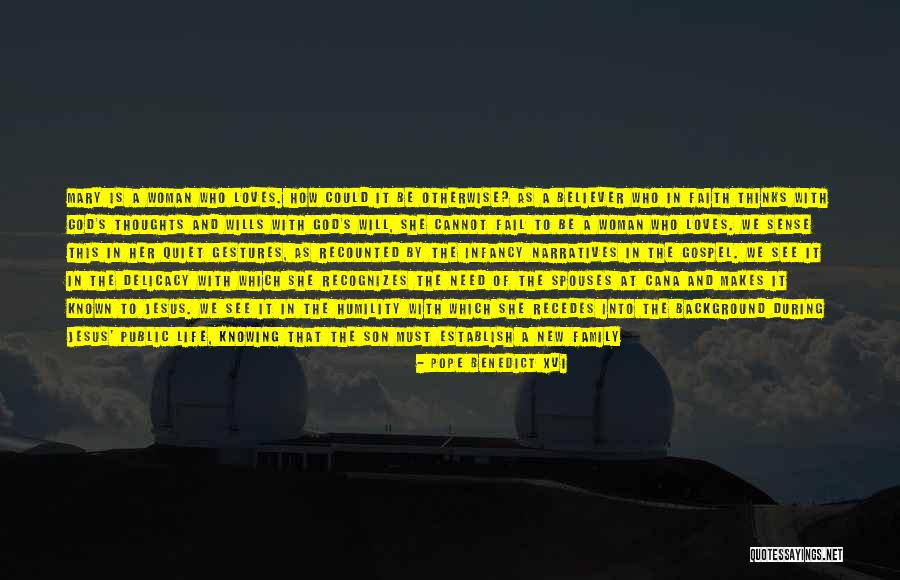 Mary is a woman who loves. How could it be otherwise? As a believer who in faith thinks with God's thoughts and wills with God's will, she cannot fail to be a woman who loves. We sense this in her quiet gestures, as recounted by the infancy narratives in the Gospel. We see it in the delicacy with which she recognizes the need of the spouses at Cana and makes it known to Jesus. We see it in the humility with which she recedes into the background during Jesus' public life, knowing that the Son must establish a new family and that the Mother's hour will come only with the Cross, which will be Jesus' true hour (cf. Jn 2:4; 13:1). When the disciples flee, Mary will remain beneath the Cross (cf. Jn 19:25-27); later, at the hour of Pentecost, it will be they who gather around her as they wait for the Holy Spirit (cf. Acts 1:14). — Pope Benedict XVI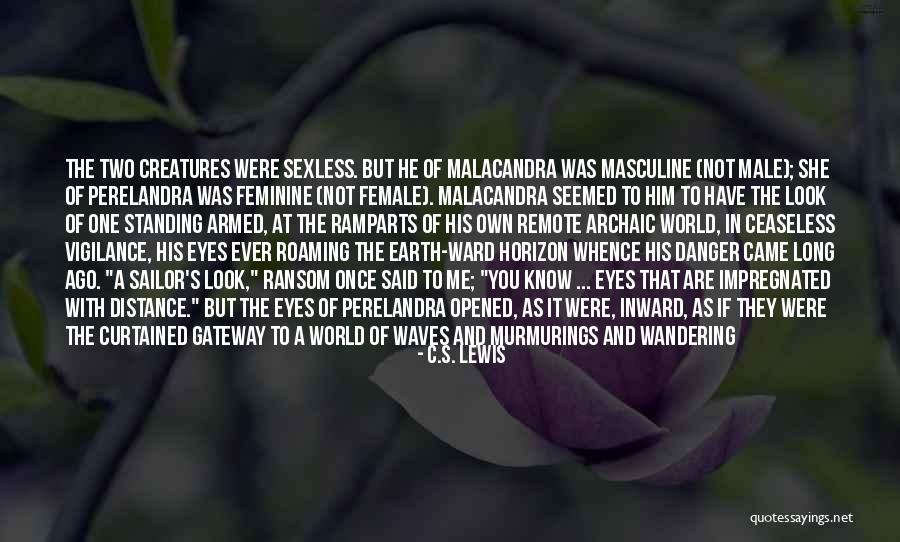 The two creatures were sexless. But he of Malacandra was masculine (not male); she of Perelandra was feminine (not female). Malacandra seemed to him to have the look of one standing armed, at the ramparts of his own remote archaic world, in ceaseless vigilance, his eyes ever roaming the earth-ward horizon whence his danger came long ago. "A sailor's look," Ransom once said to me; "you know ... eyes that are impregnated with distance." But the eyes of Perelandra opened, as it were, inward, as if they were the curtained gateway to a world of waves and murmurings and wandering airs, of life that rocked in winds and splashed on mossy stones and descended as the dew and arose sunward in thin-spun delicacy of mist. On Mars the very forests are of stone; in Venus the lands swim. For now he thought of them no more as Malacandra and Perelandra. He called them by their Tellurian names. With deep wonder he thought to himself, "My eyes have seen Mars and Venus. I have seen Ares and Aphrodite. — C.S. Lewis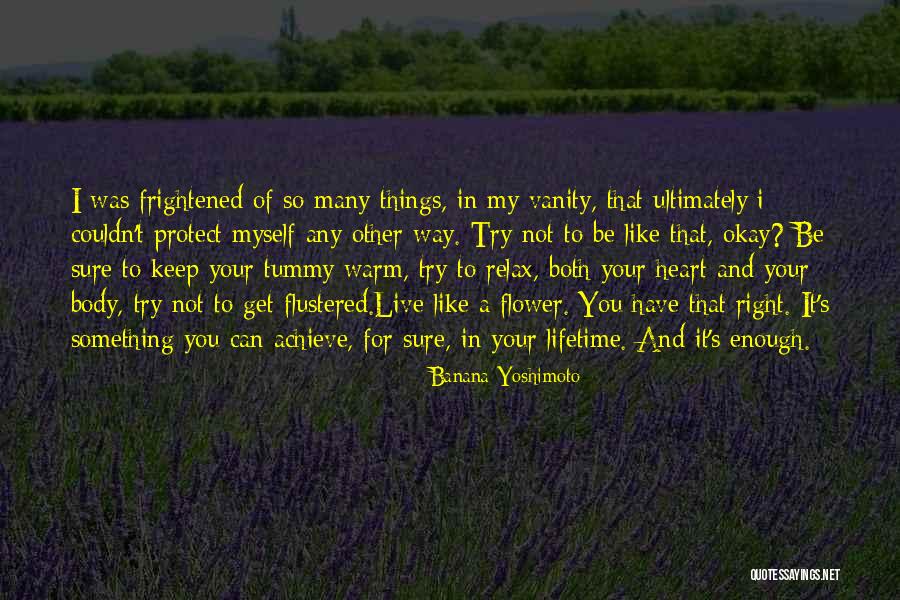 I was frightened of so many things, in my vanity, that ultimately i couldn't protect myself any other way. Try not to be like that, okay? Be sure to keep your tummy warm, try to relax, both your heart and your body, try not to get flustered.
Live like a flower. You have that right. It's something you can achieve, for sure, in your lifetime. And it's enough. — Banana Yoshimoto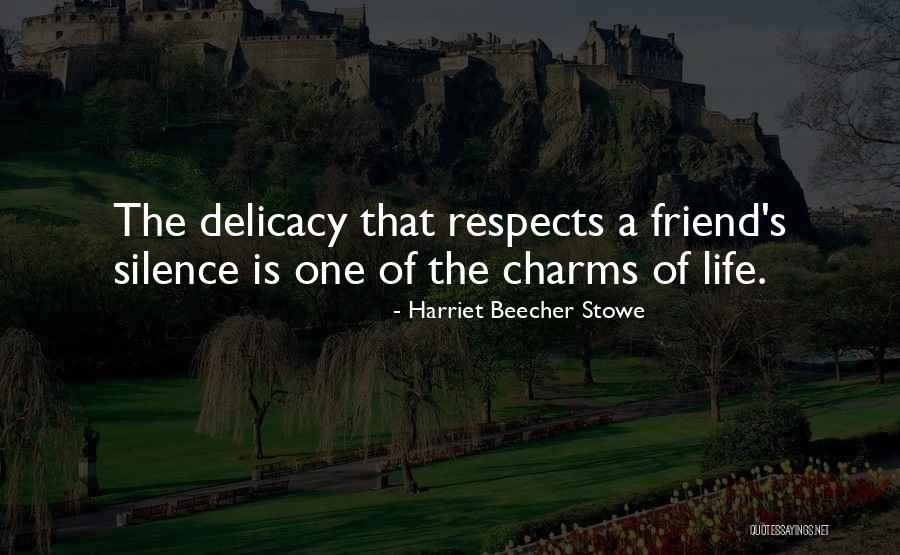 The delicacy that respects a friend's silence is one of the charms of life. — Harriet Beecher Stowe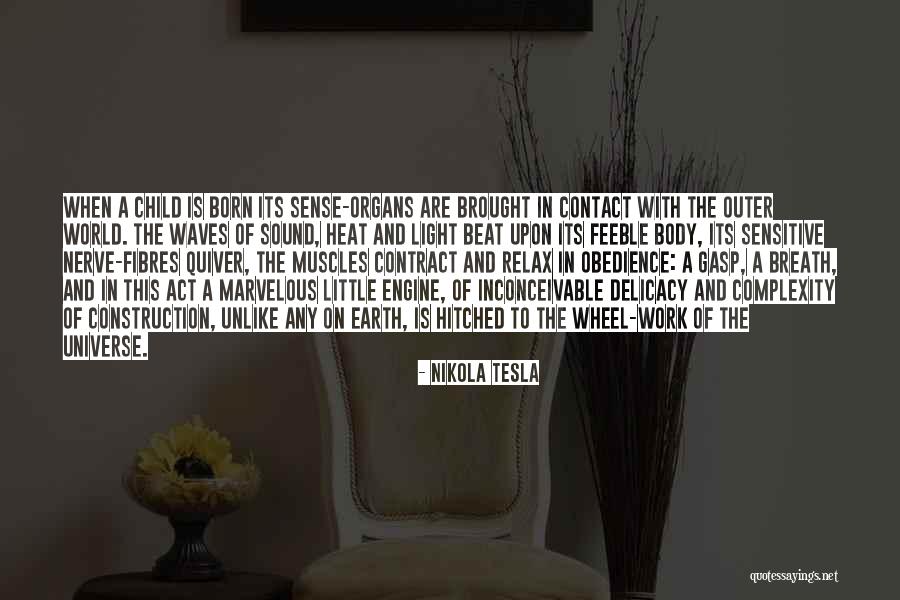 When a child is born its sense-organs are brought in contact with the outer world. The waves of sound, heat and light beat upon its feeble body, its sensitive nerve-fibres quiver, the muscles contract and relax in obedience: a gasp, a breath, and in this act a marvelous little engine, of inconceivable delicacy and complexity of construction, unlike any on earth, is hitched to the wheel-work of the Universe. — Nikola Tesla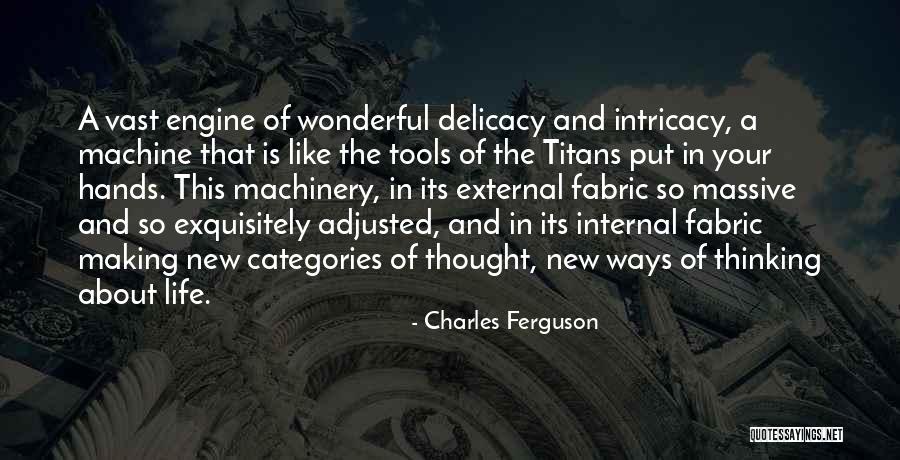 A vast engine of wonderful delicacy and intricacy, a machine that is like the tools of the Titans put in your hands. This machinery, in its external fabric so massive and so exquisitely adjusted, and in its internal fabric making new categories of thought, new ways of thinking about life. — Charles Ferguson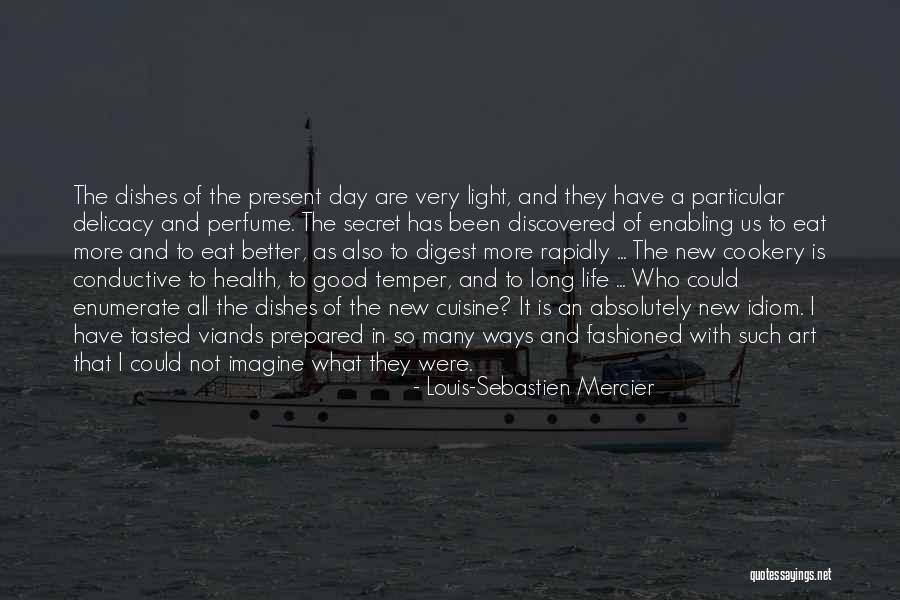 The dishes of the present day are very light, and they have a particular delicacy and perfume. The secret has been discovered of enabling us to eat more and to eat better, as also to digest more rapidly ... The new cookery is conductive to health, to good temper, and to long life ... Who could enumerate all the dishes of the new cuisine? It is an absolutely new idiom. I have tasted viands prepared in so many ways and fashioned with such art that I could not imagine what they were. — Louis-Sebastien Mercier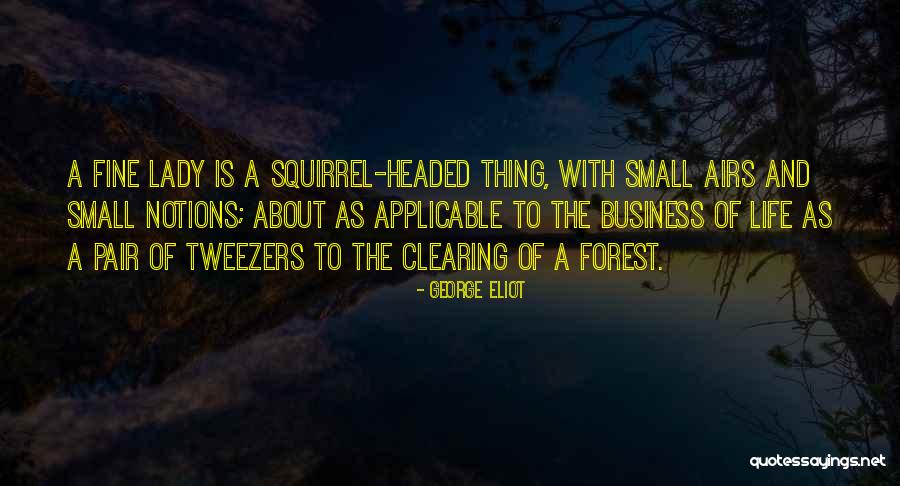 A fine lady is a squirrel-headed thing, with small airs and small notions; about as applicable to the business of life as a pair of tweezers to the clearing of a forest. — George Eliot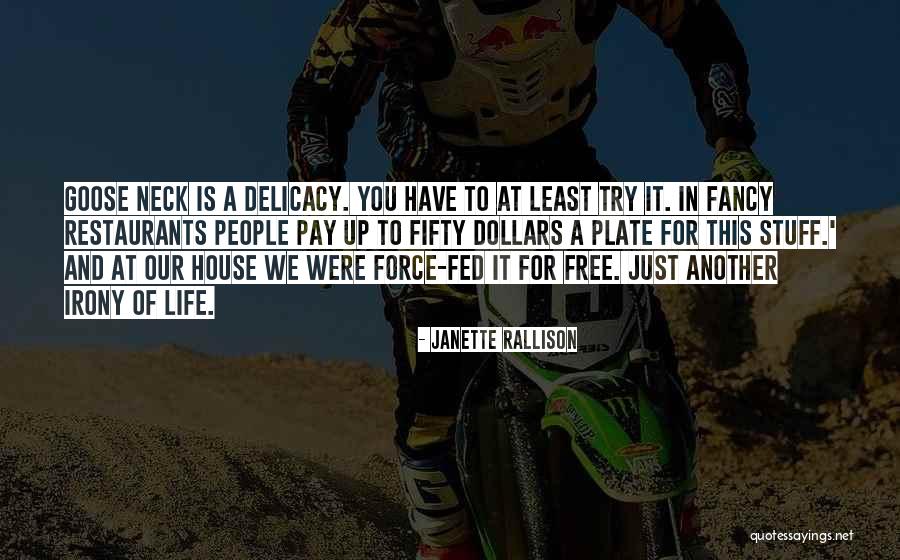 Goose neck is a delicacy. You have to at least try it. In fancy restaurants people pay up to fifty dollars a plate for this stuff.'
And at our house we were force-fed it for free. Just another irony of life. — Janette Rallison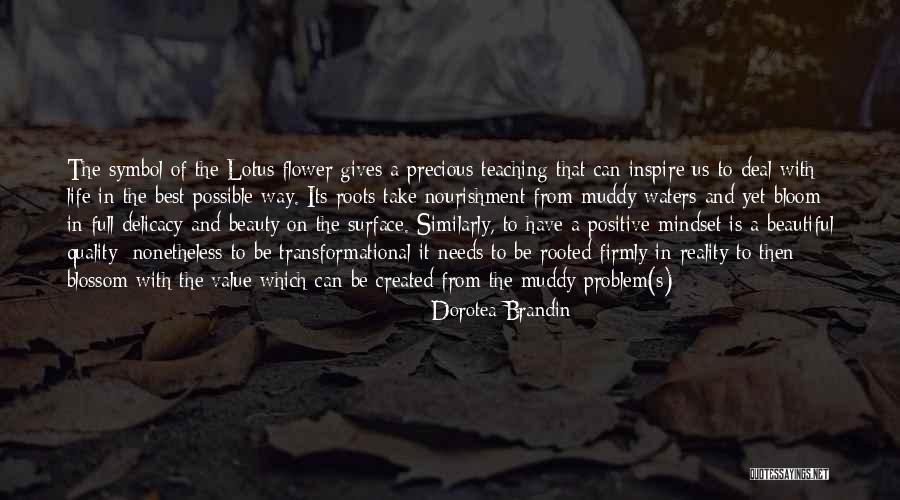 The symbol of the Lotus flower gives a precious teaching that can inspire us to deal with life in the best possible way. Its roots take nourishment from muddy waters and yet bloom in full delicacy and beauty on the surface. Similarly, to have a positive mindset is a beautiful quality; nonetheless to be transformational it needs to be rooted firmly in reality to then blossom with the value which can be created from the muddy problem(s) — Dorotea Brandin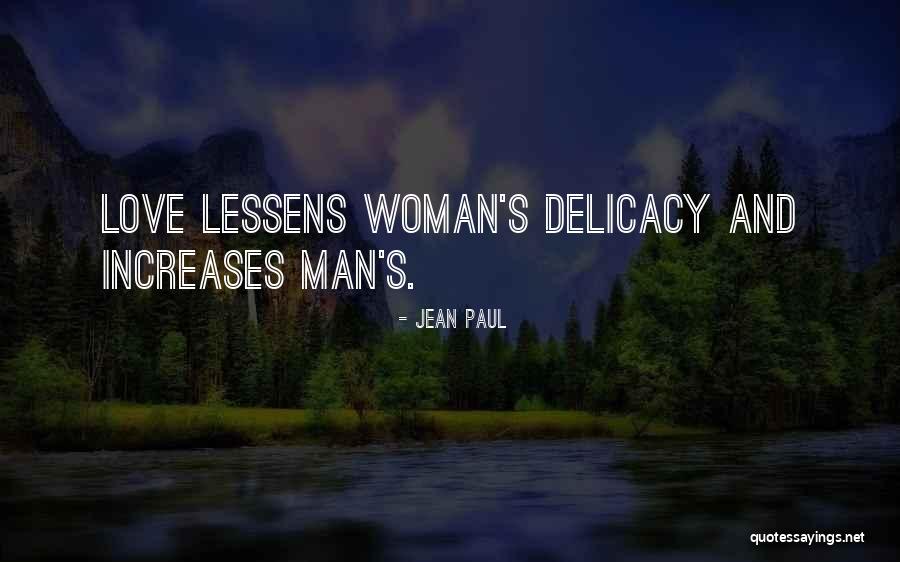 Love lessens woman's delicacy and increases man's. — Jean Paul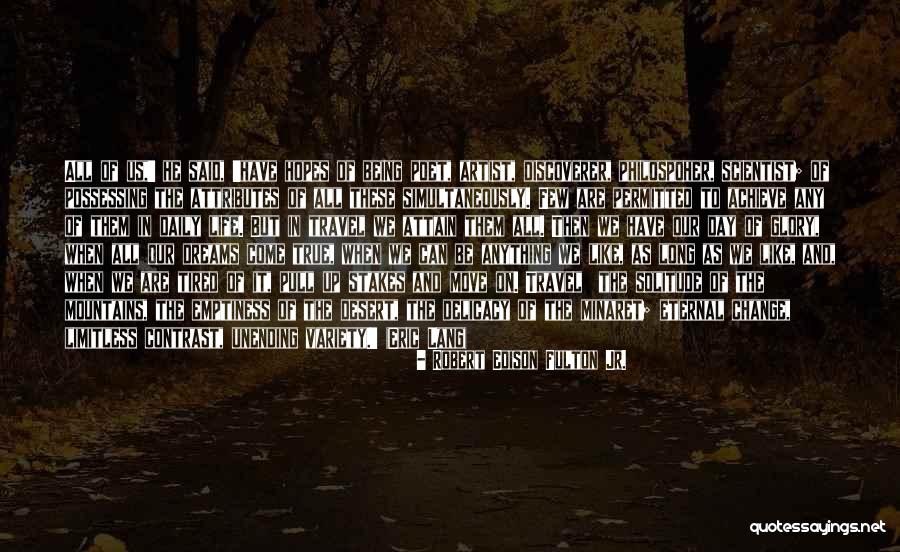 All of us,' he said, 'have hopes of being poet, artist, discoverer, philospoher, scientist; of possessing the attributes of all these simultaneously. Few are permitted to achieve any of them in daily life. But in travel we attain them all. Then we have our day of glory, when all our dreams come true, when we can be anything we like, as long as we like, and, when we are tired of it, pull up stakes and move on. Travel
the solitude of the mountains, the emptiness of the desert, the delicacy of the minaret; eternal change, limitless contrast, unending variety.' (Eric Lang) — Robert Edison Fulton Jr.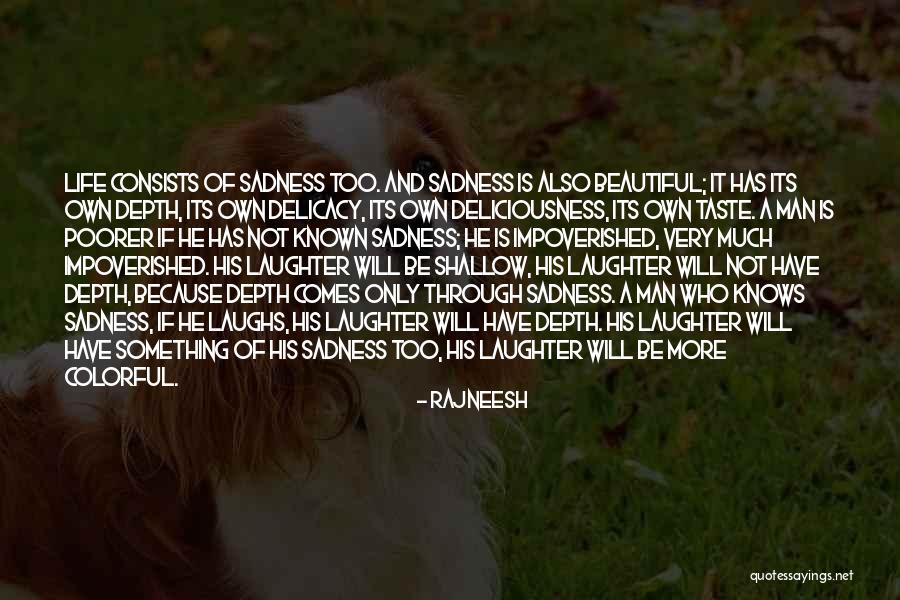 Life consists of sadness too. And sadness is also beautiful; it has its own depth, its own delicacy, its own deliciousness, its own taste. A man is poorer if he has not known sadness; he is impoverished, very much impoverished. His laughter will be shallow, his laughter will not have depth, because depth comes only through sadness. A man who knows sadness, if he laughs, his laughter will have depth. His laughter will have something of his sadness too, his laughter will be more colorful. — Rajneesh