The Beatles Life Quotes & Sayings
Enjoy reading and share 44 famous quotes about The Beatles Life with everyone.
Top The Beatles Life Quotes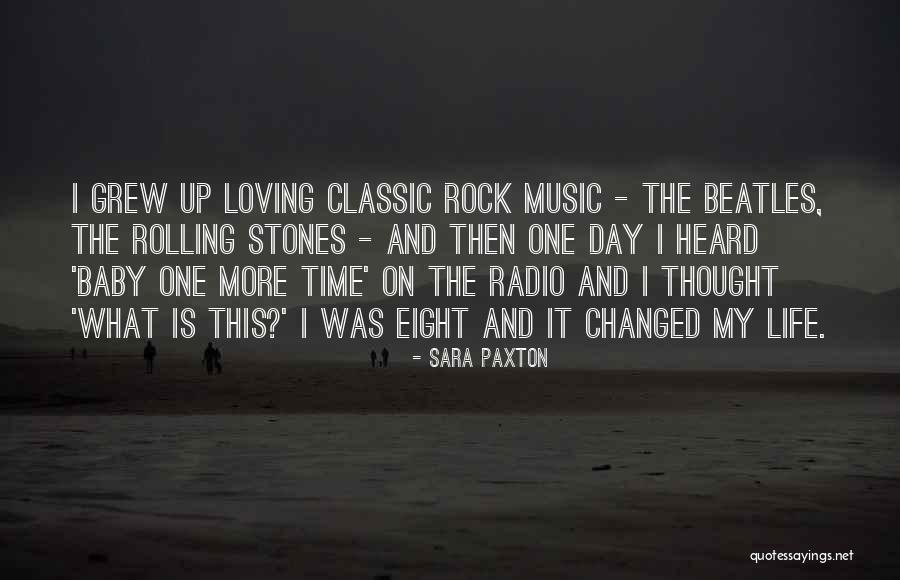 I grew up loving classic rock music - The Beatles, The Rolling Stones - and then one day I heard 'Baby One More Time' on the radio and I thought 'What is this?' I was eight and it changed my life. — Sara Paxton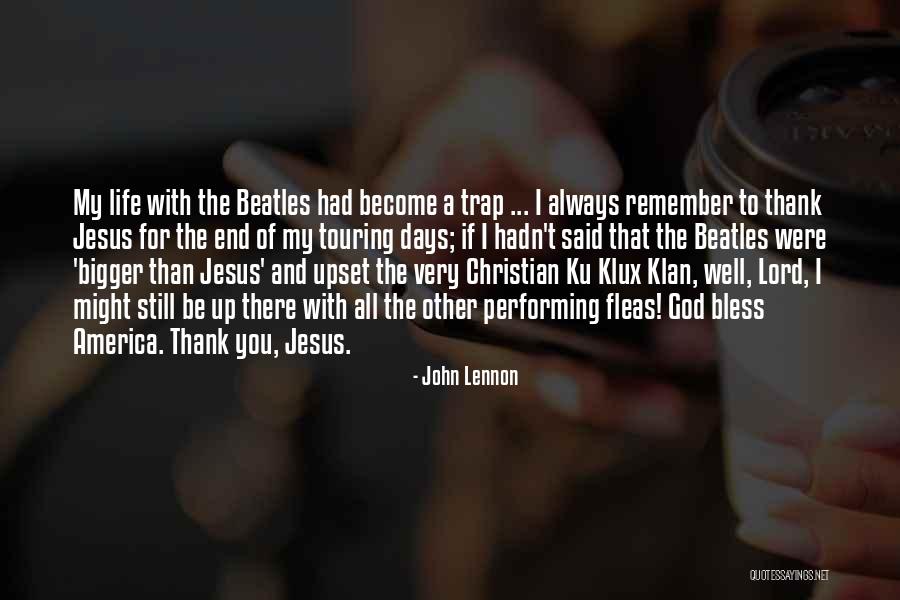 My life with the Beatles had become a trap ... I always remember to thank Jesus for the end of my touring days; if I hadn't said that the Beatles were 'bigger than Jesus' and upset the very Christian Ku Klux Klan, well, Lord, I might still be up there with all the other performing fleas! God bless America. Thank you, Jesus. — John Lennon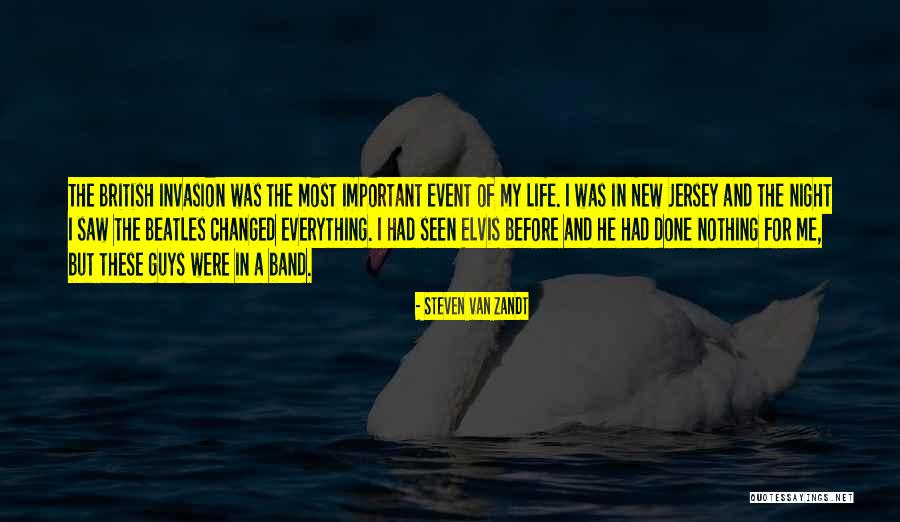 The British invasion was the most important event of my life. I was in New Jersey and the night I saw the Beatles changed everything. I had seen Elvis before and he had done nothing for me, but these guys were in a band. — Steven Van Zandt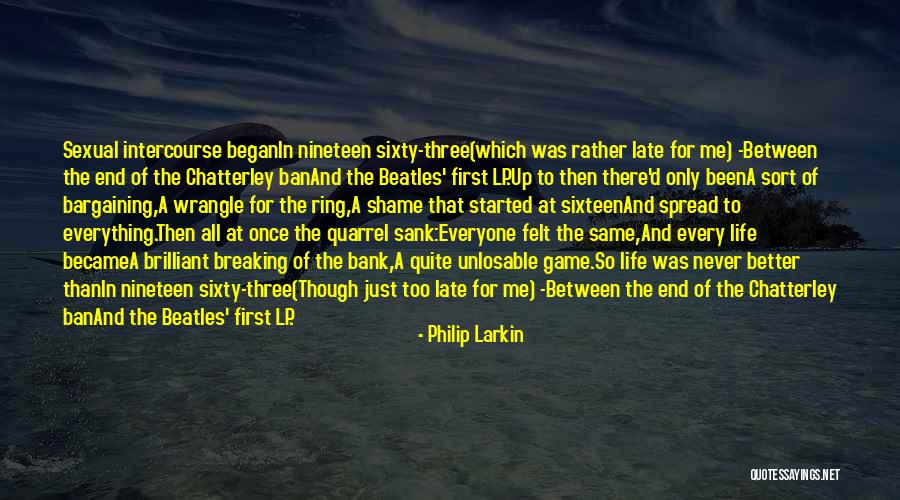 Sexual intercourse began
In nineteen sixty-three
(which was rather late for me) -
Between the end of the Chatterley ban
And the Beatles' first LP.
Up to then there'd only been
A sort of bargaining,
A wrangle for the ring,
A shame that started at sixteen
And spread to everything.
Then all at once the quarrel sank:
Everyone felt the same,
And every life became
A brilliant breaking of the bank,
A quite unlosable game.
So life was never better than
In nineteen sixty-three
(Though just too late for me) -
Between the end of the Chatterley ban
And the Beatles' first LP. — Philip Larkin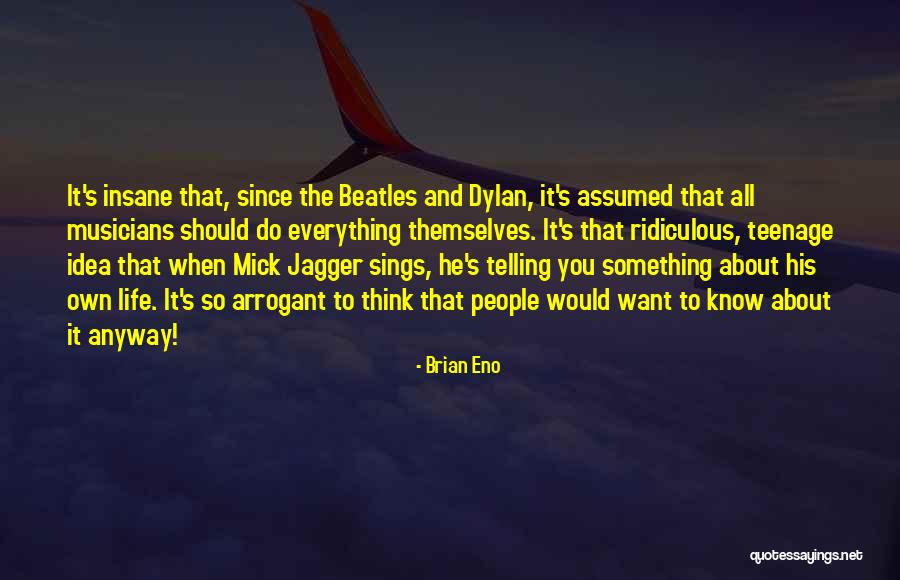 It's insane that, since the Beatles and Dylan, it's assumed that all musicians should do everything themselves. It's that ridiculous, teenage idea that when Mick Jagger sings, he's telling you something about his own life. It's so arrogant to think that people would want to know about it anyway! — Brian Eno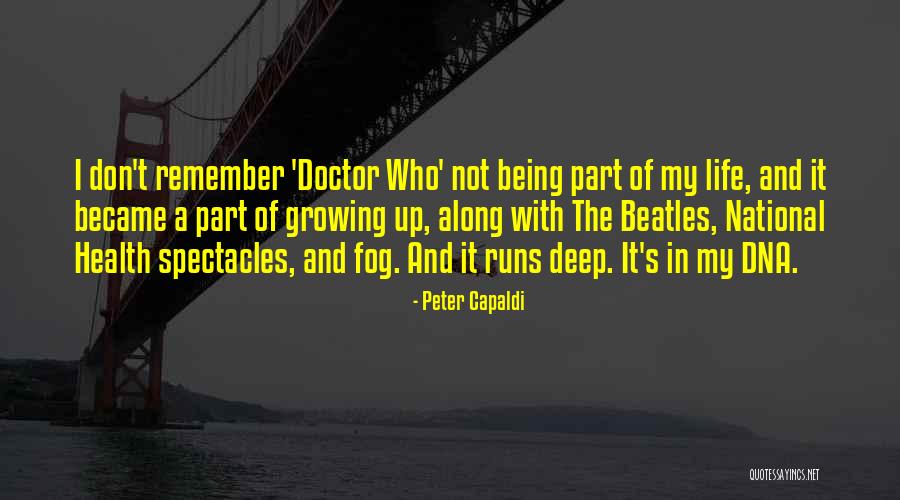 I don't remember 'Doctor Who' not being part of my life, and it became a part of growing up, along with The Beatles, National Health spectacles, and fog. And it runs deep. It's in my DNA. — Peter Capaldi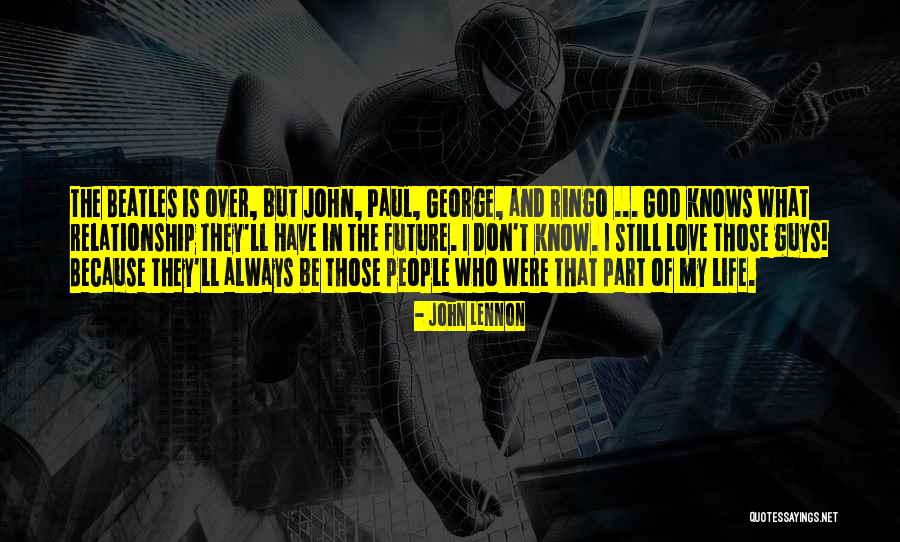 The Beatles is over, but John, Paul, George, and Ringo ... God knows what relationship they'll have in the future. I don't know. I still love those guys! Because they'll always be those people who were that part of my life. — John Lennon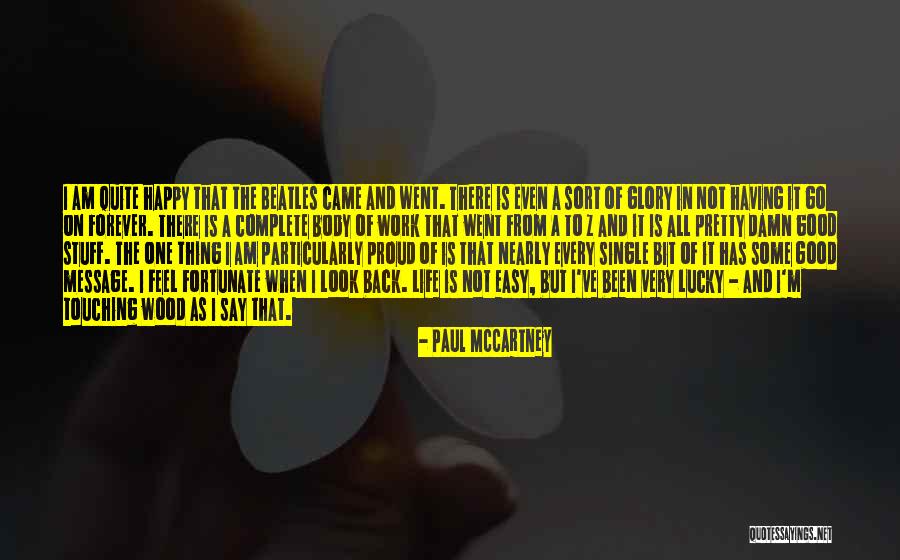 I am quite happy that the Beatles came and went. There is even a sort of glory in not having it go on forever. There is a complete body of work that went from A to Z and it is all pretty damn good stuff. The one thing I am particularly proud of is that nearly every single bit of it has some good message. I feel fortunate when I look back. Life is not easy, but I've been very lucky - and I'm touching wood as I say that. — Paul McCartney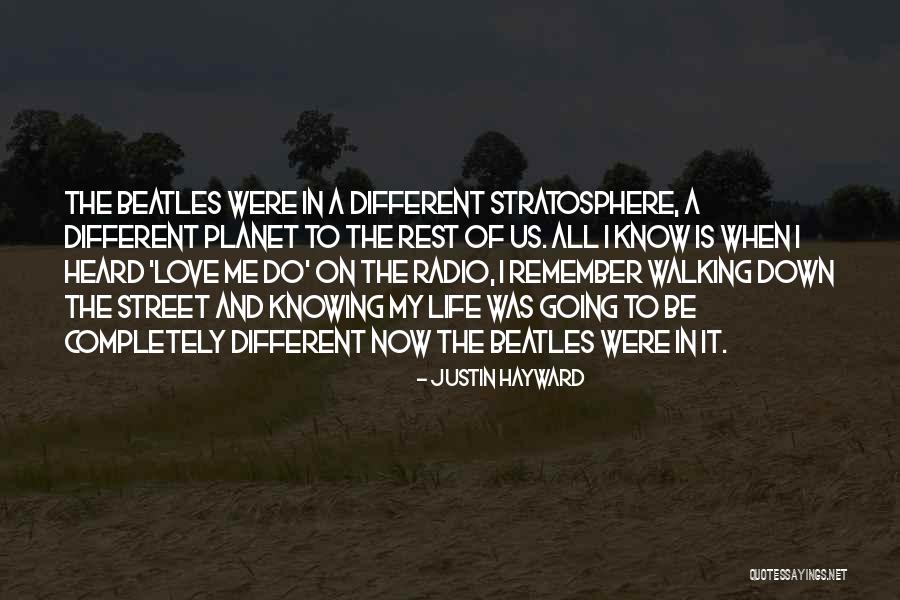 The Beatles were in a different stratosphere, a different planet to the rest of us. All I know is when I heard 'Love Me Do' on the radio, I remember walking down the street and knowing my life was going to be completely different now the Beatles were in it. — Justin Hayward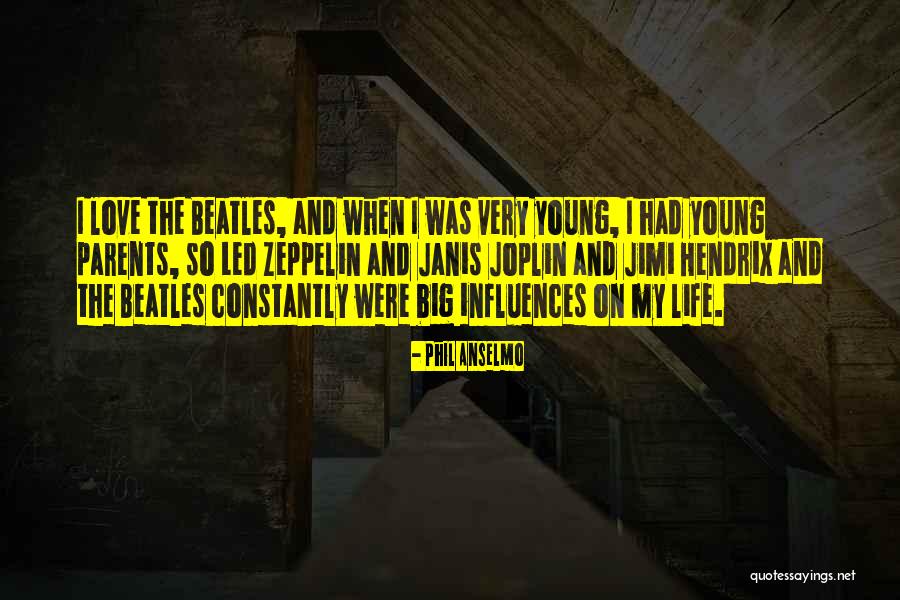 I love the Beatles, and when I was very young, I had young parents, so Led Zeppelin and Janis Joplin and Jimi Hendrix and the Beatles constantly were big influences on my life. — Phil Anselmo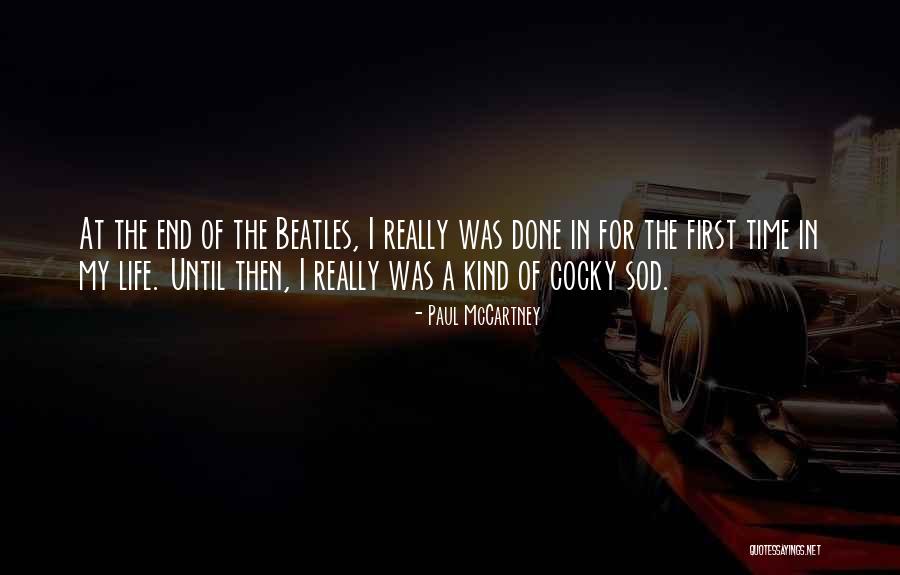 At the end of the Beatles, I really was done in for the first time in my life. Until then, I really was a kind of cocky sod. — Paul McCartney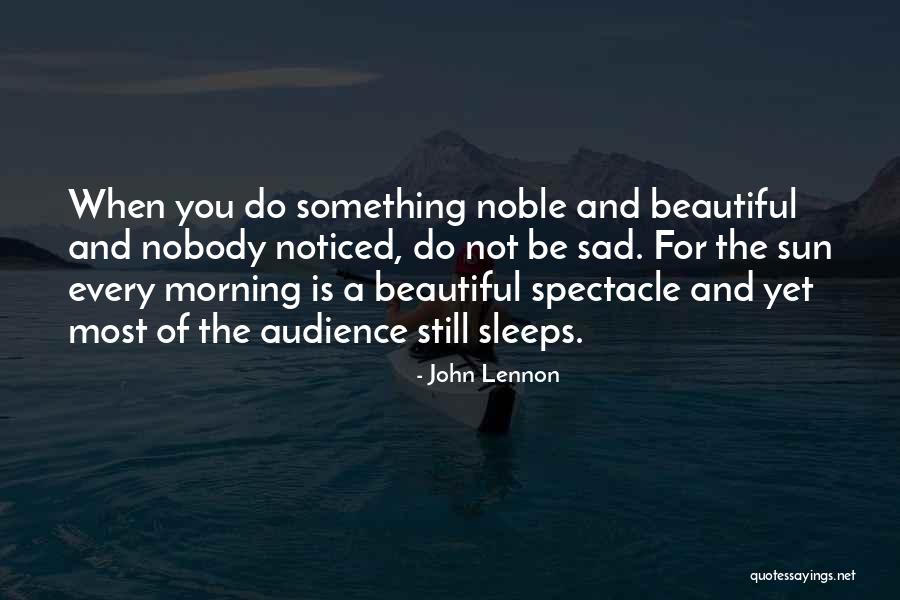 When you do something noble and beautiful and nobody noticed, do not be sad. For the sun every morning is a beautiful spectacle and yet most of the audience still sleeps. — John Lennon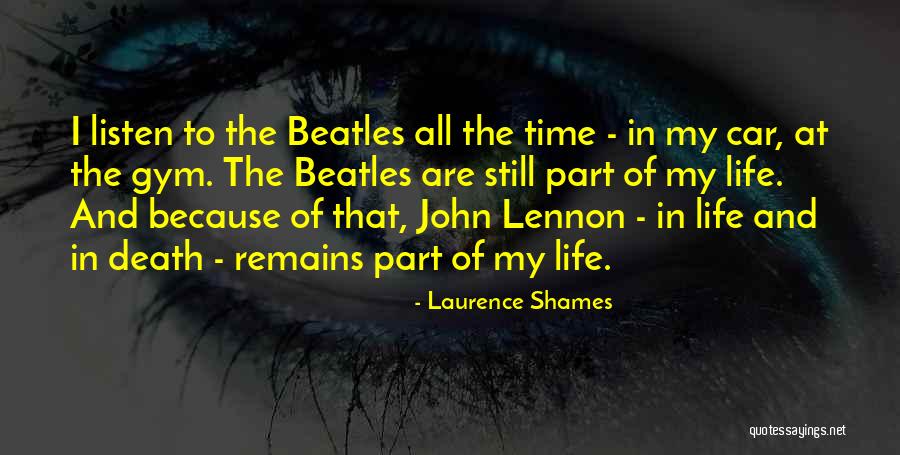 I listen to the Beatles all the time - in my car, at the gym. The Beatles are still part of my life. And because of that, John Lennon - in life and in death - remains part of my life. — Laurence Shames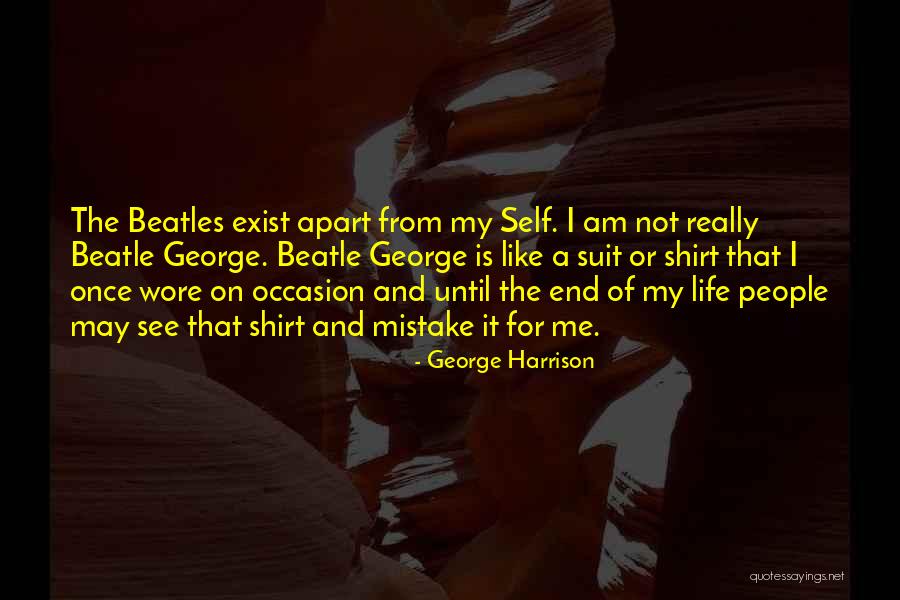 The Beatles exist apart from my Self. I am not really Beatle George. Beatle George is like a suit or shirt that I once wore on occasion and until the end of my life people may see that shirt and mistake it for me. — George Harrison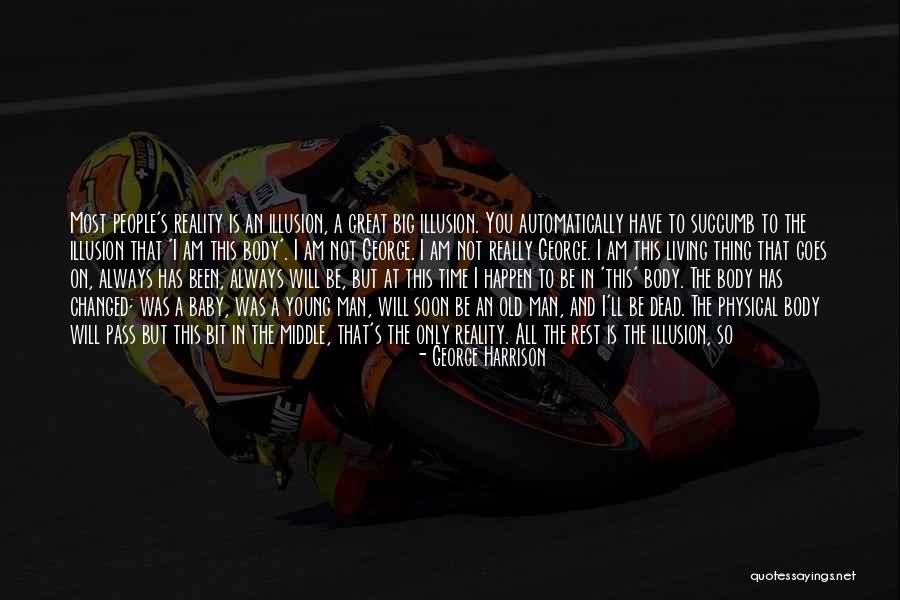 Most people's reality is an illusion, a great big illusion. You automatically have to succumb to the illusion that 'I am this body'. I am not George. I am not really George. I am this living thing that goes on, always has been, always will be, but at
this time I happen to be in 'this' body. The body has changed; was a baby, was a young man, will
soon be an old man, and I'll be dead. The
physical body will pass but this bit in the middle,
that's the only reality. All the rest is the illusion,
so to say that somebody thinks we are, the ex-
Beatles are removed from reality in their personal concept. It does not have any truth to it just because somebody thinks it. They are the concepts which become layer upon layer of illusion. Why live in the darkness all your life? Why, if you are unhappy, if you are having a miserable time, why not just look at it. Why are you in the darkness? Look for the light. The light is within. That is the big message — George Harrison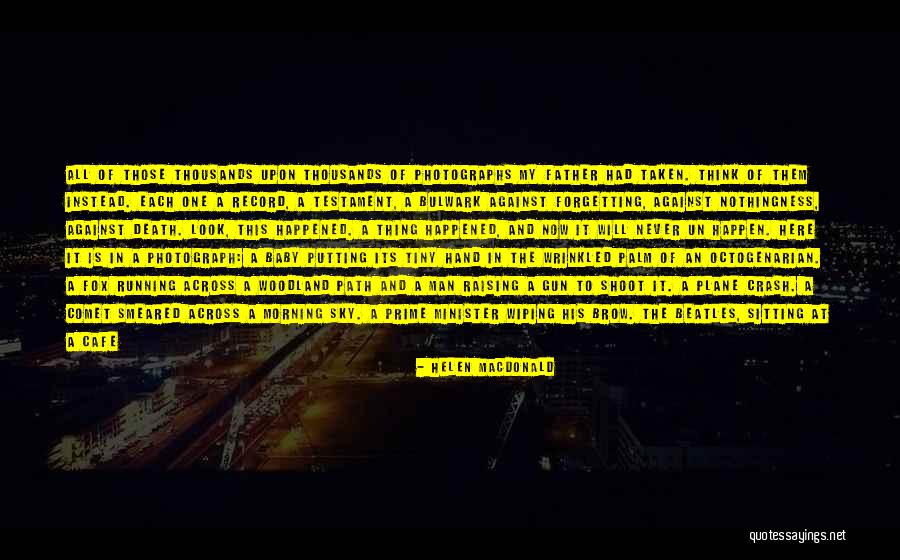 All of those thousands upon thousands of photographs my father had taken. Think of them instead. Each one a record, a testament, a bulwark against forgetting, against nothingness, against death. Look, this happened. A thing happened, and now it will never un happen. Here it is in a photograph: a baby putting its tiny hand in the wrinkled palm of an octogenarian. A fox running across a woodland path and a man raising a gun to shoot it. A plane crash. A comet smeared across a morning sky. A prime minister wiping his brow. The Beatles, sitting at a cafe table on the Champs-Elysees on a cold January day in 1964, John Lennon's pale face under the brim of a fisherman's cap. all these things happened, and my father committed them to a memory that wasn't just his own, but the world's. My father's life wasn't about disappearance. His was a life that worked against it. — Helen Macdonald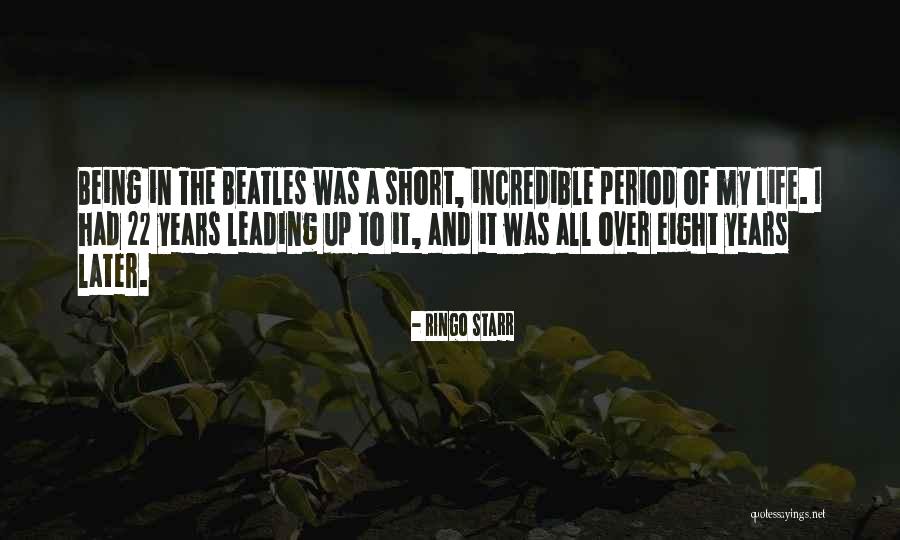 Being in The Beatles was a short, incredible period of my life. I had 22 years leading up to it, and it was all over eight years later. — Ringo Starr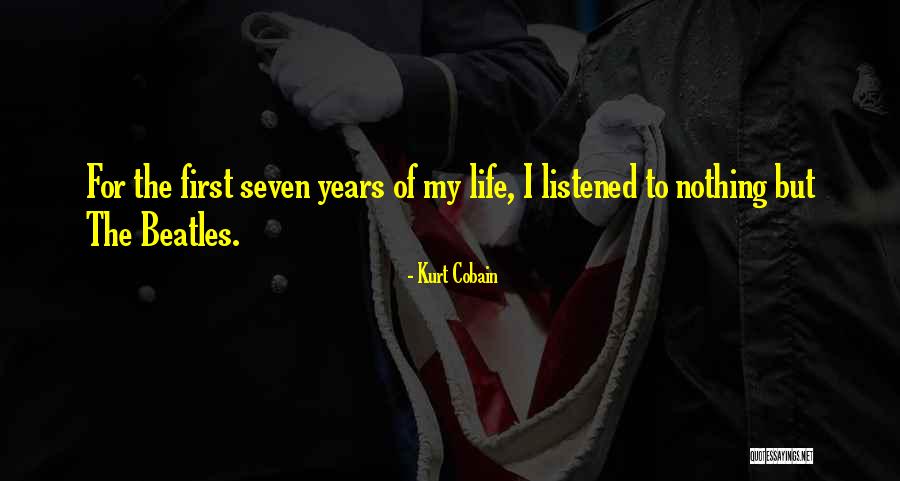 For the first seven years of my life, I listened to nothing but The Beatles. — Kurt Cobain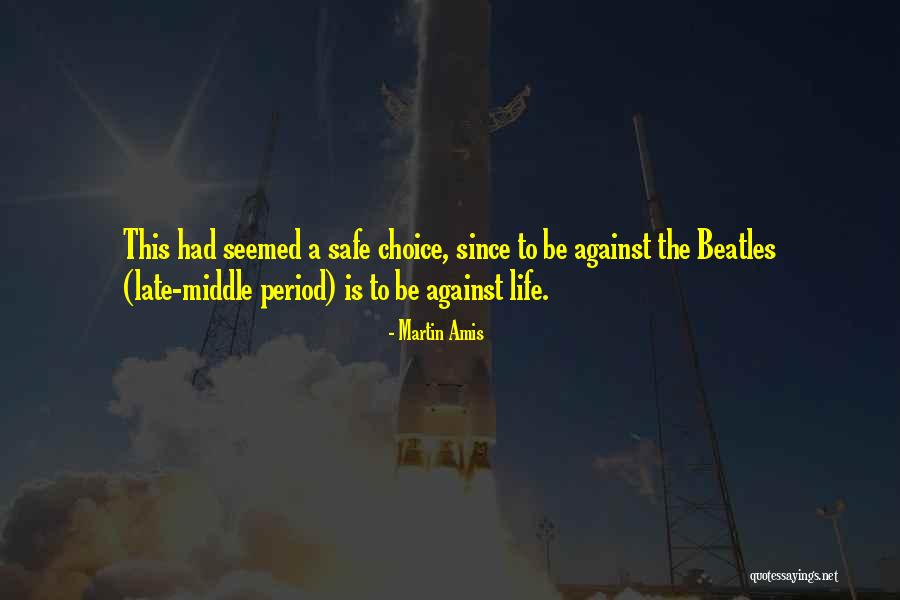 This had seemed a safe choice, since to be against the Beatles (late-middle period) is to be against life. — Martin Amis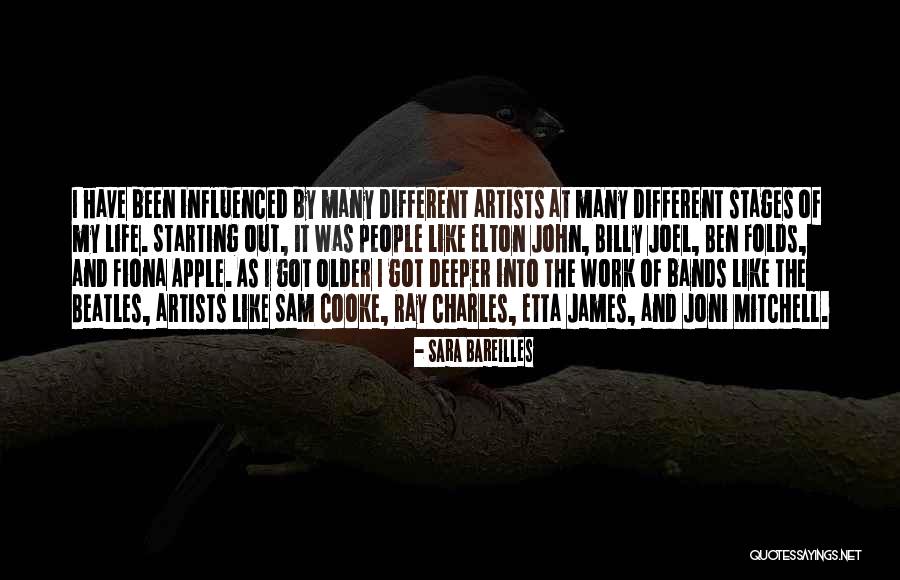 I have been influenced by many different artists at many different stages of my life. Starting out, it was people like Elton John, Billy Joel, Ben Folds, and Fiona Apple. As I got older I got deeper into the work of bands like the Beatles, artists like Sam Cooke, Ray Charles, Etta James, and Joni Mitchell. — Sara Bareilles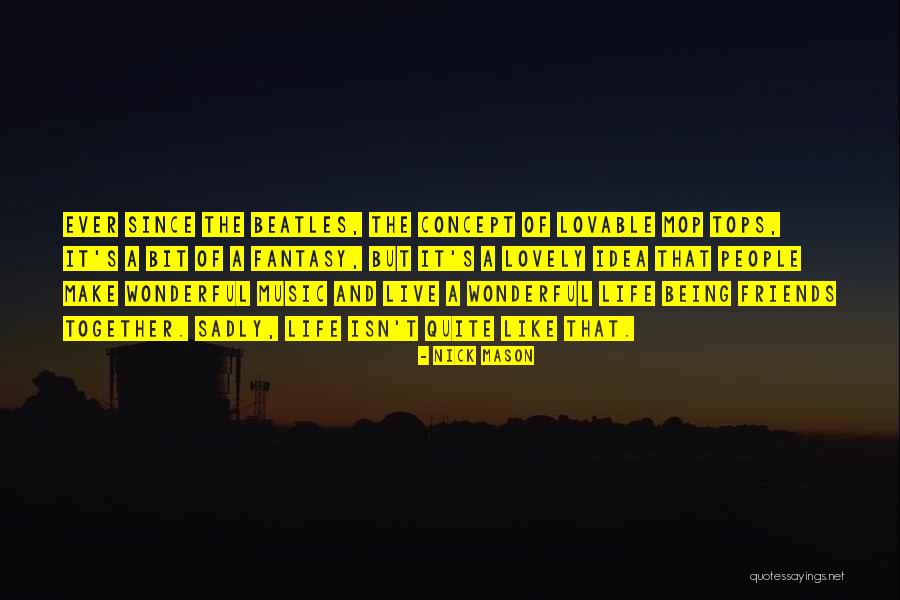 Ever since the Beatles, the concept of lovable mop tops, it's a bit of a fantasy, but it's a lovely idea that people make wonderful music and live a wonderful life being friends together. Sadly, life isn't quite like that. — Nick Mason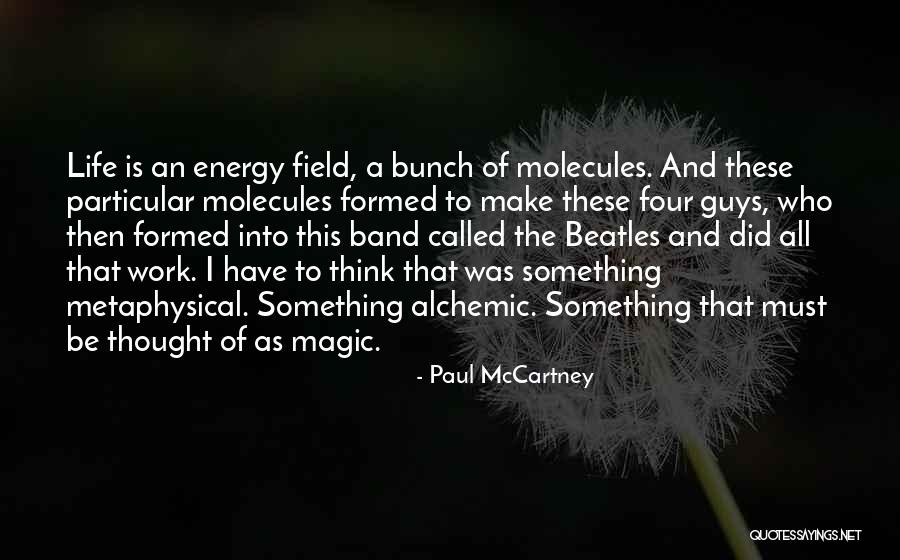 Life is an energy field, a bunch of molecules. And these particular molecules formed to make these four guys, who then formed into this band called the Beatles and did all that work. I have to think that was something metaphysical. Something alchemic. Something that must be thought of as magic. — Paul McCartney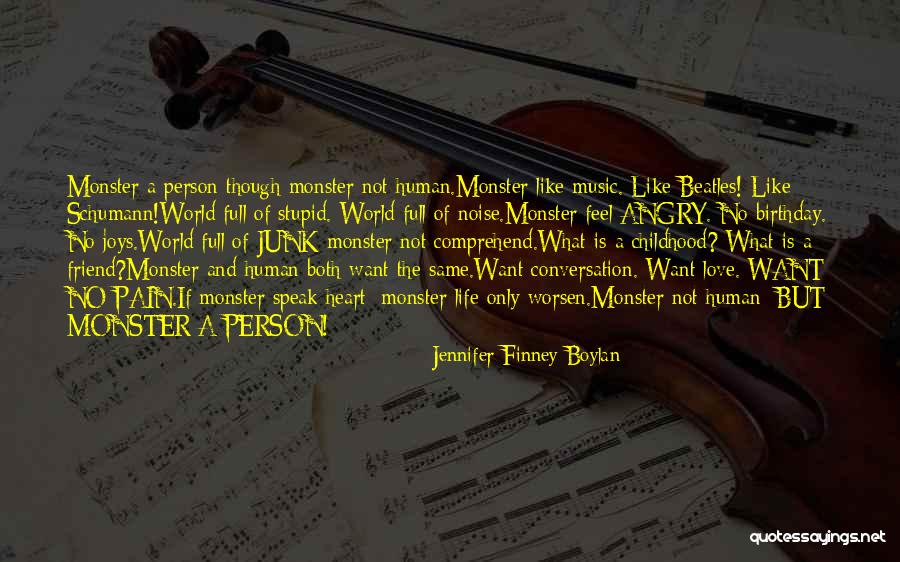 Monster a person though monster not human.
Monster like music. Like Beatles! Like Schumann!
World full of stupid. World full of noise.
Monster feel ANGRY. No birthday. No joys.
World full of JUNK monster not comprehend.
What is a childhood? What is a friend?
Monster and human both want the same.
Want conversation. Want love. WANT NO PAIN.
If monster speak heart: monster life only worsen.
Monster not human: BUT MONSTER A PERSON! — Jennifer Finney Boylan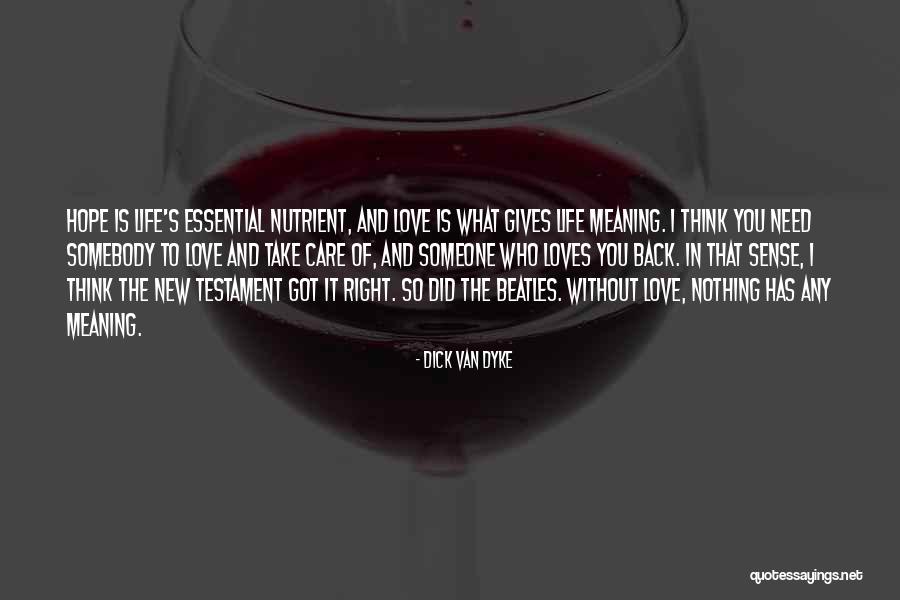 Hope is life's essential nutrient, and love is what gives life meaning. I think you need somebody to love and take care of, and someone who loves you back. In that sense, I think the New Testament got it right. So did the Beatles. Without love, nothing has any meaning. — Dick Van Dyke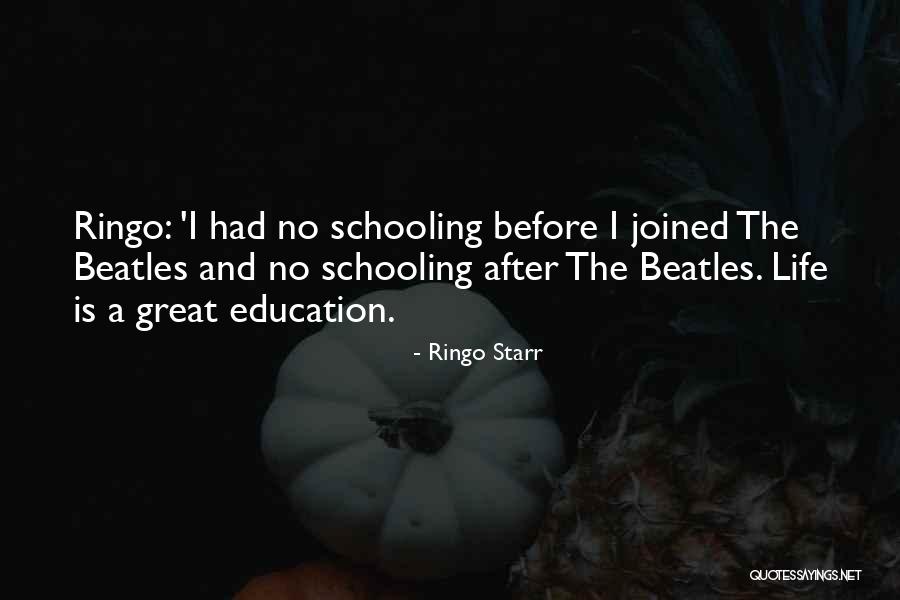 Ringo: 'I had no schooling before I joined The Beatles and no schooling after The Beatles. Life is a great education. — Ringo Starr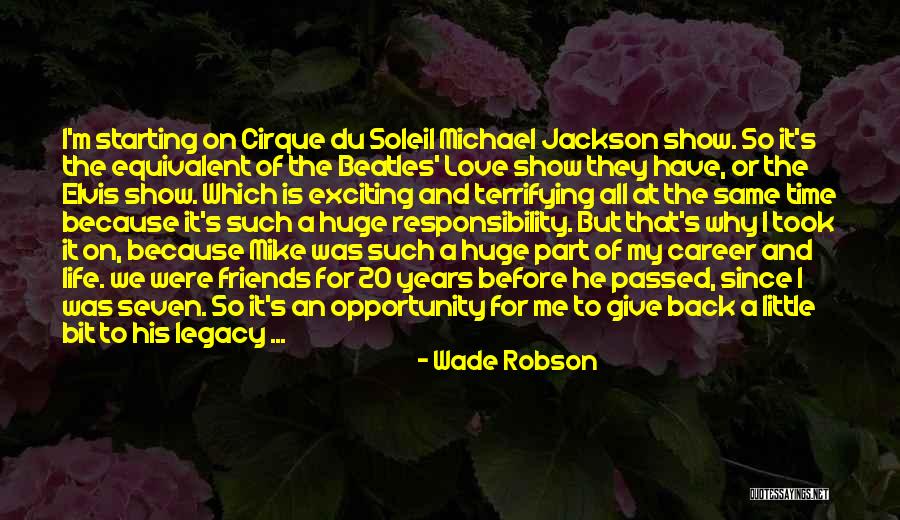 I'm starting on Cirque du Soleil Michael Jackson show. So it's the equivalent of the Beatles' Love show they have, or the Elvis show. Which is exciting and terrifying all at the same time because it's such a huge responsibility. But that's why I took it on, because Mike was such a huge part of my career and life. we were friends for 20 years before he passed, since I was seven. So it's an opportunity for me to give back a little bit to his legacy ... — Wade Robson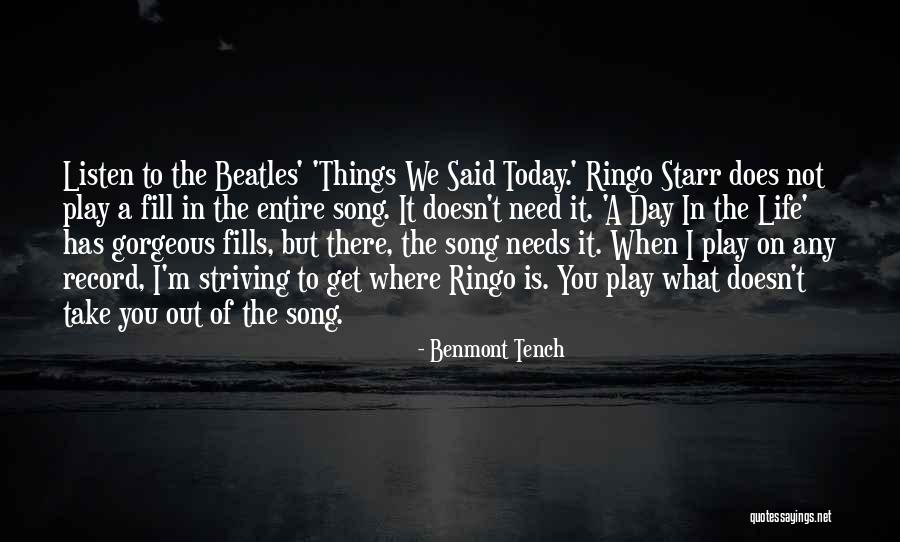 Listen to the Beatles' 'Things We Said Today.' Ringo Starr does not play a fill in the entire song. It doesn't need it. 'A Day In the Life' has gorgeous fills, but there, the song needs it. When I play on any record, I'm striving to get where Ringo is. You play what doesn't take you out of the song. — Benmont Tench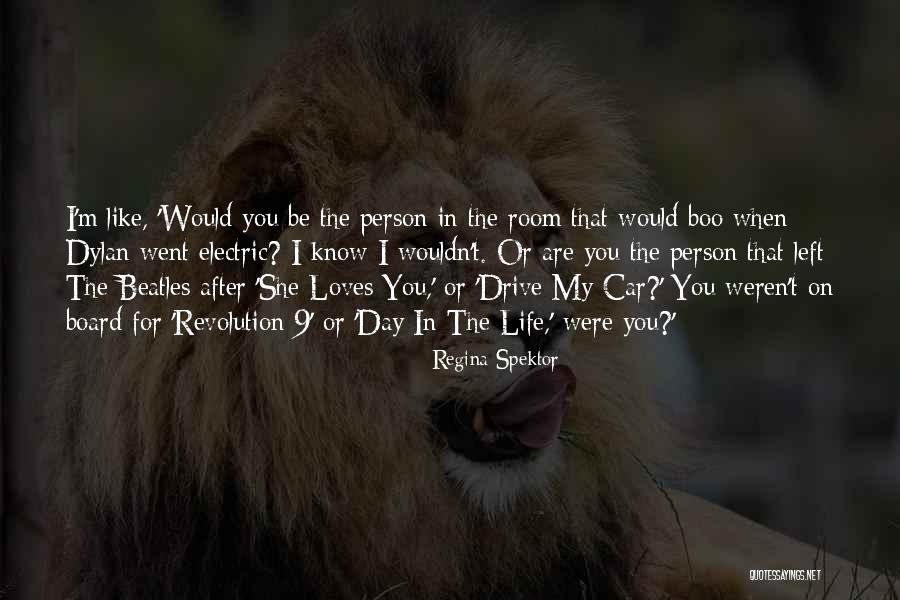 I'm like, 'Would you be the person in the room that would boo when Dylan went electric? I know I wouldn't. Or are you the person that left The Beatles after 'She Loves You,' or 'Drive My Car?' You weren't on board for 'Revolution 9' or 'Day In The Life,' were you?' — Regina Spektor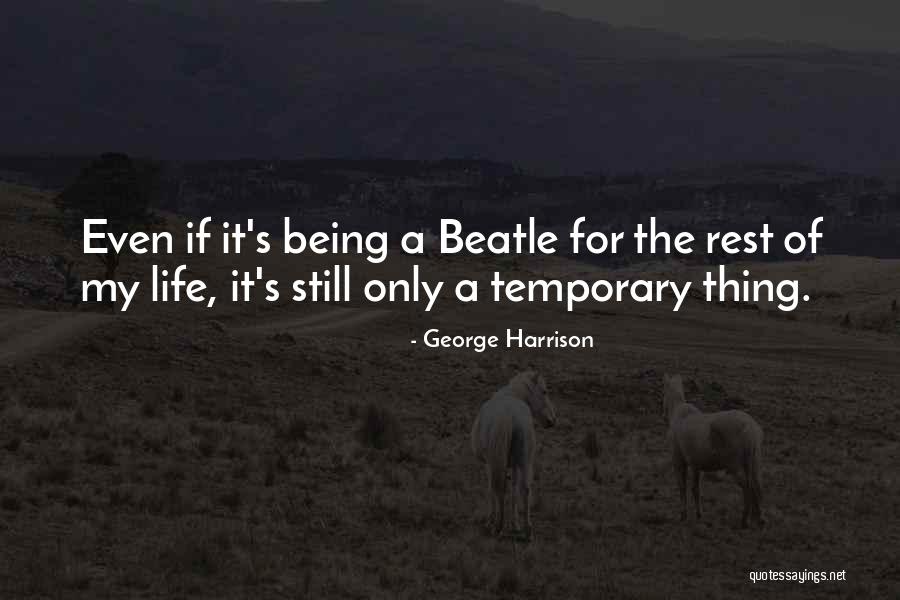 Even if it's being a Beatle for the rest of my life, it's still only a temporary thing. — George Harrison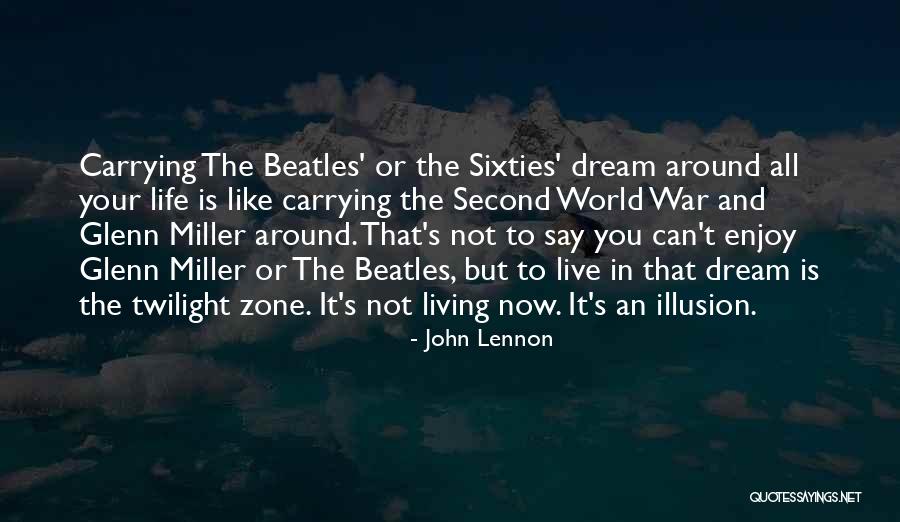 Carrying The Beatles' or the Sixties' dream around all your life is like carrying the Second World War and Glenn Miller around. That's not to say you can't enjoy Glenn Miller or The Beatles, but to live in that dream is the twilight zone. It's not living now. It's an illusion. — John Lennon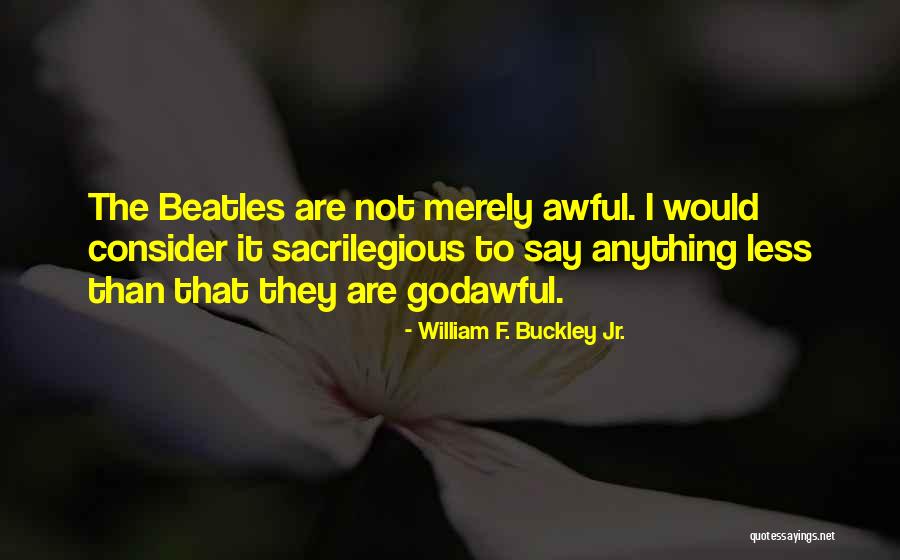 The Beatles are not merely awful. I would consider it sacrilegious to say anything less than that they are godawful. — William F. Buckley Jr.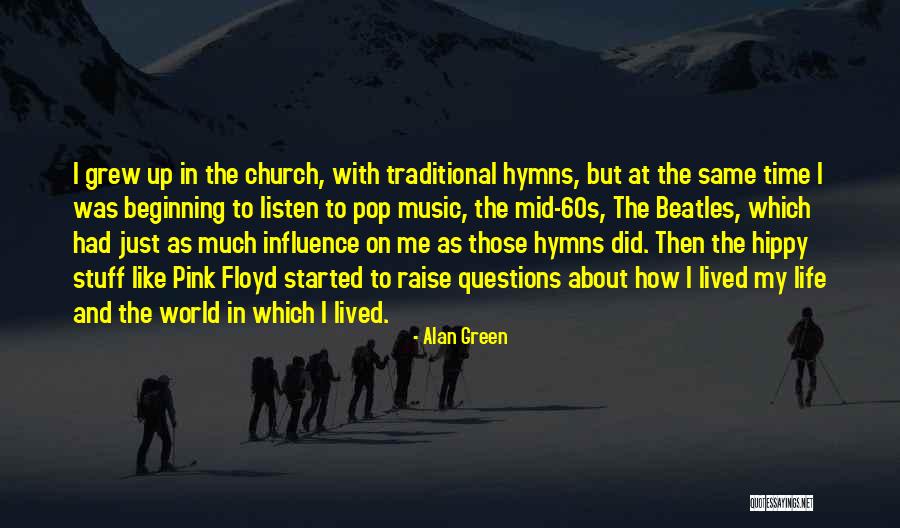 I grew up in the church, with traditional hymns, but at the same time I was beginning to listen to pop music, the mid-60s, The Beatles, which had just as much influence on me as those hymns did. Then the hippy stuff like Pink Floyd started to raise questions about how I lived my life and the world in which I lived. — Alan Green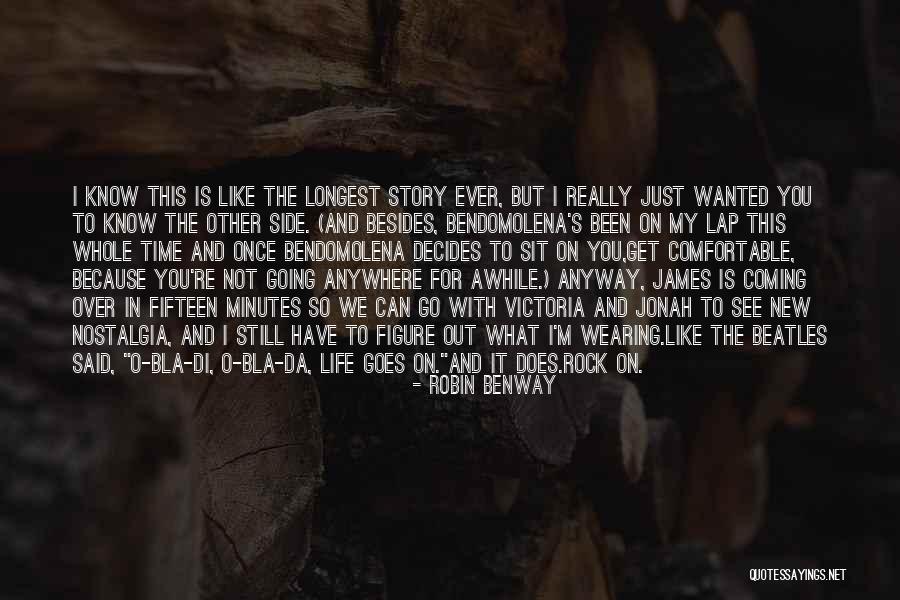 I know this is like the longest story ever, but I really just wanted you to know the other side. (And besides, Bendomolena's been on my lap this whole time and once Bendomolena decides to sit on you,get comfortable, because you're not going anywhere for awhile.) Anyway, James is coming over in fifteen minutes so we can go with Victoria and Jonah to see New Nostalgia, and I still have to figure out what I'm wearing.
Like the Beatles said, "O-bla-di, o-bla-da, life goes on."
And it does.
Rock on. — Robin Benway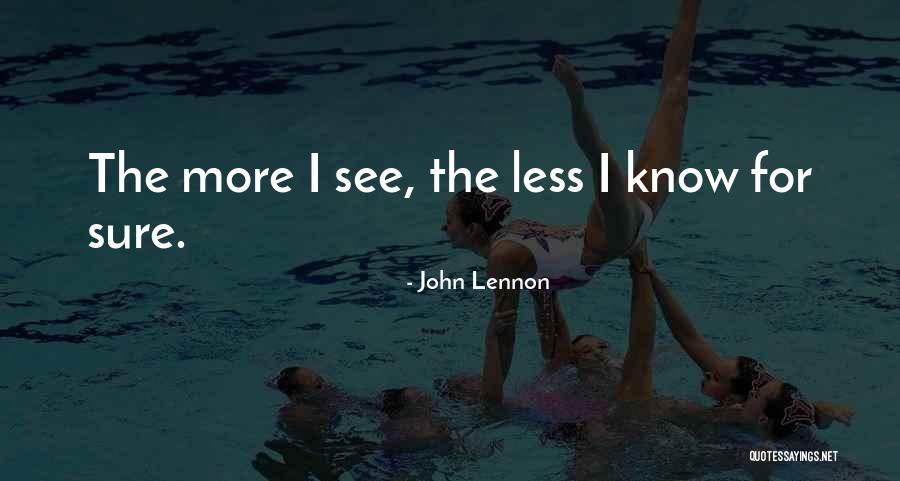 The more I see, the less I know for sure. — John Lennon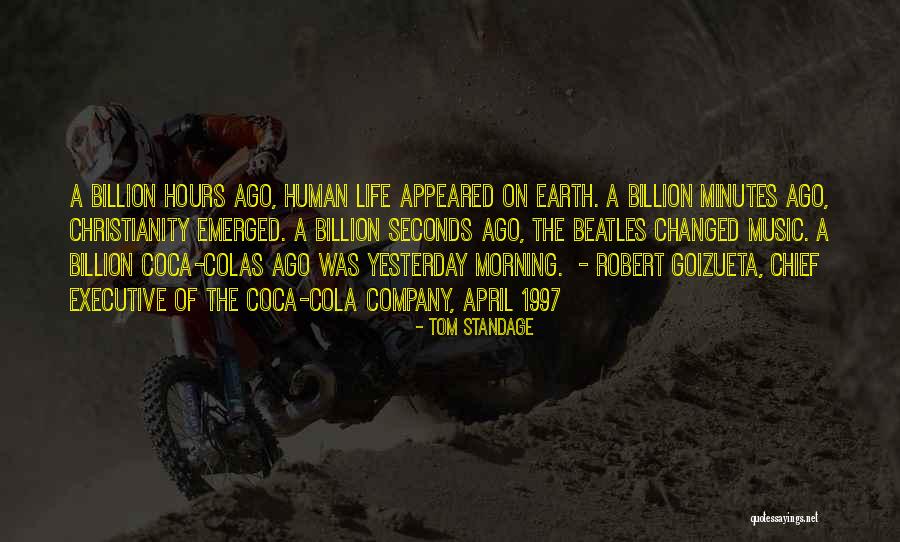 A billion hours ago, human life appeared on earth. A billion minutes ago, Christianity emerged. A billion seconds ago, the Beatles changed music. A billion Coca-Colas ago was yesterday morning. - Robert Goizueta, chief executive of the Coca-Cola Company, April 1997 — Tom Standage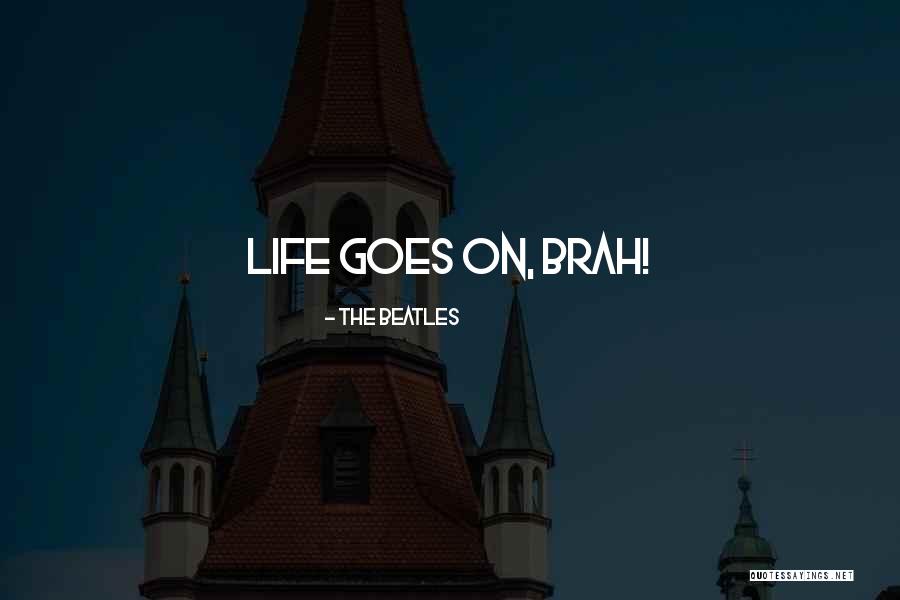 Life goes on, brah! — The Beatles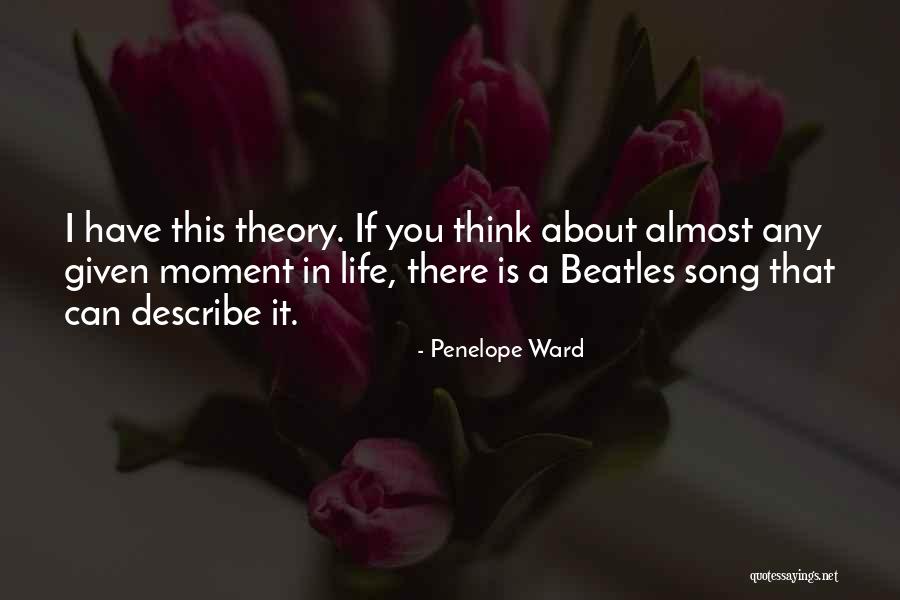 I have this theory. If you think about almost any given moment in life, there is a Beatles song that can describe it. — Penelope Ward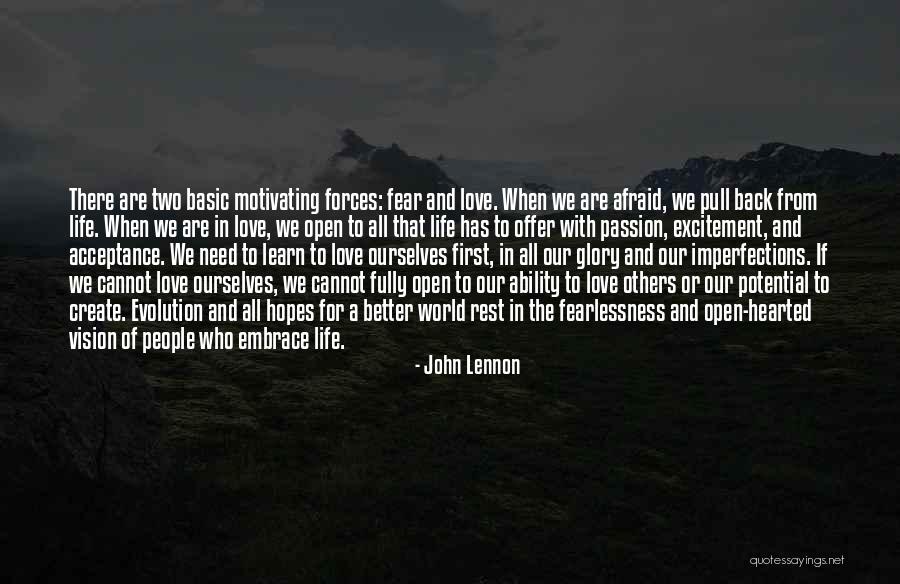 There are two basic motivating forces: fear and love. When we are afraid, we pull back from life. When we are in love, we open to all that life has to offer with passion, excitement, and acceptance. We need to learn to love ourselves first, in all our glory and our imperfections. If we cannot love ourselves, we cannot fully open to our ability to love others or our potential to create. Evolution and all hopes for a better world rest in the fearlessness and open-hearted vision of people who embrace life. — John Lennon
Life is a musical influence in my experience. But as far as actual music and actual bands, uh, I'll just look at my little collection here. Let's see. Bob Dylan, The Beatles, Pink Floyd, U2, The Talking Heads, Prince and the Revolution, Michael Jackson's Thriller was a huge one. — Jeremy Enigk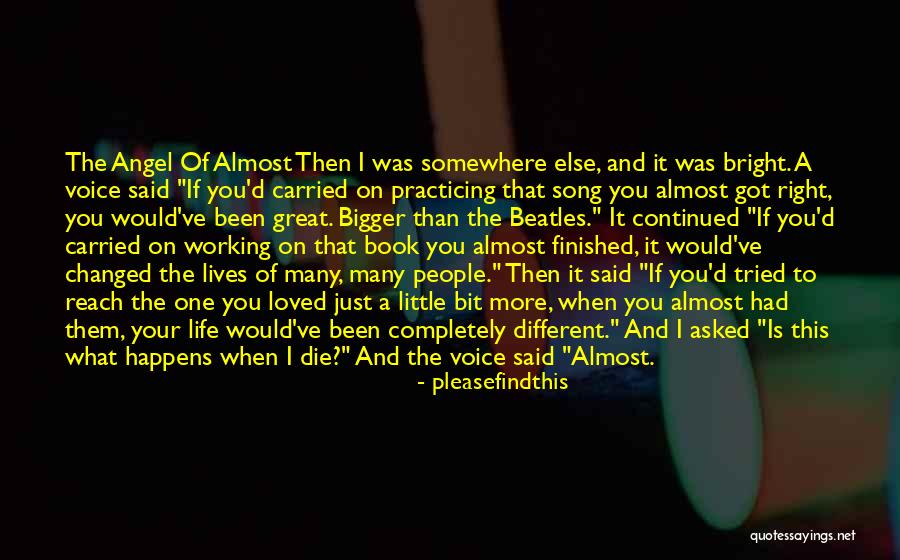 The Angel Of Almost Then I was somewhere else, and it was bright. A voice said "If you'd carried on practicing that song you almost got right, you would've been great. Bigger than the Beatles." It continued "If you'd carried on working on that book you almost finished, it would've changed the lives of many, many people." Then it said "If you'd tried to reach the one you loved just a little bit more, when you almost had them, your life would've been completely different." And I asked "Is this what happens when I die?" And the voice said "Almost. — Pleasefindthis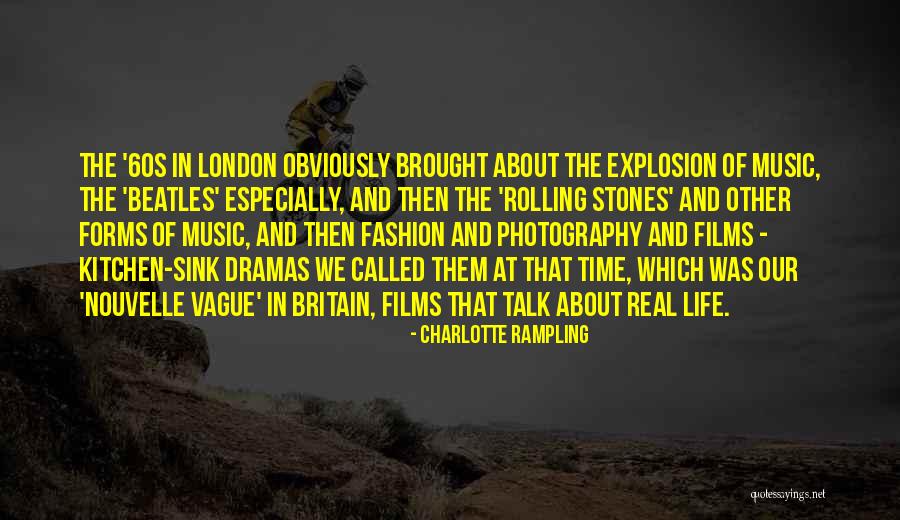 The '60s in London obviously brought about the explosion of music, the 'Beatles' especially, and then the 'Rolling Stones' and other forms of music, and then fashion and photography and films - kitchen-sink dramas we called them at that time, which was our 'nouvelle vague' in Britain, films that talk about real life. — Charlotte Rampling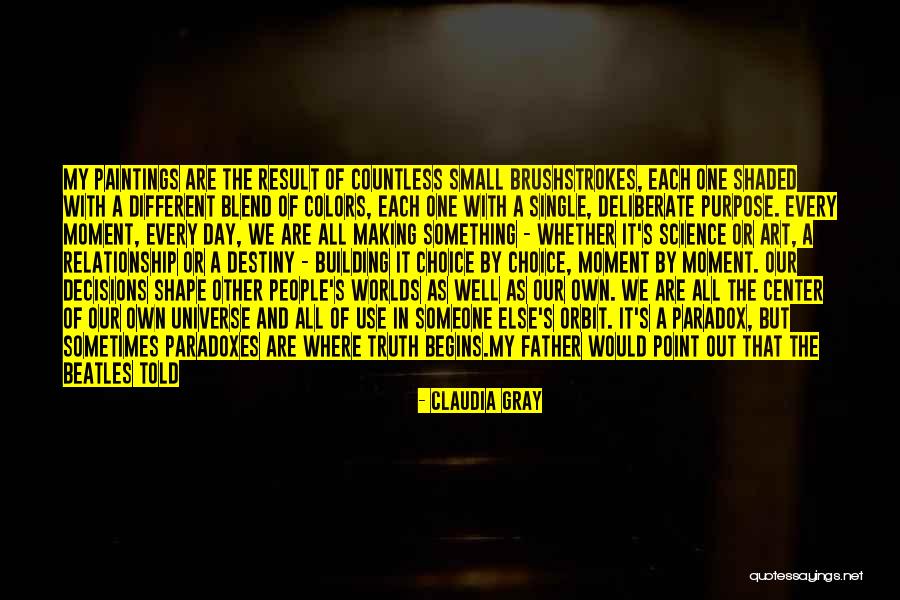 My paintings are the result of countless small brushstrokes, each one shaded with a different blend of colors, each one with a single, deliberate purpose. Every moment, every day, we are all making something - whether it's science or art, a relationship or a destiny - building it choice by choice, moment by moment. Our decisions shape other people's worlds as well as our own. We are all the center of our own universe and all of use in someone else's orbit. It's a paradox, but sometimes paradoxes are where truth begins.
My father would point out that the Beatles told us all of this decades ago. They one sang that in the end, the love we take is equal to the love we make. No, we can never be in complete control of our fates - we're all vulnerable to accidents, to cruelty, and to the random misfortune of life. But I try to think about how much of it is up to us. We decide what emotions serve as our building blocks, which feelings we'll use to shape our universe. — Claudia Gray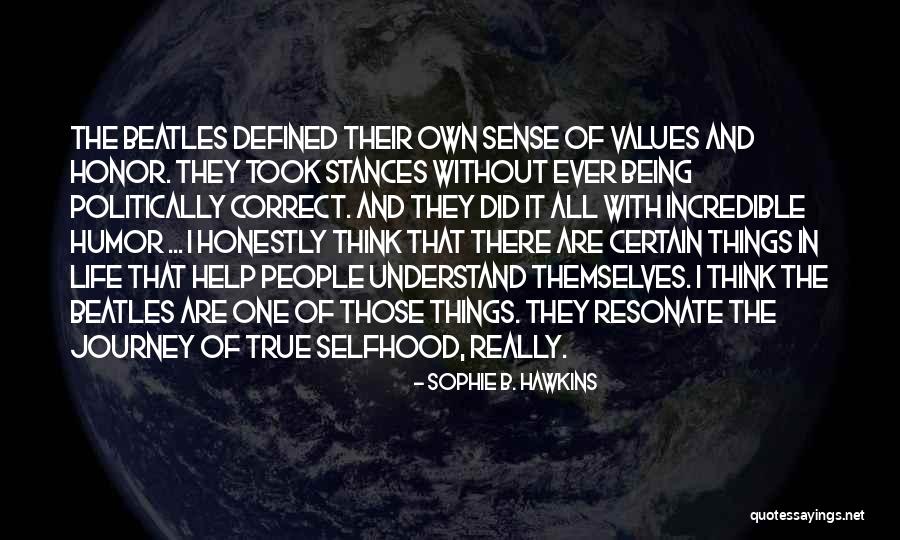 The Beatles defined their own sense of values and honor. They took stances without ever being politically correct. And they did it all with incredible humor ... I honestly think that there are certain things in life that help people understand themselves. I think the Beatles are one of those things. They resonate the journey of true selfhood, really. — Sophie B. Hawkins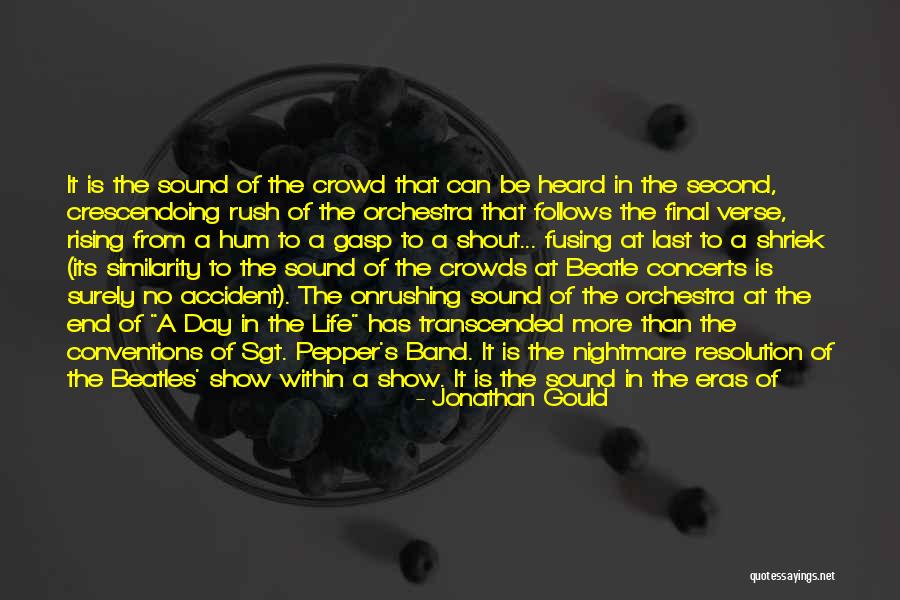 It is the sound of the crowd that can be heard in the second, crescendoing rush of the orchestra that follows the final verse, rising from a hum to a gasp to a shout... fusing at last to a shriek (its similarity to the sound of the crowds at Beatle concerts is surely no accident). The onrushing sound of the orchestra at the end of "A Day in the Life" has transcended more than the conventions of Sgt. Pepper's Band. It is the nightmare resolution of the Beatles' show within a show. It is the sound in the eras of the high-wire artist as the ground rushes up from below. There is a blinding flash of silence, then the stunning impact of a tremendous E major piano chord that hangs in the air for a small eternity, slowly fading away, a forty-second meditation on finality that leaves each member if the audience listening with a new kind of attention and awareness to the sound of nothing at all. — Jonathan Gould