Quotes & Sayings About Tension In Love
Enjoy reading and share 66 famous quotes about Tension In Love with everyone.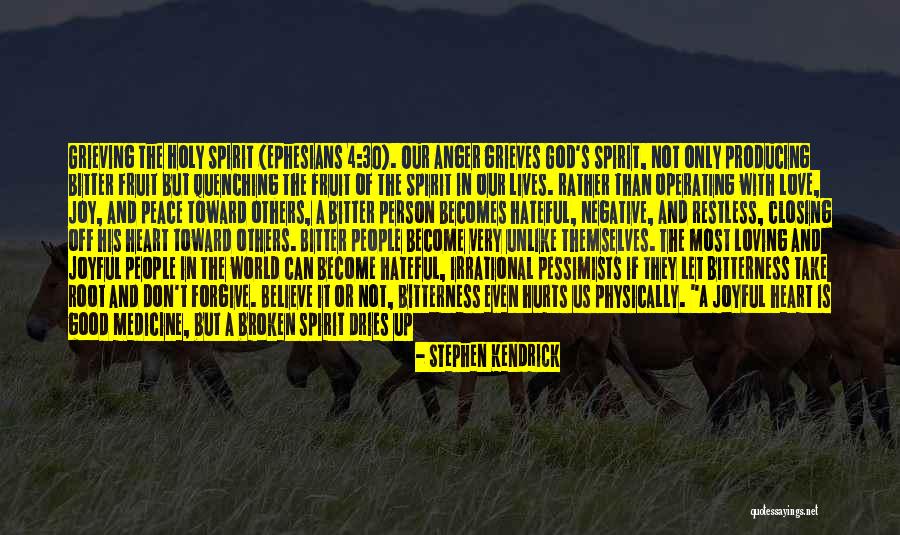 Grieving the Holy Spirit (Ephesians 4:30). Our anger grieves God's Spirit, not only producing bitter fruit but quenching the fruit of the Spirit in our lives. Rather than operating with love, joy, and peace toward others, a bitter person becomes hateful, negative, and restless, closing off his heart toward others. Bitter people become very unlike themselves. The most loving and joyful people in the world can become hateful, irrational pessimists if they let bitterness take root and don't forgive. Believe it or not, bitterness even hurts us physically. "A joyful heart is good medicine, but a broken spirit dries up the bones" (Proverbs 17:22). The tension of trying to contain it can harden our facial features and make us lose the radiance of our countenance, even causing a chemical imbalance in our bodies and lowering our resistance to disease. — Stephen Kendrick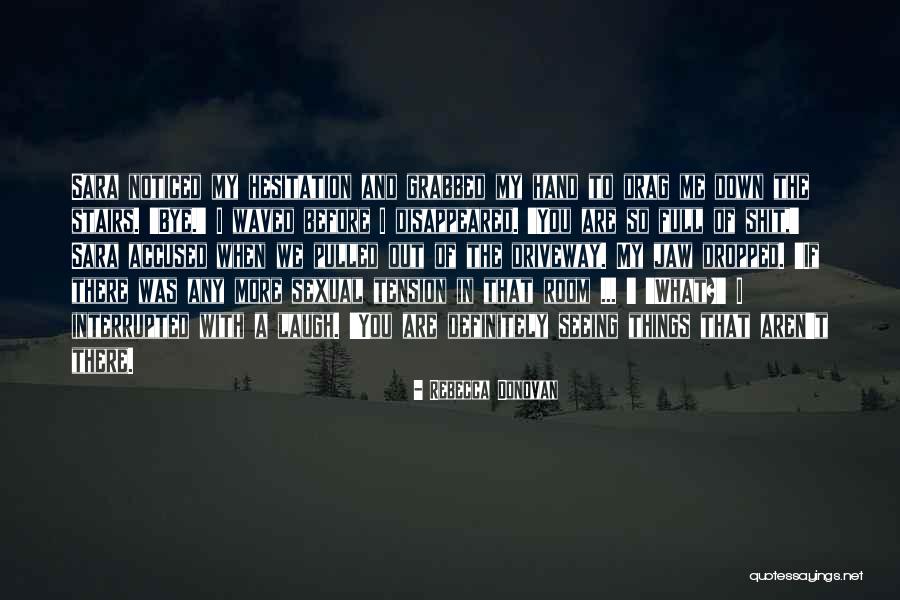 Sara noticed my hesitation and grabbed my hand to drag me down the stairs. 'Bye.' I waved before I disappeared. 'You are so full of shit,' Sara accused when we pulled out of the driveway. My jaw dropped. 'If there was any more sexual tension in that room ... ' 'What?' I interrupted with a laugh. 'You are definitely seeing things that aren't there. — Rebecca Donovan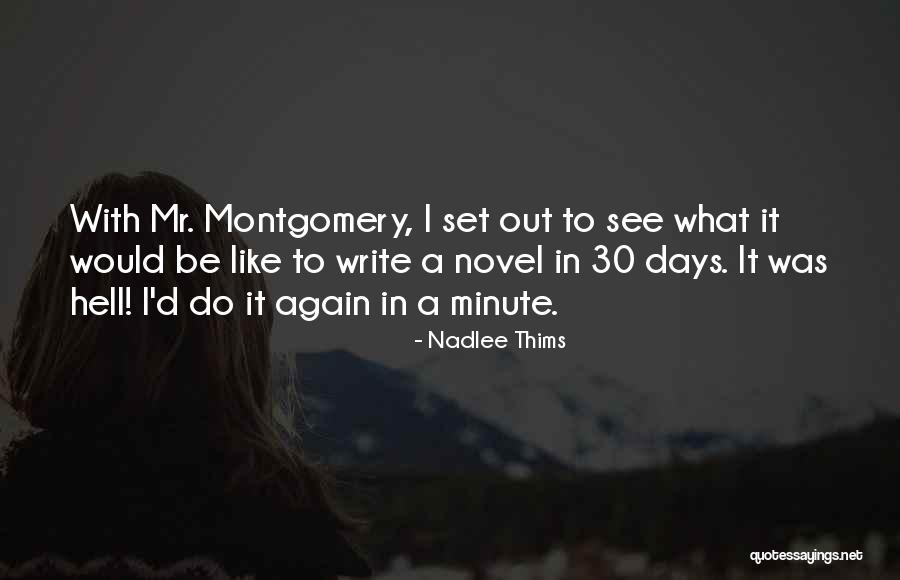 With Mr. Montgomery, I set out to see what it would be like to write a novel in 30 days. It was hell! I'd do it again in a minute. — Nadlee Thims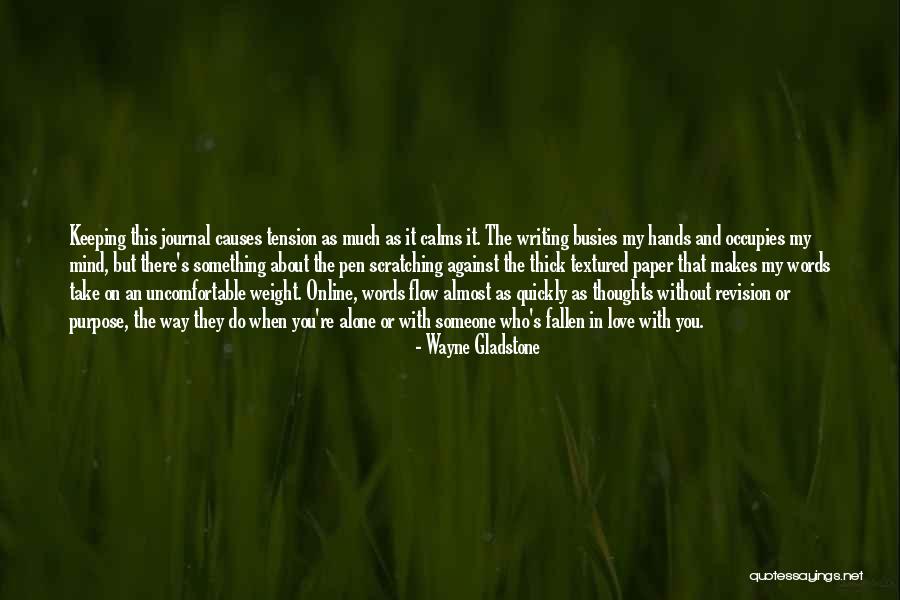 Keeping this journal causes tension as much as it calms it. The writing busies my hands and occupies my mind, but there's something about the pen scratching against the thick textured paper that makes my words take on an uncomfortable weight. Online, words flow almost as quickly as thoughts without revision or purpose, the way they do when you're alone or with someone who's fallen in love with you. — Wayne Gladstone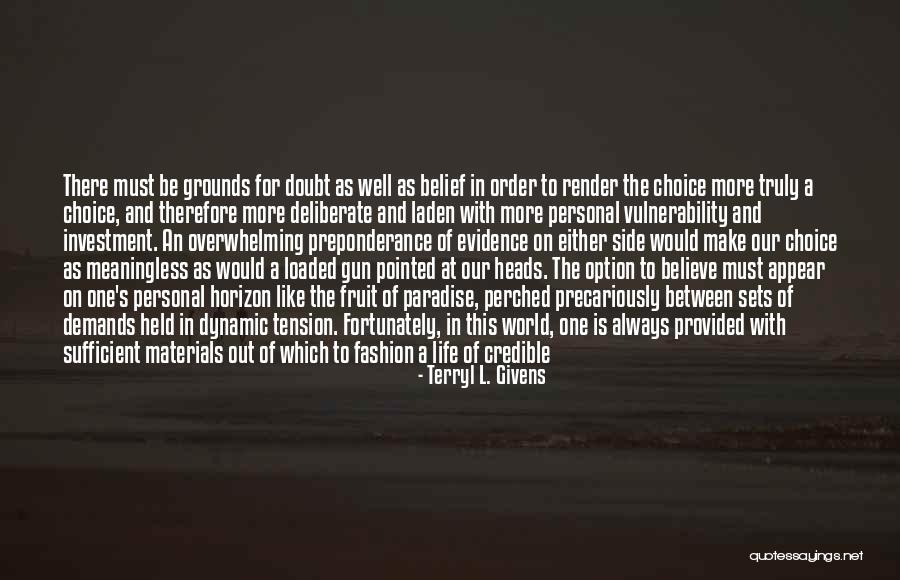 There must be grounds for doubt as well as belief in order to render the choice more truly a choice, and therefore more deliberate and laden with more personal vulnerability and investment. An overwhelming preponderance of evidence on either side would make our choice as meaningless as would a loaded gun pointed at our heads. The option to believe must appear on one's personal horizon like the fruit of paradise, perched precariously between sets of demands held in dynamic tension. Fortunately, in this world, one is always provided with sufficient materials out of which to fashion a life of credible conviction or dismissive denial. We are acted upon, in other words, by appeals to our personal values, our yearnings, our fears, our appetites, and our egos. What we choose to embrace, to be responsive to, is the purest reflection of who we are and what we love. That is why faith, the choice to believe, is, in the final analysis, an action that is positively laden with moral significance. — Terryl L. Givens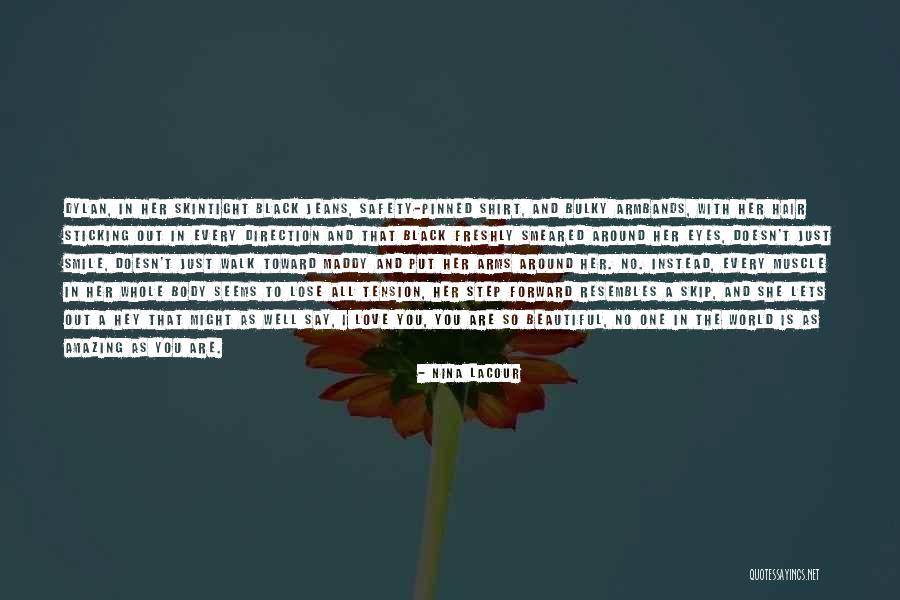 Dylan, in her skintight black jeans, safety-pinned shirt, and bulky armbands, with her hair sticking out in every direction and that black freshly smeared around her eyes, doesn't just smile, doesn't just walk toward Maddy and put her arms around her. No. Instead, every muscle in her whole body seems to lose all tension, her step forward resembles a skip, and she lets out a hey that might as well say, I love you, you are so beautiful, no one in the world is as amazing as you are. — Nina LaCour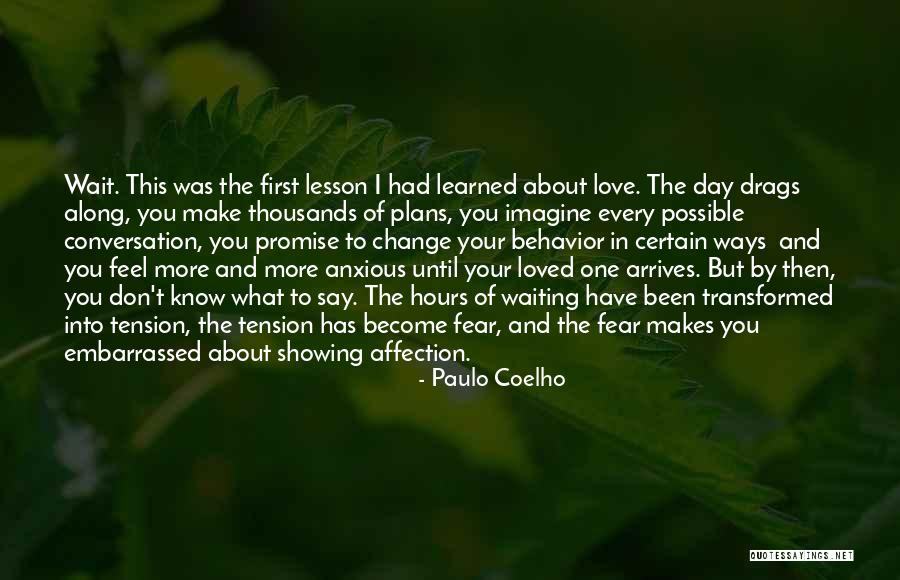 Wait. This was the first lesson I had learned about love. The day drags along, you make thousands of plans, you imagine every possible conversation, you promise to change your behavior in certain ways
and you feel more and more anxious until your loved one arrives. But by then, you don't know what to say. The hours of waiting have been transformed into tension, the tension has become fear, and the fear makes you embarrassed about showing affection. — Paulo Coelho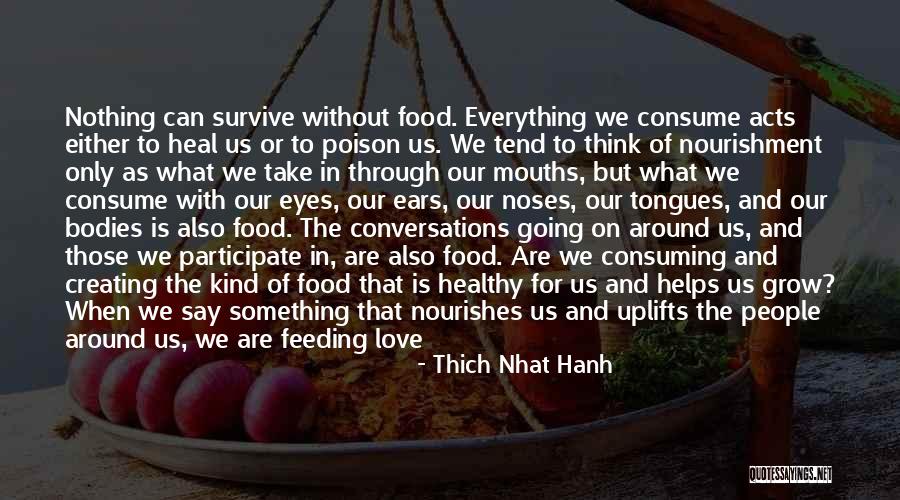 Nothing can survive without food. Everything we consume acts either to heal us or to poison us. We tend to think of nourishment only as what we take in through our mouths, but what we consume with our eyes, our ears, our noses, our tongues, and our bodies is also food. The conversations going on around us, and those we participate in, are also food. Are we consuming and creating the kind of food that is healthy for us and helps us grow? When we say something that nourishes us and uplifts the people around us, we are feeding love and compassion. When we speak and act in a way that causes tension and anger, we are nourishing violence and suffering. — Thich Nhat Hanh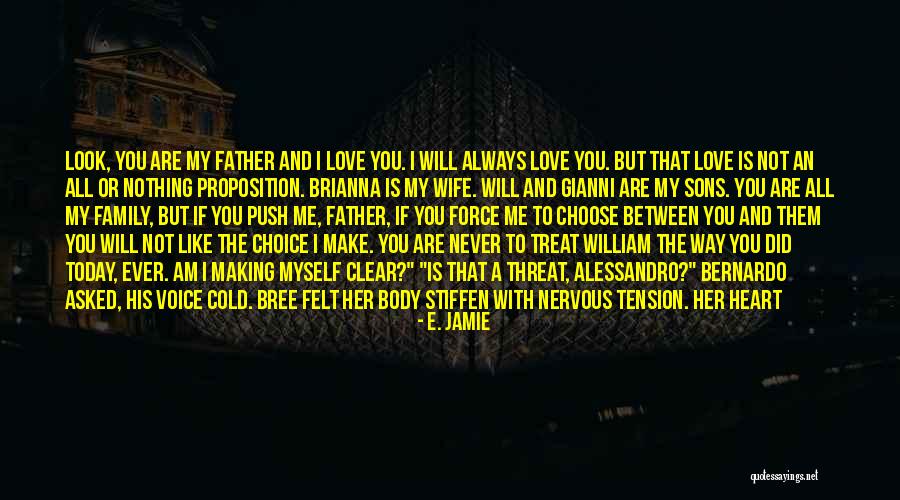 Look, you are my father and I love you. I will always love you. But that love is not an all or nothing proposition. Brianna is my wife. Will and Gianni are my sons. You are all my family, but if you push me, Father, if you force me to choose between you and them you will not like the choice I make. You are never to treat William the way you did today, ever. Am I making myself clear?" "Is that a threat, Alessandro?" Bernardo asked, his voice cold. Bree felt her body stiffen with nervous tension. Her heart was racing, both with nervousness and joy that Alessandro was
drawing a line in the sand with his father and that he was sticking up for them over Bernardo. "Remember, Father, you raised me. You raised me to be a Dardano. That's who I am and I'm sure you know exactly what that means. — E. Jamie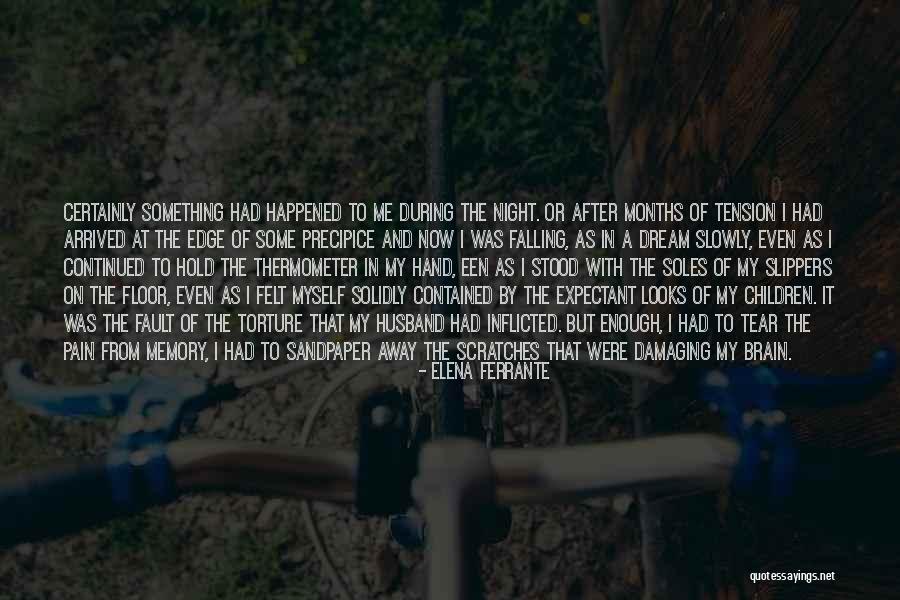 Certainly something had happened to me during the night. Or after months of tension I had arrived at the edge of some precipice and now I was falling, as in a dream slowly, even as I continued to hold the thermometer in my hand, een as I stood with the soles of my slippers on the floor, even as I felt myself solidly contained by the expectant looks of my children. It was the fault of the torture that my husband had inflicted. But enough, I had to tear the pain from memory, I had to sandpaper away the scratches that were damaging my brain. — Elena Ferrante
In the 'Dreamblood' books, I'm focusing more on what I like about epic fantasy: the layering and depth of tension; the chance to really delve into the minutia of an alternate society and its politics; a large cast of characters to love and hate. — N.K. Jemisin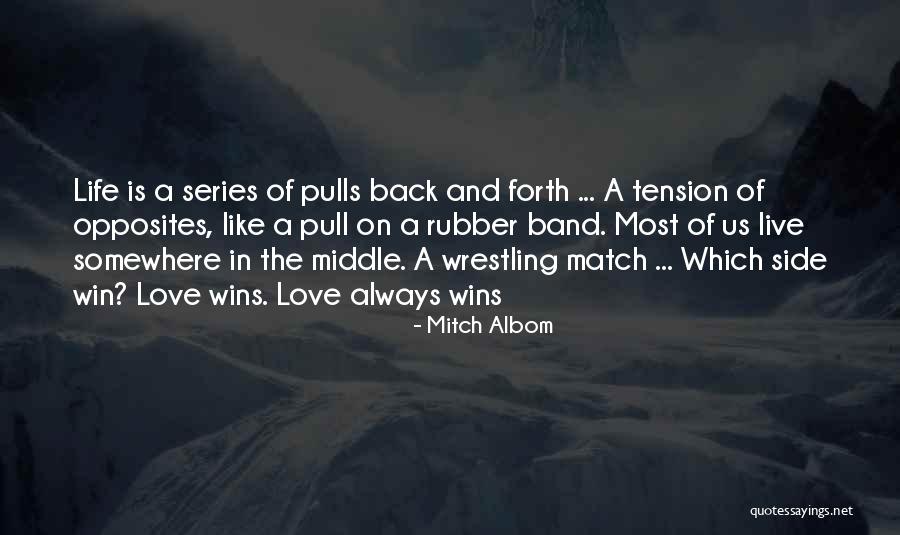 Life is a series of pulls back and forth ... A tension of opposites, like a pull on a rubber band. Most of us live somewhere in the middle. A wrestling match ... Which side win? Love wins. Love always wins — Mitch Albom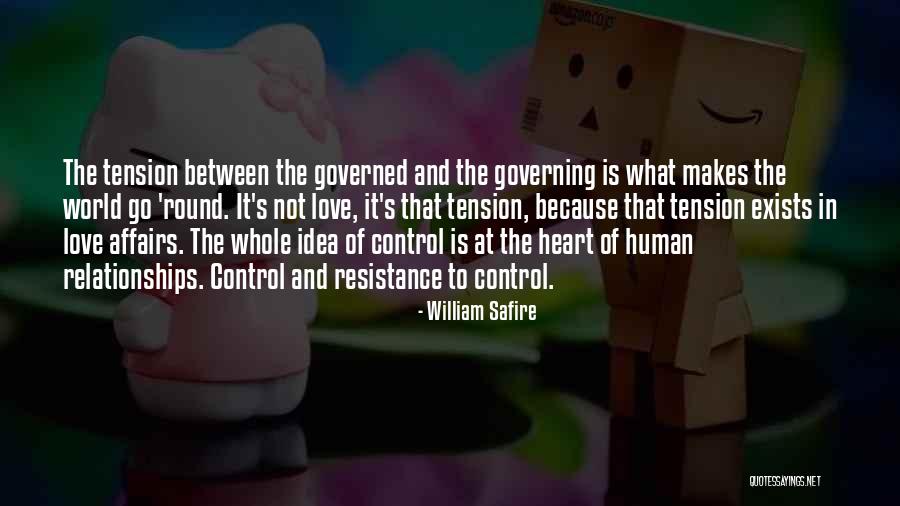 The tension between the governed and the governing is what makes the world go 'round. It's not love, it's that tension, because that tension exists in love affairs. The whole idea of control is at the heart of human relationships. Control and resistance to control. — William Safire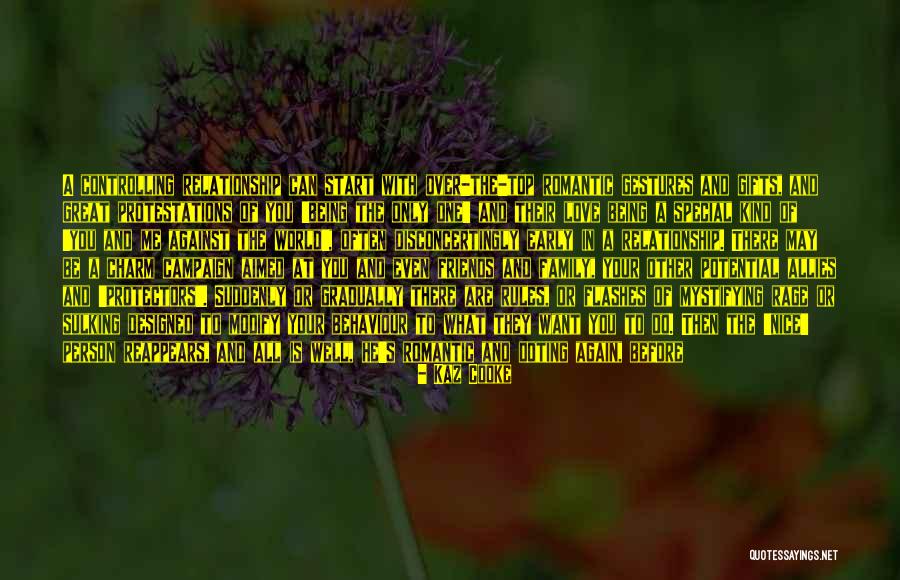 A controlling relationship can start with over-the-top romantic gestures and gifts, and great protestations of you 'being the only one' and their love being a special kind of 'you and me against the world', often disconcertingly early in a relationship. There may be a charm campaign aimed at you and even friends and family, your other potential allies and 'protectors'. Suddenly or gradually there are rules, or flashes of mystifying rage or sulking designed to modify your behaviour to what they want you to do. Then the 'nice' person reappears, and all is well, he's romantic and doting again, before the next flashpoints of anger or rage or sullen tension. This is not a 'return to the good times'. It's the classic cycle of abuse, recognised — Kaz Cooke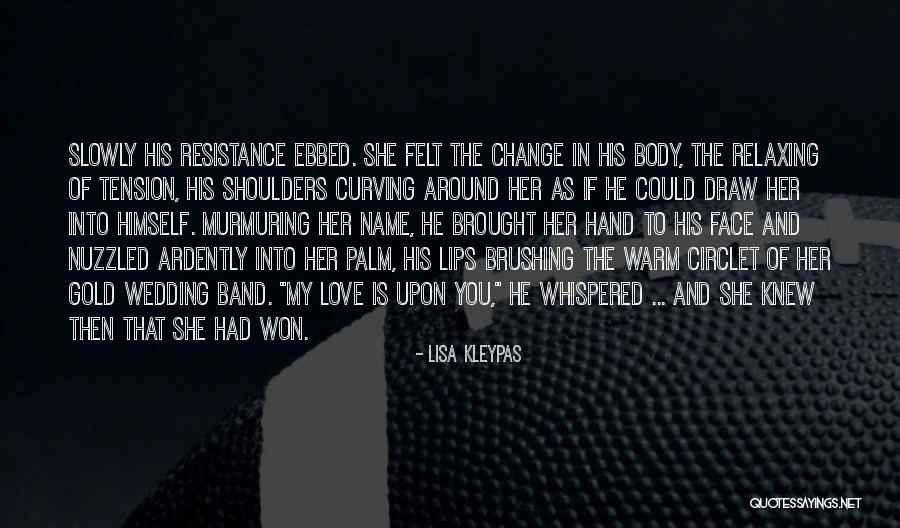 Slowly his resistance ebbed. She felt the change in his body, the relaxing of tension, his shoulders curving around her as if he could draw her into himself. Murmuring her name, he brought her hand to his face and nuzzled ardently into her palm, his lips brushing the warm circlet of her gold wedding band. "My love is upon you," he whispered ... and she knew then that she had won. — Lisa Kleypas
That was my first kiss ... like, ever."
"That was your first kiss?"
"You couldn't tell?" My eyes widened in utter surprise.
"You seemed nervous, yeah. But I had no idea," he said with a laugh. "Is it a total guy move if I think that's pretty awesome?"
"That you were my first kiss? Why?" I smiled, the tension lessening with each laugh that came from his beautiful mouth. He squeezed my hand in his.
"Because I'm planning to be your last. — Melissa Brown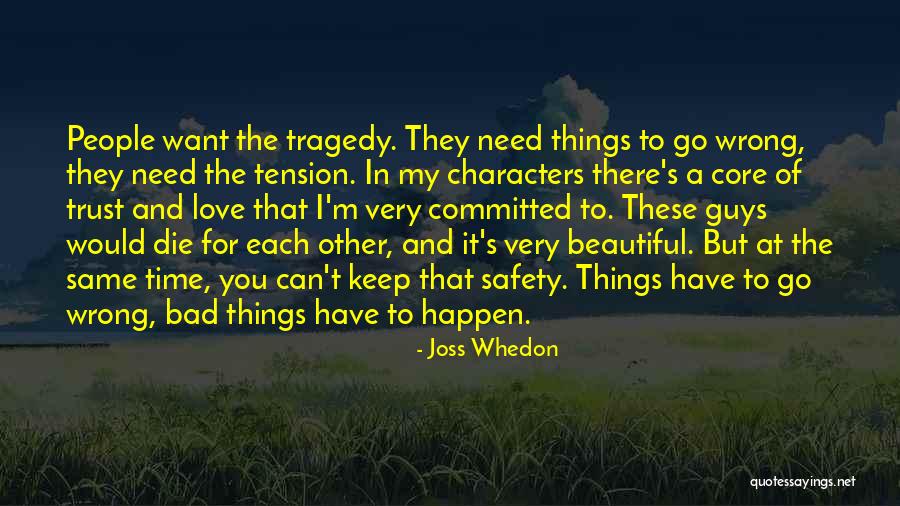 People want the tragedy. They need things to go wrong, they need the tension. In my characters there's a core of trust and love that I'm very committed to. These guys would die for each other, and it's very beautiful. But at the same time, you can't keep that safety. Things have to go wrong, bad things have to happen. — Joss Whedon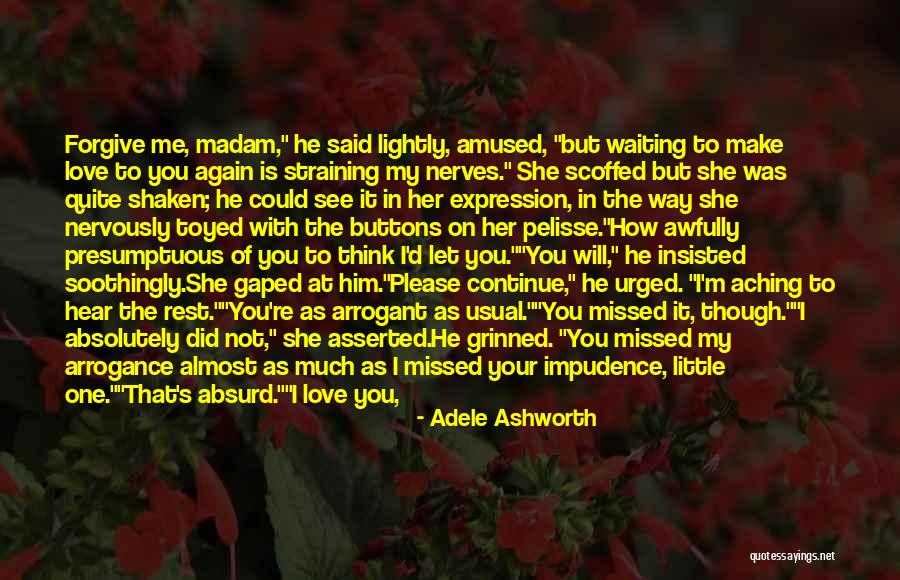 Forgive me, madam," he said lightly, amused, "but waiting to make love to you again is straining my nerves."
She scoffed but she was quite shaken; he could see it in her expression, in the way she nervously toyed with the buttons on her pelisse.
"How awfully presumptuous of you to think I'd let you."
"You will," he insisted soothingly.
She gaped at him.
"Please continue," he urged. "I'm aching to hear the rest."
"You're as arrogant as usual."
"You missed it, though."
"I absolutely did not," she asserted.
He grinned. "You missed my arrogance almost as much as I missed your impudence, little one."
"That's absurd."
"I love you, Caroline," he softly, quickly replied, catching her off guard with such tenderness. "Move on before I decide I'm finished with this conversation, rip off your clothes, and show you how much. — Adele Ashworth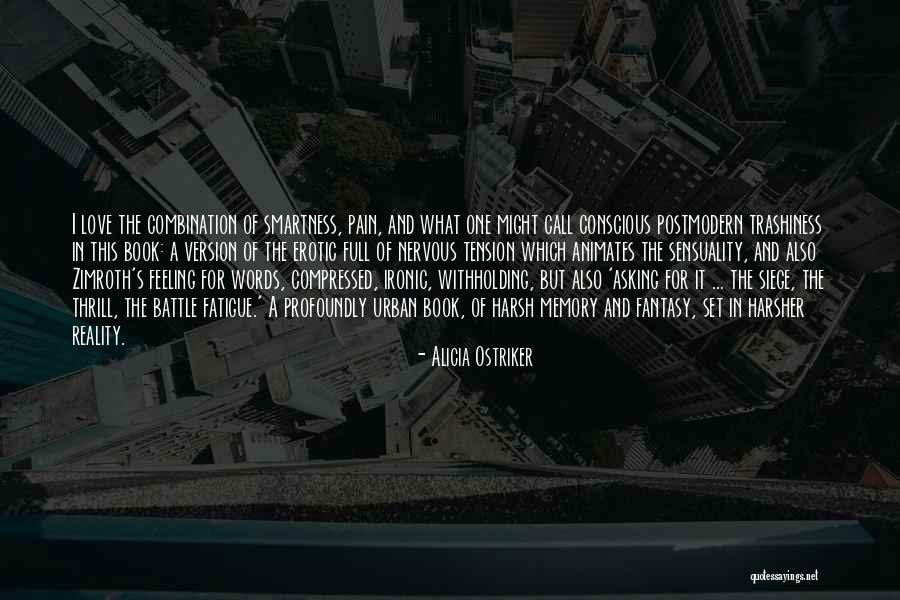 I love the combination of smartness, pain, and what one might call conscious postmodern trashiness in this book: a version of the erotic full of nervous tension which animates the sensuality, and also Zimroth's feeling for words, compressed, ironic, withholding, but also 'asking for it ... the siege, the thrill, the battle fatigue.' A profoundly urban book, of harsh memory and fantasy, set in harsher reality. — Alicia Ostriker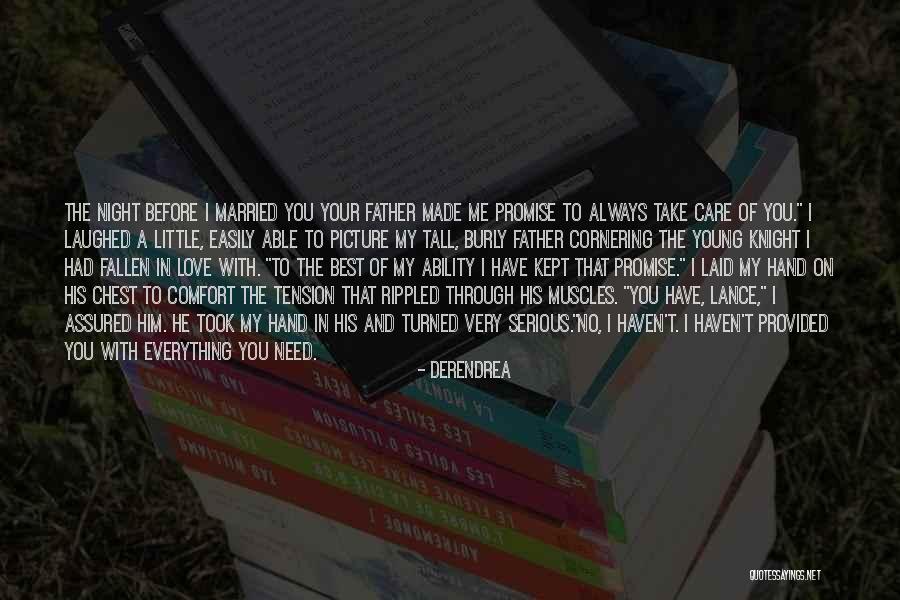 The night before I married you your father made me promise to always take care of you." I laughed a little, easily able to picture my tall, burly father cornering the young knight I had fallen in love with. "To the best of my ability I have kept that promise." I laid my hand on his chest to comfort the tension that rippled through his muscles.
"You have, Lance," I assured him. He took my hand in his and turned very serious.
"No, I haven't. I haven't provided you with everything you need. — Derendrea
Have I told you about the tension of opposites? he says. The tension of opposites? Life is a series of pulls back and forth. You want to do one thing, but you are bound to do something else. Something hurts you, yet you know it shouldn't.
You take certain things for granted, even when you know you should never take anything for granted.
A tension of opposites, like a pull on a rubber band. And most of us live somewhere in the middle.Sounds like a wrestling match, I say.
A wrestling match. He laughs. Yes, you could describe life that way.
So which side wins, I ask?
Which side wins? He smiles at me, the crinkled eyes, the crooked teeth.
Love wins. Love always wins. — Mitch Albom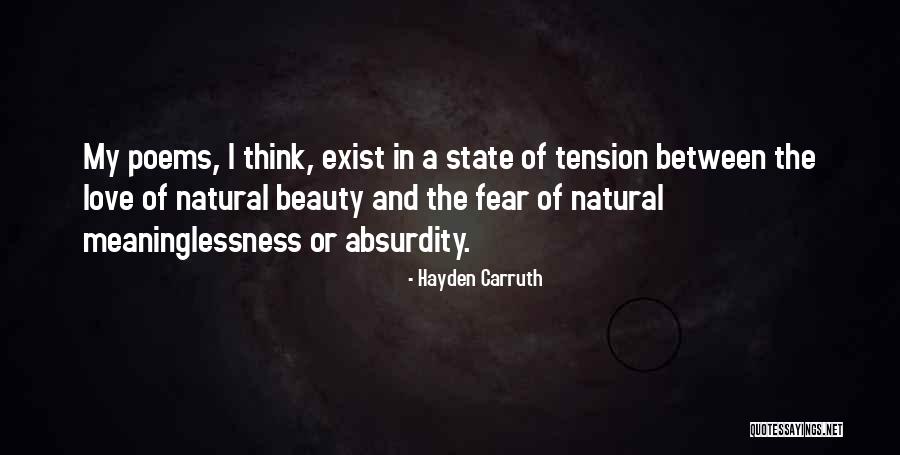 My poems, I think, exist in a state of tension between the love of natural beauty and the fear of natural meaninglessness or absurdity. — Hayden Carruth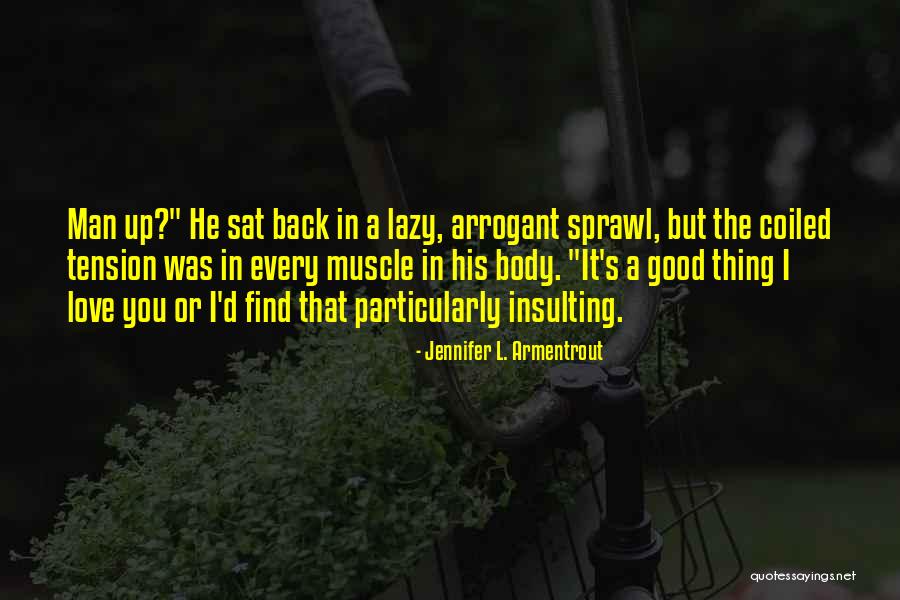 Man up?" He sat back in a lazy, arrogant sprawl, but the coiled tension was in every muscle in his body. "It's a good thing I love you or I'd find that particularly insulting. — Jennifer L. Armentrout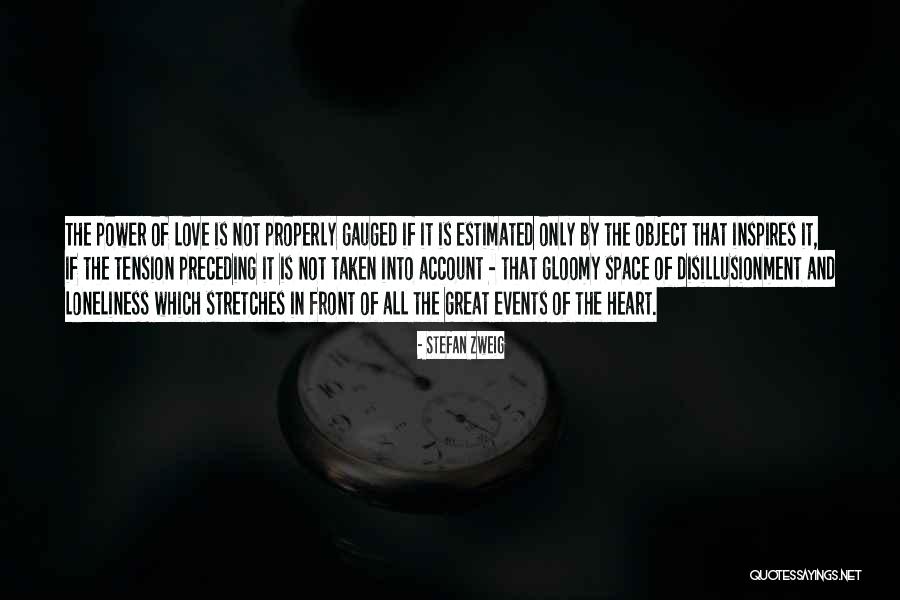 The power of love is not properly gauged if it is estimated only by the object that inspires it, if the tension preceding it is not taken into account - that gloomy space of disillusionment and loneliness which stretches in front of all the great events of the heart. — Stefan Zweig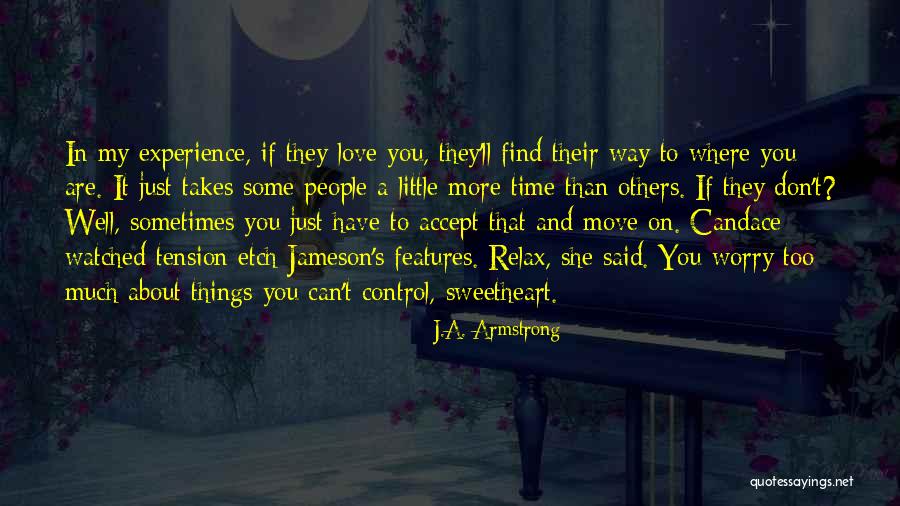 In my experience, if they love you, they'll find their way to where you are. It just takes some people a little more time than others. If they don't? Well, sometimes you just have to accept that and move on. Candace watched tension etch Jameson's features. Relax, she said. You worry too much about things you can't control, sweetheart. — J.A. Armstrong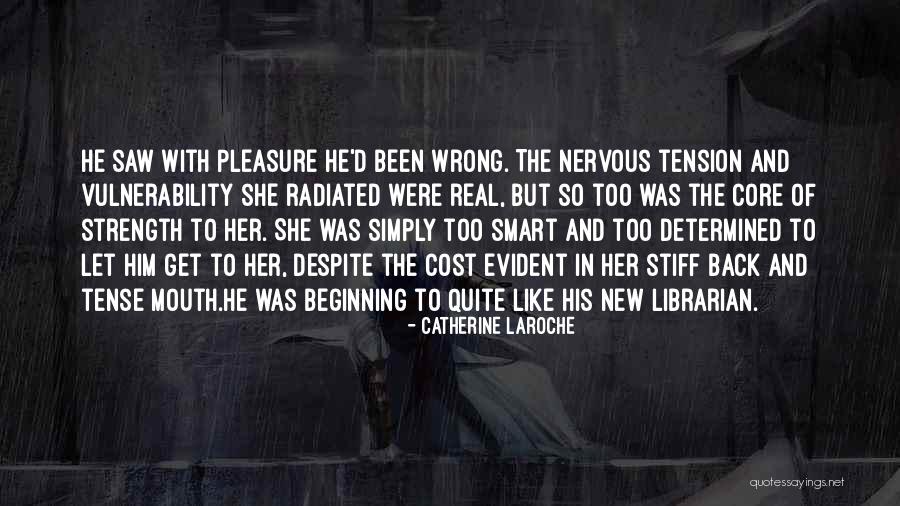 He saw with pleasure he'd been wrong. The nervous tension and vulnerability she radiated were real, but so too was the core of strength to her. She was simply too smart and too determined to let him get to her, despite the cost evident in her stiff back and tense mouth.
He was beginning to quite like his new librarian. — Catherine LaRoche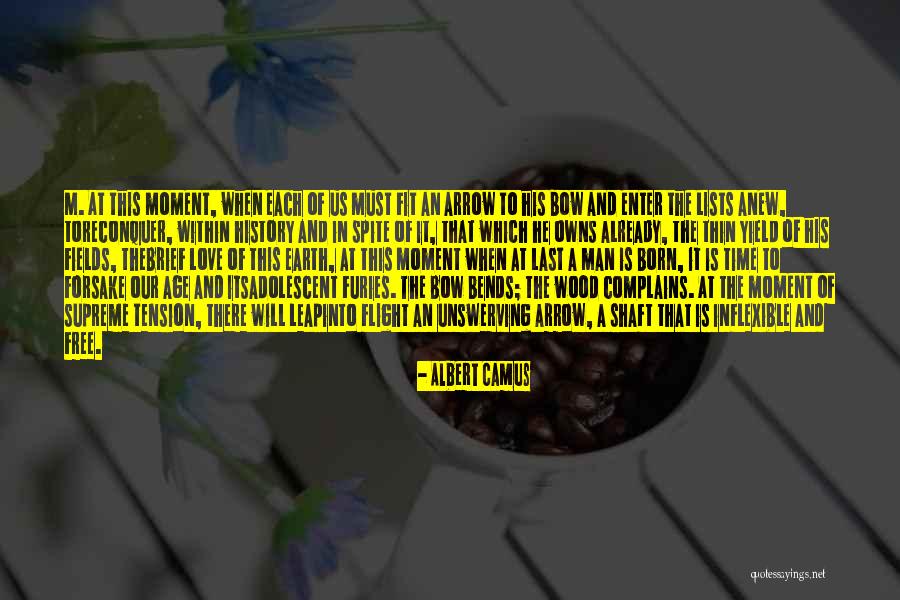 M. At this moment, when each of us must fit an arrow to his bow and enter the lists anew, to
reconquer, within history and in spite of it, that which he owns already, the thin yield of his fields, the
brief love of this earth, at this moment when at last a man is born, it is time to forsake our age and its
adolescent furies. The bow bends; the wood complains. At the moment of supreme tension, there will leap
into flight an unswerving arrow, a shaft that is inflexible and free. — Albert Camus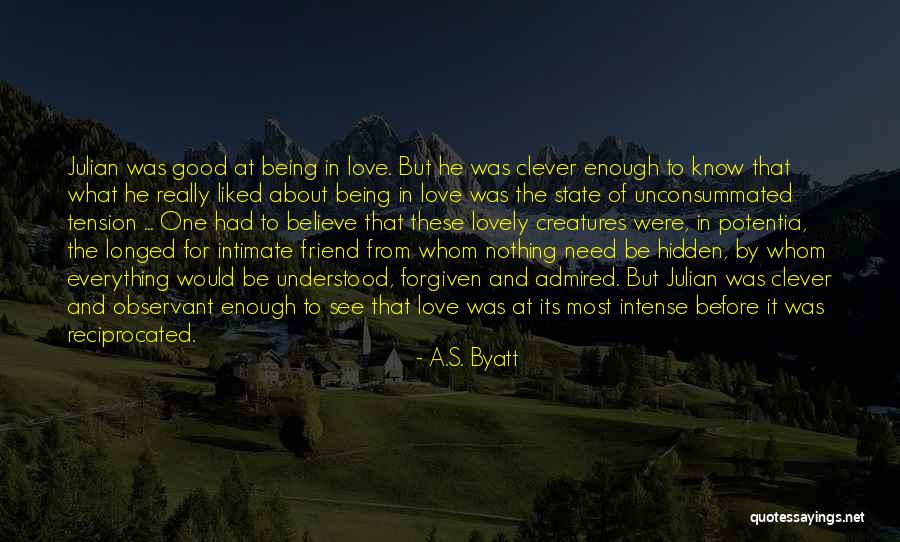 Julian was good at being in love. But he was clever enough to know that what he really liked about being in love was the state of unconsummated tension ... One had to believe that these lovely creatures were, in potentia, the longed for intimate friend from whom nothing need be hidden, by whom everything would be understood, forgiven and admired. But Julian was clever and observant enough to see that love was at its most intense before it was reciprocated. — A.S. Byatt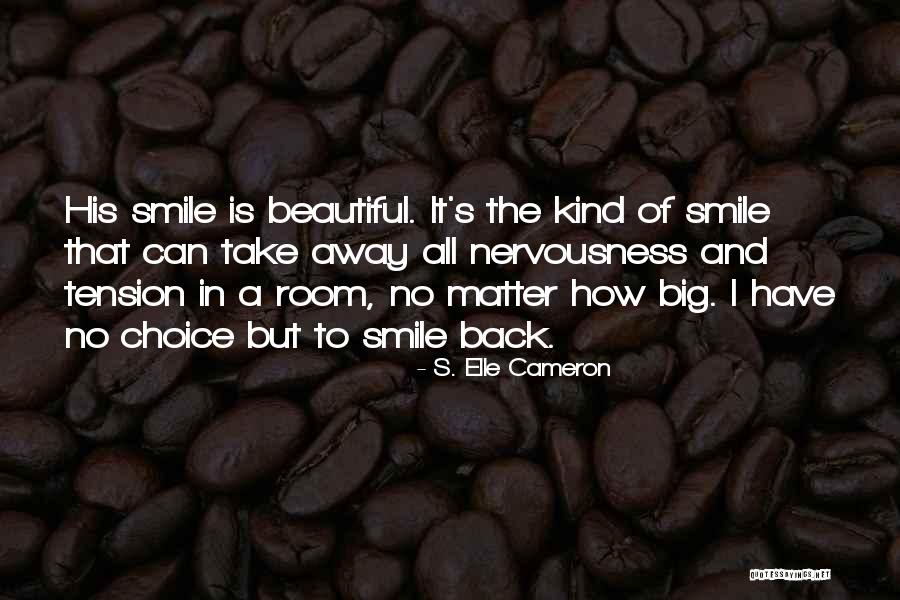 His smile is beautiful. It's the kind of smile that can take away all nervousness and tension in a room, no matter how big. I have no choice but to smile back. — S. Elle Cameron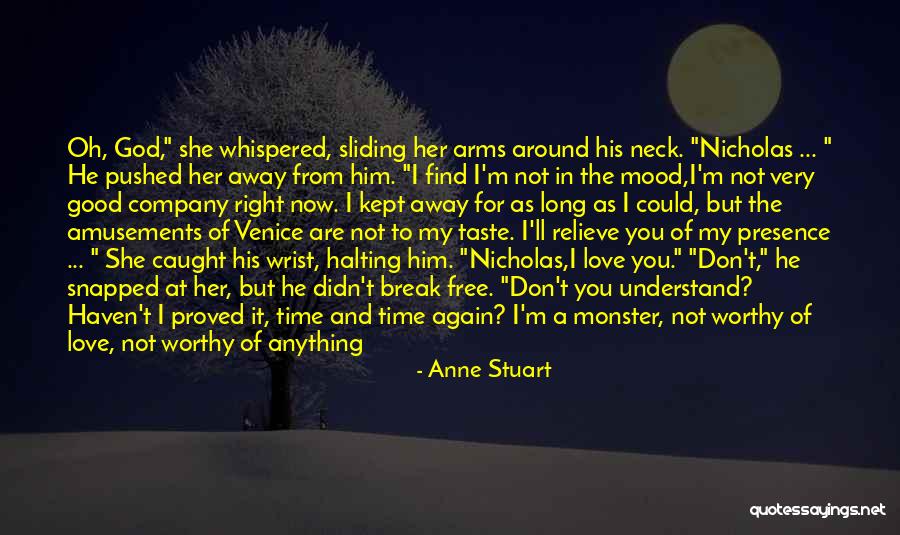 Oh, God," she whispered, sliding her arms around his neck. "Nicholas ... "
He pushed her away from him. "I find I'm not in the mood,I'm not very good company right now. I kept away for as long as I could, but the amusements of Venice are not to my taste. I'll relieve you of my presence ... "
She caught his wrist, halting him. "Nicholas,I love you."
"Don't," he snapped at her, but he didn't break free. "Don't you understand? Haven't I proved it, time and time again? I'm a monster, not worthy of love, not worthy of anything at all ... "
"I love you," she said again, catching his other hand, pulling his arms around her, pulling his tall, tension-racked body tight against hers. "I love you. — Anne Stuart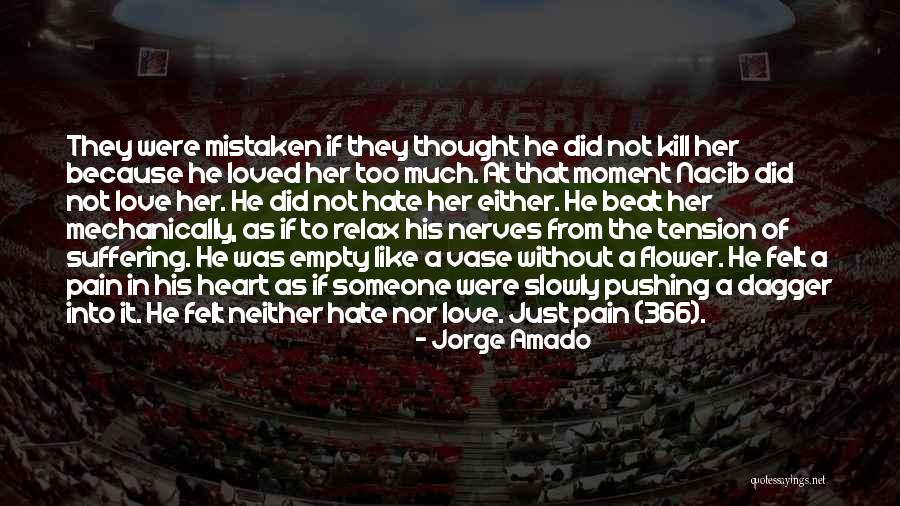 They were mistaken if they thought he did not kill her because he loved her too much. At that moment Nacib did not love her. He did not hate her either. He beat her mechanically, as if to relax his nerves from the tension of suffering. He was empty like a vase without a flower. He felt a pain in his heart as if someone were slowly pushing a dagger into it. He felt neither hate nor love. Just pain (366). — Jorge Amado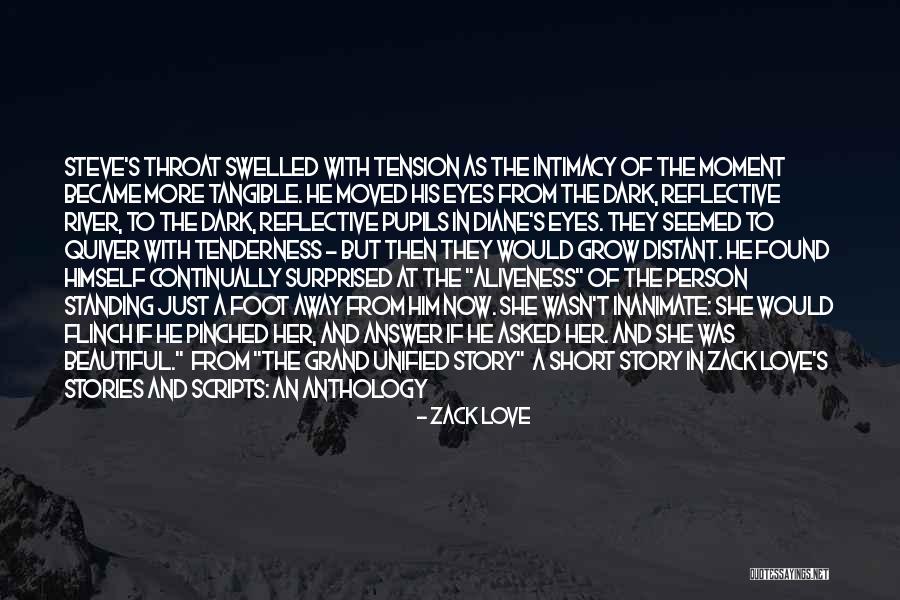 Steve's throat swelled with tension as the intimacy of the moment became more tangible. He moved his eyes from the dark, reflective river, to the dark, reflective pupils in Diane's eyes. They seemed to quiver with tenderness - but then they would grow distant. He found himself continually surprised at the "aliveness" of the person standing just a foot away from him now. She wasn't inanimate: she would flinch if he pinched her, and answer if he asked her. And she was beautiful."
From "The Grand Unified Story"
a short story in Zack Love's Stories and Scripts: an Anthology — Zack Love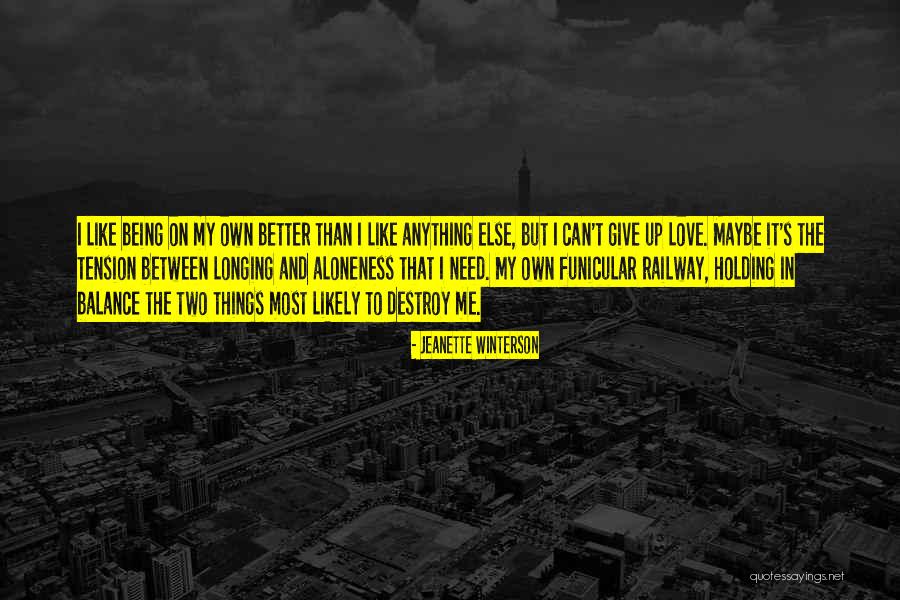 I like being on my own better than I like anything else, but I can't give up love. Maybe it's the tension between longing and aloneness that I need. My own funicular railway, holding in balance the two things most likely to destroy me. — Jeanette Winterson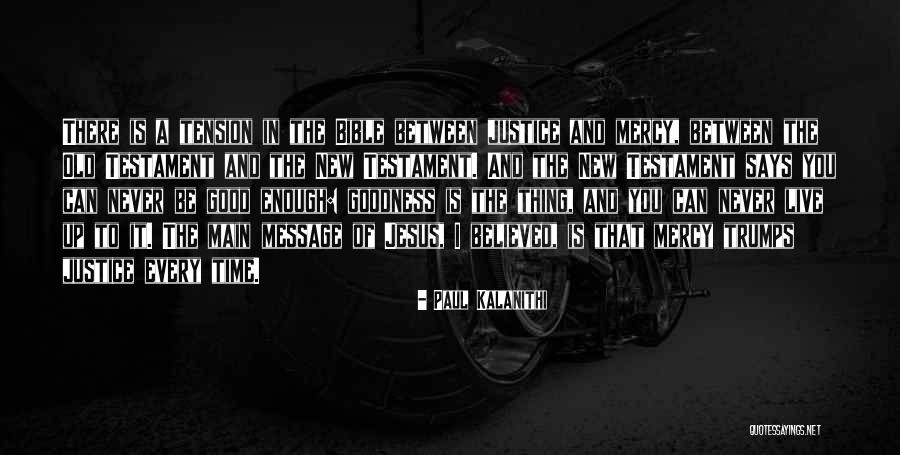 There is a tension in the Bible between justice and mercy, between the Old Testament and the New Testament. And the New Testament says you can never be good enough: goodness is the thing, and you can never live up to it. The main message of Jesus, I believed, is that mercy trumps justice every time. — Paul Kalanithi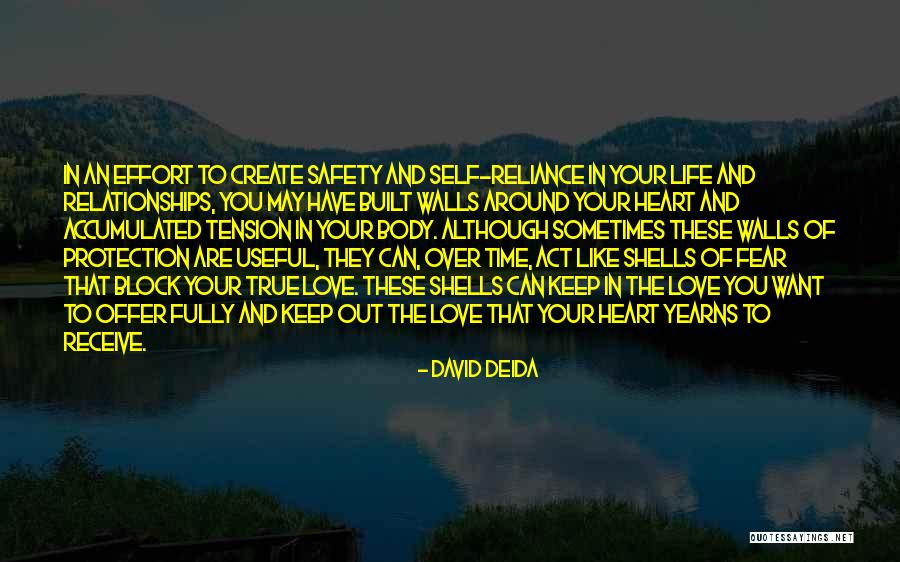 In an effort to create safety and self-reliance in your life and relationships, you may have built walls around your heart and accumulated tension in your body. Although sometimes these walls of protection are useful, they can, over time, act like shells of fear that block your true love. These shells can keep in the love you want to offer fully and keep out the love that your heart yearns to receive. — David Deida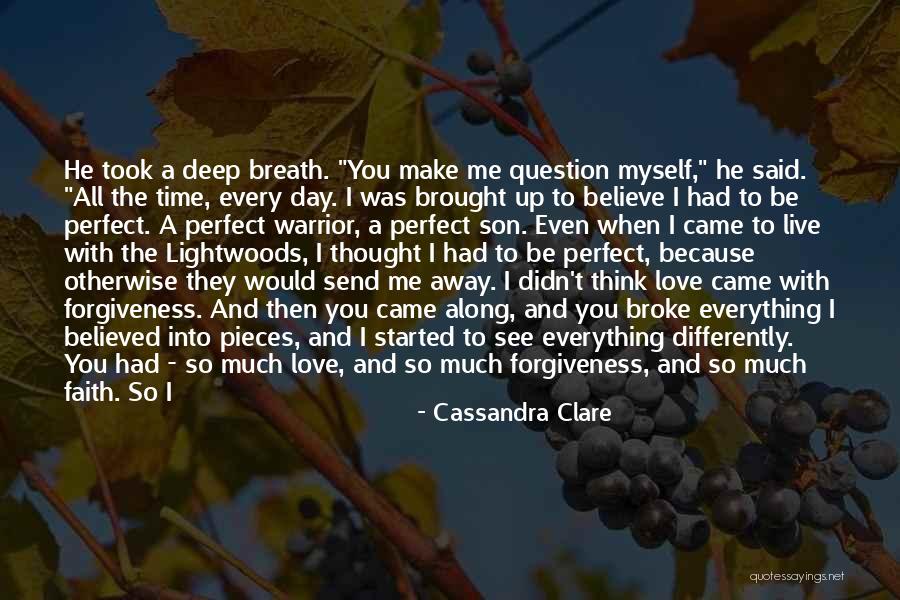 He took a deep breath. "You make me question myself," he said. "All the time, every day. I was brought up to believe I had to be perfect. A perfect warrior, a perfect son. Even when I came to live with the Lightwoods, I thought I had to be perfect, because otherwise they would send me away. I didn't think love came with forgiveness. And then you came along, and you broke everything I believed into pieces, and I started to see everything differently. You had - so much love, and so much forgiveness, and so much faith. So I started to think that maybe I was worth that faith. That I didn't have to be perfect; I had to try, and that was good enough." He lowered his eyelids; she could see the faint pulse at his temple, feel the tension in him. "So I think you were the wrong person for the Jace that I was, but not the Jace that I am now, the Jace you helped make me. Who is, incidentally, a Jace I like much better than the old one. You've changed me for the better. — Cassandra Clare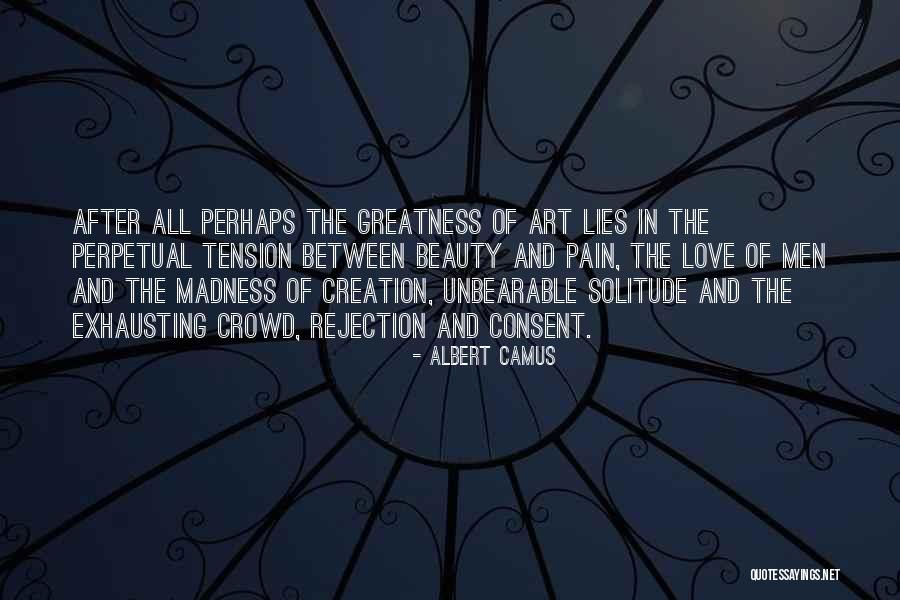 After all perhaps the greatness of art lies in the perpetual tension between beauty and pain, the love of men and the madness of creation, unbearable solitude and the exhausting crowd, rejection and consent. — Albert Camus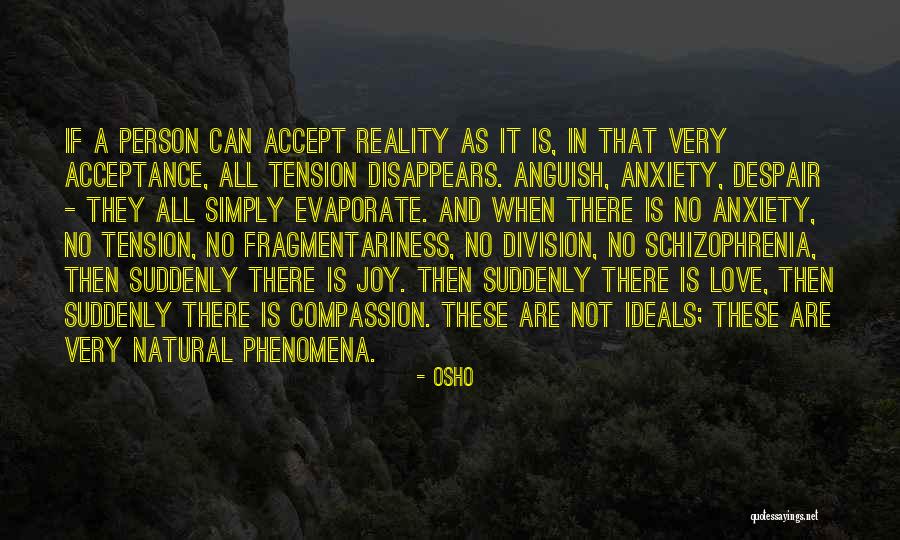 If a person can accept reality as it is, in that very acceptance, all tension disappears. Anguish, anxiety, despair - they all simply evaporate. And when there is no anxiety, no tension, no fragmentariness, no division, no schizophrenia, then suddenly there is joy. Then suddenly there is love, then suddenly there is compassion. These are not ideals; these are very natural phenomena. — Osho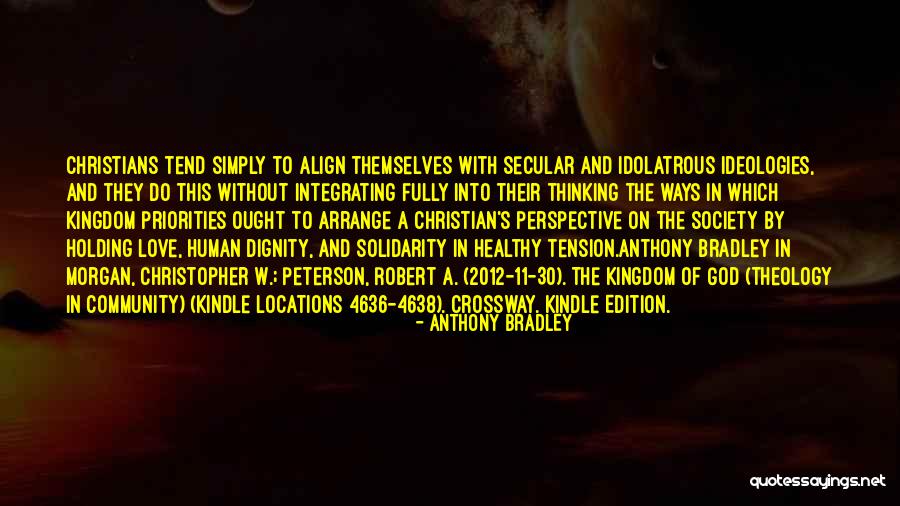 Christians tend simply to align themselves with secular and idolatrous ideologies, and they do this without integrating fully into their thinking the ways in which kingdom priorities ought to arrange a Christian's perspective on the society by holding love, human dignity, and solidarity in healthy tension.

Anthony Bradley in Morgan, Christopher W.; Peterson, Robert A. (2012-11-30). The Kingdom of God (Theology in Community) (Kindle Locations 4636-4638). Crossway. Kindle Edition. — Anthony Bradley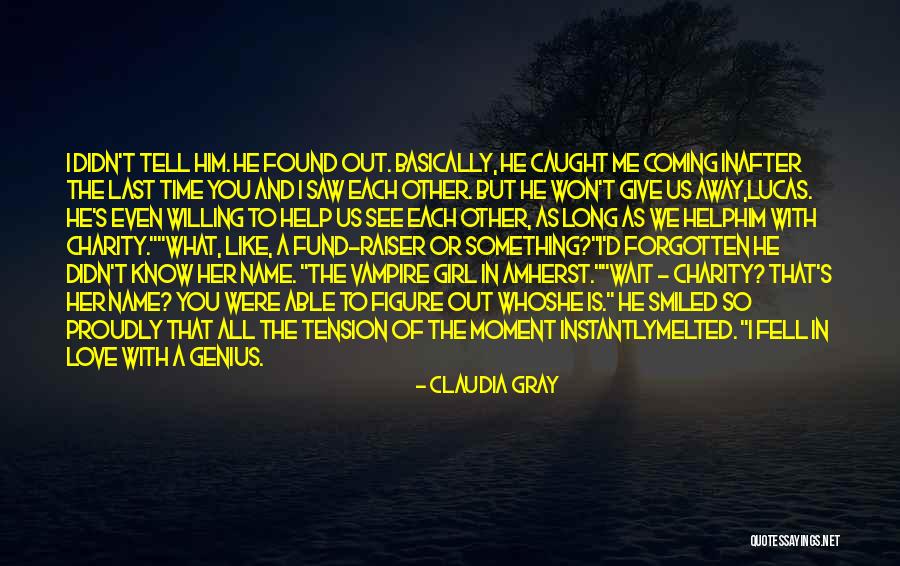 I didn't tell him. He found out. Basically, he caught me coming in
after the last time you and I saw each other. But he won't give us away,
Lucas. He's even willing to help us see each other, as long as we help
him with Charity."
"What, like, a fund-raiser or something?"
I'd forgotten he didn't know her name. "The vampire girl in Amherst."
"Wait - Charity? That's her name? You were able to figure out who
she is." He smiled so proudly that all the tension of the moment instantly
melted. "I fell in love with a genius. — Claudia Gray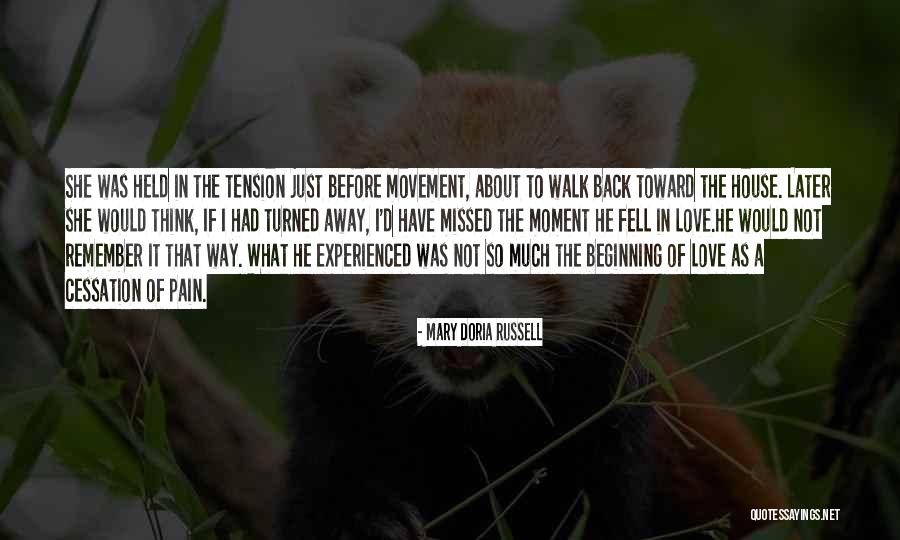 She was held in the tension just before movement, about to walk back toward the house. Later she would think, If I had turned away, I'd have missed the moment he fell in love.
He would not remember it that way. What he experienced was not so much the beginning of love as a cessation of pain. — Mary Doria Russell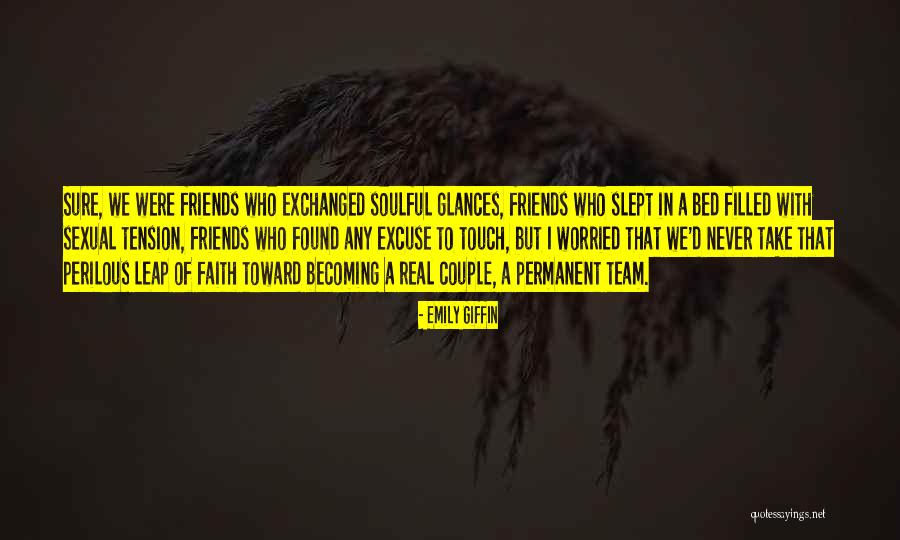 Sure, we were friends who exchanged soulful glances, friends who slept in a bed filled with sexual tension, friends who found any excuse to touch, but I worried that we'd never take that perilous leap of faith toward becoming a real couple, a permanent team. — Emily Giffin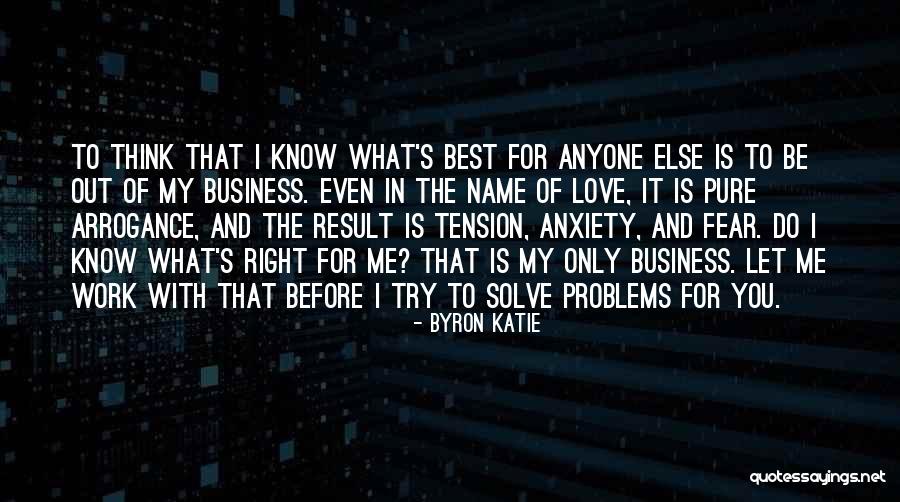 To think that I know what's best for anyone else is to be out of my business. Even in the name of love, it is pure arrogance, and the result is tension, anxiety, and fear. Do I know what's right for me? That is my only business. Let me work with that before I try to solve problems for you. — Byron Katie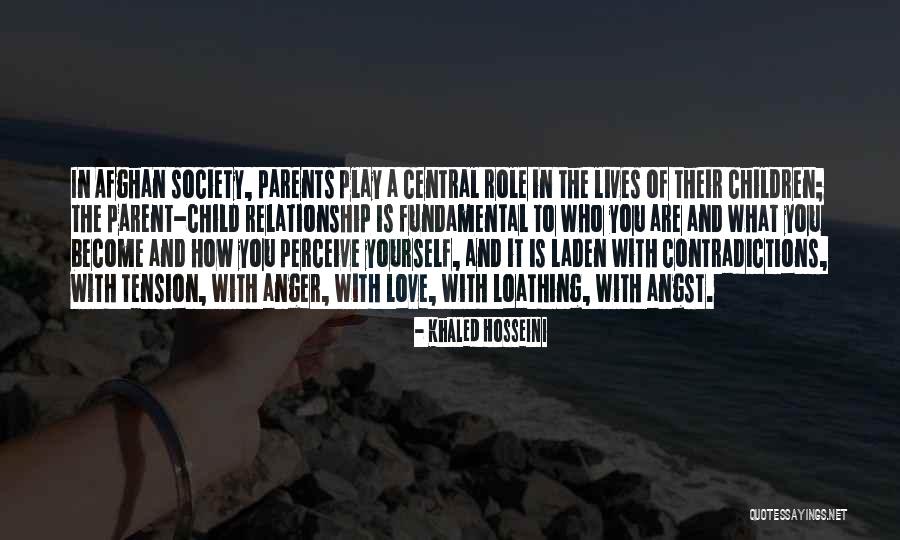 In Afghan society, parents play a central role in the lives of their children; the parent-child relationship is fundamental to who you are and what you become and how you perceive yourself, and it is laden with contradictions, with tension, with anger, with love, with loathing, with angst. — Khaled Hosseini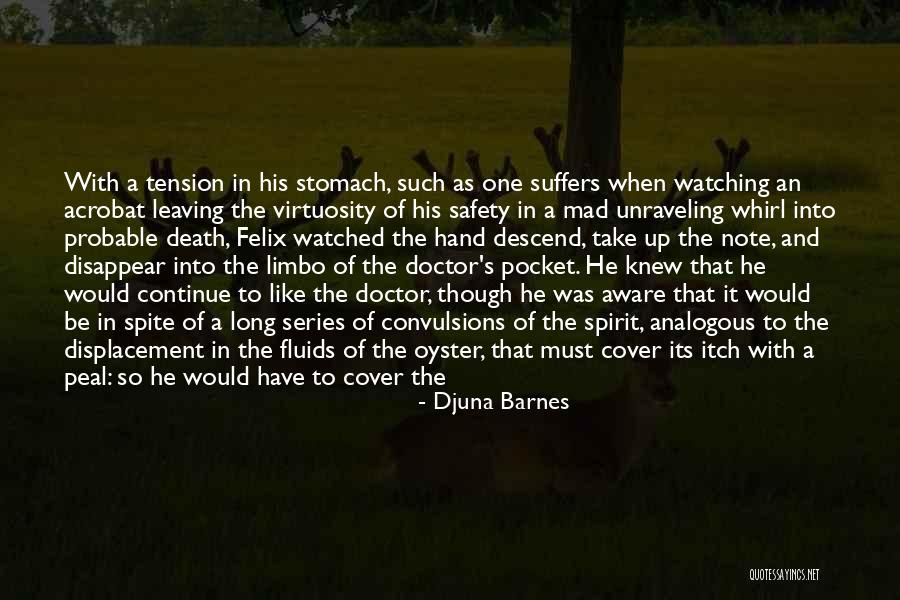 With a tension in his stomach, such as one suffers when watching an acrobat leaving the virtuosity of his safety in a mad unraveling whirl into probable death, Felix watched the hand descend, take up the note, and disappear into the limbo of the doctor's pocket. He knew that he would continue to like the doctor, though he was aware that it would be in spite of a long series of convulsions of the spirit, analogous to the displacement in the fluids of the oyster, that must cover its itch with a peal: so he would have to cover the doctor. He knew at the same time that this stricture of acceptance (by which what we must love is made into what we can love) would eventually be a part of himself, though originally brought on by no will of his own. — Djuna Barnes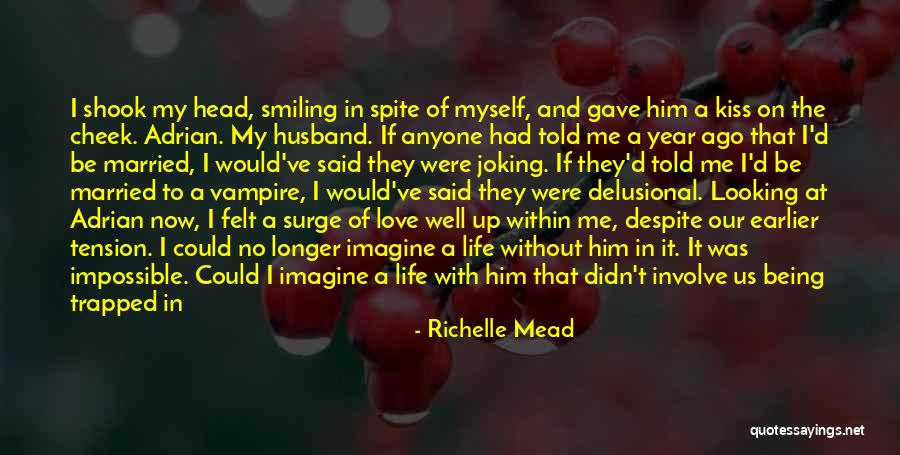 I shook my head, smiling in spite of myself, and gave him a kiss on the cheek. Adrian. My husband. If anyone had told me a year ago that I'd be married, I would've said they were joking. If they'd told me I'd be married to a vampire, I would've said they were delusional. Looking at Adrian now, I felt a surge of love well up within me, despite our earlier tension. I could no longer imagine a life without him in it. It was impossible. Could I imagine a life with him that didn't involve us being trapped in a suite of rooms with his mother while both our people reviled us and made plans against us? Definitely. There were any number of futures I'd love to have for us, but his was our current path until something spectacular happened. Outside, the Court's gates, my people wanted to imprison me. Inside them, his people wanted to assault him. At least in this suite, we were safe. Most importantly, we were together. — Richelle Mead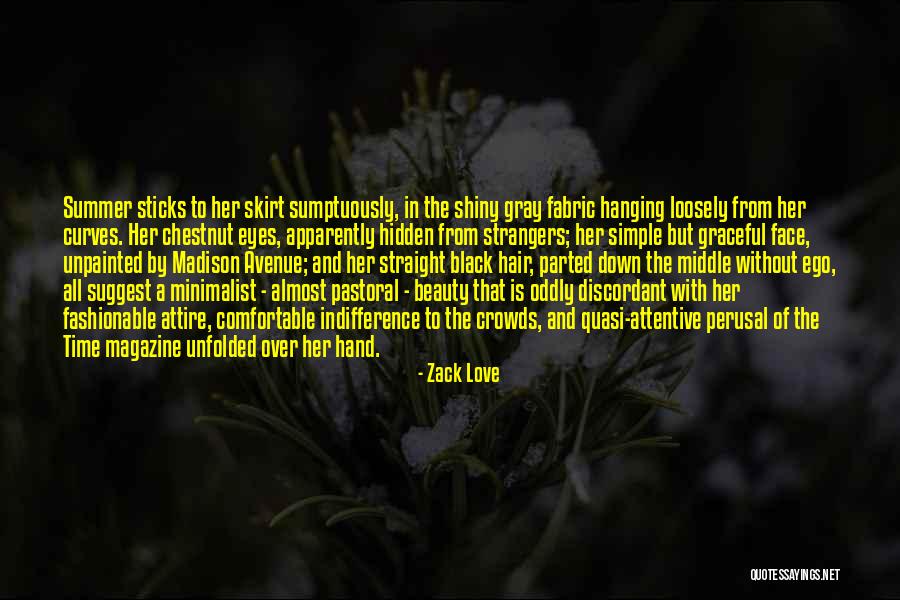 Summer sticks to her skirt sumptuously, in the shiny gray fabric hanging loosely from her curves. Her chestnut eyes, apparently hidden from strangers; her simple but graceful face, unpainted by Madison Avenue; and her straight black hair, parted down the middle without ego, all suggest a minimalist - almost pastoral - beauty that is oddly discordant with her fashionable attire, comfortable indifference to the crowds, and quasi-attentive perusal of the Time magazine unfolded over her hand. — Zack Love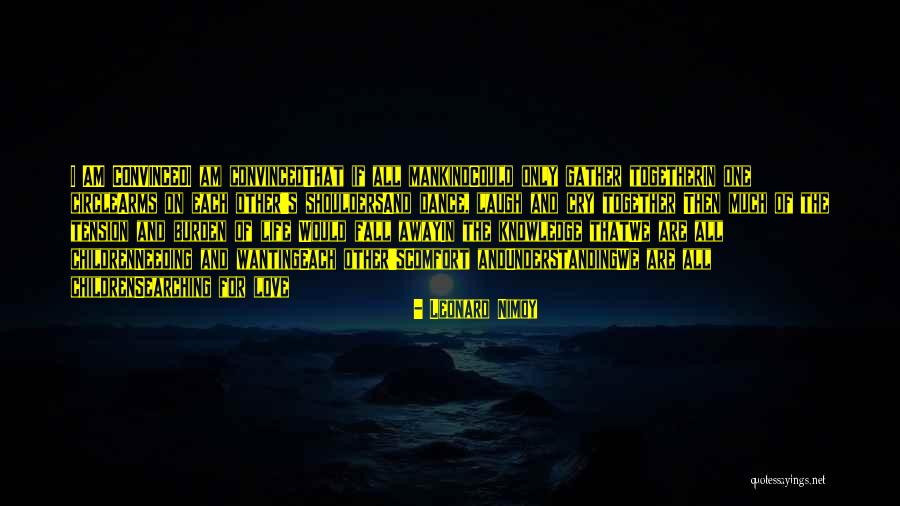 I AM CONVINCED
I am convinced
That if all mankind
Could only gather together
In one circle
Arms on each other's shoulders
And dance, laugh and cry
together
Then much
of the tension and burden
of life
Would fall away
In the knowledge that
We are all children
Needing and wanting
Each other's
Comfort and
Understanding
We are all children
Searching for love — Leonard Nimoy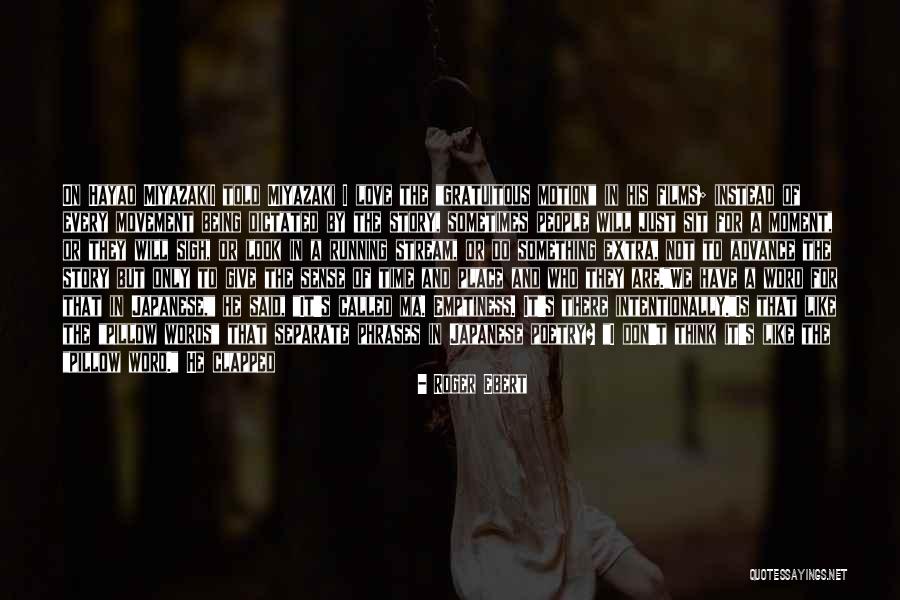 On Hayao Miyazaki
I told Miyazaki I love the "gratuitous motion" in his films; instead of every movement being dictated by the story, sometimes people will just sit for a moment, or they will sigh, or look in a running stream, or do something extra, not to advance the story but only to give the sense of time and place and who they are.
"We have a word for that in Japanese," he said, "It's called ma. Emptiness. It's there intentionally."
Is that like the "pillow words" that separate phrases in Japanese poetry?
"I don't think it's like the "pillow word." He clapped his hands three or four times. "The time in between my clapping is ma. If you just have non-stop action with no breathing space at all, it's just busyness, but if you take a moment, then the tension building in the film can grow into a wider dimension. If you just have constant tension at 80 degrees all the time you just get numb. — Roger Ebert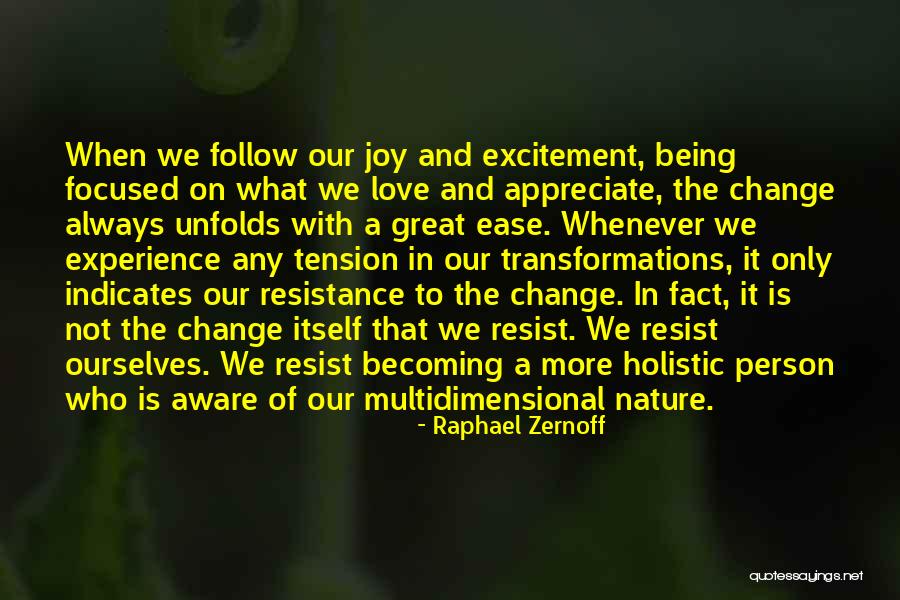 When we follow our joy and excitement, being focused on what we love and appreciate, the change always unfolds with a great ease. Whenever we experience any tension in our transformations, it only indicates our resistance to the change. In fact, it is not the change itself that we resist. We resist ourselves. We resist becoming a more holistic person who is aware of our multidimensional nature. — Raphael Zernoff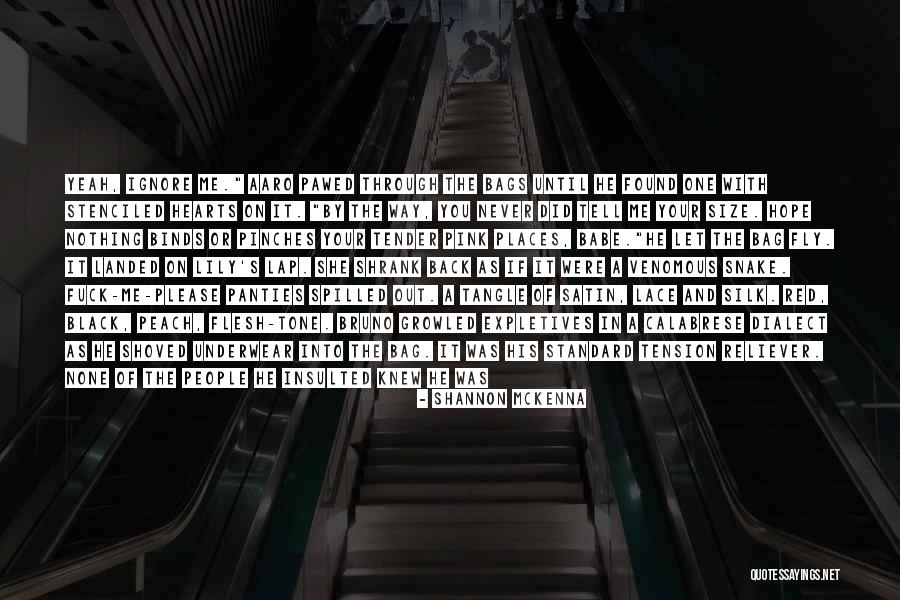 Yeah, ignore me." Aaro pawed through the bags until he found one with stenciled hearts on it. "By the way, you never did tell me your size. Hope nothing binds or pinches your tender pink places, babe."
He let the bag fly. It landed on Lily's lap. She shrank back as if it were a venomous snake. Fuck-me-please panties spilled out. A tangle of satin, lace and silk. Red, black, peach, flesh-tone.
Bruno growled expletives in a Calabrese dialect as he shoved underwear into the bag. It was his standard tension reliever. None of the people he insulted knew he was commenting on their grandmother's predilection for sex with sheep.
"I am not wearing that slutty, disgusting stuff." Lily's voice was haughty. "Certainly not after you're pawed it. Dog."
"Arf, arf." Aaro's tone was more cheerful than it had been so far any time this morning. "I love it when she spits bile. — Shannon McKenna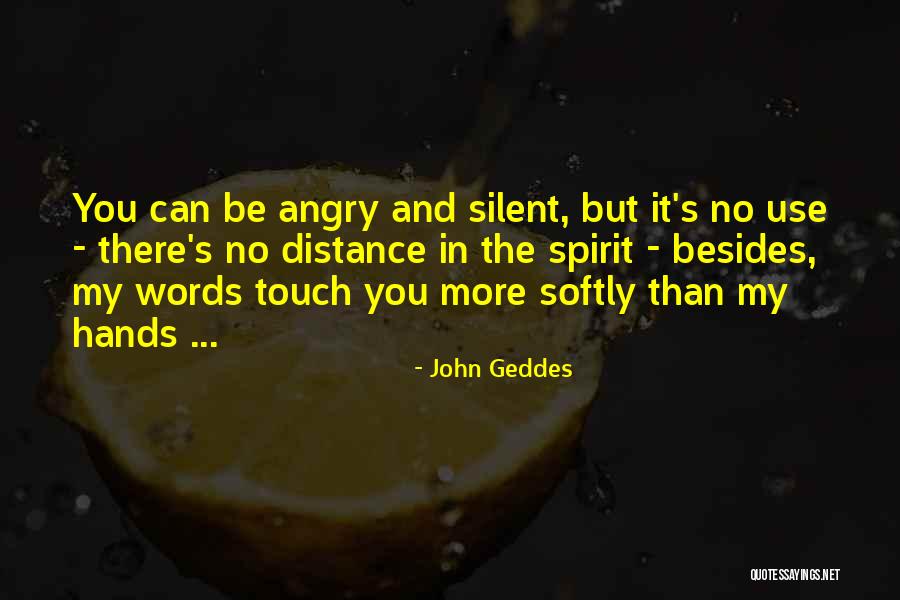 You can be angry and silent, but it's no use - there's no distance in the spirit - besides, my words touch you more softly than my hands ... — John Geddes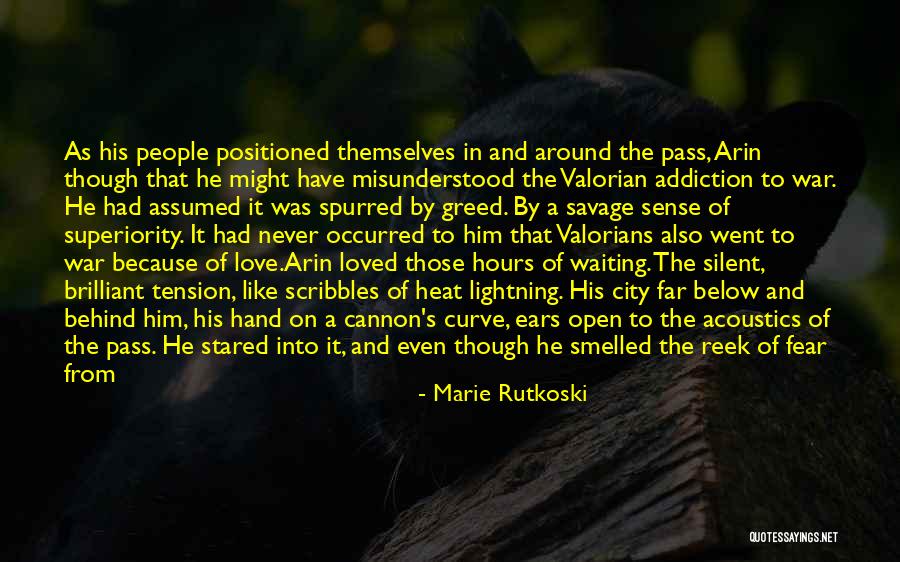 As his people positioned themselves in and around the pass, Arin though that he might have misunderstood the Valorian addiction to war. He had assumed it was spurred by greed. By a savage sense of superiority. It had never occurred to him that Valorians also went to war because of love.
Arin loved those hours of waiting. The silent, brilliant tension, like scribbles of heat lightning. His city far below and behind him, his hand on a cannon's curve, ears open to the acoustics of the pass. He stared into it, and even though he smelled the reek of fear from men and women around him, he was caught in a kind of wonder.He felt so vibrant. As if his life was fresh, translucent, thin-skinned fruit. It could be sliced apart and he wouldn't care. Nothing felt like this. — Marie Rutkoski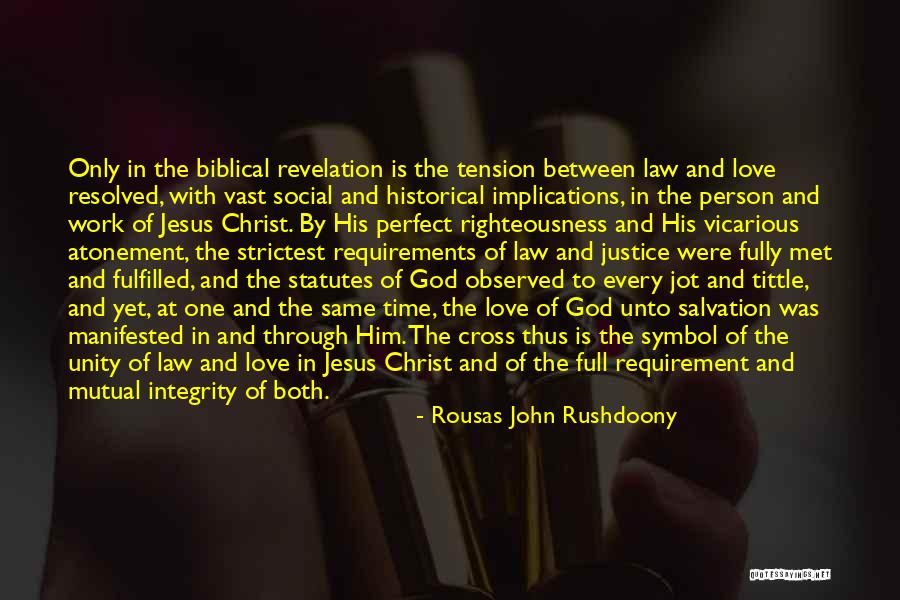 Only in the biblical revelation is the tension between law and love resolved, with vast social and historical implications, in the person and work of Jesus Christ. By His perfect righteousness and His vicarious atonement, the strictest requirements of law and justice were fully met and fulfilled, and the statutes of God observed to every jot and tittle, and yet, at one and the same time, the love of God unto salvation was manifested in and through Him. The cross thus is the symbol of the unity of law and love in Jesus Christ and of the full requirement and mutual integrity of both. — Rousas John Rushdoony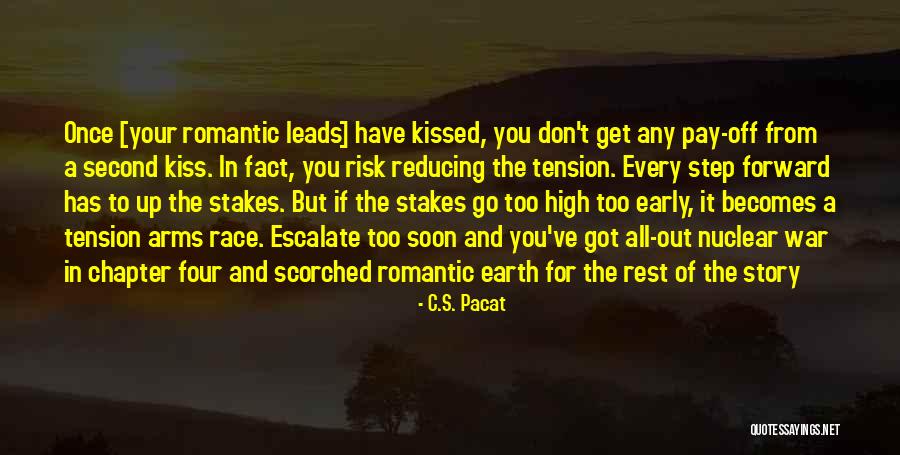 Once [your romantic leads] have kissed, you don't get any pay-off from a second kiss. In fact, you risk reducing the tension. Every step forward has to up the stakes. But if the stakes go too high too early, it becomes a tension arms race. Escalate too soon and you've got all-out nuclear war in chapter four and scorched romantic earth for the rest of the story — C.S. Pacat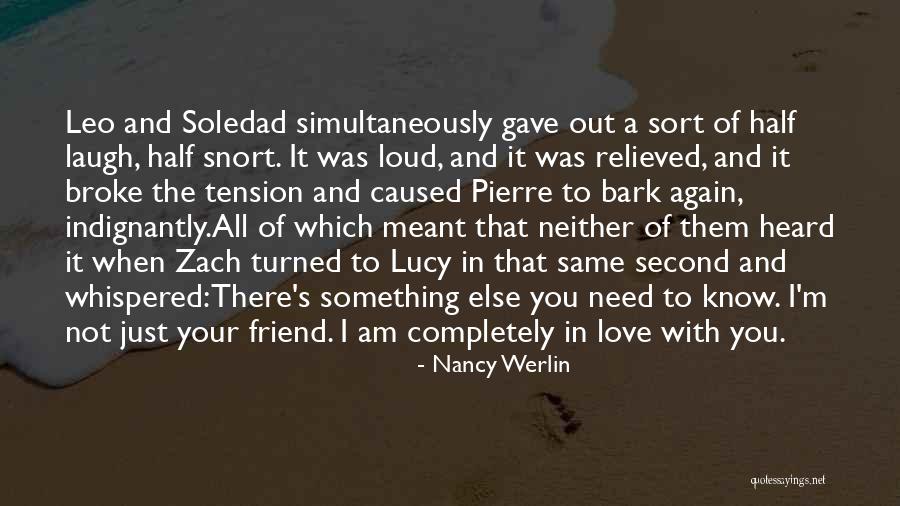 Leo and Soledad simultaneously gave out a sort of half laugh, half snort. It was loud, and it was relieved, and it broke the tension and caused Pierre to bark again, indignantly.
All of which meant that neither of them heard it when Zach turned to Lucy in that same second and whispered:
There's something else you need to know. I'm not just your friend. I am completely in love with you. — Nancy Werlin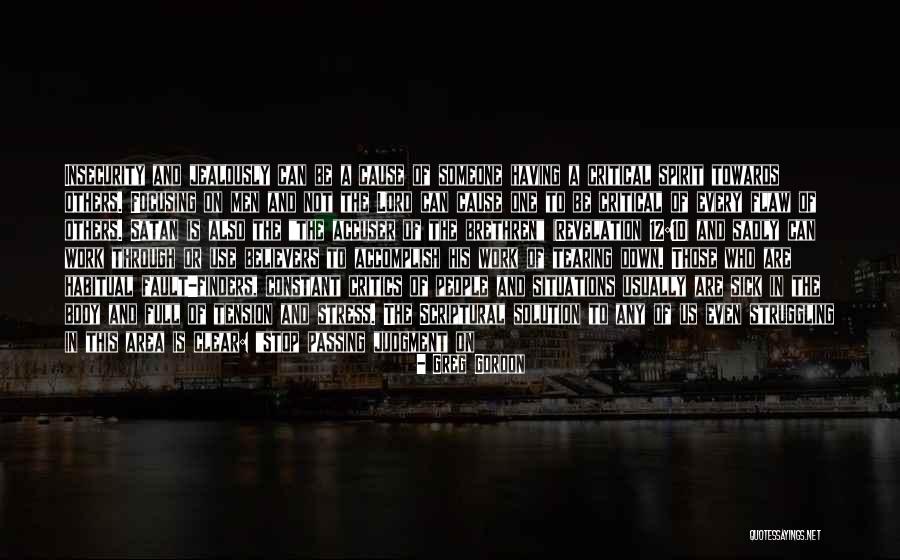 Insecurity and jealously can be a cause of someone having a critical spirit towards others. Focusing on men and not the Lord can cause one to be critical of every flaw of others. Satan is also the "the accuser of the brethren" (Revelation 12:10) and sadly can work through or use believers to accomplish his work of tearing down. Those who are habitual fault-finders, constant critics of people and situations usually are sick in the body and full of tension and stress. The Scriptural solution to any of us even struggling in this area is clear: "stop passing judgment on one another" and that we can start to love others in the body of Christ, uplifiting them, edifying them and building them up. — Greg Gordon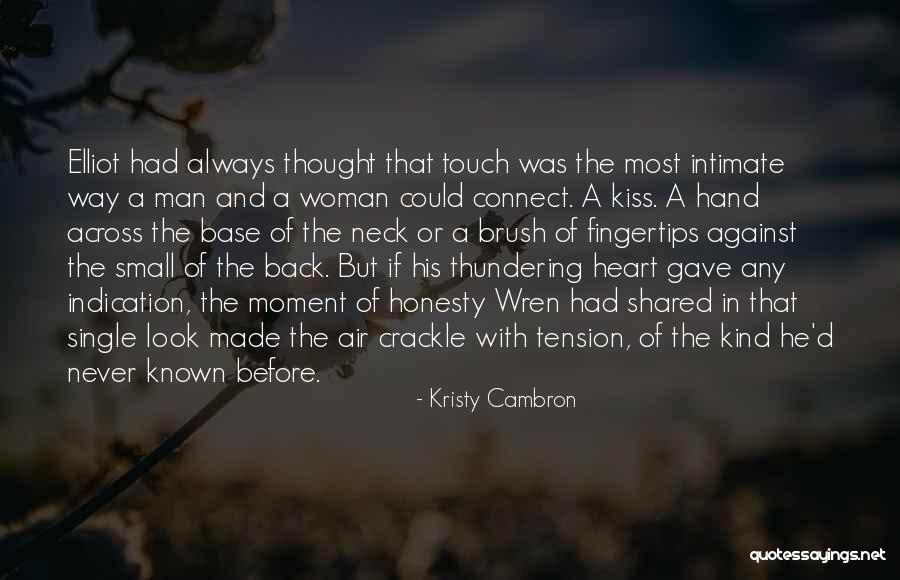 Elliot had always thought that touch was the most intimate way a man and a woman could connect. A kiss. A hand across the base of the neck or a brush of fingertips against the small of the back. But if his thundering heart gave any indication, the moment of honesty Wren had shared in that single look made the air crackle with tension, of the kind he'd never known before. — Kristy Cambron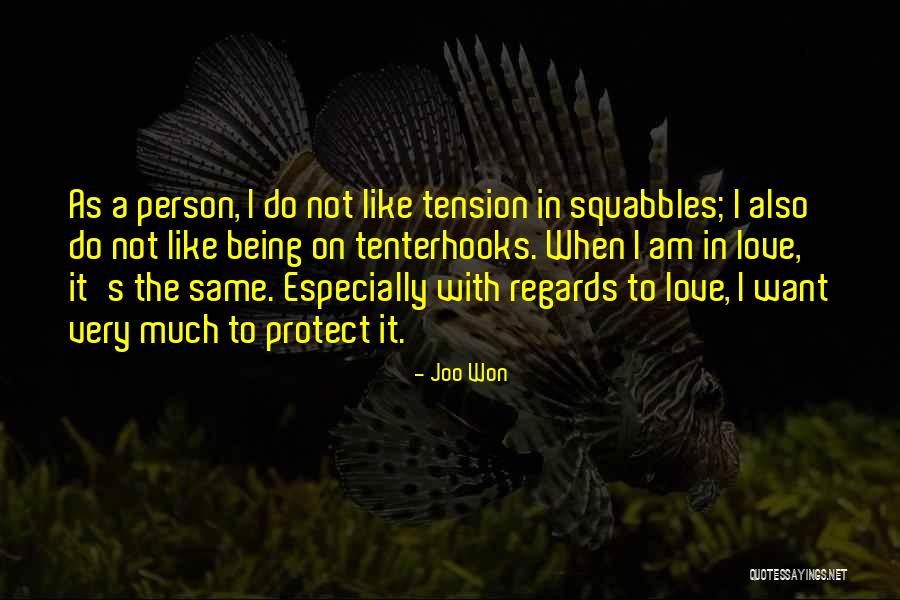 As a person, I do not like tension in squabbles; I also do not like being on tenterhooks. When I am in love, it's the same. Especially with regards to love, I want very much to protect it. — Joo Won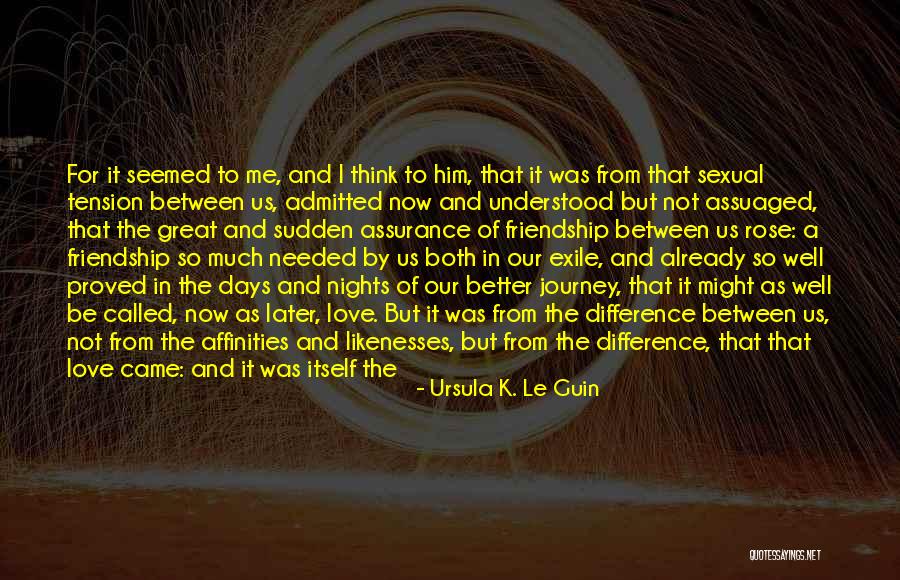 For it seemed to me, and I think to him, that it was from that sexual tension between us, admitted now and understood but not assuaged, that the great and sudden assurance of friendship between us rose: a friendship so much needed by us both in our exile, and already so well proved in the days and nights of our better journey, that it might as well be called, now as later, love. But it was from the difference between us, not from the affinities and likenesses, but from the difference, that that love came: and it was itself the bridge, the only bridge, across what divided us. For us to meet sexually would be for us to meet once more as aliens. We had touched, in the only way we could touch. We left it at that. I do not know if we were right. — Ursula K. Le Guin
It seemed to me - articulated in words of today - that not only did she know how to put things well but she was developing a gift that I was already familiar with: more effectively than she had as a child, she took the facts and in a natural way charged them with tension; she intensified reality as she reduced it to words, she injected with energy. But I also realized, with pleasure, that, as soon as she began to do this, I felt able to do the same, and I tried and it came easily. — Elena Ferrante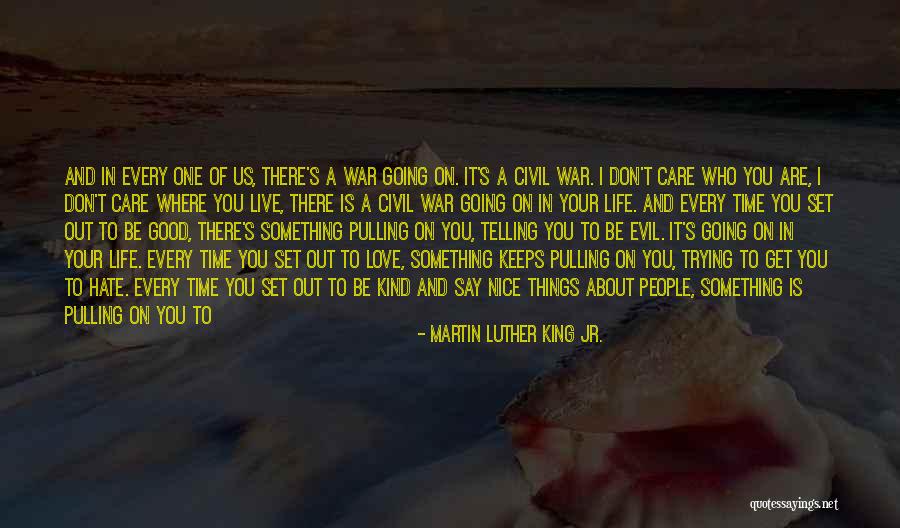 And in every one of us, there's a war going on. It's a civil war. I don't care who you are, I don't care where you live, there is a civil war going on in your life. And every time you set out to be good, there's something pulling on you, telling you to be evil. It's going on in your life. Every time you set out to love, something keeps pulling on you, trying to get you to hate. Every time you set out to be kind and say nice things about people, something is pulling on you to be jealous and envious and to spread evil gossip about them. There's a civil war going on. There is a schizophrenia, as the psychologists or the psychiatrists would call it, going on within all of us. And there are times that all of us know somehow that there is a Mr. Hyde and a Dr. Jekyll in us ... There's a tension at the heart of human nature. And whenever we set out to dream our dreams and to build our temples, we must be honest enough to recognize it. — Martin Luther King Jr.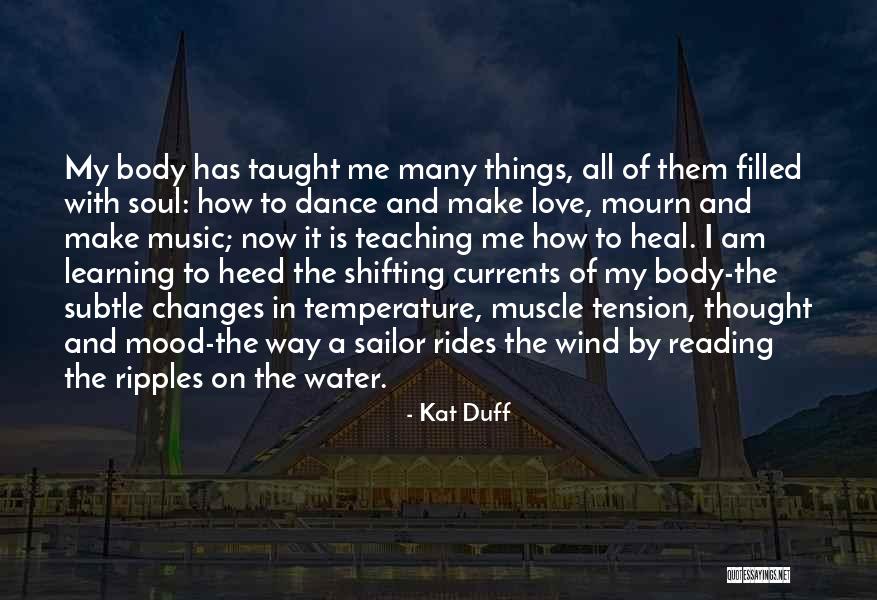 My body has taught me many things, all of them filled with soul: how to dance and make love, mourn and make music; now it is teaching me how to heal. I am learning to heed the shifting currents of my body-the subtle changes in temperature, muscle tension, thought and mood-the way a sailor rides the wind by reading the ripples on the water. — Kat Duff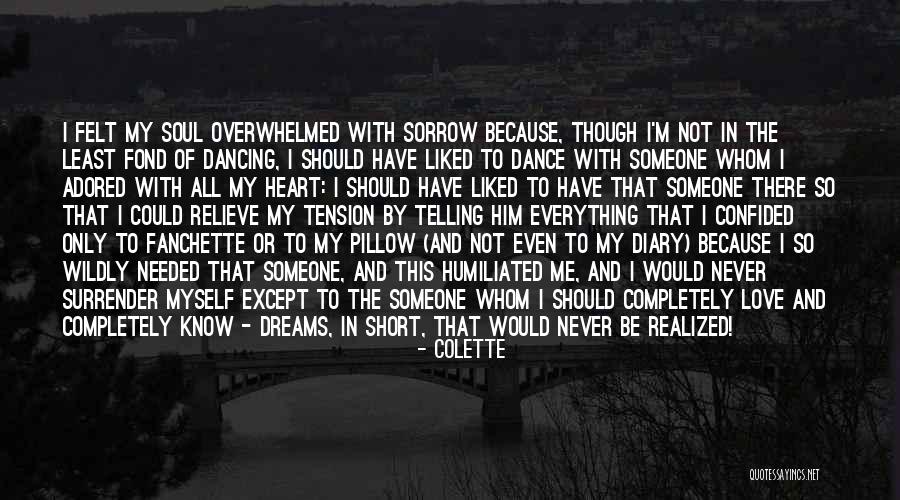 I felt my soul overwhelmed with sorrow because, though I'm not in the least fond of dancing, I should have liked to dance with someone whom I adored with all my heart: I should have liked to have that someone there so that I could relieve my tension by telling him everything that I confided only to Fanchette or to my pillow (and not even to my diary) because I so wildly needed that someone, and this humiliated me, and I would never surrender myself except to the someone whom I should completely love and completely know - dreams, in short, that would never be realized! — Colette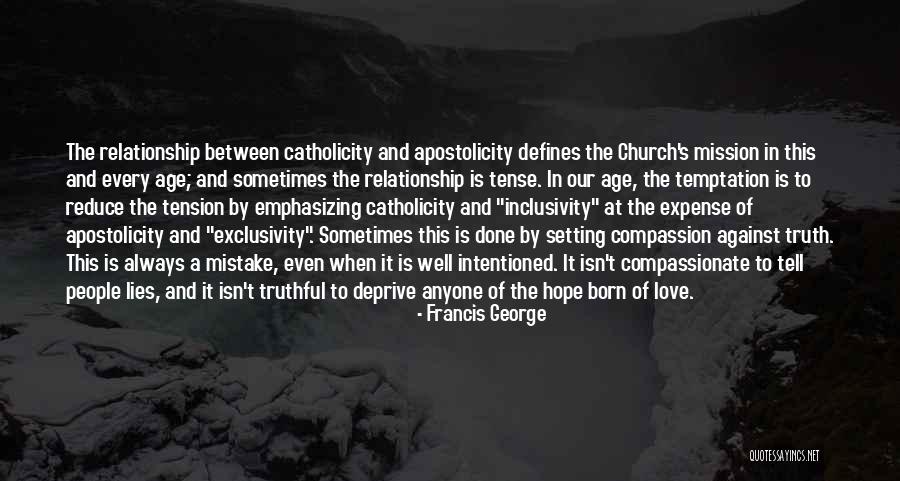 The relationship between catholicity and apostolicity defines the Church's mission in this and every age; and sometimes the relationship is tense. In our age, the temptation is to reduce the tension by emphasizing catholicity and "inclusivity" at the expense of apostolicity and "exclusivity". Sometimes this is done by setting compassion against truth. This is always a mistake, even when it is well intentioned. It isn't compassionate to tell people lies, and it isn't truthful to deprive anyone of the hope born of love. — Francis George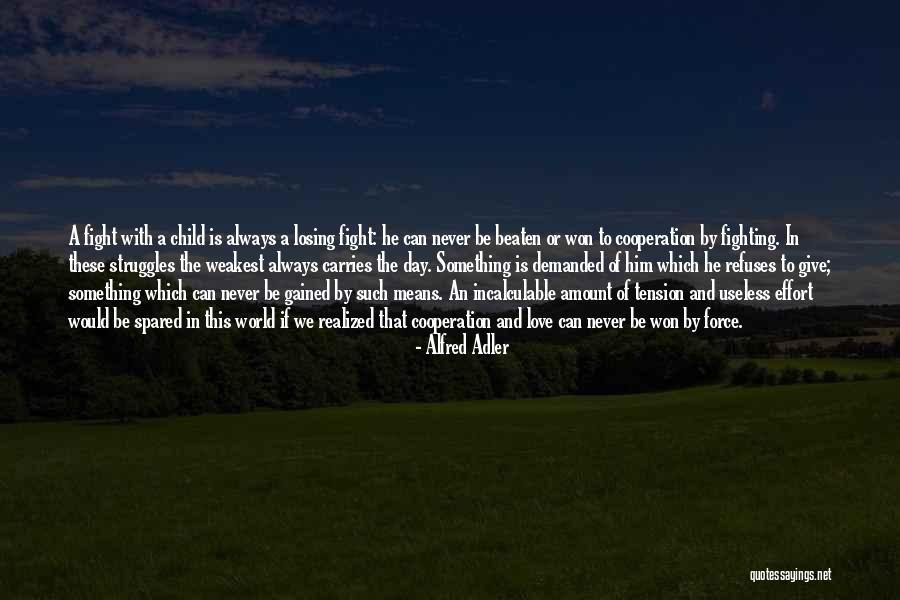 A fight with a child is always a losing fight: he can never be beaten or won to cooperation by fighting. In these struggles the weakest always carries the day. Something is demanded of him which he refuses to give; something which can never be gained by such means. An incalculable amount of tension and useless effort would be spared in this world if we realized that cooperation and love can never be won by force. — Alfred Adler