Quotes & Sayings About Telling Someone How You Really Feel
Enjoy reading and share 36 famous quotes about Telling Someone How You Really Feel with everyone.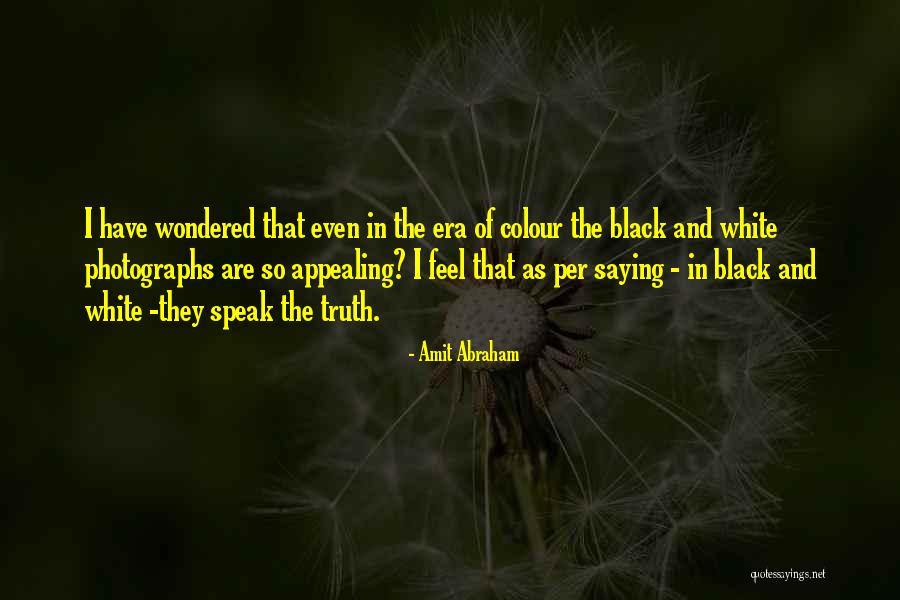 I have wondered that even in the era of colour the black and white photographs are so appealing? I feel that as per saying - in black and white -they speak the truth. — Amit Abraham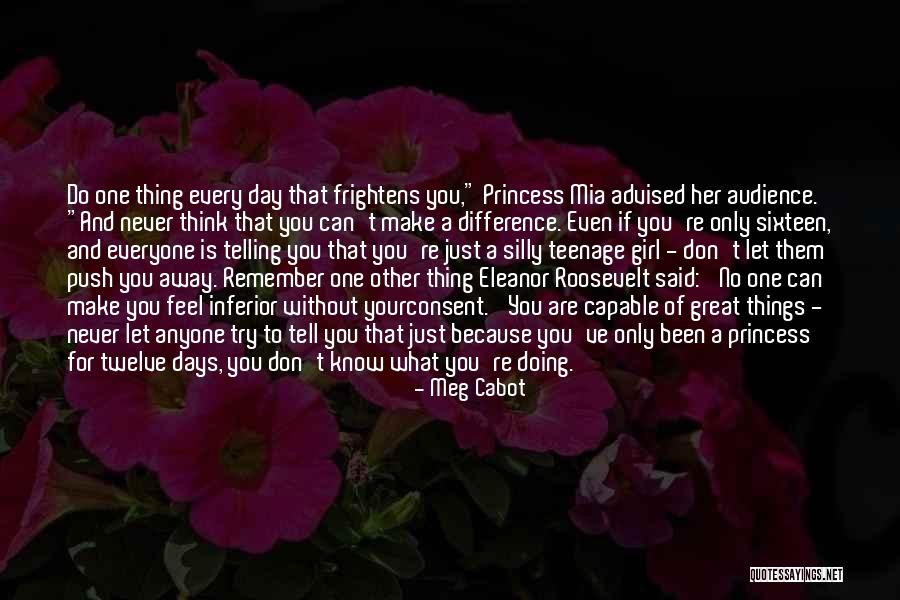 Do one thing every day that frightens you," Princess Mia advised her audience. "And never think that you can't make a difference. Even if you're only sixteen, and everyone is telling you that you're just a silly teenage girl - don't let them push you away. Remember one other thing Eleanor Roosevelt said: 'No one can make you feel inferior without your
consent.' You are capable of great things - never let anyone try to tell you that just because you've only been a princess for twelve days, you don't know what you're doing. — Meg Cabot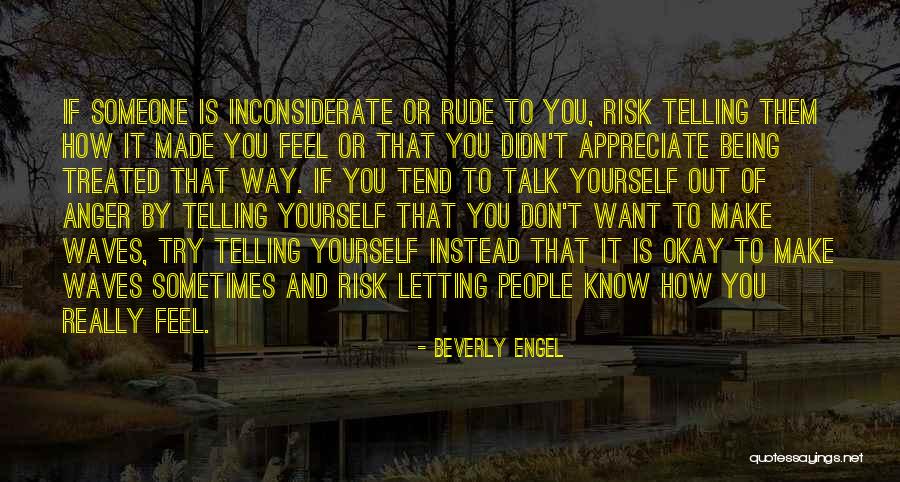 If someone is inconsiderate or rude to you, risk telling them how it made you feel or that you didn't appreciate being treated that way. If you tend to talk yourself out of anger by telling yourself that you don't want to make waves, try telling yourself instead that it is okay to make waves sometimes and risk letting people know how you really feel. — Beverly Engel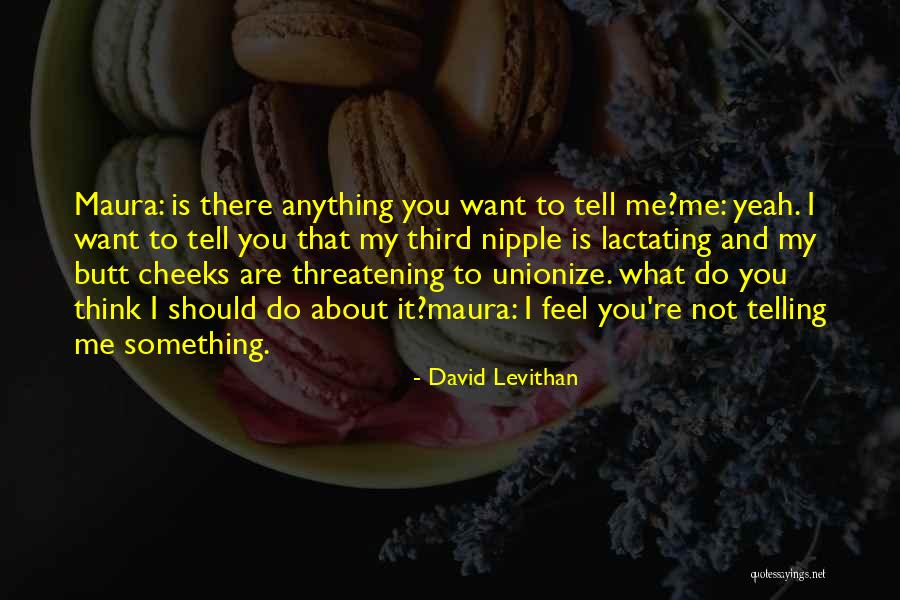 Maura: is there anything you want to tell me?
me: yeah. I want to tell you that my third nipple is lactating and my butt cheeks are threatening to unionize. what do you think I should do about it?
maura: I feel you're not telling me something. — David Levithan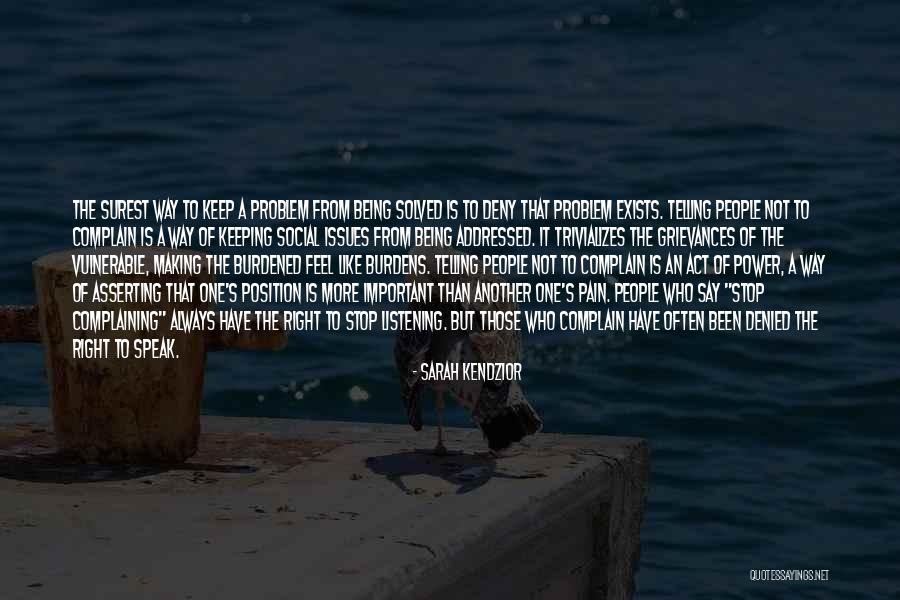 The surest way to keep a problem from being solved is to deny that problem exists. Telling people not to complain is a way of keeping social issues from being addressed. It trivializes the grievances of the vulnerable, making the burdened feel like burdens. Telling people not to complain is an act of power, a way of asserting that one's position is more important than another one's pain. People who say "stop complaining" always have the right to stop listening. But those who complain have often been denied the right to speak. — Sarah Kendzior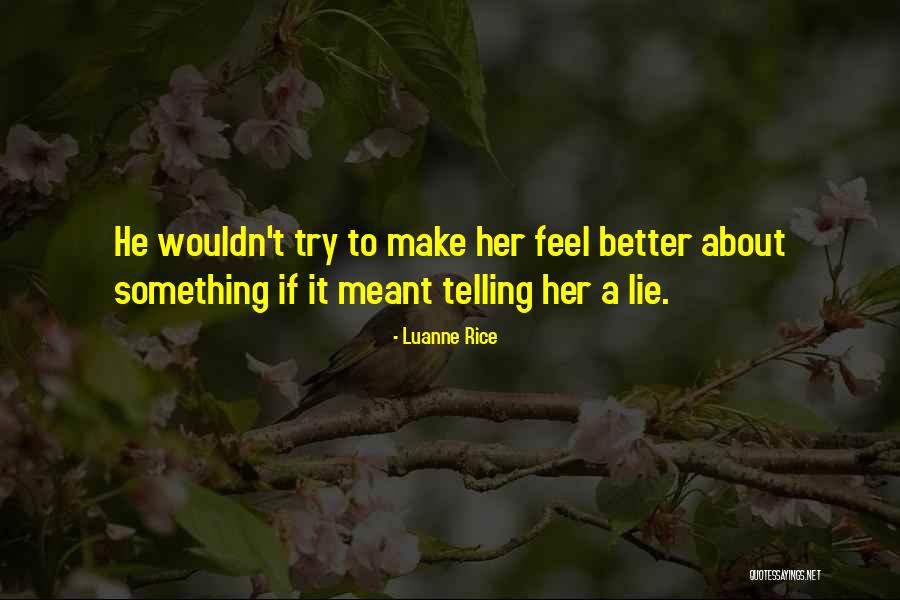 He wouldn't try to make her feel better about something if it meant telling her a lie. — Luanne Rice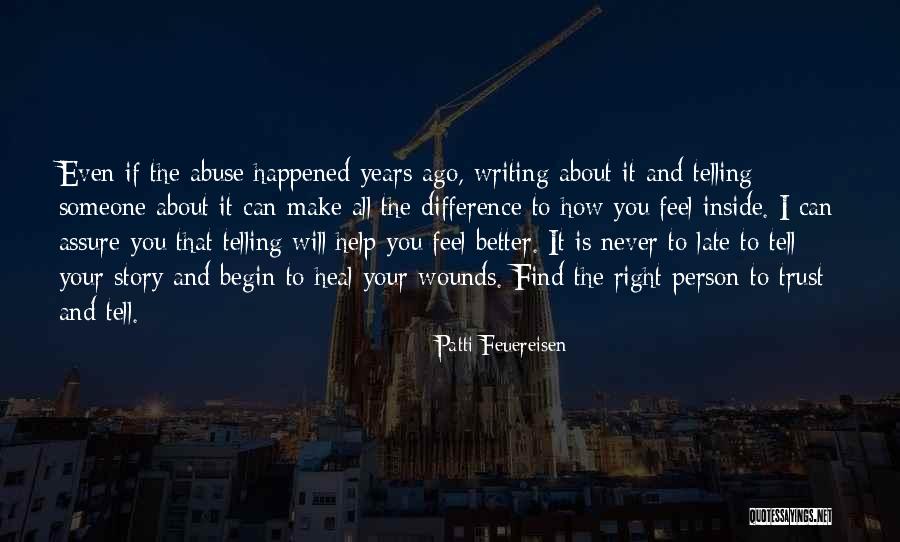 Even if the abuse happened years ago, writing about it and telling someone about it can make all the difference to how you feel inside. I can assure you that telling will help you feel better. It is never to late to tell your story and begin to heal your wounds. Find the right person to trust and tell. — Patti Feuereisen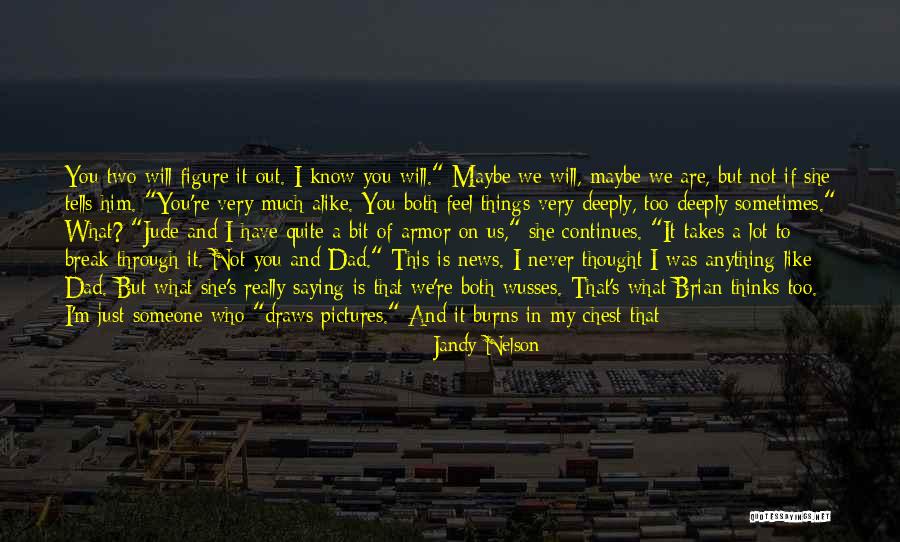 You two will figure it out. I know you will." Maybe we will, maybe we are, but not if she tells him. "You're very much alike. You both feel things very deeply, too deeply sometimes." What? "Jude and I have quite a bit of armor on us," she continues. "It takes a lot to break through it. Not you and Dad." This is news. I never thought I was anything like Dad. But what she's really saying is that we're both wusses. That's what Brian thinks too. I'm just someone who "draws pictures." And it burns in my chest that she thinks Jude's like her and I'm not. How come everything I think about our family keeps changing? How come the teams keep switching? Is this how all families are? And most importantly, how do I know she's not lying to me about not telling Dad? — Jandy Nelson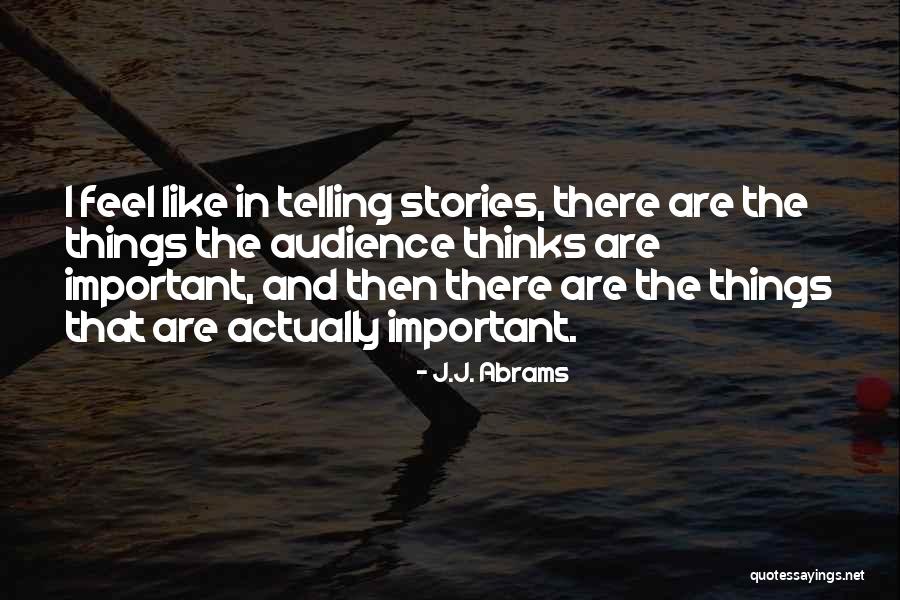 I feel like in telling stories, there are the things the audience thinks are important, and then there are the things that are actually important. — J.J. Abrams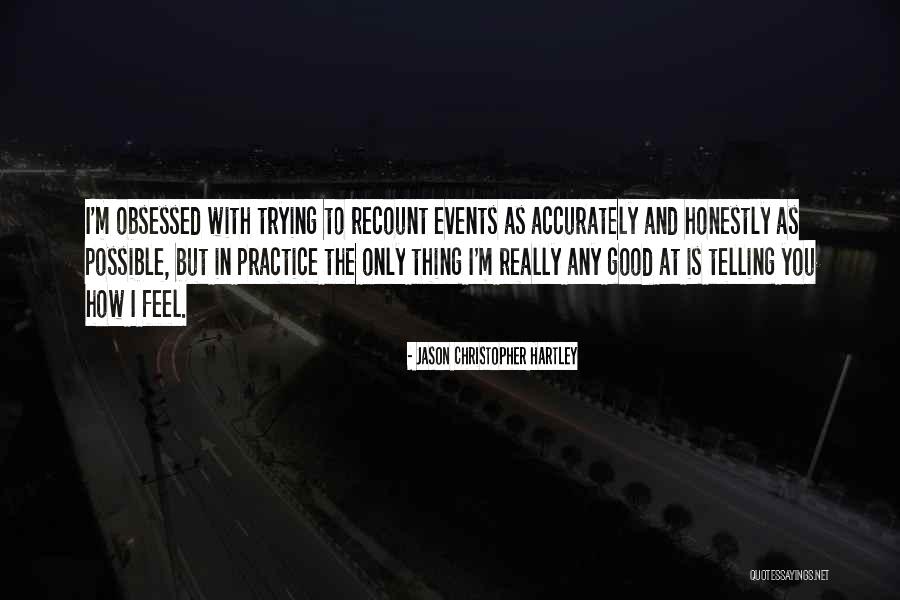 I'm obsessed with trying to recount events as accurately and honestly as possible, but in practice the only thing I'm really any good at is telling you how I feel. — Jason Christopher Hartley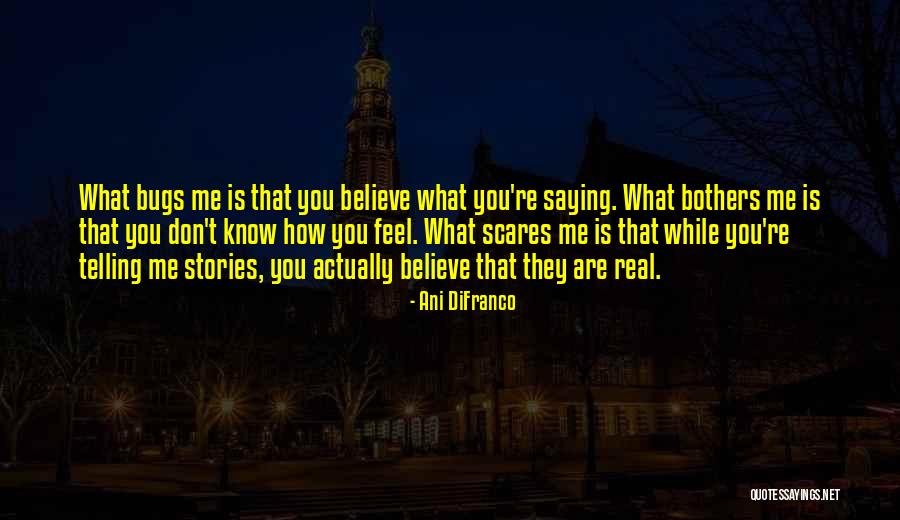 What bugs me is that you believe what you're saying. What bothers me is that you don't know how you feel. What scares me is that while you're telling me stories, you actually believe that they are real. — Ani DiFranco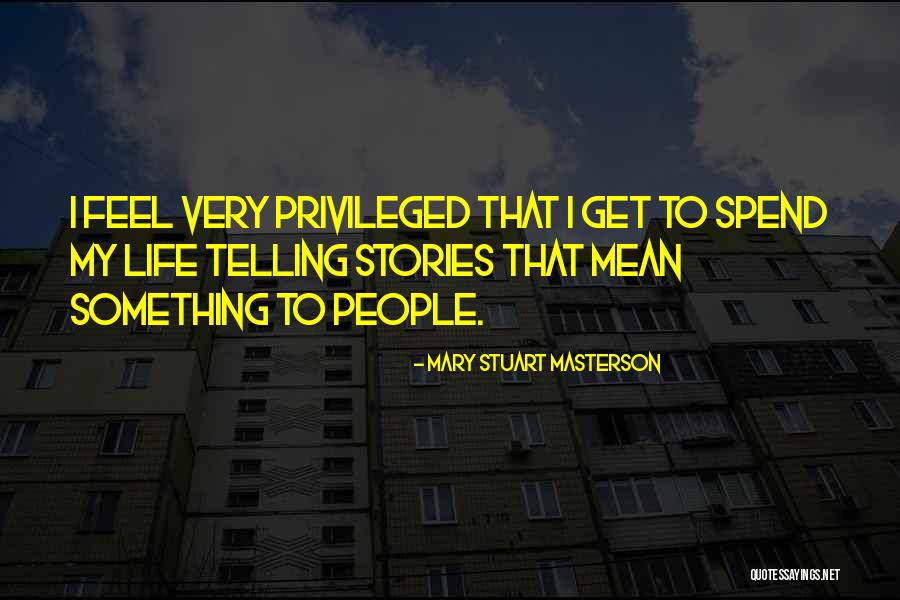 I feel very privileged that I get to spend my life telling stories that mean something to people. — Mary Stuart Masterson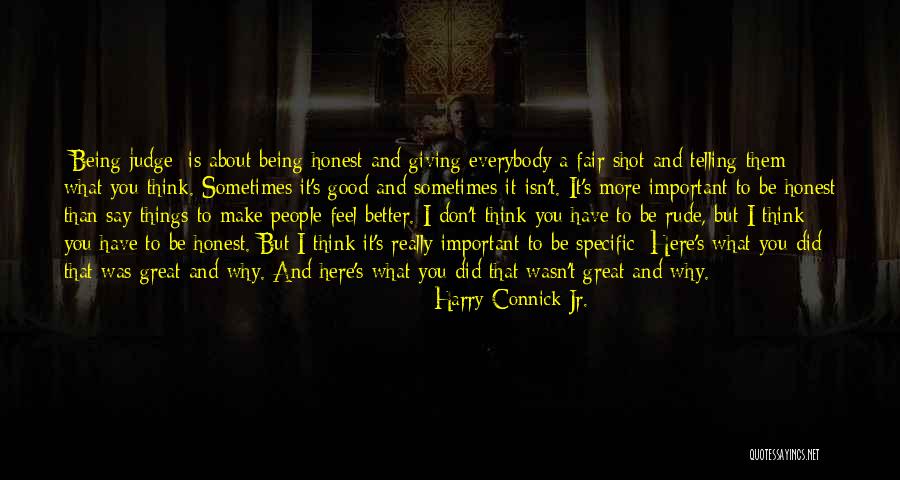 [Being judge] is about being honest and giving everybody a fair shot and telling them what you think. Sometimes it's good and sometimes it isn't. It's more important to be honest than say things to make people feel better. I don't think you have to be rude, but I think you have to be honest. But I think it's really important to be specific: Here's what you did that was great and why. And here's what you did that wasn't great and why. — Harry Connick Jr.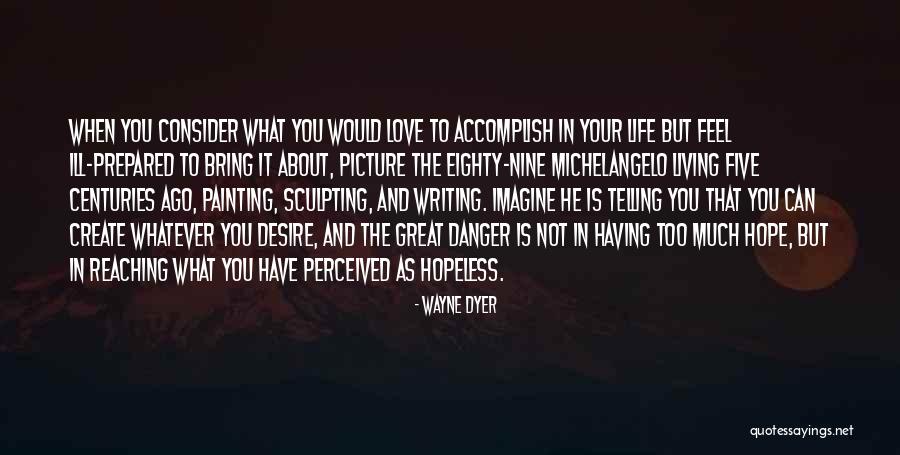 When you consider what you would love to accomplish in your life but feel ill-prepared to bring it about, picture the eighty-nine Michelangelo living five centuries ago, painting, sculpting, and writing. Imagine he is telling you that you can create whatever you desire, and the great danger is not in having too much hope, but in reaching what you have perceived as hopeless. — Wayne Dyer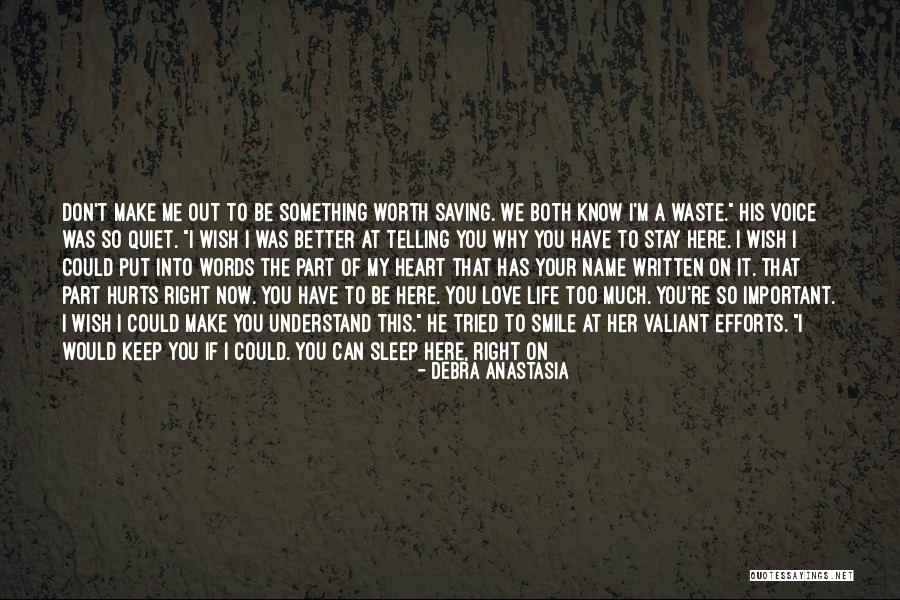 Don't make me out to be something worth saving. We both know I'm a waste." His voice was so quiet. "I wish I was better at telling you why you have to stay here. I wish I could put into words the part of my heart that has your name written on it. That part hurts right now. You have to be here. You love life too much. You're so important. I wish I could make you understand this." He tried to smile at her valiant efforts. "I would keep you if I could. You can sleep here, right on this couch. Beckett, I will let you hold this baby when it comes." She touched her stomach. "Does that tell you how much you mean to me? It's the only thing I can come up with." He shrugged. "Mouse would be disappointed. He'd feel like he didn't do his job if you died ... Eve loves you. Wherever she is - in this strip club - is that what you've been wishing for?" Beckett shook his head. "No, right? She loves you. You can't kill someone she loves. You just can't. — Debra Anastasia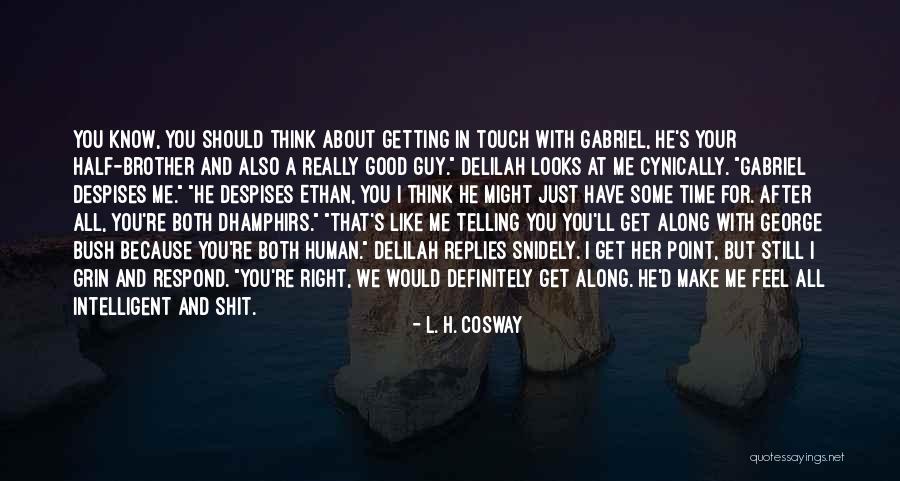 You know, you should think about getting in touch with Gabriel, he's your half-brother and also a really good guy." Delilah looks at me cynically. "Gabriel despises me." "He despises Ethan, you I think he might just have some time for. After all, you're both dhamphirs." "That's like me telling you you'll get along with George Bush because you're both human." Delilah replies snidely. I get her point, but still I grin and respond. "You're right, we would definitely get along. He'd make me feel all intelligent and shit. — L. H. Cosway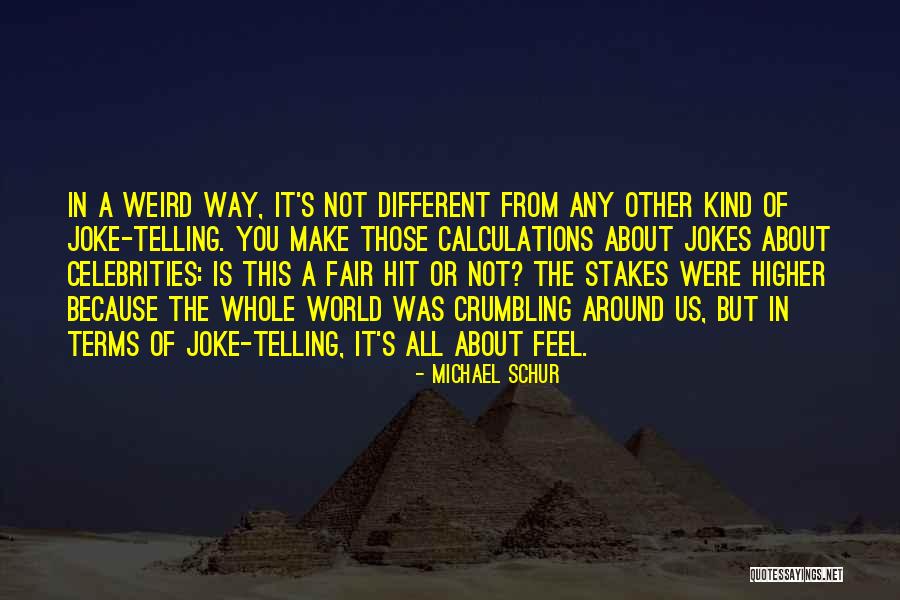 In a weird way, it's not different from any other kind of joke-telling. You make those calculations about jokes about celebrities: is this a fair hit or not? The stakes were higher because the whole world was crumbling around us, but in terms of joke-telling, it's all about feel. — Michael Schur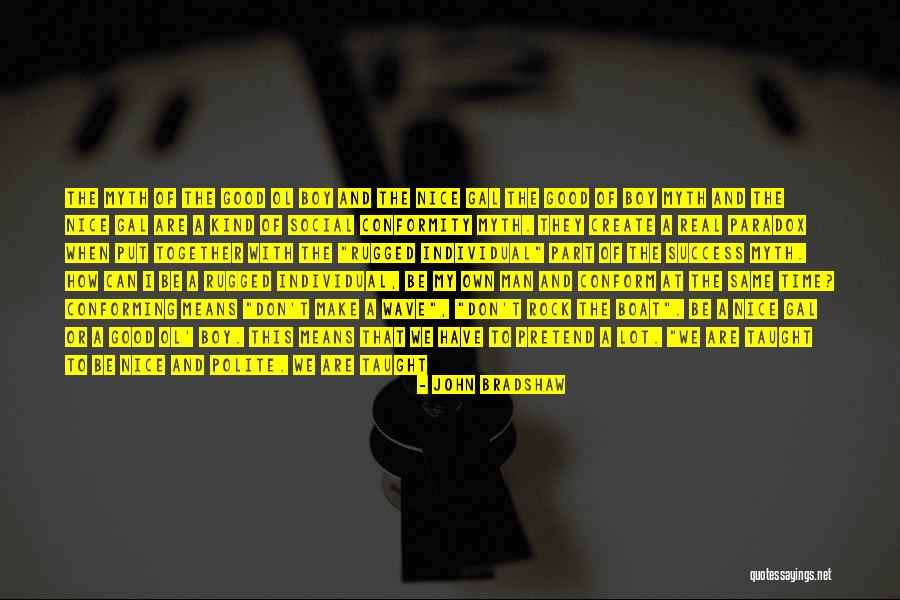 THE MYTH OF THE GOOD OL BOY AND THE NICE GAL
The good of boy myth and the nice gal are a kind of social conformity myth. They create a real paradox when put together with the "rugged individual" part of the Success Myth. How can I be a rugged individual, be my own man and conform at the same time? Conforming means "Don't make a wave", "Don't rock the boat". Be a nice gal or a good ol' boy. This means that we have to pretend a lot.
"We are taught to be nice and polite. We are taught that these behaviors (most often lies) are better than telling the truth. Our churches, schools, and politics are rampant with teaching dishonesty (saying things we don't mean and pretending to feel ways we don't feel). We smile when we feel sad; laugh nervously when dealing with grief; laugh at jokes we don't think are funny; tell people things to be polite that we surely don't mean."
- Bradshaw On: The Family — John Bradshaw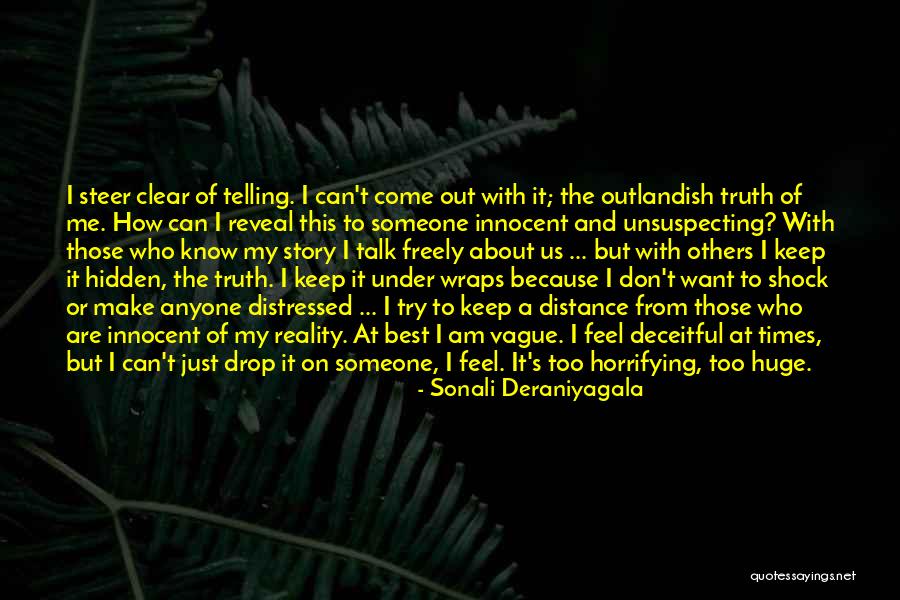 I steer clear of telling. I can't come out with it; the outlandish truth of me. How can I reveal this to someone innocent and unsuspecting? With those who know my story I talk freely about us ... but with others I keep it hidden, the truth. I keep it under wraps because I don't want to shock or make anyone distressed ... I try to keep a distance from those who are innocent of my reality. At best I am vague. I feel deceitful at times, but I can't just drop it on someone, I feel. It's too horrifying, too huge. — Sonali Deraniyagala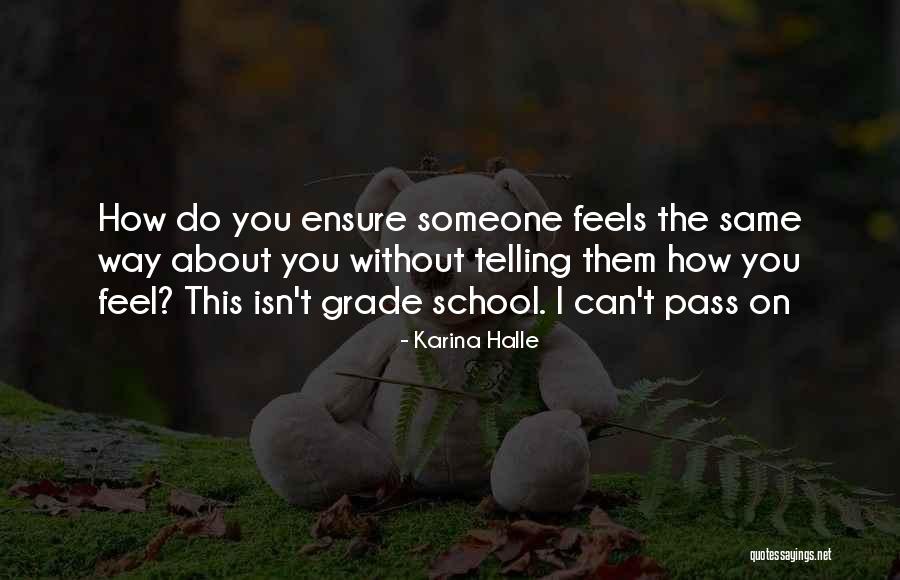 How do you ensure someone feels the same way about you without telling them how you feel? This isn't grade school. I can't pass on — Karina Halle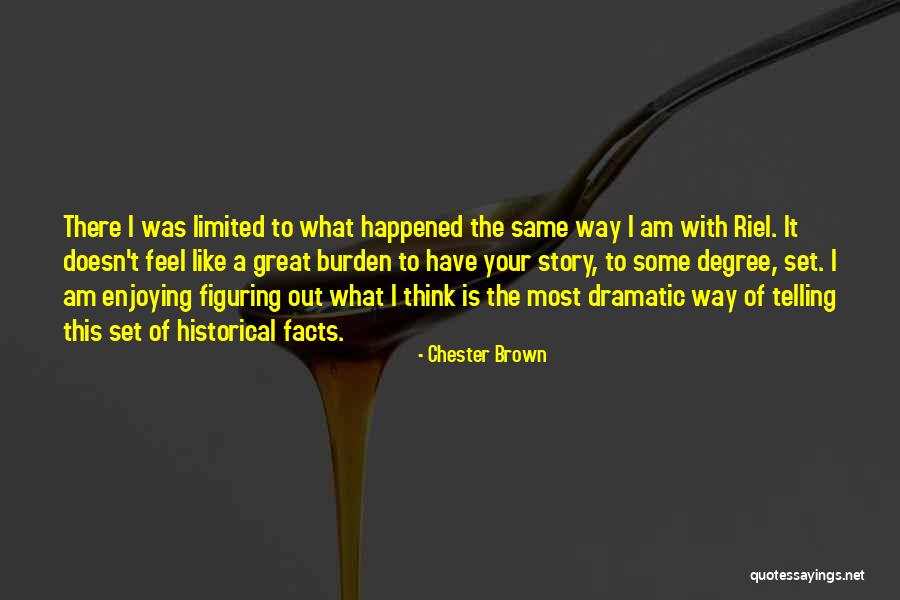 There I was limited to what happened the same way I am with Riel. It doesn't feel like a great burden to have your story, to some degree, set. I am enjoying figuring out what I think is the most dramatic way of telling this set of historical facts. — Chester Brown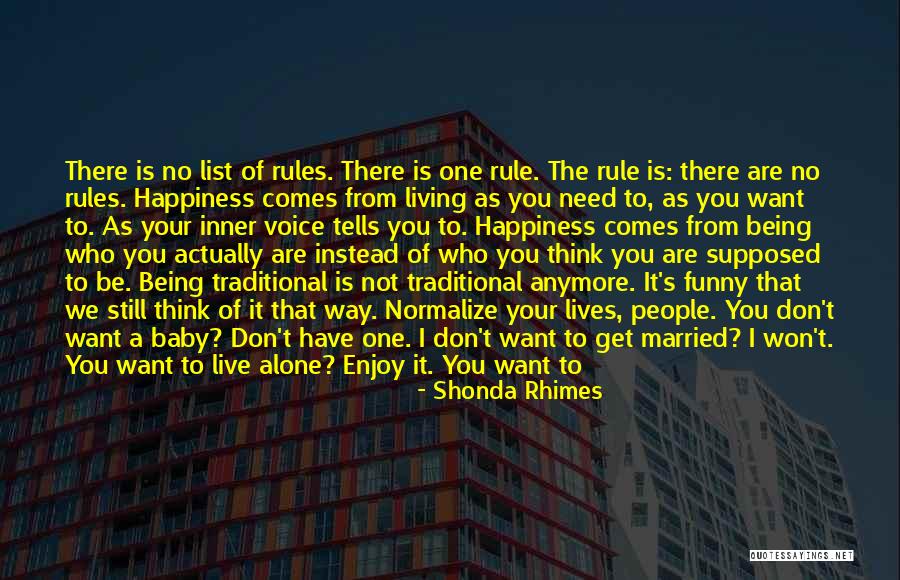 There is no list of rules. There is one rule. The rule is: there are no rules. Happiness comes from living as you need to, as you want to. As your inner voice tells you to. Happiness comes from being who you actually are instead of who you think you are supposed to be. Being traditional is not traditional anymore. It's funny that we still think of it that way. Normalize your lives, people. You don't want a baby? Don't have one. I don't want to get married? I won't. You want to live alone? Enjoy it. You want to love someone? Love someone. Don't apologize. Don't explain. Don't ever feel less than. When you feel the need to apologize or explain who you are, it means the voice in your head is telling you the wrong story. Wipe the slate clean. And rewrite it. No fairy tales. Be your own narrator. And go for a happy ending. One foot in front of the other. You will make it. — Shonda Rhimes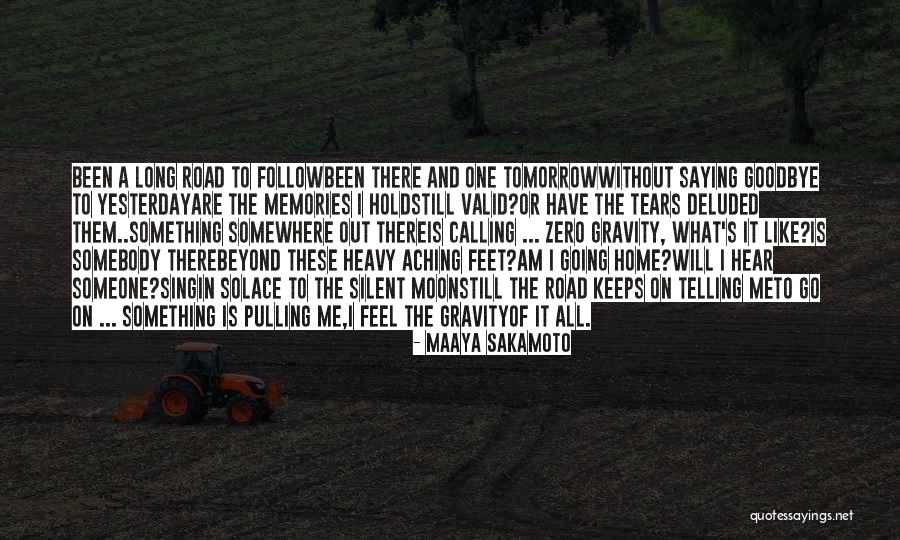 Been a long road to follow
Been there and one tomorrow
Without saying goodbye to yesterday
Are the memories I hold
Still valid?
Or have the tears deluded them..
Something somewhere out there
Is calling ...
Zero Gravity,
What's it like?
Is somebody there
Beyond these heavy aching feet?
Am I going home?
Will I hear someone?
Singin solace to the silent moon
Still the road keeps on telling me
To go on ...
Something is pulling me,
I feel the gravity
Of it all. — Maaya Sakamoto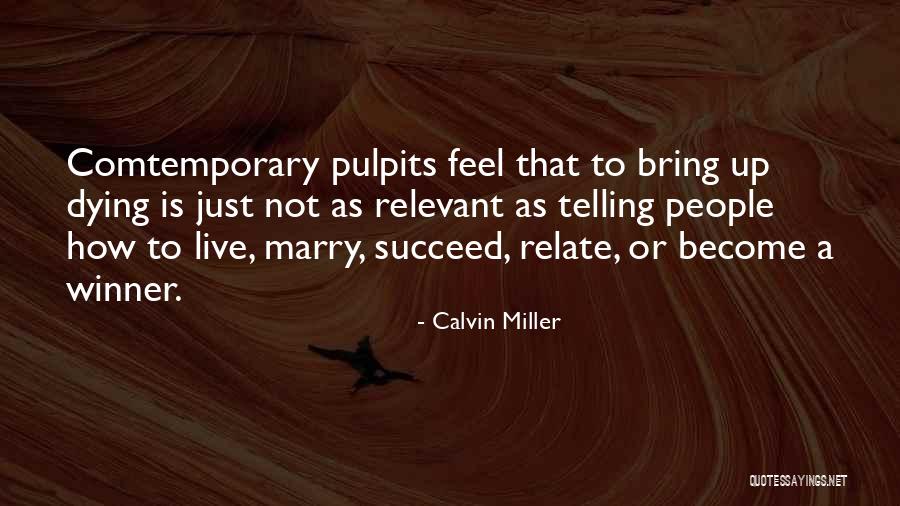 Comtemporary pulpits feel that to bring up dying is just not as relevant as telling people how to live, marry, succeed, relate, or become a winner. — Calvin Miller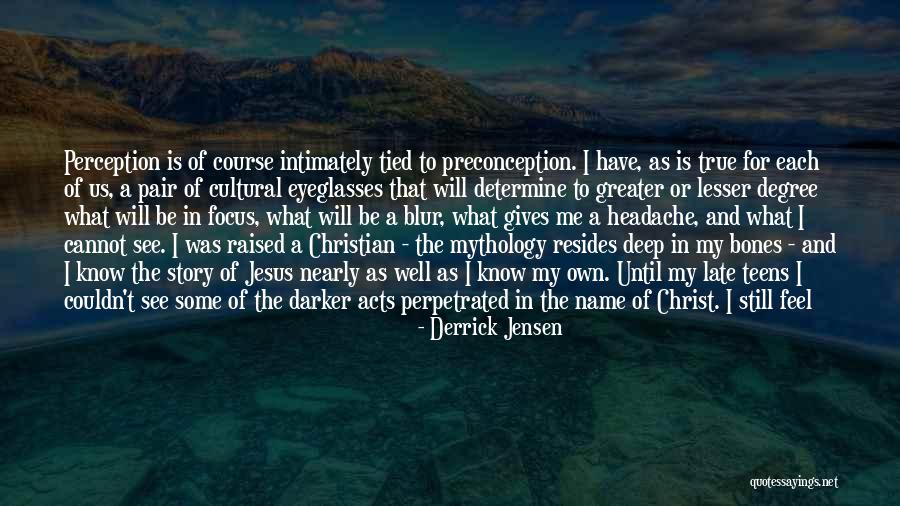 Perception is of course intimately tied to preconception. I have, as is true for each of us, a pair of cultural eyeglasses that will determine to greater or lesser degree what will be in focus, what will be a blur, what gives me a headache, and what I cannot see. I was raised a Christian - the mythology resides deep in my bones - and I know the story of Jesus nearly as well as I know my own. Until my late teens I couldn't see some of the darker acts perpetrated in the name of Christ. I still feel a twinge each time I say, "I am not a Christian," a slight apprehension that I may have gone too far. Sometimes I look up, a small part of my upbringing still telling me that my blasphemy will call forth a bolt of lightning from the sky. — Derrick Jensen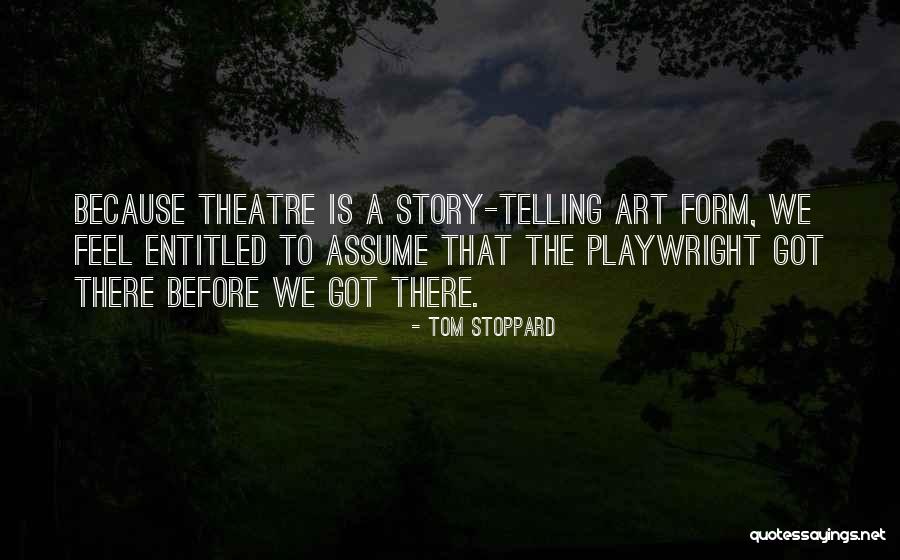 Because theatre is a story-telling art form, we feel entitled to assume that the playwright got there before we got there. — Tom Stoppard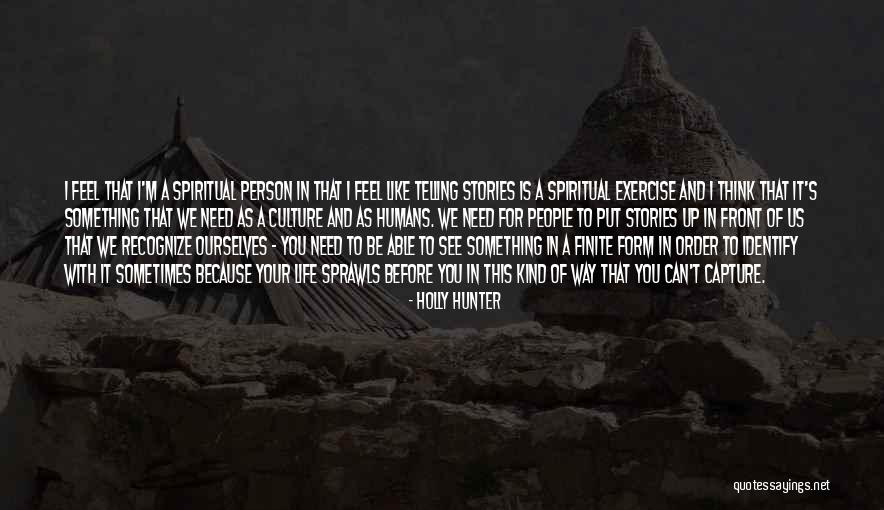 I feel that I'm a spiritual person in that I feel like telling stories is a spiritual exercise and I think that it's something that we need as a culture and as humans. We need for people to put stories up in front of us that we recognize ourselves - you need to be able to see something in a finite form in order to identify with it sometimes because your life sprawls before you in this kind of way that you can't capture. — Holly Hunter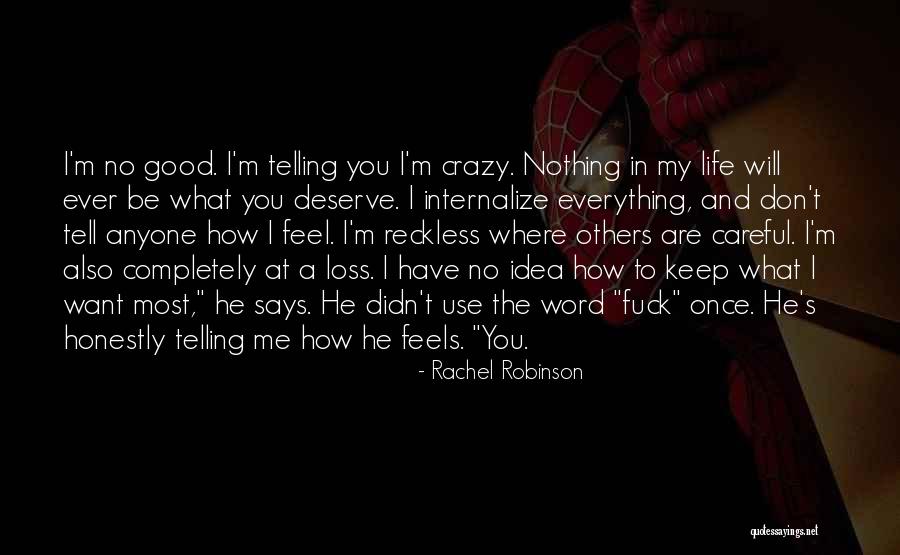 I'm no good. I'm telling you I'm crazy. Nothing in my life will ever be what you deserve. I internalize everything, and don't tell anyone how I feel. I'm reckless where others are careful. I'm also completely at a loss. I have no idea how to keep what I want most," he says. He didn't use the word "fuck" once. He's honestly telling me how he feels. "You. — Rachel Robinson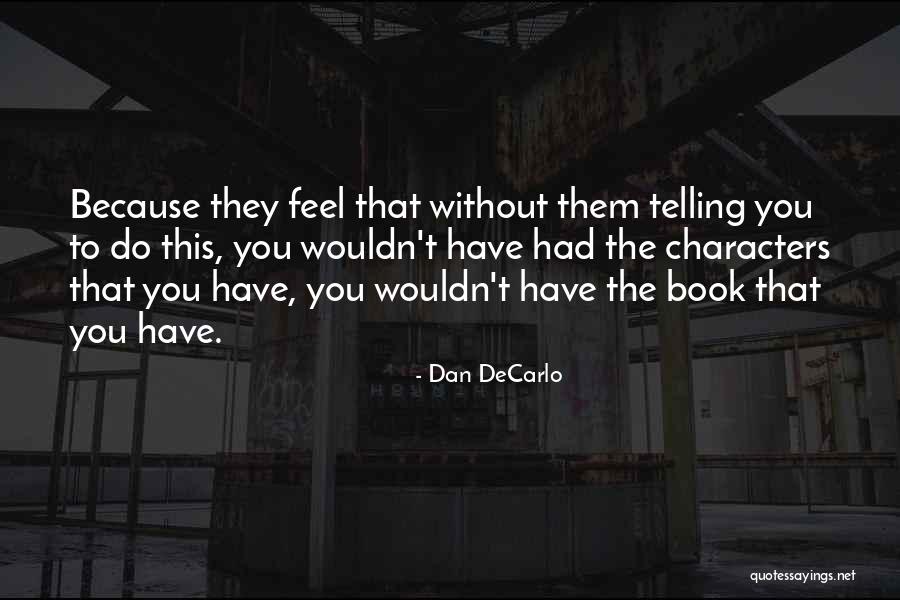 Because they feel that without them telling you to do this, you wouldn't have had the characters that you have, you wouldn't have the book that you have. — Dan DeCarlo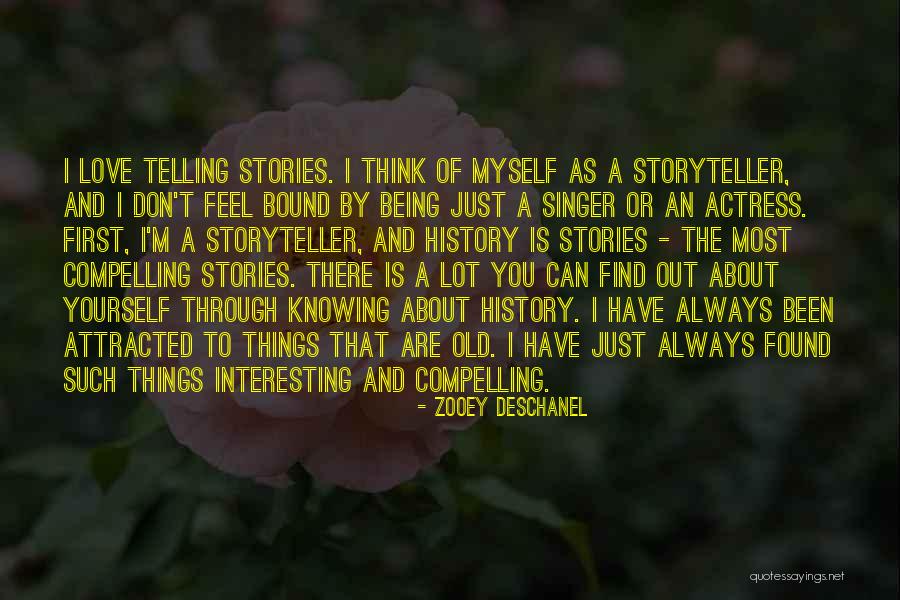 I love telling stories. I think of myself as a storyteller, and I don't feel bound by being just a singer or an actress. First, I'm a storyteller, and history is stories - the most compelling stories. There is a lot you can find out about yourself through knowing about history. I have always been attracted to things that are old. I have just always found such things interesting and compelling. — Zooey Deschanel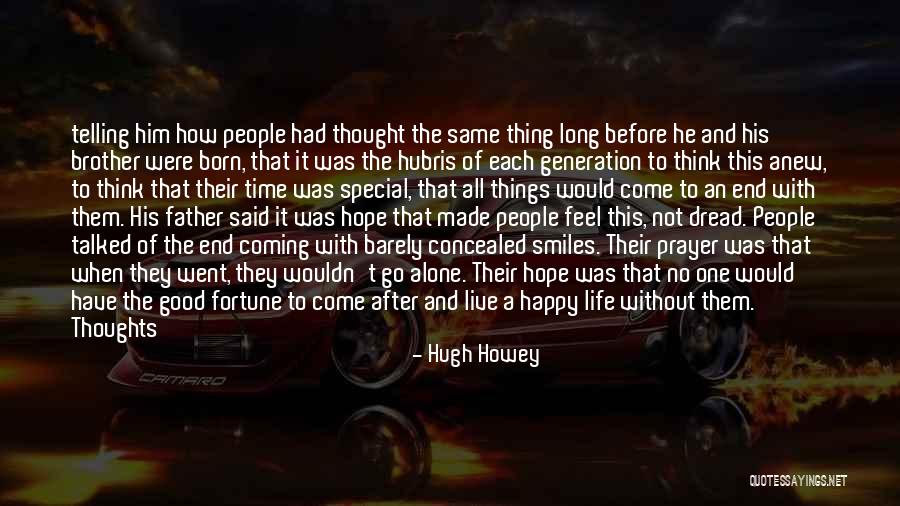 telling him how people had thought the same thing long before he and his brother were born, that it was the hubris of each generation to think this anew, to think that their time was special, that all things would come to an end with them. His father said it was hope that made people feel this, not dread. People talked of the end coming with barely concealed smiles. Their prayer was that when they went, they wouldn't go alone. Their hope was that no one would have the good fortune to come after and live a happy life without them. Thoughts — Hugh Howey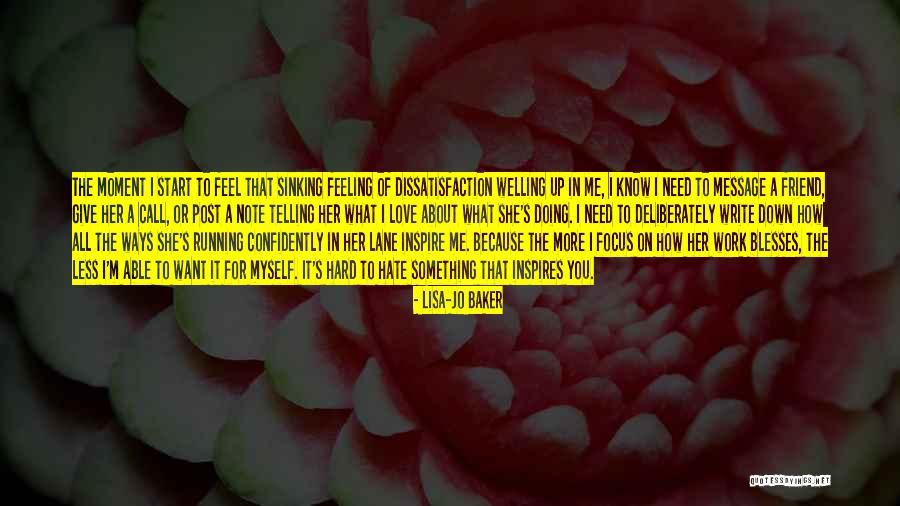 The moment I start to feel that sinking feeling of dissatisfaction welling up in me, I know I need to message a friend, give her a call, or post a note telling her what I love about what she's doing. I need to deliberately write down how all the ways she's running confidently in her lane inspire me. Because the more I focus on how her work blesses, the less I'm able to want it for myself. It's hard to hate something that inspires you. — Lisa-Jo Baker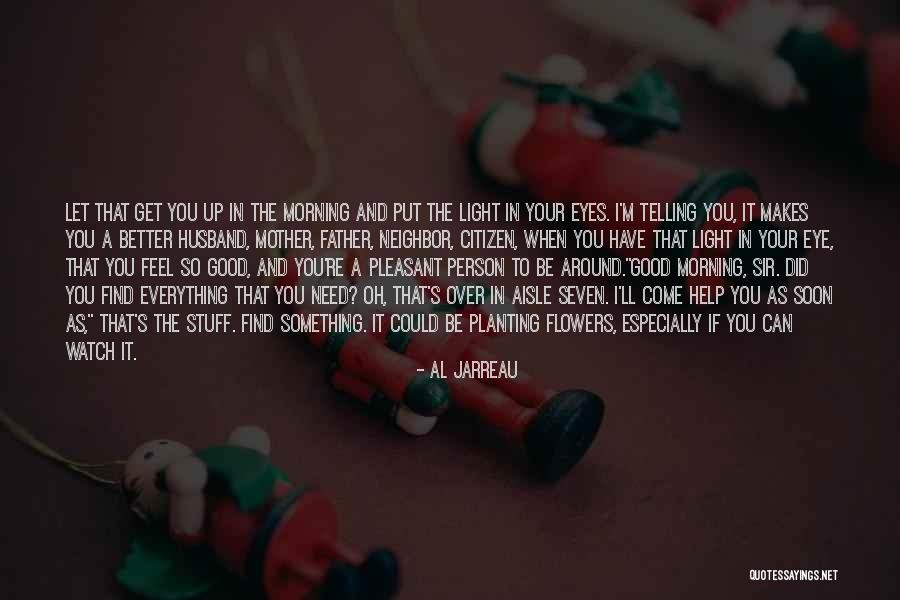 Let that get you up in the morning and put the light in your eyes. I'm telling you, it makes you a better husband, mother, father, neighbor, citizen, when you have that light in your eye, that you feel so good, and you're a pleasant person to be around."Good morning, sir. Did you find everything that you need? Oh, that's over in aisle seven. I'll come help you as soon as," that's the stuff. Find something. It could be planting flowers, especially if you can watch it. — Al Jarreau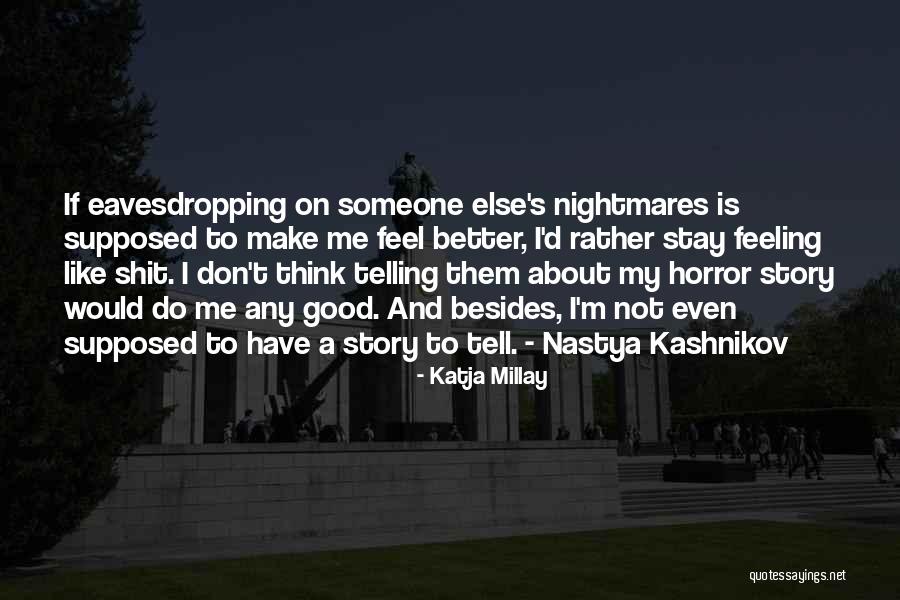 If eavesdropping on someone else's nightmares is supposed to make me feel better, I'd rather stay feeling like shit. I don't think telling them about my horror story would do me any good. And besides, I'm not even supposed to have a story to tell. - Nastya Kashnikov — Katja Millay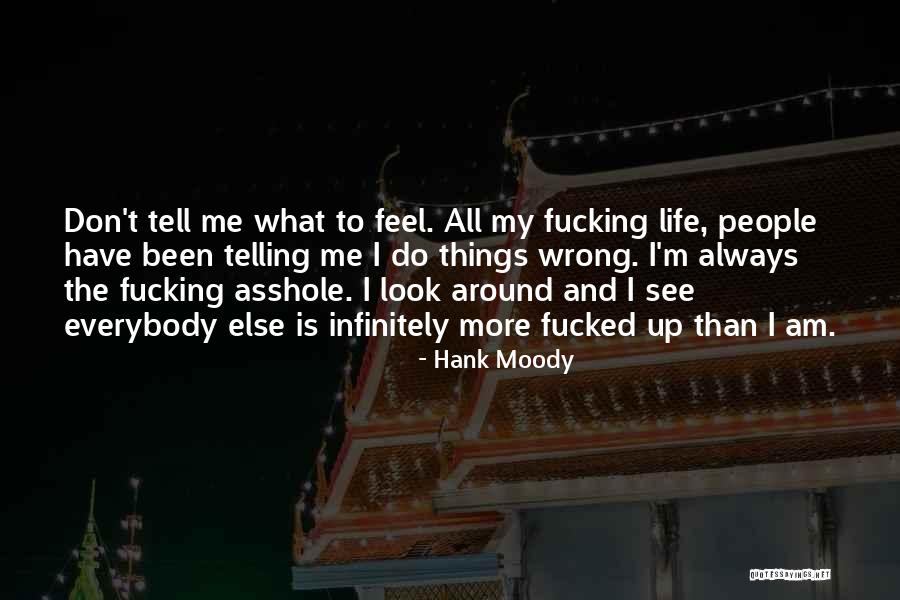 Don't tell me what to feel. All my fucking life, people have been telling me I do things wrong. I'm always the fucking asshole. I look around and I see everybody else is infinitely more fucked up than I am. — Hank Moody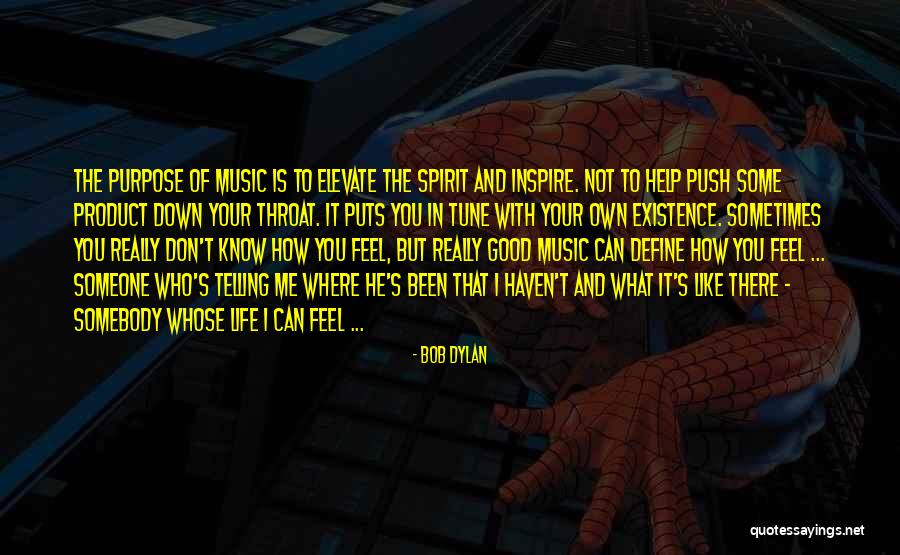 The purpose of music is to elevate the spirit and inspire. Not to help push some product down your throat. It puts you in tune with your own existence. Sometimes you really don't know how you feel, but really good music can define how you feel ... someone who's telling me where he's been that I haven't and what it's like there - somebody whose life I can feel ... — Bob Dylan