Quotes & Sayings About Tectonic Plates
Enjoy reading and share 22 famous quotes about Tectonic Plates with everyone.
Top Tectonic Plates Quotes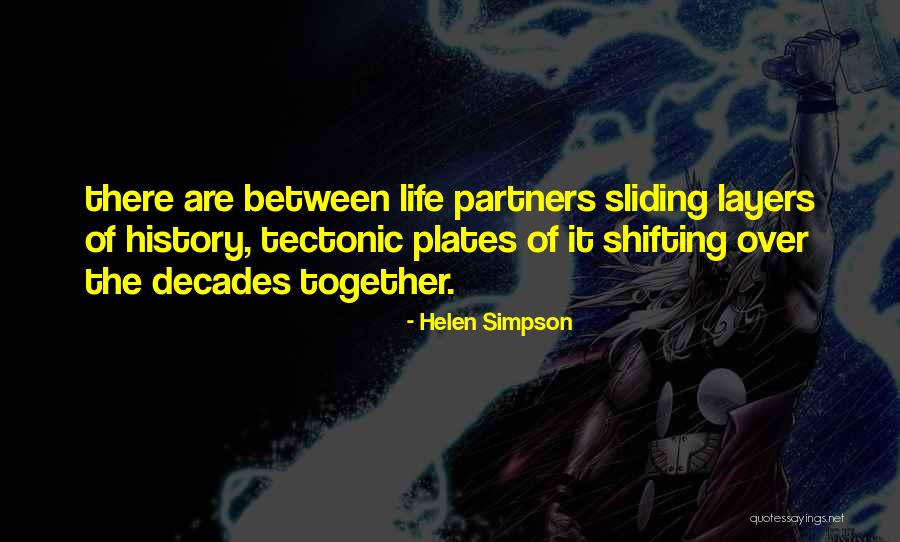 there are between life partners sliding layers of history, tectonic plates of it shifting over the decades together. — Helen Simpson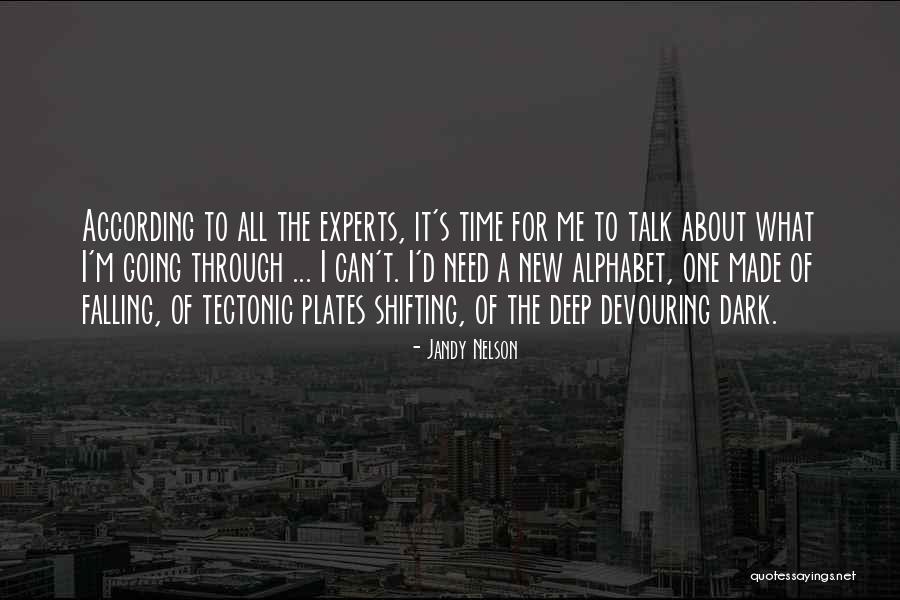 According to all the experts, it's time for me to talk about what I'm going through ... I can't. I'd need a new alphabet, one made of falling, of tectonic plates shifting, of the deep devouring dark. — Jandy Nelson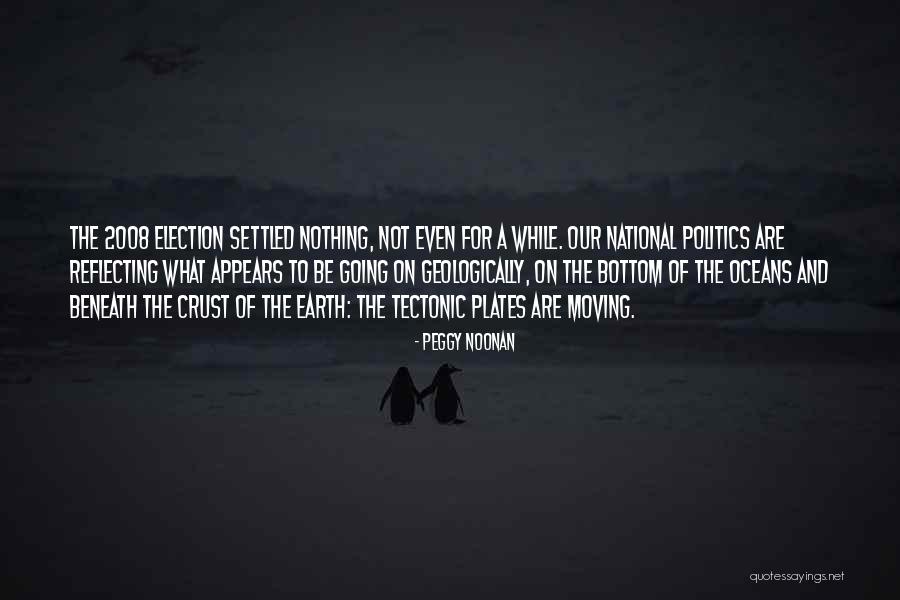 The 2008 election settled nothing, not even for a while. Our national politics are reflecting what appears to be going on geologically, on the bottom of the oceans and beneath the crust of the Earth: the tectonic plates are moving. — Peggy Noonan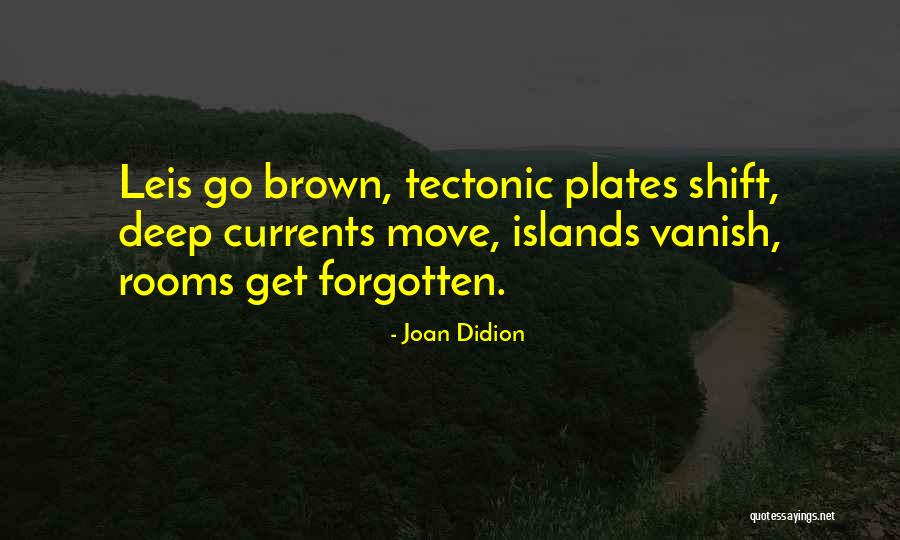 Leis go brown, tectonic plates shift, deep currents move, islands vanish, rooms get forgotten. — Joan Didion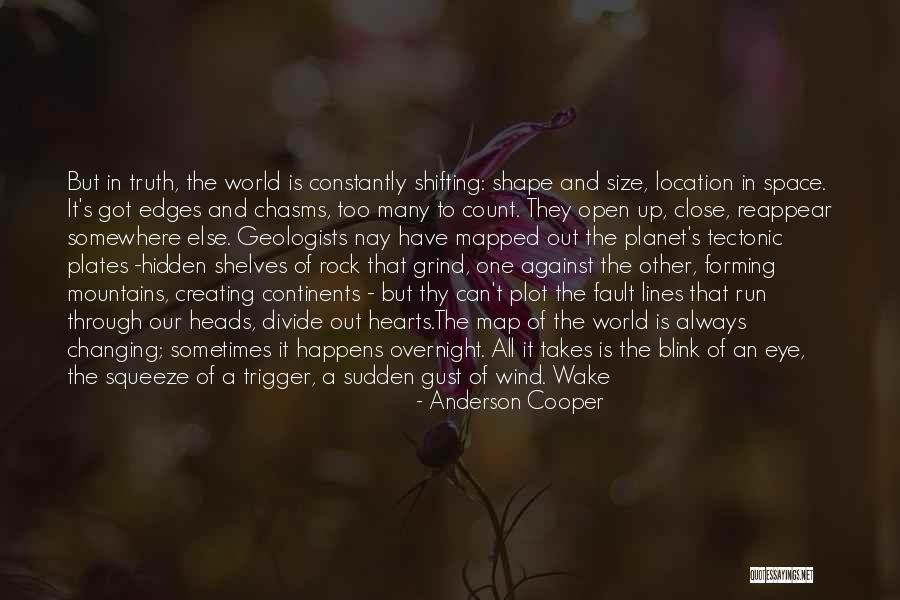 But in truth, the world is constantly shifting: shape and size, location in space. It's got edges and chasms, too many to count. They open up, close, reappear somewhere else. Geologists nay have mapped out the planet's tectonic plates -hidden shelves of rock that grind, one against the other, forming mountains, creating continents - but thy can't plot the fault lines that run through our heads, divide out hearts.
The map of the world is always changing; sometimes it happens overnight. All it takes is the blink of an eye, the squeeze of a trigger, a sudden gust of wind. Wake up and your life is perched on a precipice; fall asleep, it swallows you whole — Anderson Cooper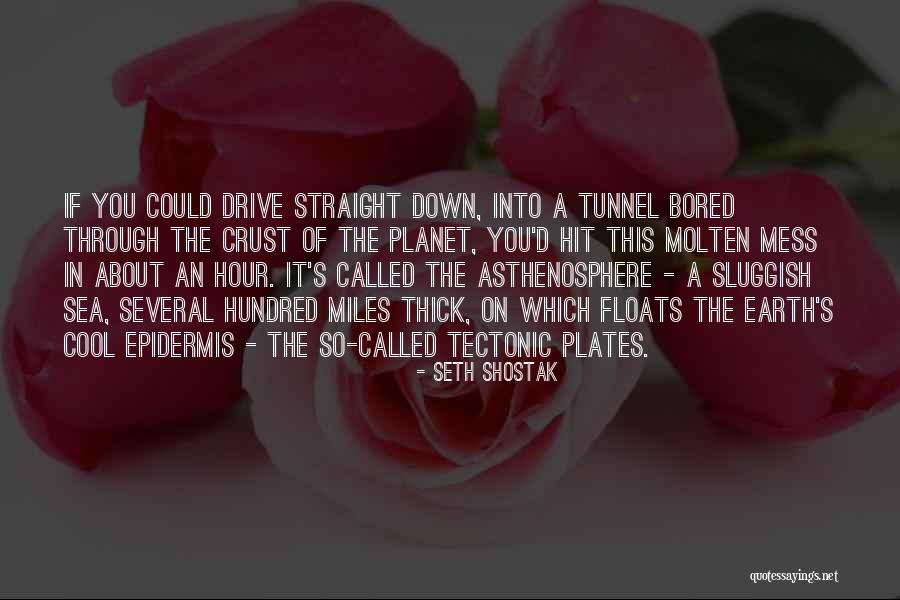 If you could drive straight down, into a tunnel bored through the crust of the planet, you'd hit this molten mess in about an hour. It's called the asthenosphere - a sluggish sea, several hundred miles thick, on which floats the Earth's cool epidermis - the so-called tectonic plates. — Seth Shostak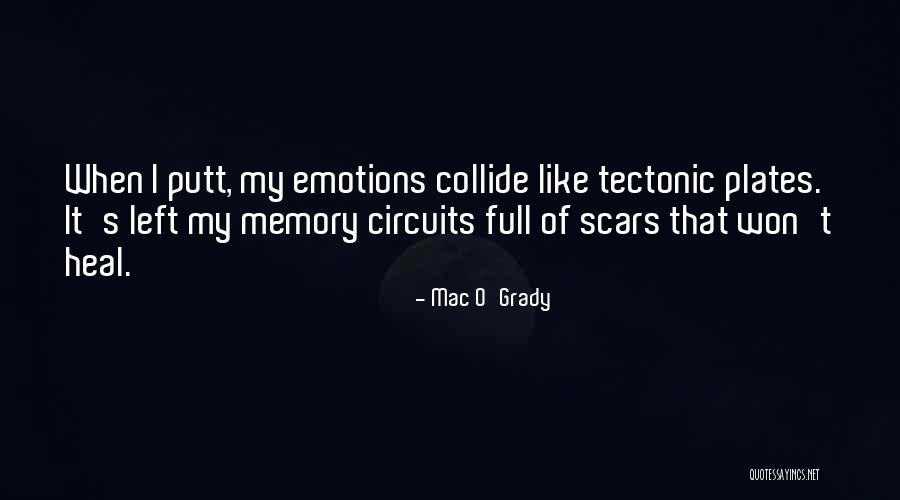 When I putt, my emotions collide like tectonic plates. It's left my memory circuits full of scars that won't heal. — Mac O'Grady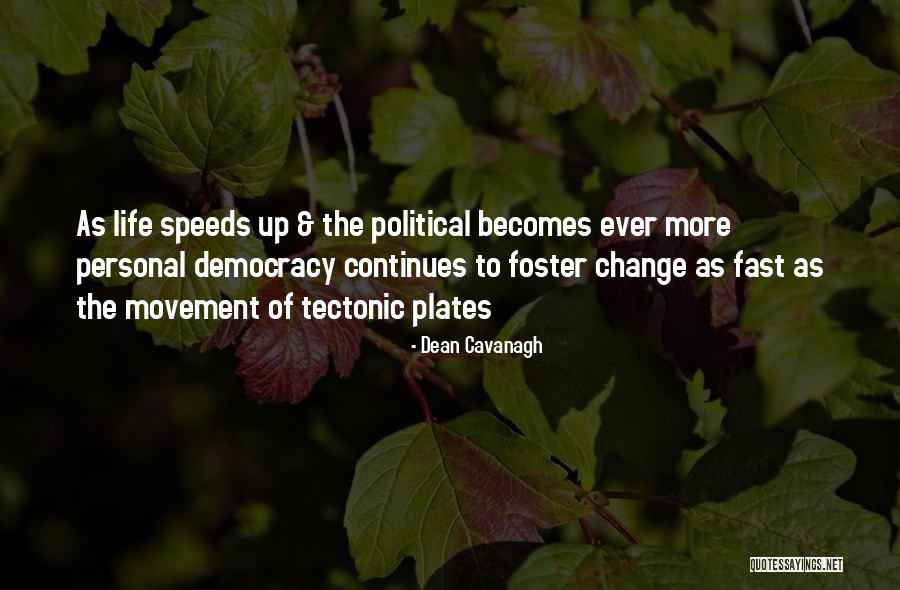 As life speeds up & the political becomes ever more personal democracy continues to foster change as fast as the movement of tectonic plates — Dean Cavanagh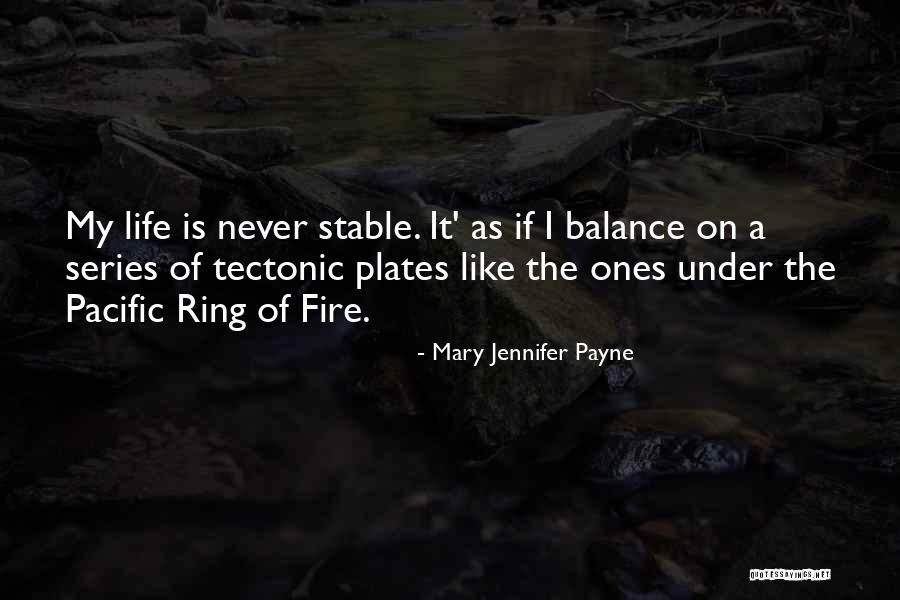 My life is never stable. It' as if I balance on a series of tectonic plates like the ones under the Pacific Ring of Fire. — Mary Jennifer Payne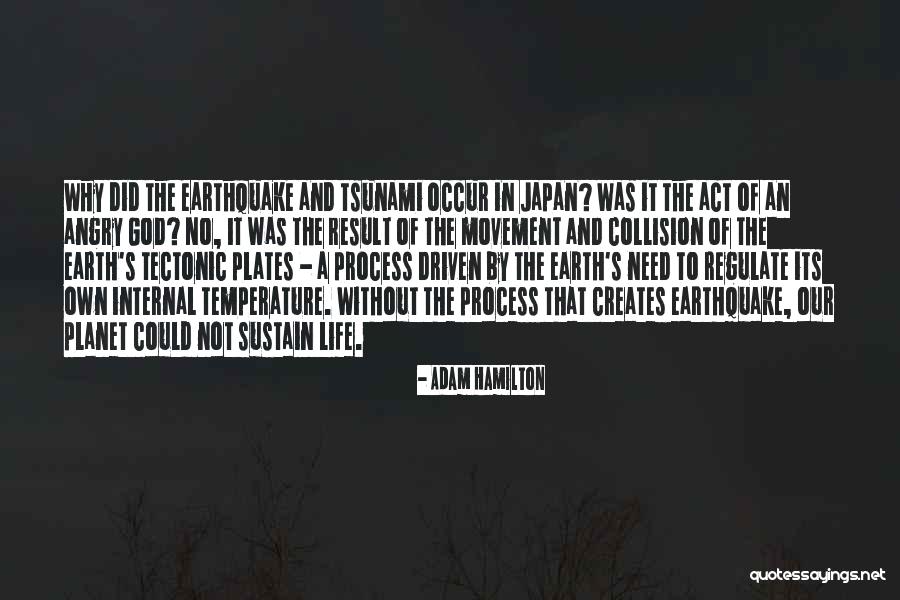 Why did the earthquake and tsunami occur in Japan? Was it the act of an angry God? No, it was the result of the movement and collision of the earth's tectonic plates - a process driven by the earth's need to regulate its own internal temperature. Without the process that creates earthquake, our planet could not sustain life. — Adam Hamilton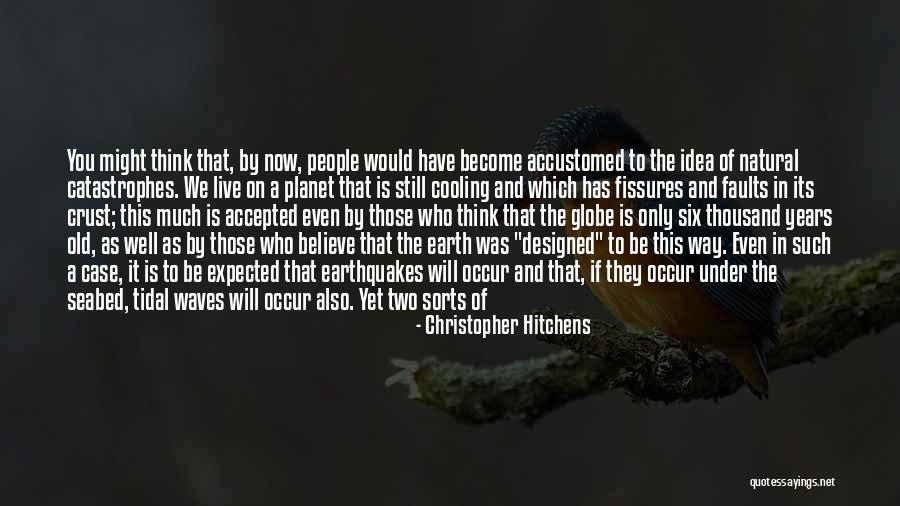 You might think that, by now, people would have become accustomed to the idea of natural catastrophes. We live on a planet that is still cooling and which has fissures and faults in its crust; this much is accepted even by those who think that the globe is only six thousand years old, as well as by those who believe that the earth was "designed" to be this way. Even in such a case, it is to be expected that earthquakes will occur and that, if they occur under the seabed, tidal waves will occur also. Yet two sorts of error are still absolutely commonplace. The first of these is the idiotic belief that seismic events are somehow "timed" to express the will of God. Thus, reasoning back from the effect, people will seriously attempt to guess what sin or which profanity led to the verdict of the tectonic plates. The second error, common even among humanists, is to borrow the same fallacy for satirical purposes and to employ it to disprove a benign deity. — Christopher Hitchens
It's all strange to me. I know I live on a fierce and magical planet, which sheds or surrenders rain or even flings it off in whipstroke after whipstroke, which fires out bolts of electric gold into the firmament at 186,000 miles per second, which with a single shrug of its tectonic plates can erect a city in half an hour. Creation ... is easy, is quick. There's also a universe, apparently. But I cannot bear to see the stars, even though I know they're there all right, and I do see them, because Tod looks upward at night, as everybody does, and coos and points. The Plough. Sirius, the dog. The stars, to me, are like pins and needles, are like the routemap of a nightmare. Don't join the dots. ... Of the stars, one alone can I contemplate without pain. And that's a planet. The planet they call the evening star, the morning star. Intense Venus. — Martin Amis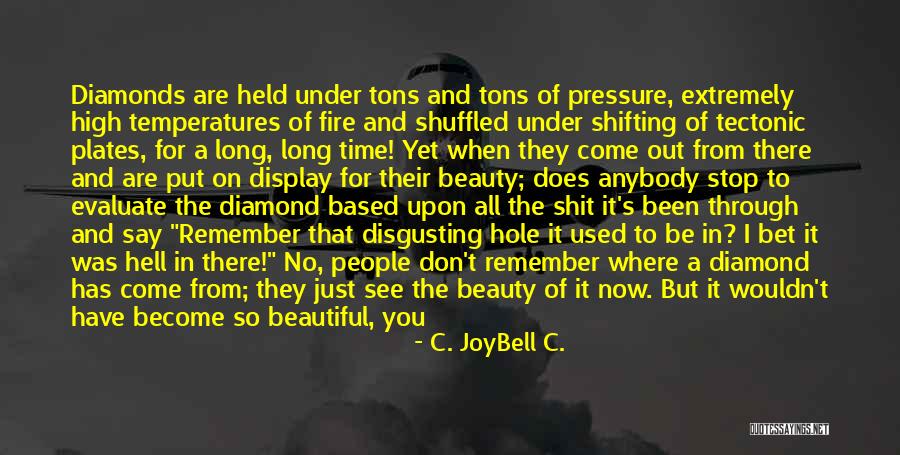 Diamonds are held under tons and tons of pressure, extremely high temperatures of fire and shuffled under shifting of tectonic plates, for a long, long time! Yet when they come out from there and are put on display for their beauty; does anybody stop to evaluate the diamond based upon all the shit it's been through and say "Remember that disgusting hole it used to be in? I bet it was hell in there!" No, people don't remember where a diamond has come from; they just see the beauty of it now. But it wouldn't have become so beautiful, you know, if not for all of that! So why should we look at other people, or at ourselves and evaluate them/ourselves based upon their/our pasts? Shouldn't we forget that? And only see the beauty that is in front of our eyes? Whatever it was, it made you beautiful! And that is what matters! — C. JoyBell C.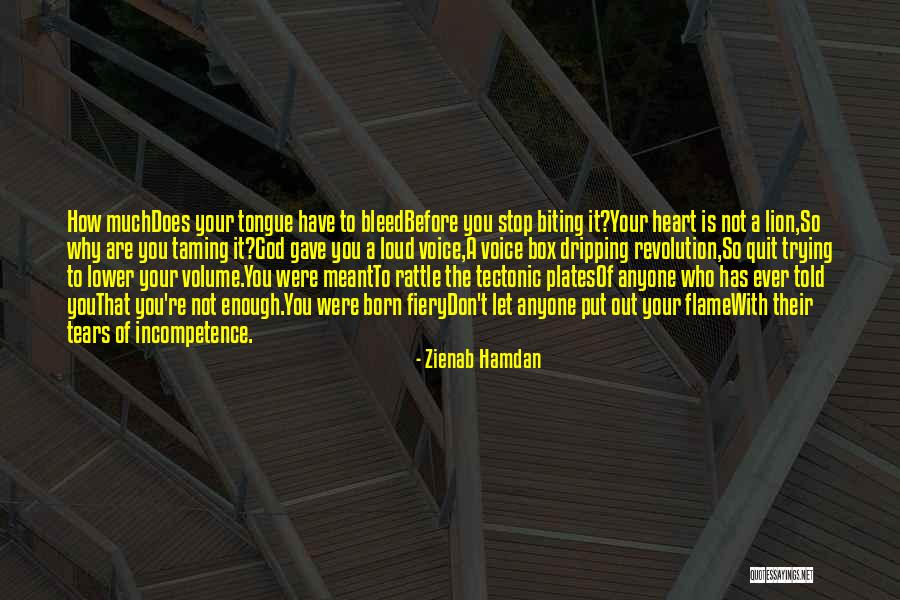 How much
Does your tongue have to bleed
Before you stop biting it?

Your heart is not a lion,
So why are you taming it?

God gave you a loud voice,
A voice box dripping revolution,
So quit trying to lower your volume.

You were meant
To rattle the tectonic plates
Of anyone who has ever told you
That you're not enough.

You were born fiery
Don't let anyone put out your flame
With their tears of incompetence. — Zienab Hamdan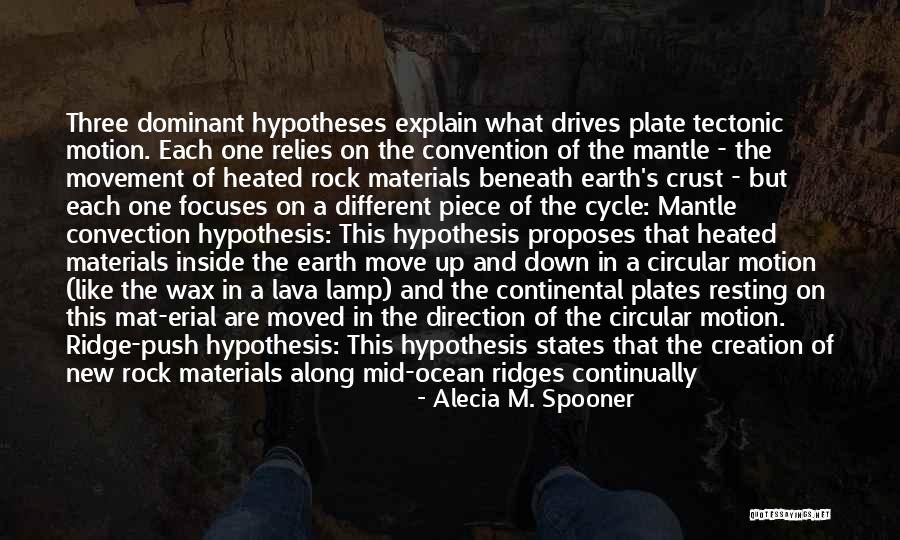 Three dominant hypotheses explain what drives plate tectonic motion. Each one relies on the convention of the mantle - the movement of heated rock materials beneath earth's crust - but each one focuses on a different piece of the cycle: Mantle convection hypothesis: This hypothesis proposes that heated materials inside the earth move up and down in a circular motion (like the wax in a lava lamp) and the continental plates resting on this mat-erial are moved in the direction of the circular motion. Ridge-push hypothesis: This hypothesis states that the creation of new rock materials along mid-ocean ridges continually pushes oceanic crustal plates upward and outward, so that the far edges are forced into collisions with other plates. Slab-pull hypothesis: This hypothesis is the opposite of the ridge-push model. It proposes that the heavy, dense outer edges of crustal plates sink into the mantle at plate boundaries and pull the rest of the plate along with them. — Alecia M. Spooner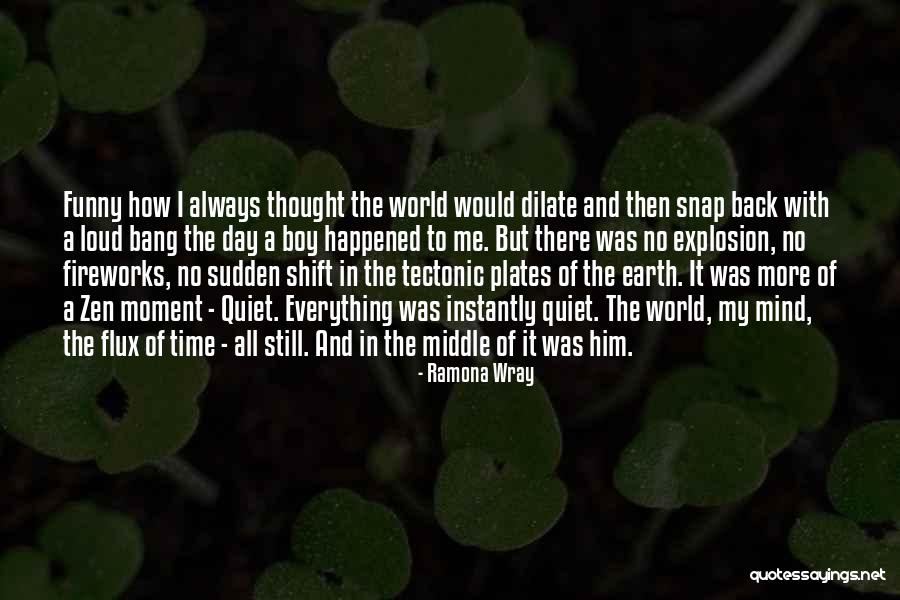 Funny how I always thought the world would dilate and then snap back with a loud bang the day a boy happened to me. But there was no explosion, no fireworks, no sudden shift in the tectonic plates of the earth. It was more of a Zen moment - Quiet. Everything was instantly quiet. The world, my mind, the flux of time - all still. And in the middle of it was him. — Ramona Wray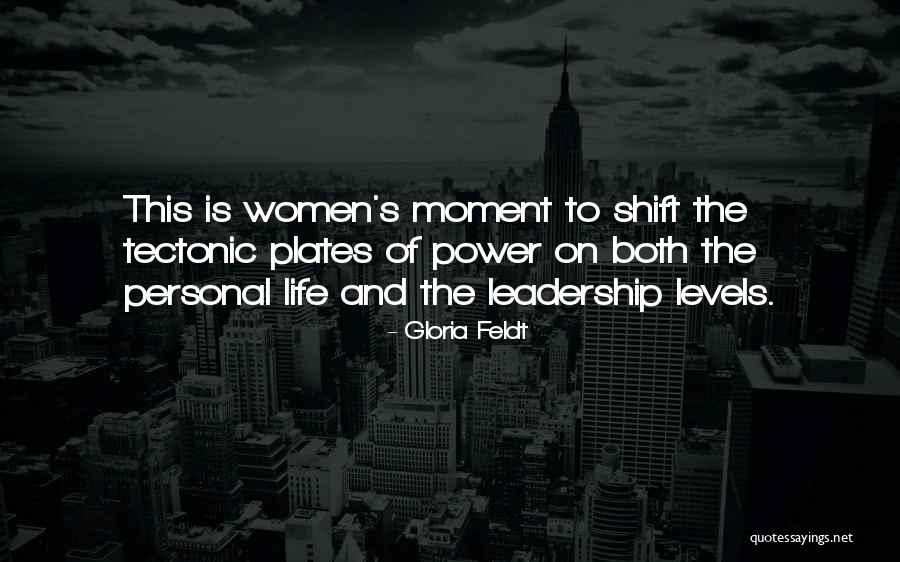 This is women's moment to shift the tectonic plates of power on both the personal life and the leadership levels. — Gloria Feldt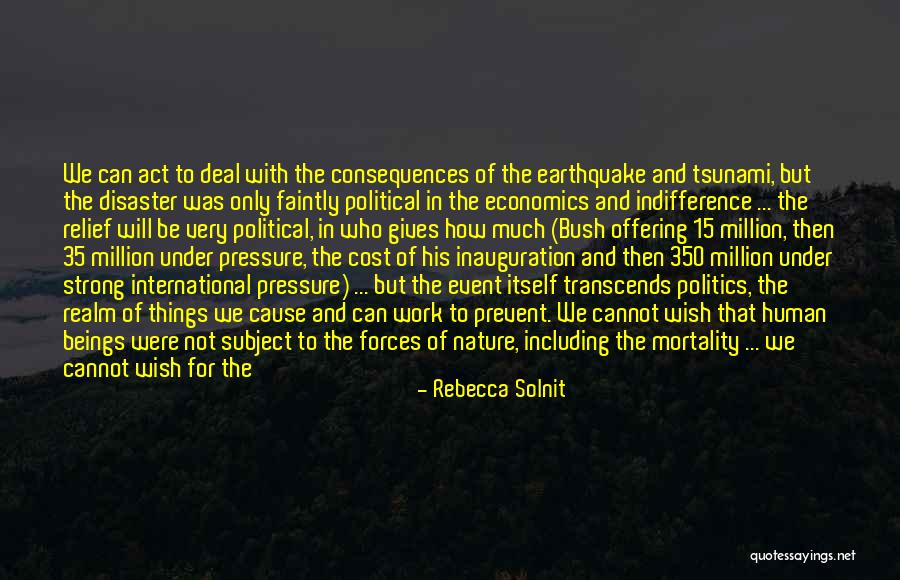 We can act to deal with the consequences of the earthquake and tsunami, but the disaster was only faintly political in the economics and indifference ... the relief will be very political, in who gives how much (Bush offering 15 million, then 35 million under pressure, the cost of his inauguration and then 350 million under strong international pressure) ... but the event itself transcends politics, the realm of things we cause and can work to prevent. We cannot wish that human beings were not subject to the forces of nature, including the mortality ... we cannot wish for the seas to dry up, that the waves grow still, that the tectonic plates ceast to exist, that nature ceases to be beyond our abilities to predict and control ... But the terms of that nature include such catastrophe and suffering, which leaves us with sorrow as not a problem to be solved but a fact. And it leaves us with compassion as the work we will never finish — Rebecca Solnit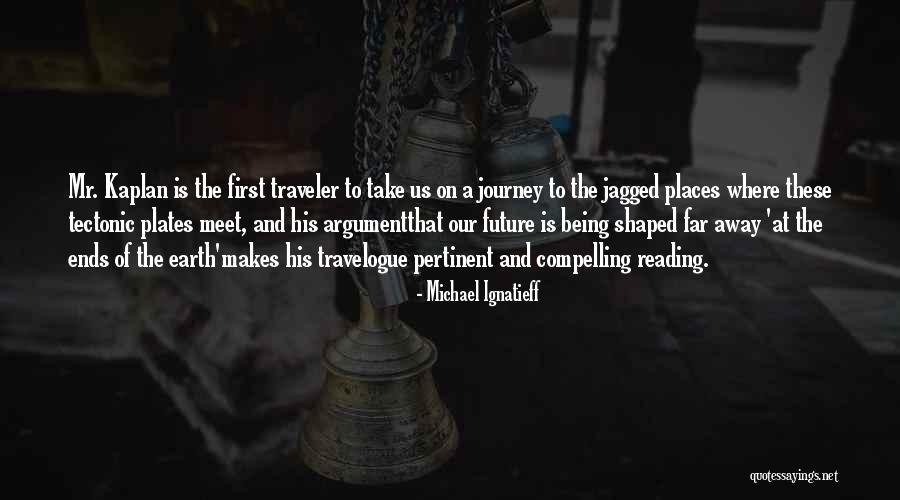 Mr. Kaplan is the first traveler to take us on a journey to the jagged places where these tectonic plates meet, and his argument
that our future is being shaped far away 'at the ends of the earth'
makes his travelogue pertinent and compelling reading. — Michael Ignatieff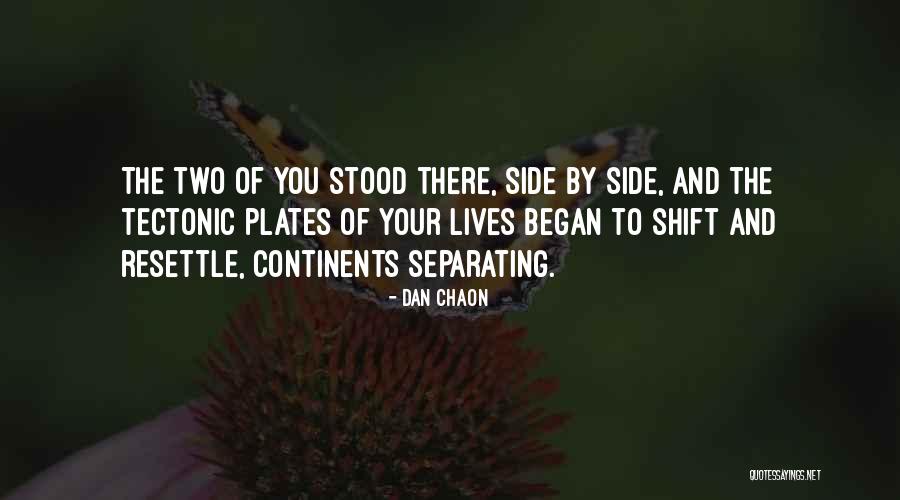 The two of you stood there, side by side, and the tectonic plates of your lives began to shift and resettle, continents separating. — Dan Chaon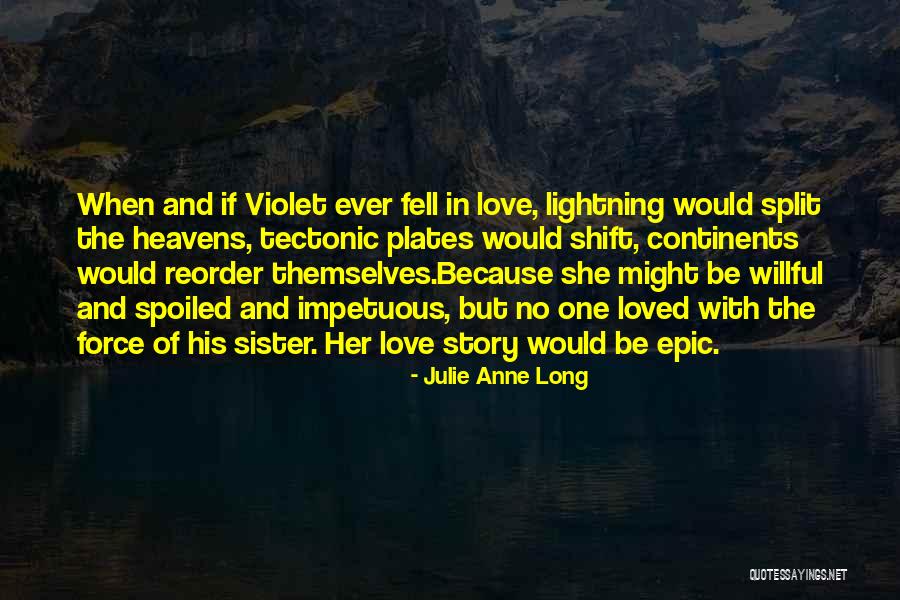 When and if Violet ever fell in love, lightning would split the heavens, tectonic plates would shift, continents would reorder themselves.
Because she might be willful and spoiled and impetuous, but no one loved with the force of his sister. Her love story would be epic. — Julie Anne Long