Quotes & Sayings About Teamwork And Hard Work
Enjoy reading and share 16 famous quotes about Teamwork And Hard Work with everyone.
Top Teamwork And Hard Work Quotes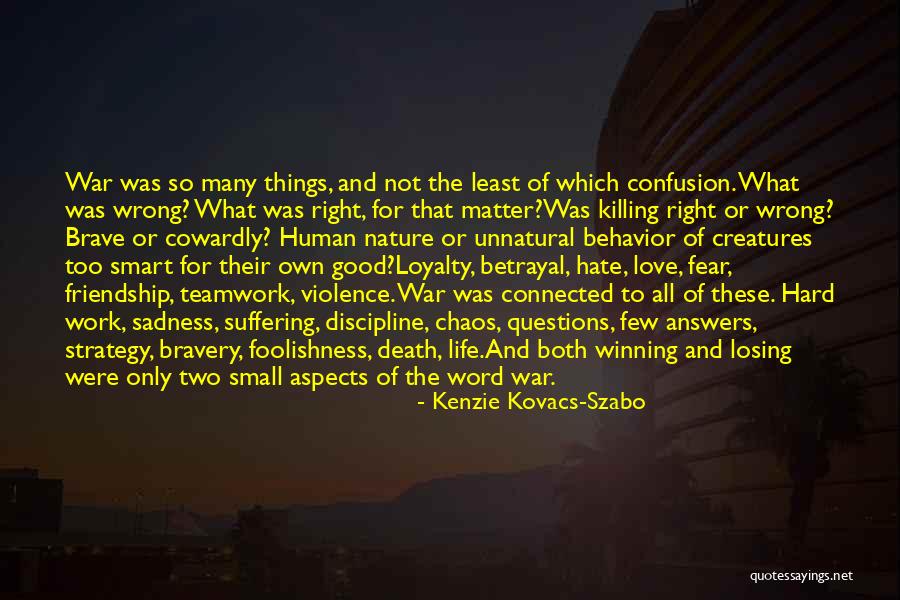 War was so many things, and not the least of which confusion. What was wrong? What was right, for that matter?
Was killing right or wrong? Brave or cowardly? Human nature or unnatural behavior of creatures too smart for their own good?
Loyalty, betrayal, hate, love, fear, friendship, teamwork, violence. War was connected to all of these. Hard work, sadness, suffering, discipline, chaos, questions, few answers, strategy, bravery, foolishness, death, life.
And both winning and losing were only two small aspects of the word war. — Kenzie Kovacs-Szabo
Real teams don't emerge unless individuals on them take risks involving conflict, trust, interdependence and hard work. — John Katzenbach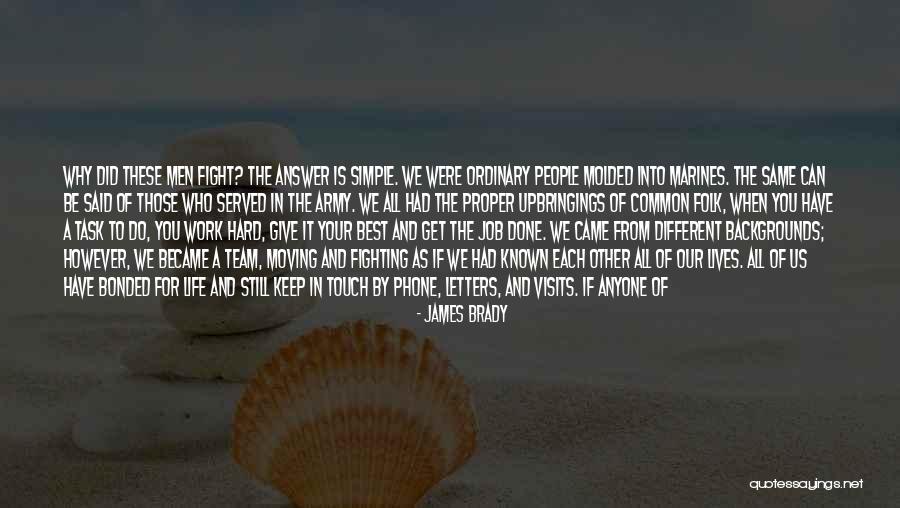 Why did these men fight? The answer is simple. We were ordinary people molded into Marines. The same can be said of those who served in the army. We all had the proper upbringings of common folk, when you have a task to do, you work hard, give it your best and get the job done. We came from different backgrounds; however, we became a team, moving and fighting as if we had known each other all of our lives. All of us have bonded for life and still keep in touch by phone, letters, and visits. If anyone of the second squad needs help you can be sure the rest of the squad would be there. All of those I have kept in touch with have been successful in the life endeavors they chose.
"Not one of them is bitter about giving up two years of their life to 'Serve Their Country'"
-George E. Krug — James Brady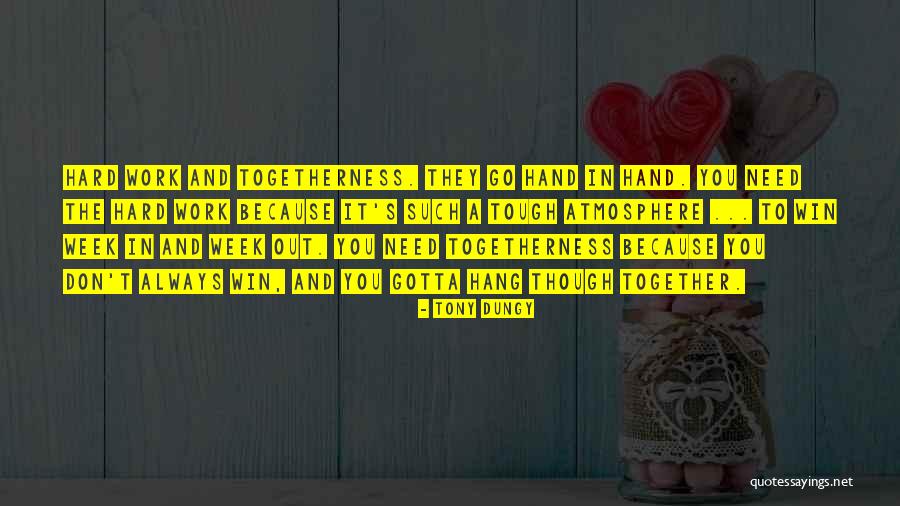 Hard work and togetherness. They go hand in hand. You need the hard work because it's such a tough atmosphere ... to win week in and week out. You need togetherness because you don't always win, and you gotta hang though together. — Tony Dungy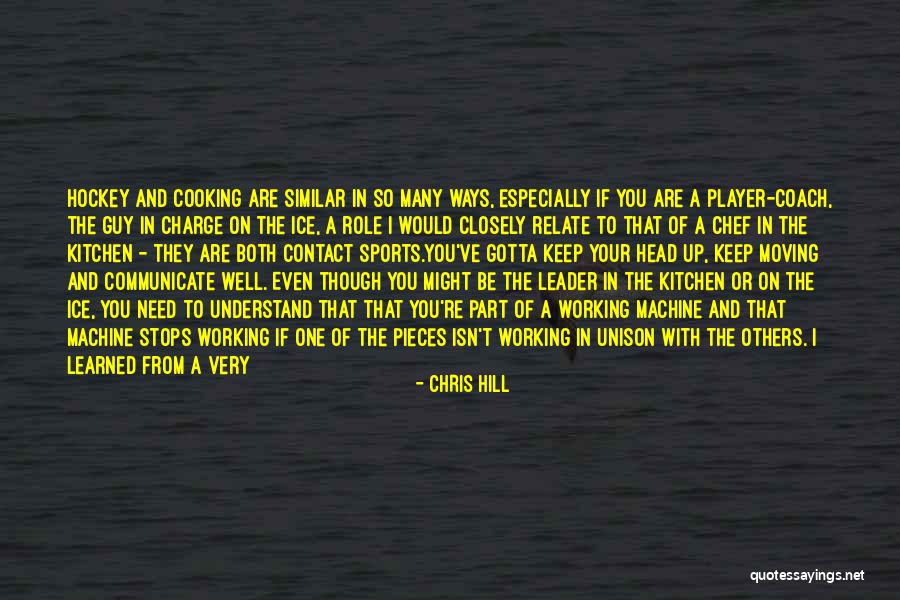 Hockey and cooking are similar in so many ways, especially if you are a player-coach, the guy in charge on the ice, a role I would closely relate to that of a chef in the kitchen - they are both contact sports.

You've gotta keep your head up, keep moving and communicate well. Even though you might be the leader in the kitchen or on the ice, you need to understand that that you're part of a working machine and that machine stops working if one of the pieces isn't working in unison with the others. I learned from a very young age the importance of being part of this team dynamic and how hard work can take you to so many different places.

(Chef Duane Keller) — Chris Hill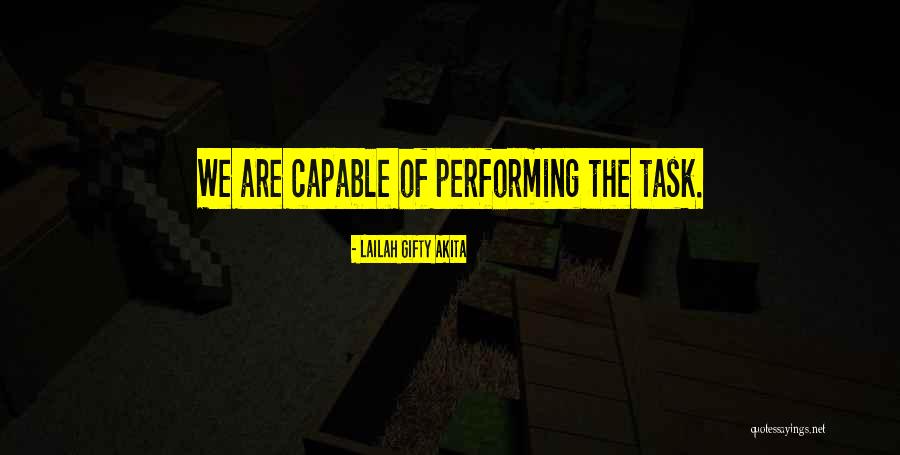 We are capable of performing the task. — Lailah Gifty Akita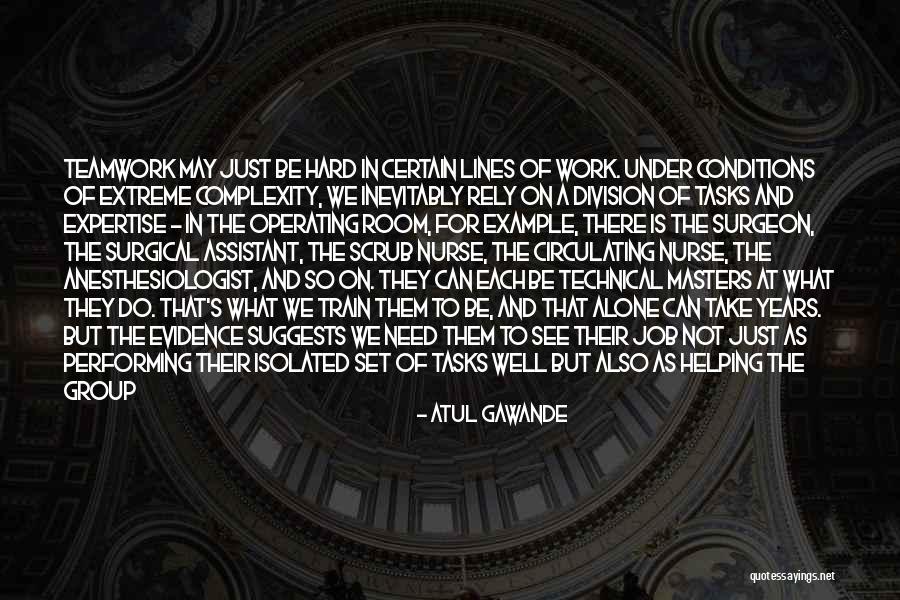 Teamwork may just be hard in certain lines of work. Under conditions of extreme complexity, we inevitably rely on a division of tasks and expertise - in the operating room, for example, there is the surgeon, the surgical assistant, the scrub nurse, the circulating nurse, the anesthesiologist, and so on. They can each be technical masters at what they do. That's what we train them to be, and that alone can take years. But the evidence suggests we need them to see their job not just as performing their isolated set of tasks well but also as helping the group get the best possible results. This requires finding a way to ensure that the group lets nothing fall between the cracks and also adapts as a team to whatever problems might arise. — Atul Gawande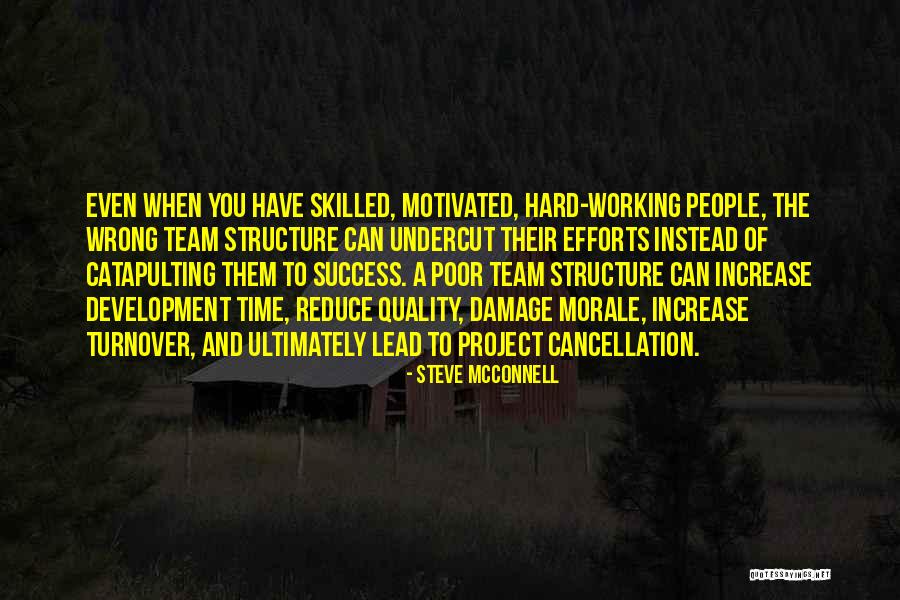 Even when you have skilled, motivated, hard-working people, the wrong team structure can undercut their efforts instead of catapulting them to success. A poor team structure can increase development time, reduce quality, damage morale, increase turnover, and ultimately lead to project cancellation. — Steve McConnell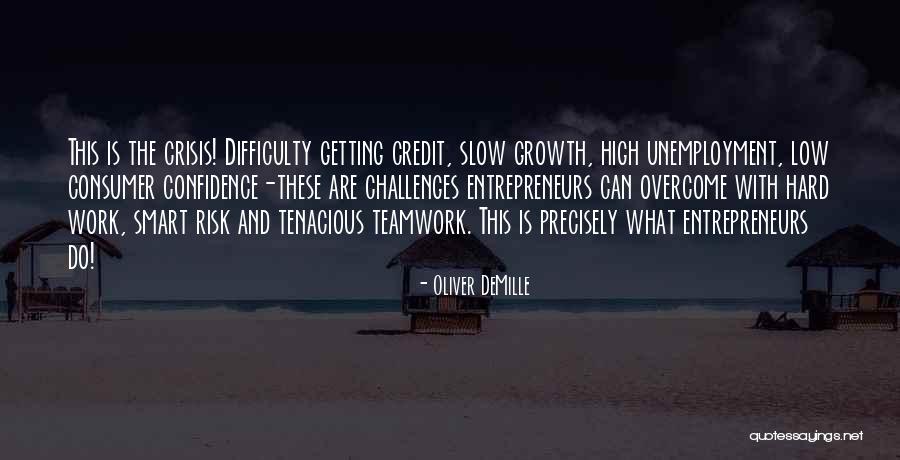 This is the crisis! Difficulty getting credit, slow growth, high unemployment, low consumer confidence-these are challenges entrepreneurs can overcome with hard work, smart risk and tenacious teamwork. This is precisely what entrepreneurs do! — Oliver DeMille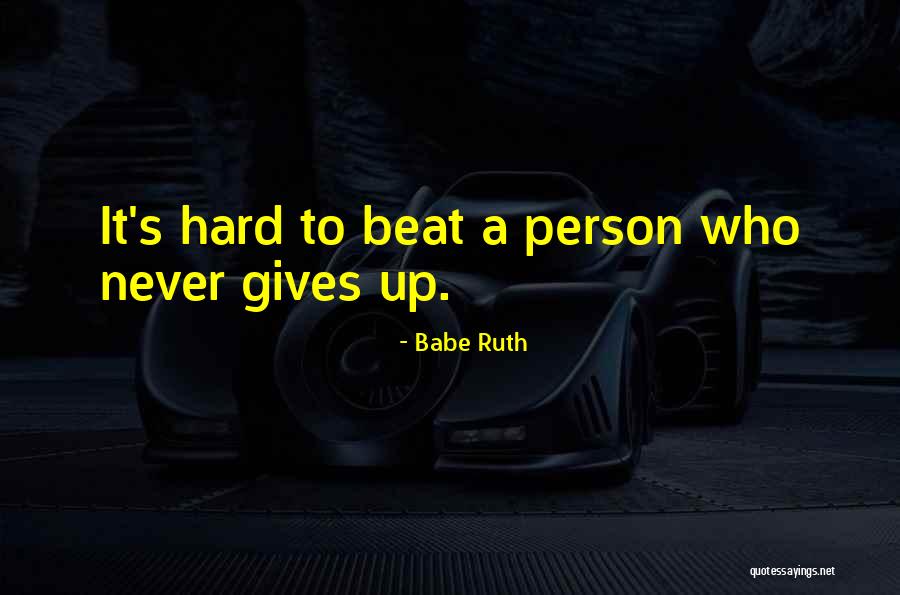 It's hard to beat a person who never gives up. — Babe Ruth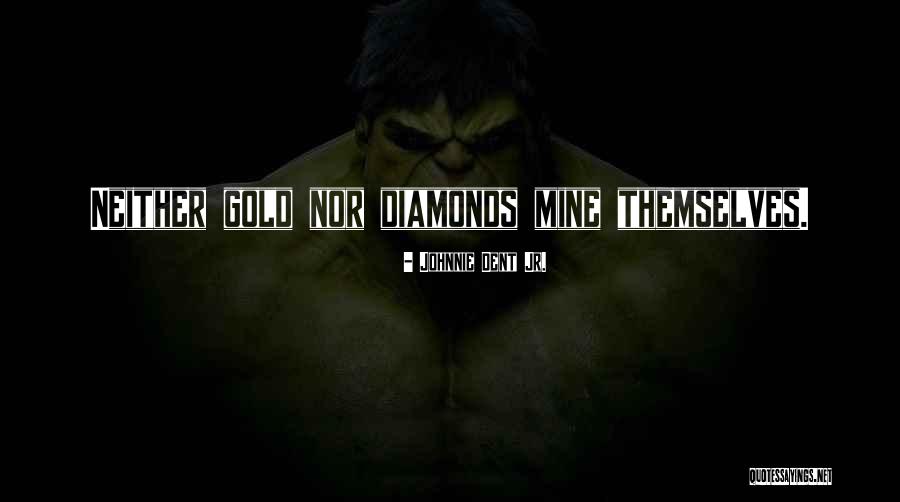 Neither gold nor diamonds mine themselves. — Johnnie Dent Jr.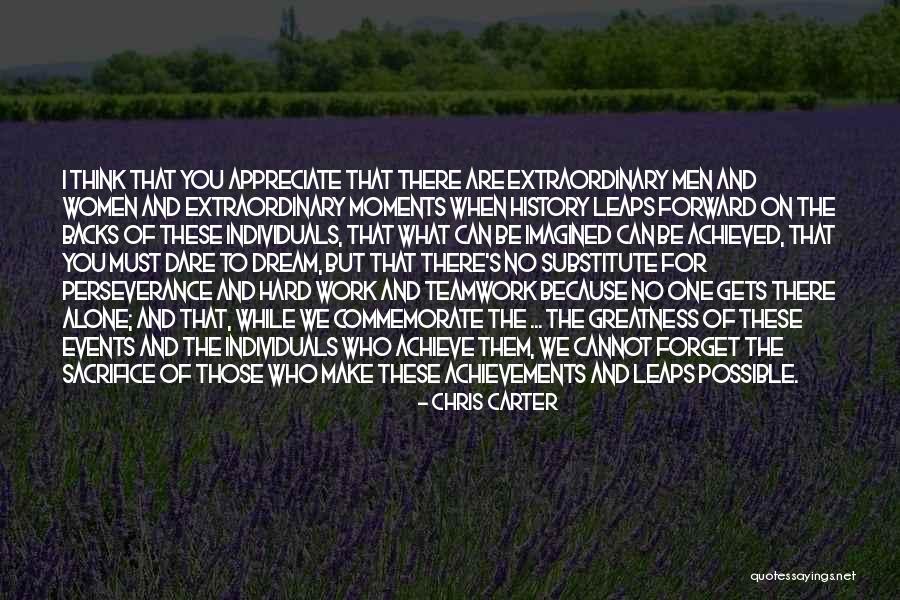 I think that you appreciate that there are extraordinary men and women and extraordinary moments when history leaps forward on the backs of these individuals, that what can be imagined can be achieved, that you must dare to dream, but that there's no substitute for perseverance and hard work and teamwork because no one gets there alone; and that, while we commemorate the ... the greatness of these events and the individuals who achieve them, we cannot forget the sacrifice of those who make these achievements and leaps possible. — Chris Carter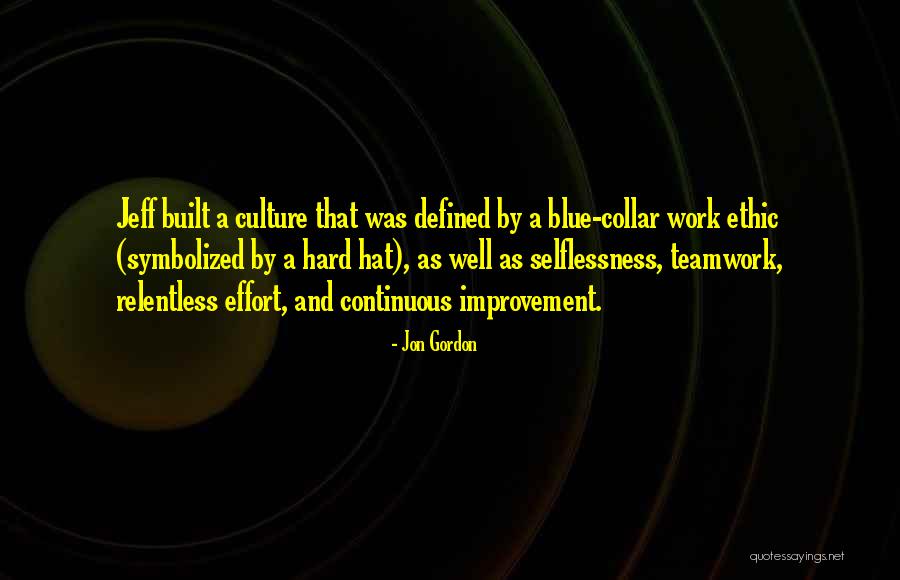 Jeff built a culture that was defined by a blue-collar work ethic (symbolized by a hard hat), as well as selflessness, teamwork, relentless effort, and continuous improvement. — Jon Gordon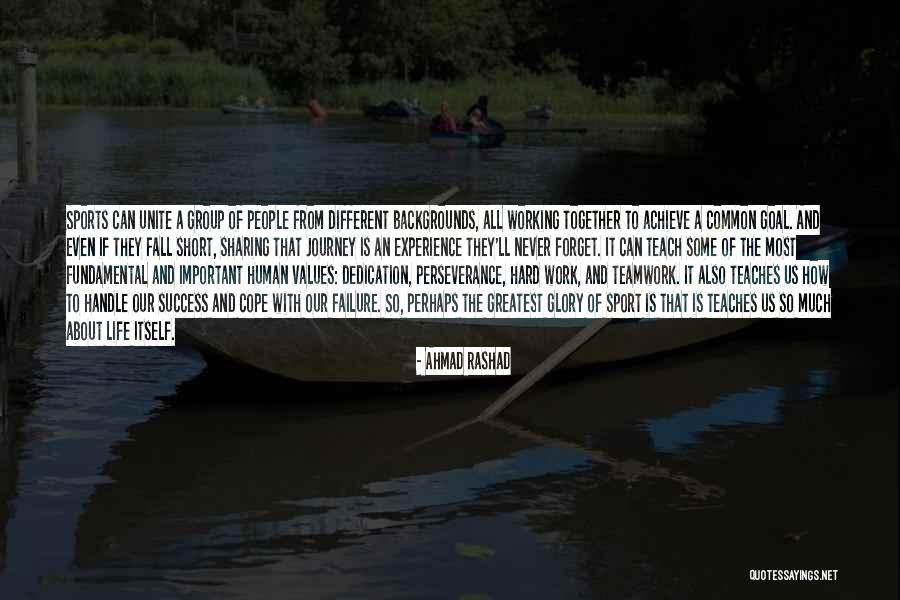 Sports can unite a group of people from different backgrounds, all working together to achieve a common goal. And even if they fall short, sharing that journey is an experience they'll never forget. It can teach some of the most fundamental and important human values: dedication, perseverance, hard work, and teamwork. It also teaches us how to handle our success and cope with our failure. So, perhaps the greatest glory of sport is that is teaches us so much about life itself. — Ahmad Rashad