Store Room Quotes & Sayings
Enjoy reading and share 62 famous quotes about Store Room with everyone.
Top Store Room Quotes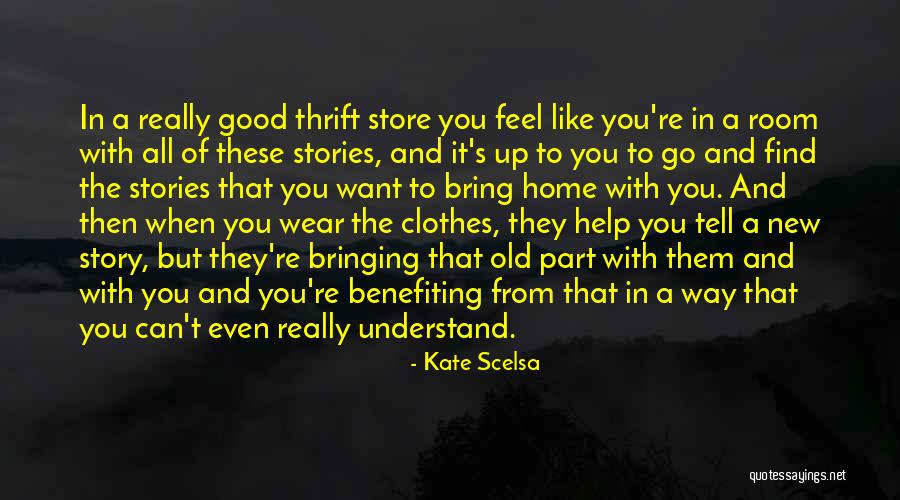 In a really good thrift store you feel like you're in a room with all of these stories, and it's up to you to go and find the stories that you want to bring home with you. And then when you wear the clothes, they help you tell a new story, but they're bringing that old part with them and with you and you're benefiting from that in a way that you can't even really understand. — Kate Scelsa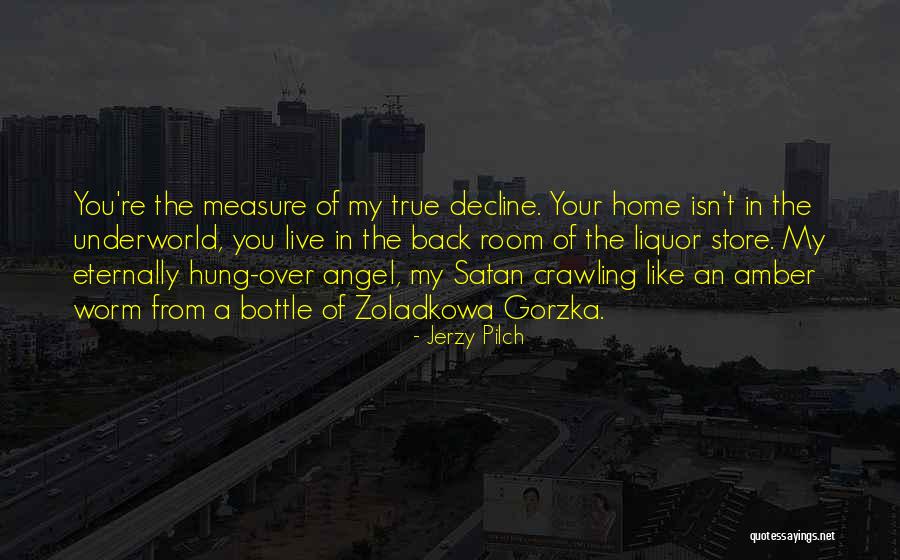 You're the measure of my true decline. Your home isn't in the underworld, you live in the back room of the liquor store. My eternally hung-over angel, my Satan crawling like an amber worm from a bottle of Zoladkowa Gorzka. — Jerzy Pilch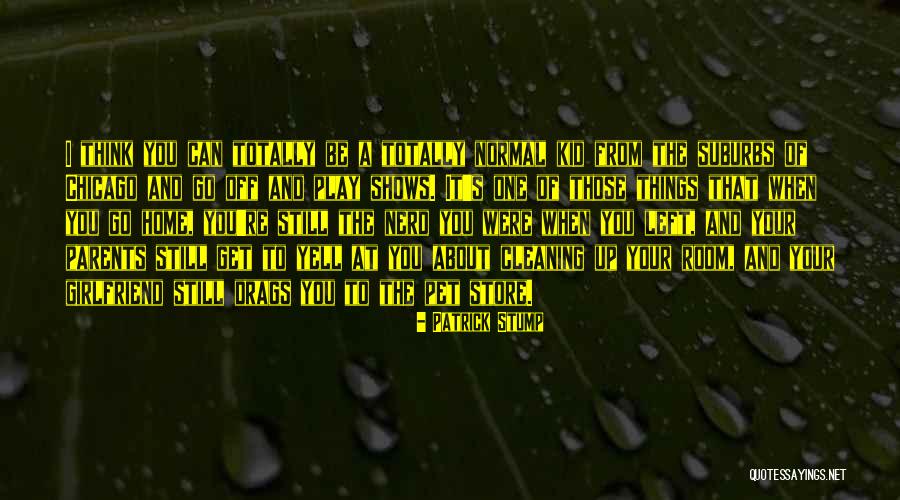 I think you can totally be a totally normal kid from the suburbs of Chicago and go off and play shows. It's one of those things that when you go home, you're still the nerd you were when you left, and your parents still get to yell at you about cleaning up your room, and your girlfriend still drags you to the pet store. — Patrick Stump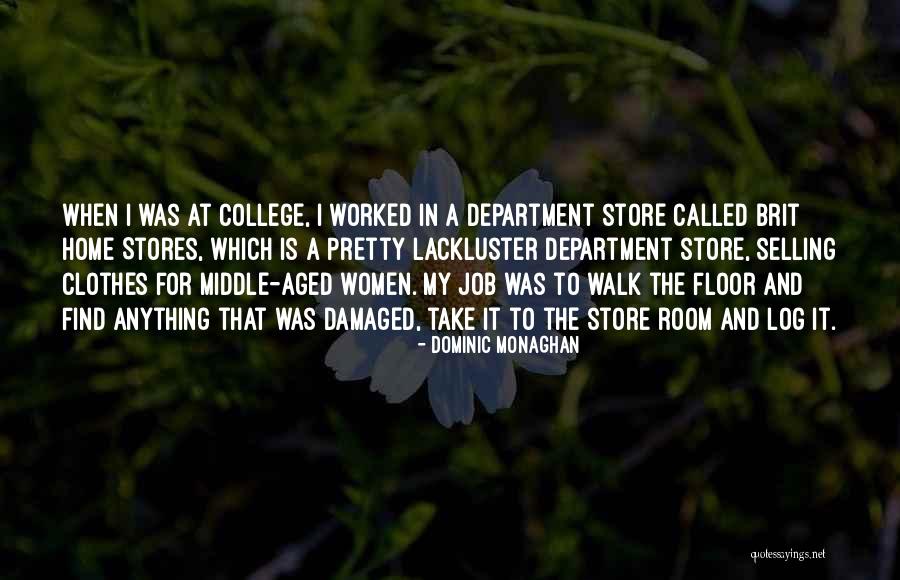 When I was at college, I worked in a department store called Brit Home Stores, which is a pretty lackluster department store, selling clothes for middle-aged women. My job was to walk the floor and find anything that was damaged, take it to the store room and log it. — Dominic Monaghan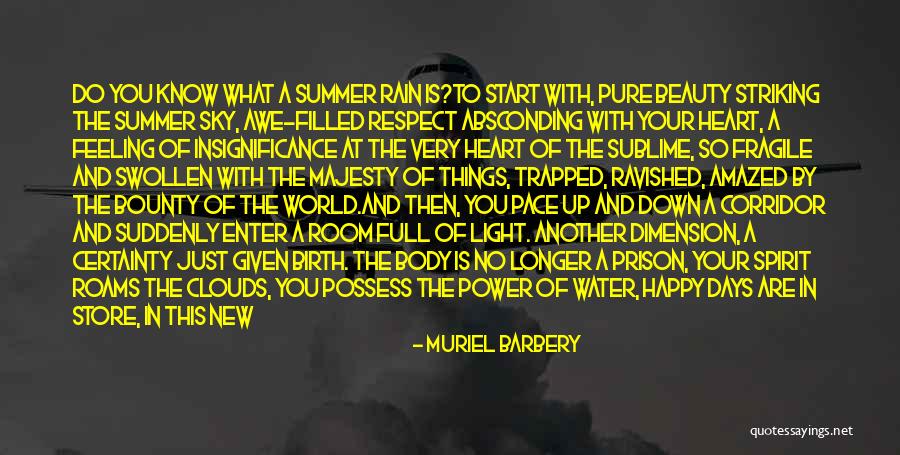 Do you know what a summer rain is?
To start with, pure beauty striking the summer sky, awe-filled respect absconding with your heart, a feeling of insignificance at the very heart of the sublime, so fragile and swollen with the majesty of things, trapped, ravished, amazed by the bounty of the world.
And then, you pace up and down a corridor and suddenly enter a room full of light. Another dimension, a certainty just given birth. The body is no longer a prison, your spirit roams the clouds, you possess the power of water, happy days are in store, in this new birth.
Just as teardrops, when they are large and round and compassionate, can leave a long strand washed clean of discord, the summer rain as it washes away the motionless dust can bring to a person's soul something like endless breathing. — Muriel Barbery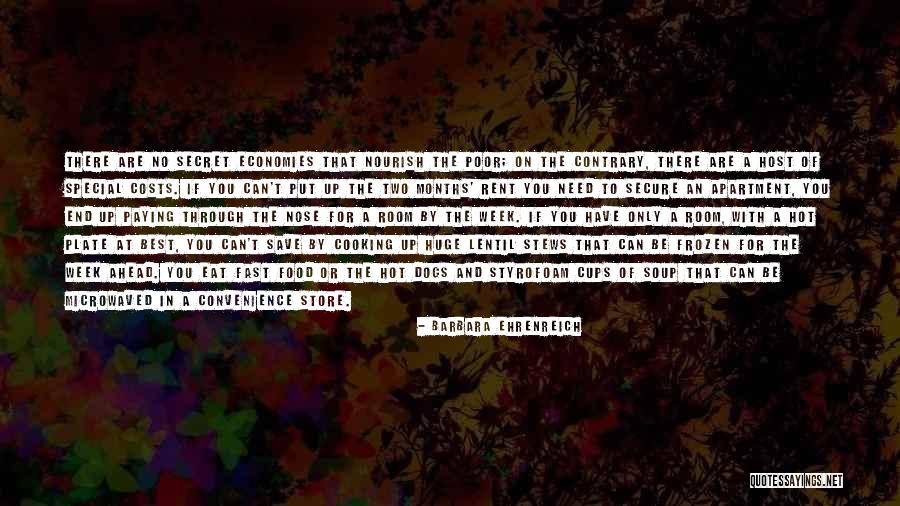 There are no secret economies that nourish the poor; on the contrary, there are a host of special costs. If you can't put up the two months' rent you need to secure an apartment, you end up paying through the nose for a room by the week. If you have only a room, with a hot plate at best, you can't save by cooking up huge lentil stews that can be frozen for the week ahead. You eat fast food or the hot dogs and Styrofoam cups of soup that can be microwaved in a convenience store. — Barbara Ehrenreich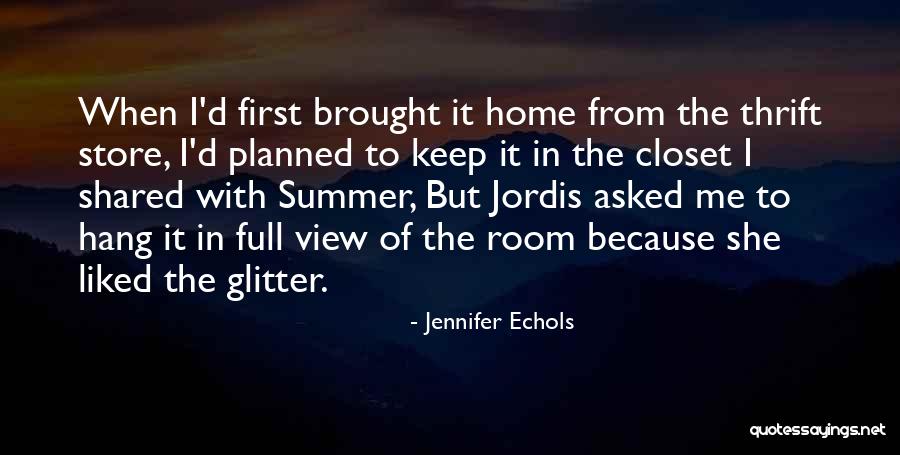 When I'd first brought it home from the thrift store, I'd planned to keep it in the closet I shared with Summer, But Jordis asked me to hang it in full view of the room because she liked the glitter. — Jennifer Echols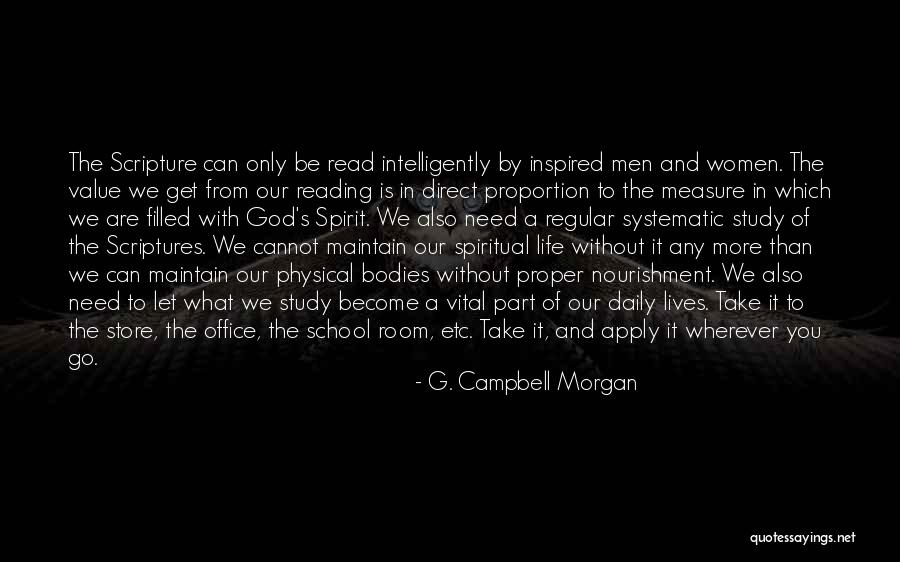 The Scripture can only be read intelligently by inspired men and women. The value we get from our reading is in direct proportion to the measure in which we are filled with God's Spirit. We also need a regular systematic study of the Scriptures. We cannot maintain our spiritual life without it any more than we can maintain our physical bodies without proper nourishment. We also need to let what we study become a vital part of our daily lives. Take it to the store, the office, the school room, etc. Take it, and apply it wherever you go. — G. Campbell Morgan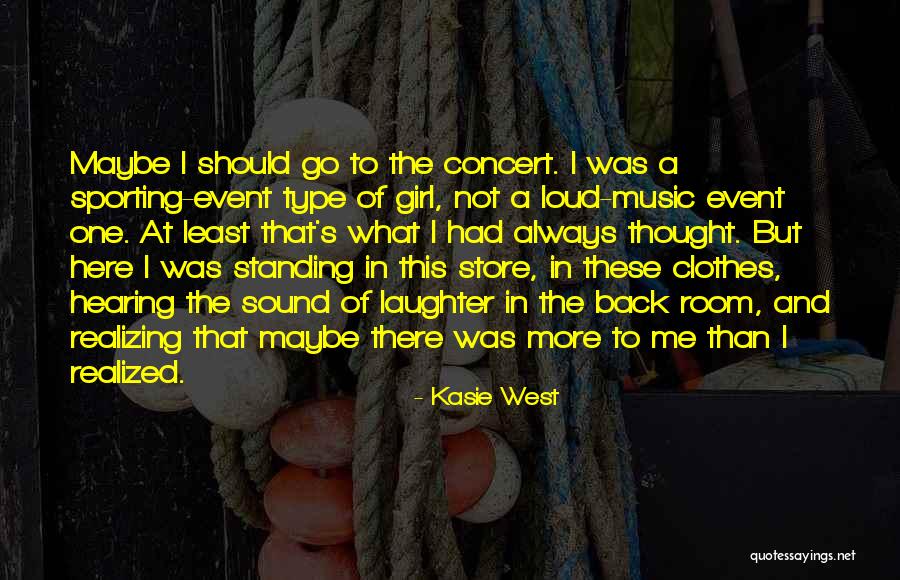 Maybe I should go to the concert. I was a sporting-event type of girl, not a loud-music event one. At least that's what I had always thought. But here I was standing in this store, in these clothes, hearing the sound of laughter in the back room, and realizing that maybe there was more to me than I realized. — Kasie West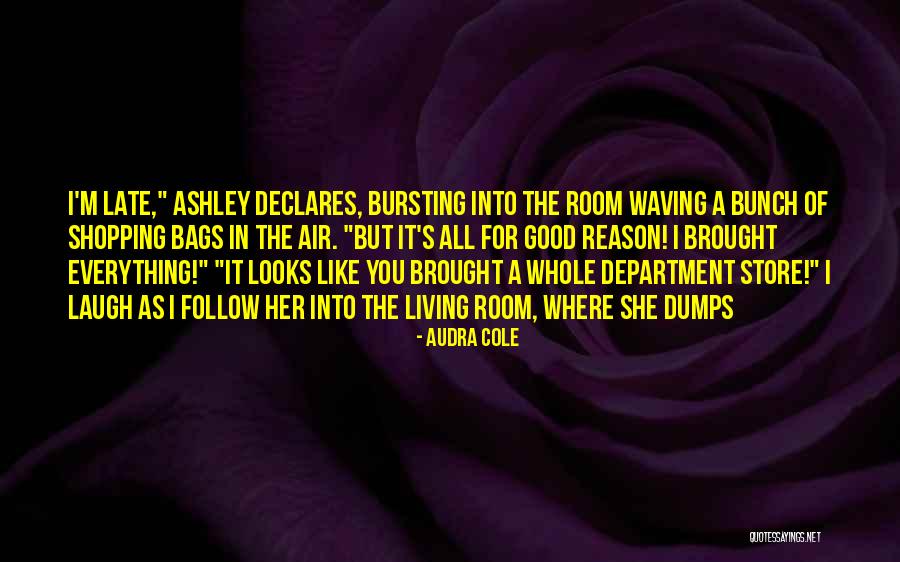 I'm late," Ashley declares, bursting into the room waving a bunch of shopping bags in the air. "But it's all for good reason! I brought everything!" "It looks like you brought a whole department store!" I laugh as I follow her into the living room, where she dumps — Audra Cole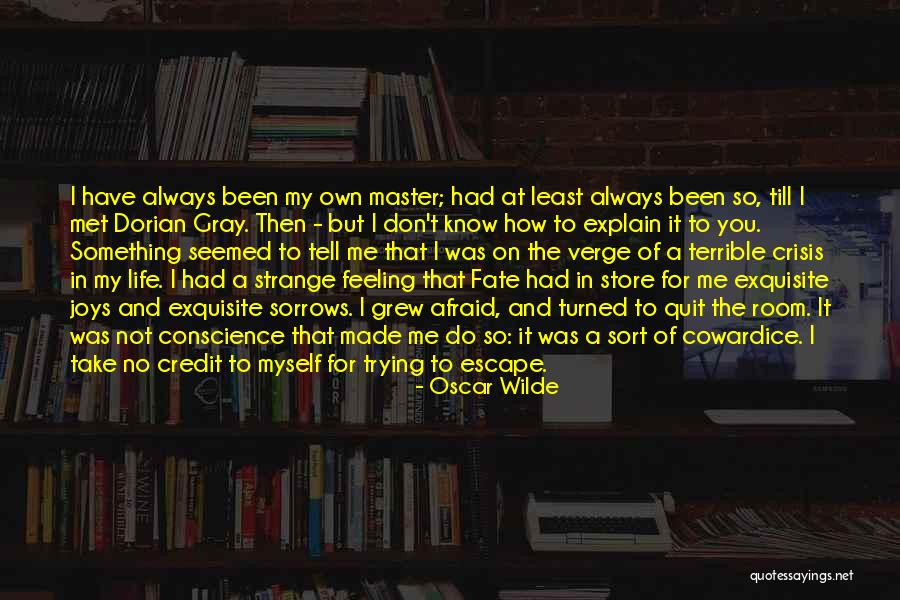 I have always been my own master; had at least always been so, till I met Dorian Gray. Then - but I don't know how to explain it to you. Something seemed to tell me that I was on the verge of a terrible crisis in my life. I had a strange feeling that Fate had in store for me exquisite joys and exquisite sorrows. I grew afraid, and turned to quit the room. It was not conscience that made me do so: it was a sort of cowardice. I take no credit to myself for trying to escape. — Oscar Wilde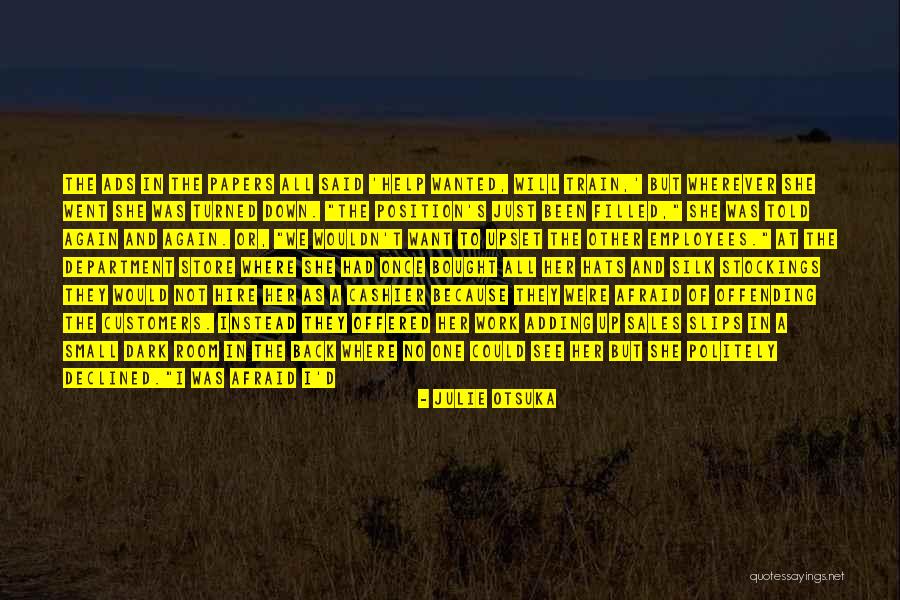 The ads in the papers all said 'help wanted, will train,' but wherever she went she was turned down. "The position's just been filled," she was told again and again. Or, "We wouldn't want to upset the other employees." At the department store where she had once bought all her hats and silk stockings they would not hire her as a cashier because they were afraid of offending the customers. Instead they offered her work adding up sales slips in a small dark room in the back where no one could see her but she politely declined.
"I was afraid I'd ruin my eyes back there," she told us. "I was afraid I might accidentally remember who I was and ... offend myself. — Julie Otsuka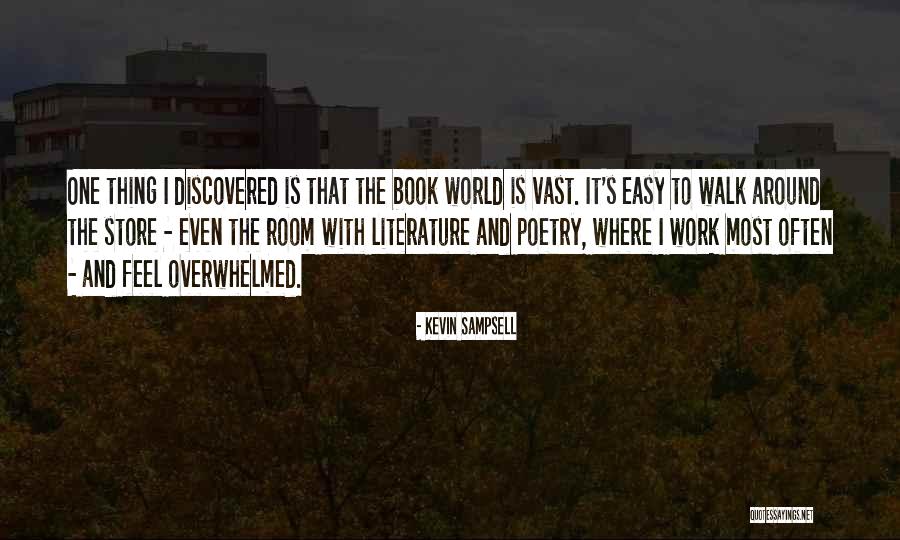 One thing I discovered is that the book world is vast. It's easy to walk around the store - even the room with literature and poetry, where I work most often - and feel overwhelmed. — Kevin Sampsell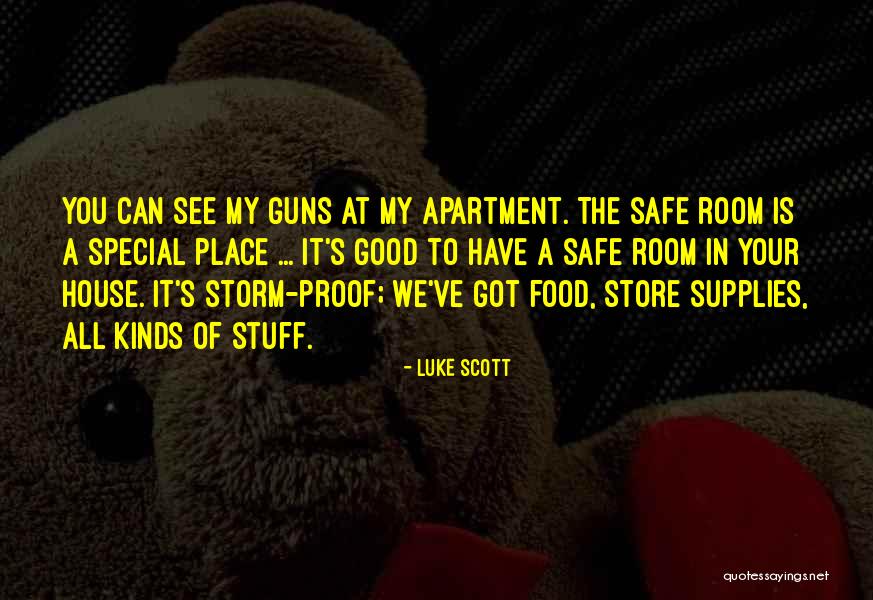 You can see my guns at my apartment. The safe room is a special place ... It's good to have a safe room in your house. It's storm-proof; we've got food, store supplies, all kinds of stuff. — Luke Scott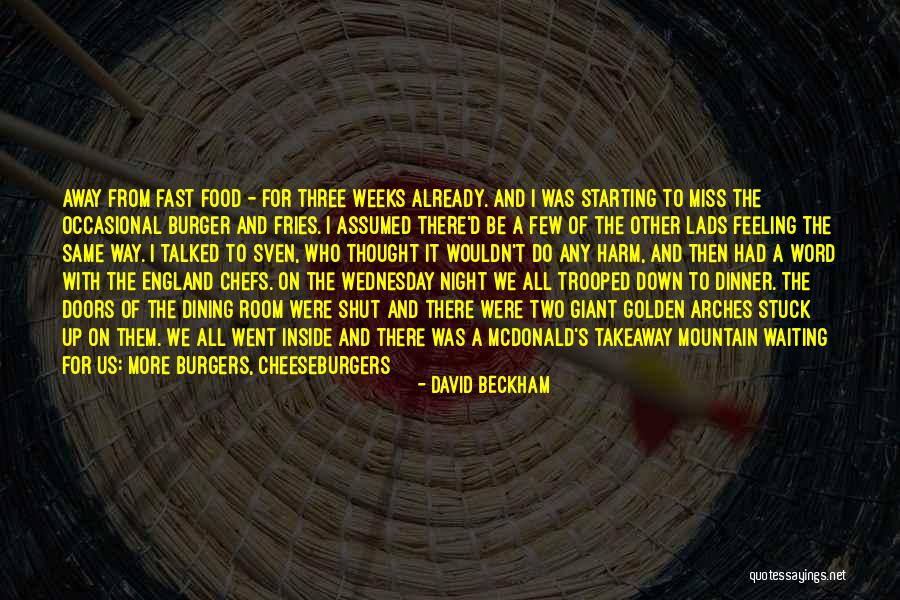 away from fast food - for three weeks already. And I was starting to miss the occasional burger and fries. I assumed there'd be a few of the other lads feeling the same way. I talked to Sven, who thought it wouldn't do any harm, and then had a word with the England chefs. On the Wednesday night we all trooped down to dinner. The doors of the dining room were shut and there were two giant golden arches stuck up on them. We all went inside and there was a McDonald's takeaway mountain waiting for us: more burgers, cheeseburgers and chips than you've ever seen piled up in one room in your life. It was a complete surprise to all the players. We just devoured everything: it was like watching kids going mad in a candy store. And it worked. We did it again before we played Denmark. Maybe fast food was what was missing from our preparations for facing Brazil. — David Beckham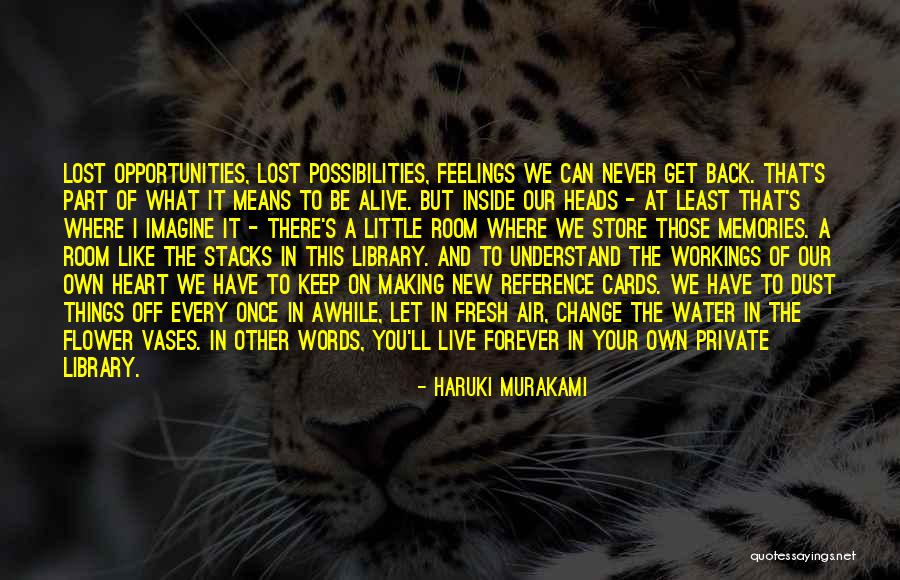 Lost opportunities, lost possibilities, feelings we can never get back. That's part of what it means to be alive. But inside our heads - at least that's where I imagine it - there's a little room where we store those memories. A room like the stacks in this library. And to understand the workings of our own heart we have to keep on making new reference cards. We have to dust things off every once in awhile, let in fresh air, change the water in the flower vases. In other words, you'll live forever in your own private library. — Haruki Murakami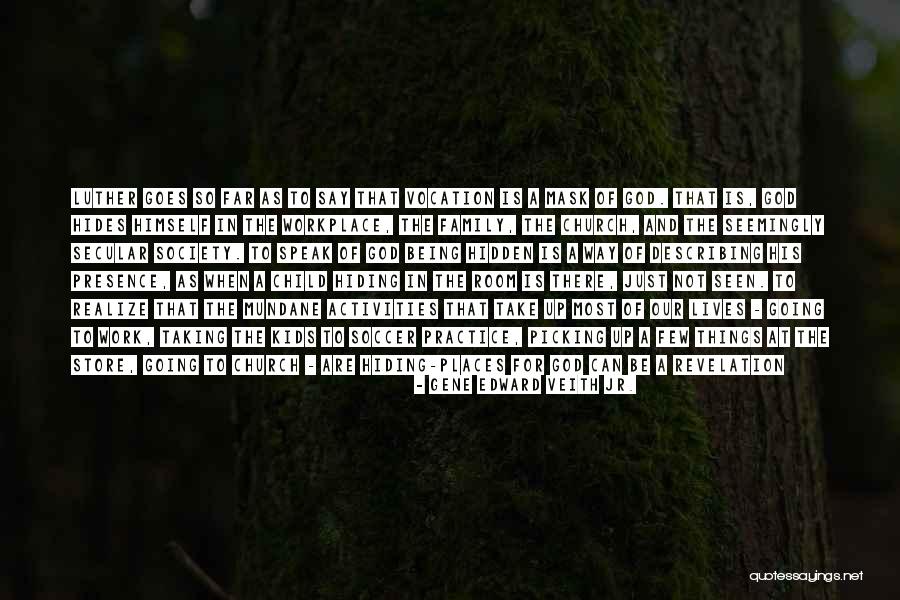 Luther goes so far as to say that vocation is a mask of God. That is, God hides Himself in the workplace, the family, the Church, and the seemingly secular society. To speak of God being hidden is a way of describing His presence, as when a child hiding in the room is there, just not seen. To realize that the mundane activities that take up most of our lives - going to work, taking the kids to soccer practice, picking up a few things at the store, going to church - are hiding-places for God can be a revelation in itself. Most people seek God in mystical experiences, spectacular miracles, and extraordinary acts they have to do. To find Him in vocation brings Him, literally, down to earth, makes us see how close He really is to us, and transfigures everyday life. — Gene Edward Veith Jr.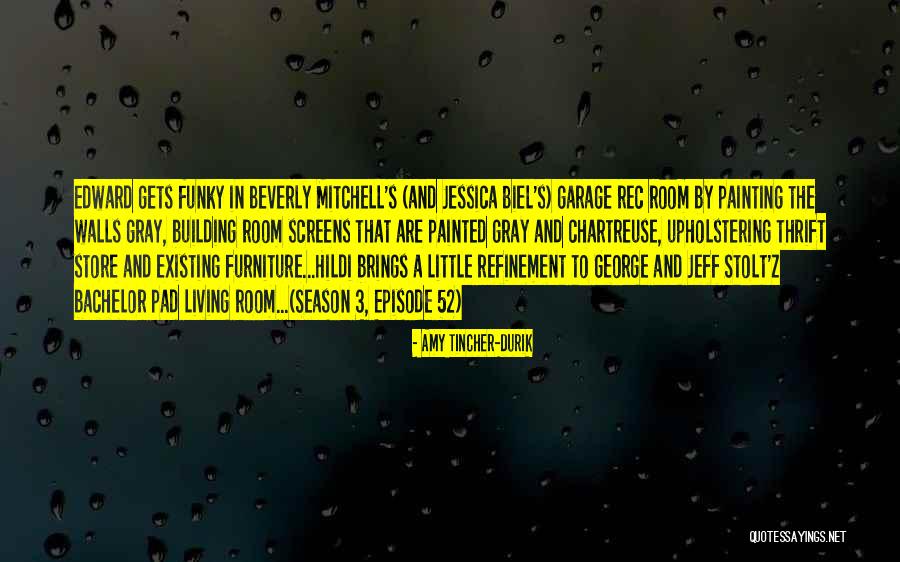 Edward gets funky in Beverly Mitchell's (and Jessica Biel's) garage rec room by painting the walls gray, building room screens that are painted gray and chartreuse, upholstering thrift store and existing furniture...
Hildi brings a little refinement to George and Jeff Stolt'z bachelor pad living room...
(Season 3, Episode 52) — Amy Tincher-Durik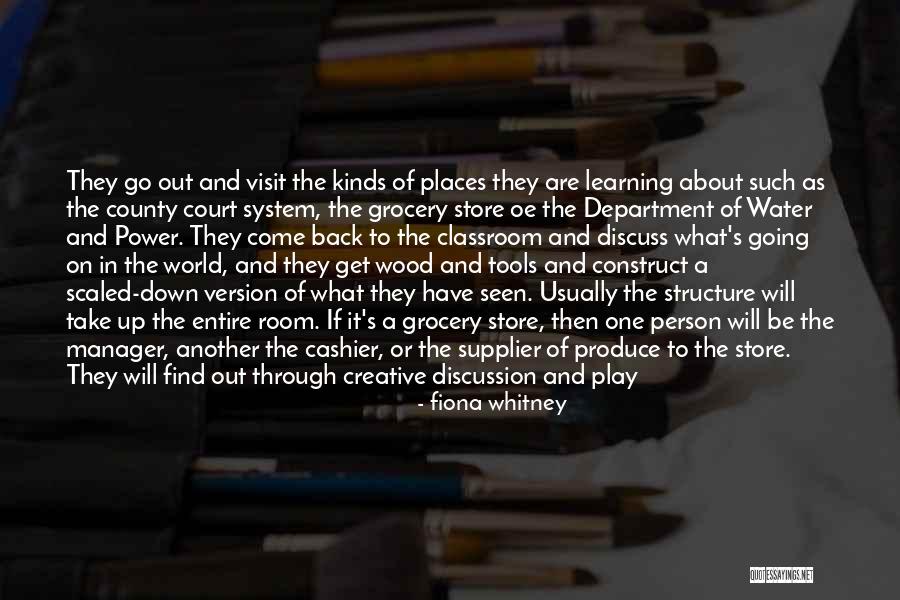 They go out and visit the kinds of places they are learning about such as the county court system, the grocery store oe the Department of Water and Power. They come back to the classroom and discuss what's going on in the world, and they get wood and tools and construct a scaled-down version of what they have seen. Usually the structure will take up the entire room. If it's a grocery store, then one person will be the manager, another the cashier, or the supplier of produce to the store. They will find out through creative discussion and play what possible problems they can run into operating a grocery store and will work together to solve those problems. — Fiona Whitney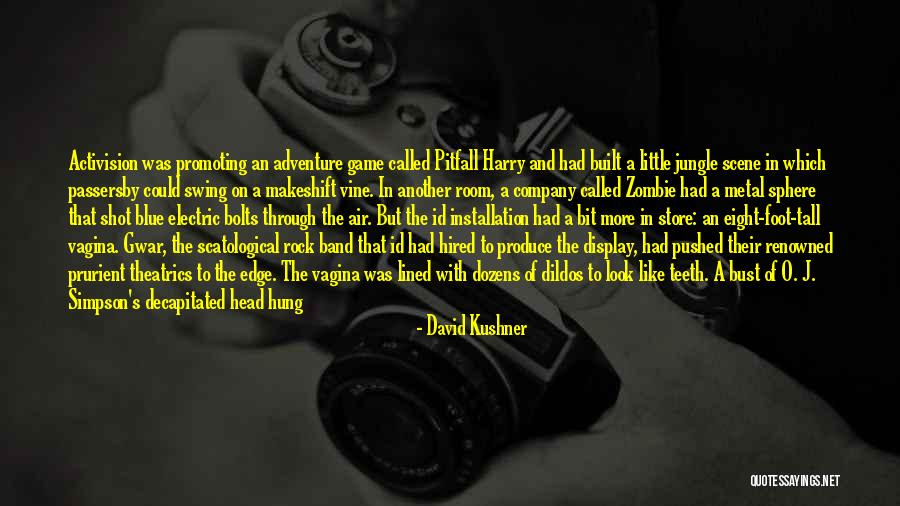 Activision was promoting an adventure game called Pitfall Harry and had built a little jungle scene in which passersby could swing on a makeshift vine. In another room, a company called Zombie had a metal sphere that shot blue electric bolts through the air. But the id installation had a bit more in store: an eight-foot-tall vagina. Gwar, the scatological rock band that id had hired to produce the display, had pushed their renowned prurient theatrics to the edge. The vagina was lined with dozens of dildos to look like teeth. A bust of O. J. Simpson's decapitated head hung from the top. As the visitors walked through the vaginal mouth, two members of Gwar cloaked in fur and raw steak came leaping out of the shadows and pretended to attack them with rubber penises. The Microsoft executives were frozen. Then, to everyone's relief, they burst out laughing. — David Kushner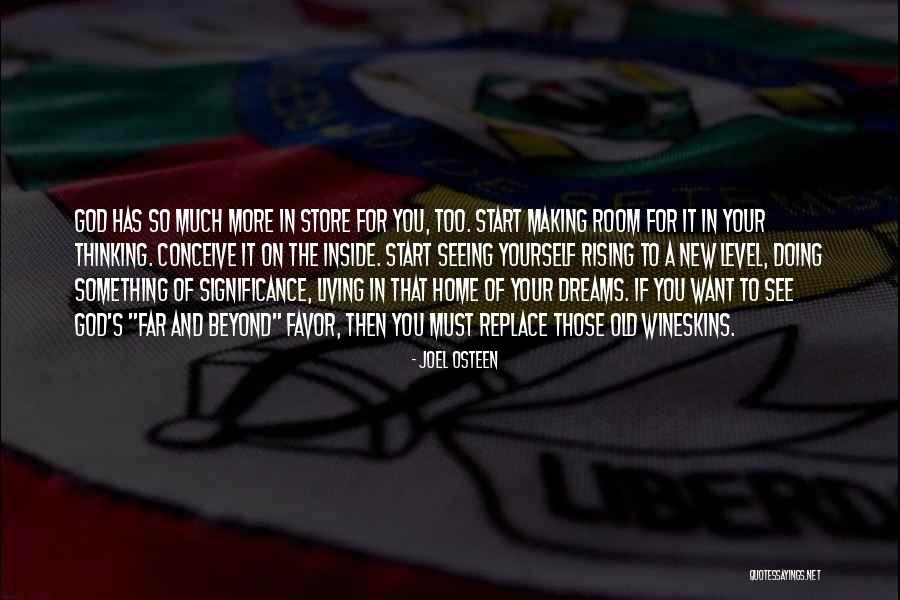 God has so much more in store for you, too. Start making room for it in your thinking. Conceive it on the inside. Start seeing yourself rising to a new level, doing something of significance, living in that home of your dreams. If you want to see God's "far and beyond" favor, then you must replace those old wineskins. — Joel Osteen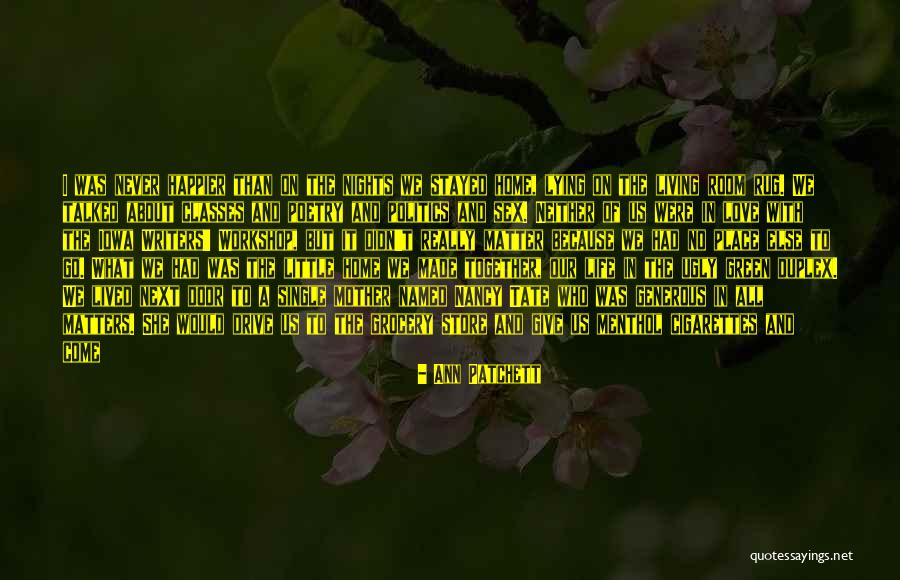 I was never happier than on the nights we stayed home, lying on the living room rug. We talked about classes and poetry and politics and sex. Neither of us were in love with the Iowa Writers' Workshop, but it didn't really matter because we had no place else to go. What we had was the little home we made together, our life in the ugly green duplex. We lived next door to a single mother named Nancy Tate who was generous in all matters. She would drive us to the grocery store and give us menthol cigarettes and come over late at night after her son was asleep to sit in our kitchen and drink wine and talk about Hegel and Marx. Iowa City in the eighties was never going to be Paris in the twenties, but we gave it our best shot. — Ann Patchett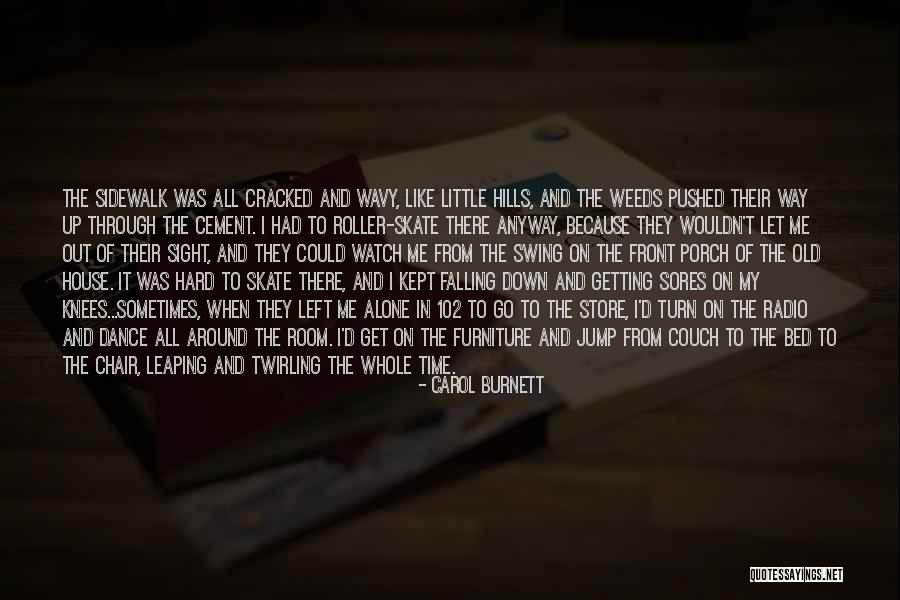 The sidewalk was all cracked and wavy, like little hills, and the weeds pushed their way up through the cement. I had to roller-skate there anyway, because they wouldn't let me out of their sight, and they could watch me from the swing on the front porch of the old house. It was hard to skate there, and I kept falling down and getting sores on my knees...Sometimes, when they left me alone in 102 to go to the store, I'd turn on the radio and dance all around the room. I'd get on the furniture and jump from couch to the bed to the chair, leaping and twirling the whole time. — Carol Burnett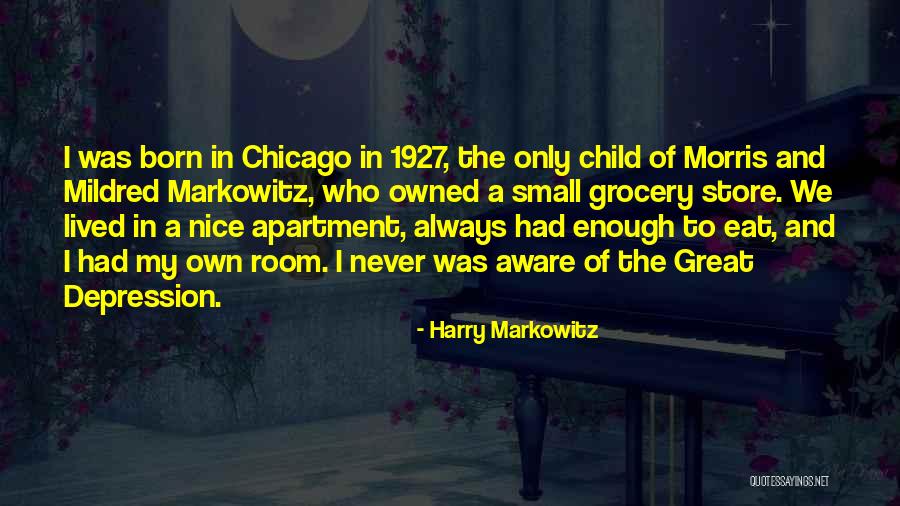 I was born in Chicago in 1927, the only child of Morris and Mildred Markowitz, who owned a small grocery store. We lived in a nice apartment, always had enough to eat, and I had my own room. I never was aware of the Great Depression. — Harry Markowitz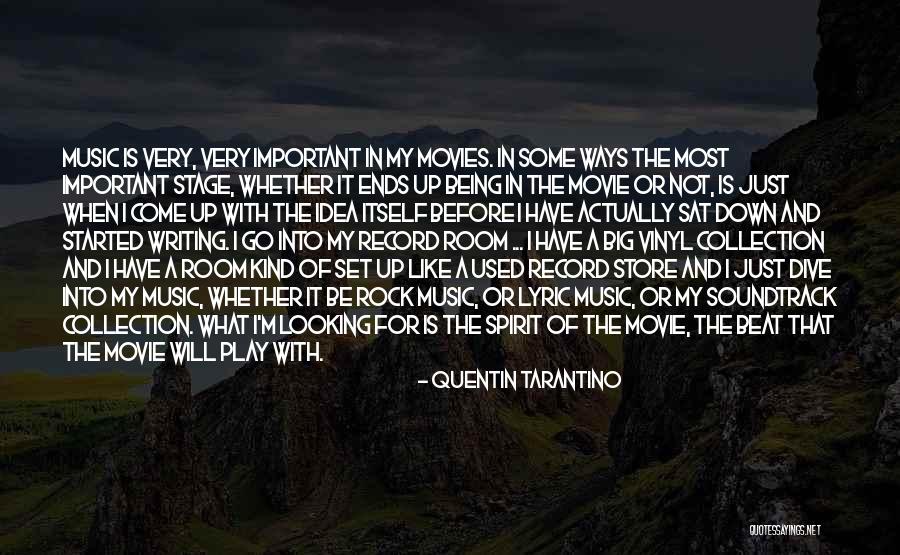 Music is very, very important in my movies. In some ways the most important stage, whether it ends up being in the movie or not, is just when I come up with the idea itself before I have actually sat down and started writing. I go into my record room ... I have a big vinyl collection and I have a room kind of set up like a used record store and I just dive into my music, whether it be rock music, or lyric music, or my soundtrack collection. What I'm looking for is the spirit of the movie, the beat that the movie will play with. — Quentin Tarantino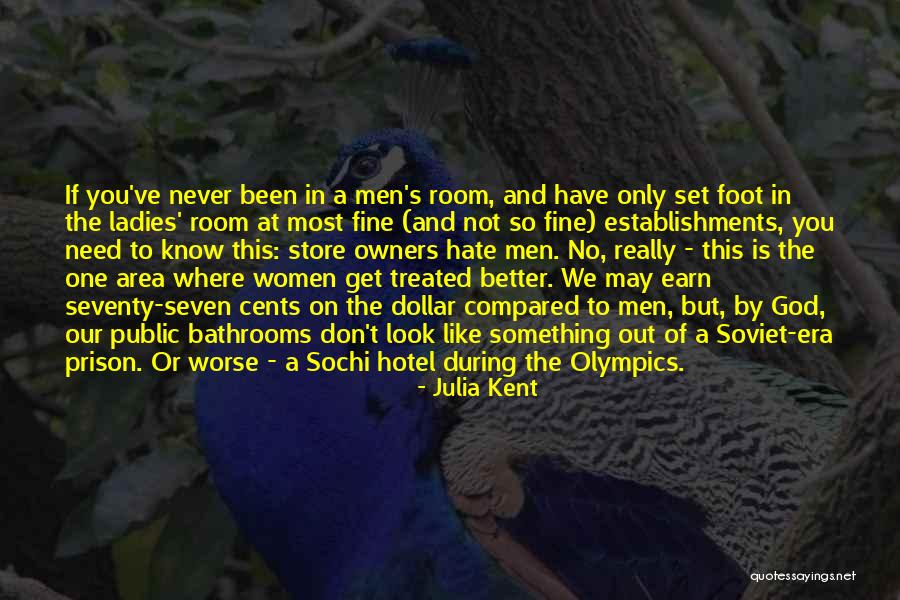 If you've never been in a men's room, and have only set foot in the ladies' room at most fine (and not so fine) establishments, you need to know this: store owners hate men. No, really - this is the one area where women get treated better. We may earn seventy-seven cents on the dollar compared to men, but, by God, our public bathrooms don't look like something out of a Soviet-era prison. Or worse - a Sochi hotel during the Olympics. — Julia Kent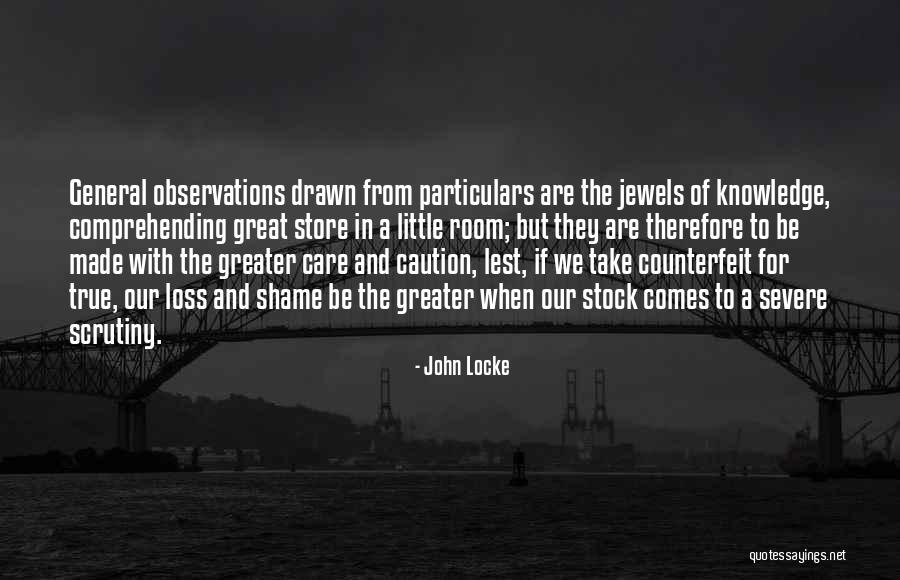 General observations drawn from particulars are the jewels of knowledge, comprehending great store in a little room; but they are therefore to be made with the greater care and caution, lest, if we take counterfeit for true, our loss and shame be the greater when our stock comes to a severe scrutiny. — John Locke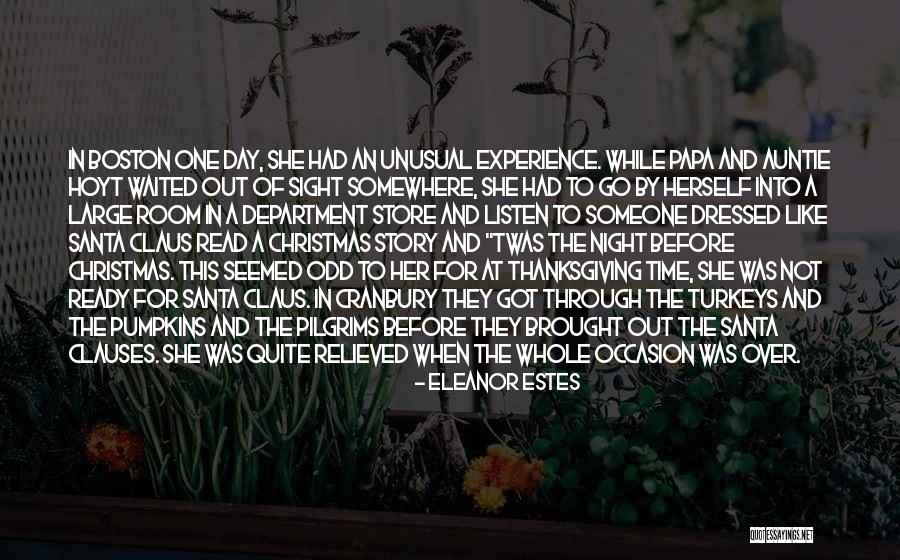 In Boston one day, she had an unusual experience. While Papa and Auntie Hoyt waited out of sight somewhere, she had to go by herself into a large room in a department store and listen to someone dressed like Santa Claus read a Christmas story and "Twas the Night Before Christmas. This seemed odd to her for at Thanksgiving time, she was not ready for Santa Claus. In Cranbury they got through the turkeys and the pumpkins and the Pilgrims before they brought out the Santa Clauses. She was quite relieved when the whole occasion was over. — Eleanor Estes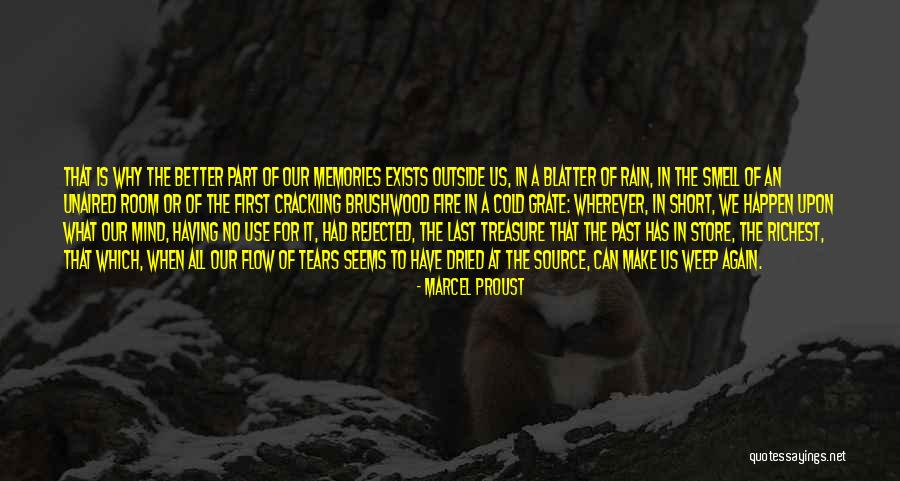 That is why the better part of our memories exists outside us, in a blatter of rain, in the smell of an unaired room or of the first crackling brushwood fire in a cold grate: wherever, in short, we happen upon what our mind, having no use for it, had rejected, the last treasure that the past has in store, the richest, that which, when all our flow of tears seems to have dried at the source, can make us weep again. — Marcel Proust
A scattering of pinpoint lights shows up in the blackness ahead. A town or village straddling the highway. The indicator on the speedometer begins to lose ground. The man glances in his mirror at the girl, a little anxiously as if this oncoming town were some kind of test to be met.
An illuminated road sign flashes by:
CAUTION!
MAIN STREET AHEAD - SLOW UP
The man nods grimly, as if agreeing with that first word. But not in the way it is meant.
The lights grow bigger, spread out on either side. Street lights peer out here and there among the trees. The highway suddenly sprouts a plank sidewalk on each side of it. Dark store-windows glide by.
With an instinctive gesture, the man dims his lights from blinding platinum to just a pale wash. A lunch-room window drifts by. ("Jane Brown's Body") — Cornell Woolrich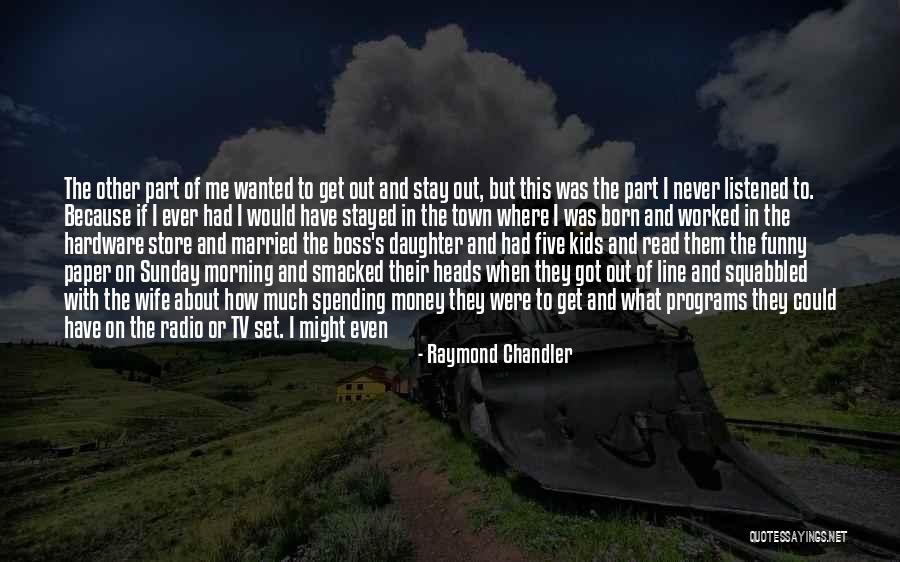 The other part of me wanted to get out and stay out, but this was the part I never listened to. Because if I ever had I would have stayed in the town where I was born and worked in the hardware store and married the boss's daughter and had five kids and read them the funny paper on Sunday morning and smacked their heads when they got out of line and squabbled with the wife about how much spending money they were to get and what programs they could have on the radio or TV set. I might even get rich - small-town rich, an eight-room house, two cars in the garage, chicken every Sunday and the Reader's Digest on the living room table, the wife with a cast-iron permanent and me with a brain like a sack of Portland cement. You take it, friend. I'll take the big sordid dirty crooked city. — Raymond Chandler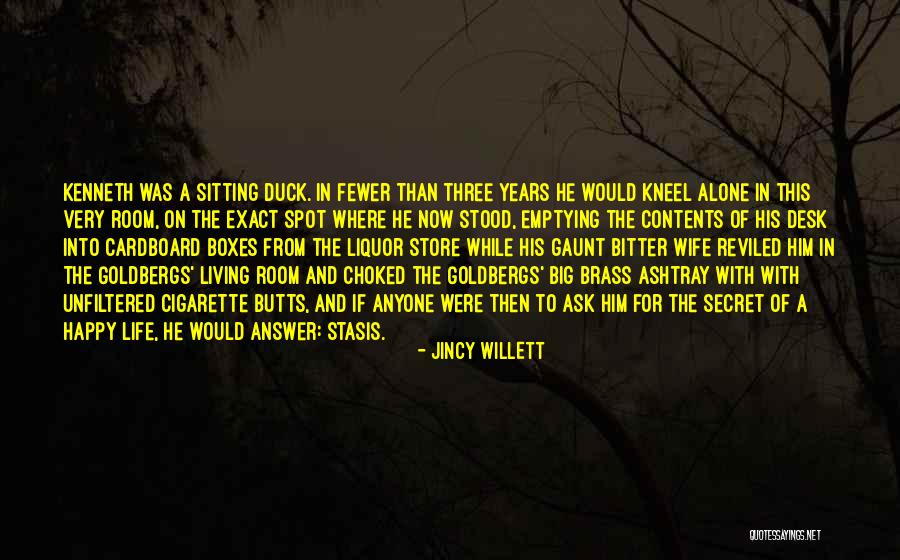 Kenneth was a sitting duck. In fewer than three years he would kneel alone in this very room, on the exact spot where he now stood, emptying the contents of his desk into cardboard boxes from the liquor store while his gaunt bitter wife reviled him in the Goldbergs' living room and choked the Goldbergs' big brass ashtray with with unfiltered cigarette butts, and if anyone were then to ask him for the secret of a happy life, he would answer: Stasis. — Jincy Willett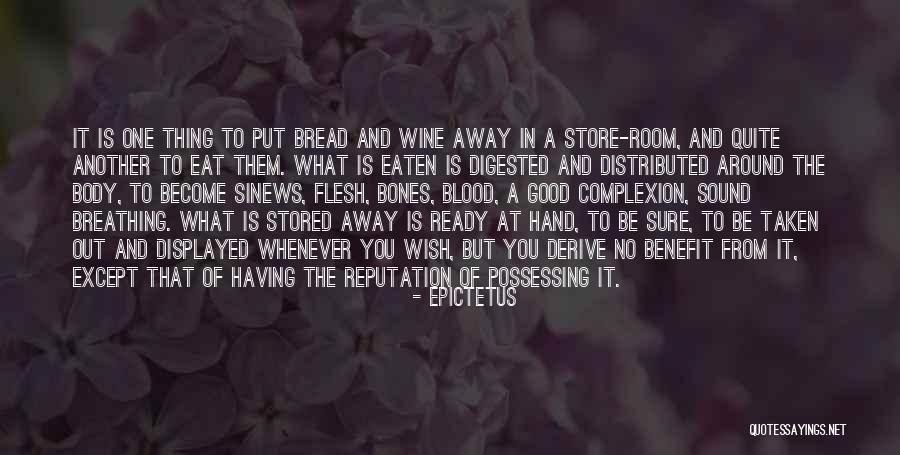 It is one thing to put bread and wine away in a store-room, and quite another to eat them. What is eaten is digested and distributed around the body, to become sinews, flesh, bones, blood, a good complexion, sound breathing. What is stored away is ready at hand, to be sure, to be taken out and displayed whenever you wish, but you derive no benefit from it, except that of having the reputation of possessing it. [ — Epictetus
Then, walking across the room, hips swaying, blond hair flowing as if in a shampoo commercial, came Joe's date. Tall. Skinny. Big boobs despite the skinniness, their cantaloupe-like roundness announcing them as store-bought — Kristan Higgins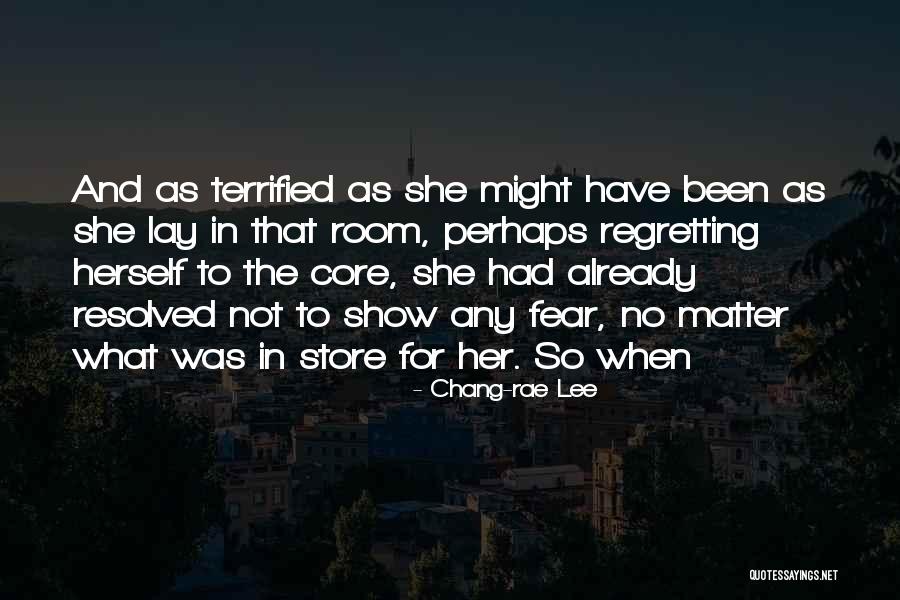 And as terrified as she might have been as she lay in that room, perhaps regretting herself to the core, she had already resolved not to show any fear, no matter what was in store for her. So when — Chang-rae Lee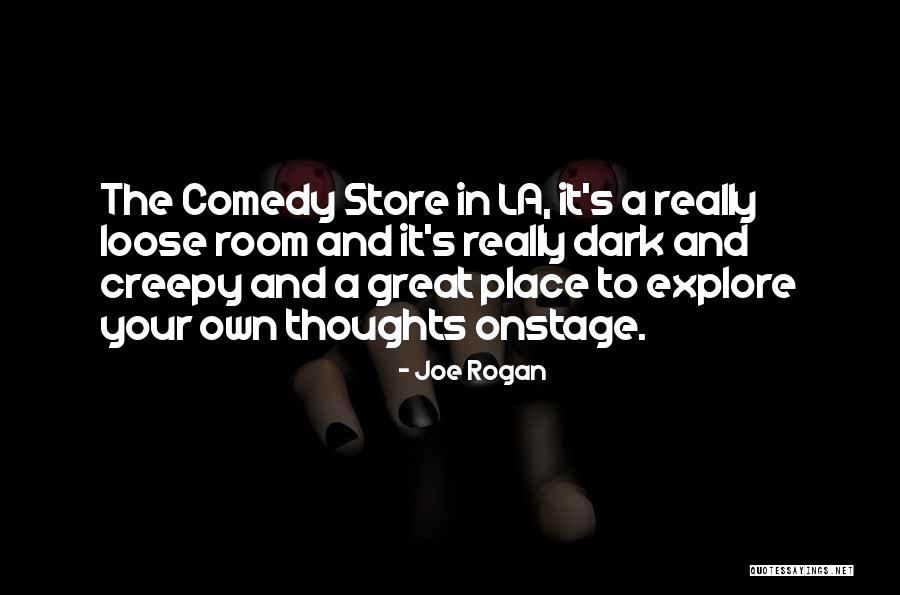 The Comedy Store in LA, it's a really loose room and it's really dark and creepy and a great place to explore your own thoughts onstage. — Joe Rogan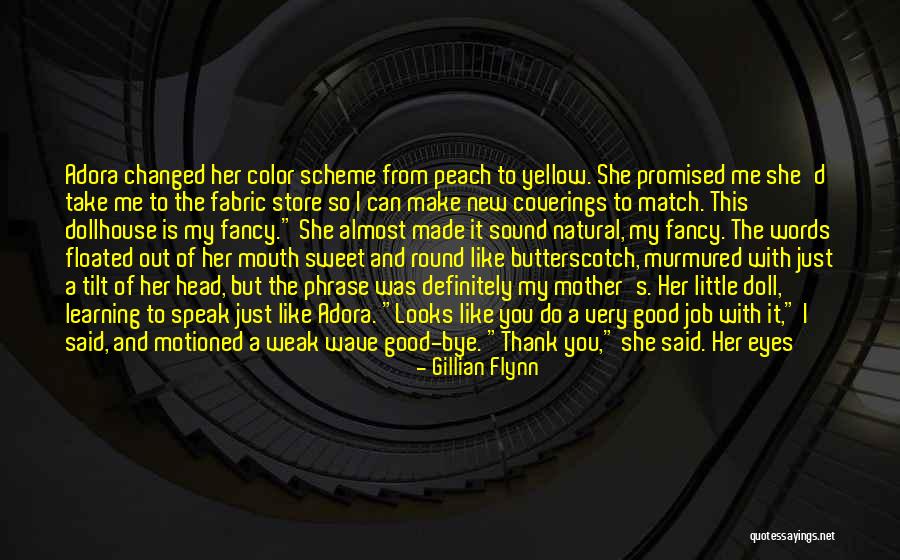 Adora changed her color scheme from peach to yellow. She promised me she'd take me to the fabric store so I can make new coverings to match. This dollhouse is my fancy." She almost made it sound natural, my fancy. The words floated out of her mouth sweet and round like butterscotch, murmured with just a tilt of her head, but the phrase was definitely my mother's. Her little doll, learning to speak just like Adora.
"Looks like you do a very good job with it," I said, and motioned a weak wave good-bye.
"Thank you," she said. Her eyes focused on my room in the dollhouse. A small finger poked the bed. "I hope you enjoy your stay here," she murmured into the room, as if she were addressing a tiny Camille no one could see. — Gillian Flynn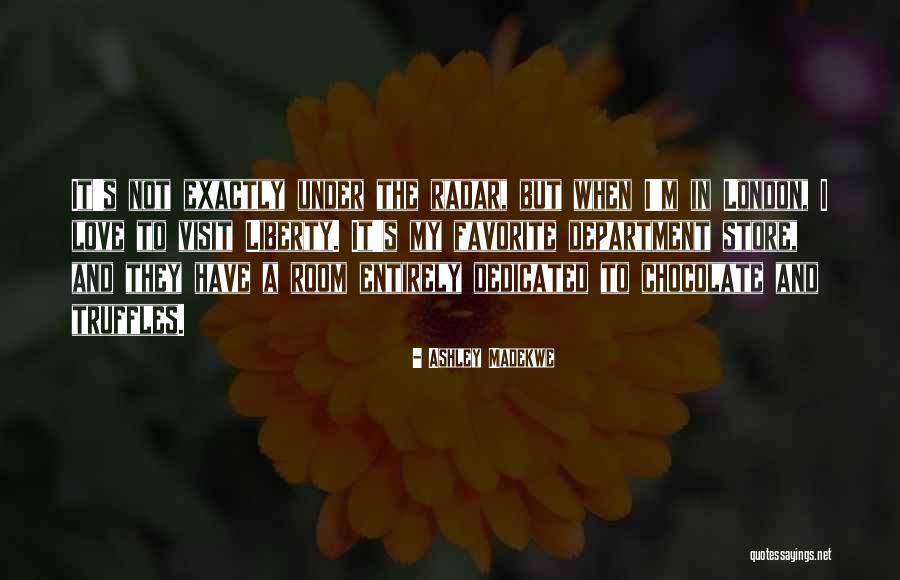 It's not exactly under the radar, but when I'm in London, I love to visit Liberty. It's my favorite department store, and they have a room entirely dedicated to chocolate and truffles. — Ashley Madekwe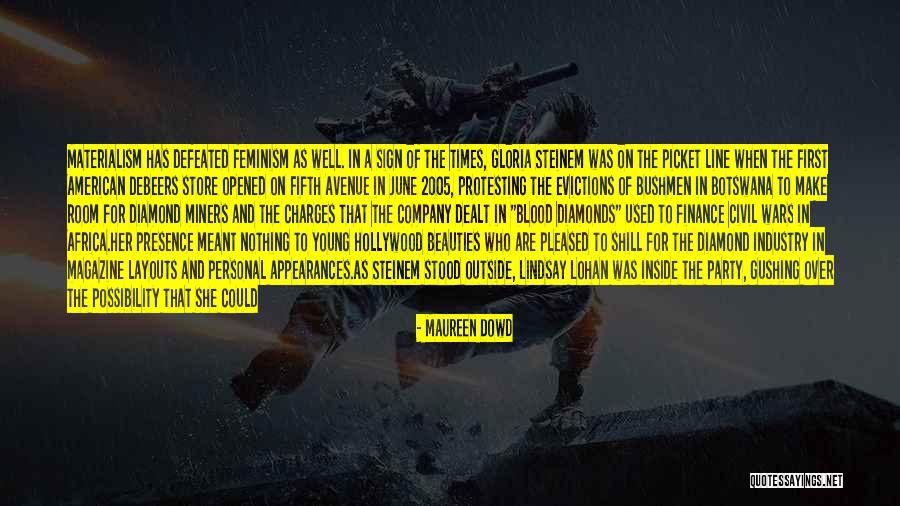 Materialism has defeated feminism as well. In a sign of the times, Gloria Steinem was on the picket line when the first American DeBeers store opened on Fifth Avenue in June 2005, protesting the evictions of Bushmen in Botswana to make room for diamond miners and the charges that the company dealt in "blood diamonds" used to finance civil wars in Africa.
Her presence meant nothing to young Hollywood beauties who are pleased to shill for the diamond industry in magazine layouts and personal appearances.
As Steinem stood outside, Lindsay Lohan was inside the party, gushing over the possibility that she could get to wear one of the big rocks.
Asked by reporters about the Bushmen controversy, she shrugged it off: "I don't get involved in any drama. — Maureen Dowd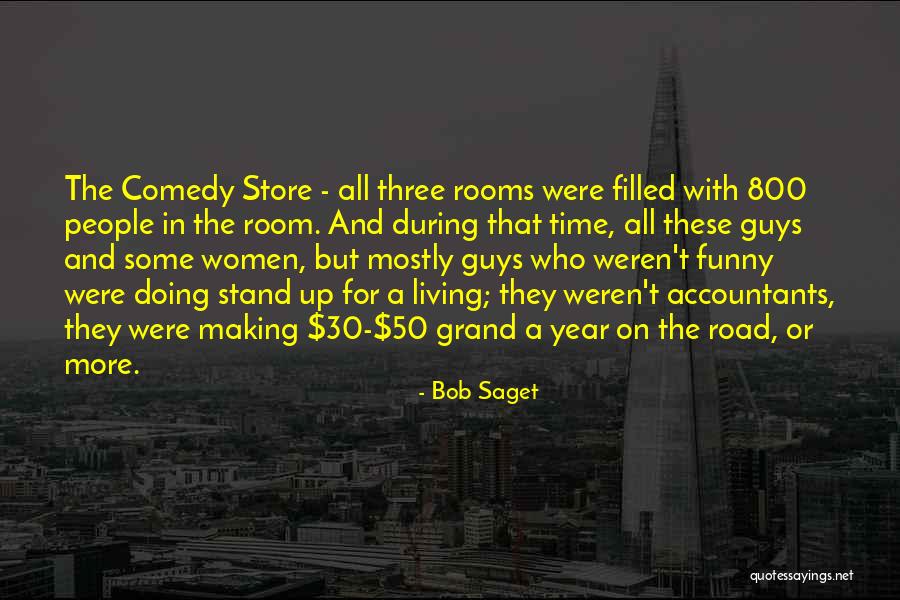 The Comedy Store - all three rooms were filled with 800 people in the room. And during that time, all these guys and some women, but mostly guys who weren't funny were doing stand up for a living; they weren't accountants, they were making $30-$50 grand a year on the road, or more. — Bob Saget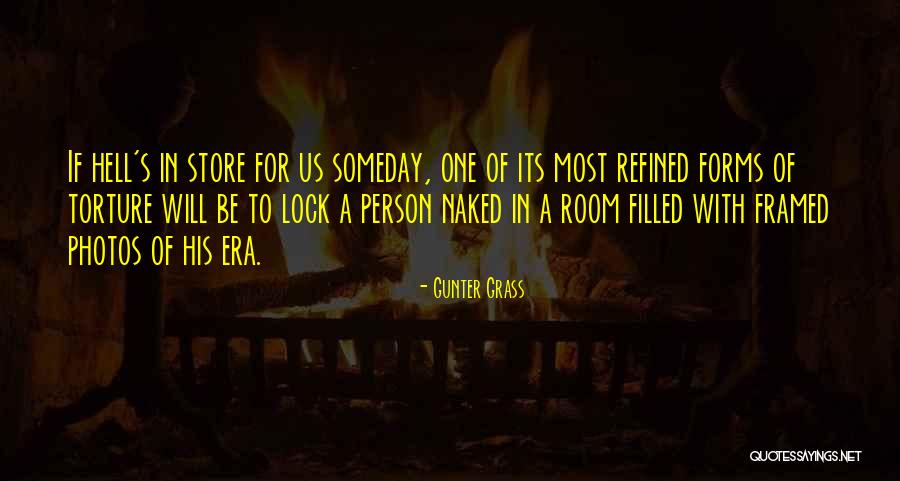 If hell's in store for us someday, one of its most refined forms of torture will be to lock a person naked in a room filled with framed photos of his era. — Gunter Grass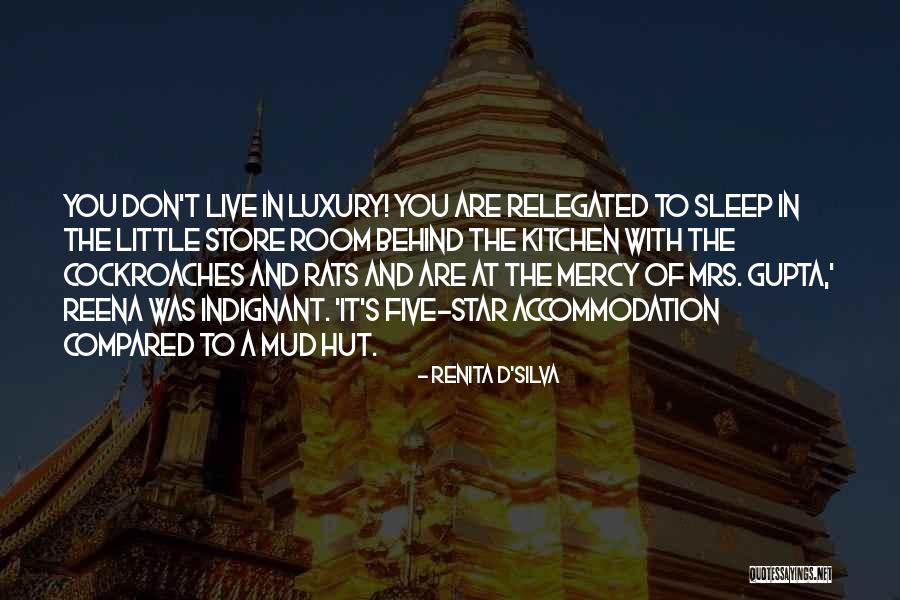 You don't live in luxury! You are relegated to sleep in the little store room behind the kitchen with the cockroaches and rats and are at the mercy of Mrs. Gupta,' Reena was indignant. 'It's five-star accommodation compared to a mud hut. — Renita D'Silva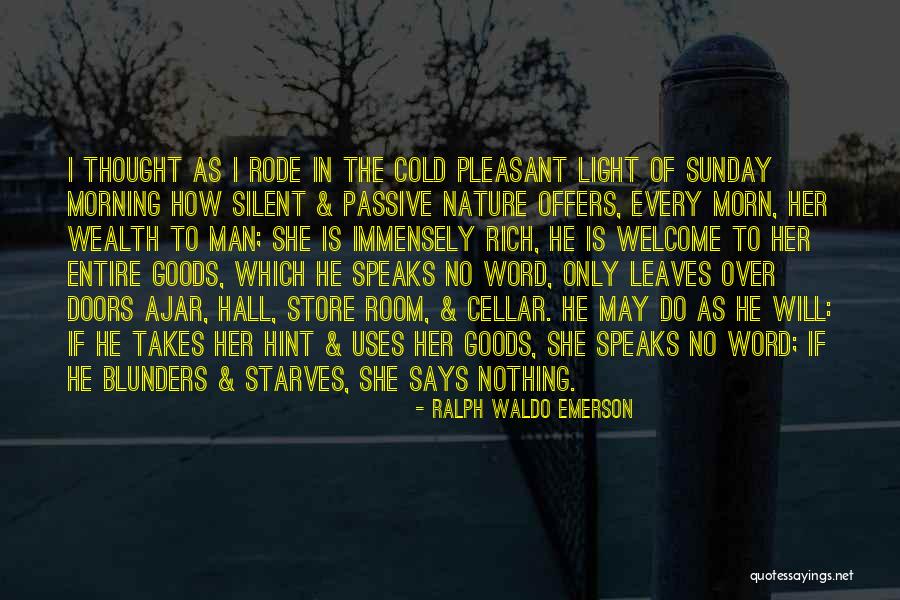 I thought as I rode in the cold pleasant light of Sunday morning how silent & passive nature offers, every morn, her wealth to man; she is immensely rich, he is welcome to her entire goods, which he speaks no word, only leaves over doors ajar, hall, store room, & cellar. He may do as he will: if he takes her hint & uses her goods, she speaks no word; if he blunders & starves, she says nothing. — Ralph Waldo Emerson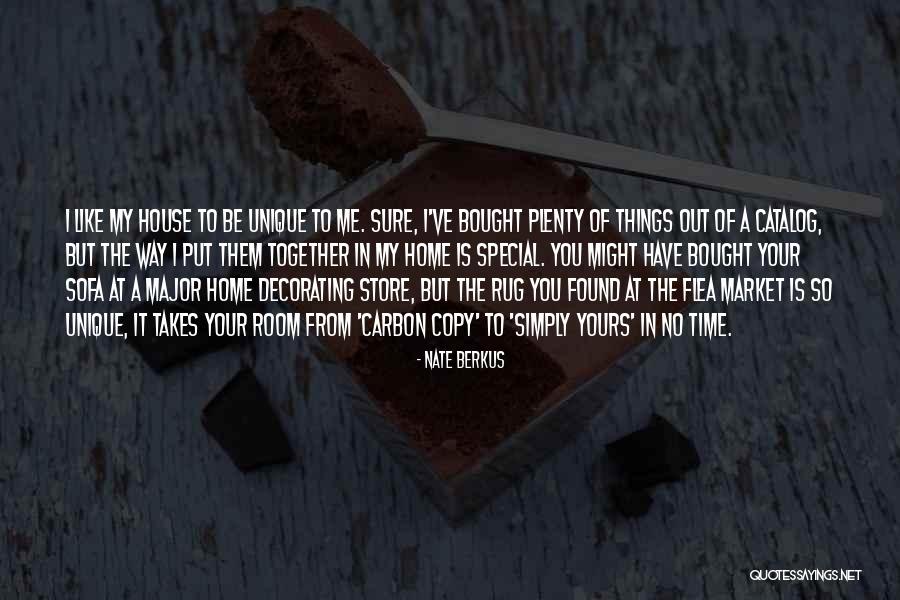 I like my house to be unique to me. Sure, I've bought plenty of things out of a catalog, but the way I put them together in my home is special. You might have bought your sofa at a major home decorating store, but the rug you found at the flea market is so unique, it takes your room from 'carbon copy' to 'simply yours' in no time. — Nate Berkus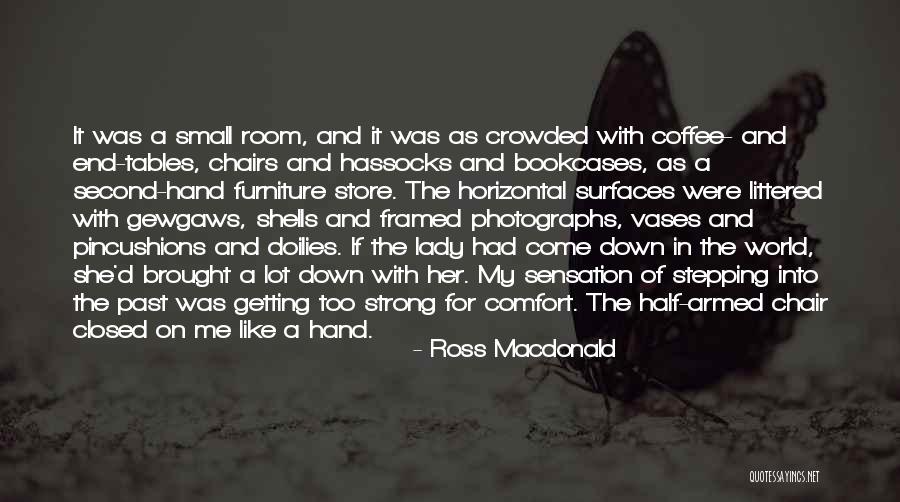 It was a small room, and it was as crowded with coffee- and end-tables, chairs and hassocks and bookcases, as a second-hand furniture store. The horizontal surfaces were littered with gewgaws, shells and framed photographs, vases and pincushions and doilies. If the lady had come down in the world, she'd brought a lot down with her. My sensation of stepping into the past was getting too strong for comfort. The half-armed chair closed on me like a hand. — Ross Macdonald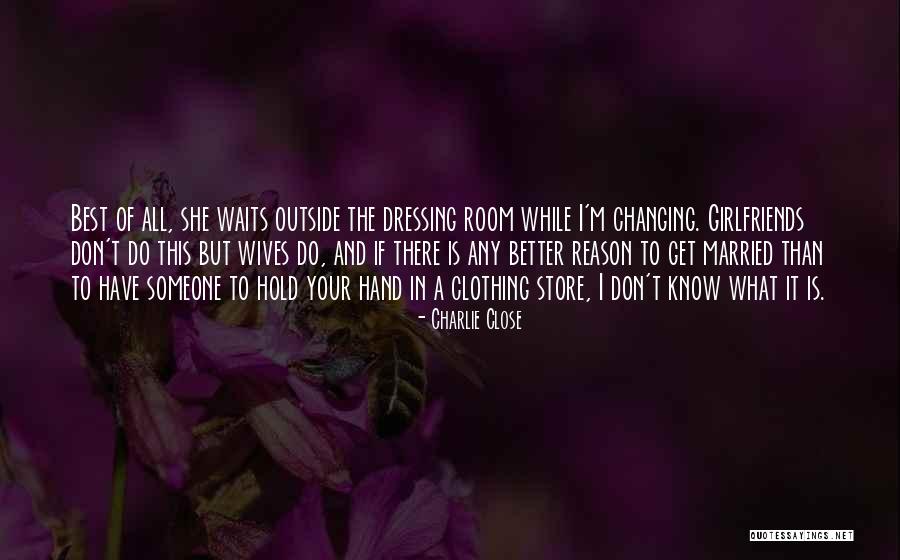 Best of all, she waits outside the dressing room while I'm changing. Girlfriends don't do this but wives do, and if there is any better reason to get married than to have someone to hold your hand in a clothing store, I don't know what it is. — Charlie Close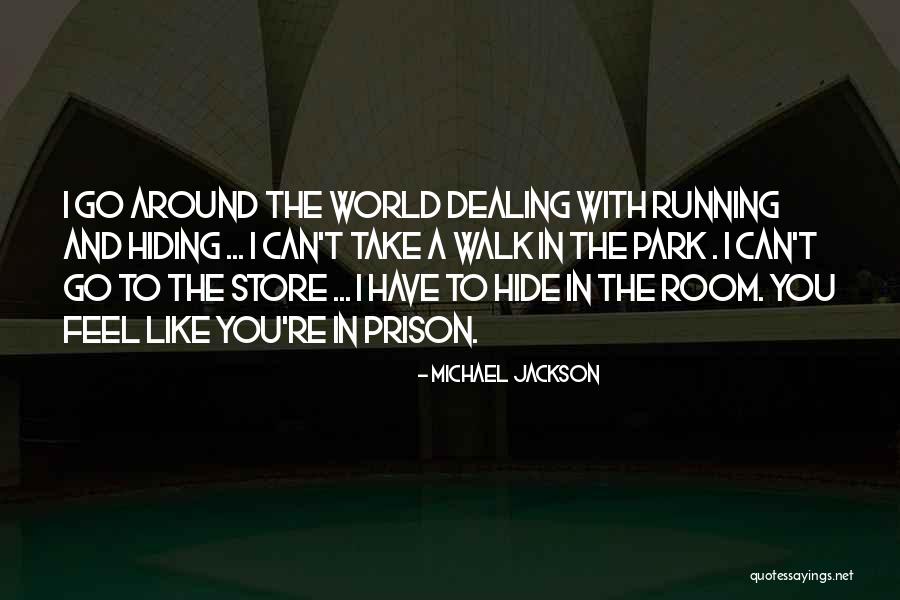 I go around the world dealing with running and hiding ... I can't take a walk in the park . I can't go to the store ... I have to hide in the room. You feel like you're in prison. — Michael Jackson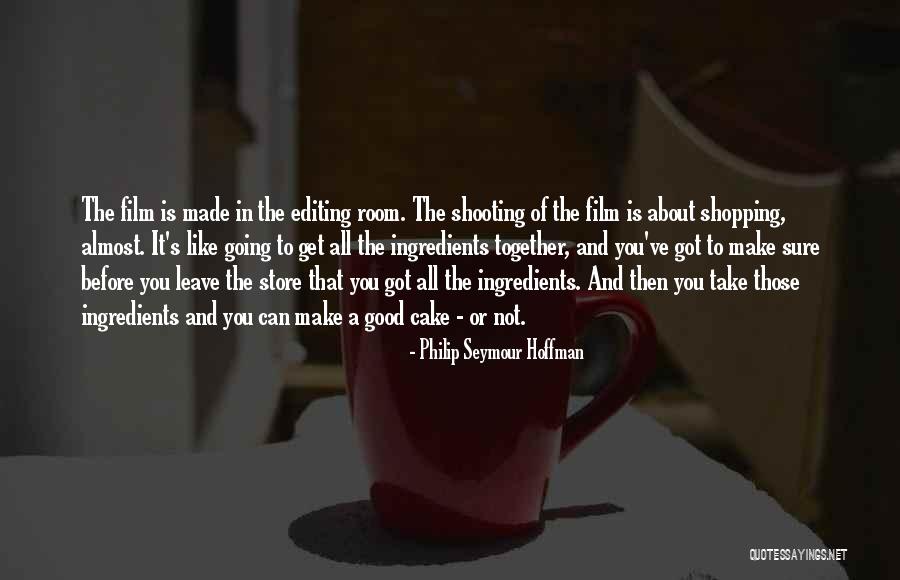 The film is made in the editing room. The shooting of the film is about shopping, almost. It's like going to get all the ingredients together, and you've got to make sure before you leave the store that you got all the ingredients. And then you take those ingredients and you can make a good cake - or not. — Philip Seymour Hoffman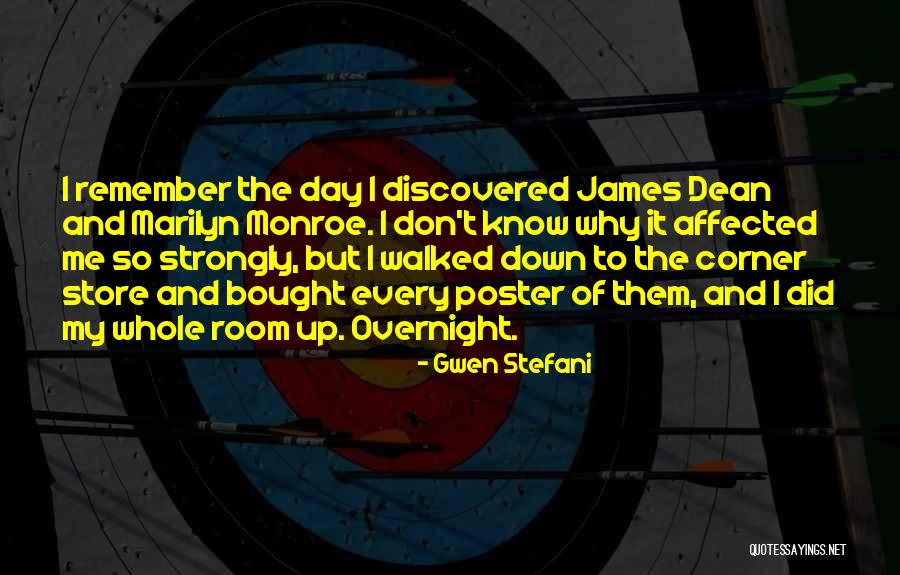 I remember the day I discovered James Dean and Marilyn Monroe. I don't know why it affected me so strongly, but I walked down to the corner store and bought every poster of them, and I did my whole room up. Overnight. — Gwen Stefani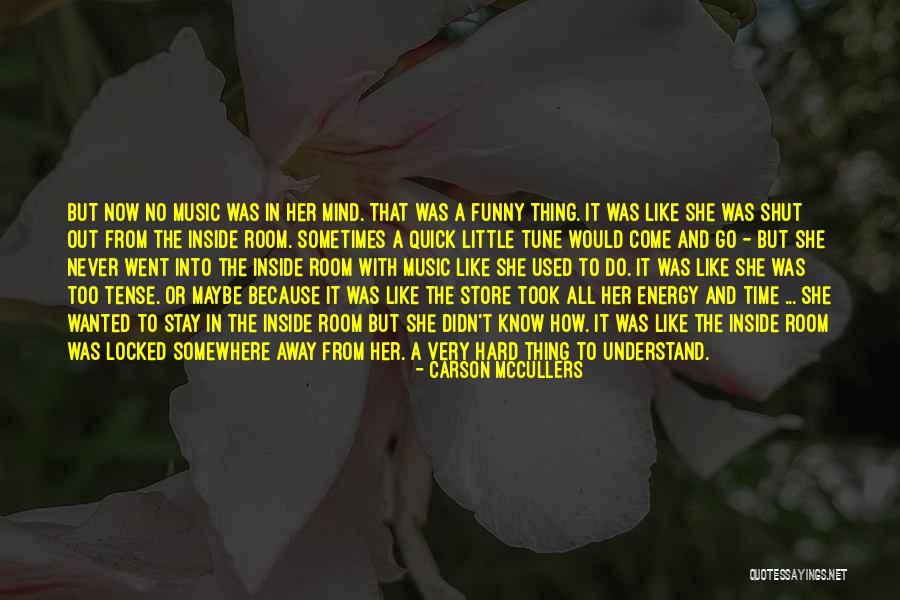 But now no music was in her mind. That was a funny thing. It was like she was shut out from the inside room. Sometimes a quick little tune would come and go - but she never went into the inside room with music like she used to do. It was like she was too tense. Or maybe because it was like the store took all her energy and time ... She wanted to stay in the inside room but she didn't know how. It was like the inside room was locked somewhere away from her. A very hard thing to understand. — Carson McCullers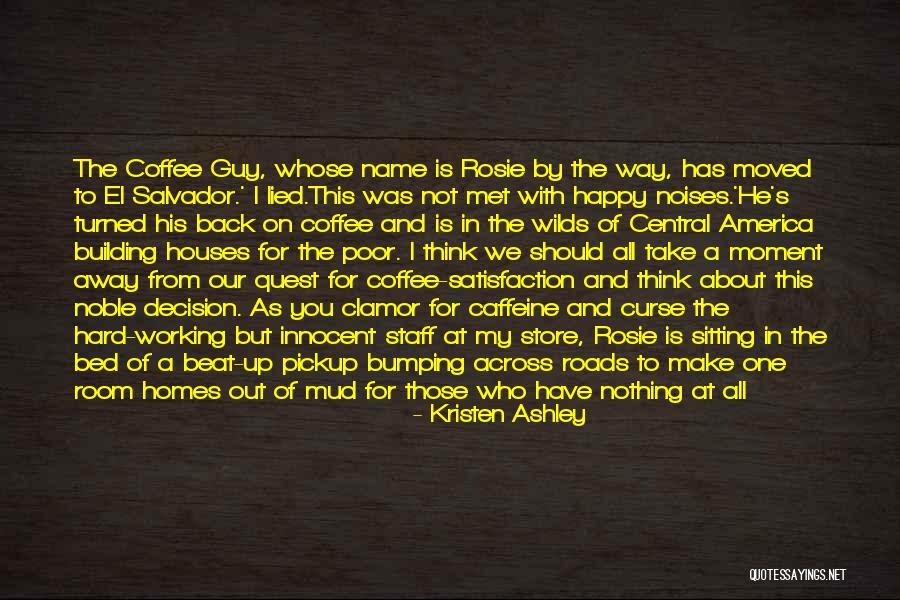 The Coffee Guy, whose name is Rosie by the way, has moved to El Salvador.' I lied.
This was not met with happy noises.
'He's turned his back on coffee and is in the wilds of Central America building houses for the poor. I think we should all take a moment away from our quest for coffee-satisfaction and think about this noble decision. As you clamor for caffeine and curse the hard-working but innocent staff at my store, Rosie is sitting in the bed of a beat-up pickup bumping across roads to make one room homes out of mud for those who have nothing at all — Kristen Ashley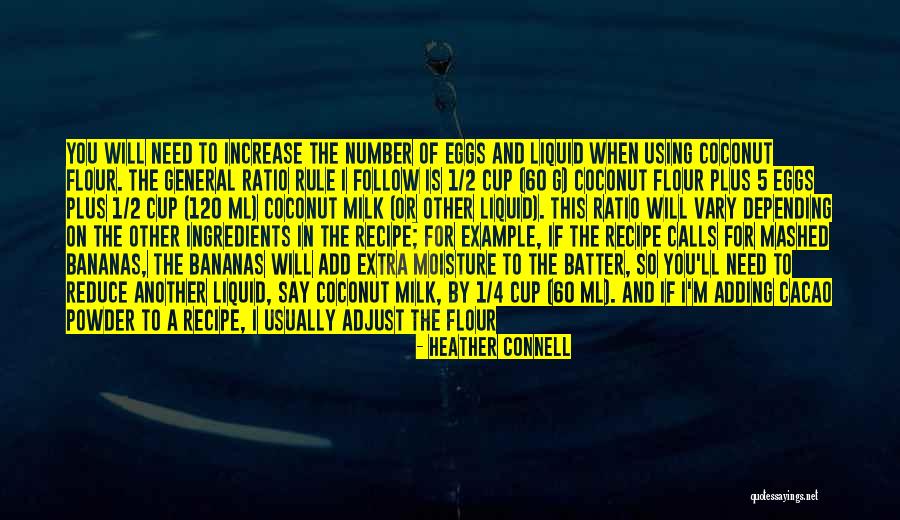 You will need to increase the number of eggs and liquid when using coconut flour. The general ratio rule I follow is 1/2 cup (60 g) coconut flour plus 5 eggs plus 1/2 cup (120 ml) coconut milk (or other liquid). This ratio will vary depending on the other ingredients in the recipe; for example, if the recipe calls for mashed bananas, the bananas will add extra moisture to the batter, so you'll need to reduce another liquid, say coconut milk, by 1/4 cup (60 ml). And if I'm adding cacao powder to a recipe, I usually adjust the flour down a little or increase the liquid slightly because cacao powder also absorbs moisture. Break Up Lumps. Coconut flour tends to be clumpy, so sifting the flour before mixing it into a recipe will help you avoid finding clumps in your baked goods. I tend to place my batters in a food processor, which helps break down the clumps without having to sift the flour. Store It Dry. Coconut flour is best if stored at room temperature in your pantry. — Heather Connell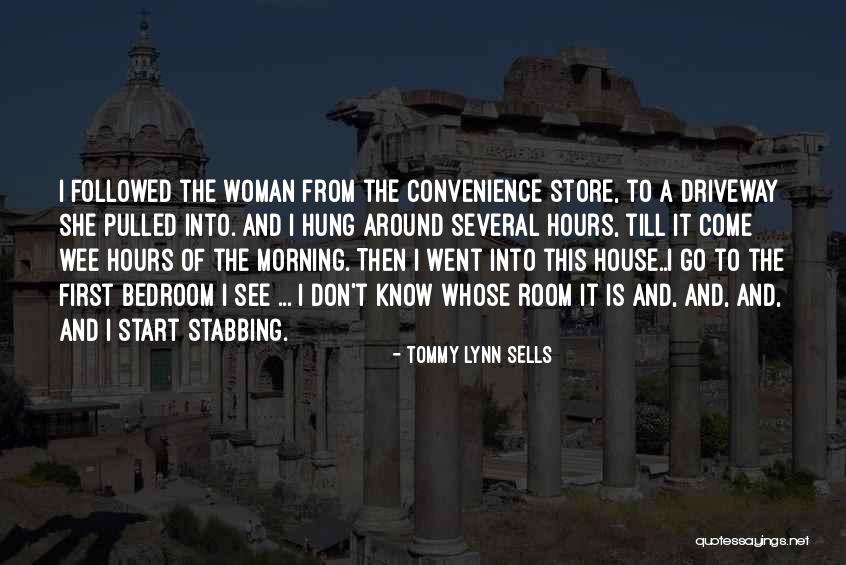 I followed the woman from the convenience store, to a driveway she pulled into. And I hung around several hours, till it come wee hours of the morning. Then I went into this house..I go to the first bedroom I see ... I don't know whose room it is and, and, and, and I start stabbing. — Tommy Lynn Sells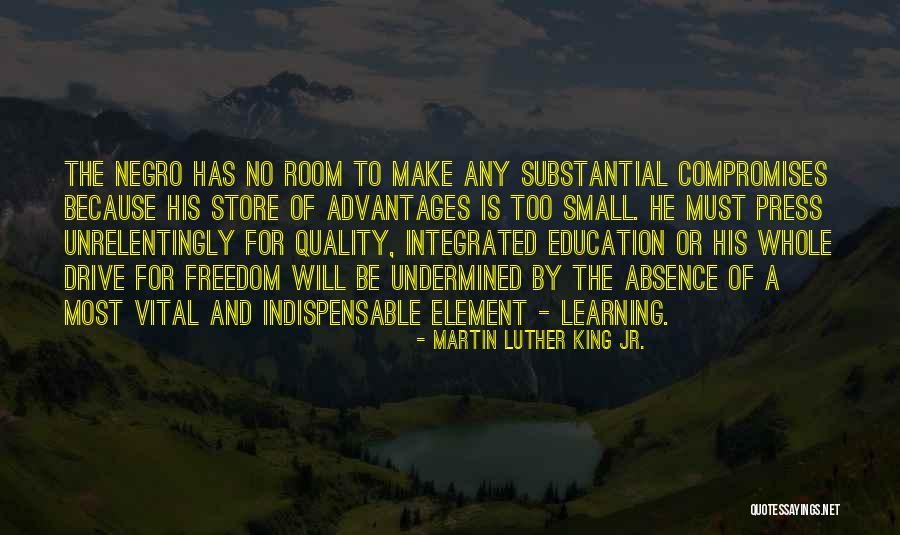 The Negro has no room to make any substantial compromises because his store of advantages is too small. He must press unrelentingly for quality, integrated education or his whole drive for freedom will be undermined by the absence of a most vital and indispensable element - learning. — Martin Luther King Jr.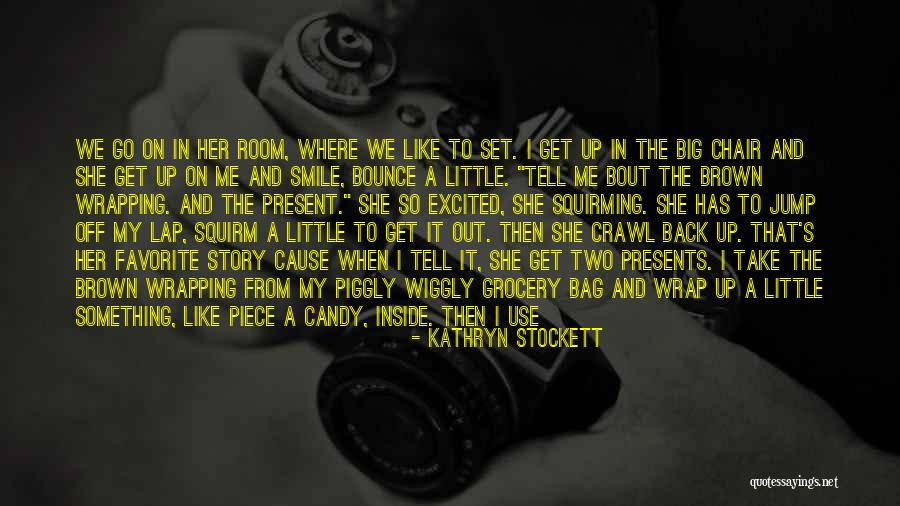 We go on in her room, where we like to set. I get up in the big chair and she get up on me and smile, bounce a little. "Tell me bout the brown wrapping. And the present." She so excited, she squirming. She has to jump off my lap, squirm a little to get it out. Then she crawl back up.
That's her favorite story cause when I tell it, she get two presents. I take the brown wrapping from my Piggly Wiggly grocery bag and wrap up a little something, like piece a candy, inside. Then I use the white paper from my Cole's Drug Store bag and wrap another one just like it. She take it real serious, the unwrapping, letting me tell the story bout how it ain't the color a the wrapping that count, it's what we is inside. — Kathryn Stockett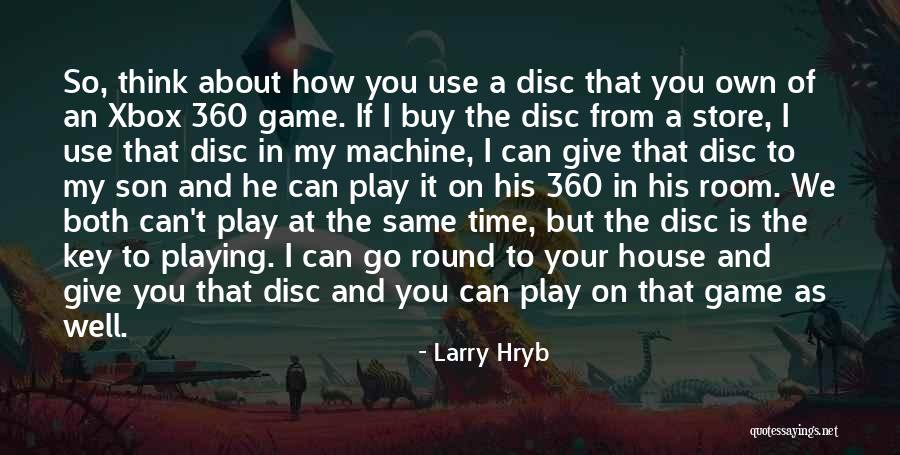 So, think about how you use a disc that you own of an Xbox 360 game. If I buy the disc from a store, I use that disc in my machine, I can give that disc to my son and he can play it on his 360 in his room. We both can't play at the same time, but the disc is the key to playing. I can go round to your house and give you that disc and you can play on that game as well. — Larry Hryb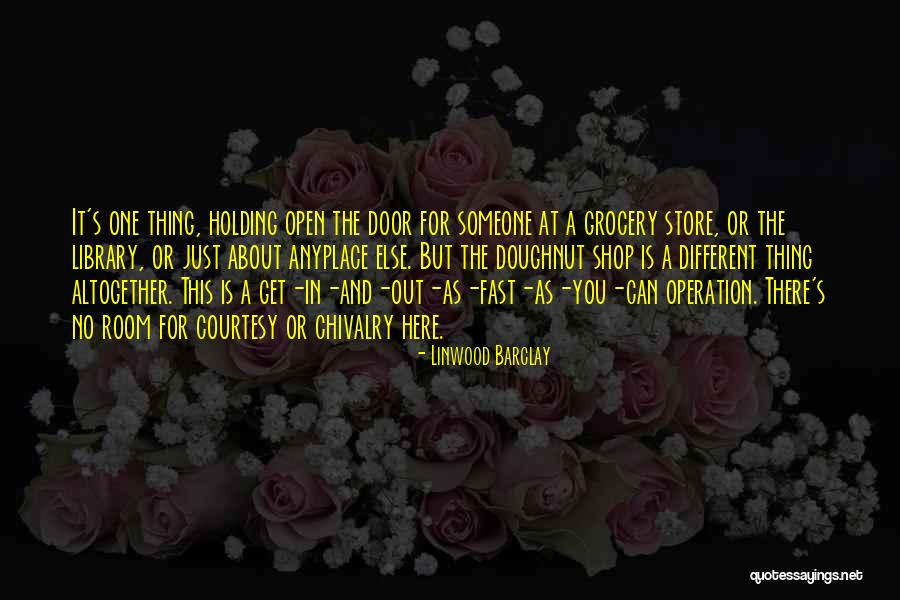 It's one thing, holding open the door for someone at a grocery store, or the library, or just about anyplace else. But the doughnut shop is a different thing altogether. This is a get-in-and-out-as-fast-as-you-can operation. There's no room for courtesy or chivalry here. — Linwood Barclay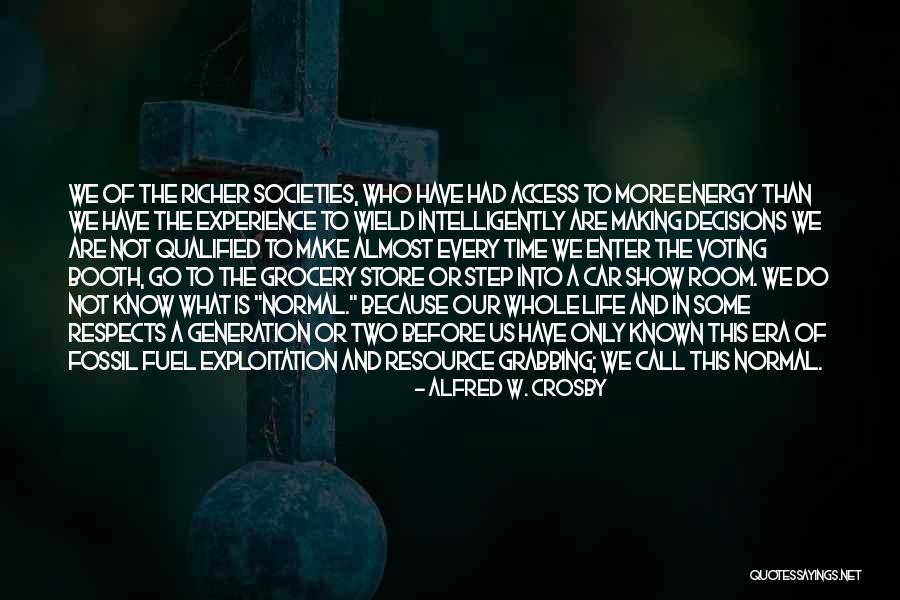 We of the richer societies, who have had access to more energy than we have the experience to wield intelligently are making decisions we are not qualified to make almost every time we enter the voting booth, go to the grocery store or step into a car show room. We do not know what is "normal." Because our whole life and in some respects a generation or two before us have only known this era of fossil fuel exploitation and resource grabbing; we call this normal. — Alfred W. Crosby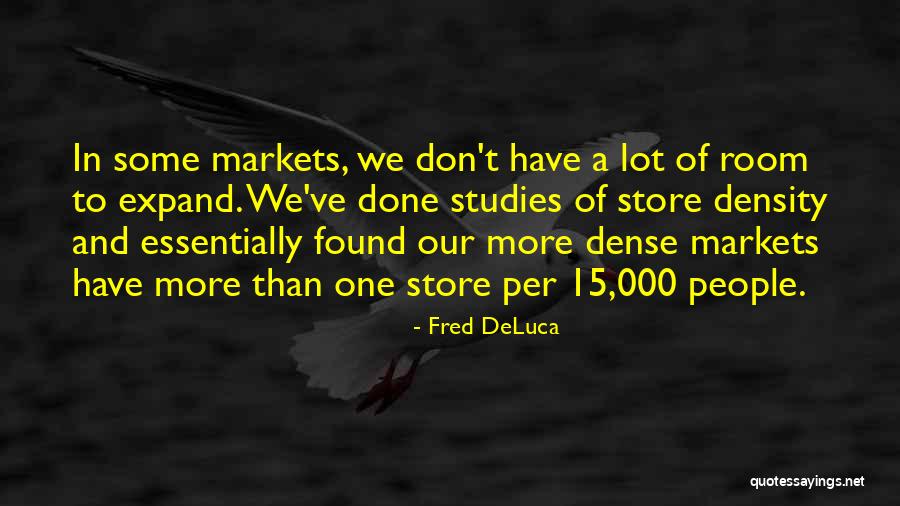 In some markets, we don't have a lot of room to expand. We've done studies of store density and essentially found our more dense markets have more than one store per 15,000 people. — Fred DeLuca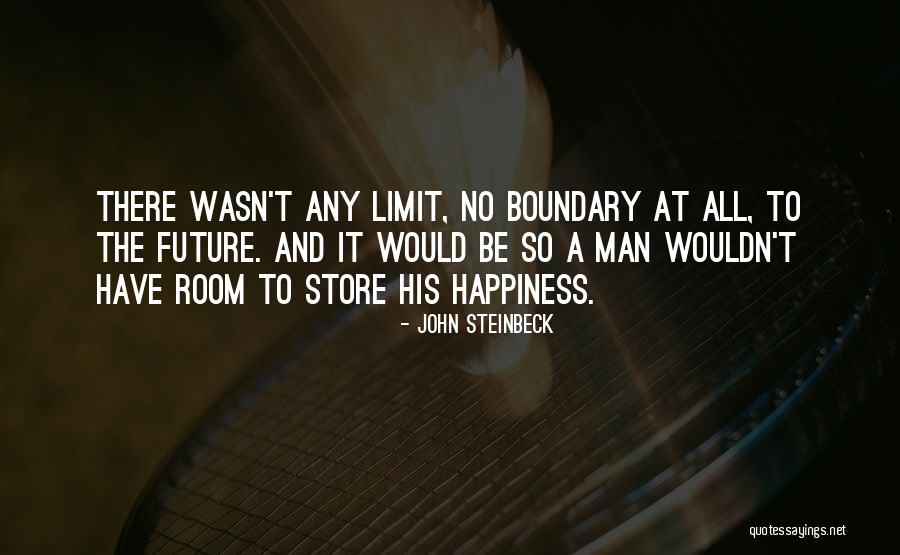 There wasn't any limit, no boundary at all, to the future. And it would be so a man wouldn't have room to store his happiness. — John Steinbeck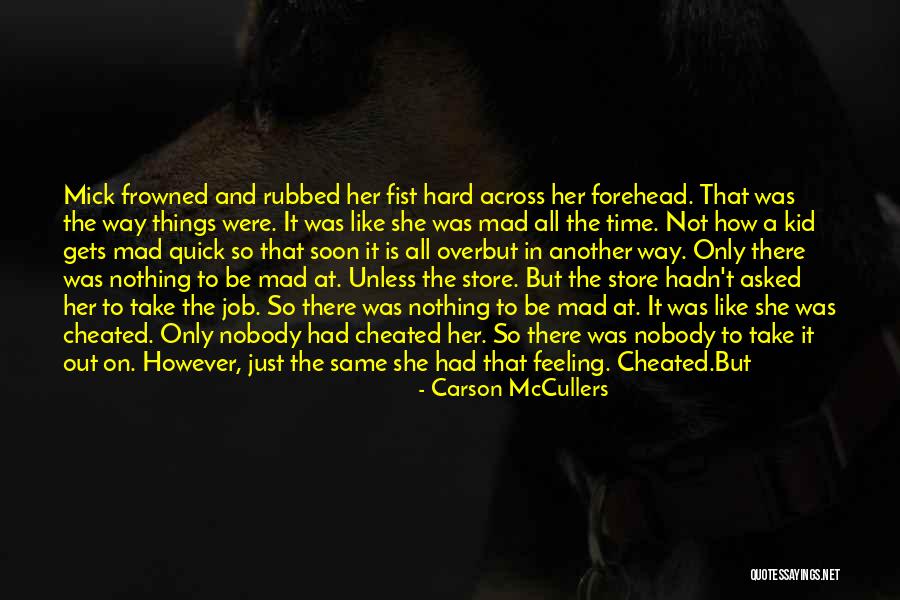 Mick frowned and rubbed her fist hard across her forehead. That was the way things were. It was like she was mad all the time. Not how a kid gets mad quick so that soon it is all over
but in another way. Only there was nothing to be mad at. Unless the store. But the store hadn't asked her to take the job. So there was nothing to be mad at. It was like she was cheated. Only nobody had cheated her. So there was nobody to take it out on. However, just the same she had that feeling. Cheated.
But maybe it would be true about the piano and turn out O.K. Maybe she would get a chance soon. Else what the hell good had it all been
the way she felt about music and the plans she had made in the inside room? It had to be some good if anything made sense. And it was too and it was too and it was too and it was too. It was some good.
All right!
O.K!
Some good. — Carson McCullers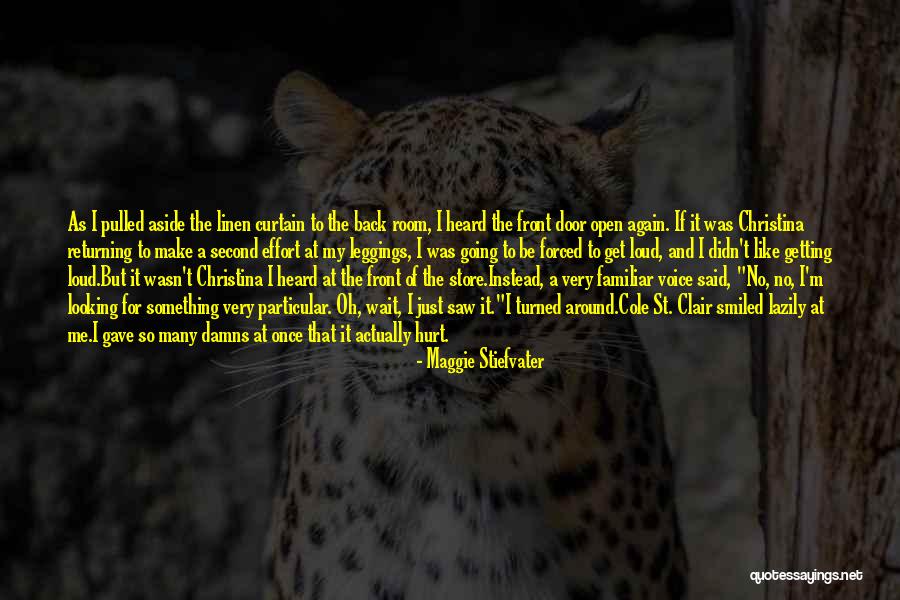 As I pulled aside the linen curtain to the back room, I heard the front door open again. If it was Christina returning to make a second effort at my leggings, I was going to be forced to get loud, and I didn't like getting loud.
But it wasn't Christina I heard at the front of the store.
Instead, a very familiar voice said, "No, no, I'm looking for something very particular. Oh, wait, I just saw it."
I turned around.
Cole St. Clair smiled lazily at me.
I gave so many damns at once that it actually hurt. — Maggie Stiefvater