Stomach Hurts Quotes & Sayings
Enjoy reading and share 21 famous quotes about Stomach Hurts with everyone.
Top Stomach Hurts Quotes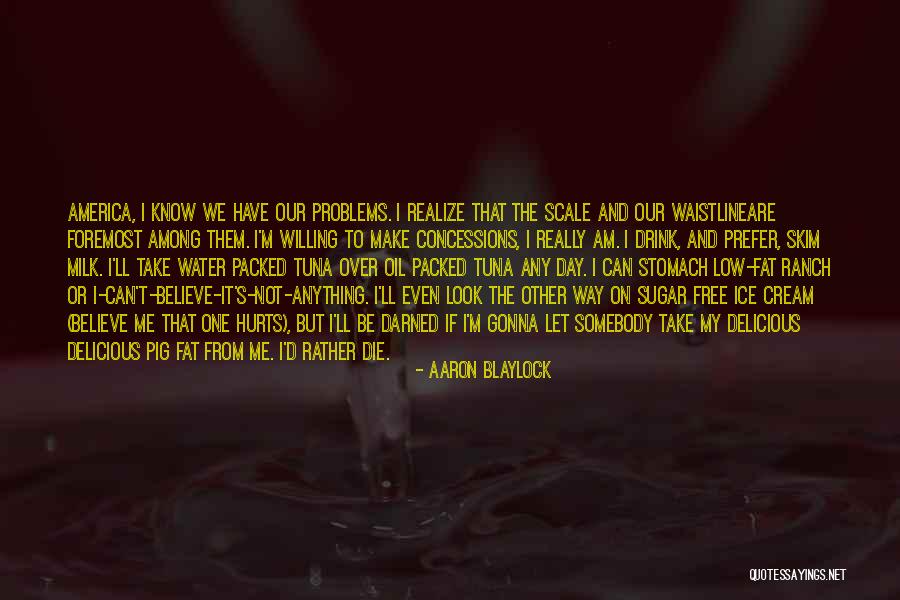 America, I know we have our problems. I realize that the scale and our waistline
are foremost among them. I'm willing to make concessions, I really am. I drink, and prefer, skim milk. I'll take water packed tuna over oil packed tuna any day. I can stomach low-fat ranch or I-Can't-Believe-It's-Not-Anything. I'll even look the other way on sugar free ice cream (believe me that one hurts), but I'll be darned if I'm gonna let somebody take my delicious delicious pig fat from me. I'd rather die. — Aaron Blaylock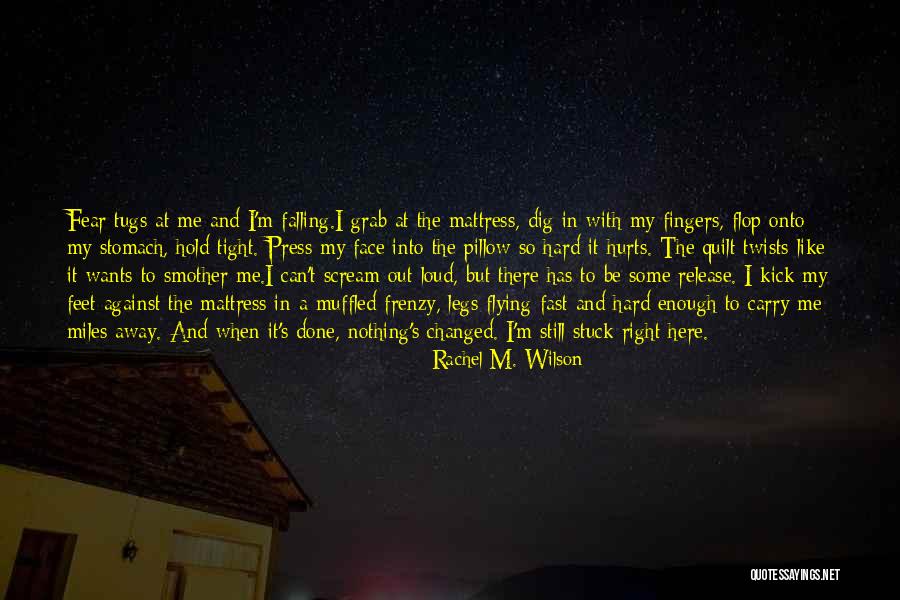 Fear tugs at me and I'm falling.
I grab at the mattress, dig in with my fingers, flop onto my stomach, hold tight. Press my face into the pillow so hard it hurts. The quilt twists like it wants to smother me.
I can't scream out loud, but there has to be some release. I kick my feet against the mattress in a muffled frenzy, legs flying fast and hard enough to carry me miles away. And when it's done, nothing's changed. I'm still stuck right here. — Rachel M. Wilson
I wipe my face with my sleeve, laughing so hard my stomach hurts. If my entire life is like this, loud laughter and bold action and the kind of exhaustion you feel after a hard but satisfying day, I will be content. — Veronica Roth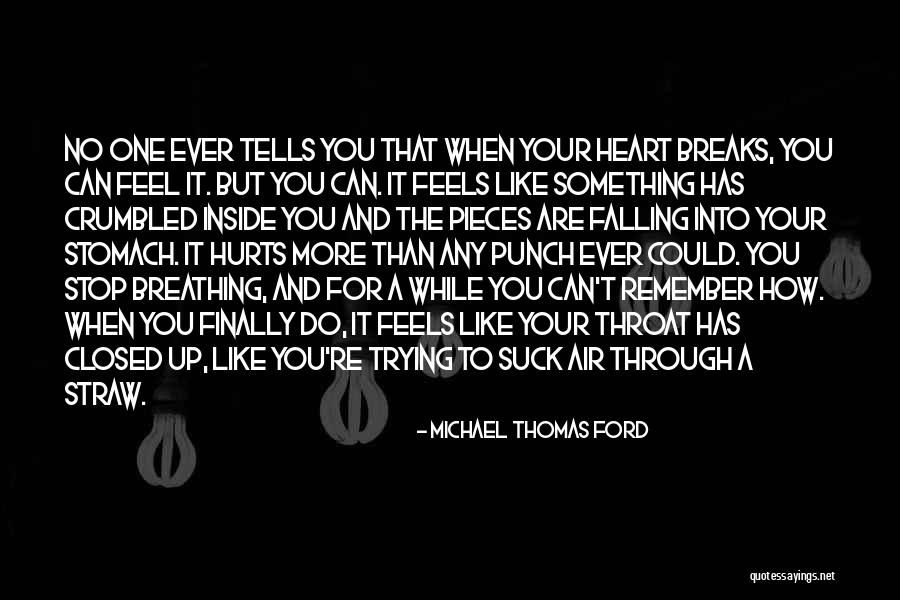 No one ever tells you that when your heart breaks, you can feel it. But you can. It feels like something has crumbled inside you and the pieces are falling into your stomach. It hurts more than any punch ever could. You stop breathing, and for a while you can't remember how. When you finally do, it feels like your throat has closed up, like you're trying to suck air through a straw. — Michael Thomas Ford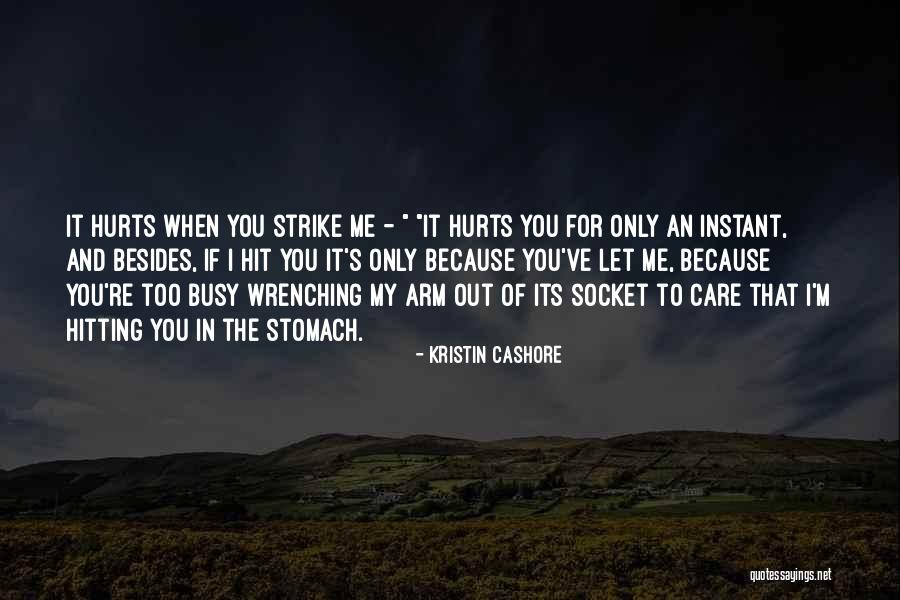 It hurts when you strike me - " "It hurts you for only an instant, and besides, if I hit you it's only because you've let me, because you're too busy wrenching my arm out of its socket to care that I'm hitting you in the stomach. — Kristin Cashore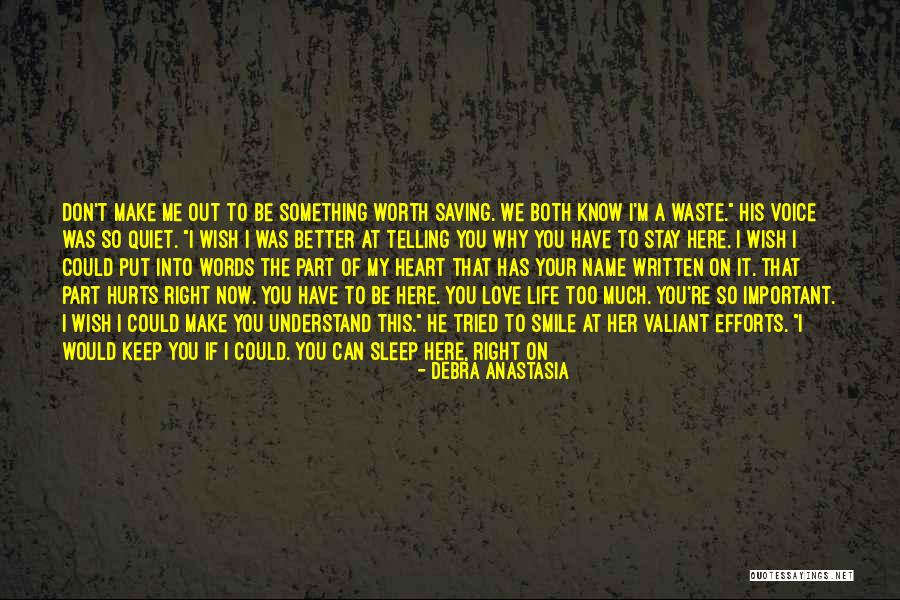 Don't make me out to be something worth saving. We both know I'm a waste." His voice was so quiet. "I wish I was better at telling you why you have to stay here. I wish I could put into words the part of my heart that has your name written on it. That part hurts right now. You have to be here. You love life too much. You're so important. I wish I could make you understand this." He tried to smile at her valiant efforts. "I would keep you if I could. You can sleep here, right on this couch. Beckett, I will let you hold this baby when it comes." She touched her stomach. "Does that tell you how much you mean to me? It's the only thing I can come up with." He shrugged. "Mouse would be disappointed. He'd feel like he didn't do his job if you died ... Eve loves you. Wherever she is - in this strip club - is that what you've been wishing for?" Beckett shook his head. "No, right? She loves you. You can't kill someone she loves. You just can't. — Debra Anastasia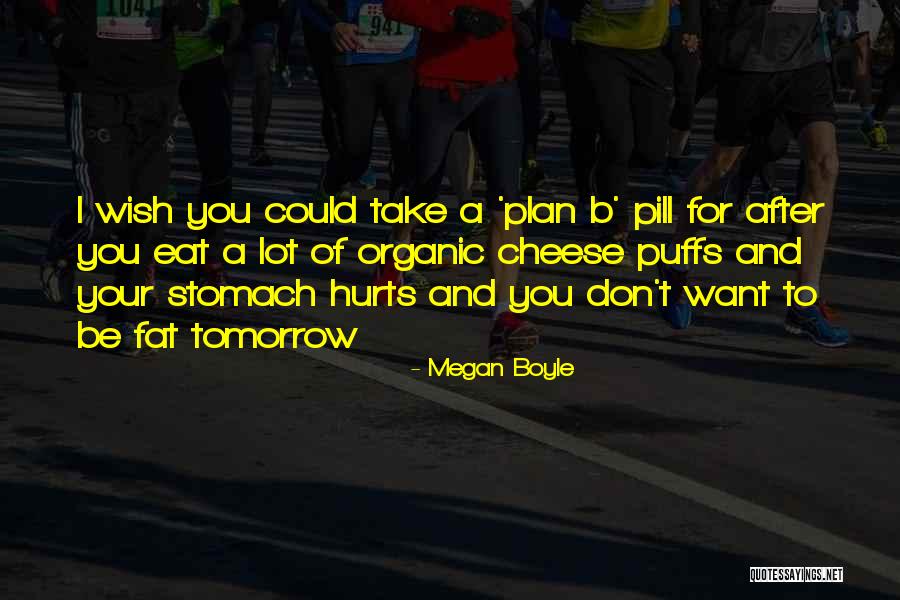 I wish you could take a 'plan b' pill for after you eat a lot of organic cheese puffs and your stomach hurts and you don't want to be fat tomorrow — Megan Boyle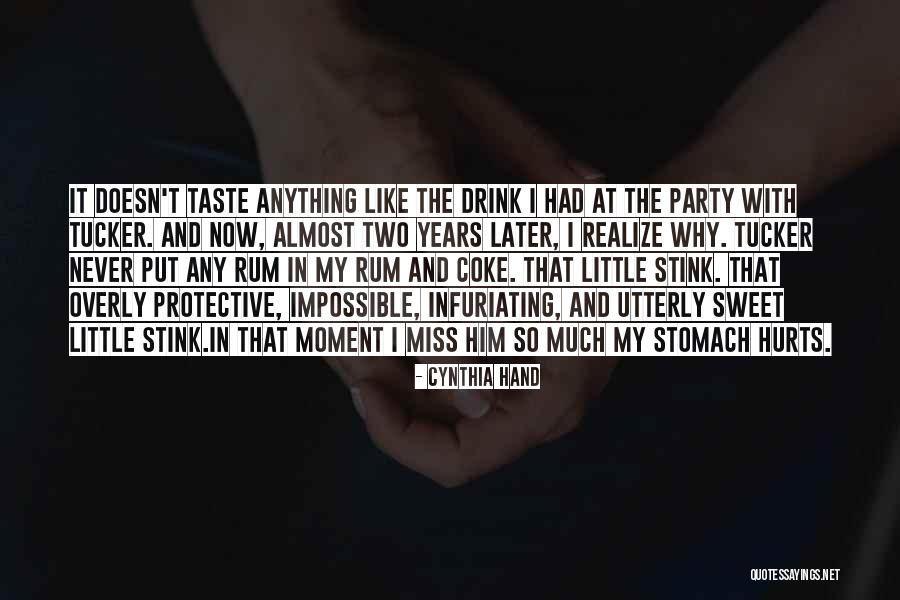 It doesn't taste anything like the drink I had at the party with Tucker. And now, almost two years later, I realize why. Tucker never put any rum in my rum and Coke.
That little stink.
That overly protective, impossible, infuriating, and utterly sweet little stink.
In that moment I miss him so much my stomach hurts. — Cynthia Hand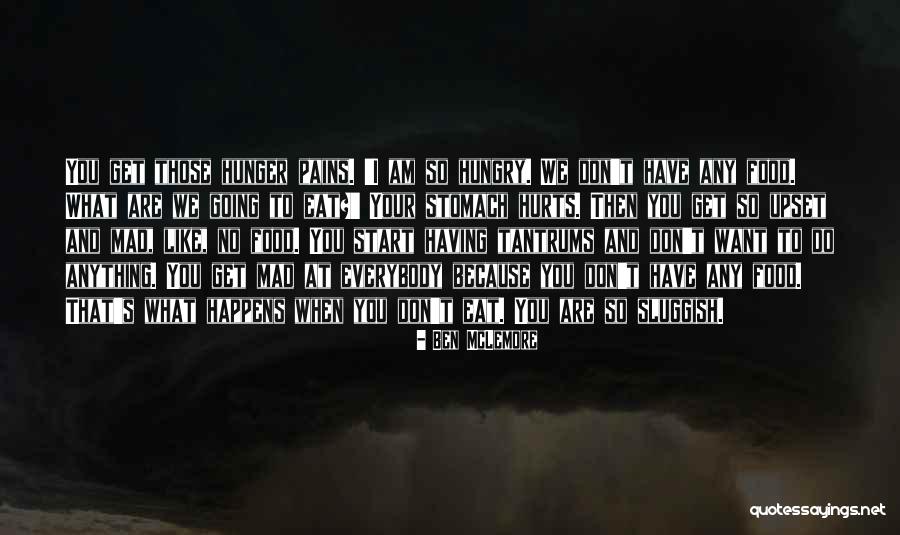 You get those hunger pains. 'I am so hungry. We don't have any food. What are we going to eat?' Your stomach hurts. Then you get so upset and mad, like, no food. You start having tantrums and don't want to do anything. You get mad at everybody because you don't have any food. That's what happens when you don't eat. You are so sluggish. — Ben McLemore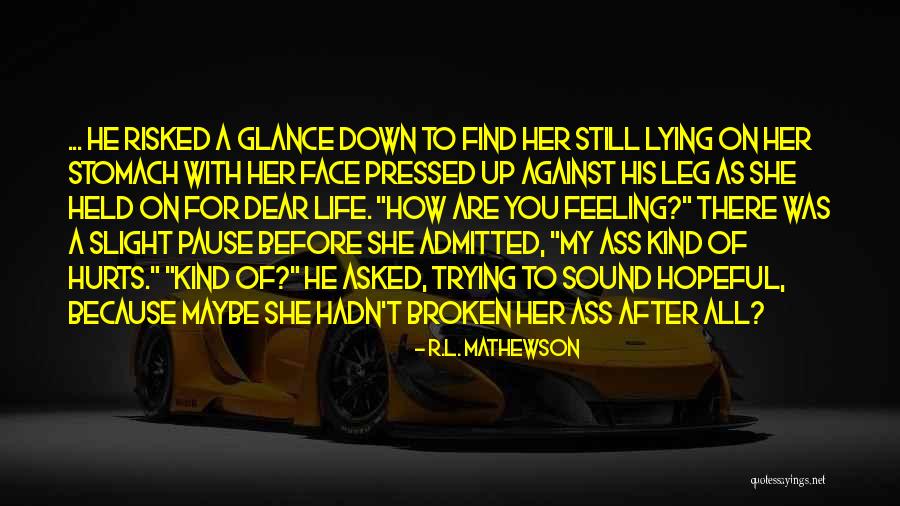 ... he risked a glance down to find her still lying on her stomach with her face pressed up against his leg as she held on for dear life.

"How are you feeling?"

There was a slight pause before she admitted, "My ass kind of hurts."

"Kind of?" he asked, trying to sound hopeful, because maybe she hadn't broken her ass after all? — R.L. Mathewson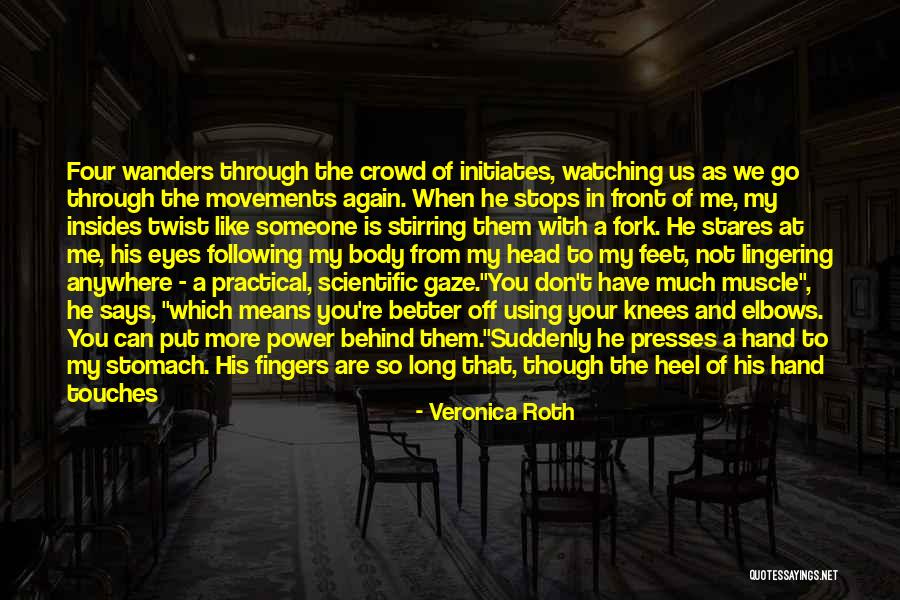 Four wanders through the crowd of initiates, watching us as we go through the movements again. When he stops in front of me, my insides twist like someone is stirring them with a fork. He stares at me, his eyes following my body from my head to my feet, not lingering anywhere - a practical, scientific gaze.
"You don't have much muscle", he says, "which means you're better off using your knees and elbows. You can put more power behind them."
Suddenly he presses a hand to my stomach. His fingers are so long that, though the heel of his hand touches one side of my rib cage, his fingertips still touch the other side. My heart pounds so hard my chest hurts, and I stare at him, wide-eyed.
"Never forget to keep tension here", he says in a quiet voice.
Four lifts his hand and keeps walking. I feel the pressure of his palm even after he's gone. It's strange, but I have to stop and breathe for a few seconds before I can keep practicing again. — Veronica Roth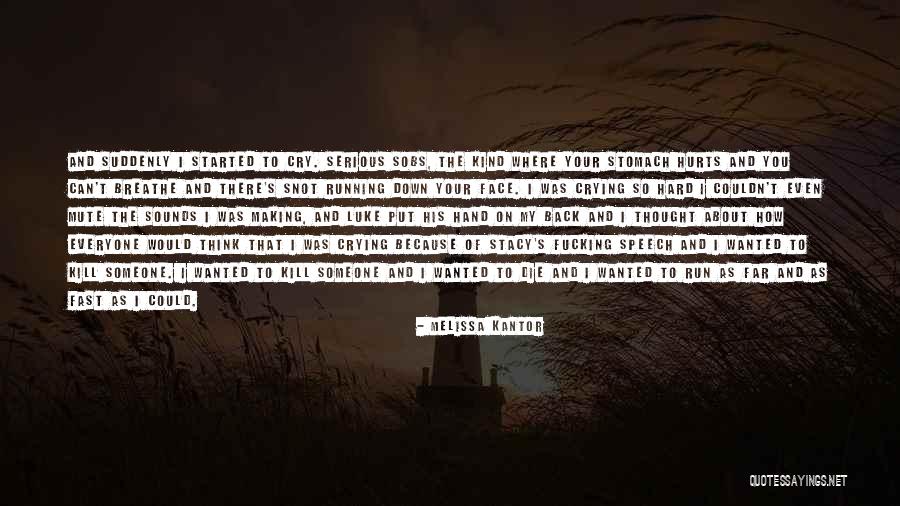 And suddenly I started to cry. Serious sobs, the kind where your stomach hurts and you can't breathe and there's snot running down your face. I was crying so hard I couldn't even mute the sounds I was making, and Luke put his hand on my back and I thought about how everyone would think that I was crying because of Stacy's fucking speech and I wanted to kill someone. I wanted to kill someone and I wanted to die and I wanted to run as far and as fast as I could. — Melissa Kantor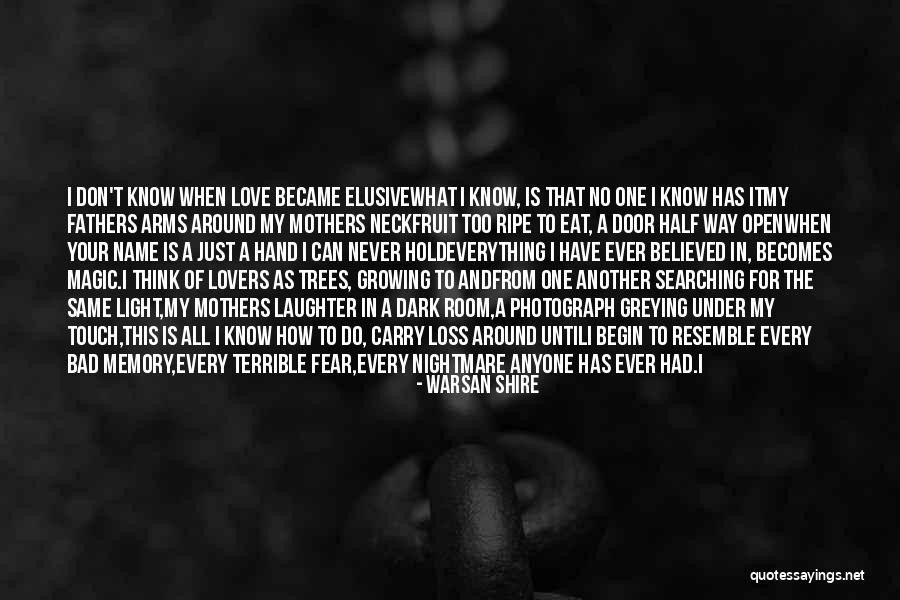 I don't know when love became elusive
what i know, is that no one i know has it
my fathers arms around my mothers neck
fruit too ripe to eat, a door half way open
when your name is a just a hand i can never hold
everything i have ever believed in, becomes magic.
i think of lovers as trees, growing to and
from one another searching for the same light,
my mothers laughter in a dark room,
a photograph greying under my touch,
this is all i know how to do, carry loss around until
i begin to resemble every bad memory,
every terrible fear,
every nightmare anyone has ever had.
i ask did you ever love me?
you say of course, of course so quickly
that you sound like someone else
i ask are you made of steel? are you made of iron?
you cry on the phone, my stomach hurts
i let you leave, i need someone who knows how to stay. — Warsan Shire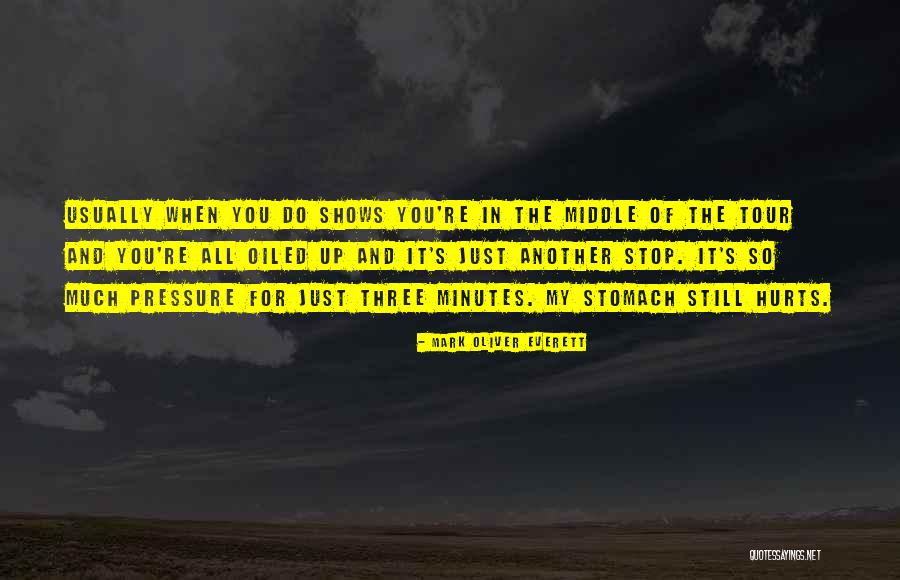 Usually when you do shows you're in the middle of the tour and you're all oiled up and it's just another stop. It's so much pressure for just three minutes. My stomach still hurts. — Mark Oliver Everett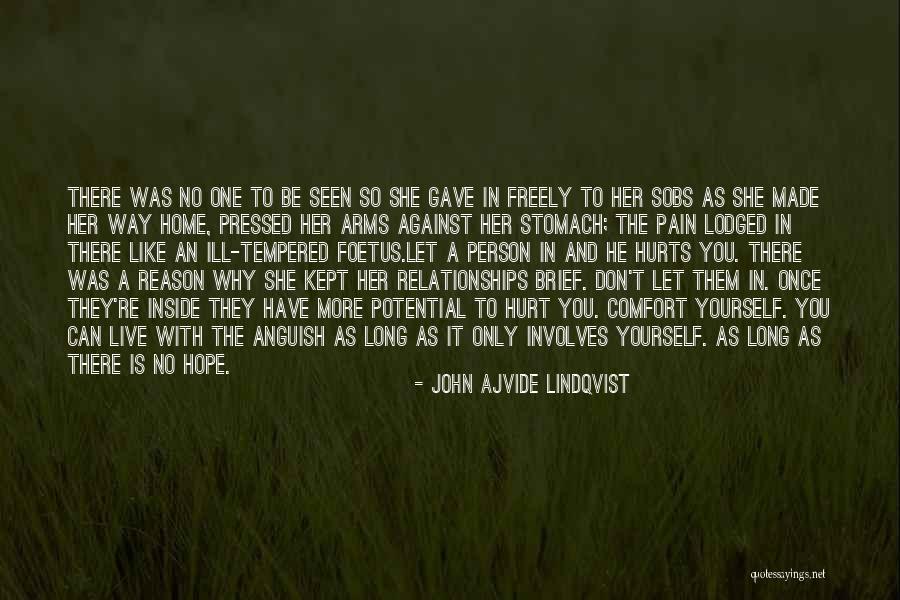 There was no one to be seen so she gave in freely to her sobs as she made her way home, pressed her arms against her stomach; the pain lodged in there like an ill-tempered foetus.
Let a person in and he hurts you.
There was a reason why she kept her relationships brief. Don't let them in. Once they're inside they have more potential to hurt you. Comfort yourself. You can live with the anguish as long as it only involves yourself. As long as there is no hope. — John Ajvide Lindqvist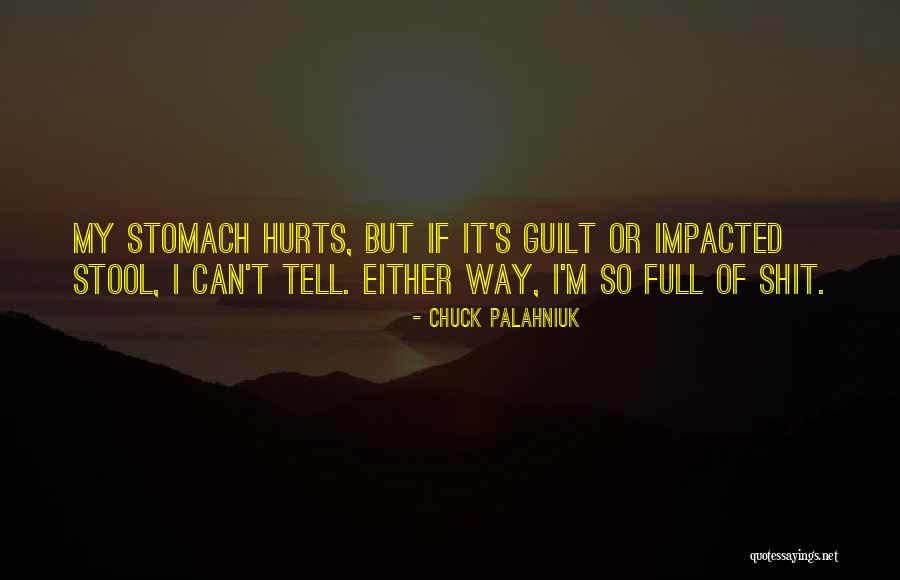 My stomach hurts, but if it's guilt or impacted stool, I can't tell. Either way, I'm so full of shit. — Chuck Palahniuk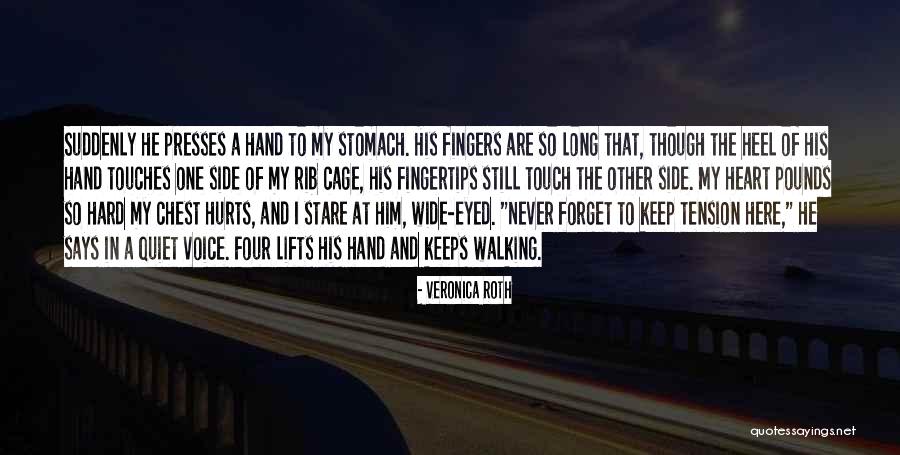 Suddenly he presses a hand to my stomach. His fingers are so long that, though the heel of his hand touches one side of my rib cage, his fingertips still touch the other side. My heart pounds so hard my chest hurts, and I stare at him, wide-eyed. "Never forget to keep tension here," he says in a quiet voice. Four lifts his hand and keeps walking. — Veronica Roth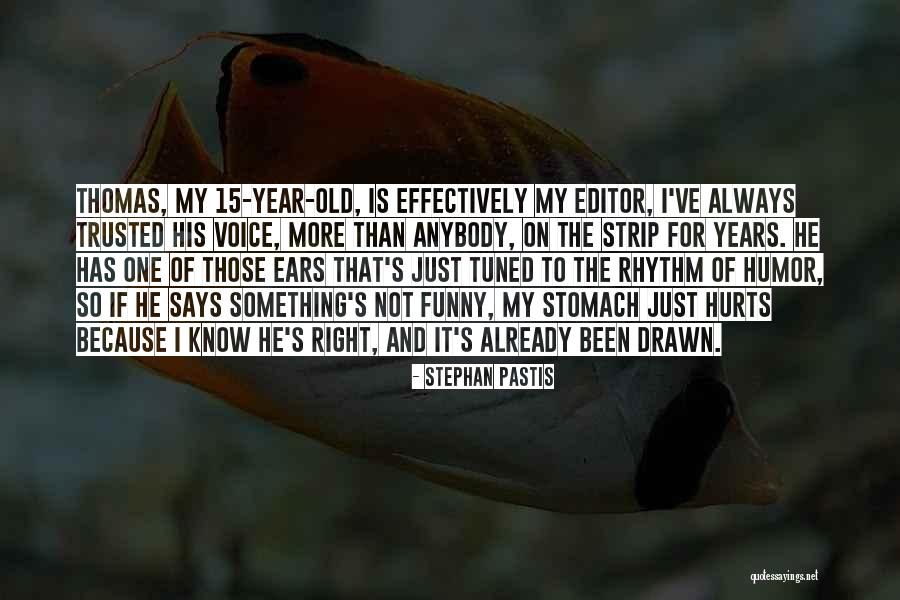 Thomas, my 15-year-old, is effectively my editor, I've always trusted his voice, more than anybody, on the strip for years. He has one of those ears that's just tuned to the rhythm of humor, so if he says something's not funny, my stomach just hurts because I know he's right, and it's already been drawn. — Stephan Pastis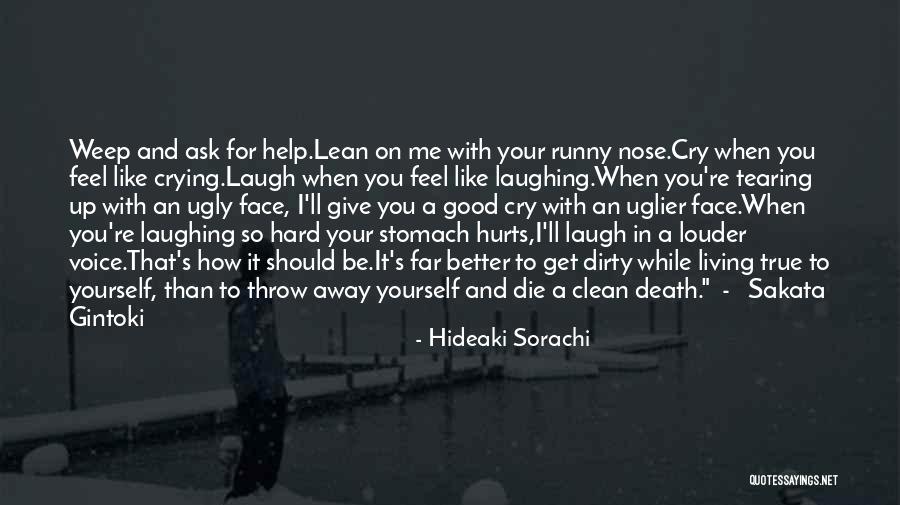 Weep and ask for help.
Lean on me with your runny nose.
Cry when you feel like crying.
Laugh when you feel like laughing.
When you're tearing up with an ugly face,
I'll give you a good cry with an uglier face.
When you're laughing so hard your stomach hurts,
I'll laugh in a louder voice.
That's how it should be.
It's far better to get dirty while living true to yourself,
than to throw away yourself and die a clean death."
- Sakata Gintoki — Hideaki Sorachi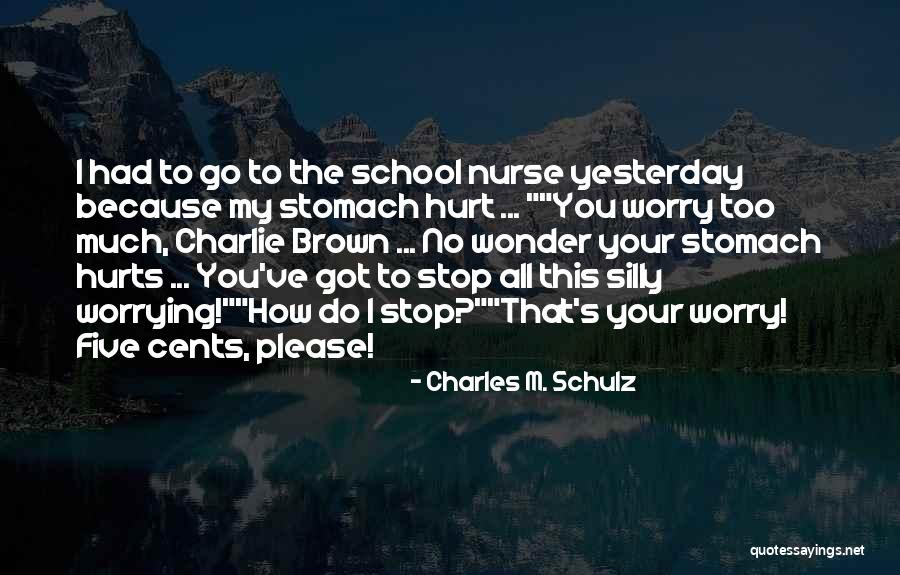 I had to go to the school nurse yesterday because my stomach hurt ... "
"You worry too much, Charlie Brown ... No wonder your stomach hurts ... You've got to stop all this silly worrying!"
"How do I stop?"
"That's your worry! Five cents, please! — Charles M. Schulz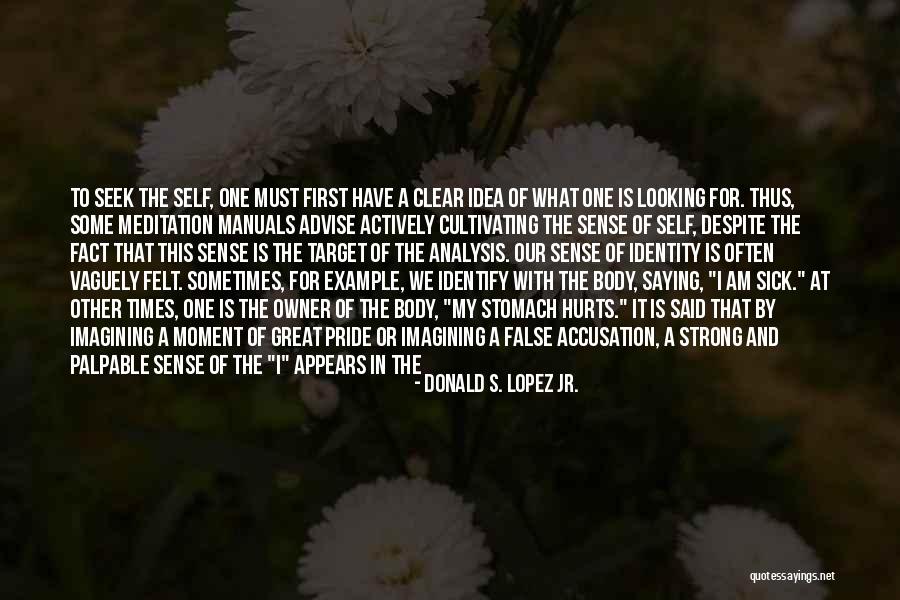 To seek the self, one must first have a clear idea of what one is looking for. Thus, some meditation manuals advise actively cultivating the sense of self, despite the fact that this sense is the target of the analysis. Our sense of identity is often vaguely felt. Sometimes, for example, we identify with the body, saying, "I am sick." At other times, one is the owner of the body, "My stomach hurts." It is said that by imagining a moment of great pride or imagining a false accusation, a strong and palpable sense of the "I" appears in the center [of] the chest: "I did it," or, "I did not do that." This sense of self is to be carefully cultivated, until one is convinced of its reality. One then sets out to find this self, reasoning that, if it exists, it must be located somewhere in the mind or the body. — Donald S. Lopez Jr.