Quotes & Sayings About Staring Into Someone's Eyes
Enjoy reading and share 50 famous quotes about Staring Into Someone's Eyes with everyone.
Top Staring Into Someone's Eyes Quotes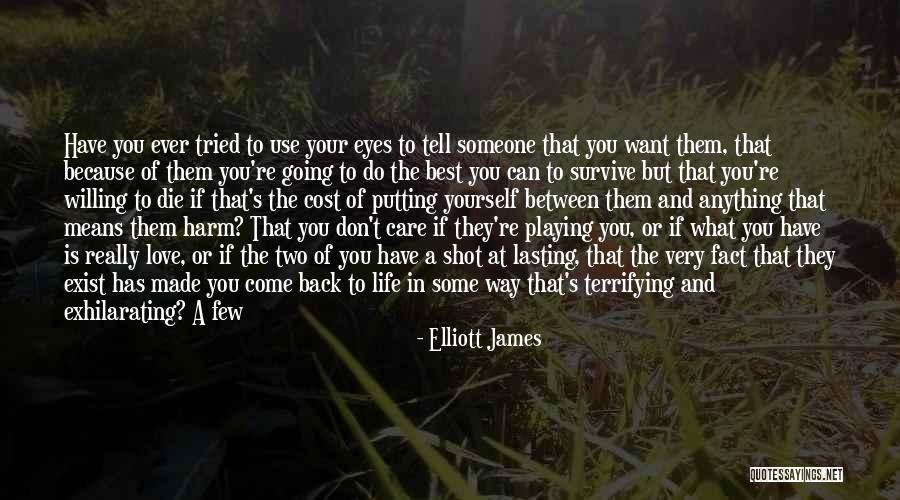 Have you ever tried to use your eyes to tell someone that you want them, that because of them you're going to do the best you can to survive but that you're willing to die if that's the cost of putting yourself between them and anything that means them harm? That you don't care if they're playing you, or if what you have is really love, or if the two of you have a shot at lasting, that the very fact that they exist has made you come back to life in some way that's terrifying and exhilarating? A few seconds isn't long enough, especially when the person you're looking at is staring back as if she wants to pull you inside her and crush the two of you into one being. — Elliott James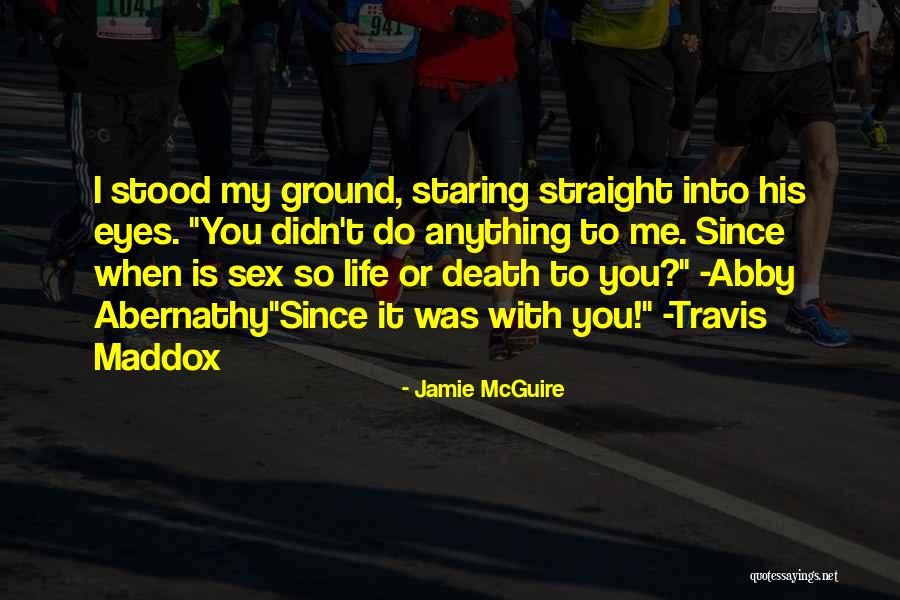 I stood my ground, staring straight into his eyes. "You didn't do anything to me. Since when is sex so life or death to you?" -Abby Abernathy
"Since it was with you!" -Travis Maddox — Jamie McGuire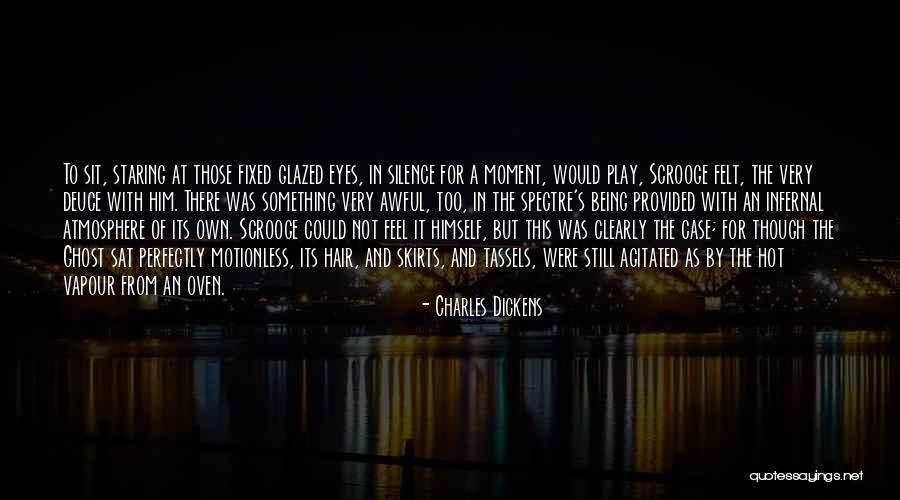 To sit, staring at those fixed glazed eyes, in silence for a moment, would play, Scrooge felt, the very deuce with him. There was something very awful, too, in the spectre's being provided with an infernal atmosphere of its own. Scrooge could not feel it himself, but this was clearly the case; for though the Ghost sat perfectly motionless, its hair, and skirts, and tassels, were still agitated as by the hot vapour from an oven. — Charles Dickens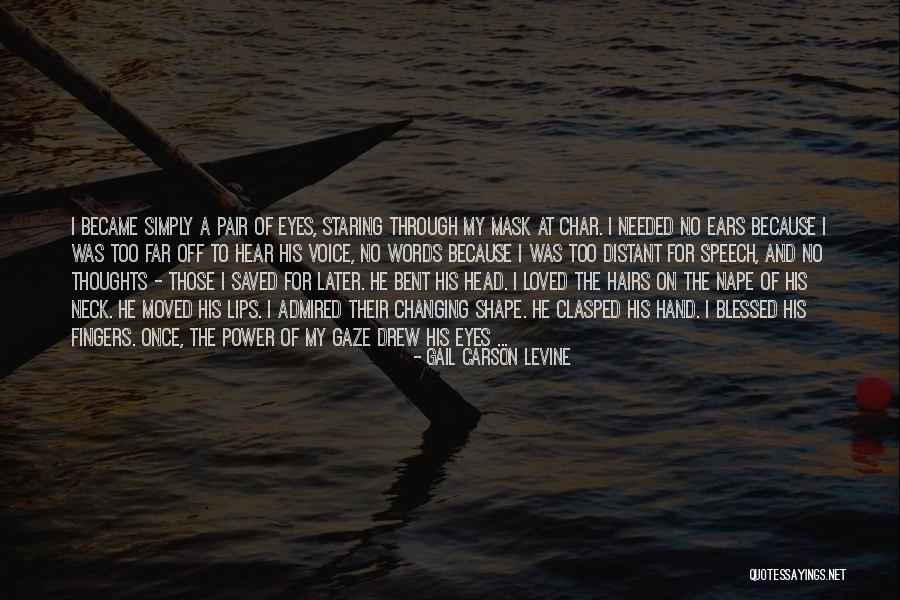 I became simply a pair of eyes, staring through my mask at Char. I needed no ears because I was too far off to hear his voice, no words because I was too distant for speech, and no thoughts - those I saved for later. He bent his head. I loved the hairs on the nape of his neck. He moved his lips. I admired their changing shape. He clasped his hand. I blessed his fingers. Once, the power of my gaze drew his eyes ... — Gail Carson Levine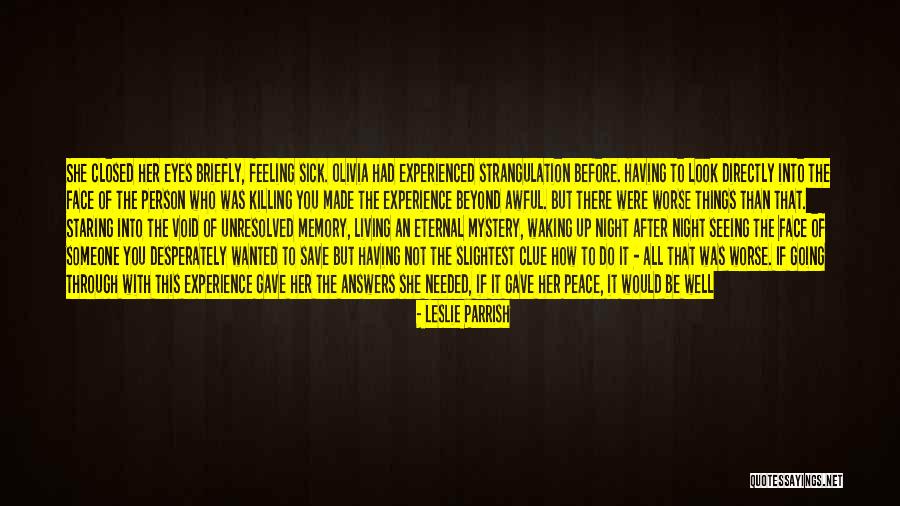 She closed her eyes briefly, feeling sick. Olivia had experienced strangulation before. Having to look directly into the face of the person who was killing you made the experience beyond awful. But there were worse things than that. Staring into the void of unresolved memory, living an eternal mystery, waking up night after night seeing the face of someone you desperately wanted to save but having not the slightest clue how to do it - all that was worse. If going through with this experience gave her the answers she needed, if it gave her peace, it would be well worth one-hundred-and-thirty seconds of fear and pain. — Leslie Parrish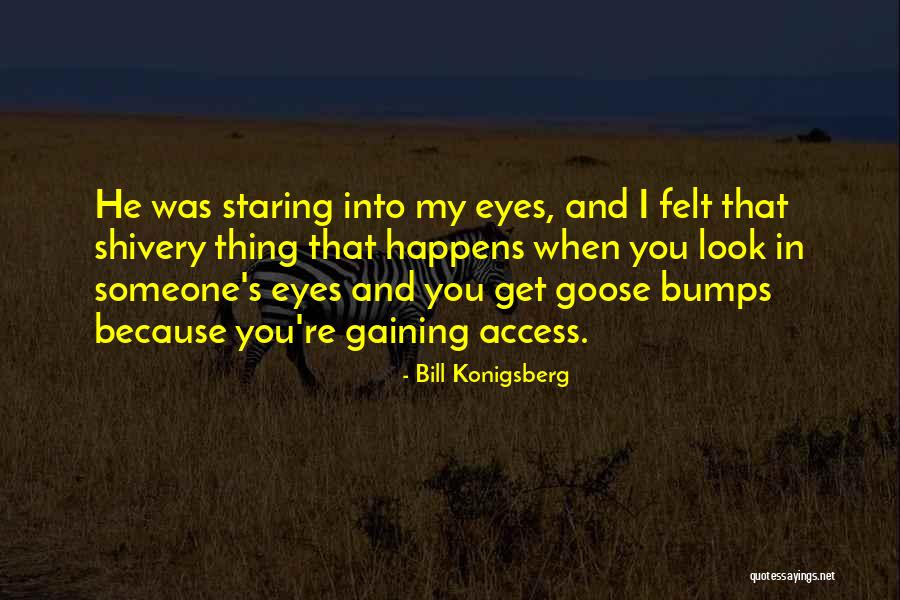 He was staring into my eyes, and I felt that shivery thing that happens when you look in someone's eyes and you get goose bumps because you're gaining access. — Bill Konigsberg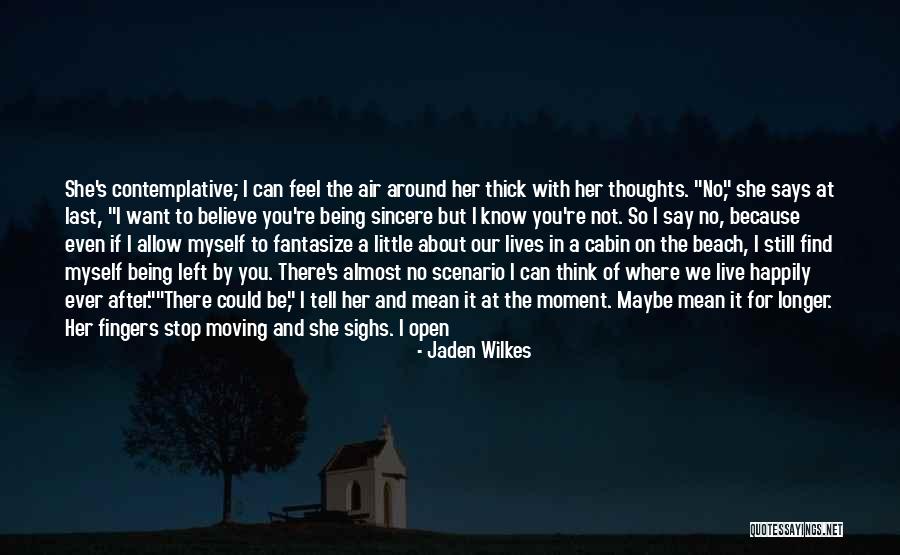 She's contemplative; I can feel the air around her thick with her thoughts. "No," she says at last, "I want to believe you're being sincere but I know you're not. So I say no, because even if I allow myself to fantasize a little about our lives in a cabin on the beach, I still find myself being left by you. There's almost no scenario I can think of where we live happily ever after."
"There could be," I tell her and mean it at the moment. Maybe mean it for longer. Her fingers stop moving and she sighs. I open my eyes and she's staring down at me. The lights have come on around the parking lot and one of them shines directly into her face. She angelic, a neon seraphim under the brilliant skies of the spring. I can see us on our boat, eating our hand picked clams on the fire behind our place. I can see it so vividly I'm almost sure it's happened. — Jaden Wilkes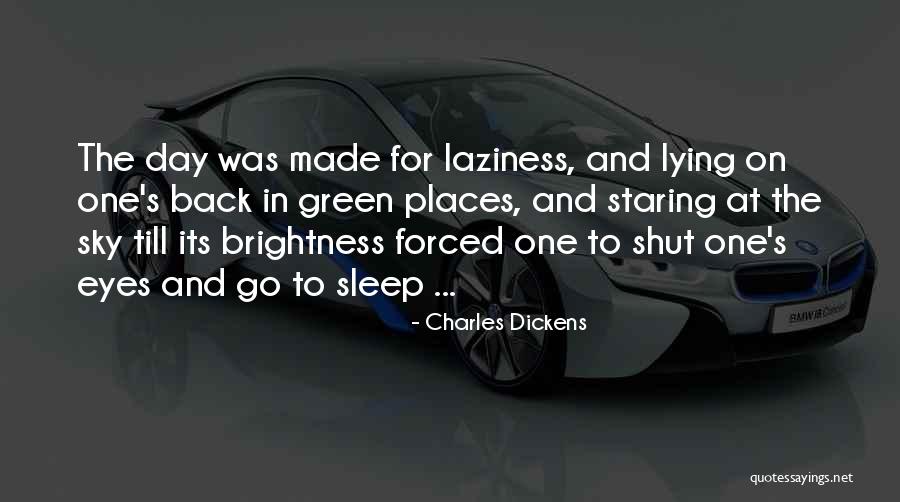 The day was made for laziness, and lying on one's back in green places, and staring at the sky till its brightness forced one to shut one's eyes and go to sleep ... — Charles Dickens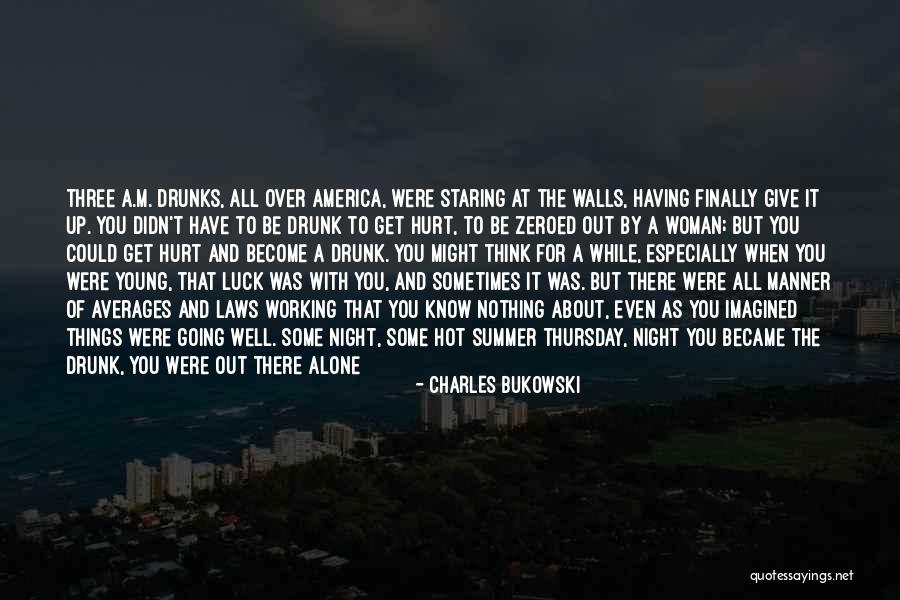 Three a.m. drunks, all over America, were staring at the walls, having finally give it up. You didn't have to be drunk to get hurt, to be zeroed out by a woman; but you could get hurt and become a drunk. You might think for a while, especially when you were young, that luck was with you, and sometimes it was. But there were all manner of averages and laws working that you know nothing about, even as you imagined things were going well. Some night, some hot summer Thursday, night you became the drunk, you were out there alone in a cheap rented room, and no matter how many times you'd been out there before, it was no help, it was even worse because you had got to thinking you wouldn't face it again. All you could do was light another cigarette, pour another drink, check the peeling walls for lips and eyes. What men and women did to each other was beyond comprehension. — Charles Bukowski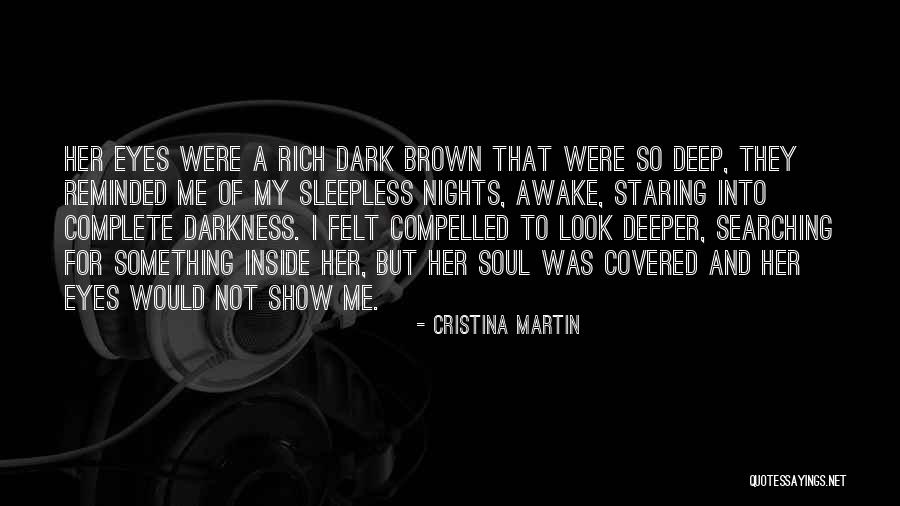 Her eyes were a rich dark brown that were so deep, they reminded me of my sleepless nights, awake, staring into complete darkness. I felt compelled to look deeper, searching for something inside her, but her soul was covered and her eyes would not show me. — Cristina Martin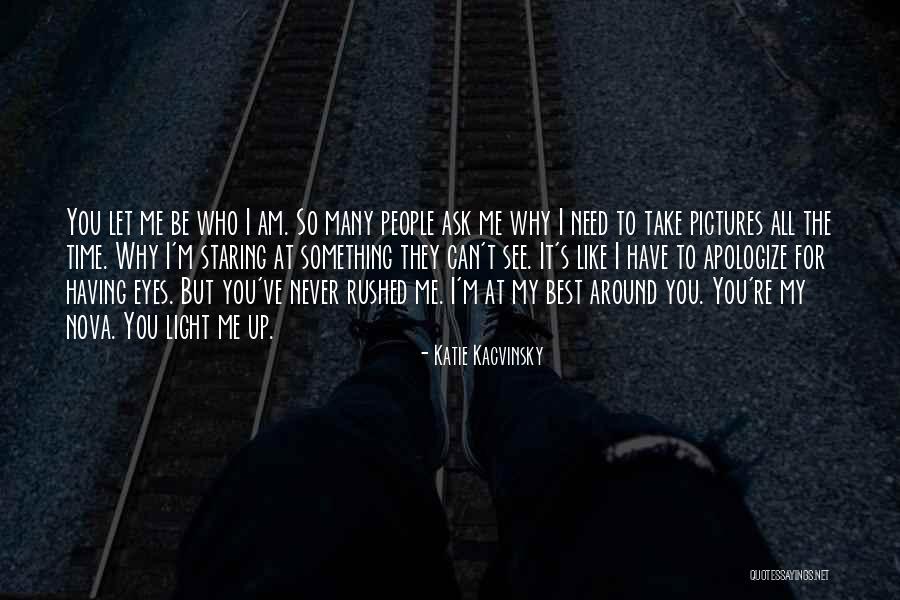 You let me be who I am. So many people ask me why I need to take pictures all the time. Why I'm staring at something they can't see. It's like I have to apologize for having eyes. But you've never rushed me. I'm at my best around you. You're my nova. You light me up. — Katie Kacvinsky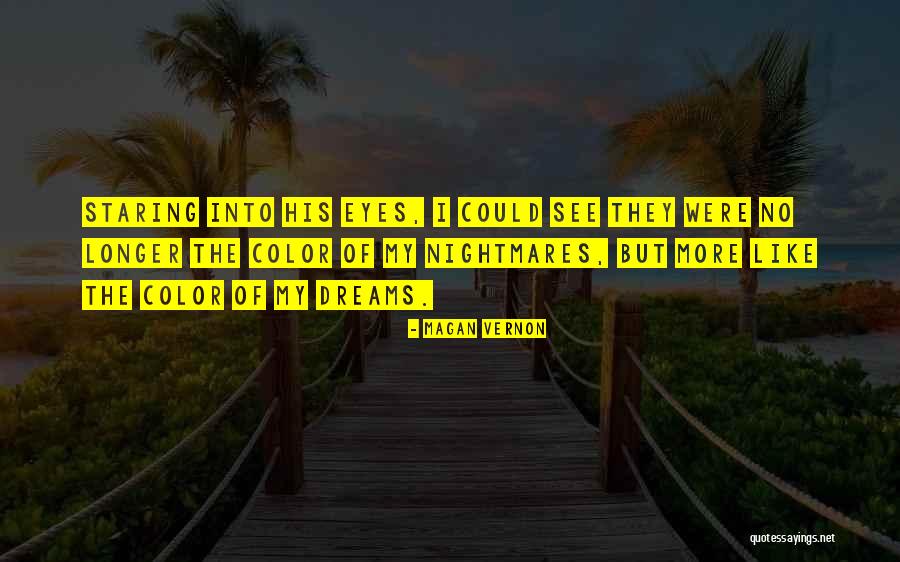 Staring into his eyes, I could see they were no longer the color of my nightmares, but more like the color of my dreams. — Magan Vernon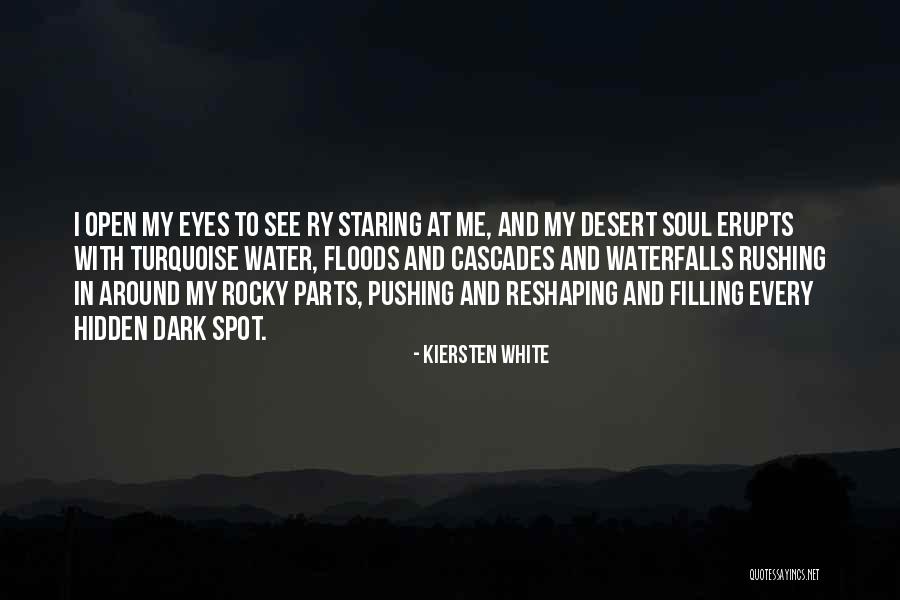 I open my eyes to see Ry staring at me, and my desert soul erupts with turquoise water, floods and cascades and waterfalls rushing in around my rocky parts, pushing and reshaping and filling every hidden dark spot. — Kiersten White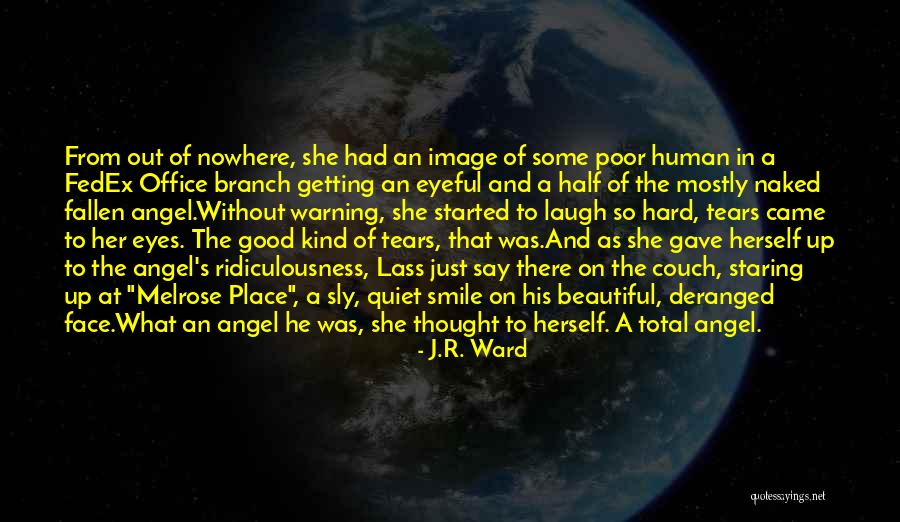 From out of nowhere, she had an image of some poor human in a FedEx Office branch getting an eyeful and a half of the mostly naked fallen angel.
Without warning, she started to laugh so hard, tears came to her eyes. The good kind of tears, that was.
And as she gave herself up to the angel's ridiculousness, Lass just say there on the couch, staring up at "Melrose Place", a sly, quiet smile on his beautiful, deranged face.
What an angel he was, she thought to herself. A total angel. — J.R. Ward
The vampire's eyes were open, and he was staring at her intently. It was as though he were trying to speak to her with simply the power of a glare.
Alexia did not speak glare-ish. — Gail Carriger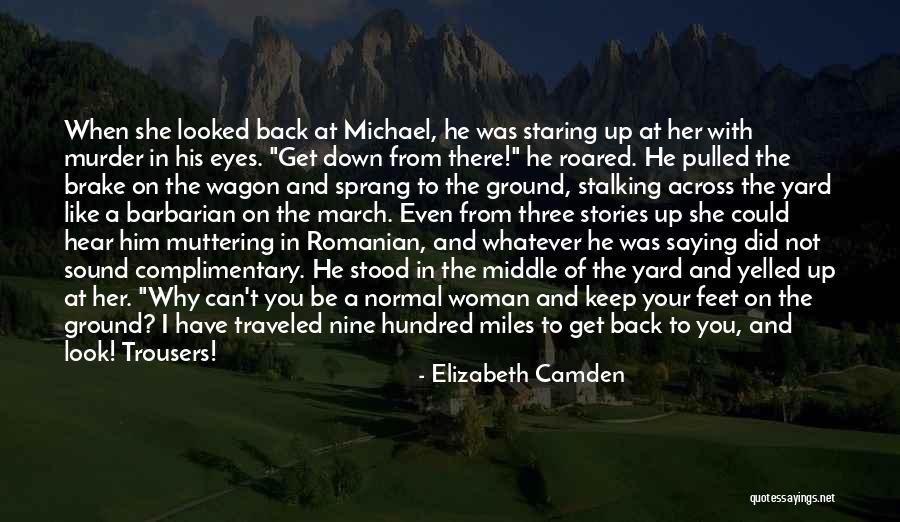 When she looked back at Michael, he was staring up at her with murder in his eyes. "Get down from there!" he roared. He pulled the brake on the wagon and sprang to the ground, stalking across the yard like a barbarian on the march. Even from three stories up she could hear him muttering in Romanian, and whatever he was saying did not sound complimentary. He stood in the middle of the yard and yelled up at her. "Why can't you be a normal woman and keep your feet on the ground? I have traveled nine hundred miles to get back to you, and look! Trousers! — Elizabeth Camden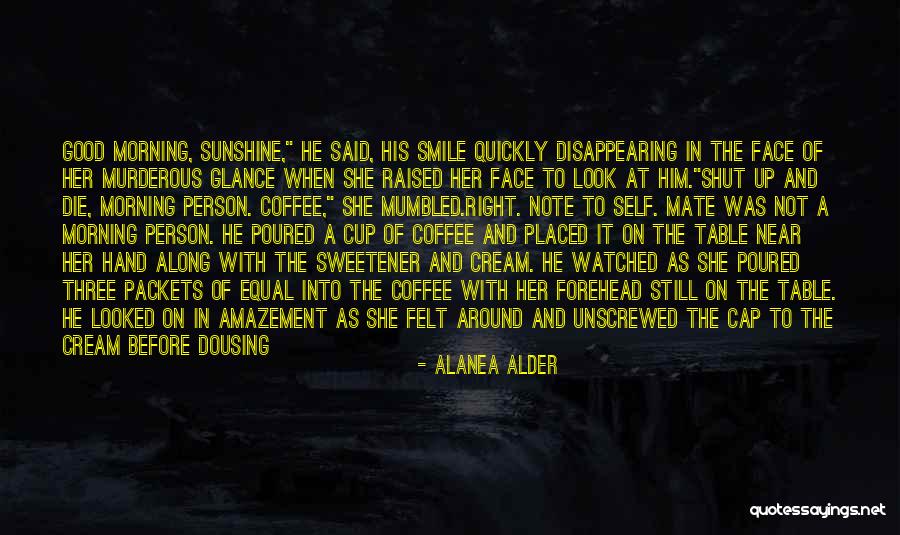 Good morning, sunshine," he said, his smile quickly disappearing in the face of her murderous glance when she raised her face to look at him.

"Shut up and die, morning person. Coffee," she mumbled.

Right. Note to self. Mate was not a morning person. He poured a cup of coffee and placed it on the table near her hand along with the sweetener and cream. He watched as she poured three packets of Equal into the coffee with her forehead still on the table. He looked on in amazement as she felt around and unscrewed the cap to the cream before dousing the dark liquid. She stirred for a second before dragging the cup to her lips. After a few sips she was able to lift her head. By the time she had finished half a cup she was sitting upright. When she finished the cup, her eyes were open and she was looking around.

"You need to be a coffee commercial," Connor said, staring at his mate. — Alanea Alder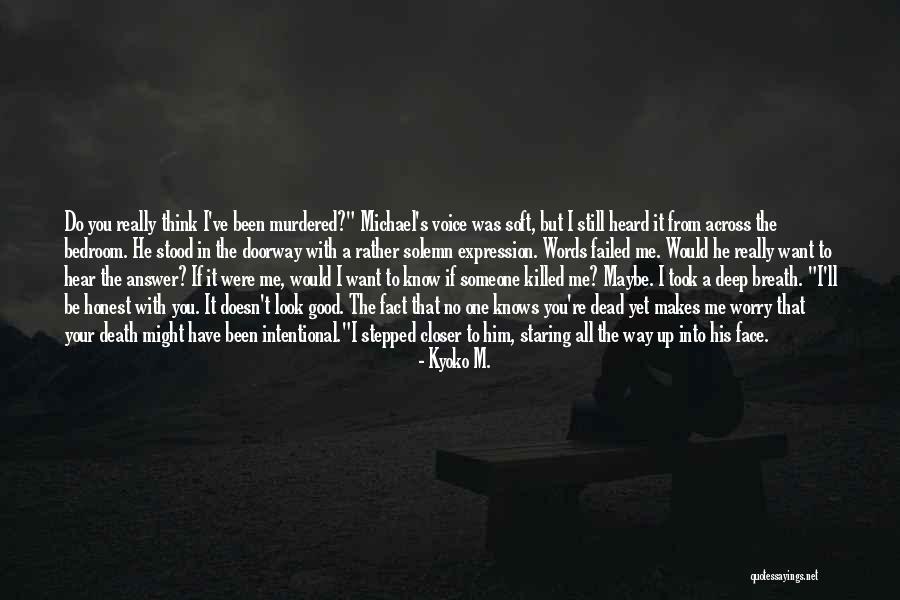 Do you really think I've been murdered?" Michael's voice was soft, but I still heard it from across the bedroom. He stood in the doorway with a rather solemn expression. Words failed me. Would he really want to hear the answer? If it were me, would I want to know if someone killed me? Maybe.
I took a deep breath. "I'll be honest with you. It doesn't look good. The fact that no one knows you're dead yet makes me worry that your death might have been intentional."
I stepped closer to him, staring all the way up into his face. "But if you want the truth, I don't think the reason you died was your fault. You're a pain in the ass, but you're a good guy. I'm sorry this happened to you."
He gazed at me for a handful of seconds before nodding and his hair slid forward into his eyes. For some reason, it was the first time Michael seemed human. He was always so amiable and confident that seeing him be vulnerable felt odd.
"Thank you."
"Come on. Let's go find some answers. — Kyoko M.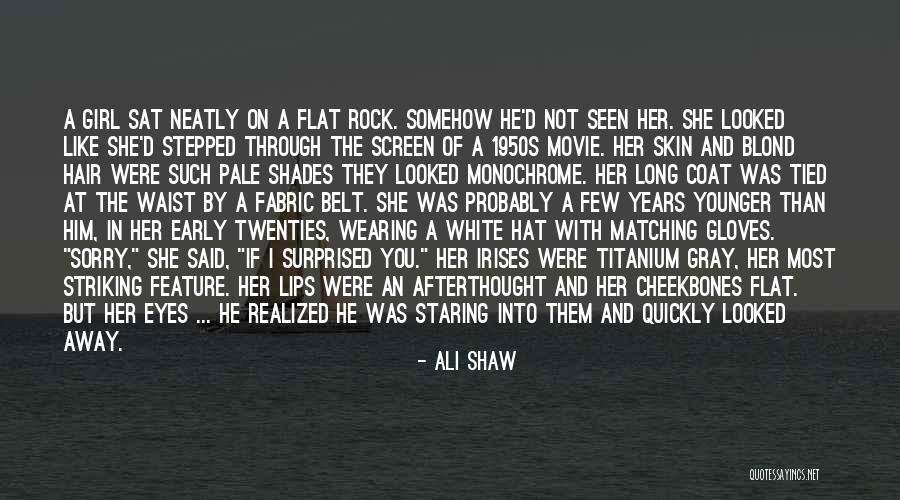 A girl sat neatly on a flat rock. Somehow he'd not seen her. She looked like she'd stepped through the screen of a 1950s movie. Her skin and blond hair were such pale shades they looked monochrome. Her long coat was tied at the waist by a fabric belt. She was probably a few years younger than him, in her early twenties, wearing a white hat with matching gloves. "Sorry," she said, "If I surprised you." Her irises were titanium gray, her most striking feature. Her lips were an afterthought and her cheekbones flat. But her eyes ... He realized he was staring into them and quickly looked away. — Ali Shaw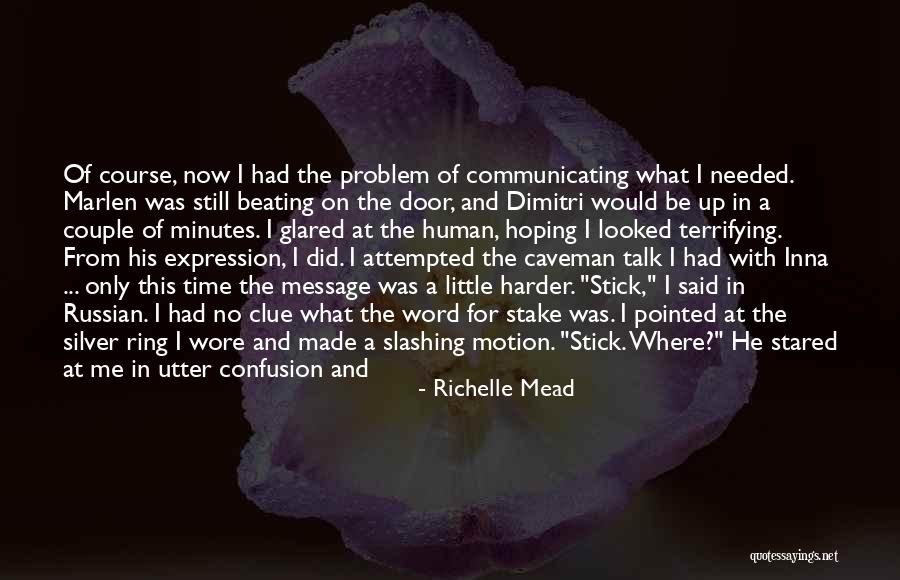 Of course, now I had the problem of communicating what I needed. Marlen was still beating on the door, and Dimitri would be up in a couple of minutes. I glared at the human, hoping I looked terrifying. From his expression, I did. I attempted the caveman talk I had with Inna ... only this time the message was a little harder.
"Stick," I said in Russian. I had no clue what the word for stake was. I pointed at the silver ring I wore and made a slashing motion. "Stick. Where?"
He stared at me in utter confusion and then asked, in perfect English, "Why are you talking like that?"
"Oh for God's sake," I exclaimed. "Where is the vault?"
"Vault?"
"A place they keep weapons?"
He continued staring.
"Oh," he said. "That." Uneasily, he cast his eyes in the direction of the pounding. — Richelle Mead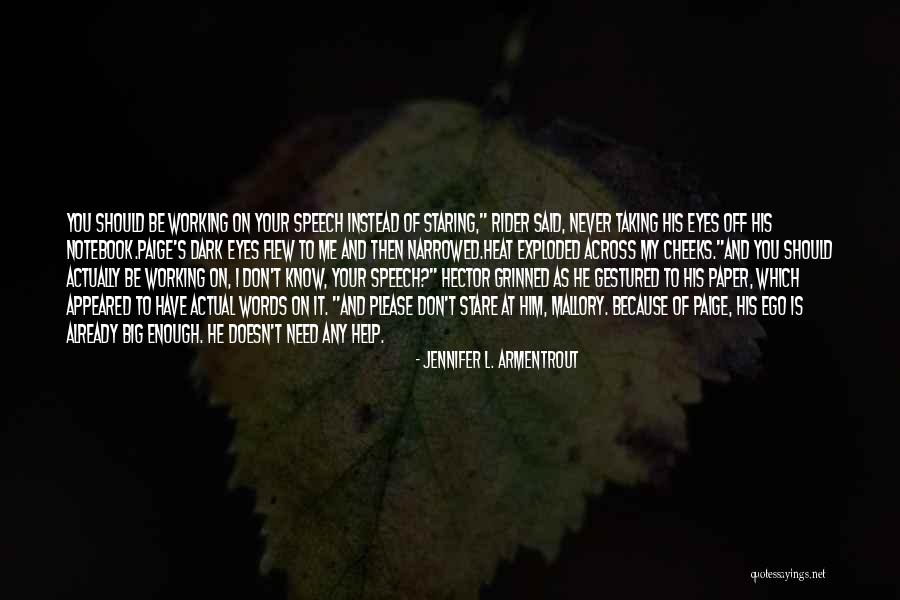 You should be working on your speech instead of staring," Rider said, never taking his eyes off his notebook.
Paige's dark eyes flew to me and then narrowed.
Heat exploded across my cheeks.
"And you should actually be working on, I don't know, your speech?" Hector grinned as he gestured to his paper, which appeared to have actual words on it. "And please don't stare at him, Mallory. Because of Paige, his ego is already big enough. He doesn't need any help. — Jennifer L. Armentrout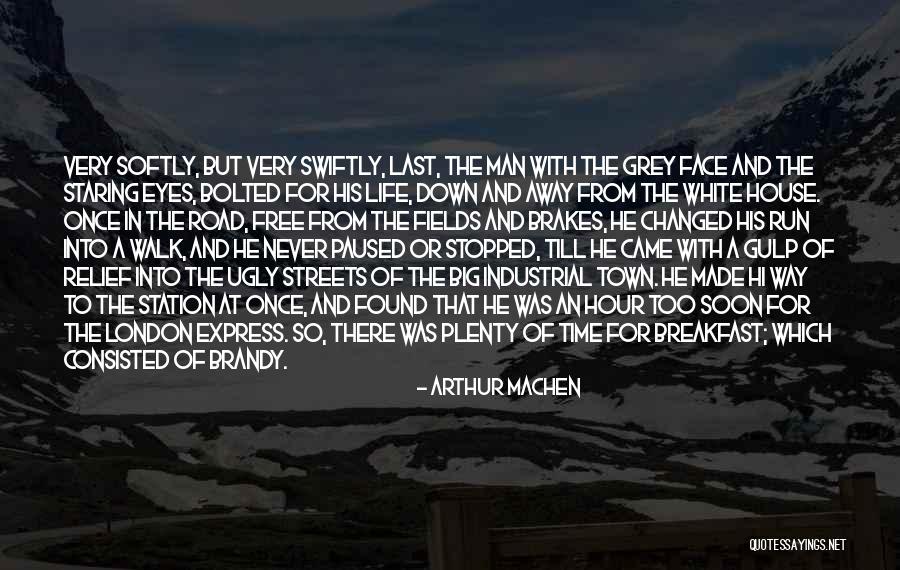 Very softly, but very swiftly, Last, the man with the grey face and the staring eyes, bolted for his life, down and away from the White House. Once in the road, free from the fields and brakes, he changed his run into a walk, and he never paused or stopped, till he came with a gulp of relief into the ugly streets of the big industrial town. He made hi way to the station at once, and found that he was an hour too soon for the London express. So, there was plenty of time for breakfast; which consisted of brandy. — Arthur Machen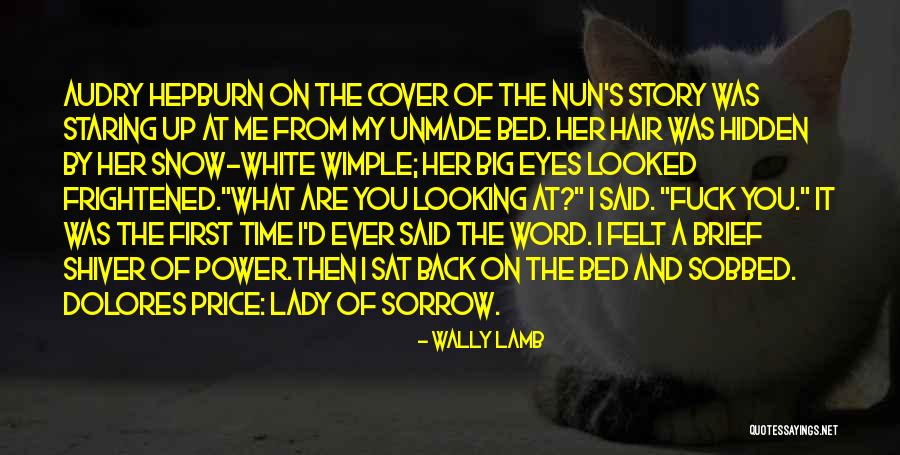 Audry Hepburn on the cover of The Nun's Story was staring up at me from my unmade bed. Her hair was hidden by her snow-white wimple; her big eyes looked frightened.
"What are you looking at?" I said. "Fuck you." It was the first time I'd ever said the word. I felt a brief shiver of power.
Then I sat back on the bed and sobbed. Dolores Price: Lady of Sorrow. — Wally Lamb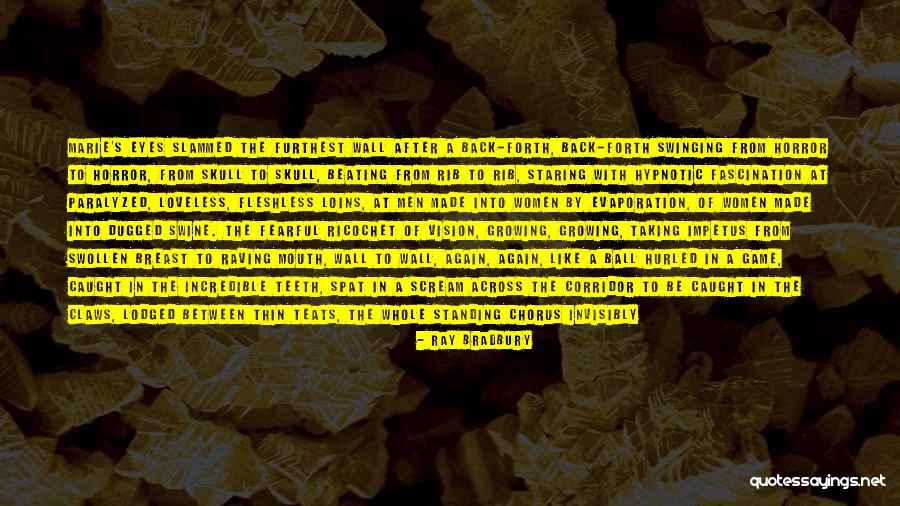 Marie's eyes slammed the furthest wall after a back-forth, back-forth swinging from horror to horror, from skull to skull, beating from rib to rib, staring with hypnotic fascination at paralyzed, loveless, fleshless loins, at men made into women by evaporation, of women made into dugged swine. the fearful ricochet of vision, growing, growing, taking impetus from swollen breast to raving mouth, wall to wall, again, again, like a ball hurled in a game, caught in the incredible teeth, spat in a scream across the corridor to be caught in the claws, lodged between thin teats, the whole standing chorus invisibly chanting the game on, on, the wild game of sight recoiling, rebounding, re-shuttling on down the inconceivable procession, through a montage of erected horrors that ended finally and for all time when vision crashed against the corridor ending with one last scream from all present. — Ray Bradbury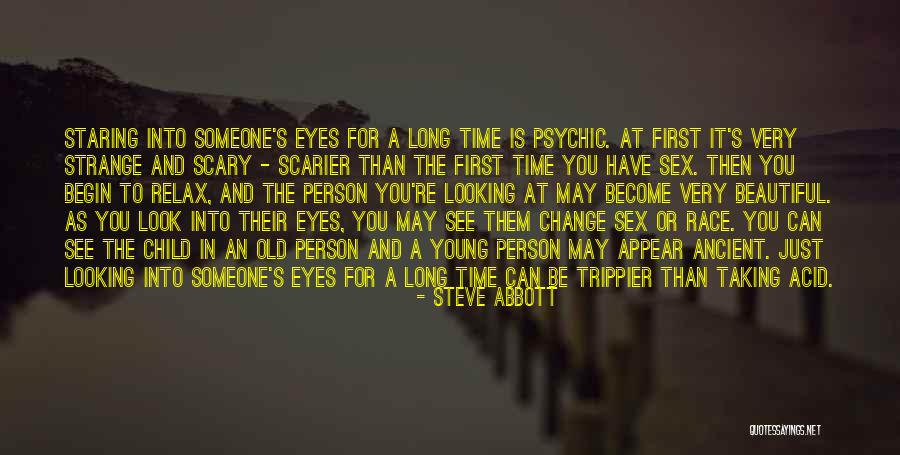 Staring into someone's eyes for a long time is psychic. At first it's very strange and scary - scarier than the first time you have sex. Then you begin to relax, and the person you're looking at may become very beautiful. As you look into their eyes, you may see them change sex or race. You can see the child in an old person and a young person may appear ancient. Just looking into someone's eyes for a long time can be trippier than taking acid. — Steve Abbott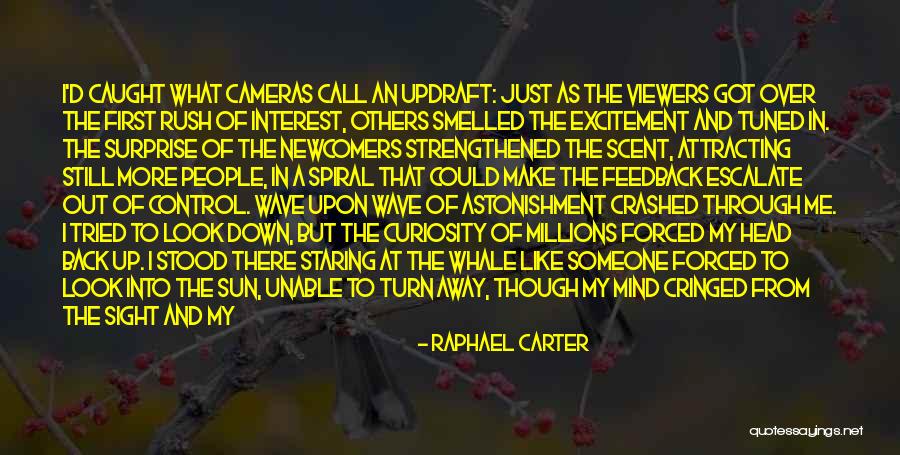 I'd caught what cameras call an updraft: just as the viewers got over the first rush of interest, others smelled the excitement and tuned in. The surprise of the newcomers strengthened the scent, attracting still more people, in a spiral that could make the feedback escalate out of control. Wave upon wave of astonishment crashed through me. I tried to look down, but the curiosity of millions forced my head back up. I stood there staring at the whale like someone forced to look into the sun, unable to turn away, though my mind cringed from the sight and my eyes were burning. It was not just an updraft, but riptide: feedback so strong that it flooded out my own emotions and derailed my thoughts. The audience grew so large and so greedy that it wouldn't even let me blink. — Raphael Carter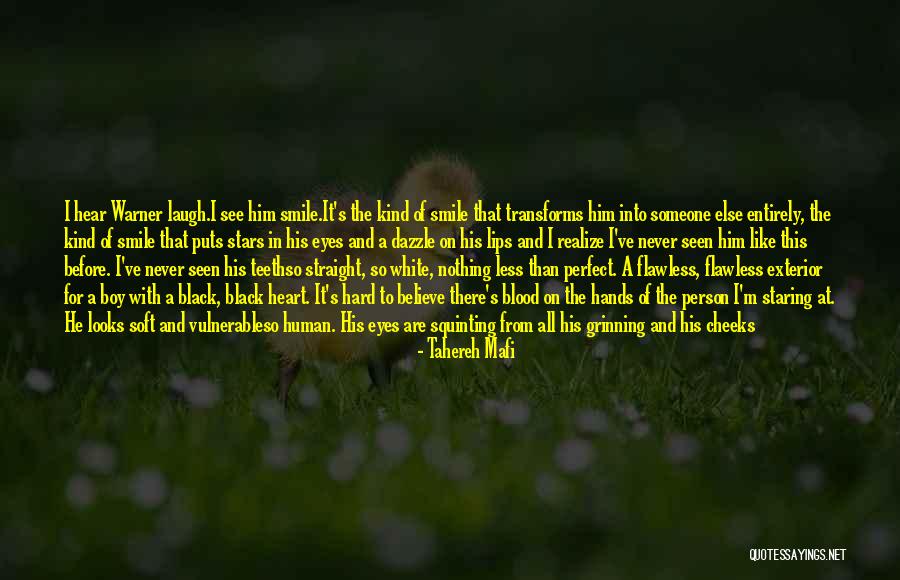 I hear Warner laugh.
I see him smile.
It's the kind of smile that transforms him into someone else entirely, the kind of smile that puts stars in his eyes and a dazzle on his lips and I realize I've never seen him like this before. I've never seen his teeth
so straight, so white, nothing less than perfect. A flawless, flawless exterior for a boy with a black, black heart. It's hard to believe there's blood on the hands of the person I'm staring at. He looks soft and vulnerable
so human. His eyes are squinting from all his grinning and his cheeks are pink form the cold.
He has dimples.
He's easily the most beautiful thing I've ever seen.
And I wish I'd never seen it. — Tahereh Mafi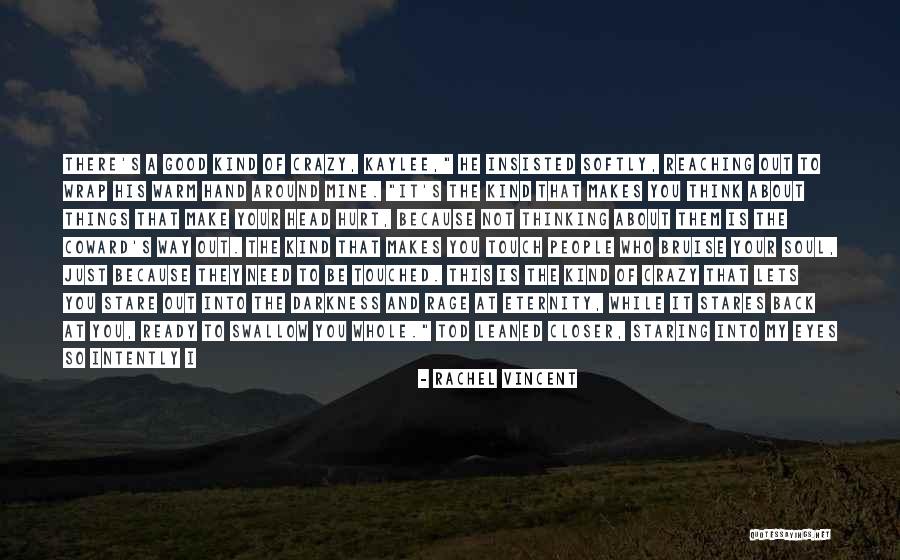 There's a good kind of crazy, Kaylee," he insisted softly, reaching out to wrap his warm hand around mine. "It's the kind that makes you think about things that make your head hurt, because not thinking about them is the coward's way out. The kind that makes you touch people who bruise your soul, just because they need to be touched. This is the kind of crazy that lets you stare out into the darkness and rage at eternity, while it stares back at you, ready to swallow you whole."
Tod leaned closer, staring into my eyes so intently I was sure he could see everything I was thinking, but too afraid to say. "I've seen you fight, Kaylee. I've seen you step into that darkness for someone else, then claw your way out, bruised, but still standing. You're that kind of crazy, and I live in that darkness. Together, we'd take crazy to a whole new level. — Rachel Vincent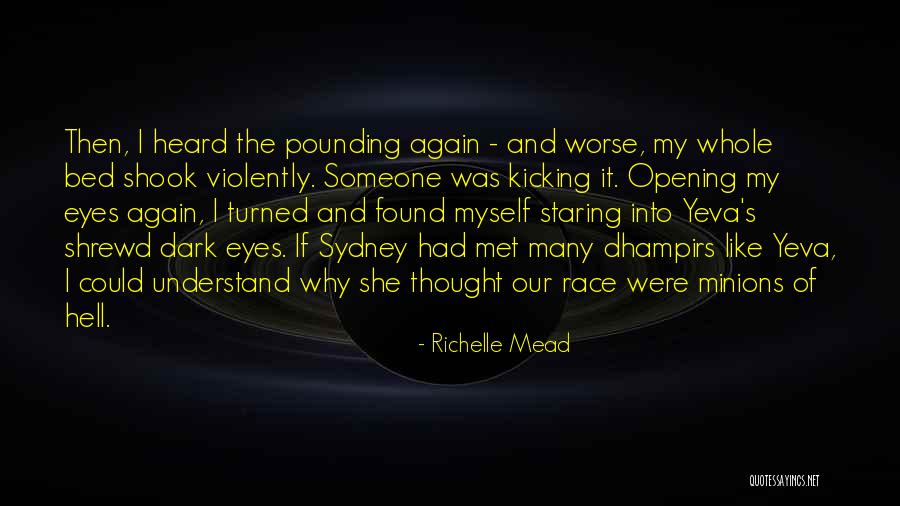 Then, I heard the pounding again - and worse, my whole bed shook violently. Someone was kicking it. Opening my eyes again, I turned and found myself staring into Yeva's shrewd dark eyes. If Sydney had met many dhampirs like Yeva, I could understand why she thought our race were minions of hell. — Richelle Mead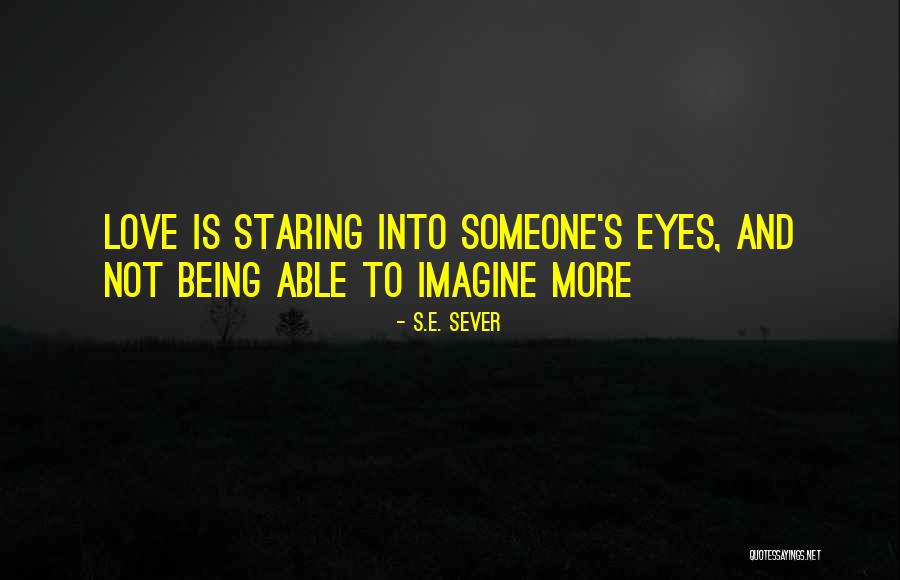 Love is staring into someone's eyes, and not being able to imagine more — S.E. Sever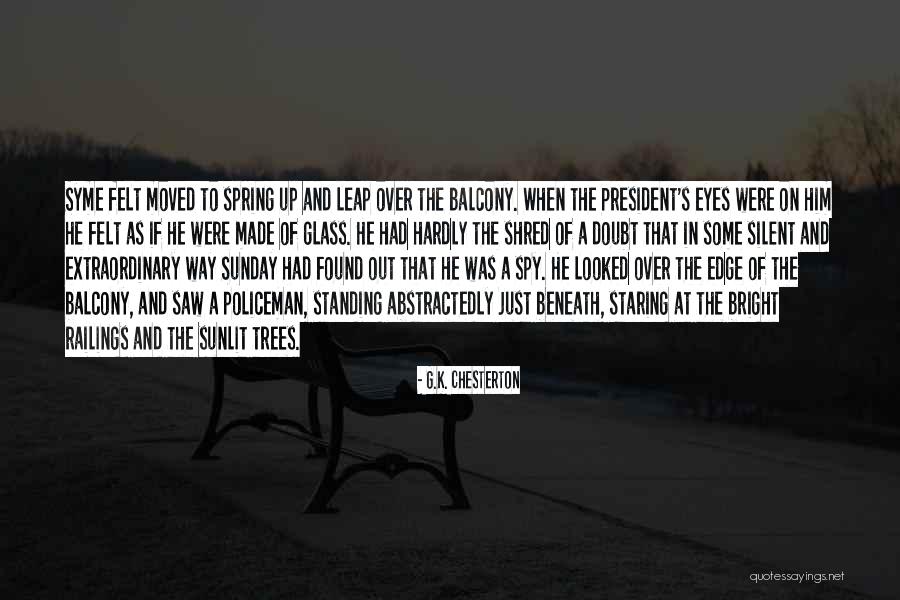 Syme felt moved to spring up and leap over the balcony. When the President's eyes were on him he felt as if he were made of glass. He had hardly the shred of a doubt that in some silent and extraordinary way Sunday had found out that he was a spy. He looked over the edge of the balcony, and saw a policeman, standing abstractedly just beneath, staring at the bright railings and the sunlit trees. — G.K. Chesterton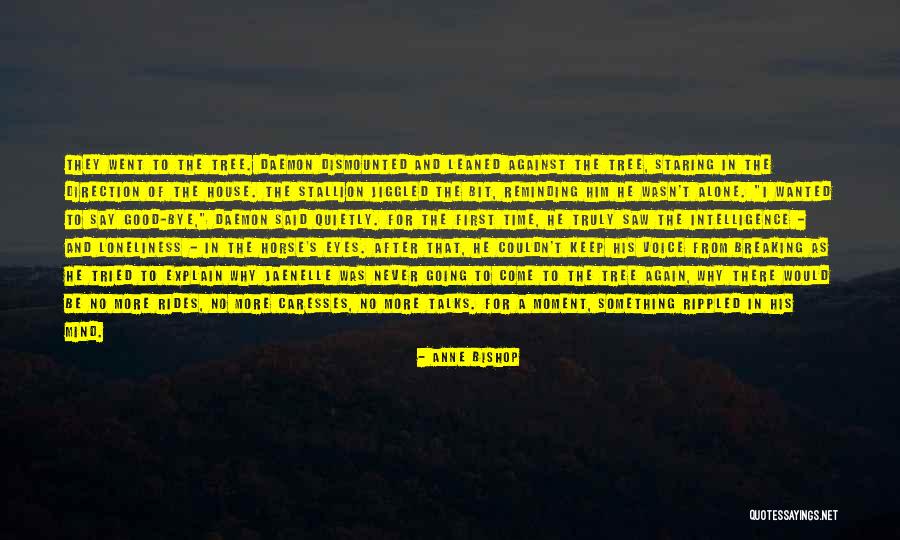 They went to the tree. Daemon dismounted and leaned against the tree, staring in the direction of the house. The stallion jiggled the bit, reminding him he wasn't alone. "I wanted to say good-bye," Daemon said quietly. For the first time, he truly saw the intelligence - and loneliness - in the horse's eyes. After that, he couldn't keep his voice from breaking as he tried to explain why Jaenelle was never going to come to the tree again, why there would be no more rides, no more caresses, no more talks. For a moment, something rippled in his mind. He had the odd sensation he was the one being talked to, explained to, and his words, echoing back, lacerated his heart. To be alone again. To never again see those arms held out in welcome. To never hear that voice say his name. To ... Daemon gasped as Dark Dancer jerked the reins free and raced down the path toward the field. Tears of grief pricked Daemon's eyes. The horse might have a simpler mind, but the heart was just as big. — Anne Bishop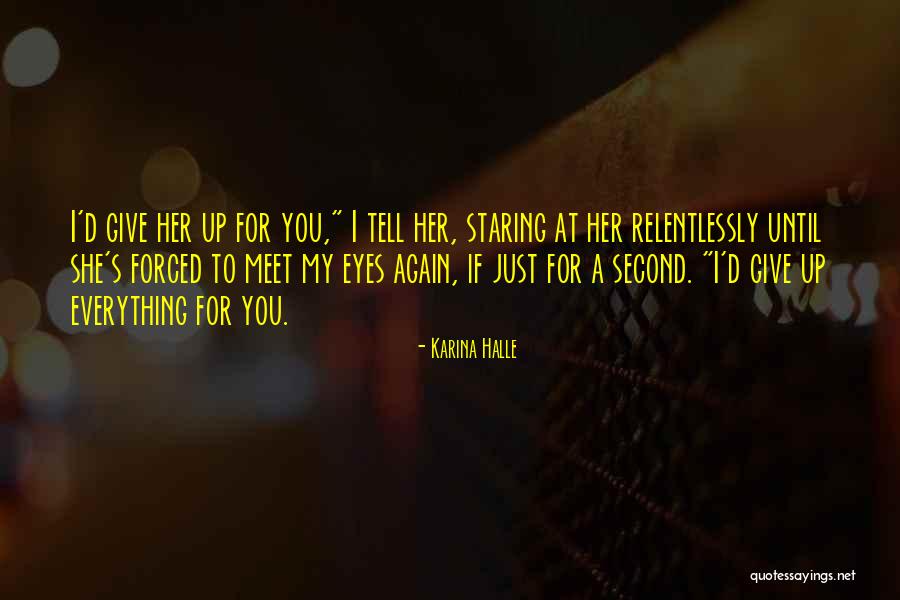 I'd give her up for you," I tell her, staring at her relentlessly until she's forced to meet my eyes again, if just for a second. "I'd give up everything for you. — Karina Halle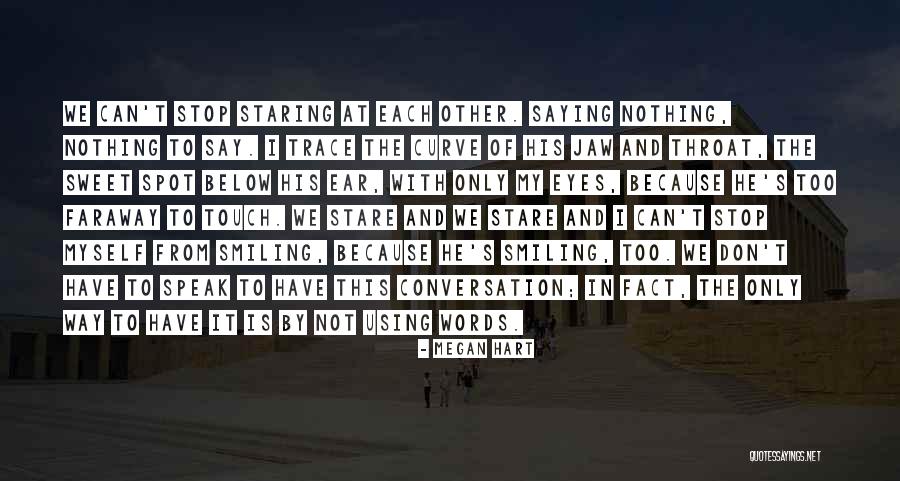 We can't stop staring at each other. Saying nothing, nothing to say. I trace the curve of his jaw and throat, the sweet spot below his ear, with only my eyes, because he's too faraway to touch. We stare and we stare and I can't stop myself from smiling, because he's smiling, too. We don't have to speak to have this conversation; in fact, the only way to have it is by not using words. — Megan Hart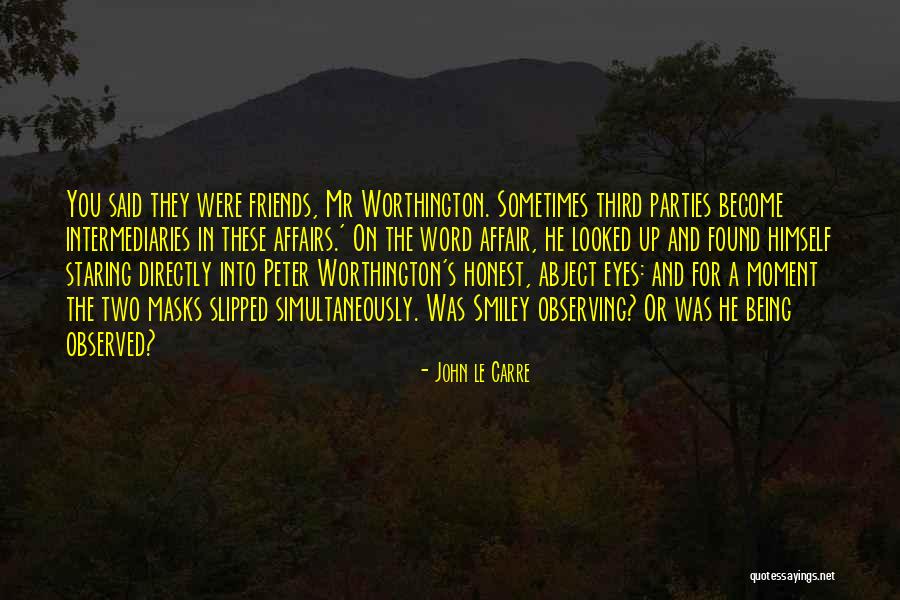 You said they were friends, Mr Worthington. Sometimes third parties become intermediaries in these affairs.' On the word affair, he looked up and found himself staring directly into Peter Worthington's honest, abject eyes: and for a moment the two masks slipped simultaneously. Was Smiley observing? Or was he being observed? — John Le Carre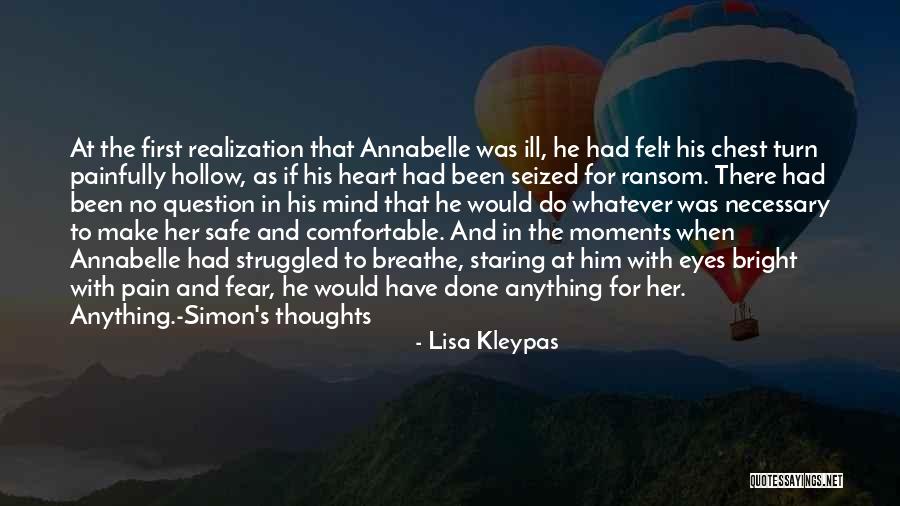 At the first realization that Annabelle was ill, he had felt his chest turn painfully hollow, as if his heart had been seized for ransom. There had been no question in his mind that he would do whatever was necessary to make her safe and comfortable. And in the moments when Annabelle had struggled to breathe, staring at him with eyes bright with pain and fear, he would have done anything for her. Anything.
-Simon's thoughts — Lisa Kleypas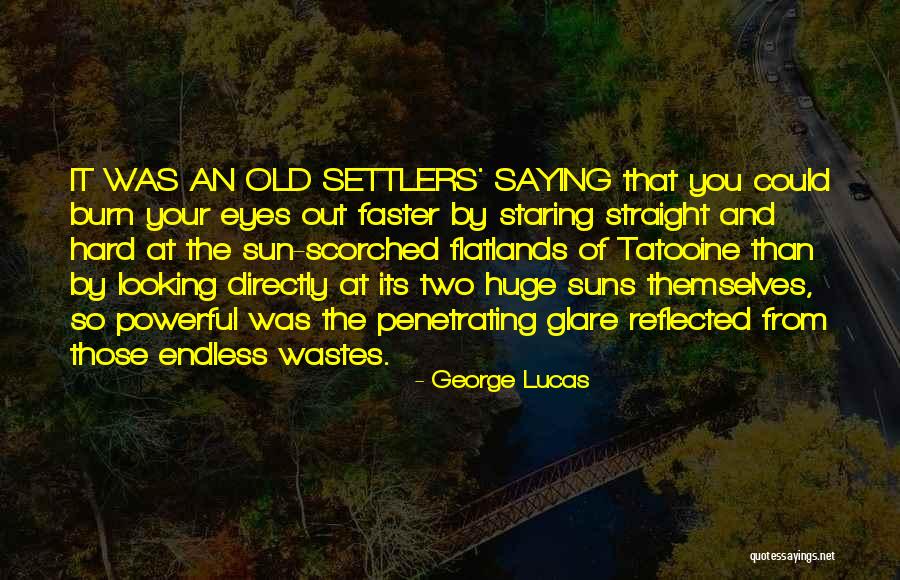 IT WAS AN OLD SETTLERS' SAYING that you could burn your eyes out faster by staring straight and hard at the sun-scorched flatlands of Tatooine than by looking directly at its two huge suns themselves, so powerful was the penetrating glare reflected from those endless wastes. — George Lucas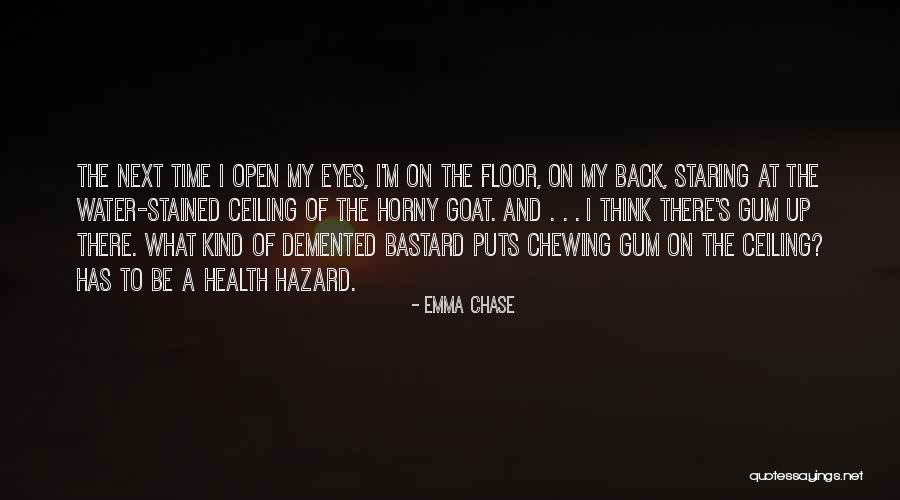 The next time I open my eyes, I'm on the floor, on my back, staring at the water-stained ceiling of The Horny Goat. And . . . I think there's gum up there. What kind of demented bastard puts chewing gum on the ceiling? Has to be a health hazard. — Emma Chase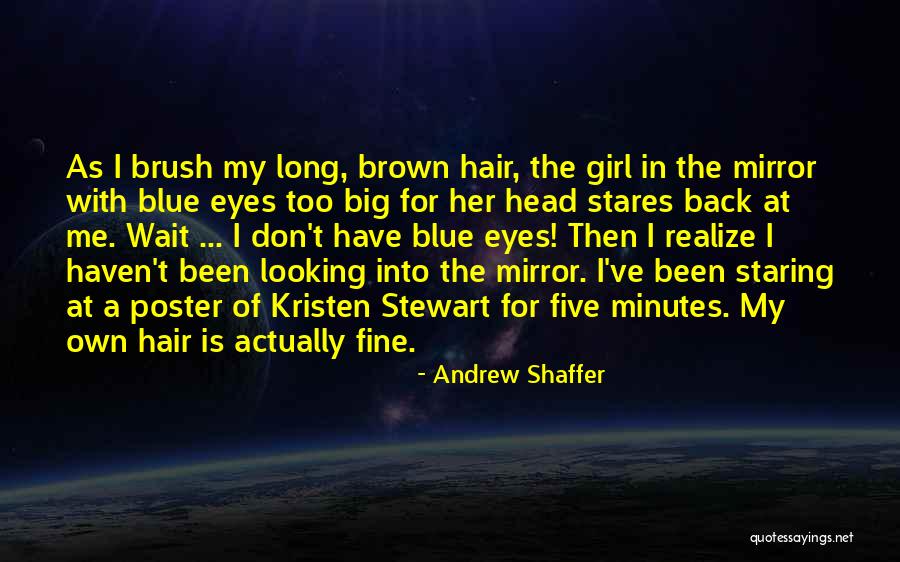 As I brush my long, brown hair, the girl in the mirror with blue eyes too big for her head stares back at me. Wait ... I don't have blue eyes! Then I realize I haven't been looking into the mirror. I've been staring at a poster of Kristen Stewart for five minutes. My own hair is actually fine. — Andrew Shaffer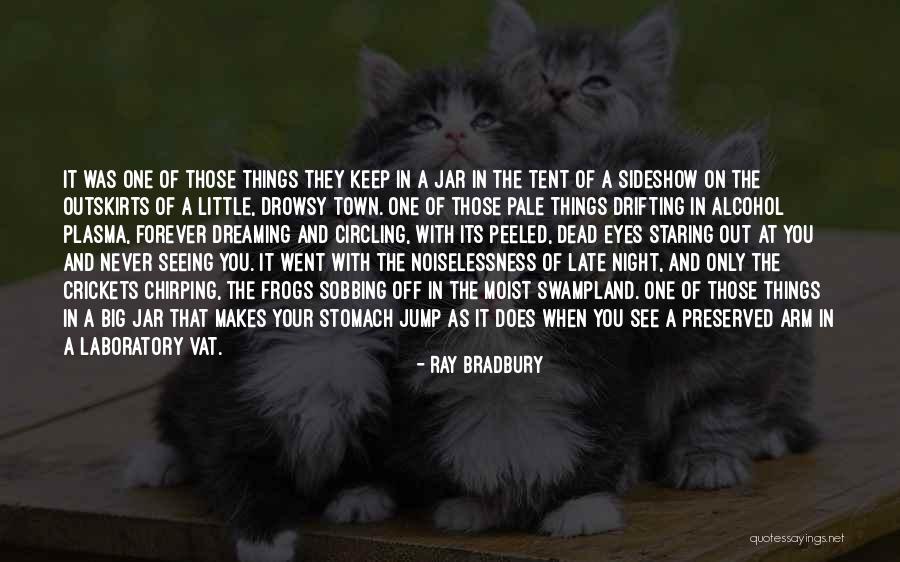 It was one of those things they keep in a jar in the tent of a sideshow on the outskirts of a little, drowsy town. One of those pale things drifting in alcohol plasma, forever dreaming and circling, with its peeled, dead eyes staring out at you and never seeing you. It went with the noiselessness of late night, and only the crickets chirping, the frogs sobbing off in the moist swampland. One of those things in a big jar that makes your stomach jump as it does when you see a preserved arm in a laboratory vat. — Ray Bradbury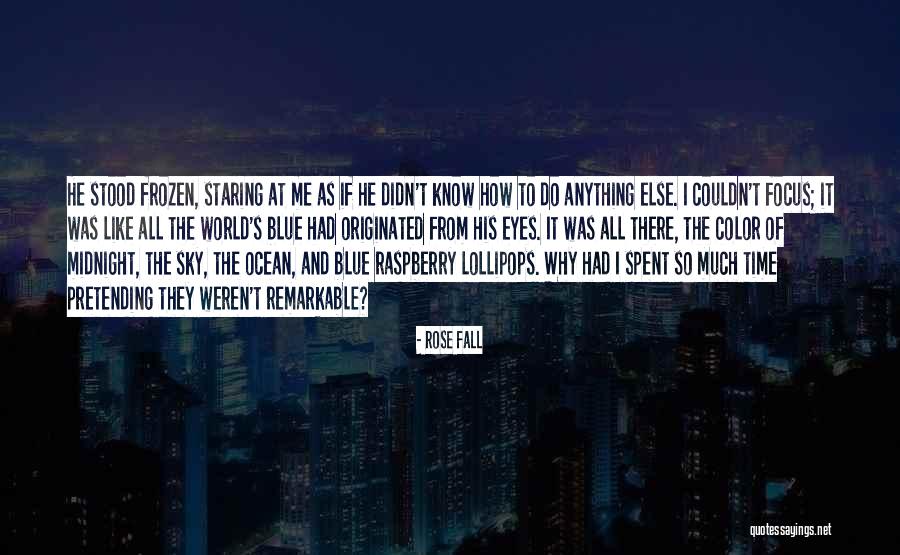 He stood frozen, staring at me as if he didn't know how to do anything else. I couldn't focus; it was like all the world's blue had originated from his eyes. It was all there, the color of midnight, the sky, the ocean, and blue raspberry lollipops. Why had I spent so much time pretending they weren't remarkable? — Rose Fall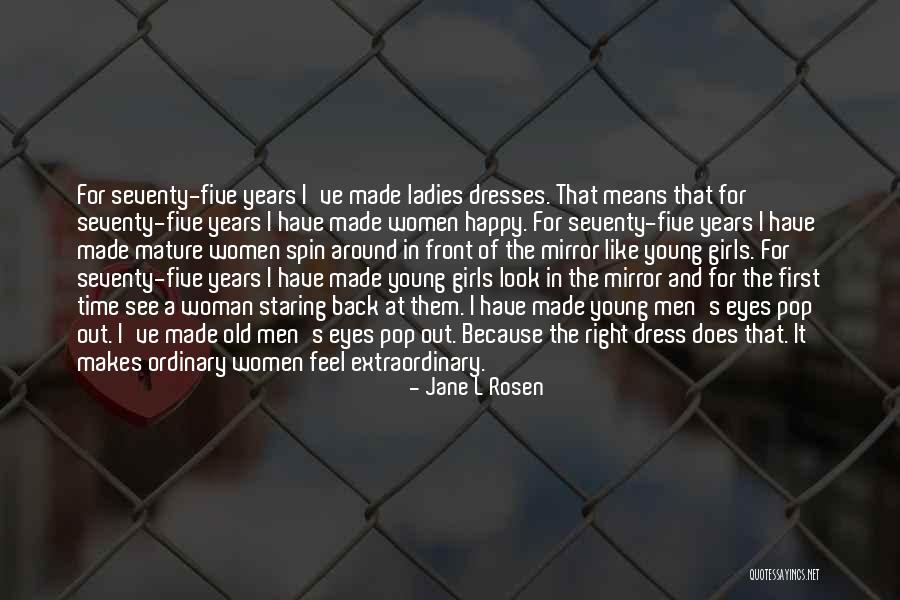 For seventy-five years I've made ladies dresses. That means that for seventy-five years I have made women happy. For seventy-five years I have made mature women spin around in front of the mirror like young girls. For seventy-five years I have made young girls look in the mirror and for the first time see a woman staring back at them. I have made young men's eyes pop out. I've made old men's eyes pop out. Because the right dress does that. It makes ordinary women feel extraordinary. — Jane L Rosen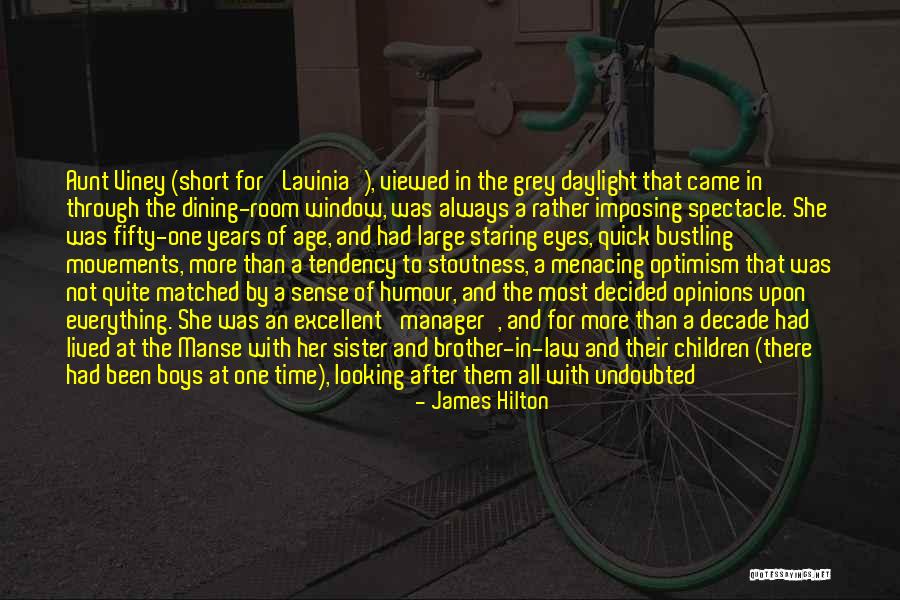 Aunt Viney (short for 'Lavinia'), viewed in the grey daylight that came in through the dining-room window, was always a rather imposing spectacle. She was fifty-one years of age, and had large staring eyes, quick bustling movements, more than a tendency to stoutness, a menacing optimism that was not quite matched by a sense of humour, and the most decided opinions upon everything. She was an excellent 'manager', and for more than a decade had lived at the Manse with her sister and brother-in-law and their children (there had been boys at one time), looking after them all with undoubted if rather relentless competence. — James Hilton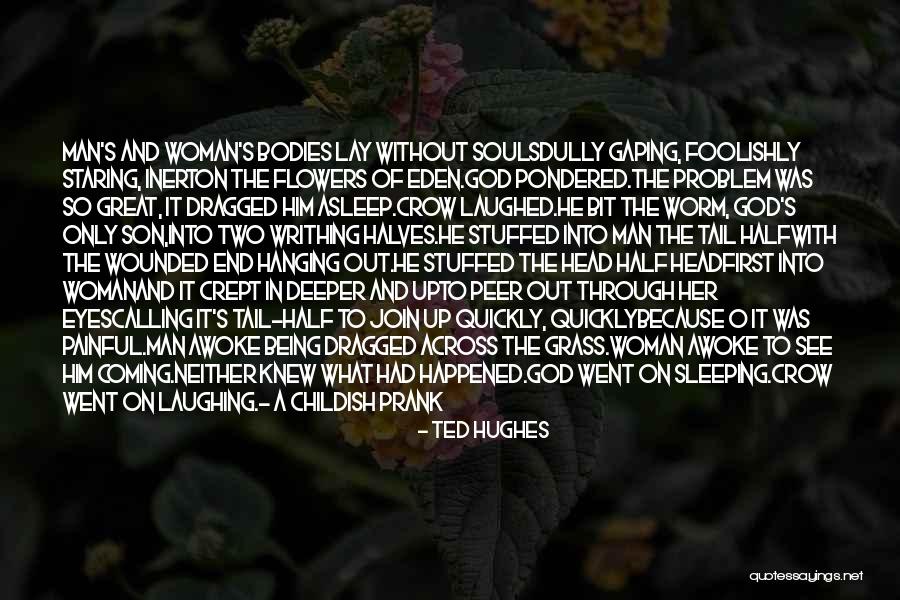 Man's and woman's bodies lay without souls
Dully gaping, foolishly staring, inert
On the flowers of Eden.
God pondered.

The problem was so great, it dragged him asleep.

Crow laughed.

He bit the Worm, God's only son,
Into two writhing halves.

He stuffed into man the tail half
With the wounded end hanging out.

He stuffed the head half headfirst into woman
And it crept in deeper and up
To peer out through her eyes
Calling it's tail-half to join up quickly, quickly
Because O it was painful.

Man awoke being dragged across the grass.
Woman awoke to see him coming.
Neither knew what had happened.

God went on sleeping.

Crow went on laughing.

- A Childish Prank — Ted Hughes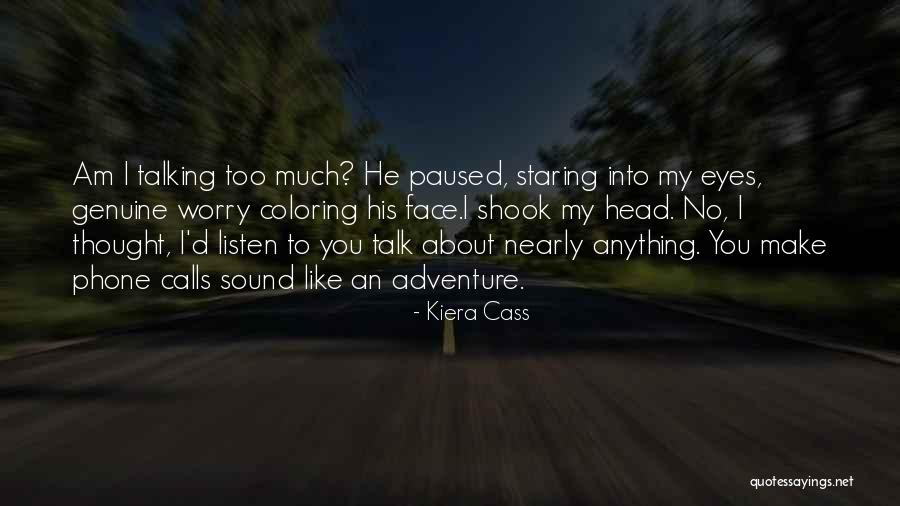 Am I talking too much? He paused, staring into my eyes, genuine worry coloring his face.
I shook my head. No, I thought, I'd listen to you talk about nearly anything. You make phone calls sound like an adventure. — Kiera Cass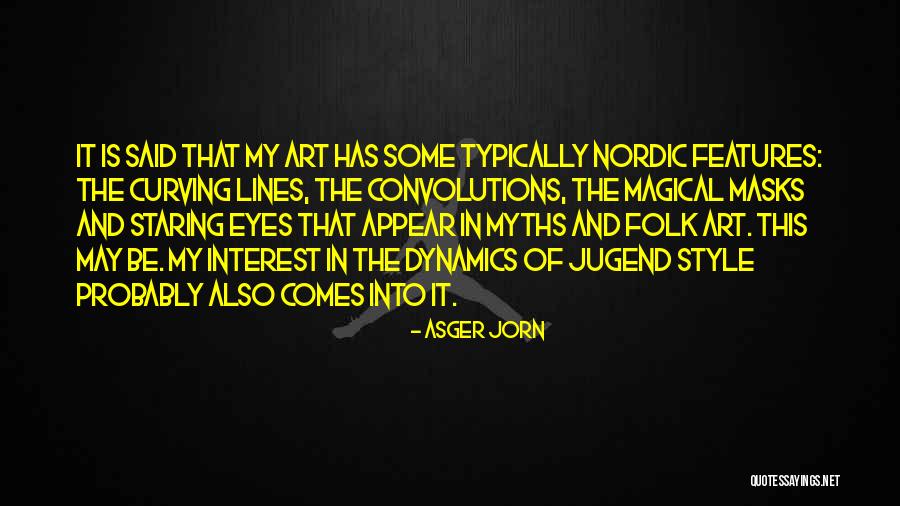 It is said that my art has some typically Nordic features: the curving lines, the convolutions, the magical masks and staring eyes that appear in myths and folk art. This may be. My interest in the dynamics of Jugend style probably also comes into it. — Asger Jorn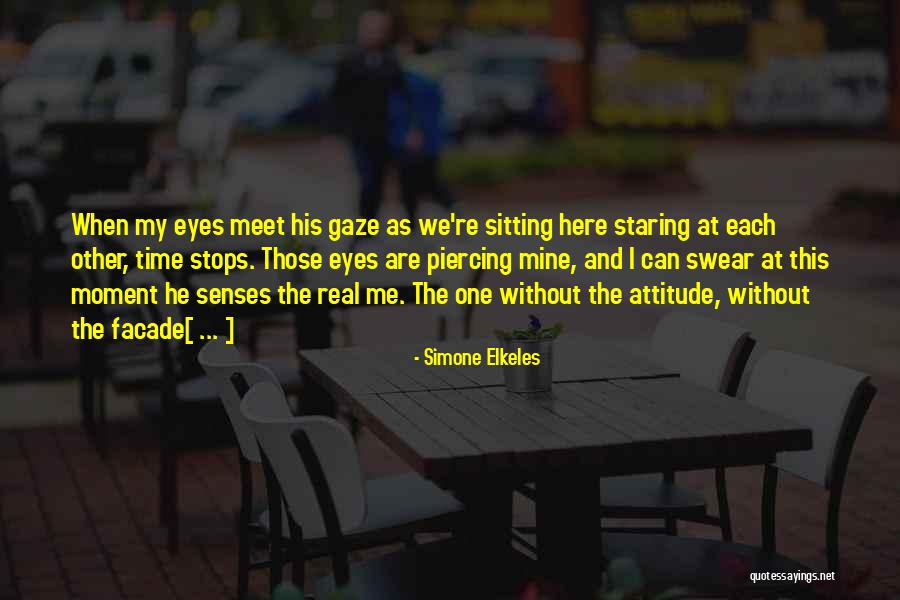 When my eyes meet his gaze as we're sitting here staring at each other, time stops. Those eyes are piercing mine, and I can swear at this moment he senses the real me. The one without the attitude, without the facade[ ... ] — Simone Elkeles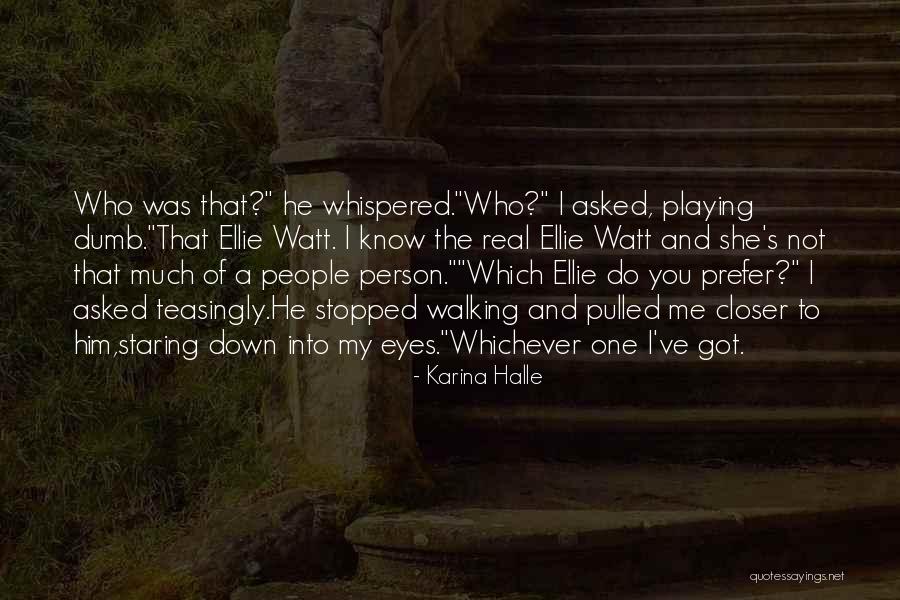 Who was that?" he whispered.
"Who?" I asked, playing dumb.
"That Ellie Watt. I know the real Ellie Watt and she's not that much of a people person."
"Which Ellie do you prefer?" I asked teasingly.
He stopped walking and pulled me closer to him,
staring down into my eyes.
"Whichever one I've got. — Karina Halle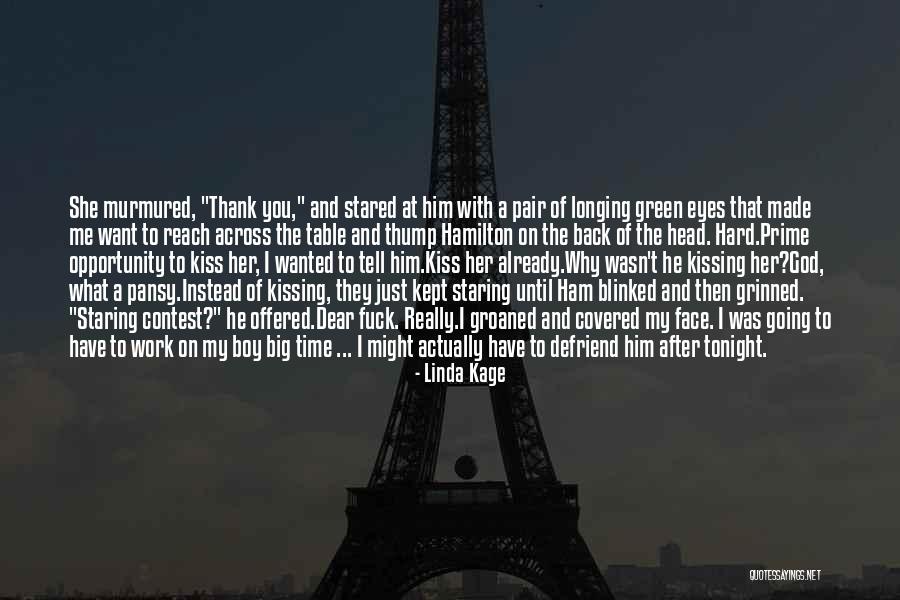 She murmured, "Thank you," and stared at him with a pair of longing green eyes that made me want to reach across the table and thump Hamilton on the back of the head. Hard.
Prime opportunity to kiss her, I wanted to tell him.
Kiss her already.
Why wasn't he kissing her?
God, what a pansy.
Instead of kissing, they just kept staring until Ham blinked and then grinned. "Staring contest?" he offered.
Dear fuck. Really.
I groaned and covered my face. I was going to have to work on my boy big time ... I might actually have to defriend him after tonight. — Linda Kage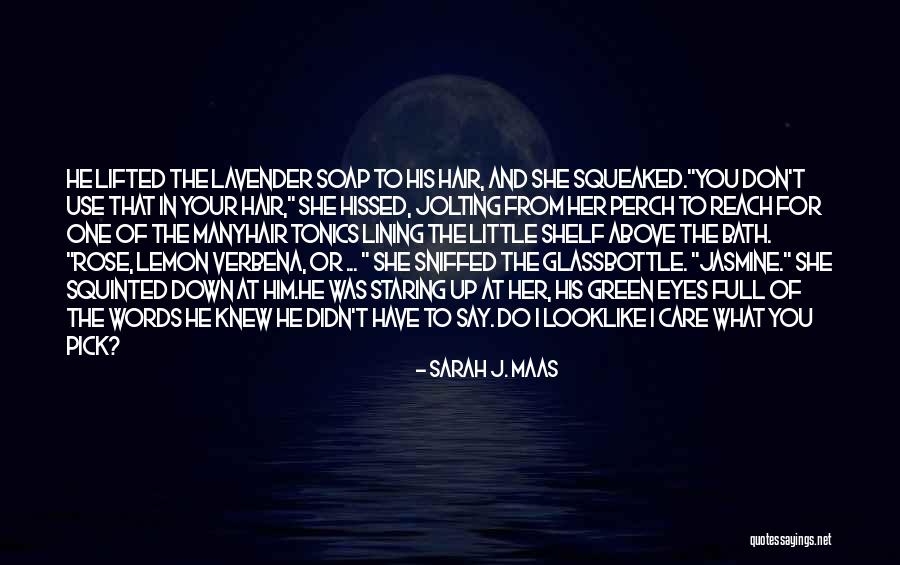 He lifted the lavender soap to his hair, and she squeaked.
"You don't use that in your hair," she hissed, jolting from her perch to reach for one of the many
hair tonics lining the little shelf above the bath. "Rose, lemon verbena, or ... " She sniffed the glass
bottle. "Jasmine." She squinted down at him.
He was staring up at her, his green eyes full of the words he knew he didn't have to say. Do I look
like I care what you pick? — Sarah J. Maas