Stand Up Comedy Jokes Quotes & Sayings
Enjoy reading and share 14 famous quotes about Stand Up Comedy Jokes with everyone.
Top Stand Up Comedy Jokes Quotes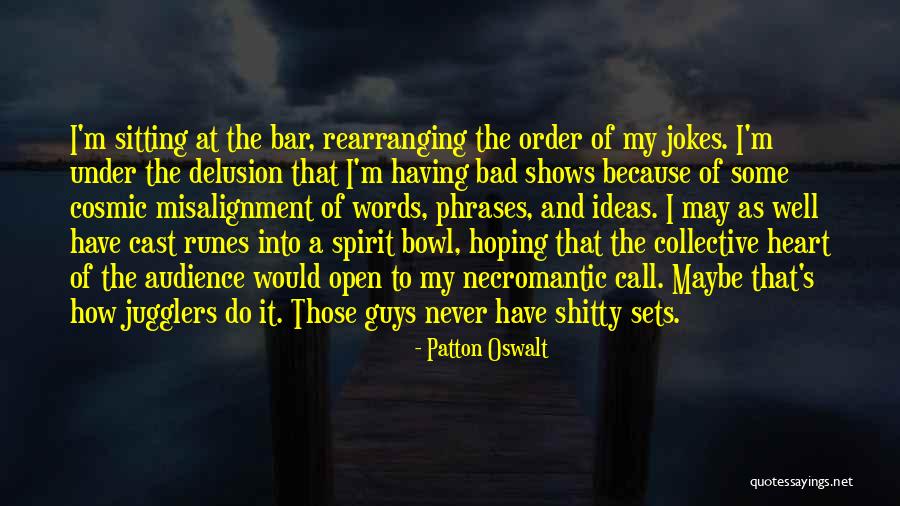 I'm sitting at the bar, rearranging the order of my jokes. I'm under the delusion that I'm having bad shows because of some cosmic misalignment of words, phrases, and ideas. I may as well have cast runes into a spirit bowl, hoping that the collective heart of the audience would open to my necromantic call. Maybe that's how jugglers do it. Those guys never have shitty sets. — Patton Oswalt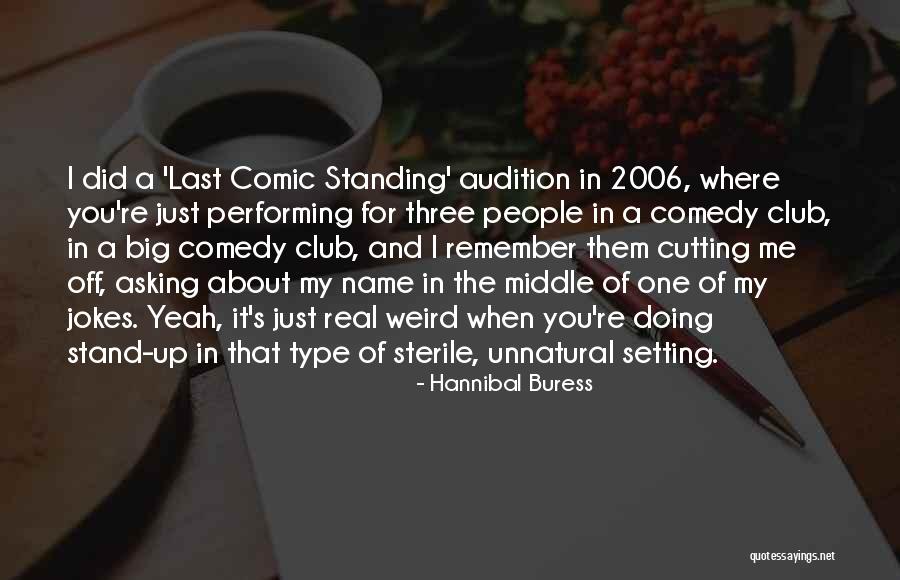 I did a 'Last Comic Standing' audition in 2006, where you're just performing for three people in a comedy club, in a big comedy club, and I remember them cutting me off, asking about my name in the middle of one of my jokes. Yeah, it's just real weird when you're doing stand-up in that type of sterile, unnatural setting. — Hannibal Buress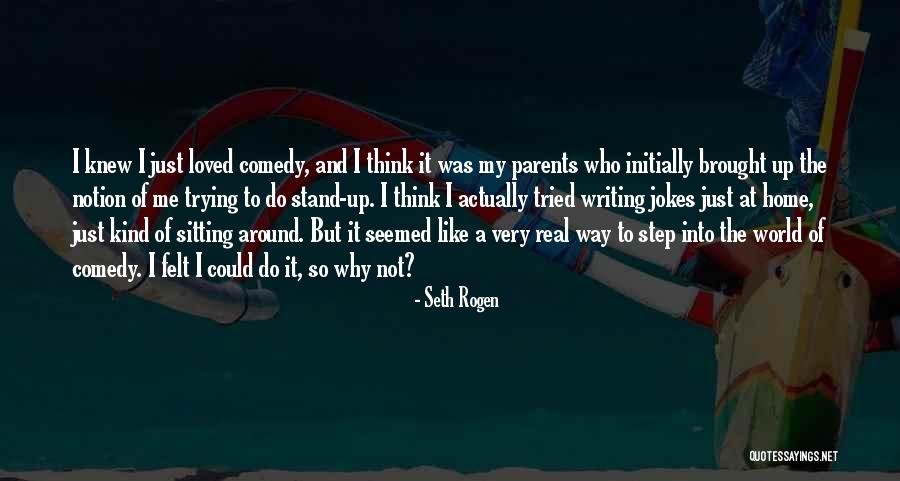 I knew I just loved comedy, and I think it was my parents who initially brought up the notion of me trying to do stand-up. I think I actually tried writing jokes just at home, just kind of sitting around. But it seemed like a very real way to step into the world of comedy. I felt I could do it, so why not? — Seth Rogen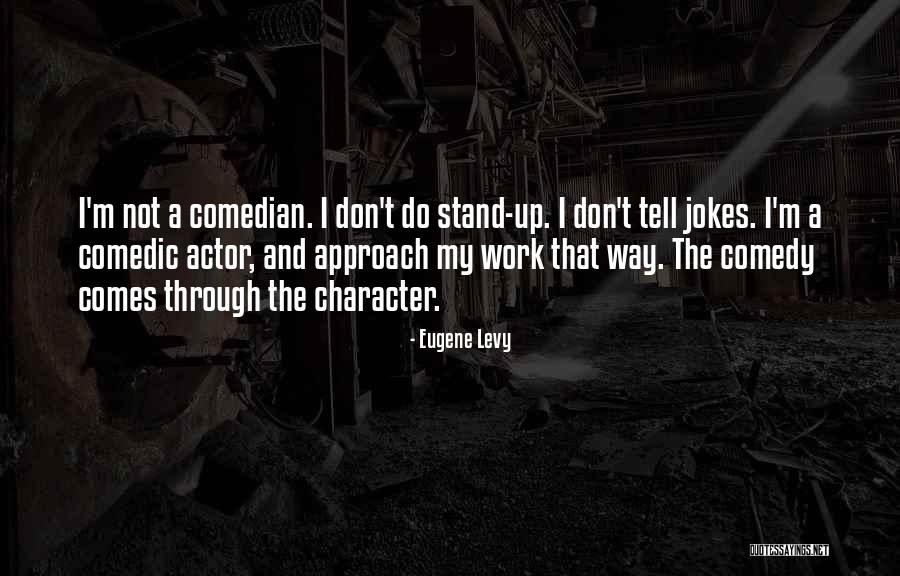 I'm not a comedian. I don't do stand-up. I don't tell jokes. I'm a comedic actor, and approach my work that way. The comedy comes through the character. — Eugene Levy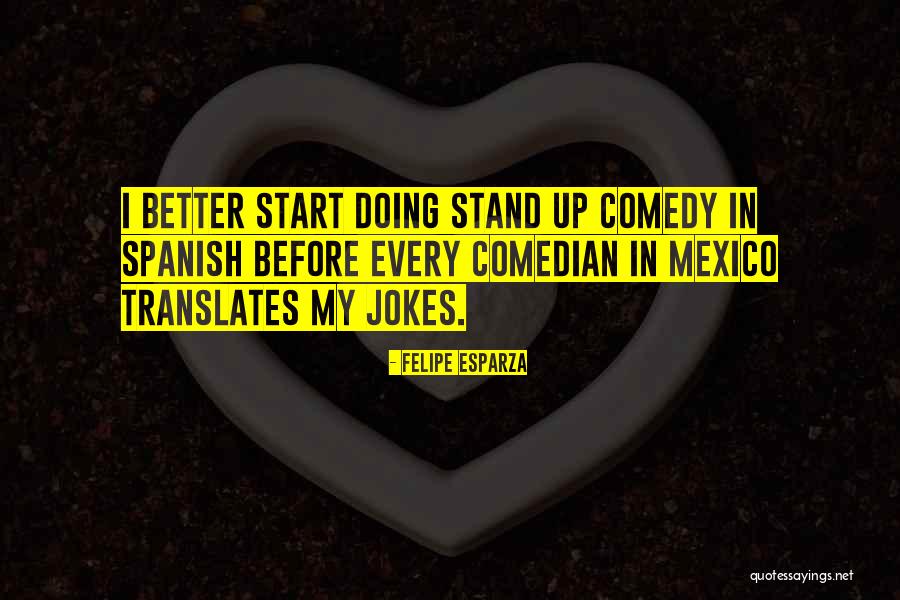 I better start doing stand up comedy in Spanish before every comedian in Mexico translates my jokes. — Felipe Esparza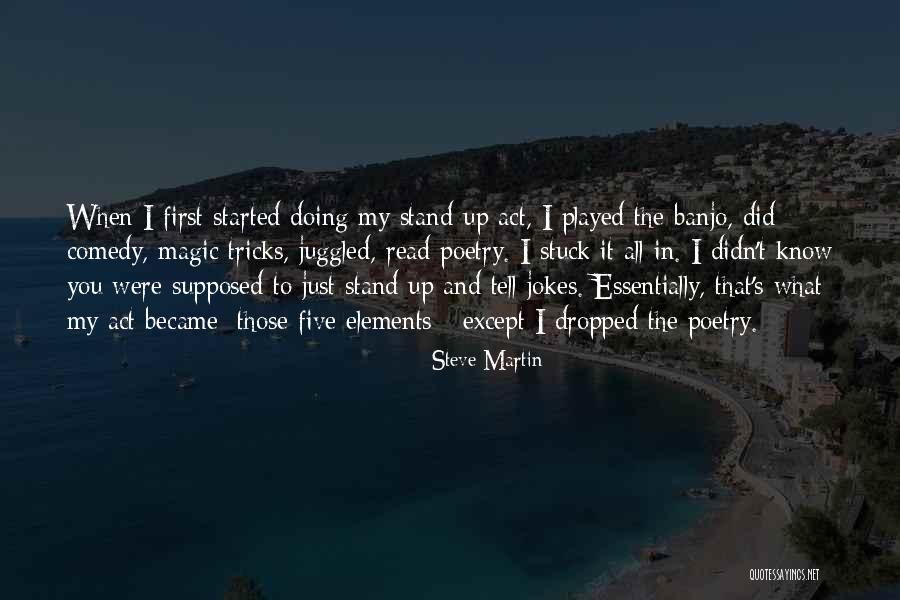 When I first started doing my stand-up act, I played the banjo, did comedy, magic tricks, juggled, read poetry. I stuck it all in. I didn't know you were supposed to just stand up and tell jokes. Essentially, that's what my act became: those five elements - except I dropped the poetry. — Steve Martin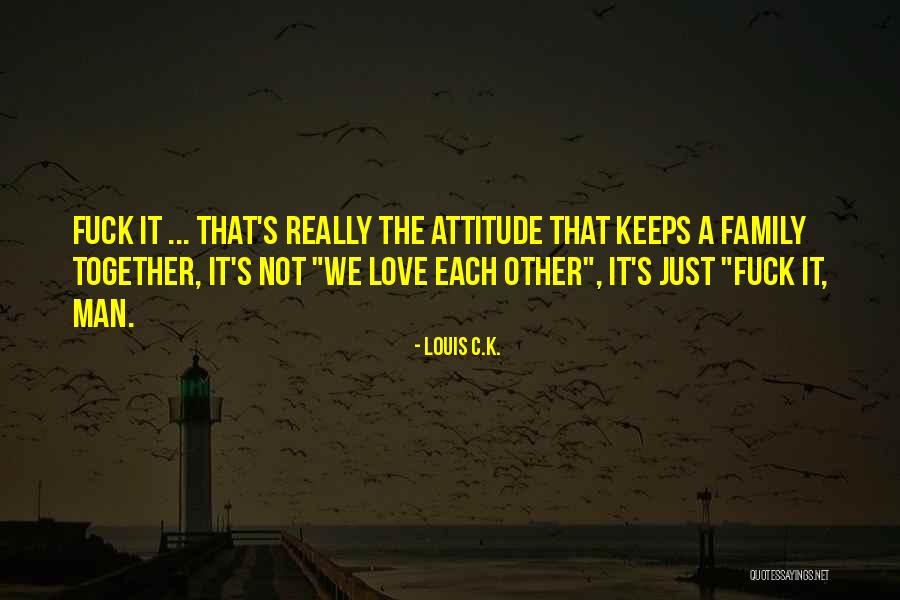 Fuck it ... That's really the attitude that keeps a family together, it's not "we love each other", it's just "fuck it, man. — Louis C.K.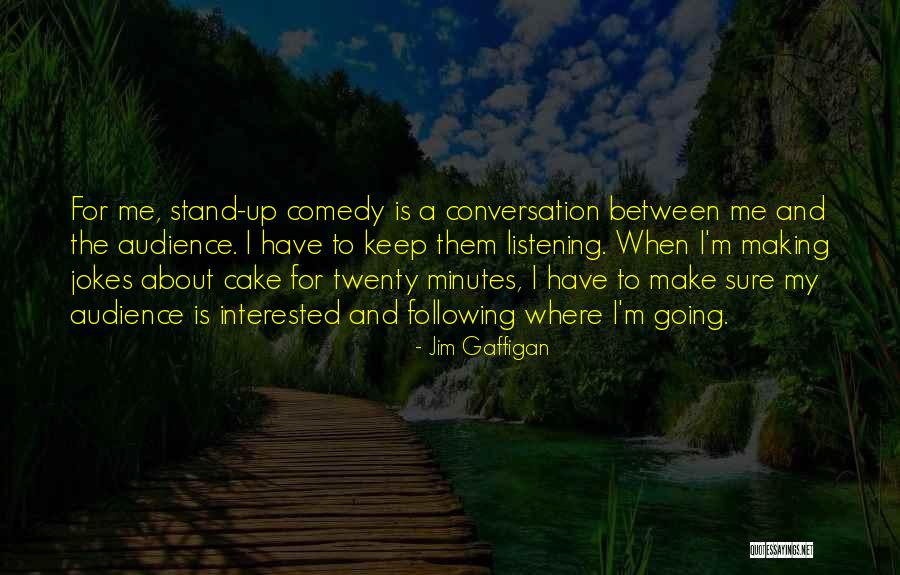 For me, stand-up comedy is a conversation between me and the audience. I have to keep them listening. When I'm making jokes about cake for twenty minutes, I have to make sure my audience is interested and following where I'm going. — Jim Gaffigan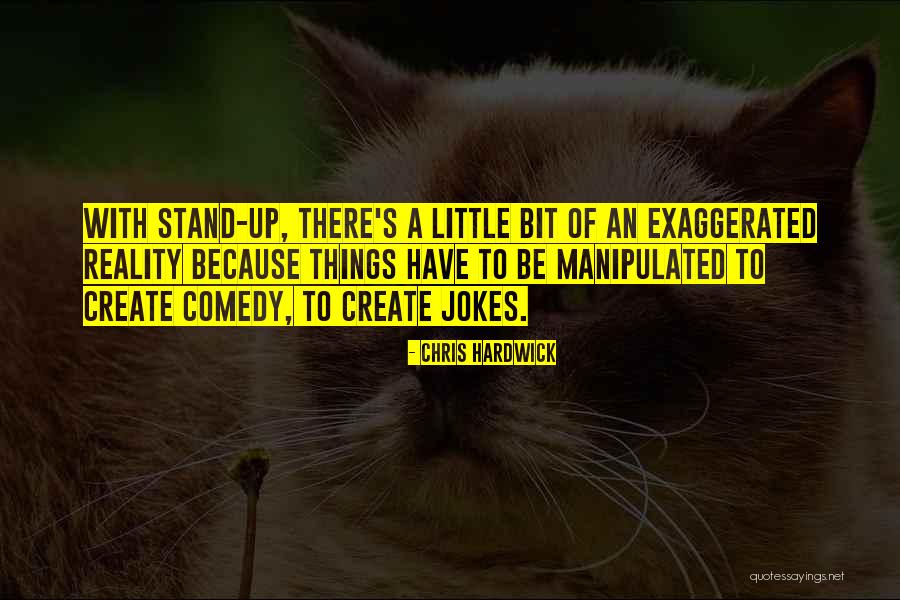 With stand-up, there's a little bit of an exaggerated reality because things have to be manipulated to create comedy, to create jokes. — Chris Hardwick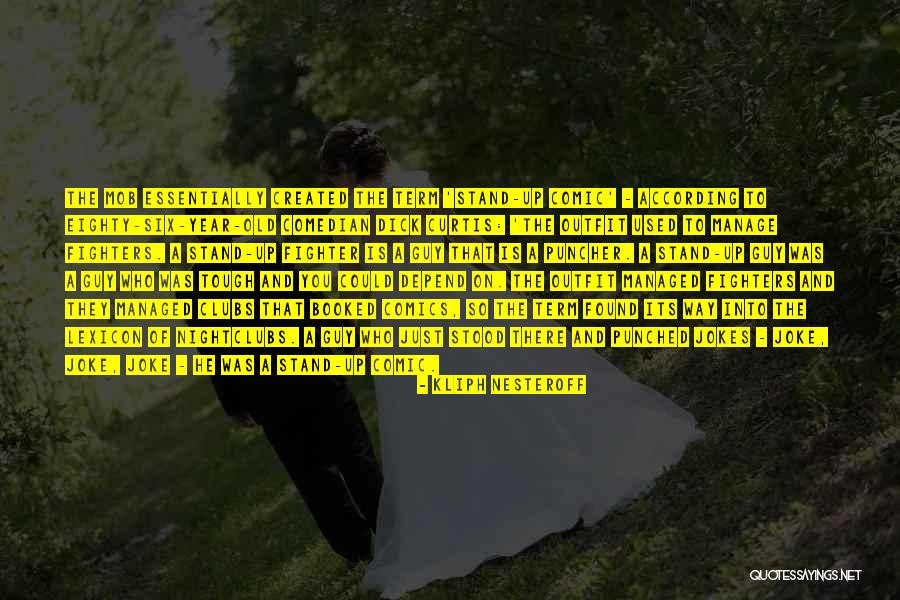 The Mob essentially created the term 'stand-up comic' - according to eighty-six-year-old comedian Dick Curtis: 'The Outfit used to manage fighters. A stand-up fighter is a guy that is a puncher. A stand-up guy was a guy who was tough and you could depend on. The Outfit managed fighters and they managed clubs that booked comics, so the term found its way into the lexicon of nightclubs. A guy who just stood there and punched jokes - joke, joke, joke - he was a stand-up comic. — Kliph Nesteroff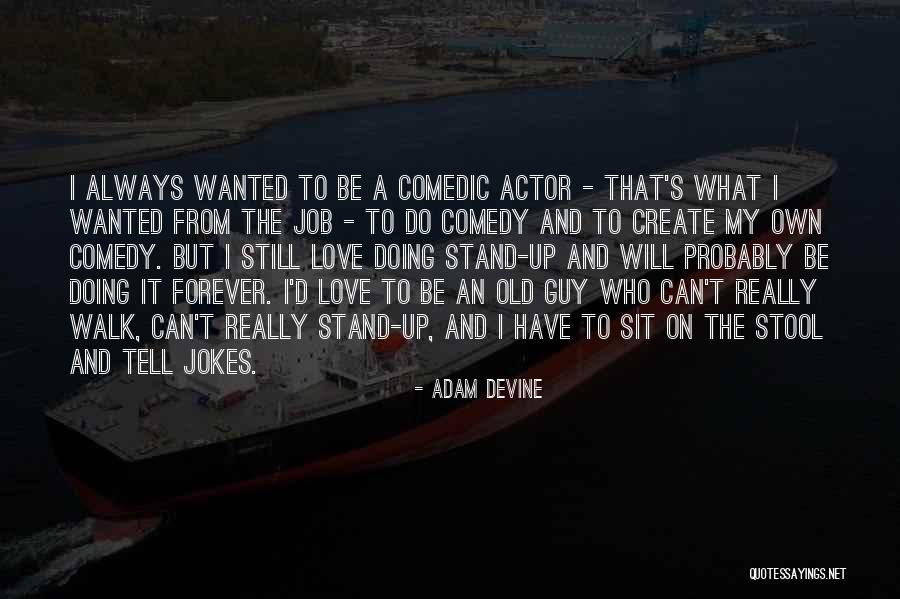 I always wanted to be a comedic actor - that's what I wanted from the job - to do comedy and to create my own comedy. But I still love doing stand-up and will probably be doing it forever. I'd love to be an old guy who can't really walk, can't really stand-up, and I have to sit on the stool and tell jokes. — Adam DeVine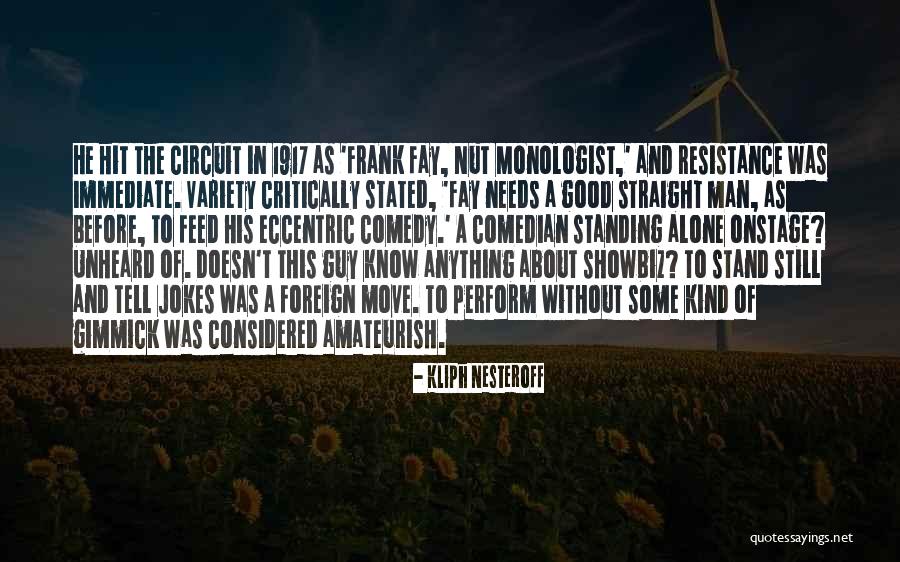 He hit the circuit in 1917 as 'Frank Fay, Nut Monologist,' and resistance was immediate. Variety critically stated, 'Fay needs a good straight man, as before, to feed his eccentric comedy.' A comedian standing alone onstage? Unheard of. Doesn't this guy know anything about showbiz? To stand still and tell jokes was a foreign move. To perform without some kind of gimmick was considered amateurish. — Kliph Nesteroff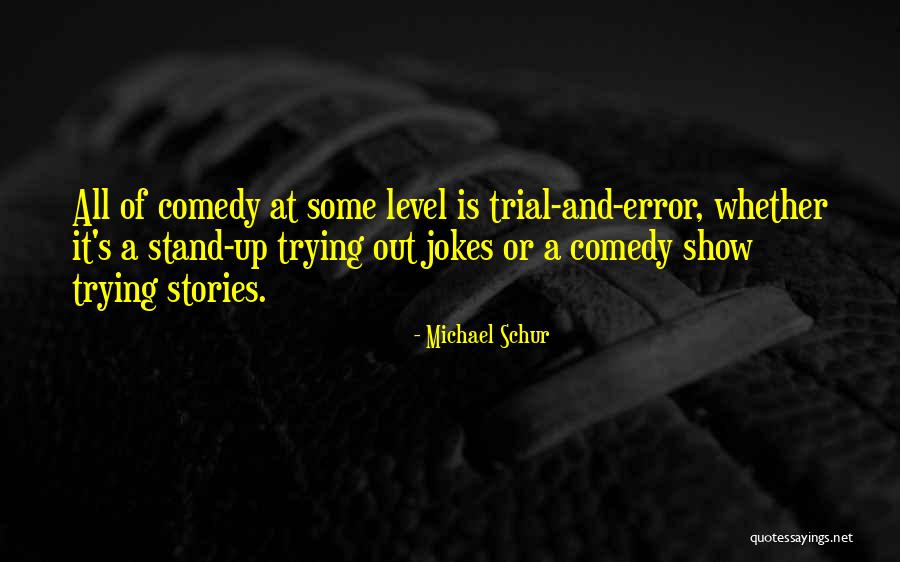 All of comedy at some level is trial-and-error, whether it's a stand-up trying out jokes or a comedy show trying stories. — Michael Schur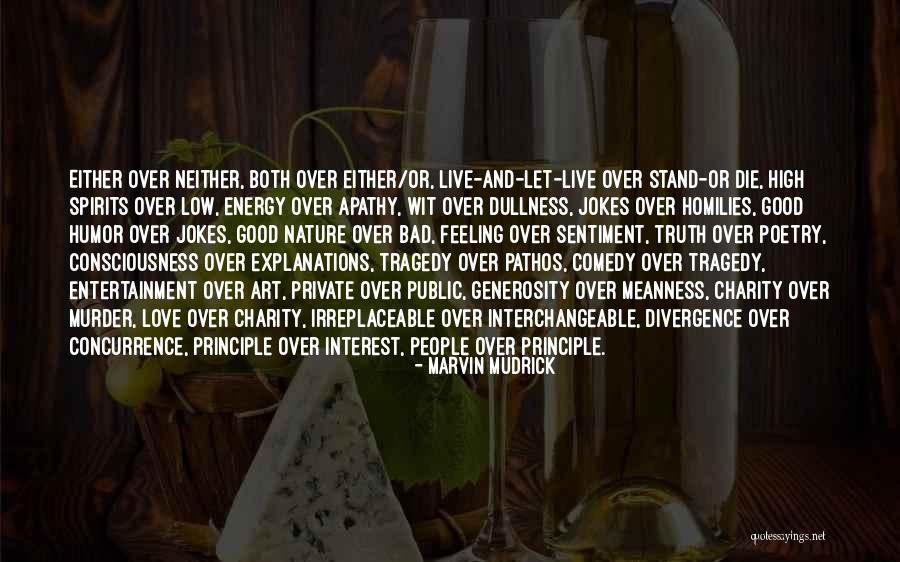 Either over neither, both over either/or, live-and-let-live over stand-or die, high spirits over low, energy over apathy, wit over dullness, jokes over homilies, good humor over jokes, good nature over bad, feeling over sentiment, truth over poetry, consciousness over explanations, tragedy over pathos, comedy over tragedy, entertainment over art, private over public, generosity over meanness, charity over murder, love over charity, irreplaceable over interchangeable, divergence over concurrence, principle over interest, people over principle. — Marvin Mudrick