Quotes & Sayings About Spiritual Formation
Enjoy reading and share 52 famous quotes about Spiritual Formation with everyone.
Top Spiritual Formation Quotes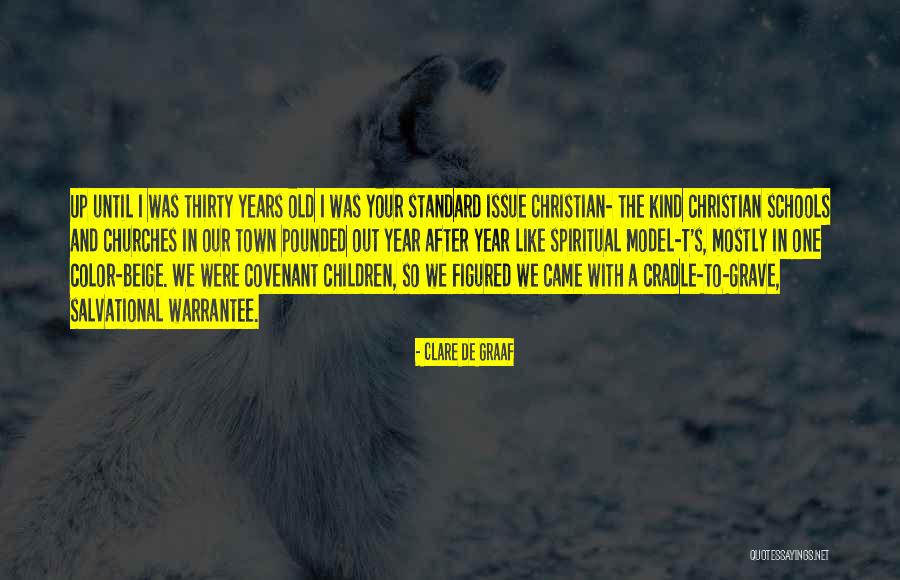 Up until I was thirty years old I was your standard issue Christian- the kind christian schools and churches in our town pounded out year after year like spiritual Model-T's, mostly in one color-beige. We were covenant children, so we figured we came with a cradle-to-grave, salvational warrantee. — Clare De Graaf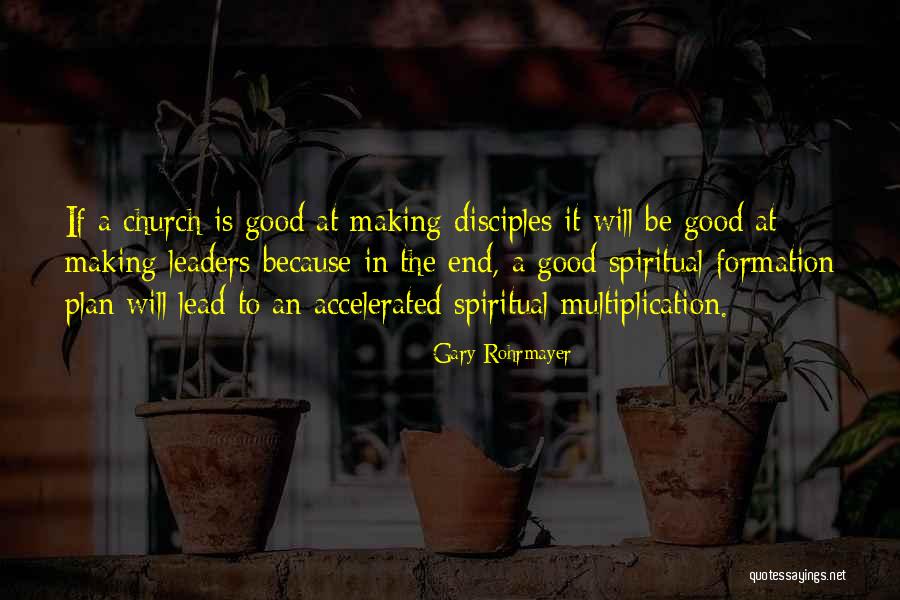 If a church is good at making disciples it will be good at making leaders because in the end, a good spiritual formation plan will lead to an accelerated spiritual multiplication. — Gary Rohrmayer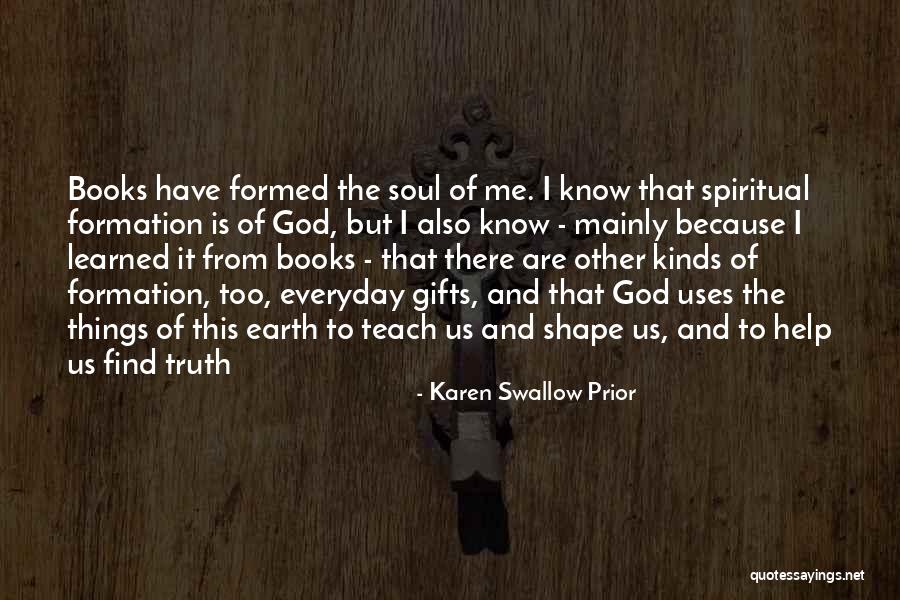 Books have formed the soul of me. I know that spiritual formation is of God, but I also know - mainly because I learned it from books - that there are other kinds of formation, too, everyday gifts, and that God uses the things of this earth to teach us and shape us, and to help us find truth — Karen Swallow Prior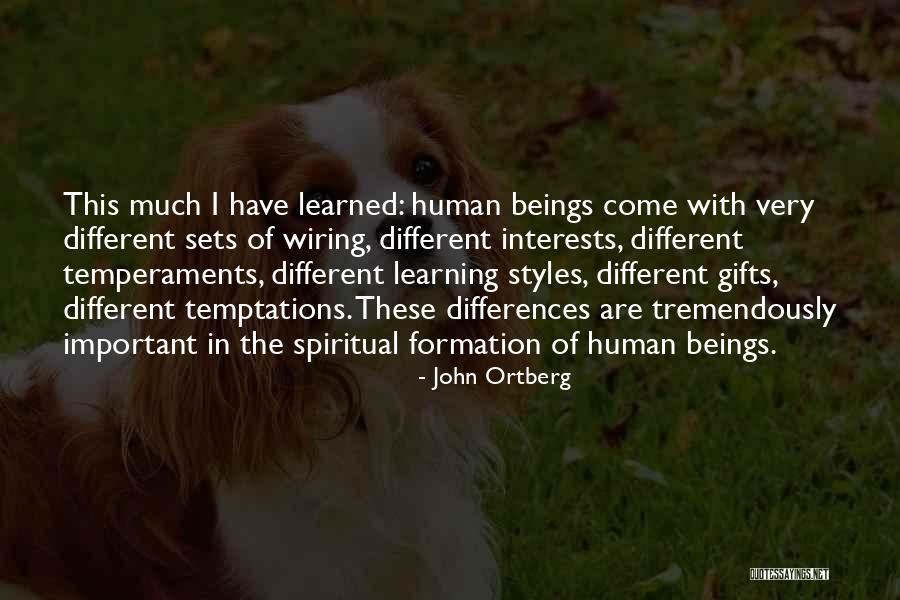 This much I have learned: human beings come with very different sets of wiring, different interests, different temperaments, different learning styles, different gifts, different temptations. These differences are tremendously important in the spiritual formation of human beings. — John Ortberg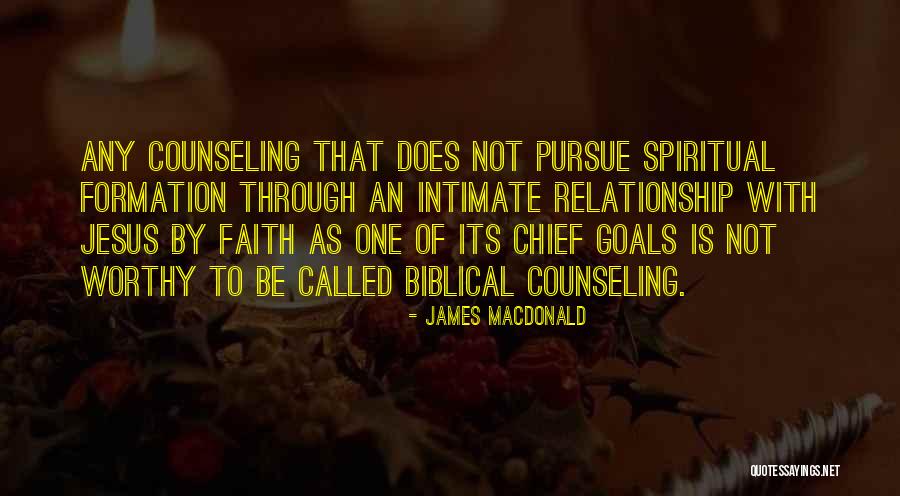 Any counseling that does not pursue spiritual formation through an intimate relationship with Jesus by faith as one of its chief goals is not worthy to be called BIBLICAL counseling. — James MacDonald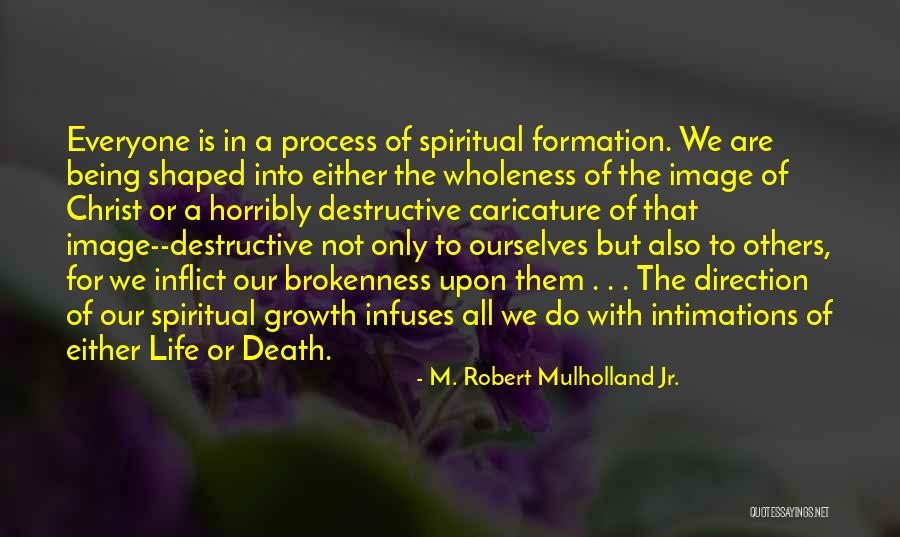 Everyone is in a process of spiritual formation. We are being shaped into either the wholeness of the image of Christ or a horribly destructive caricature of that image--destructive not only to ourselves but also to others, for we inflict our brokenness upon them . . . The direction of our spiritual growth infuses all we do with intimations of either Life or Death. — M. Robert Mulholland Jr.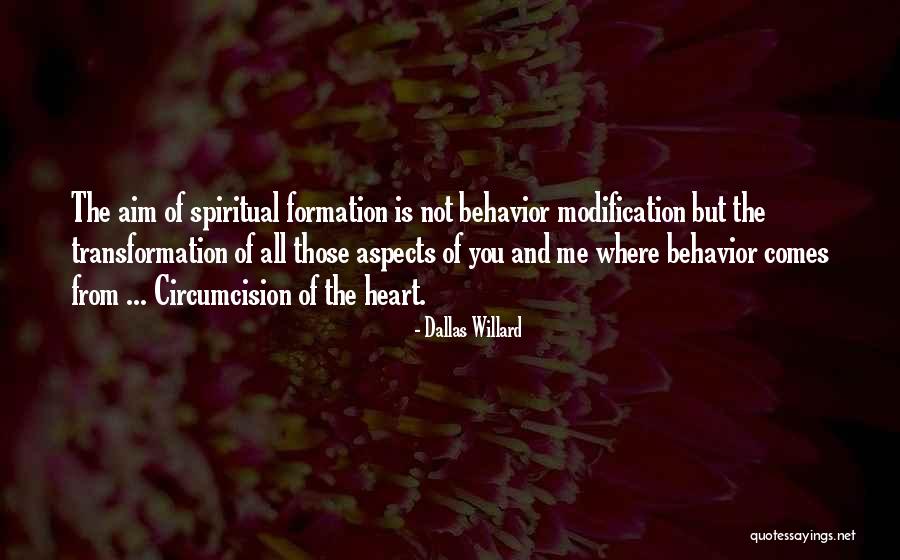 The aim of spiritual formation is not behavior modification but the transformation of all those aspects of you and me where behavior comes from ... Circumcision of the heart. — Dallas Willard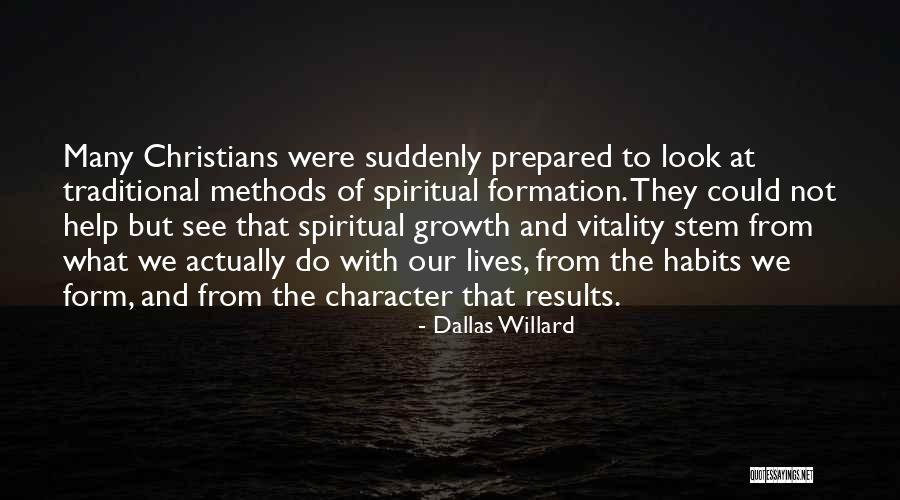 Many Christians were suddenly prepared to look at traditional methods of spiritual formation. They could not help but see that spiritual growth and vitality stem from what we actually do with our lives, from the habits we form, and from the character that results. — Dallas Willard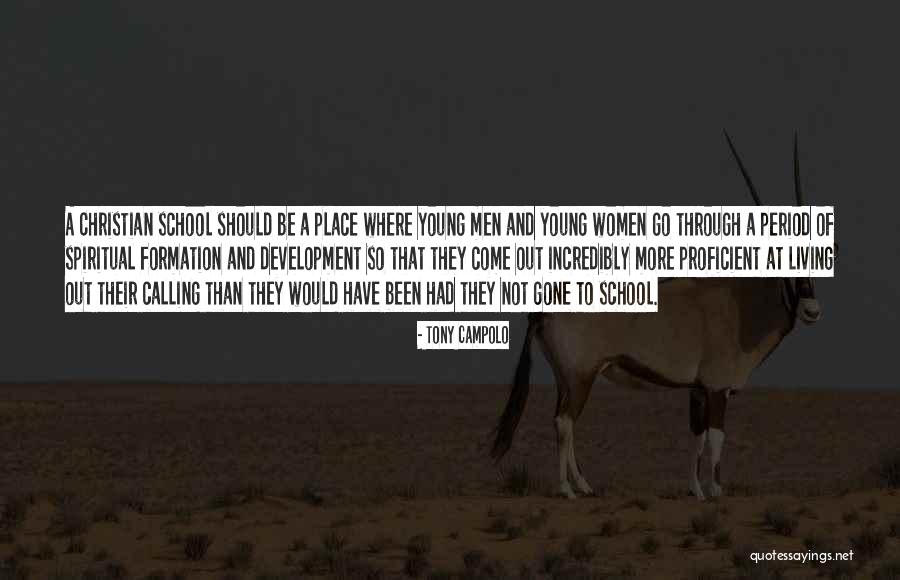 A Christian school should be a place where young men and young women go through a period of spiritual formation and development so that they come out incredibly more proficient at living out their calling than they would have been had they not gone to school. — Tony Campolo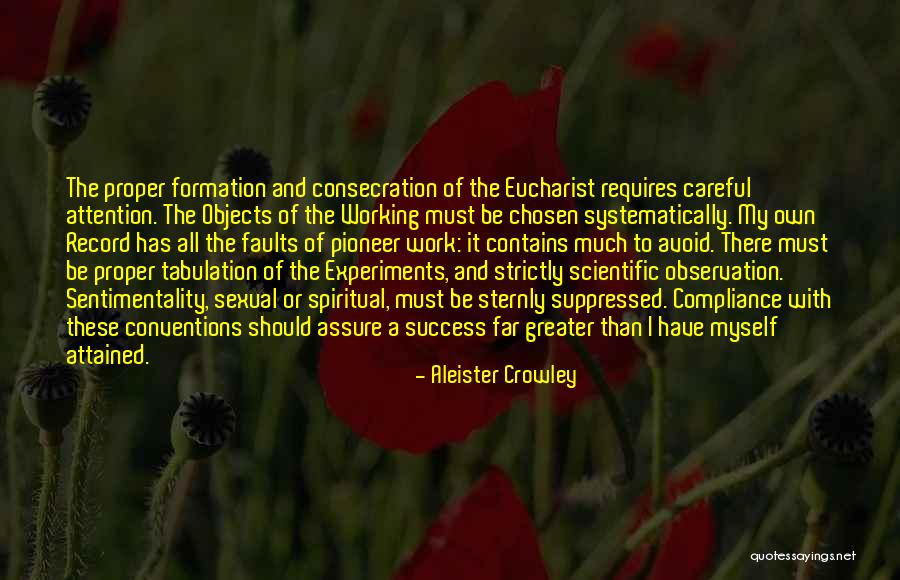 The proper formation and consecration of the Eucharist requires careful attention. The Objects of the Working must be chosen systematically. My own Record has all the faults of pioneer work: it contains much to avoid. There must be proper tabulation of the Experiments, and strictly scientific observation. Sentimentality, sexual or spiritual, must be sternly suppressed. Compliance with these conventions should assure a success far greater than I have myself attained. — Aleister Crowley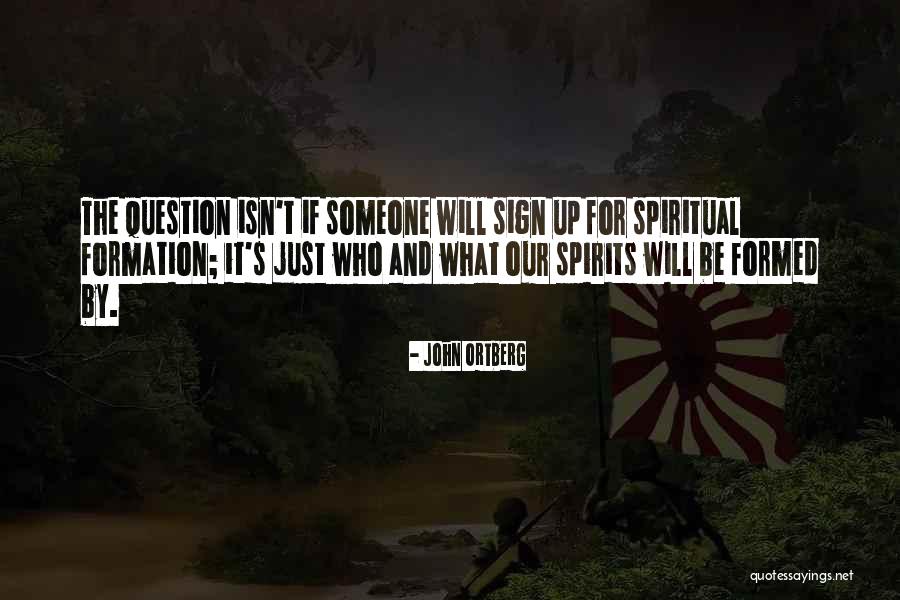 The question isn't if someone will sign up for spiritual formation; it's just who and what our spirits will be formed by. — John Ortberg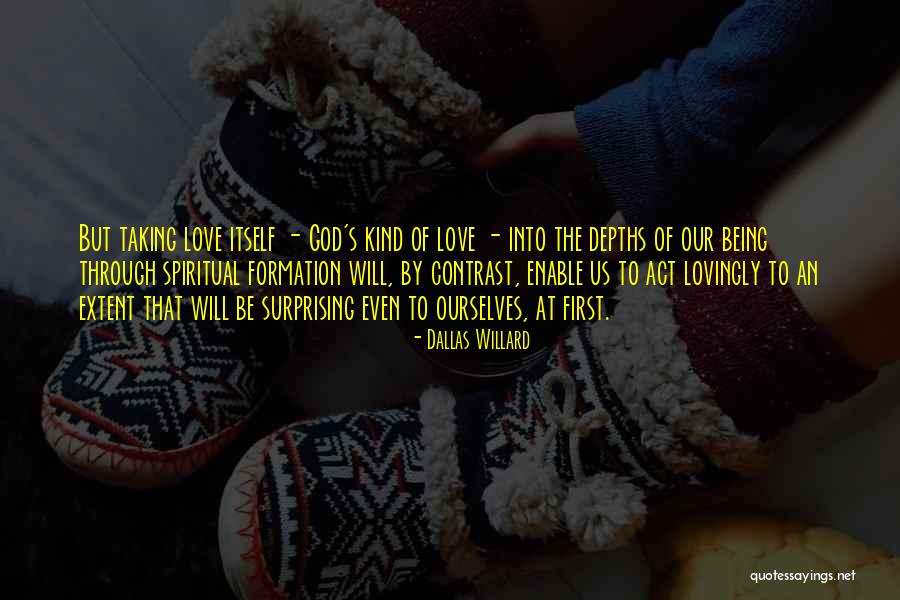 But taking love itself - God's kind of love - into the depths of our being through spiritual formation will, by contrast, enable us to act lovingly to an extent that will be surprising even to ourselves, at first. — Dallas Willard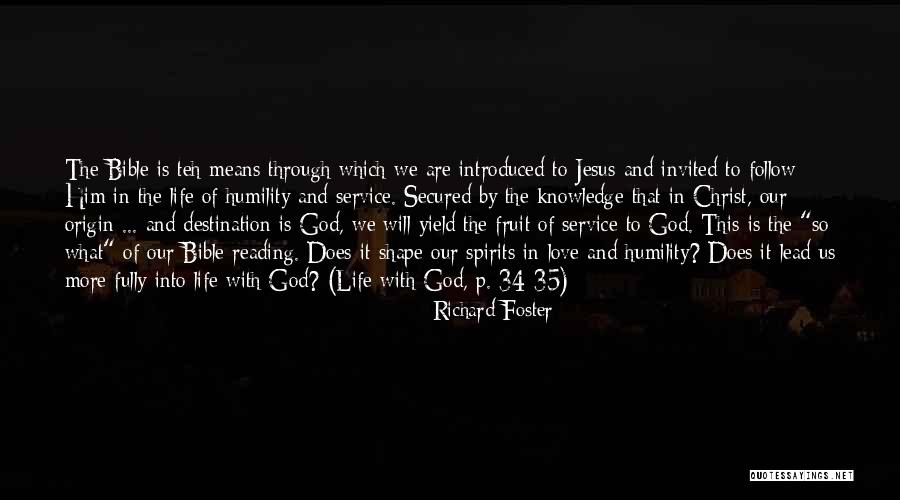 The Bible is teh means through which we are introduced to Jesus and invited to follow Him in the life of humility and service. Secured by the knowledge that in Christ, our origin ... and destination is God, we will yield the fruit of service to God. This is the "so what" of our Bible reading. Does it shape our spirits in love and humility? Does it lead us more fully into life with God? (Life with God, p. 34-35) — Richard Foster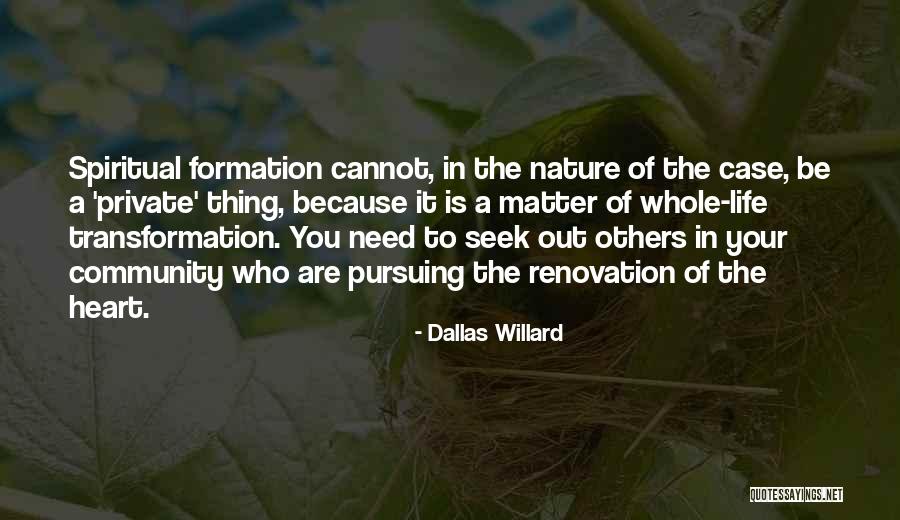 Spiritual formation cannot, in the nature of the case, be a 'private' thing, because it is a matter of whole-life transformation. You need to seek out others in your community who are pursuing the renovation of the heart. — Dallas Willard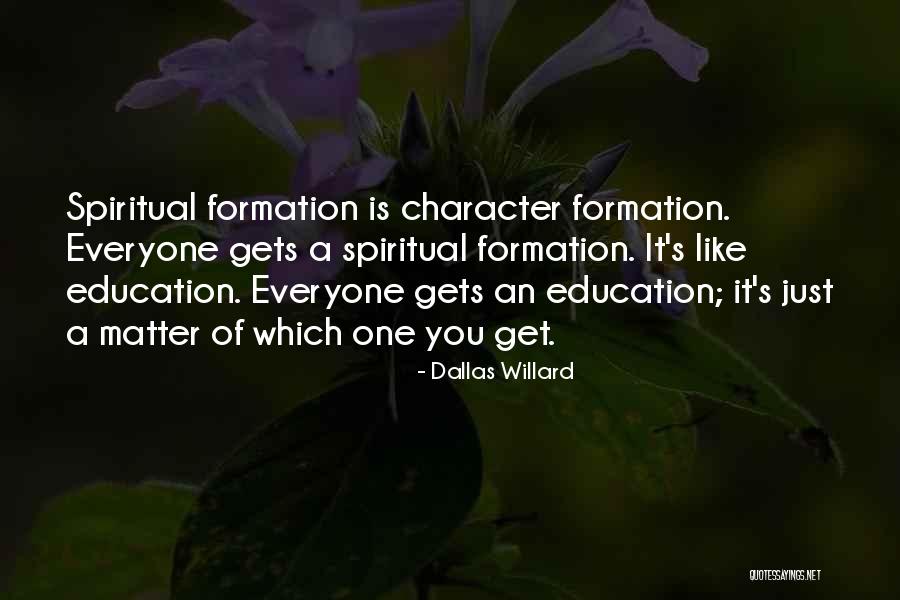 Spiritual formation is character formation. Everyone gets a spiritual formation. It's like education. Everyone gets an education; it's just a matter of which one you get. — Dallas Willard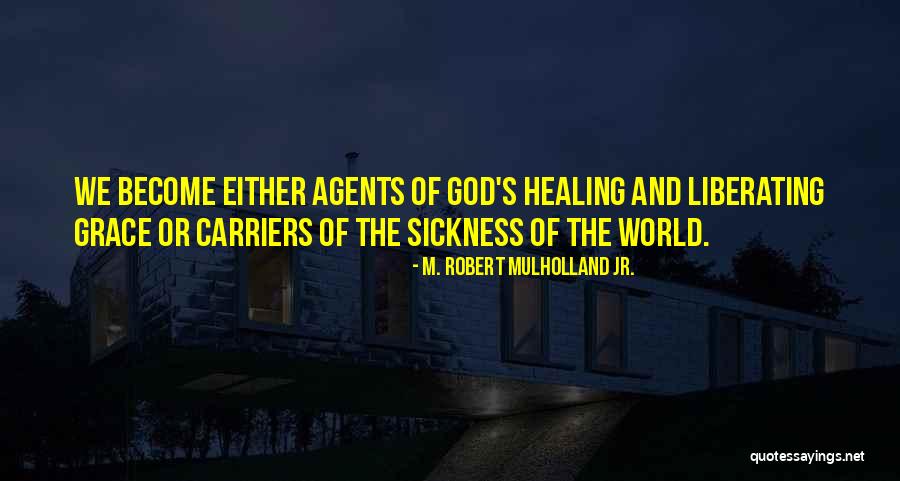 We become either agents of God's healing and liberating grace or carriers of the sickness of the world. — M. Robert Mulholland Jr.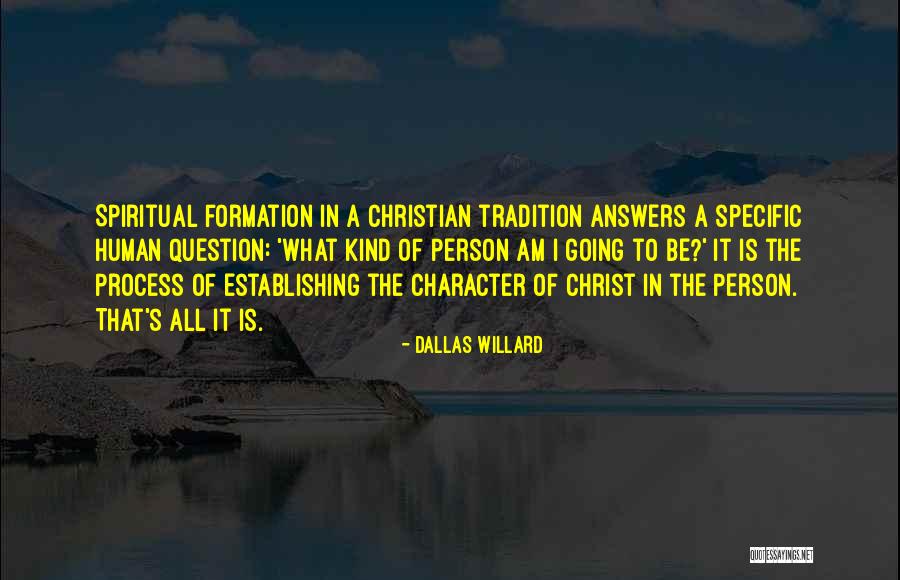 Spiritual formation in a Christian tradition answers a specific human question: 'What kind of person am I going to be?' It is the process of establishing the character of Christ in the person. That's all it is. — Dallas Willard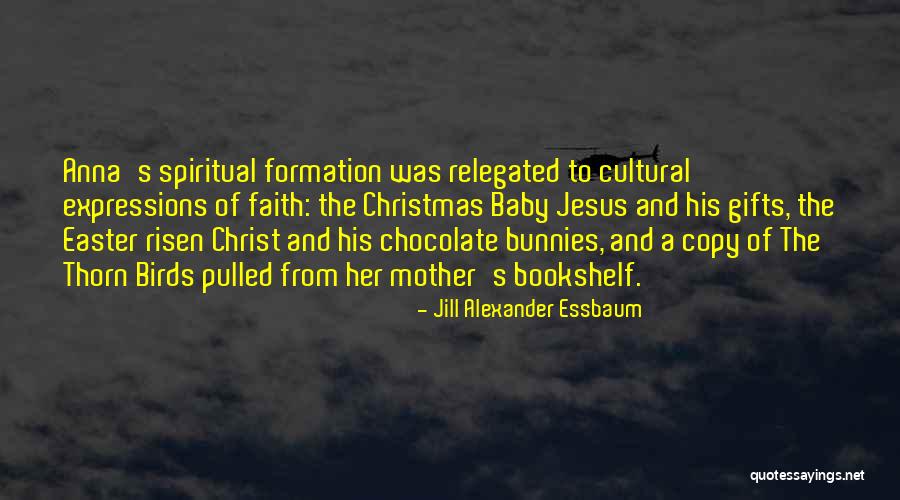 Anna's spiritual formation was relegated to cultural expressions of faith: the Christmas Baby Jesus and his gifts, the Easter risen Christ and his chocolate bunnies, and a copy of The Thorn Birds pulled from her mother's bookshelf. — Jill Alexander Essbaum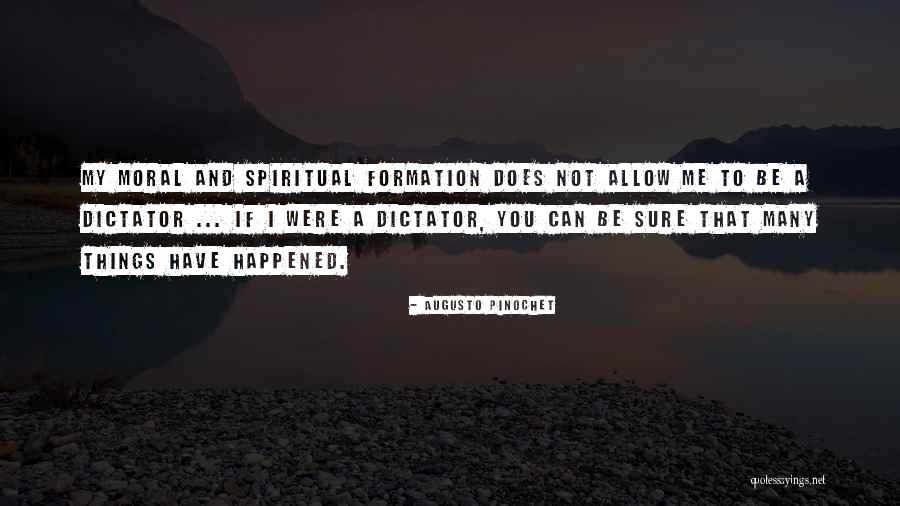 My moral and spiritual formation does not allow me to be a dictator ... If I were a dictator, You can be sure that many things have happened. — Augusto Pinochet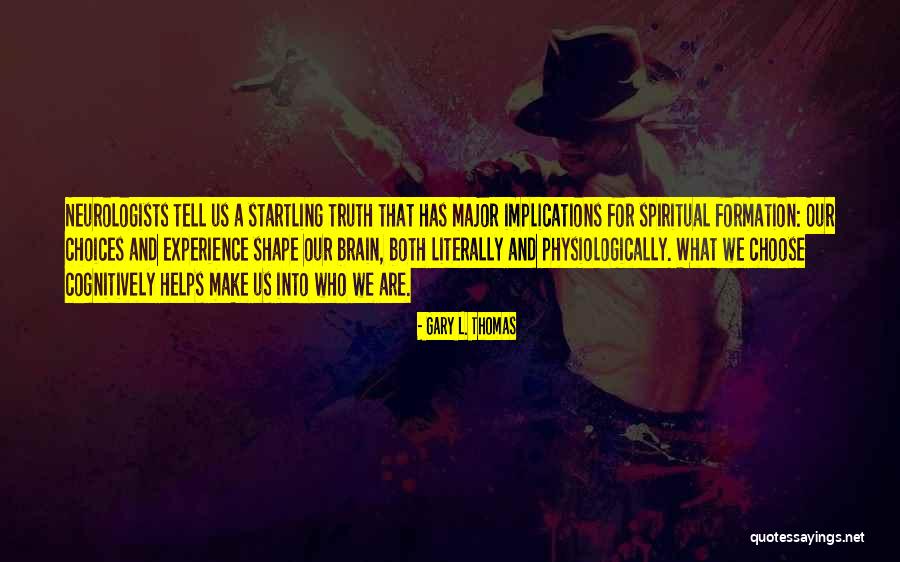 Neurologists tell us a startling truth that has major implications for spiritual formation: Our choices and experience shape our brain, both literally and physiologically. What we choose cognitively helps make us into who we are. — Gary L. Thomas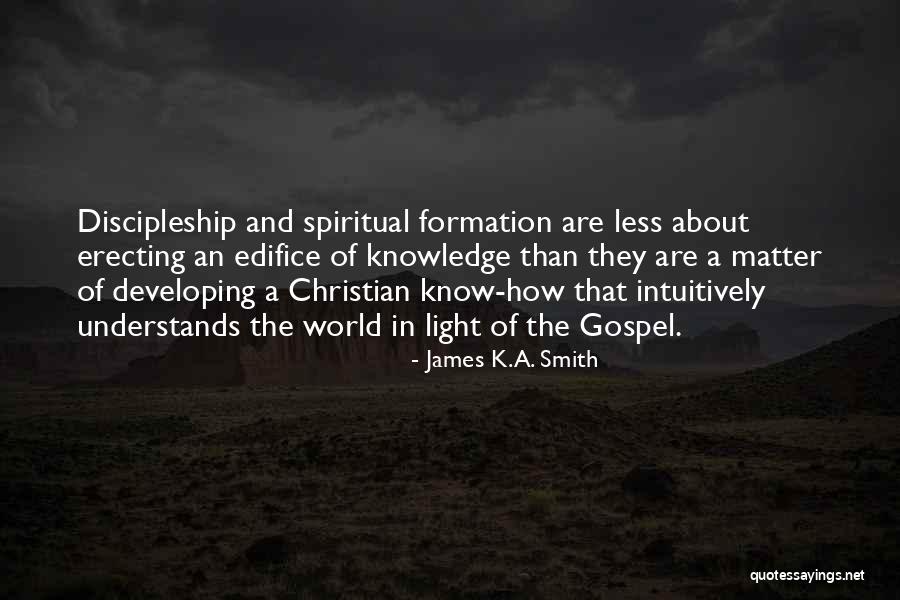 Discipleship and spiritual formation are less about erecting an edifice of knowledge than they are a matter of developing a Christian know-how that intuitively understands the world in light of the Gospel. — James K.A. Smith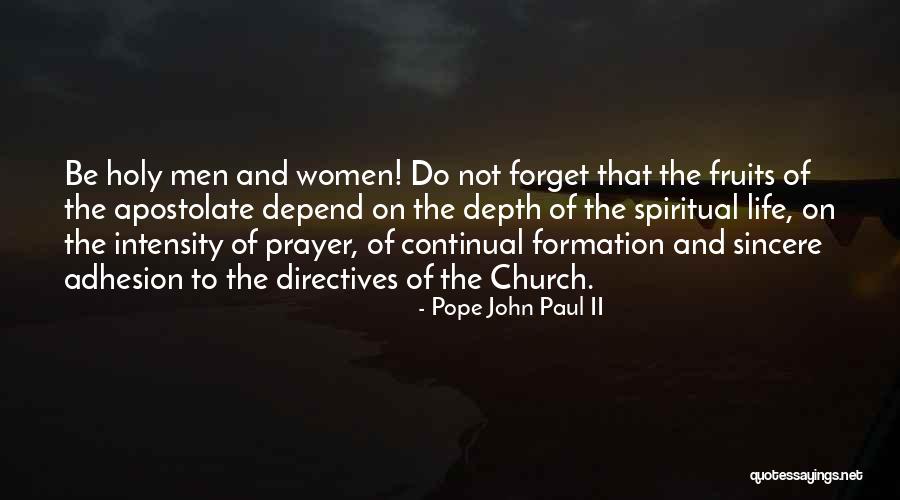 Be holy men and women! Do not forget that the fruits of the apostolate depend on the depth of the spiritual life, on the intensity of prayer, of continual formation and sincere adhesion to the directives of the Church. — Pope John Paul II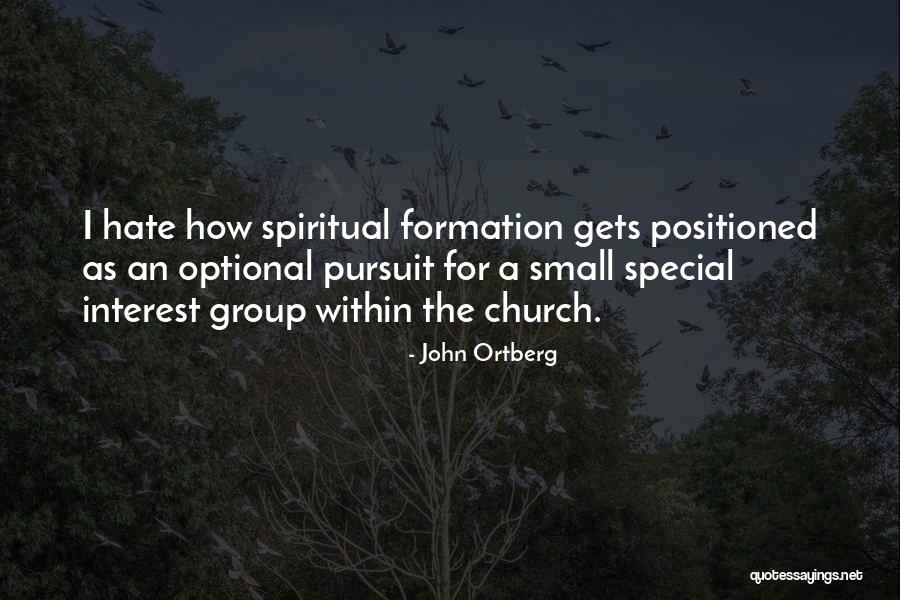 I hate how spiritual formation gets positioned as an optional pursuit for a small special interest group within the church. — John Ortberg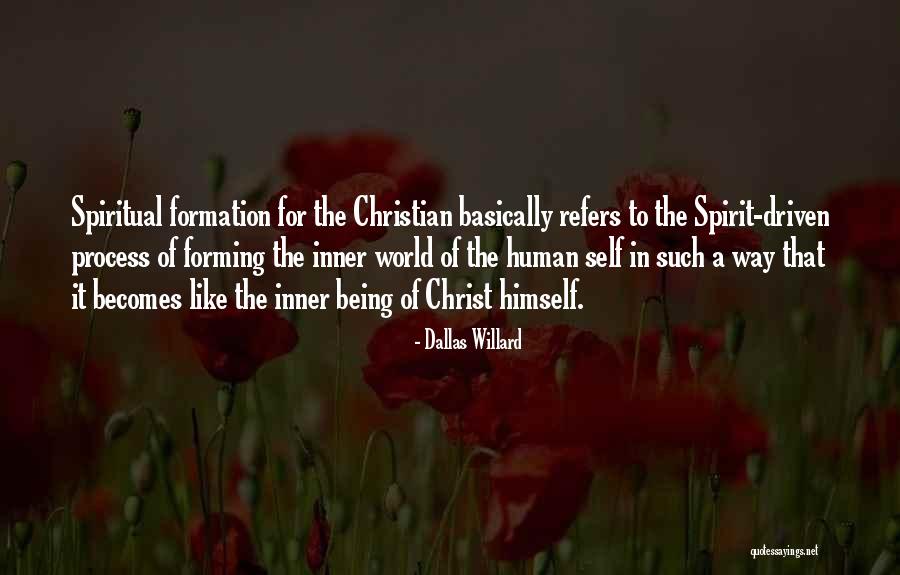 Spiritual formation for the Christian basically refers to the Spirit-driven process of forming the inner world of the human self in such a way that it becomes like the inner being of Christ himself. — Dallas Willard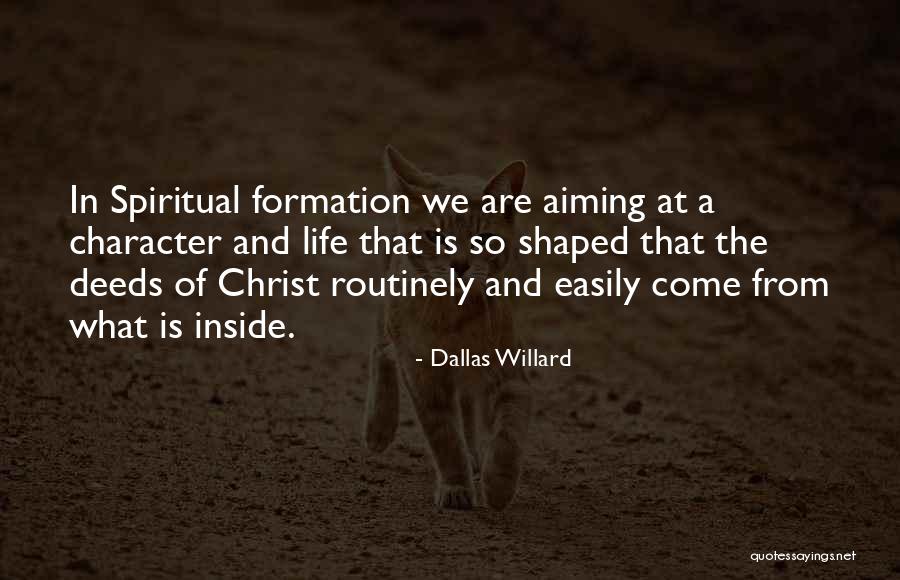 In Spiritual formation we are aiming at a character and life that is so shaped that the deeds of Christ routinely and easily come from what is inside. — Dallas Willard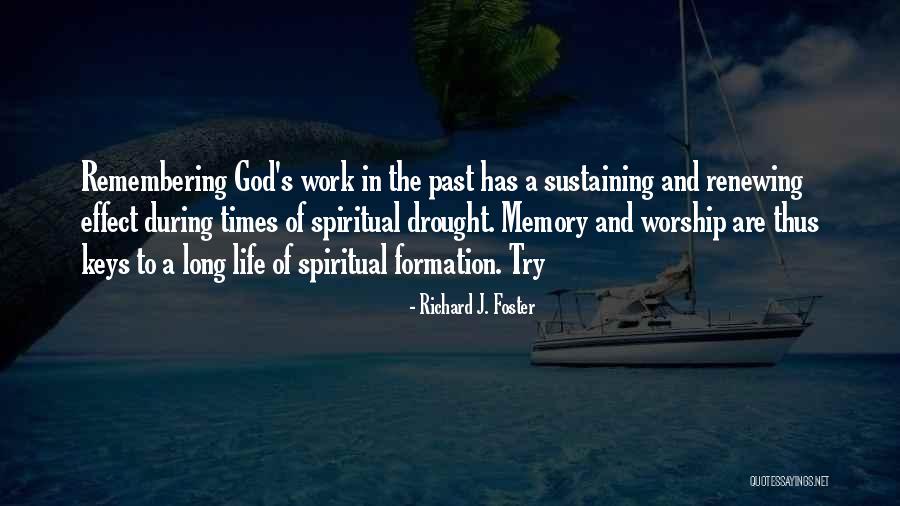 Remembering God's work in the past has a sustaining and renewing effect during times of spiritual drought. Memory and worship are thus keys to a long life of spiritual formation. Try — Richard J. Foster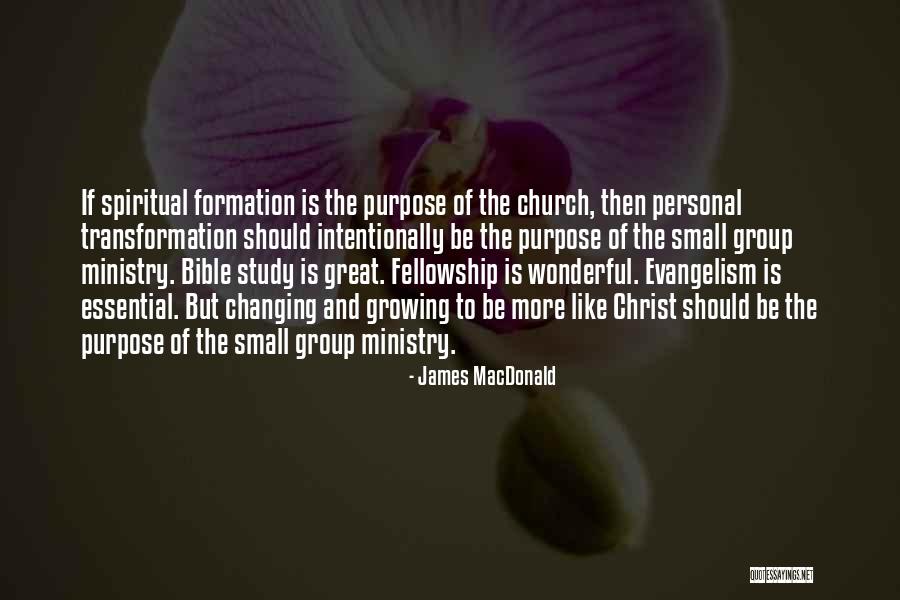 If spiritual formation is the purpose of the church, then personal transformation should intentionally be the purpose of the small group ministry. Bible study is great. Fellowship is wonderful. Evangelism is essential. But changing and growing to be more like Christ should be the purpose of the small group ministry. — James MacDonald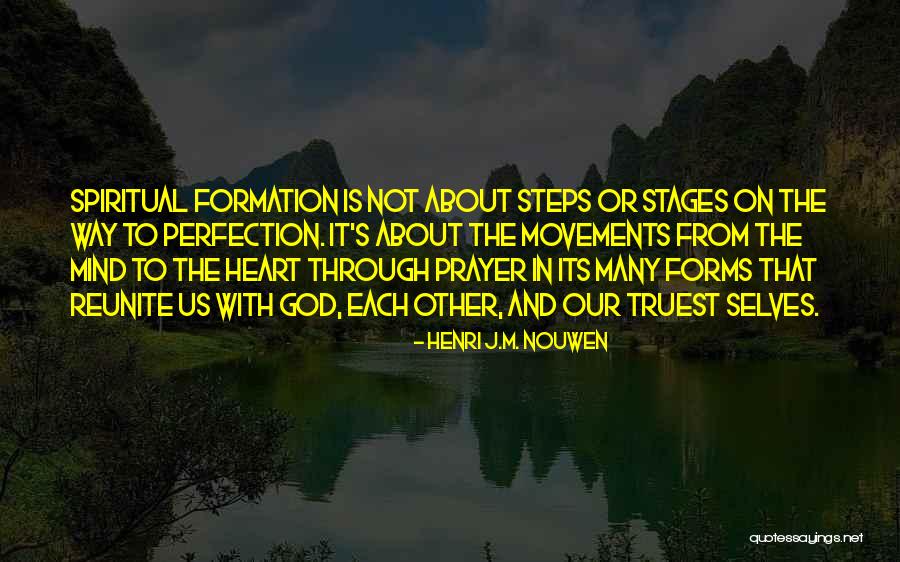 Spiritual formation is not about steps or stages on the way to perfection. It's about the movements from the mind to the heart through prayer in its many forms that reunite us with God, each other, and our truest selves. — Henri J.M. Nouwen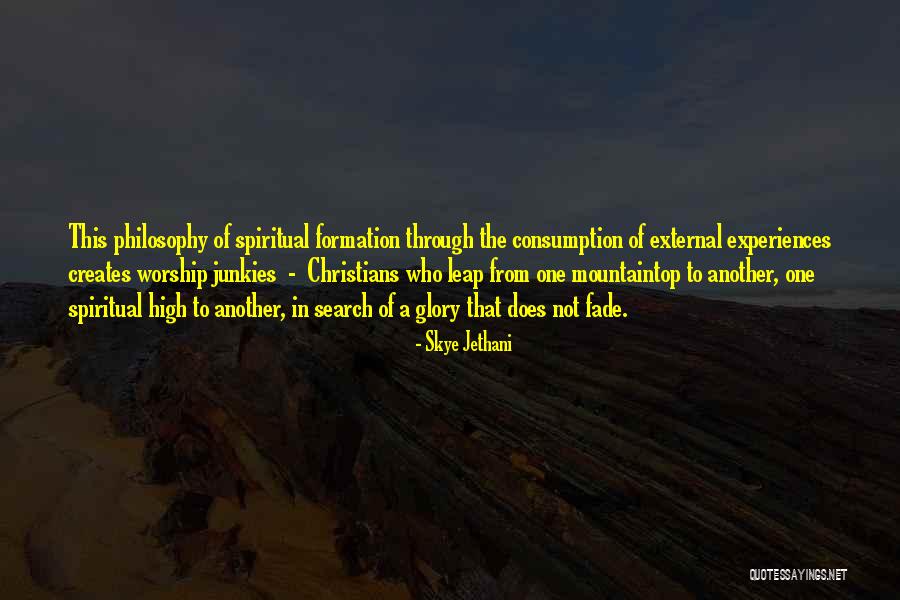 This philosophy of spiritual formation through the consumption of external experiences creates worship junkies - Christians who leap from one mountaintop to another, one spiritual high to another, in search of a glory that does not fade. — Skye Jethani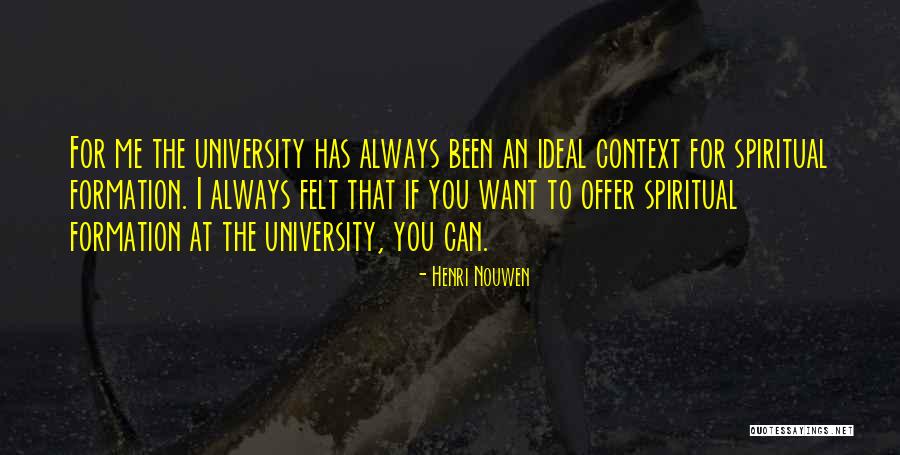 For me the university has always been an ideal context for spiritual formation. I always felt that if you want to offer spiritual formation at the university, you can. — Henri Nouwen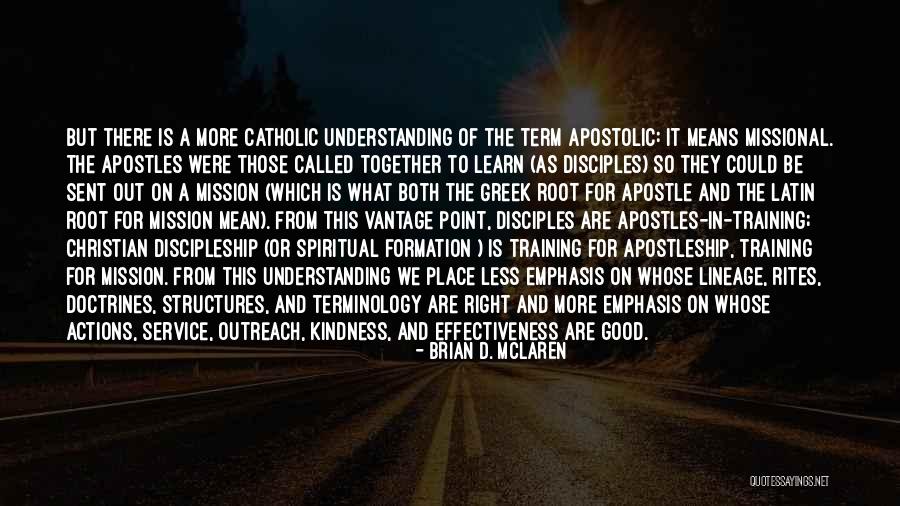 But there is a more catholic understanding of the term apostolic: it means missional. The apostles were those called together to learn (as disciples) so they could be sent out on a mission (which is what both the Greek root for apostle and the Latin root for mission mean). From this vantage point, disciples are apostles-in-training; Christian discipleship (or spiritual formation ) is training for apostleship, training for mission. From this understanding we place less emphasis on whose lineage, rites, doctrines, structures, and terminology are right and more emphasis on whose actions, service, outreach, kindness, and effectiveness are good. — Brian D. McLaren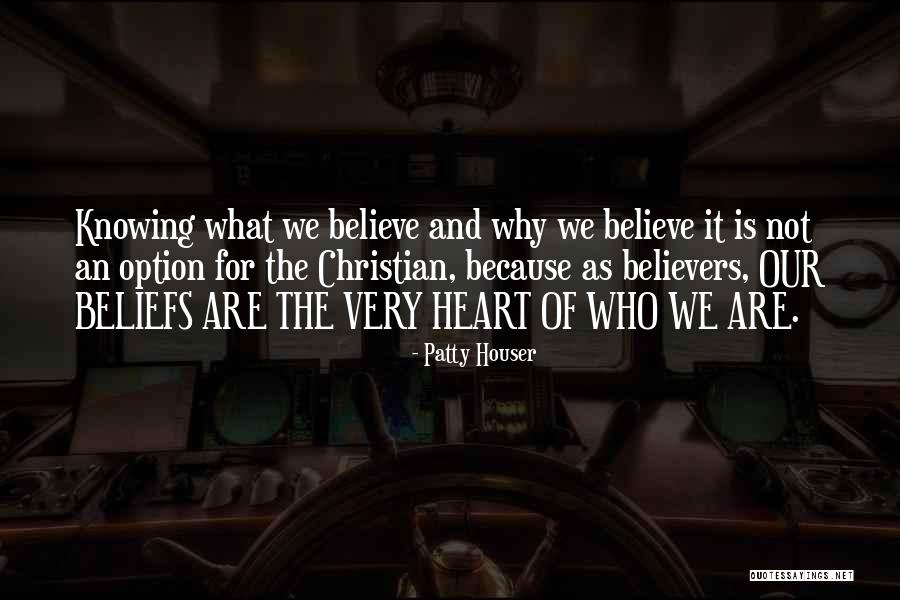 Knowing what we believe and why we believe it is not an option for the Christian, because as believers, OUR BELIEFS ARE THE VERY HEART OF WHO WE ARE. — Patty Houser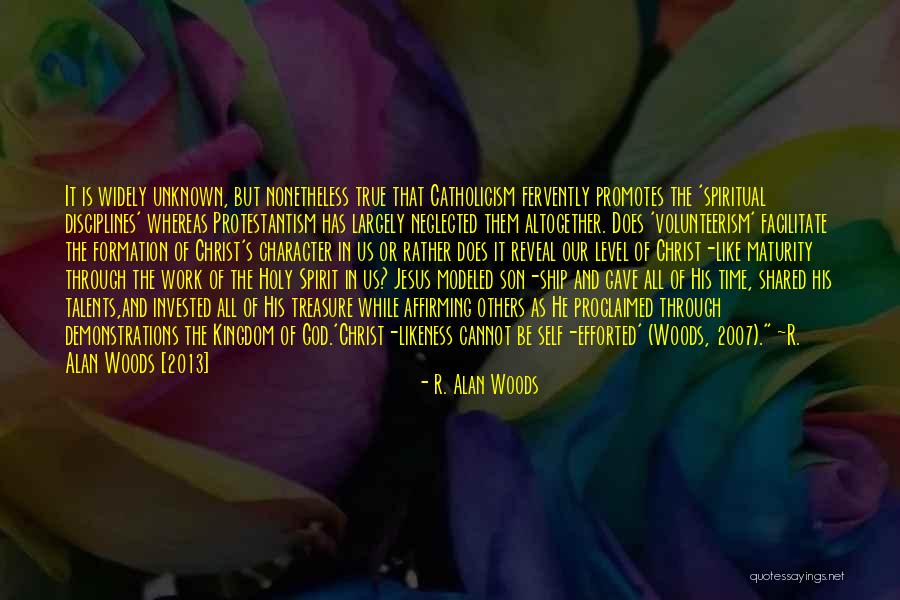 It is widely unknown, but nonetheless true that Catholicism fervently promotes the 'spiritual disciplines' whereas Protestantism has largely neglected them altogether. Does 'volunteerism' facilitate the formation of Christ's character in us or rather does it reveal our level of Christ-like maturity through the work of the Holy Spirit in us? Jesus modeled son-ship and gave all of His time, shared his talents,and invested all of His treasure while affirming others as He proclaimed through demonstrations the Kingdom of God.'Christ-likeness cannot be self-efforted' (Woods, 2007)."


~R. Alan Woods [2013] — R. Alan Woods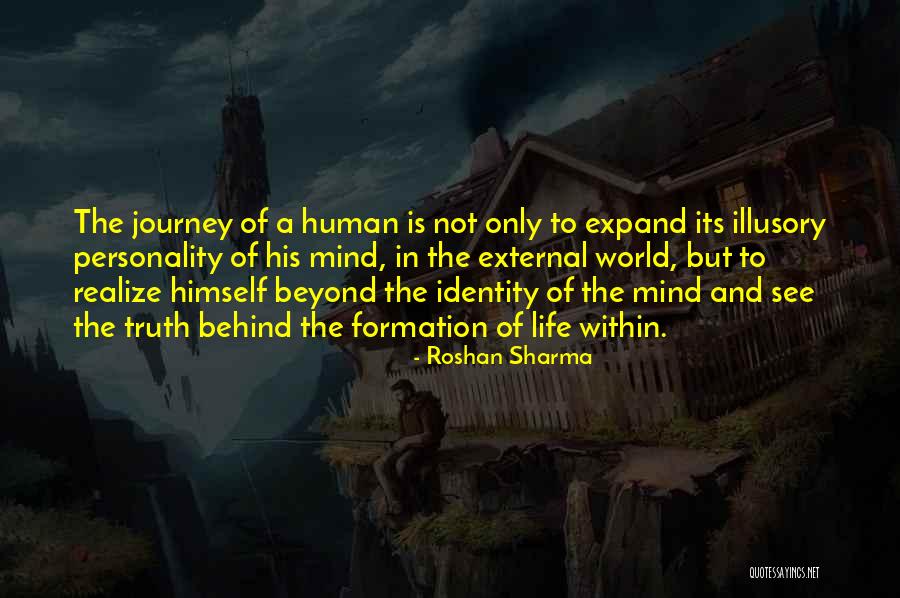 The journey of a human is not only to expand its illusory personality of his mind, in the external world, but to realize himself beyond the identity of the mind and see the truth behind the formation of life within. — Roshan Sharma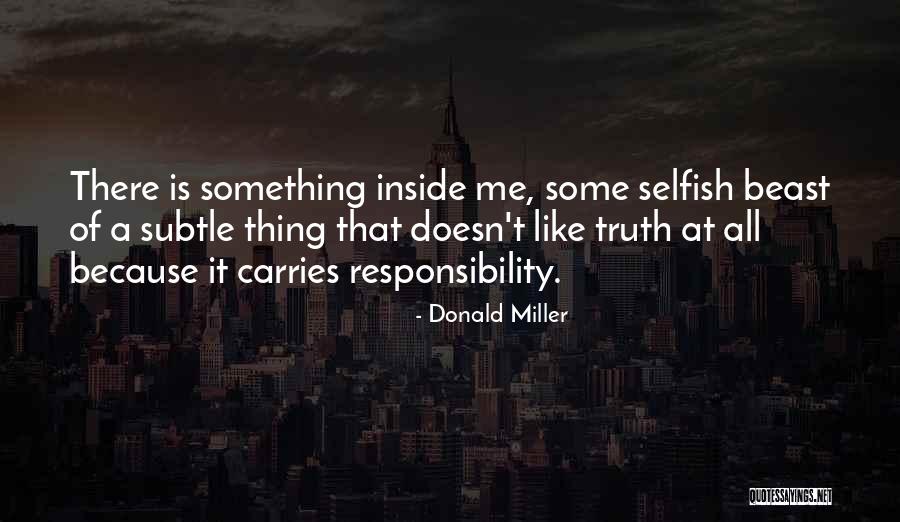 There is something inside me, some selfish beast of a subtle thing that doesn't like truth at all because it carries responsibility. — Donald Miller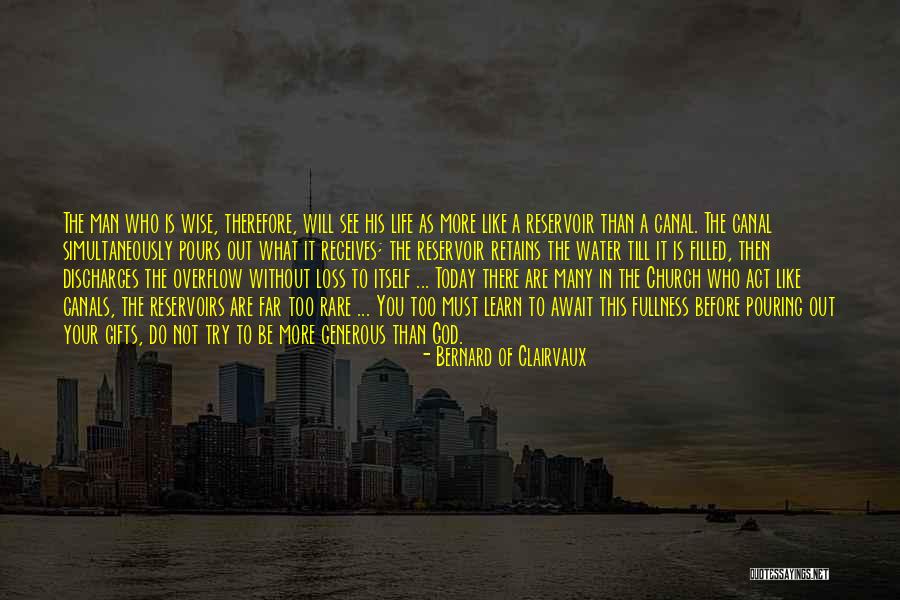 The man who is wise, therefore, will see his life as more like a reservoir than a canal. The canal simultaneously pours out what it receives; the reservoir retains the water till it is filled, then discharges the overflow without loss to itself ... Today there are many in the Church who act like canals, the reservoirs are far too rare ... You too must learn to await this fullness before pouring out your gifts, do not try to be more generous than God. — Bernard Of Clairvaux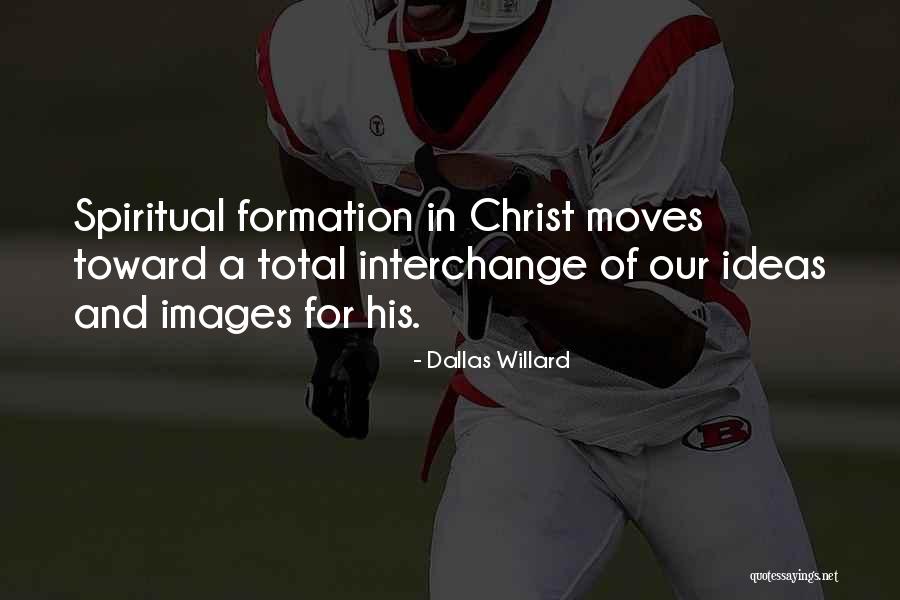 Spiritual formation in Christ moves toward a total interchange of our ideas and images for his. — Dallas Willard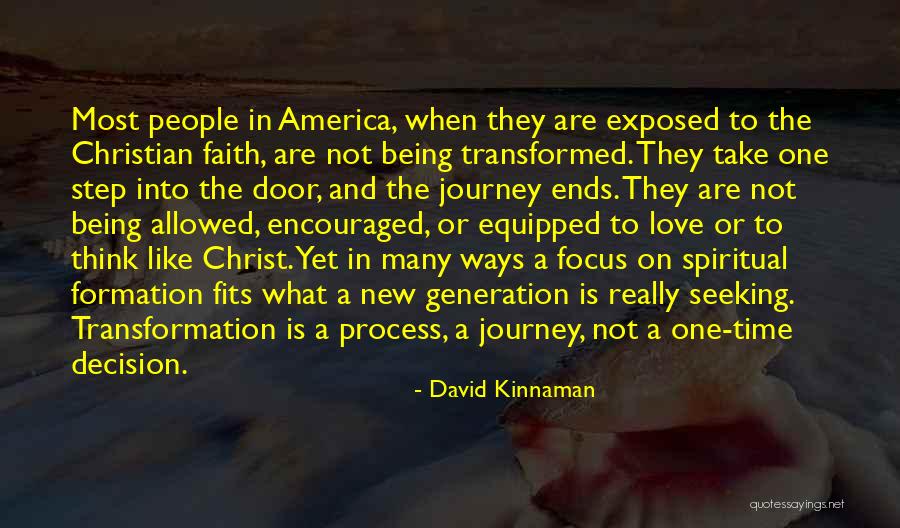 Most people in America, when they are exposed to the Christian faith, are not being transformed. They take one step into the door, and the journey ends. They are not being allowed, encouraged, or equipped to love or to think like Christ. Yet in many ways a focus on spiritual formation fits what a new generation is really seeking. Transformation is a process, a journey, not a one-time decision. — David Kinnaman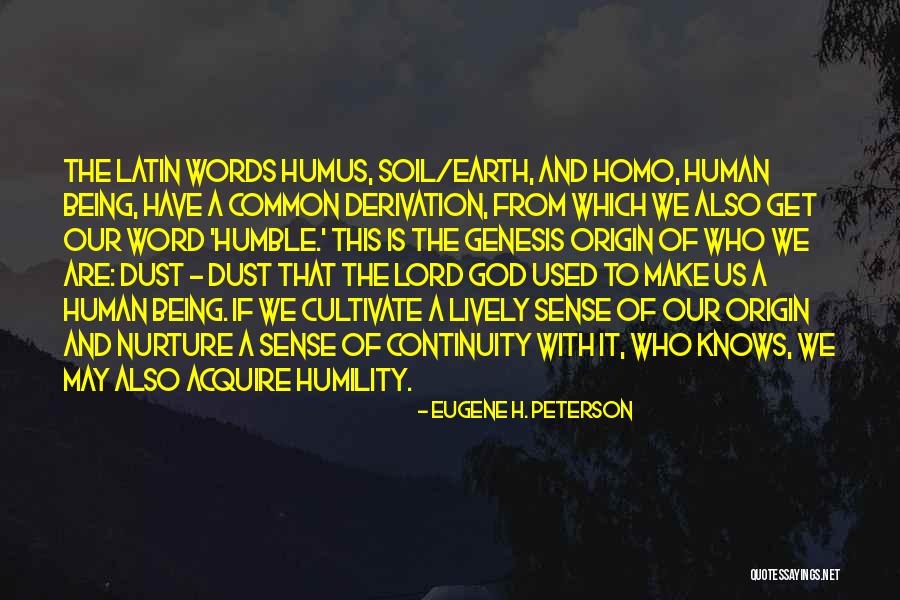 The Latin words humus, soil/earth, and homo, human being, have a common derivation, from which we also get our word 'humble.' This is the Genesis origin of who we are: dust - dust that the Lord God used to make us a human being. If we cultivate a lively sense of our origin and nurture a sense of continuity with it, who knows, we may also acquire humility. — Eugene H. Peterson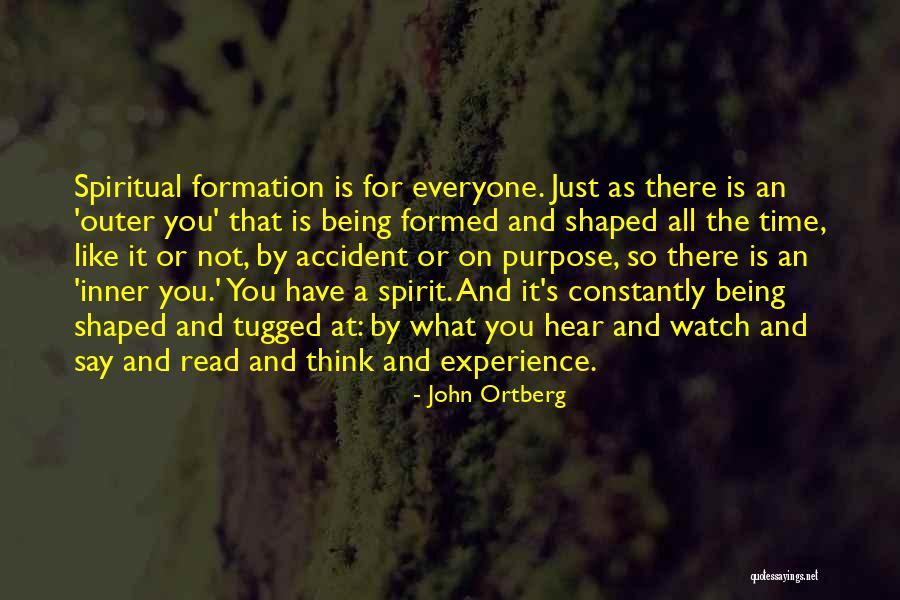 Spiritual formation is for everyone. Just as there is an 'outer you' that is being formed and shaped all the time, like it or not, by accident or on purpose, so there is an 'inner you.' You have a spirit. And it's constantly being shaped and tugged at: by what you hear and watch and say and read and think and experience. — John Ortberg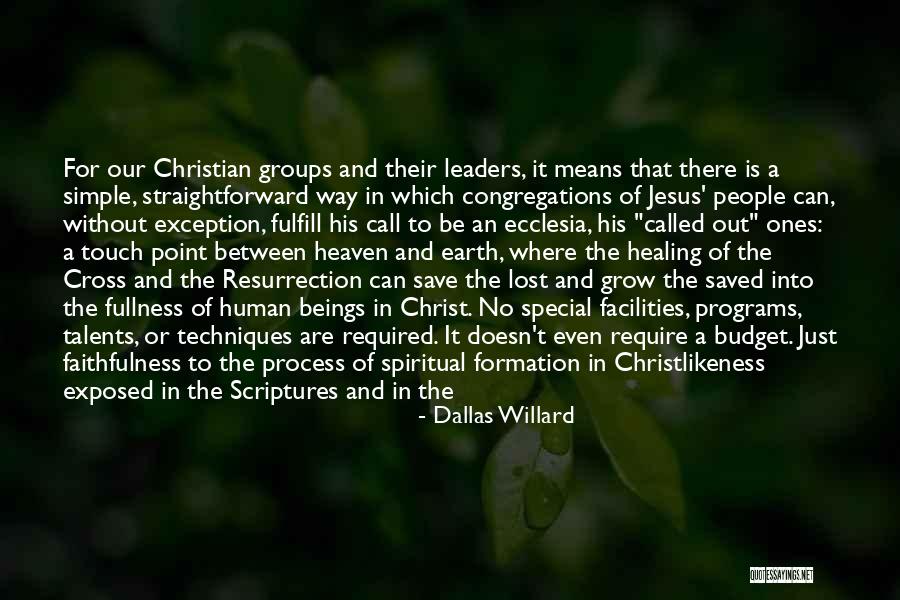 For our Christian groups and their leaders, it means that there is a simple, straightforward way in which congregations of Jesus' people can, without exception, fulfill his call to be an ecclesia, his "called out" ones: a touch point between heaven and earth, where the healing of the Cross and the Resurrection can save the lost and grow the saved into the fullness of human beings in Christ. No special facilities, programs, talents, or techniques are required. It doesn't even require a budget. Just faithfulness to the process of spiritual formation in Christlikeness exposed in the Scriptures and in the lives of his "peculiar people" through the ages (Titus 2:14, KJV). — Dallas Willard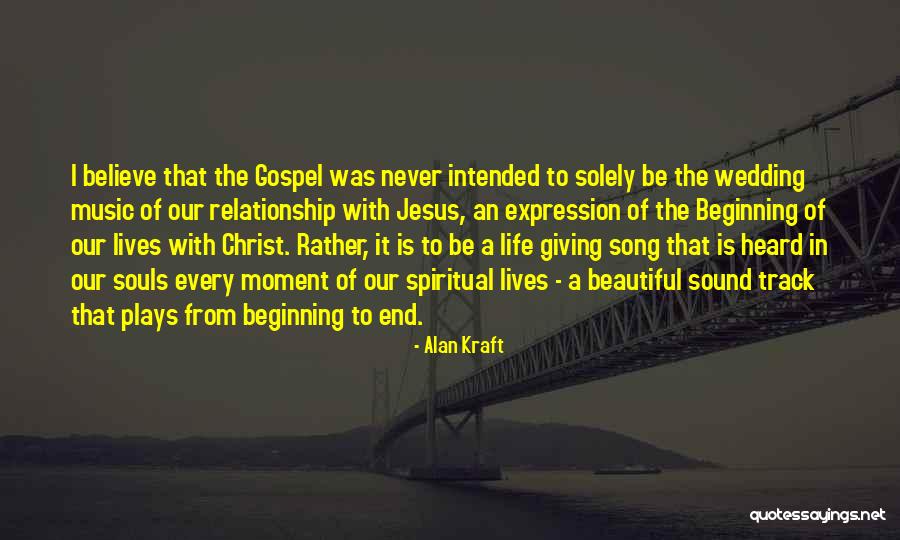 I believe that the Gospel was never intended to solely be the wedding music of our relationship with Jesus, an expression of the Beginning of our lives with Christ. Rather, it is to be a life giving song that is heard in our souls every moment of our spiritual lives - a beautiful sound track that plays from beginning to end. — Alan Kraft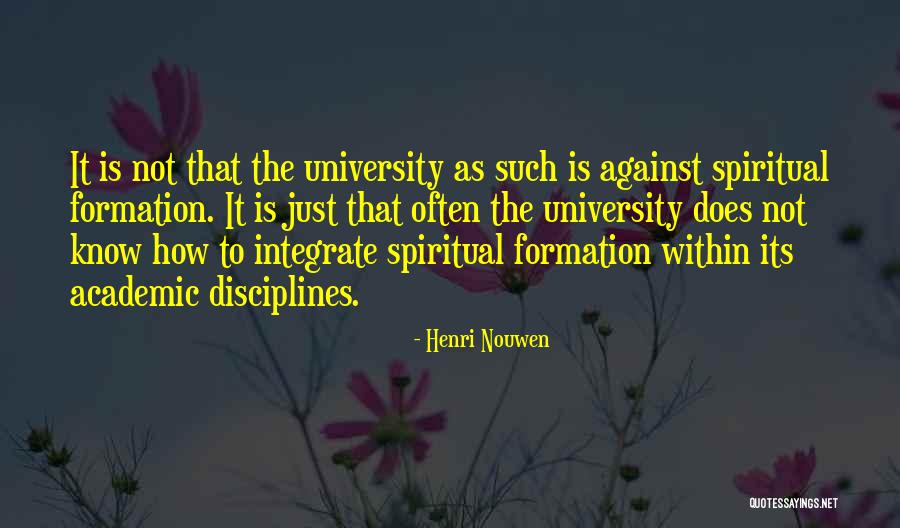 It is not that the university as such is against spiritual formation. It is just that often the university does not know how to integrate spiritual formation within its academic disciplines. — Henri Nouwen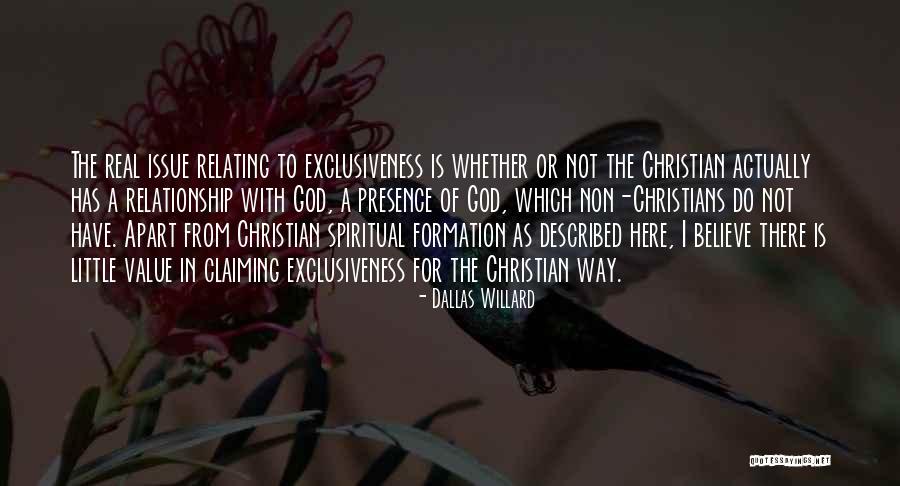 The real issue relating to exclusiveness is whether or not the Christian actually has a relationship with God, a presence of God, which non-Christians do not have. Apart from Christian spiritual formation as described here, I believe there is little value in claiming exclusiveness for the Christian way. — Dallas Willard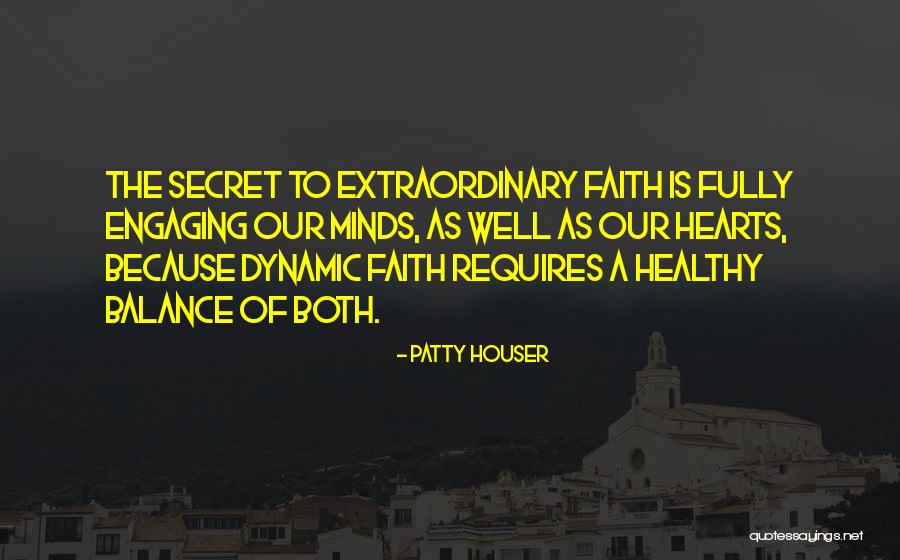 The secret to extraordinary faith is fully engaging our MINDS, as well as our hearts, because DYNAMIC FAITH REQUIRES A HEALTHY BALANCE OF BOTH. — Patty Houser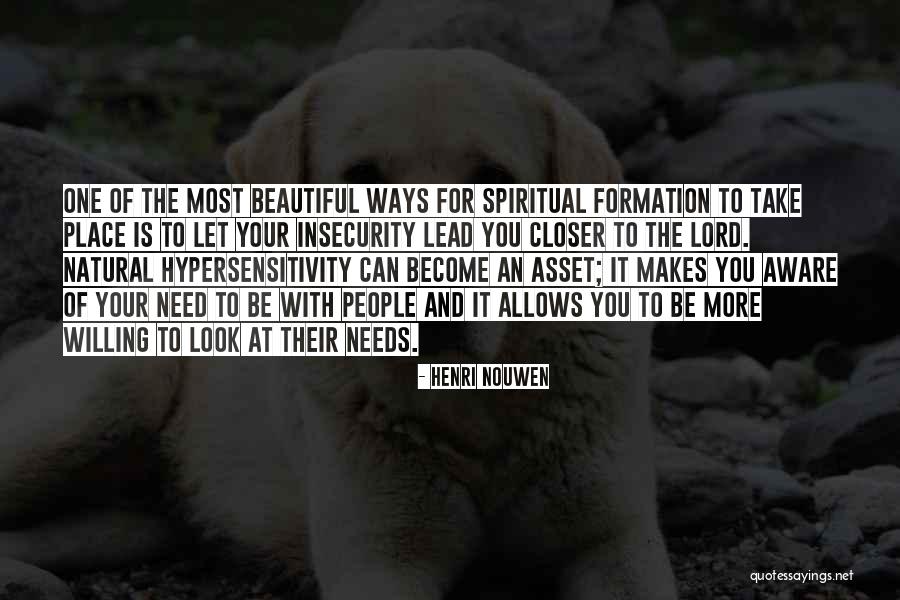 One of the most beautiful ways for spiritual formation to take place is to let your insecurity lead you closer to the Lord. Natural hypersensitivity can become an asset; it makes you aware of your need to be with people and it allows you to be more willing to look at their needs. — Henri Nouwen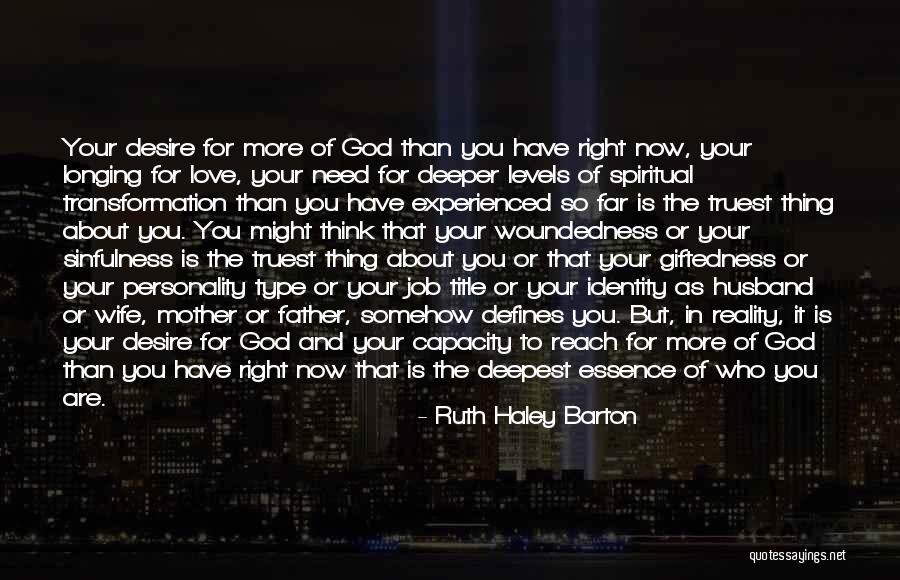 Your desire for more of God than you have right now, your longing for love, your need for deeper levels of spiritual transformation than you have experienced so far is the truest thing about you. You might think that your woundedness or your sinfulness is the truest thing about you or that your giftedness or your personality type or your job title or your identity as husband or wife, mother or father, somehow defines you. But, in reality, it is your desire for God and your capacity to reach for more of God than you have right now that is the deepest essence of who you are. — Ruth Haley Barton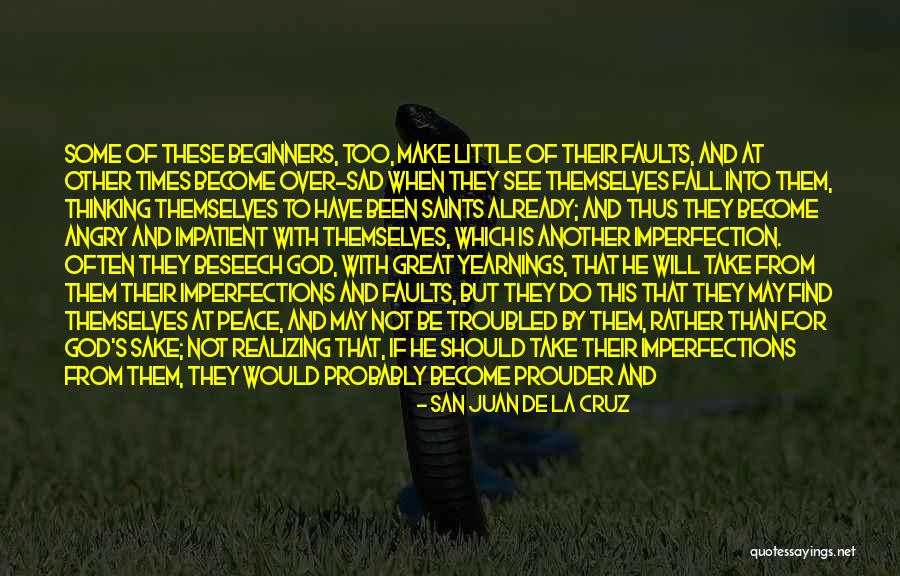 Some of these beginners, too, make little of their faults, and at other times become over-sad when they see themselves fall into them, thinking themselves to have been saints already; and thus they become angry and impatient with themselves, which is another imperfection. Often they beseech God, with great yearnings, that He will take from them their imperfections and faults, but they do this that they may find themselves at peace, and may not be troubled by them, rather than for God's sake; not realizing that, if He should take their imperfections from them, they would probably become prouder and more presumptuous still. They dislike praising others and love to be praised themselves; sometimes they seek out such praise. Herein they are like the foolish virgins, who, when their lamps could not be lit, sought oil from others. — San Juan De La Cruz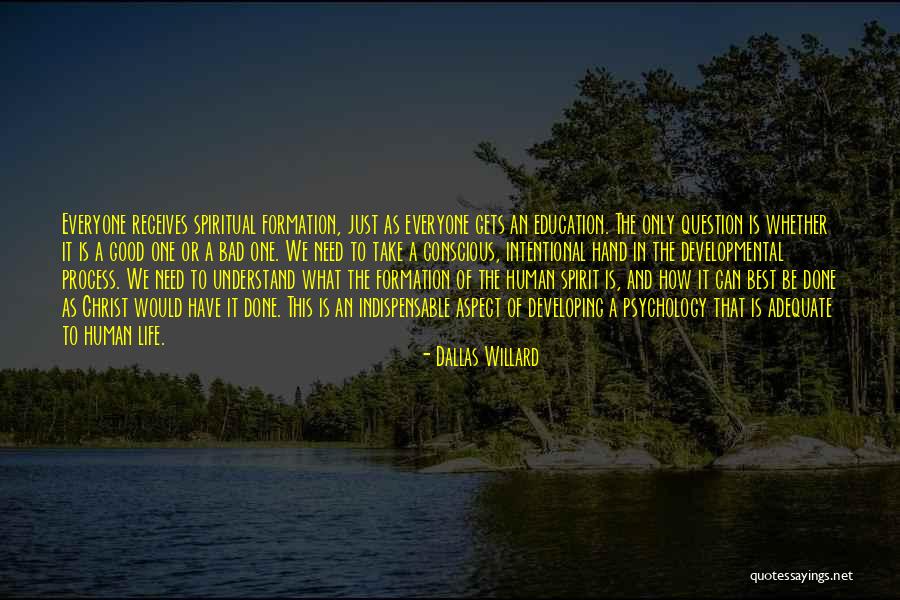 Everyone receives spiritual formation, just as everyone gets an education. The only question is whether it is a good one or a bad one. We need to take a conscious, intentional hand in the developmental process. We need to understand what the formation of the human spirit is, and how it can best be done as Christ would have it done. This is an indispensable aspect of developing a psychology that is adequate to human life. — Dallas Willard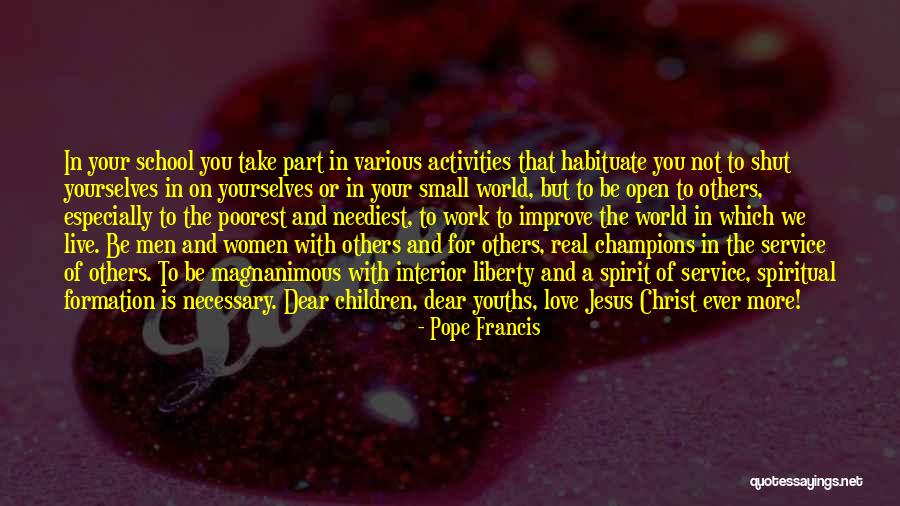 In your school you take part in various activities that habituate you not to shut yourselves in on yourselves or in your small world, but to be open to others, especially to the poorest and neediest, to work to improve the world in which we live. Be men and women with others and for others, real champions in the service of others. To be magnanimous with interior liberty and a spirit of service, spiritual formation is necessary. Dear children, dear youths, love Jesus Christ ever more! — Pope Francis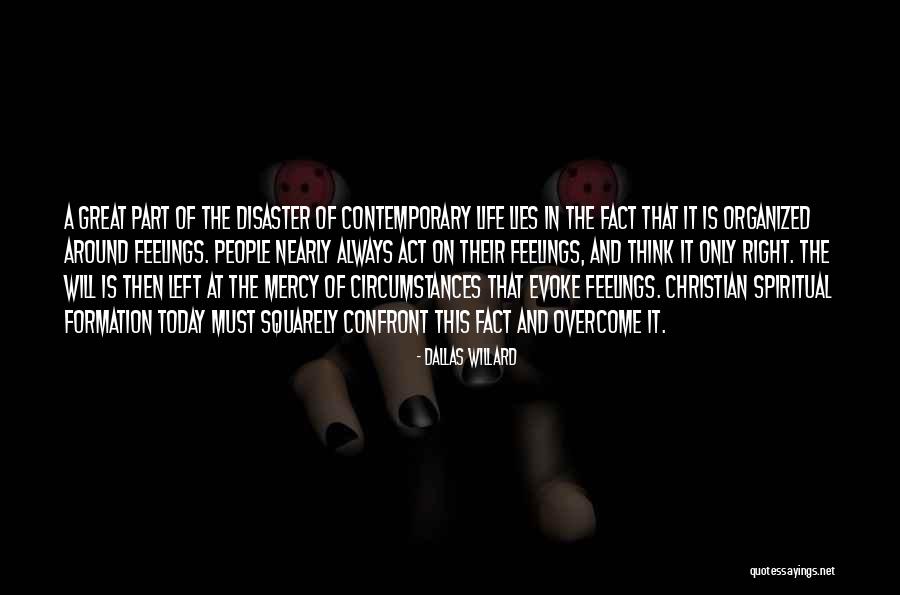 A great part of the disaster of contemporary life lies in the fact that it is organized around feelings. People nearly always act on their feelings, and think it only right. The will is then left at the mercy of circumstances that evoke feelings. Christian spiritual formation today must squarely confront this fact and overcome it. — Dallas Willard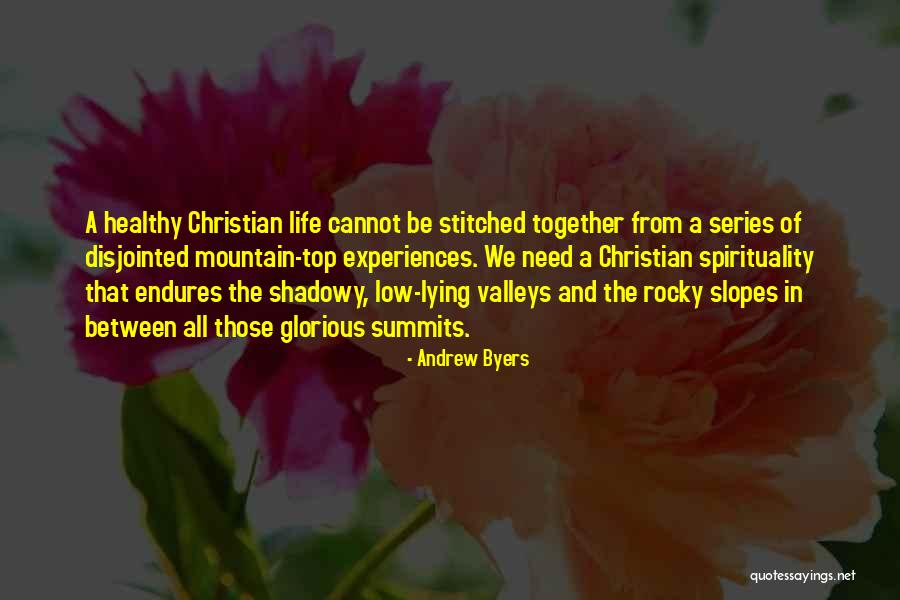 A healthy Christian life cannot be stitched together from a series of disjointed mountain-top experiences. We need a Christian spirituality that endures the shadowy, low-lying valleys and the rocky slopes in between all those glorious summits. — Andrew Byers