Quotes & Sayings About Someone Incarcerated
Enjoy reading and share 34 famous quotes about Someone Incarcerated with everyone.
Top Someone Incarcerated Quotes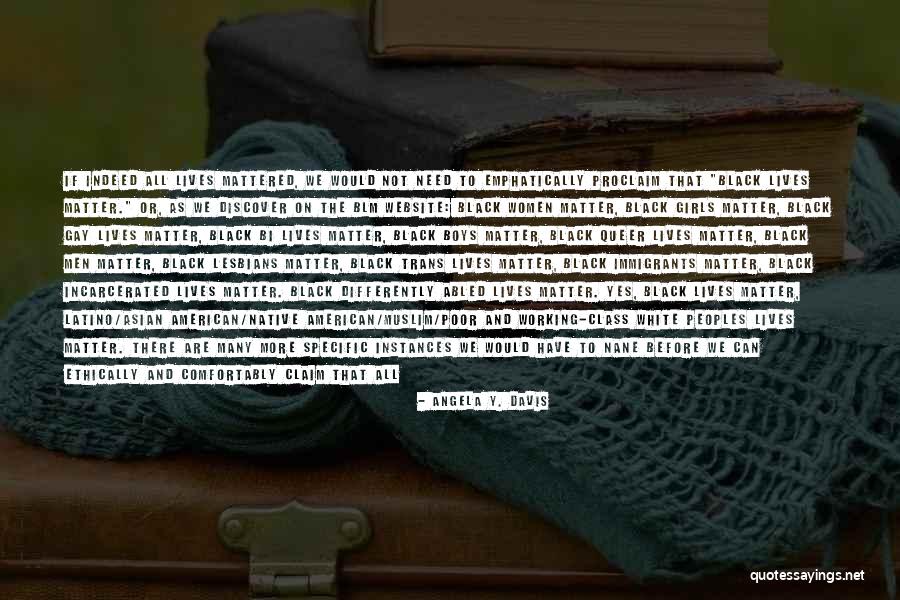 If indeed all lives mattered, we would not need to emphatically proclaim that "Black Lives Matter." Or, as we discover on the BLM website: Black Women Matter, Black Girls Matter, Black Gay Lives Matter, Black Bi Lives Matter, Black Boys Matter, Black Queer Lives Matter, Black Men Matter, Black Lesbians Matter, Black Trans Lives Matter, Black Immigrants Matter, Black Incarcerated Lives Matter. Black Differently Abled Lives Matter. Yes, Black Lives Matter, Latino/Asian American/Native American/Muslim/Poor and Working-Class White Peoples Lives matter. There are many more specific instances we would have to nane before we can ethically and comfortably claim that All Lives Matter. — Angela Y. Davis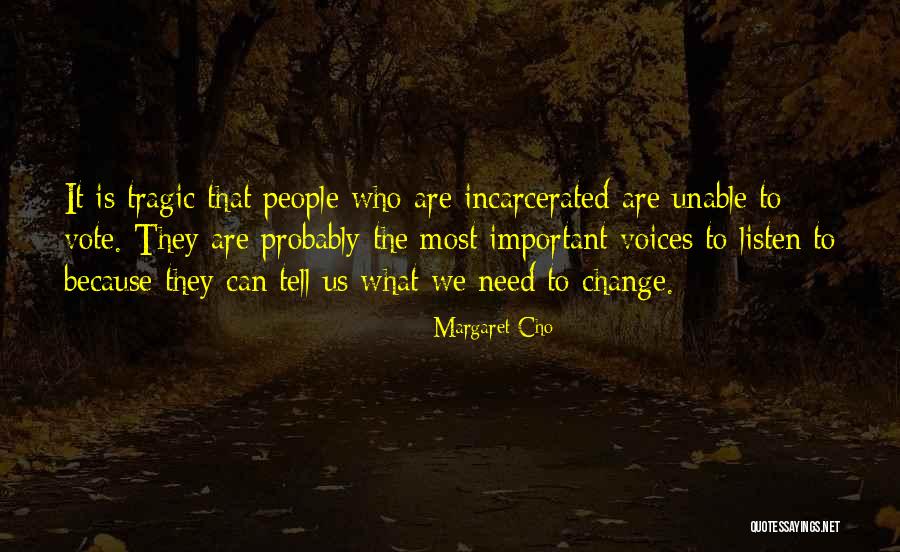 It is tragic that people who are incarcerated are unable to vote. They are probably the most important voices to listen to because they can tell us what we need to change. — Margaret Cho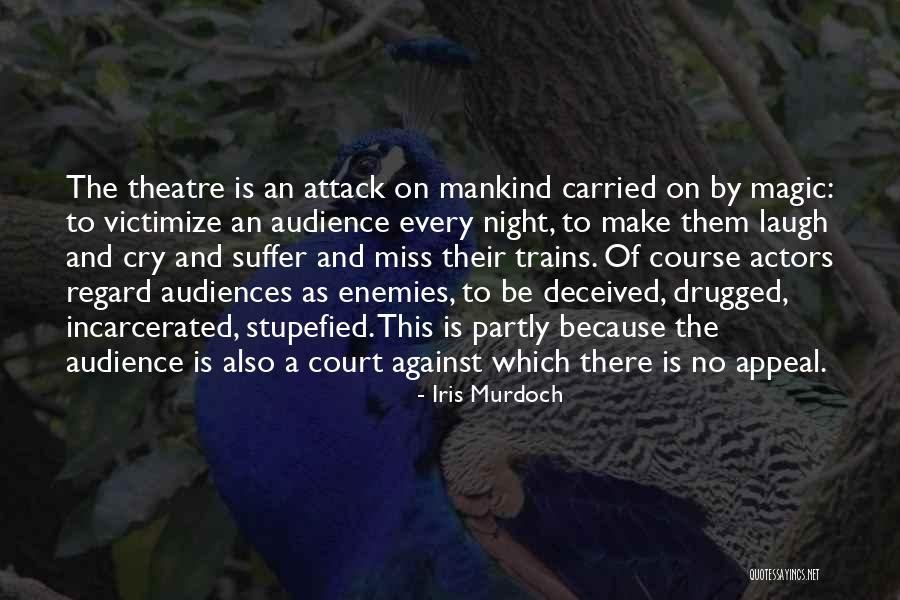 The theatre is an attack on mankind carried on by magic: to victimize an audience every night, to make them laugh and cry and suffer and miss their trains. Of course actors regard audiences as enemies, to be deceived, drugged, incarcerated, stupefied. This is partly because the audience is also a court against which there is no appeal. — Iris Murdoch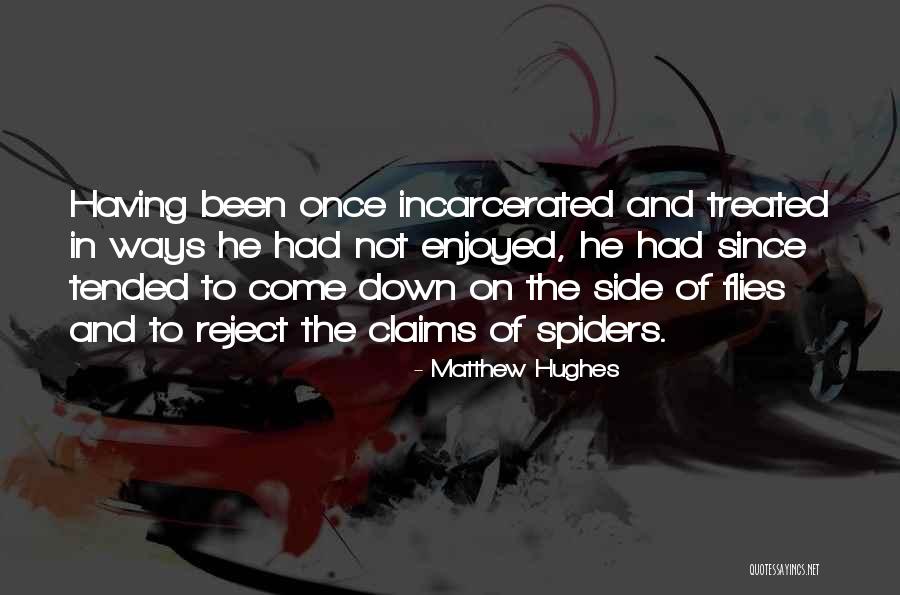 Having been once incarcerated and treated in ways he had not enjoyed, he had since tended to come down on the side of flies and to reject the claims of spiders. — Matthew Hughes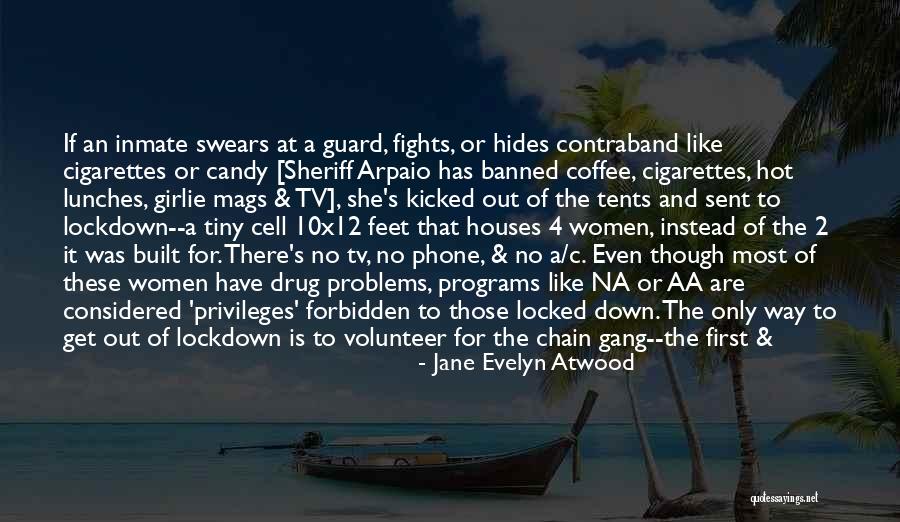 If an inmate swears at a guard, fights, or hides contraband like cigarettes or candy [Sheriff Arpaio has banned coffee, cigarettes, hot lunches, girlie mags & TV], she's kicked out of the tents and sent to lockdown--a tiny cell 10x12 feet that houses 4 women, instead of the 2 it was built for. There's no tv, no phone, & no a/c. Even though most of these women have drug problems, programs like NA or AA are considered 'privileges' forbidden to those locked down. The only way to get out of lockdown is to volunteer for the chain gang--the first & only female chain gang in the United States (as of Aug 1997). Volunteers sign a paper that says they know & accept the conditions on the chain--cleaning Phoenix streets, painting the center strip of miles of highway, & burying AZ's indigent. The accusation of 'cruel & unusual punishment' is quashed by the argument that the chain gang is purely voluntary. After all, if you prefer, you can spend the whole year in lockdown. — Jane Evelyn Atwood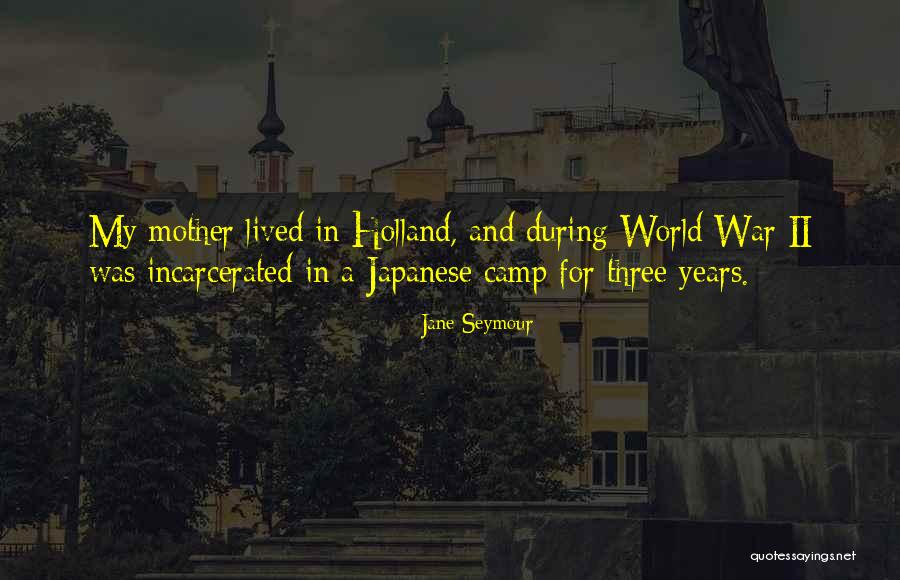 My mother lived in Holland, and during World War II was incarcerated in a Japanese camp for three years. — Jane Seymour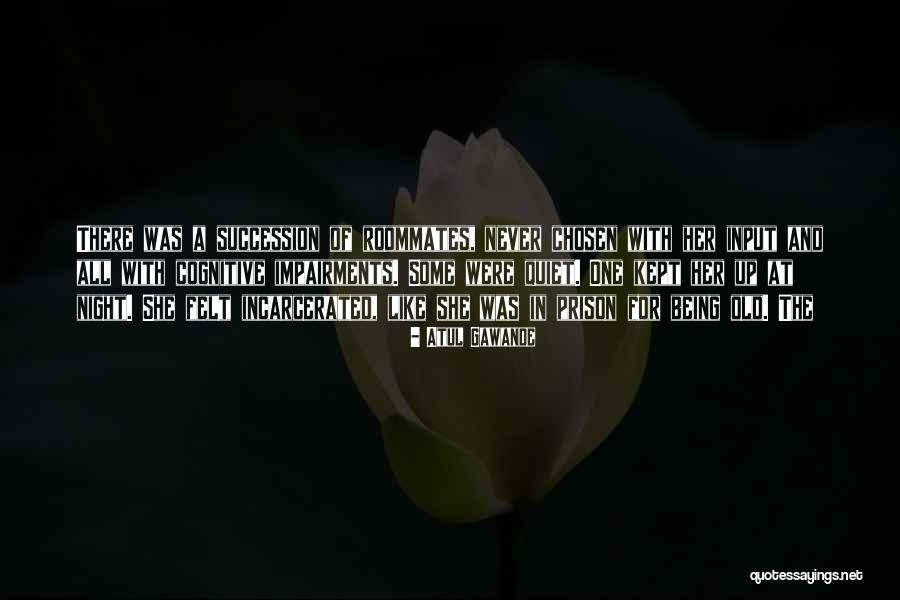 There was a succession of roommates, never chosen with her input and all with cognitive impairments. Some were quiet. One kept her up at night. She felt incarcerated, like she was in prison for being old. The — Atul Gawande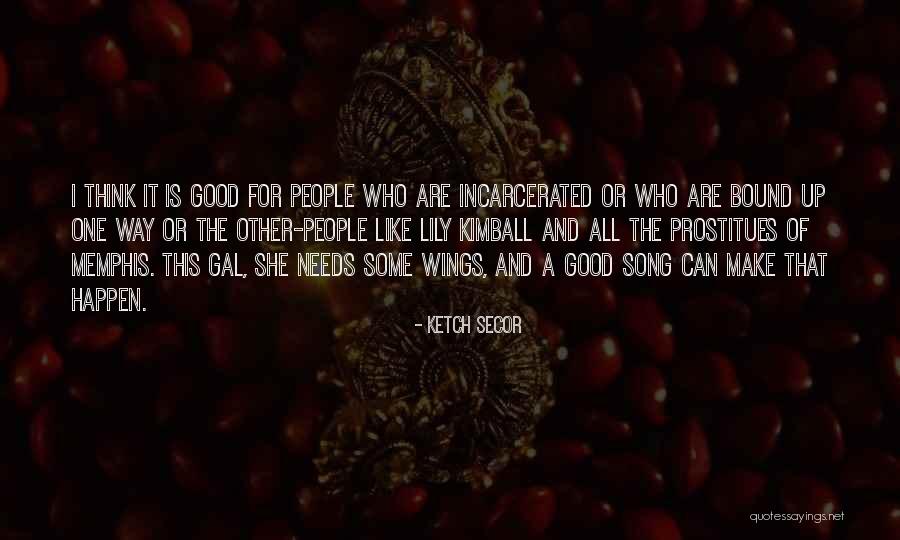 I think it is good for people who are incarcerated or who are bound up one way or the other-people like Lily Kimball and all the prostitues of Memphis. This gal, she needs some wings, and a good song can make that happen. — Ketch Secor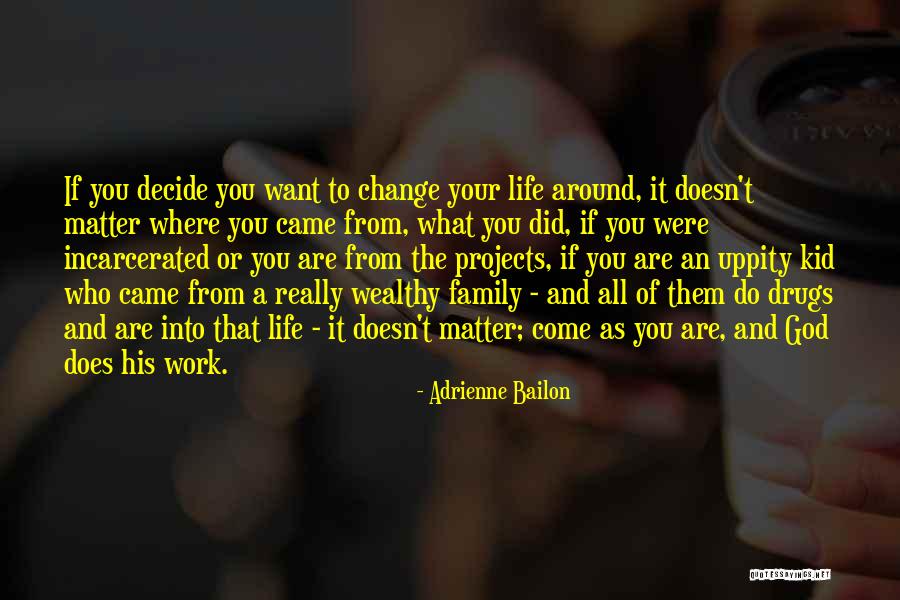 If you decide you want to change your life around, it doesn't matter where you came from, what you did, if you were incarcerated or you are from the projects, if you are an uppity kid who came from a really wealthy family - and all of them do drugs and are into that life - it doesn't matter; come as you are, and God does his work. — Adrienne Bailon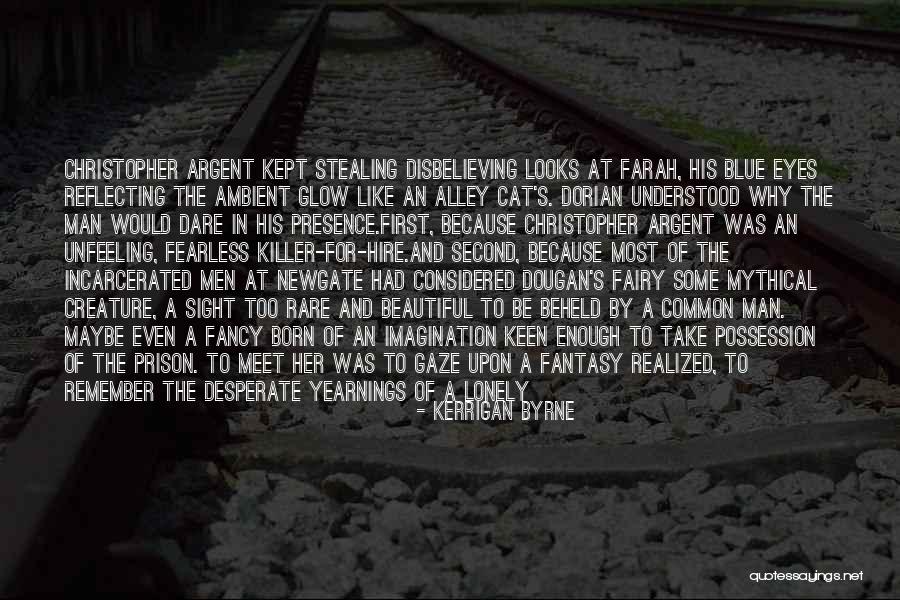 Christopher Argent kept stealing disbelieving looks at Farah, his blue eyes reflecting the ambient glow like an alley cat's. Dorian understood why the man would dare in his presence.
First, because Christopher Argent was an unfeeling, fearless killer-for-hire.
And second, because most of the incarcerated men at Newgate had considered Dougan's Fairy some mythical creature, a sight too rare and beautiful to be beheld by a common man. Maybe even a fancy born of an imagination keen enough to take possession of the prison. To meet her was to gaze upon a fantasy realized, to remember the desperate yearnings of a lonely prisoner bereft of kindness, mercy, or beauty. To be blinded by the embodiment of all three of those things. For a man like Argent, one born to incarceration, the sight might have him reassessing some long-held cynical philosophies. — Kerrigan Byrne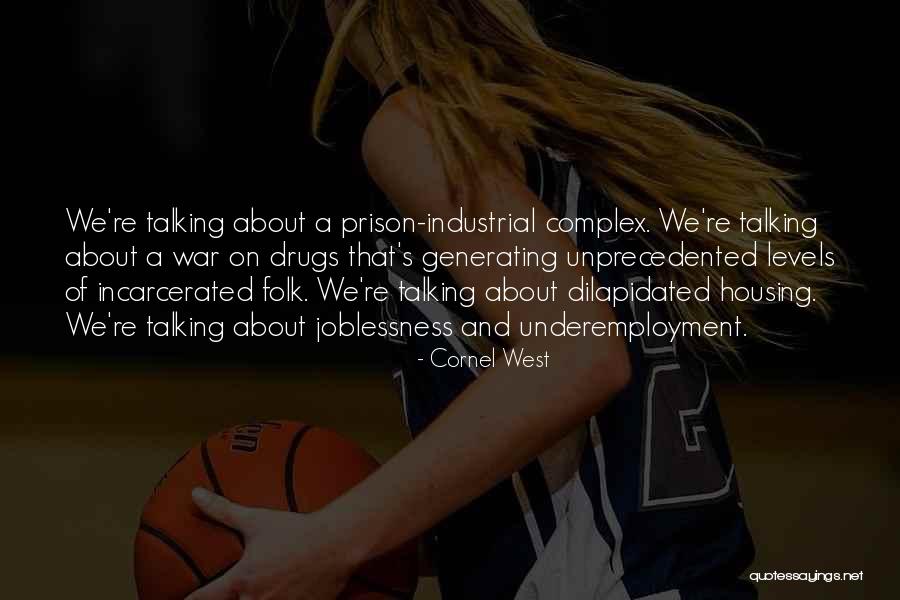 We're talking about a prison-industrial complex. We're talking about a war on drugs that's generating unprecedented levels of incarcerated folk. We're talking about dilapidated housing. We're talking about joblessness and underemployment. — Cornel West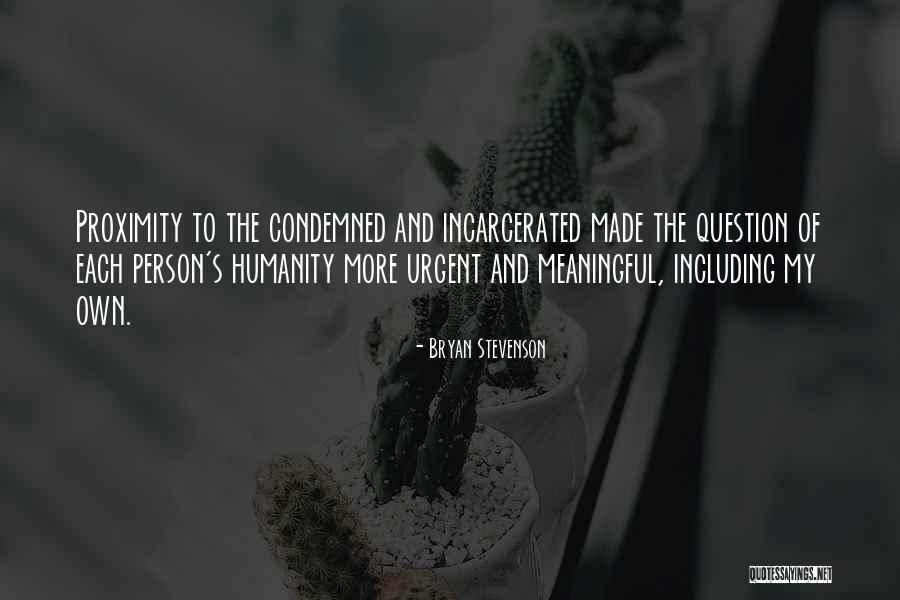 Proximity to the condemned and incarcerated made the question of each person's humanity more urgent and meaningful, including my own. — Bryan Stevenson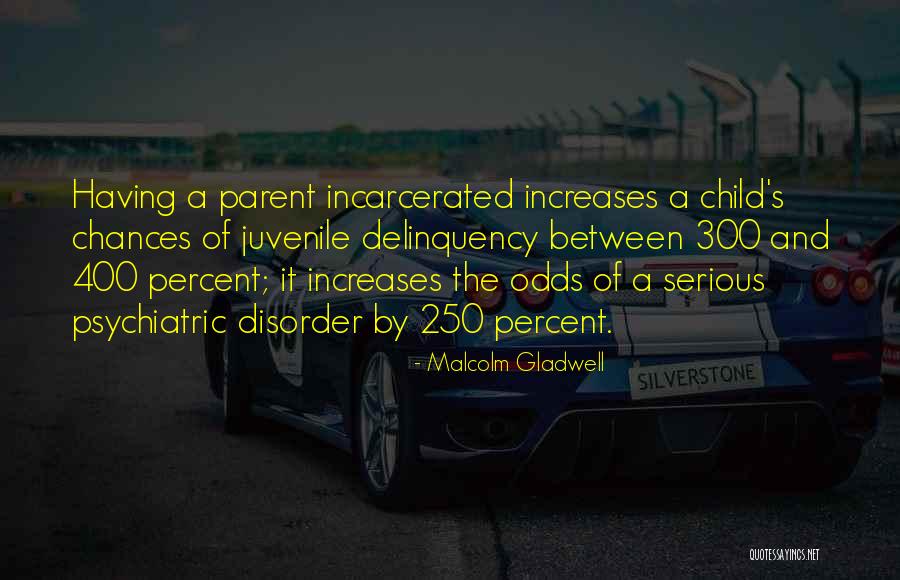 Having a parent incarcerated increases a child's chances of juvenile delinquency between 300 and 400 percent; it increases the odds of a serious psychiatric disorder by 250 percent. — Malcolm Gladwell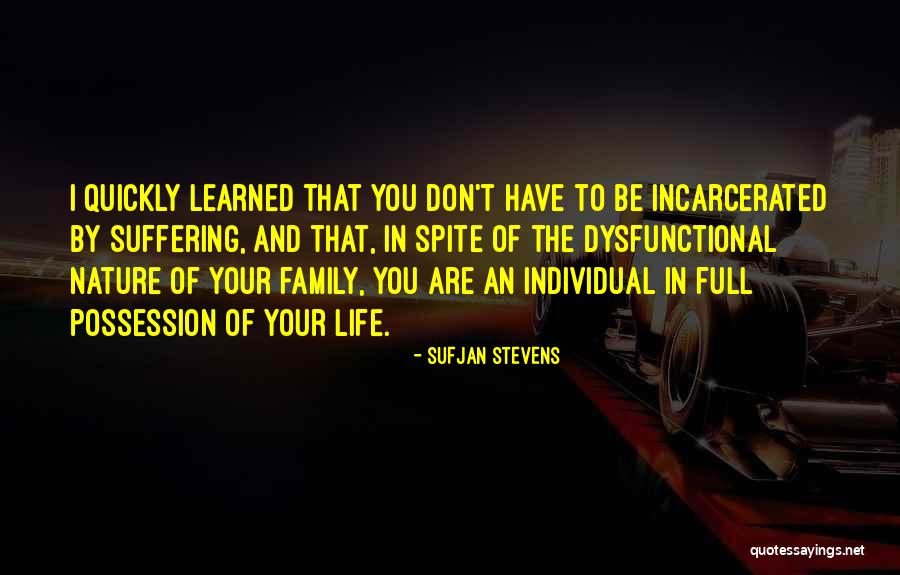 I quickly learned that you don't have to be incarcerated by suffering, and that, in spite of the dysfunctional nature of your family, you are an individual in full possession of your life. — Sufjan Stevens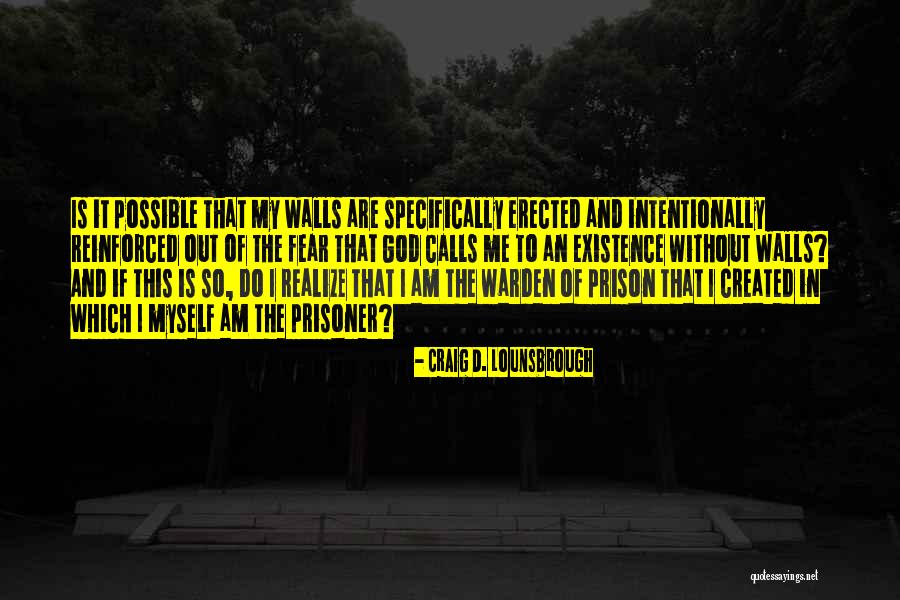 Is it possible that my walls are specifically erected and intentionally reinforced out of the fear that God calls me to an existence without walls? And if this is so, do I realize that I am the warden of prison that I created in which I myself am the prisoner? — Craig D. Lounsbrough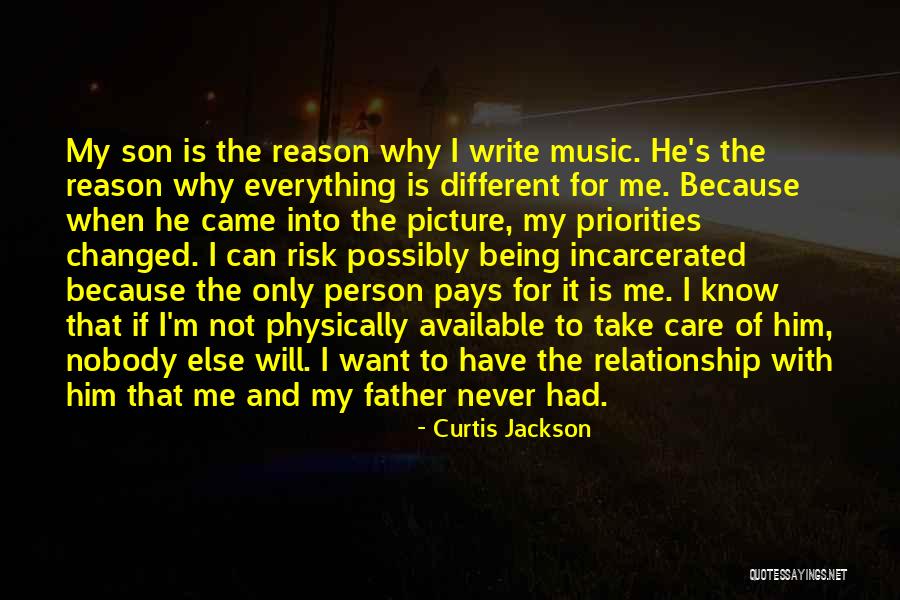 My son is the reason why I write music. He's the reason why everything is different for me. Because when he came into the picture, my priorities changed. I can risk possibly being incarcerated because the only person pays for it is me. I know that if I'm not physically available to take care of him, nobody else will. I want to have the relationship with him that me and my father never had. — Curtis Jackson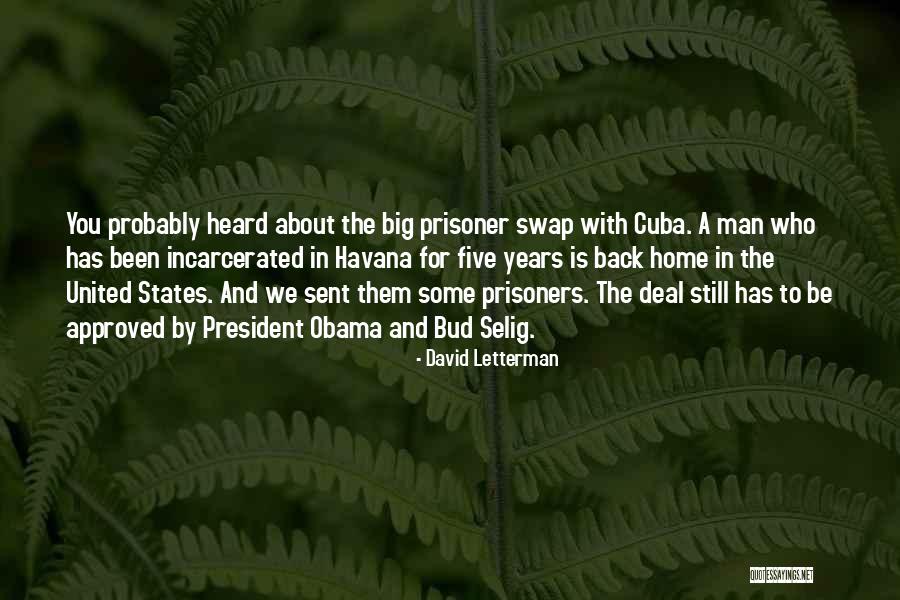 You probably heard about the big prisoner swap with Cuba. A man who has been incarcerated in Havana for five years is back home in the United States. And we sent them some prisoners. The deal still has to be approved by President Obama and Bud Selig. — David Letterman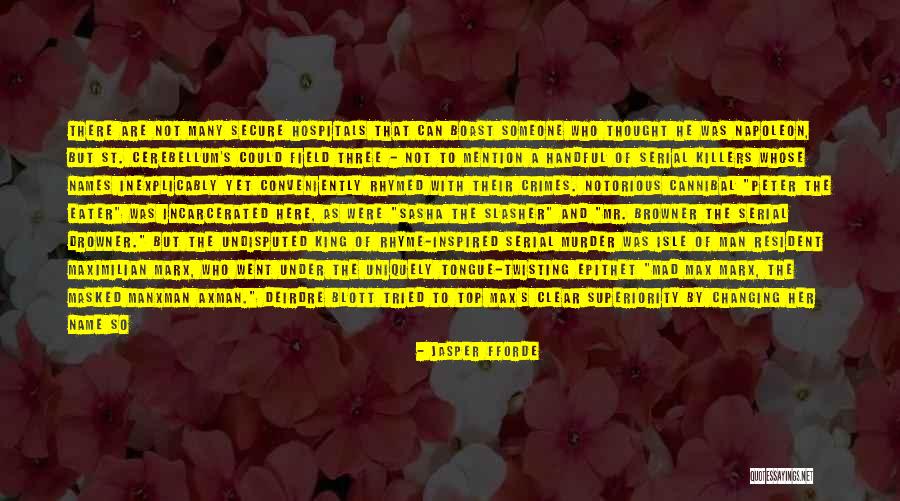 There are not many secure hospitals that can boast someone who thought he was Napoleon, but St. Cerebellum's could field three - not to mention a handful of serial killers whose names inexplicably yet conveniently rhymed with their crimes. Notorious cannibal "Peter the Eater" was incarcerated here, as were "Sasha the Slasher" and "Mr. Browner the Serial Drowner." But the undisputed king of rhyme-inspired serial murder was Isle of Man resident Maximilian Marx, who went under the uniquely tongue-twisting epithet "Mad Max Marx, the Masked Manxman Axman." Deirdre Blott tried to top Max's clear superiority by changing her name so as to become "Nutty Nora Newsome, the Knife-Wielding Weird Widow from Waddersdon," but no one was impressed, and she was ostracized by the other patients for being such a terrible show-off. — Jasper Fforde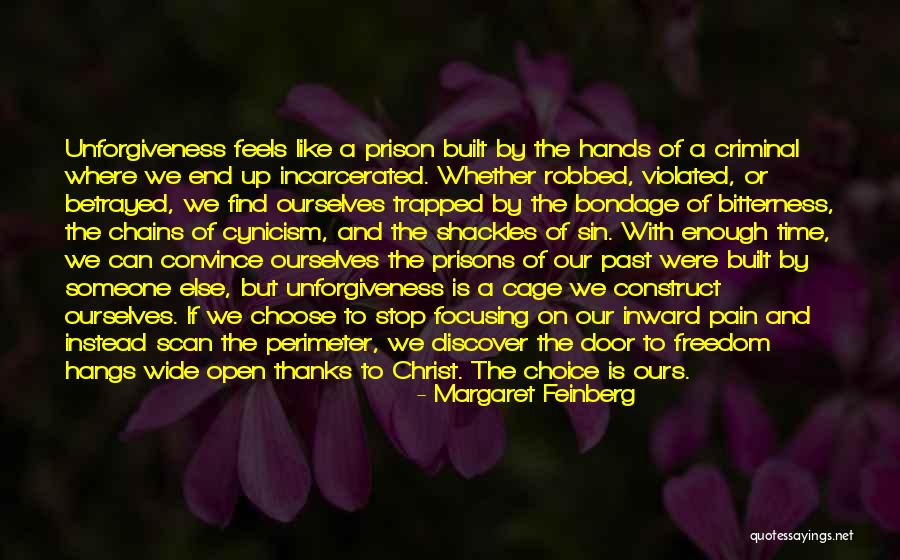 Unforgiveness feels like a prison built by the hands of a criminal where we end up incarcerated. Whether robbed, violated, or betrayed, we find ourselves trapped by the bondage of bitterness, the chains of cynicism, and the shackles of sin. With enough time, we can convince ourselves the prisons of our past were built by someone else, but unforgiveness is a cage we construct ourselves. If we choose to stop focusing on our inward pain and instead scan the perimeter, we discover the door to freedom hangs wide open thanks to Christ. The choice is ours. — Margaret Feinberg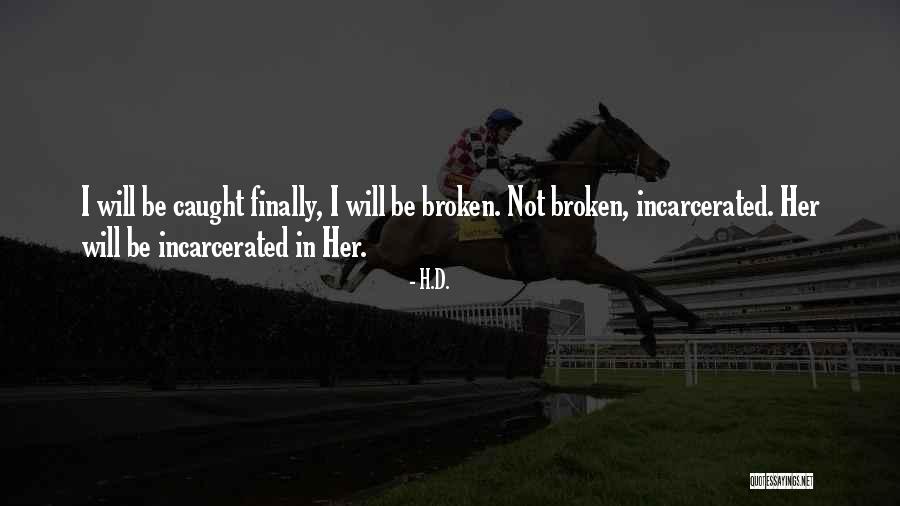 I will be caught finally, I will be broken. Not broken, incarcerated. Her will be incarcerated in Her. — H.D.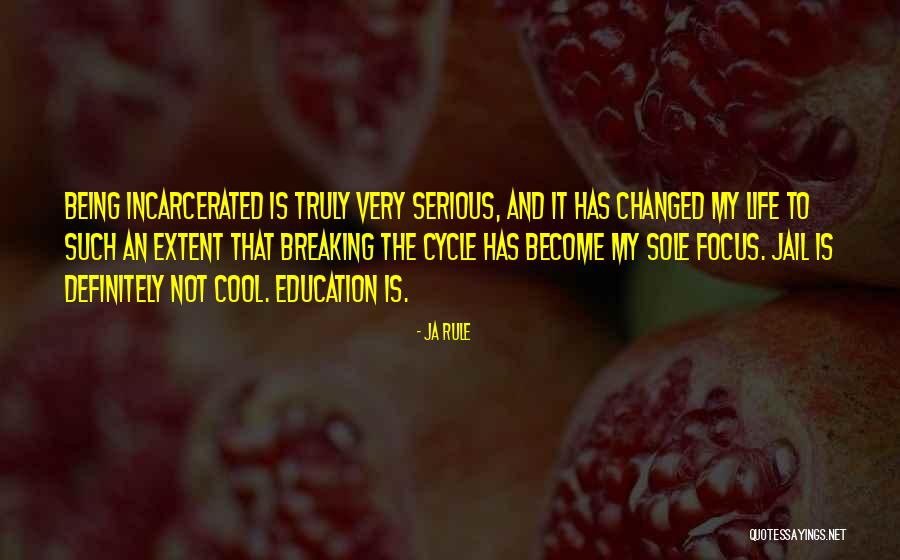 Being incarcerated is truly very serious, and it has changed my life to such an extent that breaking the cycle has become my sole focus. Jail is definitely not cool. Education is. — Ja Rule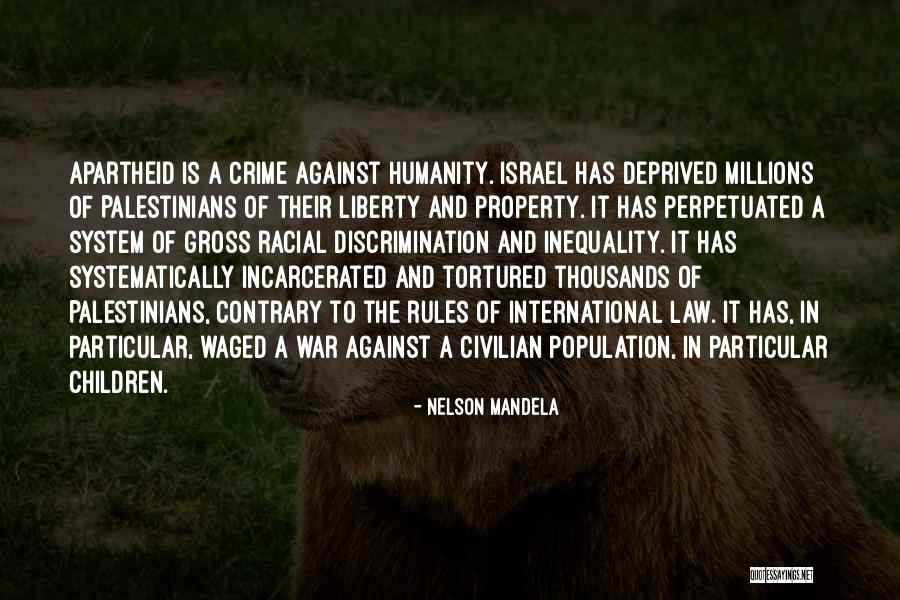 Apartheid is a crime against humanity. Israel has deprived millions of Palestinians of their liberty and property. It has perpetuated a system of gross racial discrimination and inequality. It has systematically incarcerated and tortured thousands of Palestinians, contrary to the rules of international law. It has, in particular, waged a war against a civilian population, in particular children. — Nelson Mandela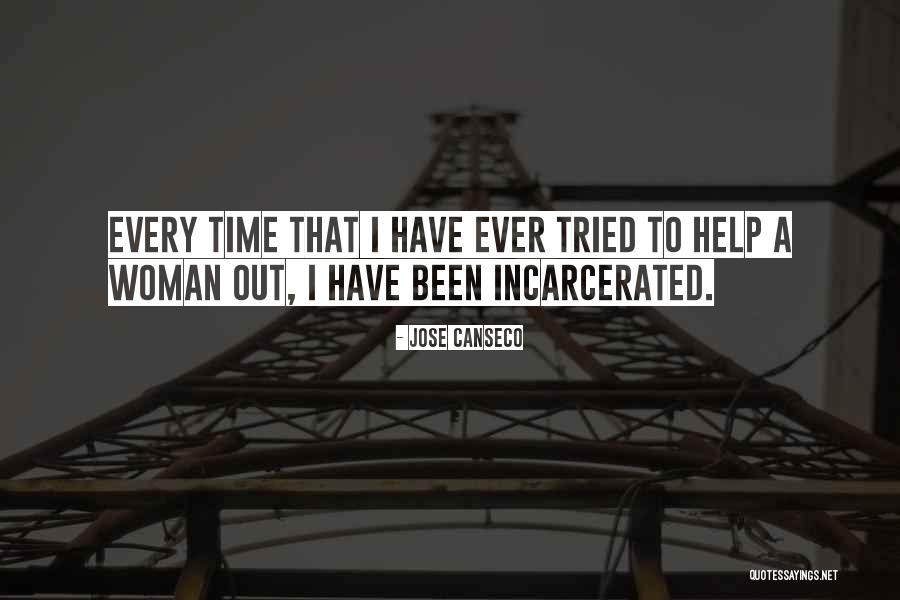 Every time that I have ever tried to help a woman out, I have been incarcerated. — Jose Canseco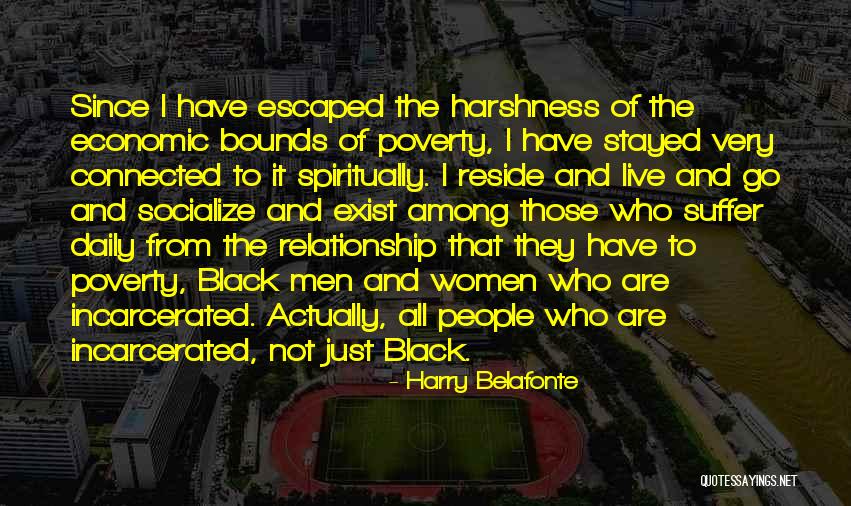 Since I have escaped the harshness of the economic bounds of poverty, I have stayed very connected to it spiritually. I reside and live and go and socialize and exist among those who suffer daily from the relationship that they have to poverty, Black men and women who are incarcerated. Actually, all people who are incarcerated, not just Black. — Harry Belafonte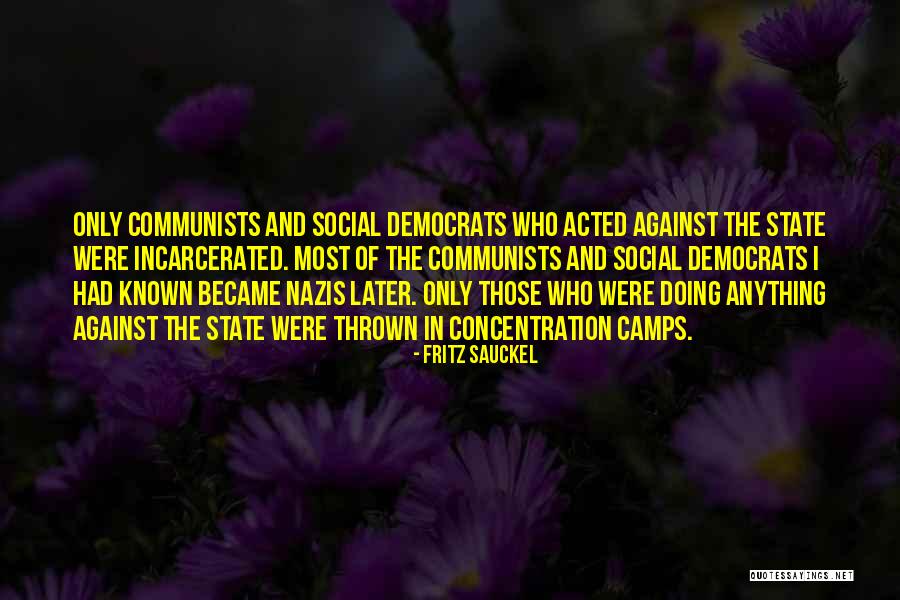 Only Communists and Social Democrats who acted against the state were incarcerated. Most of the Communists and Social Democrats I had known became Nazis later. Only those who were doing anything against the state were thrown in concentration camps. — Fritz Sauckel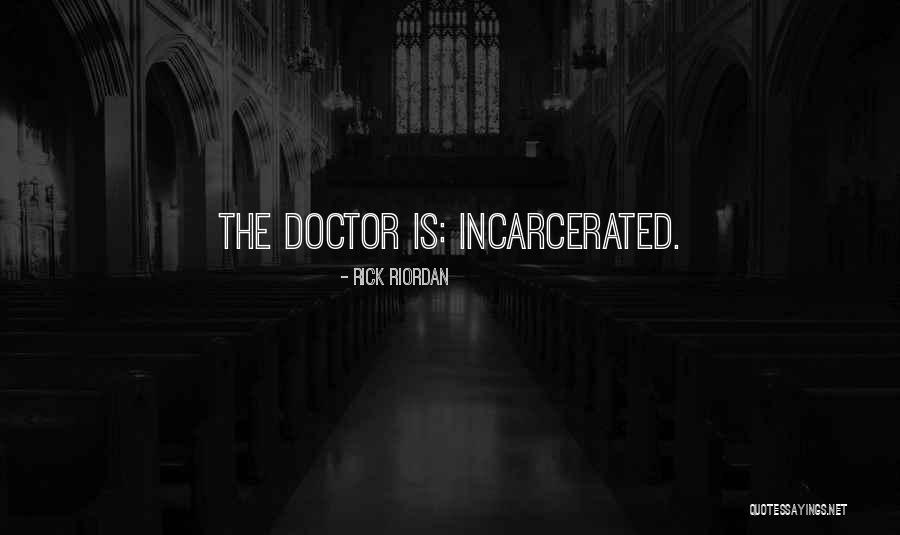 THE DOCTOR IS: INCARCERATED. — Rick Riordan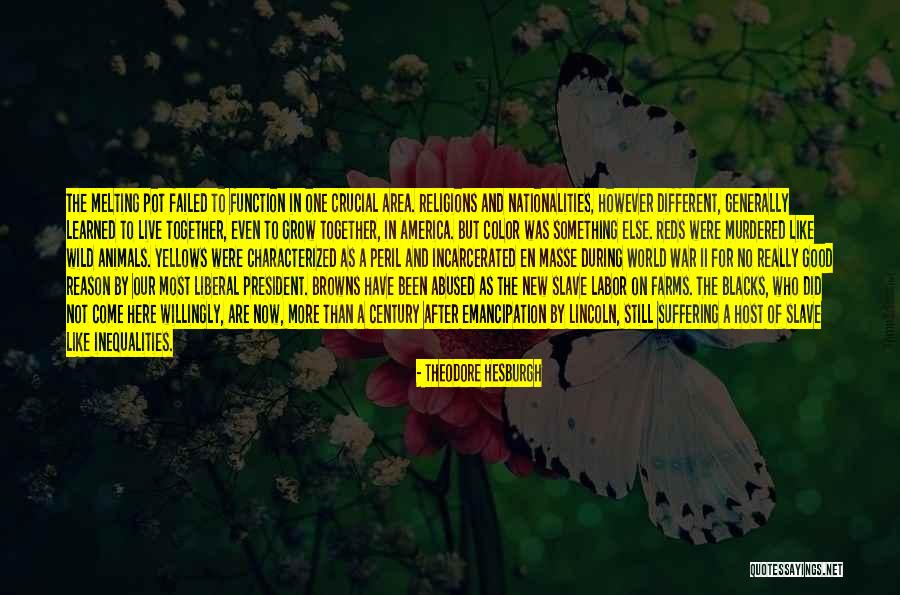 The melting pot failed to function in one crucial area. Religions and nationalities, however different, generally learned to live together, even to grow together, in America. But color was something else. Reds were murdered like wild animals. Yellows were characterized as a peril and incarcerated en masse during World War ii for no really good reason by our most liberal president. Browns have been abused as the new slave labor on farms. The blacks, who did not come here willingly, are now, more than a century after emancipation by Lincoln, still suffering a host of slave like inequalities. — Theodore Hesburgh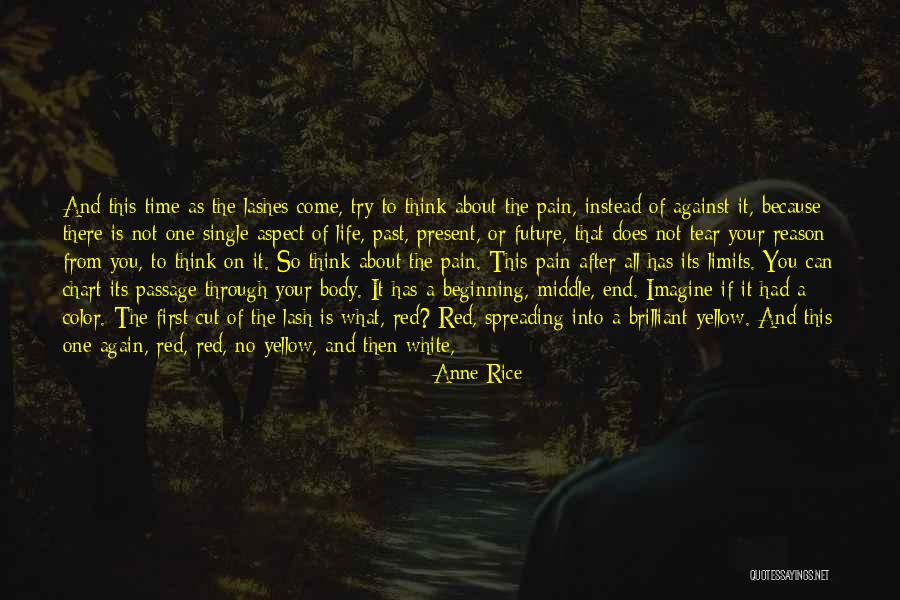 And this time as the lashes come, try to think about the pain, instead of against it, because there is not one single aspect of life, past, present, or future, that does not tear your reason from you, to think on it. So think about the pain. This pain after all has its limits. You can chart its passage through your body. It has a beginning, middle, end. Imagine if it had a color. The first cut of the lash is what, red? Red, spreading into a brilliant yellow. And this one again, red, red, no yellow, and then white, white, white, white ... Why have you incarcerated yourself in this palazzo of torture chambers, why do you not leave this place? Because you are a monster and this is a school for monsters, and if you leave here, then you will be completely, completely alone! Alone with this!
Don't weep in front of these strangers. Swallow it down. Don't weep in front of these strangers! Cry to heaven, cry to heaven, cry to heaven. — Anne Rice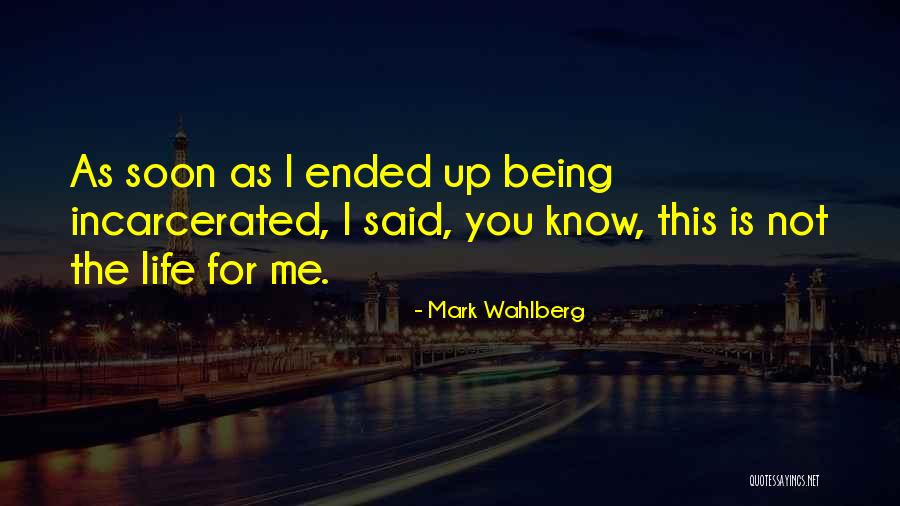 As soon as I ended up being incarcerated, I said, you know, this is not the life for me. — Mark Wahlberg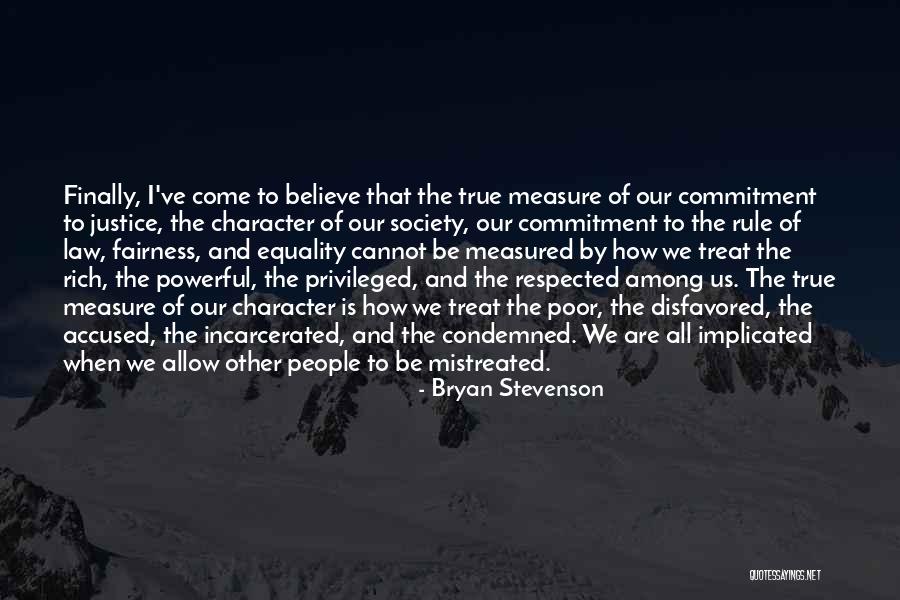 Finally, I've come to believe that the true measure of our commitment to justice, the character of our society, our commitment to the rule of law, fairness, and equality cannot be measured by how we treat the rich, the powerful, the privileged, and the respected among us. The true measure of our character is how we treat the poor, the disfavored, the accused, the incarcerated, and the condemned. We are all implicated when we allow other people to be mistreated. — Bryan Stevenson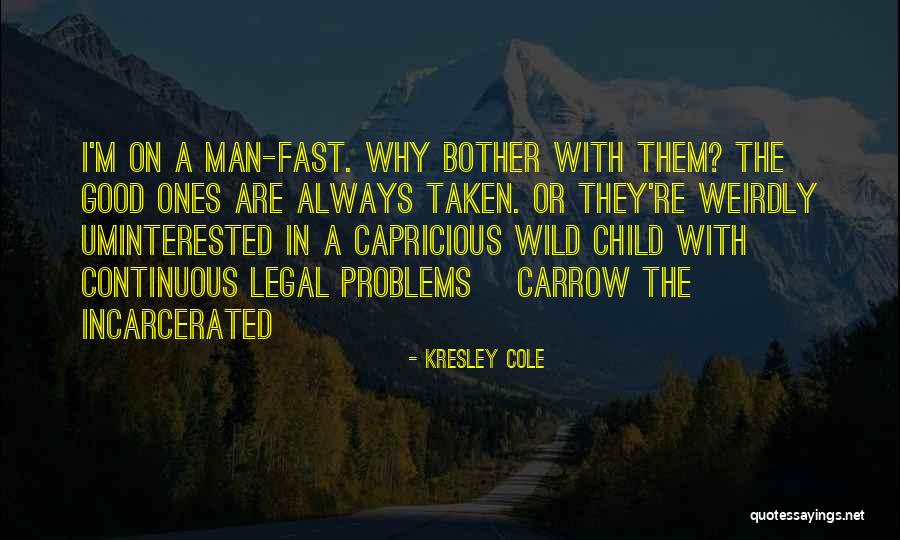 I'm on a man-fast. Why bother with them? the good ones are always taken. Or they're weirdly uminterested in a capricious wild child with continuous legal problems~ Carrow the Incarcerated — Kresley Cole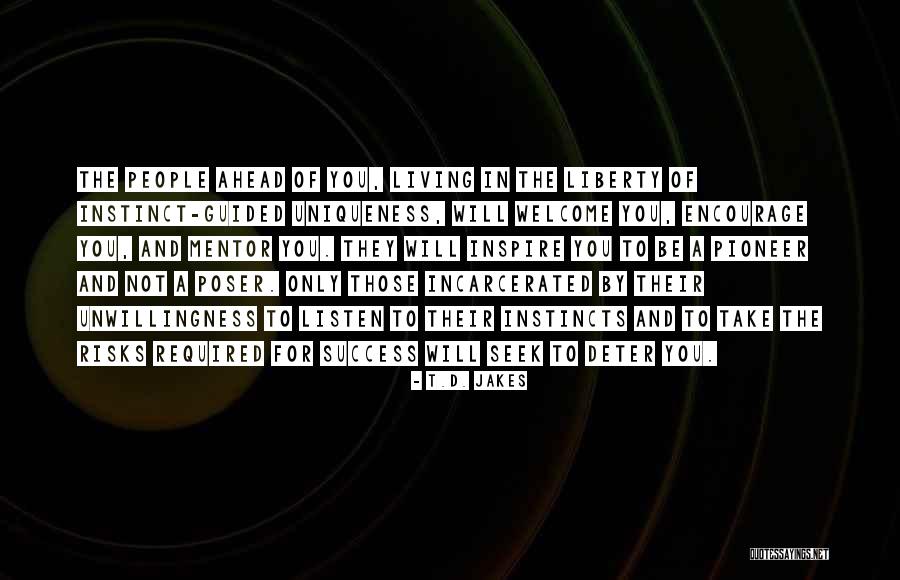 The people ahead of you, living in the liberty of instinct-guided uniqueness, will welcome you, encourage you, and mentor you. They will inspire you to be a pioneer and not a poser. Only those incarcerated by their unwillingness to listen to their instincts and to take the risks required for success will seek to deter you. — T.D. Jakes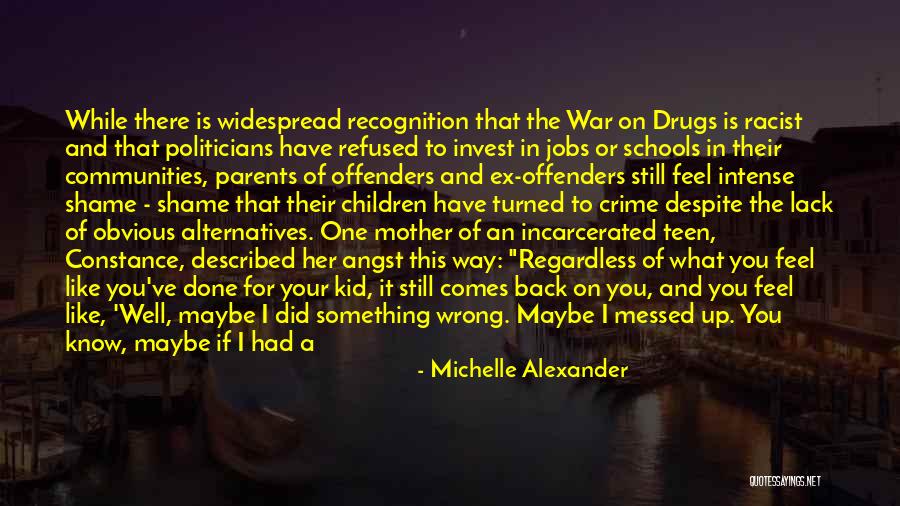 While there is widespread recognition that the War on Drugs is racist and that politicians have refused to invest in jobs or schools in their communities, parents of offenders and ex-offenders still feel intense shame - shame that their children have turned to crime despite the lack of obvious alternatives. One mother of an incarcerated teen, Constance, described her angst this way: "Regardless of what you feel like you've done for your kid, it still comes back on you, and you feel like, 'Well, maybe I did something wrong. Maybe I messed up. You know, maybe if I had a did it this way, then it wouldn't a happened that way.'" After her son's arrest, she could not bring herself to tell friends and relatives and kept the family's suffering private. Constance is not alone. — Michelle Alexander