Someone Believes In You Quotes & Sayings
Enjoy reading and share 72 famous quotes about Someone Believes In You with everyone.
There are moments in your life when you see yourself through someone else's eyes, when your only hope of believing you're capable of doing something is because someone else believes it for you. — Marc Acito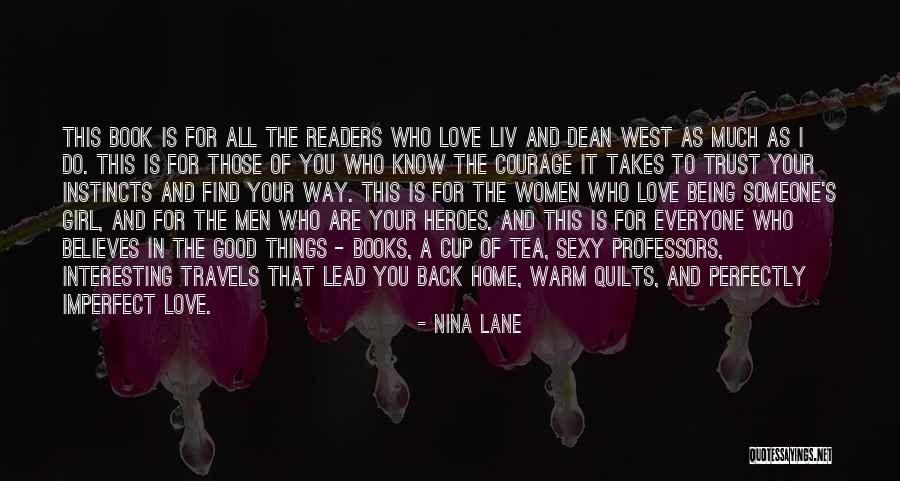 This book is for all the readers who love Liv and Dean West as much as I do. This is for those of you who know the courage it takes to trust your instincts and find your way. This is for the women who love being someone's girl, and for the men who are your heroes. And this is for everyone who believes in the good things - books, a cup of tea, sexy professors, interesting travels that lead you back home, warm quilts, and perfectly imperfect love. — Nina Lane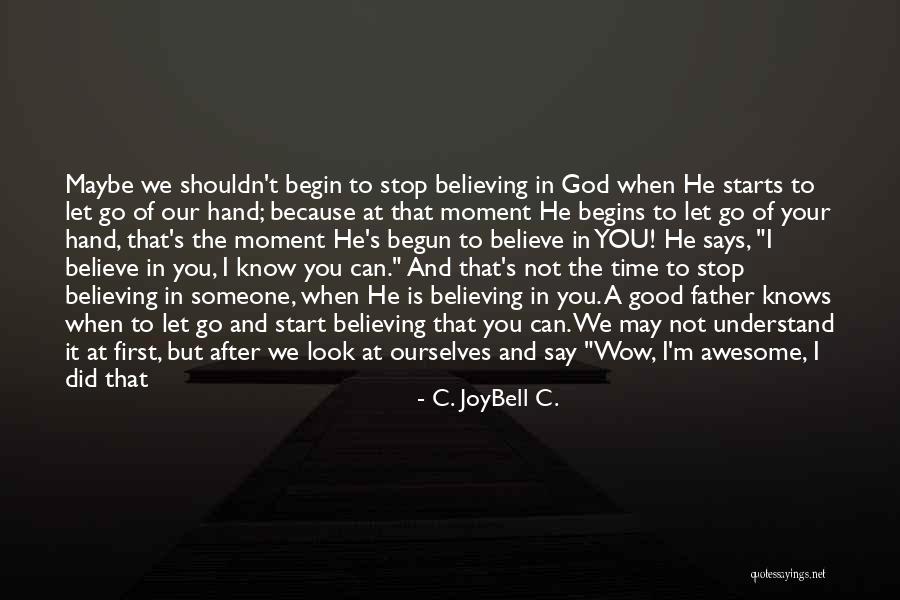 Maybe we shouldn't begin to stop believing in God when He starts to let go of our hand; because at that moment He begins to let go of your hand, that's the moment He's begun to believe in YOU! He says, "I believe in you, I know you can." And that's not the time to stop believing in someone, when He is believing in you. A good father knows when to let go and start believing that you can. We may not understand it at first, but after we look at ourselves and say "Wow, I'm awesome, I did that all by myself." Then we say "Thanks, dad. If you never let go of me, I would have never learned how to fly. — C. JoyBell C.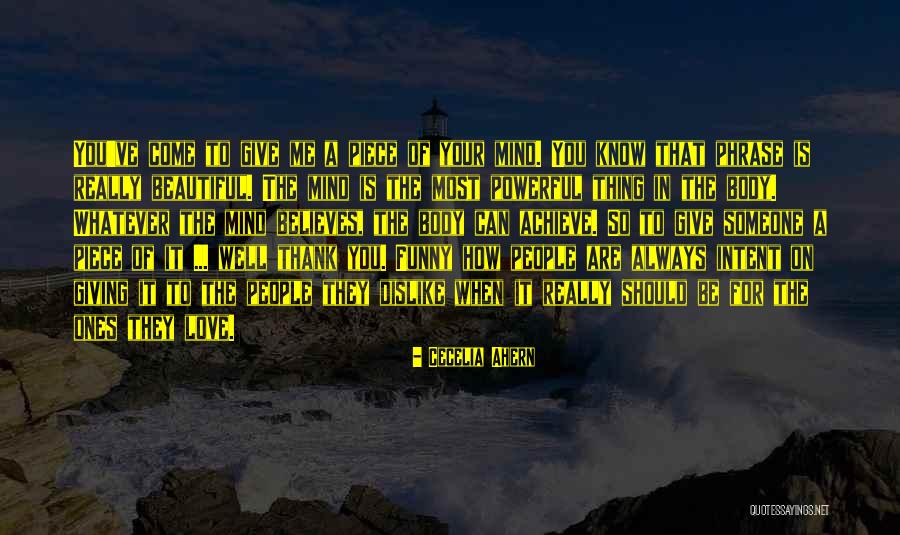 You've come to give me a piece of your mind. You know that phrase is really beautiful. The mind is the most powerful thing in the body. Whatever the mind believes, the body can achieve. So to give someone a piece of it ... well thank you. Funny how people are always intent on giving it to the people they dislike when it really should be for the ones they love. — Cecelia Ahern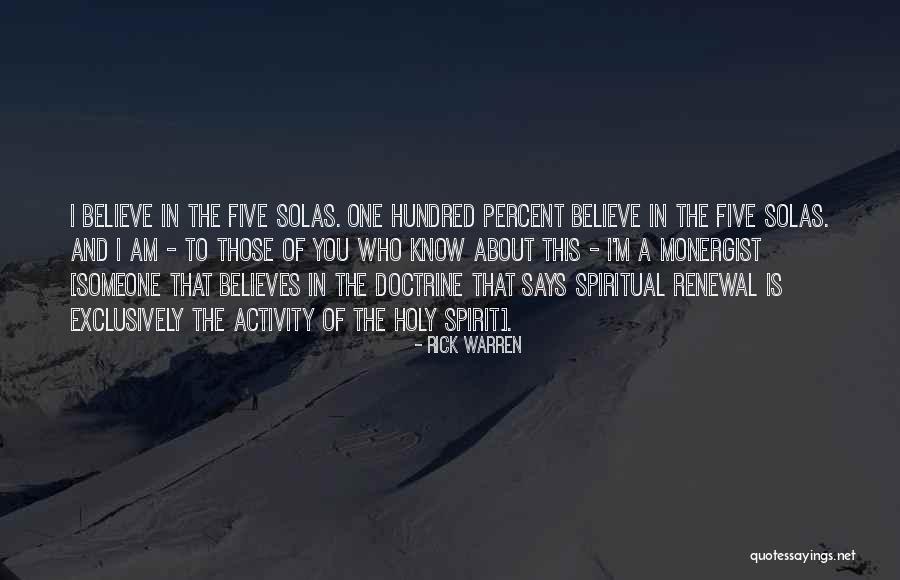 I believe in the five solas. One hundred percent believe in the five solas. And I am - to those of you who know about this - I'm a monergist [someone that believes in the doctrine that says spiritual renewal is exclusively the activity of the Holy Spirit]. — Rick Warren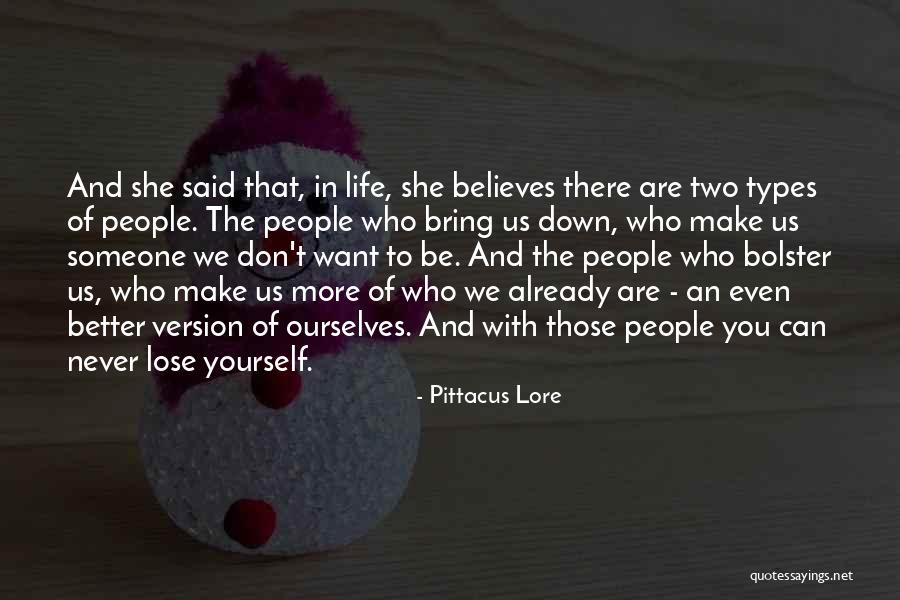 And she said that, in life, she believes there are two types of people. The people who bring us down, who make us someone we don't want to be. And the people who bolster us, who make us more of who we already are - an even better version of ourselves. And with those people you can never lose yourself. — Pittacus Lore
But the ultimate reason for our hope is not to be found at all in what we want, wish for and wait for; the ultimate reason is that we are wanted and wished for and waited for. What is it that awaits us? Does anything await us at all, or are we alone? Whenever we base our hope on trust in the divine mystery, we feel deep down in our hearts: there is someone who is waiting for you, who is hoping for you, who believes in you. We are waited for as the prodigal son in the parable is waited for by his father. We are accepted and received, as a mother takes her children into her arms and comforts them. God is our last hope because we are God's
first love. — Jurgen Moltmann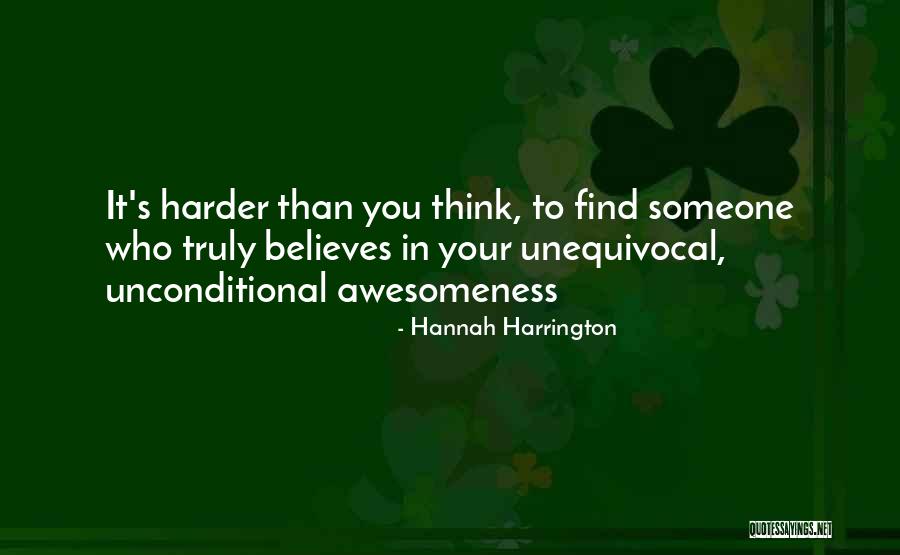 It's harder than you think, to find someone who truly believes in your unequivocal, unconditional awesomeness — Hannah Harrington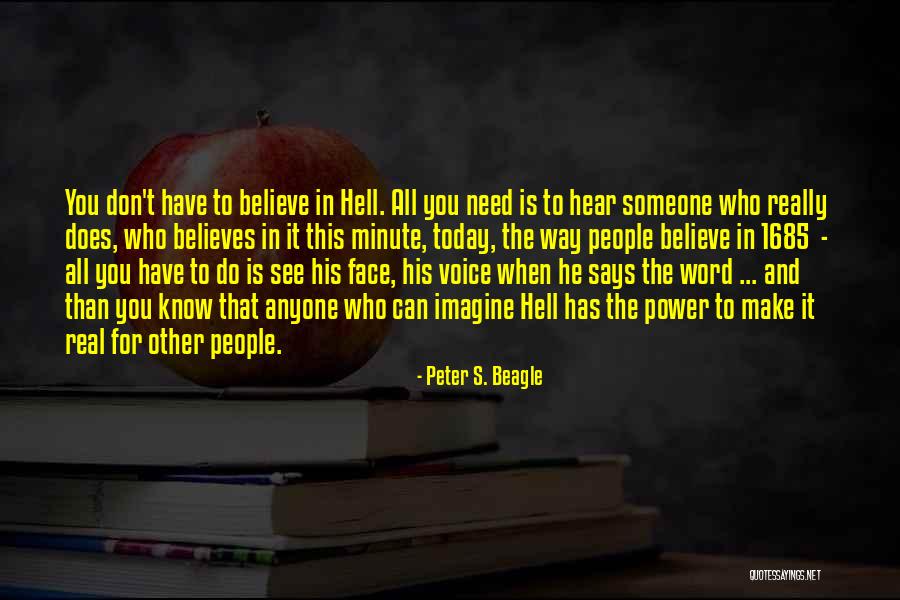 You don't have to believe in Hell. All you need is to hear someone who really does, who believes in it this minute, today, the way people believe in 1685 - all you have to do is see his face, his voice when he says the word ... and than you know that anyone who can imagine Hell has the power to make it real for other people. — Peter S. Beagle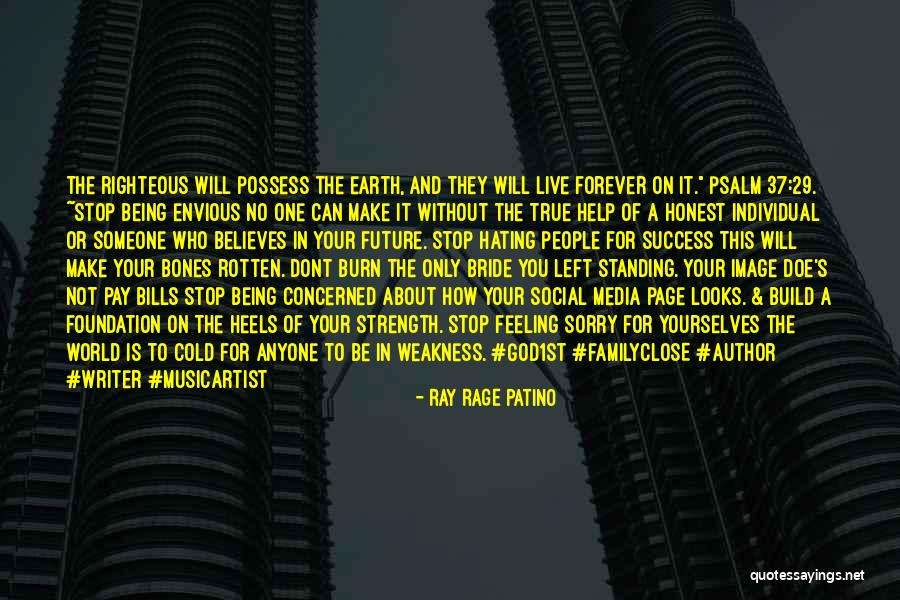 The righteous will possess the earth, and they will live forever on it." PSALM 37:29. ~Stop being envious no one can make it without the true help of a honest individual or someone who believes in your future. Stop hating people for success this will make your bones rotten. DONT burn the only bride you left standing. Your image doe's not pay bills stop being concerned about how your social media page looks. & build a foundation on the heels of your strength. Stop feeling sorry for yourselves the world is to cold for anyone to be in weakness. #God1st #FAMILYCLOSE #Author #Writer #MusicArtist — Ray Rage Patino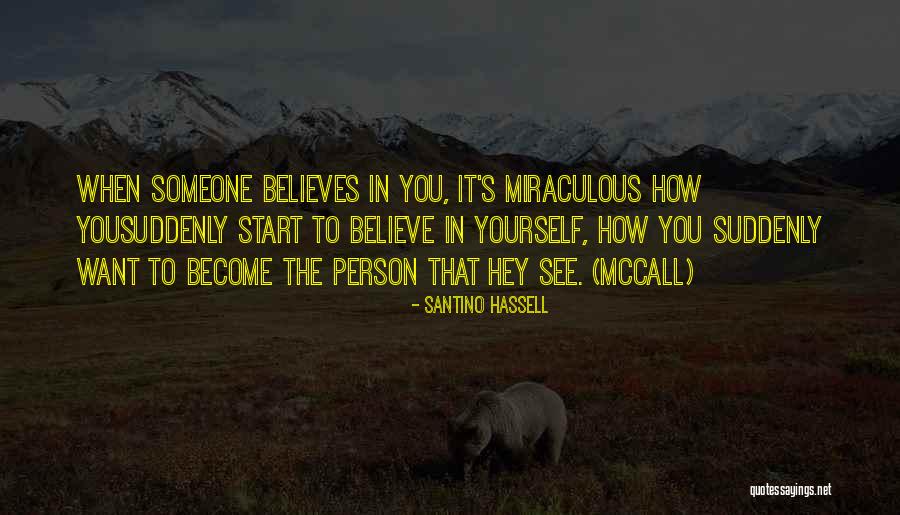 When someone believes in you, it's miraculous how you
suddenly start to believe in yourself, how you suddenly want to become the person that hey see. (McCall) — Santino Hassell
I always tell people this when they're looking for an agent - they should love your work. You are entitled to work with someone who believes in you. Why do business with someone who is ambivalent about you and your art? — Jami Attenberg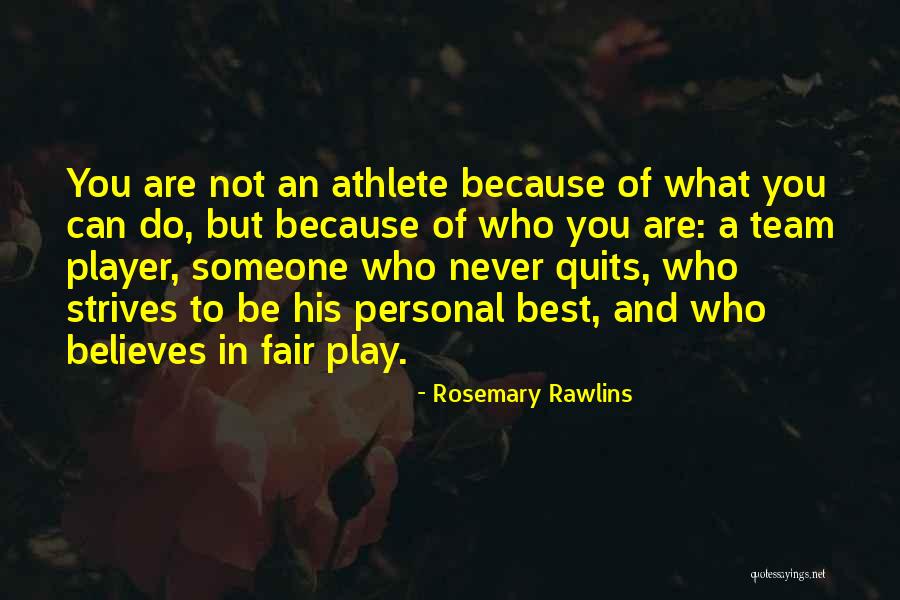 You are not an athlete because of what you can do, but because of who you are: a team player, someone who never quits, who strives to be his personal best, and who believes in fair play. — Rosemary Rawlins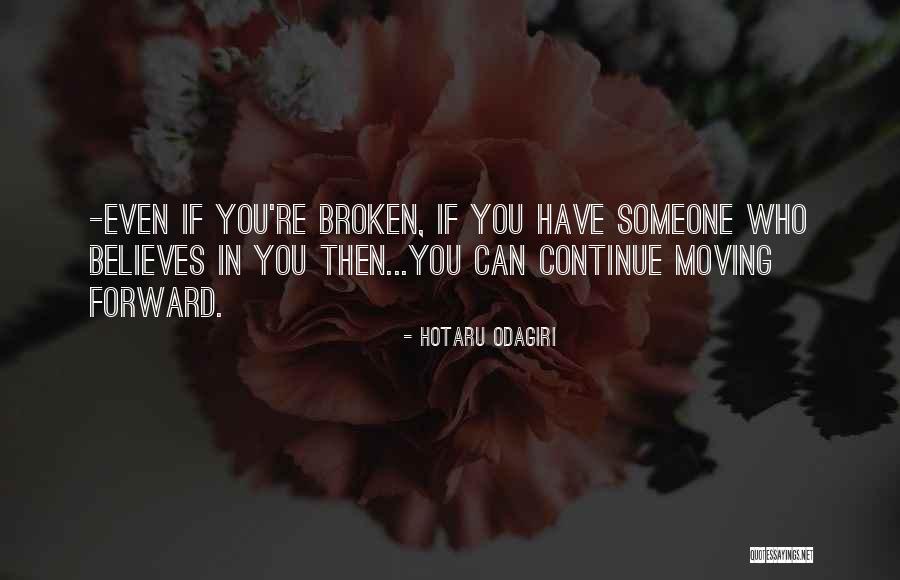 -Even if you're broken, if you have someone who believes in you then...you can continue moving forward. — Hotaru Odagiri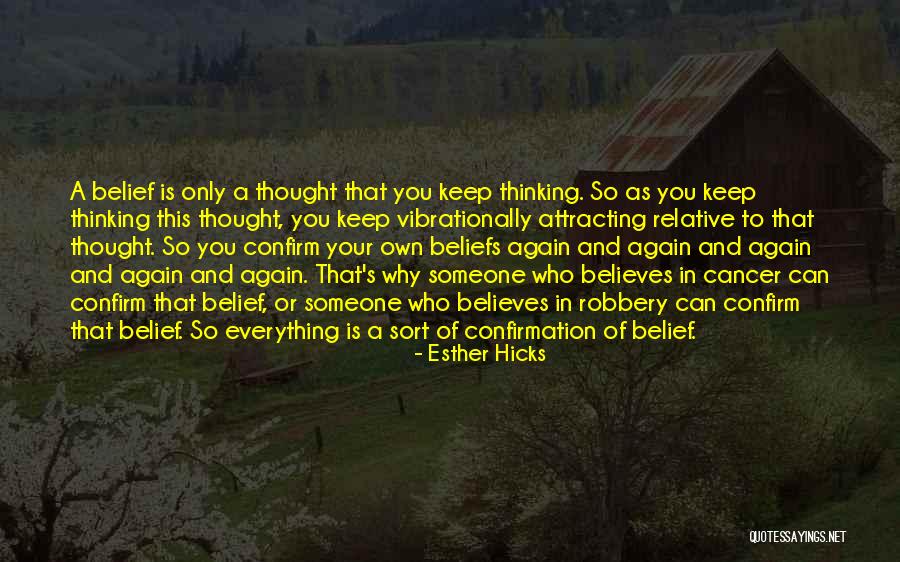 A belief is only a thought that you keep thinking. So as you keep thinking this thought, you keep vibrationally attracting relative to that thought. So you confirm your own beliefs again and again and again and again and again. That's why someone who believes in cancer can confirm that belief, or someone who believes in robbery can confirm that belief. So everything is a sort of confirmation of belief. — Esther Hicks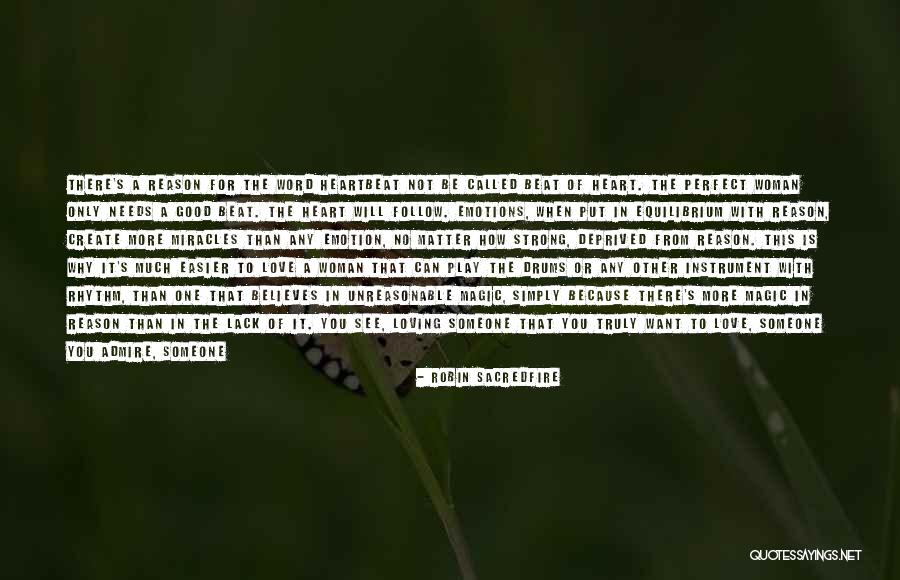 There's a reason for the word heartbeat not be called beat of heart. The perfect woman only needs a good beat. The heart will follow. Emotions, when put in equilibrium with reason, create more miracles than any emotion, no matter how strong, deprived from reason. This is why it's much easier to love a woman that can play the drums or any other instrument with rhythm, than one that believes in unreasonable magic, simply because there's more magic in reason than in the lack of it. You see, loving someone that you truly want to love, someone you admire, someone you want to spend your time with, helping, sharing and growing together, makes much more sense than expecting someone to love you for no reason than your will, needs and desires. And when humans understand this, they will understand love, find it easily and never lose it again. — Robin Sacredfire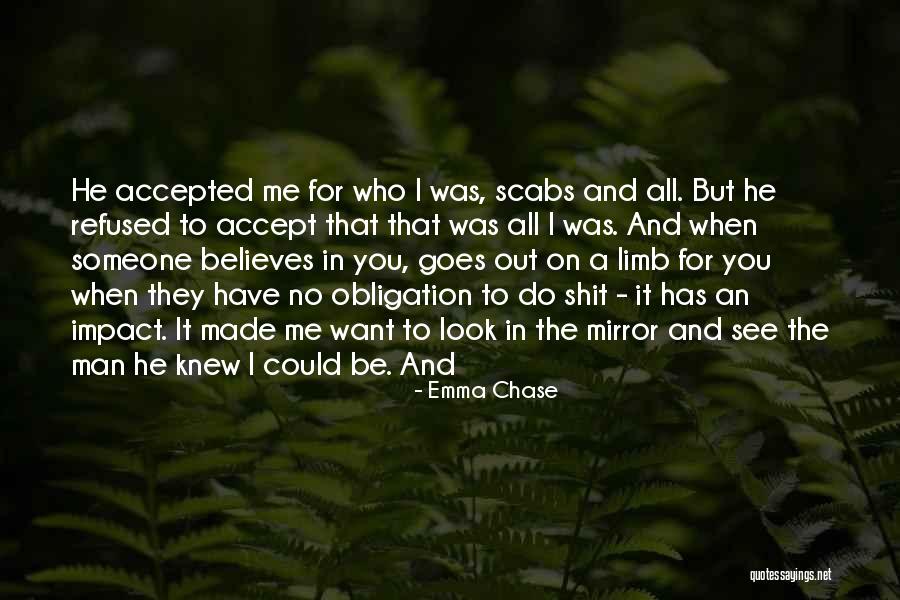 He accepted me for who I was, scabs and all. But he refused to accept that that was all I was. And when someone believes in you, goes out on a limb for you when they have no obligation to do shit - it has an impact. It made me want to look in the mirror and see the man he knew I could be. And — Emma Chase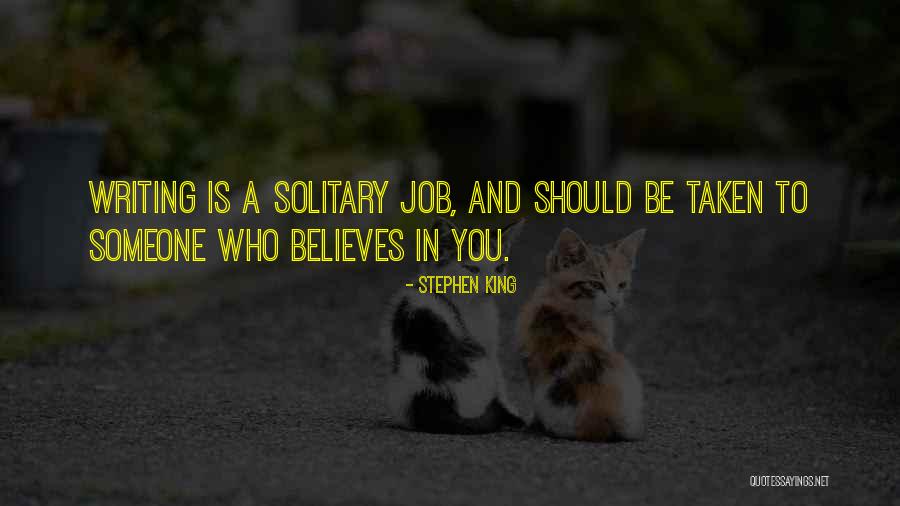 Writing is a solitary job, and should be taken to someone who believes in you. — Stephen King
You Don't Need To Be Anyone's Reflection,
Neither Do You Need To Be Anyone's Reason For Perfection.
If You Find Love,
Let It Allow You To Be Yourself,
Let It Not Define You.
Let It Be The Reason Someone Believes In Love Again,
Not The Reason You Smile.
Let It Warm Your Heart,
And When It Fades Away,
Allow It Not Lead You Astray,
Let It Go And Never Force It To Stay.
Because True Love Neither Dies Nor Leaves,
It Stays With Us For The Rest Of Our Lives. — Nomthandazo Tsembeni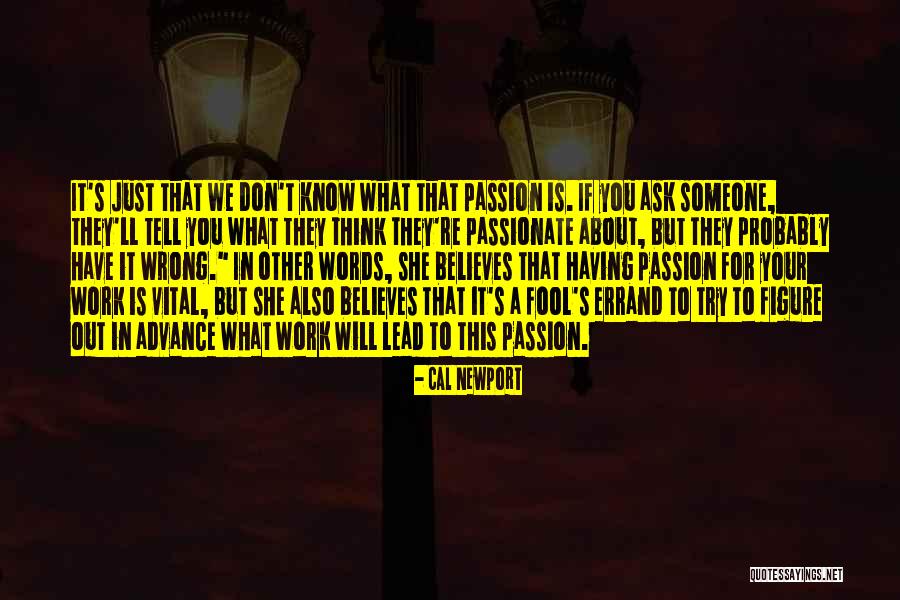 It's just that we don't know what that passion is. If you ask someone, they'll tell you what they think they're passionate about, but they probably have it wrong." In other words, she believes that having passion for your work is vital, but she also believes that it's a fool's errand to try to figure out in advance what work will lead to this passion. — Cal Newport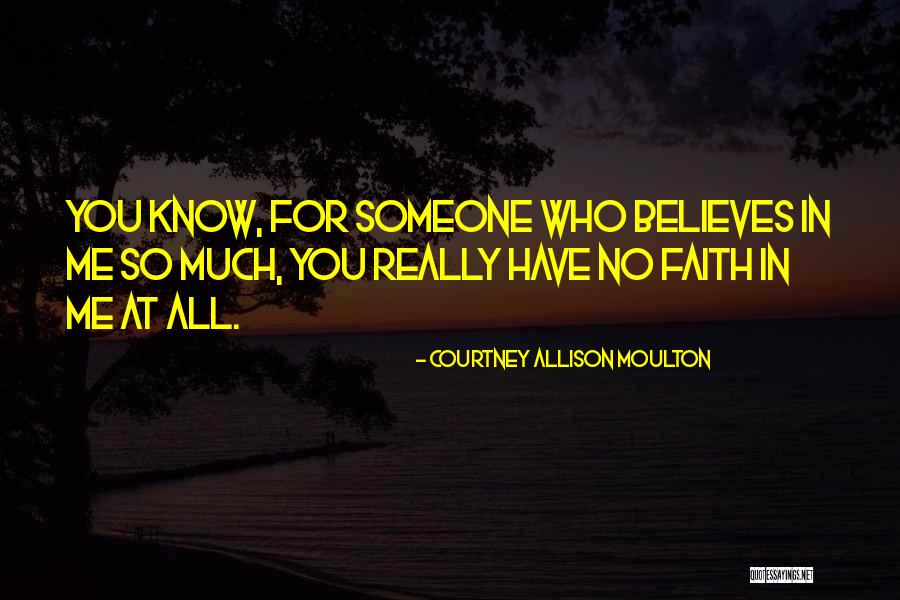 You know, for someone who believes in me so much, you really have no faith in me at all. — Courtney Allison Moulton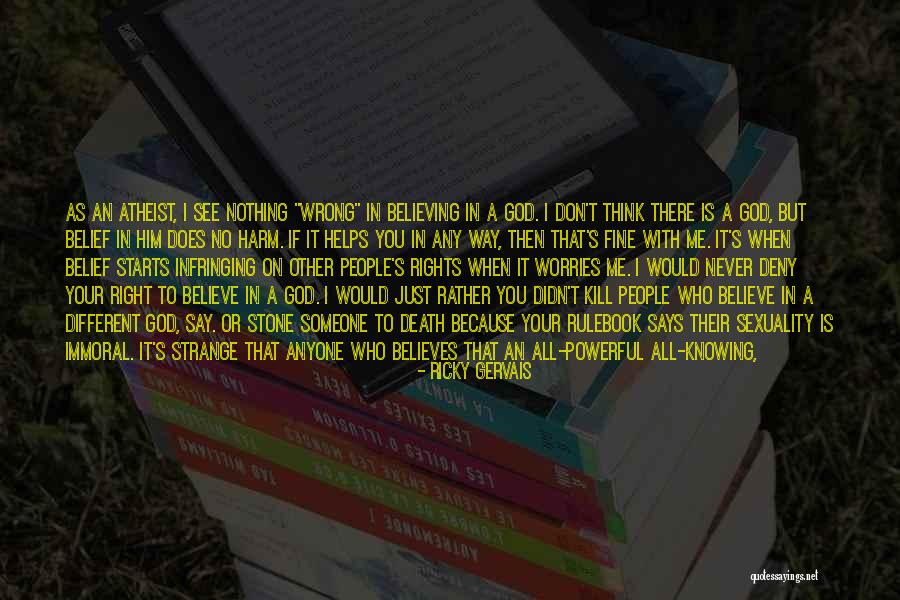 As an atheist, I see nothing "wrong" in believing in a God. I don't think there is a God, but belief in him does no harm. If it helps you in any way, then that's fine with me. It's when belief starts infringing on other people's rights when it worries me. I would never deny your right to believe in a God. I would just rather you didn't kill people who believe in a different God, say. Or stone someone to death because your rulebook says their sexuality is immoral. It's strange that anyone who believes that an all-powerful all-knowing, omniscient power responsible for everything that happens, would also want to judge and punish people for what they are. — Ricky Gervais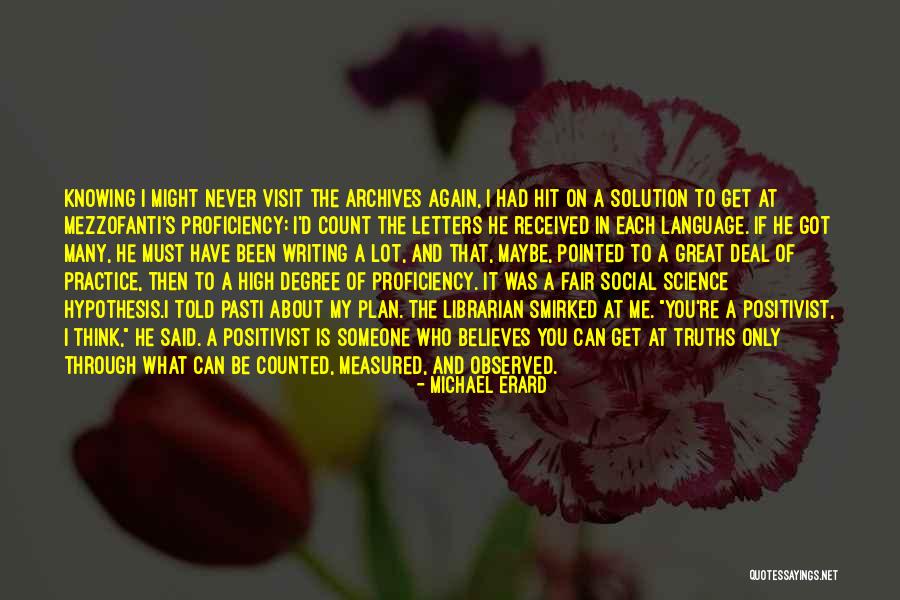 Knowing I might never visit the archives again, I had hit on a solution to get at Mezzofanti's proficiency: I'd count the letters he received in each language. If he got many, he must have been writing a lot, and that, maybe, pointed to a great deal of practice, then to a high degree of proficiency. It was a fair social science hypothesis.
I told Pasti about my plan. The librarian smirked at me. "You're a positivist, I think," he said. A positivist is someone who believes you can get at truths only through what can be counted, measured, and observed. I was shocked - I've been called names before, but never that. — Michael Erard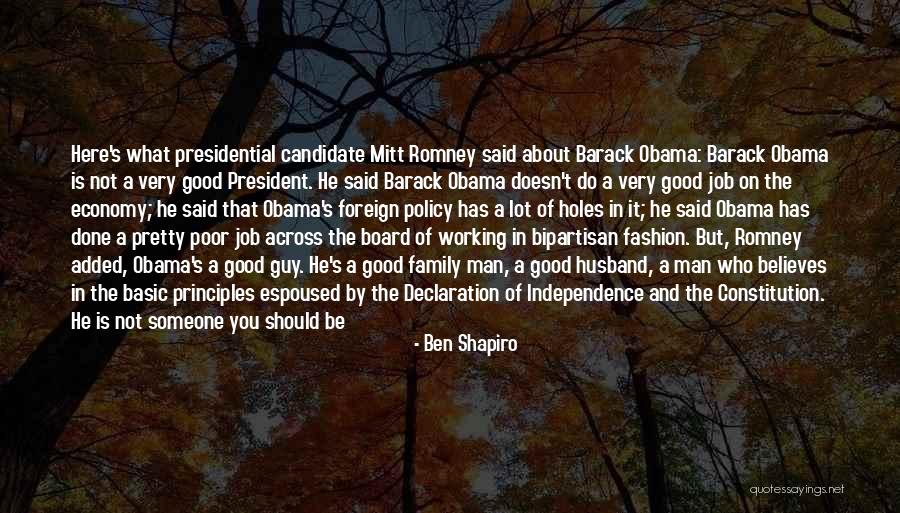 Here's what presidential candidate Mitt Romney said about Barack Obama: Barack Obama is not a very good President. He said Barack Obama doesn't do a very good job on the economy; he said that Obama's foreign policy has a lot of holes in it; he said Obama has done a pretty poor job across the board of working in bipartisan fashion. But, Romney added, Obama's a good guy. He's a good family man, a good husband, a man who believes in the basic principles espoused by the Declaration of Independence and the Constitution. He is not someone you should be afraid of in any way. Essentially, Romney's campaign slogan was this: "Obama: Good Guy, Bad President. — Ben Shapiro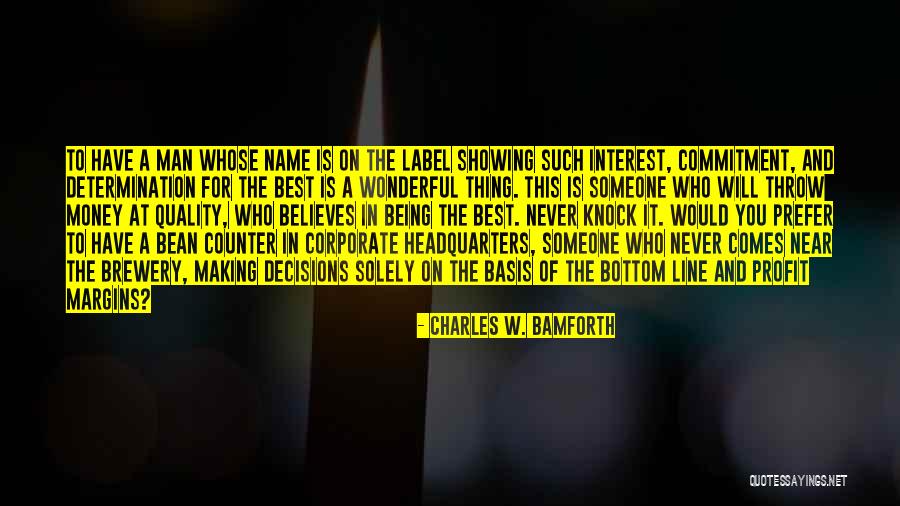 To have a man whose name is on the label showing such interest, commitment, and determination for the best is a wonderful thing. This is someone who will throw money at quality, who believes in being the best. Never knock it. Would you prefer to have a bean counter in corporate headquarters, someone who never comes near the brewery, making decisions solely on the basis of the bottom line and profit margins? — Charles W. Bamforth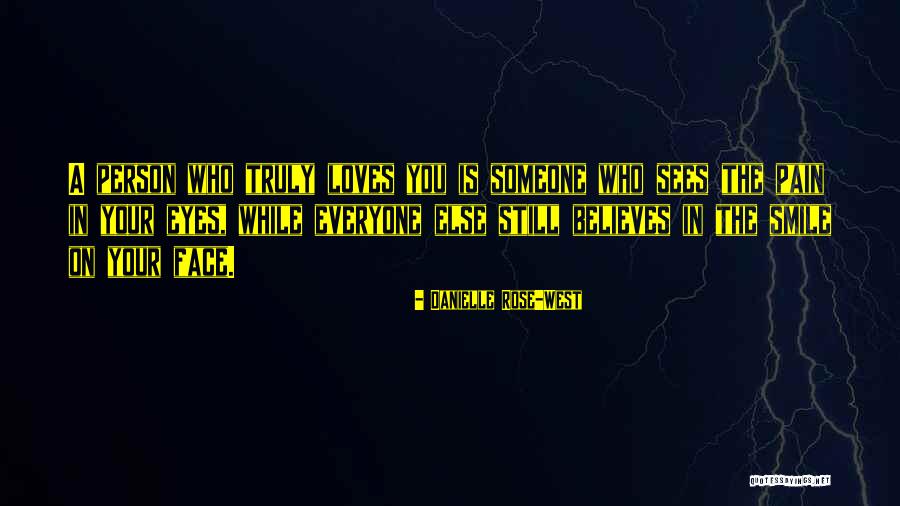 A person who truly loves you is someone who sees the pain in your eyes, while everyone else still believes in the smile on your face. — Danielle Rose-West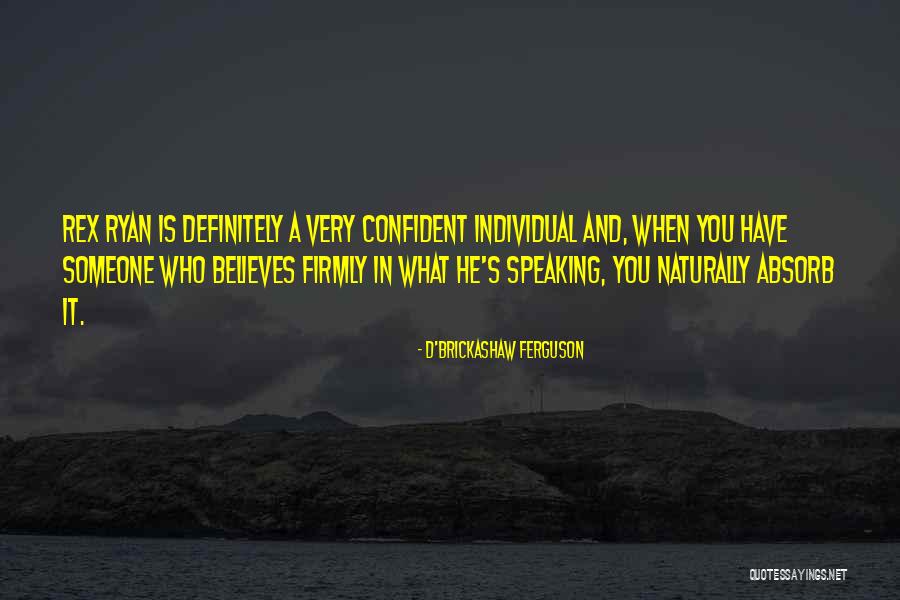 Rex Ryan is definitely a very confident individual and, when you have someone who believes firmly in what he's speaking, you naturally absorb it. — D'Brickashaw Ferguson
It's still romantic," Christine said, "falling in love with someone for who she is and what she says and what she believes in. It's actually much more romantic than her crush on you, which would have to be almost completely physical. You might be nothing like she thinks you are. — Rainbow Rowell
You do not believe in the magic and power of this book only because you cannot comprehend that it is possible. The lack of faith of your part does not make the power less capable or less real...You only have to open up your mind to the possibilities. There is a sea of power out there, all around us. It doesn't wait until someone believes in order for it to exist. It just does."
-Madison Thorne Grey, Sustenance — Madison Thorne Grey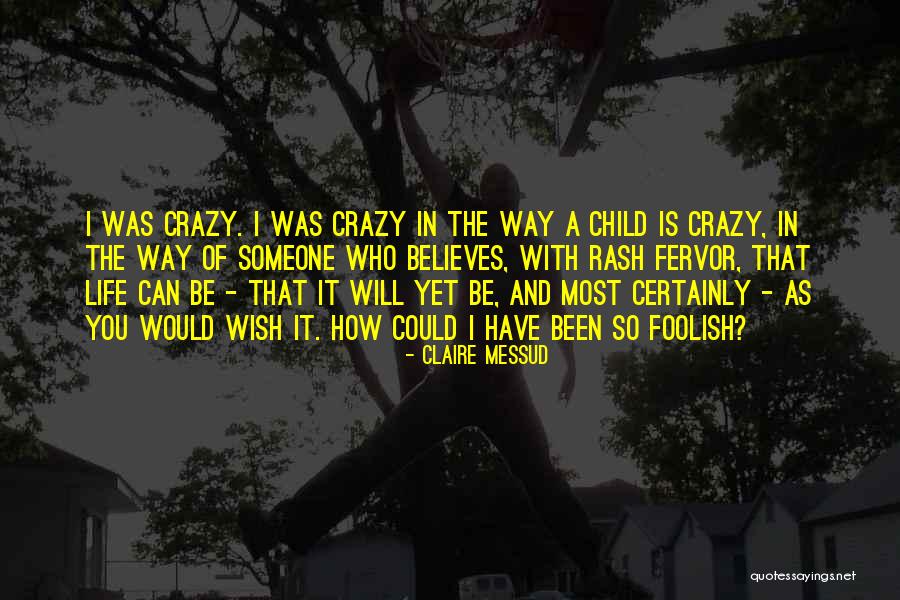 I was crazy. I was crazy in the way a child is crazy, in the way of someone who believes, with rash fervor, that life can be - that it will yet be, and most certainly - as you would wish it. How could I have been so foolish? — Claire Messud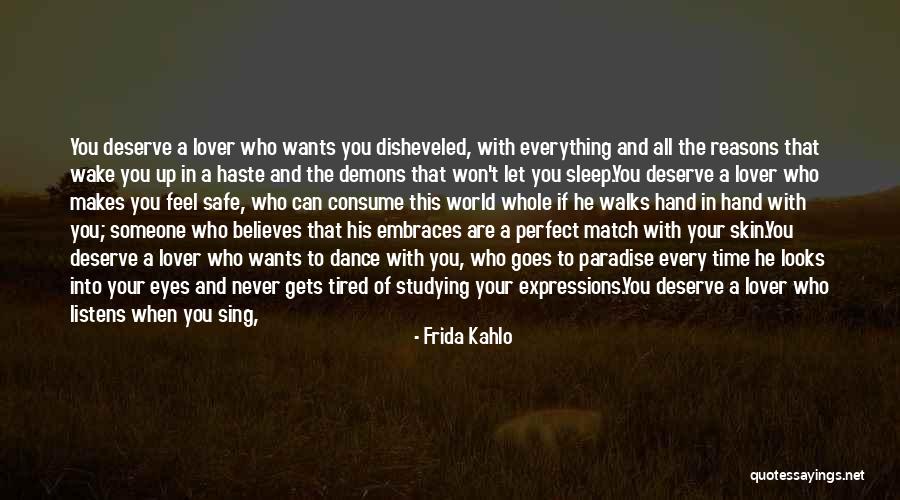 You deserve a lover who wants you disheveled, with everything and all the reasons that wake you up in a haste and the demons that won't let you sleep.
You deserve a lover who makes you feel safe, who can consume this world whole if he walks hand in hand with you; someone who believes that his embraces are a perfect match with your skin.
You deserve a lover who wants to dance with you, who goes to paradise every time he looks into your eyes and never gets tired of studying your expressions.
You deserve a lover who listens when you sing, who supports you when you feel shame and respects your freedom; who flies with you and isn't afraid to fall.
You deserve a lover who takes away the lies and brings you hope, coffee, and poetry. — Frida Kahlo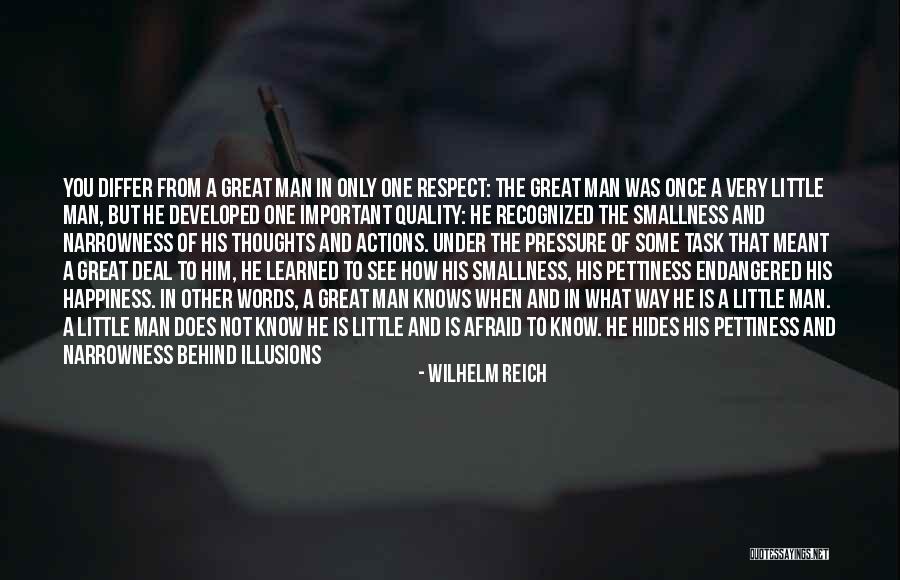 You differ from a great man in only one respect: the great man was once a very little man, but he developed one important quality: he recognized the smallness and narrowness of his thoughts and actions. Under the pressure of some task that meant a great deal to him, he learned to see how his smallness, his pettiness endangered his happiness. In other words, a great man knows when and in what way he is a little man. A little man does not know he is little and is afraid to know. He hides his pettiness and narrowness behind illusions of strength and greatness, someone else's strength and greatness. He's proud of his great generals but not of himself. He admires an idea he has not had, not one he has had. The less he understands something, the more firmly he believes in it. And the better he understands an idea, the less he believes in it. — Wilhelm Reich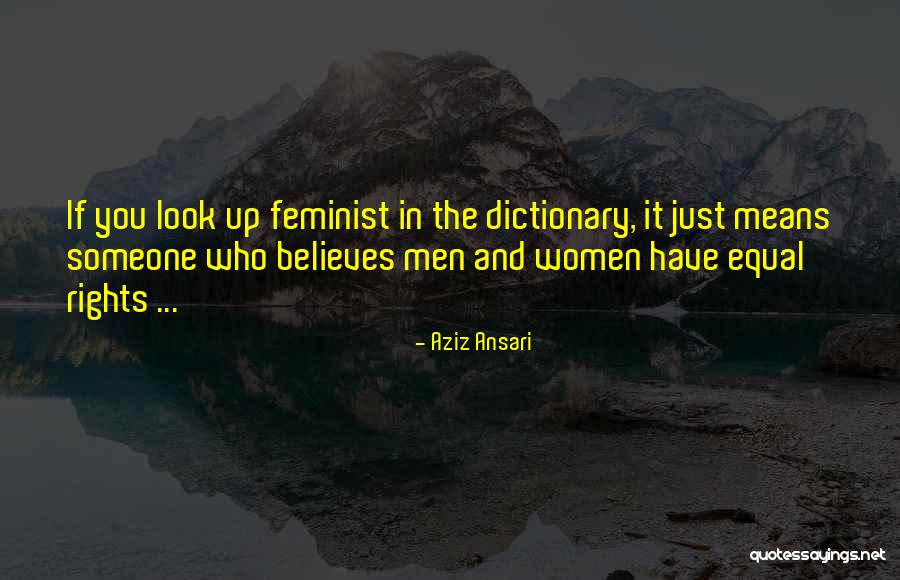 If you look up feminist in the dictionary, it just means someone who believes men and women have equal rights ... — Aziz Ansari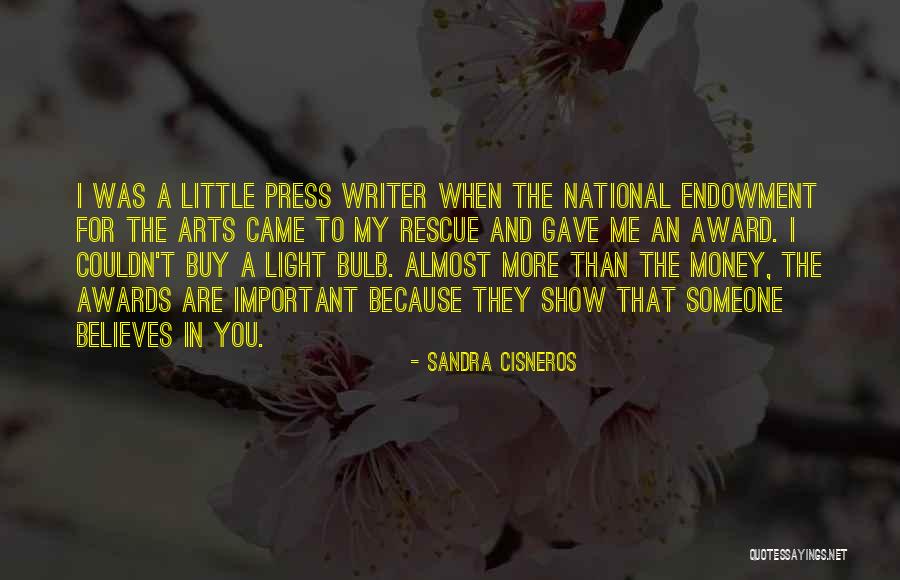 I was a little press writer when the National Endowment for the Arts came to my rescue and gave me an award. I couldn't buy a light bulb. Almost more than the money, the awards are important because they show that someone believes in you. — Sandra Cisneros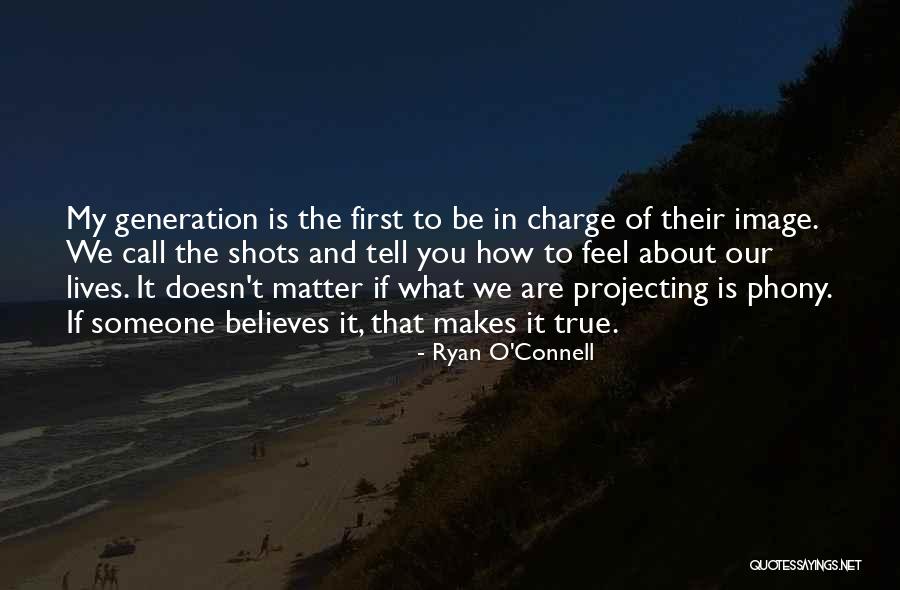 My generation is the first to be in charge of their image. We call the shots and tell you how to feel about our lives. It doesn't matter if what we are projecting is phony. If someone believes it, that makes it true. — Ryan O'Connell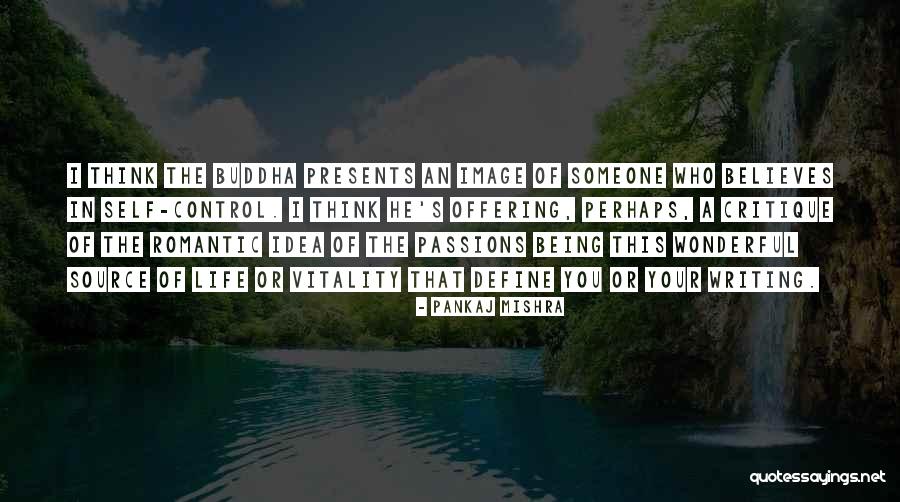 I think the Buddha presents an image of someone who believes in self-control. I think he's offering, perhaps, a critique of the romantic idea of the passions being this wonderful source of life or vitality that define you or your writing. — Pankaj Mishra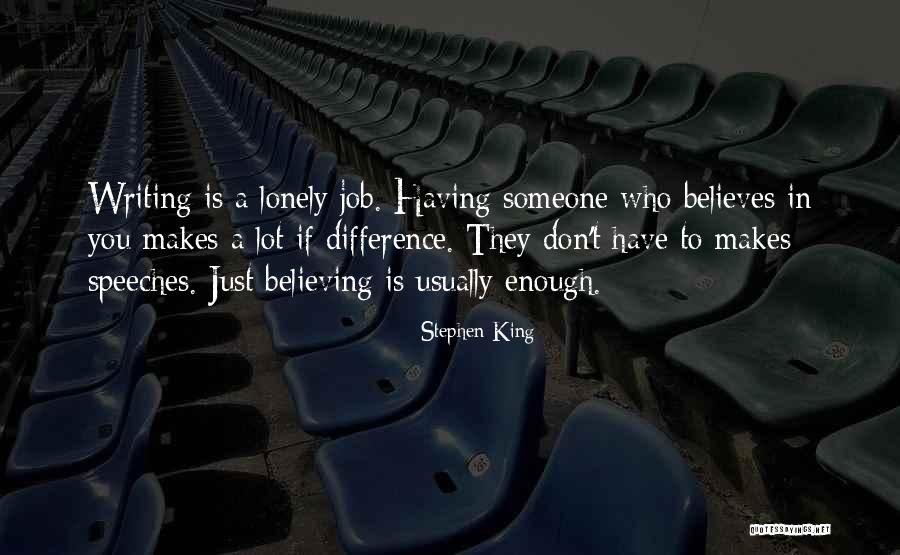 Writing is a lonely job. Having someone who believes in you makes a lot if difference. They don't have to makes speeches. Just believing is usually enough. — Stephen King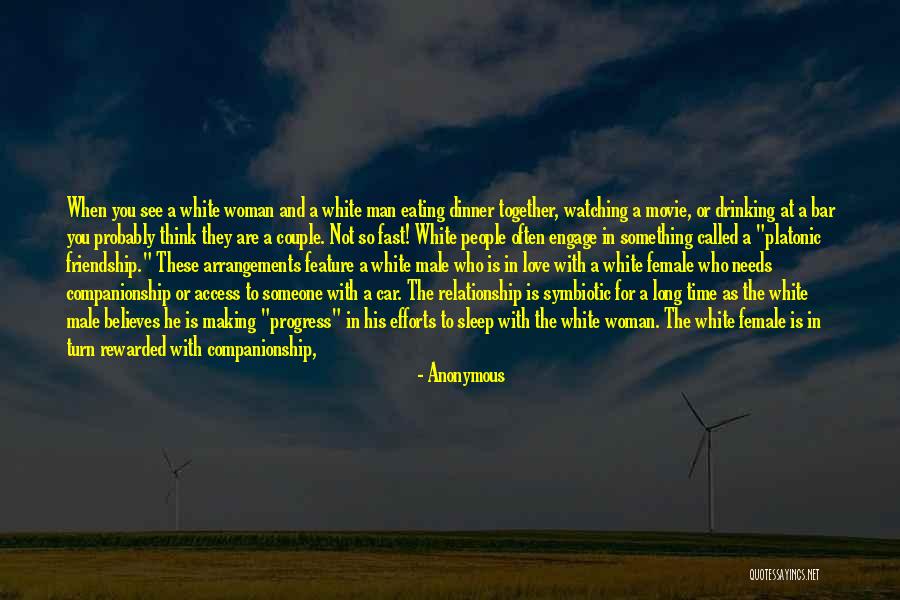 When you see a white woman and a white man eating dinner together, watching a movie, or drinking at a bar you probably think they are a couple. Not so fast! White people often engage in something called a "platonic friendship." These arrangements feature a white male who is in love with a white female who needs companionship or access to someone with a car. The relationship is symbiotic for a long time as the white male believes he is making "progress" in his efforts to sleep with the white woman. The white female is in turn rewarded with companionship, someone to help her move, and an excellent "backup" plan in case she is unable to date the male of her choice. — Anonymous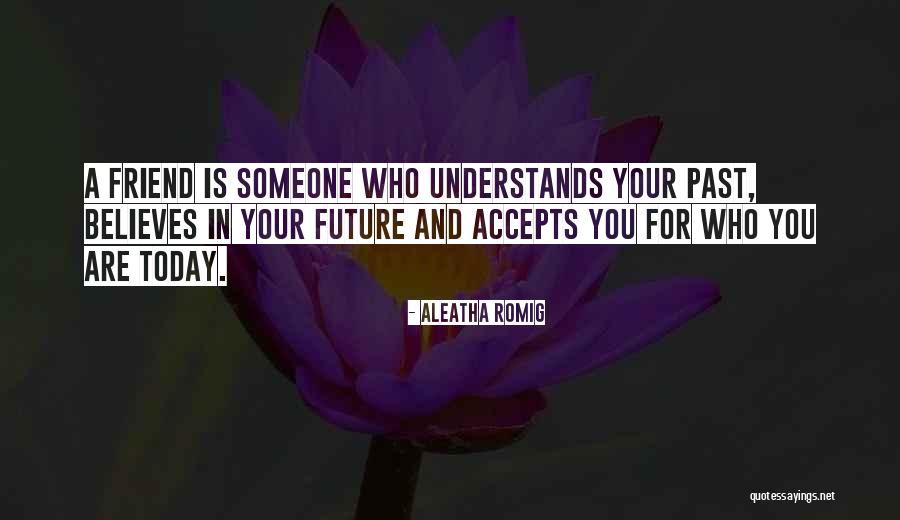 A friend is someone who understands your past, believes in your future and accepts you for who you are today. — Aleatha Romig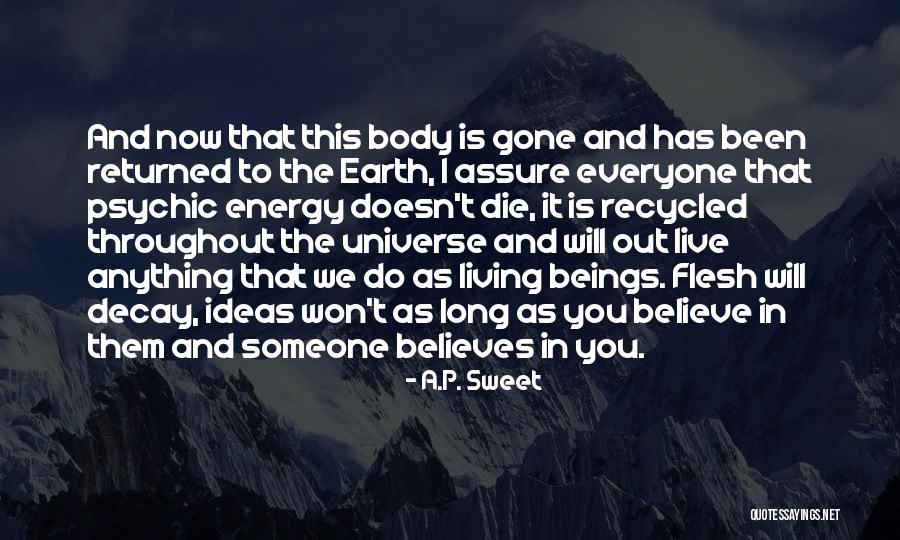 And now that this body is gone and has been returned to the Earth, I assure everyone that psychic energy doesn't die, it is recycled throughout the universe and will out live anything that we do as living beings. Flesh will decay, ideas won't as long as you believe in them and someone believes in you. — A.P. Sweet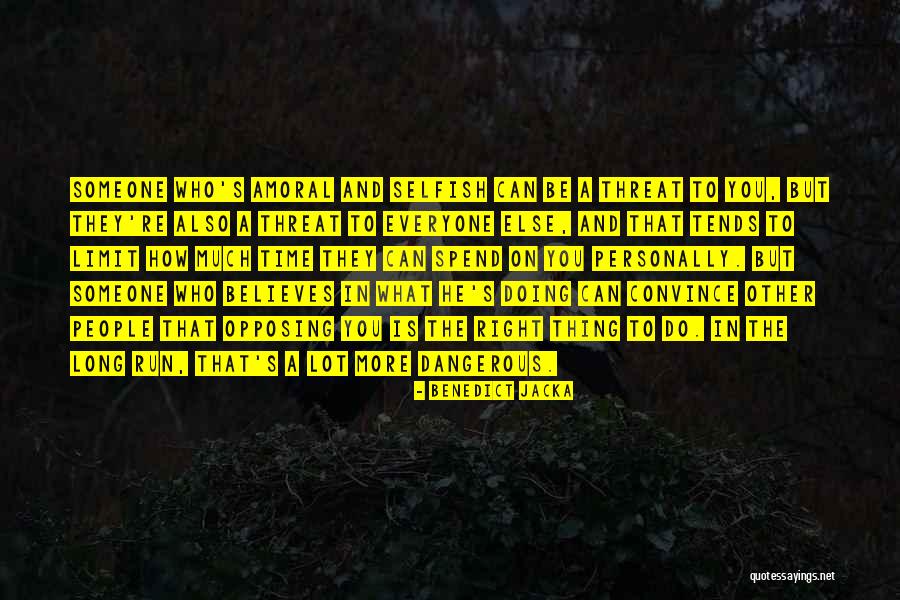 Someone who's amoral and selfish can be a threat to you, but they're also a threat to everyone else, and that tends to limit how much time they can spend on you personally. But someone who believes in what he's doing can convince other people that opposing you is the right thing to do. In the long run, that's a lot more dangerous. — Benedict Jacka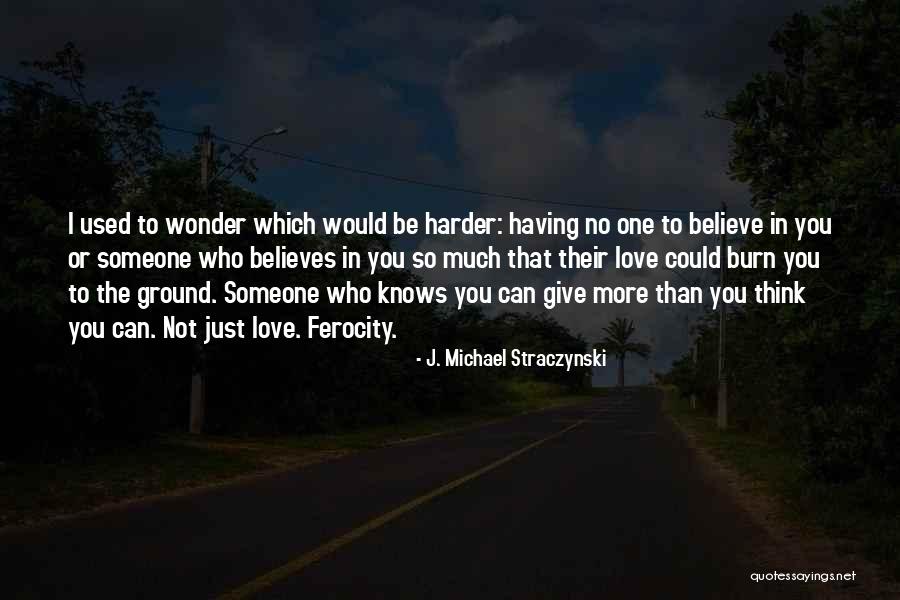 I used to wonder which would be harder: having no one to believe in you or someone who believes in you so much that their love could burn you to the ground. Someone who knows you can give more than you think you can. Not just love. Ferocity. — J. Michael Straczynski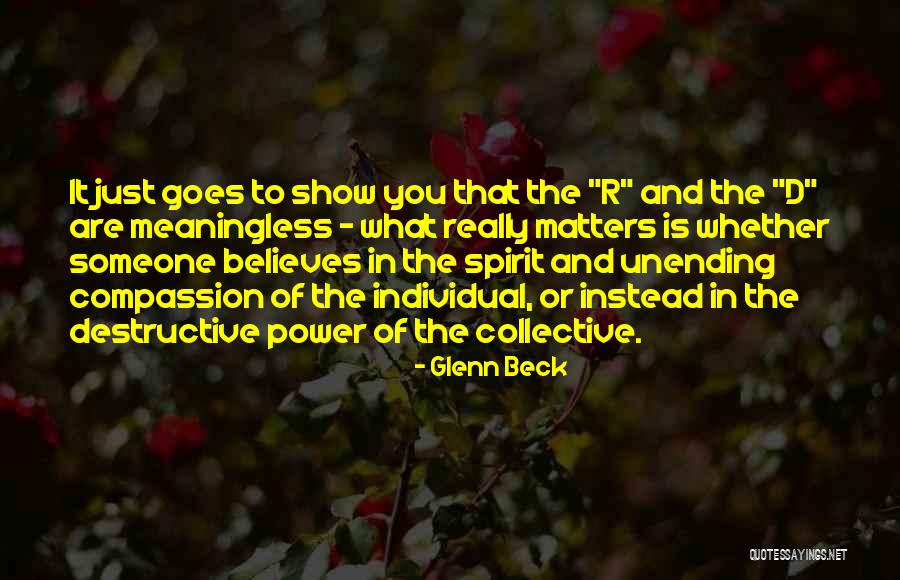 It just goes to show you that the "R" and the "D" are meaningless - what really matters is whether someone believes in the spirit and unending compassion of the individual, or instead in the destructive power of the collective. — Glenn Beck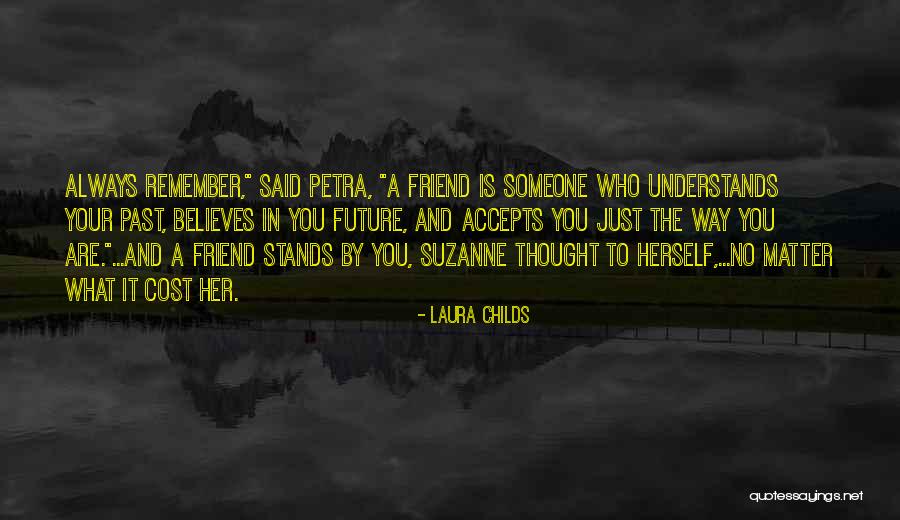 Always remember," said Petra, "a friend is someone who understands your past, believes in you future, and accepts you just the way you are."...

And a friend stands by you, Suzanne thought to herself,...No matter what it cost her. — Laura Childs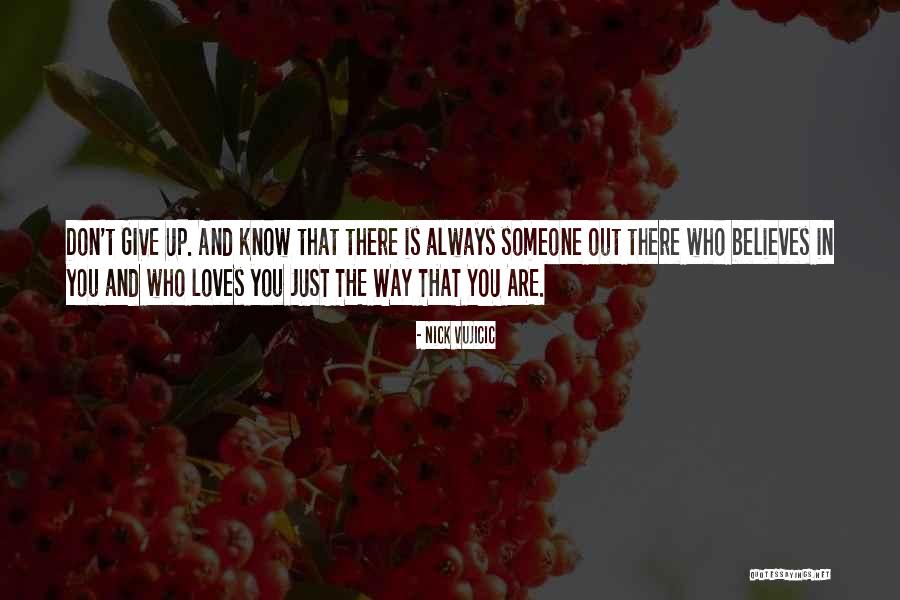 Don't GIVE UP. And know that there is always someone out there who believes in you and who loves you JUST THE WAY THAT YOU ARE. — Nick Vujicic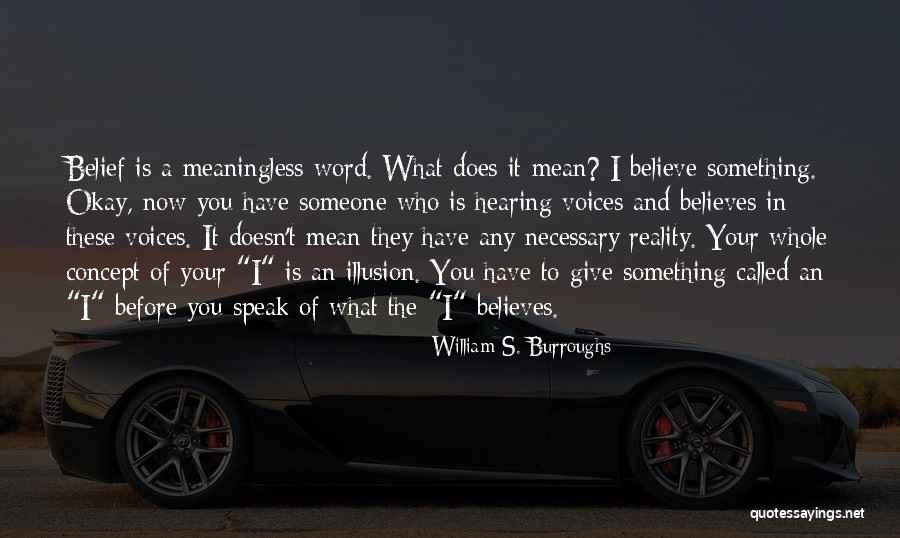 Belief is a meaningless word. What does it mean? I believe something. Okay, now you have someone who is hearing voices and believes in these voices. It doesn't mean they have any necessary reality. Your whole concept of your "I" is an illusion. You have to give something called an "I" before you speak of what the "I" believes. — William S. Burroughs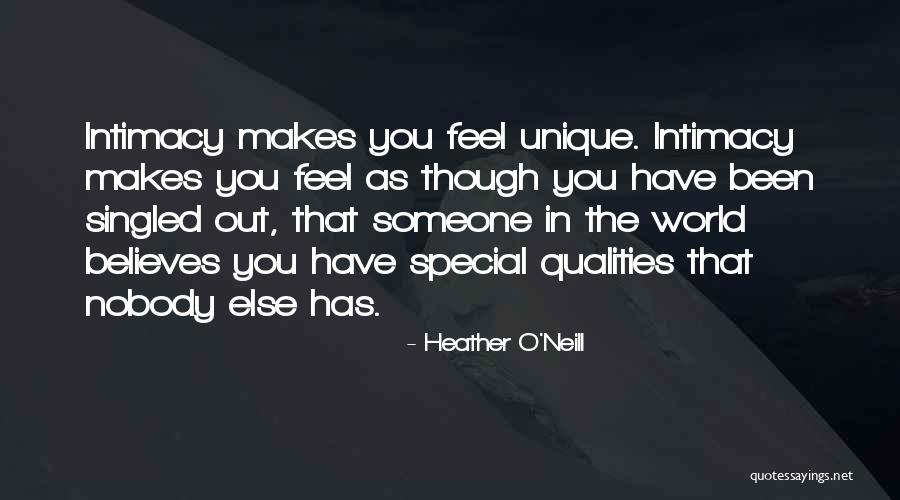 Intimacy makes you feel unique. Intimacy makes you feel as though you have been singled out, that someone in the world believes you have special qualities that nobody else has. — Heather O'Neill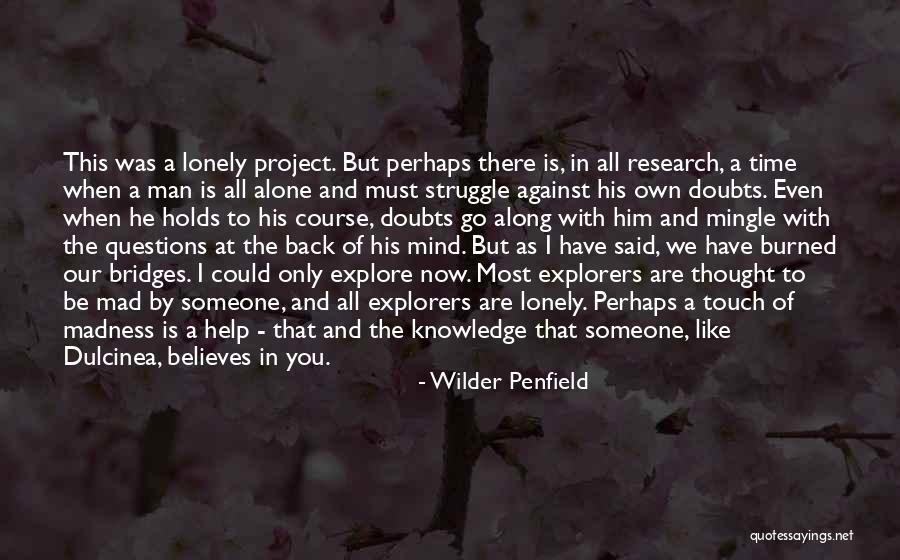 This was a lonely project. But perhaps there is, in all research, a time when a man is all alone and must struggle against his own doubts. Even when he holds to his course, doubts go along with him and mingle with the questions at the back of his mind. But as I have said, we have burned our bridges. I could only explore now. Most explorers are thought to be mad by someone, and all explorers are lonely. Perhaps a touch of madness is a help - that and the knowledge that someone, like Dulcinea, believes in you. — Wilder Penfield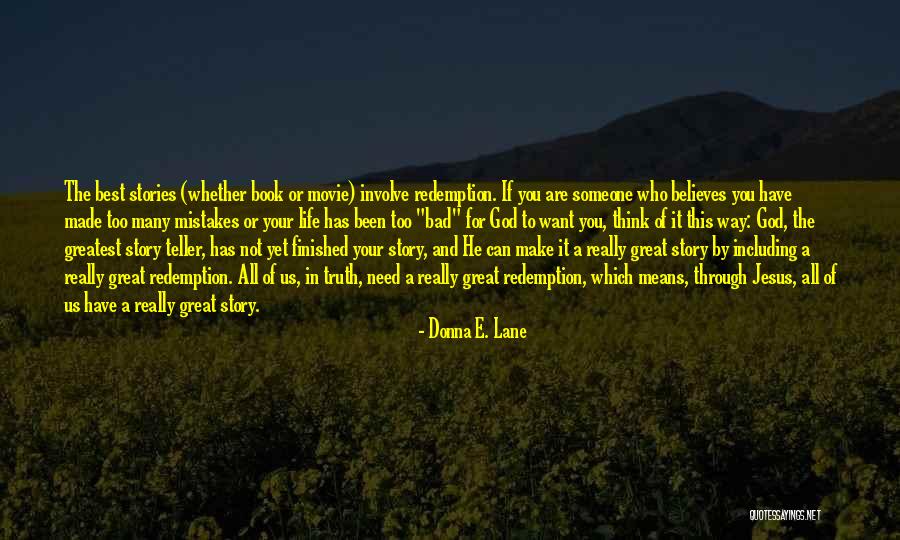 The best stories (whether book or movie) involve redemption. If you are someone who believes you have made too many mistakes or your life has been too "bad" for God to want you, think of it this way: God, the greatest story teller, has not yet finished your story, and He can make it a really great story by including a really great redemption. All of us, in truth, need a really great redemption, which means, through Jesus, all of us have a really great story. — Donna E. Lane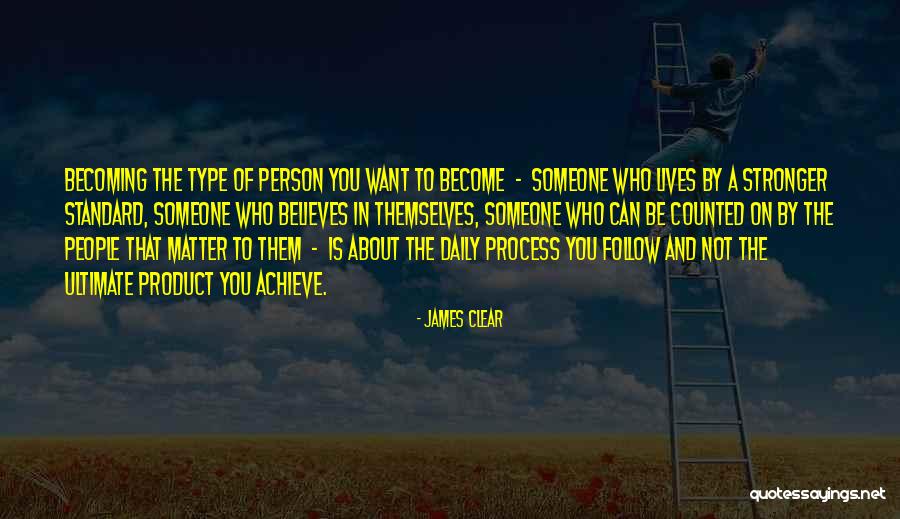 Becoming the type of person you want to become - someone who lives by a stronger standard, someone who believes in themselves, someone who can be counted on by the people that matter to them - is about the daily process you follow and not the ultimate product you achieve. — James Clear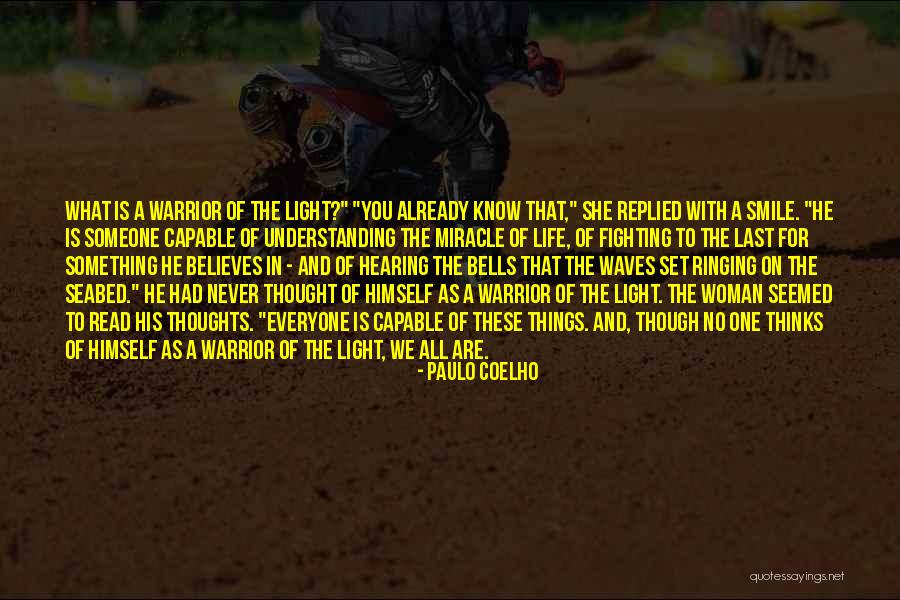 What is a Warrior of the Light?" "You already know that," she replied with a smile. "He is someone capable of understanding the miracle of life, of fighting to the last for something he believes in - and of hearing the bells that the waves set ringing on the seabed." He had never thought of himself as a Warrior of the Light. The woman seemed to read his thoughts. "Everyone is capable of these things. And, though no one thinks of himself as a Warrior of the Light, we all are. — Paulo Coelho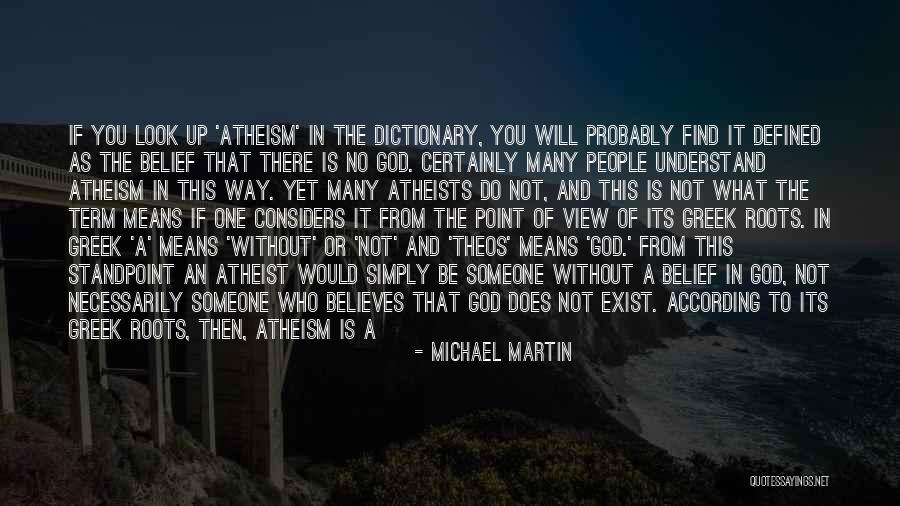 If you look up 'atheism' in the dictionary, you will probably find it defined as the belief that there is no God. Certainly many people understand atheism in this way. Yet many atheists do not, and this is not what the term means if one considers it from the point of view of its Greek roots. In Greek 'a' means 'without' or 'not' and 'theos' means 'god.' From this standpoint an atheist would simply be someone without a belief in God, not necessarily someone who believes that God does not exist. According to its Greek roots, then, atheism is a negative view, characterized by the absence of belief in God. — Michael Martin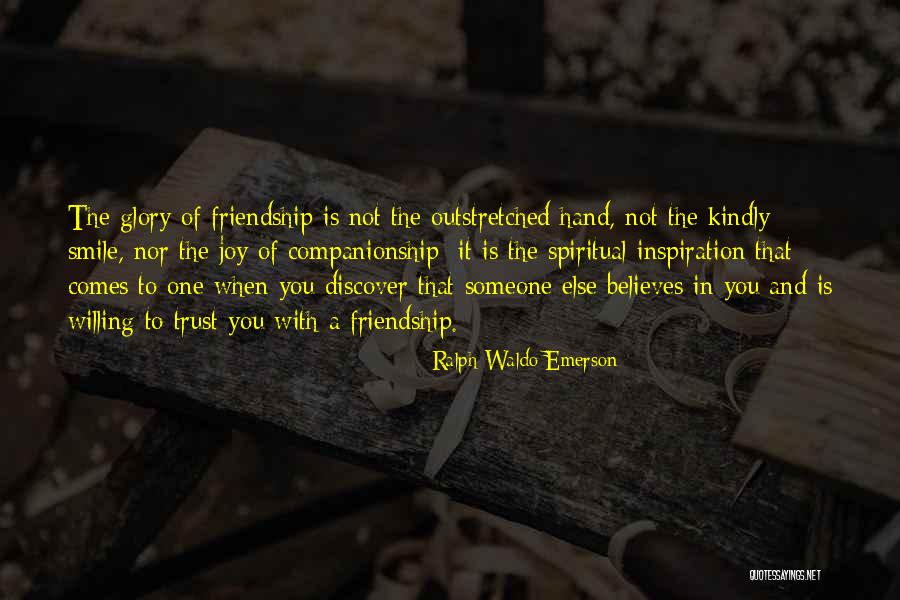 The glory of friendship is not the outstretched hand, not the kindly smile, nor the joy of companionship; it is the spiritual inspiration that comes to one when you discover that someone else believes in you and is willing to trust you with a friendship. — Ralph Waldo Emerson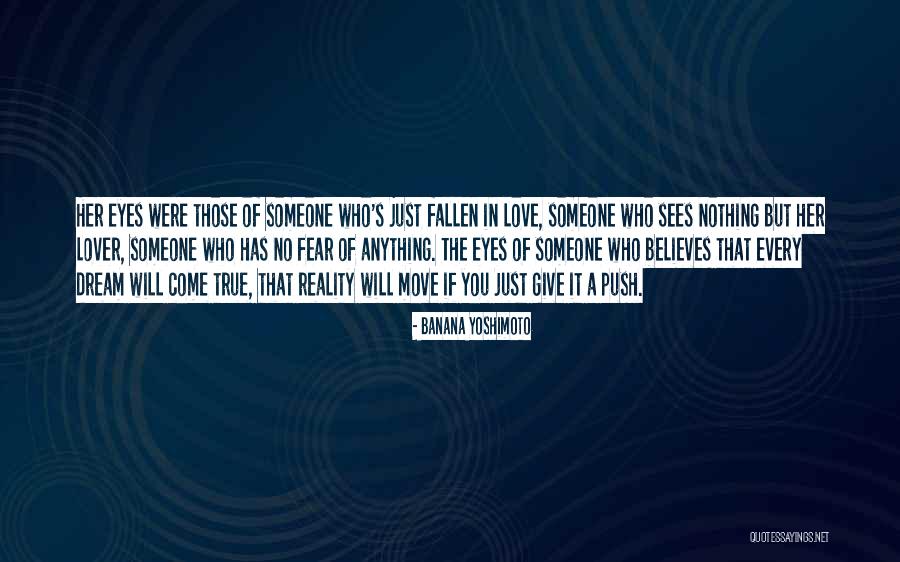 Her eyes were those of someone who's just fallen in love, someone who sees nothing but her lover, someone who has no fear of anything. The eyes of someone who believes that every dream will come true, that reality will move if you just give it a push. — Banana Yoshimoto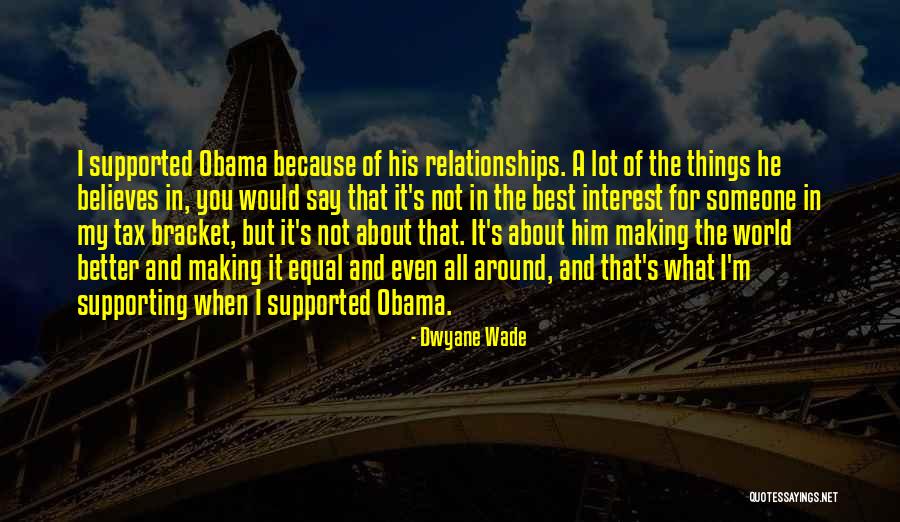 I supported Obama because of his relationships. A lot of the things he believes in, you would say that it's not in the best interest for someone in my tax bracket, but it's not about that. It's about him making the world better and making it equal and even all around, and that's what I'm supporting when I supported Obama. — Dwyane Wade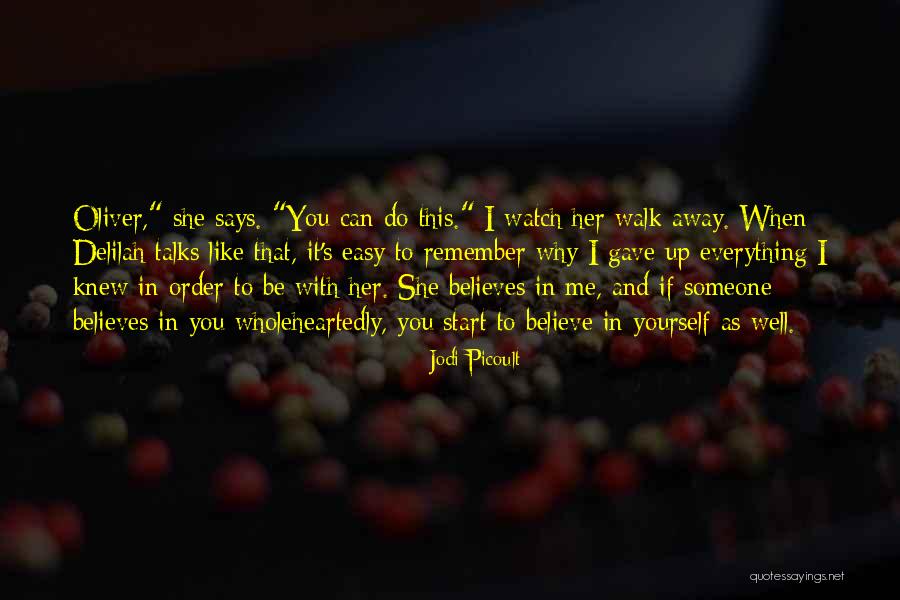 Oliver," she says. "You can do this." I watch her walk away. When Delilah talks like that, it's easy to remember why I gave up everything I knew in order to be with her. She believes in me, and if someone believes in you wholeheartedly, you start to believe in yourself as well. — Jodi Picoult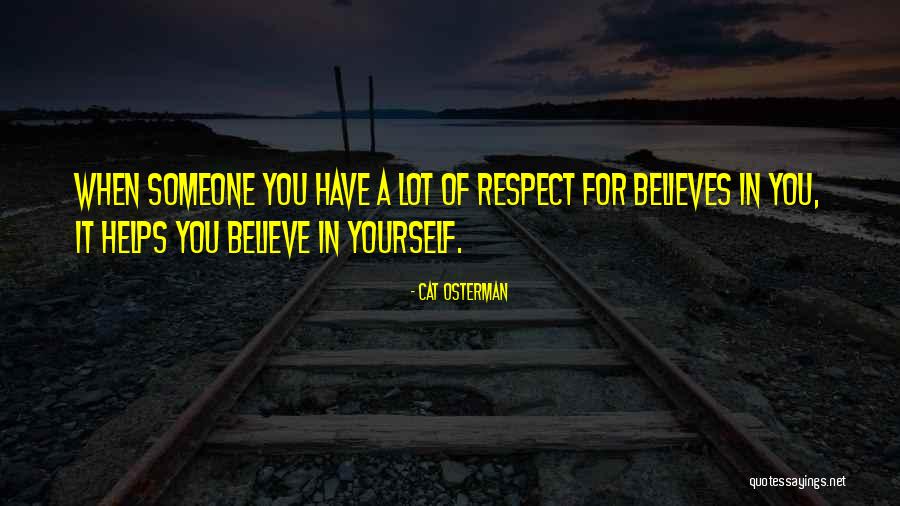 When someone you have a lot of respect for believes in you, it helps you believe in yourself. — Cat Osterman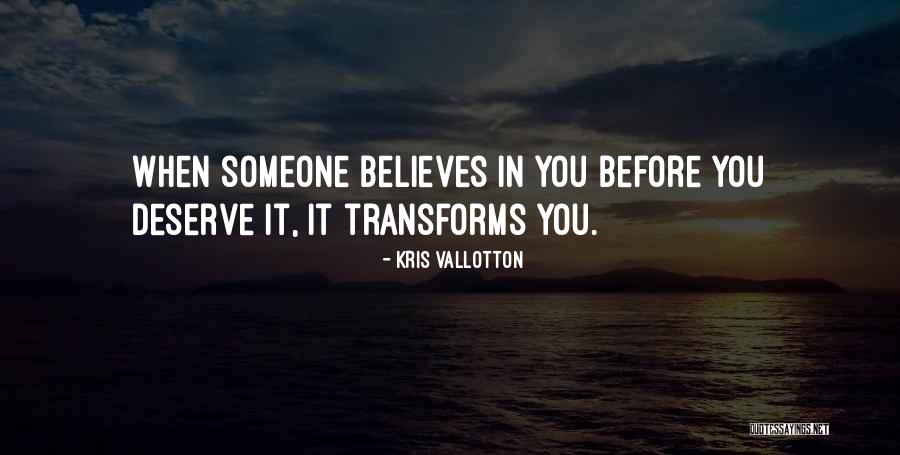 When someone believes in you before you deserve it, it transforms you. — Kris Vallotton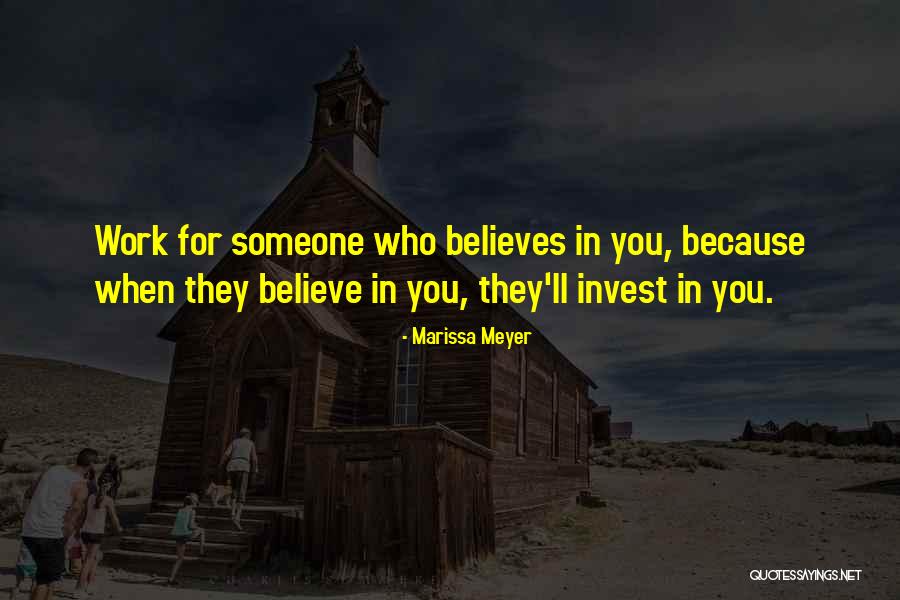 Work for someone who believes in you, because when they believe in you, they'll invest in you. — Marissa Meyer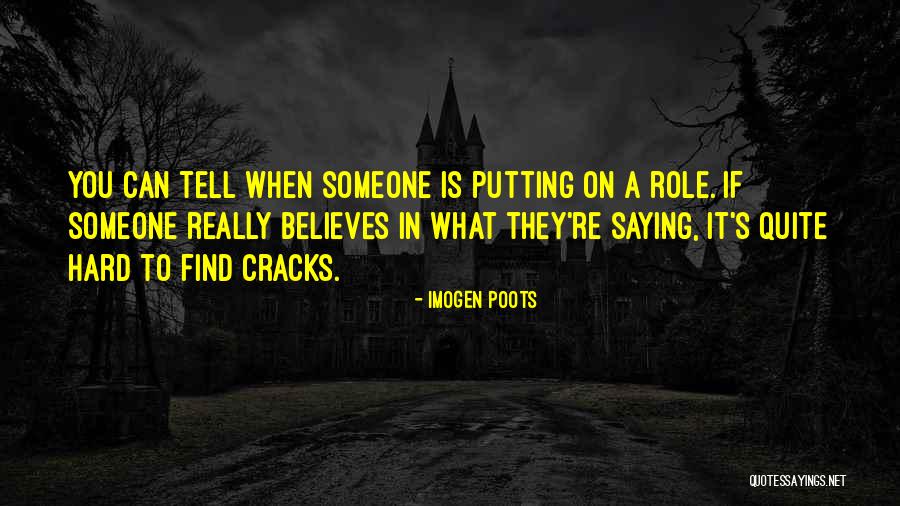 You can tell when someone is putting on a role. If someone really believes in what they're saying, it's quite hard to find cracks. — Imogen Poots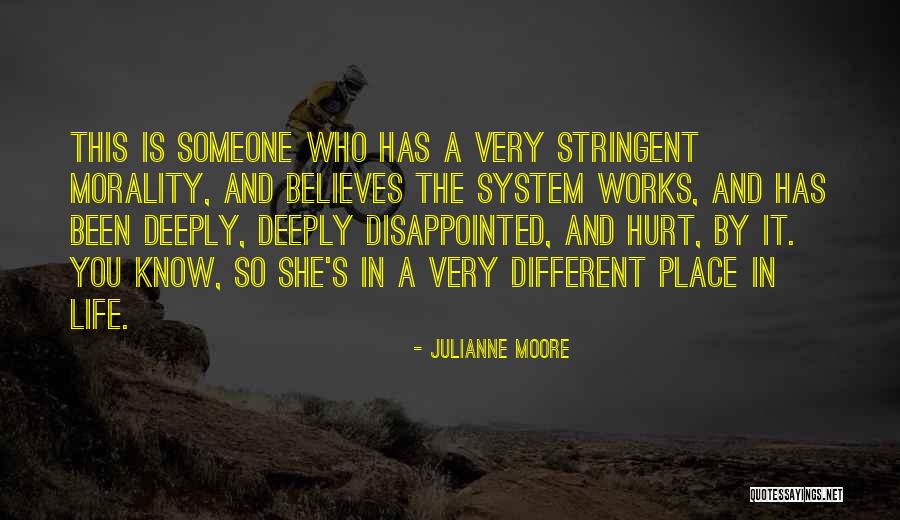 This is someone who has a very stringent morality, and believes the system works, and has been deeply, deeply disappointed, and hurt, by it. You know, so she's in a very different place in life. — Julianne Moore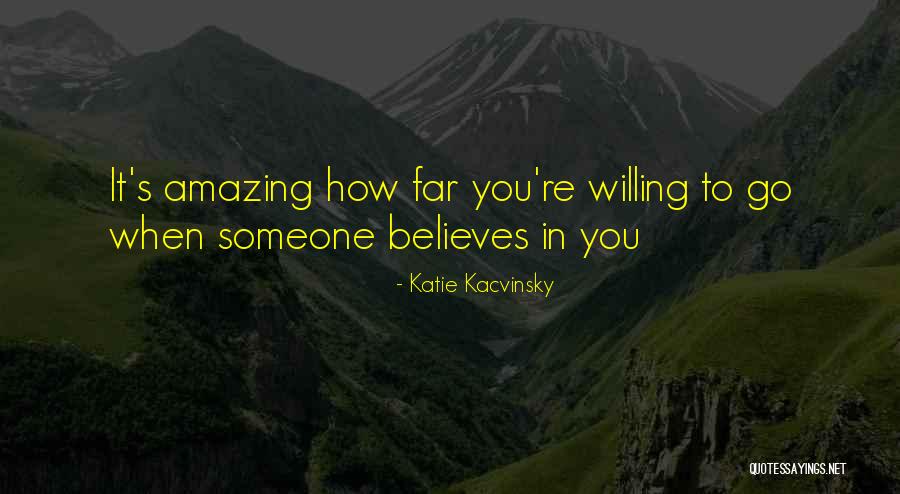 It's amazing how far you're willing to go when someone believes in you — Katie Kacvinsky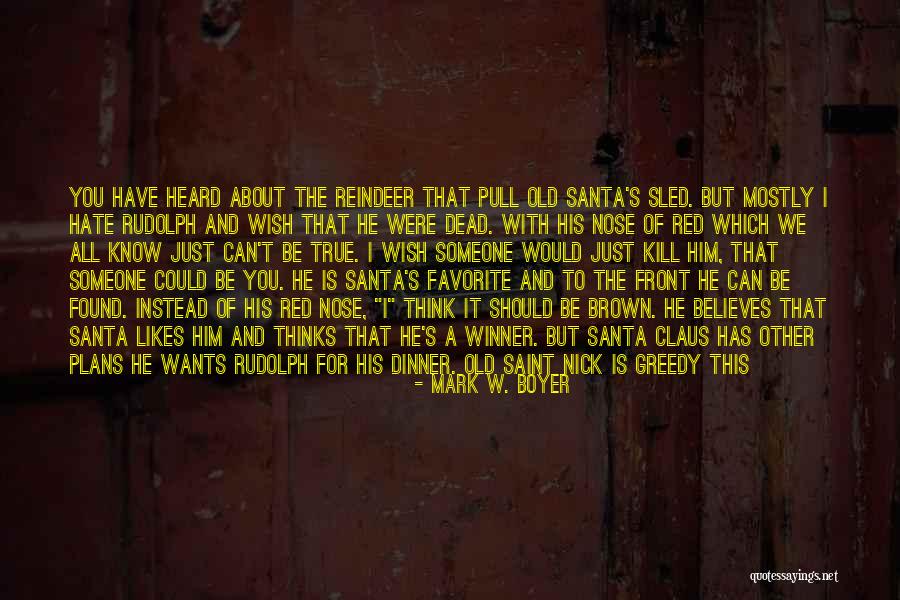 You have heard about the reindeer that pull old Santa's sled.
But mostly I hate Rudolph and wish that he were dead.
With his nose of red which we all know just can't be true.
I wish someone would just kill him, that someone could be you.
He is Santa's favorite and to the front he can be found.
Instead of his red nose, "I" think it should be brown.
He believes that Santa likes him and thinks that he's a winner.
But Santa Claus has other plans he wants Rudolph for his dinner.
Old Saint Nick is greedy this I know without a doubt.
What else do you think happens to all the great toys we go without?
He takes them and he breaks them be cause he doesn't care a bit.
To me it doesn't matter, Why, he can keep his "Schict".
Yes' it's true that I hate Santa too, dressed in his suit of silk.
That's why this year with the homemade cookies,
I'm going to leave some poison milk. — Mark W. Boyer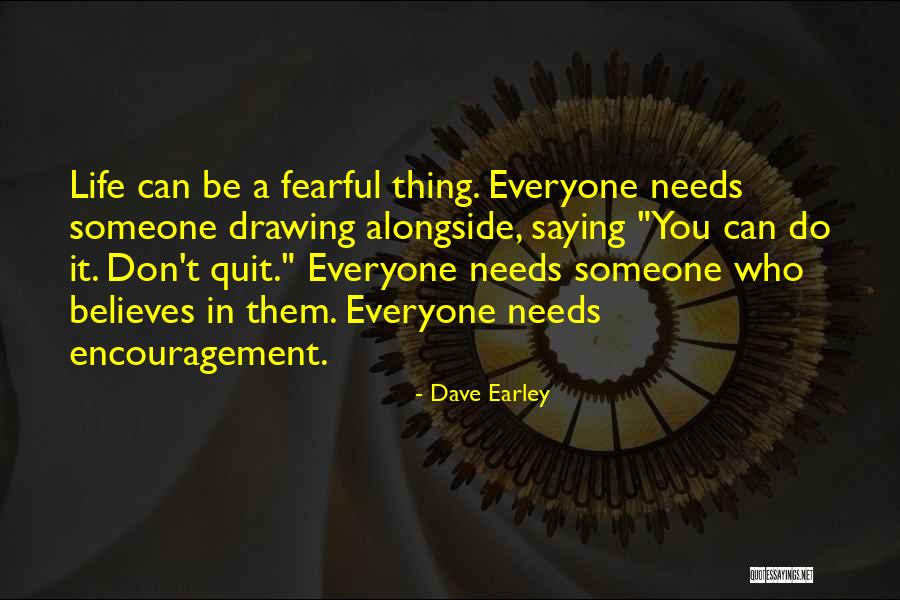 Life can be a fearful thing. Everyone needs someone drawing alongside, saying "You can do it. Don't quit." Everyone needs someone who believes in them. Everyone needs encouragement. — Dave Earley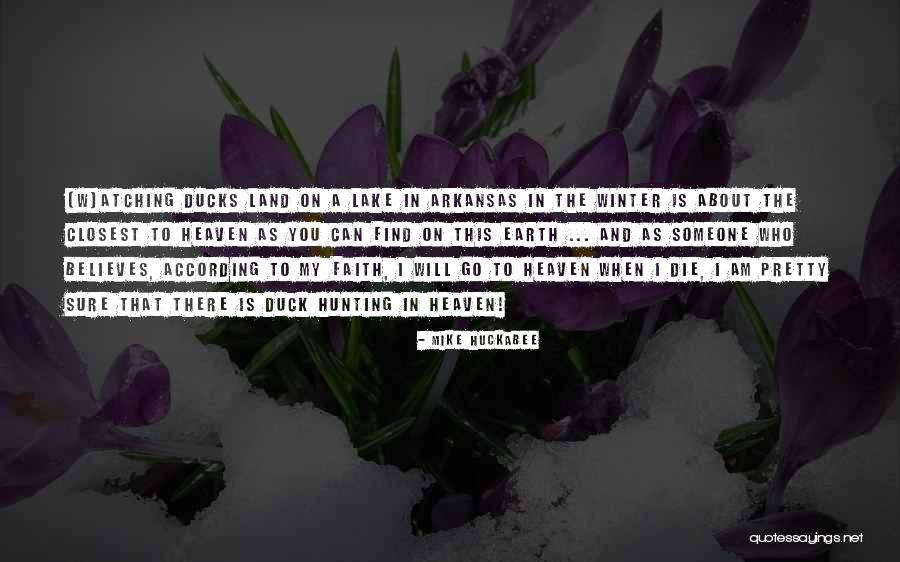 [W]atching ducks land on a lake in Arkansas in the winter is about the closest to Heaven as you can find on this earth ... and as someone who believes, according to my faith, I will go to Heaven when I die, I am pretty sure that there is duck hunting in Heaven! — Mike Huckabee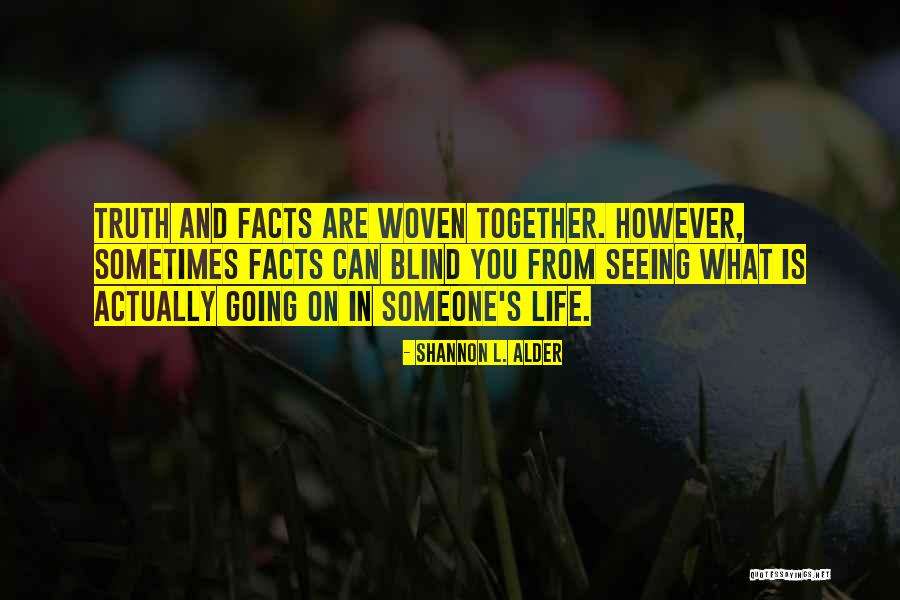 Truth and facts are woven together. However, sometimes facts can blind you from seeing what is actually going on in someone's life. — Shannon L. Alder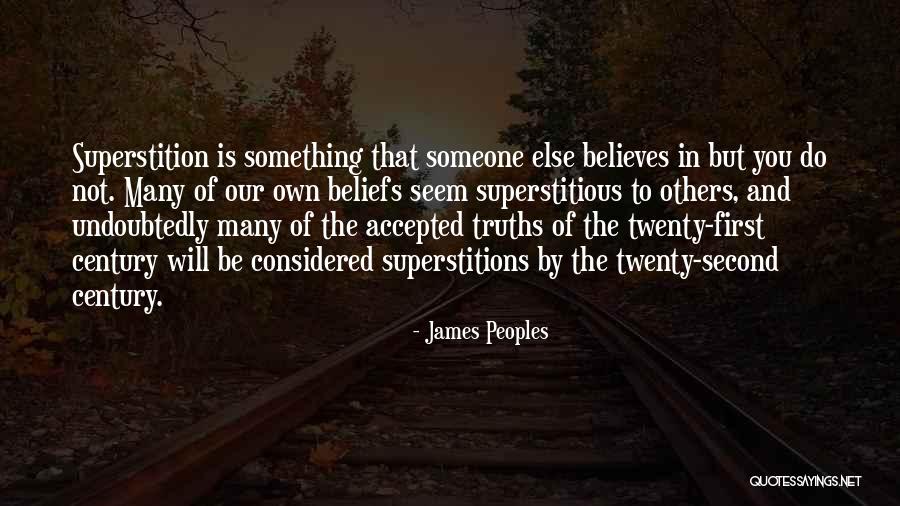 Superstition is something that someone else believes in but you do not. Many of our own beliefs seem superstitious to others, and undoubtedly many of the accepted truths of the twenty-first century will be considered superstitions by the twenty-second century. — James Peoples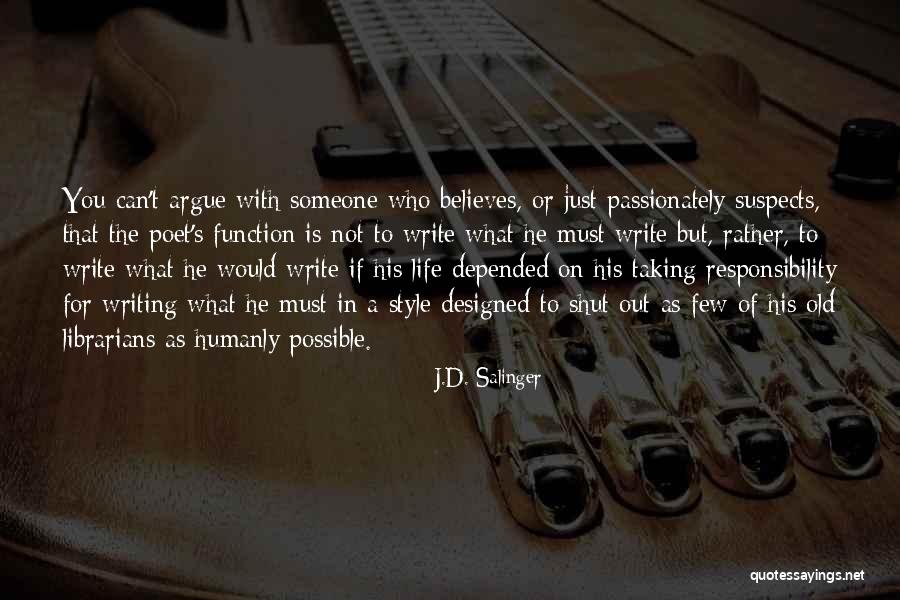 You can't argue with someone who believes, or just passionately suspects, that the poet's function is not to write what he must write but, rather, to write what he would write if his life depended on his taking responsibility for writing what he must in a style designed to shut out as few of his old librarians as humanly possible. — J.D. Salinger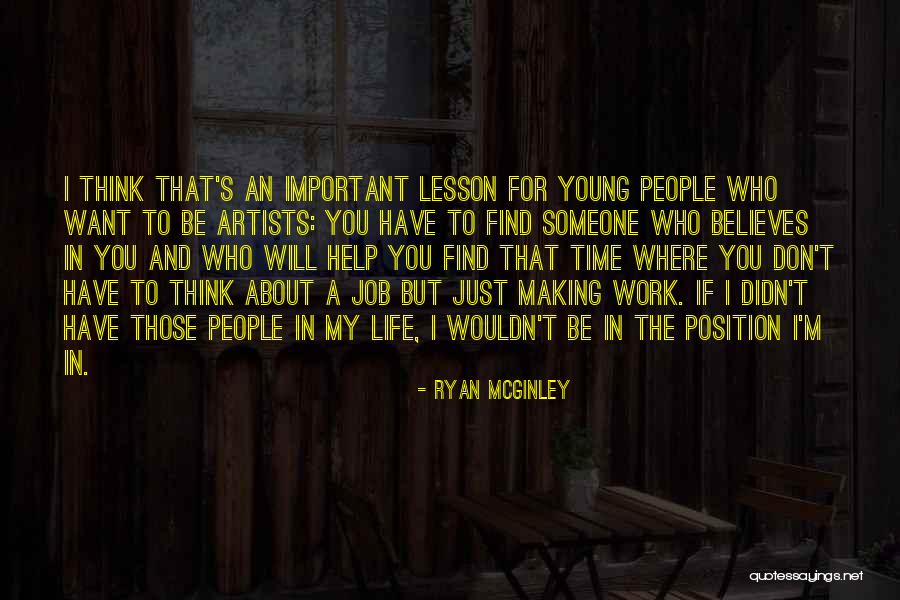 I think that's an important lesson for young people who want to be artists: You have to find someone who believes in you and who will help you find that time where you don't have to think about a job but just making work. If I didn't have those people in my life, I wouldn't be in the position I'm in. — Ryan McGinley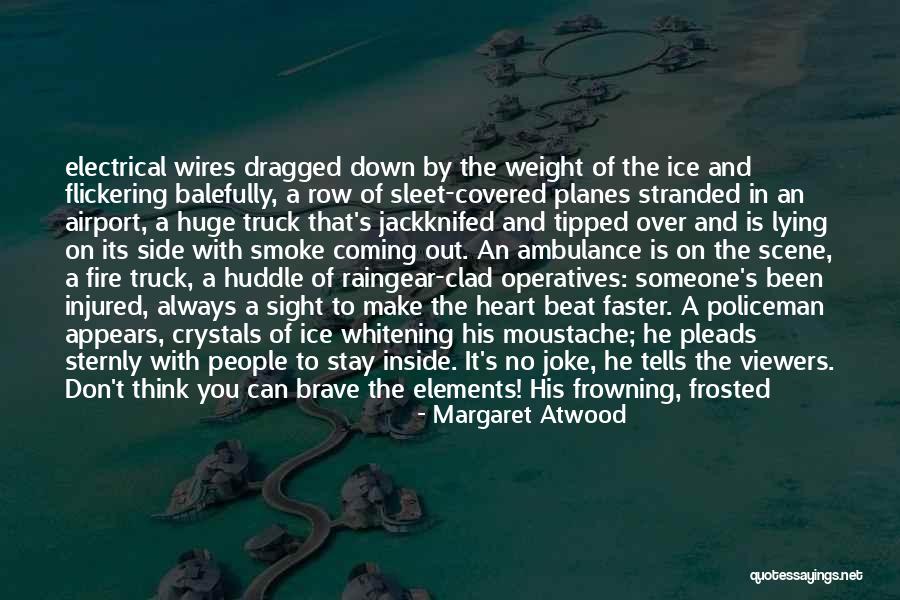 electrical wires dragged down by the weight of the ice and flickering balefully, a row of sleet-covered planes stranded in an airport, a huge truck that's jackknifed and tipped over and is lying on its side with smoke coming out. An ambulance is on the scene, a fire truck, a huddle of raingear-clad operatives: someone's been injured, always a sight to make the heart beat faster. A policeman appears, crystals of ice whitening his moustache; he pleads sternly with people to stay inside. It's no joke, he tells the viewers. Don't think you can brave the elements! His frowning, frosted eyebrows are noble, like those on the wartime bond-drive posters from the 1940s. Constance remembers those, or believes she does. But she may just be remembering history books or museum displays or documentary films: so hard, sometimes, to tag those memories accurately. Finally, a minor touch of pathos: a stray dog is displayed, semi-frozen, wrapped in a child's pink nap blanket. A gelid baby — Margaret Atwood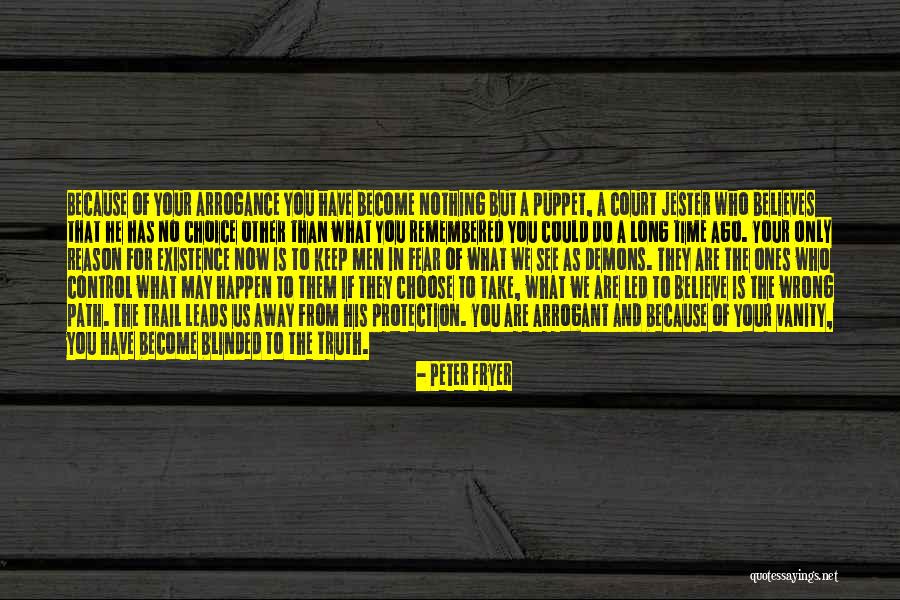 Because of your arrogance you have become nothing but a puppet, a court jester who believes that he has no choice other than what you remembered you could do a long time ago. Your only reason for existence now is to keep men in fear of what we see as Demons. They are the ones who control what may happen to them if they choose to take, what we are led to believe is the wrong path. The trail leads us away from his protection.
You are arrogant and because of your vanity, you have become blinded to the truth. Do you not know that you cannot take a soul from a man whose future has already been set? I also know this is someone you cannot overrule have the power to overrule? Even if you tried to take me from here, your power would be overruled. You are the tool of the carpenter, not the carpenter. — Peter Fryer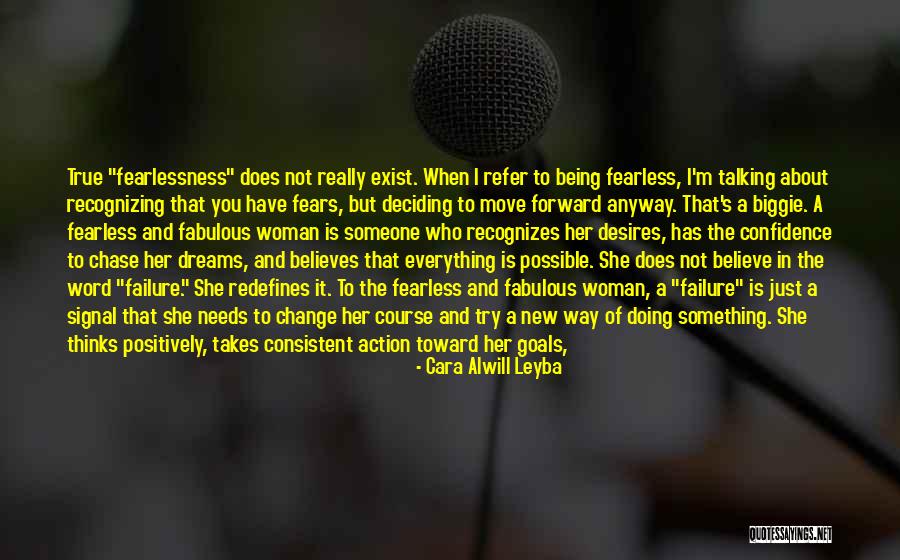 True "fearlessness" does not really exist. When I refer to being fearless, I'm talking about recognizing that you have fears, but deciding to move forward anyway. That's a biggie. A fearless and fabulous woman is someone who recognizes her desires, has the confidence to chase her dreams, and believes that everything is possible. She does not believe in the word "failure." She redefines it. To the fearless and fabulous woman, a "failure" is just a signal that she needs to change her course and try a new way of doing something. She thinks positively, takes consistent action toward her goals, and never gives up. — Cara Alwill Leyba