Quotes & Sayings About Singing For The Lord
Enjoy reading and share 59 famous quotes about Singing For The Lord with everyone.
Top Singing For The Lord Quotes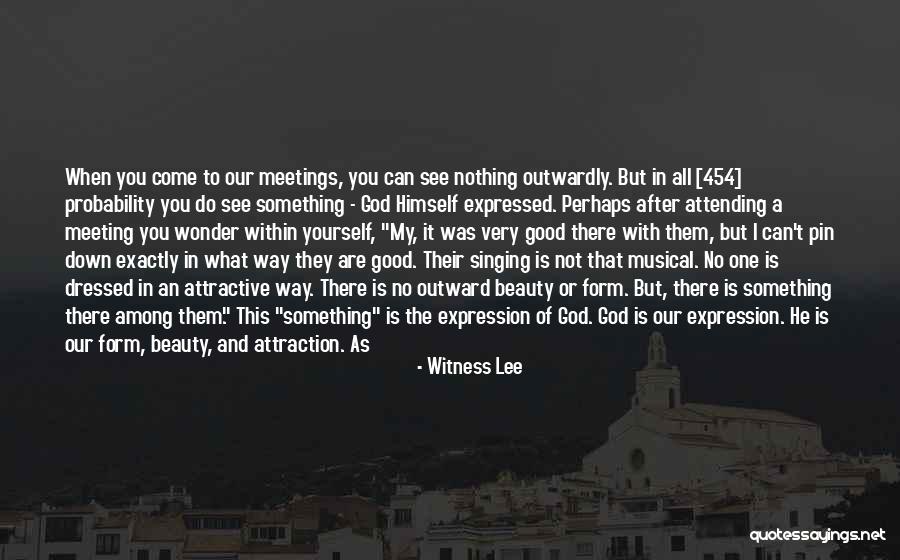 When you come to our meetings, you can see nothing outwardly. But in all [454] probability you do see something - God Himself expressed. Perhaps after attending a meeting you wonder within yourself, "My, it was very good there with them, but I can't pin down exactly in what way they are good. Their singing is not that musical. No one is dressed in an attractive way. There is no outward beauty or form. But, there is something there among them." This "something" is the expression of God. God is our expression. He is our form, beauty, and attraction. As the church, we have returned to God's original purpose, to the purpose He had in the beginning - that man express Him and represent Him. This is the Lord's recovery. — Witness Lee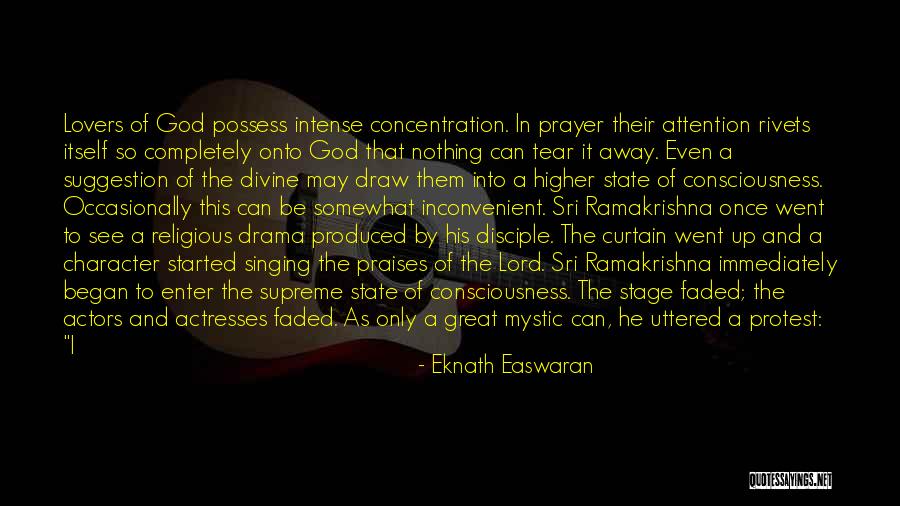 Lovers of God possess intense concentration. In prayer their attention rivets itself so completely onto God that nothing can tear it away. Even a suggestion of the divine may draw them into a higher state of consciousness. Occasionally this can be somewhat inconvenient. Sri Ramakrishna once went to see a religious drama produced by his disciple. The curtain went up and a character started singing the praises of the Lord. Sri Ramakrishna immediately began to enter the supreme state of consciousness. The stage faded; the actors and actresses faded. As only a great mystic can, he uttered a protest: "I come here, Lord, to see a play staged by my disciple, and you send me into ecstasy. I won't let it happen!" And he started saying over and over, "Money... money...money," so as to keep some awareness of the temporal world. — Eknath Easwaran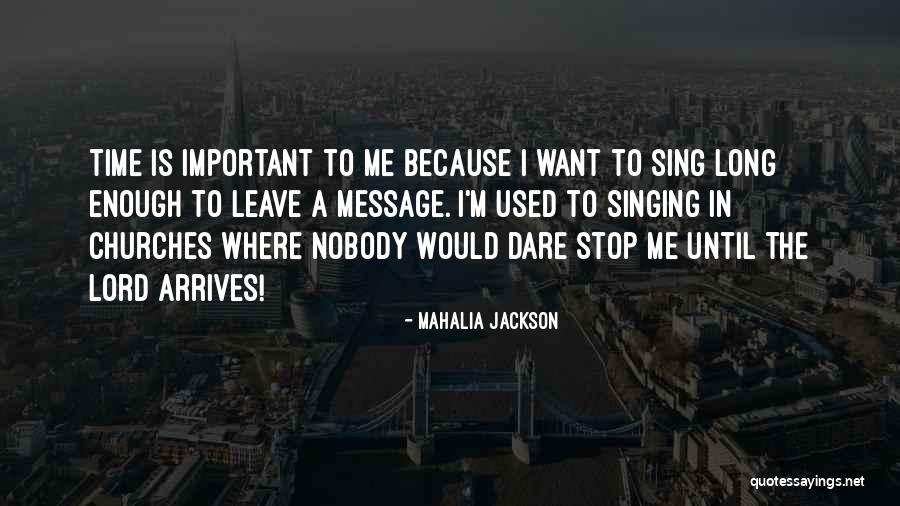 Time is important to me because I want to sing long enough to leave a message. I'm used to singing in churches where nobody would dare stop me until the Lord arrives! — Mahalia Jackson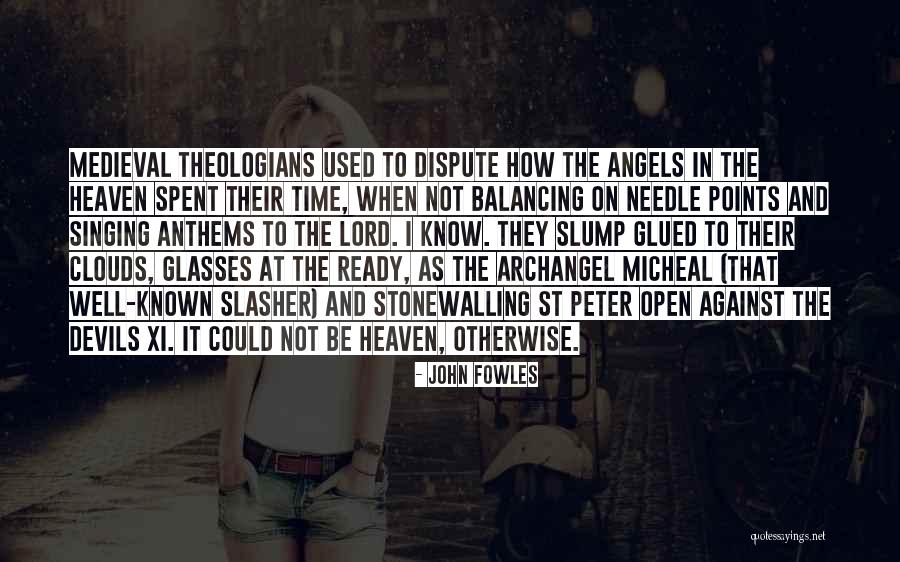 Medieval theologians used to dispute how the angels in the heaven spent their time, when not balancing on needle points and singing anthems to the Lord. I know. They slump glued to their clouds, glasses at the ready, as the Archangel Micheal (that well-known slasher) and stonewalling St Peter open against the Devils XI. It could not be Heaven, otherwise. — John Fowles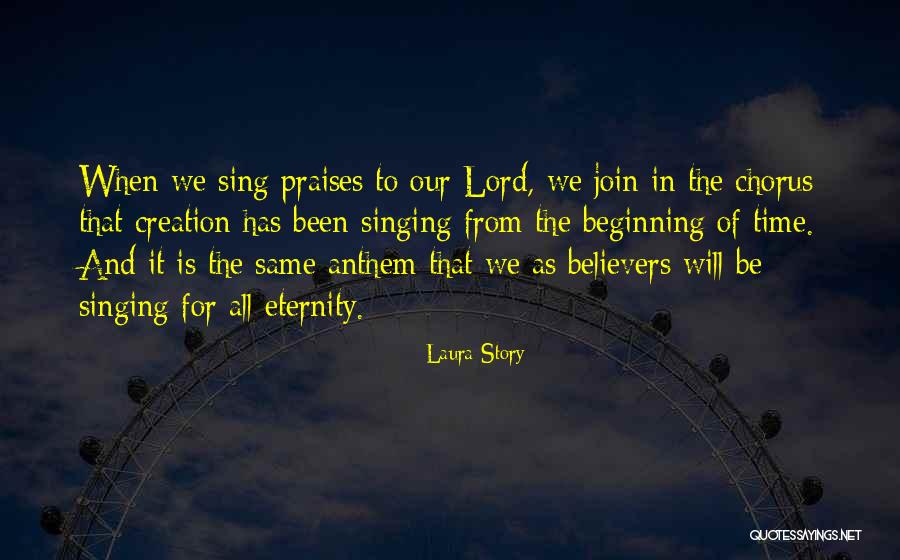 When we sing praises to our Lord, we join in the chorus that creation has been singing from the beginning of time. And it is the same anthem that we as believers will be singing for all eternity. — Laura Story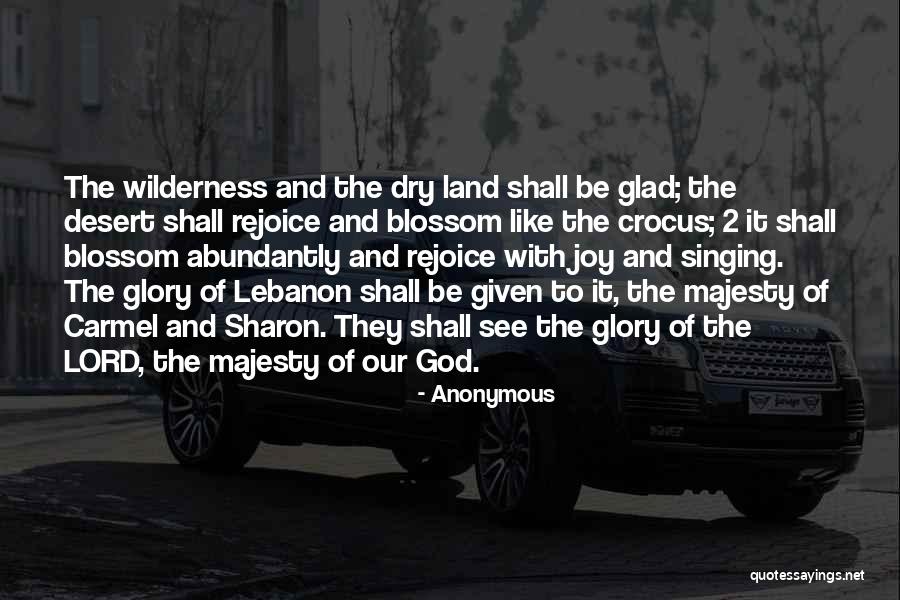 The wilderness and the dry land shall be glad; the desert shall rejoice and blossom like the crocus; 2 it shall blossom abundantly and rejoice with joy and singing. The glory of Lebanon shall be given to it, the majesty of Carmel and Sharon. They shall see the glory of the LORD, the majesty of our God. — Anonymous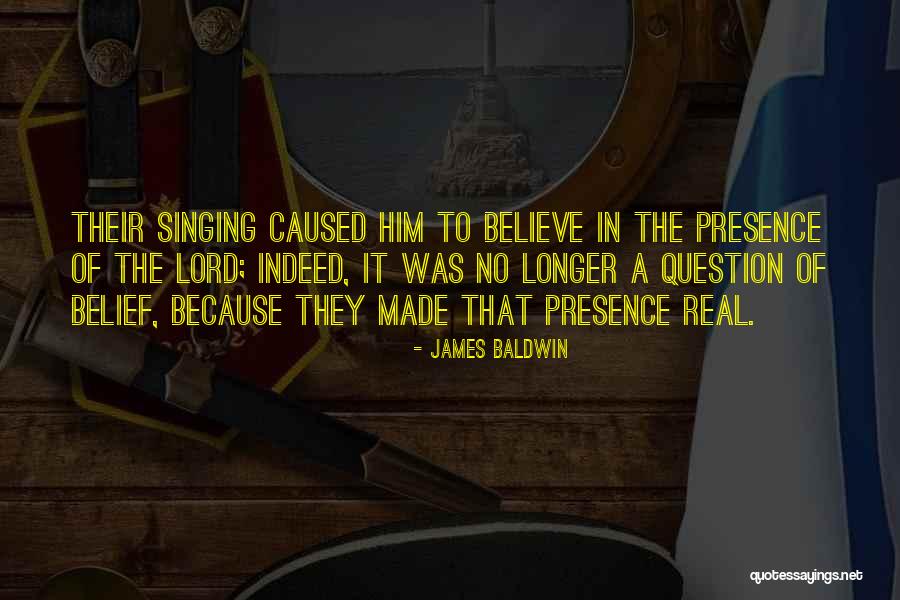 Their singing caused him to believe in the presence of the Lord; indeed, it was no longer a question of belief, because they made that presence real. — James Baldwin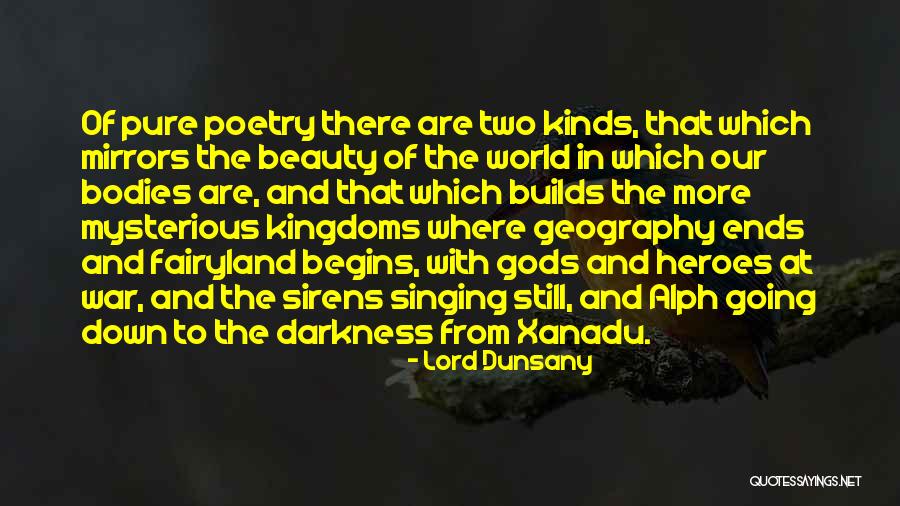 Of pure poetry there are two kinds, that which mirrors the beauty of the world in which our bodies are, and that which builds the more mysterious kingdoms where geography ends and fairyland begins, with gods and heroes at war, and the sirens singing still, and Alph going down to the darkness from Xanadu. — Lord Dunsany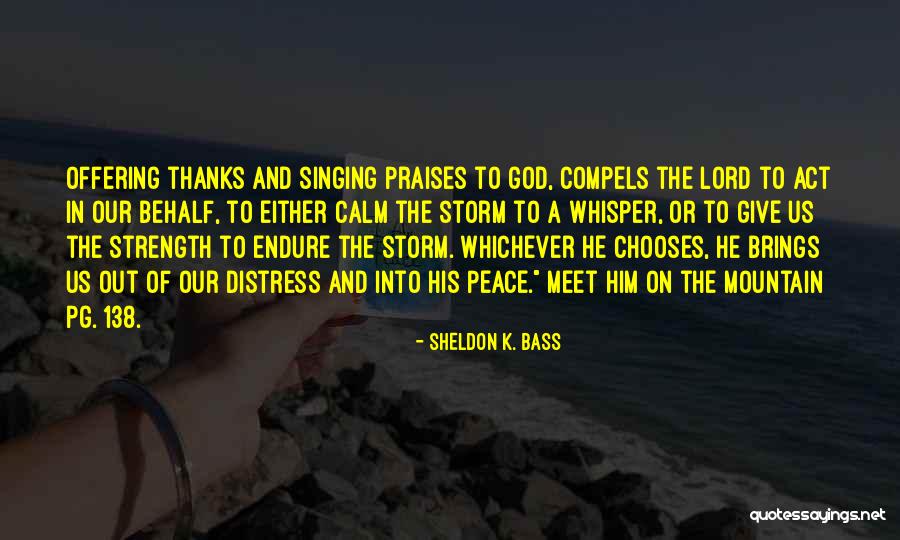 Offering thanks and singing praises to God, compels the Lord to act in our behalf, to either calm the storm to a whisper, or to give us the strength to endure the storm. Whichever He chooses, He brings us out of our distress and into His peace." Meet Him on the Mountain pg. 138. — Sheldon K. Bass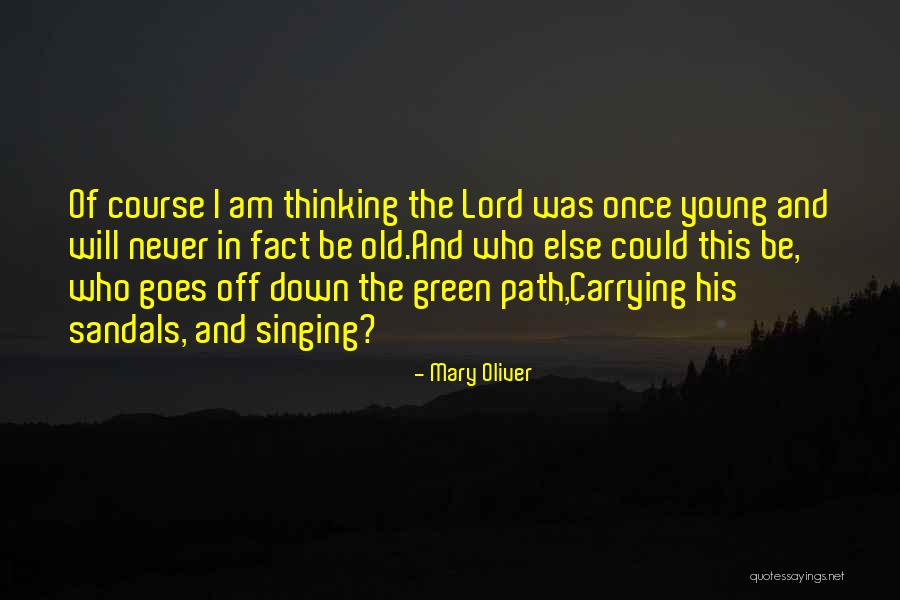 Of course I am thinking the Lord was once young and will never in fact be old.
And who else could this be, who goes off down the green path,
Carrying his sandals, and singing? — Mary Oliver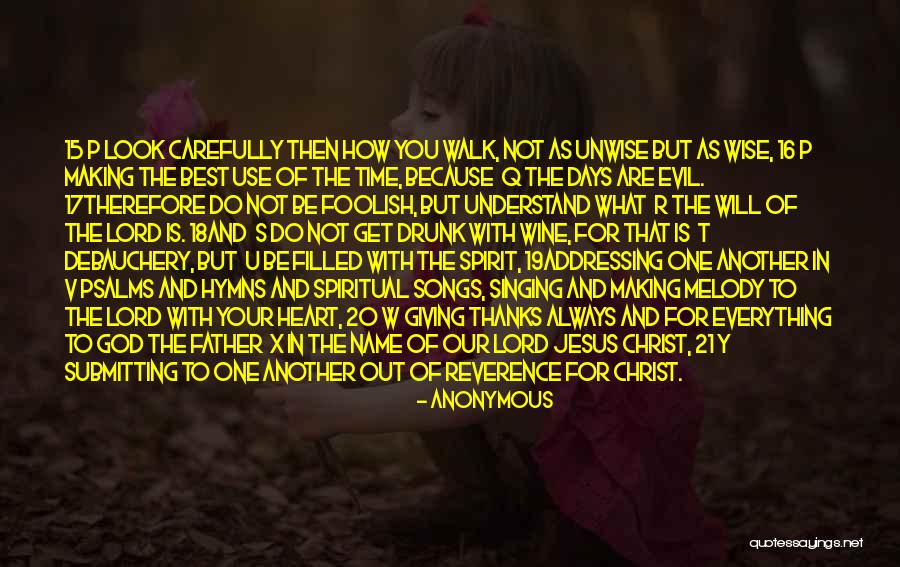 15 p Look carefully then how you walk, not as unwise but as wise, 16 p making the best use of the time, because q the days are evil. 17Therefore do not be foolish, but understand what r the will of the Lord is. 18And s do not get drunk with wine, for that is t debauchery, but u be filled with the Spirit, 19addressing one another in v psalms and hymns and spiritual songs, singing and making melody to the Lord with your heart, 20 w giving thanks always and for everything to God the Father x in the name of our Lord Jesus Christ, 21 y submitting to one another out of reverence for Christ. — Anonymous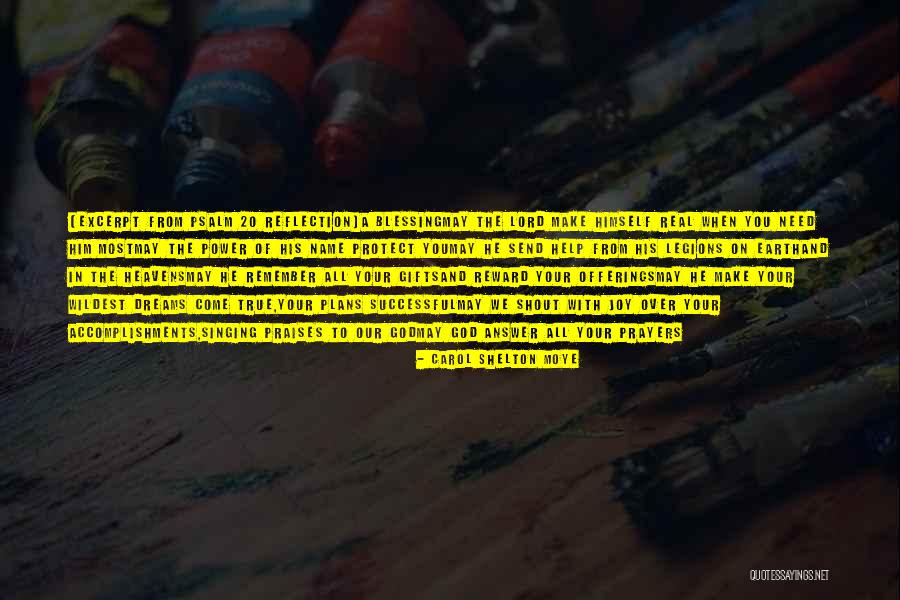 (Excerpt from Psalm 20 reflection)
A Blessing

May the Lord make himself real when you need Him most
May the power of his name protect you
May he send help from his legions on earth
And in the heavens
May he remember all your gifts
And reward your offerings
May he make your wildest dreams come true,
Your plans successful
May we shout with joy over your accomplishments,
Singing praises to our God
May God answer all your prayers — Carol Shelton Moye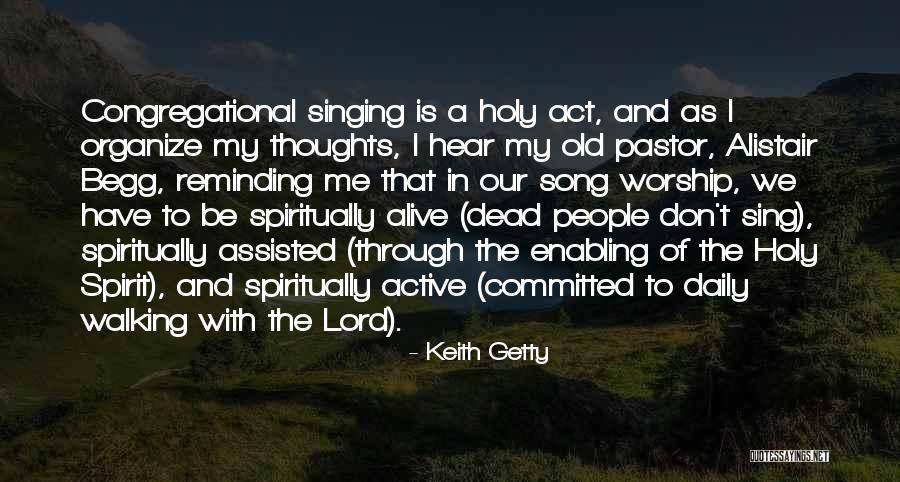 Congregational singing is a holy act, and as I organize my thoughts, I hear my old pastor, Alistair Begg, reminding me that in our song worship, we have to be spiritually alive (dead people don't sing), spiritually assisted (through the enabling of the Holy Spirit), and spiritually active (committed to daily walking with the Lord). — Keith Getty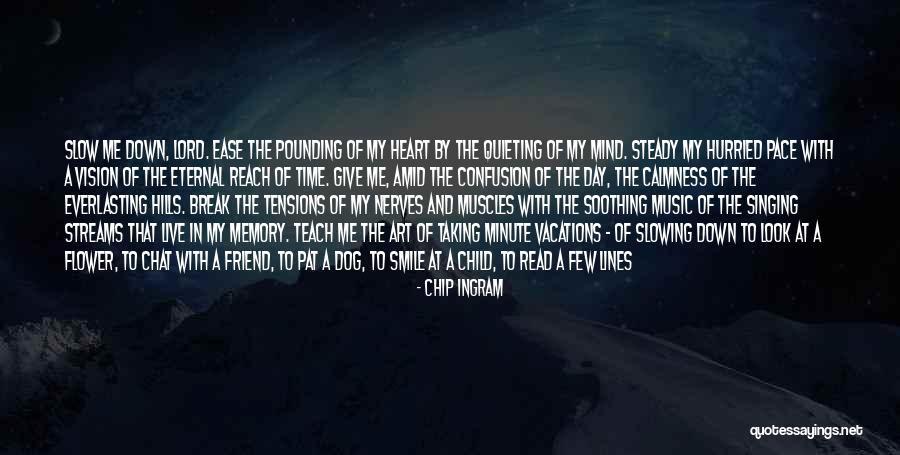 Slow me down, Lord. Ease the pounding of my heart by the quieting of my mind. Steady my hurried pace with a vision of the eternal reach of time. Give me, amid the confusion of the day, the calmness of the everlasting hills. Break the tensions of my nerves and muscles with the soothing music of the singing streams that live in my memory. Teach me the art of taking minute vacations - of slowing down to look at a flower, to chat with a friend, to pat a dog, to smile at a child, to read a few lines from a good book. Slow me down, Lord, and inspire me to send my roots deep into the soil of life's enduring values, that I may grow toward my greater destiny. Remind me each day that the race is not always to the swift; that there is more to life than increasing its speed. Let me look upward to the towering oak and know that it grew great and strong because it grew slowly and well. — Chip Ingram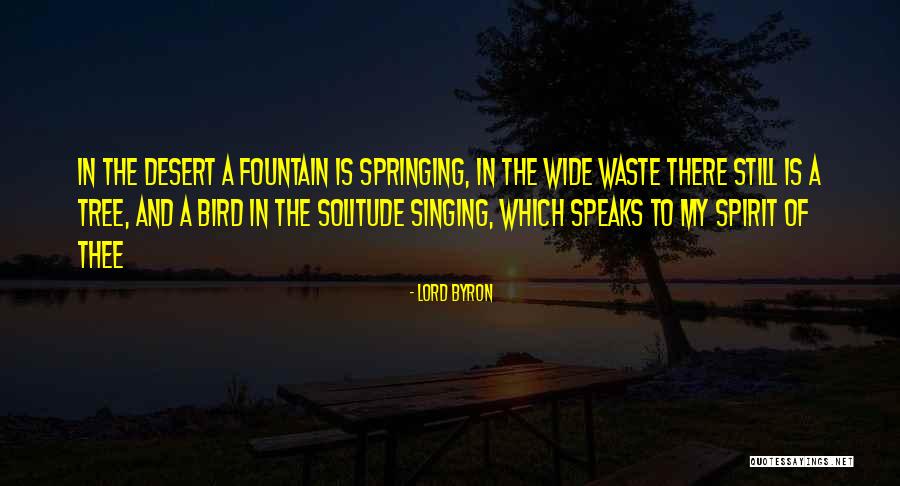 In the desert a fountain is springing, In the wide waste there still is a tree, And a bird in the solitude singing, Which speaks to my spirit of thee — Lord Byron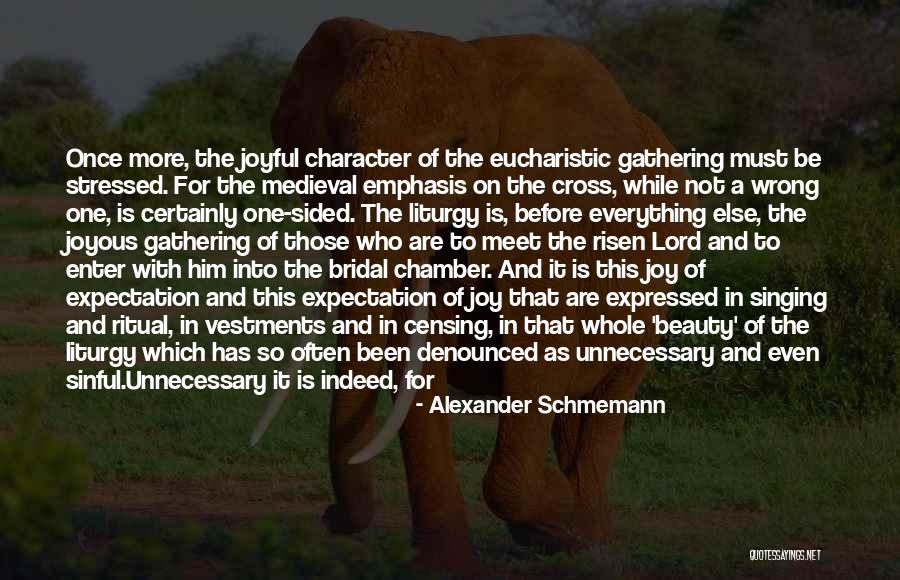 Once more, the joyful character of the eucharistic gathering must be stressed. For the medieval emphasis on the cross, while not a wrong one, is certainly one-sided. The liturgy is, before everything else, the joyous gathering of those who are to meet the risen Lord and to enter with him into the bridal chamber. And it is this joy of expectation and this expectation of joy that are expressed in singing and ritual, in vestments and in censing, in that whole 'beauty' of the liturgy which has so often been denounced as unnecessary and even sinful.
Unnecessary it is indeed, for we are beyond the categories of the 'necessary.' Beauty is never 'necessary,' 'functional' or 'useful.' And when, expecting someone whom we love, we put a beautiful tablecloth on the table and decorate it with candles and flowers, we do all this not out of necessity, but out of love. And the Church is love, expectation and joy. — Alexander Schmemann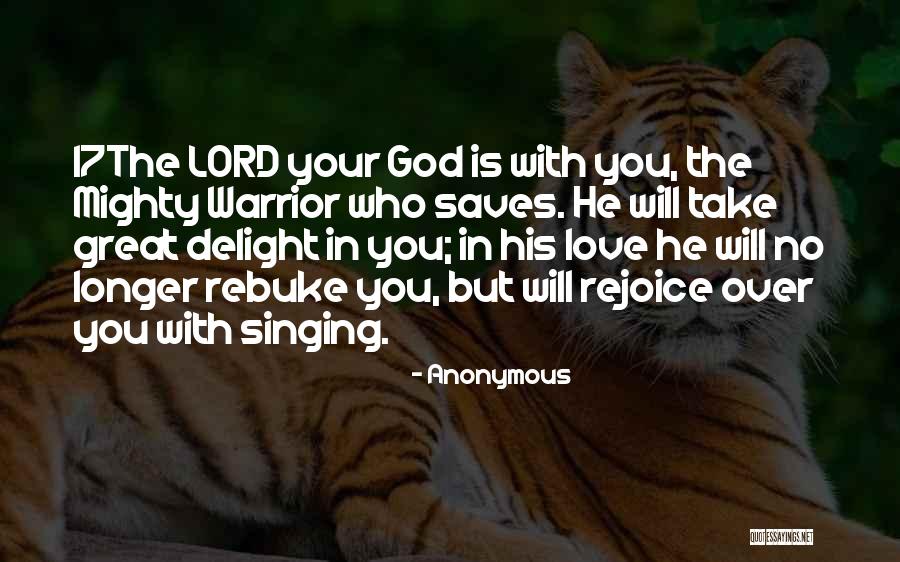 17The LORD your God is with you, the Mighty Warrior who saves. He will take great delight in you; in his love he will no longer rebuke you, but will rejoice over you with singing. — Anonymous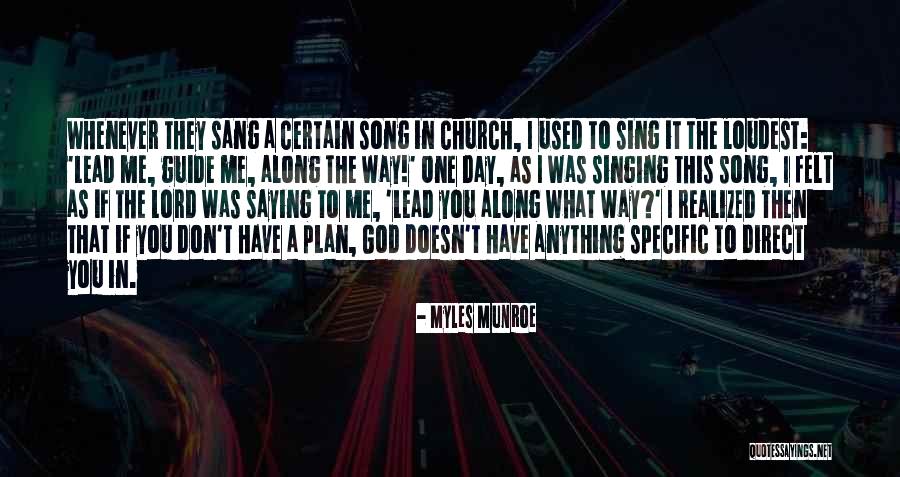 Whenever they sang a certain song in church, I used to sing it the loudest: 'Lead me, guide me, along the way!' One day, as I was singing this song, I felt as if the Lord was saying to me, 'Lead you along what way?' I realized then that if you don't have a plan, God doesn't have anything specific to direct you in. — Myles Munroe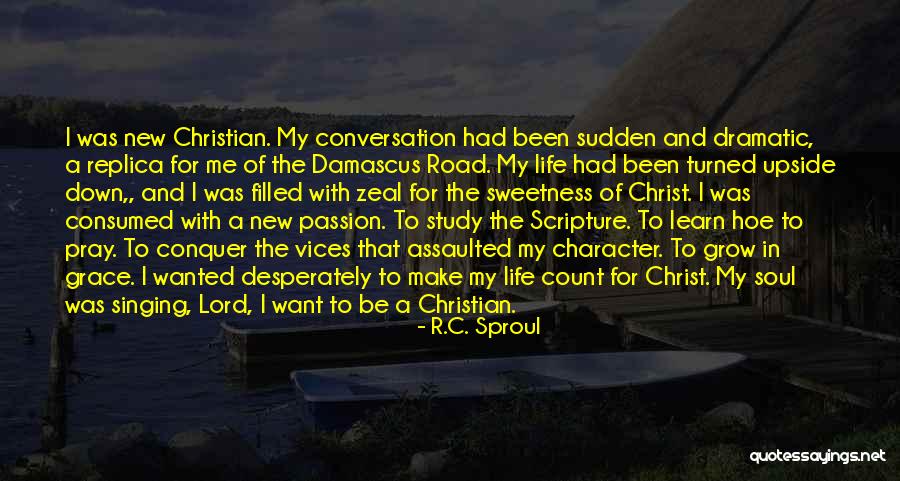 I was new Christian. My conversation had been sudden and dramatic, a replica for me of the Damascus Road. My life had been turned upside down,, and I was filled with zeal for the sweetness of Christ. I was consumed with a new passion. To study the Scripture. To learn hoe to pray. To conquer the vices that assaulted my character. To grow in grace. I wanted desperately to make my life count for Christ. My soul was singing, Lord, I want to be a Christian. — R.C. Sproul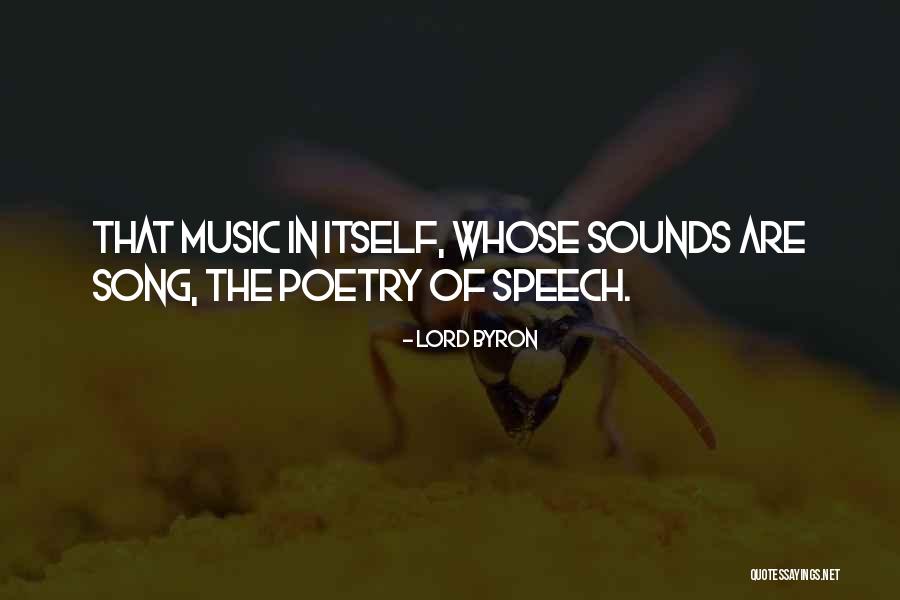 That music in itself, whose sounds are song, The poetry of speech. — Lord Byron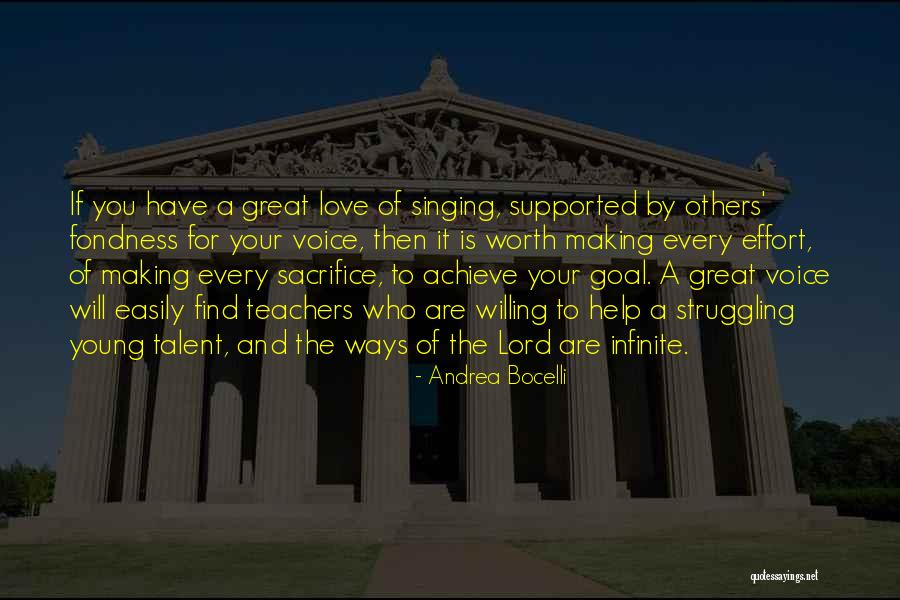 If you have a great love of singing, supported by others' fondness for your voice, then it is worth making every effort, of making every sacrifice, to achieve your goal. A great voice will easily find teachers who are willing to help a struggling young talent, and the ways of the Lord are infinite. — Andrea Bocelli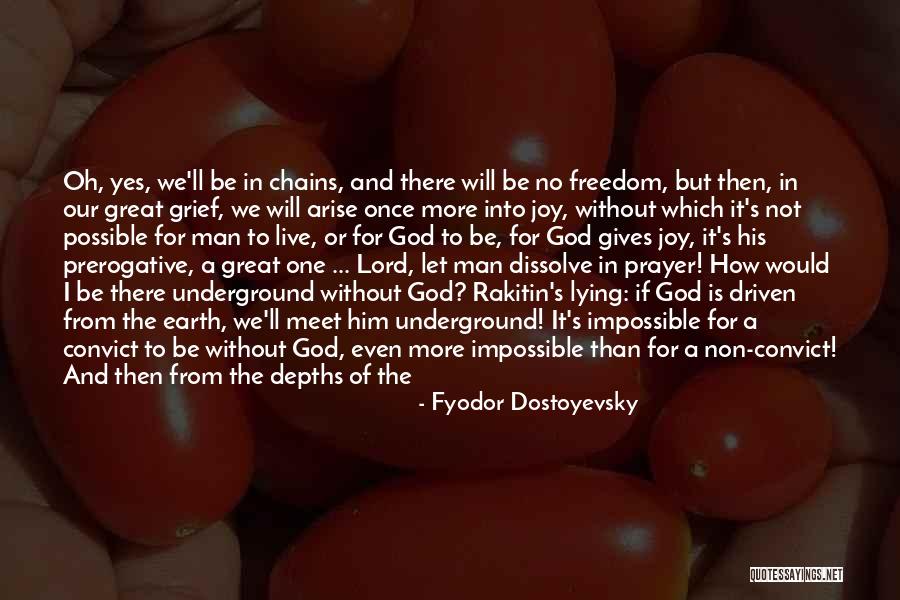 Oh, yes, we'll be in chains, and there will be no freedom, but then, in our great grief, we will arise once more into joy, without which it's not possible for man to live, or for God to be, for God gives joy, it's his prerogative, a great one ... Lord, let man dissolve in prayer! How would I be there underground without God? Rakitin's lying: if God is driven from the earth, we'll meet him underground! It's impossible for a convict to be without God, even more impossible than for a non-convict! And then from the depths of the earth, we, the men underground, will start singing a tragic hymn to God, in who there is joy! Hail to God and his joy! I love him! — Fyodor Dostoyevsky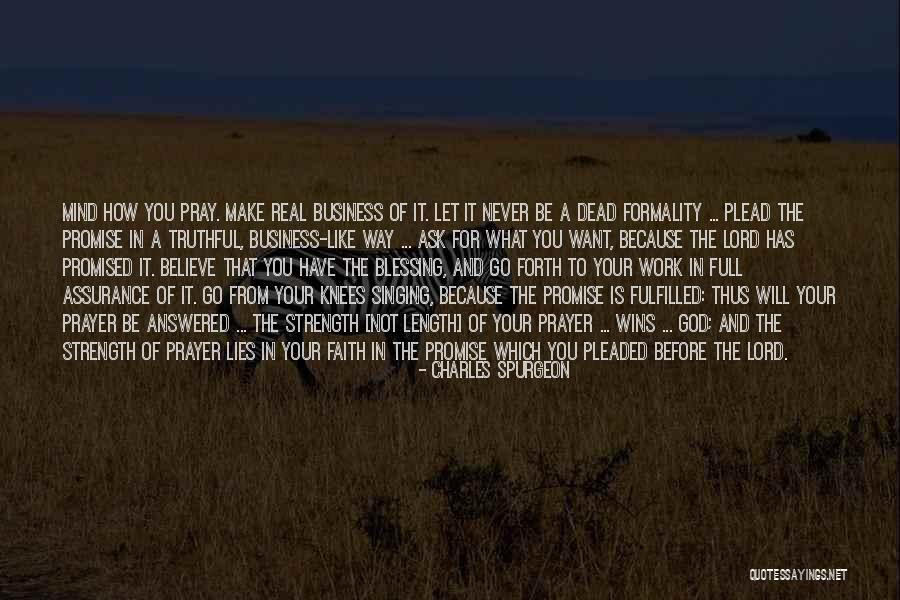 Mind how you pray. Make real business of it. Let it never be a dead formality ... plead the promise in a truthful, business-like way ... Ask for what you want, because the Lord has promised it. Believe that you have the blessing, and go forth to your work in full assurance of it. Go from your knees singing, because the promise is fulfilled: thus will your prayer be answered ... the strength [not length] of your prayer ... wins ... God; and the strength of prayer lies in your faith in the promise which you pleaded before the Lord. — Charles Spurgeon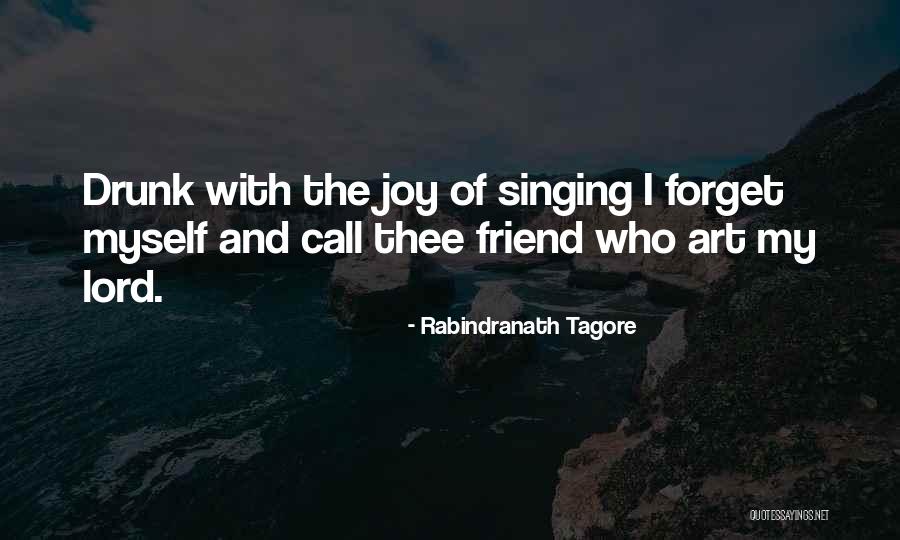 Drunk with the joy of singing I forget myself and call thee friend who art my lord. — Rabindranath Tagore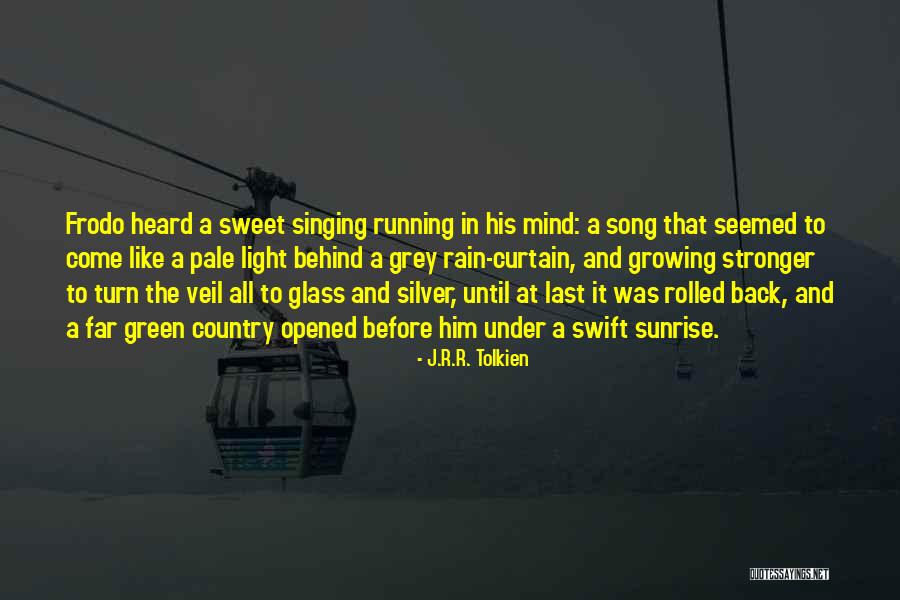 Frodo heard a sweet singing running in his mind: a song that seemed to come like a pale light behind a grey rain-curtain, and growing stronger to turn the veil all to glass and silver, until at last it was rolled back, and a far green country opened before him under a swift sunrise. — J.R.R. Tolkien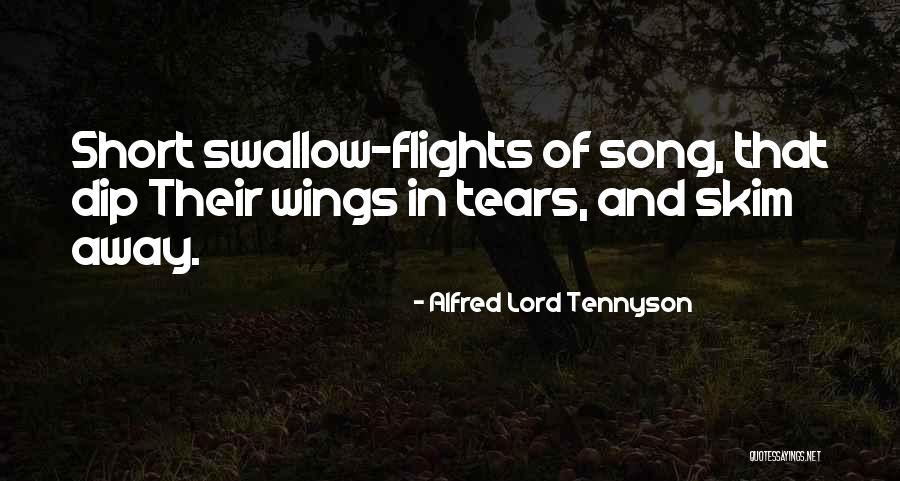 Short swallow-flights of song, that dip Their wings in tears, and skim away. — Alfred Lord Tennyson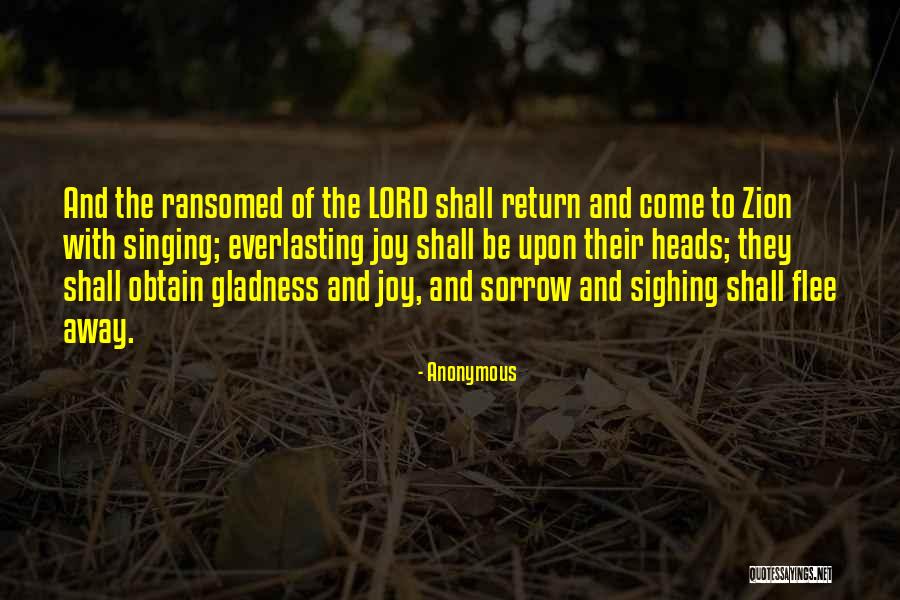 And the ransomed of the LORD shall return and come to Zion with singing; everlasting joy shall be upon their heads; they shall obtain gladness and joy, and sorrow and sighing shall flee away. — Anonymous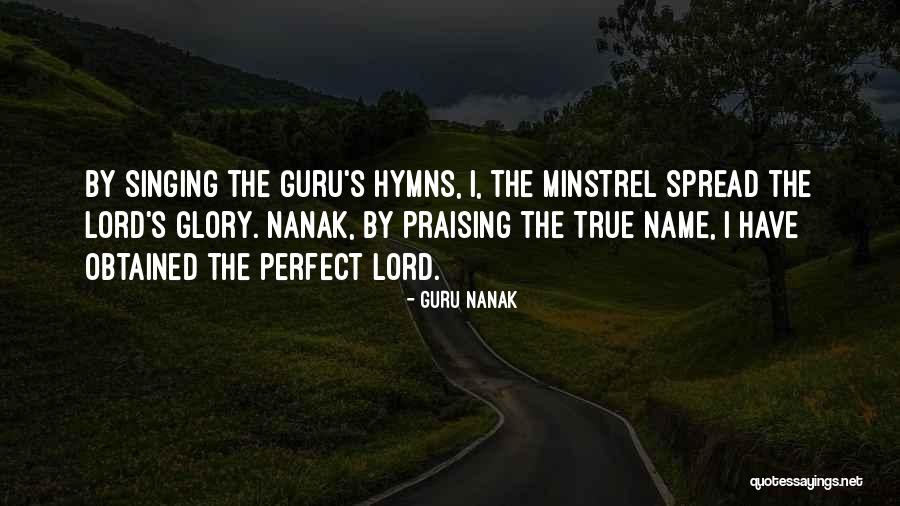 By singing the Guru's hymns, I, the minstrel spread the Lord's glory. Nanak, by praising the True Name, I have obtained the perfect Lord. — Guru Nanak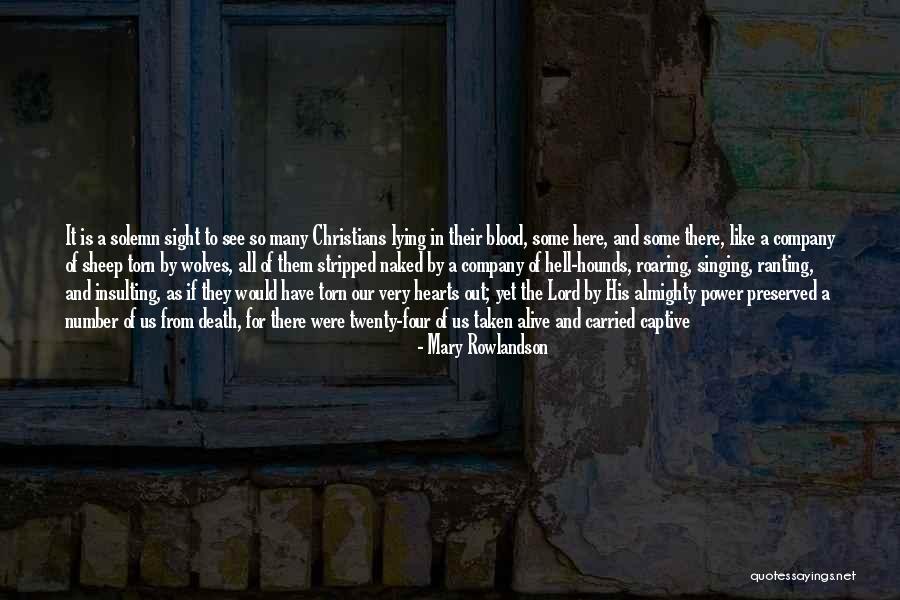 It is a solemn sight to see so many Christians lying in their blood, some here, and some there, like a company of sheep torn by wolves, all of them stripped naked by a company of hell-hounds, roaring, singing, ranting, and insulting, as if they would have torn our very hearts out; yet the Lord by His almighty power preserved a number of us from death, for there were twenty-four of us taken alive and carried captive — Mary Rowlandson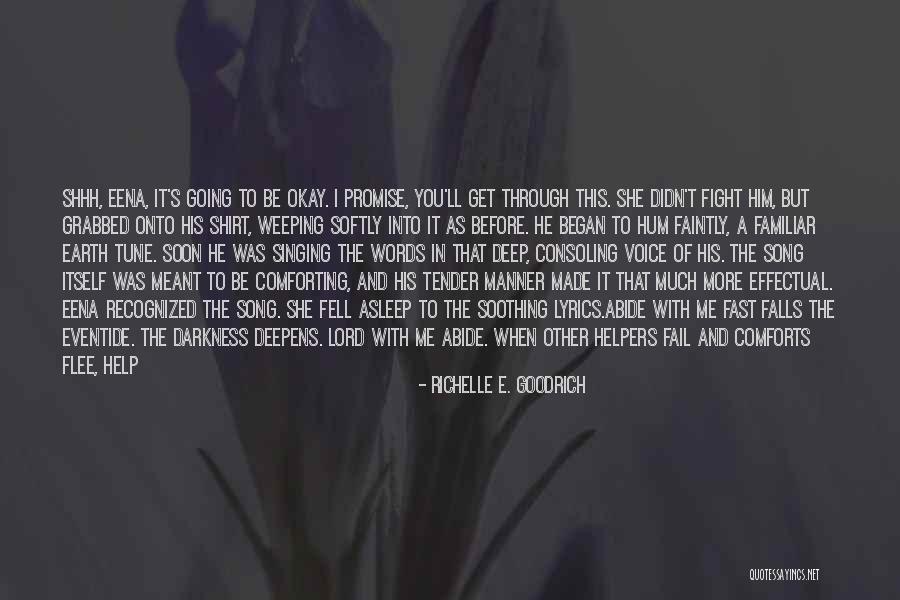 Shhh, Eena, it's going to be okay. I promise, you'll get through this.
She didn't fight him, but grabbed onto his shirt, weeping softly into it as before. He began to hum faintly, a familiar Earth tune. Soon he was singing the words in that deep, consoling voice of his. The song itself was meant to be comforting, and his tender manner made it that much more effectual.
Eena recognized the song. She fell asleep to the soothing lyrics.
Abide with me fast falls the eventide.
The darkness deepens. Lord with me abide.
When other helpers fail and comforts flee,
Help of the helpless, O abide with me.
He went on to sing the other verses, hoping to ease her broken heart. Until her grief finally healed, no matter how long it took, he'd be there for her. — Richelle E. Goodrich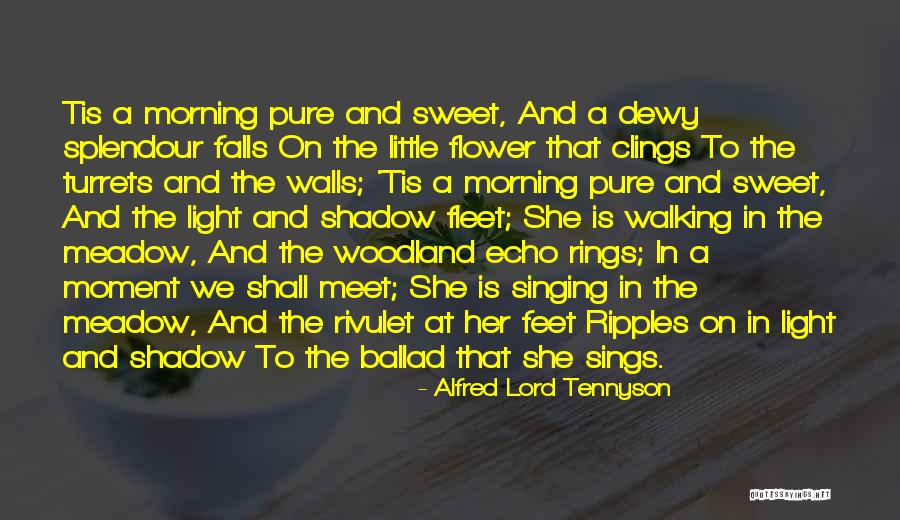 Tis a morning pure and sweet, And a dewy splendour falls On the little flower that clings To the turrets and the walls; 'Tis a morning pure and sweet, And the light and shadow fleet; She is walking in the meadow, And the woodland echo rings; In a moment we shall meet; She is singing in the meadow, And the rivulet at her feet Ripples on in light and shadow To the ballad that she sings. — Alfred Lord Tennyson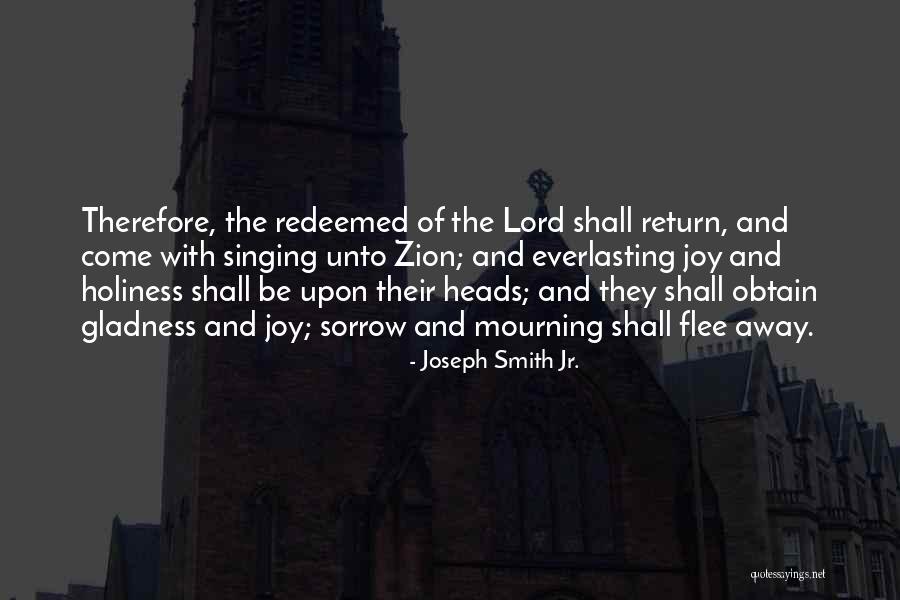 Therefore, the redeemed of the Lord shall return, and come with singing unto Zion; and everlasting joy and holiness shall be upon their heads; and they shall obtain gladness and joy; sorrow and mourning shall flee away. — Joseph Smith Jr.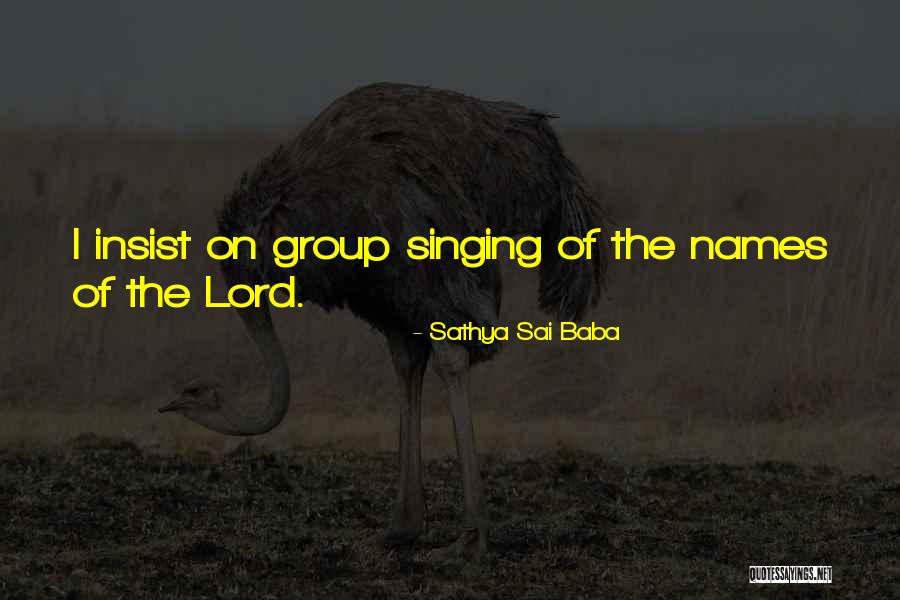 I insist on group singing of the names of the Lord. — Sathya Sai Baba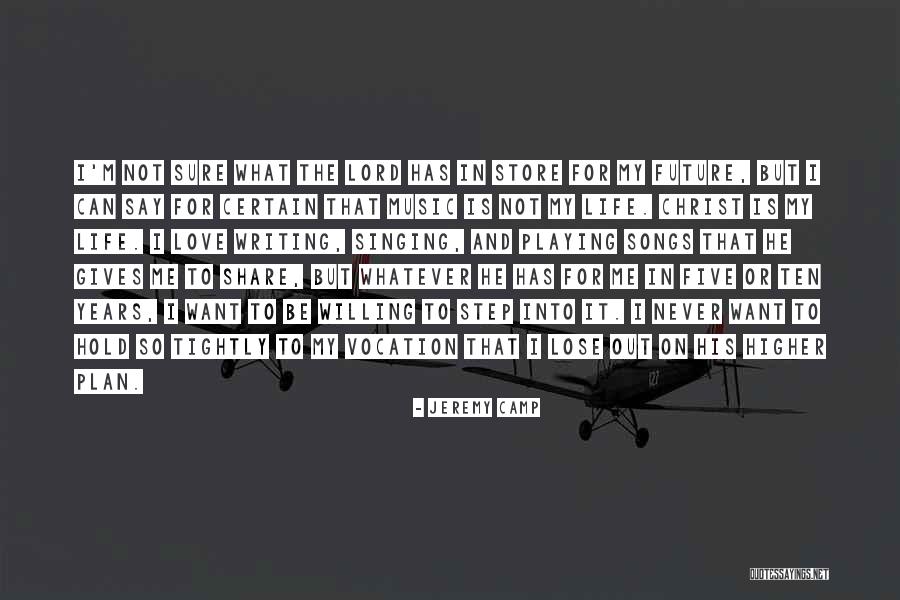 I'm not sure what the Lord has in store for my future, but I can say for certain that music is not my life. Christ is my life. I love writing, singing, and playing songs that He gives me to share, but whatever He has for me in five or ten years, I want to be willing to step into it. I never want to hold so tightly to my vocation that I lose out on His higher plan. — Jeremy Camp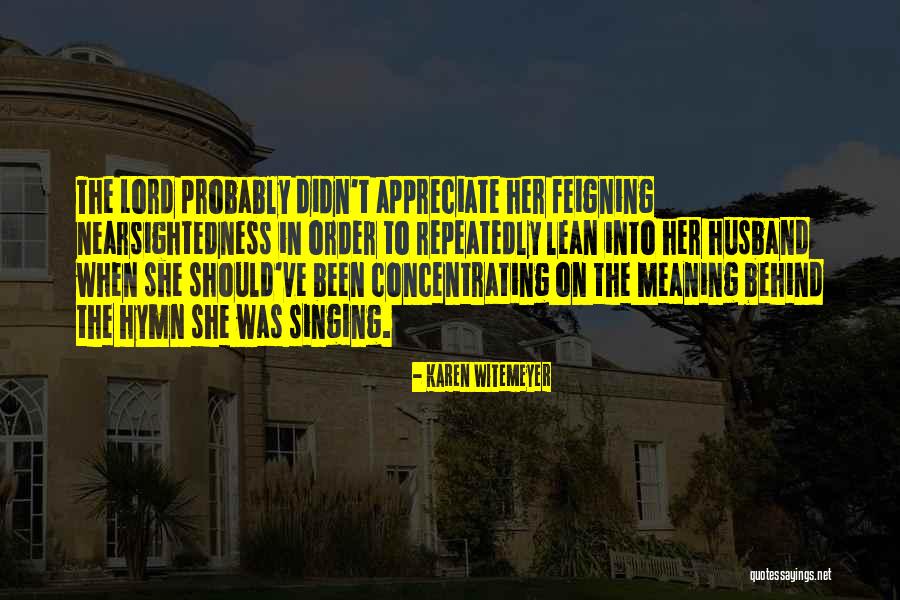 The Lord probably didn't appreciate her feigning nearsightedness in order to repeatedly lean into her husband when she should've been concentrating on the meaning behind the hymn she was singing. — Karen Witemeyer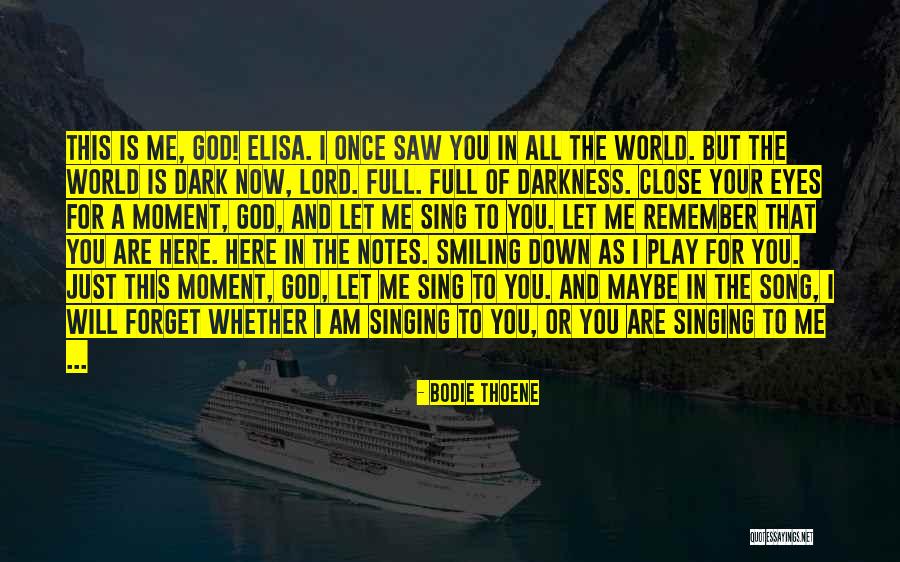 This is me, God! Elisa. I once saw you in all the world. But the world is dark now, Lord. Full. Full of darkness. Close your eyes for a moment, God, and let me sing to you. Let me remember that you are here. Here in the notes. Smiling down as I play for you. Just this moment, God, let me sing to you. And maybe in the song, I will forget whether I am singing to you, or you are singing to me ... — Bodie Thoene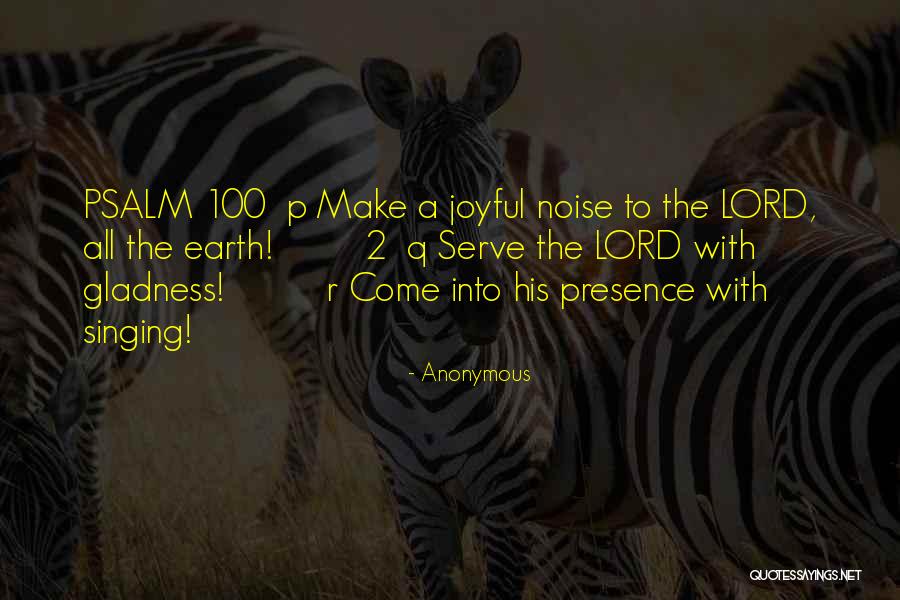 PSALM 100 p Make a joyful noise to the LORD, all the earth! 2 q Serve the LORD with gladness! r Come into his presence with singing! — Anonymous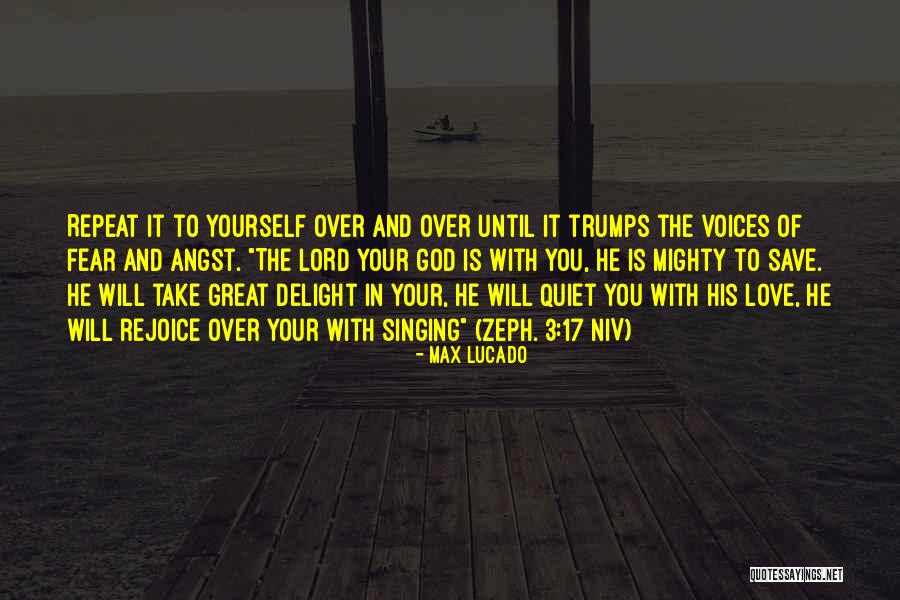 Repeat it to yourself over and over until it trumps the voices of fear and angst. "The LORD your God is with you, he is mighty to save. He will take great delight in your, he will quiet you with his love, he will rejoice over your with singing" (Zeph. 3:17 NIV) — Max Lucado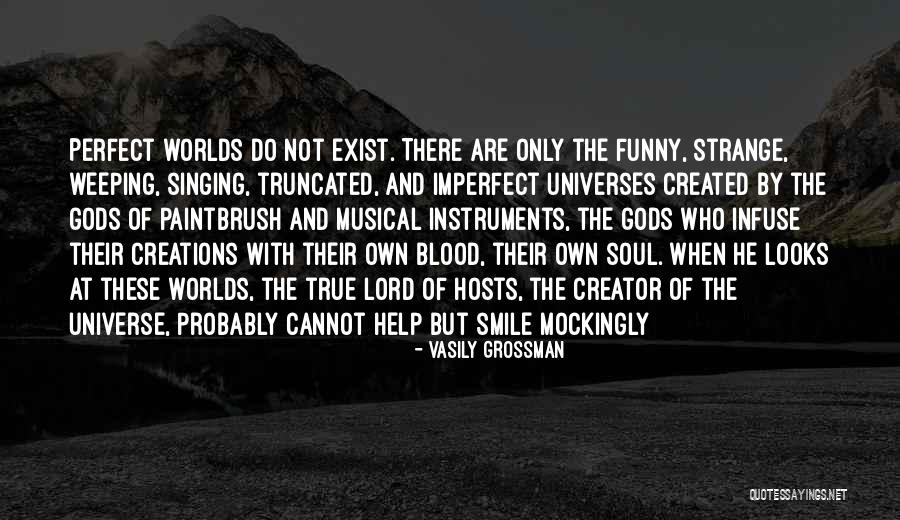 Perfect worlds do not exist. There are only the funny, strange, weeping, singing, truncated, and imperfect universes created by the gods of paintbrush and musical instruments, the gods who infuse their creations with their own blood, their own soul. When he looks at these worlds, the true Lord of Hosts, the creator of the universe, probably cannot help but smile mockingly — Vasily Grossman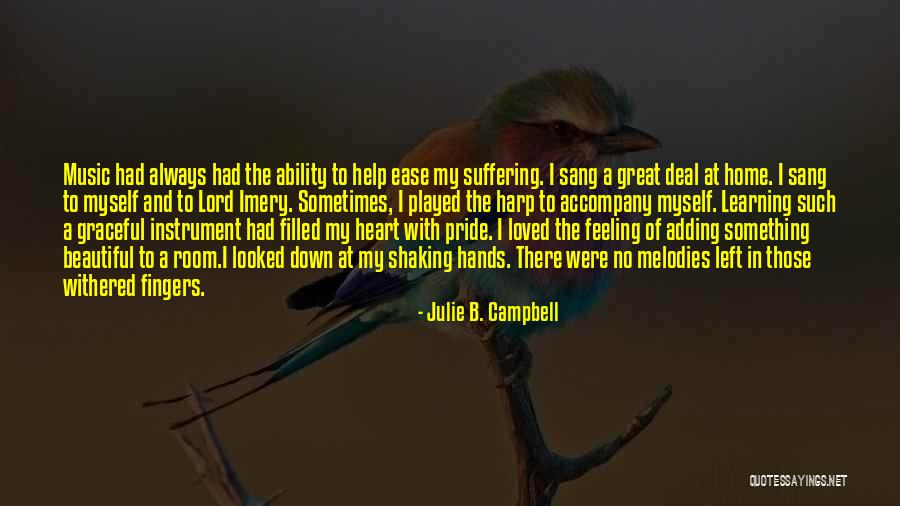 Music had always had the ability to help ease my suffering. I sang a great deal at home. I sang to myself and to Lord Imery. Sometimes, I played the harp to accompany myself. Learning such a graceful instrument had filled my heart with pride. I loved the feeling of adding something beautiful to a room.

I looked down at my shaking hands. There were no melodies left in those withered fingers. — Julie B. Campbell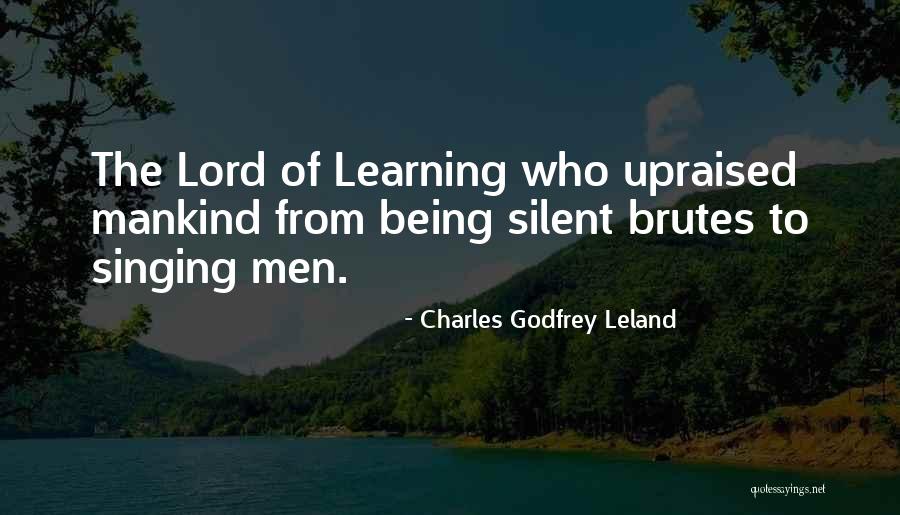 The Lord of Learning who upraised mankind from being silent brutes to singing men. — Charles Godfrey Leland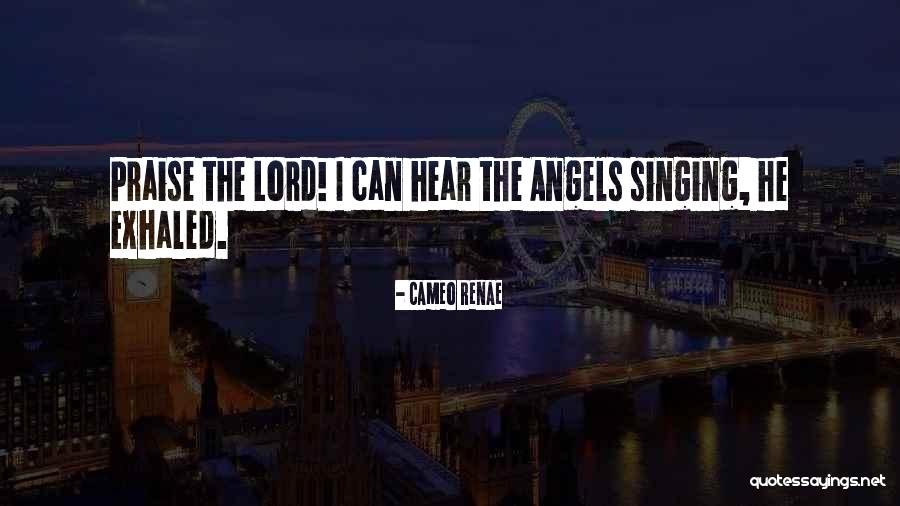 Praise the Lord! I can hear the Angels singing, he exhaled. — Cameo Renae
L The LORD your God is in your midst, n a mighty one who will save; o he will rejoice over you with gladness; he will quiet you by his love; he will exult over you with loud singing. — Anonymous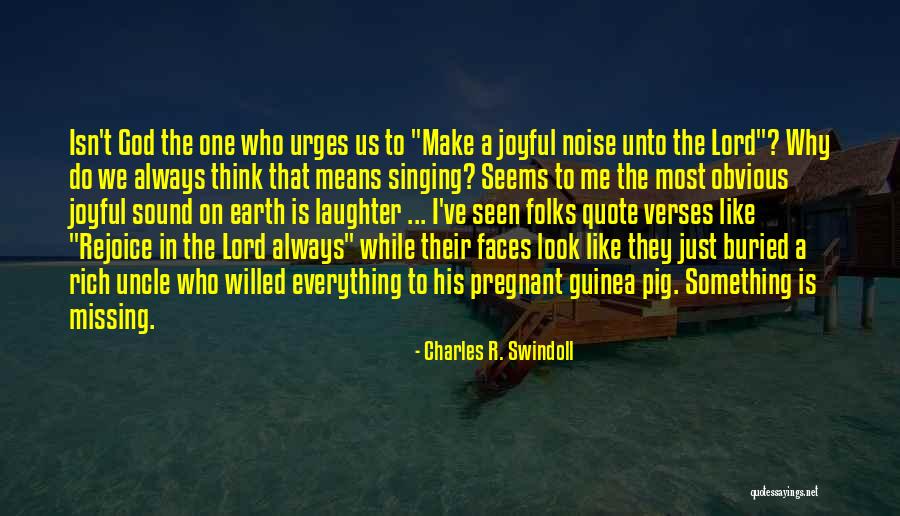 Isn't God the one who urges us to "Make a joyful noise unto the Lord"? Why do we always think that means singing? Seems to me the most obvious joyful sound on earth is laughter ... I've seen folks quote verses like "Rejoice in the Lord always" while their faces look like they just buried a rich uncle who willed everything to his pregnant guinea pig. Something is missing. — Charles R. Swindoll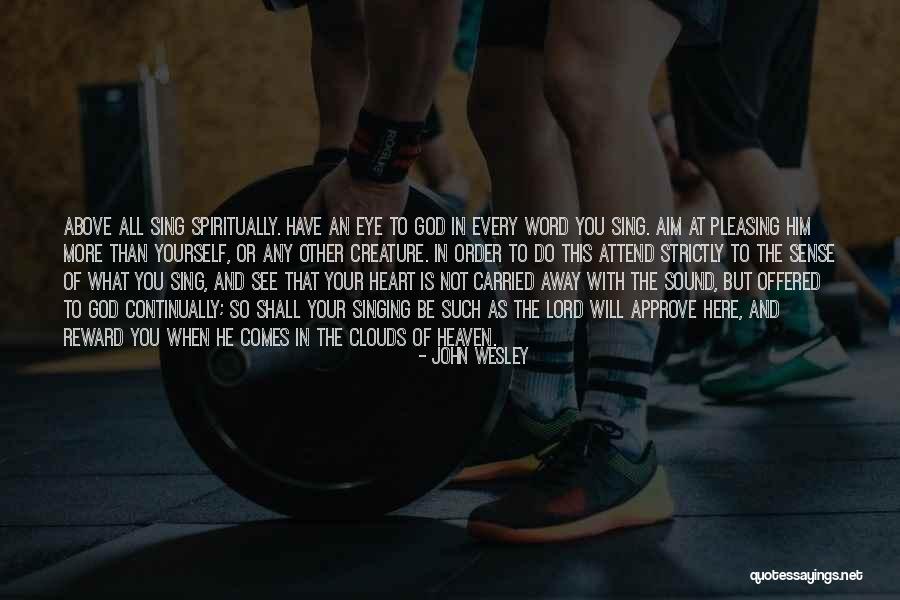 Above all sing spiritually. Have an eye to God in every word you sing. Aim at pleasing him more than yourself, or any other creature. In order to do this attend strictly to the sense of what you sing, and see that your heart is not carried away with the sound, but offered to God continually; so shall your singing be such as the Lord will approve here, and reward you when he comes in the clouds of heaven. — John Wesley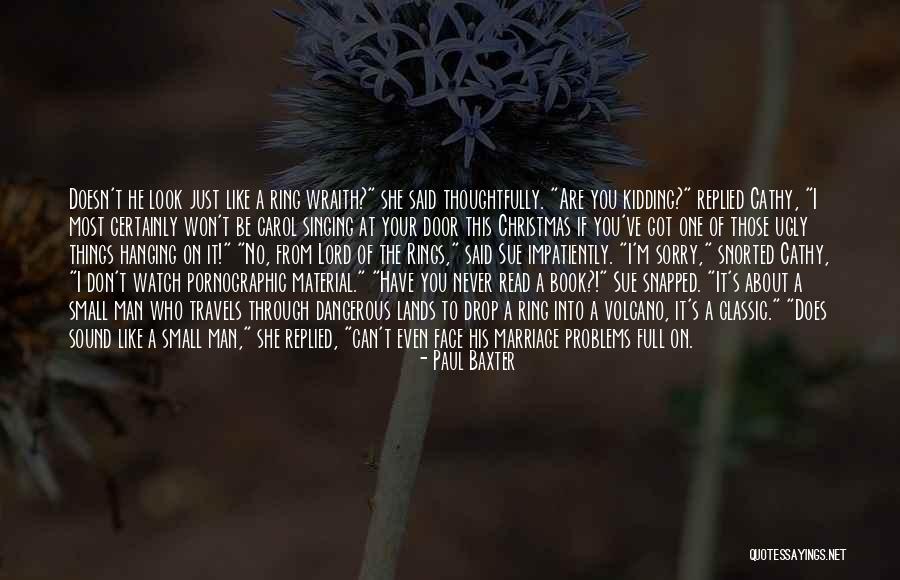 Doesn't he look just like a ring wraith?" she said thoughtfully.
"Are you kidding?" replied Cathy, "I most certainly won't be carol singing at your door this Christmas if you've got one of those ugly things hanging on it!"
"No, from Lord of the Rings," said Sue impatiently.
"I'm sorry," snorted Cathy, "I don't watch pornographic material."
"Have you never read a book?!" Sue snapped. "It's about a small man who travels through dangerous lands to drop a ring into a volcano, it's a classic."
"Does sound like a small man," she replied, "can't even face his marriage problems full on. — Paul Baxter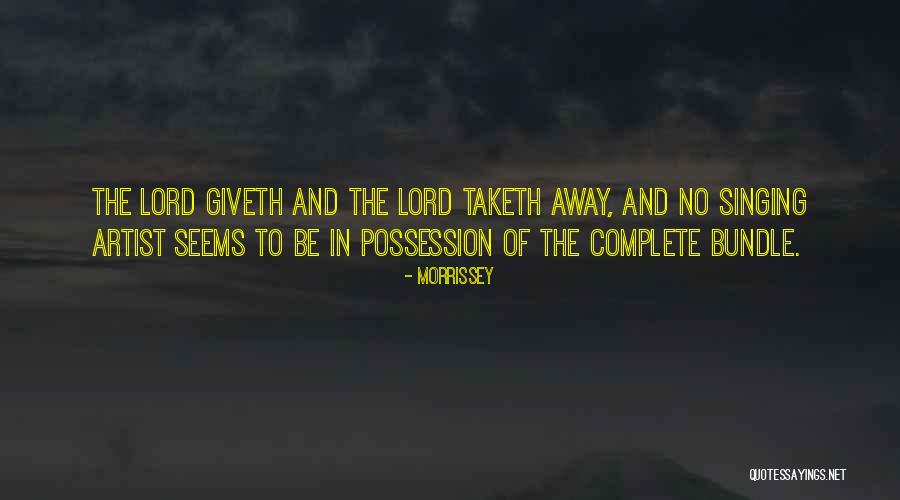 The Lord giveth and the Lord taketh away, and no singing artist seems to be in possession of the complete bundle. — Morrissey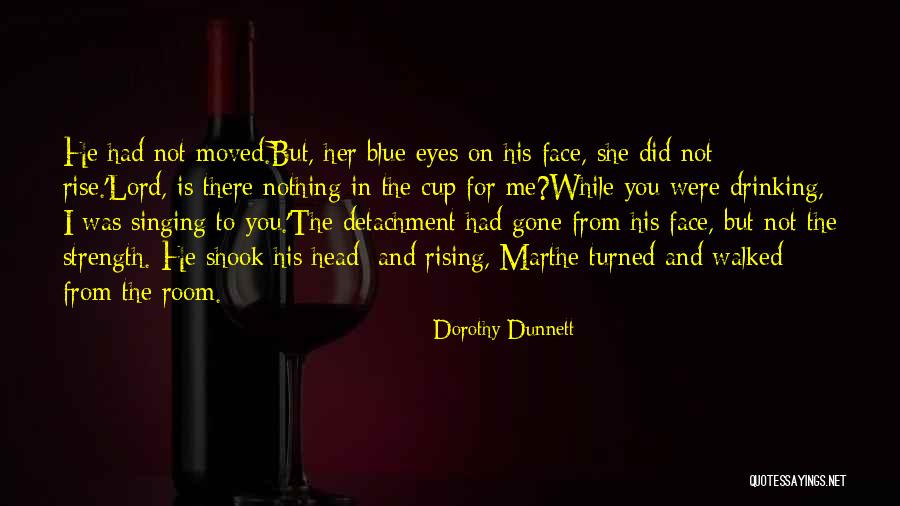 He had not moved.

But, her blue eyes on his face, she did not rise.

'Lord, is there nothing in the cup for me?
While you were drinking, I was singing to you.'

The detachment had gone from his face, but not the strength. He shook his head; and rising, Marthe turned and walked from the room. — Dorothy Dunnett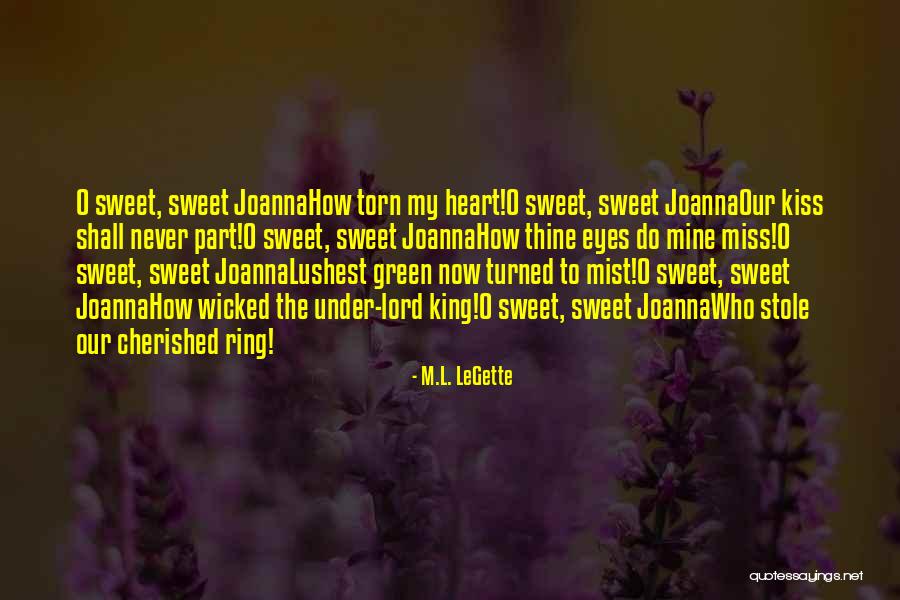 O sweet, sweet Joanna
How torn my heart!
O sweet, sweet Joanna
Our kiss shall never part!
O sweet, sweet Joanna
How thine eyes do mine miss!
O sweet, sweet Joanna
Lushest green now turned to mist!
O sweet, sweet Joanna
How wicked the under-lord king!
O sweet, sweet Joanna
Who stole our cherished ring! — M.L. LeGette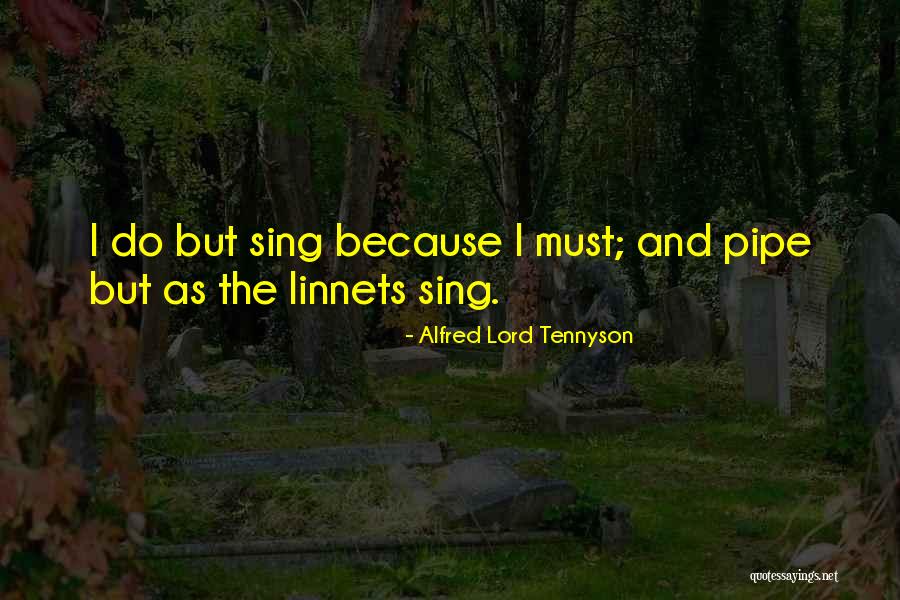 I do but sing because I must; and pipe but as the linnets sing. — Alfred Lord Tennyson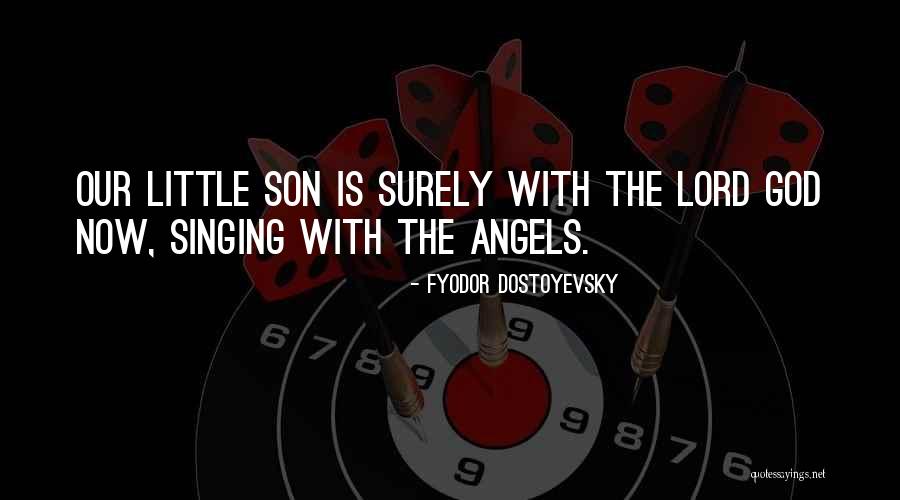 Our little son is surely with the Lord God now, singing with the angels. — Fyodor Dostoyevsky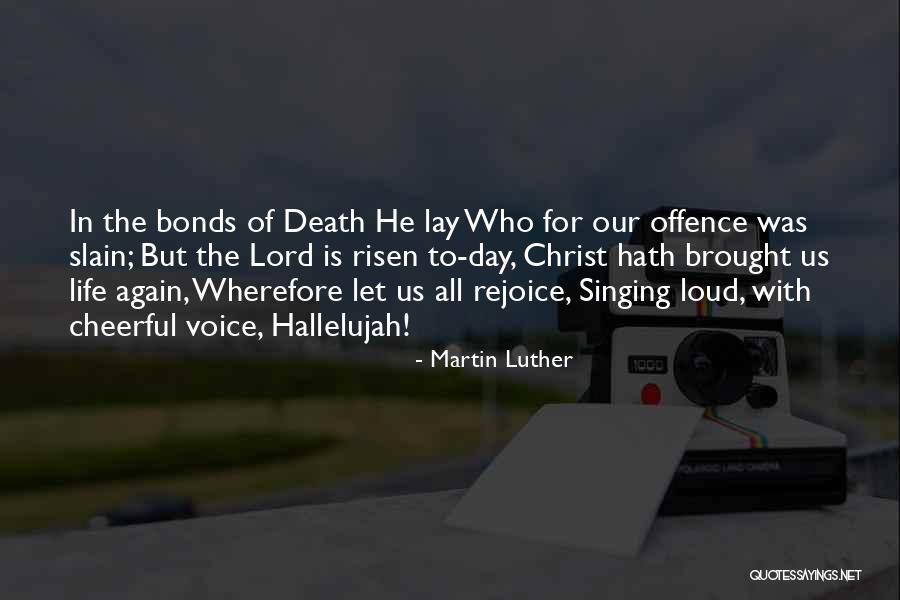 In the bonds of Death He lay Who for our offence was slain; But the Lord is risen to-day, Christ hath brought us life again, Wherefore let us all rejoice, Singing loud, with cheerful voice, Hallelujah! — Martin Luther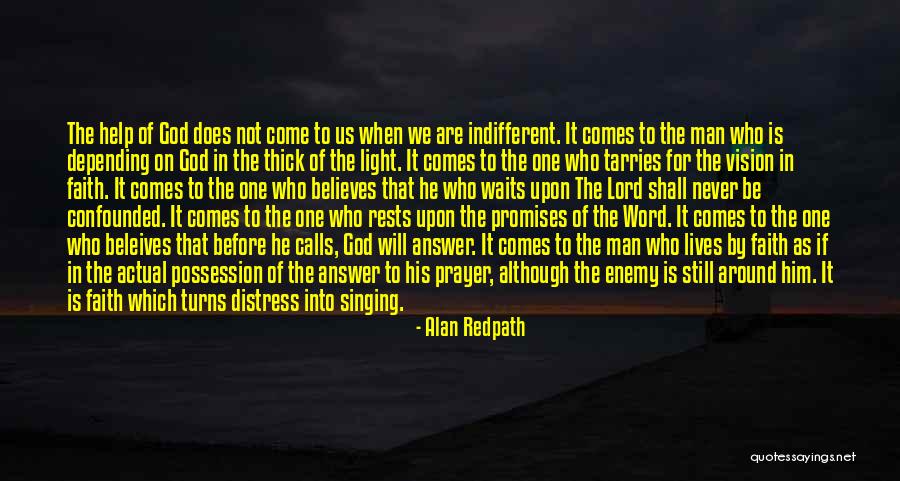 The help of God does not come to us when we are indifferent. It comes to the man who is depending on God in the thick of the light. It comes to the one who tarries for the vision in faith. It comes to the one who believes that he who waits upon The Lord shall never be confounded. It comes to the one who rests upon the promises of the Word. It comes to the one who beleives that before he calls, God will answer. It comes to the man who lives by faith as if in the actual possession of the answer to his prayer, although the enemy is still around him. It is faith which turns distress into singing. — Alan Redpath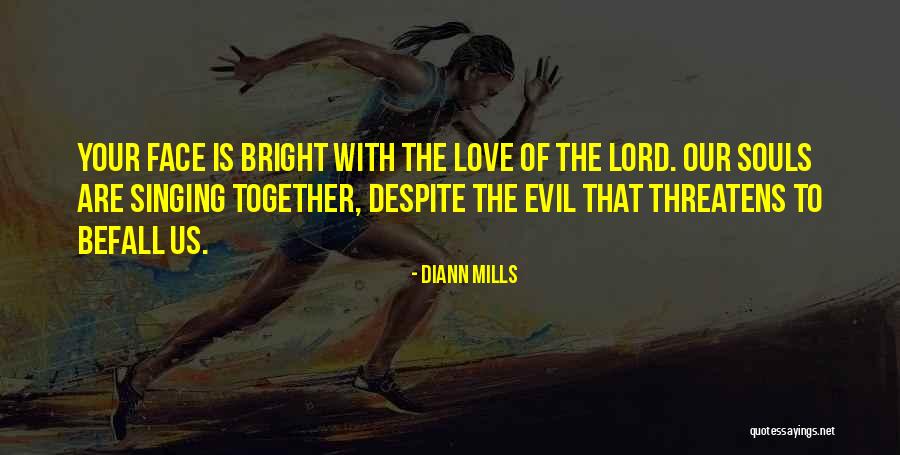 Your face is bright with the love of the Lord. Our souls are singing together, despite the evil that threatens to befall us. — DiAnn Mills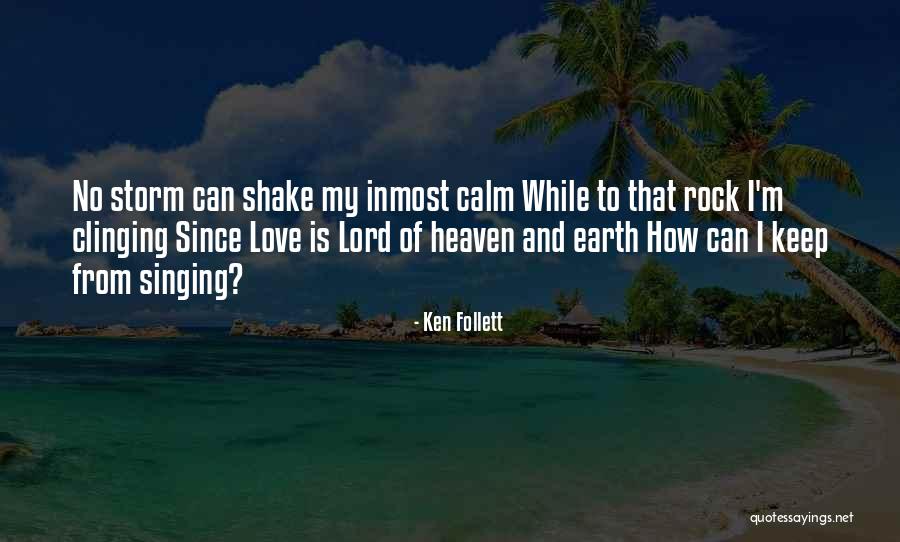 No storm can shake my inmost calm While to that rock I'm clinging Since Love is Lord of heaven and earth How can I keep from singing? — Ken Follett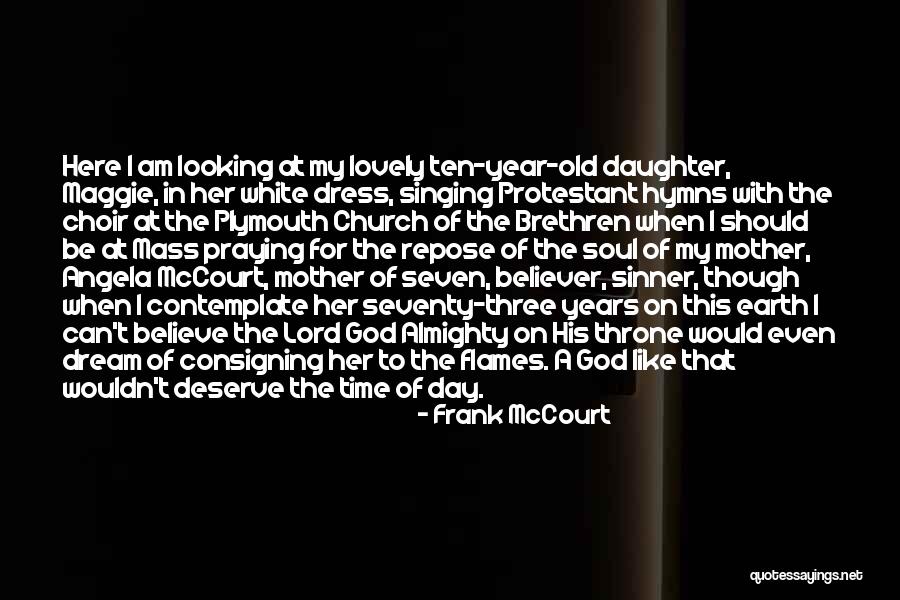 Here I am looking at my lovely ten-year-old daughter, Maggie, in her white dress, singing Protestant hymns with the choir at the Plymouth Church of the Brethren when I should be at Mass praying for the repose of the soul of my mother, Angela McCourt, mother of seven, believer, sinner, though when I contemplate her seventy-three years on this earth I can't believe the Lord God Almighty on His throne would even dream of consigning her to the flames. A God like that wouldn't deserve the time of day. — Frank McCourt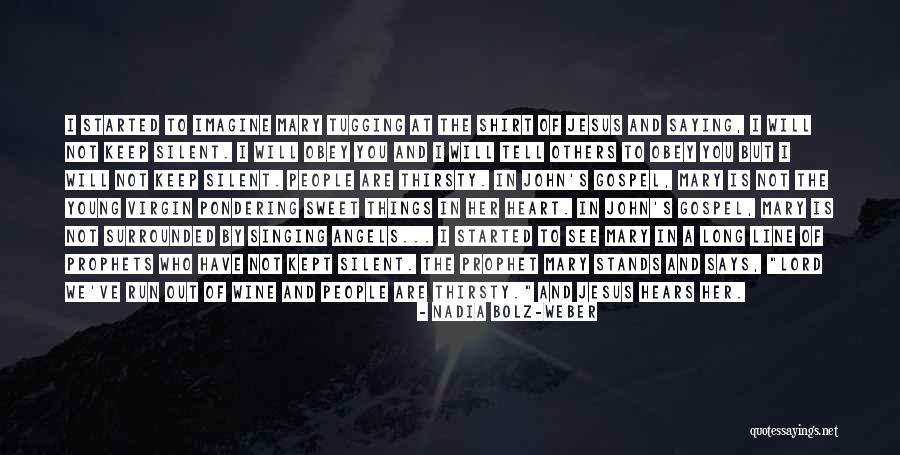 I started to imagine Mary tugging at the shirt of Jesus and saying, I will not keep silent. I will obey you and I will tell others to obey you but I will not keep silent. People are thirsty. In John's Gospel, Mary is not the young virgin pondering sweet things in her heart. In John's Gospel, Mary is not surrounded by singing angels... I started to see Mary in a long line of prophets who have not kept silent. The prophet Mary stands and says, "Lord we've run out of wine and people are thirsty." And Jesus hears her. — Nadia Bolz-Weber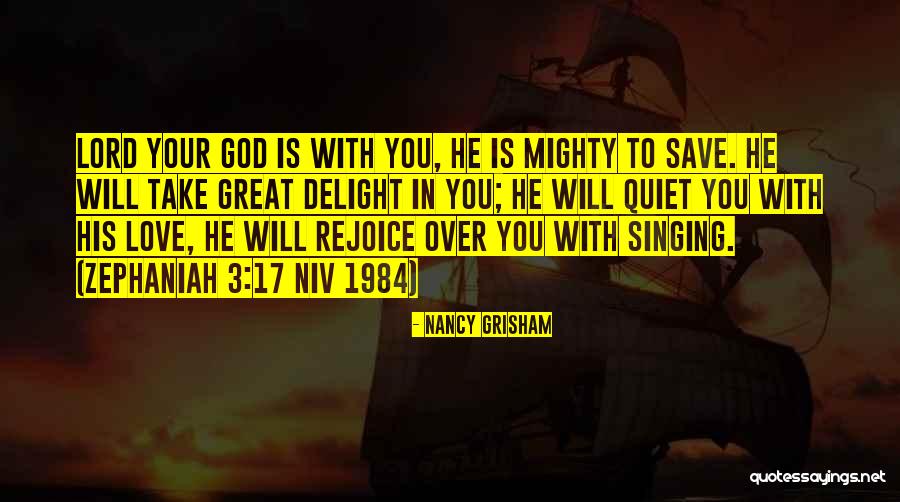 LORD your God is with you, he is mighty to save. He will take great delight in you; he will quiet you with his love, he will rejoice over you with singing. (Zephaniah 3:17 NIV 1984) — Nancy Grisham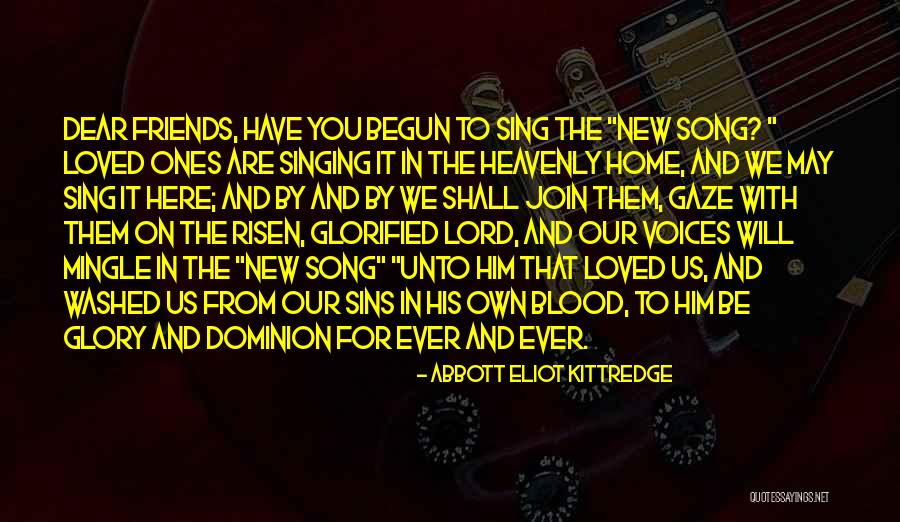 Dear friends, have you begun to sing the "new song? " Loved ones are singing it in the heavenly home, and we may sing it here; and by and by we shall join them, gaze with them on the risen, glorified Lord, and our voices will mingle in the "new song" "unto Him that loved us, and washed us from our sins in His own blood, to Him be glory and dominion for ever and ever. — Abbott Eliot Kittredge