Simple Yet True Quotes & Sayings
Enjoy reading and share 68 famous quotes about Simple Yet True with everyone.
Top Simple Yet True Quotes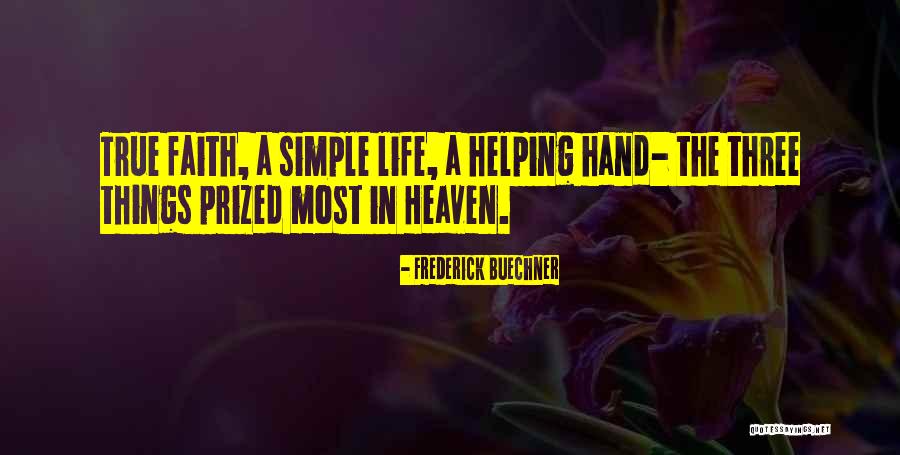 True faith, a simple life, a helping hand- the three things prized most in Heaven. — Frederick Buechner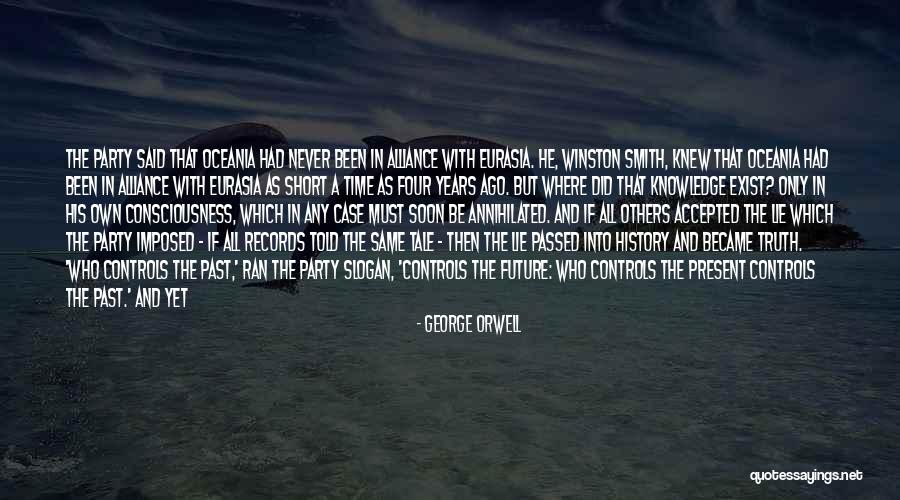 The Party said that Oceania had never been in alliance with Eurasia. He, Winston Smith, knew that Oceania had been in alliance with Eurasia as short a time as four years ago. But where did that knowledge exist? Only in his own consciousness, which in any case must soon be annihilated. And if all others accepted the lie which the Party imposed - if all records told the same tale - then the lie passed into history and became truth. 'Who controls the past,' ran the Party slogan, 'controls the future: who controls the present controls the past.' And yet the past, though of its nature alterable, never had been altered. Whatever was true now was true from everlasting to everlasting. It was quite simple. All that was needed was an unending series of victories over your own memory. 'Reality control', they called it: in Newspeak, 'doublethink'. — George Orwell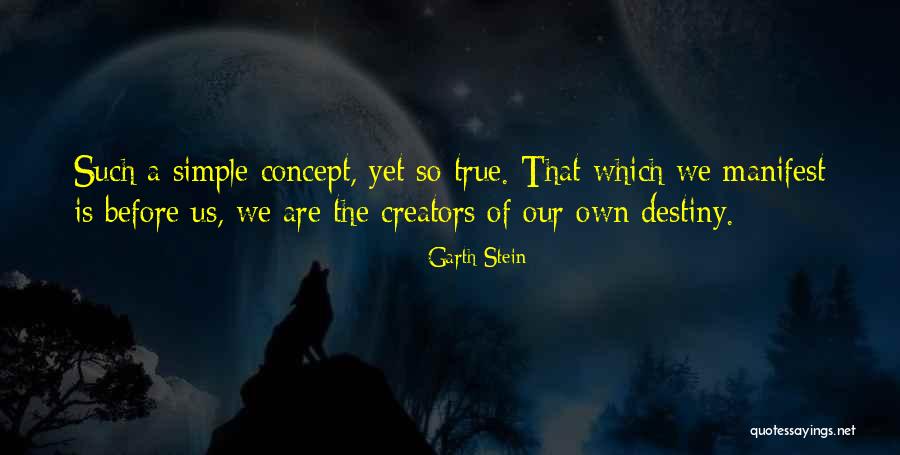 Such a simple concept, yet so true. That which we manifest is before us, we are the creators of our own destiny. — Garth Stein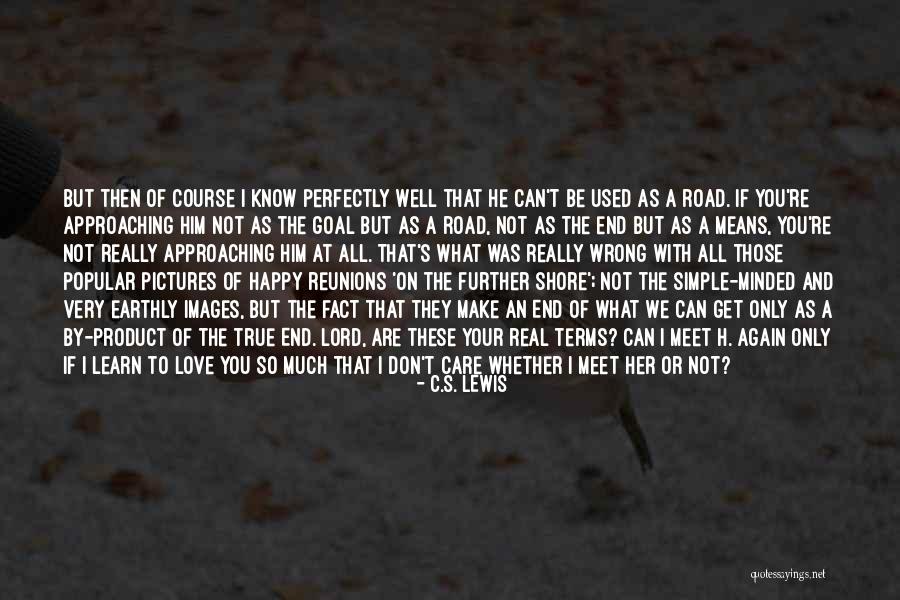 But then of course I know perfectly well that He can't be used as a road. If you're approaching Him not as the goal but as a road, not as the end but as a means, you're not really approaching Him at all. That's what was really wrong with all those popular pictures of happy reunions 'on the further shore'; not the simple-minded and very earthly images, but the fact that they make an End of what we can get only as a by-product of the true End.
Lord, are these your real terms? Can I meet H. again only if I learn to love you so much that I don't care whether I meet her or not? — C.S. Lewis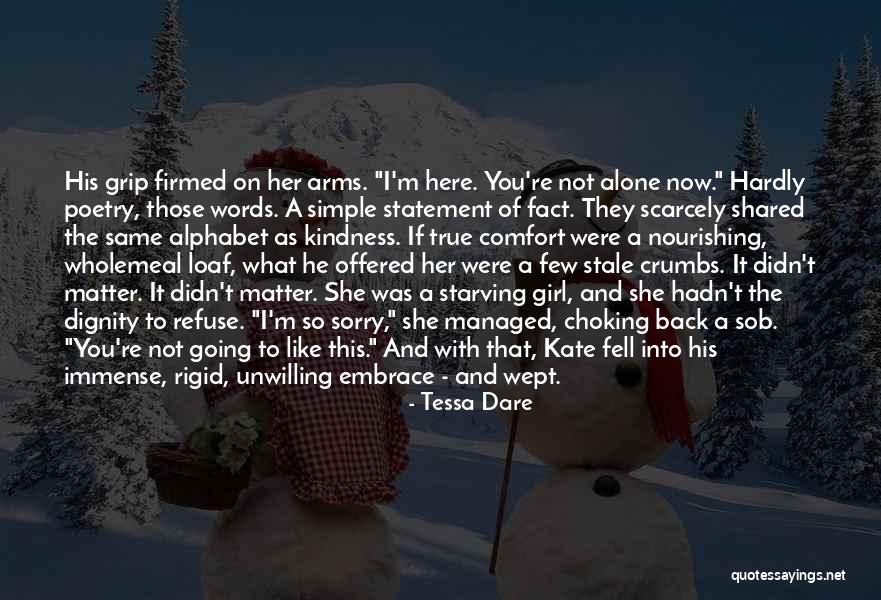 His grip firmed on her arms. "I'm here. You're not alone now."

Hardly poetry, those words. A simple statement of fact. They scarcely shared the same alphabet as kindness. If true comfort were a nourishing, wholemeal loaf, what he offered her were a few stale crumbs.

It didn't matter. It didn't matter. She was a starving girl, and she hadn't the dignity to refuse.

"I'm so sorry," she managed, choking back a sob. "You're not going to like this."

And with that, Kate fell into his immense, rigid, unwilling embrace - and wept. — Tessa Dare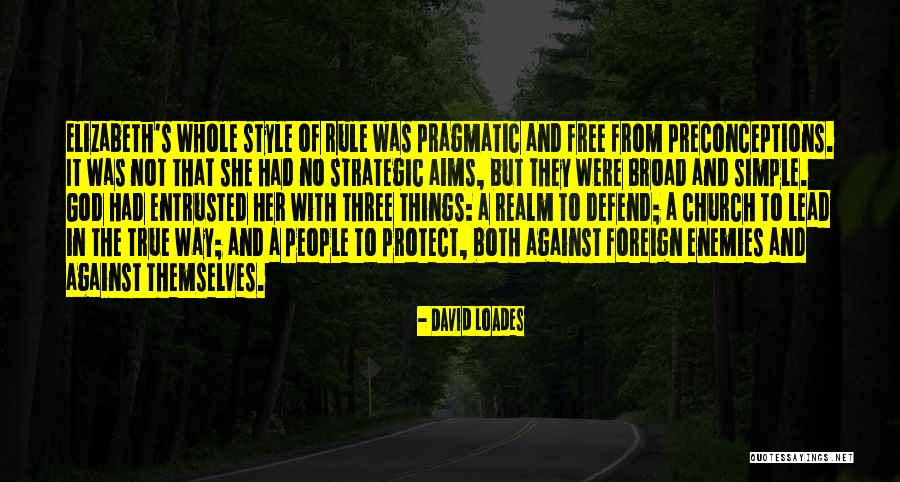 Elizabeth's whole style of rule was pragmatic and free from preconceptions. It was not that she had no strategic aims, but they were broad and simple. God had entrusted her with three things: a realm to defend; a church to lead in the true way; and a people to protect, both against foreign enemies and against themselves. — David Loades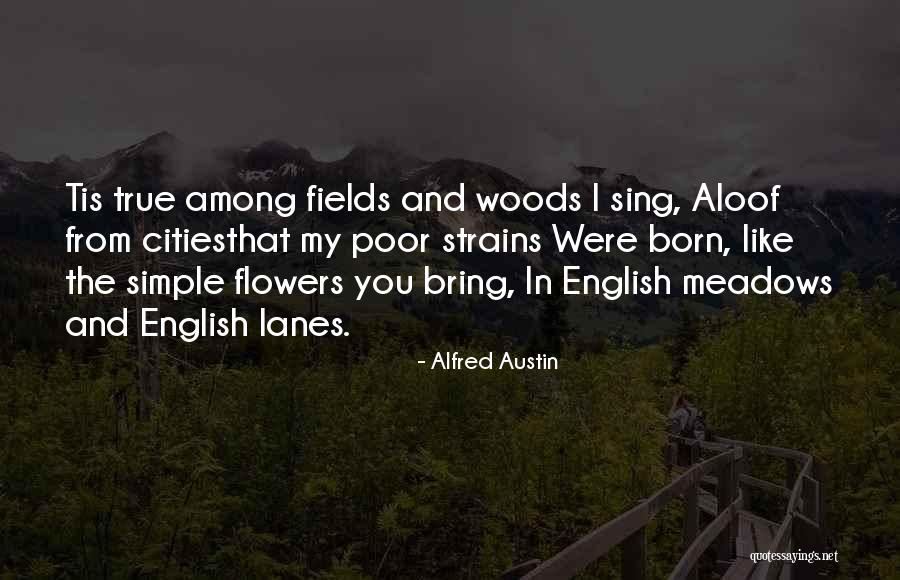 Tis true among fields and woods I sing, Aloof from cities
that my poor strains Were born, like the simple flowers you bring, In English meadows and English lanes. — Alfred Austin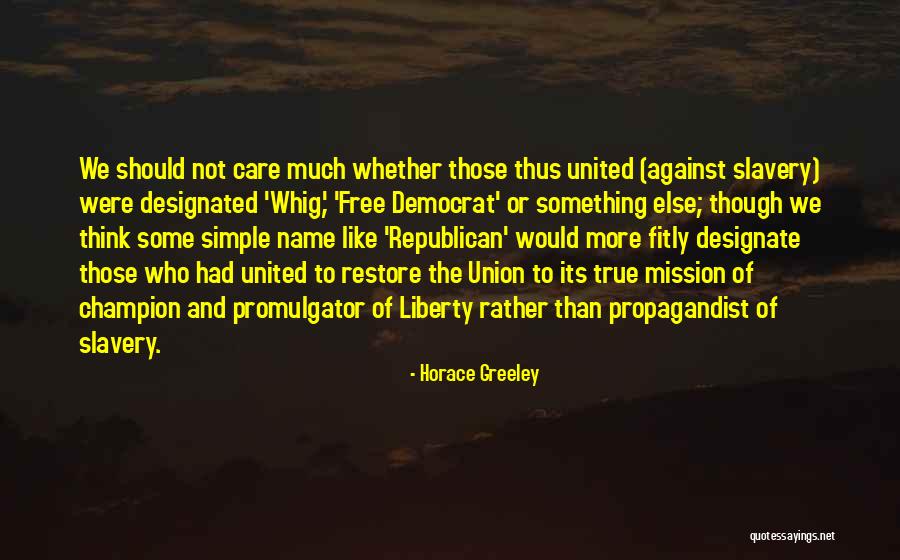 We should not care much whether those thus united (against slavery) were designated 'Whig,' 'Free Democrat' or something else; though we think some simple name like 'Republican' would more fitly designate those who had united to restore the Union to its true mission of champion and promulgator of Liberty rather than propagandist of slavery. — Horace Greeley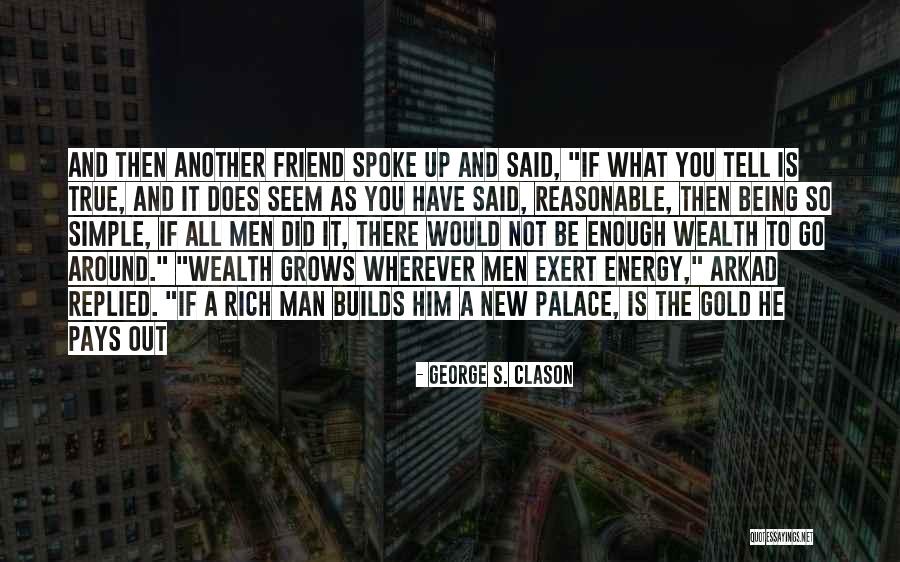 And then another friend spoke up and said, "If what you tell is true, and it does seem as you have said, reasonable, then being so simple, if all men did it, there would not be enough wealth to go around." "Wealth grows wherever men exert energy," Arkad replied. "If a rich man builds him a new palace, is the gold he pays out — George S. Clason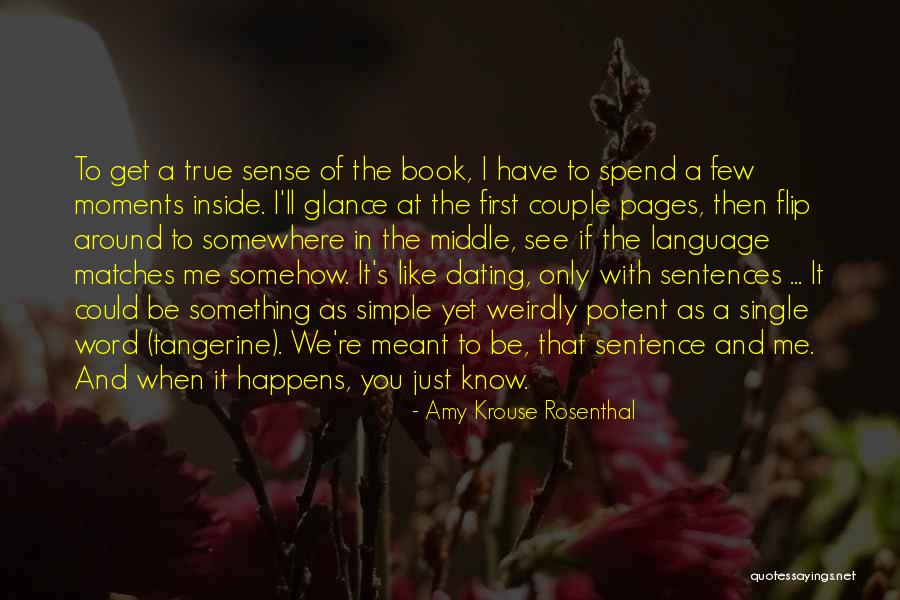 To get a true sense of the book, I have to spend a few moments inside. I'll glance at the first couple pages, then flip around to somewhere in the middle, see if the language matches me somehow. It's like dating, only with sentences ... It could be something as simple yet weirdly potent as a single word (tangerine). We're meant to be, that sentence and me. And when it happens, you just know. — Amy Krouse Rosenthal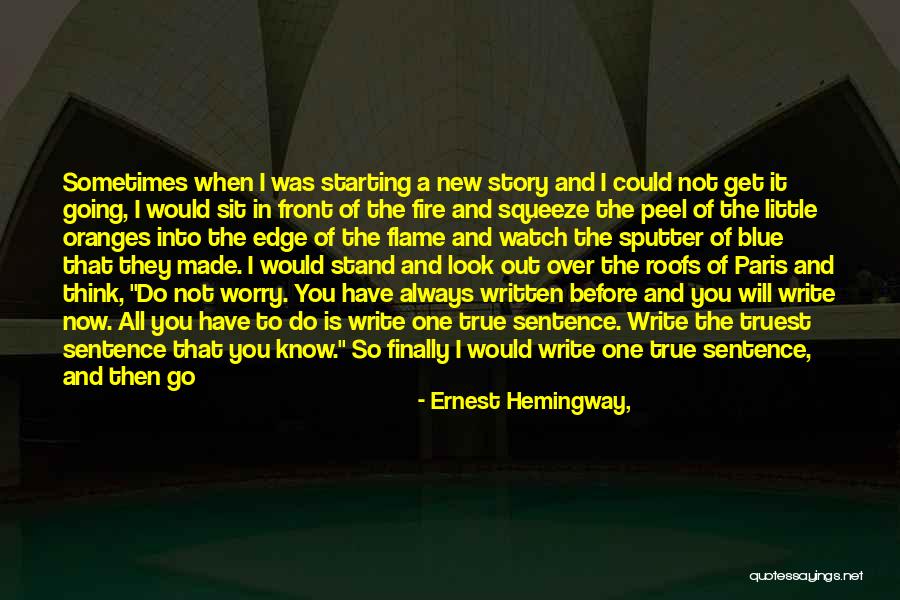 Sometimes when I was starting a new story and I could not get it going, I would sit in front of the fire and squeeze the peel of the little oranges into the edge of the flame and watch the sputter of blue that they made. I would stand and look out over the roofs of Paris and think, "Do not worry. You have always written before and you will write now. All you have to do is write one true sentence. Write the truest sentence that you know." So finally I would write one true sentence, and then go on from there. It was easy then because there was always one true sentence that I knew or had seen or had heard someone say. If I started to write elaborately, or like someone introducing or presenting something, I found that I could cut that scrollwork or ornament out and throw it away and start with the first true simple declarative sentence I had written. — Ernest Hemingway,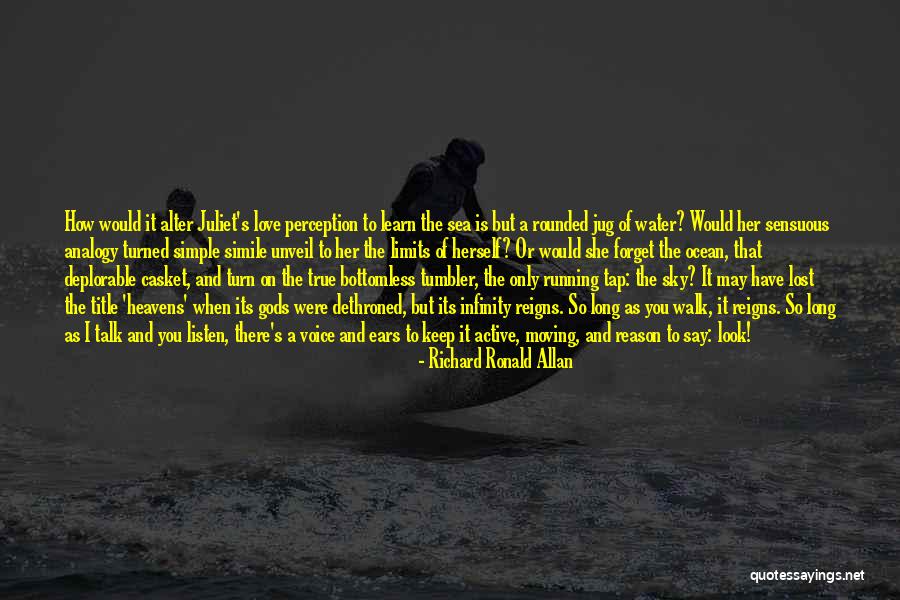 How would it alter Juliet's love perception to learn the sea is but a rounded jug of water? Would her sensuous analogy turned simple simile unveil to her the limits of herself? Or would she forget the ocean, that deplorable casket, and turn on the true bottomless tumbler, the only running tap: the sky? It may have lost the title 'heavens' when its gods were dethroned, but its infinity reigns. So long as you walk, it reigns. So long as I talk and you listen, there's a voice and ears to keep it active, moving, and reason to say: look! infinity lives. And when we and the other consciousnesses pass, though it in part dies with us, still it reigns. It will, in a sense, plod on, like a lifeless coffin through its own space, sails set for nothing, unstoppable when trailing its fabric. — Richard Ronald Allan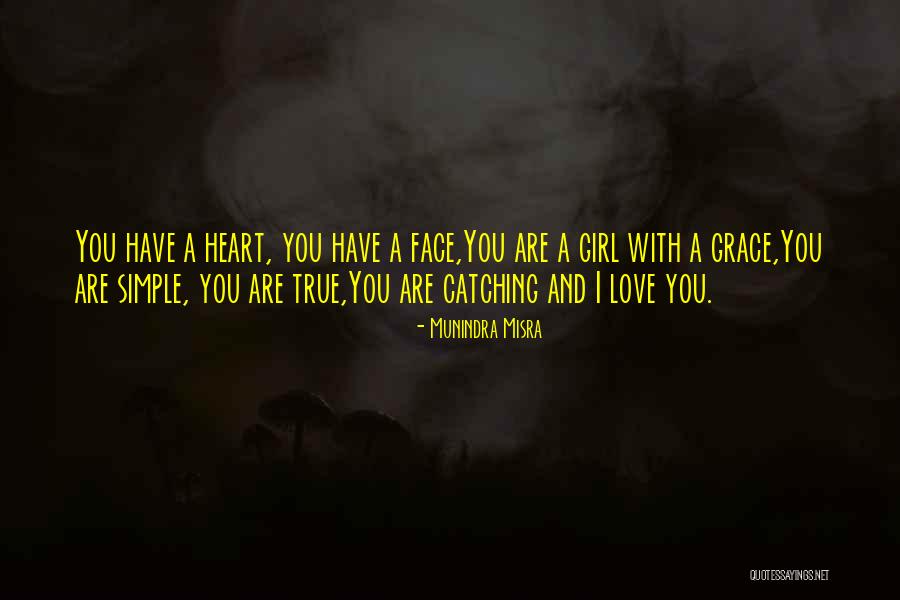 You have a heart, you have a face,
You are a girl with a grace,
You are simple, you are true,
You are catching and I love you. — Munindra Misra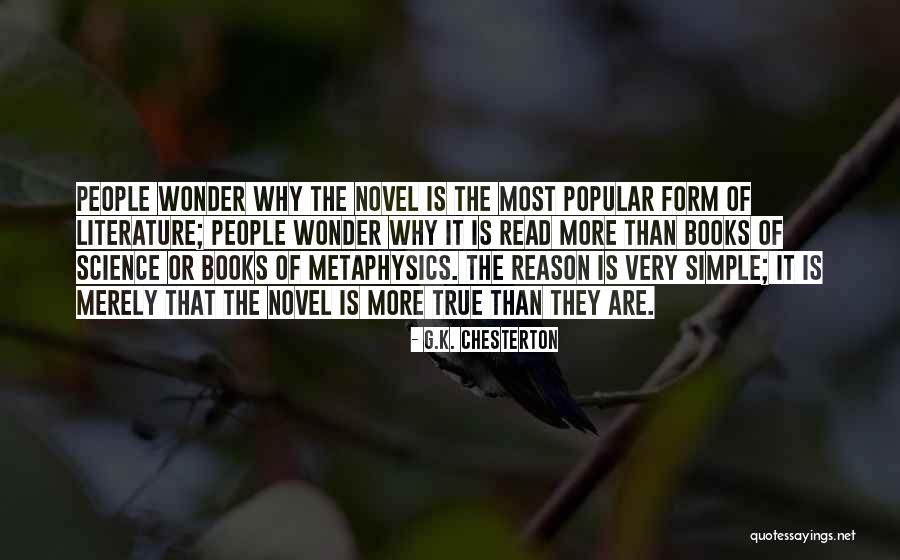 People wonder why the novel is the most popular form of literature; people wonder why it is read more than books of science or books of metaphysics. The reason is very simple; it is merely that the novel is more true than they are. — G.K. Chesterton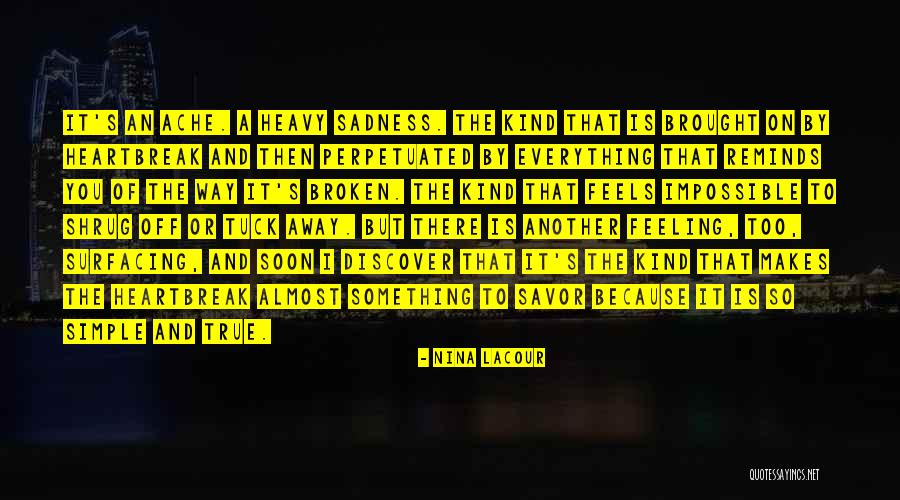 It's an ache. A heavy sadness. The kind that is brought on by heartbreak and then perpetuated by everything that reminds you of the way it's broken. The kind that feels impossible to shrug off or tuck away. But there is another feeling, too, surfacing, and soon I discover that it's the kind that makes the heartbreak almost something to savor because it is so simple and true. — Nina LaCour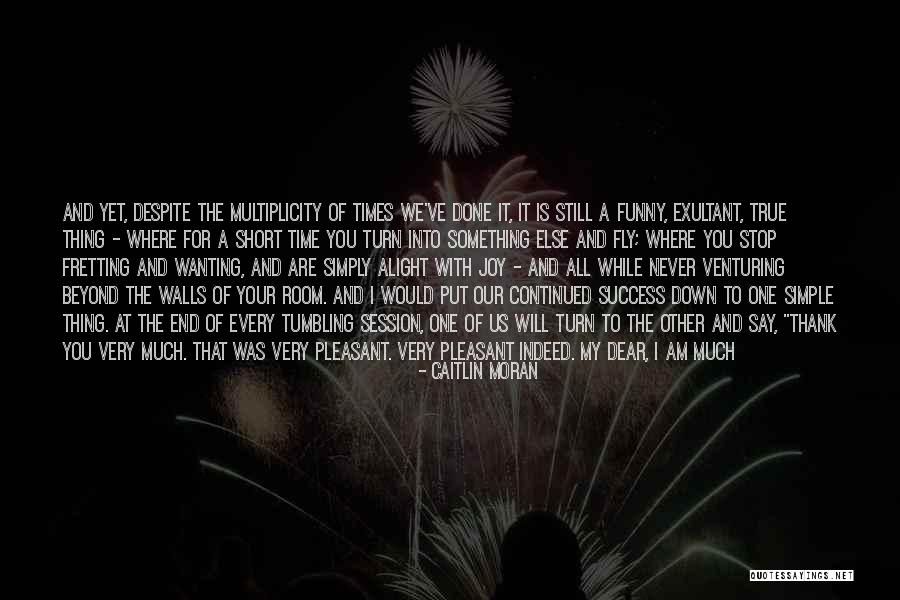 And yet, despite the multiplicity of times we've done it, it is still a funny, exultant, true thing - where for a short time you turn into something else and fly; where you stop fretting and wanting, and are simply alight with joy - and all while never venturing beyond the walls of your room. And I would put our continued success down to one simple thing. At the end of every tumbling session, one of us will turn to the other and say, "Thank you very much. That was very pleasant. Very pleasant indeed. My dear, I am much obliged to you."
Because at the end of the day, that is the hottest sex tip of all: gratitude. That you've found someone who wants to do that thing, with you, and no government has yet found a way to charge you VAT on it. You can set fire to the sky, and not be charged a penny.
Sometimes, it's great being a human. — Caitlin Moran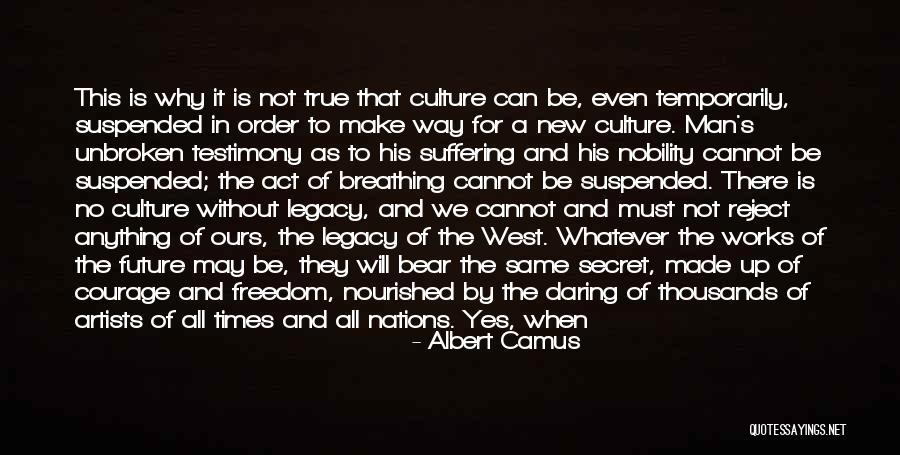 This is why it is not true that culture can be, even temporarily, suspended in order to make way for a new culture. Man's unbroken testimony as to his suffering and his nobility cannot be suspended; the act of breathing cannot be suspended. There is no culture without legacy, and we cannot and must not reject anything of ours, the legacy of the West. Whatever the works of the future may be, they will bear the same secret, made up of courage and freedom, nourished by the daring of thousands of artists of all times and all nations. Yes, when modern tyranny shows us that, even when confined to his calling, the artist is a public enemy, it is right. But in this way tyranny pays its respects, through the artist, to an image of man that nothing has ever been able to crush. My conclusion will be simple. It will consist of saying, in the very midst of the sound and the fury of our history: Let us rejoice. — Albert Camus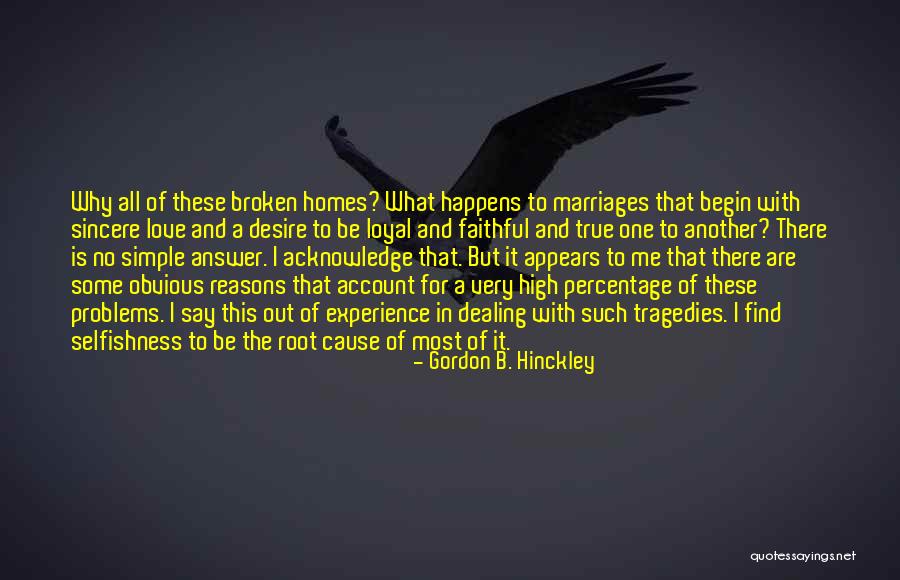 Why all of these broken homes? What happens to marriages that begin with sincere love and a desire to be loyal and faithful and true one to another? There is no simple answer. I acknowledge that. But it appears to me that there are some obvious reasons that account for a very high percentage of these problems. I say this out of experience in dealing with such tragedies. I find selfishness to be the root cause of most of it. — Gordon B. Hinckley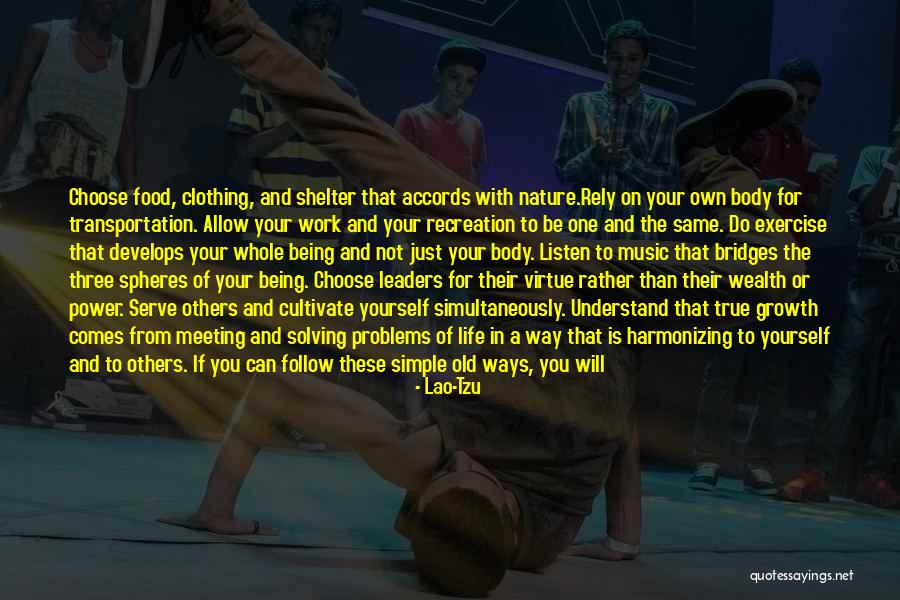 Choose food, clothing, and shelter that accords with nature.Rely on your own body for transportation. Allow your work and your recreation to be one and the same. Do exercise that develops your whole being and not just your body. Listen to music that bridges the three spheres of your being. Choose leaders for their virtue rather than their wealth or power. Serve others and cultivate yourself simultaneously. Understand that true growth comes from meeting and solving problems of life in a way that is harmonizing to yourself and to others. If you can follow these simple old ways, you will be continually renewed. — Lao-Tzu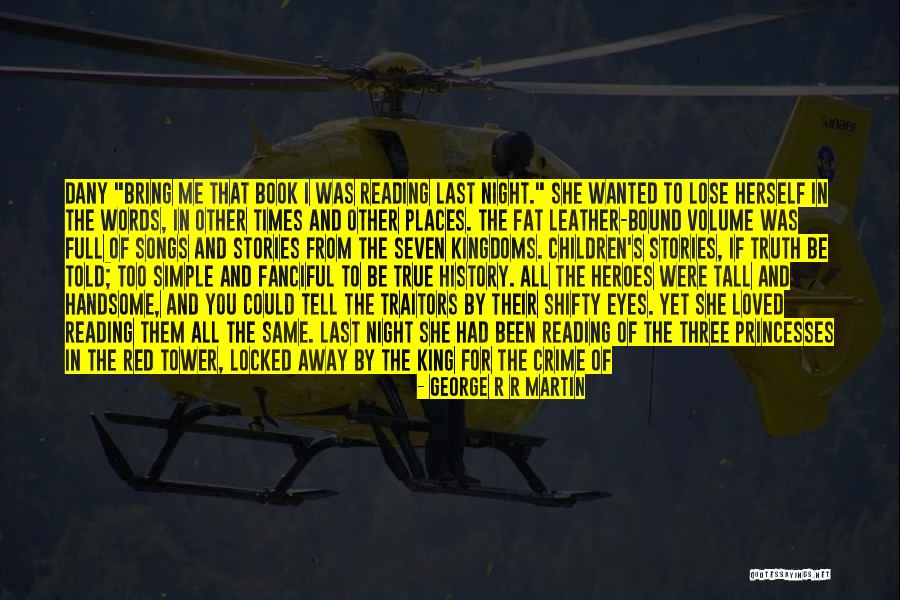 Dany "Bring me that book I was reading last night." She wanted to lose herself in the words, in other times and other places. The fat leather-bound volume was full of songs and stories from the Seven Kingdoms. Children's stories, if truth be told; too simple and fanciful to be true history. All the heroes were tall and handsome, and you could tell the traitors by their shifty eyes. Yet she loved reading them all the same. Last night she had been reading of the three princesses in the red tower, locked away by the king for the crime of being beautiful.
When her handmaiden brought the book, dany had no trouble finding the page where she had left off, but is was no good. She found herself reading the same passage half a dozen times. "Ser Jorah gave me this book as a bride's gift, the day I we'd Khal Drogo" She played at at being a queen, yet sometimes she felt like a scared little girl. — George R R Martin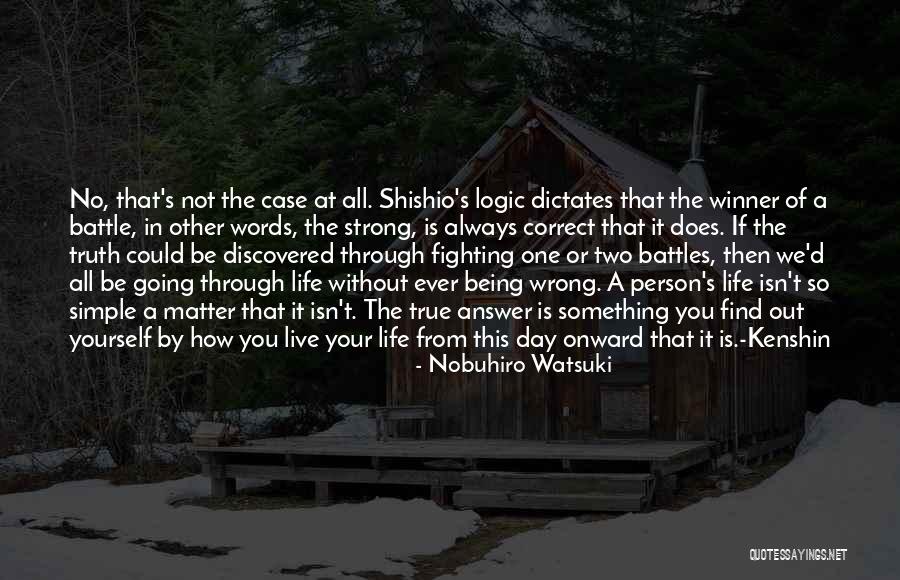 No, that's not the case at all. Shishio's logic dictates that the winner of a battle, in other words, the strong, is always correct that it does. If the truth could be discovered through fighting one or two battles, then we'd all be going through life without ever being wrong. A person's life isn't so simple a matter that it isn't. The true answer is something you find out yourself by how you live your life from this day onward that it is.
-Kenshin — Nobuhiro Watsuki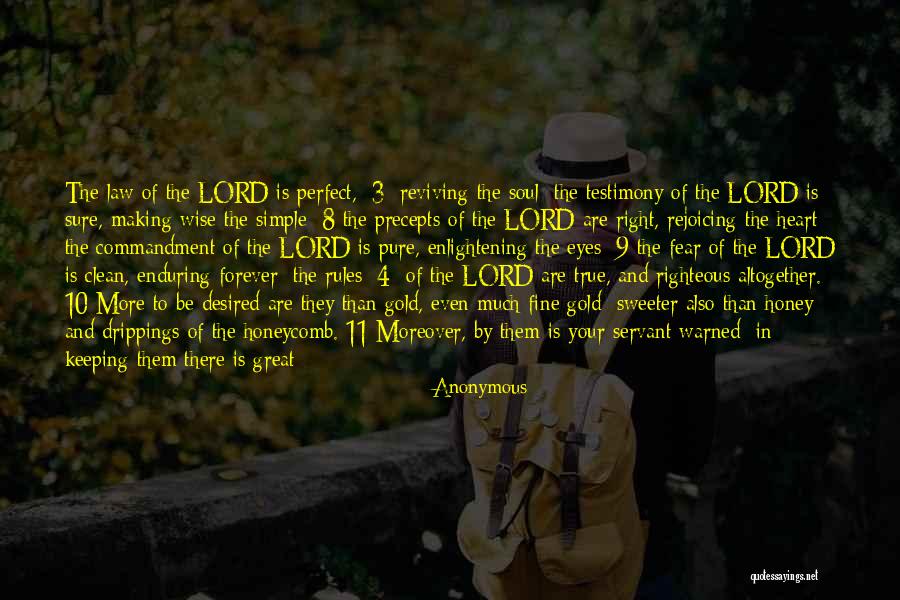 The law of the LORD is perfect, [3] reviving the soul; the testimony of the LORD is sure, making wise the simple; 8 the precepts of the LORD are right, rejoicing the heart; the commandment of the LORD is pure, enlightening the eyes; 9 the fear of the LORD is clean, enduring forever; the rules [4] of the LORD are true, and righteous altogether. 10 More to be desired are they than gold, even much fine gold; sweeter also than honey and drippings of the honeycomb. 11 Moreover, by them is your servant warned; in keeping them there is great reward. — Anonymous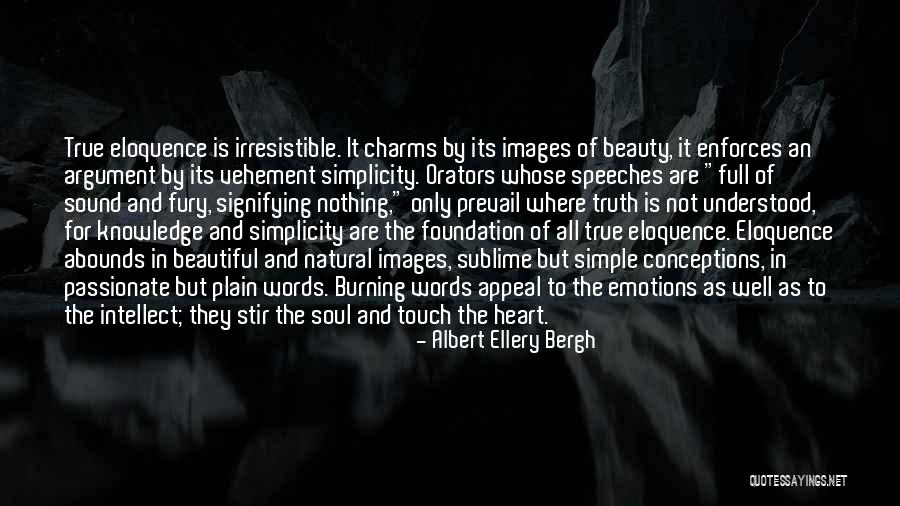 True eloquence is irresistible. It charms by its images of beauty, it enforces an argument by its vehement simplicity. Orators whose speeches are "full of sound and fury, signifying nothing," only prevail where truth is not understood, for knowledge and simplicity are the foundation of all true eloquence. Eloquence abounds in beautiful and natural images, sublime but simple conceptions, in passionate but plain words. Burning words appeal to the emotions as well as to the intellect; they stir the soul and touch the heart. — Albert Ellery Bergh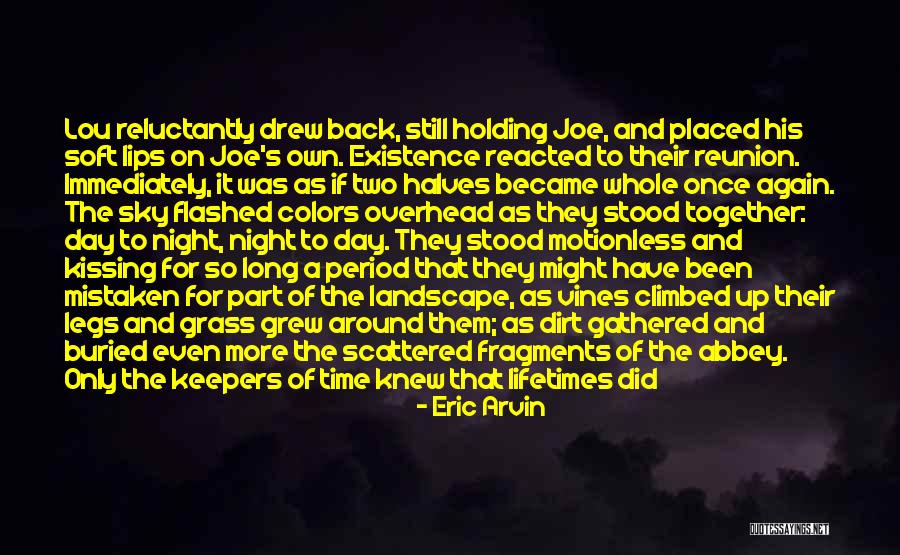 Lou reluctantly drew back, still holding Joe, and placed his soft lips on Joe's own. Existence reacted to their reunion. Immediately, it was as if two halves became whole once again. The sky flashed colors overhead as they stood together: day to night, night to day. They stood motionless and kissing for so long a period that they might have been mistaken for part of the landscape, as vines climbed up their legs and grass grew around them; as dirt gathered and buried even more the scattered fragments of the abbey. Only the keepers of time knew that lifetimes did indeed pass, possibly entire eras. And yet it was but a scant moment to Joe and Lou. All of it but a simple, longed-for embrace neither time nor death could contain. — Eric Arvin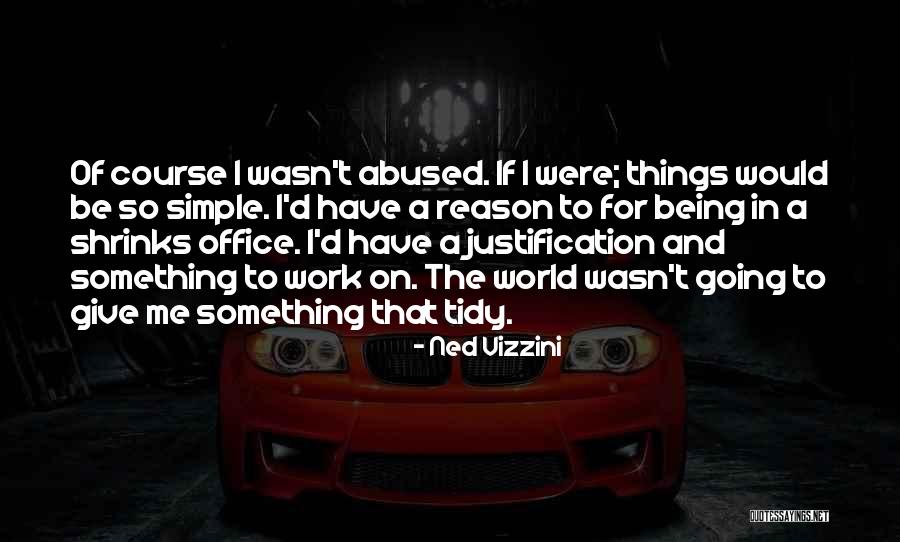 Of course I wasn't abused. If I were; things would be so simple. I'd have a reason to for being in a shrinks office. I'd have a justification and something to work on. The world wasn't going to give me something that tidy. — Ned Vizzini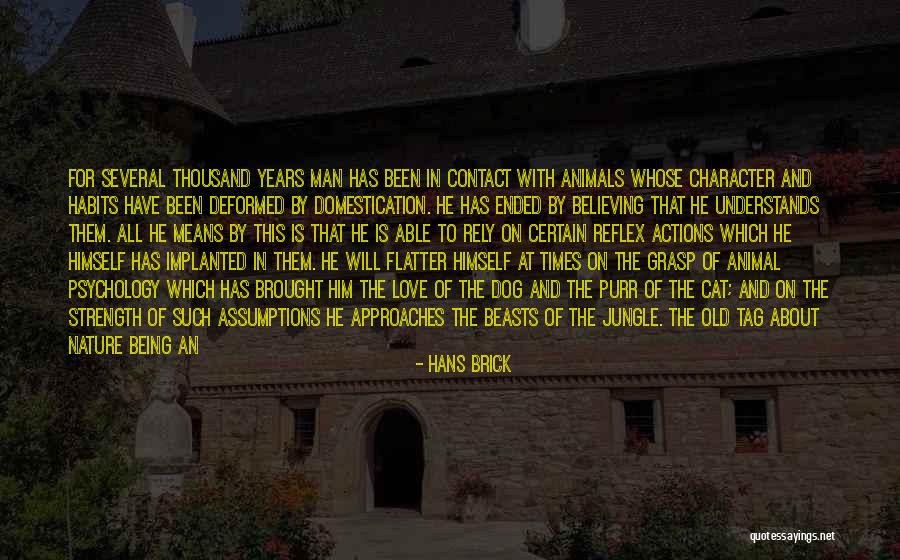 For several thousand years man has been in contact with animals whose character and habits have been deformed by domestication. He has ended by believing that he understands them. All he means by this is that he is able to rely on certain reflex actions which he himself has implanted in them. He will flatter himself at times on the grasp of animal psychology which has brought him the love of the dog and the purr of the cat; and on the strength of such assumptions he approaches the beasts of the jungle. The old tag about nature being an open book is just not true. What nature offers on a first examination may appear to be simple but it is never as simple as it appears. — Hans Brick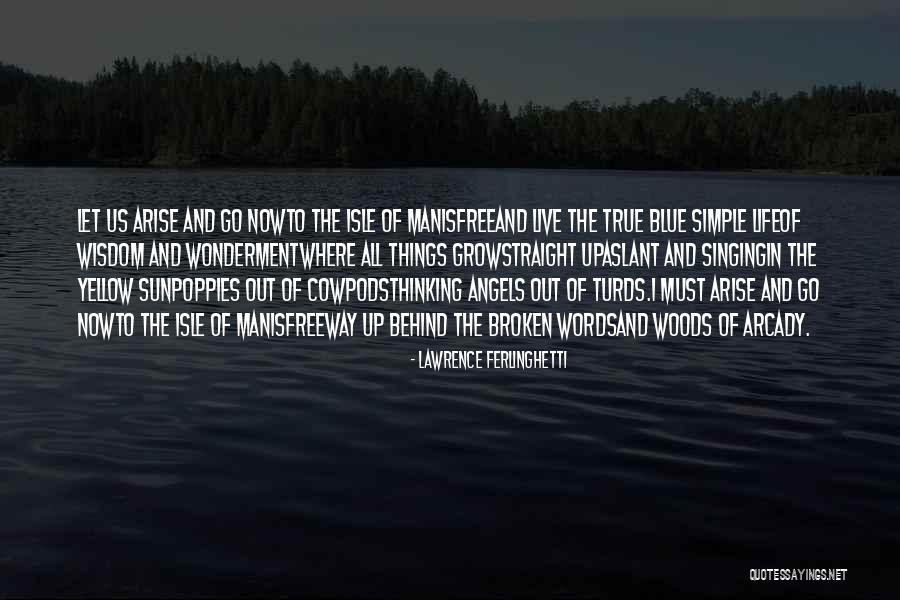 Let us arise and go now
to the Isle of Manisfree
and live the true blue simple life
of wisdom and wonderment
where all things grow
straight up
aslant and singing
in the yellow sun
poppies out of cowpods
thinking angels out of turds.
I must arise and go now
to the Isle of Manisfree
way up behind the broken words
and woods of Arcady. — Lawrence Ferlinghetti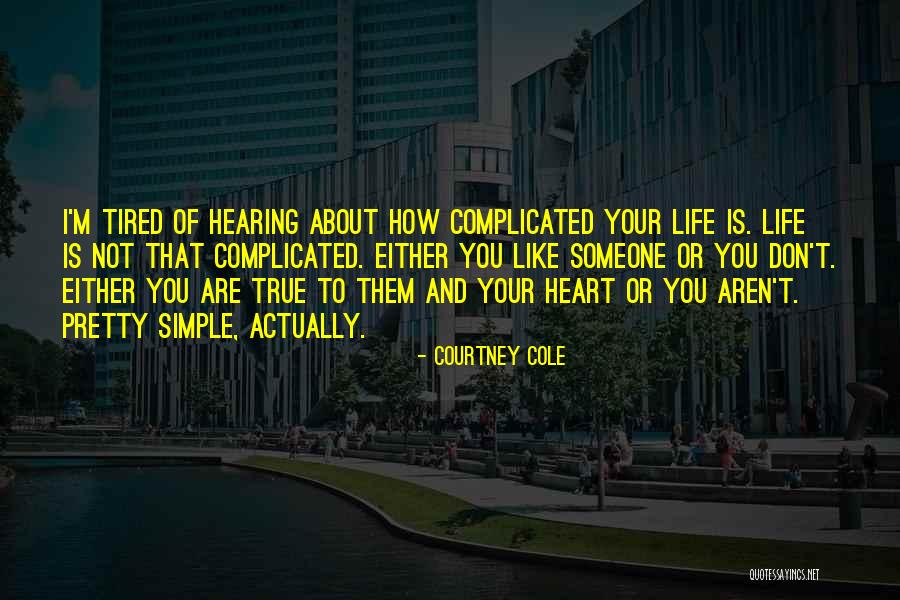 I'm tired of hearing about how complicated your life is. Life is not that complicated. Either you like someone or you don't. Either you are true to them and your heart or you aren't. Pretty simple, actually. — Courtney Cole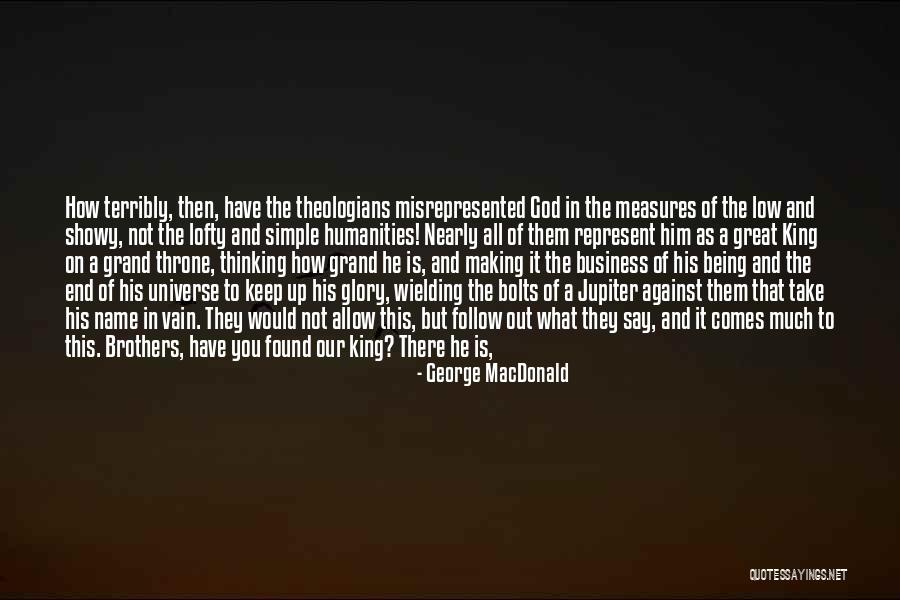 How terribly, then, have the theologians misrepresented God in the measures of the low and showy, not the lofty and simple humanities! Nearly all of them represent him as a great King on a grand throne, thinking how grand he is, and making it the business of his being and the end of his universe to keep up his glory, wielding the bolts of a Jupiter against them that take his name in vain. They would not allow this, but follow out what they say, and it comes much to this. Brothers, have you found our king? There he is, kissing little children and saying they are like God. There he is at table with the head of a fisherman lying on his bosom, and somewhat heavy at heart that even he, the beloved disciple, cannot yet understand him well. The simplest peasant who loves his children and his sheep were - no, not a truer, for the other is false, but - a true type of our God beside that monstrosity of a monarch. — George MacDonald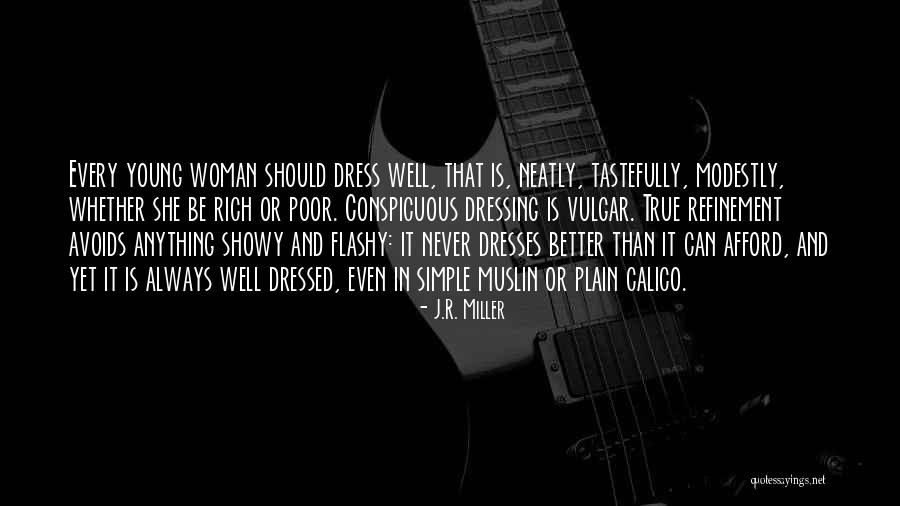 Every young woman should dress well, that is, neatly, tastefully, modestly, whether she be rich or poor. Conspicuous dressing is vulgar. True refinement avoids anything showy and flashy: it never dresses better than it can afford, and yet it is always well dressed, even in simple muslin or plain calico. — J.R. Miller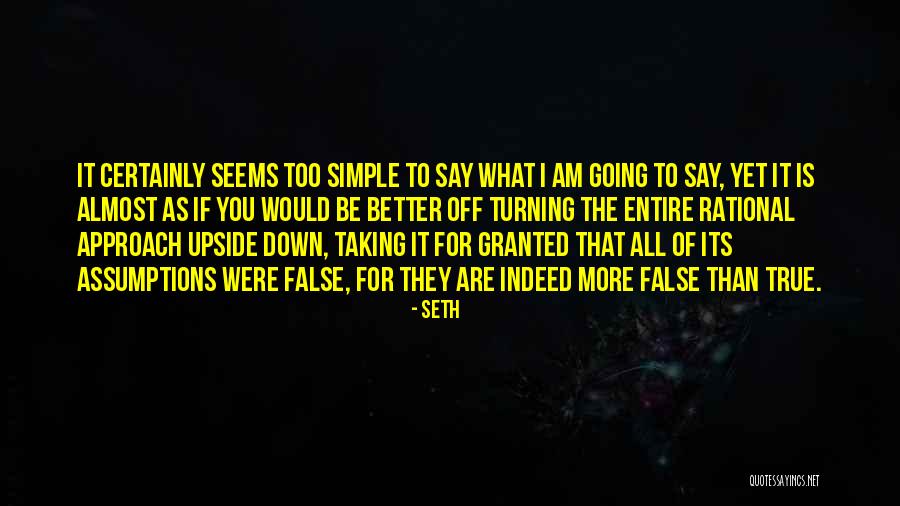 It certainly seems too simple to say what I am going to say, yet it is almost as if you would be better off turning the entire rational approach upside down, taking it for granted that all of its assumptions were false, for they are indeed more false than true. — Seth
This golden droid has been a friend, 'tis true,/ And yet I wish to still his prating tongue!/ An imp, he calleth me? I'll be reveng'd,/ And merry pranks aplenty I shall play/ Upon this pompous droid C-3PO!/ Yet not in language shall my pranks be done:/ Around both humans and droids I must/ Be seen to make such errant beeps and squeaks/ That they shall think me simple. Truly, though,/ Although with sounds obilque I speak to them, I clearly see how I shall play my part,/ And how a vast rebellion shall succeed/ by wit and wisdom of a simple droid. [R2-D2] — Ian Doescher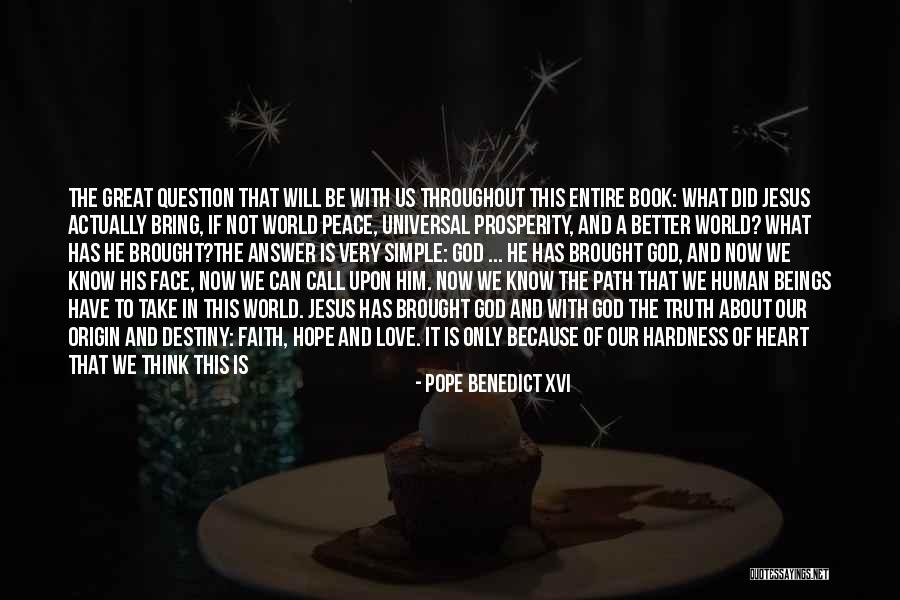 The great question that will be with us throughout this entire book: What did Jesus actually bring, if not world peace, universal prosperity, and a better world? What has he brought?
The answer is very simple: God ... He has brought God, and now we know his face, now we can call upon him. Now we know the path that we human beings have to take in this world. Jesus has brought God and with God the truth about our origin and destiny: faith, hope and love. It is only because of our hardness of heart that we think this is too little. Yes indeed, God's power works quietly in this world, but it is the true and the lasting power. Again and again, God's cause seems to be in its death throes. Yet over and over again it proves to be the thing that truly endures and saves. — Pope Benedict XVI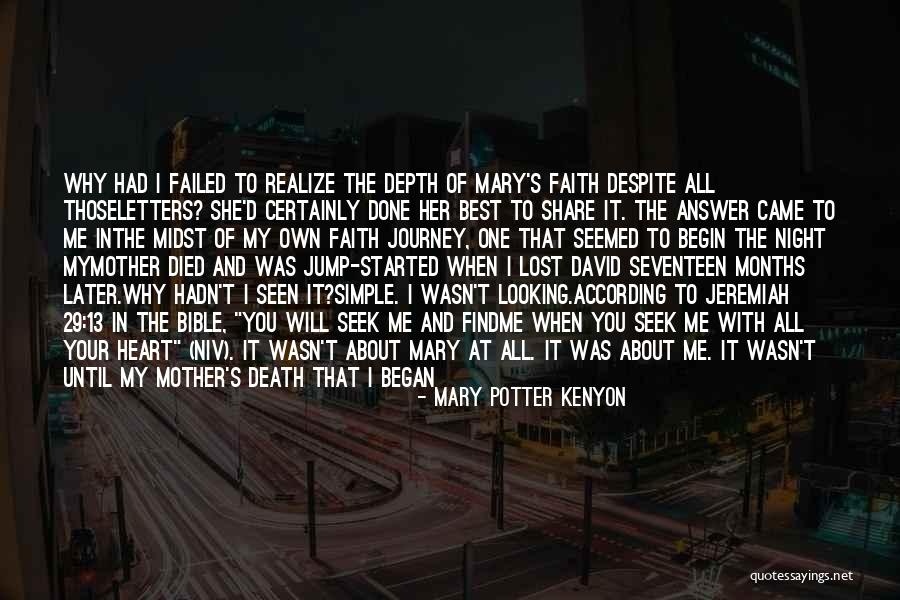 Why had I failed to realize the depth of Mary's faith despite all those
letters? She'd certainly done her best to share it. The answer came to me in
the midst of my own faith journey, one that seemed to begin the night my
mother died and was jump-started when I lost David seventeen months later.
Why hadn't I seen it?
Simple. I wasn't looking.
According to Jeremiah 29:13 in the Bible, "You will seek me and find
me when you seek me with all your heart" (NIV). It wasn't about Mary at all. It was about me. It wasn't until my mother's death that I began actively
seeking God. I didn't see Mary's Christian example because I hadn't yet
developed spiritually. I wasn't "there" yet. I didn't recognize true faith
because I didn't have my own. — Mary Potter Kenyon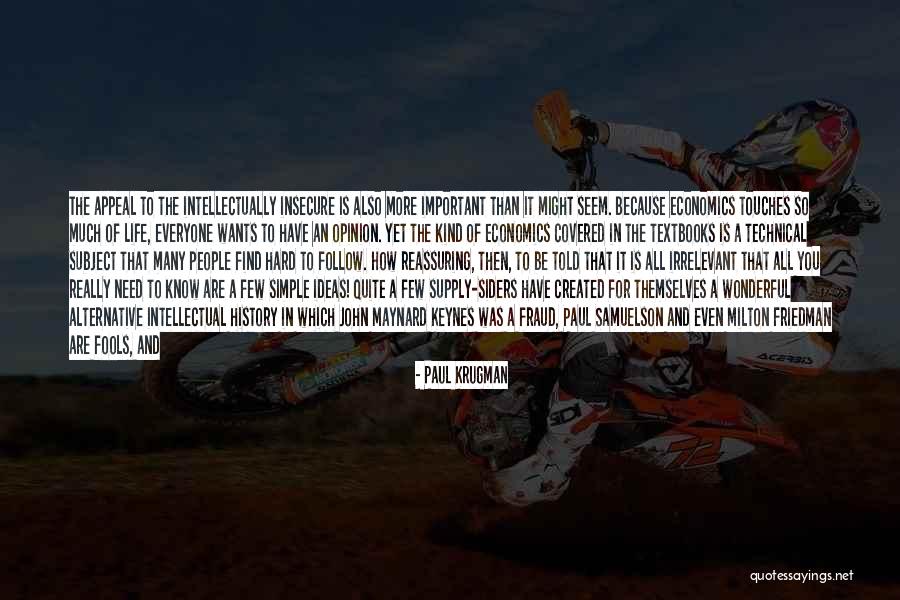 The appeal to the intellectually insecure is also more important than it might seem. Because economics touches so much of life, everyone wants to have an opinion. Yet the kind of economics covered in the textbooks is a technical subject that many people find hard to follow. How reassuring, then, to be told that it is all irrelevant
that all you really need to know are a few simple ideas! Quite a few supply-siders have created for themselves a wonderful alternative intellectual history in which John Maynard Keynes was a fraud, Paul Samuelson and even Milton Friedman are fools, and the true line of deep economic thought runs from Adam Smith through obscure turn-of-the-century Austrians straight to them. — Paul Krugman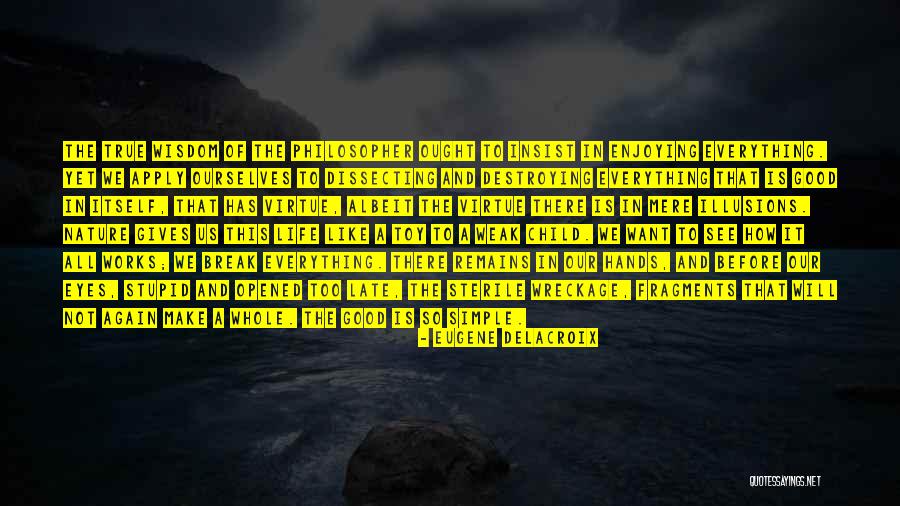 The true wisdom of the philosopher ought to insist in enjoying everything. Yet we apply ourselves to dissecting and destroying everything that is good in itself, that has virtue, albeit the virtue there is in mere illusions. Nature gives us this life like a toy to a weak child. We want to see how it all works; we break everything. There remains in our hands, and before our eyes, stupid and opened too late, the sterile wreckage, fragments that will not again make a whole. The good is so simple. — Eugene Delacroix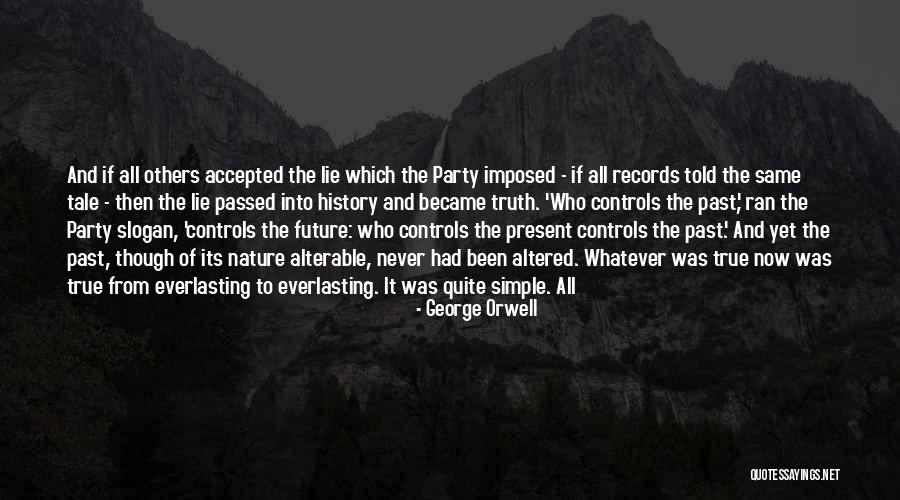 And if all others accepted the lie which the Party imposed - if all records told the same tale - then the lie passed into history and became truth. 'Who controls the past,' ran the Party slogan, 'controls the future: who controls the present controls the past.' And yet the past, though of its nature alterable, never had been altered. Whatever was true now was true from everlasting to everlasting. It was quite simple. All — George Orwell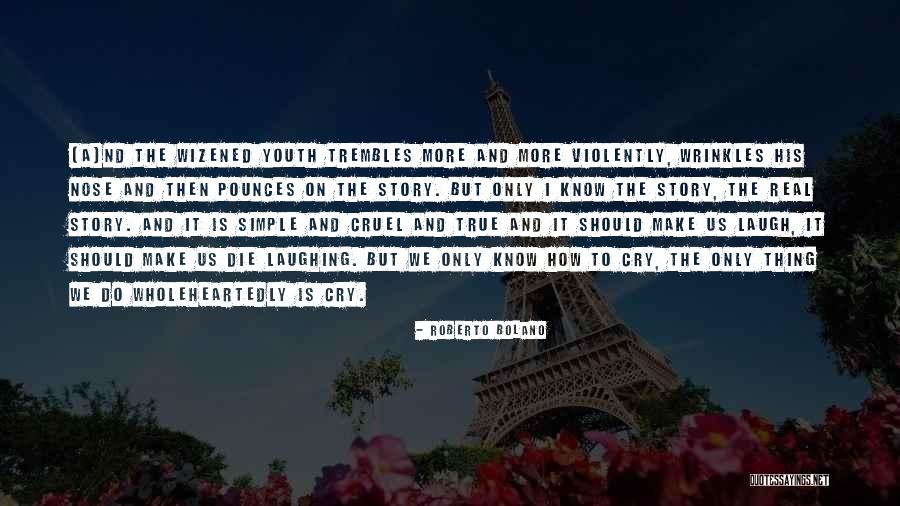 [A]nd the wizened youth trembles more and more violently, wrinkles his nose and then pounces on the story. But only I know the story, the real story. And it is simple and cruel and true and it should make us laugh, it should make us die laughing. But we only know how to cry, the only thing we do wholeheartedly is cry. — Roberto Bolano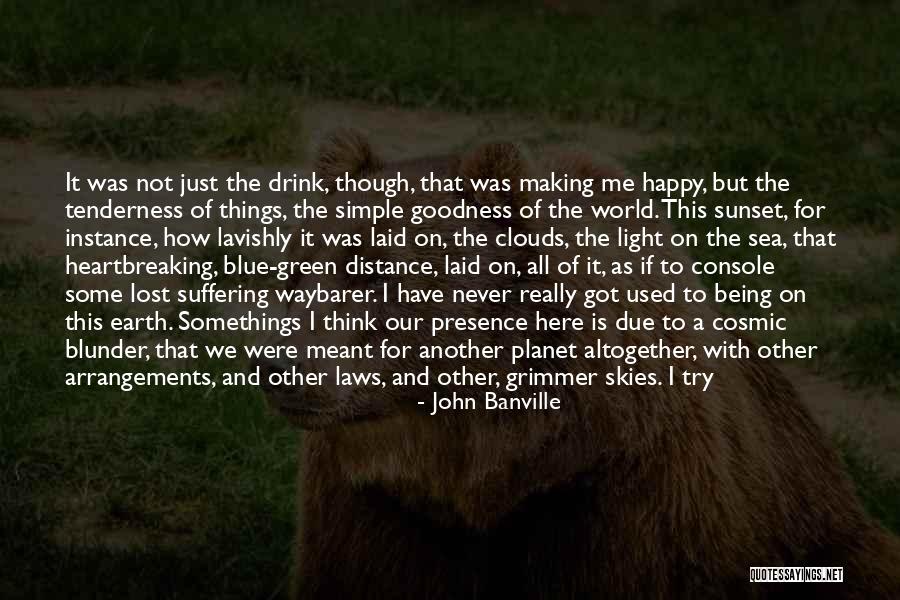 It was not just the drink, though, that was making me happy, but the tenderness of things, the simple goodness of the world. This sunset, for instance, how lavishly it was laid on, the clouds, the light on the sea, that heartbreaking, blue-green distance, laid on, all of it, as if to console some lost suffering waybarer. I have never really got used to being on this earth. Somethings I think our presence here is due to a cosmic blunder, that we were meant for another planet altogether, with other arrangements, and other laws, and other, grimmer skies. I try to imagine it, our true place, off on the far side of the galaxy, whirling and whirling. And the ones who were meant for here, are they out there, baffled and homesick, like us? No, they would have become extinct long ago. How could they survive, these gentle earthlings, in a world that was meant to contain us? — John Banville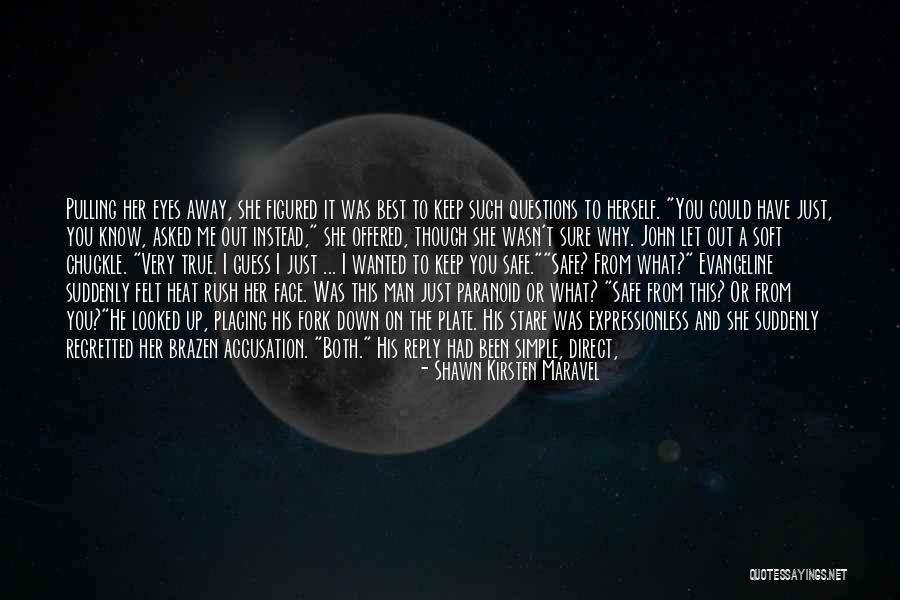 Pulling her eyes away, she figured it was best to keep such questions to herself. "You could have just, you know, asked me out instead," she offered, though she wasn't sure why.
John let out a soft chuckle. "Very true. I guess I just ... I wanted to keep you safe."
"Safe? From what?" Evangeline suddenly felt heat rush her face. Was this man just paranoid or what? "Safe from this? Or from you?"
He looked up, placing his fork down on the plate. His stare was expressionless and she suddenly regretted her brazen accusation. "Both." His reply had been simple, direct, stern. "Those people who did this to me, they'll do worse to you if they think that we're involved ... if they think that their message wasn't clear enough. — Shawn Kirsten Maravel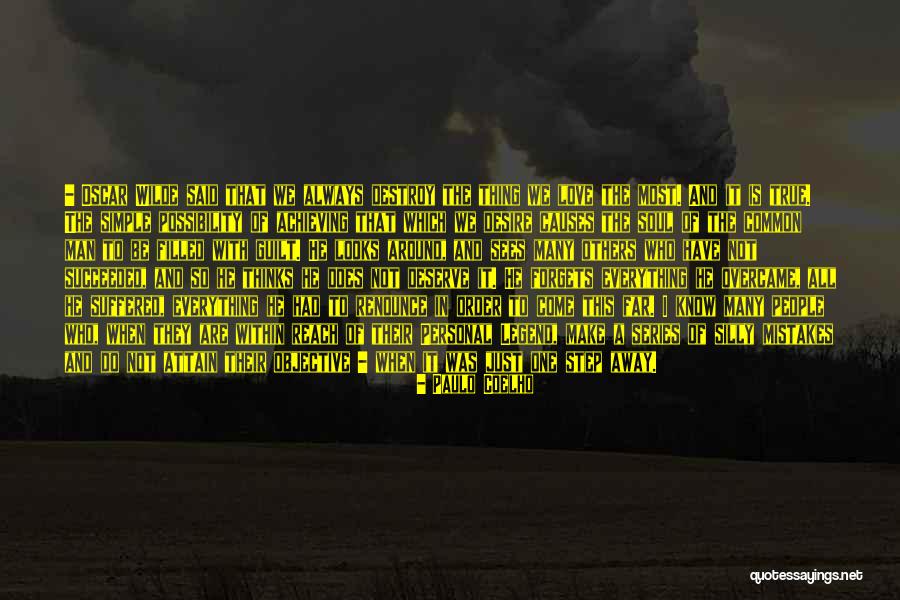 - Oscar Wilde said that we always destroy the thing we love the most. And it is true. The simple possibility of achieving that which we desire causes the soul of the common man to be filled with guilt. He looks around, and sees many others who have not succeeded, and so he thinks he does not deserve it. He forgets everything he overcame, all he suffered, everything he had to renounce in order to come this far. I know many people who, when they are within reach of their Personal Legend, make a series of silly mistakes and do not attain their objective - when it was just one step away. — Paulo Coelho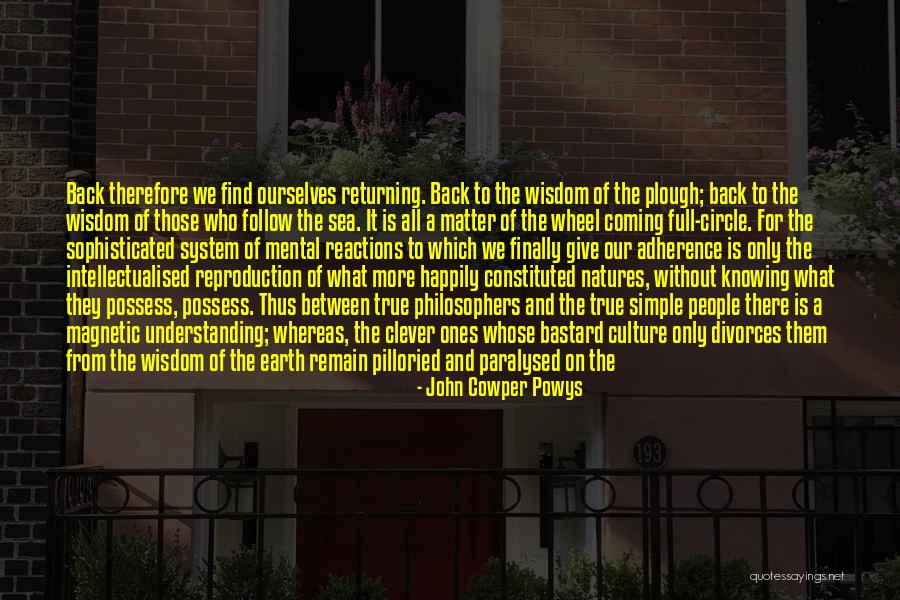 Back therefore we find ourselves returning. Back to the wisdom of the plough; back to the wisdom of those who follow the sea. It is all a matter of the wheel coming full-circle. For the sophisticated system of mental reactions to which we finally give our adherence is only the intellectualised reproduction of what more happily constituted natures, without knowing what they possess, possess. Thus between true philosophers and the true simple people there is a magnetic understanding; whereas, the clever ones whose bastard culture only divorces them from the wisdom of the earth remain pilloried and paralysed on the prongs of their own conceit. — John Cowper Powys
This is very simple in the world of chicks: some are hoochies, some are not, and some should never try to be. It's no different from the idea of sports. Now, I can go on my little rowing machine for four times a week, twenty-two minutes a time, and I can feel as if I flirt with the sporting world. Similar to the idea that a woman can put on something cuter for her man, for those moments, and flirt with garments that a hoochie woman might be pushing. But never for one moment should you get confused. My little rowing machine and I cannot consider ourselves athletes. Wearing the same garment does not a hoochie woman make. So if you are a true hoochie woman, may garments below the navel always be in your future. If you are not, then please don't throw away your cotton zippy jacket. — Tori Amos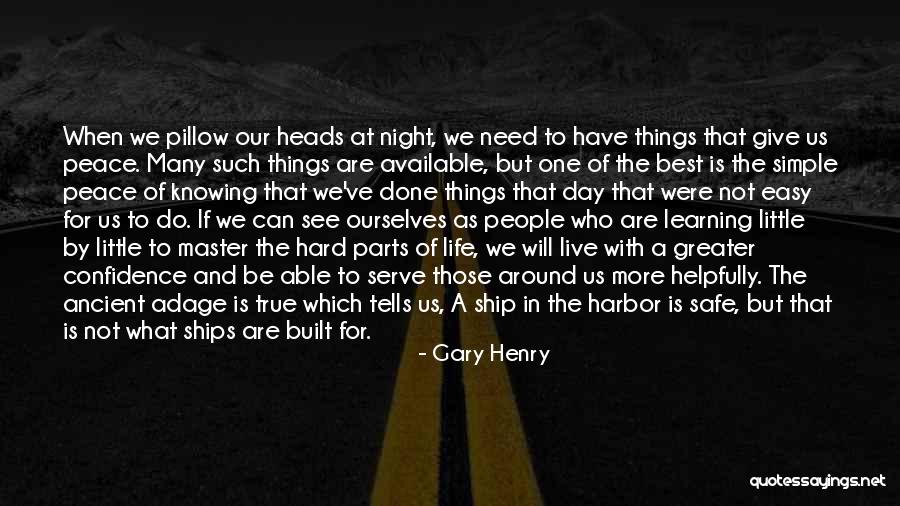 When we pillow our heads at night, we need to have things that give us peace. Many such things are available, but one of the best is the simple peace of knowing that we've done things that day that were not easy for us to do. If we can see ourselves as people who are learning little by little to master the hard parts of life, we will live with a greater confidence and be able to serve those around us more helpfully. The ancient adage is true which tells us, A ship in the harbor is safe, but that is not what ships are built for. — Gary Henry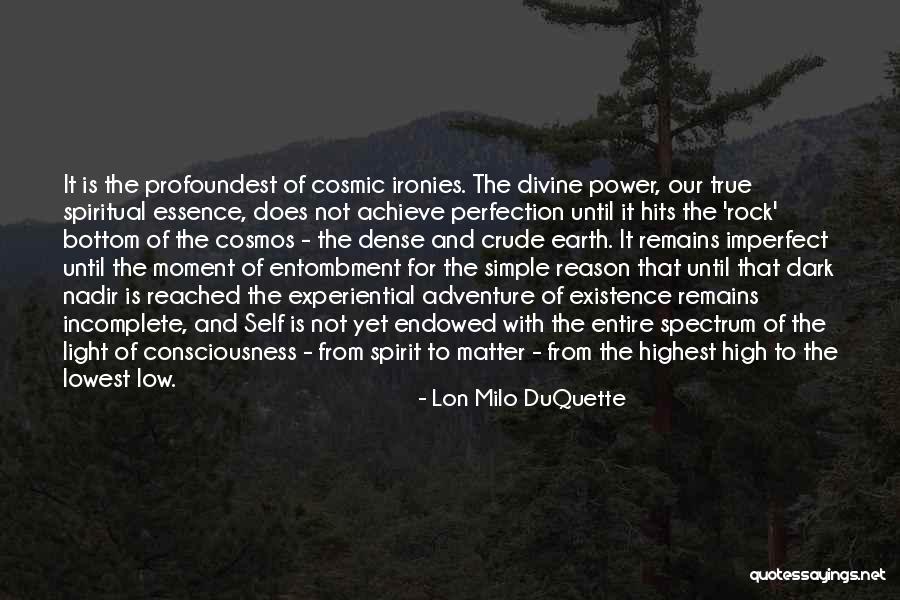 It is the profoundest of cosmic ironies. The divine power, our true spiritual essence, does not achieve perfection until it hits the 'rock' bottom of the cosmos - the dense and crude earth. It remains imperfect until the moment of entombment for the simple reason that until that dark nadir is reached the experiential adventure of existence remains incomplete, and Self is not yet endowed with the entire spectrum of the light of consciousness - from spirit to matter - from the highest high to the lowest low. — Lon Milo DuQuette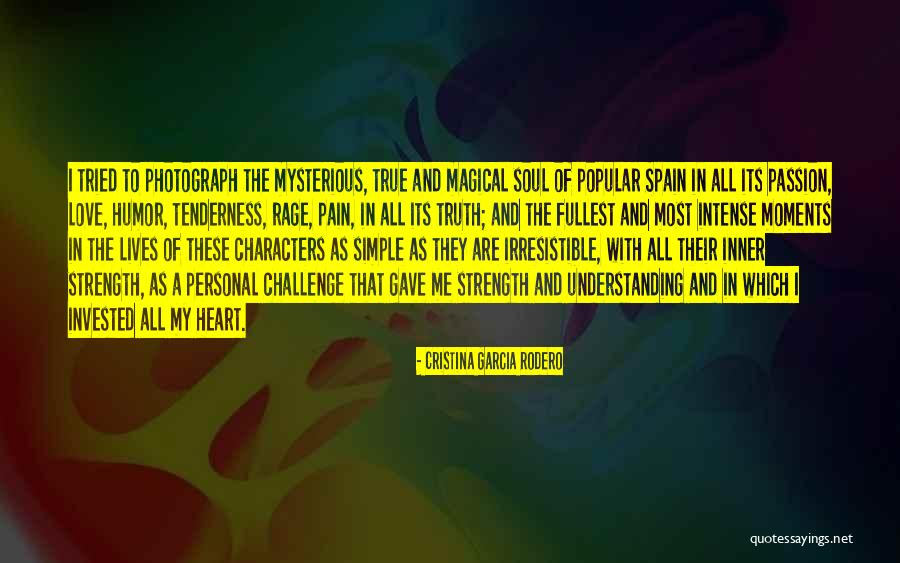 I tried to photograph the mysterious, true and magical soul of popular Spain in all its passion, love, humor, tenderness, rage, pain, in all its truth; and the fullest and most intense moments in the lives of these characters as simple as they are irresistible, with all their inner strength, as a personal challenge that gave me strength and understanding and in which I invested all my heart. — Cristina Garcia Rodero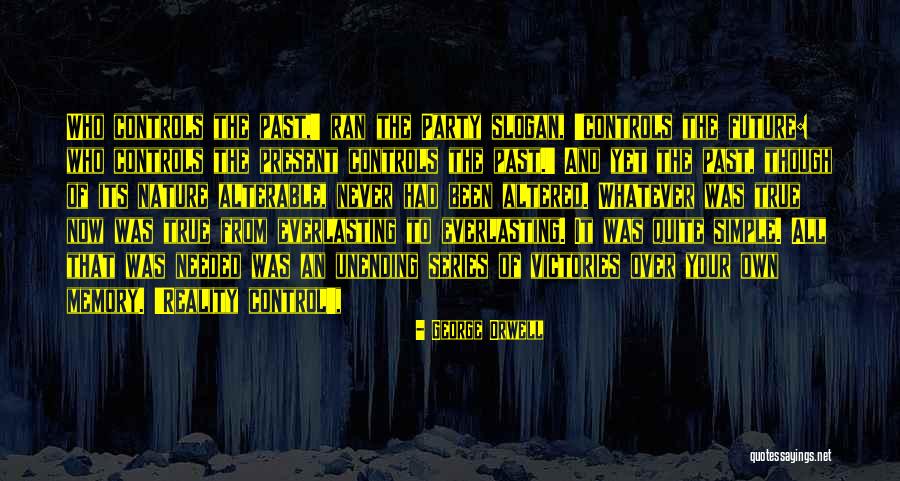 Who controls the past,' ran the Party slogan, 'controls the future: who controls the present controls the past.' And yet the past, though of its nature alterable, never had been altered. Whatever was true now was true from everlasting to everlasting. It was quite simple. All that was needed was an unending series of victories over your own memory. 'Reality control', — George Orwell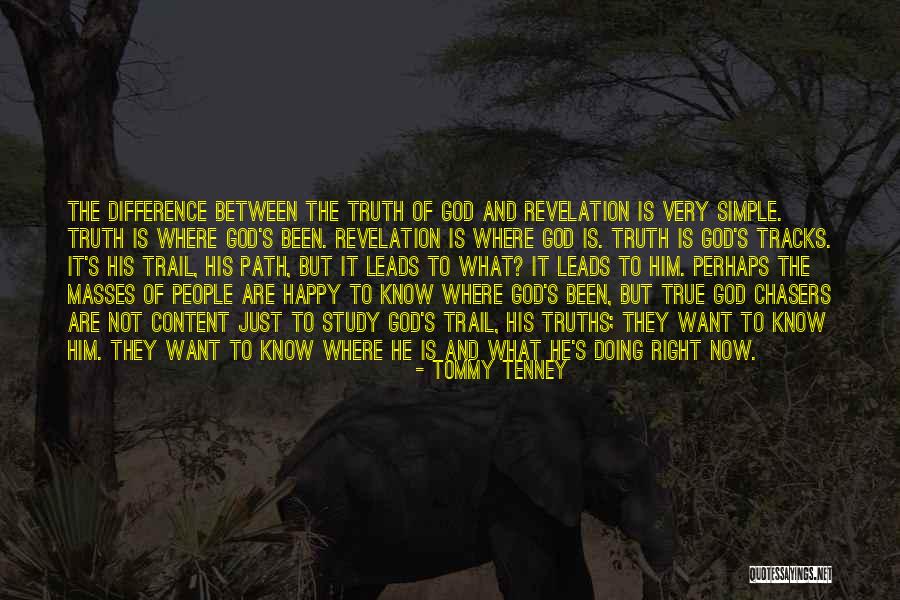 The difference between the truth of God and revelation is very simple. Truth is where God's been. Revelation is where God is. Truth is God's tracks. It's His trail, His path, but it leads to what? It leads to Him. Perhaps the masses of people are happy to know where God's been, but true God chasers are not content just to study God's trail, His truths; they want to know Him. They want to know where He is and what He's doing right now. — Tommy Tenney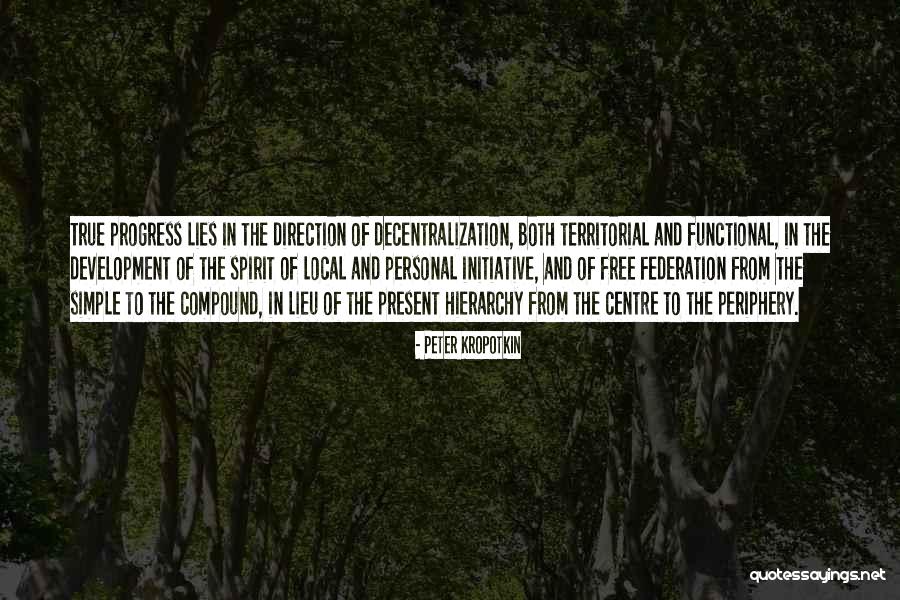 True progress lies in the direction of decentralization, both territorial and functional, in the development of the spirit of local and personal initiative, and of free federation from the simple to the compound, in lieu of the present hierarchy from the centre to the periphery. — Peter Kropotkin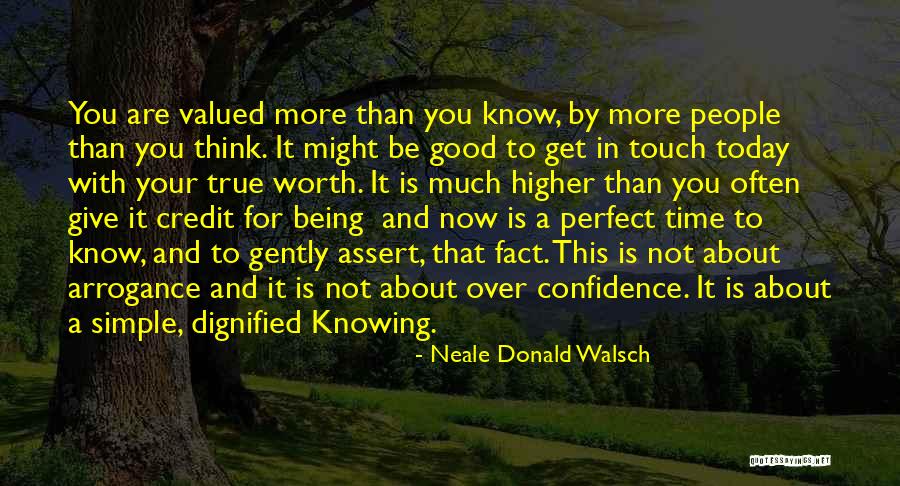 You are valued more than you know, by more people than you think. It might be good to get in touch today with your true worth. It is much higher than you often give it credit for being
and now is a perfect time to know, and to gently assert, that fact. This is not about arrogance and it is not about over confidence. It is about a simple, dignified Knowing. — Neale Donald Walsch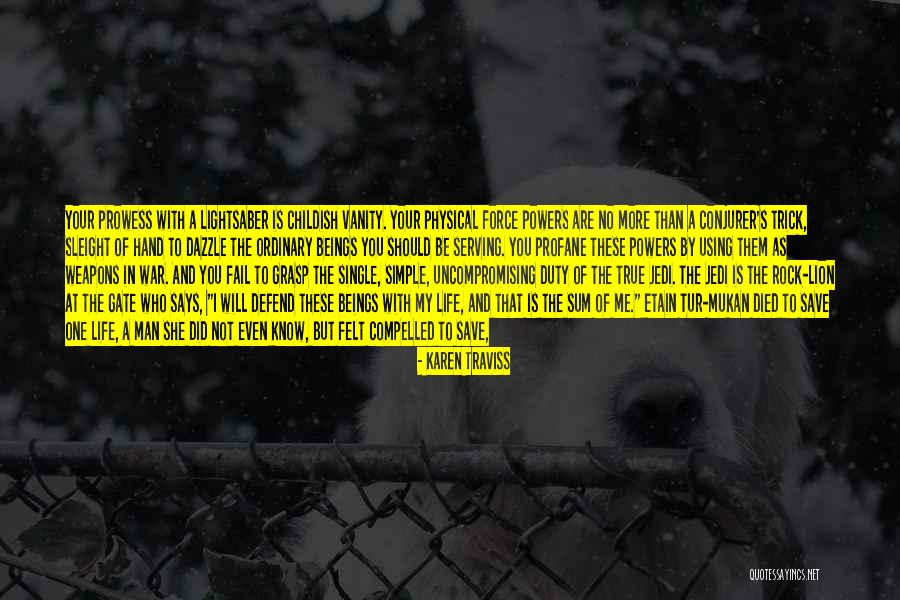 Your prowess with a lightsaber is childish vanity. Your physical Force powers are no more than a conjurer's trick, sleight of hand to dazzle the ordinary beings you should be serving. You profane these powers by using them as weapons in war. And you fail to grasp the single, simple, uncompromising duty of the true Jedi. The Jedi is the rock-lion at the gate who says, "I will defend these beings with my life, and that is the sum of me." Etain Tur-Mukan died to save one life, a man she did not even know, but felt compelled to save, and that is what made her stronger in the Force and a truer Jedi than any of you acrobats, tricksters, and specious, empty philosophers. — Karen Traviss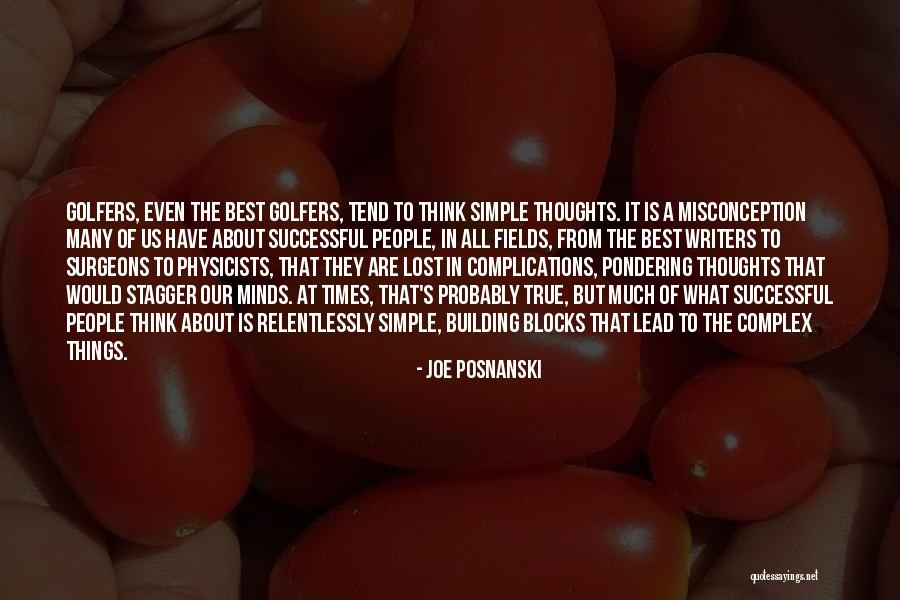 Golfers, even the best golfers, tend to think simple thoughts. It is a misconception many of us have about successful people, in all fields, from the best writers to surgeons to physicists, that they are lost in complications, pondering thoughts that would stagger our minds. At times, that's probably true, but much of what successful people think about is relentlessly simple, building blocks that lead to the complex things. — Joe Posnanski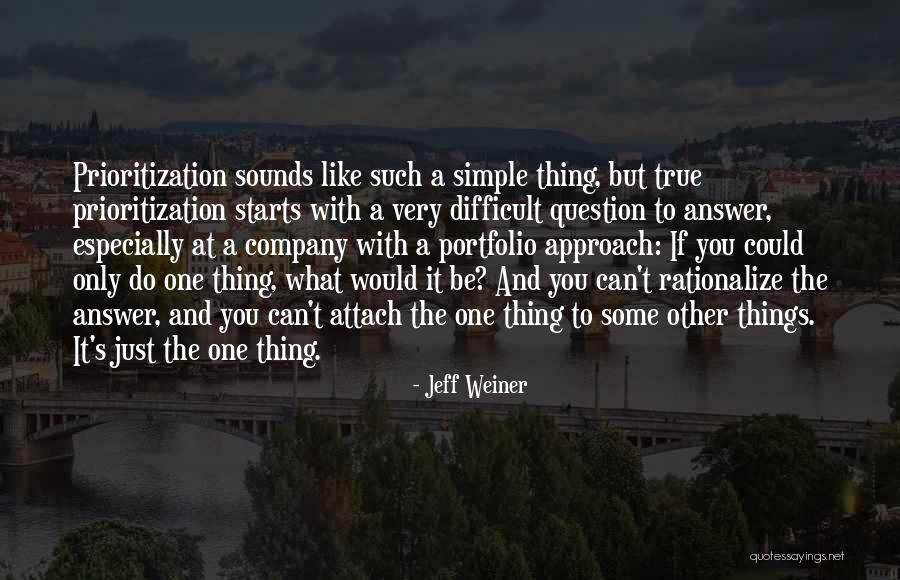 Prioritization sounds like such a simple thing, but true prioritization starts with a very difficult question to answer, especially at a company with a portfolio approach: If you could only do one thing, what would it be? And you can't rationalize the answer, and you can't attach the one thing to some other things. It's just the one thing. — Jeff Weiner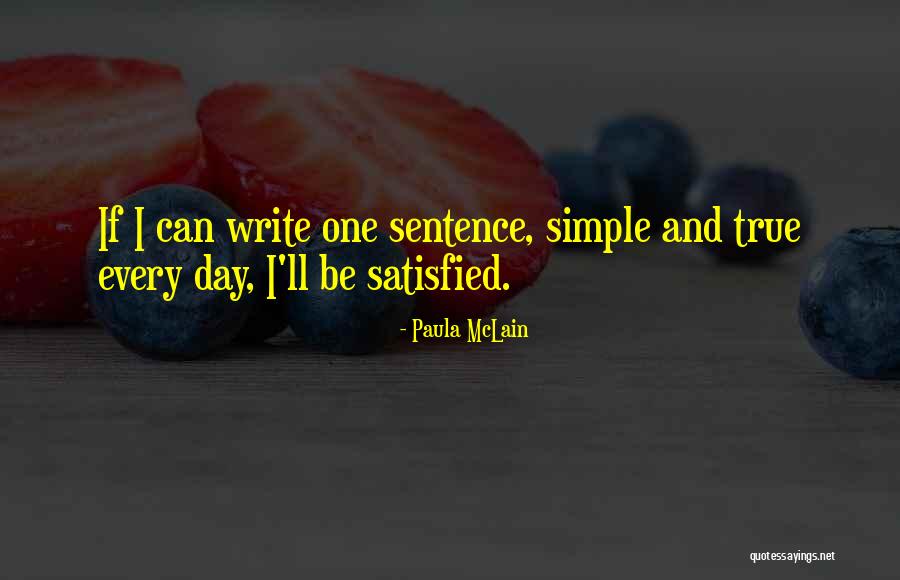 If I can write one sentence, simple and true every day, I'll be satisfied. — Paula McLain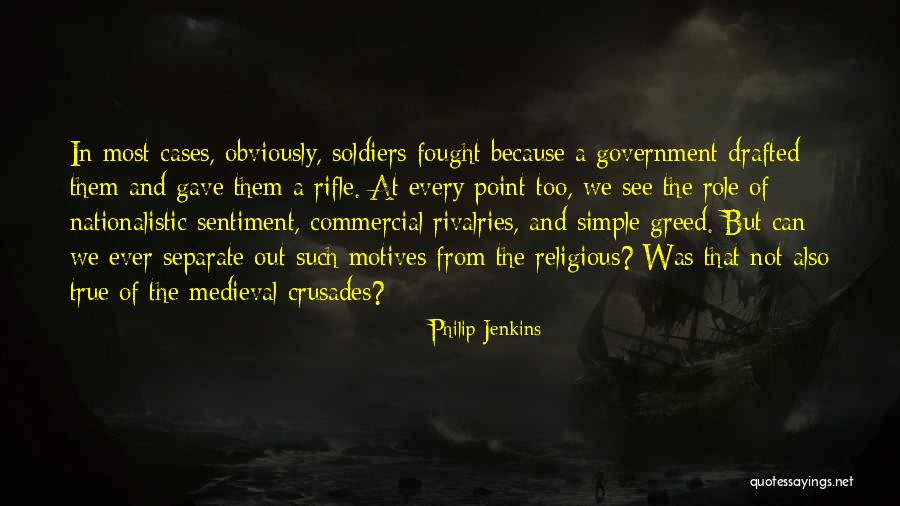 In most cases, obviously, soldiers fought because a government drafted them and gave them a rifle. At every point too, we see the role of nationalistic sentiment, commercial rivalries, and simple greed. But can we ever separate out such motives from the religious? Was that not also true of the medieval crusades? — Philip Jenkins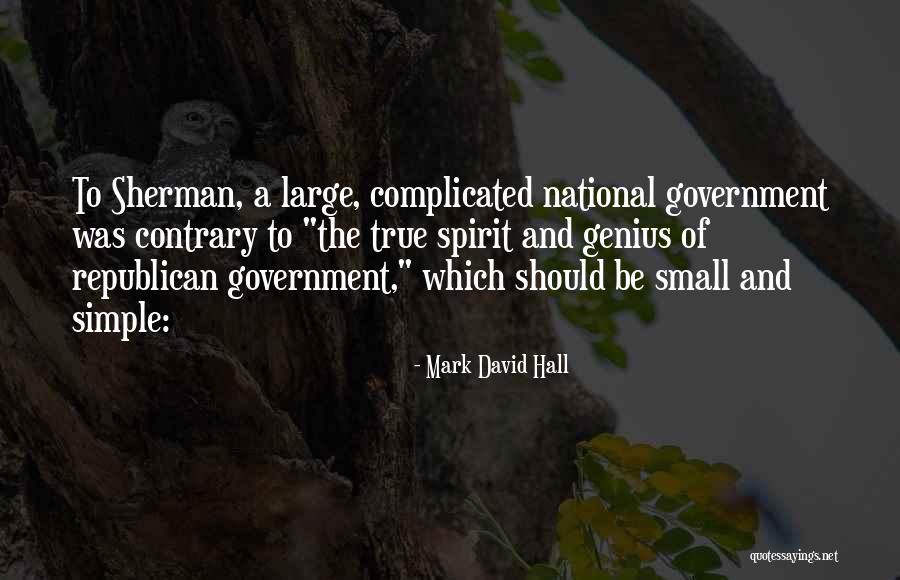 To Sherman, a large, complicated national government was contrary to "the true spirit and genius of republican government," which should be small and simple: — Mark David Hall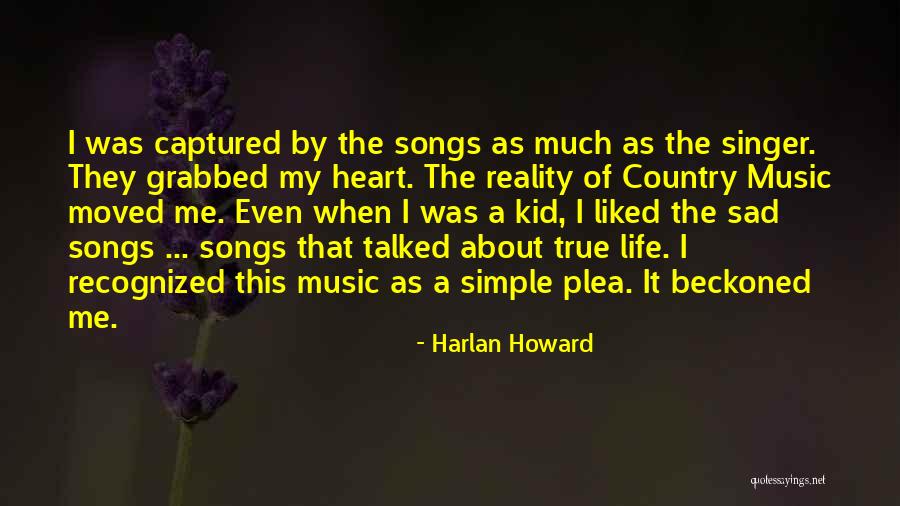 I was captured by the songs as much as the singer. They grabbed my heart. The reality of Country Music moved me. Even when I was a kid, I liked the sad songs ... songs that talked about true life. I recognized this music as a simple plea. It beckoned me. — Harlan Howard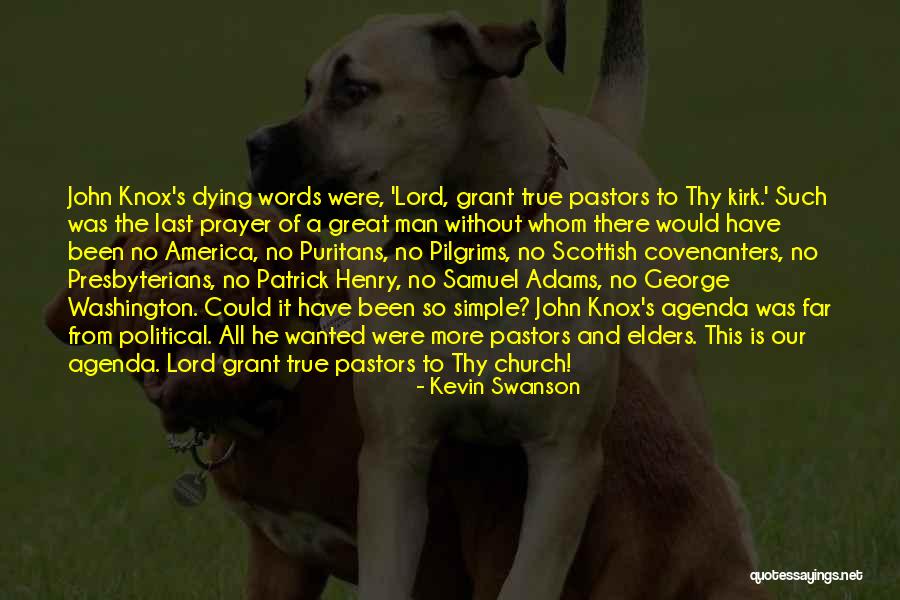 John Knox's dying words were, 'Lord, grant true pastors to Thy kirk.' Such was the last prayer of a great man without whom there would have been no America, no Puritans, no Pilgrims, no Scottish covenanters, no Presbyterians, no Patrick Henry, no Samuel Adams, no George Washington. Could it have been so simple? John Knox's agenda was far from political. All he wanted were more pastors and elders. This is our agenda. Lord grant true pastors to Thy church! — Kevin Swanson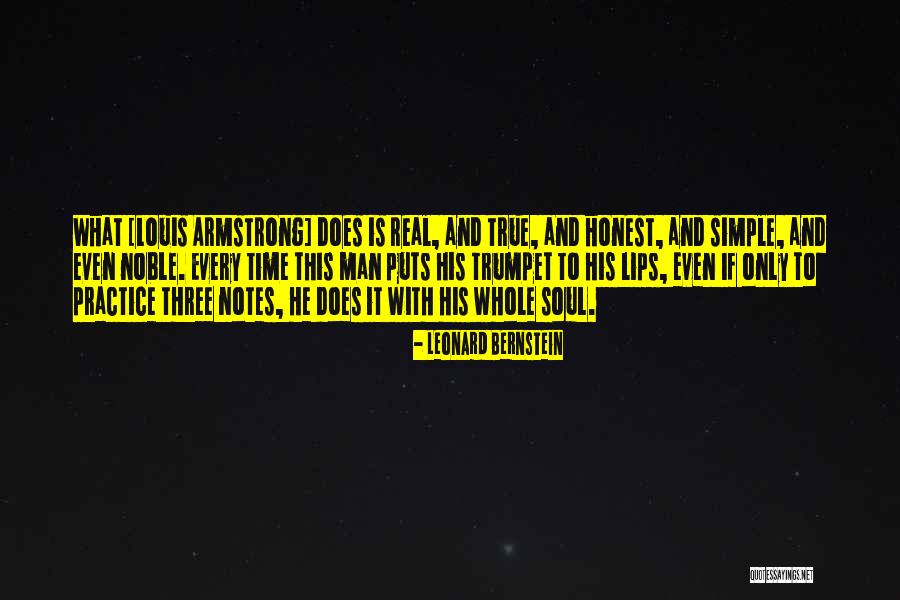 What [Louis Armstrong] does is real, and true, and honest, and simple, and even noble. Every time this man puts his trumpet to his lips, even if only to practice three notes, he does it with his whole soul. — Leonard Bernstein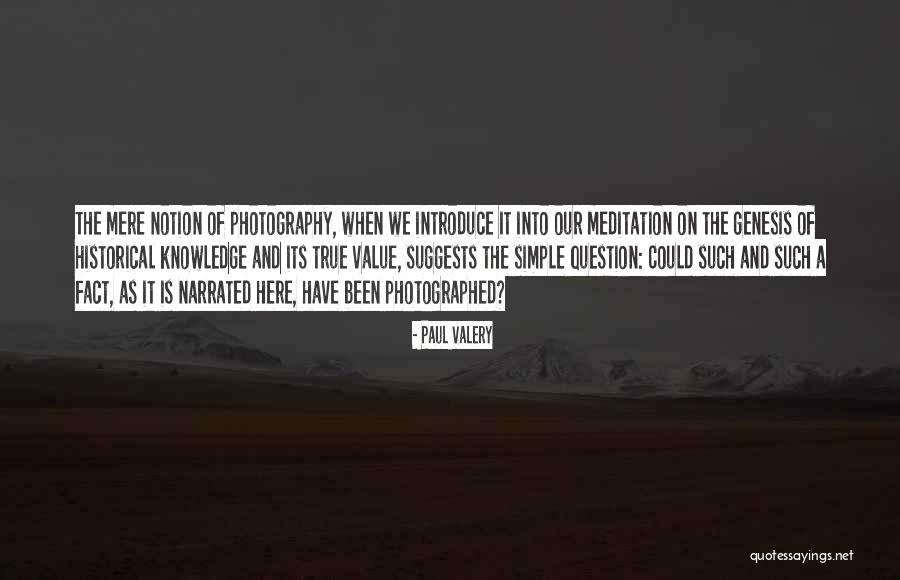 The mere notion of photography, when we introduce it into our meditation on the genesis of historical knowledge and its true value, suggests the simple question: Could such and such a fact, as it is narrated here, have been photographed? — Paul Valery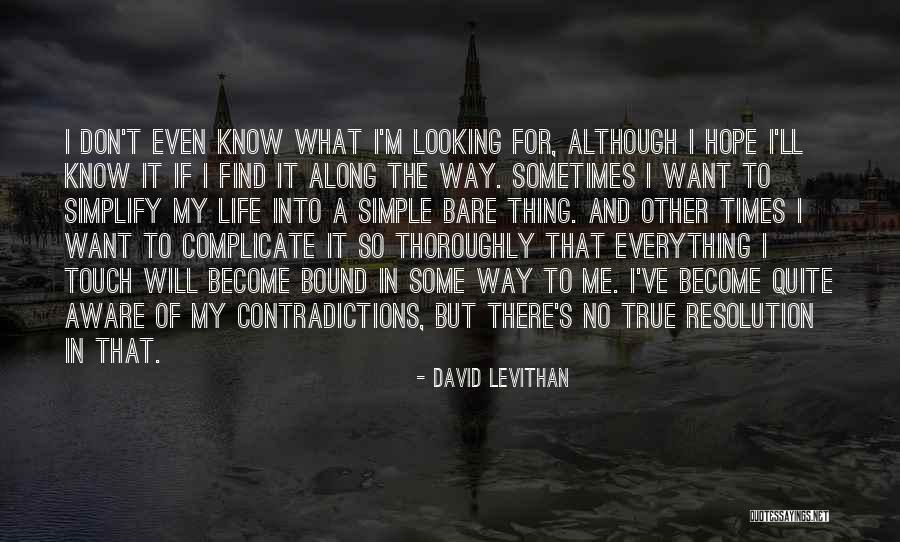 I don't even know what I'm looking for, although I hope I'll know it if I find it along the way. Sometimes I want to simplify my life into a simple bare thing. And other times I want to complicate it so thoroughly that everything I touch will become bound in some way to me. I've become quite aware of my contradictions, but there's no true resolution in that. — David Levithan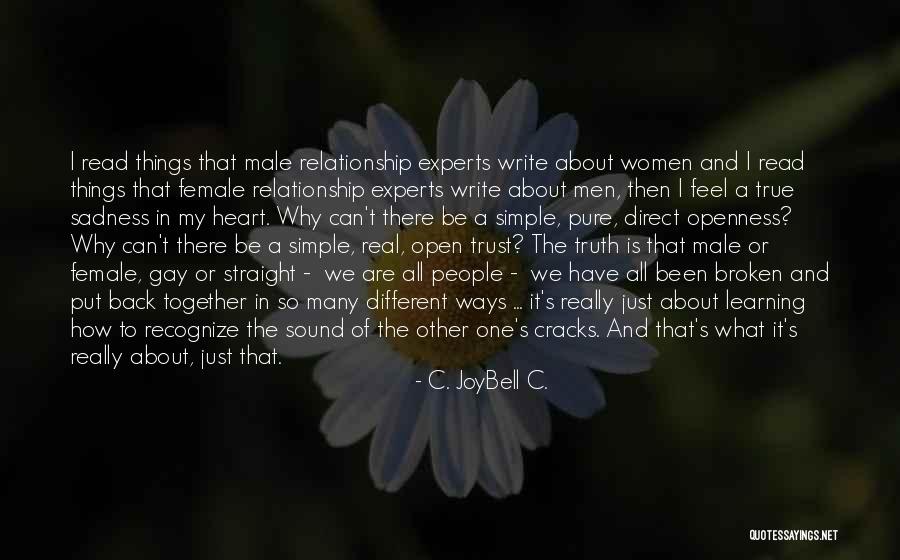 I read things that male relationship experts write about women and I read things that female relationship experts write about men, then I feel a true sadness in my heart. Why can't there be a simple, pure, direct openness? Why can't there be a simple, real, open trust? The truth is that male or female, gay or straight - we are all people - we have all been broken and put back together in so many different ways ... it's really just about learning how to recognize the sound of the other one's cracks. And that's what it's really about, just that. — C. JoyBell C.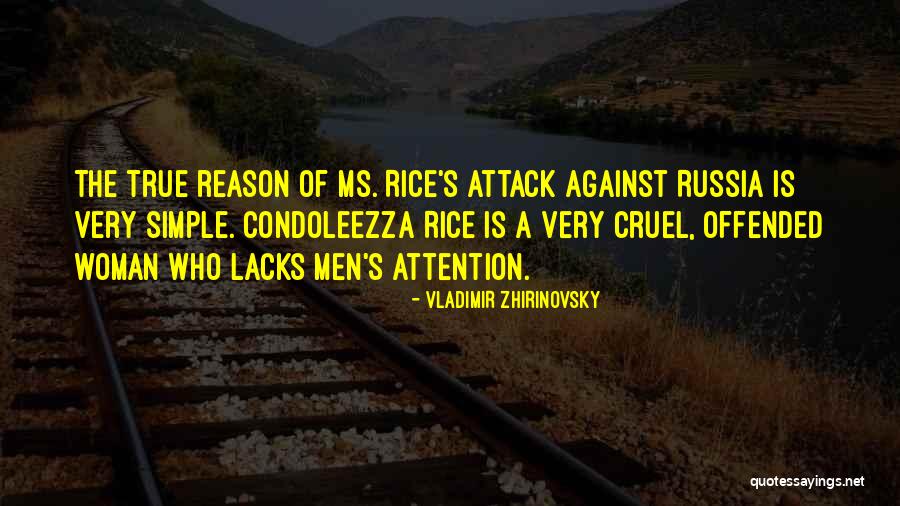 The true reason of Ms. Rice's attack against Russia is very simple. Condoleezza Rice is a very cruel, offended woman who lacks men's attention. — Vladimir Zhirinovsky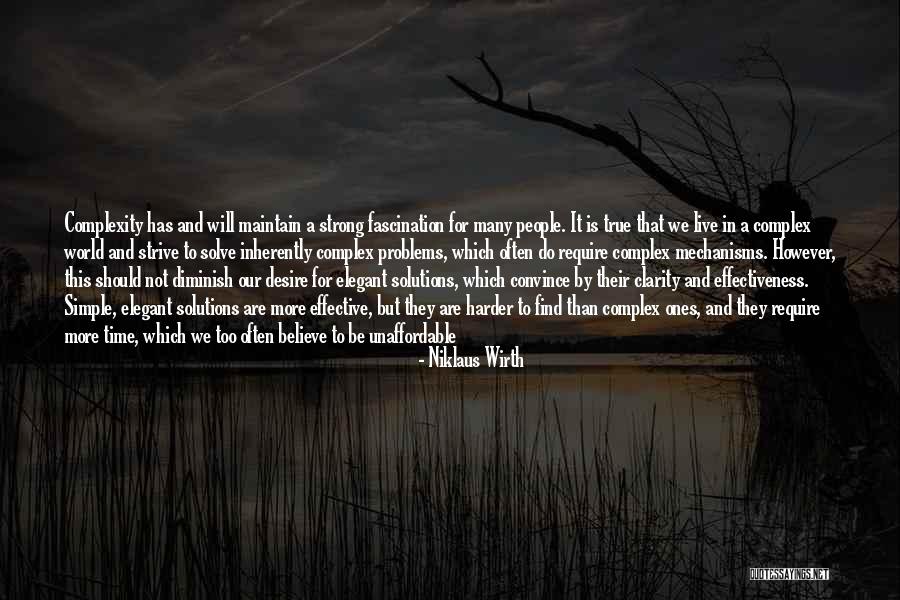 Complexity has and will maintain a strong fascination for many people. It is true that we live in a complex world and strive to solve inherently complex problems, which often do require complex mechanisms. However, this should not diminish our desire for elegant solutions, which convince by their clarity and effectiveness. Simple, elegant solutions are more effective, but they are harder to find than complex ones, and they require more time, which we too often believe to be unaffordable — Niklaus Wirth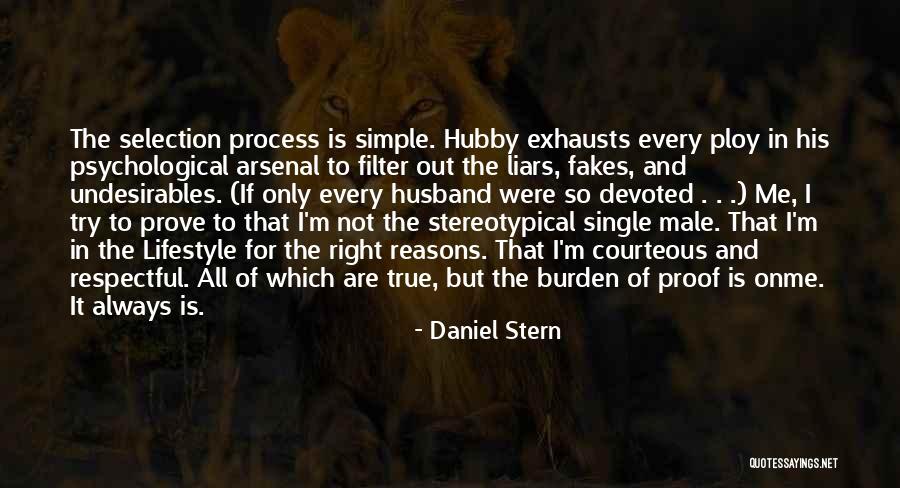 The selection process is simple. Hubby exhausts every ploy in his psychological arsenal to filter out the liars, fakes, and undesirables. (If only every husband were so devoted . . .) Me, I try to prove to that I'm not the stereotypical single male. That I'm in the Lifestyle for the right reasons. That I'm courteous and respectful. All of which are true, but the burden of proof is on
me. It always is. — Daniel Stern
Most ordinary mortals, mistake money or visualize money in its physical form - as coins or currency. Thus they begin counting it, hoarding it and hiding it behind faceless numbers and faceless vaults in anonymous places all over the world. They value money for its form or the form of the acquisitions it is able to have - properties, jewellery, clothes, food etc. But the real connoisseur of money knows that its true value is elsewhere. It's in the simple though propitious word, 'influence'. — Vinod Pande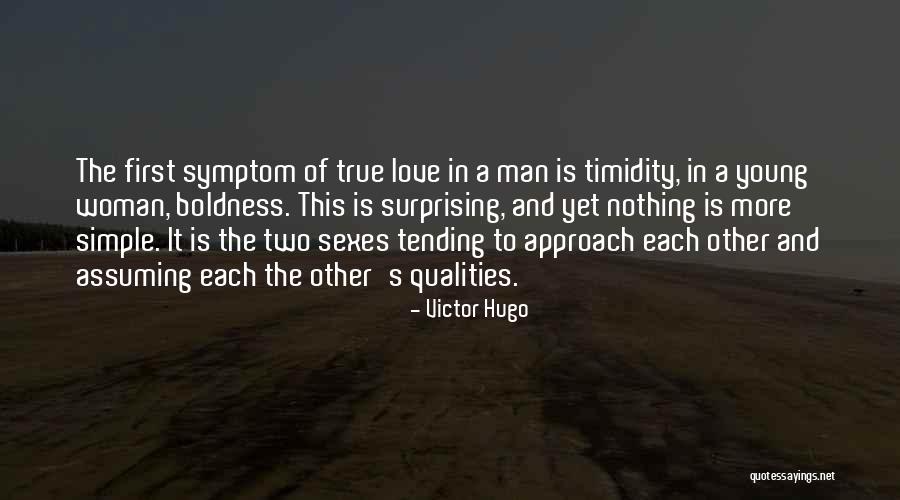 The first symptom of true love in a man is timidity, in a young woman, boldness. This is surprising, and yet nothing is more simple. It is the two sexes tending to approach each other and assuming each the other's qualities. — Victor Hugo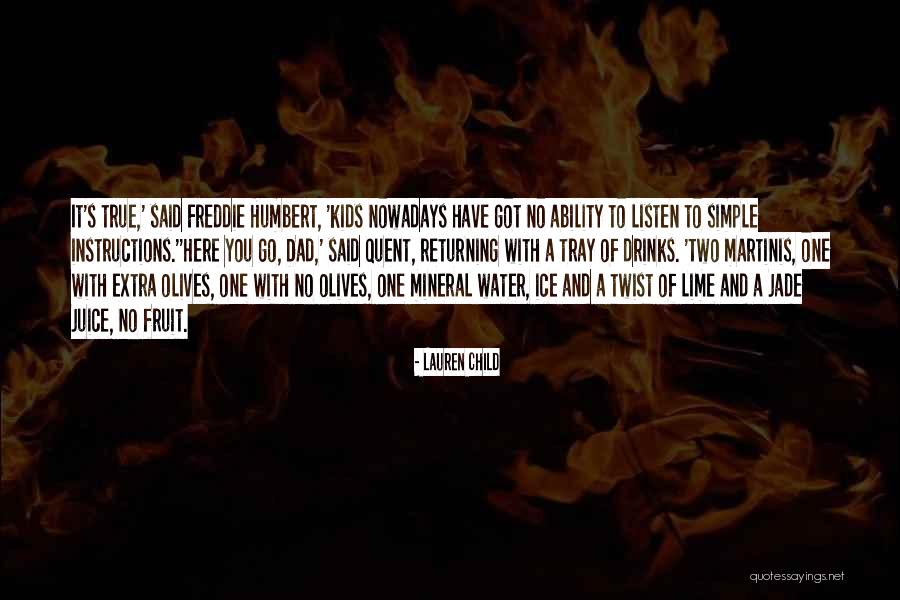 It's true,' said Freddie Humbert, 'kids nowadays have got no ability to listen to simple instructions.'
'Here you go, Dad,' said Quent, returning with a tray of drinks. 'Two martinis, one with extra olives, one with no olives, one mineral water, ice and a twist of lime and a jade juice, no fruit. — Lauren Child