Quotes & Sayings About Signs And Wonders
Enjoy reading and share 48 famous quotes about Signs And Wonders with everyone.
Top Signs And Wonders Quotes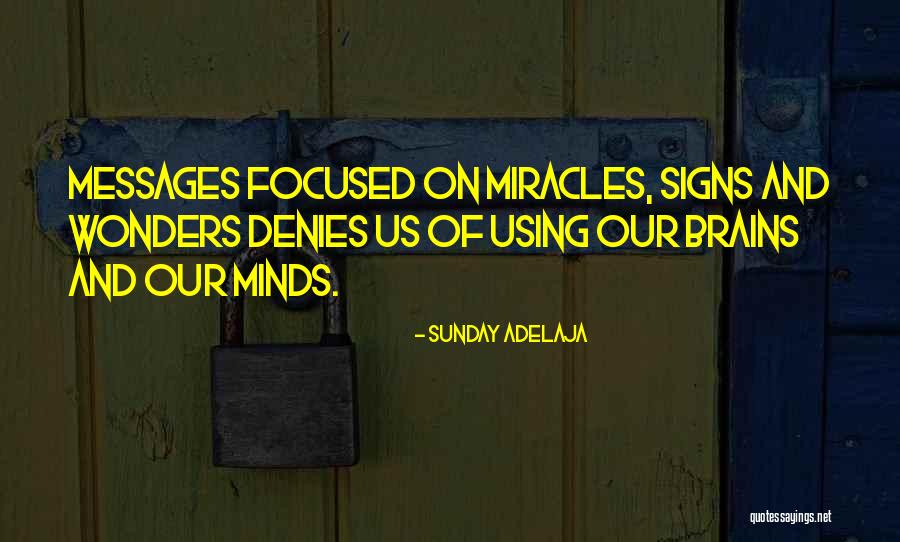 Messages focused on miracles, signs and wonders denies us of using our brains and our minds. — Sunday Adelaja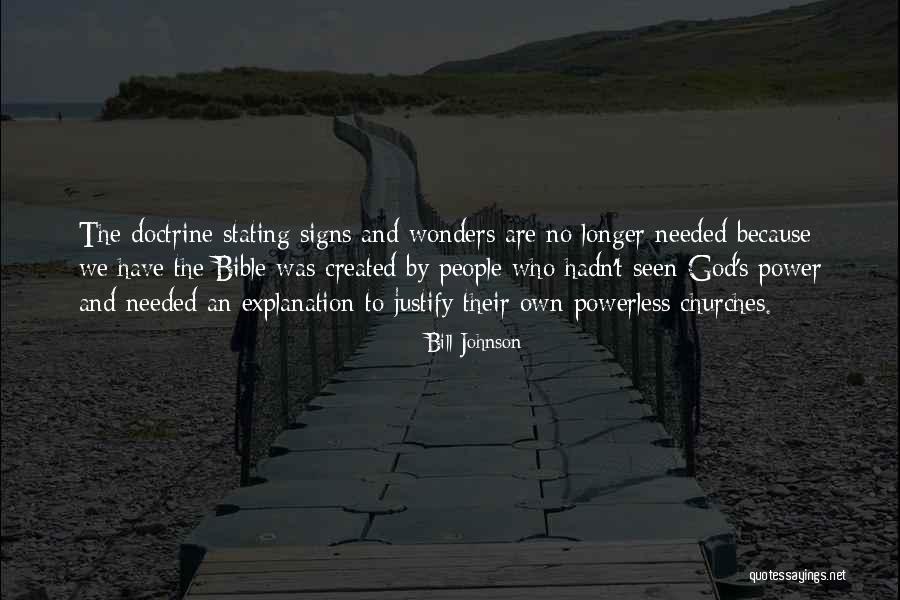 The doctrine stating signs and wonders are no longer needed because we have the Bible was created by people who hadn't seen God's power and needed an explanation to justify their own powerless churches. — Bill Johnson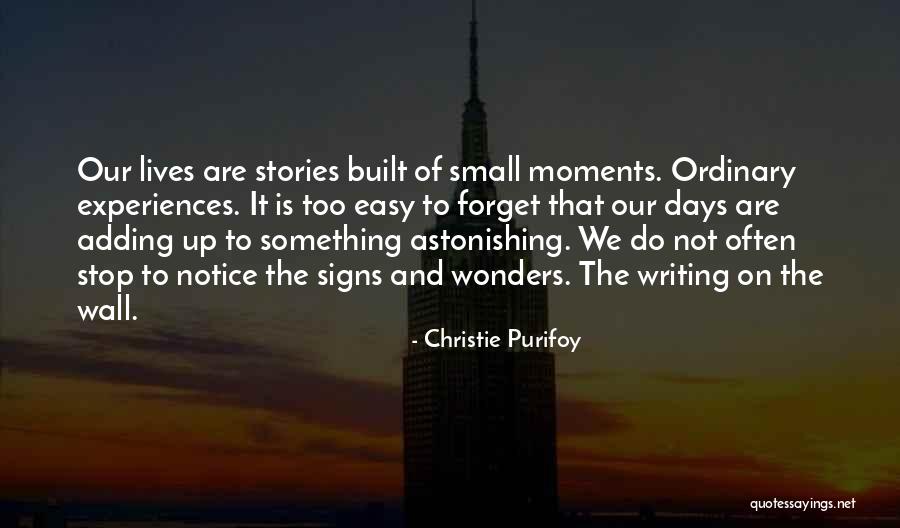 Our lives are stories built of small moments. Ordinary experiences. It is too easy to forget that our days are adding up to something astonishing. We do not often stop to notice the signs and wonders. The writing on the wall. — Christie Purifoy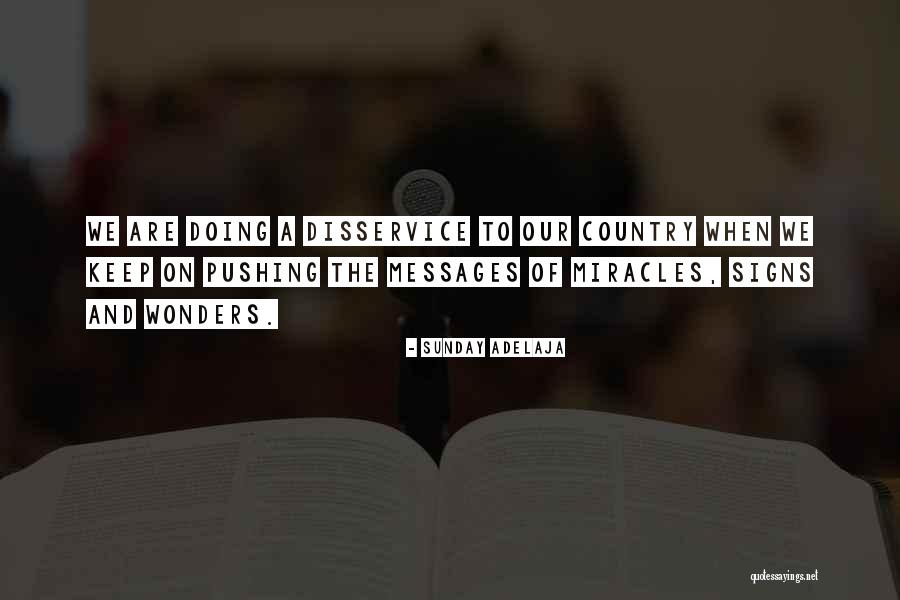 We are doing a disservice to our country when we keep on pushing the messages of miracles, signs and wonders. — Sunday Adelaja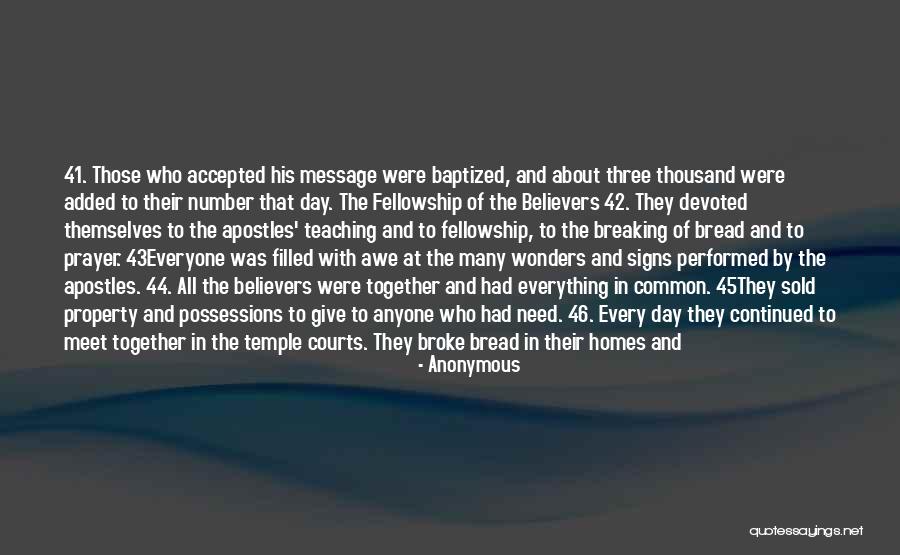 41. Those who accepted his message were baptized, and about three thousand were added to their number that day. The Fellowship of the Believers 42. They devoted themselves to the apostles' teaching and to fellowship, to the breaking of bread and to prayer. 43Everyone was filled with awe at the many wonders and signs performed by the apostles. 44. All the believers were together and had everything in common. 45They sold property and possessions to give to anyone who had need. 46. Every day they continued to meet together in the temple courts. They broke bread in their homes and ate together with glad and sincere hearts, 47. praising God and enjoying the favor of all the people. And the Lord added to their number daily those who were being saved. — Anonymous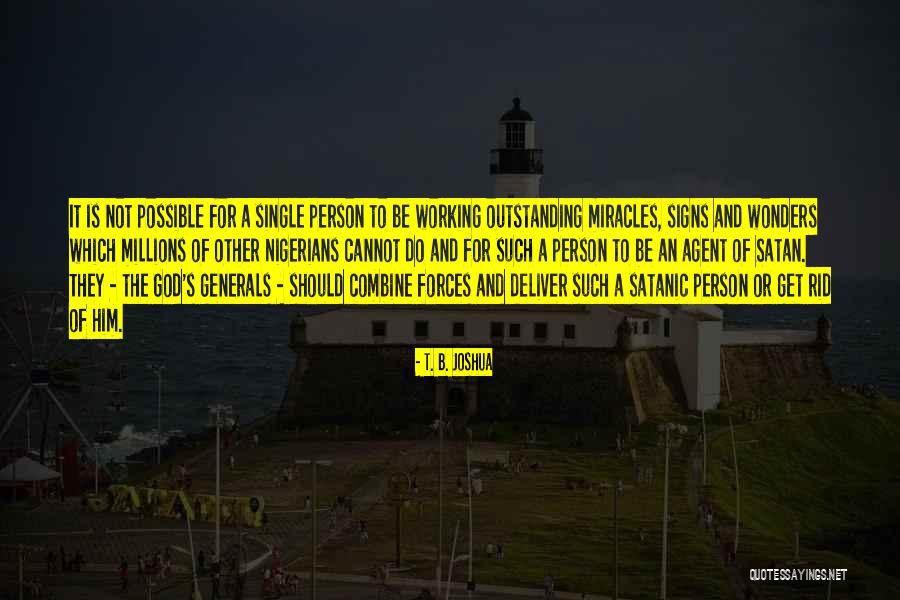 It is not possible for a single person to be working outstanding miracles, signs and wonders which millions of other Nigerians cannot do and for such a person to be an agent of Satan. They - the God's generals - should combine forces and deliver such a satanic person or get rid of him. — T. B. Joshua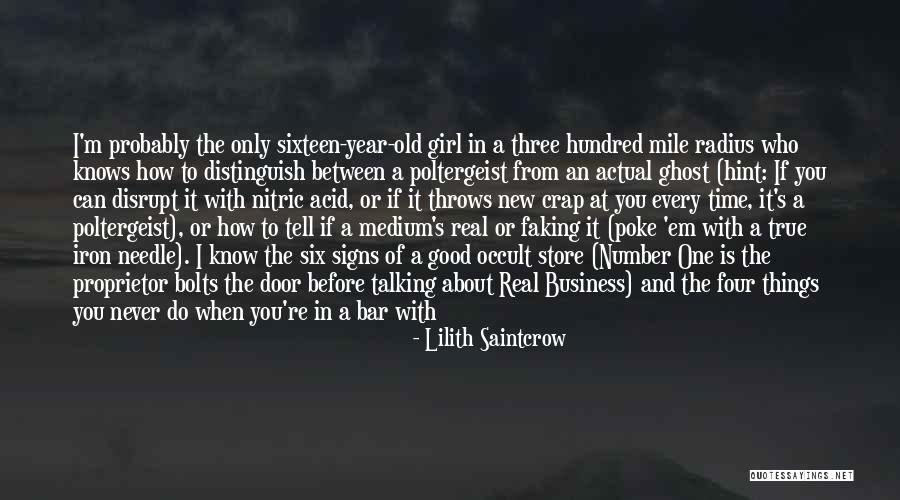 I'm probably the only sixteen-year-old girl in a three hundred mile radius who knows how to distinguish between a poltergeist from an actual ghost (hint: If you can disrupt it with nitric acid, or if it throws new crap at you every time, it's a poltergeist), or how to tell if a medium's real or faking it (poke 'em with a true iron needle). I know the six signs of a good occult store (Number One is the proprietor bolts the door before talking about Real Business) and the four things you never do when you're in a bar with other people who know about the darker side of the world (don't look weak). I know how to access public information and talk my way around clerks in courthouses (a smile and the right clothing will work wonders). I also know how to hack into newspaper files, police reports, and some kinds of government databases (primary rule: Don't get caught. Duh). — Lilith Saintcrow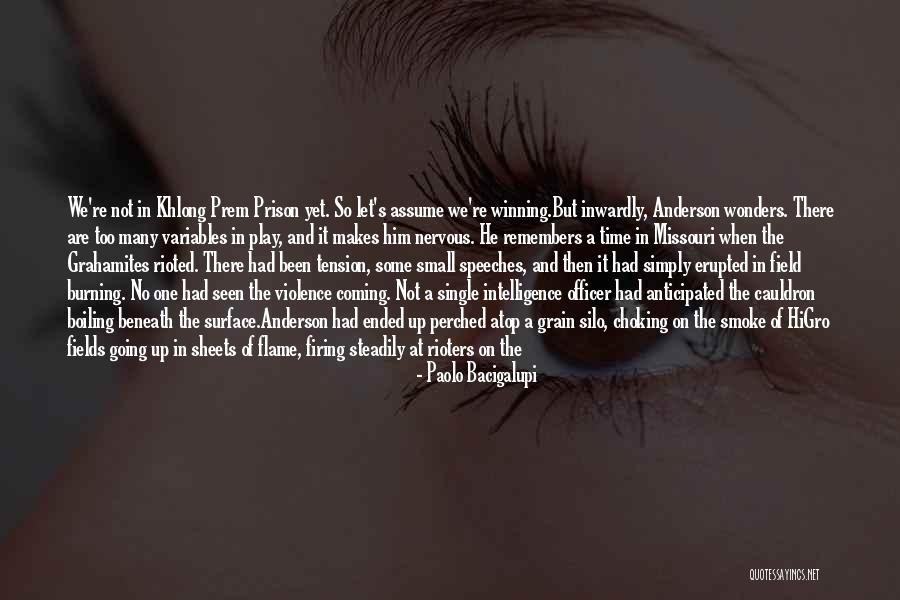 We're not in Khlong Prem Prison yet. So let's assume we're winning.
But inwardly, Anderson wonders. There are too many variables in play, and it makes him nervous. He remembers a time in Missouri when the Grahamites rioted. There had been tension, some small speeches, and then it had simply erupted in field burning. No one had seen the violence coming. Not a single intelligence officer had anticipated the cauldron boiling beneath the surface.
Anderson had ended up perched atop a grain silo, choking on the smoke of HiGro fields going up in sheets of flame, firing steadily at rioters on the ground with a spring rifle he'd salvaged from a slow-moving security guard, and all the while he had wondered how everyone had missed the signs. They lost the facility because of that blindness. And now it is the same. A sudden eruption, and the surprise of realizing that the world he understands is not the one he actually inhabits. — Paolo Bacigalupi
No one, in the world's whole history, ever attempted to substantiate a truth by a miracle. Truth scorns the assistance of miracle. Nothing but falsehood ever attested itself by signs and wonders. No miracle ever was performed, and no sane man ever thought he had performed one, and until one is performed, there can be no evidence of the existence of any power superior to, and independent of nature. — Robert G. Ingersoll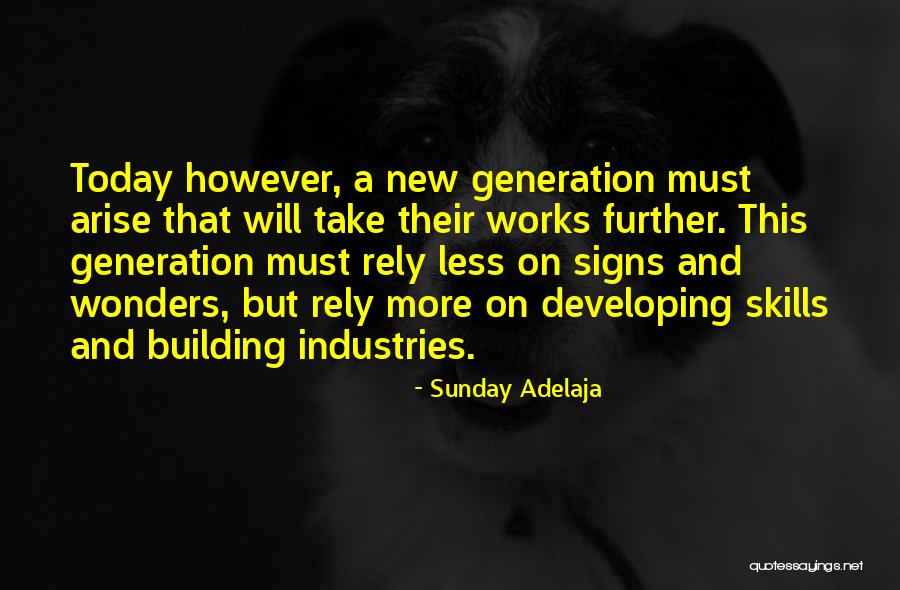 Today however, a new generation must arise that will take their works further. This generation must rely less on signs and wonders, but rely more on developing skills and building industries. — Sunday Adelaja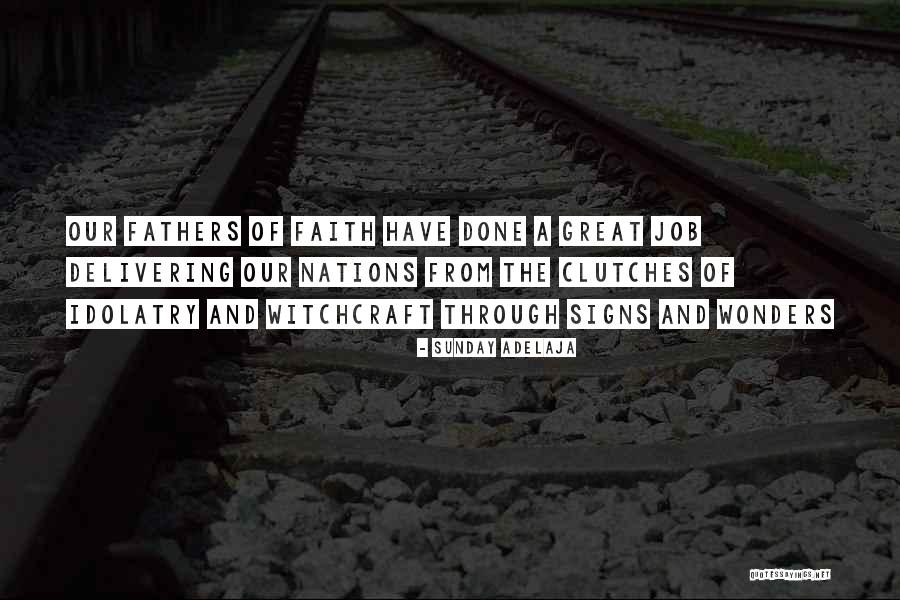 Our fathers of faith have done a great job delivering our nations from the clutches of idolatry and witchcraft through signs and wonders — Sunday Adelaja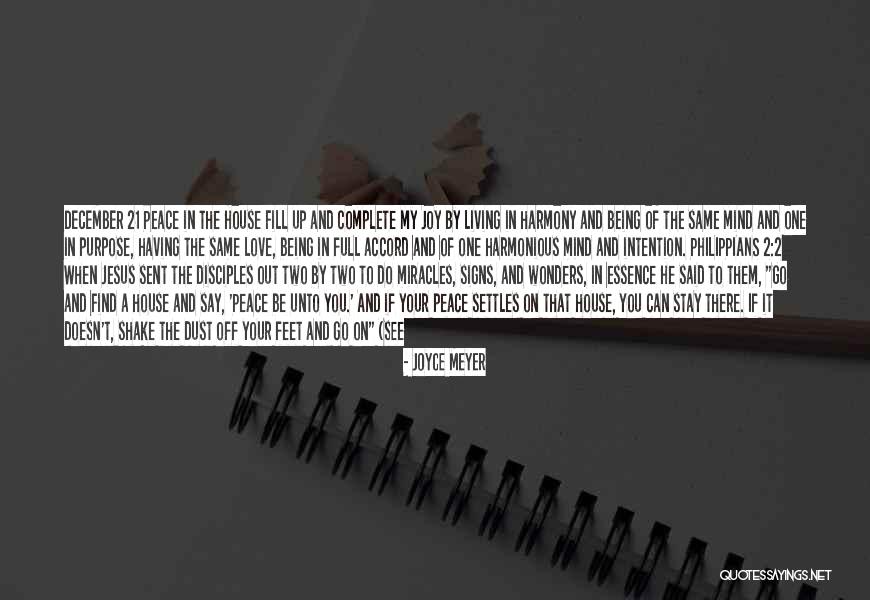 DECEMBER 21 Peace in the House Fill up and complete my joy by living in harmony and being of the same mind and one in purpose, having the same love, being in full accord and of one harmonious mind and intention. PHILIPPIANS 2:2 When Jesus sent the disciples out two by two to do miracles, signs, and wonders, in essence He said to them, "Go and find a house and say, 'Peace be unto you.' And if your peace settles on that house, you can stay there. If it doesn't, shake the dust off your feet and go on" (see Mark 6:7-11). One day God showed me what Jesus was really saying to them: "I want you to go out with the anointing, but to do that you need to have peace in the house." You need to do whatever you can to maintain peace in your home because it dramatically affects the anointing and power of God that rests on your life. Keep the strife out of your life! No peace, no power! Know peace, know power! — Joyce Meyer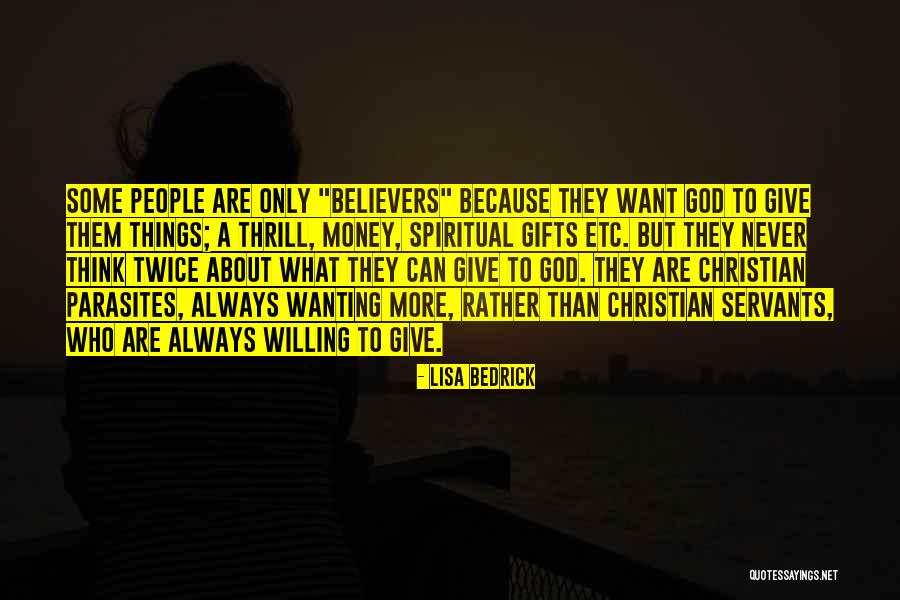 Some people are only "believers" because they want God to give them things; a thrill, money, spiritual gifts etc. but they never think twice about what THEY can give to God. They are Christian parasites, always wanting more, rather than Christian servants, who are always willing to give. — Lisa Bedrick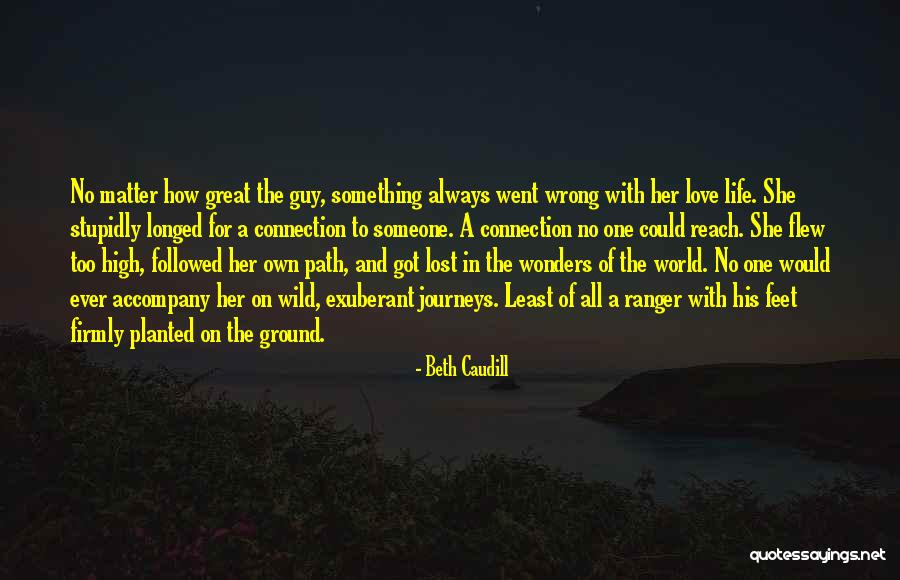 No matter how great the guy, something always went wrong with her love life. She stupidly longed for a connection to someone. A connection no one could reach. She flew too high, followed her own path, and got lost in the wonders of the world. No one would ever accompany her on wild, exuberant journeys. Least of all a ranger with his feet firmly planted on the ground. — Beth Caudill
Wonders and signs are miracles of God. — Lailah Gifty Akita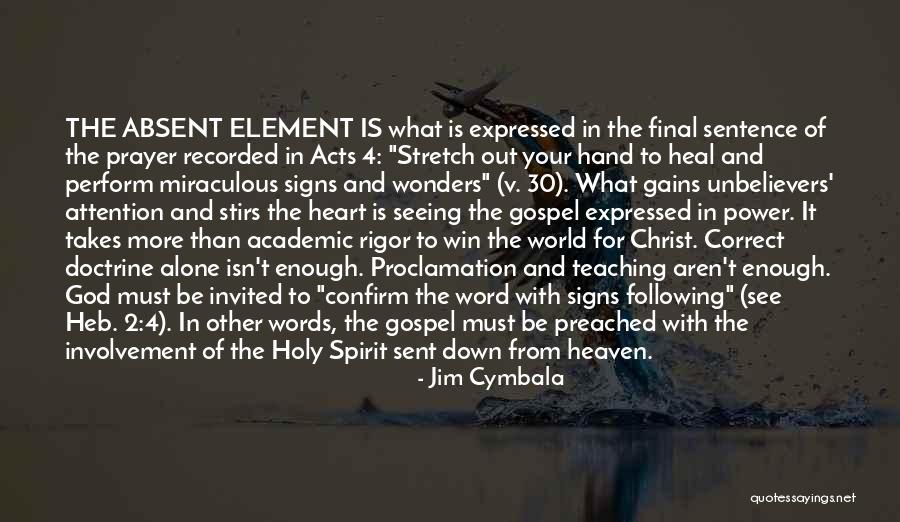 THE ABSENT ELEMENT IS what is expressed in the final sentence of the prayer recorded in Acts 4: "Stretch out your hand to heal and perform miraculous signs and wonders" (v. 30). What gains unbelievers' attention and stirs the heart is seeing the gospel expressed in power. It takes more than academic rigor to win the world for Christ. Correct doctrine alone isn't enough. Proclamation and teaching aren't enough. God must be invited to "confirm the word with signs following" (see Heb. 2:4). In other words, the gospel must be preached with the involvement of the Holy Spirit sent down from heaven. — Jim Cymbala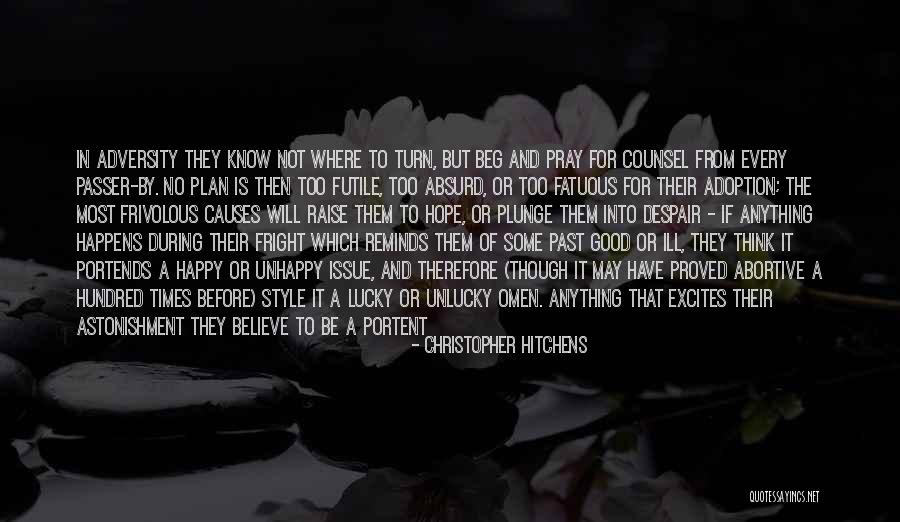 In adversity they know not where to turn, but beg and pray for counsel from every passer-by. No plan is then too futile, too absurd, or too fatuous for their adoption; the most frivolous causes will raise them to hope, or plunge them into despair - if anything happens during their fright which reminds them of some past good or ill, they think it portends a happy or unhappy issue, and therefore (though it may have proved abortive a hundred times before) style it a lucky or unlucky omen. Anything that excites their astonishment they believe to be a portent signifying the anger of the gods or of the Supreme Being, and, mistaking superstition for religion, account it impious not to avert the evil with prayer and sacrifice. Signs and wonders of this sort they conjure up perpetually, till one might think Nature as mad as themselves, they interpret her so fantastically. — Christopher Hitchens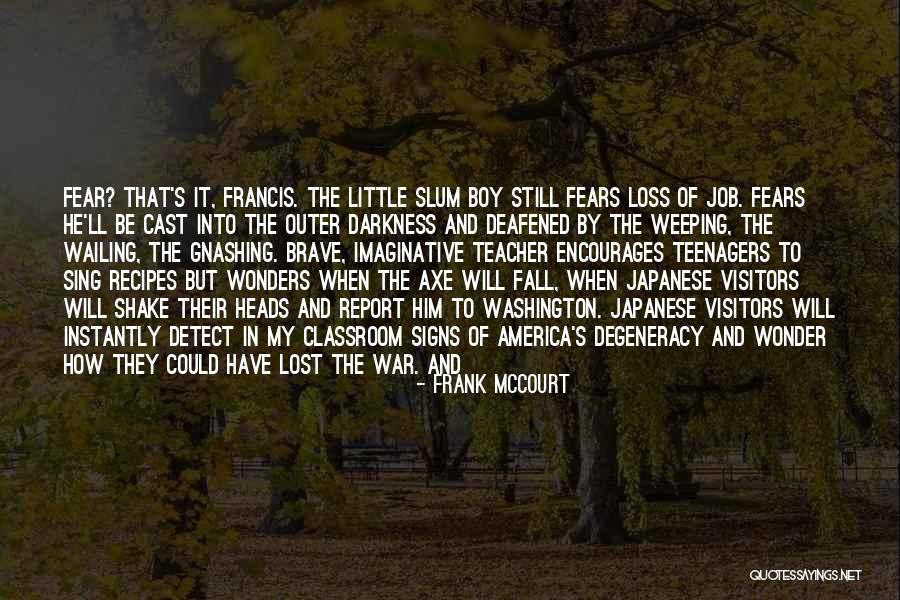 Fear? That's it, Francis. The little slum boy still fears loss of job. Fears he'll be cast into the outer darkness and deafened by the weeping, the wailing, the gnashing. Brave, imaginative teacher encourages teenagers to sing recipes but wonders when the axe will fall, when Japanese visitors will shake their heads and report him to Washington. Japanese visitors will instantly detect in my classroom signs of America's degeneracy and wonder how they could have lost the war. And — Frank McCourt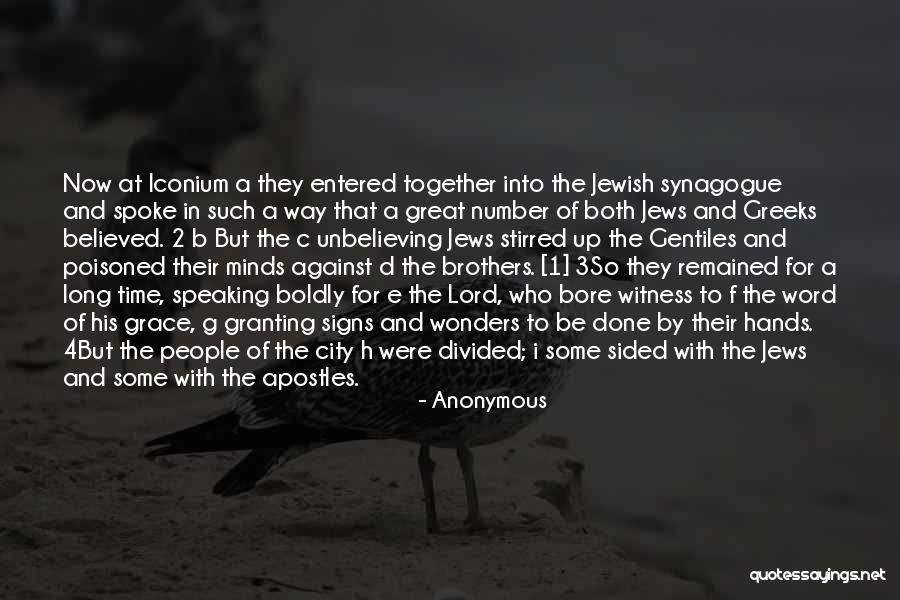 Now at Iconium a they entered together into the Jewish synagogue and spoke in such a way that a great number of both Jews and Greeks believed. 2 b But the c unbelieving Jews stirred up the Gentiles and poisoned their minds against d the brothers. [1] 3So they remained for a long time, speaking boldly for e the Lord, who bore witness to f the word of his grace, g granting signs and wonders to be done by their hands. 4But the people of the city h were divided; i some sided with the Jews and some with the apostles. — Anonymous
Signs & wonders are a manifestation of God's love for us. The Resurrection was the greatest sign & wonder of them all and without it our existence would be in vain. If theology matters (Wimber), then so does knowledge. Without it Noah, Abraham, Jesus, or Paul would not have fulfilled God's purposes. 'My people perish for a lack of knowledge' (NT-passim)."

~R. Alan Woods [2013] — R. Alan Woods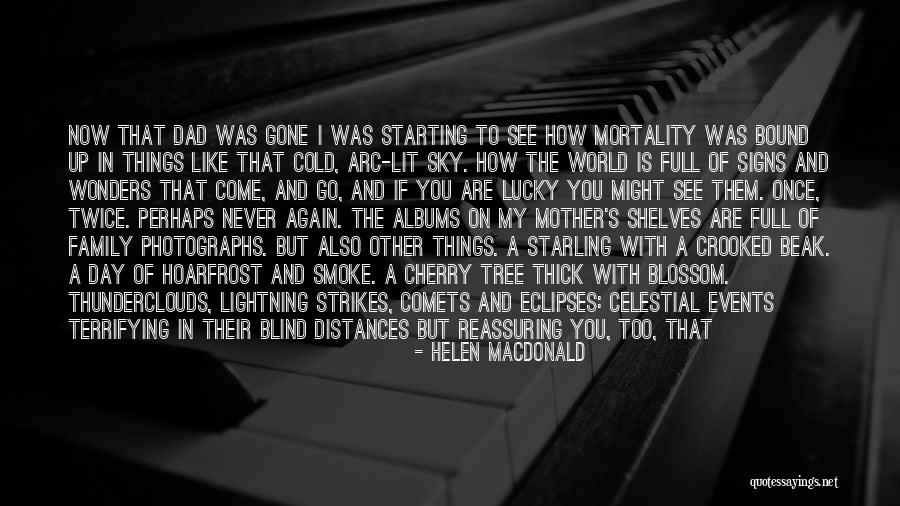 Now that Dad was gone I was starting to see how mortality was bound up in things like that cold, arc-lit sky. How the world is full of signs and wonders that come, and go, and if you are lucky you might see them. Once, twice. Perhaps never again. The albums on my mother's shelves are full of family photographs. But also other things. A starling with a crooked beak. A day of hoarfrost and smoke. A cherry tree thick with blossom. Thunderclouds, lightning strikes, comets and eclipses: celestial events terrifying in their blind distances but reassuring you, too, that the world is for ever, though you are only a blink in its course. — Helen Macdonald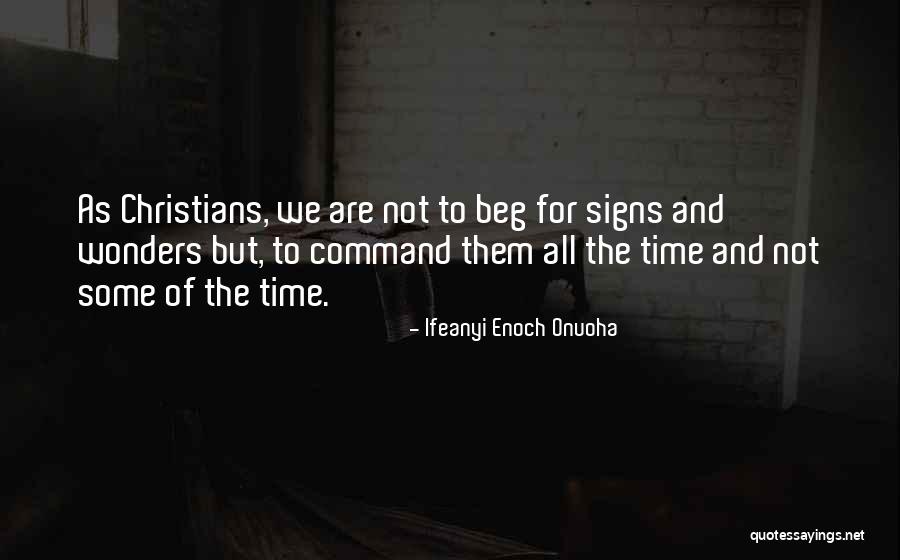 As Christians, we are not to beg for signs and wonders but, to command them all the time and not some of the time. — Ifeanyi Enoch Onuoha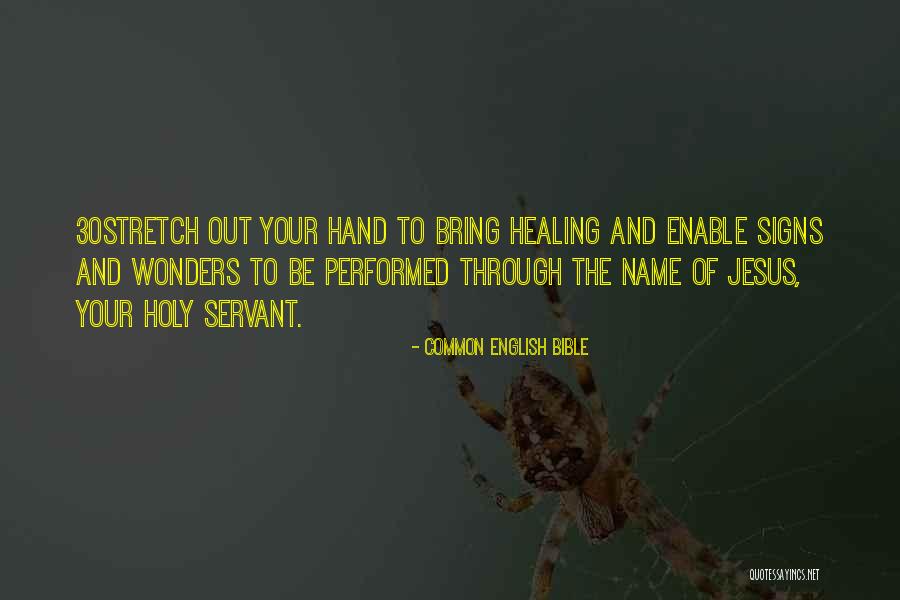 30Stretch out your hand to bring healing and enable signs and wonders to be performed through the name of Jesus, your holy servant. — Common English Bible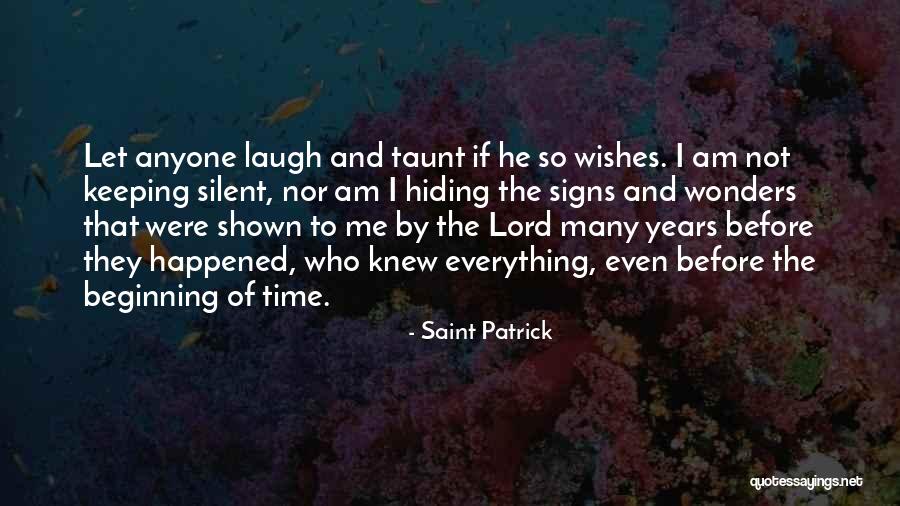 Let anyone laugh and taunt if he so wishes. I am not keeping silent, nor am I hiding the signs and wonders that were shown to me by the Lord many years before they happened, who knew everything, even before the beginning of time. — Saint Patrick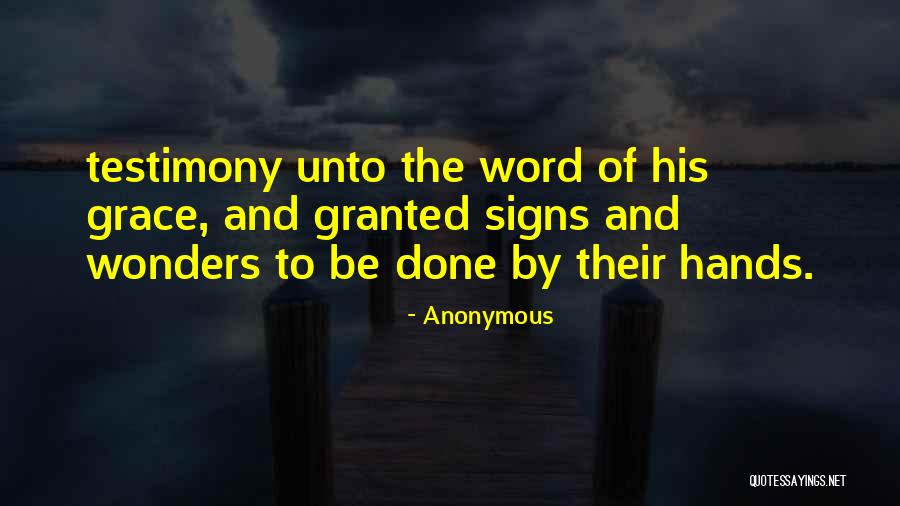 testimony unto the word of his grace, and granted signs and wonders to be done by their hands. — Anonymous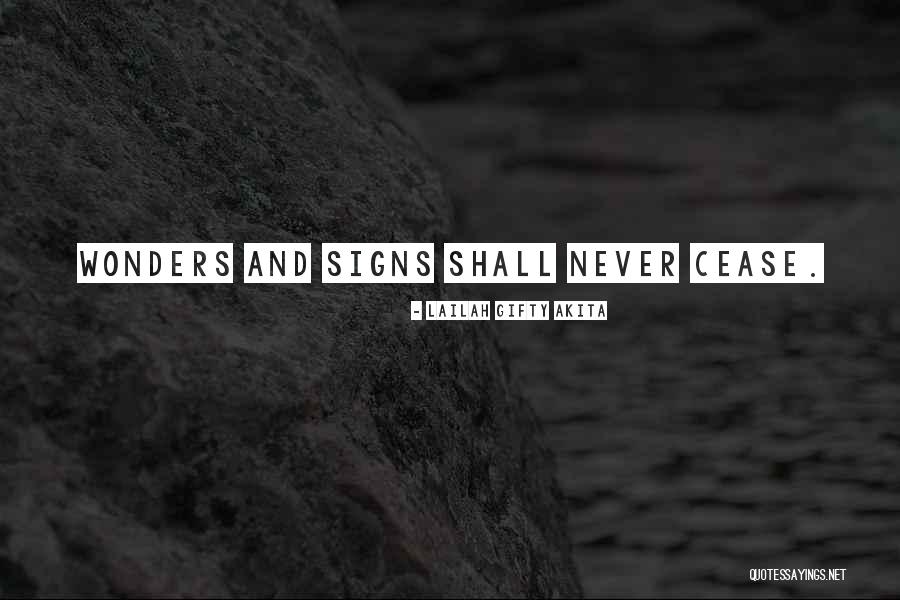 Wonders and signs shall never cease. — Lailah Gifty Akita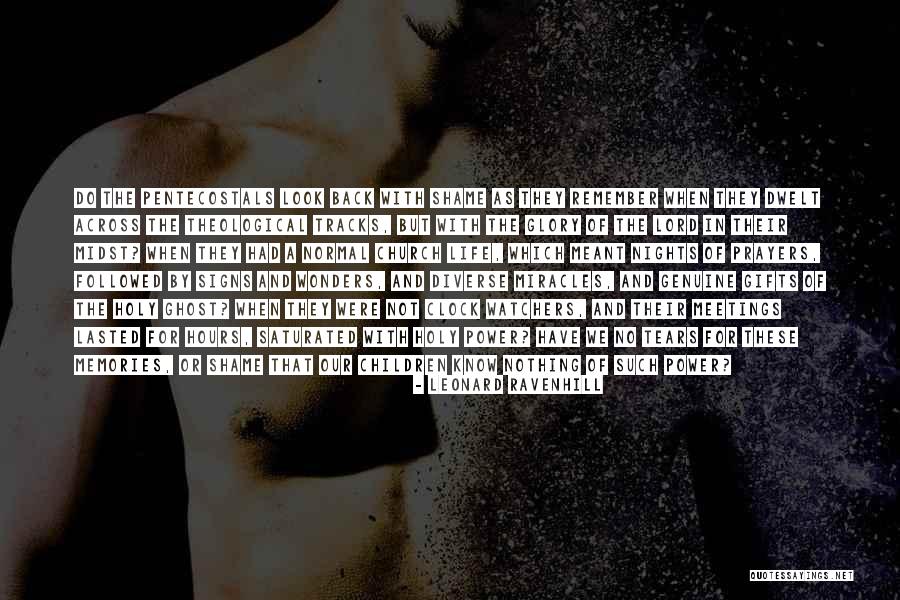 Do the Pentecostals look back with shame as they remember when they dwelt across the theological tracks, but with the glory of the Lord in their midst? When they had a normal church life, which meant nights of prayers, followed by signs and wonders, and diverse miracles, and genuine gifts of the Holy Ghost? When they were not clock watchers, and their meetings lasted for hours, saturated with holy power? Have we no tears for these memories, or shame that our children know nothing of such power? — Leonard Ravenhill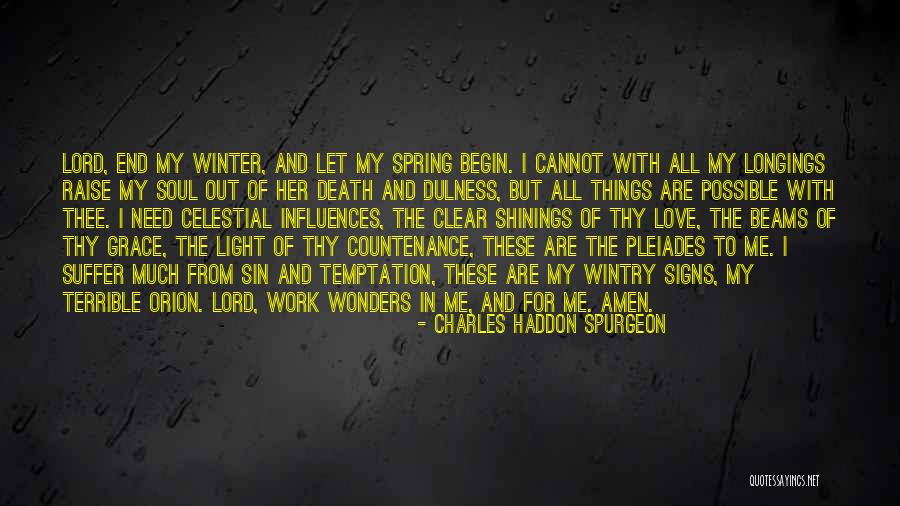 Lord, end my winter, and let my spring begin. I cannot with all my longings raise my soul out of her death and dulness, but all things are possible with thee. I need celestial influences, the clear shinings of thy love, the beams of thy grace, the light of thy countenance, these are the Pleiades to me. I suffer much from sin and temptation, these are my wintry signs, my terrible Orion. Lord, work wonders in me, and for me. Amen. — Charles Haddon Spurgeon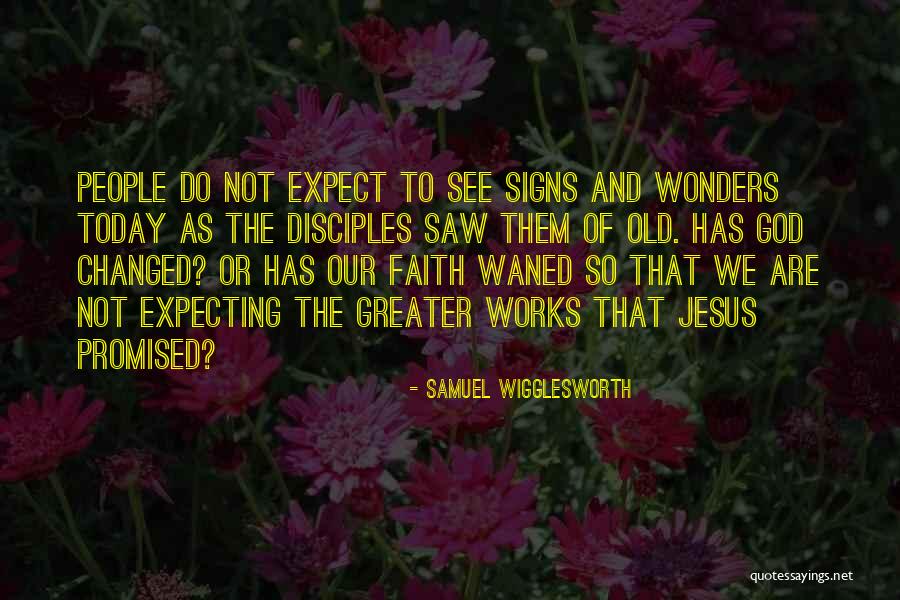 People do not expect to see signs and wonders today as the disciples saw them of old. Has God changed? Or has our faith waned so that we are not expecting the greater works that Jesus promised? — Samuel Wigglesworth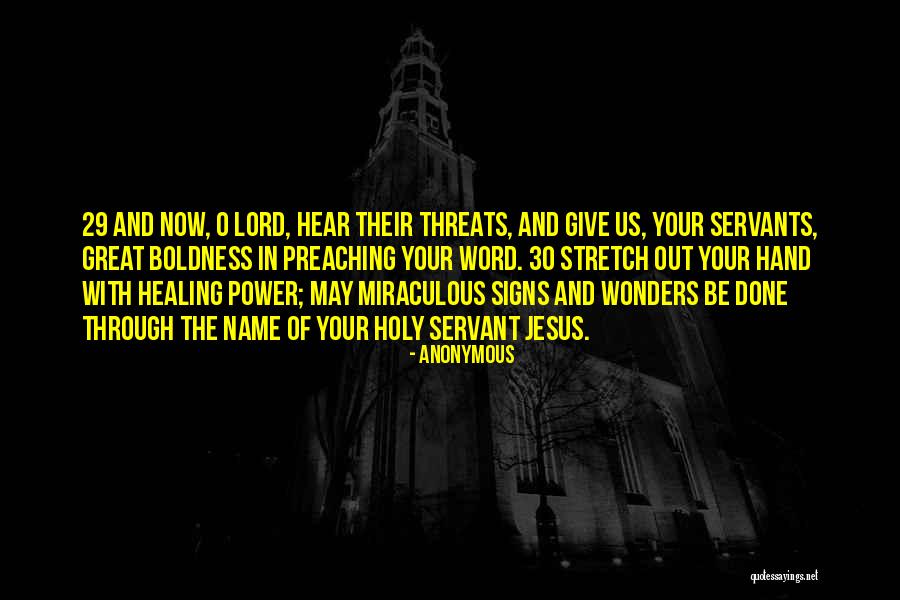 29 And now, O Lord, hear their threats, and give us, your servants, great boldness in preaching your word. 30 Stretch out your hand with healing power; may miraculous signs and wonders be done through the name of your holy servant Jesus. — Anonymous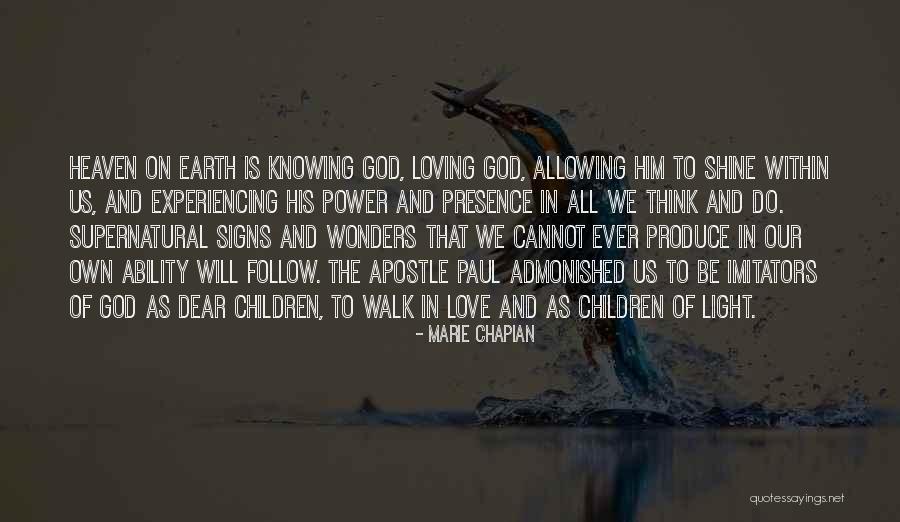 Heaven on earth is knowing God, loving God, allowing Him to shine within us, and experiencing His power and Presence in all we think and do. Supernatural signs and wonders that we cannot ever produce in our own ability will follow. The apostle Paul admonished us to be imitators of God as dear children, to walk in love and as children of light. — Marie Chapian
For false christs and false prophets will arise and o perform signs and wonders, p to lead astray, if possible, q the elect. 23But r be on guard; s I have told you all things beforehand. — Anonymous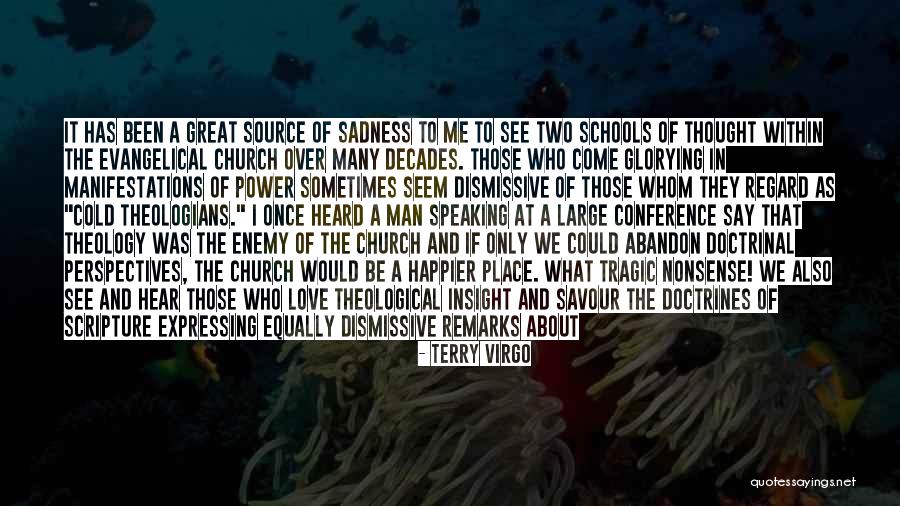 It has been a great source of sadness to me to see two schools of thought within the evangelical church over many decades. Those who come glorying in manifestations of power sometimes seem dismissive of those whom they regard as "cold theologians." I once heard a man speaking at a large conference say that theology was the enemy of the church and if only we could abandon doctrinal perspectives, the church would be a happier place. What tragic nonsense! We also see and hear those who love theological insight and savour the doctrines of Scripture expressing equally dismissive remarks about Christians who are enjoying God's power, as though they were mere children preoccupied with experience. How I long for a recovery of true biblical Christianity where the apostle Paul, who wrote the book of Romans, also raised the dead! It seems that profound theology and great signs and wonders happily cohabited in Paul's life and ministry. — Terry Virgo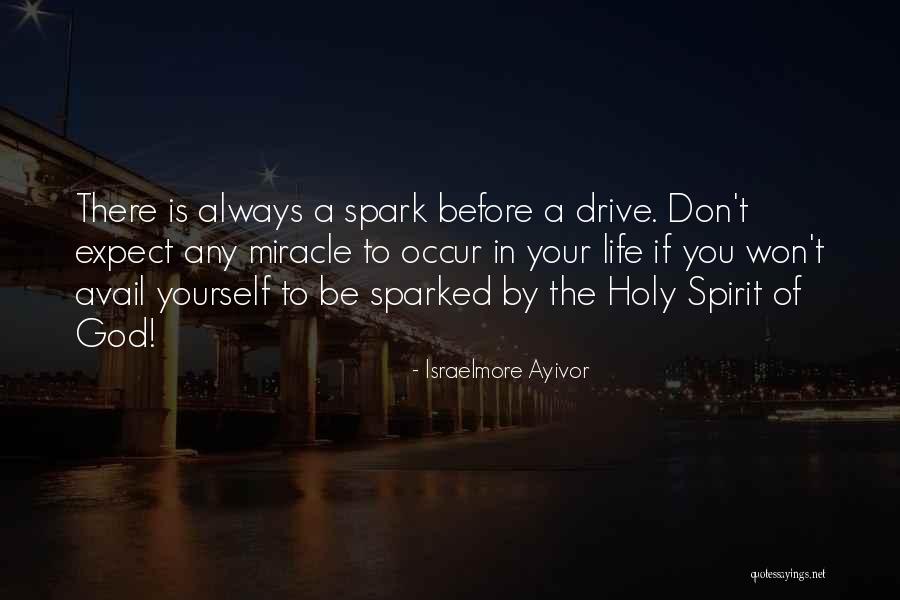 There is always a spark before a drive. Don't expect any miracle to occur in your life if you won't avail yourself to be sparked by the Holy Spirit of God! — Israelmore Ayivor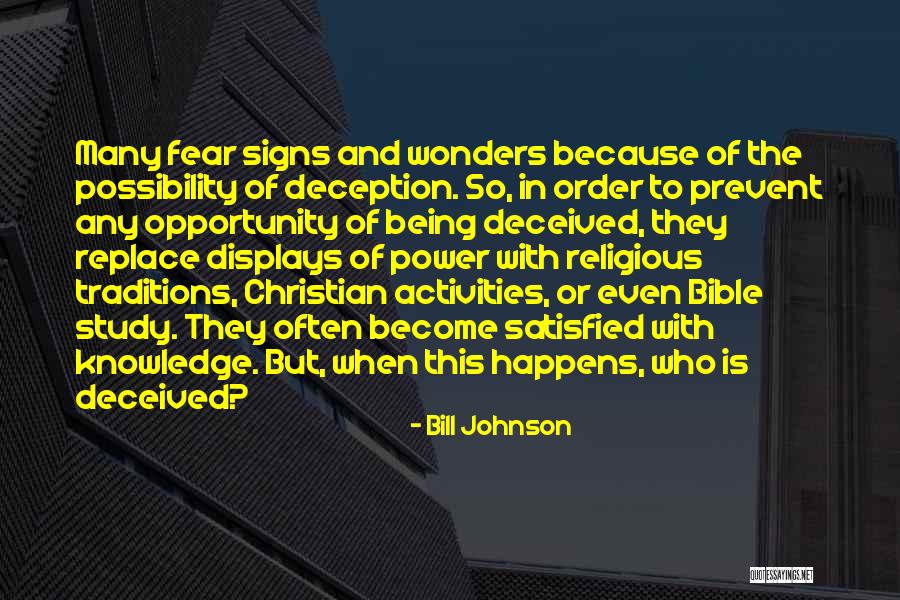 Many fear signs and wonders because of the possibility of deception. So, in order to prevent any opportunity of being deceived, they replace displays of power with religious traditions, Christian activities, or even Bible study. They often become satisfied with knowledge. But, when this happens, who is deceived? — Bill Johnson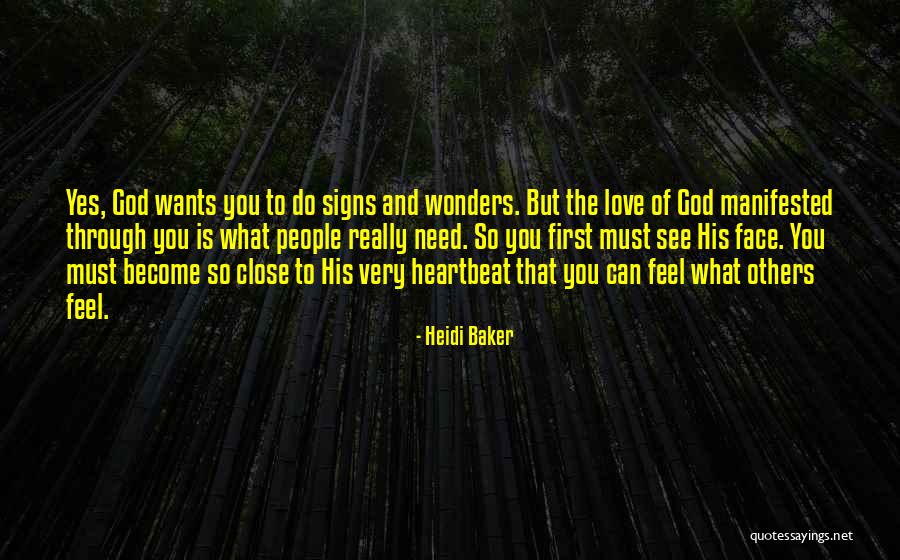 Yes, God wants you to do signs and wonders. But the love of God manifested through you is what people really need. So you first must see His face. You must become so close to His very heartbeat that you can feel what others feel. — Heidi Baker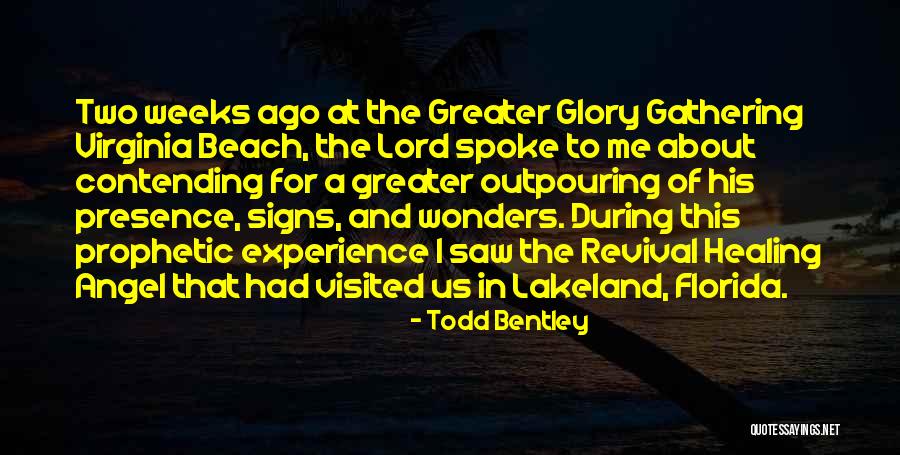 Two weeks ago at the Greater Glory Gathering Virginia Beach, the Lord spoke to me about contending for a greater outpouring of his presence, signs, and wonders. During this prophetic experience I saw the Revival Healing Angel that had visited us in Lakeland, Florida. — Todd Bentley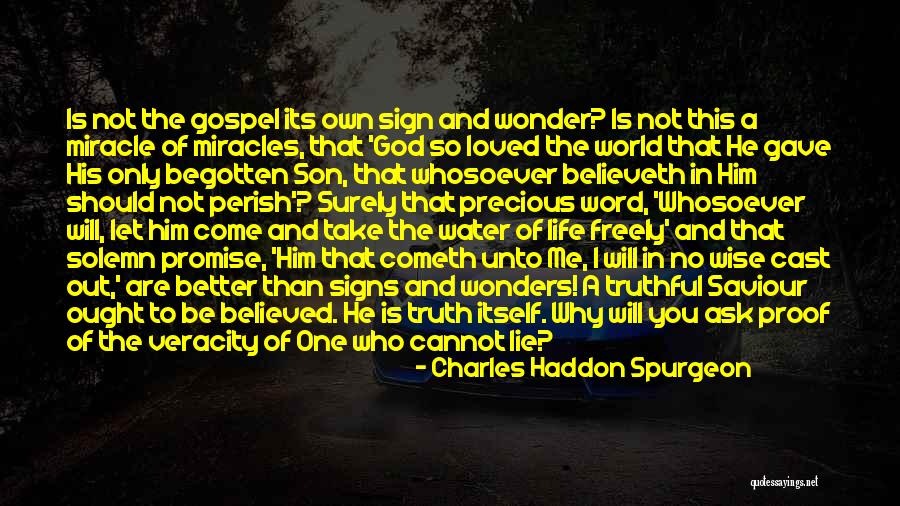 Is not the gospel its own sign and wonder? Is not this a miracle of miracles, that 'God so loved the world that He gave His only begotten Son, that whosoever believeth in Him should not perish'? Surely that precious word, 'Whosoever will, let him come and take the water of life freely' and that solemn promise, 'Him that cometh unto Me, I will in no wise cast out,' are better than signs and wonders! A truthful Saviour ought to be believed. He is truth itself. Why will you ask proof of the veracity of One who cannot lie? — Charles Haddon Spurgeon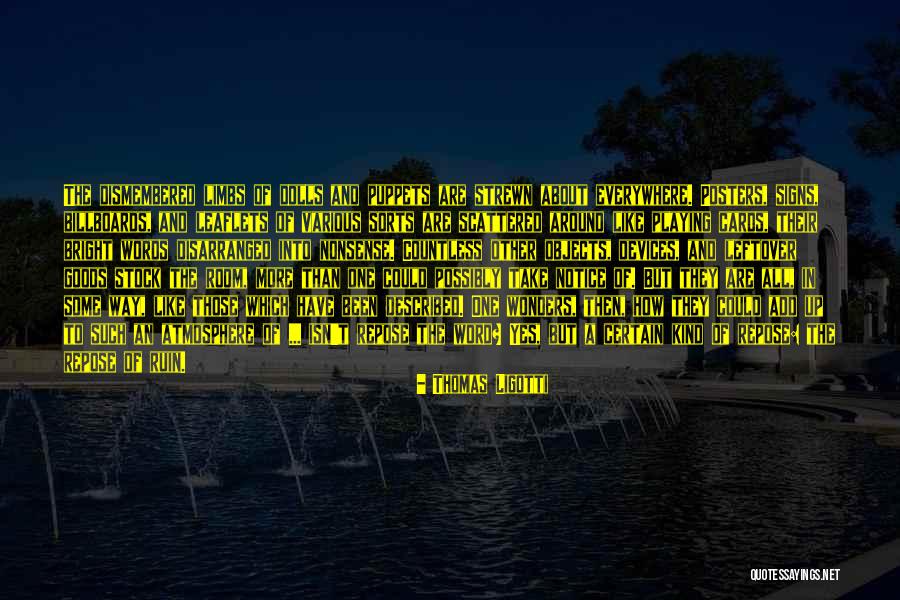 The dismembered limbs of dolls and puppets are strewn about everywhere. Posters, signs, billboards, and leaflets of various sorts are scattered around like playing cards, their bright words disarranged into nonsense. Countless other objects, devices, and leftover goods stock the room, more than one could possibly take notice of. But they are all, in some way, like those which have been described. One wonders, then, how they could add up to such an atmosphere of ... isn't repose the word? Yes, but a certain kind of repose: the repose of ruin. — Thomas Ligotti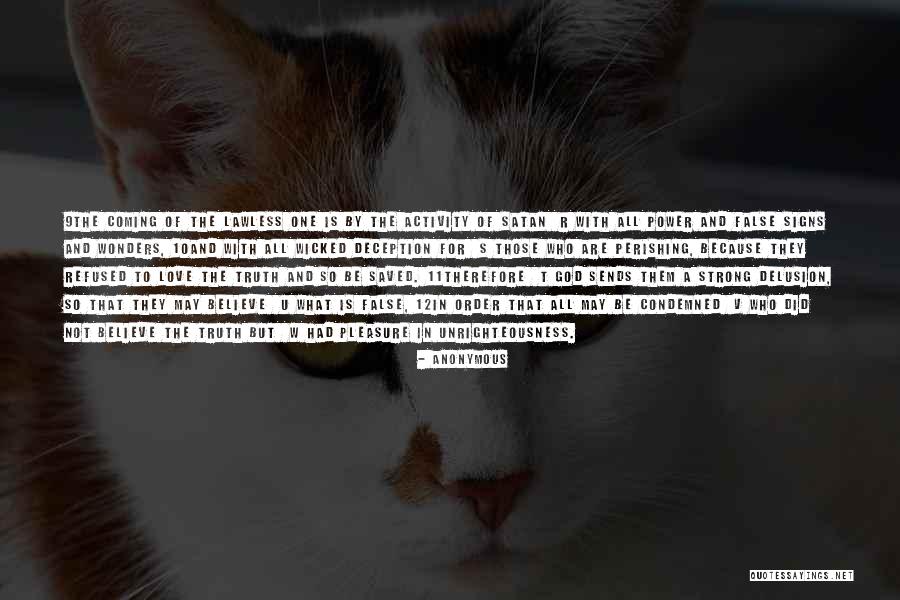 9The coming of the lawless one is by the activity of Satan r with all power and false signs and wonders, 10and with all wicked deception for s those who are perishing, because they refused to love the truth and so be saved. 11Therefore t God sends them a strong delusion, so that they may believe u what is false, 12in order that all may be condemned v who did not believe the truth but w had pleasure in unrighteousness. — Anonymous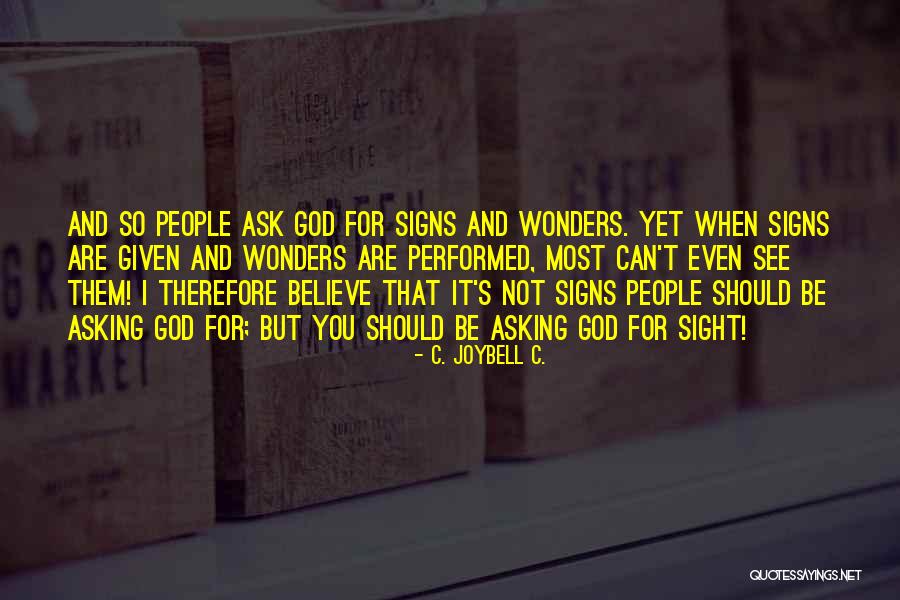 And so people ask God for signs and wonders. Yet when signs are given and wonders are performed, most can't even see them! I therefore believe that it's not signs people should be asking God for; but you should be asking God for Sight! — C. JoyBell C.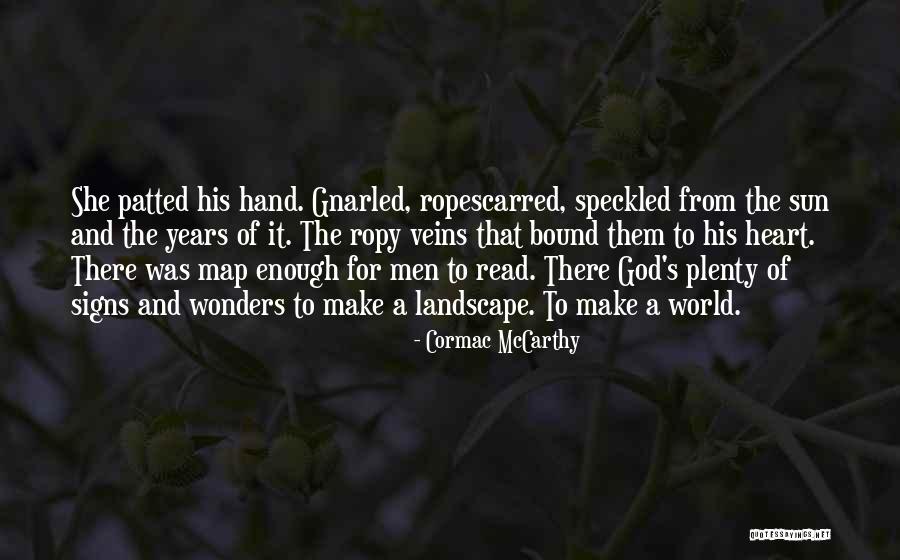 She patted his hand. Gnarled, ropescarred, speckled from the sun and the years of it. The ropy veins that bound them to his heart. There was map enough for men to read. There God's plenty of signs and wonders to make a landscape. To make a world. — Cormac McCarthy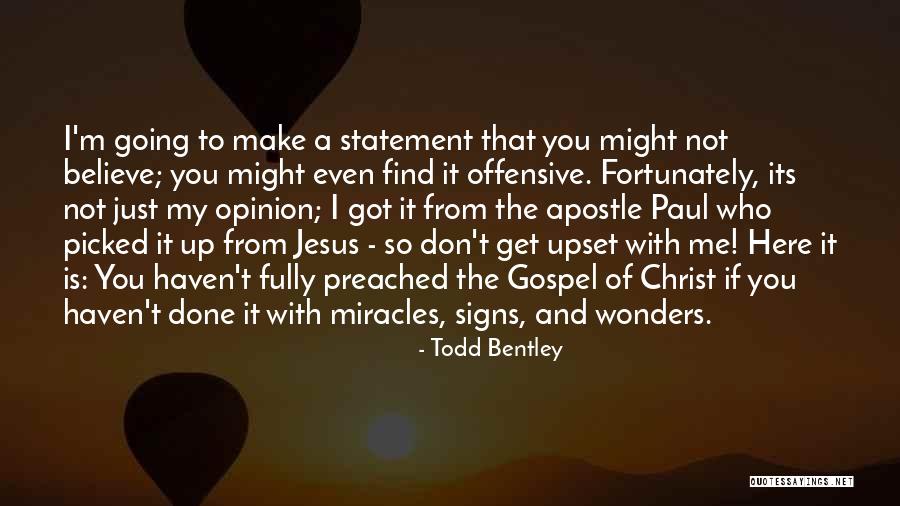 I'm going to make a statement that you might not believe; you might even find it offensive. Fortunately, its not just my opinion; I got it from the apostle Paul who picked it up from Jesus - so don't get upset with me! Here it is: You haven't fully preached the Gospel of Christ if you haven't done it with miracles, signs, and wonders. — Todd Bentley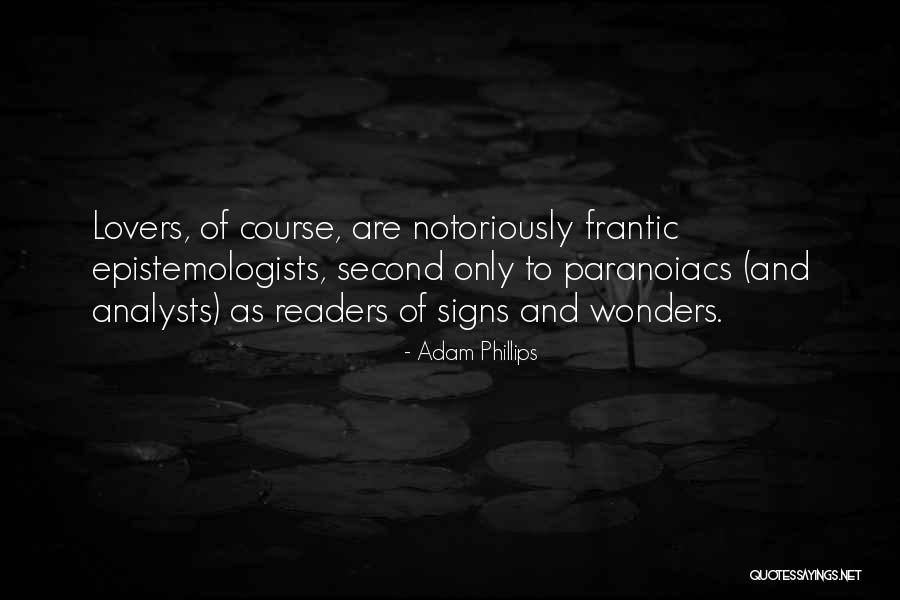 Lovers, of course, are notoriously frantic epistemologists, second only to paranoiacs (and analysts) as readers of signs and wonders. — Adam Phillips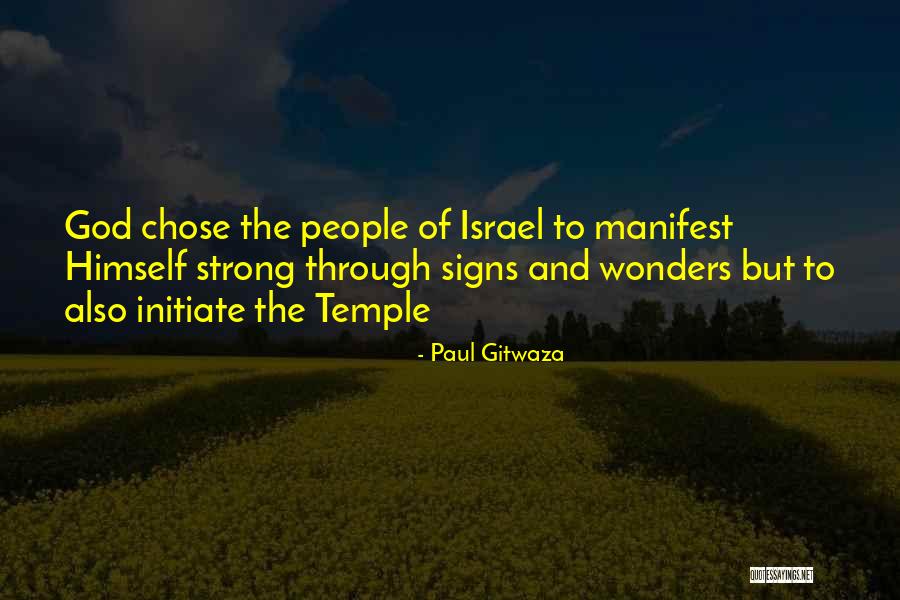 God chose the people of Israel to manifest Himself strong through signs and wonders but to also initiate the Temple — Paul Gitwaza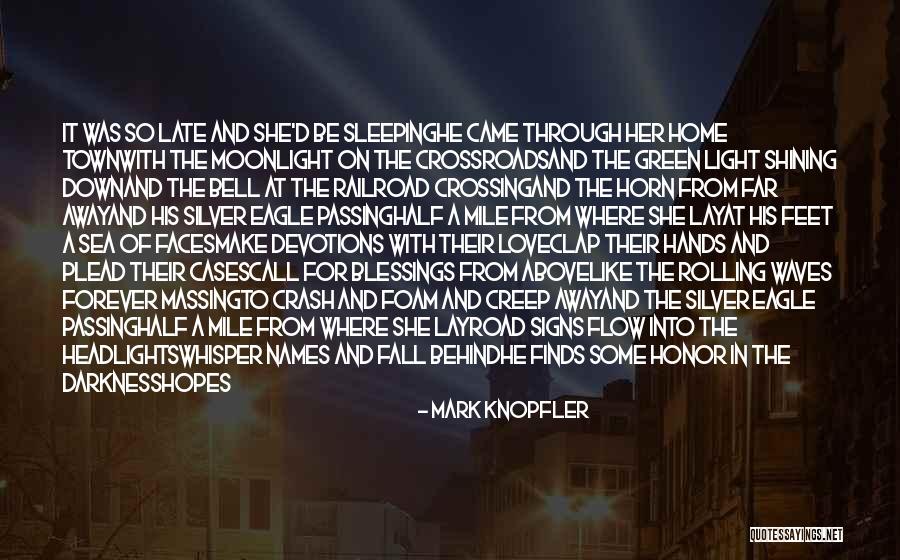 It was so late and she'd be sleeping
He came through her home town
With the moonlight on the crossroads
And the green light shining down
And the bell at the railroad crossing
And the horn from far away
And his Silver Eagle passing
Half a mile from where she lay

At his feet a sea of faces
Make devotions with their love
Clap their hands and plead their cases
Call for blessings from above
Like the rolling waves forever massing
To crash and foam and creep away
And the Silver Eagle passing
Half a mile from where she lay

Road signs flow into the headlights
Whisper names and fall behind
He finds some honor in the darkness
Hopes for grace and peace of mind
And he thinks of how they'd lay together
He'd run his fingers through her hair
And he wonders if she'll ever
Come to know that he was there — Mark Knopfler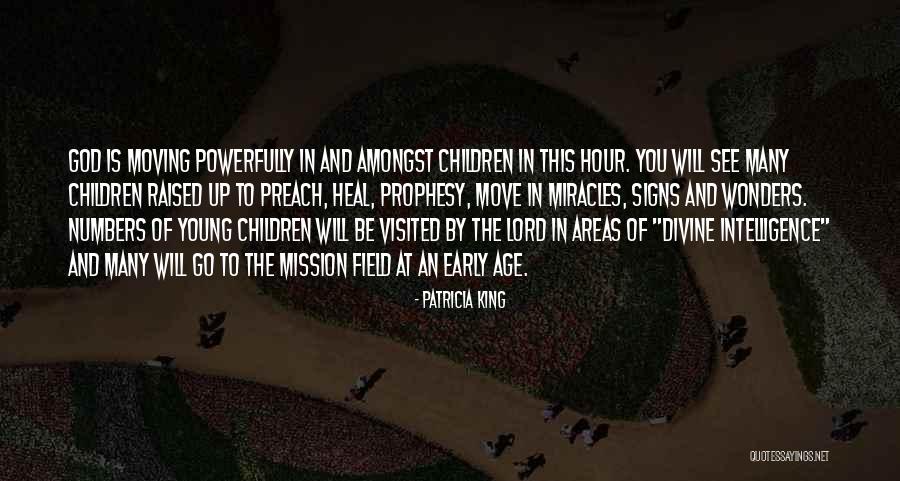 God is moving powerfully in and amongst children in this hour. You will see MANY children raised up to preach, heal, prophesy, move in miracles, signs and wonders. Numbers of young children will be visited by the Lord in areas of "Divine Intelligence" and many will go to the mission field at an early age. — Patricia King