Quotes & Sayings About Shoes Inspirational
Enjoy reading and share 55 famous quotes about Shoes Inspirational with everyone.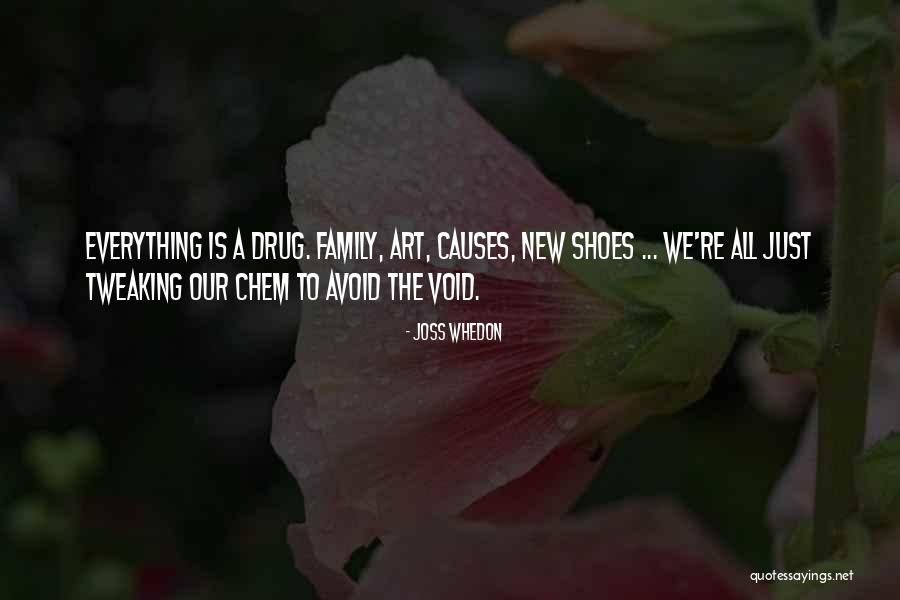 Everything is a drug. Family, art, causes, new shoes ... We're all just tweaking our chem to avoid the void. — Joss Whedon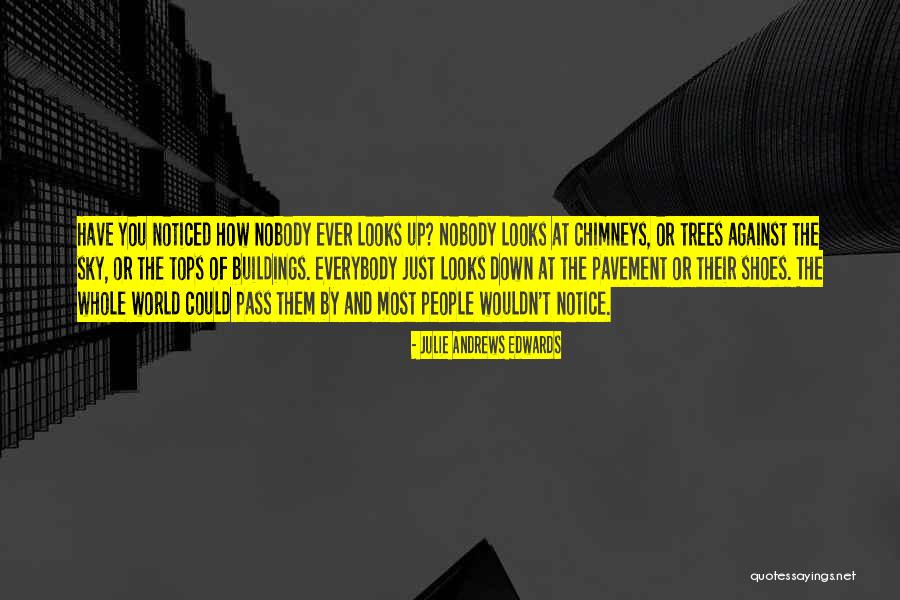 Have you noticed how nobody ever looks up? Nobody looks at chimneys, or trees against the sky, or the tops of buildings. Everybody just looks down at the pavement or their shoes. The whole world could pass them by and most people wouldn't notice. — Julie Andrews Edwards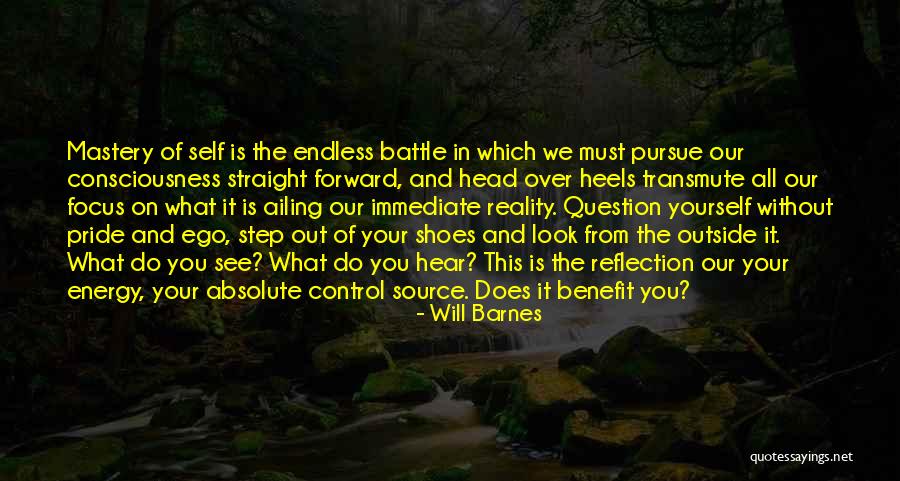 Mastery of self is the endless battle in which we must pursue our consciousness straight forward, and head over heels transmute all our focus on what it is ailing our immediate reality. Question yourself without pride and ego, step out of your shoes and look from the outside it. What do you see? What do you hear? This is the reflection our your energy, your absolute control source. Does it benefit you? — Will Barnes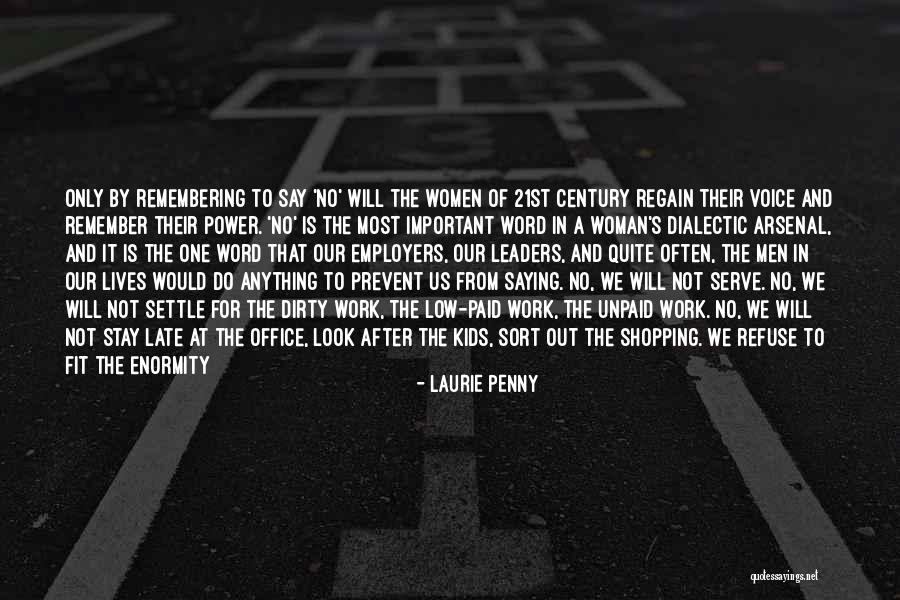 Only by remembering to say 'no' will the women of 21st century regain their voice and remember their power. 'No' is the most important word in a woman's dialectic arsenal, and it is the one word that our employers, our leaders, and quite often, the men in our lives would do anything to prevent us from saying. No, we will not serve. No, we will not settle for the dirty work, the low-paid work, the unpaid work. No, we will not stay late at the office, look after the kids, sort out the shopping. We refuse to fit the enormity of our passion, our creativity, and our potential into the rigid physical prison laid down for us since we were small children. No. We refuse. We will not buy your clothes and shoes and surgical solutions. No, we will not be beautiful; we will not be good. Most of all, we refuse to be beautiful and good. — Laurie Penny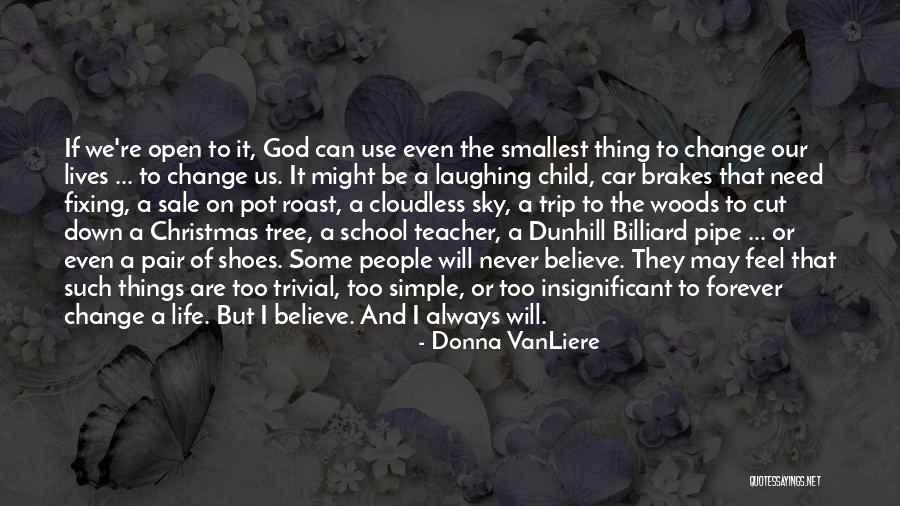 If we're open to it, God can use even the smallest thing to change our lives ... to change us. It might be a laughing child, car brakes that need fixing, a sale on pot roast, a cloudless sky, a trip to the woods to cut down a Christmas tree, a school teacher, a Dunhill Billiard pipe ... or even a pair of shoes.
Some people will never believe. They may feel that such things are too trivial, too simple, or too insignificant to forever change a life. But I believe.
And I always will. — Donna VanLiere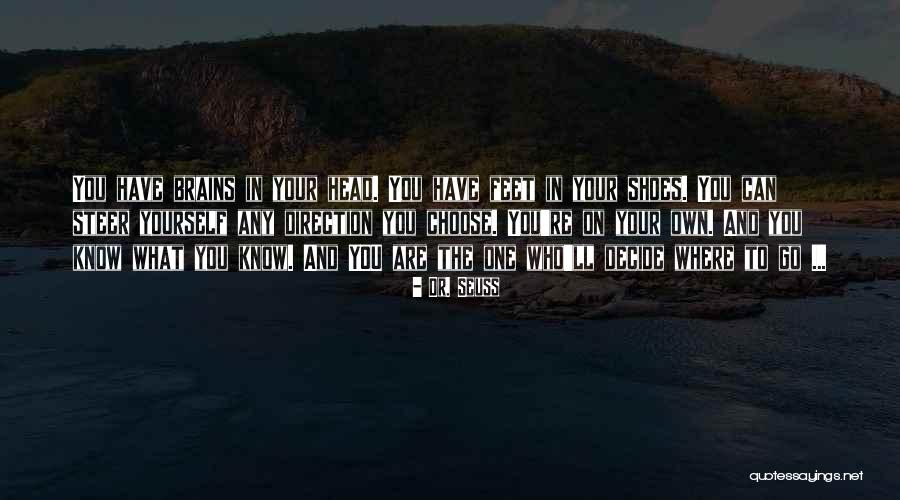 You have brains in your head. You have feet in your shoes. You can steer yourself any direction you choose. You're on your own. And you know what you know. And YOU are the one who'll decide where to go ... — Dr. Seuss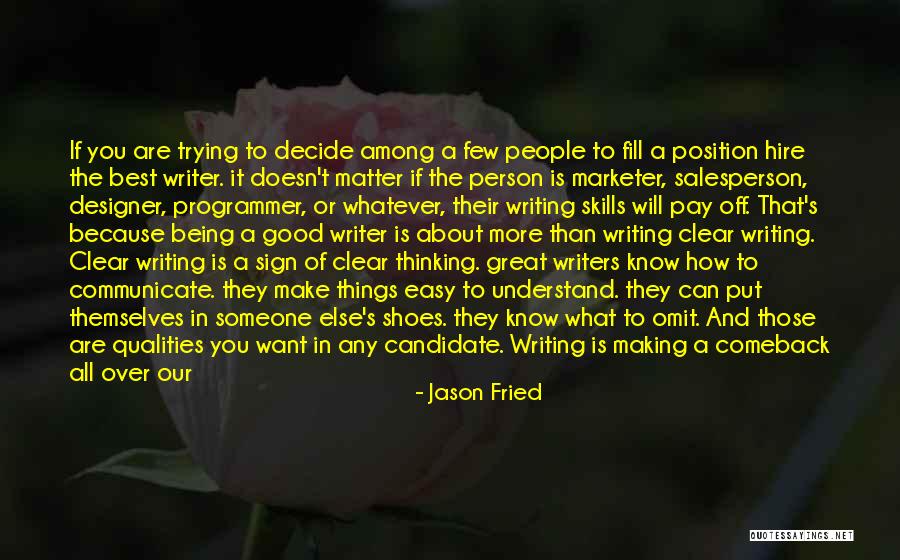 If you are trying to decide among a few people to fill a position hire the best writer. it doesn't matter if the person is marketer, salesperson, designer, programmer, or whatever, their writing skills will pay off. That's because being a good writer is about more than writing clear writing. Clear writing is a sign of clear thinking. great writers know how to communicate. they make things easy to understand. they can put themselves in someone else's shoes. they know what to omit. And those are qualities you want in any candidate. Writing is making a comeback all over our society ... Writing is today's currency for good ideas. — Jason Fried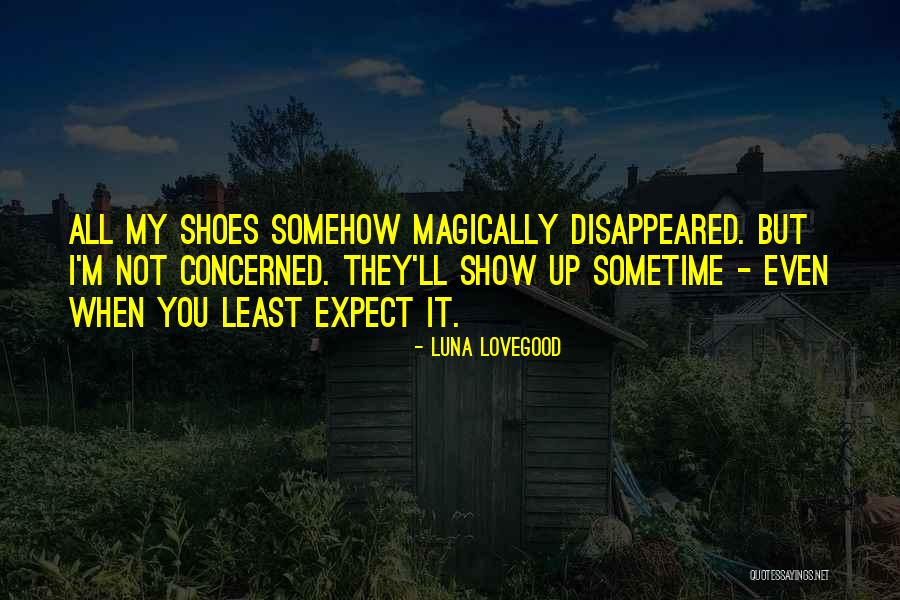 All my shoes somehow magically disappeared. But I'm not concerned. They'll show up sometime - even when you least expect it. — Luna Lovegood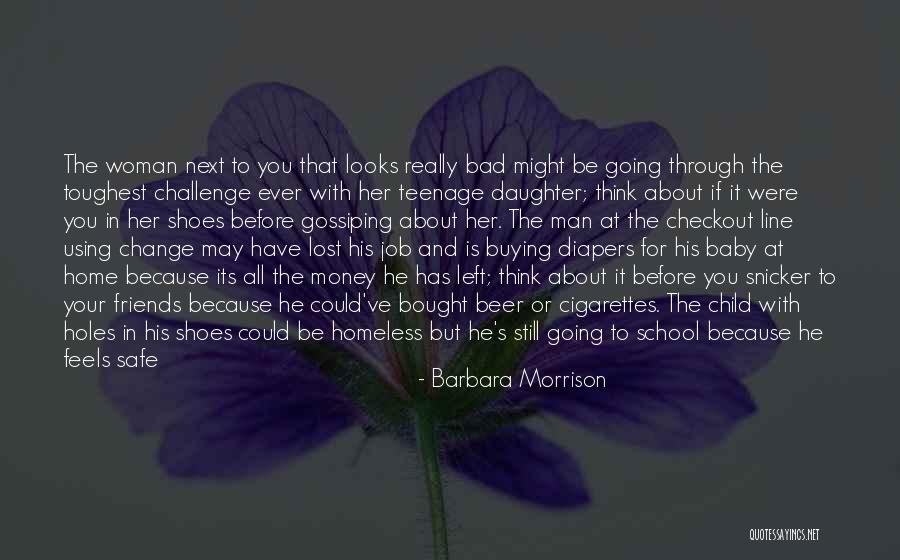 The woman next to you that looks really bad might be going through the toughest challenge ever with her teenage daughter; think about if it were you in her shoes before gossiping about her. The man at the checkout line using change may have lost his job and is buying diapers for his baby at home because its all the money he has left; think about it before you snicker to your friends because he could've bought beer or cigarettes. The child with holes in his shoes could be homeless but he's still going to school because he feels safe there even though others laugh at him; think about it before you judge the innocent. You never know what challenges you're going to face from day to day! — Barbara Morrison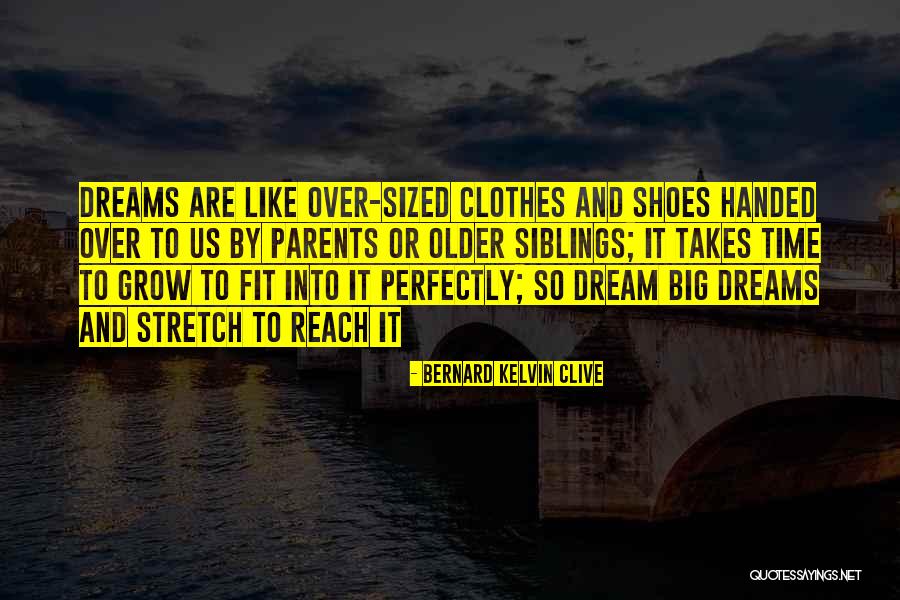 Dreams are like over-sized clothes and shoes handed over to us by parents or older siblings; it takes time to grow to fit into it perfectly; so dream big dreams and stretch to reach it — Bernard Kelvin Clive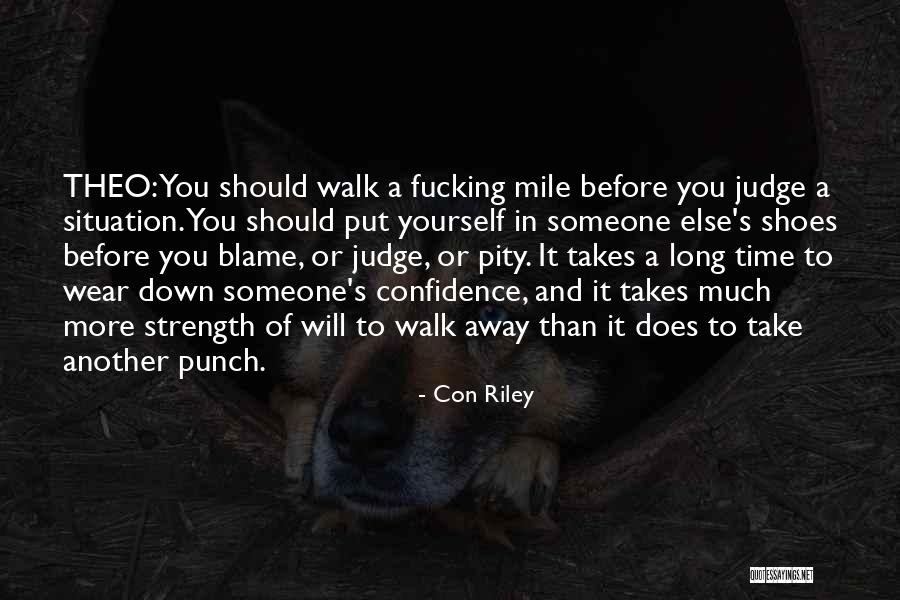 THEO: You should walk a fucking mile before you judge a situation. You should put yourself in someone else's shoes before you blame, or judge, or pity. It takes a long time to wear down someone's confidence, and it takes much more strength of will to walk away than it does to take another punch. — Con Riley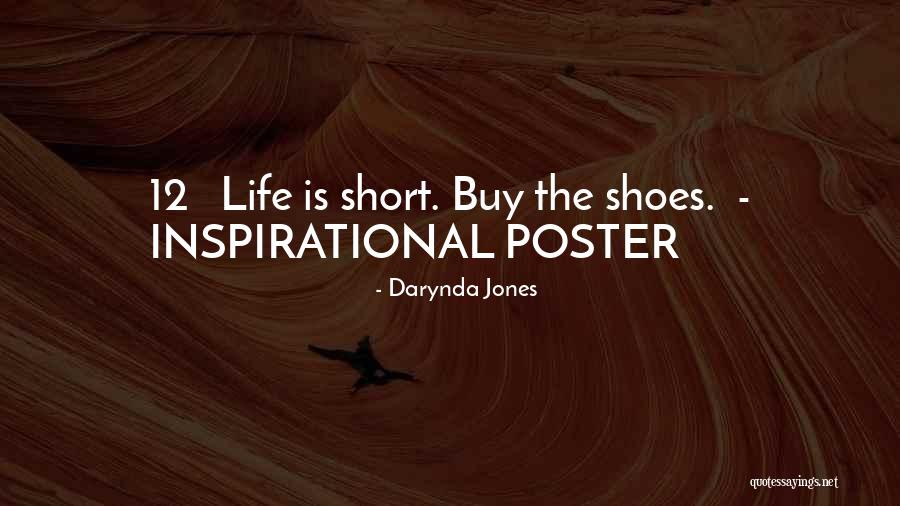 12 Life is short. Buy the shoes. - INSPIRATIONAL POSTER — Darynda Jones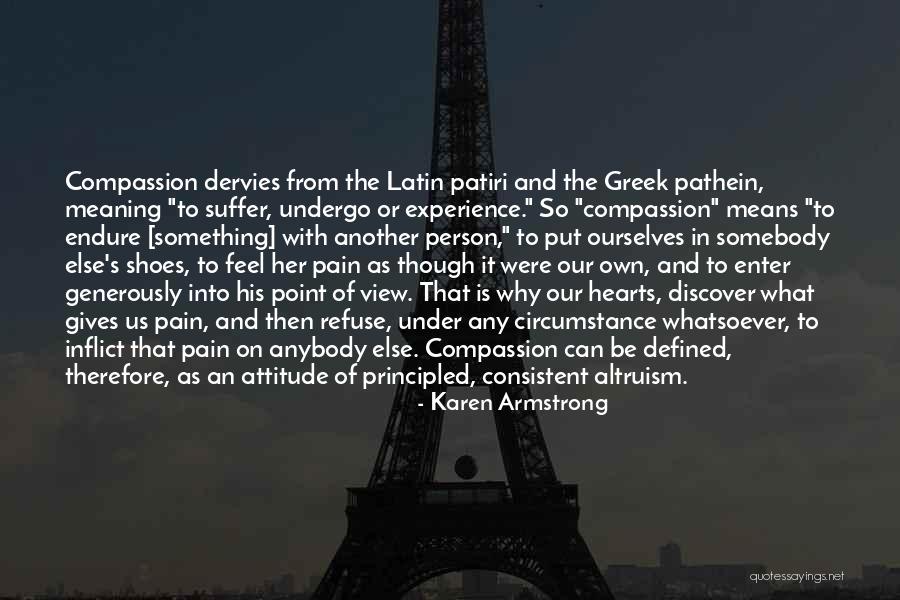 Compassion dervies from the Latin patiri and the Greek pathein, meaning "to suffer, undergo or experience." So "compassion" means "to endure [something] with another person," to put ourselves in somebody else's shoes, to feel her pain as though it were our own, and to enter generously into his point of view. That is why our hearts, discover what gives us pain, and then refuse, under any circumstance whatsoever, to inflict that pain on anybody else. Compassion can be defined, therefore, as an attitude of principled, consistent altruism. — Karen Armstrong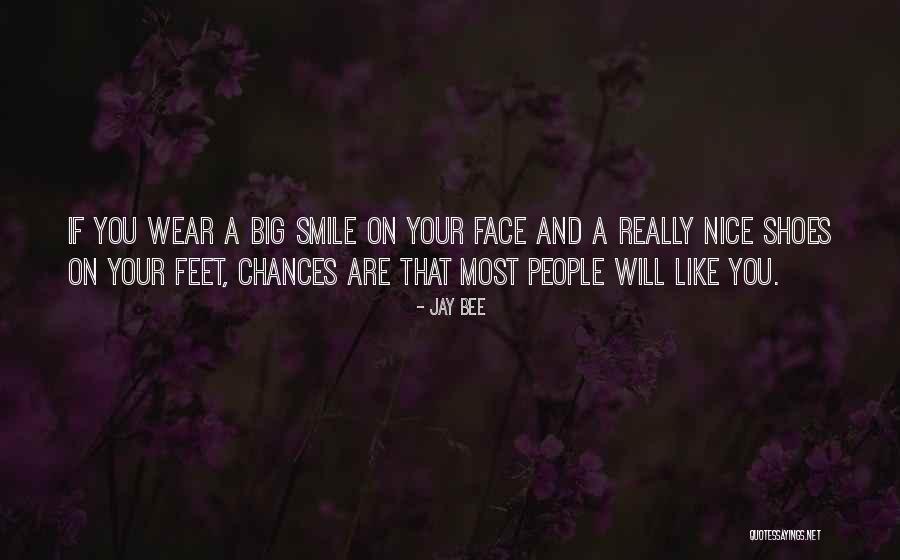 If you wear a big smile on your face and a really nice shoes on your feet, chances are that most people will like you. — Jay Bee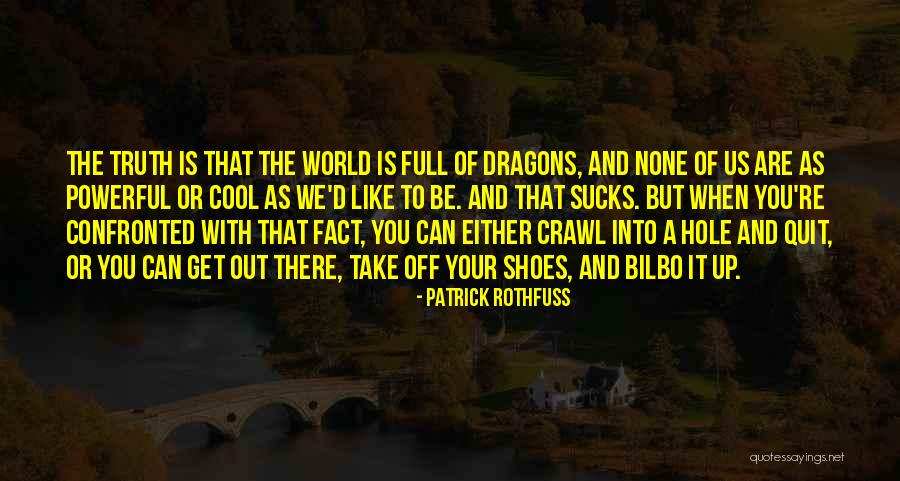 The truth is that the world is full of dragons, and none of us are as powerful or cool as we'd like to be. And that sucks. But when you're confronted with that fact, you can either crawl into a hole and quit, or you can get out there, take off your shoes, and Bilbo it up. — Patrick Rothfuss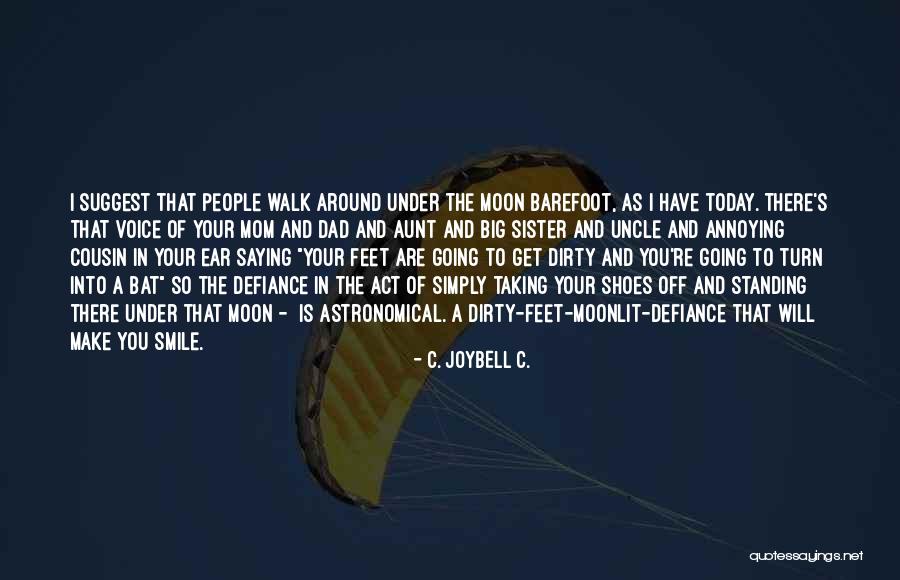 I suggest that people walk around under the moon barefoot, as I have today. There's that voice of your mom and dad and aunt and big sister and uncle and annoying cousin in your ear saying "Your feet are going to get dirty and you're going to turn into a bat" so the defiance in the act of simply taking your shoes off and standing there under that moon - is astronomical. A dirty-feet-moonlit-defiance that will make you smile. — C. JoyBell C.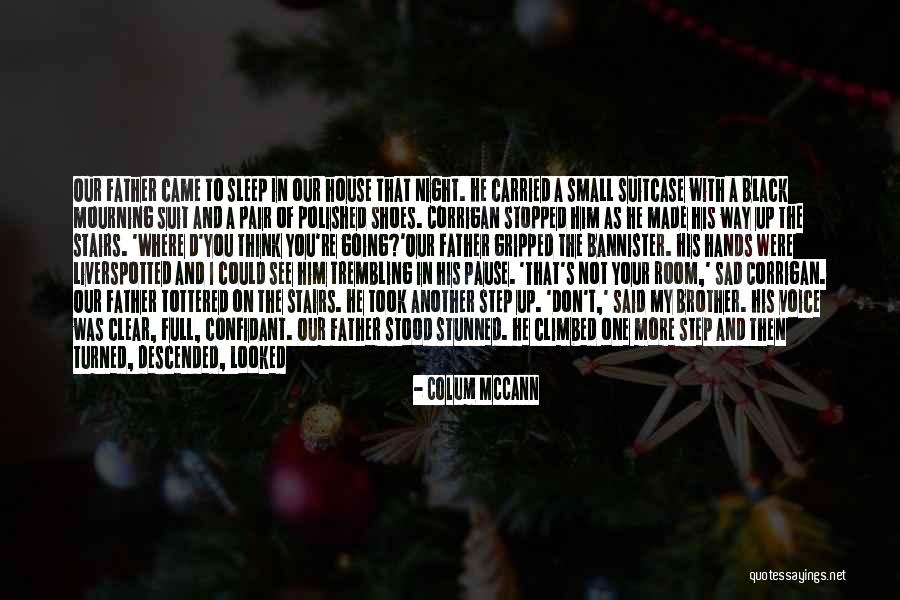 Our father came to sleep in our house that night. He carried a small suitcase with a black mourning suit and a pair of polished shoes. Corrigan stopped him as he made his way up the stairs. 'Where d'you think you're going?'Our father gripped the bannister. His hands were liverspotted and I could see him trembling in his pause. 'That's not your room,' sad Corrigan. Our father tottered on the stairs. He took another step up. 'Don't,' said my brother. His voice was clear, full, confidant. Our father stood stunned. He climbed one more step and then turned, descended, looked around, lost.
'My own sons,' he said.
We made a bed for him on a sofa in the living room, but even then Corrigan refused to stay under the same roof; he went walking in the direction of the city center and I wondered what alley he might be found in later that night, what fist he might walk into, whose bottle he might climb down inside. — Colum McCann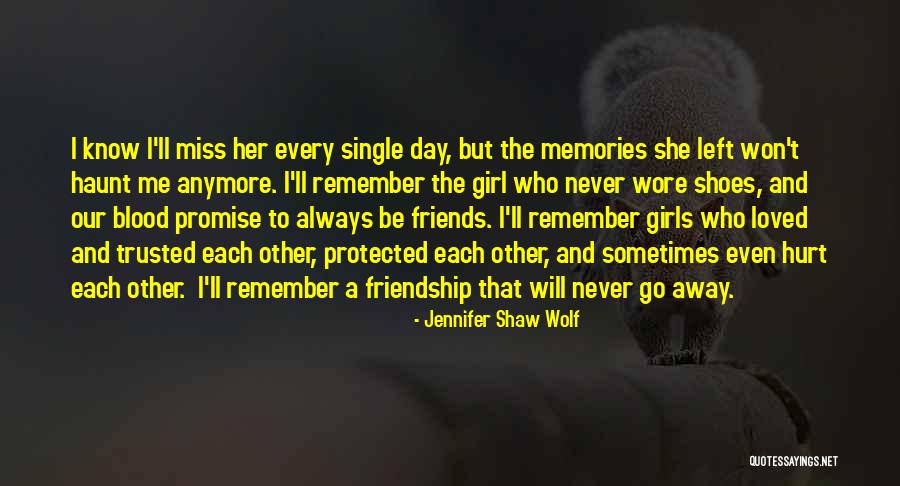 I know I'll miss her every single day, but the memories she left won't haunt me anymore. I'll remember the girl who never wore shoes, and our blood promise to always be friends. I'll remember girls who loved and trusted each other, protected each other, and sometimes even hurt each other.
I'll remember a friendship that will never go away. — Jennifer Shaw Wolf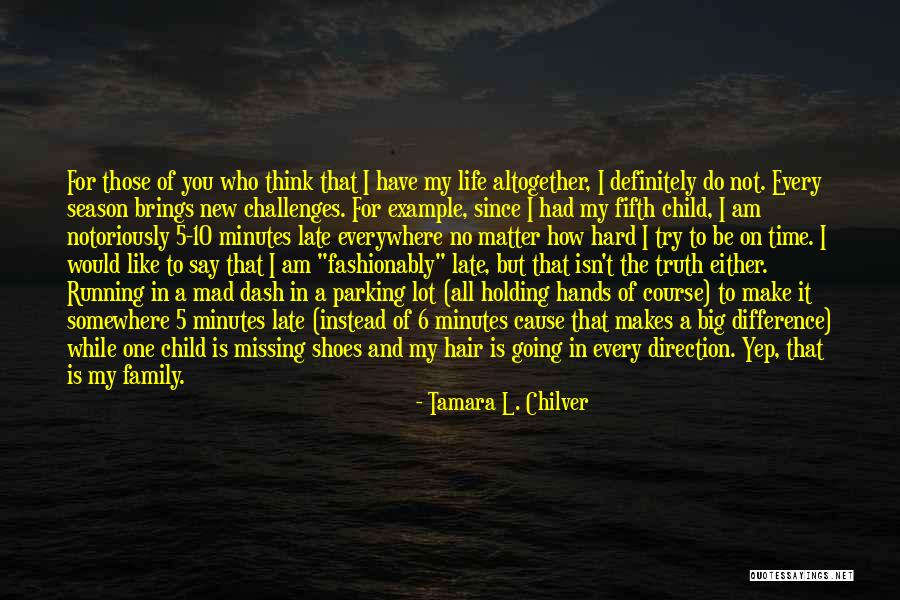 For those of you who think that I have my life altogether, I definitely do not. Every season brings new challenges. For example, since I had my fifth child, I am notoriously 5-10 minutes late everywhere no matter how hard I try to be on time. I would like to say that I am "fashionably" late, but that isn't the truth either. Running in a mad dash in a parking lot (all holding hands of course) to make it somewhere 5 minutes late (instead of 6 minutes cause that makes a big difference) while one child is missing shoes and my hair is going in every direction. Yep, that is my family. — Tamara L. Chilver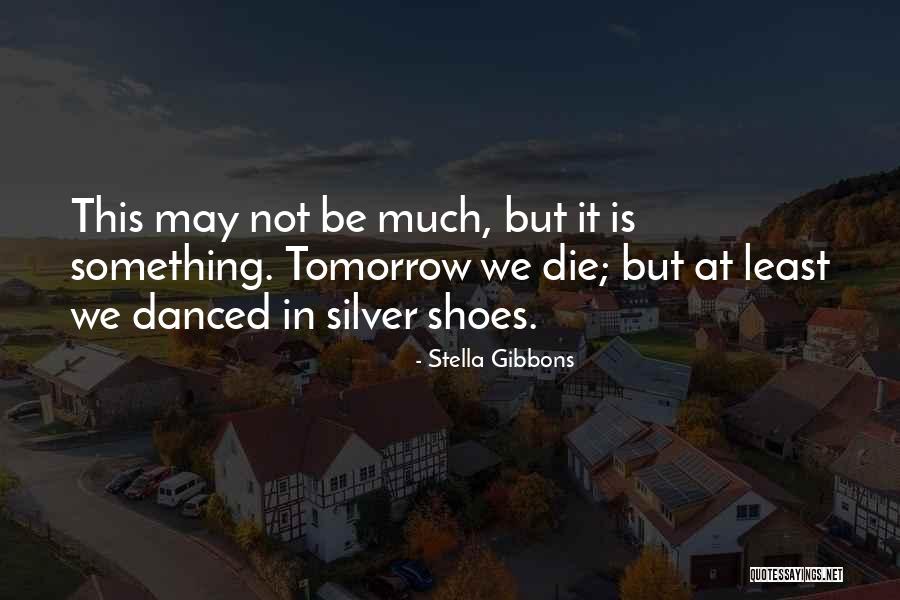 This may not be much, but it is something. Tomorrow we die; but at least we danced in silver shoes. — Stella Gibbons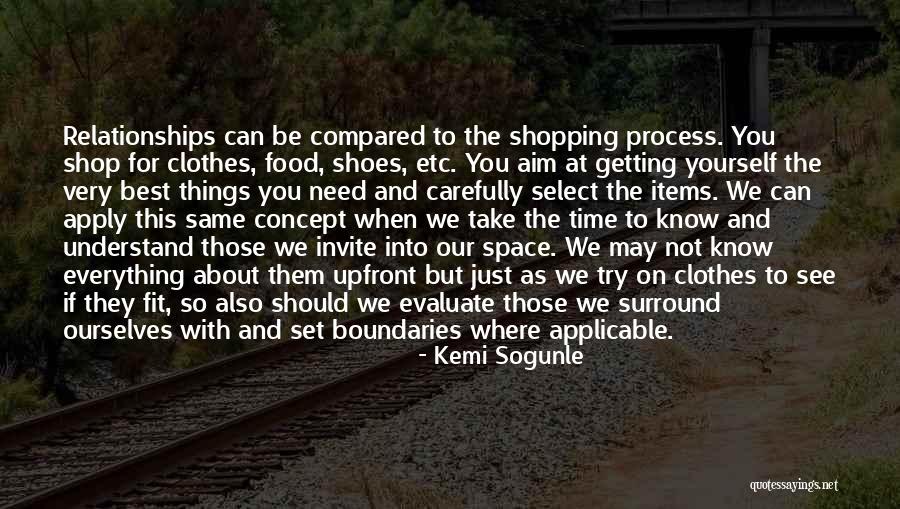 Relationships can be compared to the shopping process. You shop for clothes, food, shoes, etc. You aim at getting yourself the very best things you need and carefully select the items. We can apply this same concept when we take the time to know and understand those we invite into our space. We may not know everything about them upfront but just as we try on clothes to see if they fit, so also should we evaluate those we surround ourselves with and set boundaries where applicable. — Kemi Sogunle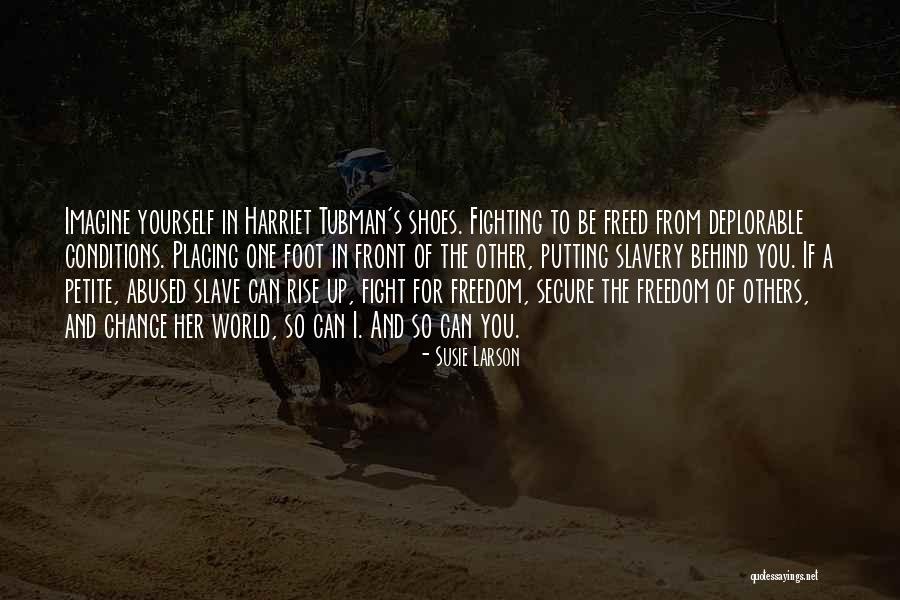 Imagine yourself in Harriet Tubman's shoes. Fighting to be freed from deplorable conditions. Placing one foot in front of the other, putting slavery behind you. If a petite, abused slave can rise up, fight for freedom, secure the freedom of others, and change her world, so can I. And so can you. — Susie Larson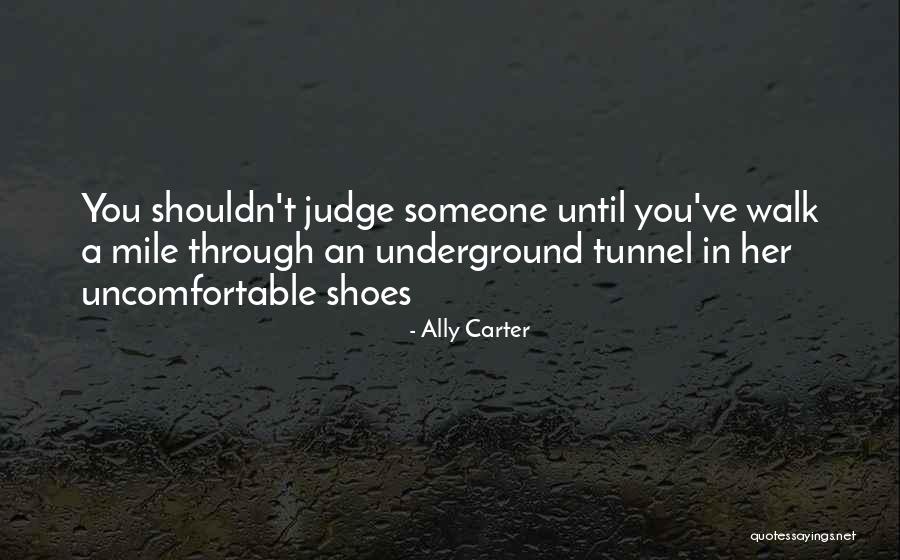 You shouldn't judge someone until you've walk a mile through an underground tunnel in her uncomfortable shoes — Ally Carter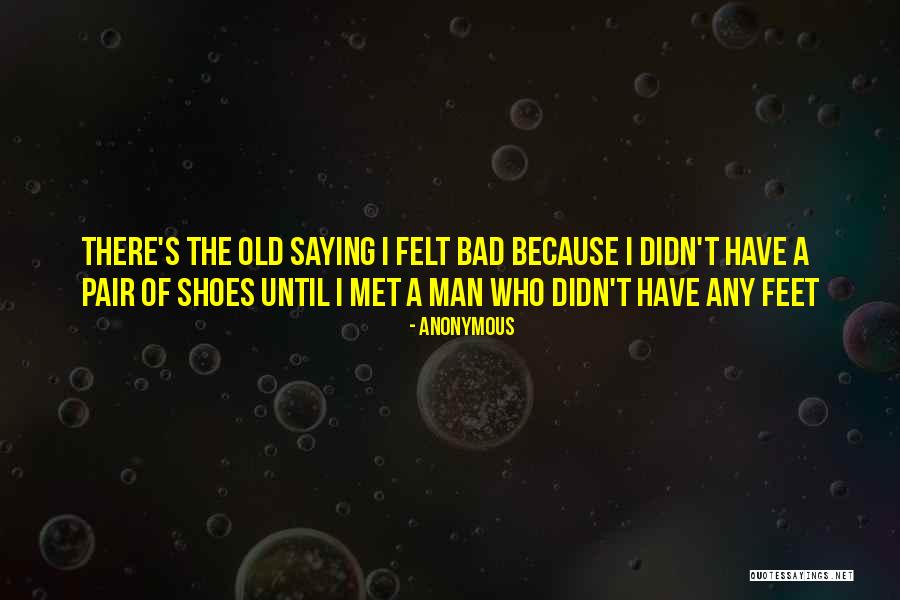 There's the old saying I felt bad because I didn't have a pair of shoes until I met a man who didn't have any feet — Anonymous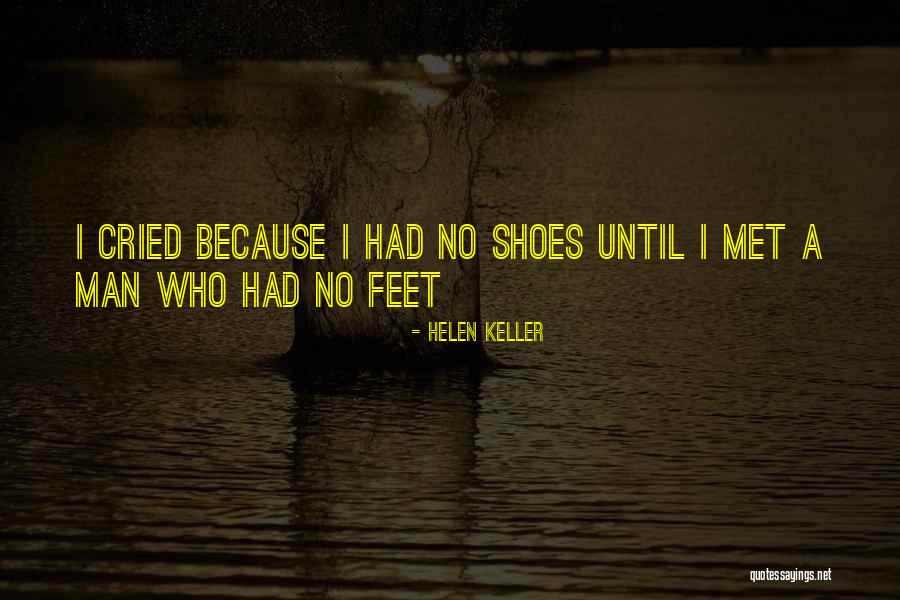 I cried because I had no shoes until I met a man who had no feet — Helen Keller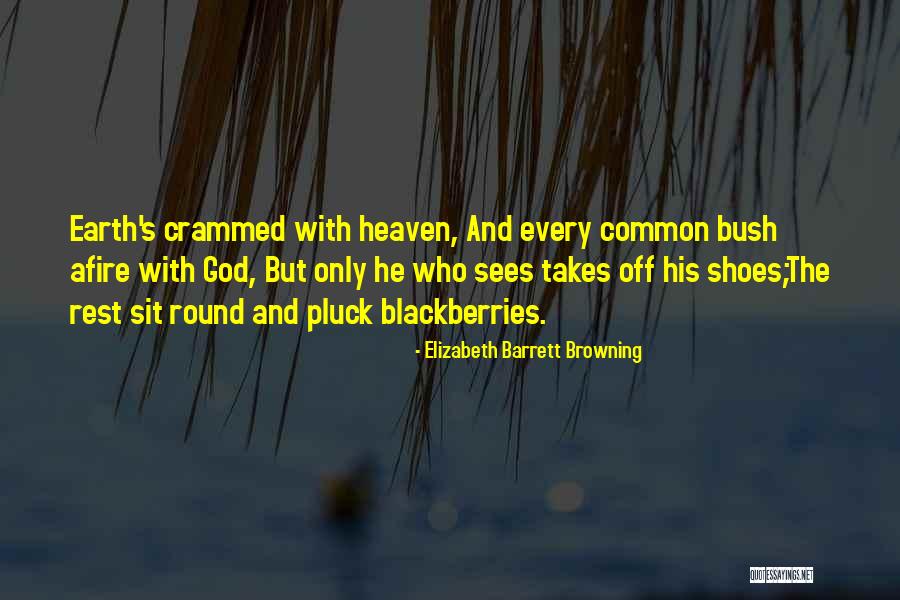 Earth's crammed with heaven,
And every common bush afire with God,
But only he who sees takes off his shoes;
The rest sit round and pluck blackberries. — Elizabeth Barrett Browning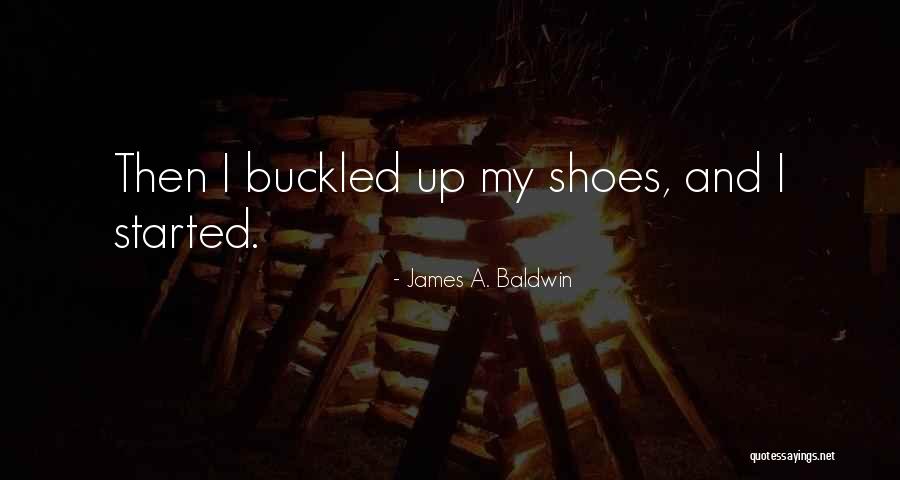 Then I buckled up my shoes, and I started. — James A. Baldwin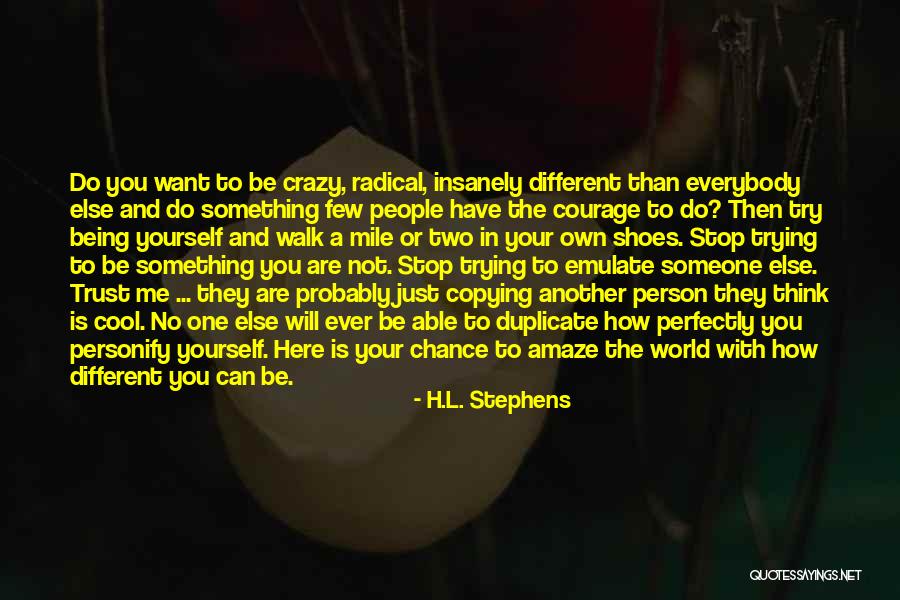 Do you want to be crazy, radical, insanely different than everybody else and do something few people have the courage to do? Then try being yourself and walk a mile or two in your own shoes. Stop trying to be something you are not. Stop trying to emulate someone else. Trust me ... they are probably just copying another person they think is cool. No one else will ever be able to duplicate how perfectly you personify yourself. Here is your chance to amaze the world with how different you can be. — H.L. Stephens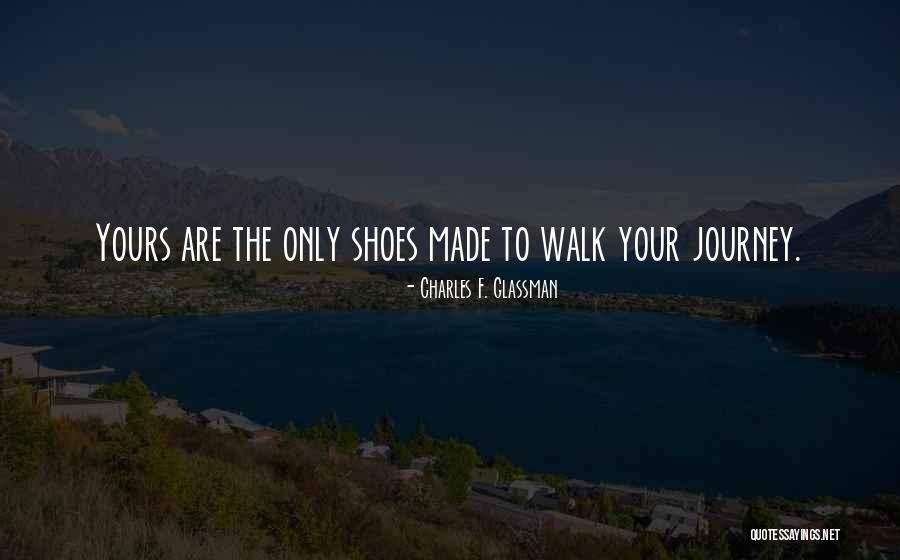 Yours are the only shoes made to walk your journey. — Charles F. Glassman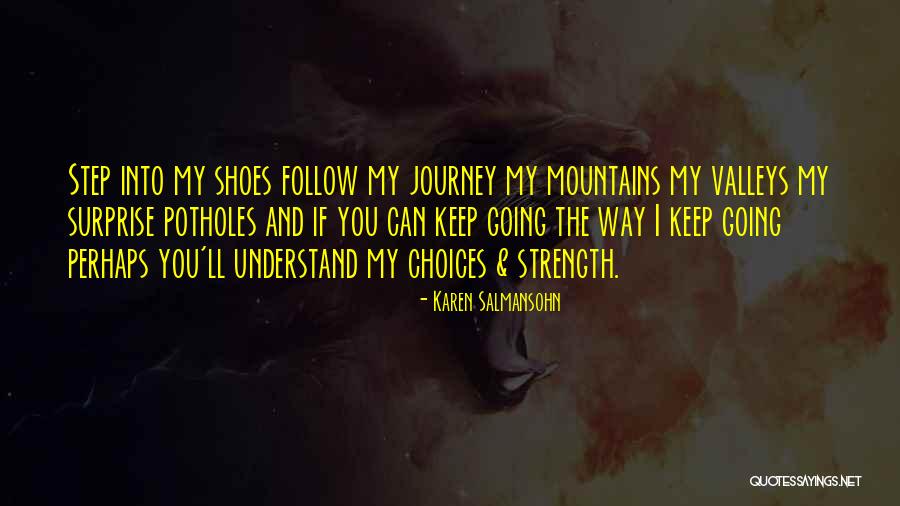 Step into my shoes follow my journey my mountains my valleys my surprise potholes and if you can keep going the way I keep going perhaps you'll understand my choices & strength. — Karen Salmansohn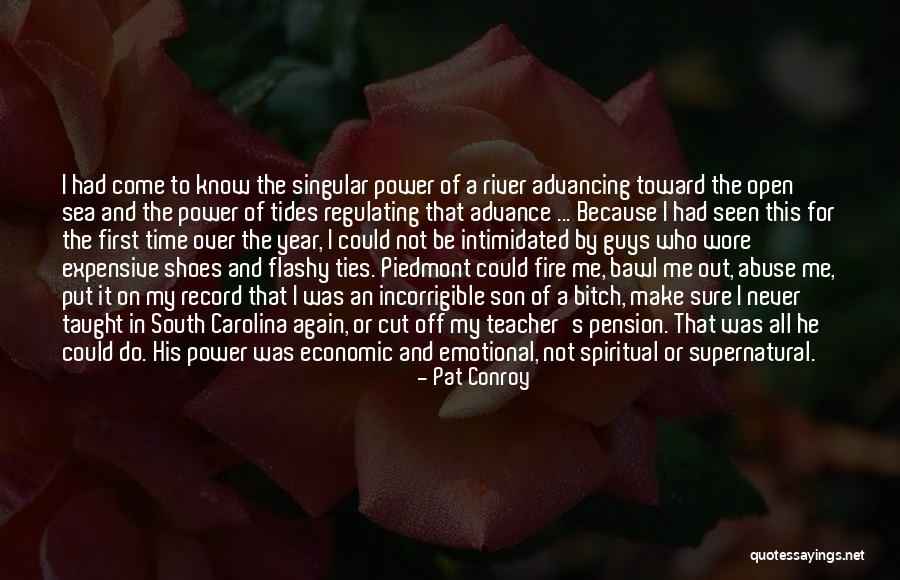 I had come to know the singular power of a river advancing toward the open sea and the power of tides regulating that advance ... Because I had seen this for the first time over the year, I could not be intimidated by guys who wore expensive shoes and flashy ties. Piedmont could fire me, bawl me out, abuse me, put it on my record that I was an incorrigible son of a bitch, make sure I never taught in South Carolina again, or cut off my teacher's pension. That was all he could do. His power was economic and emotional, not spiritual or supernatural. — Pat Conroy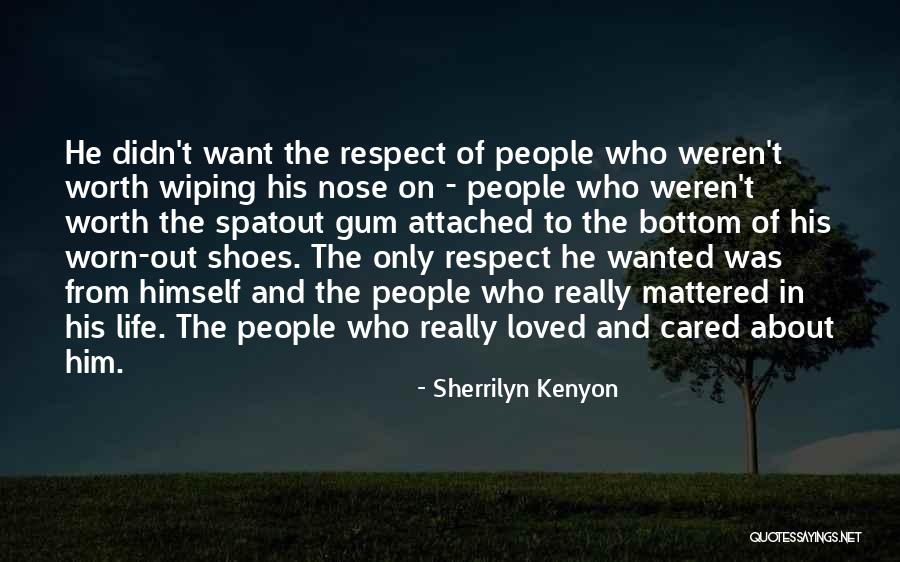 He didn't want the respect of people who weren't worth wiping his nose on - people who weren't worth the spatout gum attached to the bottom of his worn-out shoes. The only respect he wanted was from himself and the people who really mattered in his life. The people who really loved and cared about him. — Sherrilyn Kenyon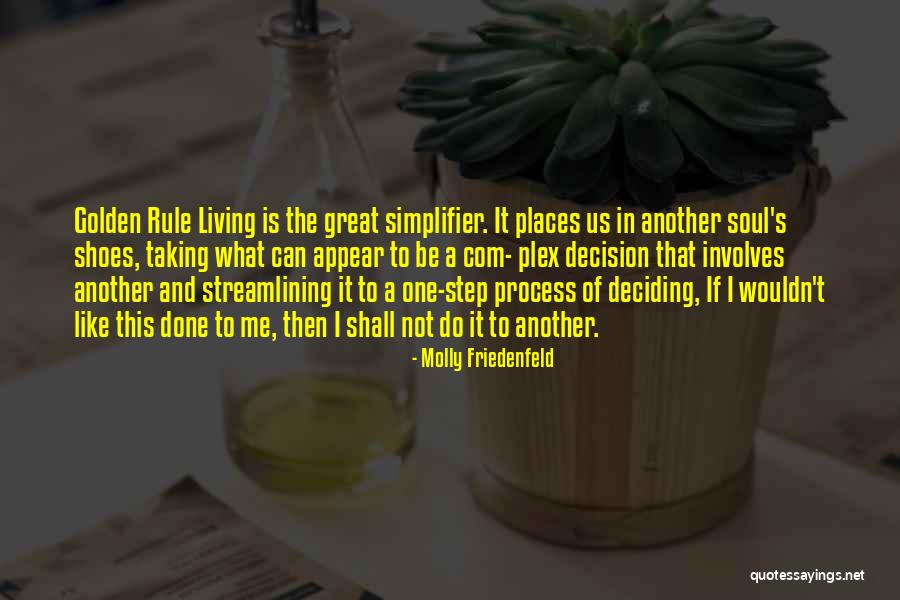 Golden Rule Living is the great simplifier. It places us in another soul's shoes, taking what can appear to be a com- plex decision that involves another and streamlining it to a one-step process of deciding, If I wouldn't like this done to me, then I shall not do it to another. — Molly Friedenfeld
So whenever I write, it feels like my age is reduced by half, or even fifteen, seventeen, perhaps thirty-five years. It feels like I am returned to the belly of my mother and therefore have no one to answer to. I forget, in turn, my ragged clothes and my tuberculosis and my setbacks and my old pairs of shoes. — Fiston Mwanza Mujila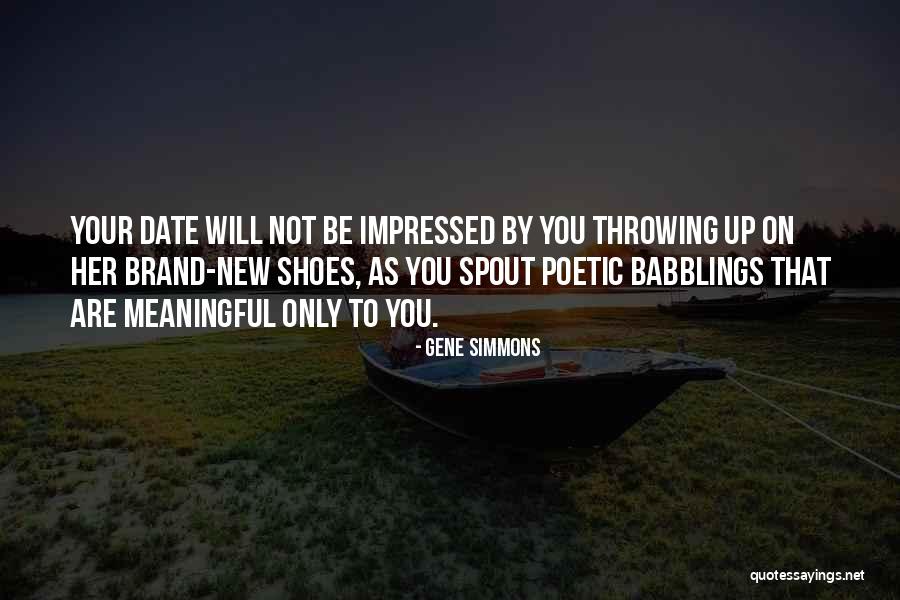 Your date will not be impressed by you throwing up on her brand-new shoes, as you spout poetic babblings that are meaningful only to you. — Gene Simmons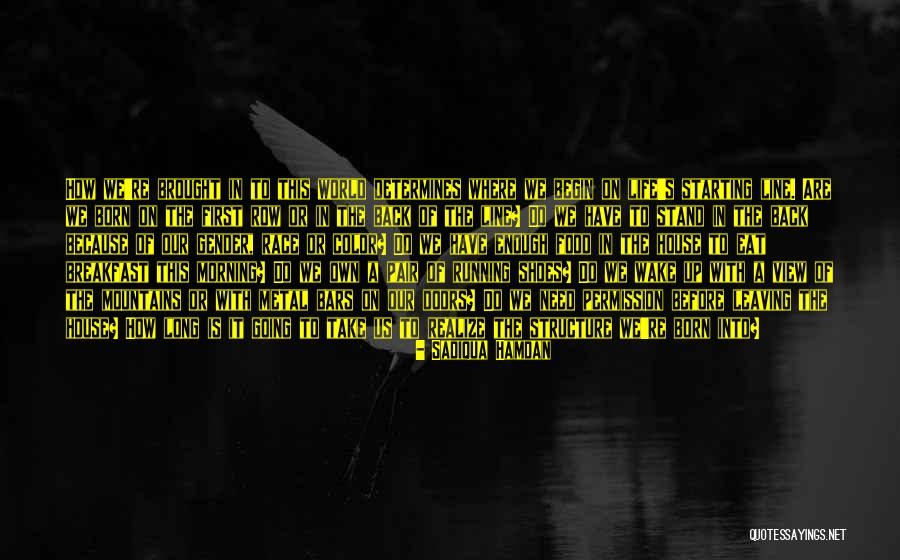 How we're brought in to this world determines where we begin on life's starting line. Are we born on the first row or in the back of the line? Do we have to stand in the back because of our gender, race or color? Do we have enough food in the house to eat breakfast this morning? Do we own a pair of running shoes? Do we wake up with a view of the mountains or with metal bars on our doors? Do we need permission before leaving the house? How long is it going to take us to realize the structure we're born into? — Sadiqua Hamdan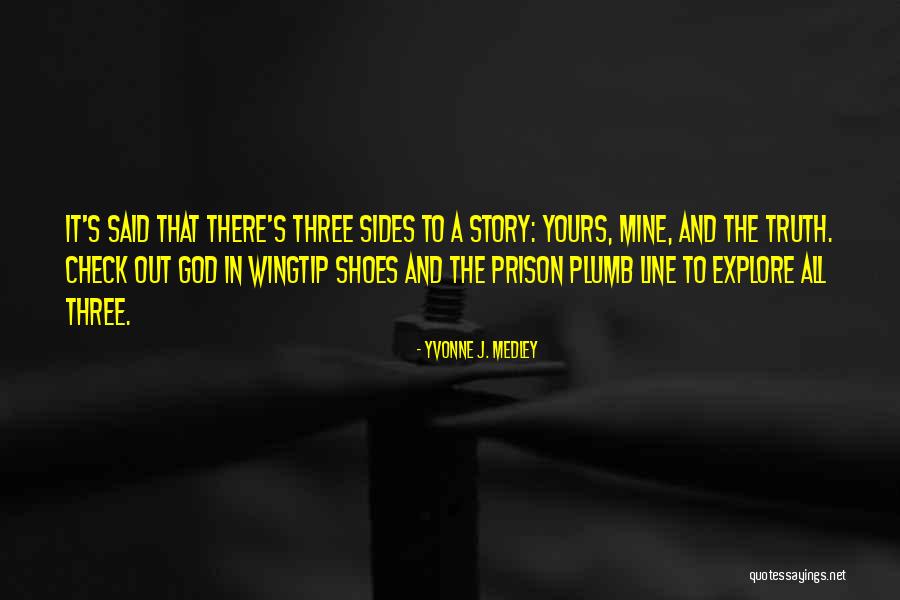 It's said that there's three sides to a story: yours, mine, and the truth. Check out God in Wingtip Shoes and The Prison Plumb Line to explore all three. — Yvonne J. Medley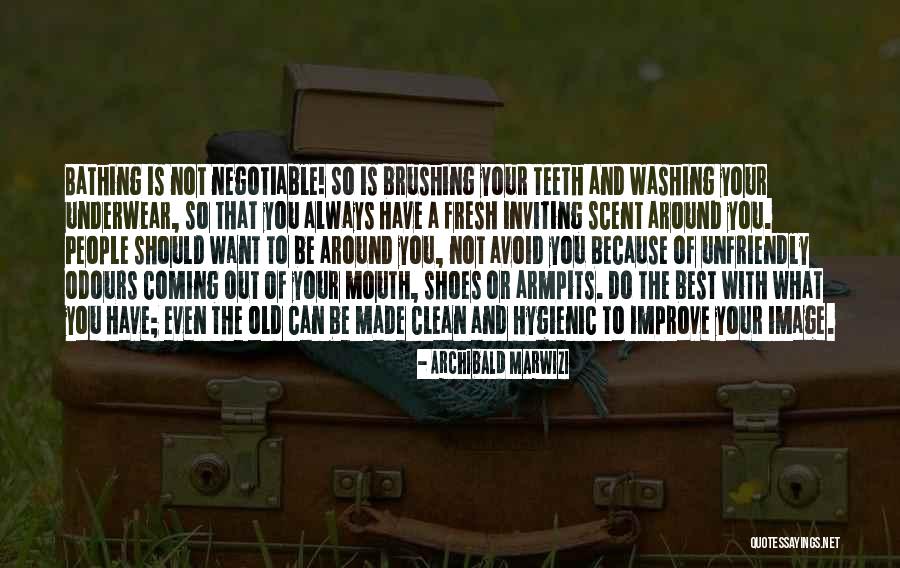 Bathing is not negotiable! So is brushing your teeth and washing your underwear, so that you always have a fresh inviting scent around you. People should want to be around you, not avoid you because of unfriendly odours coming out of your mouth, shoes or armpits. Do the best with what you have; even the old can be made clean and hygienic to improve your image. — Archibald Marwizi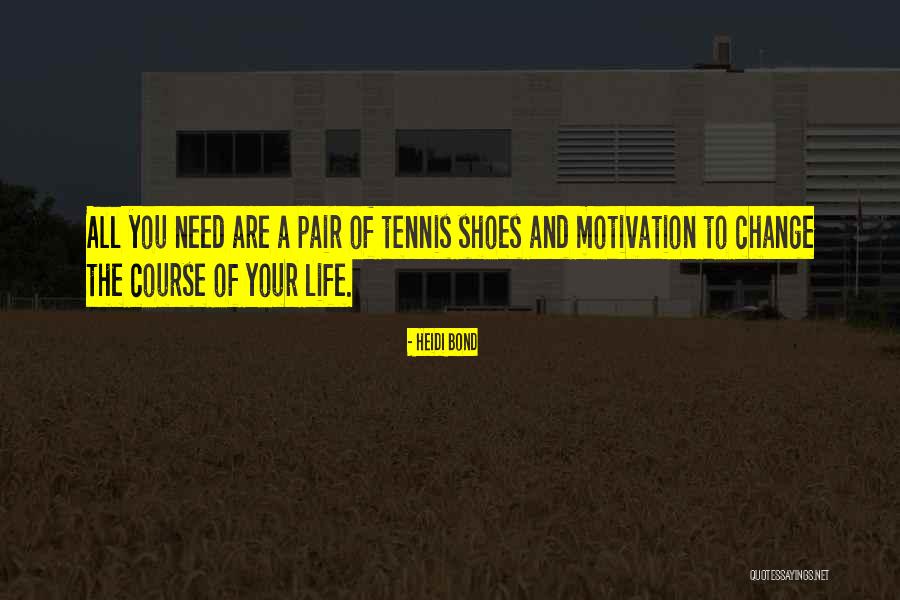 All you need are a pair of tennis shoes and motivation to change the course of your life. — Heidi Bond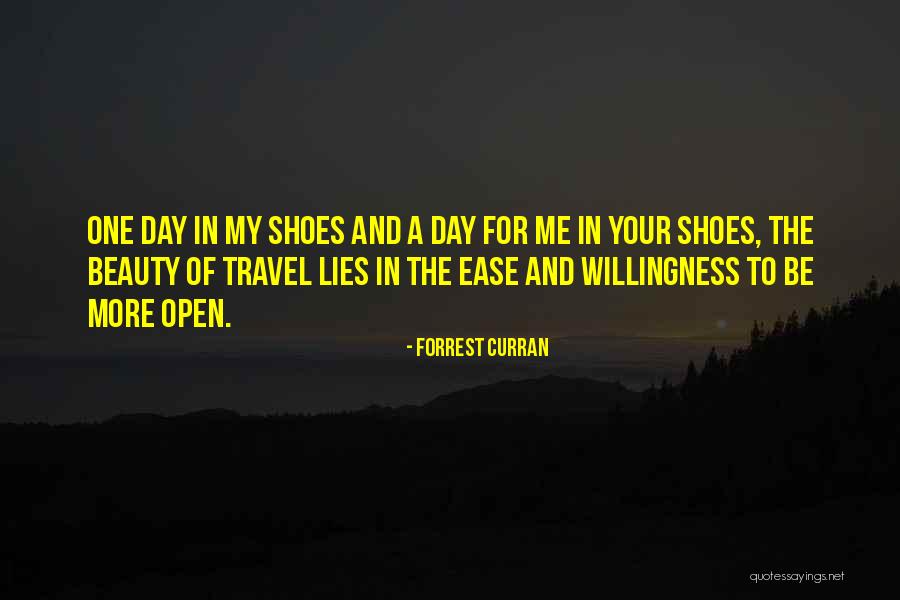 One day in my shoes and a day for me in your shoes, the beauty of travel lies in the ease and willingness to be more open. — Forrest Curran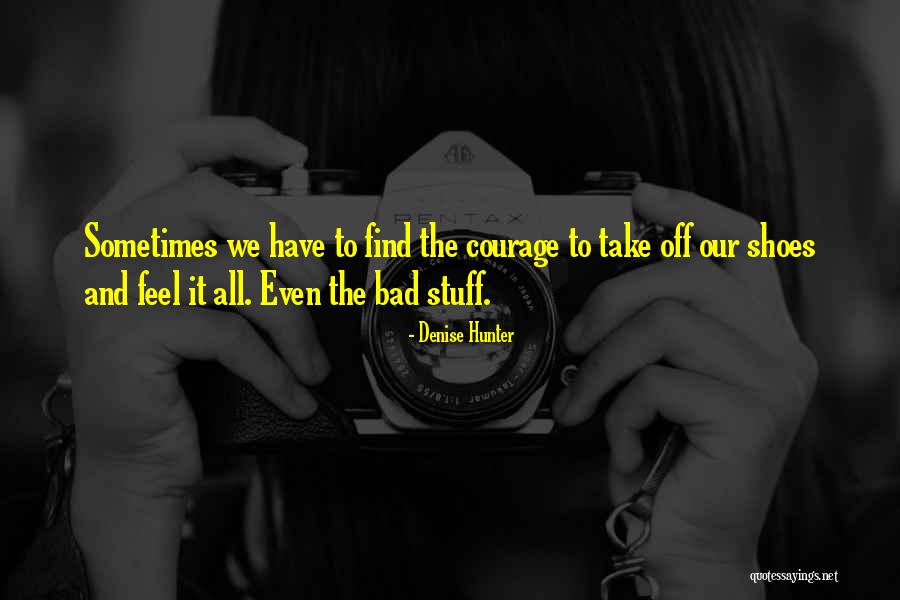 Sometimes we have to find the courage to take off our shoes and feel it all. Even the bad stuff. — Denise Hunter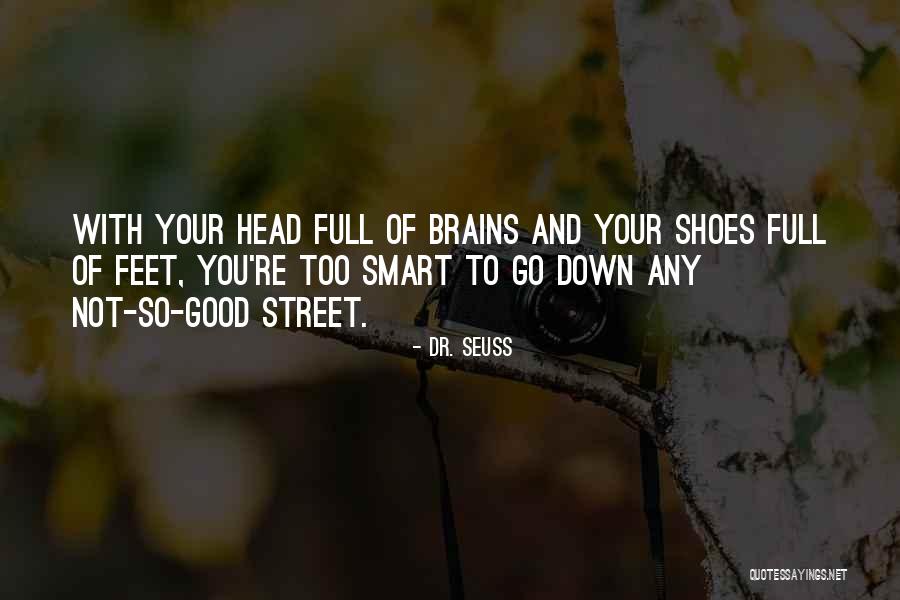 With your head full of brains and your shoes full of feet, you're too smart to go down any not-so-good street. — Dr. Seuss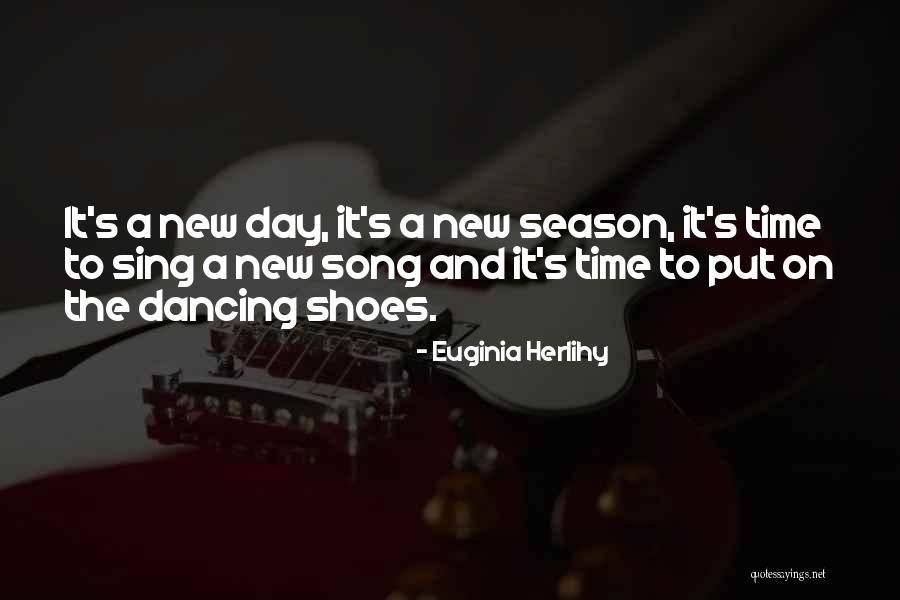 It's a new day, it's a new season, it's time to sing a new song and it's time to put on the dancing shoes. — Euginia Herlihy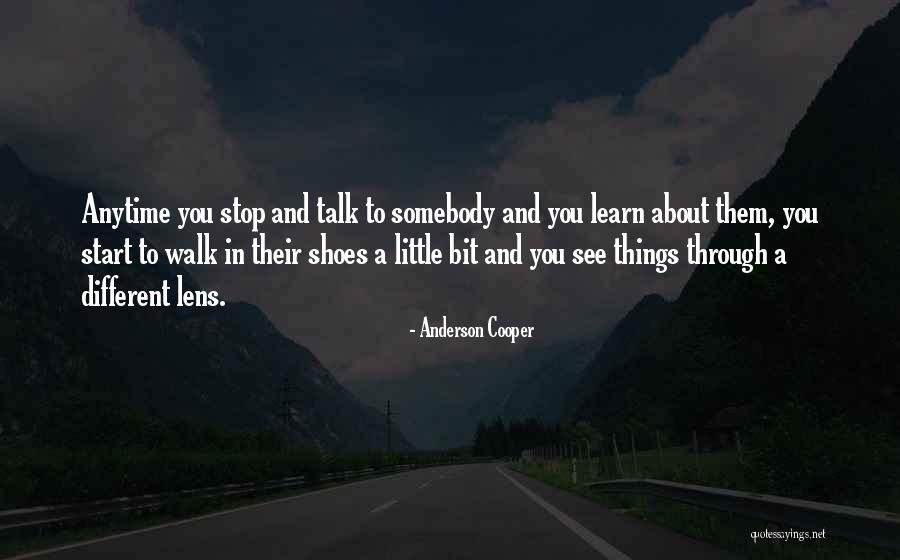 Anytime you stop and talk to somebody and you learn about them, you start to walk in their shoes a little bit and you see things through a different lens. — Anderson Cooper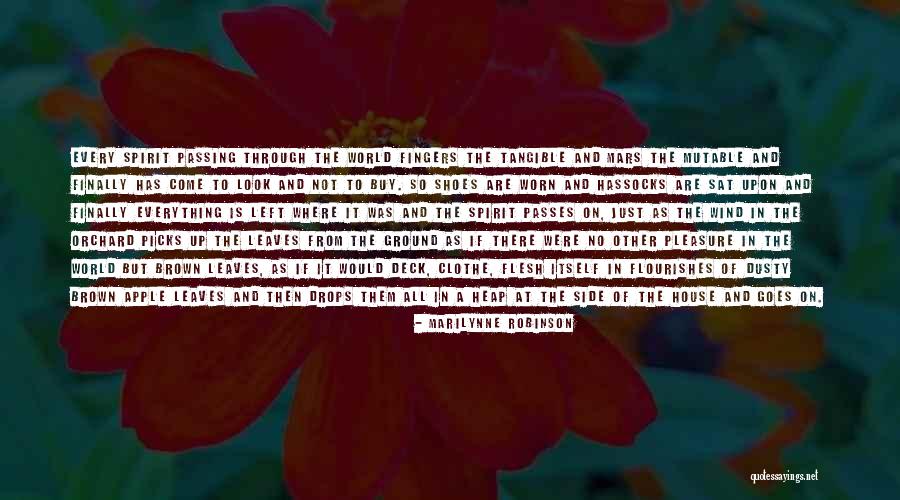 Every spirit passing through the world fingers the tangible and mars the mutable and finally has come to look and not to buy. So shoes are worn and hassocks are sat upon and finally everything is left where it was and the spirit passes on, just as the wind in the orchard picks up the leaves from the ground as if there were no other pleasure in the world but brown leaves, as if it would deck, clothe, flesh itself in flourishes of dusty brown apple leaves and then drops them all in a heap at the side of the house and goes on. — Marilynne Robinson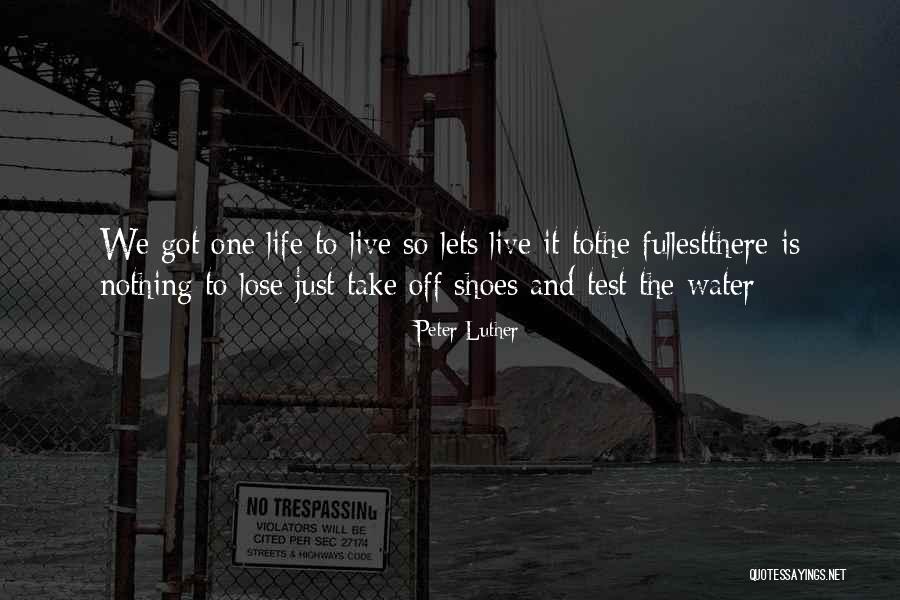 We got one life to live so lets live it tothe fullest
there is nothing to lose just take off shoes and test the water — Peter Luther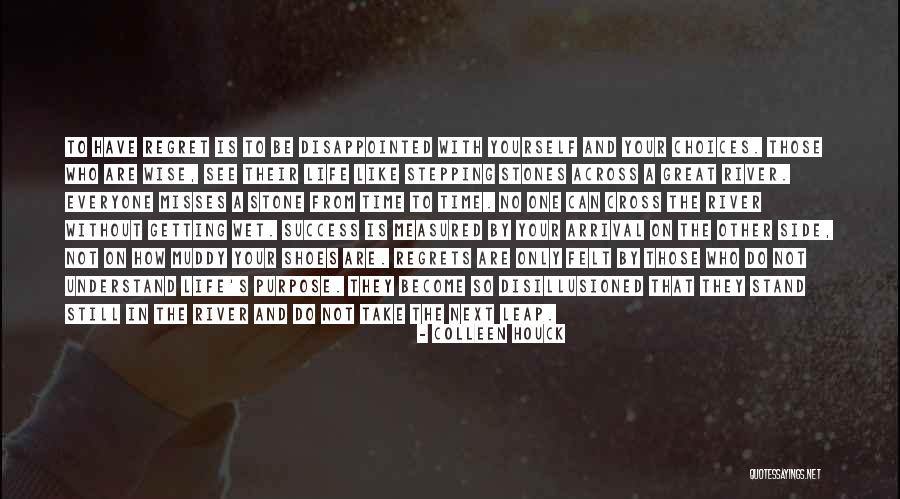 To have regret is to be disappointed with yourself and your choices. Those who are wise, see their life like stepping stones across a great river. Everyone misses a stone from time to time. No one can cross the river without getting wet. Success is measured by your arrival on the other side, not on how muddy your shoes are. Regrets are only felt by those who do not understand life's purpose. They become so disillusioned that they stand still in the river and do not take the next leap. — Colleen Houck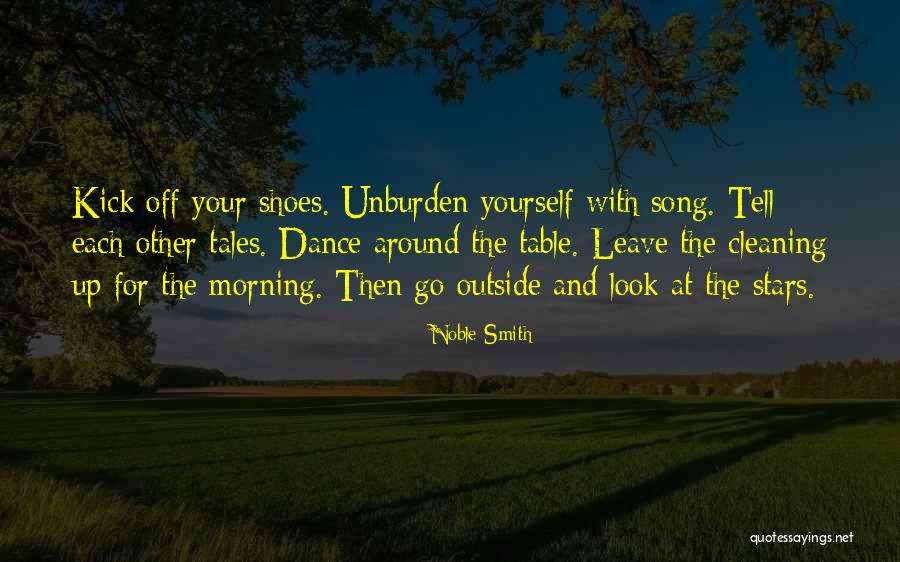 Kick off your shoes. Unburden yourself with song. Tell each other tales. Dance around the table. Leave the cleaning up for the morning. Then go outside and look at the stars. — Noble Smith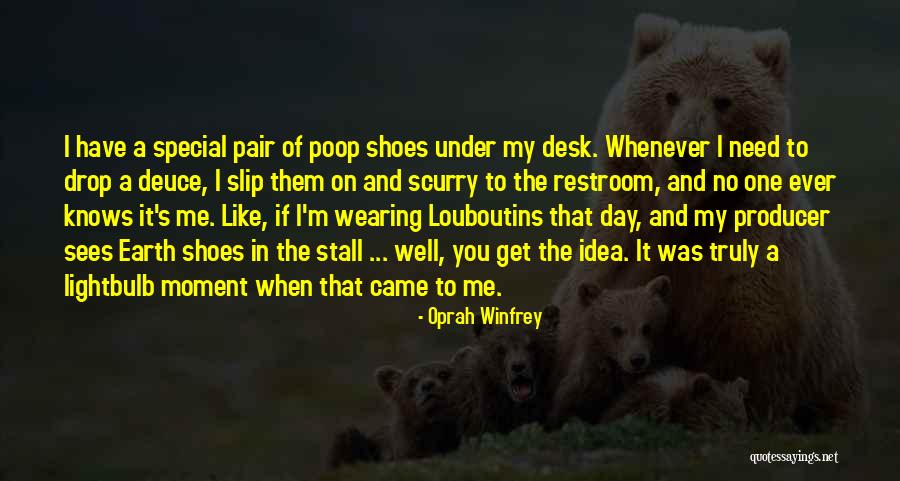 I have a special pair of poop shoes under my desk. Whenever I need to drop a deuce, I slip them on and scurry to the restroom, and no one ever knows it's me. Like, if I'm wearing Louboutins that day, and my producer sees Earth shoes in the stall ... well, you get the idea. It was truly a lightbulb moment when that came to me. — Oprah Winfrey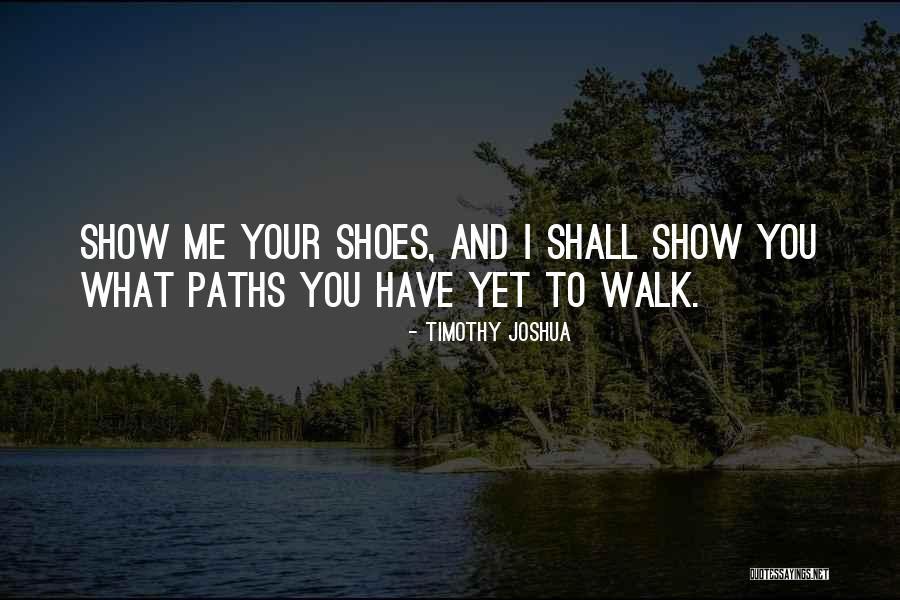 Show me your shoes, and I shall show you what paths you have yet to walk. — Timothy Joshua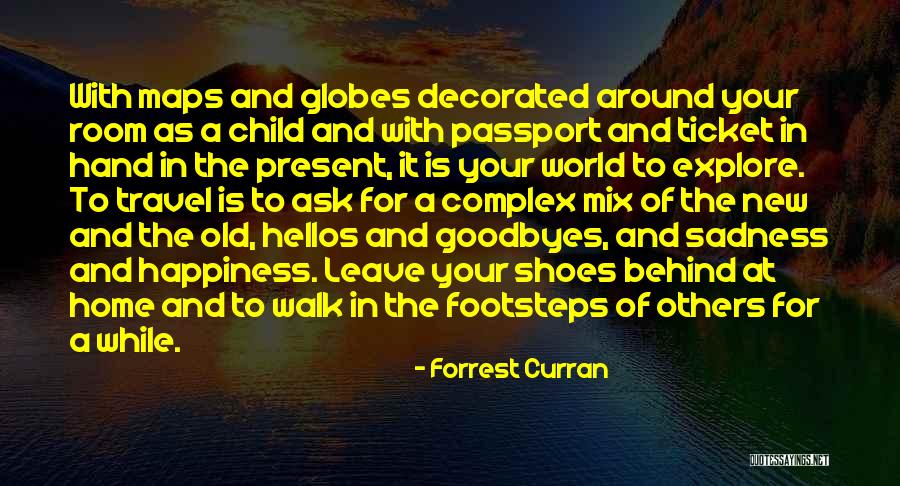 With maps and globes decorated around your room as a child and with passport and ticket in hand in the present, it is your world to explore. To travel is to ask for a complex mix of the new and the old, hellos and goodbyes, and sadness and happiness. Leave your shoes behind at home and to walk in the footsteps of others for a while. — Forrest Curran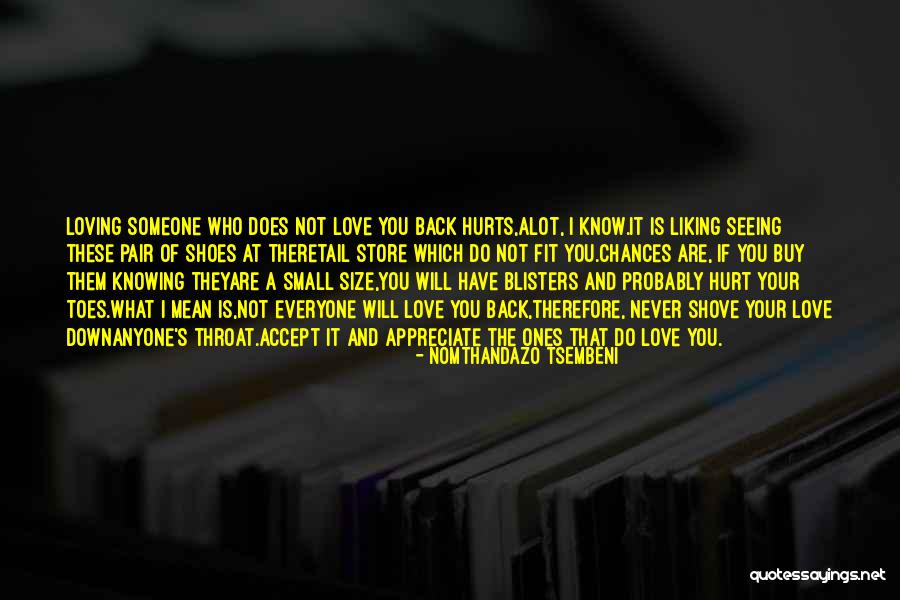 Loving someone who does not love you back hurts,
alot,
i know.
It is liking seeing these pair of shoes at the
retail store which do not fit you.
Chances are, if you buy them knowing they
are a small size,
you will have blisters and probably hurt your toes.
What i mean is,
not everyone will love you back,
therefore, never shove your love down
anyone's throat.
Accept it and appreciate the ones that do love you. — Nomthandazo Tsembeni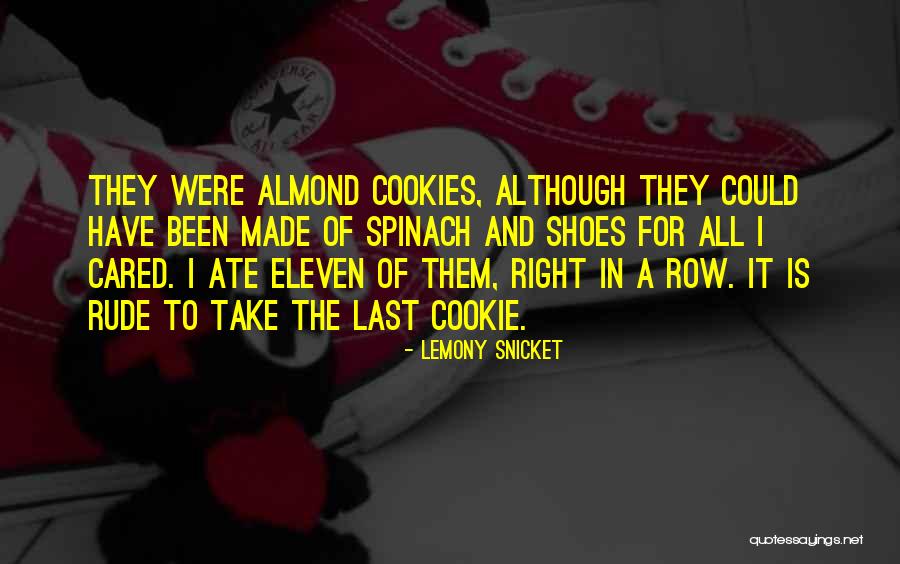 They were almond cookies, although they could have been made of spinach and shoes for all I cared. I ate eleven of them, right in a row. It is rude to take the last cookie. — Lemony Snicket