Quotes & Sayings About Scuba Diving
Enjoy reading and share 38 famous quotes about Scuba Diving with everyone.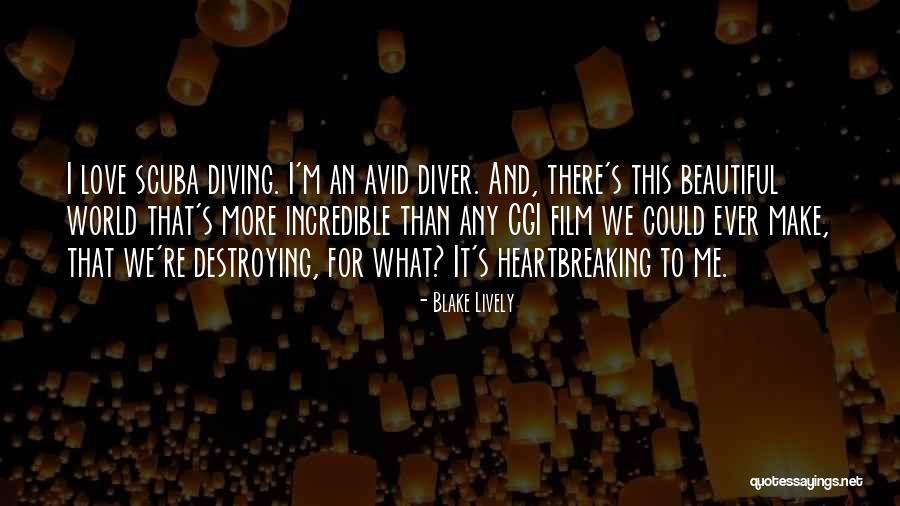 I love scuba diving. I'm an avid diver. And, there's this beautiful world that's more incredible than any CGI film we could ever make, that we're destroying, for what? It's heartbreaking to me. — Blake Lively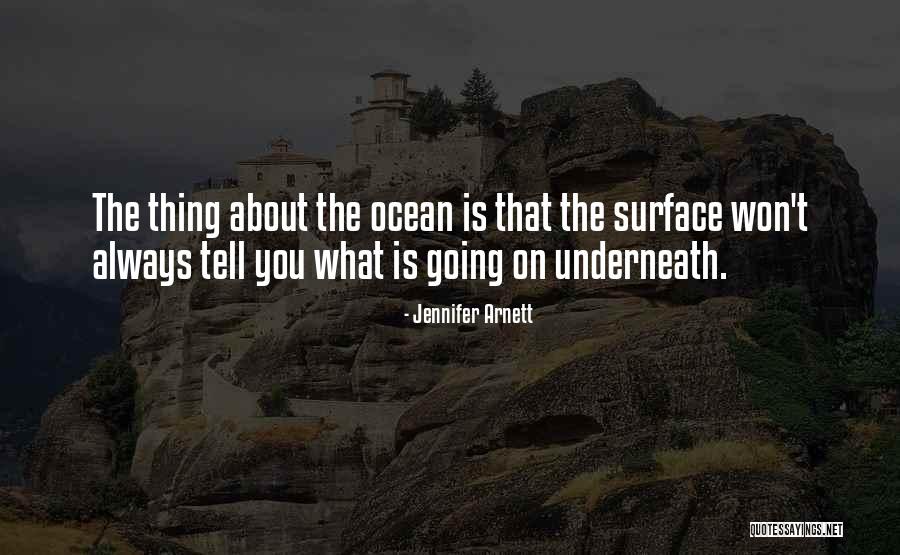 The thing about the ocean is that the surface won't always tell you what is going on underneath. — Jennifer Arnett
Bright coral and sand spread thirty-five feet below, crisp in the air-clear water. Blue clouds of Creole wrasse parted as Hugh dropped. White and yellow flashes of yellowtail snapper flitting past. How could he have questioned if coming back here was the right thing? Bubbles rose from five buddy teams. Swimming five different directions. Hugh kicked hard after the nearest pair. — Tim W. Jackson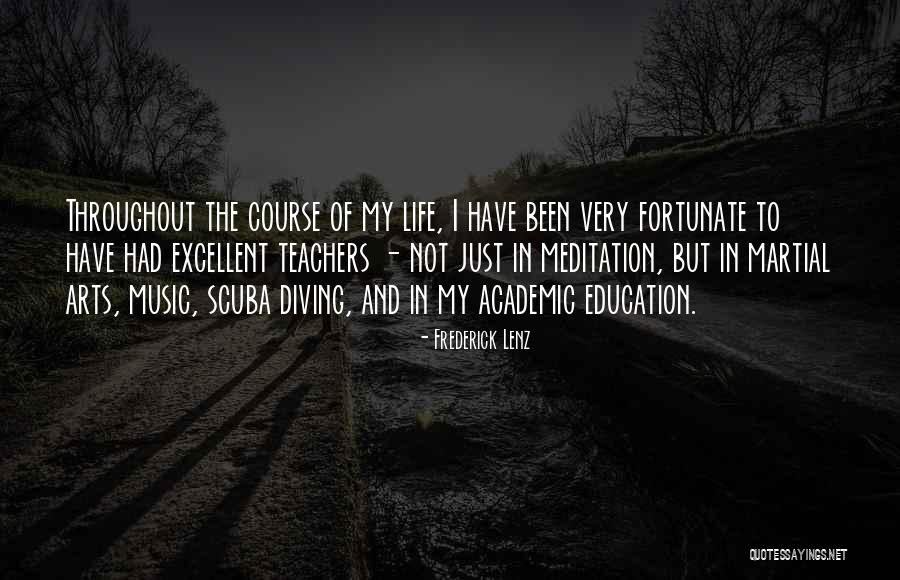 Throughout the course of my life, I have been very fortunate to have had excellent teachers - not just in meditation, but in martial arts, music, scuba diving, and in my academic education. — Frederick Lenz
So many of the pleasures of recreational scuba diving don't exist for the deep wreck diver. It's not beautiful scenery for the most part; in fact, it's usually very dark. It's physically burdensome. These guys carry almost two hundred pounds of equipment, and should any of that equipment fail, they risk death. — Robert Kurson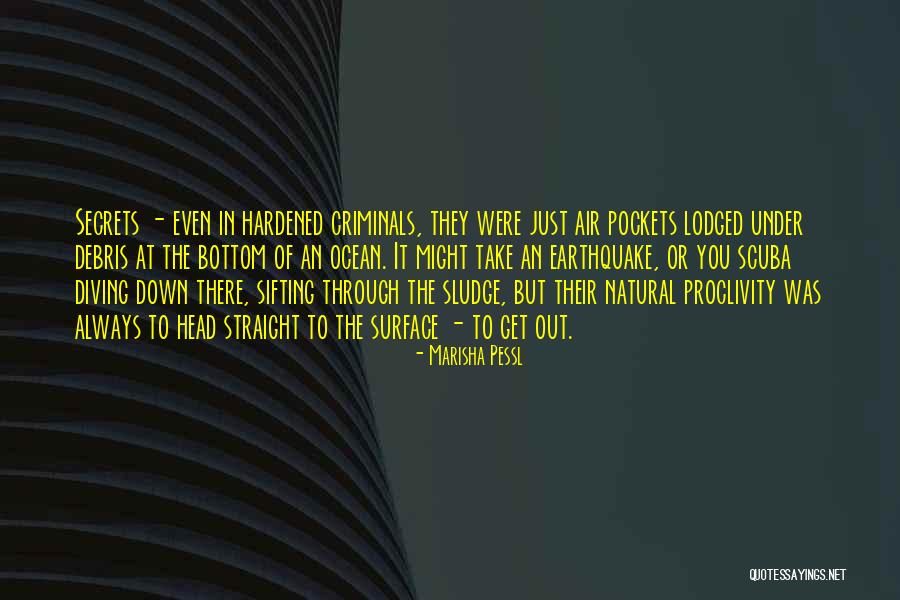 Secrets - even in hardened criminals, they were just air pockets lodged under debris at the bottom of an ocean. It might take an earthquake, or you scuba diving down there, sifting through the sludge, but their natural proclivity was always to head straight to the surface - to get out. — Marisha Pessl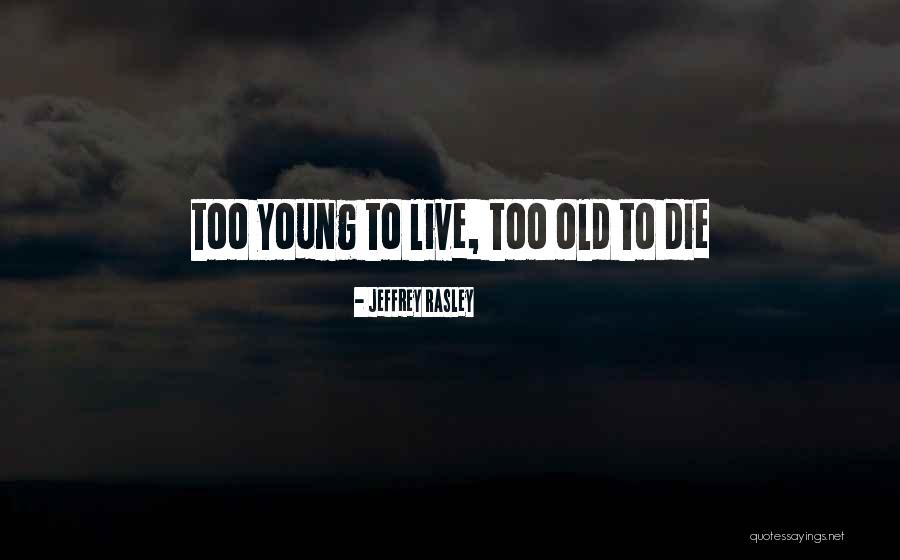 too young to live, too old to die — Jeffrey Rasley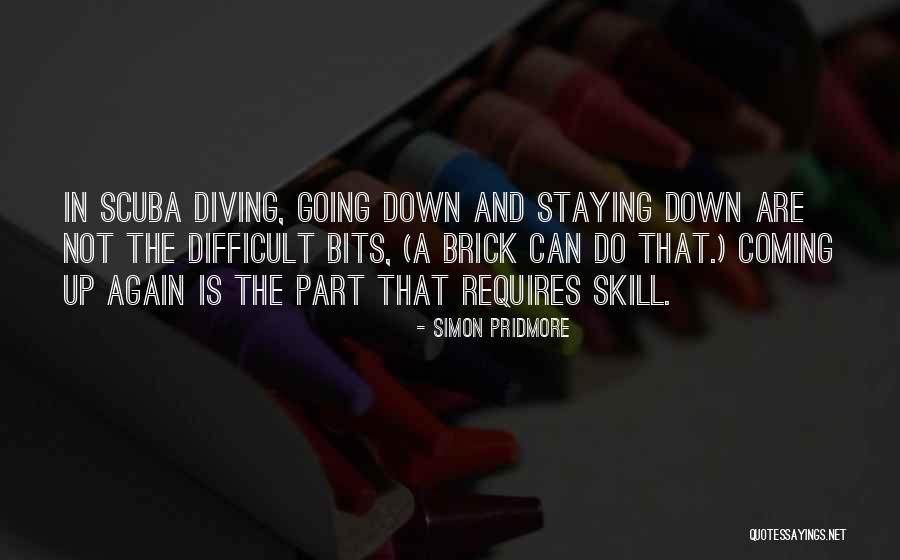 in scuba diving, going down and staying down are not the difficult bits, (a brick can do that.) Coming up again is the part that requires skill. — Simon Pridmore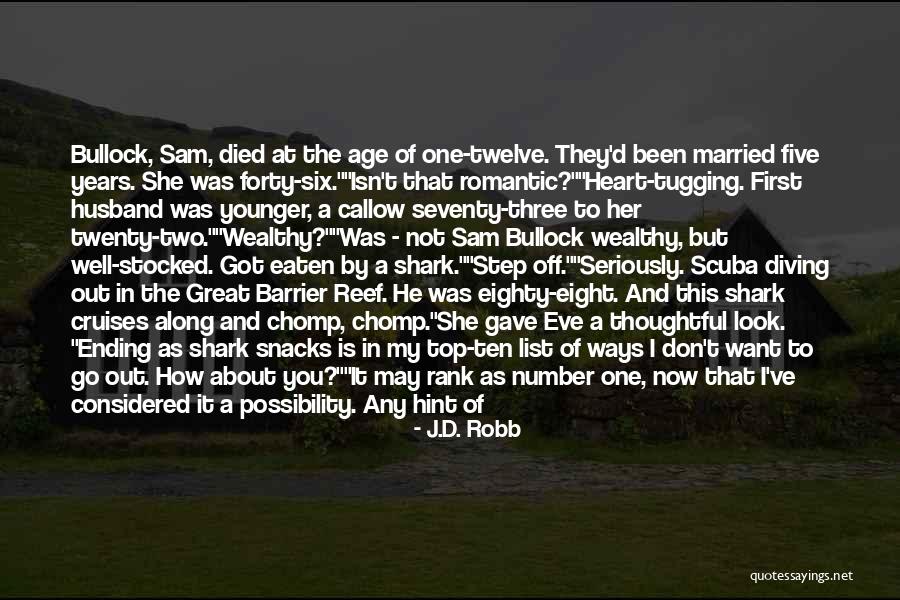 Bullock, Sam, died at the age of one-twelve. They'd been married five years. She was forty-six."
"Isn't that romantic?"
"Heart-tugging. First husband was younger, a callow seventy-three to her twenty-two."
"Wealthy?"
"Was - not Sam Bullock wealthy, but well-stocked. Got eaten by a shark."
"Step off."
"Seriously. Scuba diving out in the Great Barrier Reef. He was eighty-eight. And this shark cruises along and chomp, chomp."
She gave Eve a thoughtful look. "Ending as shark snacks is in my top-ten list of ways I don't want to go out. How about you?"
"It may rank as number one, now that I've considered it a possibility. Any hint of foul play?"
"They weren't able to interview the shark, but it was put down as death by misadventure. — J.D. Robb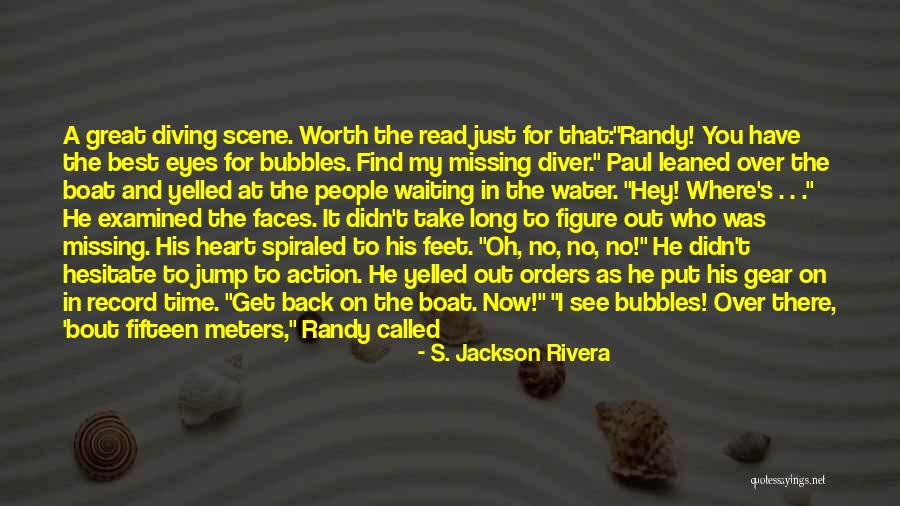 A great diving scene. Worth the read just for that:

"Randy! You have the best eyes for bubbles. Find my missing diver."
Paul leaned over the boat and yelled at the people waiting in the water. "Hey! Where's . . ." He examined the faces. It didn't take long to figure out who was missing. His heart spiraled to his feet.
"Oh, no, no, no!" He didn't hesitate to jump to action. He yelled out orders as he put his gear on in record time. "Get back on the boat. Now!"
"I see bubbles! Over there, 'bout fifteen meters," Randy called before anyone had a chance to do anything.
Paul stood on the back of the boat, all geared up and holding an extra tank with a regulator already attached. He looked to see where Randy pointed and took a giant stride into the water. He didn't bother to surface before starting the fastest descent he'd ever made. — S. Jackson Rivera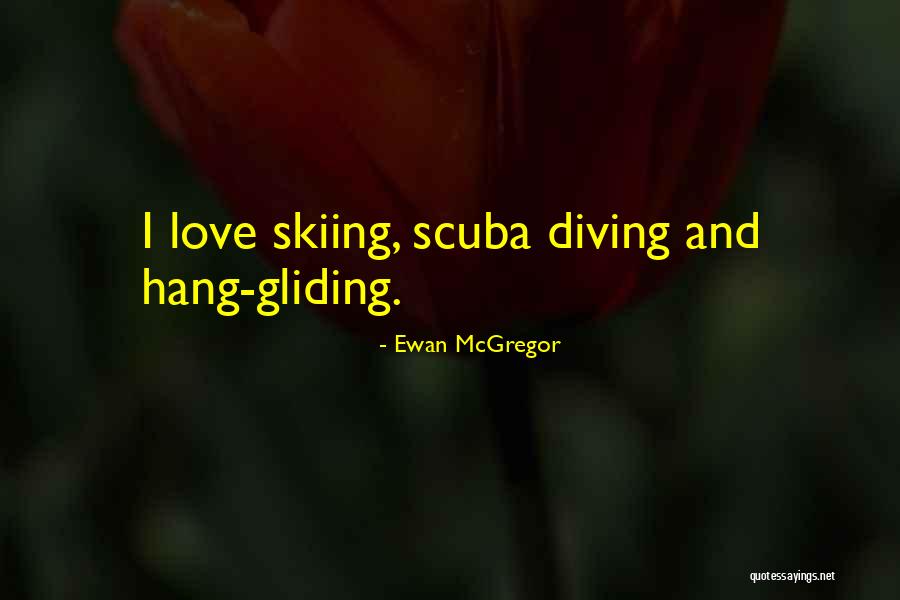 I love skiing, scuba diving and hang-gliding. — Ewan McGregor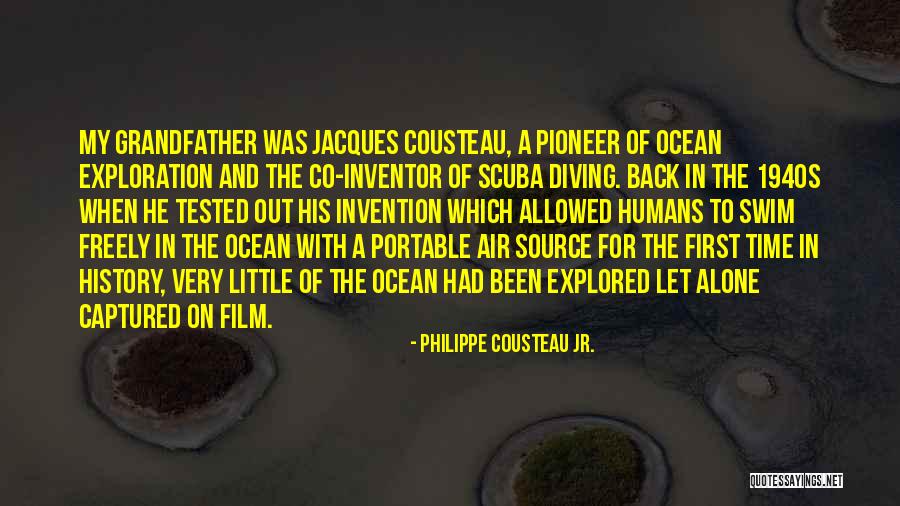 My grandfather was Jacques Cousteau, a pioneer of ocean exploration and the co-inventor of scuba diving. Back in the 1940s when he tested out his invention which allowed humans to swim freely in the ocean with a portable air source for the first time in history, very little of the ocean had been explored let alone captured on film. — Philippe Cousteau Jr.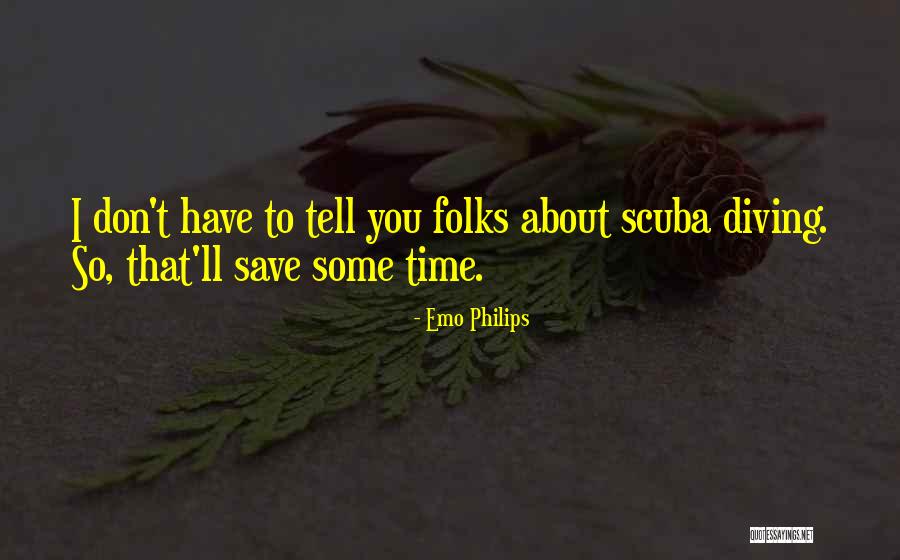 I don't have to tell you folks about scuba diving. So, that'll save some time. — Emo Philips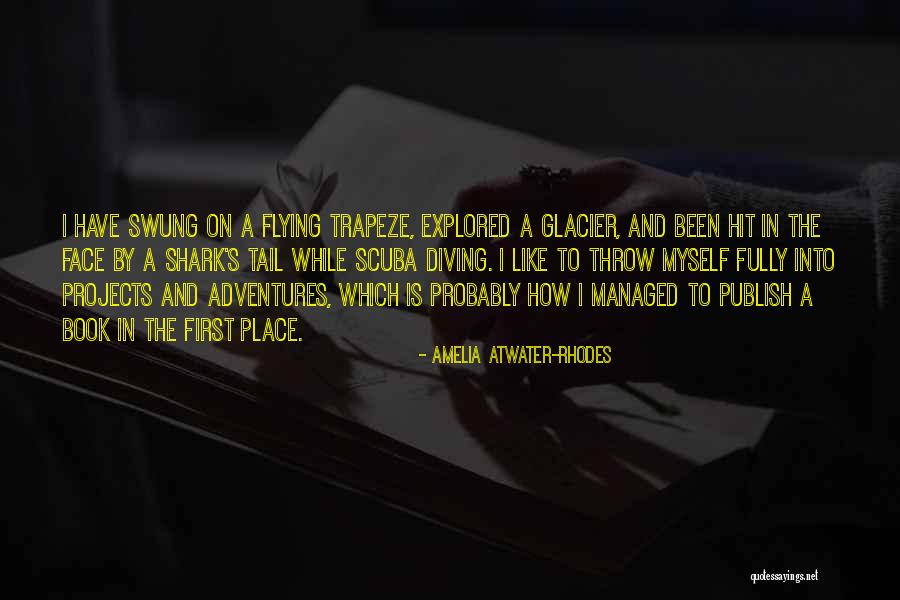 I have swung on a flying trapeze, explored a glacier, and been hit in the face by a shark's tail while scuba diving. I like to throw myself fully into projects and adventures, which is probably how I managed to publish a book in the first place. — Amelia Atwater-Rhodes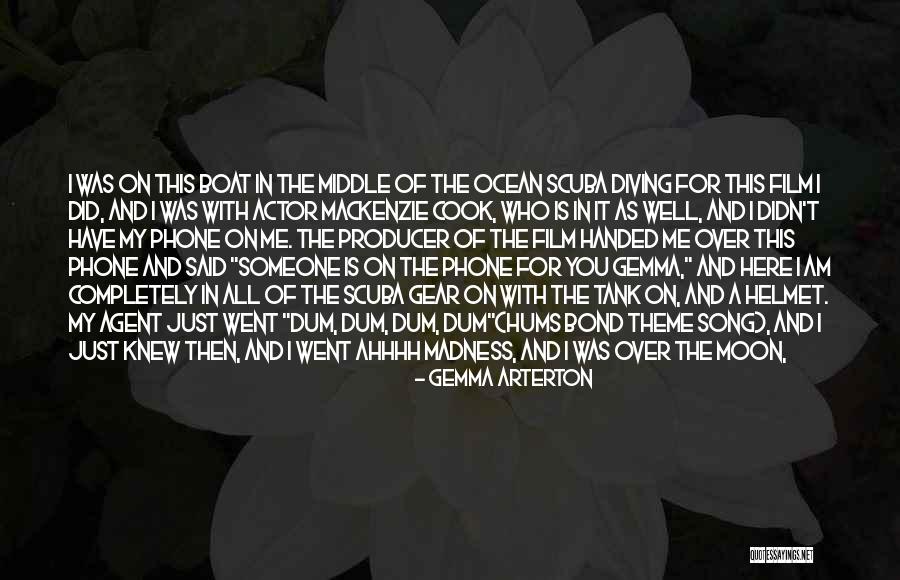 I was on this boat in the middle of the ocean scuba diving for this film I did, and I was with actor Mackenzie Cook, who is in it as well, and I didn't have my phone on me. The producer of the film handed me over this phone and said "someone is on the phone for you Gemma," and here I am completely in all of the scuba gear on with the tank on, and a helmet. My agent just went "dum, dum, dum, dum"(hums Bond theme song), and I just knew then, and I went ahhhh madness, and I was over the moon, — Gemma Arterton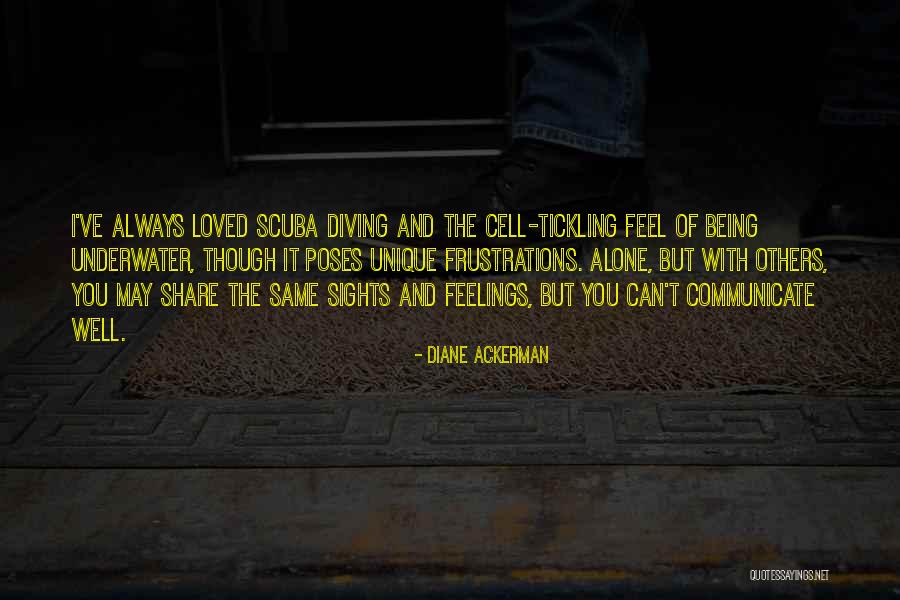 I've always loved scuba diving and the cell-tickling feel of being underwater, though it poses unique frustrations. Alone, but with others, you may share the same sights and feelings, but you can't communicate well. — Diane Ackerman
I've got my advanced scuba diving license. I'm playing tennis and exercising. I ride my bike everywhere. I've been finding new things. I've been more creative in music and doing different videos. And just meeting different people and being around and present. I'm wonderful when I'm just on nothing. — Albert Hammond Jr.
The Gili Islands gave me some of my best scuba diving experiences, including tons of turtles. — Natalie Dormer
I am a certified PADI Divemaster and a technical scuba diver. That is to say, I am involved with decompression diving where we dive to depths of 300 plus feet. But I was also recently certified for the Atlantis rebreather, where we dive to shallower depths ranging from about 60-130 feet. — Frederick Lenz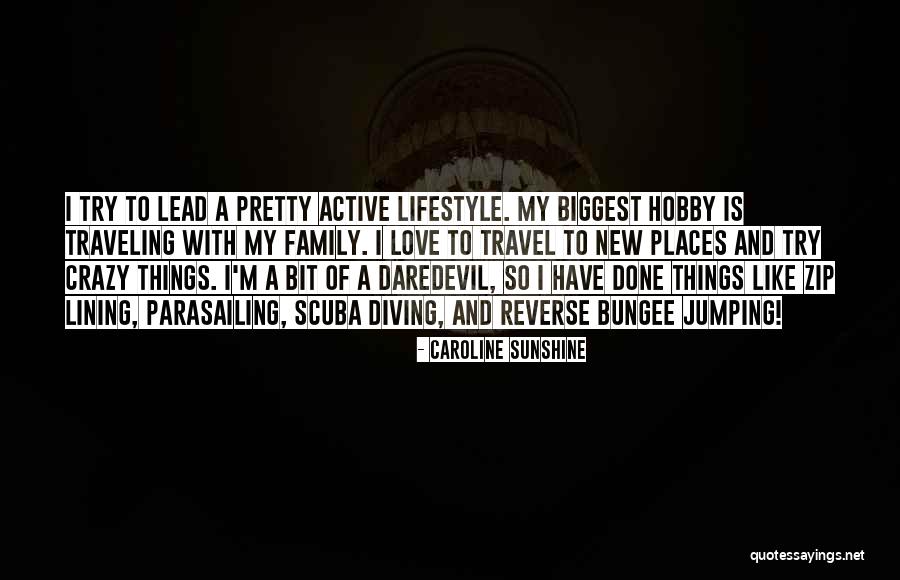 I try to lead a pretty active lifestyle. My biggest hobby is traveling with my family. I love to travel to new places and try crazy things. I'm a bit of a daredevil, so I have done things like zip lining, parasailing, scuba diving, and reverse bungee jumping! — Caroline Sunshine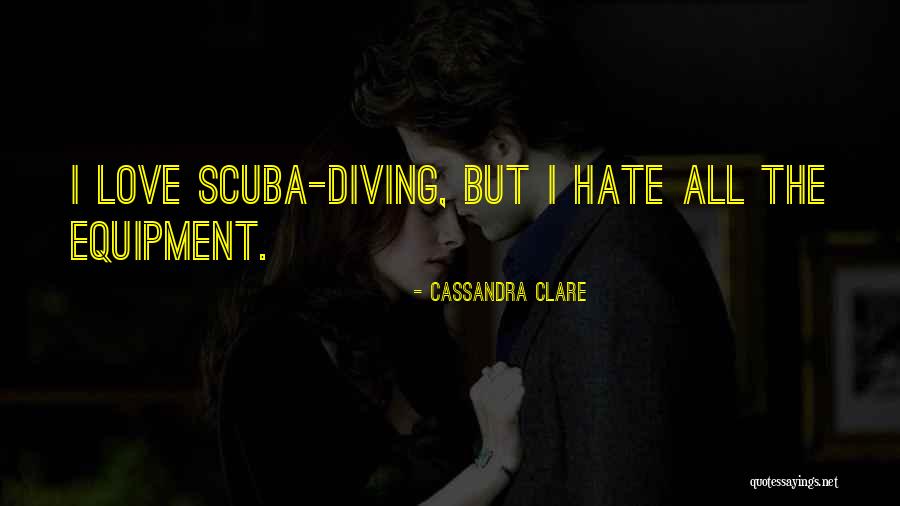 I love scuba-diving, but I hate all the equipment. — Cassandra Clare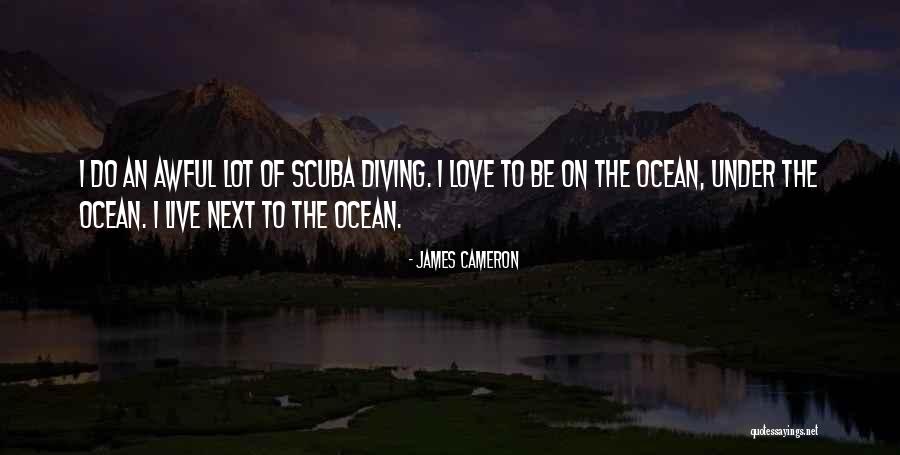 I do an awful lot of scuba diving. I love to be on the ocean, under the ocean. I live next to the ocean. — James Cameron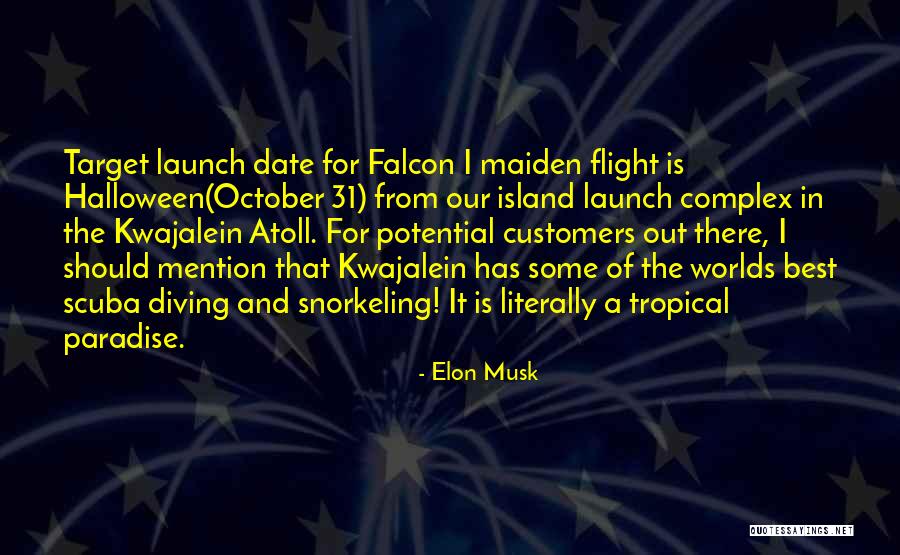 Target launch date for Falcon I maiden flight is Halloween(October 31) from our island launch complex in the Kwajalein Atoll. For potential customers out there, I should mention that Kwajalein has some of the worlds best scuba diving and snorkeling! It is literally a tropical paradise. — Elon Musk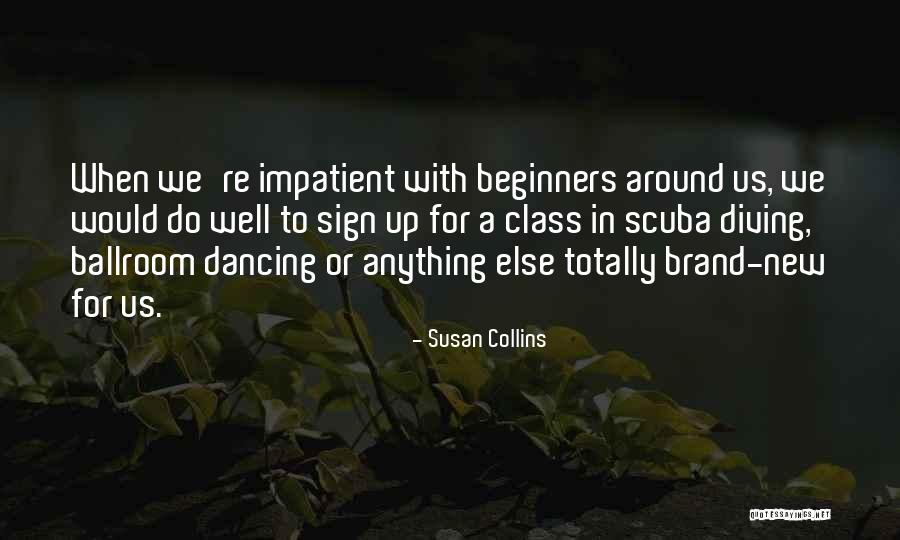 When we're impatient with beginners around us, we would do well to sign up for a class in scuba diving, ballroom dancing or anything else totally brand-new for us. — Susan Collins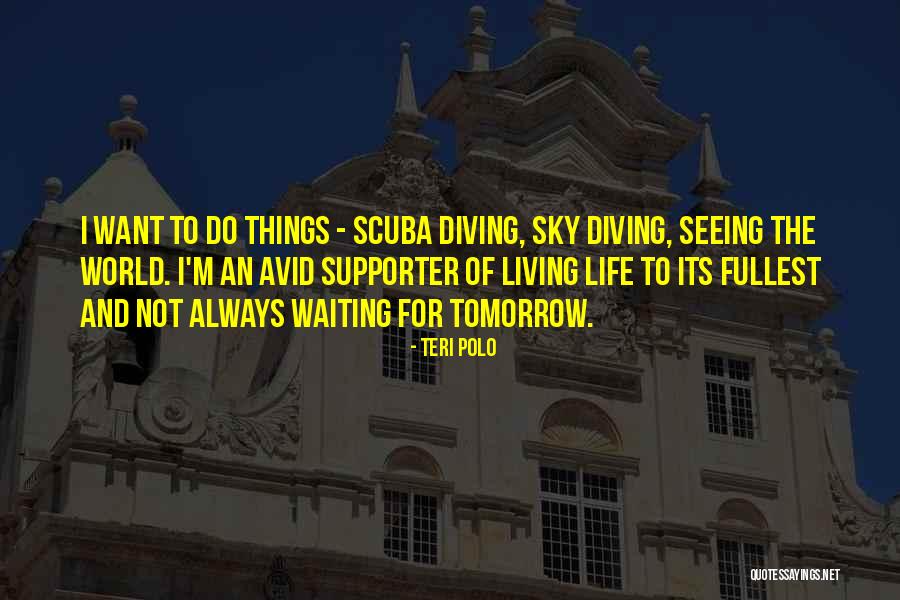 I want to do things - scuba diving, sky diving, seeing the world. I'm an avid supporter of living life to its fullest and not always waiting for tomorrow. — Teri Polo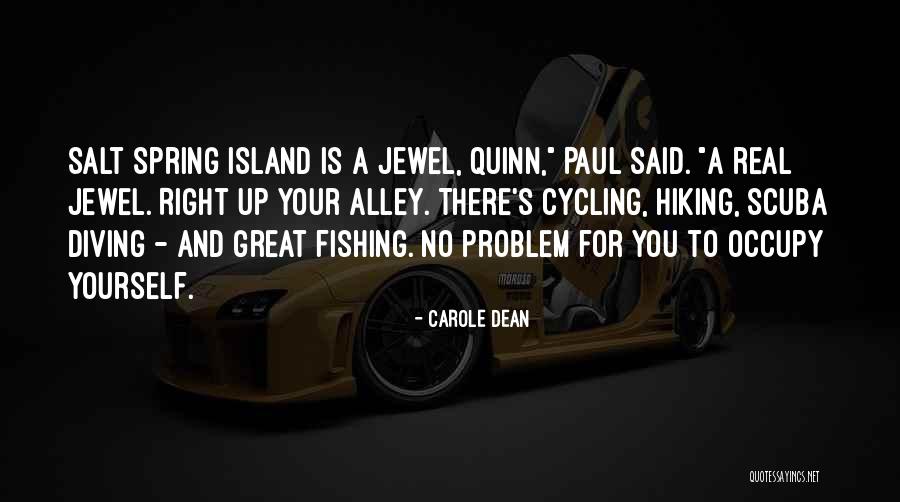 Salt Spring Island is a jewel, Quinn," Paul said. "A real jewel. Right up your alley. There's cycling, hiking, scuba diving - and great fishing. No problem for you to occupy yourself. — Carole Dean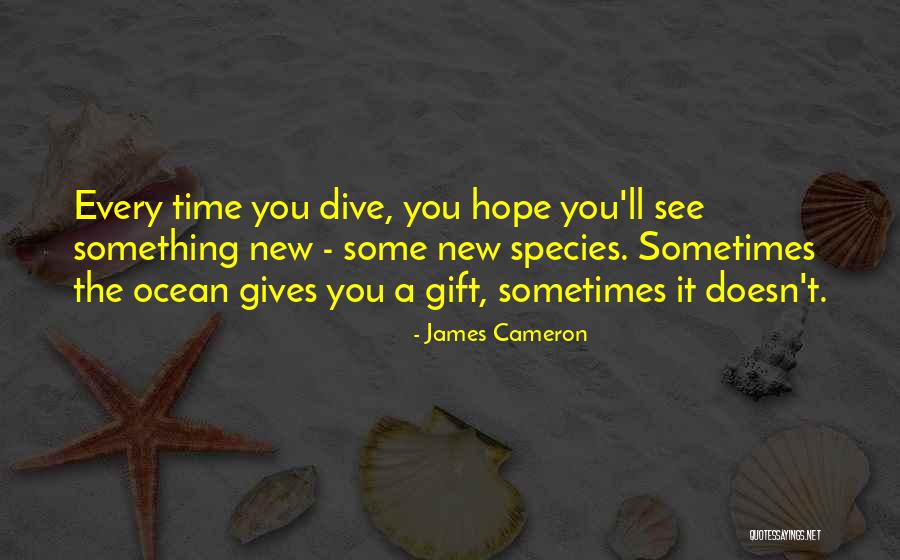 Every time you dive, you hope you'll see something new - some new species. Sometimes the ocean gives you a gift, sometimes it doesn't. — James Cameron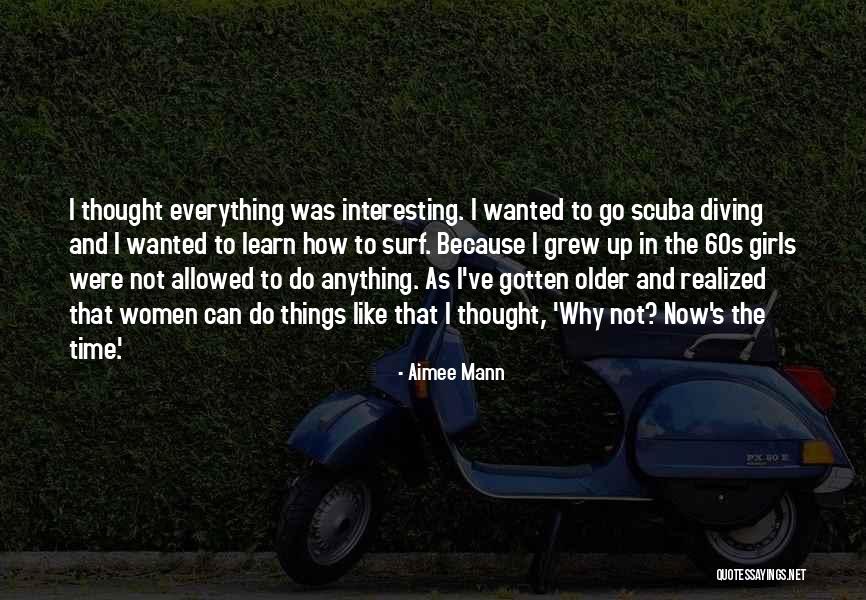 I thought everything was interesting. I wanted to go scuba diving and I wanted to learn how to surf. Because I grew up in the 60s girls were not allowed to do anything. As I've gotten older and realized that women can do things like that I thought, 'Why not? Now's the time.' — Aimee Mann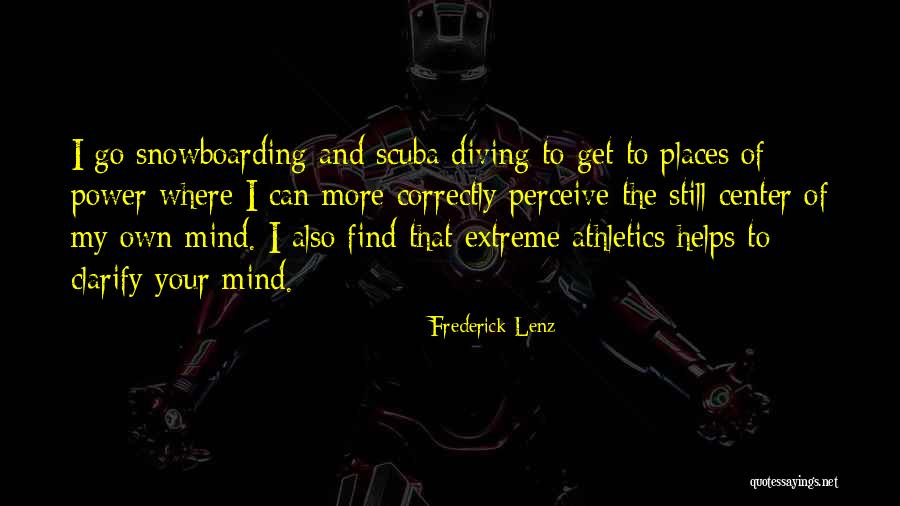 I go snowboarding and scuba diving to get to places of power where I can more correctly perceive the still center of my own mind. I also find that extreme athletics helps to clarify your mind. — Frederick Lenz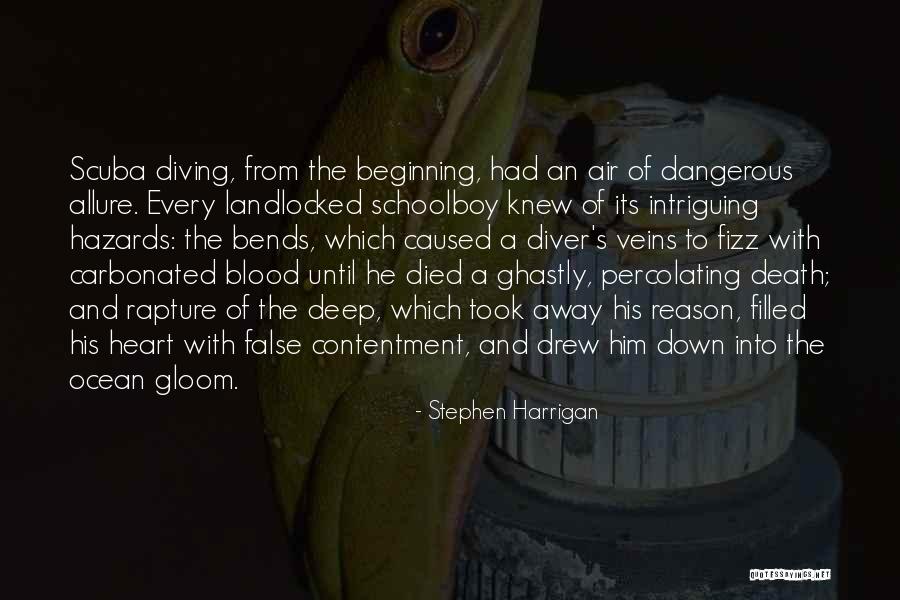 Scuba diving, from the beginning, had an air of dangerous allure. Every landlocked schoolboy knew of its intriguing hazards: the bends, which caused a diver's veins to fizz with carbonated blood until he died a ghastly, percolating death; and rapture of the deep, which took away his reason, filled his heart with false contentment, and drew him down into the ocean gloom. — Stephen Harrigan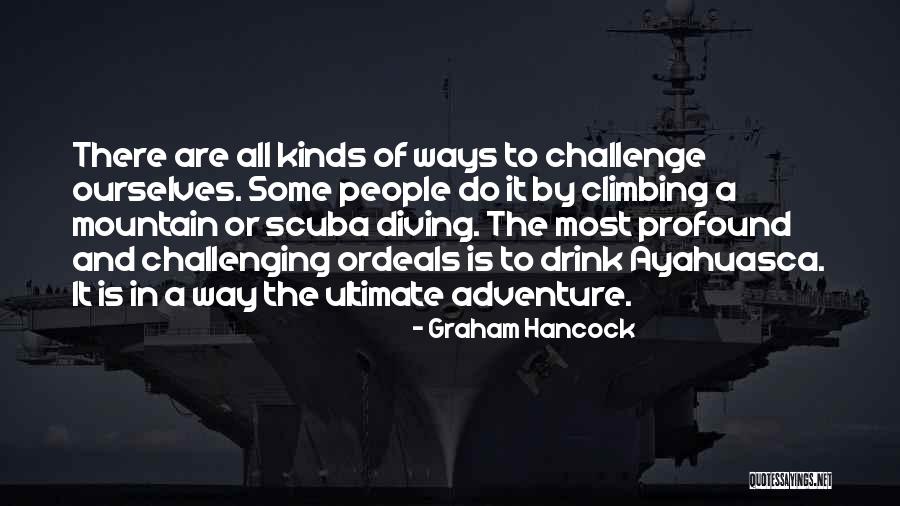 There are all kinds of ways to challenge ourselves. Some people do it by climbing a mountain or scuba diving. The most profound and challenging ordeals is to drink Ayahuasca. It is in a way the ultimate adventure. — Graham Hancock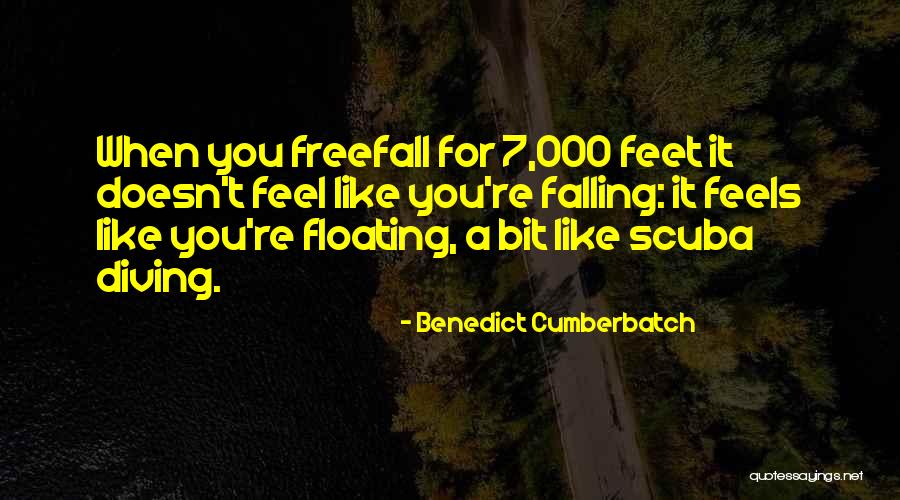 When you freefall for 7,000 feet it doesn't feel like you're falling: it feels like you're floating, a bit like scuba diving. — Benedict Cumberbatch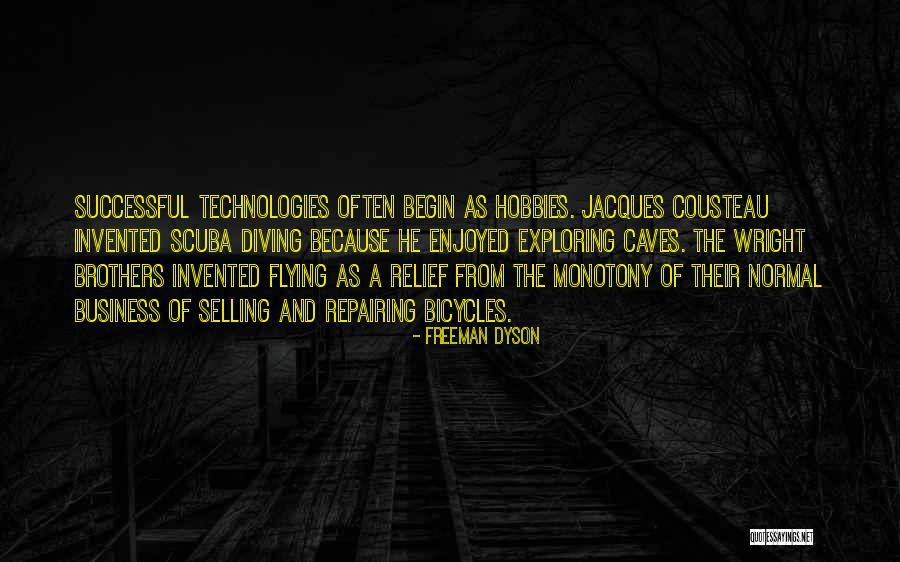 Successful technologies often begin as hobbies. Jacques Cousteau invented scuba diving because he enjoyed exploring caves. The Wright brothers invented flying as a relief from the monotony of their normal business of selling and repairing bicycles. — Freeman Dyson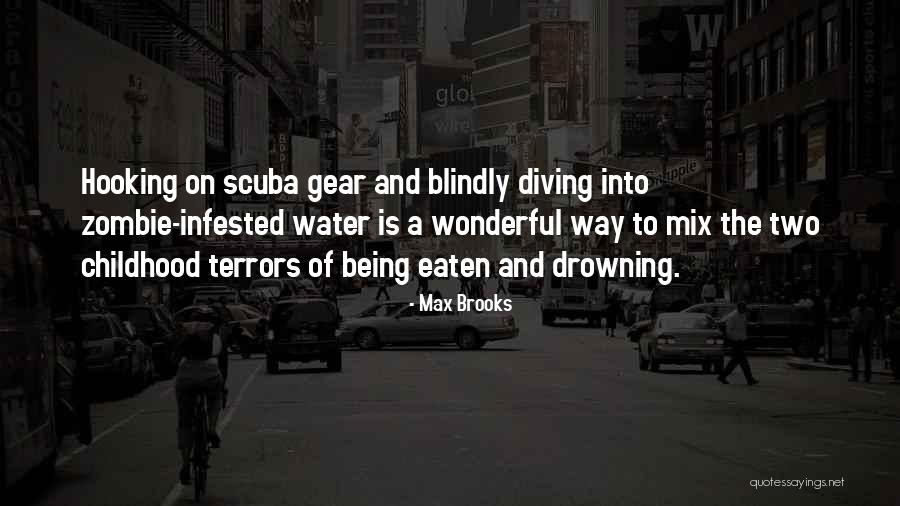 Hooking on scuba gear and blindly diving into zombie-infested water is a wonderful way to mix the two childhood terrors of being eaten and drowning. — Max Brooks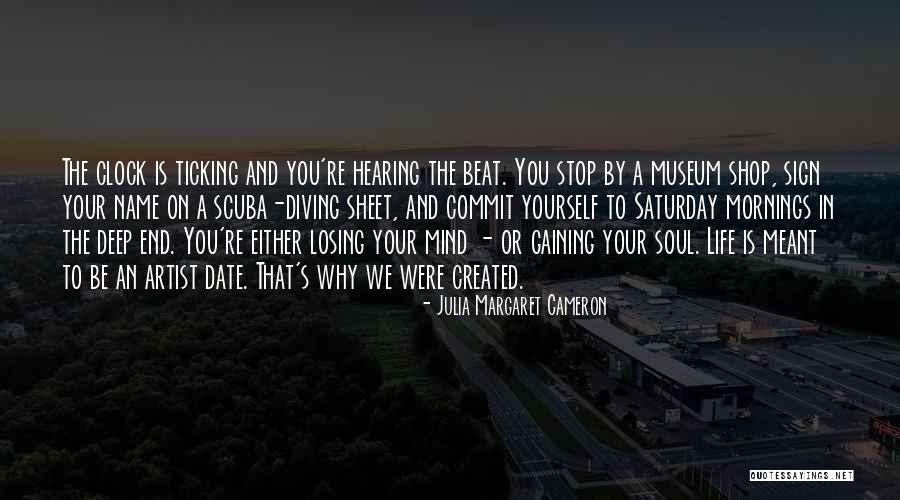 The clock is ticking and you're hearing the beat. You stop by a museum shop, sign your name on a scuba-diving sheet, and commit yourself to Saturday mornings in the deep end. You're either losing your mind - or gaining your soul. Life is meant to be an artist date. That's why we were created. — Julia Margaret Cameron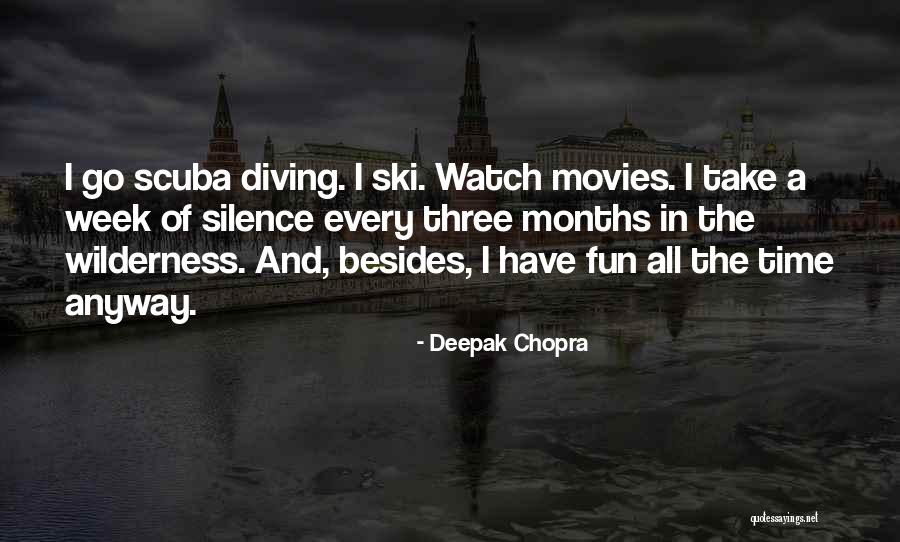 I go scuba diving. I ski. Watch movies. I take a week of silence every three months in the wilderness. And, besides, I have fun all the time anyway. — Deepak Chopra
It isn't always the treasure that drives men down deep into the sea; it's something else, something unexplainable, even to them. — Jennifer Arnett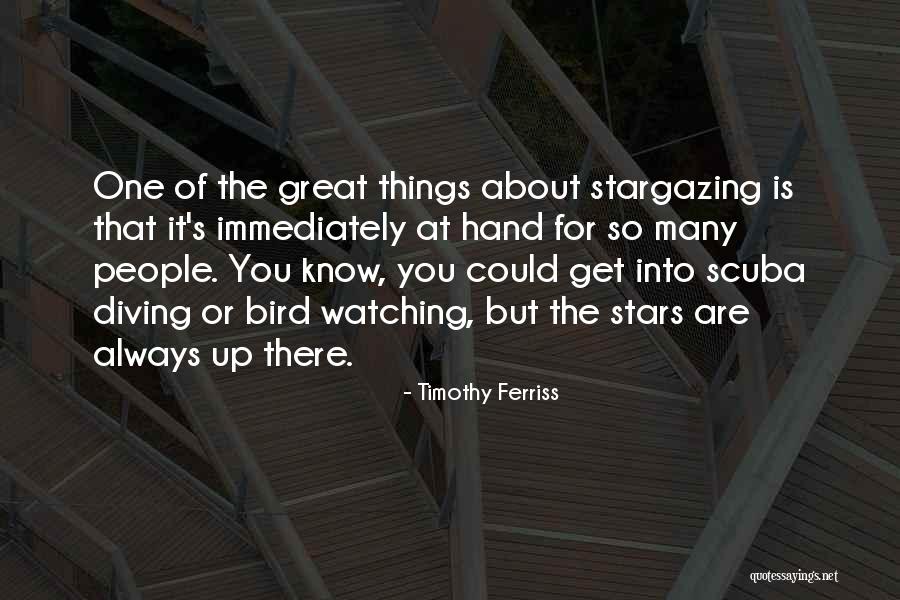 One of the great things about stargazing is that it's immediately at hand for so many people. You know, you could get into scuba diving or bird watching, but the stars are always up there. — Timothy Ferriss