Right To Religious Freedom Quotes & Sayings
Enjoy reading and share 45 famous quotes about Right To Religious Freedom with everyone.
Top Right To Religious Freedom Quotes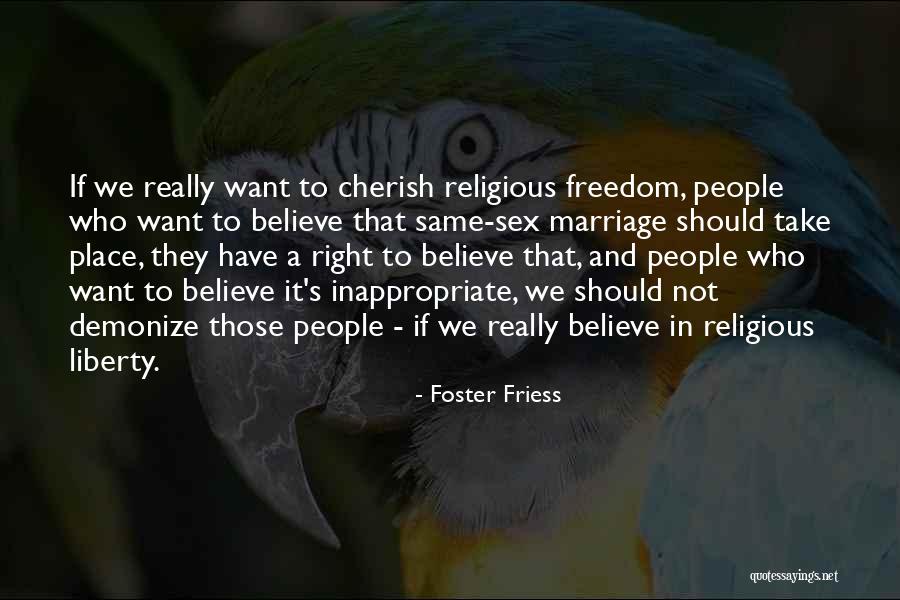 If we really want to cherish religious freedom, people who want to believe that same-sex marriage should take place, they have a right to believe that, and people who want to believe it's inappropriate, we should not demonize those people - if we really believe in religious liberty. — Foster Friess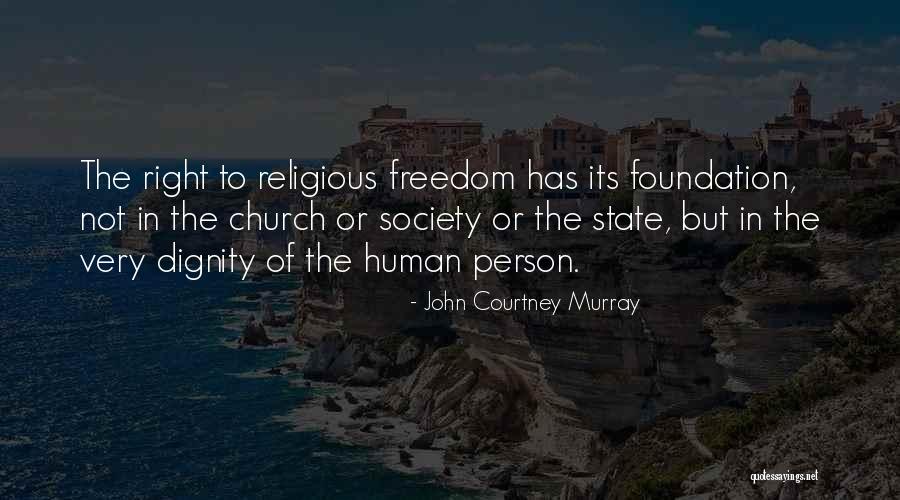 The right to religious freedom has its foundation, not in the church or society or the state, but in the very dignity of the human person. — John Courtney Murray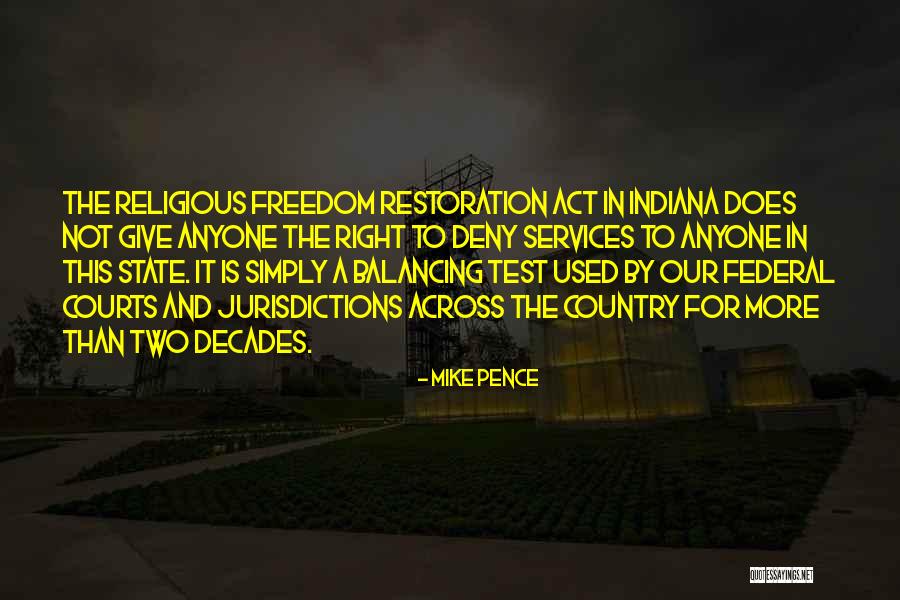 The Religious Freedom Restoration Act in Indiana does not give anyone the right to deny services to anyone in this state. It is simply a balancing test used by our federal courts and jurisdictions across the country for more than two decades. — Mike Pence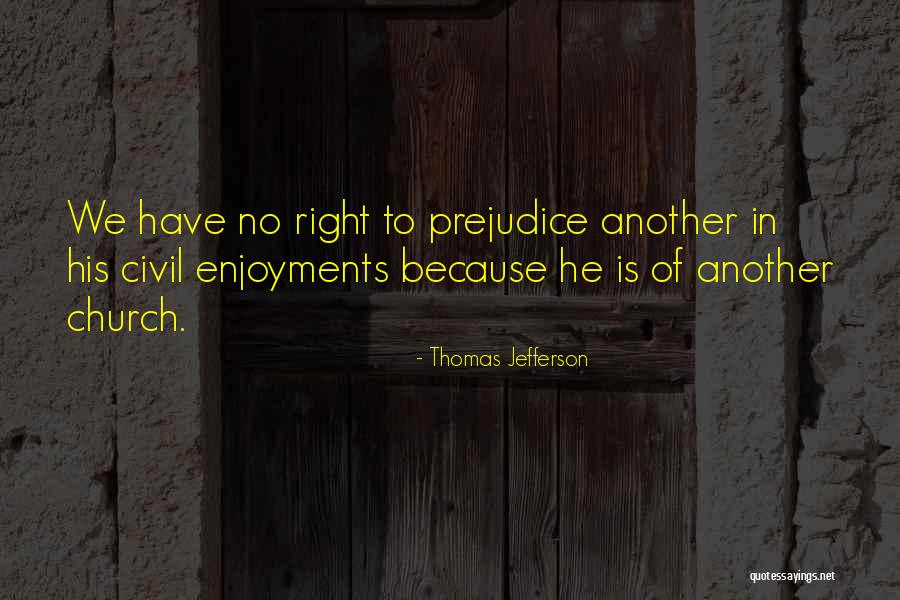 We have no right to prejudice another in his civil enjoyments because he is of another church. — Thomas Jefferson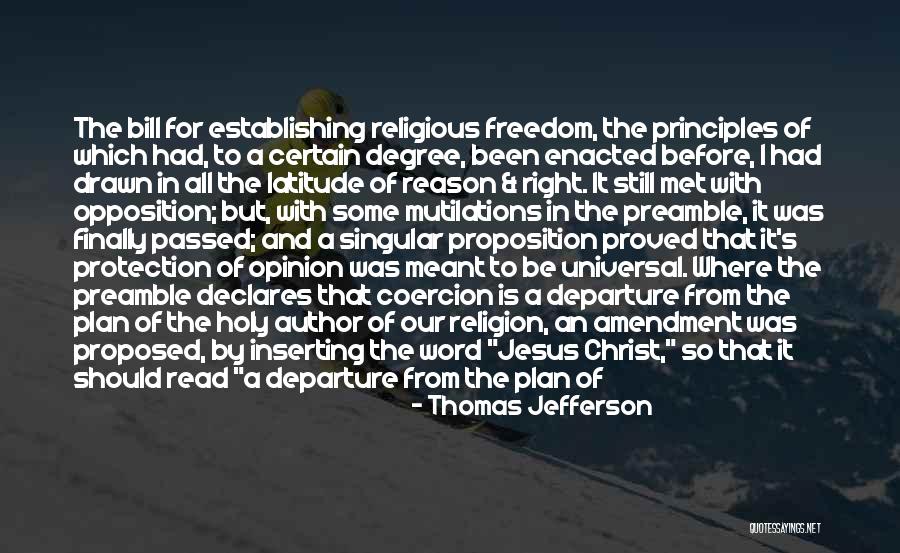 The bill for establishing religious freedom, the principles of which had, to a certain degree, been enacted before, I had drawn in all the latitude of reason & right. It still met with opposition; but, with some mutilations in the preamble, it was finally passed; and a singular proposition proved that it's protection of opinion was meant to be universal. Where the preamble declares that coercion is a departure from the plan of the holy author of our religion, an amendment was proposed, by inserting the word "Jesus Christ," so that it should read "a departure from the plan of Jesus Christ, the holy author of our religion." The insertion was rejected by a great majority, in proof that they meant to comprehend, within the mantle of it's protection, the Jew and the Gentile, the Christian and Mahometan, the Hindoo, and infidel of every denomination. — Thomas Jefferson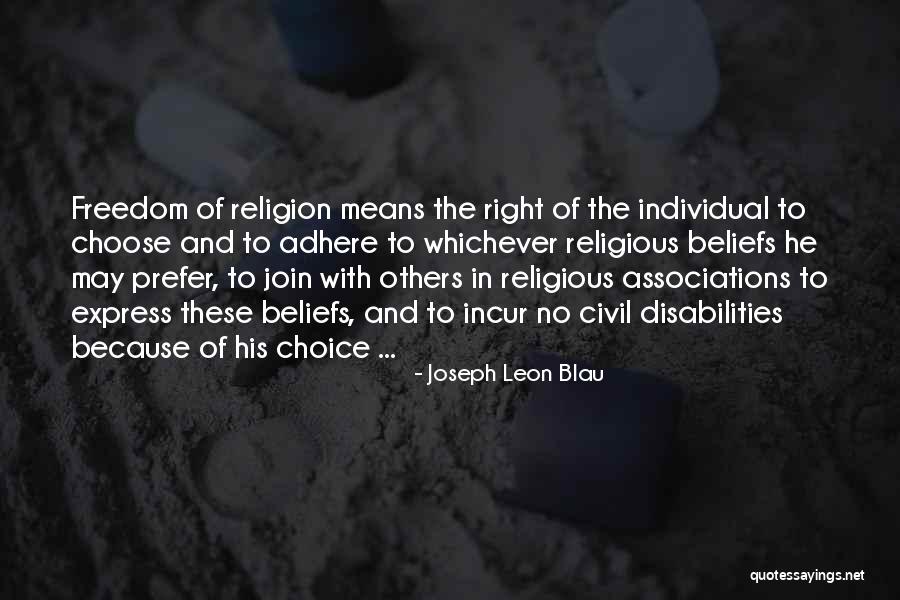 Freedom of religion means the right of the individual to choose and to adhere to whichever religious beliefs he may prefer, to join with others in religious associations to express these beliefs, and to incur no civil disabilities because of his choice ... — Joseph Leon Blau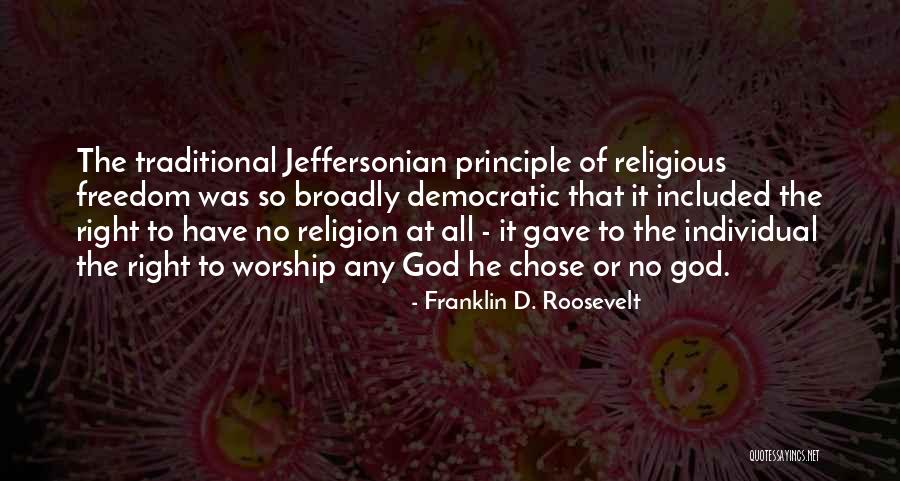 The traditional Jeffersonian principle of religious freedom was so broadly democratic that it included the right to have no religion at all - it gave to the individual the right to worship any God he chose or no god. — Franklin D. Roosevelt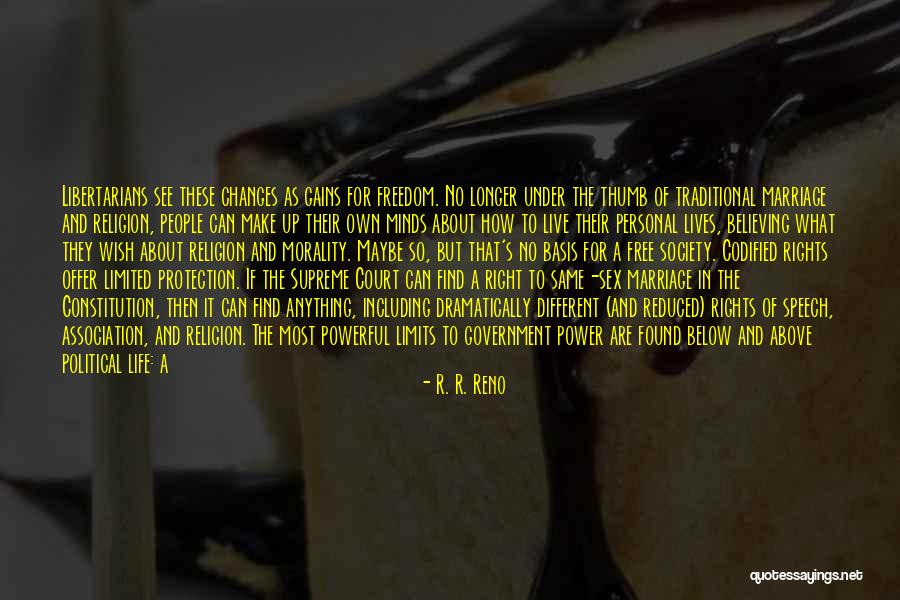 Libertarians see these changes as gains for freedom. No longer under the thumb of traditional marriage and religion, people can make up their own minds about how to live their personal lives, believing what they wish about religion and morality. Maybe so, but that's no basis for a free society. Codified rights offer limited protection. If the Supreme Court can find a right to same-sex marriage in the Constitution, then it can find anything, including dramatically different (and reduced) rights of speech, association, and religion. The most powerful limits to government power are found below and above political life: a strong culture of marriage and family, and robust, assertive religious institutions. A free society depends on strong family loyalties and faith's indomitable resolve. — R. R. Reno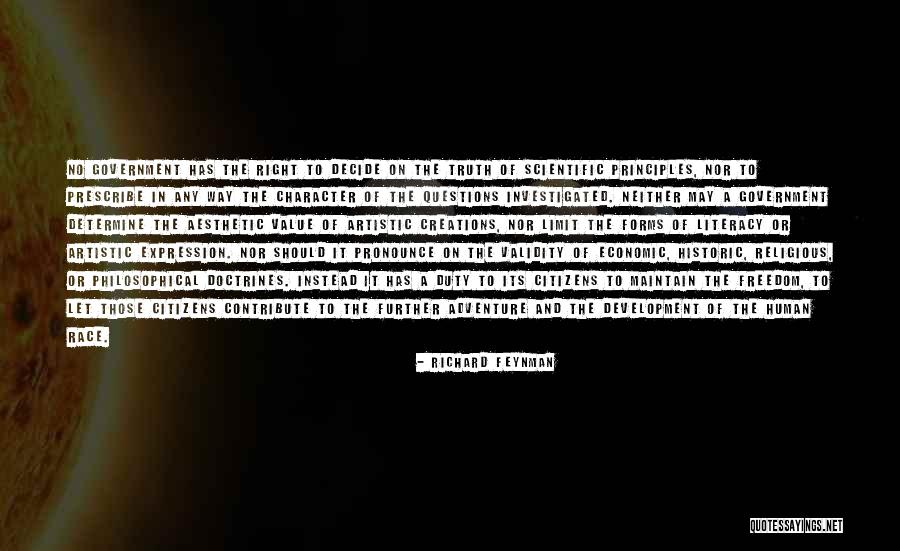 No government has the right to decide on the truth of scientific principles, nor to prescribe in any way the character of the questions investigated. Neither may a government determine the aesthetic value of artistic creations, nor limit the forms of literacy or artistic expression. Nor should it pronounce on the validity of economic, historic, religious, or philosophical doctrines. Instead it has a duty to its citizens to maintain the freedom, to let those citizens contribute to the further adventure and the development of the human race. — Richard Feynman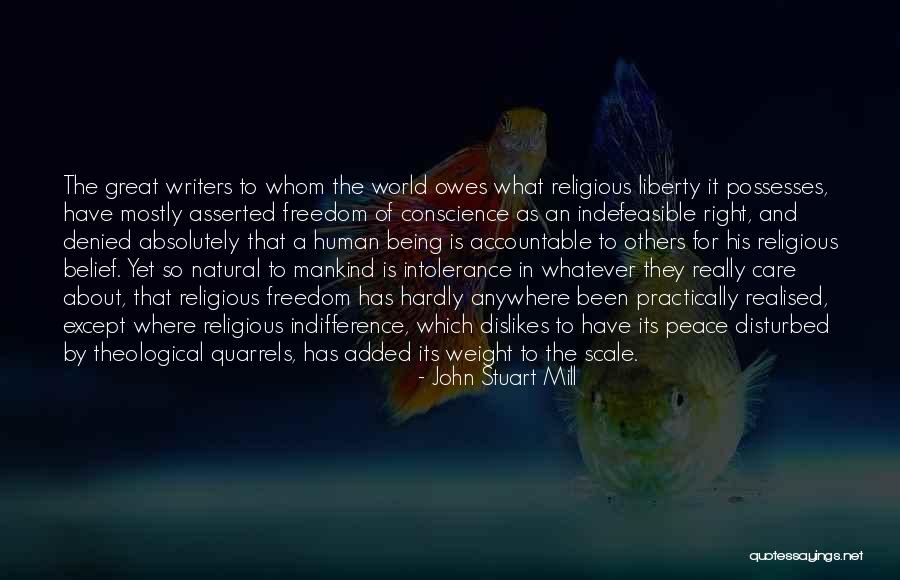 The great writers to whom the world owes what religious liberty it possesses, have mostly asserted freedom of conscience as an indefeasible right, and denied absolutely that a human being is accountable to others for his religious belief. Yet so natural to mankind is intolerance in whatever they really care about, that religious freedom has hardly anywhere been practically realised, except where religious indifference, which dislikes to have its peace disturbed by theological quarrels, has added its weight to the scale. — John Stuart Mill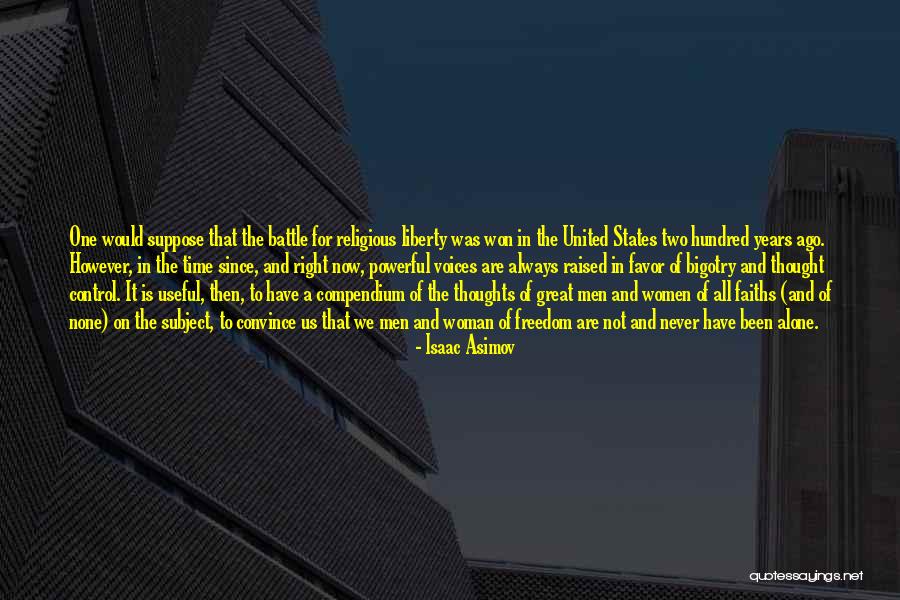 One would suppose that the battle for religious liberty was won in the United States two hundred years ago. However, in the time since, and right now, powerful voices are always raised in favor of bigotry and thought control. It is useful, then, to have a compendium of the thoughts of great men and women of all faiths (and of none) on the subject, to convince us that we men and woman of freedom are not and never have been alone. — Isaac Asimov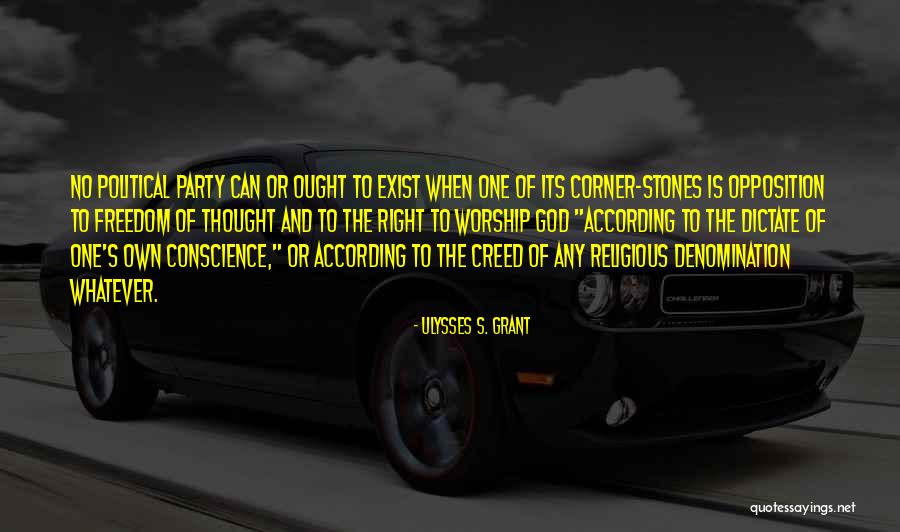 No political party can or ought to exist when one of its corner-stones is opposition to freedom of thought and to the right to worship God "according to the dictate of one's own conscience," or according to the creed of any religious denomination whatever. — Ulysses S. Grant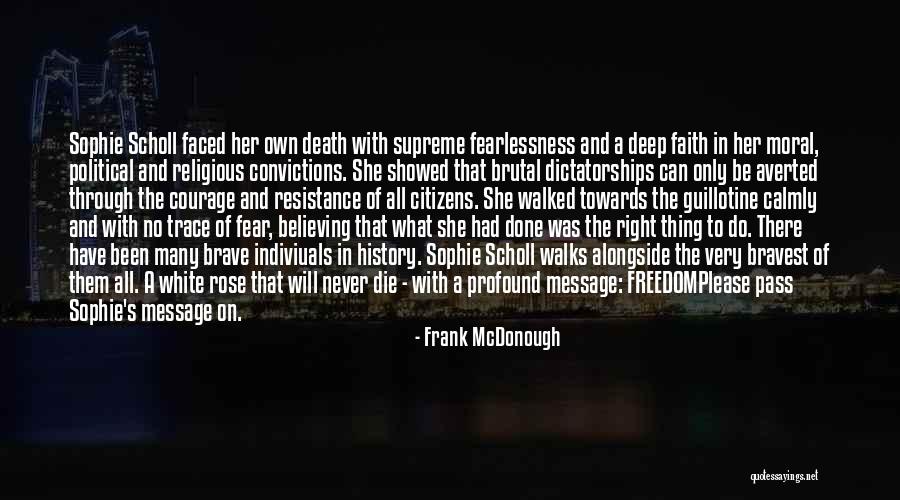 Sophie Scholl faced her own death with supreme fearlessness and a deep faith in her moral, political and religious convictions. She showed that brutal dictatorships can only be averted through the courage and resistance of all citizens. She walked towards the guillotine calmly and with no trace of fear, believing that what she had done was the right thing to do. There have been many brave indiviuals in history. Sophie Scholl walks alongside the very bravest of them all. A white rose that will never die - with a profound message: FREEDOM
Please pass Sophie's message on. — Frank McDonough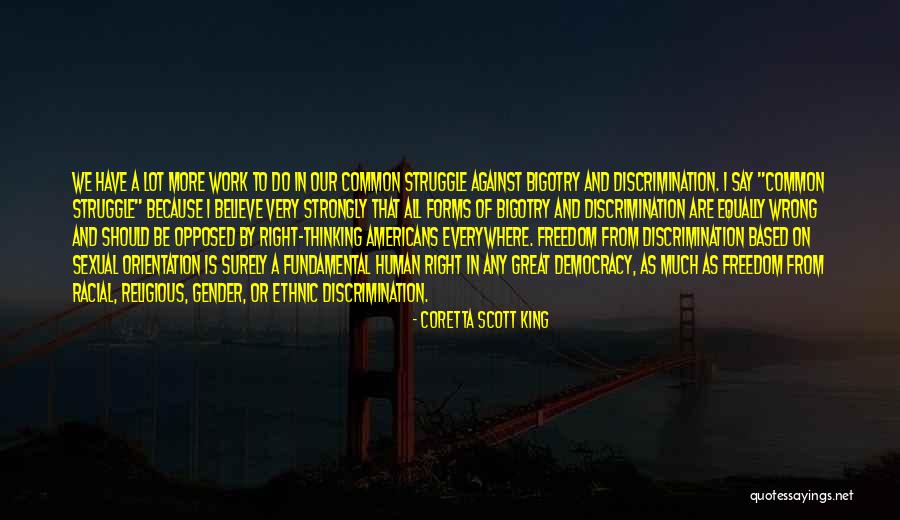 We have a lot more work to do in our common struggle against bigotry and discrimination. I say "common struggle" because I believe very strongly that all forms of bigotry and discrimination are equally wrong and should be opposed by right-thinking Americans everywhere. Freedom from discrimination based on sexual orientation is surely a fundamental human right in any great democracy, as much as freedom from racial, religious, gender, or ethnic discrimination. — Coretta Scott King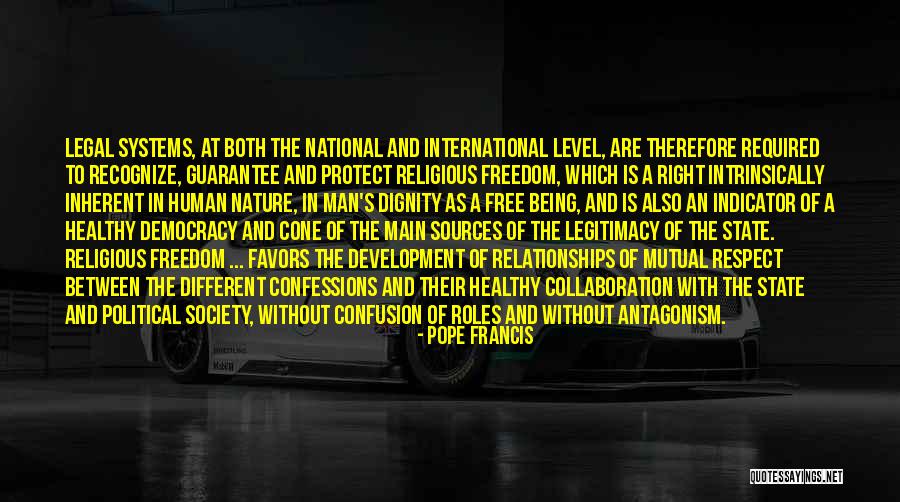 Legal systems, at both the national and international level, are therefore required to recognize, guarantee and protect religious freedom, which is a right intrinsically inherent in human nature, in man's dignity as a free being, and is also an indicator of a healthy democracy and cone of the main sources of the legitimacy of the State. Religious freedom ... favors the development of relationships of mutual respect between the different Confessions and their healthy collaboration with the State and political society, without confusion of roles and without antagonism. — Pope Francis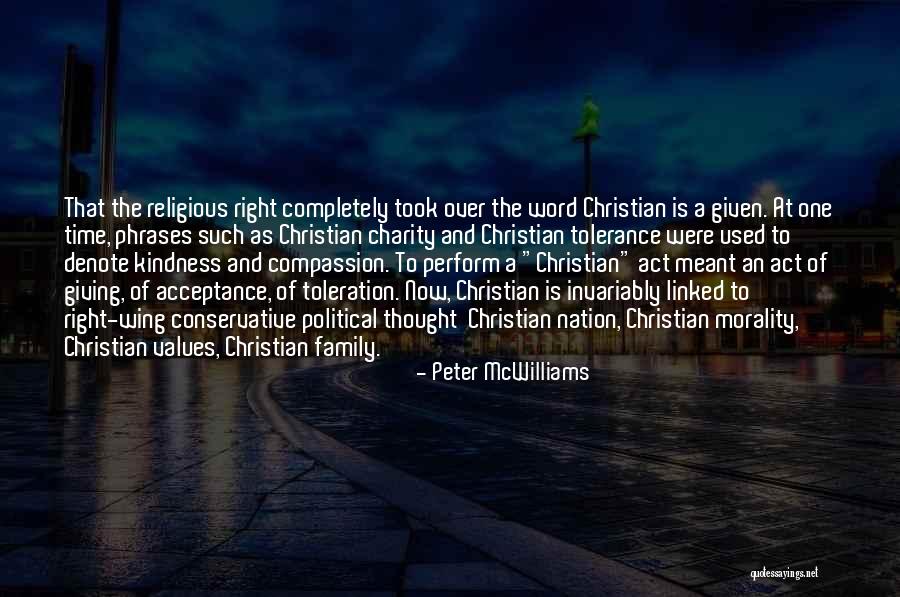 That the religious right completely took over the word Christian is a given. At one time, phrases such as Christian charity and Christian tolerance were used to denote kindness and compassion. To perform a "Christian" act meant an act of giving, of acceptance, of toleration. Now, Christian is invariably linked to right-wing conservative political thought
Christian nation, Christian morality, Christian values, Christian family. — Peter McWilliams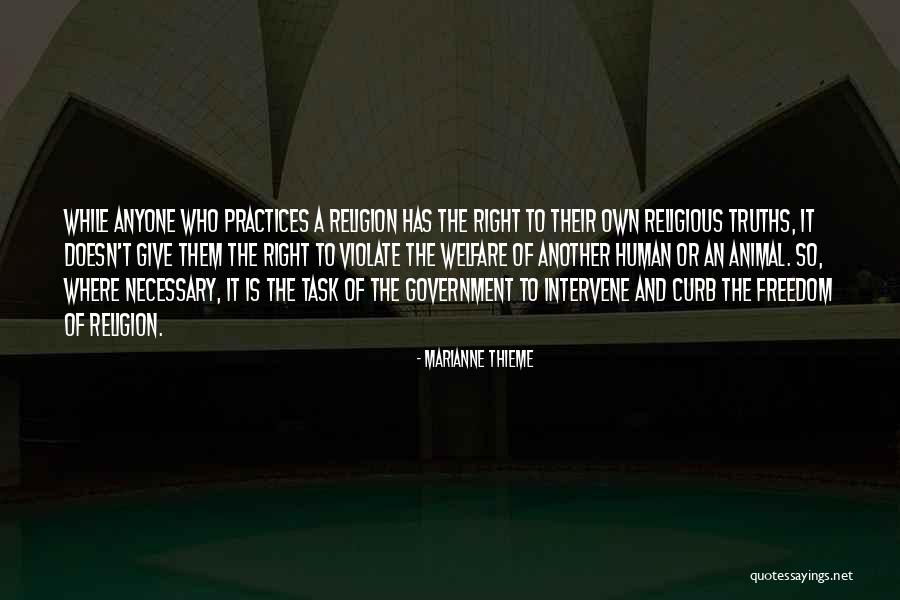 While anyone who practices a religion has the right to their own religious truths, it doesn't give them the right to violate the welfare of another human or an animal. So, where necessary, it is the task of the government to intervene and curb the freedom of religion. — Marianne Thieme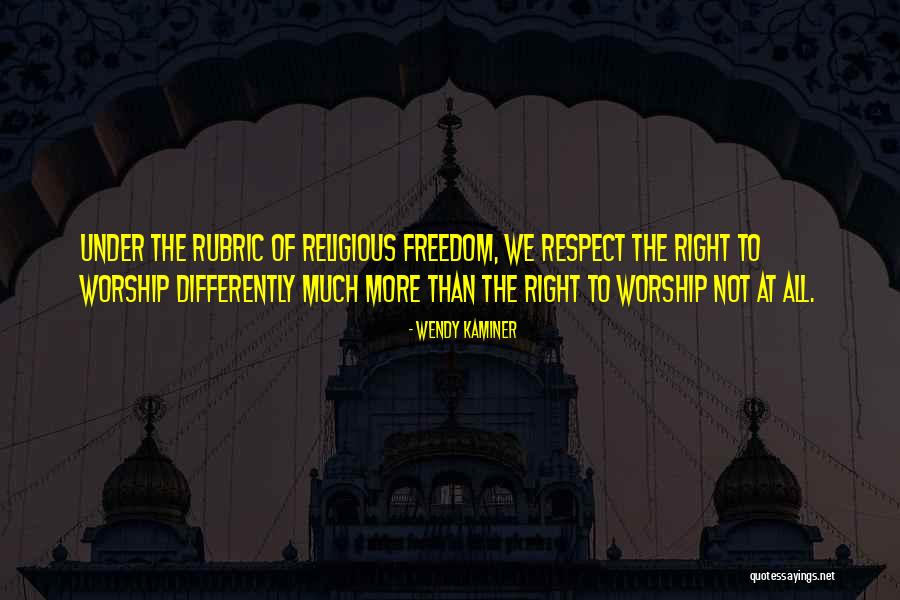 Under the rubric of religious freedom, we respect the right to worship differently much more than the right to worship not at all. — Wendy Kaminer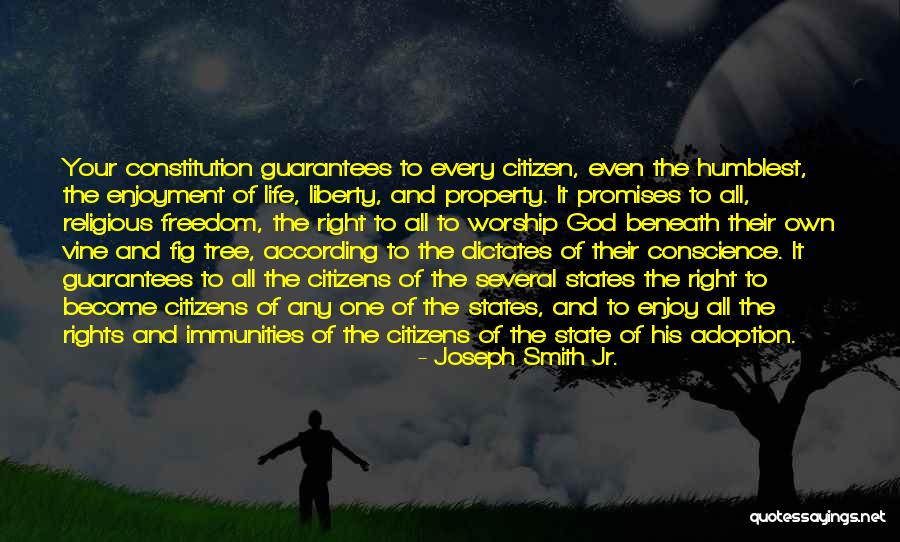 Your constitution guarantees to every citizen, even the humblest, the enjoyment of life, liberty, and property. It promises to all, religious freedom, the right to all to worship God beneath their own vine and fig tree, according to the dictates of their conscience. It guarantees to all the citizens of the several states the right to become citizens of any one of the states, and to enjoy all the rights and immunities of the citizens of the state of his adoption. — Joseph Smith Jr.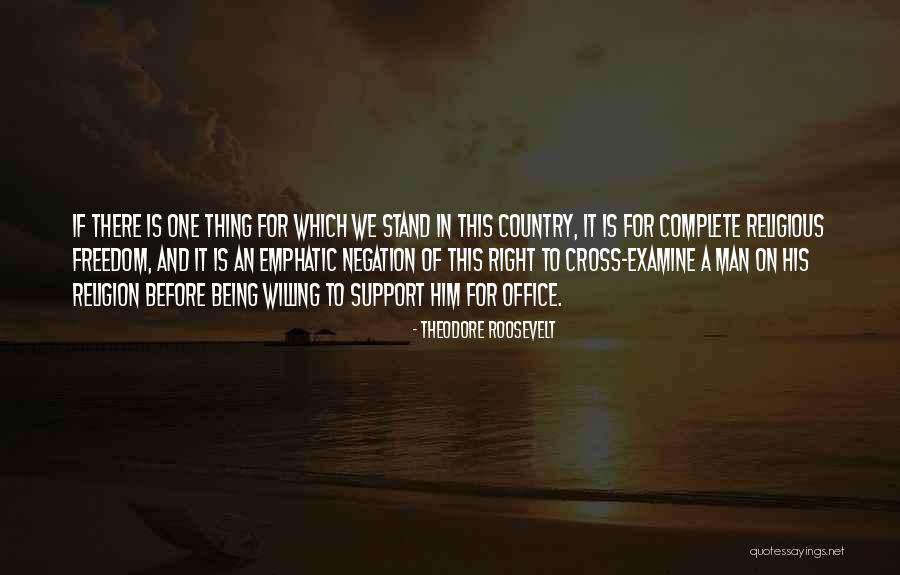 If there is one thing for which we stand in this country, it is for complete religious freedom, and it is an emphatic negation of this right to cross-examine a man on his religion before being willing to support him for office. — Theodore Roosevelt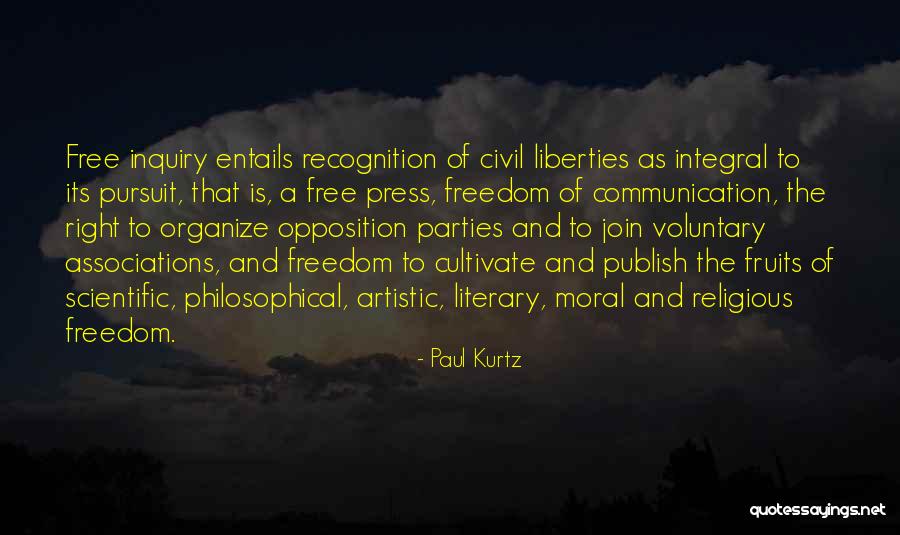 Free inquiry entails recognition of civil liberties as integral to its pursuit, that is, a free press, freedom of communication, the right to organize opposition parties and to join voluntary associations, and freedom to cultivate and publish the fruits of scientific, philosophical, artistic, literary, moral and religious freedom. — Paul Kurtz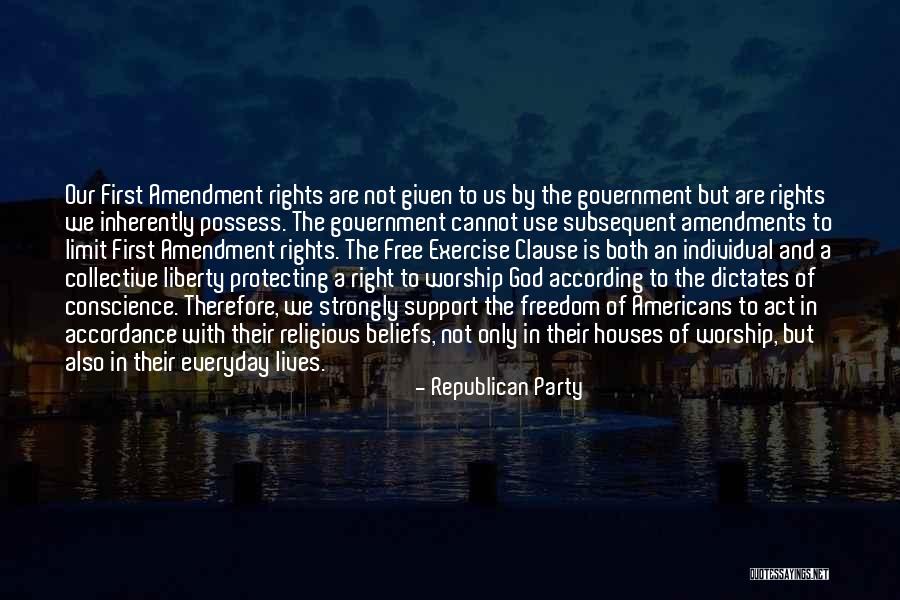 Our First Amendment rights are not given to us by the government but are rights we inherently possess. The government cannot use subsequent amendments to limit First Amendment rights. The Free Exercise Clause is both an individual and a collective liberty protecting a right to worship God according to the dictates of conscience. Therefore, we strongly support the freedom of Americans to act in accordance with their religious beliefs, not only in their houses of worship, but also in their everyday lives. — Republican Party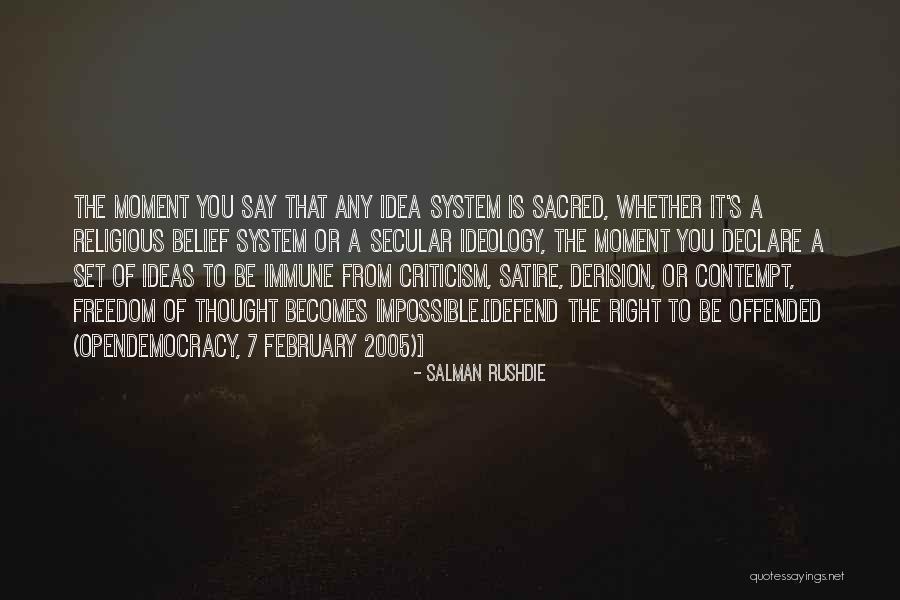 The moment you say that any idea system is sacred, whether it's a religious belief system or a secular ideology, the moment you declare a set of ideas to be immune from criticism, satire, derision, or contempt, freedom of thought becomes impossible.
[Defend the right to be offended (openDemocracy, 7 February 2005)] — Salman Rushdie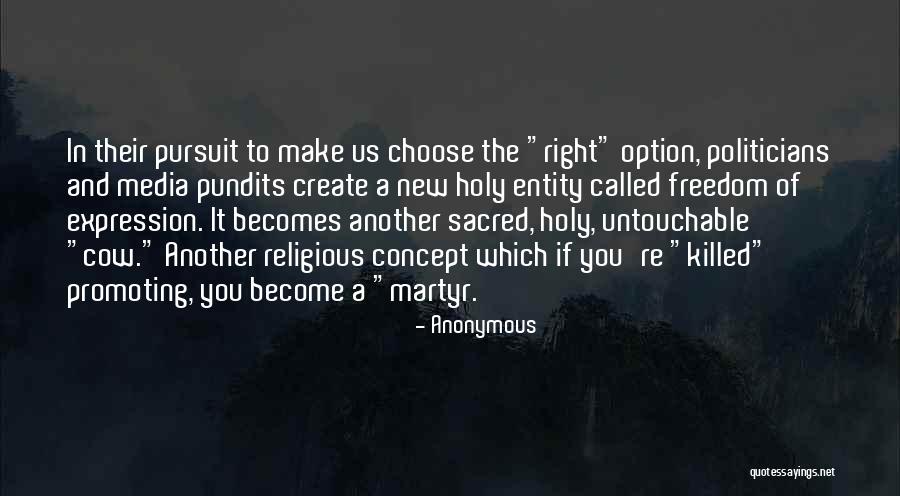 In their pursuit to make us choose the "right" option, politicians and media pundits create a new holy entity called freedom of expression. It becomes another sacred, holy, untouchable "cow." Another religious concept which if you're "killed" promoting, you become a "martyr. — Anonymous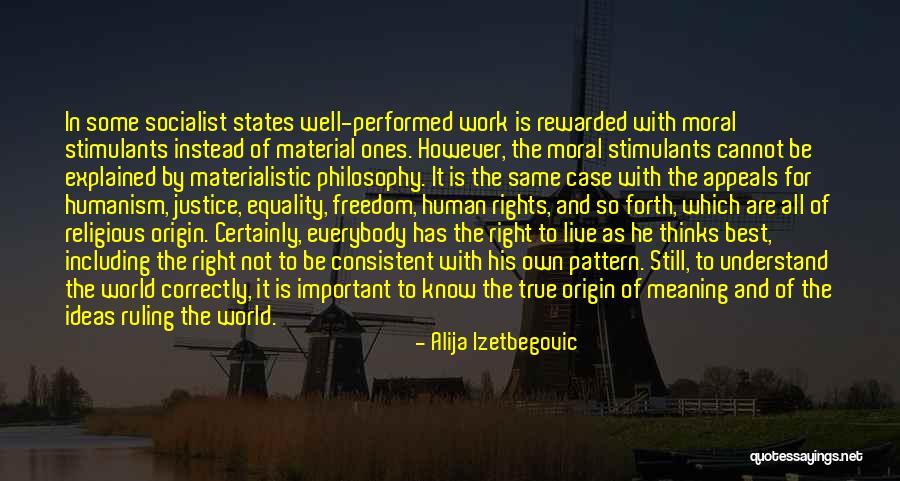 In some socialist states well-performed work is rewarded with moral stimulants instead of material ones. However, the moral stimulants cannot be explained by materialistic philosophy. It is the same case with the appeals for humanism, justice, equality, freedom, human rights, and so forth, which are all of religious origin. Certainly, everybody has the right to live as he thinks best, including the right not to be consistent with his own pattern. Still, to understand the world correctly, it is important to know the true origin of meaning and of the ideas ruling the world. — Alija Izetbegovic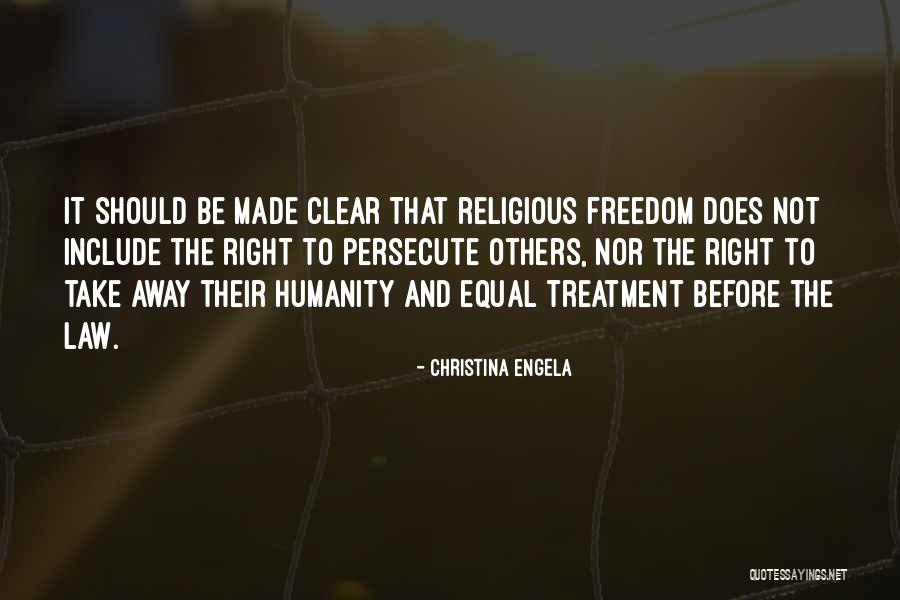 It should be made clear that religious freedom DOES NOT include the right to persecute others, nor the right to take away their humanity and equal treatment before the law. — Christina Engela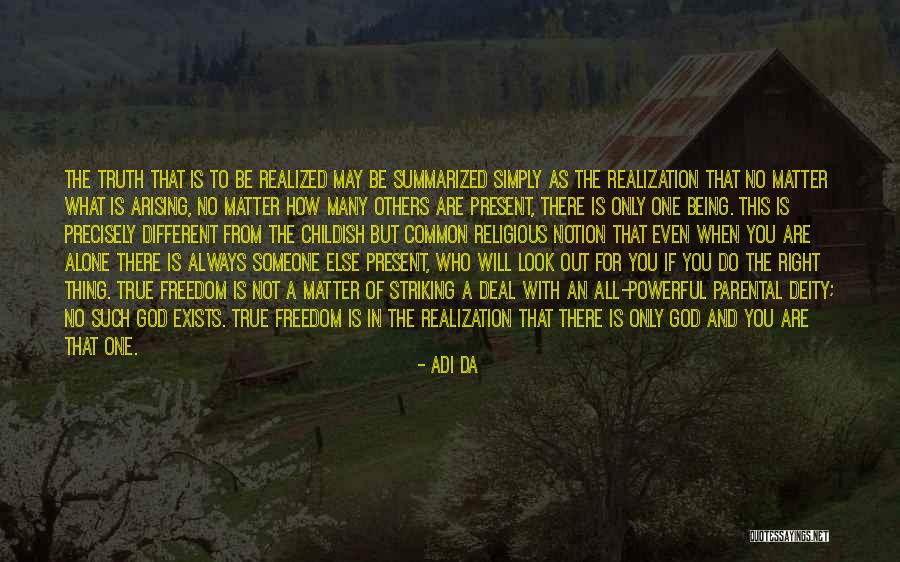 The Truth that is to be Realized may be summarized simply as the Realization that no matter what is arising, no matter how many others are present, there is only One Being. This is precisely different from the childish but common religious notion that even when you are alone there is always Someone Else present, Who will look out for you if you do the right thing. True freedom is not a matter of striking a deal with an All-Powerful Parental Deity; no such God exists. True freedom is in the Realization that there is only God and You are That One. — Adi Da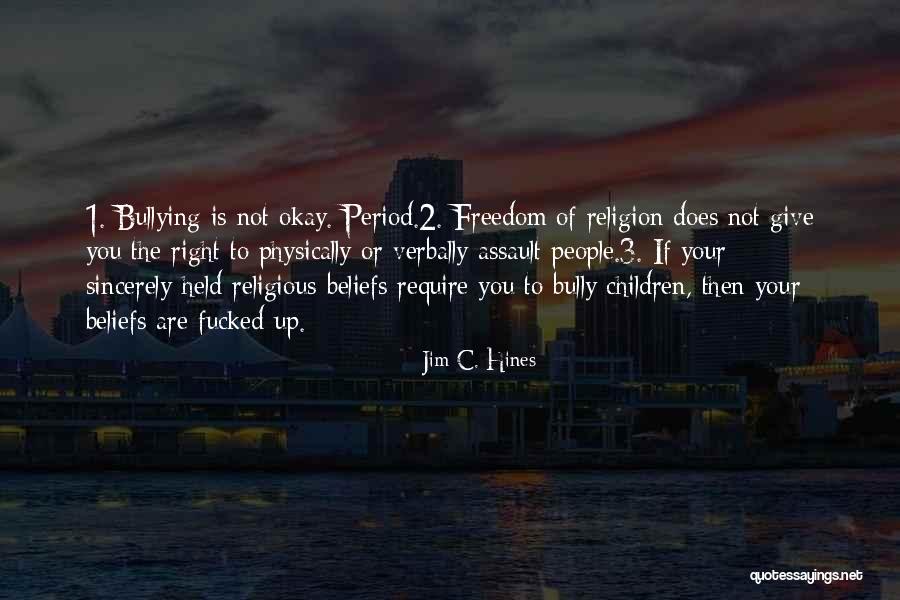 1. Bullying is not okay. Period.
2. Freedom of religion does not give you the right to physically or verbally assault people.
3. If your sincerely-held religious beliefs require you to bully children, then your beliefs are fucked up. — Jim C. Hines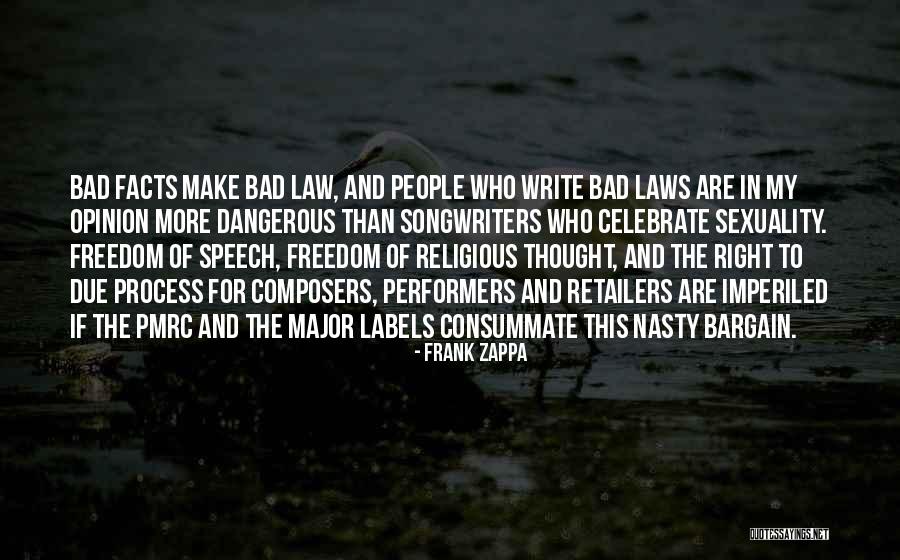 Bad facts make bad law, and people who write bad laws are in my opinion more dangerous than songwriters who celebrate sexuality. Freedom of speech, freedom of religious thought, and the right to due process for composers, performers and retailers are imperiled if the PMRC and the major labels consummate this nasty bargain. — Frank Zappa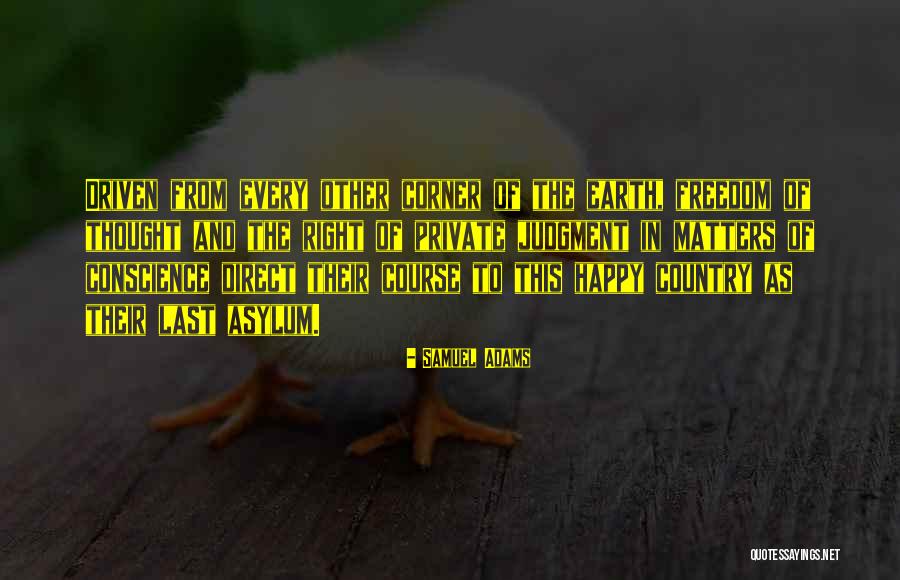 Driven from every other corner of the earth, freedom of thought and the right of private judgment in matters of conscience direct their course to this happy country as their last asylum. — Samuel Adams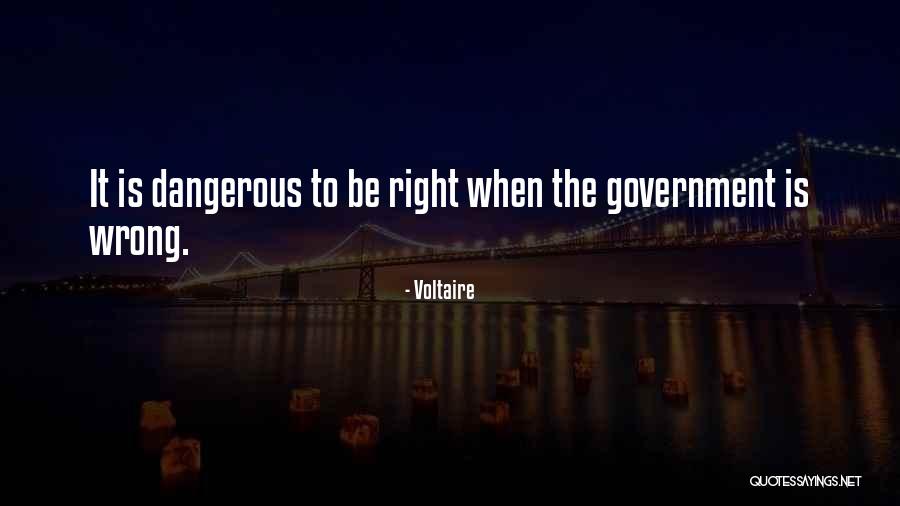 It is dangerous to be right when the government is wrong. — Voltaire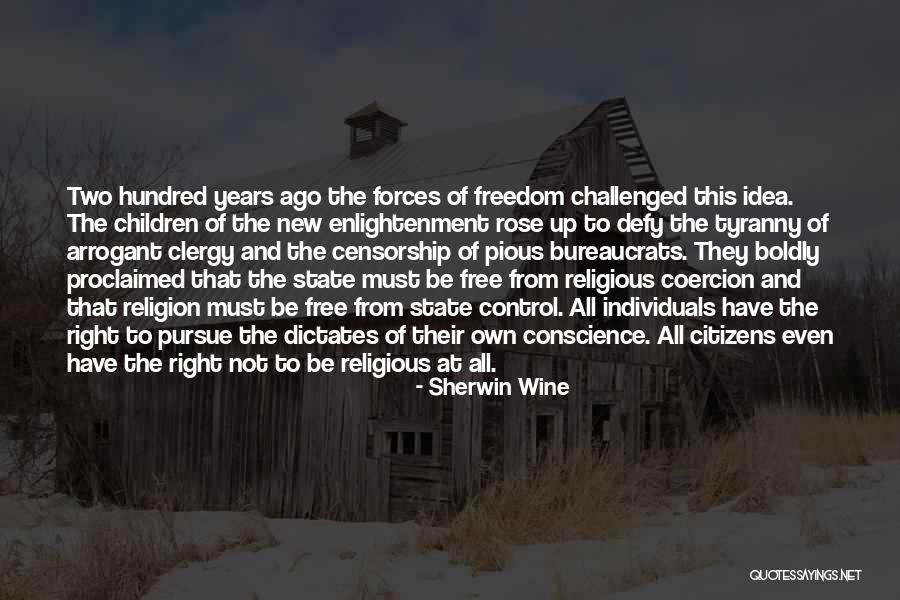 Two hundred years ago the forces of freedom challenged this idea. The children of the new enlightenment rose up to defy the tyranny of arrogant clergy and the censorship of pious bureaucrats. They boldly proclaimed that the state must be free from religious coercion and that religion must be free from state control. All individuals have the right to pursue the dictates of their own conscience. All citizens even have the right not to be religious at all. — Sherwin Wine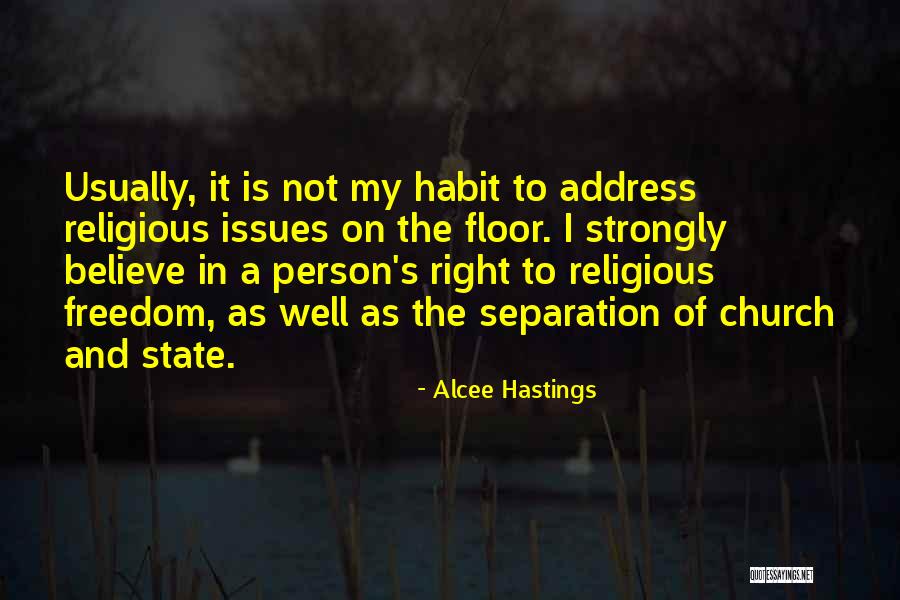 Usually, it is not my habit to address religious issues on the floor. I strongly believe in a person's right to religious freedom, as well as the separation of church and state. — Alcee Hastings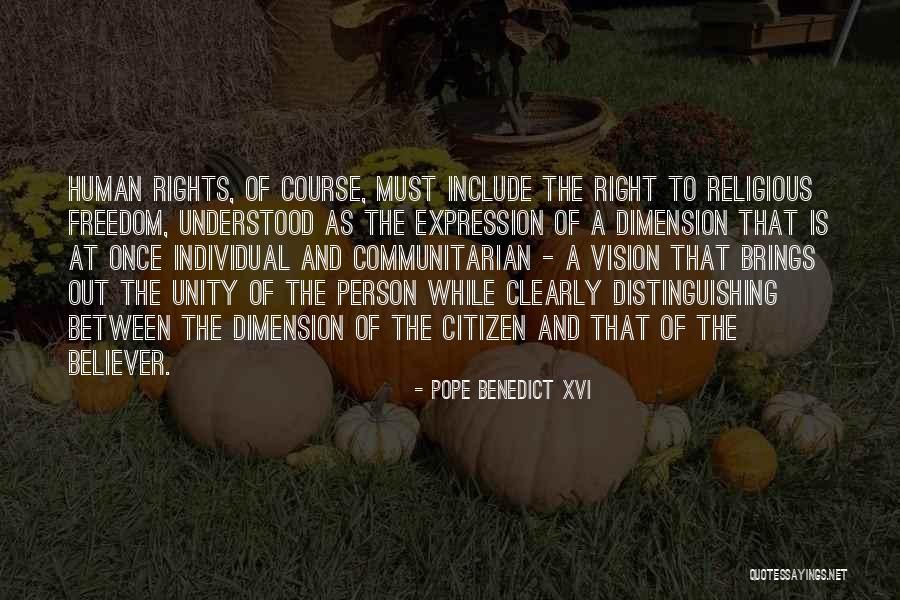 Human rights, of course, must include the right to religious freedom, understood as the expression of a dimension that is at once individual and communitarian - a vision that brings out the unity of the person while clearly distinguishing between the dimension of the citizen and that of the believer. — Pope Benedict XVI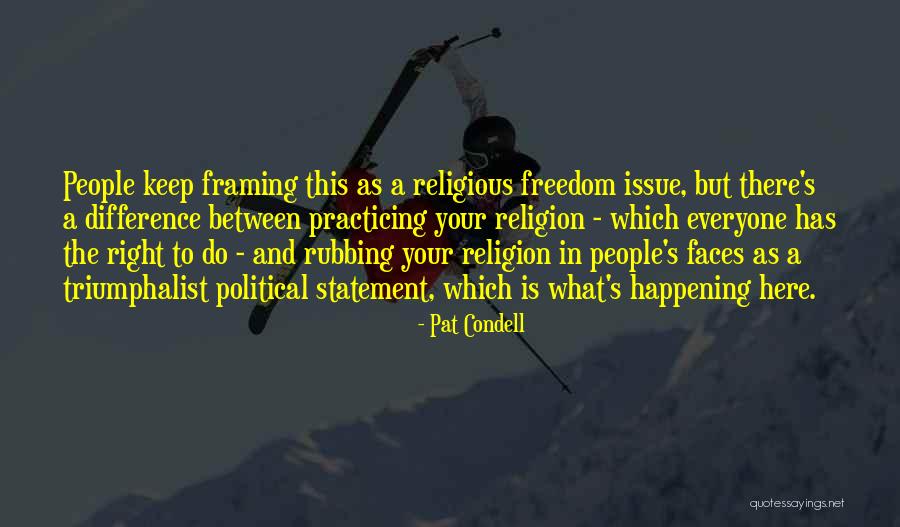 People keep framing this as a religious freedom issue, but there's a difference between practicing your religion - which everyone has the right to do - and rubbing your religion in people's faces as a triumphalist political statement, which is what's happening here. — Pat Condell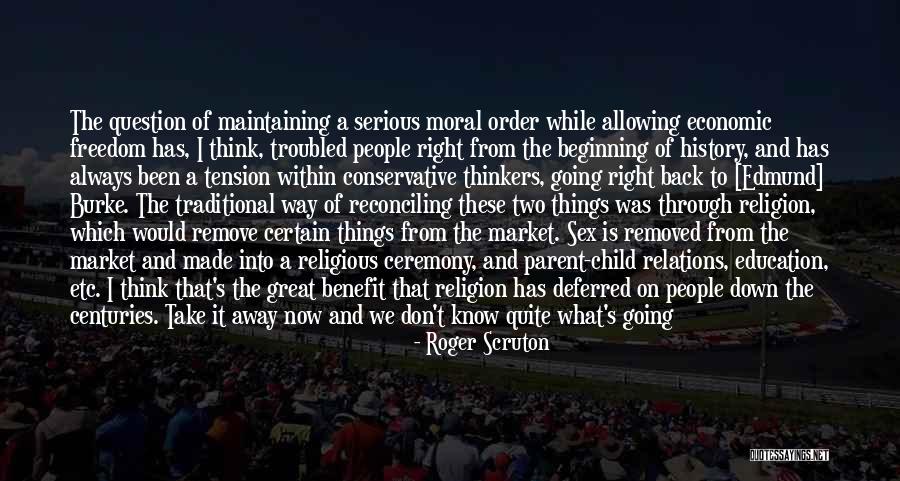 The question of maintaining a serious moral order while allowing economic freedom has, I think, troubled people right from the beginning of history, and has always been a tension within conservative thinkers, going right back to [Edmund] Burke. The traditional way of reconciling these two things was through religion, which would remove certain things from the market. Sex is removed from the market and made into a religious ceremony, and parent-child relations, education, etc. I think that's the great benefit that religion has deferred on people down the centuries. Take it away now and we don't know quite what's going to happen. — Roger Scruton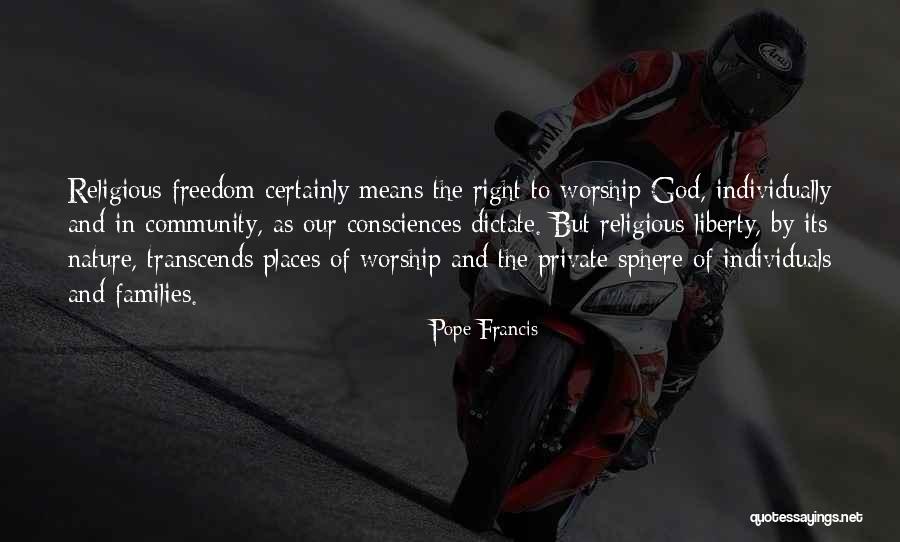 Religious freedom certainly means the right to worship God, individually and in community, as our consciences dictate. But religious liberty, by its nature, transcends places of worship and the private sphere of individuals and families. — Pope Francis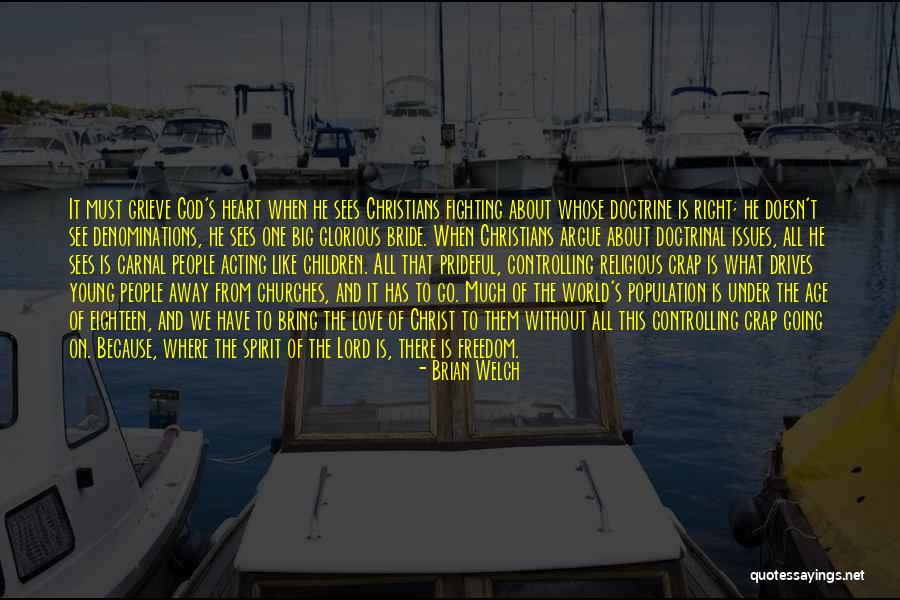 It must grieve God's heart when he sees Christians fighting about whose doctrine is right; he doesn't see denominations, he sees one big glorious bride. When Christians argue about doctrinal issues, all he sees is carnal people acting like children. All that prideful, controlling religious crap is what drives young people away from churches, and it has to go. Much of the world's population is under the age of eighteen, and we have to bring the love of Christ to them without all this controlling crap going on. Because, where the spirit of the Lord is, there is freedom. — Brian Welch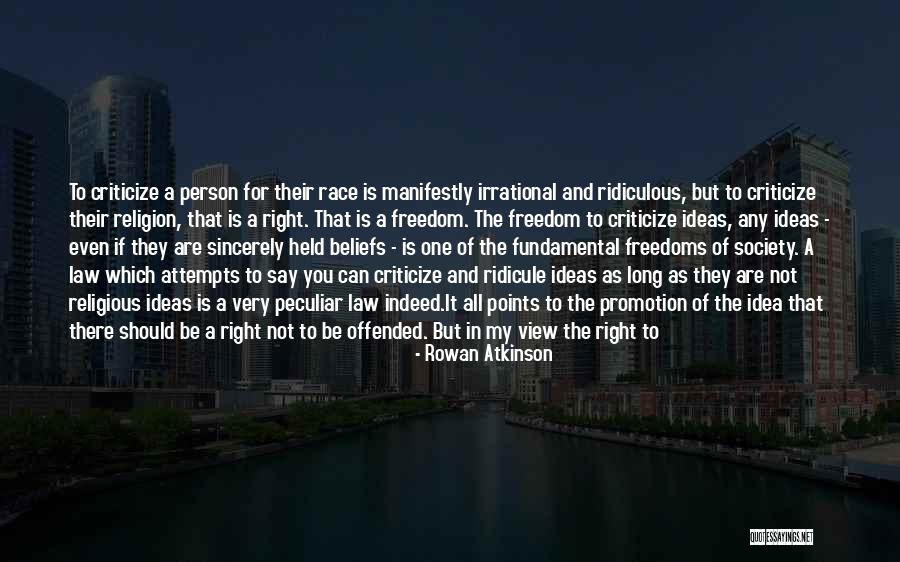 To criticize a person for their race is manifestly irrational and ridiculous, but to criticize their religion, that is a right. That is a freedom. The freedom to criticize ideas, any ideas - even if they are sincerely held beliefs - is one of the fundamental freedoms of society. A law which attempts to say you can criticize and ridicule ideas as long as they are not religious ideas is a very peculiar law indeed.
It all points to the promotion of the idea that there should be a right not to be offended. But in my view the right to offend is far more important than any right not to be offended. The right to ridicule is far more important to society than any right not to be ridiculed because one in my view represents openness - and the other represents oppression — Rowan Atkinson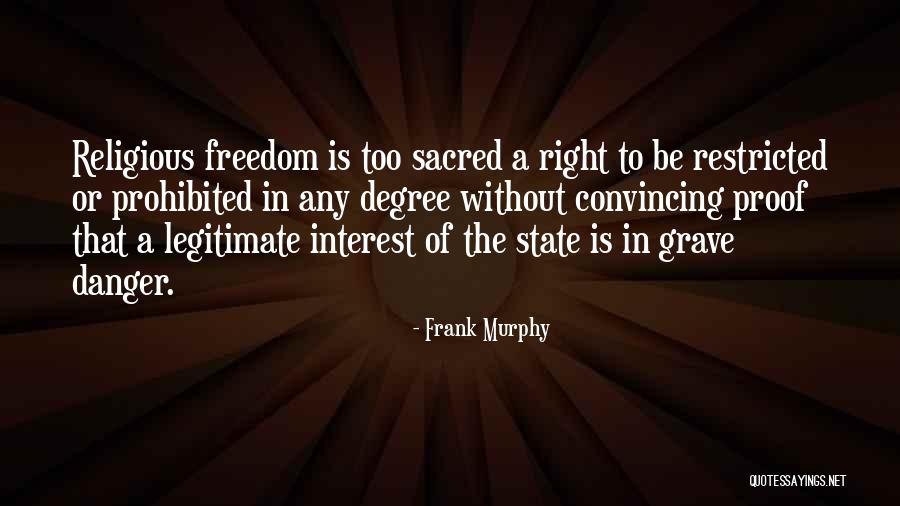 Religious freedom is too sacred a right to be restricted or prohibited in any degree without convincing proof that a legitimate interest of the state is in grave danger. — Frank Murphy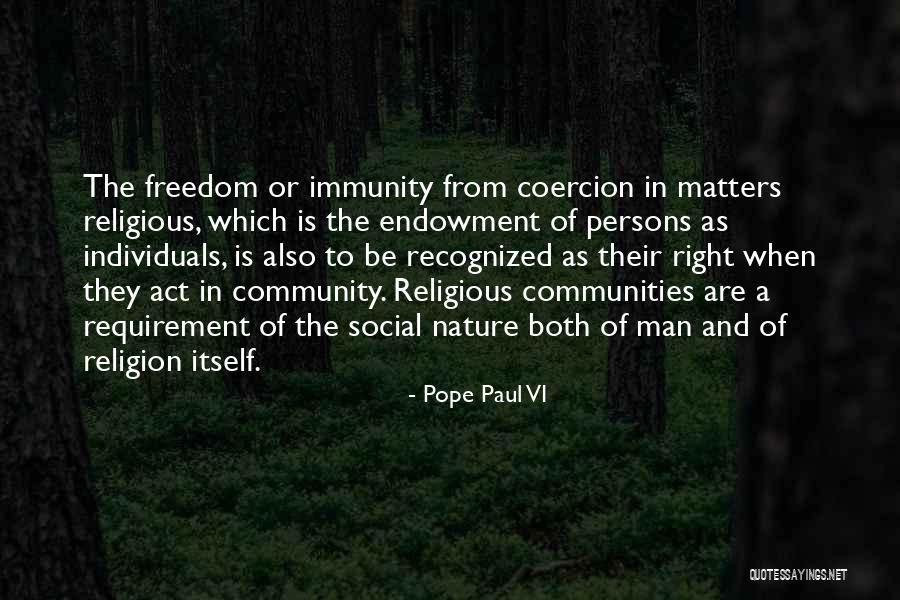 The freedom or immunity from coercion in matters religious, which is the endowment of persons as individuals, is also to be recognized as their right when they act in community. Religious communities are a requirement of the social nature both of man and of religion itself. — Pope Paul VI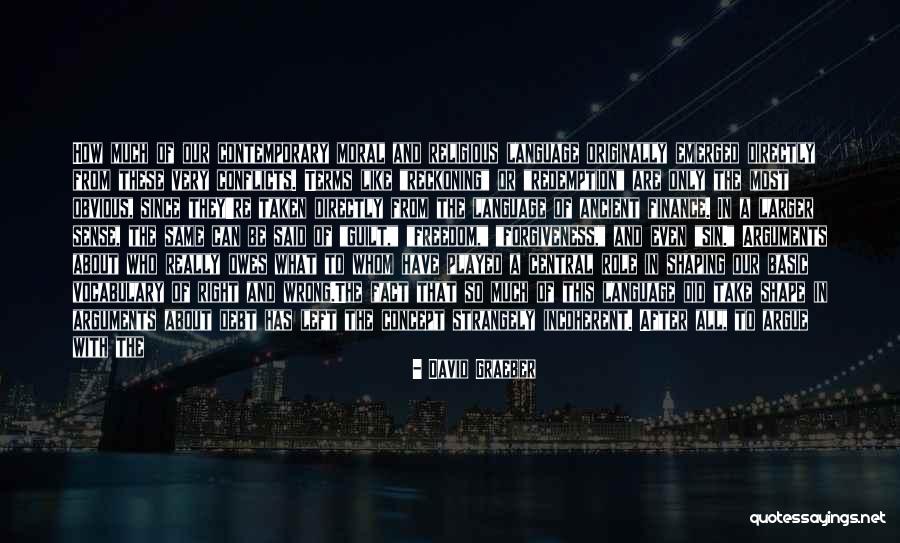 How much of our contemporary moral and religious language originally emerged directly from these very conflicts. Terms like "reckoning" or "redemption" are only the most obvious, since they're taken directly from the language of ancient finance. In a larger sense, the same can be said of "guilt," "freedom," "forgiveness," and even "sin." Arguments about who really owes what to whom have played a central role in shaping our basic vocabulary of right and wrong.
The fact that so much of this language did take shape in arguments about debt has left the concept strangely incoherent. After all, to argue with the king, one has to use the king's language, whether or not the initial premises make sense. — David Graeber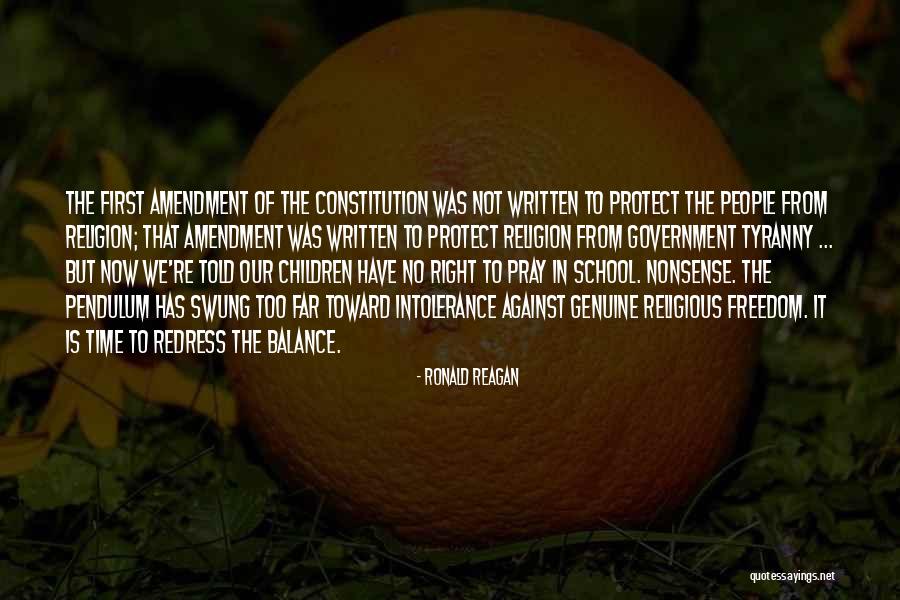 The First Amendment of the Constitution was not written to protect the people from religion; that amendment was written to protect religion from government tyranny ... But now we're told our children have no right to pray in school. Nonsense. The pendulum has swung too far toward intolerance against genuine religious freedom. It is time to redress the balance. — Ronald Reagan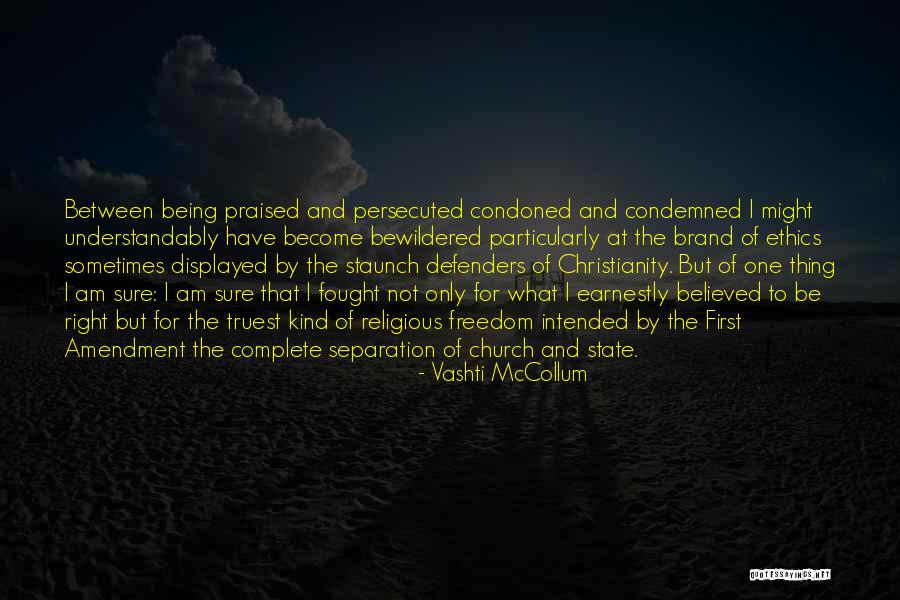 Between being praised and persecuted condoned and condemned I might understandably have become bewildered particularly at the brand of ethics sometimes displayed by the staunch defenders of Christianity. But of one thing I am sure: I am sure that I fought not only for what I earnestly believed to be right but for the truest kind of religious freedom intended by the First Amendment the complete separation of church and state. — Vashti McCollum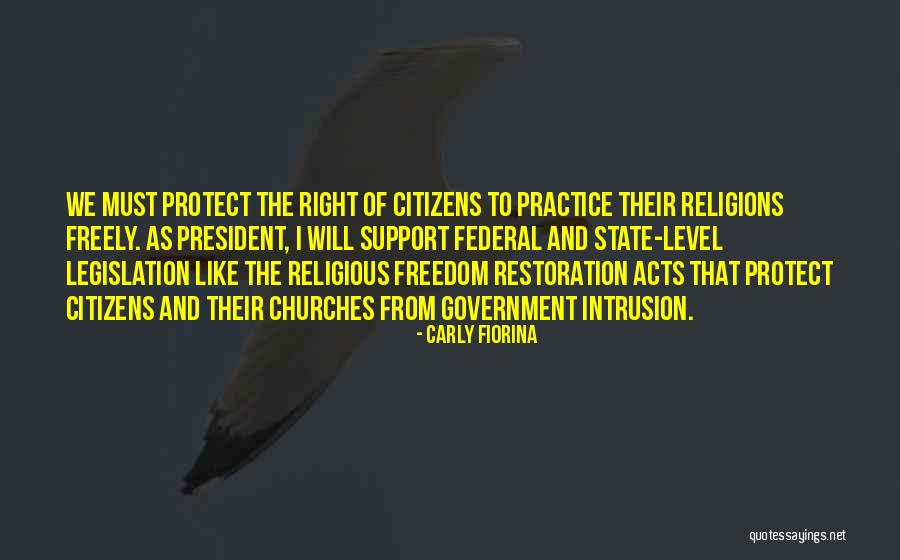 We must protect the right of citizens to practice their religions freely. As president, I will support federal and state-level legislation like the Religious Freedom Restoration Acts that protect citizens and their churches from government intrusion. — Carly Fiorina