Restore My Faith Quotes & Sayings
Enjoy reading and share 42 famous quotes about Restore My Faith with everyone.
Top Restore My Faith Quotes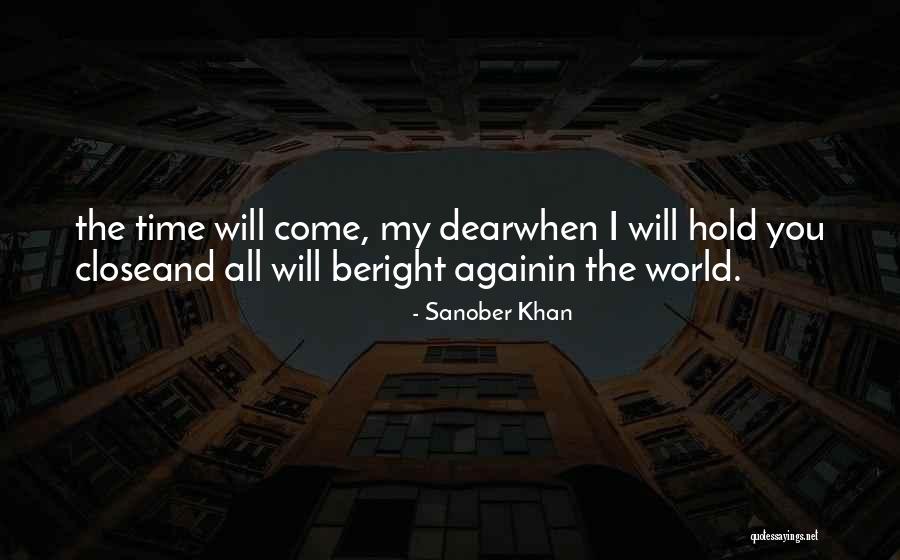 the time will come, my dear
when I will hold you close

and all will be
right again
in the world. — Sanober Khan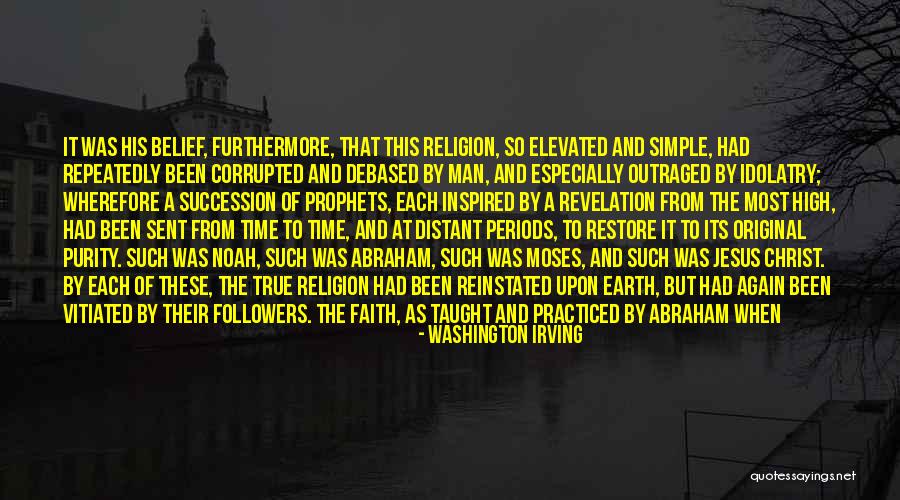 It was his belief, furthermore, that this religion, so elevated and simple, had repeatedly been corrupted and debased by man, and especially outraged by idolatry; wherefore a succession of prophets, each inspired by a revelation from the Most High, had been sent from time to time, and at distant periods, to restore it to its original purity. Such was Noah, such was Abraham, such was Moses, and such was Jesus Christ. By each of these, the true religion had been reinstated upon earth, but had again been vitiated by their followers. The faith, as taught and practiced by Abraham when he came out of the land of Chaldea, seems especially to have formed a religious standard in his mind, from his veneration for the patriarch as the father of Ishmael, the progenitor of his race. — Washington Irving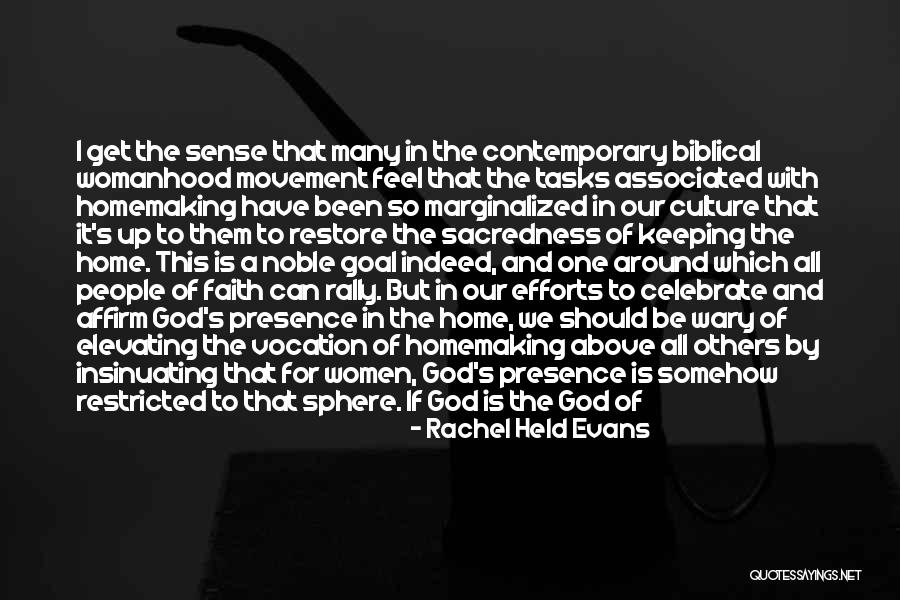 I get the sense that many in the contemporary biblical womanhood movement feel that the tasks associated with homemaking have been so marginalized in our culture that it's up to them to restore the sacredness of keeping the home. This is a noble goal indeed, and one around which all people of faith can rally. But in our efforts to celebrate and affirm God's presence in the home, we should be wary of elevating the vocation of homemaking above all others by insinuating that for women, God's presence is somehow restricted to that sphere. If God is the God of all pots and pans, then He is also the God of all shovels and computers and paints and assembly lines and executive offices and classrooms. Peace and joy belong not to the woman who finds the right vocation, but to the woman who finds God in any vocation, who looks for the divine around every corner. — Rachel Held Evans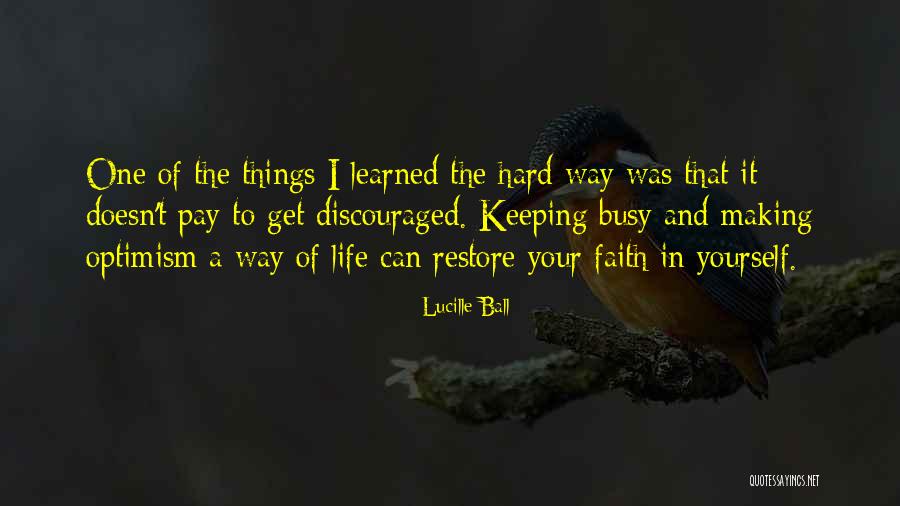 One of the things I learned the hard way was that it doesn't pay to get discouraged. Keeping busy and making optimism a way of life can restore your faith in yourself. — Lucille Ball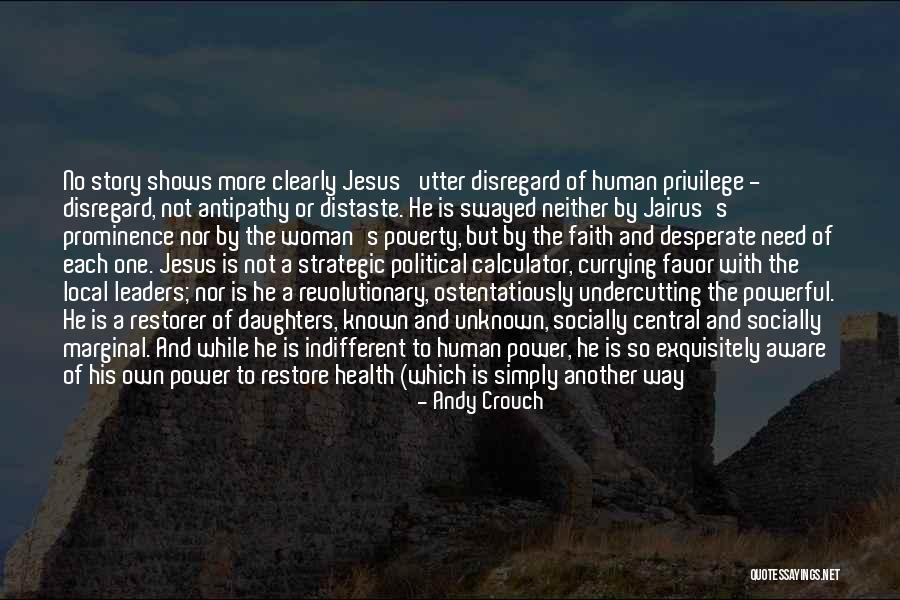 No story shows more clearly Jesus' utter disregard of human privilege - disregard, not antipathy or distaste. He is swayed neither by Jairus's prominence nor by the woman's poverty, but by the faith and desperate need of each one. Jesus is not a strategic political calculator, currying favor with the local leaders; nor is he a revolutionary, ostentatiously undercutting the powerful. He is a restorer of daughters, known and unknown, socially central and socially marginal. And while he is indifferent to human power, he is so exquisitely aware of his own power to restore health (which is simply another way to say flourishing image bearing) that the slightest faithful brush with his cloak brings him to a halt, not content to have power flow anonymously and disconnectedly, searching out relationship with the ones who seek him. — Andy Crouch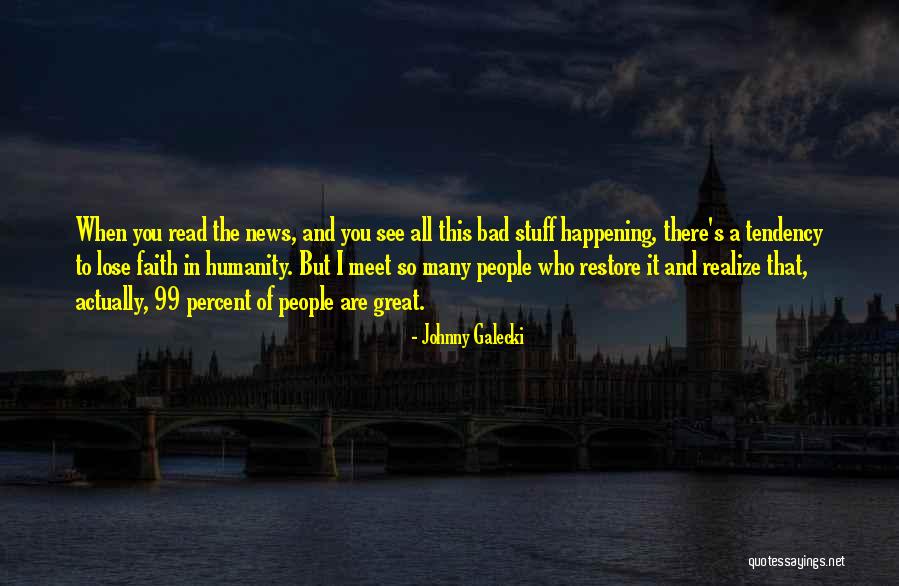 When you read the news, and you see all this bad stuff happening, there's a tendency to lose faith in humanity. But I meet so many people who restore it and realize that, actually, 99 percent of people are great. — Johnny Galecki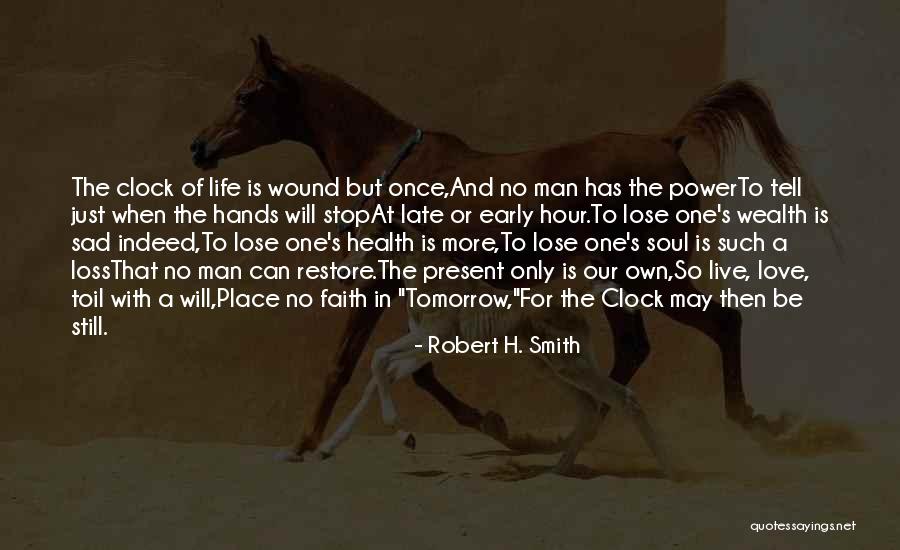 The clock of life is wound but once,
And no man has the power
To tell just when the hands will stop
At late or early hour.

To lose one's wealth is sad indeed,
To lose one's health is more,
To lose one's soul is such a loss
That no man can restore.

The present only is our own,
So live, love, toil with a will,
Place no faith in "Tomorrow,"
For the Clock may then be still. — Robert H. Smith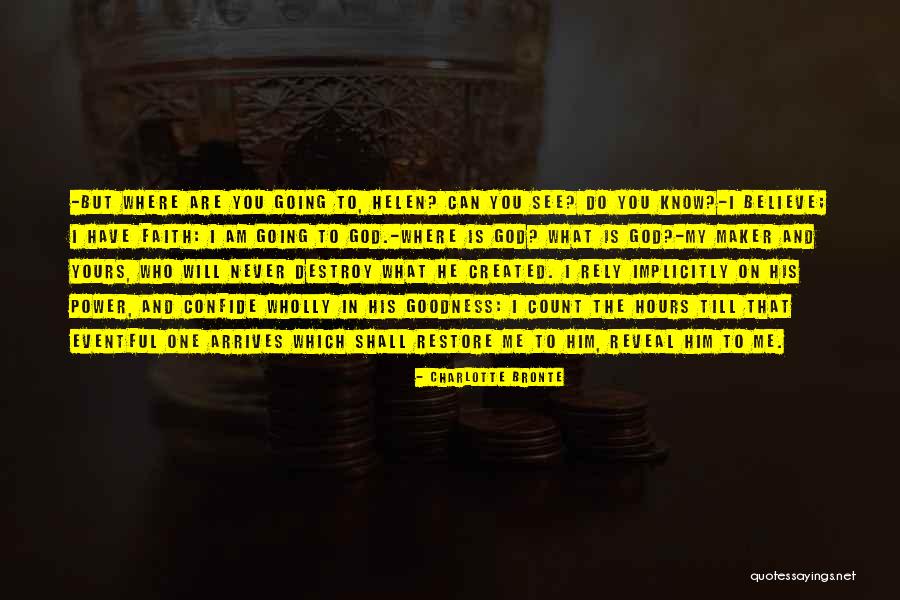 -But where are you going to, Helen? Can you see? Do you know?
-I believe; I have faith: I am going to God.
-Where is God? What is God?
-My maker and yours, who will never destroy what He created. I rely implicitly on His power, and confide wholly in His goodness: I count the hours till that eventful one arrives which shall restore me to Him, reveal Him to me. — Charlotte Bronte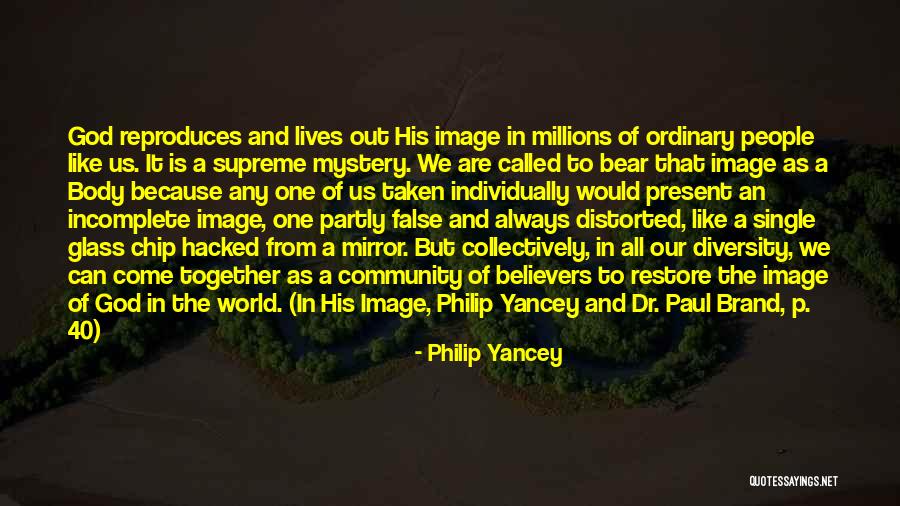 God reproduces and lives out His image in millions of ordinary people like us. It is a supreme mystery. We are called to bear that image as a Body because any one of us taken individually would present an incomplete image, one partly false and always distorted, like a single glass chip hacked from a mirror. But collectively, in all our diversity, we can come together as a community of believers to restore the image of God in the world. (In His Image, Philip Yancey and Dr. Paul Brand, p. 40) — Philip Yancey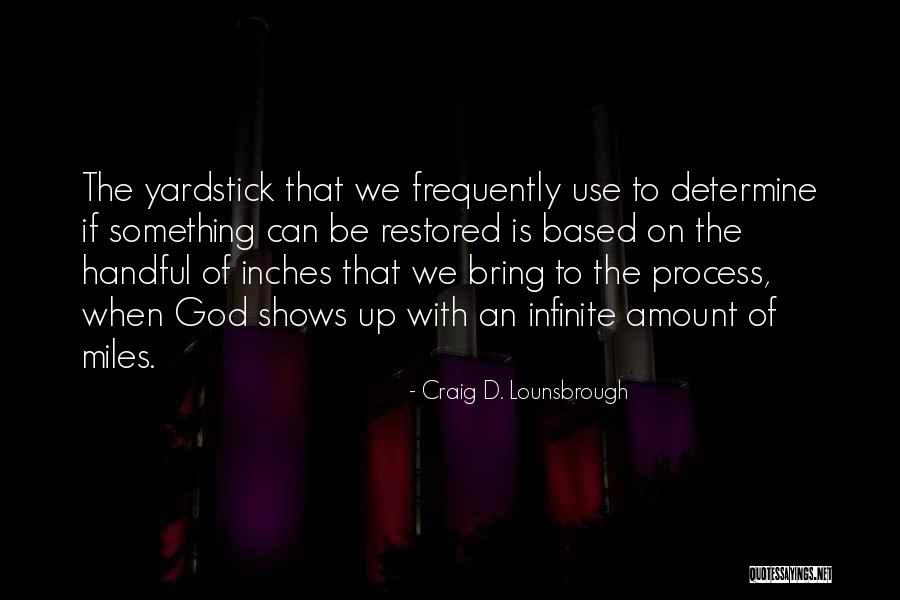 The yardstick that we frequently use to determine if something can be restored is based on the handful of inches that we bring to the process, when God shows up with an infinite amount of miles. — Craig D. Lounsbrough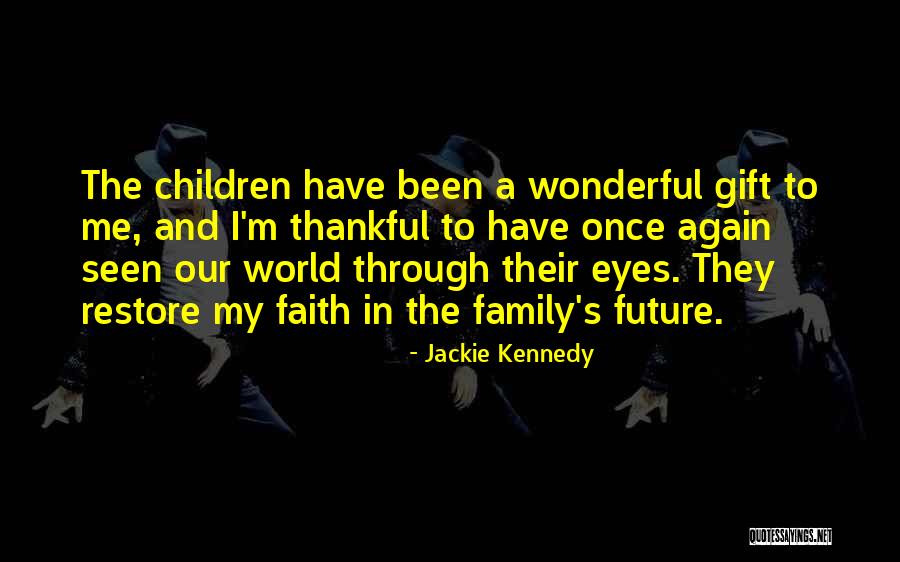 The children have been a wonderful gift to me, and I'm thankful to have once again seen our world through their eyes. They restore my faith in the family's future. — Jackie Kennedy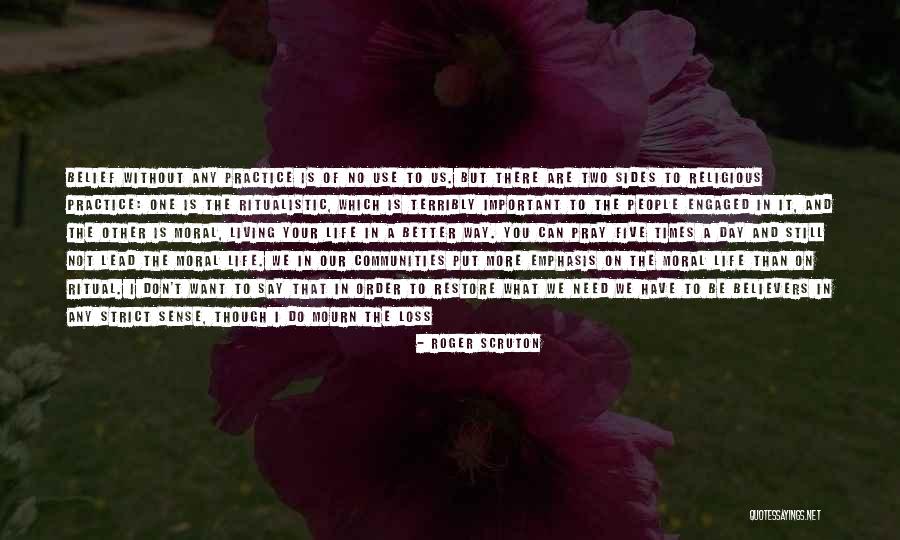 Belief without any practice is of no use to us. But there are two sides to religious practice: one is the ritualistic, which is terribly important to the people engaged in it, and the other is moral, living your life in a better way. You can pray five times a day and still not lead the moral life. We in our communities put more emphasis on the moral life than on ritual. I don't want to say that in order to restore what we need we have to be believers in any strict sense, though I do mourn the loss of the christian faith because I regard it, in some of its better forms, as a relatively peaceful way of giving people access to this idea. — Roger Scruton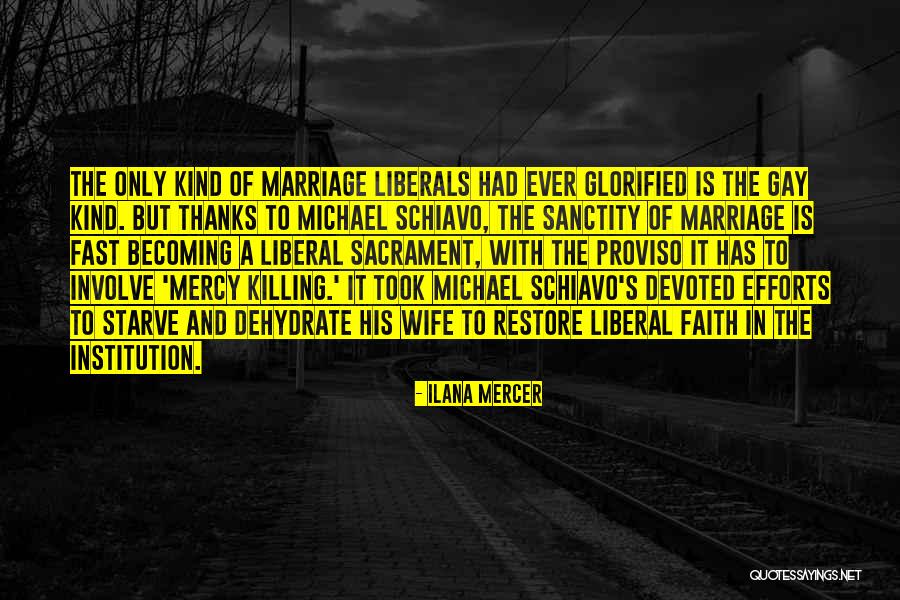 The only kind of marriage liberals had ever glorified is the gay kind. But thanks to Michael Schiavo, the sanctity of marriage is fast becoming a liberal sacrament, with the proviso it has to involve 'mercy killing.' It took Michael Schiavo's devoted efforts to starve and dehydrate his wife to restore liberal faith in the institution. — Ilana Mercer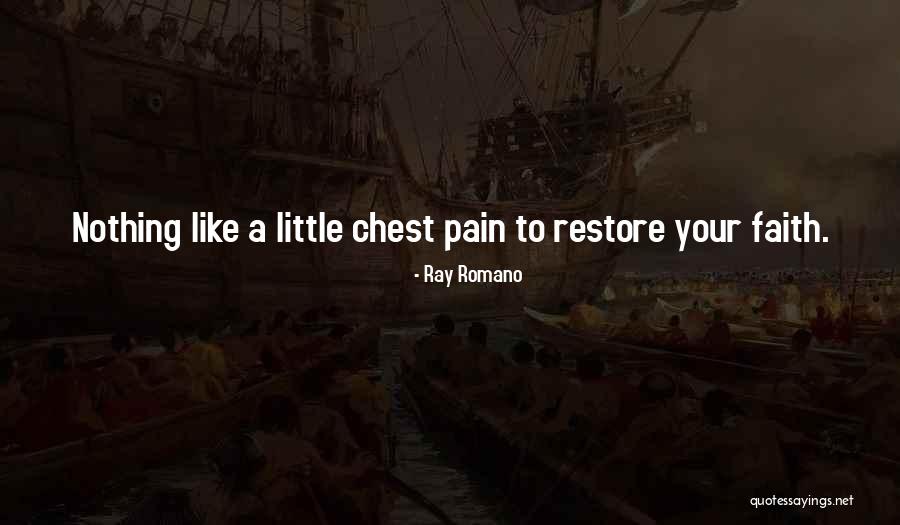 Nothing like a little chest pain to restore your faith. — Ray Romano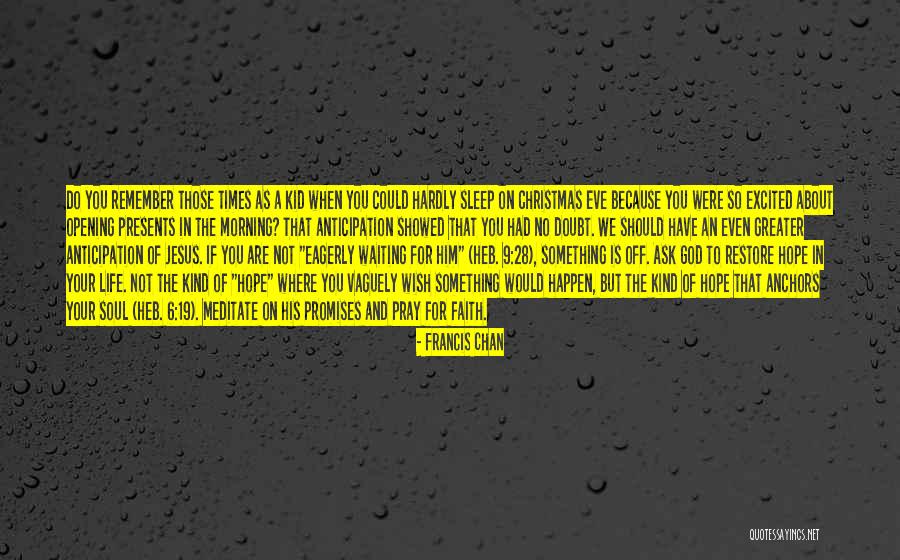 Do you remember those times as a kid when you could hardly sleep on Christmas Eve because you were so excited about opening presents in the morning? That anticipation showed that you had no doubt. We should have an even greater anticipation of Jesus. If you are not "eagerly waiting for Him" (Heb. 9:28), something is off. Ask God to restore hope in your life. Not the kind of "hope" where you vaguely wish something would happen, but the kind of hope that anchors your soul (Heb. 6:19). Meditate on His promises and pray for faith. — Francis Chan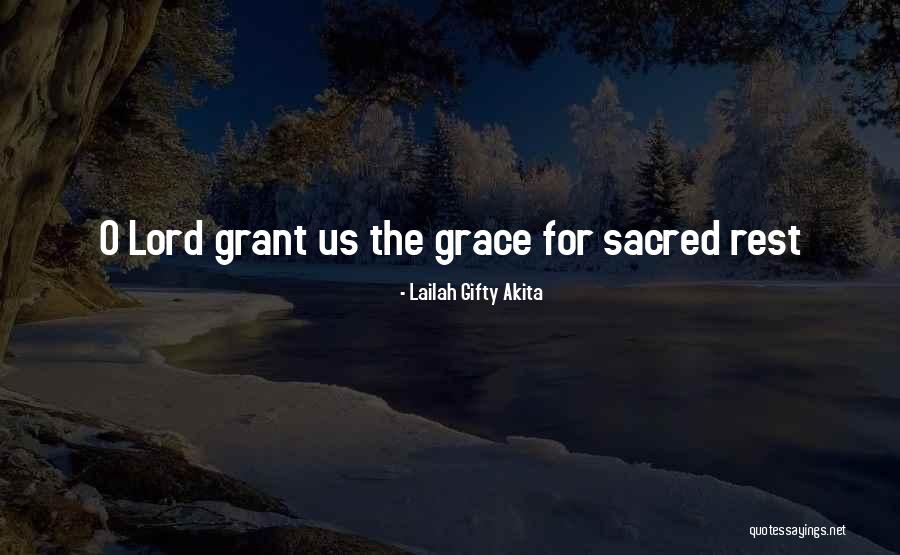 O Lord grant us the grace for sacred rest — Lailah Gifty Akita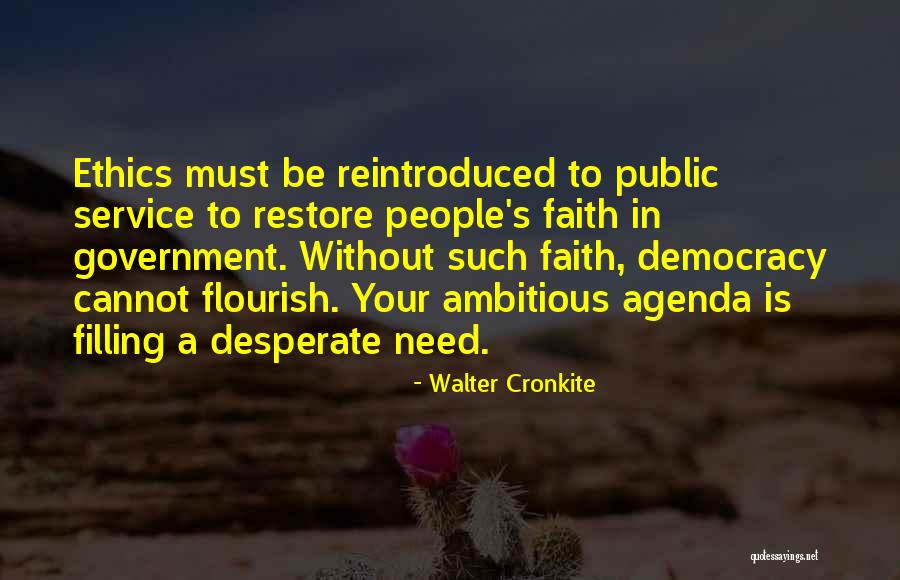 Ethics must be reintroduced to public service to restore people's faith in government. Without such faith, democracy cannot flourish. Your ambitious agenda is filling a desperate need. — Walter Cronkite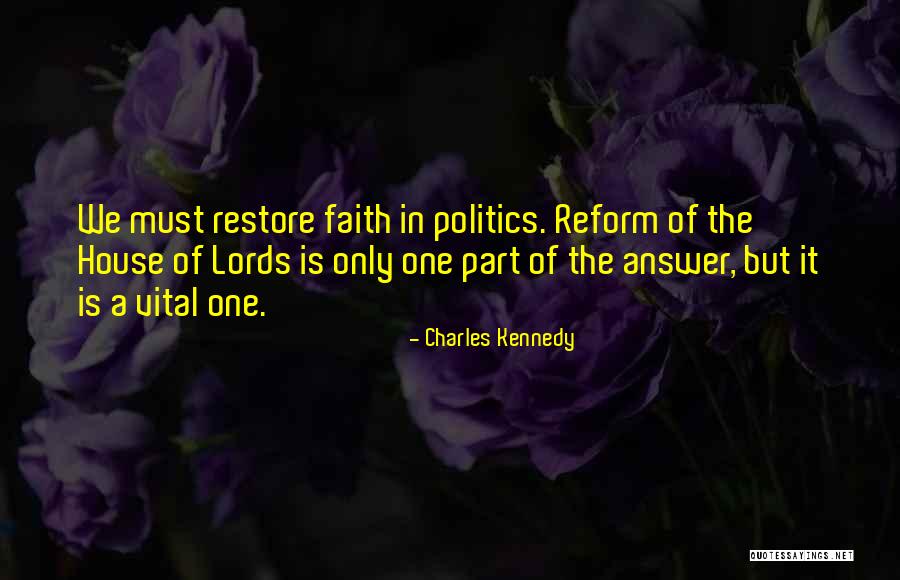 We must restore faith in politics. Reform of the House of Lords is only one part of the answer, but it is a vital one. — Charles Kennedy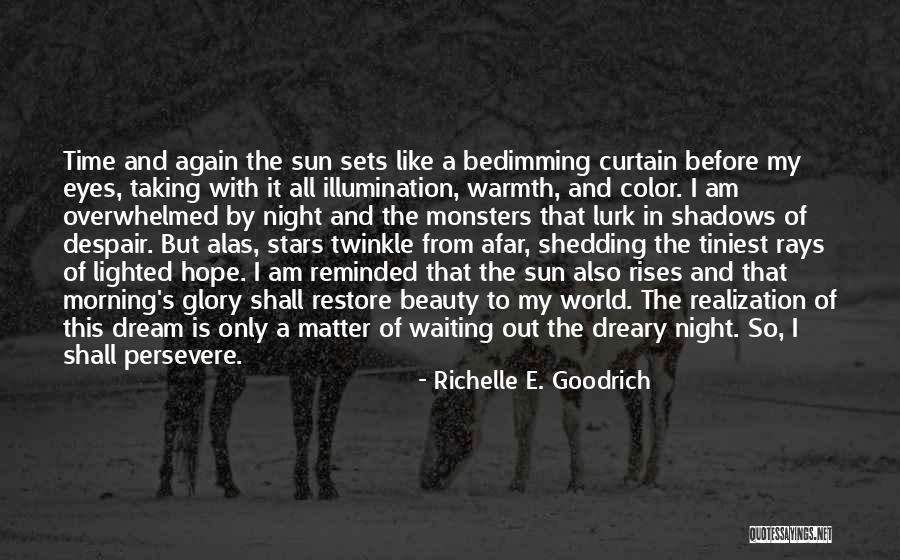 Time and again the sun sets like a bedimming curtain before my eyes, taking with it all illumination, warmth, and color. I am overwhelmed by night and the monsters that lurk in shadows of despair. But alas, stars twinkle from afar, shedding the tiniest rays of lighted hope. I am reminded that the sun also rises and that morning's glory shall restore beauty to my world. The realization of this dream is only a matter of waiting out the dreary night. So, I shall persevere. — Richelle E. Goodrich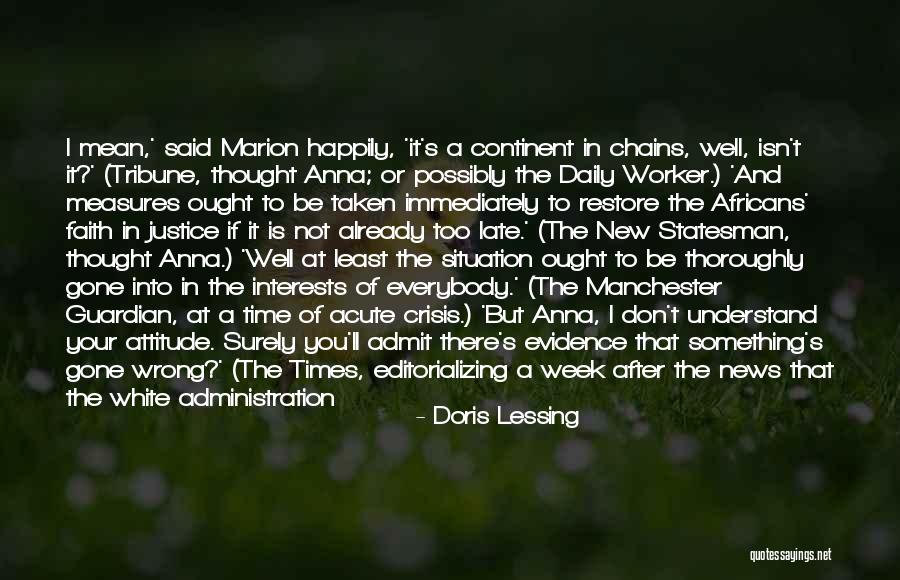 I mean,' said Marion happily, 'it's a continent in chains, well, isn't it?' (Tribune, thought Anna; or possibly the Daily Worker.) 'And measures ought to be taken immediately to restore the Africans' faith in justice if it is not already too late.' (The New Statesman, thought Anna.) 'Well at least the situation ought to be thoroughly gone into in the interests of everybody.' (The Manchester Guardian, at a time of acute crisis.) 'But Anna, I don't understand your attitude. Surely you'll admit there's evidence that something's gone wrong?' (The Times, editorializing a week after the news that the white administration has shot twenty Africans and imprisoned fifty more without trial.) — Doris Lessing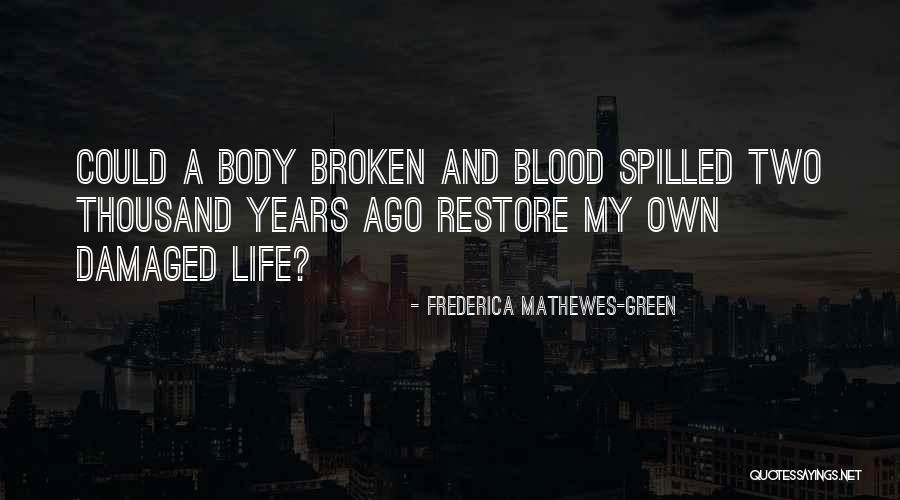 Could a body broken and blood spilled two thousand years ago restore my own damaged life? — Frederica Mathewes-Green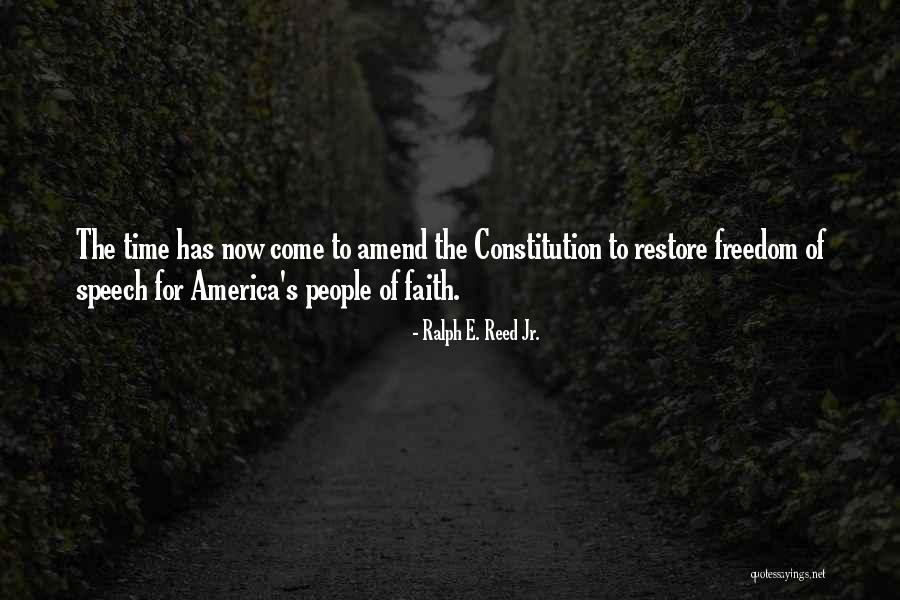 The time has now come to amend the Constitution to restore freedom of speech for America's people of faith. — Ralph E. Reed Jr.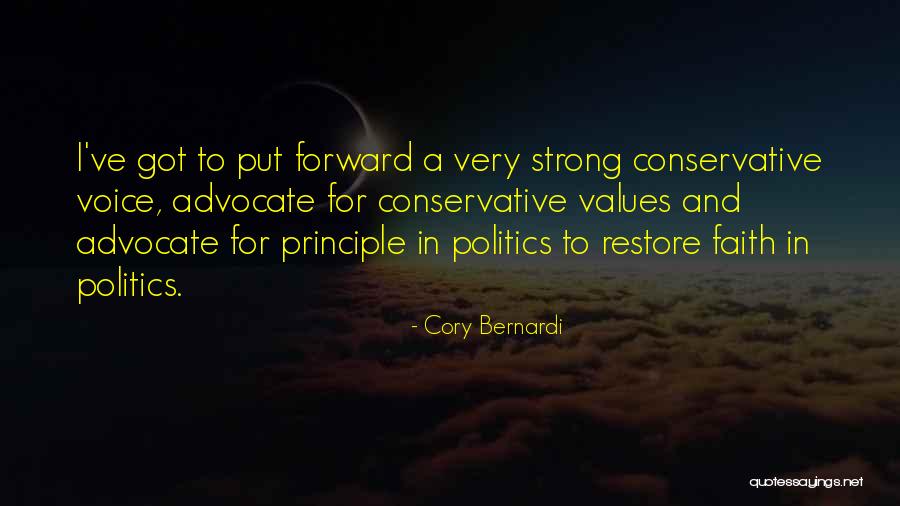 I've got to put forward a very strong conservative voice, advocate for conservative values and advocate for principle in politics to restore faith in politics. — Cory Bernardi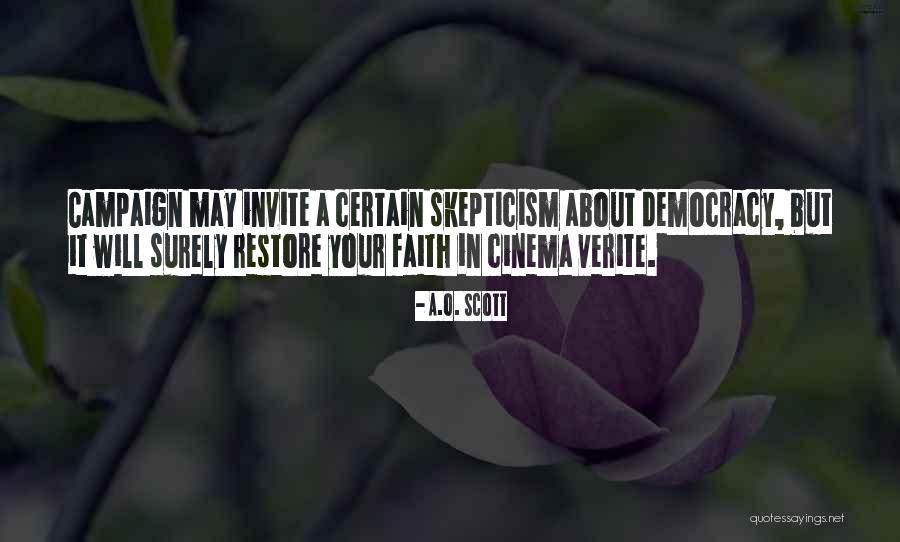 Campaign may invite a certain skepticism about democracy, but it will surely restore your faith in cinema verite. — A.O. Scott
We must renew democracy itself. We have to fight cynicism and inertia and restore faith in the advancement of our country. — Paul Wellstone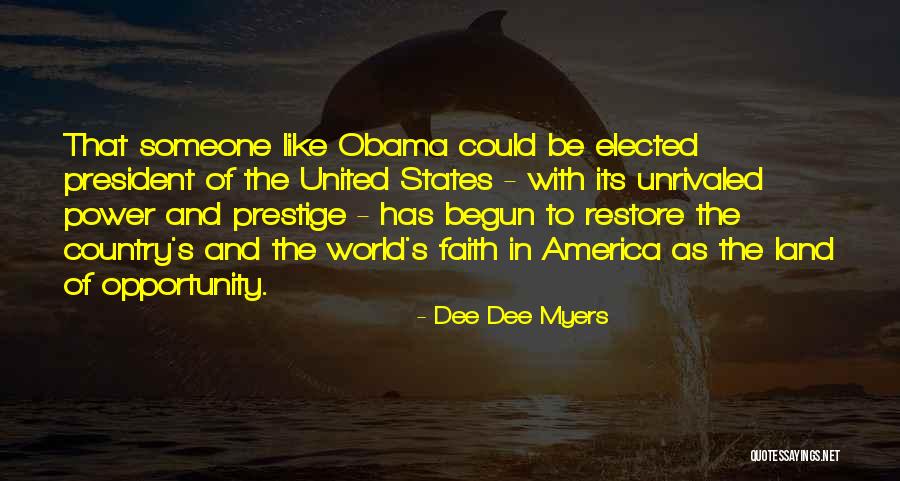 That someone like Obama could be elected president of the United States - with its unrivaled power and prestige - has begun to restore the country's and the world's faith in America as the land of opportunity. — Dee Dee Myers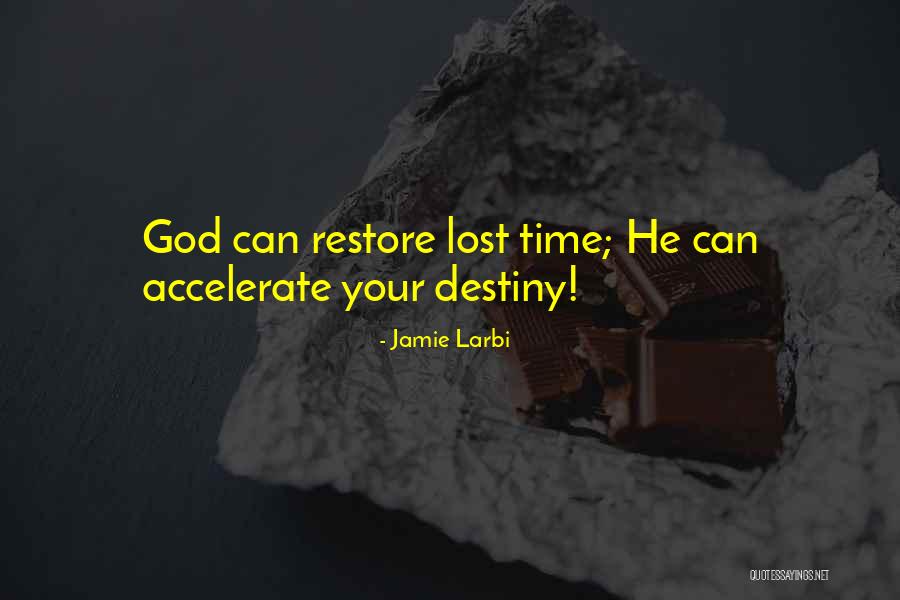 God can restore lost time; He can accelerate your destiny! — Jamie Larbi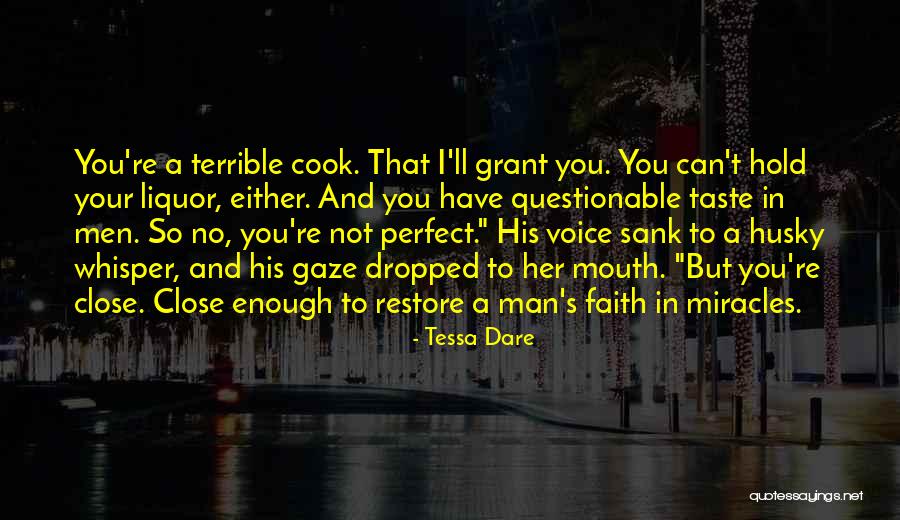 You're a terrible cook. That I'll grant you. You can't hold your liquor, either. And you have questionable taste in men. So no, you're not perfect." His voice sank to a husky whisper, and his gaze dropped to her mouth. "But you're close. Close enough to restore a man's faith in miracles. — Tessa Dare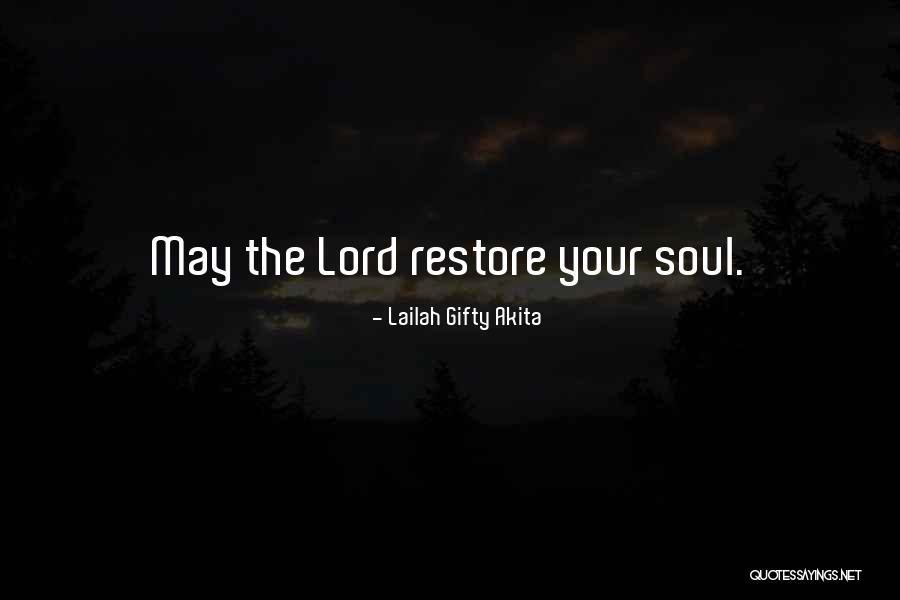 May the Lord restore your soul. — Lailah Gifty Akita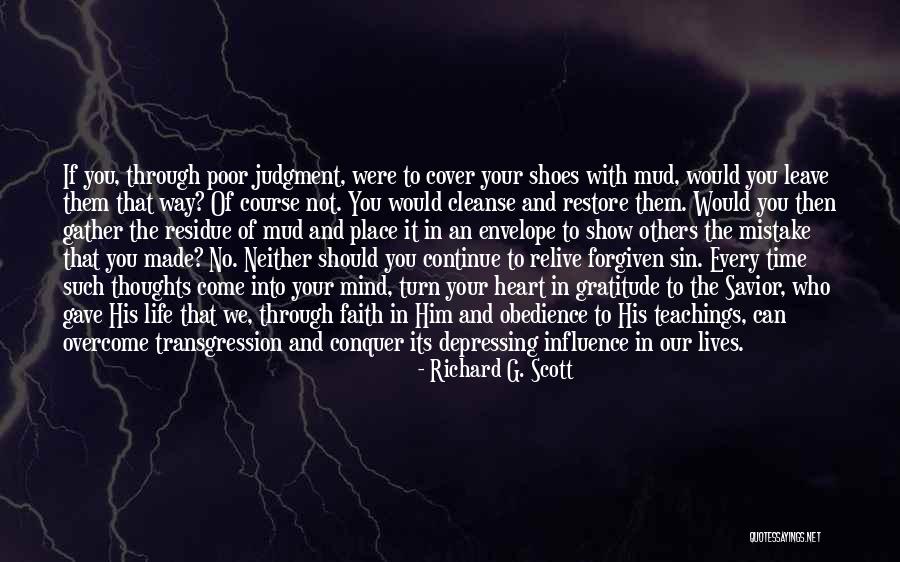 If you, through poor judgment, were to cover your shoes with mud, would you leave them that way? Of course not. You would cleanse and restore them. Would you then gather the residue of mud and place it in an envelope to show others the mistake that you made? No. Neither should you continue to relive forgiven sin. Every time such thoughts come into your mind, turn your heart in gratitude to the Savior, who gave His life that we, through faith in Him and obedience to His teachings, can overcome transgression and conquer its depressing influence in our lives. — Richard G. Scott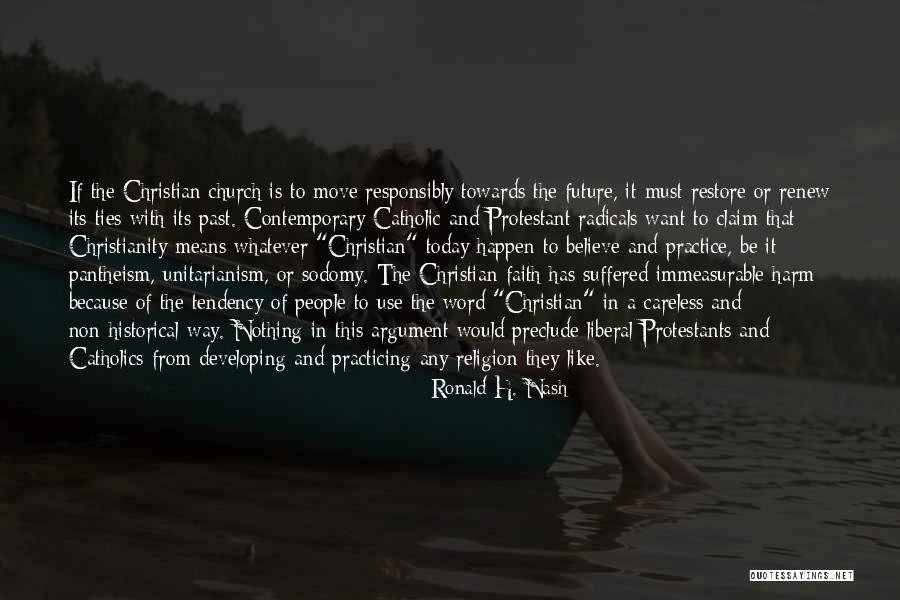 If the Christian church is to move responsibly towards the future, it must restore or renew its ties with its past. Contemporary Catholic and Protestant radicals want to claim that Christianity means whatever "Christian" today happen to believe and practice, be it pantheism, unitarianism, or sodomy. The Christian faith has suffered immeasurable harm because of the tendency of people to use the word "Christian" in a careless and non-historical way. Nothing in this argument would preclude liberal Protestants and Catholics from developing and practicing any religion they like. — Ronald H. Nash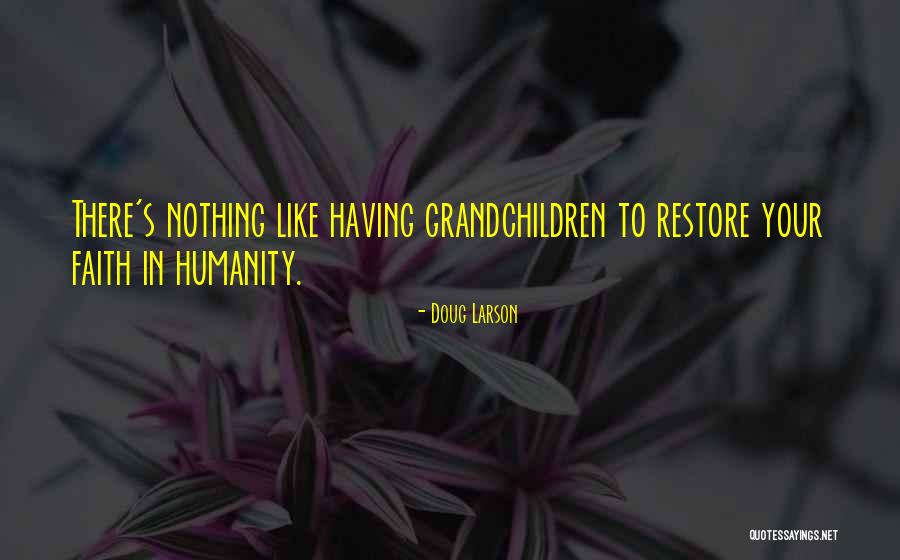 There's nothing like having grandchildren to restore your faith in humanity. — Doug Larson
There comes a point where you need to lose your religion in order to restore your relationship. — Jared Brock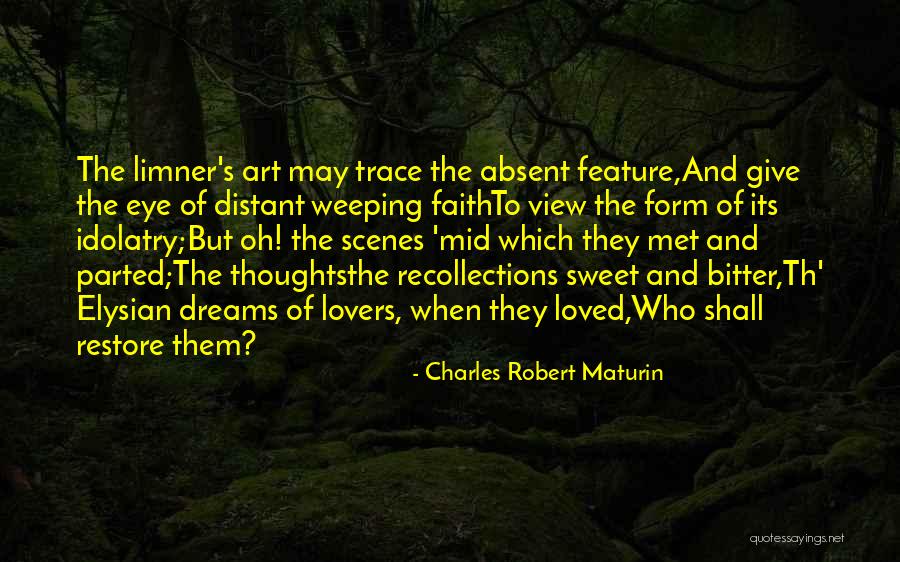 The limner's art may trace the absent feature,
And give the eye of distant weeping faith
To view the form of its idolatry;
But oh! the scenes 'mid which they met and parted;
The thoughts
the recollections sweet and bitter,
Th' Elysian dreams of lovers, when they loved,
Who shall restore them? — Charles Robert Maturin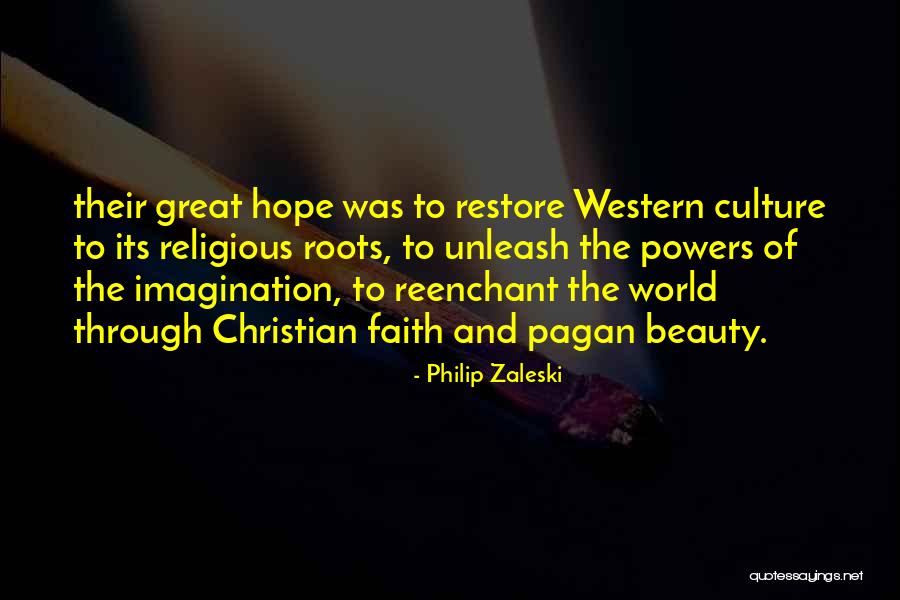 their great hope was to restore Western culture to its religious roots, to unleash the powers of the imagination, to reenchant the world through Christian faith and pagan beauty. — Philip Zaleski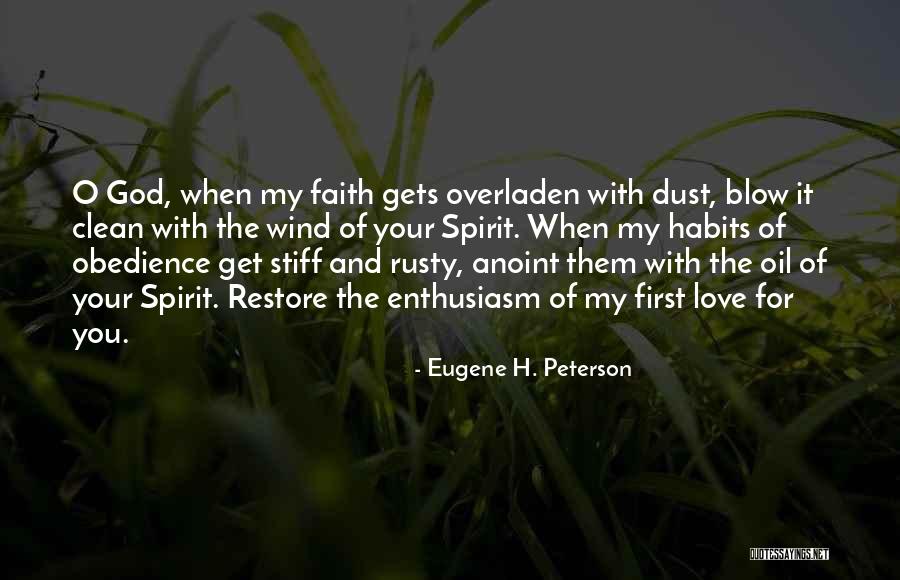 O God, when my faith gets overladen with dust, blow it clean with the wind of your Spirit. When my habits of obedience get stiff and rusty, anoint them with the oil of your Spirit. Restore the enthusiasm of my first love for you. — Eugene H. Peterson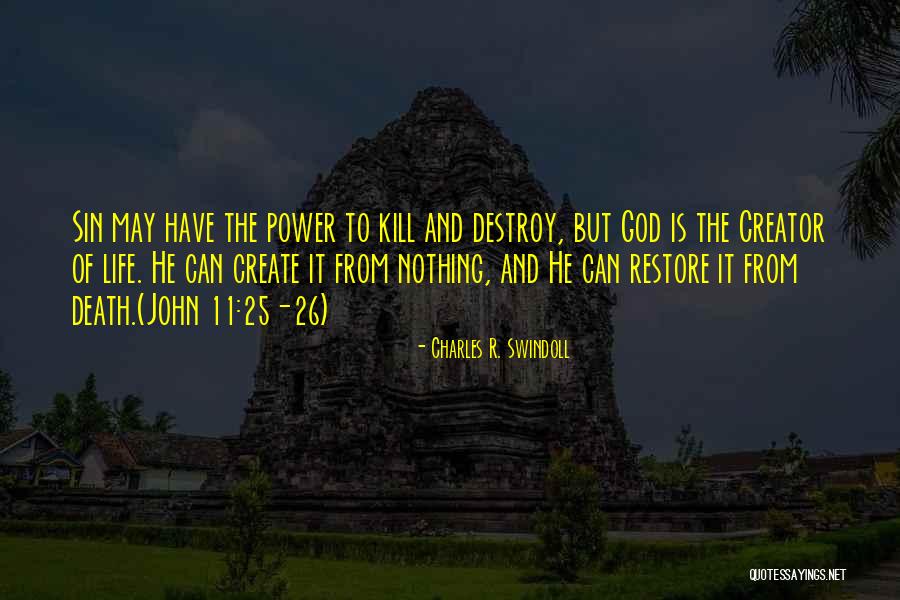 Sin may have the power to kill and destroy, but God is the Creator of life. He can create it from nothing, and He can restore it from death.(John 11:25-26) — Charles R. Swindoll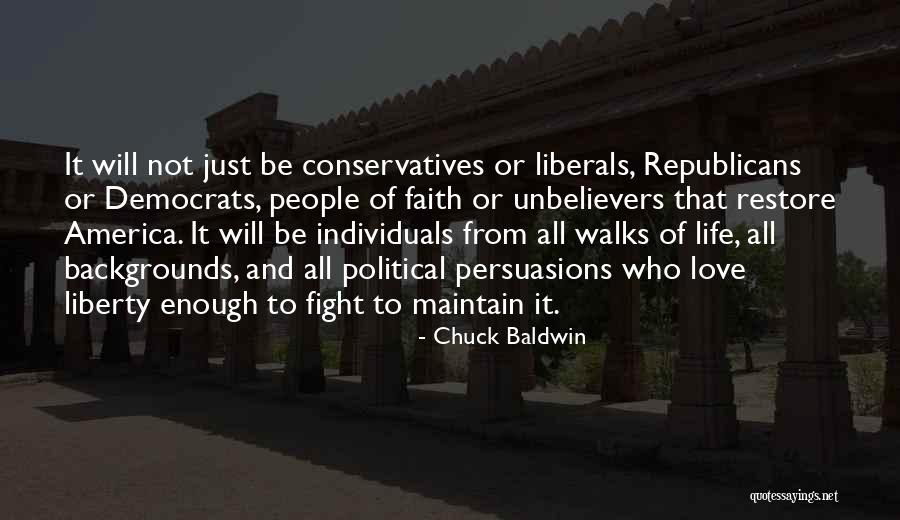 It will not just be conservatives or liberals, Republicans or Democrats, people of faith or unbelievers that restore America. It will be individuals from all walks of life, all backgrounds, and all political persuasions who love liberty enough to fight to maintain it. — Chuck Baldwin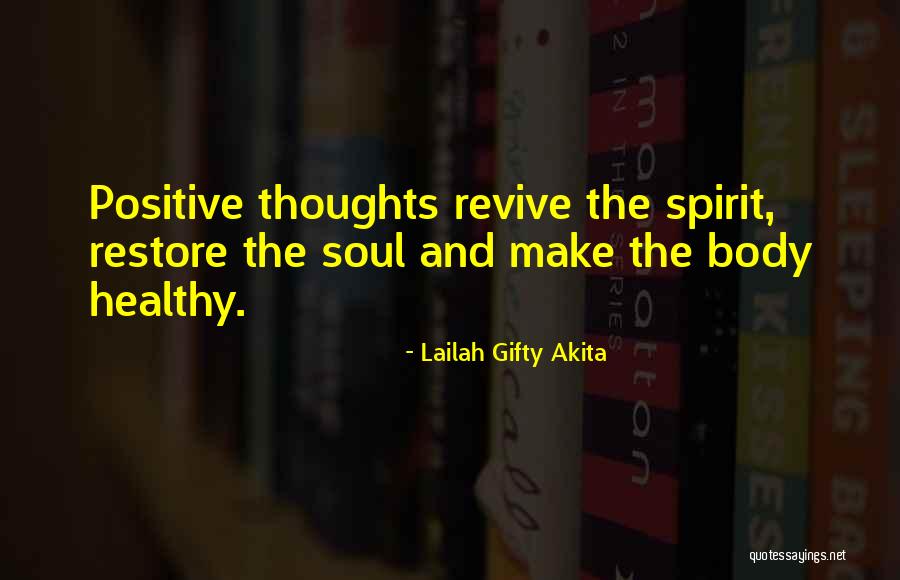 Positive thoughts revive the spirit, restore the soul and make the body healthy. — Lailah Gifty Akita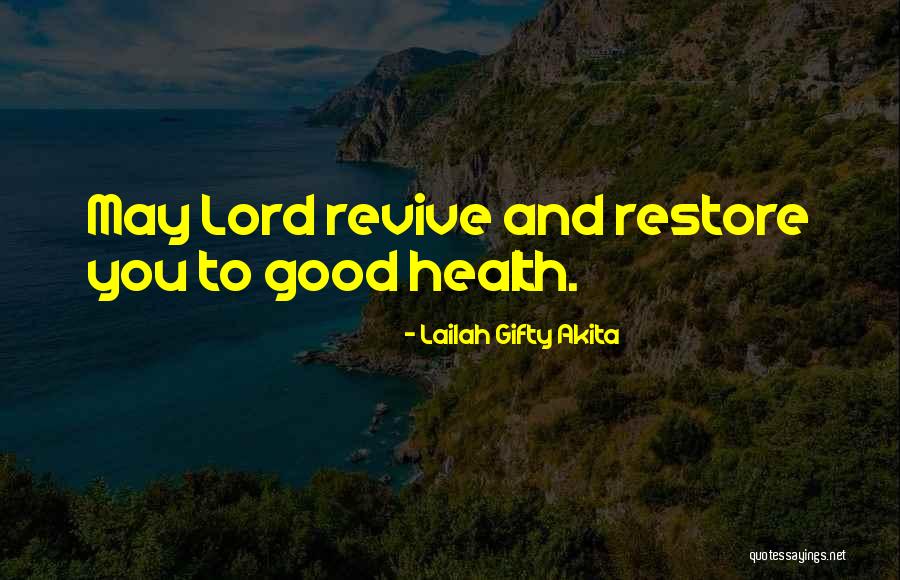 May Lord revive and restore you to good health. — Lailah Gifty Akita