Responsible Your Own Actions Quotes & Sayings
Enjoy reading and share 56 famous quotes about Responsible Your Own Actions with everyone.
Top Responsible Your Own Actions Quotes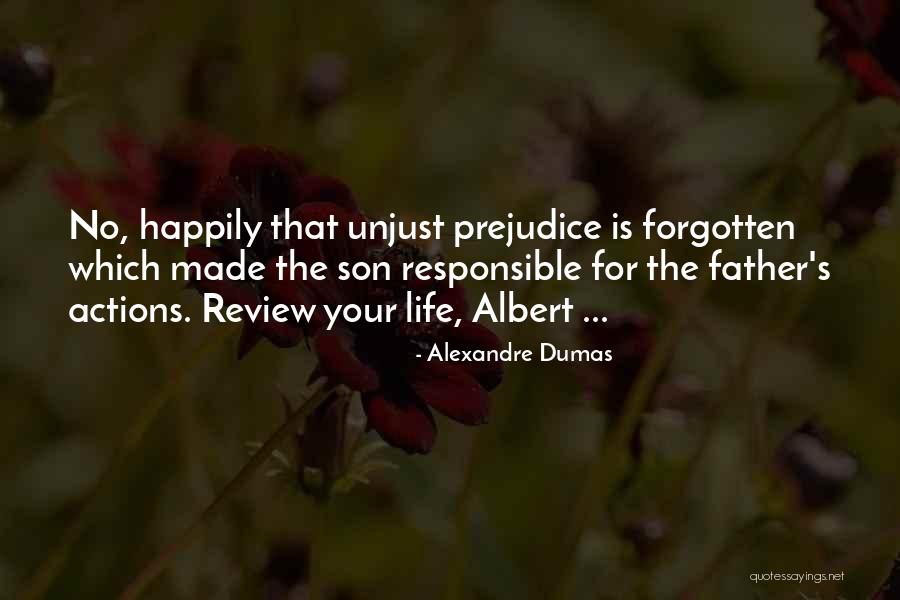 No, happily that unjust prejudice is forgotten which made the son responsible for the father's actions. Review your life, Albert ... — Alexandre Dumas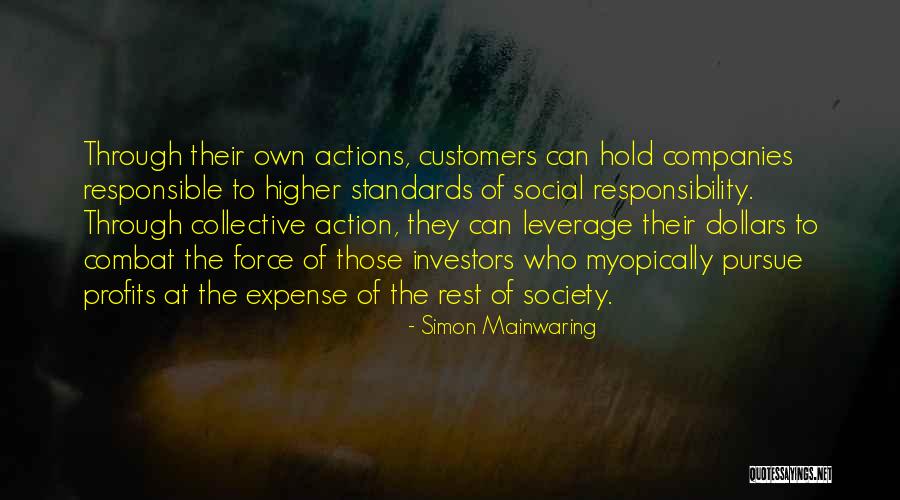 Through their own actions, customers can hold companies responsible to higher standards of social responsibility. Through collective action, they can leverage their dollars to combat the force of those investors who myopically pursue profits at the expense of the rest of society. — Simon Mainwaring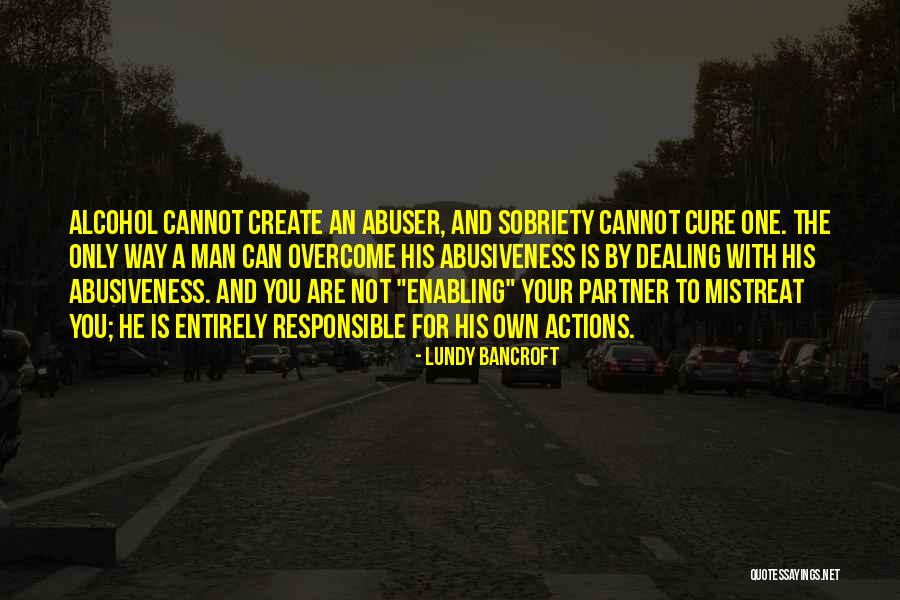 Alcohol cannot create an abuser, and sobriety cannot cure one. The only way a man can overcome his abusiveness is by dealing with his abusiveness. And you are not "enabling" your partner to mistreat you; he is entirely responsible for his own actions. — Lundy Bancroft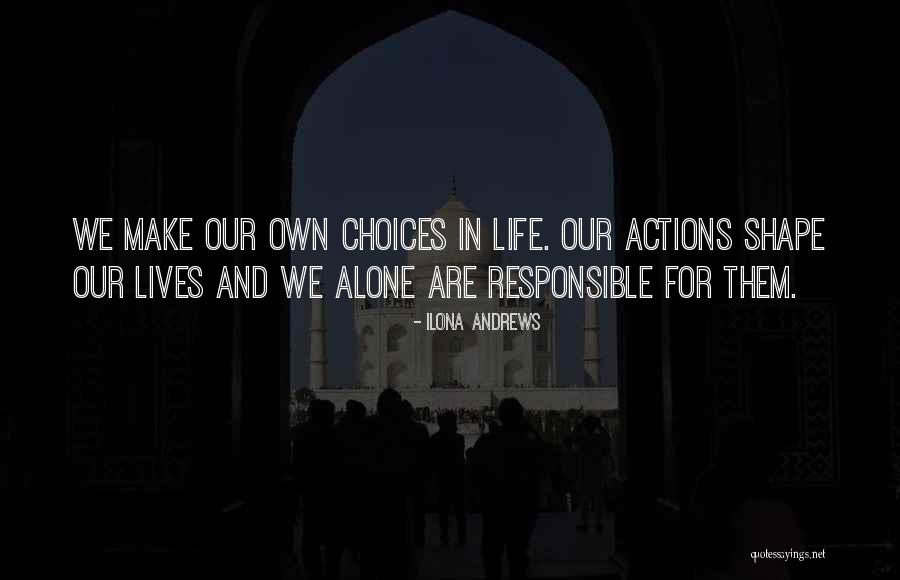 We make our own choices in life. Our actions shape our lives and we alone are responsible for them. — Ilona Andrews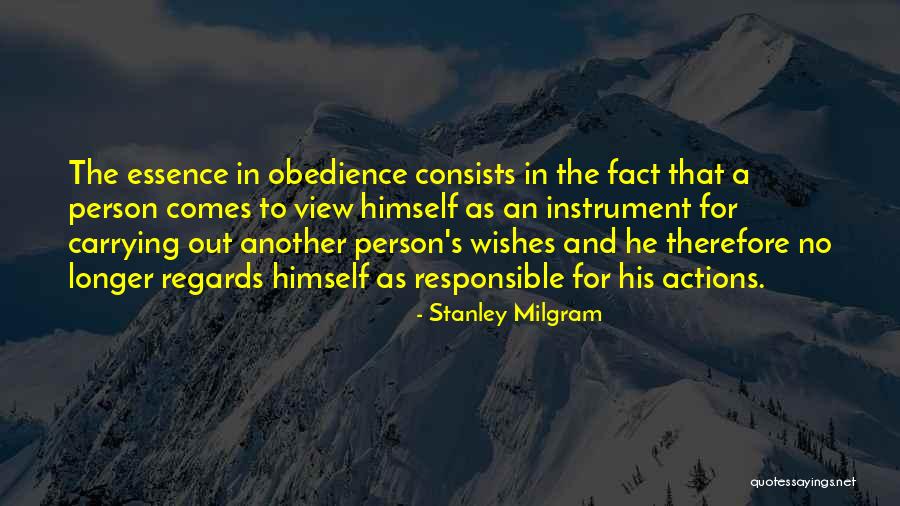 The essence in obedience consists in the fact that a person comes to view himself as an instrument for carrying out another person's wishes and he therefore no longer regards himself as responsible for his actions. — Stanley Milgram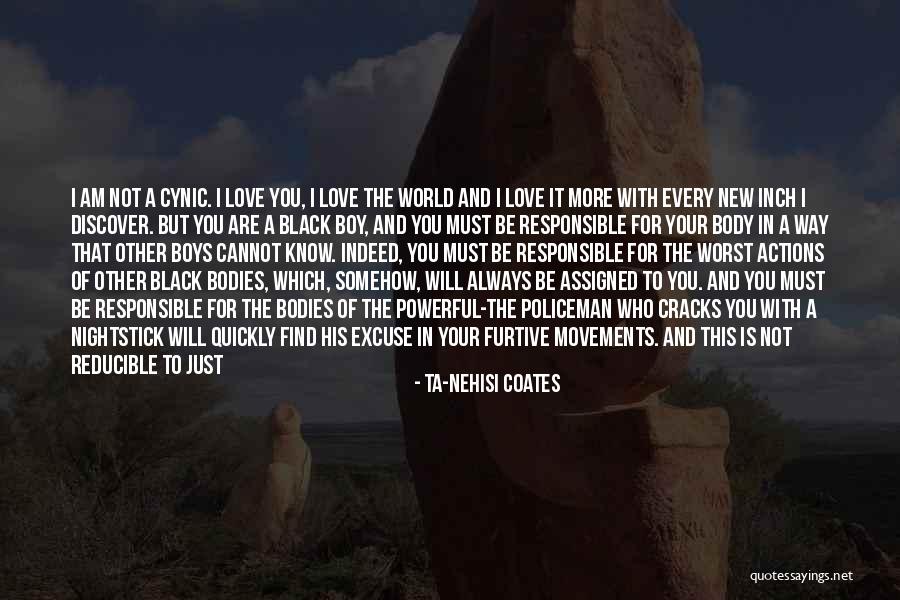 I am not a cynic. I love you, I love the world and I love it more with every new inch I discover. But you are a black boy, and you must be responsible for your body in a way that other boys cannot know. Indeed, you must be responsible for the worst actions of other black bodies, which, somehow, will always be assigned to you. And you must be responsible for the bodies of the powerful-the policeman who cracks you with a nightstick will quickly find his excuse in your furtive movements. And this is not reducible to just you-the women around you must be responsible for their bodies in a way that you never will know. — Ta-Nehisi Coates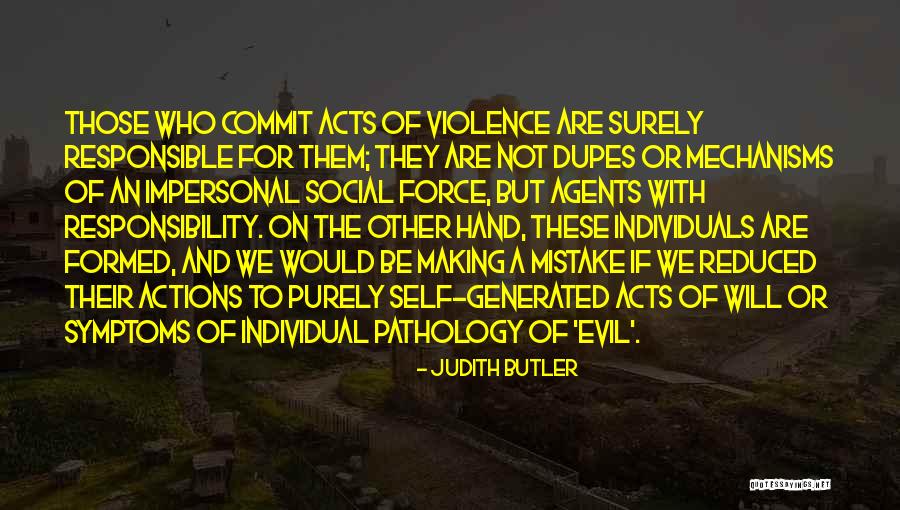 Those who commit acts of violence are surely responsible for them; they are not dupes or mechanisms of an impersonal social force, but agents with responsibility. On the other hand, these individuals are formed, and we would be making a mistake if we reduced their actions to purely self-generated acts of will or symptoms of individual pathology of 'evil'. — Judith Butler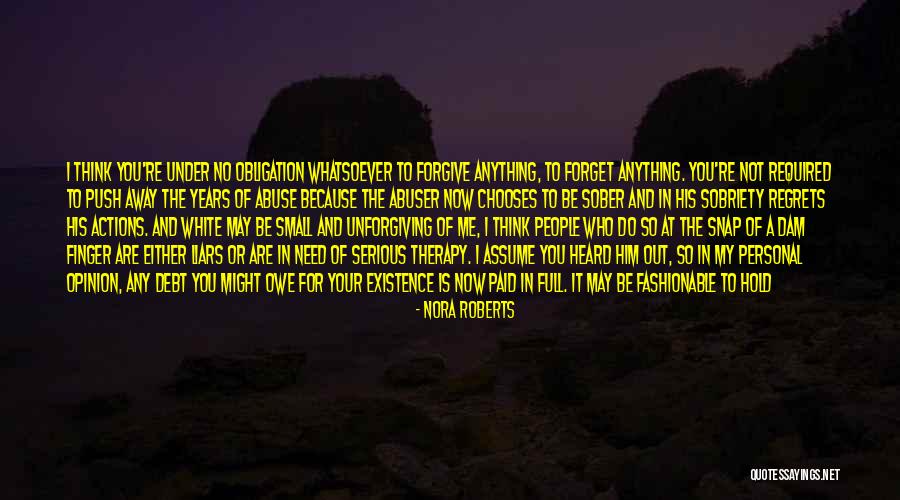 I think you're under no obligation whatsoever to forgive anything, to forget anything. You're not required to push away the years of abuse because the abuser now chooses to be sober and in his sobriety regrets his actions. And white may be small and unforgiving of me, I think people who do so at the snap of a dam finger are either liars or are in need of serious therapy. I assume you heard him out, so in my personal opinion, any debt you might owe for your existence is now paid in full. It may be fashionable to hold that terrible actions are indeed terrible, but that hte person inflicting them isn't responbile due to alcohol, drugs, DNA, or GD PMS. He damn well was responsible, and if you decided to loathe him for the rest of your life, I wouldn't blame you for it. How's that? (Cybil to Gage - she ROCKS) — Nora Roberts
How can a good God appoint cruel people to positions of authority? The answer is simple: God is the originator of the authority, but He is not the author of the cruelty. Man is responsible for his cruel actions, not God. All authority is of God, but not all authority is godly. — John Bevere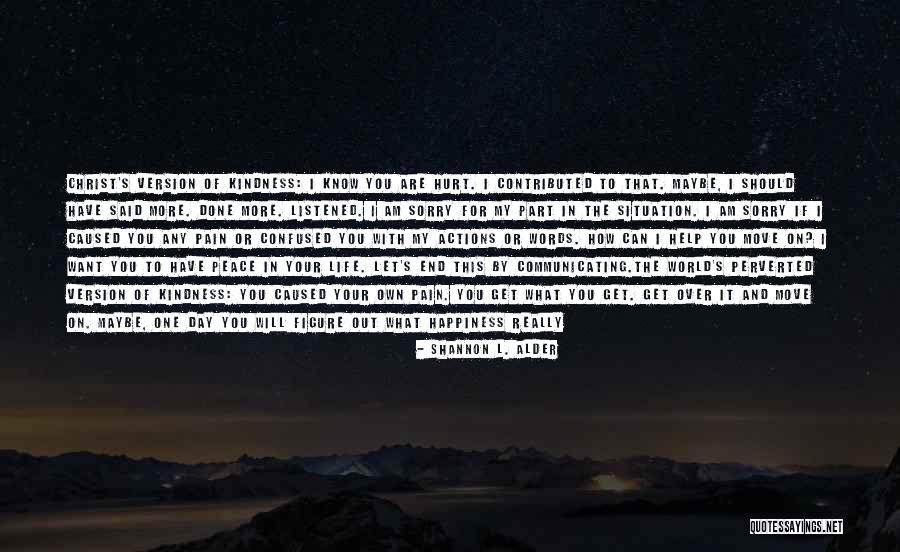 Christ's version of kindness:
I know you are hurt. I contributed to that. Maybe, I should have said more. Done more. Listened. I am sorry for my part in the situation. I am sorry if I caused you any pain or confused you with my actions or words. How can I help you move on? I want you to have peace in your life. Let's end this by communicating.
The world's perverted version of kindness:
You caused your own pain. You get what you get. Get over it and move on. Maybe, one day you will figure out what happiness really means. By the way, I am not responsible for giving it to you. Nor, do I have to put up with people that don't bring me joy or who I can't trust. I am only responsible for myself. I will pray for you because I am a good Christian. — Shannon L. Alder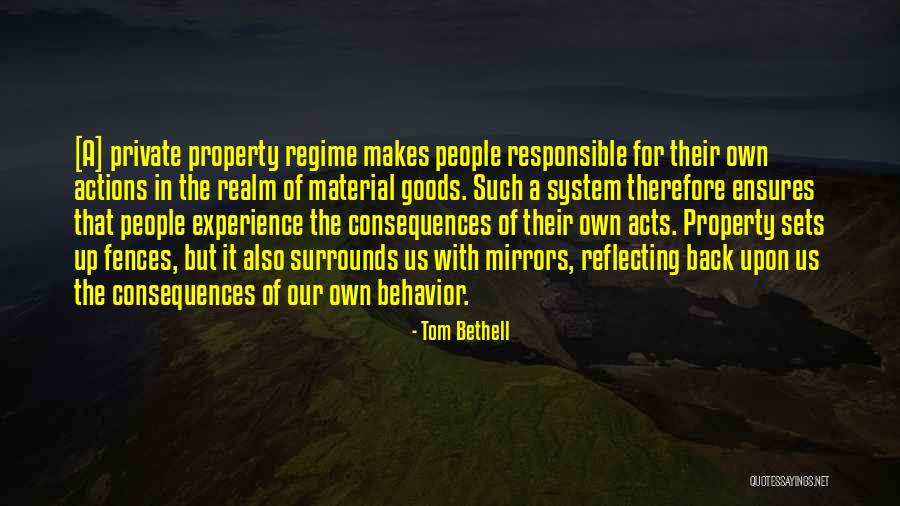 [A] private property regime makes people responsible for their own actions in the realm of material goods. Such a system therefore ensures that people experience the consequences of their own acts. Property sets up fences, but it also surrounds us with mirrors, reflecting back upon us the consequences of our own behavior. — Tom Bethell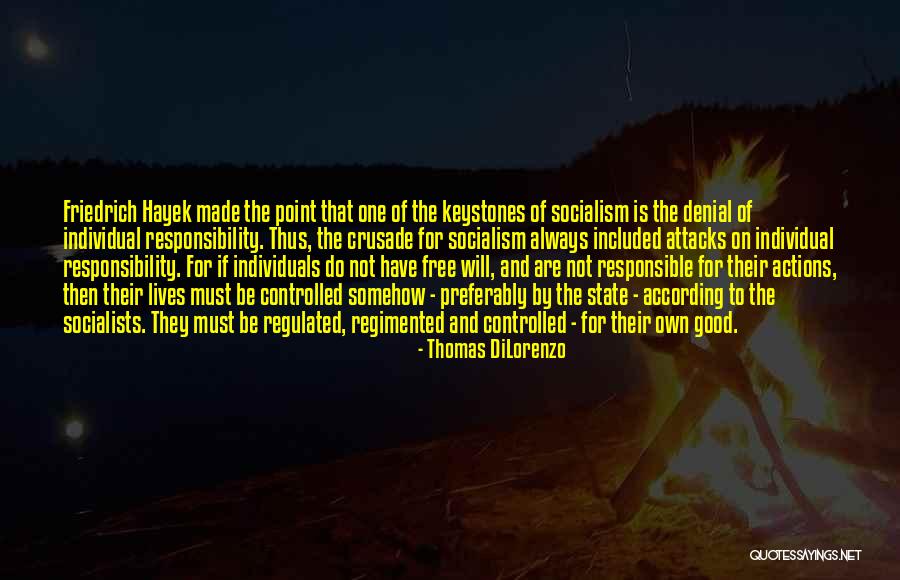 Friedrich Hayek made the point that one of the keystones of socialism is the denial of individual responsibility. Thus, the crusade for socialism always included attacks on individual responsibility. For if individuals do not have free will, and are not responsible for their actions, then their lives must be controlled somehow - preferably by the state - according to the socialists. They must be regulated, regimented and controlled - for their own good. — Thomas DiLorenzo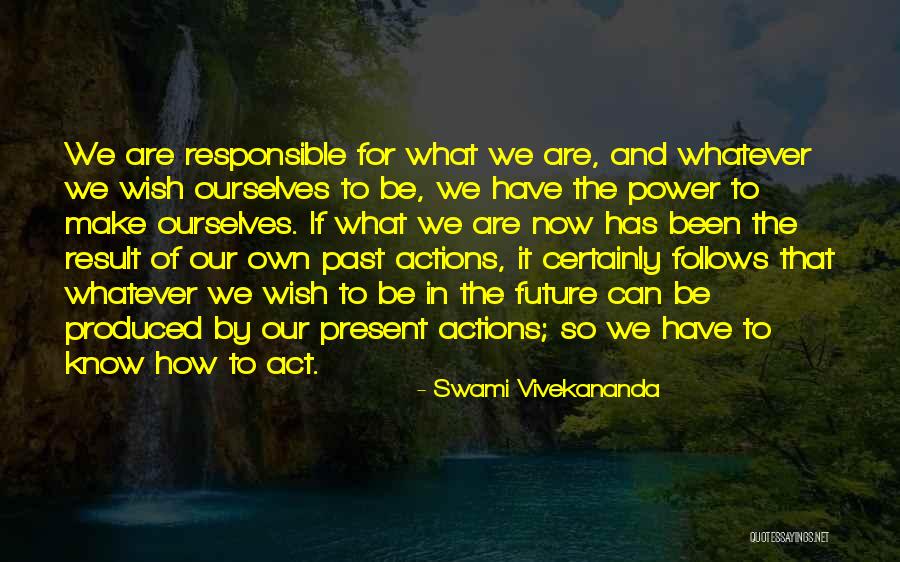 We are responsible for what we are, and whatever we wish ourselves to be, we have the power to make ourselves. If what we are now has been the result of our own past actions, it certainly follows that whatever we wish to be in the future can be produced by our present actions; so we have to know how to act. — Swami Vivekananda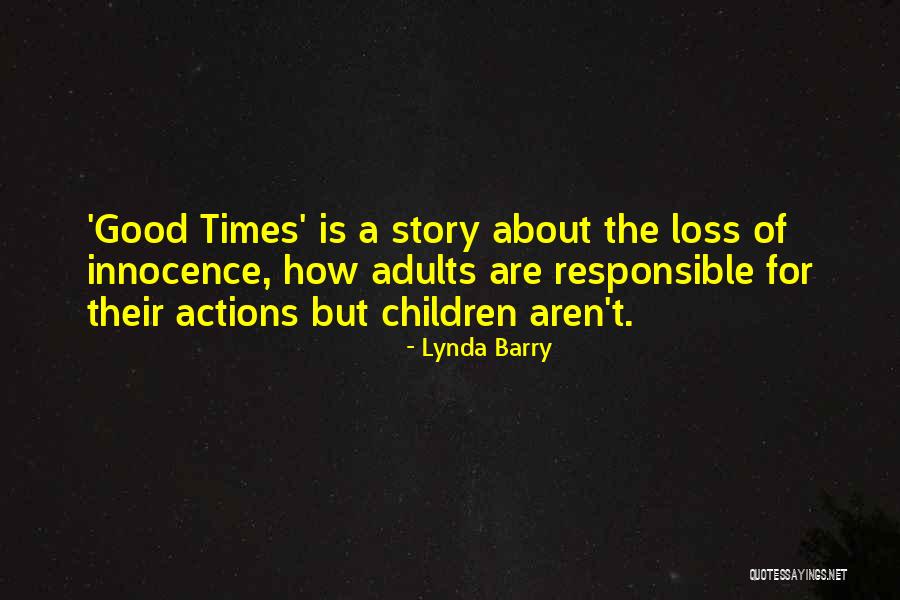 'Good Times' is a story about the loss of innocence, how adults are responsible for their actions but children aren't. — Lynda Barry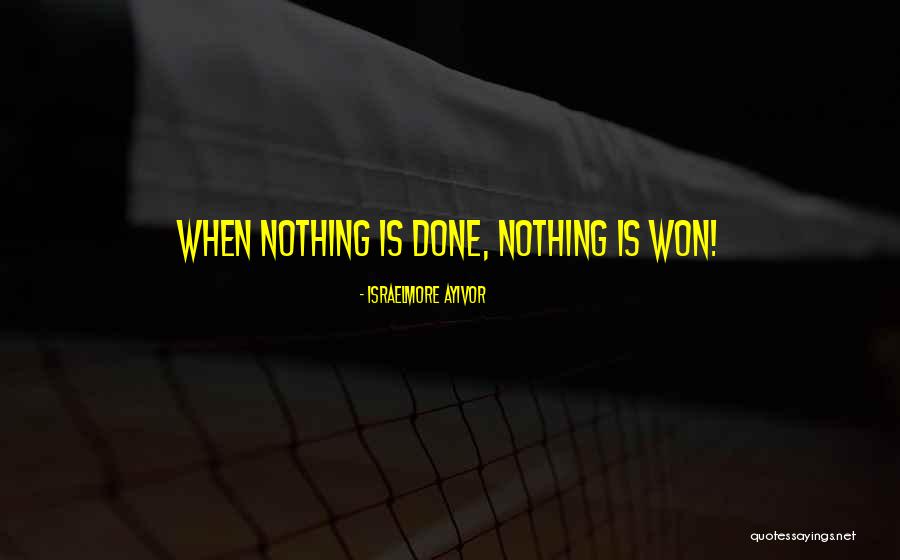 When nothing is done, nothing is won! — Israelmore Ayivor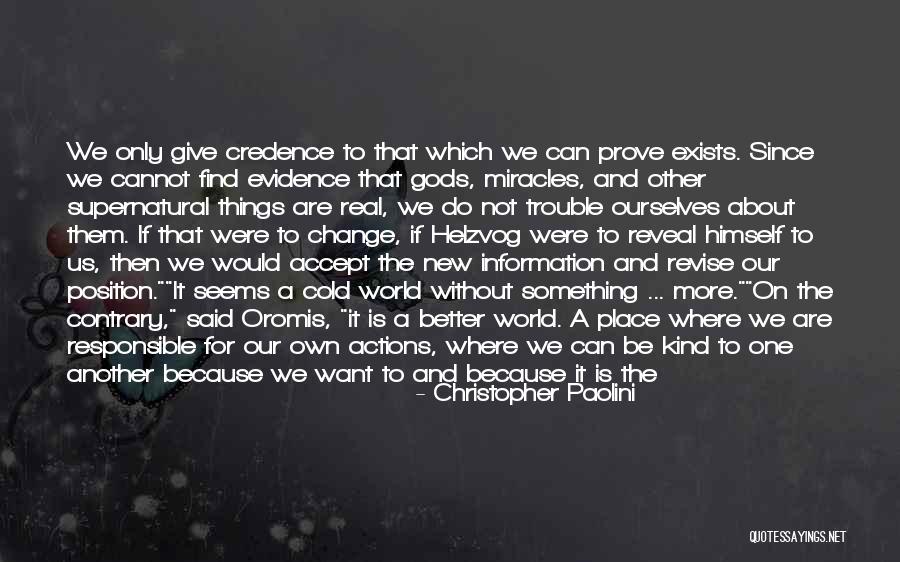 We only give credence to that which we can prove exists. Since we cannot find evidence that gods, miracles, and other supernatural things are real, we do not trouble ourselves about them. If that were to change, if Helzvog were to reveal himself to us, then we would accept the new information and revise our position."
"It seems a cold world without something ... more."
"On the contrary," said Oromis, "it is a better world. A place where we are responsible for our own actions, where we can be kind to one another because we want to and because it is the right thing to do, instead of being frightened into behaving by the threat of divine punishment. I won't tell you what to believe, Eragon. It is far better to be taught to think critically and then be allowed to make your own decisions than to have someone else's notions thrust upon you. You asked after our religion, and I have answered you true. Make of it what you will. — Christopher Paolini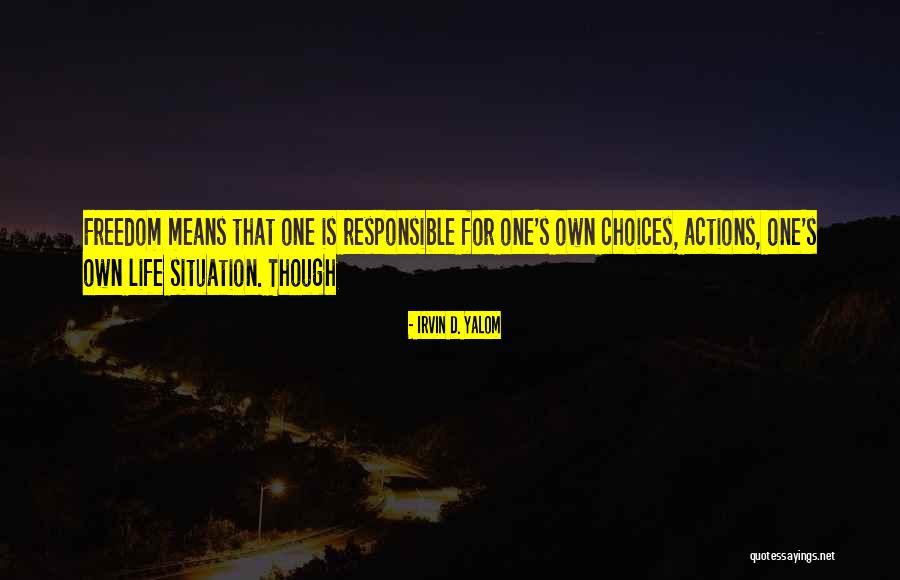 Freedom means that one is responsible for one's own choices, actions, one's own life situation. Though — Irvin D. Yalom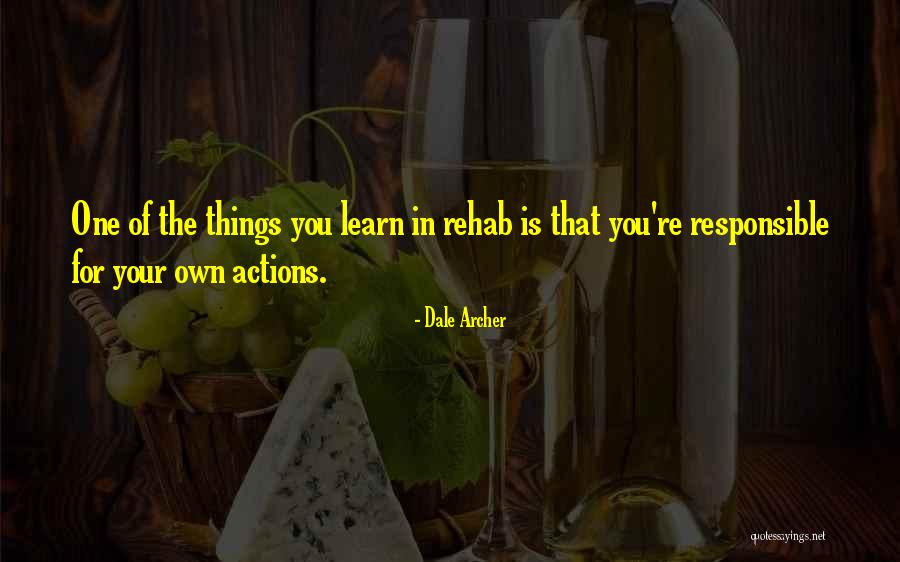 One of the things you learn in rehab is that you're responsible for your own actions. — Dale Archer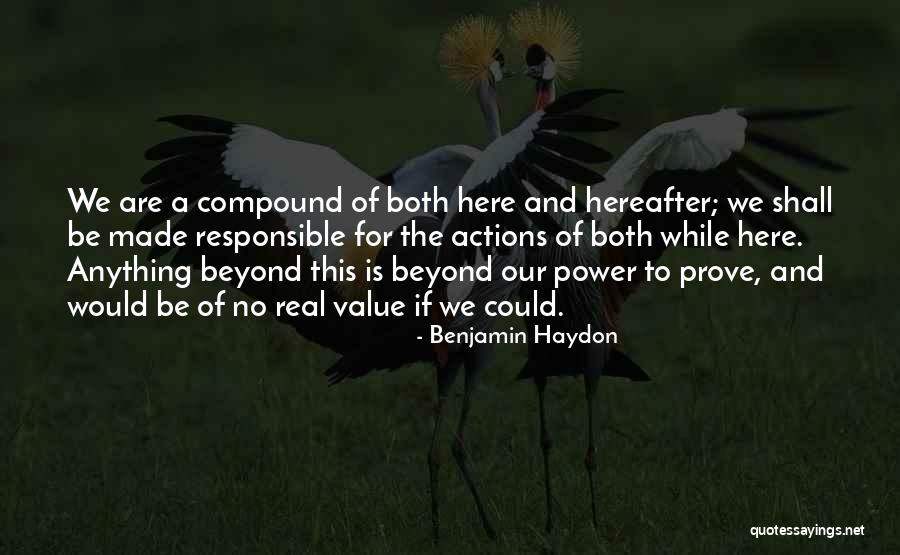 We are a compound of both here and hereafter; we shall be made responsible for the actions of both while here. Anything beyond this is beyond our power to prove, and would be of no real value if we could. — Benjamin Haydon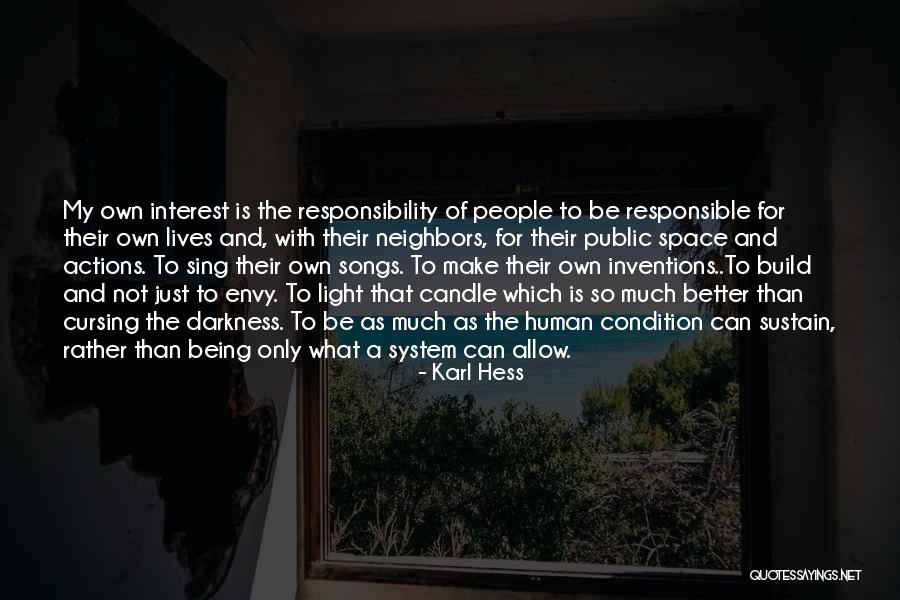 My own interest is the responsibility of people to be responsible for their own lives and, with their neighbors, for their public space and actions. To sing their own songs. To make their own inventions..To build and not just to envy. To light that candle which is so much better than cursing the darkness. To be as much as the human condition can sustain, rather than being only what a system can allow. — Karl Hess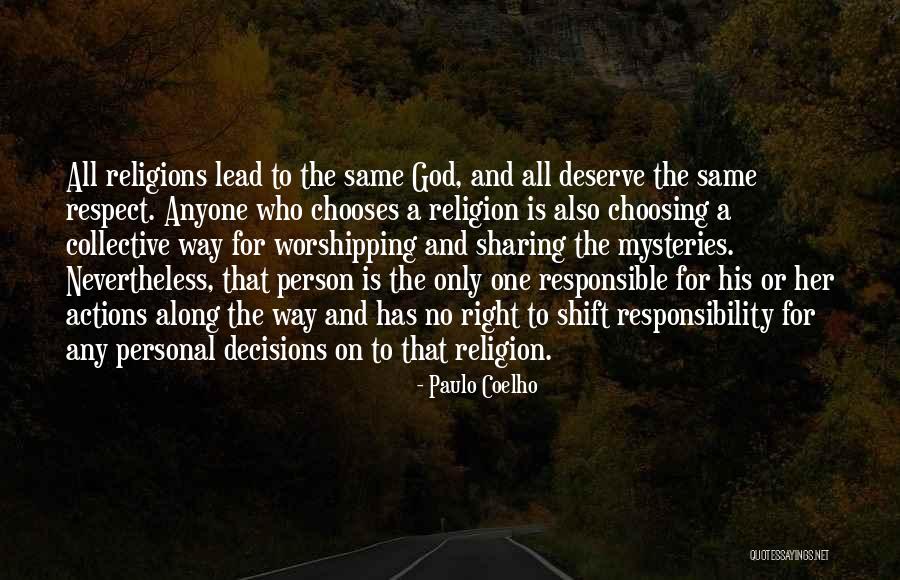 All religions lead to the same God, and all deserve the same respect. Anyone who chooses a religion is also choosing a collective way for worshipping and sharing the mysteries. Nevertheless, that person is the only one responsible for his or her actions along the way and has no right to shift responsibility for any personal decisions on to that religion. — Paulo Coelho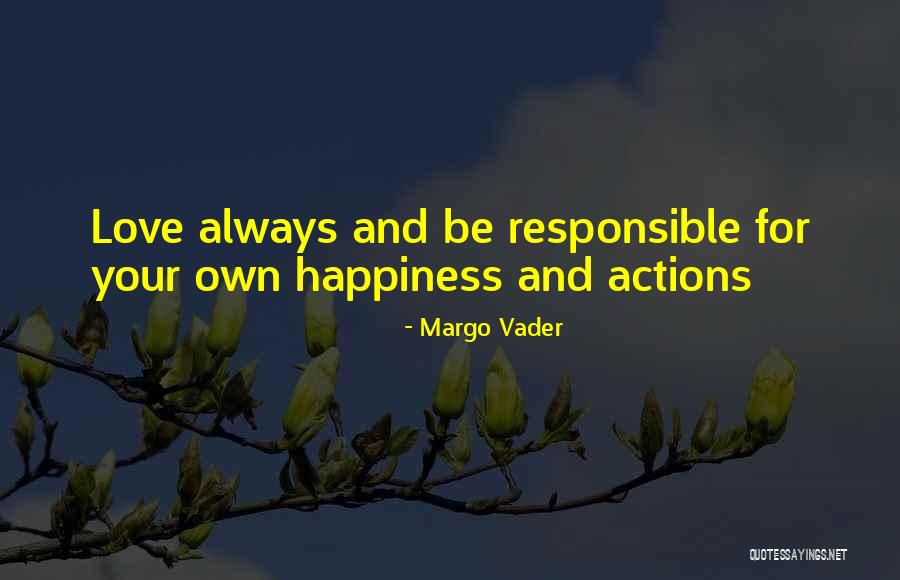 Love always and be responsible for your own happiness and actions — Margo Vader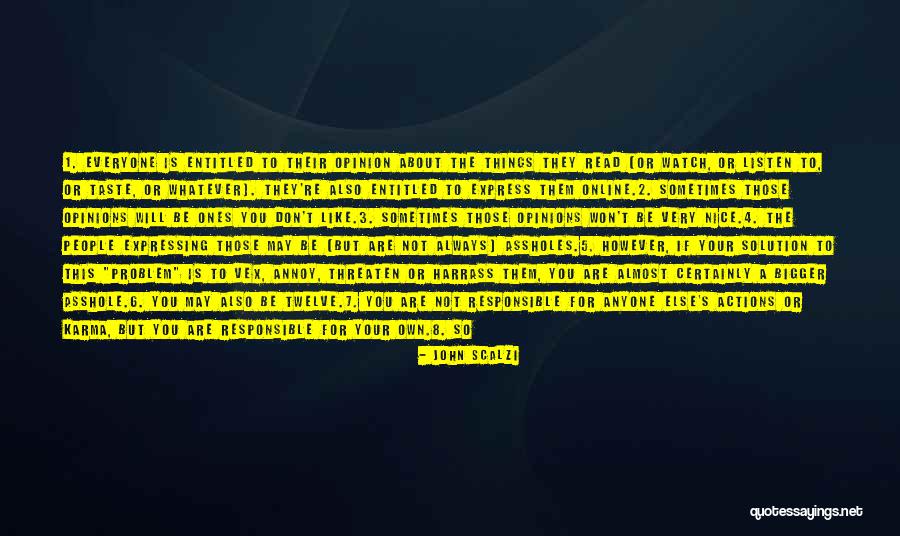 1. Everyone is entitled to their opinion about the things they read (or watch, or listen to, or taste, or whatever). They're also entitled to express them online.
2. Sometimes those opinions will be ones you don't like.
3. Sometimes those opinions won't be very nice.
4. The people expressing those may be (but are not always) assholes.
5. However, if your solution to this "problem" is to vex, annoy, threaten or harrass them, you are almost certainly a bigger asshole.
6. You may also be twelve.
7. You are not responsible for anyone else's actions or karma, but you are responsible for your own.
8. So leave them alone and go about your own life."
[Bad Reviews: I Can Handle Them, and So Should You (Blog post, July 17, 2012)] — John Scalzi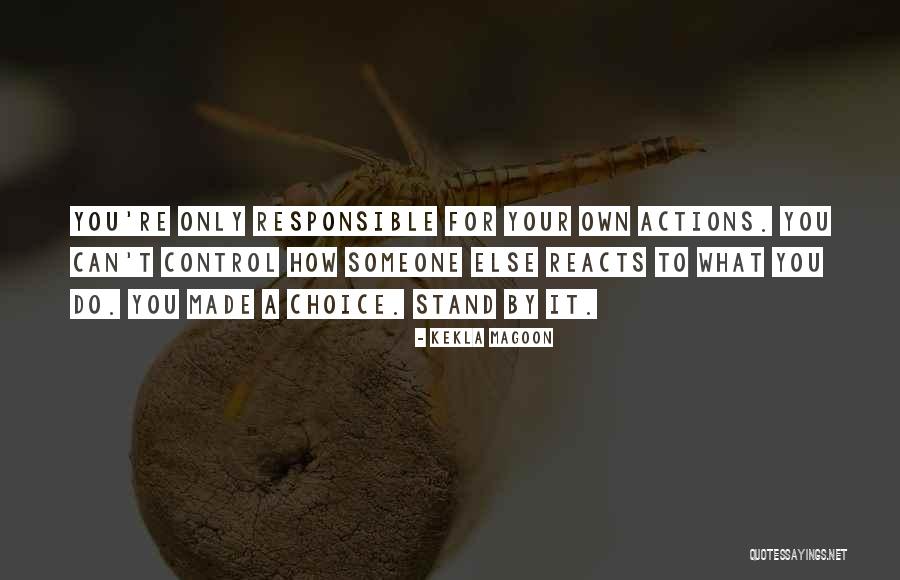 You're only responsible for your own actions. You can't control how someone else reacts to what you do. You made a choice. Stand by it. — Kekla Magoon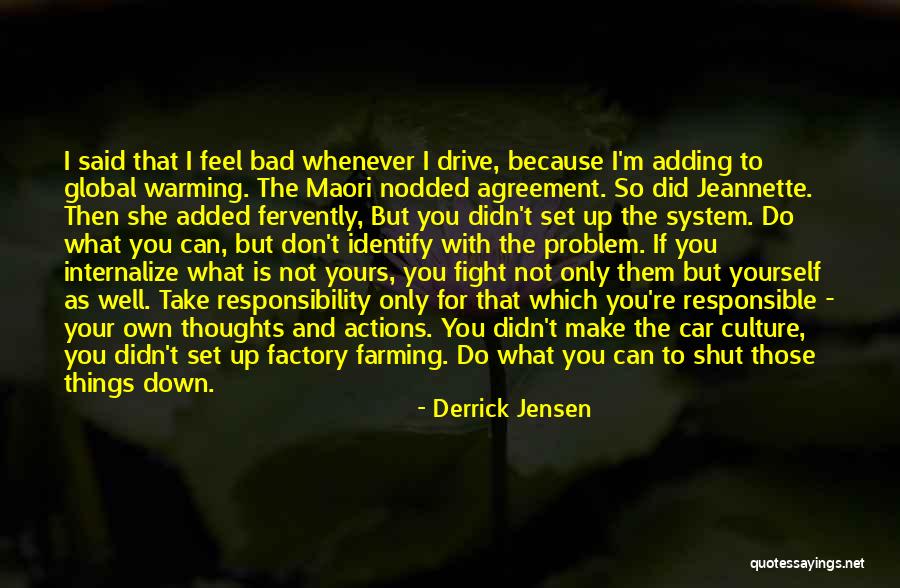 I said that I feel bad whenever I drive, because I'm adding to global warming. The Maori nodded agreement. So did Jeannette. Then she added fervently, But you didn't set up the system. Do what you can, but don't identify with the problem. If you internalize what is not yours, you fight not only them but yourself as well. Take responsibility only for that which you're responsible - your own thoughts and actions. You didn't make the car culture, you didn't set up factory farming. Do what you can to shut those things down. — Derrick Jensen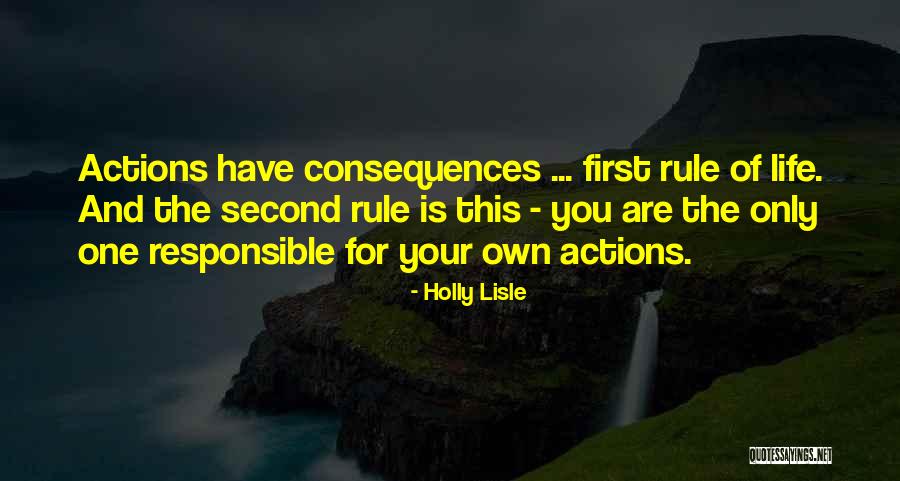 Actions have consequences ... first rule of life. And the second rule is this - you are the only one responsible for your own actions. — Holly Lisle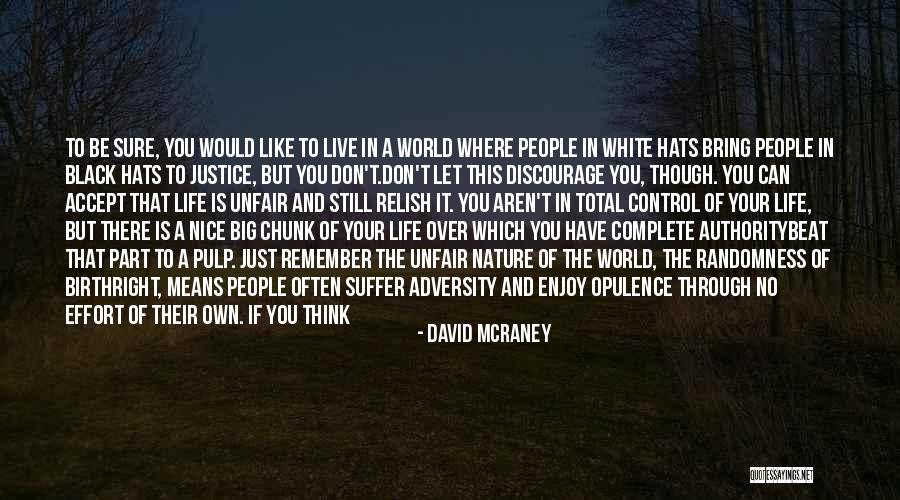 To be sure, you would like to live in a world where people in white hats bring people in black hats to justice, but you don't.
Don't let this discourage you, though. You can accept that life is unfair and still relish it. You aren't in total control of your life, but there is a nice big chunk of your life over which you have complete authority
beat that part to a pulp. Just remember the unfair nature of the world, the randomness of birthright, means people often suffer adversity and enjoy opulence through no effort of their own. If you think the world is just and fair, people who need help may never get it. Realize that even though we are all responsible for our actions, the blame for evil acts rests on the perpetrator and never the victim. No one deserves to be raped or bullied, robbed or murdered. To make the world more just and fair, you have to make it harder for evil to thrive, and you can't do this just by reducing the number of its potential targets. — David McRaney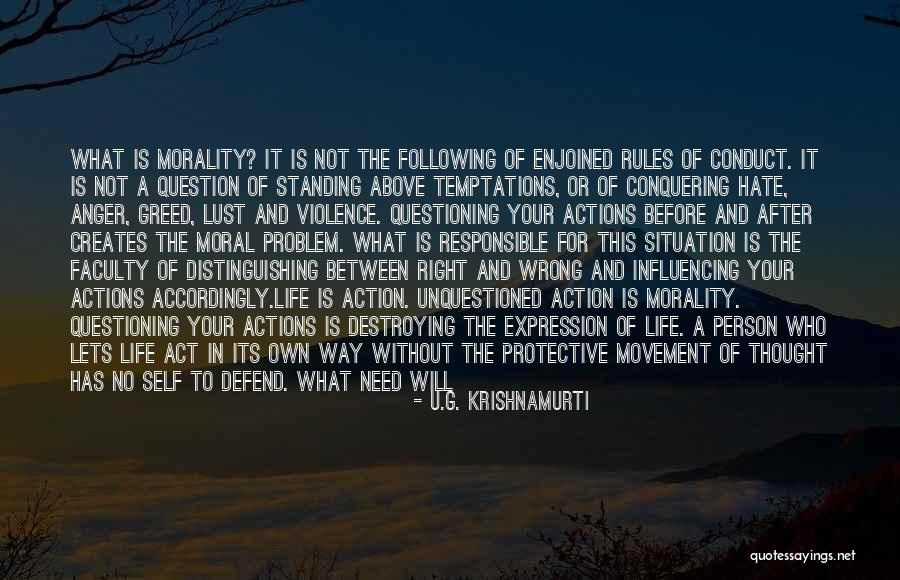 What is morality? It is not the following of enjoined rules of conduct. It is not a question of standing above temptations, or of conquering hate, anger, greed, lust and violence.
Questioning your actions before and after creates the moral problem. What is responsible for this situation is the faculty of distinguishing between right and wrong and influencing your actions accordingly.Life is action. Unquestioned action is morality. Questioning your actions is destroying the expression of life. A person who lets life act in its own way without the protective movement of thought has no self to defend. What need will he have to lie or cheat or pretend or to commit any other act which his society considers immoral? — U.G. Krishnamurti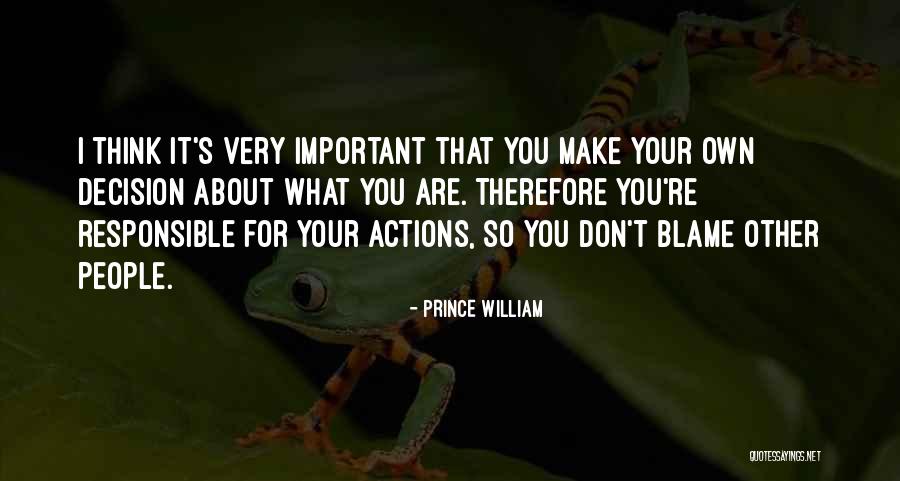 I think it's very important that you make your own decision about what you are. Therefore you're responsible for your actions, so you don't blame other people. — Prince William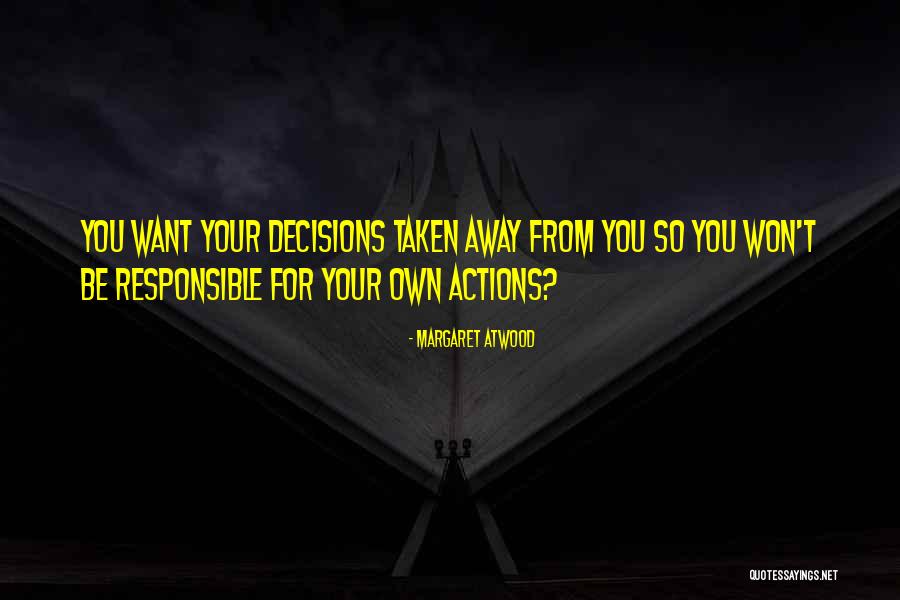 You want your decisions taken away from you so you won't be responsible for your own actions? — Margaret Atwood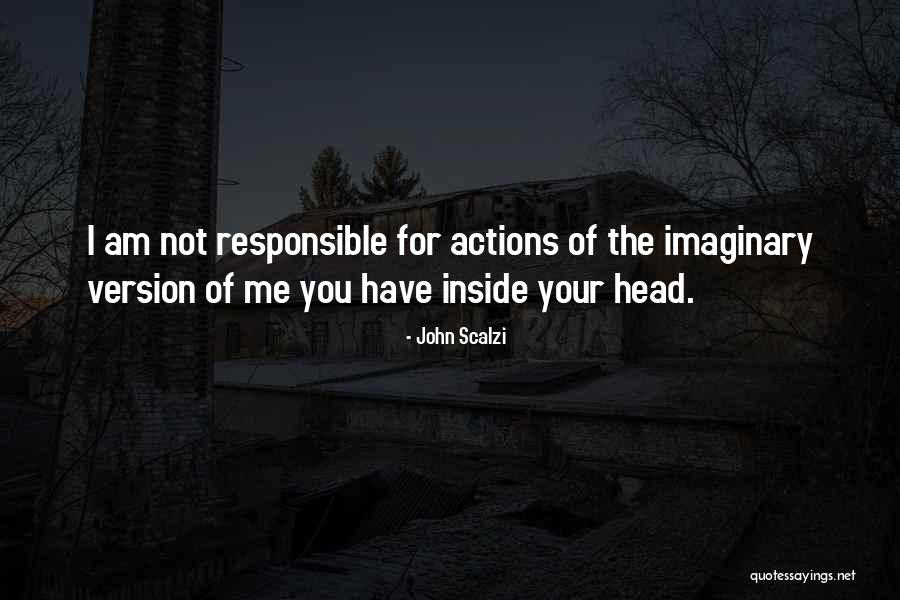 I am not responsible for actions of the imaginary version of me you have inside your head. — John Scalzi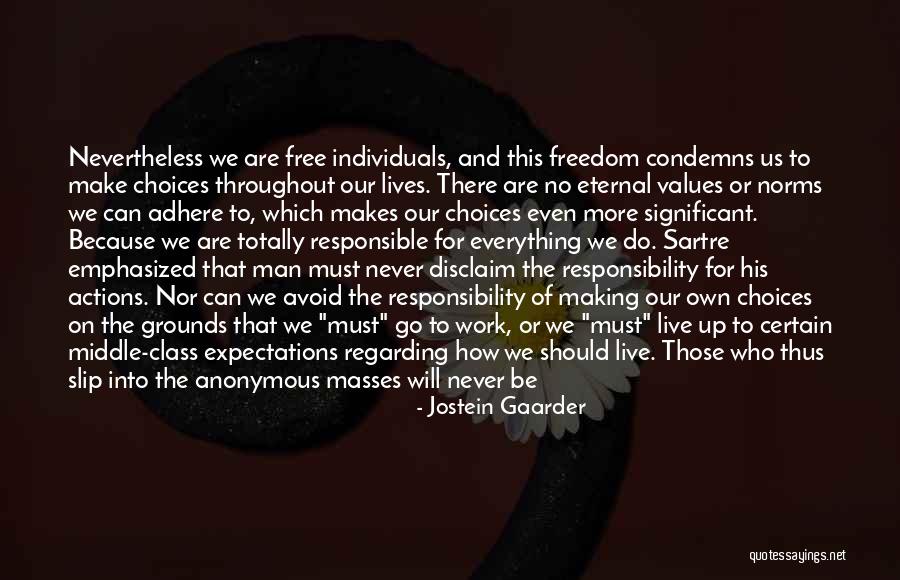 Nevertheless we are free individuals, and this freedom condemns us to make choices throughout our lives. There are no eternal values or norms we can adhere to, which makes our choices even more significant. Because we are totally responsible for everything we do. Sartre emphasized that man must never disclaim the responsibility for his actions. Nor can we avoid the responsibility of making our own choices on the grounds that we "must" go to work, or we "must" live up to certain middle-class expectations regarding how we should live. Those who thus slip into the anonymous masses will never be other than members of the impersonal flock, having fled from themselves into self-deception. On the other hand our freedom obliges us to make something of ourselves, to live "authentically" or "truly". — Jostein Gaarder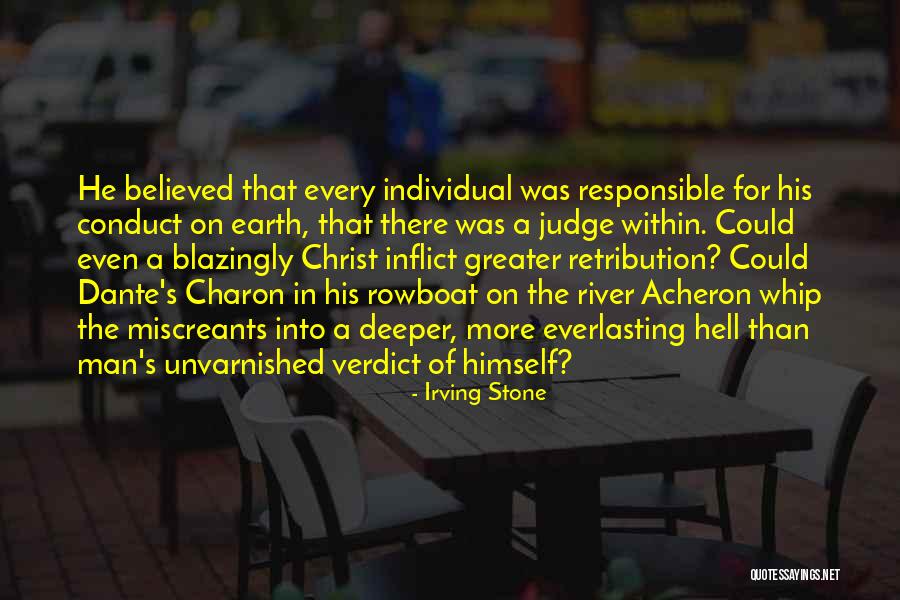 He believed that every individual was responsible for his conduct on earth, that there was a judge within. Could even a blazingly Christ inflict greater retribution? Could Dante's Charon in his rowboat on the river Acheron whip the miscreants into a deeper, more everlasting hell than man's unvarnished verdict of himself? — Irving Stone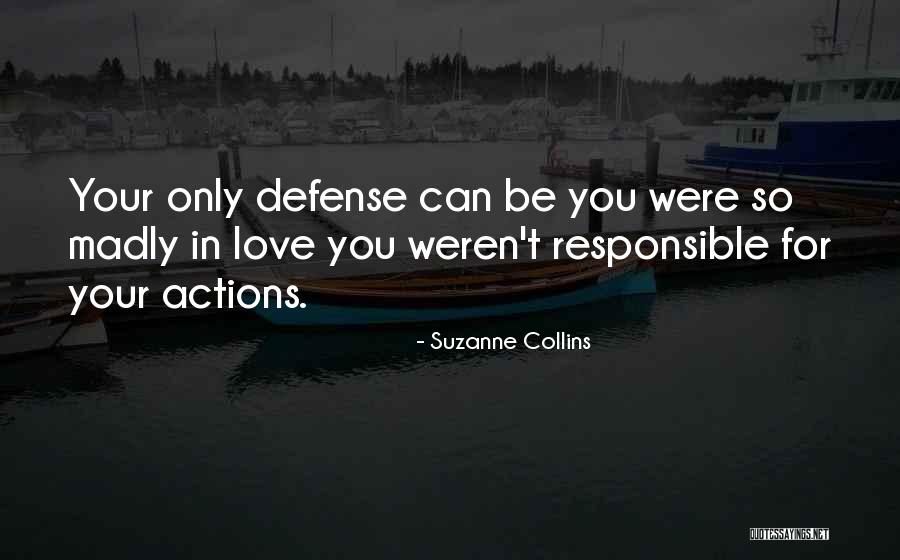 Your only defense can be you were so madly in love you weren't responsible for your actions. — Suzanne Collins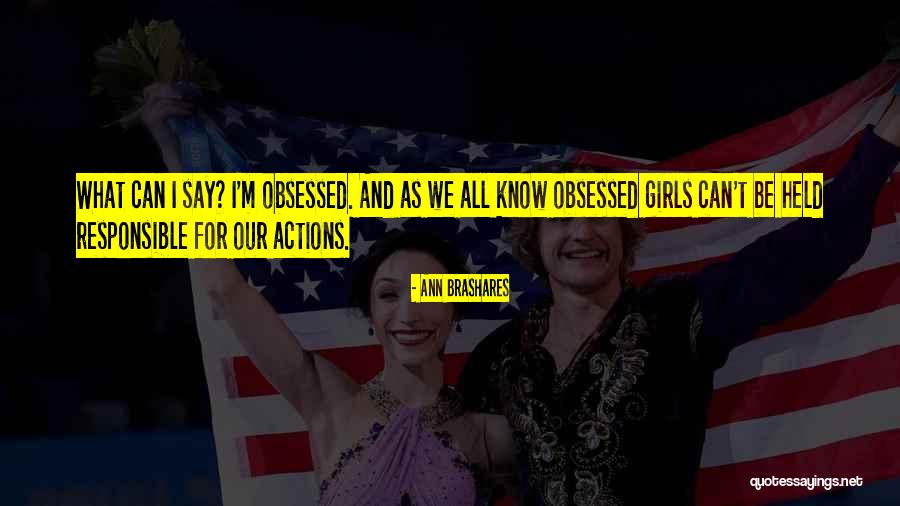 What can I say? I'm obsessed. And as we all know obsessed girls can't be held responsible for our actions. — Ann Brashares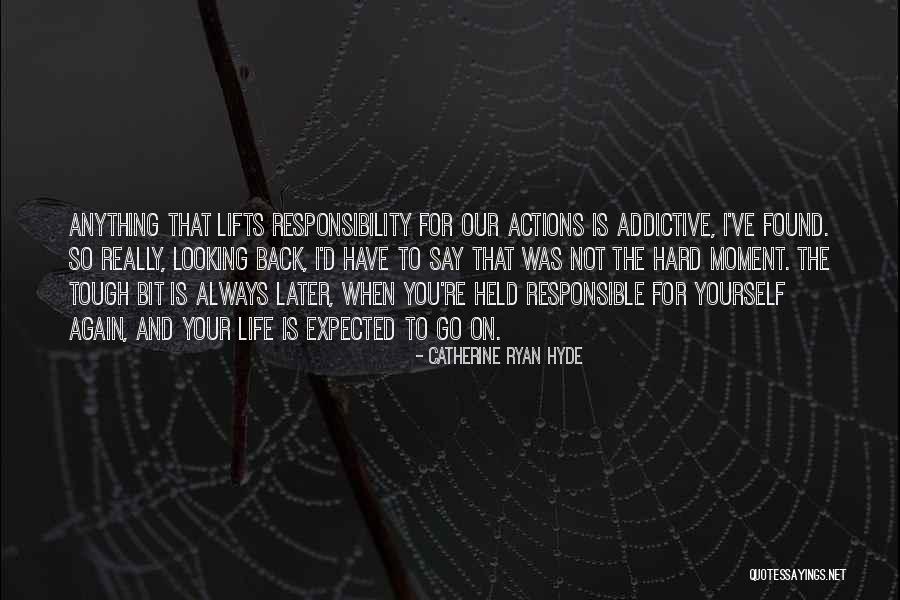 Anything that lifts responsibility for our actions is addictive, I've found. So really, looking back, I'd have to say that was not the hard moment. The tough bit is always later, when you're held responsible for yourself again, and your life is expected to go on. — Catherine Ryan Hyde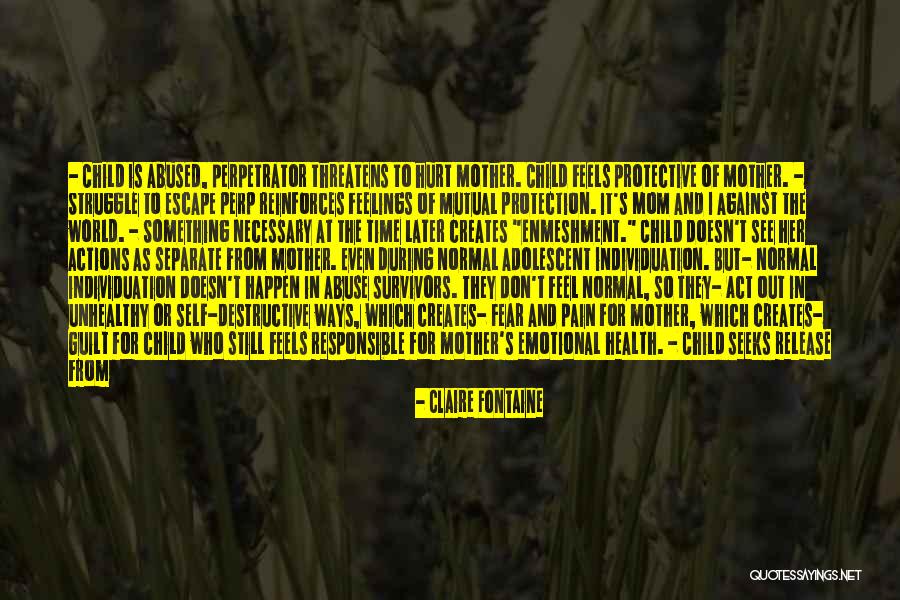 - Child is abused, perpetrator threatens to hurt mother. Child feels protective of mother.
- Struggle to escape perp reinforces feelings of mutual protection. It's Mom and I against the world.
- Something necessary at the time later creates "enmeshment." Child doesn't see her actions as separate from mother. Even during normal adolescent individuation. But
- Normal individuation doesn't happen in abuse survivors. They don't feel normal, so they
- Act out in unhealthy or self-destructive ways, which creates
- Fear and pain for mother, which creates
- Guilt for child who still feels responsible for mother's emotional health.
- Child seeks release from the guilt and from not feeling normal, which leads to
- Escape to the world of other not normal people, where mother can't see her child self-destruct, which leads to
"The bad news. — Claire Fontaine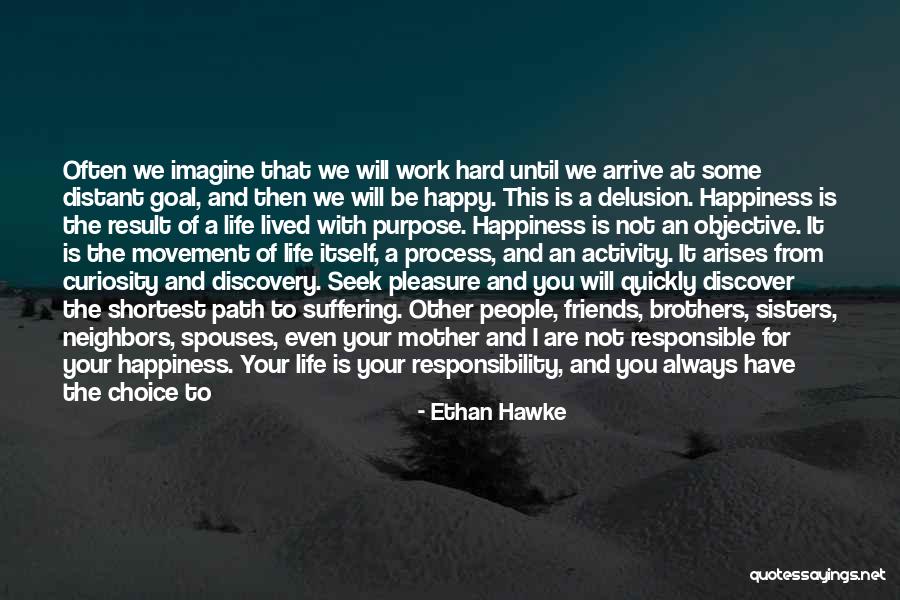 Often we imagine that we will work hard until we arrive at some distant goal, and then we will be happy. This is a delusion. Happiness is the result of a life lived with purpose. Happiness is not an objective. It is the movement of life itself, a process, and an activity. It arises from curiosity and discovery. Seek pleasure and you will quickly discover the shortest path to suffering. Other people, friends, brothers, sisters, neighbors, spouses, even your mother and I are not responsible for your happiness. Your life is your responsibility, and you always have the choice to do your best. Doing your best will bring happiness. Do not be overconcerned with avoiding pain or seeking pleasure. If you are concentrating on the results of your actions, you are not dedicated to your task. — Ethan Hawke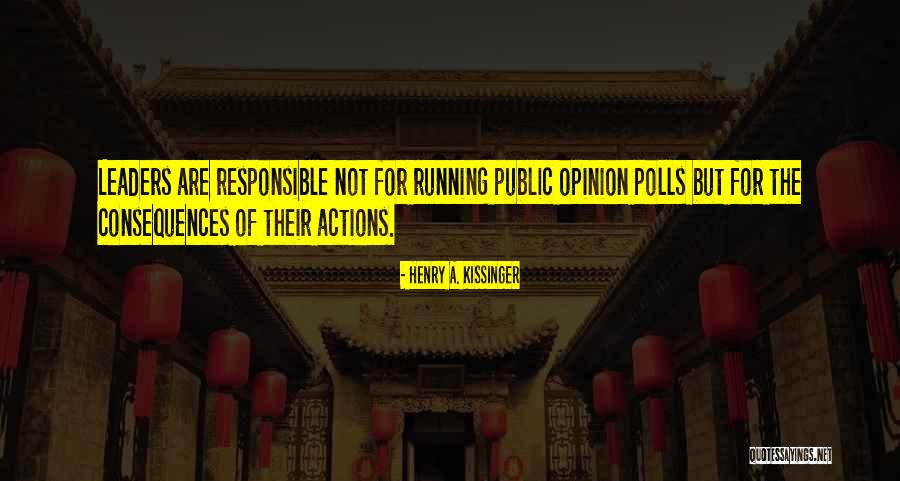 Leaders are responsible not for running public opinion polls but for the consequences of their actions. — Henry A. Kissinger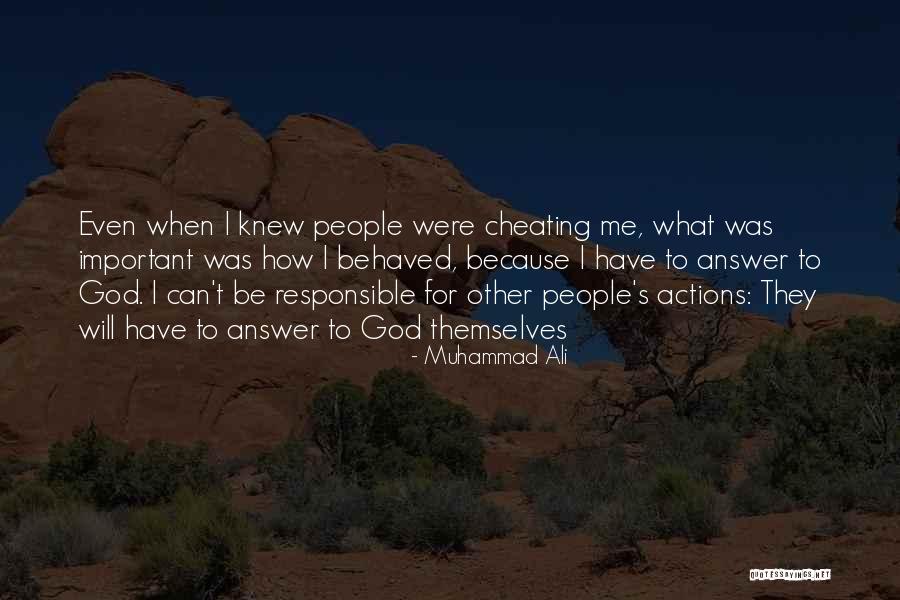 Even when I knew people were cheating me, what was important was how I behaved, because I have to answer to God. I can't be responsible for other people's actions: They will have to answer to God themselves — Muhammad Ali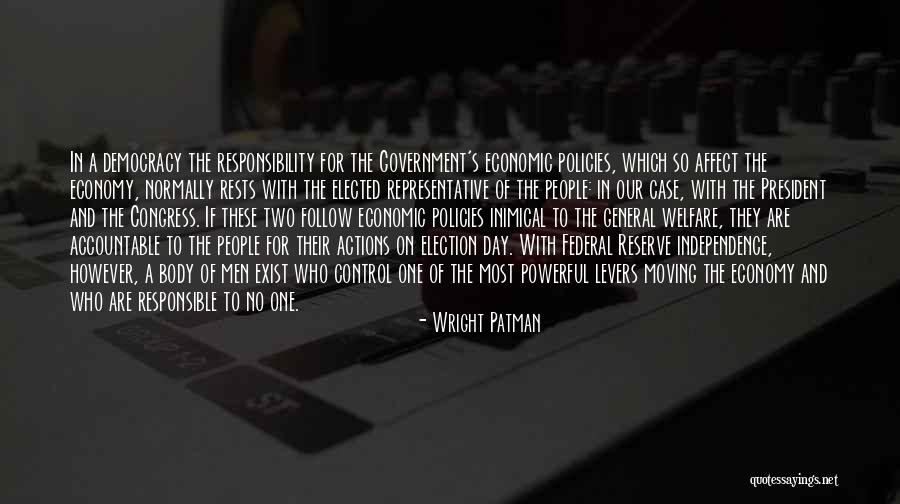 In a democracy the responsibility for the Government's economic policies, which so affect the economy, normally rests with the elected representative of the people: in our case, with the President and the Congress. If these two follow economic policies inimical to the general welfare, they are accountable to the people for their actions on election day. With Federal Reserve independence, however, a body of men exist who control one of the most powerful levers moving the economy and who are responsible to no one. — Wright Patman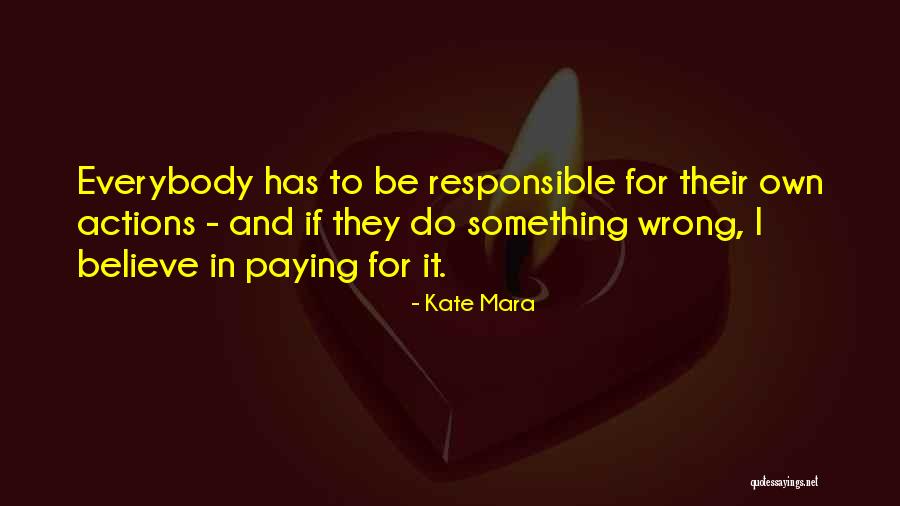 Everybody has to be responsible for their own actions - and if they do something wrong, I believe in paying for it. — Kate Mara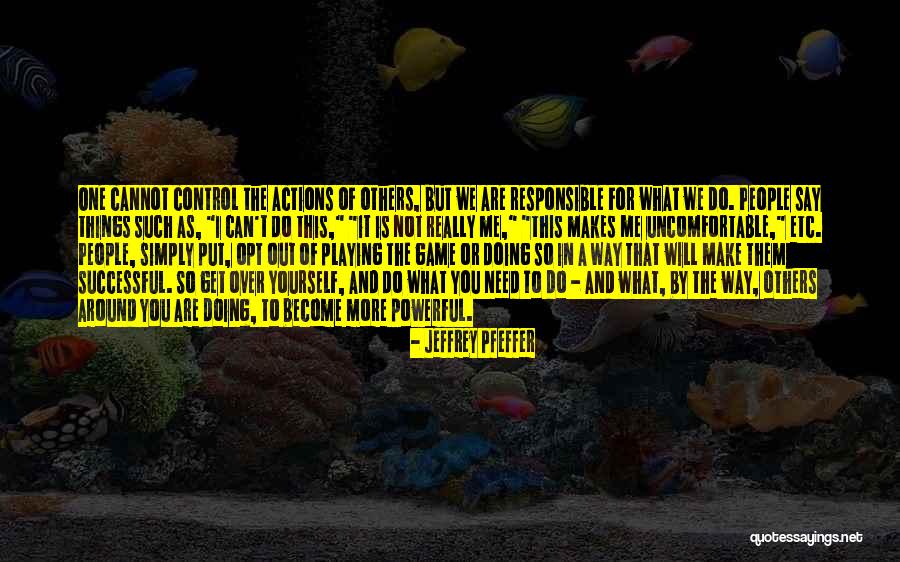 One cannot control the actions of others, but we are responsible for what we do. People say things such as, "I can't do this," "it is not really me," "this makes me uncomfortable," etc. People, simply put, opt out of playing the game or doing so in a way that will make them successful. So get over yourself, and do what you need to do - and what, by the way, others around you are doing, to become more powerful. — Jeffrey Pfeffer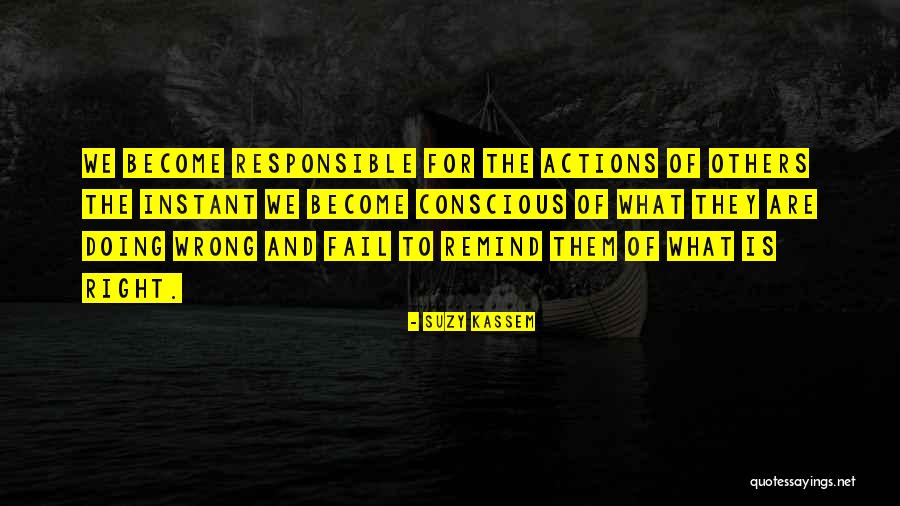 We become responsible for the actions of others the instant we become conscious of what they are doing wrong and fail to remind them of what is right. — Suzy Kassem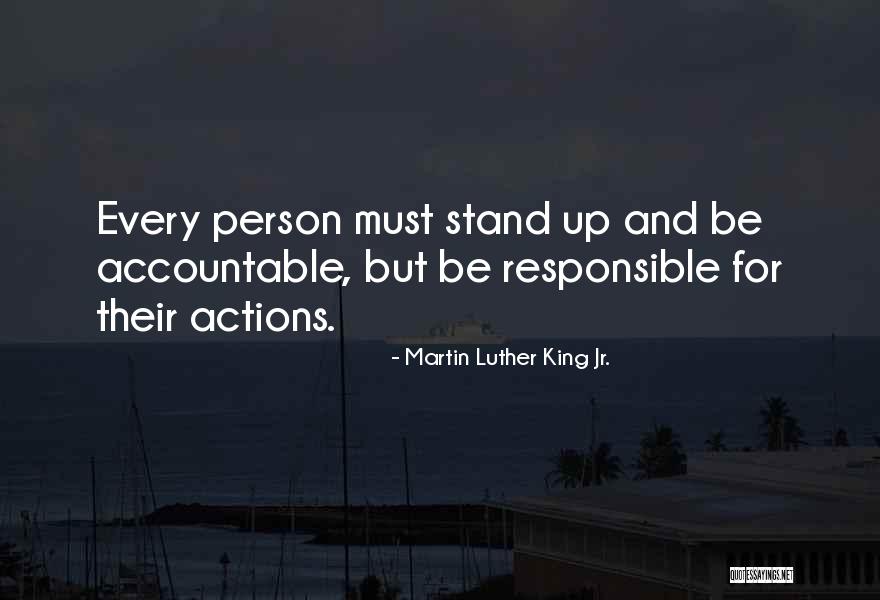 Every person must stand up and be accountable, but be responsible for their actions. — Martin Luther King Jr.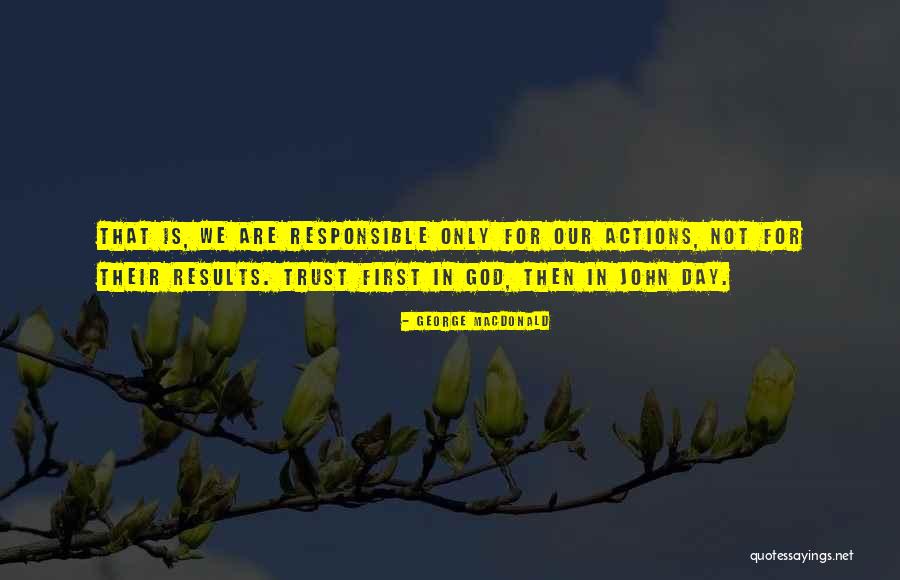 That is, we are responsible only for our actions, not for their results. Trust first in God, then in John Day. — George MacDonald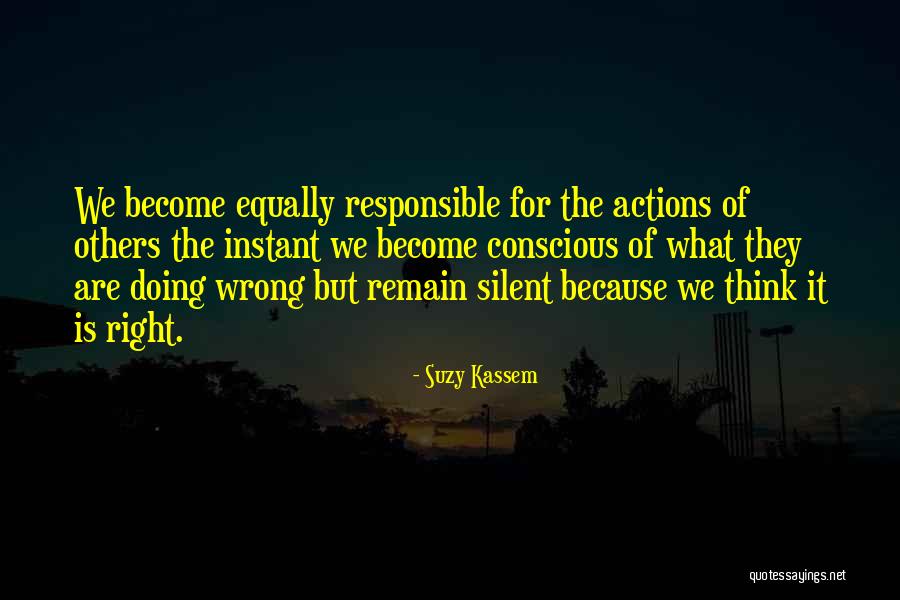 We become equally responsible for the actions of others the instant we become conscious of what they are doing wrong but remain silent because we think it is right. — Suzy Kassem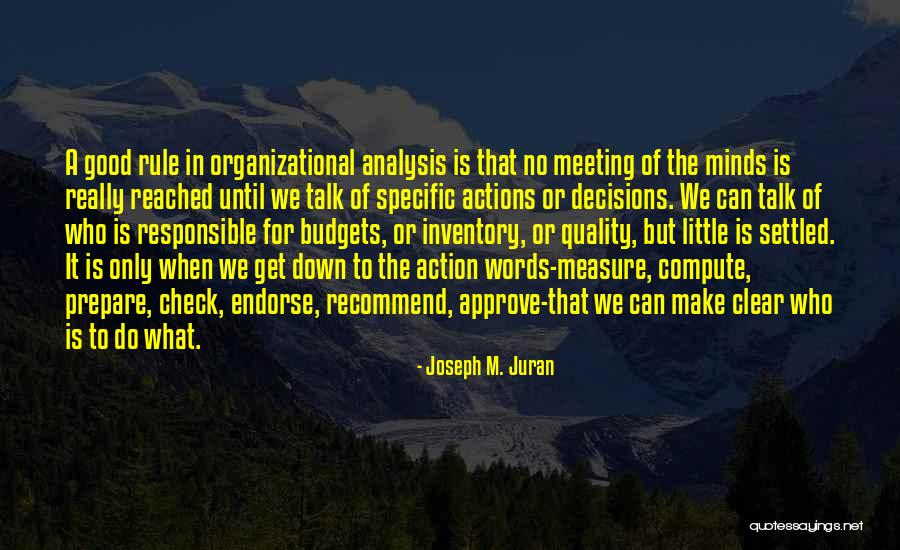 A good rule in organizational analysis is that no meeting of the minds is really reached until we talk of specific actions or decisions. We can talk of who is responsible for budgets, or inventory, or quality, but little is settled. It is only when we get down to the action words-measure, compute, prepare, check, endorse, recommend, approve-that we can make clear who is to do what. — Joseph M. Juran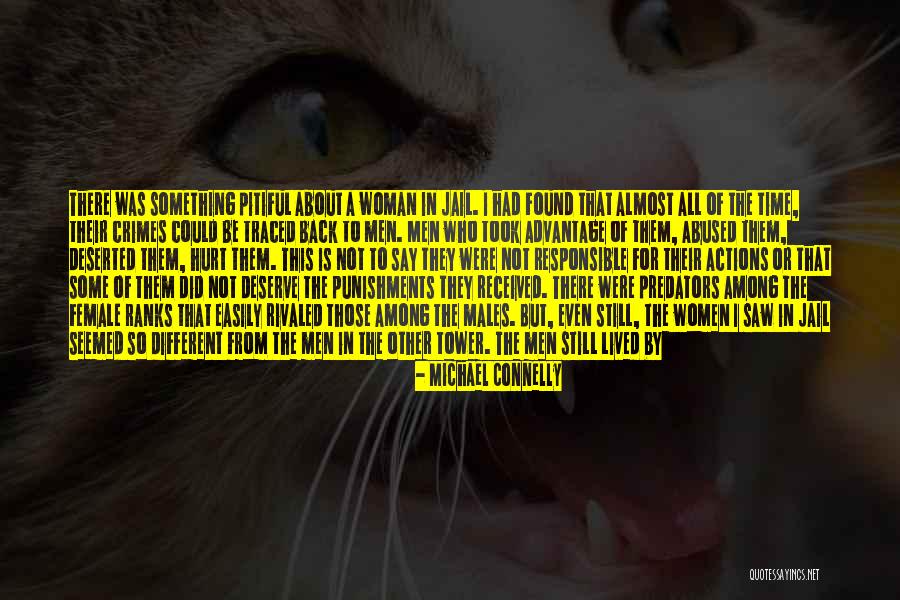 There was something pitiful about a woman in jail. I had found that almost all of the time, their crimes could be traced back to men. Men who took advantage of them, abused them, deserted them, hurt them. This is not to say they were not responsible for their actions or that some of them did not deserve the punishments they received. There were predators among the female ranks that easily rivaled those among the males. But, even still, the women I saw in jail seemed so different from the men in the other tower. The men still lived by wiles and strength. The women had nothing left by the time they locked the door on them. — Michael Connelly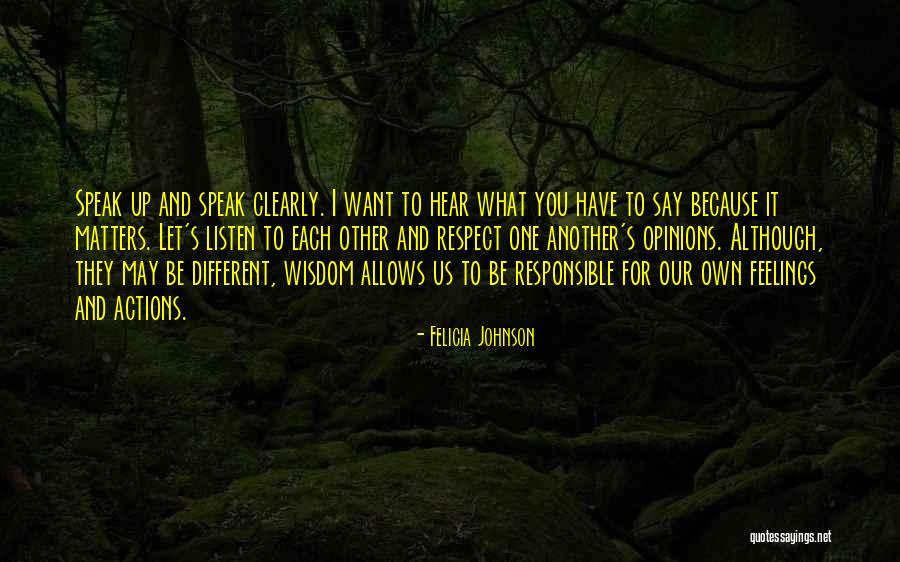 Speak up and speak clearly. I want to hear what you have to say because it matters. Let's listen to each other and respect one another's opinions. Although, they may be different, wisdom allows us to be responsible for our own feelings and actions. — Felicia Johnson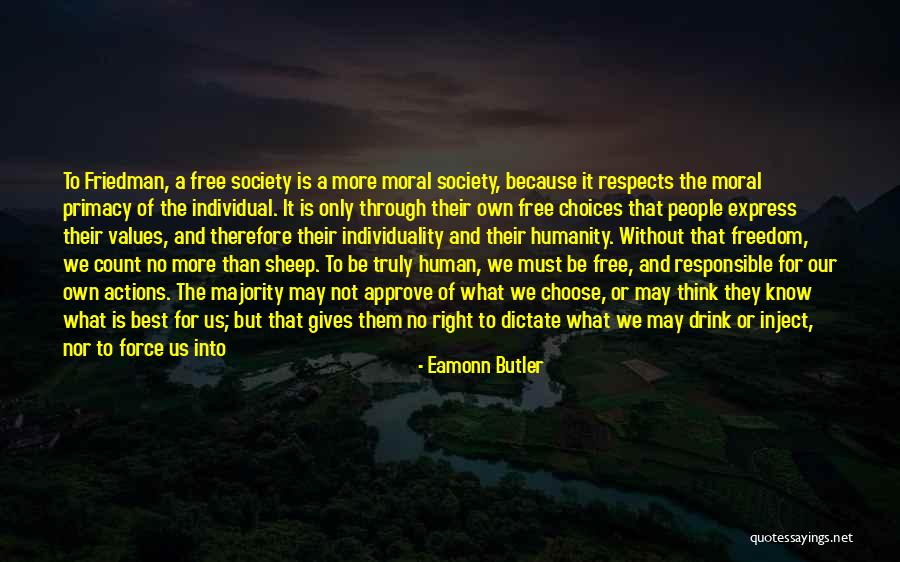 To Friedman, a free society is a more moral society, because it respects the moral primacy of the individual. It is only through their own free choices that people express their values, and therefore their individuality and their humanity. Without that freedom, we count no more than sheep. To be truly human, we must be free, and responsible for our own actions. The majority may not approve of what we choose, or may think they know what is best for us; but that gives them no right to dictate what we may drink or inject, nor to force us into military service, nor to steal our property and income for their own purposes. — Eamonn Butler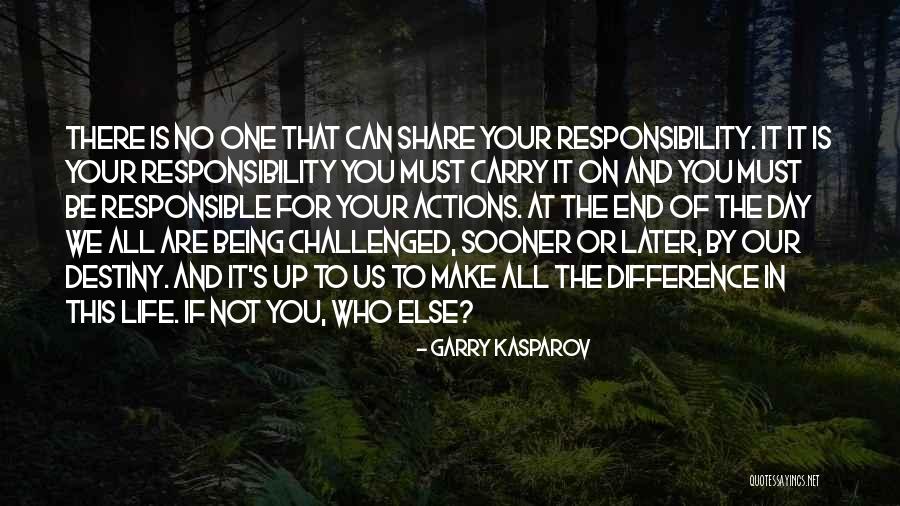 There is no one that can share your responsibility. It it is your responsibility you must carry it on and you must be responsible for your actions. At the end of the day we all are being challenged, sooner or later, by our destiny. And it's up to us to make all the difference in this life. If not you, who else? — Garry Kasparov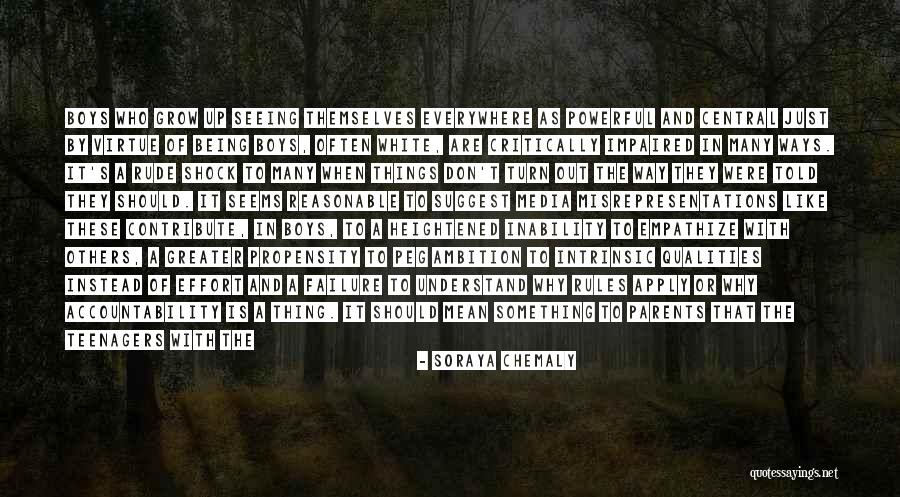 Boys who grow up seeing themselves everywhere as powerful and central just by virtue of being boys, often white, are critically impaired in many ways. It's a rude shock to many when things don't turn out the way they were told they should. It seems reasonable to suggest media misrepresentations like these contribute, in boys, to a heightened inability to empathize with others, a greater propensity to peg ambition to intrinsic qualities instead of effort and a failure to understand why rules apply or why accountability is a thing. It should mean something to parents that the teenagers with the highest likelihood of sexually assaulting a peer and feel no responsibility for their actions are young white boys from higher-income families. The real boy crisis we should be talking about is entitlement and outdated notions of masculinity, both of which are persistently responsible for leaving boys confused and unprepared for contemporary adulthood. — Soraya Chemaly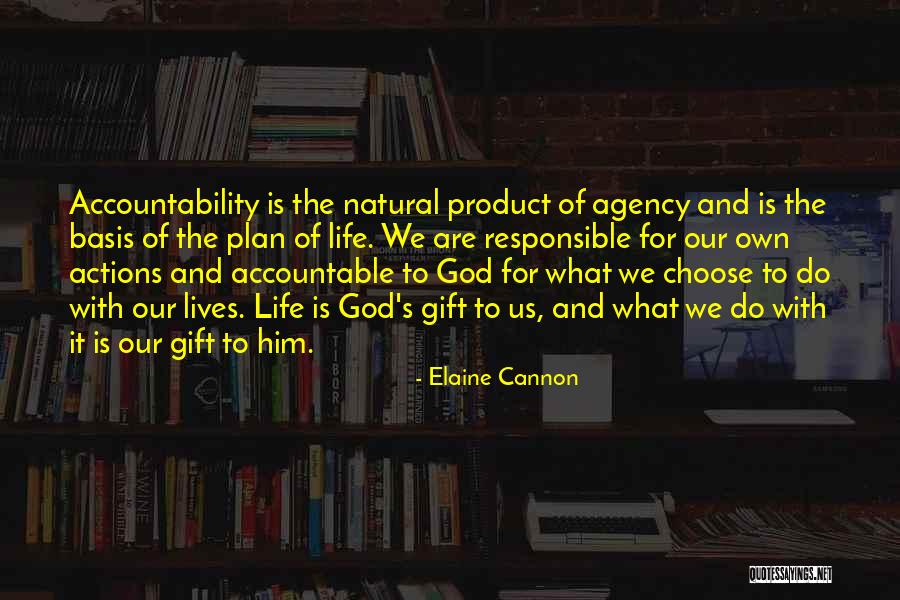 Accountability is the natural product of agency and is the basis of the plan of life. We are responsible for our own actions and accountable to God for what we choose to do with our lives. Life is God's gift to us, and what we do with it is our gift to him. — Elaine Cannon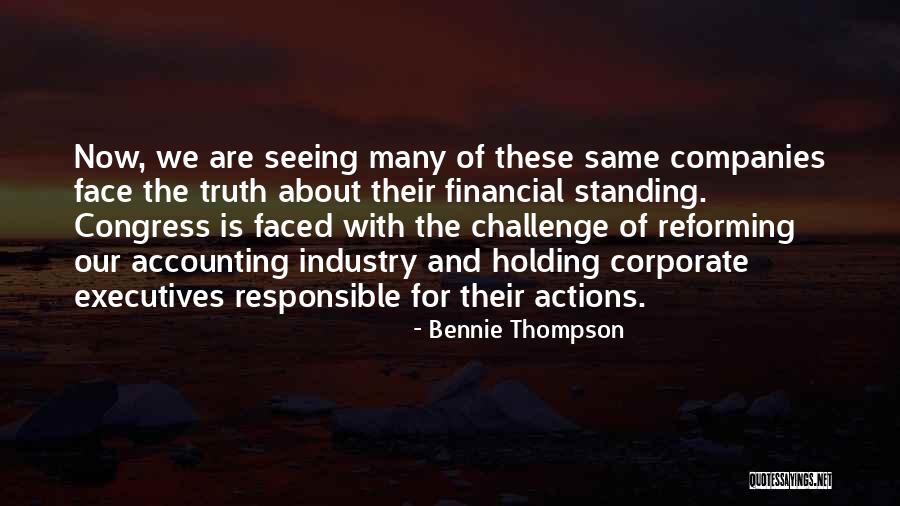 Now, we are seeing many of these same companies face the truth about their financial standing. Congress is faced with the challenge of reforming our accounting industry and holding corporate executives responsible for their actions. — Bennie Thompson