Relationship With Brother Quotes & Sayings
Enjoy reading and share 33 famous quotes about Relationship With Brother with everyone.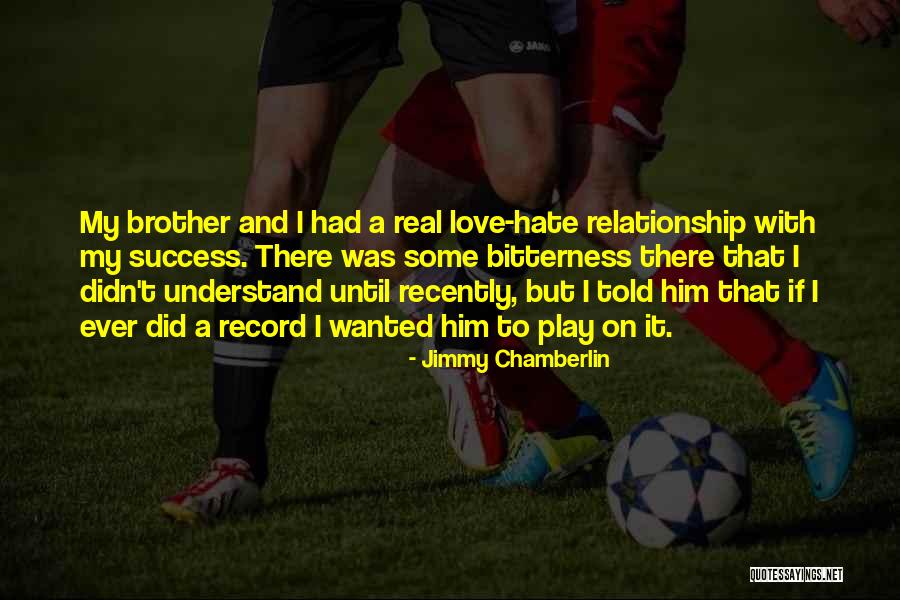 My brother and I had a real love-hate relationship with my success. There was some bitterness there that I didn't understand until recently, but I told him that if I ever did a record I wanted him to play on it. — Jimmy Chamberlin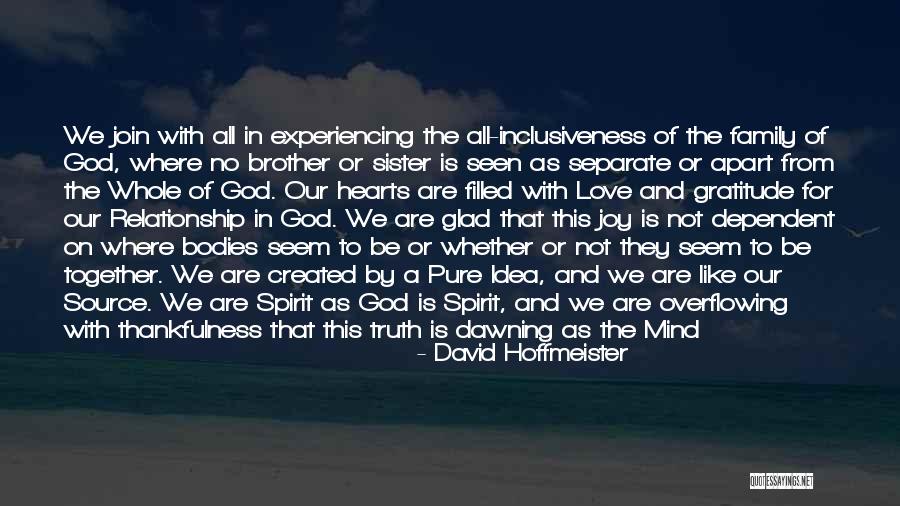 We join with all in experiencing the all-inclusiveness of the family of God, where no brother or sister is seen as separate or apart from the Whole of God. Our hearts are filled with Love and gratitude for our Relationship in God. We are glad that this joy is not dependent on where bodies seem to be or whether or not they seem to be together. We are created by a Pure Idea, and we are like our Source. We are Spirit as God is Spirit, and we are overflowing with thankfulness that this truth is dawning as the Mind we share. Our walk together is for the Purpose of accepting our Divine Source and laying aside all thought of the world as the source of anything. — David Hoffmeister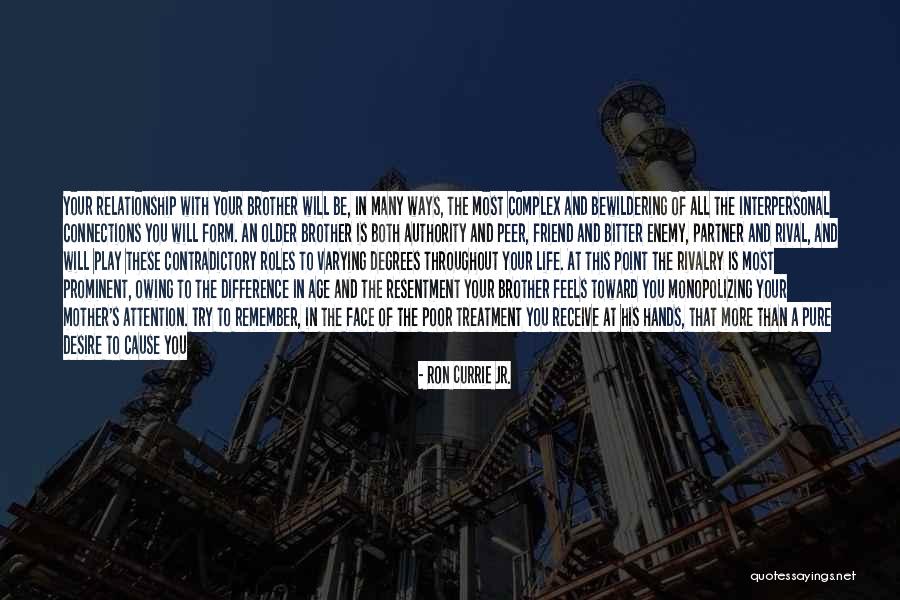 Your relationship with your brother will be, in many ways, the most complex and bewildering of all the interpersonal connections you will form. An older brother is both authority and peer, friend and bitter enemy, partner and rival, and will play these contradictory roles to varying degrees throughout your life. At this point the rivalry is most prominent, owing to the difference in age and the resentment your brother feels toward you monopolizing your mother's attention. Try to remember, in the face of the poor treatment you receive at his hands, that more than a pure desire to cause you harm or pain, this is an effort on his part to win back some of that attention, even if it's only through being scolded and punished. — Ron Currie Jr.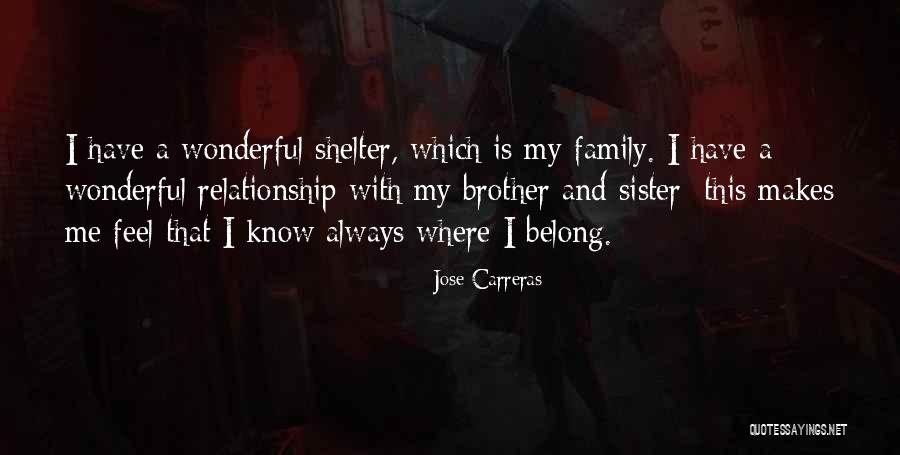 I have a wonderful shelter, which is my family. I have a wonderful relationship with my brother and sister; this makes me feel that I know always where I belong. — Jose Carreras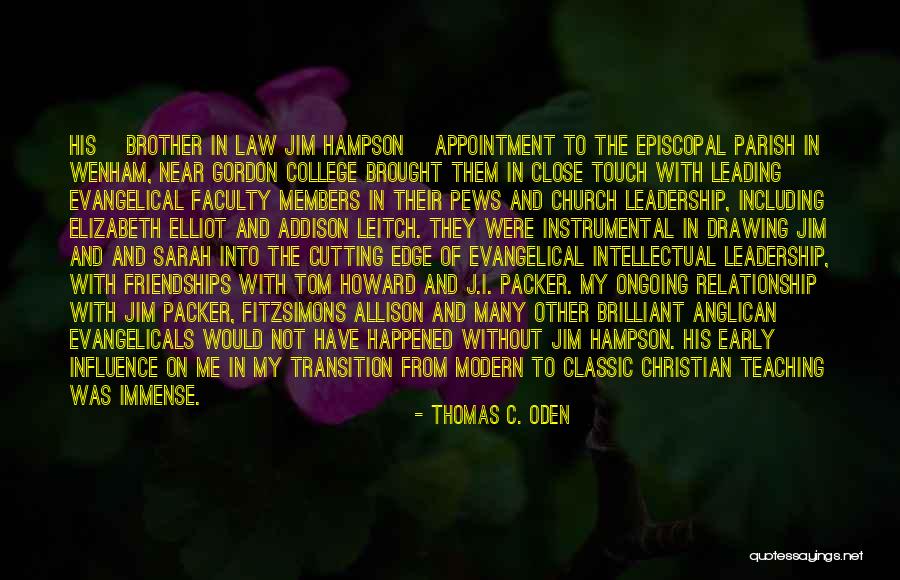 His [brother in law Jim Hampson] appointment to the Episcopal parish in Wenham, near Gordon College brought them in close touch with leading evangelical faculty members in their pews and church leadership, including Elizabeth Elliot and Addison Leitch. They were instrumental in drawing Jim and and Sarah into the cutting edge of evangelical intellectual leadership, with friendships with Tom Howard and J.I. Packer. My ongoing relationship with Jim Packer, FitzSimons Allison and many other brilliant Anglican evangelicals would not have happened without Jim Hampson. His early influence on me in my transition from modern to classic Christian teaching was immense. While I was trying to demythologize Scripture, he was taking its plain meaning seriously. His strong preaching led him to become one of the founding sponsors and supporters of Trinity School of Ministry in Abridge, Pennsylvania ... — Thomas C. Oden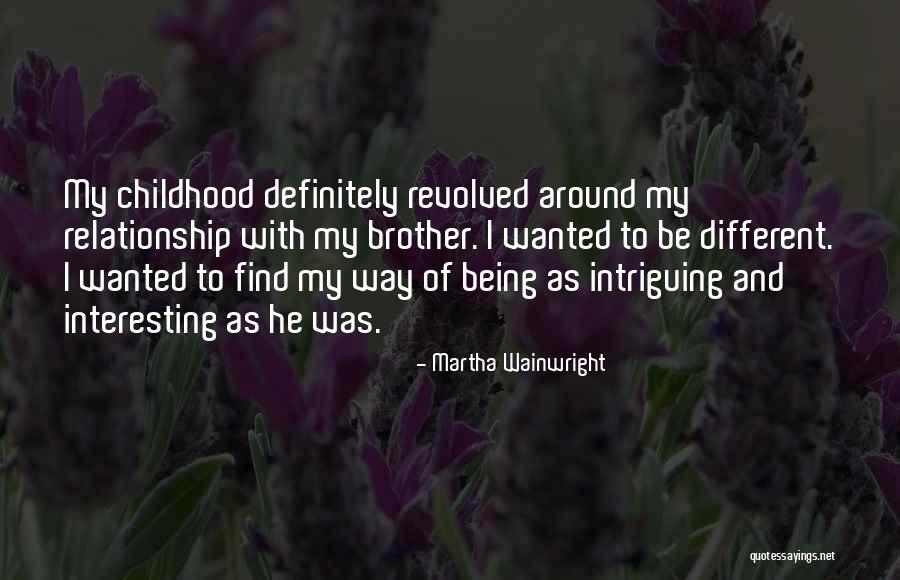 My childhood definitely revolved around my relationship with my brother. I wanted to be different. I wanted to find my way of being as intriguing and interesting as he was. — Martha Wainwright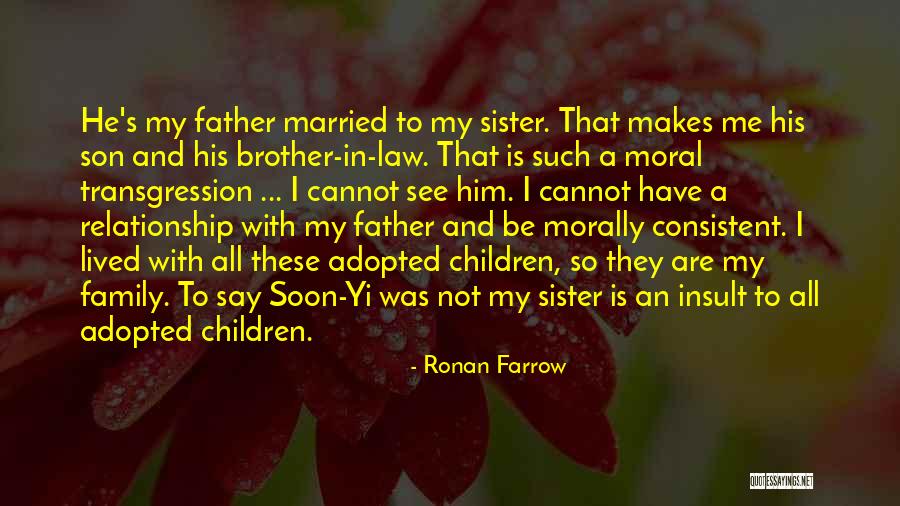 He's my father married to my sister. That makes me his son and his brother-in-law. That is such a moral transgression ... I cannot see him. I cannot have a relationship with my father and be morally consistent. I lived with all these adopted children, so they are my family. To say Soon-Yi was not my sister is an insult to all adopted children. — Ronan Farrow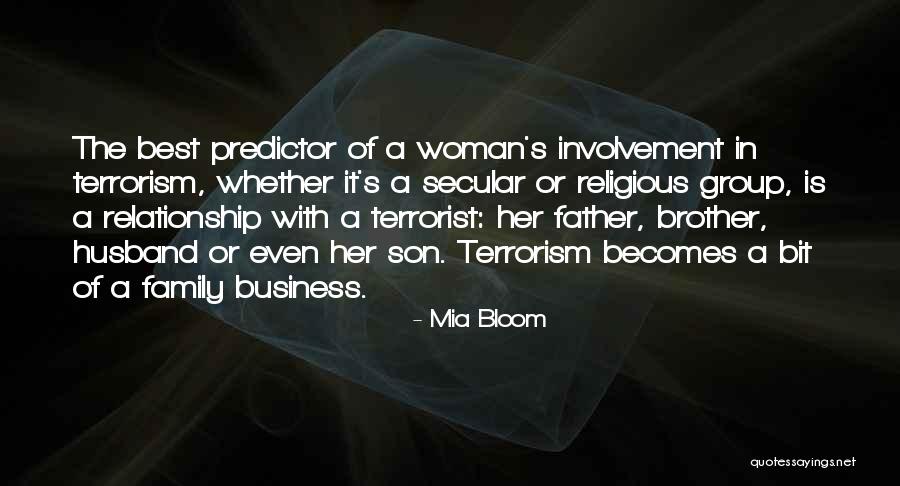 The best predictor of a woman's involvement in terrorism, whether it's a secular or religious group, is a relationship with a terrorist: her father, brother, husband or even her son. Terrorism becomes a bit of a family business. — Mia Bloom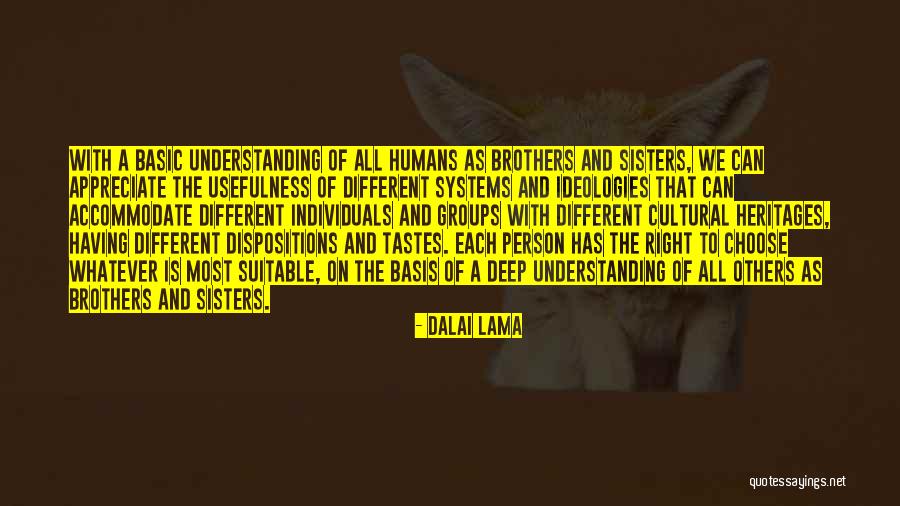 With a basic understanding of all humans as brothers and sisters, we can appreciate the usefulness of different systems and ideologies that can accommodate different individuals and groups with different cultural heritages, having different dispositions and tastes. Each person has the right to choose whatever is most suitable, on the basis of a deep understanding of all others as brothers and sisters. — Dalai Lama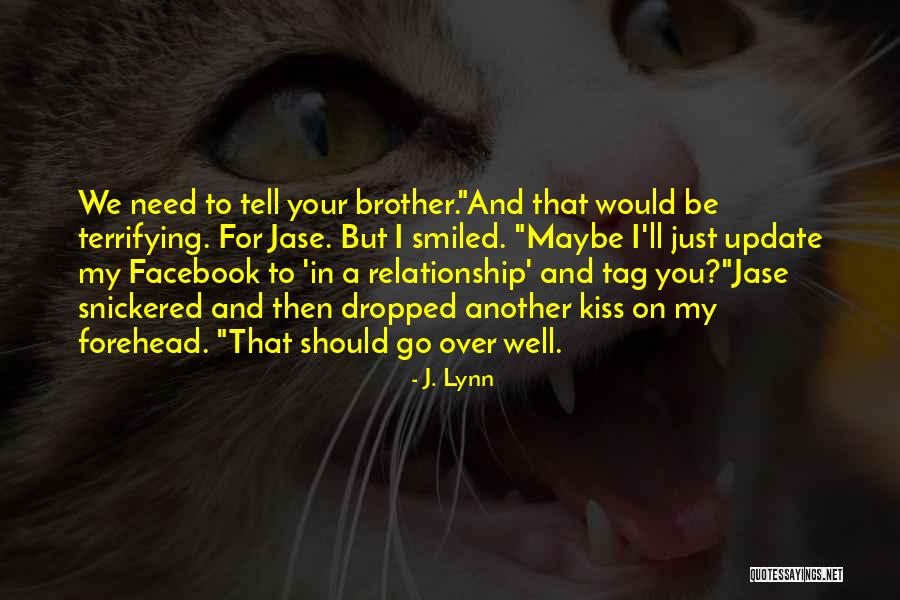 We need to tell your brother."
And that would be terrifying. For Jase. But I smiled. "Maybe I'll just update my Facebook to 'in a relationship' and tag you?"
Jase snickered and then dropped another kiss on my forehead. "That should go over well. — J. Lynn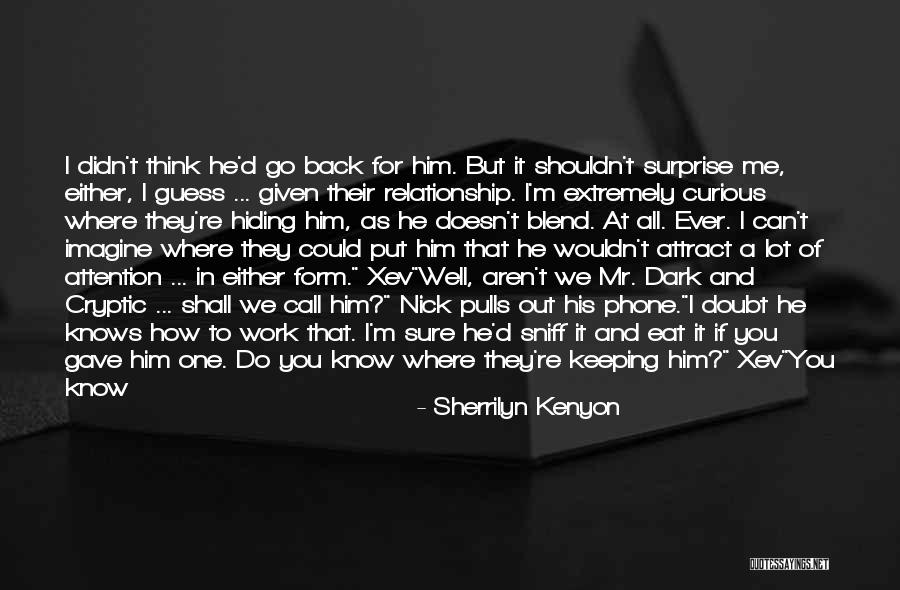 I didn't think he'd go back for him. But it shouldn't surprise me, either, I guess ... given their relationship. I'm extremely curious where they're hiding him, as he doesn't blend. At all. Ever. I can't imagine where they could put him that he wouldn't attract a lot of attention ... in either form." Xev
"Well, aren't we Mr. Dark and Cryptic ... shall we call him?" Nick pulls out his phone.
"I doubt he knows how to work that. I'm sure he'd sniff it and eat it if you gave him one. Do you know where they're keeping him?" Xev
"You know how akri-Caleb's house is up off the ground and gots all that room under it for storage?" Simi
"Oh dear Gods, he's in my wine cellar? Seriously? I'm thinking I should have made amends with my brother sooner and moved him into my house to watch the puca. What kind of mutant life form do I have living in my cellar? And do I need to fumigate my house?"" Caleb — Sherrilyn Kenyon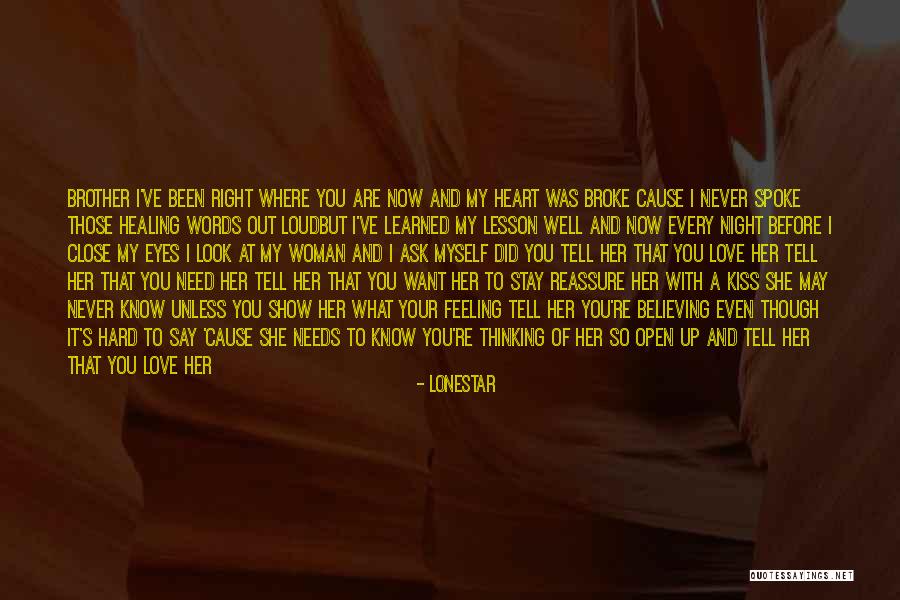 Brother I've been right where you are now
And my heart was broke
Cause I never spoke
Those healing words out loud

But I've learned my lesson well
And now every night
Before I close my eyes
I look at my woman and
I ask myself did you

Tell her that you love her
Tell her that you need her
Tell her that you want her to stay
Reassure her with a kiss
She may never know unless you
Show her what your feeling
Tell her you're believing
Even though it's hard to say
'Cause she needs to know you're thinking of her
So open up and tell her that you love her — Lonestar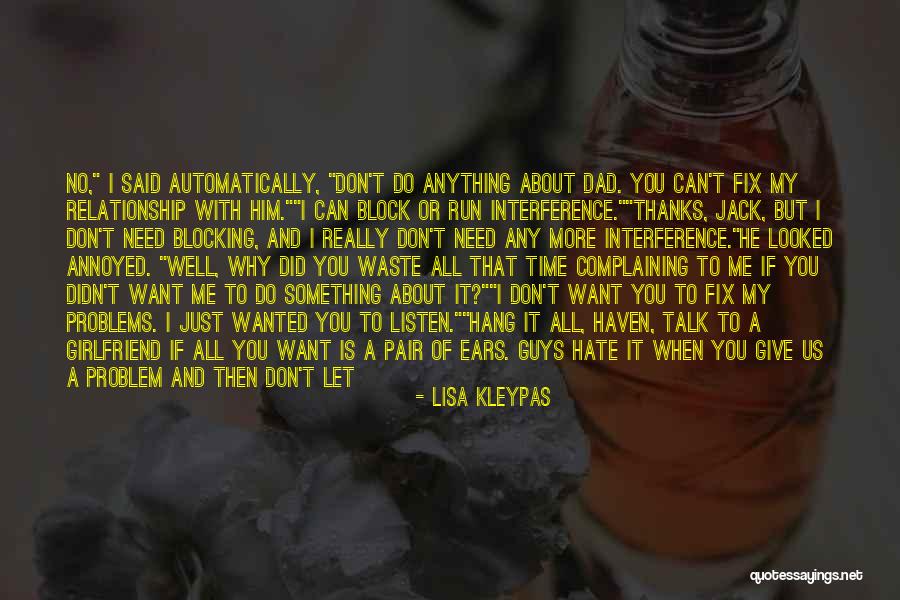 No," I said automatically, "don't do anything about Dad. You can't fix my relationship with him."
"I can block or run interference."
"Thanks, Jack, but I don't need blocking, and I really don't need any more interference."
He looked annoyed. "Well, why did you waste all that time complaining to me if you didn't want me to do something about it?"
"I don't want you to fix my problems. I just wanted you to listen."
"Hang it all, Haven, talk to a girlfriend if all you want is a pair of ears. Guys hate it when you give us a problem and then don't let us do something about it. It makes us feel bad. And then the only way to make ourselves feel better is to rip a phone book in two or blow something up. So let's get this straight - I'm not a good listener. I'm a guy."
"Yes you are." I stood and smiled. "Want to buy me a drink at an after work bar?"
"Now you're talking," my brother said, and we left the office. — Lisa Kleypas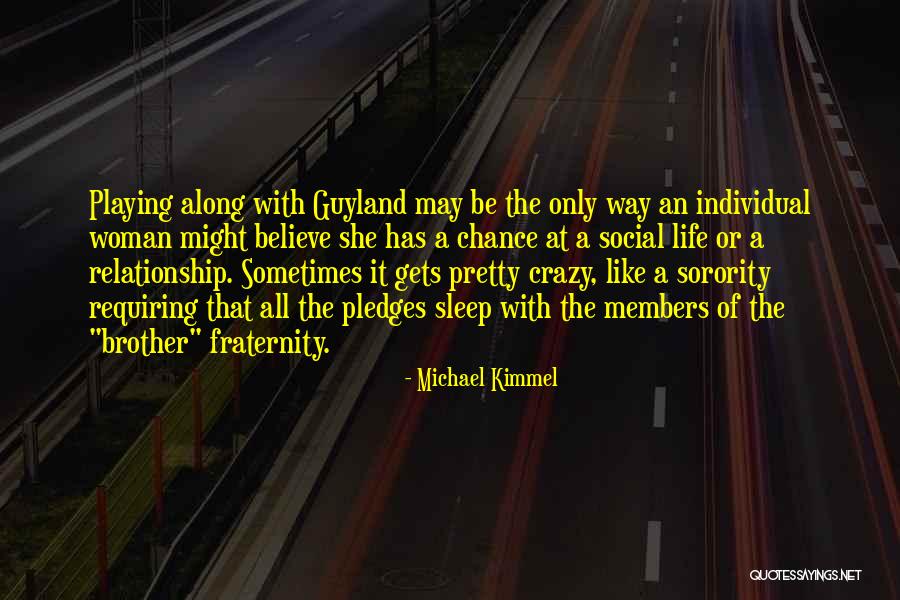 Playing along with Guyland may be the only way an individual woman might believe she has a chance at a social life or a relationship. Sometimes it gets pretty crazy, like a sorority requiring that all the pledges sleep with the members of the "brother" fraternity. — Michael Kimmel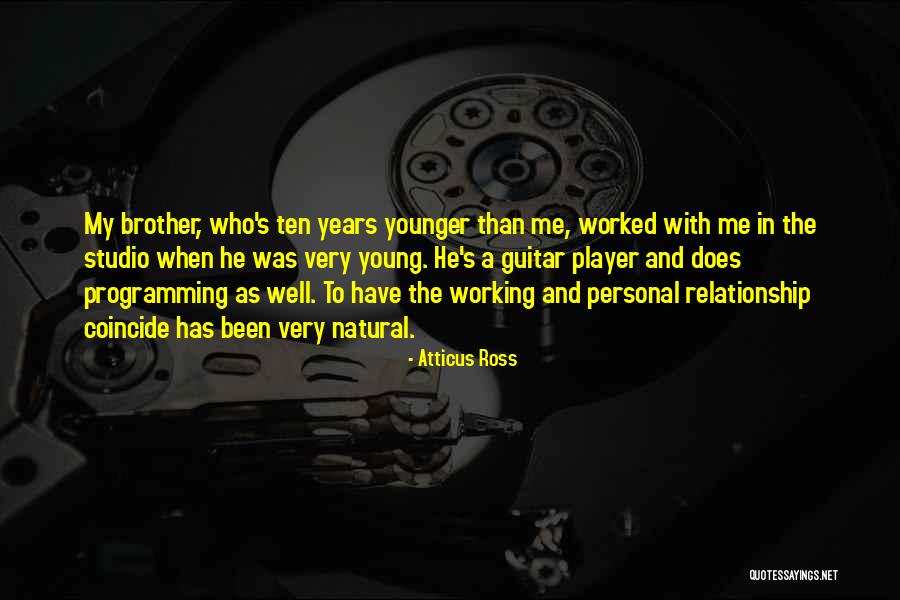 My brother, who's ten years younger than me, worked with me in the studio when he was very young. He's a guitar player and does programming as well. To have the working and personal relationship coincide has been very natural. — Atticus Ross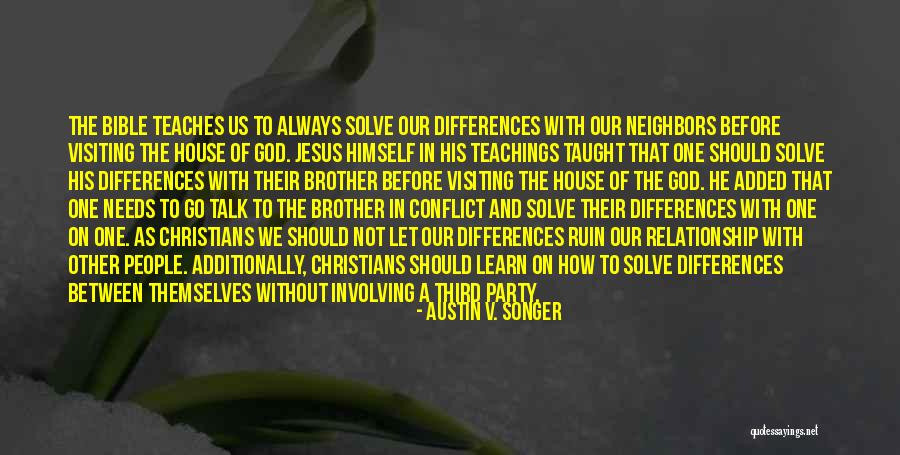 The bible teaches us to always solve our differences with our neighbors before visiting the house of God. Jesus himself in his teachings taught that one should solve his differences with their brother before visiting the house of the God. He added that one needs to go talk to the brother in conflict and solve their differences with one on one. As Christians we should not let our differences ruin our relationship with other people. Additionally, Christians should learn on how to solve differences between themselves without involving a third party. — Austin V. Songer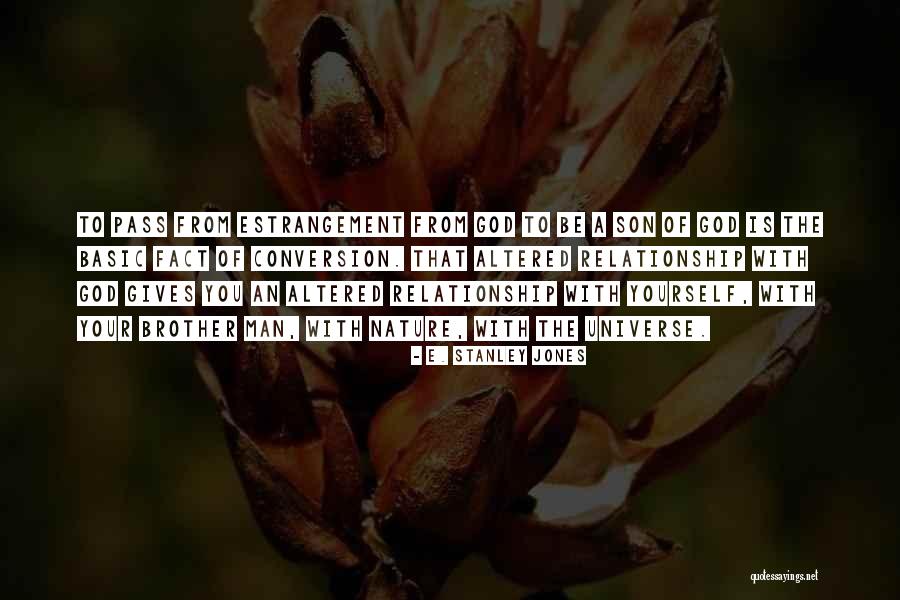 To pass from estrangement from God to be a son of God is the basic fact of conversion. That altered relationship with God gives you an altered relationship with yourself, with your brother man, with nature, with the universe. — E. Stanley Jones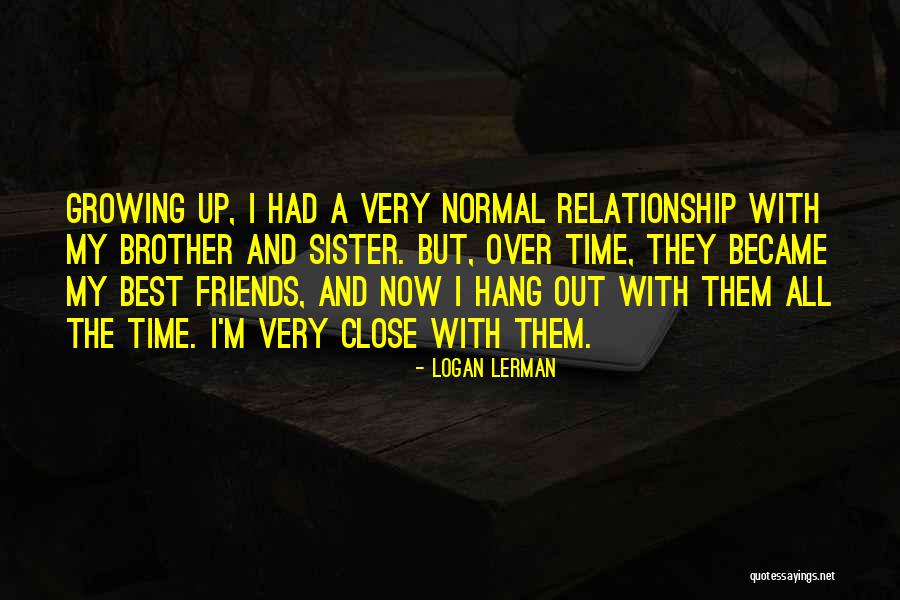 Growing up, I had a very normal relationship with my brother and sister. But, over time, they became my best friends, and now I hang out with them all the time. I'm very close with them. — Logan Lerman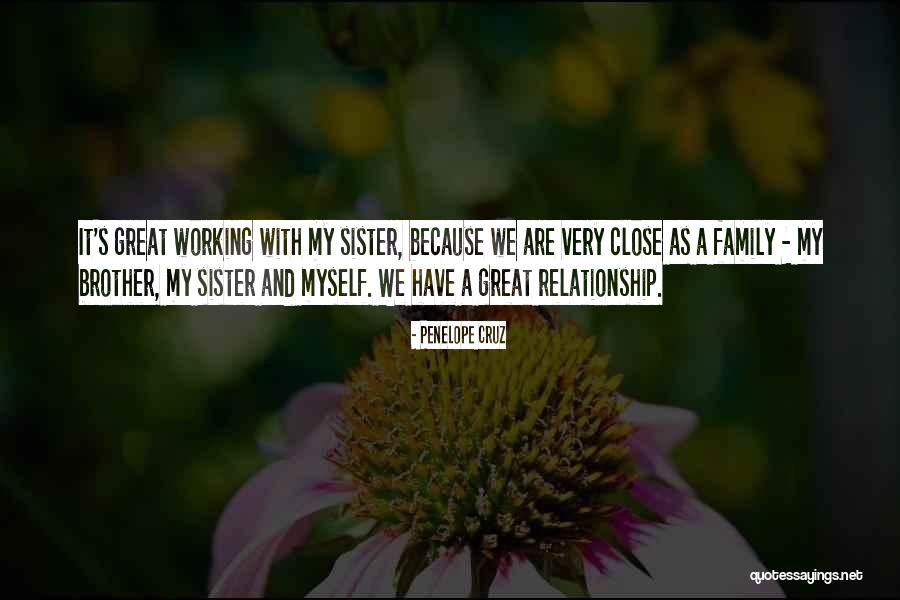 It's great working with my sister, because we are very close as a family - my brother, my sister and myself. We have a great relationship. — Penelope Cruz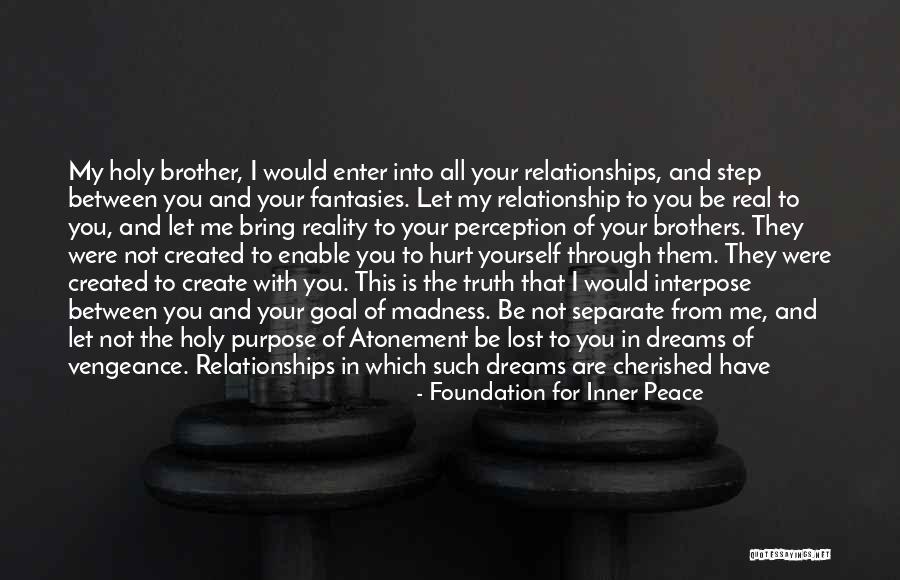 My holy brother, I would enter into all your relationships, and step between you and your fantasies. Let my relationship to you be real to you, and let me bring reality to your perception of your brothers. They were not created to enable you to hurt yourself through them. They were created to create with you. This is the truth that I would interpose between you and your goal of madness. Be not separate from me, and let not the holy purpose of Atonement be lost to you in dreams of vengeance. Relationships in which such dreams are cherished have excluded me. Let me enter in the Name of God and bring you peace, that you may offer peace to me. — Foundation For Inner Peace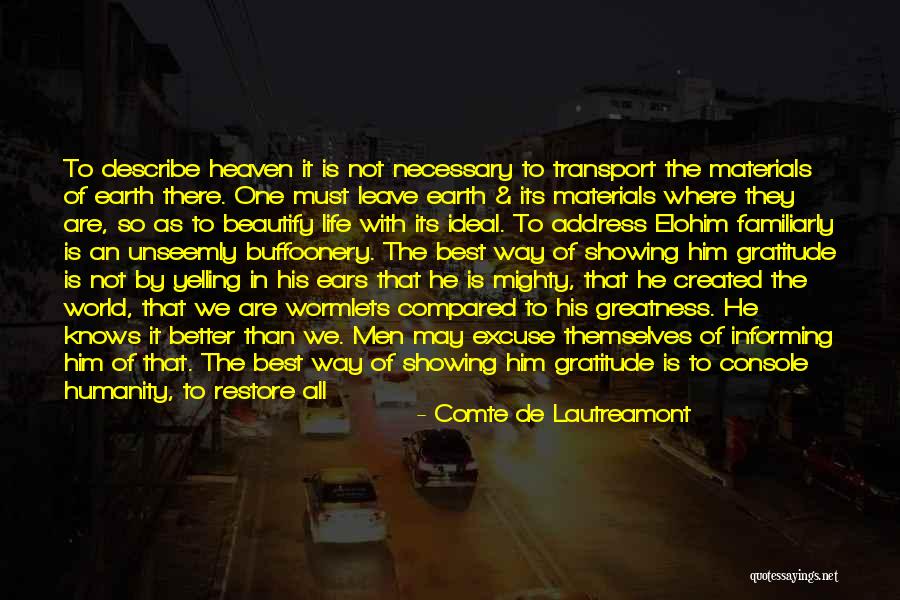 To describe heaven it is not necessary to transport the materials of earth there. One must leave earth & its materials where they are, so as to beautify life with its ideal. To address Elohim familiarly is an unseemly buffoonery. The best way of showing him gratitude is not by yelling in his ears that he is mighty, that he created the world, that we are wormlets compared to his greatness. He knows it better than we. Men may excuse themselves of informing him of that. The best way of showing him gratitude is to console humanity, to restore all to it, take it by the hand & treat it like a brother. This is more genuine. — Comte De Lautreamont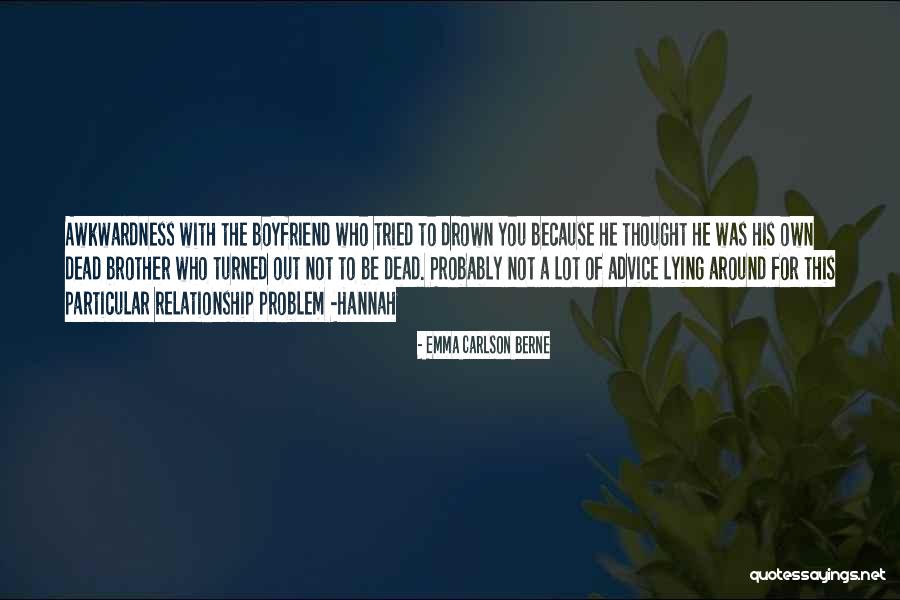 Awkwardness with the boyfriend who tried to drown you because he thought he was his own dead brother who turned out not to be dead. Probably not a lot of advice lying around for this particular relationship problem -Hannah — Emma Carlson Berne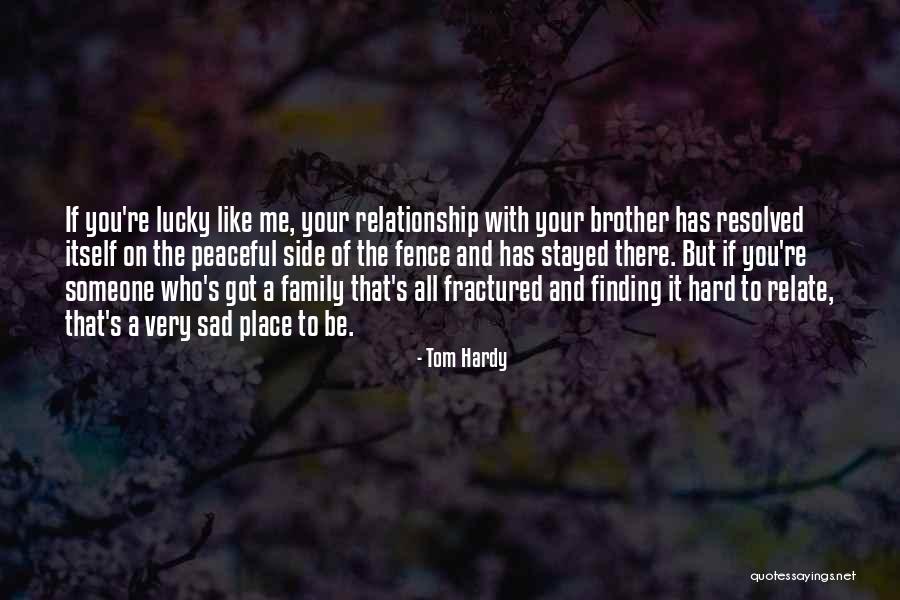 If you're lucky like me, your relationship with your brother has resolved itself on the peaceful side of the fence and has stayed there. But if you're someone who's got a family that's all fractured and finding it hard to relate, that's a very sad place to be. — Tom Hardy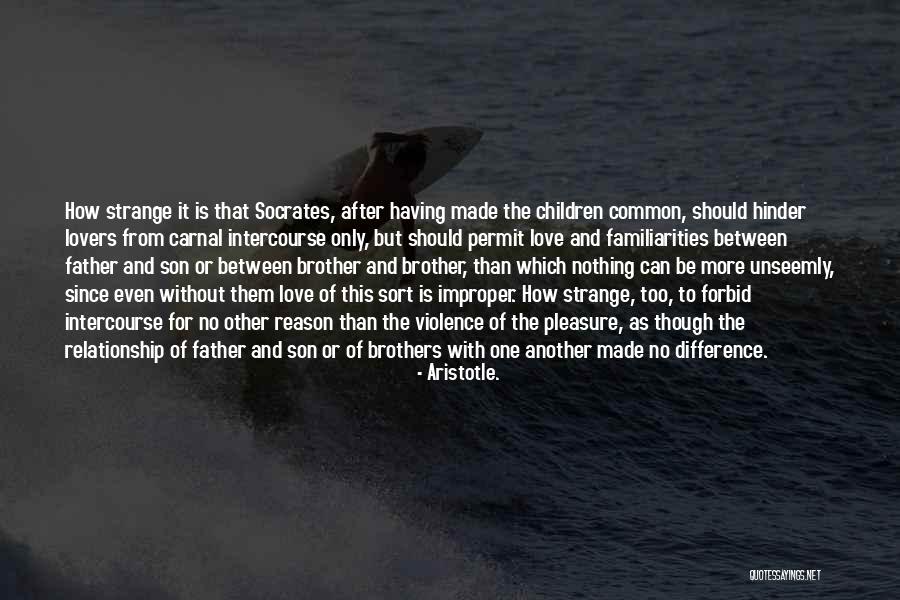 How strange it is that Socrates, after having made the children common, should hinder lovers from carnal intercourse only, but should permit love and familiarities between father and son or between brother and brother, than which nothing can be more unseemly, since even without them love of this sort is improper. How strange, too, to forbid intercourse for no other reason than the violence of the pleasure, as though the relationship of father and son or of brothers with one another made no difference. — Aristotle.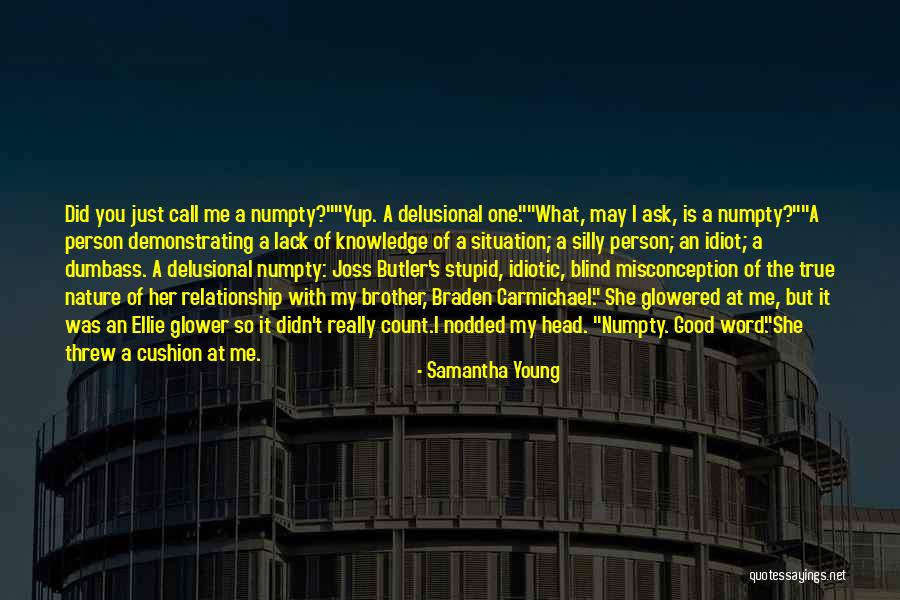 Did you just call me a numpty?"
"Yup. A delusional one."
"What, may I ask, is a numpty?"
"A person demonstrating a lack of knowledge of a situation; a silly person; an idiot; a dumbass. A delusional numpty: Joss Butler's stupid, idiotic, blind misconception of the true nature of her relationship with my brother, Braden Carmichael." She glowered at me, but it was an Ellie glower so it didn't really count.
I nodded my head. "Numpty. Good word."
She threw a cushion at me. — Samantha Young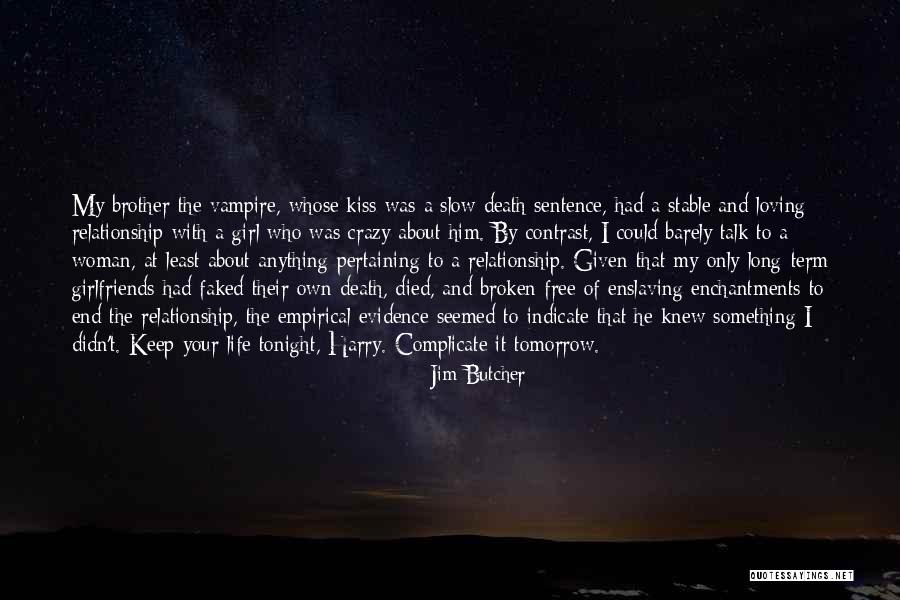 My brother the vampire, whose kiss was a slow death sentence, had a stable and loving relationship with a girl who was crazy about him. By contrast, I could barely talk to a woman, at least about anything pertaining to a relationship. Given that my only long-term girlfriends had faked their own death, died, and broken free of enslaving enchantments to end the relationship, the empirical evidence seemed to indicate that he knew something I didn't. Keep your life tonight, Harry. Complicate it tomorrow. — Jim Butcher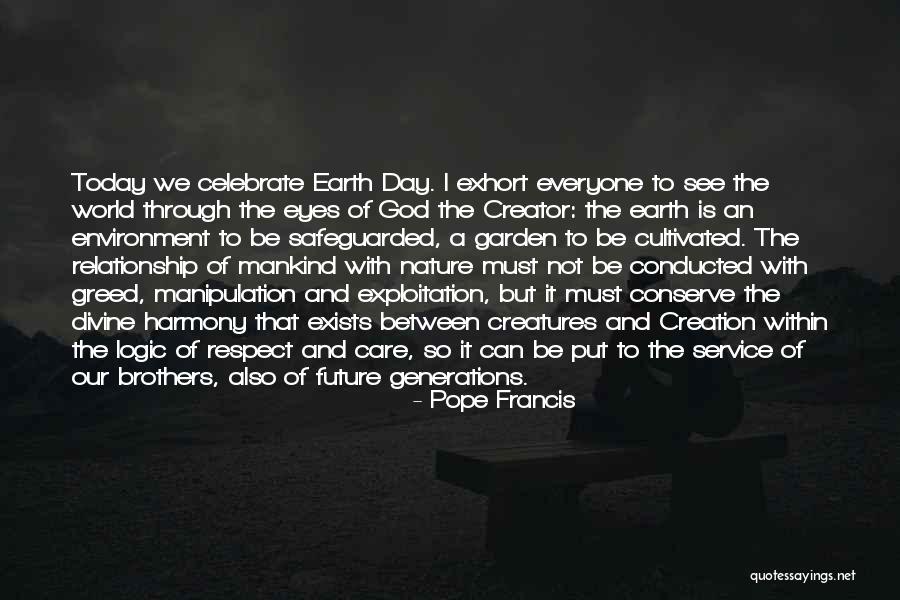 Today we celebrate Earth Day. I exhort everyone to see the world through the eyes of God the Creator: the earth is an environment to be safeguarded, a garden to be cultivated. The relationship of mankind with nature must not be conducted with greed, manipulation and exploitation, but it must conserve the divine harmony that exists between creatures and Creation within the logic of respect and care, so it can be put to the service of our brothers, also of future generations. — Pope Francis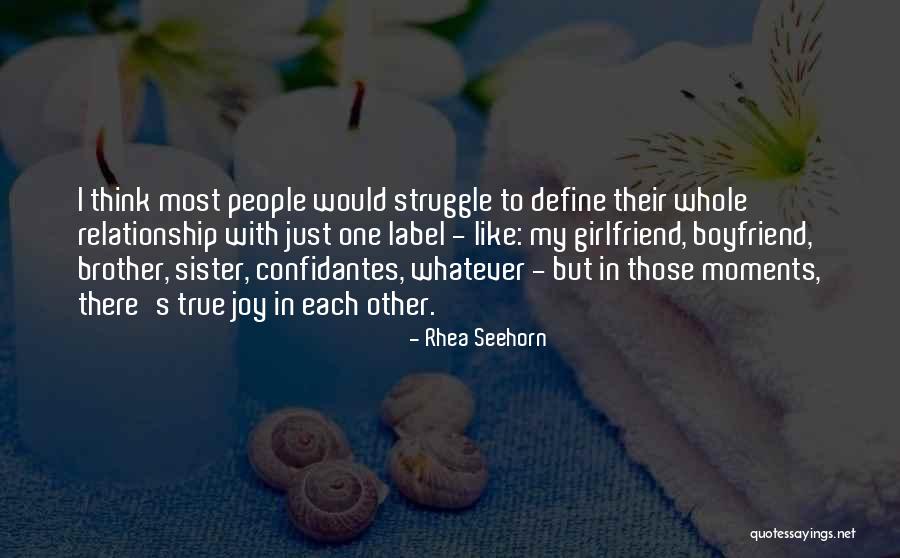 I think most people would struggle to define their whole relationship with just one label - like: my girlfriend, boyfriend, brother, sister, confidantes, whatever - but in those moments, there's true joy in each other. — Rhea Seehorn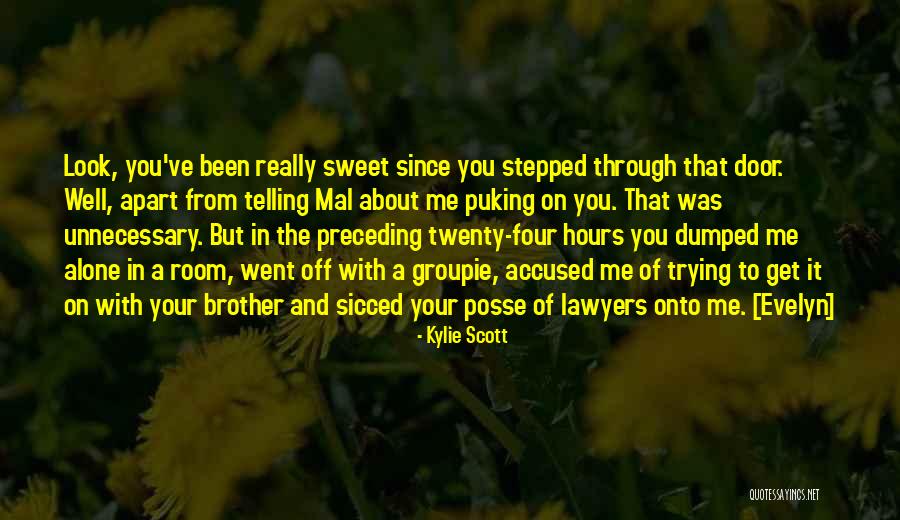 Look, you've been really sweet since you stepped through that door. Well, apart from telling Mal about me puking on you. That was unnecessary. But in the preceding twenty-four hours you dumped me alone in a room, went off with a groupie, accused me of trying to get it on with your brother and sicced your posse of lawyers onto me. [Evelyn] — Kylie Scott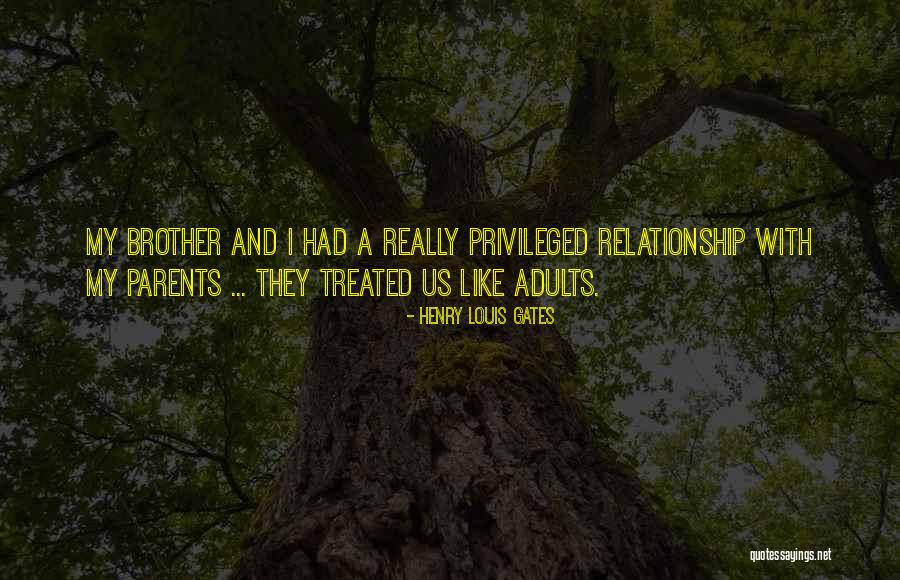 My brother and I had a really privileged relationship with my parents ... They treated us like adults. — Henry Louis Gates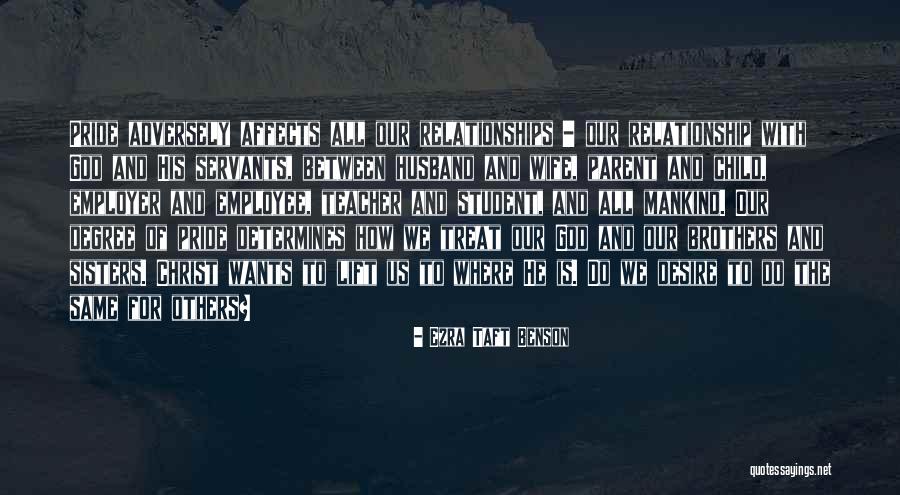 Pride adversely affects all our relationships - our relationship with God and His servants, between husband and wife, parent and child, employer and employee, teacher and student, and all mankind. Our degree of pride determines how we treat our God and our brothers and sisters. Christ wants to lift us to where He is. Do we desire to do the same for others? — Ezra Taft Benson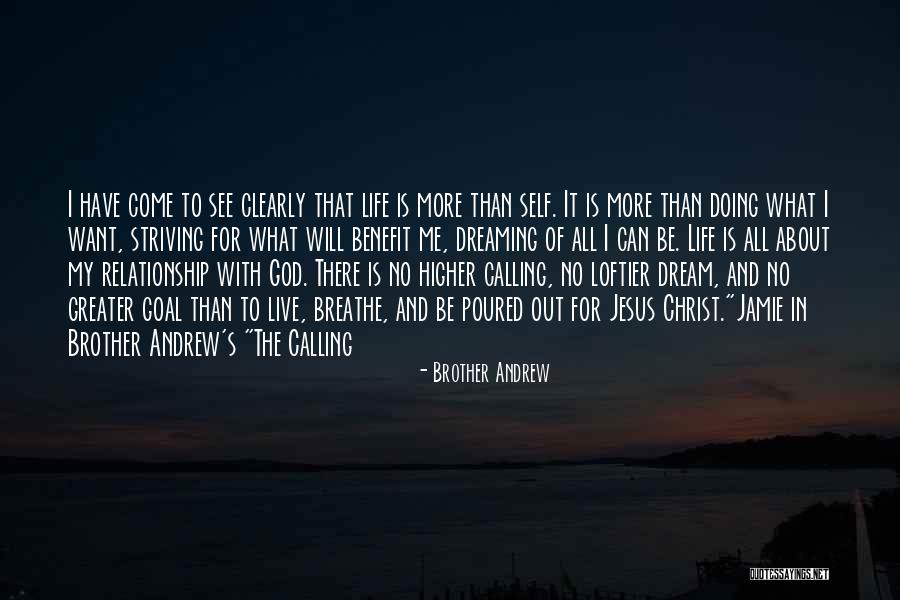 I have come to see clearly that life is more than self. It is more than doing what I want, striving for what will benefit me, dreaming of all I can be. Life is all about my relationship with God. There is no higher calling, no loftier dream, and no greater goal than to live, breathe, and be poured out for Jesus Christ."
Jamie in Brother Andrew's "The Calling — Brother Andrew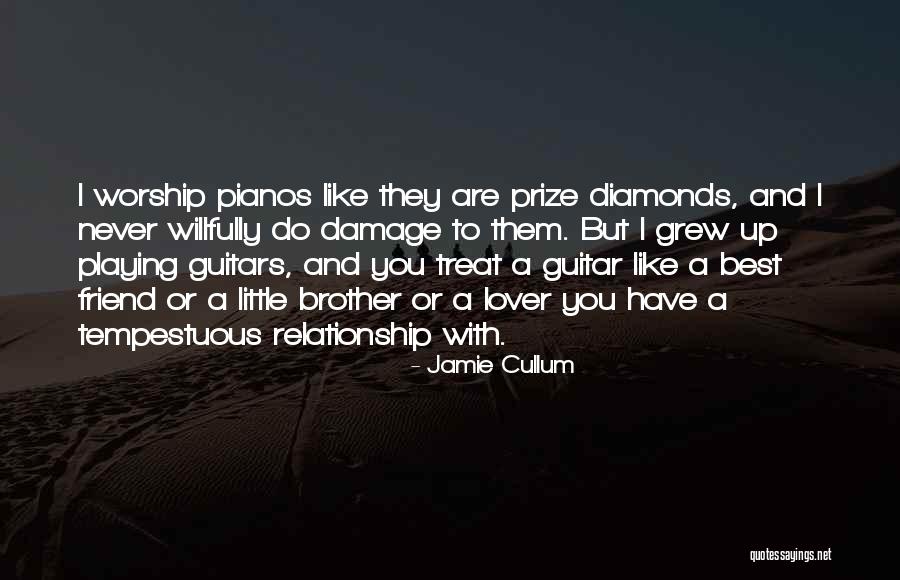 I worship pianos like they are prize diamonds, and I never willfully do damage to them. But I grew up playing guitars, and you treat a guitar like a best friend or a little brother or a lover you have a tempestuous relationship with. — Jamie Cullum