Quotes & Sayings About Accept Me For Who I Am
Enjoy reading and share 41 famous quotes about Accept Me For Who I Am with everyone.
Top Accept Me For Who I Am Quotes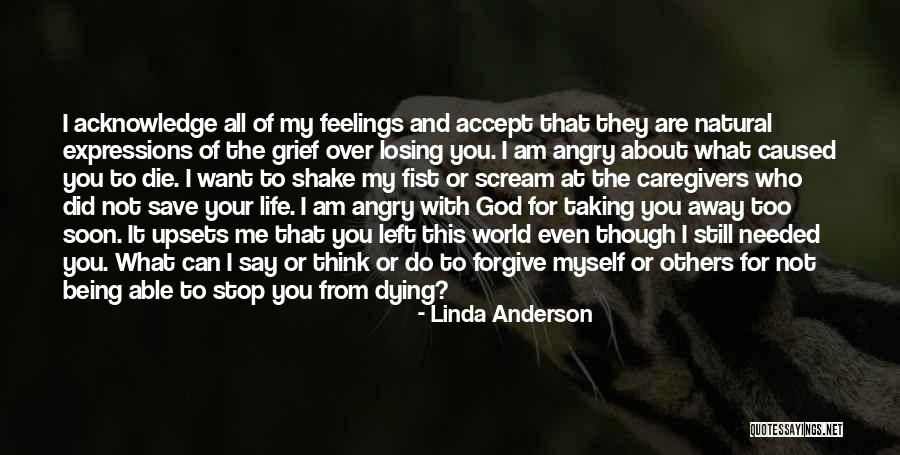 I acknowledge all of my feelings and accept that they are natural expressions of the grief over losing you. I am angry about what caused you to die. I want to shake my fist or scream at the caregivers who did not save your life. I am angry with God for taking you away too soon. It upsets me that you left this world even though I still needed you. What can I say or think or do to forgive myself or others for not being able to stop you from dying? — Linda Anderson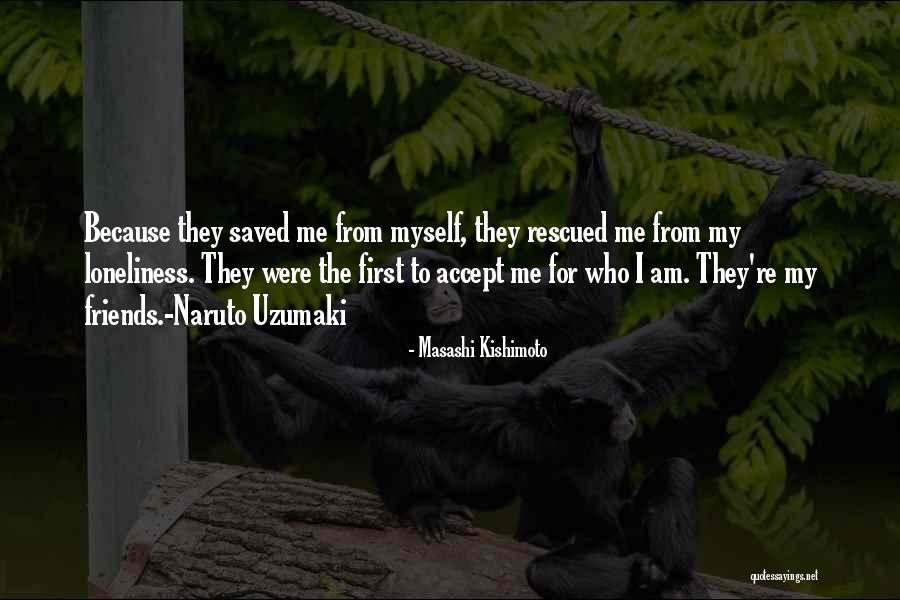 Because they saved me from myself, they rescued me from my loneliness. They were the first to accept me for who I am. They're my friends.
-Naruto Uzumaki — Masashi Kishimoto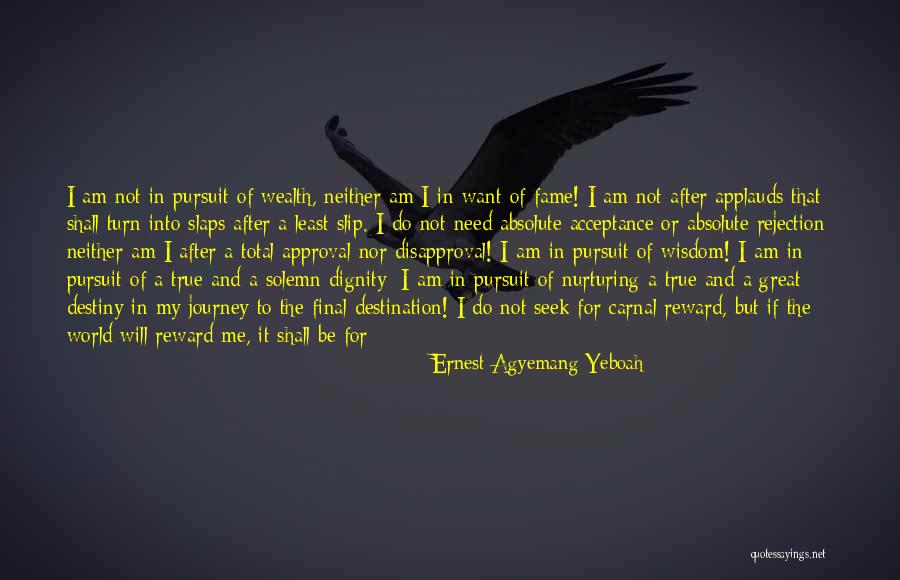 I am not in pursuit of wealth, neither am I in want of fame! I am not after applauds that shall turn into slaps after a least slip. I do not need absolute acceptance or absolute rejection; neither am I after a total approval nor disapproval! I am in pursuit of wisdom! I am in pursuit of a true and a solemn dignity; I am in pursuit of nurturing a true and a great destiny in my journey to the final destination! I do not seek for carnal reward, but if the world will reward me, it shall be for good; If the world will accept who I am as I am and what I stand for, fine, if not, I only look up to my Heavenly Father to accomplish a solemn duty for a solemn reward! — Ernest Agyemang Yeboah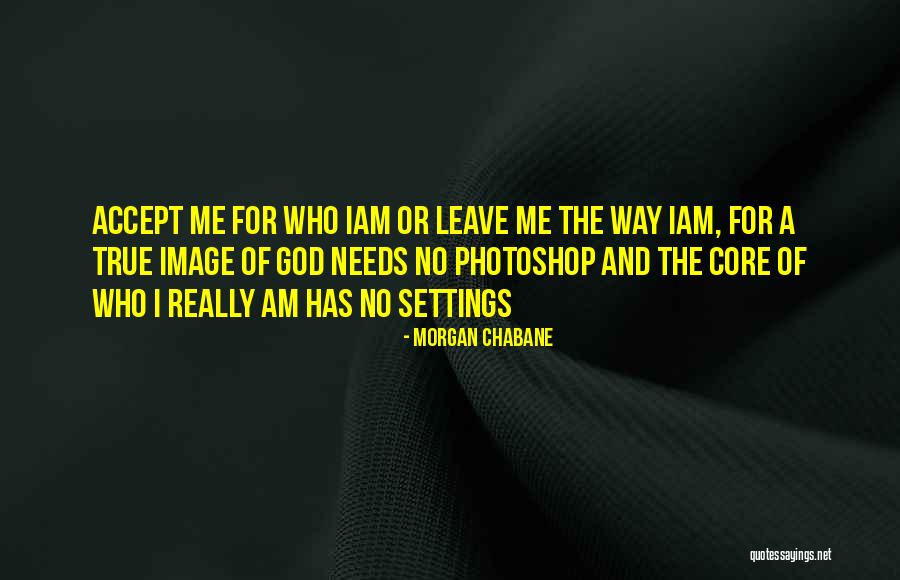 Accept me for who iam or leave me the way iam, for a true image of God needs no Photoshop and the core of who i really am has no settings — Morgan Chabane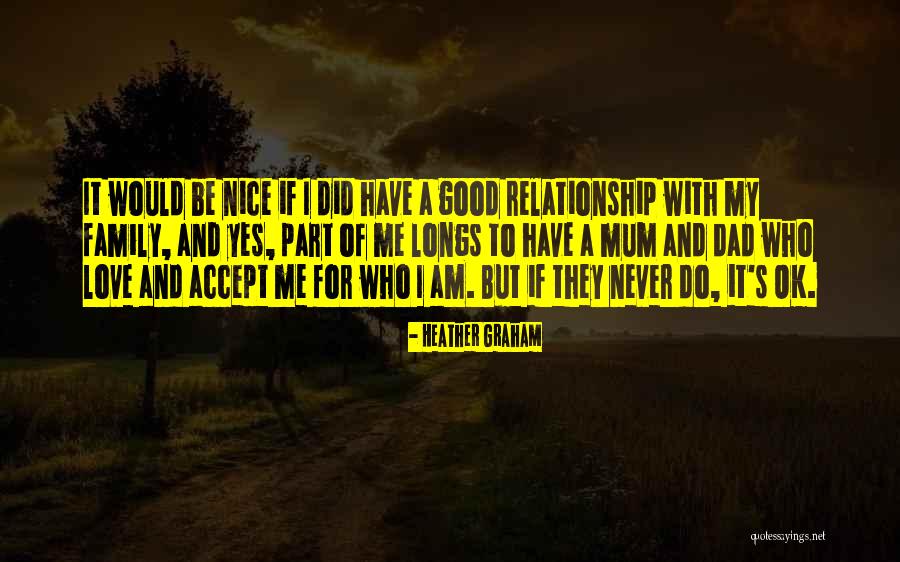 It would be nice if I did have a good relationship with my family, and yes, part of me longs to have a mum and dad who love and accept me for who I am. But if they never do, it's OK. — Heather Graham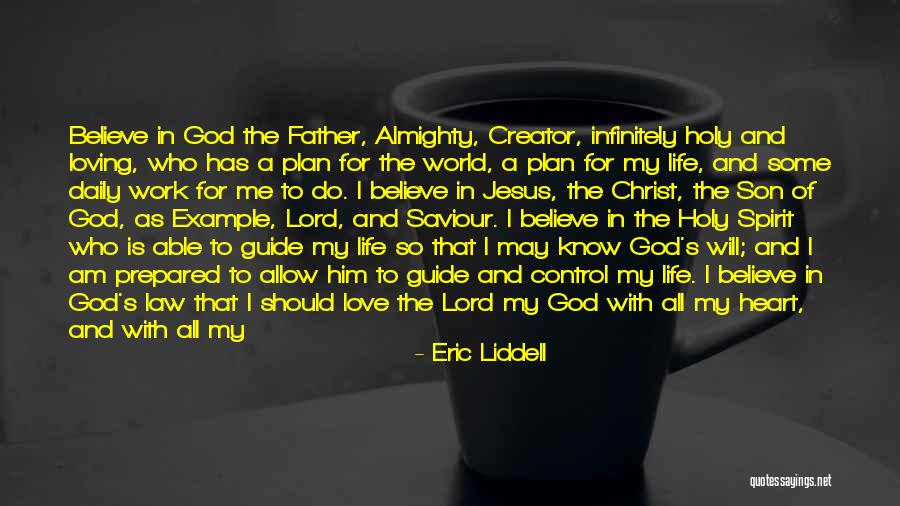 Believe in God the Father, Almighty, Creator, infinitely holy and loving, who has a plan for the world, a plan for my life, and some daily work for me to do. I believe in Jesus, the Christ, the Son of God, as Example, Lord, and Saviour. I believe in the Holy Spirit who is able to guide my life so that I may know God's will; and I am prepared to allow him to guide and control my life. I believe in God's law that I should love the Lord my God with all my heart, and with all my soul, and with all my mind, and with all my strength; and my neighbour as myself. I believe it is God's will that the whole world should be without any barriers of race, colour, class, or anything else that breaks the spirit of fellowship. To believe means to believe with the mind and heart, to accept, and to act accordingly on that basis. — Eric Liddell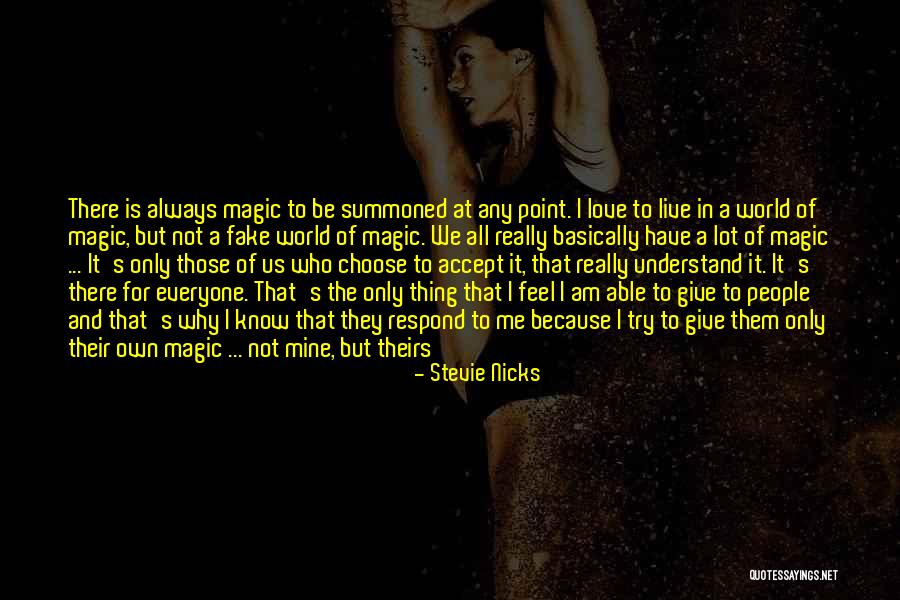 There is always magic to be summoned at any point. I love to live in a world of magic, but not a fake world of magic. We all really basically have a lot of magic ... It's only those of us who choose to accept it, that really understand it. It's there for everyone. That's the only thing that I feel I am able to give to people and that's why I know that they respond to me because I try to give them only their own magic ... not mine, but theirs — Stevie Nicks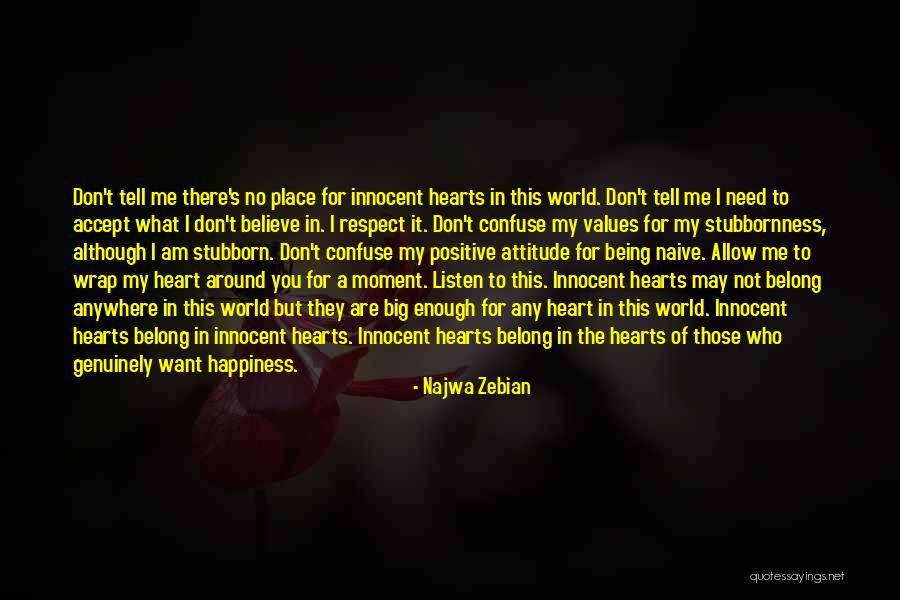 Don't tell me there's no place for innocent hearts in this world. Don't tell me I need to accept what I don't believe in. I respect it. Don't confuse my values for my stubbornness, although I am stubborn. Don't confuse my positive attitude for being naive. Allow me to wrap my heart around you for a moment. Listen to this. Innocent hearts may not belong anywhere in this world but they are big enough for any heart in this world. Innocent hearts belong in innocent hearts. Innocent hearts belong in the hearts of those who genuinely want happiness. — Najwa Zebian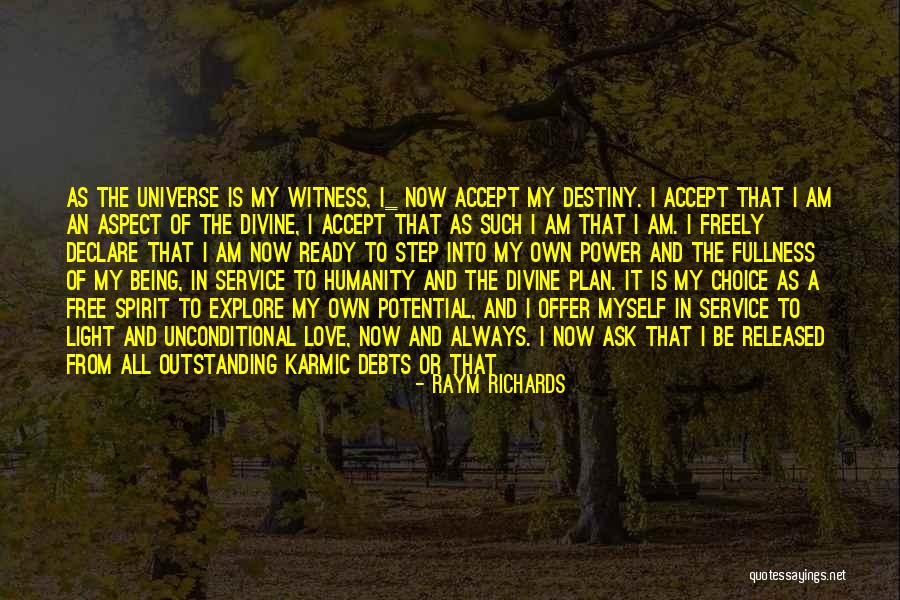 As the Universe is my witness, I_ now accept my destiny. I accept that I am an aspect of the Divine, I accept that as such I AM THAT I AM. I freely declare that I am now ready to step into my own power and the fullness of my being, in service to humanity and the Divine plan. It is my choice as a free spirit to explore my own potential, and I offer myself in service to Light and unconditional love, now and always. I now ask that I be released from all outstanding Karmic debts or that they be settled now, I now release any debts owed to me. I freely forgive all those who have harmed me and likewise beg the forgiveness of any I may have harmed. I ask for the Divine highest good of all, with love in my heart and of my own free will. So be it. — Raym Richards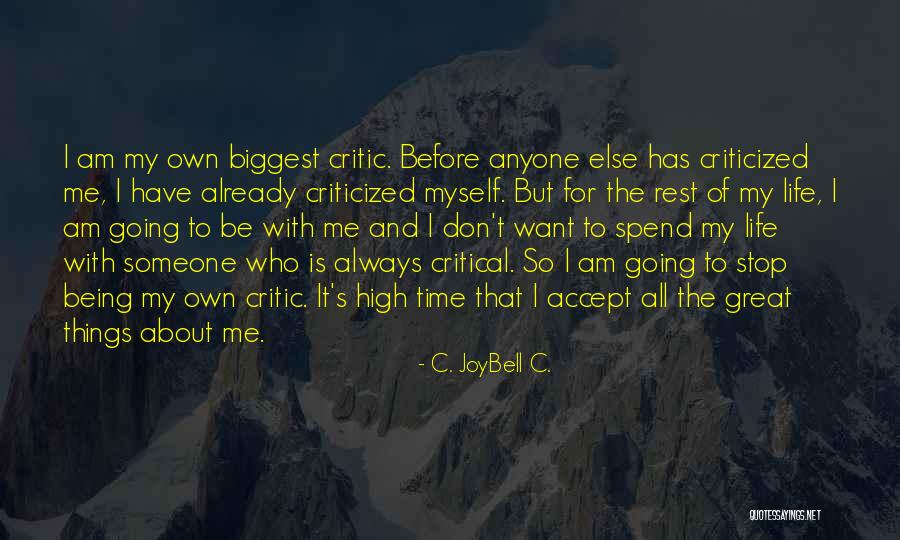 I am my own biggest critic. Before anyone else has criticized me, I have already criticized myself. But for the rest of my life, I am going to be with me and I don't want to spend my life with someone who is always critical. So I am going to stop being my own critic. It's high time that I accept all the great things about me. — C. JoyBell C.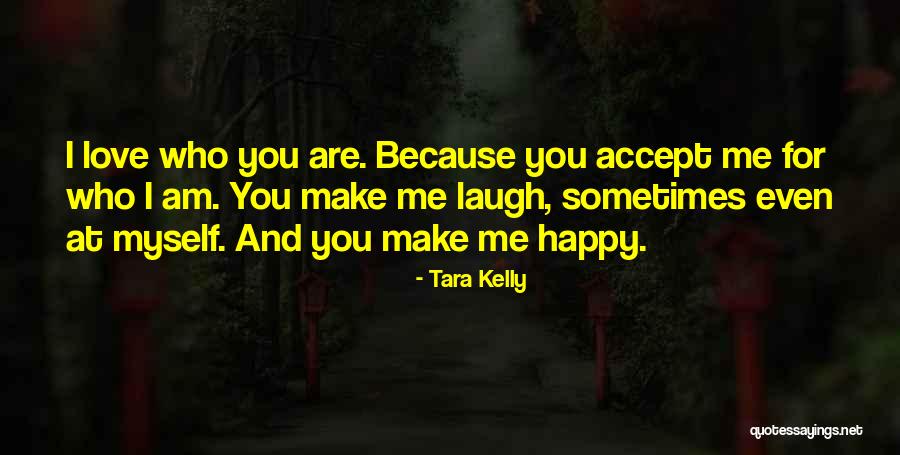 I love who you are. Because you accept me for who I am. You make me laugh, sometimes even at myself. And you make me happy. — Tara Kelly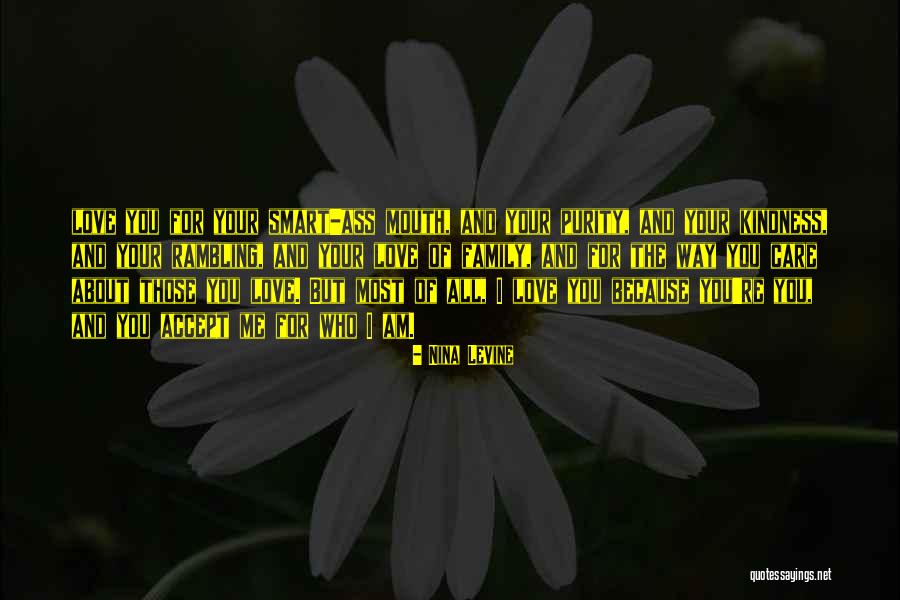 love you for your smart-ass mouth, and your purity, and your kindness, and your rambling, and your love of family, and for the way you care about those you love. But most of all, I love you because you're you, and you accept me for who I am. — Nina Levine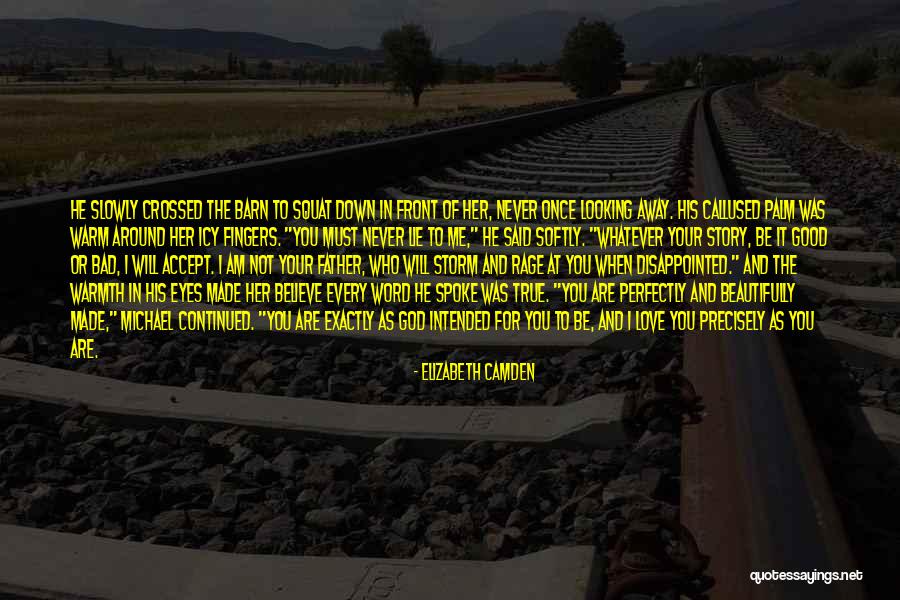 He slowly crossed the barn to squat down in front of her, never once looking away. His callused palm was warm around her icy fingers. "You must never lie to me," he said softly. "Whatever your story, be it good or bad, I will accept. I am not your father, who will storm and rage at you when disappointed." And the warmth in his eyes made her believe every word he spoke was true. "You are perfectly and beautifully made," Michael continued. "You are exactly as God intended for you to be, and I love you precisely as you are. — Elizabeth Camden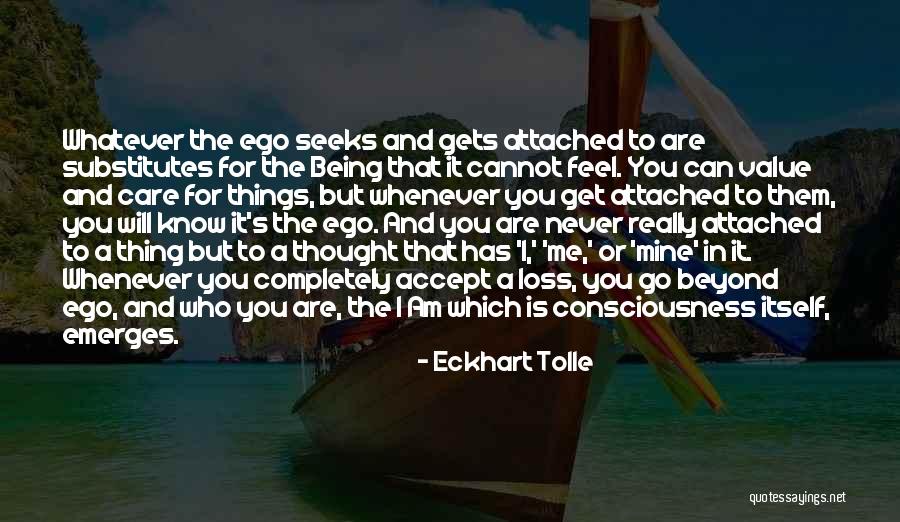 Whatever the ego seeks and gets attached to are substitutes for the Being that it cannot feel. You can value and care for things, but whenever you get attached to them, you will know it's the ego. And you are never really attached to a thing but to a thought that has 'I,' 'me,' or 'mine' in it. Whenever you completely accept a loss, you go beyond ego, and who you are, the I Am which is consciousness itself, emerges. — Eckhart Tolle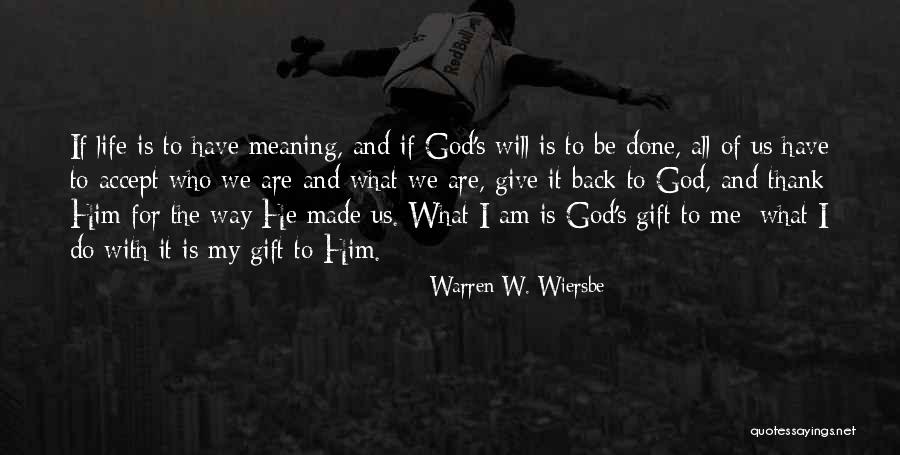 If life is to have meaning, and if God's will is to be done, all of us have to accept who we are and what we are, give it back to God, and thank Him for the way He made us. What I am is God's gift to me; what I do with it is my gift to Him. — Warren W. Wiersbe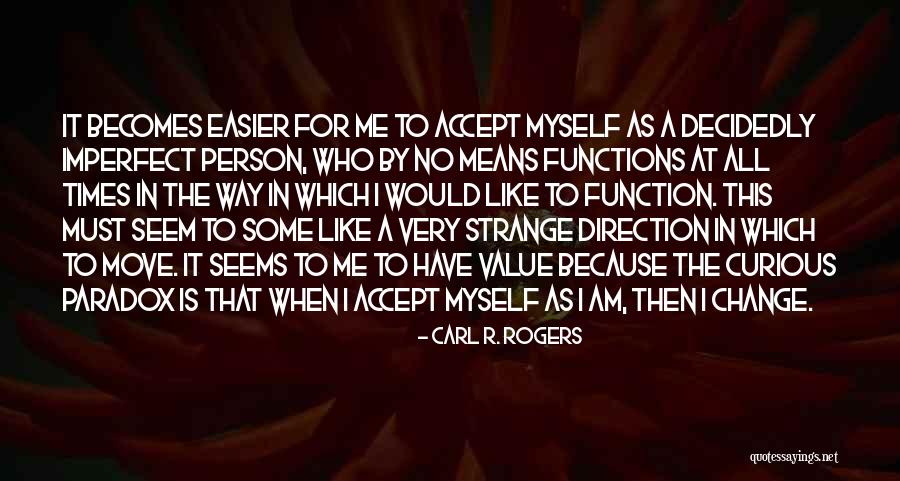 It becomes easier for me to accept myself as a decidedly imperfect person, who by no means functions at all times in the way in which I would like to function. This must seem to some like a very strange direction in which to move. It seems to me to have value because the curious paradox is that when I accept myself as I am, then I change. — Carl R. Rogers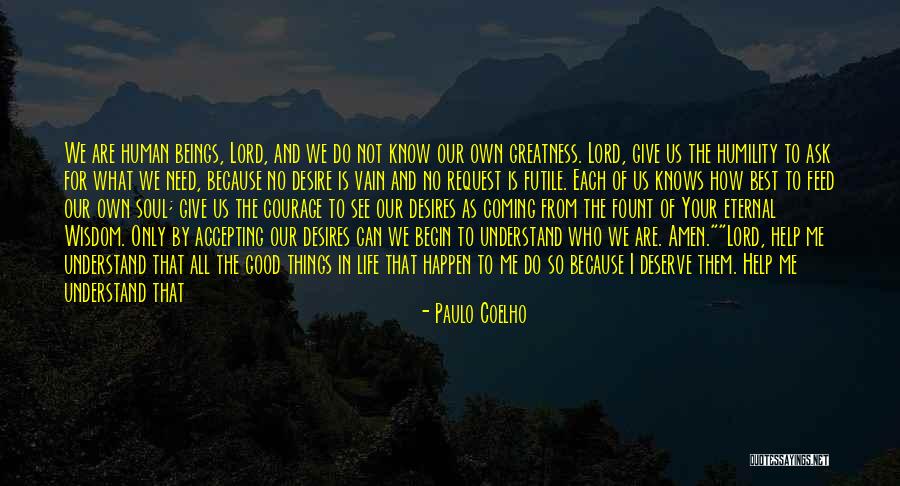 We are human beings, Lord, and we do not know our own greatness. Lord, give us the humility to ask for what we need, because no desire is vain and no request is futile. Each of us knows how best to feed our own soul; give us the courage to see our desires as coming from the fount of Your eternal Wisdom. Only by accepting our desires can we begin to understand who we are. Amen."
"Lord, help me understand that all the good things in life that happen to me do so because I deserve them. Help me understand that what moves me to seek out Your truth is the same force the moved the saints, and the doubts I have are the same doubts that the saints had, and my frailties are the same frailties. Help me to be humble enough to accept that I am no different from other people. Amen. — Paulo Coelho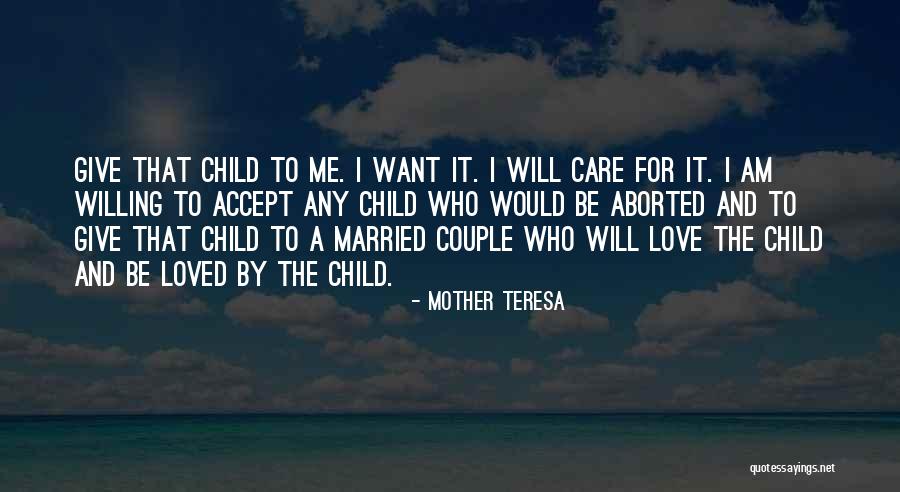 Give that child to me. I want it. I will care for it. I am willing to accept any child who would be aborted and to give that child to a married couple who will love the child and be loved by the child. — Mother Teresa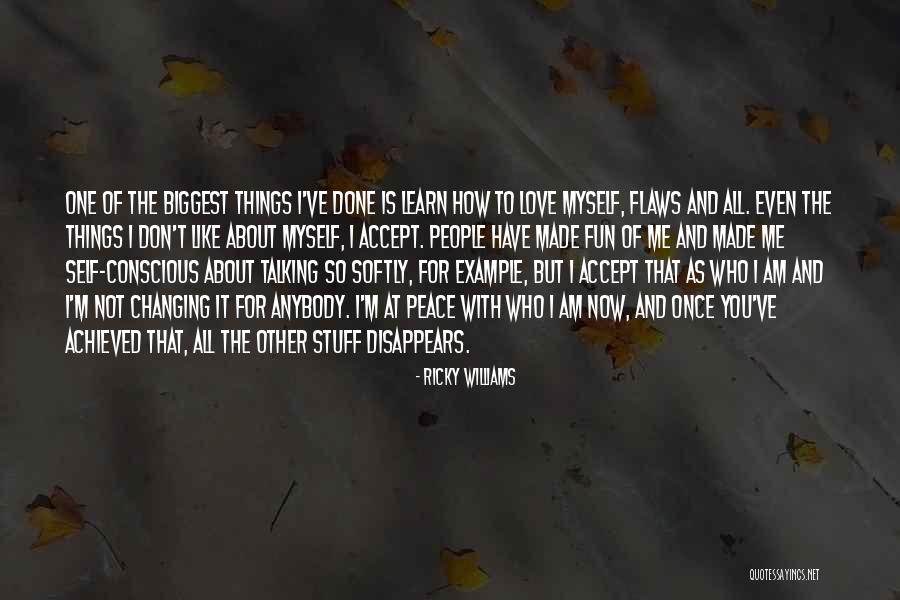 One of the biggest things I've done is learn how to love myself, flaws and all. Even the things I don't like about myself, I accept. People have made fun of me and made me self-conscious about talking so softly, for example, but I accept that as who I am and I'm not changing it for anybody. I'm at peace with who I am now, and once you've achieved that, all the other stuff disappears. — Ricky Williams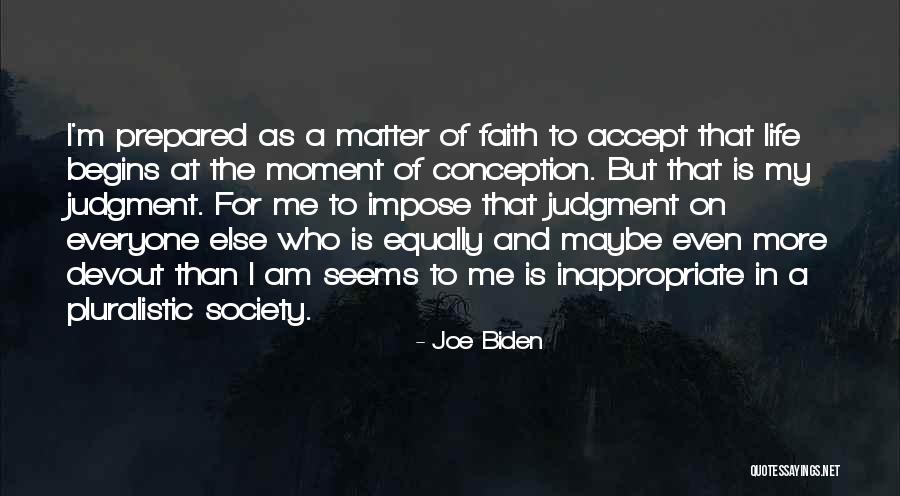 I'm prepared as a matter of faith to accept that life begins at the moment of conception. But that is my judgment. For me to impose that judgment on everyone else who is equally and maybe even more devout than I am seems to me is inappropriate in a pluralistic society. — Joe Biden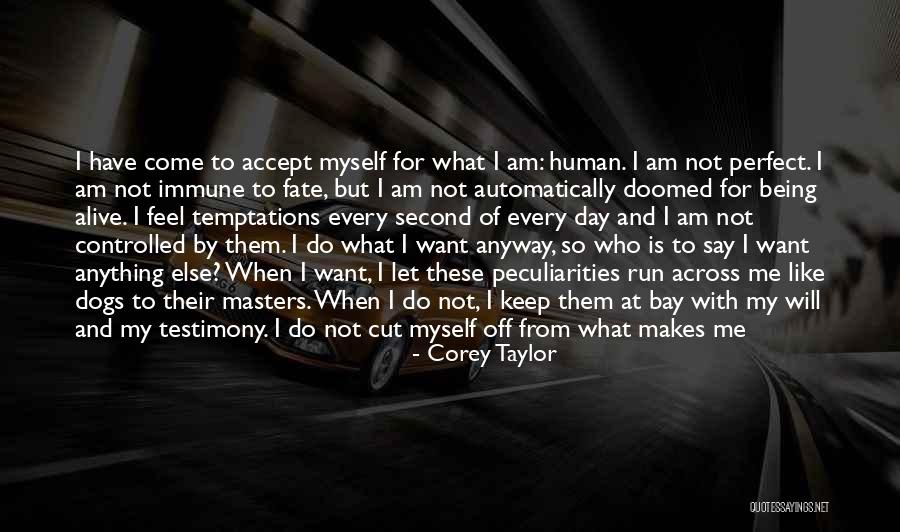 I have come to accept myself for what I am: human. I am not perfect. I am not immune to fate, but I am not automatically doomed for being alive. I feel temptations every second of every day and I am not controlled by them. I do what I want anyway, so who is to say I want anything else? When I want, I let these peculiarities run across me like dogs to their masters. When I do not, I keep them at bay with my will and my testimony. I do not cut myself off from what makes me feel; I just refuse to feel anything that cuts me off from what matters most. It is called will power. With a little practice, you can accomplish great things. — Corey Taylor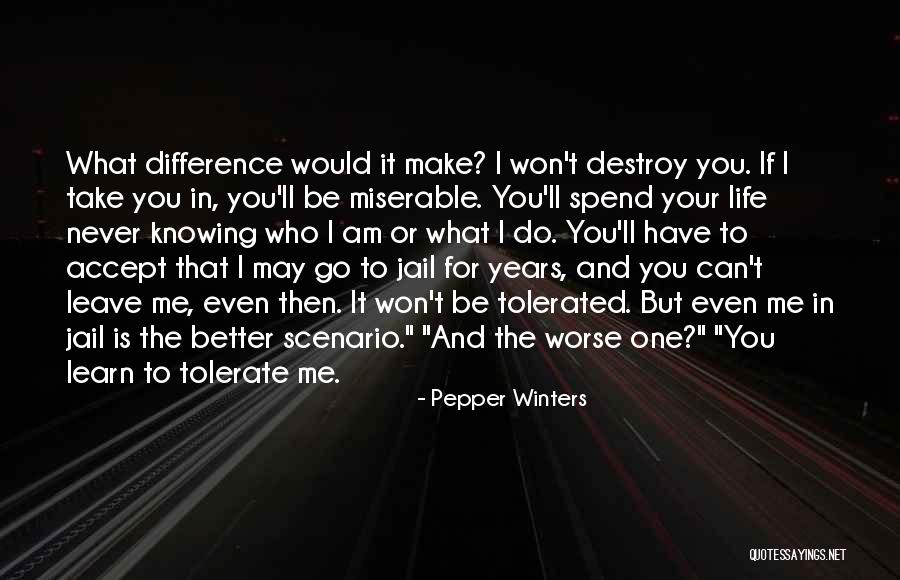 What difference would it make? I won't destroy you. If I take you in, you'll be miserable. You'll spend your life never knowing who I am or what I do. You'll have to accept that I may go to jail for years, and you can't leave me, even then. It won't be tolerated. But even me in jail is the better scenario." "And the worse one?" "You learn to tolerate me. — Pepper Winters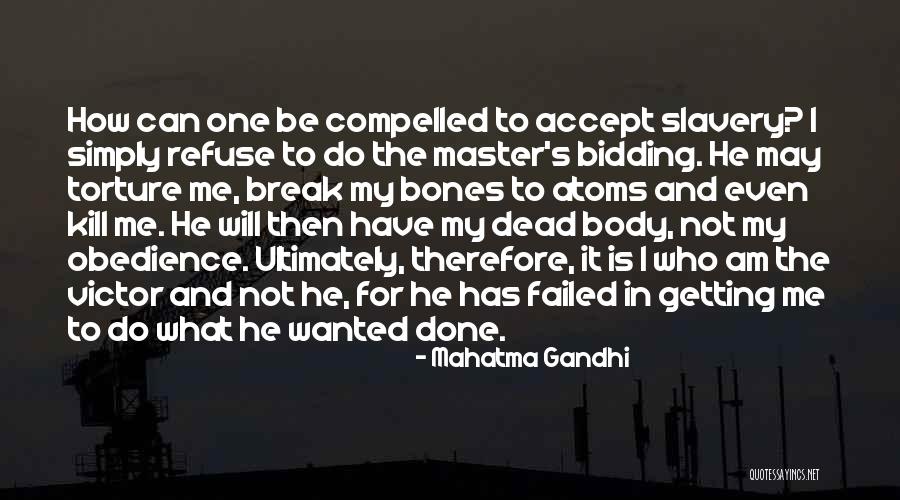 How can one be compelled to accept slavery? I simply refuse to do the master's bidding. He may torture me, break my bones to atoms and even kill me. He will then have my dead body, not my obedience. Ultimately, therefore, it is I who am the victor and not he, for he has failed in getting me to do what he wanted done. — Mahatma Gandhi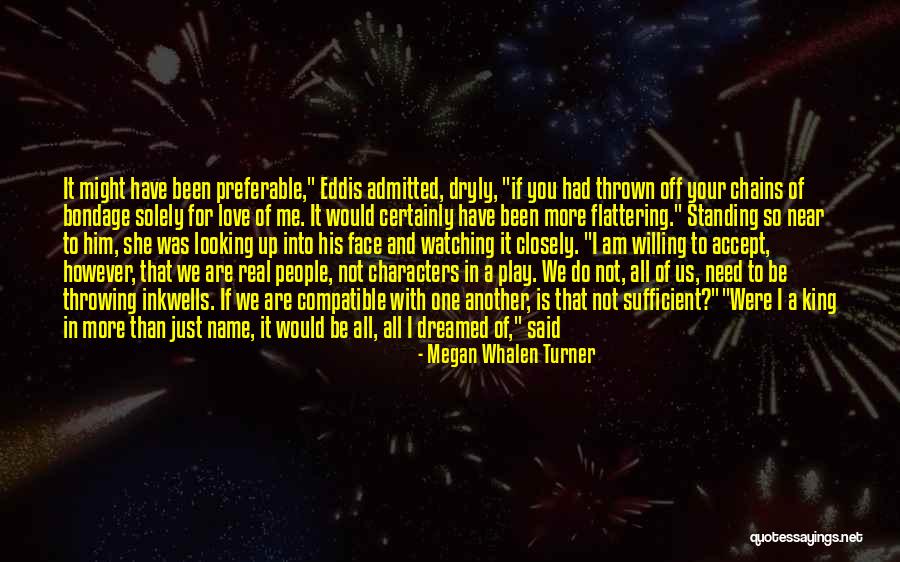 It might have been preferable," Eddis admitted, dryly, "if you had thrown off your chains of bondage solely for love of me. It would certainly have been more flattering." Standing so near to him, she was looking up into his face and watching it closely. "I am willing to accept, however, that we are real people, not characters in a play. We do not, all of us, need to be throwing inkwells. If we are compatible with one another, is that not sufficient?"
"Were I a king in more than just name, it would be all, all I dreamed of," said Sounis, and it was Eddis who blushed.
"You wish to wait, then, until you are confirmed as Sounis?"
"If ... "
"When," said Eddis, firmly.
"Yes," said Sounis, "then. — Megan Whalen Turner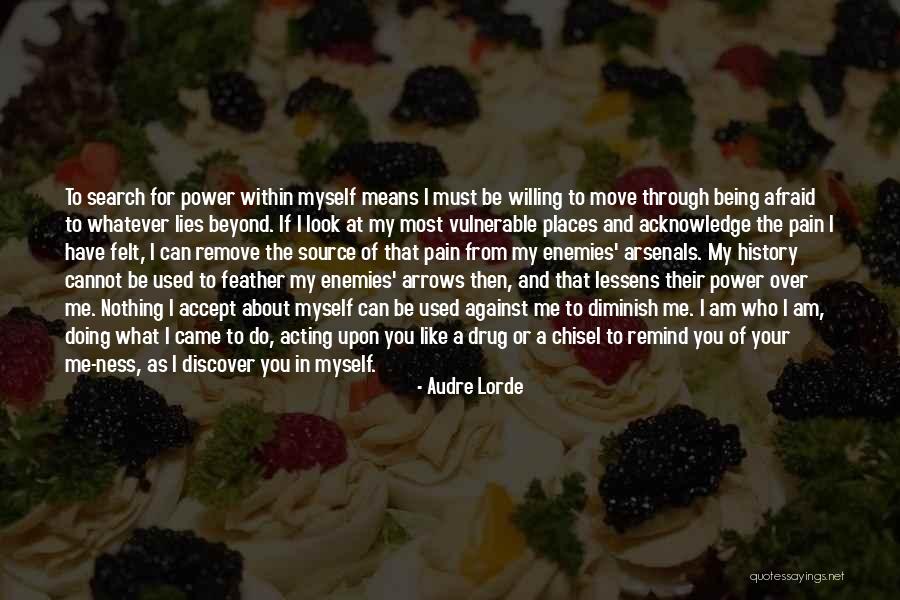 To search for power within myself means I must be willing to move through being afraid to whatever lies beyond. If I look at my most vulnerable places and acknowledge the pain I have felt, I can remove the source of that pain from my enemies' arsenals. My history cannot be used to feather my enemies' arrows then, and that lessens their power over me. Nothing I accept about myself can be used against me to diminish me. I am who I am, doing what I came to do, acting upon you like a drug or a chisel to remind you of your me-ness, as I discover you in myself. — Audre Lorde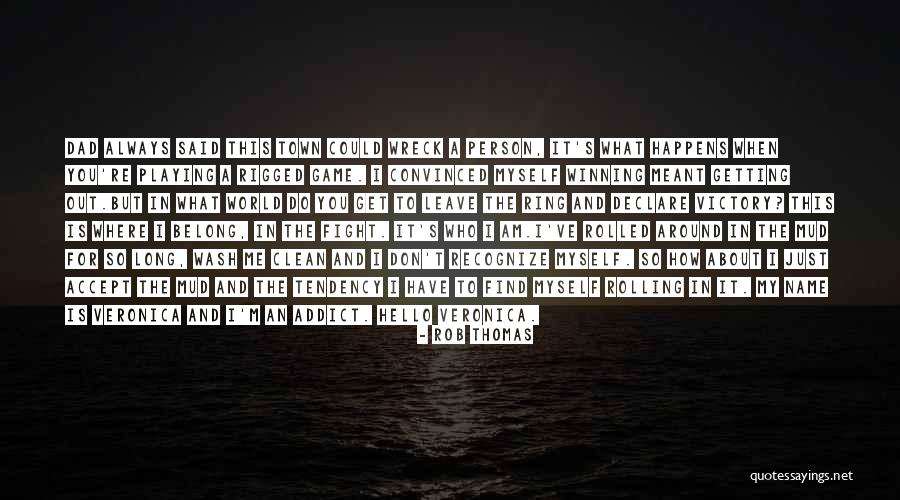 Dad always said this town could wreck a person, it's what happens when you're playing a rigged game. I convinced myself winning meant getting out.
But in what world do you get to leave the ring and declare victory? This is where I belong, in the fight. It's who I am.
I've rolled around in the mud for so long, wash me clean and I don't recognize myself. So how about I just accept the mud and the tendency I have to find myself rolling in it. My name is Veronica and I'm an addict. Hello Veronica. — Rob Thomas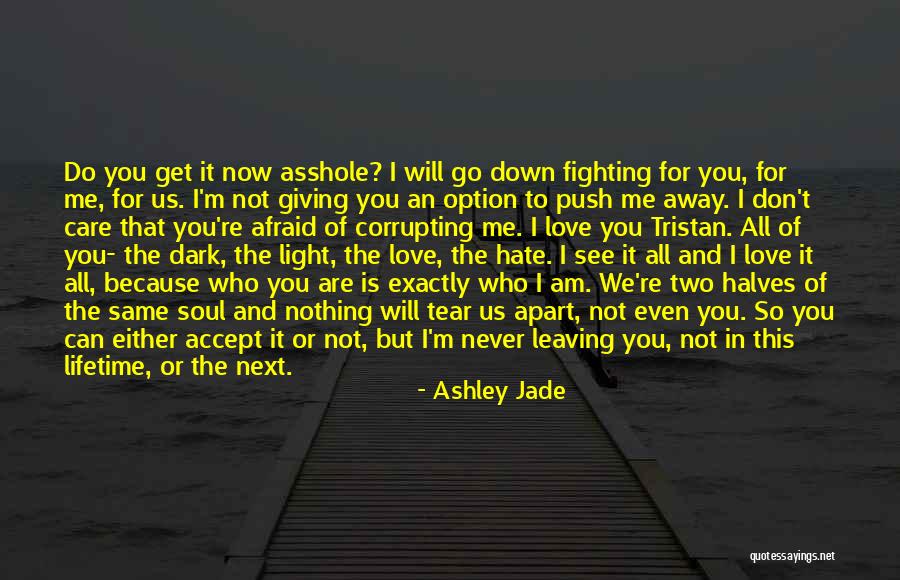 Do you get it now asshole? I will go down fighting for you, for me, for us. I'm not giving you an option to push me away. I don't care that you're afraid of corrupting me. I love you Tristan. All of you- the dark, the light, the love, the hate. I see it all and I love it all, because who you are is exactly who I am. We're two halves of the same soul and nothing will tear us apart, not even you. So you can either accept it or not, but I'm never leaving you, not in this lifetime, or the next. — Ashley Jade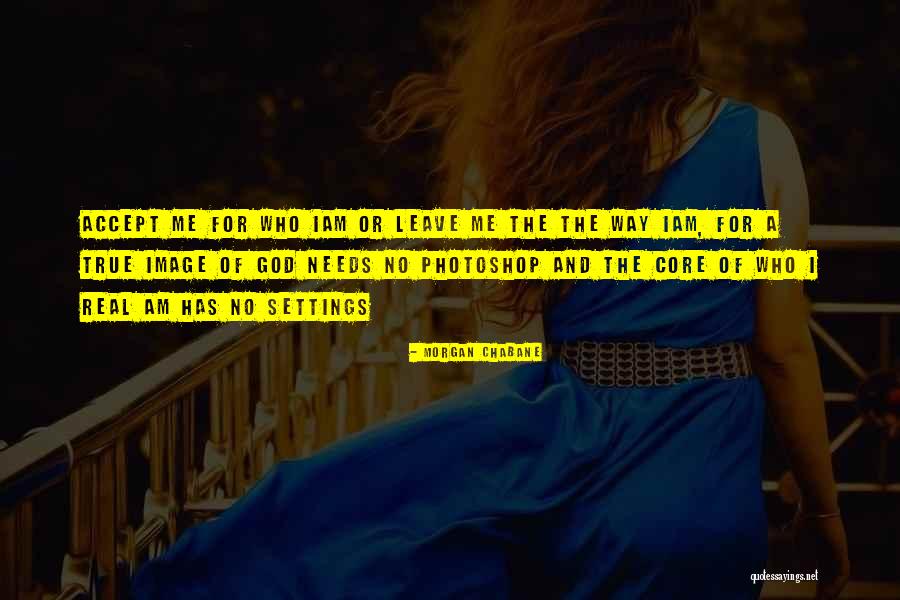 Accept me for who iam or leave me the the way iam, for a true image of God needs no Photoshop and the core of who i real am has no settings — Morgan Chabane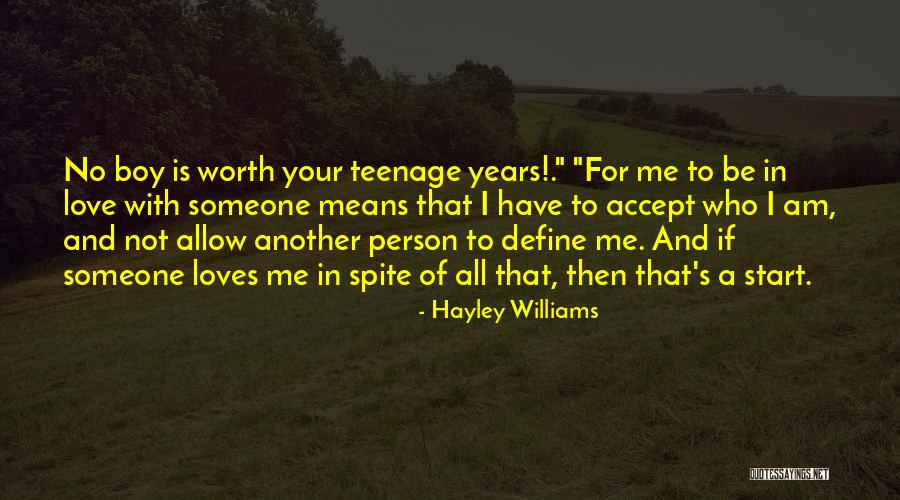 No boy is worth your teenage years!." "For me to be in love with someone means that I have to accept who I am, and not allow another person to define me. And if someone loves me in spite of all that, then that's a start. — Hayley Williams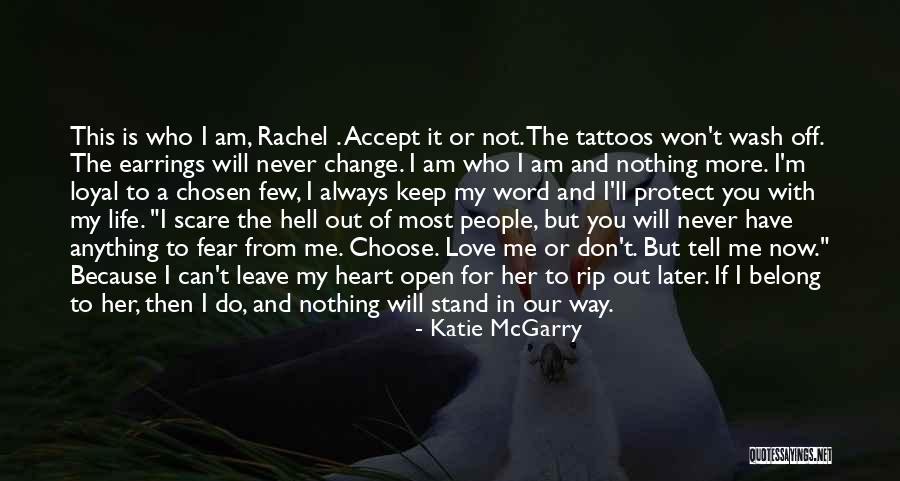 This is who I am, Rachel . Accept it or not. The tattoos won't wash off. The earrings will never change. I am who I am and nothing more. I'm loyal to a chosen few, I always keep my word and I'll protect you with my life.
"I scare the hell out of most people, but you will never have anything to fear from me. Choose. Love me or don't. But tell me now." Because I can't leave my heart open for her to rip out later. If I belong to her, then I do, and nothing will stand in our way. — Katie McGarry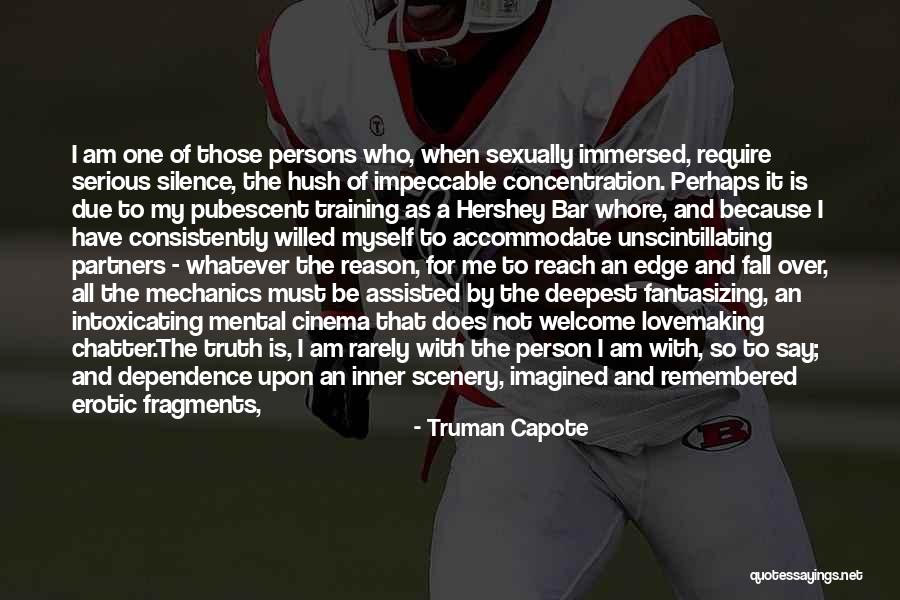 I am one of those persons who, when sexually immersed, require serious silence, the hush of impeccable concentration. Perhaps it is due to my pubescent training as a Hershey Bar whore, and because I have consistently willed myself to accommodate unscintillating partners - whatever the reason, for me to reach an edge and fall over, all the mechanics must be assisted by the deepest fantasizing, an intoxicating mental cinema that does not welcome lovemaking chatter.
The truth is, I am rarely with the person I am with, so to say; and dependence upon an inner scenery, imagined and remembered erotic fragments, shadows irrelevant to the body above or beneath us - those images our minds accept inside sexual seizure but exclude once the beast has been routed, for, regardless of how tolerant we are, these cameos are intolerable to the meanspirited watchmen within us. — Truman Capote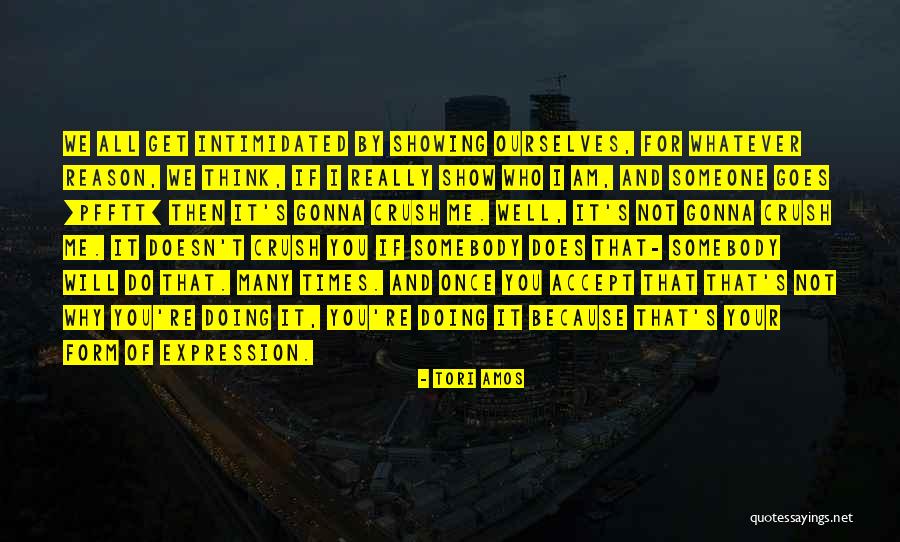 We all get intimidated by showing ourselves, for whatever reason, we think, If I really show who I am, and someone goes [pfftt] then it's gonna crush me. Well, it's not gonna crush me. It doesn't crush you if somebody does that- somebody will do that. Many times. And once you accept that that's not why you're doing it, you're doing it because that's your form of expression. — Tori Amos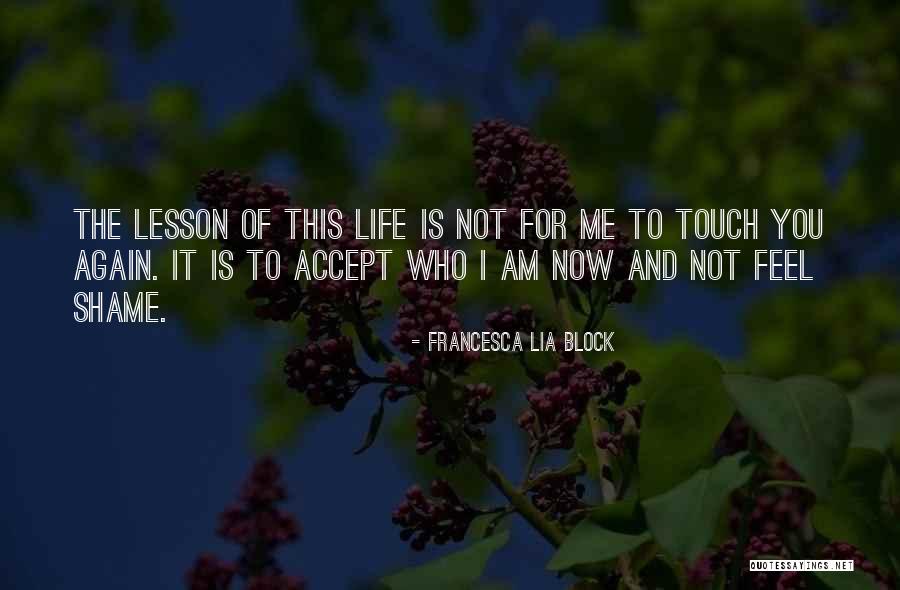 The lesson of this life is not for me to touch you again. It is to accept who I am now and not feel shame. — Francesca Lia Block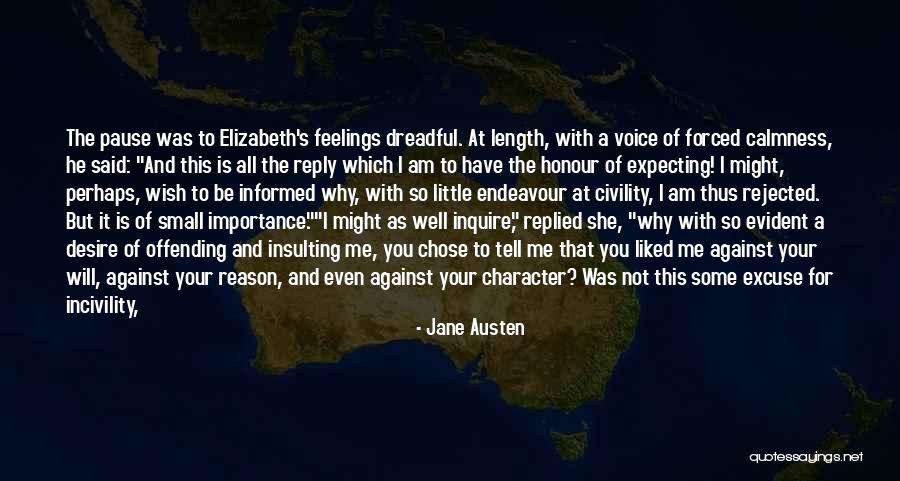 The pause was to Elizabeth's feelings dreadful. At length, with a voice of forced calmness, he said: "And this is all the reply which I am to have the honour of expecting! I might, perhaps, wish to be informed why, with so little endeavour at civility, I am thus rejected. But it is of small importance."
"I might as well inquire," replied she, "why with so evident a desire of offending and insulting me, you chose to tell me that you liked me against your will, against your reason, and even against your character? Was not this some excuse for incivility, if I was uncivil? But I have other provocations. You know I have. Had not my feelings decided against you - had they been indifferent, or had they even been favourable, do you think that any consideration would tempt me to accept the man who has been the means of ruining, perhaps for ever, the happiness of a most beloved sister? — Jane Austen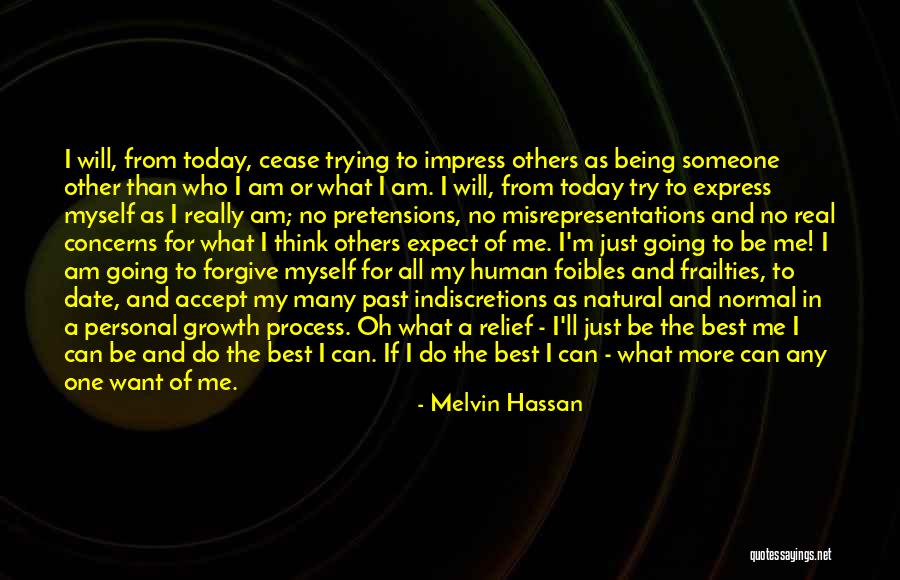 I will, from today, cease trying to impress others as being someone other than who I am or what I am. I will, from today try to express myself as I really am; no pretensions, no misrepresentations and no real concerns for what I think others expect of me. I'm just going to be me! I am going to forgive myself for all my human foibles and frailties, to date, and accept my many past indiscretions as natural and normal in a personal growth process. Oh what a relief - I'll just be the best me I can be and do the best I can. If I do the best I can - what more can any one want of me. — Melvin Hassan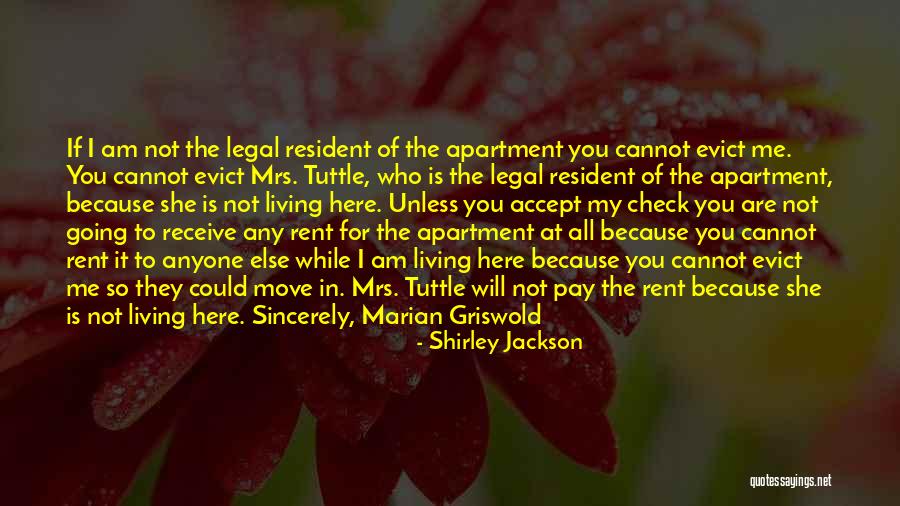 If I am not the legal resident of the apartment you cannot evict me. You cannot evict Mrs. Tuttle, who is the legal resident of the apartment, because she is not living here. Unless you accept my check you are not going to receive any rent for the apartment at all because you cannot rent it to anyone else while I am living here because you cannot evict me so they could move in. Mrs. Tuttle will not pay the rent because she is not living here. Sincerely, Marian Griswold — Shirley Jackson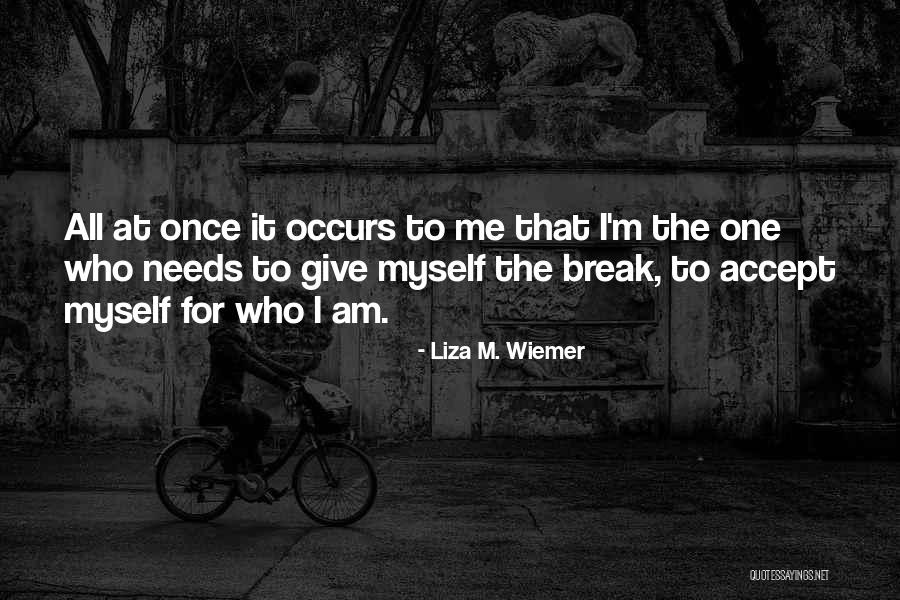 All at once it occurs to me that I'm the one who needs to give myself the break, to accept myself for who I am. — Liza M. Wiemer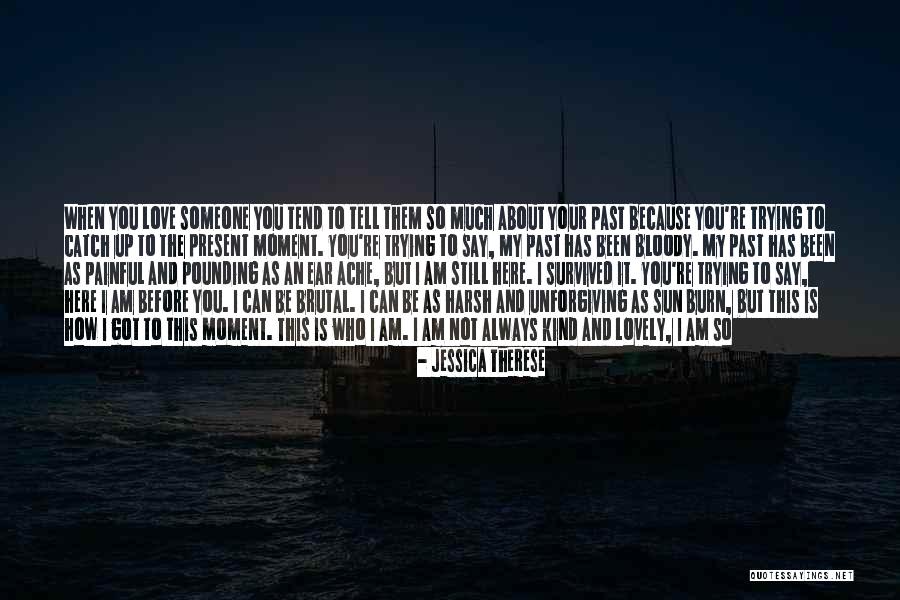 When you love someone you tend to tell them so much about your past because you're trying to catch up to the present moment. You're trying to say, my past has been bloody. My past has been as painful and pounding as an ear ache, but I am still here. I survived it. You're trying to say, here I am before you. I can be brutal. I can be as harsh and unforgiving as sun burn, but this is how I got to this moment. This is who I am. I am not always kind and lovely, I am so often fierce and cutting and unforgiving. I have made some mistakes I'm still trying to forgive myself for. Please accept it. Please try to love me for it. Here is the muscle and bone of me. It's frightening. It's a roller coaster. Here is the meat of me, after I've shed my skin, after I've left the cicada shell behind. It's manic. It's a monster, but it will try to love you well. It will try to leave fingerprints all over you. — Jessica Therese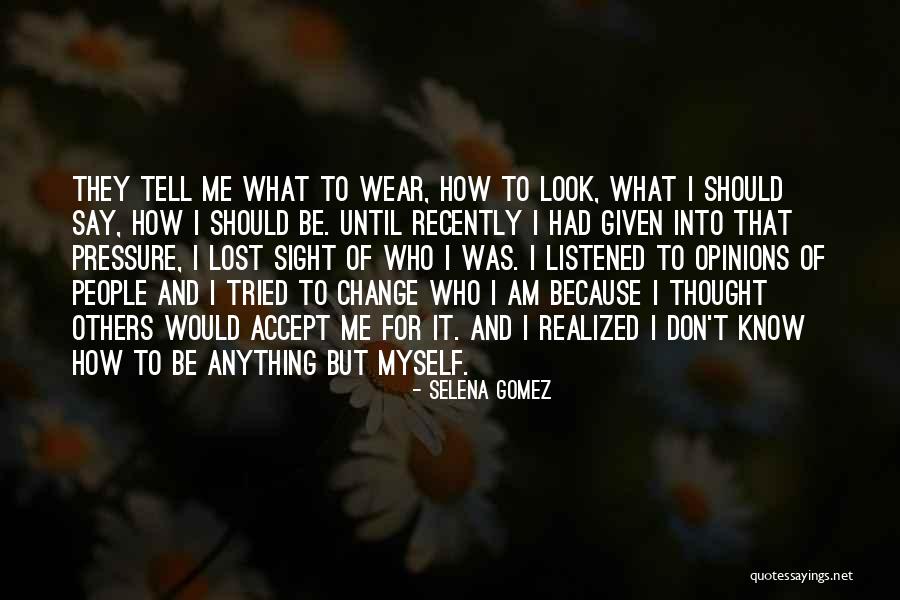 They tell me what to wear, how to look, what I should say, how I should be. Until recently I had given into that pressure, I lost sight of who I was. I listened to opinions of people and I tried to change who I am because I thought others would accept me for it. And I realized I don't know how to be anything but myself. — Selena Gomez