Quotes & Sayings About Regretting Things In Life
Enjoy reading and share 38 famous quotes about Regretting Things In Life with everyone.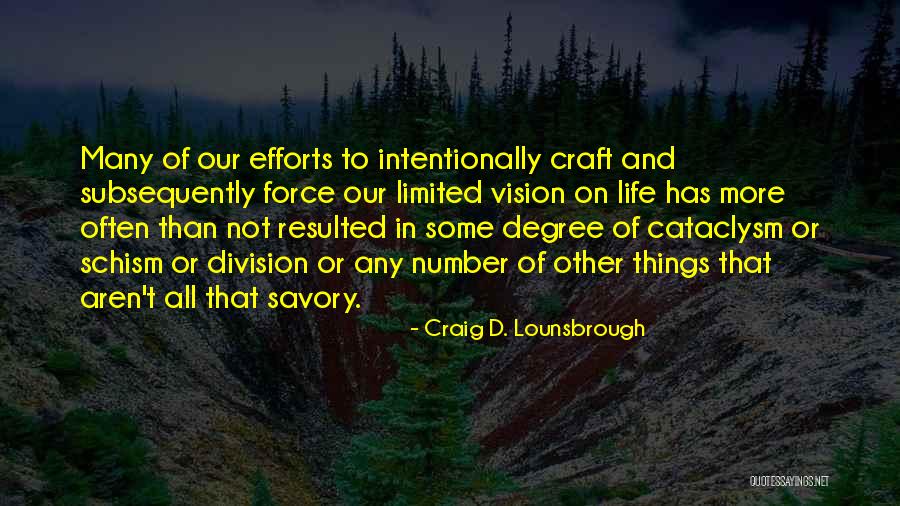 Many of our efforts to intentionally craft and subsequently force our limited vision on life has more often than not resulted in some degree of cataclysm or schism or division or any number of other things that aren't all that savory. — Craig D. Lounsbrough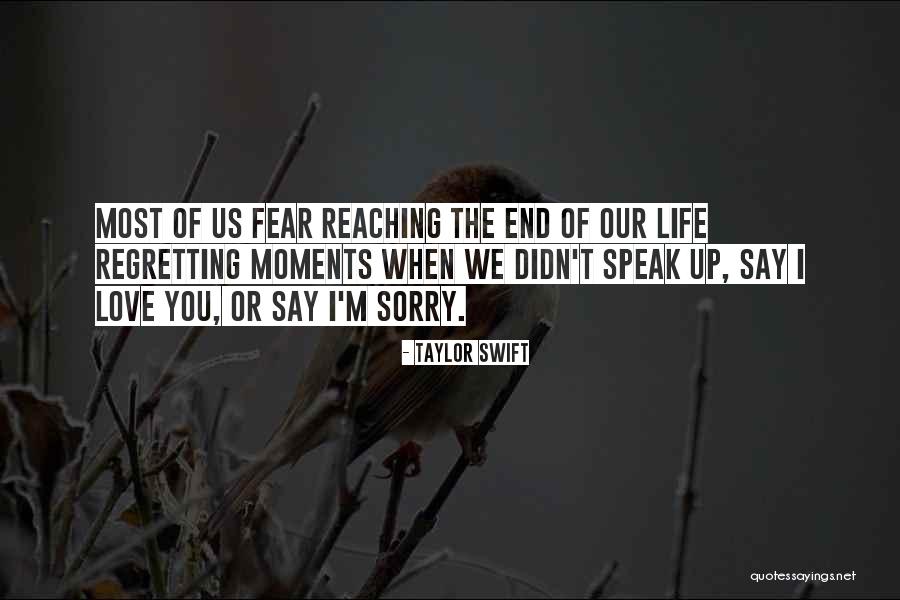 Most of us fear reaching the end of our life regretting moments when we didn't speak up, say I love you, or say I'm sorry. — Taylor Swift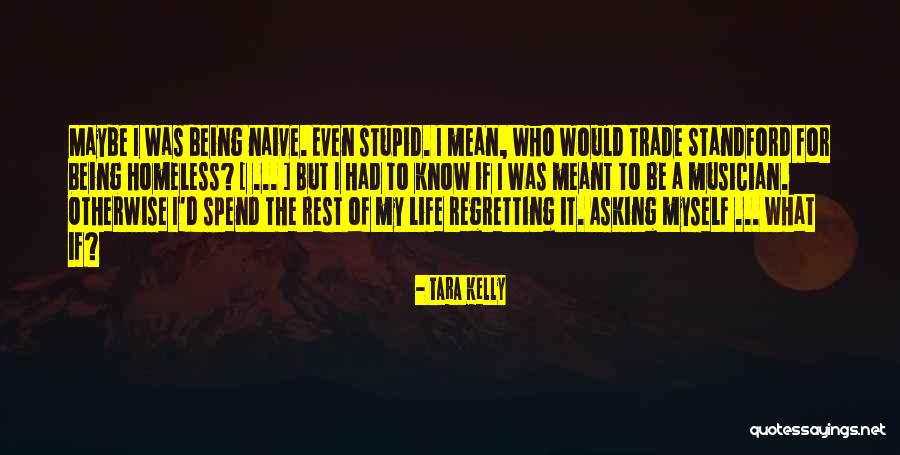 Maybe I was being naive. Even stupid. I mean, who would trade Standford for being homeless? [ ... ] But I had to know if I was meant to be a musician. Otherwise I'd spend the rest of my life regretting it. Asking myself ... what if? — Tara Kelly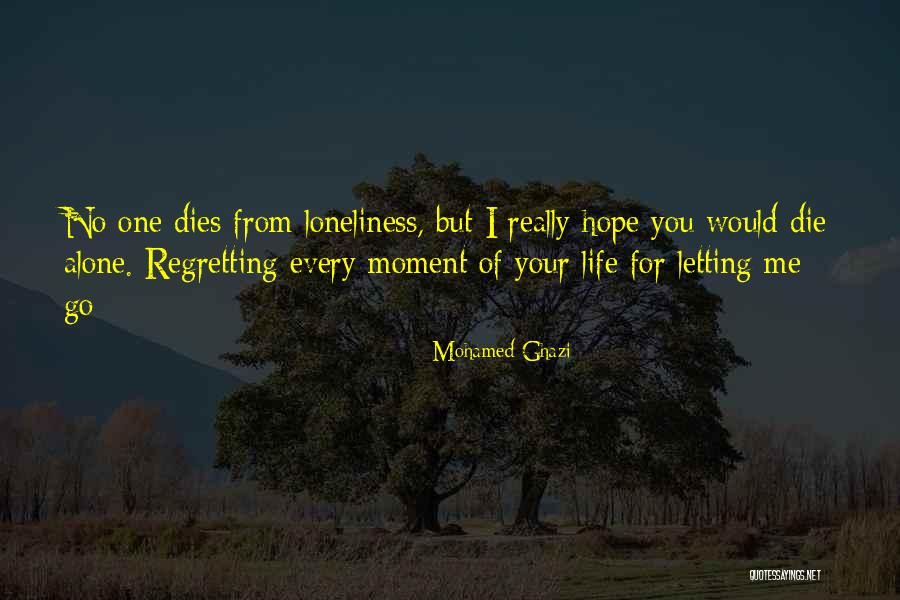 No one dies from loneliness, but I really hope you would die alone. Regretting every moment of your life for letting me go — Mohamed Ghazi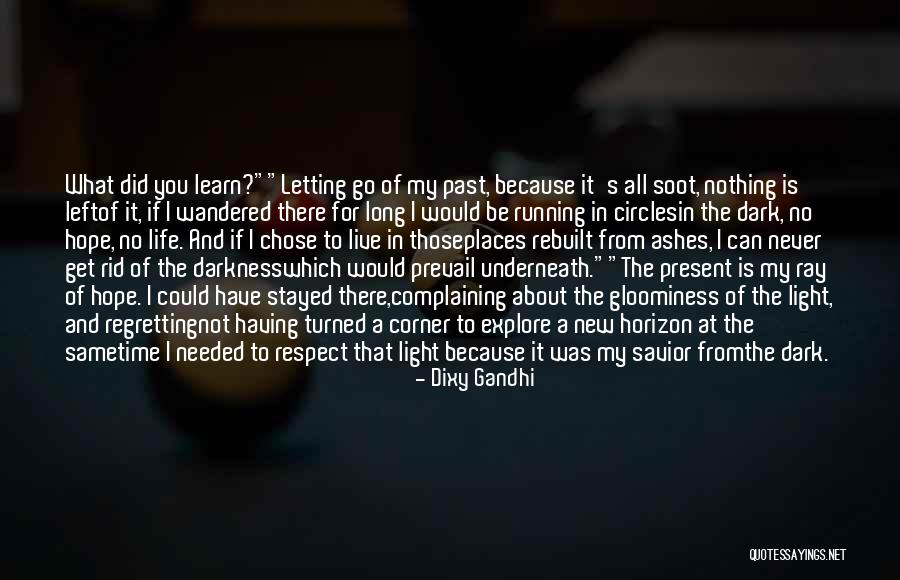 What did you learn?"
"Letting go of my past, because it's all soot, nothing is left
of it, if I wandered there for long I would be running in circles
in the dark, no hope, no life. And if I chose to live in those
places rebuilt from ashes, I can never get rid of the darkness
which would prevail underneath."
"The present is my ray of hope. I could have stayed there,
complaining about the gloominess of the light, and regretting
not having turned a corner to explore a new horizon at the same
time I needed to respect that light because it was my savior from
the dark. I learnt it finally and that's why I reached here today
and found you — Dixy Gandhi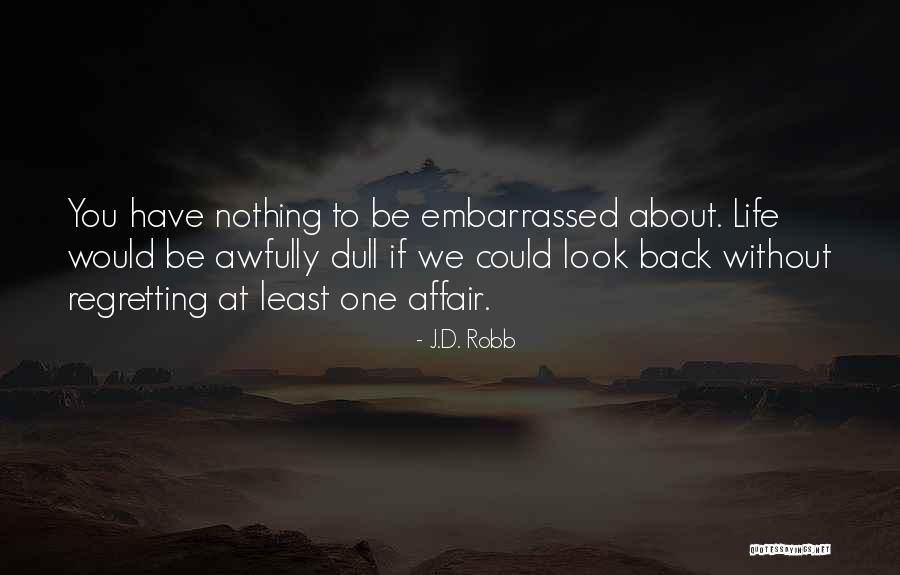 You have nothing to be embarrassed about. Life would be awfully dull if we could look back without regretting at least one affair. — J.D. Robb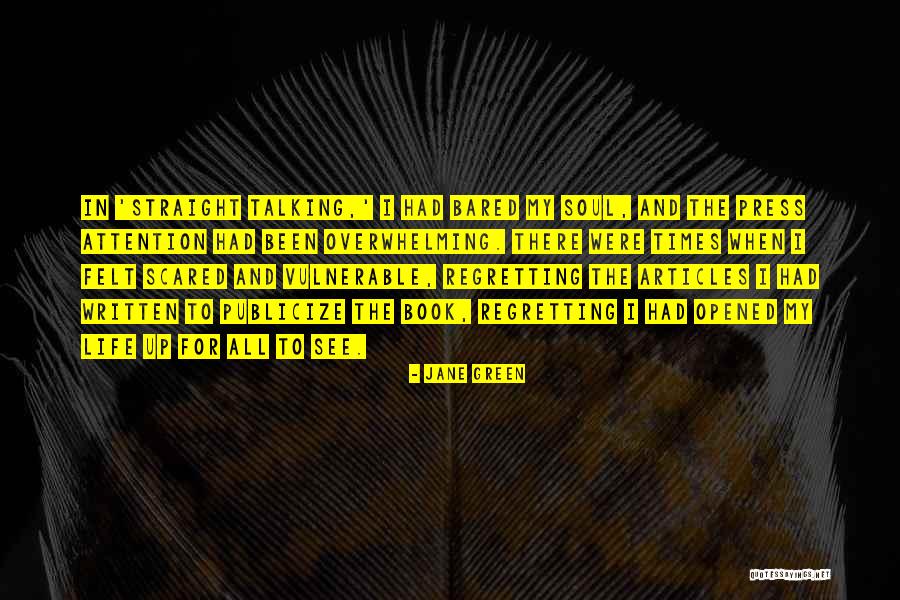 In 'Straight Talking,' I had bared my soul, and the press attention had been overwhelming. There were times when I felt scared and vulnerable, regretting the articles I had written to publicize the book, regretting I had opened my life up for all to see. — Jane Green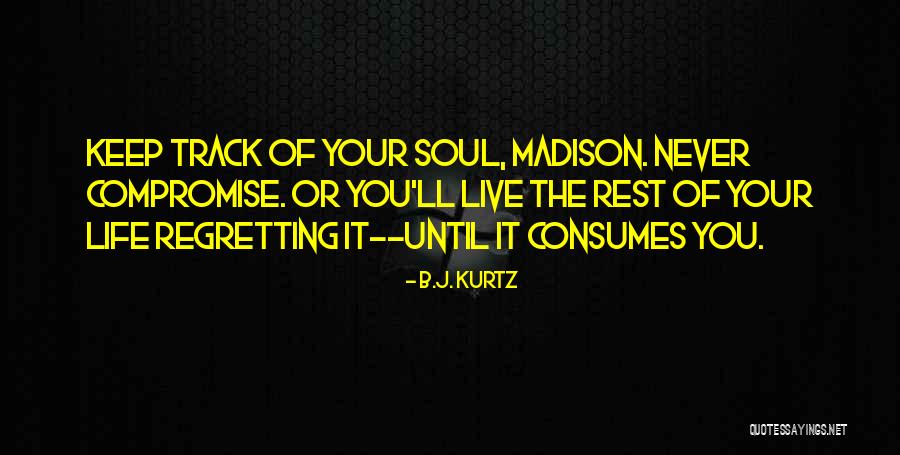 Keep track of your soul, Madison. Never compromise. Or you'll live the rest of your life regretting it--until it consumes you. — B.J. Kurtz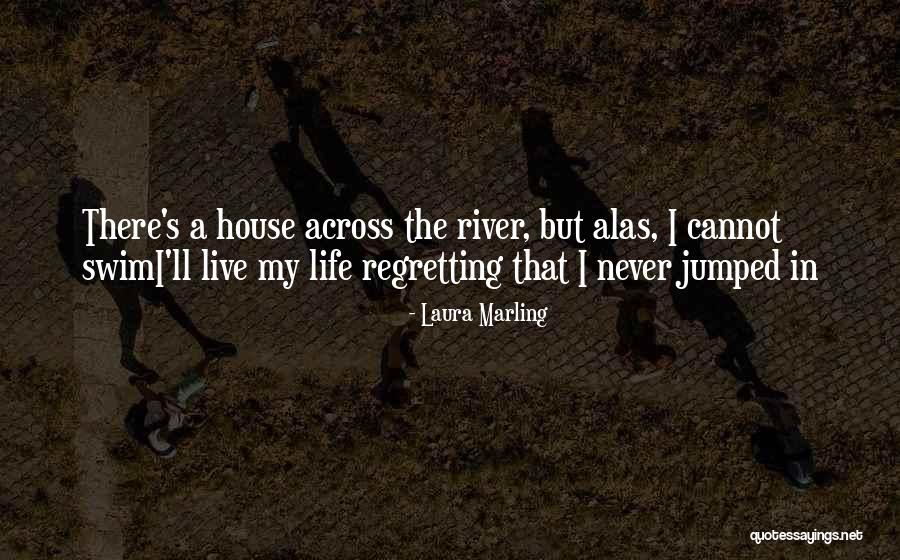 There's a house across the river, but alas, I cannot swim
I'll live my life regretting that I never jumped in — Laura Marling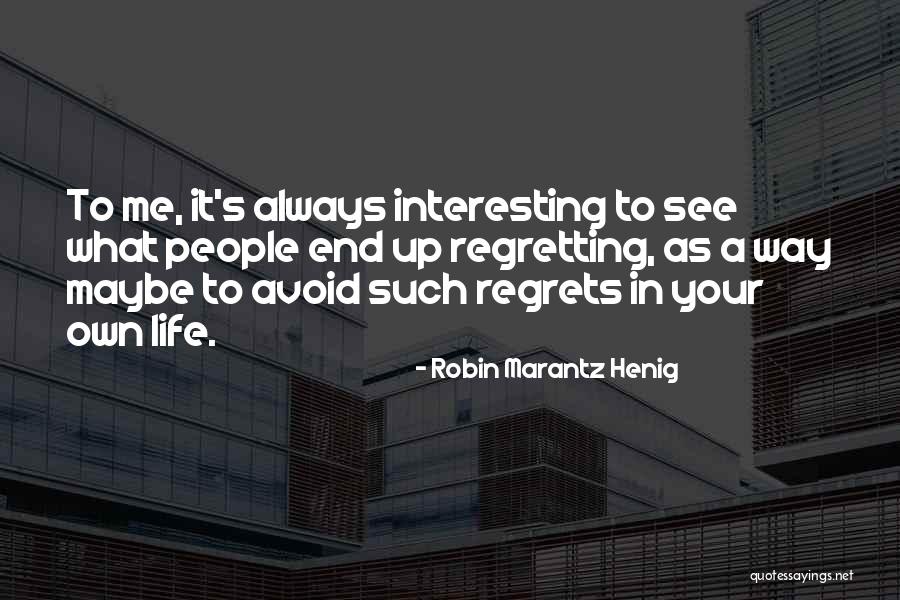 To me, it's always interesting to see what people end up regretting, as a way maybe to avoid such regrets in your own life. — Robin Marantz Henig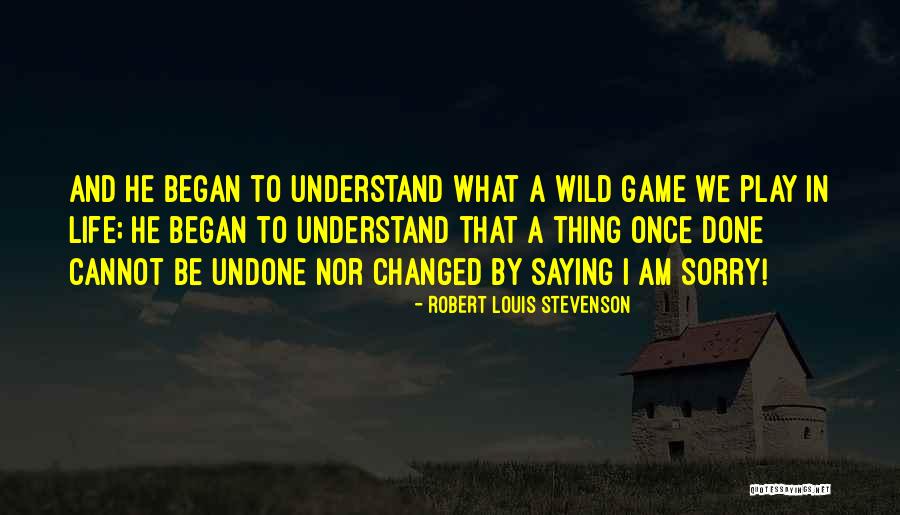 And he began to understand what a wild game we play in life; he began to understand that a thing once done cannot be undone nor changed by saying I am sorry! — Robert Louis Stevenson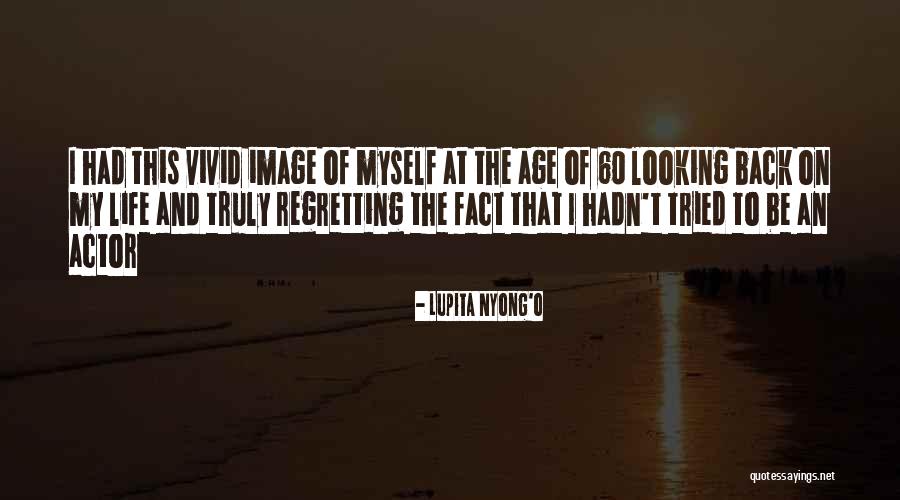 I had this vivid image of myself at the age of 60 looking back on my life and truly regretting the fact that I hadn't tried to be an actor — Lupita Nyong'o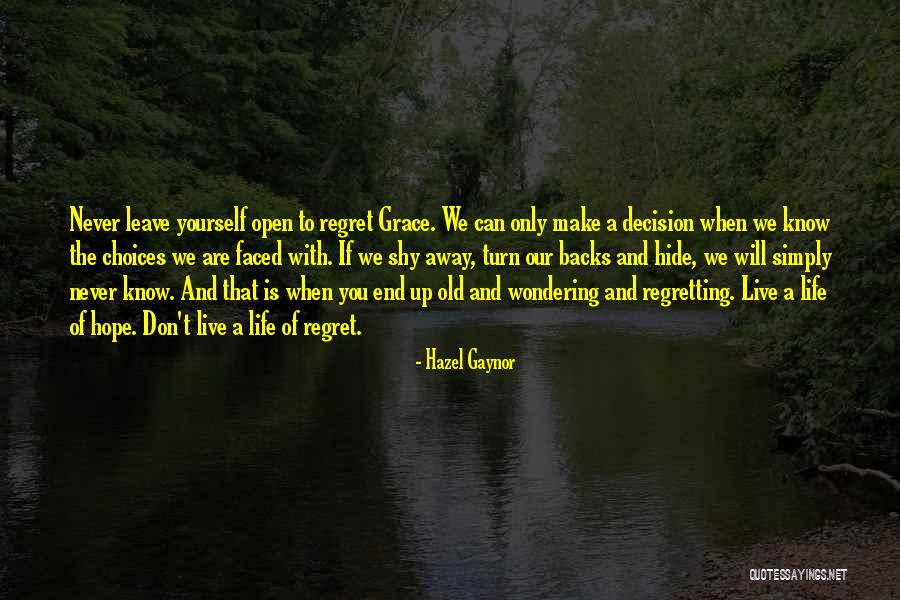 Never leave yourself open to regret Grace. We can only make a decision when we know the choices we are faced with. If we shy away, turn our backs and hide, we will simply never know. And that is when you end up old and wondering and regretting. Live a life of hope. Don't live a life of regret. — Hazel Gaynor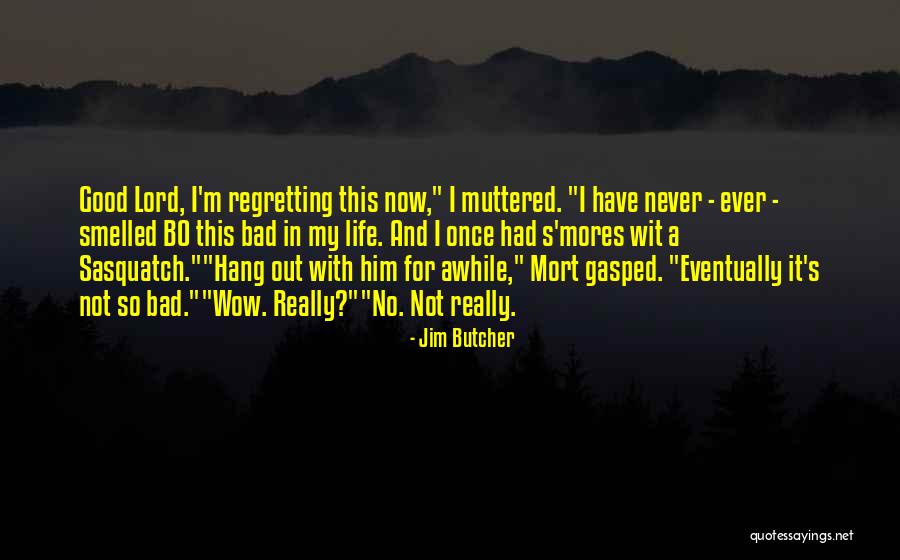 Good Lord, I'm regretting this now," I muttered. "I have never - ever - smelled BO this bad in my life. And I once had s'mores wit a Sasquatch."
"Hang out with him for awhile," Mort gasped. "Eventually it's not so bad."
"Wow. Really?"
"No. Not really. — Jim Butcher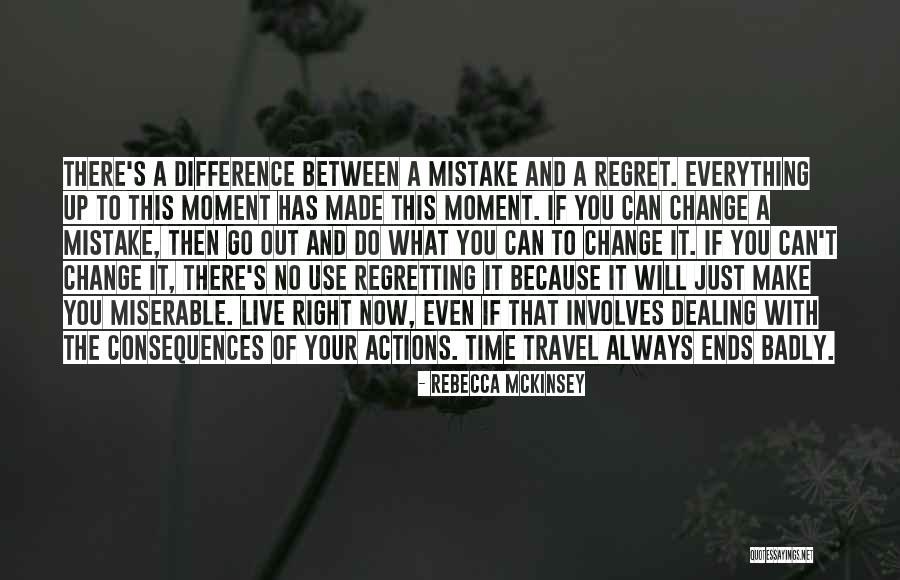 There's a difference between a mistake and a regret. Everything up to this moment has made this moment. If you can change a mistake, then go out and do what you can to change it. If you can't change it, there's no use regretting it because it will just make you miserable. Live right now, even if that involves dealing with the consequences of your actions. Time travel always ends badly. — Rebecca McKinsey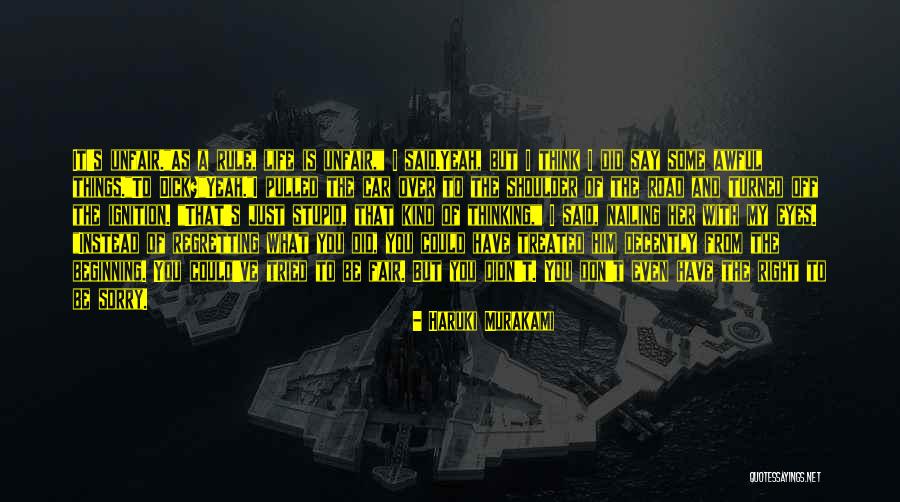 It's unfair."
As a rule, life is unfair," I said.
Yeah, but I think I did say some awful things."
To Dick?"
Yeah."
I pulled the car over to the shoulder of the road and turned off the ignition. "That's just stupid, that kind of thinking," I said, nailing her with my eyes. "Instead of regretting what you did, you could have treated him decently from the beginning. You could've tried to be fair. But you didn't. You don't even have the right to be sorry. — Haruki Murakami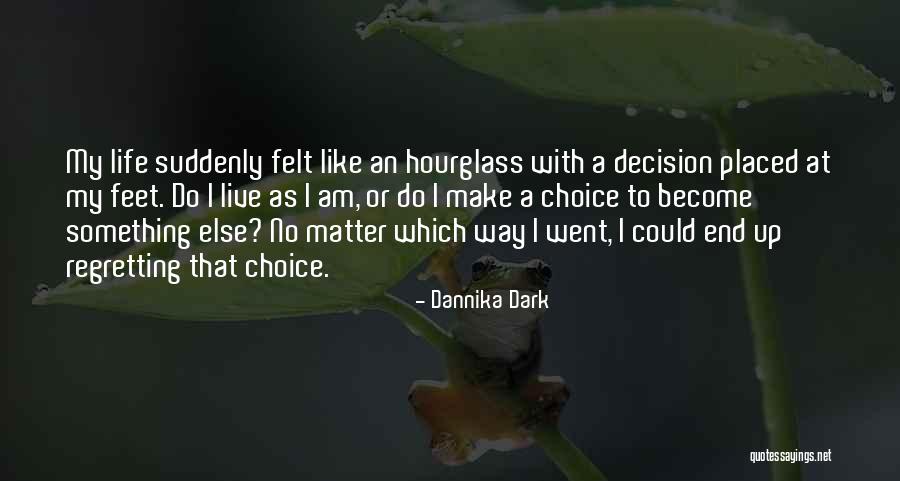 My life suddenly felt like an hourglass with a decision placed at my feet. Do I live as I am, or do I make a choice to become something else? No matter which way I went, I could end up regretting that choice. — Dannika Dark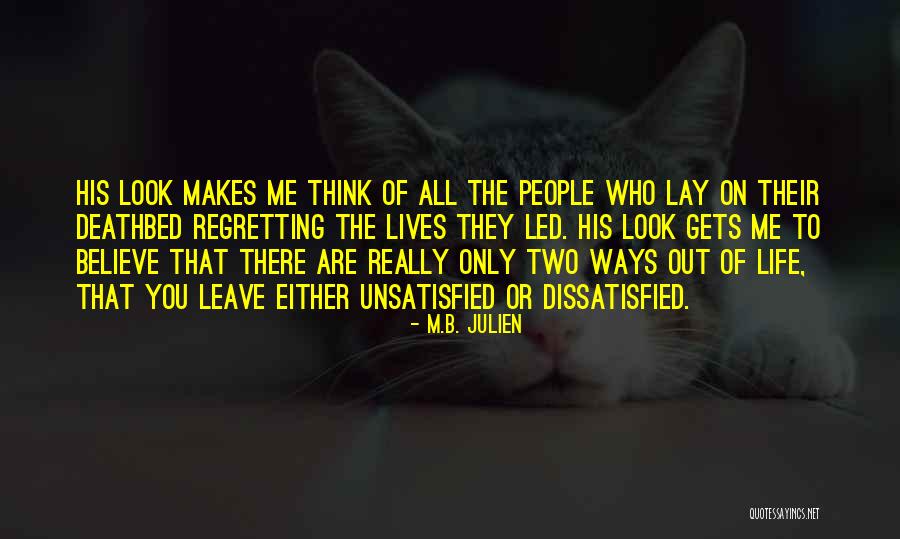 His look makes me think of all the people who lay on their deathbed regretting the lives they led. His look gets me to believe that there are really only two ways out of life, that you leave either unsatisfied or dissatisfied. — M.B. Julien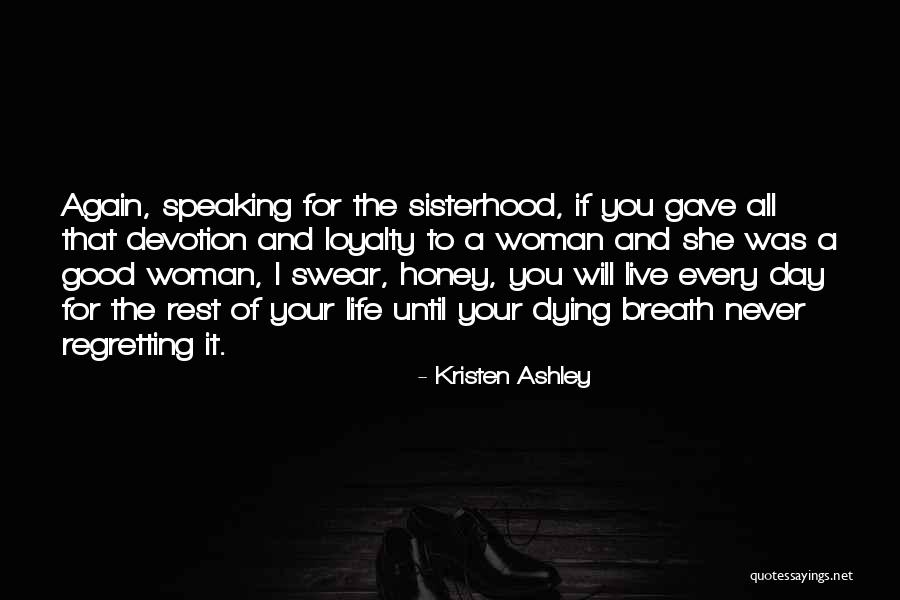 Again, speaking for the sisterhood, if you gave all that devotion and loyalty to a woman and she was a good woman, I swear, honey, you will live every day for the rest of your life until your dying breath never regretting it. — Kristen Ashley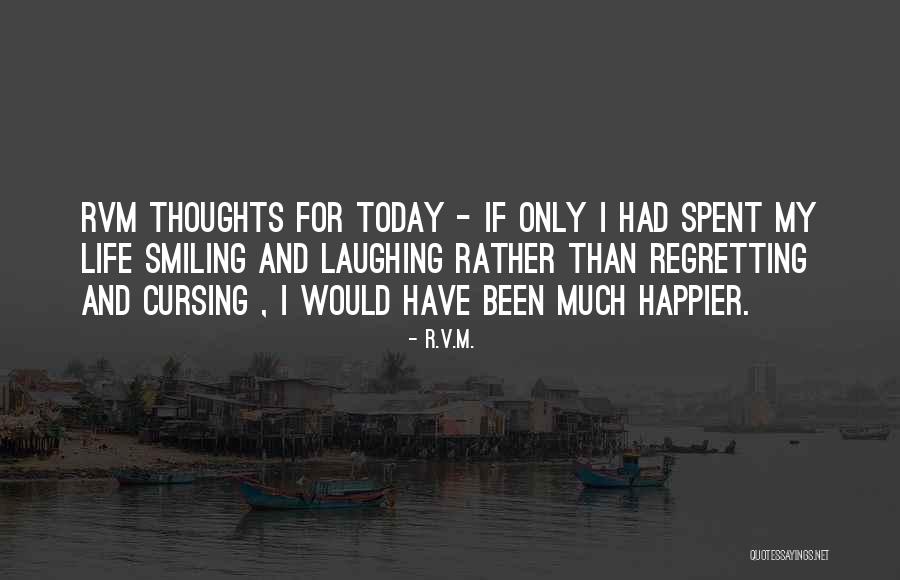 RVM Thoughts for Today -
If only I had spent my life Smiling and Laughing rather than regretting and cursing , I would have been much Happier. — R.v.m.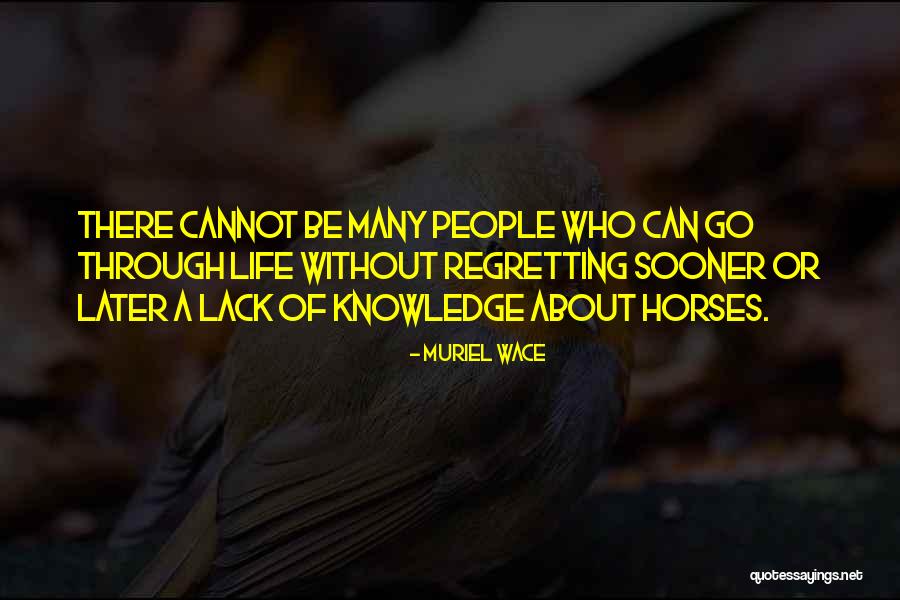 There cannot be many people who can go through life without regretting sooner or later a lack of knowledge about horses. — Muriel Wace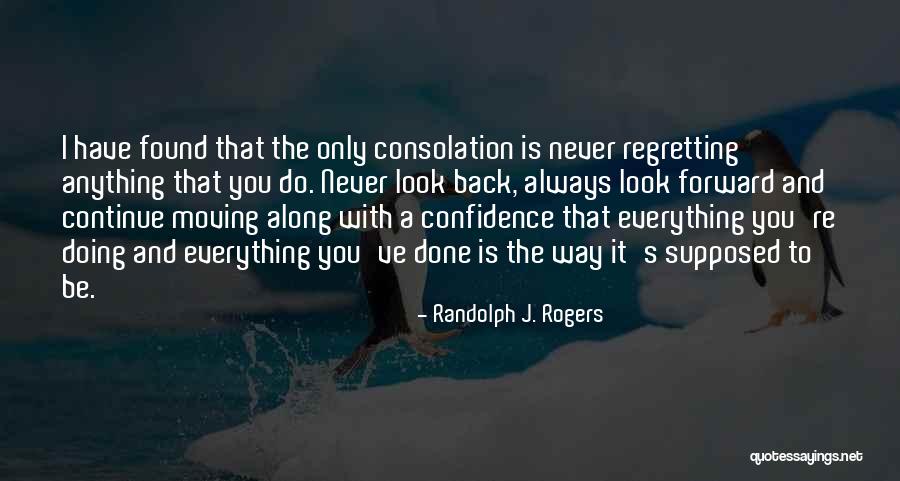 I have found that the only consolation is never regretting anything that you do. Never look back, always look forward and continue moving along with a confidence that everything you're doing and everything you've done is the way it's supposed to be. — Randolph J. Rogers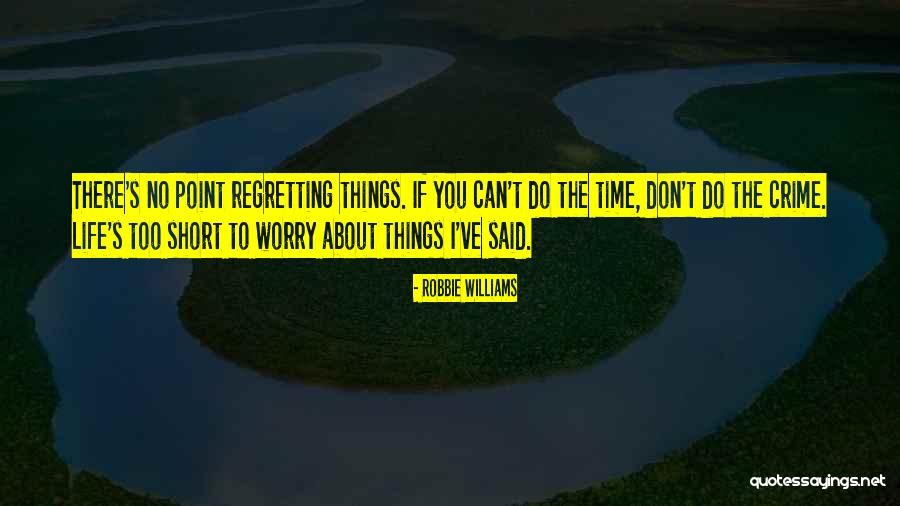 There's no point regretting things. If you can't do the time, don't do the crime. Life's too short to worry about things I've said. — Robbie Williams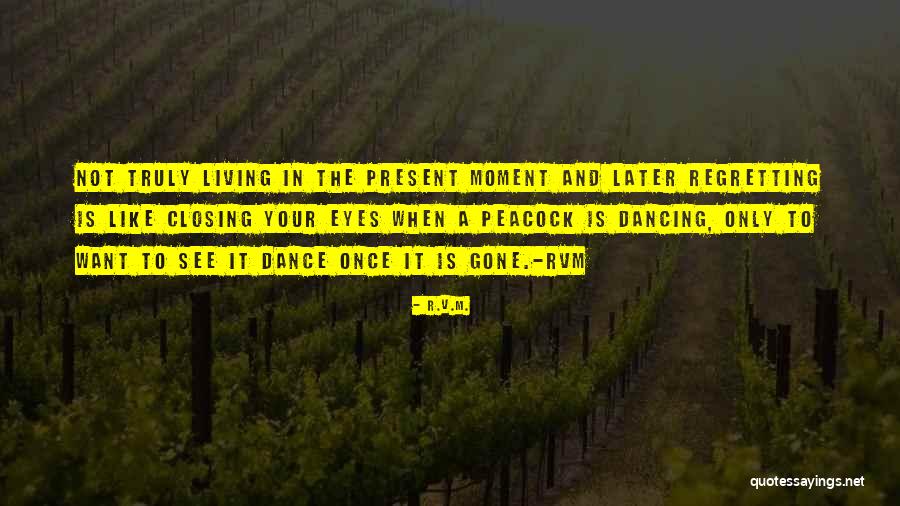 Not truly living in the present moment and later regretting is like closing your eyes when a peacock is dancing, only to want to see it dance once it is gone.-RVM — R.v.m.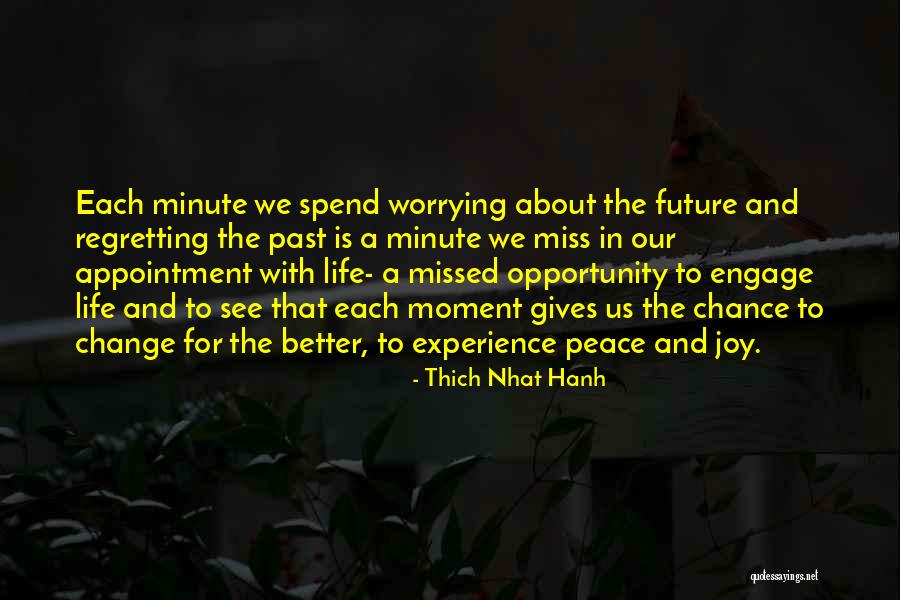 Each minute we spend worrying about the future and regretting the past is a minute we miss in our appointment with life- a missed opportunity to engage life and to see that each moment gives us the chance to change for the better, to experience peace and joy. — Thich Nhat Hanh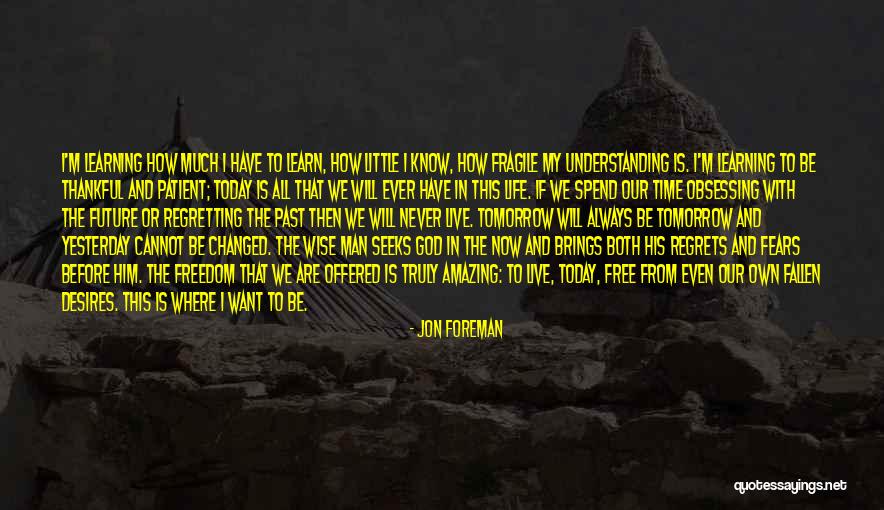 I'm learning how much I have to learn, how little I know, how fragile my understanding is. I'm learning to be thankful and patient; today is all that we will ever have in this life. If we spend our time obsessing with the future or regretting the past then we will never live. Tomorrow will always be tomorrow and yesterday cannot be changed. The wise man seeks God in the now and brings both his regrets and fears before Him. The freedom that we are offered is truly amazing: to live, today, free from even our own fallen desires. This is where I want to be. — Jon Foreman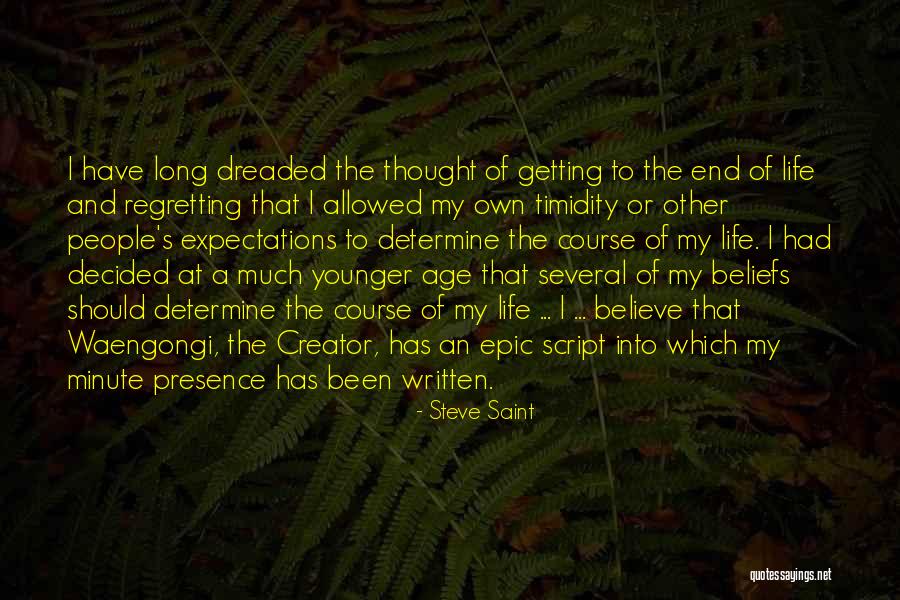 I have long dreaded the thought of getting to the end of life and regretting that I allowed my own timidity or other people's expectations to determine the course of my life. I had decided at a much younger age that several of my beliefs should determine the course of my life ... I ... believe that Waengongi, the Creator, has an epic script into which my minute presence has been written. — Steve Saint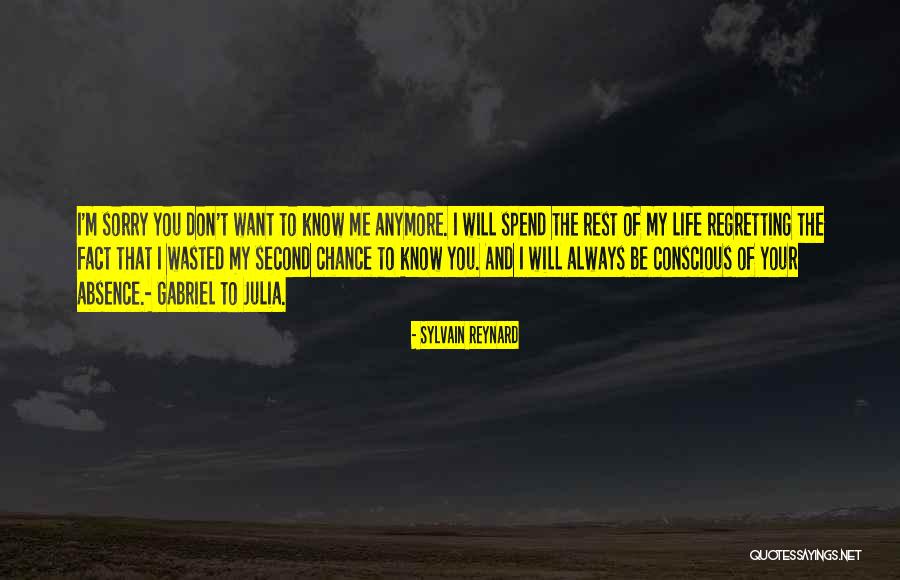 I'm sorry you don't want to know me anymore. I will spend the rest of my life regretting the fact that I wasted my second chance to know you. And I will always be conscious of your absence.- Gabriel to Julia. — Sylvain Reynard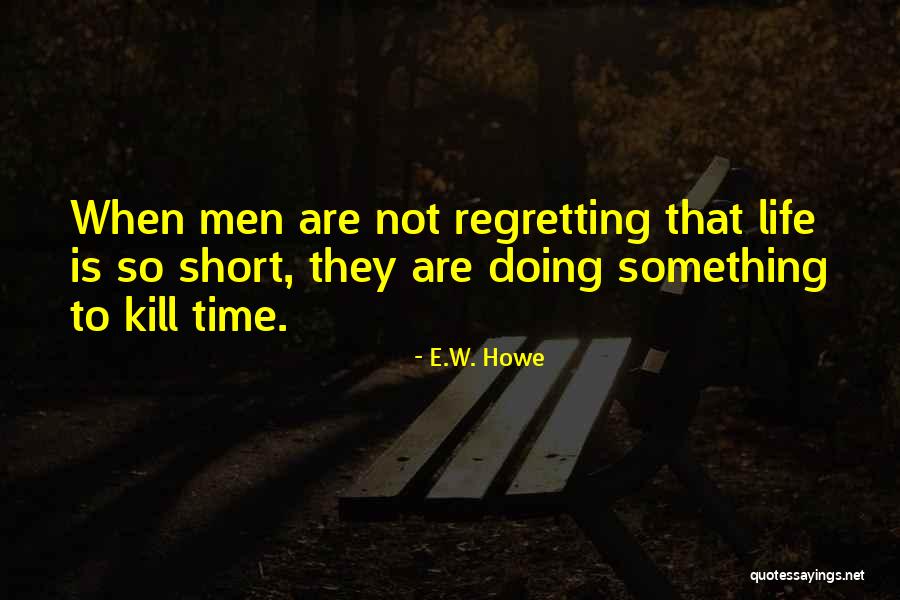 When men are not regretting that life is so short, they are doing something to kill time. — E.W. Howe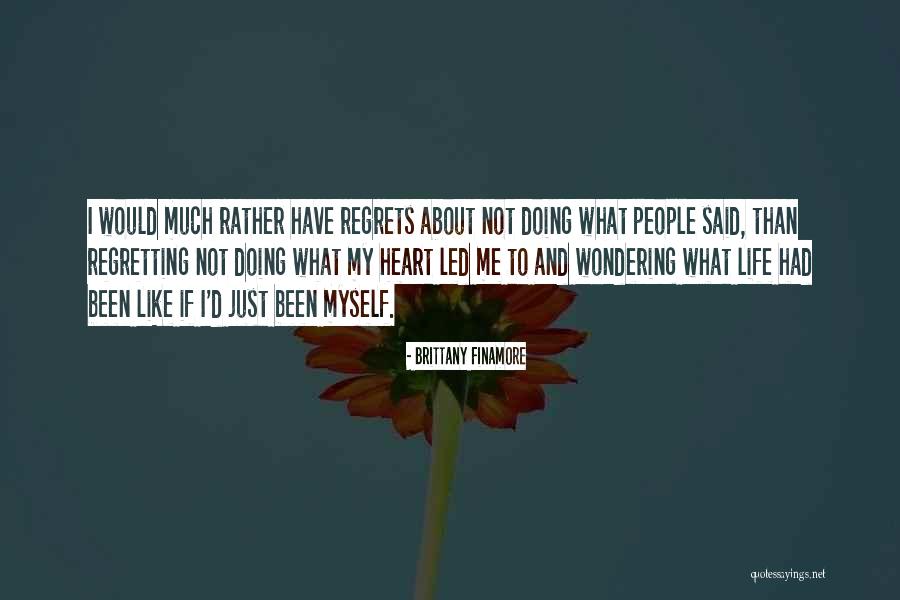 I would much rather have regrets about not doing what people said, than regretting not doing what my heart led me to and wondering what life had been like if I'd just been myself. — Brittany Finamore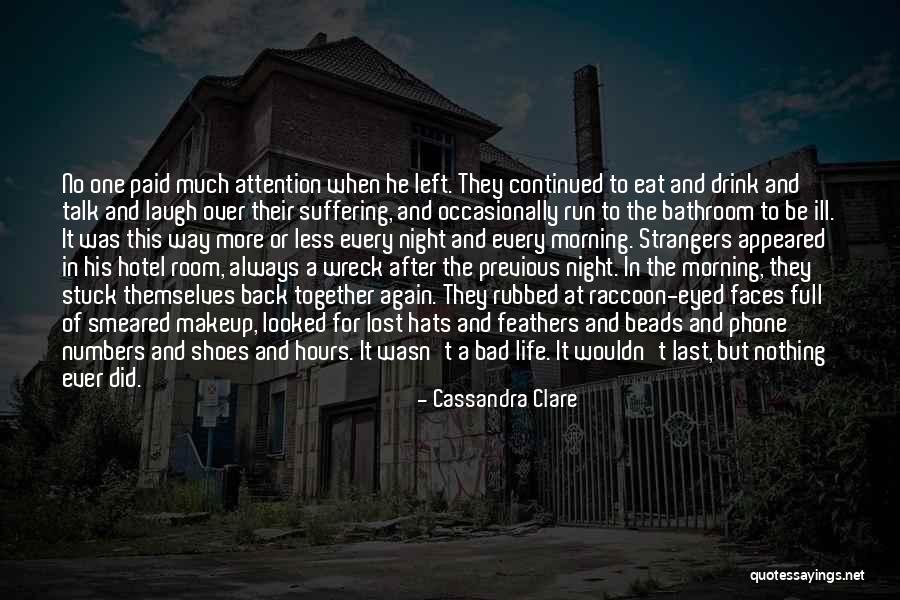 No one paid much attention when he left. They continued to eat and drink and talk and laugh over their suffering, and occasionally run to the bathroom to be ill. It was this way more or less every night and every morning. Strangers appeared in his hotel room, always a wreck after the previous night. In the morning, they stuck themselves back together again. They rubbed at raccoon-eyed faces full of smeared makeup, looked for lost hats and feathers and beads and phone numbers and shoes and hours. It wasn't a bad life. It wouldn't last, but nothing ever did.
They would all be like Alfie in the end, crying on his sofa at dawn and regretting it all. Which was why Magnus stayed away from those kinds of problems. Keep moving. Keep dancing. — Cassandra Clare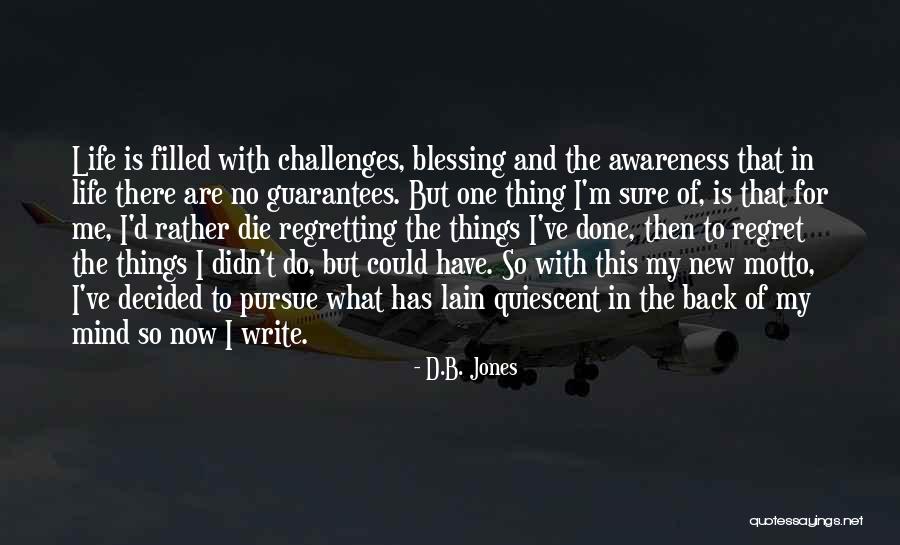 Life is filled with challenges, blessing and the awareness that in life there are no guarantees. But one thing I'm sure of, is that for me, I'd rather die regretting the things I've done, then to regret the things I didn't do, but could have. So with this my new motto, I've decided to pursue what has lain quiescent in the back of my mind so now I write. — D.B. Jones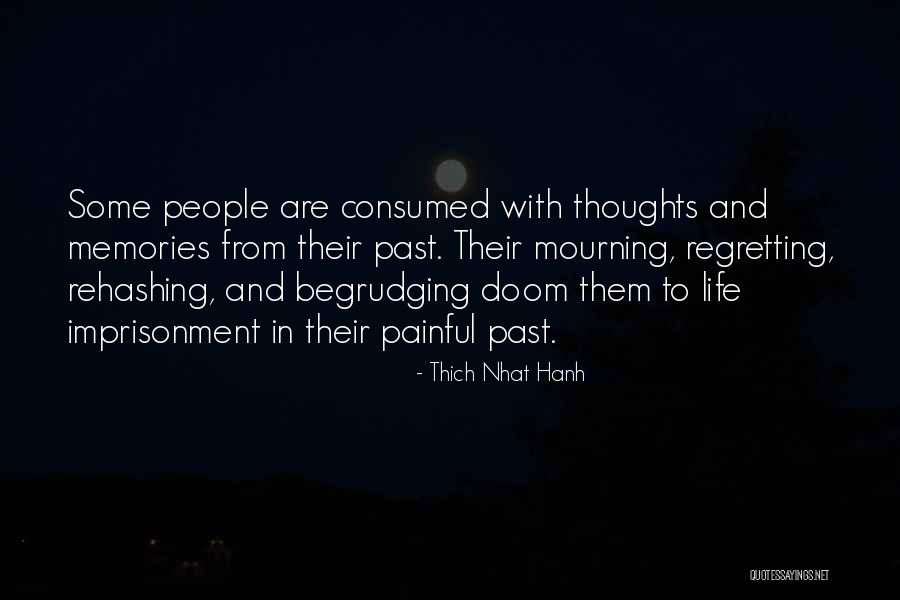 Some people are consumed with thoughts and memories from their past. Their mourning, regretting, rehashing, and begrudging doom them to life imprisonment in their painful past. — Thich Nhat Hanh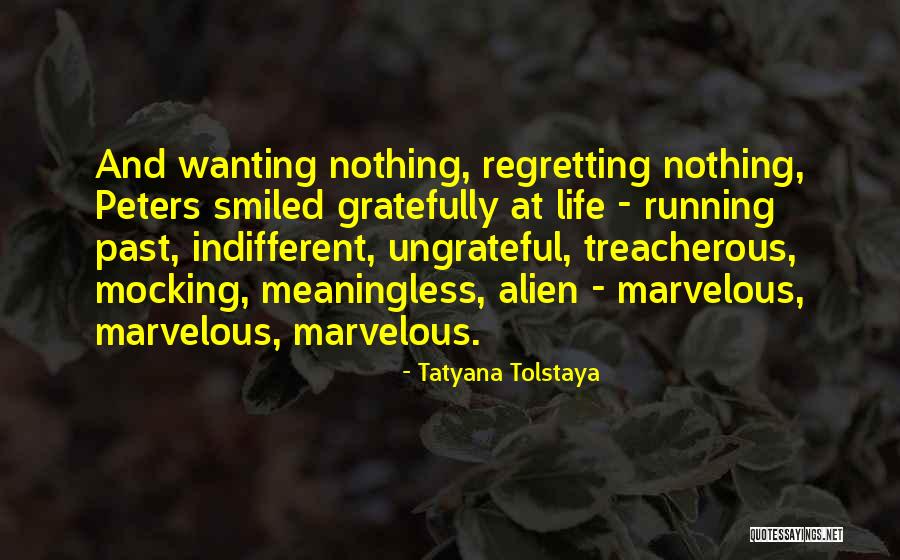 And wanting nothing, regretting nothing, Peters smiled gratefully at life - running past, indifferent, ungrateful, treacherous, mocking, meaningless, alien - marvelous, marvelous, marvelous. — Tatyana Tolstaya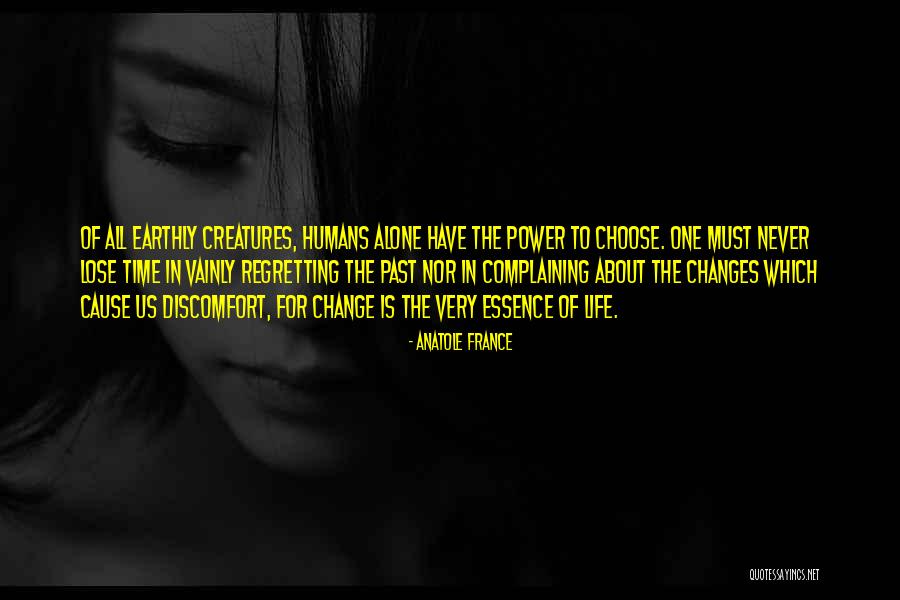 Of all earthly creatures, humans alone have the power to choose. One must never lose time in vainly regretting the past nor in complaining about the changes which cause us discomfort, for change is the very essence of life. — Anatole France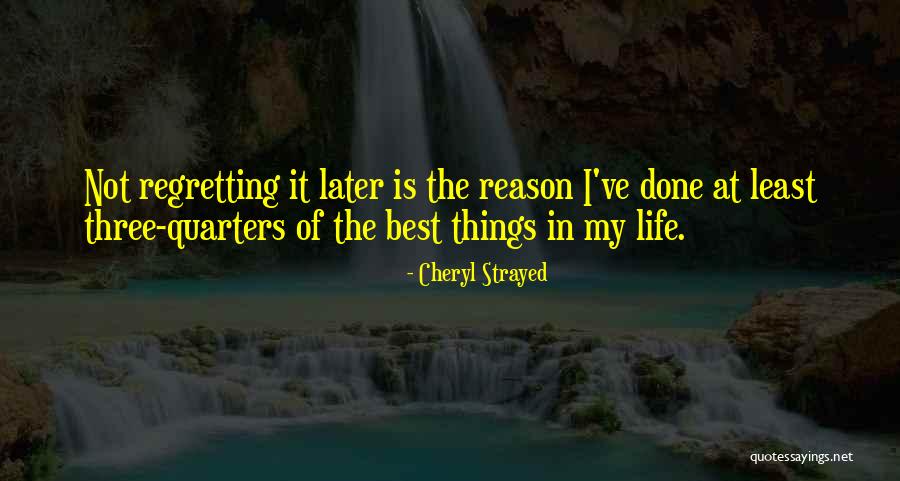 Not regretting it later is the reason I've done at least three-quarters of the best things in my life. — Cheryl Strayed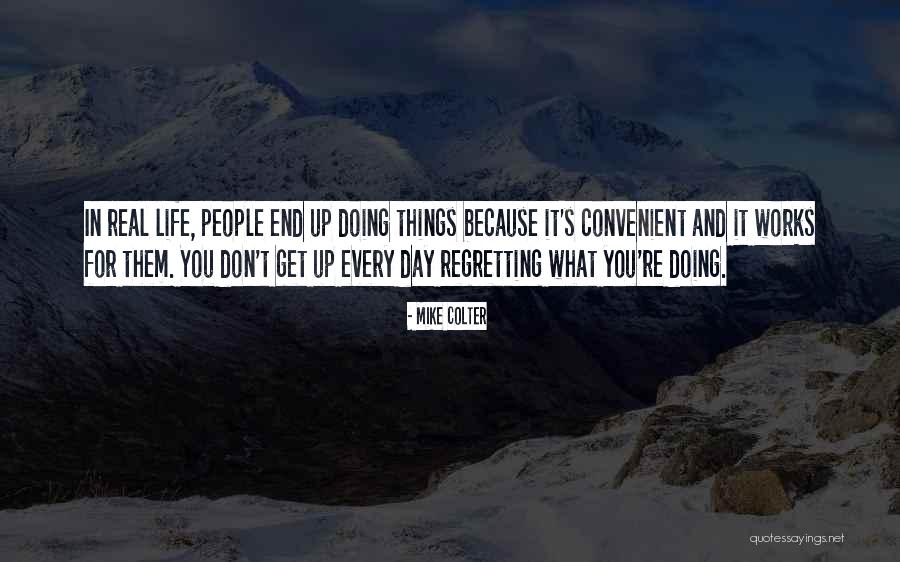 In real life, people end up doing things because it's convenient and it works for them. You don't get up every day regretting what you're doing. — Mike Colter