Quotes & Sayings About Reality Television Shows
Enjoy reading and share 23 famous quotes about Reality Television Shows with everyone.
Top Reality Television Shows Quotes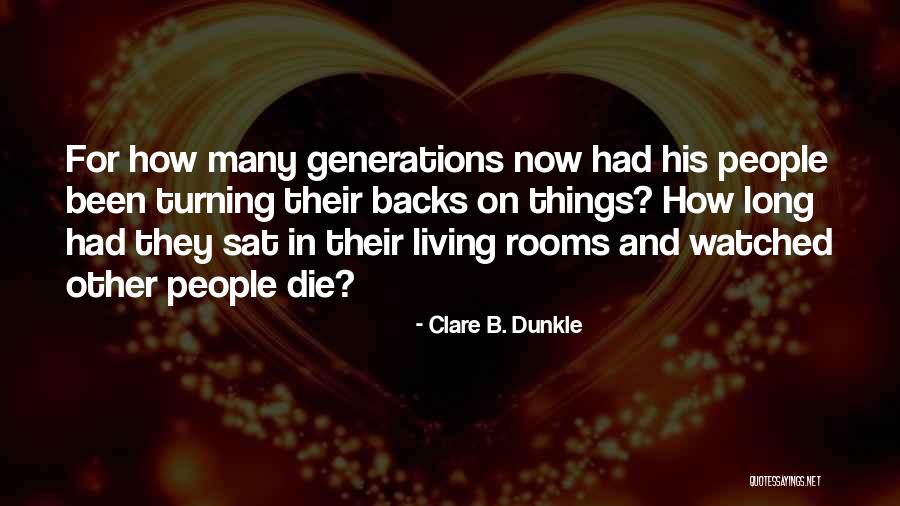 For how many generations now had his people been turning their backs on things? How long had they sat in their living rooms and watched other people die? — Clare B. Dunkle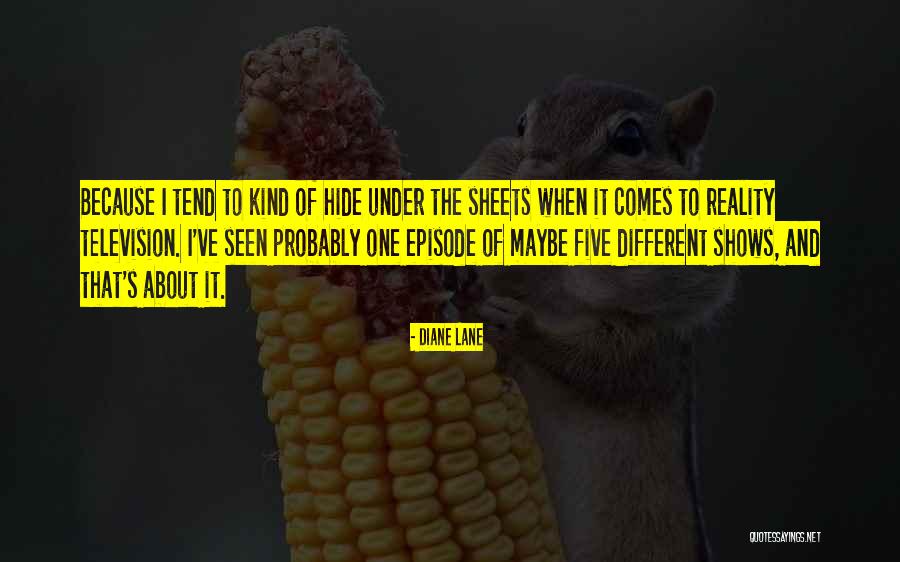 Because I tend to kind of hide under the sheets when it comes to reality television. I've seen probably one episode of maybe five different shows, and that's about it. — Diane Lane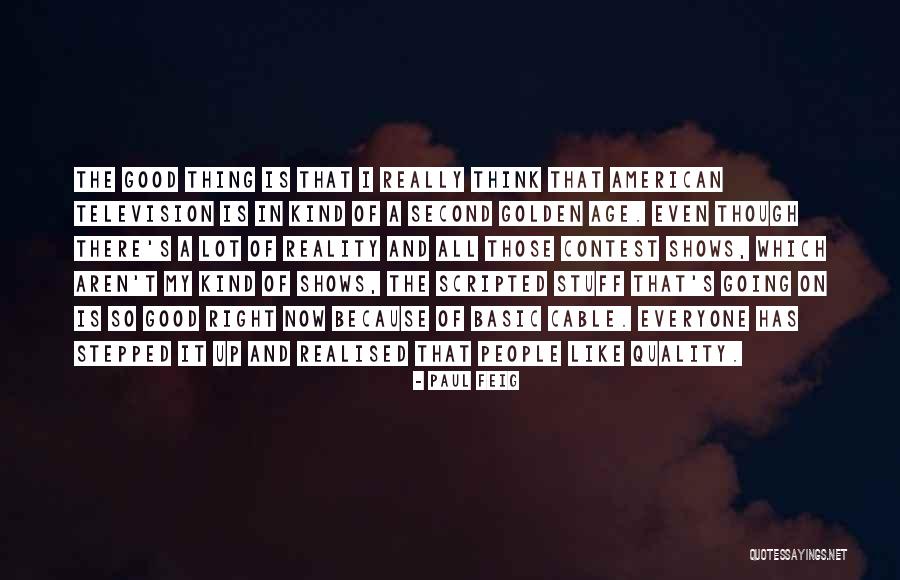 The good thing is that I really think that American television is in kind of a second golden age. Even though there's a lot of reality and all those contest shows, which aren't my kind of shows, the scripted stuff that's going on is so good right now because of basic cable. Everyone has stepped it up and realised that people like quality. — Paul Feig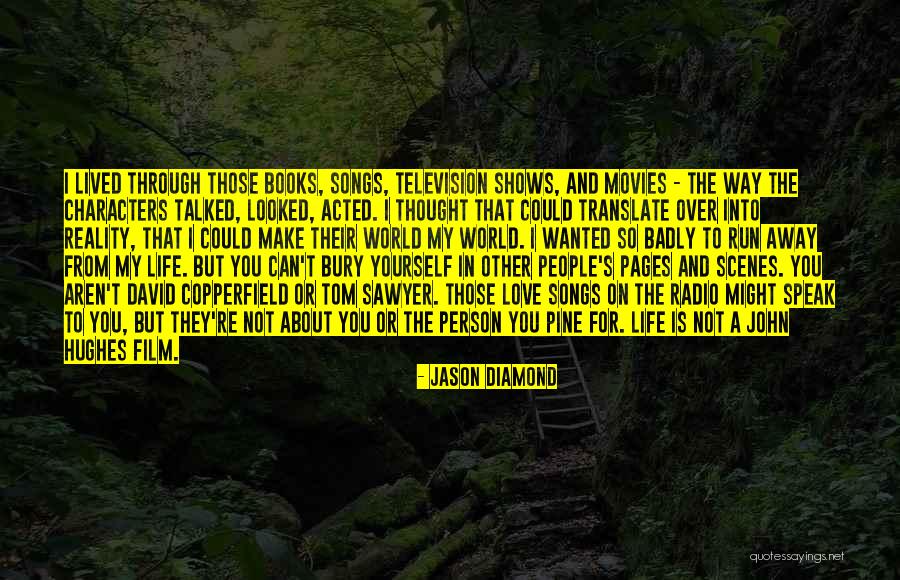 I lived through those books, songs, television shows, and movies - the way the characters talked, looked, acted. I thought that could translate over into reality, that I could make their world my world. I wanted so badly to run away from my life. But you can't bury yourself in other people's pages and scenes. You aren't David Copperfield or Tom Sawyer. Those love songs on the radio might speak to you, but they're not about you or the person you pine for. Life is not a John Hughes film. — Jason Diamond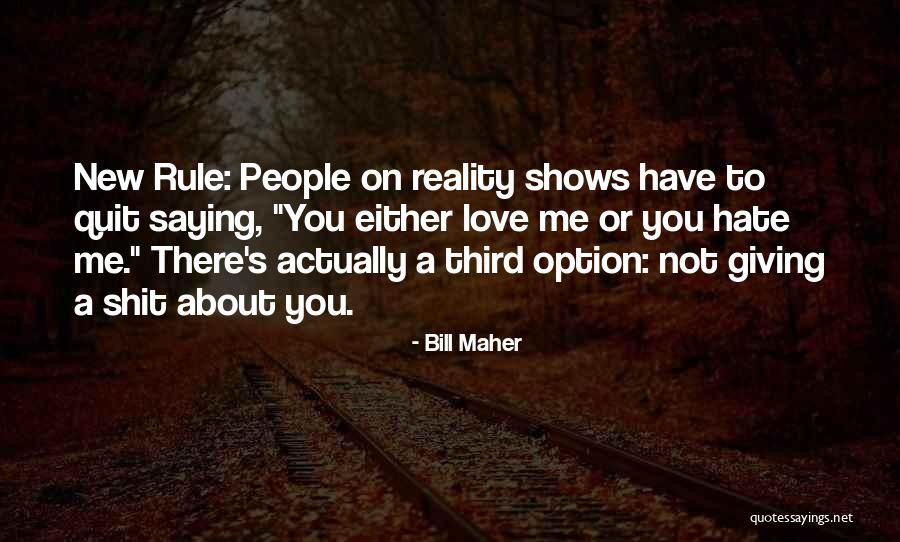 New Rule: People on reality shows have to quit saying, "You either love me or you hate me." There's actually a third option: not giving a shit about you. — Bill Maher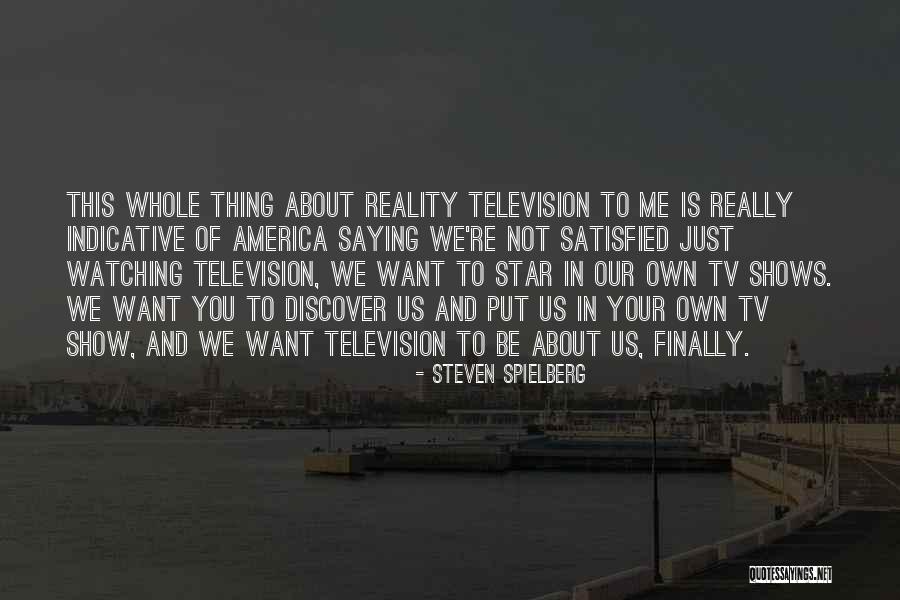 This whole thing about reality television to me is really indicative of America saying we're not satisfied just watching television, we want to star in our own TV shows. We want you to discover us and put us in your own TV show, and we want television to be about us, finally. — Steven Spielberg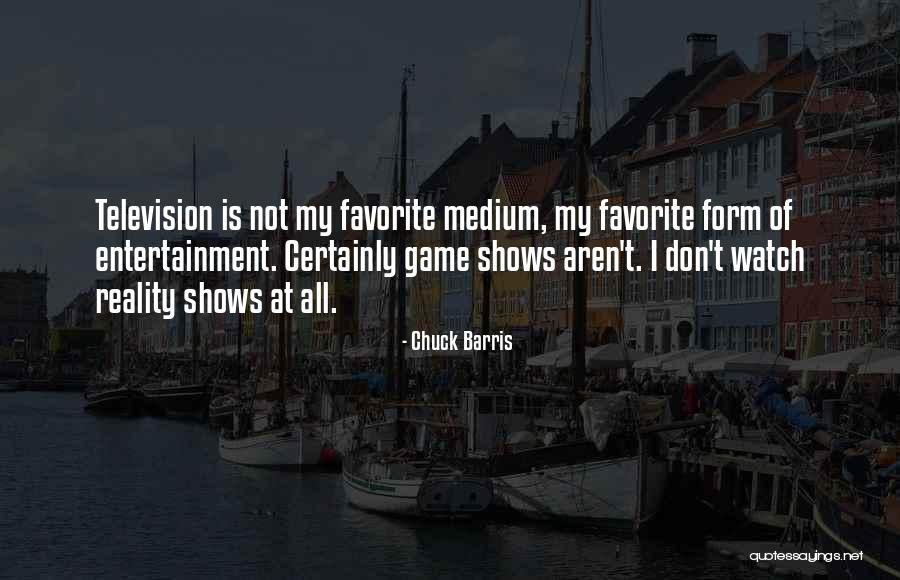 Television is not my favorite medium, my favorite form of entertainment. Certainly game shows aren't. I don't watch reality shows at all. — Chuck Barris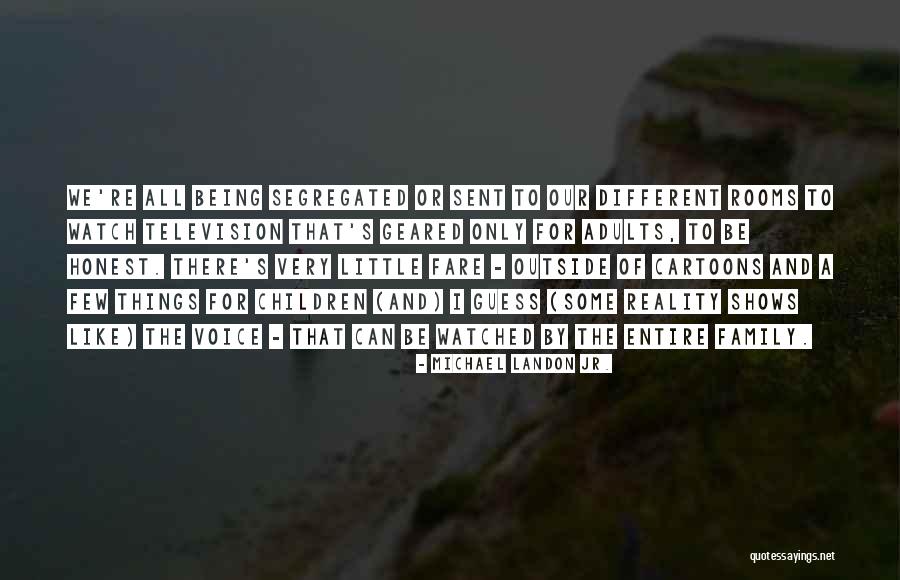 We're all being segregated or sent to our different rooms to watch television that's geared only for adults, to be honest. There's very little fare - outside of cartoons and a few things for children (and) I guess (some reality shows like) The Voice - that can be watched by the entire family. — Michael Landon Jr.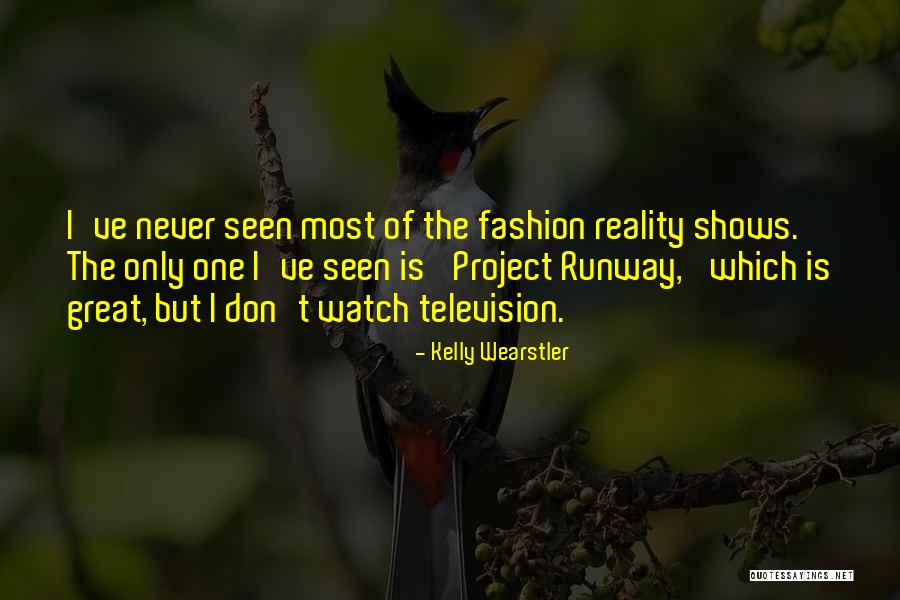 I've never seen most of the fashion reality shows. The only one I've seen is 'Project Runway,' which is great, but I don't watch television. — Kelly Wearstler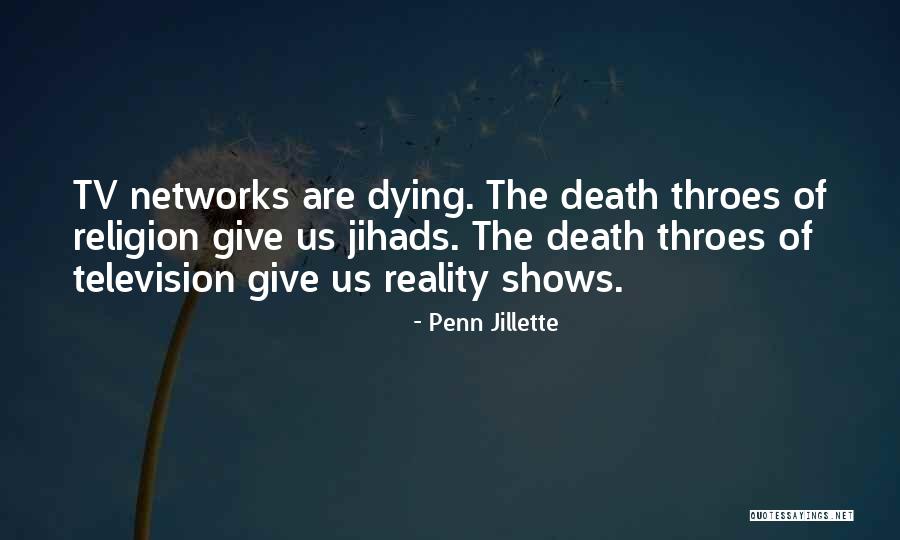 TV networks are dying. The death throes of religion give us jihads. The death throes of television give us reality shows. — Penn Jillette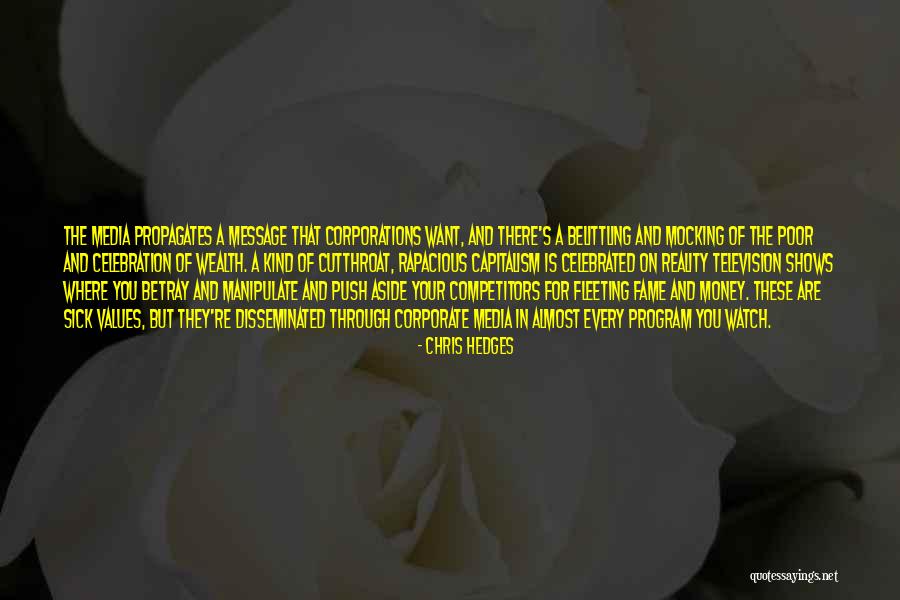 The media propagates a message that corporations want, and there's a belittling and mocking of the poor and celebration of wealth. A kind of cutthroat, rapacious capitalism is celebrated on reality television shows where you betray and manipulate and push aside your competitors for fleeting fame and money. These are sick values, but they're disseminated through corporate media in almost every program you watch. — Chris Hedges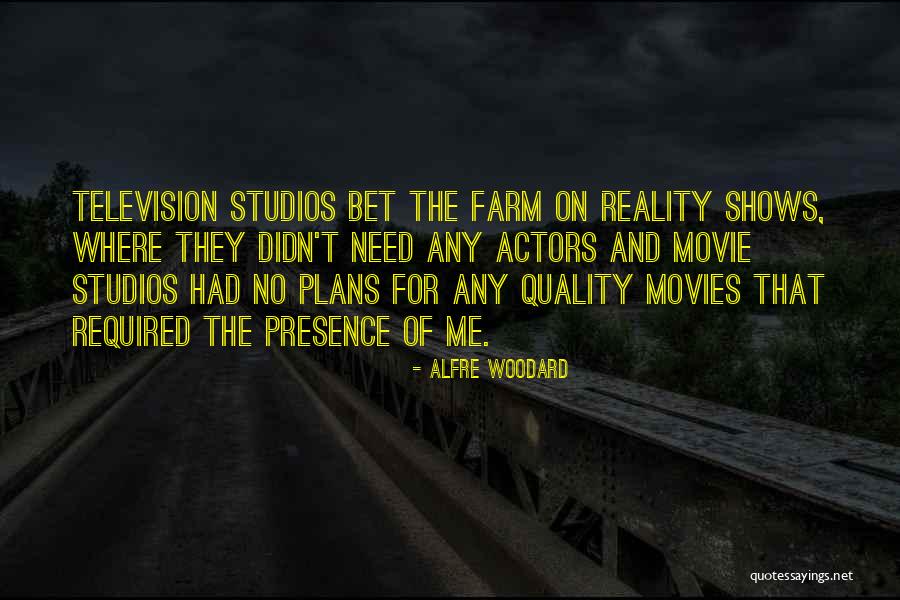 Television studios bet the farm on reality shows, where they didn't need any actors and movie studios had no plans for any quality movies that required the presence of me. — Alfre Woodard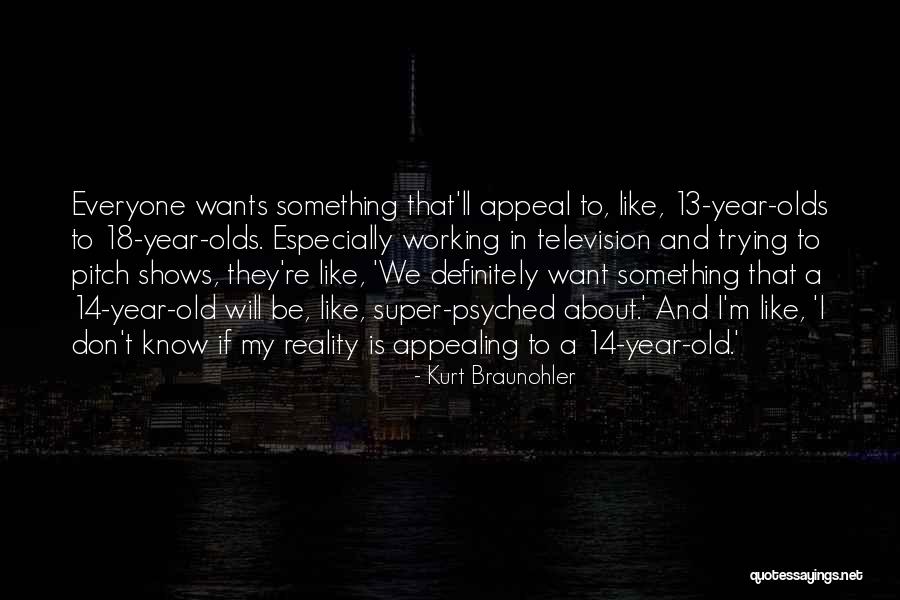 Everyone wants something that'll appeal to, like, 13-year-olds to 18-year-olds. Especially working in television and trying to pitch shows, they're like, 'We definitely want something that a 14-year-old will be, like, super-psyched about.' And I'm like, 'I don't know if my reality is appealing to a 14-year-old.' — Kurt Braunohler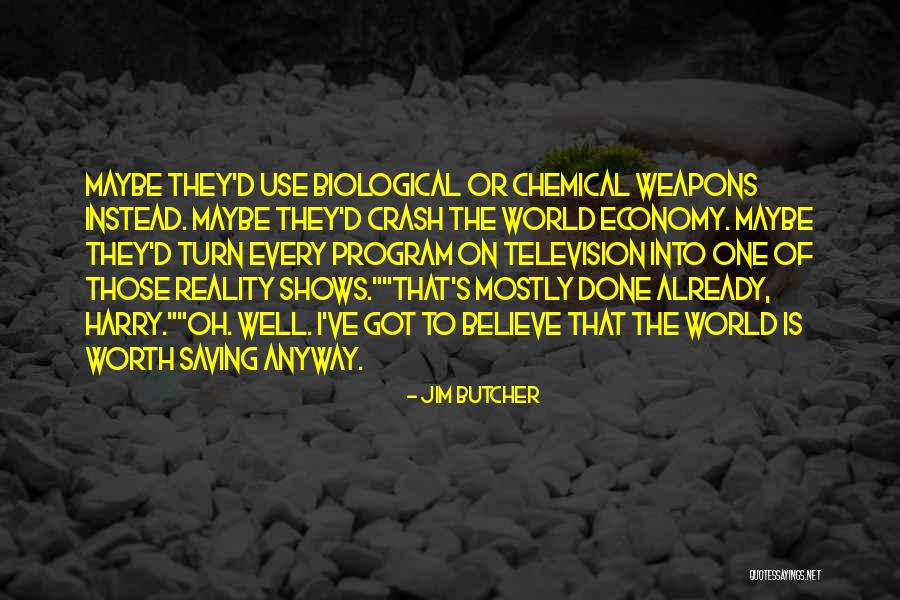 Maybe they'd use biological or chemical weapons instead. Maybe they'd crash the world economy. Maybe they'd turn every program on television into one of those reality shows."
"That's mostly done already, Harry."
"Oh. Well. I've got to believe that the world is worth saving anyway. — Jim Butcher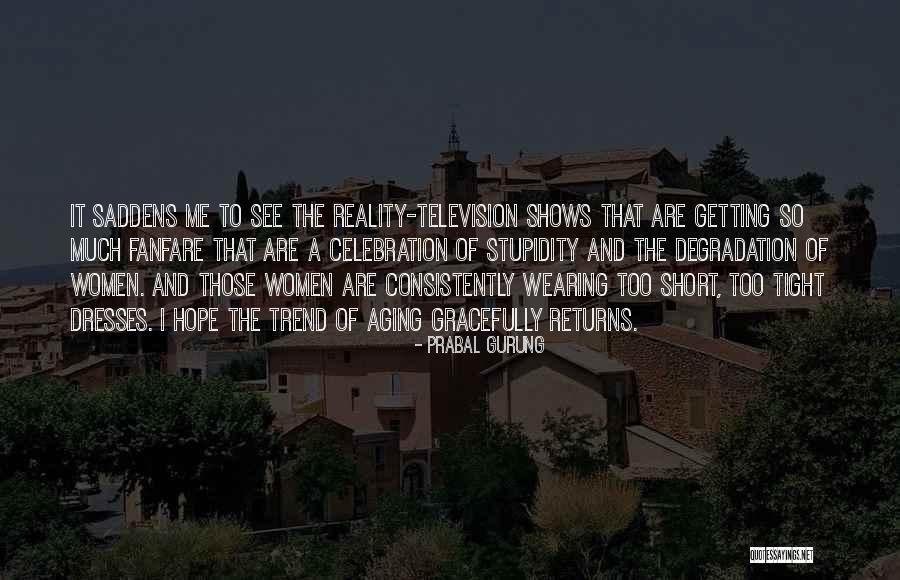 It saddens me to see the reality-television shows that are getting so much fanfare that are a celebration of stupidity and the degradation of women. And those women are consistently wearing too short, too tight dresses. I hope the trend of aging gracefully returns. — Prabal Gurung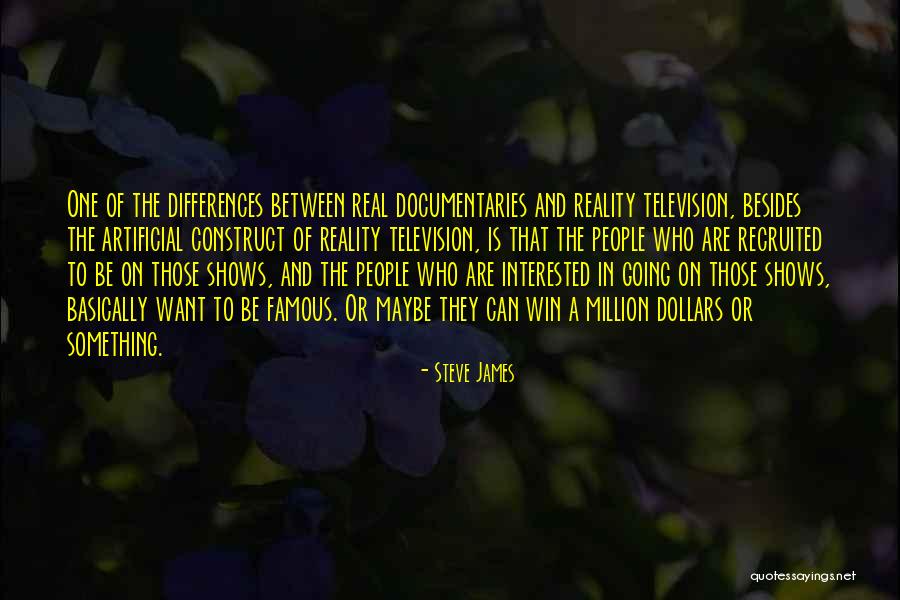 One of the differences between real documentaries and reality television, besides the artificial construct of reality television, is that the people who are recruited to be on those shows, and the people who are interested in going on those shows, basically want to be famous. Or maybe they can win a million dollars or something. — Steve James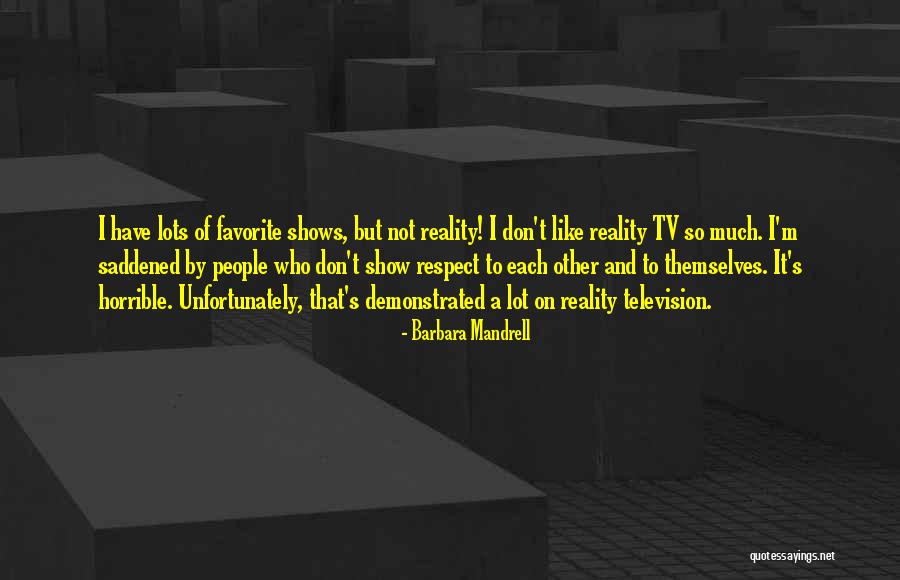 I have lots of favorite shows, but not reality! I don't like reality TV so much. I'm saddened by people who don't show respect to each other and to themselves. It's horrible. Unfortunately, that's demonstrated a lot on reality television. — Barbara Mandrell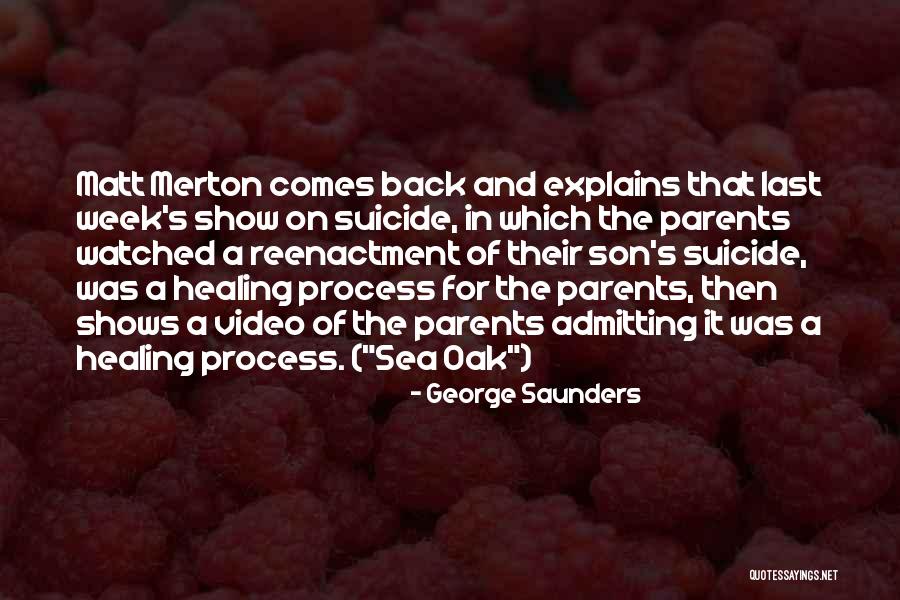 Matt Merton comes back and explains that last week's show on suicide, in which the parents watched a reenactment of their son's suicide, was a healing process for the parents, then shows a video of the parents admitting it was a healing process. ("Sea Oak") — George Saunders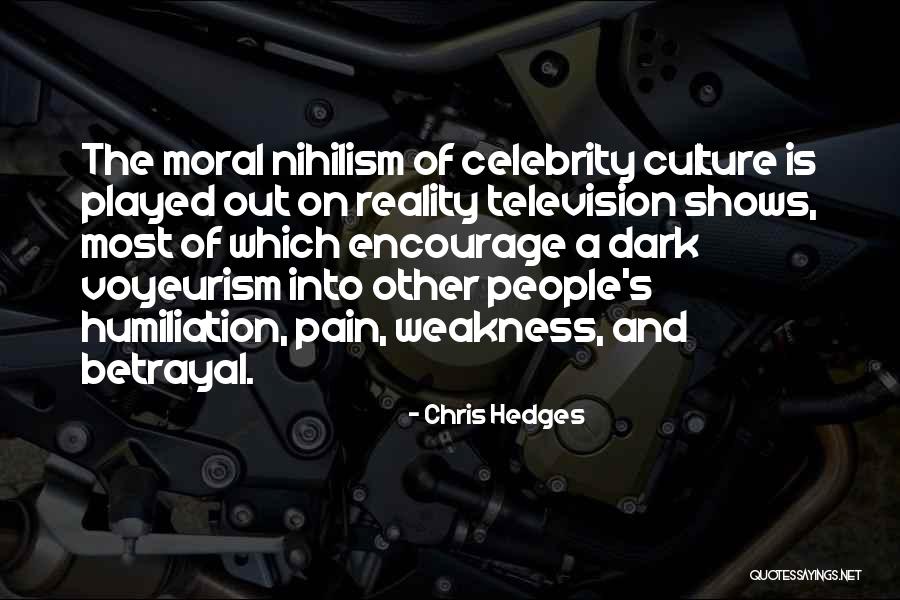 The moral nihilism of celebrity culture is played out on reality television shows, most of which encourage a dark voyeurism into other people's humiliation, pain, weakness, and betrayal. — Chris Hedges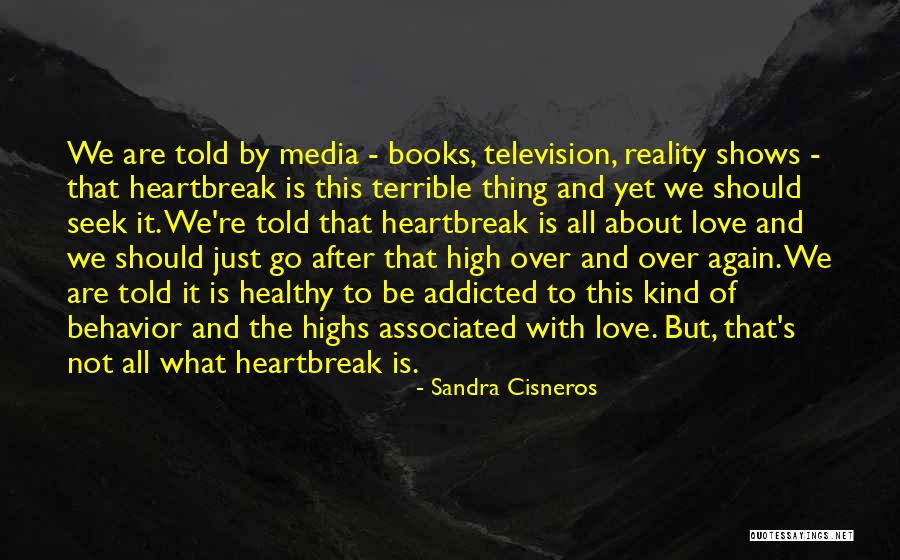 We are told by media - books, television, reality shows - that heartbreak is this terrible thing and yet we should seek it. We're told that heartbreak is all about love and we should just go after that high over and over again. We are told it is healthy to be addicted to this kind of behavior and the highs associated with love. But, that's not all what heartbreak is. — Sandra Cisneros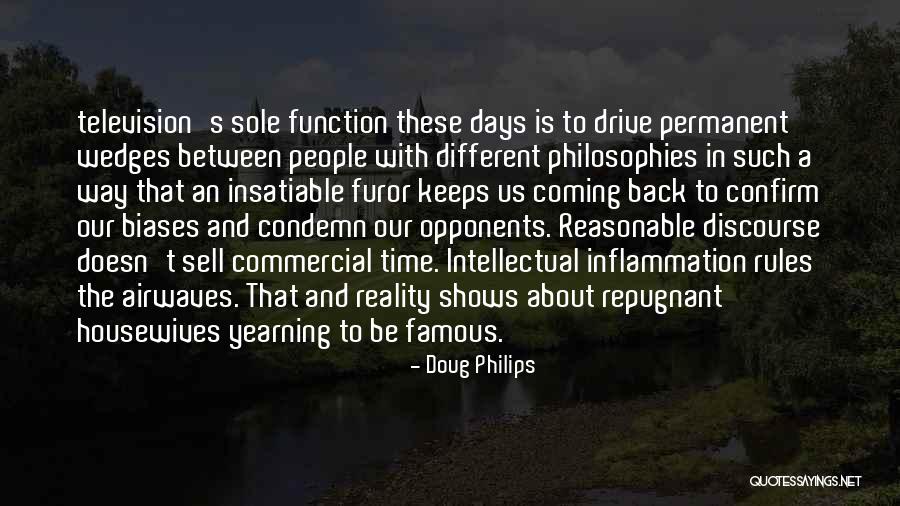 television's sole function these days is to drive permanent wedges between people with different philosophies in such a way that an insatiable furor keeps us coming back to confirm our biases and condemn our opponents. Reasonable discourse doesn't sell commercial time. Intellectual inflammation rules the airwaves. That and reality shows about repugnant housewives yearning to be famous. — Doug Philips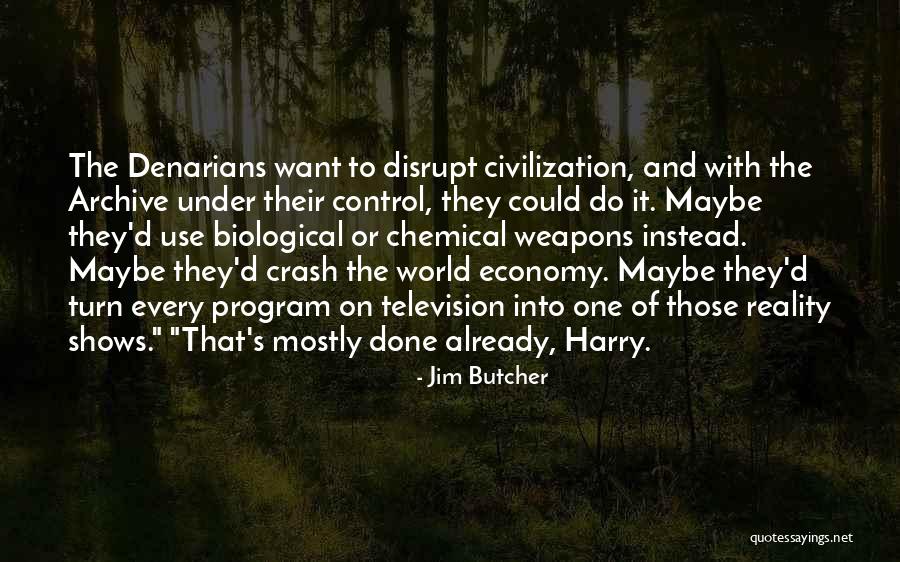 The Denarians want to disrupt civilization, and with the Archive under their control, they could do it. Maybe they'd use biological or chemical weapons instead. Maybe they'd crash the world economy. Maybe they'd turn every program on television into one of those reality shows." "That's mostly done already, Harry. — Jim Butcher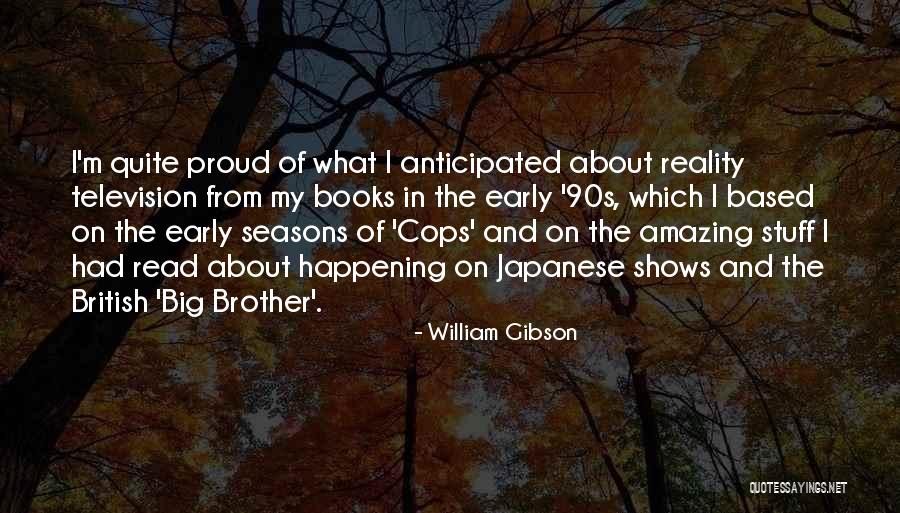 I'm quite proud of what I anticipated about reality television from my books in the early '90s, which I based on the early seasons of 'Cops' and on the amazing stuff I had read about happening on Japanese shows and the British 'Big Brother'. — William Gibson