Realist Vs Idealist Quotes & Sayings
Enjoy reading and share 24 famous quotes about Realist Vs Idealist with everyone.
Top Realist Vs Idealist Quotes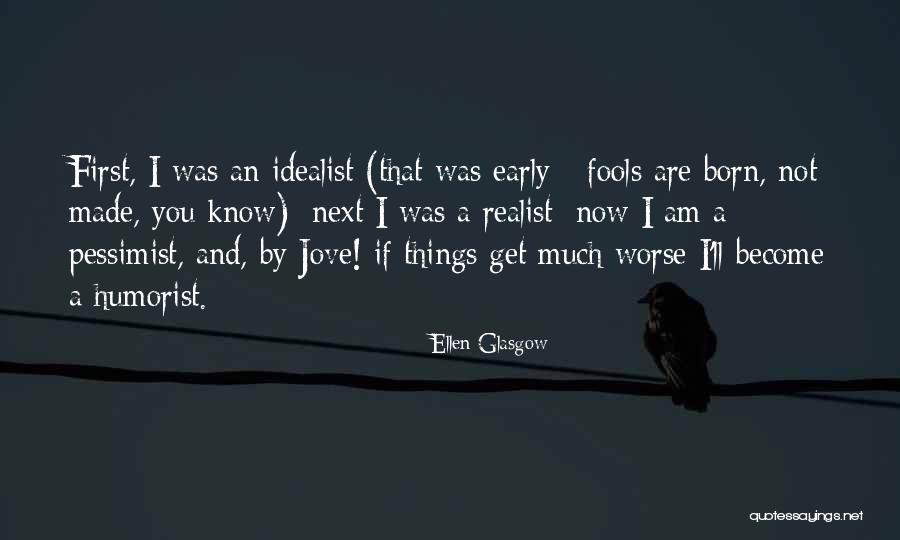 First, I was an idealist (that was early - fools are born, not made, you know); next I was a realist; now I am a pessimist, and, by Jove! if things get much worse I'll become a humorist. — Ellen Glasgow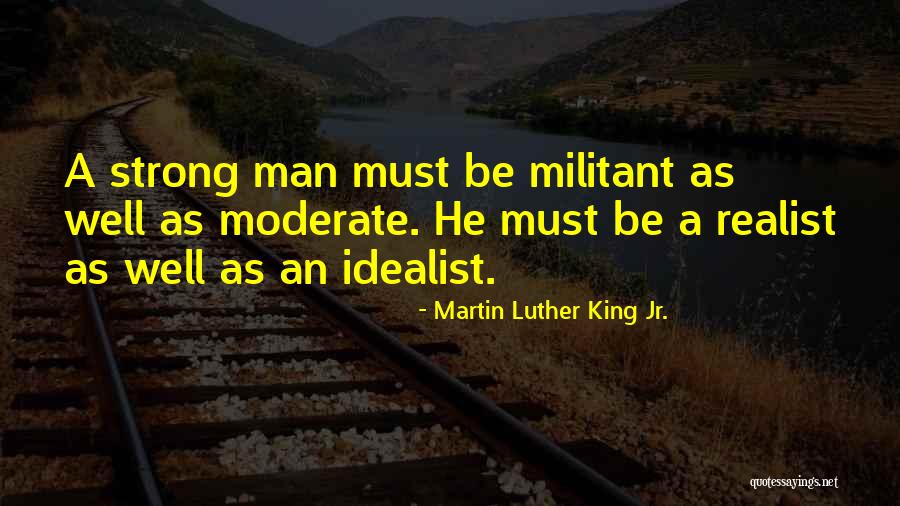 A strong man must be militant as well as moderate. He must be a realist as well as an idealist. — Martin Luther King Jr.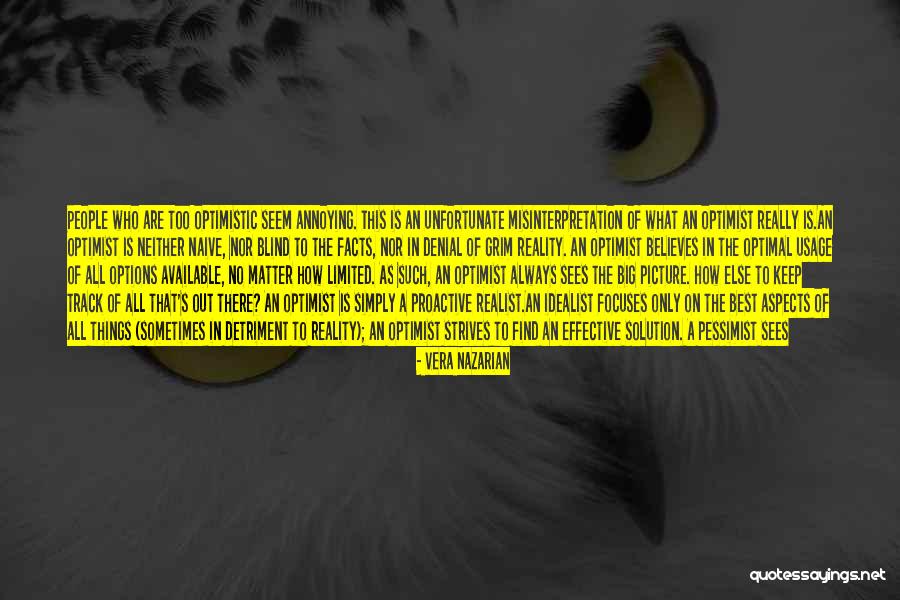 People who are too optimistic seem annoying. This is an unfortunate misinterpretation of what an optimist really is.
An optimist is neither naive, nor blind to the facts, nor in denial of grim reality. An optimist believes in the optimal usage of all options available, no matter how limited. As such, an optimist always sees the big picture. How else to keep track of all that's out there? An optimist is simply a proactive realist.
An idealist focuses only on the best aspects of all things (sometimes in detriment to reality); an optimist strives to find an effective solution. A pessimist sees limited or no choices in dark times; an optimist makes choices.
When bobbing for apples, an idealist endlessly reaches for the best apple, a pessimist settles for the first one within reach, while an optimist drains the barrel, fishes out all the apples and makes pie.
Annoying? Yes. But, oh-so tasty! — Vera Nazarian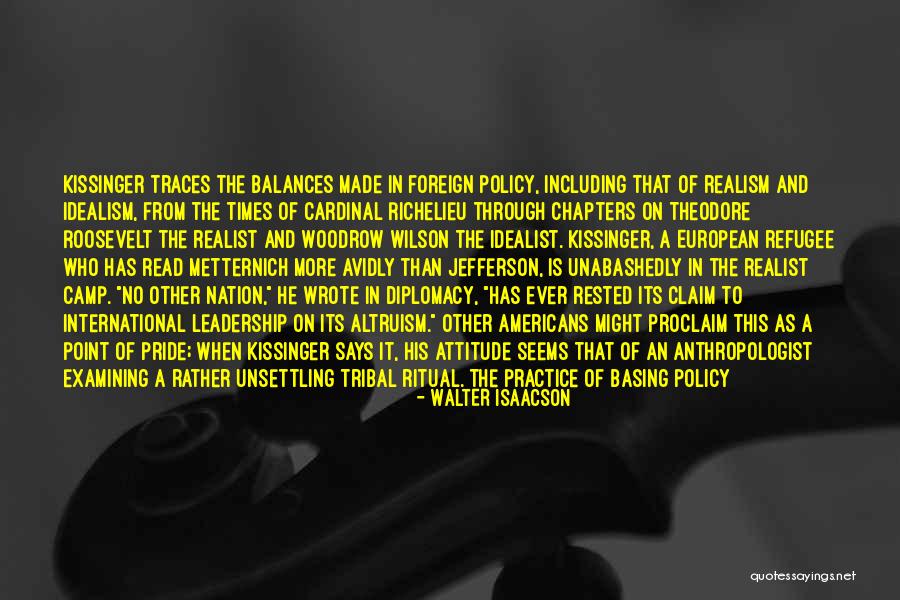 Kissinger traces the balances made in foreign policy, including that of realism and idealism, from the times of Cardinal Richelieu through chapters on Theodore Roosevelt the realist and Woodrow Wilson the idealist. Kissinger, a European refugee who has read Metternich more avidly than Jefferson, is unabashedly in the realist camp. "No other nation," he wrote in Diplomacy, "has ever rested its claim to international leadership on its altruism." Other Americans might proclaim this as a point of pride; when Kissinger says it, his attitude seems that of an anthropologist examining a rather unsettling tribal ritual. The practice of basing policy on ideals rather than interests, he pointed out, can make a nation seem dangerously unpredictable. — Walter Isaacson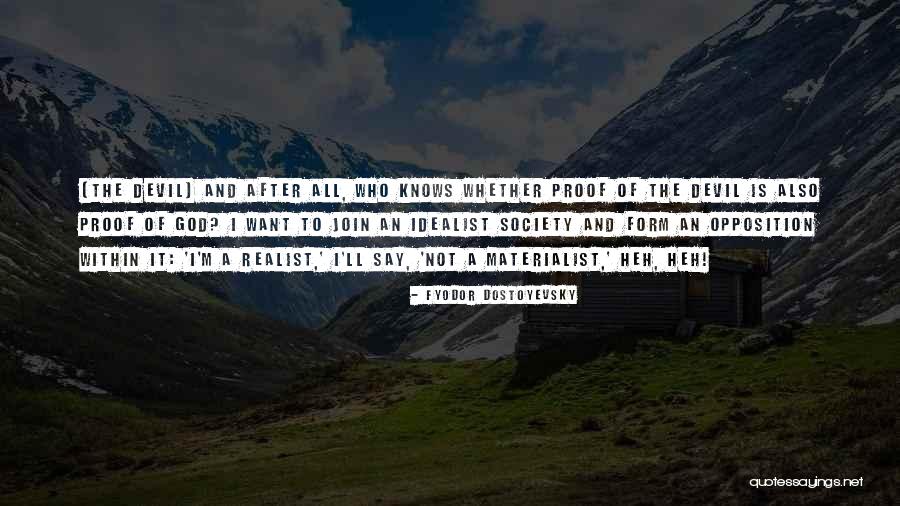 [The Devil] And after all, who knows whether proof of the devil is also proof of God? I want to join an idealist society and form an opposition within it: 'I'm a realist,' I'll say, 'not a materialist,' heh, heh! — Fyodor Dostoyevsky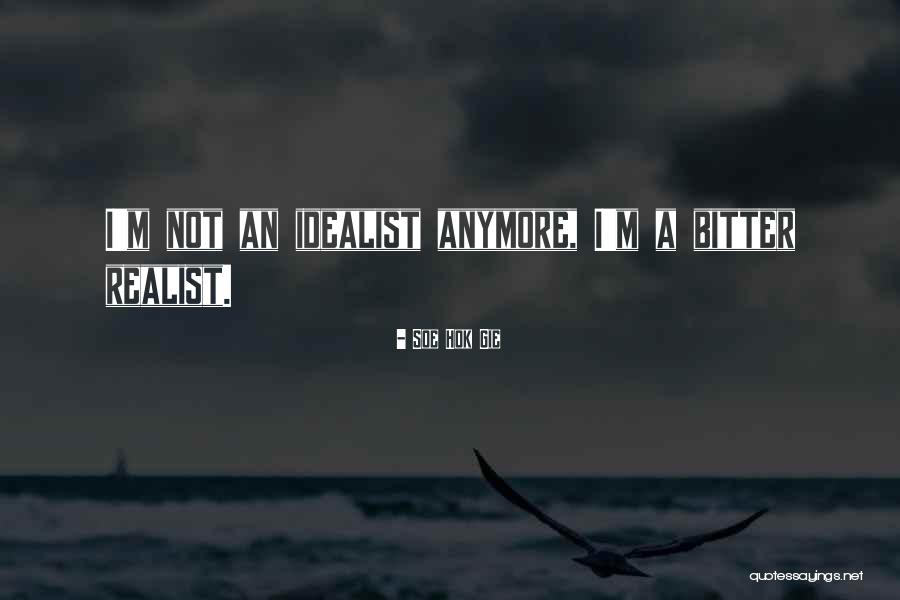 I'm not an idealist anymore, I'm a bitter realist. — Soe Hok Gie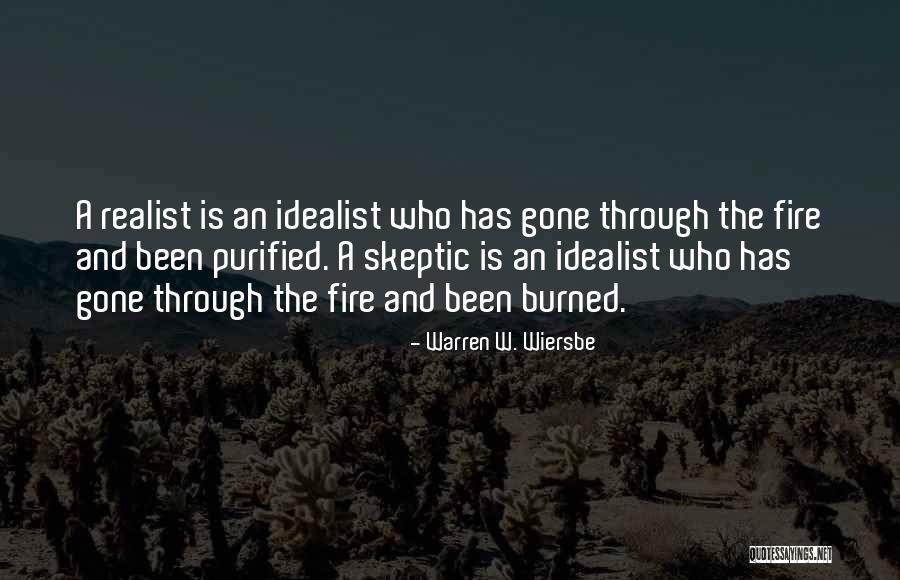 A realist is an idealist who has gone through the fire and been purified. A skeptic is an idealist who has gone through the fire and been burned. — Warren W. Wiersbe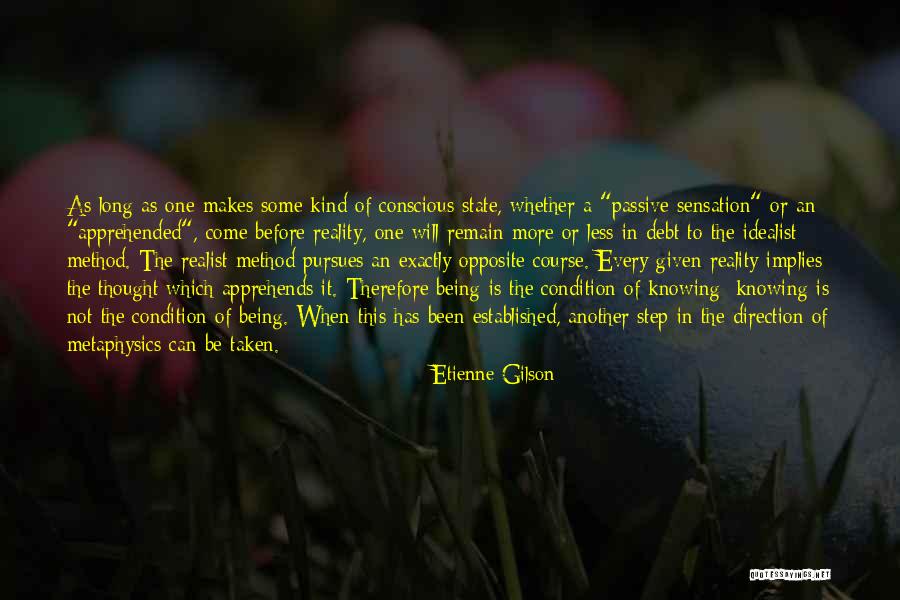 As long as one makes some kind of conscious state, whether a "passive sensation" or an "apprehended", come before reality, one will remain more or less in debt to the idealist method. The realist method pursues an exactly opposite course. Every given reality implies the thought which apprehends it. Therefore being is the condition of knowing; knowing is not the condition of being. When this has been established, another step in the direction of metaphysics can be taken. — Etienne Gilson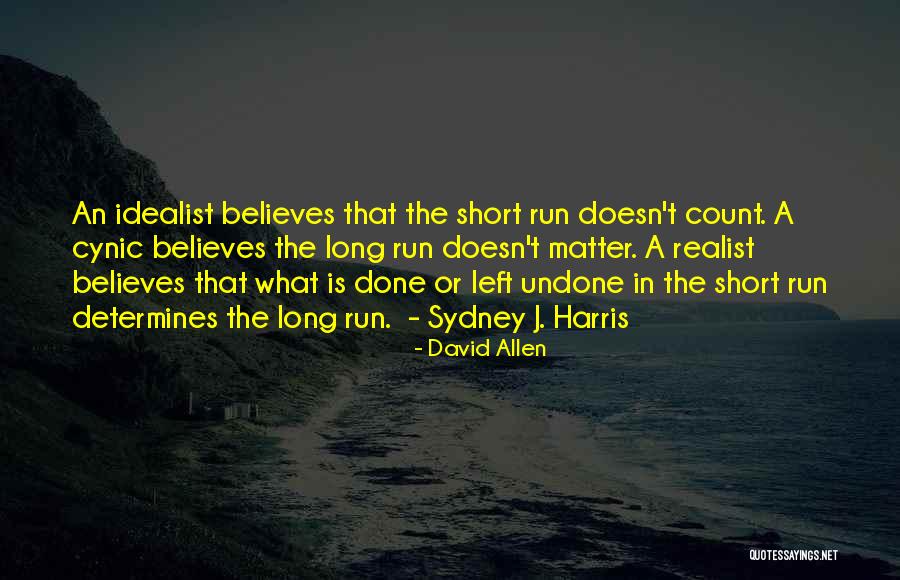 An idealist believes that the short run doesn't count. A cynic believes the long run doesn't matter. A realist believes that what is done or left undone in the short run determines the long run. - Sydney J. Harris — David Allen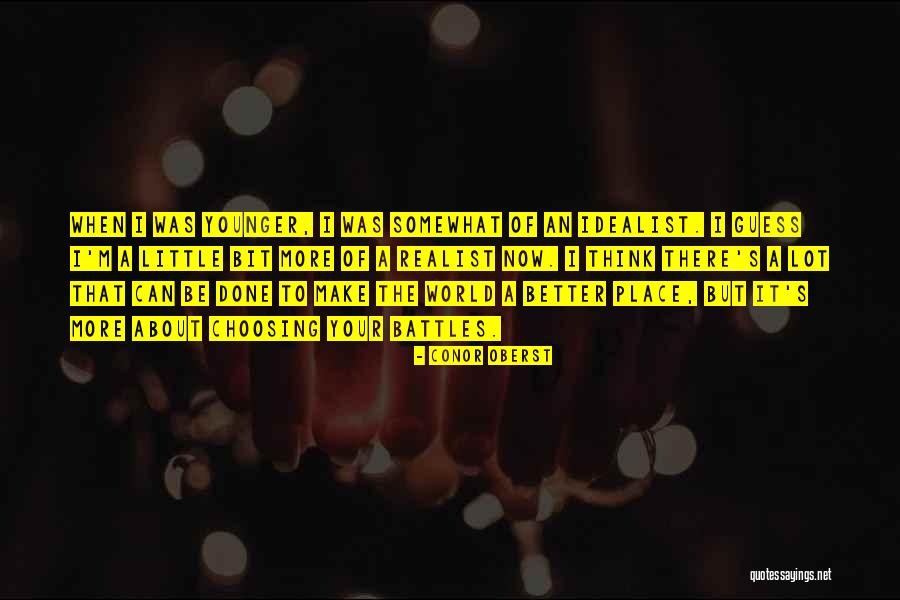 When I was younger, I was somewhat of an idealist. I guess I'm a little bit more of a realist now. I think there's a lot that can be done to make the world a better place, but it's more about choosing your battles. — Conor Oberst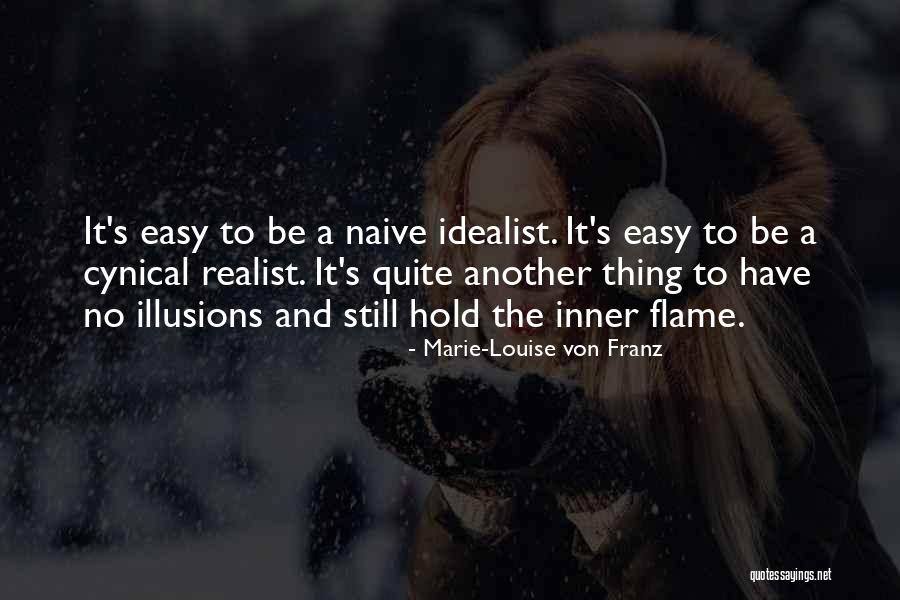 It's easy to be a naive idealist. It's easy to be a cynical realist. It's quite another thing to have no illusions and still hold the inner flame. — Marie-Louise Von Franz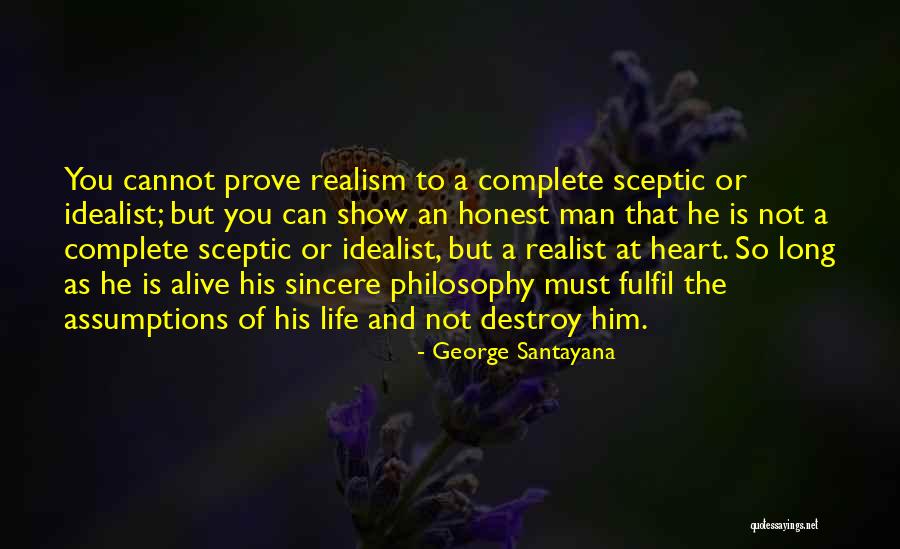 You cannot prove realism to a complete sceptic or idealist; but you can show an honest man that he is not a complete sceptic or idealist, but a realist at heart. So long as he is alive his sincere philosophy must fulfil the assumptions of his life and not destroy him. — George Santayana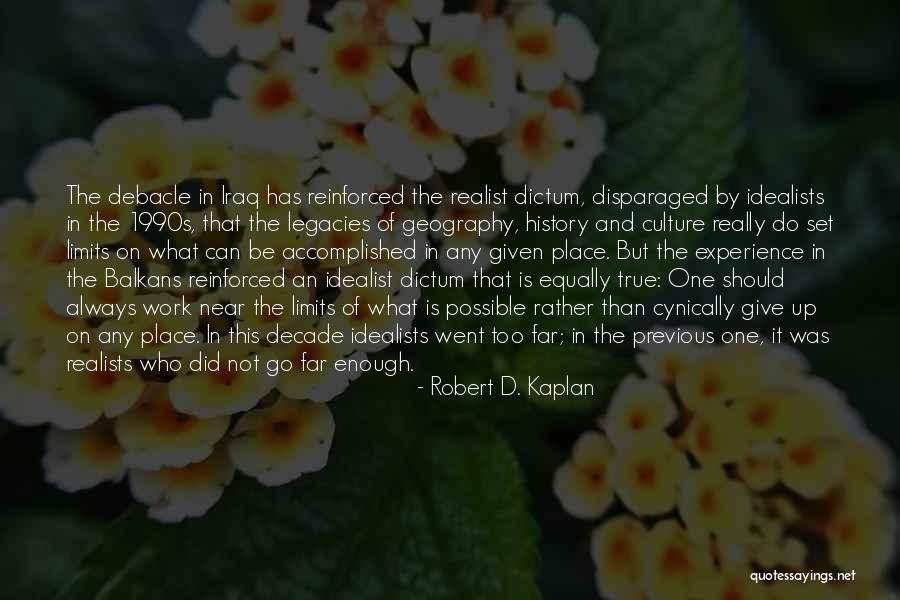 The debacle in Iraq has reinforced the realist dictum, disparaged by idealists in the 1990s, that the legacies of geography, history and culture really do set limits on what can be accomplished in any given place. But the experience in the Balkans reinforced an idealist dictum that is equally true: One should always work near the limits of what is possible rather than cynically give up on any place. In this decade idealists went too far; in the previous one, it was realists who did not go far enough. — Robert D. Kaplan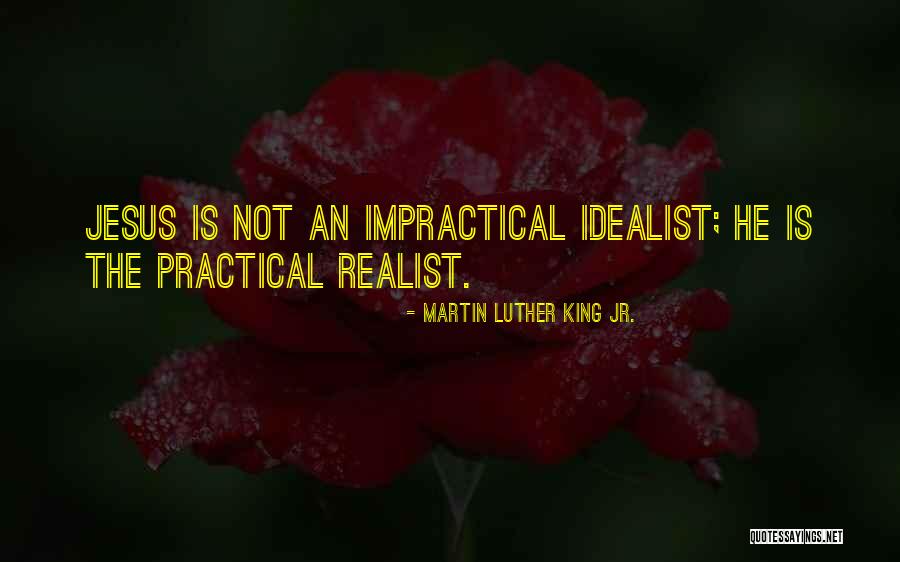 Jesus is not an impractical idealist; he is the practical realist. — Martin Luther King Jr.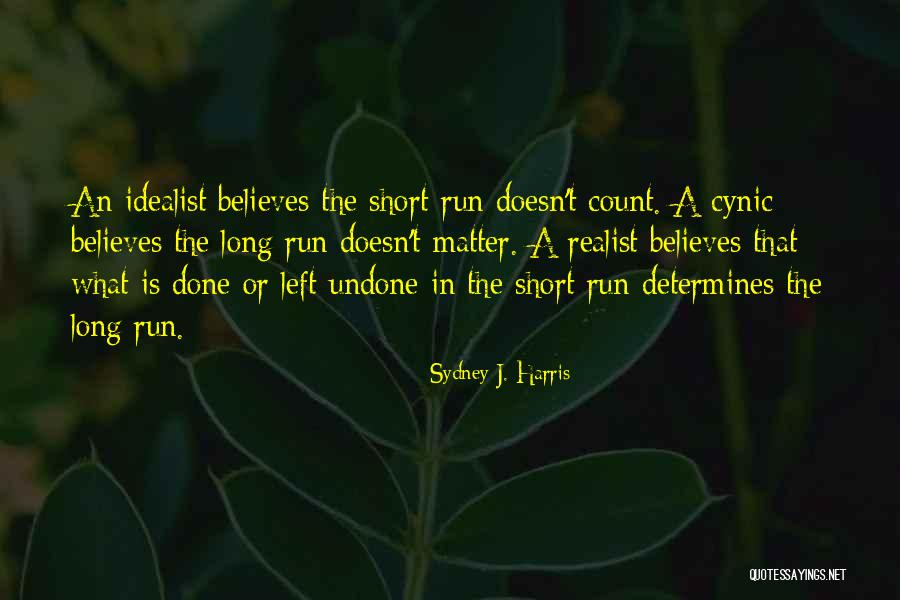 An idealist believes the short run doesn't count. A cynic believes the long run doesn't matter. A realist believes that what is done or left undone in the short run determines the long run. — Sydney J. Harris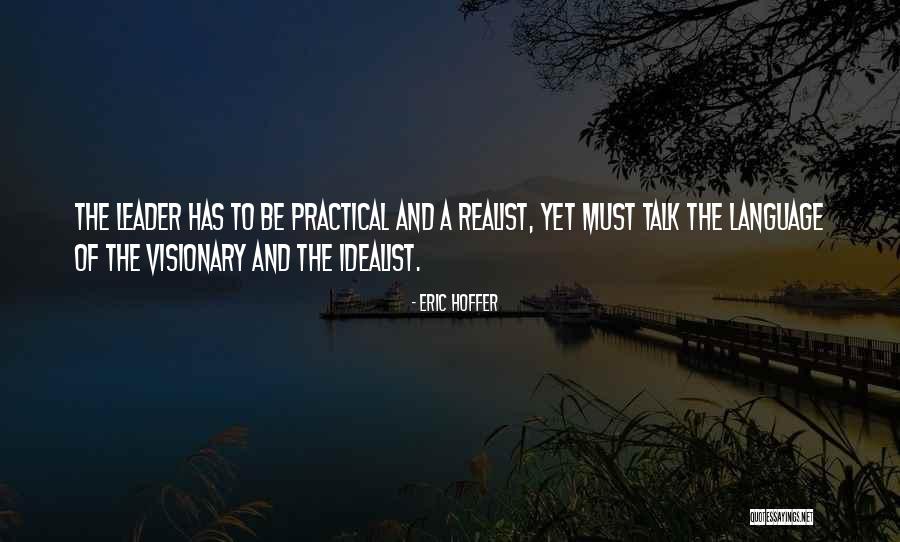 The leader has to be practical and a realist, yet must talk the language of the visionary and the idealist. — Eric Hoffer
America: A place where Realists have the freedom to be Idealists. — Dortha Jackson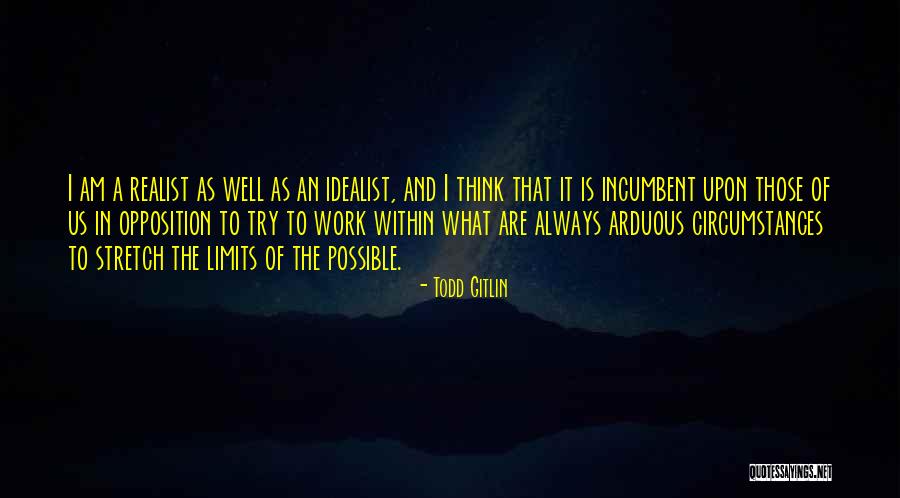 I am a realist as well as an idealist, and I think that it is incumbent upon those of us in opposition to try to work within what are always arduous circumstances to stretch the limits of the possible. — Todd Gitlin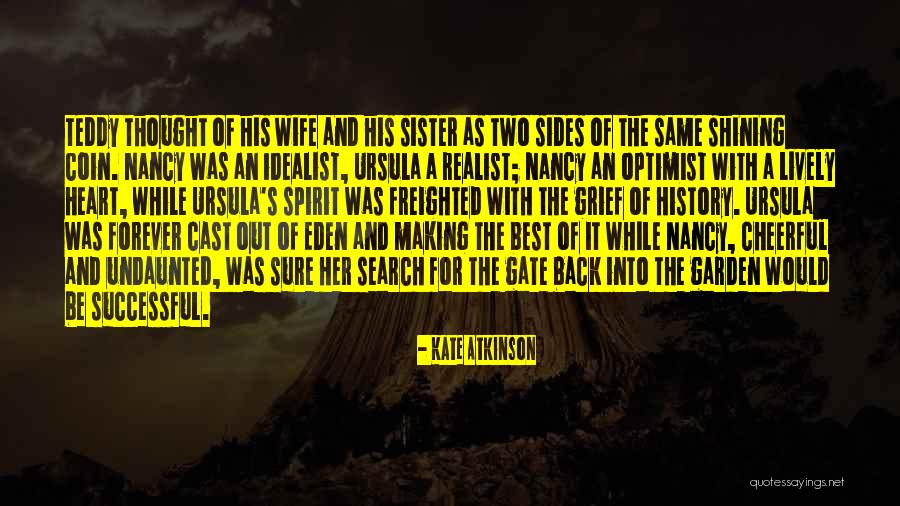 Teddy thought of his wife and his sister as two sides of the same shining coin. Nancy was an idealist, Ursula a realist; Nancy an optimist with a lively heart, while Ursula's spirit was freighted with the grief of history. Ursula was forever cast out of Eden and making the best of it while Nancy, cheerful and undaunted, was sure her search for the gate back into the garden would be successful. — Kate Atkinson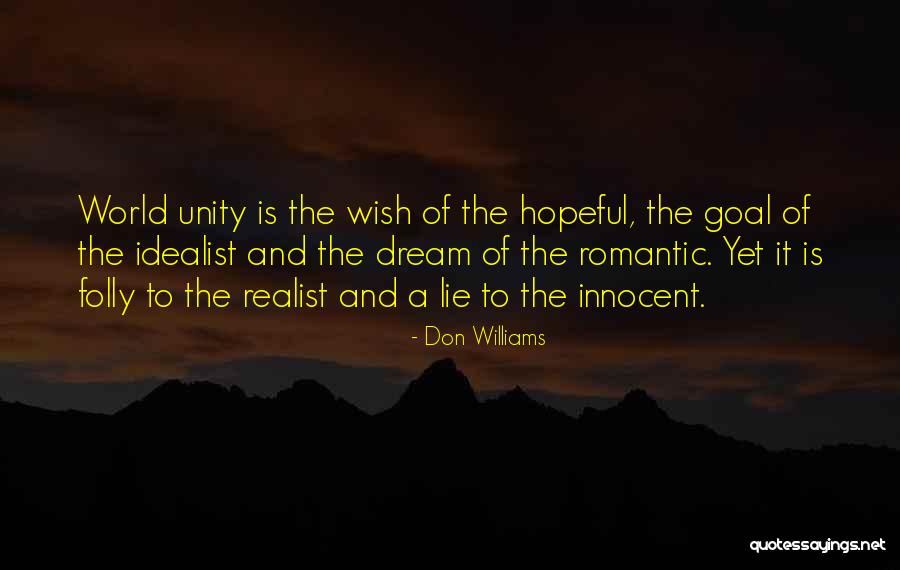 World unity is the wish of the hopeful, the goal of the idealist and the dream of the romantic. Yet it is folly to the realist and a lie to the innocent. — Don Williams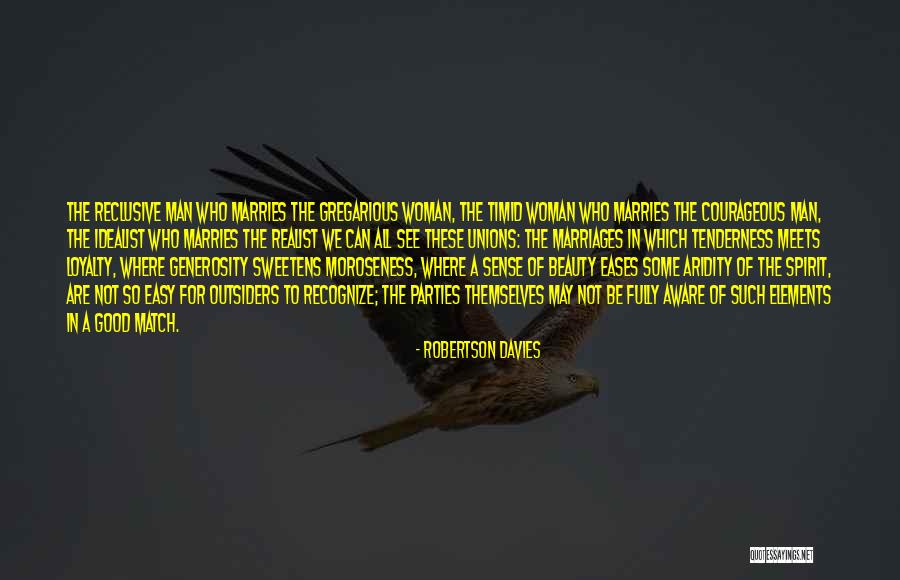 The reclusive man who marries the gregarious woman, the timid woman who marries the courageous man, the idealist who marries the realist we can all see these unions: the marriages in which tenderness meets loyalty, where generosity sweetens moroseness, where a sense of beauty eases some aridity of the spirit, are not so easy for outsiders to recognize; the parties themselves may not be fully aware of such elements in a good match. — Robertson Davies