Real Good Woman Quotes & Sayings
Enjoy reading and share 43 famous quotes about Real Good Woman with everyone.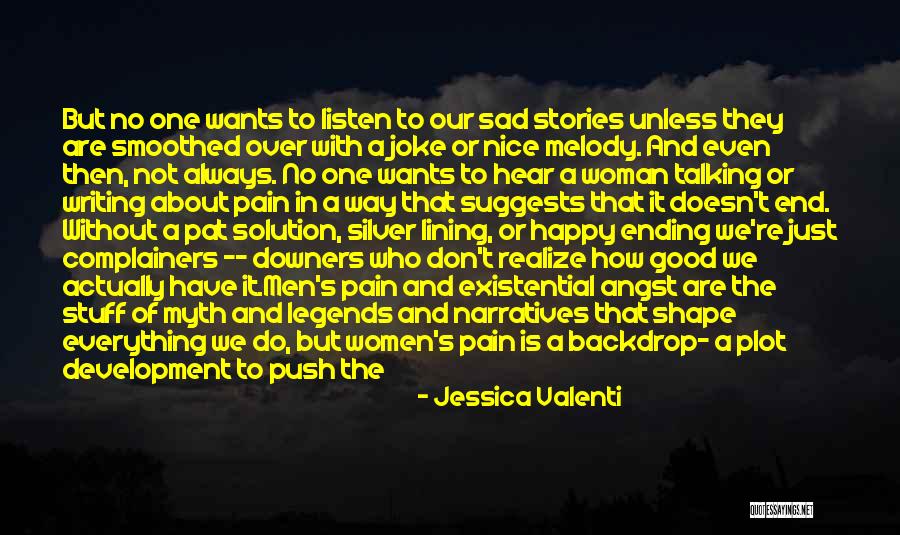 But no one wants to listen to our sad stories unless they are smoothed over with a joke or nice melody. And even then, not always. No one wants to hear a woman talking or writing about pain in a way that suggests that it doesn't end. Without a pat solution, silver lining, or happy ending we're just complainers -- downers who don't realize how good we actually have it.

Men's pain and existential angst are the stuff of myth and legends and narratives that shape everything we do, but women's pain is a backdrop- a plot development to push the story along for the real protagonists. Disrupting that story means we're needy or shellfish, or worst of all, man-haters - as if after all men have done to women over the ages the mere act of not liking them for it is most offensive. — Jessica Valenti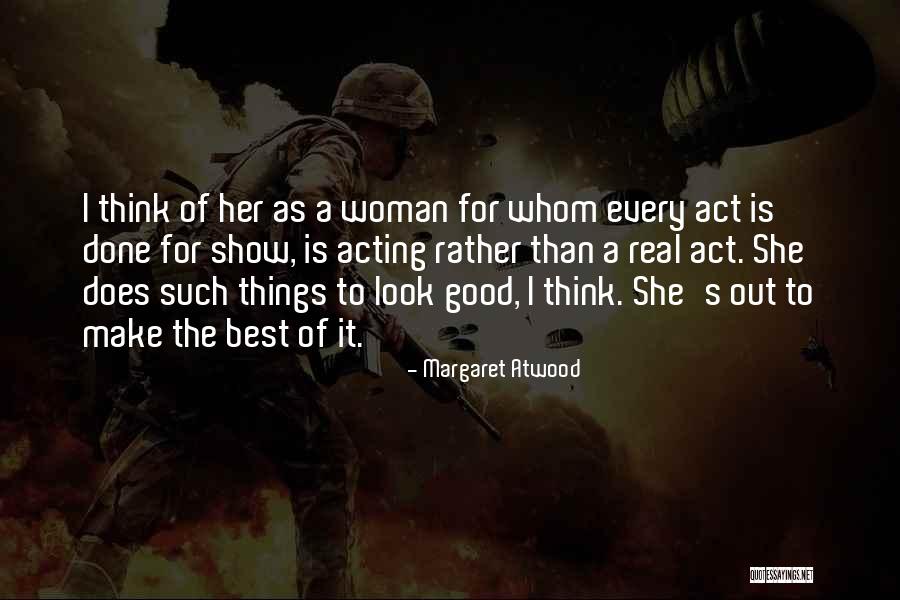 I think of her as a woman for whom every act is done for show, is acting rather than a real act. She does such things to look good, I think. She's out to make the best of it. — Margaret Atwood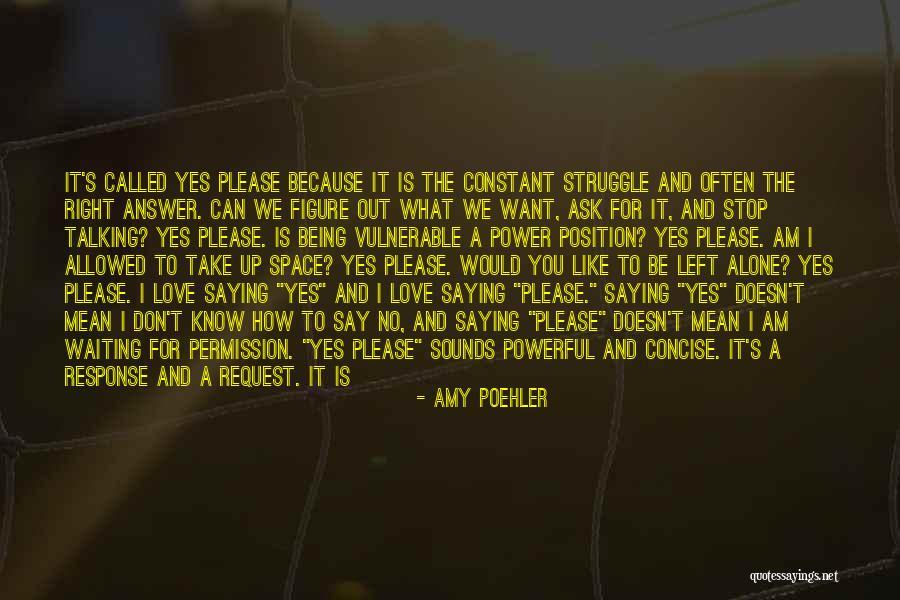 It's called Yes Please because it is the constant struggle and often the right answer. Can we figure out what we want, ask for it, and stop talking? Yes please. Is being vulnerable a power position? Yes please. Am I allowed to take up space? Yes please. Would you like to be left alone? Yes please. I love saying "yes" and I love saying "please." Saying "yes" doesn't mean I don't know how to say no, and saying "please" doesn't mean I am waiting for permission. "Yes please" sounds powerful and concise. It's a response and a request. It is not about being a good girl; it is about being a real woman. It's also a title I can tell my kids. I like when they say "Yes please" because most people are rude and nice manners are the secret keys to the universe. — Amy Poehler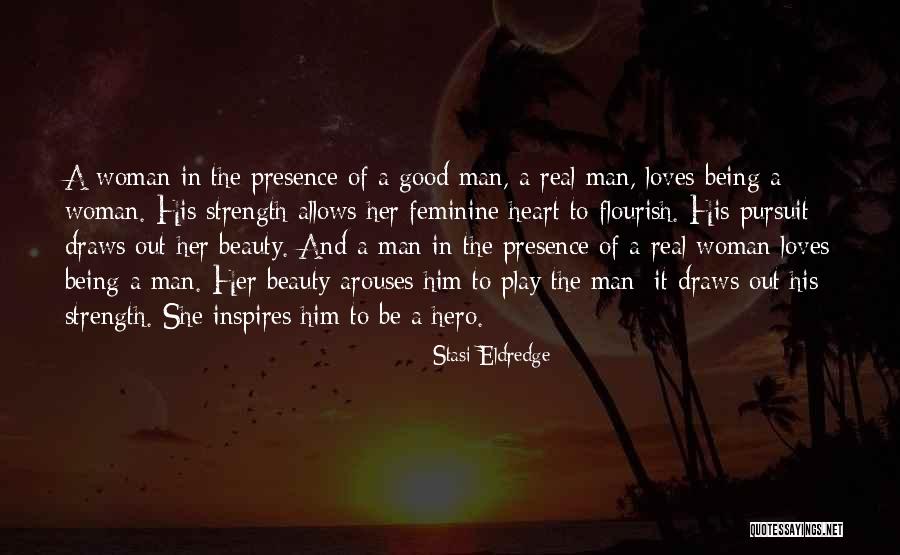 A woman in the presence of a good man, a real man, loves being a woman. His strength allows her feminine heart to flourish. His pursuit draws out her beauty. And a man in the presence of a real woman loves being a man. Her beauty arouses him to play the man; it draws out his strength. She inspires him to be a hero. — Stasi Eldredge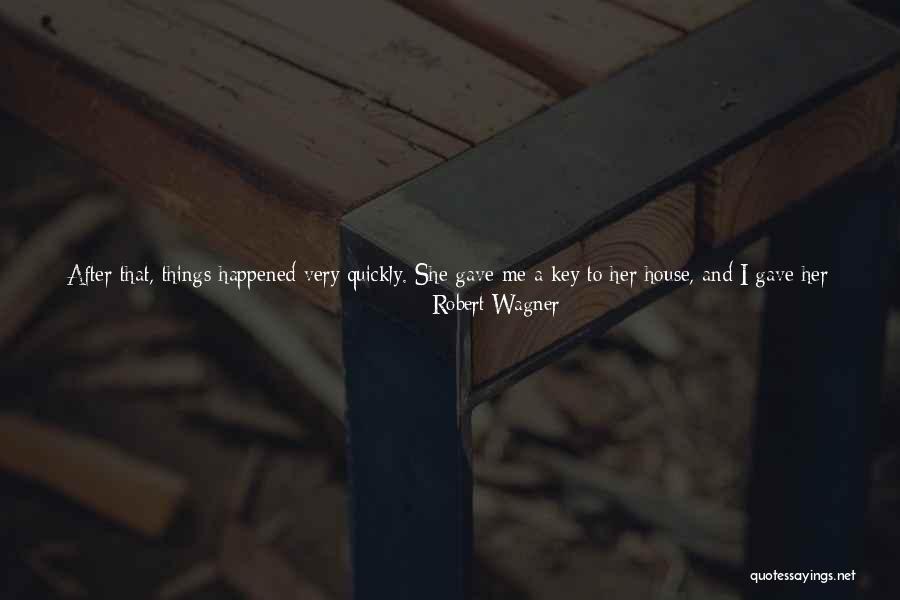 After that, things happened very quickly. She gave me a key to her house, and I gave her a key to my apartment. If we were in town, we spent every weekend together. She cooked for me - she was good in the kitchen, but then she was good everywhere. We watched the Friday night fights on TV, and on Saturday or Sunday afternoons we'd go for long walks in the mountains above Malibu. Occasionally we would go to a movie, slipping in after the lights went down. Whenever we went out, Barbara [Stanwyck] would wear a scarf over her head, or a kind of hat, so it would be hard to tell who she was. For the next four years, we became part of each other's lives. In a very real way, I think we still are. Barbara proved to be one of the most marvelous relationships of my life. I was twenty-two, she was forty-five, but our ages were beside the point. She was everything to me - a beautiful woman with a great sense of humor and enormous accomplishments to her name. — Robert Wagner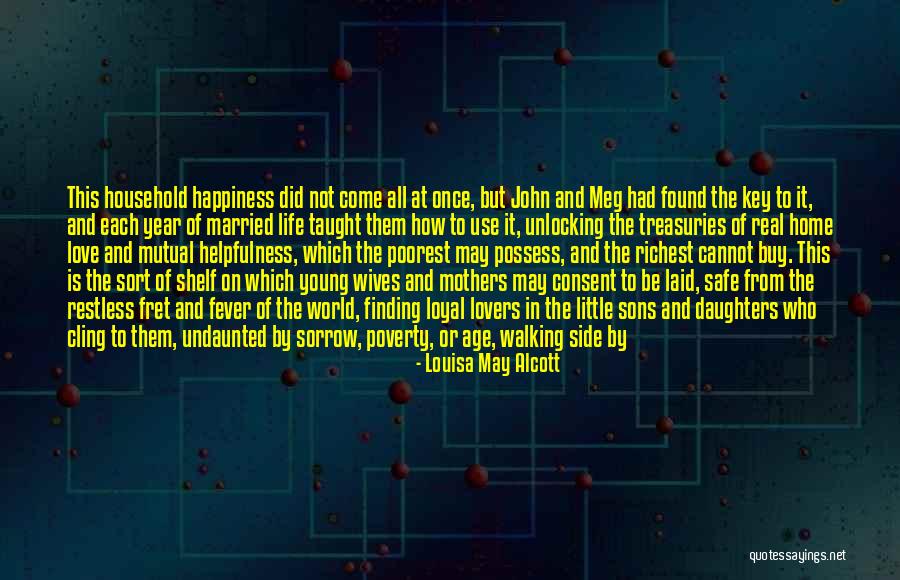 This household happiness did not come all at once, but John and Meg had found the key to it, and each year of married life taught them how to use it, unlocking the treasuries of real home love and mutual helpfulness, which the poorest may possess, and the richest cannot buy. This is the sort of shelf on which young wives and mothers may consent to be laid, safe from the restless fret and fever of the world, finding loyal lovers in the little sons and daughters who cling to them, undaunted by sorrow, poverty, or age, walking side by side, through fair and stormy weather, with a faithful friend, who is, in the true sense of the good old Saxon word, the 'house-band,' and learning, as Meg learned, that a woman's happiest kingdom is home, her highest honor the art of ruling it not as a queen, but as a wise wife and mother. — Louisa May Alcott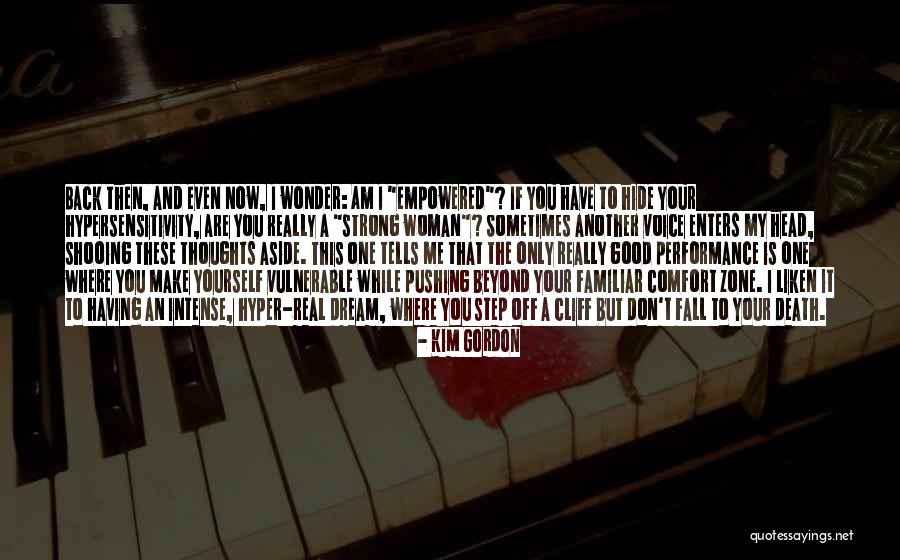 Back then, and even now, I wonder: Am I "empowered"? If you have to hide your hypersensitivity, are you really a "strong woman"? Sometimes another voice enters my head, shooing these thoughts aside. This one tells me that the only really good performance is one where you make yourself vulnerable while pushing beyond your familiar comfort zone. I liken it to having an intense, hyper-real dream, where you step off a cliff but don't fall to your death. — Kim Gordon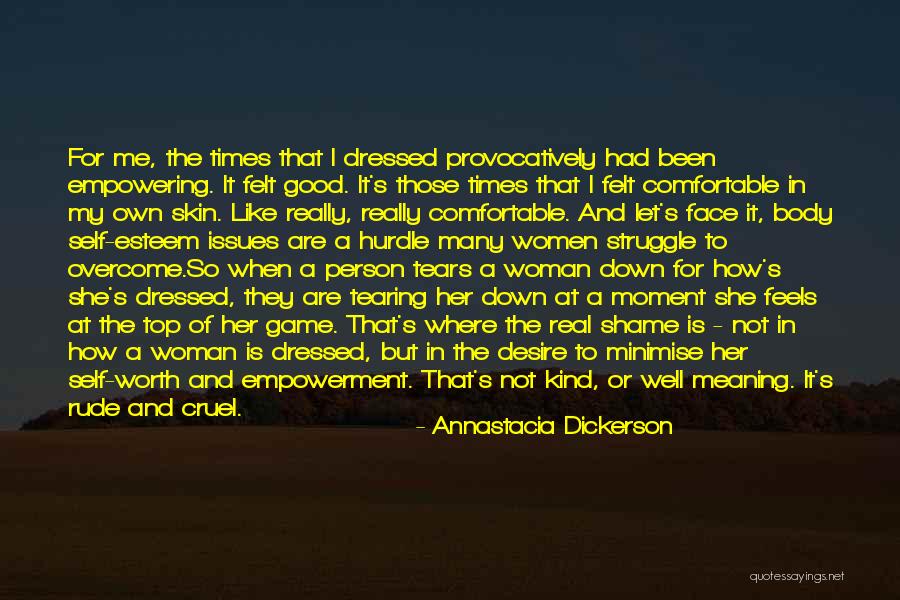 For me, the times that I dressed provocatively had been empowering. It felt good. It's those times that I felt comfortable in my own skin. Like really, really comfortable. And let's face it, body self-esteem issues are a hurdle many women struggle to overcome.
So when a person tears a woman down for how's she's dressed, they are tearing her down at a moment she feels at the top of her game. That's where the real shame is - not in how a woman is dressed, but in the desire to minimise her self-worth and empowerment. That's not kind, or well meaning. It's rude and cruel. — Annastacia Dickerson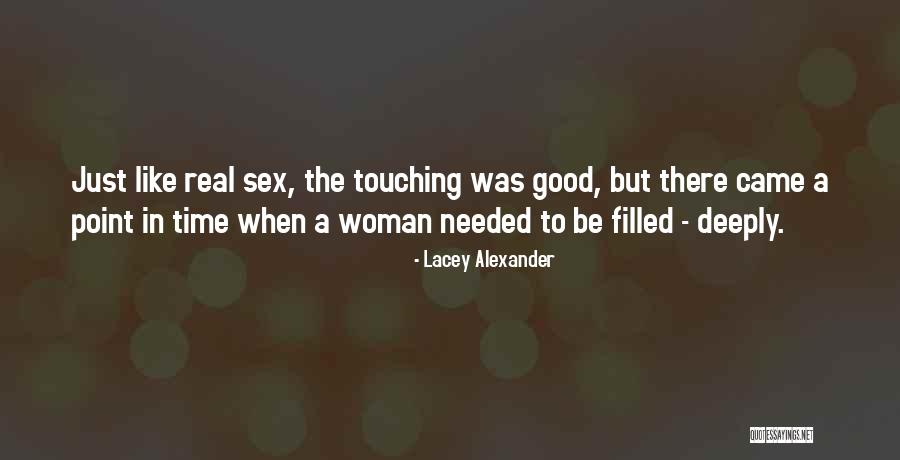 Just like real sex, the touching was good, but there came a point in time when a woman needed to be filled - deeply. — Lacey Alexander
If you're a real frogman," he said, "then every time a woman leaves your side, she'll feel better about herself." ... The message felt similar to what Earl had taught: being strong meant being able to do good, to lift up and protect those whose lives you touched. — Eric Greitens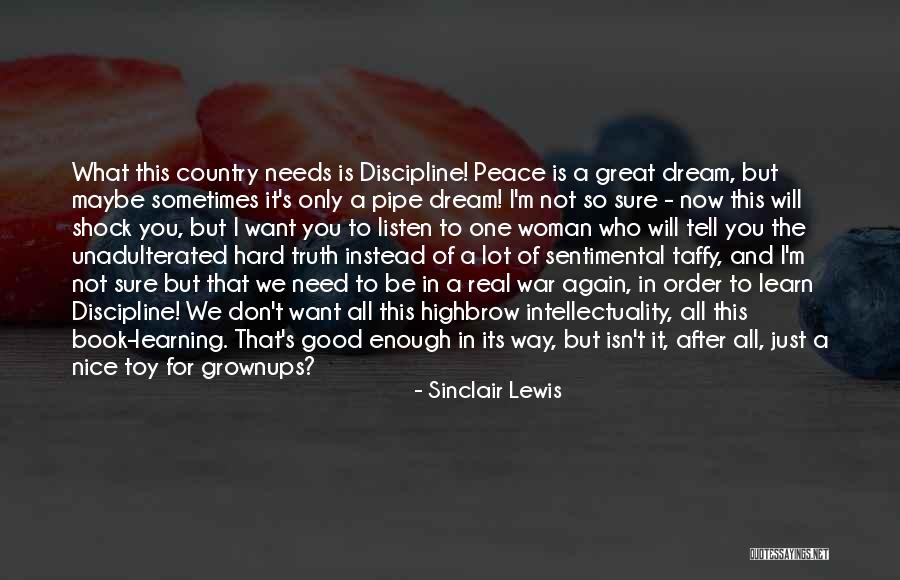 What this country needs is Discipline! Peace is a great dream, but maybe sometimes it's only a pipe dream! I'm not so sure - now this will shock you, but I want you to listen to one woman who will tell you the unadulterated hard truth instead of a lot of sentimental taffy, and I'm not sure but that we need to be in a real war again, in order to learn Discipline! We don't want all this highbrow intellectuality, all this book-learning. That's good enough in its way, but isn't it, after all, just a nice toy for grownups? No, what we all of us must have, if this great land is going to go on maintaining its high position among the Congress of Nations, is Discipline - Will Power - Character! — Sinclair Lewis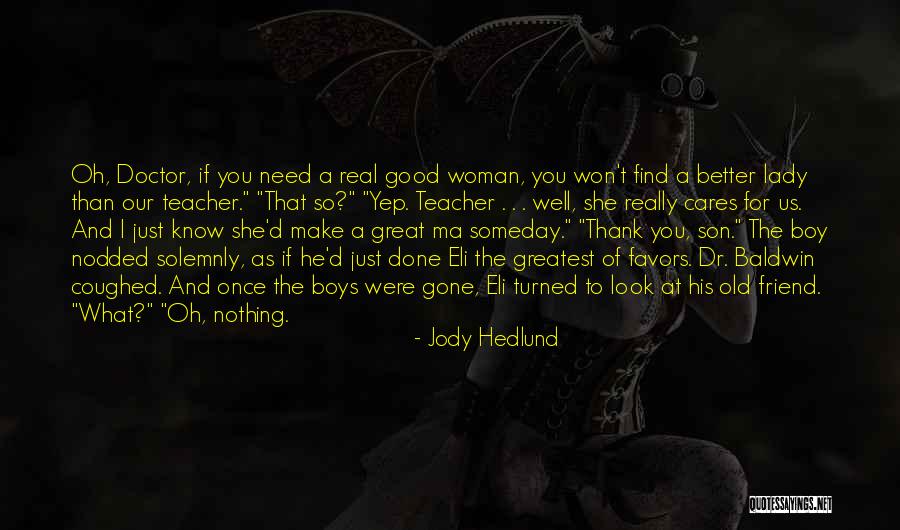 Oh, Doctor, if you need a real good woman, you won't find a better lady than our teacher." "That so?" "Yep. Teacher . . . well, she really cares for us. And I just know she'd make a great ma someday." "Thank you, son." The boy nodded solemnly, as if he'd just done Eli the greatest of favors. Dr. Baldwin coughed. And once the boys were gone, Eli turned to look at his old friend. "What?" "Oh, nothing. — Jody Hedlund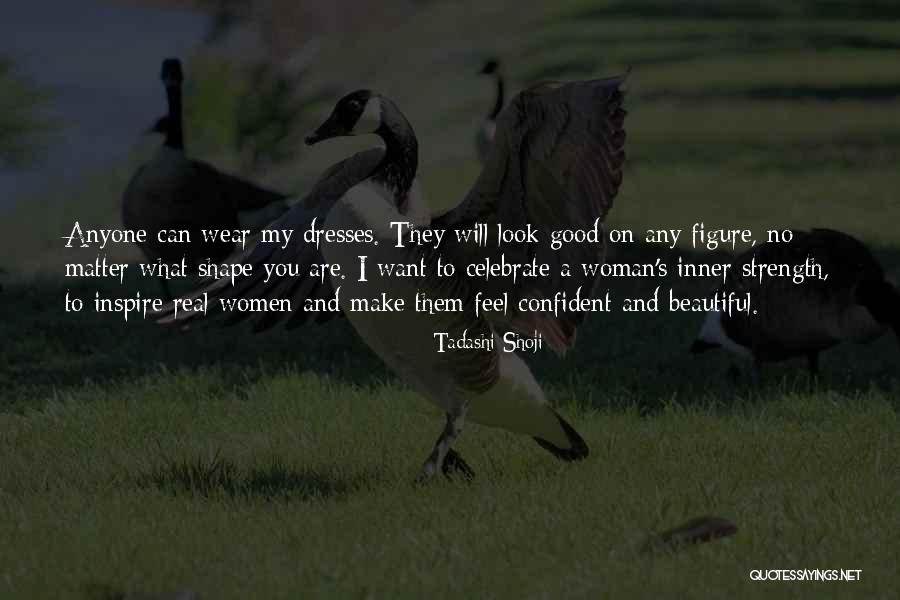 Anyone can wear my dresses. They will look good on any figure, no matter what shape you are. I want to celebrate a woman's inner strength, to inspire real women and make them feel confident and beautiful. — Tadashi Shoji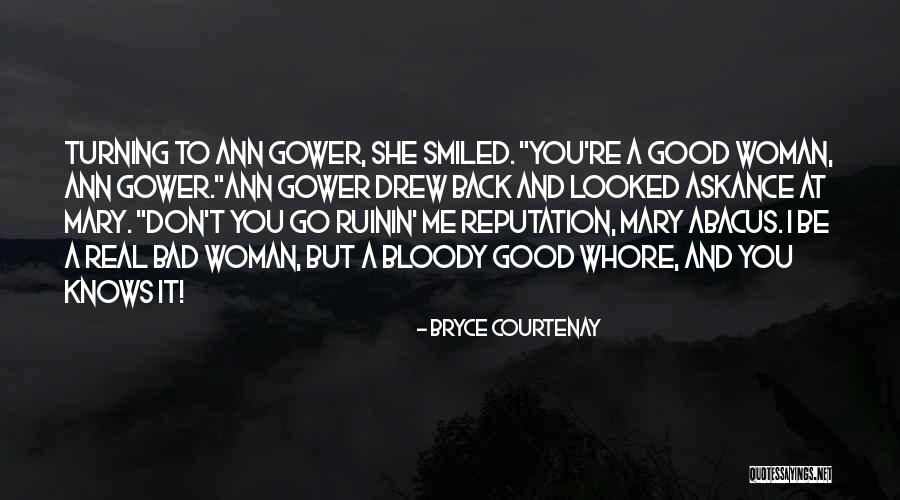 Turning to Ann Gower, she smiled. "You're a good woman, Ann Gower."
Ann Gower drew back and looked askance at Mary. "Don't you go ruinin' me reputation, Mary Abacus. I be a real bad woman, but a bloody good whore, and you knows it! — Bryce Courtenay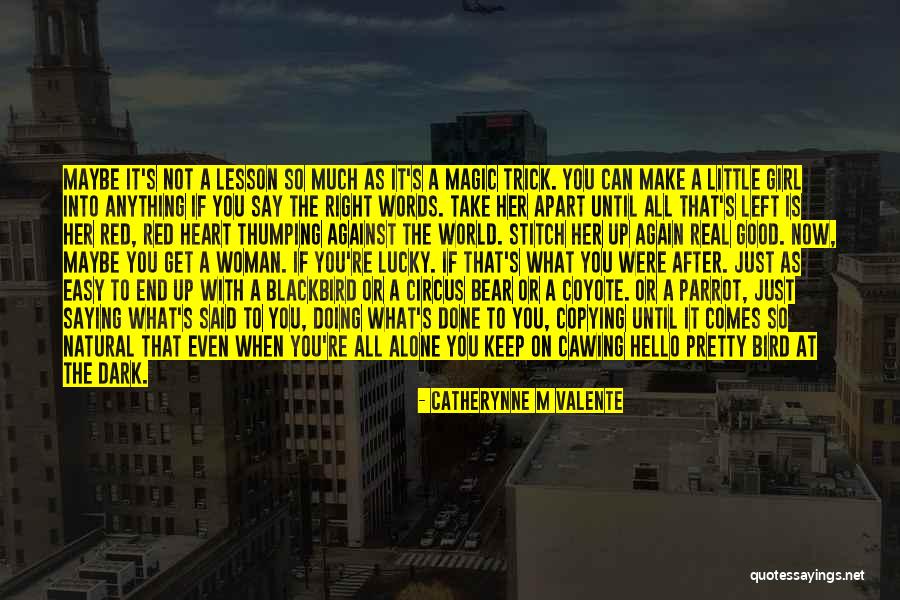 Maybe it's not a lesson so much as it's a magic trick. You can make a little girl into anything if you say the right words. Take her apart until all that's left is her red, red heart thumping against the world. Stitch her up again real good. Now, maybe you get a woman. If you're lucky. If that's what you were after. Just as easy to end up with a blackbird or a circus bear or a coyote. Or a parrot, just saying what's said to you, doing what's done to you, copying until it comes so natural that even when you're all alone you keep on cawing hello pretty bird at the dark. — Catherynne M Valente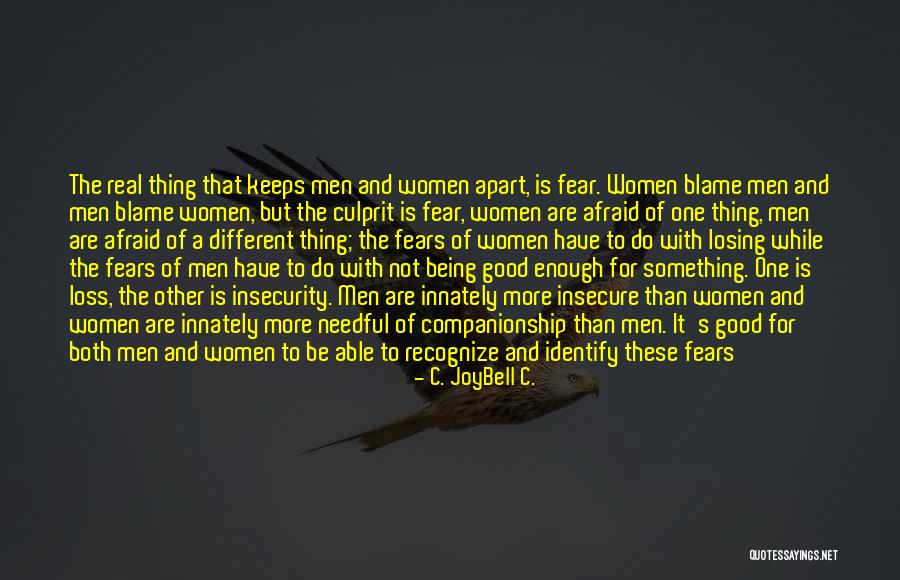 The real thing that keeps men and women apart, is fear. Women blame men and men blame women, but the culprit is fear, women are afraid of one thing, men are afraid of a different thing; the fears of women have to do with losing while the fears of men have to do with not being good enough for something. One is loss, the other is insecurity. Men are innately more insecure than women and women are innately more needful of companionship than men. It's good for both men and women to be able to recognize and identify these fears not only within themselves, but within each other, and then men and women will see that they really do need to help each other. It's not a game, it's not a competition, the two sexes need one another. — C. JoyBell C.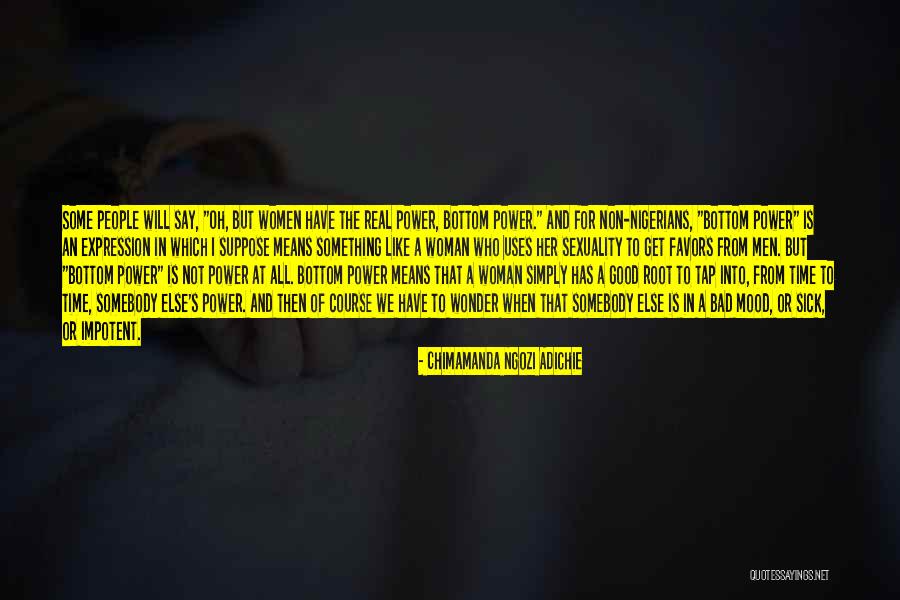 Some people will say, "Oh, but women have the real power, bottom power." And for non-Nigerians, "bottom power" is an expression in which I suppose means something like a woman who uses her sexuality to get favors from men. But "bottom power" is not power at all. Bottom power means that a woman simply has a good root to tap into, from time to time, somebody else's power. And then of course we have to wonder when that somebody else is in a bad mood, or sick, or impotent. — Chimamanda Ngozi Adichie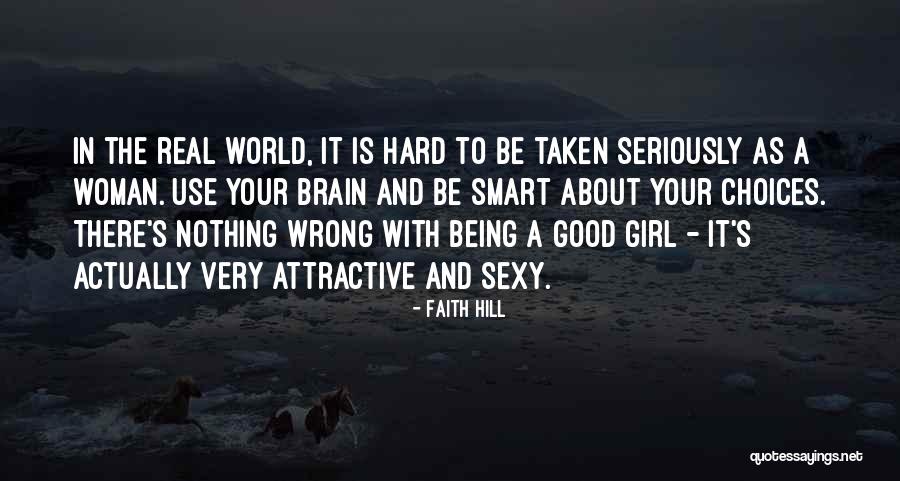 In the real world, it is hard to be taken seriously as a woman. Use your brain and be smart about your choices. There's nothing wrong with being a good girl - it's actually very attractive and sexy. — Faith Hill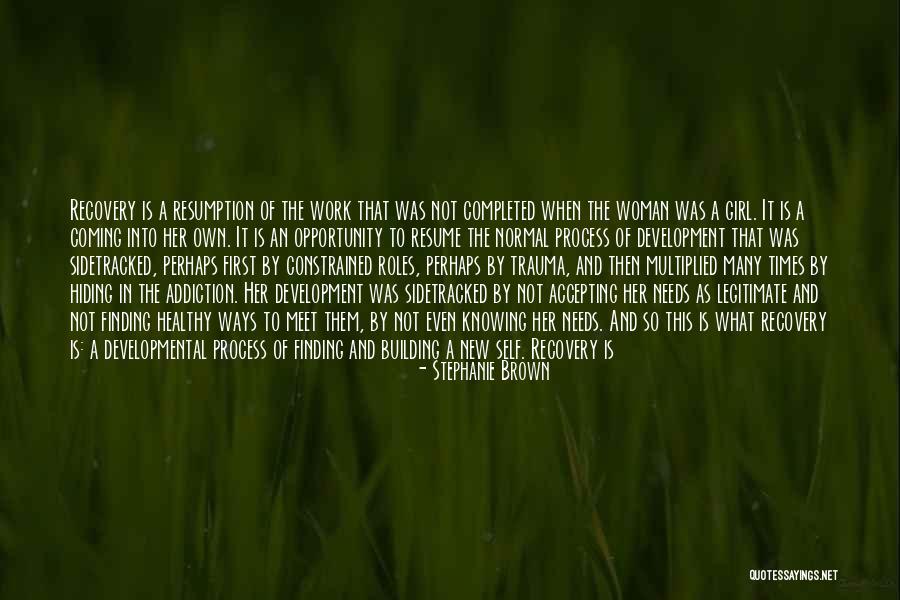 Recovery is a resumption of the work that was not completed when the woman was a girl. It is a coming into her own. It is an opportunity to resume the normal process of development that was sidetracked, perhaps first by constrained roles, perhaps by trauma, and then multiplied many times by hiding in the addiction. Her development was sidetracked by not accepting her needs as legitimate and not finding healthy ways to meet them, by not even knowing her needs. And so this is what recovery is: a developmental process of finding and building a new self. Recovery is a process of radical growth and change. When you are in recovery, you give birth to a new self. [...] Many women initially think that recovery means a move from bad to good. They think that being addicted is evidence of shameful neediness, of deep and lasting failures. Recovery is not a move from bad to good, but from false to real. [...] It is reality, being real, that now guides her rather than her efforts to be good or bad. — Stephanie Brown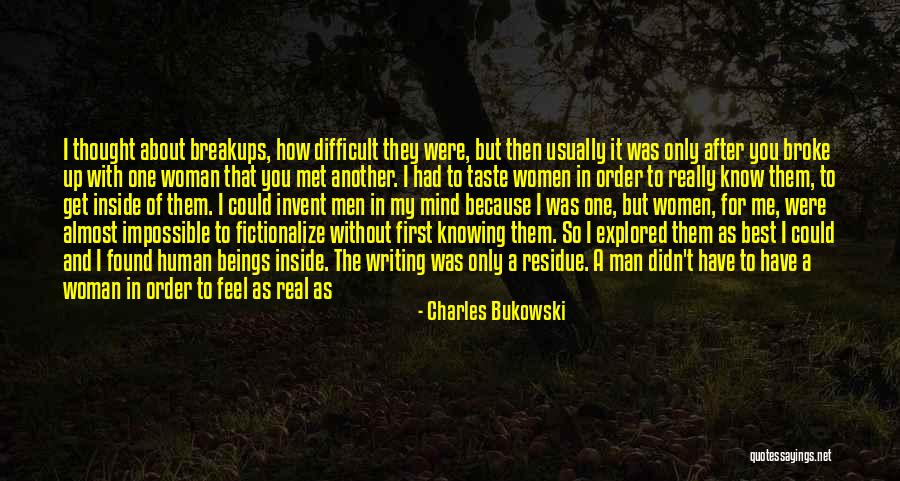 I thought about breakups, how difficult they were, but then usually it was only after you broke up with one woman that you met another. I had to taste women in order to really know them, to get inside of them. I could invent men in my mind because I was one, but women, for me, were almost impossible to fictionalize without first knowing them. So I explored them as best I could and I found human beings inside. The writing was only a residue. A man didn't have to have a woman in order to feel as real as he could feel, but it was good if he knew a few. Then when the affair went wrong he'd feel what it was like to be truly lonely and crazed, and thus know what he must face, finally, when his own end came. — Charles Bukowski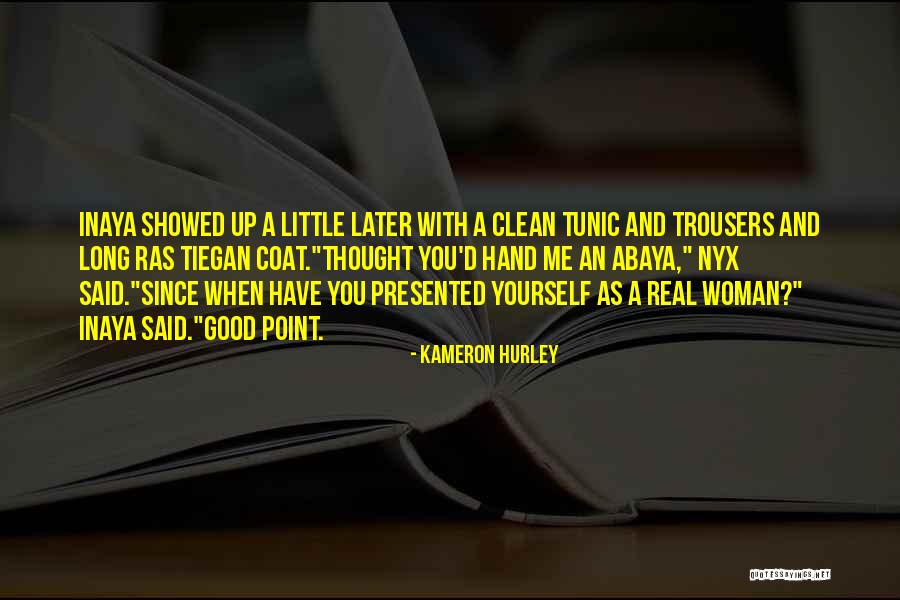 Inaya showed up a little later with a clean tunic and trousers and long Ras Tiegan coat.
"Thought you'd hand me an abaya," Nyx said.
"Since when have you presented yourself as a real woman?" Inaya said.
"Good point. — Kameron Hurley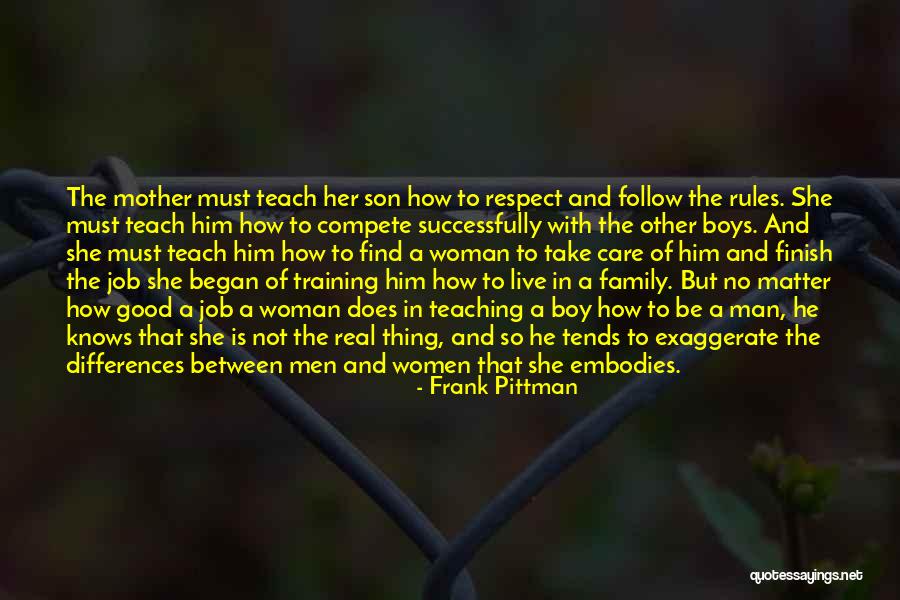 The mother must teach her son how to respect and follow the rules. She must teach him how to compete successfully with the other boys. And she must teach him how to find a woman to take care of him and finish the job she began of training him how to live in a family. But no matter how good a job a woman does in teaching a boy how to be a man, he knows that she is not the real thing, and so he tends to exaggerate the differences between men and women that she embodies. — Frank Pittman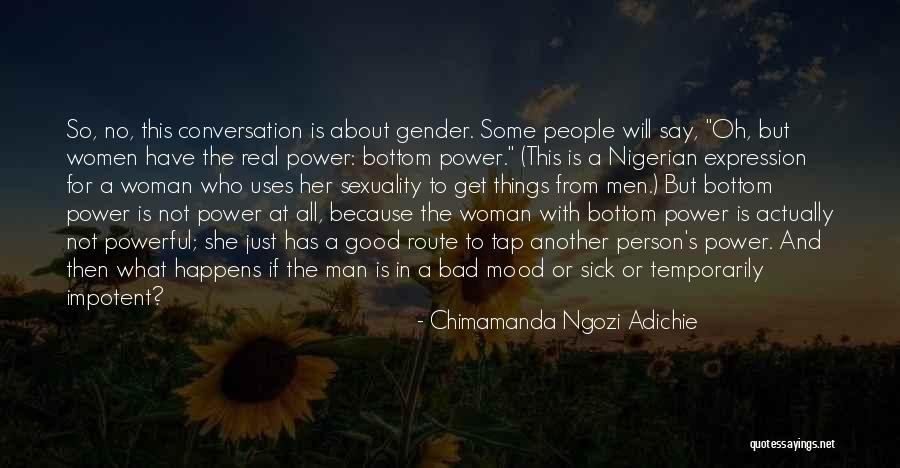 So, no, this conversation is about gender. Some people will say, "Oh, but women have the real power: bottom power." (This is a Nigerian expression for a woman who uses her sexuality to get things from men.) But bottom power is not power at all, because the woman with bottom power is actually not powerful; she just has a good route to tap another person's power. And then what happens if the man is in a bad mood or sick or temporarily impotent? — Chimamanda Ngozi Adichie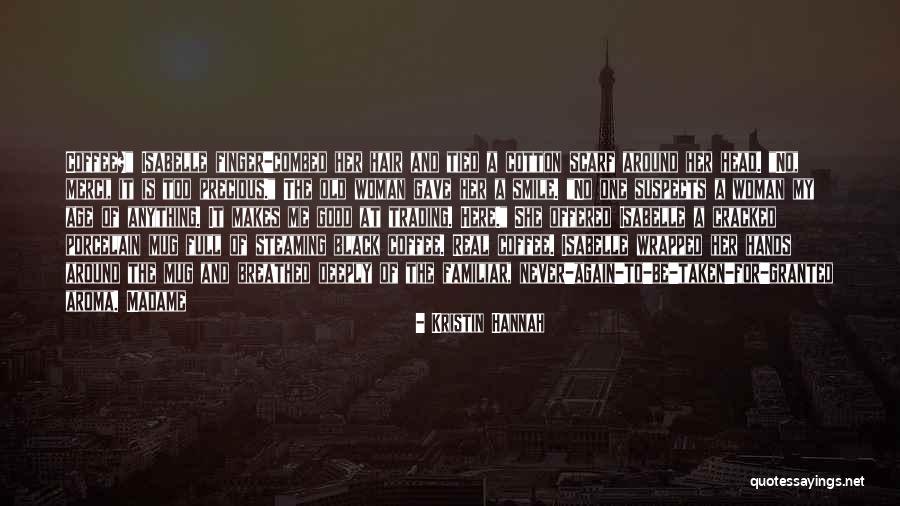 Coffee?" Isabelle finger-combed her hair and tied a cotton scarf around her head. "No, merci, it is too precious." The old woman gave her a smile. "No one suspects a woman my age of anything. It makes me good at trading. Here." She offered Isabelle a cracked porcelain mug full of steaming black coffee. Real coffee. Isabelle wrapped her hands around the mug and breathed deeply of the familiar, never-again-to-be-taken-for-granted aroma. Madame — Kristin Hannah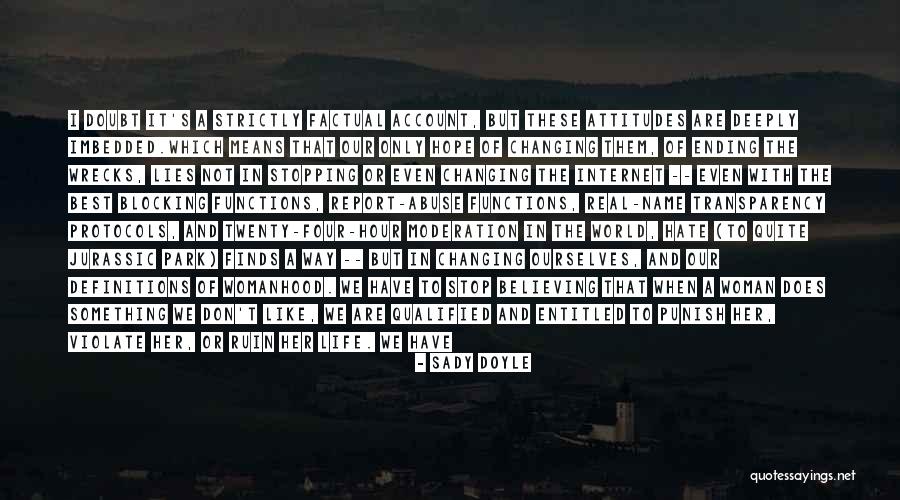 I doubt it's a strictly factual account, but these attitudes are deeply imbedded.
Which means that our only hope of changing them, of ending the wrecks, lies not in stopping or even changing the Internet -- even with the best blocking functions, report-abuse functions, real-name transparency protocols, and twenty-four-hour moderation in the world, hate (to quite Jurassic Park) finds a way -- but in changing ourselves, and our definitions of womanhood. We have to stop believing that when a woman does something we don't like, we are qualified and entitled to punish her, violate her, or ruin her life. We have to change our ideas of what a "good" woman, or a "likable" woman, or simply a "woman who can leave her house without fearing for her life because she is a woman," can be. — Sady Doyle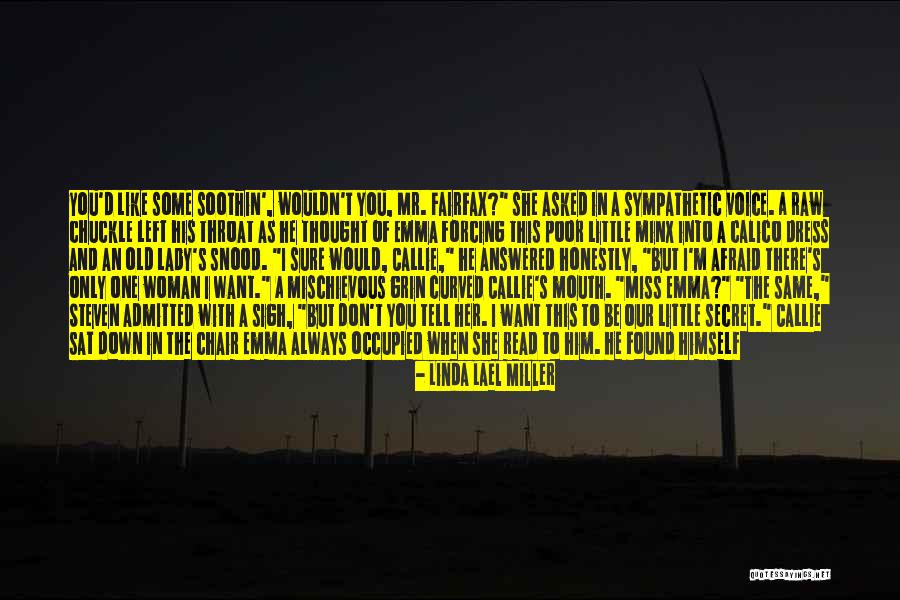 You'd like some soothin', wouldn't you, Mr. Fairfax?" she asked in a sympathetic voice. A raw chuckle left his throat as he thought of Emma forcing this poor little minx into a calico dress and an old lady's snood. "I sure would, Callie," he answered honestly, "but I'm afraid there's only one woman I want." A mischievous grin curved Callie's mouth. "Miss Emma?" "The same," Steven admitted with a sigh, "but don't you tell her. I want this to be our little secret." Callie sat down in the chair Emma always occupied when she read to him. He found himself missing that redheaded hellcat with a fierce keenness, as though they'd been parted a month instead of a few hours. "She got real upset, Miss Emma did," Callie confided in a happy whisper, "when I came over here and told her Miss Chloe'd sent me to look after you." Steven laughed. "Good," he replied, staring out the window at the sun. It seemed to be immersing itself in the far side of the lake. "I'm making progress." Callie — Linda Lael Miller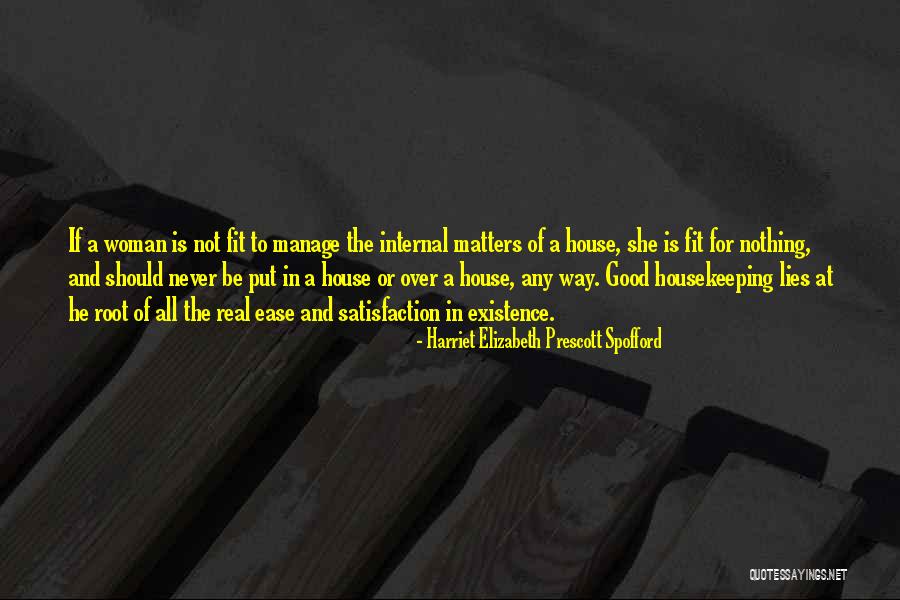 If a woman is not fit to manage the internal matters of a house, she is fit for nothing, and should never be put in a house or over a house, any way. Good housekeeping lies at he root of all the real ease and satisfaction in existence. — Harriet Elizabeth Prescott Spofford
You think you're special? I promise you, you're not! That goddamned piece of stone is supposed to keep you safe while I try to figure out how to fix all the crap I've fucked up. I need you to have that rock, Morrison, because how am I supposed to do my job if I'm worrying about you? Sure, great, you gave the fucking thing to a beautiful woman, guess that makes you a real hero, doesn't it? Just like you're supposed to be, the handsome cop saving the girl. Good for goddamned you, Morrison, but what the hell am I supposed to do if something happens to you? I'm trying to protect you, Morrison, because I don't know what
— C.E. Murphy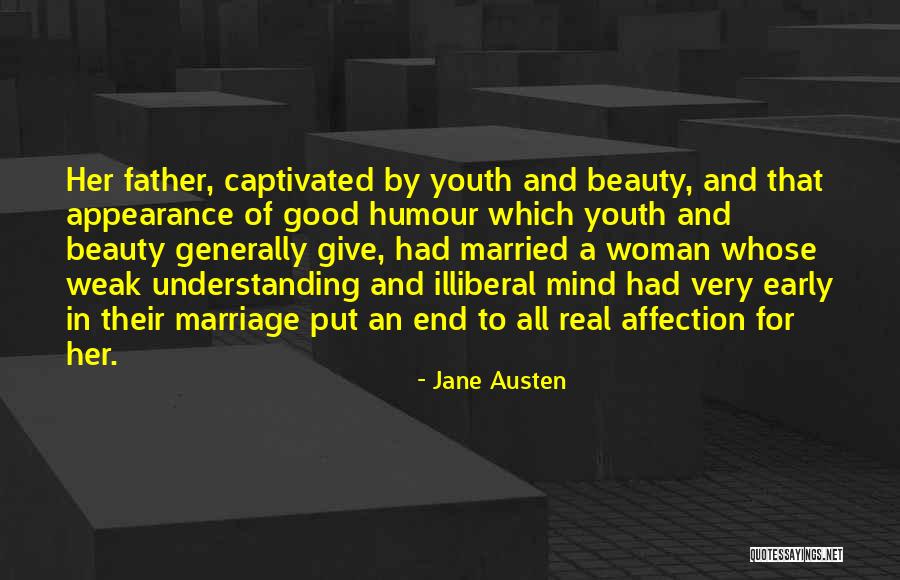 Her father, captivated by youth and beauty, and that appearance of good humour which youth and beauty generally give, had married a woman whose weak understanding and illiberal mind had very early in their marriage put an end to all real affection for her. — Jane Austen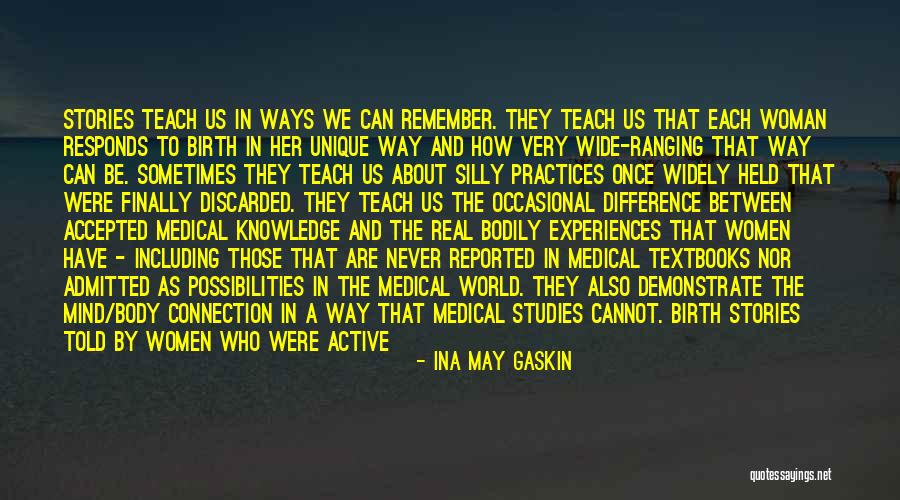 Stories teach us in ways we can remember. They teach us that each woman responds to birth in her unique way and how very wide-ranging that way can be. Sometimes they teach us about silly practices once widely held that were finally discarded. They teach us the occasional difference between accepted medical knowledge and the real bodily experiences that women have - including those that are never reported in medical textbooks nor admitted as possibilities in the medical world. They also demonstrate the mind/body connection in a way that medical studies cannot. Birth stories told by women who were active participants in giving birth often express a good deal of practical wisdom, inspiration, and information for other women. Positive stories shared by women who have had wonderful childbirth experiences are an irreplaceable way to transmit knowledge of a woman's true capacities in pregnancy and birth. — Ina May Gaskin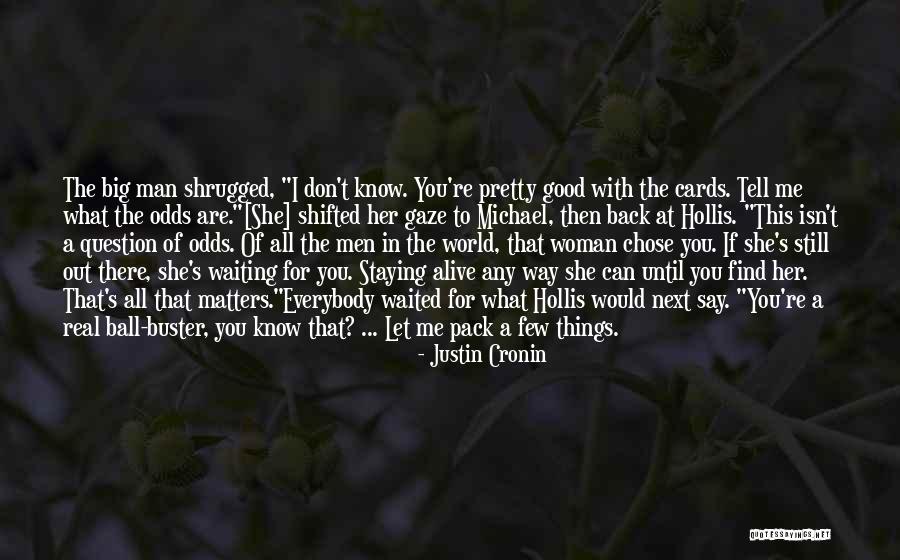 The big man shrugged, "I don't know. You're pretty good with the cards. Tell me what the odds are."
[She] shifted her gaze to Michael, then back at Hollis. "This isn't a question of odds. Of all the men in the world, that woman chose you. If she's still out there, she's waiting for you. Staying alive any way she can until you find her. That's all that matters."
Everybody waited for what Hollis would next say. "You're a real ball-buster, you know that? ... Let me pack a few things. — Justin Cronin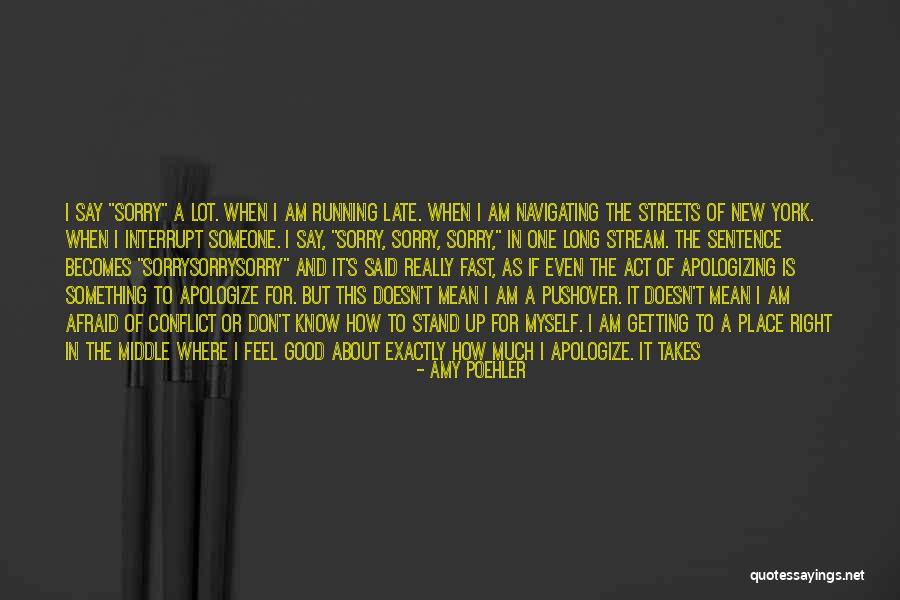 I SAY "SORRY" A LOT. When I am running late. When I am navigating the streets of New York. When I interrupt someone. I say, "Sorry, sorry, sorry," in one long stream. The sentence becomes "Sorrysorrysorry" and it's said really fast, as if even the act of apologizing is something to apologize for. But this doesn't mean I am a pushover. It doesn't mean I am afraid of conflict or don't know how to stand up for myself. I am getting to a place right in the middle where I feel good about exactly how much I apologize. It takes years as a woman to unlearn what you have been taught to be sorry for. It takes years to find your voice and seize your real estate. I am still learning the right balance. — Amy Poehler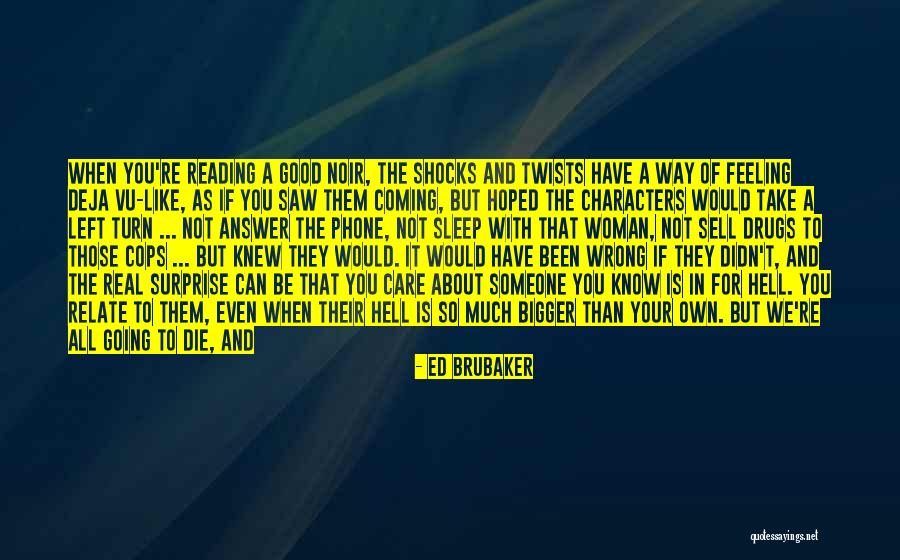 When you're reading a good noir, the shocks and twists have a way of feeling deja vu-like, as if you saw them coming, but hoped the characters would take a left turn ... not answer the phone, not sleep with that woman, not sell drugs to those cops ... but knew they would. It would have been wrong if they didn't, and the real surprise can be that you care about someone you know is in for hell. You relate to them, even when their hell is so much bigger than your own. But we're all going to die, and we all make mistakes.
The best noir stories make you forget plot entirely by giving you characters that feel so well-realised you can't look away as they fall. — Ed Brubaker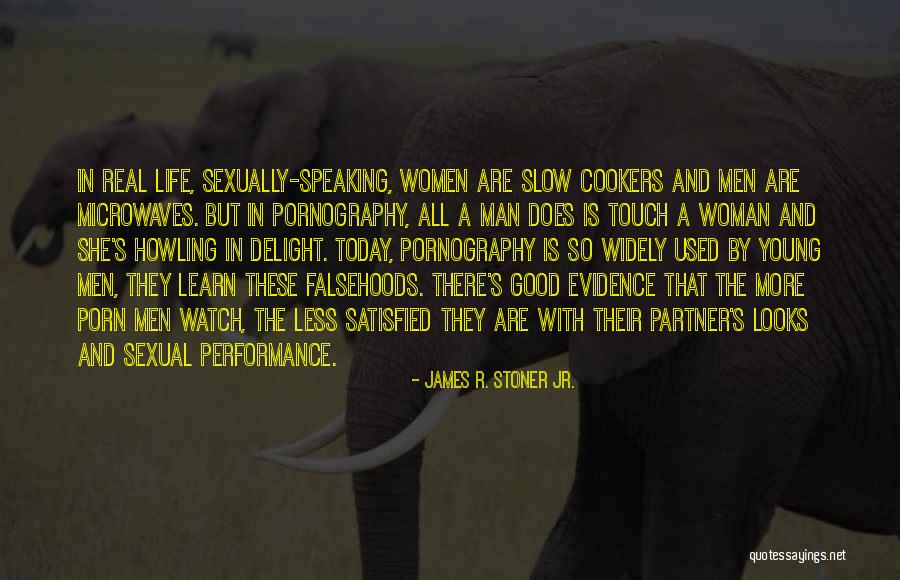 In real life, sexually-speaking, women are slow cookers and men are microwaves. But in pornography, all a man does is touch a woman and she's howling in delight. Today, pornography is so widely used by young men, they learn these falsehoods. There's good evidence that the more porn men watch, the less satisfied they are with their partner's looks and sexual performance. — James R. Stoner Jr.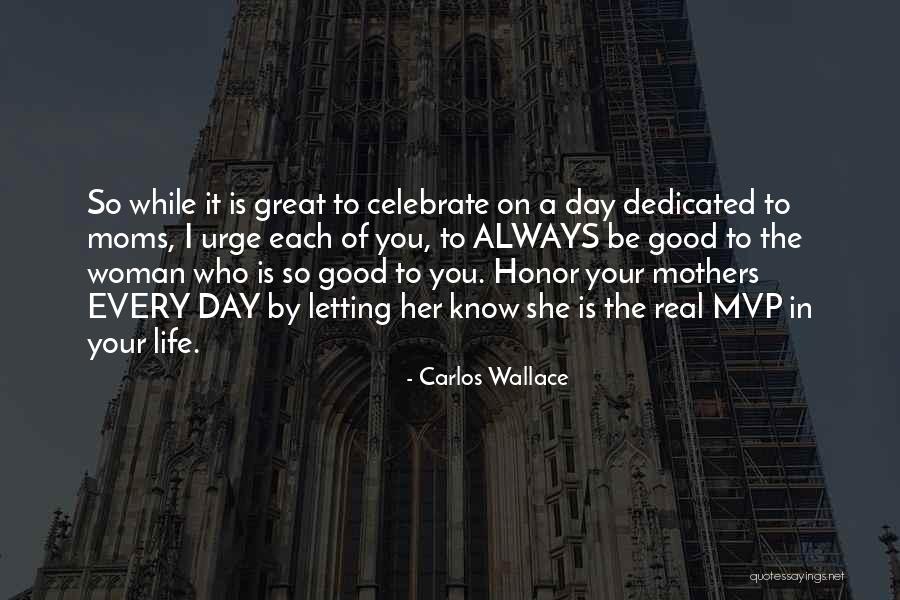 So while it is great to celebrate on a day dedicated to moms, I urge each of you, to ALWAYS be good to the woman who is so good to you. Honor your mothers EVERY DAY by letting her know she is the real MVP in your life. — Carlos Wallace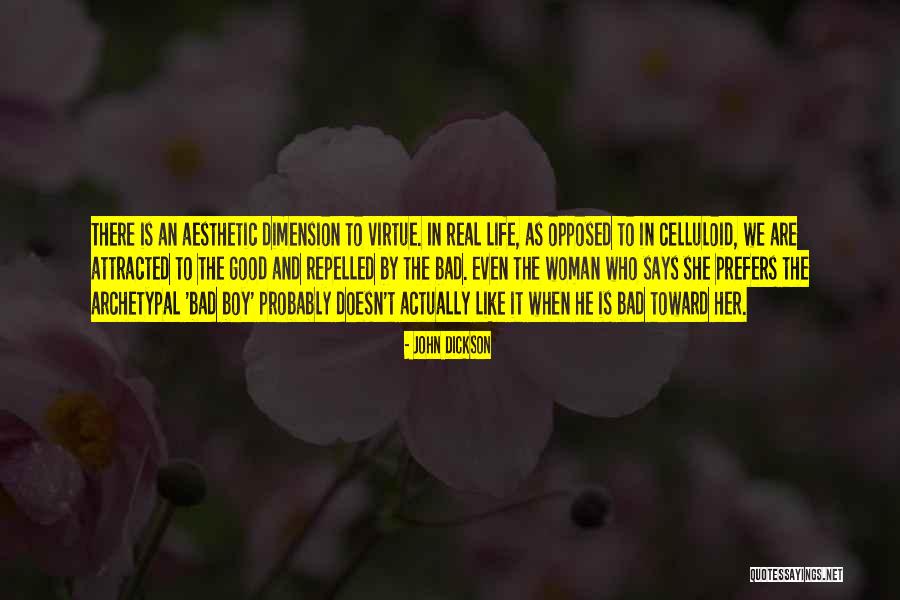 There is an aesthetic dimension to virtue. In real life, as opposed to in celluloid, we are attracted to the good and repelled by the bad. Even the woman who says she prefers the archetypal 'bad boy' probably doesn't actually like it when he is bad toward her. — John Dickson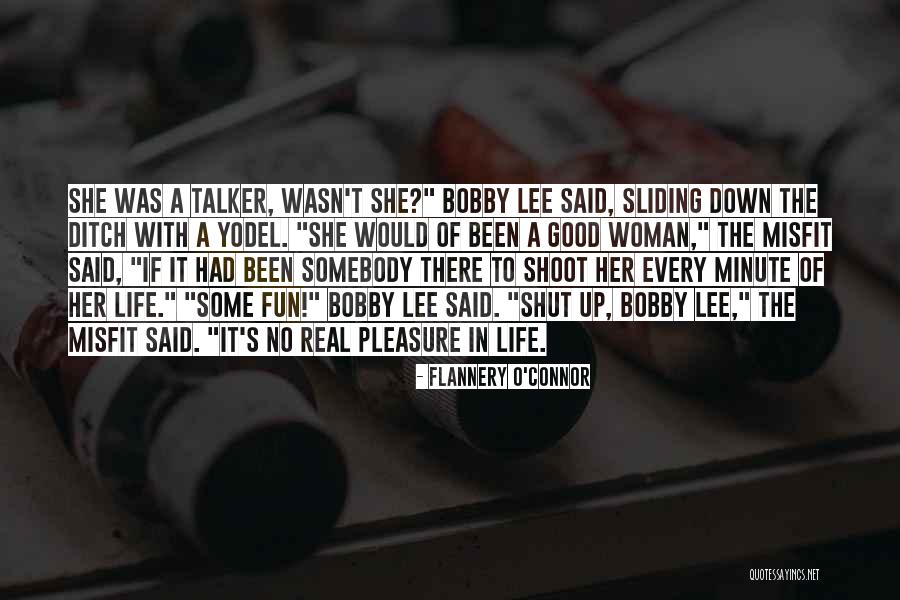 She was a talker, wasn't she?" Bobby Lee said, sliding down the ditch with a yodel.
"She would of been a good woman," The Misfit said, "if it had been somebody there to shoot her every minute of her life."
"Some fun!" Bobby Lee said.
"Shut up, Bobby Lee," The Misfit said. "It's no real pleasure in life. — Flannery O'Connor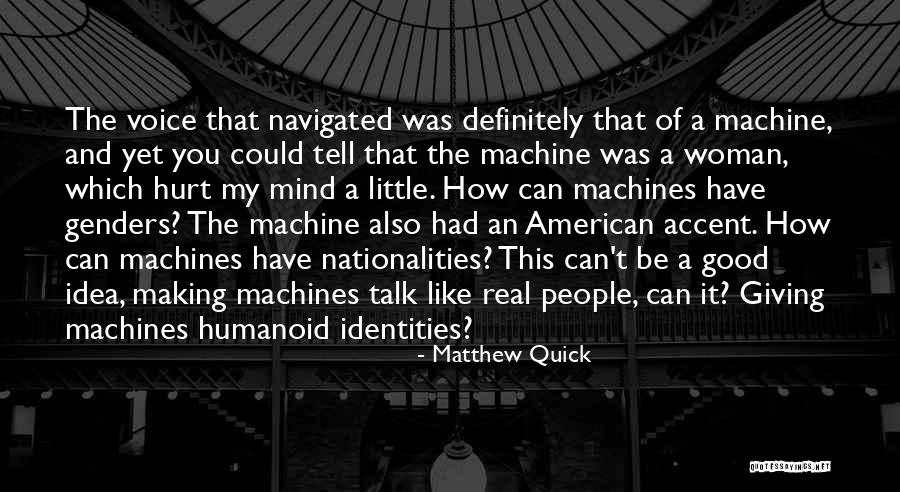 The voice that navigated was definitely that of a machine, and yet you could tell that the machine was a woman, which hurt my mind a little. How can machines have genders? The machine also had an American accent. How can machines have nationalities? This can't be a good idea, making machines talk like real people, can it? Giving machines humanoid identities? — Matthew Quick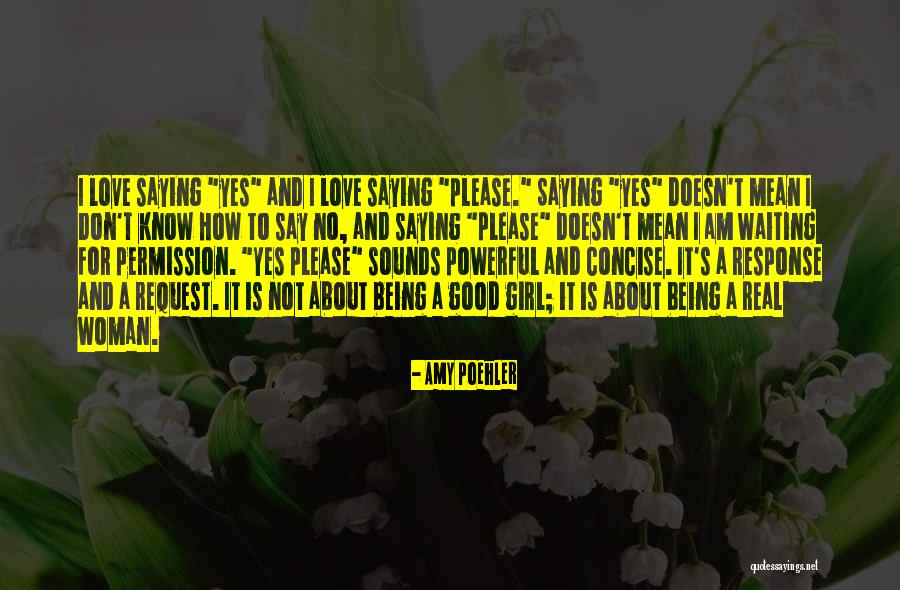 I love saying "yes" and I love saying "please." Saying "yes" doesn't mean I don't know how to say no, and saying "please" doesn't mean I am waiting for permission. "Yes please" sounds powerful and concise. It's a response and a request. It is not about being a good girl; it is about being a real woman. — Amy Poehler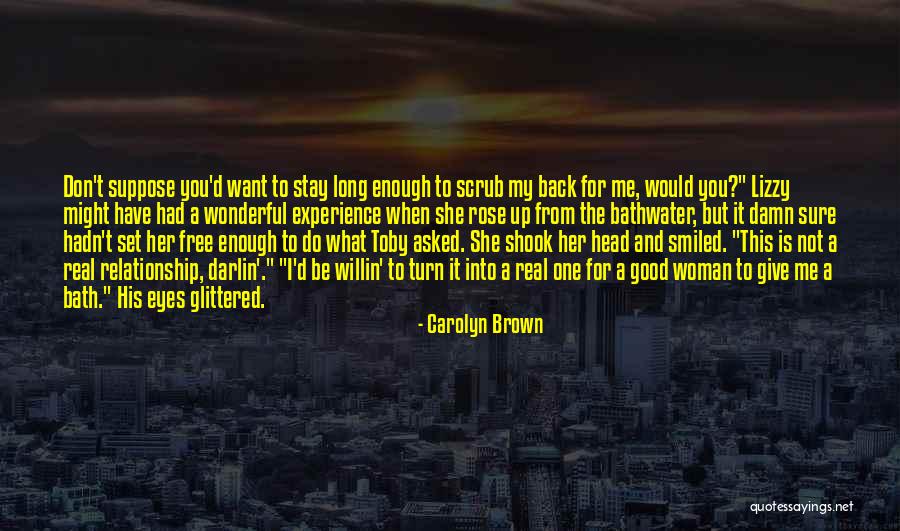 Don't suppose you'd want to stay long enough to scrub my back for me, would you?"
Lizzy might have had a wonderful experience when she rose up from the bathwater, but it damn sure hadn't set her free enough to do what Toby asked. She shook her head and smiled. "This is not a real relationship, darlin'."
"I'd be willin' to turn it into a real one for a good woman to give me a bath." His eyes glittered. — Carolyn Brown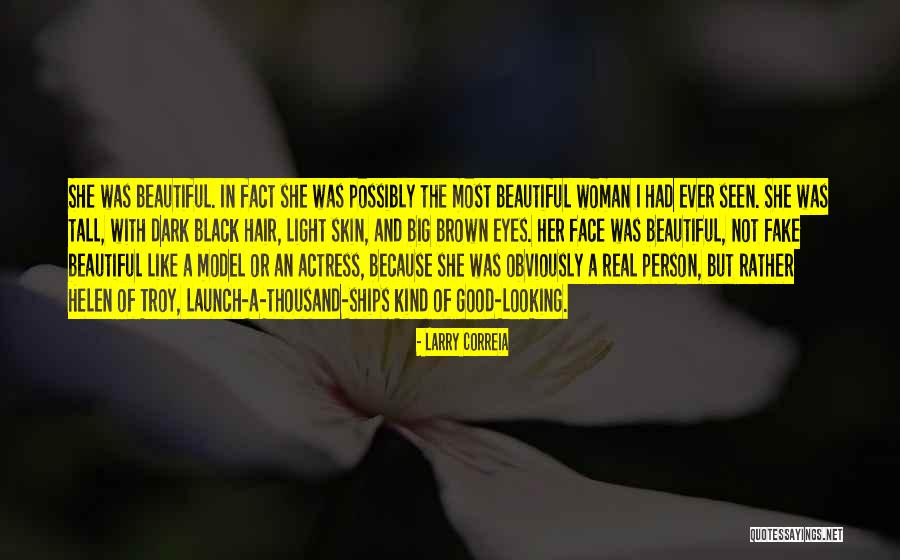 She was beautiful. In fact she was possibly the most beautiful woman I had ever seen. She was tall, with dark black hair, light skin, and big brown eyes. Her face was beautiful, not fake beautiful like a model or an actress, because she was obviously a real person, but rather Helen of Troy, launch-a-thousand-ships kind of good-looking. — Larry Correia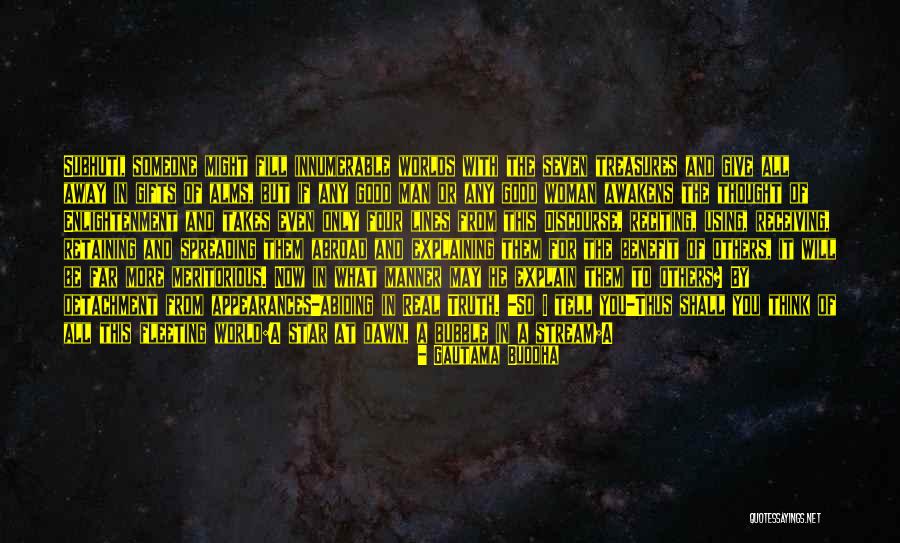 Subhuti, someone might fill innumerable worlds with the seven treasures and give all away in gifts of alms, but if any good man or any good woman awakens the thought of Enlightenment and takes even only four lines from this Discourse, reciting, using, receiving, retaining and spreading them abroad and explaining them for the benefit of others, it will be far more meritorious. Now in what manner may he explain them to others? By detachment from appearances-abiding in Real Truth. -So I tell you-
Thus shall you think of all this fleeting world:
A star at dawn, a bubble in a stream;
A flash of lightening in a summer cloud,
A flickering lamp, a phantom, and a dream.
When Buddha finished this Discourse the venerable Subhuti, together with the bhikshus, bhikshunis, lay-brothers and sisters, and the whole realms of Gods, Men and Titans, were filled with joy by His teaching, and, taking it sincerely to heart they went their ways. — Gautama Buddha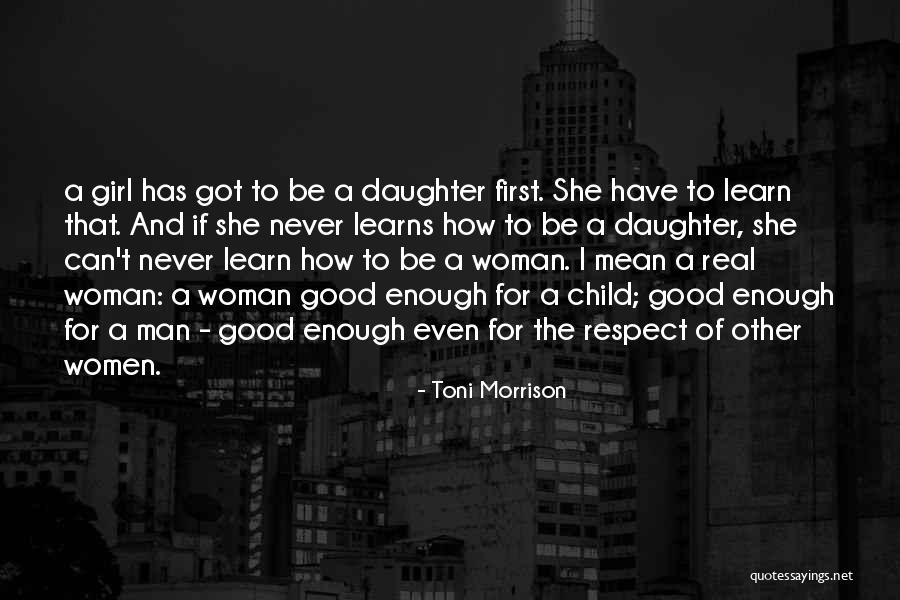 a girl has got to be a daughter first. She have to learn that. And if she never learns how to be a daughter, she can't never learn how to be a woman. I mean a real woman: a woman good enough for a child; good enough for a man - good enough even for the respect of other women. — Toni Morrison