Quotes & Sayings About Racial Profiling
Enjoy reading and share 28 famous quotes about Racial Profiling with everyone.
Top Racial Profiling Quotes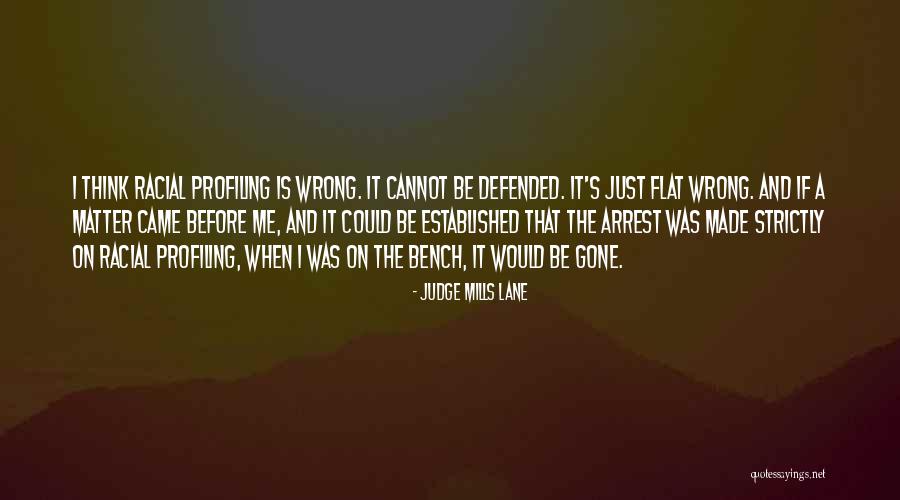 I think racial profiling is wrong. It cannot be defended. It's just flat wrong. And if a matter came before me, and it could be established that the arrest was made strictly on racial profiling, when I was on the bench, it would be gone. — Judge Mills Lane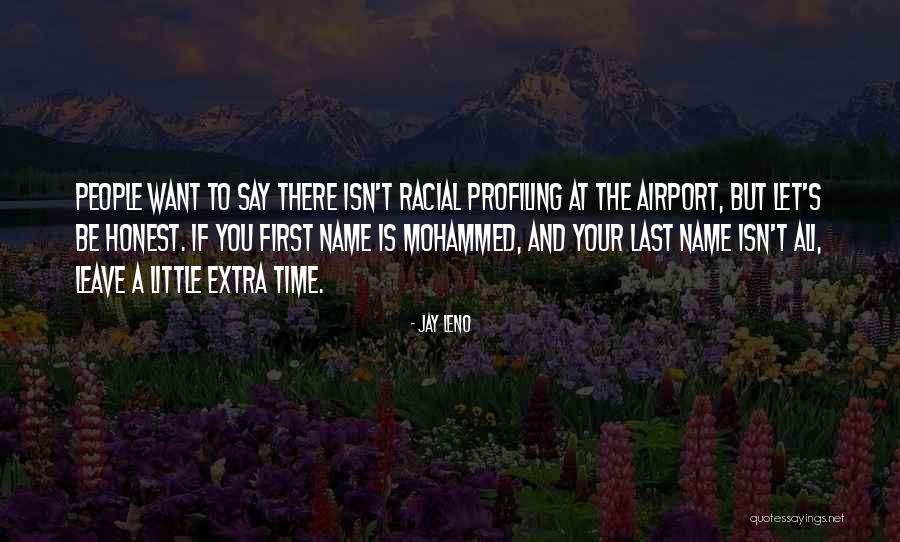 People want to say there isn't racial profiling at the airport, but let's be honest. If you first name is Mohammed, and your last name isn't Ali, leave a little extra time. — Jay Leno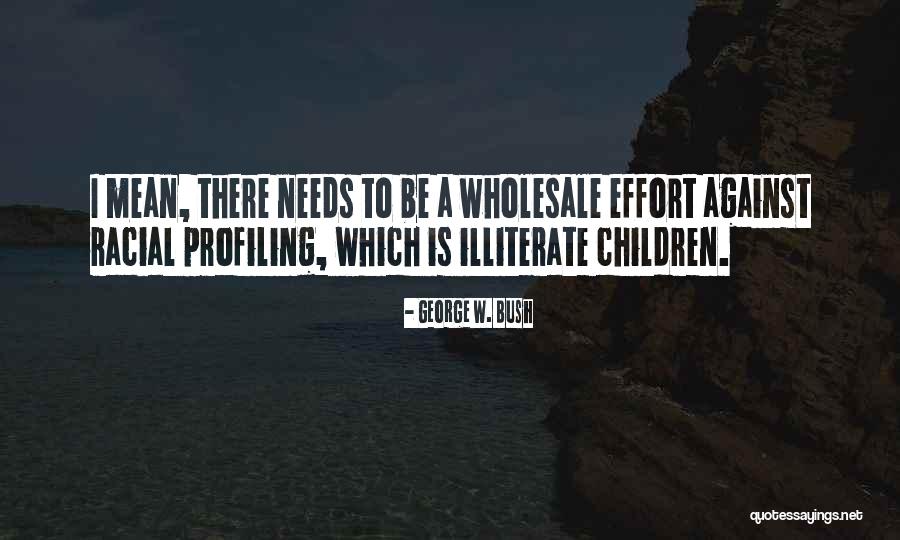 I mean, there needs to be a wholesale effort against racial profiling, which is illiterate children. — George W. Bush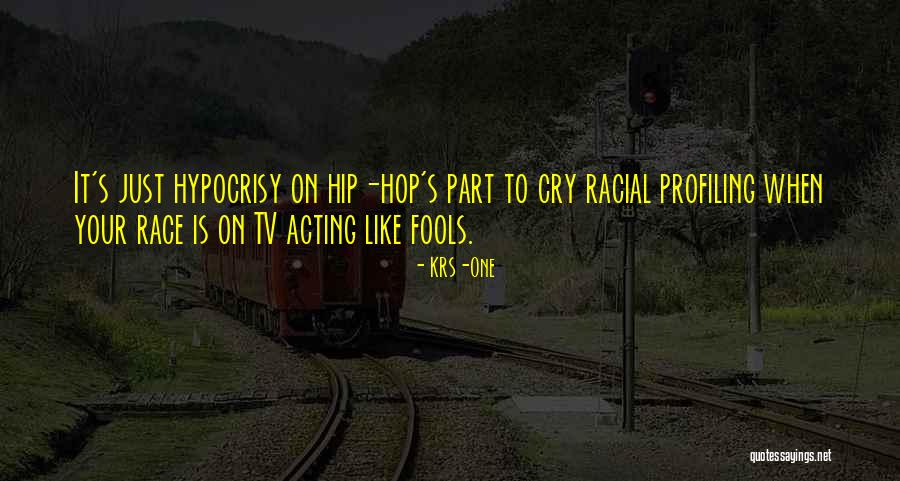 It's just hypocrisy on hip-hop's part to cry racial profiling when your race is on TV acting like fools. — KRS-One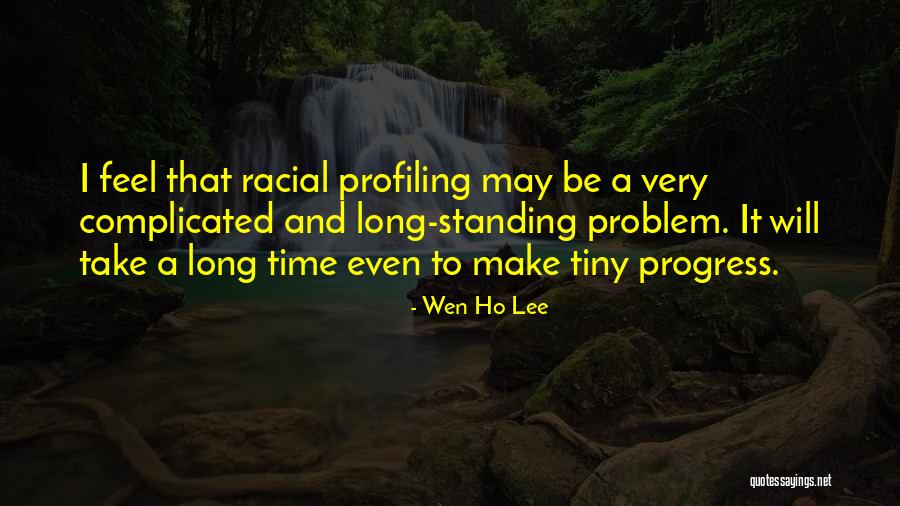 I feel that racial profiling may be a very complicated and long-standing problem. It will take a long time even to make tiny progress. — Wen Ho Lee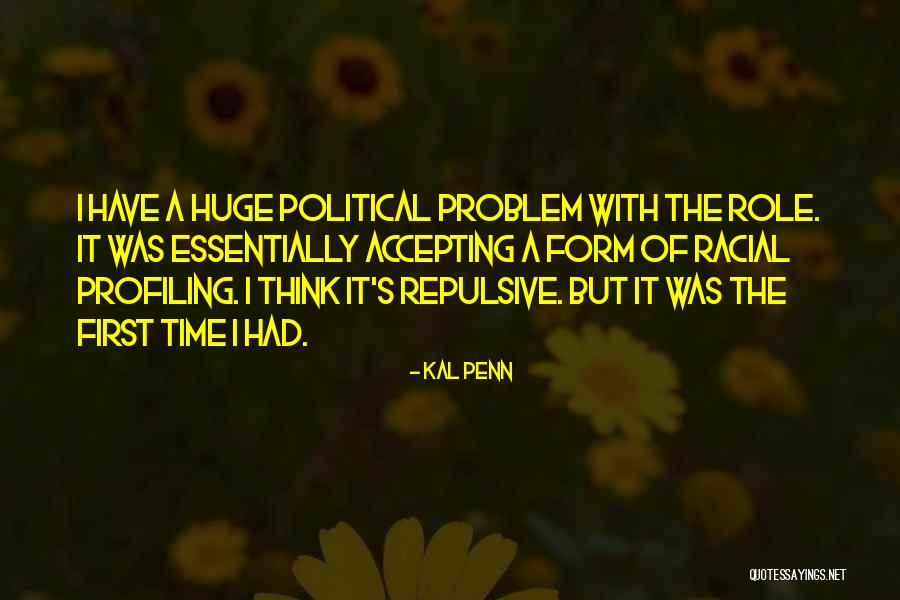 I have a huge political problem with the role. It was essentially accepting a form of racial profiling. I think it's repulsive. But it was the first time I had. — Kal Penn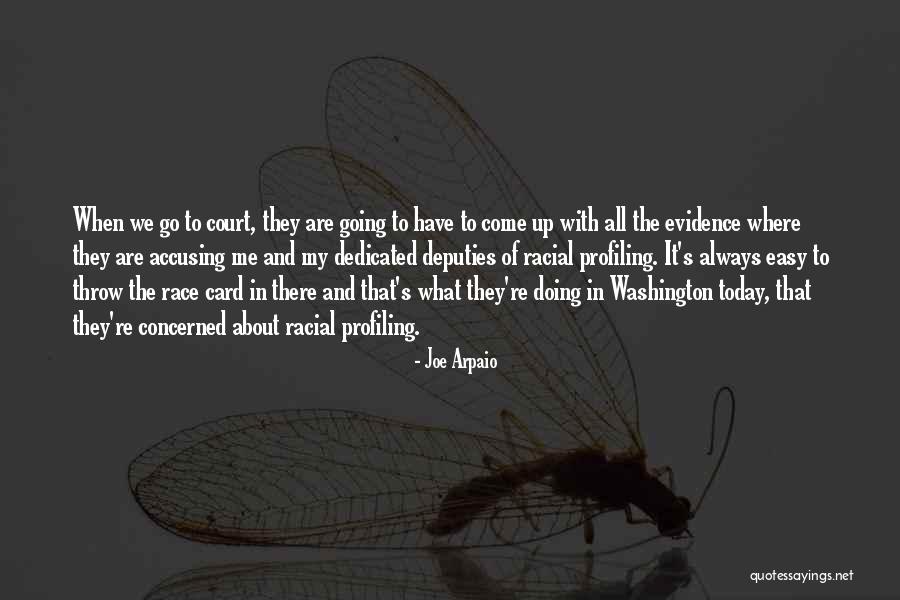 When we go to court, they are going to have to come up with all the evidence where they are accusing me and my dedicated deputies of racial profiling. It's always easy to throw the race card in there and that's what they're doing in Washington today, that they're concerned about racial profiling. — Joe Arpaio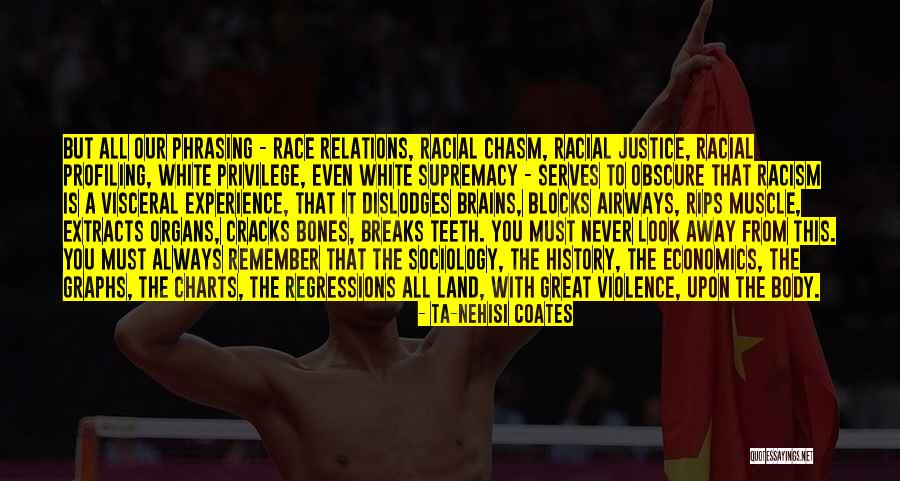 But all our phrasing - race relations, racial chasm, racial justice, racial profiling, white privilege, even white supremacy - serves to obscure that racism is a visceral experience, that it dislodges brains, blocks airways, rips muscle, extracts organs, cracks bones, breaks teeth. You must never look away from this. You must always remember that the sociology, the history, the economics, the graphs, the charts, the regressions all land, with great violence, upon the body. — Ta-Nehisi Coates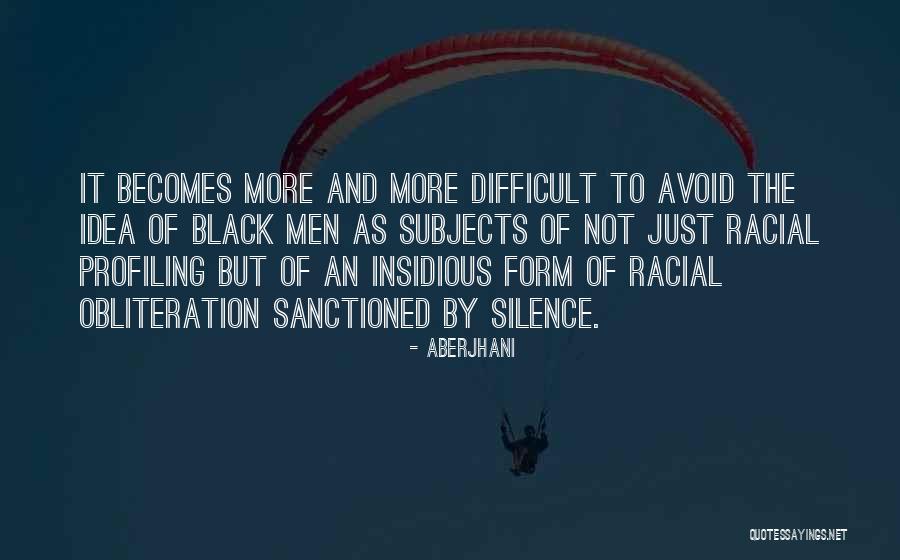 It becomes more and more difficult to avoid the idea of black men as subjects of not just racial profiling but of an insidious form of racial obliteration sanctioned by silence. — Aberjhani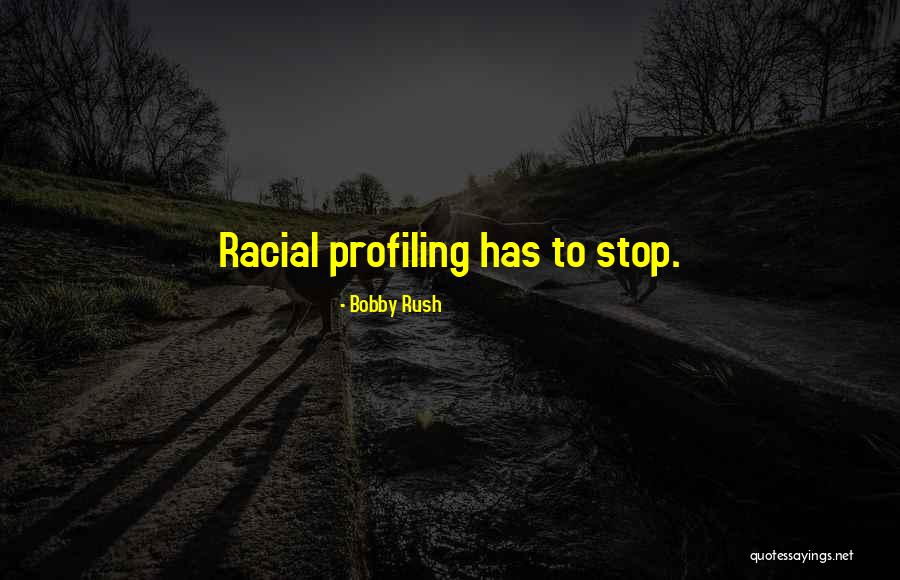 Racial profiling has to stop. — Bobby Rush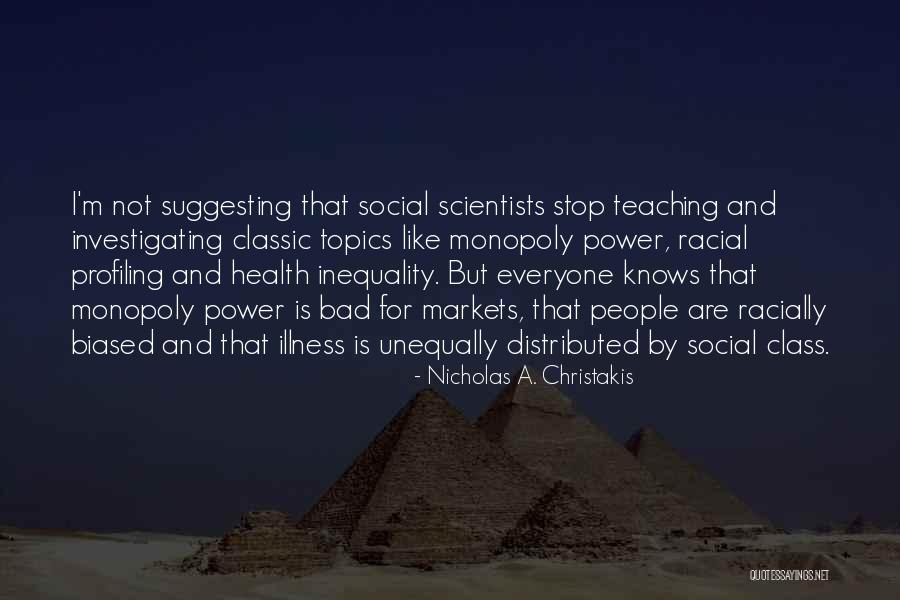 I'm not suggesting that social scientists stop teaching and investigating classic topics like monopoly power, racial profiling and health inequality. But everyone knows that monopoly power is bad for markets, that people are racially biased and that illness is unequally distributed by social class. — Nicholas A. Christakis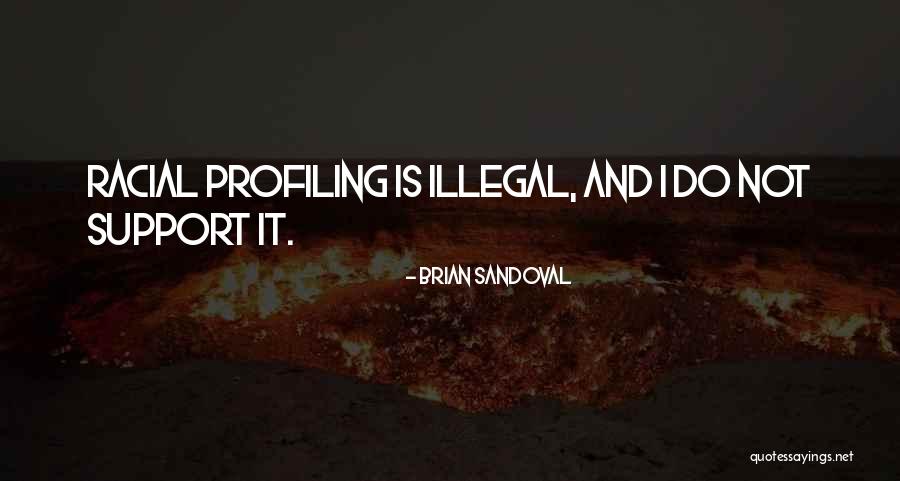 Racial profiling is illegal, and I do not support it. — Brian Sandoval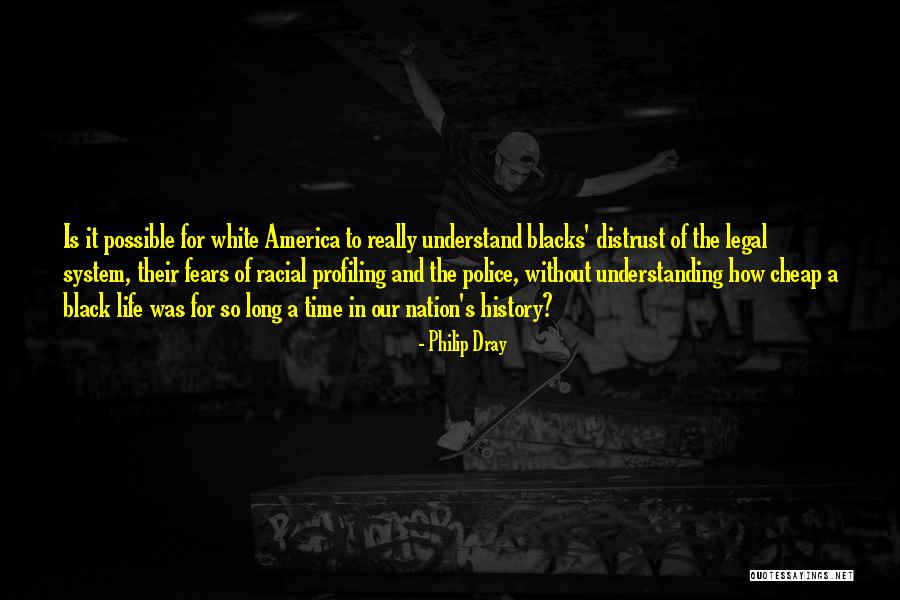 Is it possible for white America to really understand blacks' distrust of the legal system, their fears of racial profiling and the police, without understanding how cheap a black life was for so long a time in our nation's history? — Philip Dray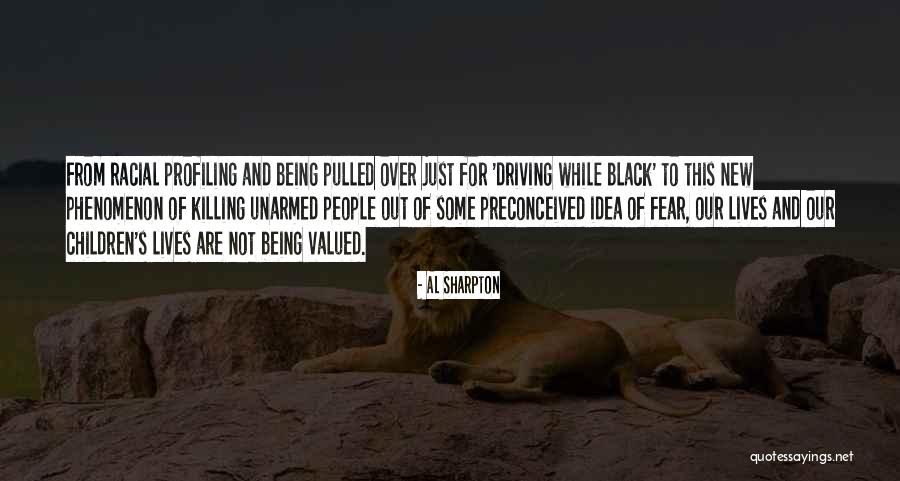 From racial profiling and being pulled over just for 'driving while black' to this new phenomenon of killing unarmed people out of some preconceived idea of fear, our lives and our children's lives are not being valued. — Al Sharpton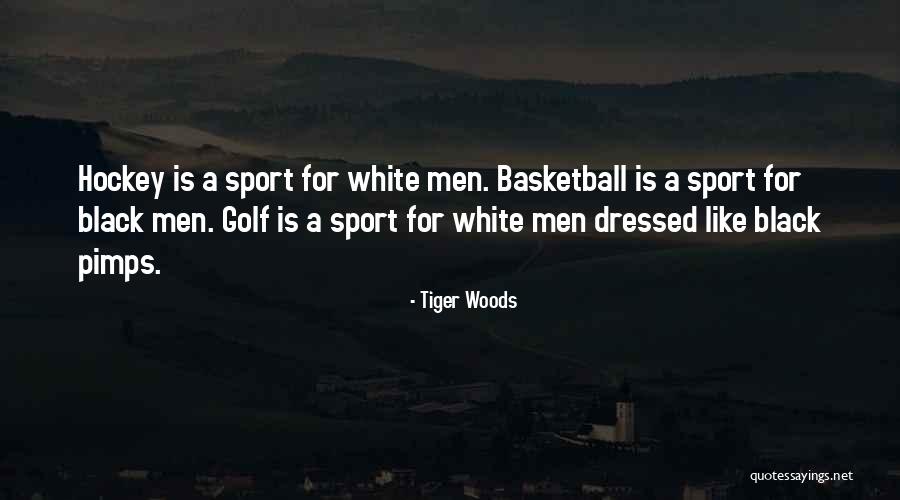 Hockey is a sport for white men. Basketball is a sport for black men. Golf is a sport for white men dressed like black pimps. — Tiger Woods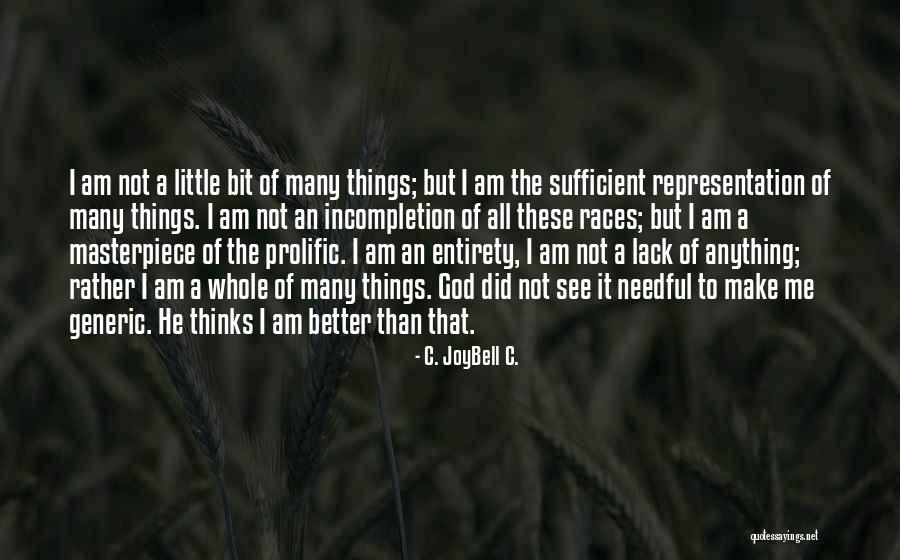 I am not a little bit of many things; but I am the sufficient representation of many things. I am not an incompletion of all these races; but I am a masterpiece of the prolific. I am an entirety, I am not a lack of anything; rather I am a whole of many things. God did not see it needful to make me generic. He thinks I am better than that. — C. JoyBell C.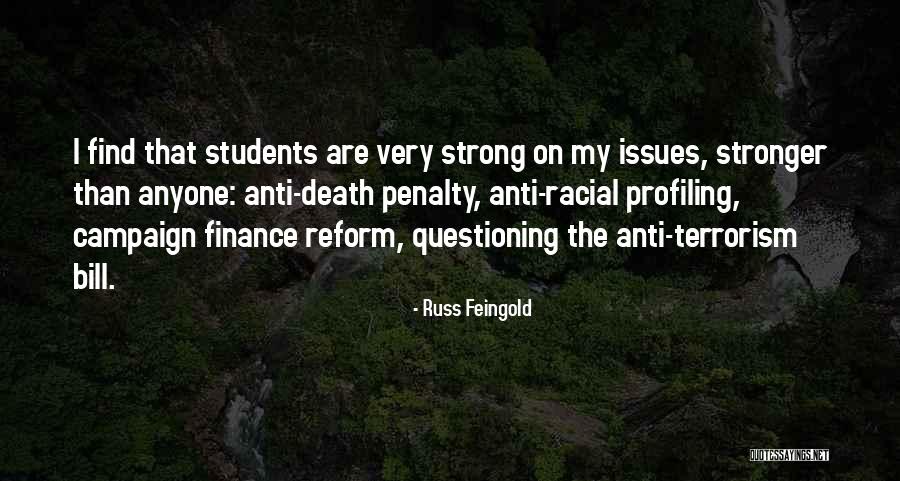 I find that students are very strong on my issues, stronger than anyone: anti-death penalty, anti-racial profiling, campaign finance reform, questioning the anti-terrorism bill. — Russ Feingold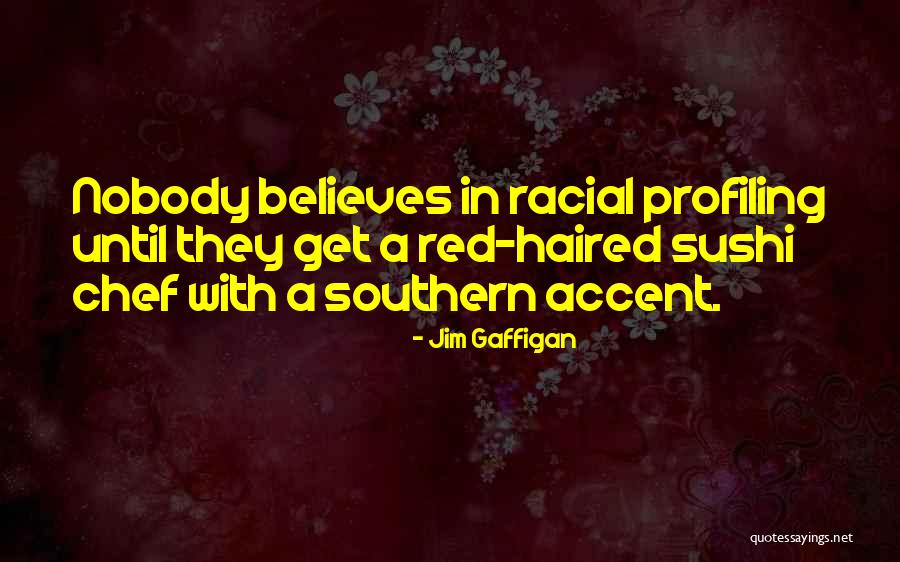 Nobody believes in racial profiling until they get a red-haired sushi chef with a southern accent. — Jim Gaffigan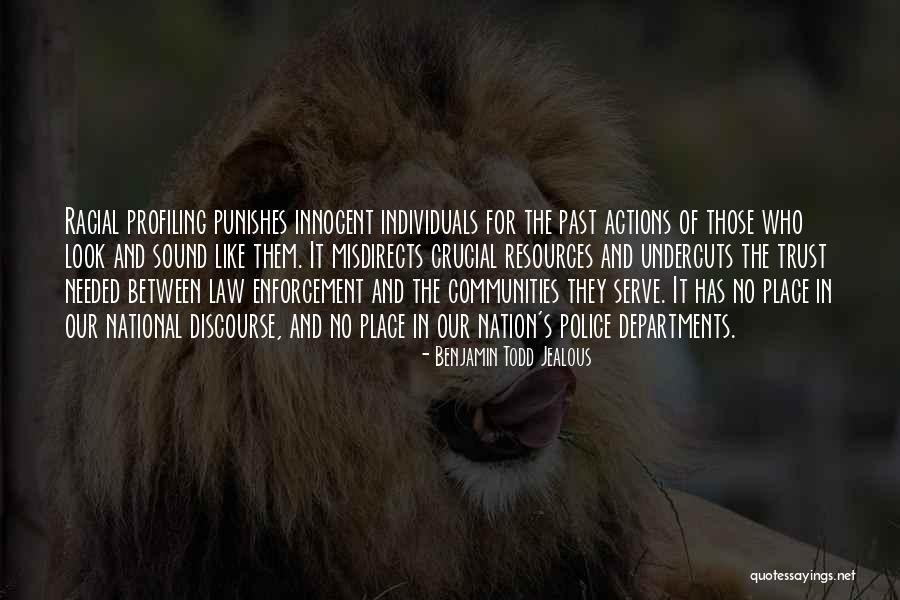 Racial profiling punishes innocent individuals for the past actions of those who look and sound like them. It misdirects crucial resources and undercuts the trust needed between law enforcement and the communities they serve. It has no place in our national discourse, and no place in our nation's police departments. — Benjamin Todd Jealous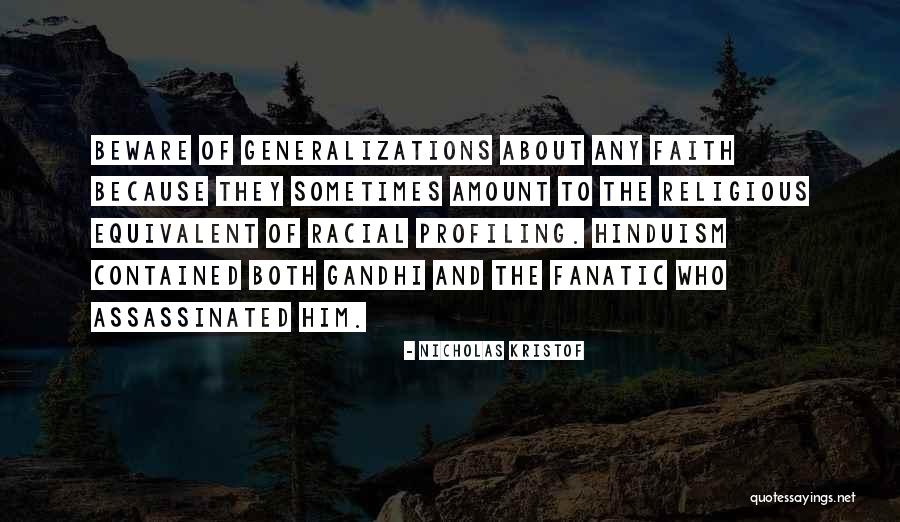 Beware of generalizations about any faith because they sometimes amount to the religious equivalent of racial profiling. Hinduism contained both Gandhi and the fanatic who assassinated him. — Nicholas Kristof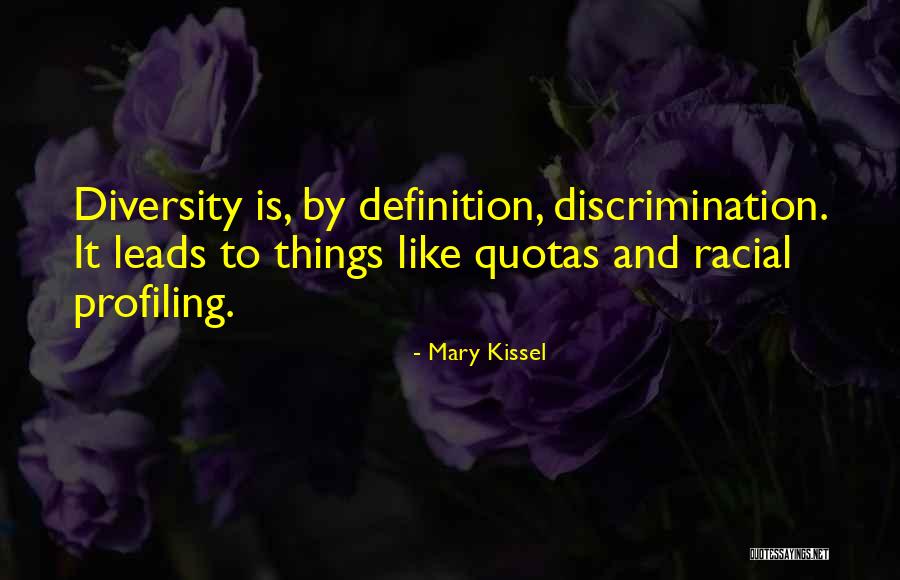 Diversity is, by definition, discrimination. It leads to things like quotas and racial profiling. — Mary Kissel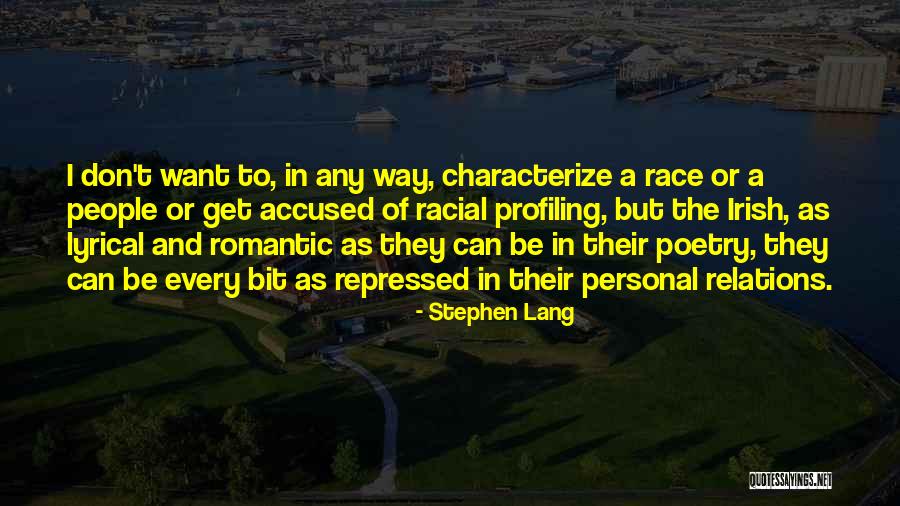 I don't want to, in any way, characterize a race or a people or get accused of racial profiling, but the Irish, as lyrical and romantic as they can be in their poetry, they can be every bit as repressed in their personal relations. — Stephen Lang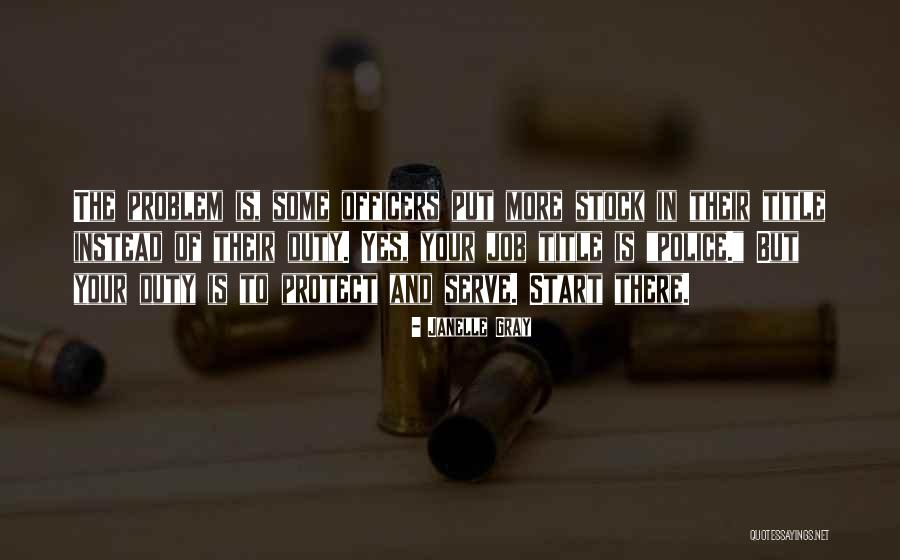 The problem is, some officers put more stock in their title instead of their duty. Yes, your job title is "police." But your duty is to protect and serve. Start there. — Janelle Gray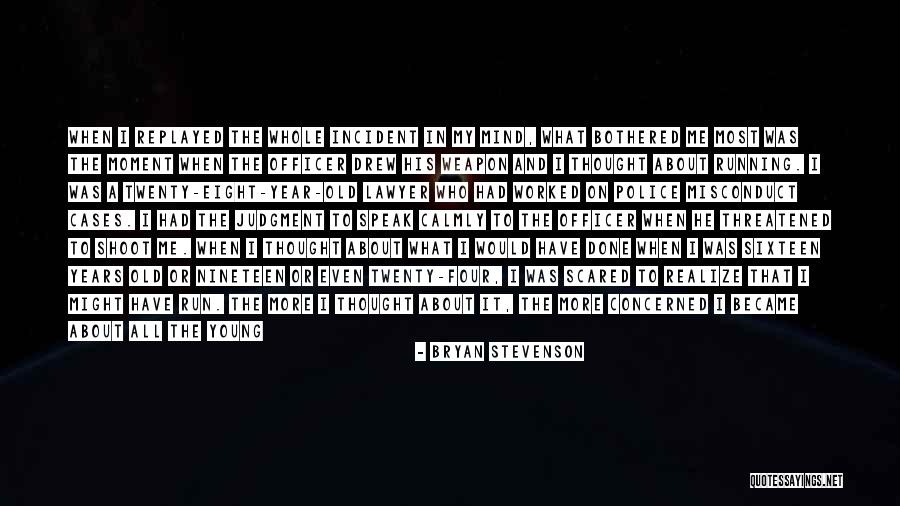 When I replayed the whole incident in my mind, what bothered me most was the moment when the officer drew his weapon and I thought about running. I was a twenty-eight-year-old lawyer who had worked on police misconduct cases. I had the judgment to speak calmly to the officer when he threatened to shoot me. When I thought about what I would have done when I was sixteen years old or nineteen or even twenty-four, I was scared to realize that I might have run. The more I thought about it, the more concerned I became about all the young black boys and men in that neighborhood. Did they know not to run? — Bryan Stevenson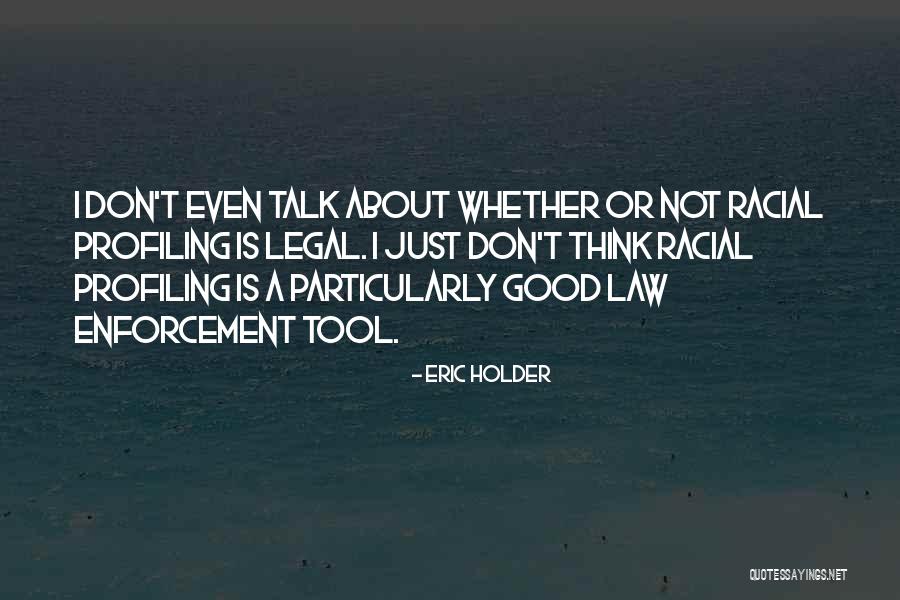 I don't even talk about whether or not racial profiling is legal. I just don't think racial profiling is a particularly good law enforcement tool. — Eric Holder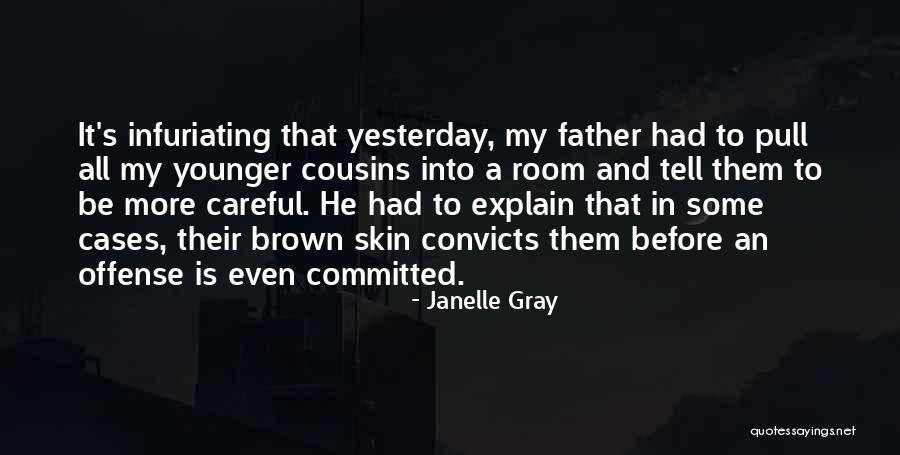 It's infuriating that yesterday, my father had to pull all my younger cousins into a room and tell them to be more careful. He had to explain that in some cases, their brown skin convicts them before an offense is even committed. — Janelle Gray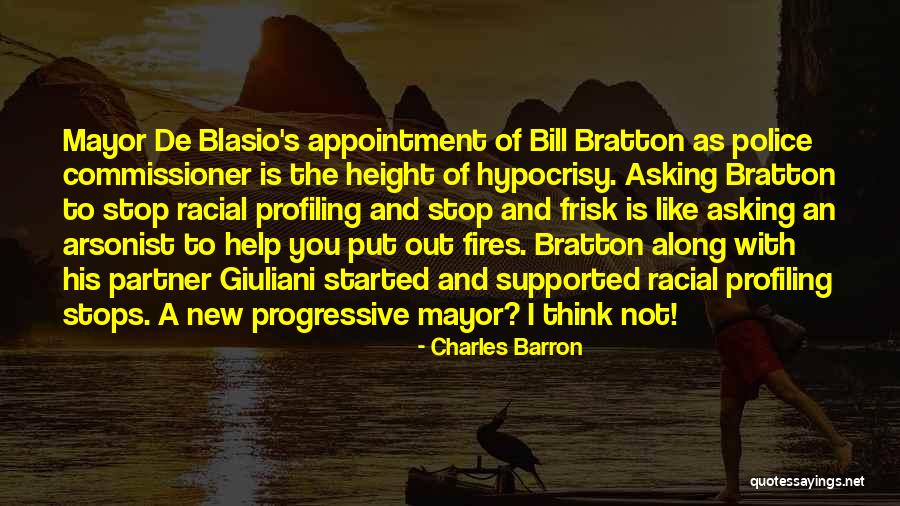 Mayor De Blasio's appointment of Bill Bratton as police commissioner is the height of hypocrisy. Asking Bratton to stop racial profiling and stop and frisk is like asking an arsonist to help you put out fires. Bratton along with his partner Giuliani started and supported racial profiling stops. A new progressive mayor? I think not! — Charles Barron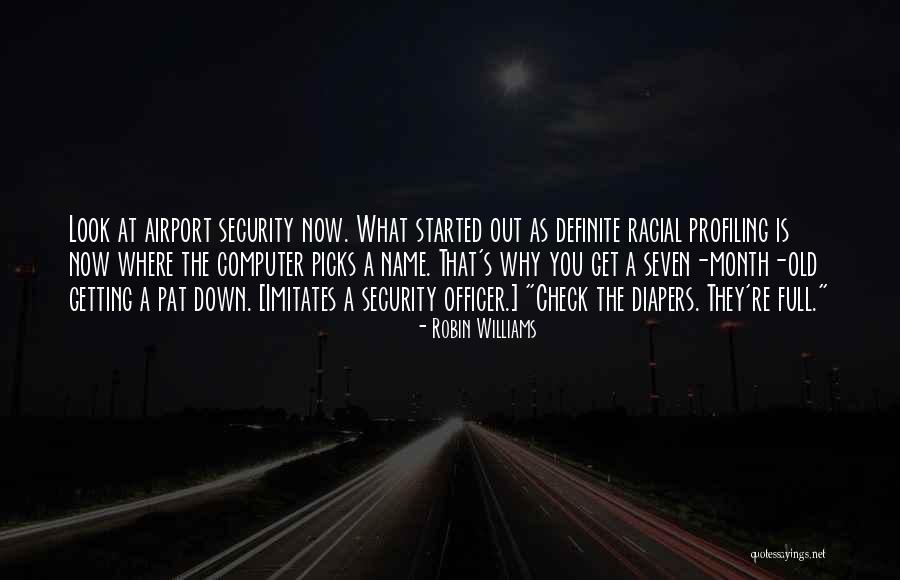 Look at airport security now. What started out as definite racial profiling is now where the computer picks a name. That's why you get a seven-month-old getting a pat down. [Imitates a security officer.] "Check the diapers. They're full." — Robin Williams