Quotes & Sayings About Punishment In School
Enjoy reading and share 34 famous quotes about Punishment In School with everyone.
Top Punishment In School Quotes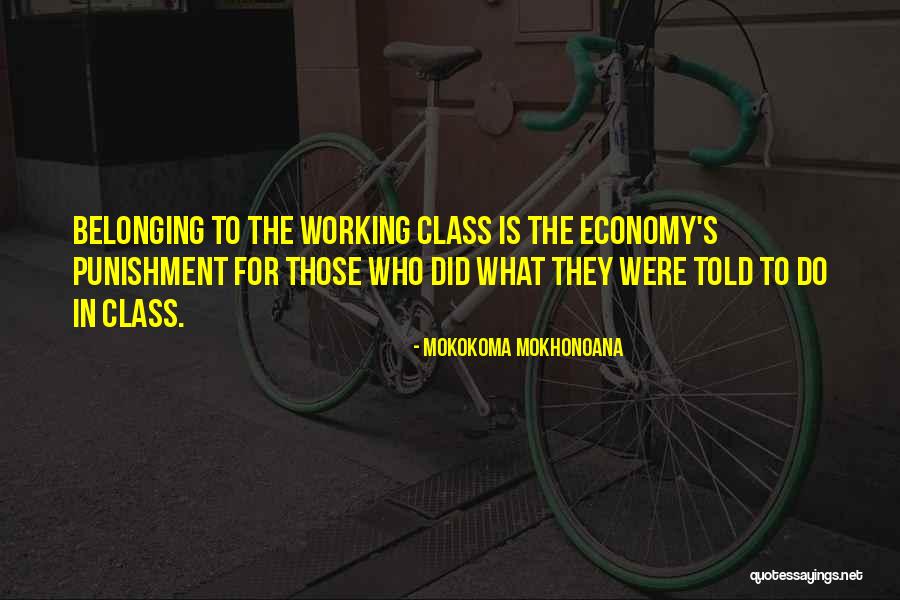 Belonging to the working class is the economy's punishment for those who did what they were told to do in class. — Mokokoma Mokhonoana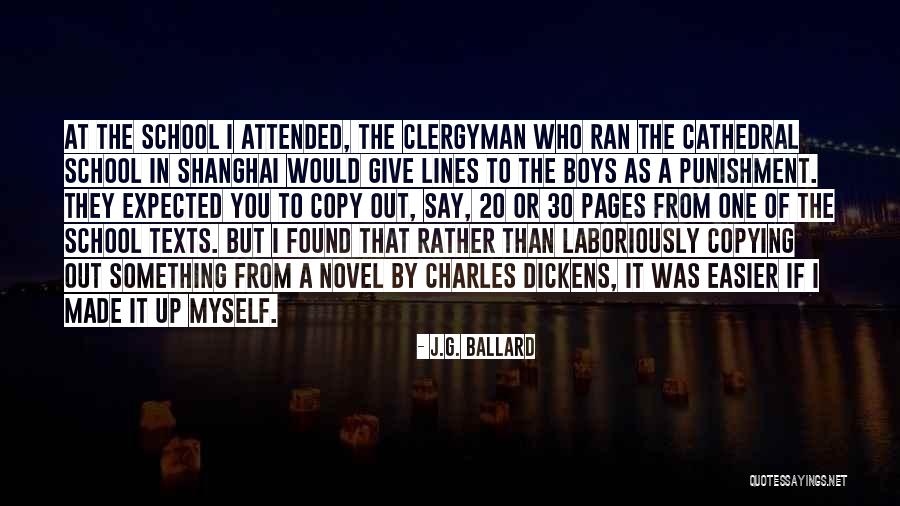 At the school I attended, the clergyman who ran the cathedral school in Shanghai would give lines to the boys as a punishment. They expected you to copy out, say, 20 or 30 pages from one of the school texts. But I found that rather than laboriously copying out something from a novel by Charles Dickens, it was easier if I made it up myself. — J.G. Ballard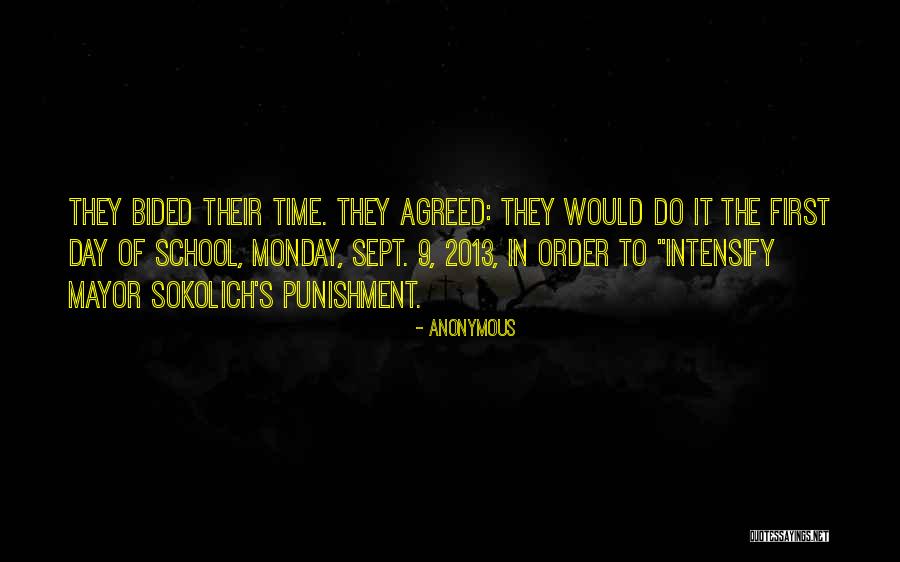 They bided their time. They agreed: They would do it the first day of school, Monday, Sept. 9, 2013, in order to "intensify Mayor Sokolich's punishment. — Anonymous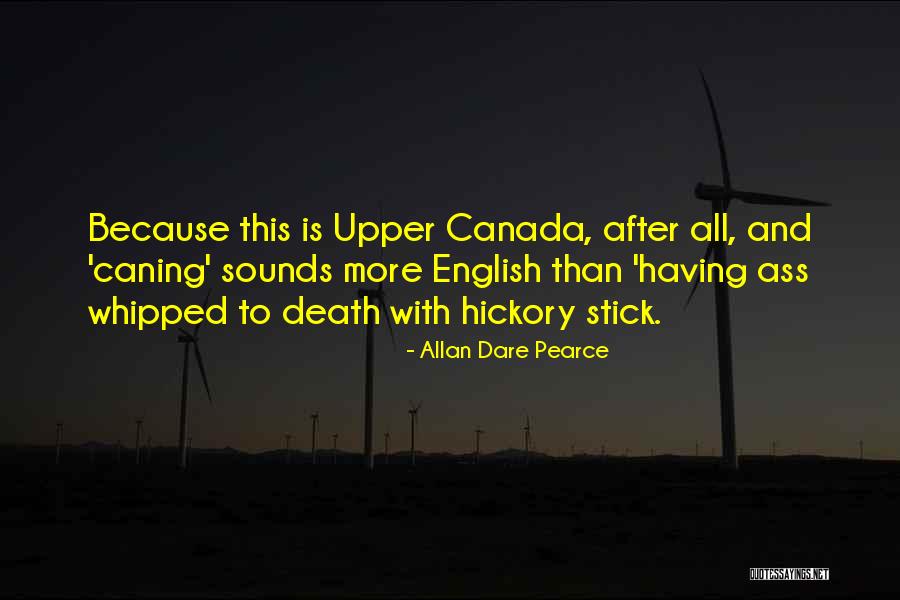 Because this is Upper Canada, after all, and 'caning' sounds more English than 'having ass whipped to death with hickory stick. — Allan Dare Pearce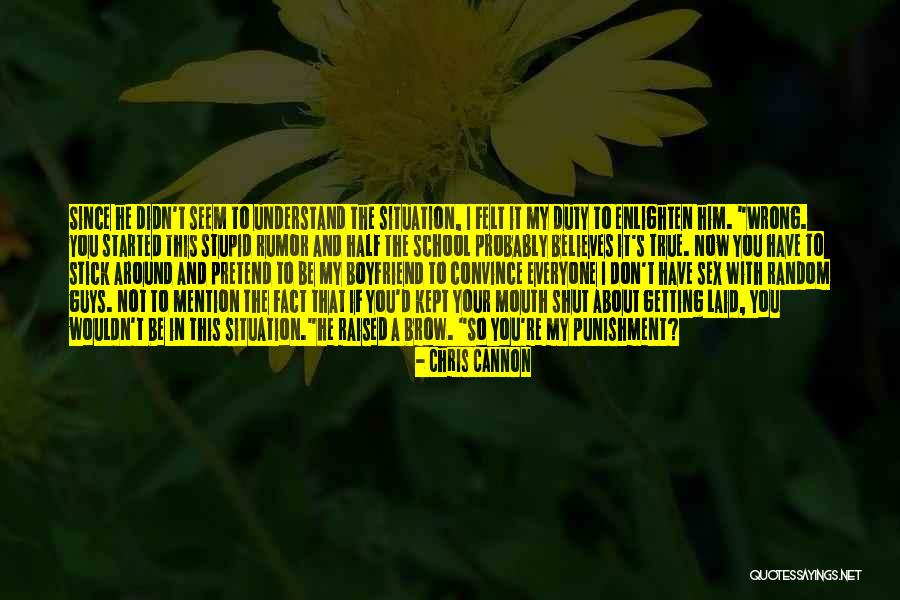 Since he didn't seem to understand the situation, I felt it my duty to enlighten him. "Wrong. You started this stupid rumor and half the school probably believes it's true. Now you have to stick around and pretend to be my boyfriend to convince everyone I don't have sex with random guys. Not to mention the fact that if you'd kept your mouth shut about getting laid, you wouldn't be in this situation."
He raised a brow. "So you're my punishment? — Chris Cannon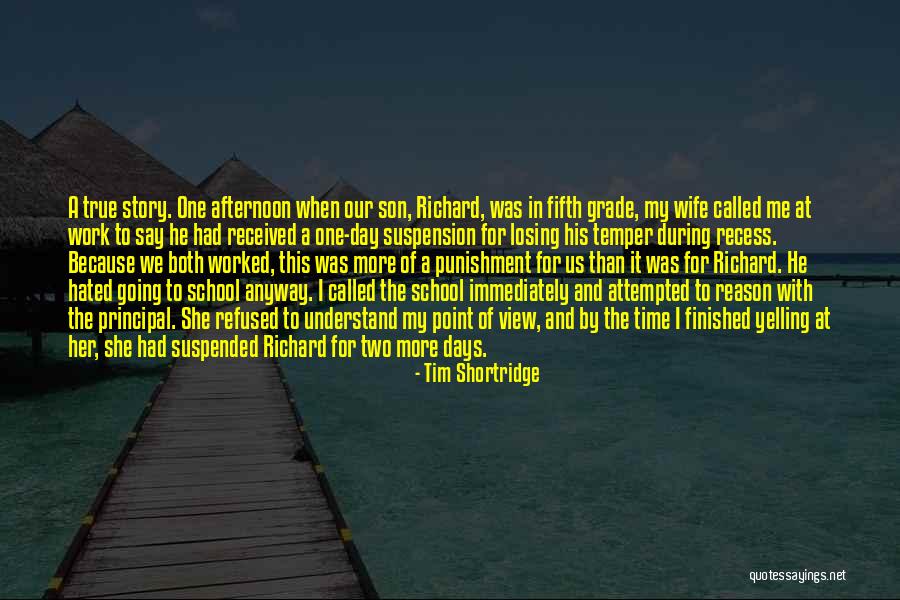 A true story. One afternoon when our son, Richard, was in fifth grade, my wife called me at work to say he had received a one-day suspension for losing his temper during recess. Because we both worked, this was more of a punishment for us than it was for Richard. He hated going to school anyway. I called the school immediately and attempted to reason with the principal. She refused to understand my point of view, and by the time I finished yelling at her, she had suspended Richard for two more days. — Tim Shortridge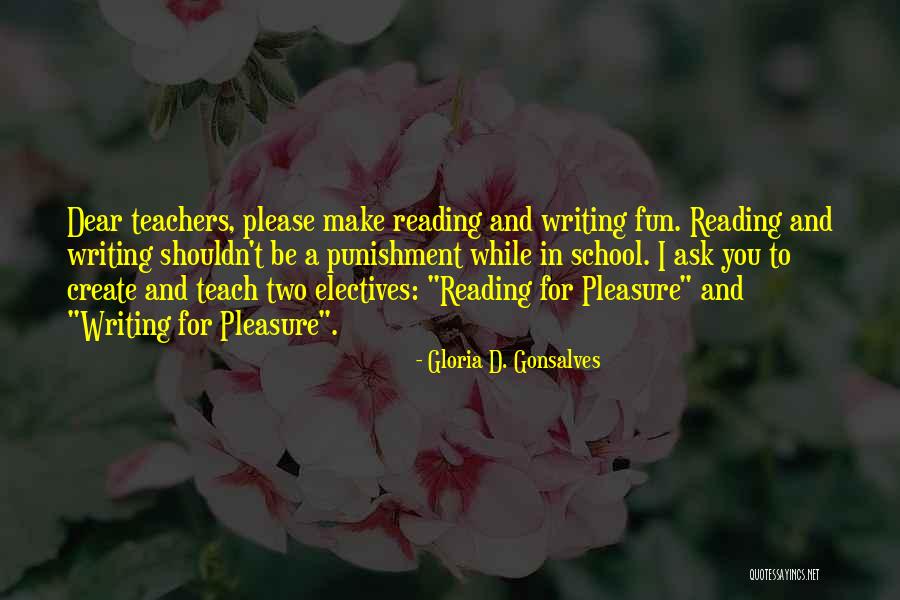 Dear teachers, please make reading and writing fun. Reading and writing shouldn't be a punishment while in school. I ask you to create and teach two electives: "Reading for Pleasure" and "Writing for Pleasure". — Gloria D. Gonsalves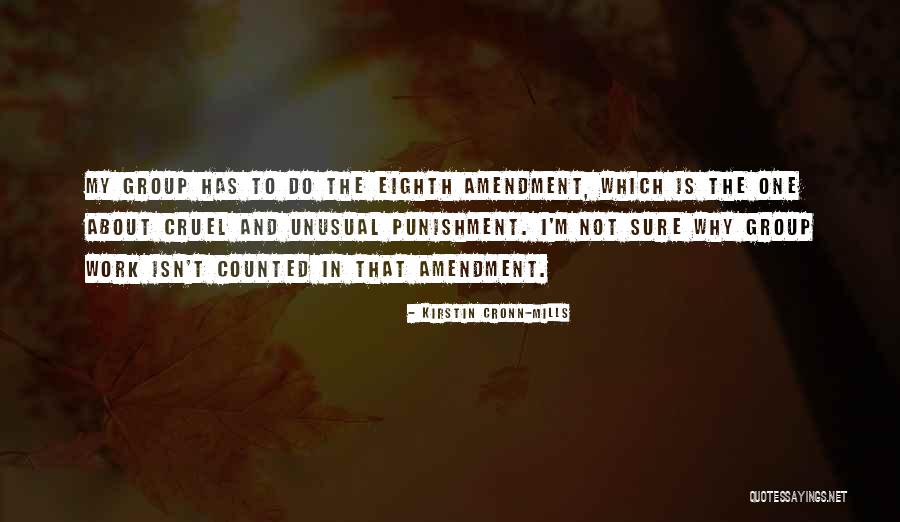 My group has to do the Eighth Amendment, which is the one about cruel and unusual punishment. I'm not sure why group work isn't counted in that amendment. — Kirstin Cronn-Mills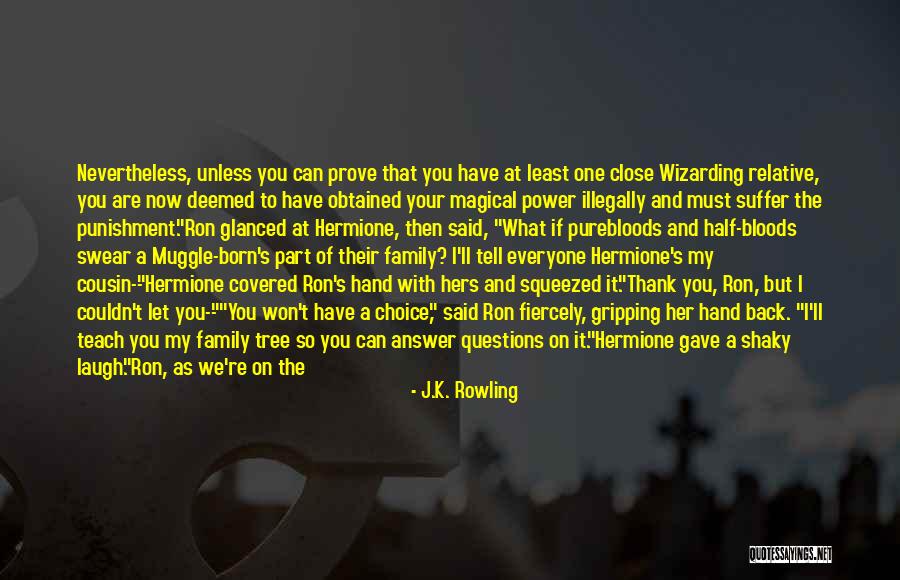 Nevertheless, unless you can prove that you have at least one close Wizarding relative, you are now deemed to have obtained your magical power illegally and must suffer the punishment."
Ron glanced at Hermione, then said, "What if purebloods and half-bloods swear a Muggle-born's part of their family? I'll tell everyone Hermione's my cousin--"
Hermione covered Ron's hand with hers and squeezed it.
"Thank you, Ron, but I couldn't let you--"
"You won't have a choice," said Ron fiercely, gripping her hand back. "I'll teach you my family tree so you can answer questions on it."
Hermione gave a shaky laugh.
"Ron, as we're on the run with Harry Potter, the most wanted person in the country, I don't think it matters. If I was going back to school it would be different. — J.K. Rowling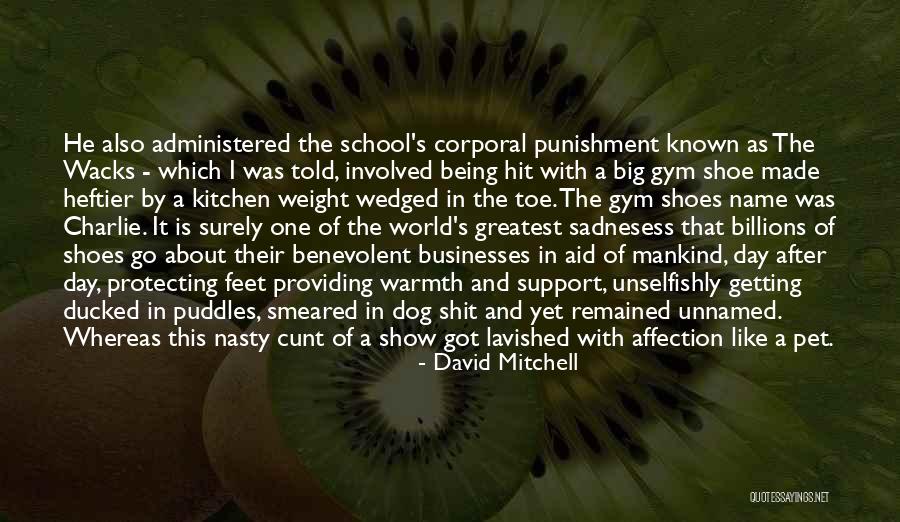 He also administered the school's corporal punishment known as The Wacks - which I was told, involved being hit with a big gym shoe made heftier by a kitchen weight wedged in the toe. The gym shoes name was Charlie. It is surely one of the world's greatest sadnesess that billions of shoes go about their benevolent businesses in aid of mankind, day after day, protecting feet providing warmth and support, unselfishly getting ducked in puddles, smeared in dog shit and yet remained unnamed. Whereas this nasty cunt of a show got lavished with affection like a pet. — David Mitchell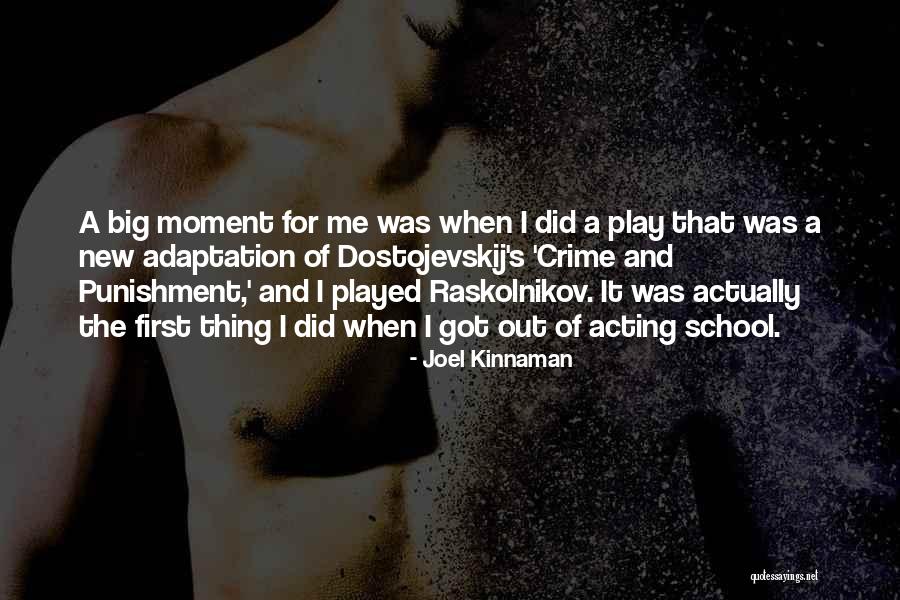 A big moment for me was when I did a play that was a new adaptation of Dostojevskij's 'Crime and Punishment,' and I played Raskolnikov. It was actually the first thing I did when I got out of acting school. — Joel Kinnaman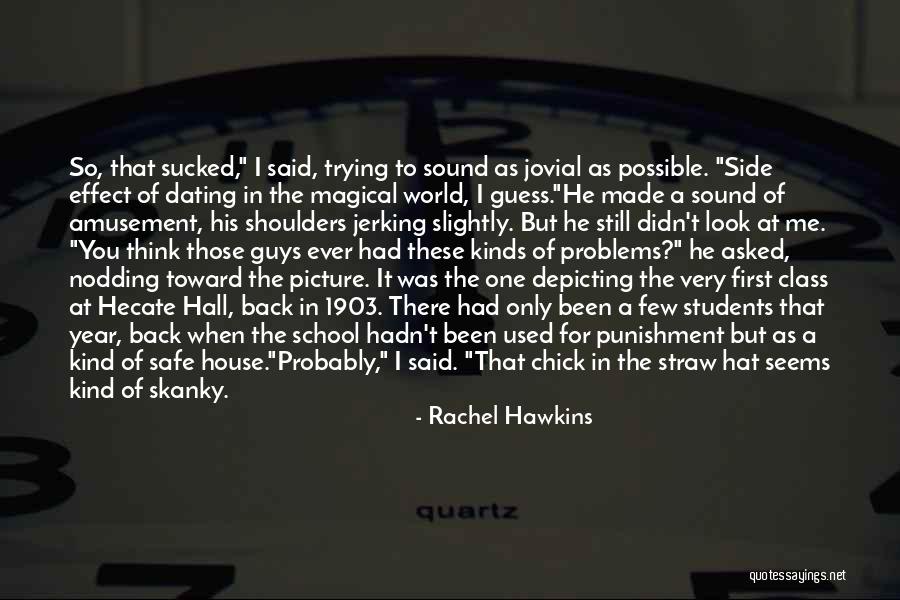 So, that sucked," I said, trying to sound as jovial as possible. "Side effect of dating in the magical world, I guess."
He made a sound of amusement, his shoulders jerking slightly. But he still didn't look at me. "You think those guys ever had these kinds of problems?" he asked, nodding toward the picture. It was the one depicting the very first class at Hecate Hall, back in 1903. There had only been a few students that year, back when the school hadn't been used for punishment but as a kind of safe house.
"Probably," I said. "That chick in the straw hat seems kind of skanky. — Rachel Hawkins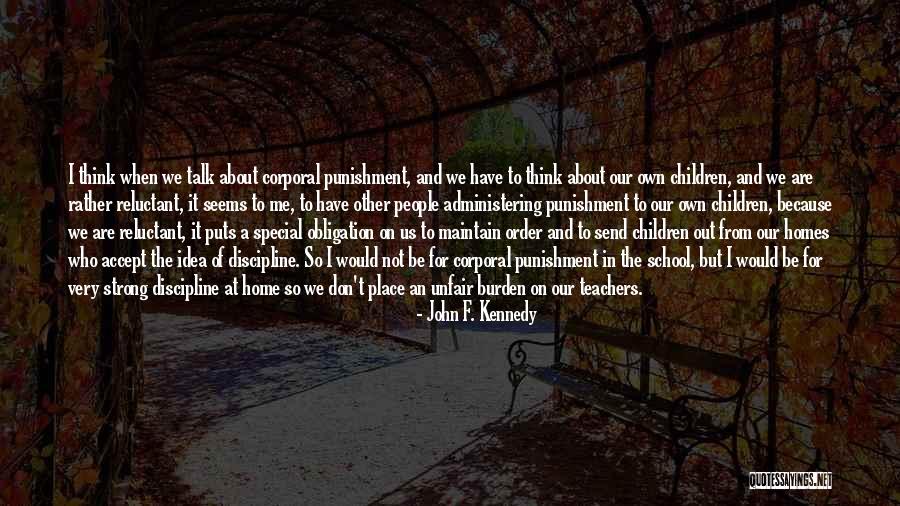 I think when we talk about corporal punishment, and we have to think about our own children, and we are rather reluctant, it seems to me, to have other people administering punishment to our own children, because we are reluctant, it puts a special obligation on us to maintain order and to send children out from our homes who accept the idea of discipline. So I would not be for corporal punishment in the school, but I would be for very strong discipline at home so we don't place an unfair burden on our teachers. — John F. Kennedy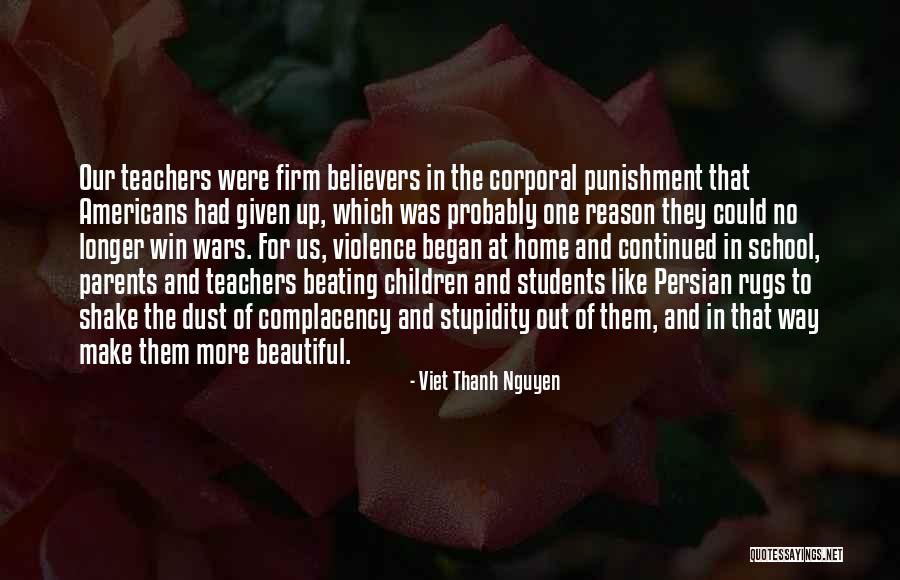 Our teachers were firm believers in the corporal punishment that Americans had given up, which was probably one reason they could no longer win wars. For us, violence began at home and continued in school, parents and teachers beating children and students like Persian rugs to shake the dust of complacency and stupidity out of them, and in that way make them more beautiful. — Viet Thanh Nguyen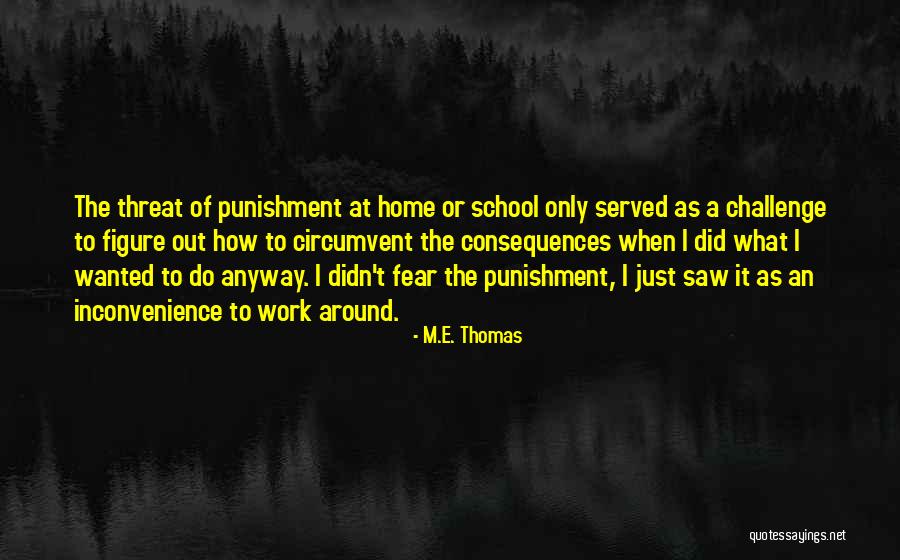 The threat of punishment at home or school only served as a challenge to figure out how to circumvent the consequences when I did what I wanted to do anyway. I didn't fear the punishment, I just saw it as an inconvenience to work around. — M.E. Thomas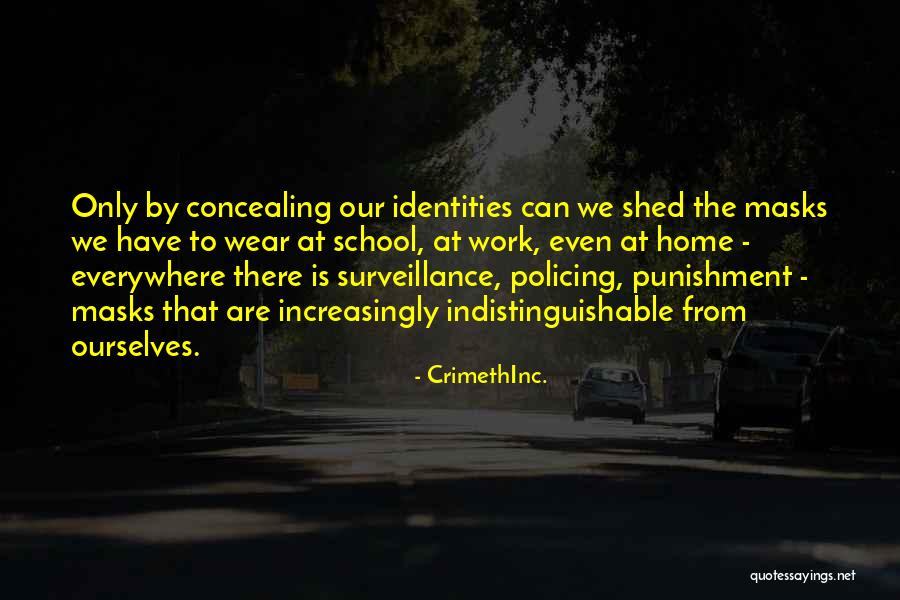 Only by concealing our identities can we shed the masks we have to wear at school, at work, even at home - everywhere there is surveillance, policing, punishment - masks that are increasingly indistinguishable from ourselves. — CrimethInc.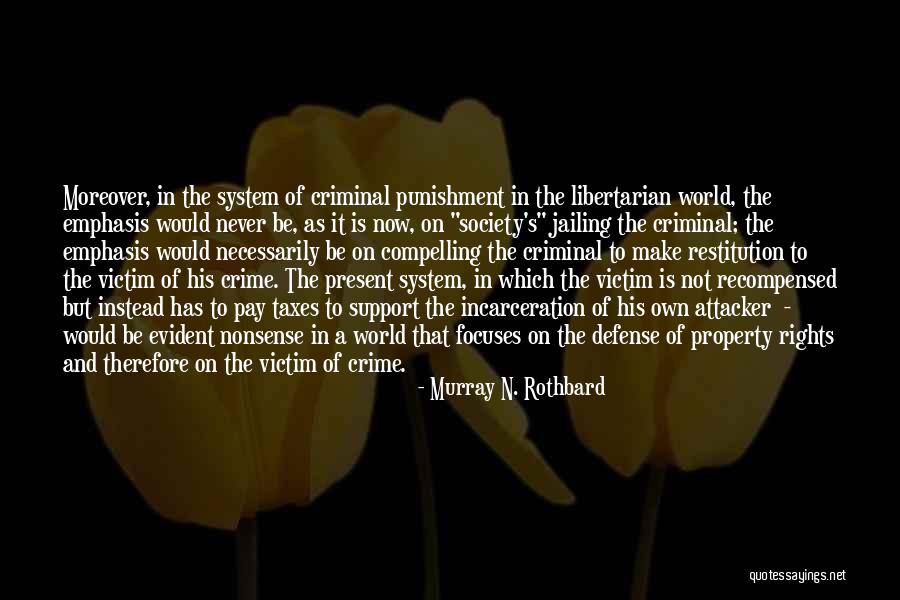 Moreover, in the system of criminal punishment in the libertarian world, the emphasis would never be, as it is now, on "society's" jailing the criminal; the emphasis would necessarily be on compelling the criminal to make restitution to the victim of his crime. The present system, in which the victim is not recompensed but instead has to pay taxes to support the incarceration of his own attacker - would be evident nonsense in a world that focuses on the defense of property rights and therefore on the victim of crime. — Murray N. Rothbard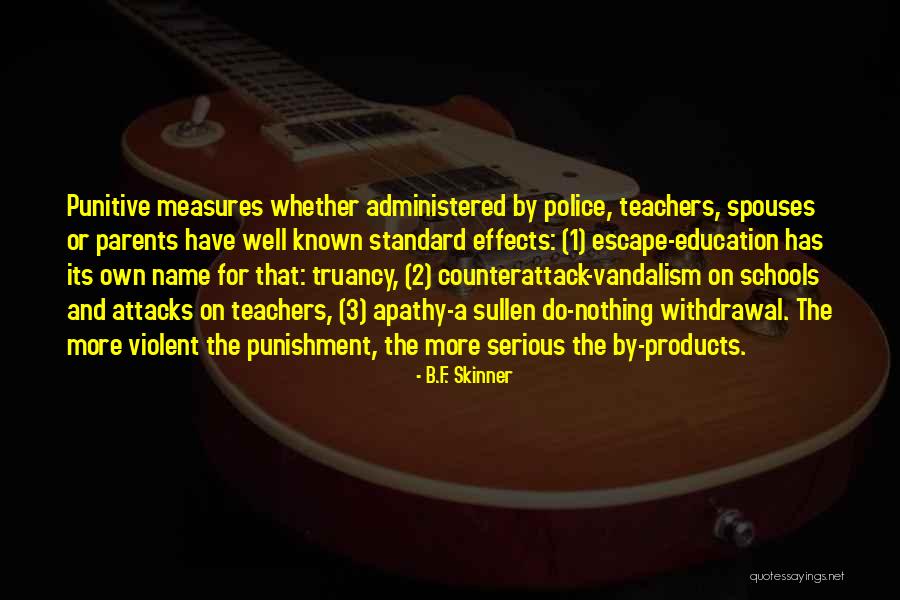 Punitive measures whether administered by police, teachers, spouses or parents have well known standard effects: (1) escape-education has its own name for that: truancy, (2) counterattack-vandalism on schools and attacks on teachers, (3) apathy-a sullen do-nothing withdrawal. The more violent the punishment, the more serious the by-products. — B.F. Skinner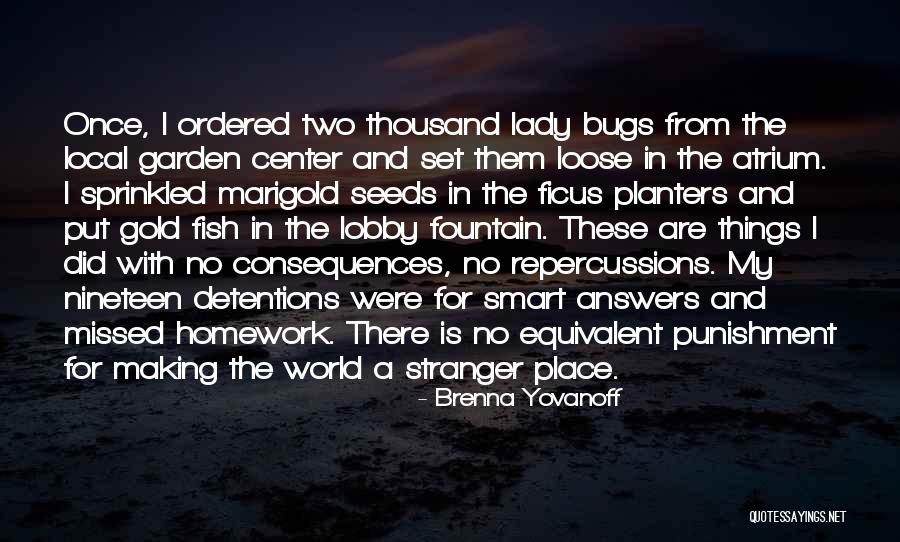 Once, I ordered two thousand lady bugs from the local garden center and set them loose in the atrium. I sprinkled marigold seeds in the ficus planters and put gold fish in the lobby fountain. These are things I did with no consequences, no repercussions. My nineteen detentions were for smart answers and missed homework. There is no equivalent punishment for making the world a stranger place. — Brenna Yovanoff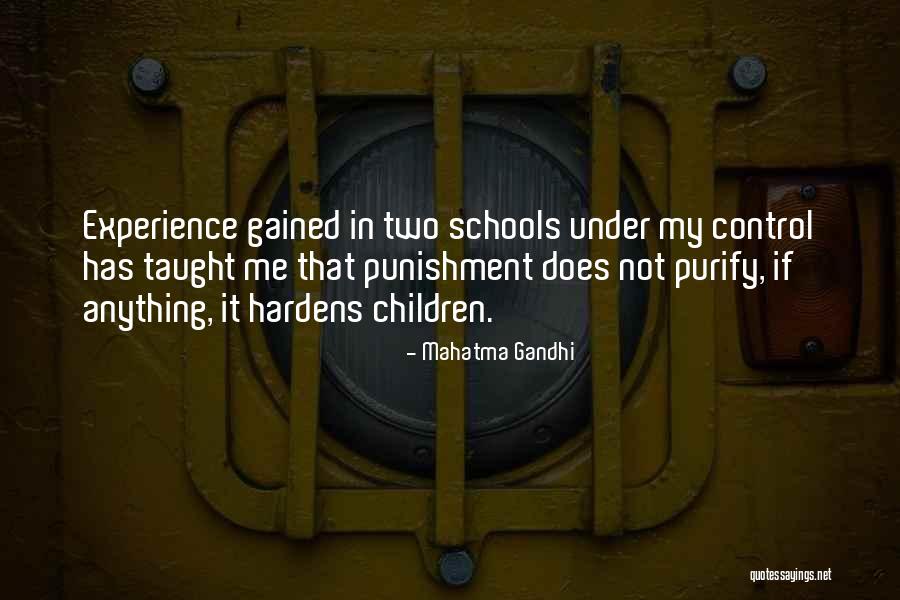 Experience gained in two schools under my control has taught me that punishment does not purify, if anything, it hardens children. — Mahatma Gandhi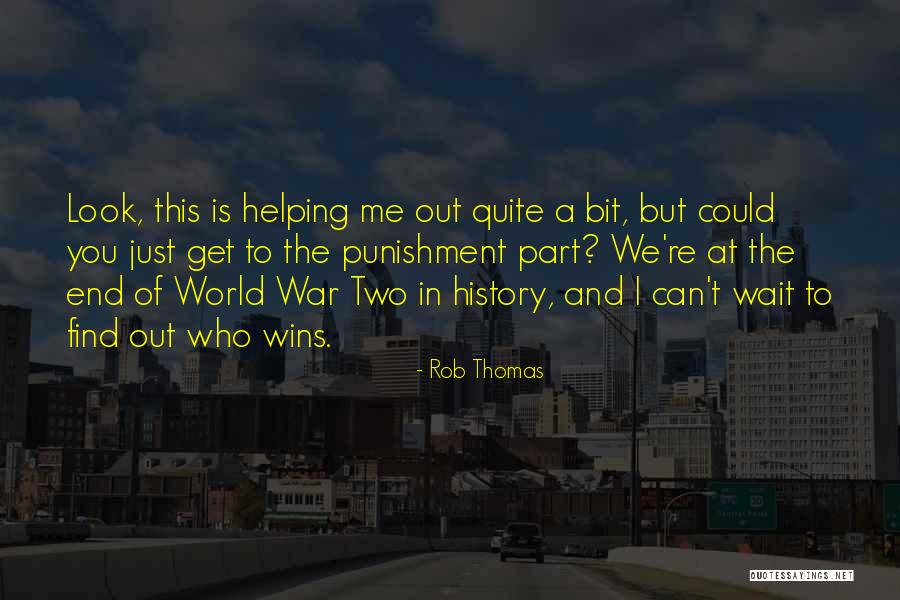 Look, this is helping me out quite a bit, but could you just get to the punishment part? We're at the end of World War Two in history, and I can't wait to find out who wins. — Rob Thomas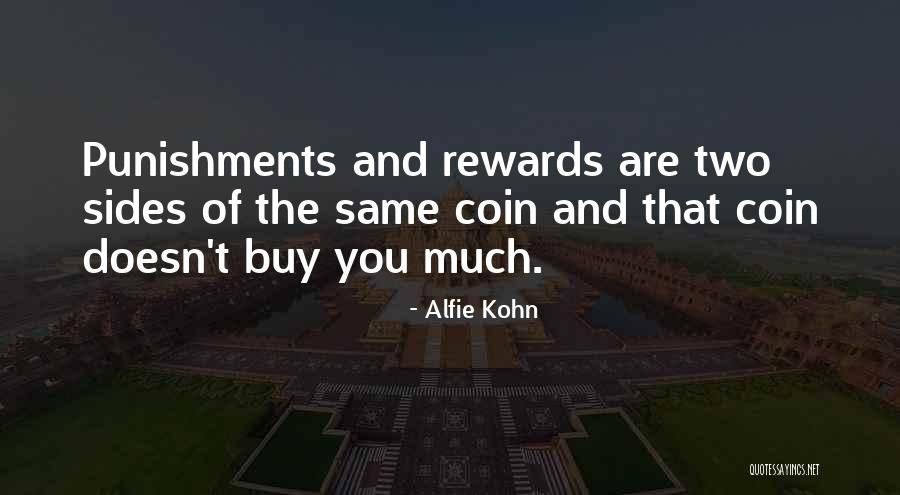 Punishments and rewards are two sides of the same coin and that coin doesn't buy you much. — Alfie Kohn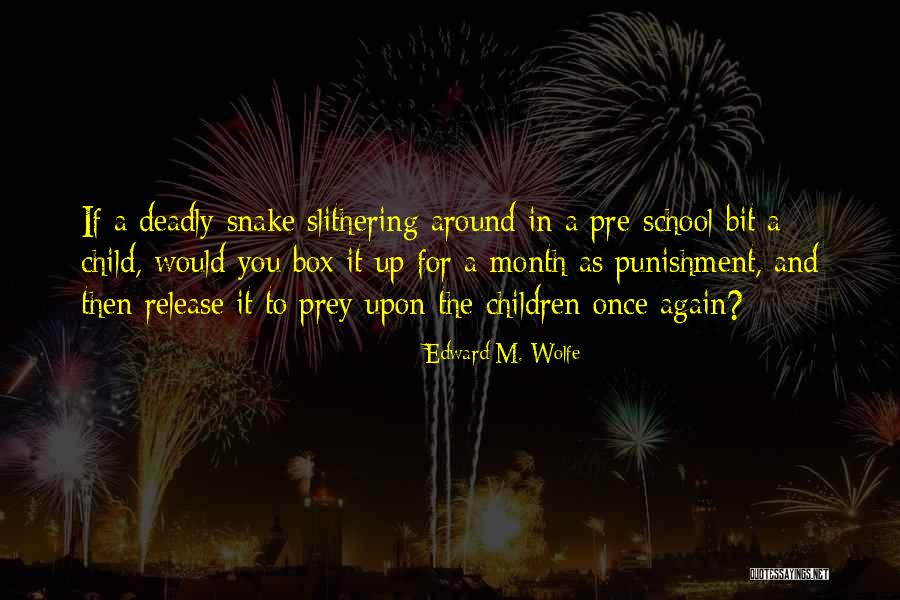 If a deadly snake slithering around in a pre-school bit a child, would you box it up for a month as punishment, and then release it to prey upon the children once again? — Edward M. Wolfe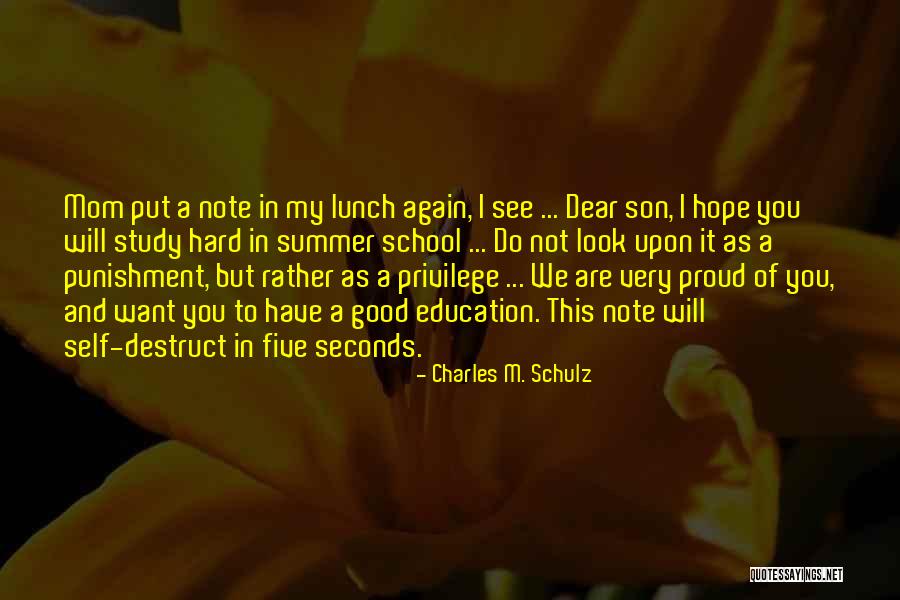 Mom put a note in my lunch again, I see ... Dear son, I hope you will study hard in summer school ... Do not look upon it as a punishment, but rather as a privilege ... We are very proud of you, and want you to have a good education. This note will self-destruct in five seconds. — Charles M. Schulz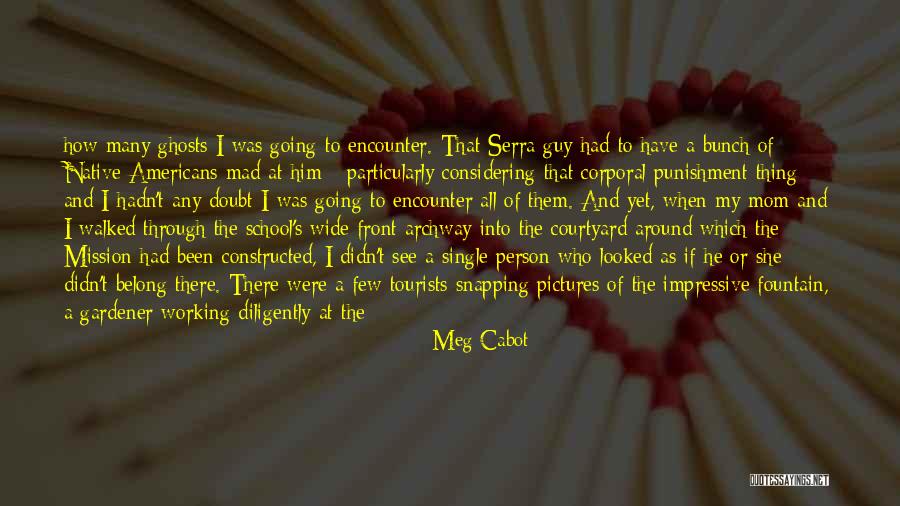 how many ghosts I was going to encounter. That Serra guy had to have a bunch of Native Americans mad at him - particularly considering that corporal punishment thing - and I hadn't any doubt I was going to encounter all of them. And yet, when my mom and I walked through the school's wide front archway into the courtyard around which the Mission had been constructed, I didn't see a single person who looked as if he or she didn't belong there. There were a few tourists snapping pictures of the impressive fountain, a gardener working diligently at the base of a palm tree - even at my new school there were palm trees - a priest walking in silent contemplation down the airy breezeway. It was a beautiful, restful place - especially for a building that was so old and had to have seen so much death. I couldn't understand it. Where were all the ghosts? Maybe they were afraid to hang around the place. I was a little afraid, looking up at that crucifix. — Meg Cabot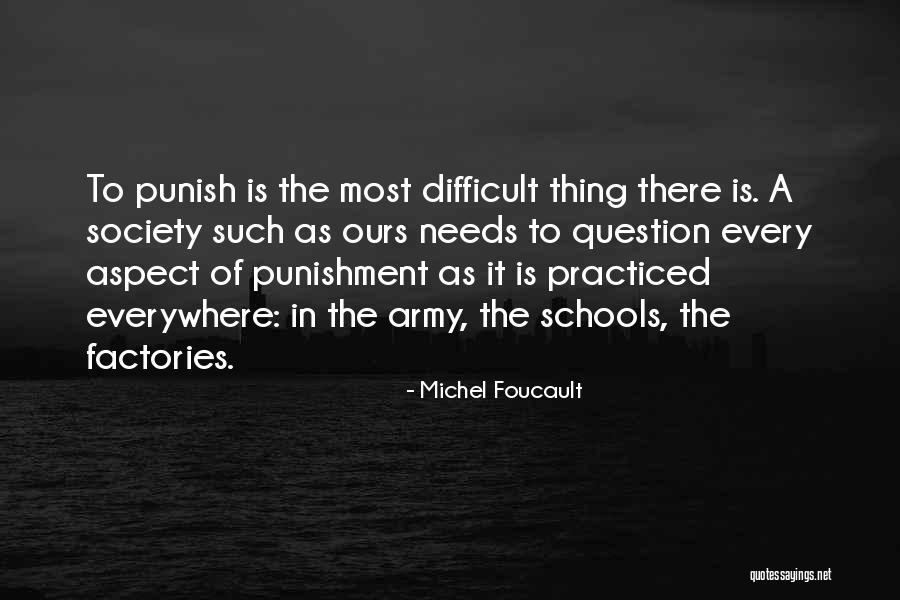 To punish is the most difficult thing there is. A society such as ours needs to question every aspect of punishment as it is practiced everywhere: in the army, the schools, the factories. — Michel Foucault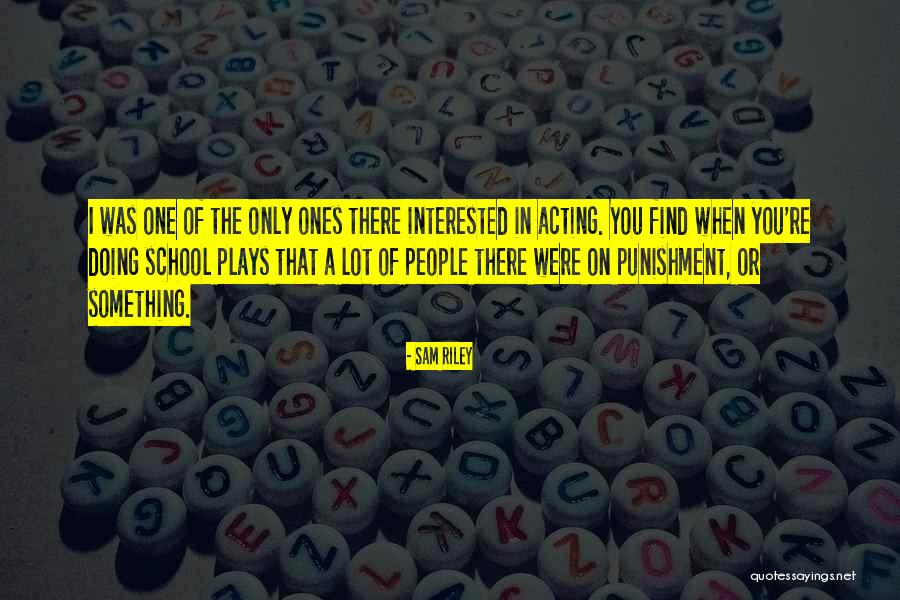 I was one of the only ones there interested in acting. You find when you're doing school plays that a lot of people there were on punishment, or something. — Sam Riley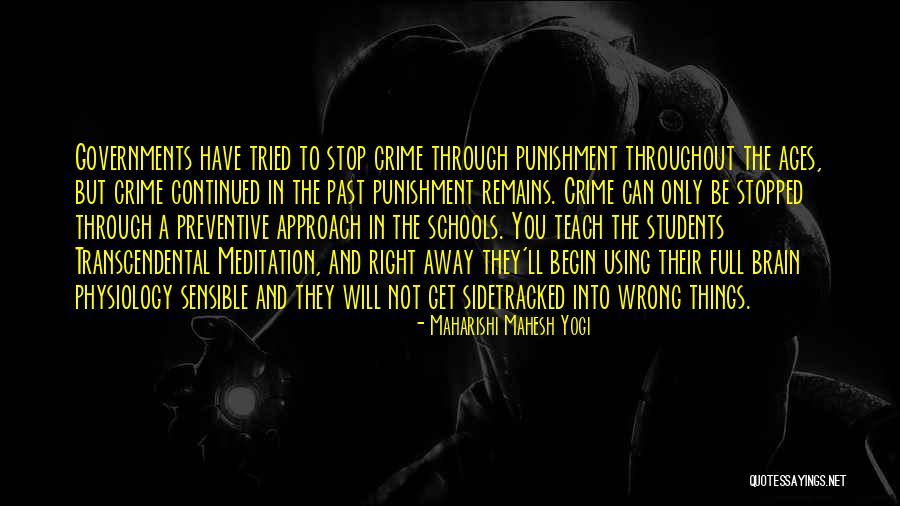 Governments have tried to stop crime through punishment throughout the ages, but crime continued in the past punishment remains. Crime can only be stopped through a preventive approach in the schools. You teach the students Transcendental Meditation, and right away they'll begin using their full brain physiology sensible and they will not get sidetracked into wrong things. — Maharishi Mahesh Yogi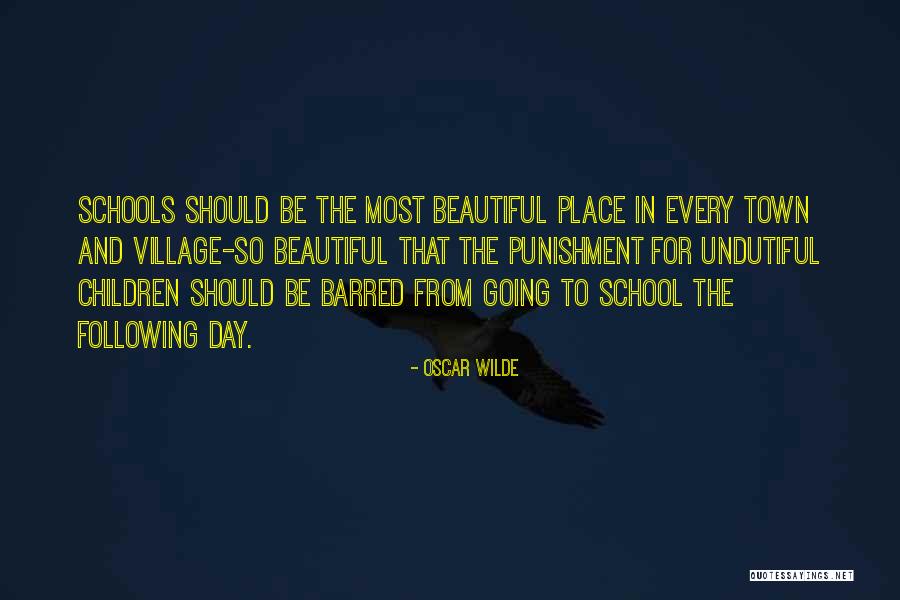 Schools should be the most beautiful place in every town and village-so beautiful that the punishment for undutiful children should be barred from going to school the following day. — Oscar Wilde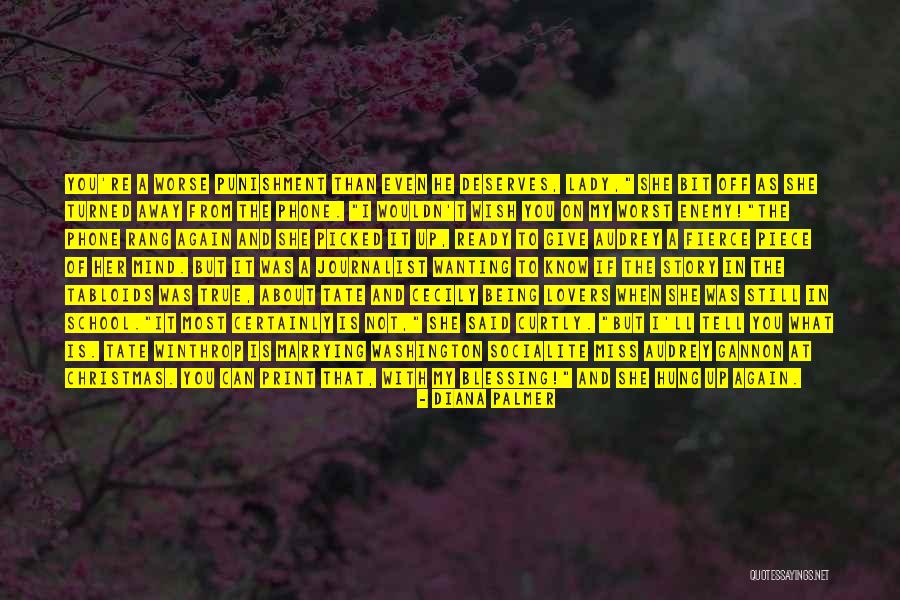 You're a worse punishment than even he deserves, lady," she bit off as she turned away from the phone. "I wouldn't wish you on my worst enemy!"
The phone rang again and she picked it up, ready to give Audrey a fierce piece of her mind. But it was a journalist wanting to know if the story in the tabloids was true, about Tate and Cecily being lovers when she was still in school.
"It most certainly is not," she said curtly. "But I'll tell you what is. Tate Winthrop is marrying Washington socialite Miss Audrey Gannon at Christmas. You can print that, with my blessing!" And she hung up again. — Diana Palmer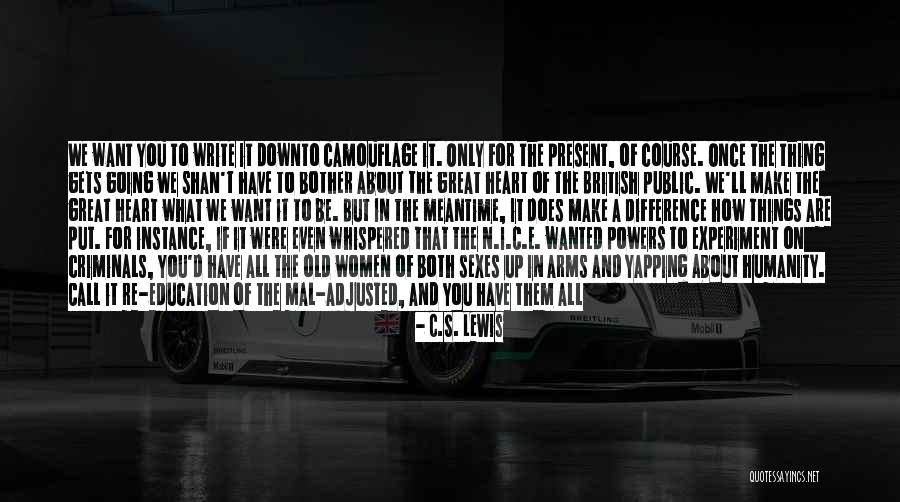 We want you to write it down
to camouflage it. Only for the present, of course. Once the thing gets going we shan't have to bother about the great heart of the British public. We'll make the great heart what we want it to be. But in the meantime, it does make a difference how things are put. For instance, if it were even whispered that the N.I.C.E. wanted powers to experiment on criminals, you'd have all the old women of both sexes up in arms and yapping about humanity. Call it re-education of the mal-adjusted, and you have them all slobbering with delight that the brutal era of retributive punishment has at last come to and end. Odd thing it is
the word 'experiment' is unpopular, but not the word 'experimental.' You must'nt experiment on children; but offer the dear little kiddies free education in an experimental school attached to the N.I.C.E. and it's all correct! — C.S. Lewis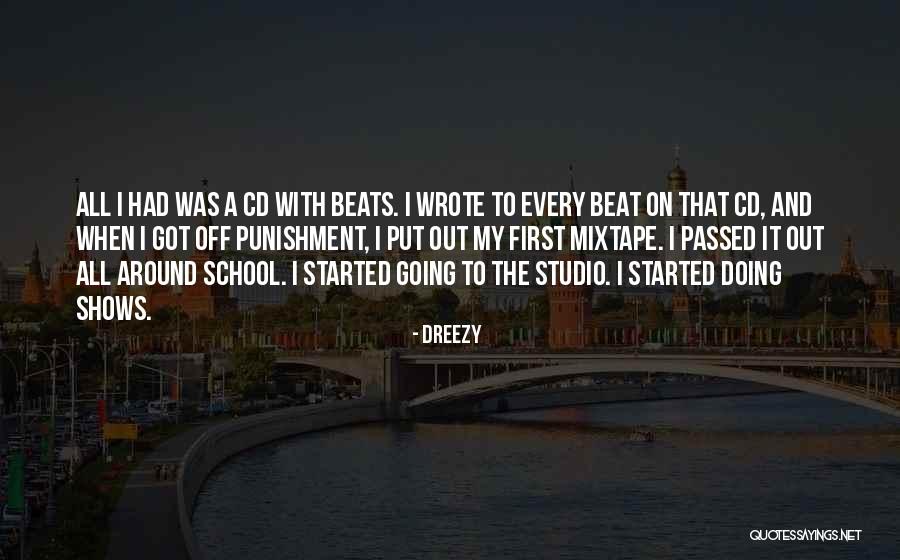 All I had was a CD with beats. I wrote to every beat on that CD, and when I got off punishment, I put out my first mixtape. I passed it out all around school. I started going to the studio. I started doing shows. — Dreezy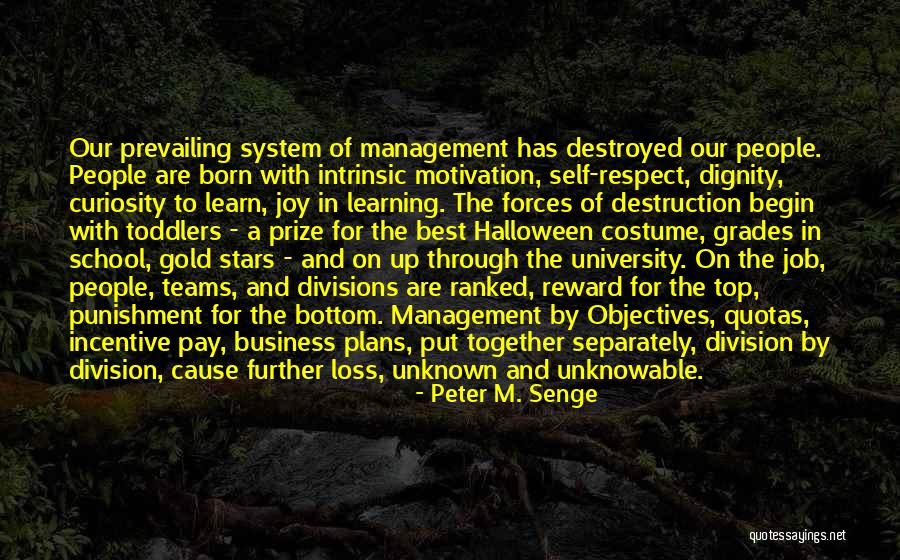 Our prevailing system of management has destroyed our people. People are born with intrinsic motivation, self-respect, dignity, curiosity to learn, joy in learning. The forces of destruction begin with toddlers - a prize for the best Halloween costume, grades in school, gold stars - and on up through the university. On the job, people, teams, and divisions are ranked, reward for the top, punishment for the bottom. Management by Objectives, quotas, incentive pay, business plans, put together separately, division by division, cause further loss, unknown and unknowable. — Peter M. Senge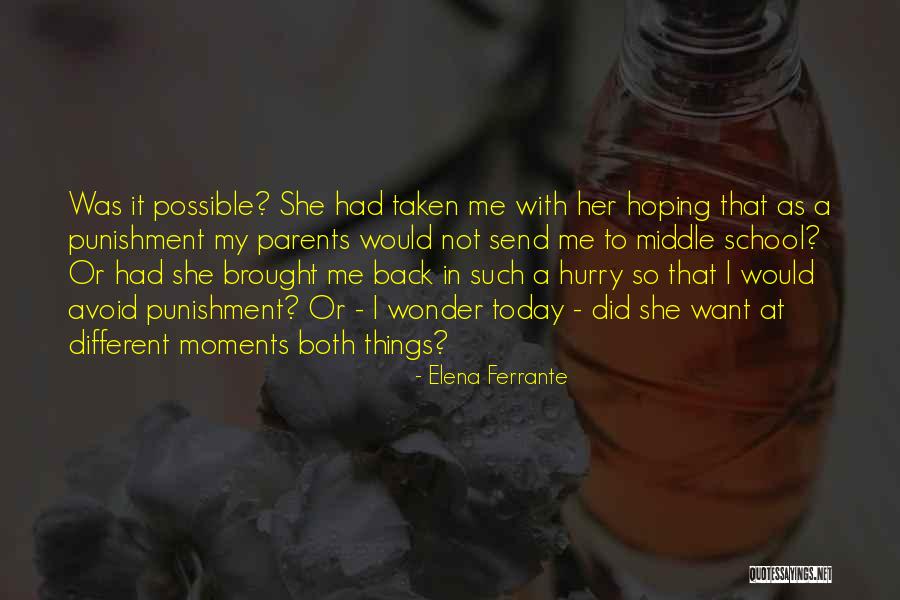 Was it possible? She had taken me with her hoping that as a punishment my parents would not send me to middle school? Or had she brought me back in such a hurry so that I would avoid punishment? Or - I wonder today - did she want at different moments both things? — Elena Ferrante