Quotes & Sayings About Progressive Music
Enjoy reading and share 32 famous quotes about Progressive Music with everyone.
Top Progressive Music Quotes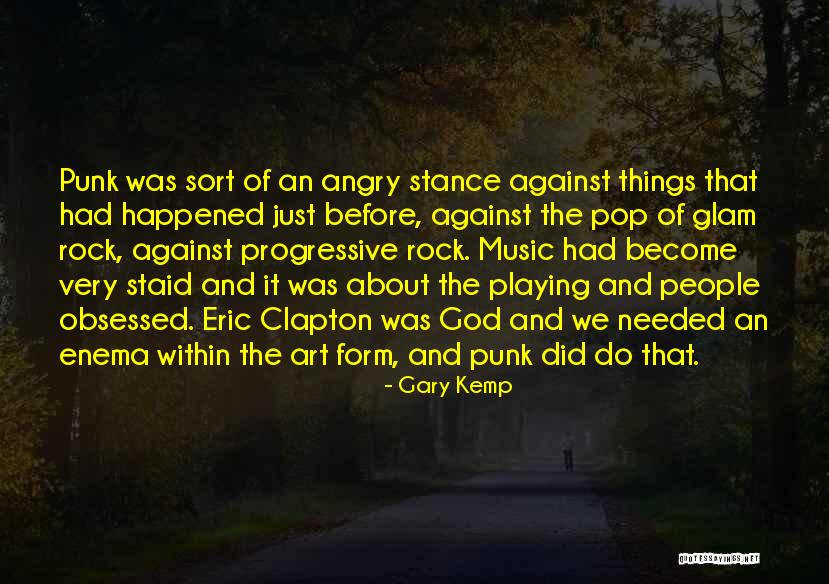 Punk was sort of an angry stance against things that had happened just before, against the pop of glam rock, against progressive rock. Music had become very staid and it was about the playing and people obsessed. Eric Clapton was God and we needed an enema within the art form, and punk did do that. — Gary Kemp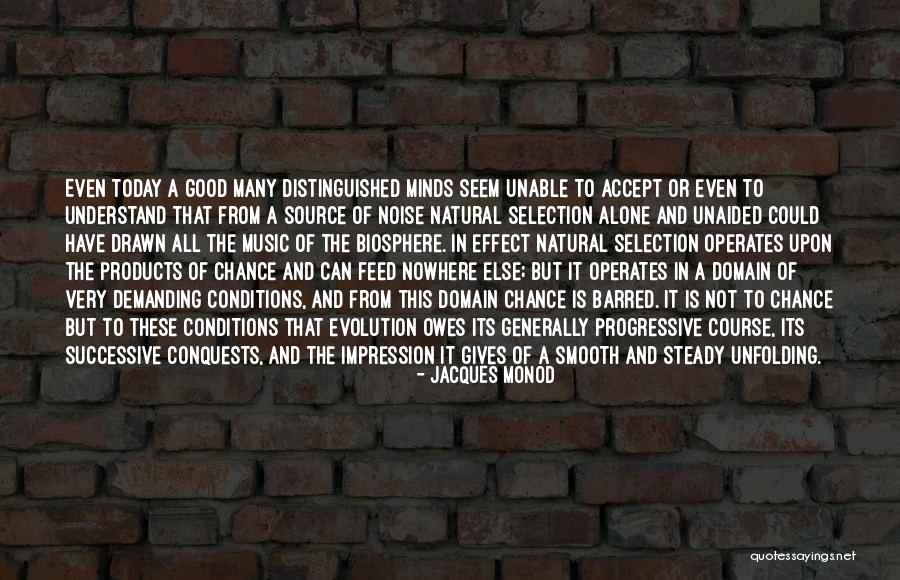 Even today a good many distinguished minds seem unable to accept or even to understand that from a source of noise natural selection alone and unaided could have drawn all the music of the biosphere. In effect natural selection operates upon the products of chance and can feed nowhere else; but it operates in a domain of very demanding conditions, and from this domain chance is barred. It is not to chance but to these conditions that evolution owes its generally progressive course, its successive conquests, and the impression it gives of a smooth and steady unfolding. — Jacques Monod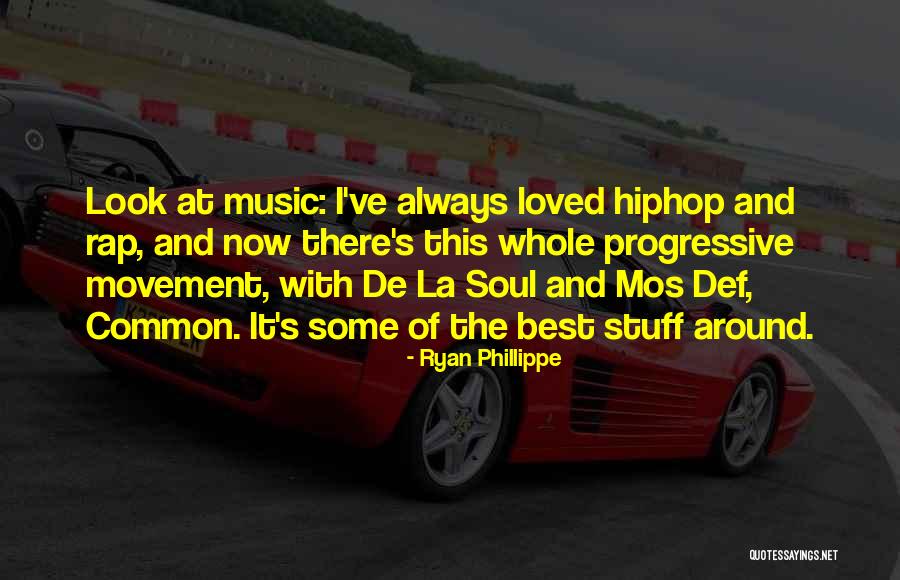 Look at music: I've always loved hiphop and rap, and now there's this whole progressive movement, with De La Soul and Mos Def, Common. It's some of the best stuff around. — Ryan Phillippe
There are people out there who are into traditional country music and for those people you have artists like Brad Paisley and Josh Turner and Alan Jackson. Then you have artists with a progressive style of country music, like myself and Eric Church and Luke Bryan and Miranda Lambert. — Jason Aldean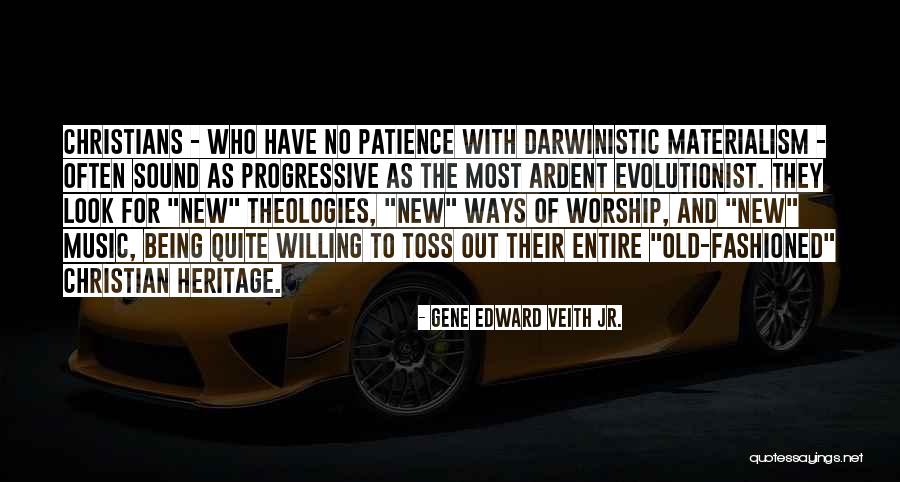 Christians - who have no patience with Darwinistic materialism - often sound as progressive as the most ardent evolutionist. They look for "new" theologies, "new" ways of worship, and "new" music, being quite willing to toss out their entire "old-fashioned" Christian heritage. — Gene Edward Veith Jr.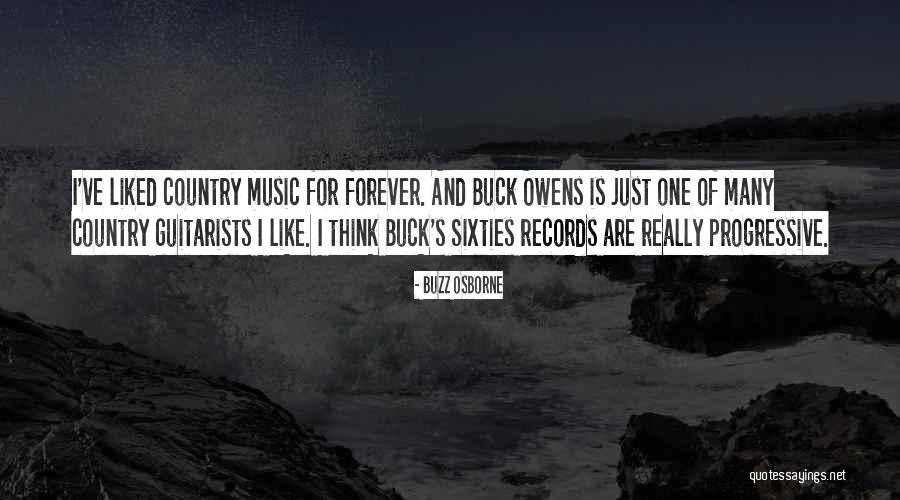 I've liked country music for forever. And Buck Owens is just one of many country guitarists I like. I think Buck's Sixties records are really progressive. — Buzz Osborne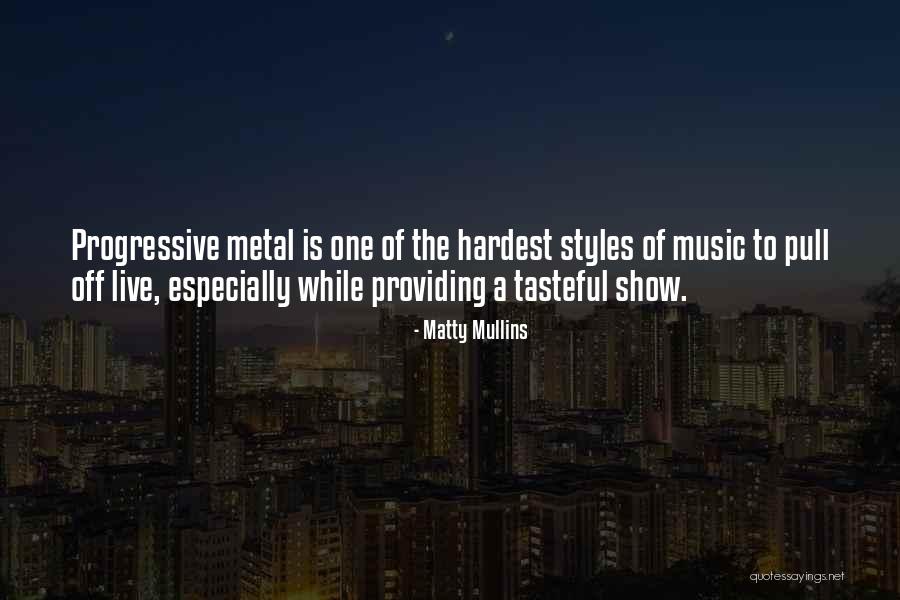 Progressive metal is one of the hardest styles of music to pull off live, especially while providing a tasteful show. — Matty Mullins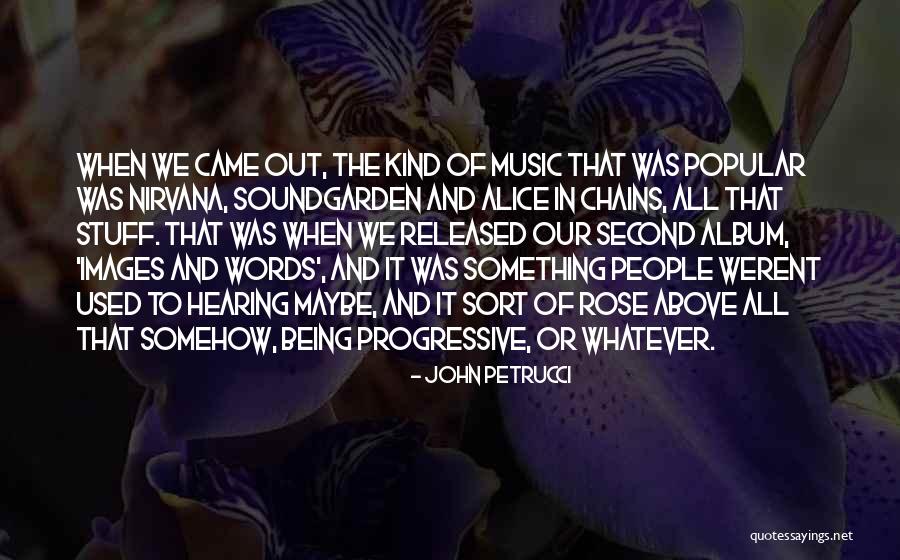 When we came out, the kind of music that was popular was Nirvana, Soundgarden and Alice In Chains, all that stuff. That was when we released our second album, 'Images And Words', and it was something people werent used to hearing maybe, and it sort of rose above all that somehow, being progressive, or whatever. — John Petrucci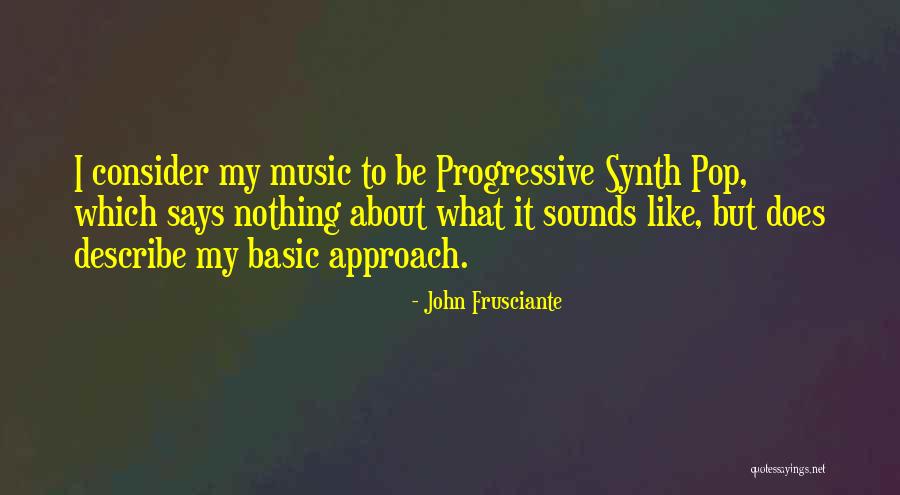 I consider my music to be Progressive Synth Pop, which says nothing about what it sounds like, but does describe my basic approach. — John Frusciante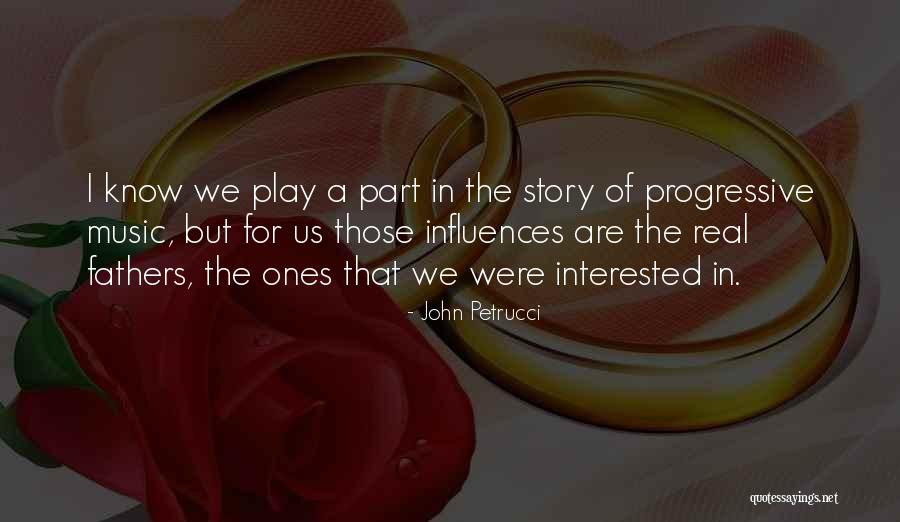 I know we play a part in the story of progressive music, but for us those influences are the real fathers, the ones that we were interested in. — John Petrucci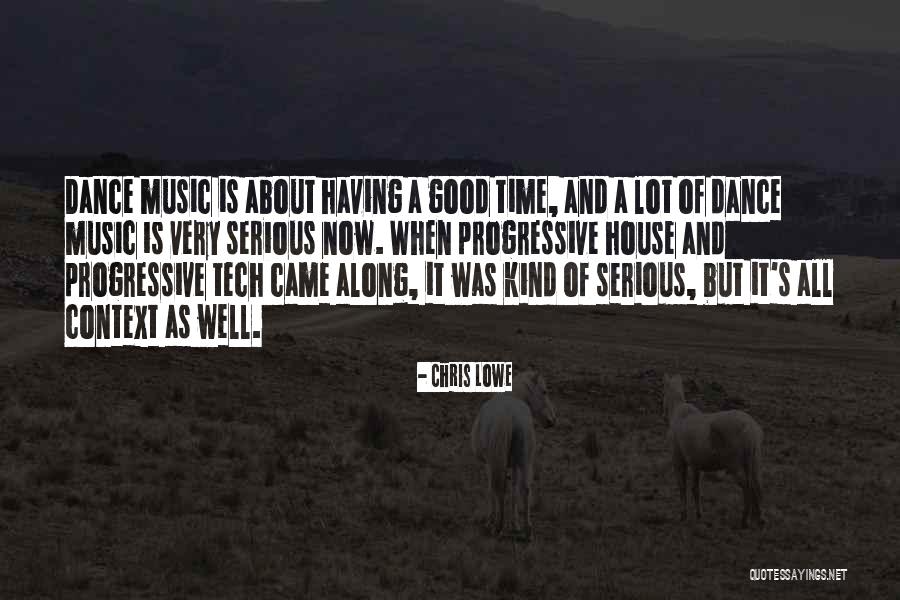 Dance music is about having a good time, and a lot of dance music is very serious now. When progressive house and progressive tech came along, it was kind of serious, but it's all context as well. — Chris Lowe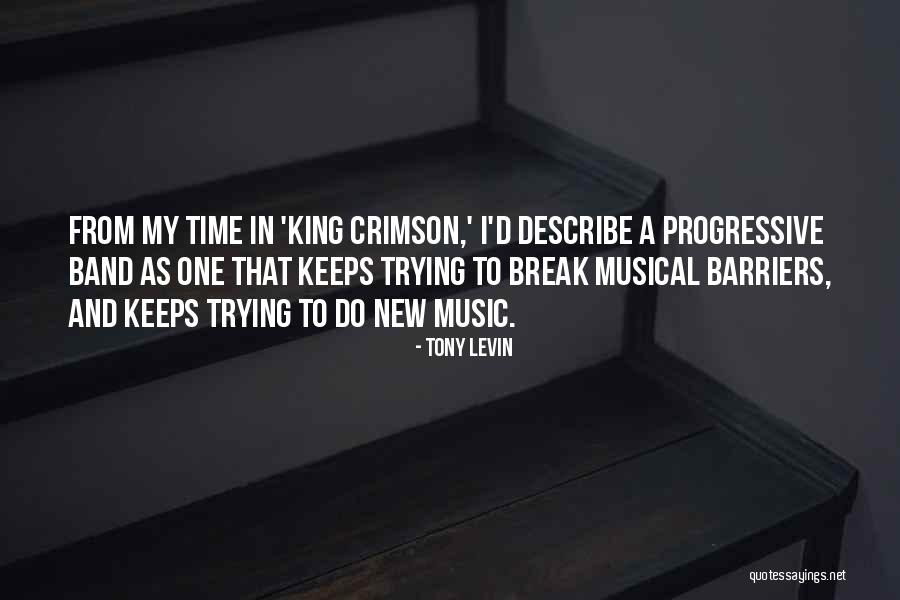 From my time in 'King Crimson,' I'd describe a Progressive band as one that keeps trying to break musical barriers, and keeps trying to do new music. — Tony Levin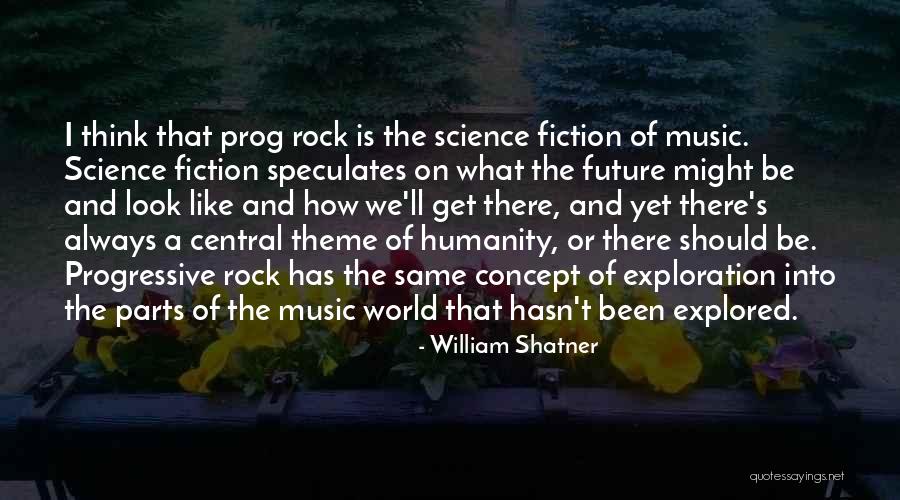 I think that prog rock is the science fiction of music. Science fiction speculates on what the future might be and look like and how we'll get there, and yet there's always a central theme of humanity, or there should be. Progressive rock has the same concept of exploration into the parts of the music world that hasn't been explored. — William Shatner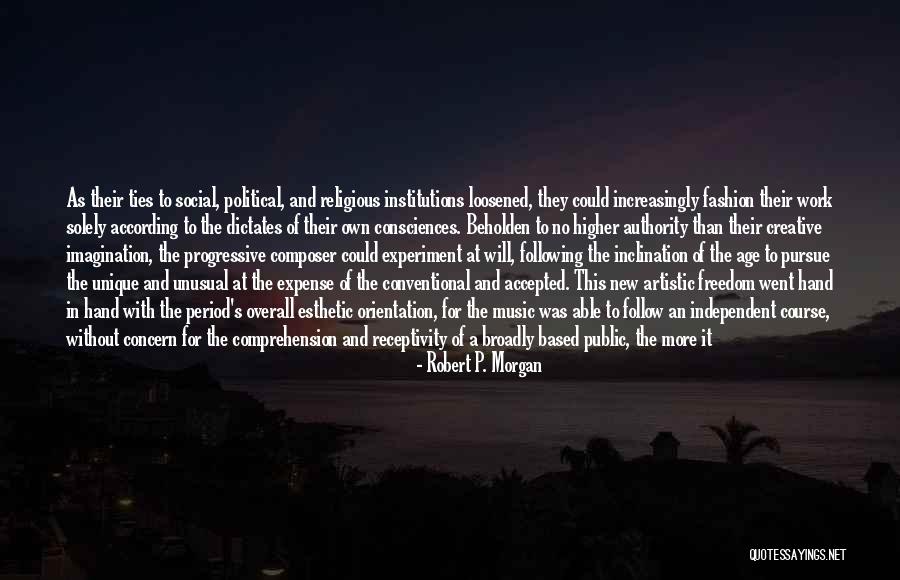 As their ties to social, political, and religious institutions loosened, they could increasingly fashion their work solely according to the dictates of their own consciences. Beholden to no higher authority than their creative imagination, the progressive composer could experiment at will, following the inclination of the age to pursue the unique and unusual at the expense of the conventional and accepted. This new artistic freedom went hand in hand with the period's overall esthetic orientation, for the music was able to follow an independent course, without concern for the comprehension and receptivity of a broadly based public, the more it was able to serve as a vehicle for personal expression and to assume it's new role as a symbol of individuality or, eventually, of open revolt. — Robert P. Morgan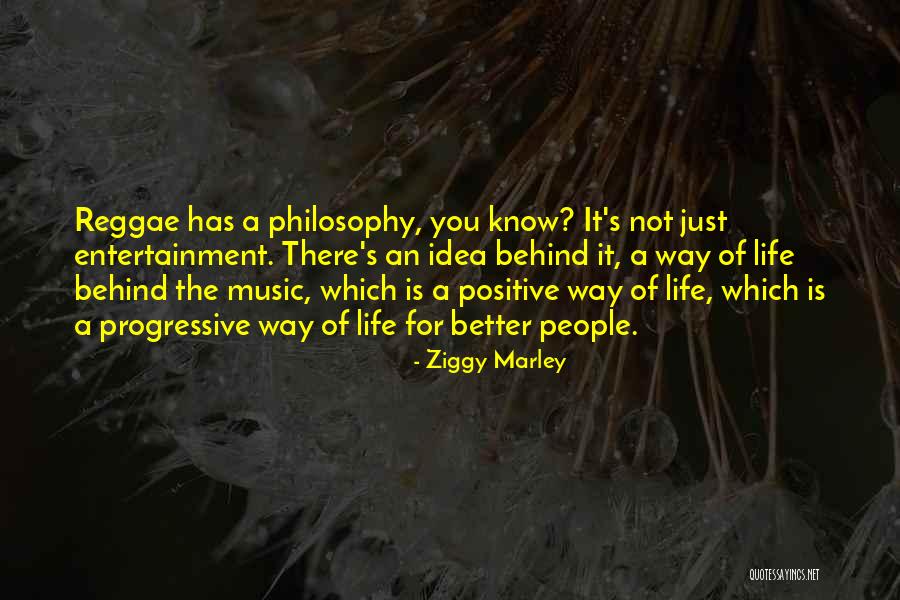 Reggae has a philosophy, you know? It's not just entertainment. There's an idea behind it, a way of life behind the music, which is a positive way of life, which is a progressive way of life for better people. — Ziggy Marley
The style of music that we're playing, this progressive metal style, has always been an upstream battle for us. We don't usually get a lot of commercial exposure. — John Petrucci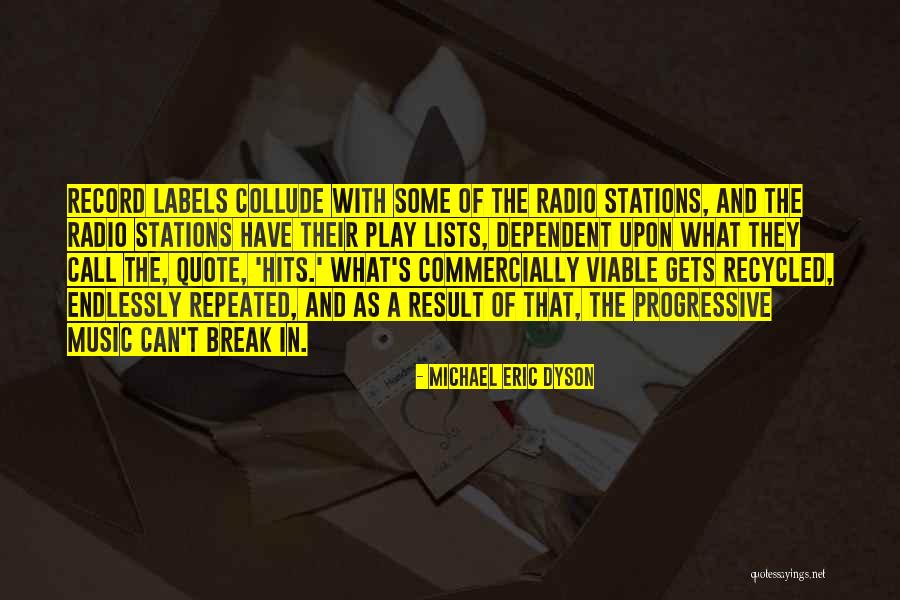 Record labels collude with some of the radio stations, and the radio stations have their play lists, dependent upon what they call the, quote, 'hits.' What's commercially viable gets recycled, endlessly repeated, and as a result of that, the progressive music can't break in. — Michael Eric Dyson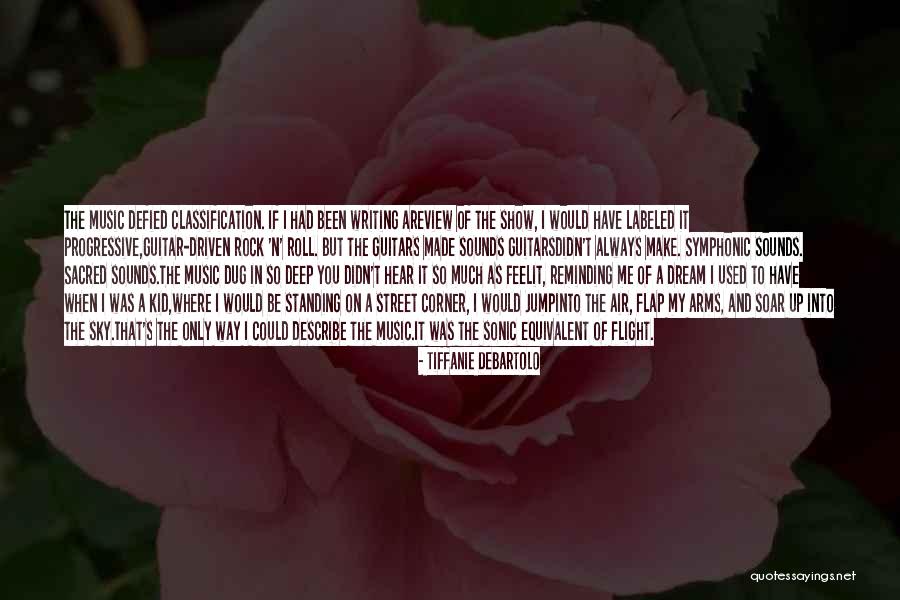 The music defied classification. If I had been writing a
review of the show, I would have labeled it progressive,
guitar-driven rock 'n' roll. But the guitars made sounds guitars
didn't always make. Symphonic sounds. Sacred sounds.
The music dug in so deep you didn't hear it so much as feel
it, reminding me of a dream I used to have when I was a kid,
where I would be standing on a street corner, I would jump
into the air, flap my arms, and soar up into the sky.
That's the only way I could describe the music.
It was the sonic equivalent of flight. — Tiffanie DeBartolo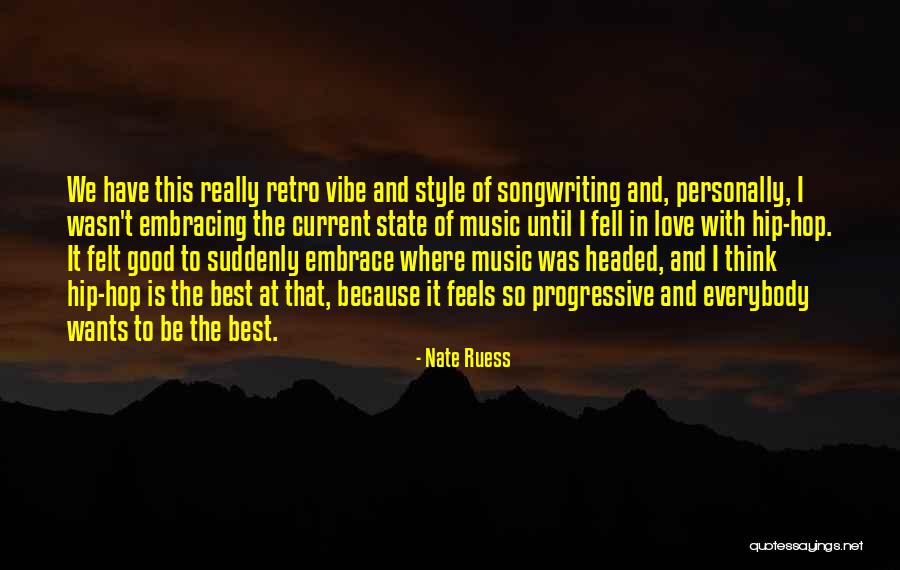 We have this really retro vibe and style of songwriting and, personally, I wasn't embracing the current state of music until I fell in love with hip-hop. It felt good to suddenly embrace where music was headed, and I think hip-hop is the best at that, because it feels so progressive and everybody wants to be the best. — Nate Ruess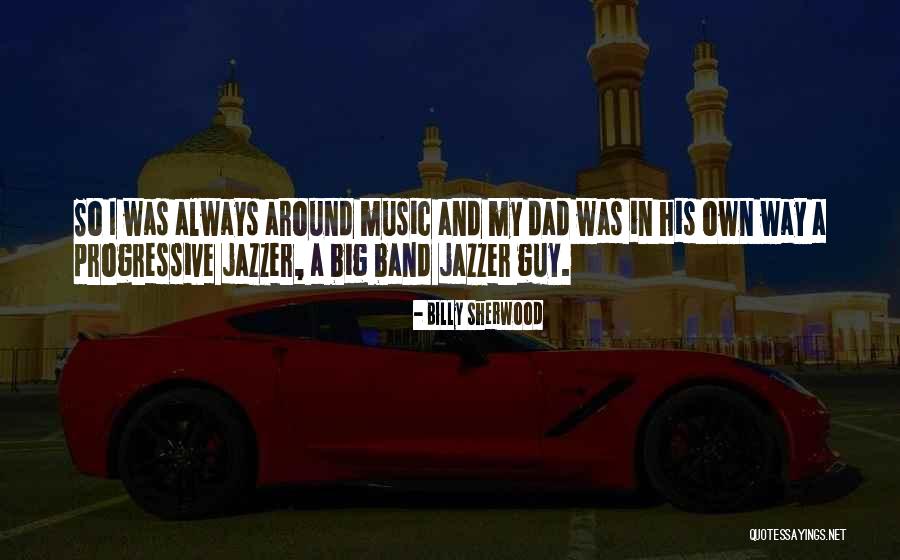 So I was always around music and my dad was in his own way a progressive jazzer, a big band jazzer guy. — Billy Sherwood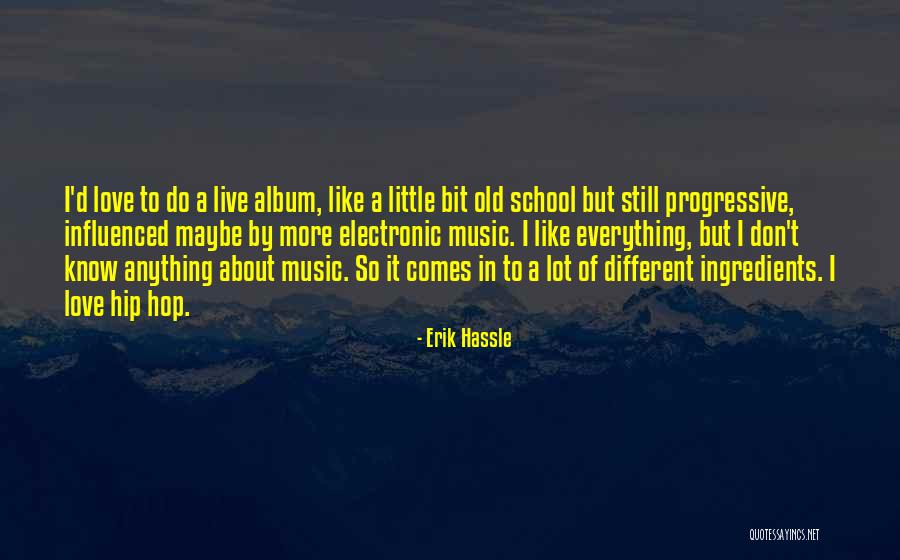 I'd love to do a live album, like a little bit old school but still progressive, influenced maybe by more electronic music. I like everything, but I don't know anything about music. So it comes in to a lot of different ingredients. I love hip hop. — Erik Hassle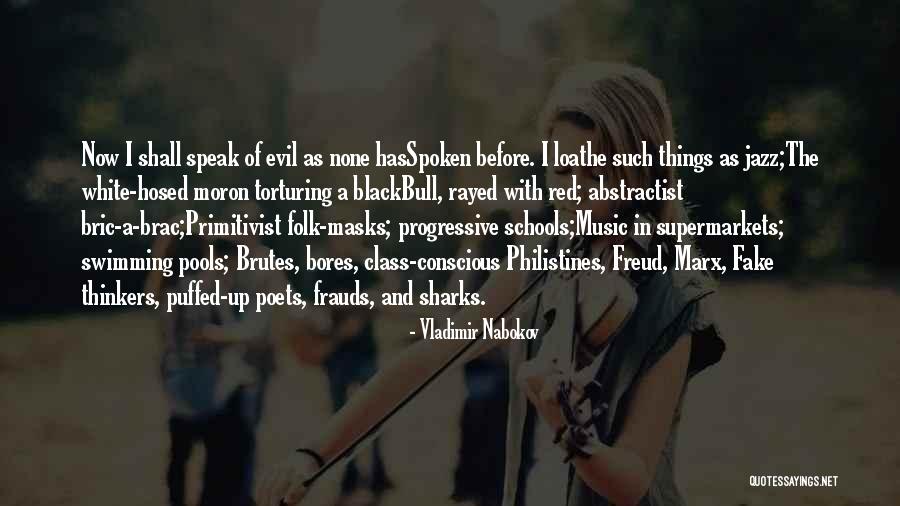 Now I shall speak of evil as none has
Spoken before. I loathe such things as jazz;
The white-hosed moron torturing a black
Bull, rayed with red; abstractist bric-a-brac;
Primitivist folk-masks; progressive schools;
Music in supermarkets; swimming pools;
Brutes, bores, class-conscious Philistines, Freud, Marx, Fake thinkers, puffed-up poets, frauds, and sharks. — Vladimir Nabokov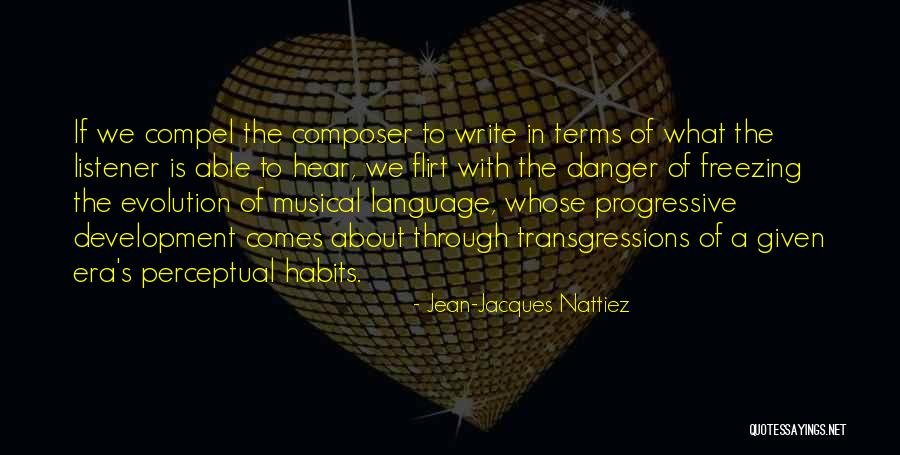 If we compel the composer to write in terms of what the listener is able to hear, we flirt with the danger of freezing the evolution of musical language, whose progressive development comes about through transgressions of a given era's perceptual habits. — Jean-Jacques Nattiez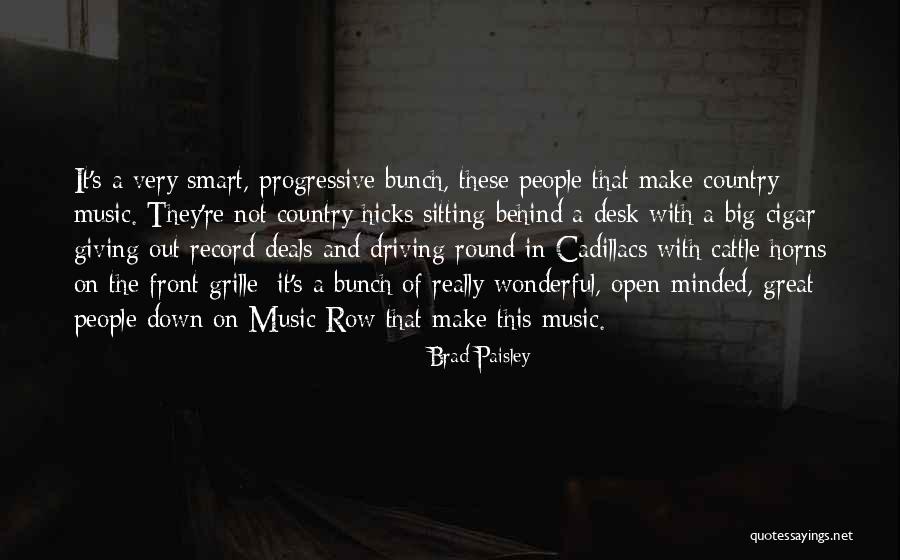 It's a very smart, progressive bunch, these people that make country music. They're not country hicks sitting behind a desk with a big cigar giving out record deals and driving round in Cadillacs with cattle horns on the front grille: it's a bunch of really wonderful, open-minded, great people down on Music Row that make this music. — Brad Paisley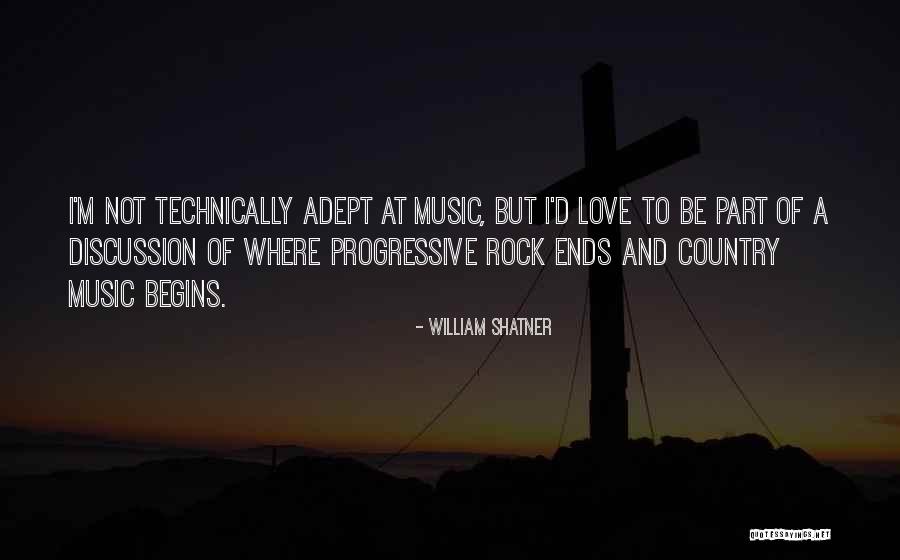 I'm not technically adept at music, but I'd love to be part of a discussion of where progressive rock ends and country music begins. — William Shatner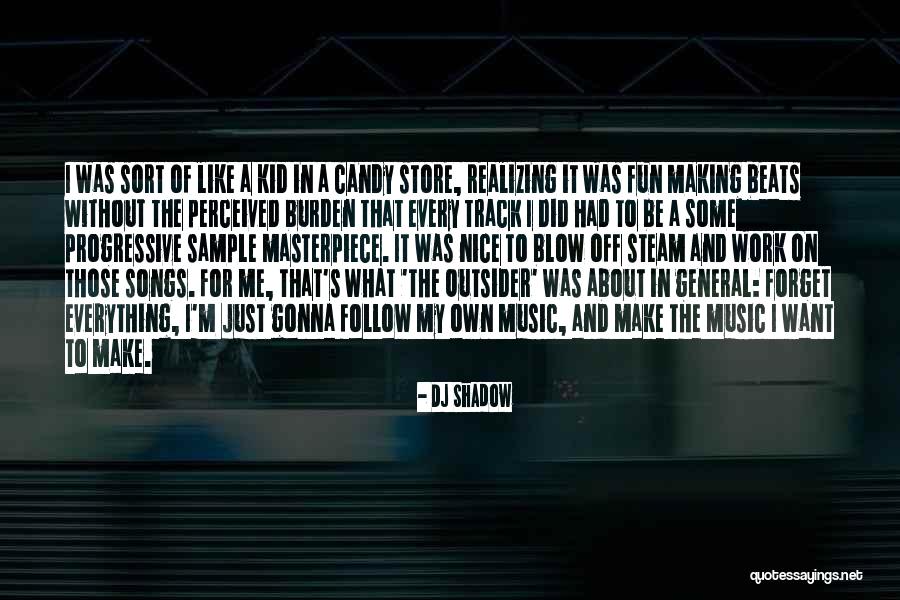 I was sort of like a kid in a candy store, realizing it was fun making beats without the perceived burden that every track I did had to be a some progressive sample masterpiece. It was nice to blow off steam and work on those songs. For me, that's what 'The Outsider' was about in general: forget everything, I'm just gonna follow my own music, and make the music I want to make. — DJ Shadow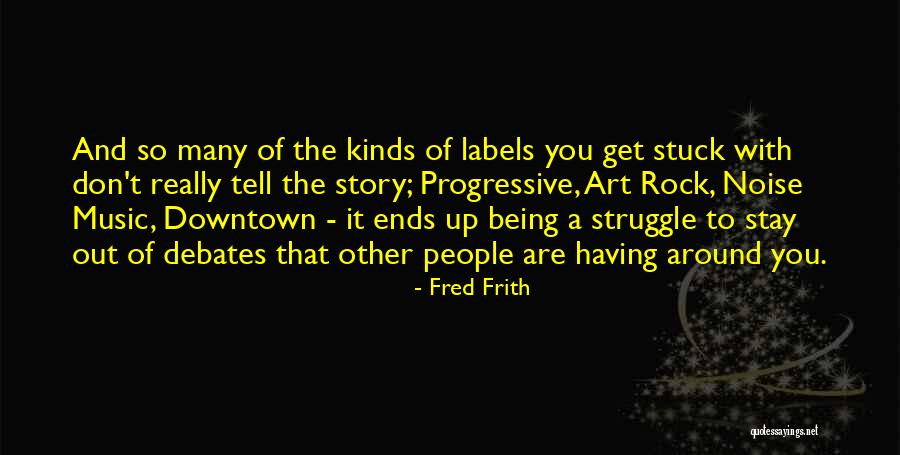 And so many of the kinds of labels you get stuck with don't really tell the story; Progressive, Art Rock, Noise Music, Downtown - it ends up being a struggle to stay out of debates that other people are having around you. — Fred Frith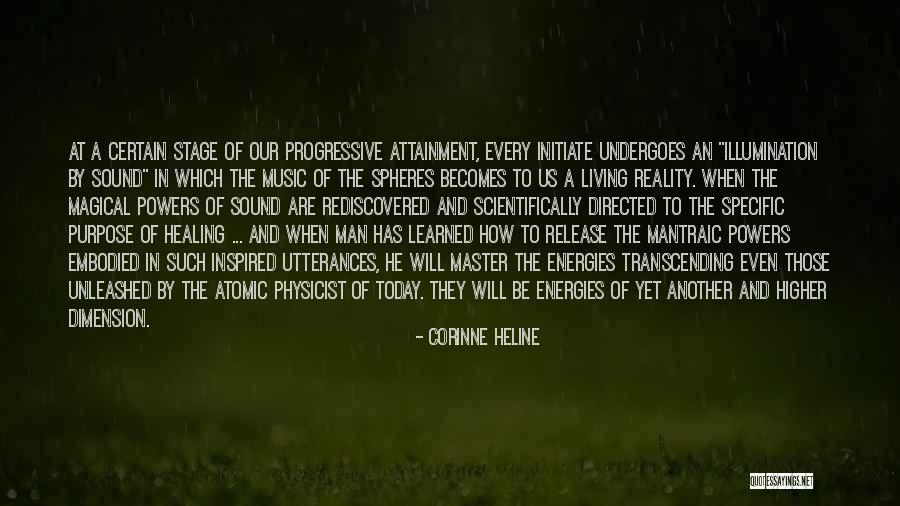 At a certain stage of our progressive attainment, every Initiate undergoes an "Illumination by Sound" in which the Music of the Spheres becomes to us a living reality. When the magical powers of sound are rediscovered and scientifically directed to the specific purpose of healing ... and when man has learned how to release the mantraic powers embodied in such inspired utterances, he will master the energies transcending even those unleashed by the atomic physicist of today. They will be energies of yet another and higher dimension. — Corinne Heline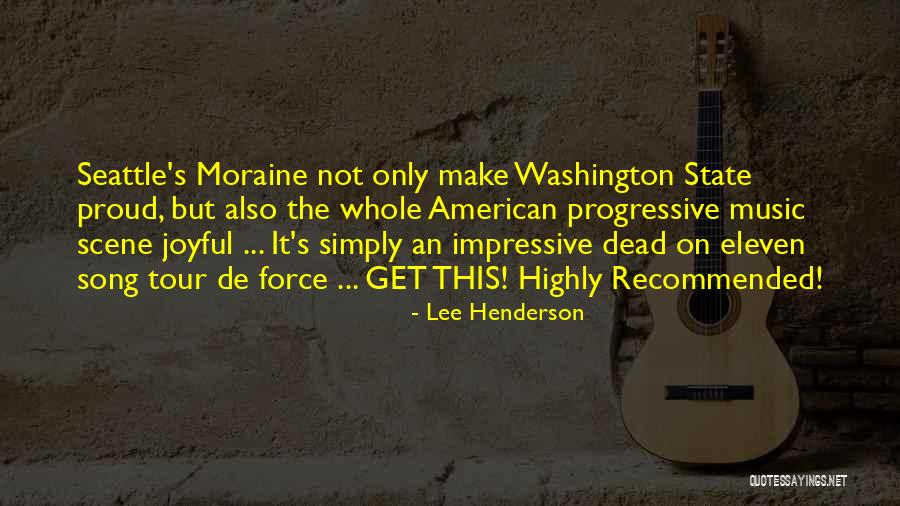 Seattle's Moraine not only make Washington State proud, but also the whole American progressive music scene joyful ... It's simply an impressive dead on eleven song tour de force ... GET THIS! Highly Recommended! — Lee Henderson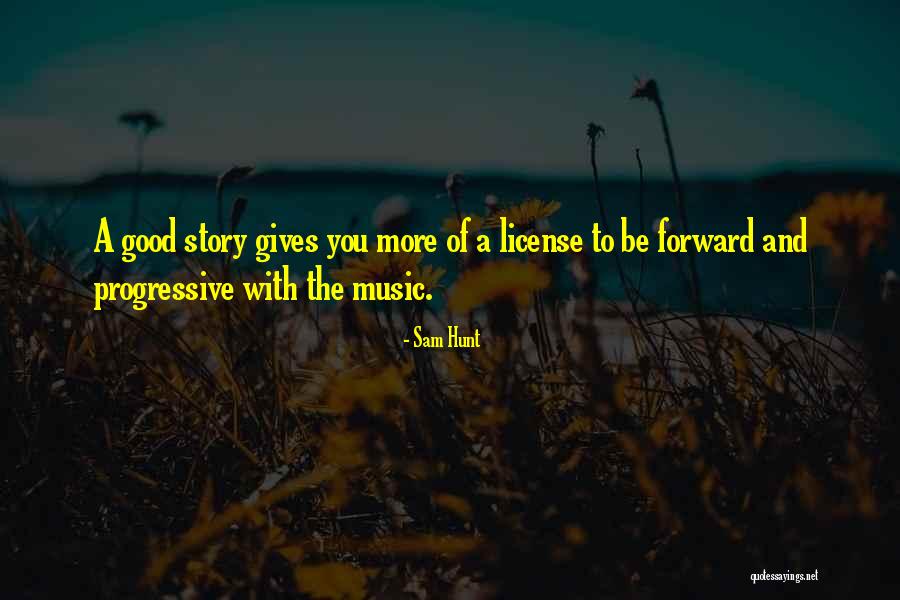 A good story gives you more of a license to be forward and progressive with the music. — Sam Hunt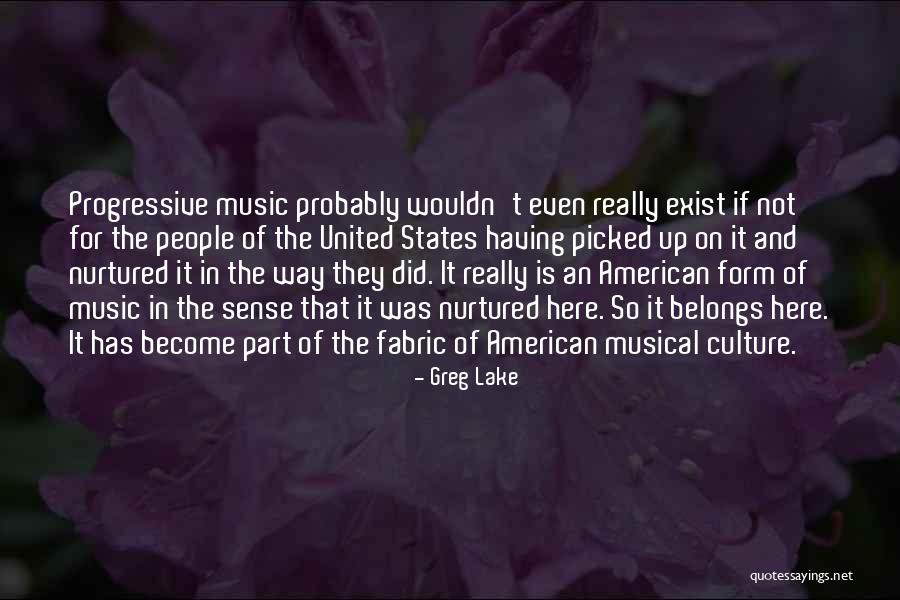 Progressive music probably wouldn't even really exist if not for the people of the United States having picked up on it and nurtured it in the way they did. It really is an American form of music in the sense that it was nurtured here. So it belongs here. It has become part of the fabric of American musical culture. — Greg Lake