Quotes & Sayings About Pride In The Bible
Enjoy reading and share 27 famous quotes about Pride In The Bible with everyone.
Top Pride In The Bible Quotes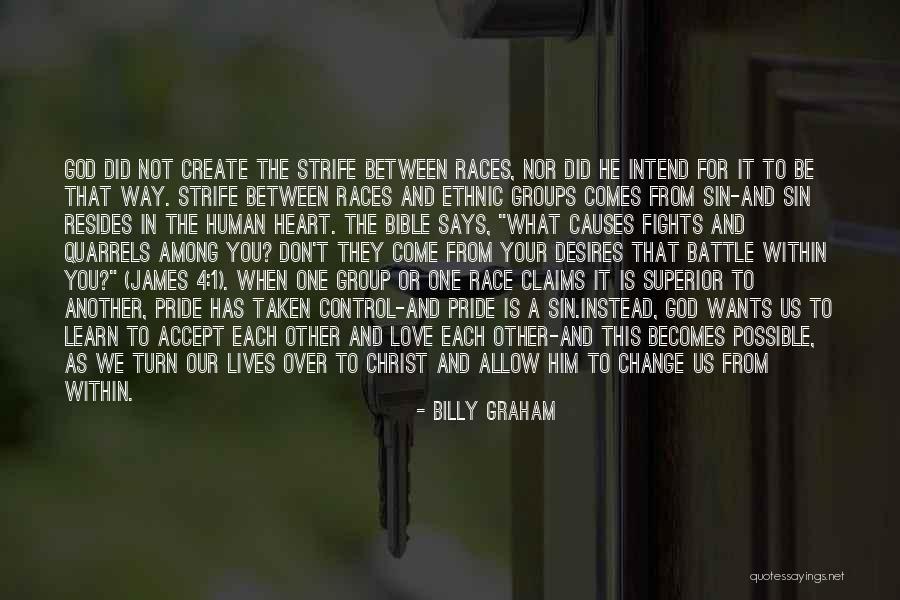 God did not create the strife between races, nor did He intend for it to be that way. Strife between races and ethnic groups comes from sin-and sin resides in the human heart. The Bible says, "What causes fights and quarrels among you? Don't they come from your desires that battle within you?" (James 4:1). When one group or one race claims it is superior to another, pride has taken control-and pride is a sin.Instead, God wants us to learn to accept each other and love each other-and this becomes possible, as we turn our lives over to Christ and allow Him to change us from within. — Billy Graham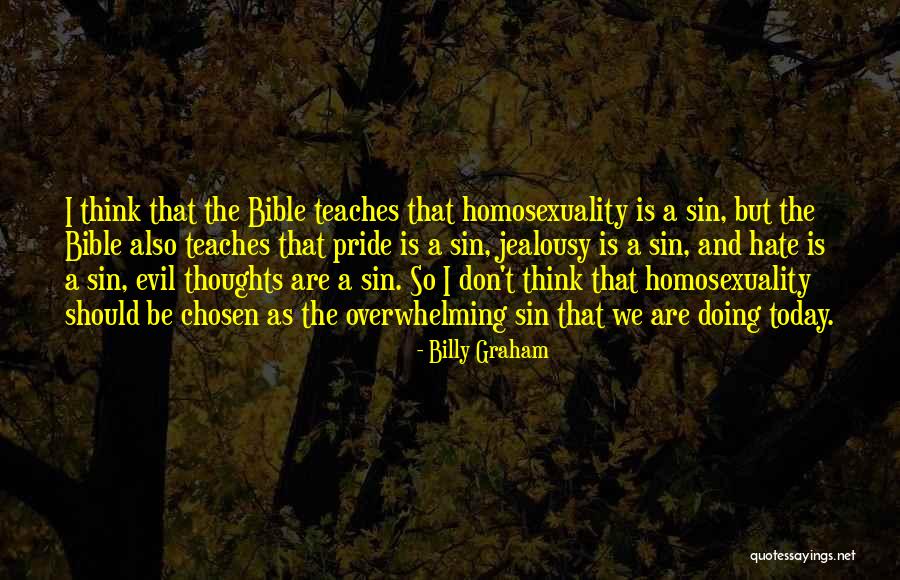 I think that the Bible teaches that homosexuality is a sin, but the Bible also teaches that pride is a sin, jealousy is a sin, and hate is a sin, evil thoughts are a sin. So I don't think that homosexuality should be chosen as the overwhelming sin that we are doing today. — Billy Graham
God says, 'One woman, one man,' and everyone says, 'Oh, that's old hat, that's that old Bible stuff,'" he said. "But I'm thinking, well let's see now. A clean guy - a disease-free guy and a disease-free woman - they marry and they keep their sex between the two of them. They're not going to get chlamydia, and gonorrhea, and syphilis, and AIDS. It's safe. — Phil Robertson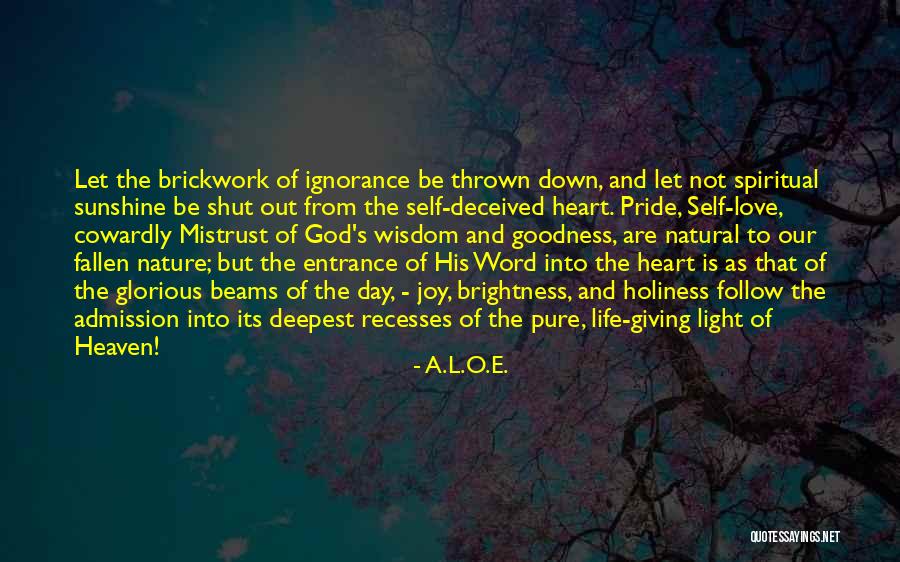 Let the brickwork of ignorance be thrown down, and let not spiritual sunshine be shut out from the self-deceived heart. Pride, Self-love, cowardly Mistrust of God's wisdom and goodness, are natural to our fallen nature; but the entrance of His Word into the heart is as that of the glorious beams of the day, - joy, brightness, and holiness follow the admission into its deepest recesses of the pure, life-giving light of Heaven! — A.L.O.E.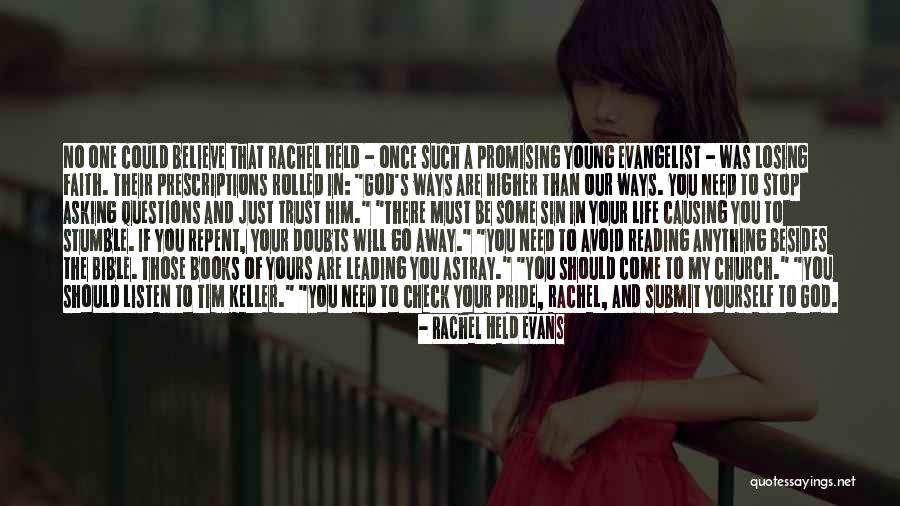 No one could believe that Rachel Held - once such a promising young evangelist - was losing faith. Their prescriptions rolled in: "God's ways are higher than our ways. You need to stop asking questions and just trust him." "There must be some sin in your life causing you to stumble. If you repent, your doubts will go away." "You need to avoid reading anything besides the Bible. Those books of yours are leading you astray." "You should come to my church." "You should listen to Tim Keller." "You need to check your pride, Rachel, and submit yourself to God. — Rachel Held Evans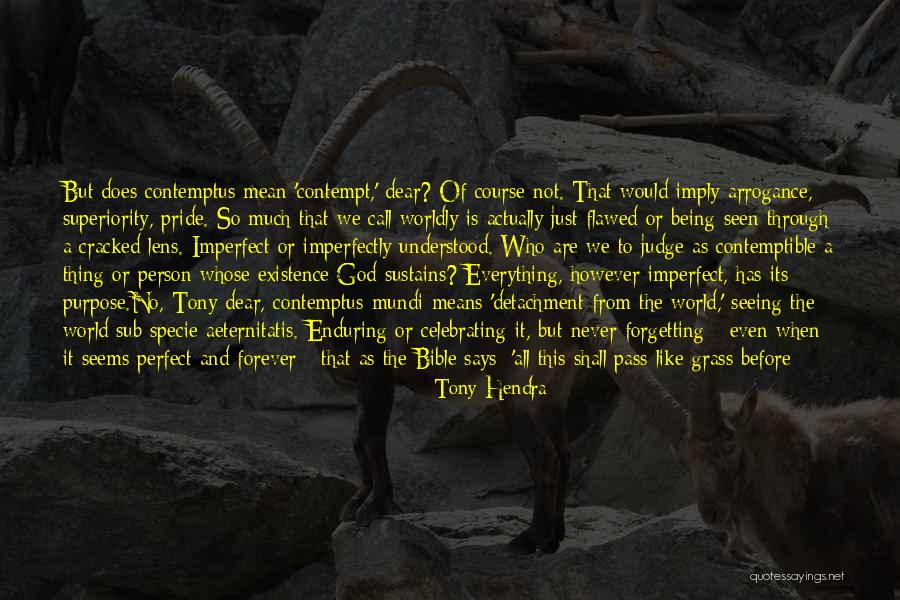 But does contemptus mean 'contempt,' dear? Of course not. That would imply arrogance, superiority, pride. So much that we call worldly is actually just flawed or being seen through a cracked lens. Imperfect or imperfectly understood. Who are we to judge as contemptible a thing or person whose existence God sustains? Everything, however imperfect, has its purpose.

No, Tony dear, contemptus mundi means 'detachment from the world,' seeing the world sub specie aeternitatis. Enduring or celebrating it, but never forgetting - even when it seems perfect and forever - that as the Bible says: 'all this shall pass like grass before the wind. — Tony Hendra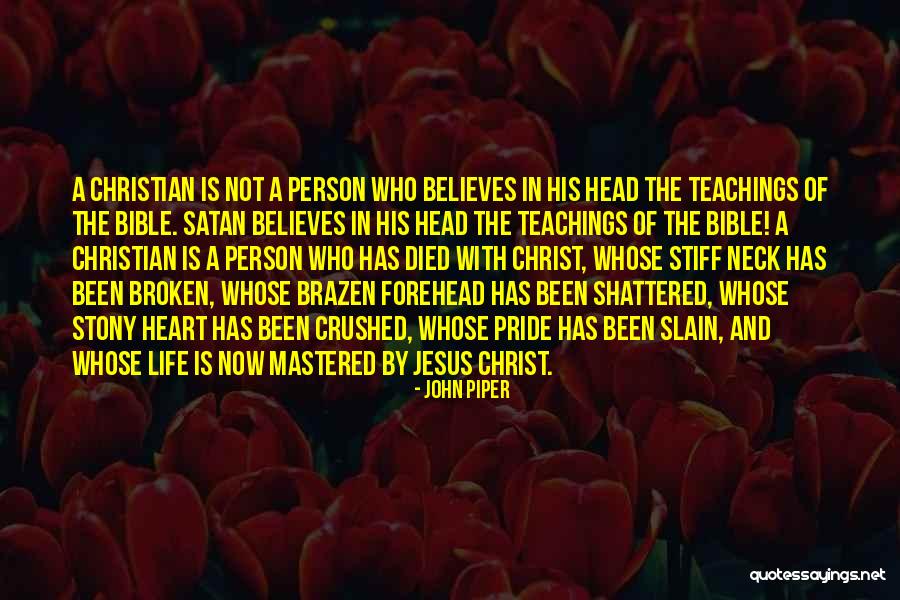 A Christian is not a person who believes in his head the teachings of the Bible. Satan believes in his head the teachings of the Bible! A Christian is a person who has died with Christ, whose stiff neck has been broken, whose brazen forehead has been shattered, whose stony heart has been crushed, whose pride has been slain, and whose life is now mastered by Jesus Christ. — John Piper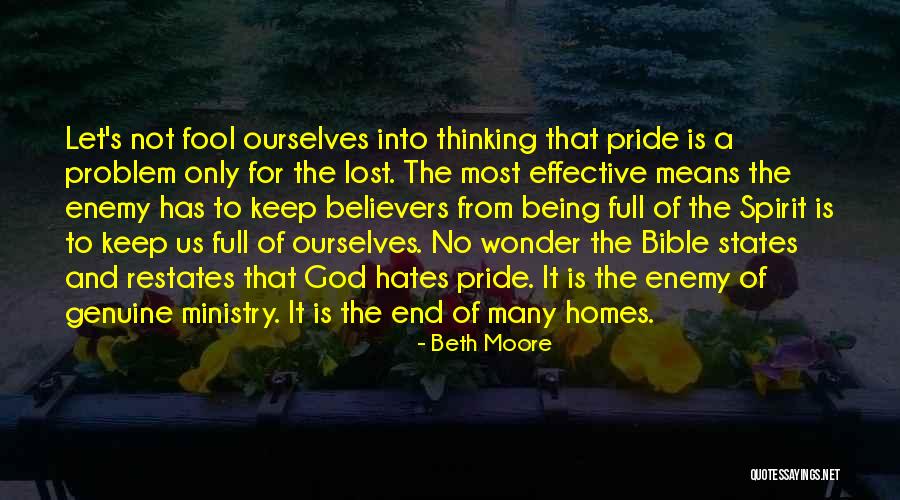 Let's not fool ourselves into thinking that pride is a problem only for the lost. The most effective means the enemy has to keep believers from being full of the Spirit is to keep us full of ourselves. No wonder the Bible states and restates that God hates pride. It is the enemy of genuine ministry. It is the end of many homes. — Beth Moore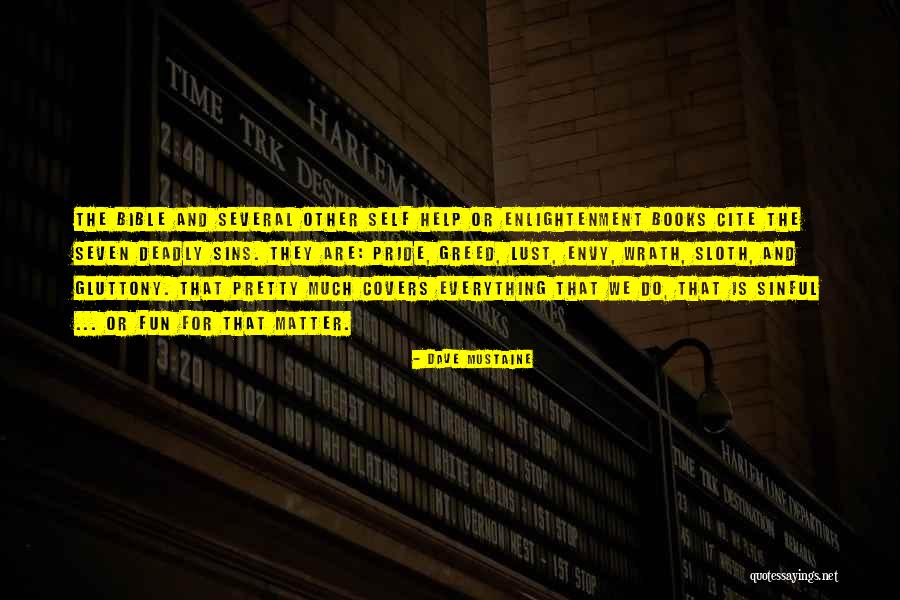 The Bible and several other self help or enlightenment books cite the Seven Deadly Sins. They are: pride, greed, lust, envy, wrath, sloth, and gluttony. That pretty much covers everything that we do, that is sinful ... or fun for that matter. — Dave Mustaine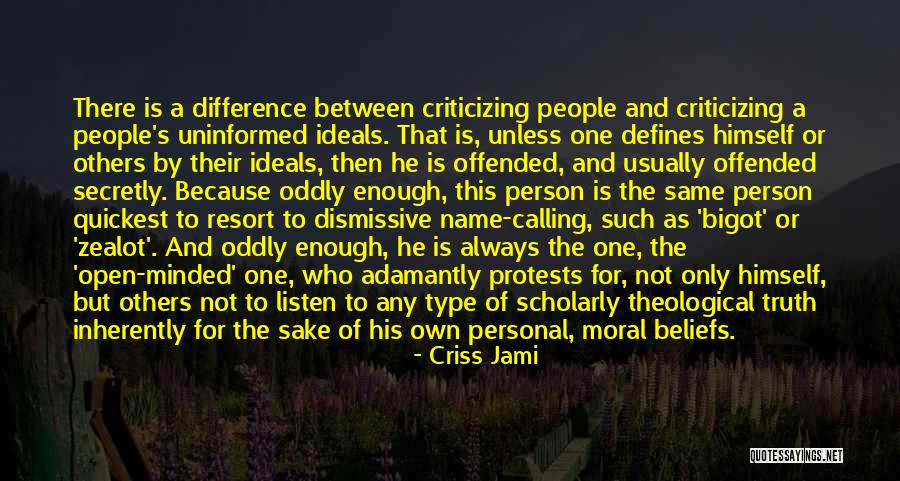 There is a difference between criticizing people and criticizing a people's uninformed ideals. That is, unless one defines himself or others by their ideals, then he is offended, and usually offended secretly. Because oddly enough, this person is the same person quickest to resort to dismissive name-calling, such as 'bigot' or 'zealot'. And oddly enough, he is always the one, the 'open-minded' one, who adamantly protests for, not only himself, but others not to listen to any type of scholarly theological truth inherently for the sake of his own personal, moral beliefs. — Criss Jami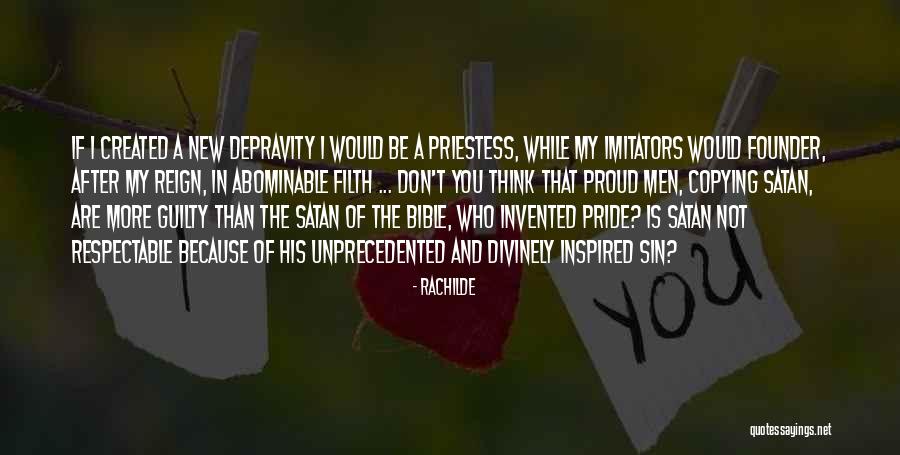 If I created a new depravity I would be a priestess, while my imitators would founder, after my reign, in abominable filth ... Don't you think that proud men, copying Satan, are more guilty than the Satan of the Bible, who invented pride? Is Satan not respectable because of his unprecedented and divinely inspired sin? — Rachilde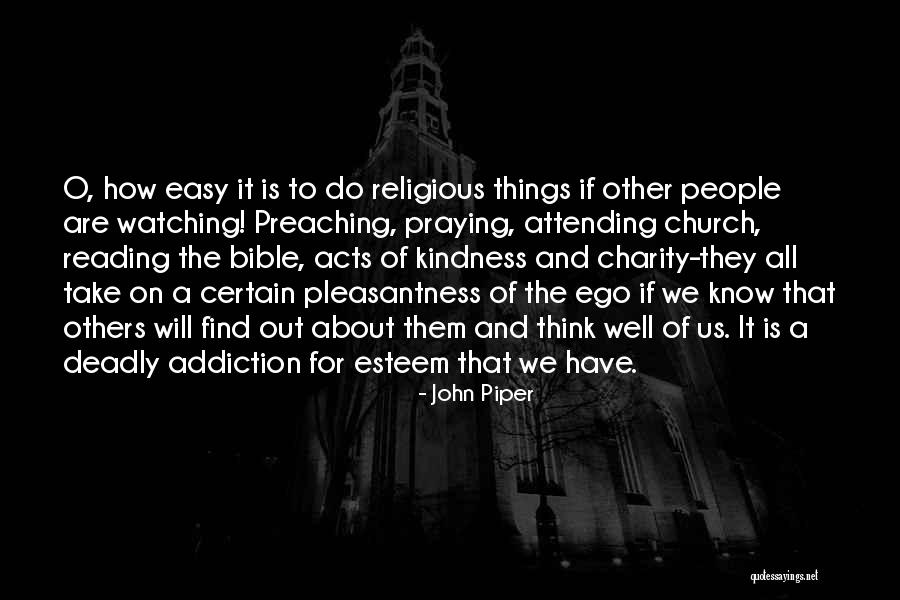 O, how easy it is to do religious things if other people are watching! Preaching, praying, attending church, reading the bible, acts of kindness and charity-they all take on a certain pleasantness of the ego if we know that others will find out about them and think well of us. It is a deadly addiction for esteem that we have. — John Piper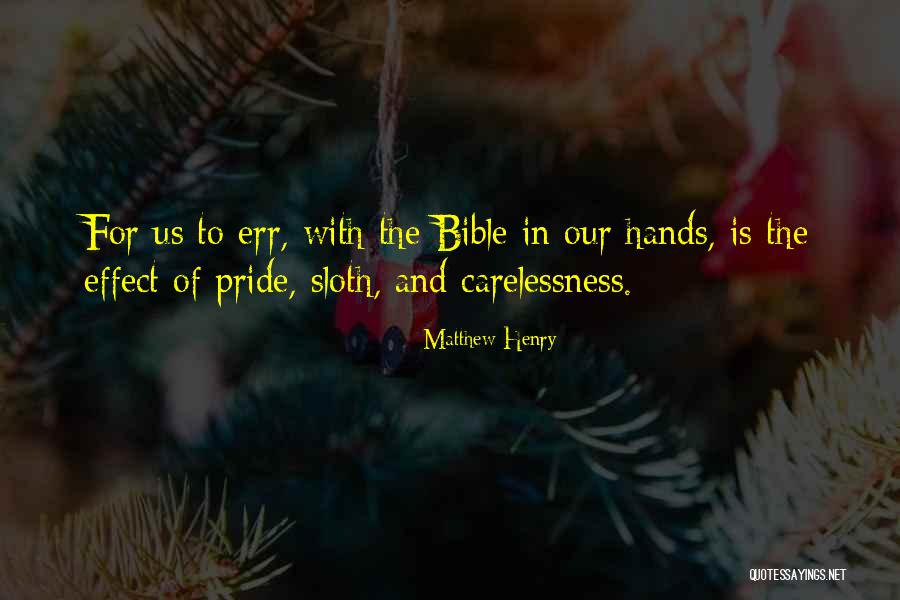 For us to err, with the Bible in our hands, is the effect of pride, sloth, and carelessness. — Matthew Henry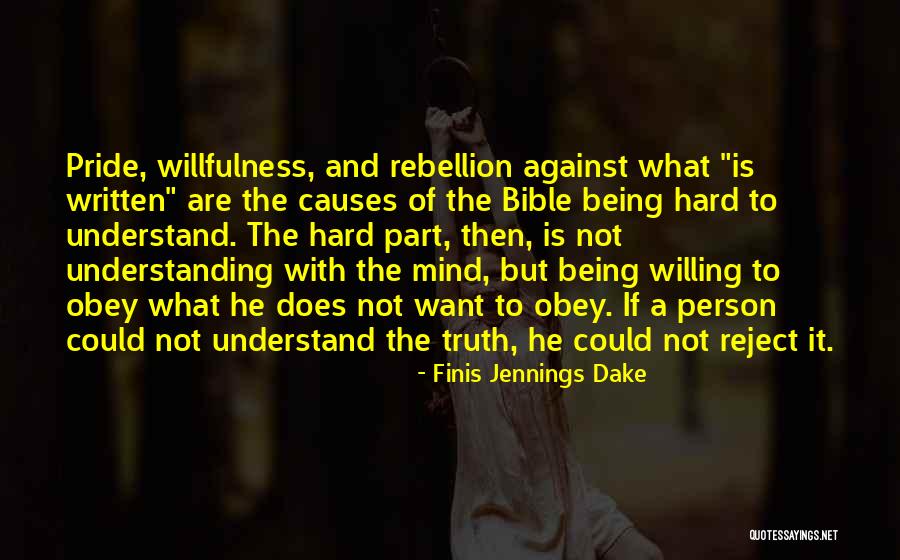 Pride, willfulness, and rebellion against what "is written" are the causes of the Bible being hard to understand. The hard part, then, is not understanding with the mind, but being willing to obey what he does not want to obey. If a person could not understand the truth, he could not reject it. — Finis Jennings Dake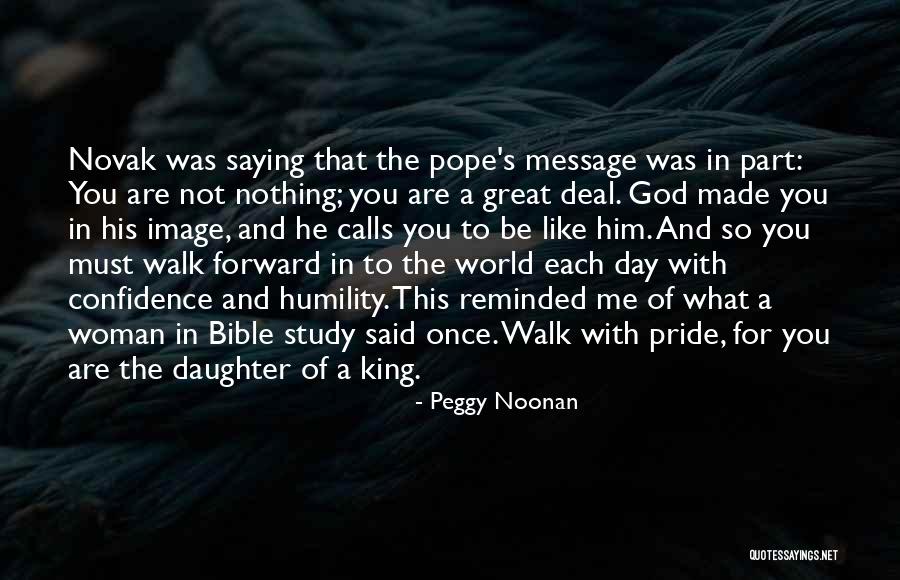 Novak was saying that the pope's message was in part: You are not nothing; you are a great deal. God made you in his image, and he calls you to be like him. And so you must walk forward in to the world each day with confidence and humility. This reminded me of what a woman in Bible study said once. Walk with pride, for you are the daughter of a king. — Peggy Noonan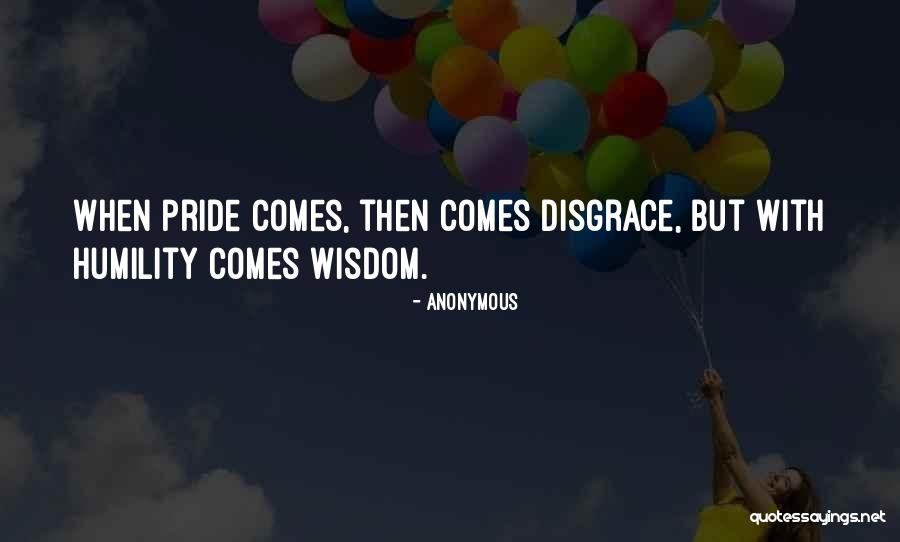 When pride comes, then comes disgrace, but with humility comes wisdom. — Anonymous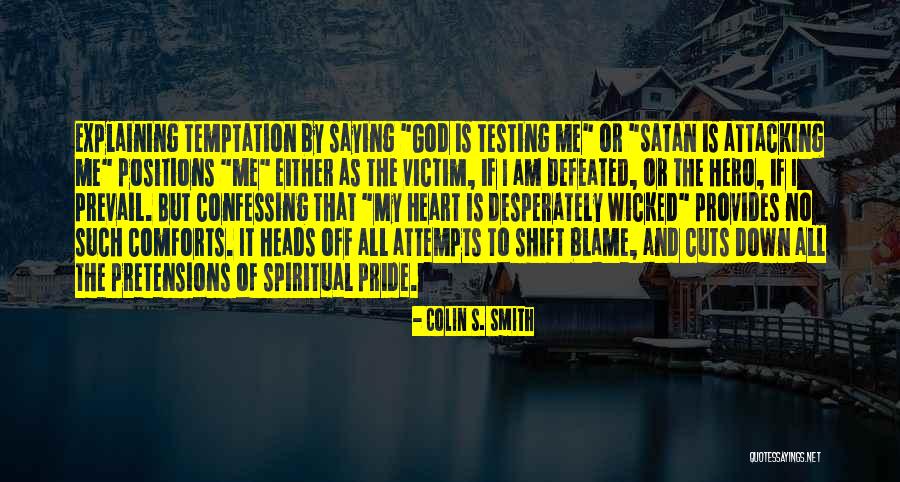 Explaining temptation by saying "God is testing me" or "Satan is attacking me" positions "me" either as the victim, if I am defeated, or the hero, if I prevail. But confessing that "My heart is desperately wicked" provides no such comforts. It heads off all attempts to shift blame, and cuts down all the pretensions of spiritual pride. — Colin S. Smith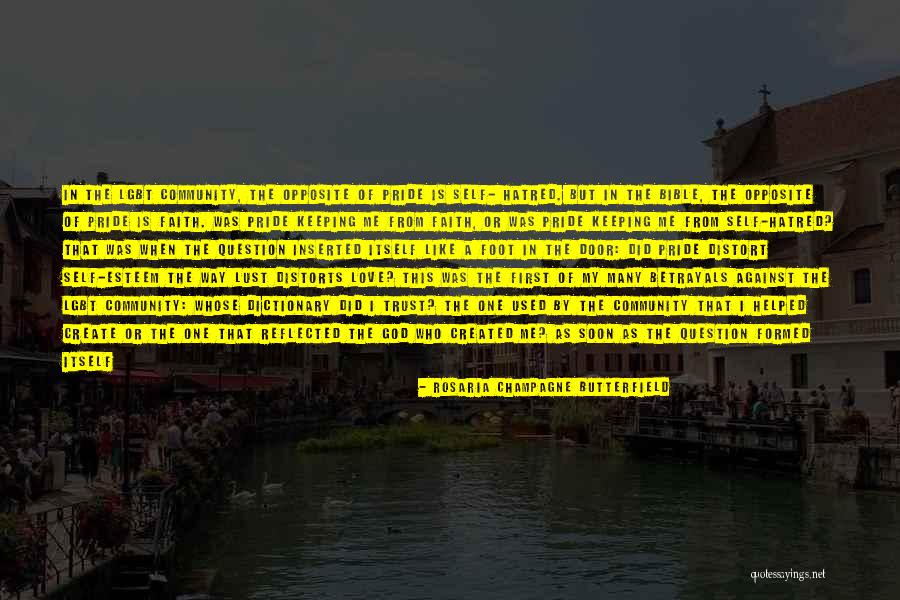 In the LGBT community, the opposite of pride is self- hatred. But in the Bible, the opposite of pride is faith. Was pride keeping me from faith, or was pride keeping me from self-hatred? That was when the question inserted itself like a foot in the door: Did pride distort self-esteem the way lust distorts love? This was the first of my many betrayals against the LGBT community: whose dictionary did I trust? The one used by the community that I helped create or the one that reflected the God who created me? As soon as the question formed itself into words, I felt convicted of the sin of pride. Pride was my downfall. I asked God for the mercy to repent of my pride at its root. — Rosaria Champagne Butterfield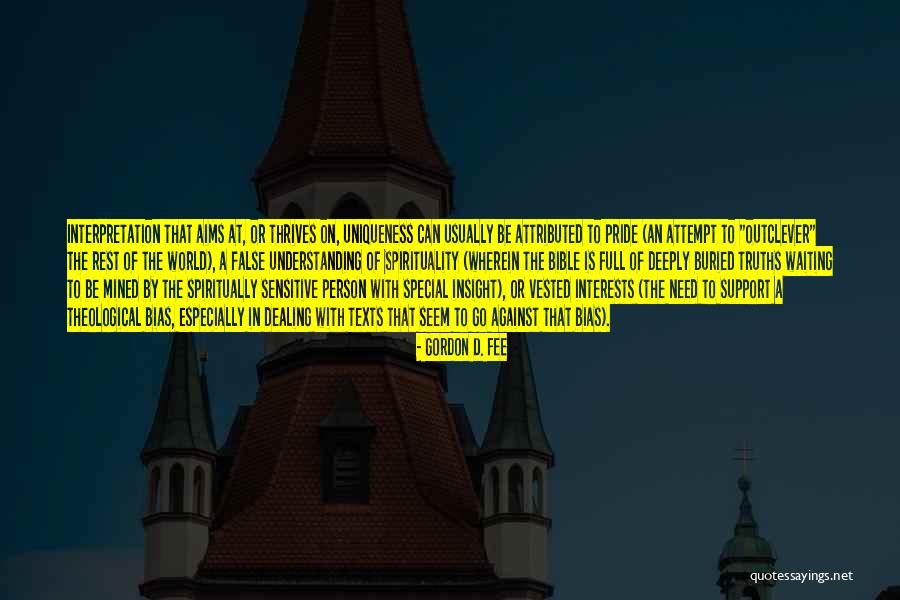 Interpretation that aims at, or thrives on, uniqueness can usually be attributed to pride (an attempt to "outclever" the rest of the world), a false understanding of spirituality (wherein the Bible is full of deeply buried truths waiting to be mined by the spiritually sensitive person with special insight), or vested interests (the need to support a theological bias, especially in dealing with texts that seem to go against that bias). — Gordon D. Fee
I believe that the Hurricane Katrina was, in fact, the judgment of God against the city of New Orleans ... I believe that New Orleans had a level of sin that was offensive to God, and they are - were recipients of the judgment of God for that ... There was to be a homosexual parade there on the Monday that the Katrina came. And the promise of that parade was that it was going to reach a level of sexuality never demonstrated before in any of the other Gay Pride parades ... The Bible teaches that when you violate the law of God, that God brings punishment sometimes before the day of judgment. — John Hagee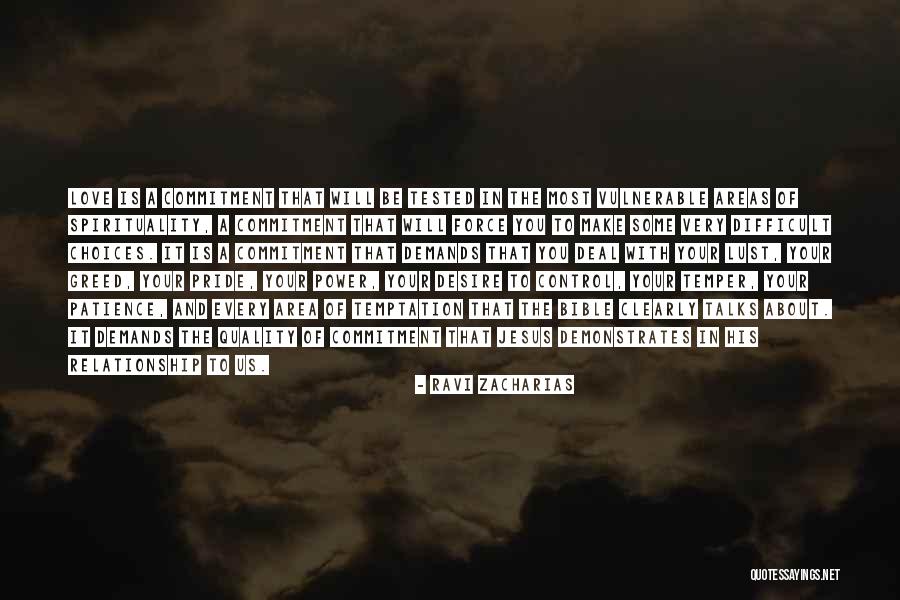 Love is a commitment that will be tested in the most vulnerable areas of spirituality, a commitment that will force you to make some very difficult choices. It is a commitment that demands that you deal with your lust, your greed, your pride, your power, your desire to control, your temper, your patience, and every area of temptation that the Bible clearly talks about. It demands the quality of commitment that Jesus demonstrates in His relationship to us. — Ravi Zacharias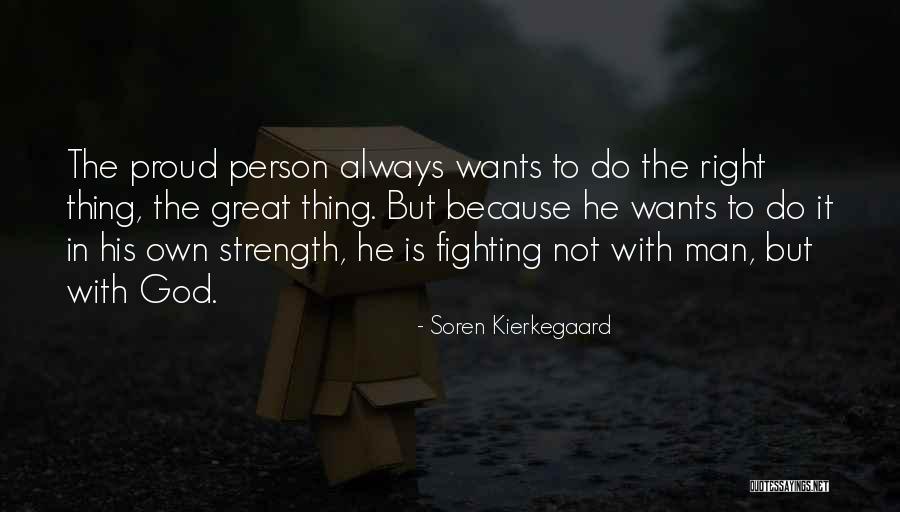 The proud person always wants to do the right thing, the great thing. But because he wants to do it in his own strength, he is fighting not with man, but with God. — Soren Kierkegaard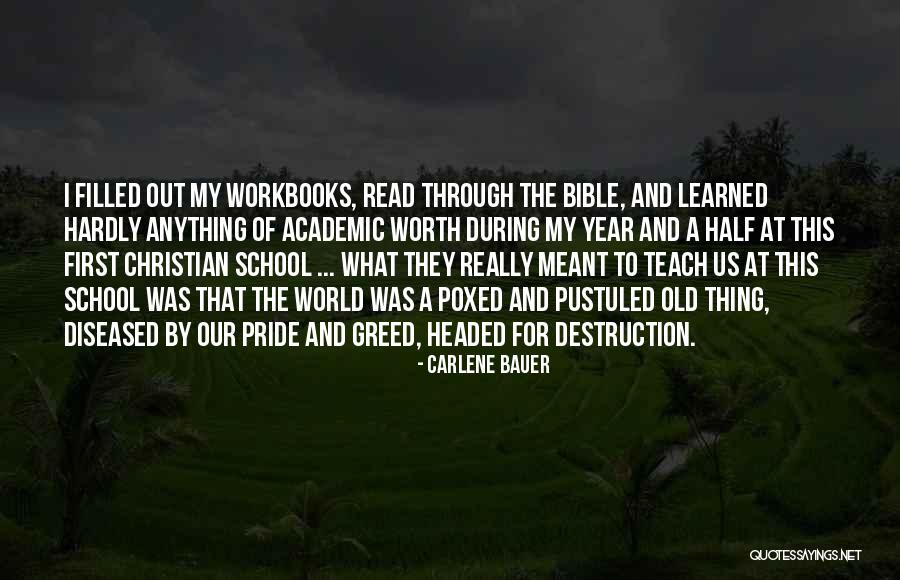 I filled out my workbooks, read through the Bible, and learned hardly anything of academic worth during my year and a half at this first Christian school ... What they really meant to teach us at this school was that the world was a poxed and pustuled old thing, diseased by our pride and greed, headed for destruction. — Carlene Bauer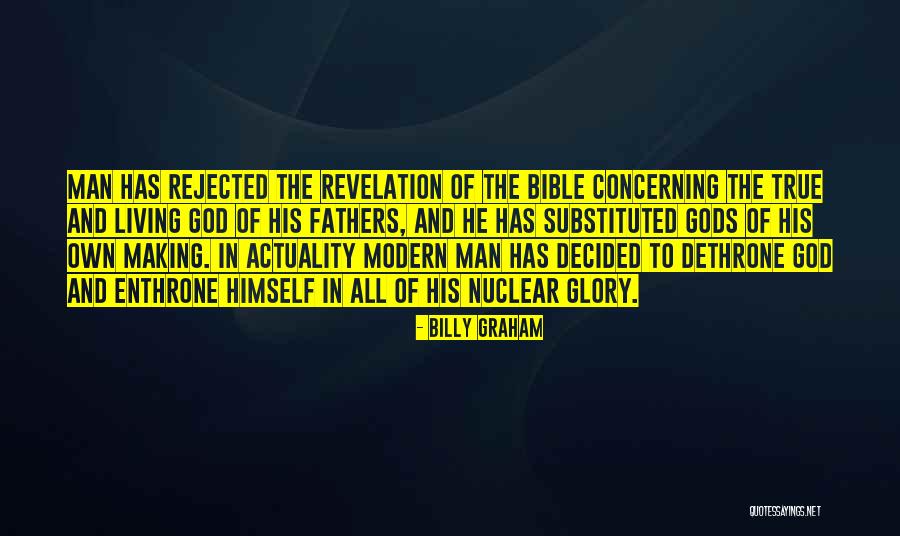 Man has rejected the revelation of the Bible concerning the true and living God of his fathers, and he has substituted gods of his own making. In actuality modern man has decided to dethrone God and enthrone himself in all of his nuclear glory. — Billy Graham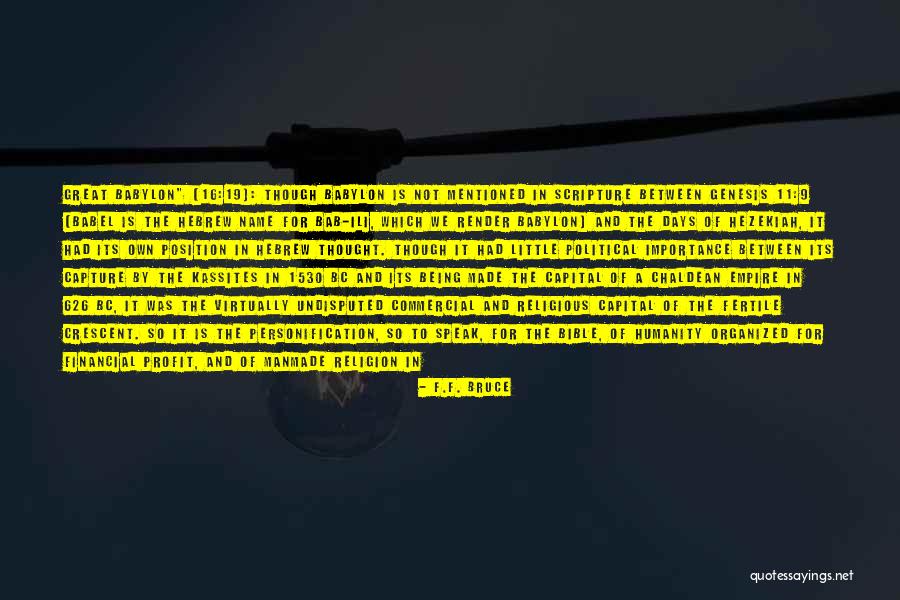 Great Babylon" (16:19): though Babylon is not mentioned in Scripture between Genesis 11:9 (Babel is the Hebrew name for Bab-ili, which we render Babylon) and the days of Hezekiah, it had its own position in Hebrew thought. Though it had little political importance between its capture by the Kassites in 1530 BC and its being made the capital of a Chaldean empire in 626 BC, it was the virtually undisputed commercial and religious capital of the Fertile Crescent. So it is the personification, so to speak, for the Bible, of humanity organized for financial profit, and of manmade religion in all its attractive sophistry. These are the two aspects which are dealt with in chapters 17 (religion) and 18 (commerce). If we compare Nahum and Habakkuk, we shall learn something of the different impression created by the pride and cruelty of Assyria and the corruption of human nature which the prophet saw in Babylon. — F.F. Bruce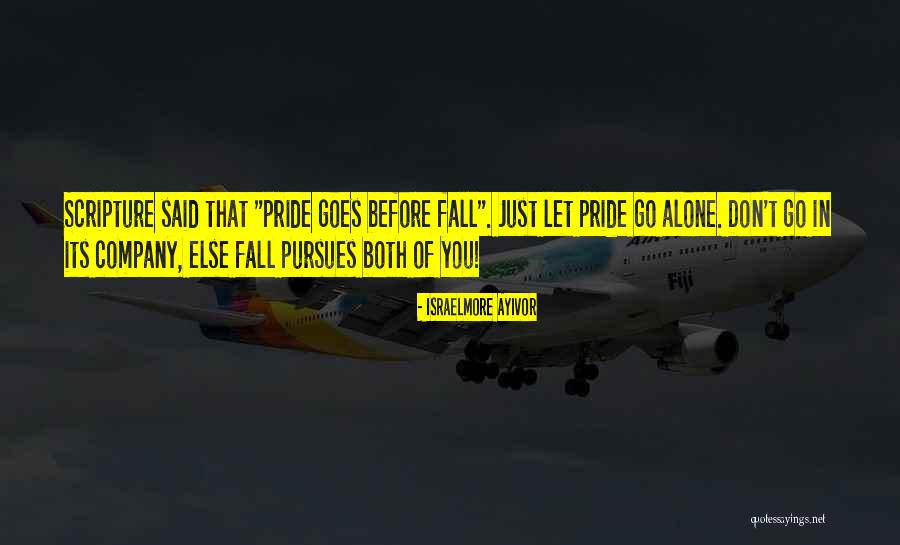 Scripture said that "pride goes before fall". Just let pride go alone. Don't go in its company, else fall pursues both of you! — Israelmore Ayivor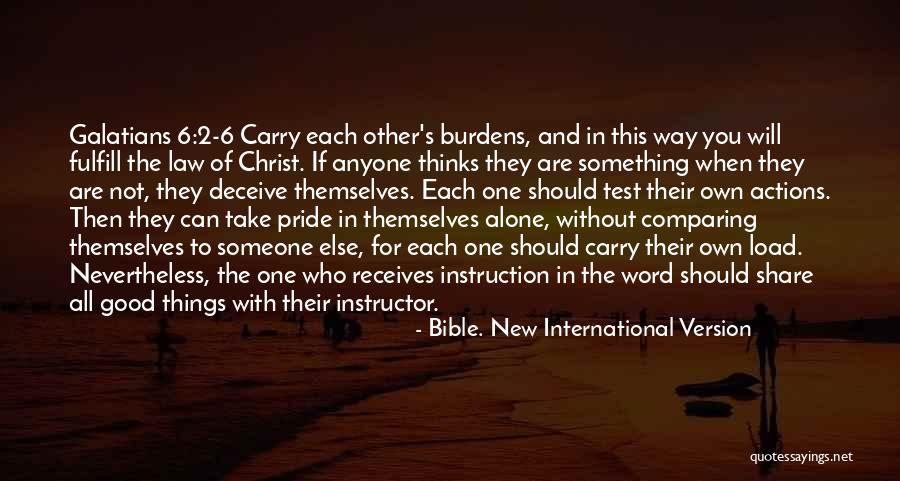 Galatians 6:2-6 Carry each other's burdens, and in this way you will fulfill the law of Christ. If anyone thinks they are something when they are not, they deceive themselves. Each one should test their own actions. Then they can take pride in themselves alone, without comparing themselves to someone else, for each one should carry their own load. Nevertheless, the one who receives instruction in the word should share all good things with their instructor. — Bible. New International Version