Quotes & Sayings About Prayer Saints
Enjoy reading and share 66 famous quotes about Prayer Saints with everyone.
Top Prayer Saints Quotes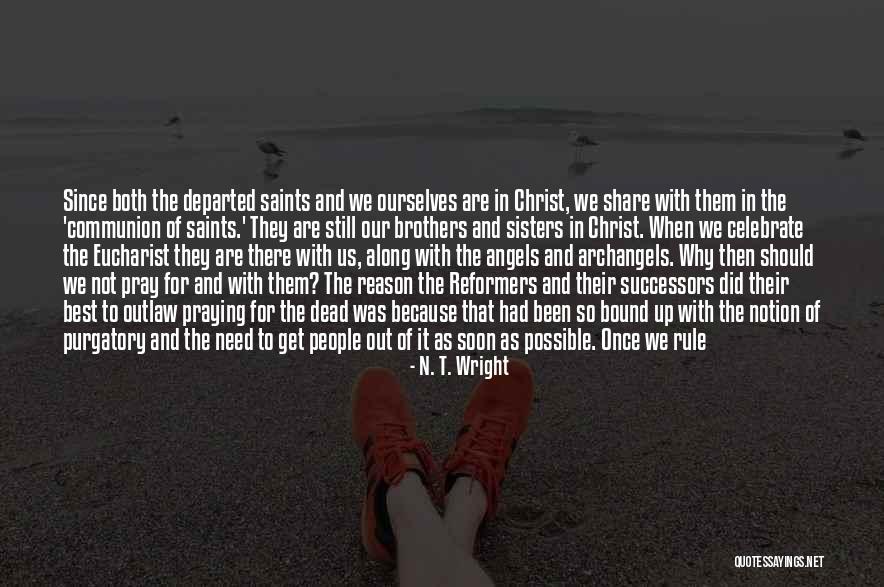 Since both the departed saints and we ourselves are in Christ, we share with them in the 'communion of saints.' They are still our brothers and sisters in Christ. When we celebrate the Eucharist they are there with us, along with the angels and archangels. Why then should we not pray for and with them? The reason the Reformers and their successors did their best to outlaw praying for the dead was because that had been so bound up with the notion of purgatory and the need to get people out of it as soon as possible. Once we rule out purgatory, I see no reason why we should not pray for and with the dead and every reason why we should - not that they will get out of purgatory but that they will be refreshed and filled with God's joy and peace. Love passes into prayer; we still love them; why not hold them, in that love, before God? — N. T. Wright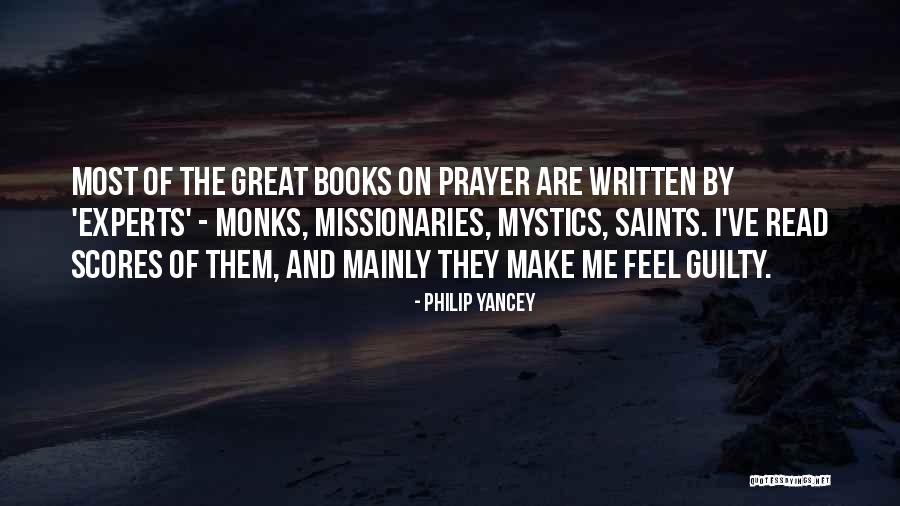 Most of the great books on prayer are written by 'experts' - monks, missionaries, mystics, saints. I've read scores of them, and mainly they make me feel guilty. — Philip Yancey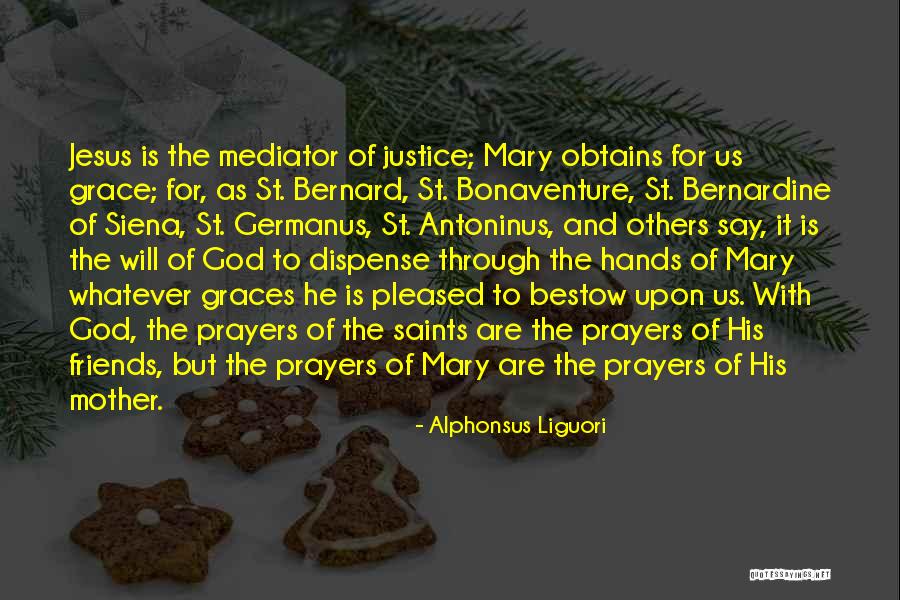 Jesus is the mediator of justice; Mary obtains for us grace; for, as St. Bernard, St. Bonaventure, St. Bernardine of Siena, St. Germanus, St. Antoninus, and others say, it is the will of God to dispense through the hands of Mary whatever graces he is pleased to bestow upon us. With God, the prayers of the saints are the prayers of His friends, but the prayers of Mary are the prayers of His mother. — Alphonsus Liguori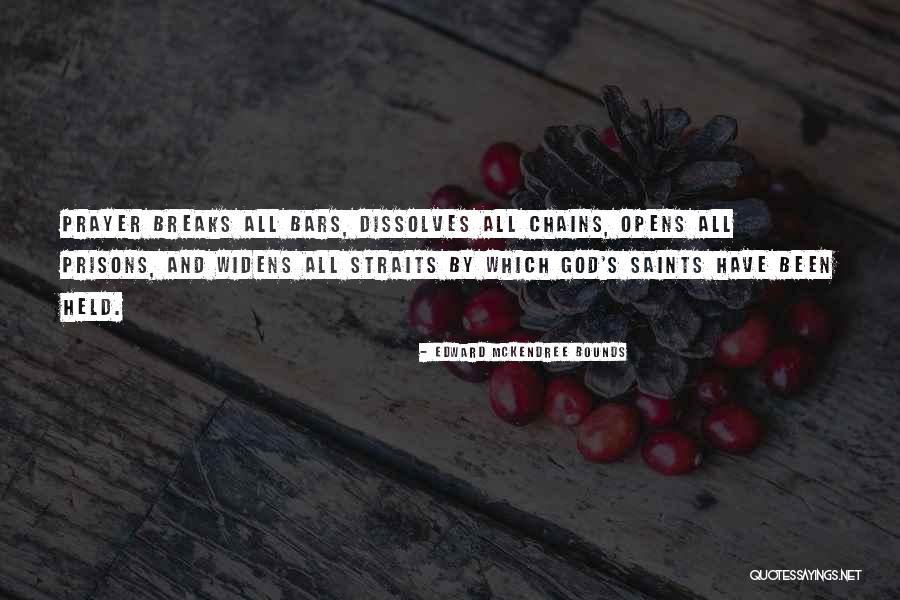 Prayer breaks all bars, dissolves all chains, opens all prisons, and widens all straits by which God's saints have been held. — Edward McKendree Bounds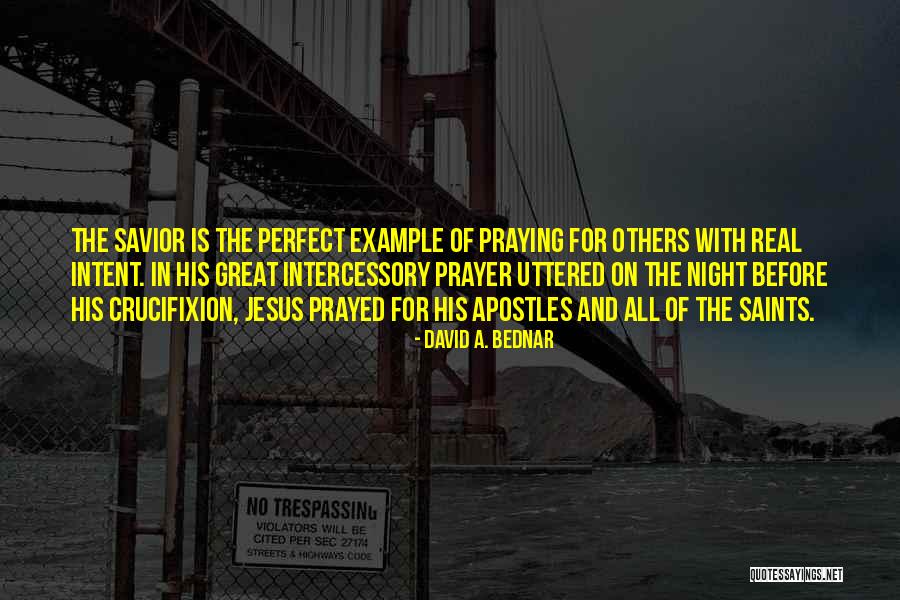 The Savior is the perfect example of praying for others with real intent. In His great Intercessory Prayer uttered on the night before His Crucifixion, Jesus prayed for His Apostles and all of the Saints. — David A. Bednar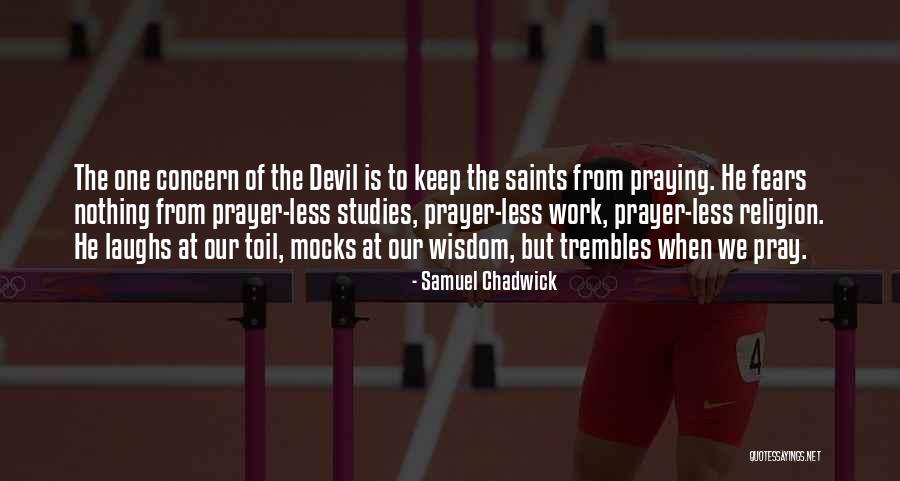 The one concern of the Devil is to keep the saints from praying. He fears nothing from prayer-less studies, prayer-less work, prayer-less religion. He laughs at our toil, mocks at our wisdom, but trembles when we pray. — Samuel Chadwick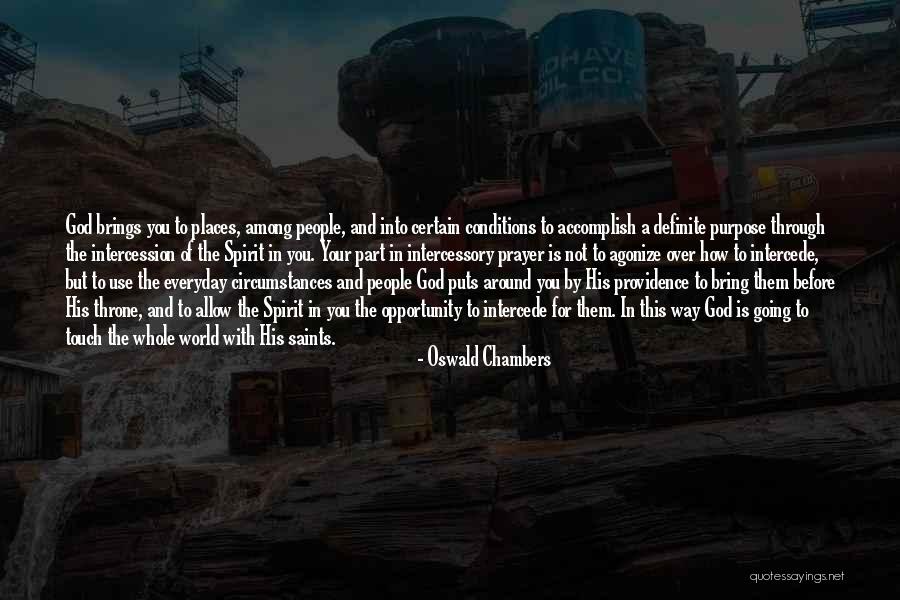 God brings you to places, among people, and into certain conditions to accomplish a definite purpose through the intercession of the Spirit in you. Your part in intercessory prayer is not to agonize over how to intercede, but to use the everyday circumstances and people God puts around you by His providence to bring them before His throne, and to allow the Spirit in you the opportunity to intercede for them. In this way God is going to touch the whole world with His saints. — Oswald Chambers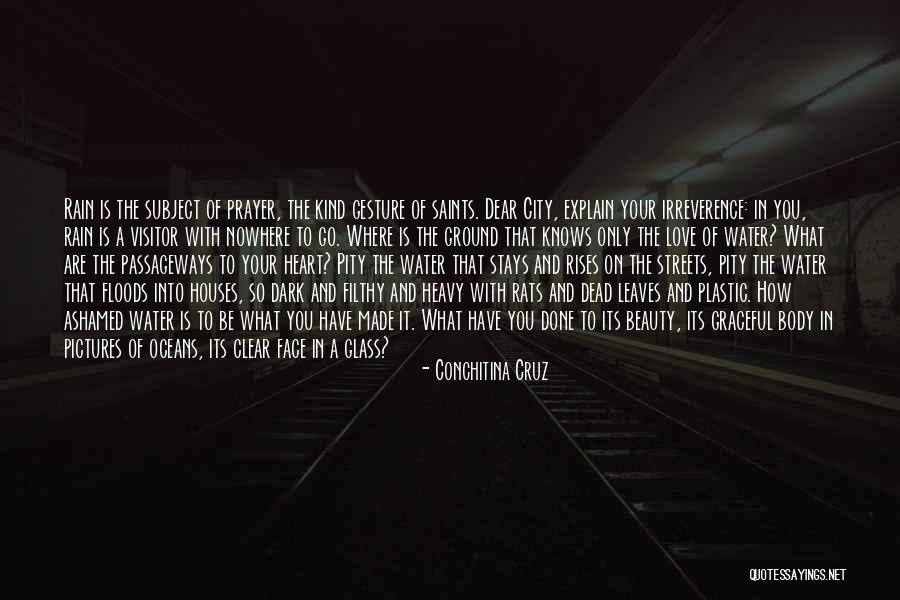 Rain is the subject of prayer, the kind gesture of saints. Dear City, explain your irreverence: in you, rain is a visitor with nowhere to go. Where is the ground that knows only the love of water? What are the passageways to your heart? Pity the water that stays and rises on the streets, pity the water that floods into houses, so dark and filthy and heavy with rats and dead leaves and plastic. How ashamed water is to be what you have made it. What have you done to its beauty, its graceful body in pictures of oceans, its clear face in a glass? — Conchitina Cruz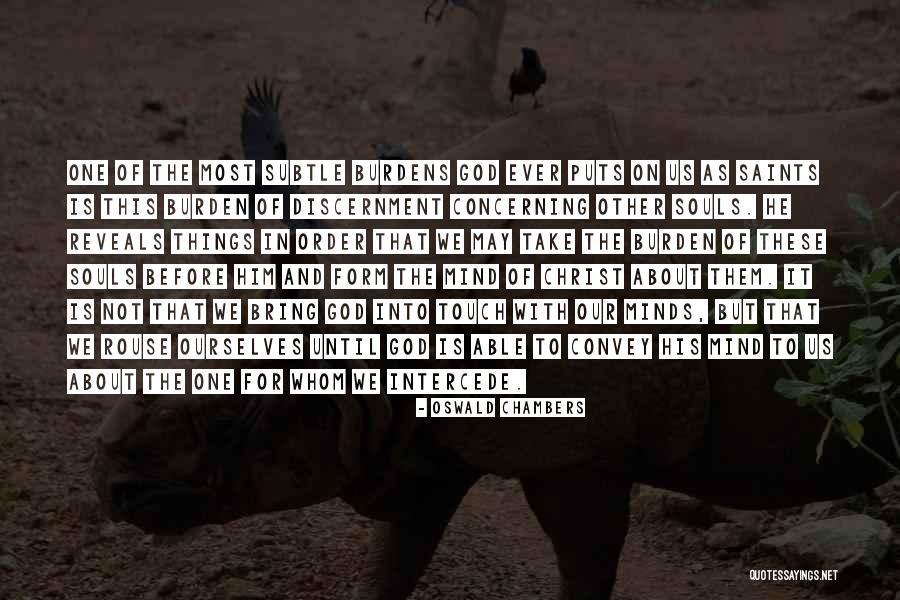 One of the most subtle burdens God ever puts on us as saints is this burden of discernment concerning other souls. He reveals things in order that we may take the burden of these souls before Him and form the mind of Christ about them. It is not that we bring God into touch with our minds, but that we rouse ourselves until God is able to convey His mind to us about the one for whom we intercede. — Oswald Chambers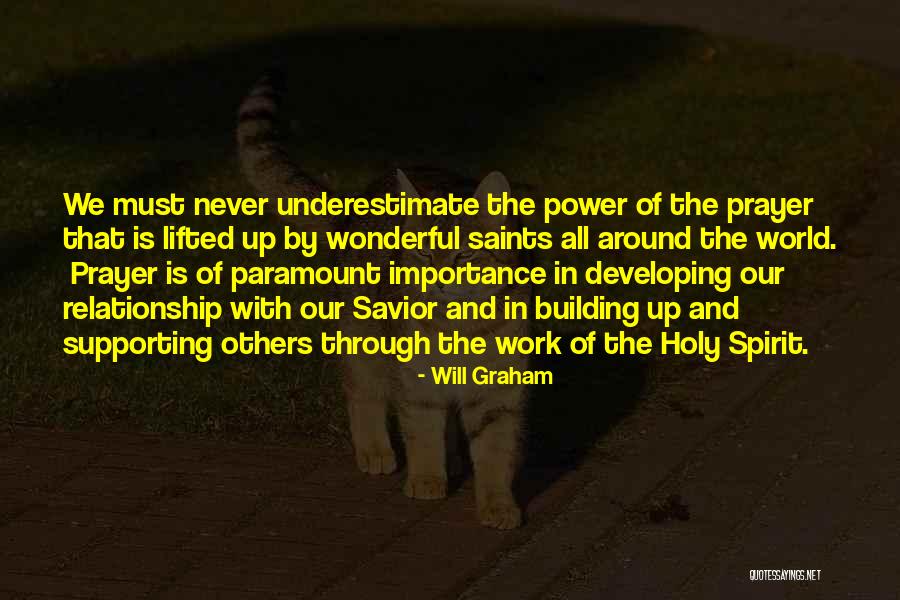 We must never underestimate the power of the prayer that is lifted up by wonderful saints all around the world.
Prayer is of paramount importance in developing our relationship with our Savior and in building up and supporting others through the work of the Holy Spirit. — Will Graham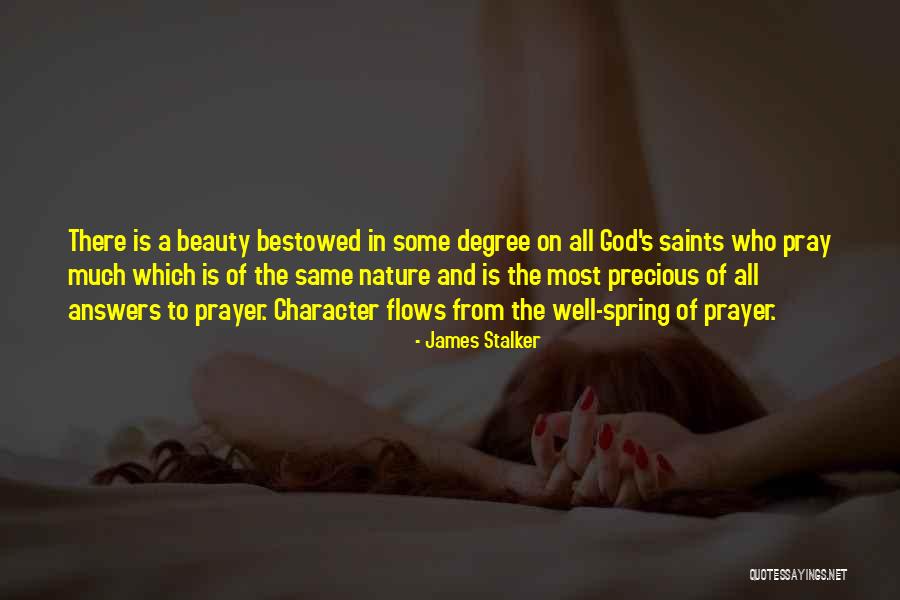 There is a beauty bestowed in some degree on all God's saints who pray much which is of the same nature and is the most precious of all answers to prayer. Character flows from the well-spring of prayer. — James Stalker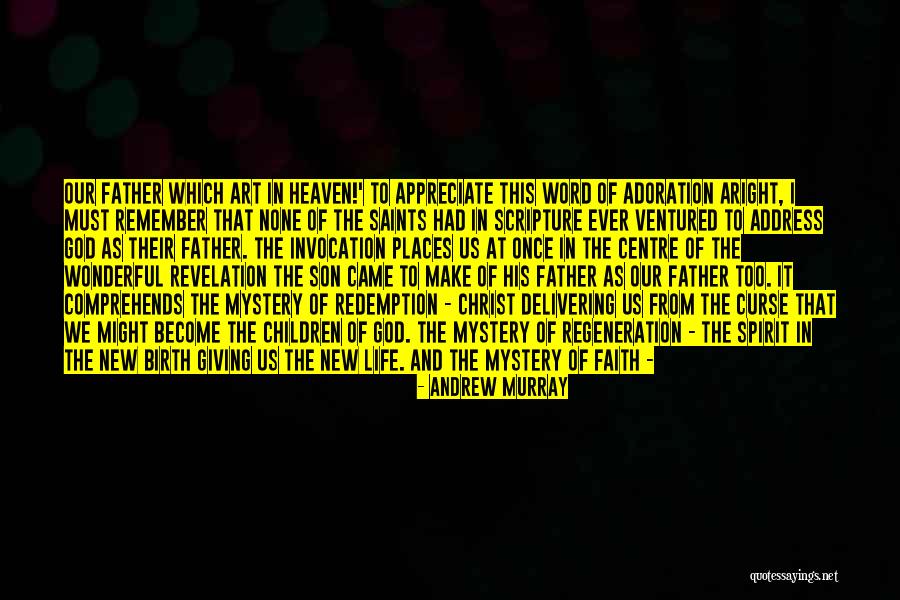 Our Father which art in heaven!' To appreciate this word of adoration aright, I must remember that none of the saints had in Scripture ever ventured to address God as their Father. The invocation places us at once in the centre of the wonderful revelation the Son came to make of His Father as our Father too. It comprehends the mystery of redemption - Christ delivering us from the curse that we might become the children of God. The mystery of regeneration - the Spirit in the new birth giving us the new life. And the mystery of faith - ere yet the redemption is accomplished or understood, the word is given on the lips of the disciples to prepare them for the blessed experience still to come. The words are the key to the whole prayer, to all prayer. It — Andrew Murray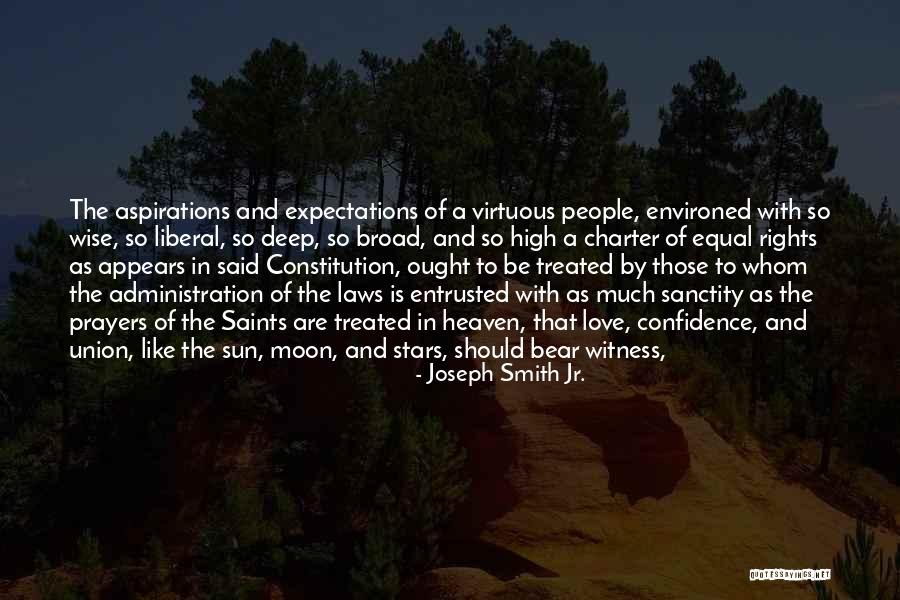 The aspirations and expectations of a virtuous people, environed with so wise, so liberal, so deep, so broad, and so high a charter of equal rights as appears in said Constitution, ought to be treated by those to whom the administration of the laws is entrusted with as much sanctity as the prayers of the Saints are treated in heaven, that love, confidence, and union, like the sun, moon, and stars, should bear witness, — Joseph Smith Jr.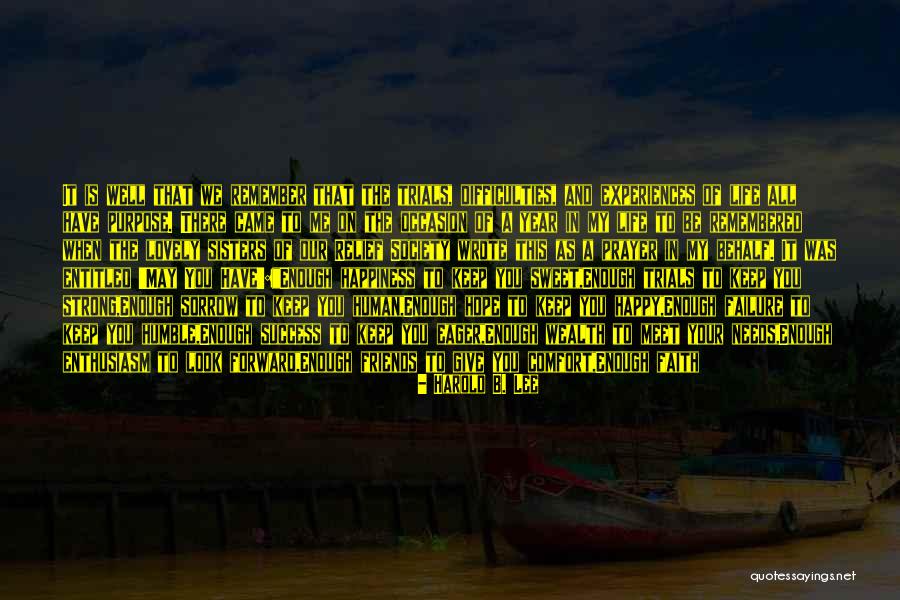 It is well that we remember that the trials, difficulties, and experiences of life all have purpose. There came to me on the occasion of a year in my life to be remembered when the lovely sisters of our Relief Society wrote this as a prayer in my behalf. It was entitled 'May You Have':
"Enough happiness to keep you sweet,
Enough trials to keep you strong,
Enough sorrow to keep you human,
Enough hope to keep you happy,
Enough failure to keep you humble,
Enough success to keep you eager,
Enough wealth to meet your needs,
Enough enthusiasm to look forward,
Enough friends to give you comfort,
Enough faith to banish depression,
Enough determination to make each day better than yesterday.
"This is my prayer for the faithful Saints in every land and throughout the world as we look forward to the future with courage and with fortitude — Harold B. Lee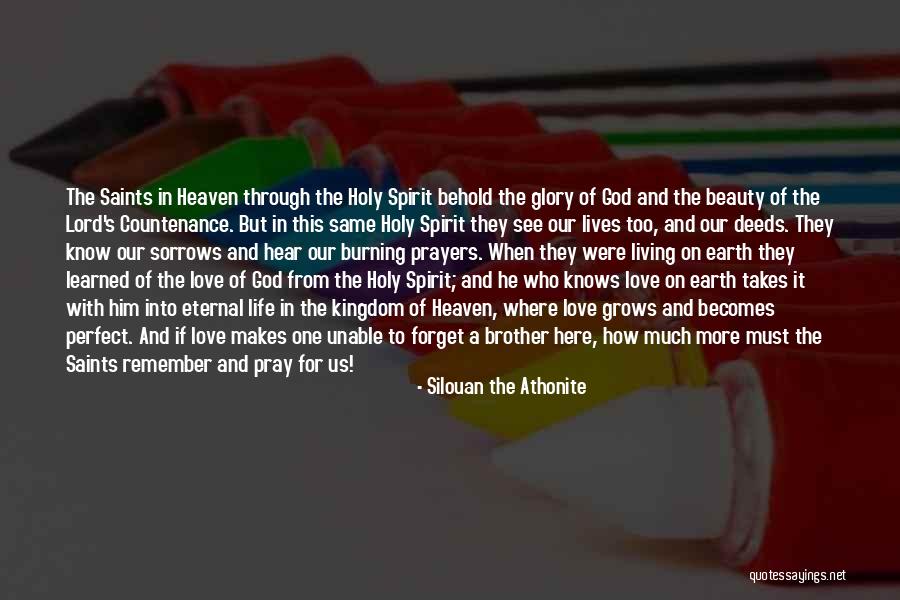 The Saints in Heaven through the Holy Spirit behold the glory of God and the beauty of the Lord's Countenance. But in this same Holy Spirit they see our lives too, and our deeds. They know our sorrows and hear our burning prayers. When they were living on earth they learned of the love of God from the Holy Spirit; and he who knows love on earth takes it with him into eternal life in the kingdom of Heaven, where love grows and becomes perfect. And if love makes one unable to forget a brother here, how much more must the Saints remember and pray for us! — Silouan The Athonite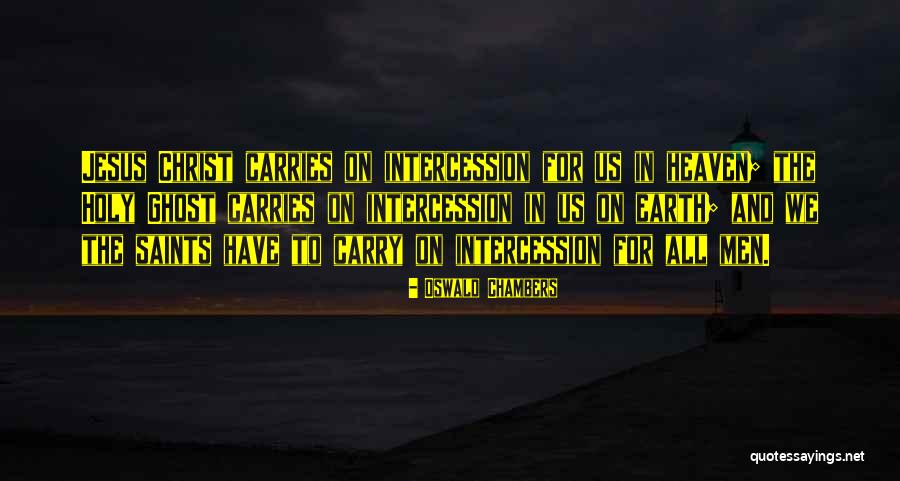 Jesus Christ carries on intercession for us in heaven; the Holy Ghost carries on intercession in us on earth; and we the saints have to carry on intercession for all men. — Oswald Chambers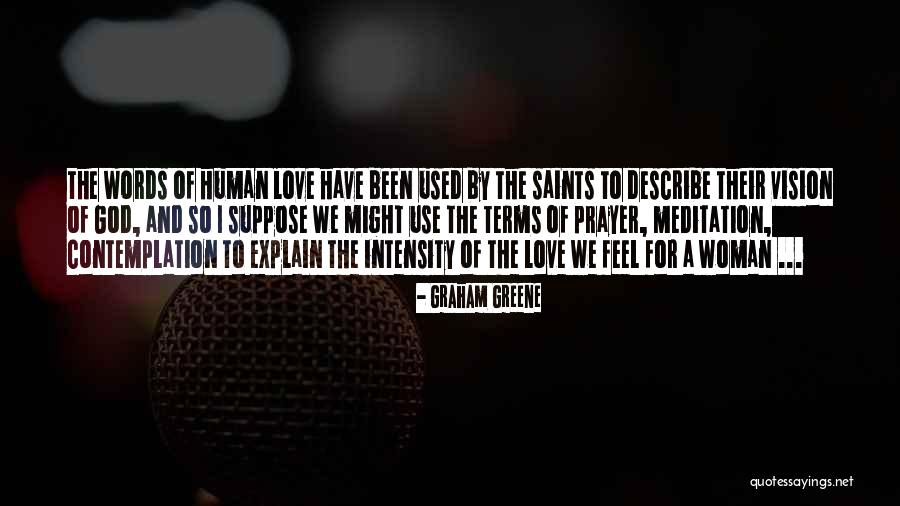 The words of human love have been used by the saints to describe their vision of God, and so I suppose we might use the terms of prayer, meditation, contemplation to explain the intensity of the love we feel for a woman ... — Graham Greene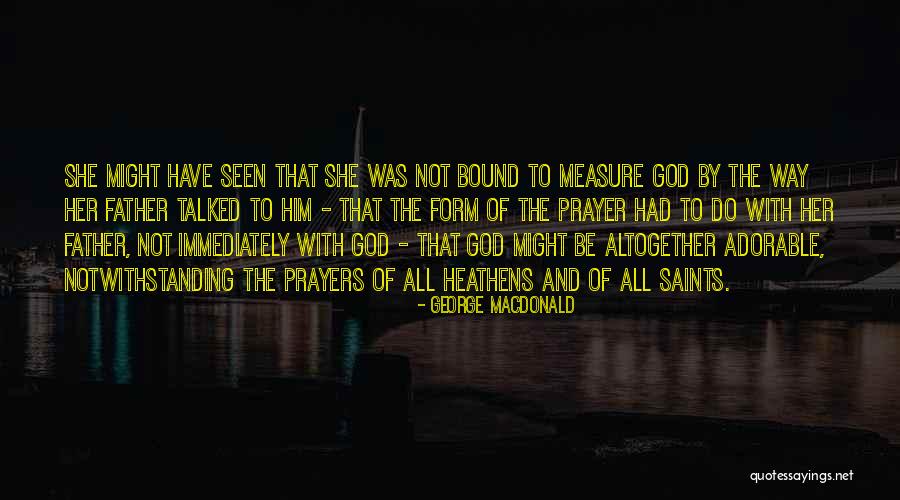 she might have seen that she was not bound to measure God by the way her father talked to him - that the form of the prayer had to do with her father, not immediately with God - that God might be altogether adorable, notwithstanding the prayers of all heathens and of all saints. — George MacDonald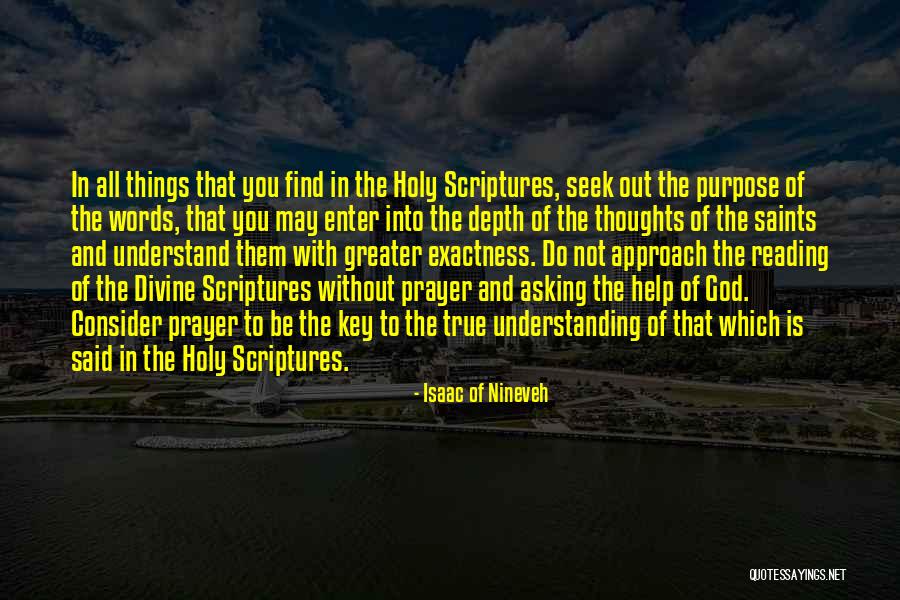 In all things that you find in the Holy Scriptures, seek out the purpose of the words, that you may enter into the depth of the thoughts of the saints and understand them with greater exactness. Do not approach the reading of the Divine Scriptures without prayer and asking the help of God. Consider prayer to be the key to the true understanding of that which is said in the Holy Scriptures. — Isaac Of Nineveh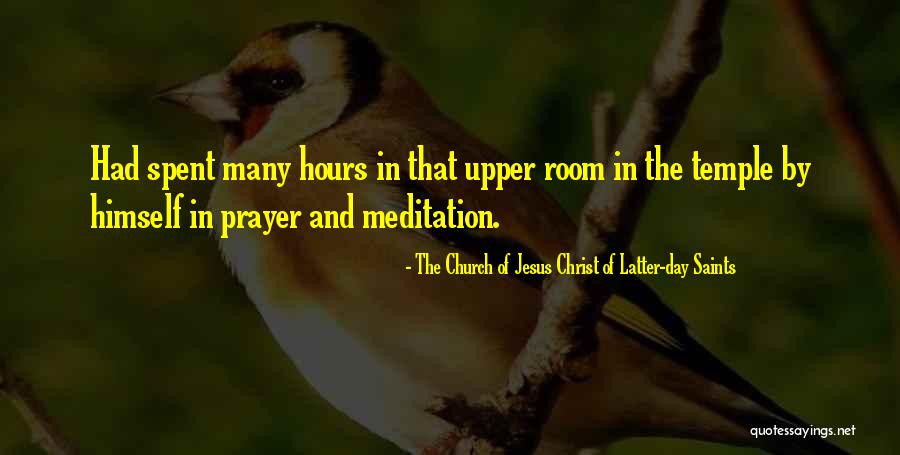 Had spent many hours in that upper room in the temple by himself in prayer and meditation. — The Church Of Jesus Christ Of Latter-day Saints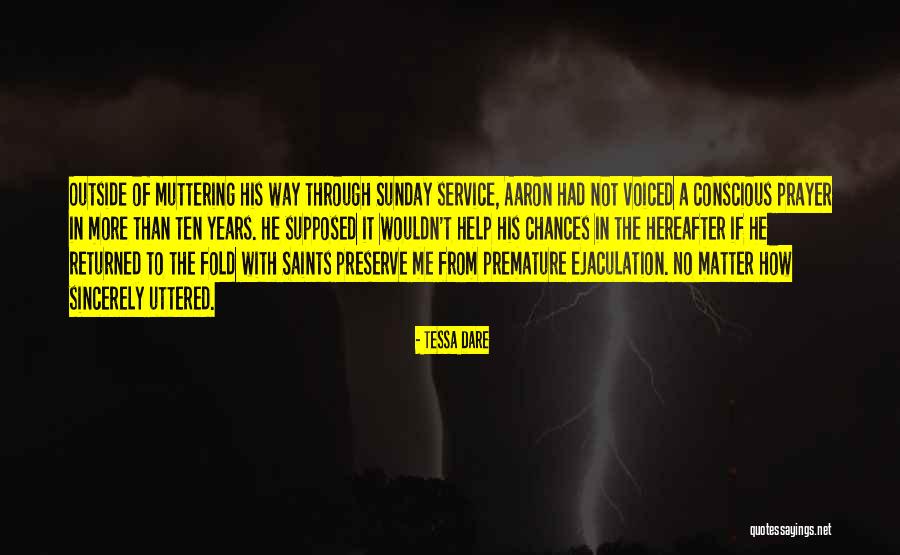 Outside of muttering his way through Sunday service, Aaron had not voiced a conscious prayer in more than ten years. He supposed it wouldn't help his chances in the hereafter if he returned to the fold with Saints preserve me from premature ejaculation. No matter how sincerely uttered. — Tessa Dare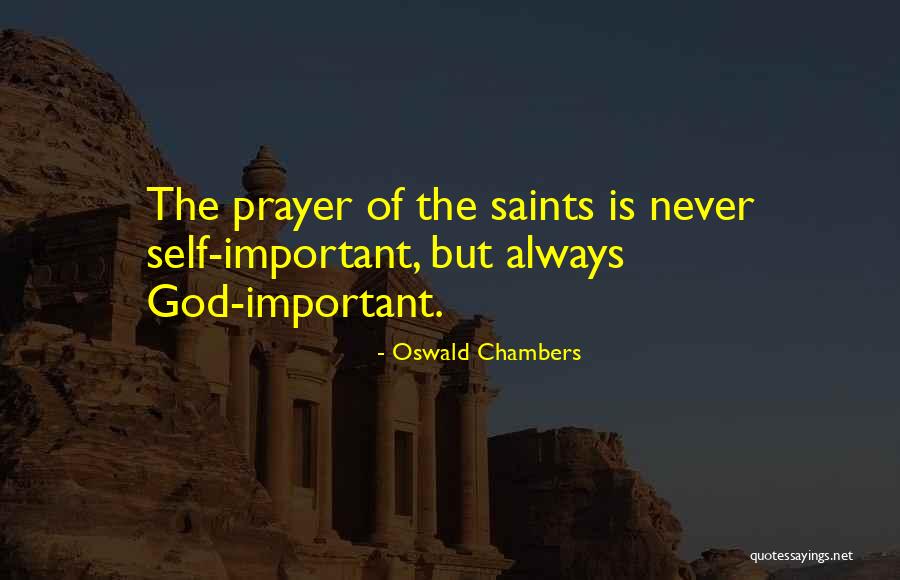 The prayer of the saints is never self-important, but always God-important. — Oswald Chambers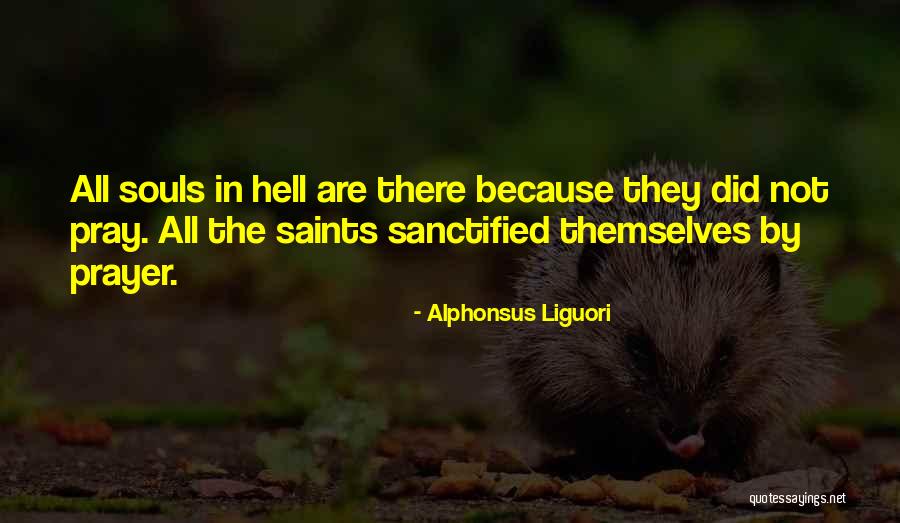 All souls in hell are there because they did not pray. All the saints sanctified themselves by prayer. — Alphonsus Liguori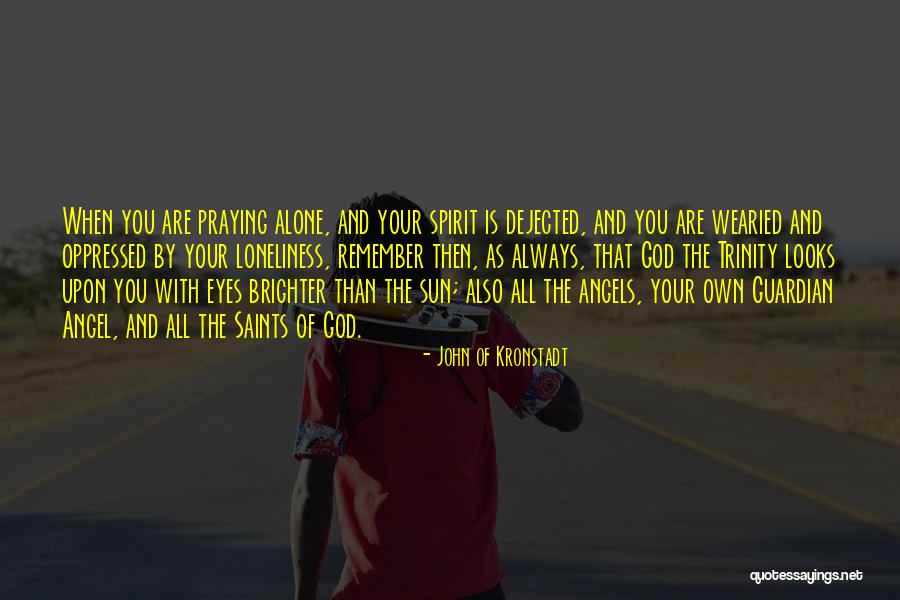 When you are praying alone, and your spirit is dejected, and you are wearied and oppressed by your loneliness, remember then, as always, that God the Trinity looks upon you with eyes brighter than the sun; also all the angels, your own Guardian Angel, and all the Saints of God. — John Of Kronstadt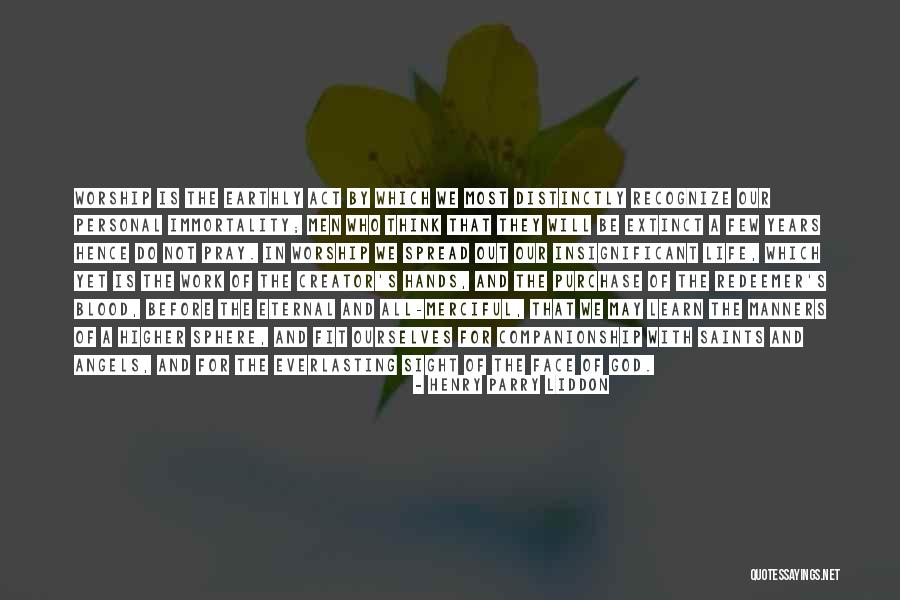 Worship is the earthly act by which we most distinctly recognize our personal immortality; men who think that they will be extinct a few years hence do not pray. In worship we spread out our insignificant life, which yet is the work of the Creator's hands, and the purchase of the Redeemer's blood, before the Eternal and All-Merciful, that we may learn the manners of a higher sphere, and fit ourselves for companionship with saints and angels, and for the everlasting sight of the face of God. — Henry Parry Liddon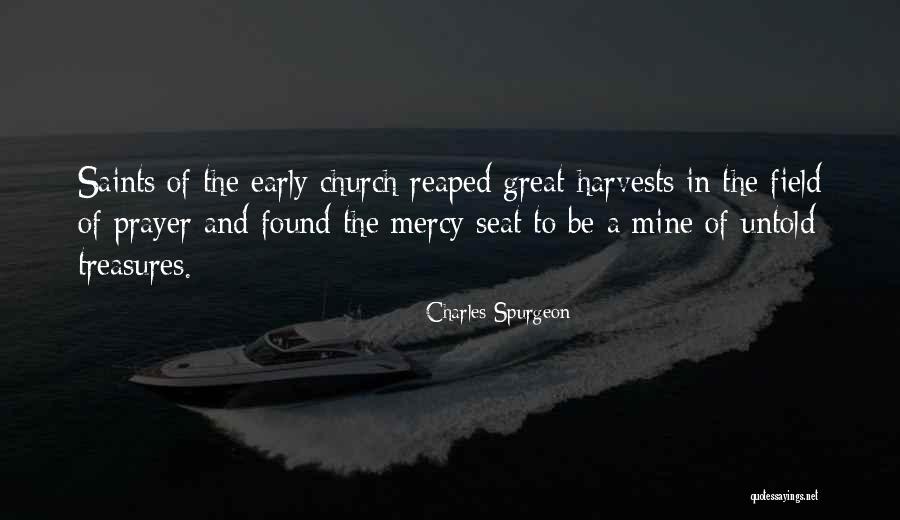 Saints of the early church reaped great harvests in the field of prayer and found the mercy seat to be a mine of untold treasures. — Charles Spurgeon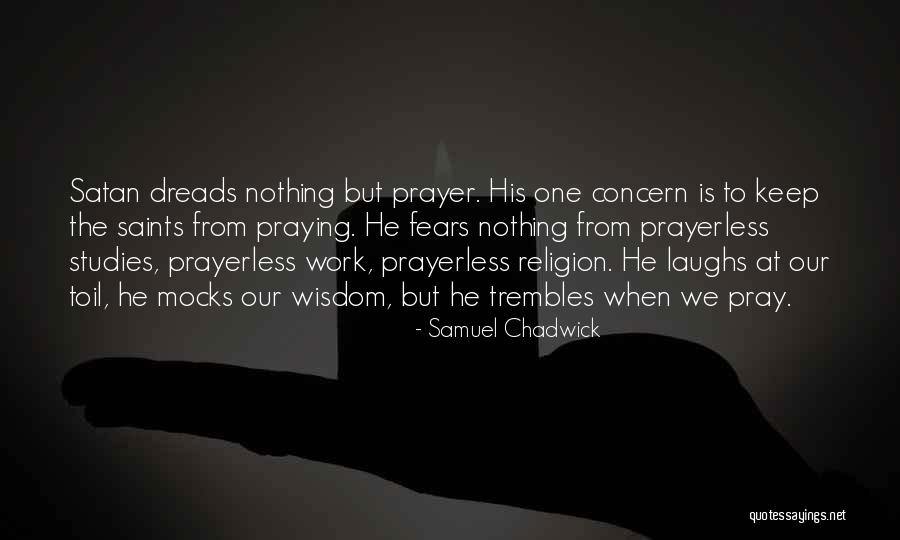 Satan dreads nothing but prayer. His one concern is to keep the saints from praying. He fears nothing from prayerless studies, prayerless work, prayerless religion. He laughs at our toil, he mocks our wisdom, but he trembles when we pray. — Samuel Chadwick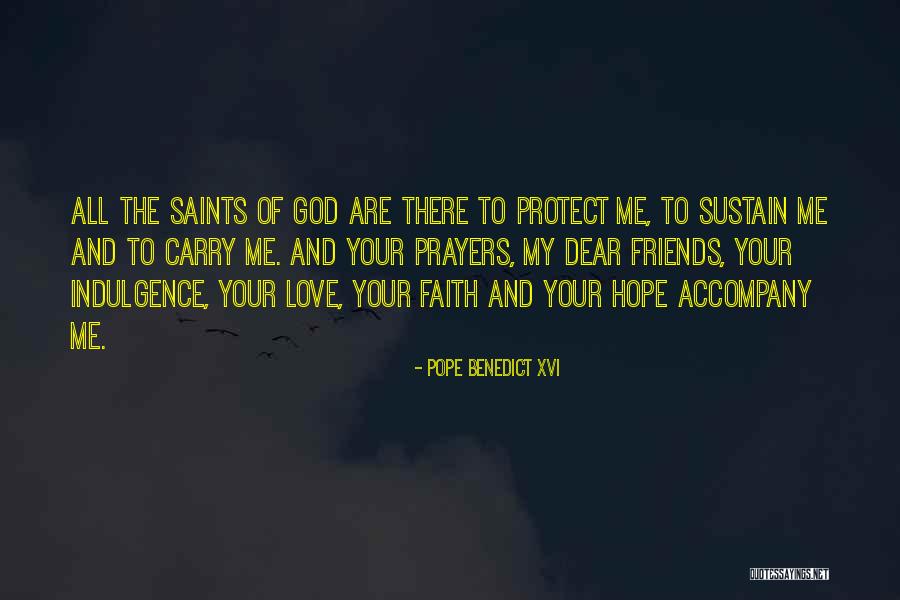 All the Saints of God are there to protect me, to sustain me and to carry me. And your prayers, my dear friends, your indulgence, your love, your faith and your hope accompany me. — Pope Benedict XVI
Prayer is the way you defeat the devil, reach the lost, restore a backslider, strengthen the saints, send missionaries out, cure the sick, accomplish the impossible, and know the will of God. — David Jeremiah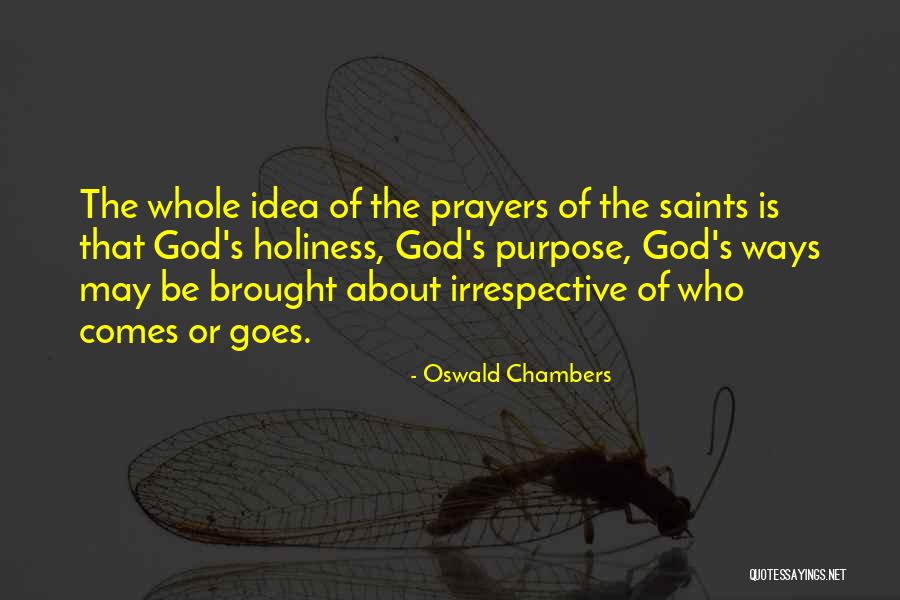 The whole idea of the prayers of the saints is that God's holiness, God's purpose, God's ways may be brought about irrespective of who comes or goes. — Oswald Chambers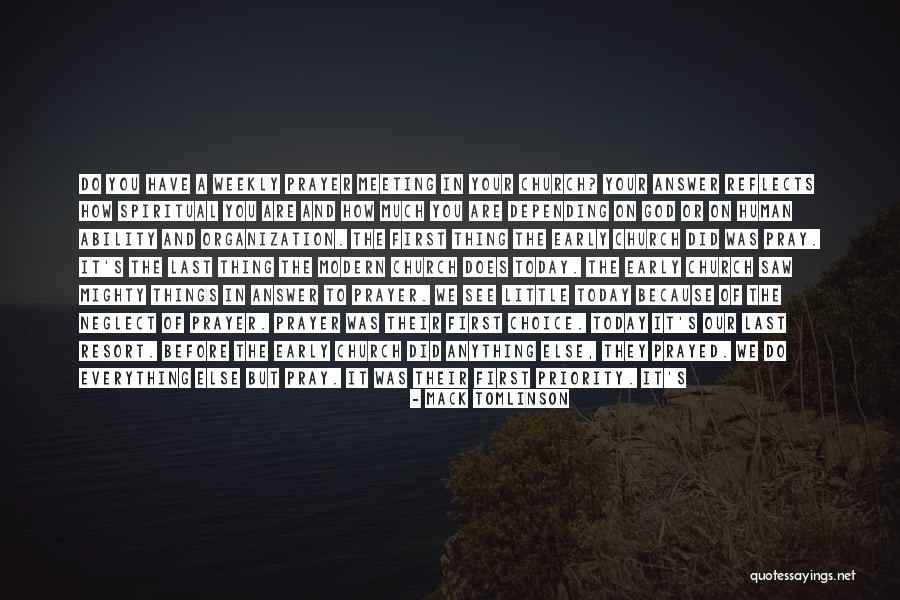 Do you have a weekly prayer meeting in your church? Your answer reflects how spiritual you are and how much you are depending on God or on human ability and organization. The first thing the early church did was pray. It's the last thing the modern church does today. The early church saw mighty things in answer to prayer. We see little today because of the neglect of prayer. Prayer was their first choice. Today it's our last resort. Before the early church did anything else, they prayed. We do everything else but pray. It was their first priority. It's our last priority. The New Testament saints had divine enduement without any equipment. Today we have the equipment but not the enduement. If we are weak in prayer, then we are weak everywhere. — Mack Tomlinson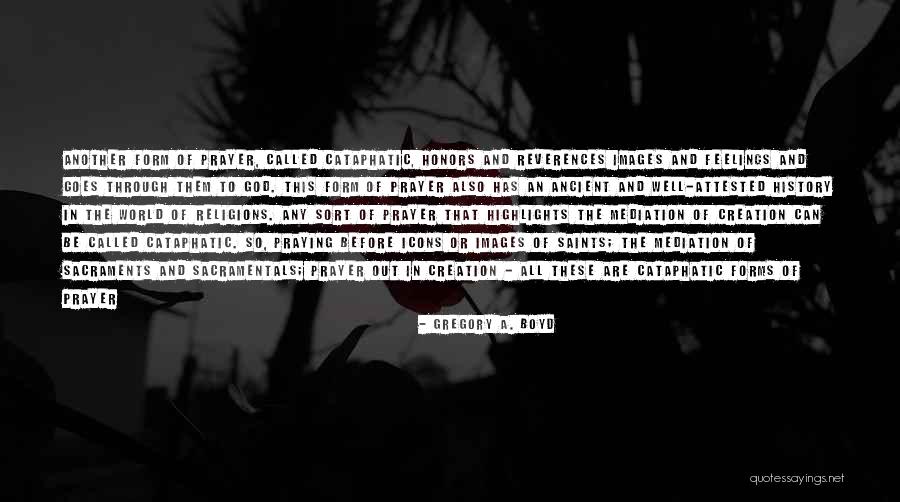 Another form of prayer, called cataphatic, honors and reverences images and feelings and goes through them to God. This form of prayer also has an ancient and well-attested history in the world of religions. Any sort of prayer that highlights the mediation of creation can be called cataphatic. So, praying before icons or images of saints; the mediation of sacraments and sacramentals; prayer out in creation - all these are cataphatic forms of prayer — Gregory A. Boyd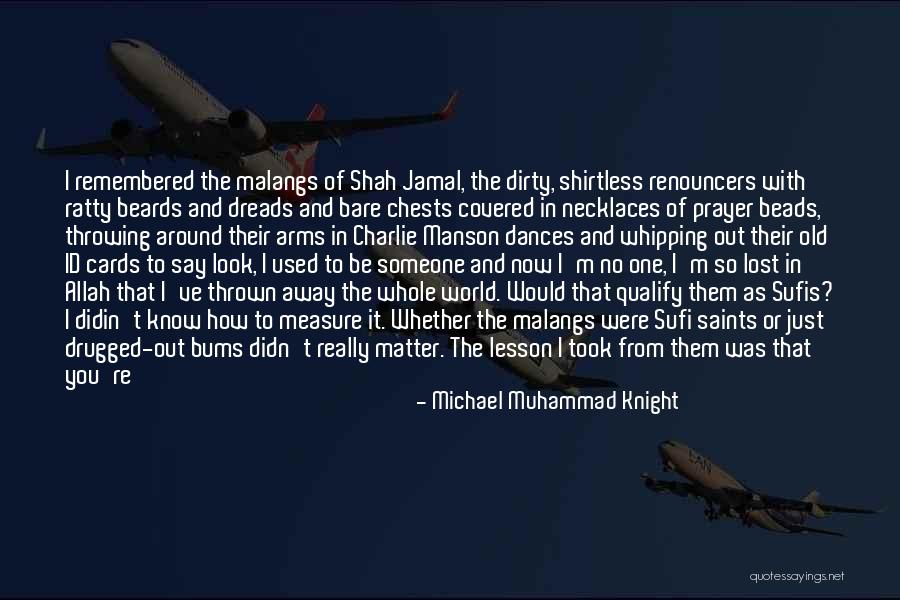 I remembered the malangs of Shah Jamal, the dirty, shirtless renouncers with ratty beards and dreads and bare chests covered in necklaces of prayer beads, throwing around their arms in Charlie Manson dances and whipping out their old ID cards to say look, I used to be someone and now I'm no one, I'm so lost in Allah that I've thrown away the whole world. Would that qualify them as Sufis? I didin't know how to measure it. Whether the malangs were Sufi saints or just drugged-out bums didn't really matter. The lesson I took from them was that you're never disqualified from loving Allah, never. And I could see again that what I went through was nothing new, not even anything special in the history of Islam, not a clashing of East and West; it was always there. And that made me feel more Muslim than ever, because fuck it all, CNN, this is Islam too. — Michael Muhammad Knight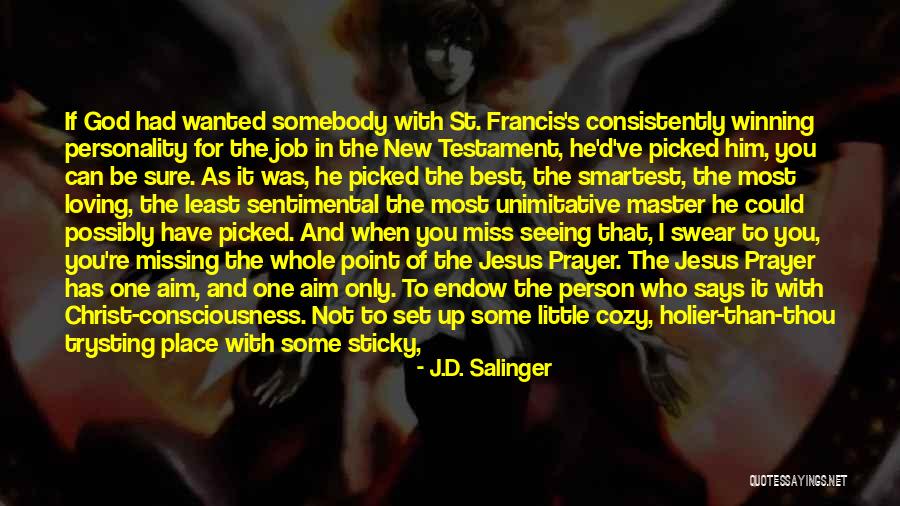 If God had wanted somebody with St. Francis's consistently winning personality for the job in the New Testament, he'd've picked him, you can be sure. As it was, he picked the best, the smartest, the most loving, the least sentimental the most unimitative master he could possibly have picked. And when you miss seeing that, I swear to you, you're missing the whole point of the Jesus Prayer. The Jesus Prayer has one aim, and one aim only. To endow the person who says it with Christ-consciousness. Not to set up some little cozy, holier-than-thou trysting place with some sticky, adorable divine personage who'll take you in his arms and relieve you of all your duties and make all your nasty weltschmerzen and Professor Tuppers go away and never come back. And by God, if you have intelligence enough to see that - and you do - and yet you refuse to see it, then you're misusing the prayer, you're using it to ask for a world full of dolls and saints and no Professor Tuppers. — J.D. Salinger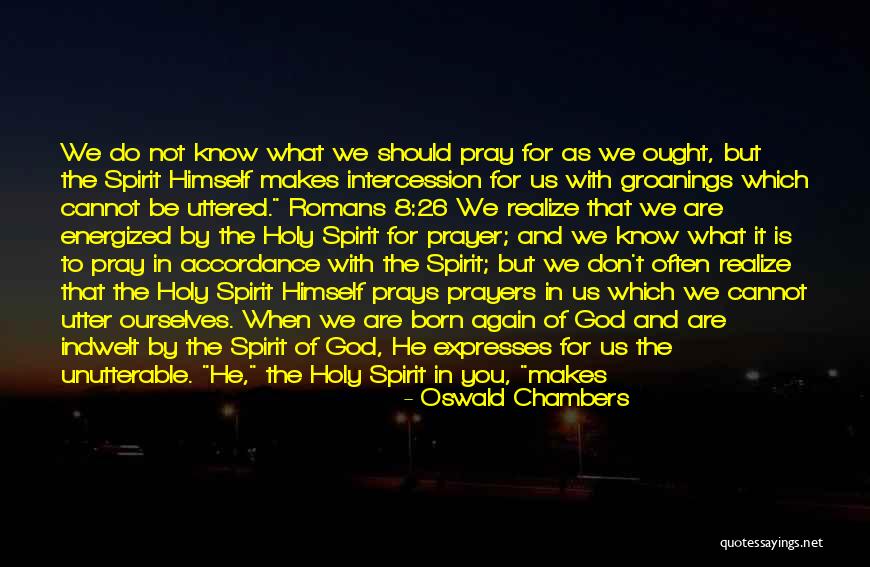 We do not know what we should pray for as we ought, but the Spirit Himself makes intercession for us with groanings which cannot be uttered." Romans 8:26 We realize that we are energized by the Holy Spirit for prayer; and we know what it is to pray in accordance with the Spirit; but we don't often realize that the Holy Spirit Himself prays prayers in us which we cannot utter ourselves. When we are born again of God and are indwelt by the Spirit of God, He expresses for us the unutterable. "He," the Holy Spirit in you, "makes intercession for the saints according to the will of God" (8:27). And God searches your heart, not to know what your conscious prayers are, but to find out what the prayer of the Holy Spirit is. — Oswald Chambers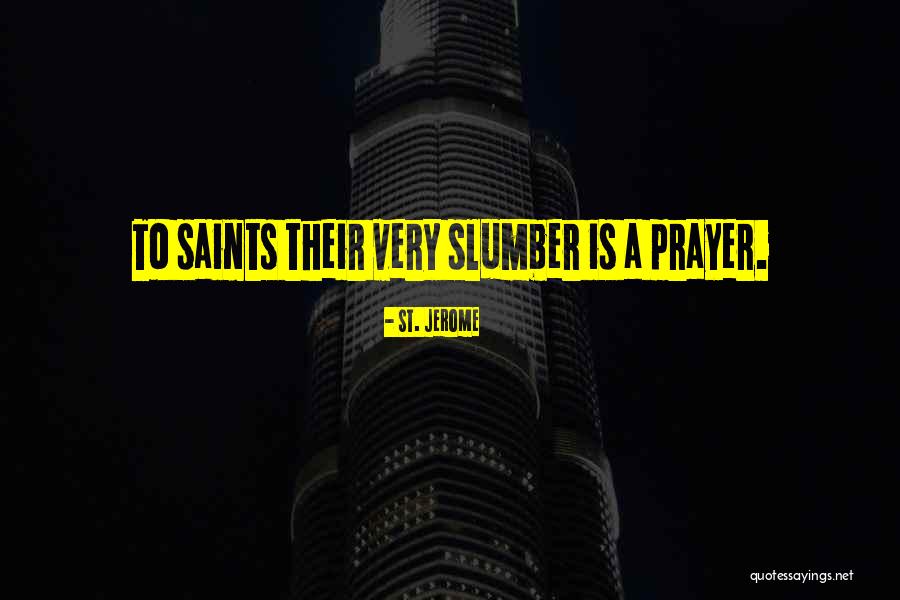 To saints their very slumber is a prayer. — St. Jerome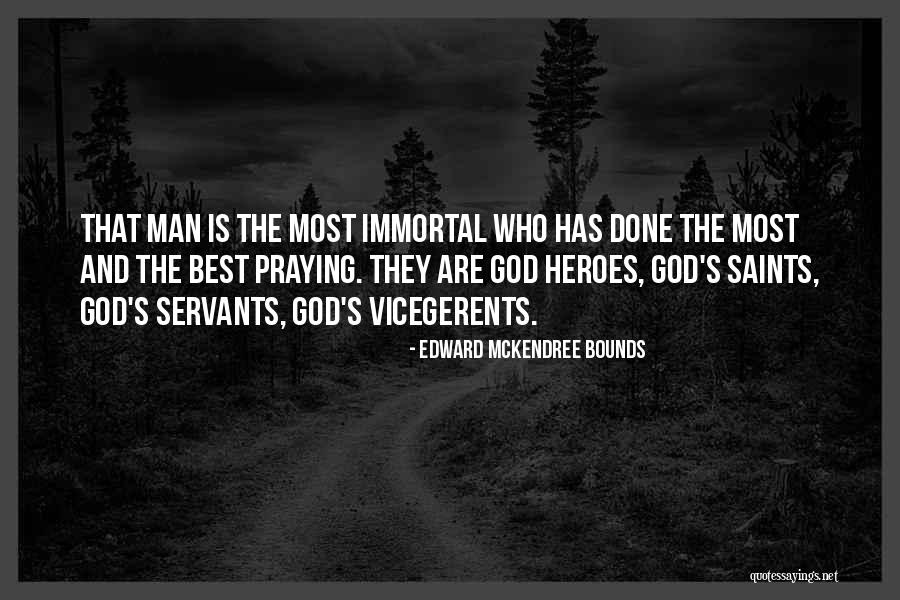 That man is the most immortal who has done the most and the best praying. They are God heroes, God's saints, God's servants, God's vicegerents. — Edward McKendree Bounds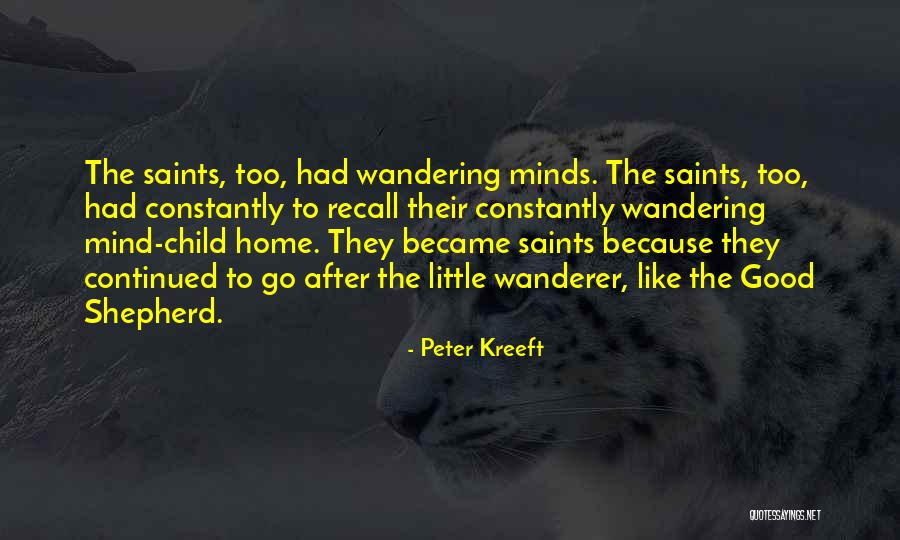 The saints, too, had wandering minds. The saints, too, had constantly to recall their constantly wandering mind-child home. They became saints because they continued to go after the little wanderer, like the Good Shepherd. — Peter Kreeft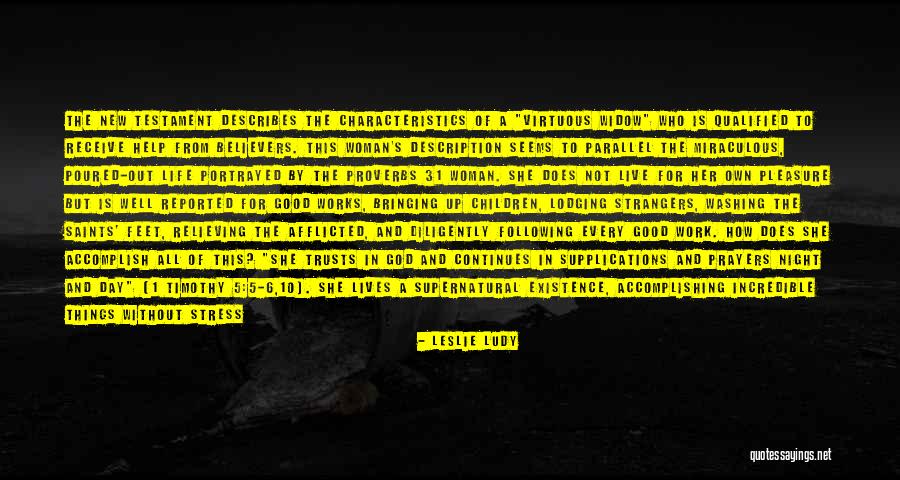 The New Testament describes the characteristics of a "virtuous widow" who is qualified to receive help from believers. This woman's description seems to parallel the miraculous, poured-out life portrayed by the Proverbs 31 woman. She does not live for her own pleasure but is well reported for good works, bringing up children, lodging strangers, washing the saints' feet, relieving the afflicted, and diligently following every good work. How does she accomplish all of this? "She trusts in God and continues in supplications and prayers night and day" (1 Timothy 5:5-6,10). She lives a supernatural existence, accomplishing incredible things without stress and exhaustion because she makes prayer the foundation of her life. — Leslie Ludy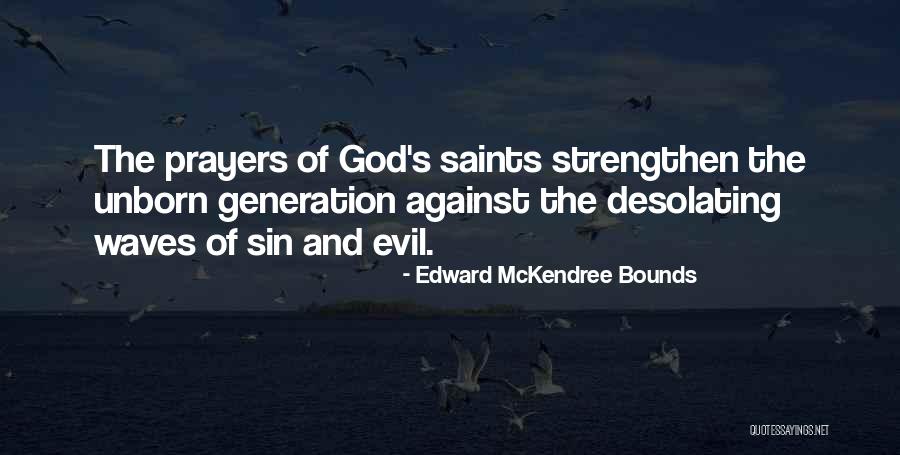 The prayers of God's saints strengthen the unborn generation against the desolating waves of sin and evil. — Edward McKendree Bounds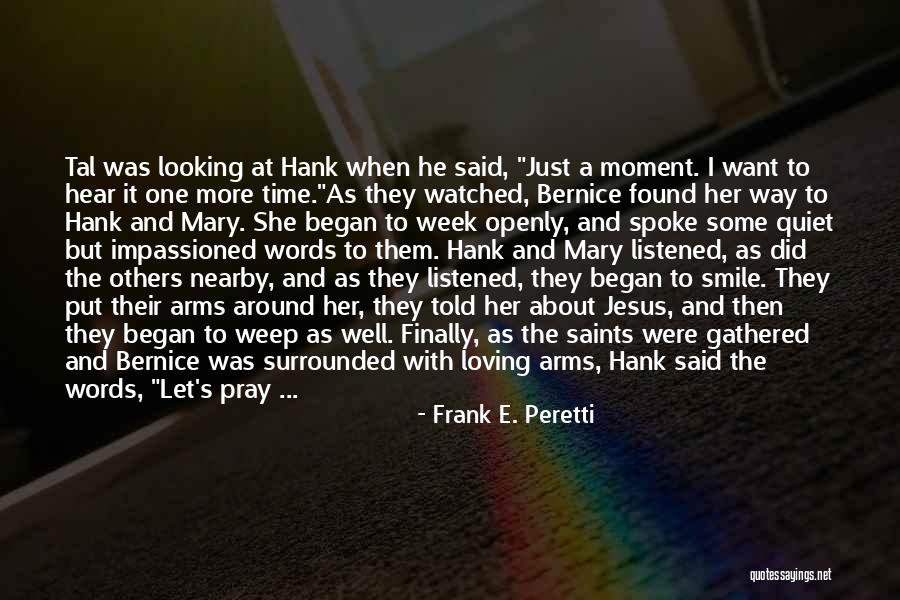 Tal was looking at Hank when he said, "Just a moment. I want to hear it one more time."
As they watched, Bernice found her way to Hank and Mary. She began to week openly, and spoke some quiet but impassioned words to them. Hank and Mary listened, as did the others nearby, and as they listened, they began to smile. They put their arms around her, they told her about Jesus, and then they began to weep as well. Finally, as the saints were gathered and Bernice was surrounded with loving arms, Hank said the words, "Let's pray ... — Frank E. Peretti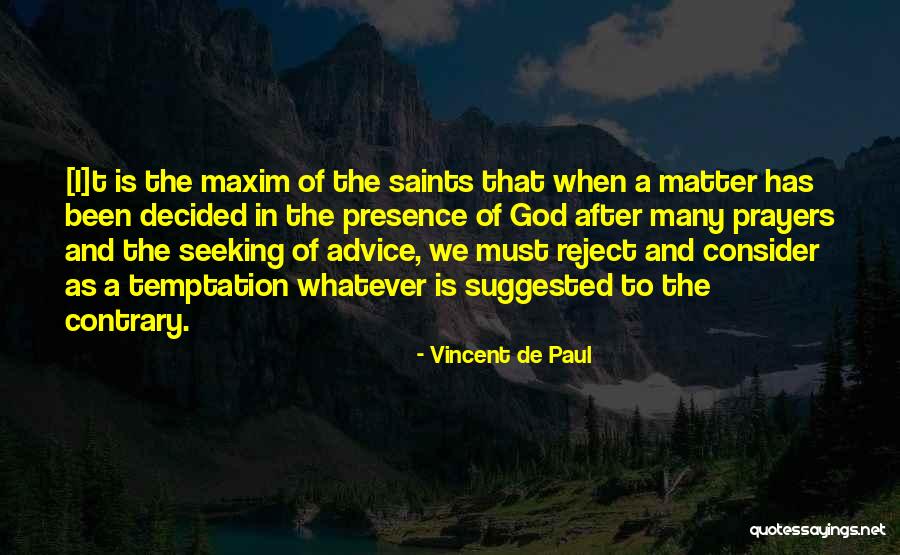 [I]t is the maxim of the saints that when a matter has been decided in the presence of God after many prayers and the seeking of advice, we must reject and consider as a temptation whatever is suggested to the contrary. — Vincent De Paul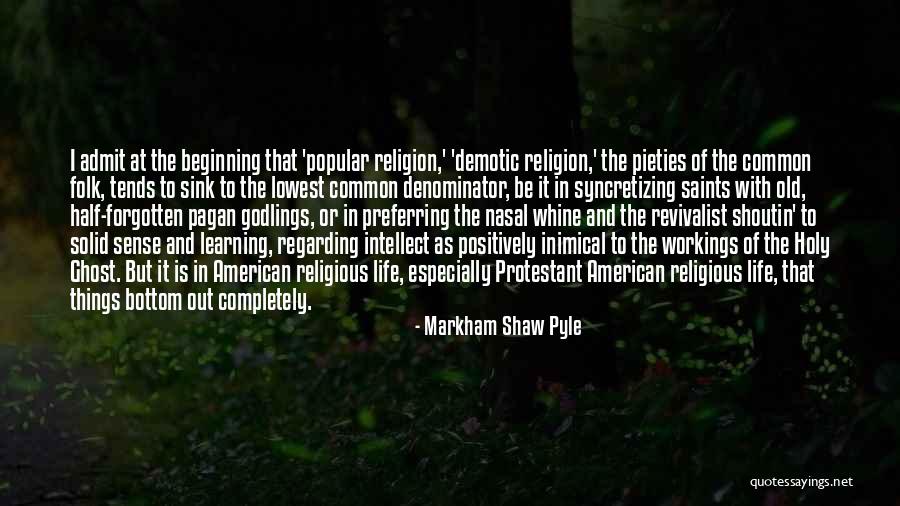 I admit at the beginning that 'popular religion,' 'demotic religion,' the pieties of the common folk, tends to sink to the lowest common denominator, be it in syncretizing saints with old, half-forgotten pagan godlings, or in preferring the nasal whine and the revivalist shoutin' to solid sense and learning, regarding intellect as positively inimical to the workings of the Holy Ghost. But it is in American religious life, especially Protestant American religious life, that things bottom out completely. — Markham Shaw Pyle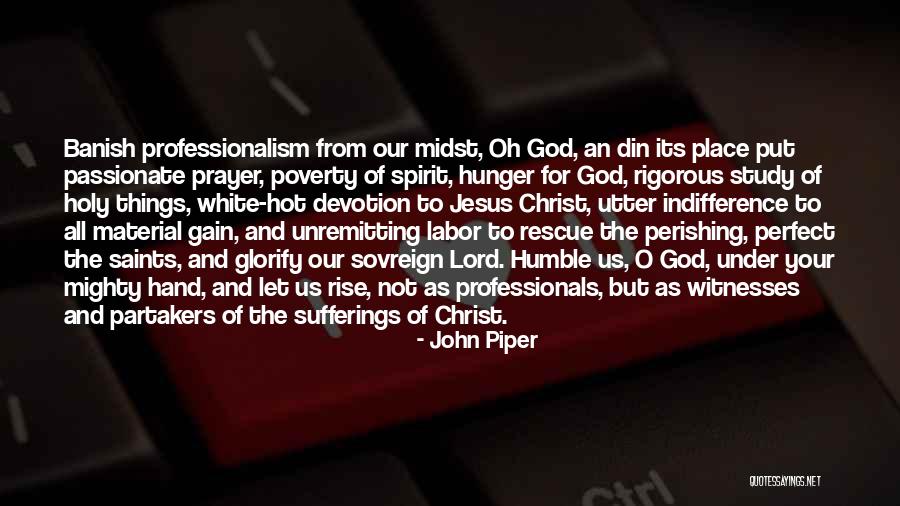 Banish professionalism from our midst, Oh God, an din its place put passionate prayer, poverty of spirit, hunger for God, rigorous study of holy things, white-hot devotion to Jesus Christ, utter indifference to all material gain, and unremitting labor to rescue the perishing, perfect the saints, and glorify our sovreign Lord.
Humble us, O God, under your mighty hand, and let us rise, not as professionals, but as witnesses and partakers of the sufferings of Christ. — John Piper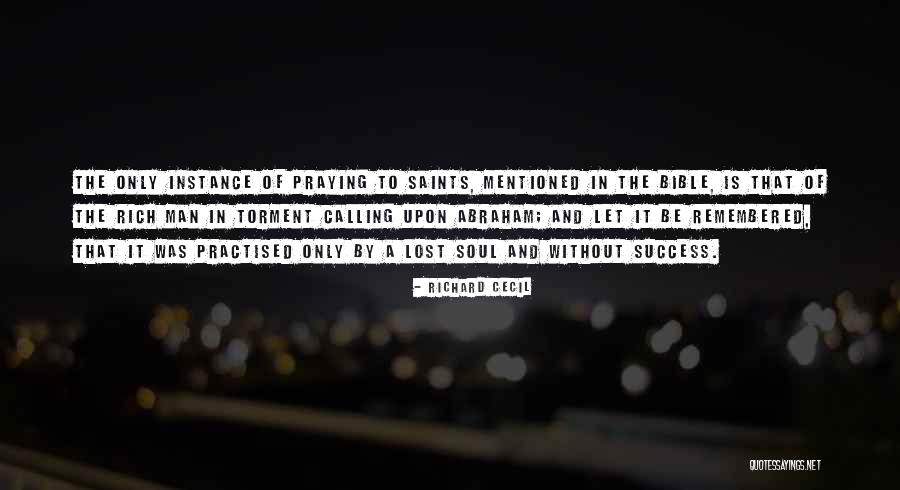 The only instance of praying to saints, mentioned in the Bible, is that of the rich man in torment calling upon Abraham; and let it be remembered, that it was practised only by a lost soul and without success. — Richard Cecil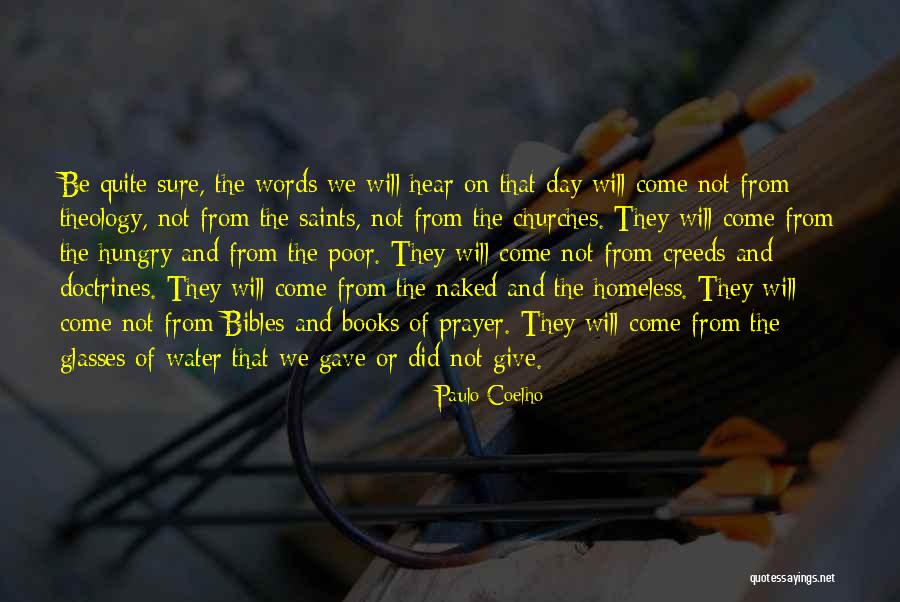 Be quite sure, the words we will hear on that day will come not from theology, not from the saints, not from the churches. They will come from the hungry and from the poor. They will come not from creeds and doctrines. They will come from the naked and the homeless. They will come not from Bibles and books of prayer. They will come from the glasses of water that we gave or did not give. — Paulo Coelho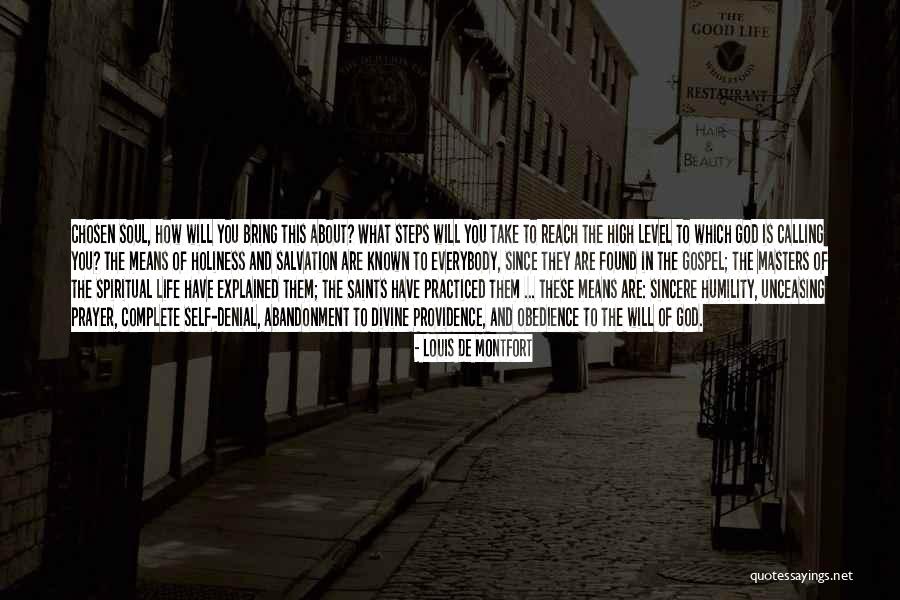 Chosen soul, how will you bring this about? What steps will you take to reach the high level to which God is calling you? The means of holiness and salvation are known to everybody, since they are found in the Gospel; the masters of the spiritual life have explained them; the Saints have practiced them ... These means are: sincere humility, unceasing prayer, complete self-denial, abandonment to Divine Providence, and obedience to the will of God. — Louis De Montfort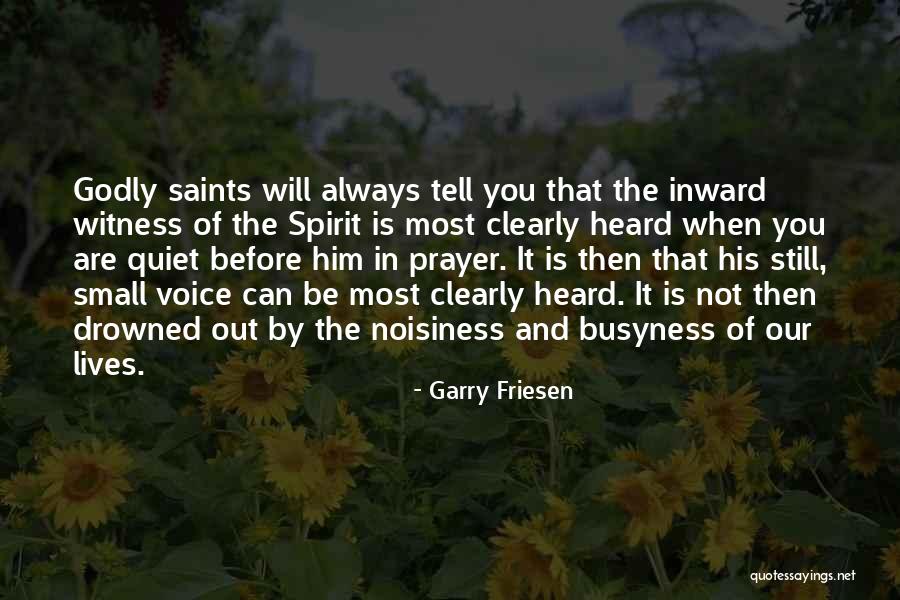 Godly saints will always tell you that the inward witness of the Spirit is most clearly heard when you are quiet before him in prayer. It is then that his still, small voice can be most clearly heard. It is not then drowned out by the noisiness and busyness of our lives. — Garry Friesen
Have not saints lips, and holy palmers too Ay, pilgrim, lips that they must use in prayer. — William Shakespeare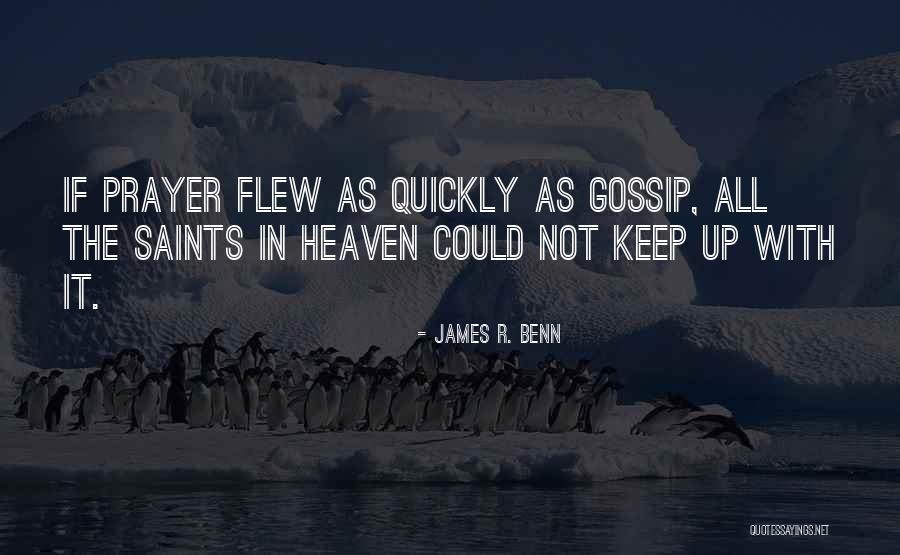 If prayer flew as quickly as gossip, all the saints in heaven could not keep up with it. — James R. Benn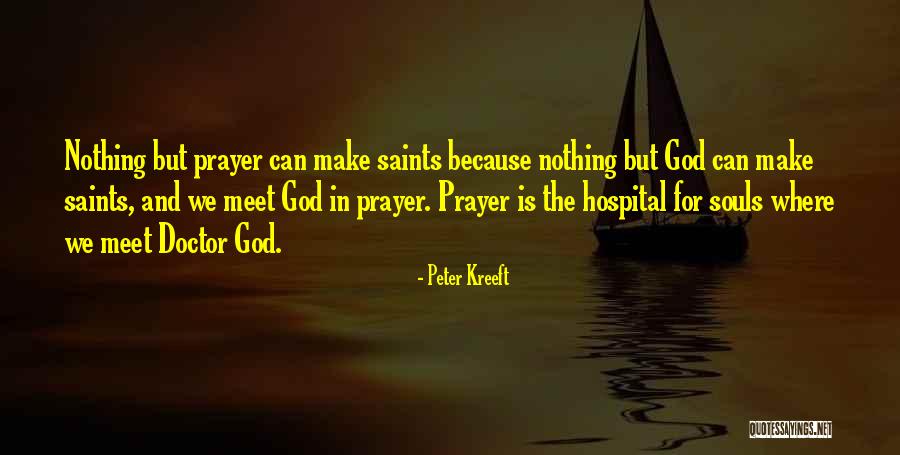 Nothing but prayer can make saints because nothing but God can make saints, and we meet God in prayer. Prayer is the hospital for souls where we meet Doctor God. — Peter Kreeft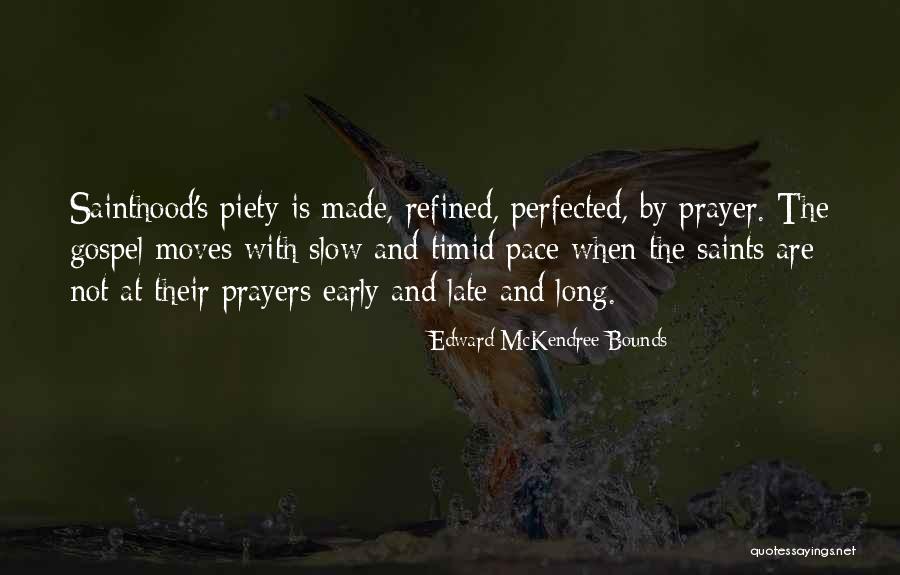 Sainthood's piety is made, refined, perfected, by prayer. The gospel moves with slow and timid pace when the saints are not at their prayers early and late and long. — Edward McKendree Bounds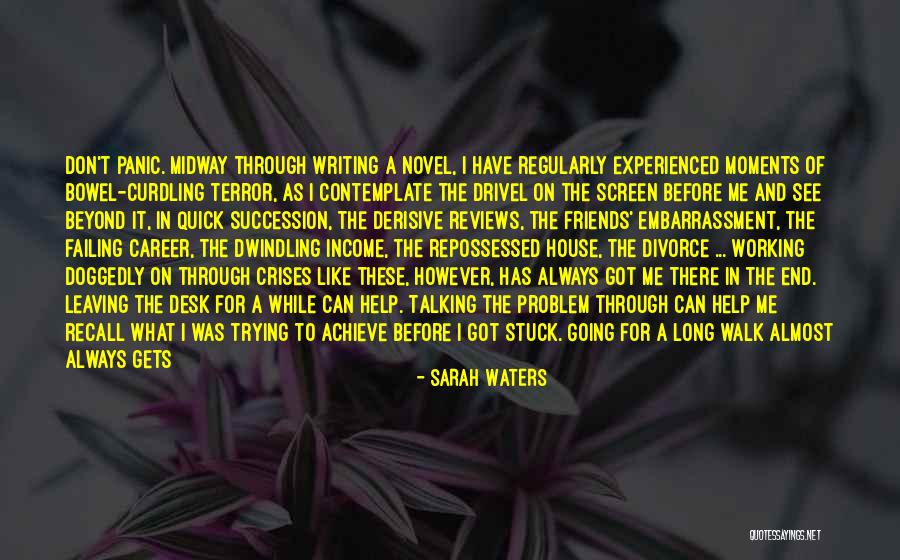 Don't panic. Midway through writing a novel, I have regularly experienced moments of bowel-curdling terror, as I contemplate the drivel on the screen before me and see beyond it, in quick succession, the derisive reviews, the friends' embarrassment, the failing career, the dwindling income, the repossessed house, the divorce ... Working doggedly on through crises like these, however, has always got me there in the end. Leaving the desk for a while can help. Talking the problem through can help me recall what I was trying to achieve before I got stuck. Going for a long walk almost always gets me thinking about my manuscript in a slightly new way. And if all else fails, there's prayer. St Francis de Sales, the patron saint of writers, has often helped me out in a crisis. If you want to spread your net more widely, you could try appealing to Calliope, the muse of epic poetry, too. — Sarah Waters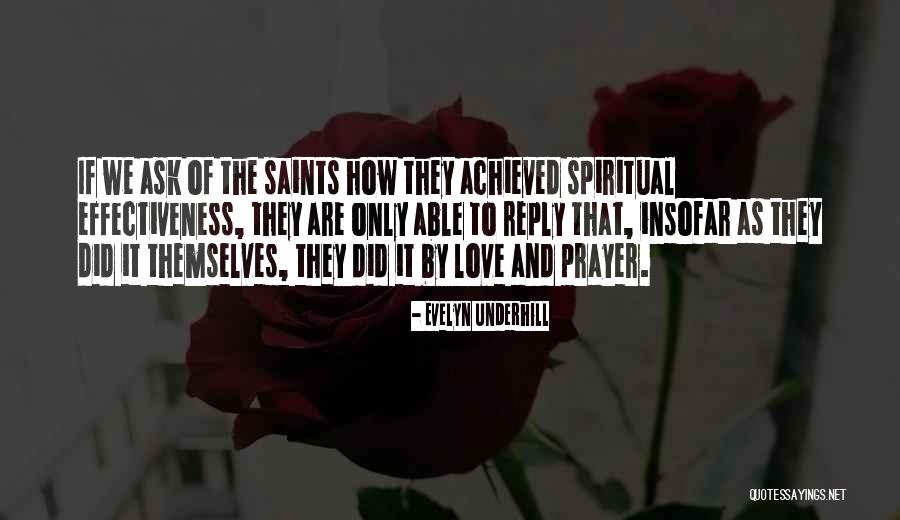 If we ask of the saints how they achieved spiritual effectiveness, they are only able to reply that, insofar as they did it themselves, they did it by love and prayer. — Evelyn Underhill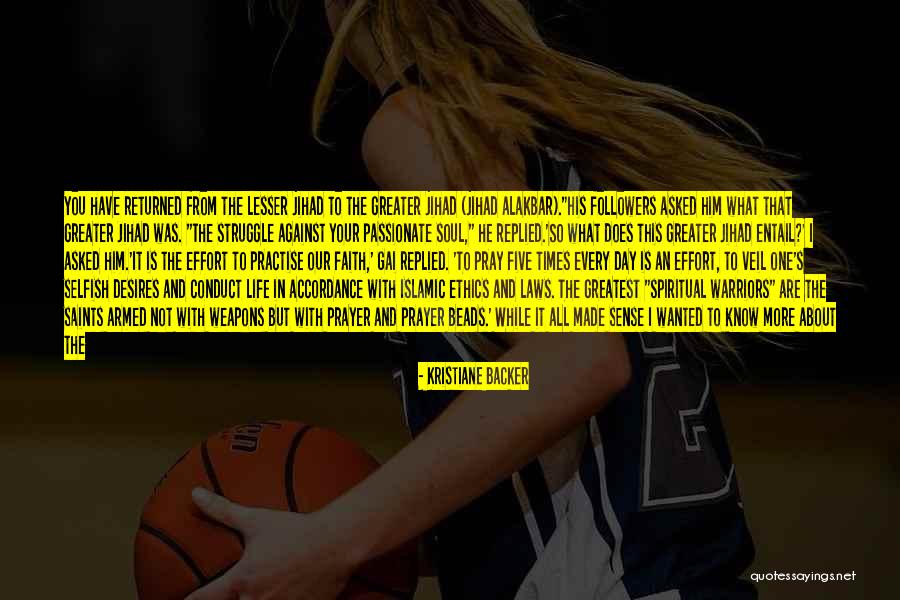 You have returned from the lesser jihad to the greater jihad (jihad alakbar)."

His followers asked him what that greater jihad was. "The struggle against your passionate soul," he replied.

'So what does this greater jihad entail?' I asked him.

'It is the effort to practise our faith,' Gai replied. 'To pray five times every day is an effort, to veil one's selfish desires and conduct life in accordance with Islamic ethics and laws. The greatest "spiritual warriors" are the saints armed not with weapons but with prayer and prayer beads.' While it all made sense I wanted to know more about the idea that we needed to go out and fight jihad. — Kristiane Backer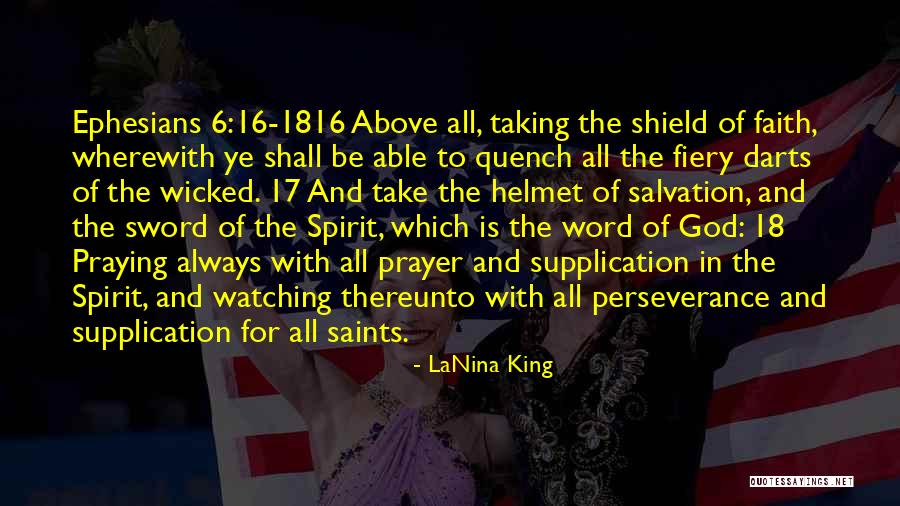 Ephesians 6:16-18
16 Above all, taking the shield of faith, wherewith ye shall be able to quench all the fiery darts of the wicked. 17 And take the helmet of salvation, and the sword of the Spirit, which is the word of God: 18 Praying always with all prayer and supplication in the Spirit, and watching thereunto with all perseverance and supplication for all saints. — LaNina King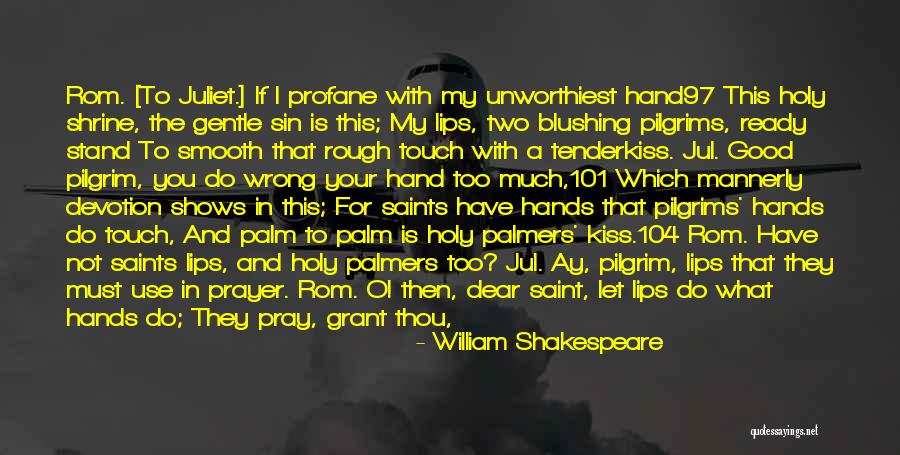 Rom. [To Juliet.] If I profane with my unworthiest hand97 This holy shrine, the gentle sin is this; My lips, two blushing pilgrims, ready stand To smooth that rough touch with a tenderkiss. Jul. Good pilgrim, you do wrong your hand too much,101 Which mannerly devotion shows in this; For saints have hands that pilgrims' hands do touch, And palm to palm is holy palmers' kiss.104 Rom. Have not saints lips, and holy palmers too? Jul. Ay, pilgrim, lips that they must use in prayer. Rom. O! then, dear saint, let lips do what hands do; They pray, grant thou, lest faith turn to despair.108 Jul. Saints do not move, though grant for prayers' sake. Rom. Then move not, while my prayers' effect I take. Thus from my lips, by thine, my sin is purg'd. [Kissing her. Jul. Then have my lips the sin that they have took.112 Rom. Sin from my lips? O trespass sweetly urg'd! Give me my sin again. Jul. You kiss by the book. — William Shakespeare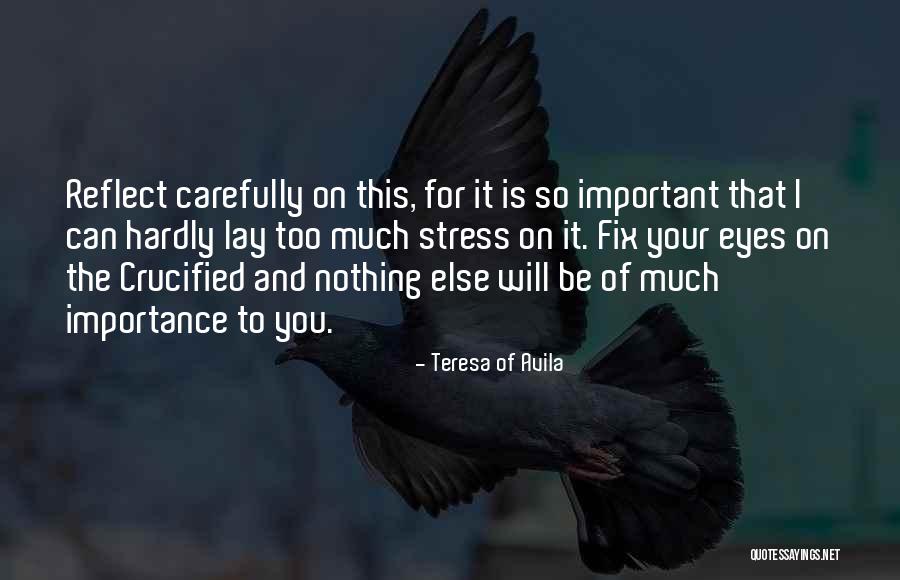 Reflect carefully on this, for it is so important that I can hardly lay too much stress on it. Fix your eyes on the Crucified and nothing else will be of much importance to you. — Teresa Of Avila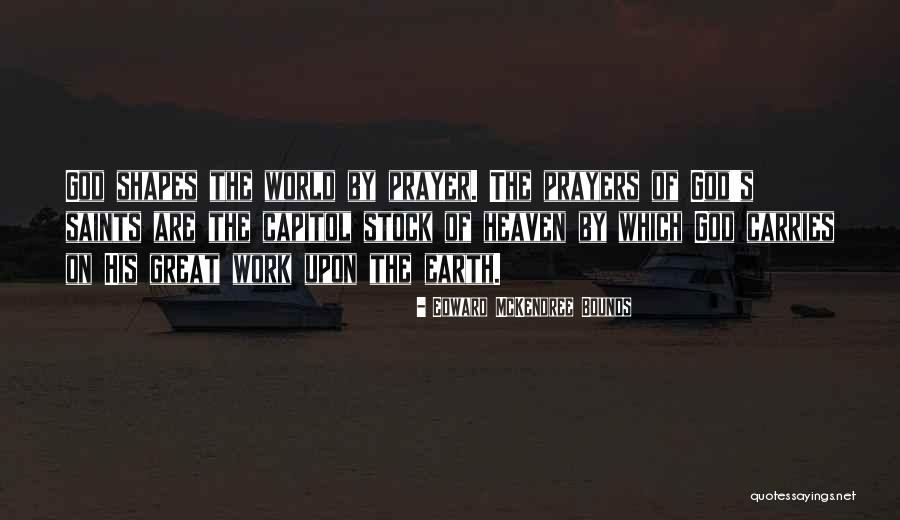 God shapes the world by prayer. The prayers of God's saints are the capitol stock of heaven by which God carries on His great work upon the earth. — Edward McKendree Bounds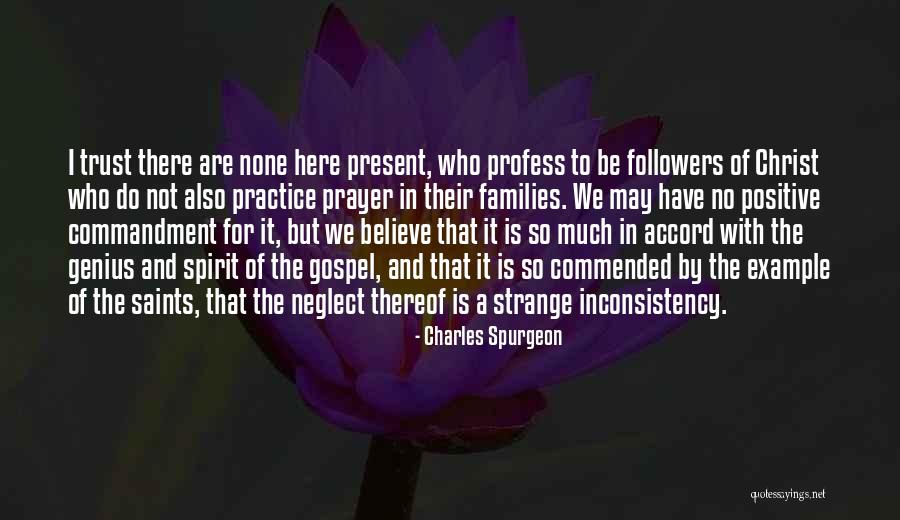 I trust there are none here present, who profess to be followers of Christ who do not also practice prayer in their families. We may have no positive commandment for it, but we believe that it is so much in accord with the genius and spirit of the gospel, and that it is so commended by the example of the saints, that the neglect thereof is a strange inconsistency. — Charles Spurgeon
Prayer is such an ordinary, everyday, mundane thing. Certainly, people who pray are no more saints than the rest of us. Rather, they are people who want to share a life with God, to love and be loved, to speak and to listen, to work and to be at rest in the presence of God. — Roberta Bondi
The greater the charity of the Saints in their heavenly home, the more they intercede for those who are still on their journey and the more they can help them by their prayers; the more they are united with God, the more effective those prayers are. This is in accordance with Divine order, which makes higher things react upon lower things, like the brightness of the sun filling the atmosphere. — Thomas Aquinas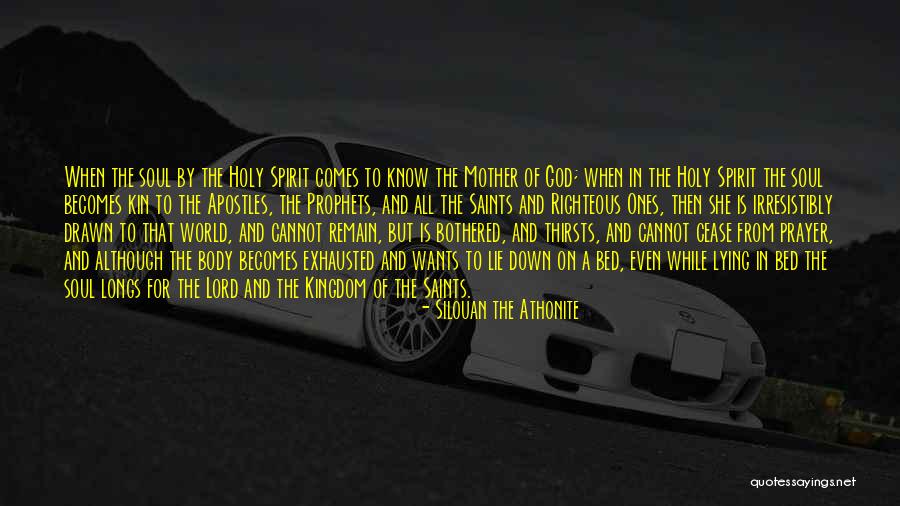 When the soul by the Holy Spirit comes to know the Mother of God; when in the Holy Spirit the soul becomes kin to the Apostles, the Prophets, and all the Saints and Righteous Ones, then she is irresistibly drawn to that world, and cannot remain, but is bothered, and thirsts, and cannot cease from prayer, and although the body becomes exhausted and wants to lie down on a bed, even while lying in bed the soul longs for the Lord and the Kingdom of the Saints. — Silouan The Athonite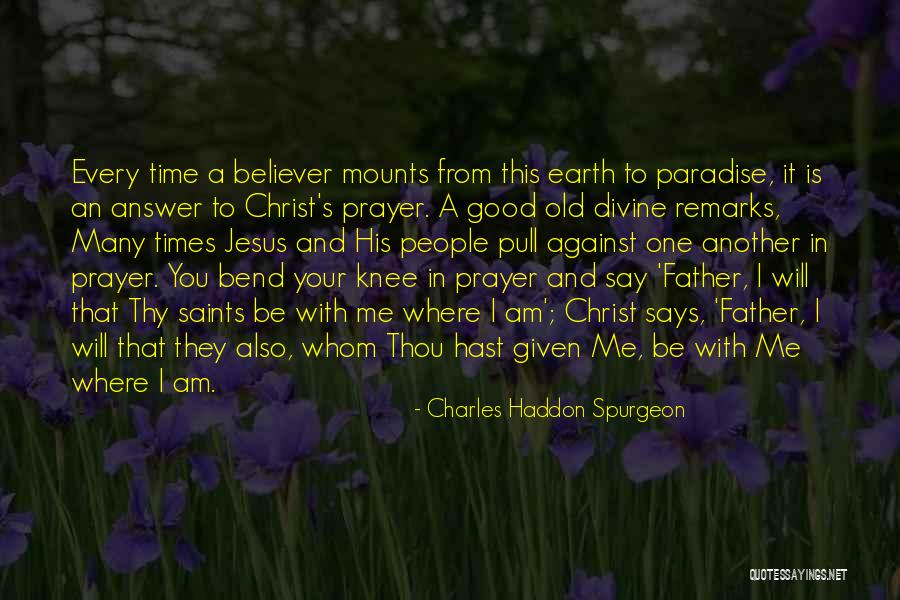 Every time a believer mounts from this earth to paradise, it is an answer to Christ's prayer. A good old divine remarks, Many times Jesus and His people pull against one another in prayer. You bend your knee in prayer and say 'Father, I will that Thy saints be with me where I am'; Christ says, 'Father, I will that they also, whom Thou hast given Me, be with Me where I am. — Charles Haddon Spurgeon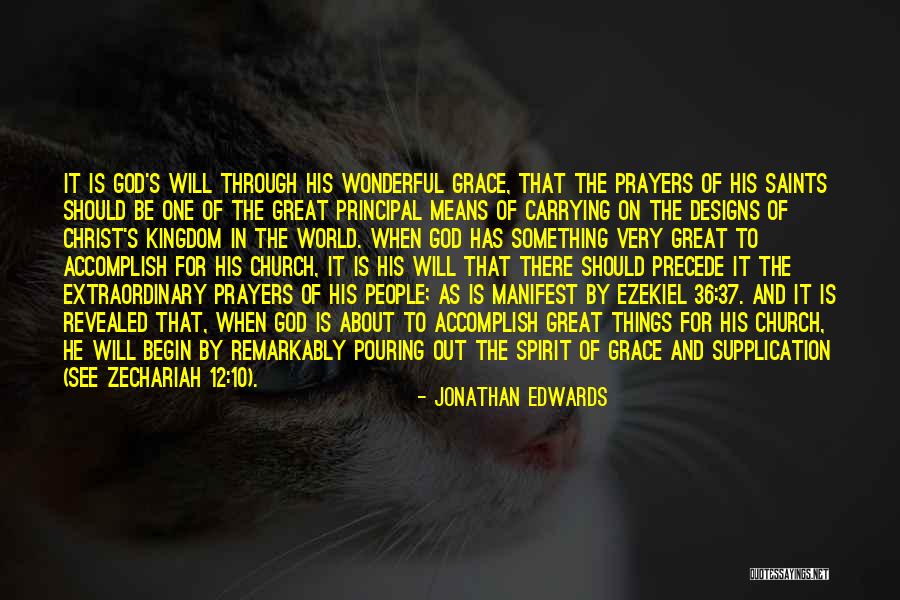 It is God's will through His wonderful grace, that the prayers of His saints should be one of the great principal means of carrying on the designs of Christ's kingdom in the world. When God has something very great to accomplish for His church, it is His will that there should precede it the extraordinary prayers of His people; as is manifest by Ezekiel 36:37. and it is revealed that, when God is about to accomplish great things for His church, He will begin by remarkably pouring out the spirit of grace and supplication (see Zechariah 12:10). — Jonathan Edwards
Will not the Lord hear my prayers and listen to my cries as soon as he ever did to theirs [the ancient saints'] if I come to him in the manner they did? — Joseph Smith Jr.