Pizza Man Quotes & Sayings
Enjoy reading and share 22 famous quotes about Pizza Man with everyone.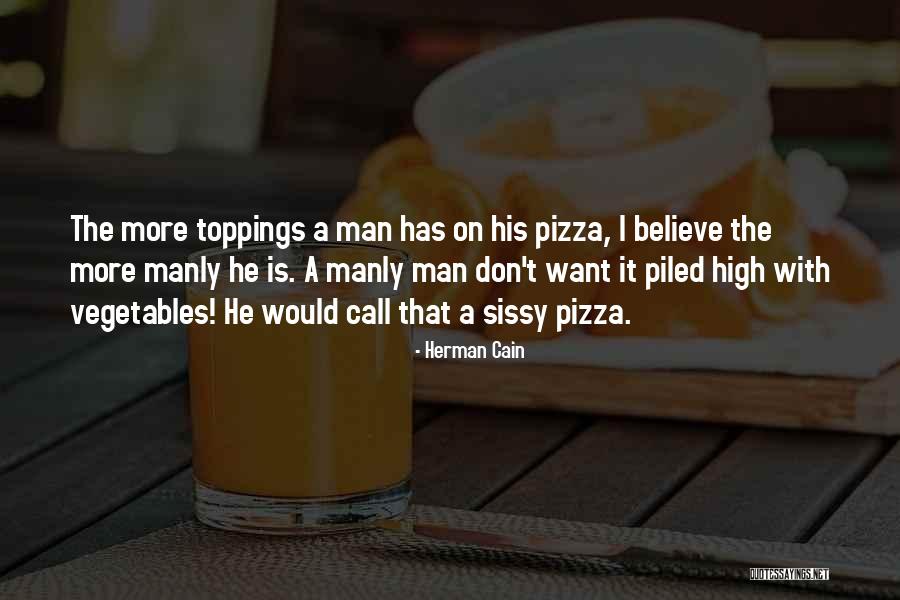 The more toppings a man has on his pizza, I believe the more manly he is. A manly man don't want it piled high with vegetables! He would call that a sissy pizza. — Herman Cain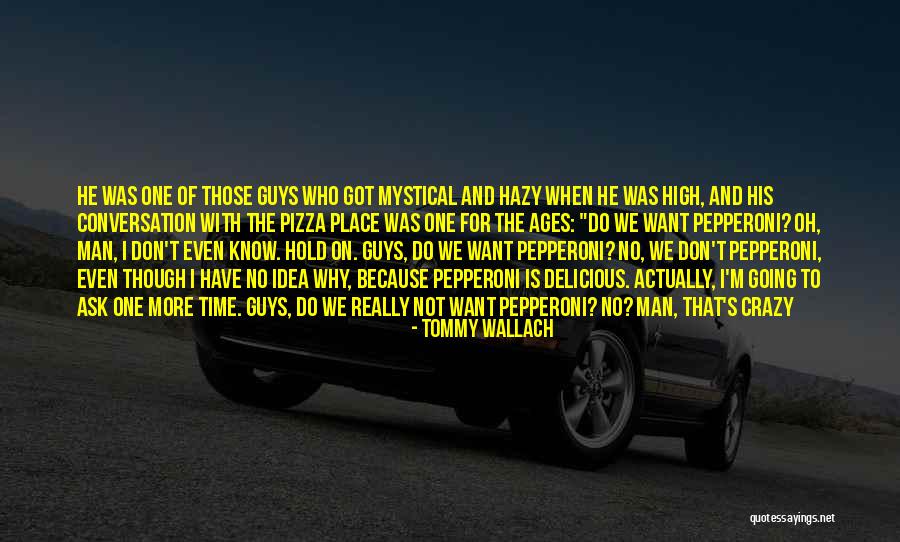 He was one of those guys who got mystical and hazy when he was high, and his conversation with the pizza place was one for the ages: "Do we want pepperoni? Oh, man, I don't even know. Hold on. Guys, do we want pepperoni? No, we don't pepperoni, even though I have no idea why, because pepperoni is delicious. Actually, I'm going to ask one more time. Guys, do we really not want pepperoni? No? Man, that's CRAZY — Tommy Wallach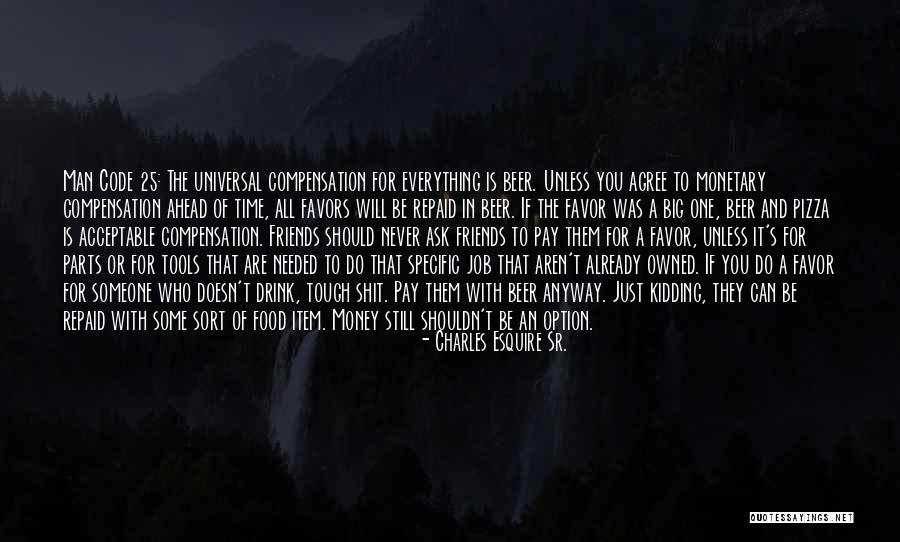 Man Code 25: The universal compensation for everything is beer. Unless you agree to monetary compensation ahead of time, all favors will be repaid in beer. If the favor was a big one, beer and pizza is acceptable compensation. Friends should never ask friends to pay them for a favor, unless it's for parts or for tools that are needed to do that specific job that aren't already owned. If you do a favor for someone who doesn't drink, tough shit. Pay them with beer anyway. Just kidding, they can be repaid with some sort of food item. Money still shouldn't be an option. — Charles Esquire Sr.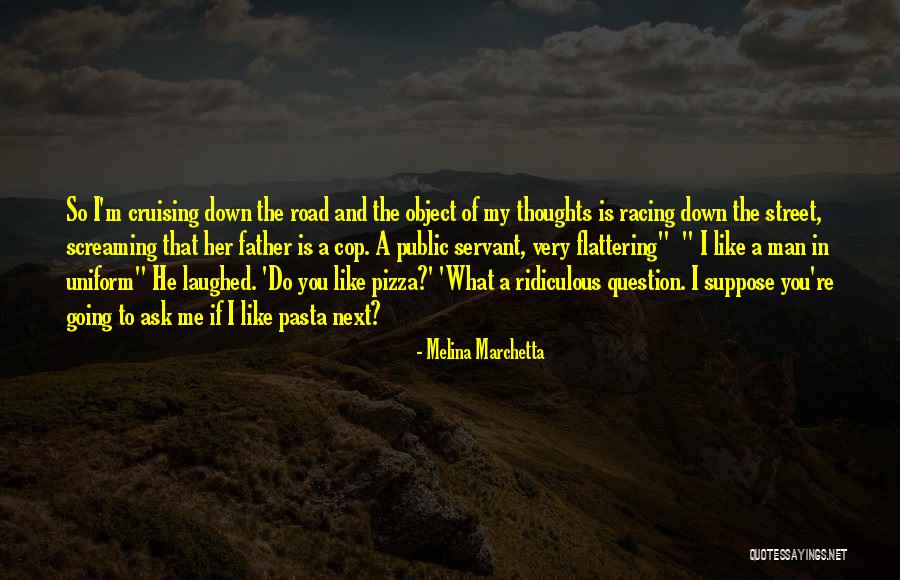 So I'm cruising down the road and the object of my thoughts is racing down the street, screaming that her father is a cop. A public servant, very flattering"
" I like a man in uniform"
He laughed. 'Do you like pizza?'
'What a ridiculous question. I suppose you're going to ask me if I like pasta next? — Melina Marchetta
Extremist material of any kind always looks gaudy and cheap, like a bad pizza menu. Not because they can't afford decent computers - these days you can knock up a professional CD cover on a pay-as-you-go mobile - but because anyone who's good at graphic design is likely to be a thoughtful, inquisitive sort by nature. And thoughtful, inquisitive sorts tend to think fascism is a bit shit, to be honest. If the BNP really were the greatest British party, they'd have the greatest British designer working for them - Jonathan Ive, perhaps, the man who designed the iPod. But they don't. They've got someone who tries to stab your eyes out with primary colours.
— Charlie Brooker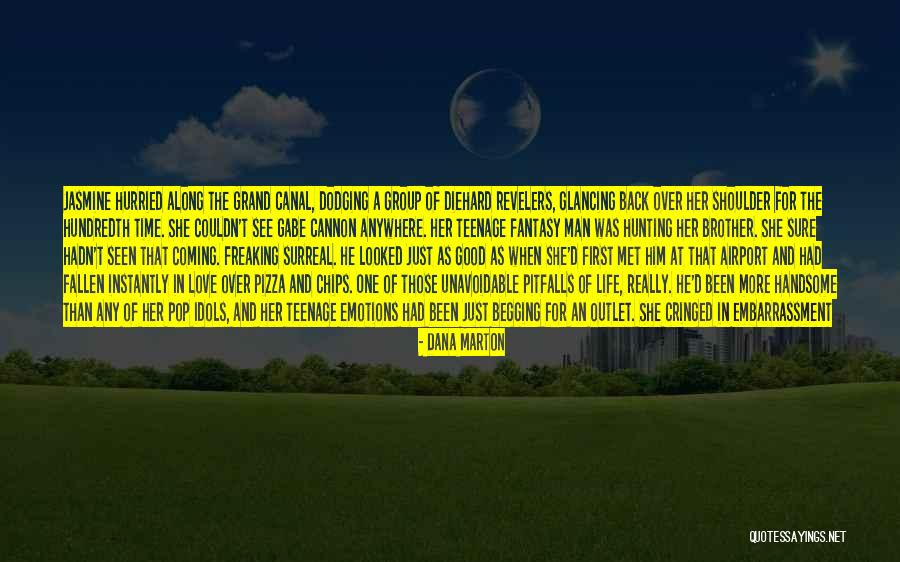 Jasmine hurried along the Grand Canal, dodging a group of diehard revelers, glancing back over her shoulder for the hundredth time. She couldn't see Gabe Cannon anywhere.
Her teenage fantasy man was hunting her brother. She sure hadn't seen that coming. Freaking surreal.
He looked just as good as when she'd first met him at that airport and had fallen instantly in love over pizza and chips. One of those unavoidable pitfalls of life, really. He'd been more handsome than any of her pop idols, and her teenage emotions had been just begging for an outlet.
She cringed in embarrassment when she thought of all the melodramatic drivel she'd written about him in her high school diary. — Dana Marton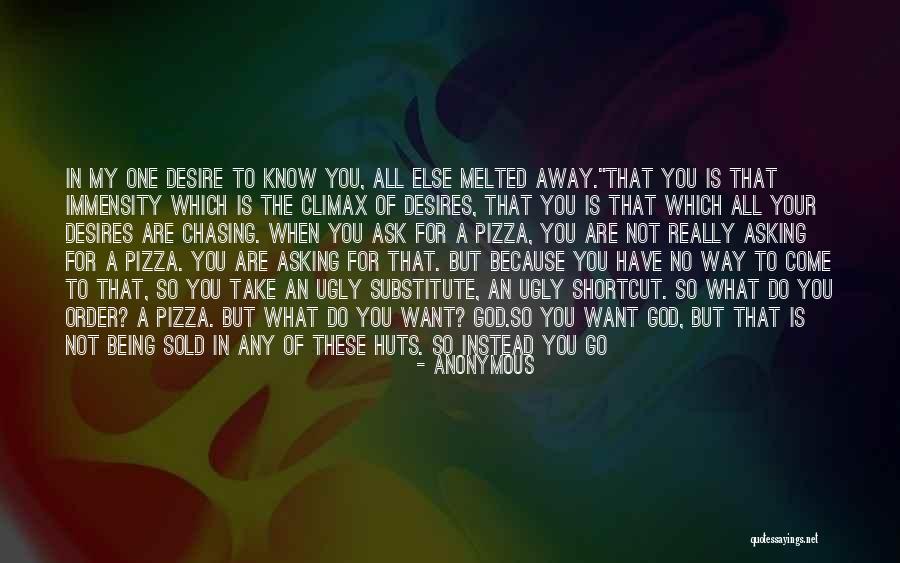 In my one desire to know you, all else melted away."
That you is that immensity which is the climax of desires, that you is that which all your desires are chasing. When you ask for a pizza, you are not really asking for a pizza. You are asking for That. But because you have no way to come to That, so you take an ugly substitute, an ugly shortcut. So what do you order? A pizza. But what do you want? God.
So you want God, but that is not being sold in any of these huts. So instead you go and say, "Pizza with extra cheese, seasoning and this and that." That waiter is an idiot. Had he been a realized man, he would have said, "We don't sell God. And that is what you need. — Anonymous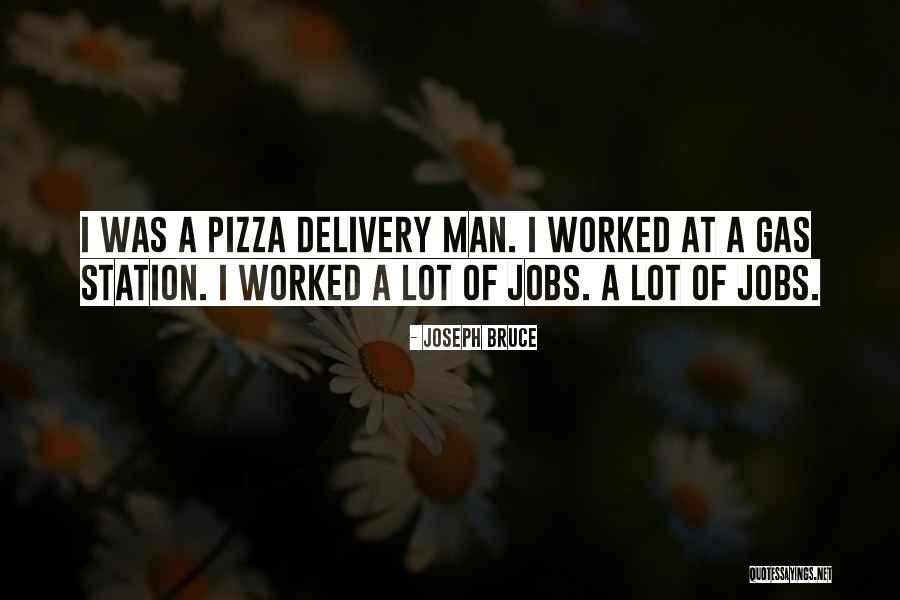 I was a pizza delivery man. I worked at a gas station. I worked a lot of jobs. A lot of jobs. — Joseph Bruce
I wasn't feeling well in the first half. I felt down, man. I had three slices of pizza before the game and the food took me down. — Leroy Loggins
I am an eater who is a horrible feminist, probably. I dream of what I would eat if I identified as a man and it looks vastly different from what I eat as a woman. There would be so much pizza. The Mountain Dew would runneth over and it wouldn't even be diet. If I do not believe that I as a woman deserve pizza, what does that say of my views of other women? If I do not love my body, how can I love the body of any other woman? I could say "I love my body" so that I appear to be a good feminist. But that only means pretending to love something I hate. — Melissa Broder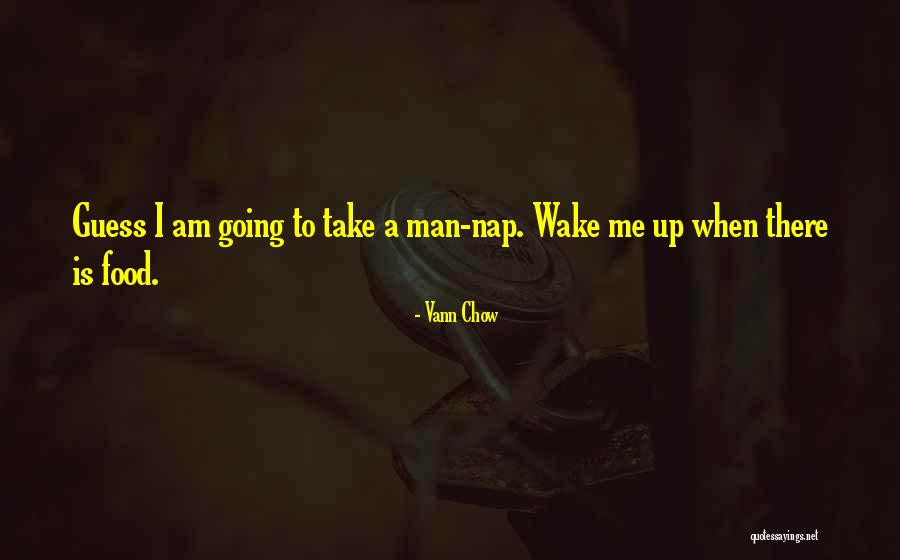 Guess I am going to take a man-nap. Wake me up when there is food. — Vann Chow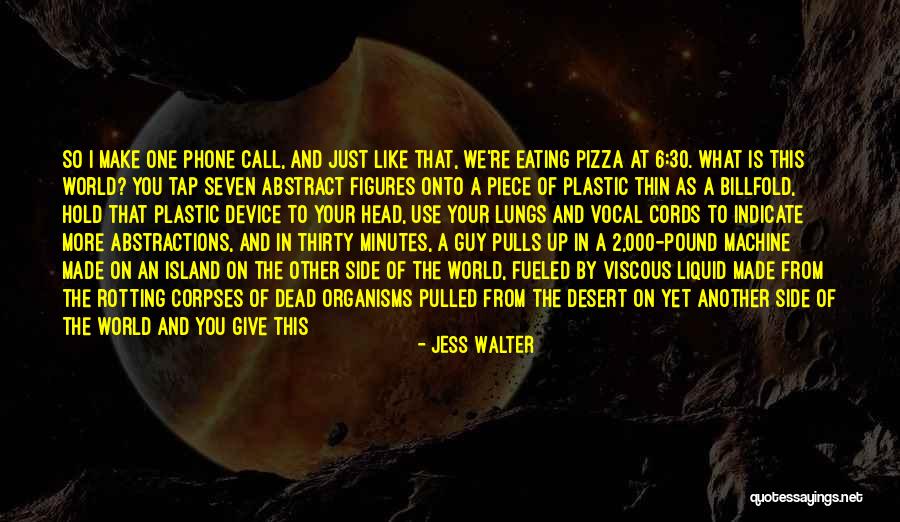 So I make one phone call, and just like that, we're eating pizza at 6:30. What is this world? You tap seven abstract figures onto a piece of plastic thin as a billfold, hold that plastic device to your head, use your lungs and vocal cords to indicate more abstractions, and in thirty minutes, a guy pulls up in a 2,000-pound machine made on an island on the other side of the world, fueled by viscous liquid made from the rotting corpses of dead organisms pulled from the desert on yet another side of the world and you give this man a few sheets of green paper representing the abstract wealth of your home nation, and he gives you a perfectly reasonable facsimile of one of the staples of the diet of a people from yet another faraway nation.
And the mushrooms are fresh. — Jess Walter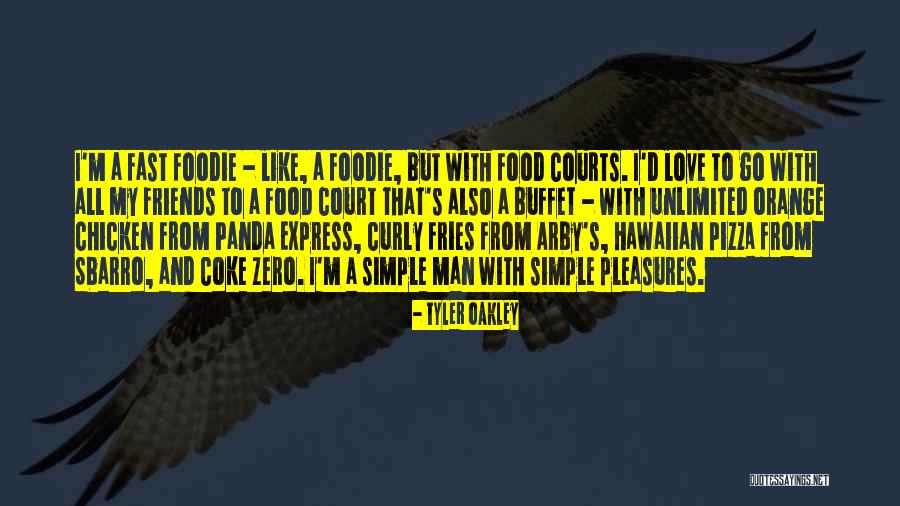 I'm a fast foodie - like, a foodie, but with food courts. I'd love to go with all my friends to a food court that's also a buffet - with unlimited orange chicken from Panda Express, curly fries from Arby's, Hawaiian pizza from Sbarro, and Coke Zero. I'm a simple man with simple pleasures. — Tyler Oakley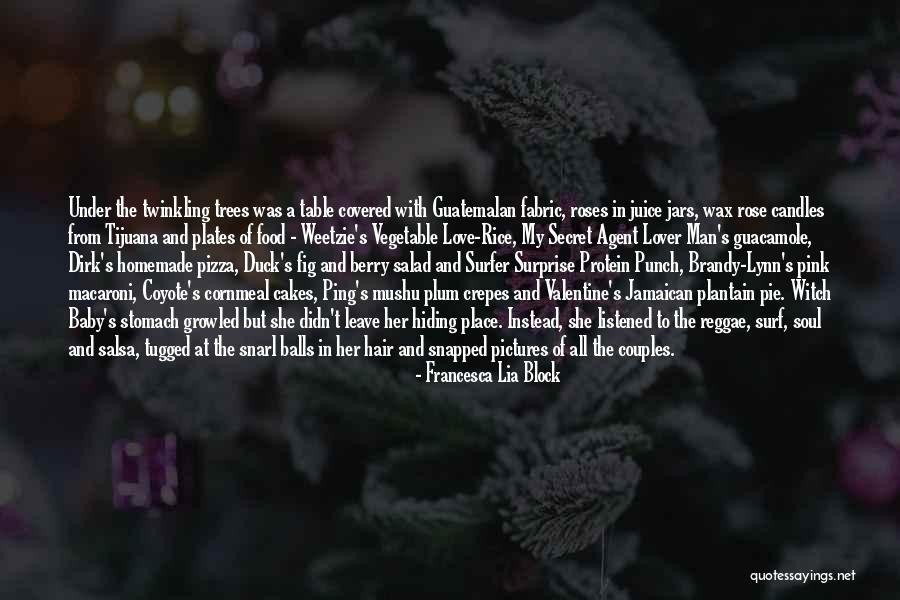 Under the twinkling trees was a table covered with Guatemalan fabric, roses in juice jars, wax rose candles from Tijuana and plates of food - Weetzie's Vegetable Love-Rice, My Secret Agent Lover Man's guacamole, Dirk's homemade pizza, Duck's fig and berry salad and Surfer Surprise Protein Punch, Brandy-Lynn's pink macaroni, Coyote's cornmeal cakes, Ping's mushu plum crepes and Valentine's Jamaican plantain pie. Witch Baby's stomach growled but she didn't leave her hiding place. Instead, she listened to the reggae, surf, soul and salsa, tugged at the snarl balls in her hair and snapped pictures of all the couples. — Francesca Lia Block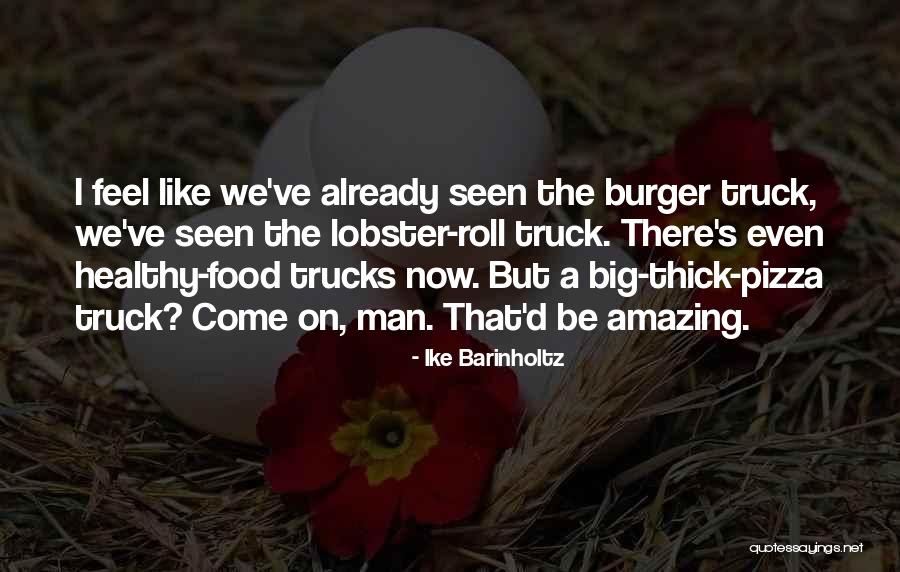 I feel like we've already seen the burger truck, we've seen the lobster-roll truck. There's even healthy-food trucks now. But a big-thick-pizza truck? Come on, man. That'd be amazing. — Ike Barinholtz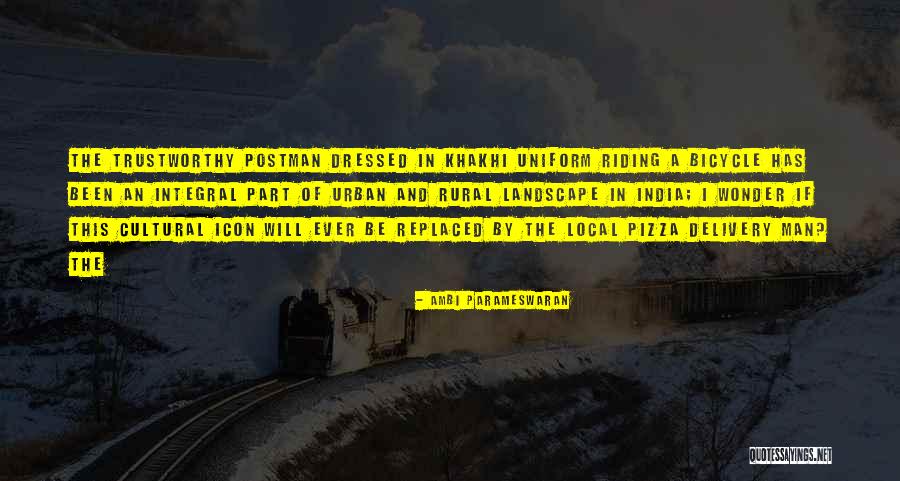 The trustworthy postman dressed in khakhi uniform riding a bicycle has been an integral part of urban and rural landscape in India; I wonder if this cultural icon will ever be replaced by the local pizza delivery man? The — Ambi Parameswaran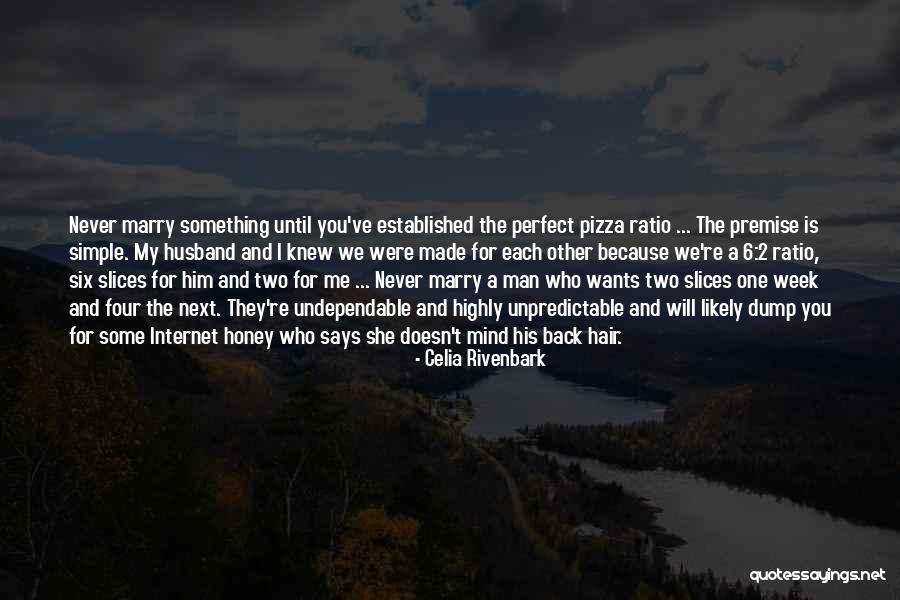 Never marry something until you've established the perfect pizza ratio ... The premise is simple. My husband and I knew we were made for each other because we're a 6:2 ratio, six slices for him and two for me ... Never marry a man who wants two slices one week and four the next. They're undependable and highly unpredictable and will likely dump you for some Internet honey who says she doesn't mind his back hair. — Celia Rivenbark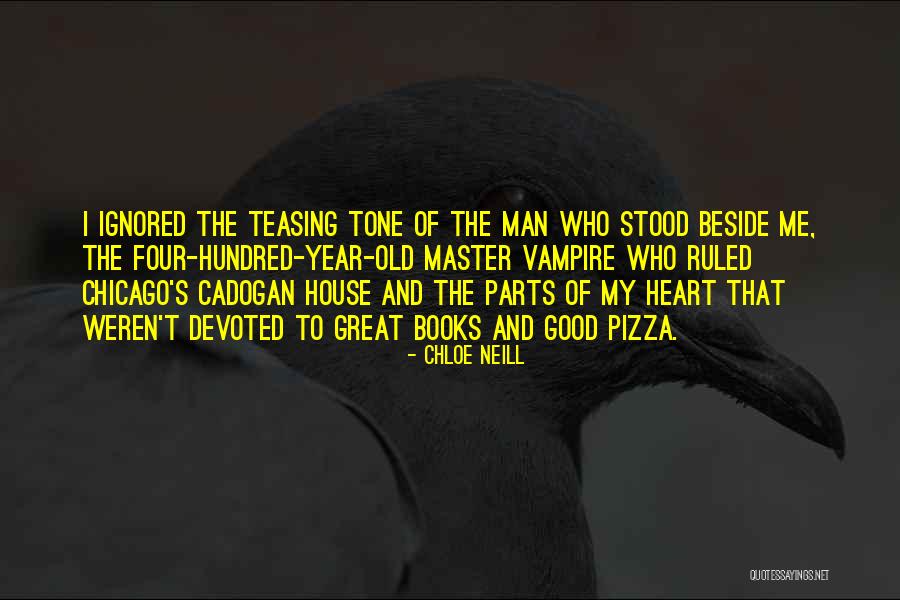 I ignored the teasing tone of the man who stood beside me, the four-hundred-year-old Master vampire who ruled Chicago's Cadogan House and the parts of my heart that weren't devoted to great books and good pizza. — Chloe Neill
Tiger chuckled. "Let me guess. Seared meat? Yeah, most humans get grossed out by that. You'll enjoy pizza. It's really good. She'll love it too. I think all humans eat it the way we do meat. It must be a nutritional requirement or something for them." He shrugged. "Everything on it is cut up into bit-sized slices to help them because of the flat teeth they have." Valiant followed him. "If we have a baby this must be good to feed them." "Yeah. They probably just cut the slices smaller for their little mouths." "I must try this food. Tammy will be pleased I am preparing for fatherhood." Tiger patted his back. "You're a good mate, my man." "I will try to be." Valiant missed Tammy. He couldn't wait to return home to marry her and remove her underwear. Not in that order though. — Laurann Dohner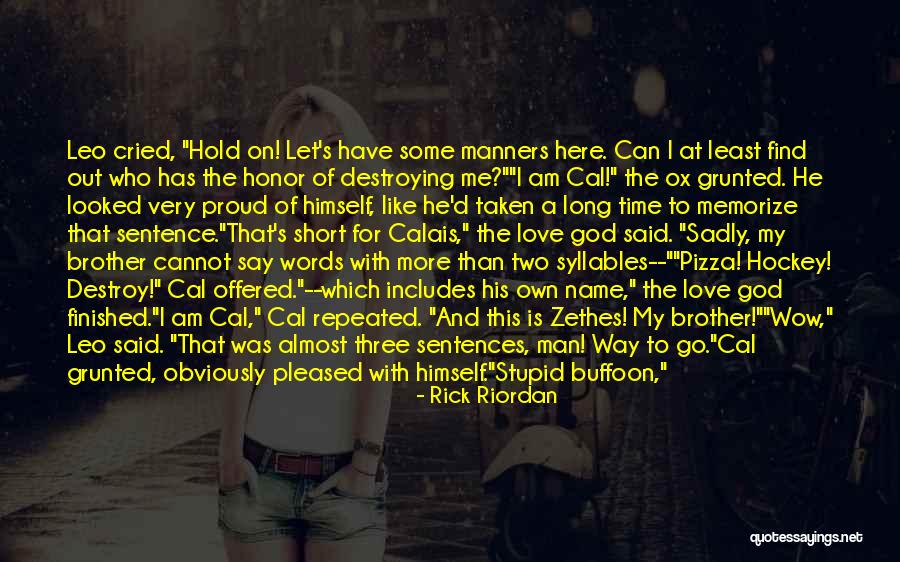 Leo cried, "Hold on! Let's have some manners here. Can I at least find out who has the honor of destroying me?"
"I am Cal!" the ox grunted. He looked very proud of himself, like he'd taken a long time to memorize that sentence.
"That's short for Calais," the love god said. "Sadly, my brother cannot say words with more than two syllables--"
"Pizza! Hockey! Destroy!" Cal offered.
"--which includes his own name," the love god finished.
"I am Cal," Cal repeated. "And this is Zethes! My brother!"
"Wow," Leo said. "That was almost three sentences, man! Way to go."
Cal grunted, obviously pleased with himself.
"Stupid buffoon," his brother grumbled. "They make fun of you. But no matter. I am Zethes, which is short for Zethes. And the lady there--" He winked at piper, but the wink was more like a facial seizure. "She can call me anything she likes. Perhaps she would like to have dinner with a famous demigod before we must destroy you? — Rick Riordan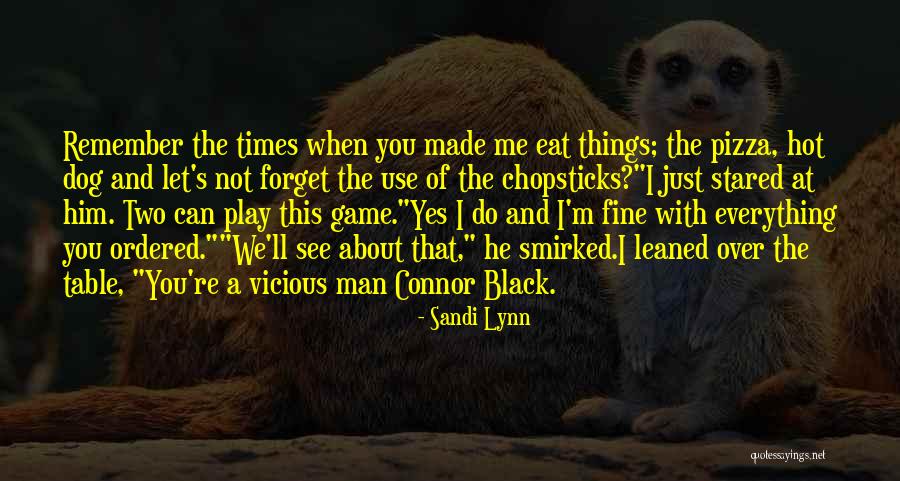 Remember the times when you made me eat things; the pizza, hot dog and let's not forget the use of the chopsticks?"

I just stared at him. Two can play this game.

"Yes I do and I'm fine with everything you ordered."

"We'll see about that," he smirked.

I leaned over the table, "You're a vicious man Connor Black. — Sandi Lynn