Quotes & Sayings About Patience Understanding And Love
Enjoy reading and share 30 famous quotes about Patience Understanding And Love with everyone.
Top Patience Understanding And Love Quotes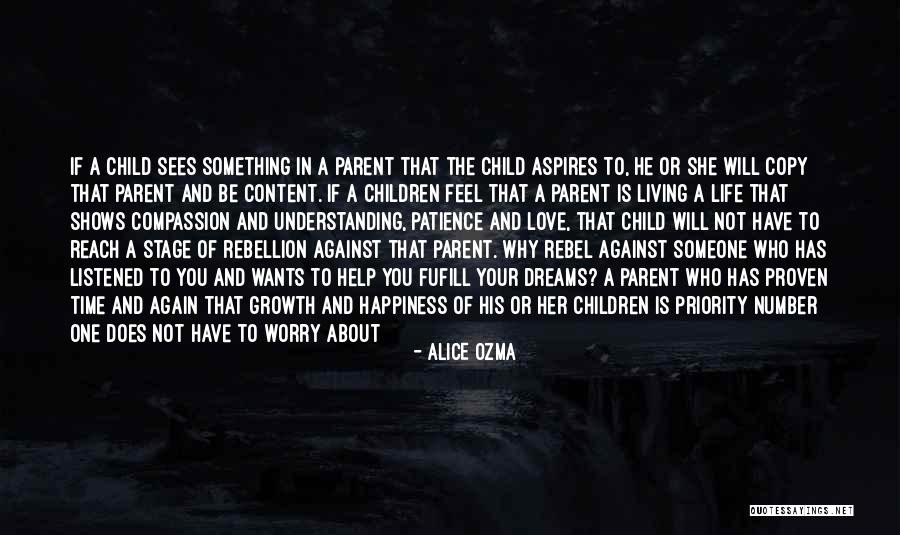 If a child sees something in a parent that the child aspires to, he or she will copy that parent and be content. If a children feel that a parent is living a life that shows compassion and understanding, patience and love, that child will not have to reach a stage of rebellion against that parent. Why rebel against someone who has listened to you and wants to help you fufill your dreams? A parent who has proven time and again that growth and happiness of his or her children is priority number one does not have to worry about where these children are heading in life. They will be sensitive and productive members of society for as long as they live. — Alice Ozma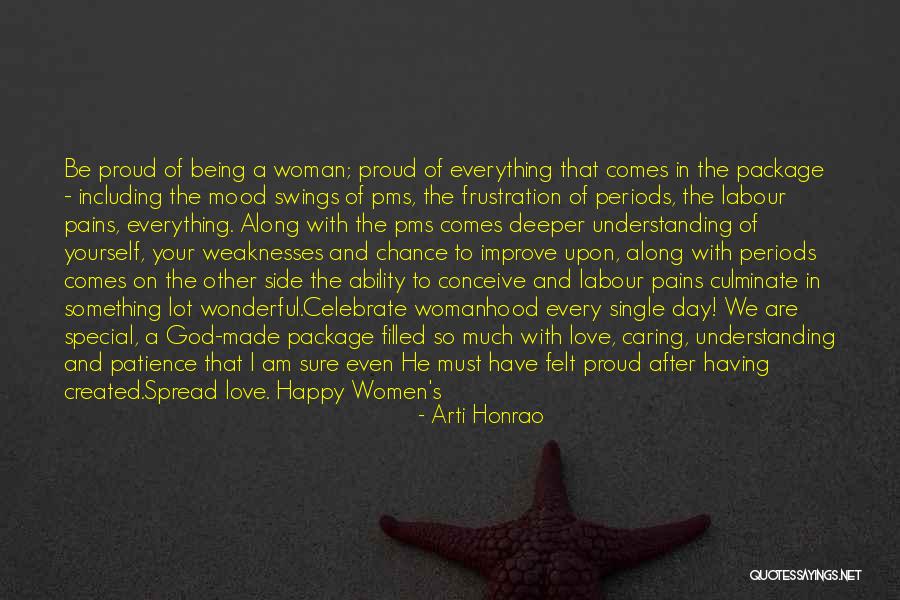 Be proud of being a woman; proud of everything that comes in the package - including the mood swings of pms, the frustration of periods, the labour pains, everything. Along with the pms comes deeper understanding of yourself, your weaknesses and chance to improve upon, along with periods comes on the other side the ability to conceive and labour pains culminate in something lot wonderful.
Celebrate womanhood every single day!
We are special, a God-made package filled so much with love, caring, understanding and patience that I am sure even He must have felt proud after having created.
Spread love. Happy Women's Day. — Arti Honrao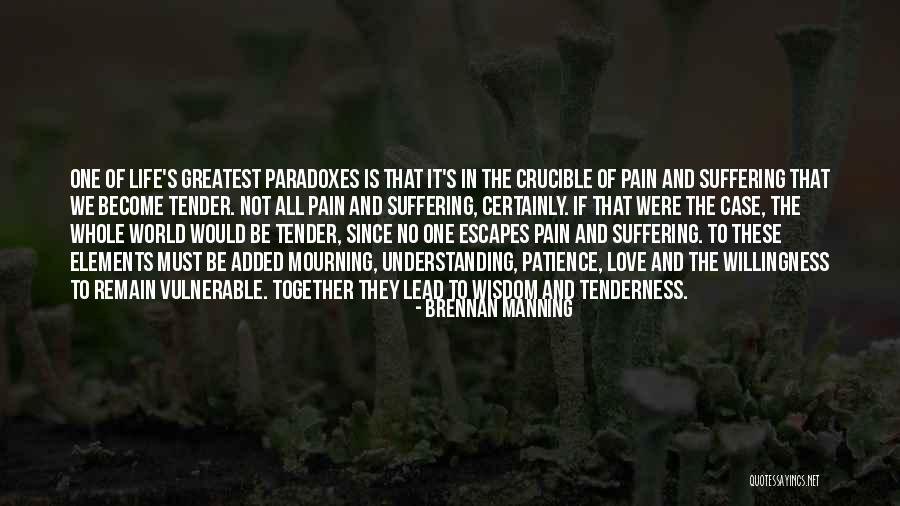 One of life's greatest paradoxes is that it's in the crucible of pain and suffering that we become tender. Not all pain and suffering, certainly. If that were the case, the whole world would be tender, since no one escapes pain and suffering. To these elements must be added mourning, understanding, patience, love and the willingness to remain vulnerable. Together they lead to wisdom and tenderness. — Brennan Manning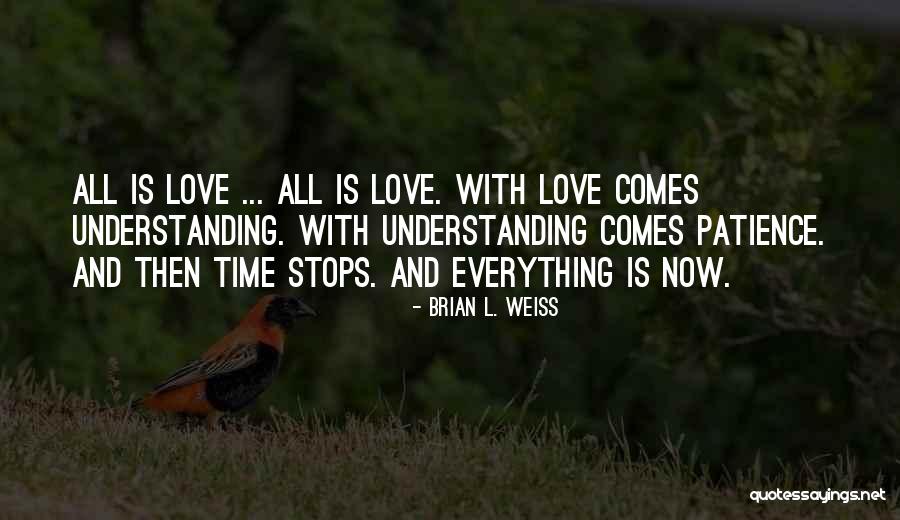 All is love ... All is love. With love comes understanding. With understanding comes patience. And then time stops. And everything is now. — Brian L. Weiss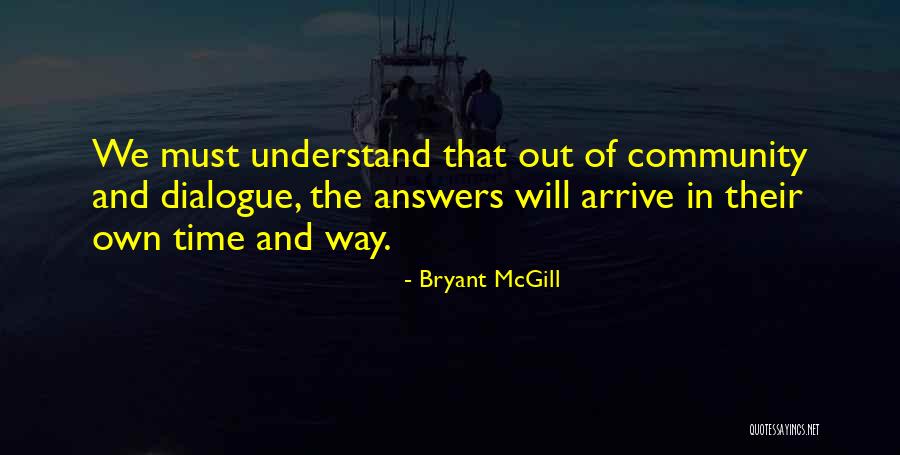 We must understand that out of community and dialogue, the answers will arrive in their own time and way. — Bryant McGill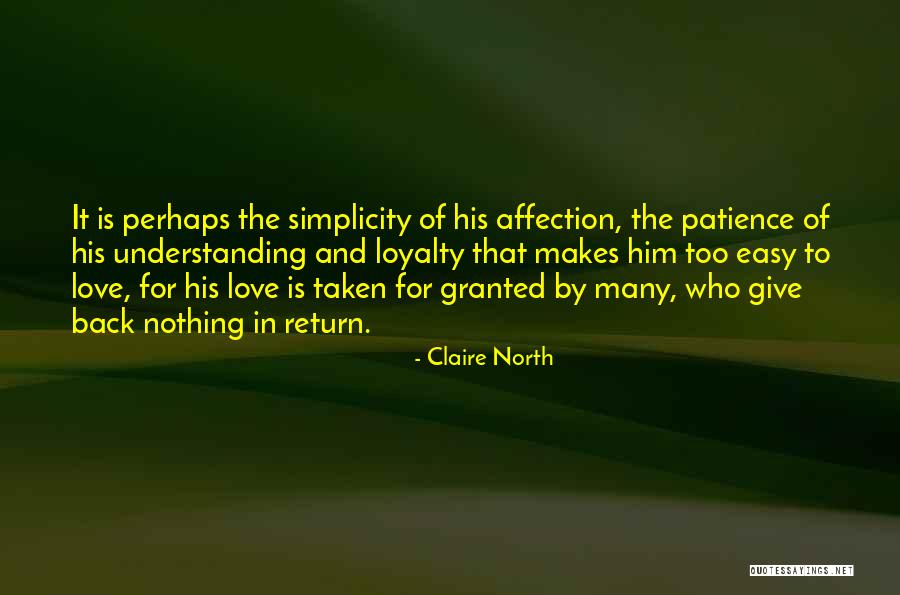 It is perhaps the simplicity of his affection, the patience of his understanding and loyalty that makes him too easy to love, for his love is taken for granted by many, who give back nothing in return. — Claire North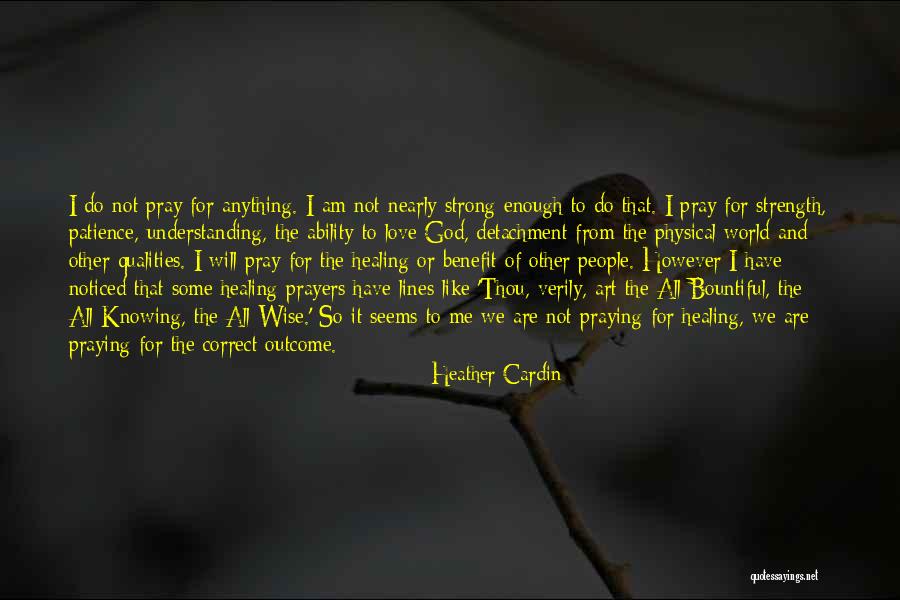 I do not pray for anything. I am not nearly strong enough to do that. I pray for strength, patience, understanding, the ability to love God, detachment from the physical world and other qualities. I will pray for the healing or benefit of other people. However I have noticed that some healing prayers have lines like 'Thou, verily, art the All-Bountiful, the All-Knowing, the All-Wise.' So it seems to me we are not praying for healing, we are praying for the correct outcome. — Heather Cardin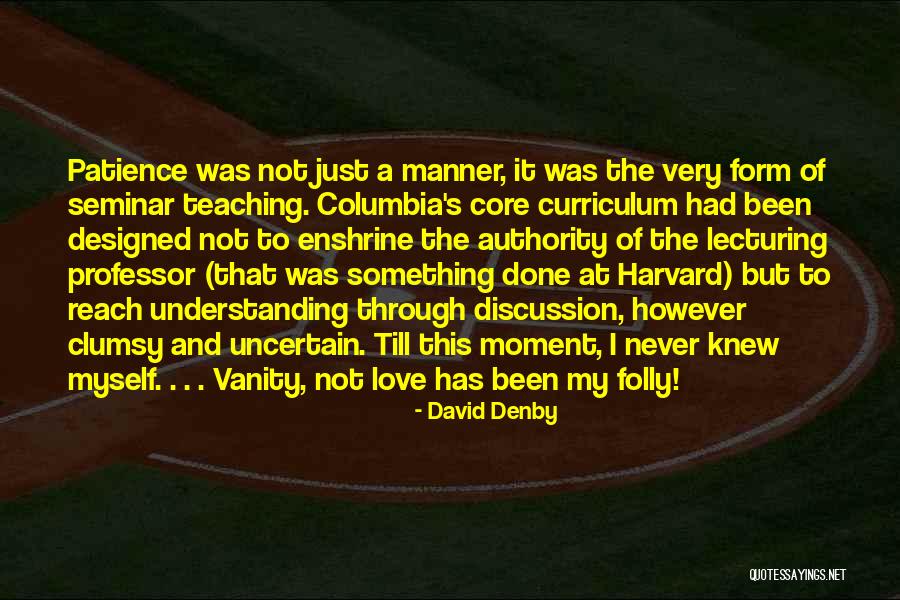 Patience was not just a manner, it was the very form of seminar teaching. Columbia's core curriculum had been designed not to enshrine the authority of the lecturing professor (that was something done at Harvard) but to reach understanding through discussion, however clumsy and uncertain. Till this moment, I never knew myself. . . . Vanity, not love has been my folly! — David Denby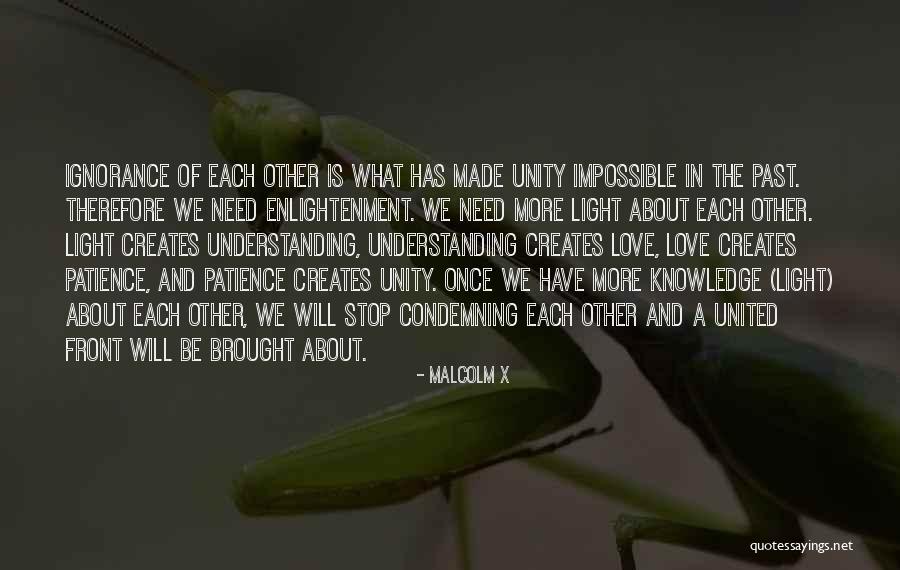 Ignorance of each other is what has made unity impossible in the past. Therefore we need enlightenment. We need more light about each other. Light creates understanding, understanding creates love, love creates patience, and patience creates unity. Once we have more knowledge (light) about each other, we will stop condemning each other and a United front will be brought about. — Malcolm X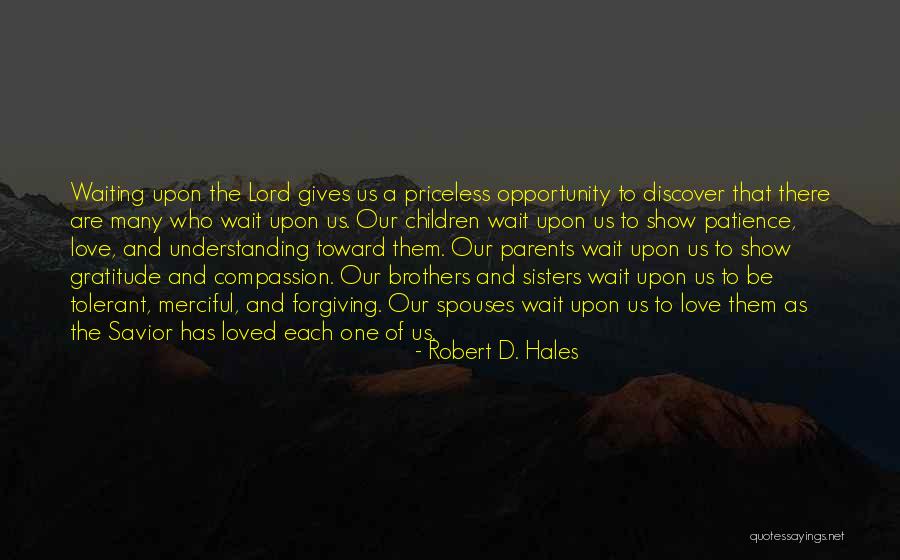 Waiting upon the Lord gives us a priceless opportunity to discover that there are many who wait upon us. Our children wait upon us to show patience, love, and understanding toward them. Our parents wait upon us to show gratitude and compassion. Our brothers and sisters wait upon us to be tolerant, merciful, and forgiving. Our spouses wait upon us to love them as the Savior has loved each one of us. — Robert D. Hales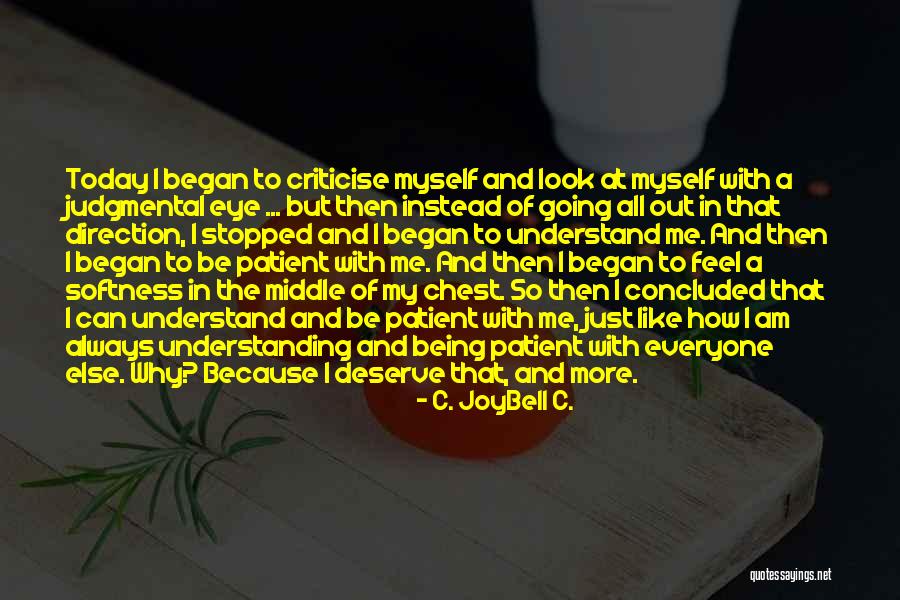 Today I began to criticise myself and look at myself with a judgmental eye ... but then instead of going all out in that direction, I stopped and I began to understand me. And then I began to be patient with me. And then I began to feel a softness in the middle of my chest. So then I concluded that I can understand and be patient with me, just like how I am always understanding and being patient with everyone else. Why? Because I deserve that, and more. — C. JoyBell C.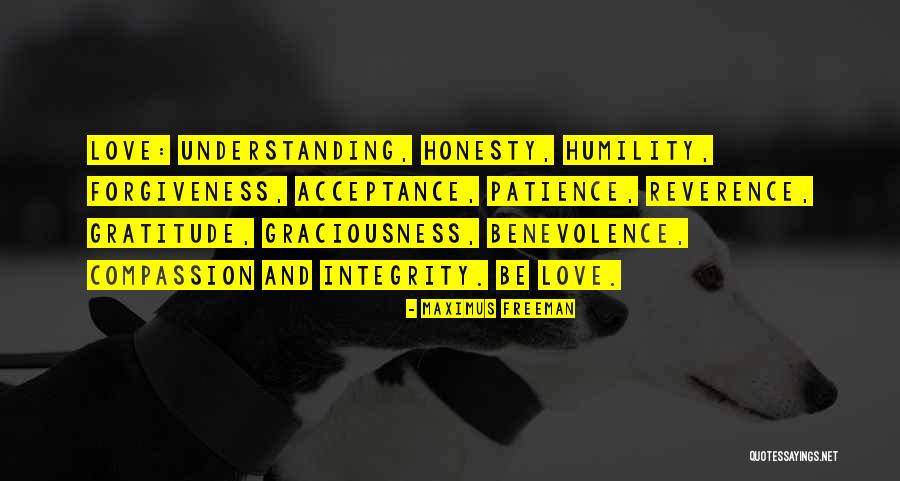 Love: understanding, honesty, humility, forgiveness, acceptance, patience, reverence, gratitude, graciousness, benevolence, compassion and integrity. Be Love. — Maximus Freeman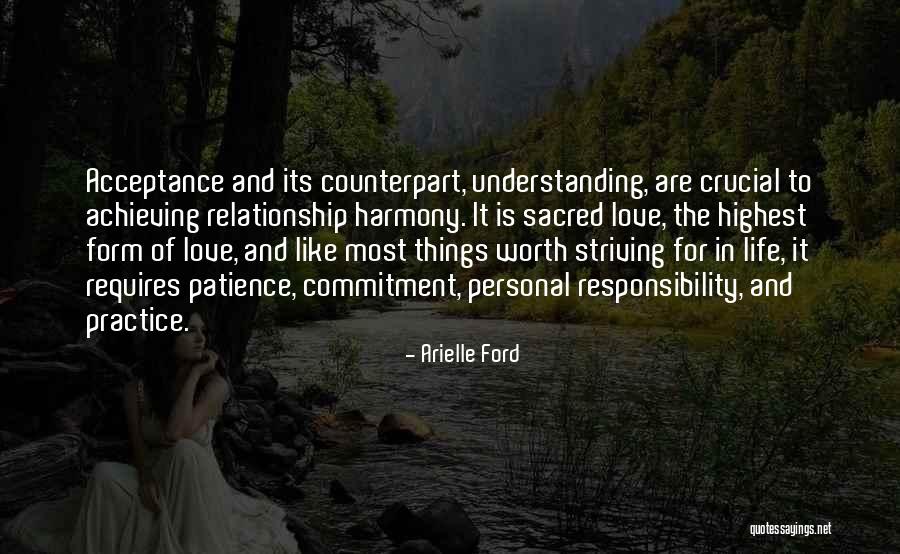 Acceptance and its counterpart, understanding, are crucial to achieving relationship harmony. It is sacred love, the highest form of love, and like most things worth striving for in life, it requires patience, commitment, personal responsibility, and practice. — Arielle Ford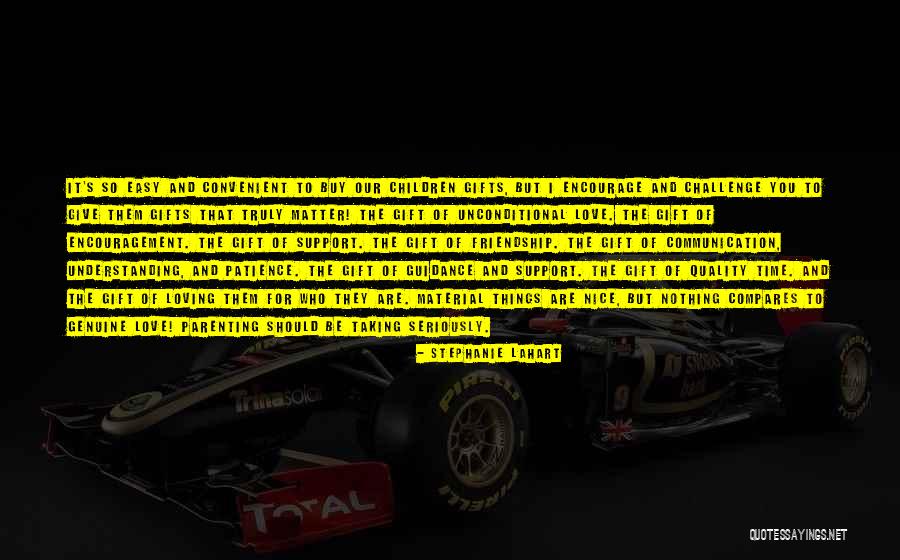 It's so easy and convenient to buy our children gifts, but I encourage and challenge you to give them gifts that TRULY matter! The gift of unconditional love. The gift of encouragement. The gift of support. The gift of friendship. The gift of communication, understanding, and patience. The gift of guidance and support. The gift of quality time. And the gift of loving them for who THEY are. Material things are nice, but NOTHING compares to genuine love! Parenting should be taking seriously. — Stephanie Lahart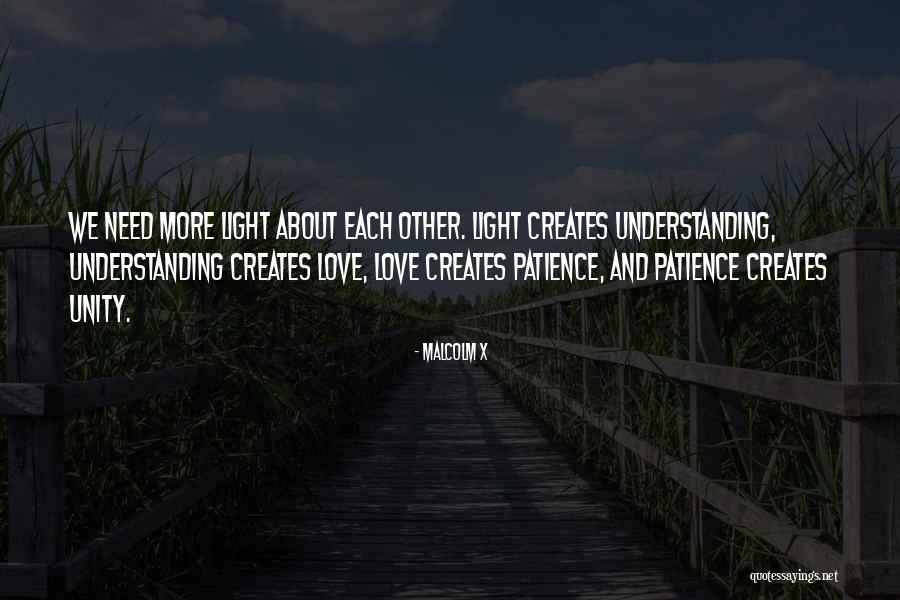 We need more light about each other. Light creates understanding, understanding creates love, love creates patience, and patience creates unity. — Malcolm X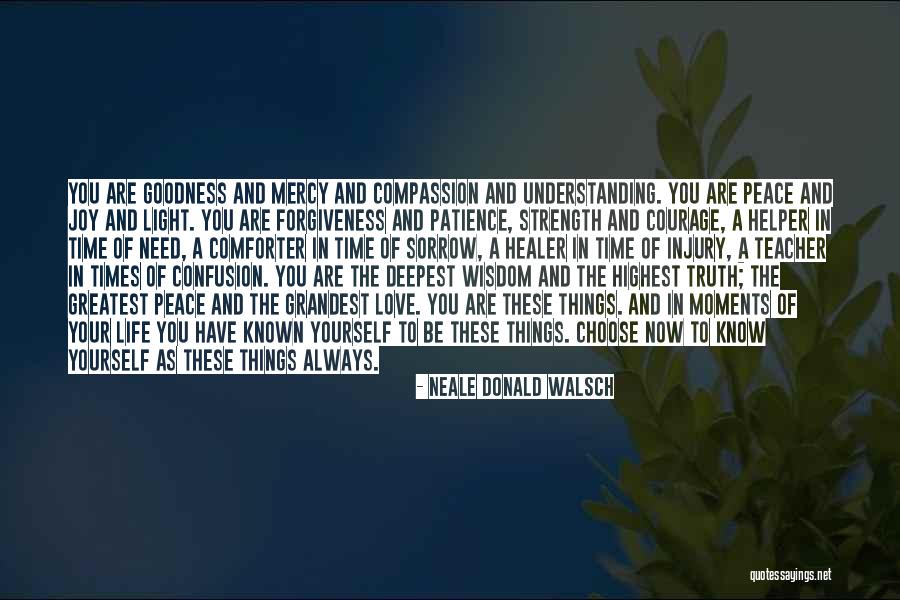 You are goodness and mercy and compassion and understanding. You are peace and joy and light. You are forgiveness and patience, strength and courage, a helper in time of need, a comforter in time of sorrow, a healer in time of injury, a teacher in times of confusion. You are the deepest wisdom and the highest truth; the greatest peace and the grandest love. You are these things. And in moments of your life you have known yourself to be these things. Choose now to know yourself as these things always. — Neale Donald Walsch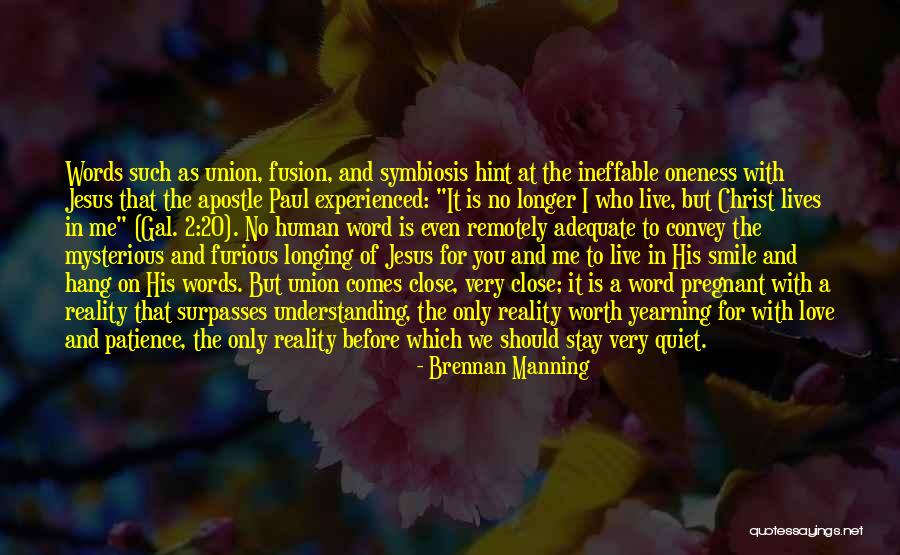 Words such as union, fusion, and symbiosis hint at the ineffable oneness with Jesus that the apostle Paul experienced: "It is no longer I who live, but Christ lives in me" (Gal. 2:20). No human word is even remotely adequate to convey the mysterious and furious longing of Jesus for you and me to live in His smile and hang on His words. But union comes close, very close; it is a word pregnant with a reality that surpasses understanding, the only reality worth yearning for with love and patience, the only reality before which we should stay very quiet. CEASE STRIVING AND KNOW THAT I AM GOD. (PS. 46:10 NASB) — Brennan Manning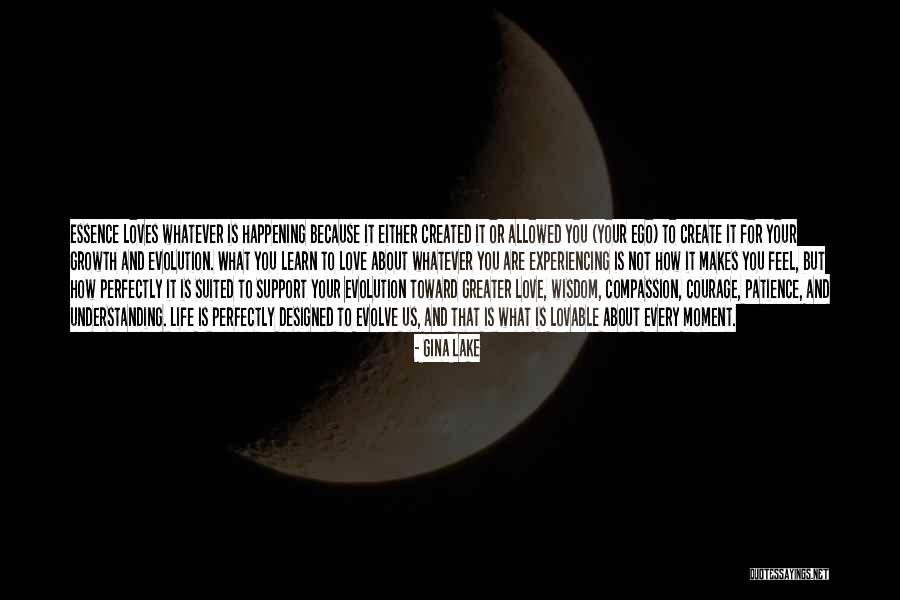 Essence loves whatever is happening because it either created it or allowed you (your ego) to create it for your growth and evolution. What you learn to love about whatever you are experiencing is not how it makes you feel, but how perfectly it is suited to support your evolution toward greater love, wisdom, compassion, courage, patience, and understanding. Life is perfectly designed to evolve us, and that is what is lovable about every moment. — Gina Lake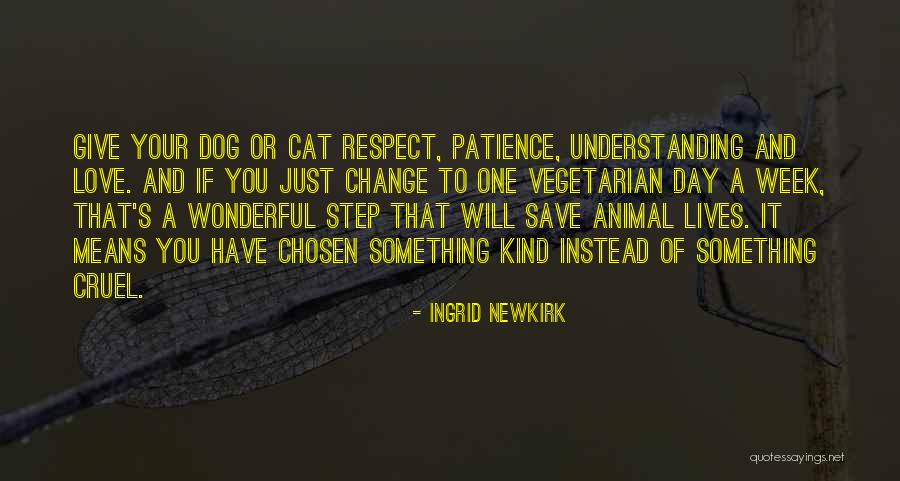 Give your dog or cat respect, patience, understanding and love. And if you just change to one vegetarian day a week, that's a wonderful step that will save animal lives. It means you have chosen something kind instead of something cruel. — Ingrid Newkirk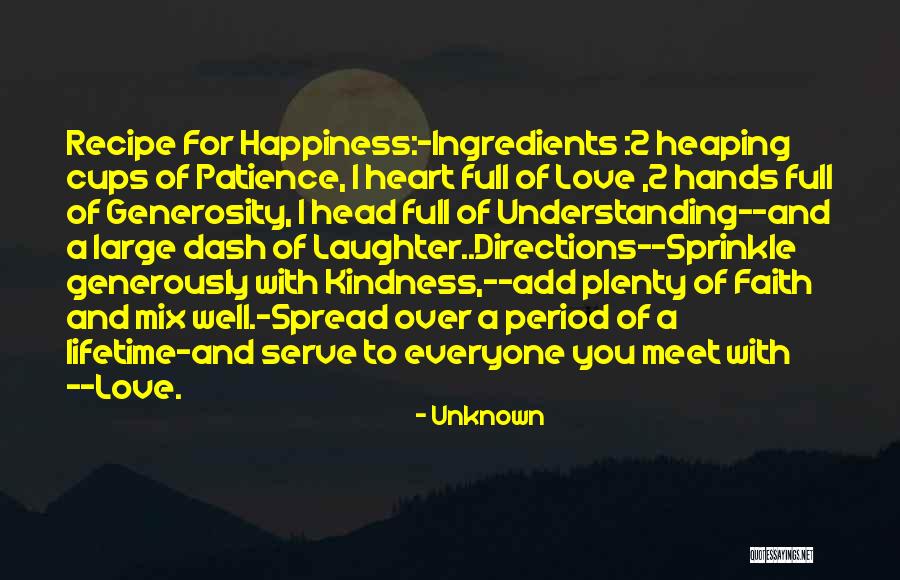 Recipe For Happiness:~Ingredients :2 heaping cups of Patience, 1 heart full of Love ,2 hands full of Generosity, 1 head full of Understanding~~and a large dash of Laughter..Directions~~Sprinkle generously with Kindness,~~add plenty of Faith and mix well.~Spread over a period of a lifetime~and serve to everyone you meet with ~~Love. — Unknown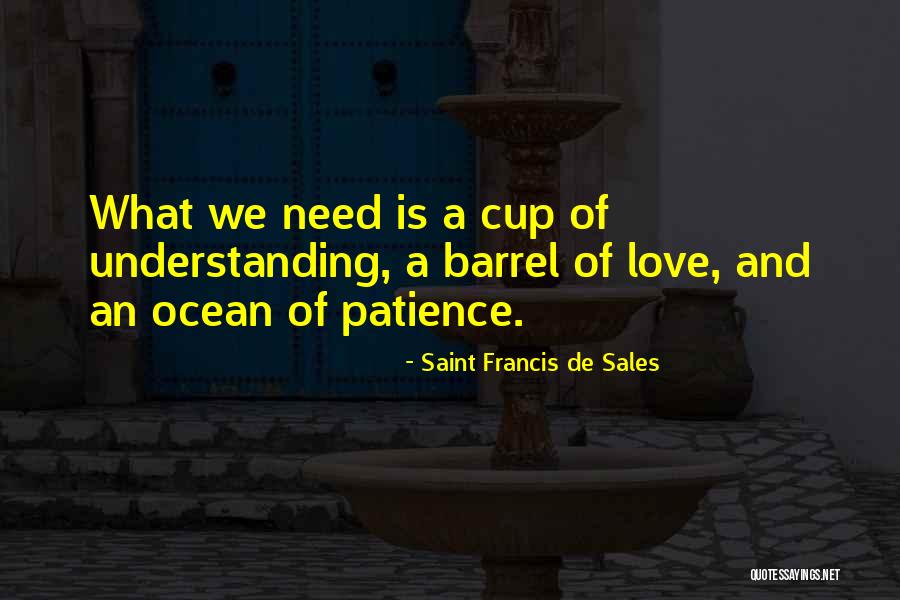 What we need is a cup of understanding, a barrel of love, and an ocean of patience. — Saint Francis De Sales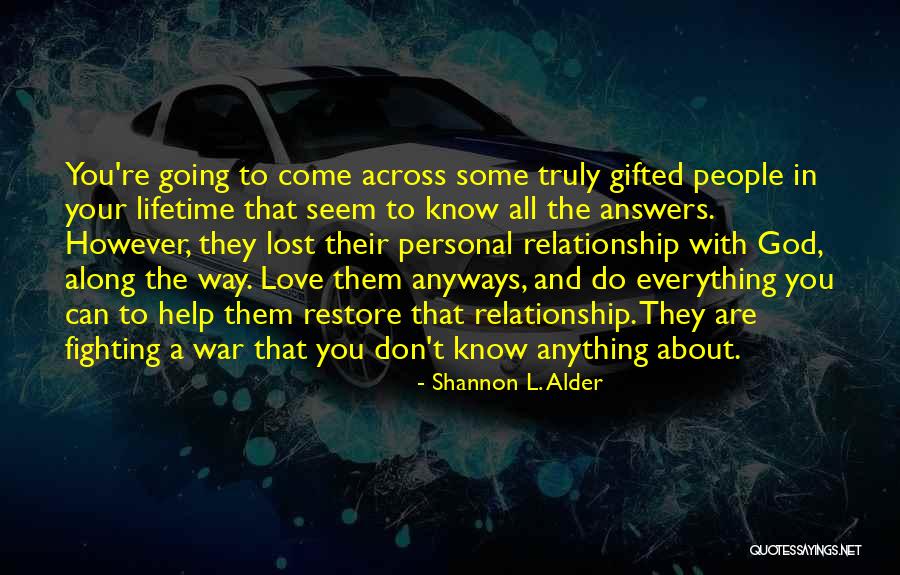 You're going to come across some truly gifted people in your lifetime that seem to know all the answers. However, they lost their personal relationship with God, along the way. Love them anyways, and do everything you can to help them restore that relationship. They are fighting a war that you don't know anything about. — Shannon L. Alder
Grace is the wonderful spirit that imbues every fiber of our being when we practice the fruits of the spirit: kindness, patience, understanding, forgiveness, love, gentleness, fellowship and endurance. — Edgar Cayce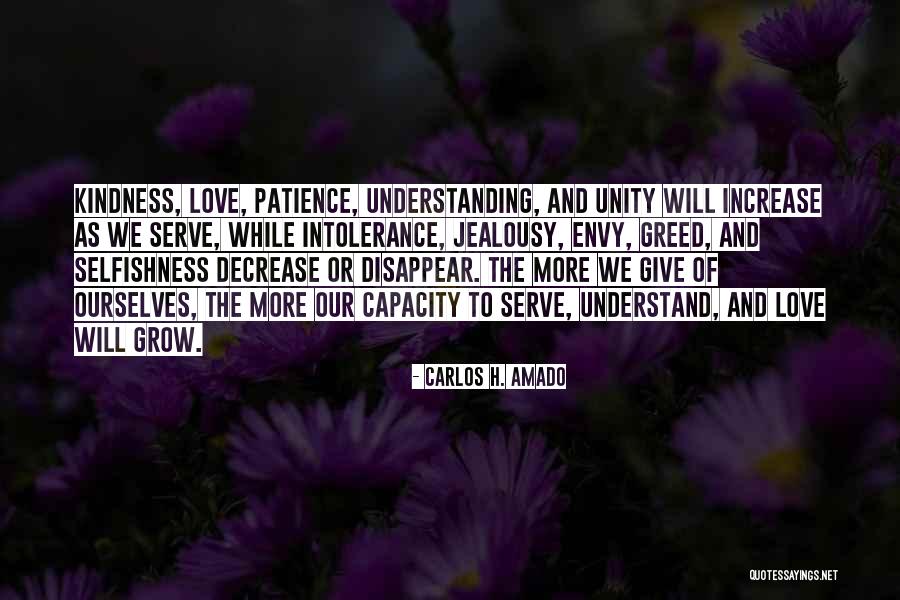 Kindness, love, patience, understanding, and unity will increase as we serve, while intolerance, jealousy, envy, greed, and selfishness decrease or disappear. The more we give of ourselves, the more our capacity to serve, understand, and love will grow. — CARLOS H. AMADO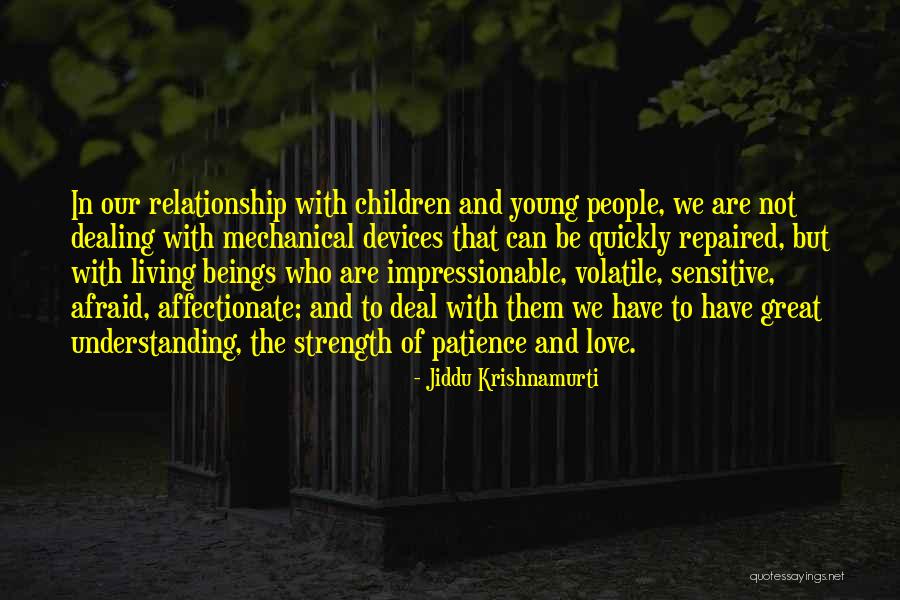 In our relationship with children and young people, we are not dealing with mechanical devices that can be quickly repaired, but with living beings who are impressionable, volatile, sensitive, afraid, affectionate; and to deal with them we have to have great understanding, the strength of patience and love. — Jiddu Krishnamurti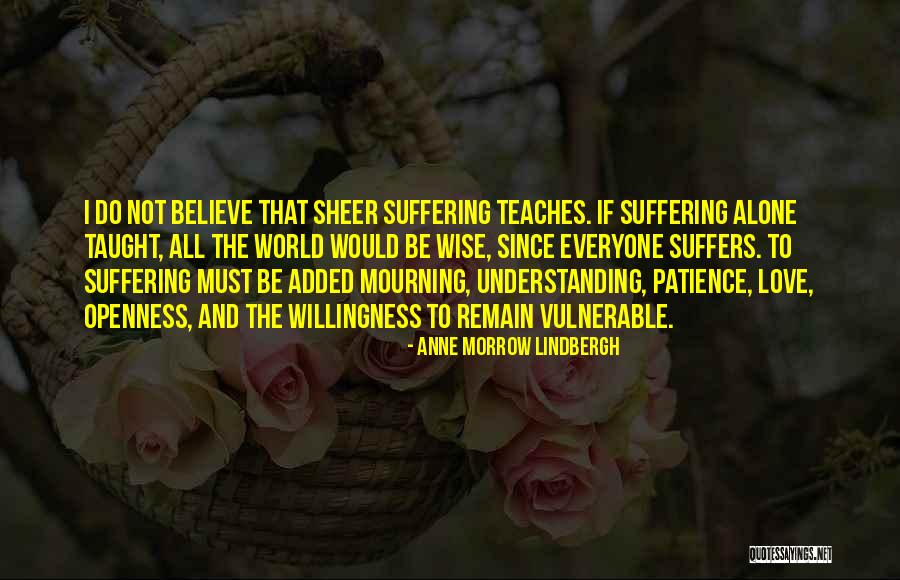 I do not believe that sheer suffering teaches. If suffering alone taught, all the world would be wise, since everyone suffers. To suffering must be added mourning, understanding, patience, love, openness, and the willingness to remain vulnerable. — Anne Morrow Lindbergh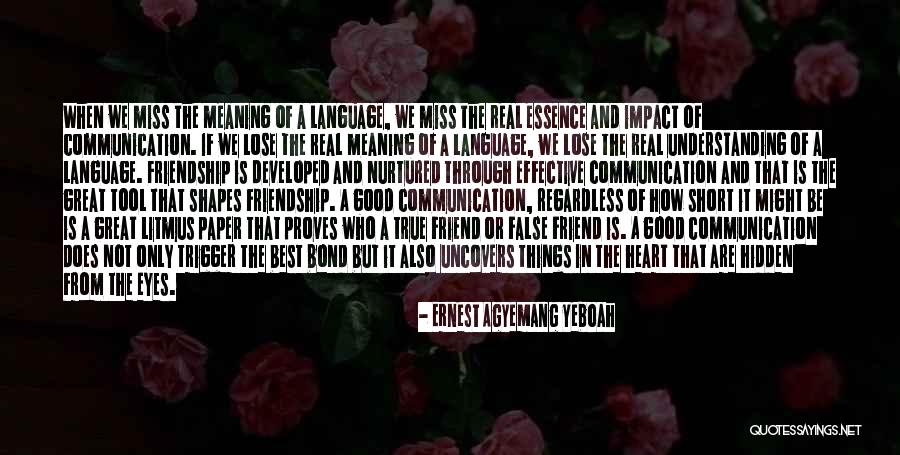 When we miss the meaning of a language, we miss the real essence and impact of communication. If we lose the real meaning of a language, we lose the real understanding of a language. Friendship is developed and nurtured through effective communication and that is the great tool that shapes friendship. A good communication, regardless of how short it might be is a great litmus paper that proves who a true friend or false friend is. A good communication does not only trigger the best bond but it also uncovers things in the heart that are hidden from the eyes. Without an effective communication, real friendship and real love between two great people is just like two great mountains with a valley between them. Without communication, we lose what we could have heard from real people. When we miss the meaning of a language, we miss the real essence and impact of communication!!! — Ernest Agyemang Yeboah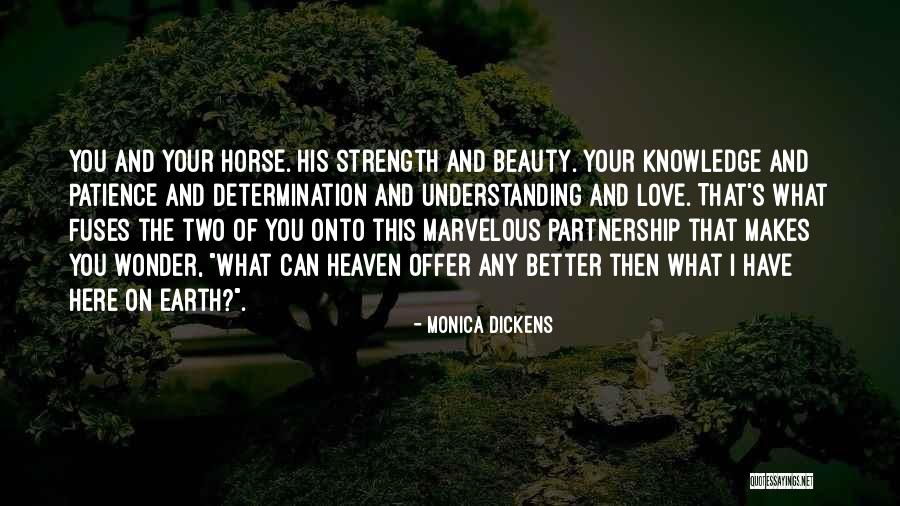 You and your horse. His strength and beauty. Your knowledge and patience and determination and understanding and love. That's what fuses the two of you onto this marvelous partnership that makes you wonder, "What can heaven offer any better then what I have here on earth?". — Monica Dickens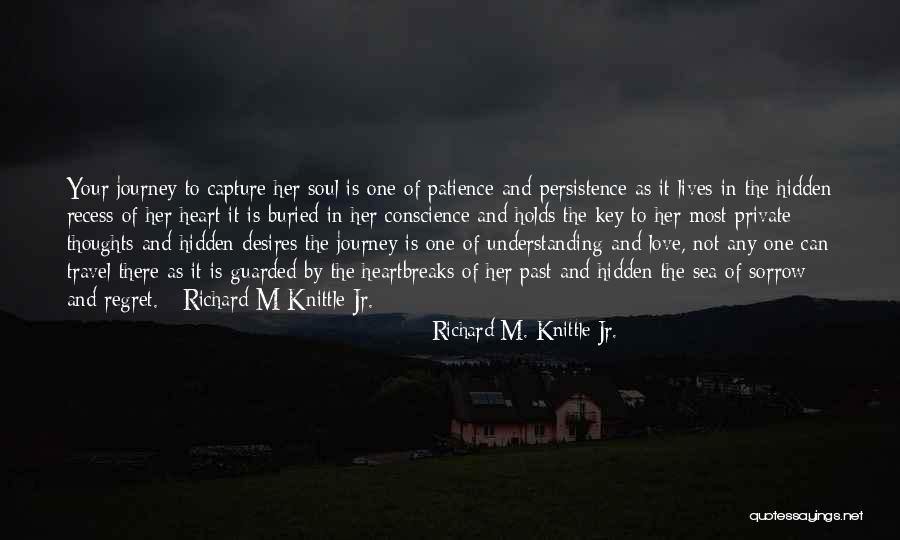 Your journey to capture her soul is one of patience and persistence as it lives in the hidden recess of her heart it is buried in her conscience and holds the key to her most private thoughts and hidden desires the journey is one of understanding and love, not any one can travel there as it is guarded by the heartbreaks of her past and hidden the sea of sorrow and regret.
- Richard M Knittle Jr. — Richard M. Knittle Jr.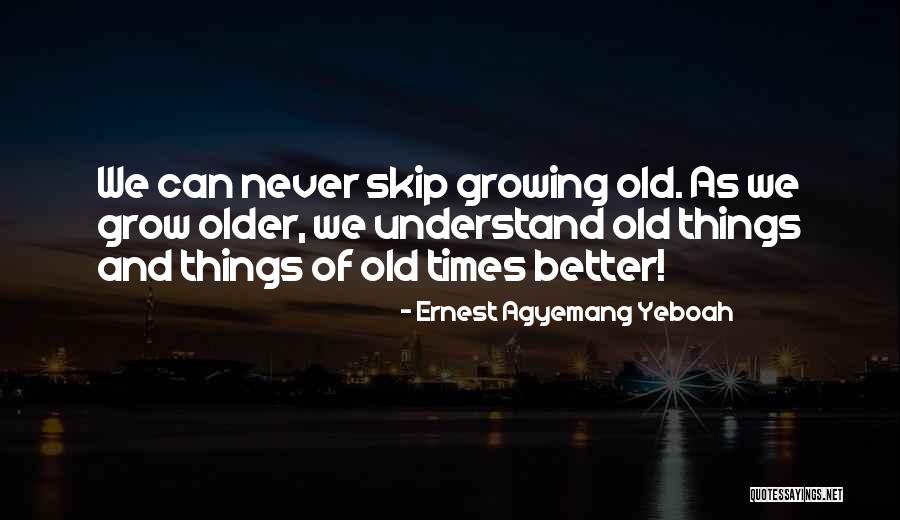 We can never skip growing old. As we grow older, we understand old things and things of old times better! — Ernest Agyemang Yeboah