Path To Happiness Quotes & Sayings
Enjoy reading and share 100 famous quotes about Path To Happiness with everyone.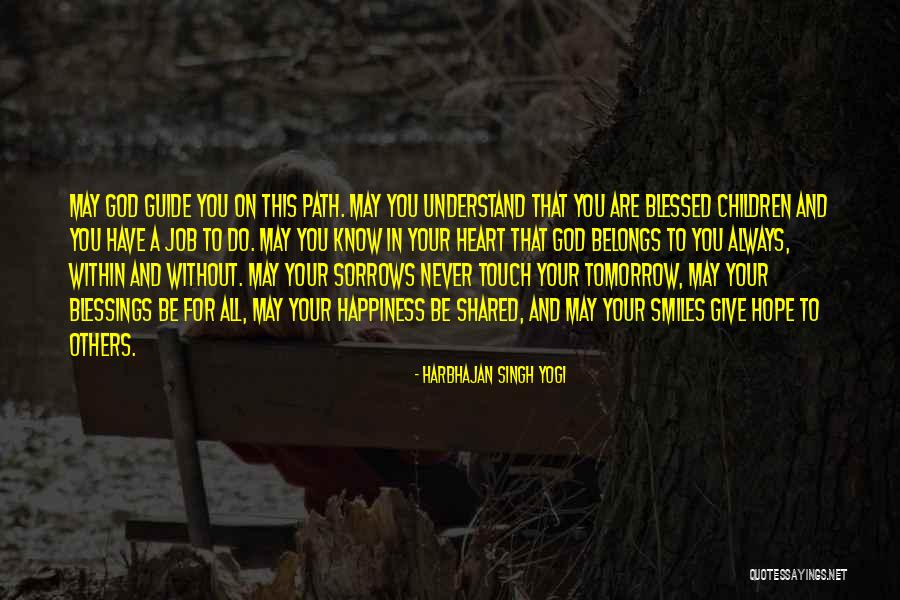 May God guide you on this path. May you understand that you are blessed children and you have a job to do. May you know in your heart that God belongs to you always, within and without. May your sorrows never touch your tomorrow, may your blessings be for all, may your happiness be shared, and may your smiles give hope to others. — Harbhajan Singh Yogi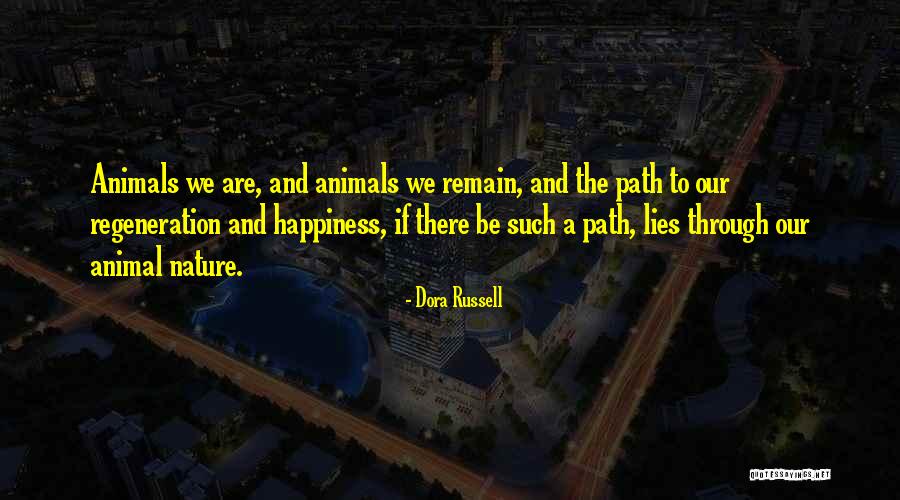 Animals we are, and animals we remain, and the path to our regeneration and happiness, if there be such a path, lies through our animal nature. — Dora Russell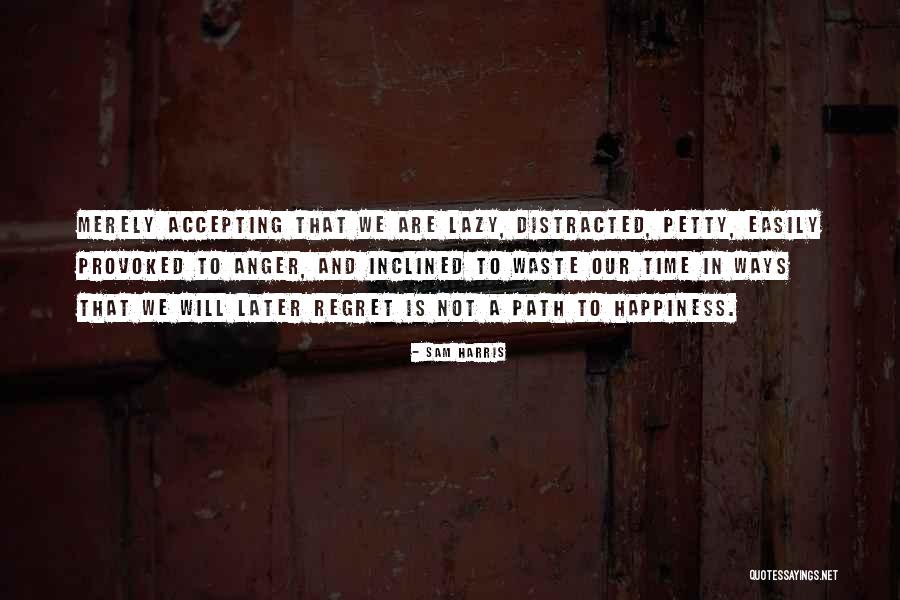 Merely accepting that we are lazy, distracted, petty, easily provoked to anger, and inclined to waste our time in ways that we will later regret is not a path to happiness. — Sam Harris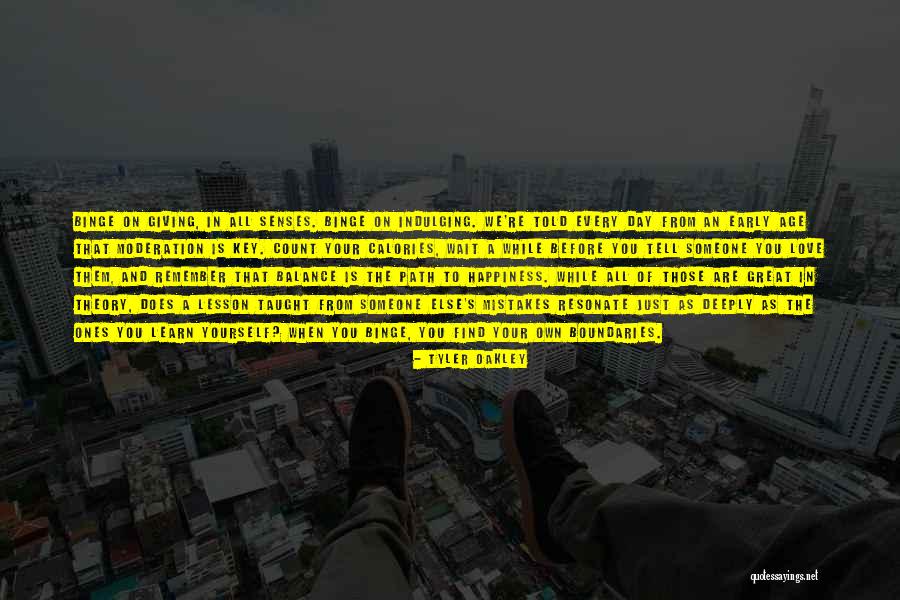 Binge on giving, in all senses. Binge on indulging. We're told every day from an early age that moderation is key. Count your calories, wait a while before you tell someone you love them, and remember that balance is the path to happiness. While all of those are great in theory, does a lesson taught from someone else's mistakes resonate just as deeply as the ones you learn yourself? When you binge, you find your own boundaries. — Tyler Oakley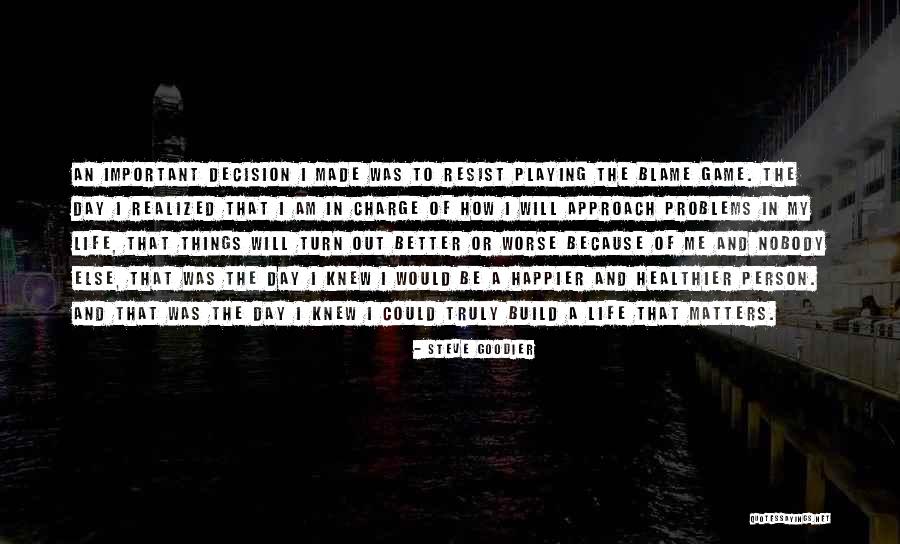 An important decision I made was to resist playing the Blame Game. The day I realized that I am in charge of how I will approach problems in my life, that things will turn out better or worse because of me and nobody else, that was the day I knew I would be a happier and healthier person. And that was the day I knew I could truly build a life that matters. — Steve Goodier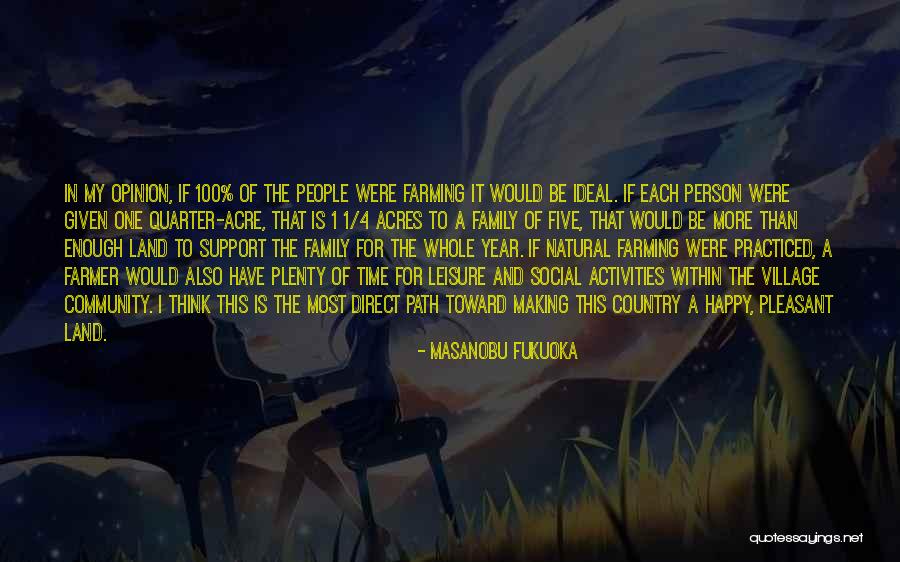 In my opinion, if 100% of the people were farming it would be ideal. If each person were given one quarter-acre, that is 1 1/4 acres to a family of five, that would be more than enough land to support the family for the whole year. If natural farming were practiced, a farmer would also have plenty of time for leisure and social activities within the village community. I think this is the most direct path toward making this country a happy, pleasant land. — Masanobu Fukuoka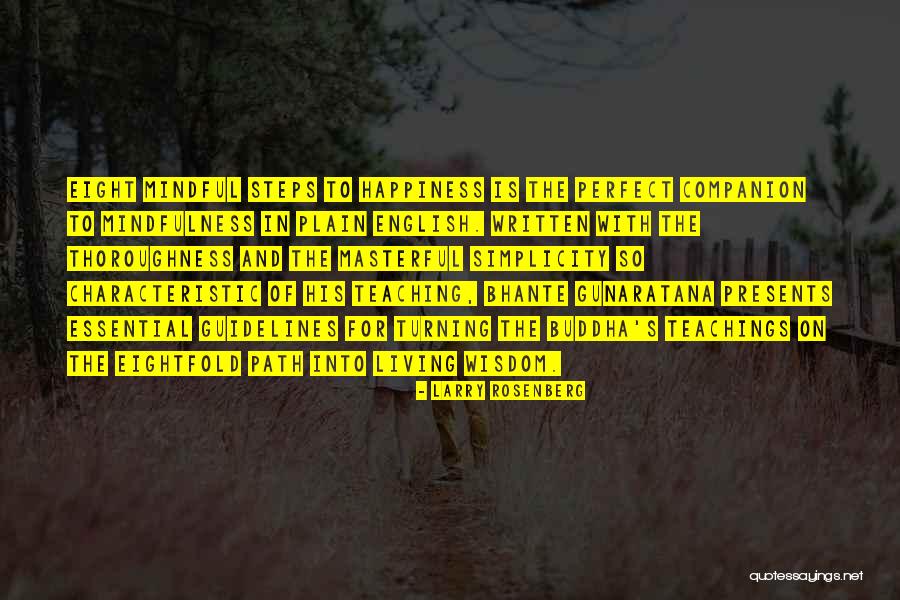 Eight Mindful Steps to Happiness is the perfect companion to Mindfulness in Plain English. Written with the thoroughness and the masterful simplicity so characteristic of his teaching, Bhante Gunaratana presents essential guidelines for turning the Buddha's teachings on the Eightfold Path into living wisdom. — Larry Rosenberg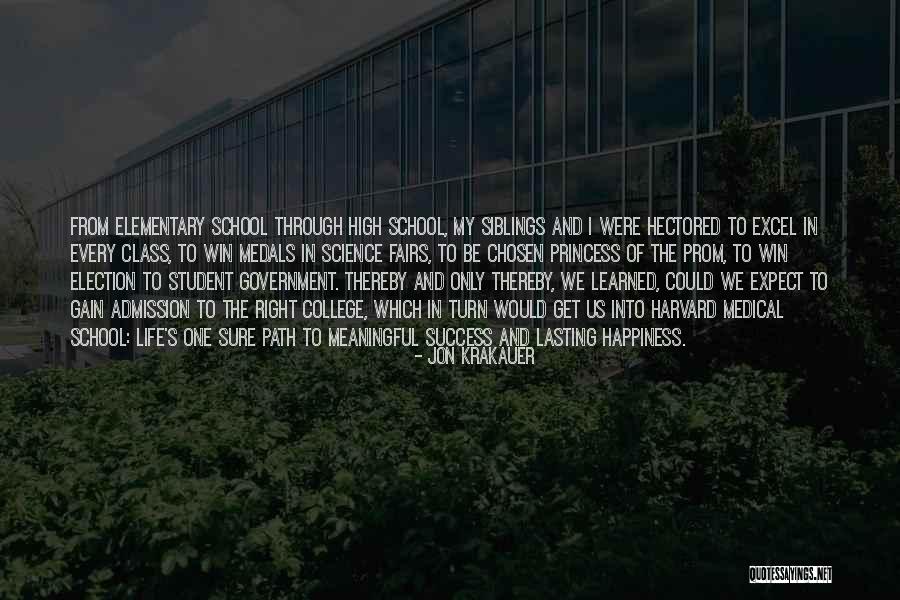 From elementary school through high school, my siblings and I were hectored to excel in every class, to win medals in science fairs, to be chosen princess of the prom, to win election to student government. Thereby and only thereby, we learned, could we expect to gain admission to the right college, which in turn would get us into Harvard Medical School: life's one sure path to meaningful success and lasting happiness. — Jon Krakauer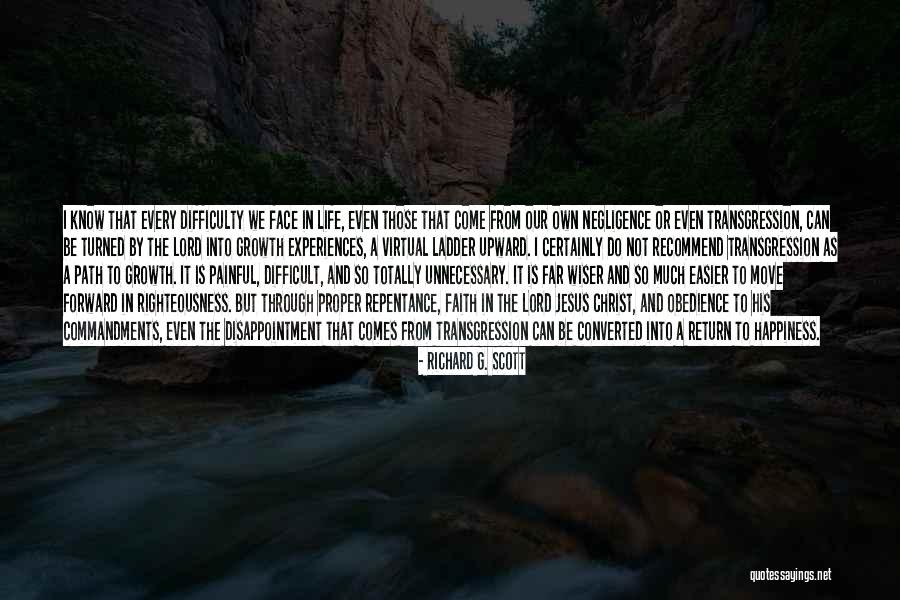 I know that every difficulty we face in life, even those that come from our own negligence or even transgression, can be turned by the Lord into growth experiences, a virtual ladder upward. I certainly do not recommend transgression as a path to growth. It is painful, difficult, and so totally unnecessary. It is far wiser and so much easier to move forward in righteousness. But through proper repentance, faith in the Lord Jesus Christ, and obedience to His commandments, even the disappointment that comes from transgression can be converted into a return to happiness. — Richard G. Scott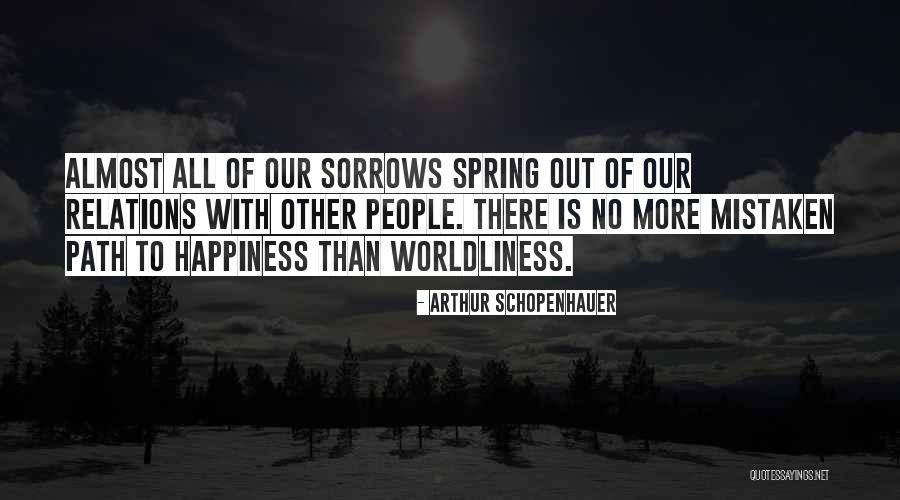 Almost all of our sorrows spring out of our relations with other people. There is no more mistaken path to happiness than worldliness. — Arthur Schopenhauer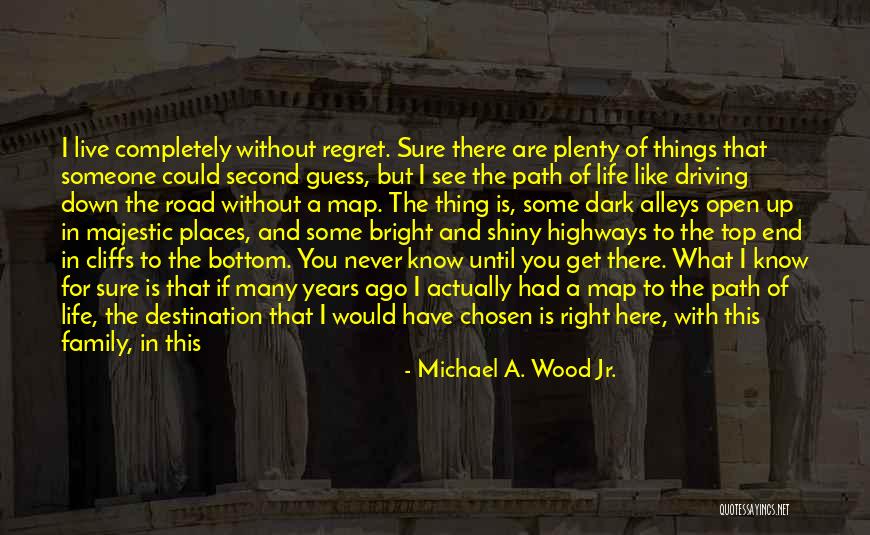 I live completely without regret. Sure there are plenty of things that someone could second guess, but I see the path of life like driving down the road without a map. The thing is, some dark alleys open up in majestic places, and some bright and shiny highways to the top end in cliffs to the bottom. You never know until you get there. What I know for sure is that if many years ago I actually had a map to the path of life, the destination that I would have chosen is right here, with this family, in this place, and with these smiles. That makes anything that could have been regretful, the best decision in the world. — Michael A. Wood Jr.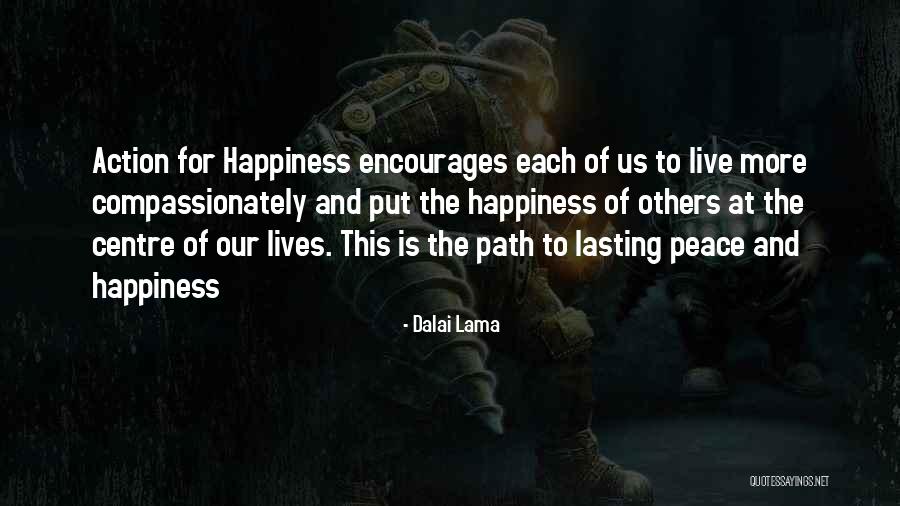 Action for Happiness encourages each of us to live more compassionately and put the happiness of others at the centre of our lives. This is the path to lasting peace and happiness — Dalai Lama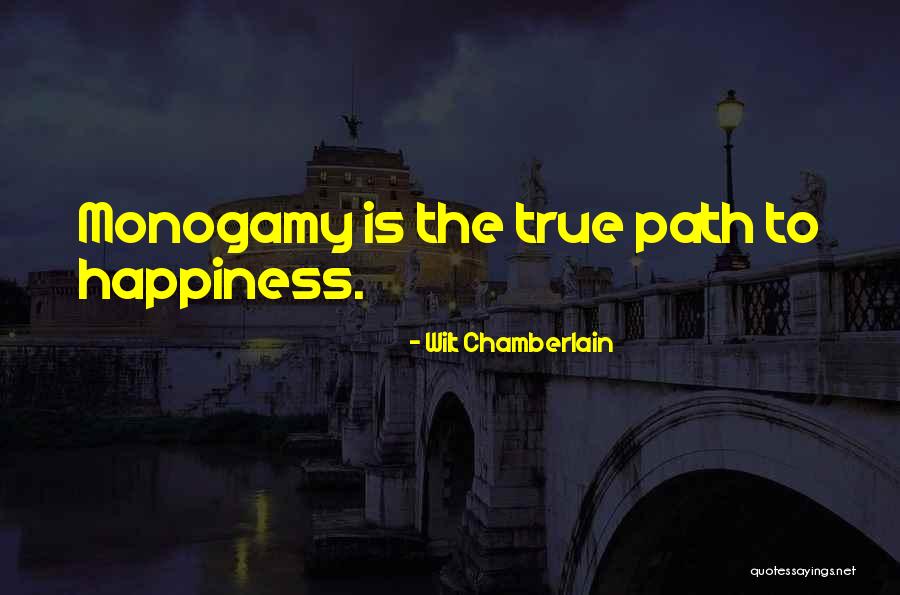 Monogamy is the true path to happiness. — Wilt Chamberlain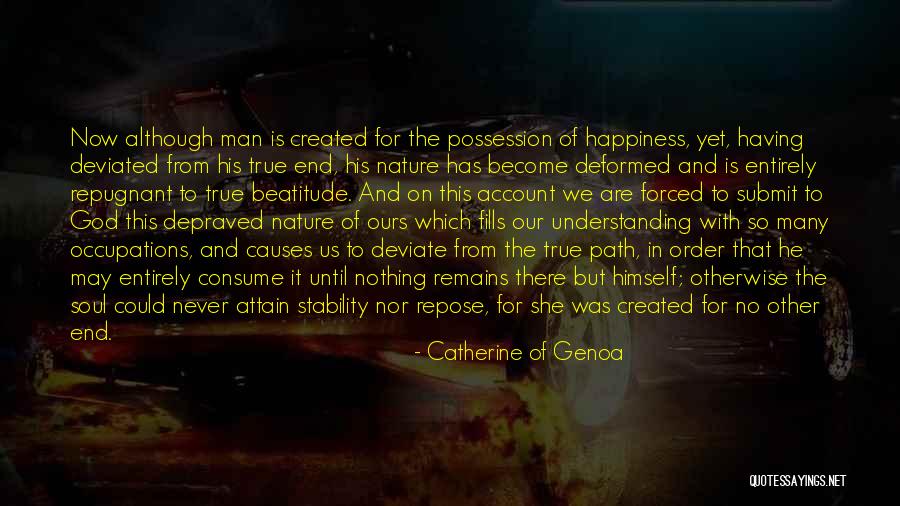 Now although man is created for the possession of happiness, yet, having deviated from his true end, his nature has become deformed and is entirely repugnant to true beatitude. And on this account we are forced to submit to God this depraved nature of ours which fills our understanding with so many occupations, and causes us to deviate from the true path, in order that he may entirely consume it until nothing remains there but himself; otherwise the soul could never attain stability nor repose, for she was created for no other end. — Catherine Of Genoa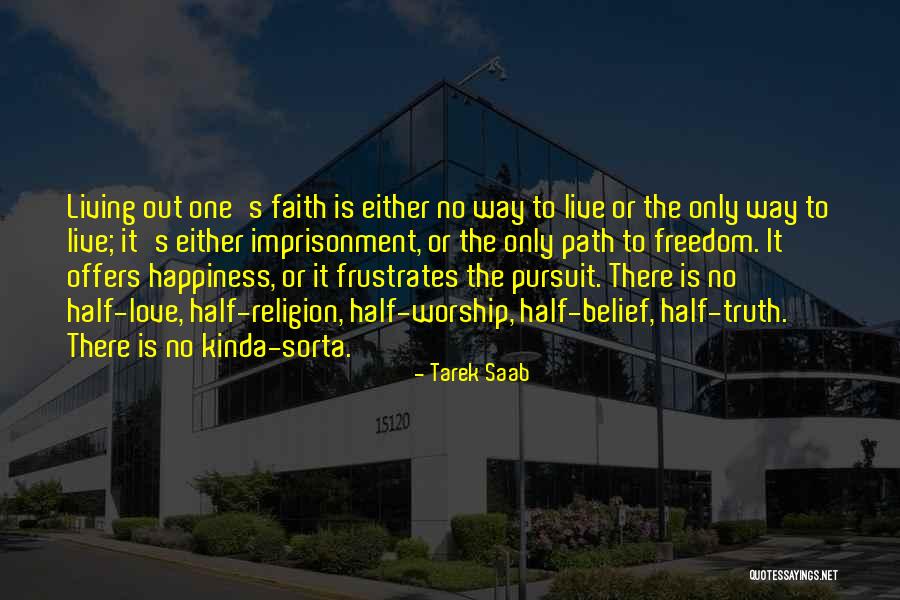 Living out one's faith is either no way to live or the only way to live; it's either imprisonment, or the only path to freedom. It offers happiness, or it frustrates the pursuit. There is no half-love, half-religion, half-worship, half-belief, half-truth. There is no kinda-sorta. — Tarek Saab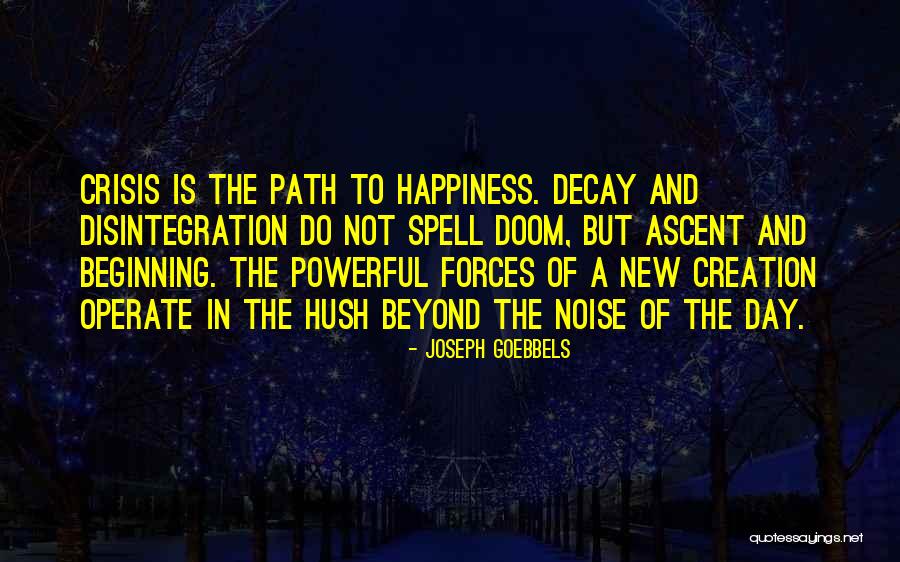 Crisis is the path to happiness. Decay and disintegration do not spell doom, but ascent and beginning. The powerful forces of a new creation operate in the hush beyond the noise of the day. — Joseph Goebbels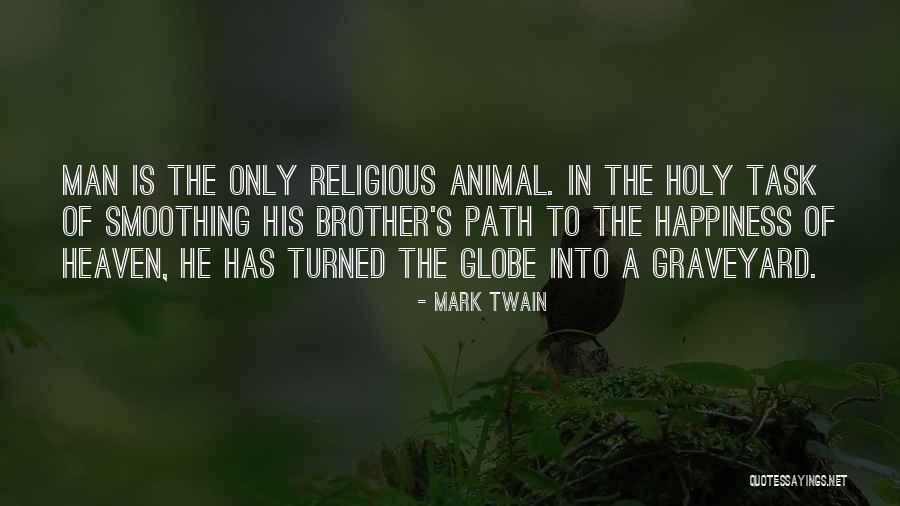 Man is the only religious animal. In the Holy task of smoothing his brother's path to the happiness of heaven, he has turned the globe into a graveyard. — Mark Twain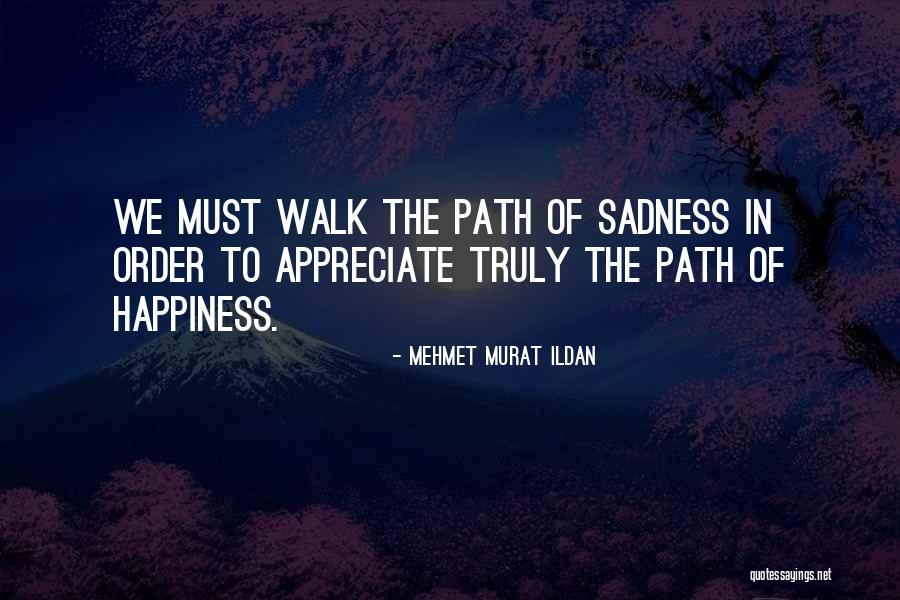 We must walk the path of sadness in order to appreciate truly the path of happiness. — Mehmet Murat Ildan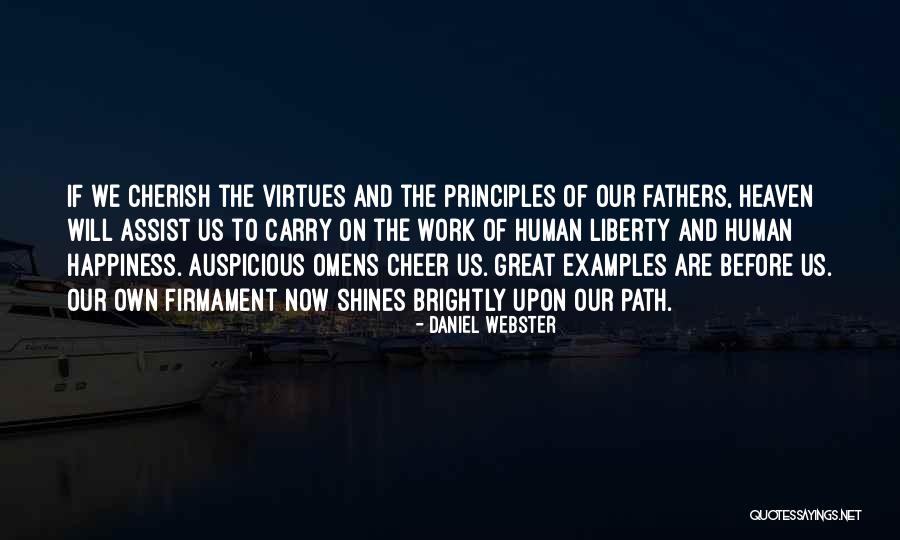 If we cherish the virtues and the principles of our fathers, Heaven will assist us to carry on the work of human liberty and human happiness. Auspicious omens cheer us. Great examples are before us. Our own firmament now shines brightly upon our path. — Daniel Webster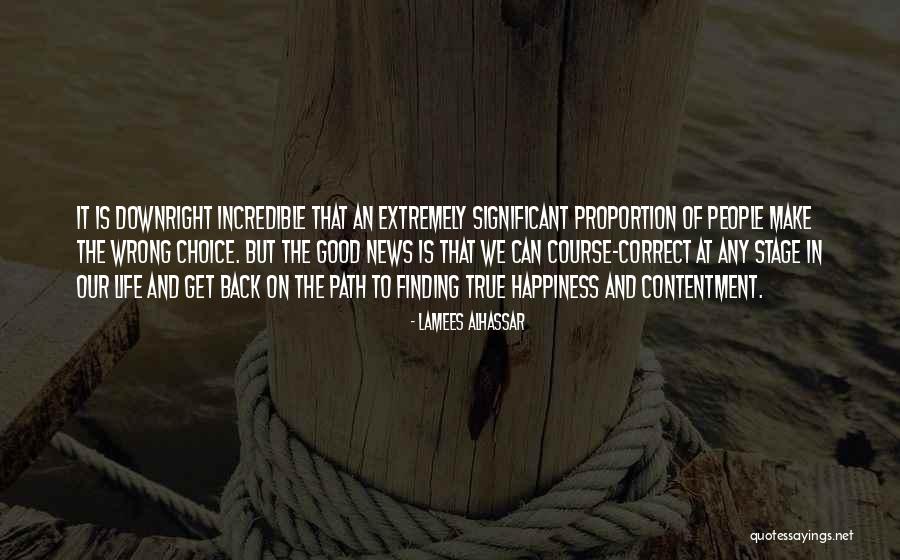 It is downright incredible that an extremely significant proportion of people make the wrong choice. But the good news is that we can course-correct at any stage in our life and get back on the path to finding true happiness and contentment. — Lamees Alhassar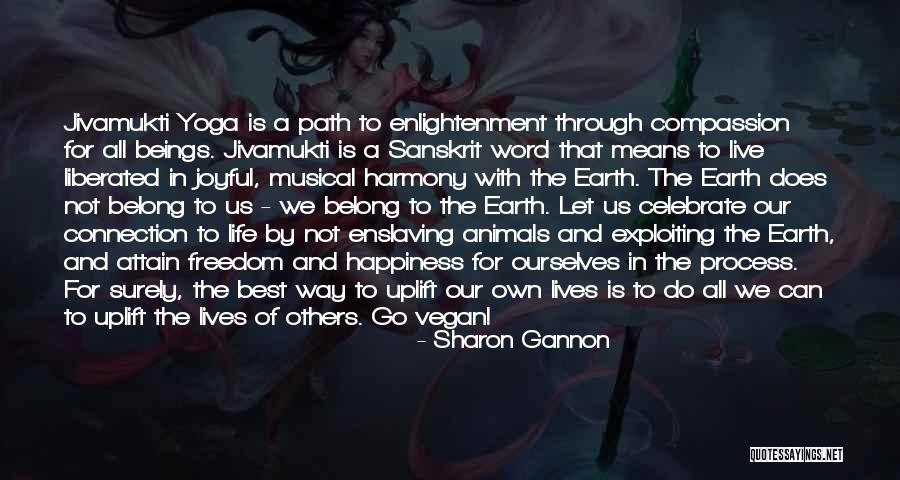 Jivamukti Yoga is a path to enlightenment through compassion for all beings. Jivamukti is a Sanskrit word that means to live liberated in joyful, musical harmony with the Earth. The Earth does not belong to us - we belong to the Earth. Let us celebrate our connection to life by not enslaving animals and exploiting the Earth, and attain freedom and happiness for ourselves in the process. For surely, the best way to uplift our own lives is to do all we can to uplift the lives of others. Go vegan! — Sharon Gannon
The path to happiness at work starts with a simple decision: You must want to be happy. If you don't commit to being happy at work, you won't be. You won't make the choices that make you happy. You won't take the actions needed to get there. You won't change the things that need to change. — Alexander Kjerulf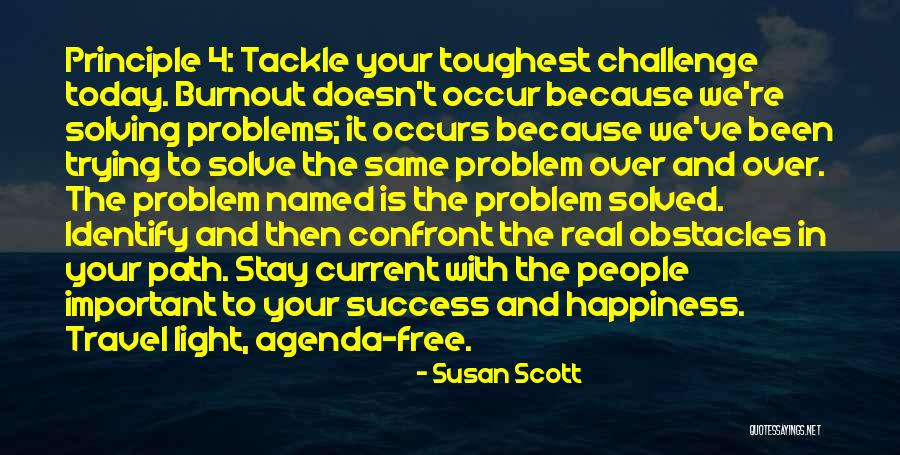 Principle 4: Tackle your toughest challenge today. Burnout doesn't occur because we're solving problems; it occurs because we've been trying to solve the same problem over and over. The problem named is the problem solved. Identify and then confront the real obstacles in your path. Stay current with the people important to your success and happiness. Travel light, agenda-free. — Susan Scott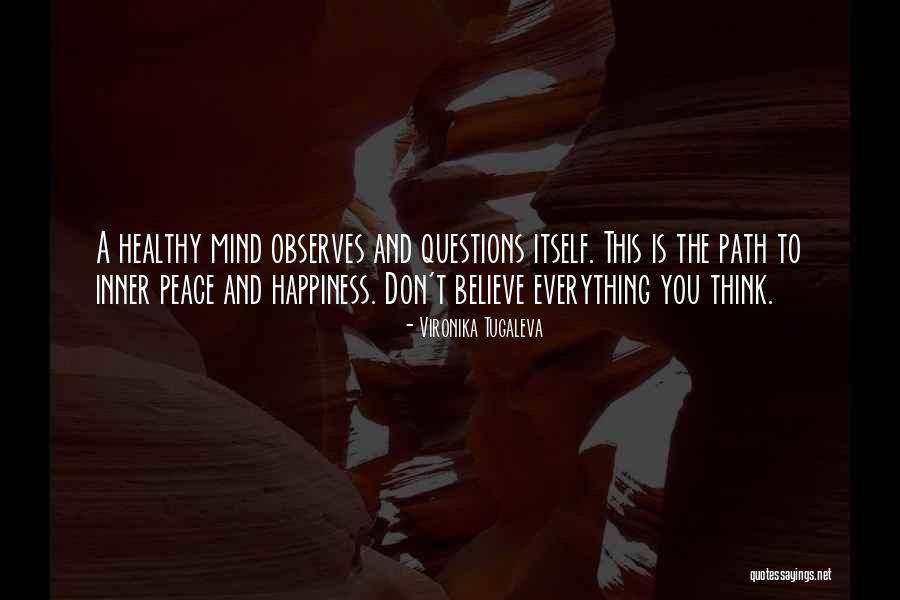 A healthy mind observes and questions itself. This is the path to inner peace and happiness. Don't believe everything you think. — Vironika Tugaleva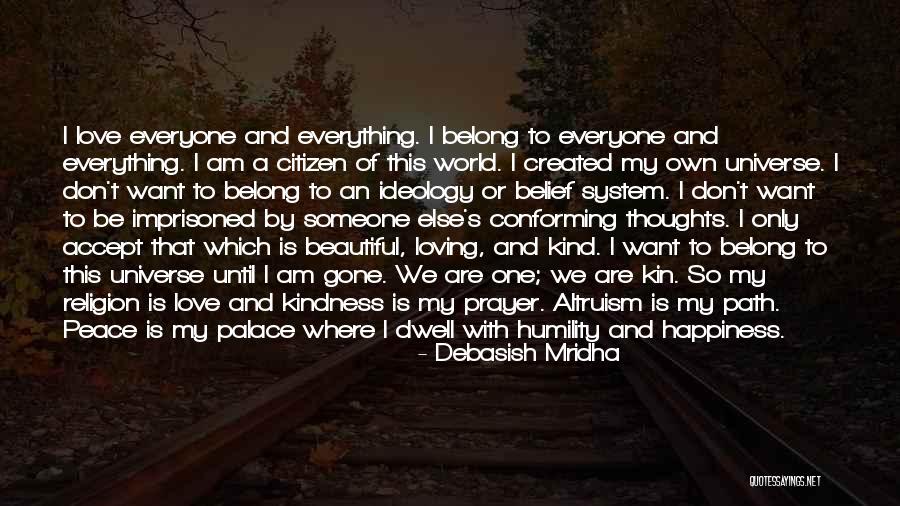 I love everyone and everything. I belong to everyone and everything. I am a citizen of this world. I created my own universe. I don't want to belong to an ideology or belief system. I don't want to be imprisoned by someone else's conforming thoughts. I only accept that which is beautiful, loving, and kind. I want to belong to this universe until I am gone. We are one; we are kin. So my religion is love and kindness is my prayer. Altruism is my path. Peace is my palace where I dwell with humility and happiness. — Debasish Mridha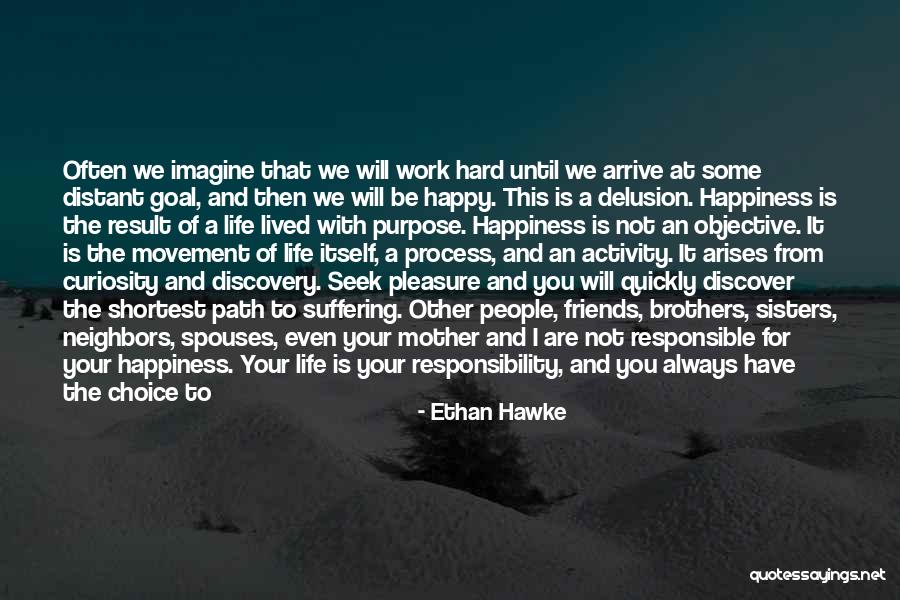 Often we imagine that we will work hard until we arrive at some distant goal, and then we will be happy. This is a delusion. Happiness is the result of a life lived with purpose. Happiness is not an objective. It is the movement of life itself, a process, and an activity. It arises from curiosity and discovery. Seek pleasure and you will quickly discover the shortest path to suffering. Other people, friends, brothers, sisters, neighbors, spouses, even your mother and I are not responsible for your happiness. Your life is your responsibility, and you always have the choice to do your best. Doing your best will bring happiness. Do not be overconcerned with avoiding pain or seeking pleasure. If you are concentrating on the results of your actions, you are not dedicated to your task. — Ethan Hawke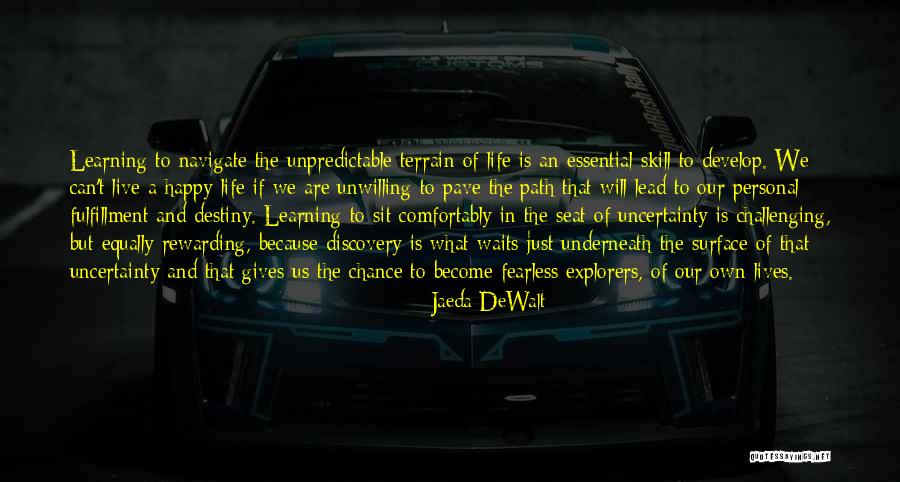 Learning to navigate the unpredictable terrain of life is an essential skill to develop. We can't live a happy life if we are unwilling to pave the path that will lead to our personal fulfillment and destiny. Learning to sit comfortably in the seat of uncertainty is challenging, but equally rewarding, because discovery is what waits just underneath the surface of that uncertainty and that gives us the chance to become fearless explorers, of our own lives. — Jaeda DeWalt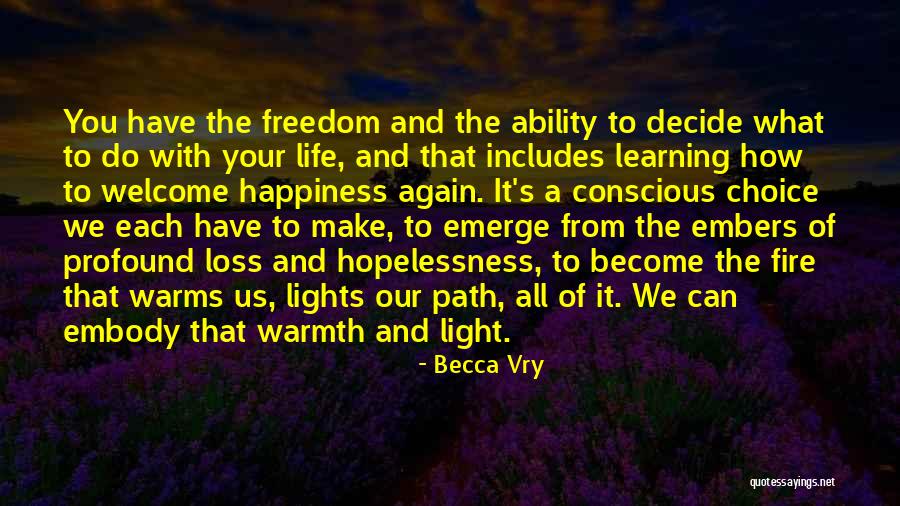 You have the freedom and the ability to decide what to do with your life, and that includes learning how to welcome happiness again. It's a conscious choice we each have to make, to emerge from the embers of profound loss and hopelessness, to become the fire that warms us, lights our path, all of it. We can embody that warmth and light. — Becca Vry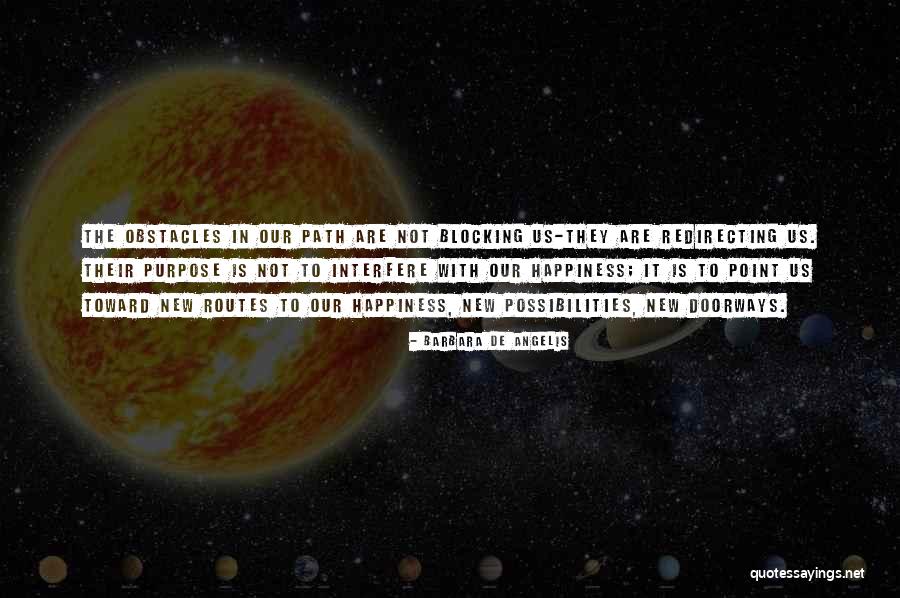 The obstacles in our path are not blocking us-they are redirecting us. Their purpose is not to interfere with our happiness; it is to point us toward new routes to our happiness, new possibilities, new doorways. — Barbara De Angelis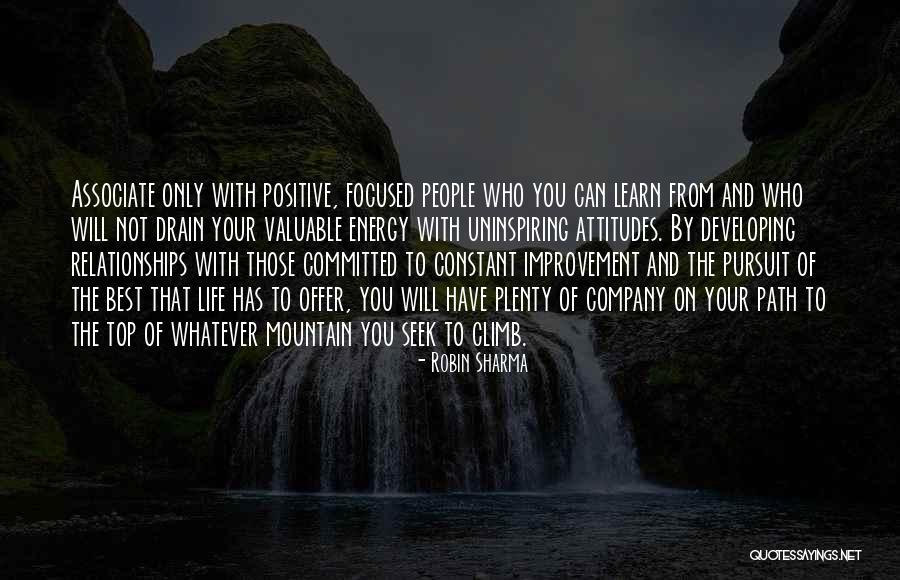 Associate only with positive, focused people who you can learn from and who will not drain your valuable energy with uninspiring attitudes. By developing relationships with those committed to constant improvement and the pursuit of the best that life has to offer, you will have plenty of company on your path to the top of whatever mountain you seek to climb. — Robin Sharma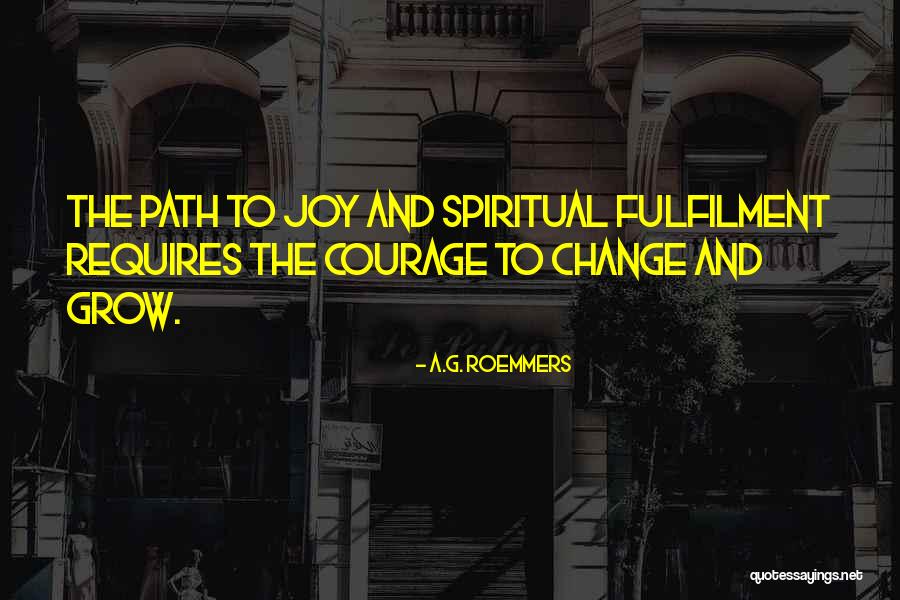 The path to joy and spiritual fulfilment requires the courage to change and grow. — A.G. Roemmers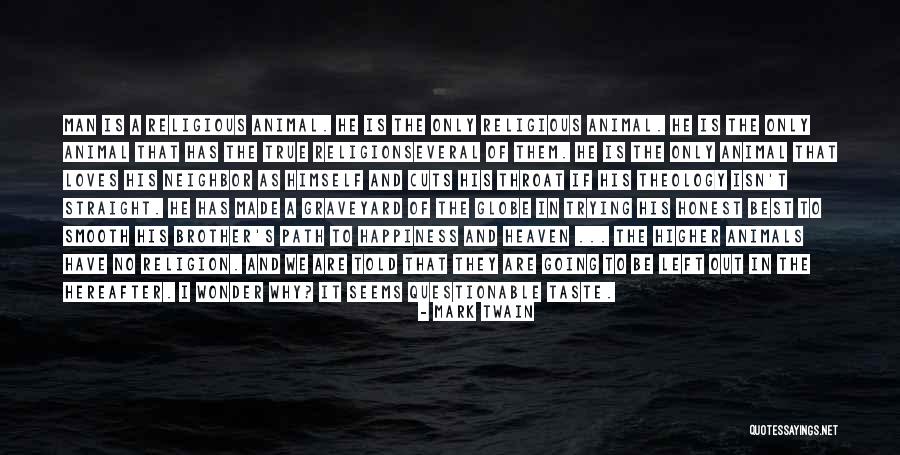 Man is a Religious Animal. He is the only Religious Animal. He is the only animal that has the True Religion
several of them. He is the only animal that loves his neighbor as himself and cuts his throat if his theology isn't straight. He has made a graveyard of the globe in trying his honest best to smooth his brother's path to happiness and heaven ... The higher animals have no religion. And we are told that they are going to be left out in the Hereafter. I wonder why? It seems questionable taste. — Mark Twain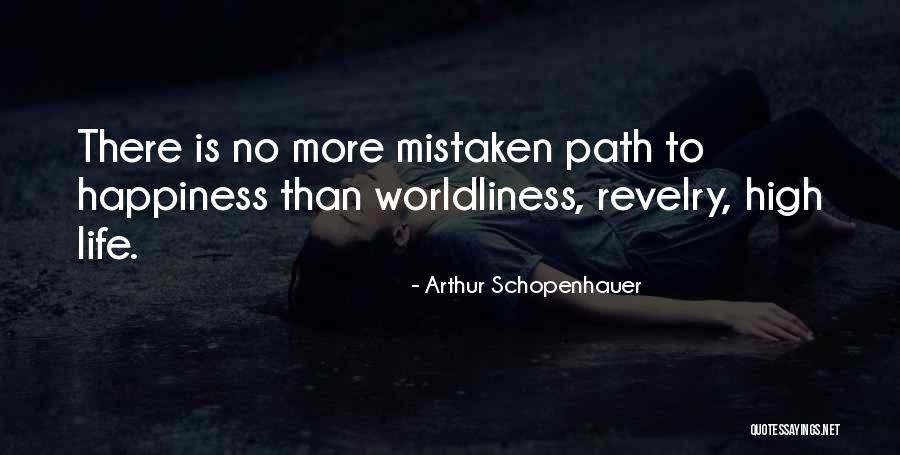 There is no more mistaken path to happiness than worldliness, revelry, high life. — Arthur Schopenhauer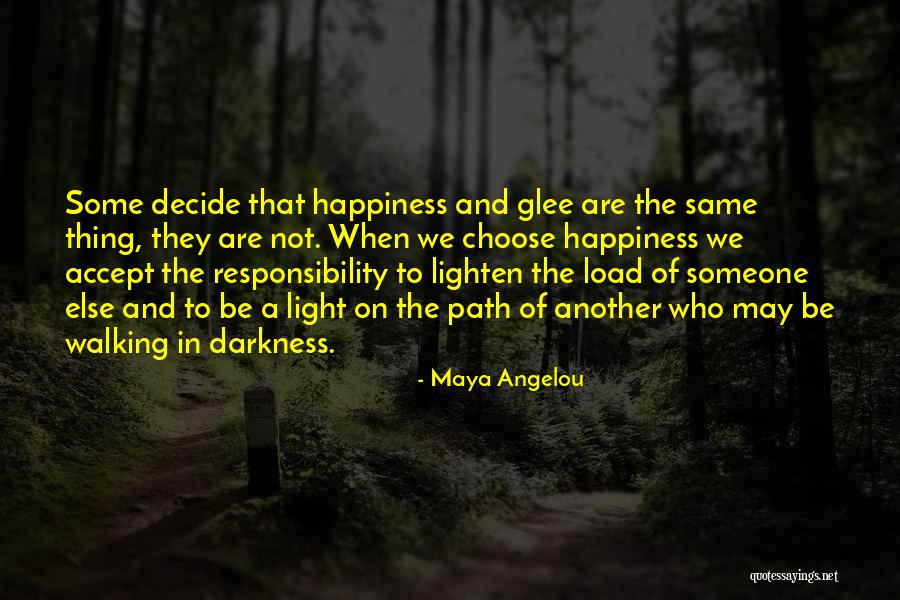 Some decide that happiness and glee are the same thing, they are not. When we choose happiness we accept the responsibility to lighten the load of someone else and to be a light on the path of another who may be walking in darkness. — Maya Angelou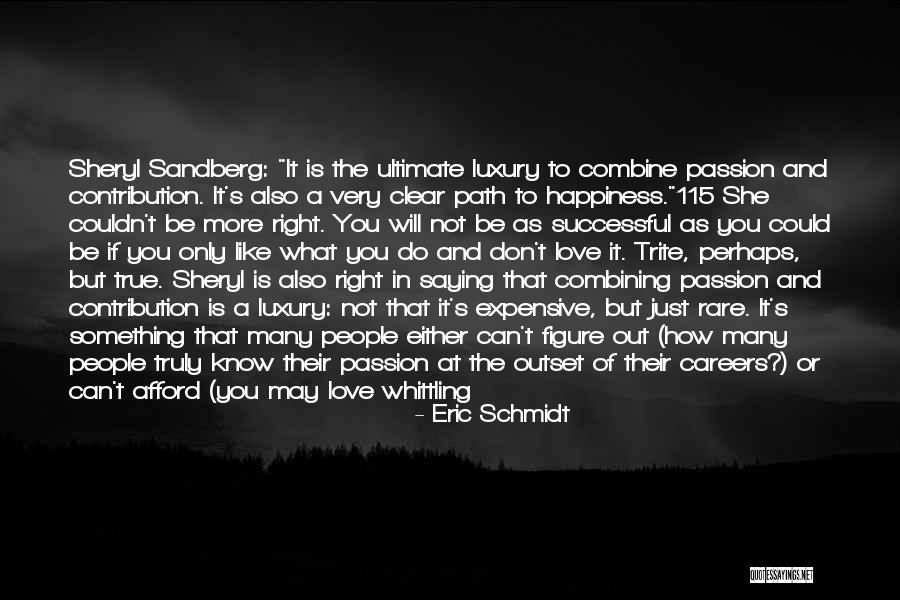 Sheryl Sandberg: "It is the ultimate luxury to combine passion and contribution. It's also a very clear path to happiness."115 She couldn't be more right. You will not be as successful as you could be if you only like what you do and don't love it. Trite, perhaps, but true. Sheryl is also right in saying that combining passion and contribution is a luxury: not that it's expensive, but just rare. It's something that many people either can't figure out (how many people truly know their passion at the outset of their careers?) or can't afford (you may love whittling garden gnomes, but the world loves engineers and your spouse and children love a regular paycheck). — Eric Schmidt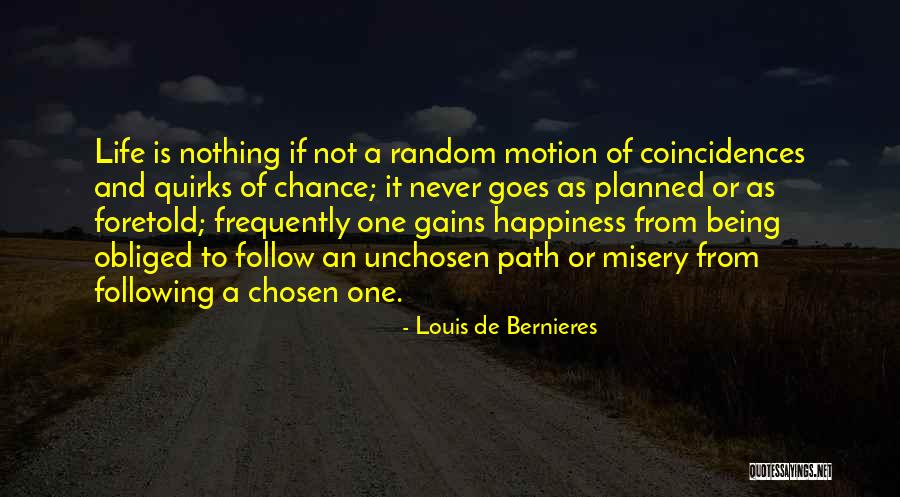 Life is nothing if not a random motion of coincidences and quirks of chance; it never goes as planned or as foretold; frequently one gains happiness from being obliged to follow an unchosen path or misery from following a chosen one. — Louis De Bernieres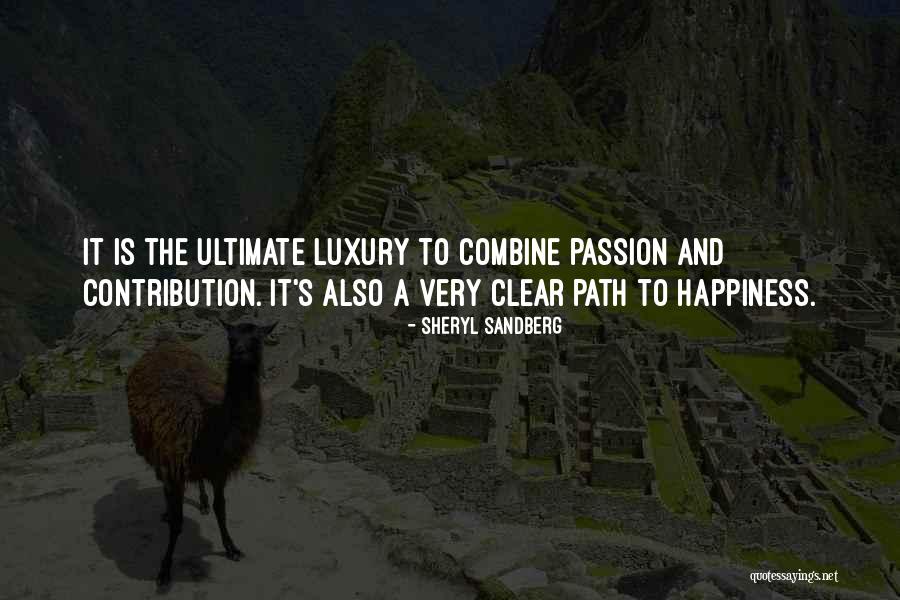 It is the ultimate luxury to combine passion and contribution. It's also a very clear path to happiness. — Sheryl Sandberg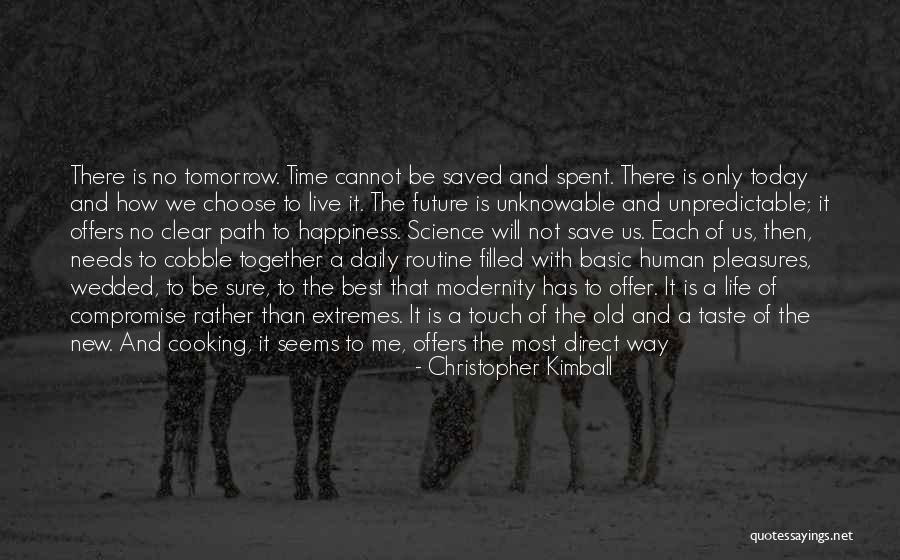 There is no tomorrow. Time cannot be saved and spent. There is only today and how we choose to live it. The future is unknowable and unpredictable; it offers no clear path to happiness. Science will not save us. Each of us, then, needs to cobble together a daily routine filled with basic human pleasures, wedded, to be sure, to the best that modernity has to offer. It is a life of compromise rather than extremes. It is a touch of the old and a taste of the new. And cooking, it seems to me, offers the most direct way back into the very heart of the good life. It is useful, it is necessary, it is social, and it offers immediate pleasure and satisfaction. It connects with the past and ensures the future. Standing in front of a hot oven, we remind ourselves of who we are, of what we are capable of and how we might stumble back to the center of happiness. Effort and pleasure go hand in hand. — Christopher Kimball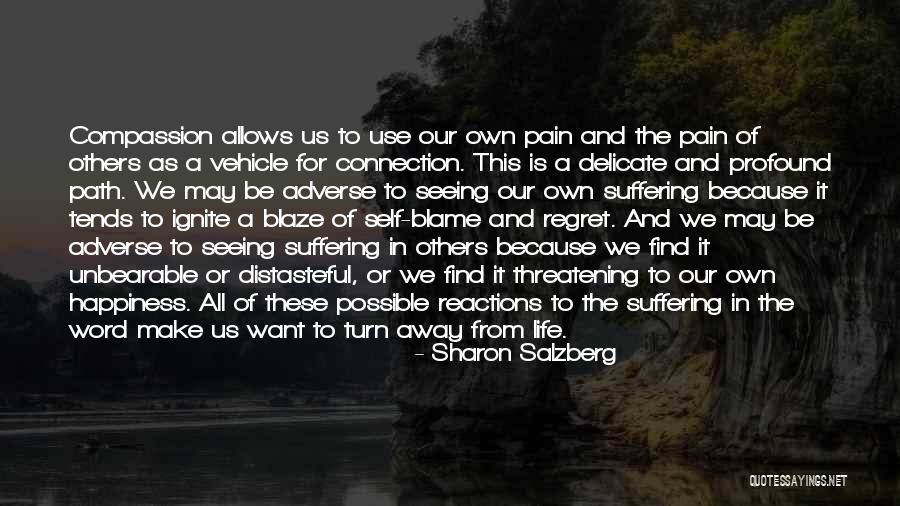 Compassion allows us to use our own pain and the pain of others as a vehicle for connection. This is a delicate and profound path. We may be adverse to seeing our own suffering because it tends to ignite a blaze of self-blame and regret. And we may be adverse to seeing suffering in others because we find it unbearable or distasteful, or we find it threatening to our own happiness. All of these possible reactions to the suffering in the word make us want to turn away from life. — Sharon Salzberg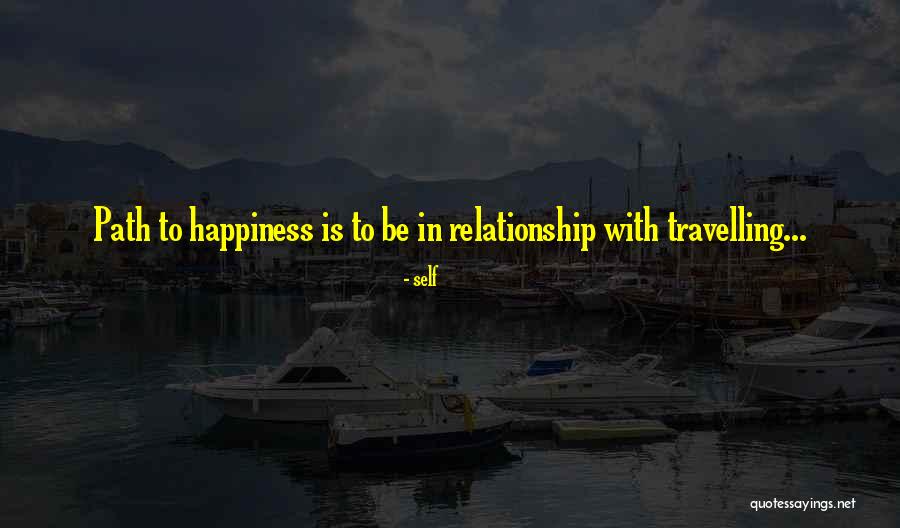 Path to happiness is to be in relationship with travelling... — Self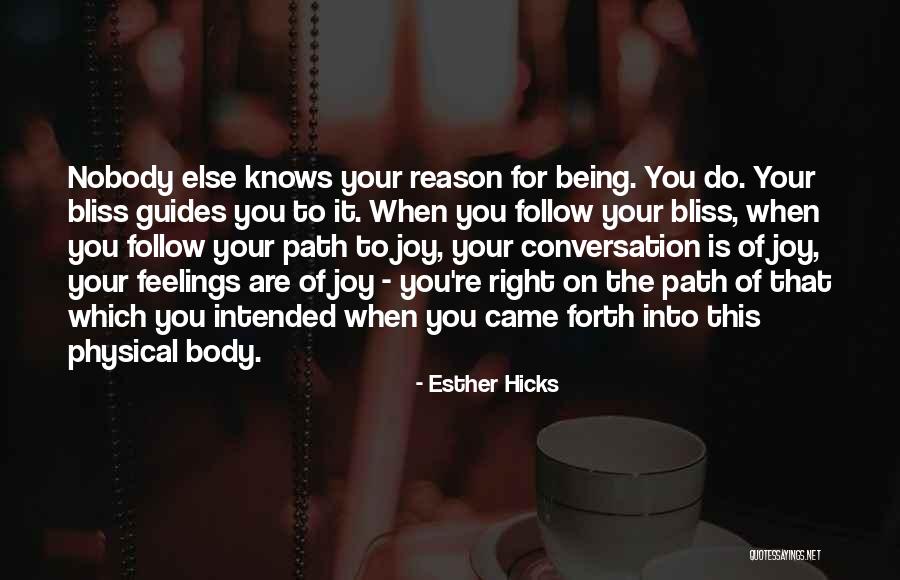 Nobody else knows your reason for being. You do. Your bliss guides you to it. When you follow your bliss, when you follow your path to joy, your conversation is of joy, your feelings are of joy - you're right on the path of that which you intended when you came forth into this physical body. — Esther Hicks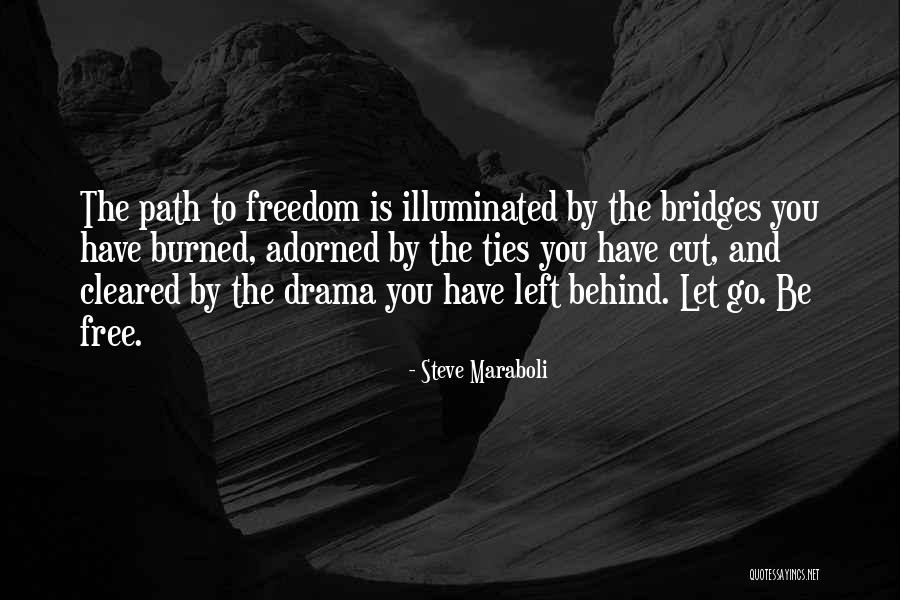 The path to freedom is illuminated by the bridges you have burned, adorned by the ties you have cut, and cleared by the drama you have left behind. Let go. Be free. — Steve Maraboli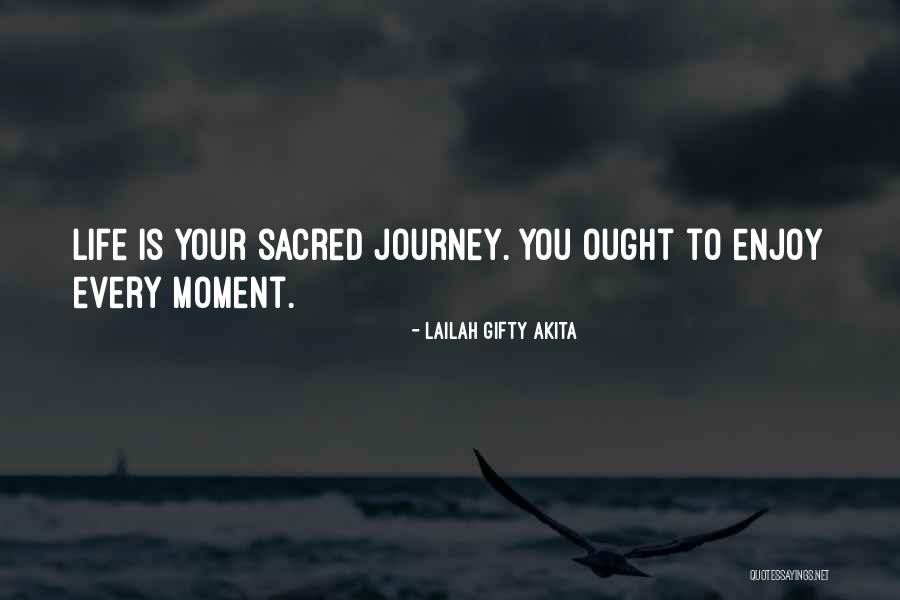 Life is your sacred journey. You ought to enjoy every moment. — Lailah Gifty Akita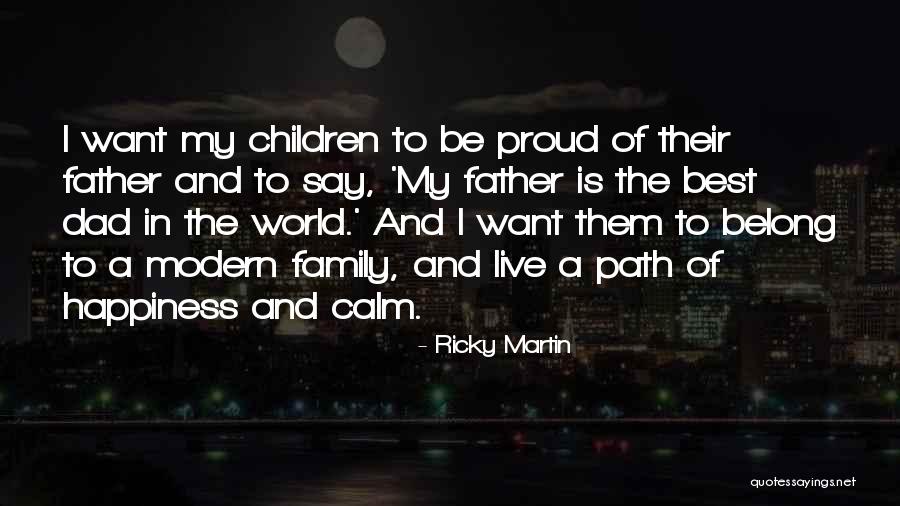 I want my children to be proud of their father and to say, 'My father is the best dad in the world.' And I want them to belong to a modern family, and live a path of happiness and calm. — Ricky Martin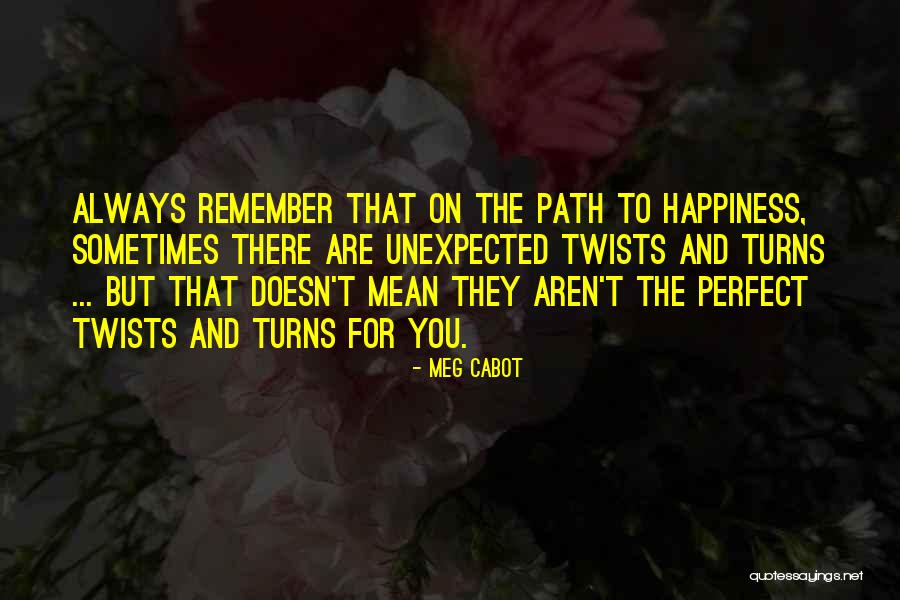 Always remember that on the path to happiness, sometimes there are unexpected twists and turns ... but that doesn't mean they aren't the perfect twists and turns for you. — Meg Cabot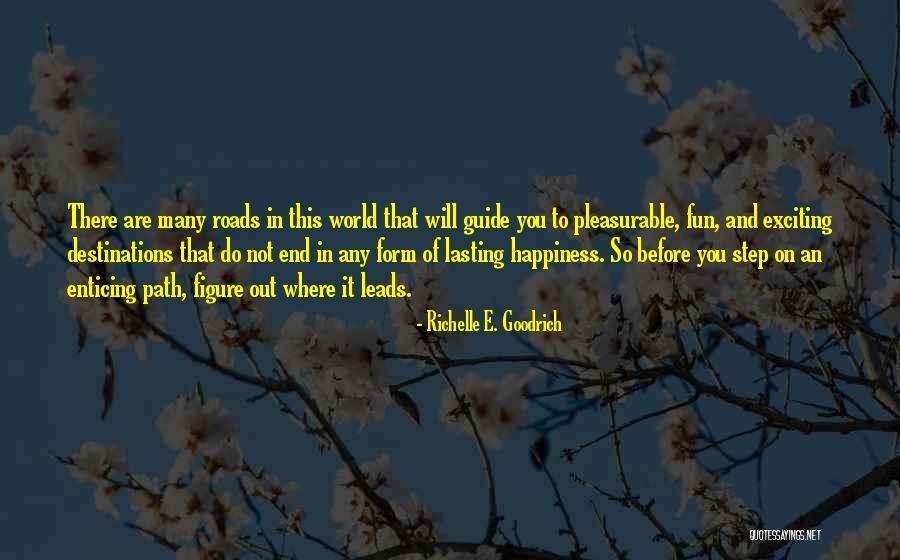 There are many roads in this world that will guide you to pleasurable, fun, and exciting destinations that do not end in any form of lasting happiness. So before you step on an enticing path, figure out where it leads. — Richelle E. Goodrich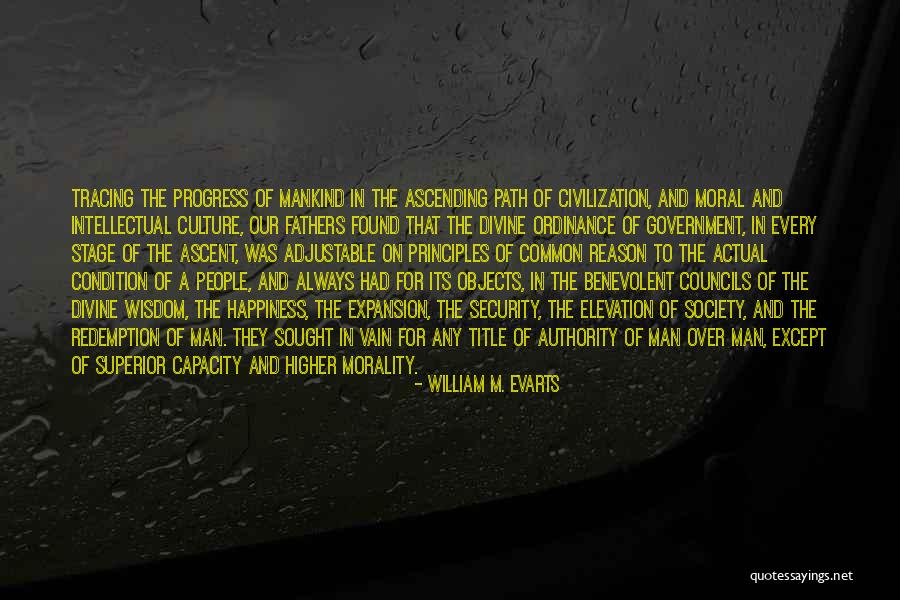 Tracing the progress of mankind in the ascending path of civilization, and moral and intellectual culture, our fathers found that the divine ordinance of government, in every stage of the ascent, was adjustable on principles of common reason to the actual condition of a people, and always had for its objects, in the benevolent councils of the divine wisdom, the happiness, the expansion, the security, the elevation of society, and the redemption of man. They sought in vain for any title of authority of man over man, except of superior capacity and higher morality. — William M. Evarts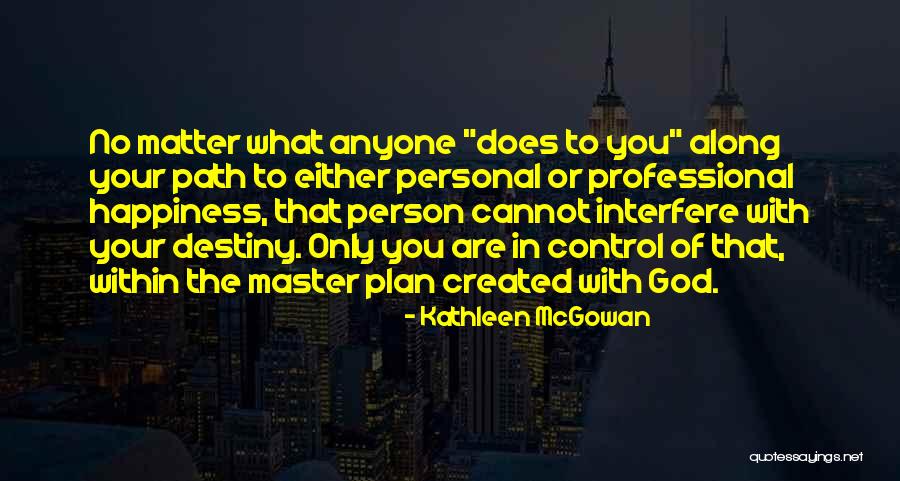 No matter what anyone "does to you" along your path to either personal or professional happiness, that person cannot interfere with your destiny. Only you are in control of that, within the master plan created with God. — Kathleen McGowan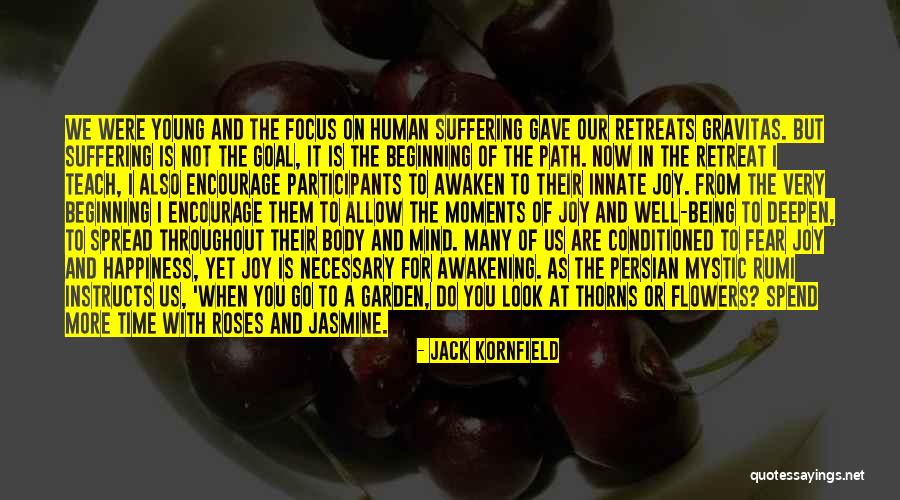 We were young and the focus on human suffering gave our retreats gravitas. But suffering is not the goal, it is the beginning of the path. Now in the retreat I teach, I also encourage participants to awaken to their innate joy. From the very beginning I encourage them to allow the moments of joy and well-being to deepen, to spread throughout their body and mind. Many of us are conditioned to fear joy and happiness, yet joy is necessary for awakening. As the Persian mystic Rumi instructs us, 'When you go to a garden, do you look at thorns or flowers? Spend more time with roses and jasmine. — Jack Kornfield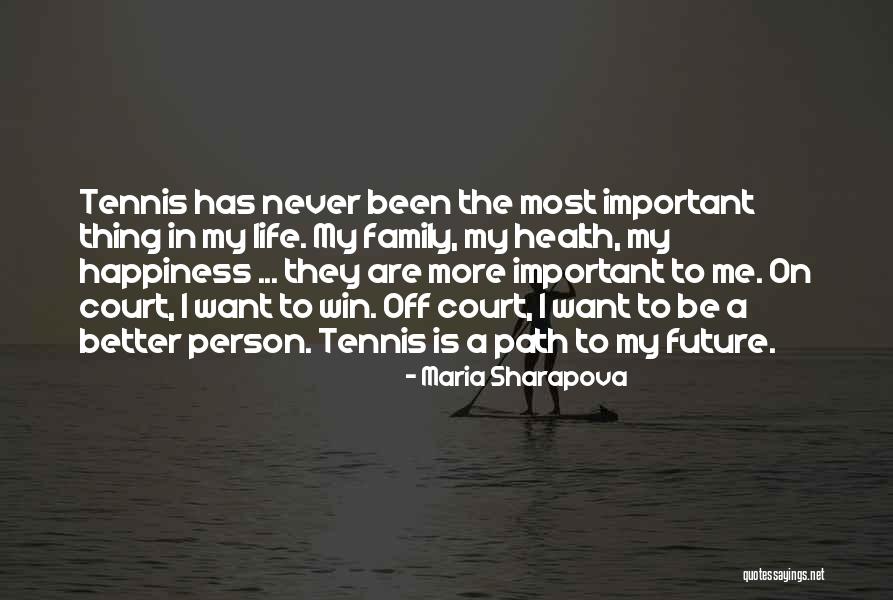 Tennis has never been the most important thing in my life. My family, my health, my happiness ... they are more important to me. On court, I want to win. Off court, I want to be a better person. Tennis is a path to my future. — Maria Sharapova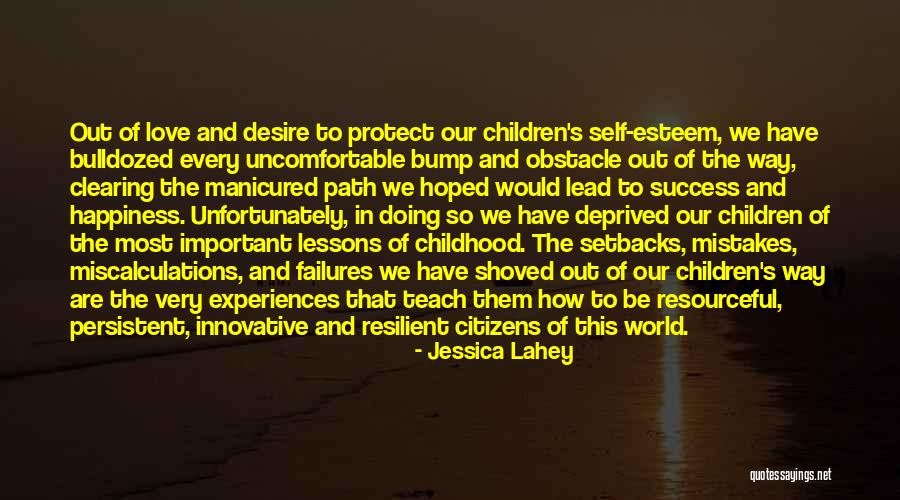 Out of love and desire to protect our children's self-esteem, we have bulldozed every uncomfortable bump and obstacle out of the way, clearing the manicured path we hoped would lead to success and happiness. Unfortunately, in doing so we have deprived our children of the most important lessons of childhood. The setbacks, mistakes, miscalculations, and failures we have shoved out of our children's way are the very experiences that teach them how to be resourceful, persistent, innovative and resilient citizens of this world. — Jessica Lahey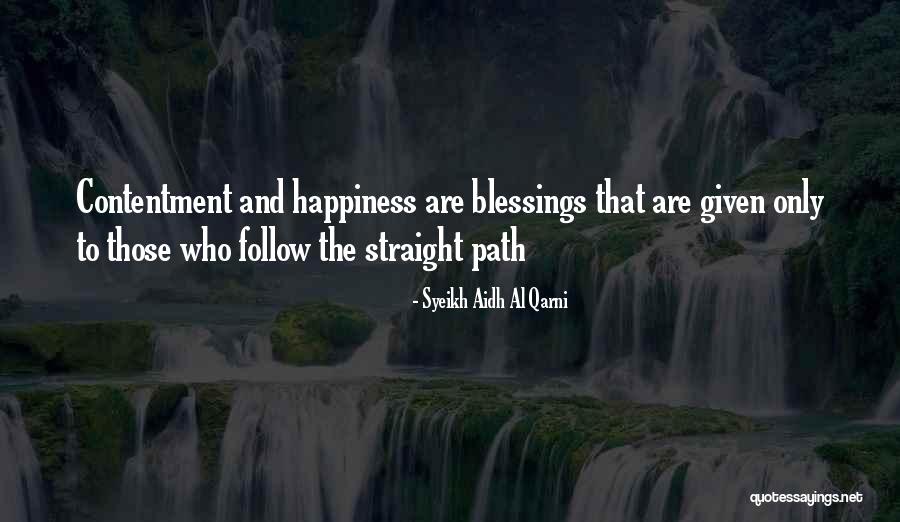 Contentment and happiness are blessings that are given only to those who follow the straight path — Syeikh Aidh Al Qarni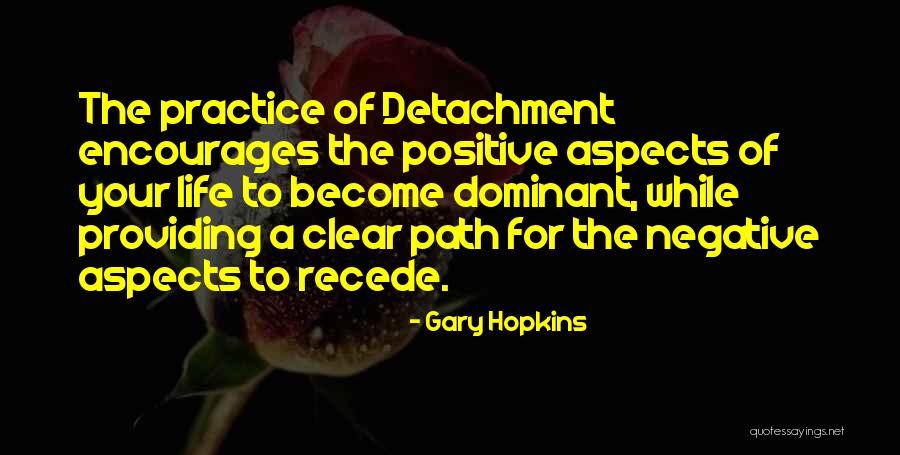 The practice of Detachment encourages the positive aspects of your life to become dominant, while providing a clear path for the negative aspects to recede. — Gary Hopkins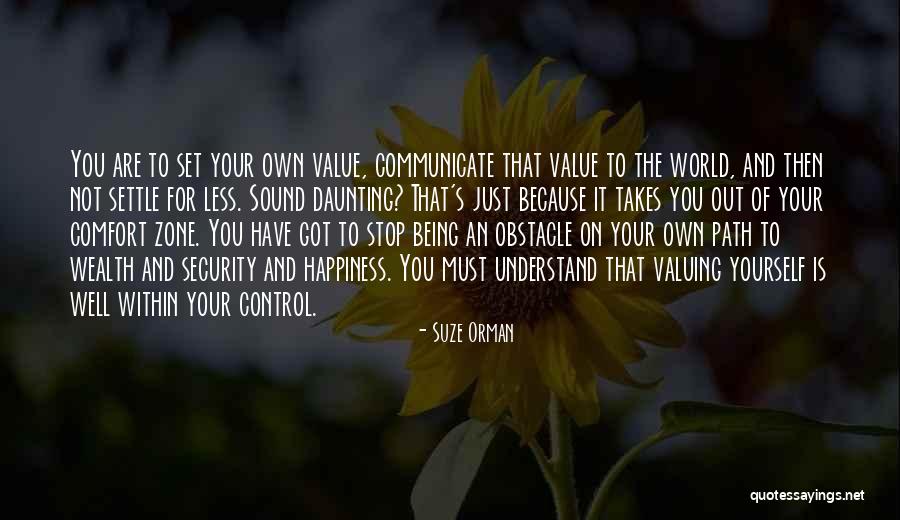 You are to set your own value, communicate that value to the world, and then not settle for less. Sound daunting? That's just because it takes you out of your comfort zone. You have got to stop being an obstacle on your own path to wealth and security and happiness. You must understand that valuing yourself is well within your control. — Suze Orman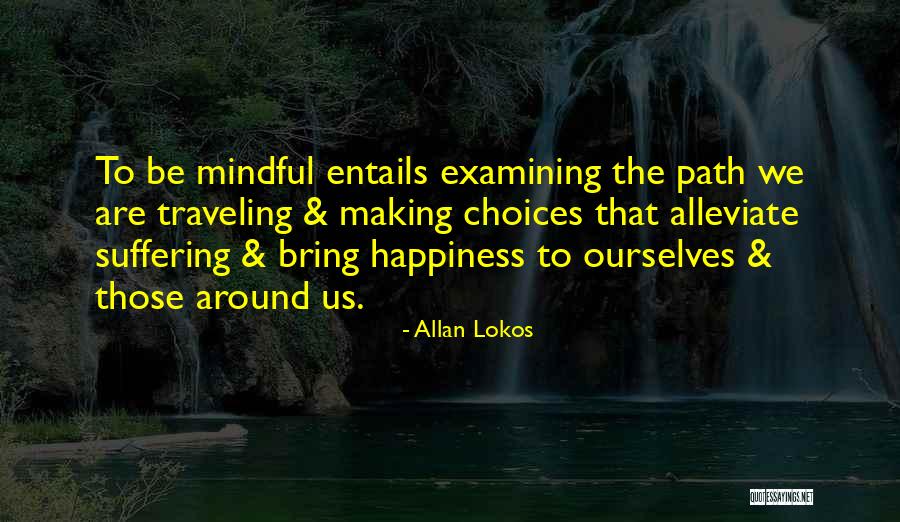 To be mindful entails examining the path we are traveling & making choices that alleviate suffering & bring happiness to ourselves & those around us. — Allan Lokos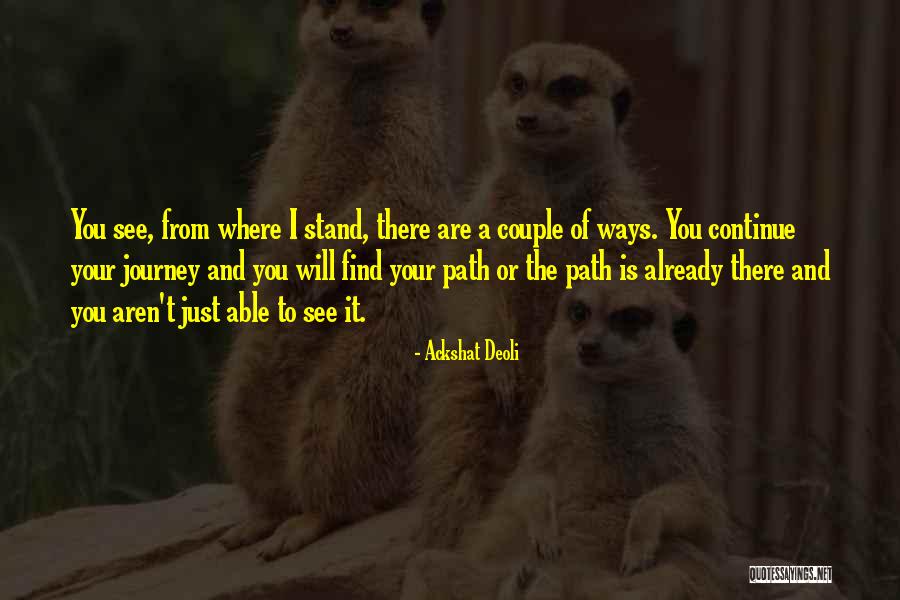 You see, from where I stand, there are a couple of ways. You continue your journey and you will find your path or the path is already there and you aren't just able to see it. — Ackshat Deoli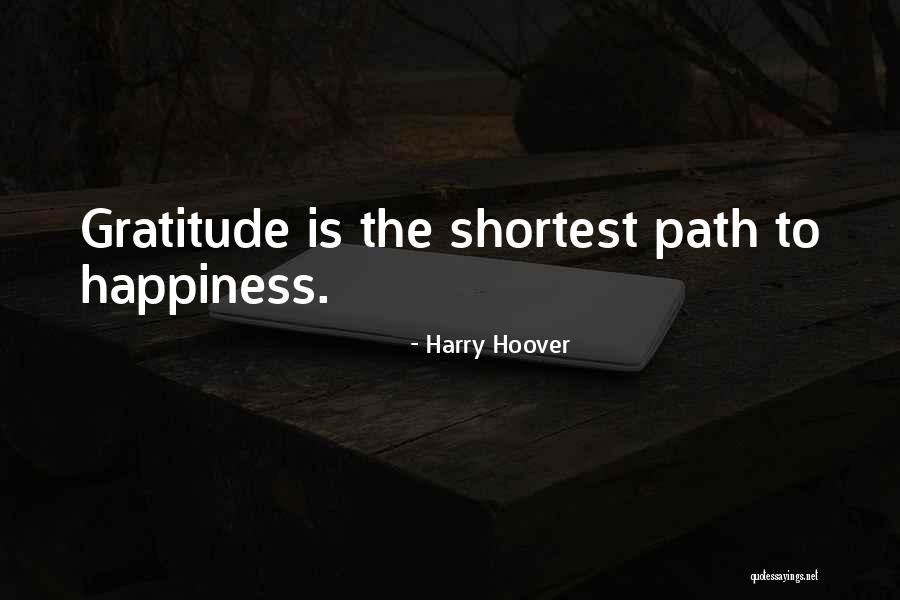 Gratitude is the shortest path to happiness. — Harry Hoover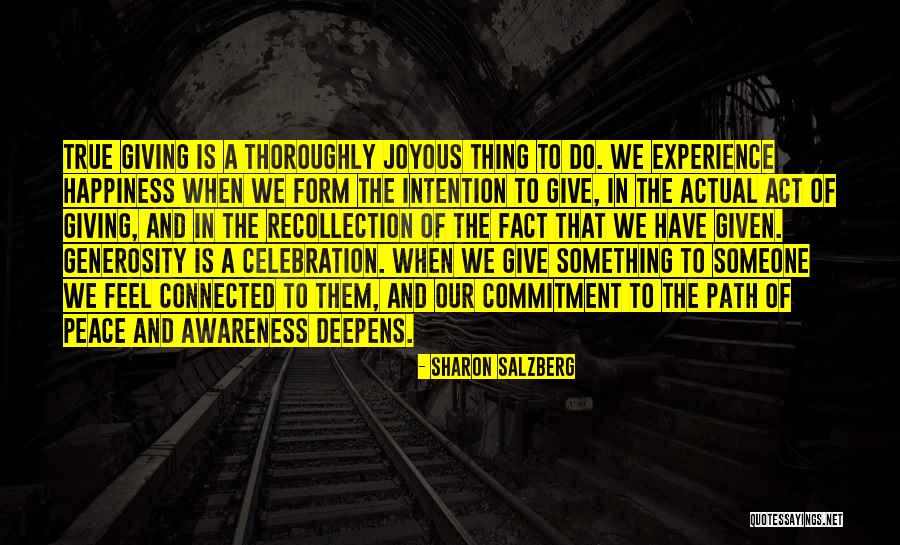 True giving is a thoroughly joyous thing to do. We experience happiness when we form the intention to give, in the actual act of giving, and in the recollection of the fact that we have given. Generosity is a celebration. When we give something to someone we feel connected to them, and our commitment to the path of peace and awareness deepens. — Sharon Salzberg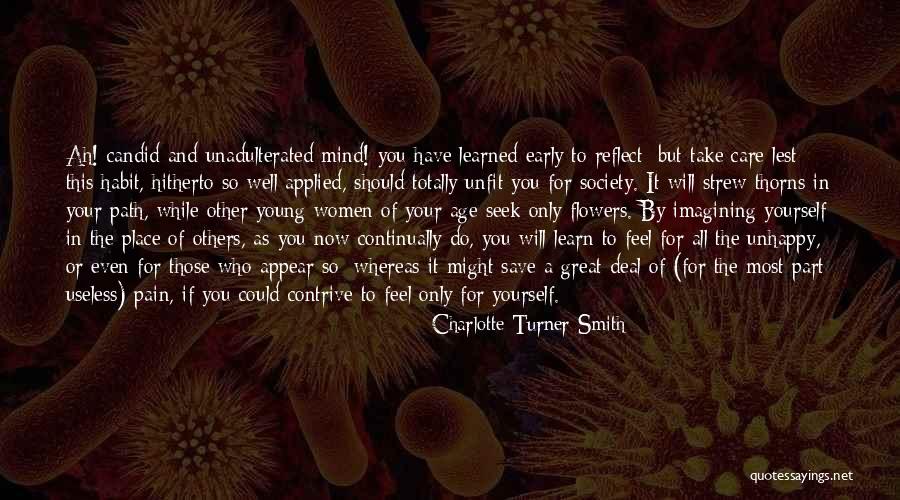 Ah! candid and unadulterated mind! you have learned early to reflect; but take care lest this habit, hitherto so well applied, should totally unfit you for society. It will strew thorns in your path, while other young women of your age seek only flowers. By imagining yourself in the place of others, as you now continually do, you will learn to feel for all the unhappy, or even for those who appear so; whereas it might save a great deal of (for the most part useless) pain, if you could contrive to feel only for yourself. — Charlotte Turner Smith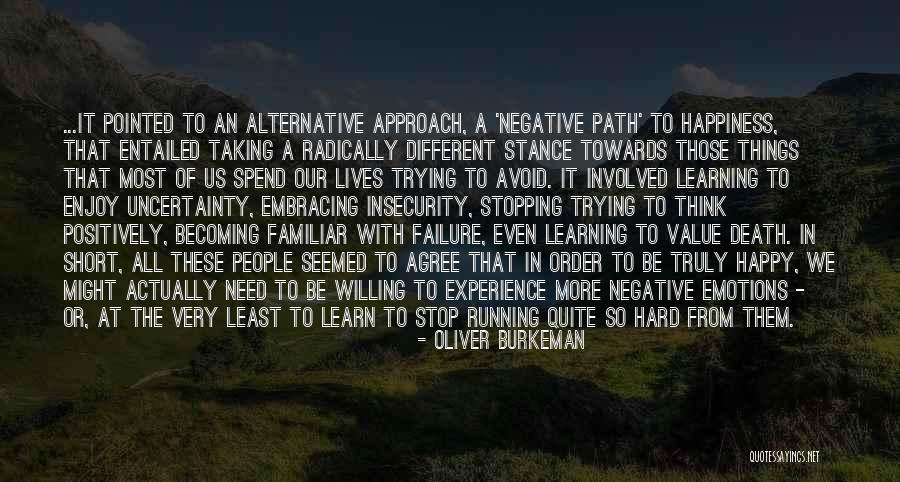 ...it pointed to an alternative approach, a 'negative path' to happiness, that entailed taking a radically different stance towards those things that most of us spend our lives trying to avoid. It involved learning to enjoy uncertainty, embracing insecurity, stopping trying to think positively, becoming familiar with failure, even learning to value death. In short, all these people seemed to agree that in order to be truly happy, we might actually need to be willing to experience more negative emotions - or, at the very least to learn to stop running quite so hard from them. — Oliver Burkeman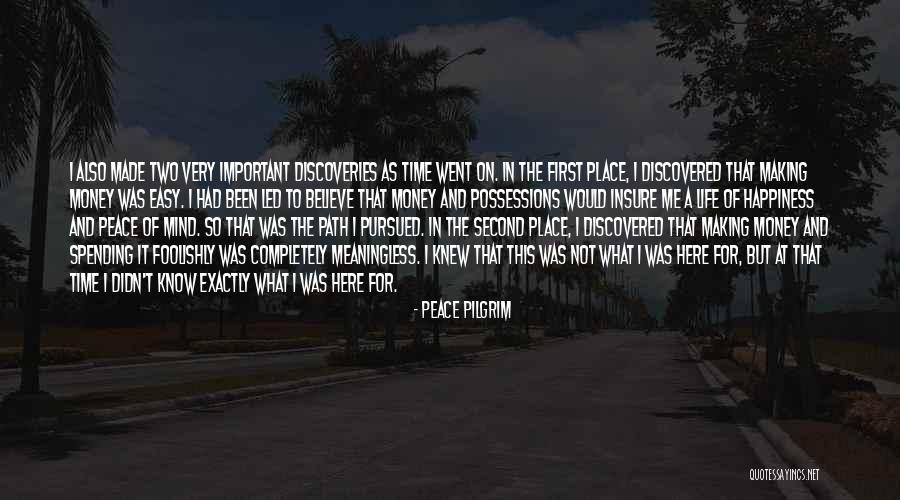 I also made two very important discoveries as time went on. In the first place, I discovered that making money was easy. I had been led to believe that money and possessions would insure me a life of happiness and peace of mind. So that was the path I pursued. In the second place, I discovered that making money and spending it foolishly was completely meaningless. I knew that this was not what I was here for, but at that time I didn't know exactly what I was here for. — Peace Pilgrim
Most of us spend our time seeking happiness and security without acknowledging the underlying purpose of our search. Each of us is looking for a path back to the present: We are trying to find good enough reasons to be satisfied now. Acknowledging that this is the structure of the game we are playing allows us to play it differently. How we pay attention to the present moment largely determines the character of our experience and, therefore, the quality of our lives. Mystics and contemplatives have made this claim for ages - but a growing body of scientific research now bears it out. — Sam Harris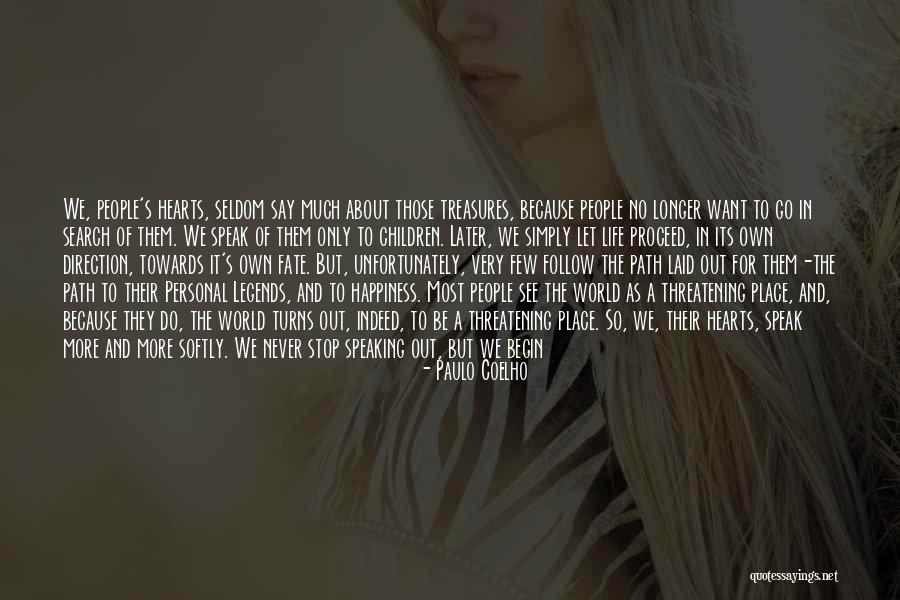 We, people's hearts, seldom say much about those treasures, because people no longer want to go in search of them. We speak of them only to children. Later, we simply let life proceed, in its own direction, towards it's own fate. But, unfortunately, very few follow the path laid out for them-the path to their Personal Legends, and to happiness. Most people see the world as a threatening place, and, because they do, the world turns out, indeed, to be a threatening place. So, we, their hearts, speak more and more softly. We never stop speaking out, but we begin to hope that our words won't be heard: we don't want people to suffer because they don't follow their hearts. — Paulo Coelho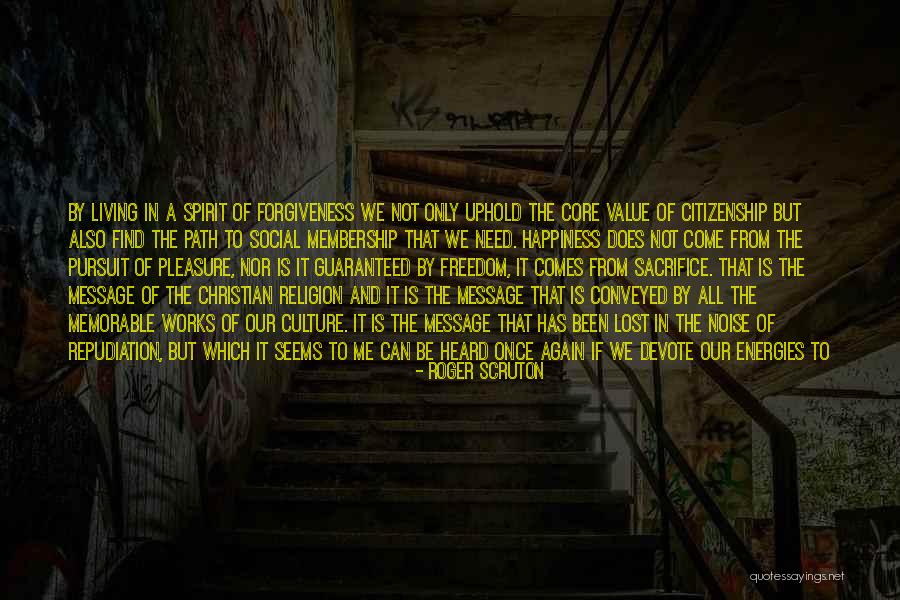 By living in a spirit of forgiveness we not only uphold the core value of citizenship but also find the path to social membership that we need. Happiness does not come from the pursuit of pleasure, nor is it guaranteed by freedom, it comes from sacrifice. That is the message of the christian religion and it is the message that is conveyed by all the memorable works of our culture. It is the message that has been lost in the noise of repudiation, but which it seems to me can be heard once again if we devote our energies to retrieving it. And in the christian tradition the primary act of sacrifice is forgiveness. The one who forgives sacrifices vengeance and renounces thereby a part of himself for the sake of another. — Roger Scruton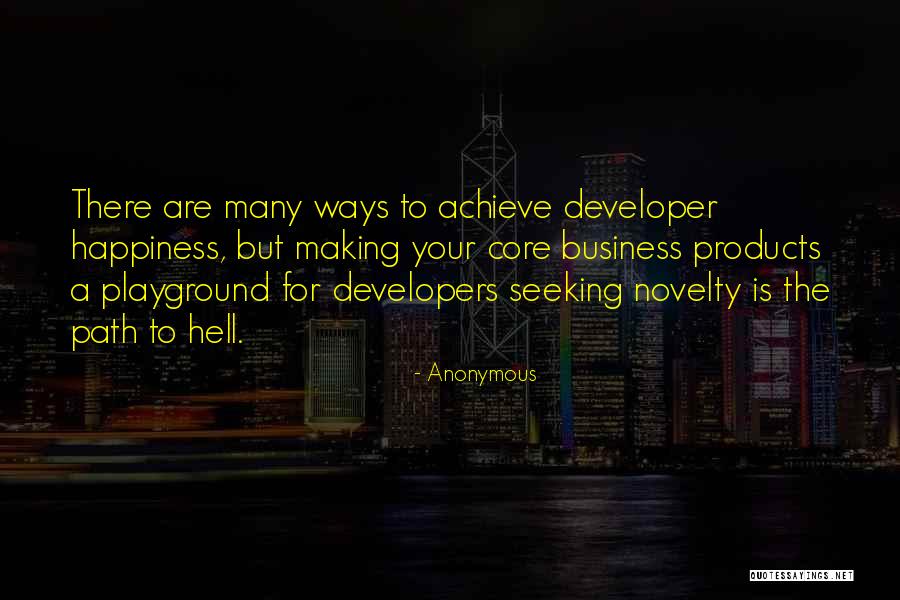 There are many ways to achieve developer happiness, but making your core business products a playground for developers seeking novelty is the path to hell. — Anonymous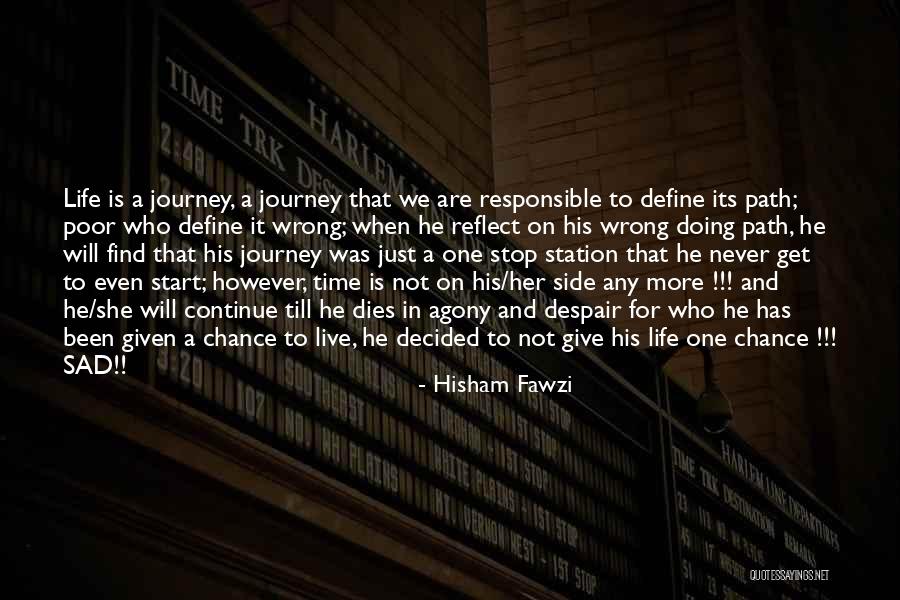 Life is a journey, a journey that we are responsible to define its path; poor who define it wrong; when he reflect on his wrong doing path, he will find that his journey was just a one stop station that he never get to even start; however, time is not on his/her side any more !!! and he/she will continue till he dies in agony and despair for who he has been given a chance to live, he decided to not give his life one chance !!! SAD!! — Hisham Fawzi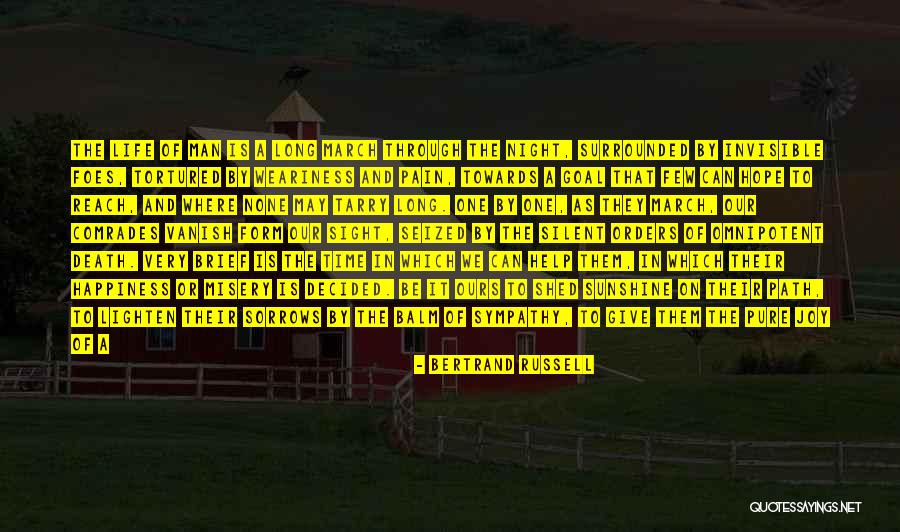 The life of Man is a long march through the night, surrounded by invisible foes, tortured by weariness and pain, towards a goal that few can hope to reach, and where none may tarry long. One by one, as they march, our comrades vanish form our sight, seized by the silent orders of omnipotent Death. Very brief is the time in which we can help them, in which their happiness or misery is decided. Be it ours to shed sunshine on their path, to lighten their sorrows by the balm of sympathy, to give them the pure joy of a never-tiring affection, to strengthen failing courage, to instill faith in times of despair. — Bertrand Russell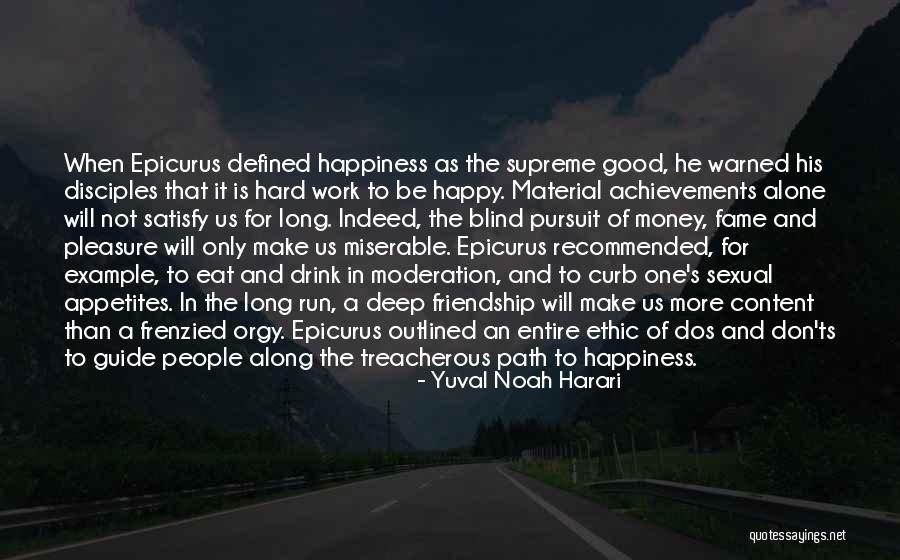 When Epicurus defined happiness as the supreme good, he warned his disciples that it is hard work to be happy. Material achievements alone will not satisfy us for long. Indeed, the blind pursuit of money, fame and pleasure will only make us miserable. Epicurus recommended, for example, to eat and drink in moderation, and to curb one's sexual appetites. In the long run, a deep friendship will make us more content than a frenzied orgy. Epicurus outlined an entire ethic of dos and don'ts to guide people along the treacherous path to happiness. — Yuval Noah Harari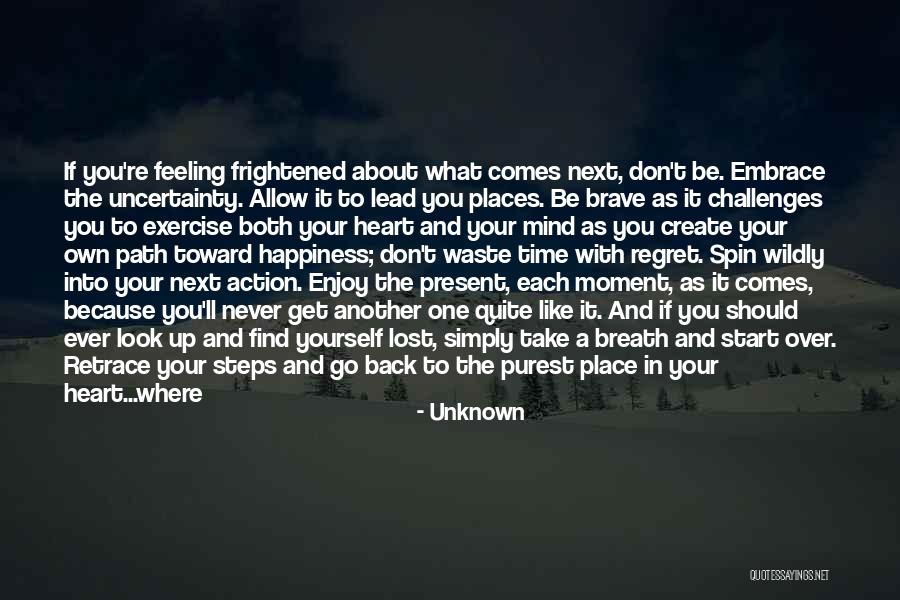 If you're feeling frightened about what comes next, don't be. Embrace the uncertainty. Allow it to lead you places. Be brave as it challenges you to exercise both your heart and your mind as you create your own path toward happiness; don't waste time with regret. Spin wildly into your next action. Enjoy the present, each moment, as it comes, because you'll never get another one quite like it. And if you should ever look up and find yourself lost, simply take a breath and start over. Retrace your steps and go back to the purest place in your heart...where your hope lives. You'll find your way again. — Unknown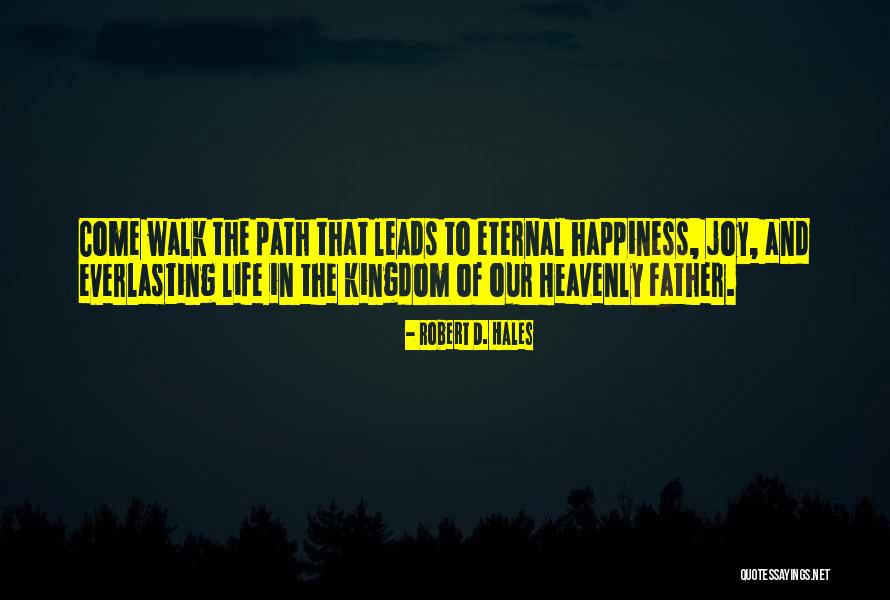 Come walk the path that leads to eternal happiness, joy, and everlasting life in the kingdom of our Heavenly Father. — Robert D. Hales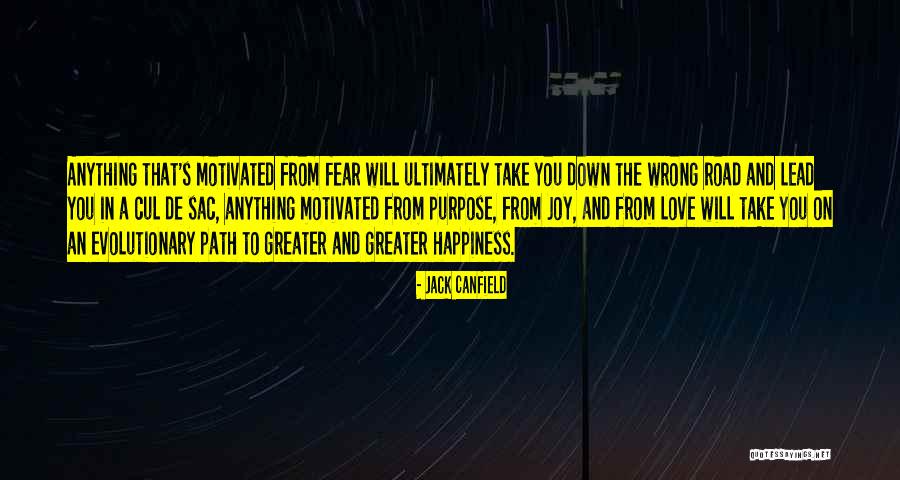 Anything that's motivated from fear will ultimately take you down the wrong road and lead you in a cul de sac, anything motivated from purpose, from joy, and from love will take you on an evolutionary path to greater and greater happiness. — Jack Canfield
People who know their purpose know where they're going, what they're doing, and, more importantly, they know why they're doing it. This shifts the basic emphasis of life from one of meeting needs, dealing with fears, and seeking happiness to following a path that leads to the greatest possible fulfillment, success, and meaning in life. Knowing your purpose satisfies a deep need that lives in everyone: the need for meaning, to have a positive impact, to have your presence and life felt by others. As people age, the yearning to leave some kind of legacy grows stronger. There is no greater legacy you can leave than living your life purpose to the fullest extent possible. — Tim Kelley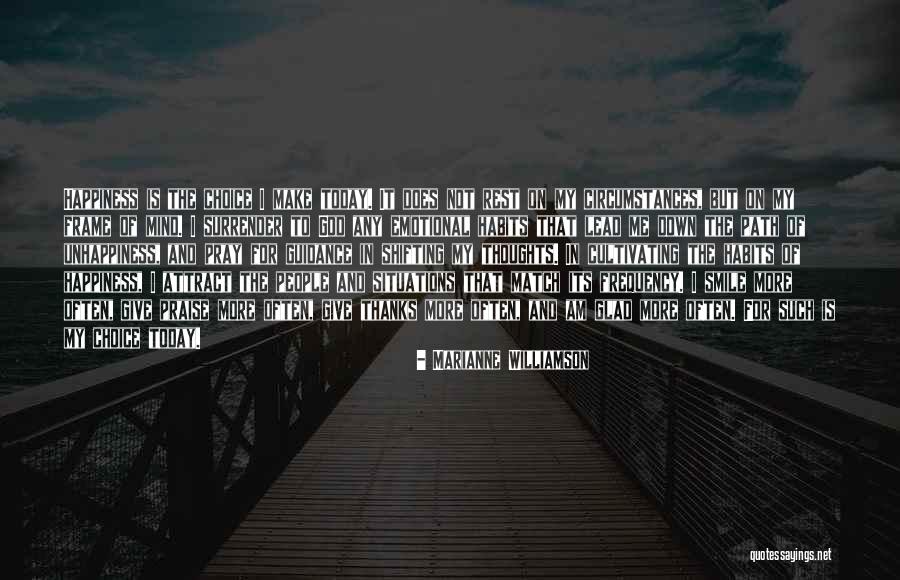 Happiness is the choice I make today. It does not rest on my circumstances, but on my frame of mind. I surrender to God any emotional habits that lead me down the path of unhappiness, and pray for guidance in shifting my thoughts. In cultivating the habits of happiness, I attract the people and situations that match its frequency. I smile more often, give praise more often, give thanks more often, and am glad more often. For such is my choice today. — Marianne Williamson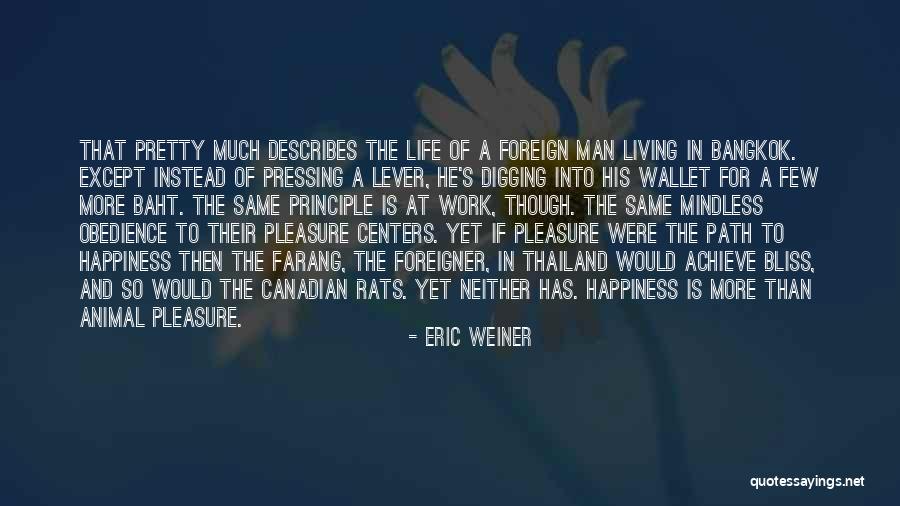 That pretty much describes the life of a foreign man living in Bangkok. Except instead of pressing a lever, he's digging into his wallet for a few more baht. The same principle is at work, though. The same mindless obedience to their pleasure centers. Yet if pleasure were the path to happiness then the farang, the foreigner, in Thailand would achieve bliss, and so would the Canadian rats. Yet neither has. Happiness is more than animal pleasure. — Eric Weiner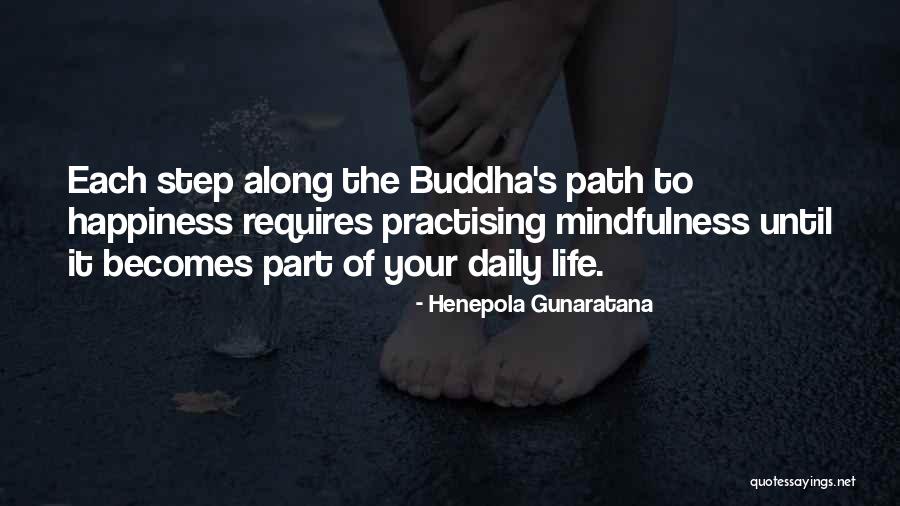 Each step along the Buddha's path to happiness requires practising mindfulness until it becomes part of your daily life. — Henepola Gunaratana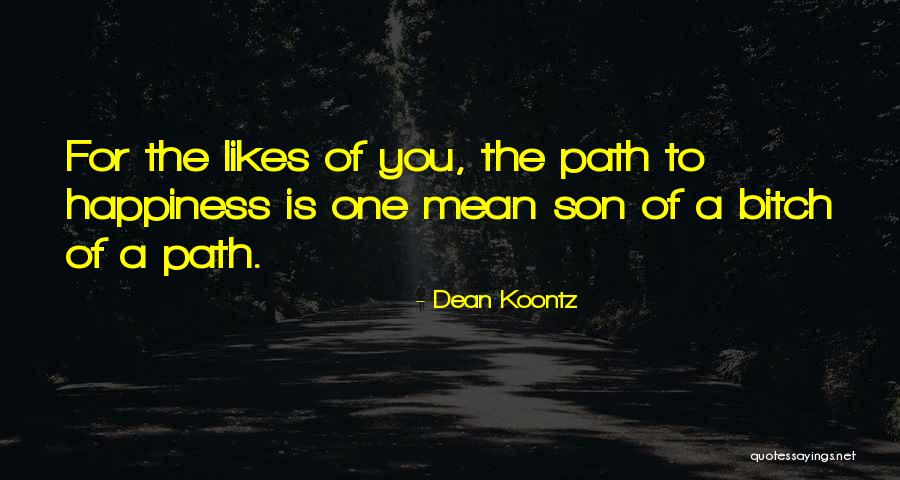 For the likes of you, the path to happiness is one mean son of a bitch of a path. — Dean Koontz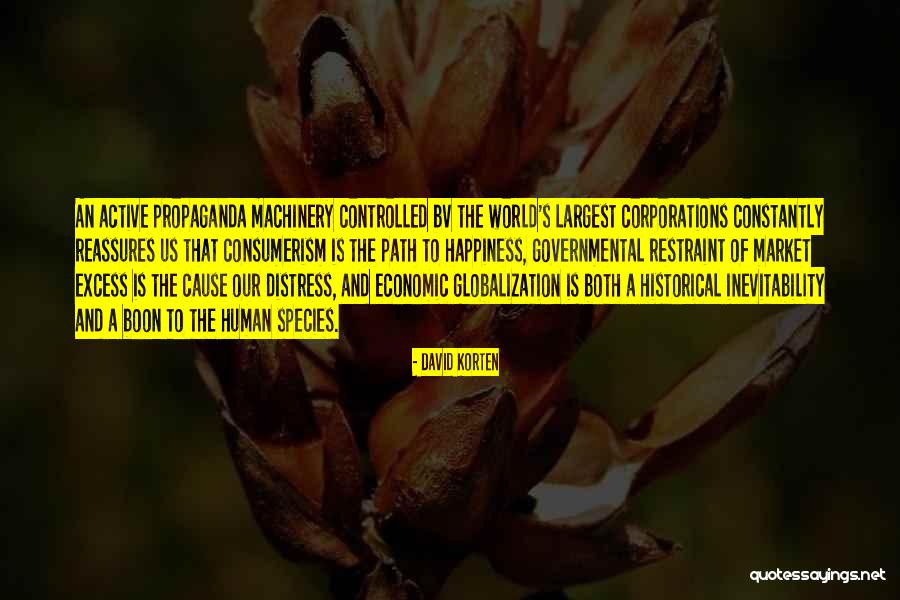 An active propaganda machinery controlled bv the world's largest corporations constantly reassures us that consumerism is the path to happiness, governmental restraint of market excess is the cause our distress, and economic globalization is both a historical inevitability and a boon to the human species. — David Korten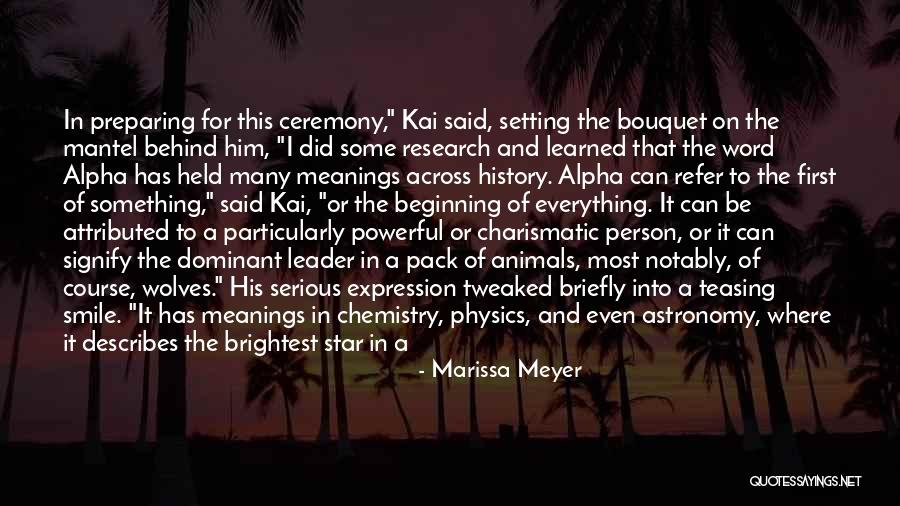 In preparing for this ceremony," Kai said, setting the bouquet on the mantel behind him, "I did some research and learned that the word Alpha has held many meanings across history. Alpha can refer to the first of something," said Kai, "or the beginning of everything. It can be attributed to a particularly powerful or charismatic person, or it can signify the dominant leader in a pack of animals, most notably, of course, wolves." His serious expression tweaked briefly into a teasing smile. "It has meanings in chemistry, physics, and even astronomy, where it describes the brightest star in a constellation. But it seems clear that Ze'ev and Scarlet have created their own definition for the word, and their relationship has given this word a new meaning for all of us. Being an Alpha means that you'll stand against all adversity to be with your mate. It means accepting each other, both for your strengths and your flaws. It means forging your own path to happiness and to love. — Marissa Meyer
We speak much of the duty of making others happy. No day should pass, we say, on which we do not put a little cheer into some discouraged heart, make the path a little smoother for someone's tired feet, or help some fainting robin unto its nest again. This is right. We cannot put too great emphasis upon the duty of giving happiness and cheer to others. But it is no less a duty that we should be happy and cheerful ourselves. — J.R. Miller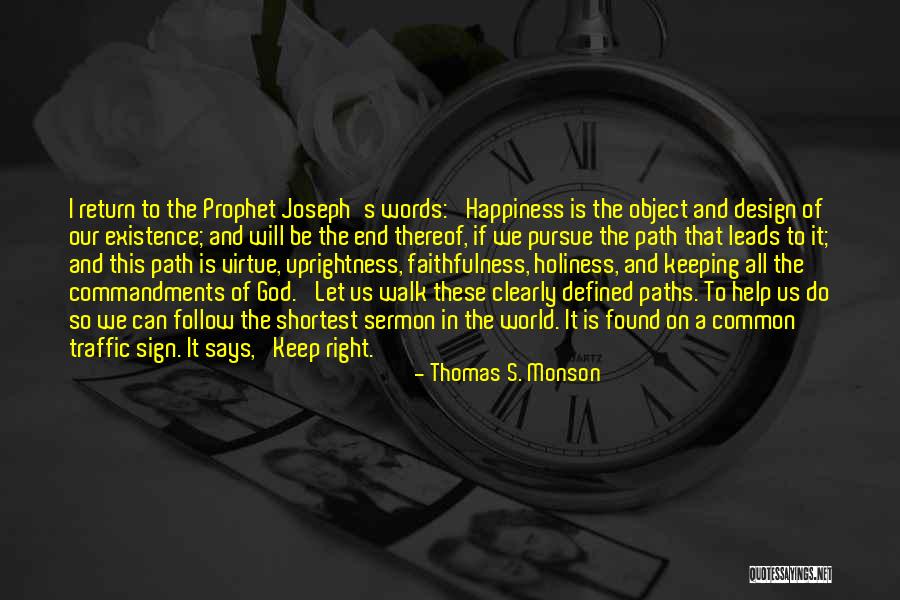 I return to the Prophet Joseph's words: 'Happiness is the object and design of our existence; and will be the end thereof, if we pursue the path that leads to it; and this path is virtue, uprightness, faithfulness, holiness, and keeping all the commandments of God.' Let us walk these clearly defined paths. To help us do so we can follow the shortest sermon in the world. It is found on a common traffic sign. It says, 'Keep right. — Thomas S. Monson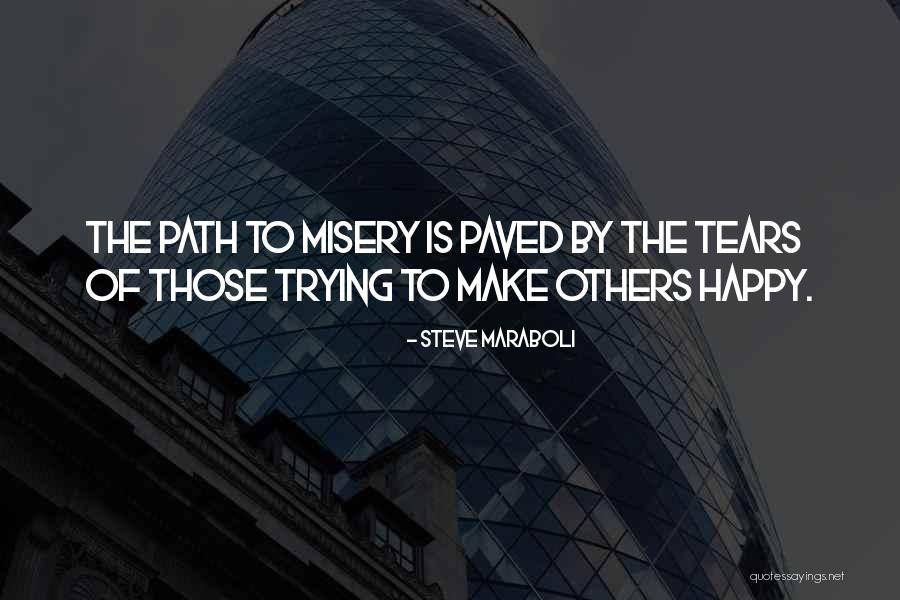 The path to misery is paved by the tears of those trying to make others happy. — Steve Maraboli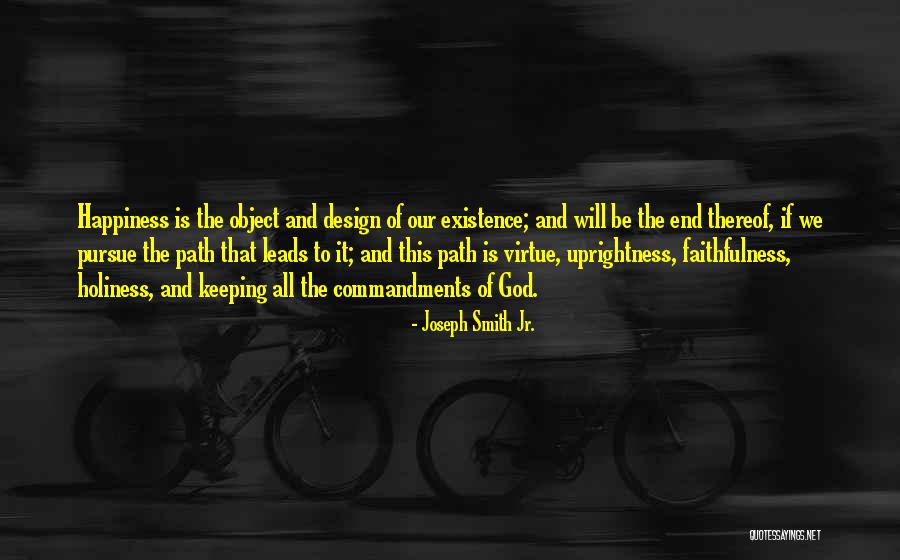 Happiness is the object and design of our existence; and will be the end thereof, if we pursue the path that leads to it; and this path is virtue, uprightness, faithfulness, holiness, and keeping all the commandments of God. — Joseph Smith Jr.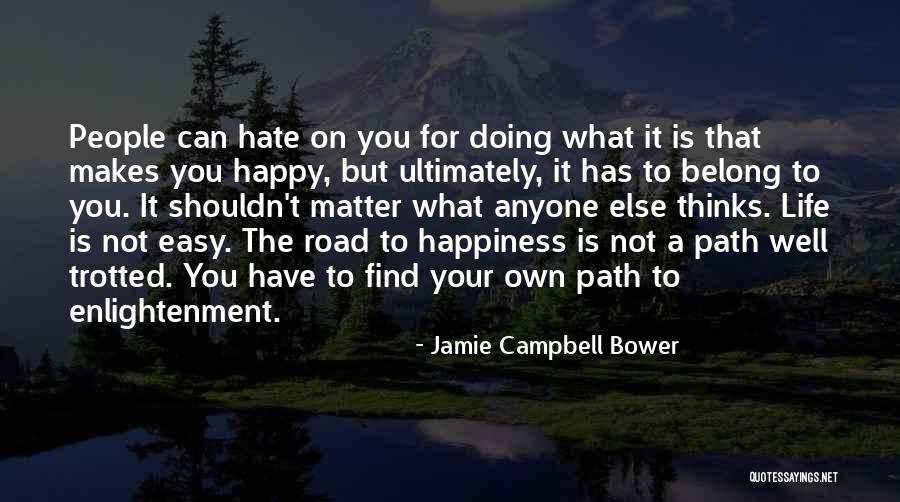 People can hate on you for doing what it is that makes you happy, but ultimately, it has to belong to you. It shouldn't matter what anyone else thinks. Life is not easy. The road to happiness is not a path well trotted. You have to find your own path to enlightenment. — Jamie Campbell Bower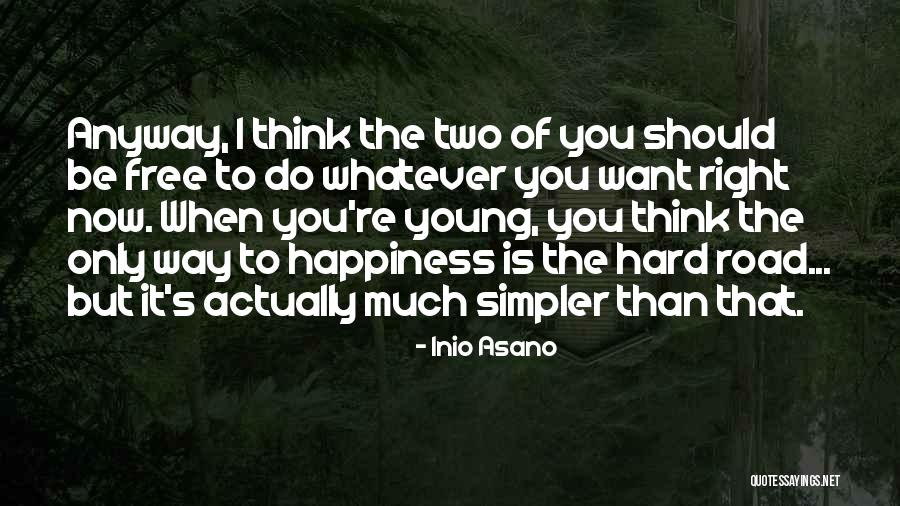 Anyway, I think the two of you should be free to do whatever you want right now. When you're young, you think the only way to happiness is the hard road... but it's actually much simpler than that. — Inio Asano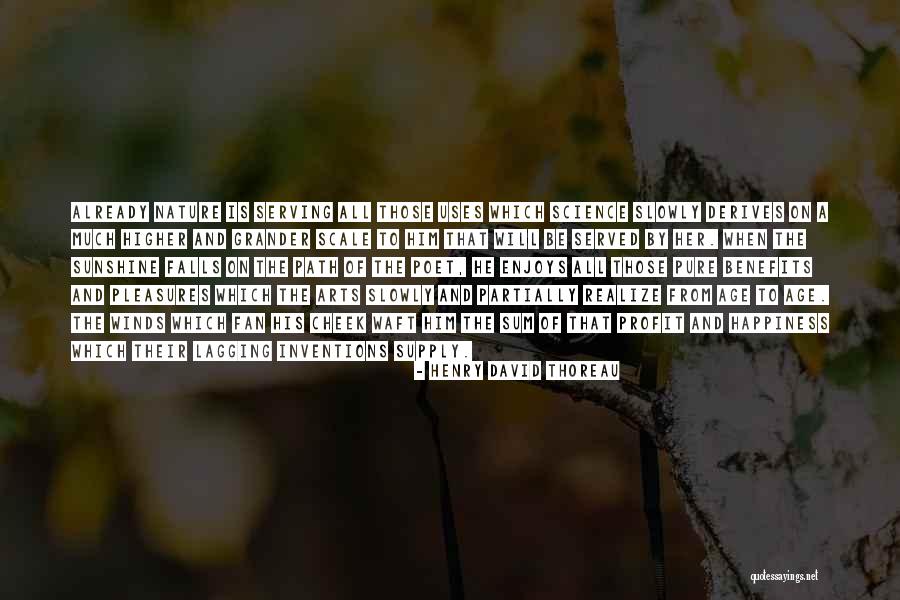 Already nature is serving all those uses which science slowly derives on a much higher and grander scale to him that will be served by her. When the sunshine falls on the path of the poet, he enjoys all those pure benefits and pleasures which the arts slowly and partially realize from age to age. The winds which fan his cheek waft him the sum of that profit and happiness which their lagging inventions supply. — Henry David Thoreau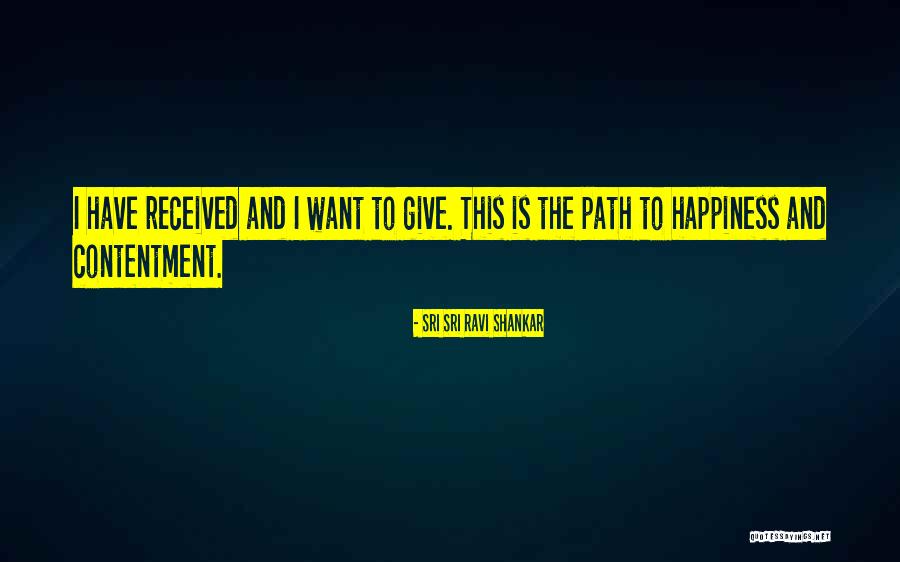 I have received and I want to give. This is the path to happiness and contentment. — Sri Sri Ravi Shankar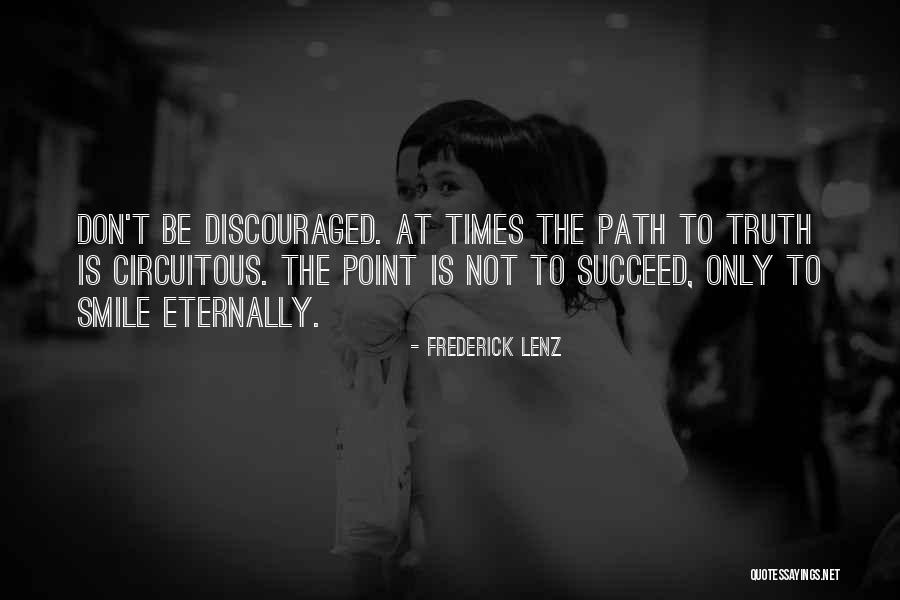 Don't be discouraged. At times the path to truth is circuitous. The point is not to succeed, only to smile eternally. — Frederick Lenz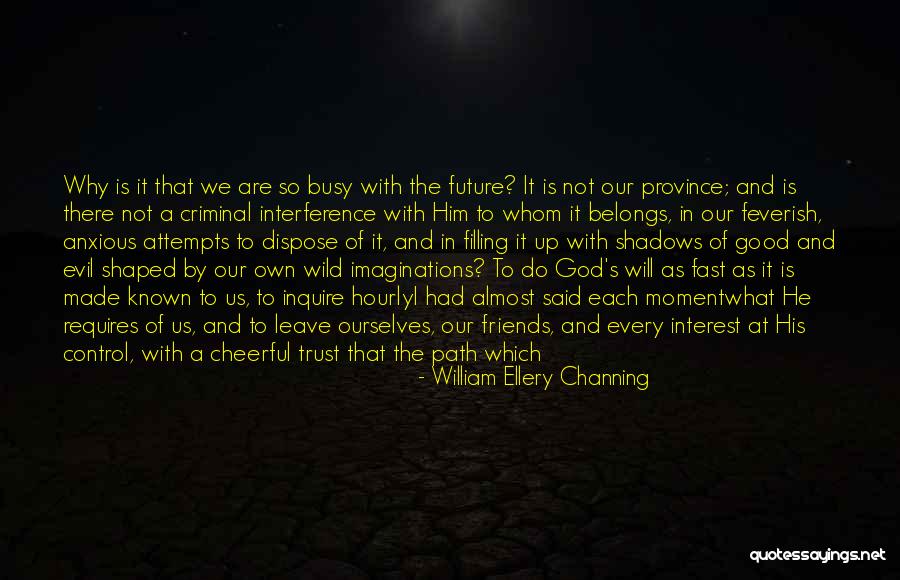 Why is it that we are so busy with the future? It is not our province; and is there not a criminal interference with Him to whom it belongs, in our feverish, anxious attempts to dispose of it, and in filling it up with shadows of good and evil shaped by our own wild imaginations? To do God's will as fast as it is made known to us, to inquire hourly
I had almost said each moment
what He requires of us, and to leave ourselves, our friends, and every interest at His control, with a cheerful trust that the path which He marks out leads to our perfection and to Himself,
this is at once our duty and happiness; and why will we not walk in the plain, simple way? — William Ellery Channing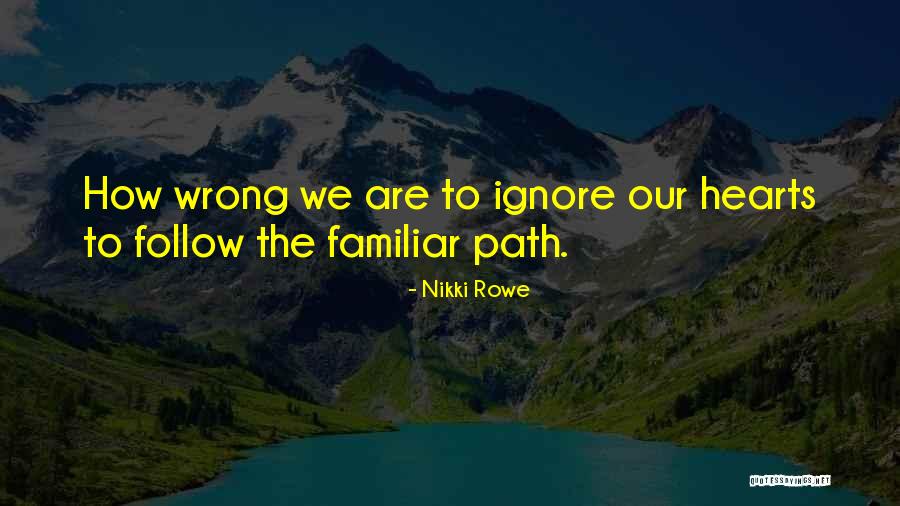 How wrong we are to ignore our hearts to follow the familiar path. — Nikki Rowe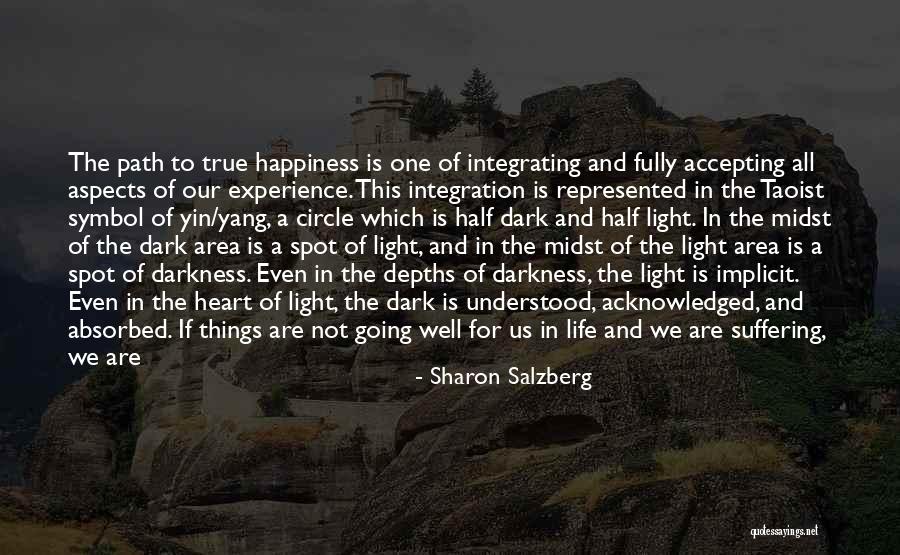 The path to true happiness is one of integrating and fully accepting all aspects of our experience. This integration is represented in the Taoist symbol of yin/yang, a circle which is half dark and half light. In the midst of the dark area is a spot of light, and in the midst of the light area is a spot of darkness. Even in the depths of darkness, the light is implicit. Even in the heart of light, the dark is understood, acknowledged, and absorbed. If things are not going well for us in life and we are suffering, we are not defeated by the pain or closed off to the light. If things are going well and we are happy, we are not defensively trying to deny the possibility of suffering. This unity, this integration, comes from deeply accepting darkness and light, and therefore being able to be in both simultaneously. — Sharon Salzberg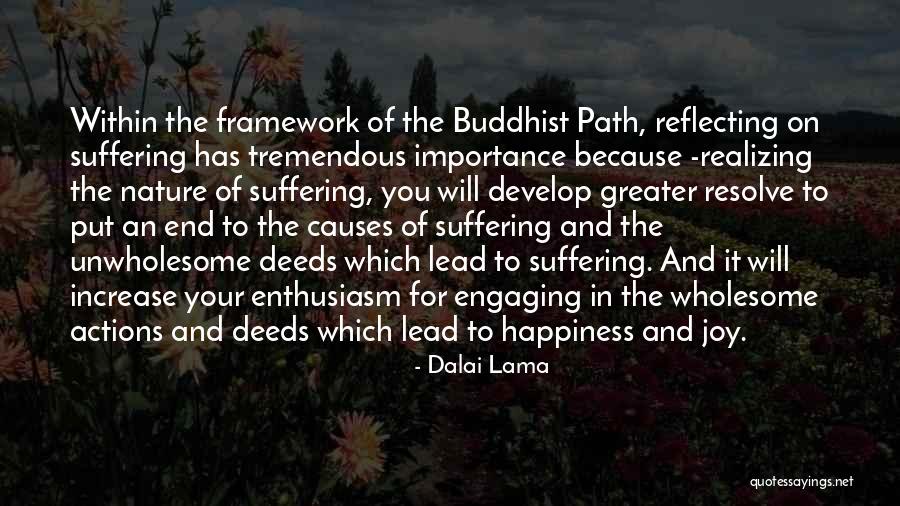 Within the framework of the Buddhist Path, reflecting on suffering has tremendous importance because -realizing the nature of suffering, you will develop greater resolve to put an end to the causes of suffering and the unwholesome deeds which lead to suffering. And it will increase your enthusiasm for engaging in the wholesome actions and deeds which lead to happiness and joy. — Dalai Lama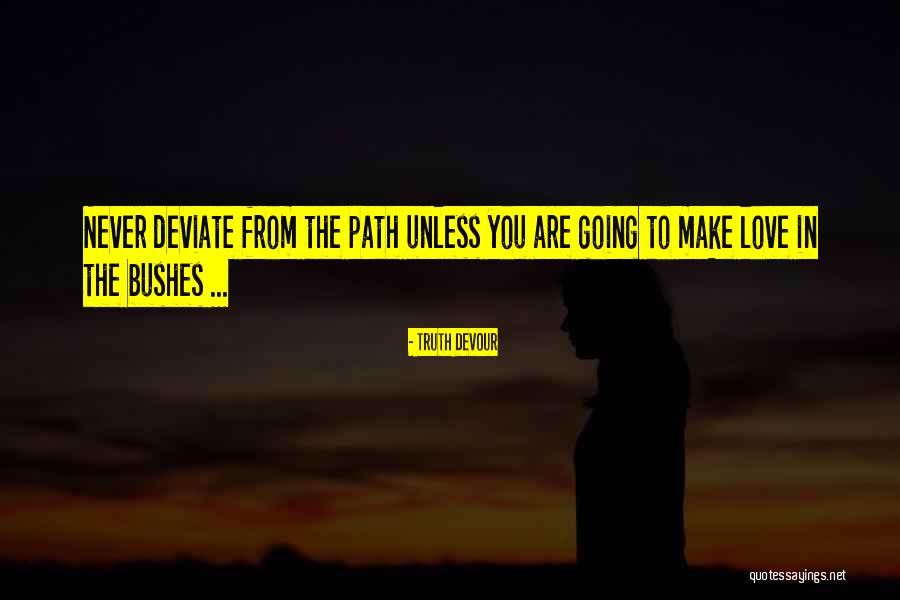 Never deviate from the path unless you are going to make love in the bushes ... — Truth Devour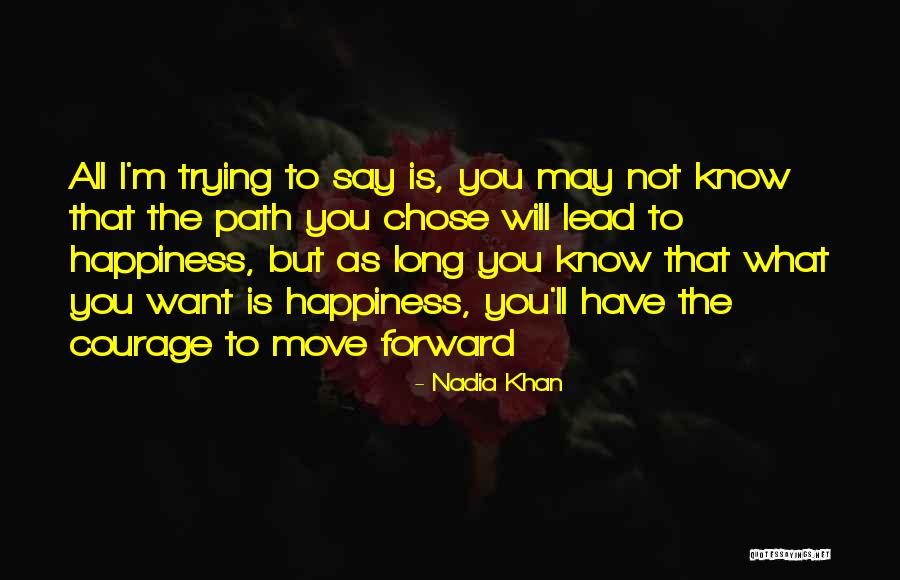 All I'm trying to say is, you may not know that the path you chose will lead to happiness, but as long you know that what you want is happiness, you'll have the courage to move forward — Nadia Khan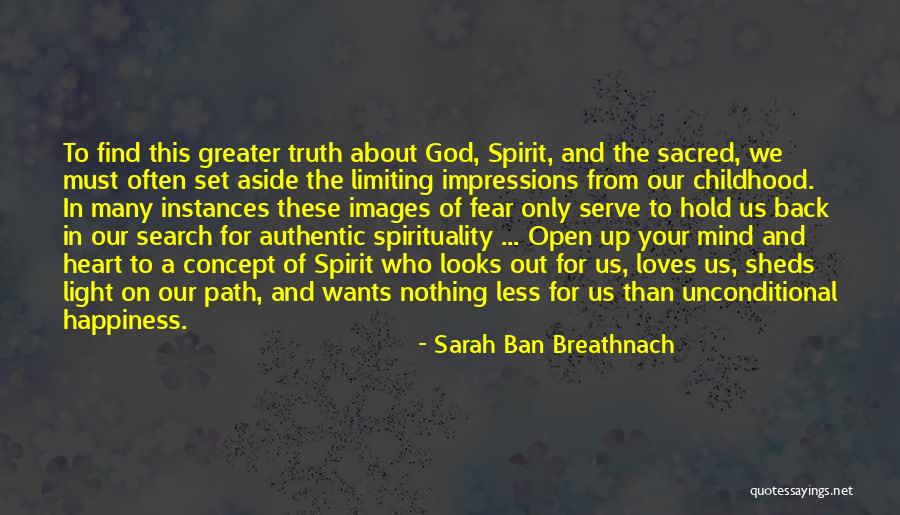 To find this greater truth about God, Spirit, and the sacred, we must often set aside the limiting impressions from our childhood. In many instances these images of fear only serve to hold us back in our search for authentic spirituality ... Open up your mind and heart to a concept of Spirit who looks out for us, loves us, sheds light on our path, and wants nothing less for us than unconditional happiness. — Sarah Ban Breathnach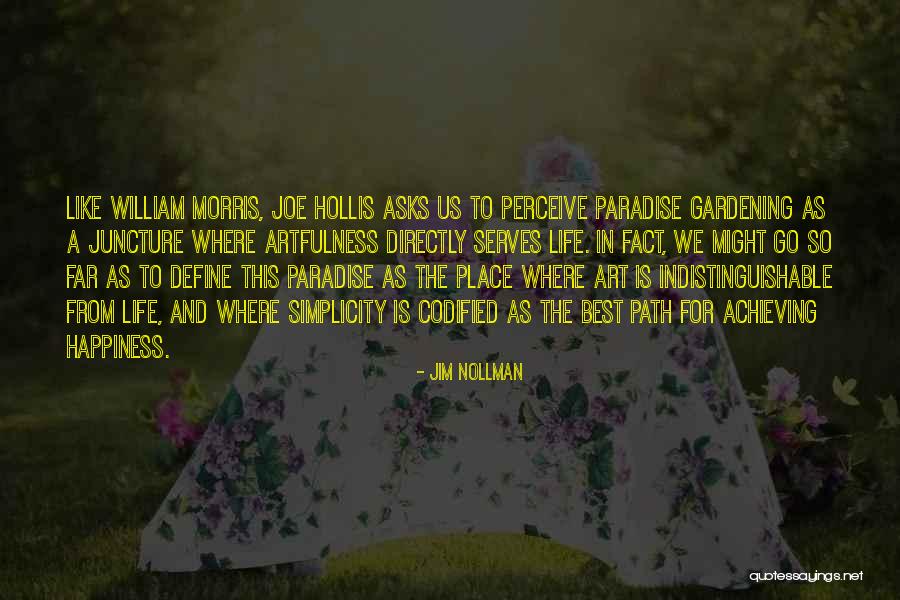 Like William Morris, Joe Hollis asks us to perceive paradise gardening as a juncture where artfulness directly serves life. In fact, we might go so far as to define this paradise as the place where art is indistinguishable from life, and where simplicity is codified as the best path for achieving happiness. — Jim Nollman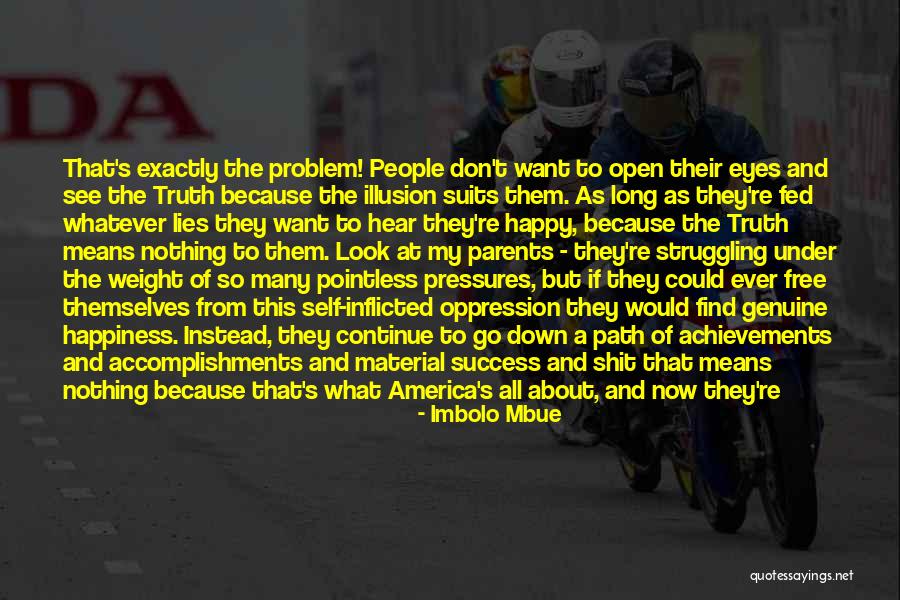 That's exactly the problem! People don't want to open their eyes and see the Truth because the illusion suits them. As long as they're fed whatever lies they want to hear they're happy, because the Truth means nothing to them. Look at my parents - they're struggling under the weight of so many pointless pressures, but if they could ever free themselves from this self-inflicted oppression they would find genuine happiness. Instead, they continue to go down a path of achievements and accomplishments and material success and shit that means nothing because that's what America's all about, and now they're trapped. And they don't get it! — Imbolo Mbue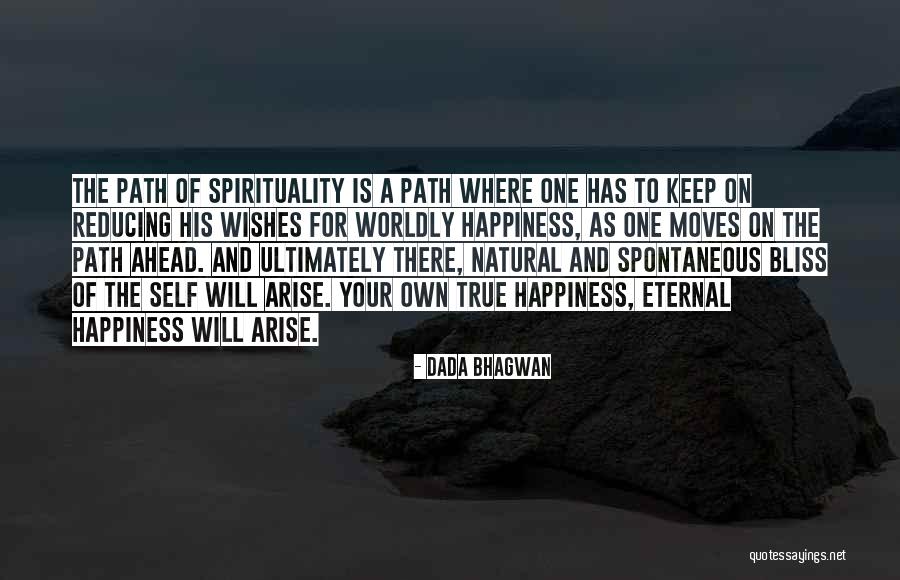 The path of spirituality is a path where one has to keep on reducing his wishes for worldly happiness, as one moves on the path ahead. And ultimately there, natural and spontaneous bliss of the Self will arise. Your own true happiness, eternal happiness will arise. — Dada Bhagwan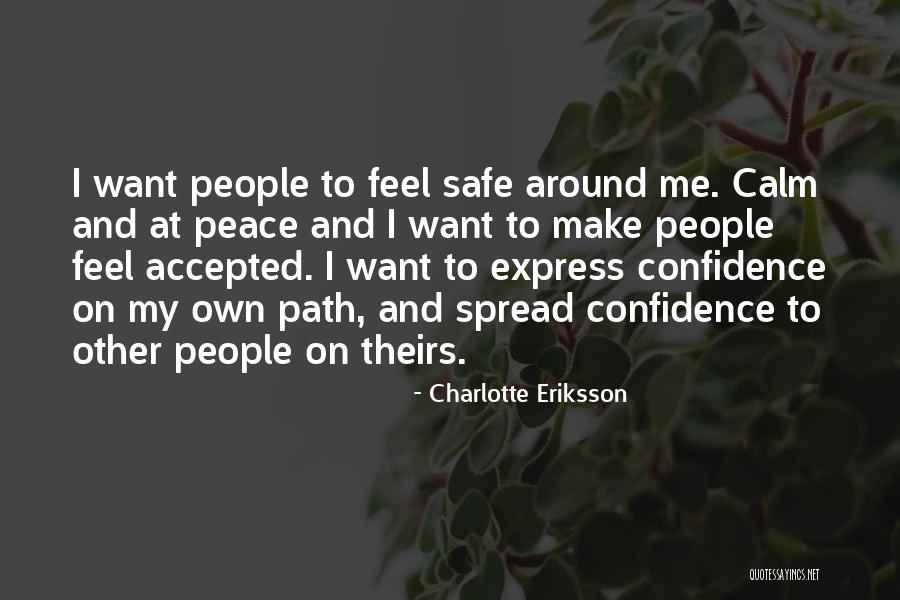 I want people to feel safe around me. Calm and at peace and I want to make people feel accepted. I want to express confidence on my own path, and spread confidence to other people on theirs. — Charlotte Eriksson