Quotes & Sayings About Nothing Being Forever
Enjoy reading and share 49 famous quotes about Nothing Being Forever with everyone.
Top Nothing Being Forever Quotes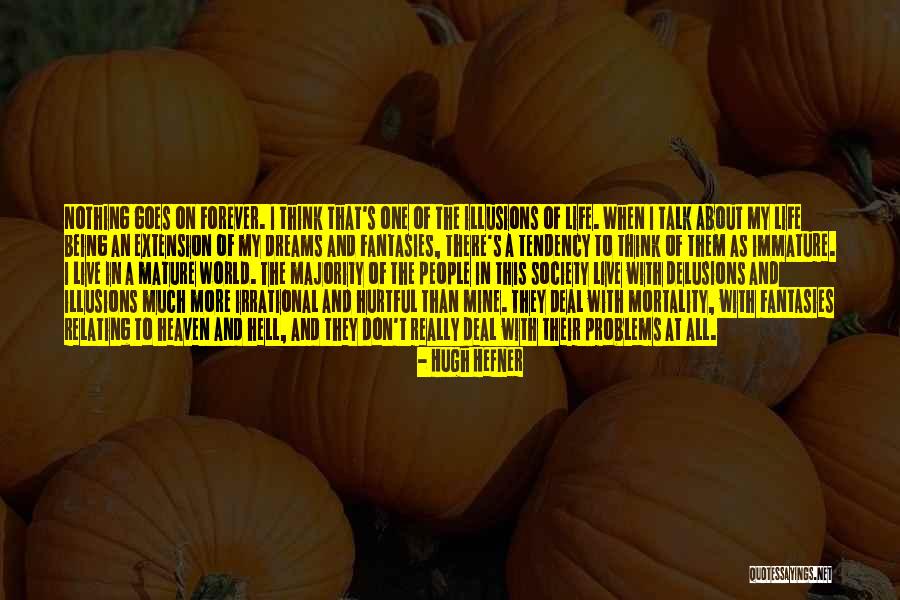 Nothing goes on forever. I think that's one of the illusions of life. When I talk about my life being an extension of my dreams and fantasies, there's a tendency to think of them as immature. I live in a mature world. The majority of the people in this society live with delusions and illusions much more irrational and hurtful than mine. They deal with mortality, with fantasies relating to heaven and hell, and they don't really deal with their problems at all. — Hugh Hefner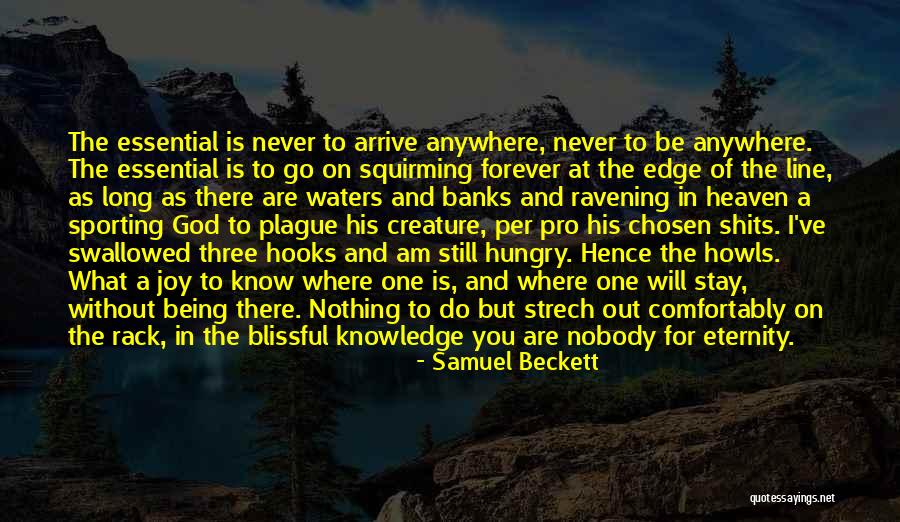 The essential is never to arrive anywhere, never to be anywhere. The essential is to go on squirming forever at the edge of the line, as long as there are waters and banks and ravening in heaven a sporting God to plague his creature, per pro his chosen shits. I've swallowed three hooks and am still hungry. Hence the howls. What a joy to know where one is, and where one will stay, without being there. Nothing to do but strech out comfortably on the rack, in the blissful knowledge you are nobody for eternity. — Samuel Beckett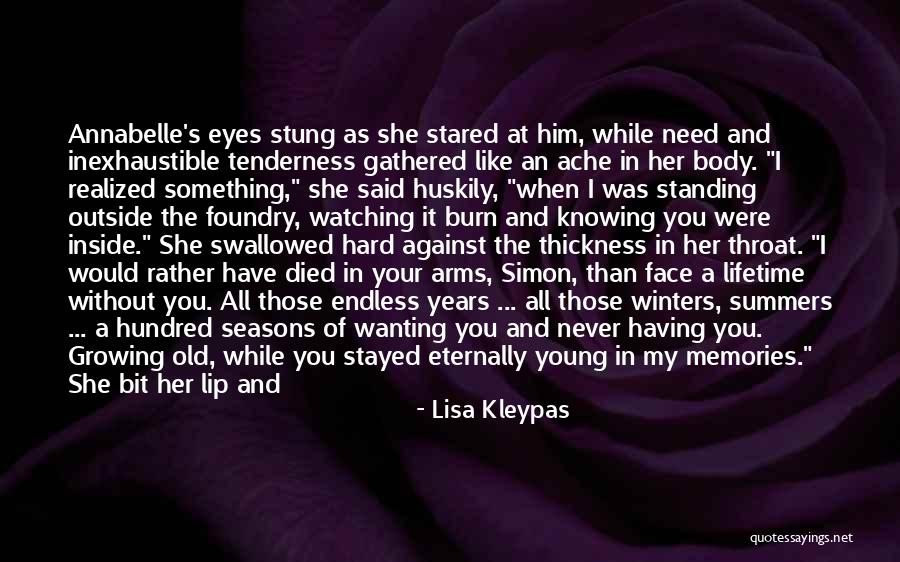 Annabelle's eyes stung as she stared at him, while need and inexhaustible tenderness gathered like an ache in her body. "I realized something," she said huskily, "when I was standing outside the foundry, watching it burn and knowing you were inside." She swallowed hard against the thickness in her throat. "I would rather have died in your arms, Simon, than face a lifetime without you. All those endless years ... all those winters, summers ... a hundred seasons of wanting you and never having you. Growing old, while you stayed eternally young in my memories." She bit her lip and shook her head, while her eyes flooded. "I was wrong when I told you that I didn't know where I belonged. I do. With you, Simon. Nothing matters except being with you. You're stuck with me forever, and I'll never listen when you tell me to go." She managed a tremulous smile. "So you may as well stop complaining and resign yourself to it. — Lisa Kleypas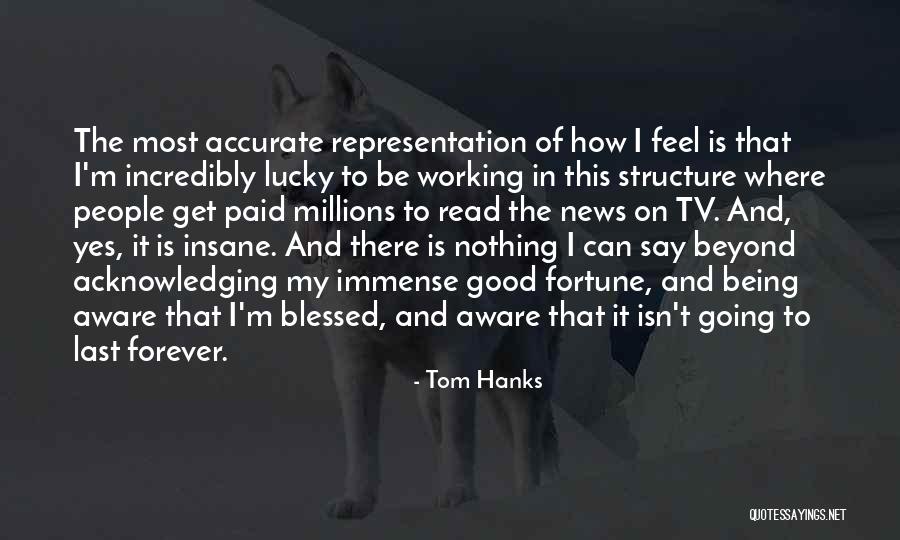 The most accurate representation of how I feel is that I'm incredibly lucky to be working in this structure where people get paid millions to read the news on TV. And, yes, it is insane. And there is nothing I can say beyond acknowledging my immense good fortune, and being aware that I'm blessed, and aware that it isn't going to last forever. — Tom Hanks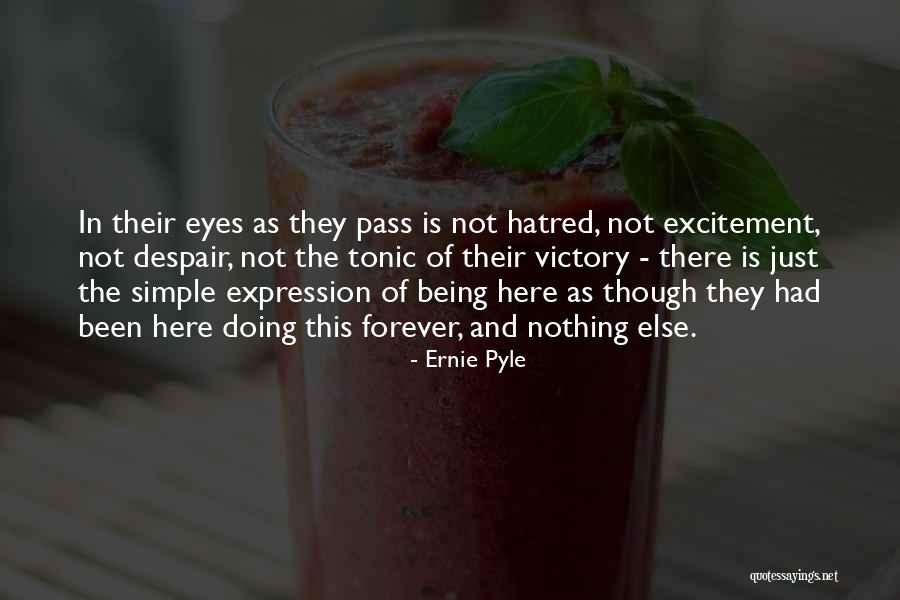 In their eyes as they pass is not hatred, not excitement, not despair, not the tonic of their victory - there is just the simple expression of being here as though they had been here doing this forever, and nothing else. — Ernie Pyle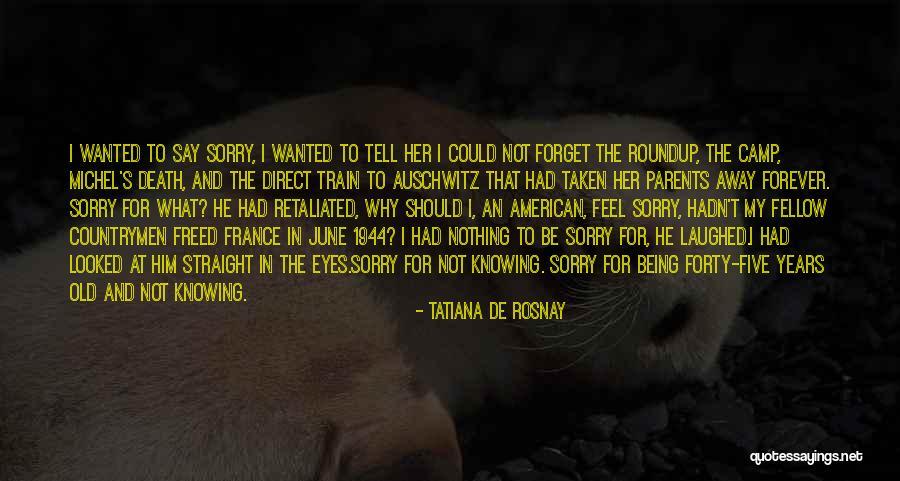 I wanted to say sorry, I wanted to tell her I could not forget the roundup, the camp, Michel's death, and the direct train to Auschwitz that had taken her parents away forever. Sorry for what? he had retaliated, why should I, an American, feel sorry, hadn't my fellow countrymen freed France in June 1944? I had nothing to be sorry for, he laughed.
I had looked at him straight in the eyes.
Sorry for not knowing. Sorry for being forty-five years old and not knowing. — Tatiana De Rosnay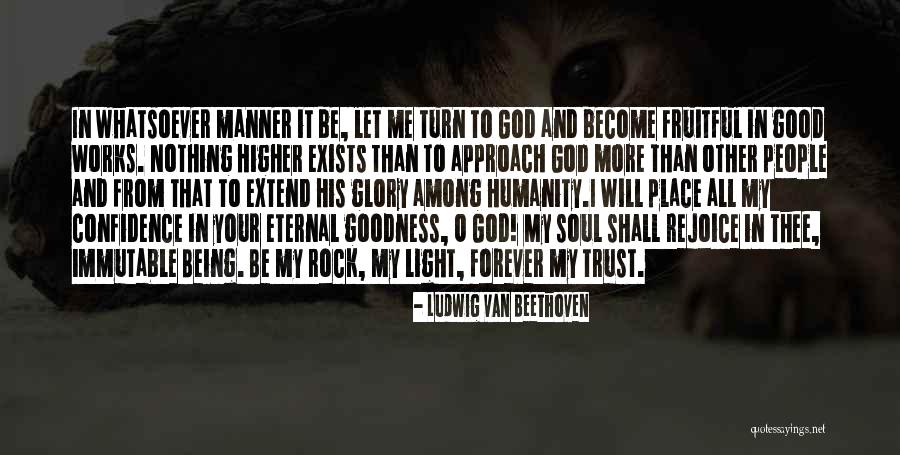 In whatsoever manner it be, let me turn to God and become fruitful in good works. Nothing higher exists than to approach God more than other people and from that to extend His glory among humanity.I will place all my confidence in your eternal goodness, O God! My soul shall rejoice in Thee, immutable Being. Be my rock, my light, forever my trust. — Ludwig Van Beethoven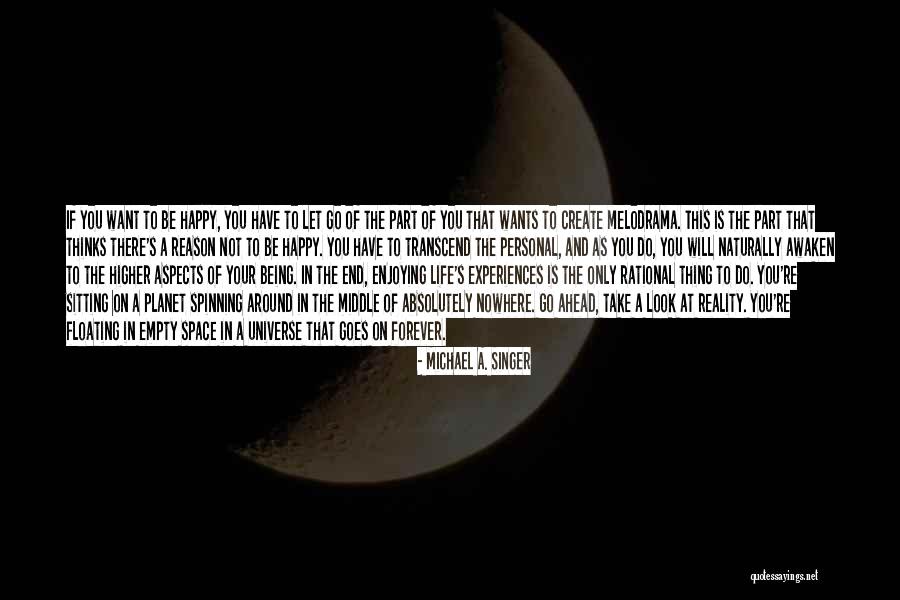 If you want to be happy, you have to let go of the part of you that wants to create melodrama. This is the part that thinks there's a reason not to be happy. You have to transcend the personal, and as you do, you will naturally awaken to the higher aspects of your being. In the end, enjoying life's experiences is the only rational thing to do. You're sitting on a planet spinning around in the middle of absolutely nowhere. Go ahead, take a look at reality. You're floating in empty space in a universe that goes on forever. If you have to be here, at least be happy and enjoy the experience. You're going to die anyway. Things are going to happen anyway. Why shouldn't you be happy? You gain nothing by being bothered by life's events. It doesn't change the world; you just suffer. There's always going to be something that can bother you, if you let it. — Michael A. Singer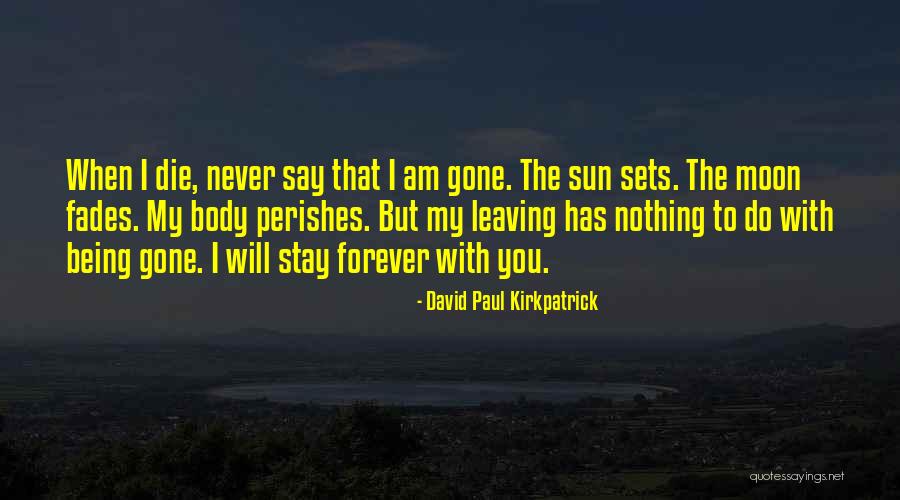 When I die, never say that I am gone. The sun sets. The moon fades. My body perishes. But my leaving has nothing to do with being gone. I will stay forever with you. — David Paul Kirkpatrick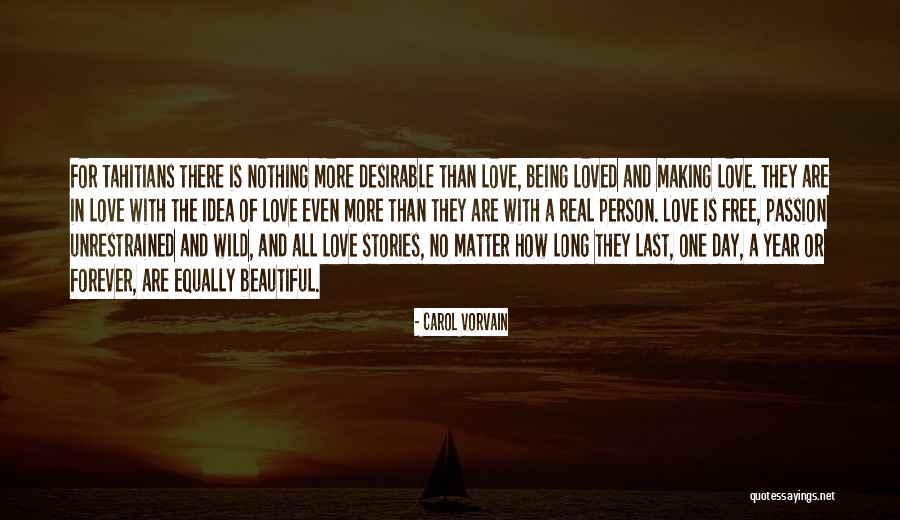 For Tahitians there is nothing more desirable than love, being loved and making love. They are in love with the idea of love even more than they are with a real person.
Love is free, passion unrestrained and wild, and all love stories, no matter how long they last, one day, a year or forever, are equally beautiful. — Carol Vorvain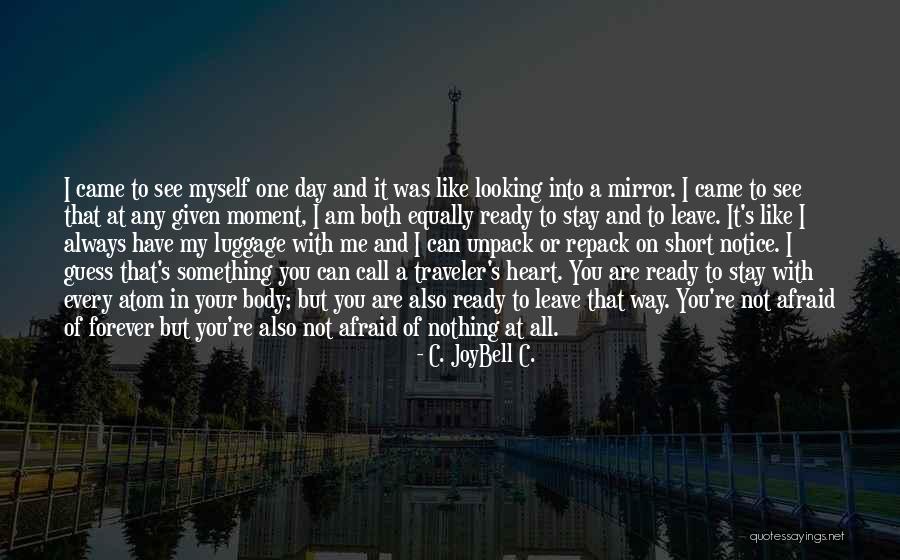 I came to see myself one day and it was like looking into a mirror. I came to see that at any given moment, I am both equally ready to stay and to leave. It's like I always have my luggage with me and I can unpack or repack on short notice. I guess that's something you can call a traveler's heart. You are ready to stay with every atom in your body; but you are also ready to leave that way. You're not afraid of forever but you're also not afraid of nothing at all. — C. JoyBell C.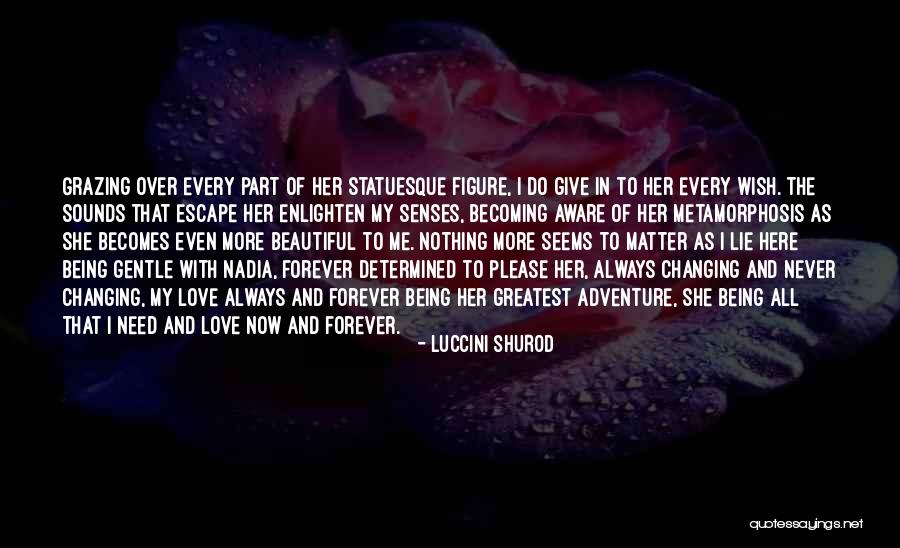 Grazing over every part of her statuesque figure, I do give in to her every wish. The sounds that escape her enlighten my senses, becoming aware of her metamorphosis as she becomes even more beautiful to me. Nothing more seems to matter as I lie here being gentle with Nadia, forever determined to please her, always changing and never changing, my love always and forever being her greatest adventure, she being all that I need and love now and forever. — Luccini Shurod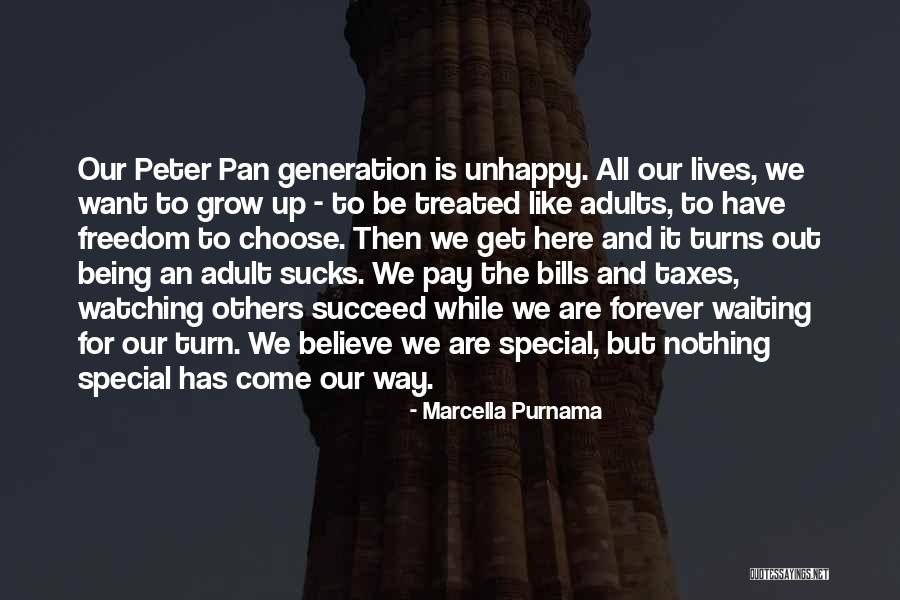 Our Peter Pan generation is unhappy. All our lives, we want to grow up -
to be treated like adults, to have freedom to choose. Then we get here and
it turns out being an adult sucks. We pay the bills and taxes, watching others succeed while we are forever waiting for our turn.

We believe we are special, but nothing special has come our way. — Marcella Purnama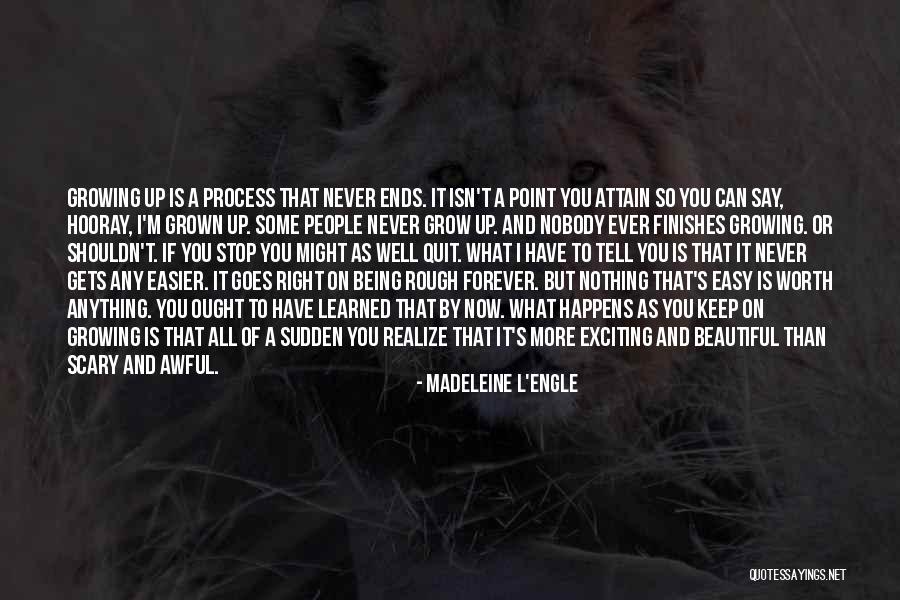 Growing up is a process that never ends. It isn't a point you attain so you can say, Hooray, I'm grown up. Some people never grow up. And nobody ever finishes growing. Or shouldn't. If you stop you might as well quit. What I have to tell you is that it never gets any easier. It goes right on being rough forever. But nothing that's easy is worth anything. You ought to have learned that by now. What happens as you keep on growing is that all of a sudden you realize that it's more exciting and beautiful than scary and awful. — Madeleine L'Engle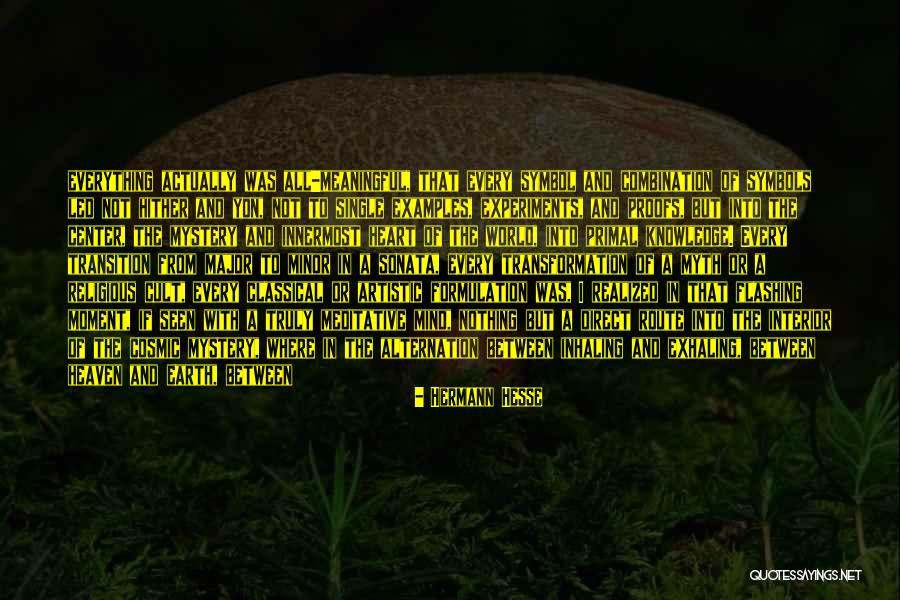 everything actually was all-meaningful, that every symbol and combination of symbols led not hither and yon, not to single examples, experiments, and proofs, but into the center, the mystery and innermost heart of the world, into primal knowledge. Every transition from major to minor in a sonata, every transformation of a myth or a religious cult, every classical or artistic formulation was, I realized in that flashing moment, if seen with a truly meditative mind, nothing but a direct route into the interior of the cosmic mystery, where in the alternation between inhaling and exhaling, between heaven and earth, between Yin and Yang, holiness is forever being created. — Hermann Hesse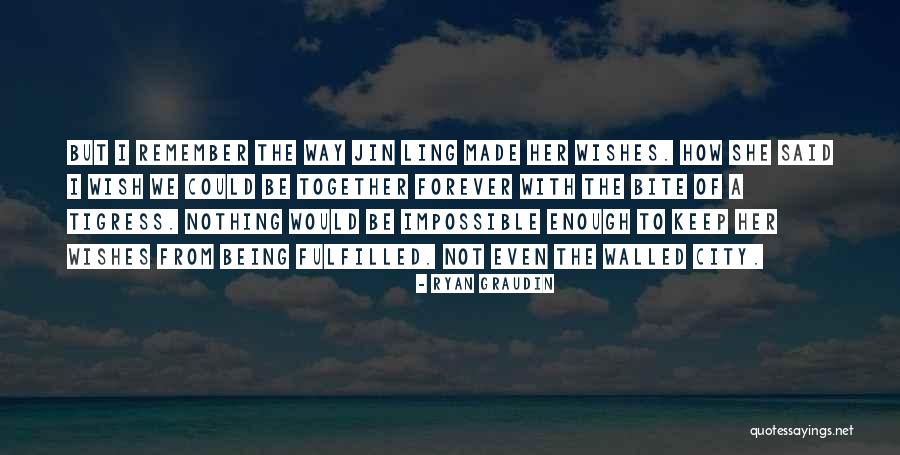 But I remember the way Jin Ling made her wishes. How she said I wish we could be together forever with the bite of a tigress. Nothing would be impossible enough to keep her wishes from being fulfilled. Not even the walled City. — Ryan Graudin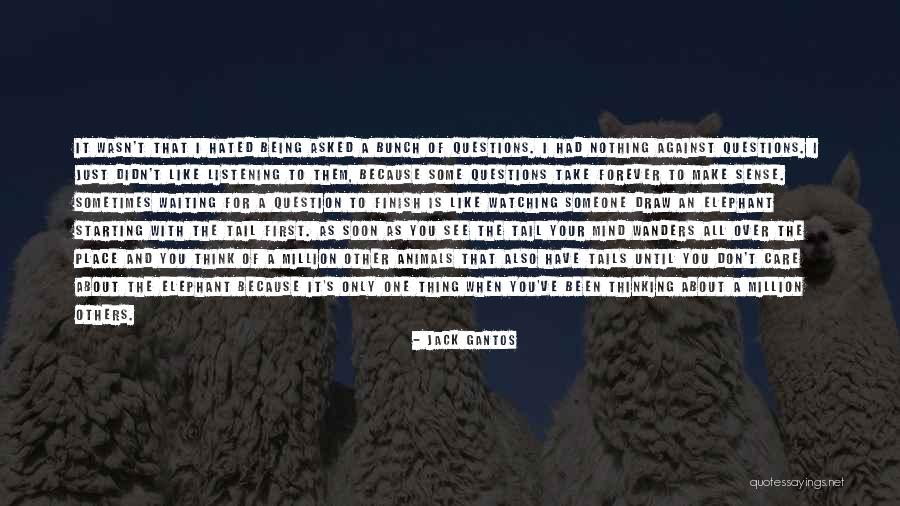 It wasn't that I hated being asked a bunch of questions. I had nothing against questions. I just didn't like listening to them, because some questions take forever to make sense. Sometimes waiting for a question to finish is like watching someone draw an elephant starting with the tail first. As soon as you see the tail your mind wanders all over the place and you think of a million other animals that also have tails until you don't care about the elephant because it's only one thing when you've been thinking about a million others. — Jack Gantos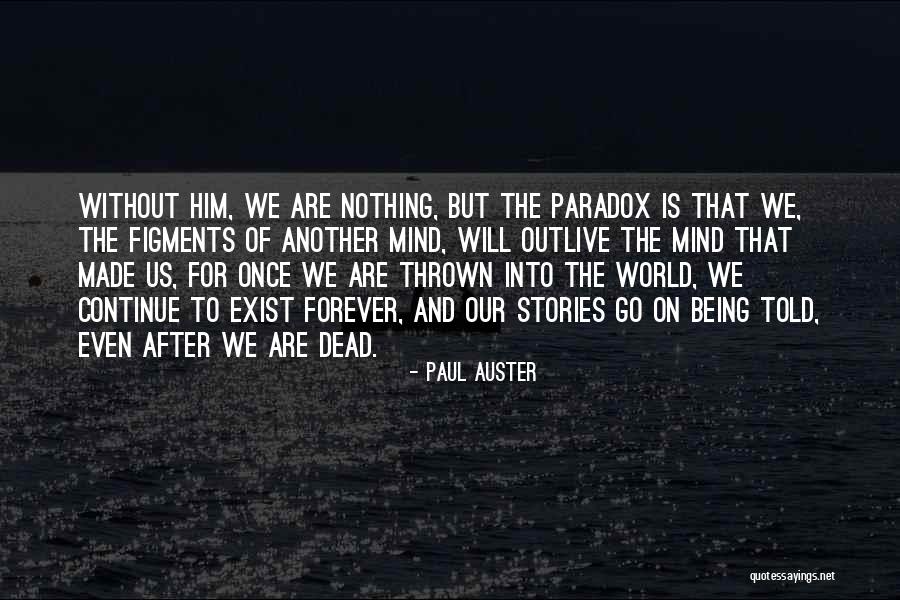 Without him, we are nothing, but the paradox is that we, the figments of another mind, will outlive the mind that made us, for once we are thrown into the world, we continue to exist forever, and our stories go on being told, even after we are dead. — Paul Auster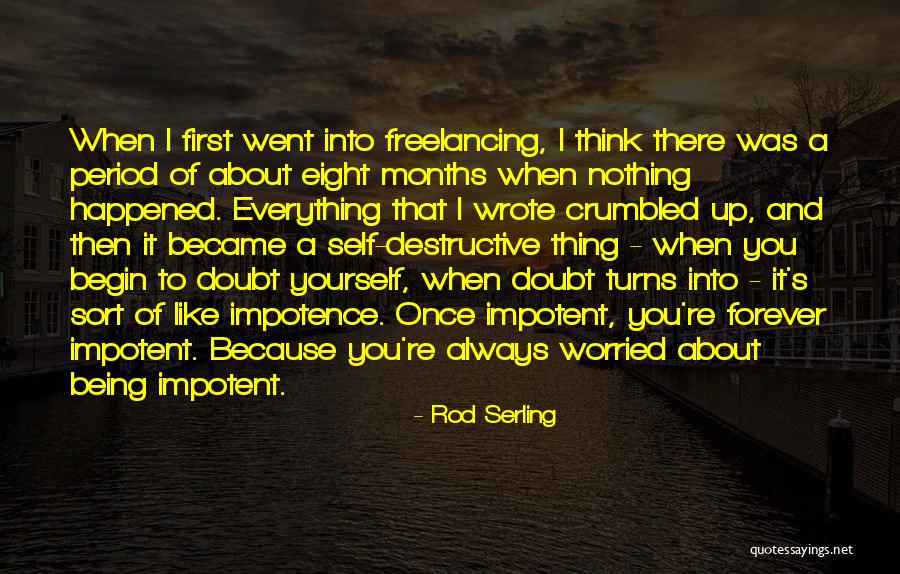 When I first went into freelancing, I think there was a period of about eight months when nothing happened. Everything that I wrote crumbled up, and then it became a self-destructive thing - when you begin to doubt yourself, when doubt turns into - it's sort of like impotence. Once impotent, you're forever impotent. Because you're always worried about being impotent. — Rod Serling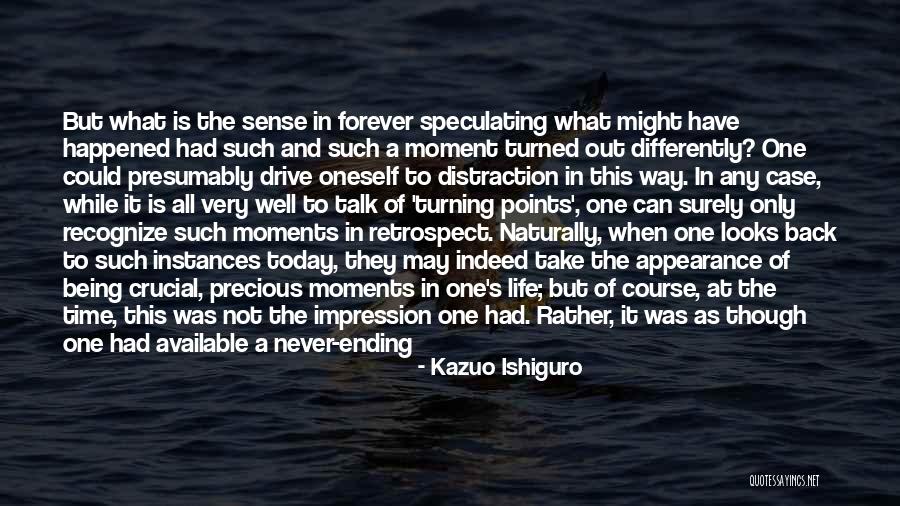 But what is the sense in forever speculating what might have happened had such and such a moment turned out differently? One could presumably drive oneself to distraction in this way. In any case, while it is all very well to talk of 'turning points', one can surely only recognize such moments in retrospect. Naturally, when one looks back to such instances today, they may indeed take the appearance of being crucial, precious moments in one's life; but of course, at the time, this was not the impression one had. Rather, it was as though one had available a never-ending number of days, months, years in which to sort out the vagaries of one's relationship with Miss Kenton; an infinite number of further opportunities in which to remedy the effect of this or that misunderstanding. There was surely nothing to indicate at the time that such evidently small incidents would render whole dreams forever irredeemable. — Kazuo Ishiguro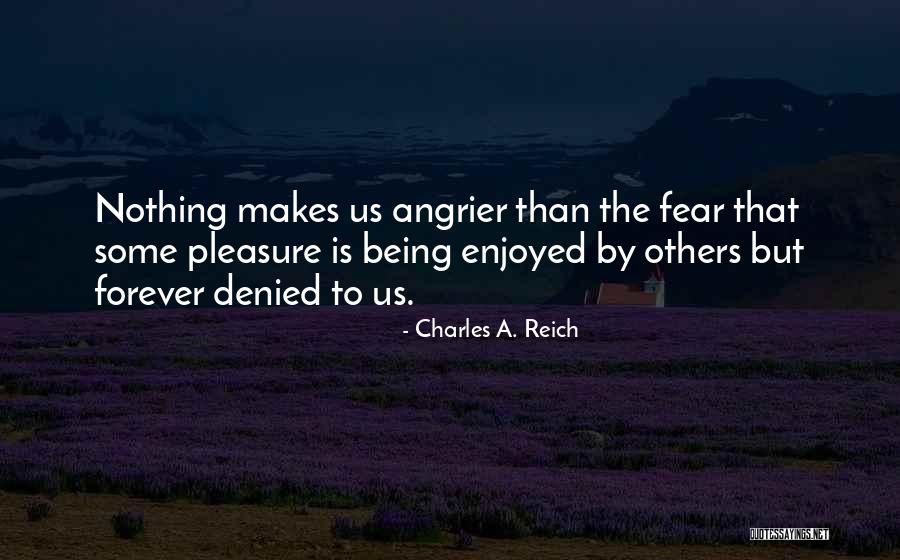 Nothing makes us angrier than the fear that some pleasure is being enjoyed by others but forever denied to us. — Charles A. Reich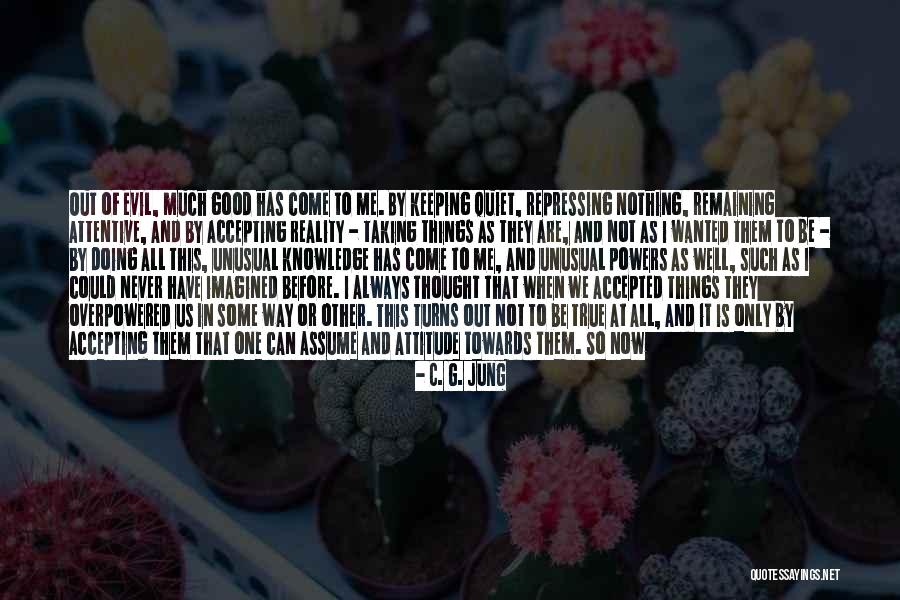 Out of evil, much good has come to me. By keeping quiet, repressing nothing, remaining attentive, and by accepting reality - taking things as they are, and not as I wanted them to be - by doing all this, unusual knowledge has come to me, and unusual powers as well, such as I could never have imagined before.
I always thought that when we accepted things they overpowered us in some way or other. This turns out not to be true at all, and it is only by accepting them that one can assume and attitude towards them.
So now I intend to play the game of life, being receptive to whatever comes to me, good and bad, sun and shadow forever alternating, and, in this way, also accepting my own nature with its positive and negative sides. Thus everything becomes more alive to me.
What a fool I was! How I tried to force everything to go according to way I thought it ought to.
an ex patient of C. G. Jung (Alchemical Studies, pg 47) — C. G. Jung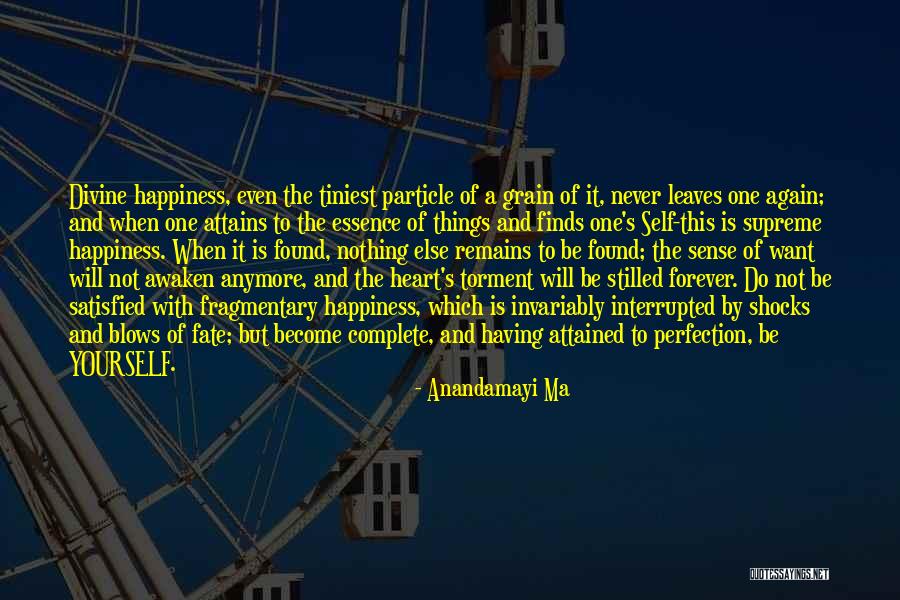 Divine happiness, even the tiniest particle of a grain of it, never leaves one again; and when one attains to the essence of things and finds one's Self-this is supreme happiness. When it is found, nothing else remains to be found; the sense of want will not awaken anymore, and the heart's torment will be stilled forever. Do not be satisfied with fragmentary happiness, which is invariably interrupted by shocks and blows of fate; but become complete, and having attained to perfection, be YOURSELF. — Anandamayi Ma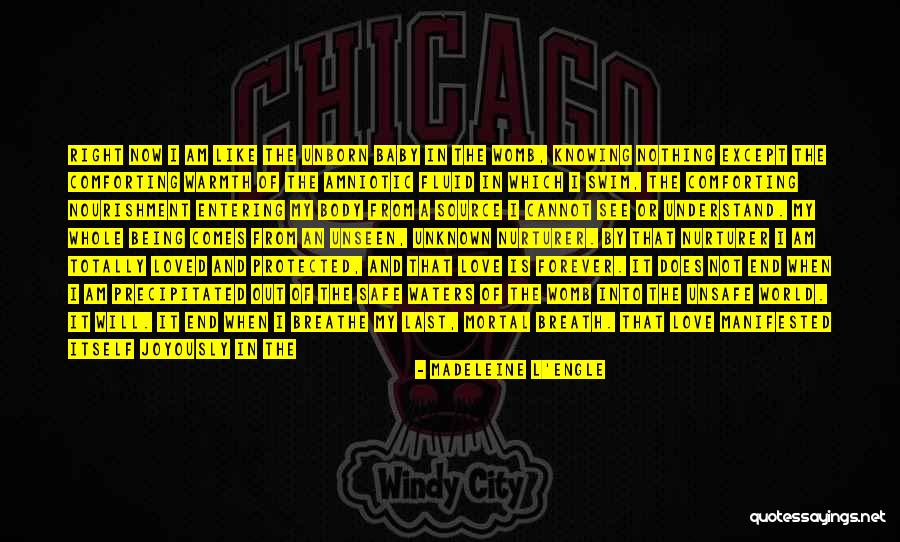 Right now I am like the unborn baby in the womb, knowing nothing except the comforting warmth of the amniotic fluid in which I swim, the comforting nourishment entering my body from a source I cannot see or understand. My whole being comes from an unseen, unknown nurturer. By that nurturer I am totally loved and protected, and that love is forever. It does not end when I am precipitated out of the safe waters of the womb into the unsafe world. It will. It end when I breathe my last, mortal breath. That love manifested itself joyously in the creation of the universe, became particular for us in Jesus, and will show itself most gloriously in the Second Coming. We need not fear. — Madeleine L'Engle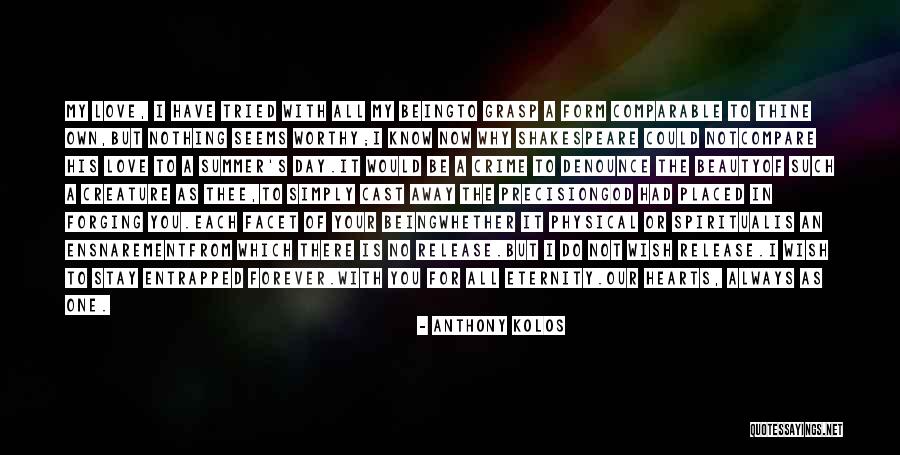 My love, I have tried with all my being
to grasp a form comparable to thine own,
but nothing seems worthy;
I know now why Shakespeare could not
compare his love to a summer's day.
It would be a crime to denounce the beauty
of such a creature as thee,
to simply cast away the precision
God had placed in forging you.
Each facet of your being
whether it physical or spiritual
is an ensnarement
from which there is no release.
But I do not wish release.
I wish to stay entrapped forever.
With you for all eternity.
Our hearts, always as one. — Anthony Kolos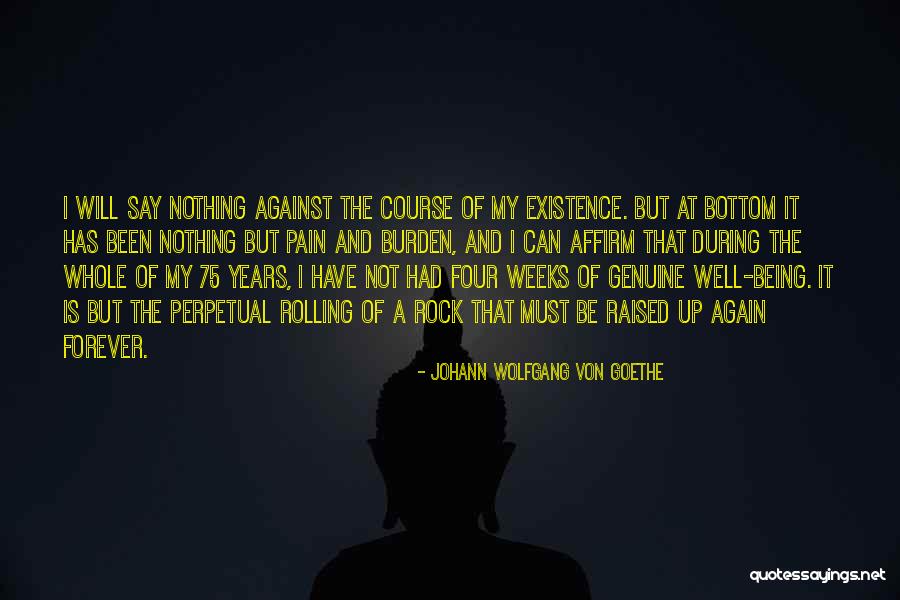 I will say nothing against the course of my existence. But at bottom it has been nothing but pain and burden, and I can affirm that during the whole of my 75 years, I have not had four weeks of genuine well-being. It is but the perpetual rolling of a rock that must be raised up again forever. — Johann Wolfgang Von Goethe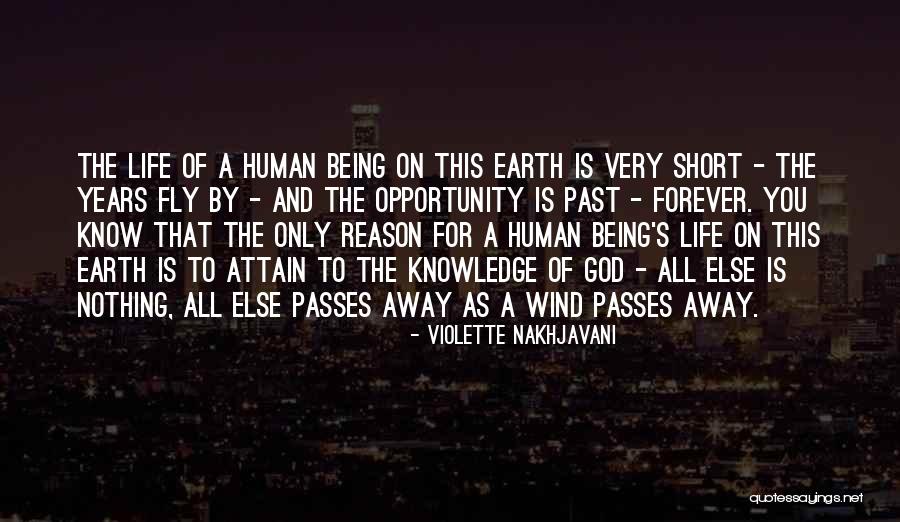 The life of a human being on this earth is very short - the years fly by - and the opportunity is past - forever. You know that the ONLY REASON for a human being's life on this earth is to attain to the Knowledge of God - all else is nothing, all else passes away as a wind passes away. — Violette Nakhjavani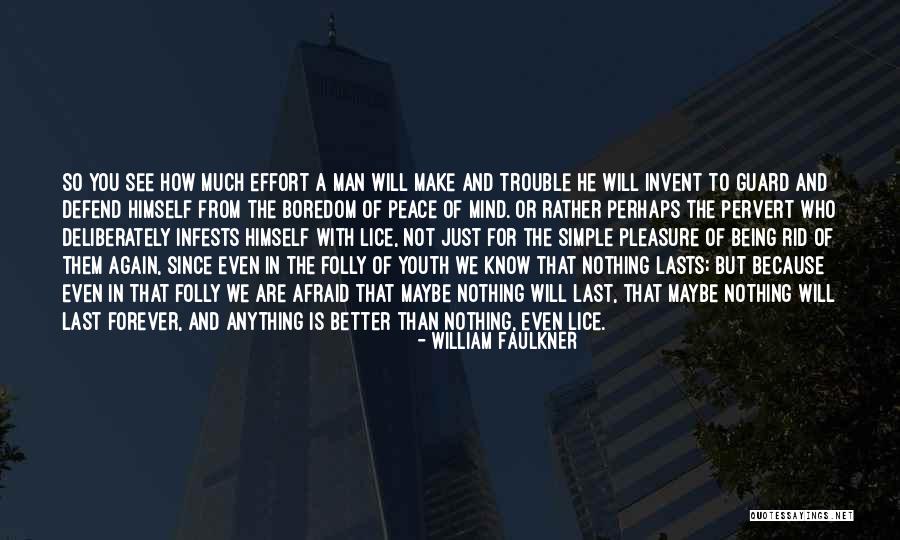 So you see how much effort a man will make and trouble he will invent to guard and defend himself from the boredom of peace of mind. Or rather perhaps the pervert who deliberately infests himself with lice, not just for the simple pleasure of being rid of them again, since even in the folly of youth we know that nothing lasts; but because even in that folly we are afraid that maybe Nothing will last, that maybe Nothing will last forever, and anything is better than Nothing, even lice. — William Faulkner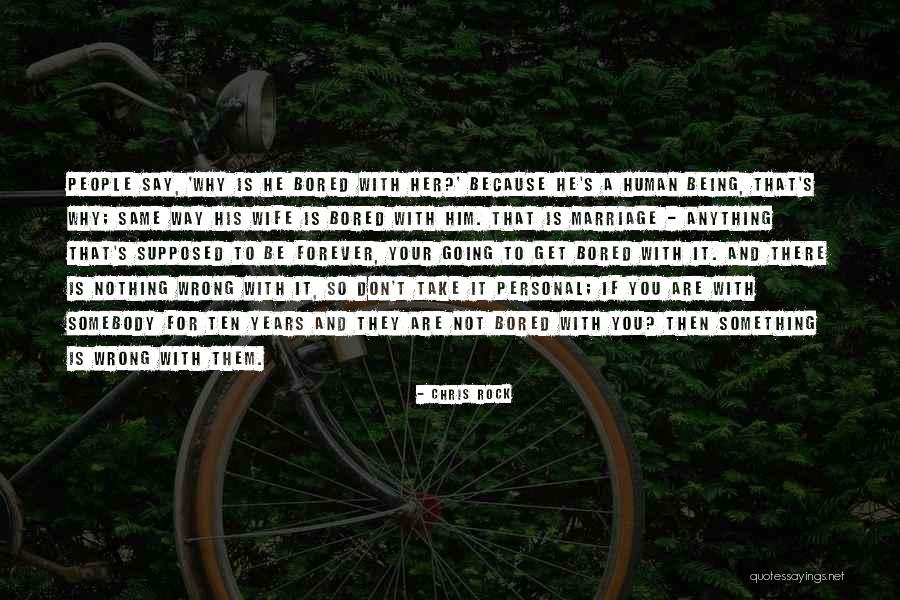 People say, 'Why is he bored with her?' Because he's a human being, that's why; same way his wife is bored with him. That is marriage - anything that's supposed to be forever, your going to get bored with it. And there is nothing wrong with it, so don't take it personal; if you are with somebody for ten years and they are not bored with you? Then something is wrong with them. — Chris Rock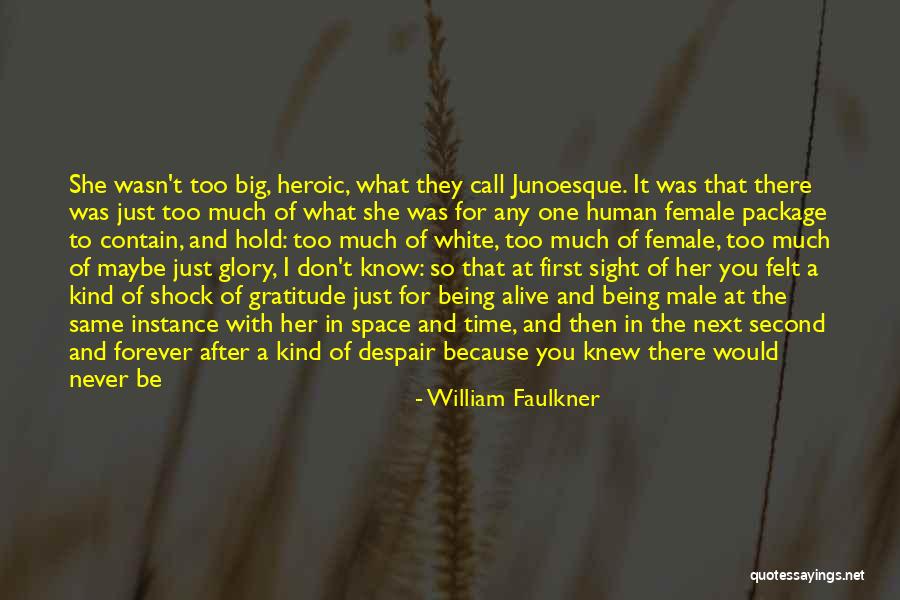 She wasn't too big, heroic, what they call Junoesque. It was that there was just too much of what she was for any one human female package to contain, and hold: too much of white, too much of female, too much of maybe just glory, I don't know: so that at first sight of her you felt a kind of shock of gratitude just for being alive and being male at the same instance with her in space and time, and then in the next second and forever after a kind of despair because you knew there would never be enough of any one male to match and hold and deserve her; grief forever after because forever after nothing less would ever do. — William Faulkner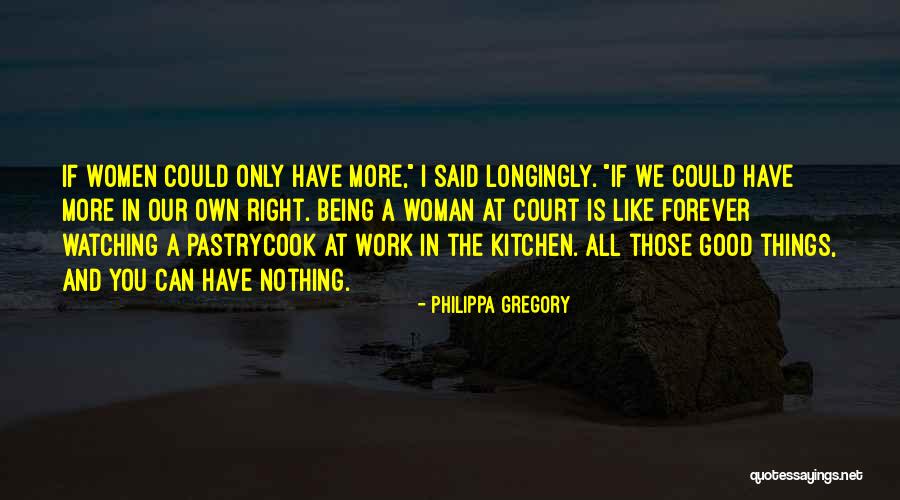 If women could only have more," I said longingly. "If we could have more in our own right. Being a woman at court is like forever watching a pastrycook at work in the kitchen. All those good things, and you can have nothing. — Philippa Gregory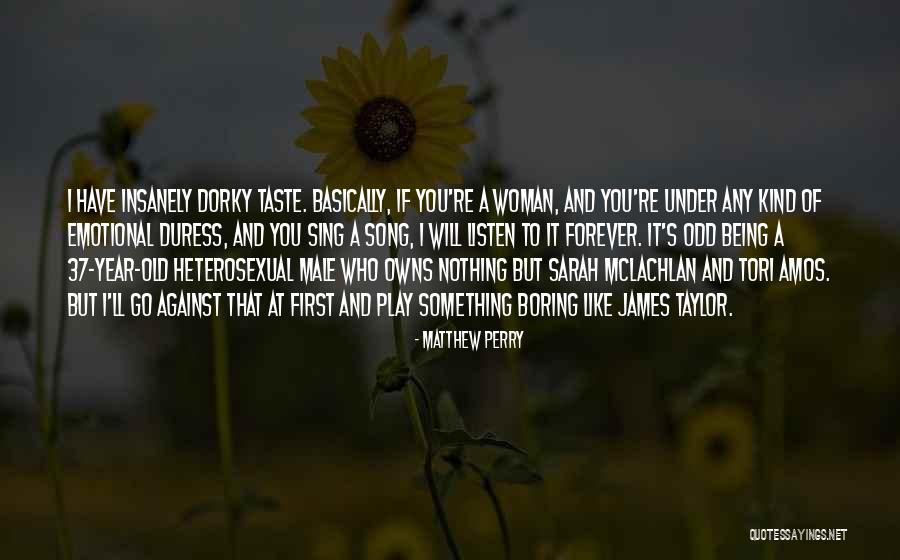 I have insanely dorky taste. Basically, if you're a woman, and you're under any kind of emotional duress, and you sing a song, I will listen to it forever. It's odd being a 37-year-old heterosexual male who owns nothing but Sarah McLachlan and Tori Amos. But I'll go against that at first and play something boring like James Taylor. — Matthew Perry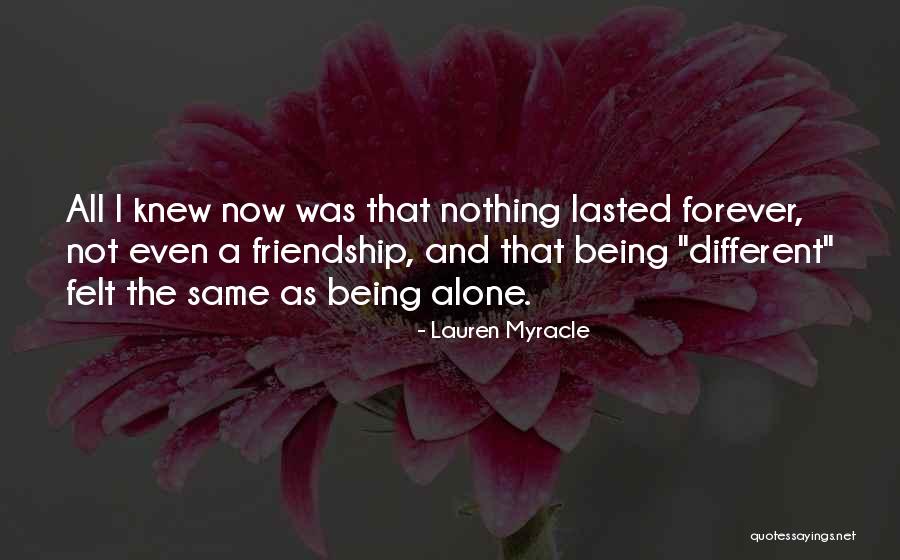 All I knew now was that nothing lasted forever, not even a friendship, and that being "different" felt the same as being alone. — Lauren Myracle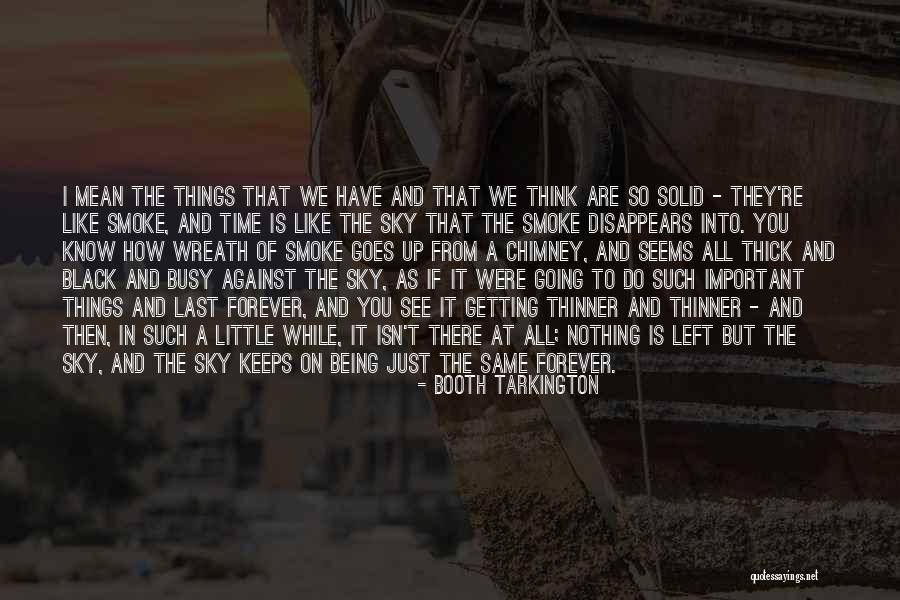 I mean the things that we have and that we think are so solid - they're like smoke, and time is like the sky that the smoke disappears into. You know how wreath of smoke goes up from a chimney, and seems all thick and black and busy against the sky, as if it were going to do such important things and last forever, and you see it getting thinner and thinner - and then, in such a little while, it isn't there at all; nothing is left but the sky, and the sky keeps on being just the same forever. — Booth Tarkington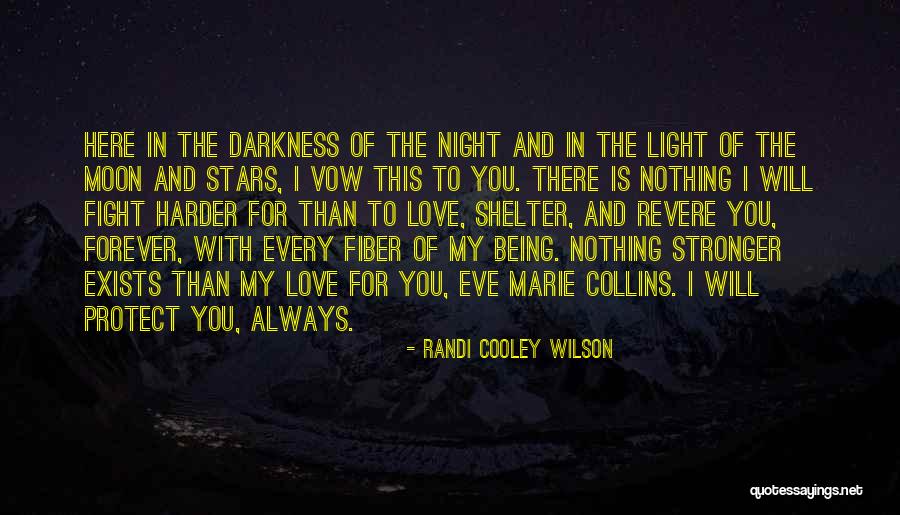 Here in the darkness of the night and in the light of the moon and stars, I vow this to you. There is nothing I will fight harder for than to love, shelter, and revere you, forever, with every fiber of my being. Nothing stronger exists than my love for you, Eve Marie Collins. I will protect you, always. — Randi Cooley Wilson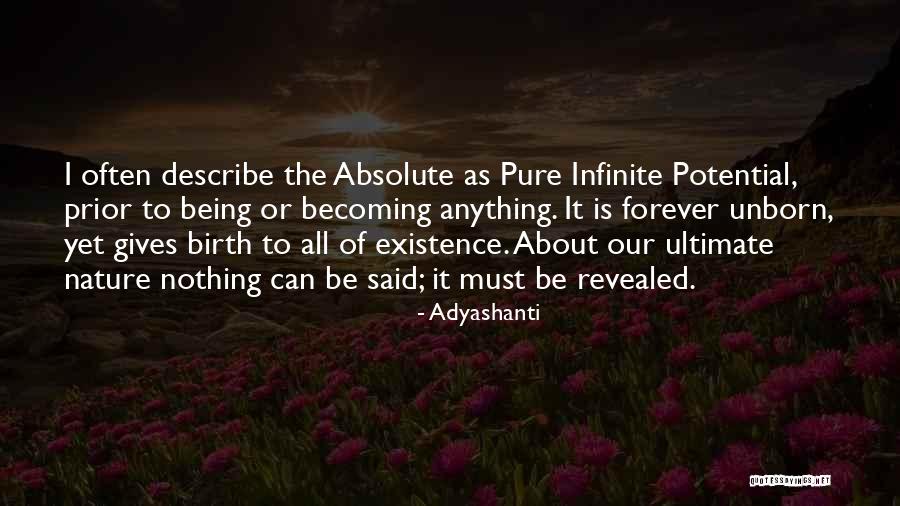 I often describe the Absolute as Pure Infinite Potential, prior to being or becoming anything. It is forever unborn, yet gives birth to all of existence. About our ultimate nature nothing can be said; it must be revealed. — Adyashanti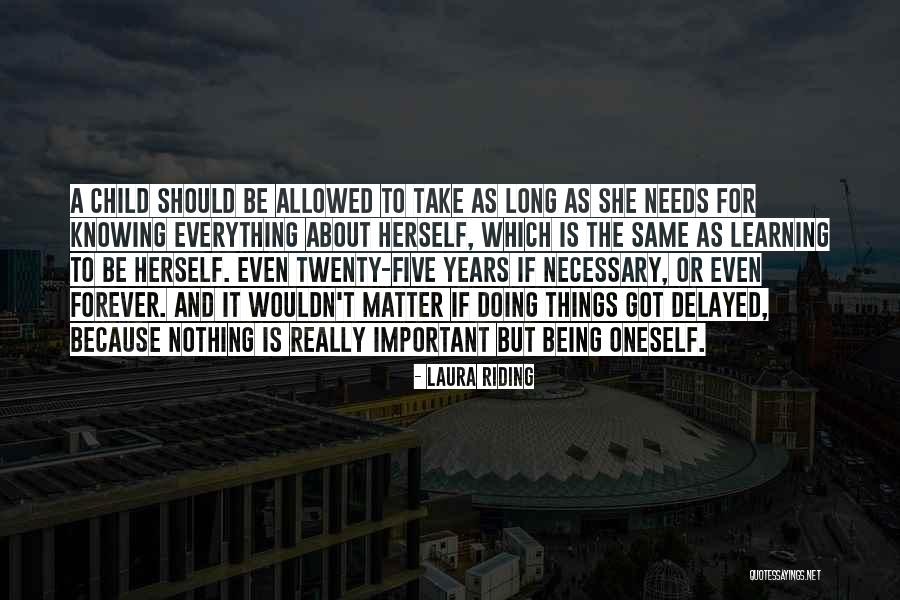 A child should be allowed to take as long as she needs for knowing everything about herself, which is the same as learning to be herself. Even twenty-five years if necessary, or even forever. And it wouldn't matter if doing things got delayed, because nothing is really important but being oneself. — Laura Riding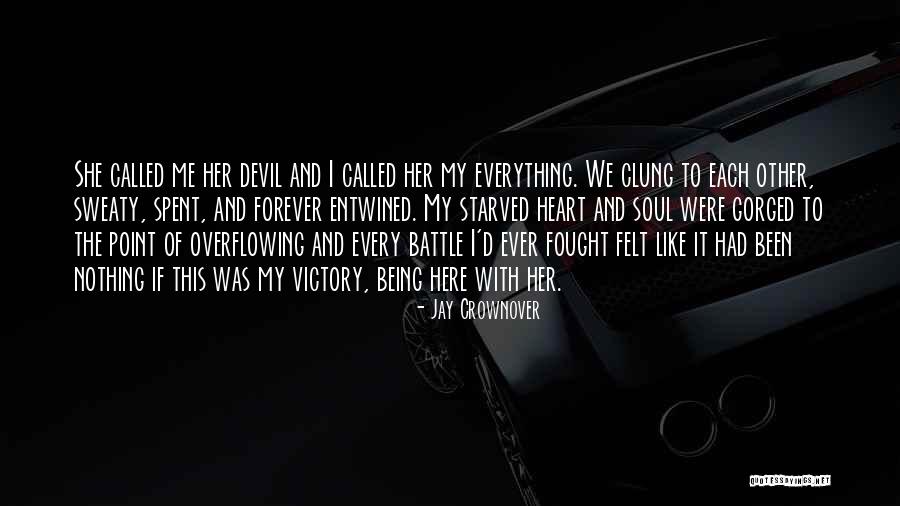 She called me her devil and I called her my everything. We clung to each other, sweaty, spent, and forever entwined. My starved heart and soul were gorged to the point of overflowing and every battle I'd ever fought felt like it had been nothing if this was my victory, being here with her. — Jay Crownover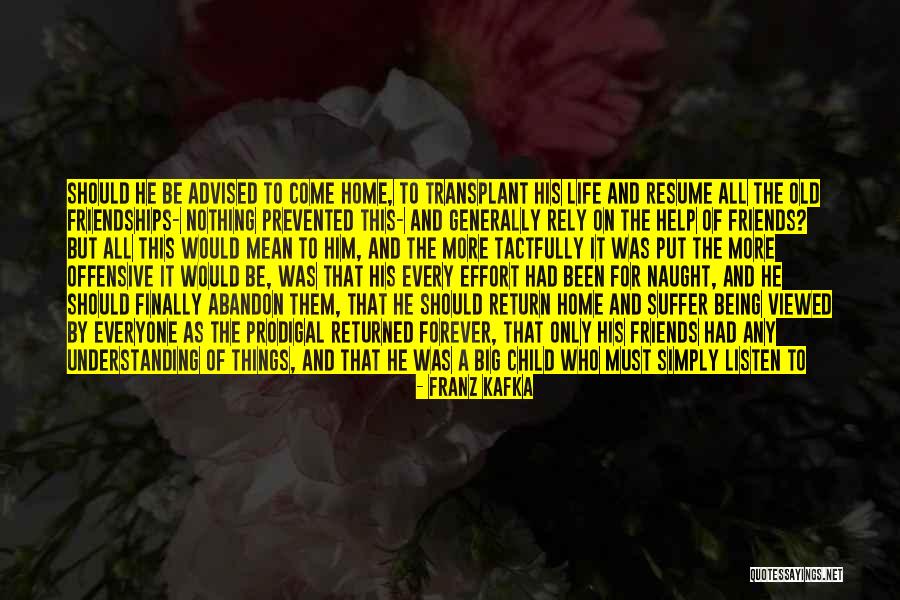 Should he be advised to come home, to transplant his life and resume all the old friendships- nothing prevented this- and generally rely on the help of friends? But all this would mean to him, and the more tactfully it was put the more offensive it would be, was that his every effort had been for naught, and he should finally abandon them, that he should return home and suffer being viewed by everyone as the prodigal returned forever, that only his friends had any understanding of things, and that he was a big child who must simply listen to those friends who had remained home and been successful. — Franz Kafka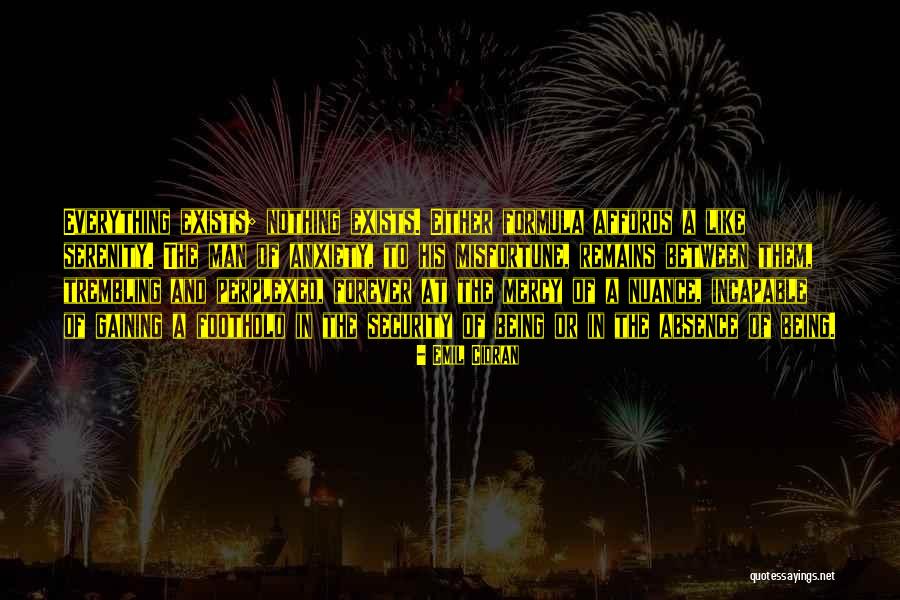 Everything exists; nothing exists. Either formula affords a like serenity. The man of anxiety, to his misfortune, remains between them, trembling and perplexed, forever at the mercy of a nuance, incapable of gaining a foothold in the security of being or in the absence of being. — Emil Cioran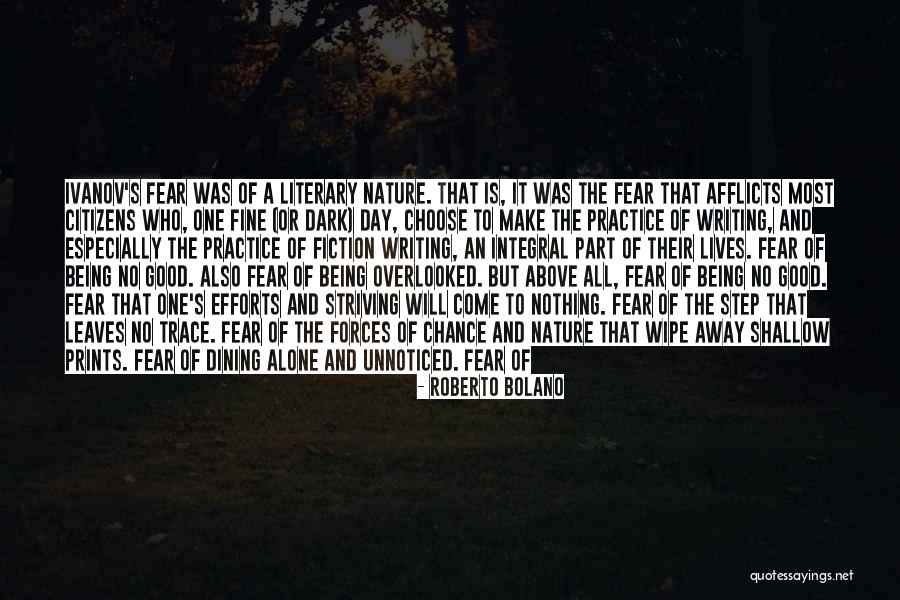 Ivanov's fear was of a literary nature. That is, it was the fear that afflicts most citizens who, one fine (or dark) day, choose to make the practice of writing, and especially the practice of fiction writing, an integral part of their lives. Fear of being no good. Also fear of being overlooked. But above all, fear of being no good. Fear that one's efforts and striving will come to nothing. Fear of the step that leaves no trace. Fear of the forces of chance and nature that wipe away shallow prints. Fear of dining alone and unnoticed. Fear of going unrecognized. Fear of failure and making a spectacle of oneself. But above all, fear of being no good. Fear of forever dwelling in the hell of bad writers. — Roberto Bolano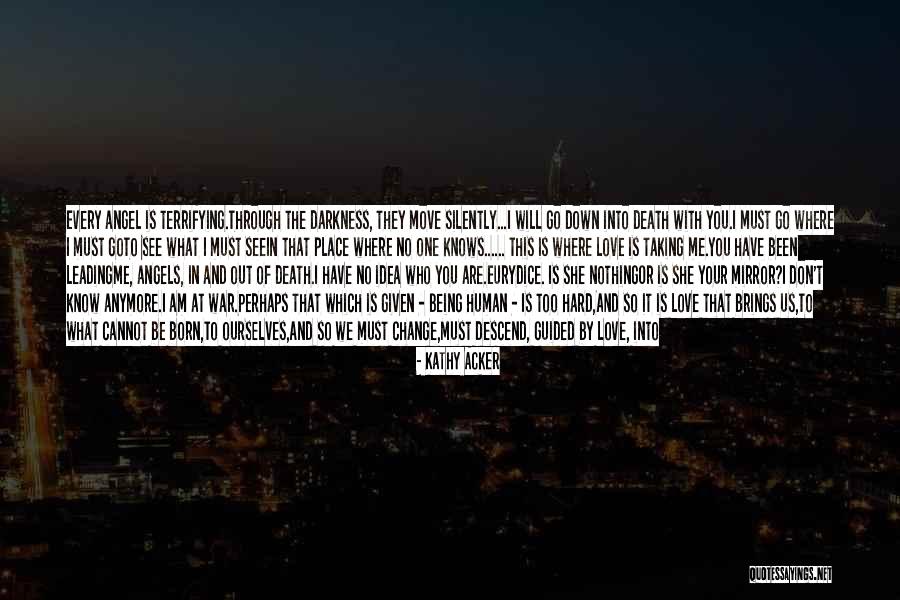 Every angel is terrifying.
Through the darkness, they move silently...

I will go down into death with you.
I must go where I must go
To see what I must see
In that place where no one knows...

... This is where love is taking me.

You have been leading
Me, angels, in and out of death.
I have no idea who you are.
Eurydice. Is she nothing
Or is she your mirror?
I don't know anymore.
I am at war.
Perhaps that which is given -
Being human -
Is too hard,
And so it is love that brings us,
To what cannot be born,
To ourselves,
And so we must change,
Must descend, guided by love, into the unknown.

Lovers disappear in each other.
Do they disappear forever?
Where do they go? — Kathy Acker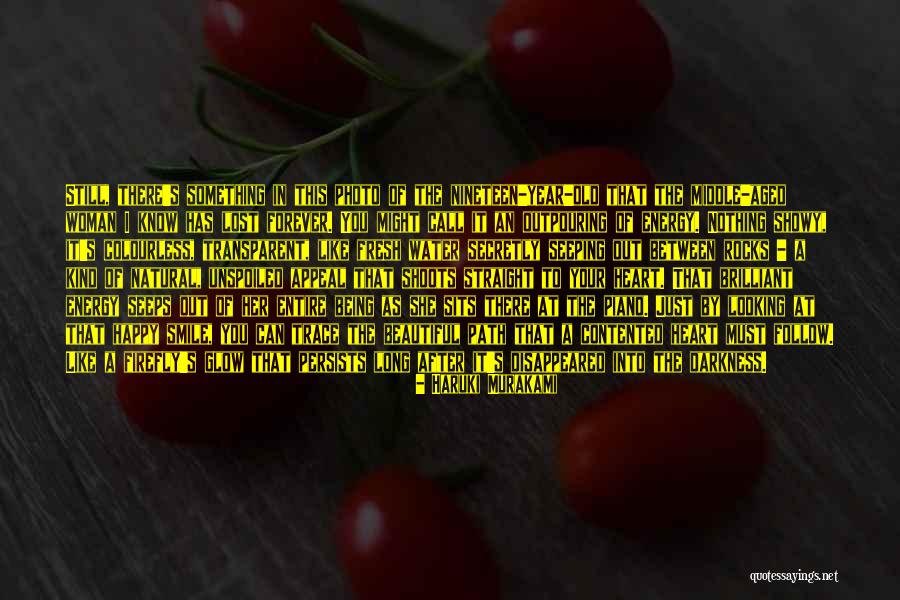 Still, there's something in this photo of the nineteen-year-old that the middle-aged woman I know has lost forever. You might call it an outpouring of energy. Nothing showy, it's colourless, transparent, like fresh water secretly seeping out between rocks - a kind of natural, unspoiled appeal that shoots straight to your heart. That brilliant energy seeps out of her entire being as she sits there at the piano. Just by looking at that happy smile, you can trace the beautiful path that a contented heart must follow. Like a firefly's glow that persists long after it's disappeared into the darkness. — Haruki Murakami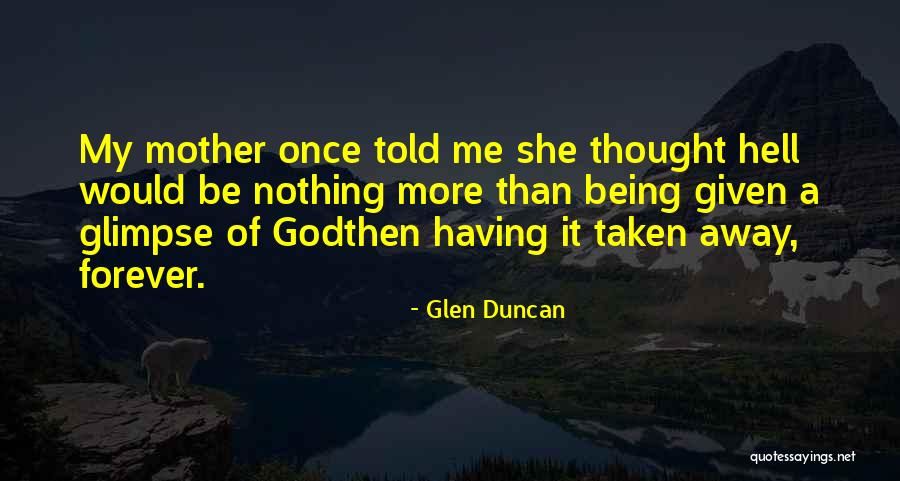 My mother once told me she thought hell would be nothing more than being given a glimpse of God
then having it taken away, forever. — Glen Duncan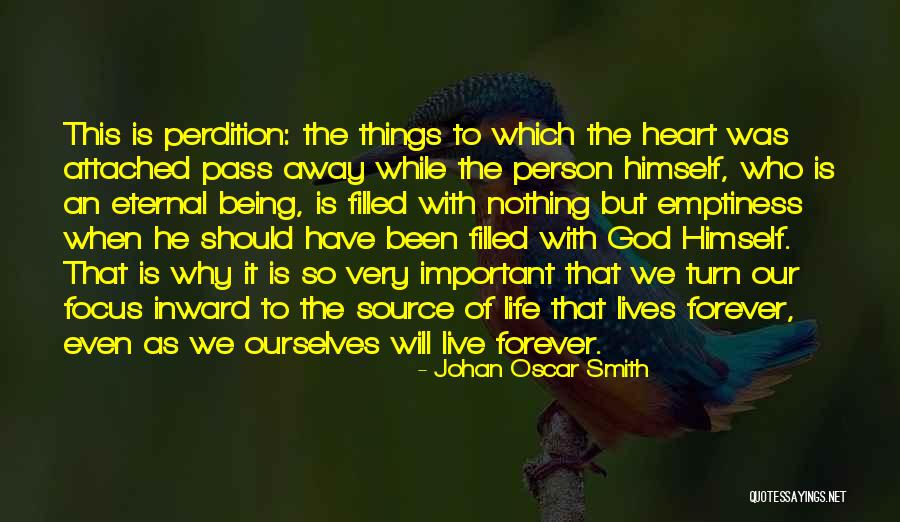 This is perdition: the things to which the heart was attached pass away while the person himself, who is an eternal being, is filled with nothing but emptiness when he should have been filled with God Himself. That is why it is so very important that we turn our focus inward to the source of life that lives forever, even as we ourselves will live forever. — Johan Oscar Smith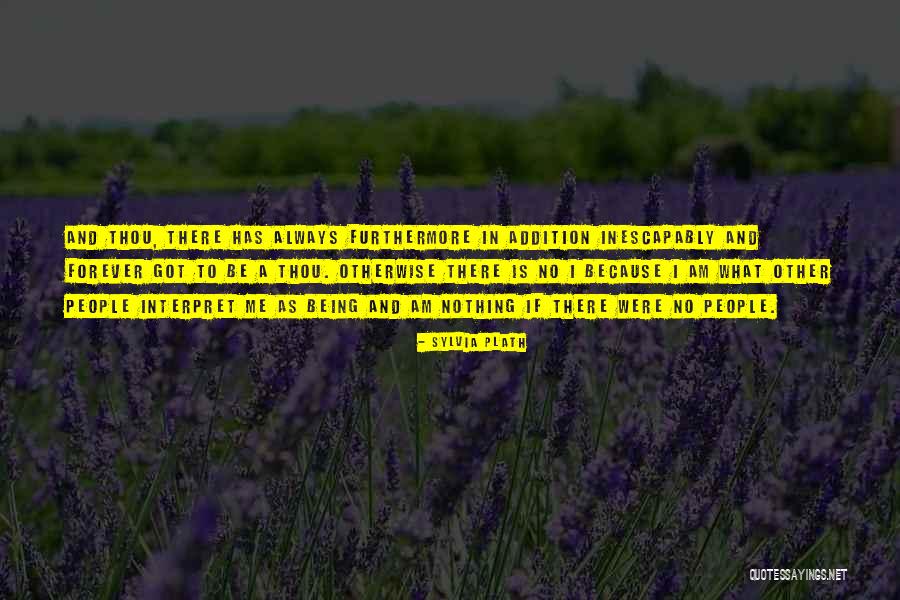 And thou, there has always furthermore in addition inescapably and forever got to be a Thou. Otherwise there is no i because i am what other people interpret me as being and am nothing if there were no people. — Sylvia Plath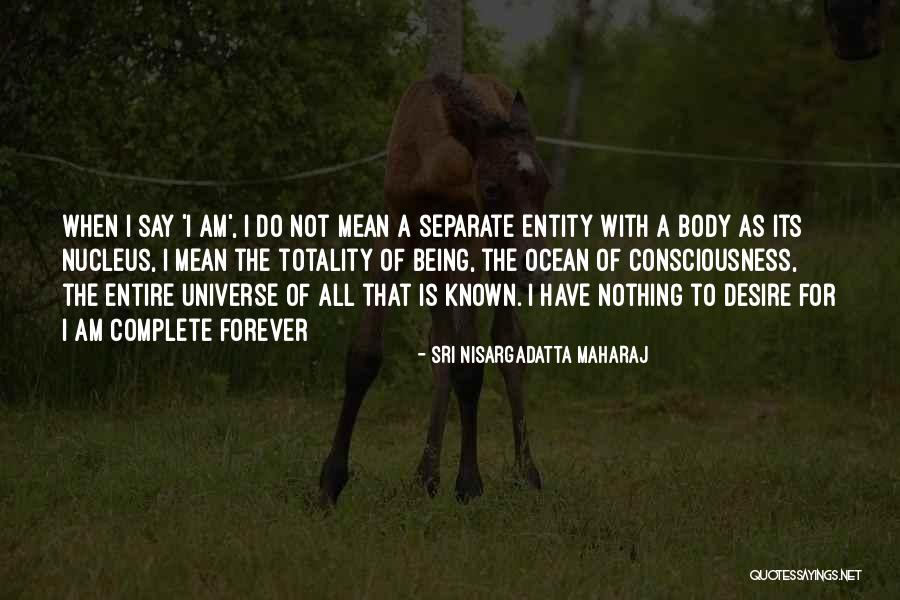 When I say 'I am', I do not mean a separate entity with a body as its nucleus, I mean the totality of being, the ocean of consciousness, the entire universe of all that is known. I have nothing to desire for I am complete forever — Sri Nisargadatta Maharaj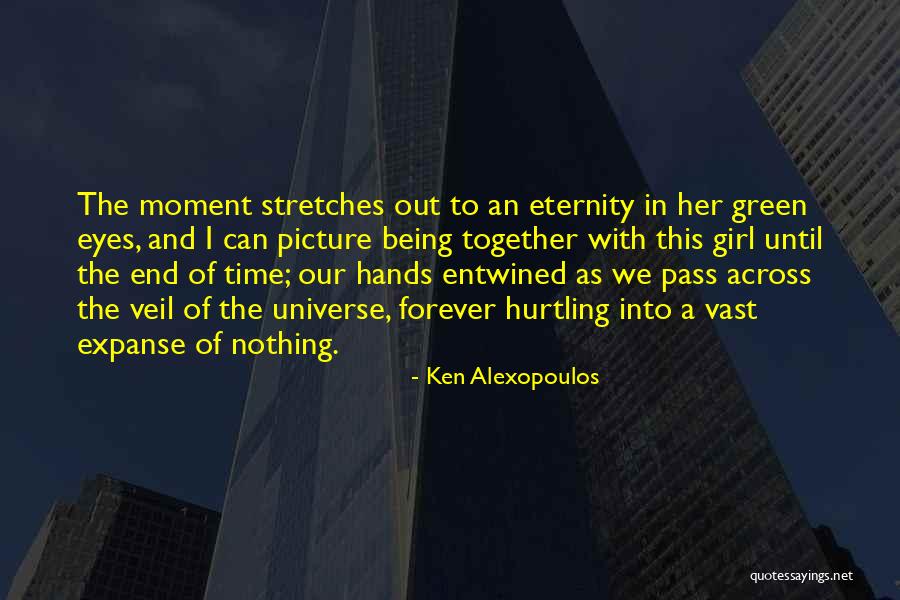 The moment stretches out to an eternity in her green eyes, and I can picture being together with this girl until the end of time; our hands entwined as we pass across the veil of the universe, forever hurtling into a vast expanse of nothing. — Ken Alexopoulos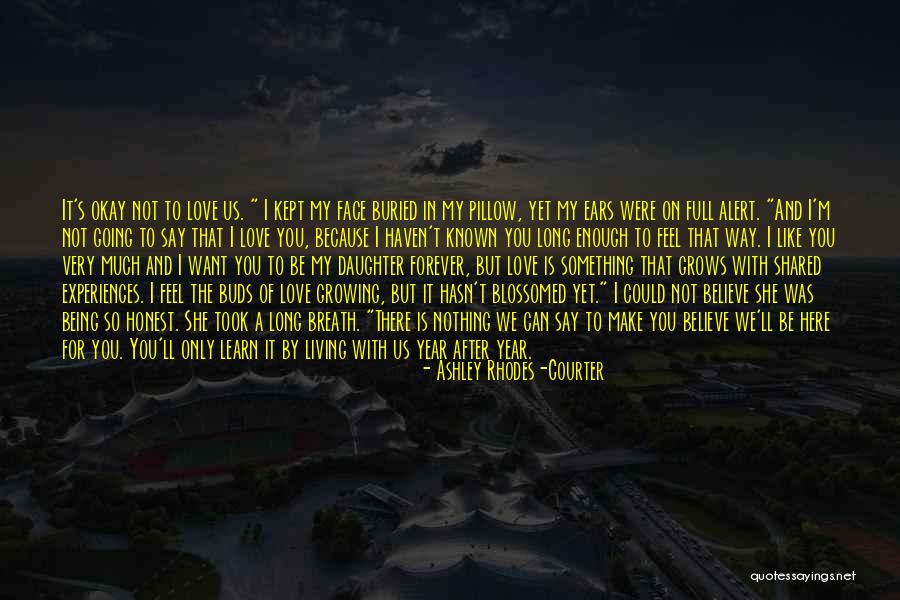 It's okay not to love us. " I kept my face buried in my pillow, yet my ears were on full alert. "And I'm not going to say that I love you, because I haven't known you long enough to feel that way. I like you very much and I want you to be my daughter forever, but love is something that grows with shared experiences. I feel the buds of love growing, but it hasn't blossomed yet." I could not believe she was being so honest. She took a long breath. "There is nothing we can say to make you believe we'll be here for you. You'll only learn it by living with us year after year. — Ashley Rhodes-Courter