Quotes & Sayings About Not Knowing Where You're Going
Enjoy reading and share 30 famous quotes about Not Knowing Where You're Going with everyone.
Top Not Knowing Where You're Going Quotes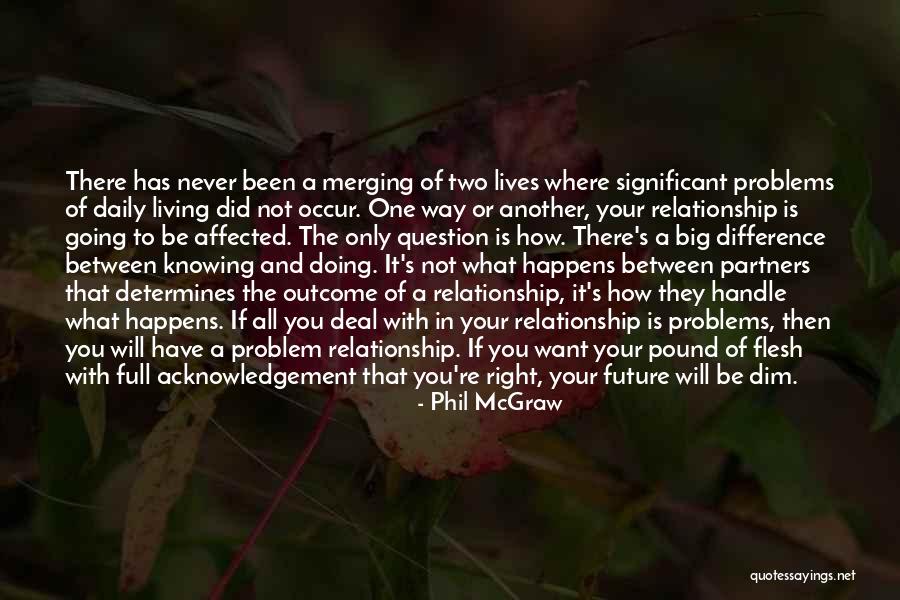 There has never been a merging of two lives where significant problems of daily living did not occur. One way or another, your relationship is going to be affected. The only question is how. There's a big difference between knowing and doing. It's not what happens between partners that determines the outcome of a relationship, it's how they handle what happens. If all you deal with in your relationship is problems, then you will have a problem relationship. If you want your pound of flesh with full acknowledgement that you're right, your future will be dim. — Phil McGraw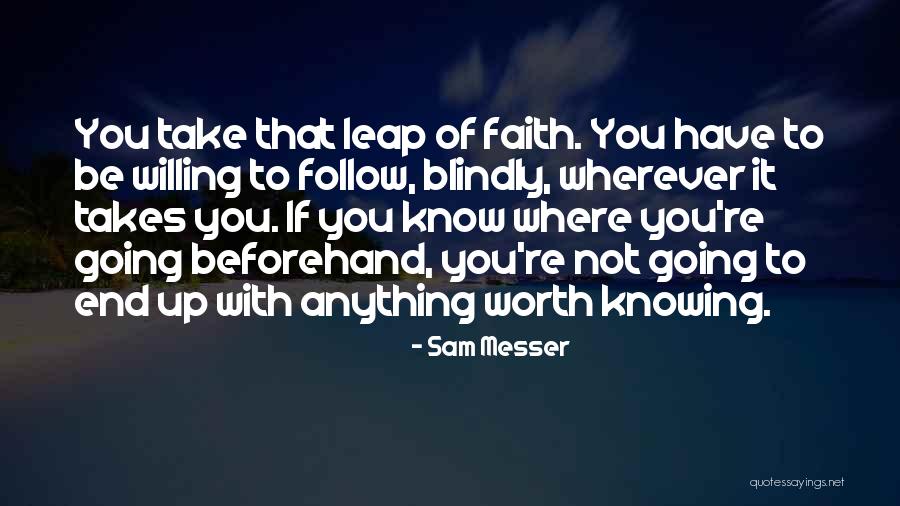 You take that leap of faith. You have to be willing to follow, blindly, wherever it takes you. If you know where you're going beforehand, you're not going to end up with anything worth knowing. — Sam Messer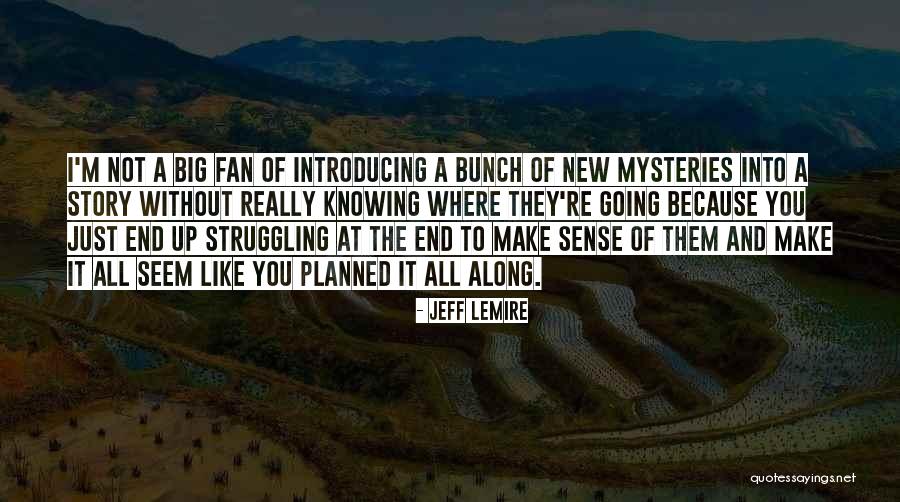 I'm not a big fan of introducing a bunch of new mysteries into a story without really knowing where they're going because you just end up struggling at the end to make sense of them and make it all seem like you planned it all along. — Jeff Lemire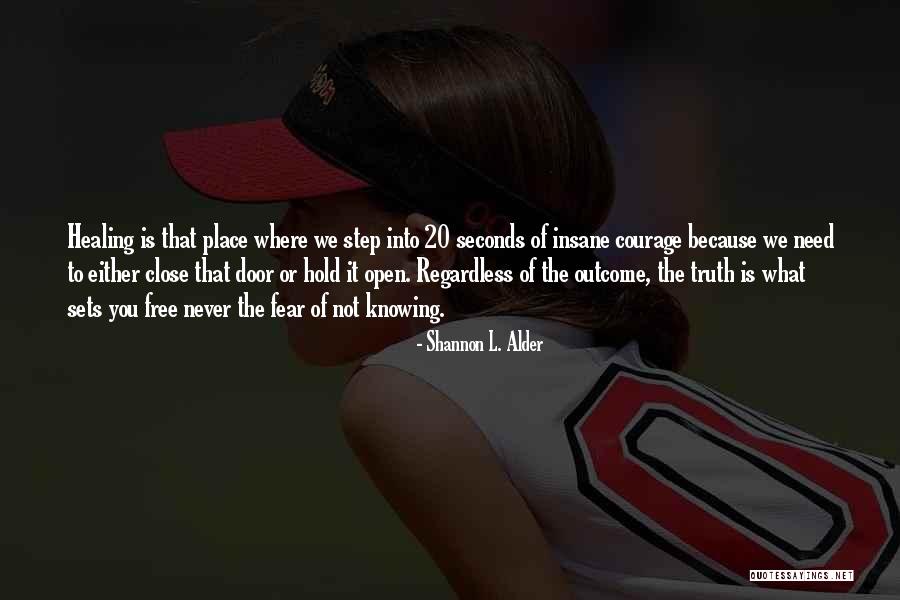 Healing is that place where we step into 20 seconds of insane courage because we need to either close that door or hold it open. Regardless of the outcome, the truth is what sets you free never the fear of not knowing. — Shannon L. Alder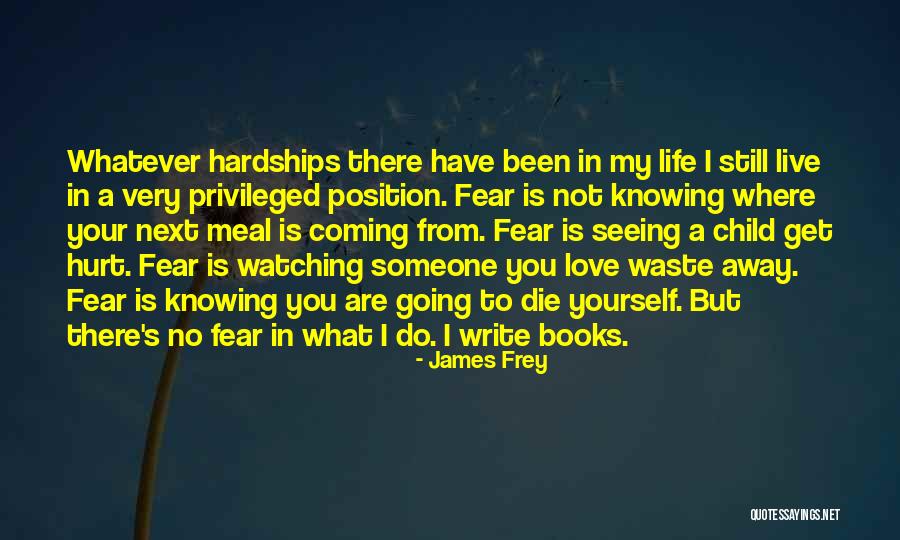 Whatever hardships there have been in my life I still live in a very privileged position. Fear is not knowing where your next meal is coming from. Fear is seeing a child get hurt. Fear is watching someone you love waste away. Fear is knowing you are going to die yourself. But there's no fear in what I do. I write books. — James Frey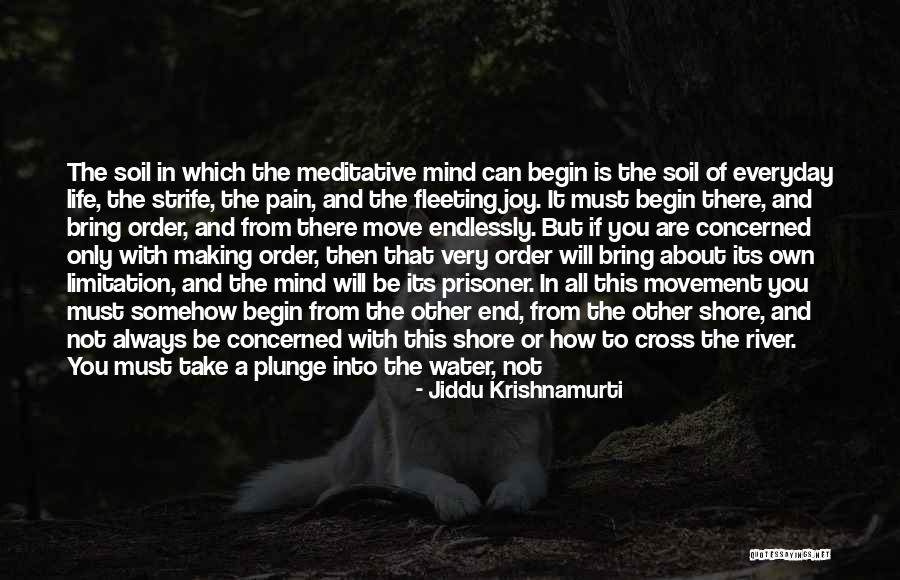 The soil in which the meditative mind can begin is the soil of everyday life, the strife, the pain, and the fleeting joy. It must begin there, and bring order, and from there move endlessly. But if you are concerned only with making order, then that very order will bring about its own limitation, and the mind will be its prisoner. In all this movement you must somehow begin from the other end, from the other shore, and not always be concerned with this shore or how to cross the river. You must take a plunge into the water, not knowing how to swim. And the beauty of meditation is that you never know where you are, where you are going, what the end is. — Jiddu Krishnamurti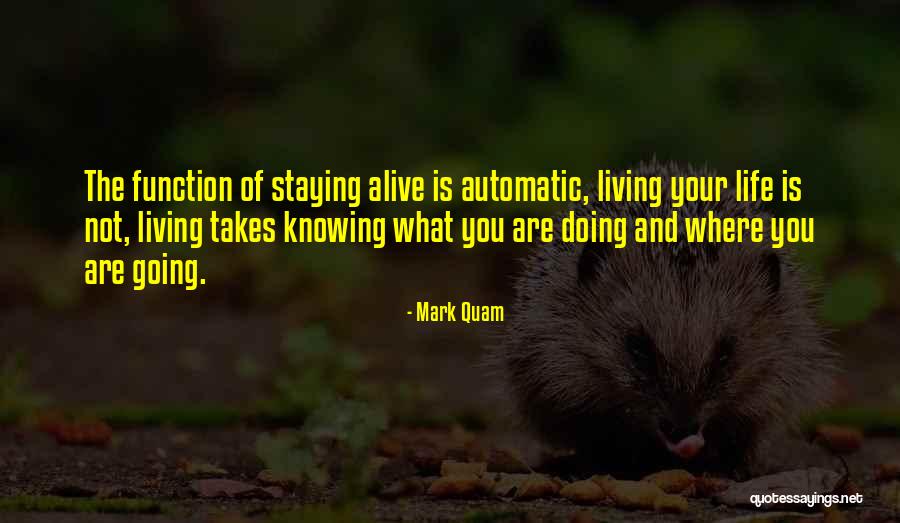 The function of staying alive is automatic, living your life is not, living takes knowing what you are doing and where you are going. — Mark Quam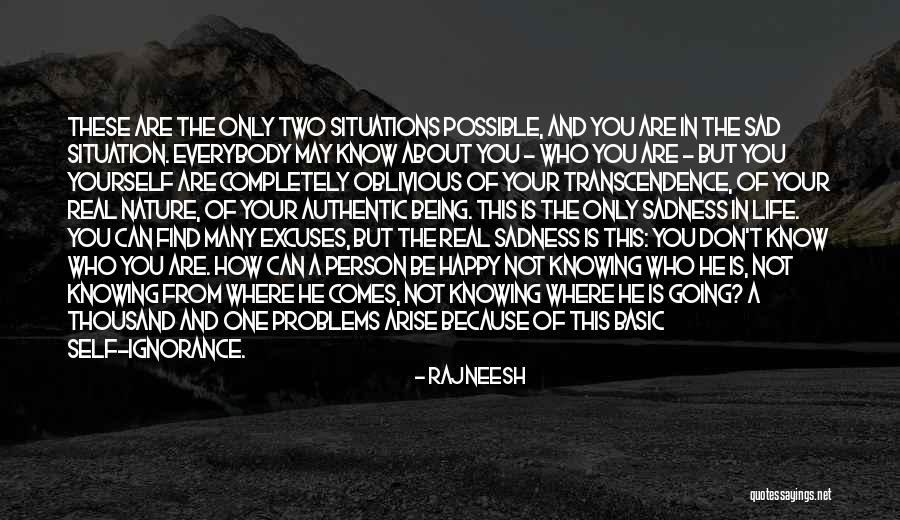 These are the only two situations possible, and you are in the sad situation. Everybody may know about you - who you are - but you yourself are completely oblivious of your transcendence, of your real nature, of your authentic being. This is the only sadness in life. You can find many excuses, but the real sadness is this: you don't know who you are. How can a person be happy not knowing who he is, not knowing from where he comes, not knowing where he is going? A thousand and one problems arise because of this basic self-ignorance. — Rajneesh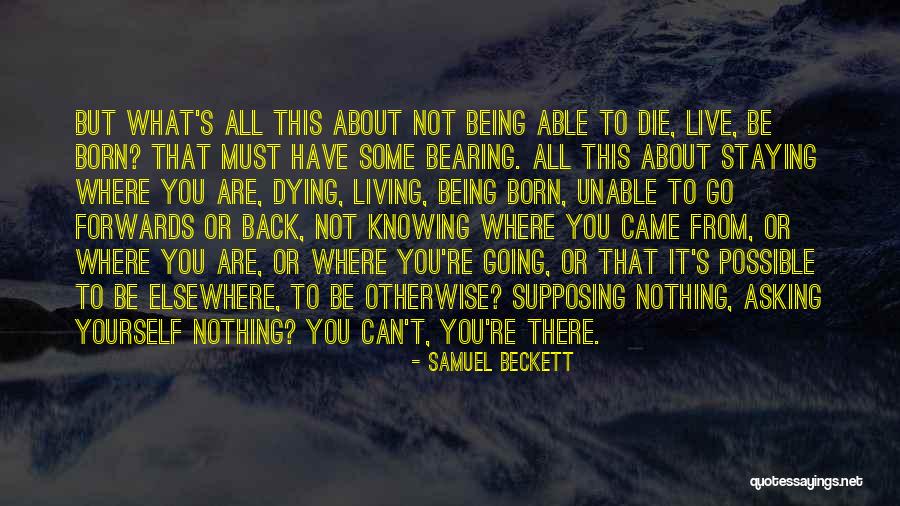 But what's all this about not being able to die, live, be born? That must have some bearing. All this about staying where you are, dying, living, being born, unable to go forwards or back, not knowing where you came from, or where you are, or where you're going, or that it's possible to be elsewhere, to be otherwise? Supposing nothing, asking yourself nothing? You can't, you're there. — Samuel Beckett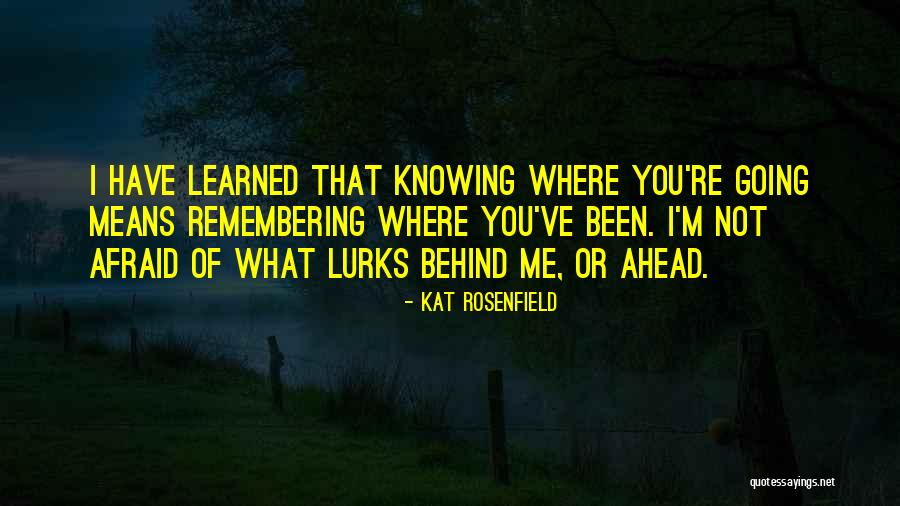 I have learned that knowing where you're going means remembering where you've been. I'm not afraid of what lurks behind me, or ahead. — Kat Rosenfield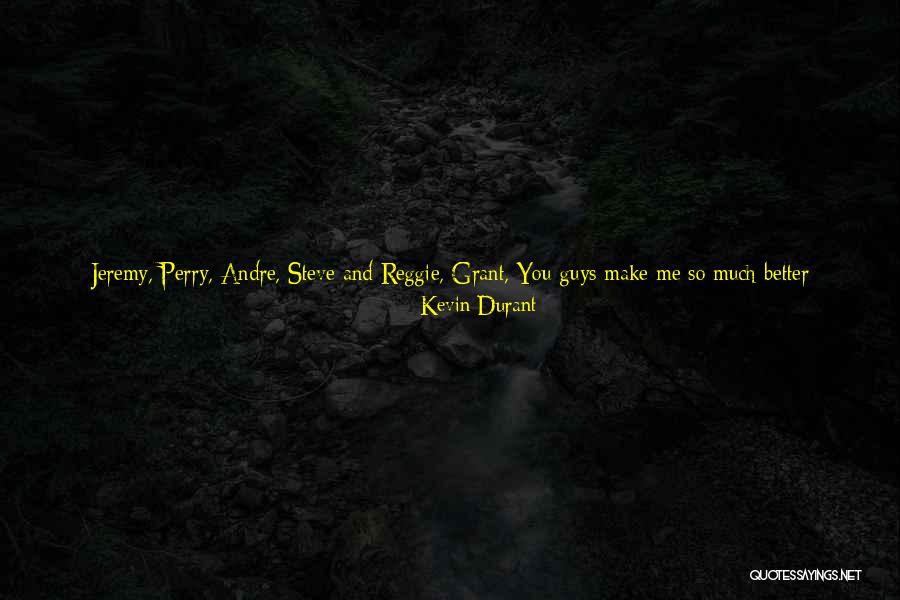 Jeremy, Perry, Andre, Steve and Reggie, Grant, You guys make me so much better without you even knowing man. 'Cause I know I set the example for y'all. I know there's days where I have my bad days, And I say some words I'm not supposed to say sometimes, But when I need an extra push, You guys are there man. And I appreciate that. I appreciate that because I'm not always the best leader, I'm not always the best player, I don't always shoot the best in the games, But, Our little handshakes that we do before the game, That gets me going. — Kevin Durant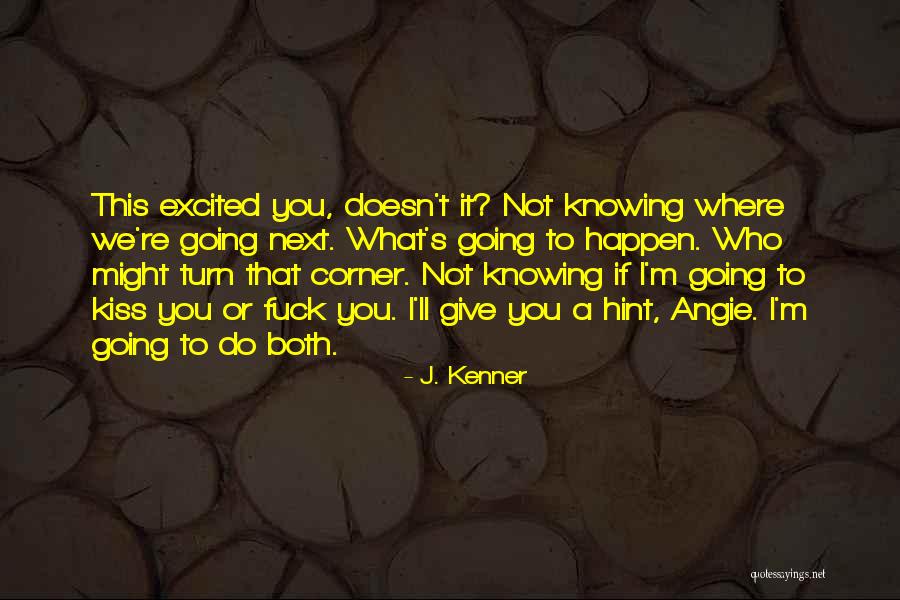 This excited you, doesn't it? Not knowing where we're going next. What's going to happen. Who might turn that corner. Not knowing if I'm going to kiss you or fuck you. I'll give you a hint, Angie. I'm going to do both. — J. Kenner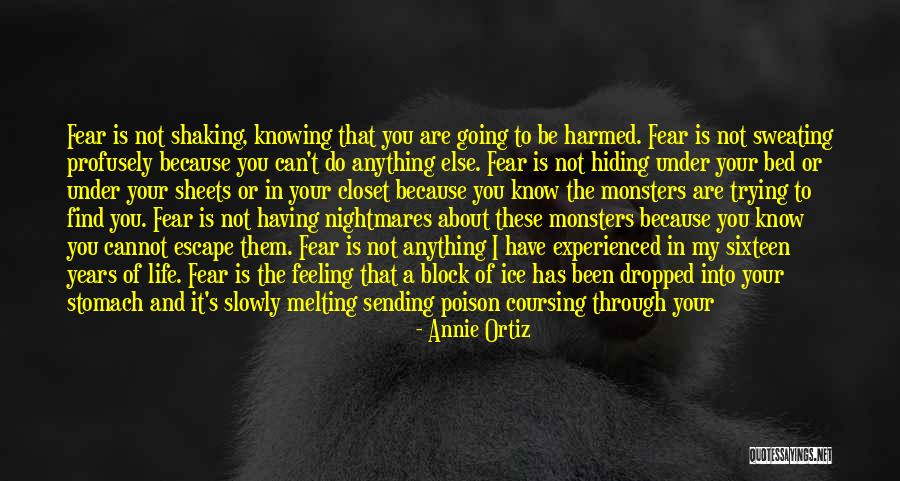 Fear is not shaking, knowing that you are going to be harmed. Fear is not sweating profusely because you can't do anything else. Fear is not hiding under your bed or under your sheets or in your closet because you know the monsters are trying to find you. Fear is not having nightmares about these monsters because you know you cannot escape them. Fear is not anything I have experienced in my sixteen years of life. Fear is the feeling that a block of ice has been dropped into your stomach and it's slowly melting sending poison coursing through your veins, rooting you to where you stand. Fear is knowing that there is nothing you can do about your current situation. You can't run or hide or escape even in your dreams. Fear is not the knowledge that you're going to be hurt, but the knowledge that you can do nothing to stop what is coming. Fear is learning that the person you love most has been dying for you over and over again because they value your life over their own. — Annie Ortiz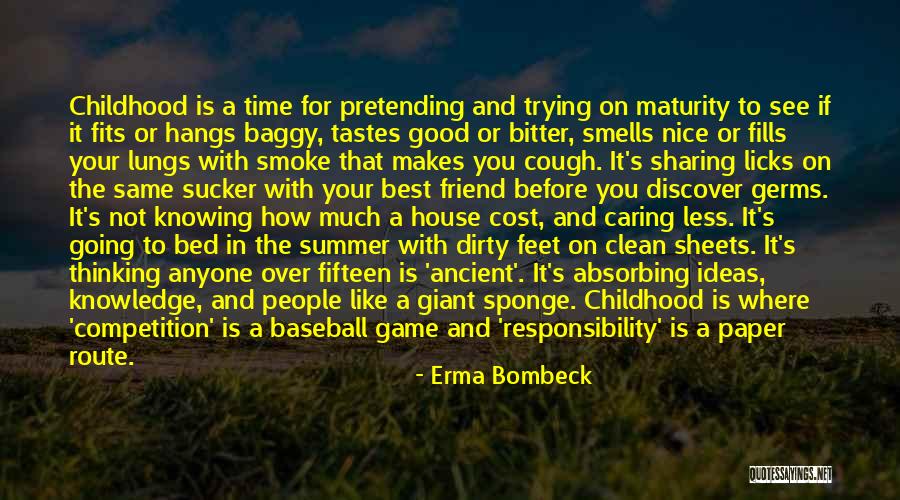 Childhood is a time for pretending and trying on maturity to see if it fits or hangs baggy, tastes good or bitter, smells nice or fills your lungs with smoke that makes you cough. It's sharing licks on the same sucker with your best friend before you discover germs. It's not knowing how much a house cost, and caring less. It's going to bed in the summer with dirty feet on clean sheets. It's thinking anyone over fifteen is 'ancient'. It's absorbing ideas, knowledge, and people like a giant sponge. Childhood is where 'competition' is a baseball game and 'responsibility' is a paper route. — Erma Bombeck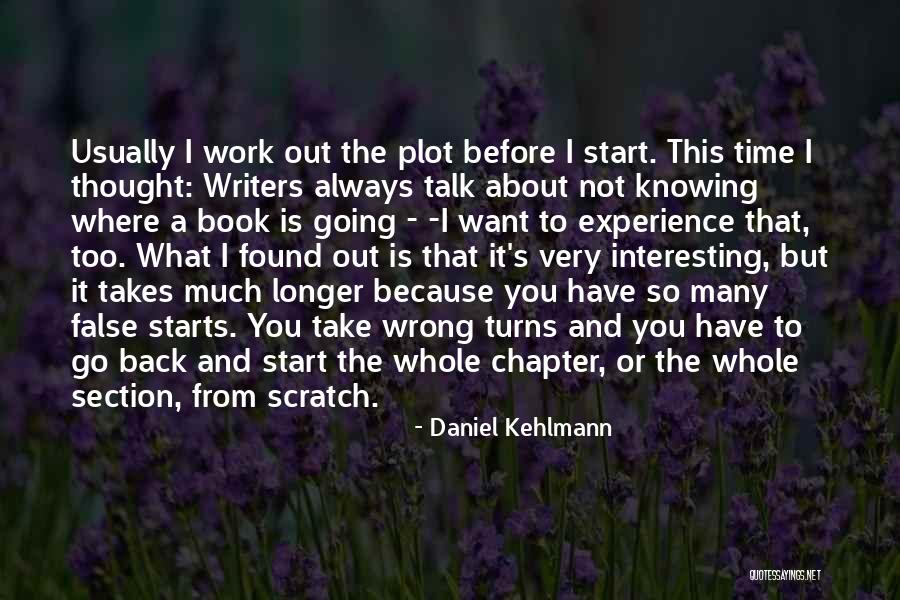 Usually I work out the plot before I start. This time I thought: Writers always talk about not knowing where a book is going - -I want to experience that, too. What I found out is that it's very interesting, but it takes much longer because you have so many false starts. You take wrong turns and you have to go back and start the whole chapter, or the whole section, from scratch. — Daniel Kehlmann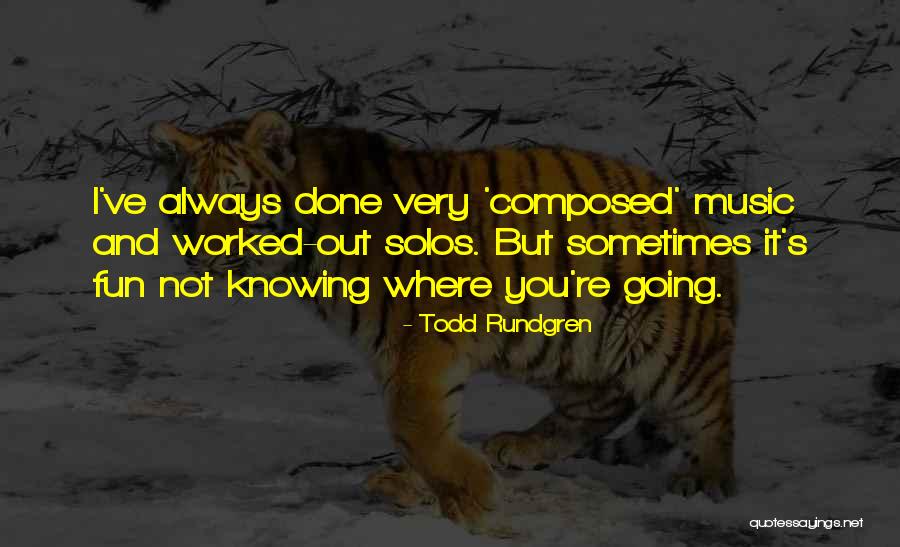 I've always done very 'composed' music and worked-out solos. But sometimes it's fun not knowing where you're going. — Todd Rundgren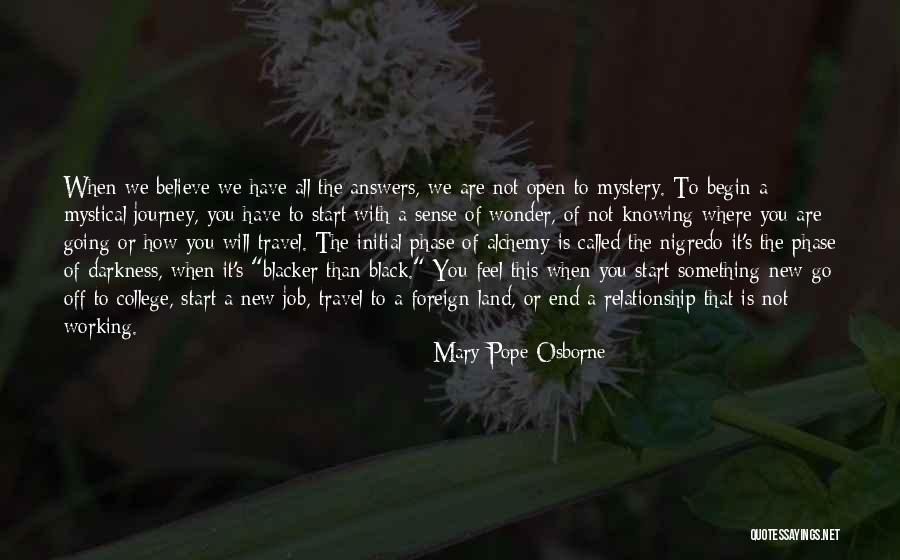 When we believe we have all the answers, we are not open to mystery. To begin a mystical journey, you have to start with a sense of wonder, of not knowing where you are going or how you will travel. The initial phase of alchemy is called the nigredo-it's the phase of darkness, when it's "blacker than black." You feel this when you start something new-go off to college, start a new job, travel to a foreign land, or end a relationship that is not working. — Mary Pope Osborne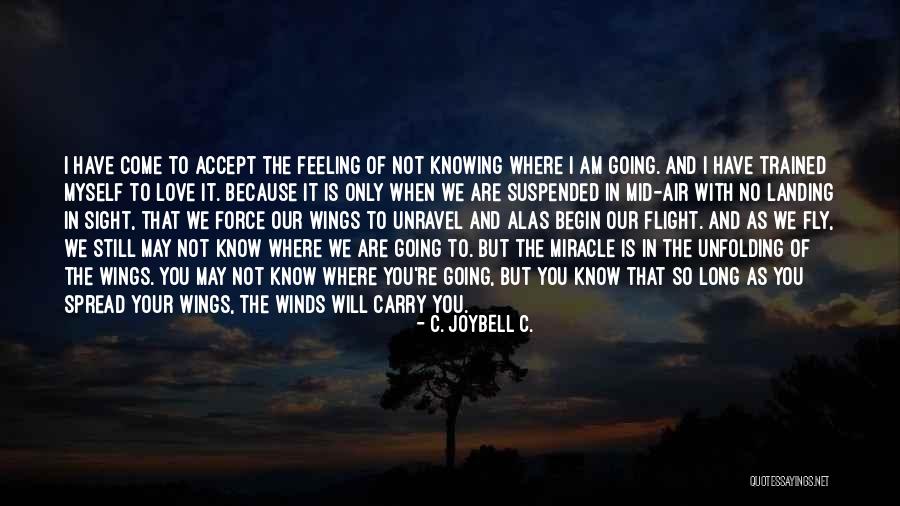 I have come to accept the feeling of not knowing where I am going. And I have trained myself to love it. Because it is only when we are suspended in mid-air with no landing in sight, that we force our wings to unravel and alas begin our flight. And as we fly, we still may not know where we are going to. But the miracle is in the unfolding of the wings. You may not know where you're going, but you know that so long as you spread your wings, the winds will carry you. — C. JoyBell C.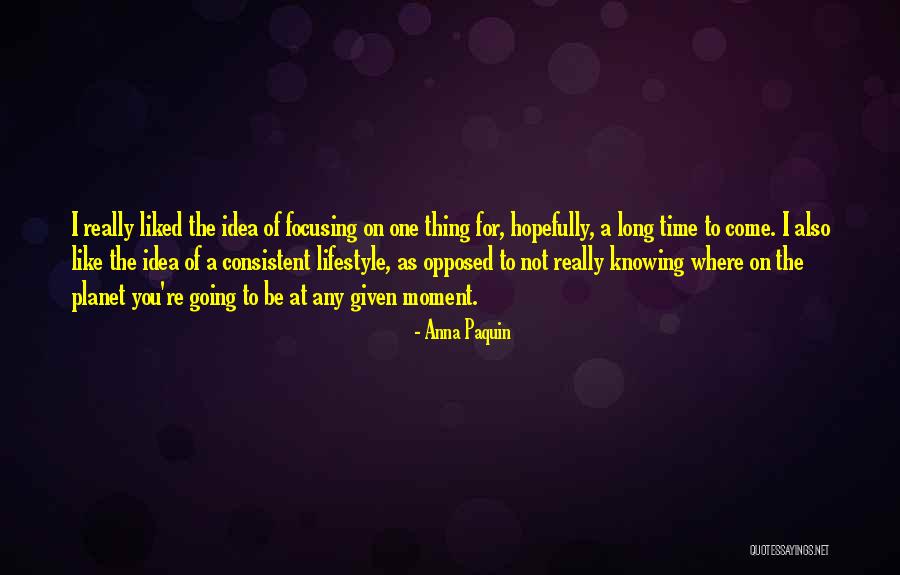 I really liked the idea of focusing on one thing for, hopefully, a long time to come. I also like the idea of a consistent lifestyle, as opposed to not really knowing where on the planet you're going to be at any given moment. — Anna Paquin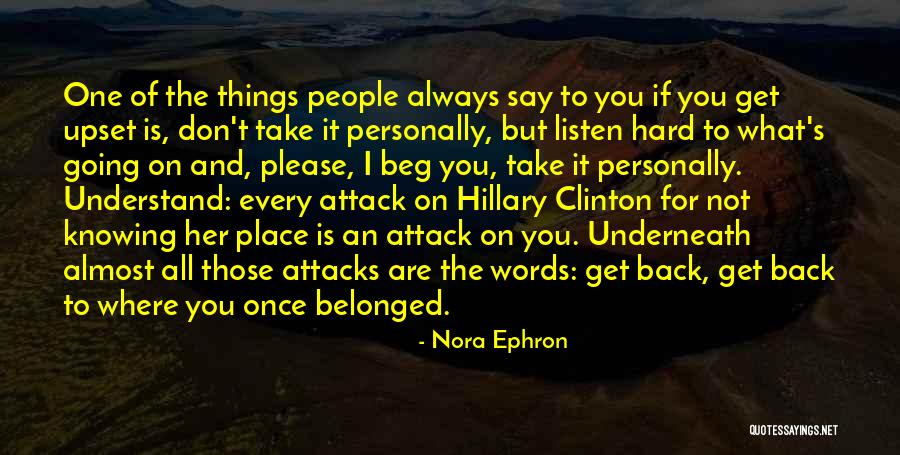 One of the things people always say to you if you get upset is, don't take it personally, but listen hard to what's going on and, please, I beg you, take it personally. Understand: every attack on Hillary Clinton for not knowing her place is an attack on you. Underneath almost all those attacks are the words: get back, get back to where you once belonged. — Nora Ephron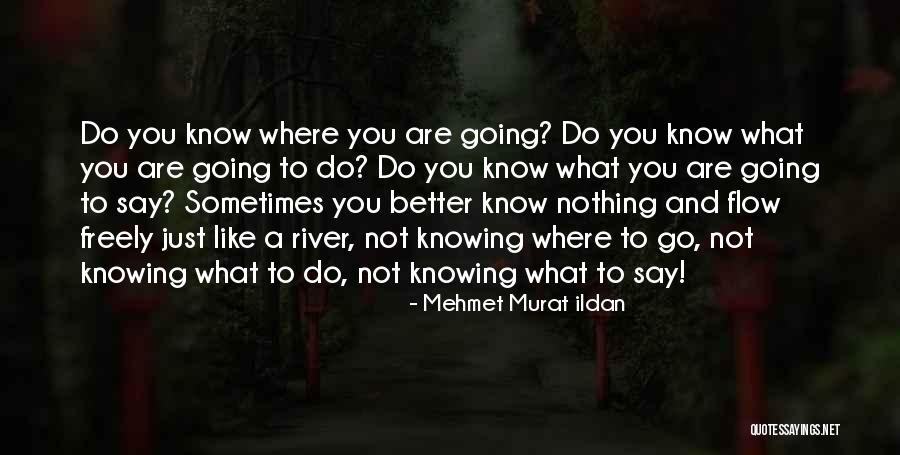 Do you know where you are going? Do you know what you are going to do? Do you know what you are going to say? Sometimes you better know nothing and flow freely just like a river, not knowing where to go, not knowing what to do, not knowing what to say! — Mehmet Murat Ildan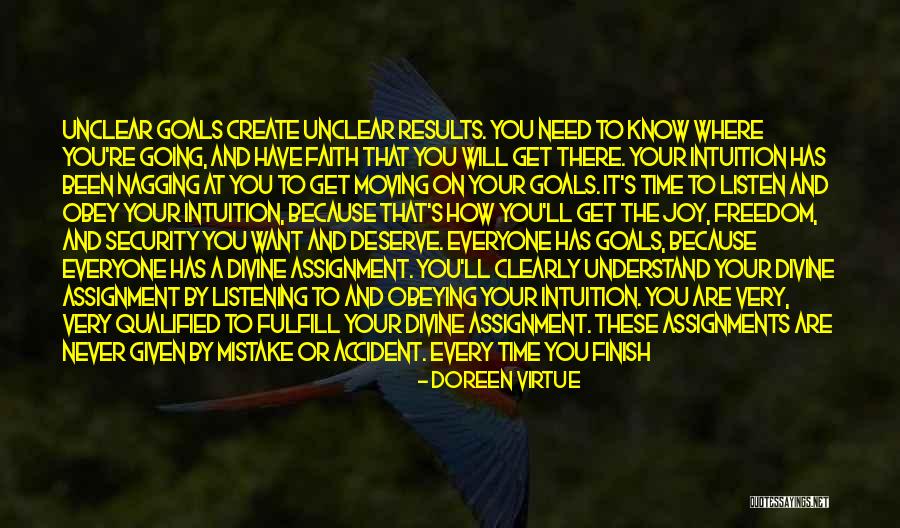 Unclear goals create unclear results. You need to know where you're going, and have faith that you will get there. Your intuition has been nagging at you to get moving on your goals. It's time to listen and obey your intuition, because that's how you'll get the joy, freedom, and security you want and deserve. Everyone has goals, because everyone has a divine assignment. You'll clearly understand your divine assignment by listening to and obeying your intuition. You are very, very qualified to fulfill your divine assignment. These assignments are never given by mistake or accident. Every time you finish one step of your intuitive instructions, you will be given another set of them. Don't fret about not knowing what to do in the future; you will be guided every day of your life. — Doreen Virtue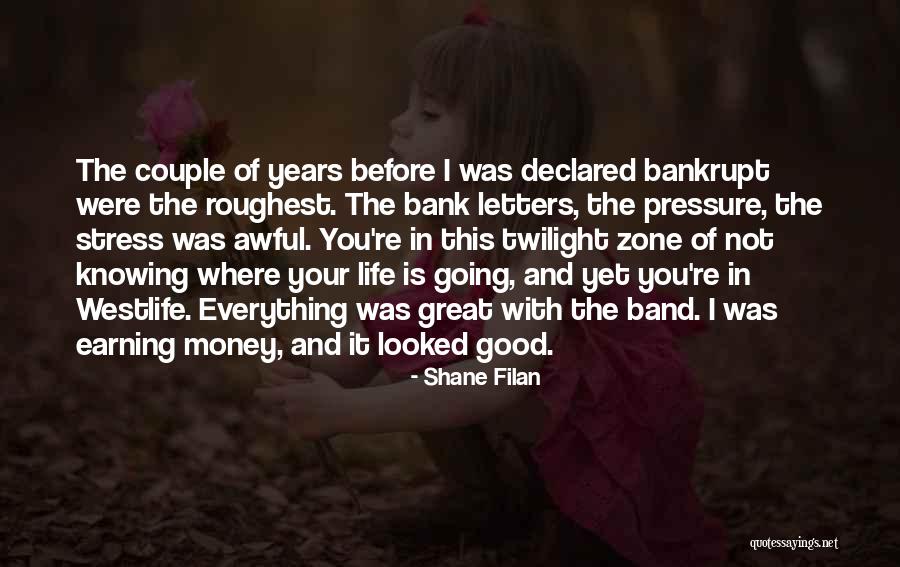 The couple of years before I was declared bankrupt were the roughest. The bank letters, the pressure, the stress was awful. You're in this twilight zone of not knowing where your life is going, and yet you're in Westlife. Everything was great with the band. I was earning money, and it looked good. — Shane Filan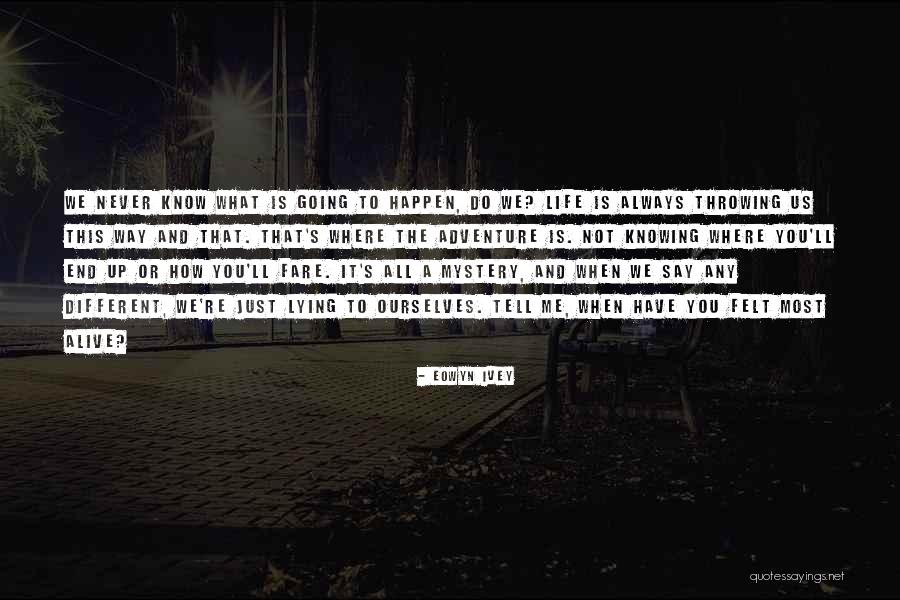 We never know what is going to happen, do we? Life is always throwing us this way and that. That's where the adventure is. Not knowing where you'll end up or how you'll fare. It's all a mystery, and when we say any different, we're just lying to ourselves. Tell me, when have you felt most alive? — Eowyn Ivey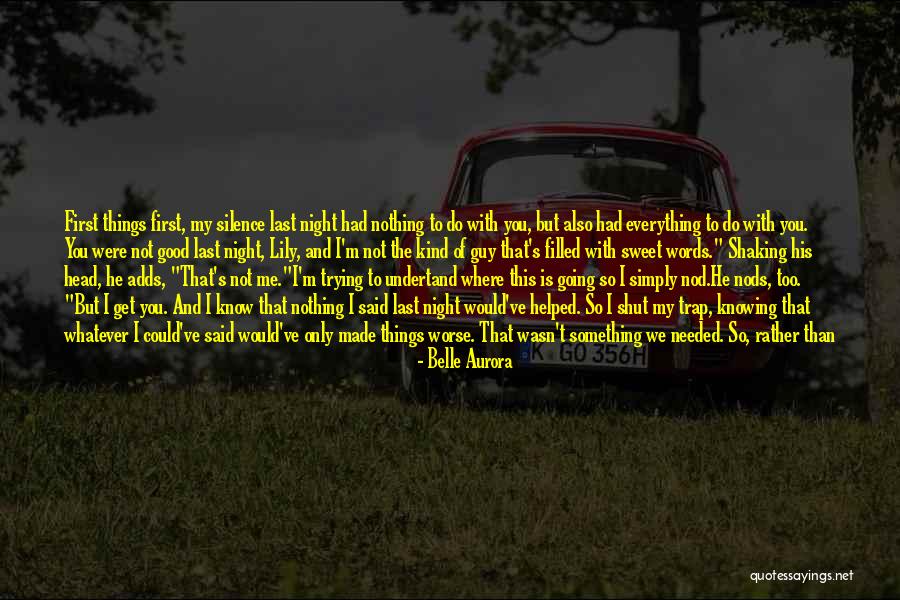 First things first, my silence last night had nothing to do with you, but also had everything to do with you. You were not good last night, Lily, and I'm not the kind of guy that's filled with sweet words." Shaking his head, he adds, "That's not me."
I'm trying to undertand where this is going so I simply nod.
He nods, too. "But I get you. And I know that nothing I said last night would've helped. So I shut my trap, knowing that whatever I could've said would've only made things worse. That wasn't something we needed. So, rather than using words, I showed you how I could take care of you. So now you know. We can go from there." His face softens as he says, "You didn't ruin anything, baby. Got to taste you in every way, take care of you, and hold you all night. That's not bad."
Shaking his head slowly, he utters, "That's fucking phenomenal. — Belle Aurora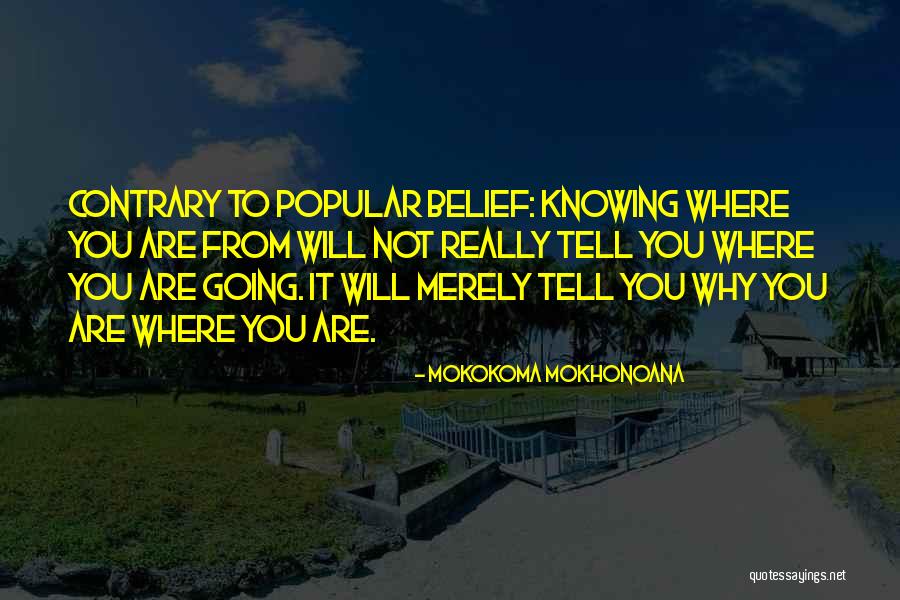 Contrary to popular belief: Knowing where you are from will not really tell you where you are going. It will merely tell you why you are where you are. — Mokokoma Mokhonoana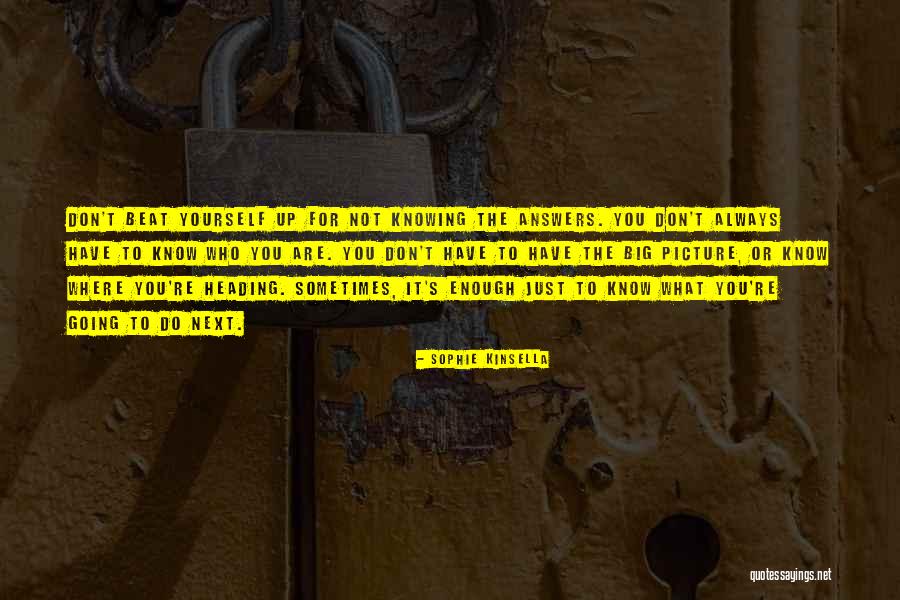 Don't beat yourself up for not knowing the answers. You don't always have to know who you are. You don't have to have the big picture, or know where you're heading. Sometimes, it's enough just to know what you're going to do next. — Sophie Kinsella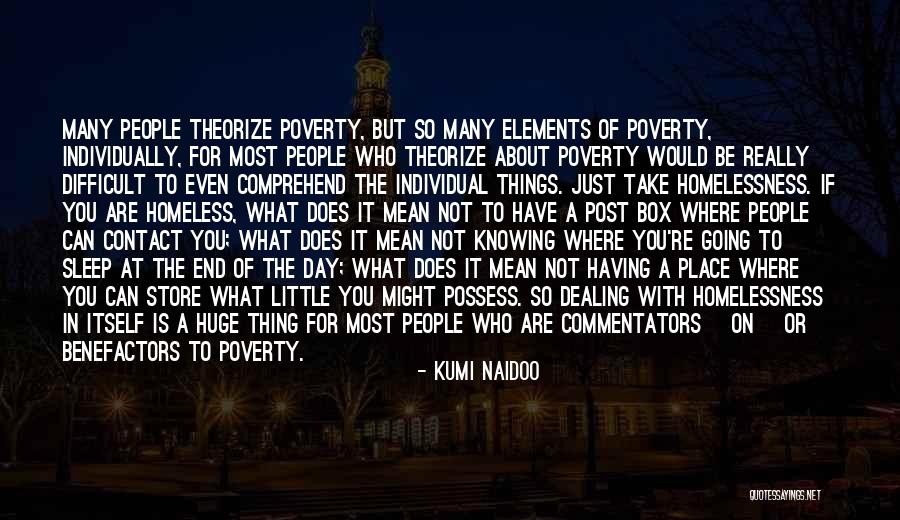 Many people theorize poverty, but so many elements of poverty, individually, for most people who theorize about poverty would be really difficult to even comprehend the individual things. Just take homelessness. If you are homeless, what does it mean not to have a post box where people can contact you; what does it mean not knowing where you're going to sleep at the end of the day; what does it mean not having a place where you can store what little you might possess. So dealing with homelessness in itself is a huge thing for most people who are commentators [on] or benefactors to poverty. — Kumi Naidoo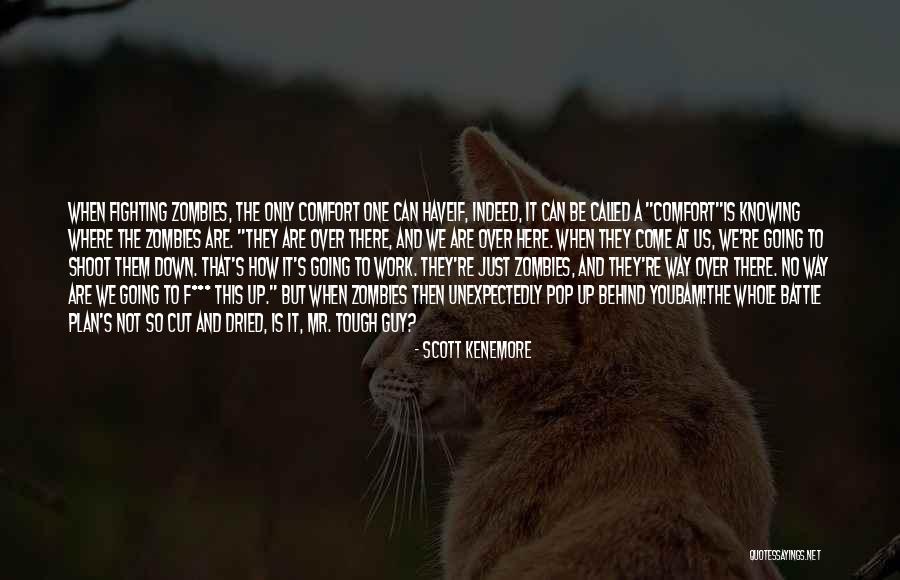 When fighting zombies, the only comfort one can have
if, indeed, it can be called a "comfort"
is knowing where the zombies are. "They are over there, and we are over here. When they come at us, we're going to shoot them down. That's how it's going to work. They're just zombies, and they're way over there. No way are we going to f*** this up." But when zombies then unexpectedly pop up behind you
Bam!
the whole battle plan's not so cut and dried, is it, Mr. Tough Guy? — Scott Kenemore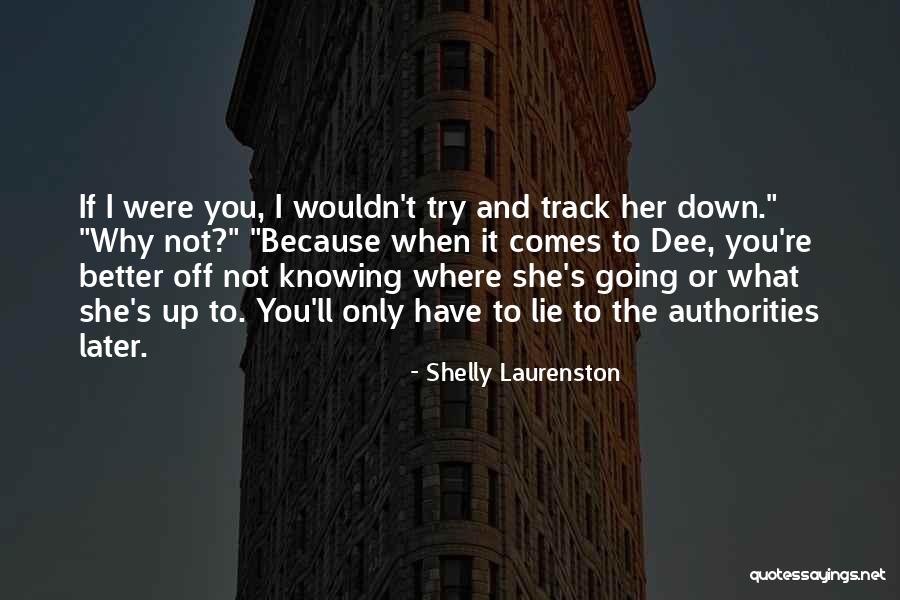 If I were you, I wouldn't try and track her down."
"Why not?"
"Because when it comes to Dee, you're better off not knowing where she's going or what she's up to. You'll only have to lie to the authorities later. — Shelly Laurenston