Quotes & Sayings About Not Being Fooled
Enjoy reading and share 39 famous quotes about Not Being Fooled with everyone.
Top Not Being Fooled Quotes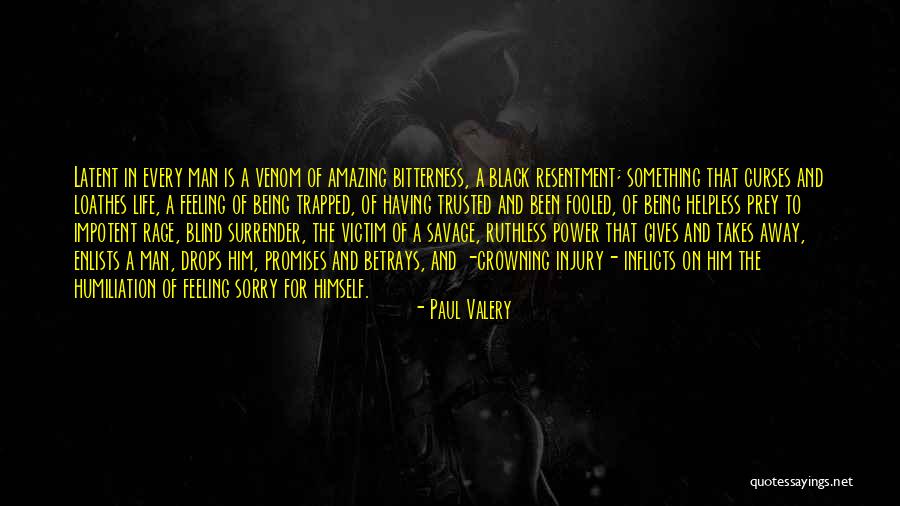 Latent in every man is a venom of amazing bitterness, a black resentment; something that curses and loathes life, a feeling of being trapped, of having trusted and been fooled, of being helpless prey to impotent rage, blind surrender, the victim of a savage, ruthless power that gives and takes away, enlists a man, drops him, promises and betrays, and -crowning injury- inflicts on him the humiliation of feeling sorry for himself. — Paul Valery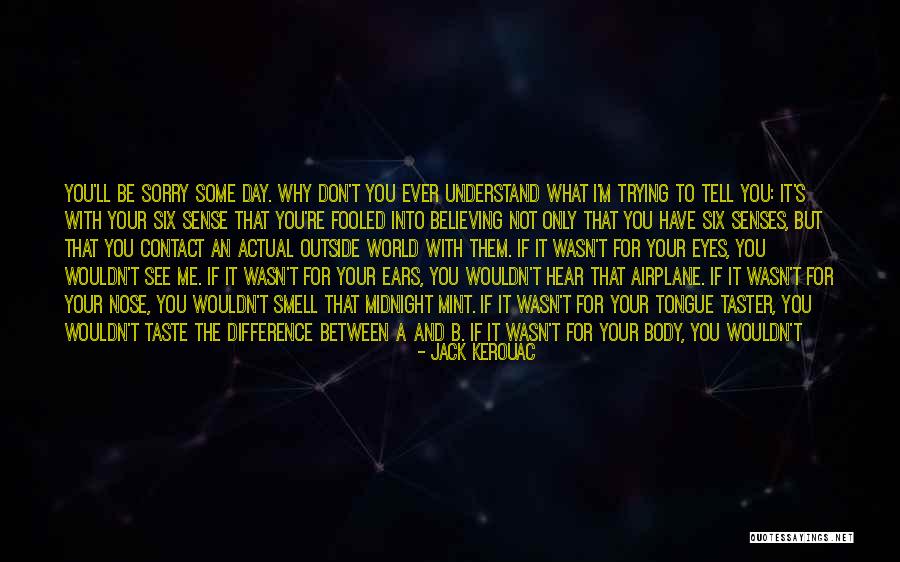 You'll be sorry some day. Why don't you ever understand what I'm trying to tell you: it's with your six sense that you're fooled into believing not only that you have six senses, but that you contact an actual outside world with them. If it wasn't for your eyes, you wouldn't see me. If it wasn't for your ears, you wouldn't hear that airplane. If it wasn't for your nose, you wouldn't smell that midnight mint. If it wasn't for your tongue taster, you wouldn't taste the difference between A and B. If it wasn't for your body, you wouldn't feel Princess. There is no me, no airplane, no mind, no Princess, no nothing, you for krissakes do you want to go on being fooled every damn minute of your life? — Jack Kerouac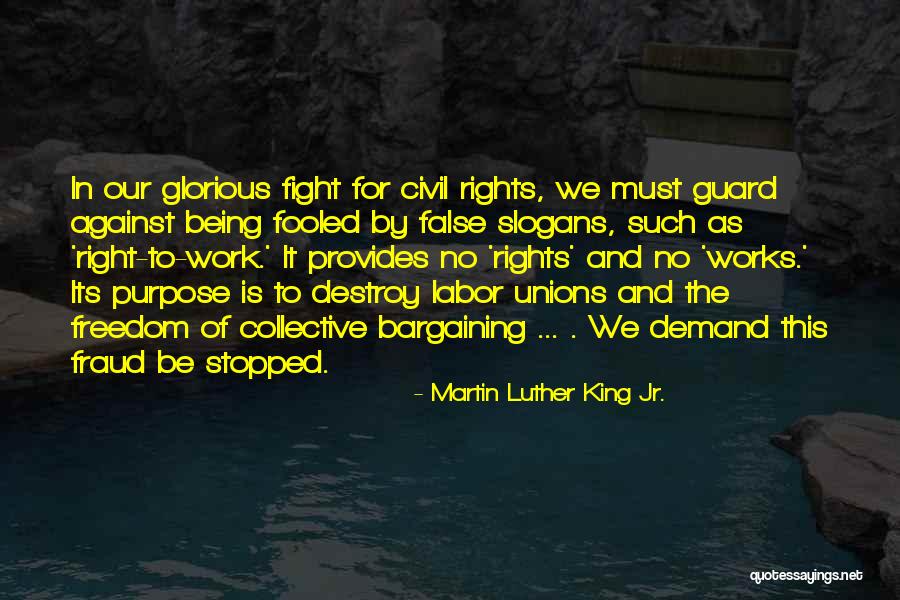 In our glorious fight for civil rights, we must guard against being fooled by false slogans, such as 'right-to-work.' It provides no 'rights' and no 'works.' Its purpose is to destroy labor unions and the freedom of collective bargaining ... . We demand this fraud be stopped. — Martin Luther King Jr.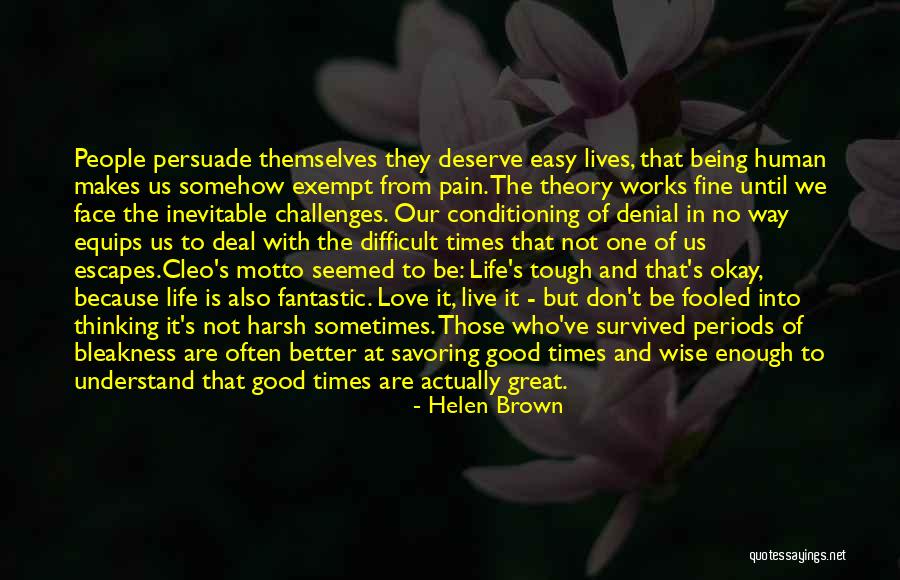 People persuade themselves they deserve easy lives, that being human makes us somehow exempt from pain. The theory works fine until we face the inevitable challenges. Our conditioning of denial in no way equips us to deal with the difficult times that not one of us escapes.
Cleo's motto seemed to be: Life's tough and that's okay, because life is also fantastic. Love it, live it - but don't be fooled into thinking it's not harsh sometimes. Those who've survived periods of bleakness are often better at savoring good times and wise enough to understand that good times are actually great. — Helen Brown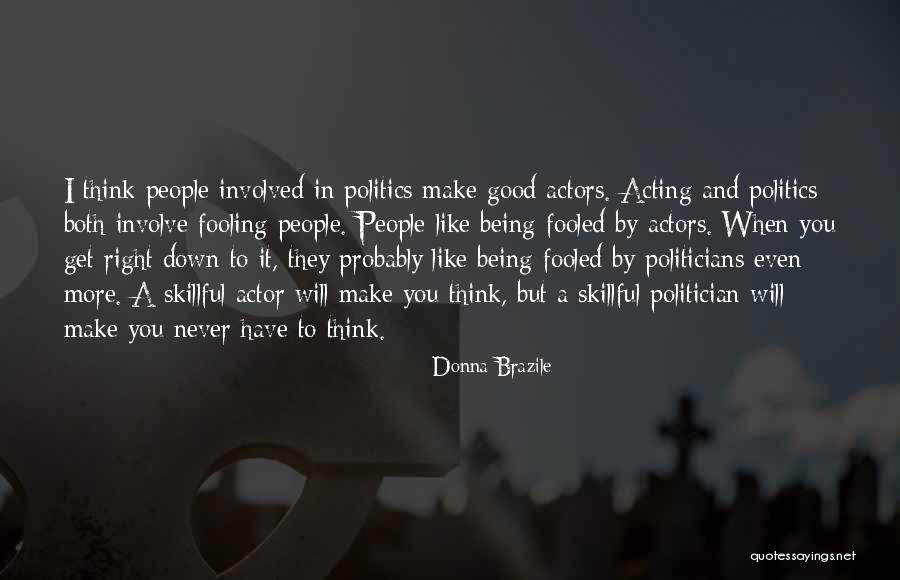 I think people involved in politics make good actors. Acting and politics both involve fooling people. People like being fooled by actors. When you get right down to it, they probably like being fooled by politicians even more. A skillful actor will make you think, but a skillful politician will make you never have to think. — Donna Brazile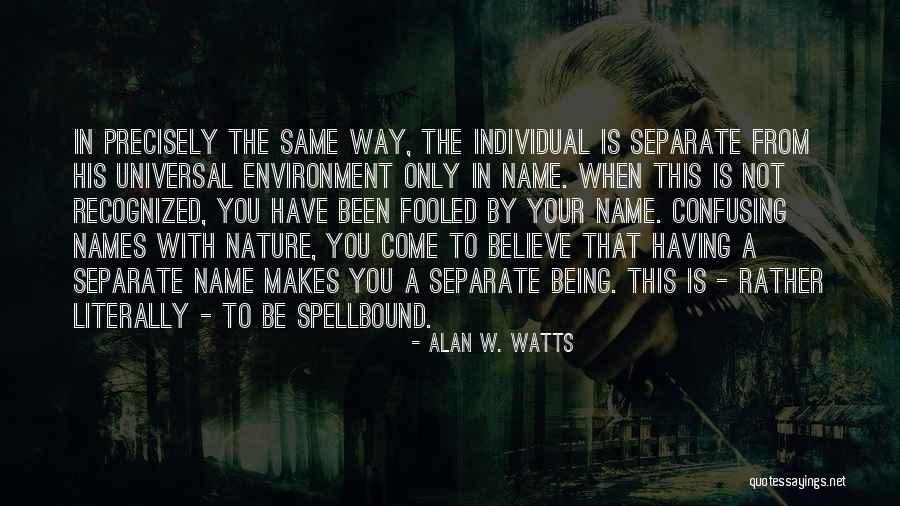 In precisely the same way, the individual is separate from his universal environment only in name. When this is not recognized, you have been fooled by your name. Confusing names with nature, you come to believe that having a separate name makes you a separate being. This is - rather literally - to be spellbound. — Alan W. Watts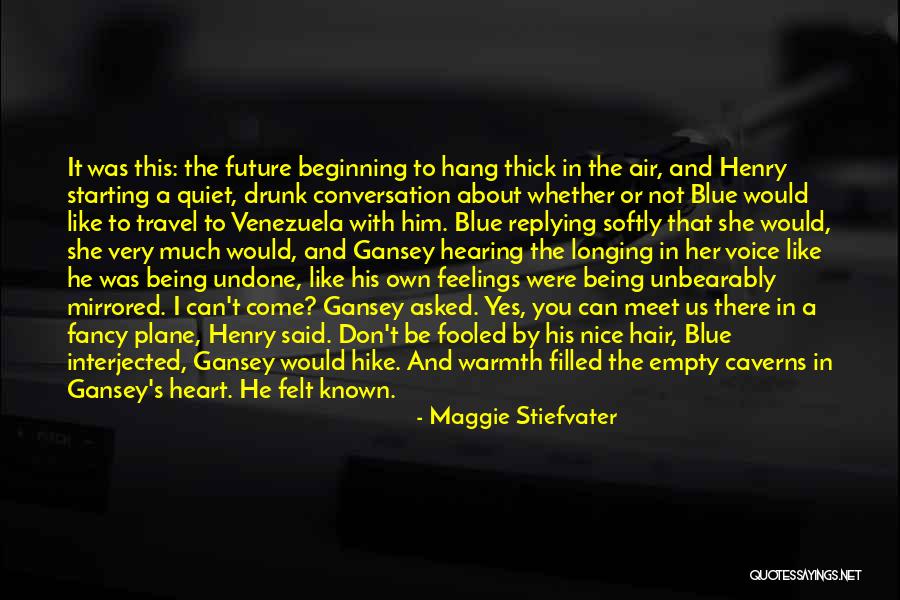 It was this: the future beginning to hang thick in the air, and Henry starting a quiet, drunk conversation about whether or not Blue would like to travel to Venezuela with him. Blue replying softly that she would, she very much would, and Gansey hearing the longing in her voice like he was being undone, like his own feelings were being unbearably mirrored. I can't come? Gansey asked. Yes, you can meet us there in a fancy plane, Henry said. Don't be fooled by his nice hair, Blue interjected, Gansey would hike. And warmth filled the empty caverns in Gansey's heart. He felt known. — Maggie Stiefvater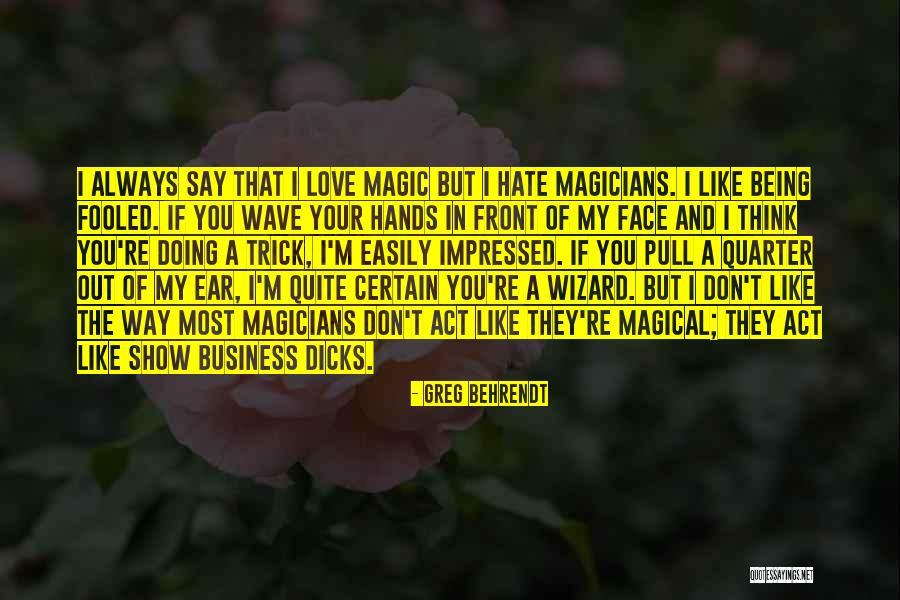 I always say that I love magic but I hate magicians. I like being fooled. If you wave your hands in front of my face and I think you're doing a trick, I'm easily impressed. If you pull a quarter out of my ear, I'm quite certain you're a wizard. But I don't like the way most magicians don't act like they're magical; they act like show business dicks. — Greg Behrendt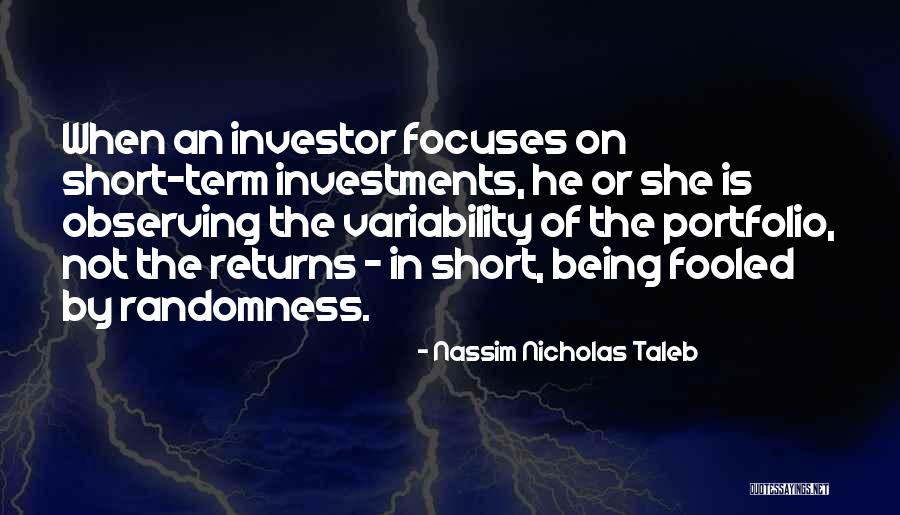 When an investor focuses on short-term investments, he or she is observing the variability of the portfolio, not the returns - in short, being fooled by randomness. — Nassim Nicholas Taleb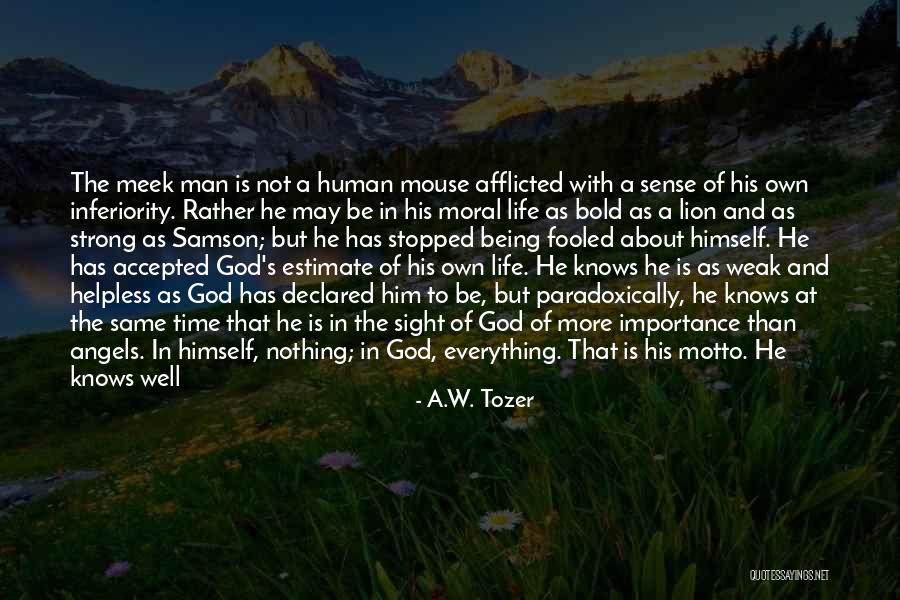 The meek man is not a human mouse afflicted with a sense of his own inferiority. Rather he may be in his moral life as bold as a lion and as strong as Samson; but he has stopped being fooled about himself. He has accepted God's estimate of his own life. He knows he is as weak and helpless as God has declared him to be, but paradoxically, he knows at the same time that he is in the sight of God of more importance than angels. In himself, nothing; in God, everything. That is his motto. He knows well that the world will never see him as God sees him and he has stopped caring. He rests perfectly content to allow God to place His own values. — A.W. Tozer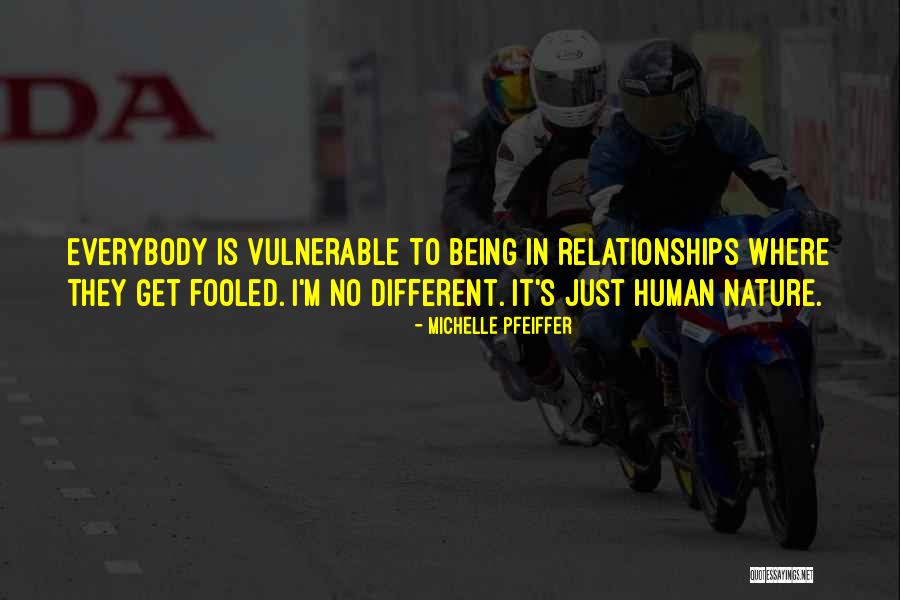 Everybody is vulnerable to being in relationships where they get fooled. I'm no different. It's just human nature. — Michelle Pfeiffer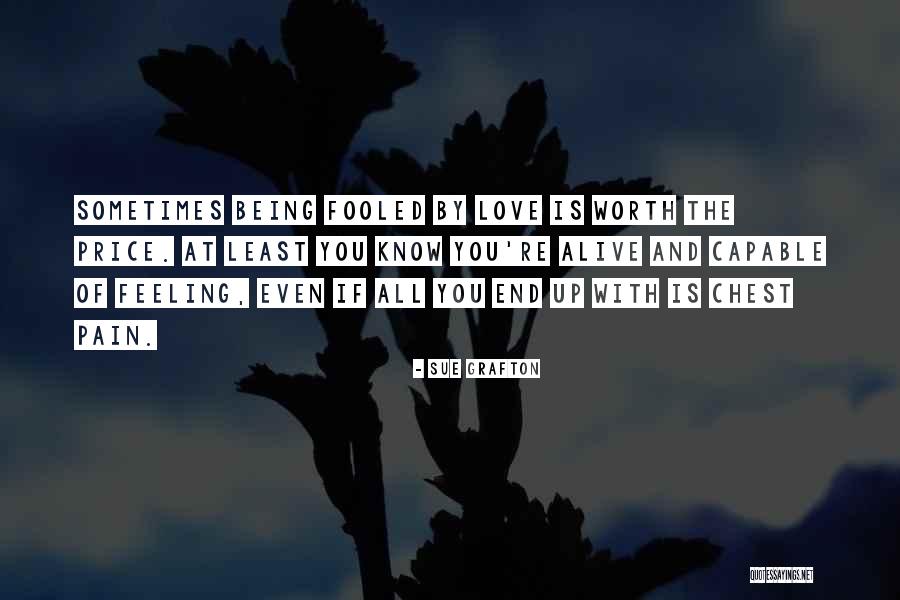 Sometimes being fooled by love is worth the price. At least you know you're alive and capable of feeling, even if all you end up with is chest pain. — Sue Grafton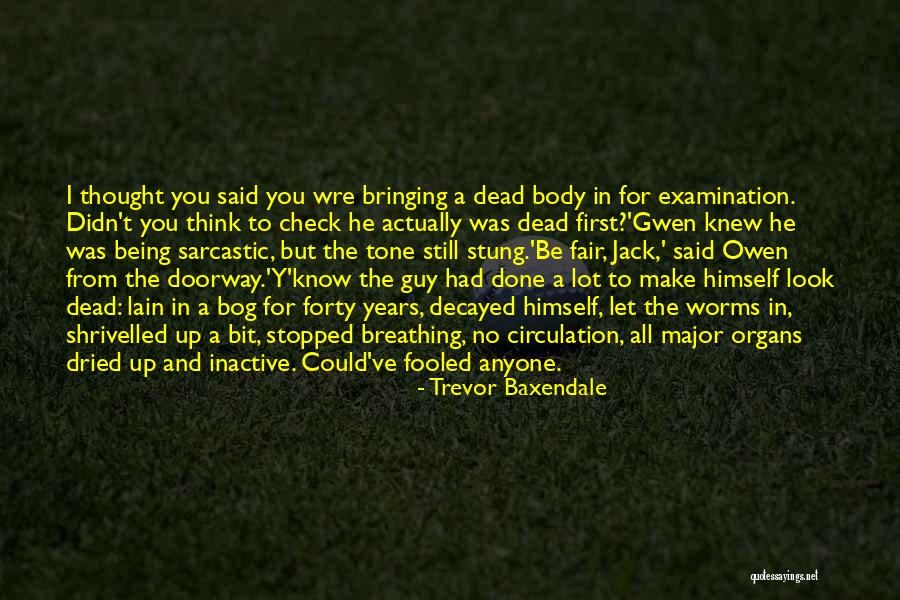 I thought you said you wre bringing a dead body in for examination. Didn't you think to check he actually was dead first?'
Gwen knew he was being sarcastic, but the tone still stung.
'Be fair, Jack,' said Owen from the doorway.'Y'know the guy had done a lot to make himself look dead: lain in a bog for forty years, decayed himself, let the worms in, shrivelled up a bit, stopped breathing, no circulation, all major organs dried up and inactive. Could've fooled anyone. — Trevor Baxendale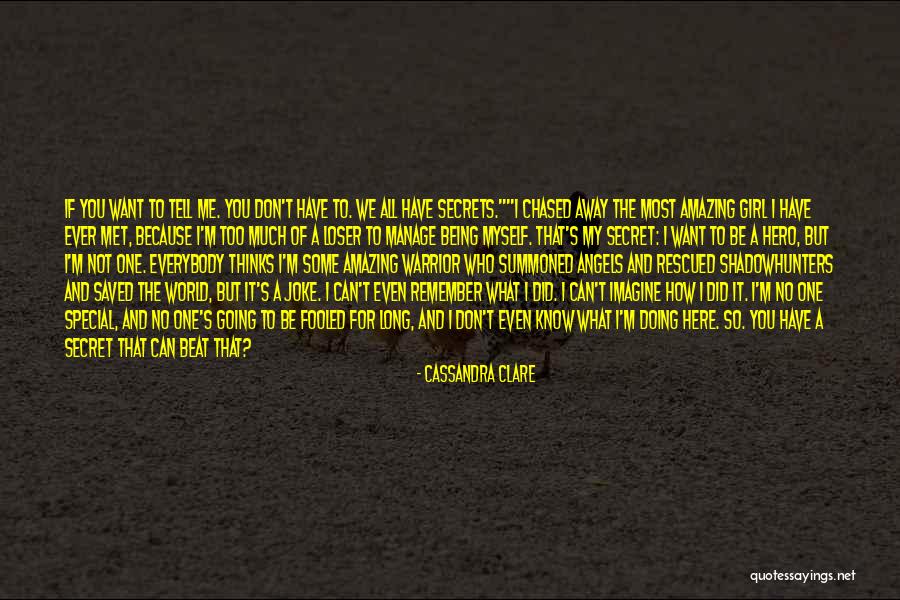 If you want to tell me. You don't have to. We all have secrets.""I chased away the most amazing girl I have ever met, because I'm too much of a loser to manage being myself. That's my secret: I want to be a hero, but I'm not one. Everybody thinks I'm some amazing warrior who summoned angels and rescued Shadowhunters and saved the world, but it's a joke. I can't even remember what I did. I can't imagine how I did it. I'm no one special, and no one's going to be fooled for long, and I don't even know what I'm doing here. So. You have a secret that can beat that? — Cassandra Clare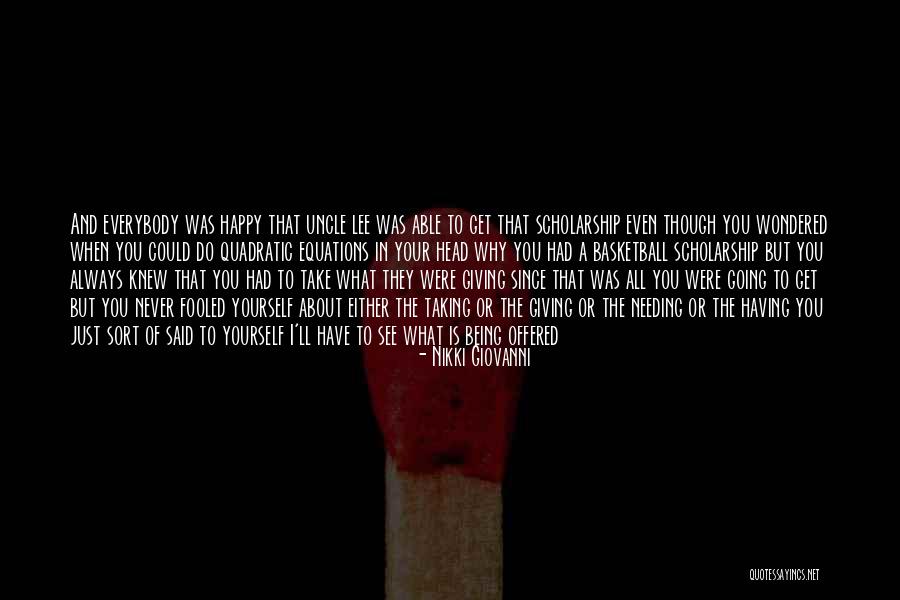 And everybody was happy that uncle lee was able to get that scholarship even though you wondered when you could do quadratic equations in your head why you had a basketball scholarship but you always knew that you had to take what they were giving since that was all you were going to get but you never fooled yourself about either the taking or the giving or the needing or the having you just sort of said to yourself I'll have to see what is being offered — Nikki Giovanni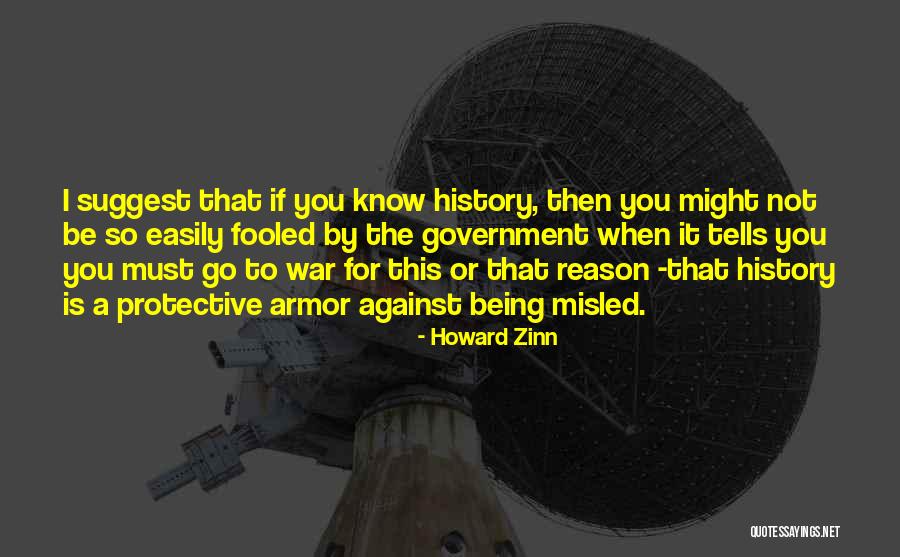 I suggest that if you know history, then you might not be so easily fooled by the government when it tells you you must go to war for this or that reason -that history is a protective armor against being misled. — Howard Zinn
I think that being good to people - you'll never regret that. Maybe you'll get walked all over, maybe you'll get tricked, maybe you'll get fooled, but I think it's so much better to be kind to people and to trust people rather then to have your guard up and say mean things to people. You never want to be the reason that someone else feels bad. — Taylor Swift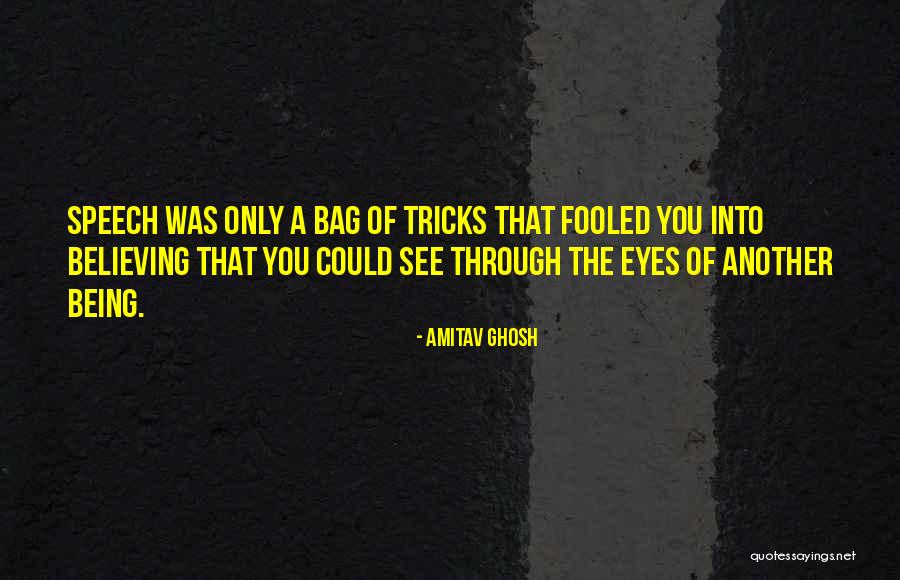 Speech was only a bag of tricks that fooled you into believing that you could see through the eyes of another being. — Amitav Ghosh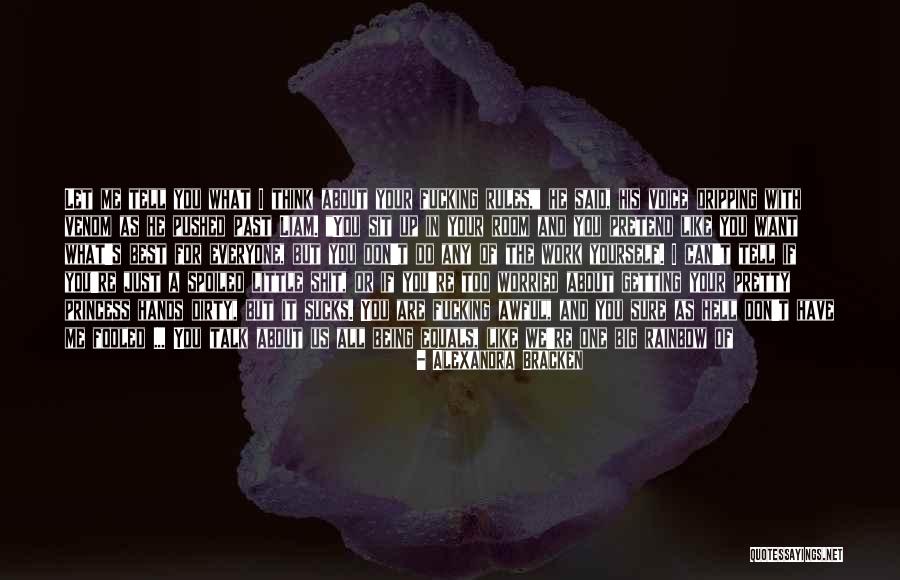 Let me tell you what I think about your fucking rules," he said, his voice dripping with venom as he pushed past Liam. "You sit up in your room and you pretend like you want what's best for everyone, but you don't do any of the work yourself. I can't tell if you're just a spoiled little shit, or if you're too worried about getting your pretty princess hands dirty, but it sucks. You are fucking awful, and you sure as hell don't have me fooled ... You talk about us all being equals, like we're one big rainbow of peace and all that bullshit, but you never once believed that yourself, did you? You won't let anyone contact their parents, and you don't care about the kids that are still trapped in camps your father set up. You wouldn't even listen when the Watch kids brought it up. So what I want to know is, why can't we leave? ... What's the point of this place, other than for you to get off on how great you are and toy with people and their feelings? — Alexandra Bracken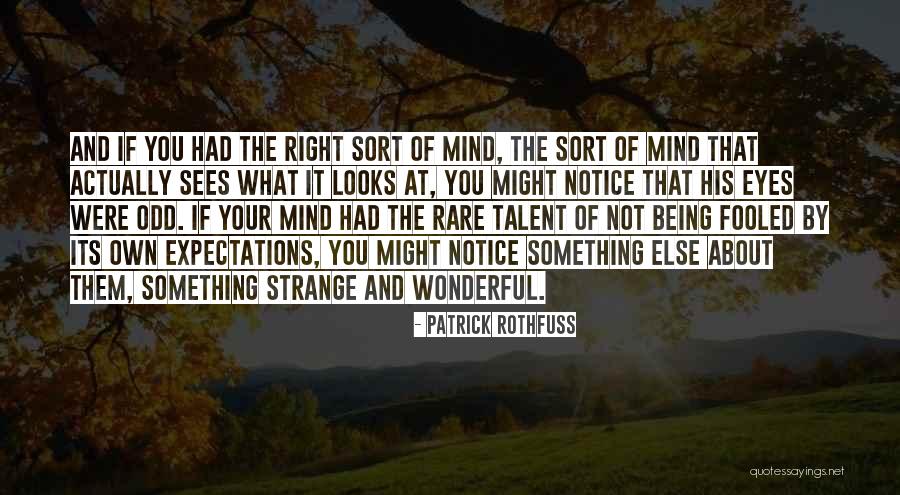 And if you had the right sort of mind, the sort of mind that actually sees what it looks at, you might notice that his eyes were odd. If your mind had the rare talent of not being fooled by its own expectations, you might notice something else about them, something strange and wonderful. — Patrick Rothfuss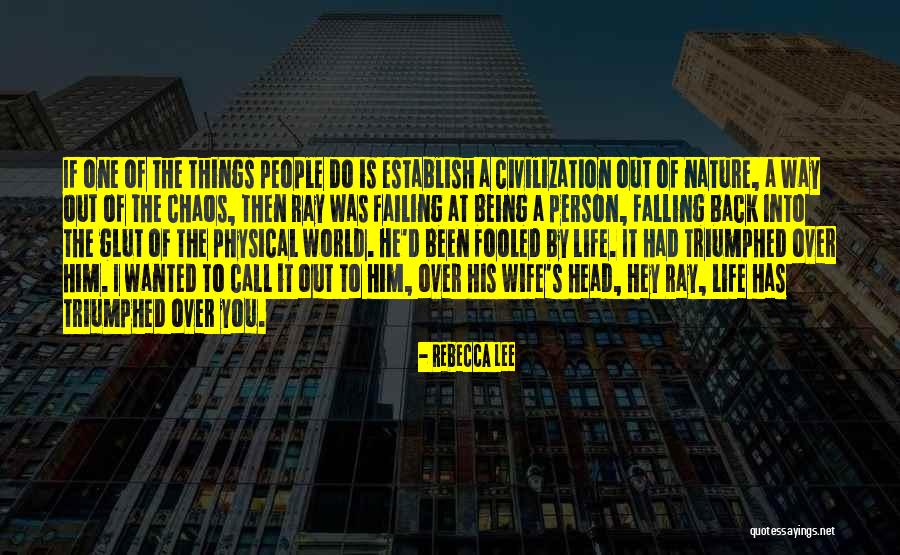 If one of the things people do is establish a civilization out of nature, a way out of the chaos, then Ray was failing at being a person, falling back into the glut of the physical world. He'd been fooled by life. It had triumphed over him. I wanted to call it out to him, over his wife's head, Hey Ray, life has triumphed over you. — Rebecca Lee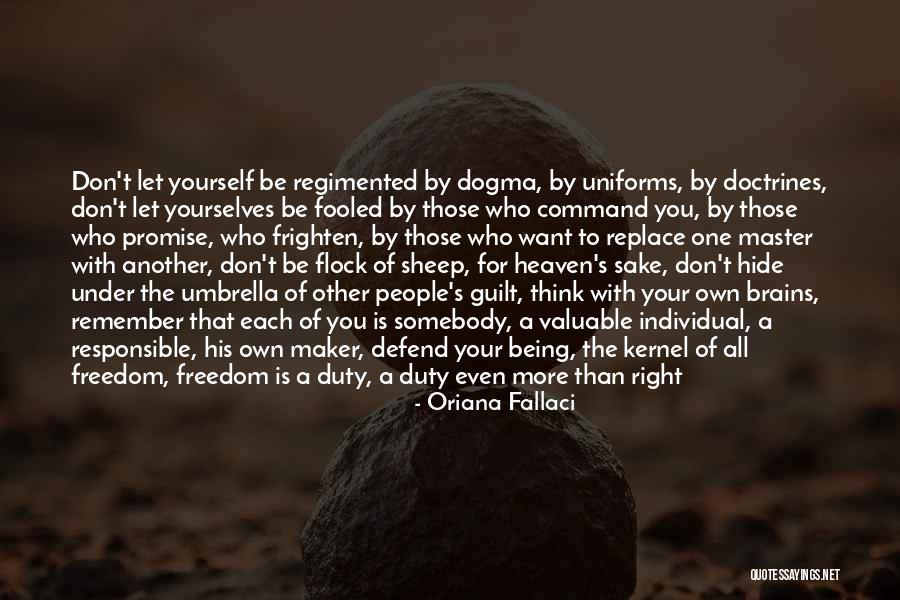 Don't let yourself be regimented by dogma, by uniforms, by doctrines, don't let yourselves be fooled by those who command you, by those who promise, who frighten, by those who want to replace one master with another, don't be flock of sheep, for heaven's sake, don't hide under the umbrella of other people's guilt, think with your own brains, remember that each of you is somebody, a valuable individual, a responsible, his own maker, defend your being, the kernel of all freedom, freedom is a duty, a duty even more than right — Oriana Fallaci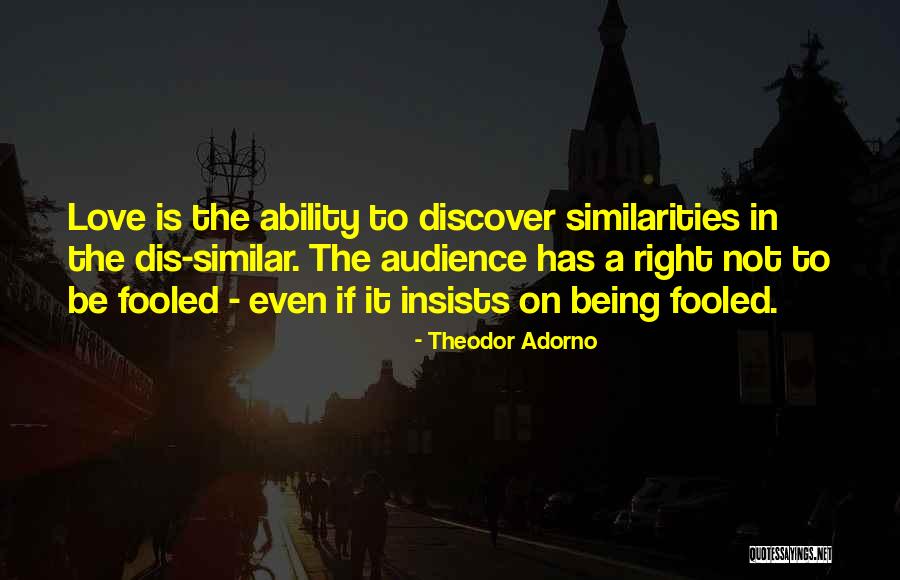 Love is the ability to discover similarities in the dis-similar. The audience has a right not to be fooled - even if it insists on being fooled. — Theodor Adorno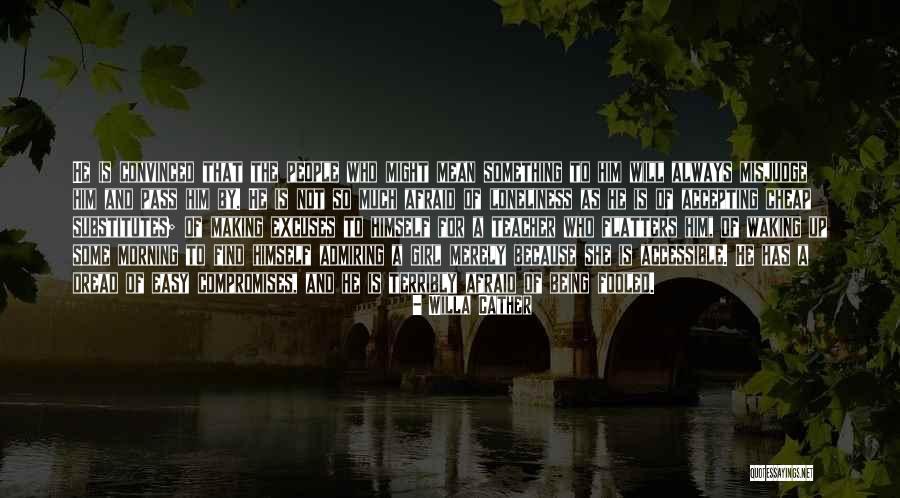 He is convinced that the people who might mean something to him will always misjudge him and pass him by. He is not so much afraid of loneliness as he is of accepting cheap substitutes; of making excuses to himself for a teacher who flatters him, of waking up some morning to find himself admiring a girl merely because she is accessible. He has a dread of easy compromises, and he is terribly afraid of being fooled. — Willa Cather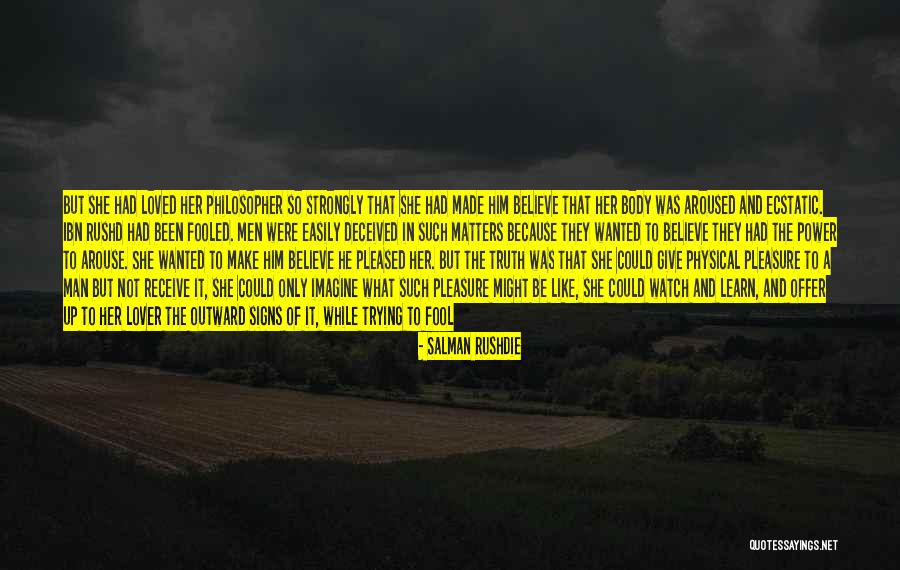 But she had loved her philosopher so strongly that she had made him believe that her body was aroused and ecstatic. Ibn Rushd had been fooled. Men were easily deceived in such matters because they wanted to believe they had the power to arouse. She wanted to make him believe he pleased her. But the truth was that she could give physical pleasure to a man but not receive it, she could only imagine what such pleasure might be like, she could watch and learn, and offer up to her lover the outward signs of it, while trying to fool herself, as well as him, that yes, she was being pleasured too, which made her an actress, a phony, and a self-deceiving fool. — Salman Rushdie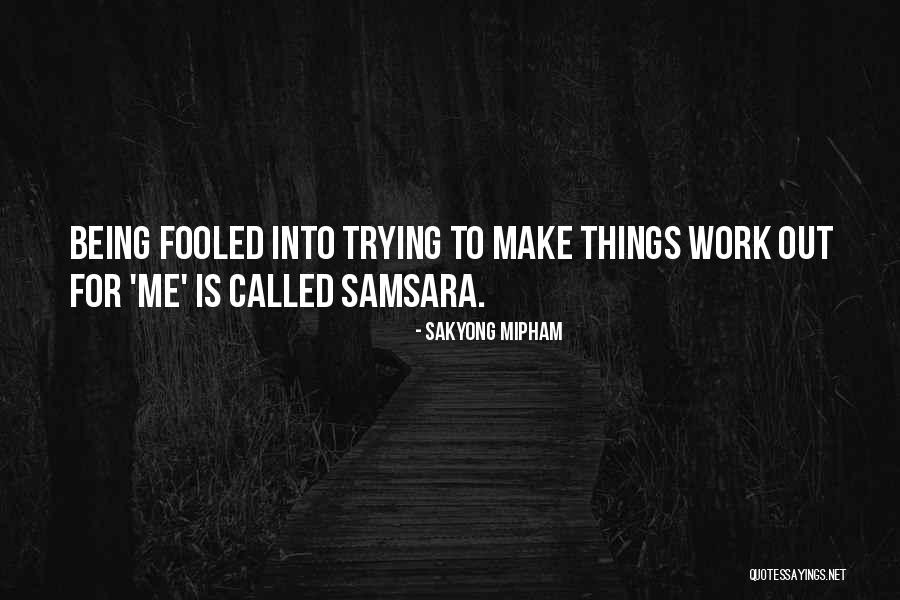 Being fooled into trying to make things work out for 'me' is called samsara. — Sakyong Mipham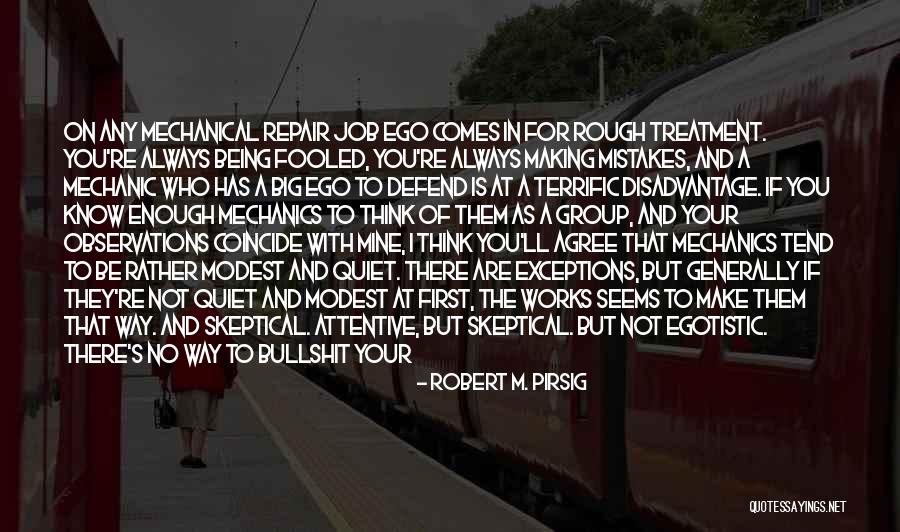 On any mechanical repair job ego comes in for rough treatment. You're always being fooled, you're always making mistakes, and a mechanic who has a big ego to defend is at a terrific disadvantage. If you know enough mechanics to think of them as a group, and your observations coincide with mine, I think you'll agree that mechanics tend to be rather modest and quiet. There are exceptions, but generally if they're not quiet and modest at first, the works seems to make them that way. And skeptical. Attentive, but skeptical. But not egotistic. There's no way to bullshit your way into looking good on a mechanical repair job, except with someone who doesn't know what you're doing. — Robert M. Pirsig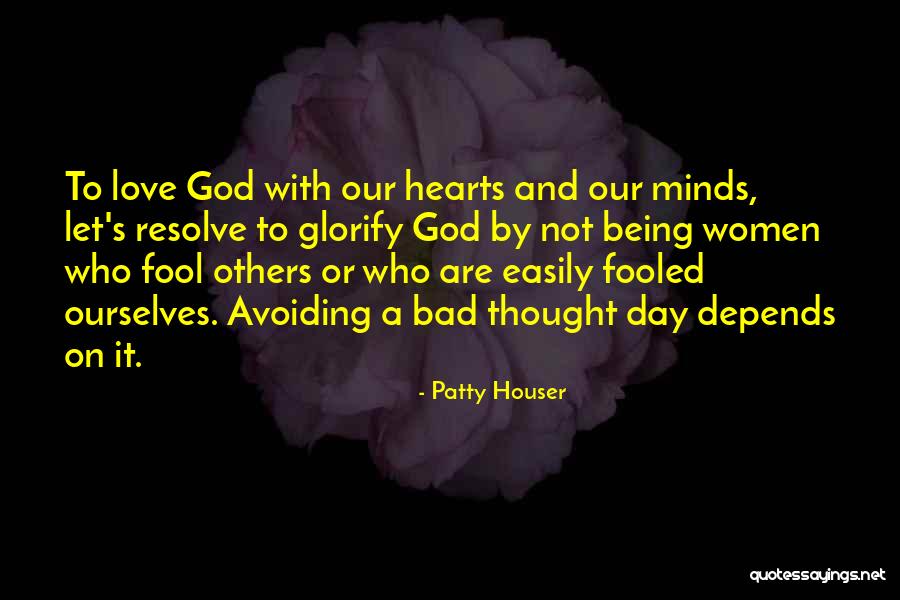 To love God with our hearts and our minds, let's resolve to glorify God by not being women who fool others or who are easily fooled ourselves. Avoiding a bad thought day depends on it. — Patty Houser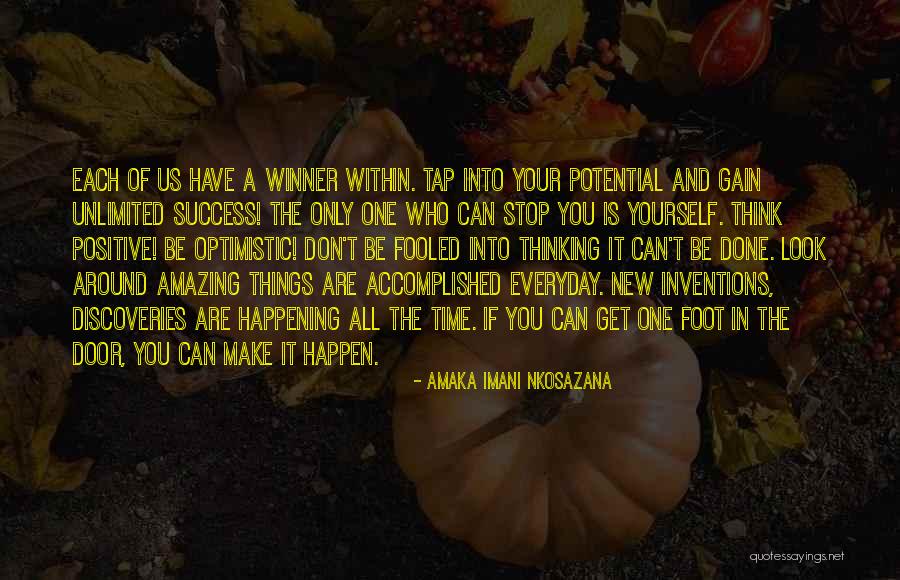 Each of us have a winner within. Tap into your potential and gain unlimited success! The only one who can stop you is yourself. Think Positive! Be Optimistic! Don't be fooled into thinking it can't be done. Look around amazing things are accomplished everyday. New inventions, discoveries are happening all the time. If you can get one foot in the door, you can make it happen. — Amaka Imani Nkosazana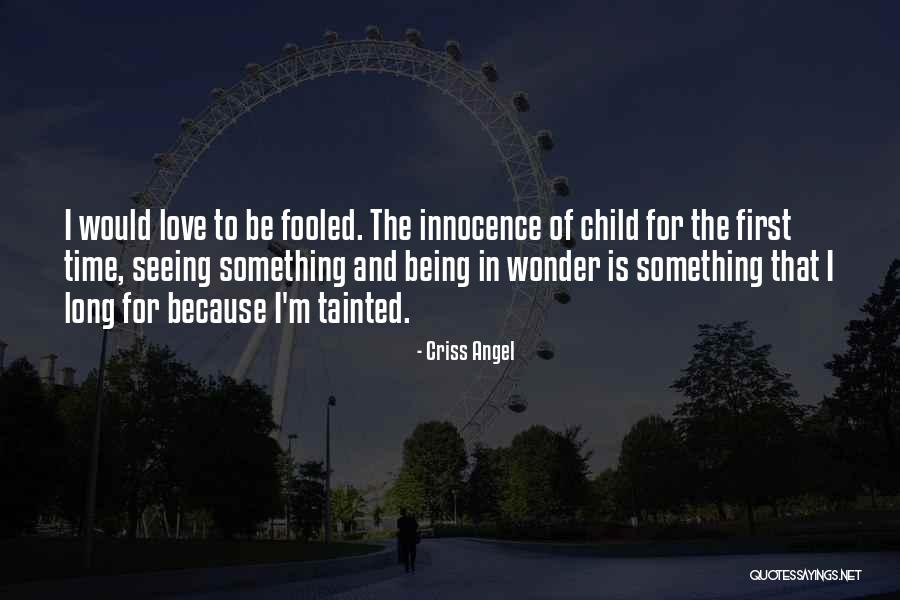 I would love to be fooled. The innocence of child for the first time, seeing something and being in wonder is something that I long for because I'm tainted. — Criss Angel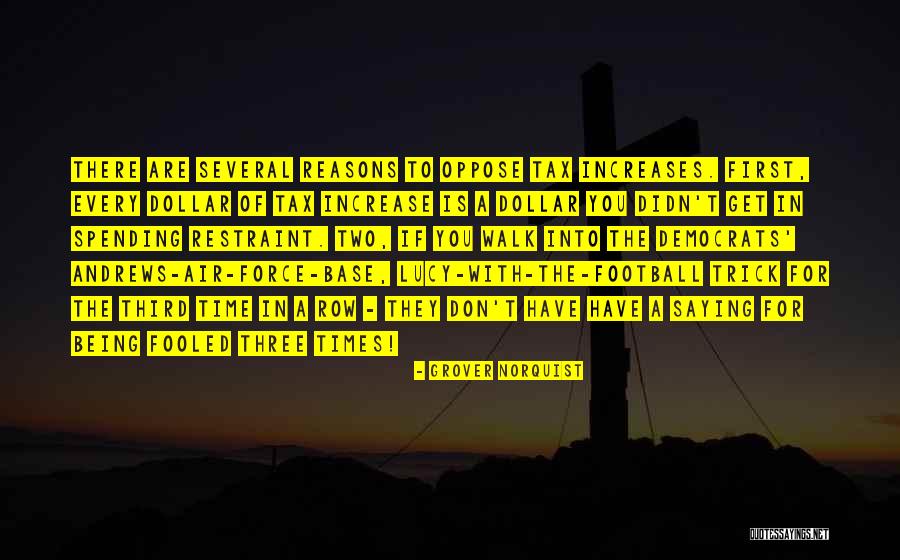 There are several reasons to oppose tax increases. First, every dollar of tax increase is a dollar you didn't get in spending restraint. Two, if you walk into the Democrats' Andrews-Air-Force-Base, Lucy-with-the-Football trick for the third time in a row - they don't have have a saying for being fooled three times! — Grover Norquist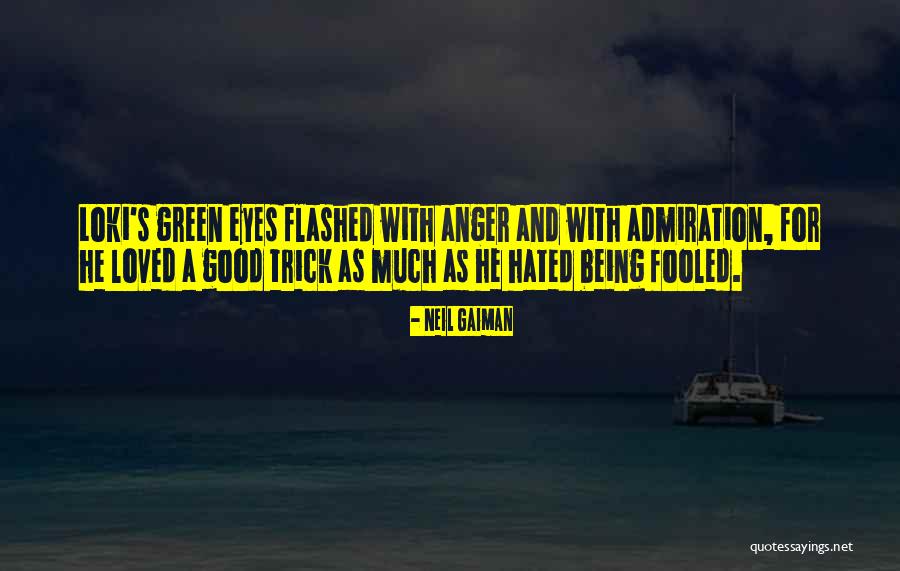 Loki's green eyes flashed with anger and with admiration, for he loved a good trick as much as he hated being fooled. — Neil Gaiman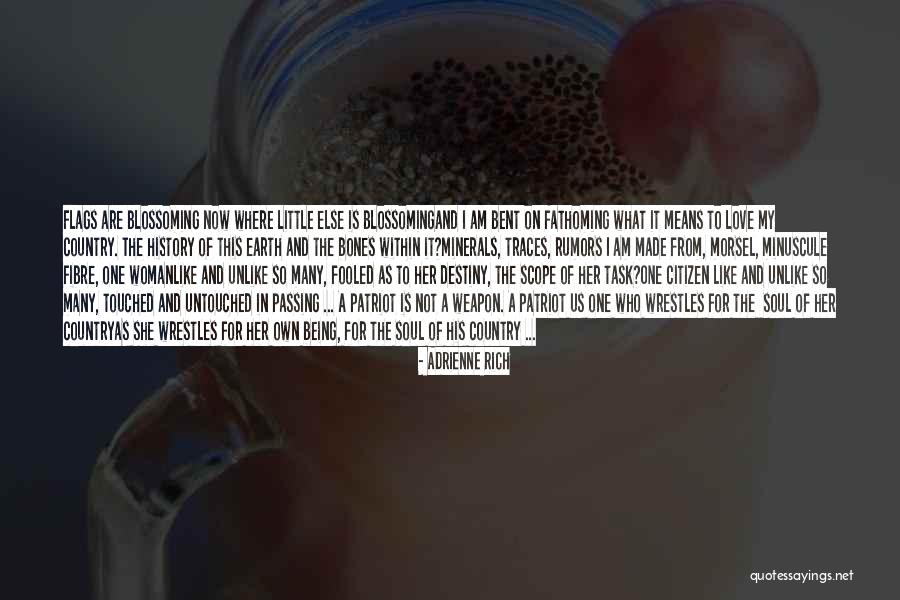 Flags are blossoming now where little else is blossoming
and I am bent on fathoming what it means to love my country.
The history of this earth and the bones within it?
Minerals, traces, rumors I am made from, morsel, minuscule
fibre, one woman
like and unlike so many, fooled as to her destiny, the scope of
her task?
One citizen like and unlike so many, touched and untouched in passing ...
A patriot is not a weapon. A patriot us one who wrestles for the
soul of her country
as she wrestles for her own being, for the soul of his country ... — Adrienne Rich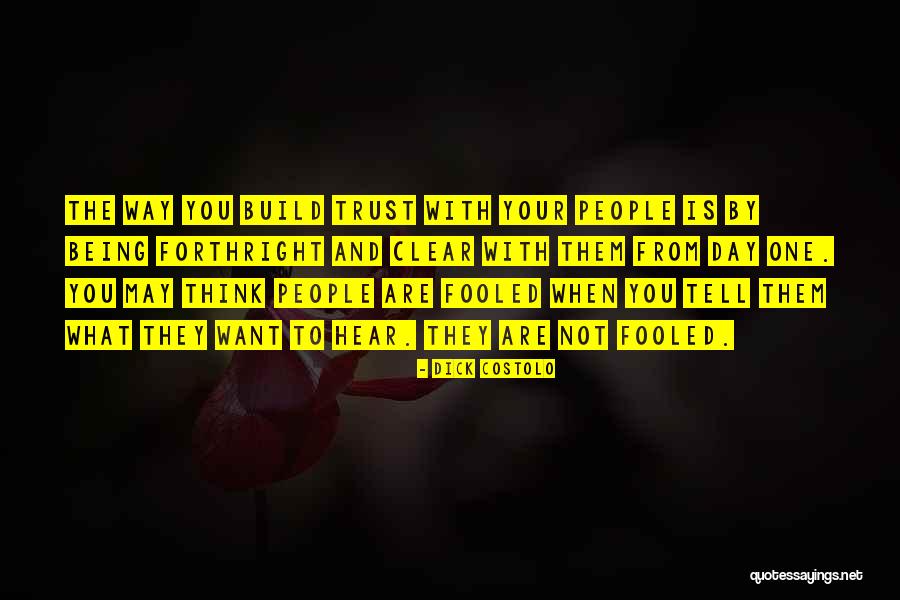 The way you build trust with your people is by being forthright and clear with them from day one. You may think people are fooled when you tell them what they want to hear. They are not fooled. — Dick Costolo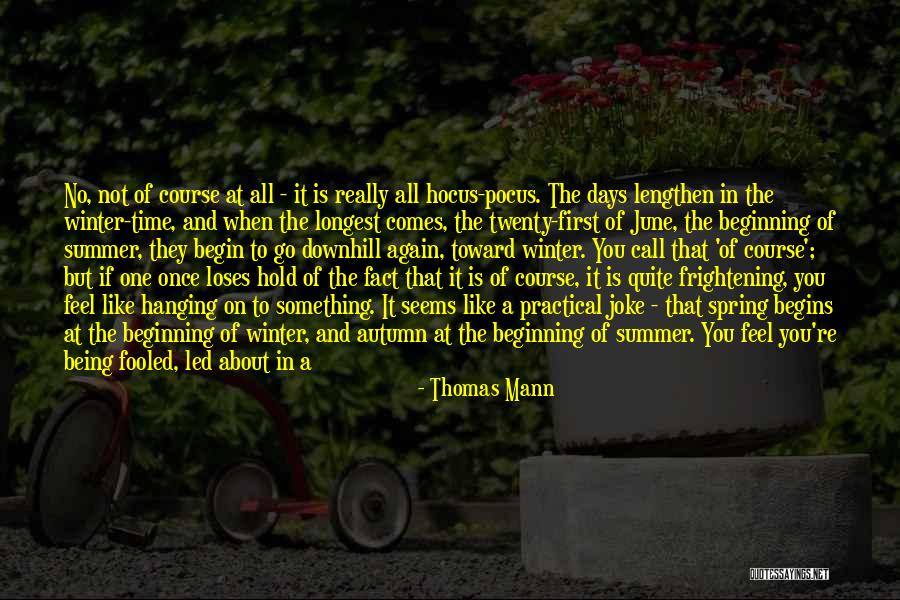 No, not of course at all - it is really all hocus-pocus. The days lengthen in the winter-time, and when the longest comes, the twenty-first of June, the beginning of summer, they begin to go downhill again, toward winter. You call that 'of course'; but if one once loses hold of the fact that it is of course, it is quite frightening, you feel like hanging on to something. It seems like a practical joke - that spring begins at the beginning of winter, and autumn at the beginning of summer. You feel you're being fooled, led about in a circle, with your eye fixed on something that turns out to be a moving point. A moving point in a circle. For the circle consists of nothing but such transitional points without any extent whatever; the curvature is incommensurable, there is no duration of motion, and eternity turns out to be not 'straight ahead' but 'merry-go-round'! — Thomas Mann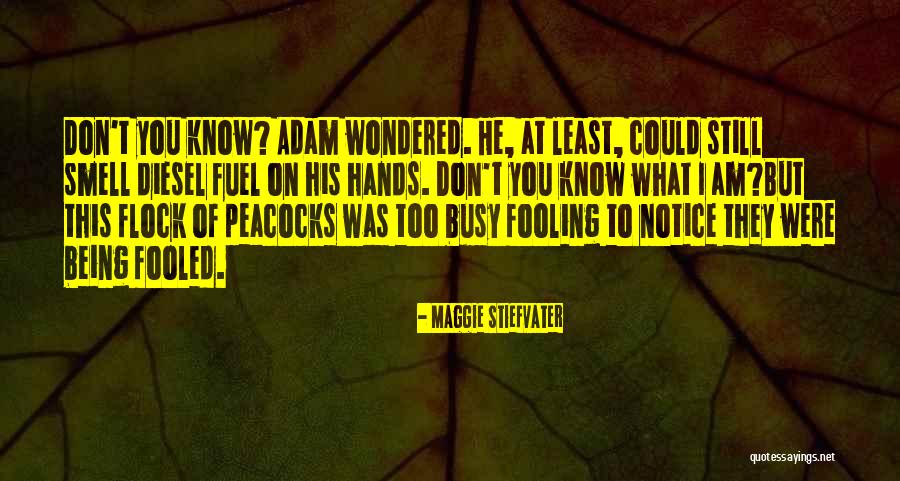 Don't you know? Adam wondered. He, at least, could still smell diesel fuel on his hands. Don't you know what I am?
But this flock of peacocks was too busy fooling to notice they were being fooled. — Maggie Stiefvater
Sacrebleu, Clara, what are you doing to me?" he whispered. Why did she have to see so damned much? Why did she have to understand him so well, yet not understand?
"But you are not that boy, Morgan, no matter what you fear. You could never be him again. You've risen above it."
"Have I? Is that why I can be a fence so convincingly that even you were fooled?"
"That was your duty, and I understand duty. We do things for duty that we might not choose to do. Don't be ashamed of being good at what you do. I wish there were more Morgan Blakelys fighting for the soul of Spitalfields. — Sabrina Jeffries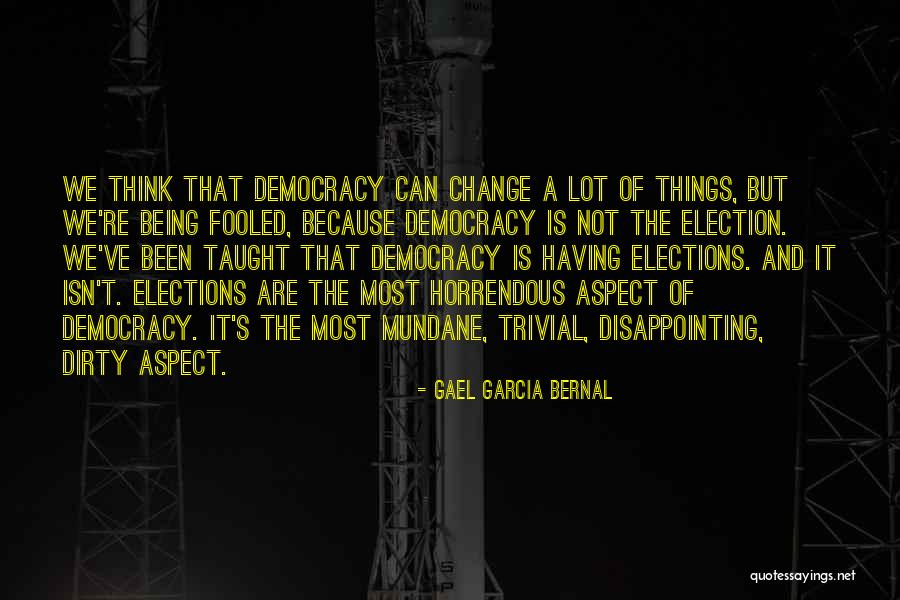 We think that democracy can change a lot of things, but we're being fooled, because democracy is not the election. We've been taught that democracy is having elections. And it isn't. Elections are the most horrendous aspect of democracy. It's the most mundane, trivial, disappointing, dirty aspect. — Gael Garcia Bernal
A classical education saves you from being fooled by pretentiousness, which is what most current fiction is too full of. — Raymond Chandler