Not Able To Forgive Quotes & Sayings
Enjoy reading and share 42 famous quotes about Not Able To Forgive with everyone.
Top Not Able To Forgive Quotes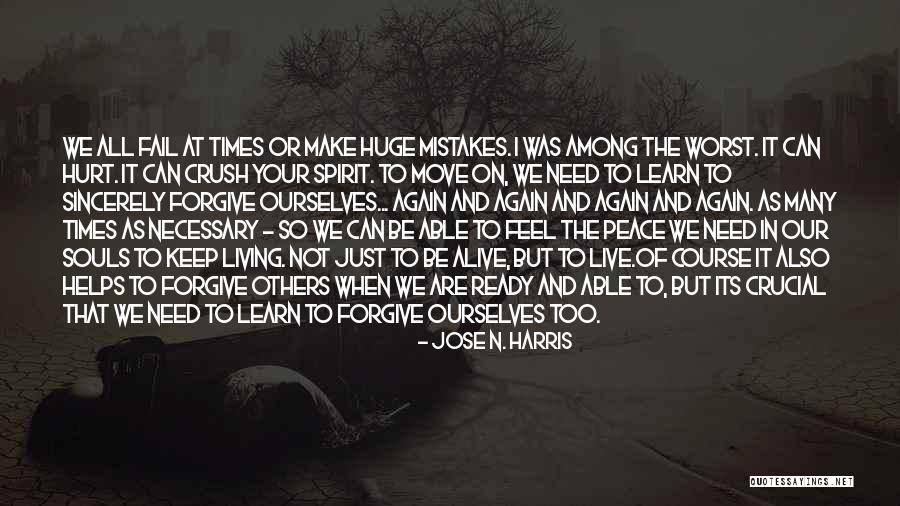 We all fail at times or make huge mistakes. I was among the worst. It can hurt. It can crush your spirit.
To move on, we need to learn to sincerely forgive ourselves... again and again and again and again.
As many times as necessary - so we can be able to feel the peace we need in our souls to keep living. Not just to be alive, but to live.
Of course it also helps to forgive others when we are ready and able to, but its crucial that we need to learn to forgive ourselves too. — Jose N. Harris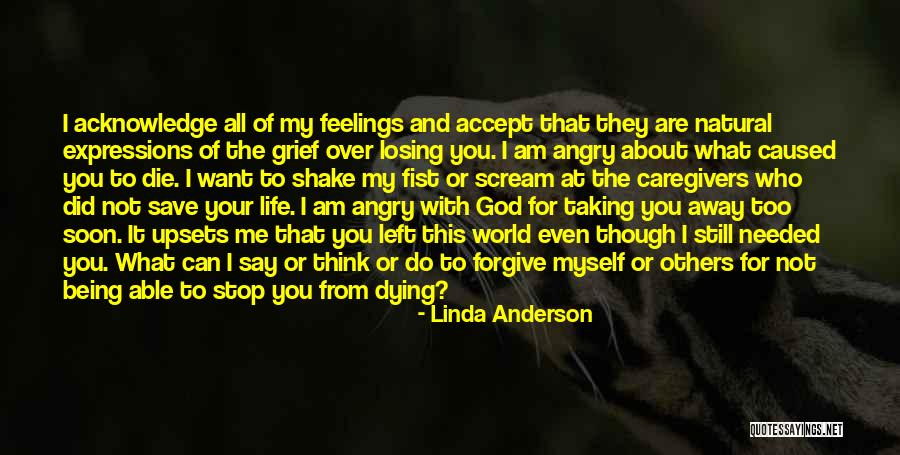 I acknowledge all of my feelings and accept that they are natural expressions of the grief over losing you. I am angry about what caused you to die. I want to shake my fist or scream at the caregivers who did not save your life. I am angry with God for taking you away too soon. It upsets me that you left this world even though I still needed you. What can I say or think or do to forgive myself or others for not being able to stop you from dying? — Linda Anderson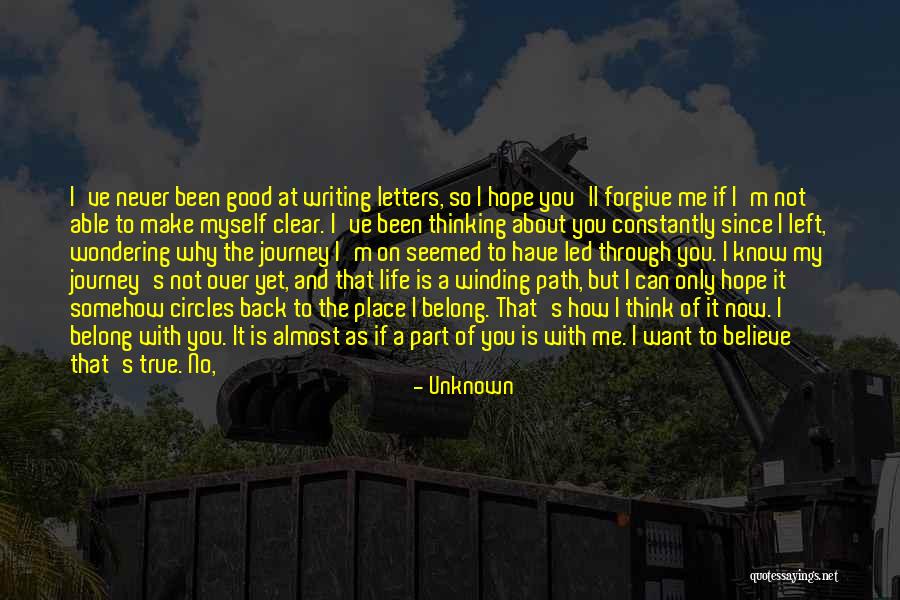 I've never been good at writing letters, so I hope you'll forgive me if I'm not able to make myself clear.
I've been thinking about you constantly since I left, wondering why the journey I'm on seemed to have led through you. I know my journey's not over yet, and that life is a winding path, but I can only hope it somehow circles back to the place I belong.
That's how I think of it now. I belong with you.
It is almost as if a part of you is with me. I want to believe that's true. No, change that - I know it's true. Before we met, I was as lost as a person could be, and yet you saw something in me that somehow gave me direction again. It was you, that I had been looking for all along. And it's you who is with me now.
I realize that I miss you more than I've ever missed anyone. In the short time we spent together, we had what most people can only dream about, and I'm counting the days until I can see you again. Never forget how much I love you. — Unknown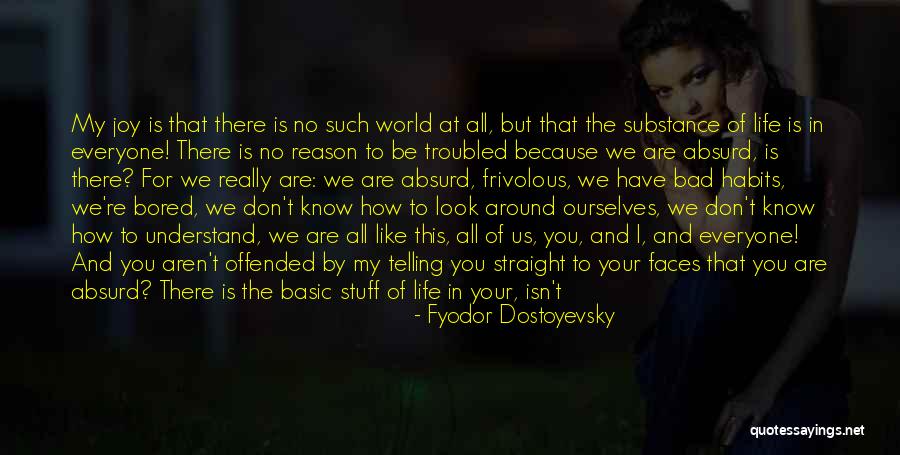 My joy is that there is no such world at all, but that the substance of life is in everyone! There is no reason to be troubled because we are absurd, is there? For we really are: we are absurd, frivolous, we have bad habits, we're bored, we don't know how to look around ourselves, we don't know how to understand, we are all like this, all of us, you, and I, and everyone! And you aren't offended by my telling you straight to your faces that you are absurd? There is the basic stuff of life in your, isn't there? You know, I believe it's sometimes even good to be ridiculous. Yes, much better. People forgive each other more readily and become more humble, we can't understand everything at once, we can't begin with perfection! To reach perfection there must first be much we do not understand. And if we understand too quickly we will probably not understand very well. I tell this to you who have been able to understand so much and - do not understand.'
p. 577 — Fyodor Dostoyevsky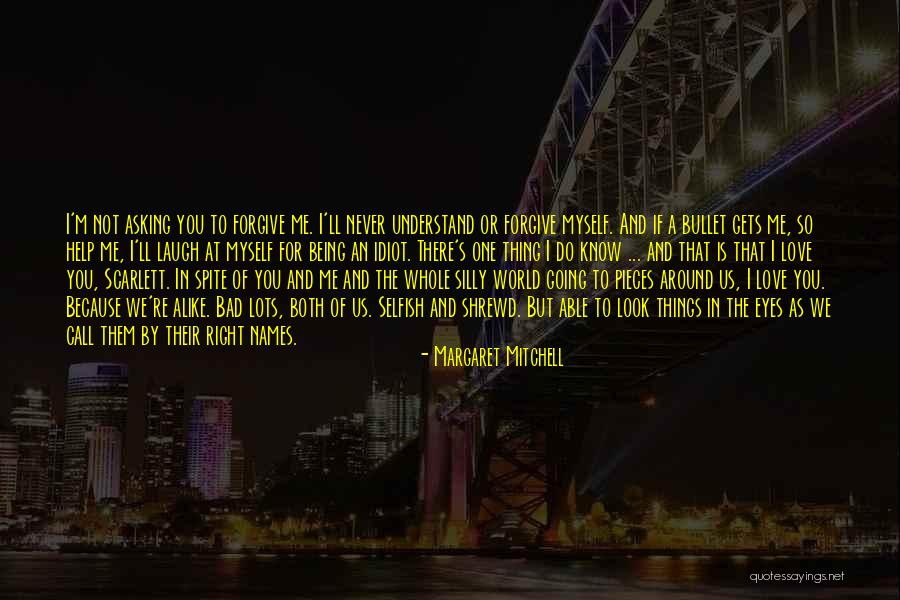 I'm not asking you to forgive me. I'll never understand or forgive myself. And if a bullet gets me, so help me, I'll laugh at myself for being an idiot. There's one thing I do know ... and that is that I love you, Scarlett. In spite of you and me and the whole silly world going to pieces around us, I love you. Because we're alike. Bad lots, both of us. Selfish and shrewd. But able to look things in the eyes as we call them by their right names. — Margaret Mitchell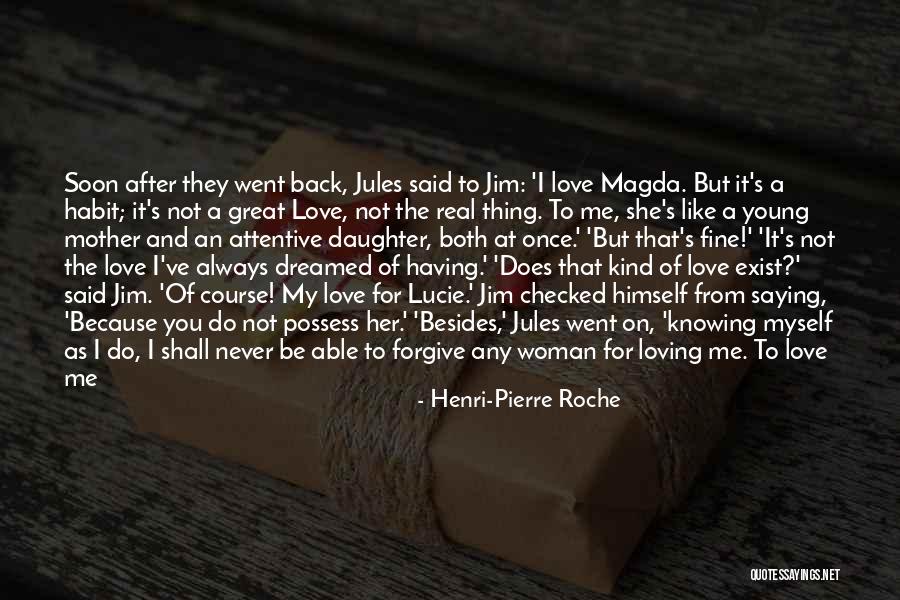 Soon after they went back, Jules said to Jim: 'I love Magda. But it's a habit; it's not a great Love, not the real thing. To me, she's like a young mother and an attentive daughter, both at once.' 'But that's fine!' 'It's not the love I've always dreamed of having.' 'Does that kind of love exist?' said Jim. 'Of course! My love for Lucie.' Jim checked himself from saying, 'Because you do not possess her.' 'Besides,' Jules went on, 'knowing myself as I do, I shall never be able to forgive any woman for loving me. To love me is a sign of perversion or compromise -- and Lucie doesn't suffer from either. There's not a particle of me that she accepts.' 'With her, any man could think that.' 'Yes, could...' said Jules 'But I do.' 'Oh well,' said Jim, 'it's heroic and one can't help respecting it. It's a bit like martyrdom. And it's the key to your Life. If Lucie loved you...' 'She wouldn't be Lucie.' said Jules. — Henri-Pierre Roche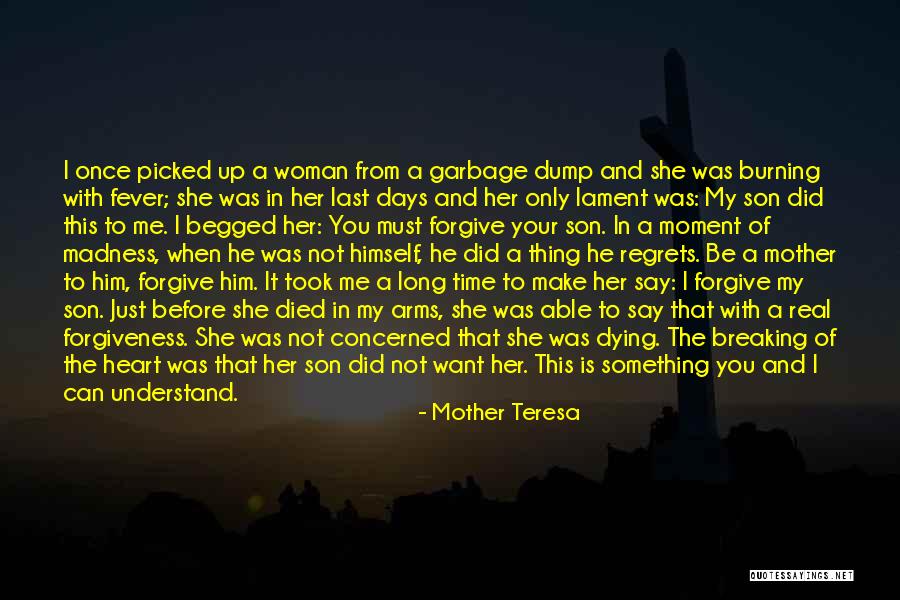 I once picked up a woman from a garbage dump and she was burning with fever; she was in her last days and her only lament was: My son did this to me. I begged her: You must forgive your son. In a moment of madness, when he was not himself, he did a thing he regrets. Be a mother to him, forgive him. It took me a long time to make her say: I forgive my son. Just before she died in my arms, she was able to say that with a real forgiveness. She was not concerned that she was dying. The breaking of the heart was that her son did not want her. This is something you and I can understand. — Mother Teresa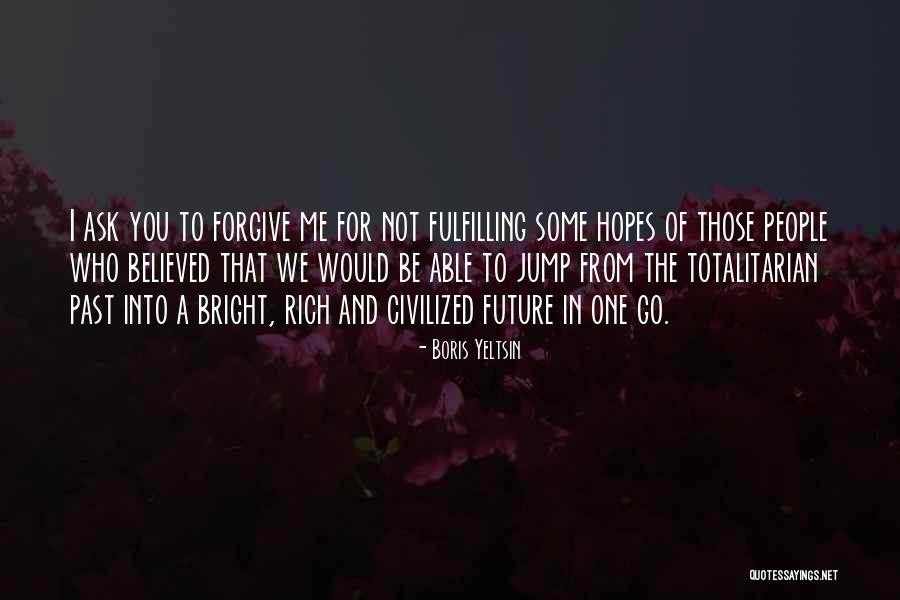 I ask you to forgive me for not fulfilling some hopes of those people who believed that we would be able to jump from the totalitarian past into a bright, rich and civilized future in one go. — Boris Yeltsin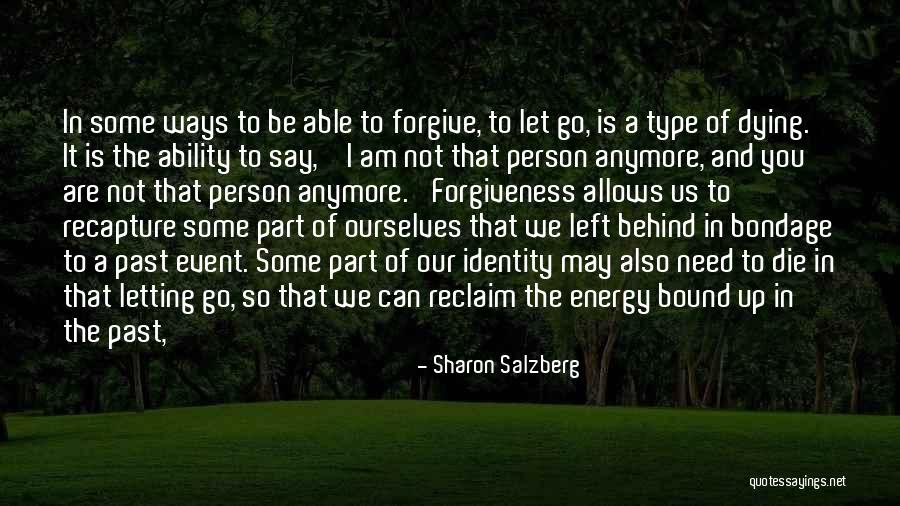 In some ways to be able to forgive, to let go, is a type of dying. It is the ability to say, ' I am not that person anymore, and you are not that person anymore.' Forgiveness allows us to recapture some part of ourselves that we left behind in bondage to a past event. Some part of our identity may also need to die in that letting go, so that we can reclaim the energy bound up in the past, — Sharon Salzberg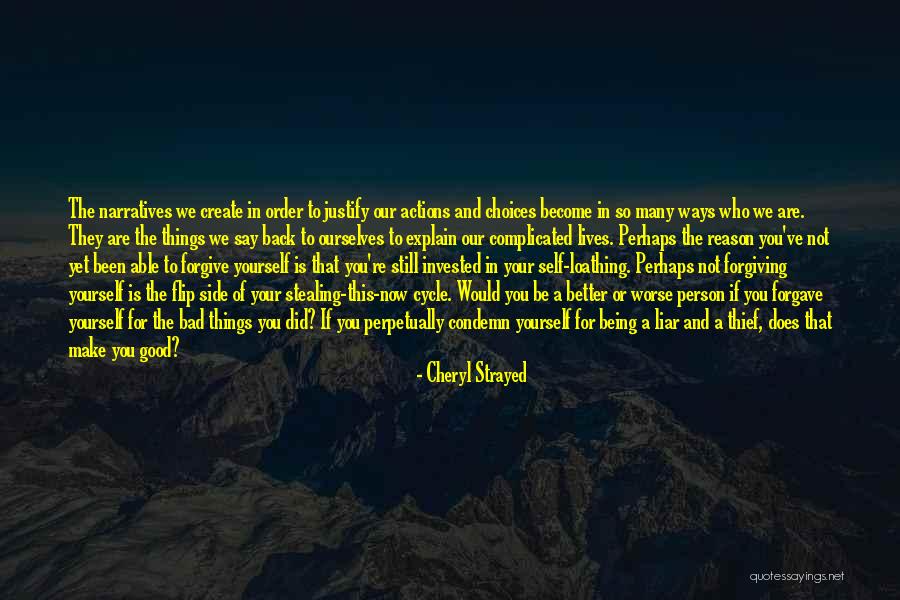 The narratives we create in order to justify our actions and choices become in so many ways who we are. They are the things we say back to ourselves to explain our complicated lives. Perhaps the reason you've not yet been able to forgive yourself is that you're still invested in your self-loathing. Perhaps not forgiving yourself is the flip side of your stealing-this-now cycle. Would you be a better or worse person if you forgave yourself for the bad things you did? If you perpetually condemn yourself for being a liar and a thief, does that make you good? — Cheryl Strayed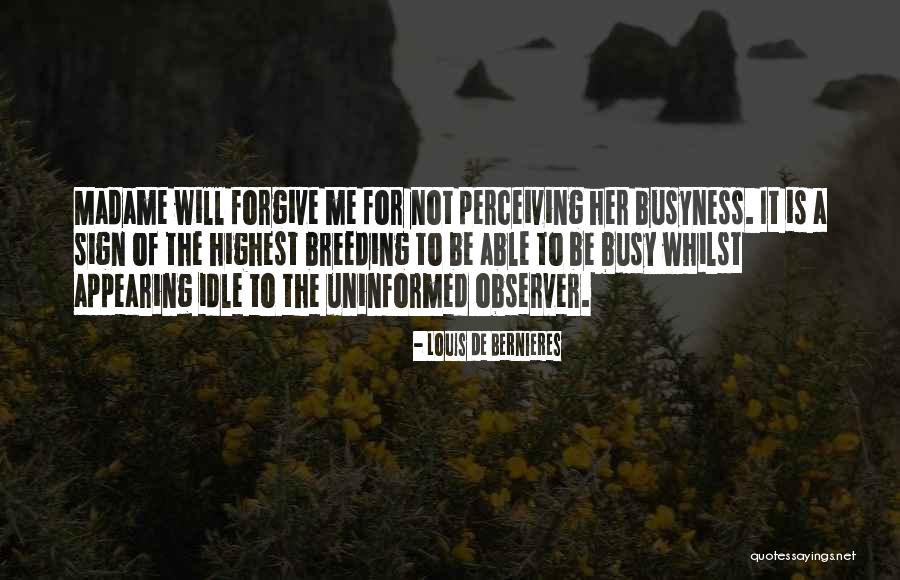 Madame will forgive me for not perceiving her busyness. It is a sign of the highest breeding to be able to be busy whilst appearing idle to the uninformed observer. — Louis De Bernieres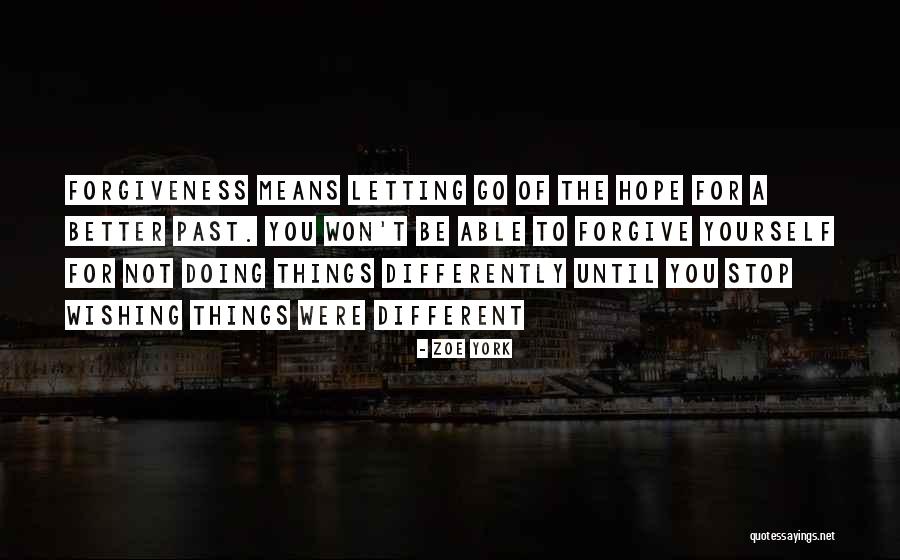 Forgiveness means letting go of the hope for a better past. You won't be able to forgive yourself for not doing things differently until you stop wishing things were different — Zoe York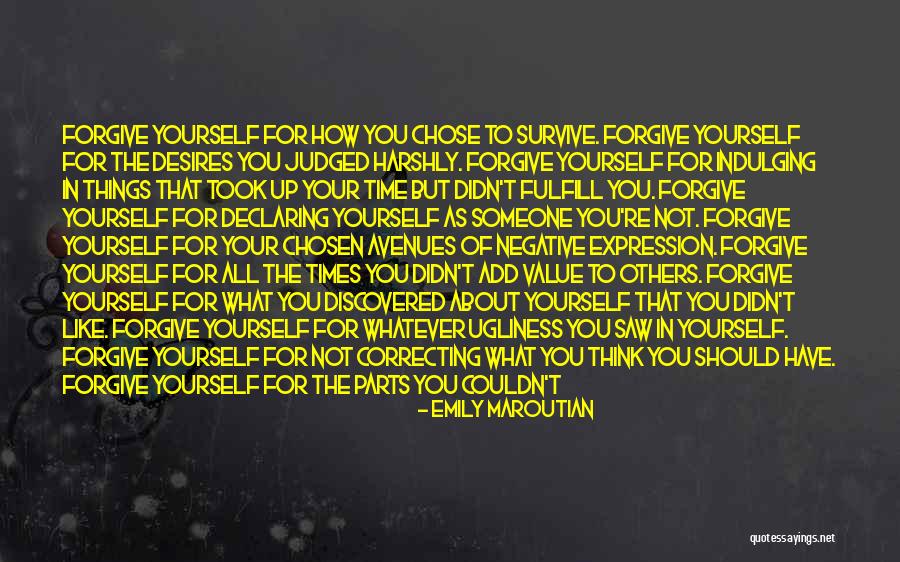 Forgive yourself for how you chose to survive. Forgive yourself for the desires you judged harshly. Forgive yourself for indulging in things that took up your time but didn't fulfill you. Forgive yourself for declaring yourself as someone you're not. Forgive yourself for your chosen avenues of negative expression. Forgive yourself for all the times you didn't add value to others. Forgive yourself for what you discovered about yourself that you didn't like. Forgive yourself for whatever ugliness you saw in yourself. Forgive yourself for not correcting what you think you should have. Forgive yourself for the parts you couldn't respect. Forgive yourself for all these judgments. Forgive yourself for not being able to forgive yourself before. — Emily Maroutian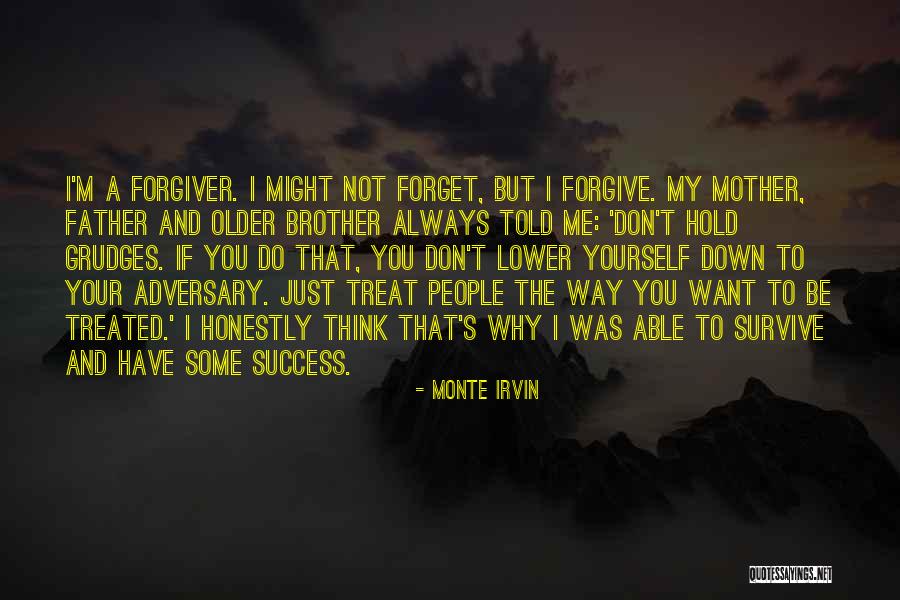 I'm a forgiver. I might not forget, but I forgive. My mother, father and older brother always told me: 'Don't hold grudges. If you do that, you don't lower yourself down to your adversary. Just treat people the way you want to be treated.' I honestly think that's why I was able to survive and have some success. — Monte Irvin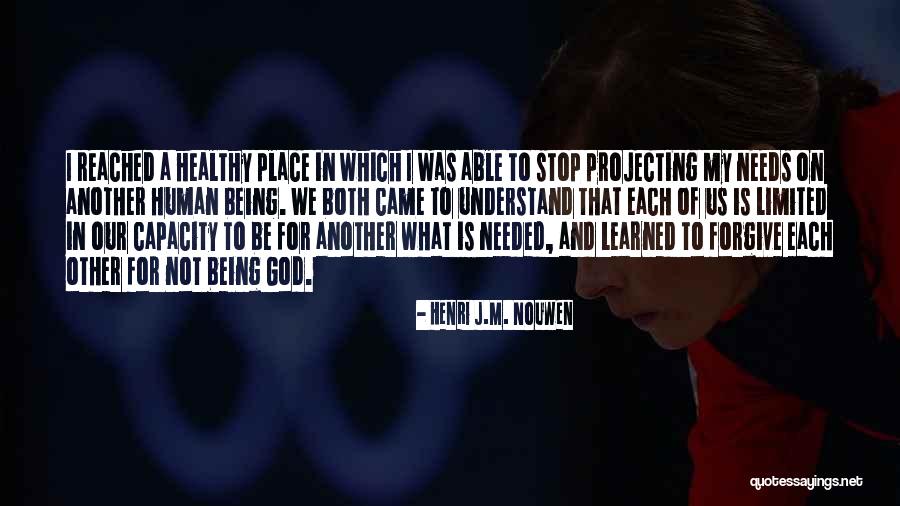 I reached a healthy place in which I was able to stop projecting my needs on another human being. We both came to understand that each of us is limited in our capacity to be for another what is needed, and learned to forgive each other for not being God. — Henri J.M. Nouwen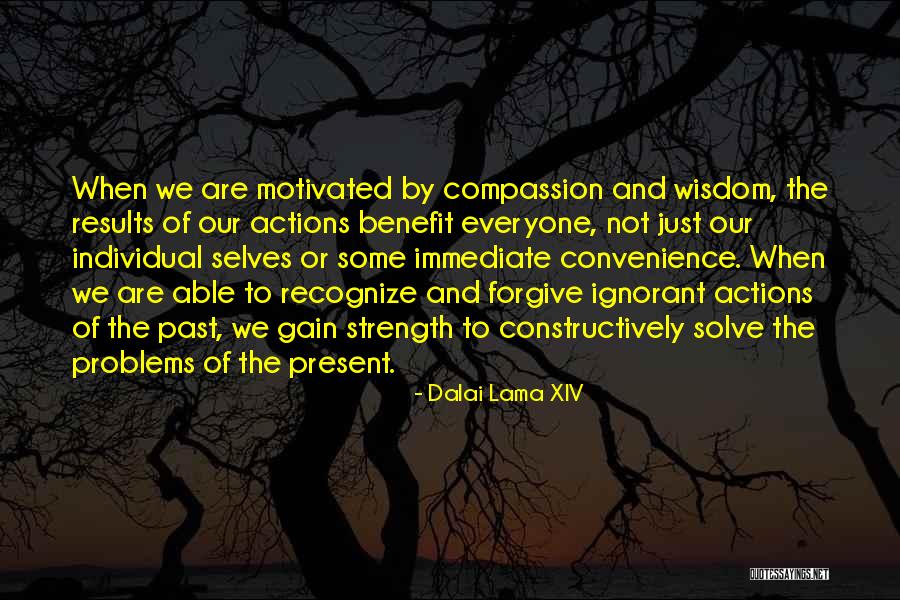 When we are motivated by compassion and wisdom, the results of our actions benefit everyone, not just our individual selves or some immediate convenience. When we are able to recognize and forgive ignorant actions of the past, we gain strength to constructively solve the problems of the present. — Dalai Lama XIV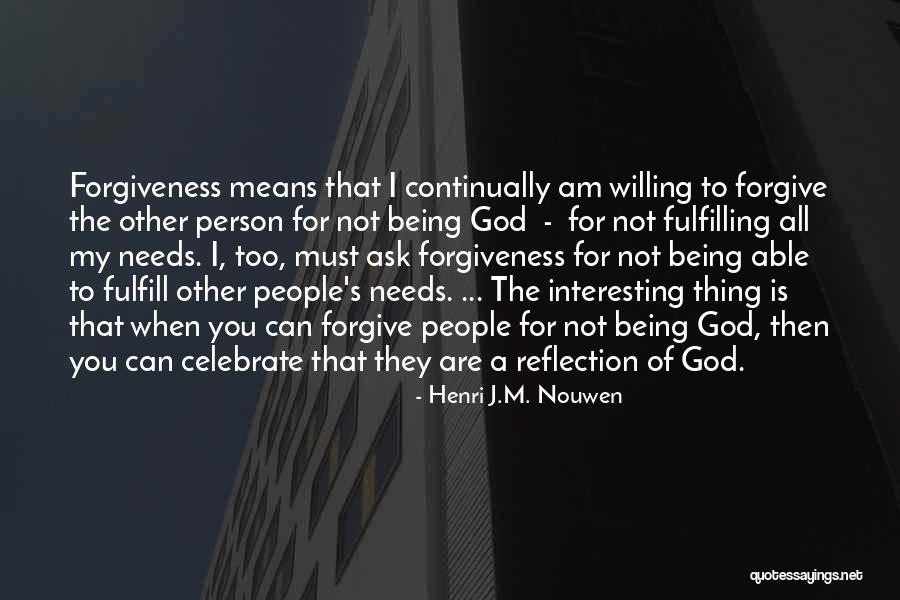 Forgiveness means that I continually am willing to forgive the other person for not being God - for not fulfilling all my needs. I, too, must ask forgiveness for not being able to fulfill other people's needs. ... The interesting thing is that when you can forgive people for not being God, then you can celebrate that they are a reflection of God. — Henri J.M. Nouwen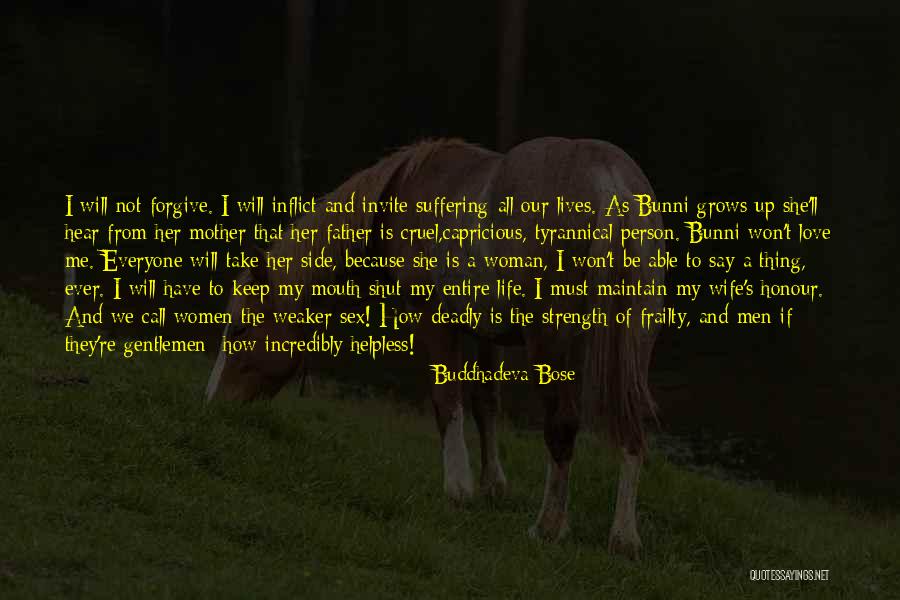 I will not forgive. I will inflict and invite suffering-all our lives. As Bunni grows up she'll hear from her mother that her father is cruel,capricious, tyrannical person. Bunni won't love me. Everyone will take her side, because she is a woman, I won't be able to say a thing, ever. I will have to keep my mouth shut my entire life. I must maintain my wife's honour. And we call women the weaker sex! How deadly is the strength of frailty, and men-if they're gentlemen- how incredibly helpless! — Buddhadeva Bose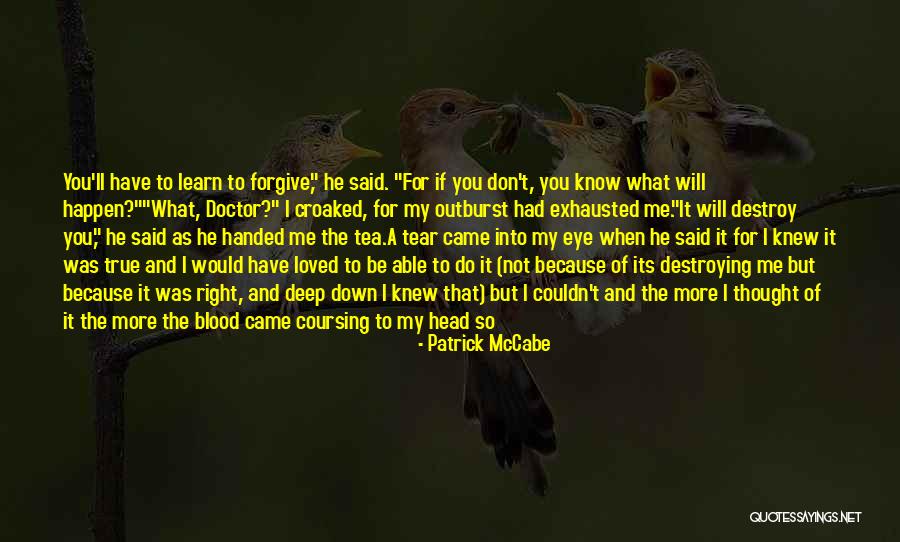 You'll have to learn to forgive," he said. "For if you don't, you know what will happen?"
"What, Doctor?" I croaked, for my outburst had exhausted me.
"It will destroy you," he said as he handed me the tea.
A tear came into my eye when he said it for I knew it was true and I would have loved to be able to do it (not because of its destroying me but because it was right, and deep down I knew that) but I couldn't and the more I thought of it the more the blood came coursing to my head so that whenever I'd write I'd find myself clutching the pencil so tight I broke the lead how many times I don't know, hundreds. — Patrick McCabe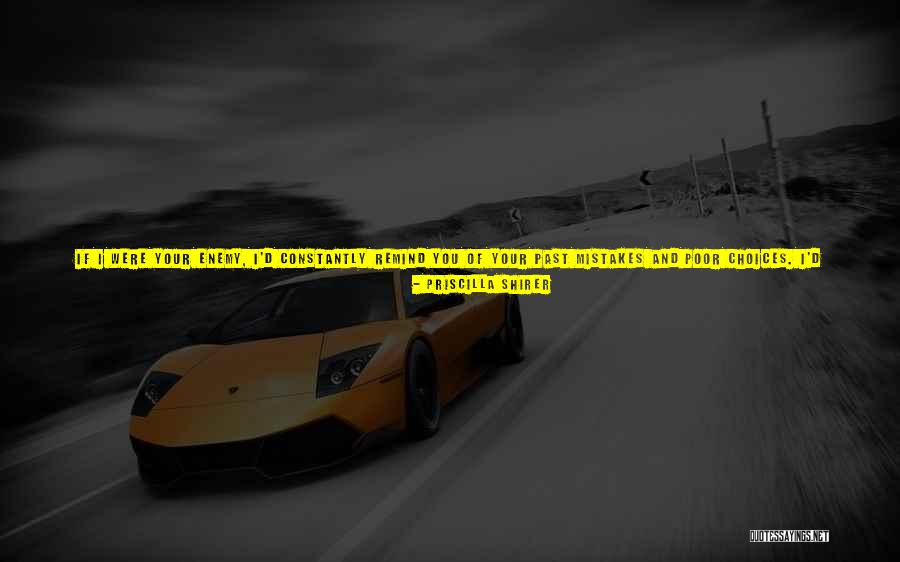 If I were your enemy, I'd constantly remind you of your past mistakes and poor choices. I'd want to keep you burdened by shame and guilt, in hopes that you'll feel incapacitated by your many failings and see no point in even trying again. I'd work to convince you that you've had your chance and blown it - that your God may be able to forgive some people for some things, but not you . . . not for this. — Priscilla Shirer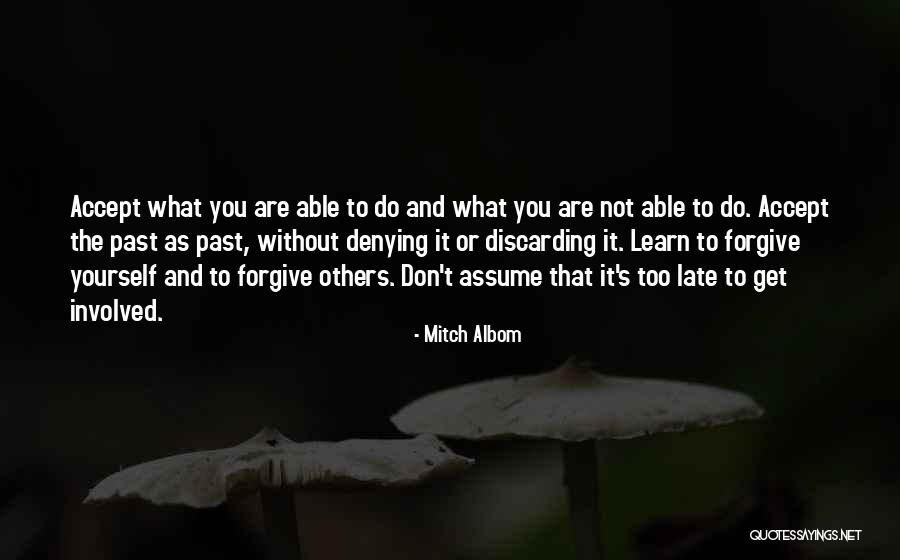 Accept what you are able to do and what you are not able to do. Accept the past as past, without denying it or discarding it. Learn to forgive yourself and to forgive others. Don't assume that it's too late to get involved. — Mitch Albom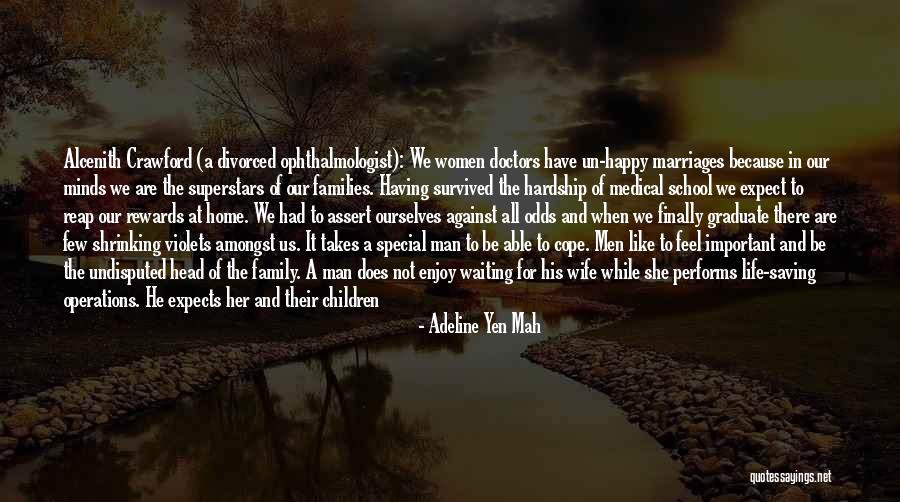 Alcenith Crawford (a divorced ophthalmologist): We women doctors have un-happy marriages because in our minds we are the superstars of our families. Having survived the hardship of medical school we expect to reap our rewards at home. We had to assert ourselves against all odds and when we finally graduate there are few shrinking violets amongst us. It takes a special man to be able to cope. Men like to feel important and be the undisputed head of the family. A man does not enjoy waiting for his wife while she performs life-saving operations. He expects her and their children to revolve around his needs, not the other way. But we have become accustomed to giving orders in hospitals and having them obeyed. Once home, it's difficult to adjust. Moreover, we often earn more than our husbands. It takes a generous and exceptional man to forgive all that. — Adeline Yen Mah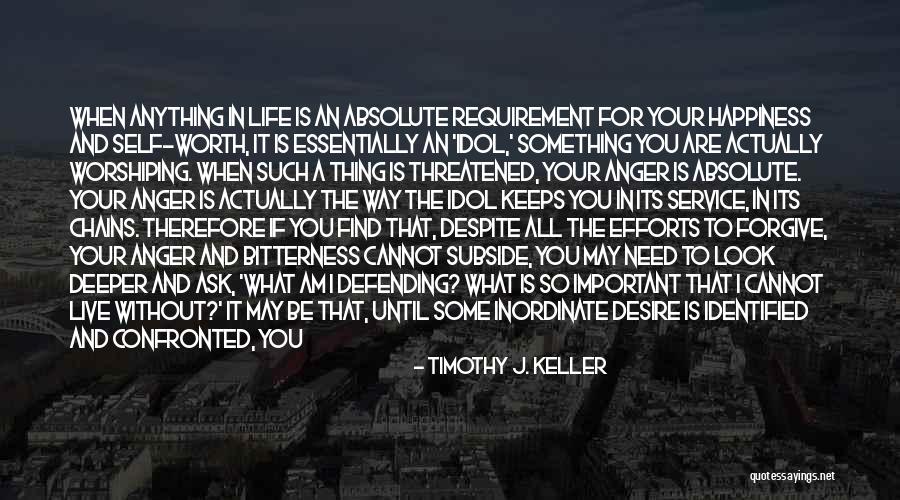 When anything in life is an absolute requirement for your happiness and self-worth, it is essentially an 'idol,' something you are actually worshiping. When such a thing is threatened, your anger is absolute. Your anger is actually the way the idol keeps you in its service, in its chains. Therefore if you find that, despite all the efforts to forgive, your anger and bitterness cannot subside, you may need to look deeper and ask, 'What am I defending? What is so important that I cannot live without?' It may be that, until some inordinate desire is identified and confronted, you will not be able to master your anger. — Timothy J. Keller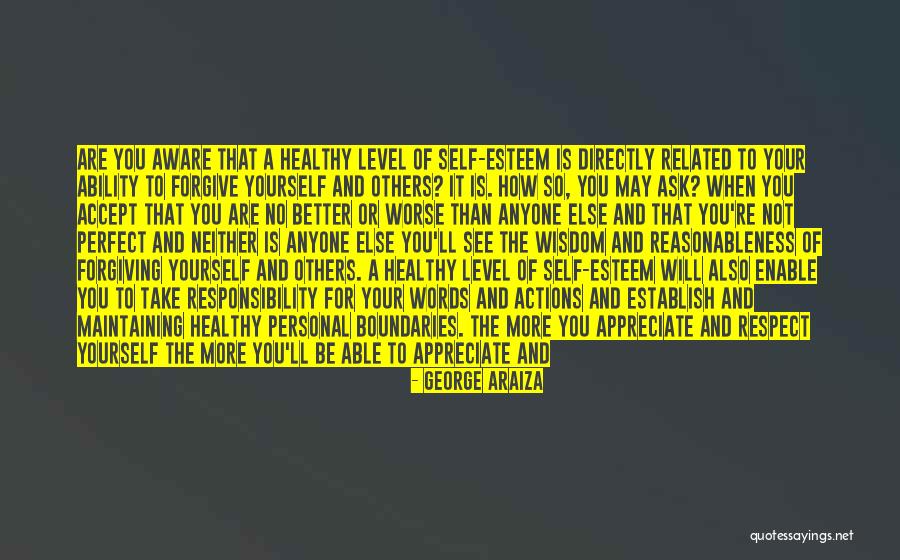 Are you aware that a healthy level of self-esteem is directly related to your ability to forgive yourself and others? It is. How so, you may ask? When you accept that you are no better or worse than anyone else and that you're not perfect and neither is anyone else you'll see the wisdom and reasonableness of forgiving yourself and others. A healthy level of self-esteem will also enable you to take responsibility for your words and actions and establish and maintaining healthy personal boundaries. The more you appreciate and respect yourself the more you'll be able to appreciate and respect others and others will find it easy to appreciate and respect you. — George Araiza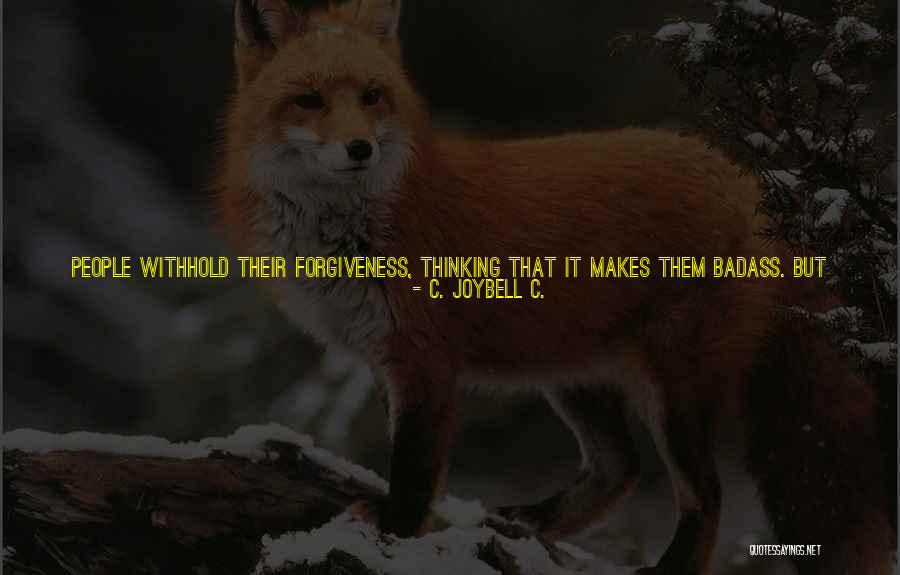 People withhold their forgiveness, thinking that it makes them badass. But really, the unwillingness to forgive is merely the wishing that things were better. You wish that you had better, you wish that someone else were better so they could have treated you better ... it's you making wishes. And that's not badass. To forgive is to be able to look at the person and say "I accept that you weren't any better than what you were", "I accept what you were you and couldn't have been what I wished you to be", "I accept that things were the way they were and weren't any better." The ability to forgive is intertwined with the ability to accept the reality of the way things are/ the way a person is or was. You stop wishing things and you just accept. And hope is what says to you: "One day you'll have what's better. — C. JoyBell C.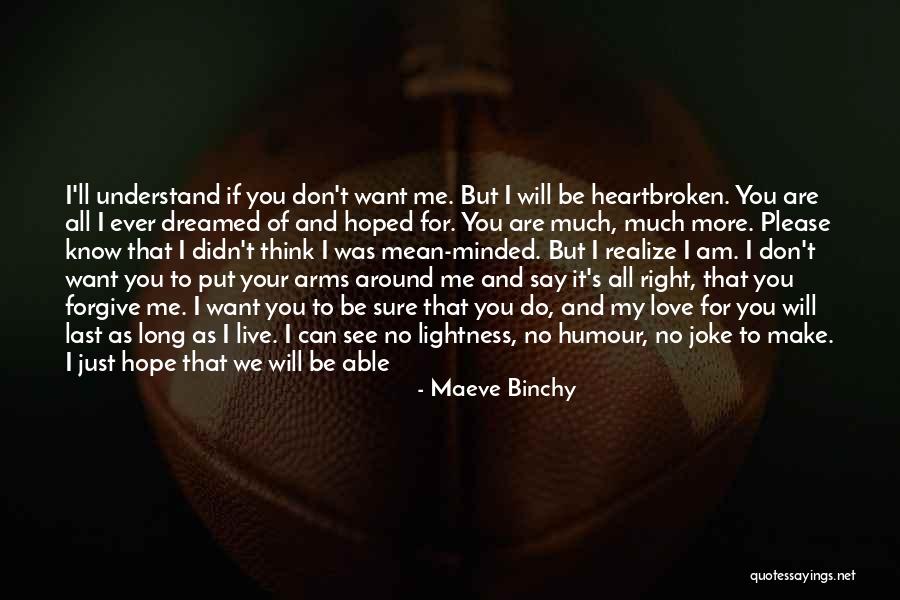 I'll understand if you don't want me. But I will be heartbroken. You are all I ever dreamed of and hoped for. You are much, much more. Please know that I didn't think I was mean-minded. But I realize I am. I don't want you to put your arms around me and say it's all right, that you forgive me. I want you to be sure that you do, and my love for you will last as long as I live. I can see no lightness, no humour, no joke to make. I just hope that we will be able to go back to when we had laughter, and the world was coloured, not black and white and grey. I am so sorry for hurting you. I could inflict all kinds of pain on myself, but it would not take back any I gave to you. - David Power — Maeve Binchy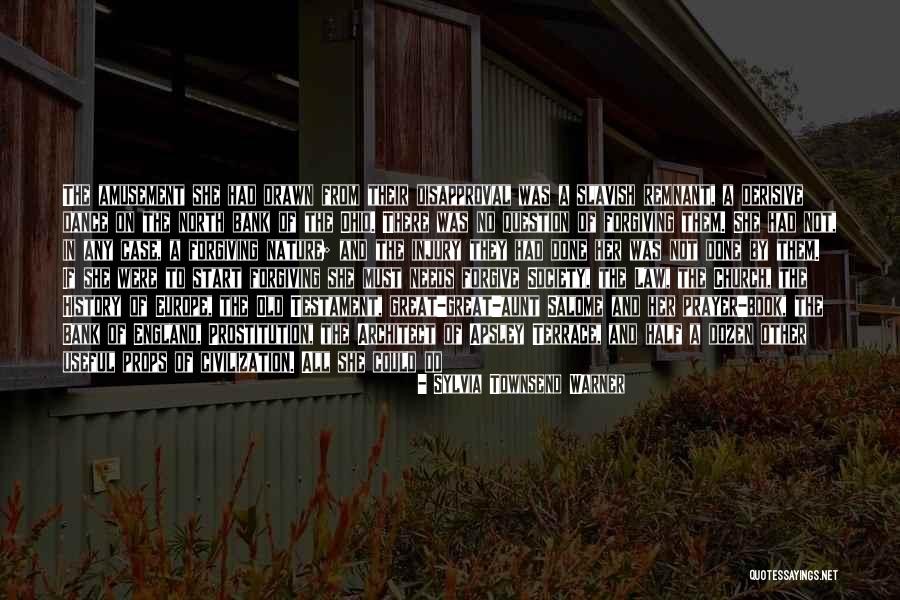 The amusement she had drawn from their disapproval was a slavish remnant, a derisive dance on the north bank of the Ohio. There was no question of forgiving them. She had not, in any case, a forgiving nature; and the injury they had done her was not done by them. If she were to start forgiving she must needs forgive Society, the Law, the Church, the History of Europe, the Old Testament, great-great-aunt Salome and her prayer-book, the Bank of England, Prostitution, the Architect of Apsley Terrace, and half a dozen other useful props of civilization. All she could do was to go on forgetting them. But now she was able to forget them without flouting them by her forgetfulness. — Sylvia Townsend Warner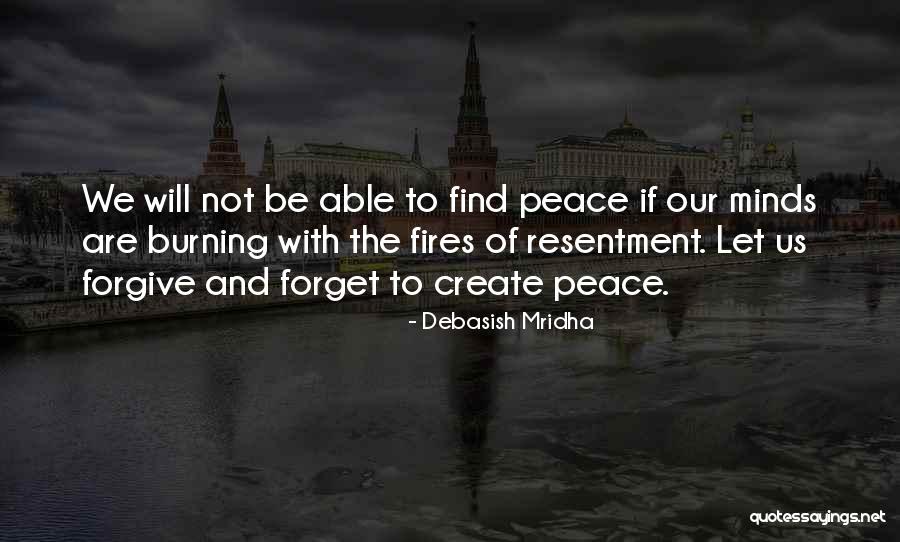 We will not be able to find peace if our minds are burning with the fires of resentment. Let us forgive and forget to create peace. — Debasish Mridha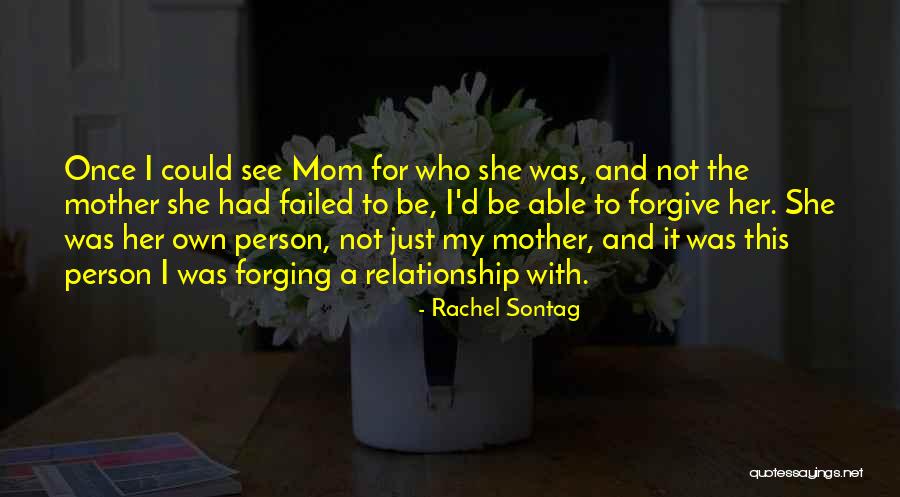 Once I could see Mom for who she was, and not the mother she had failed to be, I'd be able to forgive her. She was her own person, not just my mother, and it was this person I was forging a relationship with. — Rachel Sontag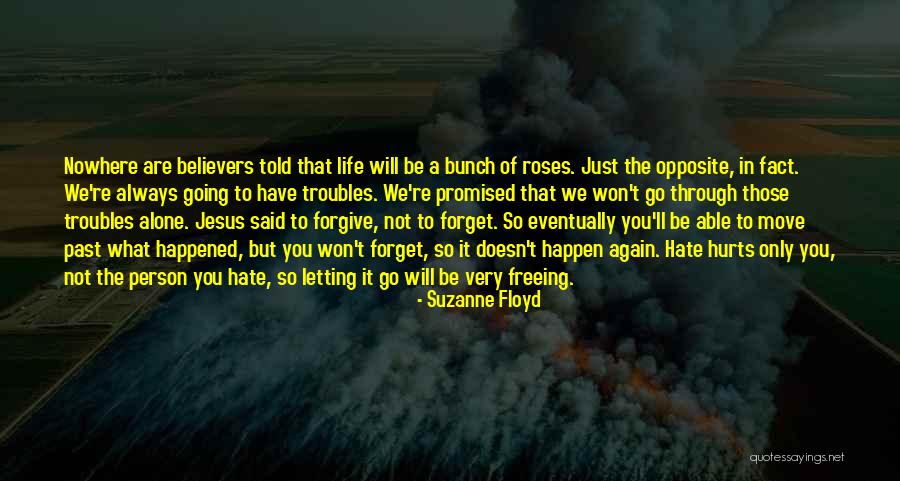 Nowhere are believers told that life will be a bunch of roses. Just the opposite, in fact. We're always going to have troubles. We're promised that we won't go through those troubles alone. Jesus said to forgive, not to forget. So eventually you'll be able to move past what happened, but you won't forget, so it doesn't happen again. Hate hurts only you, not the person you hate, so letting it go will be very freeing. — Suzanne Floyd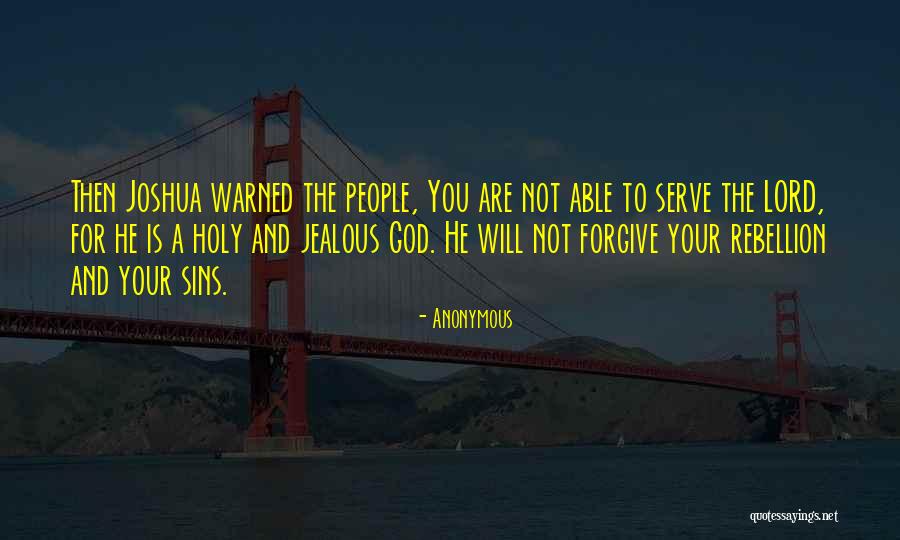 Then Joshua warned the people, You are not able to serve the LORD, for he is a holy and jealous God. He will not forgive your rebellion and your sins. — Anonymous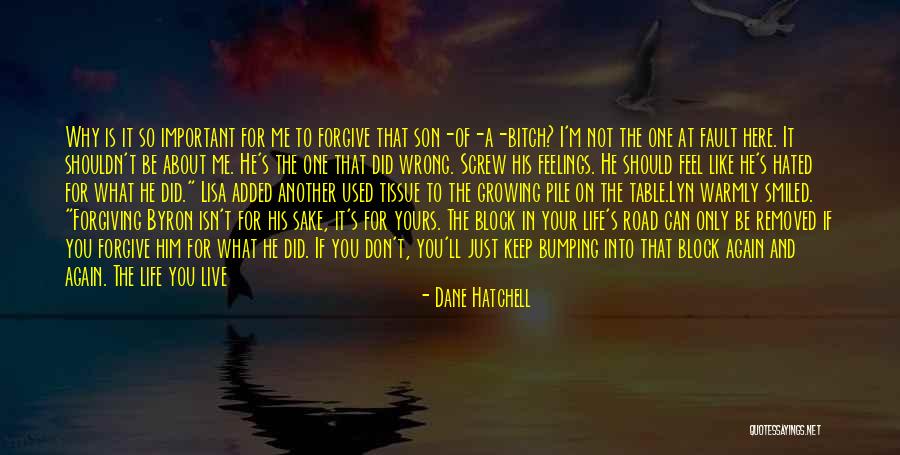 Why is it so important for me to forgive that son-of-a-bitch? I'm not the one at fault here. It shouldn't be about me. He's the one that did wrong. Screw his feelings. He should feel like he's hated for what he did." Lisa added another used tissue to the growing pile on the table.
Lyn warmly smiled. "Forgiving Byron isn't for his sake, it's for yours. The block in your life's road can only be removed if you forgive him for what he did. If you don't, you'll just keep bumping into that block again and again. The life you live will be miserable. You'll never be able to break the chains of the past."
Lisa listened and let the words sink into her subconscious. She realized the only way to get to the end of the road was to take the first step. There was a block preventing her from moving forward in life. She had to find a way past it. — Dane Hatchell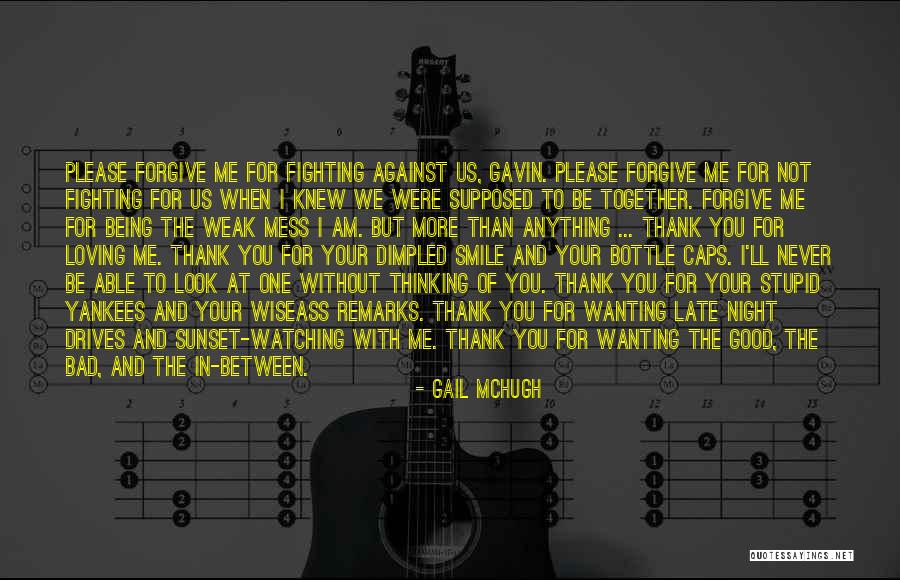 Please forgive me for fighting against us, Gavin. Please forgive me for not fighting for us when I knew we were supposed to be together. Forgive me for being the weak mess I am. But more than anything ... thank you for loving me. Thank you for your dimpled smile and your bottle caps. I'll never be able to look at one without thinking of you. Thank you for your stupid Yankees and your wiseass remarks. Thank you for wanting late night drives and sunset-watching with me. Thank you for wanting the good, the bad, and the in-between. — Gail McHugh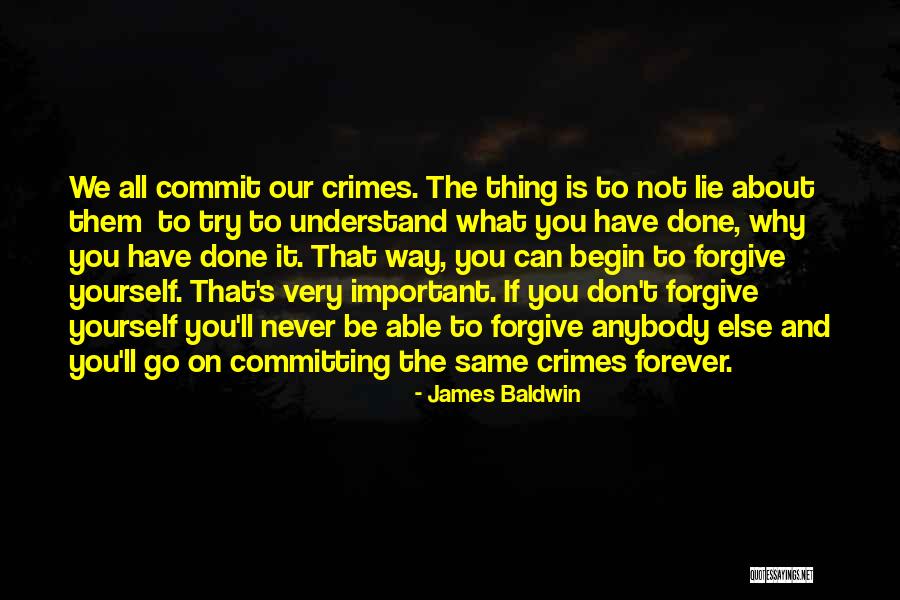 We all commit our crimes. The thing is to not lie about them
to try to understand what you have done, why you have done it. That way, you can begin to forgive yourself. That's very important. If you don't forgive yourself you'll never be able to forgive anybody else and you'll go on committing the same crimes forever. — James Baldwin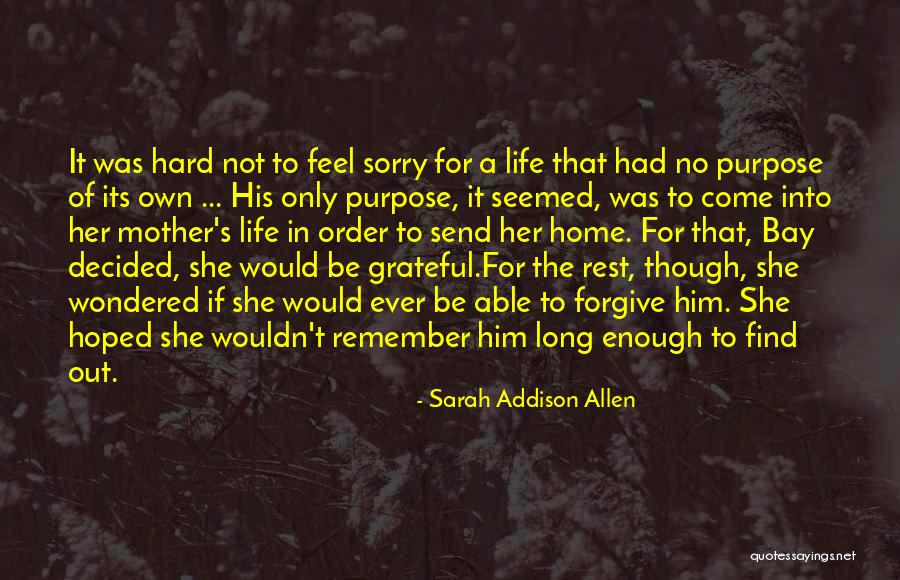 It was hard not to feel sorry for a life that had no purpose of its own ... His only purpose, it seemed, was to come into her mother's life in order to send her home.
For that, Bay decided, she would be grateful.
For the rest, though, she wondered if she would ever be able to forgive him. She hoped she wouldn't remember him long enough to find out. — Sarah Addison Allen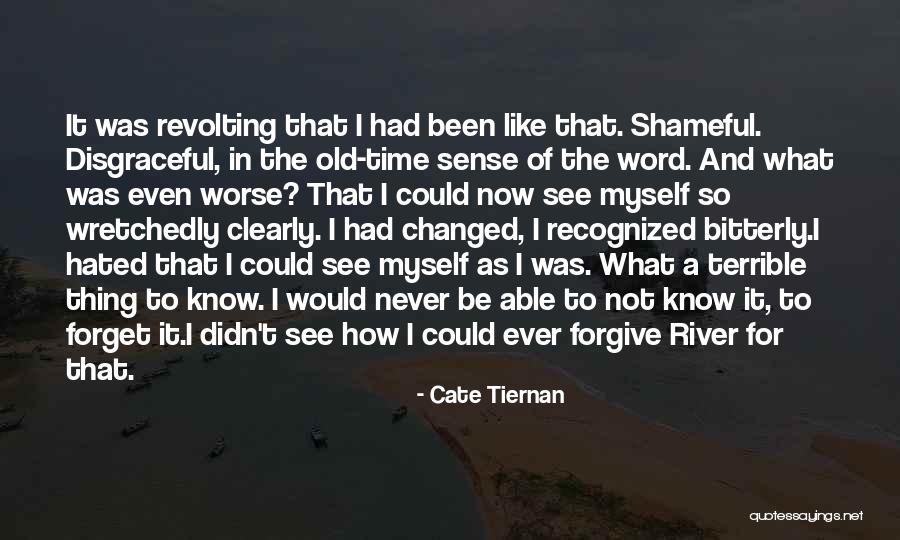 It was revolting that I had been like that. Shameful. Disgraceful, in the old-time sense of the word. And what was even worse? That I could now see myself so wretchedly clearly. I had changed, I recognized bitterly.I hated that I could see myself as I was. What a terrible thing to know. I would never be able to not know it, to forget it.I didn't see how I could ever forgive River for that. — Cate Tiernan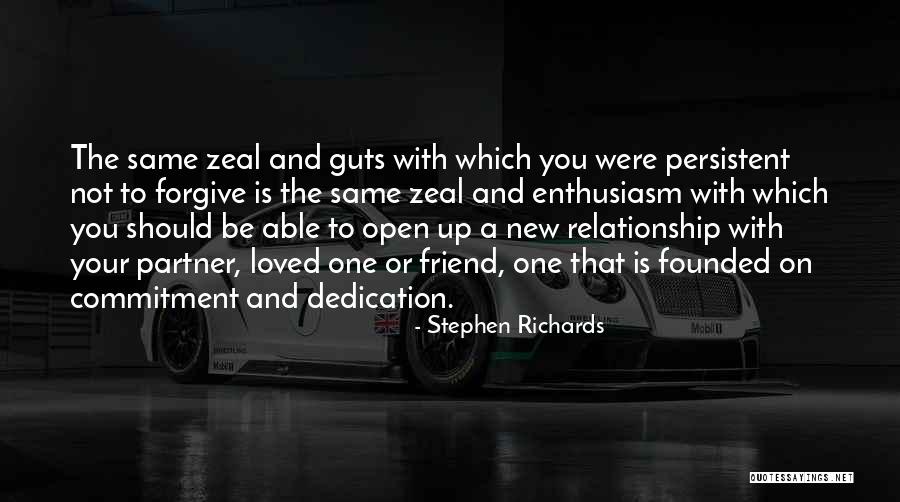 The same zeal and guts with which you were persistent not to forgive is the same zeal and enthusiasm with which you should be able to open up a new relationship with your partner, loved one or friend, one that is founded on commitment and dedication. — Stephen Richards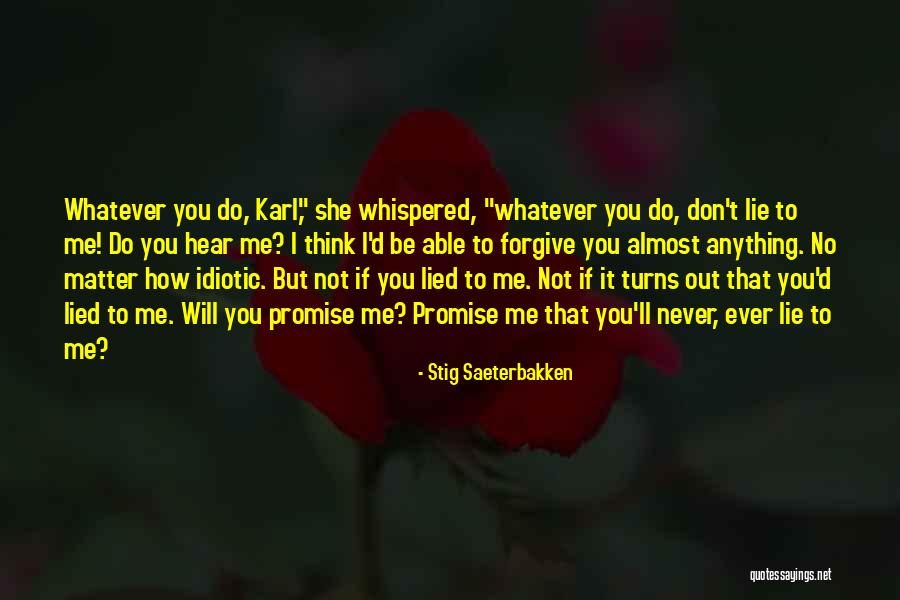 Whatever you do, Karl," she whispered, "whatever you do, don't lie to me! Do you hear me? I think I'd be able to forgive you almost anything. No matter how idiotic. But not if you lied to me. Not if it turns out that you'd lied to me. Will you promise me? Promise me that you'll never, ever lie to me? — Stig Saeterbakken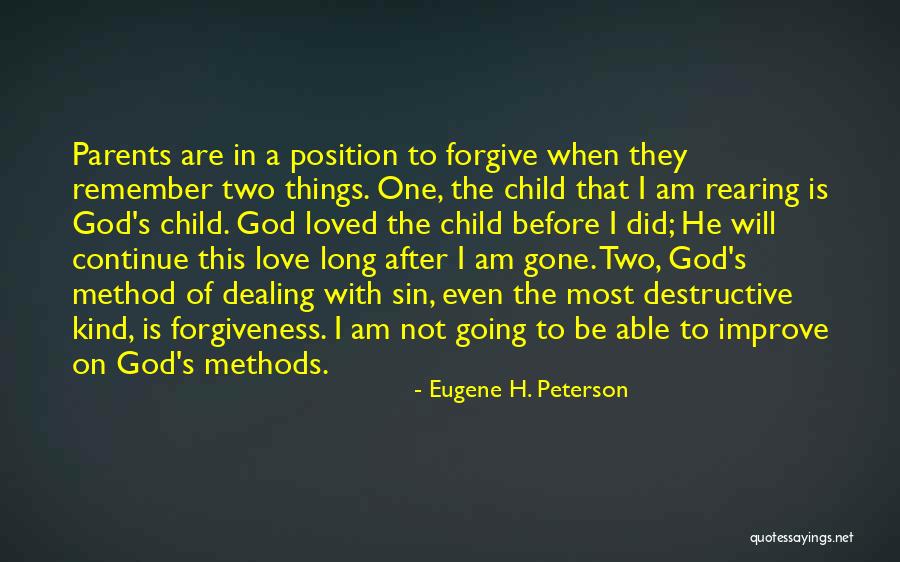 Parents are in a position to forgive when they remember two things. One, the child that I am rearing is God's child. God loved the child before I did; He will continue this love long after I am gone. Two, God's method of dealing with sin, even the most destructive kind, is forgiveness. I am not going to be able to improve on God's methods. — Eugene H. Peterson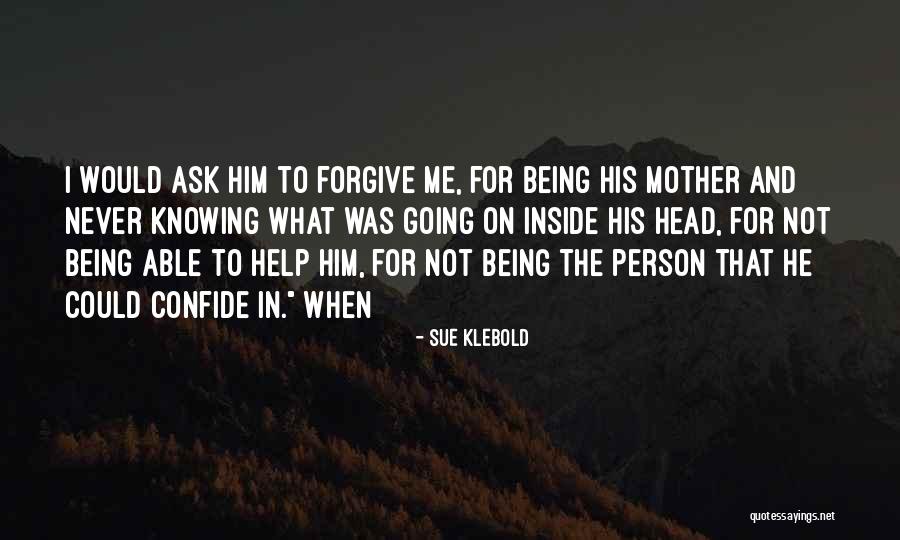 I would ask him to forgive me, for being his mother and never knowing what was going on inside his head, for not being able to help him, for not being the person that he could confide in." When — Sue Klebold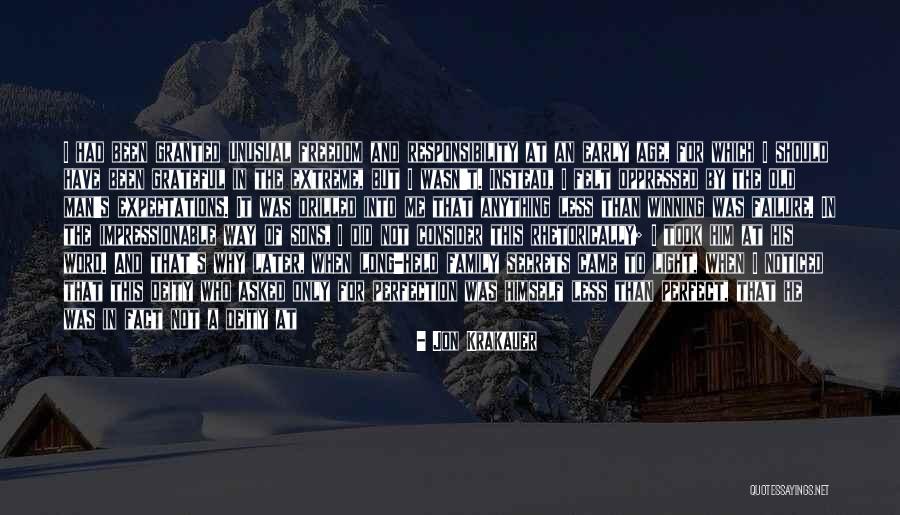 I had been granted unusual freedom and responsibility at an early age, for which I should have been grateful in the extreme, but I wasn't. Instead, I felt oppressed by the old man's expectations. It was drilled into me that anything less than winning was failure. In the impressionable way of sons, I did not consider this rhetorically; I took him at his word. And that's why later, when long-held family secrets came to light, when I noticed that this deity who asked only for perfection was himself less than perfect, that he was in fact not a deity at all - well, I wasn't able to shrug it off. I was consumed instead by a blinding rage. The revelation that he was merely human, and frightfully so, was beyond my power to forgive. Two — Jon Krakauer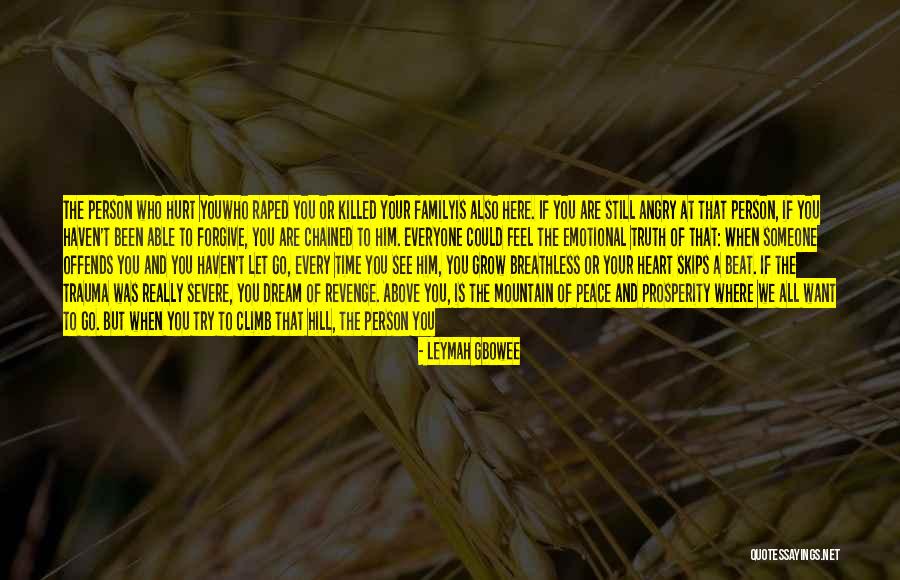 The person who hurt you
who raped you or killed your family
is also here. If you are still angry at that person, if you haven't been able to forgive, you are chained to him. Everyone could feel the emotional truth of that: When someone offends you and you haven't let go, every time you see him, you grow breathless or your heart skips a beat. If the trauma was really severe, you dream of revenge. Above you, is the Mountain of Peace and Prosperity where we all want to go. But when you try to climb that hill, the person you haven't forgiven weighs you down. It's a personal choice whether or not to let go. No one can tell you how long to mourn a death or rage over a rape. But you can't move forward until you break that chain. — Leymah Gbowee