Nobody Knows Future Quotes & Sayings
Enjoy reading and share 13 famous quotes about Nobody Knows Future with everyone.
Top Nobody Knows Future Quotes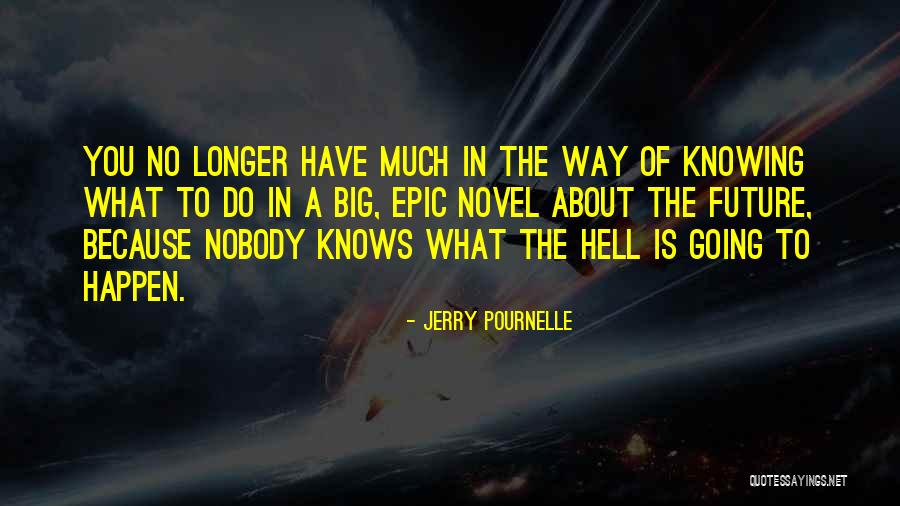 You no longer have much in the way of knowing what to do in a big, epic novel about the future, because nobody knows what the hell is going to happen. — Jerry Pournelle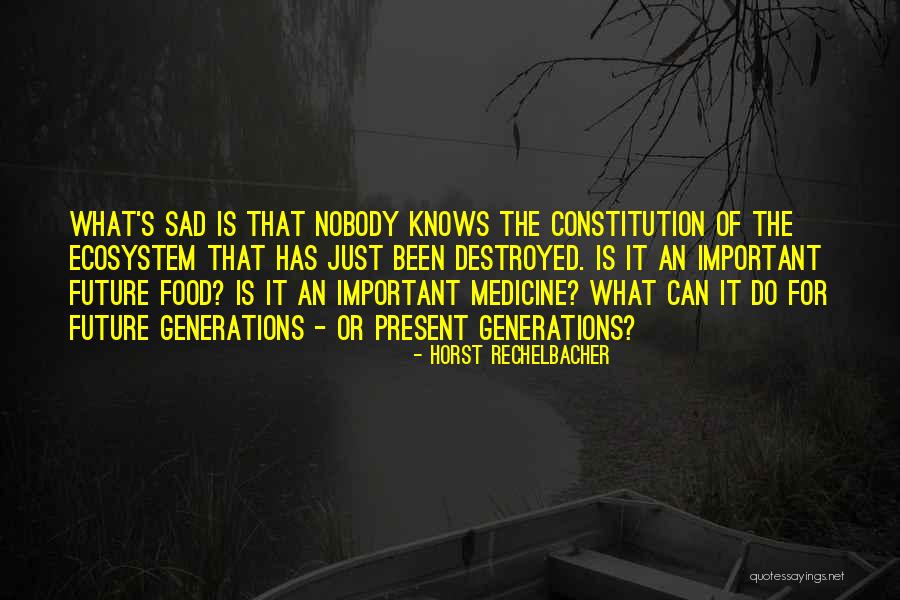 What's sad is that nobody knows the constitution of the ecosystem that has just been destroyed. Is it an important future food? Is it an important medicine? What can it do for future generations - or present generations? — Horst Rechelbacher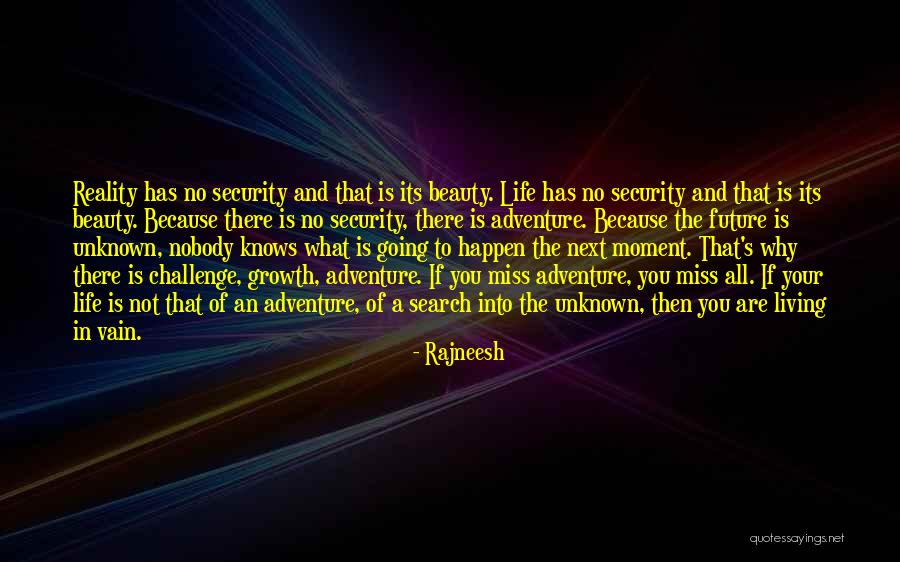 Reality has no security and that is its beauty. Life has no security and that is its beauty. Because there is no security, there is adventure. Because the future is unknown, nobody knows what is going to happen the next moment. That's why there is challenge, growth, adventure. If you miss adventure, you miss all. If your life is not that of an adventure, of a search into the unknown, then you are living in vain. — Rajneesh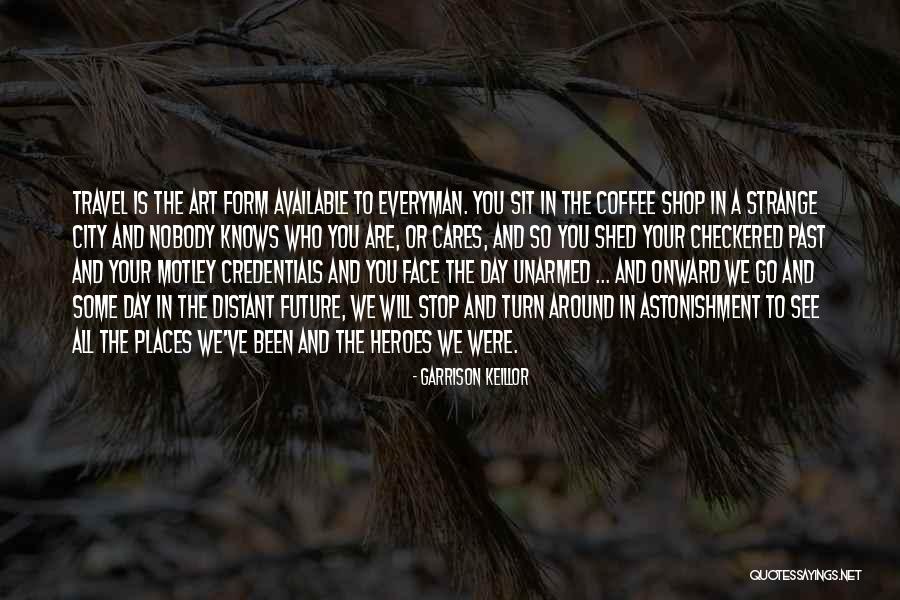 Travel is the art form available to Everyman. You sit in the coffee shop in a strange city and nobody knows who you are, or cares, and so you shed your checkered past and your motley credentials and you face the day unarmed ... And onward we go and some day in the distant future, we will stop and turn around in astonishment to see all the places we've been and the heroes we were. — Garrison Keillor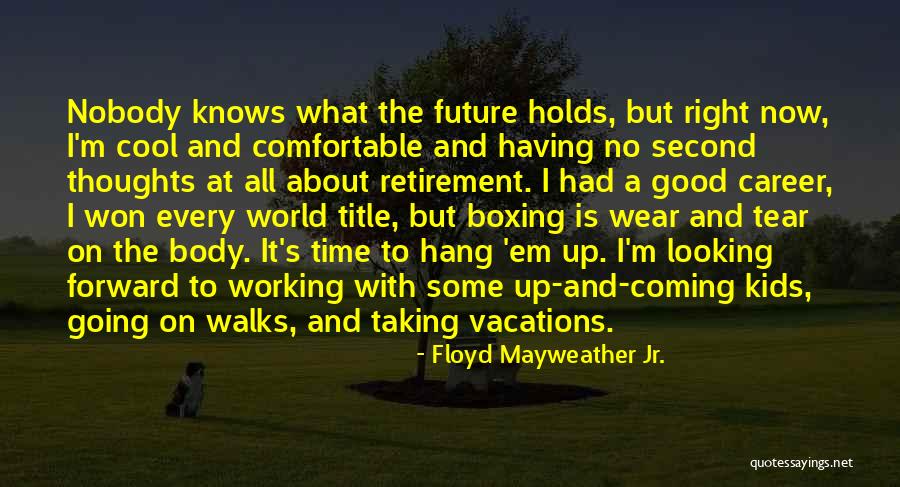 Nobody knows what the future holds, but right now, I'm cool and comfortable and having no second thoughts at all about retirement. I had a good career, I won every world title, but boxing is wear and tear on the body. It's time to hang 'em up. I'm looking forward to working with some up-and-coming kids, going on walks, and taking vacations. — Floyd Mayweather Jr.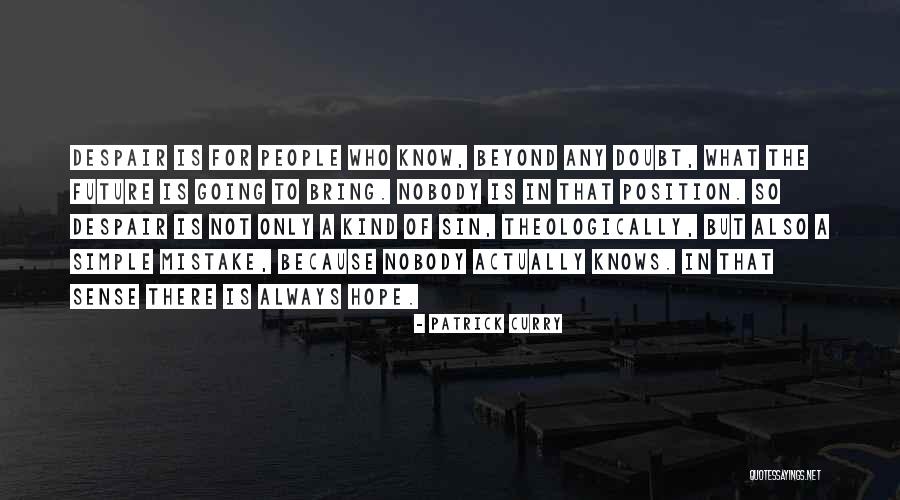 Despair is for people who know, beyond any doubt, what the future is going to bring. Nobody is in that position. So despair is not only a kind of sin, theologically, but also a simple mistake, because nobody actually knows. In that sense there is always hope. — Patrick Curry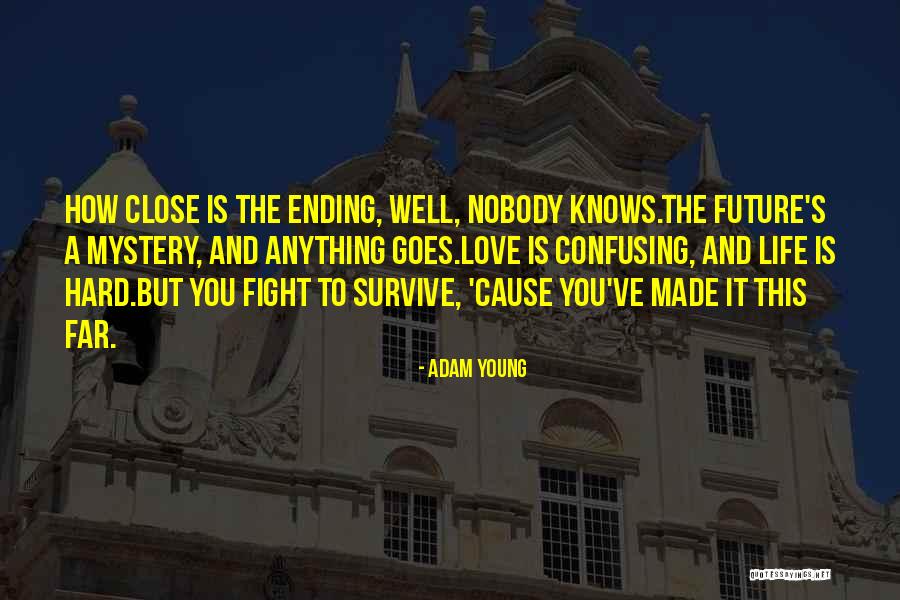 How close is the ending, well, nobody knows.
The future's a mystery, and anything goes.
Love is confusing, and life is hard.
But you fight to survive, 'cause you've made it this far. — Adam Young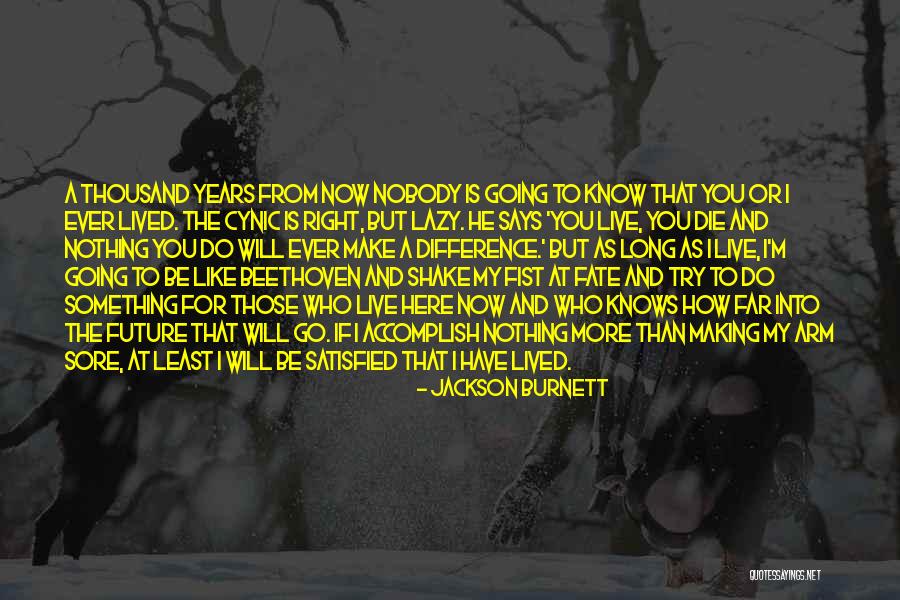 A thousand years from now nobody is
going to know that you or I ever lived. The cynic is
right, but lazy. He says 'You live, you die and nothing you do will ever make a difference.' But as long as I live, I'm going to be like Beethoven and shake my fist at fate and try to do something for those who live here now and who knows how far into the future that will go. If I accomplish nothing more than making my arm sore, at least I will be satisfied that I have lived. — Jackson Burnett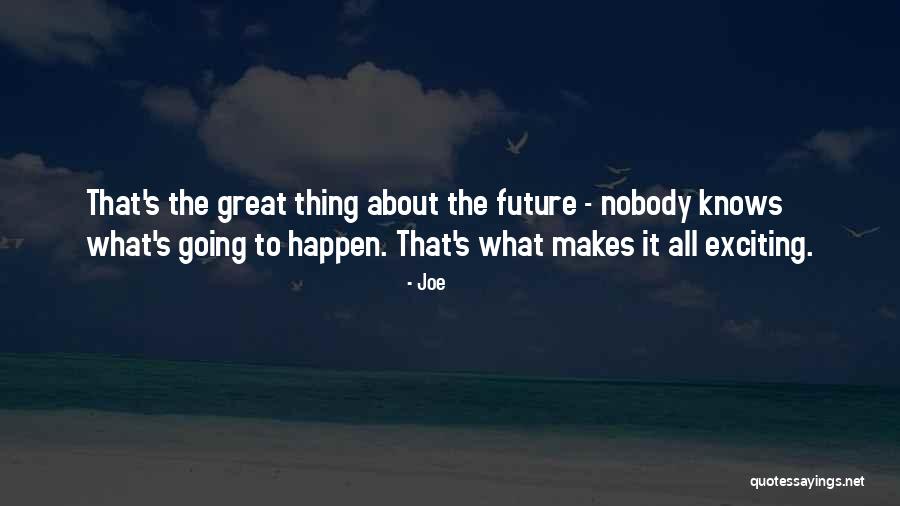 That's the great thing about the future - nobody knows what's going to happen. That's what makes it all exciting. — Joe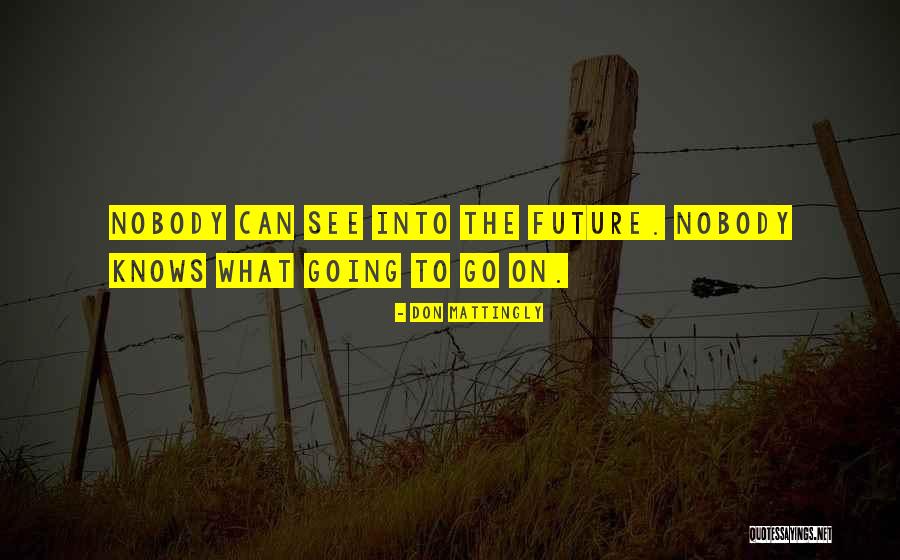 Nobody can see into the future. Nobody knows what going to go on. — Don Mattingly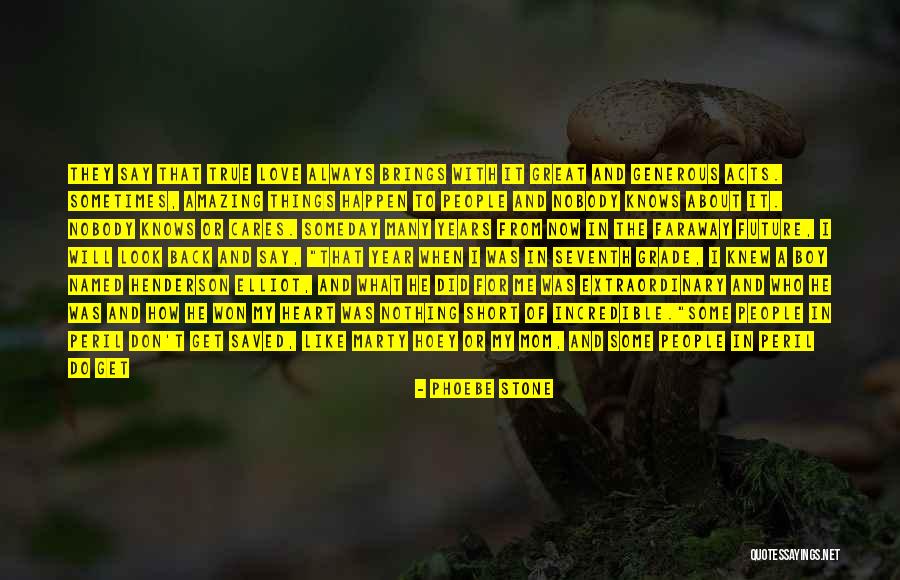 They say that true love always brings with it great and generous acts. Sometimes, amazing things happen to people and nobody knows about it. Nobody knows or cares. Someday many years from now in the faraway future, I will look back and say, "That year when I was in seventh grade, I knew a boy named Henderson Elliot, and what he did for me was extraordinary and who he was and how he won my heart was nothing short of incredible."
Some people in peril don't get saved, like Marty Hoey or my mom, and some people in peril do get saved, like me. Maybe it was because Henderson bought a chunk of a falling star, a gold-flecked quiet and ever-hopeful star. I hold it now tightly in my palm. — Phoebe Stone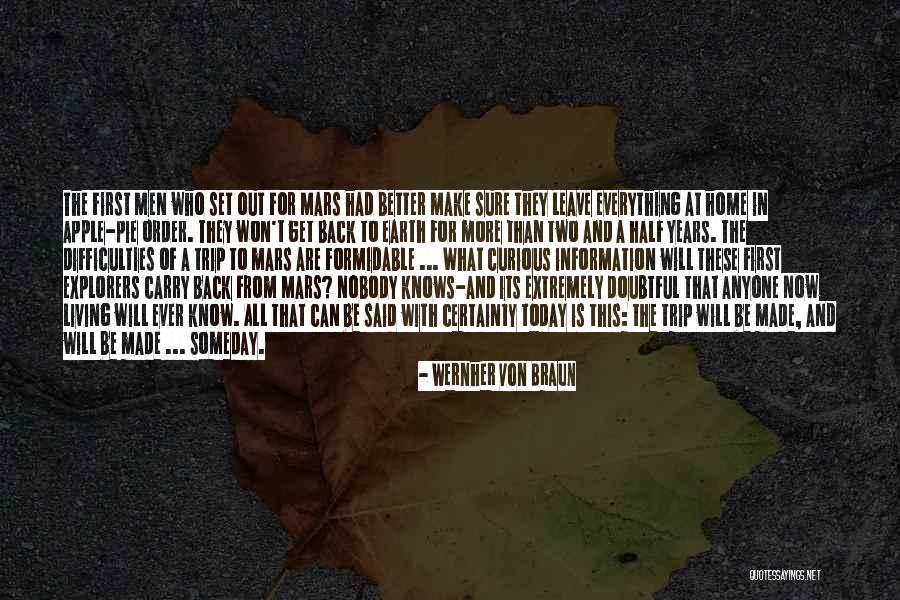 The first men who set out for Mars had better make sure they leave everything at home in apple-pie order. They won't get back to earth for more than two and a half years. The difficulties of a trip to mars are formidable ... What curious information will these first explorers carry back from Mars? Nobody knows-and its extremely doubtful that anyone now living will ever know. All that can be said with certainty today is this: the trip will be made, and will be made ... someday. — Wernher Von Braun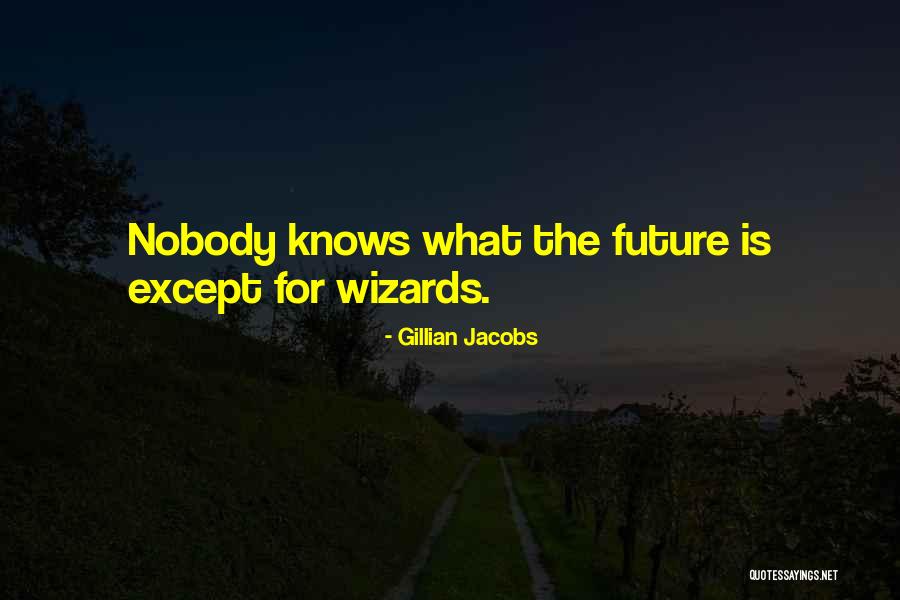 Nobody knows what the future is except for wizards. — Gillian Jacobs