No Small Talk Quotes & Sayings
Enjoy reading and share 77 famous quotes about No Small Talk with everyone.
Top No Small Talk Quotes
Perhaps that was, is, the hope of the movement: to awaken the Dreamers, to rouse them to the facts of what their need to be white, to talk like they are white, to think that they are white, which is to think that they are beyond the design flaws of humanity, has done to the world. But you cannot arrange your life around them and the small chance of the Dreamers coming into consciousness. Our moment is too brief. Our bodies are too precious. And you are here now, and you must live - and there is so much out there to live for, not just in someone else's country, but in your own home. The warmth of dark energies that drew me to The Mecca, that drew out Prince Jones, the warmth of our particular world, is beautiful, no matter how brief and breakable. — Ta-Nehisi Coates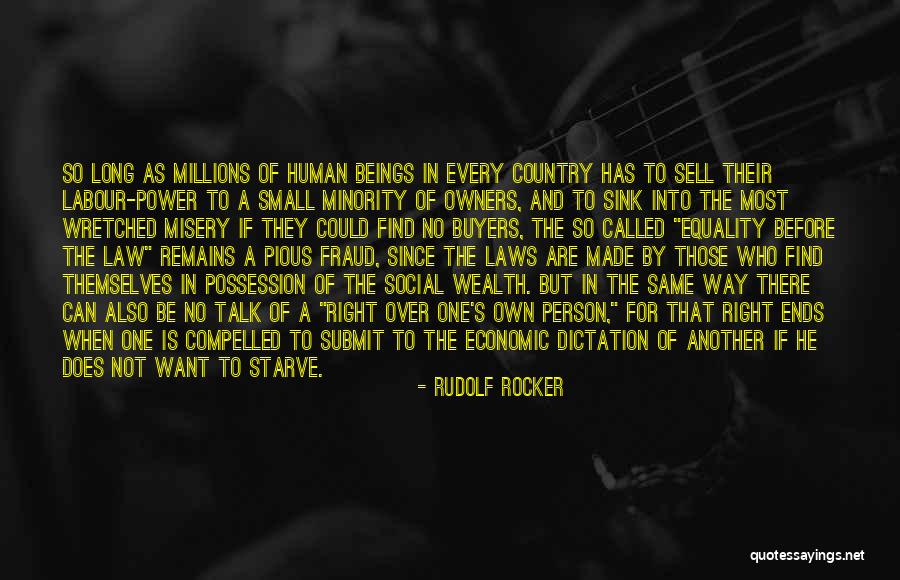 So long as millions of human beings in every country has to sell their labour-power to a small minority of owners, and to sink into the most wretched misery if they could find no buyers, the so called "equality before the law" remains a pious fraud, since the laws are made by those who find themselves in possession of the social wealth. But in the same way there can also be no talk of a "right over one's own person," for that right ends when one is compelled to submit to the economic dictation of another if he does not want to starve. — Rudolf Rocker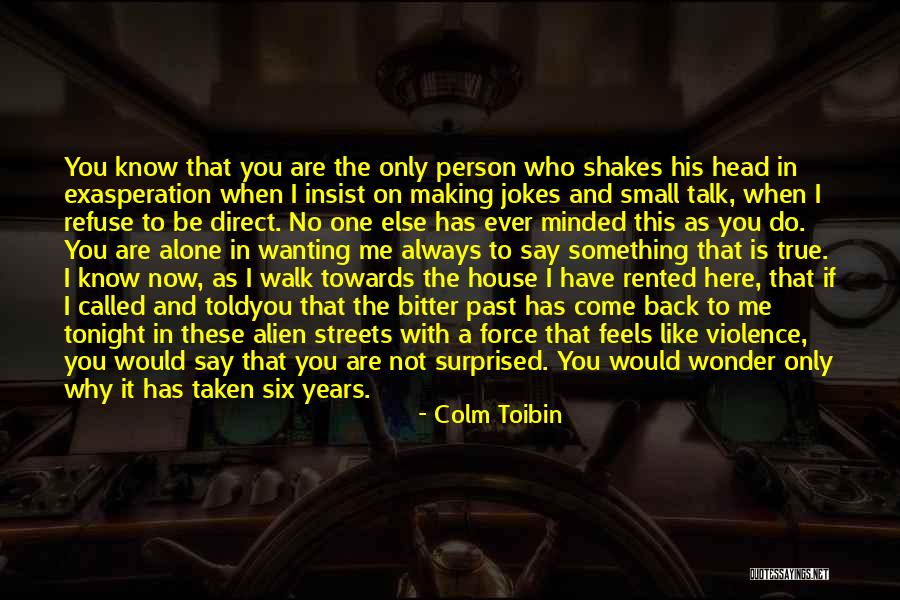 You know that you are the only person who shakes his head in exasperation when I insist on making jokes and small talk, when I refuse to be direct. No one else has ever minded this as you do. You are alone in wanting me always to say something that is true. I know now, as I walk towards the house I have rented here, that if I called and toldyou that the bitter past has come back to me tonight in these alien streets with a force that feels like violence, you would say that you are not surprised. You would wonder only why it has taken six years. — Colm Toibin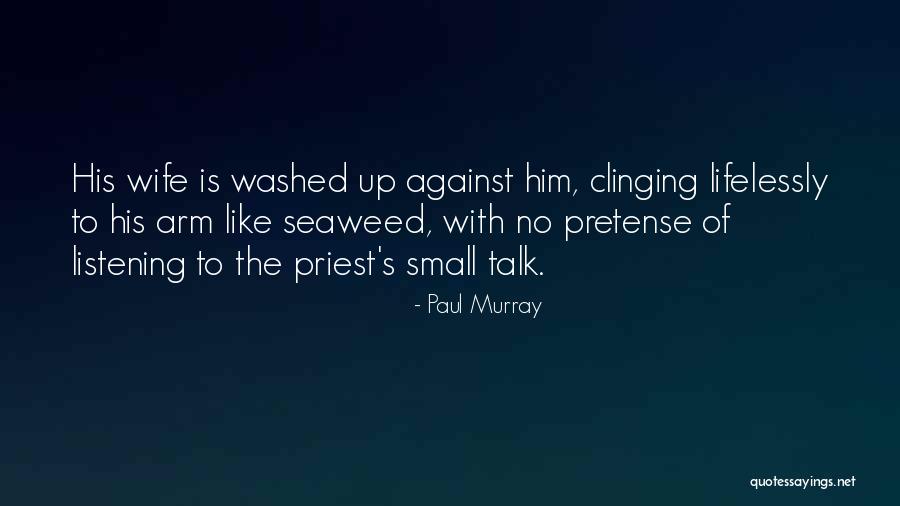 His wife is washed up against him, clinging lifelessly to his arm like seaweed, with no pretense of listening to the priest's small talk. — Paul Murray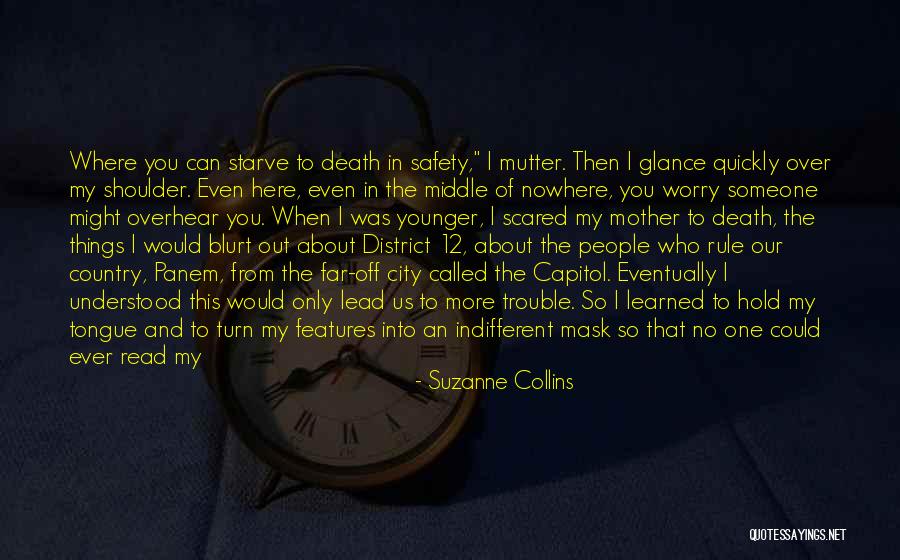 Where you can starve to death in safety," I mutter. Then I glance quickly over my shoulder. Even here, even in the middle of nowhere, you worry someone might overhear you. When I was younger, I scared my mother to death, the things I would blurt out about District 12, about the people who rule our country, Panem, from the far-off city called the Capitol. Eventually I understood this would only lead us to more trouble. So I learned to hold my tongue and to turn my features into an indifferent mask so that no one could ever read my thoughts. Do my work quietly in school. Make only polite small talk in the public market. Discuss little more than trades in the Hob, which is the black market where I make most of my money. Even at home, where I am less pleasant, I avoid discussing tricky topics. Like the reaping, or food — Suzanne Collins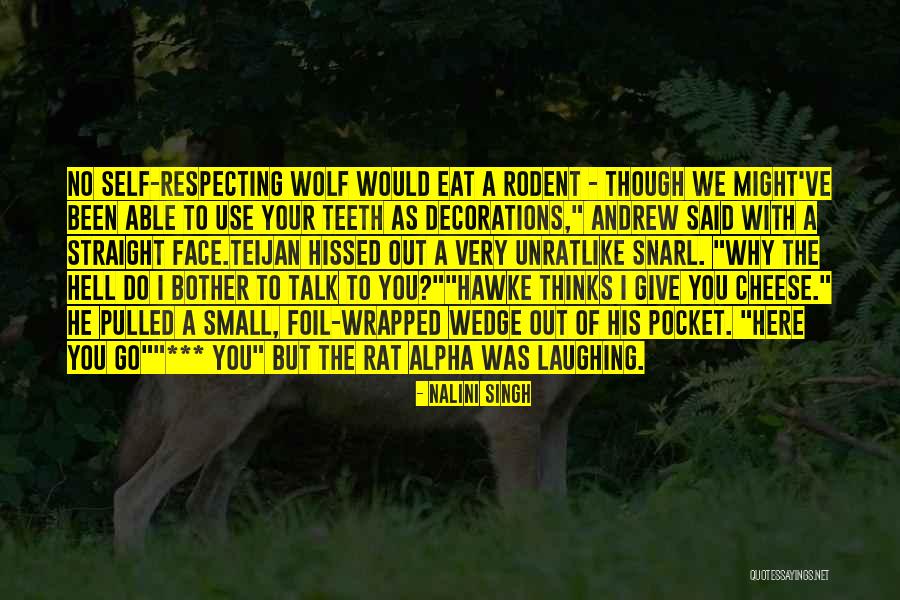 No self-respecting wolf would eat a rodent - though we might've been able to use your teeth as decorations," Andrew said with a straight face.
Teijan hissed out a very unratlike snarl. "Why the hell do I bother to talk to you?"
"Hawke thinks I give you cheese." He pulled a small, foil-wrapped wedge out of his pocket. "Here you go"
"*** you" But the Rat alpha was laughing. — Nalini Singh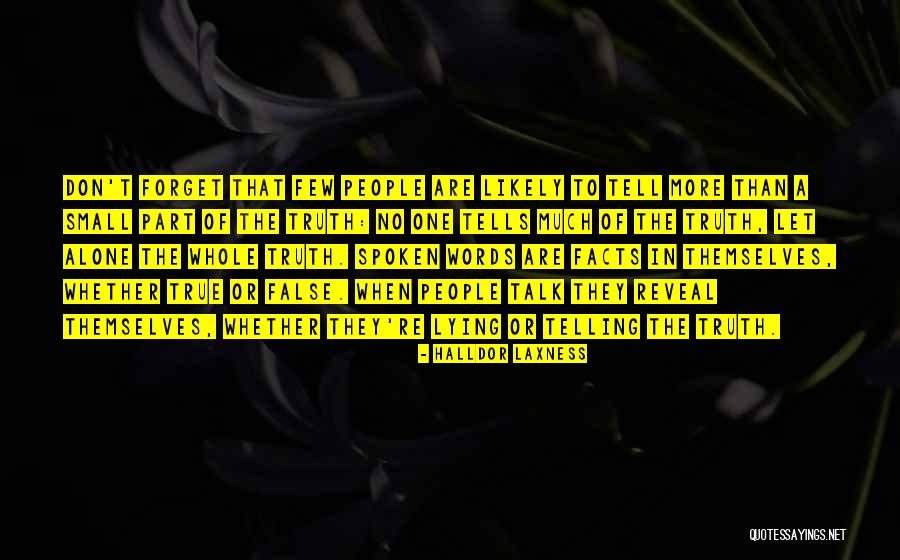 Don't forget that few people are likely to tell more than a small part of the truth: no one tells much of the truth, let alone the whole truth. Spoken words are facts in themselves, whether true or false. When people talk they reveal themselves, whether they're lying or telling the truth. — Halldor Laxness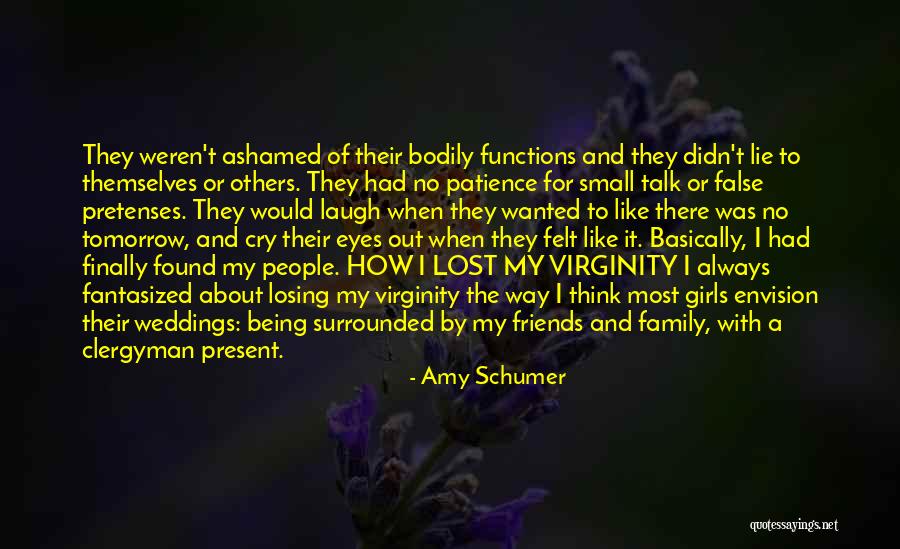 They weren't ashamed of their bodily functions and they didn't lie to themselves or others. They had no patience for small talk or false pretenses. They would laugh when they wanted to like there was no tomorrow, and cry their eyes out when they felt like it. Basically, I had finally found my people. HOW I LOST MY VIRGINITY I always fantasized about losing my virginity the way I think most girls envision their weddings: being surrounded by my friends and family, with a clergyman present. — Amy Schumer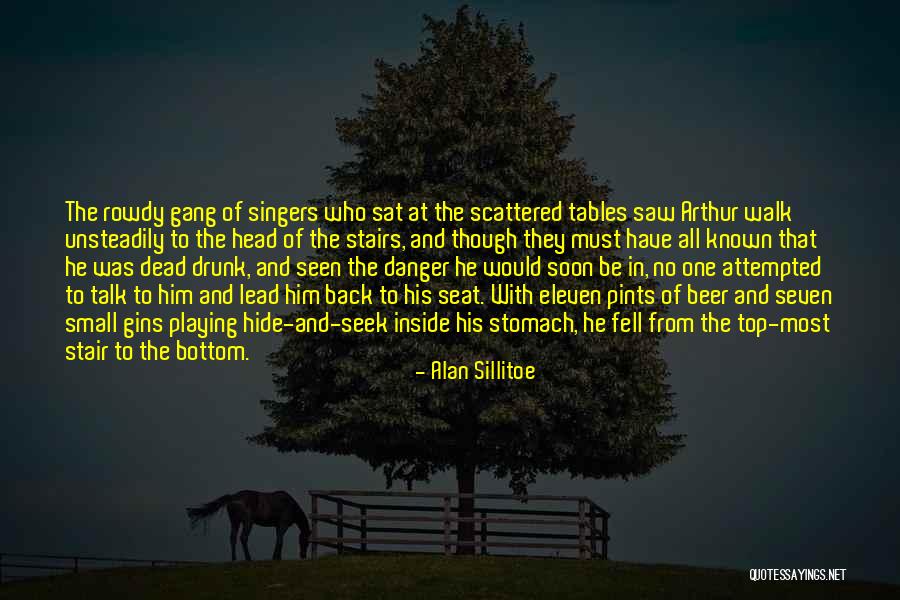 The rowdy gang of singers who sat at the scattered tables saw Arthur walk unsteadily to the head of the stairs, and though they must have all known that he was dead drunk, and seen the danger he would soon be in, no one attempted to talk to him and lead him back to his seat. With eleven pints of beer and seven small gins playing hide-and-seek inside his stomach, he fell from the top-most stair to the bottom. — Alan Sillitoe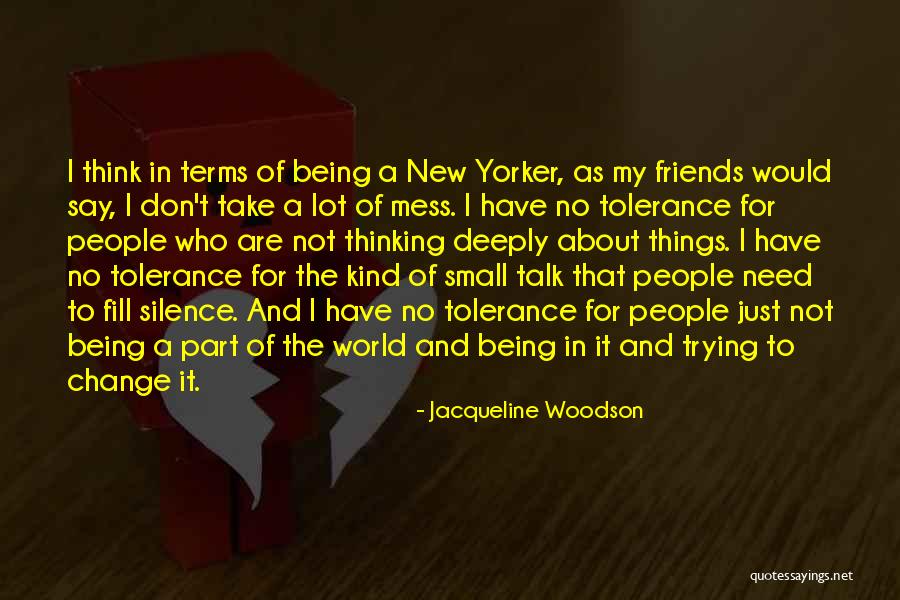 I think in terms of being a New Yorker, as my friends would say, I don't take a lot of mess. I have no tolerance for people who are not thinking deeply about things. I have no tolerance for the kind of small talk that people need to fill silence. And I have no tolerance for people just not being a part of the world and being in it and trying to change it. — Jacqueline Woodson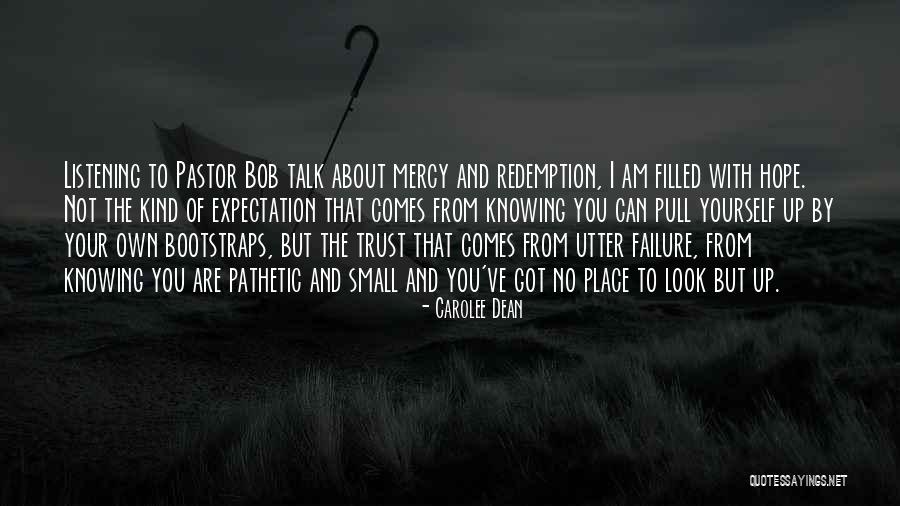 Listening to Pastor Bob talk about mercy and redemption, I am filled with hope. Not the kind of expectation that comes from knowing you can pull yourself up by your own bootstraps, but the trust that comes from utter failure, from knowing you are pathetic and small and you've got no place to look but up. — Carolee Dean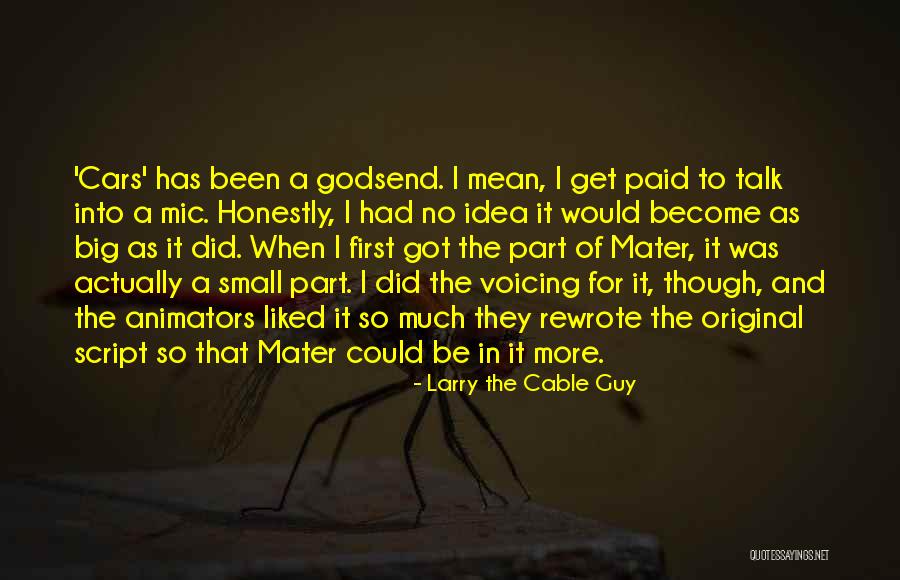 'Cars' has been a godsend. I mean, I get paid to talk into a mic. Honestly, I had no idea it would become as big as it did. When I first got the part of Mater, it was actually a small part. I did the voicing for it, though, and the animators liked it so much they rewrote the original script so that Mater could be in it more. — Larry The Cable Guy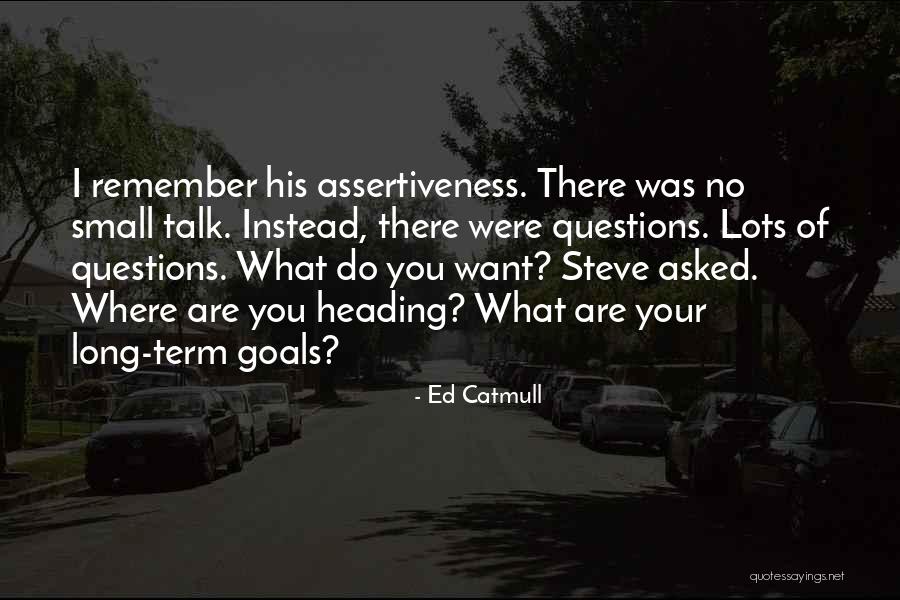 I remember his assertiveness. There was no small talk. Instead, there were questions. Lots of questions. What do you want? Steve asked. Where are you heading? What are your long-term goals? — Ed Catmull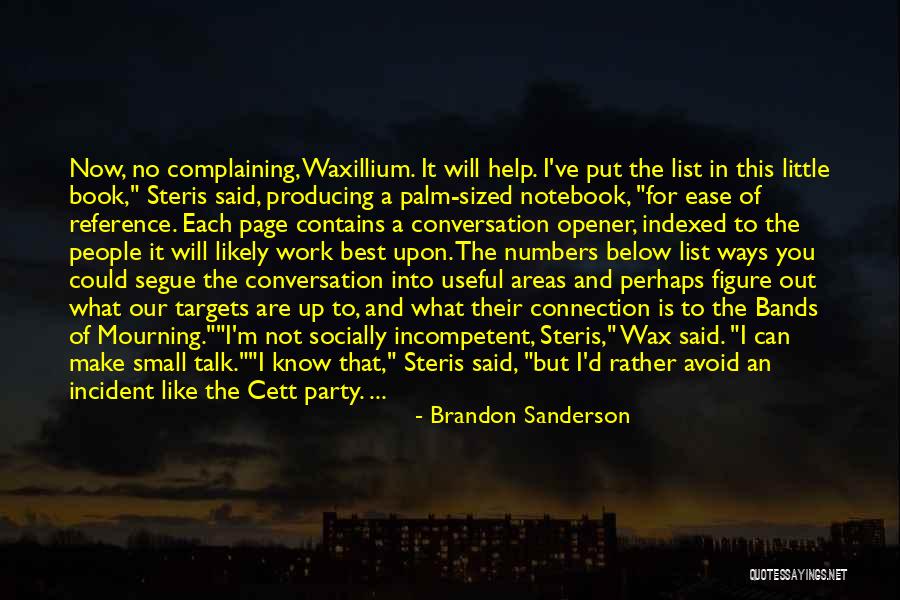 Now, no complaining, Waxillium. It will help. I've put the list in this little book," Steris said, producing a palm-sized notebook, "for ease of reference. Each page contains a conversation opener, indexed to the people it will likely work best upon. The numbers below list ways you could segue the conversation into useful areas and perhaps figure out what our targets are up to, and what their connection is to the Bands of Mourning."
"I'm not socially incompetent, Steris," Wax said. "I can make small talk."
"I know that," Steris said, "but I'd rather avoid an incident like the Cett party. ... "
"Which Cett party?"
"The one where you head-butted someone."
He cocked his head. "Oh, right. That smarmy little man with the ridiculous mustache. — Brandon Sanderson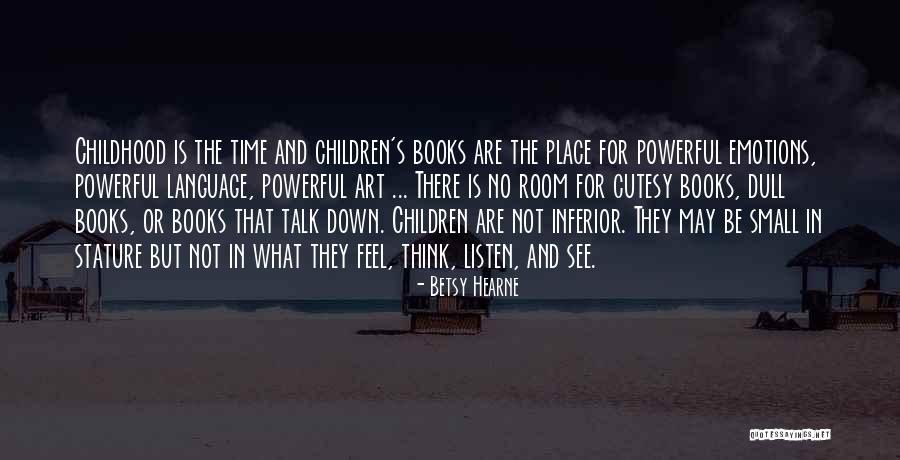 Childhood is the time and children's books are the place for powerful emotions, powerful language, powerful art ... There is no room for cutesy books, dull books, or books that talk down. Children are not inferior. They may be small in stature but not in what they feel, think, listen, and see. — Betsy Hearne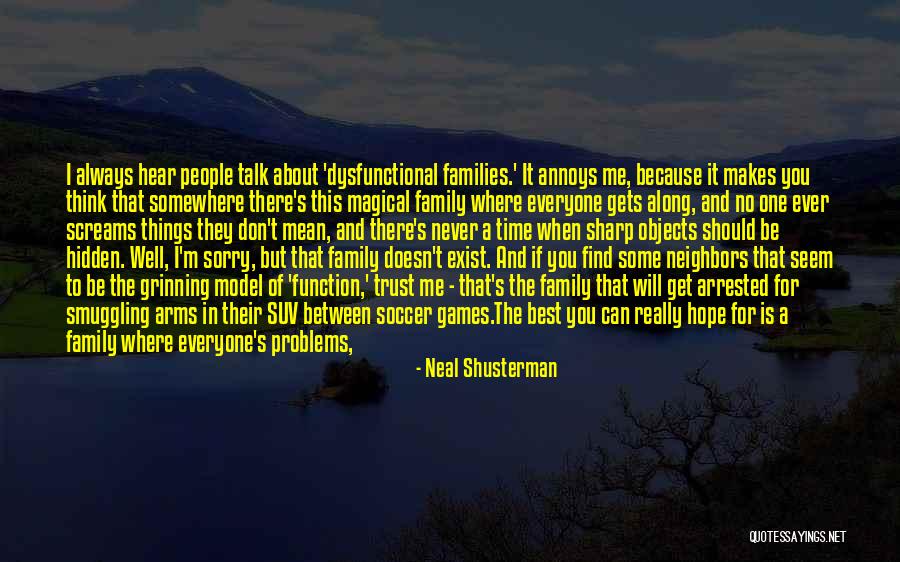 I always hear people talk about 'dysfunctional families.' It annoys me, because it makes you think that somewhere there's this magical family where everyone gets along, and no one ever screams things they don't mean, and there's never a time when sharp objects should be hidden. Well, I'm sorry, but that family doesn't exist. And if you find some neighbors that seem to be the grinning model of 'function,' trust me - that's the family that will get arrested for smuggling arms in their SUV between soccer games.
The best you can really hope for is a family where everyone's problems, big and small, work together. Kind of like an orchestra where every instrument is out of tune, in exactly the same way, so you don't really notice. — Neal Shusterman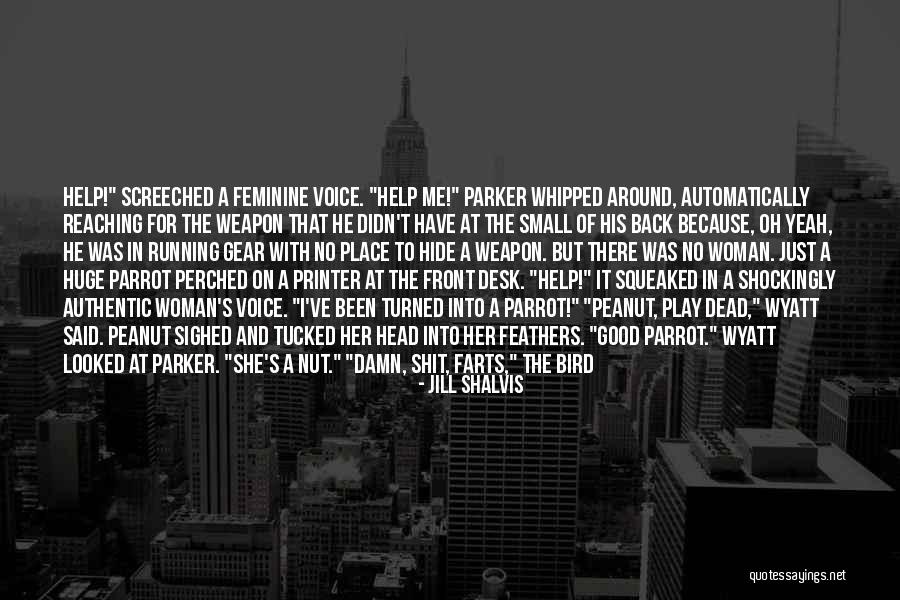 Help!" screeched a feminine voice. "HELP ME!" Parker whipped around, automatically reaching for the weapon that he didn't have at the small of his back because, oh yeah, he was in running gear with no place to hide a weapon. But there was no woman. Just a huge parrot perched on a printer at the front desk. "Help!" it squeaked in a shockingly authentic woman's voice. "I've been turned into a parrot!" "Peanut, play dead," Wyatt said. Peanut sighed and tucked her head into her feathers. "Good parrot." Wyatt looked at Parker. "She's a nut." "Damn, shit, farts," the bird muttered beneath her breath, making Parker grin. Wyatt sighed. "Peanut's a mimic, and Jade, our office manager, has a bit of a potty mouth." "Boner," Peanut said, head still tucked into her feathers. "Peanut, dead parrots don't talk." Wyatt turned back to Parker. "Follow me. — Jill Shalvis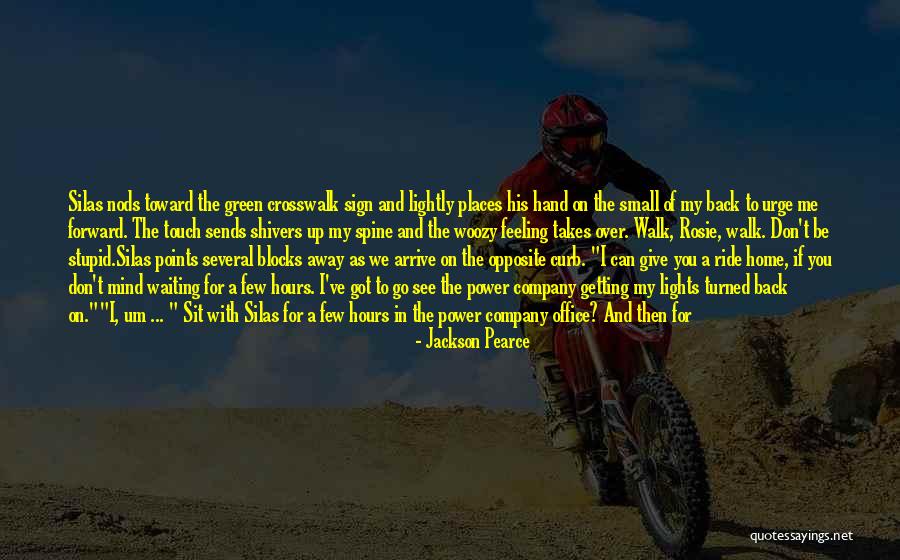 Silas nods toward the green crosswalk sign and lightly places his hand on the small of my back to urge me forward. The touch sends shivers up my spine and the woozy feeling takes over. Walk, Rosie, walk. Don't be stupid.
Silas points several blocks away as we arrive on the opposite curb. "I can give you a ride home, if you don't mind waiting for a few hours. I've got to go see the power company getting my lights turned back on."
"I, um ... " Sit with Silas for a few hours in the power company office? And then for another half hour on the ride home? I want to. I really, really want to. But what will we talk about? How long will it take me to start giggling like a moron? I can lure a Fenris - sway my hips, giggle lustily, bat my eyelashes - but I have no idea how not to look like a bumbling idiot in front of Silas Reynolds. — Jackson Pearce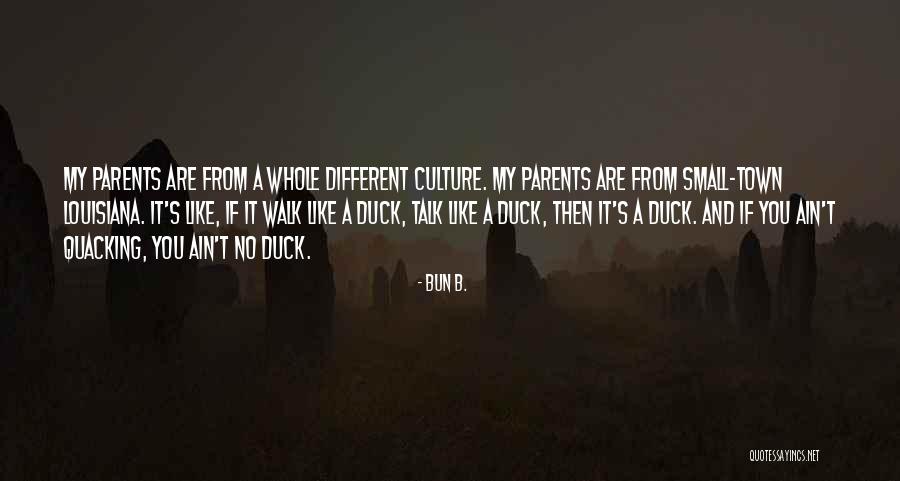 My parents are from a whole different culture. My parents are from small-town Louisiana. It's like, if it walk like a duck, talk like a duck, then it's a duck. And if you ain't quacking, you ain't no duck. — Bun B.
He was perfectly capable of looking after himself, although after his marriage he had lost the knack for it. He missed the comfort of all the small things Charlotte did for him,but these were nothing compared to the loneliness. There was no one to talk to, with whom to share his feelings, to laugh, or to simply speak of the day.
And he missed the sound of the children's voices, giggling, their running footsteps, their incessant questions and demands for his attention or approval. No one interrupted to say "Look at me, Papa" or "What is this for?" or "What does this mean?" or the favorite "Why?" Peace was not peace anymore, it was simply silence. — Anne Perry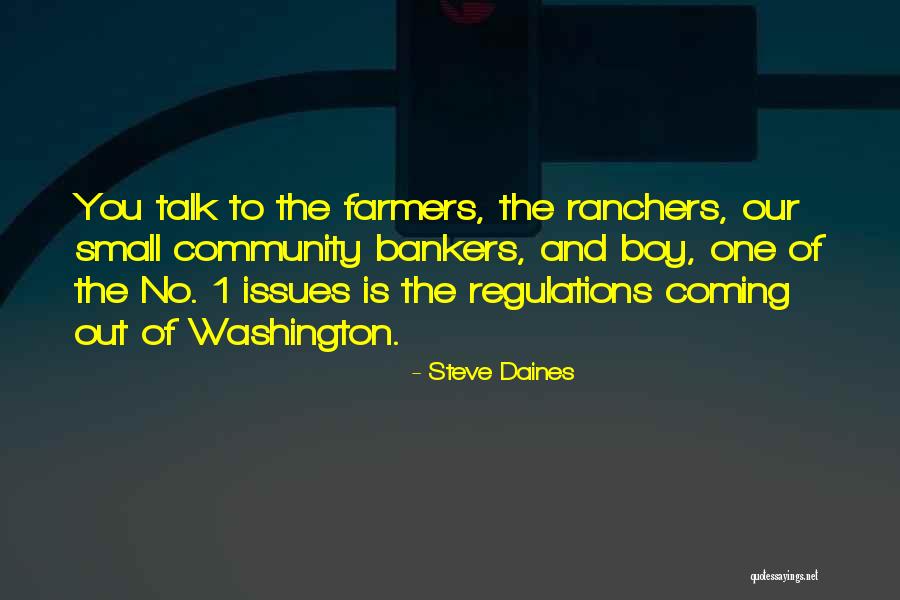 You talk to the farmers, the ranchers, our small community bankers, and boy, one of the No. 1 issues is the regulations coming out of Washington. — Steve Daines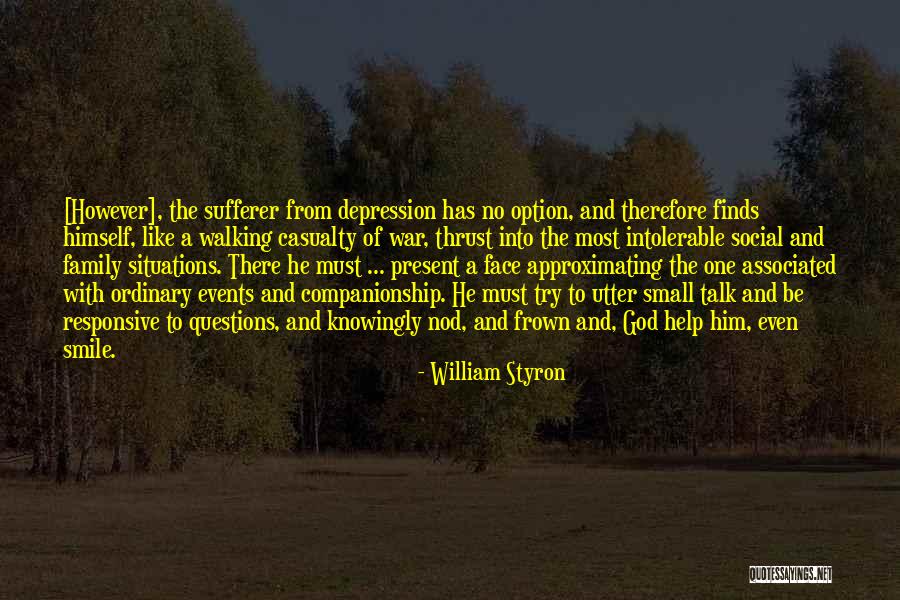 [However], the sufferer from depression has no option, and therefore finds himself, like a walking casualty of war, thrust into the most intolerable social and family situations. There he must ... present a face approximating the one associated with ordinary events and companionship. He must try to utter small talk and be responsive to questions, and knowingly nod, and frown and, God help him, even smile. — William Styron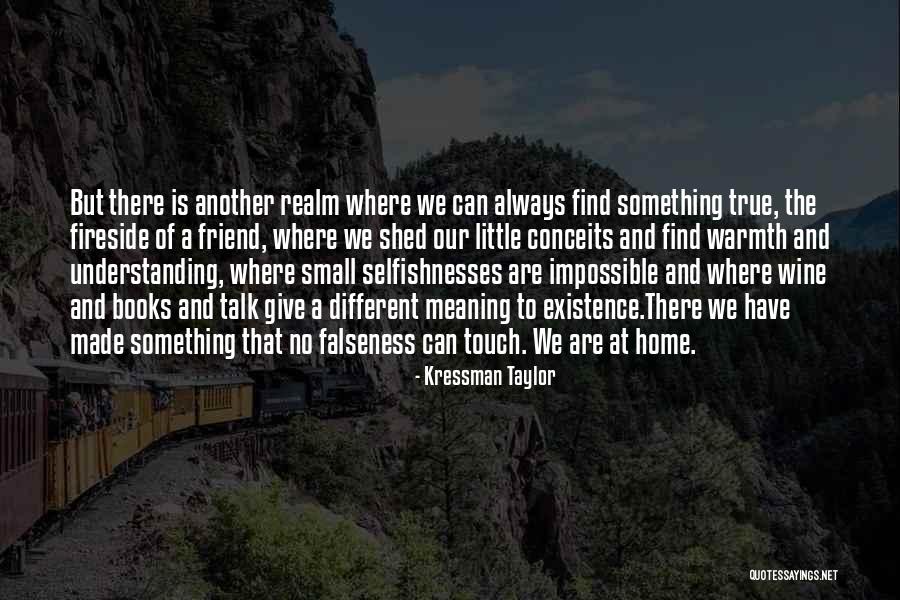 But there is another realm where we can always find something true, the fireside of a friend, where we shed our little conceits and find warmth and understanding, where small selfishnesses are impossible and where wine and books and talk give a different meaning to existence.
There we have made something that no falseness can touch. We are at home. — Kressman Taylor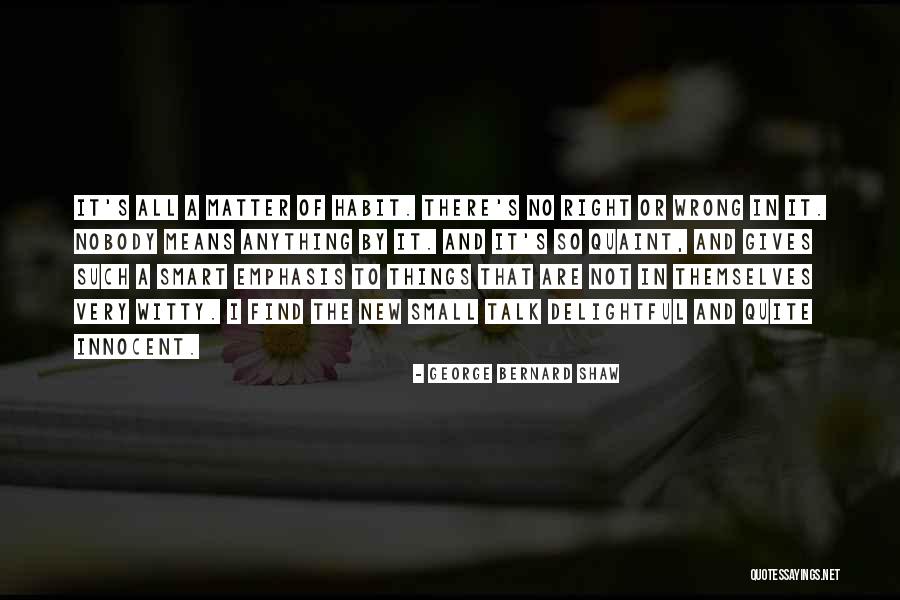 It's all a matter of habit. There's no right or wrong in it. Nobody means anything by it. And it's so quaint, and gives such a smart emphasis to things that are not in themselves very witty. I find the new small talk delightful and quite innocent. — George Bernard Shaw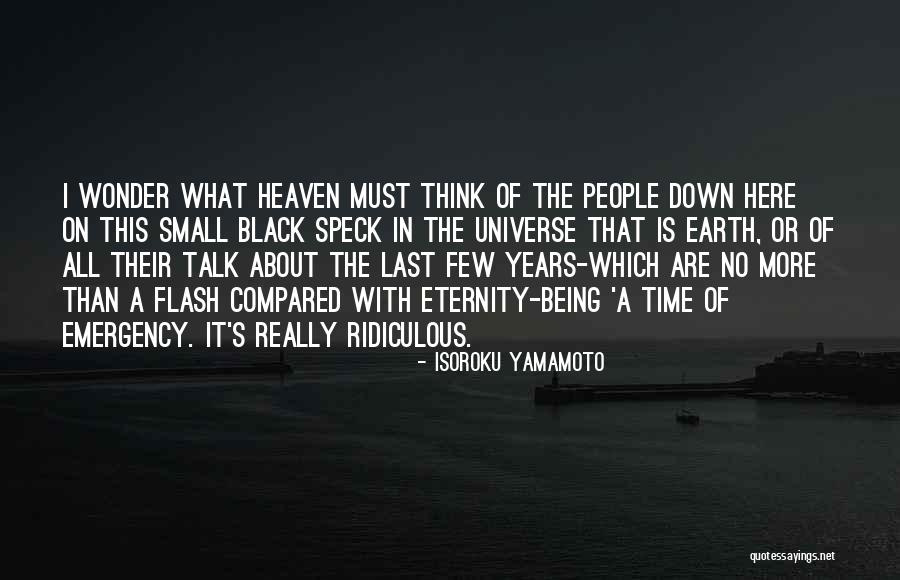 I wonder what Heaven must think of the people down here on this small black speck in the universe that is earth, or of all their talk about the last few years-which are no more than a flash compared with eternity-being 'a time of emergency. It's really ridiculous. — Isoroku Yamamoto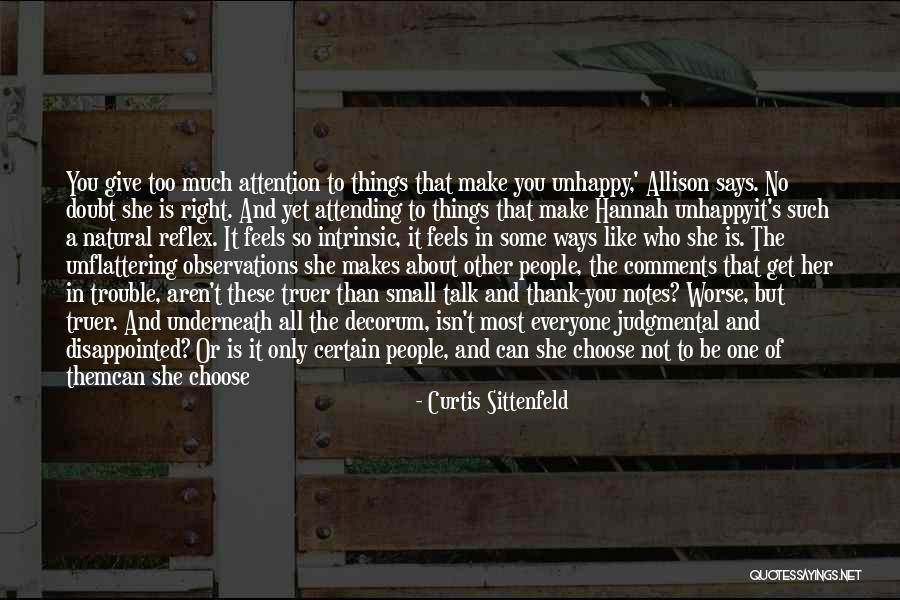 You give too much attention to things that make you unhappy,' Allison says. No doubt she is right. And yet attending to things that make Hannah unhappy
it's such a natural reflex. It feels so intrinsic, it feels in some ways like who she is. The unflattering observations she makes about other people, the comments that get her in trouble, aren't these truer than small talk and thank-you notes? Worse, but truer. And underneath all the decorum, isn't most everyone judgmental and disappointed? Or is it only certain people, and can she choose not to be one of them
can she choose this without also, like her mother, just giving in? — Curtis Sittenfeld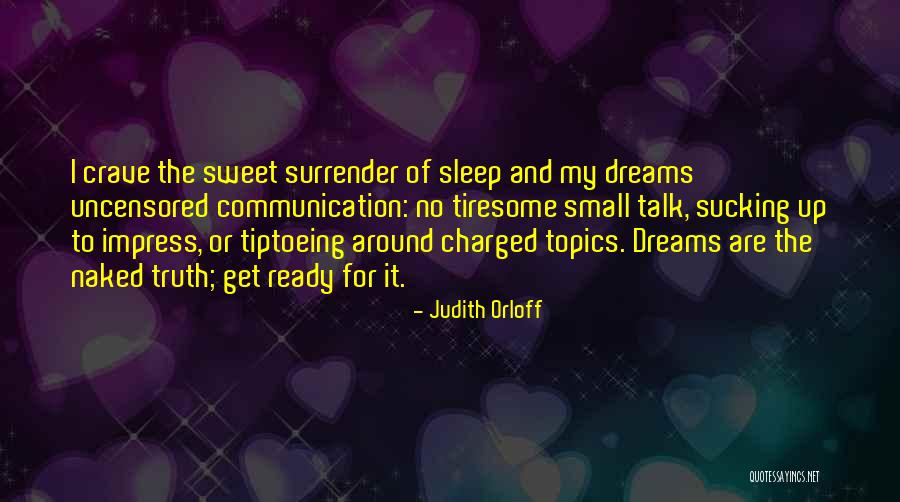 I crave the sweet surrender of sleep and my dreams' uncensored communication: no tiresome small talk, sucking up to impress, or tiptoeing around charged topics. Dreams are the naked truth; get ready for it. — Judith Orloff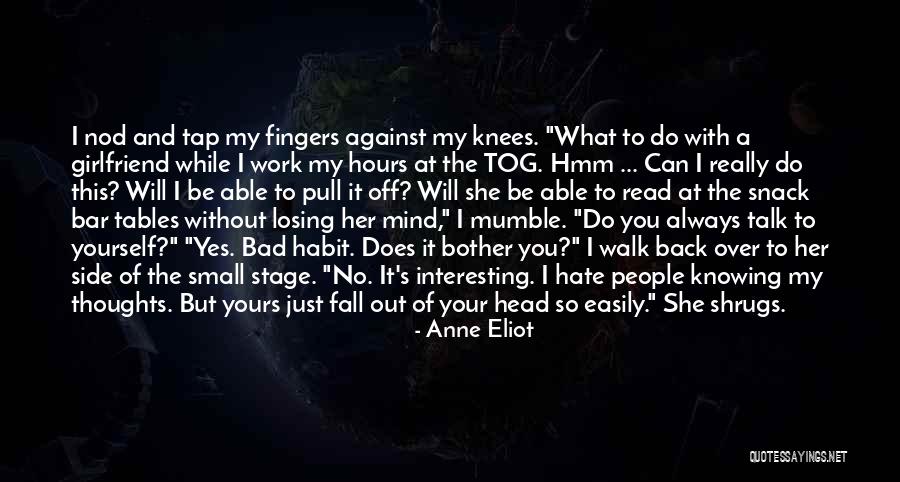 I nod and tap my fingers against my knees. "What to do with a girlfriend while I work my hours at the TOG. Hmm ... Can I really do this? Will I be able to pull it off? Will she be able to read at the snack bar tables without losing her mind," I mumble.
"Do you always talk to yourself?"
"Yes. Bad habit. Does it bother you?" I walk back over to her side of the small stage.
"No. It's interesting. I hate people knowing my thoughts. But yours just fall out of your head so easily." She shrugs.
"I never thought of it like that ... but you're my girlfriend now ... so who cares if you know what I think?"
Her cheeks turn pink, and I laugh. — Anne Eliot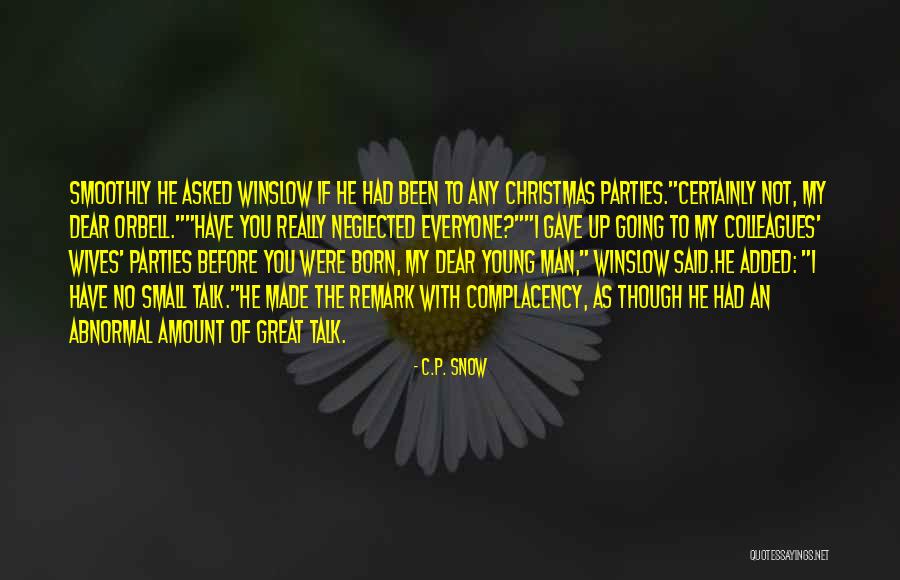 Smoothly he asked Winslow if he had been to any Christmas parties.
"Certainly not, my dear Orbell."
"Have you really neglected everyone?"
"I gave up going to my colleagues' wives' parties before you were born, my dear young man," Winslow said.
He added: "I have no small talk."
He made the remark with complacency, as though he had an abnormal amount of great talk. — C.P. Snow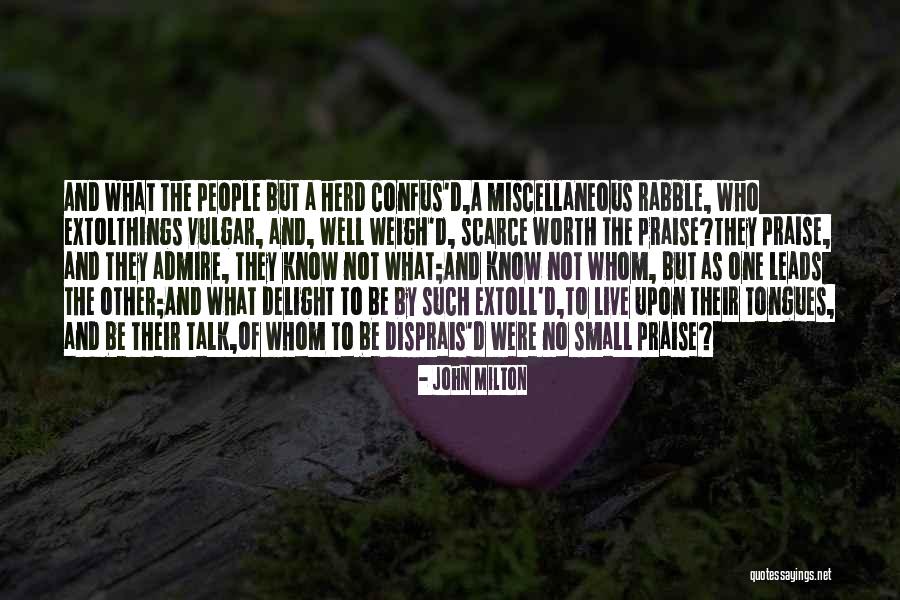 And what the people but a herd confus'd,
A miscellaneous rabble, who extol
Things vulgar, and, well weigh'd, scarce worth the praise?
They praise, and they admire, they know not what;
And know not whom, but as one leads the other;
And what delight to be by such extoll'd,
To live upon their tongues, and be their talk,
Of whom to be disprais'd were no small praise? — John Milton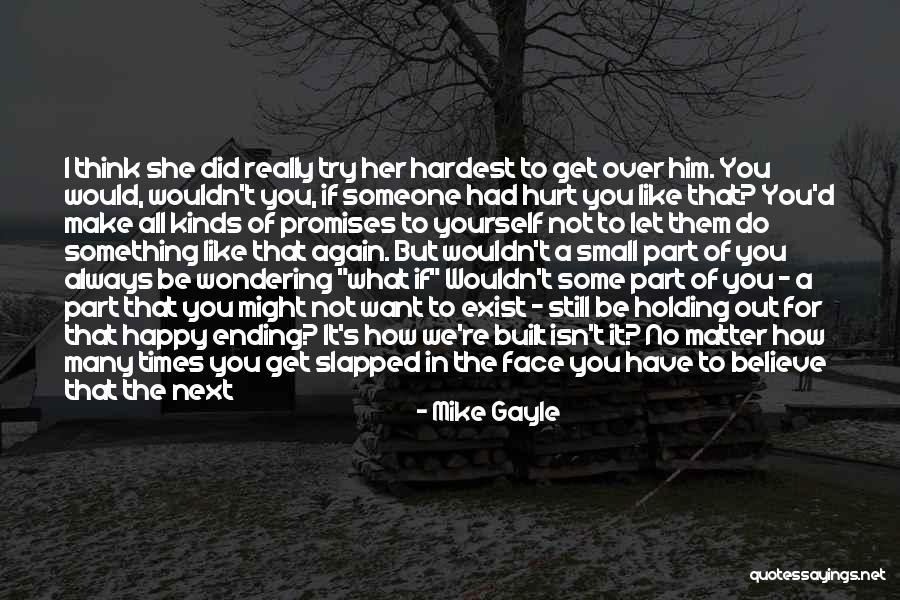 I think she did really try her hardest to get over him. You would, wouldn't you, if someone had hurt you like that? You'd make all kinds of promises to yourself not to let them do something like that again. But wouldn't a small part of you always be wondering "what if" Wouldn't some part of you - a part that you might not want to exist - still be holding out for that happy ending? It's how we're built isn't it? No matter how many times you get slapped in the face you have to believe that the next time would be different. And then in comes the guy who hurt you all those years ago, and he wants to make things better and to prove he's not all talk- this time it will be different. How could she not fall for that? How could she not think that if she chose him it would finally lift the shadow that he'd cast over her life? All that hurt, all that suffering wouldn't have been for nothing then, would it? If he'd come back to you like that, would you have taken him back? — Mike Gayle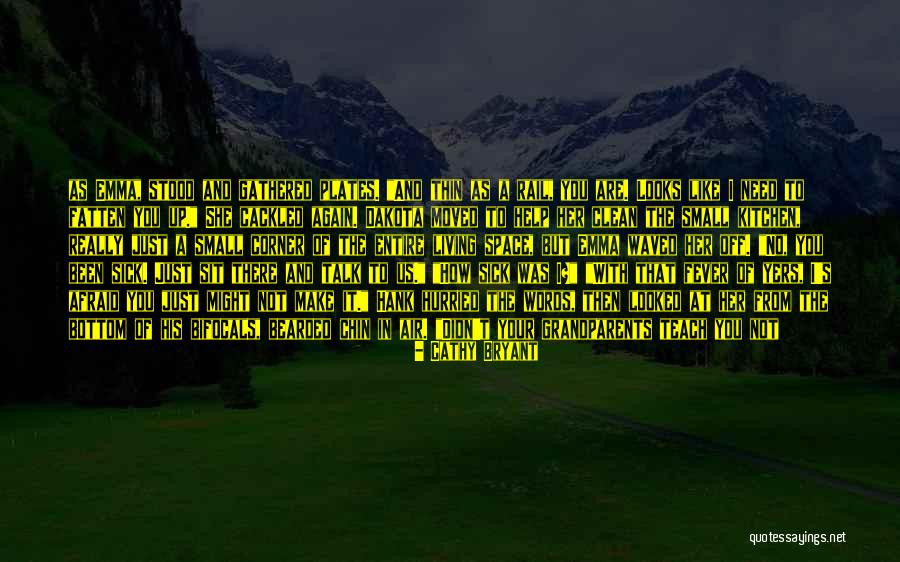 as Emma, stood and gathered plates. "And thin as a rail, you are. Looks like I need to fatten you up." She cackled again. Dakota moved to help her clean the small kitchen, really just a small corner of the entire living space, but Emma waved her off. "No, you been sick. Just sit there and talk to us." "How sick was I?" "With that fever of yers, I's afraid you just might not make it." Hank hurried the words, then looked at her from the bottom of his bifocals, bearded chin in air. "Didn't your grandparents teach you not to roll around in muddy water when it's freezing outside?" Dakota shrunk a little lower. They knew — Cathy Bryant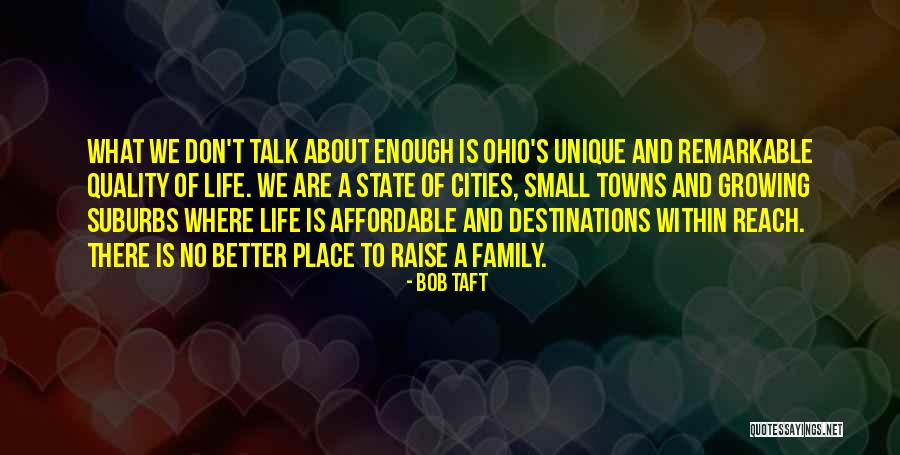 What we don't talk about enough is Ohio's unique and remarkable quality of life. We are a state of cities, small towns and growing suburbs where life is affordable and destinations within reach. There is no better place to raise a family. — Bob Taft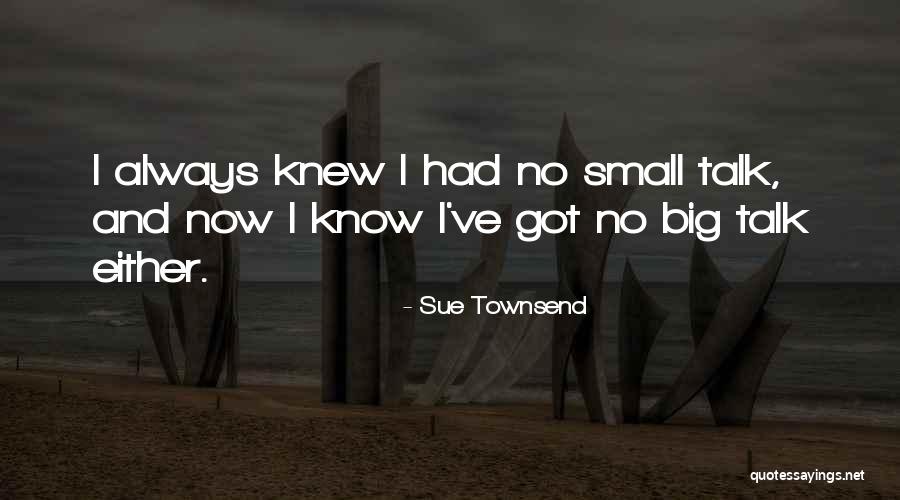 I always knew I had no small talk, and now I know I've got no big talk either. — Sue Townsend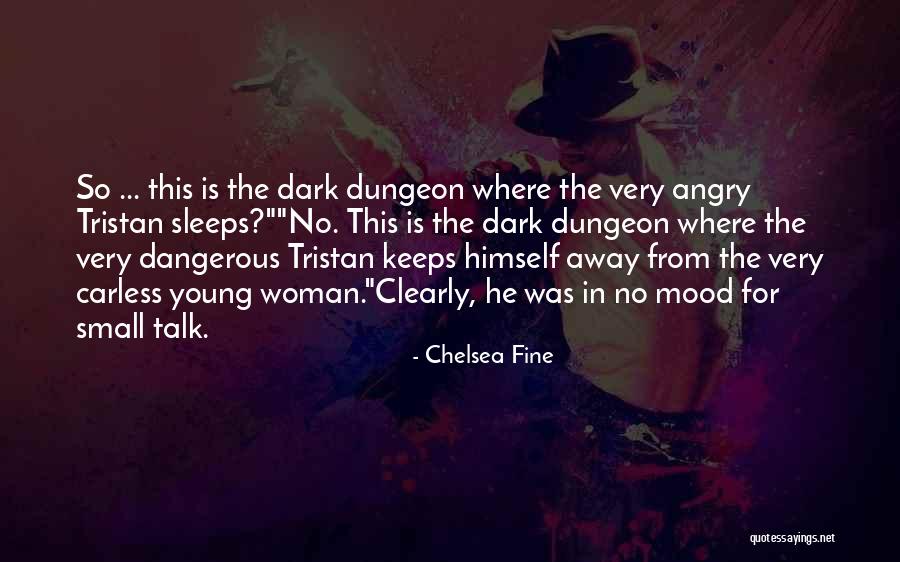 So ... this is the dark dungeon where the very angry Tristan sleeps?"
"No. This is the dark dungeon where the very dangerous Tristan keeps himself away from the very carless young woman."
Clearly, he was in no mood for small talk. — Chelsea Fine
Here's a guy [Richard Nixon] who had no gift for small talk, never liked to be around strangers, was physically awkward, and he goes into the one business that calls for ease with strangers and a gift for small talk. — Harry Shearer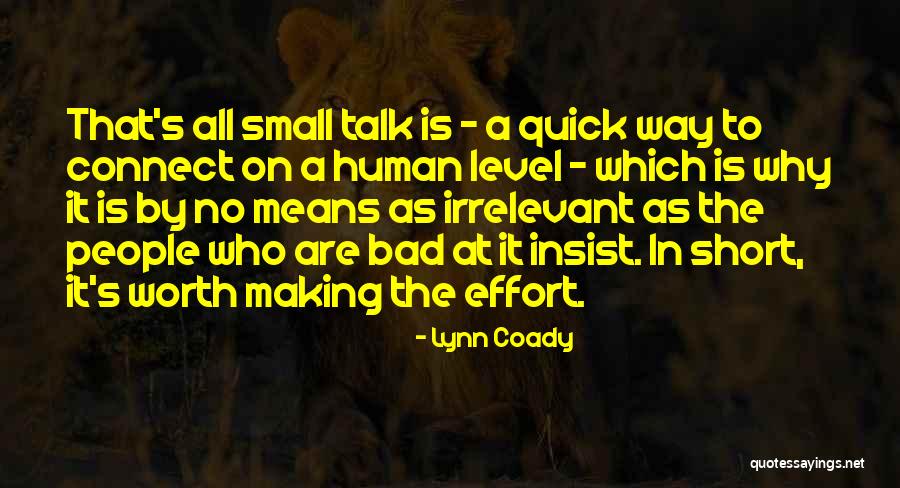 That's all small talk is - a quick way to connect on a human level - which is why it is by no means as irrelevant as the people who are bad at it insist. In short, it's worth making the effort. — Lynn Coady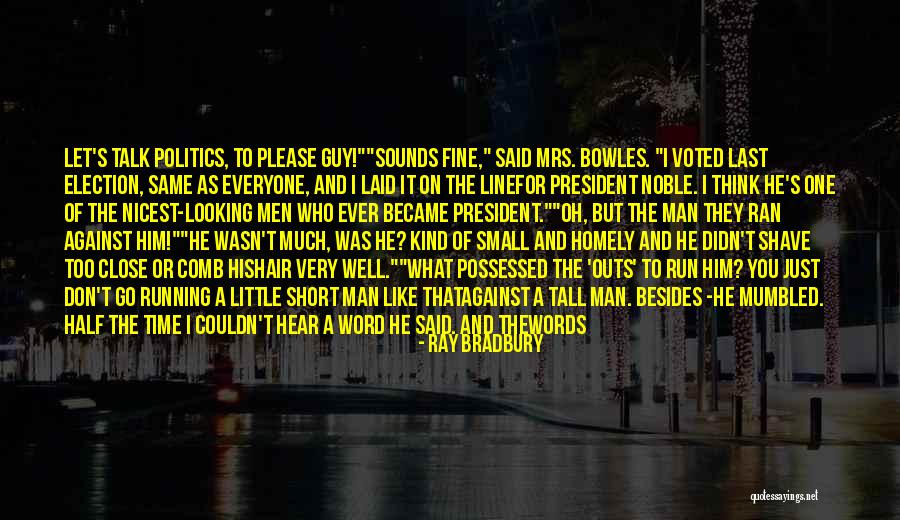 Let's talk politics, to please Guy!"
"Sounds fine," said Mrs. Bowles. "I voted last election, same as everyone, and I laid it on the line
for President Noble. I think he's one of the nicest-looking men who ever became president."
"Oh, but the man they ran against him!"
"He wasn't much, was he? Kind of small and homely and he didn't shave too close or comb his
hair very well."
"What possessed the 'Outs' to run him? You just don't go running a little short man like that
against a tall man. Besides -he mumbled. Half the time I couldn't hear a word he said. And the
words I did hear I didn't understand!"
"Fat, too, and didn't dress to hide it. No wonder the landslide was for Winston Noble. Even their
names helped. Compare Winston Noble to Hubert Hoag for ten seconds and you can almost
figure the results. — Ray Bradbury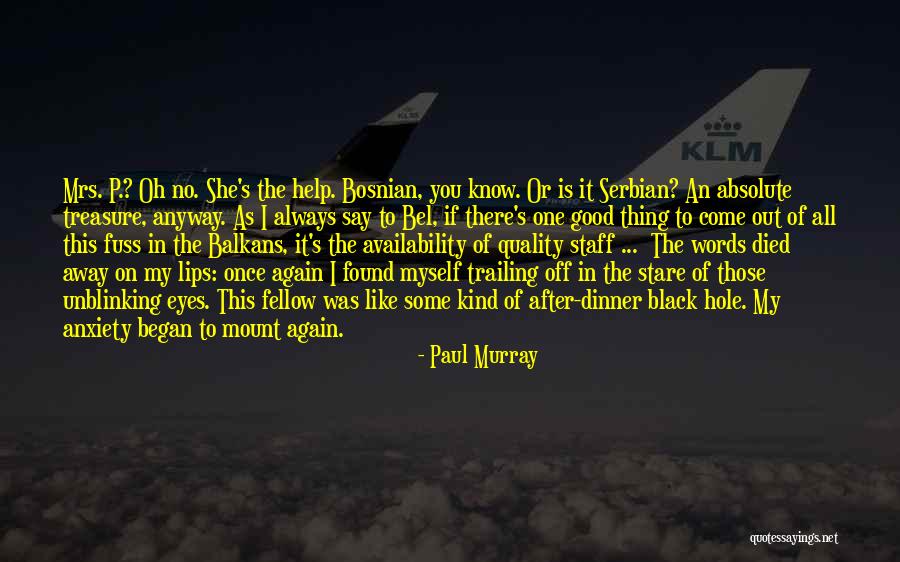 Mrs. P.? Oh no. She's the help. Bosnian, you know. Or is it Serbian? An absolute treasure, anyway. As I always say to Bel, if there's one good thing to come out of all this fuss in the Balkans, it's the availability of quality staff ... The words died away on my lips: once again I found myself trailing off in the stare of those unblinking eyes. This fellow was like some kind of after-dinner black hole. My anxiety began to mount again. — Paul Murray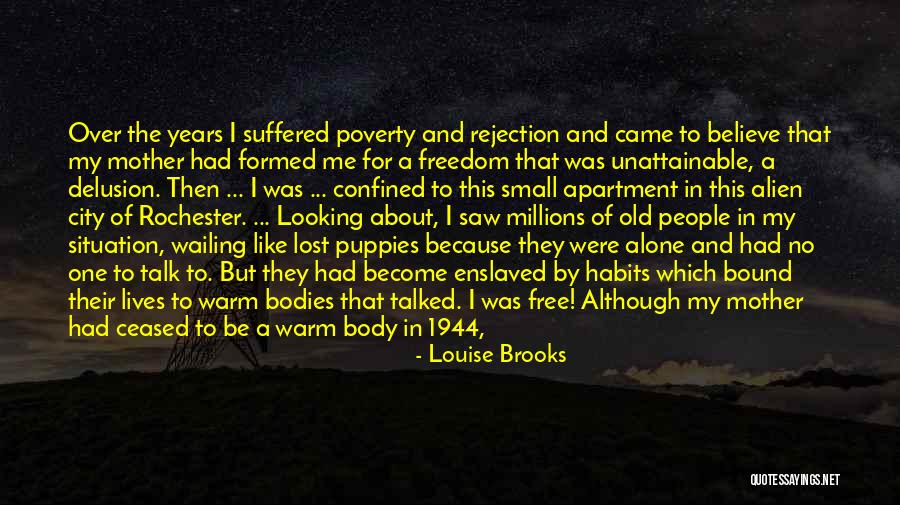 Over the years I suffered poverty and rejection and came to believe that my mother had formed me for a freedom that was unattainable, a delusion. Then ... I was ... confined to this small apartment in this alien city of Rochester. ... Looking about, I saw millions of old people in my situation, wailing like lost puppies because they were alone and had no one to talk to. But they had become enslaved by habits which bound their lives to warm bodies that talked. I was free! Although my mother had ceased to be a warm body in 1944, she had not forsaken me. She comforts me with every book I read. Once again I am five, leaning on her shoulder, learning the words as she reads aloud 'Alice in Wonderland'. — Louise Brooks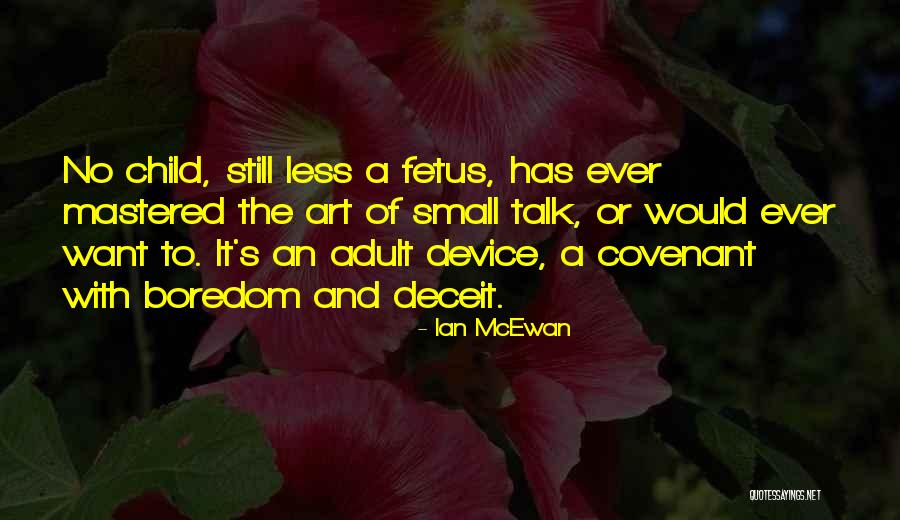 No child, still less a fetus, has ever mastered the art of small talk, or would ever want to. It's an adult device, a covenant with boredom and deceit. — Ian McEwan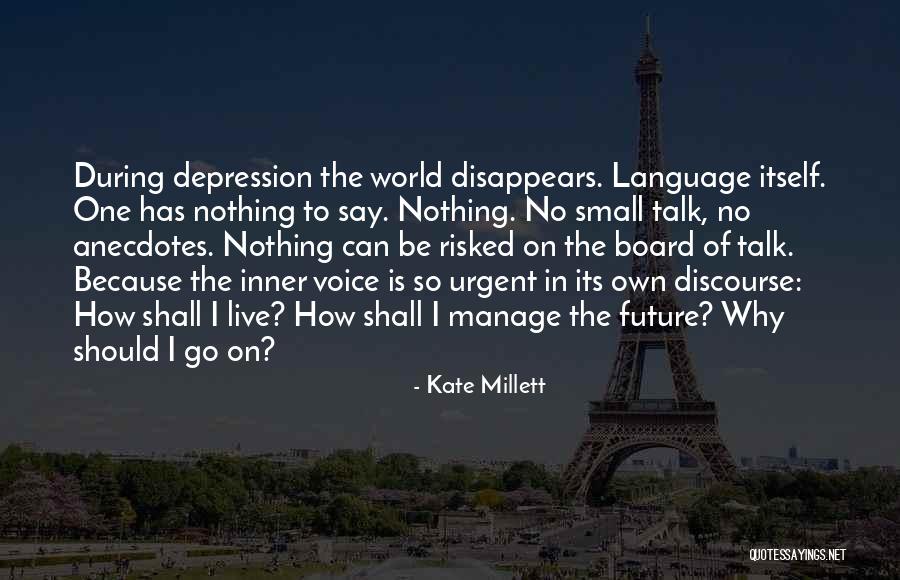 During depression the world disappears. Language itself. One has nothing to say. Nothing. No small talk, no anecdotes. Nothing can be risked on the board of talk. Because the inner voice is so urgent in its own discourse: How shall I live? How shall I manage the future? Why should I go on? — Kate Millett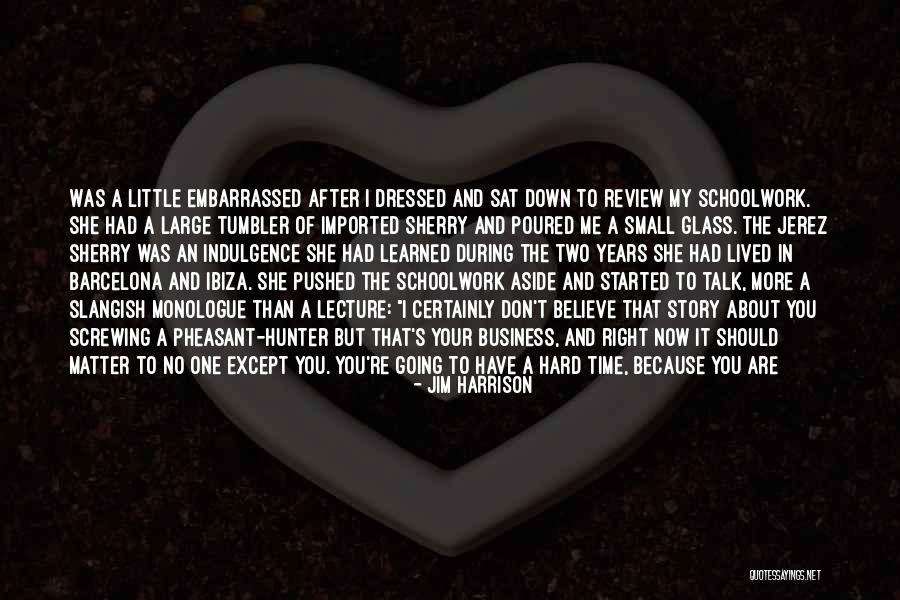 Was a little embarrassed after I dressed and sat down to review my schoolwork. She had a large tumbler of imported sherry and poured me a small glass. The Jerez sherry was an indulgence she had learned during the two years she had lived in Barcelona and Ibiza. She pushed the schoolwork aside and started to talk, more a slangish monologue than a lecture: "I certainly don't believe that story about you screwing a pheasant-hunter but that's your business, and right now it should matter to no one except you. You're going to have a hard time, because you are lovely and your body is as fine as I've seen." I objected to this as ugly and irrelevant but she went on: "You have to study extremely hard and find some subject or profession you're obsessed with because in our culture it has been very hard on the attractive women I know. They are leered at, teased, abused, set on a pedestal, and no one takes them seriously, so you have to use all your energies to develop — Jim Harrison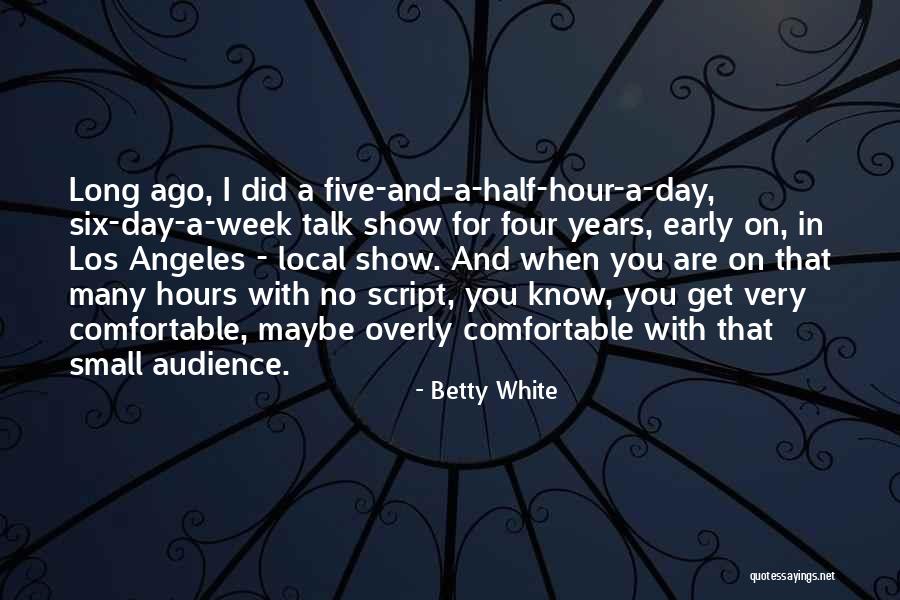 Long ago, I did a five-and-a-half-hour-a-day, six-day-a-week talk show for four years, early on, in Los Angeles - local show. And when you are on that many hours with no script, you know, you get very comfortable, maybe overly comfortable with that small audience. — Betty White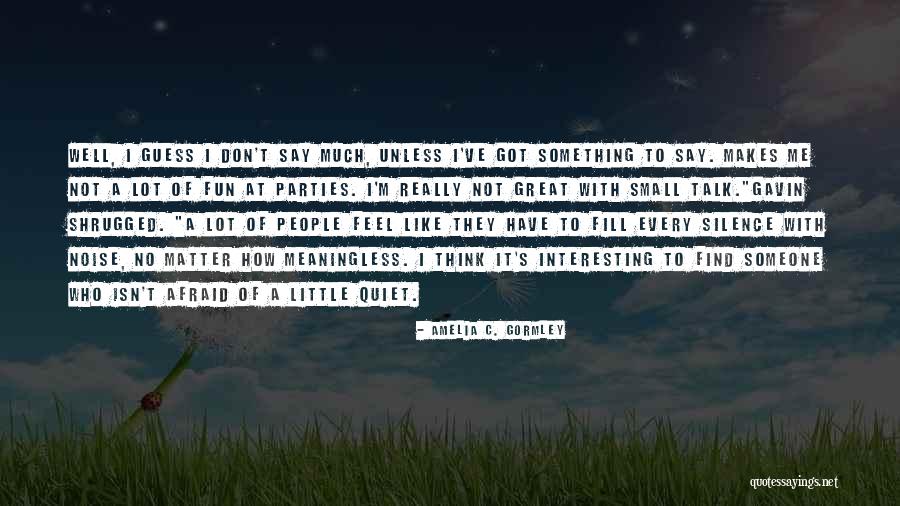 Well, I guess I don't say much, unless I've got something to say. Makes me not a lot of fun at parties. I'm really not great with small talk."
Gavin shrugged. "A lot of people feel like they have to fill every silence with noise, no matter how meaningless. I think it's interesting to find someone who isn't afraid of a little quiet. — Amelia C. Gormley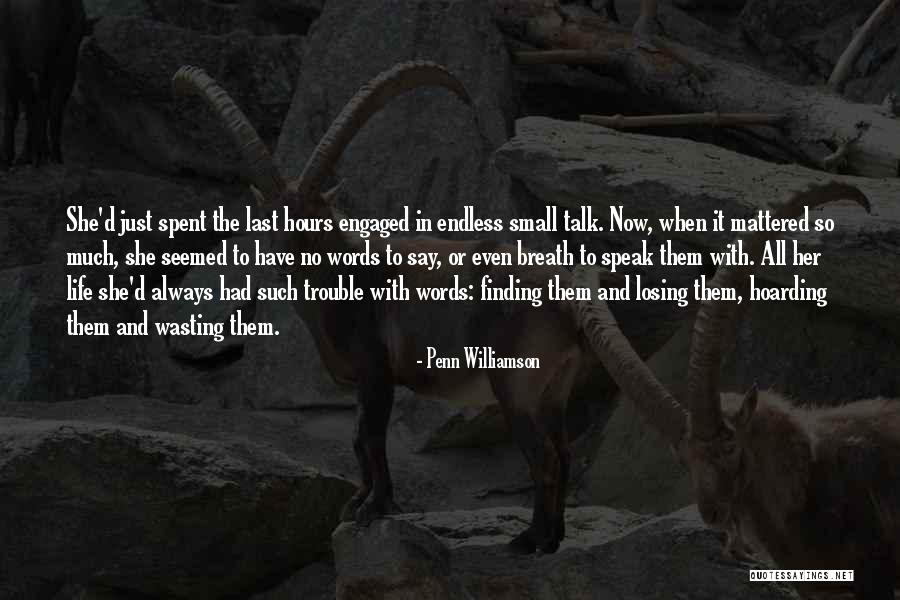 She'd just spent the last hours engaged in endless small talk. Now, when it mattered so much, she seemed to have no words to say, or even breath to speak them with. All her life she'd always had such trouble with words: finding them and losing them, hoarding them and wasting them. — Penn Williamson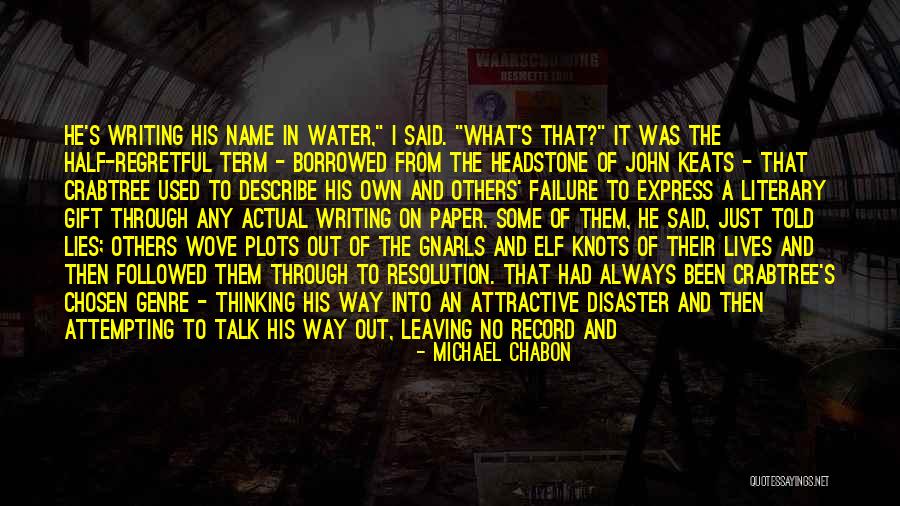 He's writing his name in water," I said. "What's that?" It was the half-regretful term - borrowed from the headstone of John Keats - that Crabtree used to describe his own and others' failure to express a literary gift through any actual writing on paper. Some of them, he said, just told lies; others wove plots out of the gnarls and elf knots of their lives and then followed them through to resolution. That had always been Crabtree's chosen genre - thinking his way into an attractive disaster and then attempting to talk his way out, leaving no record and nothing to show for his efforts but a reckless reputation and a small dossier in the files of the Berkeley and New York City police departments. — Michael Chabon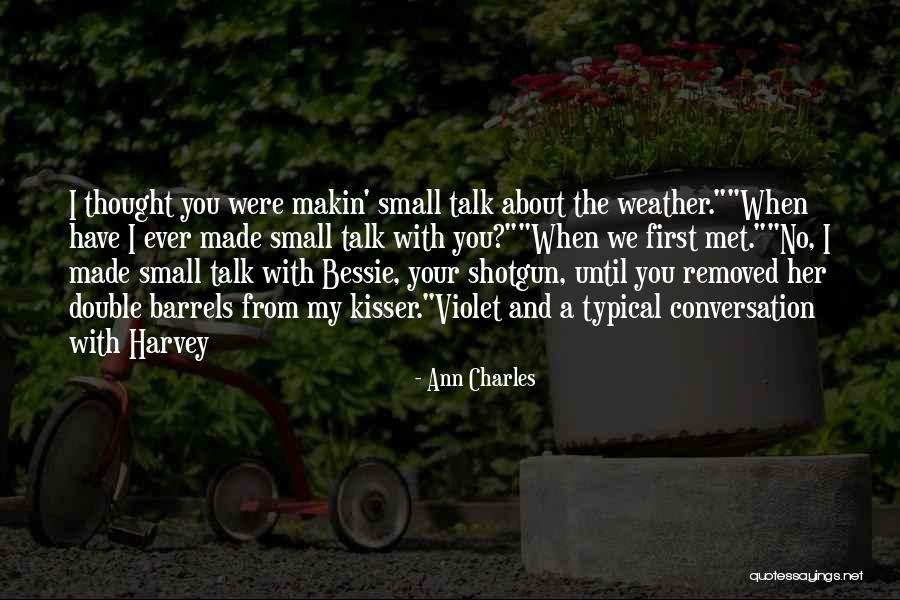 I thought you were makin' small talk about the weather."
"When have I ever made small talk with you?"
"When we first met."
"No, I made small talk with Bessie, your shotgun, until you removed her double barrels from my kisser."
Violet and a typical conversation with Harvey — Ann Charles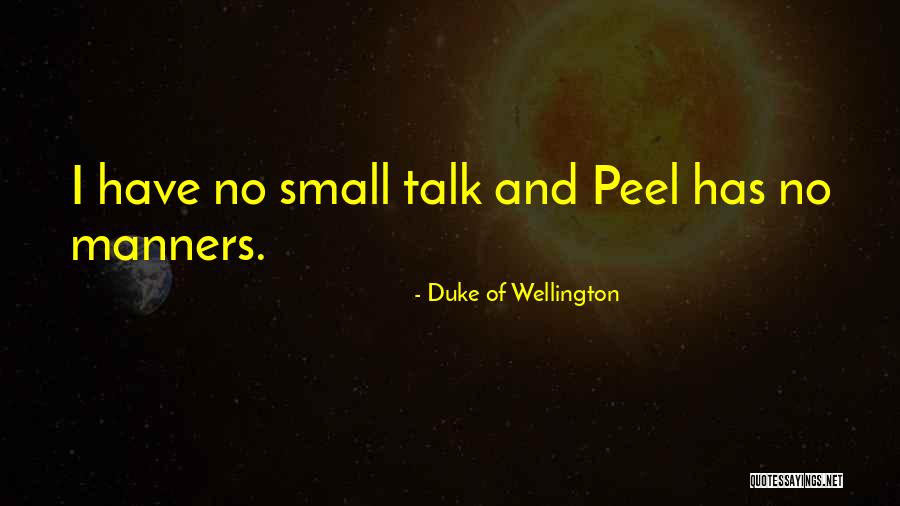 I have no small talk and Peel has no manners. — Duke Of Wellington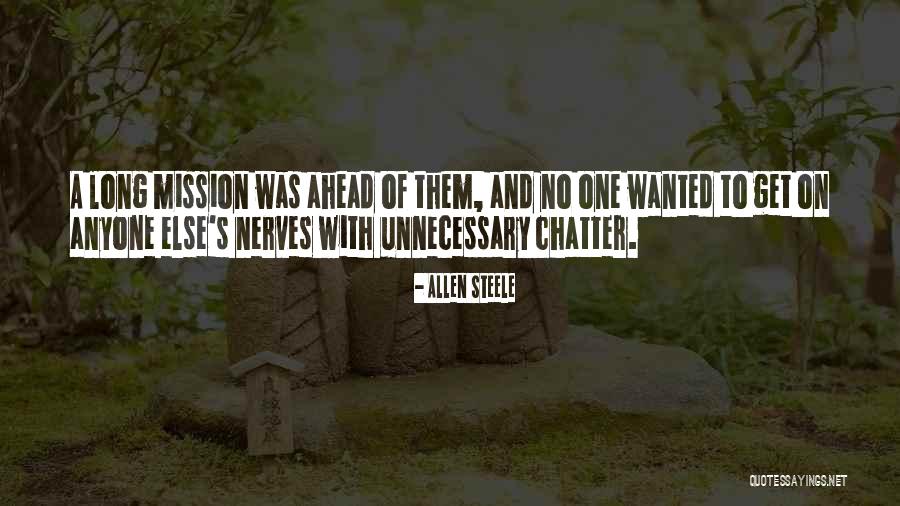 A long mission was ahead of them, and no one wanted to get on anyone else's nerves with unnecessary chatter. — Allen Steele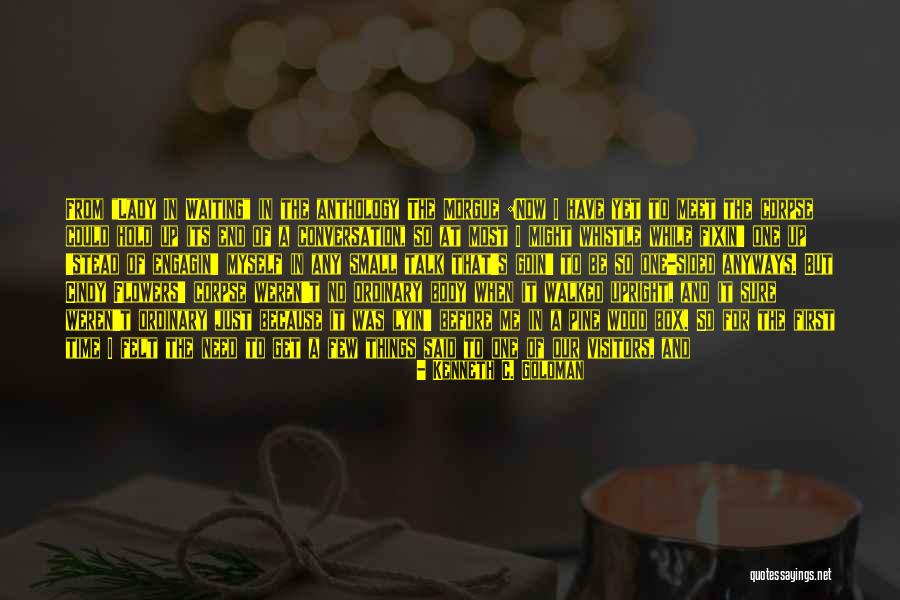 From "Lady In Waiting" in the anthology The Morgue :

Now I have yet to meet the corpse could hold up its end of a conversation, so at most I might whistle while fixin' one up 'stead of engagin' myself in any small talk that's goin' to be so one-sided anyways. But Cindy Flowers' corpse weren't no ordinary body when it walked upright, and it sure weren't ordinary just because it was lyin' before me in a pine wood box. So for the first time I felt the need to get a few things said to one of our visitors, and I leaned down to get myself real close to her face. Her eyes was closed 'cause Pa had already sewed her lids shut. — Kenneth C. Goldman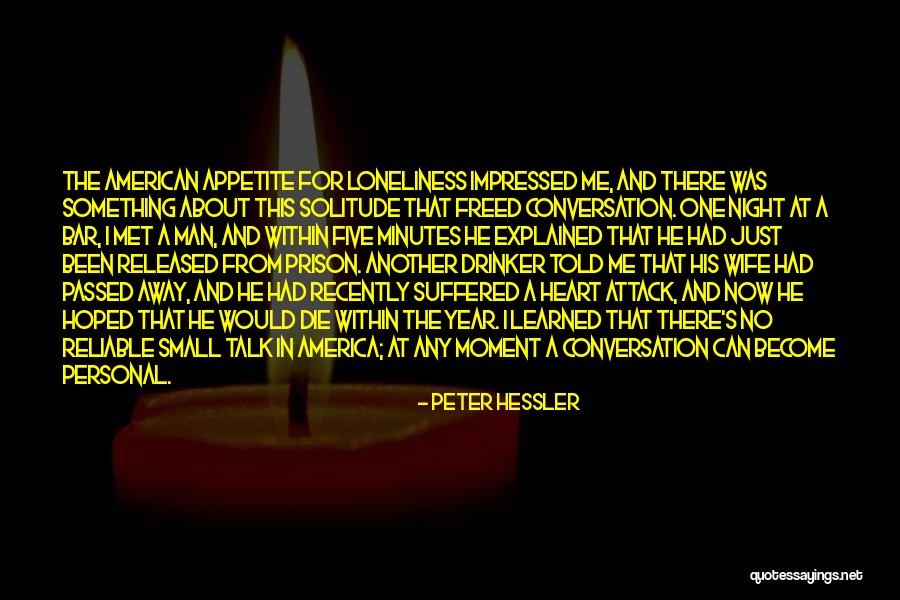 The American appetite for loneliness impressed me, and there was something about this solitude that freed conversation. One night at a bar, I met a man, and within five minutes he explained that he had just been released from prison. Another drinker told me that his wife had passed away, and he had recently suffered a heart attack, and now he hoped that he would die within the year. I learned that there's no reliable small talk in America; at any moment a conversation can become personal. — Peter Hessler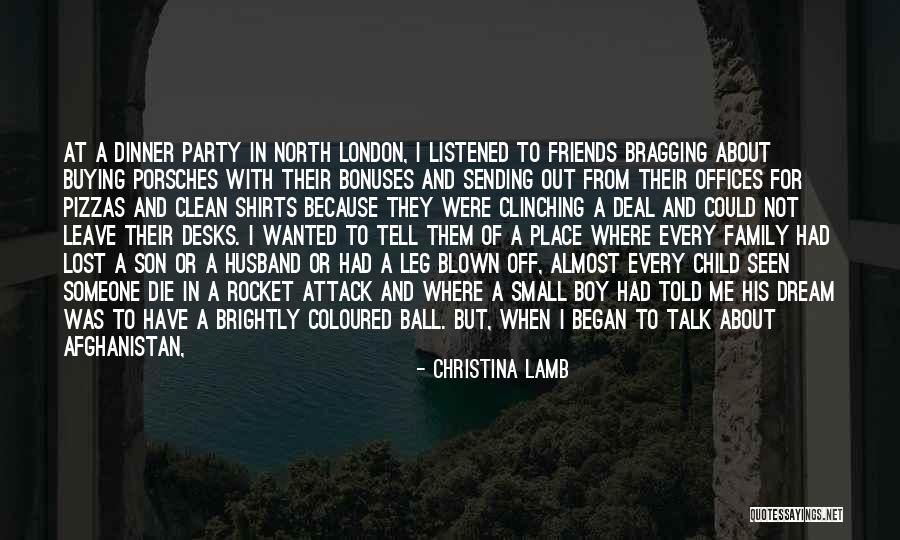 At a dinner party in north London, I listened to friends bragging about buying Porsches with their bonuses and sending out from their offices for pizzas and clean shirts because they were clinching a deal and could not leave their desks. I wanted to tell them of a place where every family had lost a son or a husband or had a leg blown off, almost every child seen someone die in a rocket attack and where a small boy had told me his dream was to have a brightly coloured ball. But, when I began to talk about Afghanistan, I watched eyes glaze and felt as if I was trying to have a conversation about a movie no one else had seen. — Christina Lamb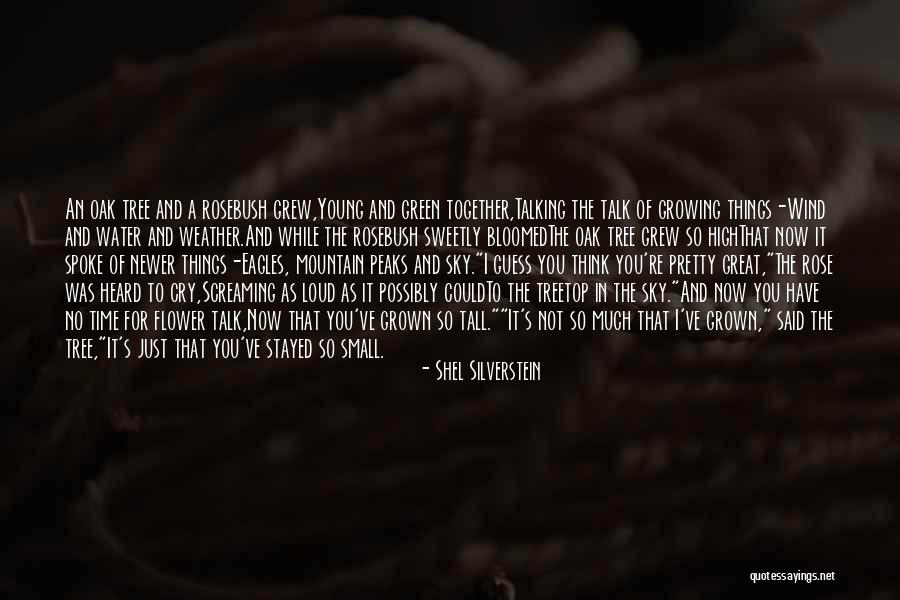 An oak tree and a rosebush grew,
Young and green together,
Talking the talk of growing things-
Wind and water and weather.
And while the rosebush sweetly bloomed
The oak tree grew so high
That now it spoke of newer things-
Eagles, mountain peaks and sky.
"I guess you think you're pretty great,"
The rose was heard to cry,
Screaming as loud as it possibly could
To the treetop in the sky.
"And now you have no time for flower talk,
Now that you've grown so tall."
"It's not so much that I've grown," said the tree,
"It's just that you've stayed so small. — Shel Silverstein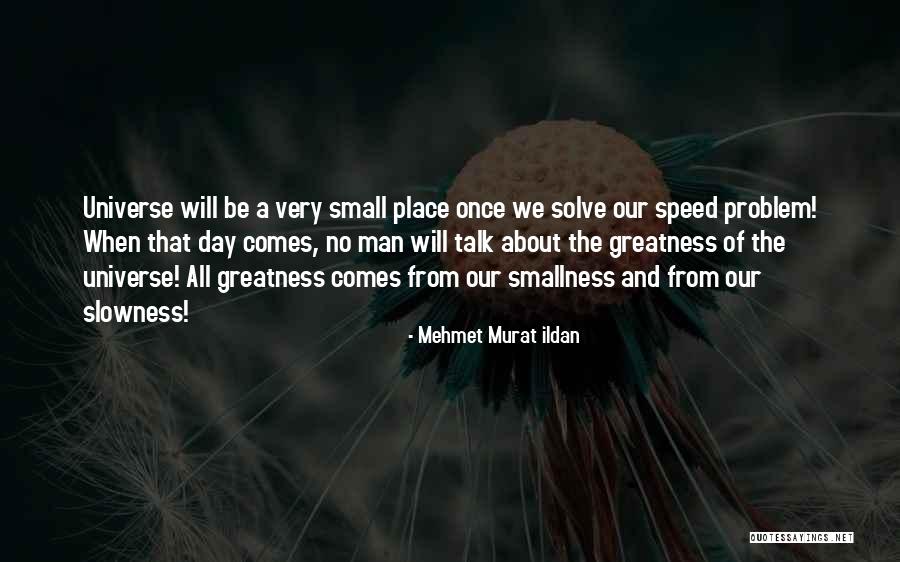 Universe will be a very small place once we solve our speed problem! When that day comes, no man will talk about the greatness of the universe! All greatness comes from our smallness and from our slowness! — Mehmet Murat Ildan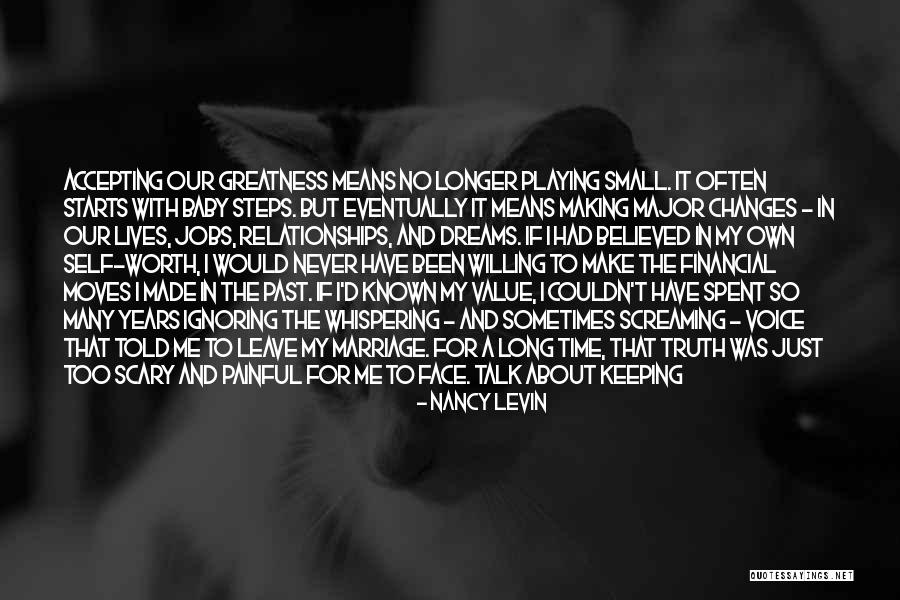 Accepting our greatness means no longer playing small. It often starts with baby steps. But eventually it means making major changes - in our lives, jobs, relationships, and dreams.

If I had believed in my own self-worth, I would never have been willing to make the financial moves I made in the past.

If I'd known my value, I couldn't have spent so many years ignoring the whispering - and sometimes screaming - voice that told me to leave my marriage. For a long time, that truth was just too scary and painful for me to face. Talk about keeping my head in the sand!

But how many years did I waste, postponing what has proven to be a much better life - simply because I went into hiding and didn't see that I was worthy of something better? — Nancy Levin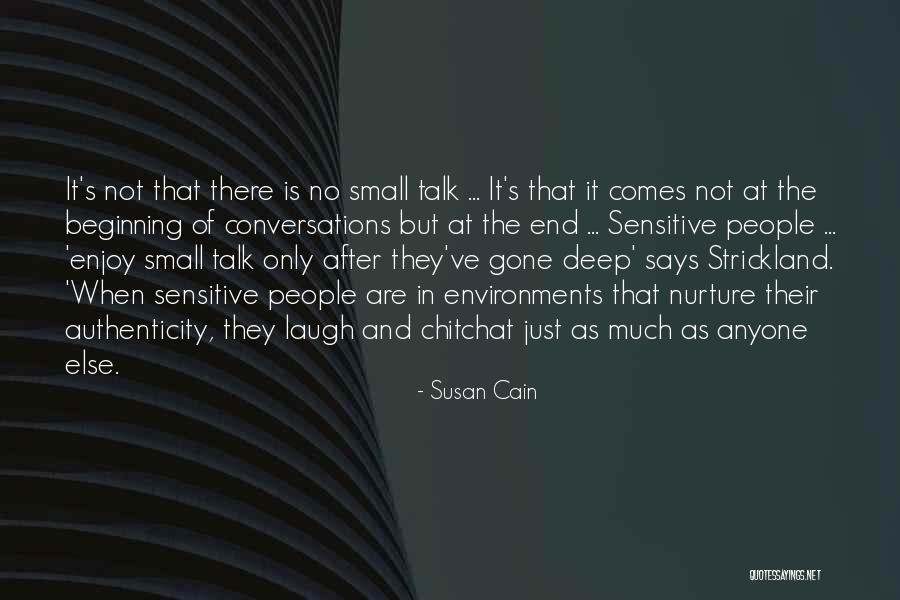 It's not that there is no small talk ... It's that it comes not at the beginning of conversations but at the end ... Sensitive people ... 'enjoy small talk only after they've gone deep' says Strickland. 'When sensitive people are in environments that nurture their authenticity, they laugh and chitchat just as much as anyone else. — Susan Cain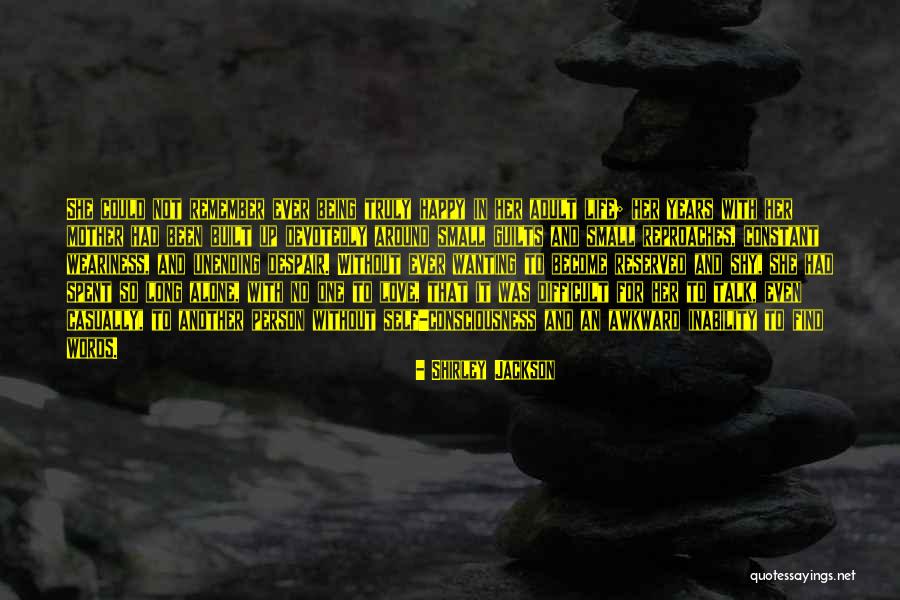 She could not remember ever being truly happy in her adult life; her years with her mother had been built up devotedly around small guilts and small reproaches, constant weariness, and unending despair. Without ever wanting to become reserved and shy, she had spent so long alone, with no one to love, that it was difficult for her to talk, even casually, to another person without self-consciousness and an awkward inability to find words. — Shirley Jackson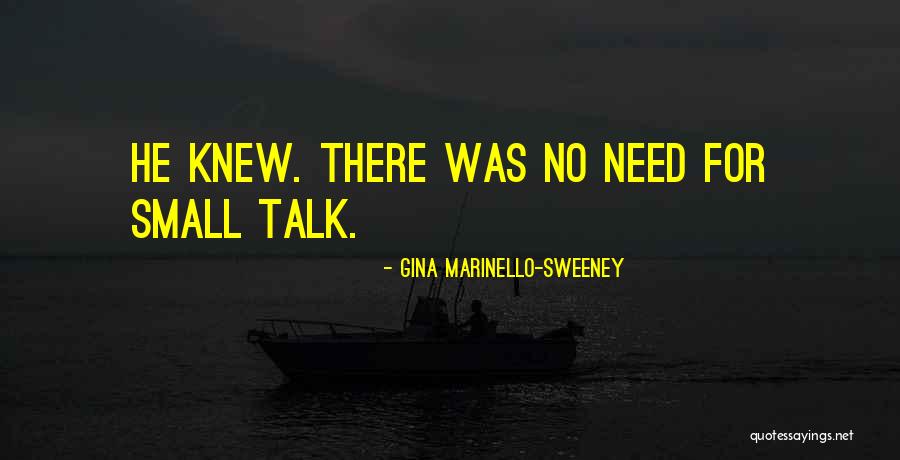 He knew. There was no need for small talk. — Gina Marinello-Sweeney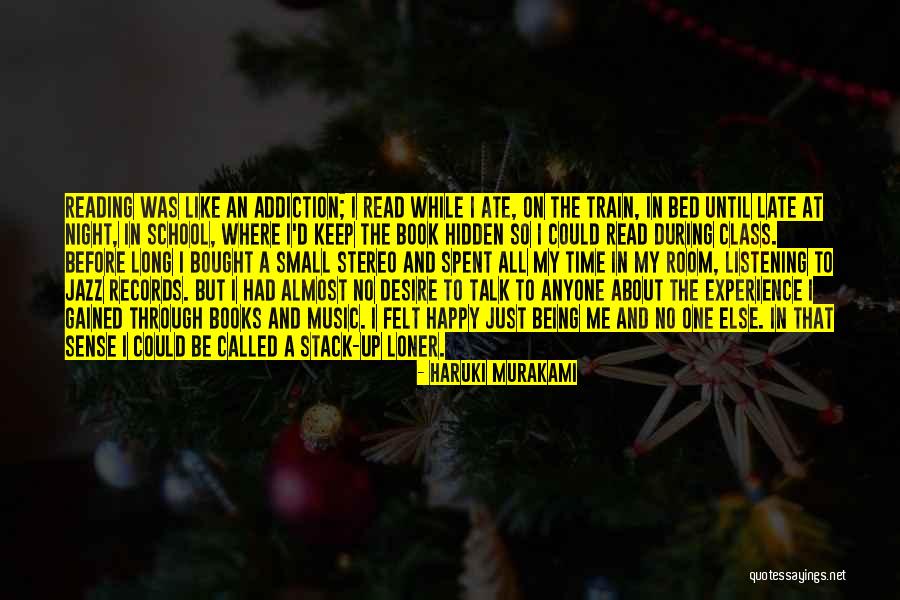 Reading was like an addiction; I read while I ate, on the train, in bed until late at night, in school, where I'd keep the book hidden so I could read during class. Before long I bought a small stereo and spent all my time in my room, listening to jazz records. But I had almost no desire to talk to anyone about the experience I gained through books and music. I felt happy just being me and no one else. In that sense I could be called a stack-up loner. — Haruki Murakami
Not wanting anyone to pop my bubble by speaking to me, I immediately began reading Lesbian Nuns, and that did the trick. No one attempted small talk. — John Waters
To hear the young talk today you would think no one had had any excitement in the past, any heartaches, any problems, any bitter frustrations or heady fulfilment. The young of today were more than a shade tedious; pompous, self-centred, so sure that their concerns were the first important ones that had ever happened. They had no perspective. no sense of proportion. Perhaps it was necessary to be old to acquire a true sense of proportion. It was small consolation but it was something. On — Winston Graham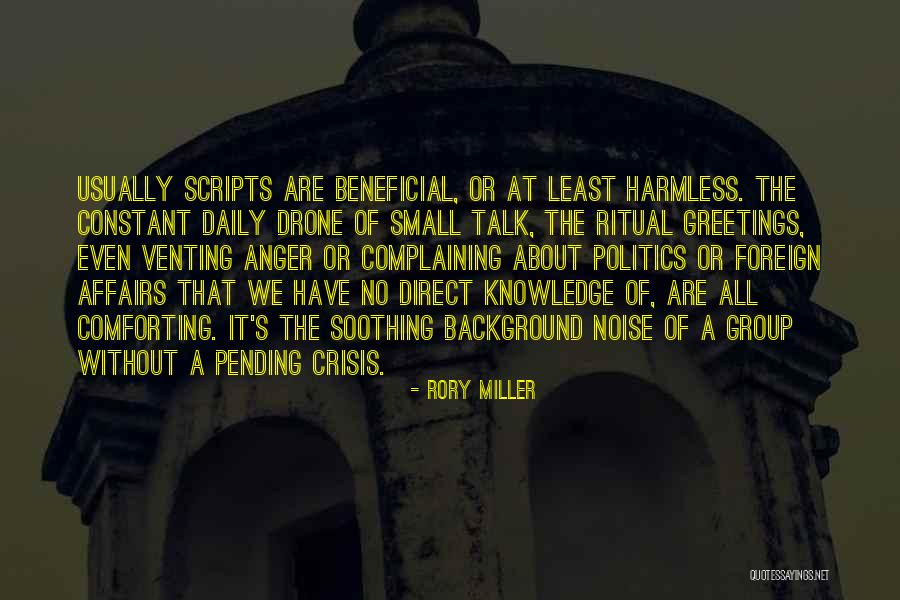 Usually scripts are beneficial, or at least harmless. The constant daily drone of small talk, the ritual greetings, even venting anger or complaining about politics or foreign affairs that we have no direct knowledge of, are all comforting. It's the soothing background noise of a group without a pending crisis. — Rory Miller
That night we made love "the real way" which we had not yet attempted
although married six months.
Big mystery. No one knew where to put their leg and to this day I'm not sure
we got it right.
He seemed happy. You're like Venice he said beautifully.
Early next day
I wrote a short talk ("On Defloration") which he stole and had published
in a small quarterly magazine.
Overall this was a characteristic interaction between us.
Or should I say ideal.
Neither of us had ever seen Venice. — Anne Carson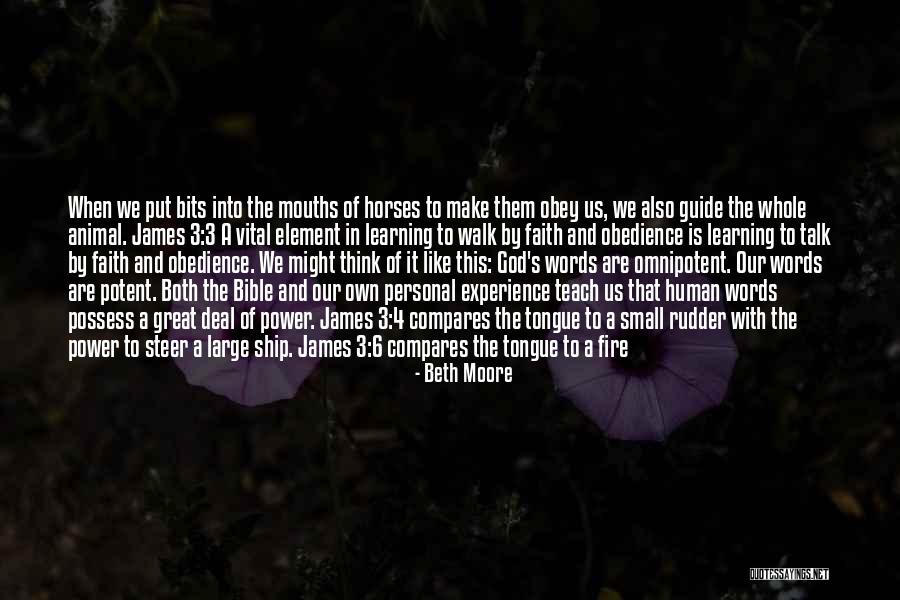 When we put bits into the mouths of horses to make them obey us, we also guide the whole animal. James 3:3 A vital element in learning to walk by faith and obedience is learning to talk by faith and obedience. We might think of it like this: God's words are omnipotent. Our words are potent. Both the Bible and our own personal experience teach us that human words possess a great deal of power. James 3:4 compares the tongue to a small rudder with the power to steer a large ship. James 3:6 compares the tongue to a fire that can corrupt and set aflame the whole person. Our words are potent no matter how we use them, but what would happen if we allowed God to take hold of them? — Beth Moore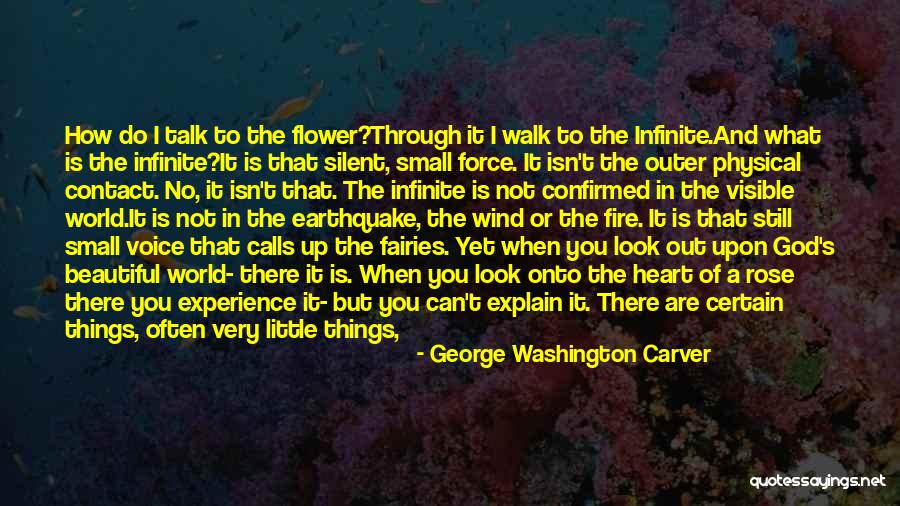 How do I talk to the flower?
Through it I walk to the Infinite.
And what is the infinite?
It is that silent, small force.
It isn't the outer physical contact. No, it isn't that.
The infinite is not confirmed in the visible world.
It is not in the earthquake, the wind or the fire.
It is that still small voice that calls up the fairies.
Yet when you look out upon God's beautiful world- there it is.
When you look onto the heart of a rose there you experience it- but you can't explain it.

There are certain things, often very little things, like the peanut, the little piece of clay, the little flower that cause you to look within-
and then you see the soul of things. — George Washington Carver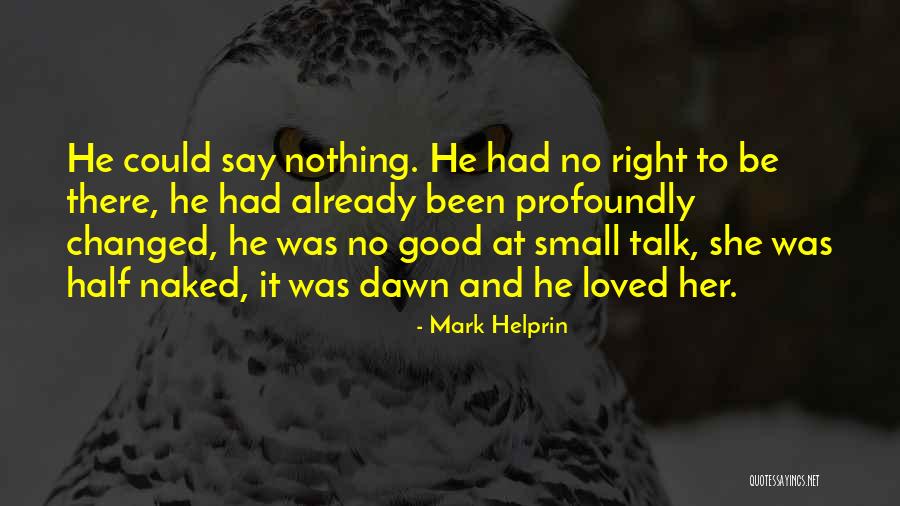 He could say nothing. He had no right to be there, he had already been profoundly changed, he was no good at small talk, she was half naked, it was dawn and he loved her. — Mark Helprin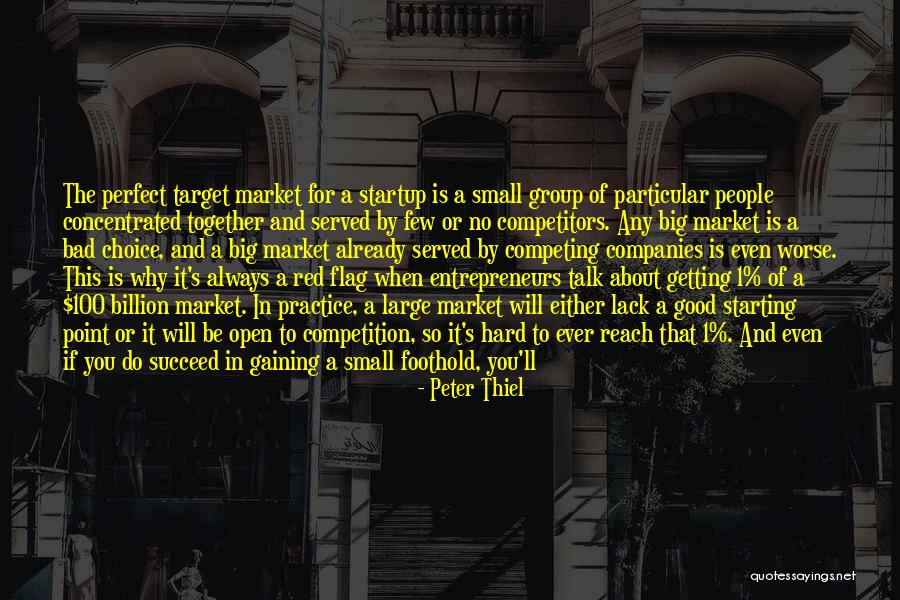 The perfect target market for a startup is a small group of particular people concentrated together and served by few or no competitors. Any big market is a bad choice, and a big market already served by competing companies is even worse. This is why it's always a red flag when entrepreneurs talk about getting 1% of a $100 billion market. In practice, a large market will either lack a good starting point or it will be open to competition, so it's hard to ever reach that 1%. And even if you do succeed in gaining a small foothold, you'll have to be satisfied with keeping the lights on: cutthroat competition means your profits will be zero. — Peter Thiel
He had crossed the room with no notion what he might say or do - he had no knowledge of the language of condolence, no skill at social small talk; his metier was business and politics. And yet, when his hostess had introduced them and left, he found himself still holding the hand he had kissed, looking into soft brown eyes that drowned his soul. And without further thought or hesitation had said, 'God help me, I am in love with you. — Diana Gabaldon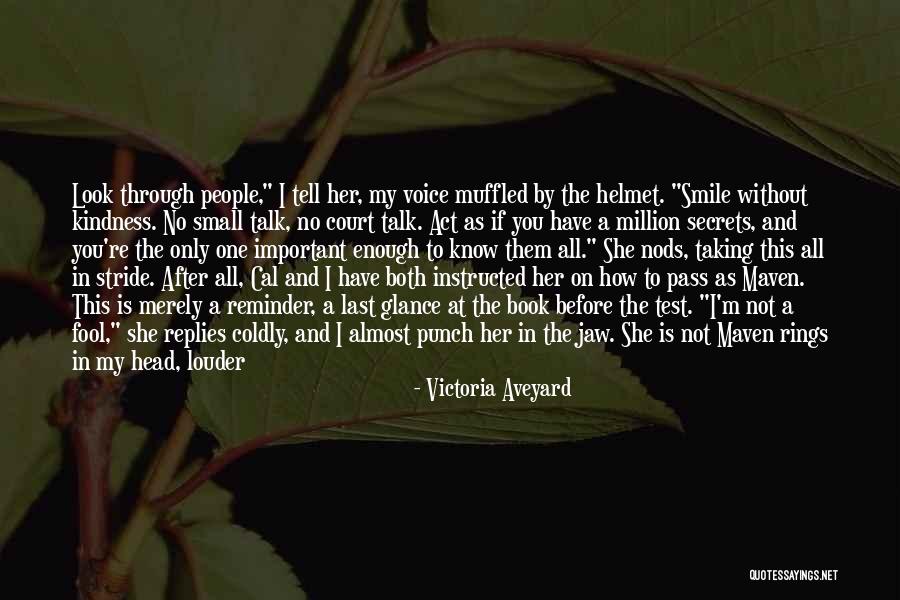 Look through people," I tell her, my voice muffled by the helmet. "Smile without kindness. No small talk, no court talk. Act as if you have a million secrets, and you're the only one important enough to know them all."
She nods, taking this all in stride. After all, Cal and I have both instructed her on how to pass as Maven. This is merely a reminder, a last glance at the book before the test. "I'm not a fool," she replies coldly, and I almost punch her in the jaw. She is not Maven rings in my head, louder than a bell.
"I think you've got it," Kilorn says as he stands. He grabs my arm, pulling me slightly away. "Mare nearly killed you. — Victoria Aveyard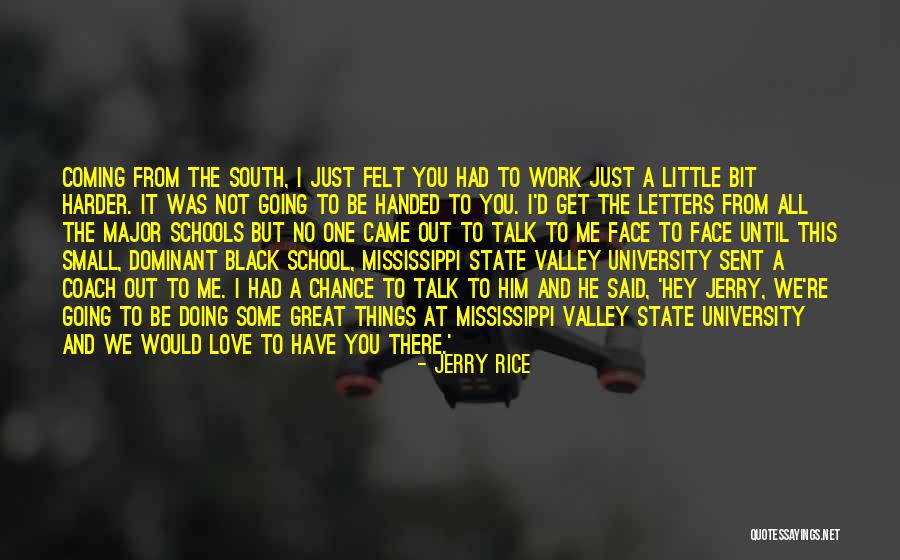 Coming from the South, I just felt you had to work just a little bit harder. It was not going to be handed to you. I'd get the letters from all the major schools but no one came out to talk to me face to face until this small, dominant black school, Mississippi State Valley University sent a coach out to me. I had a chance to talk to him and he said, 'Hey Jerry, we're going to be doing some great things at Mississippi Valley State University and we would love to have you there.' — Jerry Rice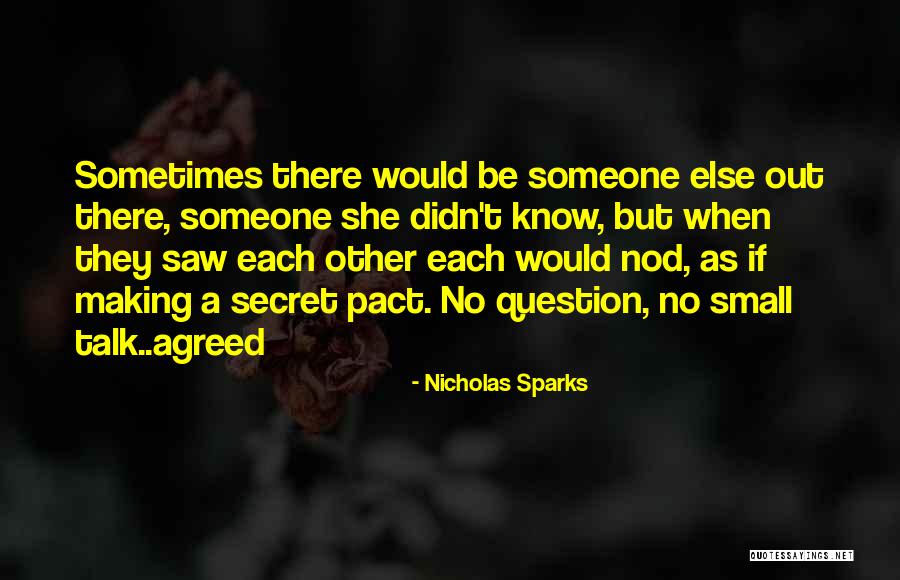 Sometimes there would be someone else out there, someone she didn't know, but when they saw each other each would nod, as if making a secret pact. No question, no small talk..agreed — Nicholas Sparks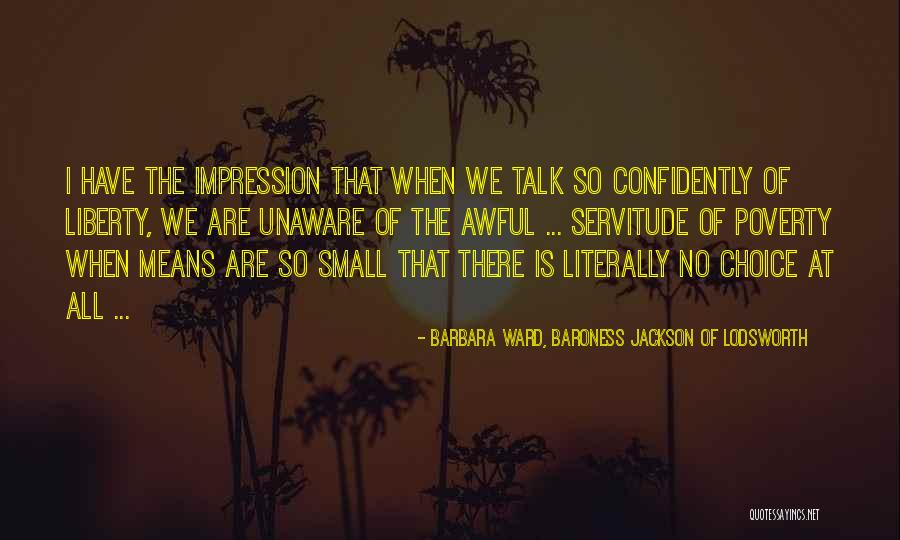 I have the impression that when we talk so confidently of liberty, we are unaware of the awful ... servitude of poverty when means are so small that there is literally no choice at all ... — Barbara Ward, Baroness Jackson Of Lodsworth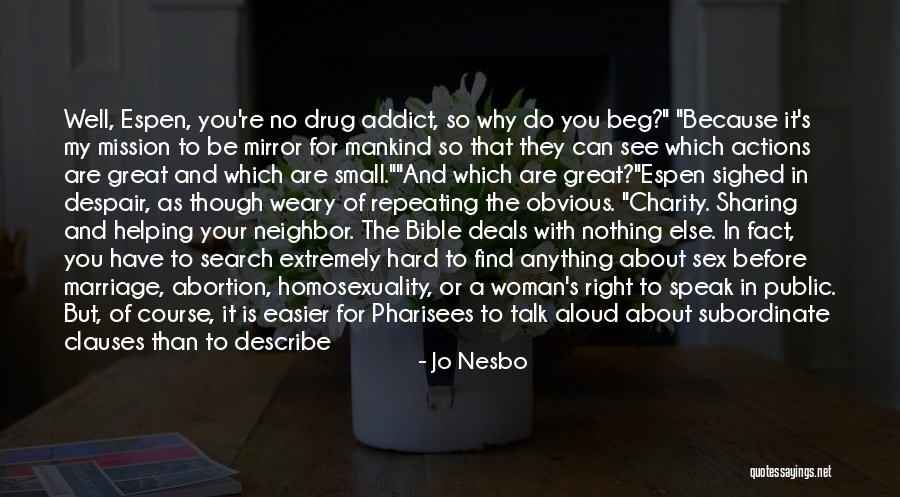 Well, Espen, you're no drug addict, so why do you beg?"
"Because it's my mission to be mirror for mankind so that they can see which actions are great and which are small."
"And which are great?"
Espen sighed in despair, as though weary of repeating the obvious. "Charity. Sharing and helping your neighbor. The Bible deals with nothing else. In fact, you have to search extremely hard to find anything about sex before marriage, abortion, homosexuality, or a woman's right to speak in public. But, of course, it is easier for Pharisees to talk aloud about subordinate clauses than to describe and perform the great actions the Bible leaves us in no doubt about: You have to give half of what you own to someone who has nothing. Thousands of people are dying every day without hearing the words of God because these Christians will not let go of their earthly goods. I'm giving them a chance to reflect. — Jo Nesbo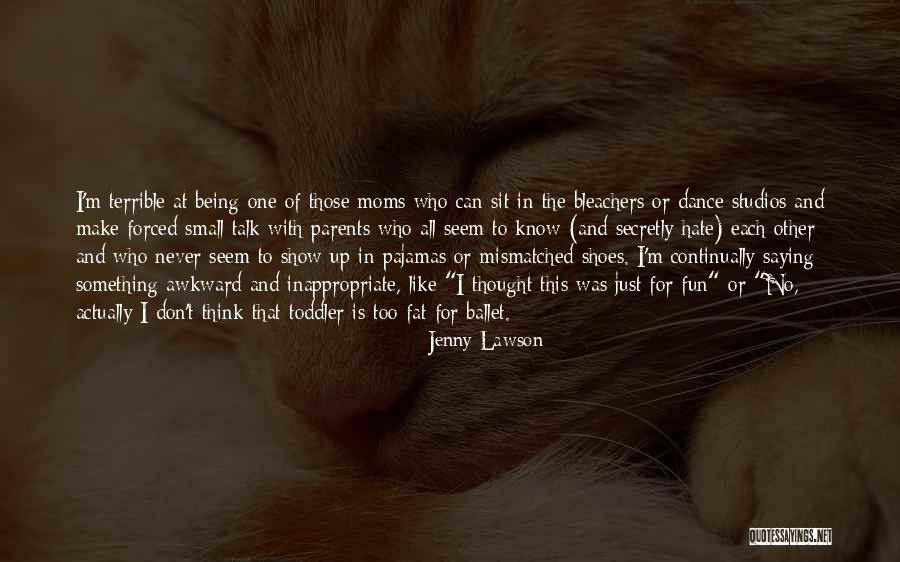 I'm terrible at being one of those moms who can sit in the bleachers or dance studios and make forced small talk with parents who all seem to know (and secretly hate) each other and who never seem to show up in pajamas or mismatched shoes. I'm continually saying something awkward and inappropriate, like "I thought this was just for fun" or "No, actually I don't think that toddler is too fat for ballet. — Jenny Lawson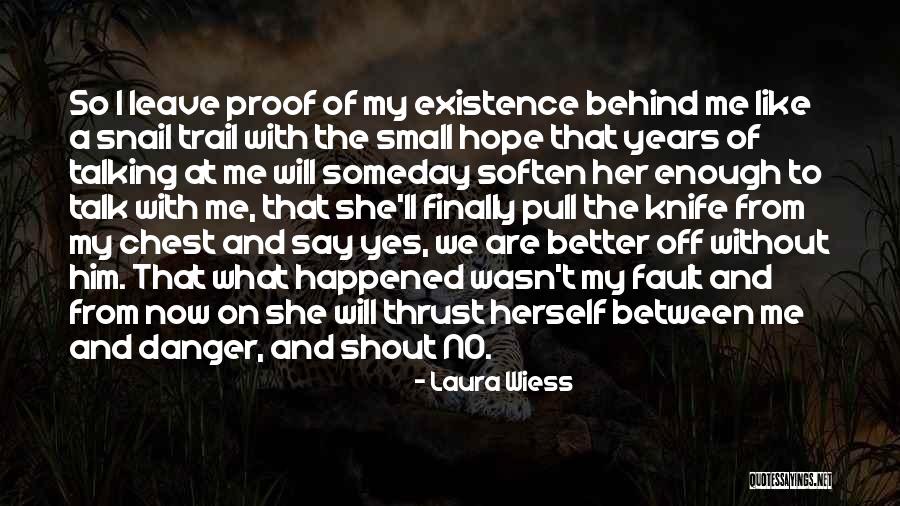 So I leave proof of my existence behind me like a snail trail with the small hope that years of talking at me will someday soften her enough to talk with me, that she'll finally pull the knife from my chest and say yes, we are better off without him. That what happened wasn't my fault and from now on she will thrust herself between me and danger, and shout NO. — Laura Wiess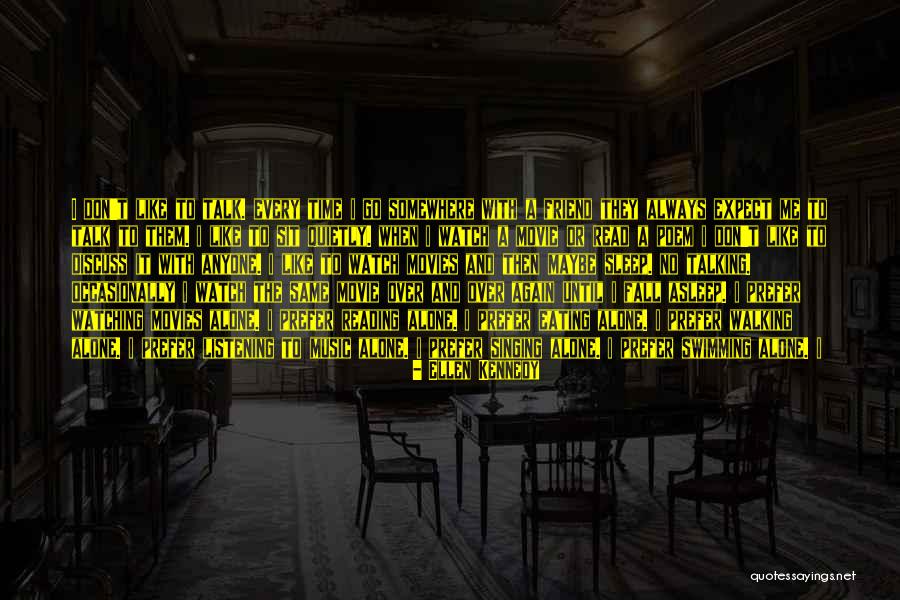 I don't like to talk. every time i go somewhere with a friend they always expect me to talk to them. i like to sit quietly. when i watch a movie or read a poem i don't like to discuss it with anyone. i like to watch movies and then maybe sleep. no talking. occasionally i watch the same movie over and over again until i fall asleep. i prefer watching movies alone. i prefer reading alone. i prefer eating alone. i prefer walking alone. i prefer listening to music alone. i prefer singing alone. i prefer swimming alone. i prefer to eat small children alone. i like it when sean reads me poetry but i just like to listen quietly and not comment afterwards. sometimes i feel this makes him uncomfortable. — Ellen Kennedy