My Heart Is Filled With Joy Quotes & Sayings
Enjoy reading and share 45 famous quotes about My Heart Is Filled With Joy with everyone.
Top My Heart Is Filled With Joy Quotes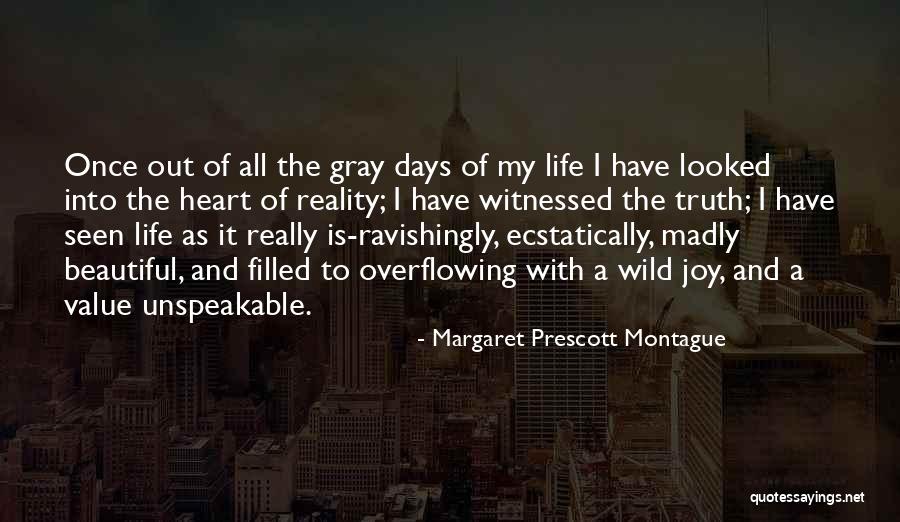 Once out of all the gray days of my life I have looked into the heart of reality; I have witnessed the truth; I have seen life as it really is-ravishingly, ecstatically, madly beautiful, and filled to overflowing with a wild joy, and a value unspeakable. — Margaret Prescott Montague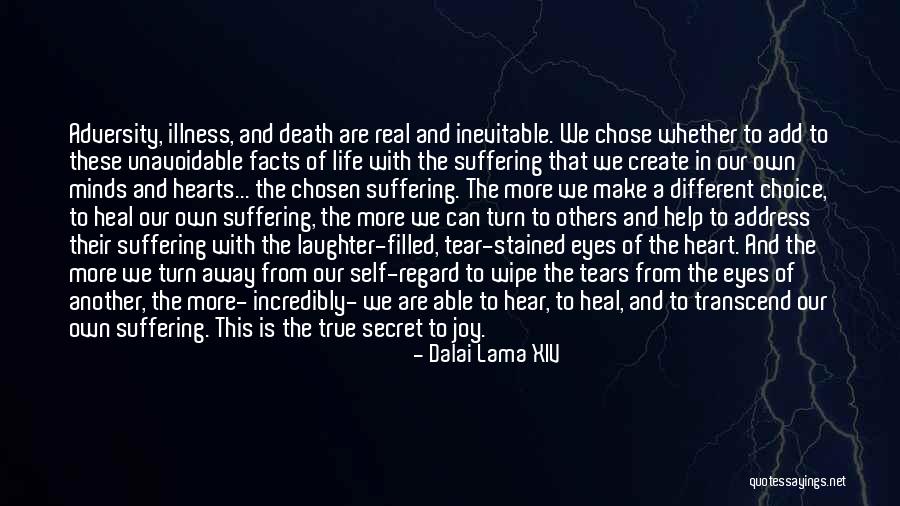 Adversity, illness, and death are real and inevitable. We chose whether to add to these unavoidable facts of life with the suffering that we create in our own minds and hearts... the chosen suffering. The more we make a different choice, to heal our own suffering, the more we can turn to others and help to address their suffering with the laughter-filled, tear-stained eyes of the heart. And the more we turn away from our self-regard to wipe the tears from the eyes of another, the more- incredibly- we are able to hear, to heal, and to transcend our own suffering. This is the true secret to joy. — Dalai Lama XIV
The pieces of the bodies of infidels were flying like dust particles. If you would have seen it with your own eyes, you would have been very pleased, and your heart would have been filled with joy. — Osama Bin Laden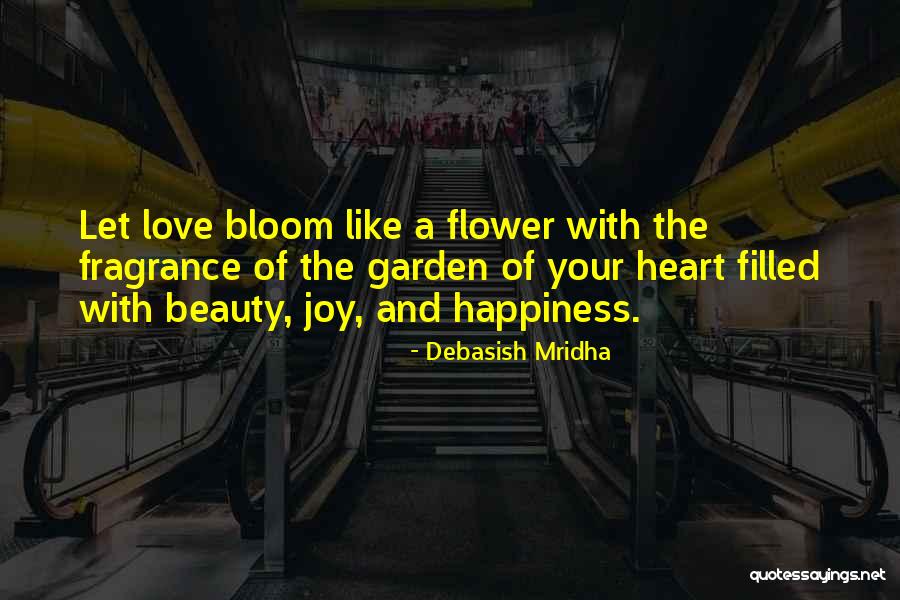 Let love bloom like a flower with the fragrance of the garden of your heart filled with beauty, joy, and happiness. — Debasish Mridha
One day I saw a flower and began to contemplate its fragrance and beauty. As I thought more deeply, I recognized the creator of such wonders- not with my mortal eyes but with my spiritual eyes. This filled my heart with joy, but my joy was still greater when I recognized that same creator at work within my own soul. How wonderful is God, separate from creation yet ever filling it with his glorious presence. — Sadhu Sundar Singh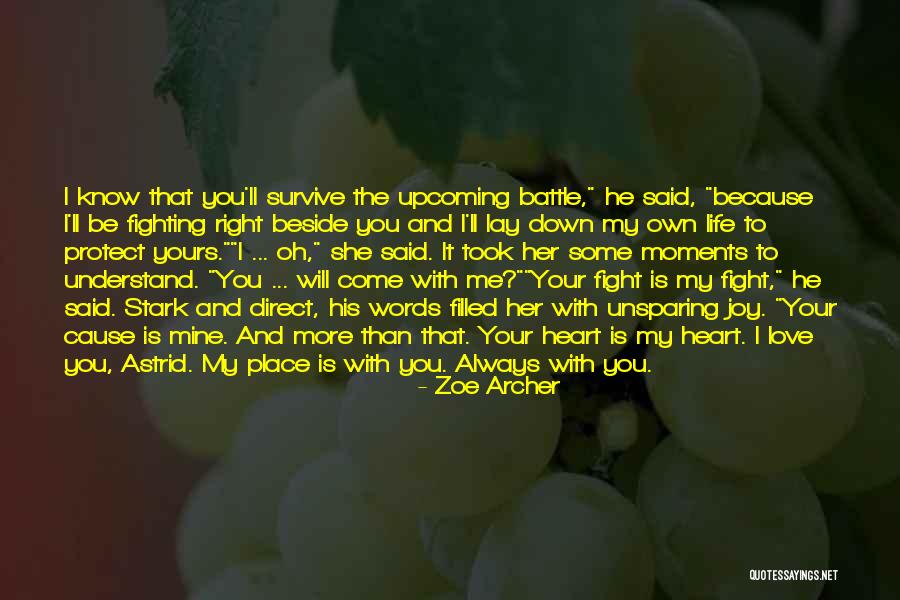 I know that you'll survive the upcoming battle," he said, "because I'll be fighting right beside you and I'll lay down my own life to protect yours."
"I ... oh," she said. It took her some moments to understand. "You ... will come with me?"
"Your fight is my fight," he said. Stark and direct, his words filled her with unsparing joy. "Your cause is mine. And more than that. Your heart is my heart. I love you, Astrid. My place is with you. Always with you. — Zoe Archer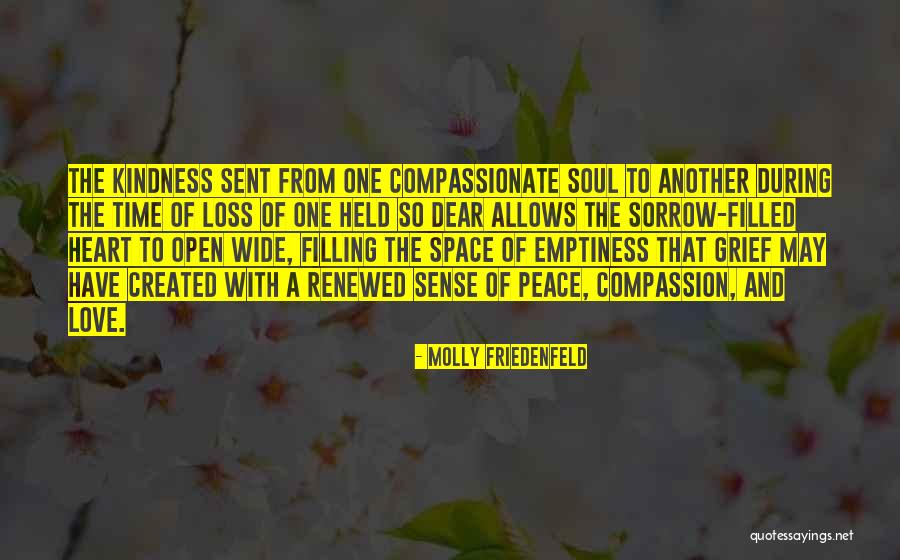 The kindness sent from one compassionate soul to another during the time of loss of one held so dear allows the sorrow-filled heart to open wide, filling the space of emptiness that grief may have created with a renewed sense of peace, compassion, and love. — Molly Friedenfeld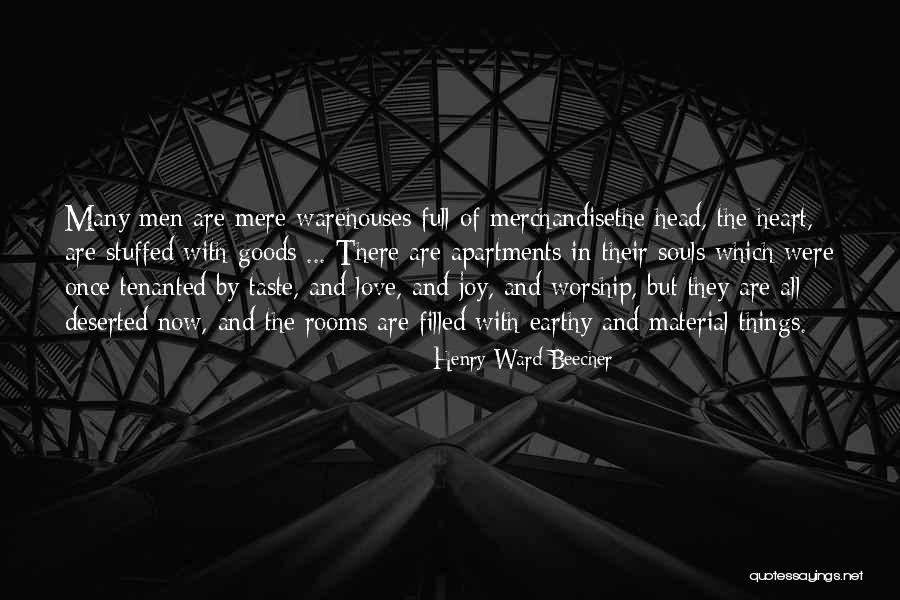 Many men are mere warehouses full of merchandise
the head, the heart, are stuffed with goods ... There are apartments in their souls which were once tenanted by taste, and love, and joy, and worship, but they are all deserted now, and the rooms are filled with earthy and material things. — Henry Ward Beecher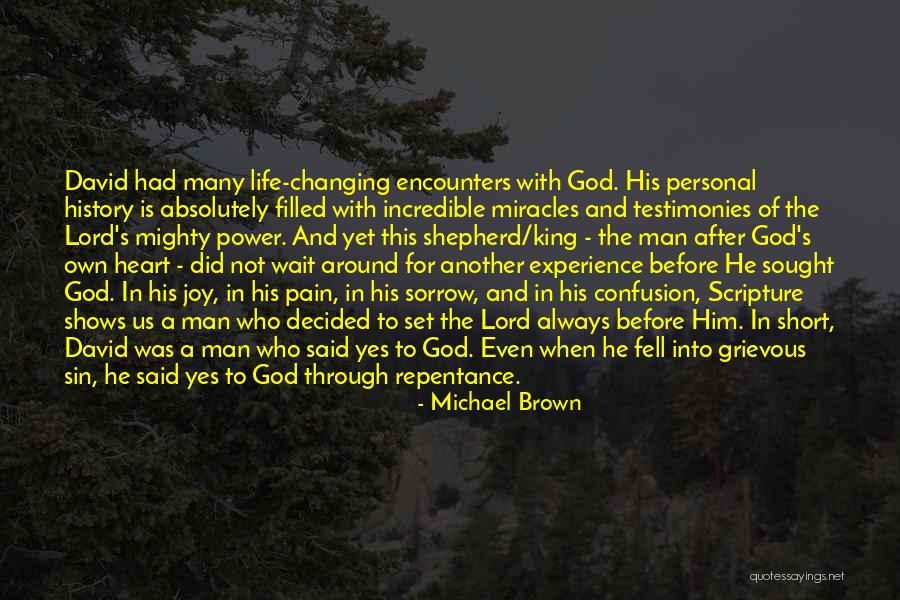 David had many life-changing encounters with God. His personal history is absolutely filled with incredible miracles and testimonies of the Lord's mighty power. And yet this shepherd/king - the man after God's own heart - did not wait around for another experience before He sought God. In his joy, in his pain, in his sorrow, and in his confusion, Scripture shows us a man who decided to set the Lord always before Him. In short, David was a man who said yes to God. Even when he fell into grievous sin, he said yes to God through repentance. — Michael Brown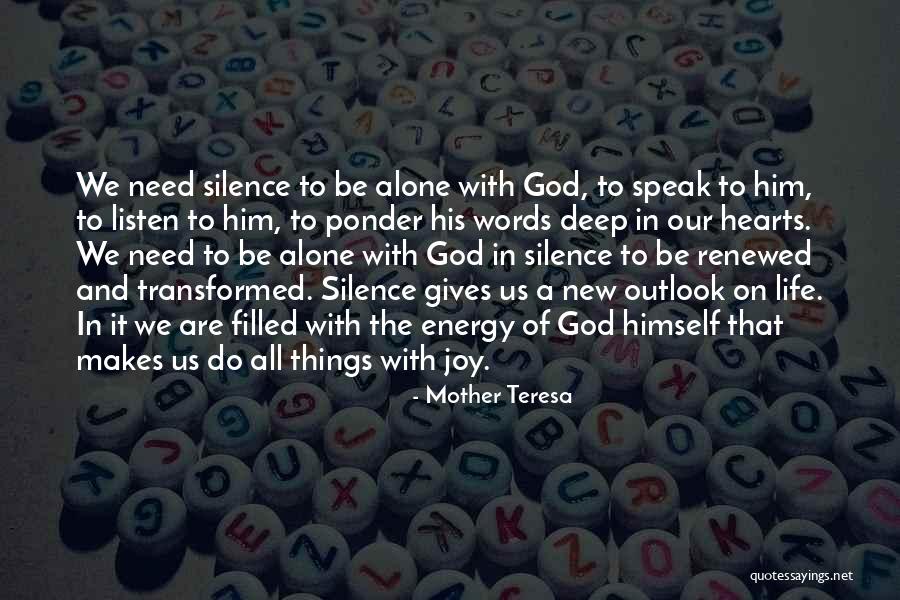 We need silence to be alone with God, to speak to him, to listen to him, to ponder his words deep in our hearts. We need to be alone with God in silence to be renewed and transformed. Silence gives us a new outlook on life. In it we are filled with the energy of God himself that makes us do all things with joy. — Mother Teresa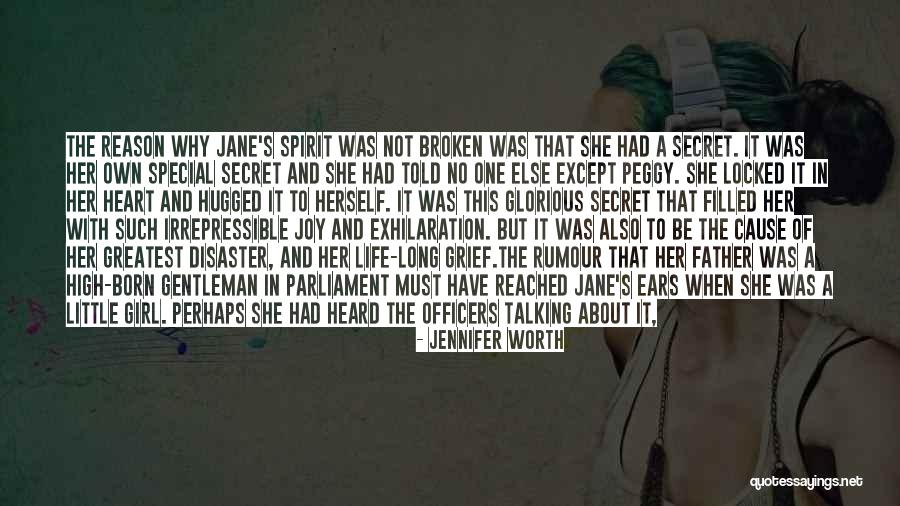 The reason why Jane's spirit was not broken was that she had a secret. It was her own special secret and she had told no one else except Peggy. She locked it in her heart and hugged it to herself. It was this glorious secret that filled her with such irrepressible joy and exhilaration. But it was also to be the cause of her greatest disaster, and her life-long grief.
The rumour that her father was a high-born gentleman in Parliament must have reached Jane's ears when she was a little girl. Perhaps she had heard the officers talking about it, or perhaps another child had heard the adults talking and told her. Perhaps Jane's mother had told another workhouse inmate, who had passed it on. One can never tell how rumours start.
To Jane, it was not a rumour. It was an absolute fact. Her daddy was a high-born gentleman, who one day would come and take her away. She fantasised endlessly about her daddy. She talked to him, and he talked to her. — Jennifer Worth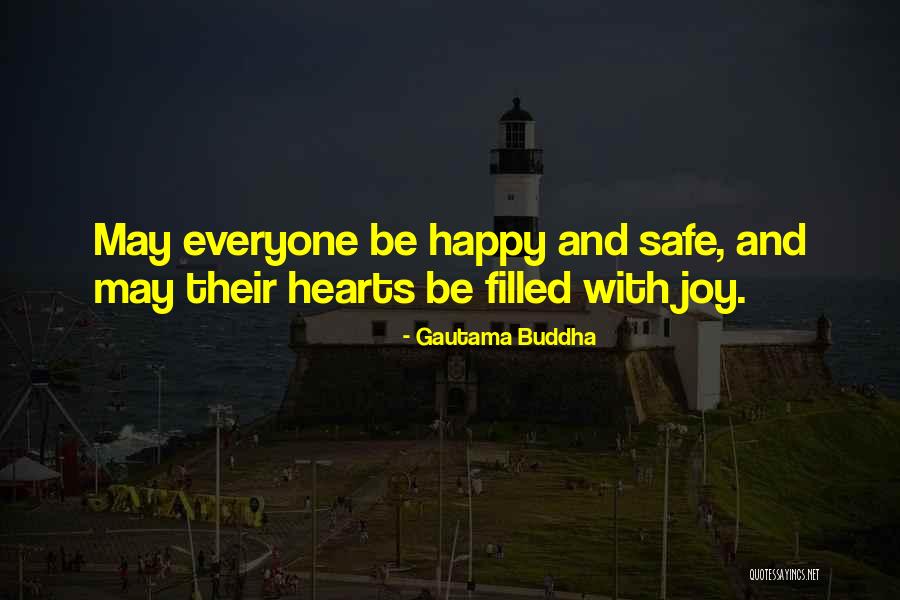 May everyone be happy and safe, and may their hearts be filled with joy. — Gautama Buddha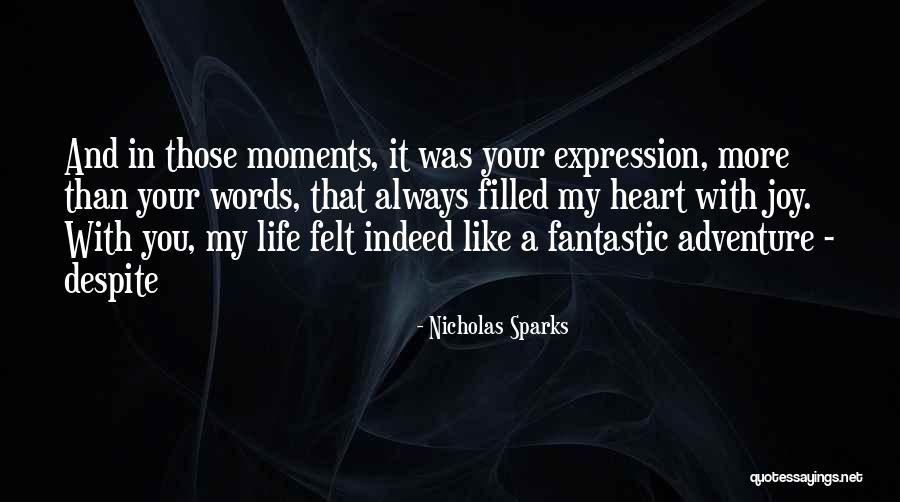 And in those moments, it was your expression, more than your words, that always filled my heart with joy. With you, my life felt indeed like a fantastic adventure - despite — Nicholas Sparks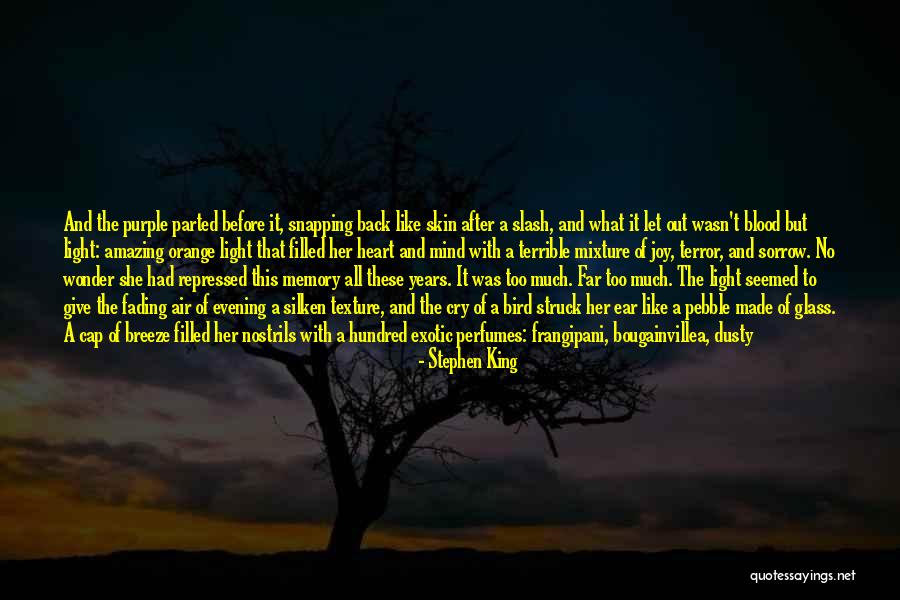 And the purple parted before it, snapping back like skin after a slash, and what it let out wasn't blood but light: amazing orange light that filled her heart and mind with a terrible mixture of joy, terror, and sorrow. No wonder she had repressed this memory all these years. It was too much. Far too much. The light seemed to give the fading air of evening a silken texture, and the cry of a bird struck her ear like a pebble made of glass. A cap of breeze filled her nostrils with a hundred exotic perfumes: frangipani, bougainvillea, dusty roses, and oh dear God, night-blooming cereus ... And rising above one horizon came the orange mansion of the moon, bloated and burning cold, while the sun sank below the other, boiling in a crimson house of fire. She thought that mixture of furious light would kill her with its beauty. — Stephen King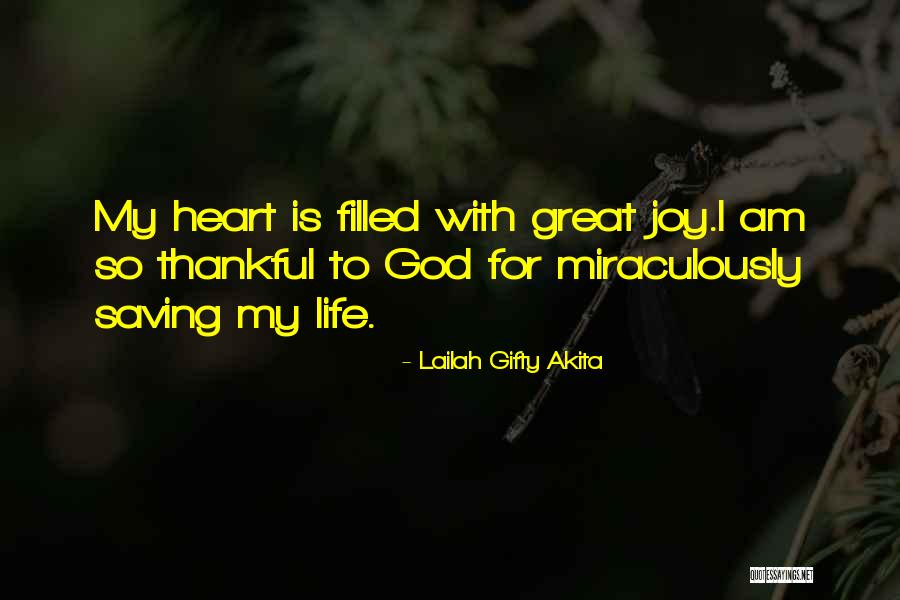 My heart is filled with great joy.
I am so thankful to God for miraculously saving my life. — Lailah Gifty Akita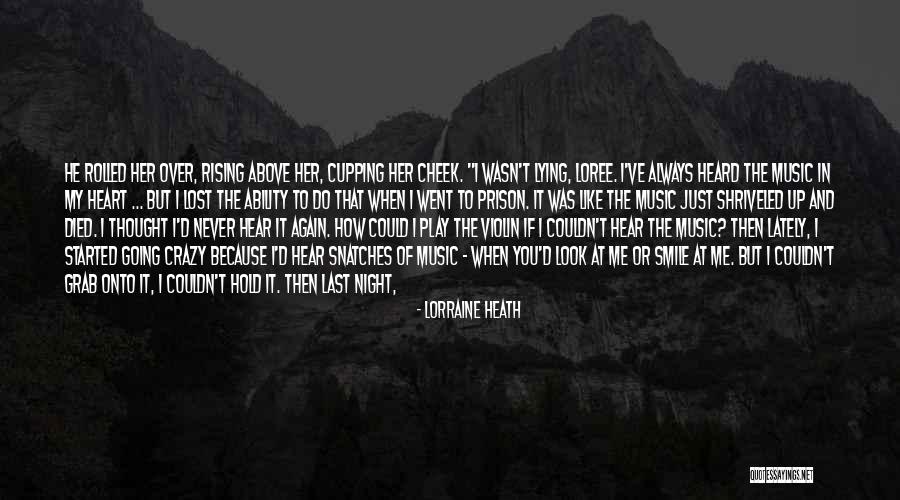 He rolled her over, rising above her, cupping her cheek. "I wasn't lying, Loree. I've always heard the music in my heart ... but I lost the ability to do that when I went to prison. It was like the music just shriveled up and died. I thought I'd never hear it again. How could I play the violin if I couldn't hear the music? Then lately, I started going crazy because I'd hear snatches of music - when you'd look at me or smile at me. But I couldn't grab onto it, I couldn't hold it. Then last night, you told me that you loved me and I heard the music, so sweet, so soft. It scared me to hear it so clearly after I hadn't for so long.
"Tonight, I hurt you - again. I was going to let you go, Loree. I was gonna take you back to Austin. But I heard my heart break ... and I knew that's all I'd hear for the rest of my life. Don't leave me, Sugar."
Joy filled her and she brushed the locks of hair back off his brow. "I won't."
-Austin and Loree — Lorraine Heath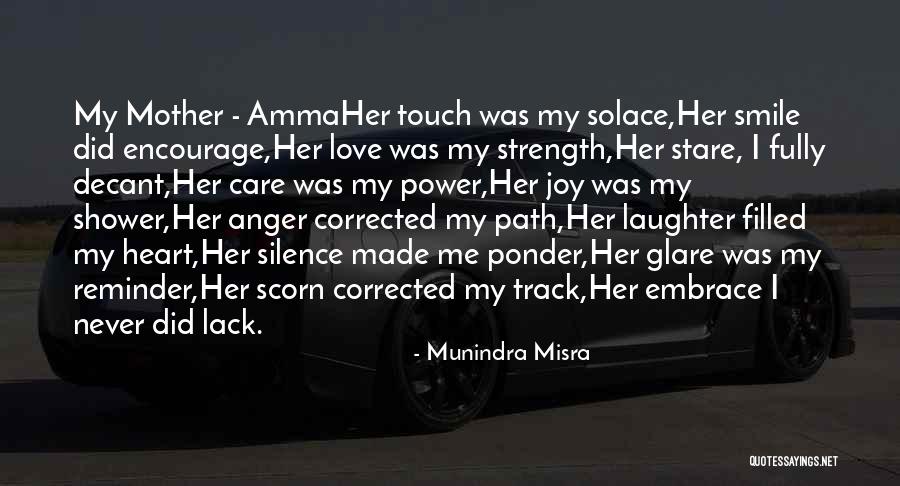 My Mother - Amma
Her touch was my solace,
Her smile did encourage,
Her love was my strength,
Her stare, I fully decant,
Her care was my power,
Her joy was my shower,
Her anger corrected my path,
Her laughter filled my heart,
Her silence made me ponder,
Her glare was my reminder,
Her scorn corrected my track,
Her embrace I never did lack. — Munindra Misra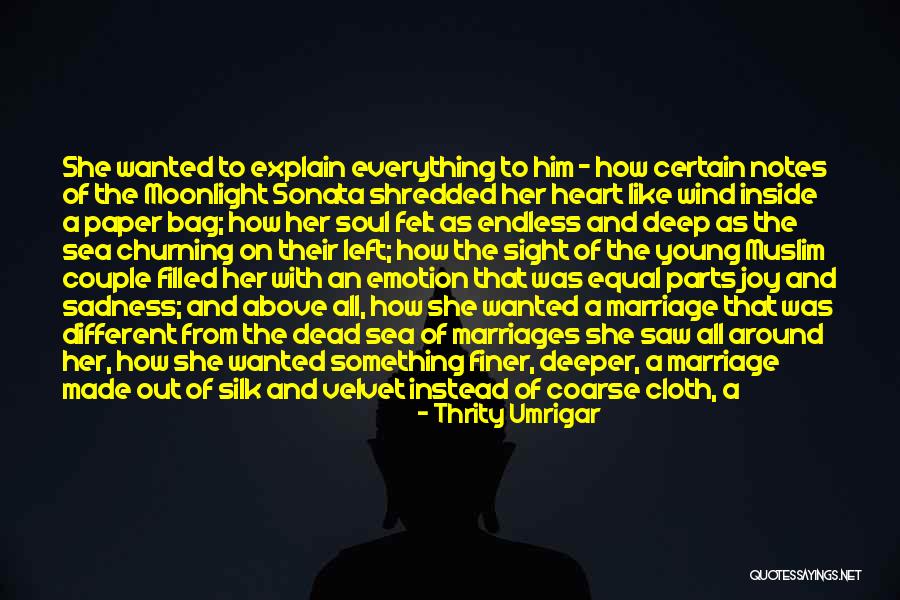 She wanted to explain everything to him - how certain notes of the Moonlight Sonata shredded her heart like wind inside a paper bag; how her soul felt as endless and deep as the sea churning on their left; how the sight of the young Muslim couple filled her with an emotion that was equal parts joy and sadness; and above all, how she wanted a marriage that was different from the dead sea of marriages she saw all around her, how she wanted something finer, deeper, a marriage made out of silk and velvet instead of coarse cloth, a marriage made of clouds and stardust and red earth and ocean foam and moonlight and sonatas and books and art galleries and passion and kindness and sorrow and ecstasy and of fingers touching from under a burqua. — Thrity Umrigar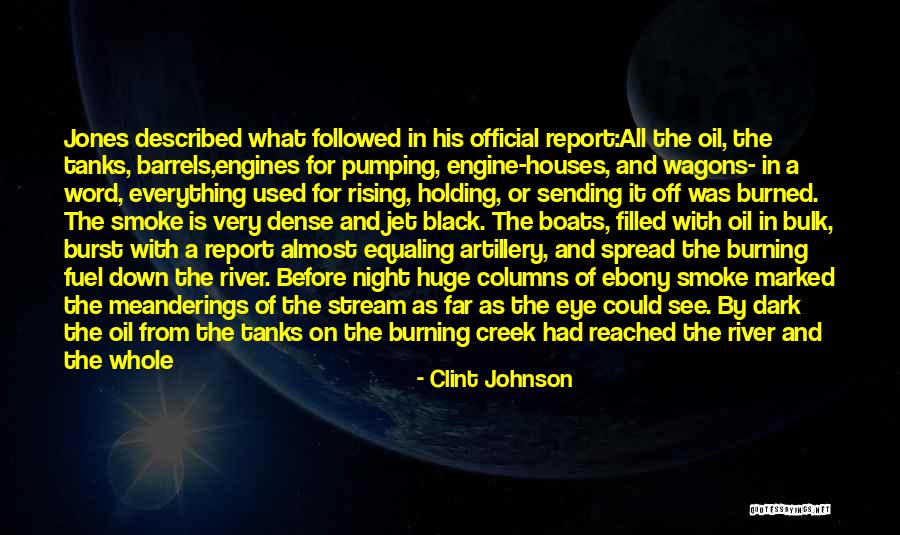 Jones described what followed in his official report:
All the oil, the tanks, barrels,engines for pumping, engine-houses, and wagons- in a word, everything used for rising, holding, or sending it off was burned. The smoke is very dense and jet black. The boats, filled with oil in bulk, burst with a report almost equaling artillery, and spread the burning fuel down the river. Before night huge columns of ebony smoke marked the meanderings of the stream as far as the eye could see. By dark the oil from the tanks on the burning creek had reached the river and the whole stream was a sheet of fire. A burning river, carrying destruction to our merciless enemy, was a scene of magnificence that might well carry joy to every patriotic heart.- General William E. " Grumble" Jones — Clint Johnson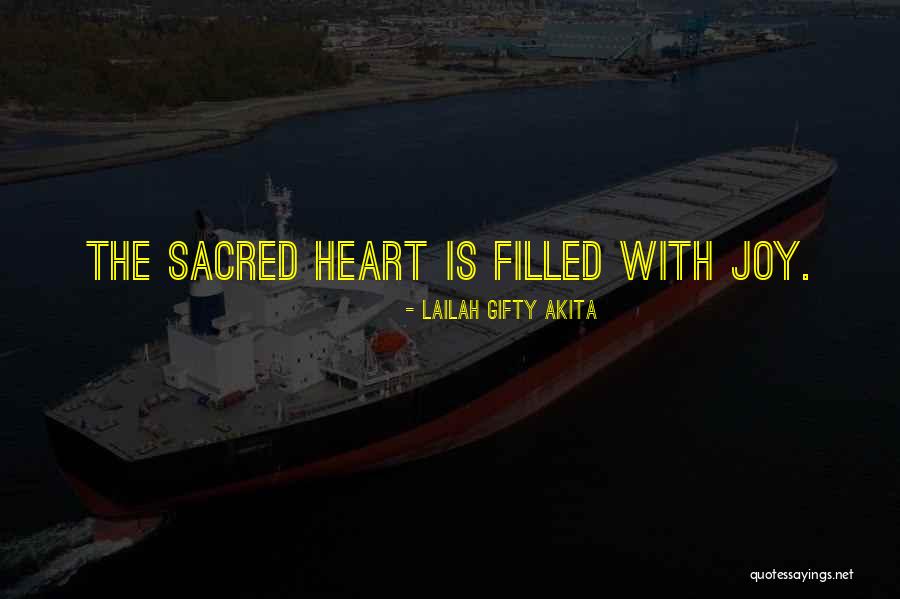 The sacred heart is filled with joy. — Lailah Gifty Akita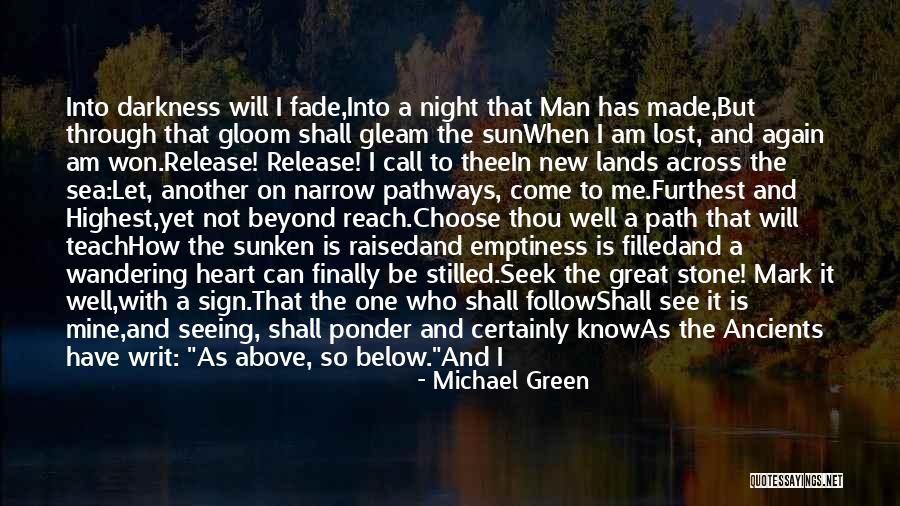 Into darkness will I fade,
Into a night that Man has made,
But through that gloom shall gleam the sun
When I am lost, and again am won.

Release! Release! I call to thee
In new lands across the sea:
Let, another on narrow pathways, come to me.

Furthest and Highest,
yet not beyond reach.
Choose thou well a path that will teach
How the sunken is raised
and emptiness is filled
and a wandering heart
can finally be stilled.

Seek the great stone! Mark it well,with a sign.
That the one who shall follow
Shall see it is mine,
and seeing, shall ponder and certainly know
As the Ancients have writ: "As above, so below."

And I shall guard the Source of Greatness;
Waiting by a teardrop
From neither joy nor sorrow born,
In silver bound, beneath the ground,
I am the spiral horn. — Michael Green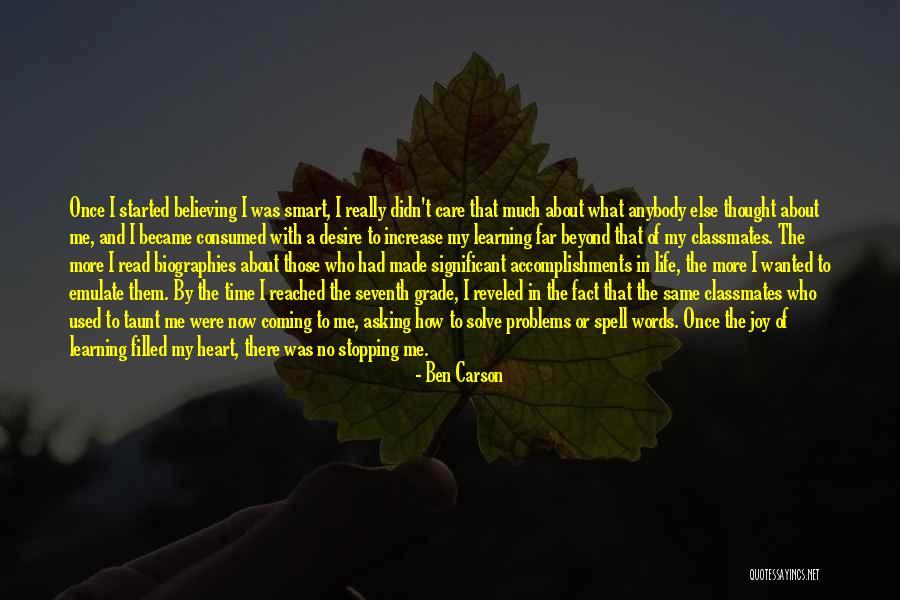 Once I started believing I was smart, I really didn't care that much about what anybody else thought about me, and I became consumed with a desire to increase my learning far beyond that of my classmates. The more I read biographies about those who had made significant accomplishments in life, the more I wanted to emulate them. By the time I reached the seventh grade, I reveled in the fact that the same classmates who used to taunt me were now coming to me, asking how to solve problems or spell words. Once the joy of learning filled my heart, there was no stopping me. — Ben Carson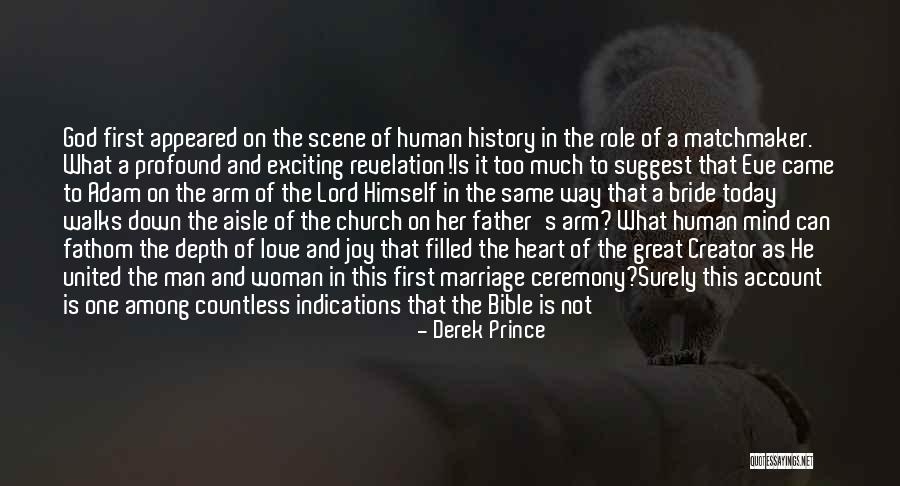 God first appeared on the scene of human history in the role of a matchmaker. What a profound and exciting revelation!
Is it too much to suggest that Eve came to Adam on the arm of the Lord Himself in the same way that a bride today walks down the aisle of the church on her father's arm? What human mind can fathom the depth of love and joy that filled the heart of the great Creator as He united the man and woman in this first marriage ceremony?
Surely this account is one among countless indications that the Bible is not a work of merely human authorship. Moses is generally accepted as the author of the creation record. But apart from supernatural inspiration, he would never have dared to open human history with a scene of such amazing intimacy - first between God and man, and then between man and woman. — Derek Prince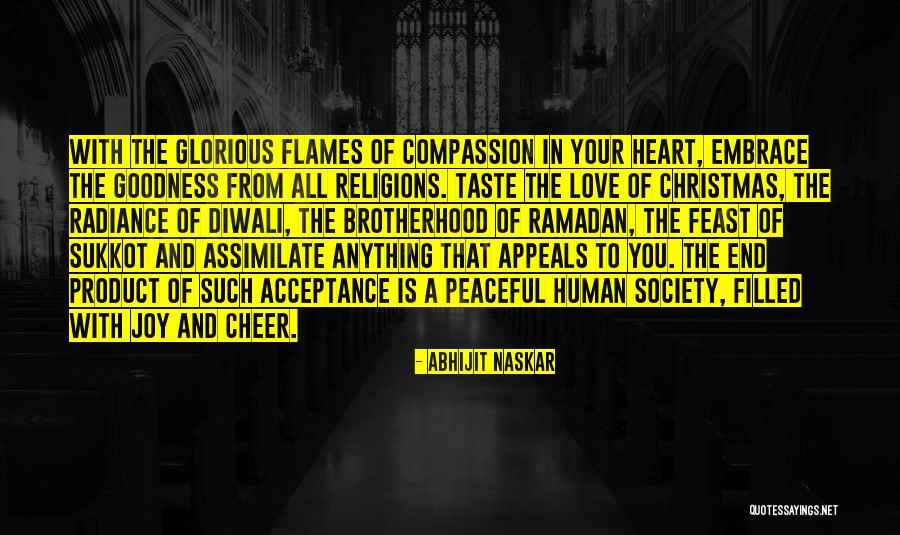 With the glorious flames of compassion in your heart, embrace the goodness from all religions. Taste the love of Christmas, the radiance of Diwali, the brotherhood of Ramadan, the feast of Sukkot and assimilate anything that appeals to you. The end product of such acceptance is a peaceful human society, filled with joy and cheer. — Abhijit Naskar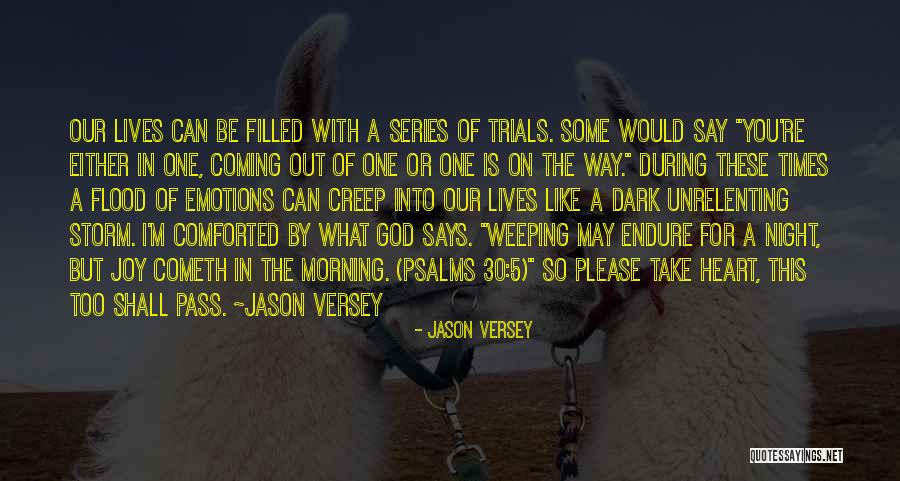 Our lives can be filled with a series of trials. Some would say "You're either in one, coming out of one or one is on the way." During these times a flood of emotions can creep into our lives like a dark unrelenting storm. I'm comforted by what God says. "Weeping may endure for a night, but joy cometh in the morning. (Psalms 30:5)" So please take heart, this too shall pass. ~Jason Versey — Jason Versey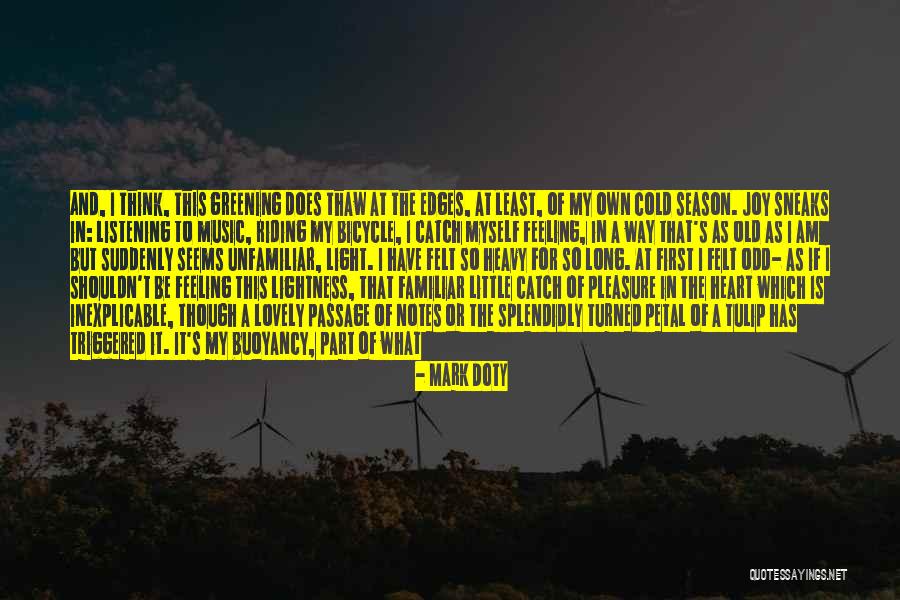 And, I think, this greening does thaw at the edges, at least, of my own cold season. Joy sneaks in: listening to music, riding my bicycle, I catch myself feeling, in a way that's as old as I am but suddenly seems unfamiliar, light. I have felt so heavy for so long. At first I felt odd- as if I shouldn't be feeling this lightness, that familiar little catch of pleasure in the heart which is inexplicable, though a lovely passage of notes or the splendidly turned petal of a tulip has triggered it. It's my buoyancy, part of what keeps me alive: happy, suddenly with the concomitant experience of a sonata and the motion of the shadows of leaves. I have the desire to be filled with sunlight, to soak my skin in as much of it as I can drink up, after the long interior darkness of this past season, the indoor vigil, in this harshest and darkest of winters, outside and in. — Mark Doty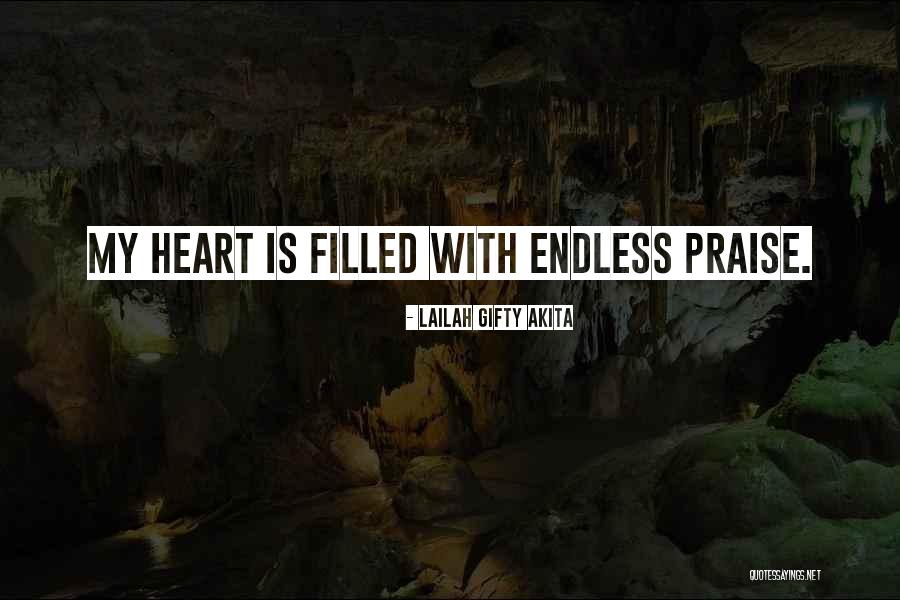 My heart is filled with endless praise. — Lailah Gifty Akita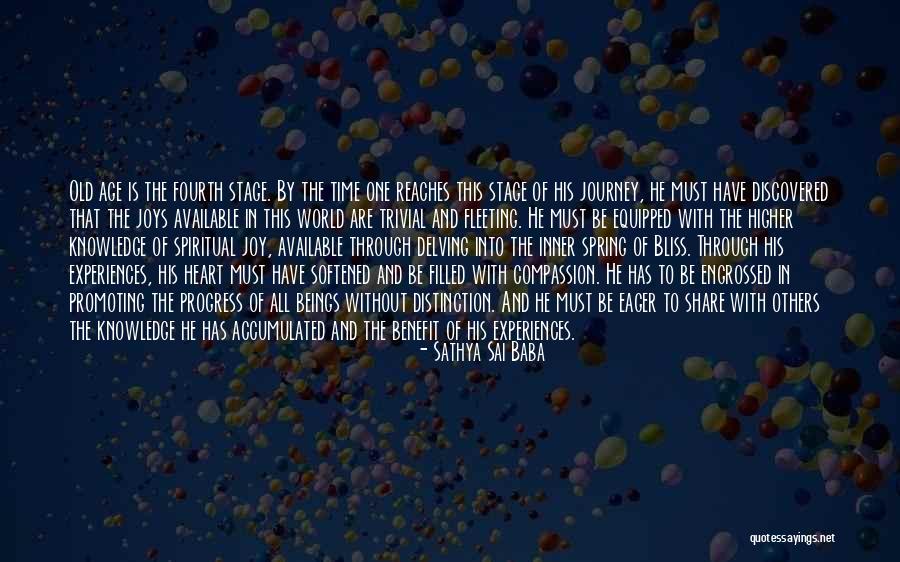 Old age is the fourth stage. By the time one reaches this stage of his journey, he must have discovered that the joys available in this world are trivial and fleeting. He must be equipped with the higher knowledge of spiritual joy, available through delving into the inner spring of Bliss. Through his experiences, his heart must have softened and be filled with compassion. He has to be engrossed in promoting the progress of all beings without distinction. And he must be eager to share with others the knowledge he has accumulated and the benefit of his experiences. — Sathya Sai Baba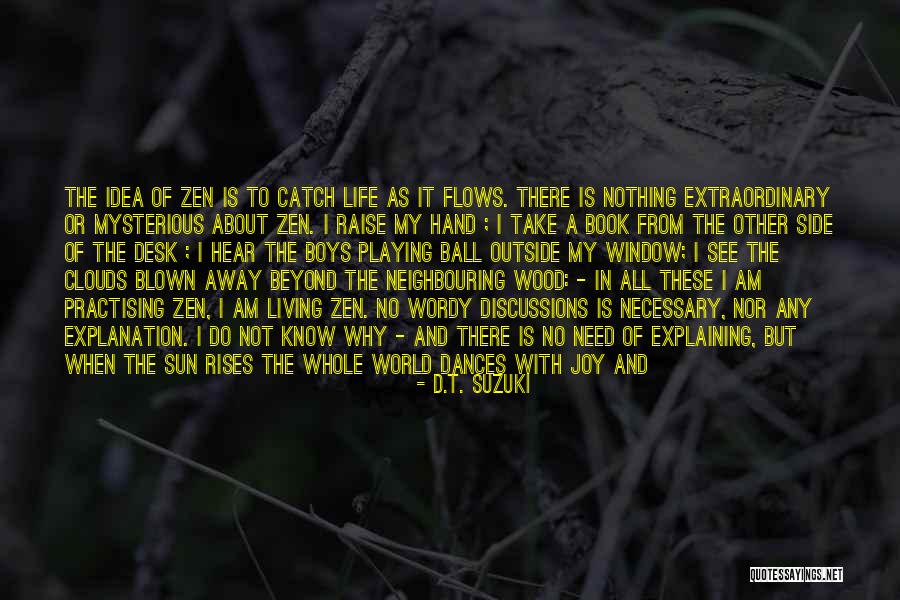 The idea of Zen is to catch life as it flows. There is nothing extraordinary or mysterious about Zen. I raise my hand ; I take a book from the other side of the desk ; I hear the boys playing ball outside my window; I see the clouds blown away beyond the neighbouring wood: - in all these I am practising Zen, I am living Zen. No wordy discussions is necessary, nor any explanation. I do not know why - and there is no need of explaining, but when the sun rises the whole world dances with joy and everybody's heart is filled with bliss. If Zen is at all conceivable, it must be taken hold of here. — D.T. Suzuki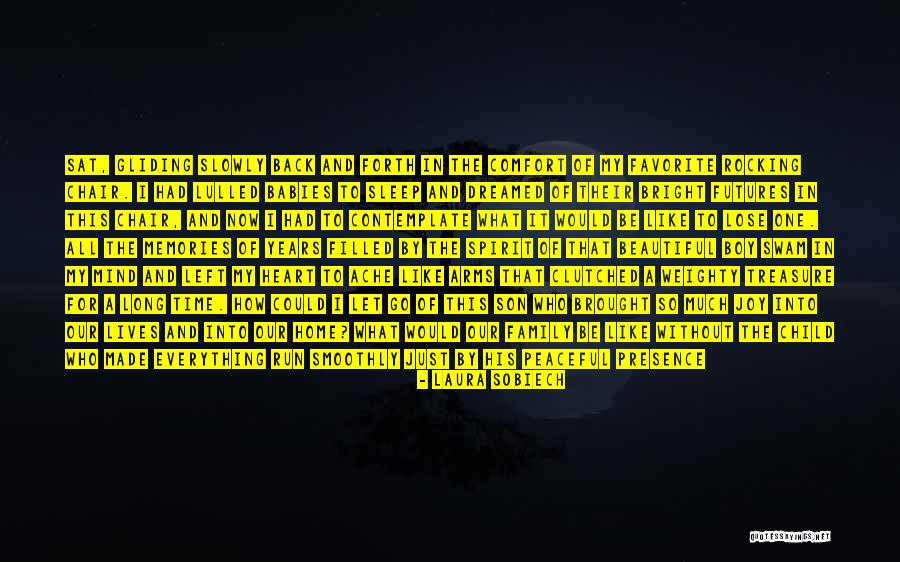 sat, gliding slowly back and forth in the comfort of my favorite rocking chair. I had lulled babies to sleep and dreamed of their bright futures in this chair, and now I had to contemplate what it would be like to lose one. All the memories of years filled by the spirit of that beautiful boy swam in my mind and left my heart to ache like arms that clutched a weighty treasure for a long time. How could I let go of this son who brought so much joy into our lives and into our home? What would our family be like without the child who made everything run smoothly just by his peaceful presence — Laura Sobiech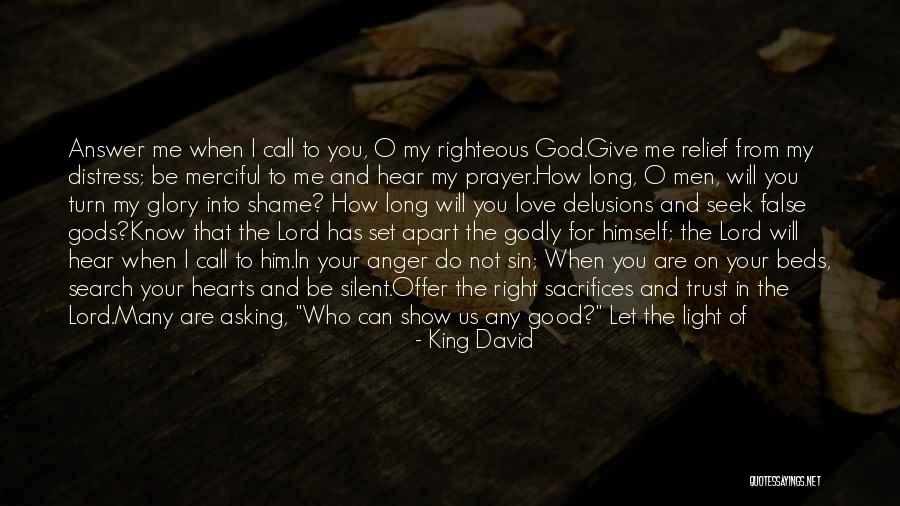 Answer me when I call to you,
O my righteous God.
Give me relief from my distress;
be merciful to me and hear my prayer.
How long, O men, will you turn my glory into shame?
How long will you love delusions and seek false gods?
Know that the Lord has set apart the godly for himself;
the Lord will hear when I call to him.
In your anger do not sin;
When you are on your beds,
search your hearts and be silent.
Offer the right sacrifices
and trust in the Lord.
Many are asking, "Who can show us any good?"
Let the light of your face shine upon us, O Lord.
You have filled my heart with greater joy
than when their grain and new wine abound.
I will lie down and sleep in peace
for you alone, O Lord,
make me to dwell in safety. — King David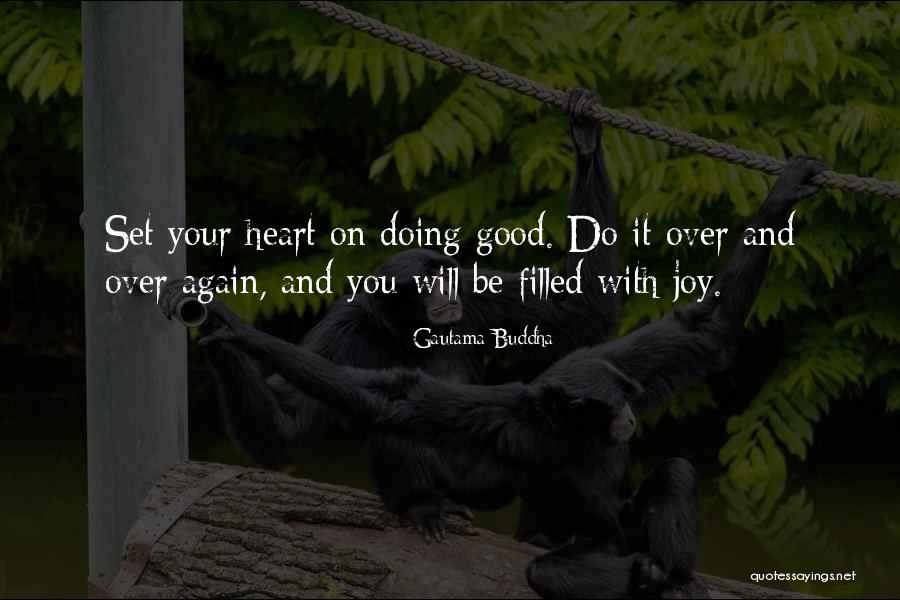 Set your heart on doing good. Do it over and over again, and you will be filled with joy. — Gautama Buddha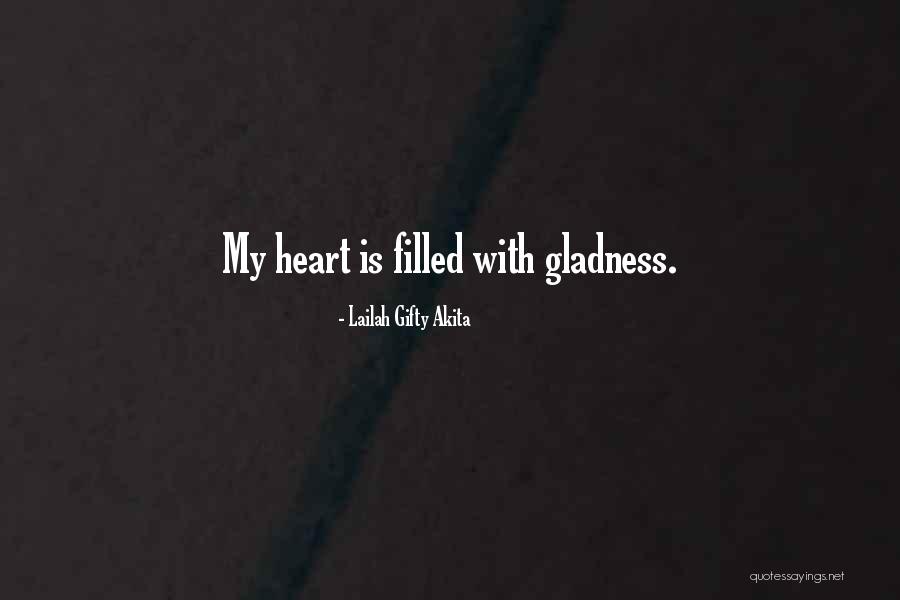 My heart is filled with gladness. — Lailah Gifty Akita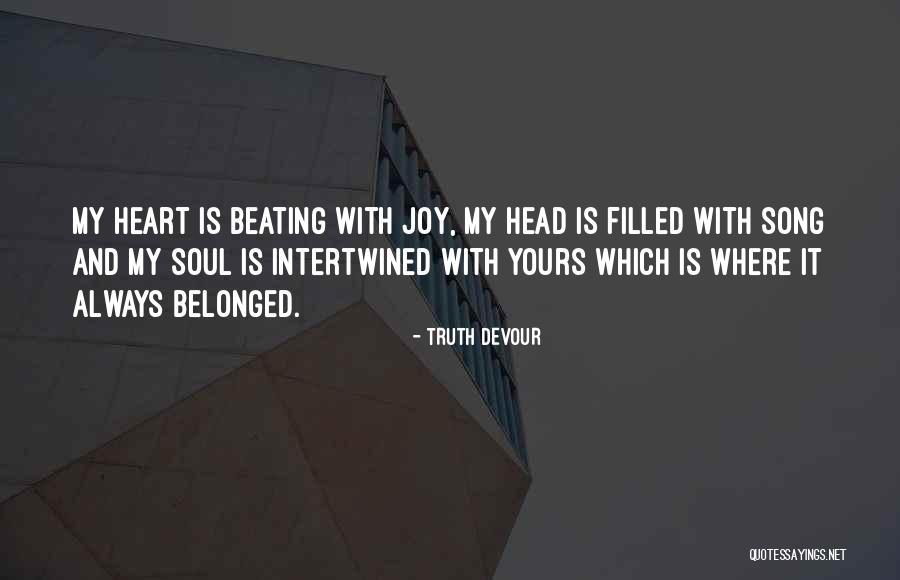 My heart is beating with joy, my head is filled with song and my soul is intertwined with yours which is where it always belonged. — Truth Devour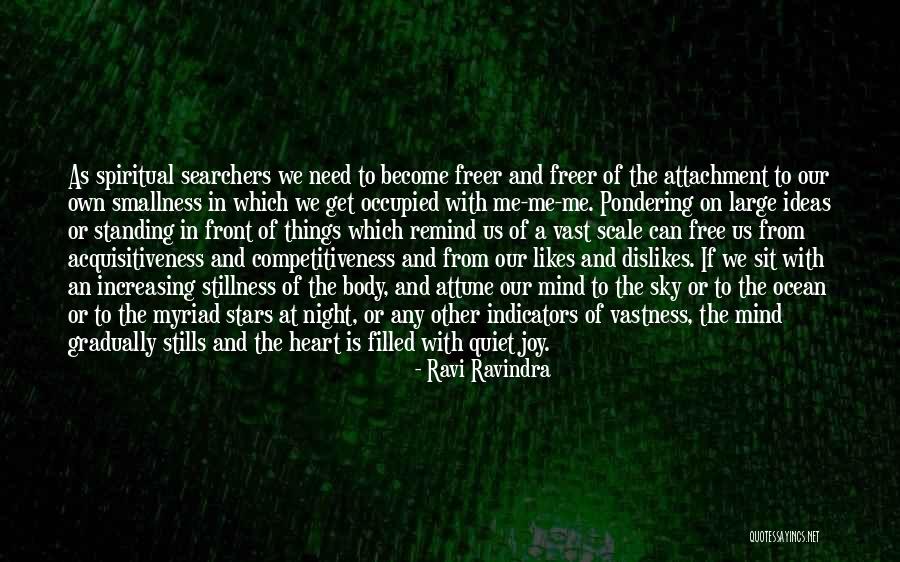 As spiritual searchers we need to become freer and freer of the attachment to our own smallness in which we get occupied with me-me-me. Pondering on large ideas or standing in front of things which remind us of a vast scale can free us from acquisitiveness and competitiveness and from our likes and dislikes. If we sit with an increasing stillness of the body, and attune our mind to the sky or to the ocean or to the myriad stars at night, or any other indicators of vastness, the mind gradually stills and the heart is filled with quiet joy. Also recalling our own experiences in which we acted generously or with compassion for the simple delight of it without expectation of any gain can give us more confidence in the existence of a deeper goodness from which we may deviate. (39) — Ravi Ravindra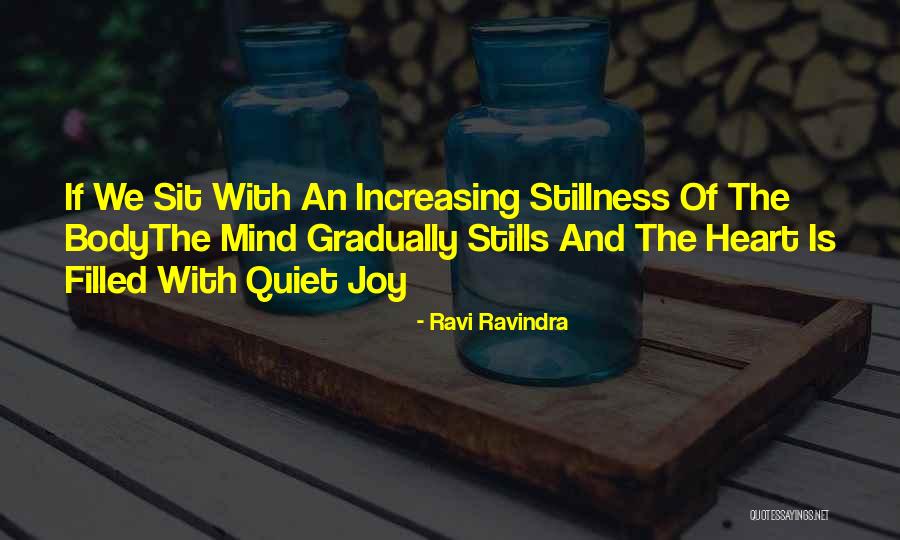 If We Sit With An Increasing Stillness Of The BodyThe Mind Gradually Stills And The Heart Is Filled With Quiet Joy — Ravi Ravindra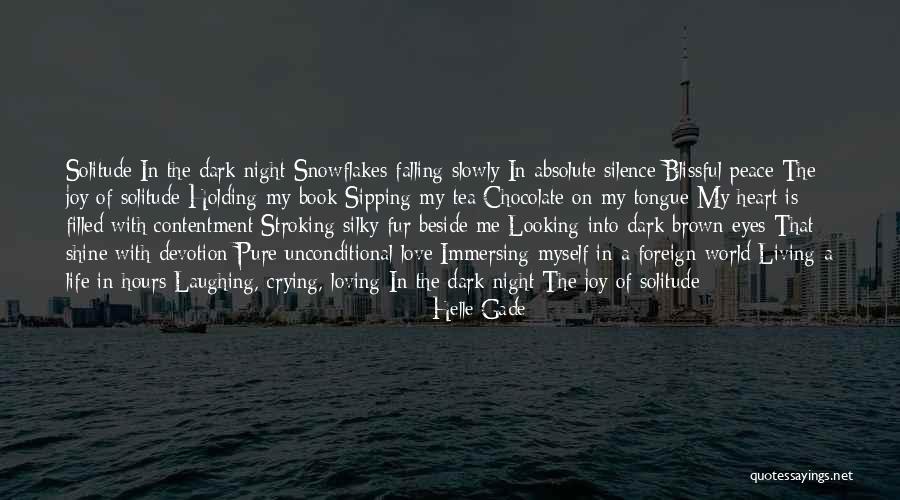 Solitude In the dark night Snowflakes falling slowly In absolute silence Blissful peace The joy of solitude Holding my book Sipping my tea Chocolate on my tongue My heart is filled with contentment Stroking silky fur beside me Looking into dark brown eyes That shine with devotion Pure unconditional love Immersing myself in a foreign world Living a life in hours Laughing, crying, loving In the dark night The joy of solitude — Helle Gade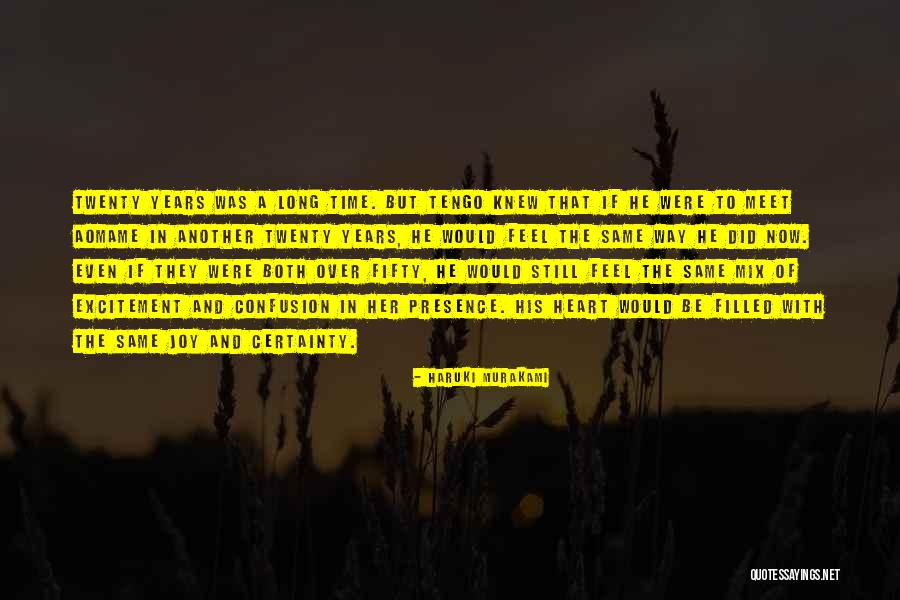 Twenty years was a long time. But Tengo knew that if he were to meet Aomame in another twenty years, he would feel the same way he did now. Even if they were both over fifty, he would still feel the same mix of excitement and confusion in her presence. His heart would be filled with the same joy and certainty. — Haruki Murakami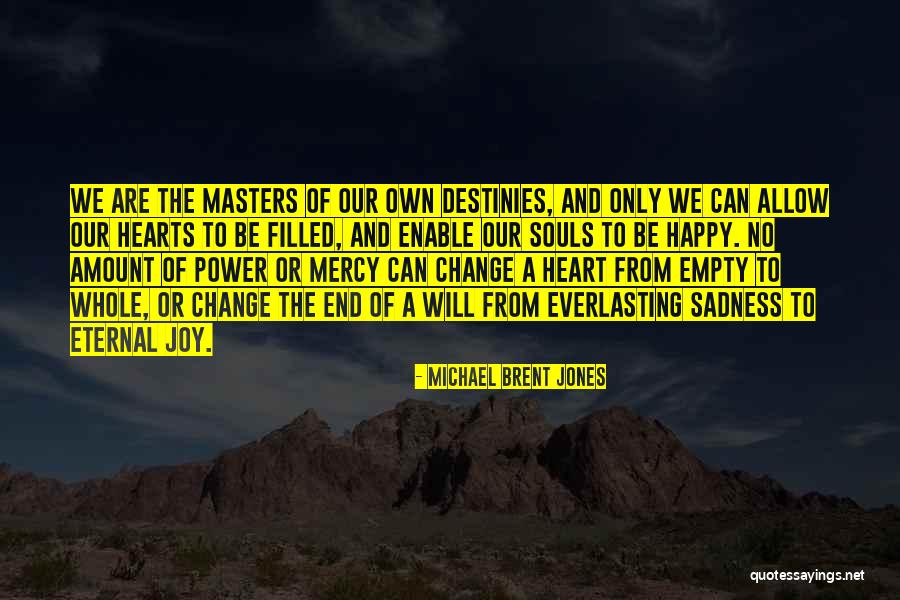 We are the masters of our own destinies, and only we can allow our hearts to be filled, and enable our souls to be happy. No amount of power or mercy can change a heart from empty to whole, or change the end of a will from everlasting sadness to eternal joy. — Michael Brent Jones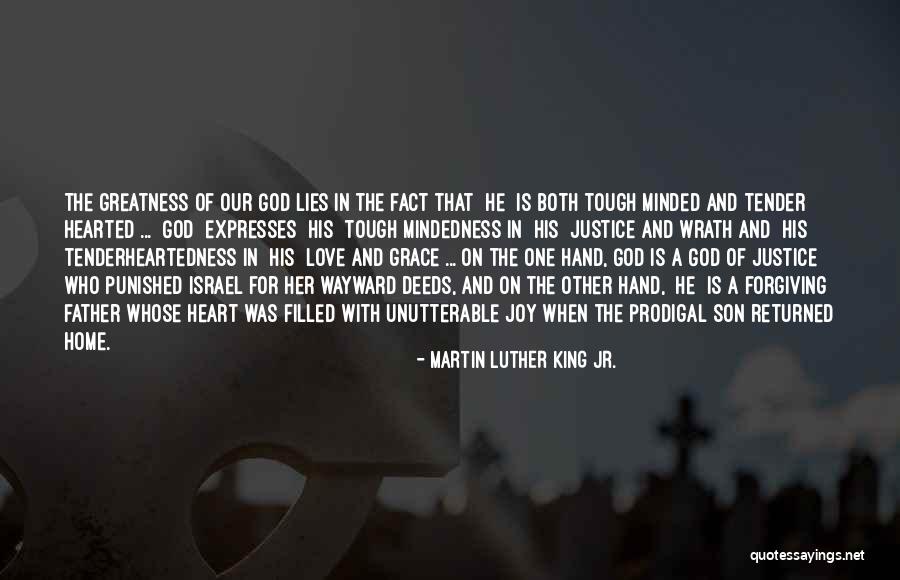 The greatness of our God lies in the fact that [He] is both tough minded and tender hearted ... [God] expresses [His] tough mindedness in [His] justice and wrath and [His] tenderheartedness in [His] love and grace ... On the one hand, God is a God of justice who punished Israel for her wayward deeds, and on the other hand, [He] is a forgiving father whose heart was filled with unutterable joy when the prodigal son returned home. — Martin Luther King Jr.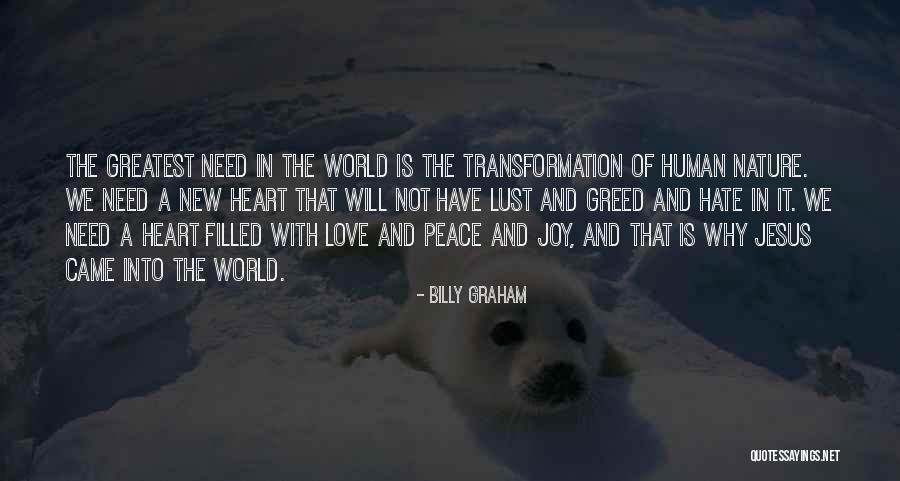 The greatest need in the world is the transformation of human nature. We need a new heart that will not have lust and greed and hate in it. We need a heart filled with love and peace and joy, and that is why Jesus came into the world. — Billy Graham
The bible therefore teaches us to always ensure that our hearts are not filled with hatred and on the contrary they should be filled with joy and love so that we can be campaigners of peace. This is how Jesus wants us Christians to live. He himself ensured that the state of his heart was not affected by the bad things that people he had come to save did to him before killing him of the cross. He was so kind that even after resurrecting he came back to ensure that they had eternal salvation. — Austin V. Songer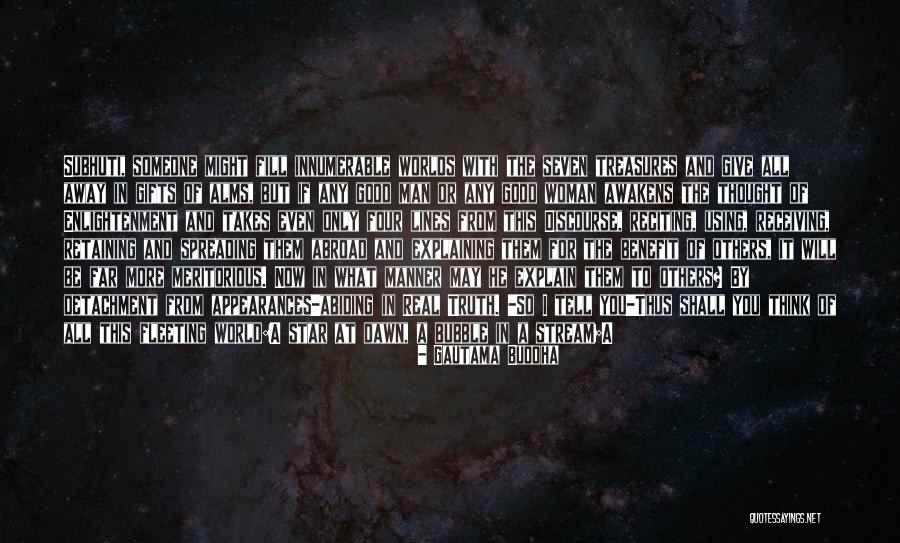 Subhuti, someone might fill innumerable worlds with the seven treasures and give all away in gifts of alms, but if any good man or any good woman awakens the thought of Enlightenment and takes even only four lines from this Discourse, reciting, using, receiving, retaining and spreading them abroad and explaining them for the benefit of others, it will be far more meritorious. Now in what manner may he explain them to others? By detachment from appearances-abiding in Real Truth. -So I tell you-
Thus shall you think of all this fleeting world:
A star at dawn, a bubble in a stream;
A flash of lightening in a summer cloud,
A flickering lamp, a phantom, and a dream.
When Buddha finished this Discourse the venerable Subhuti, together with the bhikshus, bhikshunis, lay-brothers and sisters, and the whole realms of Gods, Men and Titans, were filled with joy by His teaching, and, taking it sincerely to heart they went their ways. — Gautama Buddha