Quotes & Sayings About Music Being Everywhere
Enjoy reading and share 12 famous quotes about Music Being Everywhere with everyone.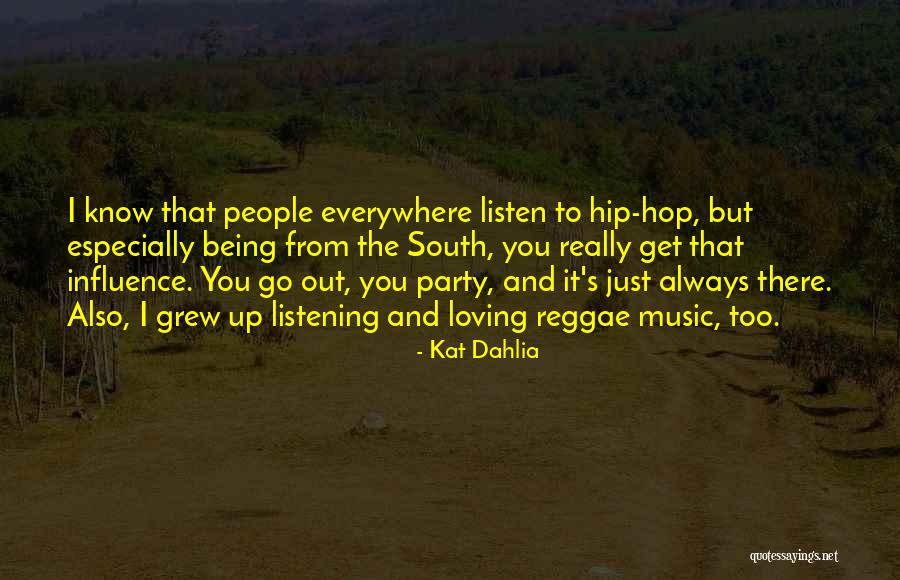 I know that people everywhere listen to hip-hop, but especially being from the South, you really get that influence. You go out, you party, and it's just always there. Also, I grew up listening and loving reggae music, too. — Kat Dahlia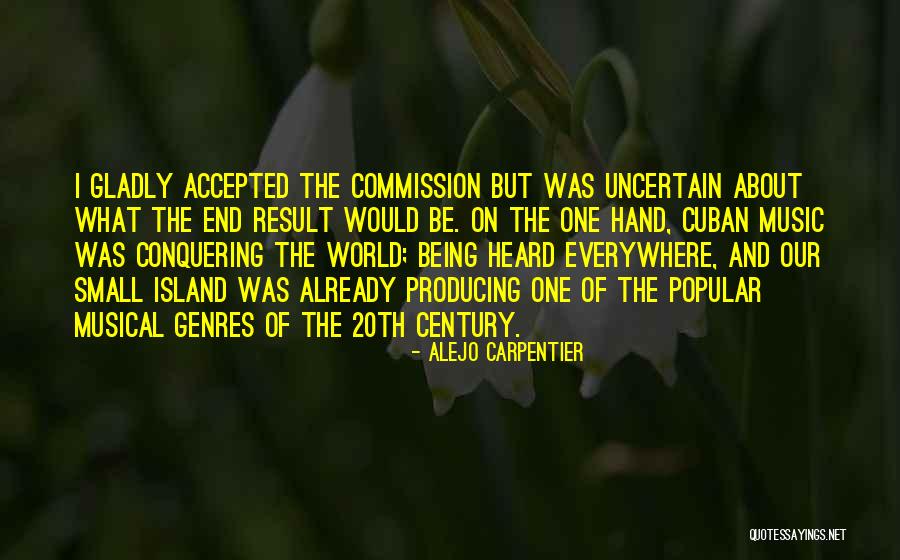 I gladly accepted the commission but was uncertain about what the end result would be. On the one hand, Cuban music was conquering the world; being heard everywhere, and our small island was already producing one of the popular musical genres of the 20th century. — Alejo Carpentier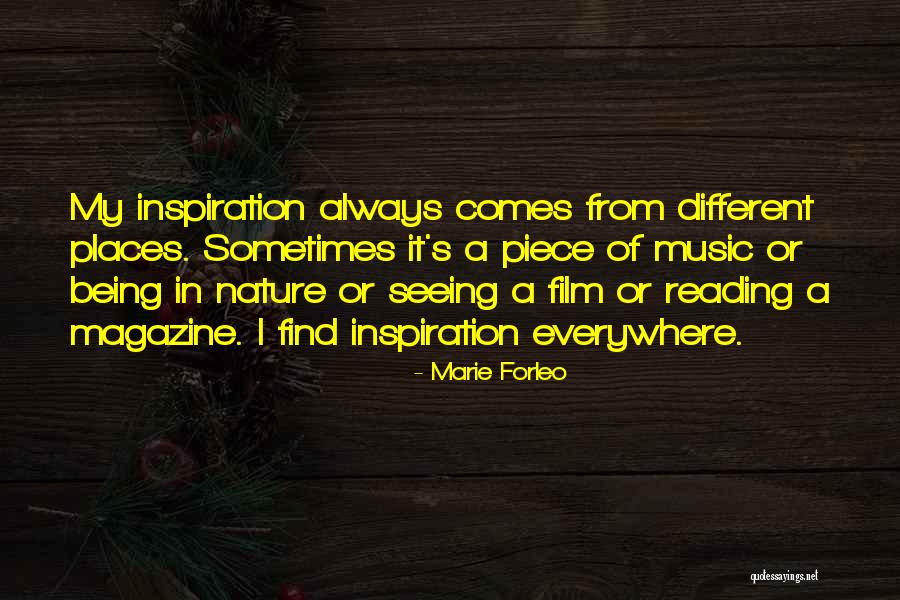 My inspiration always comes from different places. Sometimes it's a piece of music or being in nature or seeing a film or reading a magazine. I find inspiration everywhere. — Marie Forleo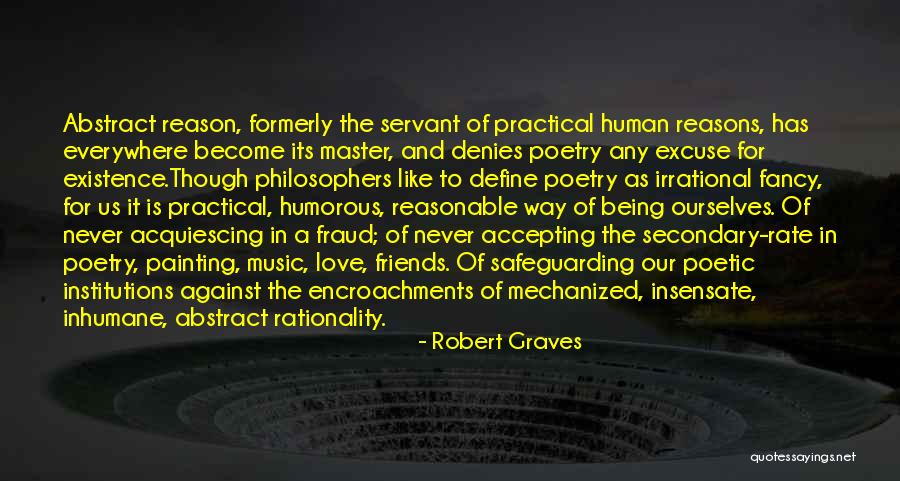 Abstract reason, formerly the servant of practical human reasons, has everywhere become its master, and denies poetry any excuse for existence.
Though philosophers like to define poetry as irrational fancy, for us it is practical, humorous, reasonable way of being ourselves. Of never acquiescing in a fraud; of never accepting the secondary-rate in poetry, painting, music, love, friends. Of safeguarding our poetic institutions against the encroachments of mechanized, insensate, inhumane, abstract rationality. — Robert Graves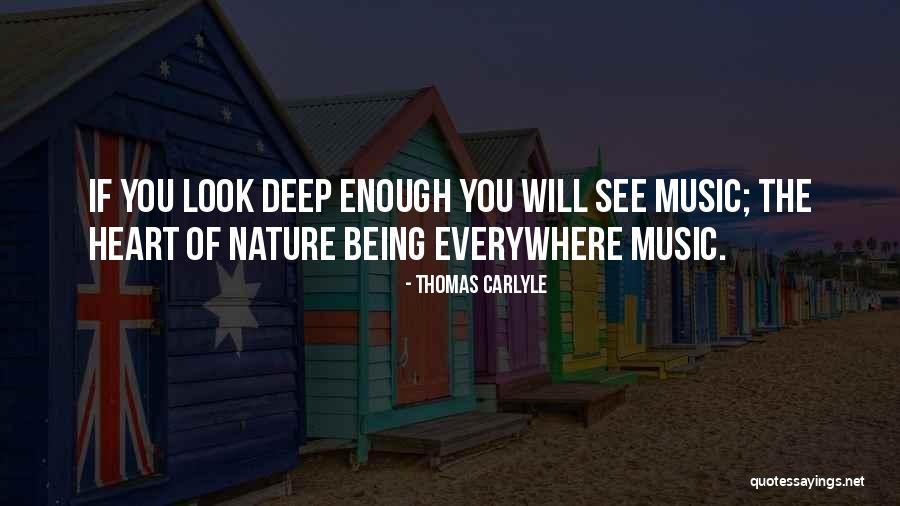 If you look deep enough you will see music; the heart of nature being everywhere music. — Thomas Carlyle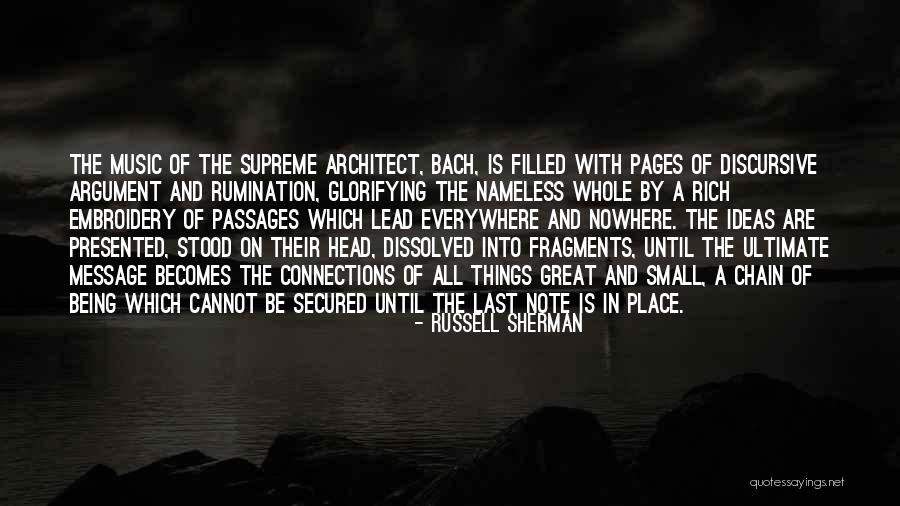 The music of the supreme architect, Bach, is filled with pages of discursive argument and rumination, glorifying the nameless whole by a rich embroidery of passages which lead everywhere and nowhere. The ideas are presented, stood on their head, dissolved into fragments, until the ultimate message becomes the connections of all things great and small, a chain of being which cannot be secured until the last note is in place. — Russell Sherman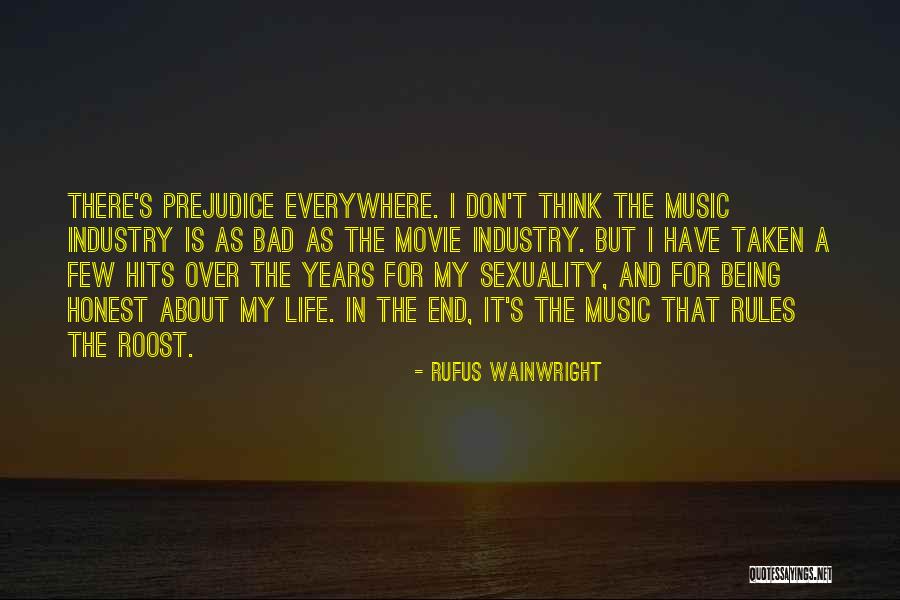 There's prejudice everywhere. I don't think the music industry is as bad as the movie industry. But I have taken a few hits over the years for my sexuality, and for being honest about my life. In the end, it's the music that rules the roost. — Rufus Wainwright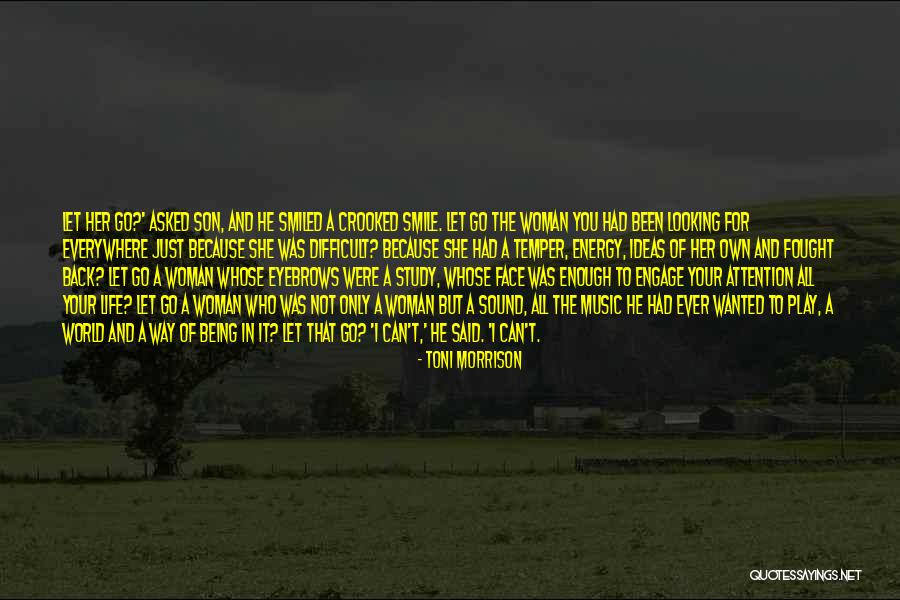 Let her go?' asked Son, and he smiled a crooked smile. Let go the woman you had been looking for everywhere just because she was difficult? Because she had a temper, energy, ideas of her own and fought back? Let go a woman whose eyebrows were a study, whose face was enough to engage your attention all your life? Let go a woman who was not only a woman but a sound, all the music he had ever wanted to play, a world and a way of being in it? Let that go? 'I can't,' he said. 'I can't. — Toni Morrison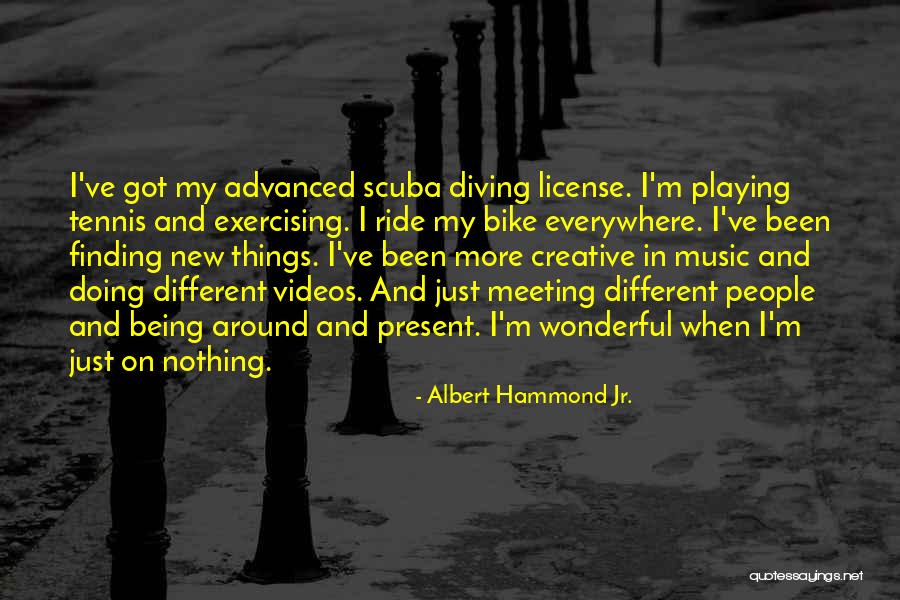 I've got my advanced scuba diving license. I'm playing tennis and exercising. I ride my bike everywhere. I've been finding new things. I've been more creative in music and doing different videos. And just meeting different people and being around and present. I'm wonderful when I'm just on nothing. — Albert Hammond Jr.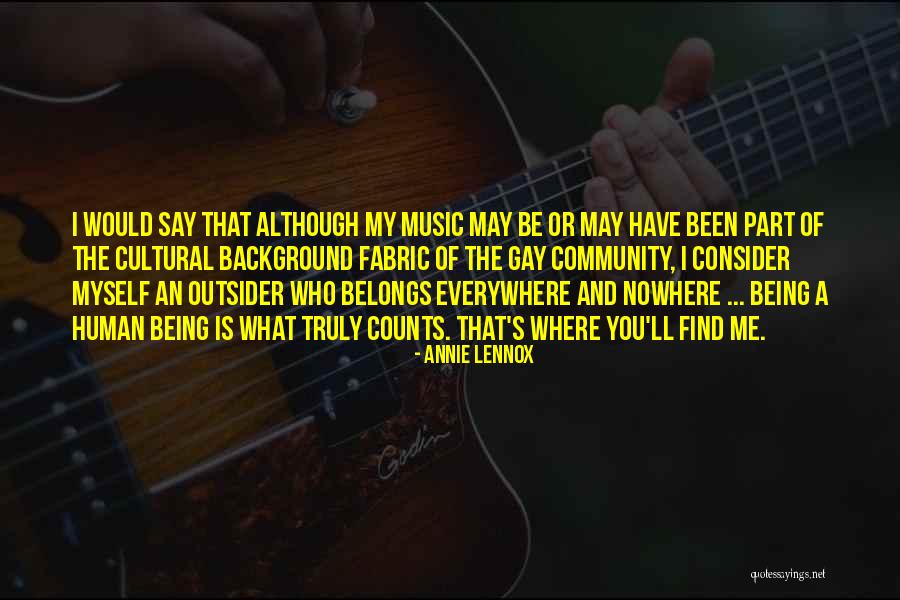 I would say that although my music may be or may have been part of the cultural background fabric of the gay community, I consider myself an outsider who belongs everywhere and nowhere ... Being a human being is what truly counts. That's where you'll find me. — Annie Lennox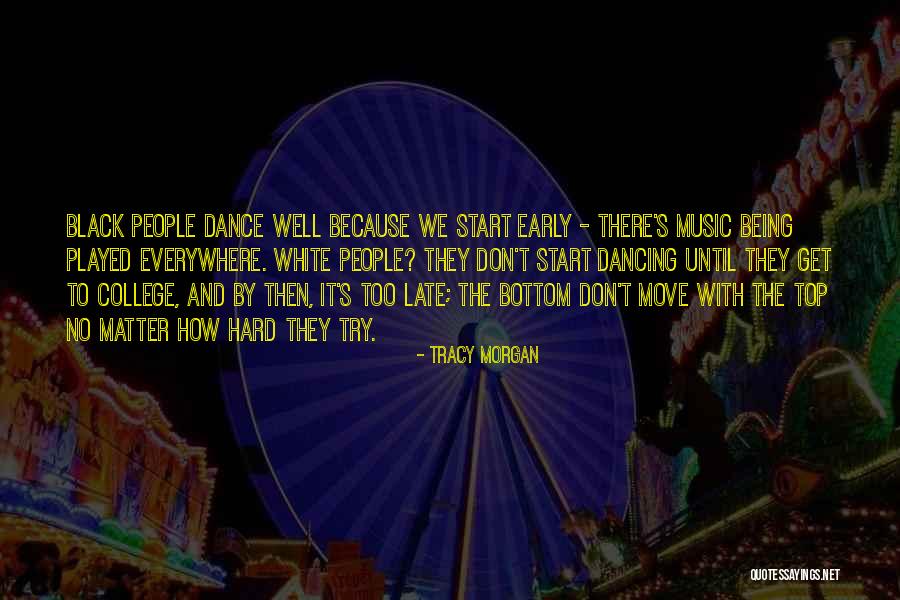 Black people dance well because we start early - there's music being played everywhere. White people? They don't start dancing until they get to college, and by then, it's too late; the bottom don't move with the top no matter how hard they try. — Tracy Morgan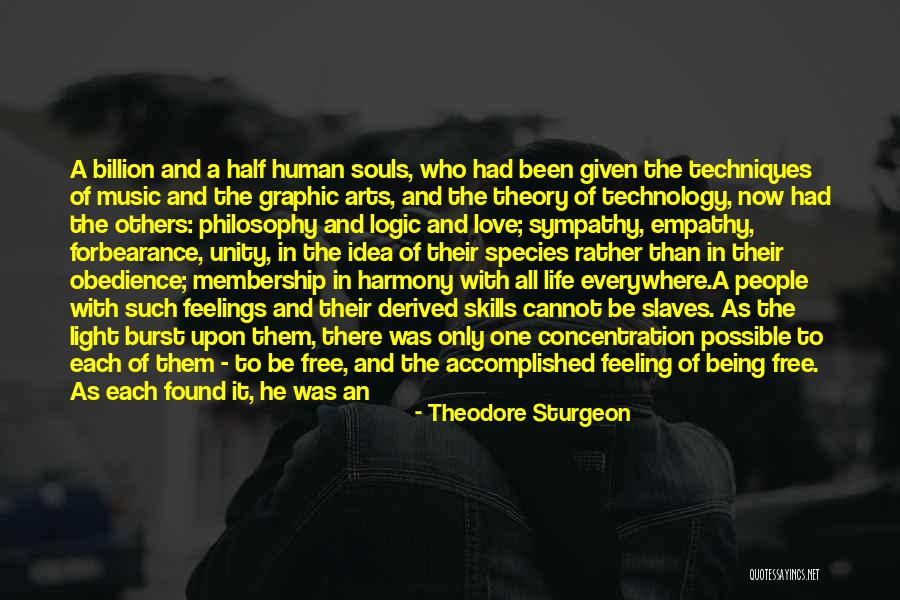 A billion and a half human souls, who had been given the techniques of music and the graphic arts, and the theory of technology, now had the others: philosophy and logic and love; sympathy, empathy, forbearance, unity, in the idea of their species rather than in their obedience; membership in harmony with all life everywhere.
A people with such feelings and their derived skills cannot be slaves. As the light burst upon them, there was only one concentration possible to each of them - to be free, and the accomplished feeling of being free. As each found it, he was an expert in freedom, and expert succeeded expert, transcended expert, until (in a moment) a billion and a half human souls had no greater skill than the talent of freedom. — Theodore Sturgeon