Quotes & Sayings About Mountains And Family
Enjoy reading and share 35 famous quotes about Mountains And Family with everyone.
Top Mountains And Family Quotes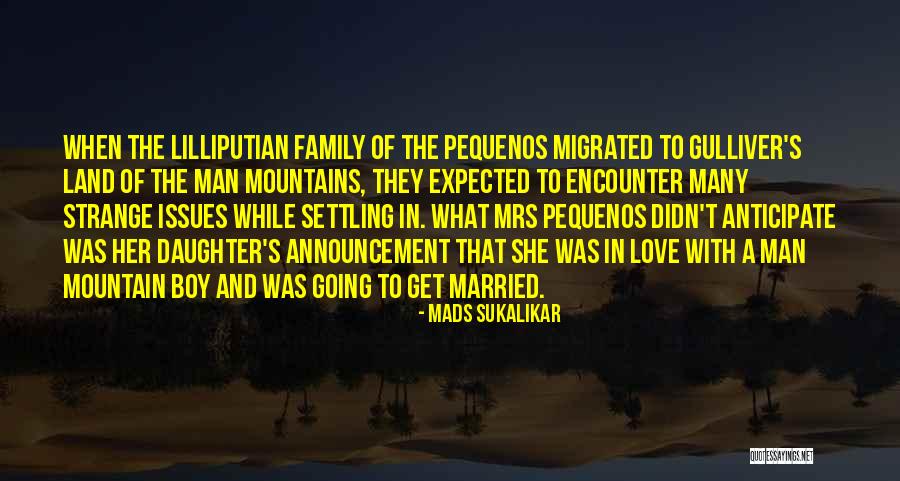 When the Lilliputian family of the Pequenos migrated to Gulliver's land of the Man Mountains, they expected to encounter many strange issues while settling in. What Mrs Pequenos didn't anticipate was her daughter's announcement that she was in love with a Man Mountain boy and was going to get married. — Mads Sukalikar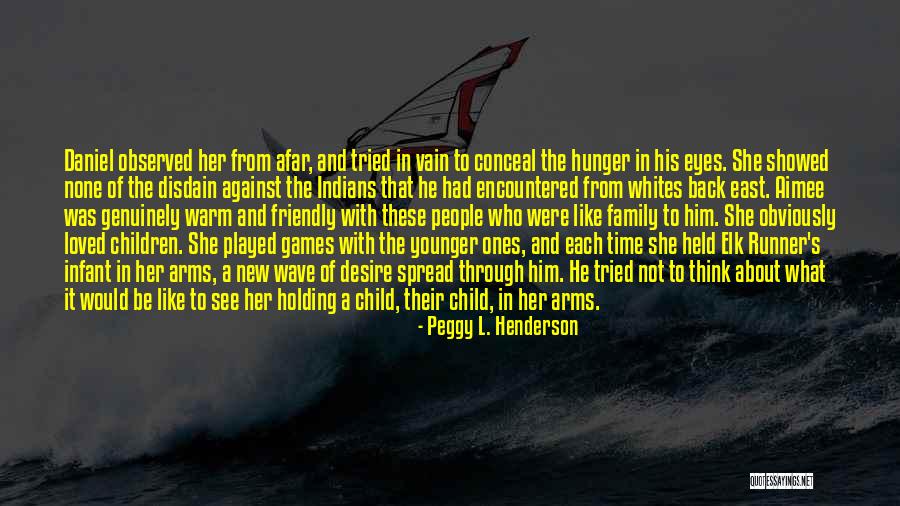 Daniel observed her from afar, and tried in vain to conceal the hunger in his eyes. She showed none of the disdain against the Indians that he had encountered from whites back east. Aimee was genuinely warm and friendly with these people who were like family to him. She obviously loved children. She played games with the younger ones, and each time she held Elk Runner's infant in her arms, a new wave of desire spread through him. He tried not to think about what it would be like to see her holding a child, their child, in her arms. That could never happen. His white mother had died in this wilderness, giving birth to him. No matter how she dressed, or her abilities on the trail, Aimee was still a white woman. Like a beautiful spring flower, she would wither and die in these mountains. Neither lasted long in this harsh environment. — Peggy L. Henderson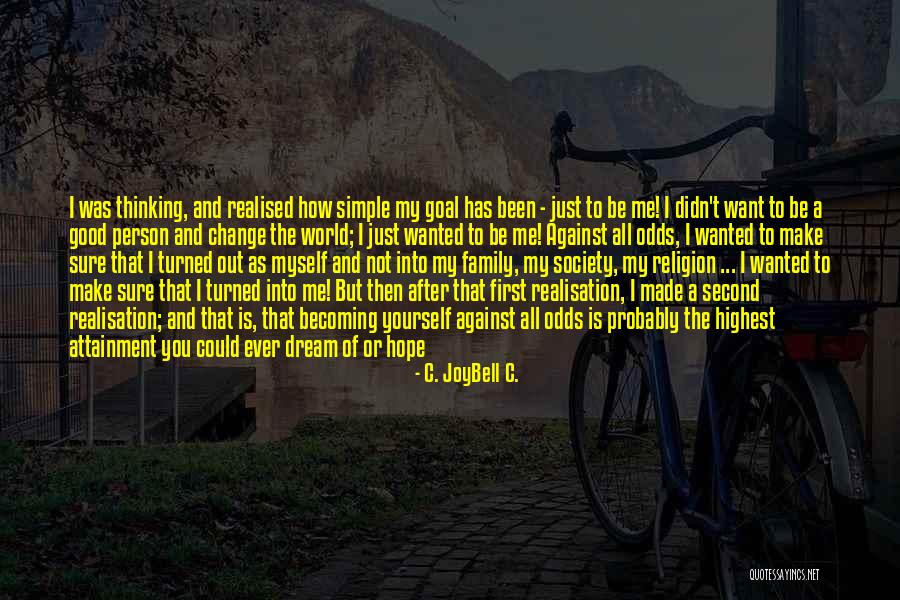 I was thinking, and realised how simple my goal has been - just to be me! I didn't want to be a good person and change the world; I just wanted to be me! Against all odds, I wanted to make sure that I turned out as myself and not into my family, my society, my religion ... I wanted to make sure that I turned into me! But then after that first realisation, I made a second realisation; and that is, that becoming yourself against all odds is probably the highest attainment you could ever dream of or hope for! After all, the minute we are born, we are born into a world that isn't interested in making us who we are; but rather, is interested in making us who they think we are supposed to be! It is a most courageous act to become yourself, no matter what! And you can move mountains and change the world without trying to! As long as you fight for you! — C. JoyBell C.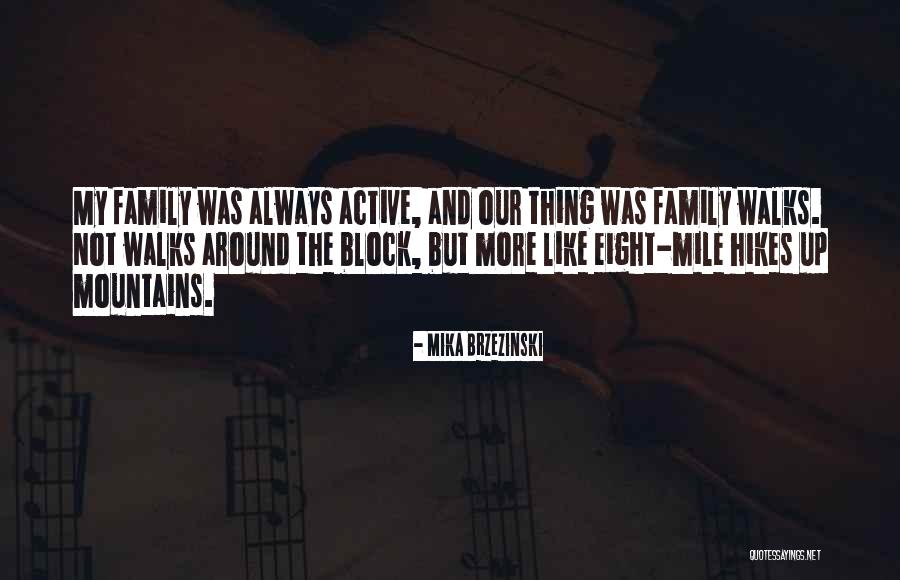 My family was always active, and our thing was family walks. Not walks around the block, but more like eight-mile hikes up mountains. — Mika Brzezinski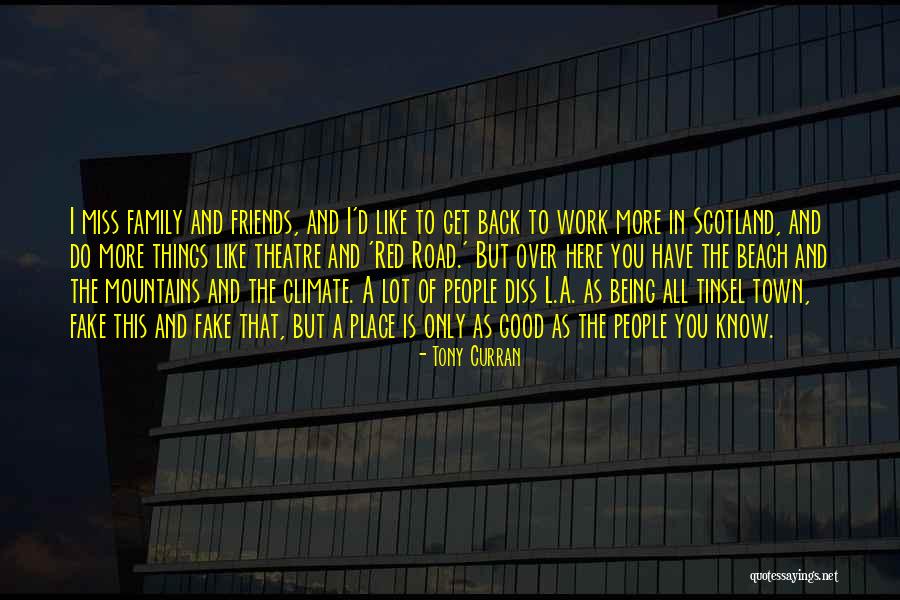 I miss family and friends, and I'd like to get back to work more in Scotland, and do more things like theatre and 'Red Road.' But over here you have the beach and the mountains and the climate. A lot of people diss L.A. as being all tinsel town, fake this and fake that, but a place is only as good as the people you know. — Tony Curran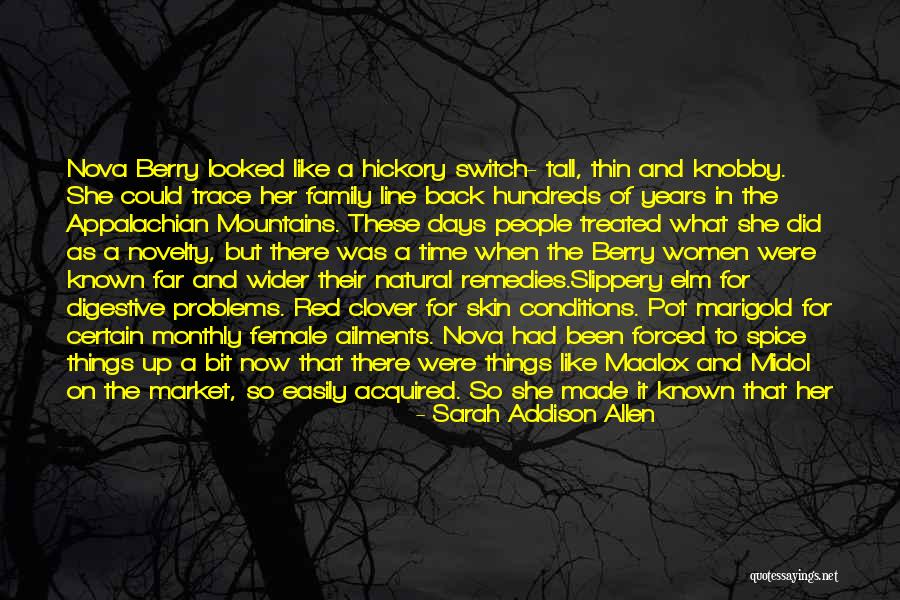 Nova Berry looked like a hickory switch- tall, thin and knobby. She could trace her family line back hundreds of years in the Appalachian Mountains. These days people treated what she did as a novelty, but there was a time when the Berry women were known far and wider their natural remedies.Slippery elm for digestive problems. Red clover for skin conditions. Pot marigold for certain monthly female ailments. Nova had been forced to spice things up a bit now that there were things like Maalox and Midol on the market, so easily acquired. So she made it known that her cure for heartburn also mended a broken heart, and her cure for cramps also made you more fertile, or less, if that's what you wanted. Half the time it really worked, because if it was one thing generations of Berry women knew, it was that confidence was the primary ingredient in every potion. — Sarah Addison Allen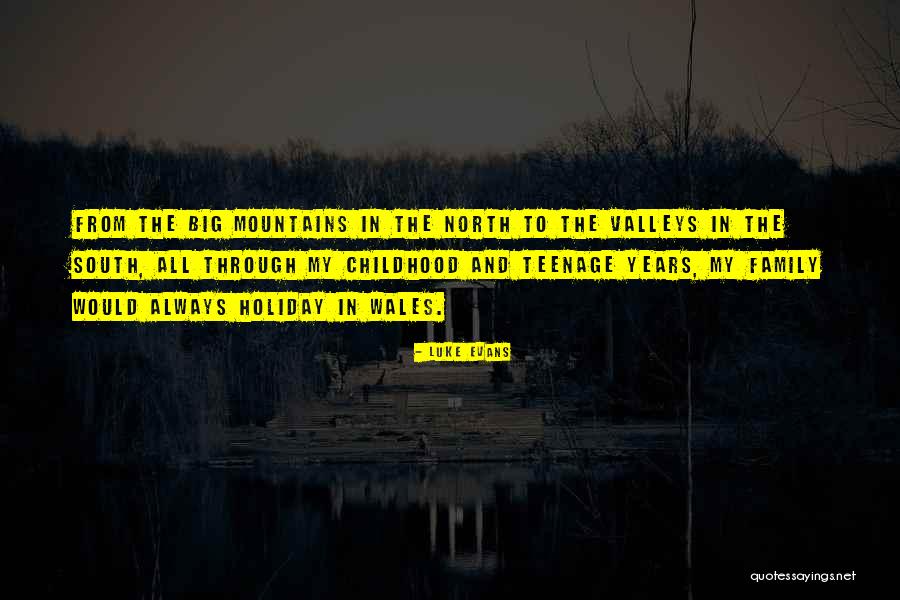 From the big mountains in the north to the valleys in the south, all through my childhood and teenage years, my family would always holiday in Wales. — Luke Evans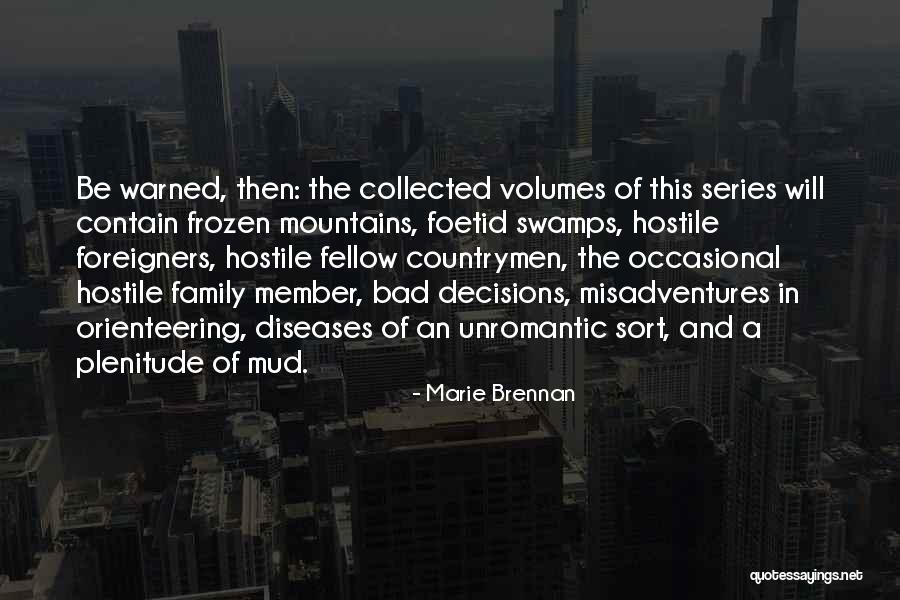 Be warned, then: the collected volumes of this series will contain frozen mountains, foetid swamps, hostile foreigners, hostile fellow countrymen, the occasional hostile family member, bad decisions, misadventures in orienteering, diseases of an unromantic sort, and a plenitude of mud. — Marie Brennan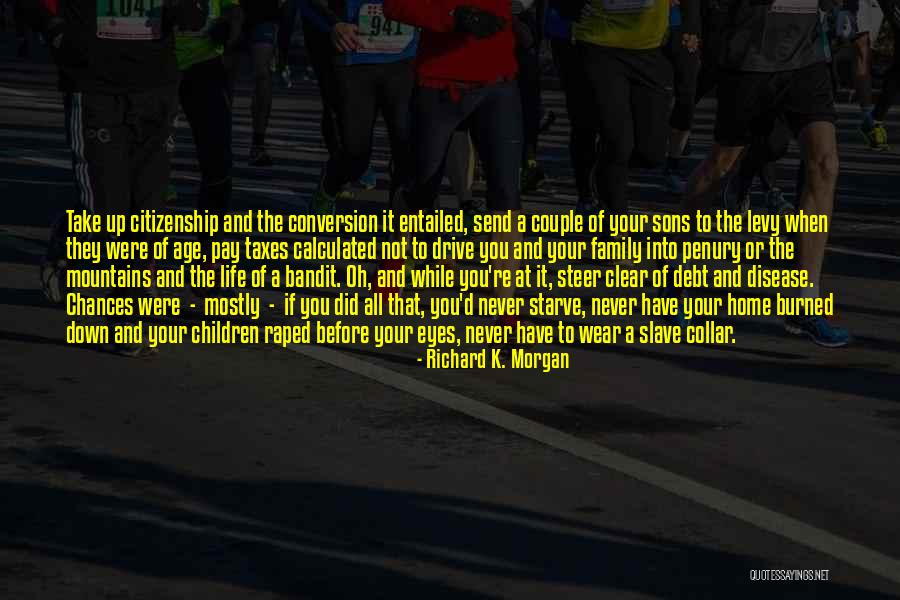 Take up citizenship and the conversion it entailed, send a couple of your sons to the levy when they were of age, pay taxes calculated not to drive you and your family into penury or the mountains and the life of a bandit. Oh, and while you're at it, steer clear of debt and disease. Chances were - mostly - if you did all that, you'd never starve, never have your home burned down and your children raped before your eyes, never have to wear a slave collar. — Richard K. Morgan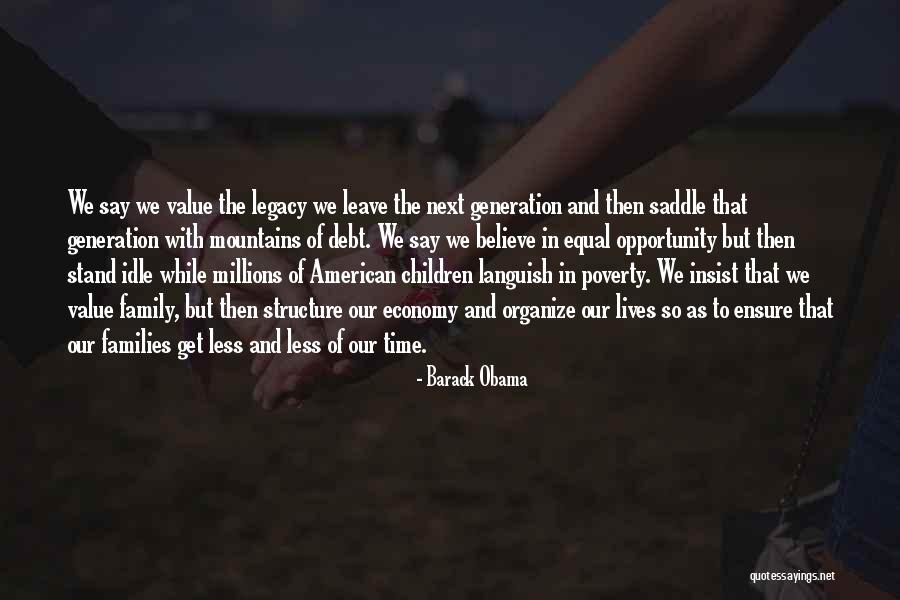 We say we value the legacy we leave the next generation and then saddle that generation with mountains of debt. We say we believe in equal opportunity but then stand idle while millions of American children languish in poverty. We insist that we value family, but then structure our economy and organize our lives so as to ensure that our families get less and less of our time. — Barack Obama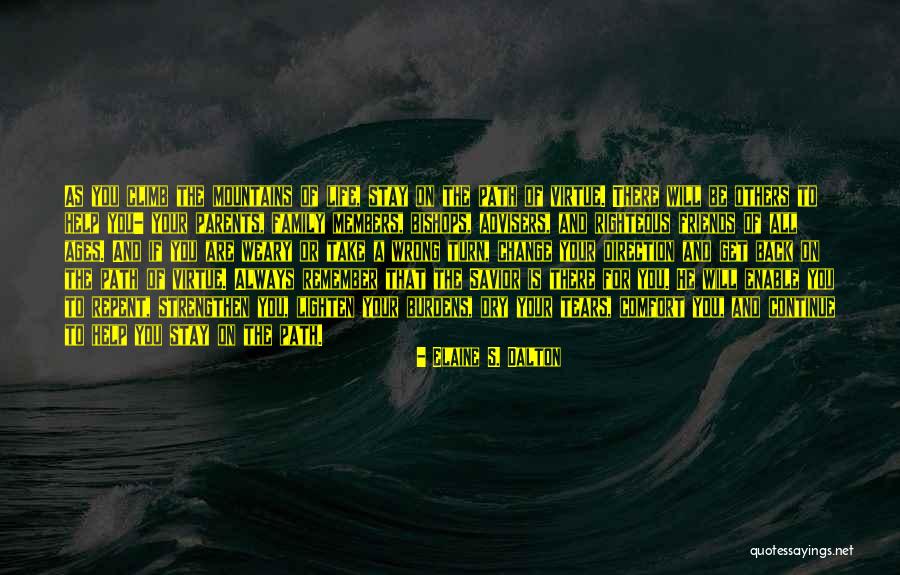 As you climb the mountains of life, stay on the path of virtue. There will be others to help you- your parents, family members, bishops, advisers, and righteous friends of all ages. And if you are weary or take a wrong turn, change your direction and get back on the path of virtue. Always remember that the Savior is there for you. He will enable you to repent, strengthen you, lighten your burdens, dry your tears, comfort you, and continue to help you stay on the path. — Elaine S. Dalton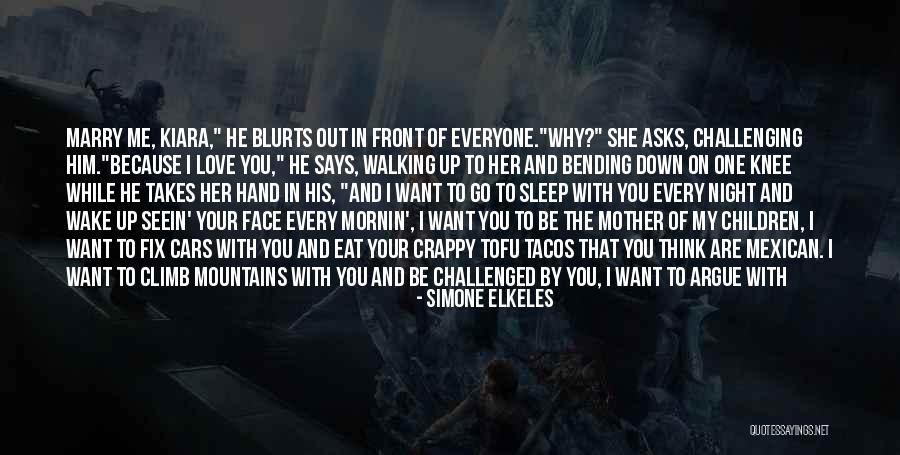 Marry me, Kiara," he blurts out in front of everyone.
"Why?" she asks, challenging him.
"Because I love you," he says, walking up to her and bending down on one knee while he takes her hand in his, "and I want to go to sleep with you every night and wake up seein' your face every mornin', I want you to be the mother of my children, I want to fix cars with you and eat your crappy tofu tacos that you think are Mexican. I want to climb mountains with you and be challenged by you, I want to argue with you just so we can have crazy hot makeup sex. Marry me, because without you I'd be six feet under ... and because I love your family like they're my own ... and because you're my best friend and I want to grow old with you." He starts tearing up, and it's shocking because I've never seen him cry. "Marry me, Kiara Westford, because when I got shot the only thing I was thinkin' about was comin' back here and makin' you my wife. Say yes, chica. — Simone Elkeles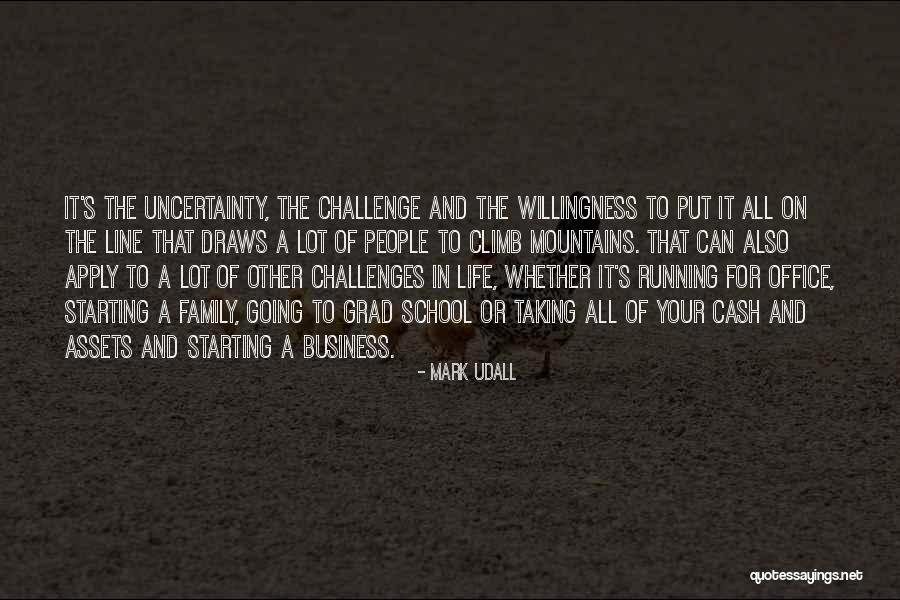 It's the uncertainty, the challenge and the willingness to put it all on the line that draws a lot of people to climb mountains. That can also apply to a lot of other challenges in life, whether it's running for office, starting a family, going to grad school or taking all of your cash and assets and starting a business. — Mark Udall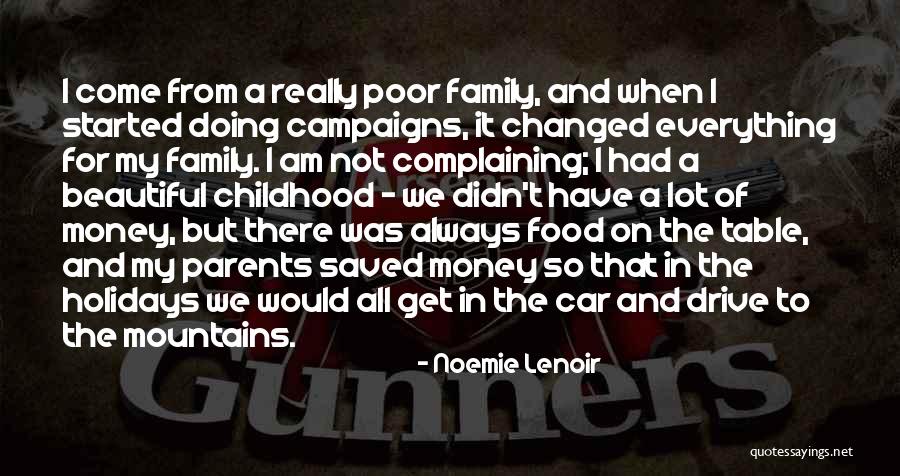 I come from a really poor family, and when I started doing campaigns, it changed everything for my family. I am not complaining; I had a beautiful childhood - we didn't have a lot of money, but there was always food on the table, and my parents saved money so that in the holidays we would all get in the car and drive to the mountains. — Noemie Lenoir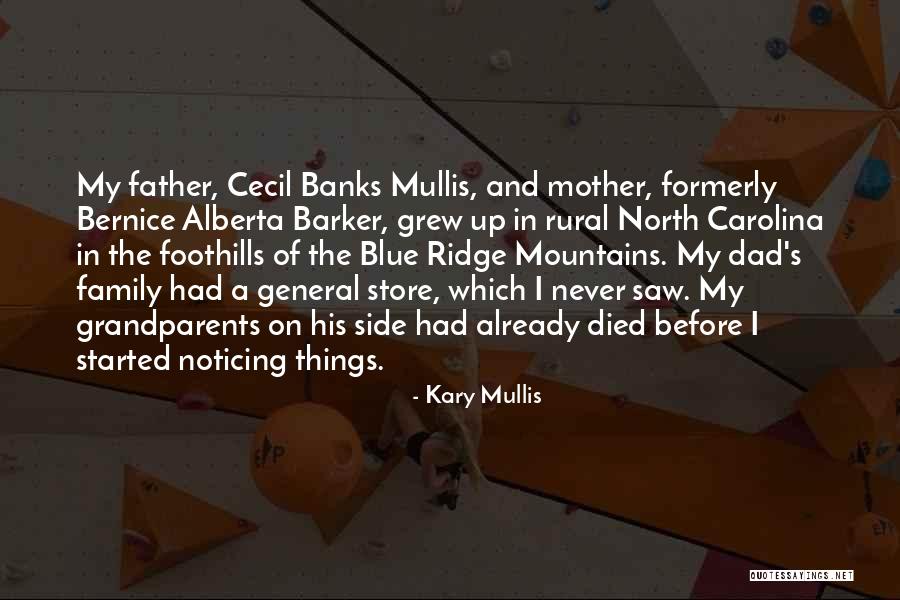 My father, Cecil Banks Mullis, and mother, formerly Bernice Alberta Barker, grew up in rural North Carolina in the foothills of the Blue Ridge Mountains. My dad's family had a general store, which I never saw. My grandparents on his side had already died before I started noticing things. — Kary Mullis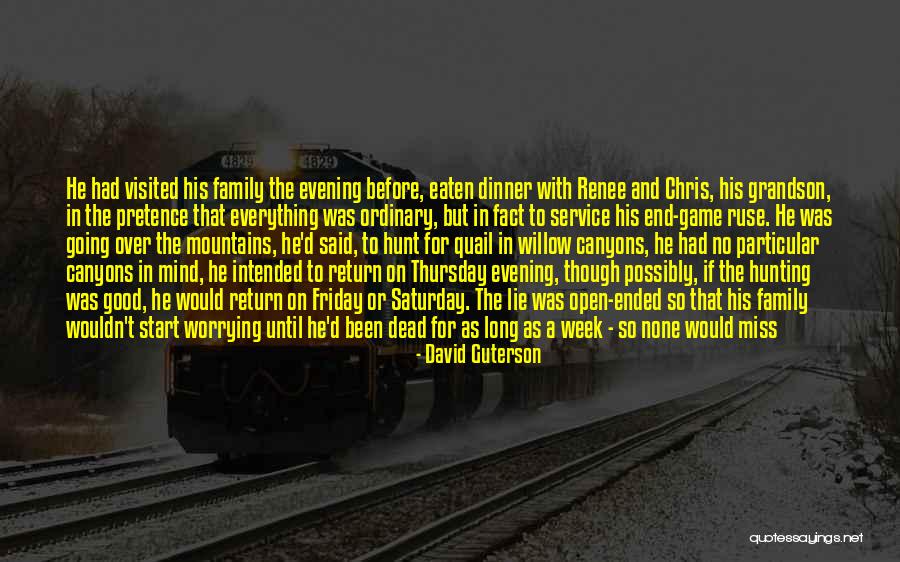 He had visited his family the evening before, eaten dinner with Renee and Chris, his grandson, in the pretence that everything was ordinary, but in fact to service his end-game ruse. He was going over the mountains, he'd said, to hunt for quail in willow canyons, he had no particular canyons in mind, he intended to return on Thursday evening, though possibly, if the hunting was good, he would return on Friday or Saturday. The lie was open-ended so that his family wouldn't start worrying until he'd been dead for as long as a week - so none would miss or seek him where he rotted silently in the sage. Ben imagined how it might be otherwise, his cancer a pestilent force in their lives, or a pall descending over them like ice, just as they'd begun to emerge from the pall of Rachel's death. The last thing they needed was for Ben to tell hem of his terminal colon cancer. — David Guterson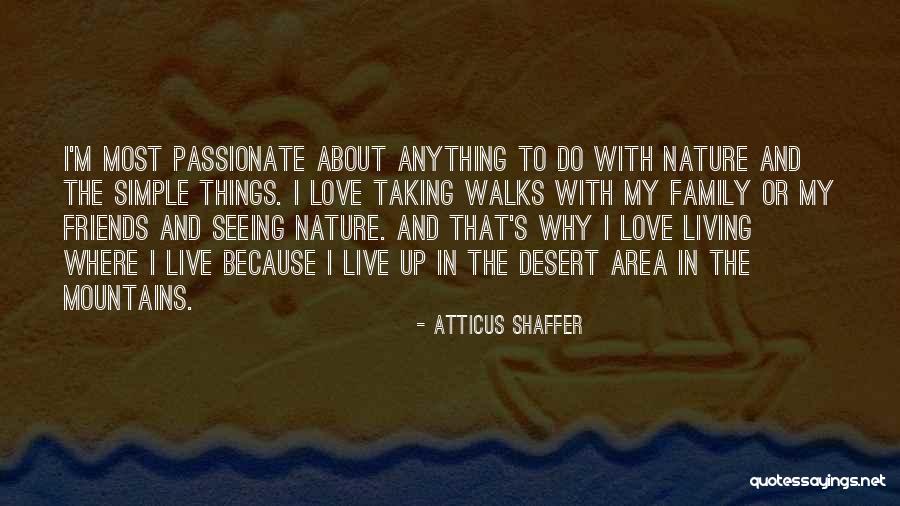 I'm most passionate about anything to do with nature and the simple things. I love taking walks with my family or my friends and seeing nature. And that's why I love living where I live because I live up in the desert area in the mountains. — Atticus Shaffer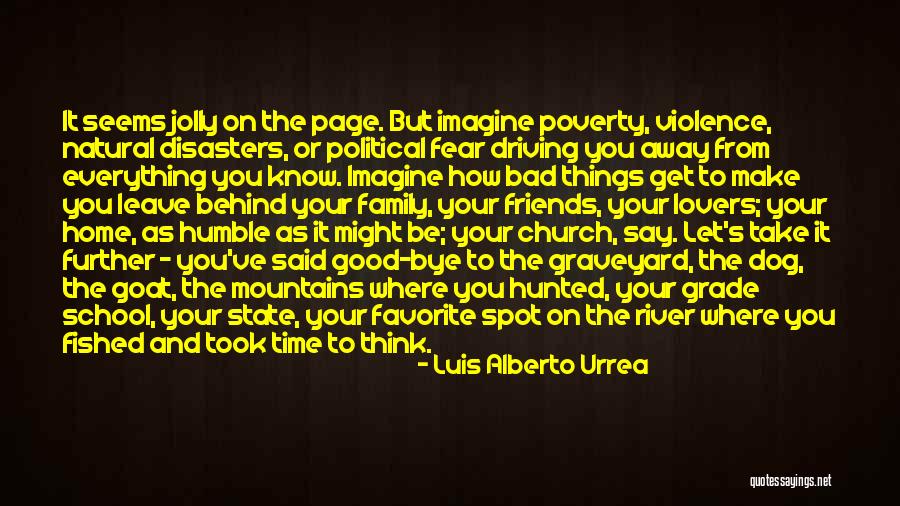 It seems jolly on the page. But imagine poverty, violence, natural disasters, or political fear driving you away from everything you know. Imagine how bad things get to make you leave behind your family, your friends, your lovers; your home, as humble as it might be; your church, say. Let's take it further - you've said good-bye to the graveyard, the dog, the goat, the mountains where you hunted, your grade school, your state, your favorite spot on the river where you fished and took time to think. — Luis Alberto Urrea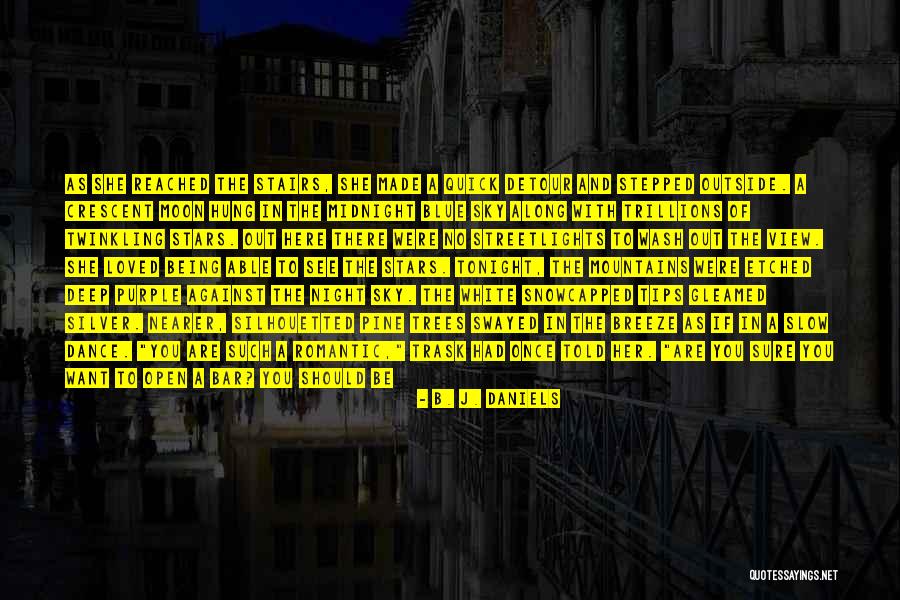 As she reached the stairs, she made a quick detour and stepped outside.
A crescent moon hung in the midnight blue sky along with trillions of twinkling stars. Out here there were no streetlights to wash out the view. She loved being able to see the stars.
Tonight, the mountains were etched deep purple against the night sky. The white snowcapped tips gleamed silver. Nearer, silhouetted pine trees swayed in the breeze as if in a slow dance.
"You are such a romantic," Trask had once told her. "Are you sure you want to open a bar? You should be writing poetry."
She'd laughed. "How do you know I don't? — B. J. Daniels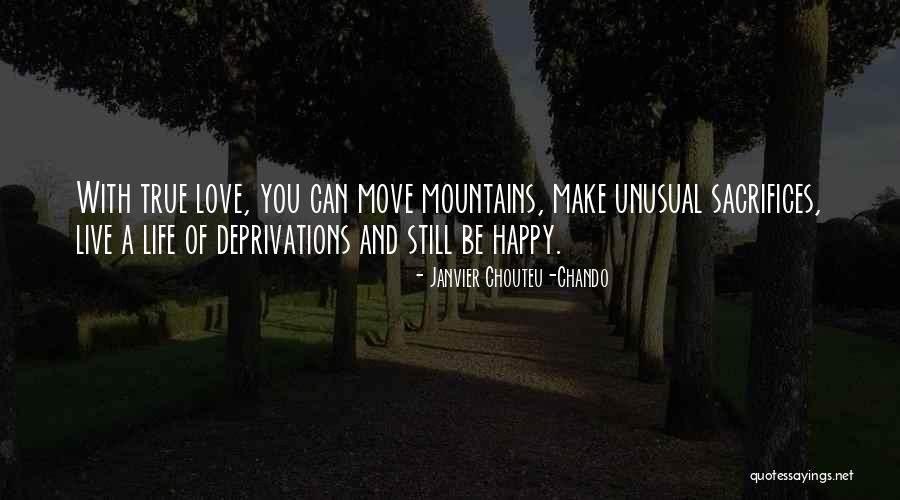 With true love, you can move mountains, make unusual sacrifices, live a life of deprivations and still be happy. — Janvier Chouteu-Chando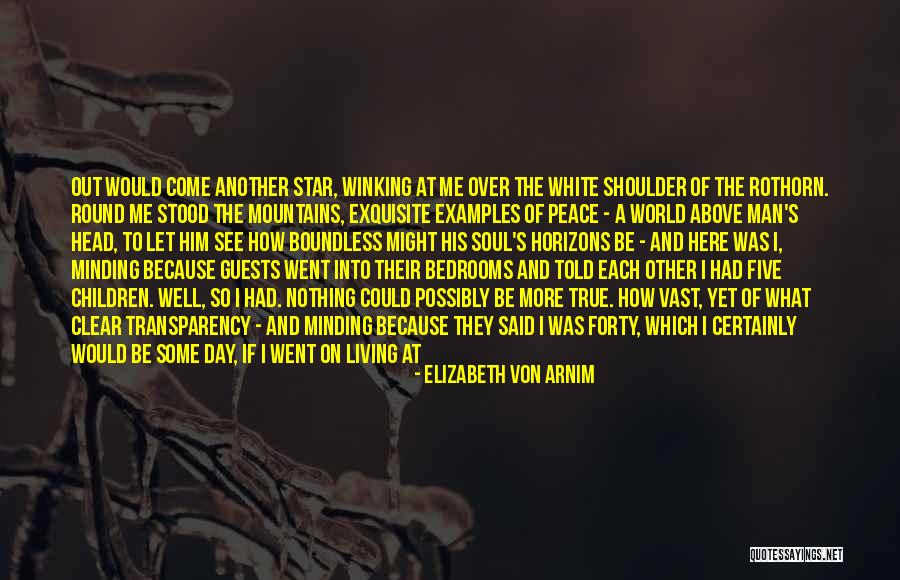 Out would come another star, winking at me over the white shoulder of the Rothorn. Round me stood the mountains, exquisite examples of peace - A world above man's head, to let him see How boundless might his soul's horizons be - and here was I, minding because guests went into their bedrooms and told each other I had five children. Well, so I had. Nothing could possibly be more true. How vast, yet of what clear transparency - and minding because they said I was forty, which I certainly would be some day, if I went on living at the rate I was doing. How it were good to abide there and be free - The fact was, I reflected, my eyes on the glittering slopes of the Weisshorn, we were all too close together, and my guests, being of one family, only made this closeness worse. The remedy - it burst upon me suddenly in a flash, - was not to waste my serenity vainly longing for the guests I had to go, but to invite yet more of them. Unrelated ones. — Elizabeth Von Arnim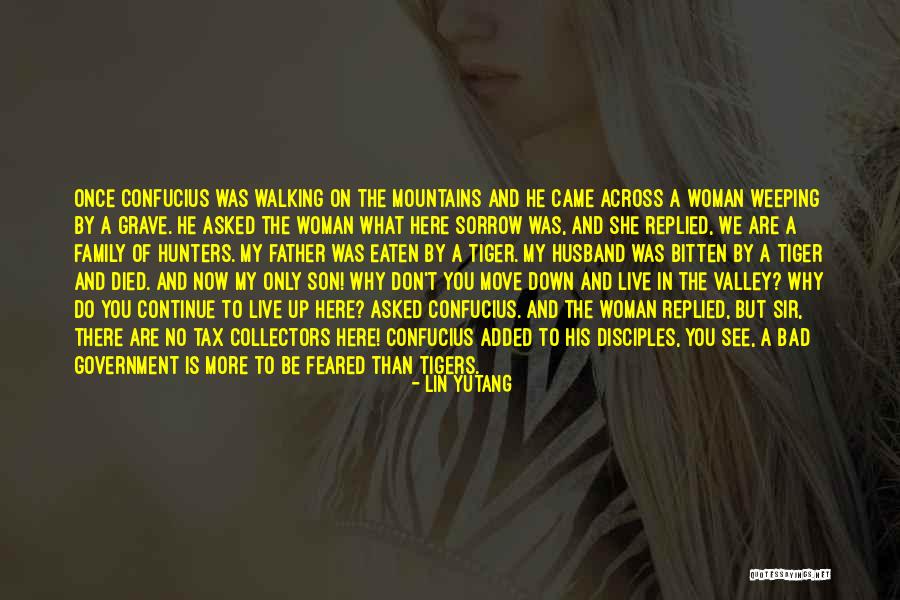 Once Confucius was walking on the mountains and he came across a woman weeping by a grave. He asked the woman what here sorrow was, and she replied, We are a family of hunters. My father was eaten by a tiger. My husband was bitten by a tiger and died. And now my only son! Why don't you move down and live in the valley? Why do you continue to live up here? asked Confucius. And the woman replied, But sir, there are no tax collectors here! Confucius added to his disciples, You see, a bad government is more to be feared than tigers. — Lin Yutang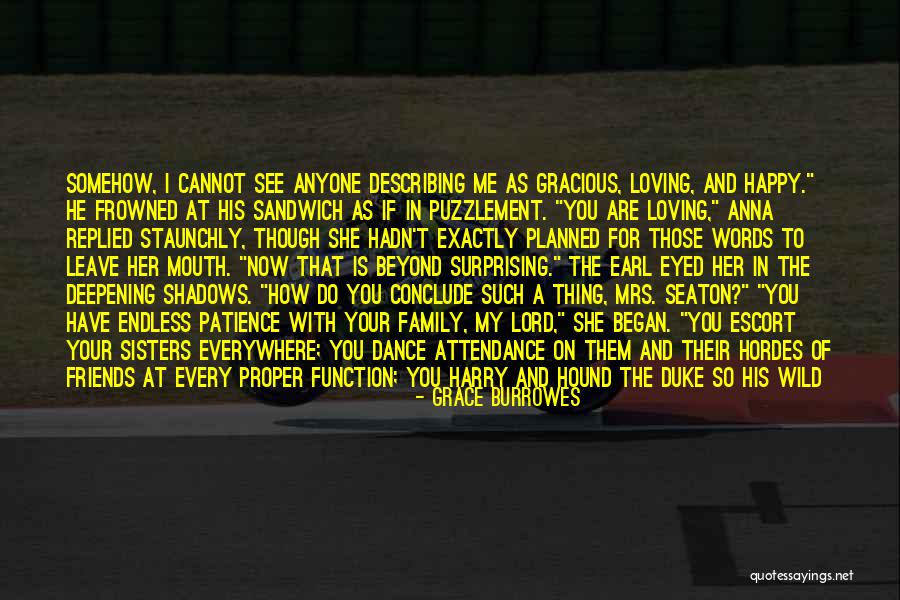 Somehow, I cannot see anyone describing me as gracious, loving, and happy." He frowned at his sandwich as if in puzzlement. "You are loving," Anna replied staunchly, though she hadn't exactly planned for those words to leave her mouth. "Now that is beyond surprising." The earl eyed her in the deepening shadows. "How do you conclude such a thing, Mrs. Seaton?" "You have endless patience with your family, my lord," she began. "You escort your sisters everywhere; you dance attendance on them and their hordes of friends at every proper function; you harry and hound the duke so his wild starts are not the ruination of his duchy. You force yourself to tend to mountains of business which you do not enjoy, so your family may be safe and secure all their days." "That is business," the earl said, looking nonplussed that his first sandwich had disappeared, until Anna handed him a second. — Grace Burrowes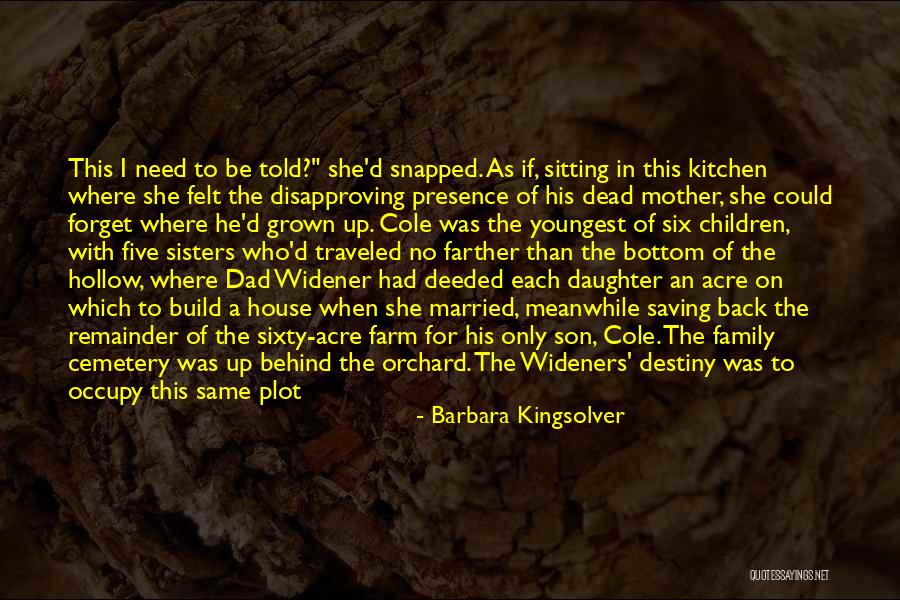 This I need to be told?" she'd snapped. As if, sitting in this kitchen where she felt the disapproving presence of his dead mother, she could forget where he'd grown up. Cole was the youngest of six children, with five sisters who'd traveled no farther than the bottom of the hollow, where Dad Widener had deeded each daughter an acre on which to build a house when she married, meanwhile saving back the remainder of the sixty-acre farm for his only son, Cole. The family cemetery was up behind the orchard. The Wideners' destiny was to occupy this same plot of land for their lives and eternity, evidently. To them the word town meant Egg Fork, a nearby hamlet of a few thousand souls, nine churches, and a Kroger's. Whereas Lusa was a dire outsider from the other side of the mountains, from Lexington - a place in the preposterous distance. And now she was marooned behind five sisters-in-law who flanked her gravel right-of-way to the mailbox. — Barbara Kingsolver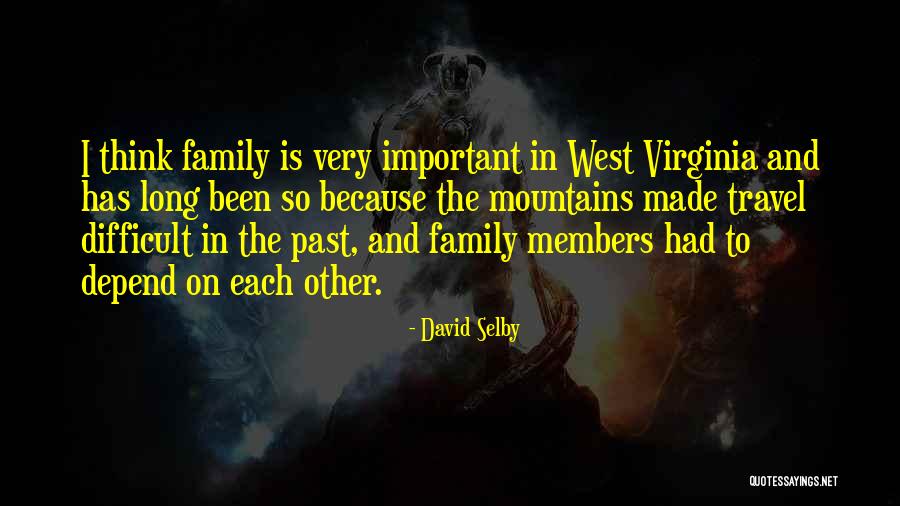 I think family is very important in West Virginia and has long been so because the mountains made travel difficult in the past, and family members had to depend on each other. — David Selby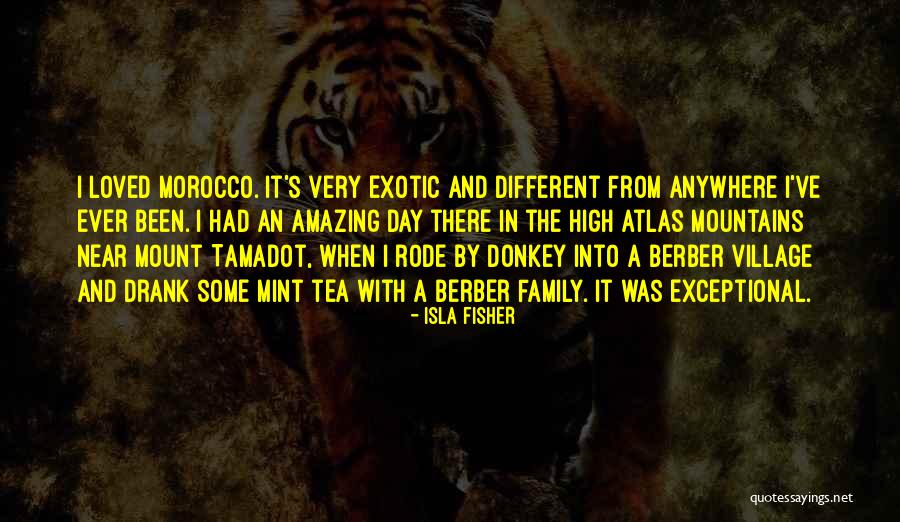 I loved Morocco. It's very exotic and different from anywhere I've ever been. I had an amazing day there in the high Atlas Mountains near Mount Tamadot, when I rode by donkey into a Berber village and drank some mint tea with a Berber family. It was exceptional. — Isla Fisher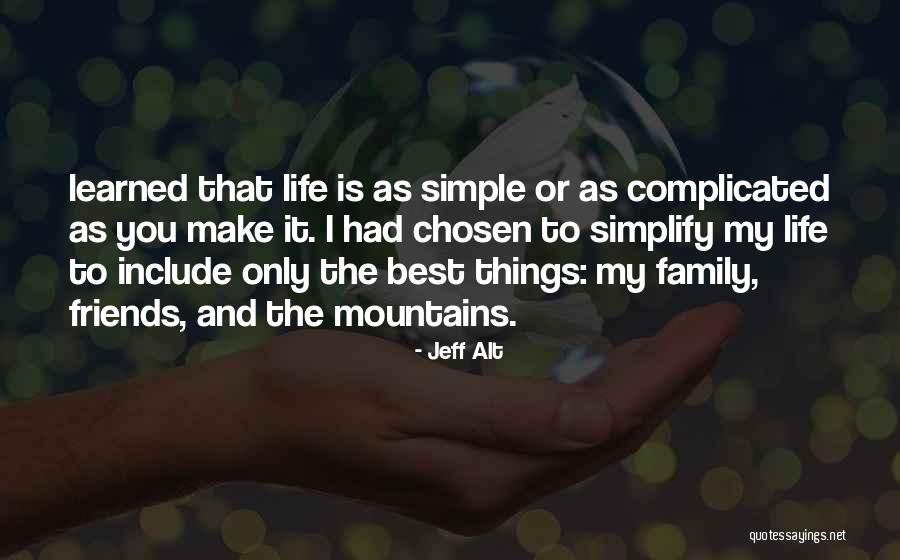 learned that life is as simple or as complicated as you make it. I had chosen to simplify my life to include only the best things: my family, friends, and the mountains. — Jeff Alt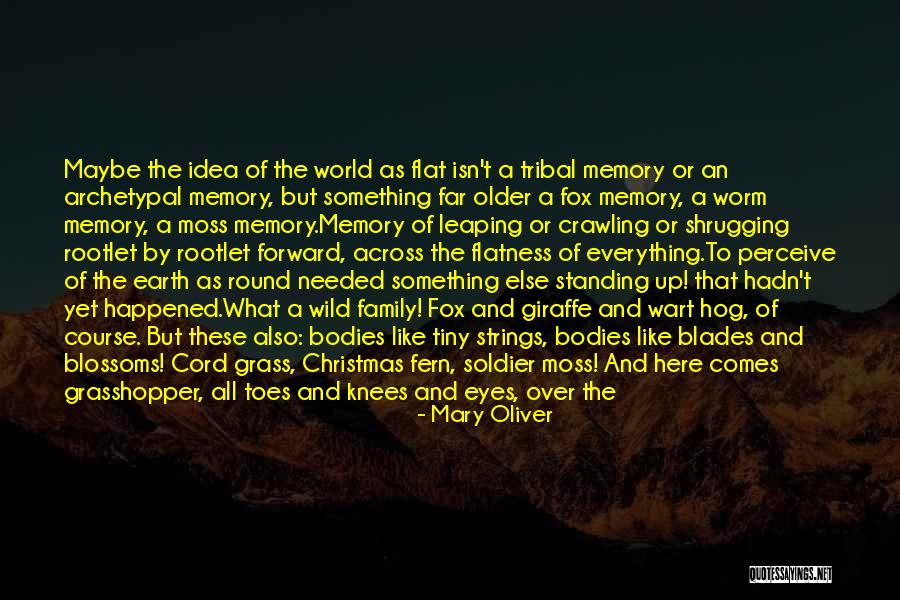 Maybe the idea of the world as flat isn't a tribal memory or an archetypal memory, but something far older
a fox memory, a worm memory, a moss memory.
Memory of leaping or crawling or shrugging rootlet by rootlet forward, across the flatness of everything.
To perceive of the earth as round needed something else
standing up!
that hadn't yet happened.
What a wild family! Fox and giraffe and wart hog, of course. But these also: bodies like tiny strings, bodies like blades and blossoms! Cord grass, Christmas fern, soldier moss! And here comes grasshopper, all toes and knees and eyes, over the little mountains of the dust.
When I see the black cricket in the woodpile, in autumn, I don't frighten her. And when I see the moss grazing upon the rock, I touch her tenderly,
sweet cousin. — Mary Oliver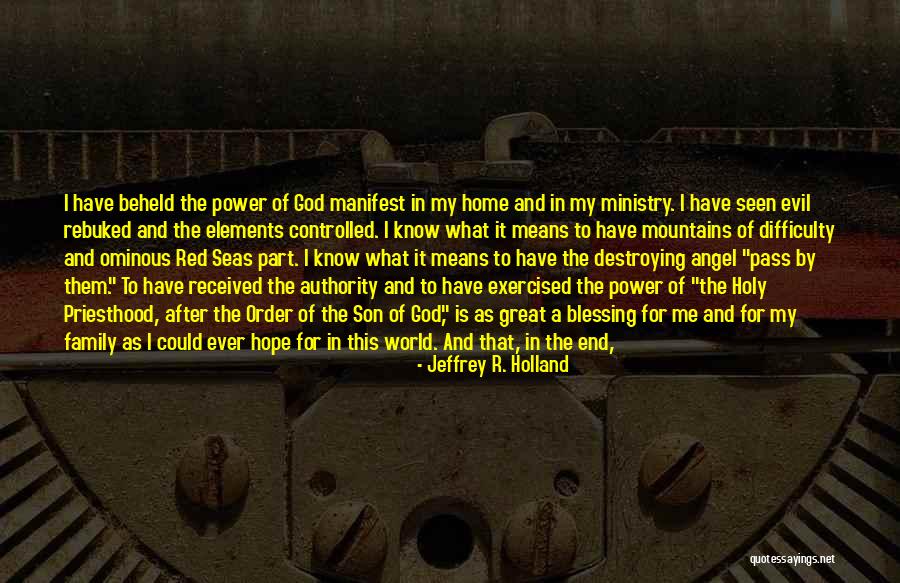 I have beheld the power of God manifest in my home and in my ministry. I have seen evil rebuked and the elements controlled. I know what it means to have mountains of difficulty and ominous Red Seas part. I know what it means to have the destroying angel "pass by them." To have received the authority and to have exercised the power of "the Holy Priesthood, after the Order of the Son of God," is as great a blessing for me and for my family as I could ever hope for in this world. And that, in the end, is the meaning of the priesthood in everyday terms
its unequaled, unending, constant capacity to bless. — Jeffrey R. Holland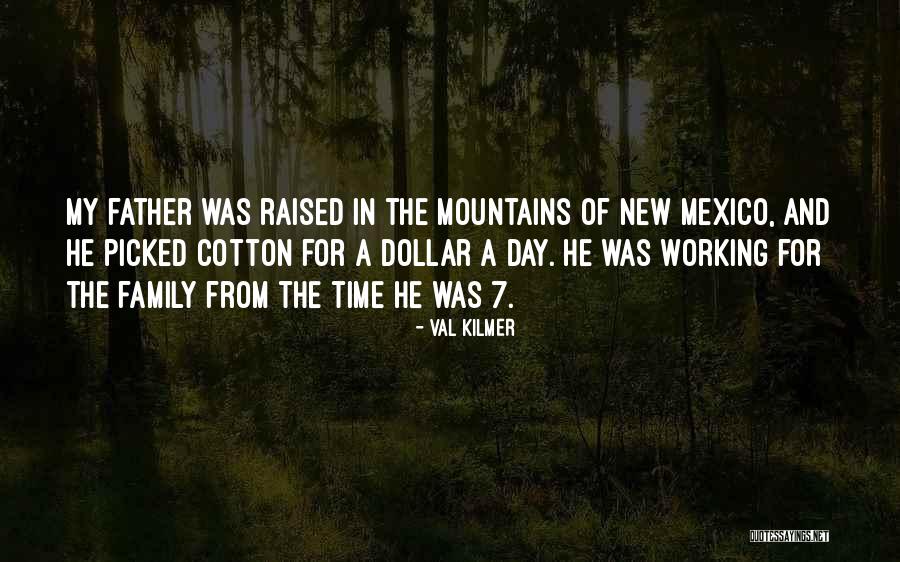 My father was raised in the mountains of New Mexico, and he picked cotton for a dollar a day. He was working for the family from the time he was 7. — Val Kilmer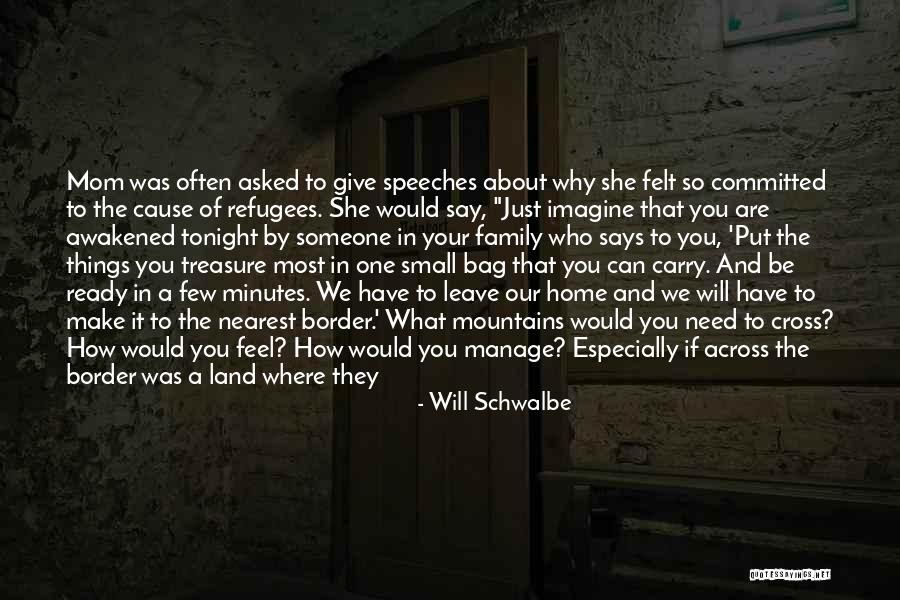 Mom was often asked to give speeches about why she felt so committed to the cause of refugees. She would say, "Just imagine that you are awakened tonight by someone in your family who says to you, 'Put the things you treasure most in one small bag that you can carry. And be ready in a few minutes. We have to leave our home and we will have to make it to the nearest border.' What mountains would you need to cross? How would you feel? How would you manage? Especially if across the border was a land where they didn't speak your language, where they didn't want you, where there was no work, and where you were confined to camps for months or years." And — Will Schwalbe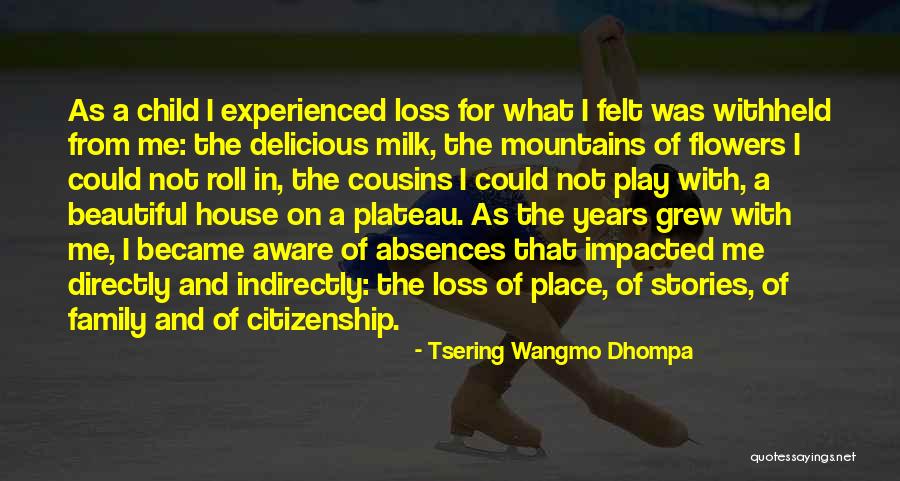 As a child I experienced loss for what I felt was withheld from me: the delicious milk, the mountains of flowers I could not roll in, the cousins I could not play with, a beautiful house on a plateau. As the years grew with me, I became aware of absences that impacted me directly and indirectly: the loss of place, of stories, of family and of citizenship. — Tsering Wangmo Dhompa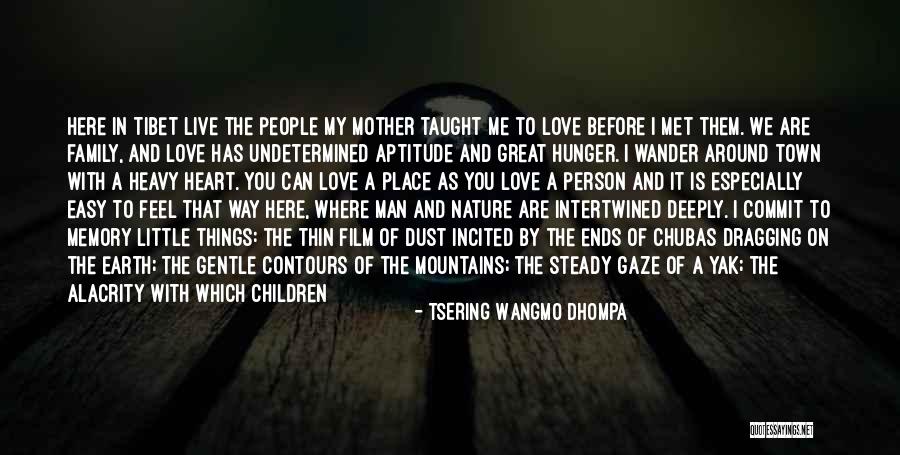 Here in Tibet live the people my mother taught me to love before I met them. We are family, and love has undetermined aptitude and great hunger. I wander around town with a heavy heart. You can love a place as you love a person and it is especially easy to feel that way here, where man and nature are intertwined deeply. I commit to memory little things: the thin film of dust incited by the ends of chubas dragging on the earth; the gentle contours of the mountains; the steady gaze of a yak; the alacrity with which children submit to authority; the patience of women who sit in the main square with bottles of milk and yogurt for sale; the songs on the streets. — Tsering Wangmo Dhompa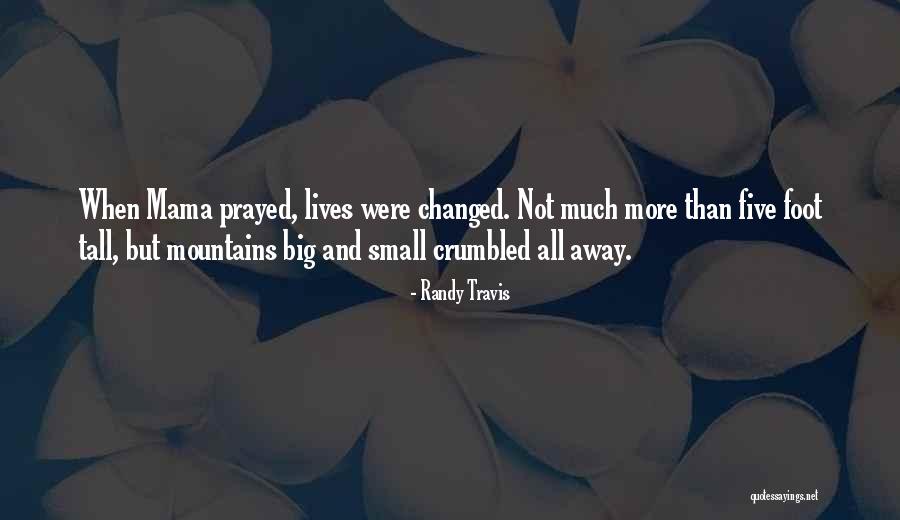 When Mama prayed, lives were changed. Not much more than five foot tall, but mountains big and small crumbled all away. — Randy Travis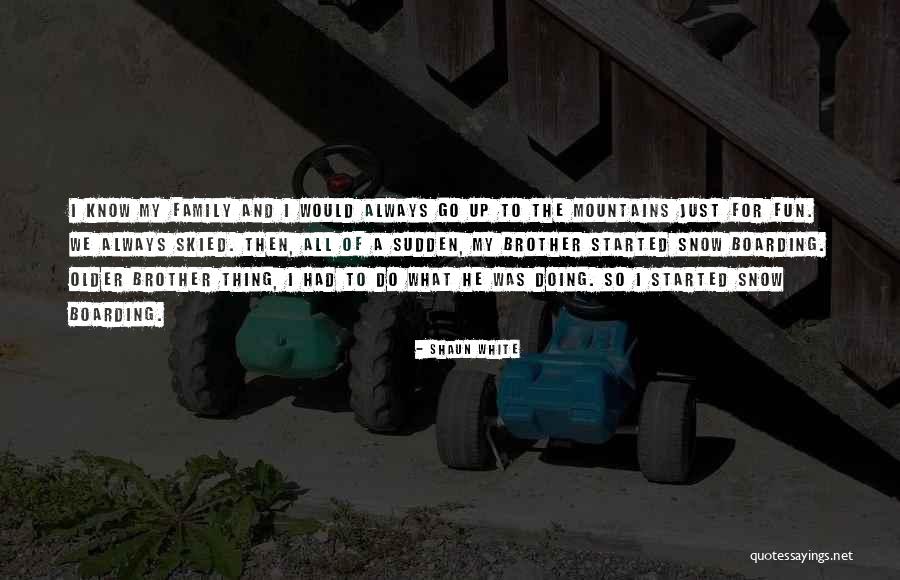 I know my family and I would always go up to the mountains just for fun. We always skied. Then, all of a sudden, my brother started snow boarding. Older brother thing, I had to do what he was doing. So I started snow boarding. — Shaun White