Quotes & Sayings About Mindful Living
Enjoy reading and share 56 famous quotes about Mindful Living with everyone.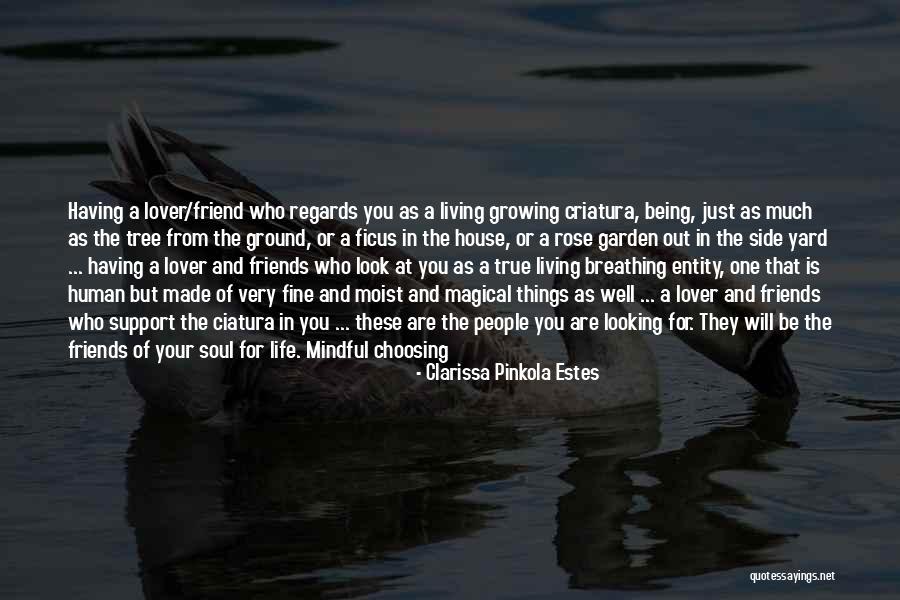 Having a lover/friend who regards you as a living growing criatura, being, just as much as the tree from the ground, or a ficus in the house, or a rose garden out in the side yard ... having a lover and friends who look at you as a true living breathing entity, one that is human but made of very fine and moist and magical things as well ... a lover and friends who support the ciatura in you ... these are the people you are looking for. They will be the friends of your soul for life. Mindful choosing of friends and lovers, not to mention teachers, is critical to remaining conscious, remaining intuitive, remaining in charge of the fiery light that sees and knows. — Clarissa Pinkola Estes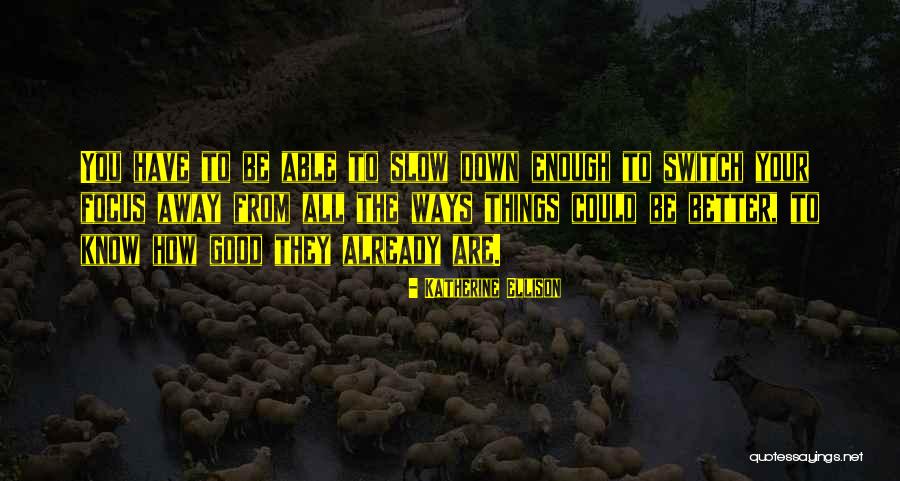 You have to be able to slow down enough to switch your focus away from all the ways things could be better, to know how good they already are. — Katherine Ellison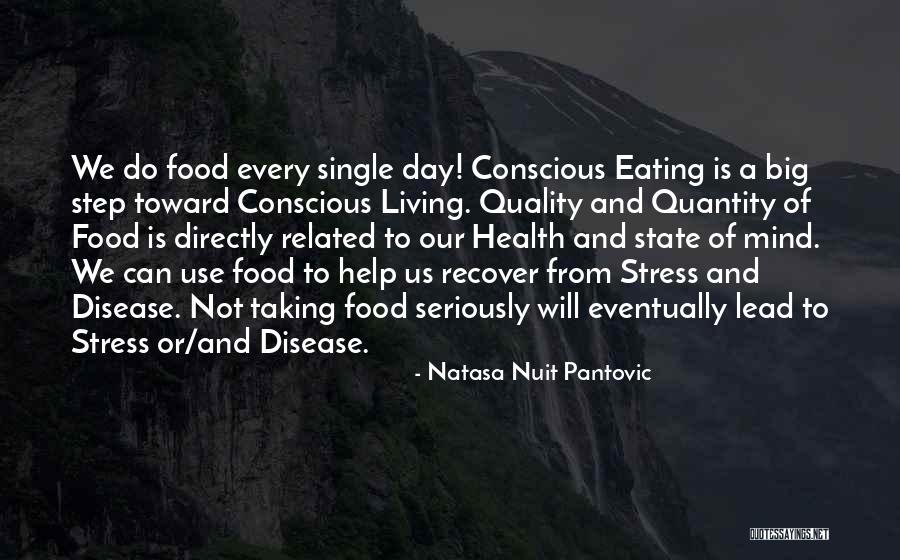 We do food every single day! Conscious Eating is a big step toward Conscious Living. Quality and Quantity of Food is directly related to our Health and state of mind. We can use food to help us recover from Stress and Disease. Not taking food seriously will eventually lead to Stress or/and Disease. — Natasa Nuit Pantovic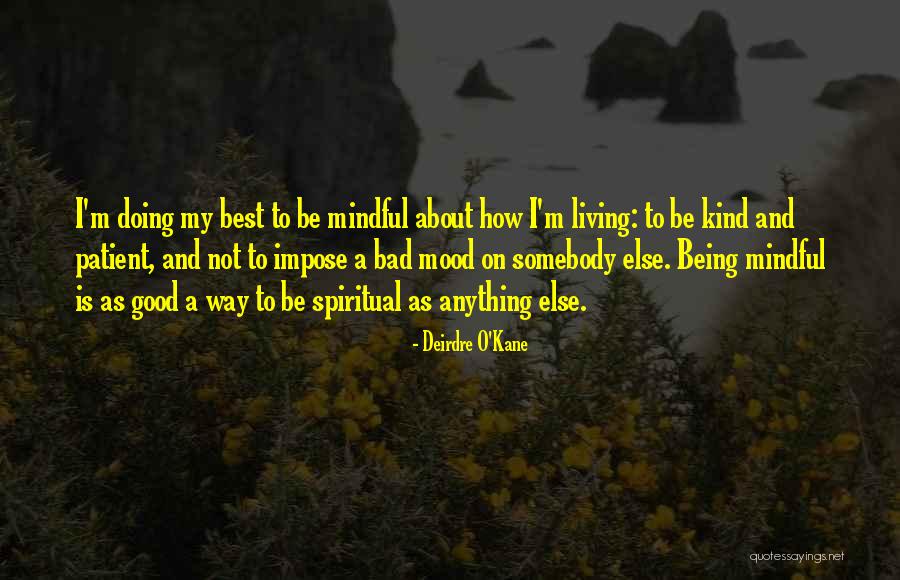 I'm doing my best to be mindful about how I'm living: to be kind and patient, and not to impose a bad mood on somebody else. Being mindful is as good a way to be spiritual as anything else. — Deirdre O'Kane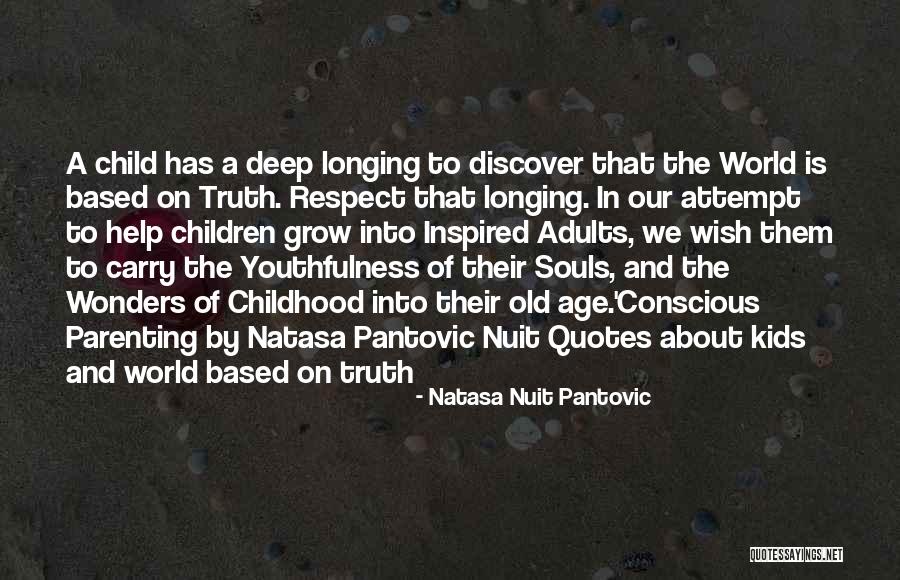 A child has a deep longing to discover that the World is based on Truth. Respect that longing. In our attempt to help children grow into Inspired Adults, we wish them to carry the Youthfulness of their Souls, and the Wonders of Childhood into their old age.'
Conscious Parenting by Natasa Pantovic Nuit Quotes about kids and world based on truth — Natasa Nuit Pantovic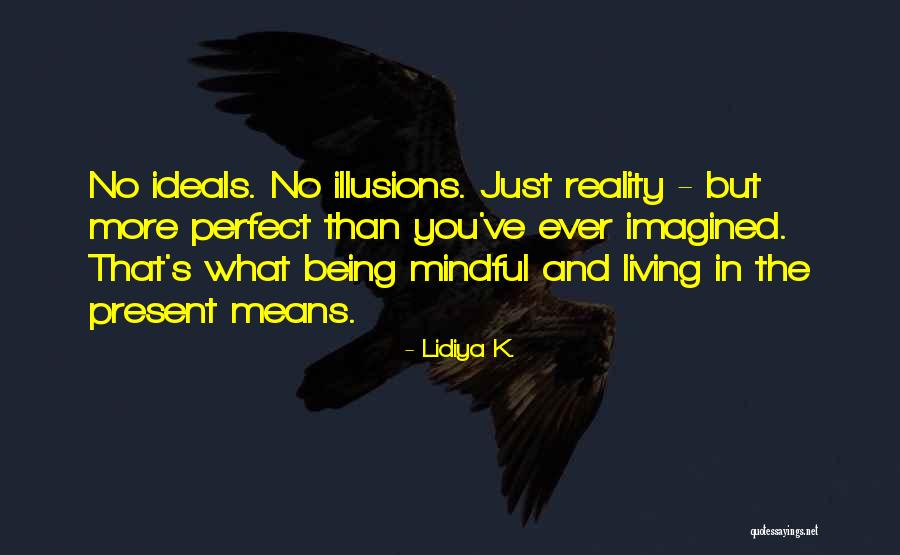 No ideals. No illusions. Just reality - but more perfect than you've ever imagined. That's what being mindful and living in the present means. — Lidiya K.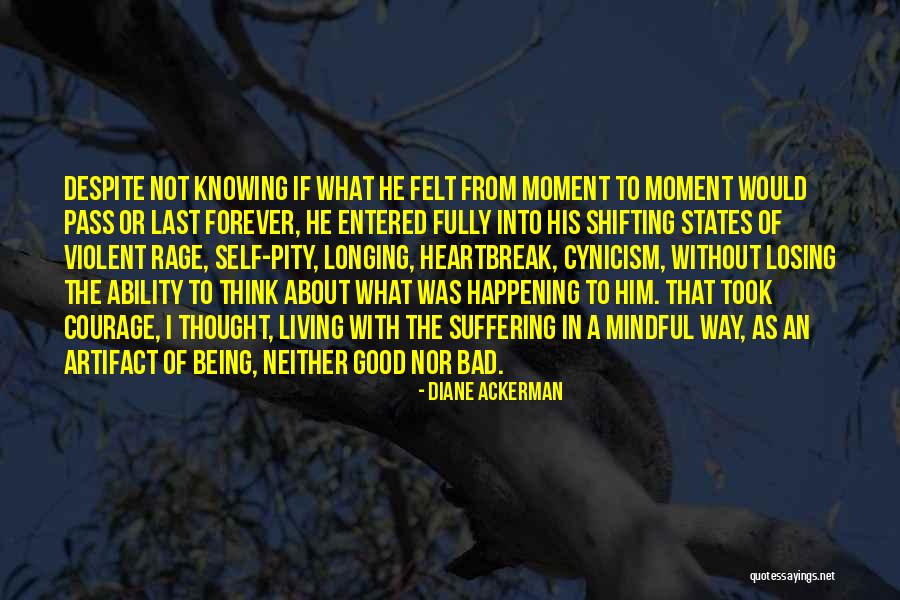 Despite not knowing if what he felt from moment to moment would pass or last forever, he entered fully into his shifting states of violent rage, self-pity, longing, heartbreak, cynicism, without losing the ability to think about what was happening to him. That took courage, I thought, living with the suffering in a mindful way, as an artifact of being, neither good nor bad. — Diane Ackerman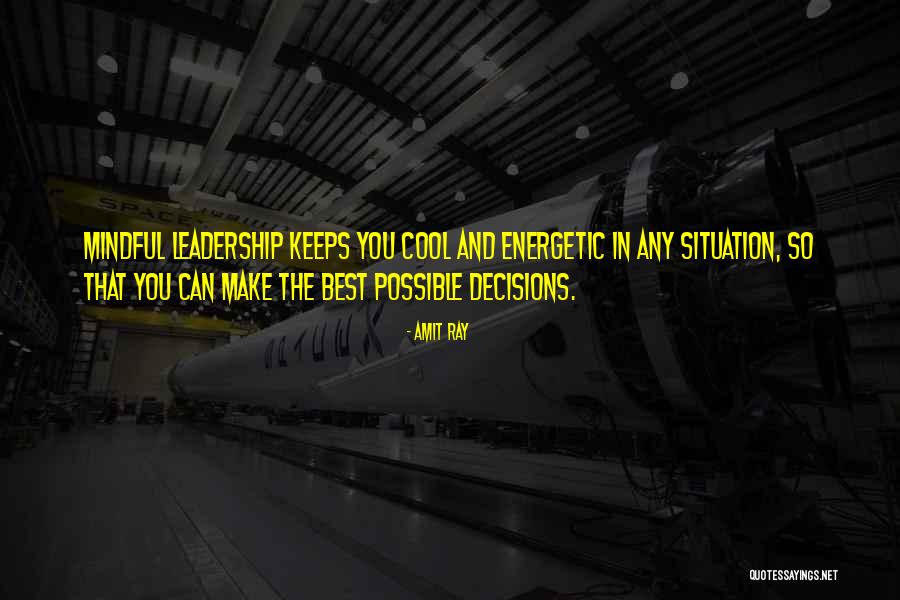 Mindful leadership keeps you cool and energetic in any situation, so that you can make the best possible decisions. — Amit Ray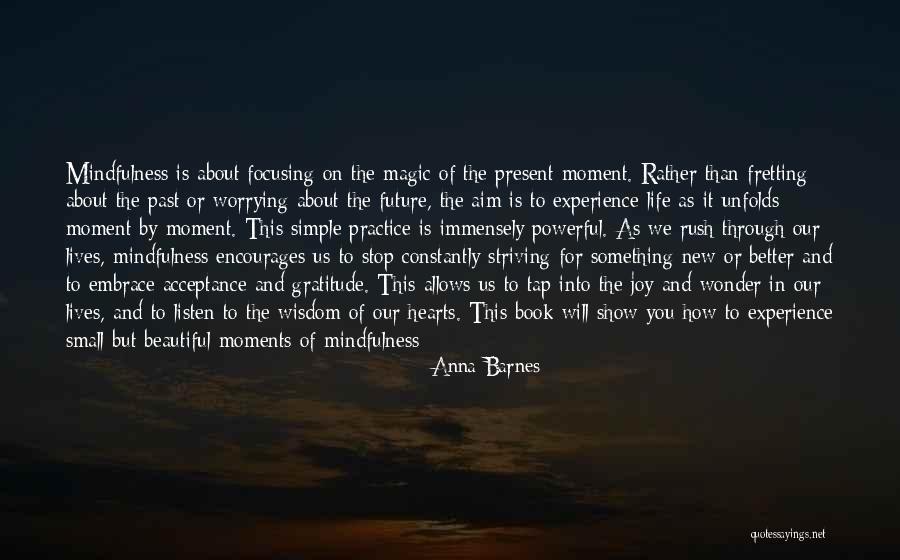 Mindfulness is about focusing on the magic of the present moment. Rather than fretting about the past or worrying about the future, the aim is to experience life as it unfolds moment by moment. This simple practice is immensely powerful. As we rush through our lives, mindfulness encourages us to stop constantly striving for something new or better and to embrace acceptance and gratitude. This allows us to tap into the joy and wonder in our lives, and to listen to the wisdom of our hearts. This book will show you how to experience small but beautiful moments of mindfulness every day and so guide you along the path to finding more peace and contentment in your life. — Anna Barnes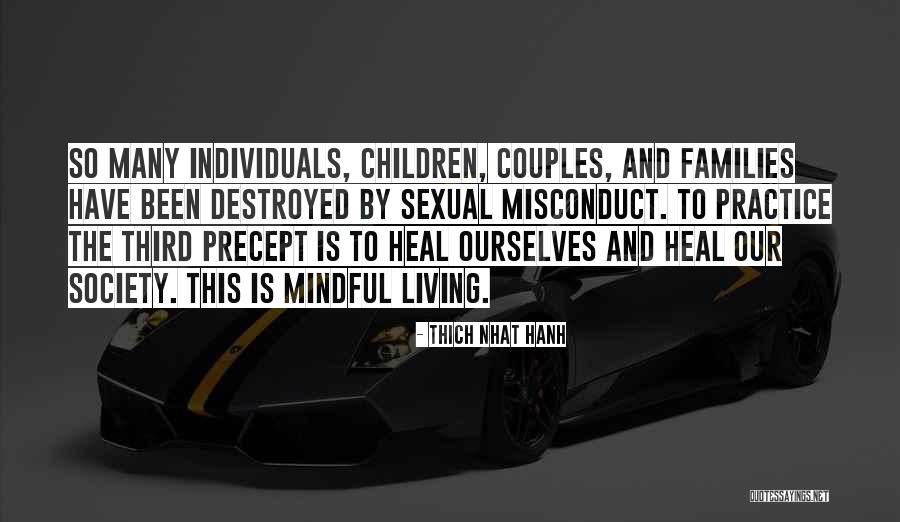 So many individuals, children, couples, and families have been destroyed by sexual misconduct. To practice the Third Precept is to heal ourselves and heal our society. This is mindful living. — Thich Nhat Hanh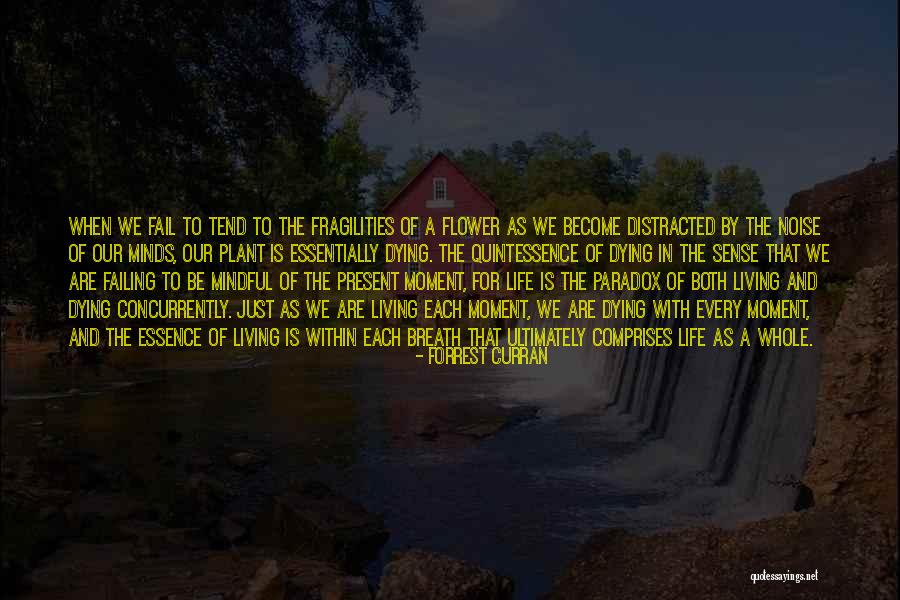 When we fail to tend to the fragilities of a flower as we become distracted by the noise of our minds, our plant is essentially dying. The quintessence of dying in the sense that we are failing to be mindful of the present moment, for life is the paradox of both living and dying concurrently. Just as we are living each moment, we are dying with every moment, and the essence of living is within each breath that ultimately comprises life as a whole. — Forrest Curran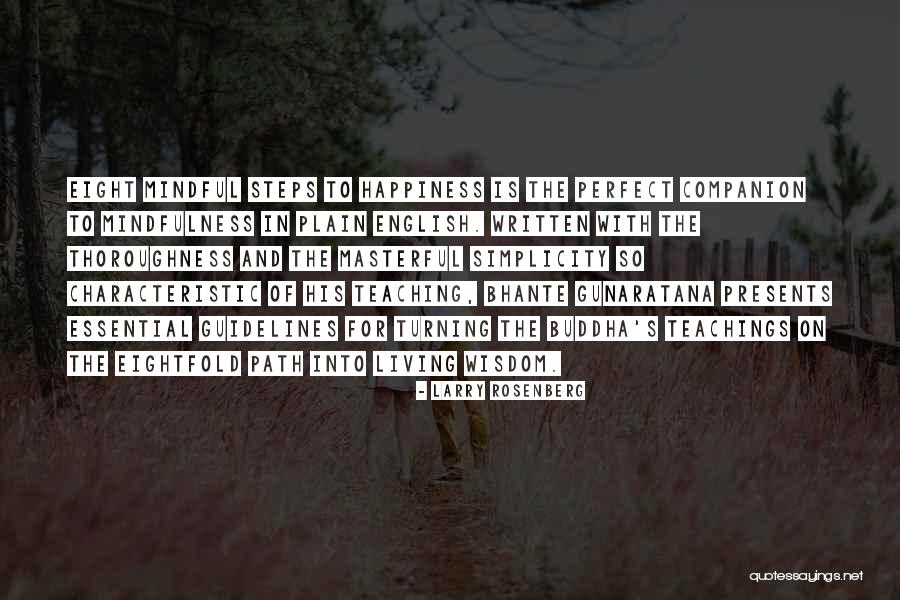 Eight Mindful Steps to Happiness is the perfect companion to Mindfulness in Plain English. Written with the thoroughness and the masterful simplicity so characteristic of his teaching, Bhante Gunaratana presents essential guidelines for turning the Buddha's teachings on the Eightfold Path into living wisdom. — Larry Rosenberg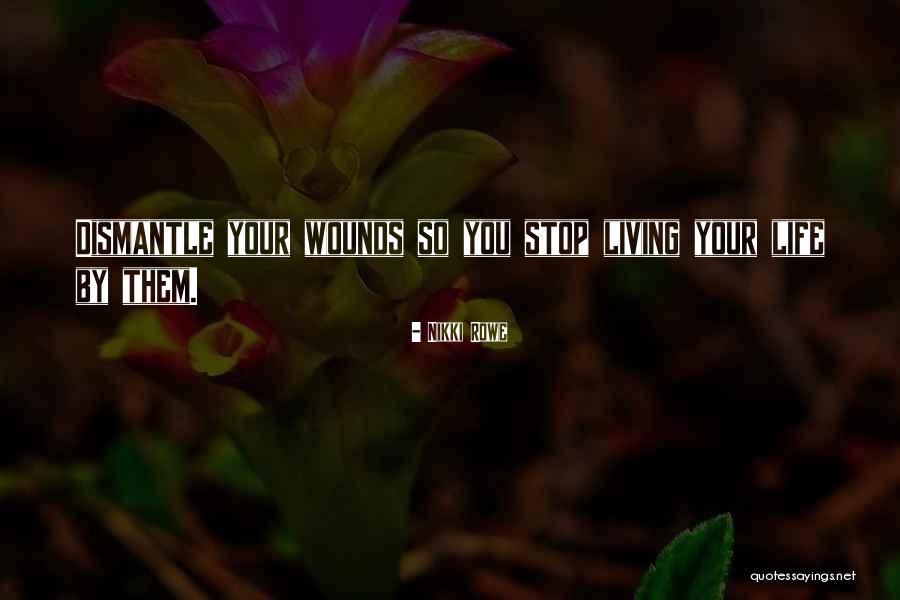 Dismantle your wounds so you stop living your life by them. — Nikki Rowe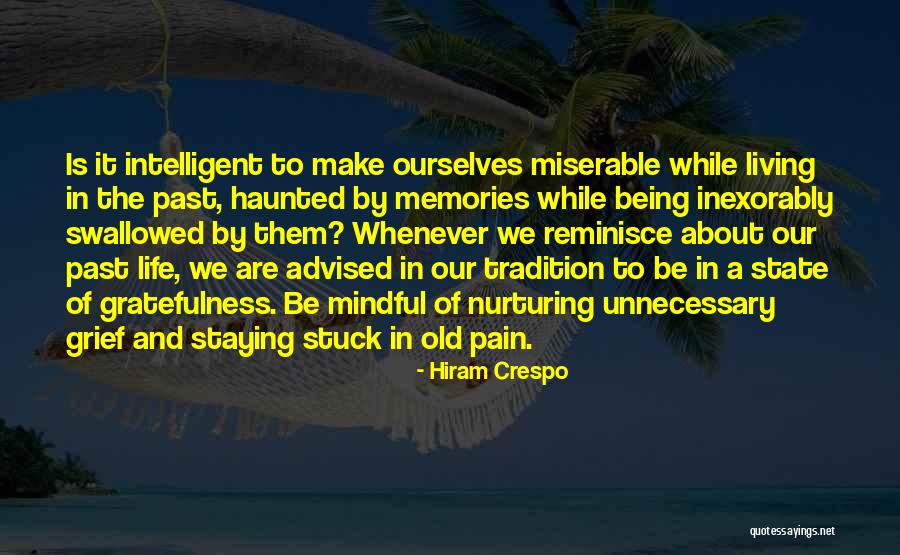 Is it intelligent to make ourselves miserable while living in the past, haunted by memories while being inexorably swallowed by them? Whenever we reminisce about our past life, we are advised in our tradition to be in a state of gratefulness. Be mindful of nurturing unnecessary grief and staying stuck in old pain. — Hiram Crespo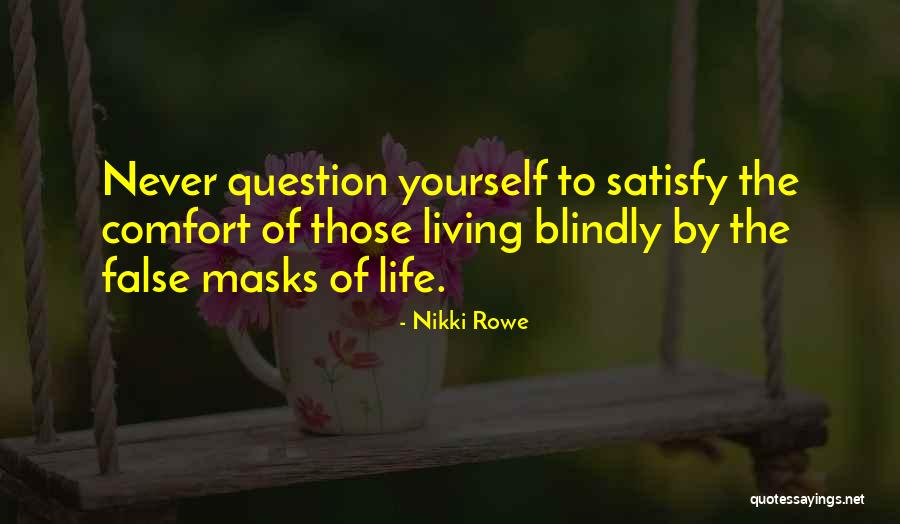 Never question yourself to satisfy the comfort of those living blindly by the false masks of life. — Nikki Rowe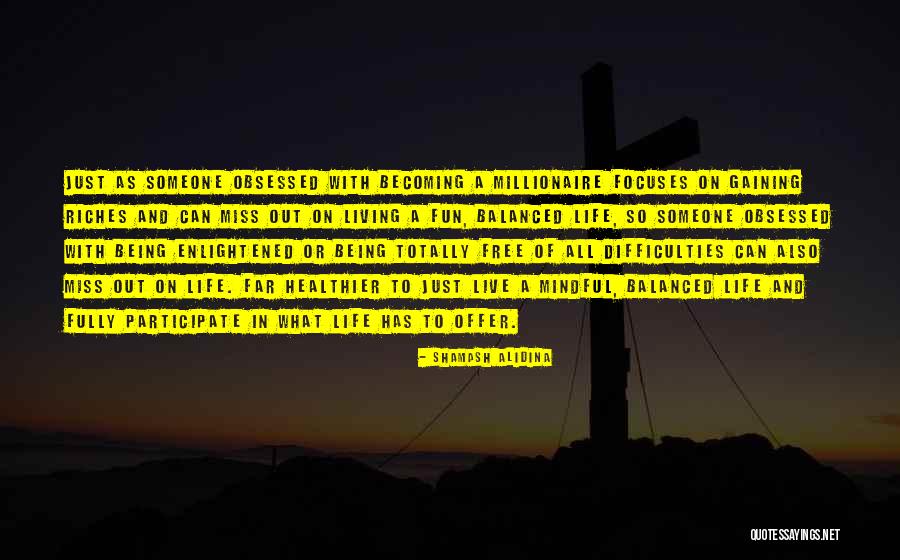 Just as someone obsessed with becoming a millionaire focuses on gaining riches and can miss out on living a fun, balanced life, so someone obsessed with being enlightened or being totally free of all difficulties can also miss out on life. Far healthier to just live a mindful, balanced life and fully participate in what life has to offer. — Shamash Alidina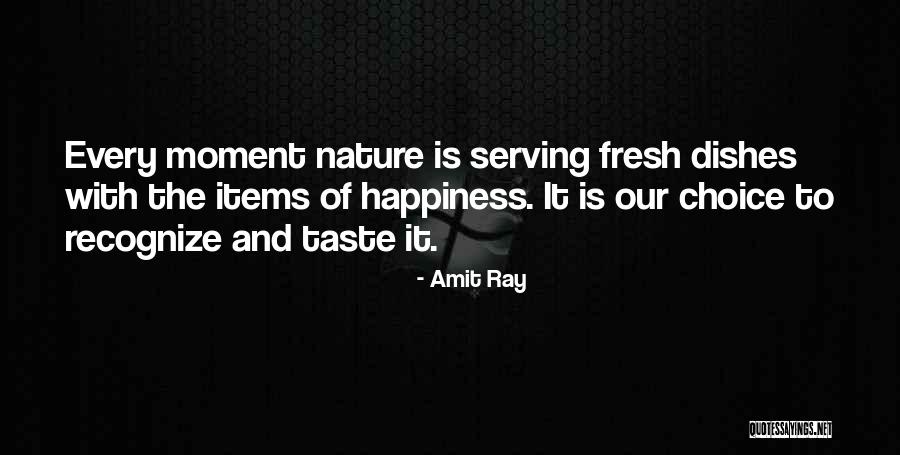 Every moment nature is serving fresh dishes with the items of happiness. It is our choice to recognize and taste it. — Amit Ray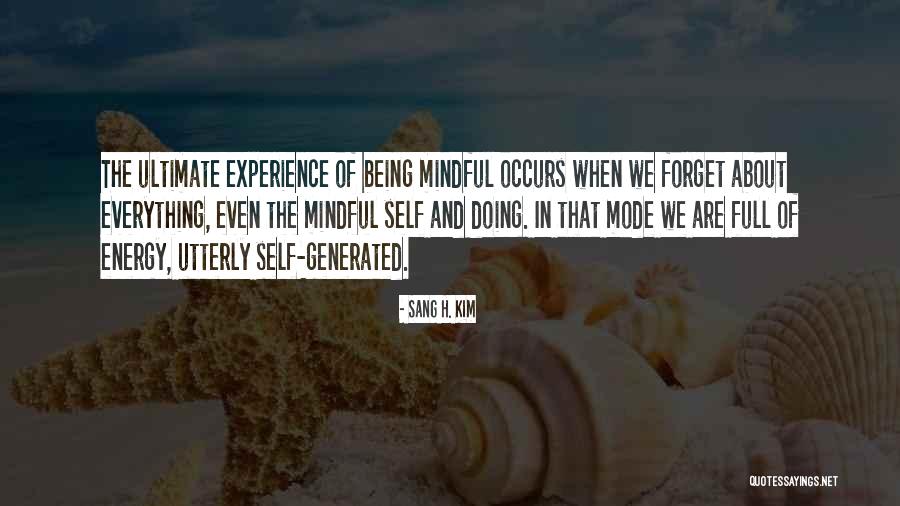 The ultimate experience of being mindful occurs when we forget about everything, even the mindful self and doing. In that mode we are full of energy, utterly self-generated. — Sang H. Kim
The thing is, there is no certainty in this life - in one second your entire world could shift. I'm not saying it will, but I am living proof that It can. We never prepare for tragedy and that's a good thing but my god what's it's taught me is how little we appreciate what we have or some cases once had. — Nikki Rowe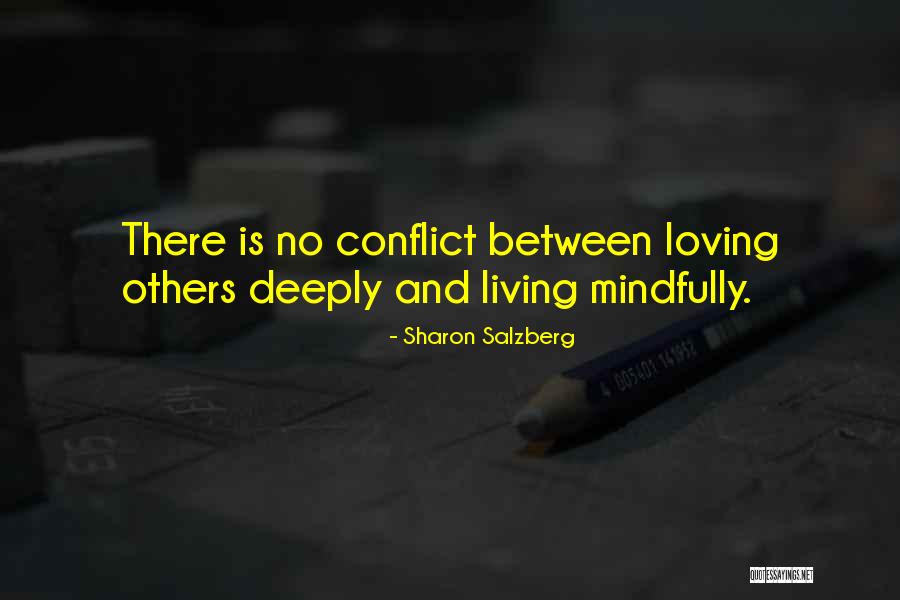 There is no conflict between loving others deeply and living mindfully. — Sharon Salzberg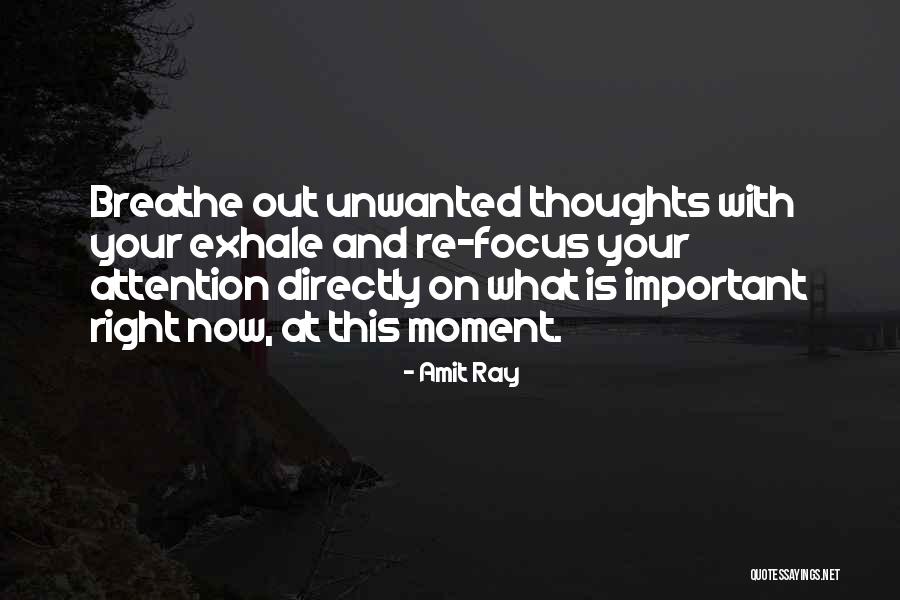 Breathe out unwanted thoughts with your exhale and re-focus your attention directly on what is important right now, at this moment. — Amit Ray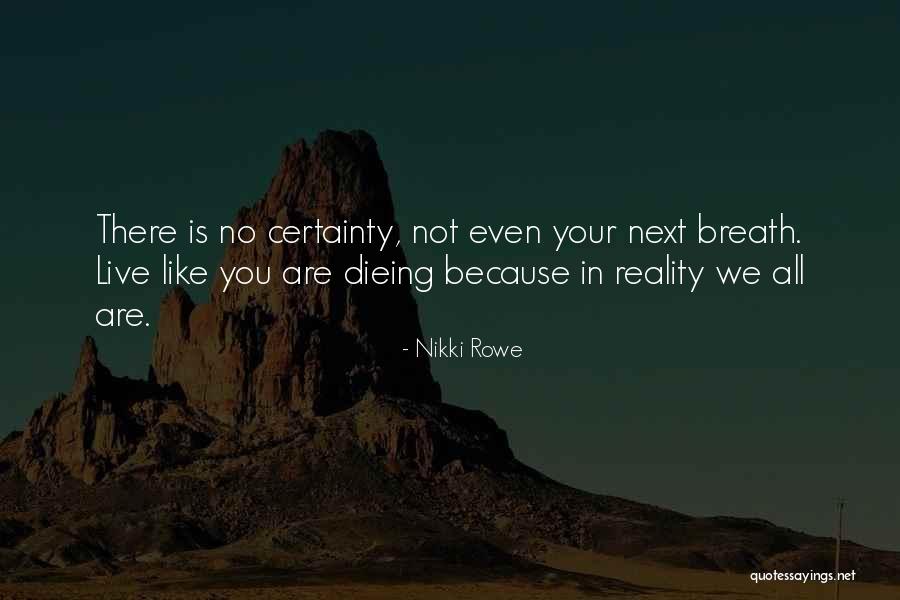 There is no certainty, not even your next breath.
Live like you are dieing because in reality we all are. — Nikki Rowe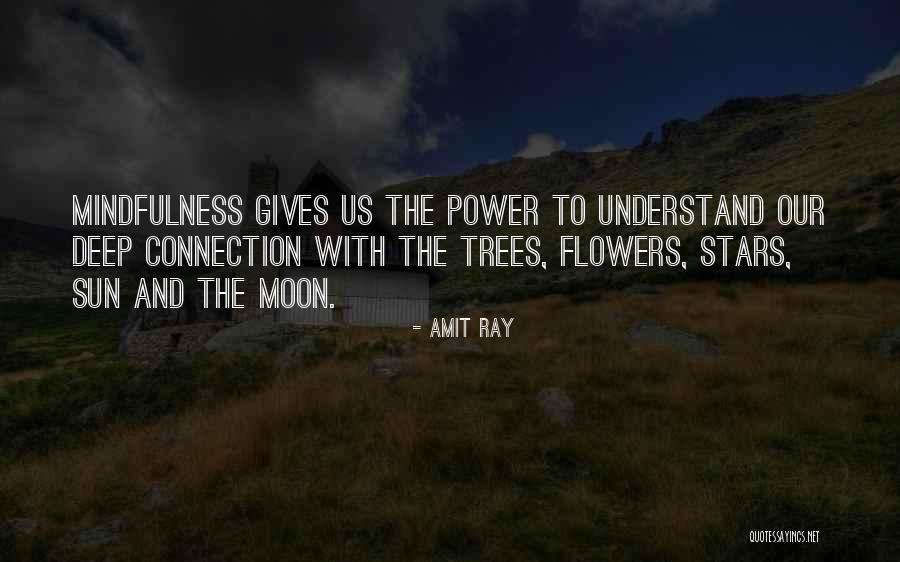 Mindfulness gives us the power to understand our deep connection with the trees, flowers, stars, sun and the moon. — Amit Ray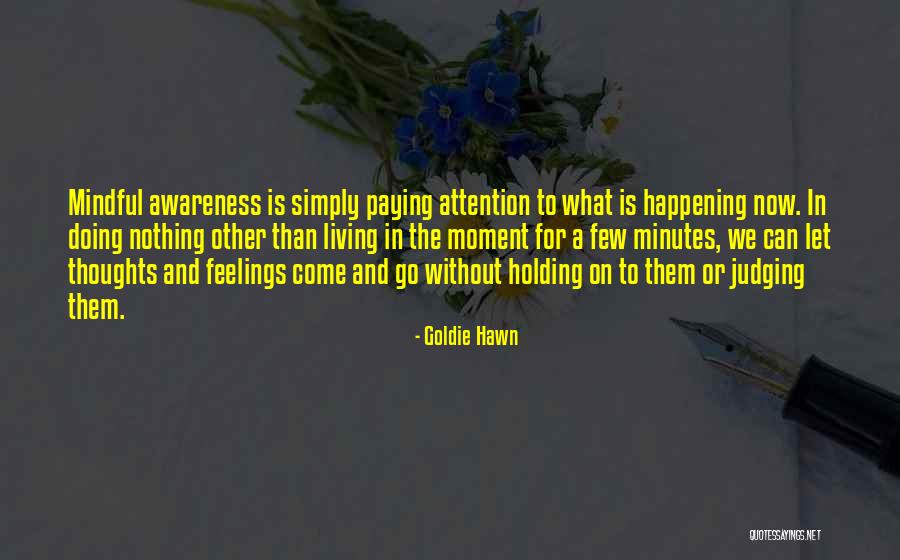 Mindful awareness is simply paying attention to what is happening now. In doing nothing other than living in the moment for a few minutes, we can let thoughts and feelings come and go without holding on to them or judging them. — Goldie Hawn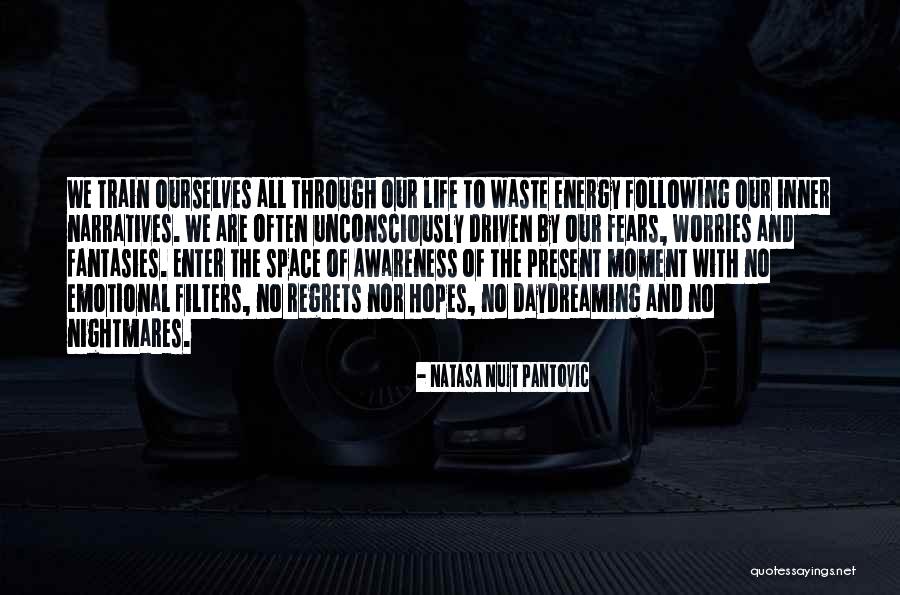 We train ourselves all through our life to waste energy following our inner narratives. We are often unconsciously driven by our fears, worries and fantasies. Enter the space of Awareness of the present moment with no emotional filters, no regrets nor hopes, no daydreaming and no nightmares. — Natasa Nuit Pantovic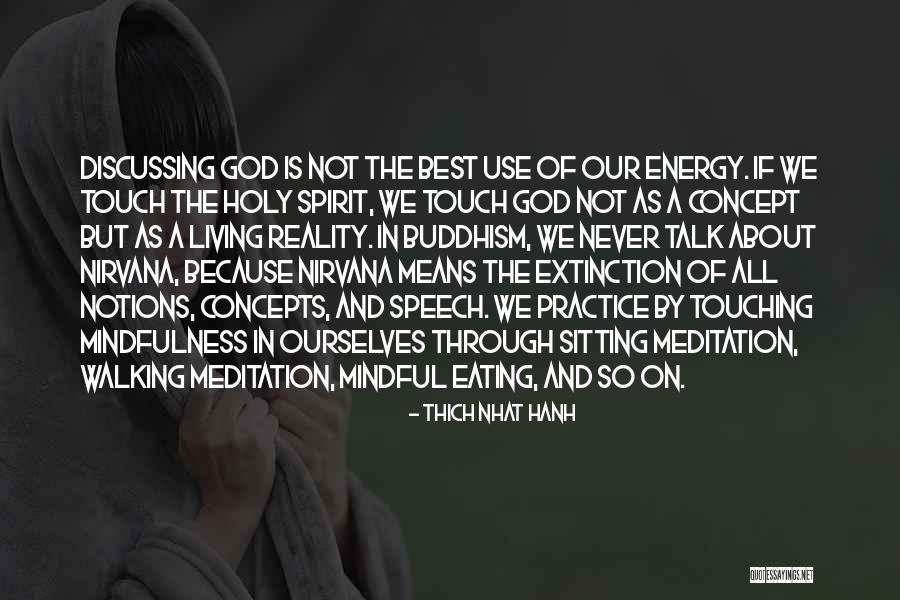 Discussing God is not the best use of our energy. If we touch the Holy Spirit, we touch God not as a concept but as a living reality. In Buddhism, we never talk about nirvana, because nirvana means the extinction of all notions, concepts, and speech. We practice by touching mindfulness in ourselves through sitting meditation, walking meditation, mindful eating, and so on. — Thich Nhat Hanh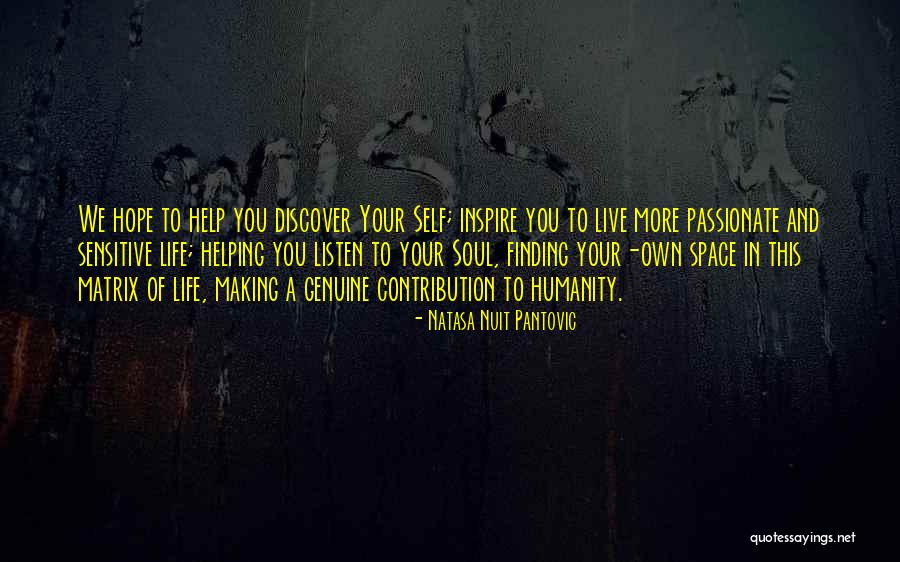 We hope to help you discover Your Self; inspire you to live more passionate and sensitive life; helping you listen to your Soul, finding your-own space in this matrix of life, making a genuine contribution to humanity. — Natasa Nuit Pantovic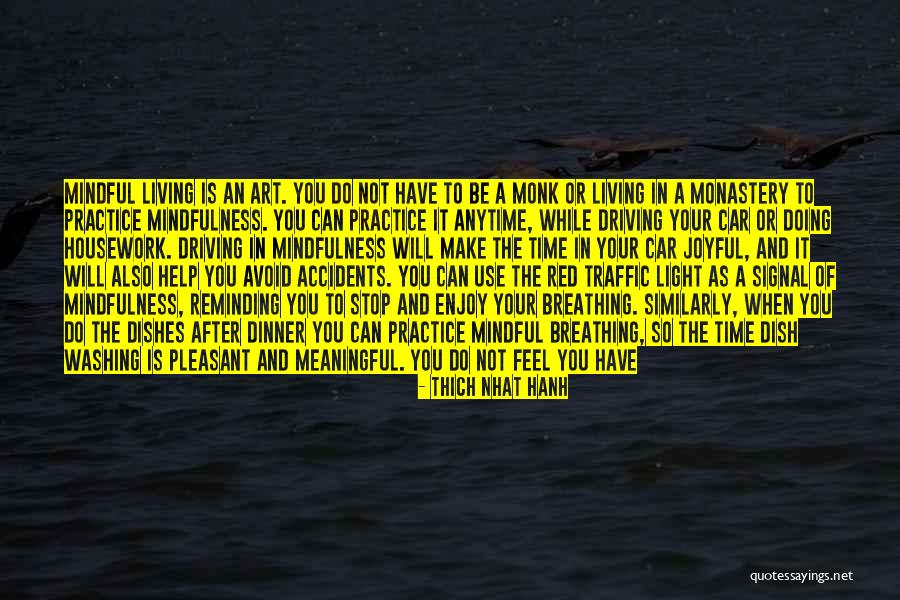 Mindful living is an art. You do not have to be a monk or living in a monastery to practice mindfulness. You can practice it anytime, while driving your car or doing housework. Driving in mindfulness will make the time in your car joyful, and it will also help you avoid accidents. You can use the red traffic light as a signal of mindfulness, reminding you to stop and enjoy your breathing. Similarly, when you do the dishes after dinner you can practice mindful breathing, so the time dish washing is pleasant and meaningful. You do not feel you have to rush. If you hurry, you waste the time of dish washing. The time you spend washing dishes and doing all your other everyday tasks is precious. It is a time for being alive. When you practice mindful living, peace will bloom during your daily activities. — Thich Nhat Hanh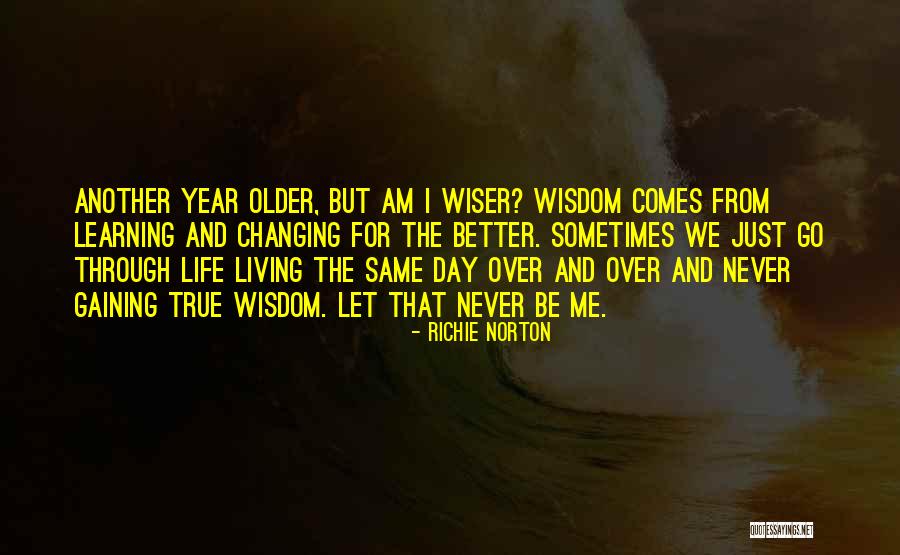 Another year older, but am I wiser? Wisdom comes from learning and changing for the better. Sometimes we just go through life living the same day over and over and never gaining true wisdom. Let that never be me. — Richie Norton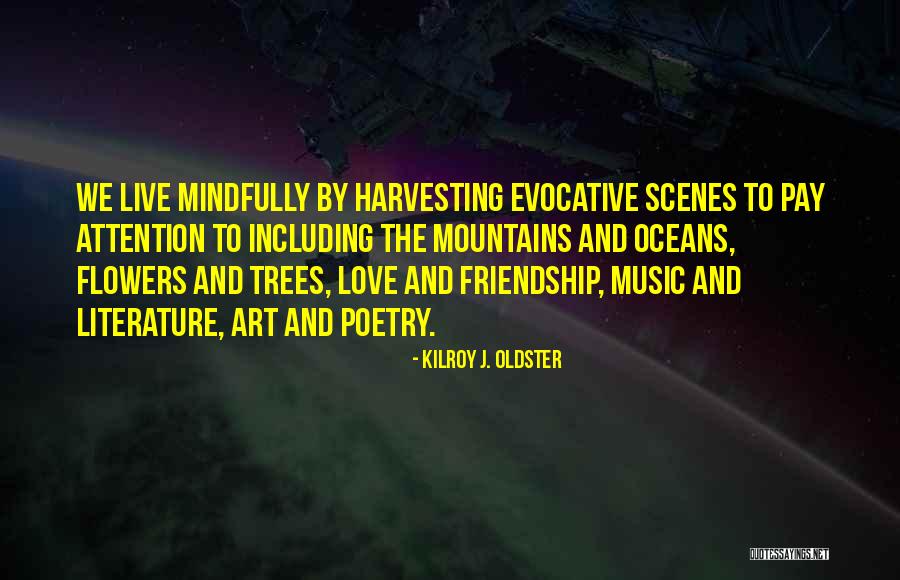 We live mindfully by harvesting evocative scenes to pay attention to including the mountains and oceans, flowers and trees, love and friendship, music and literature, art and poetry. — Kilroy J. Oldster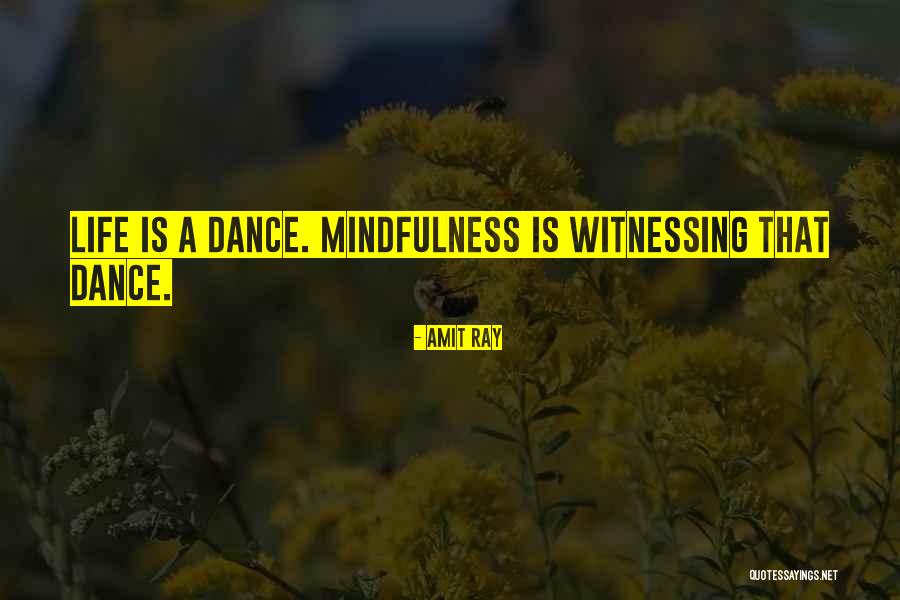 Life is a dance. Mindfulness is witnessing that dance. — Amit Ray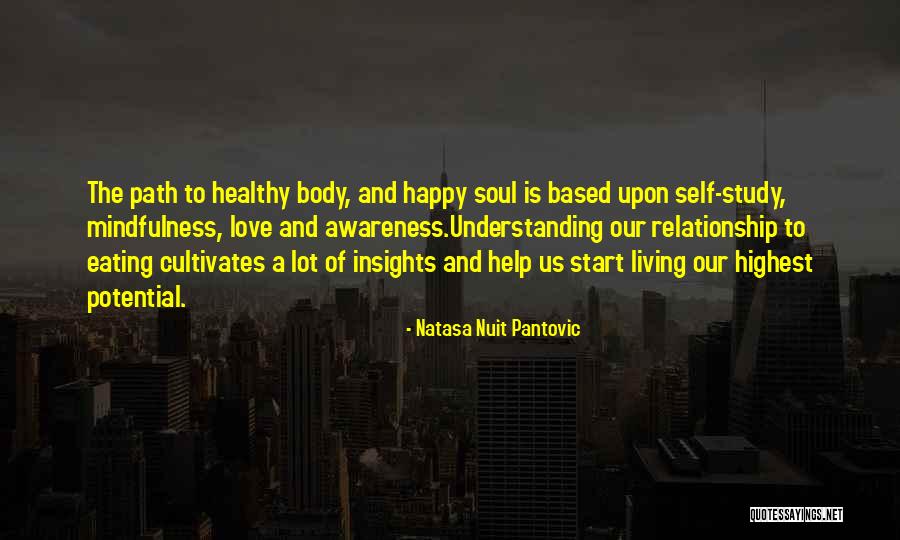 The path to healthy body, and happy soul is based upon self-study, mindfulness, love and awareness.

Understanding our relationship to eating cultivates a lot of insights and help us start living our highest potential. — Natasa Nuit Pantovic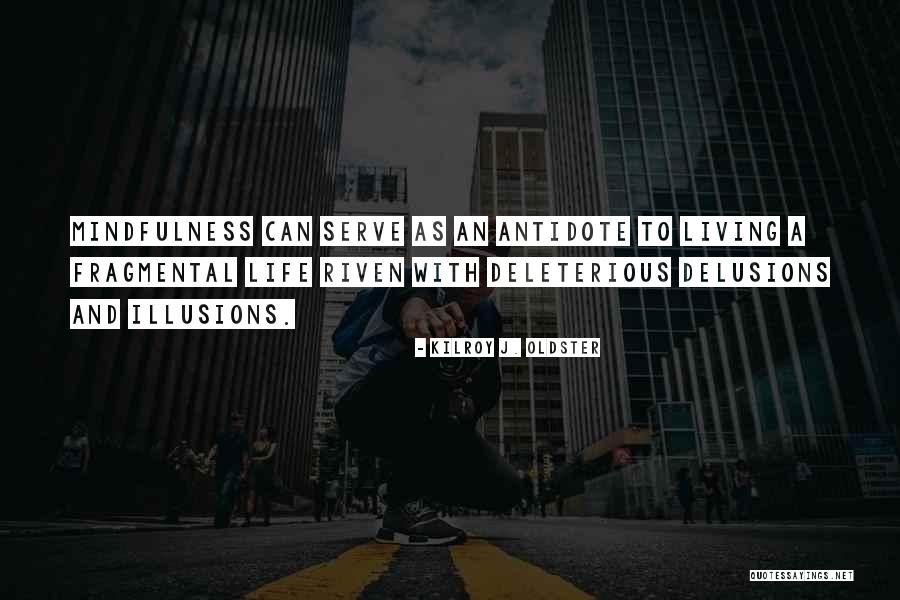 Mindfulness can serve as an antidote to living a fragmental life riven with deleterious delusions and illusions. — Kilroy J. Oldster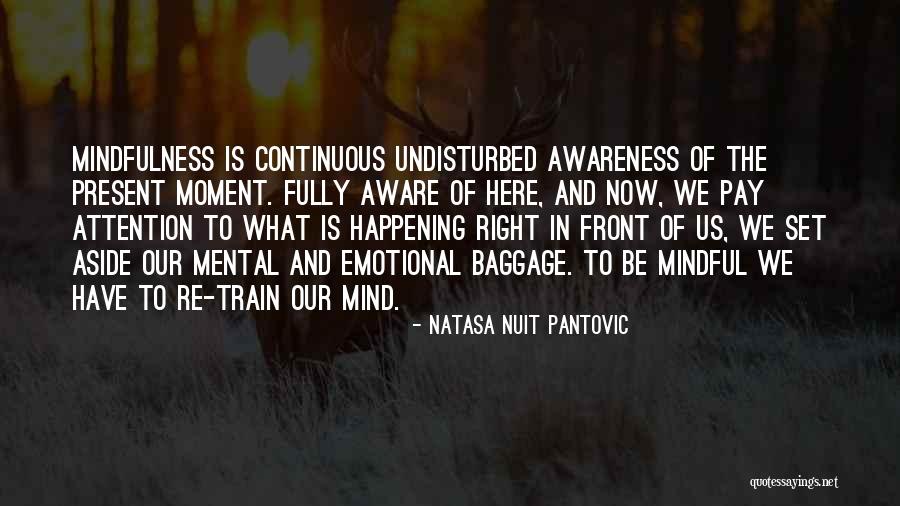 Mindfulness is continuous undisturbed awareness of the present moment. Fully aware of here, and now, we pay attention to what is happening right in front of us, we set aside our mental and emotional baggage. To be mindful we have to re-train our mind. — Natasa Nuit Pantovic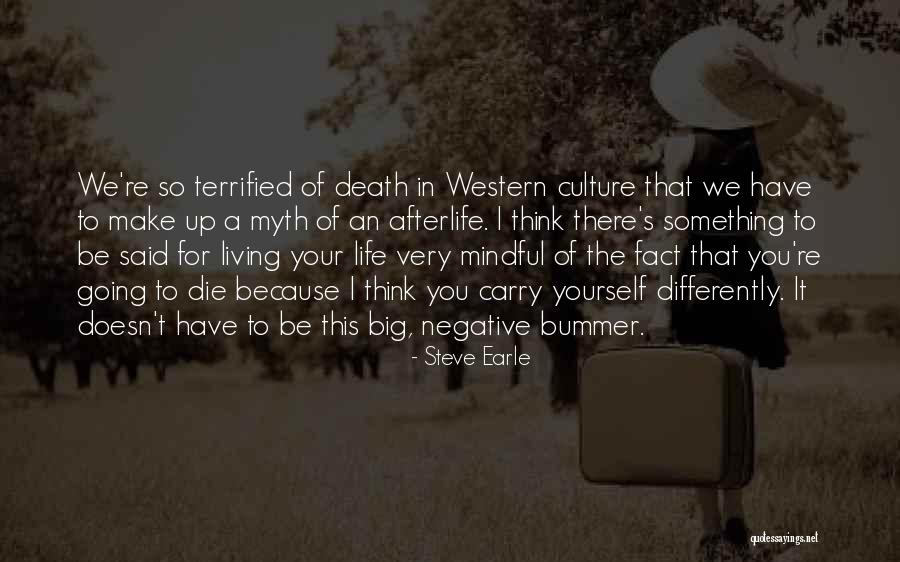 We're so terrified of death in Western culture that we have to make up a myth of an afterlife. I think there's something to be said for living your life very mindful of the fact that you're going to die because I think you carry yourself differently. It doesn't have to be this big, negative bummer. — Steve Earle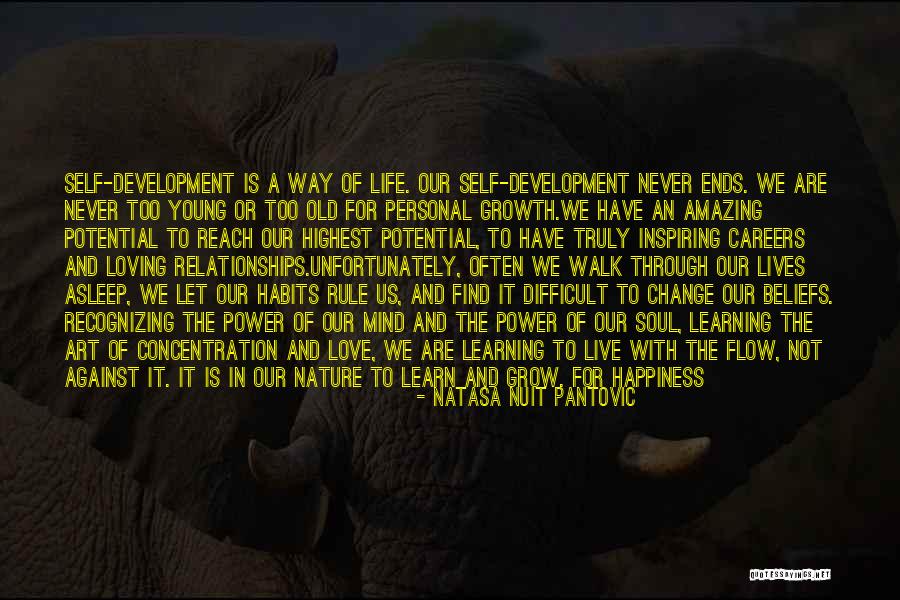 Self-development is a way of Life. Our Self-Development never ends. We are never too young or too old for personal growth.
We have an amazing potential to reach our highest potential, to have truly inspiring careers and loving relationships.
Unfortunately, often we walk through our lives asleep, we let our habits rule us, and find it difficult to change our beliefs. Recognizing the power of our Mind and the power of our Soul, learning the art of Concentration and Love, we are learning to Live with the Flow, not against it.
It is in our nature to learn and grow. For happiness we need to learn to Love, we need to learn to Concentrate and we should keep the flow and energy of inspiration within our lives. — Natasa Nuit Pantovic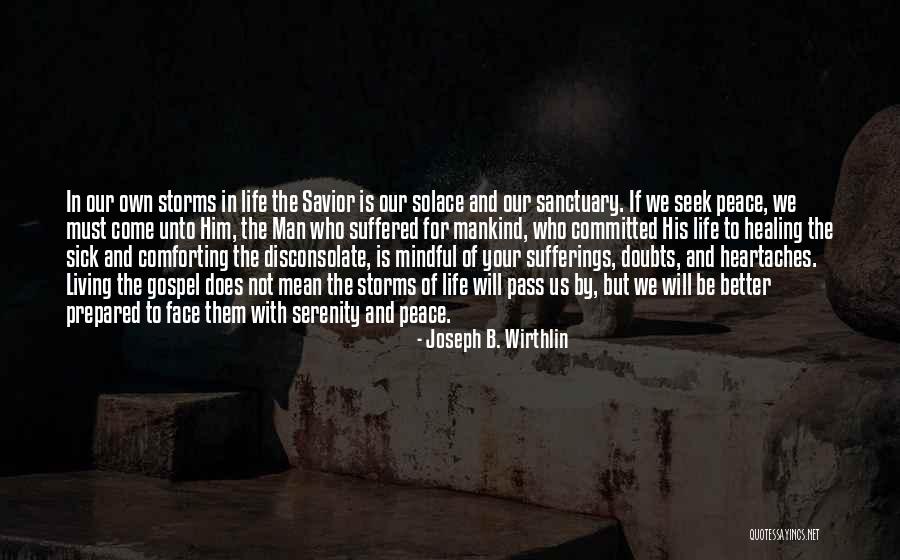 In our own storms in life the Savior is our solace and our sanctuary. If we seek peace, we must come unto Him, the Man who suffered for mankind, who committed His life to healing the sick and comforting the disconsolate, is mindful of your sufferings, doubts, and heartaches. Living the gospel does not mean the storms of life will pass us by, but we will be better prepared to face them with serenity and peace. — Joseph B. Wirthlin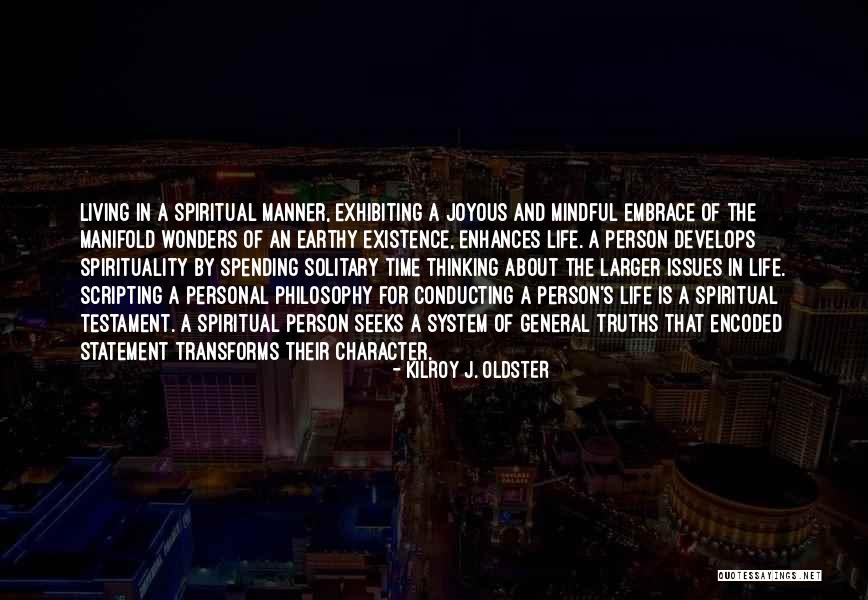 Living in a spiritual manner, exhibiting a joyous and mindful embrace of the manifold wonders of an earthy existence, enhances life. A person develops spirituality by spending solitary time thinking about the larger issues in life. Scripting a personal philosophy for conducting a person's life is a spiritual testament. A spiritual person seeks a system of general truths that encoded statement transforms their character. — Kilroy J. Oldster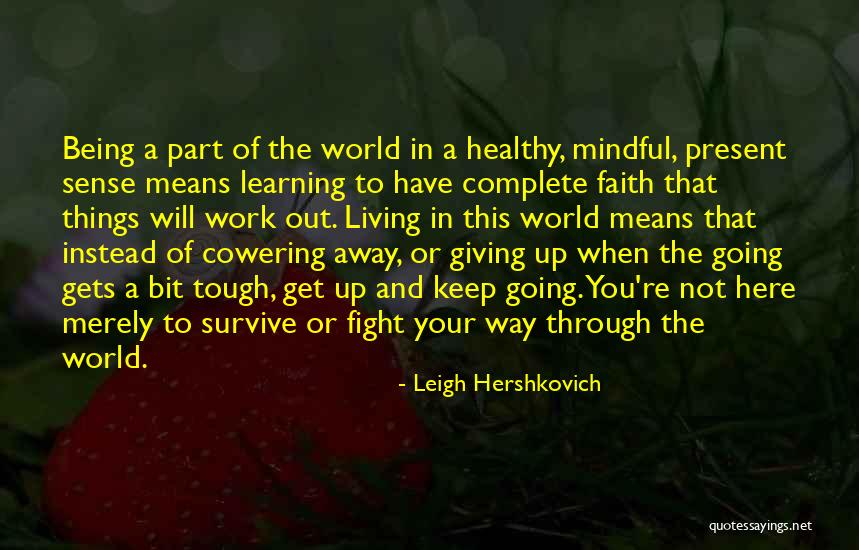 Being a part of the world in a healthy, mindful, present sense means learning to have complete faith that things will work out. Living in this world means that instead of cowering away, or giving up when the going gets a bit tough, get up and keep going. You're not here merely to survive or fight your way through the world. — Leigh Hershkovich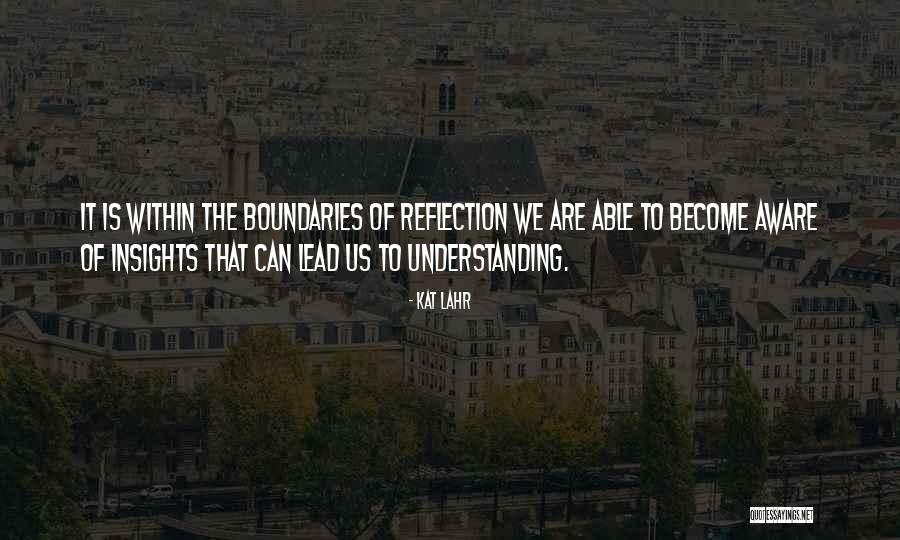 It is within the boundaries of reflection we are able to become aware of insights that can lead us to understanding. — Kat Lahr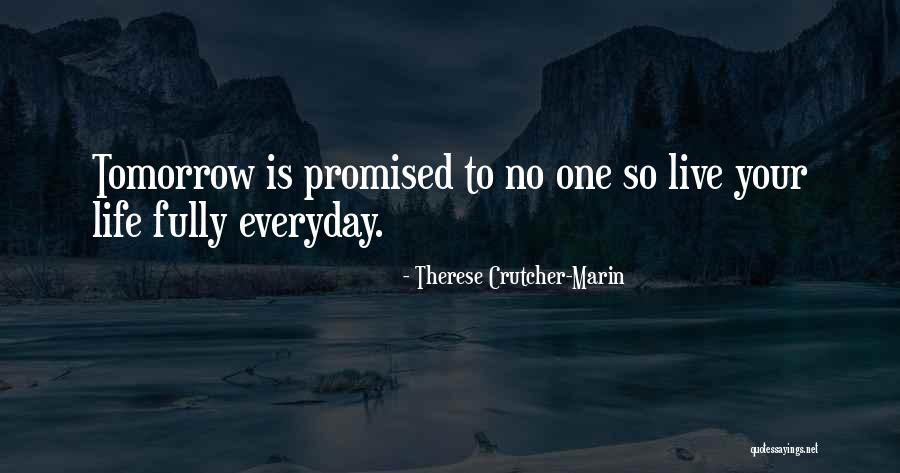 Tomorrow is promised to no one so live your life fully everyday. — Therese Crutcher-Marin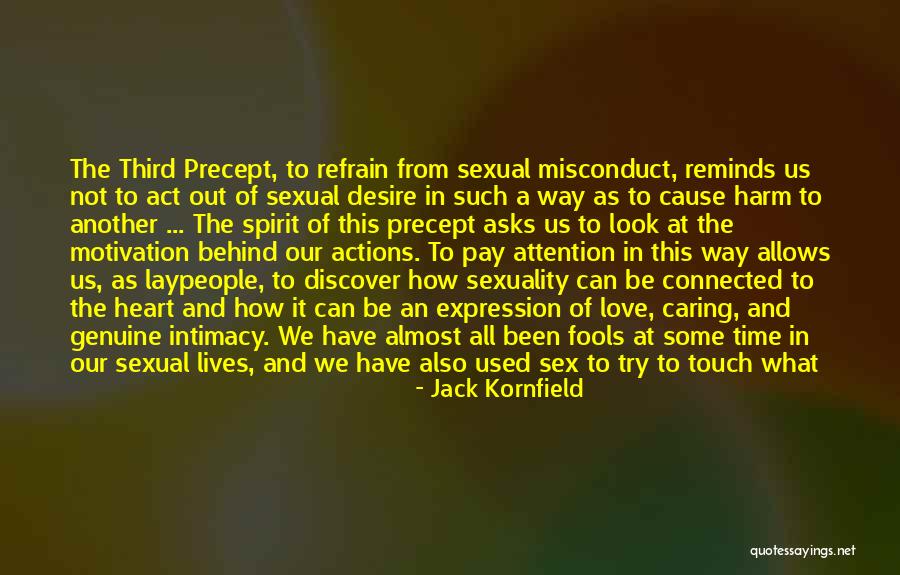 The Third Precept, to refrain from sexual misconduct, reminds us not to act out of sexual desire in such a way as to cause harm to another ... The spirit of this precept asks us to look at the motivation behind our actions. To pay attention in this way allows us, as laypeople, to discover how sexuality can be connected to the heart and how it can be an expression of love, caring, and genuine intimacy. We have almost all been fools at some time in our sexual lives, and we have also used sex to try to touch what is beautiful, to touch another person deeply. Conscious sexuality is an essential part of living a mindful life (86). — Jack Kornfield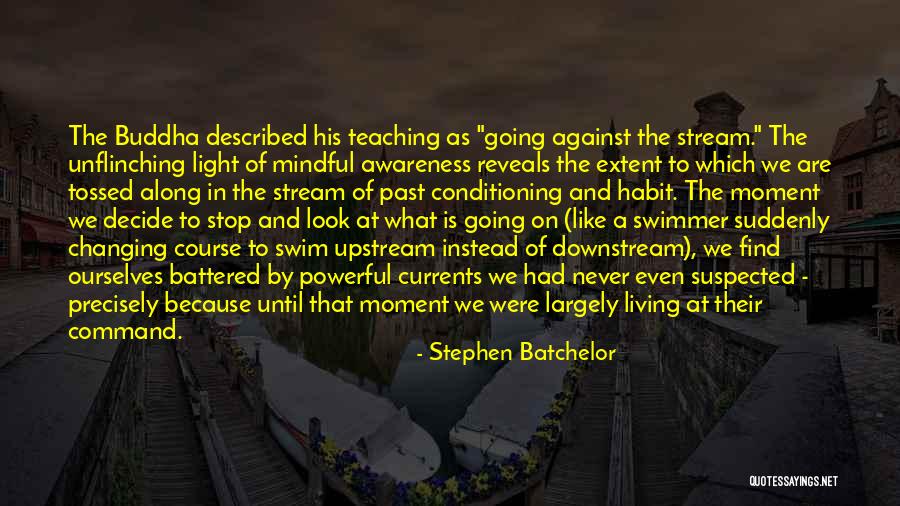 The Buddha described his teaching as "going against the stream." The unflinching light of mindful awareness reveals the extent to which we are tossed along in the stream of past conditioning and habit. The moment we decide to stop and look at what is going on (like a swimmer suddenly changing course to swim upstream instead of downstream), we find ourselves battered by powerful currents we had never even suspected - precisely because until that moment we were largely living at their command. — Stephen Batchelor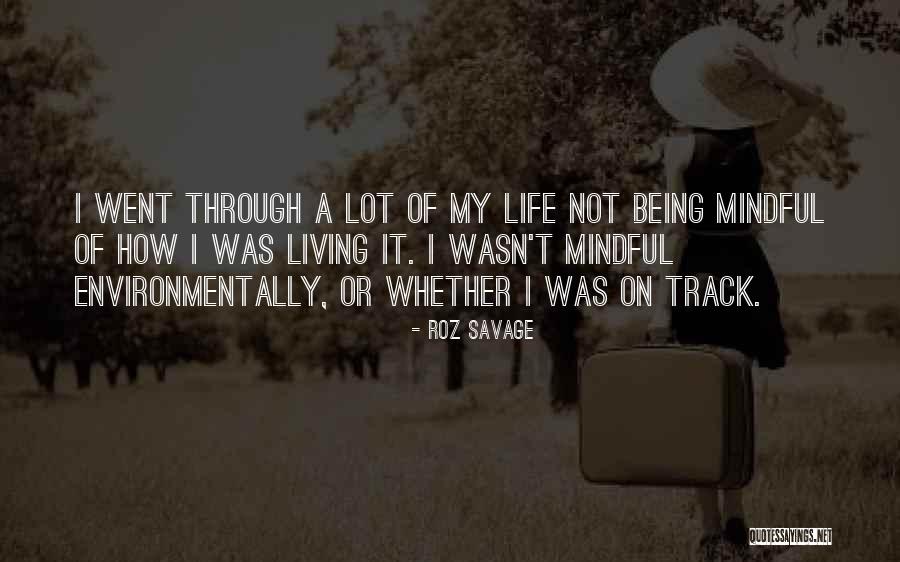 I went through a lot of my life not being mindful of how I was living it. I wasn't mindful environmentally, or whether I was on track. — Roz Savage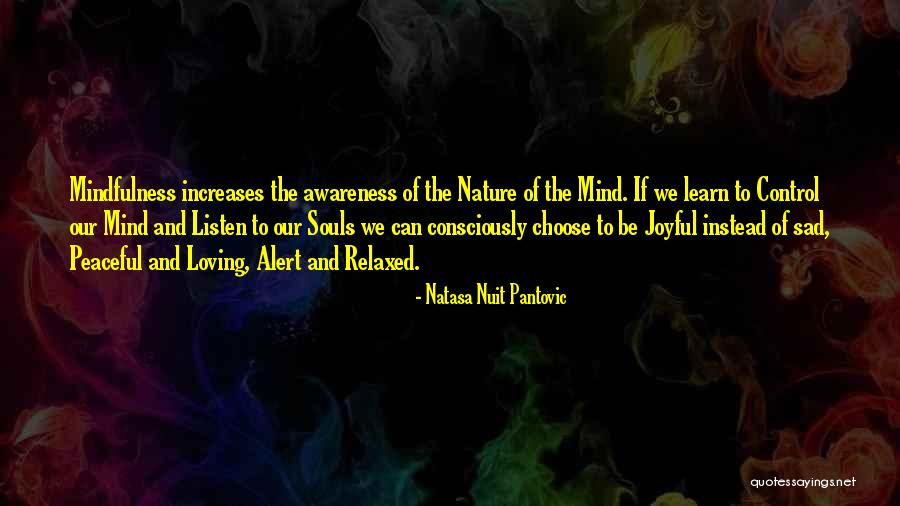 Mindfulness increases the awareness of the Nature of the Mind. If we learn to Control our Mind and Listen to our Souls we can consciously choose to be Joyful instead of sad, Peaceful and Loving, Alert and Relaxed. — Natasa Nuit Pantovic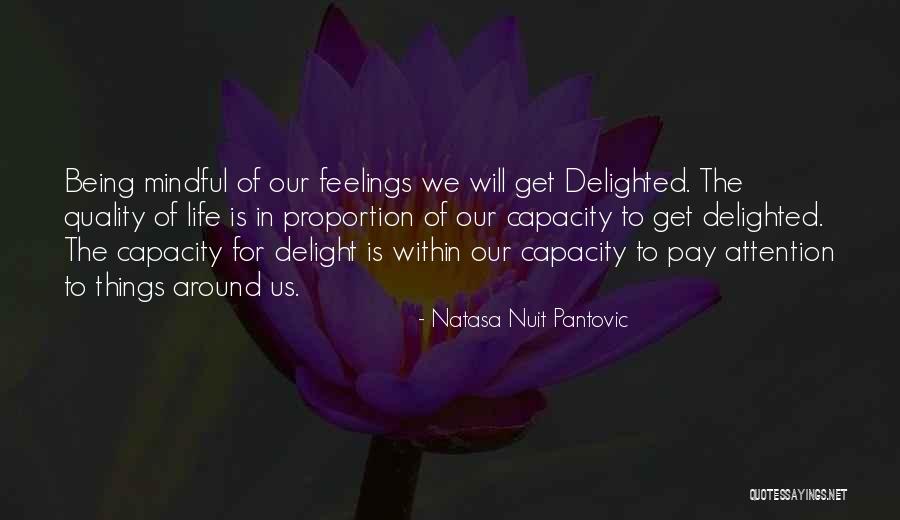 Being mindful of our feelings we will get Delighted. The quality of life is in proportion of our capacity to get delighted. The capacity for delight is within our capacity to pay attention to things around us. — Natasa Nuit Pantovic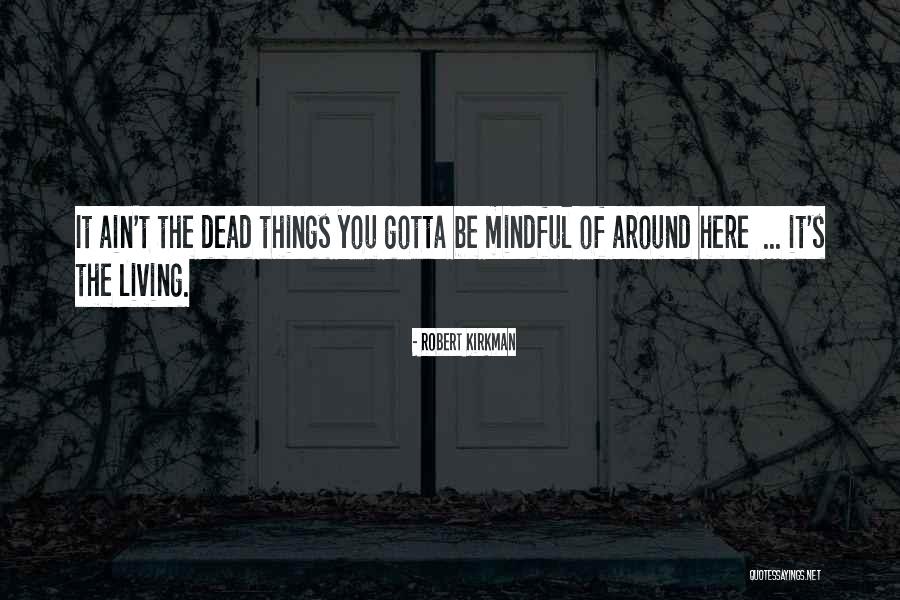 It ain't the dead things you gotta be mindful of around here ... it's the living. — Robert Kirkman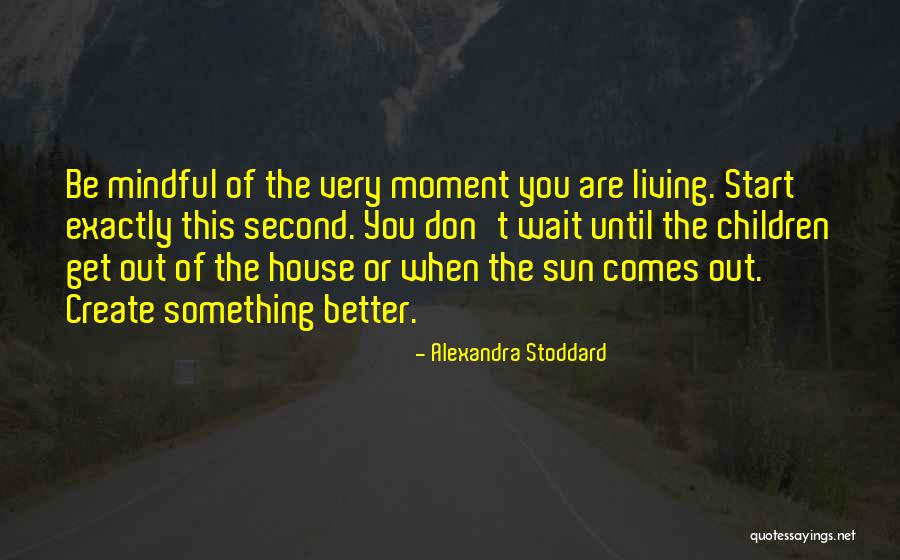 Be mindful of the very moment you are living. Start exactly this second. You don't wait until the children get out of the house or when the sun comes out. Create something better. — Alexandra Stoddard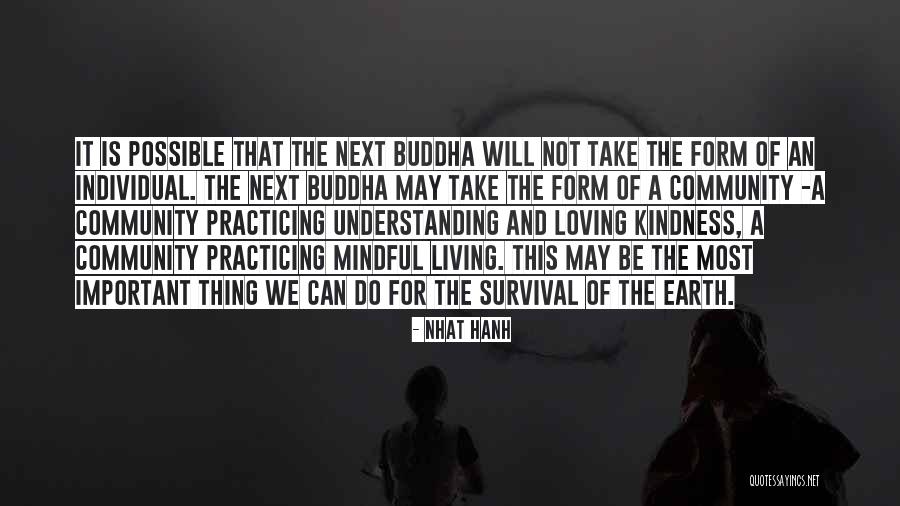 It is possible that the next Buddha will not take the form of an individual. The next Buddha may take the form of a community -a community practicing understanding and loving kindness, a community practicing mindful living. This may be the most important thing we can do for the survival of the earth. — Nhat Hanh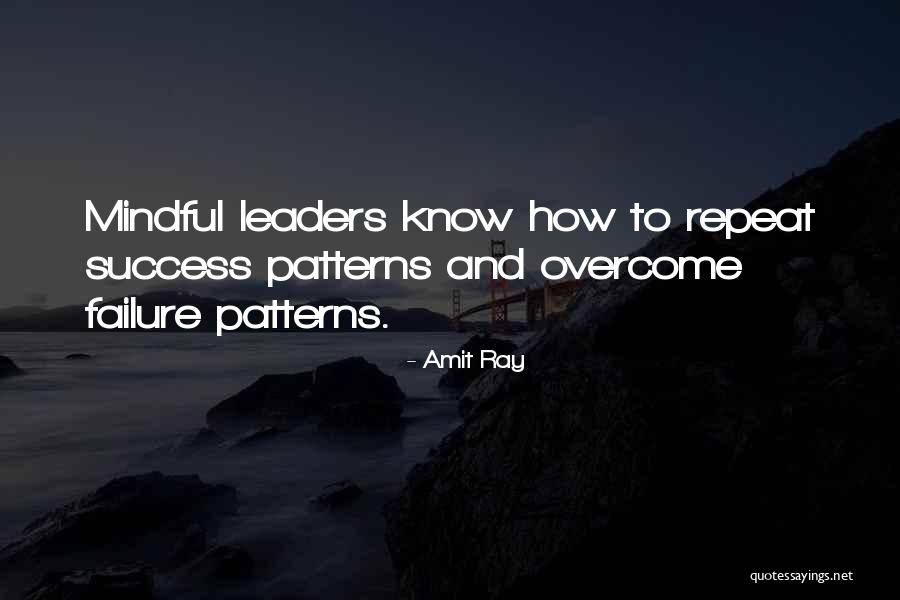 Mindful leaders know how to repeat success patterns and overcome failure patterns. — Amit Ray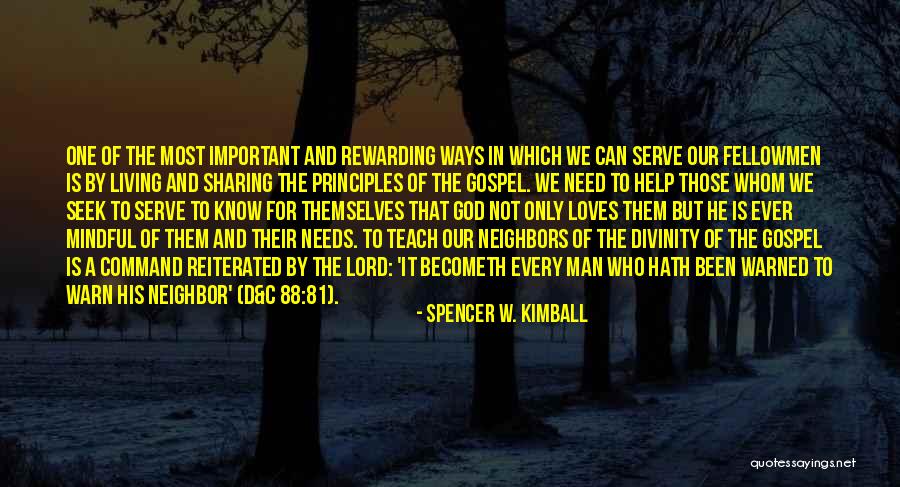 One of the most important and rewarding ways in which we can serve our fellowmen is by living and sharing the principles of the gospel. We need to help those whom we seek to serve to know for themselves that God not only loves them but he is ever mindful of them and their needs. To teach our neighbors of the divinity of the gospel is a command reiterated by the Lord: 'It becometh every man who hath been warned to warn his neighbor' (D&C 88:81). — Spencer W. Kimball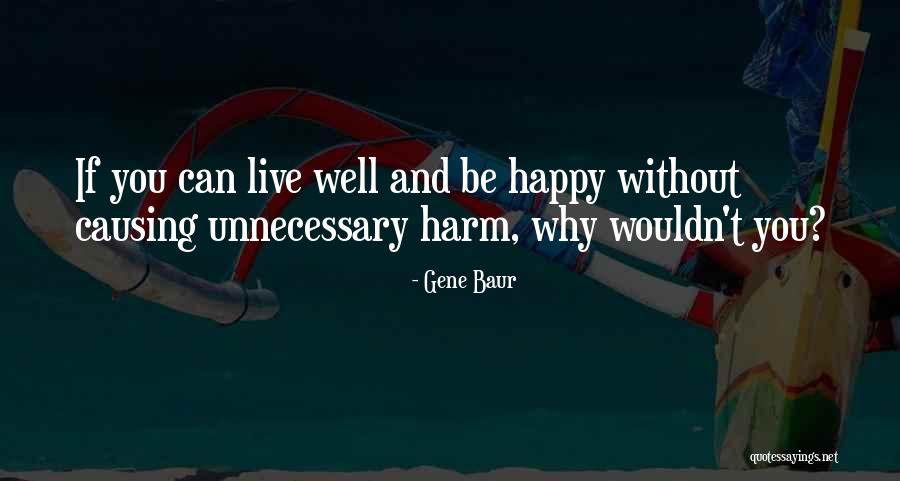 If you can live well and be happy without causing unnecessary harm, why wouldn't you? — Gene Baur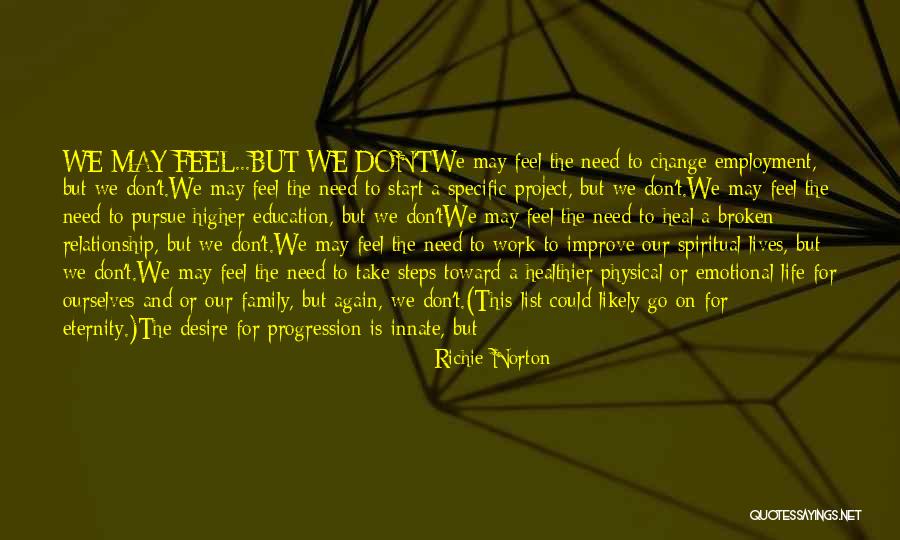 WE MAY FEEL...BUT WE DON'T

We may feel the need to change employment, but we don't.

We may feel the need to start a specific project, but we don't.

We may feel the need to pursue higher education, but we don't

We may feel the need to heal a broken relationship, but we don't.

We may feel the need to work to improve our spiritual lives, but we don't.

We may feel the need to take steps toward a healthier physical or emotional life for ourselves and/or our family, but again, we don't.

(This list could likely go on for eternity.)

The desire for progression is innate, but the problem we face is that the actual act of progression is also a choice.

Without embracing our inherent need for progress, for positive growth and/or change, we'll still go on living.

...But at what cost? — Richie Norton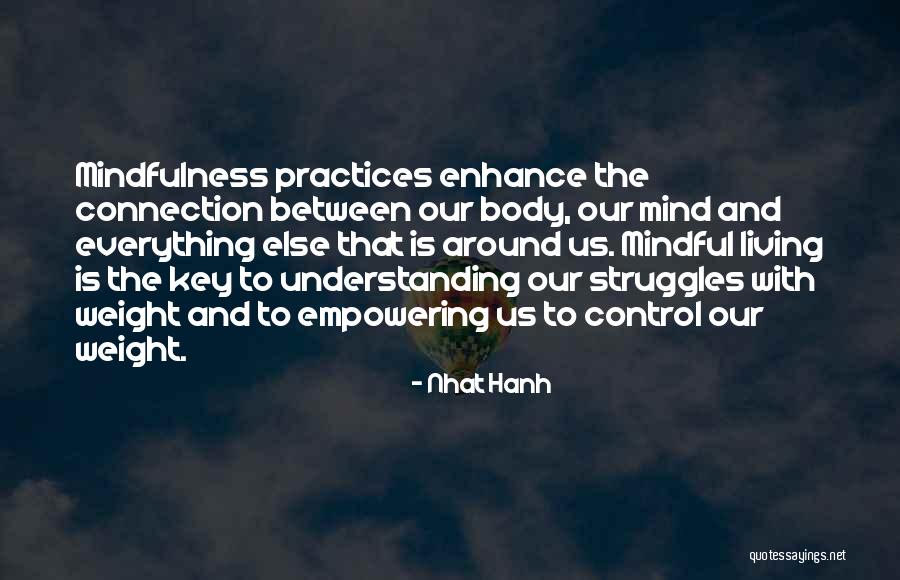 Mindfulness practices enhance the connection between our body, our mind and everything else that is around us. Mindful living is the key to understanding our struggles with weight and to empowering us to control our weight. — Nhat Hanh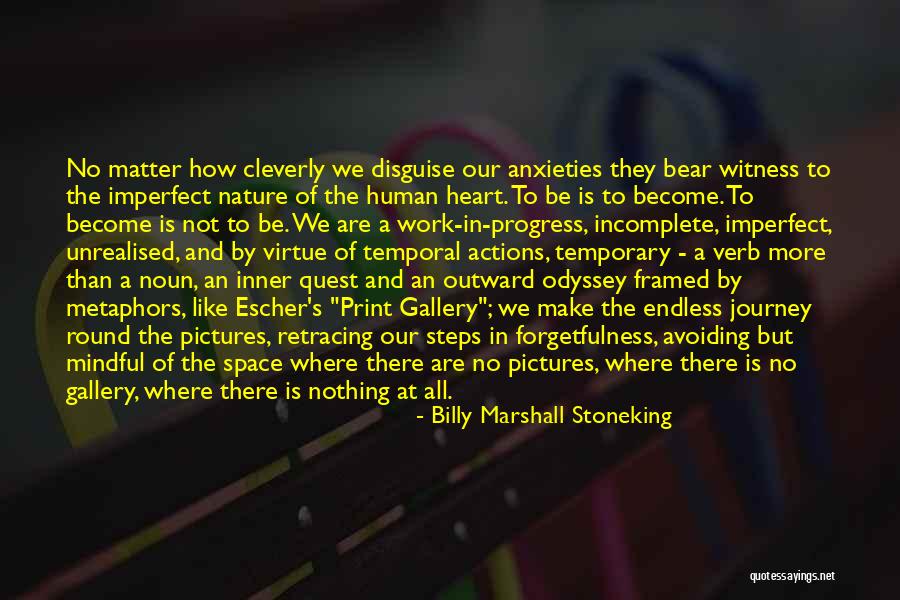 No matter how cleverly we disguise our anxieties they bear witness to the imperfect nature of the human heart. To be is to become. To become is not to be. We are a work-in-progress, incomplete, imperfect, unrealised, and by virtue of temporal actions, temporary - a verb more than a noun, an inner quest and an outward odyssey framed by metaphors, like Escher's "Print Gallery"; we make the endless journey round the pictures, retracing our steps in forgetfulness, avoiding but mindful of the space where there are no pictures, where there is no gallery, where there is nothing at all. And like flies in a fly bottle, trapped by a failure of vision, we go round and round and round the moebius loop of a print gallery of our own making, a picture inside a picture inside a picture, forever. — Billy Marshall Stoneking