Quotes & Sayings About Memory Lane
Enjoy reading and share 29 famous quotes about Memory Lane with everyone.
Top Memory Lane Quotes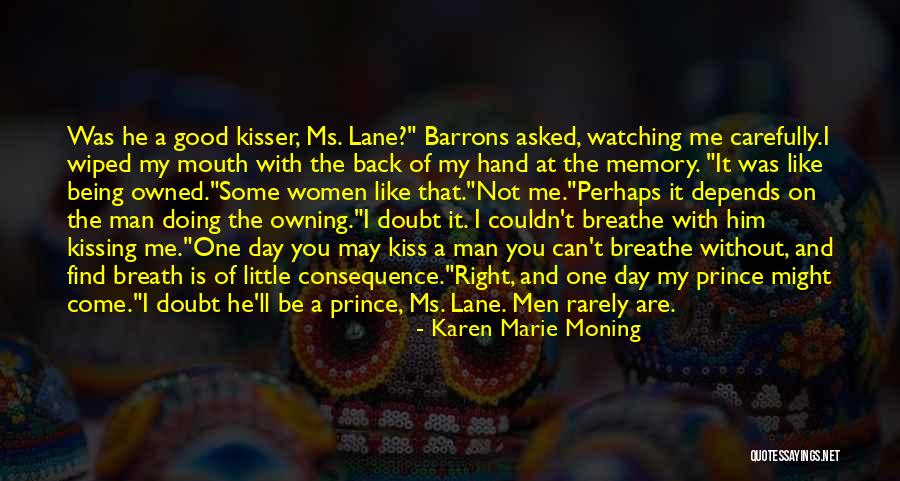 Was he a good kisser, Ms. Lane?" Barrons asked, watching me carefully.
I wiped my mouth with the back of my hand at the memory. "It was like being owned."
Some women like that."
Not me."
Perhaps it depends on the man doing the owning."
I doubt it. I couldn't breathe with him kissing me."
One day you may kiss a man you can't breathe without, and find breath is of little consequence."
Right, and one day my prince might come."
I doubt he'll be a prince, Ms. Lane. Men rarely are. — Karen Marie Moning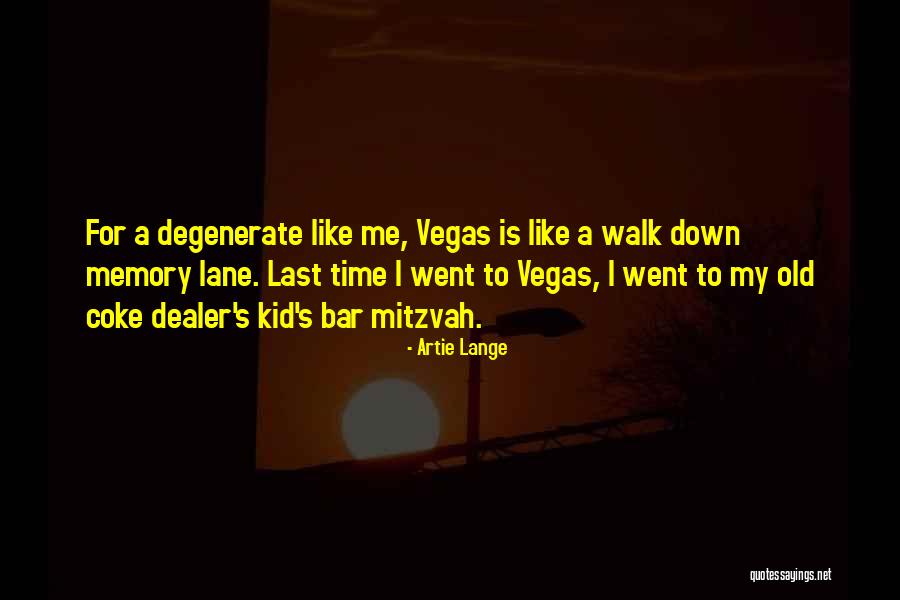 For a degenerate like me, Vegas is like a walk down memory lane. Last time I went to Vegas, I went to my old coke dealer's kid's bar mitzvah. — Artie Lange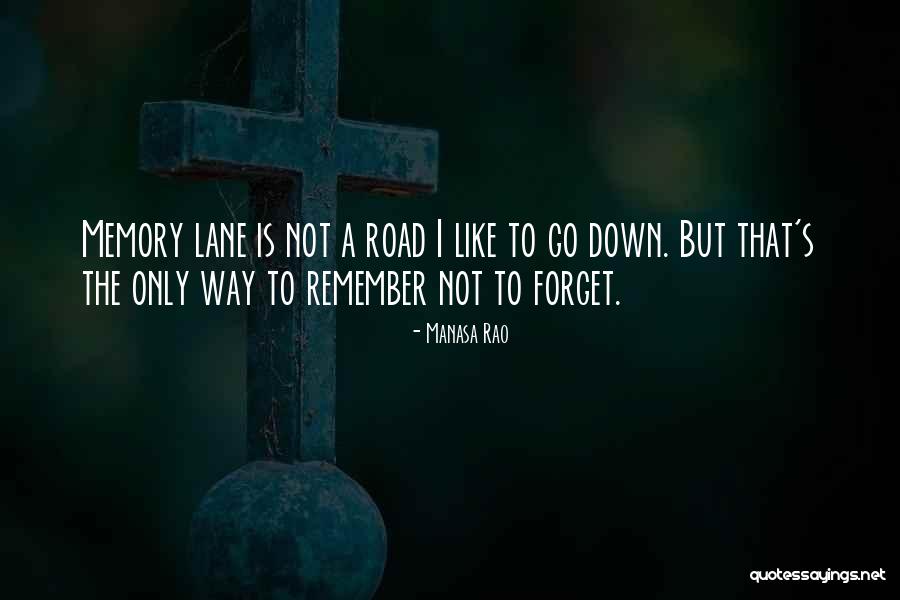 Memory lane is not a road I like to go down. But that's the only way to remember not to forget. — Manasa Rao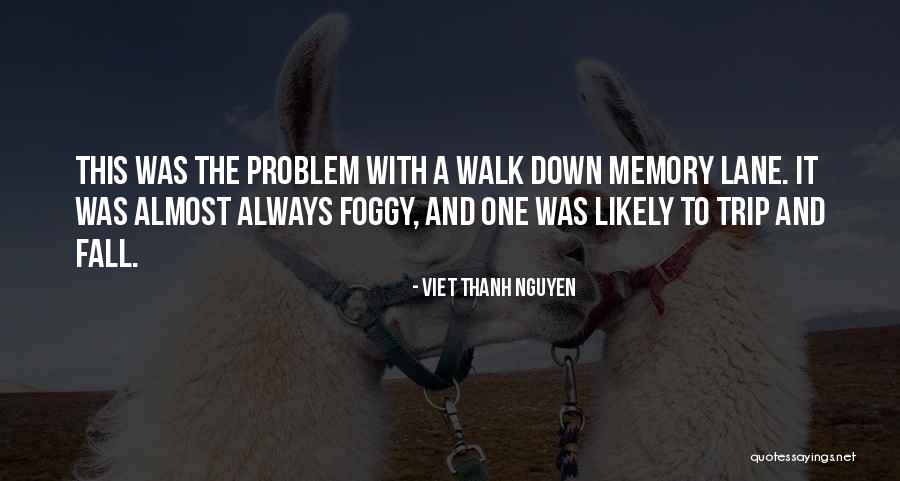 This was the problem with a walk down memory lane. It was almost always foggy, and one was likely to trip and fall. — Viet Thanh Nguyen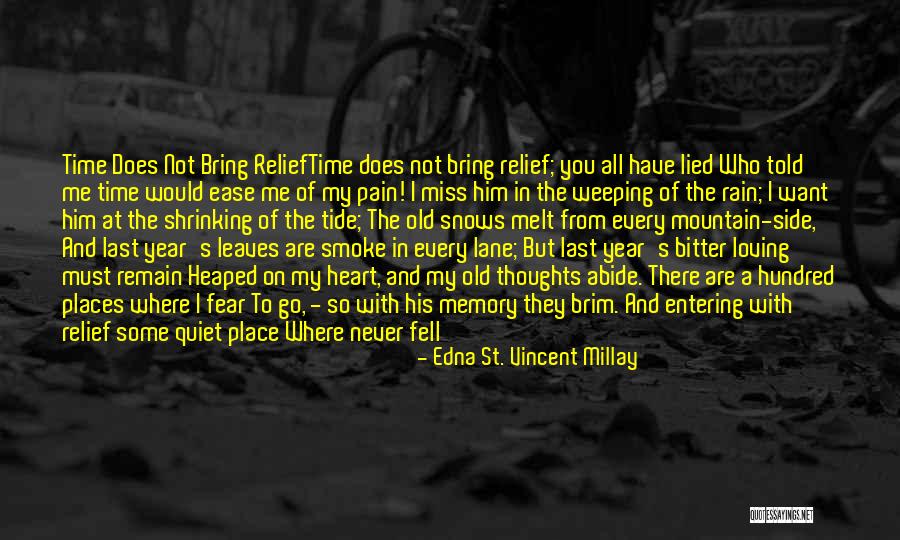 Time Does Not Bring Relief
Time does not bring relief; you all have lied
Who told me time would ease me of my pain!
I miss him in the weeping of the rain;
I want him at the shrinking of the tide;
The old snows melt from every mountain-side,
And last year's leaves are smoke in every lane;
But last year's bitter loving must remain
Heaped on my heart, and my old thoughts abide.
There are a hundred places where I fear
To go, - so with his memory they brim.
And entering with relief some quiet place
Where never fell his foot or shone his face
I say, "There is no memory of him here!"
And so stand stricken, so remembering him. — Edna St. Vincent Millay
Every time I open the drawer, it's a trip down Memory Lane, which, if you don't turn off at the right exit, merges straight into the Masochistic Nostalgia Highway. — Sloane Crosley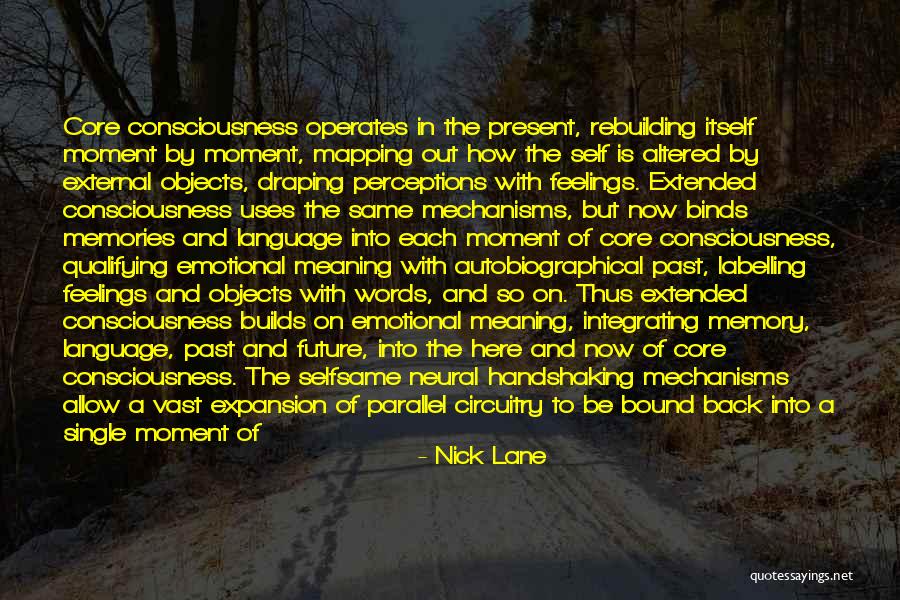 Core consciousness operates in the present, rebuilding itself moment by moment, mapping out how the self is altered by external objects, draping perceptions with feelings. Extended consciousness uses the same mechanisms, but now binds memories and language into each moment of core consciousness, qualifying emotional meaning with autobiographical past, labelling feelings and objects with words, and so on. Thus extended consciousness builds on emotional meaning, integrating memory, language, past and future, into the here and now of core consciousness. The selfsame neural handshaking mechanisms allow a vast expansion of parallel circuitry to be bound back into a single moment of perception. — Nick Lane
Mom isn't content taking a stroll down memory lane. She's bought a condo and spends half the year there. — Paula Wall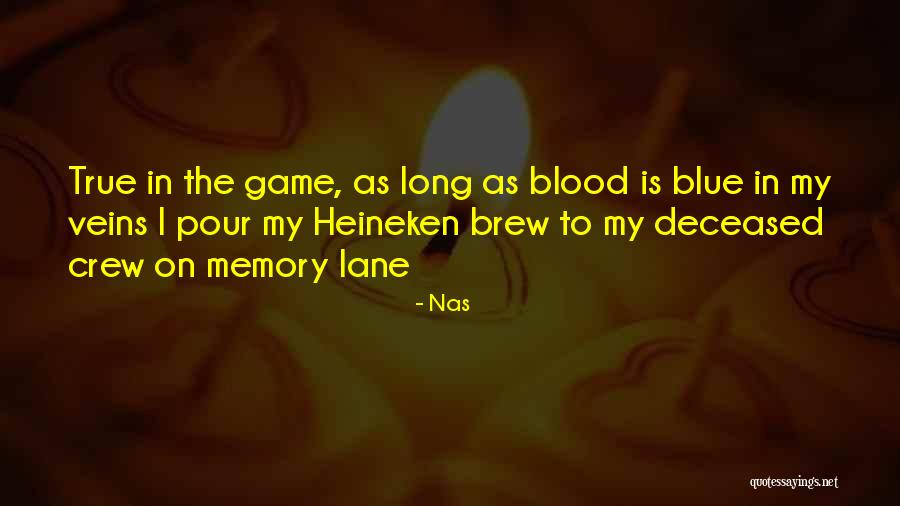 True in the game, as long as blood is blue in my veins
I pour my Heineken brew to my deceased crew on memory lane — Nas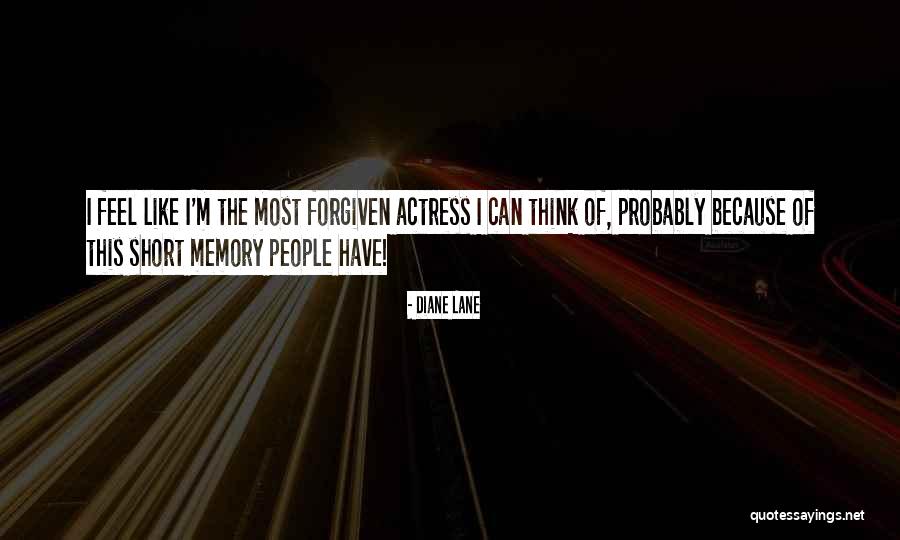 I feel like I'm the most forgiven actress I can think of, probably because of this short memory people have! — Diane Lane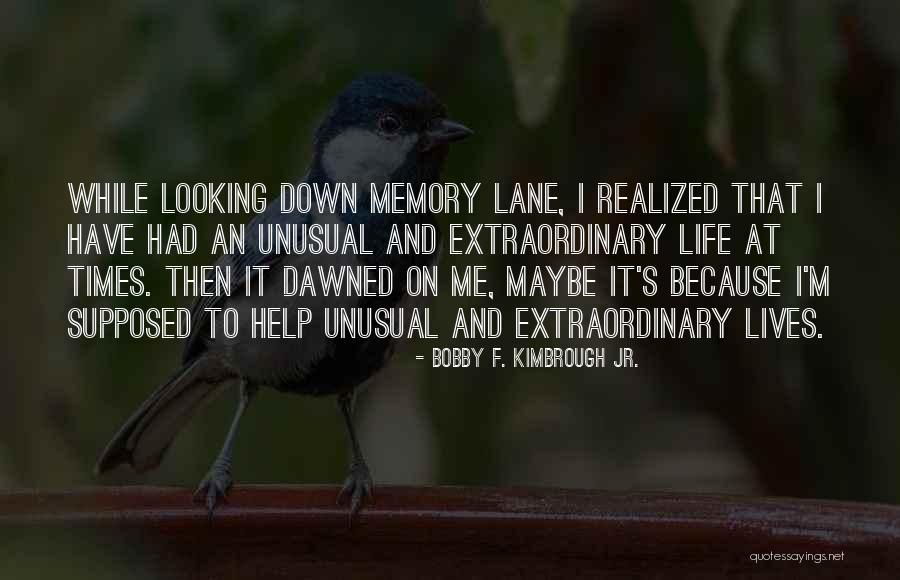 While looking down memory lane, I realized that I have had an unusual and extraordinary life at times. Then it dawned on me, maybe it's because I'm supposed to help unusual and extraordinary lives. — Bobby F. Kimbrough Jr.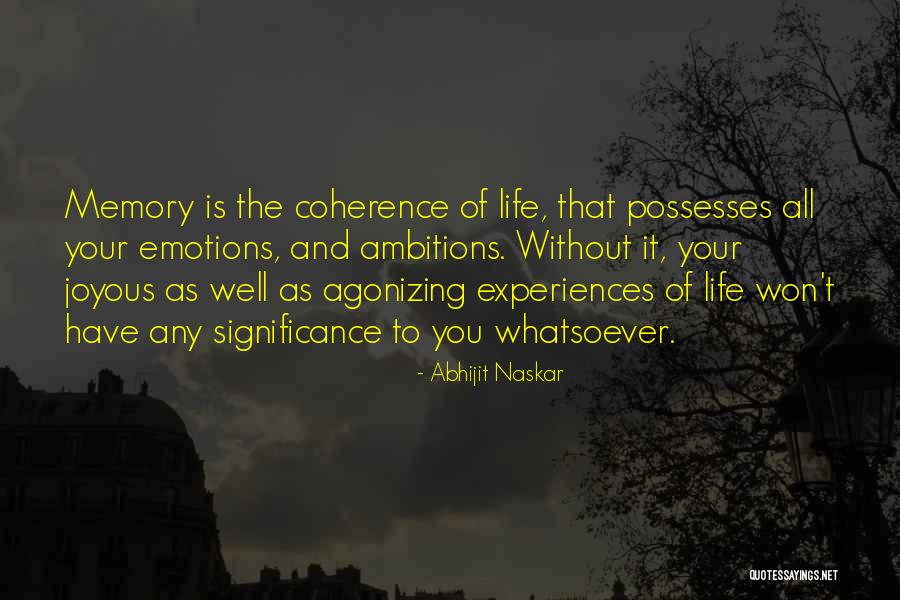 Memory is the coherence of life, that possesses all your emotions, and ambitions. Without it, your joyous as well as agonizing experiences of life won't have any significance to you whatsoever. — Abhijit Naskar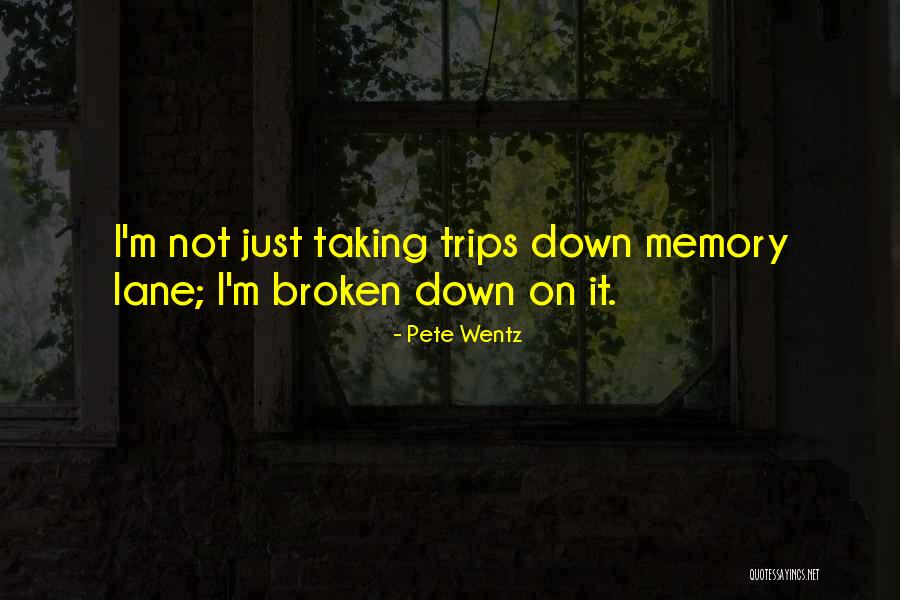 I'm not just taking trips down memory lane; I'm broken down on it. — Pete Wentz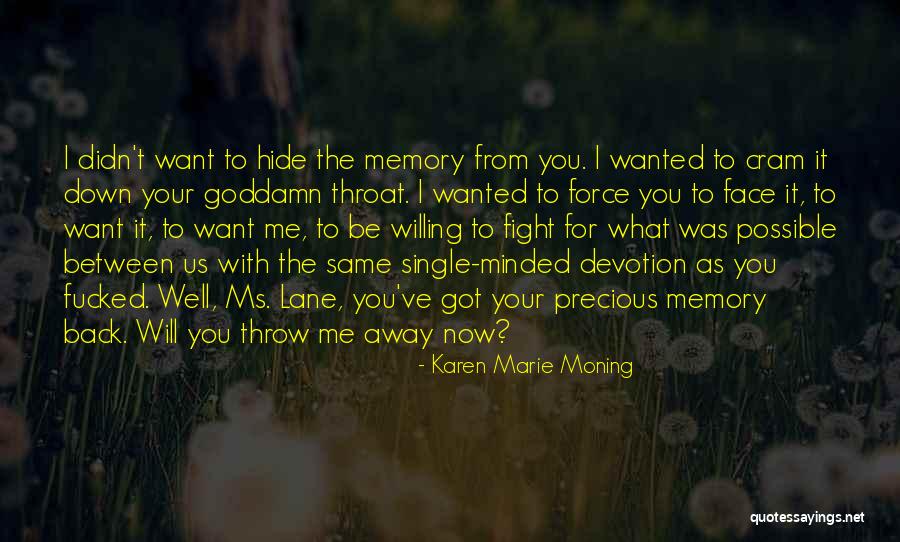 I didn't want to hide the memory from you. I wanted to cram it down your goddamn throat. I wanted to force you to face it, to want it, to want me, to be willing to fight for what was possible between us with the same single-minded devotion as you fucked. Well, Ms. Lane, you've got your precious memory back. Will you throw me away now? — Karen Marie Moning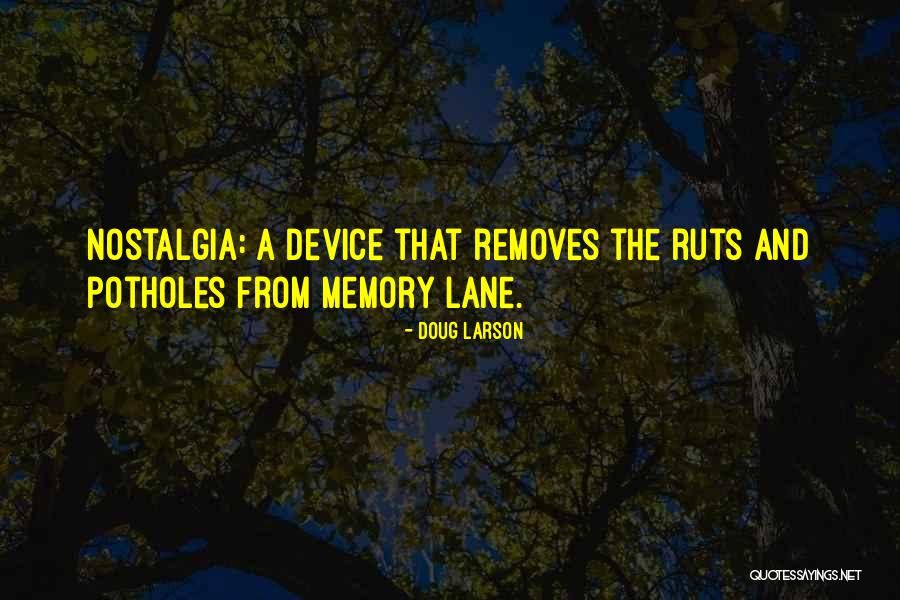 Nostalgia: A device that removes the ruts and potholes from memory lane. — Doug Larson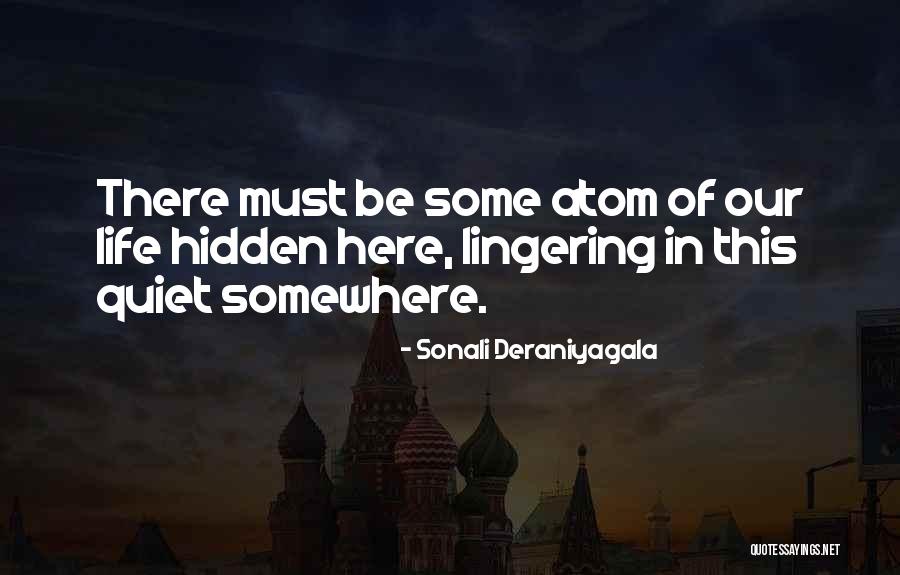 There must be some atom of our life hidden here, lingering in this quiet somewhere. — Sonali Deraniyagala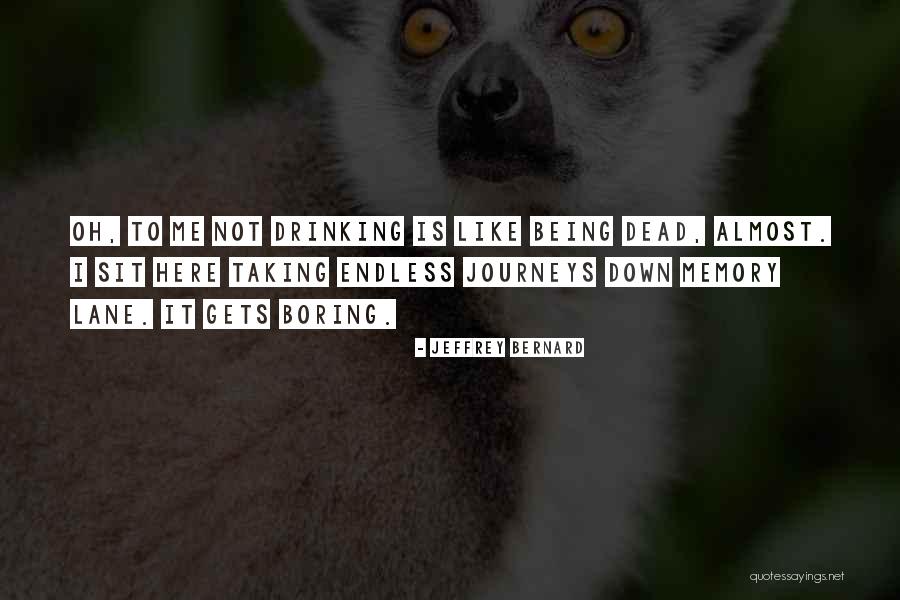 Oh, to me not drinking is like being dead, almost. I sit here taking endless journeys down memory lane. It gets boring. — Jeffrey Bernard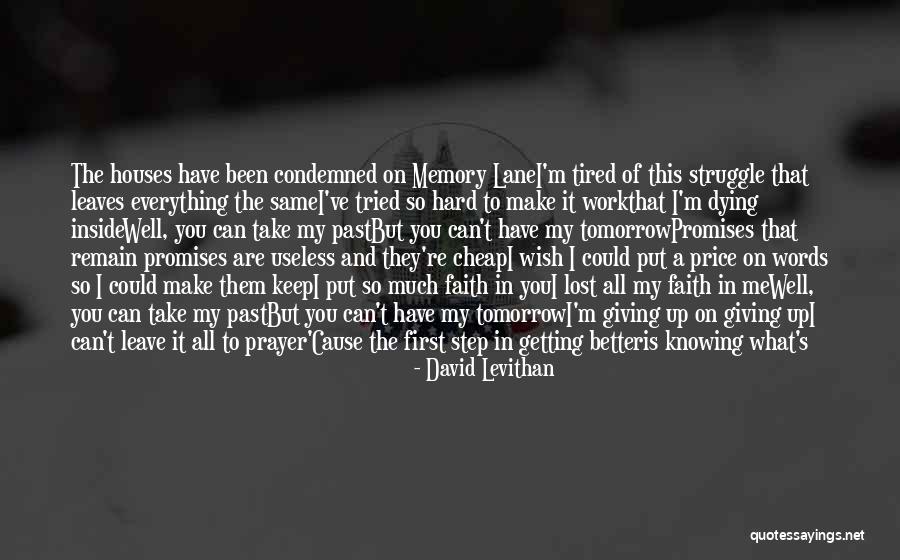 The houses have been condemned on Memory Lane
I'm tired of this struggle that leaves everything the same
I've tried so hard to make it work
that I'm dying inside
Well, you can take my past
But you can't have my tomorrow

Promises that remain promises are useless and they're cheap
I wish I could put a price on words so I could make them keep
I put so much faith in you
I lost all my faith in me
Well, you can take my past
But you can't have my tomorrow

I'm giving up on giving up
I can't leave it all to prayer
'Cause the first step in getting better
is knowing what's not there
You said you'd make it better
and that just makes it worse
Well, you can take my past
But you can't have my tomorrow

Yes, I want my life to last
So you can't have my tomorrow
No, you can't have my tomorrow — David Levithan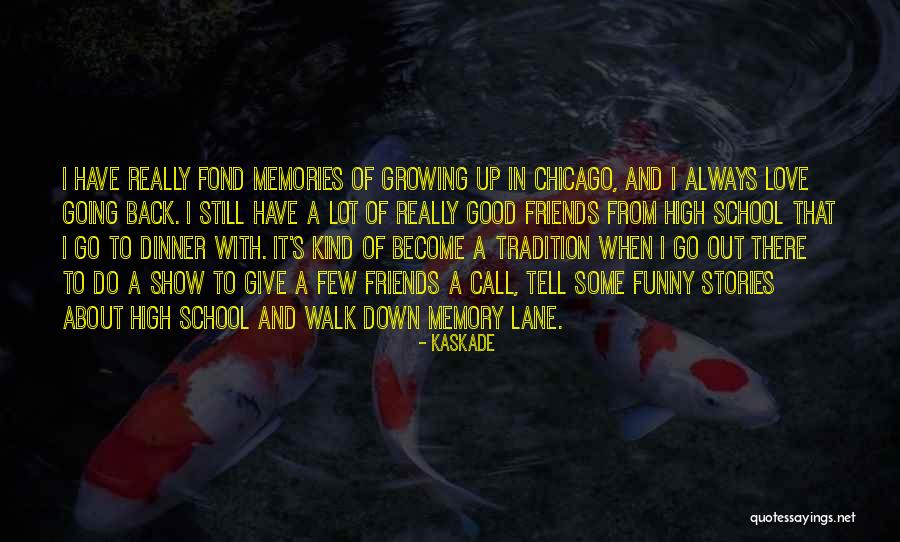 I have really fond memories of growing up in Chicago, and I always love going back. I still have a lot of really good friends from high school that I go to dinner with. It's kind of become a tradition when I go out there to do a show to give a few friends a call, tell some funny stories about high school and walk down memory lane. — Kaskade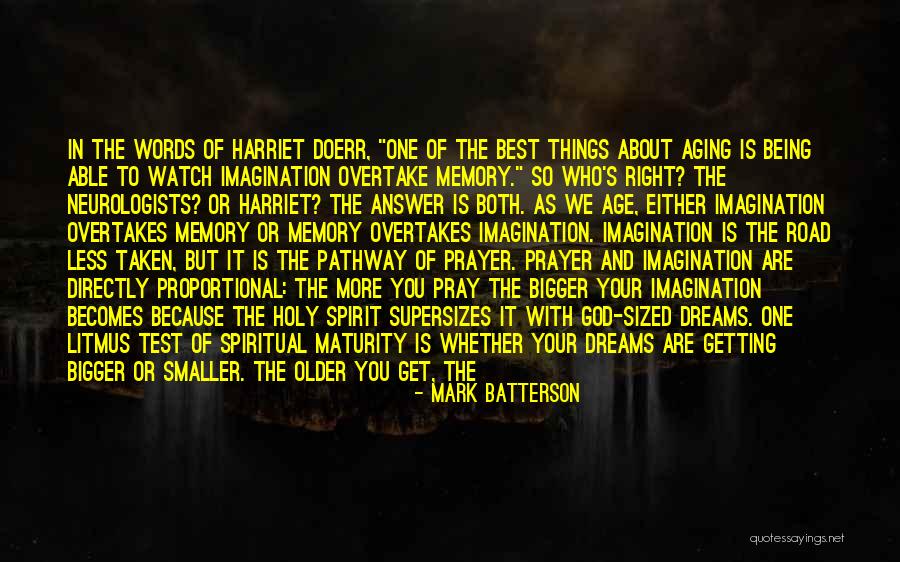 In the words of Harriet Doerr, "One of the best things about aging is being able to watch imagination overtake memory." So who's right? The neurologists? Or Harriet? The answer is both. As we age, either imagination overtakes memory or memory overtakes imagination. Imagination is the road less taken, but it is the pathway of prayer. Prayer and imagination are directly proportional: the more you pray the bigger your imagination becomes because the Holy Spirit supersizes it with God-sized dreams. One litmus test of spiritual maturity is whether your dreams are getting bigger or smaller. The older you get, the more faith you should have because you've experienced more of God's faithfulness. And it is God's faithfulness that increases our faith and enlarges our dreams. There is certainly nothing wrong with an occasional stroll down memory lane, but God wants you to keep dreaming until the day you die. — Mark Batterson
Keep quiet. Don't panic. Never tell anyone the truth. She'd lived with their rules for twelve years, and for what? So that she might one day be so lucky as to be forgotten entirely. The memory of Minerva Lane - of who she'd been, what she'd done - felt like a hot coal covered in cold ashes. It smoldered on long after the fire had been doused. Sometimes, all that heat rose up in her until she felt the need to shriek like a teapot. Until she wanted to burn the mousy shreds of her tattered personality. It rose up in her now, that fiery rebellion. The part of her that was still Minerva - the part that hadn't been ground to smoothness - whispered temptation in her ear. You don't need to keep quiet. You need a strategy. — Courtney Milan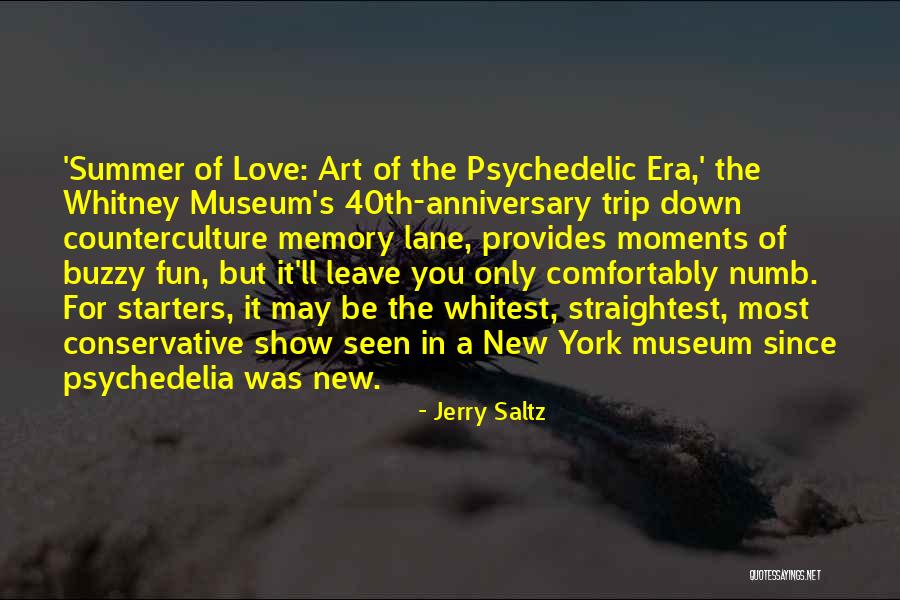 'Summer of Love: Art of the Psychedelic Era,' the Whitney Museum's 40th-anniversary trip down counterculture memory lane, provides moments of buzzy fun, but it'll leave you only comfortably numb. For starters, it may be the whitest, straightest, most conservative show seen in a New York museum since psychedelia was new. — Jerry Saltz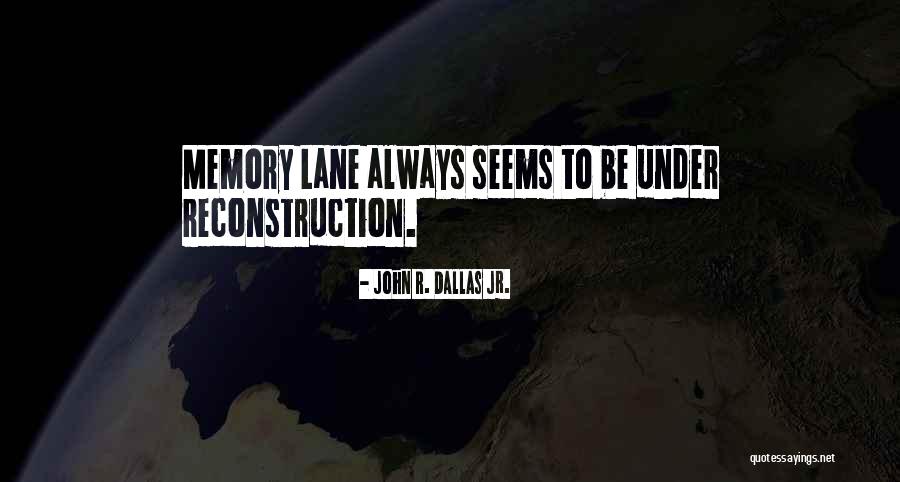 Memory Lane always seems to be under reconstruction. — John R. Dallas Jr.
It makes me angry that you hate yourself for something that somebody else made you do. Don't let them take any more. Don't you do that Andres."
"None of this does any good, Grace. All these visits, all this talking, all this strolling down fucking memory lane. It doesn't help. And you know why it doesn't help? Because everything that's happened - it lives so deep inside me that the only way I can ever get rid of it is to die."
"That's not true, Andres."
"It is true. Happiness isn't in the cards for everyone, Grace. — Benjamin Alire Saenz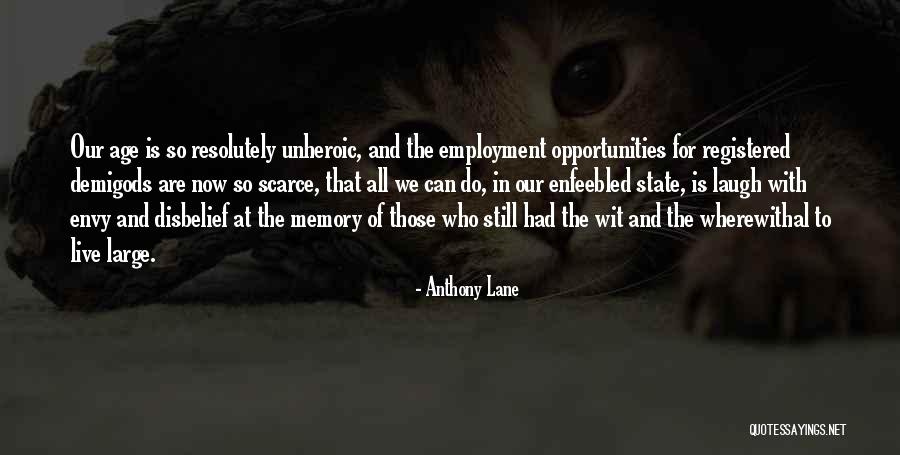 Our age is so resolutely unheroic, and the employment opportunities for registered demigods are now so scarce, that all we can do, in our enfeebled state, is laugh with envy and disbelief at the memory of those who still had the wit and the wherewithal to live large. — Anthony Lane