Man Gossip Quotes & Sayings
Enjoy reading and share 57 famous quotes about Man Gossip with everyone.
Top Man Gossip Quotes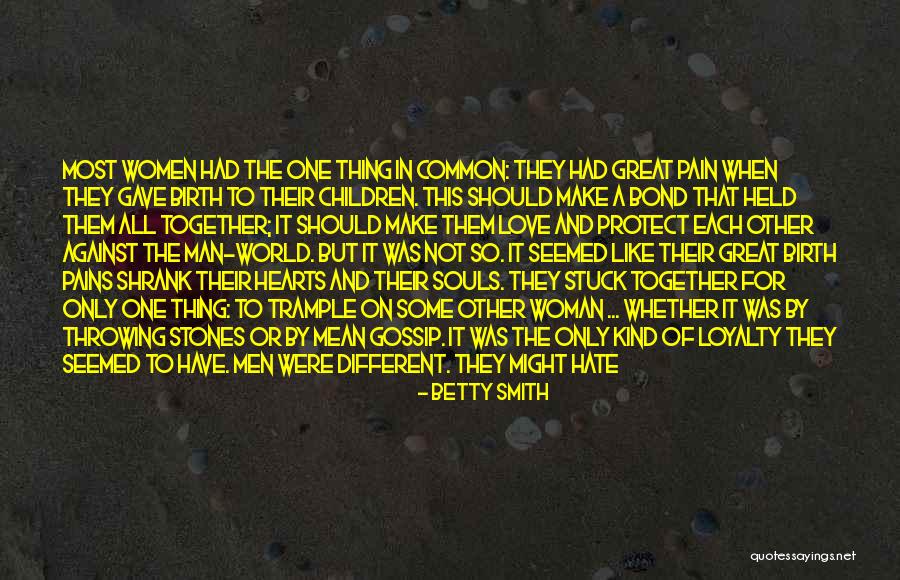 Most women had the one thing in common: they had great pain when they gave birth to their children. This should make a bond that held them all together; it should make them love and protect each other against the man-world. But it was not so. It seemed like their great birth pains shrank their hearts and their souls. They stuck together for only one thing: to trample on some other woman ... whether it was by throwing stones or by mean gossip. It was the only kind of loyalty they seemed to have. Men were different. They might hate each other but they stuck together against the world and against any woman who would ensnare one of them. — Betty Smith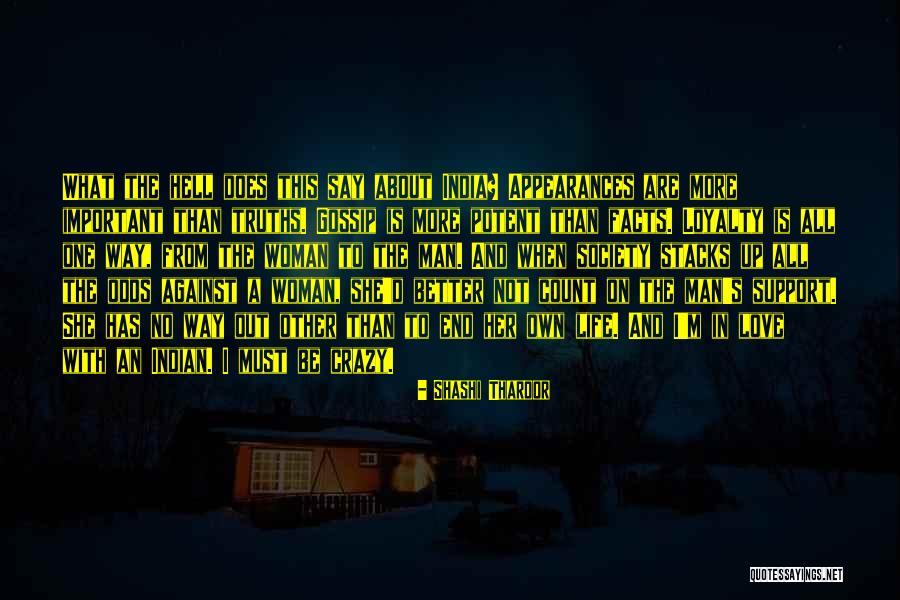 What the hell does this say about India? Appearances are more important than truths. Gossip is more potent than facts. Loyalty is all one way, from the woman to the man. And when society stacks up all the odds against a woman, she'd better not count on the man's support. She has no way out other than to end her own life. And I'm in love with an Indian. I must be crazy. — Shashi Tharoor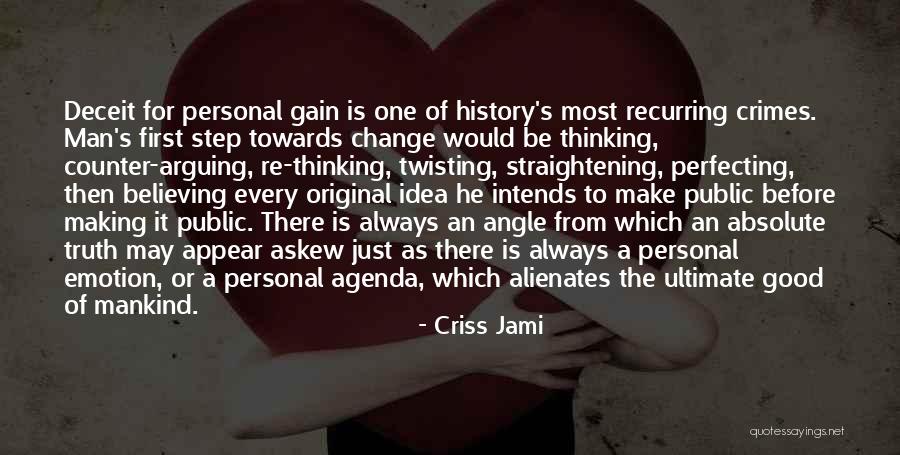 Deceit for personal gain is one of history's most recurring crimes. Man's first step towards change would be thinking, counter-arguing, re-thinking, twisting, straightening, perfecting, then believing every original idea he intends to make public before making it public. There is always an angle from which an absolute truth may appear askew just as there is always a personal emotion, or a personal agenda, which alienates the ultimate good of mankind. — Criss Jami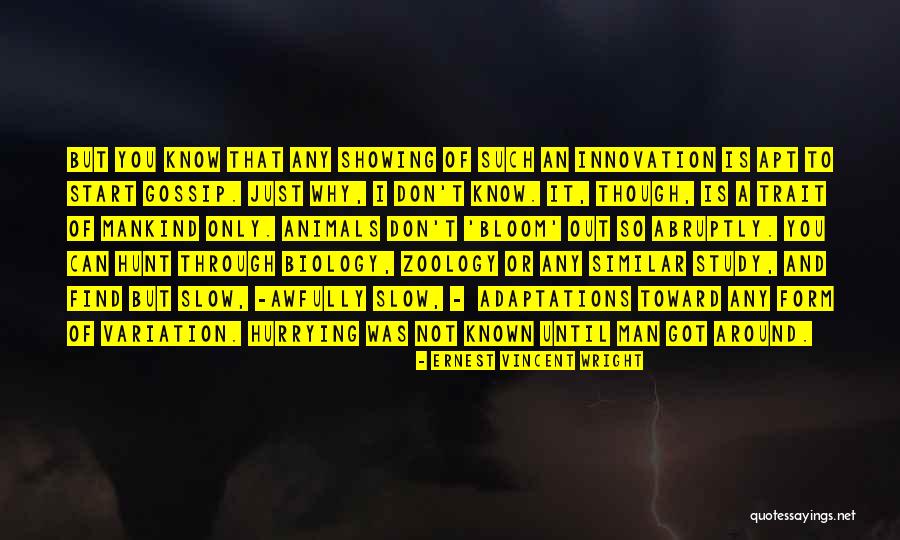 But you know that any showing of such an innovation is apt to start gossip. Just why, I don't know. It, though, is a trait of Mankind only. Animals don't 'bloom' out so abruptly. You can hunt through Biology, Zoology or any similar study, and find but slow, -awfully slow, - adaptations toward any form of variation. Hurrying was not known until Man got around. — Ernest Vincent Wright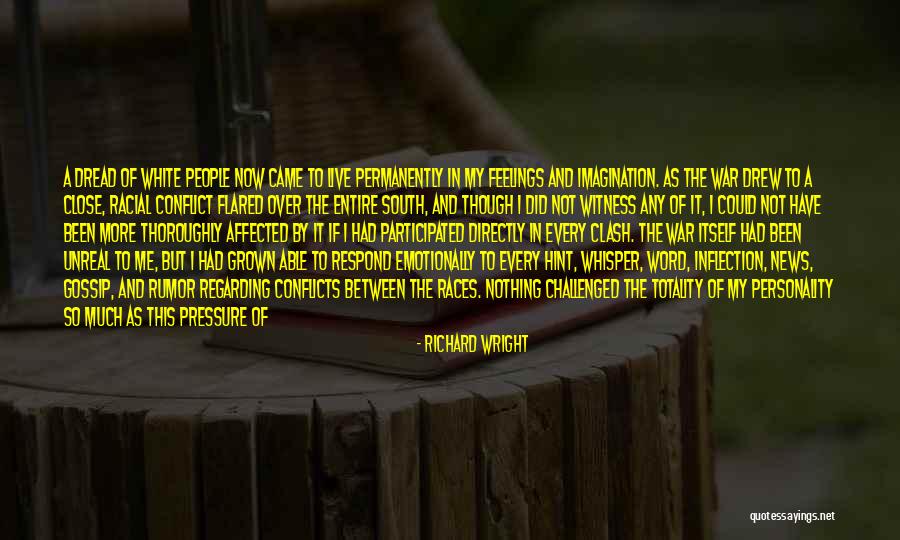 A dread of white people now came to live permanently in my feelings and imagination. As the war drew to a close, racial conflict flared over the entire South, and though I did not witness any of it, I could not have been more thoroughly affected by it if I had participated directly in every clash. The war itself had been unreal to me, but I had grown able to respond emotionally to every hint, whisper, word, inflection, news, gossip, and rumor regarding conflicts between the races. Nothing challenged the totality of my personality so much as this pressure of hate and threat that stemmed from the invisible whites. I would stand for hours on the doorsteps of neighbors' houses listening to their talk, learning how a white woman had slapped a black woman, how a white man had killed a black man. It filled me with awe, wonder, and fear, and I asked ceaseless questions. One evening I heard a tale that rendered — Richard Wright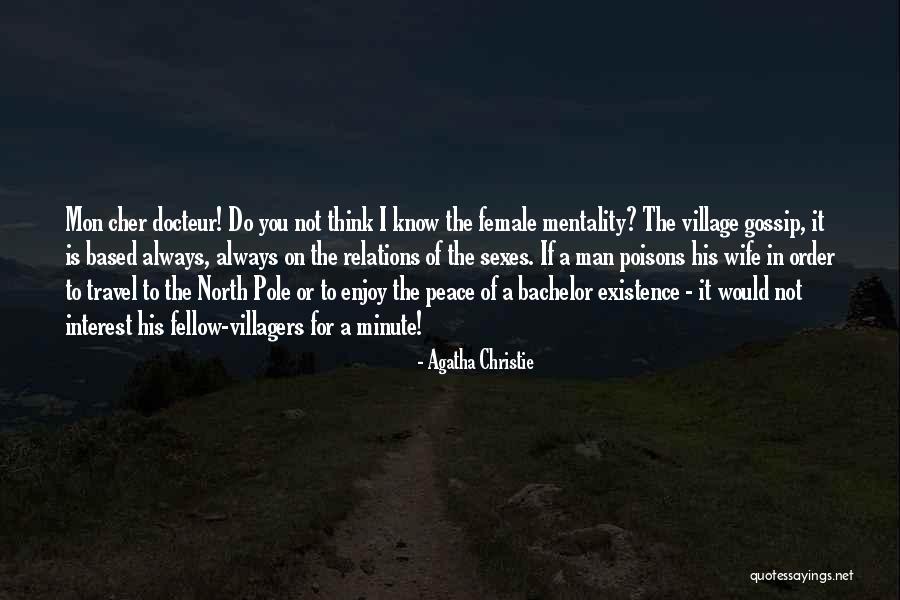 Mon cher docteur! Do you not think I know the female mentality? The village gossip, it is based always, always on the relations of the sexes. If a man poisons his wife in order to travel to the North Pole or to enjoy the peace of a bachelor existence - it would not interest his fellow-villagers for a minute! — Agatha Christie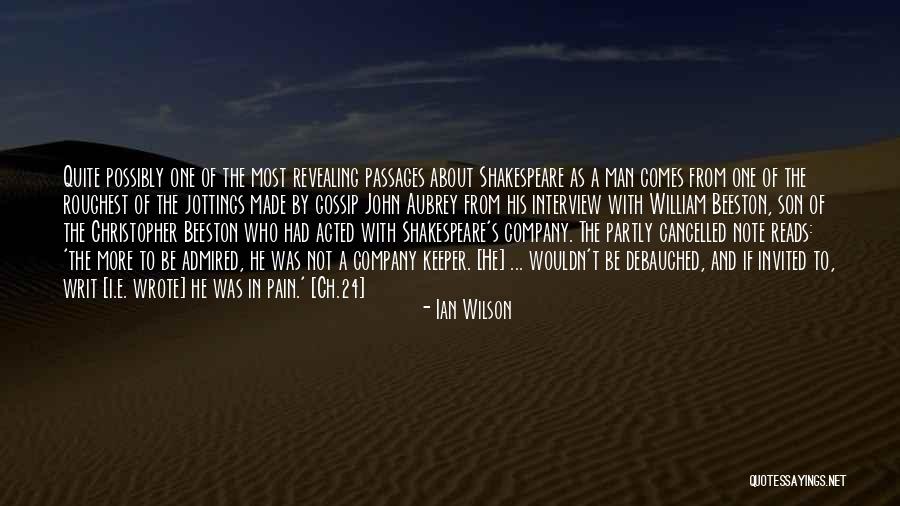 Quite possibly one of the most revealing passages about Shakespeare as a man comes from one of the roughest of the jottings made by gossip John Aubrey from his interview with William Beeston, son of the Christopher Beeston who had acted with Shakespeare's company. The partly cancelled note reads: 'the more to be admired, he was not a company keeper. [He] ... wouldn't be debauched, and if invited to, writ [i.e. wrote] he was in pain.' [Ch.24] — Ian Wilson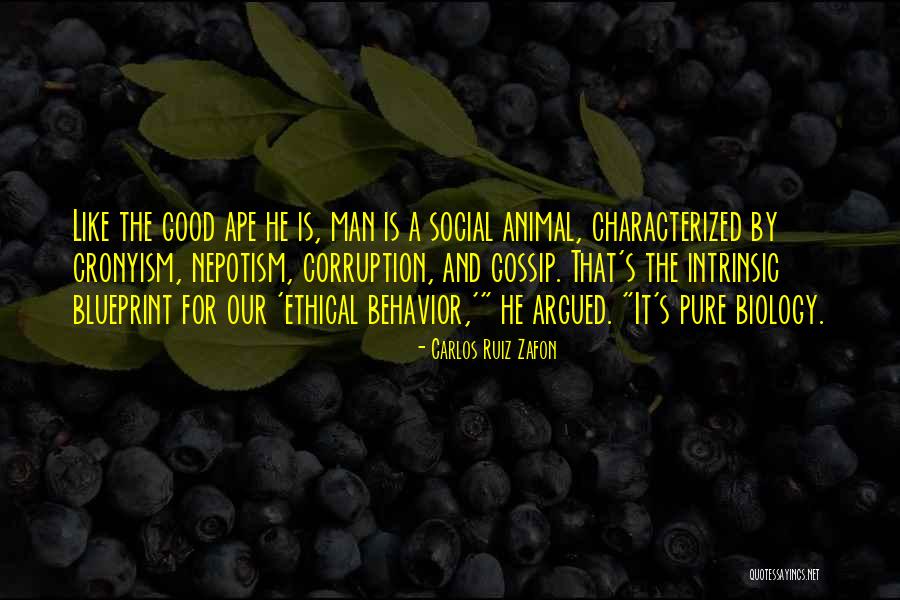 Like the good ape he is, man is a social animal, characterized by cronyism, nepotism, corruption, and gossip. That's the intrinsic blueprint for our 'ethical behavior,'" he argued. "It's pure biology. — Carlos Ruiz Zafon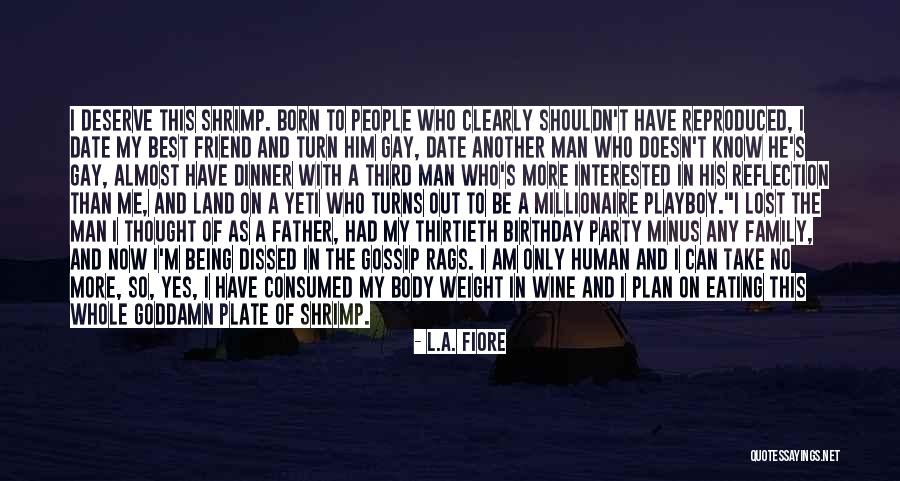 I deserve this shrimp. Born to people who clearly shouldn't have reproduced, I date my best friend and turn him gay, date another man who doesn't know he's gay, almost have dinner with a third man who's more interested in his reflection than me, and land on a yeti who turns out to be a millionaire playboy.

"I lost the man I thought of as a father, had my thirtieth birthday party minus any family, and now I'm being dissed in the gossip rags. I am only human and I can take no more, so, yes, I have consumed my body weight in wine and I plan on eating this whole goddamn plate of shrimp. — L.A. Fiore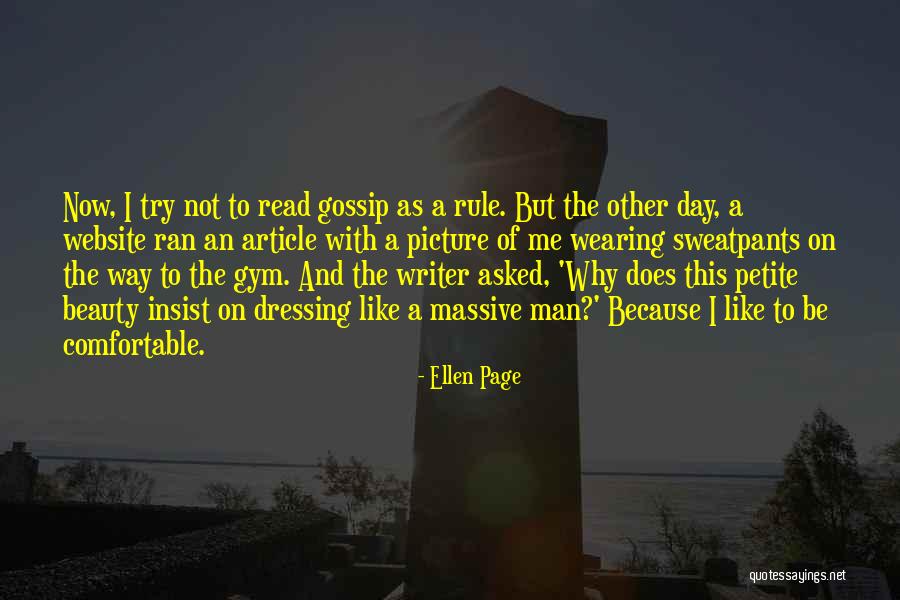 Now, I try not to read gossip as a rule. But the other day, a website ran an article with a picture of me wearing sweatpants on the way to the gym. And the writer asked, 'Why does this petite beauty insist on dressing like a massive man?' Because I like to be comfortable. — Ellen Page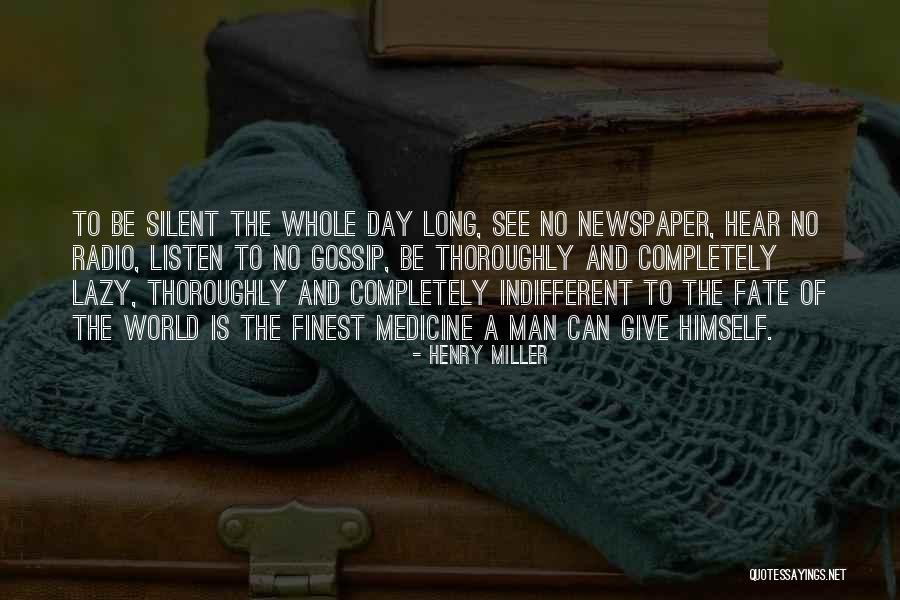 To be silent the whole day long, see no newspaper, hear no radio, listen to no gossip, be thoroughly and completely lazy, thoroughly and completely indifferent to the fate of the world is the finest medicine a man can give himself. — Henry Miller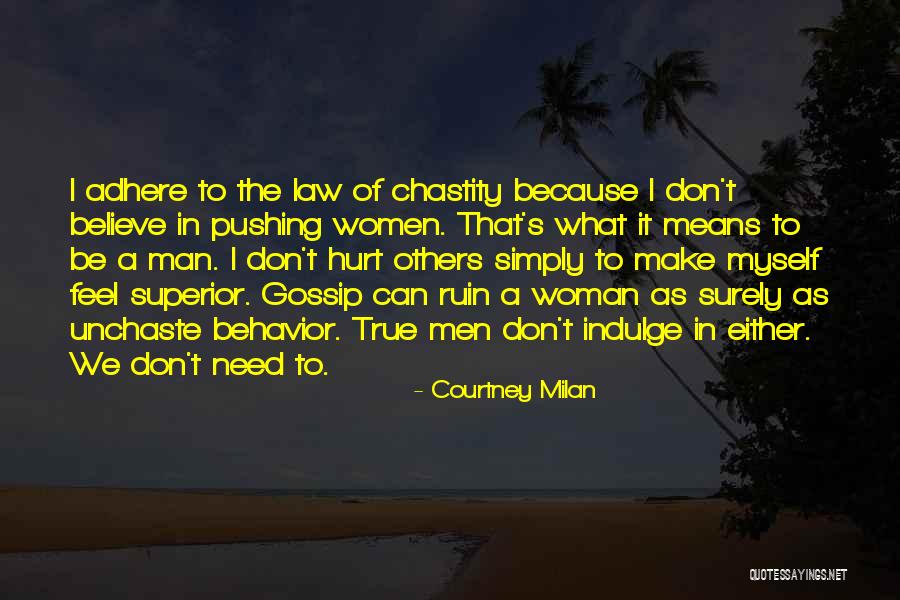 I adhere to the law of chastity because I don't believe in pushing women. That's what it means to be a man. I don't hurt others simply to make myself feel superior. Gossip can ruin a woman as surely as unchaste behavior. True men don't indulge in either. We don't need to. — Courtney Milan
No, that's not the style of these people,' explained Maxy. 'You shouldn't think of these Bolsheviks as modern politicians. They were religious fanatics. Their Marxism was fanatical; their fervour was semi-Islamic; and they saw themselves as members of a secret military-religious order like the medieval Crusaders or the Knights Templar. They were ruthless, amoral and paranoid. They believed that millions would have to die to create their perfect world. Family, love and friendship were nothing compared to the holy grail. People died of gossip at Stalin's court. For a man like Satinov, secrecy was everything. — Simon Sebag Montefiore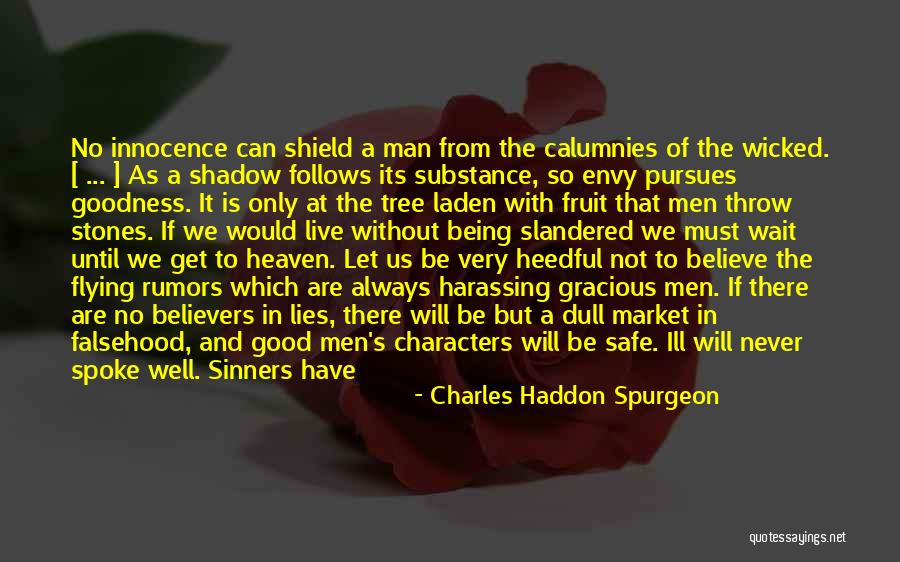 No innocence can shield a man from the calumnies of the wicked. [ ... ] As a shadow follows its substance, so envy pursues goodness. It is only at the tree laden with fruit that men throw stones. If we would live without being slandered we must wait until we get to heaven. Let us be very heedful not to believe the flying rumors which are always harassing gracious men. If there are no believers in lies, there will be but a dull market in falsehood, and good men's characters will be safe. Ill will never spoke well. Sinners have an ill will to saints; therefore, be sure that they will not speak well of them. — Charles Haddon Spurgeon
You could never prove innocence, not in the match with the man who only had to imply guilt. — David Halberstam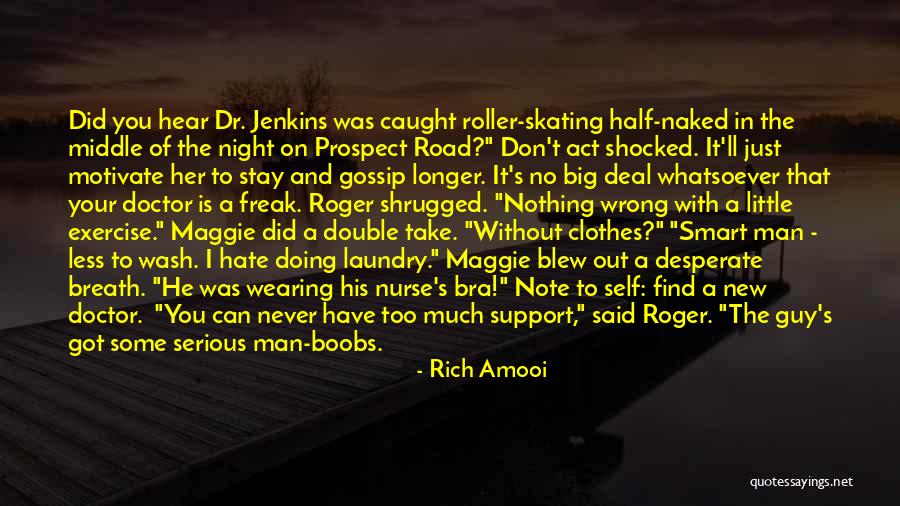 Did you hear Dr. Jenkins was caught roller-skating half-naked in the middle of the night on Prospect Road?" Don't act shocked. It'll just motivate her to stay and gossip longer. It's no big deal whatsoever that your doctor is a freak. Roger shrugged. "Nothing wrong with a little exercise." Maggie did a double take. "Without clothes?" "Smart man - less to wash. I hate doing laundry." Maggie blew out a desperate breath. "He was wearing his nurse's bra!" Note to self: find a new doctor. "You can never have too much support," said Roger. "The guy's got some serious man-boobs. — Rich Amooi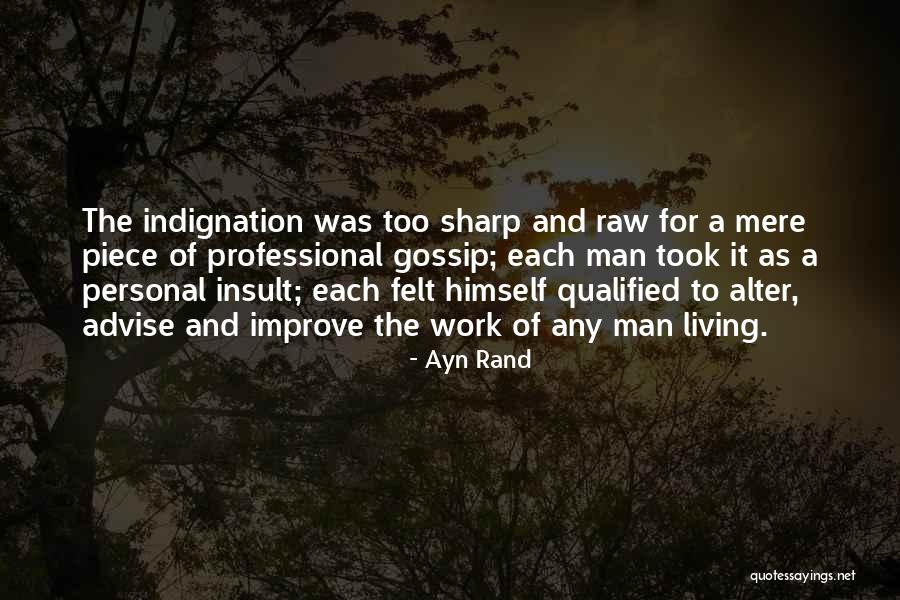 The indignation was too sharp and raw for a mere piece of professional gossip; each man took it as a personal insult; each felt himself qualified to alter, advise and improve the work of any man living. — Ayn Rand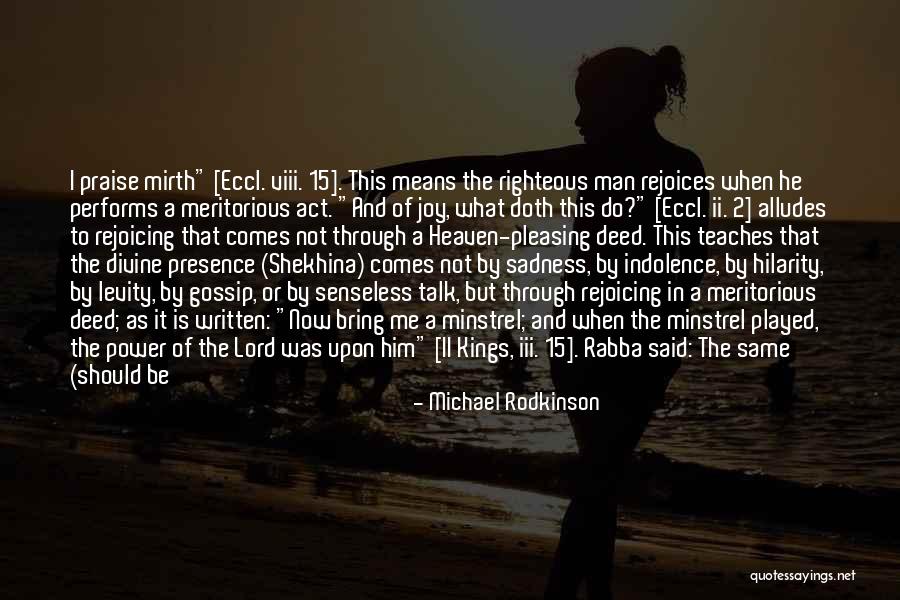 I praise mirth" [Eccl. viii. 15]. This means the righteous man rejoices when he performs a meritorious act. "And of joy, what doth this do?" [Eccl. ii. 2] alludes to rejoicing that comes not through a Heaven-pleasing deed. This teaches that the divine presence (Shekhina) comes not by sadness, by indolence, by hilarity, by levity, by gossip, or by senseless talk, but through rejoicing in a meritorious deed; as it is written: "Now bring me a minstrel; and when the minstrel played, the power of the Lord was upon him" [II Kings, iii. 15]. Rabba said: The same (should be done) in order to enjoy good dreams. R. Jehudah says: The same (should be done) to predispose one's self for legislative work, as Rabba did: Before commencing to expound a Halakha he introduced it with a simile and caused the masters to become joyful; afterward, he sat down in the fear of the Lord and began to expound the Halakha. — Michael Rodkinson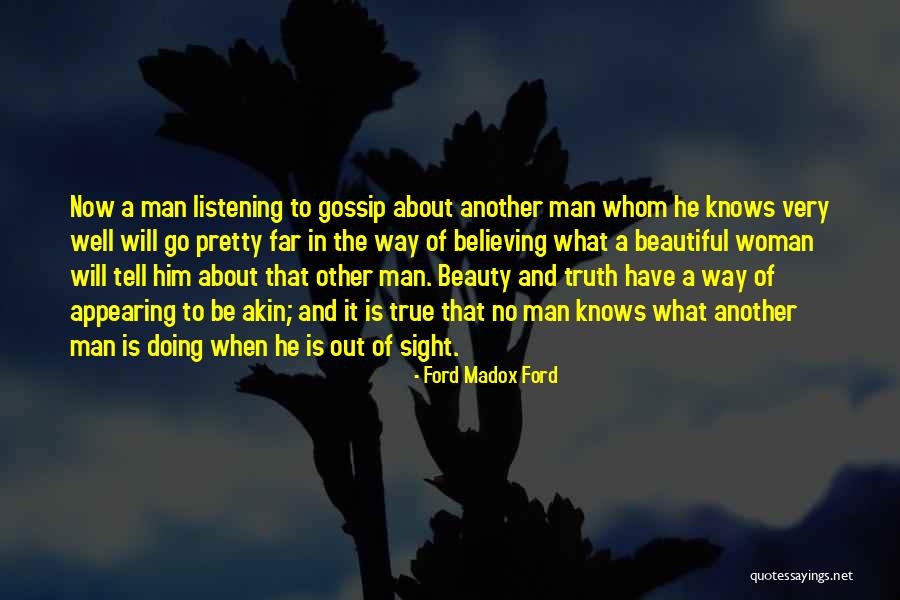 Now a man listening to gossip about another man whom he knows very well will go pretty far in the way of believing what a beautiful woman will tell him about that other man. Beauty and truth have a way of appearing to be akin; and it is true that no man knows what another man is doing when he is out of sight. — Ford Madox Ford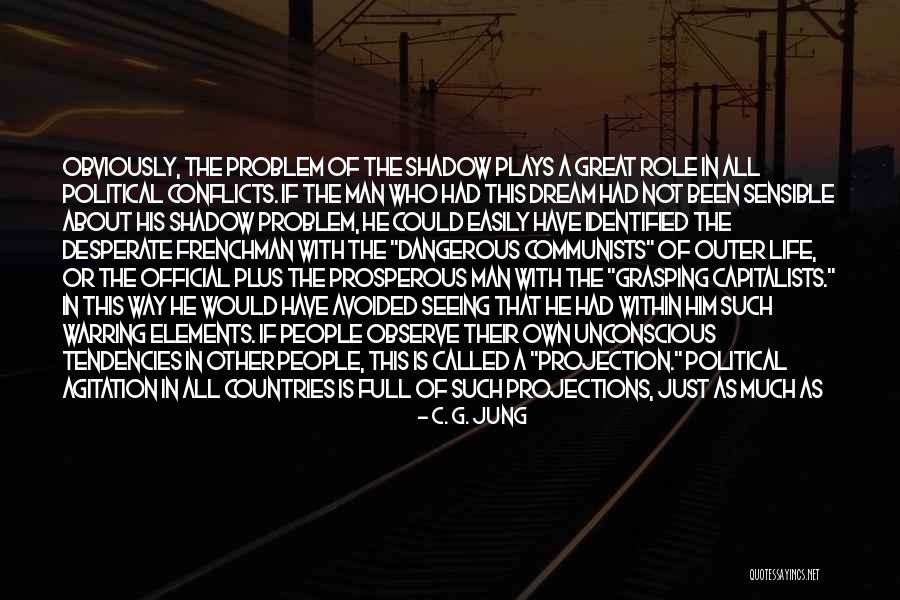 Obviously, the problem of the shadow plays a great role in all political conflicts. If the man who had this dream had not been sensible about his shadow problem, he could easily have identified the desperate Frenchman with the "dangerous Communists" of outer life, or the official plus the prosperous man with the "grasping capitalists." In this way he would have avoided seeing that he had within him such warring elements. If people observe their own unconscious tendencies in other people, this is called a "projection." Political agitation in all countries is full of such projections, just as much as the backyard gossip of little groups and individuals. Projections of all kinds obscure our view of our fellow men, spoiling its objectivity, and thus spoiling all possibility of genuine human relationships. — C. G. Jung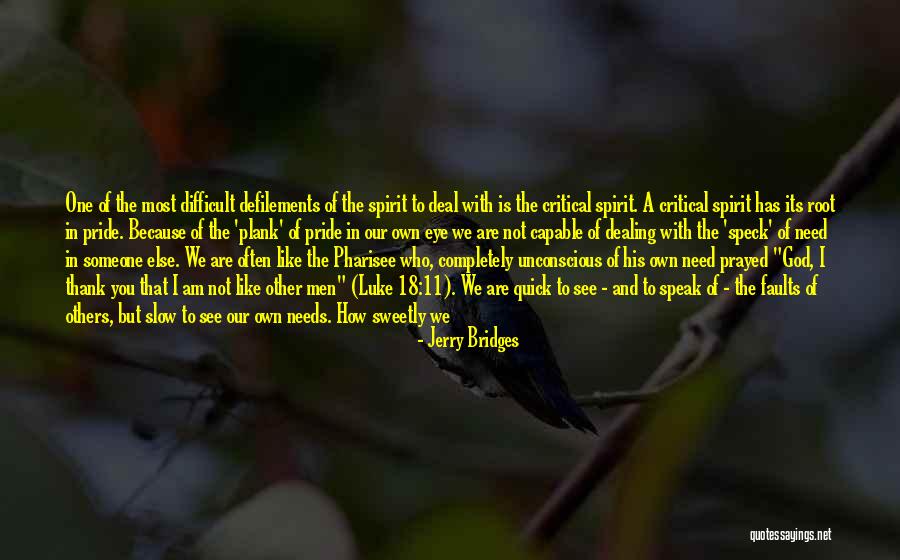 One of the most difficult defilements of the spirit to deal with is the critical spirit. A critical spirit has its root in pride. Because of the 'plank' of pride in our own eye we are not capable of dealing with the 'speck' of need in someone else. We are often like the Pharisee who, completely unconscious of his own need prayed "God, I thank you that I am not like other men" (Luke 18:11). We are quick to see - and to speak of - the faults of others, but slow to see our own needs. How sweetly we relish the opportunity to speak critically of someone else - even when we are unsure of the facts. We forge that "a man who stirs up dissension among brothers" by criticizing one to another is one of the "six thing which the Lord hates" (Proverbs 6:16-19) — Jerry Bridges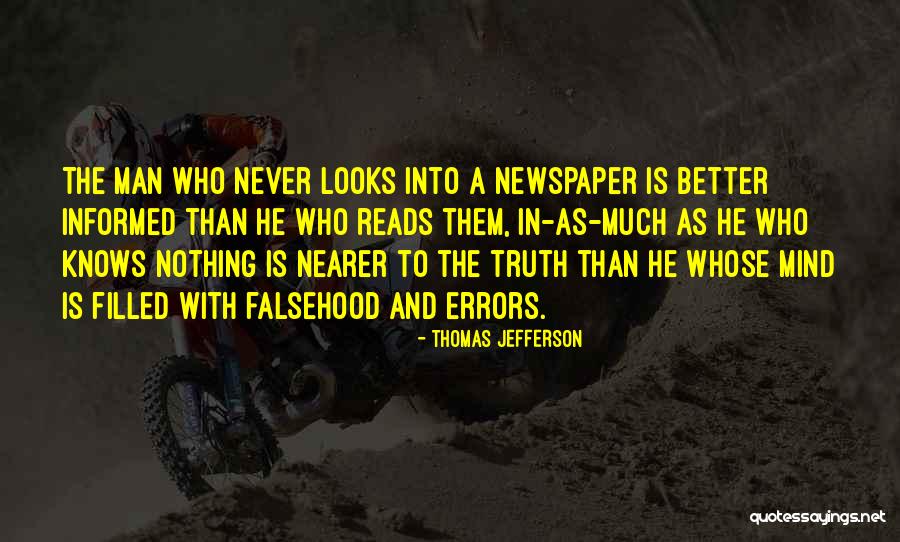 The man who never looks into a newspaper is better informed than he who reads them, in-as-much as he who knows nothing is nearer to the truth than he whose mind is filled with falsehood and errors. — Thomas Jefferson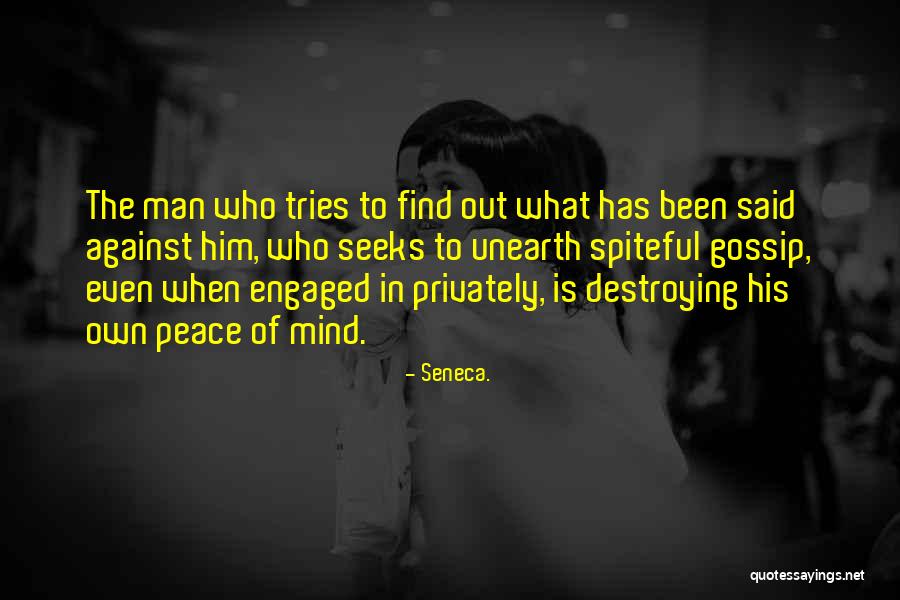 The man who tries to find out what has been said against him, who seeks to unearth spiteful gossip, even when engaged in privately, is destroying his own peace of mind. — Seneca.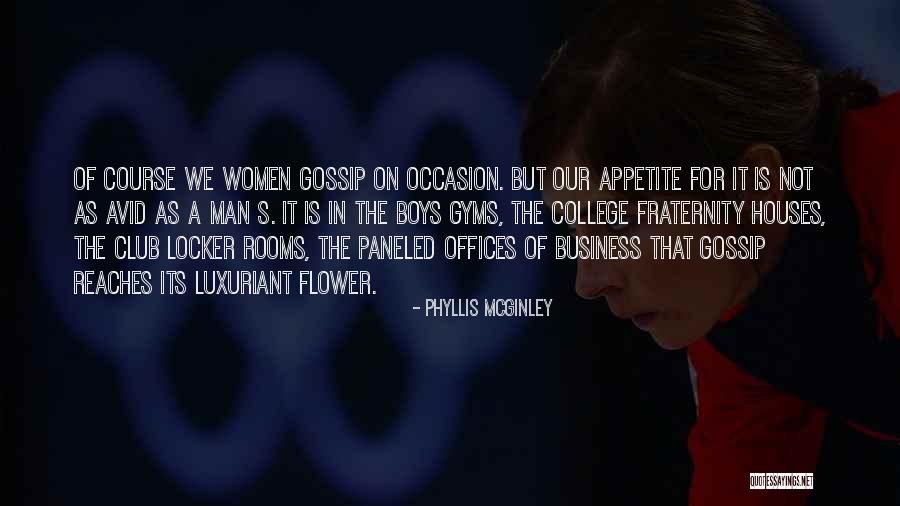 Of course we women gossip on occasion. But our appetite for it is not as avid as a man s. It is in the boys gyms, the college fraternity houses, the club locker rooms, the paneled offices of business that gossip reaches its luxuriant flower. — Phyllis McGinley
And while you're 'hearing' all this vital gossip, I might point out to you that no wise man tells all he knows. And that he who carries tales has little else in his head. Do you understand me, Brant? — Robin Hobb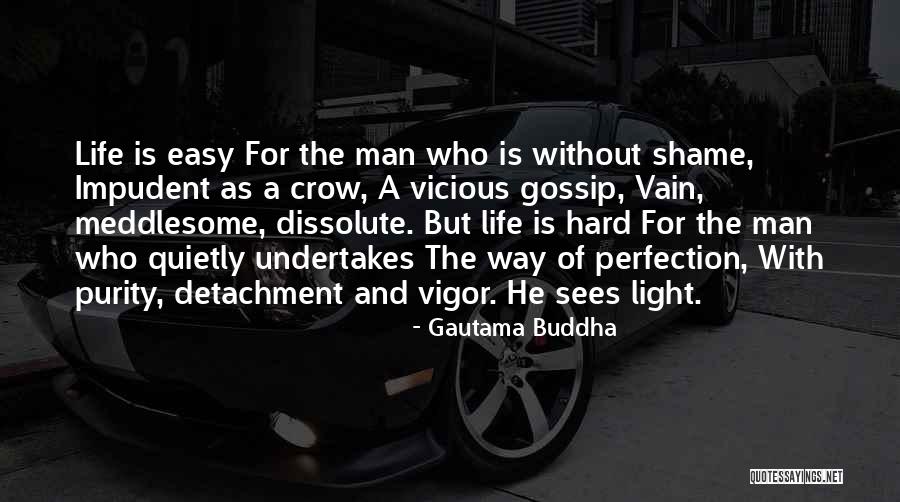 Life is easy For the man who is without shame, Impudent as a crow, A vicious gossip, Vain, meddlesome, dissolute. But life is hard For the man who quietly undertakes The way of perfection, With purity, detachment and vigor. He sees light. — Gautama Buddha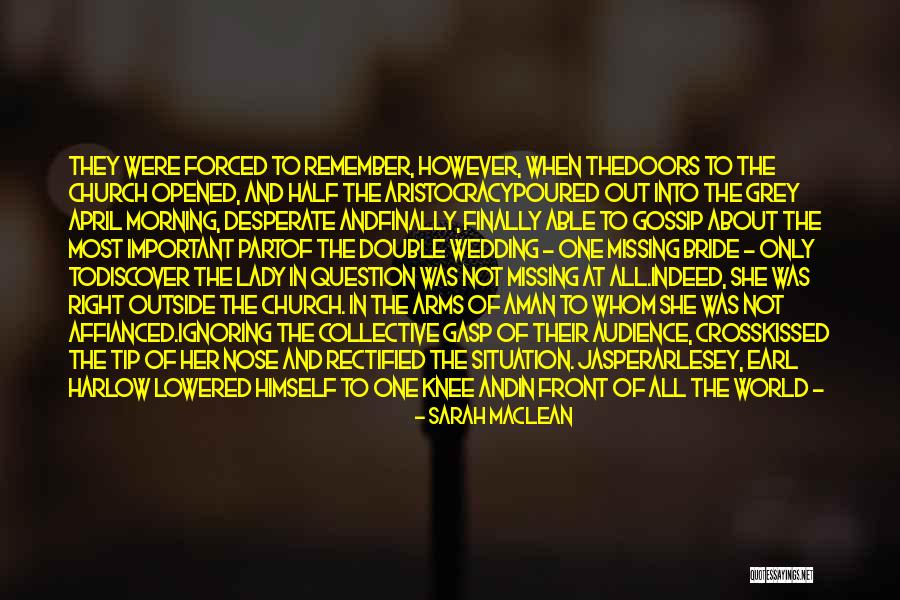 They were forced to remember, however, when the
doors to the church opened, and half the aristocracy
poured out into the grey April morning, desperate and
finally, finally able to gossip about the most important part
of the double wedding - one missing bride - only to
discover the lady in question was not missing at all.
Indeed, she was right outside the church. In the arms of a
man to whom she was not affianced.
Ignoring the collective gasp of their audience, Cross
kissed the tip of her nose and rectified the situation. Jasper
Arlesey, Earl Harlow lowered himself to one knee and
in front of all the world - proposed to his brilliant,
bespectacled bluestocking. — Sarah MacLean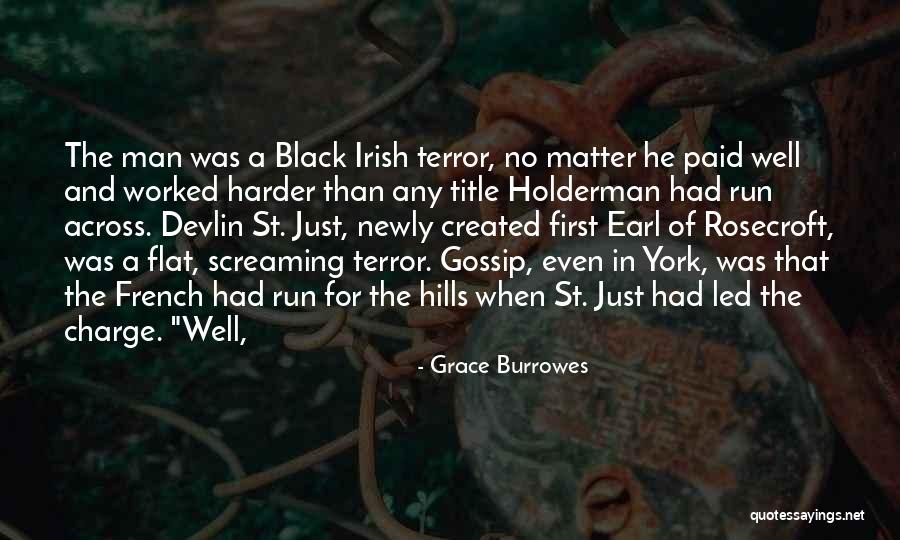 The man was a Black Irish terror, no matter he paid well and worked harder than any title Holderman had run across. Devlin St. Just, newly created first Earl of Rosecroft, was a flat, screaming terror. Gossip, even in York, was that the French had run for the hills when St. Just had led the charge. "Well, — Grace Burrowes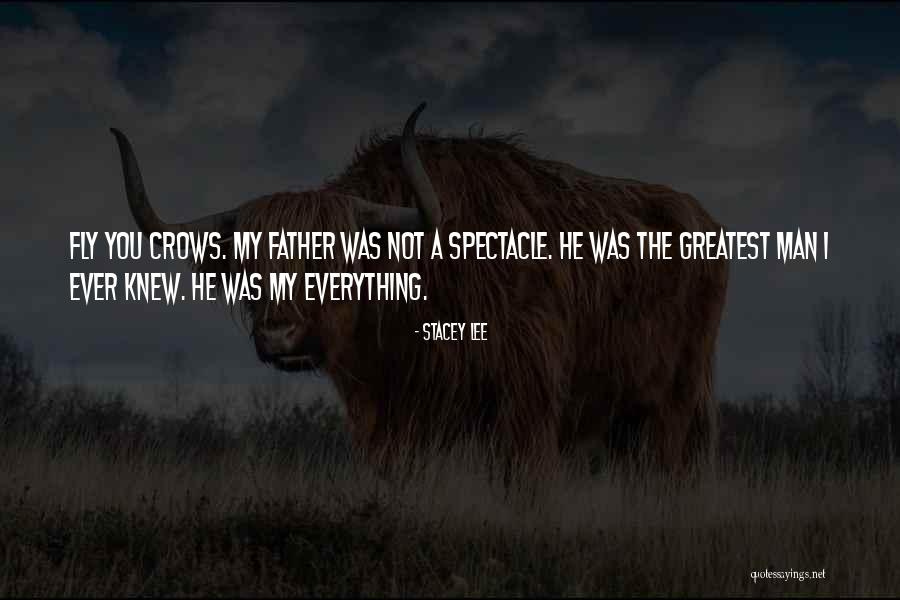 Fly you crows. My father was not a spectacle. He was the greatest man I ever knew. He was my everything. — Stacey Lee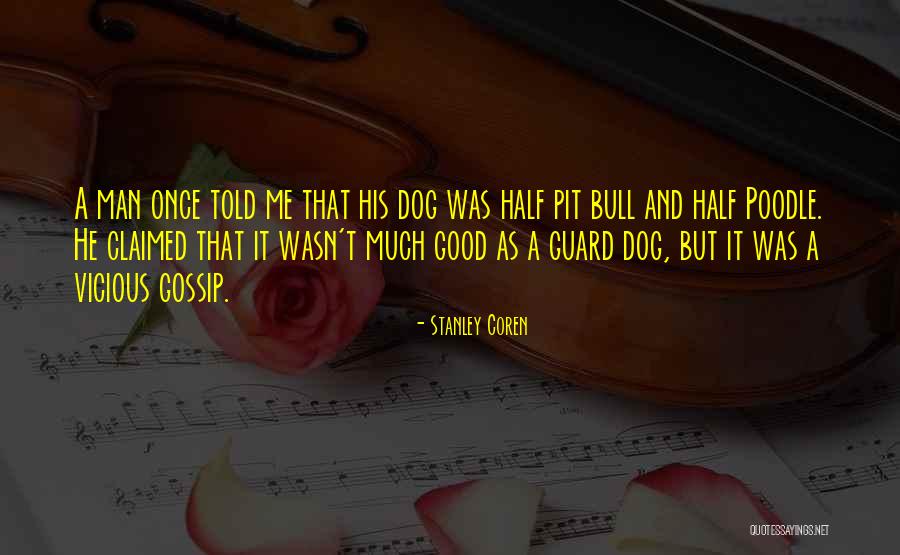 A man once told me that his dog was half pit bull and half Poodle. He claimed that it wasn't much good as a guard dog, but it was a vicious gossip. — Stanley Coren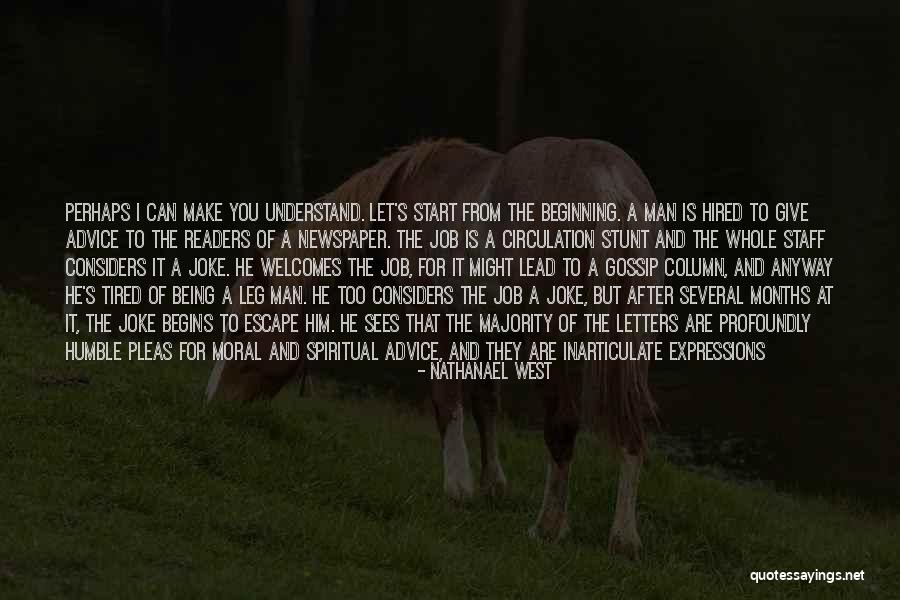 Perhaps I can make you understand. Let's start from the beginning. A man is hired to give advice to the readers of a newspaper. The job is a circulation stunt and the whole staff considers it a joke. He welcomes the job, for it might lead to a gossip column, and anyway he's tired of being a leg man. He too considers the job a joke, but after several months at it, the joke begins to escape him. He sees that the majority of the letters are profoundly humble pleas for moral and spiritual advice, and they are inarticulate expressions of genuine suffering. He also discovers that his correspondents take him seriously. For the first time in his life, he is forced to examine the values by which he lives. This examination shows him that he is the victim of the joke and not its perpetrator. — Nathanael West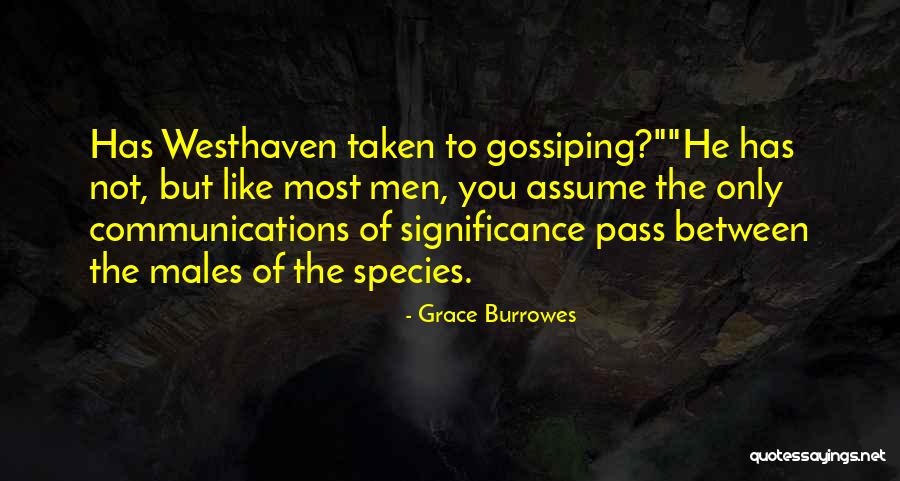 Has Westhaven taken to gossiping?"
"He has not, but like most men, you assume the only communications of significance pass between the males of the species. — Grace Burrowes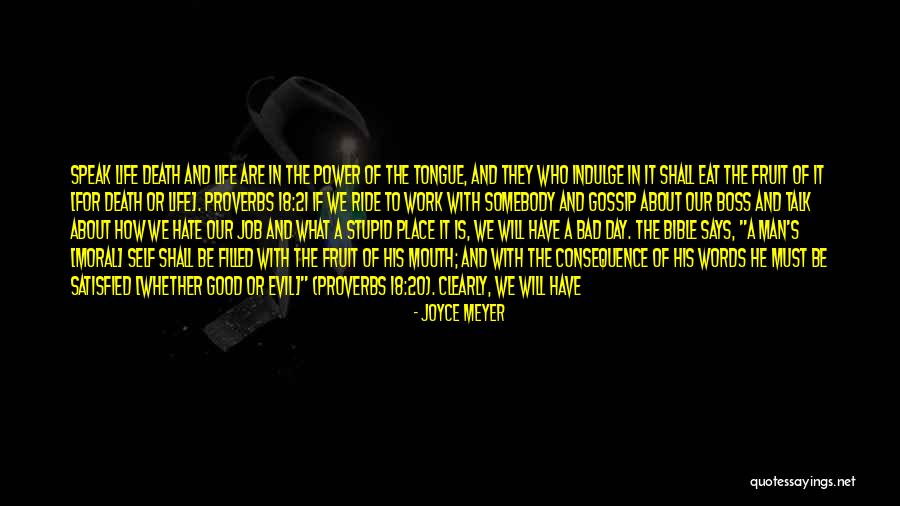 Speak Life Death and life are in the power of the tongue, and they who indulge in it shall eat the fruit of it [for death or life]. PROVERBS 18:21 If we ride to work with somebody and gossip about our boss and talk about how we hate our job and what a stupid place it is, we will have a bad day. The Bible says, "A man's [moral] self shall be filled with the fruit of his mouth; and with the consequence of his words he must be satisfied [whether good or evil]" (Proverbs 18:20). Clearly, we will have to eat our words, so we need to talk about the right things to be happy. If we murmur and gossip, we will eat the fruit of death. But if we speak life, we will eat the fruit of the Spirit (see Matthew 12:37). Choose to eat good fruit today. — Joyce Meyer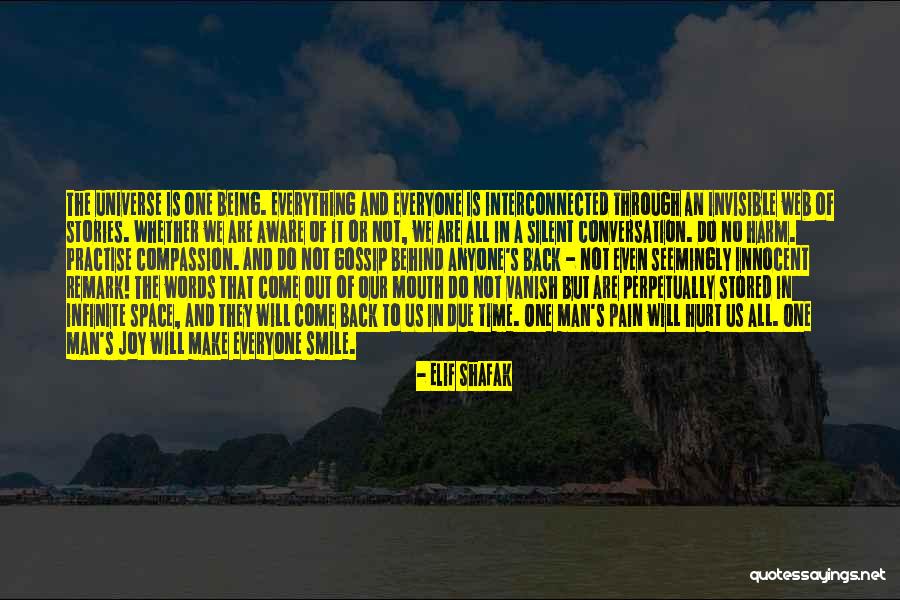 The universe is one being. Everything and everyone is interconnected through an invisible web of stories. Whether we are aware of it or not, we are all in a silent conversation. Do no harm. Practise compassion. And do not gossip behind anyone's back - not even seemingly innocent remark! The words that come out of our mouth do not vanish but are perpetually stored in infinite space, and they will come back to us in due time. One man's pain will hurt us all. One man's joy will make everyone smile. — Elif Shafak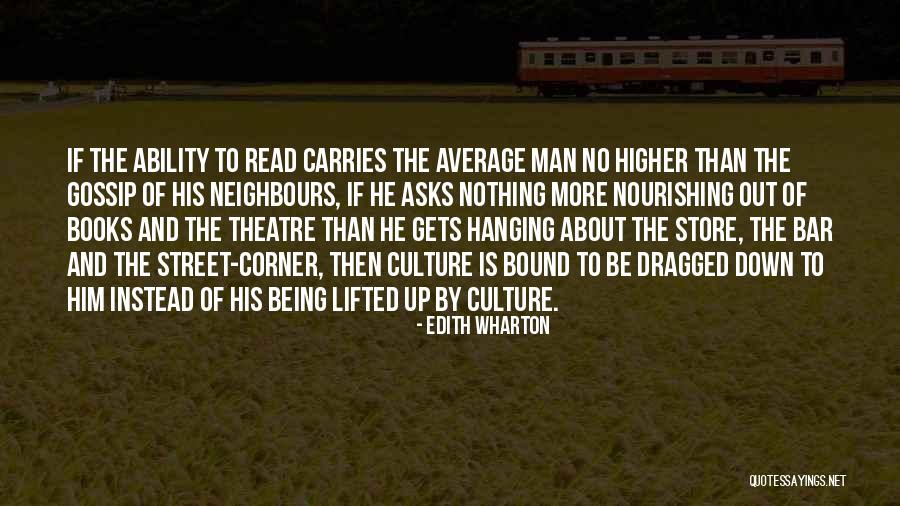 If the ability to read carries the average man no higher than the gossip of his neighbours, if he asks nothing more nourishing out of books and the theatre than he gets hanging about the store, the bar and the street-corner, then culture is bound to be dragged down to him instead of his being lifted up by culture. — Edith Wharton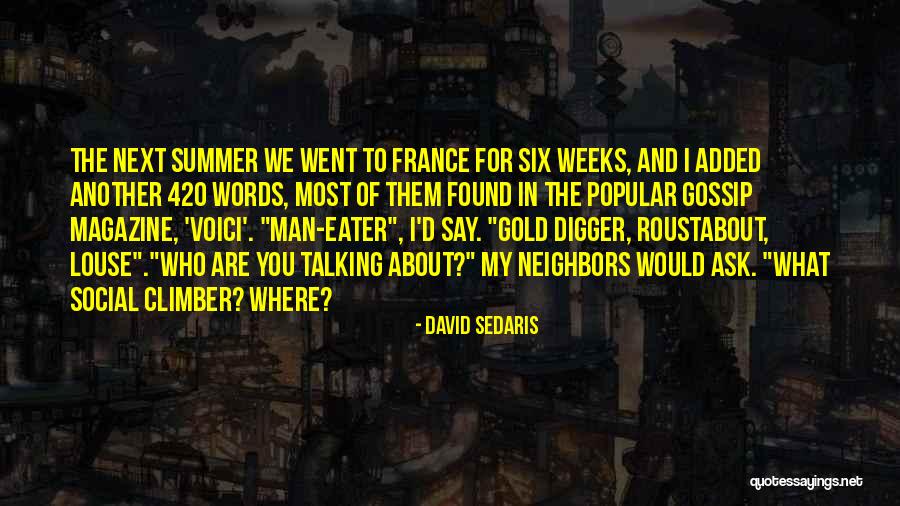 The next summer we went to France for six weeks, and I added another 420 words, most of them found in the popular gossip magazine, 'Voici'. "Man-eater", I'd say. "Gold digger, roustabout, louse".
"Who are you talking about?" my neighbors would ask. "What social climber? Where? — David Sedaris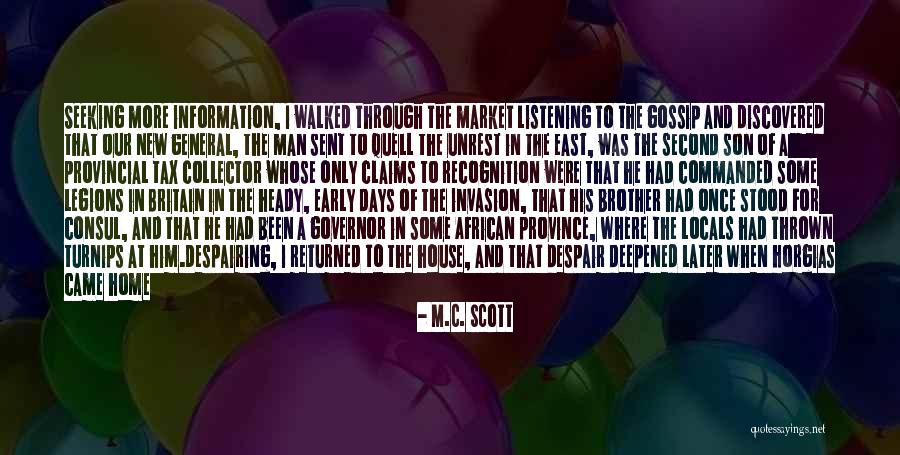 Seeking more information, I walked through the market listening to the gossip and discovered that our new general, the man sent to quell the unrest in the east, was the second son of a provincial tax collector whose only claims to recognition were that he had commanded some legions in Britain in the heady, early days of the invasion, that his brother had once stood for consul, and that he had been a governor in some African province, where the locals had thrown turnips at him.
Despairing, I returned to the house, and that despair deepened later when Horgias came home with the news that our new paragon of martial virtue had until recently been hiding in Greece, in disgrace for having fallen asleep during one of Nero's recitals in the theatre. — M.C. Scott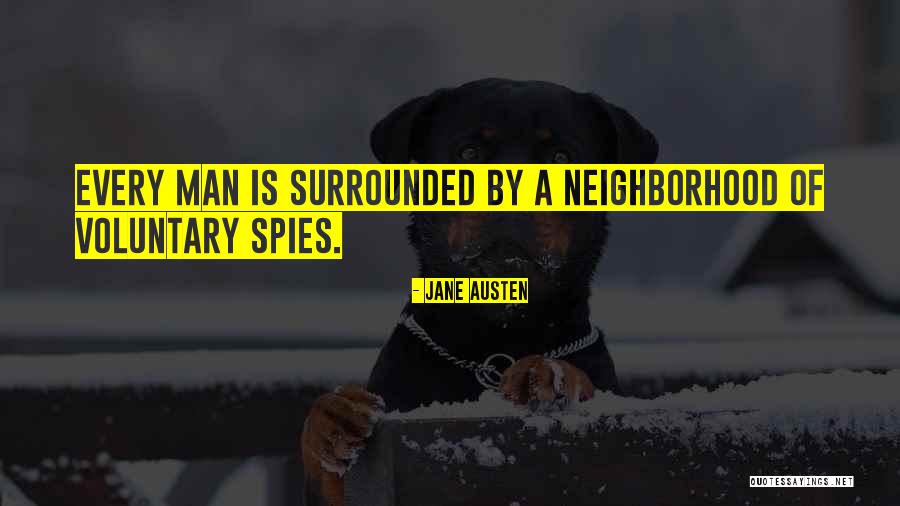 Every man is surrounded by a neighborhood of voluntary spies. — Jane Austen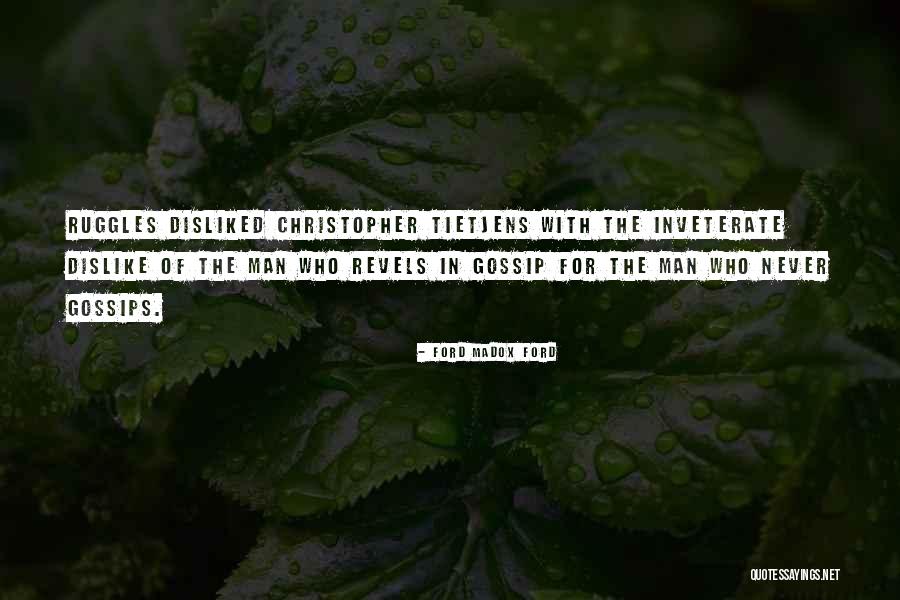 Ruggles disliked Christopher Tietjens with the inveterate dislike of the man who revels in gossip for the man who never gossips. — Ford Madox Ford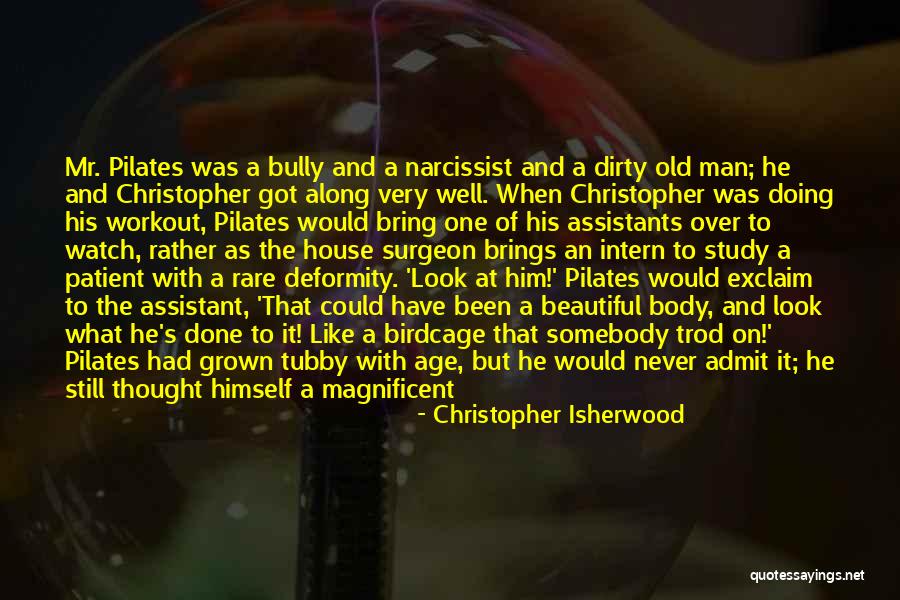 Mr. Pilates was a bully and a narcissist and a dirty old man; he and Christopher got along very well. When Christopher was doing his workout, Pilates would bring one of his assistants over to watch, rather as the house surgeon brings an intern to study a patient with a rare deformity. 'Look at him!' Pilates would exclaim to the assistant, 'That could have been a beautiful body, and look what he's done to it! Like a birdcage that somebody trod on!' Pilates had grown tubby with age, but he would never admit it; he still thought himself a magnificent figure of a man. 'That's not fat,' he declared, punching himself in the stomach, 'that's good healthy meat!' He frankly lusted after some of his girl students. He used to make them lie back on an inclined board and climb on top of them, on the pretext that he was showing them an exercise. What he really was doing was rubbing off against them through his clothes; as was obvious from the violent jerking of his buttocks. — Christopher Isherwood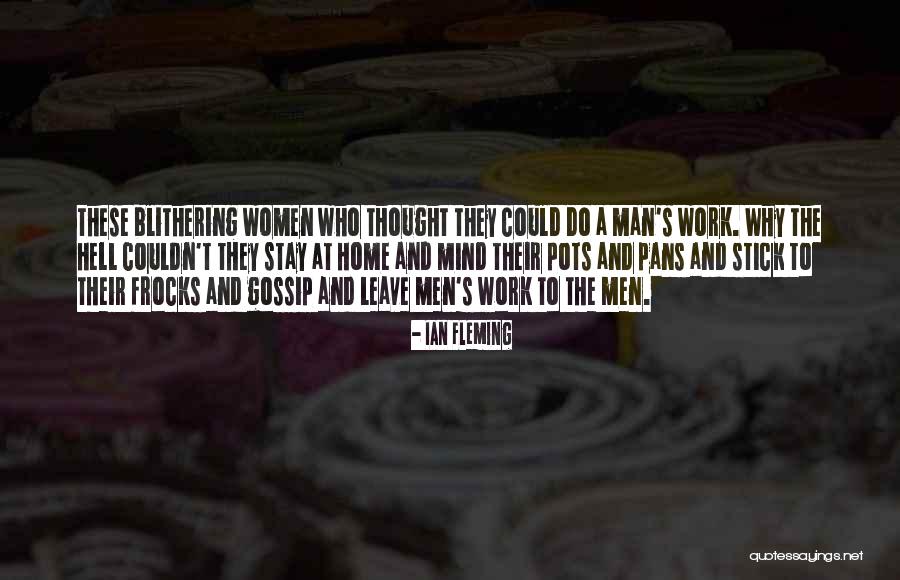 These blithering women who thought they could do a man's work. Why the hell couldn't they stay at home and mind their pots and pans and stick to their frocks and gossip and leave men's work to the men. — Ian Fleming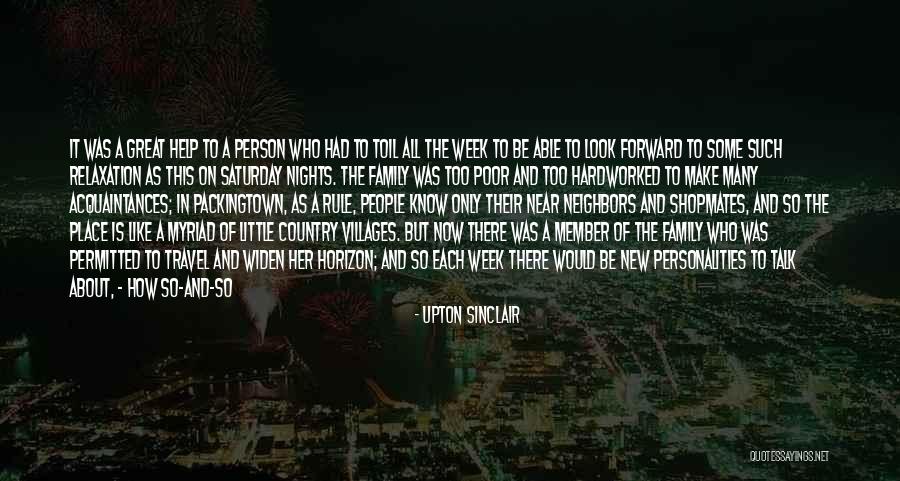 It was a great help to a person who had to toil all the week to be able to look forward to some such relaxation as this on Saturday nights. The family was too poor and too hardworked to make many acquaintances; in Packingtown, as a rule, people know only their near neighbors and shopmates, and so the place is like a myriad of little country villages. But now there was a member of the family who was permitted to travel and widen her horizon; and so each week there would be new personalities to talk about, - how so-and-so was dressed, and where she worked, and what she got, and whom she was in love with; and how this man had jilted his girl, and how she had quarreled with the other girl, and what had passed between them; and how another man beat his wife, and spent all her earnings upon drink, and pawned her very clothes. Some people would have scorned this talk as gossip; but then one has to talk about what one knows. It — Upton Sinclair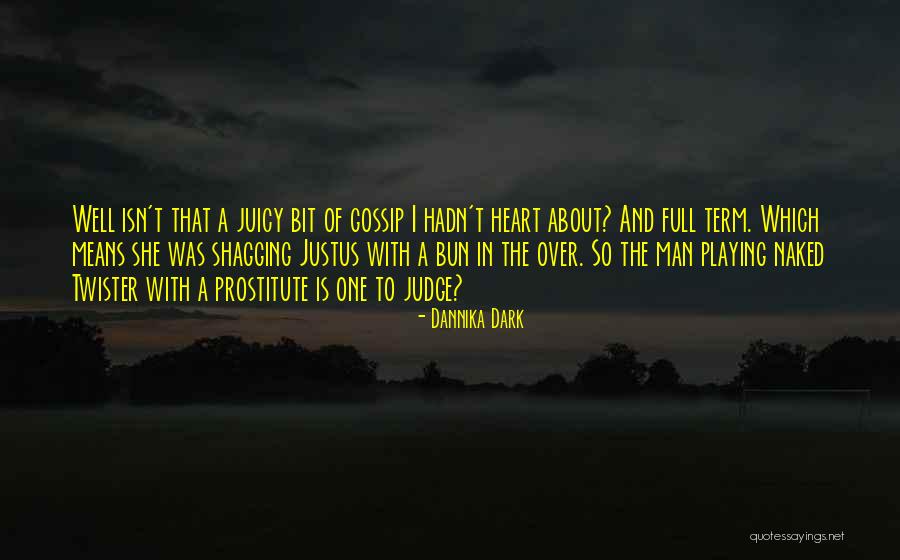 Well isn't that a juicy bit of gossip I hadn't heart about? And full term. Which means she was shagging Justus with a bun in the over.
So the man playing naked Twister with a prostitute is one to judge? — Dannika Dark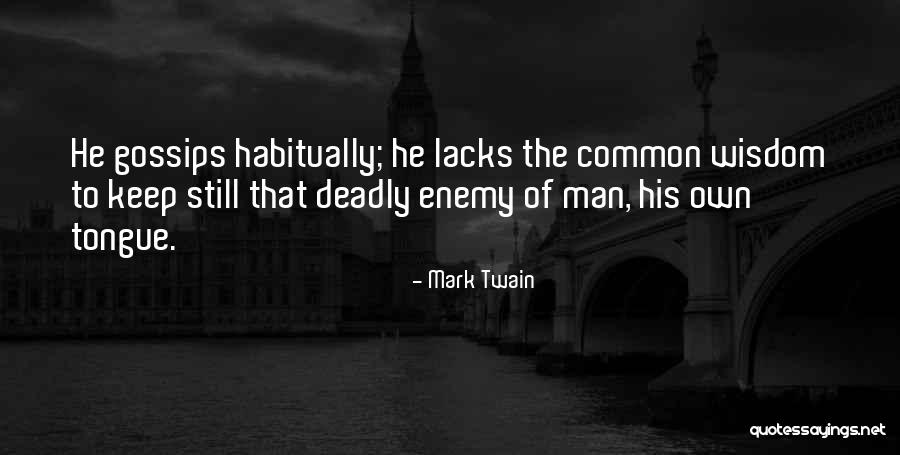 He gossips habitually; he lacks the common wisdom to keep still that deadly enemy of man, his own tongue. — Mark Twain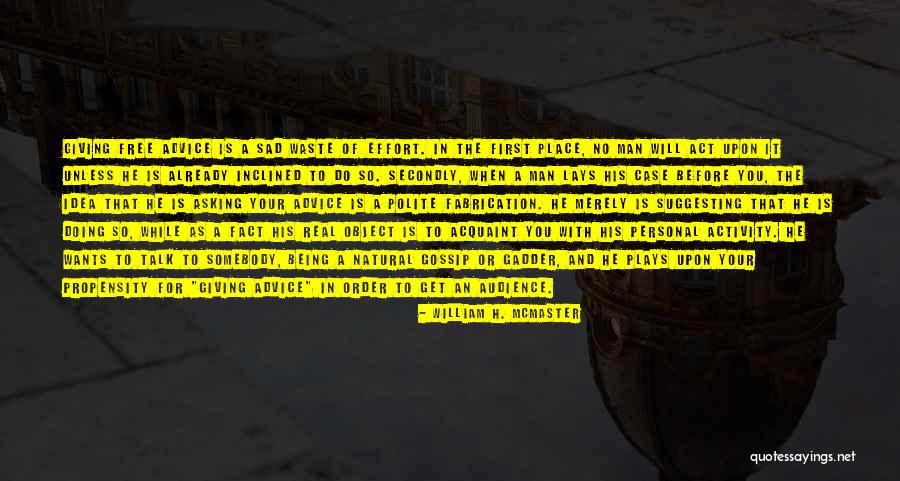 Giving free advice is a sad waste of effort. In the first place, no man will act upon it unless he is already inclined to do so. Secondly, when a man lays his case before you, the idea that he is asking your advice is a polite fabrication. He merely is suggesting that he is doing so, while as a fact his real object is to acquaint you with his personal activity. He wants to talk to somebody, being a natural gossip or gadder, and he plays upon your propensity for "giving advice" in order to get an audience. — William H. McMaster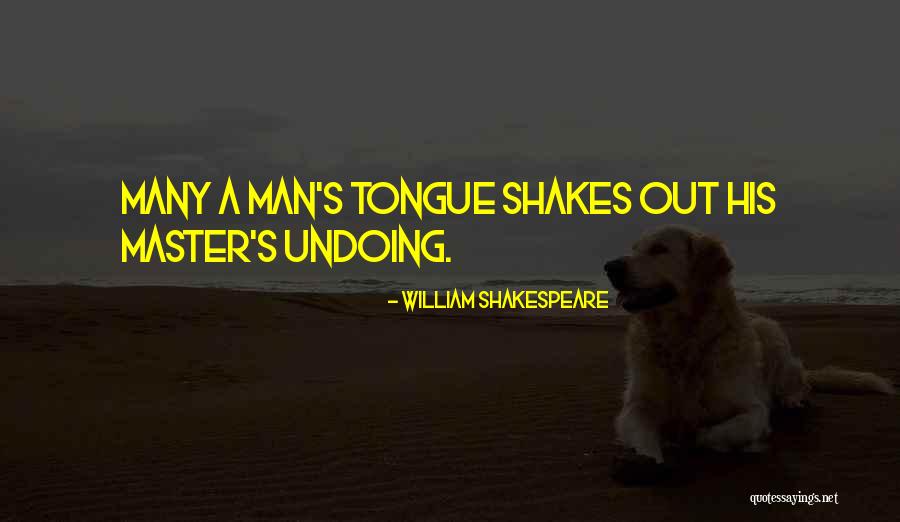 Many a man's tongue shakes out his master's undoing. — William Shakespeare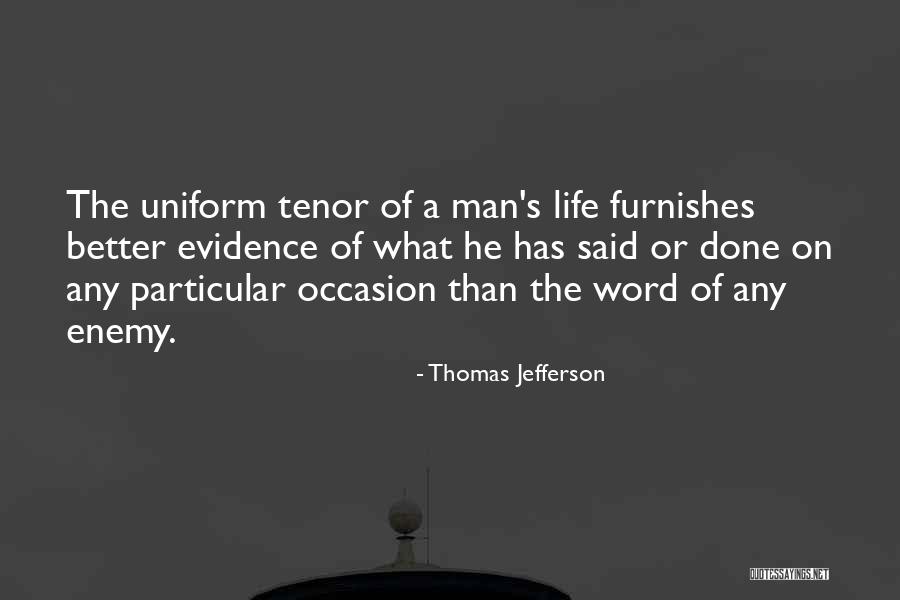 The uniform tenor of a man's life furnishes better evidence of what he has said or done on any particular occasion than the word of any enemy. — Thomas Jefferson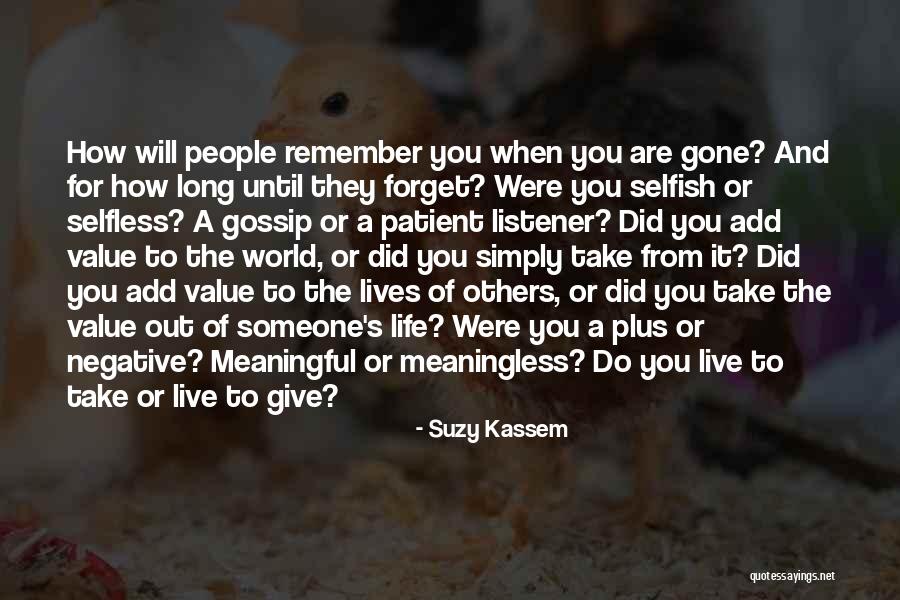 How will people remember you when you are gone? And for how long until they forget? Were you selfish or selfless? A gossip or a patient listener? Did you add value to the world, or did you simply take from it? Did you add value to the lives of others, or did you take the value out of someone's life? Were you a plus or negative? Meaningful or meaningless? Do you live to take or live to give? — Suzy Kassem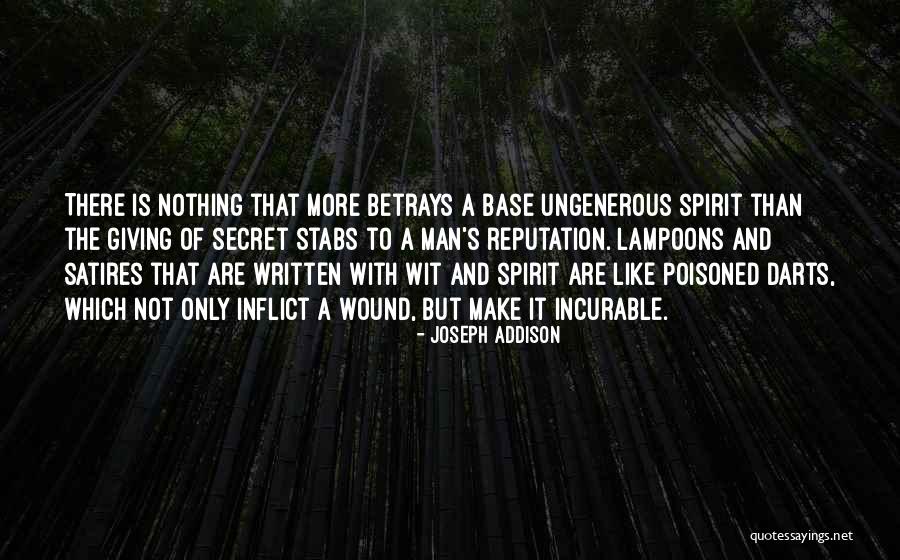 There is nothing that more betrays a base ungenerous spirit than the giving of secret stabs to a man's reputation. Lampoons and satires that are written with wit and spirit are like poisoned darts, which not only inflict a wound, but make it incurable. — Joseph Addison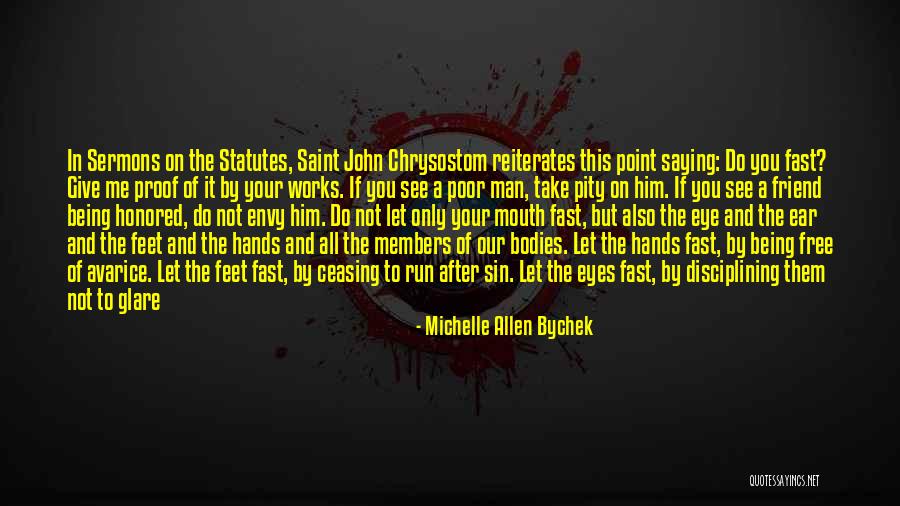 In Sermons on the Statutes, Saint John Chrysostom reiterates this point saying: Do you fast? Give me proof of it by your works. If you see a poor man, take pity on him. If you see a friend being honored, do not envy him. Do not let only your mouth fast, but also the eye and the ear and the feet and the hands and all the members of our bodies. Let the hands fast, by being free of avarice. Let the feet fast, by ceasing to run after sin. Let the eyes fast, by disciplining them not to glare at that which is sinful. Let the ear fast, by not listening to evil talk and gossip. Let the mouth fast from foul words and unjust criticism. For what good is it if we abstain from birds and fishes, but bite and devour our brothers? May He who came to the world to save sinners strengthen us to complete the fast with humility, have mercy on us and save us. — Michelle Allen Bychek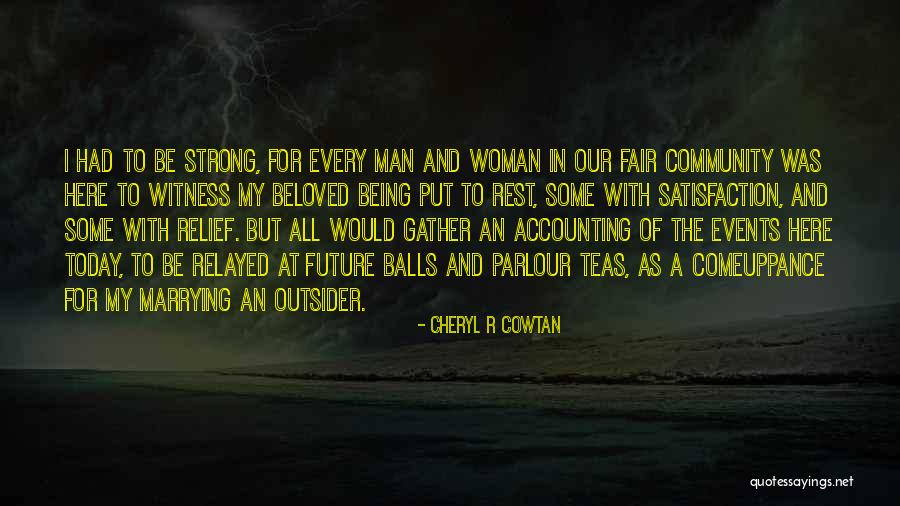 I had to be strong, for every man and woman in our fair community was here to witness my beloved being put to rest, some with satisfaction, and some with relief. But all would gather an accounting of the events here today, to be relayed at future balls and parlour teas, as a comeuppance for my marrying an outsider. — Cheryl R Cowtan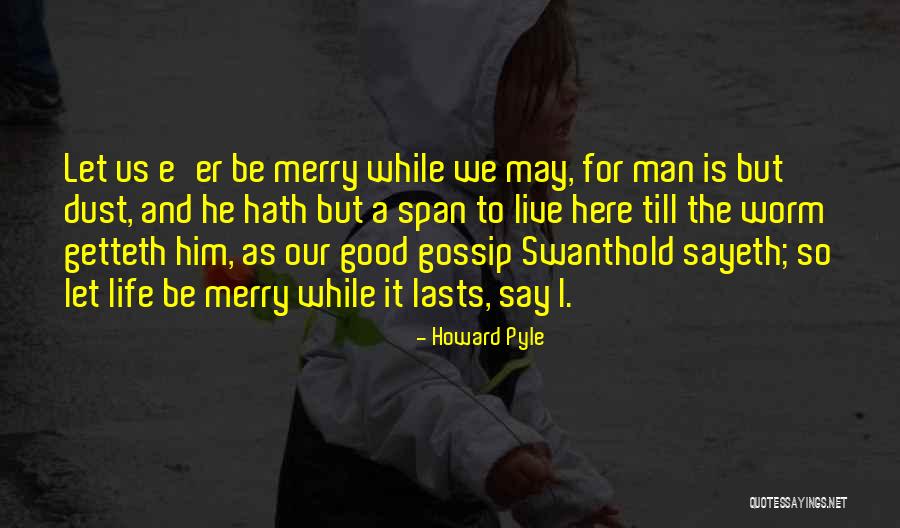 Let us e'er be merry while we may, for man is but dust, and he hath but a span to live here till the worm getteth him, as our good gossip Swanthold sayeth; so let life be merry while it lasts, say I. — Howard Pyle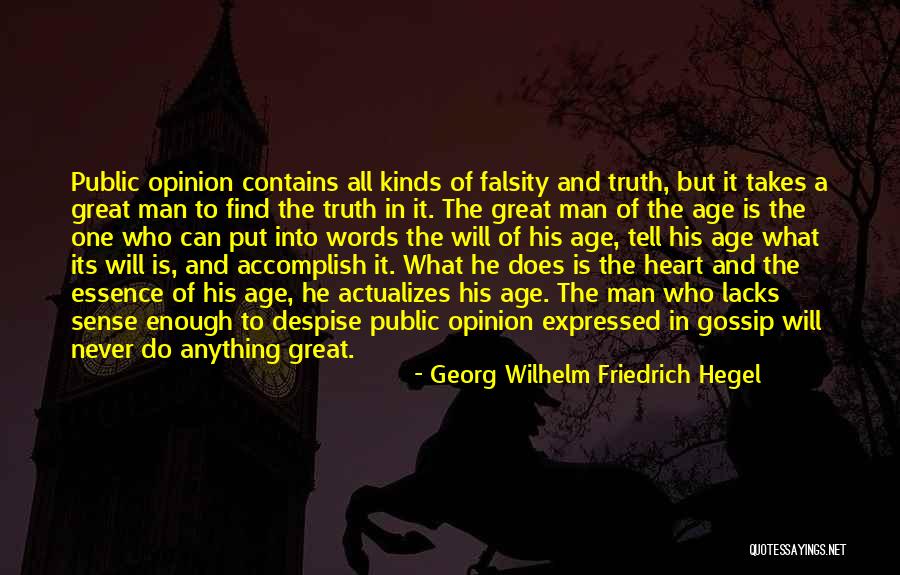 Public opinion contains all kinds of falsity and truth, but it takes a great man to find the truth in it. The great man of the age is the one who can put into words the will of his age, tell his age what its will is, and accomplish it. What he does is the heart and the essence of his age, he actualizes his age. The man who lacks sense enough to despise public opinion expressed in gossip will never do anything great. — Georg Wilhelm Friedrich Hegel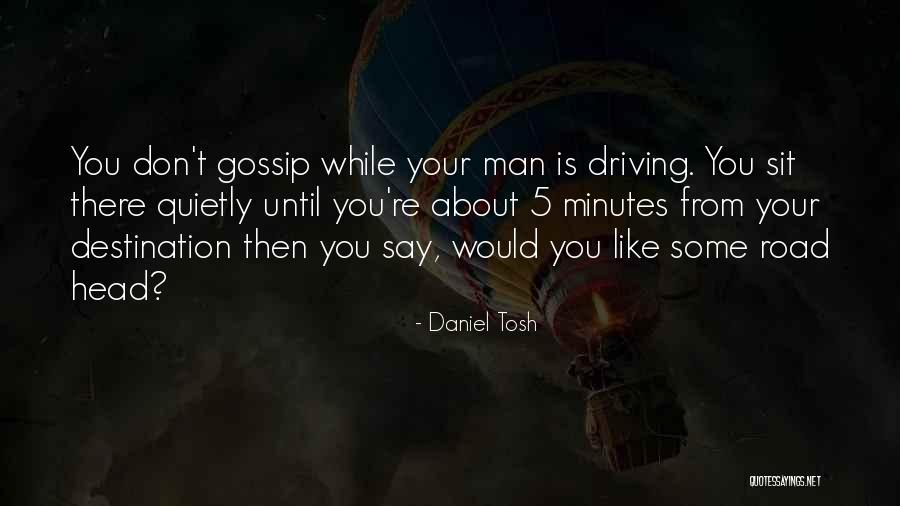 You don't gossip while your man is driving. You sit there quietly until you're about 5 minutes from your destination then you say, would you like some road head? — Daniel Tosh
The best loved man or maid in the town would perish with anguish Could they hear all that their friends say in the course of a day. — John Hay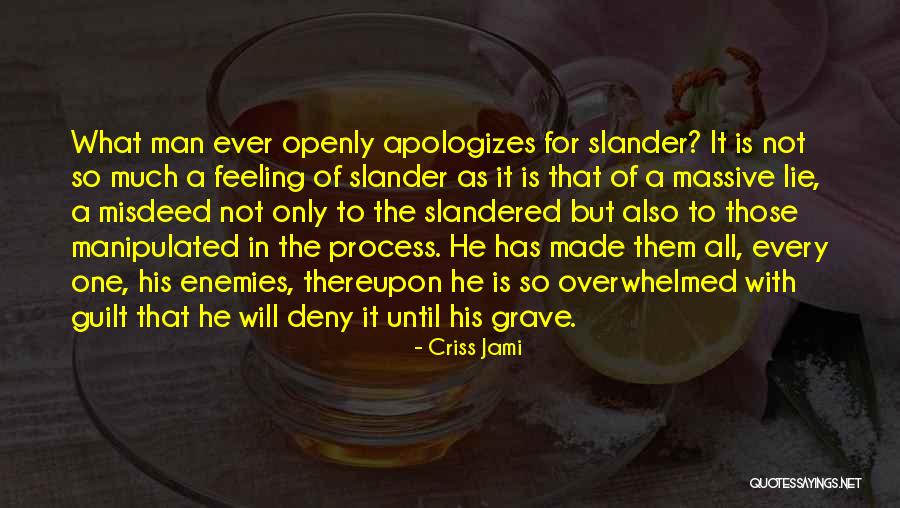 What man ever openly apologizes for slander? It is not so much a feeling of slander as it is that of a massive lie, a misdeed not only to the slandered but also to those manipulated in the process. He has made them all, every one, his enemies, thereupon he is so overwhelmed with guilt that he will deny it until his grave. — Criss Jami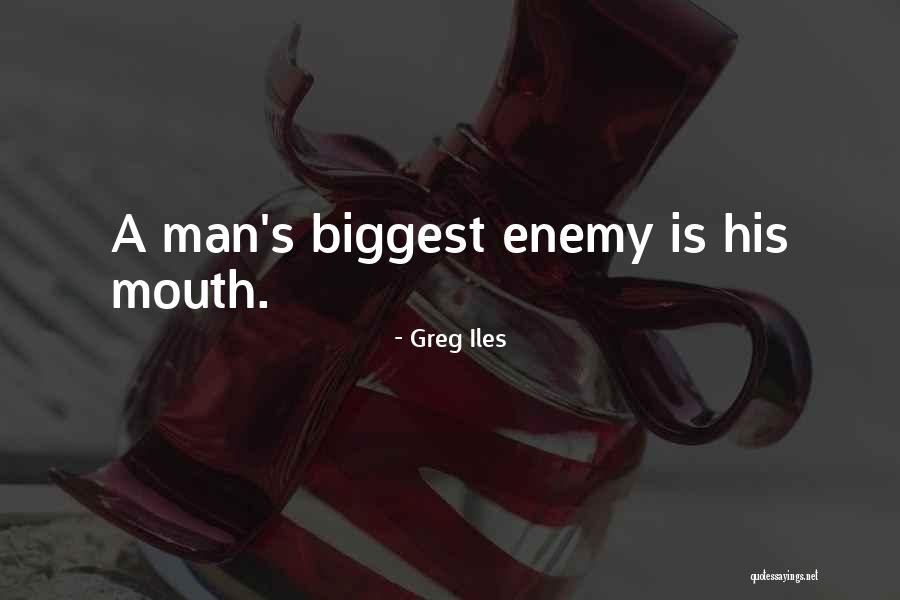 A man's biggest enemy is his mouth. — Greg Iles